One Day in Lisbon: How to See the Best of Lisbon in 24 Hours
By the time we actually made it to Lisbon, Portugal had long been on our list of places to visit. After saving for years to spend a year traveling (and a few rocky years in 2020 and 2021), we found ourselves planning a three month trip to Europe, flying in and out of Lisbon. All in, we spent 10 days exploring the city, and we loved every second of it.
To be honest, we weren't quite sure what to expect from Lisbon. Sure, it had been on just about every single list of "up and coming travel destinations" for roughly the past five years or so. What we found was a city that simultaneously felt familiar to one of the places we've called home – San Francisco (tons of hills and a big red bridge), and completely different from anywhere we'd visited before.
Lisbon is a charming city with countless viewpoints from its many hills across sweeping vistas of the city and the Tagus River.
Combine that beauty with a rich history and culture (the age of exploration was part of Portugal's golden age), an eclectic food scene thanks to a bounty of fresh ingredients (including seafood), and warm and friendly people, and we're pretty sure you're going to love Lisbon, just like we did.
Is 24 hours enough time to really see everything there is to see in Lisbon? No. But with this guide, our intention is to help you make the most of the time you do have.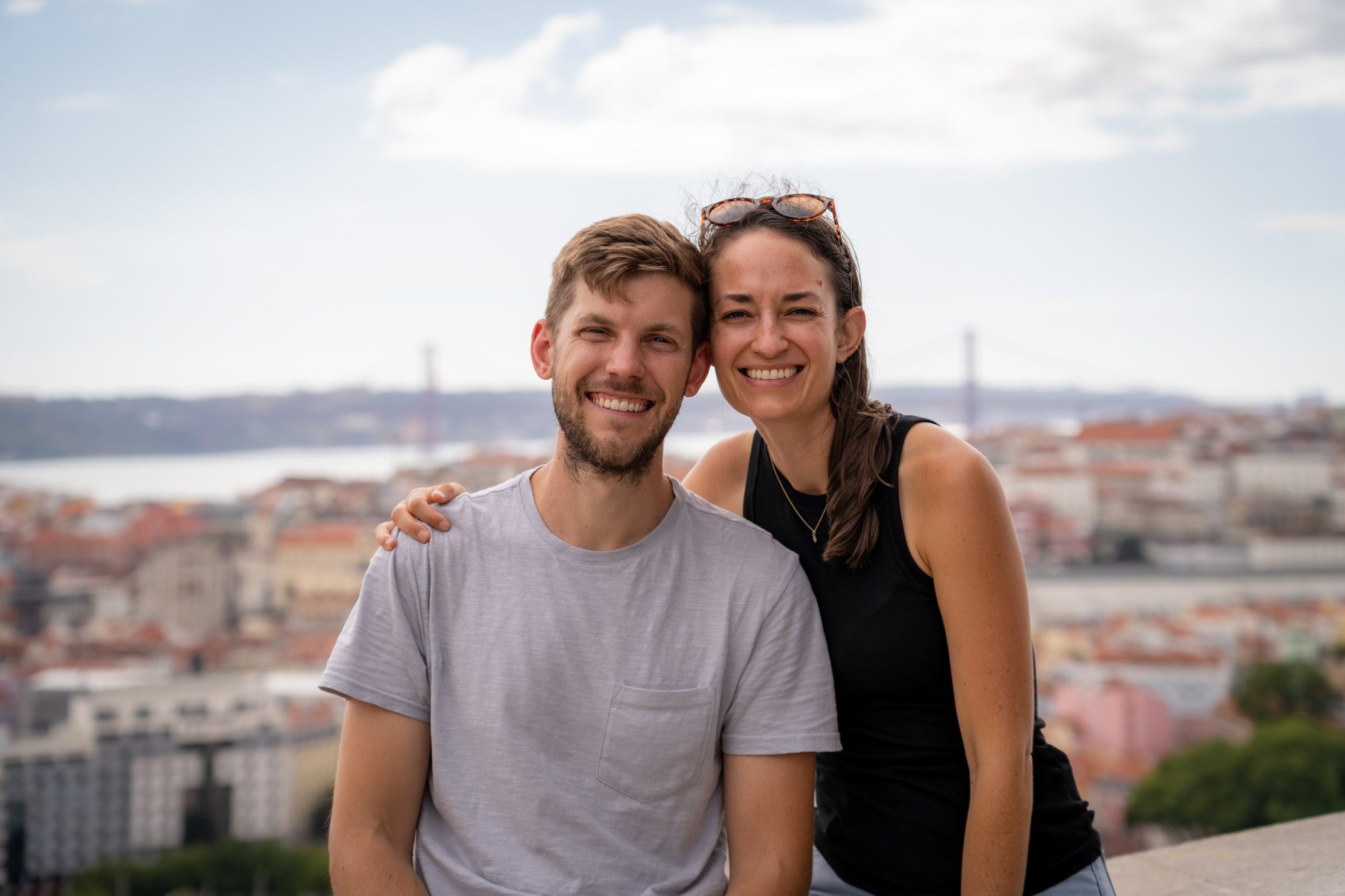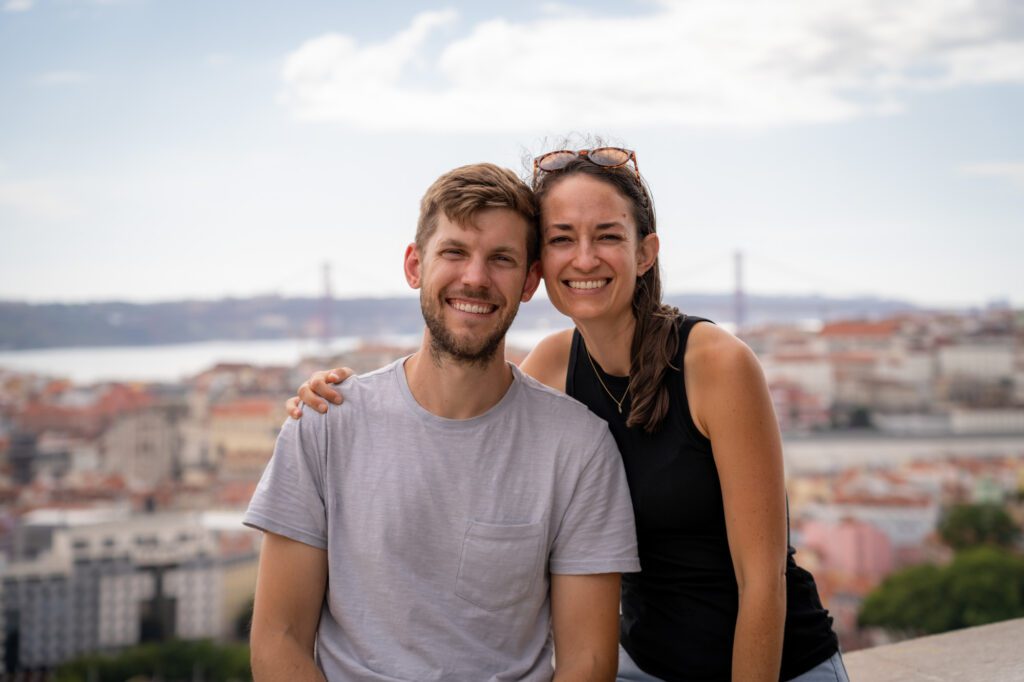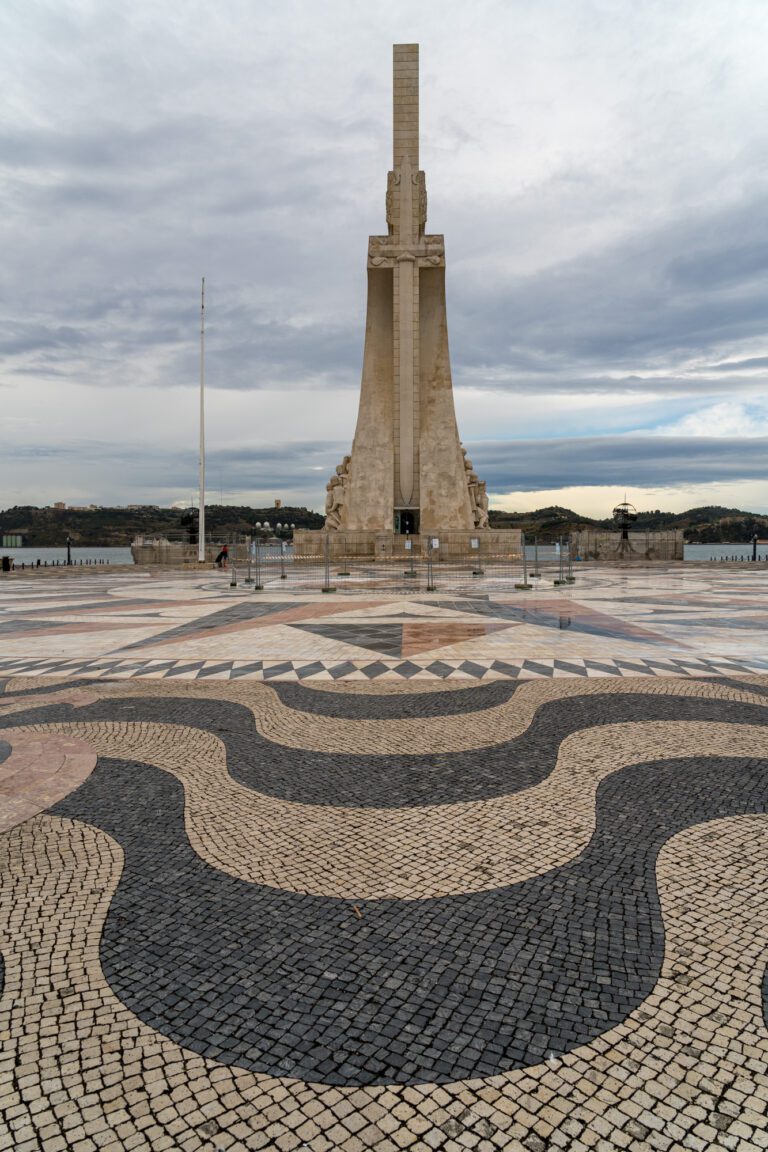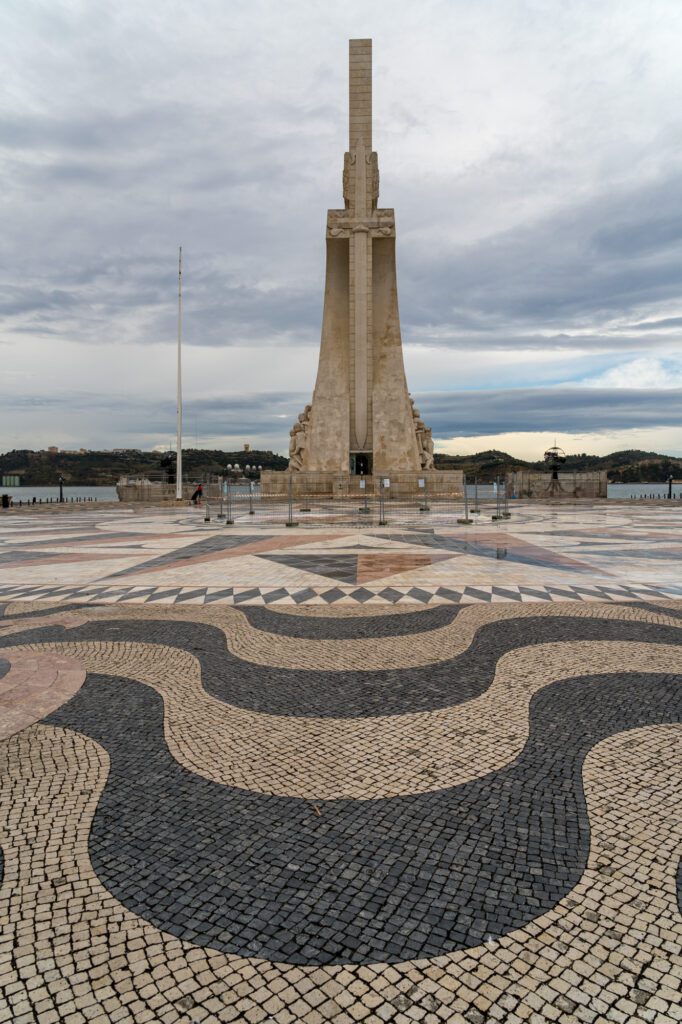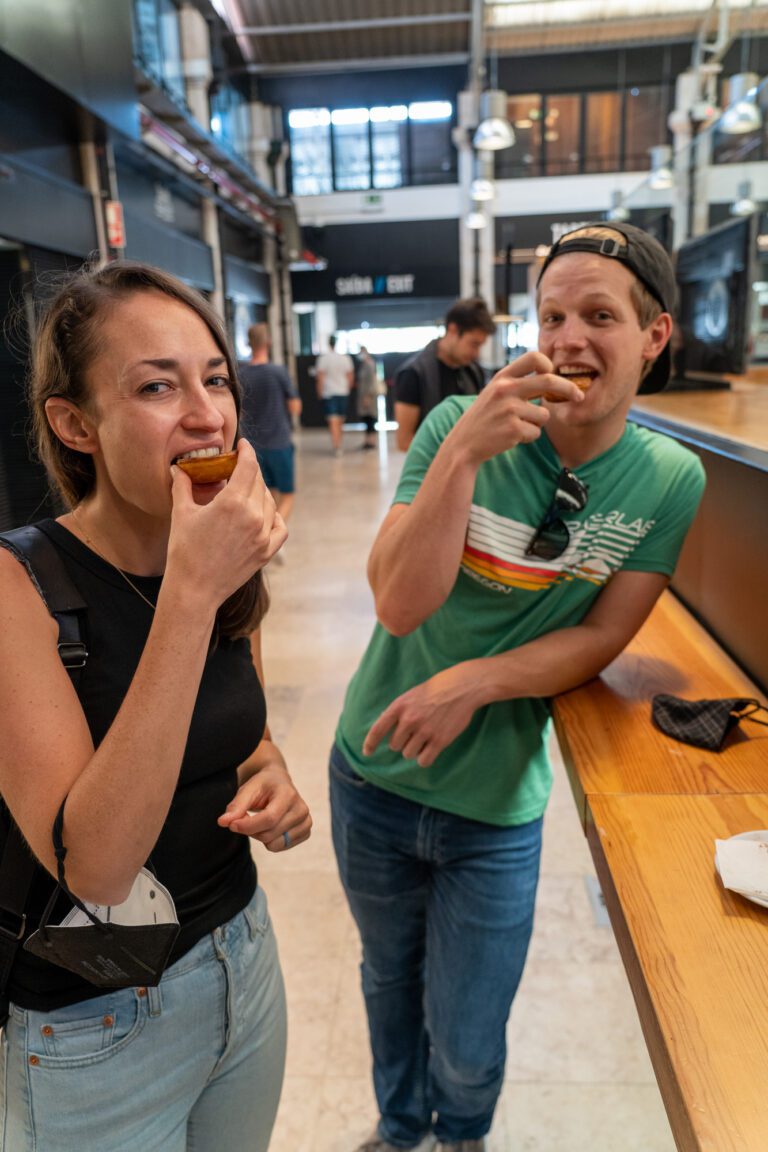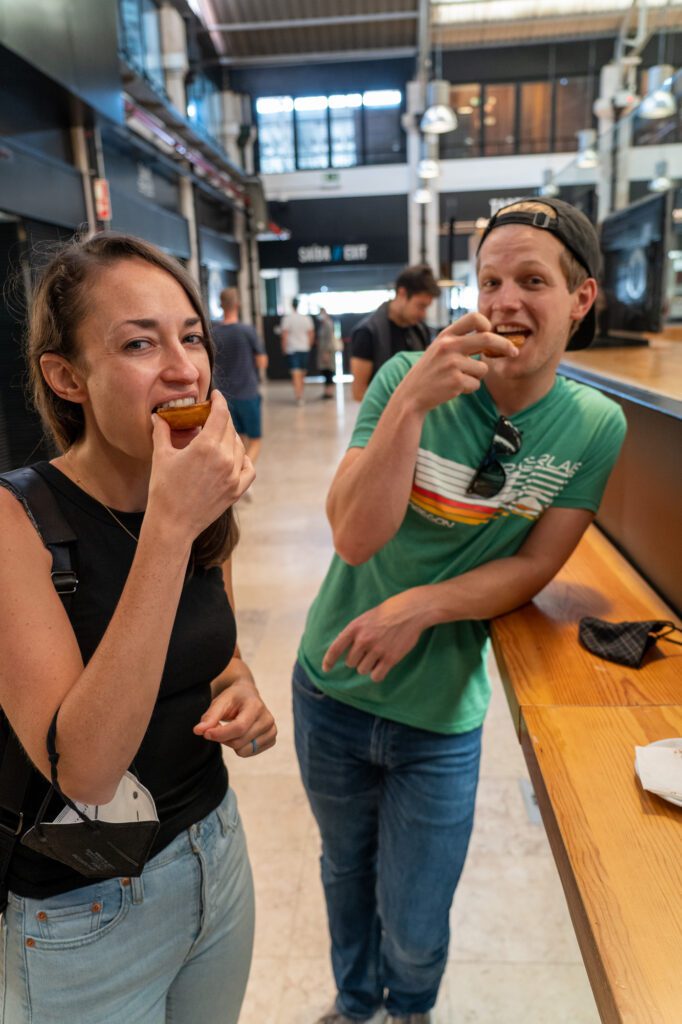 In this guide, we're going to take you through our version of how to see the best of Lisbon in one day and make the most of your limited time in this amazing city. We'll use our experience exploring the city – we've spent 10 days there spread over two trips now – to give you the things we think you should focus on (and what you shouldn't).
We'll also walk you through some important logistics that will be useful for planning your trip, such as how to get around over the course of a day.
Disclaimer: Some of the links in this post, like hotel links, are affiliate links, meaning at no additional cost to you, we make a little bit of money if you click through and book. That being said, we would never recommend something to you that we don't stand behind 100%.
Is One Day in Lisbon Enough?
Unfortunately, not really. Lisbon is Portugal's exciting capital and largest city, so we think it definitely deserves more than a day.
In an ideal world, 3 days would be the perfect amount of time to explore Lisbon. Three days will allow you to see the best of the city and ​​even take a day trip out to Sintra.
If you haven't already, check out our 3 day Lisbon itinerary to read about how we'd organize a 3 day trip.
But if you do only have a day in Lisbon, it's still a destination worth seeing. Lisbon is a fairly compact city, so it's possible to explore some of the main attractions in a day. You'll just need to be more strategic with the time that you do have, and you'll have to go into it knowing you'll have to save some stuff for your next trip.
With just one day in Lisbon, we'd focus on three main areas; Belém, Chiado, and Alfama. Plus, make sure you try some canned fish and pasteis de nata and check out plenty of miradouros (viewpoints) along the way.
In this one day Lisbon itinerary, we'll help you cover all of the above and more.
One Day in Lisbon: The Best of Portugal's Capital in 24 Hours
The guide that we've put together below will give you an excellent overview of Portugal's fascinating capital, and help you make the most of your time when you visit Lisbon.
For this guide, we're going to assume you're arriving the evening before and leaving late in the evening or the morning after, so you have a full day to explore.
Get Caffeinated at Fábrica Coffee Roasters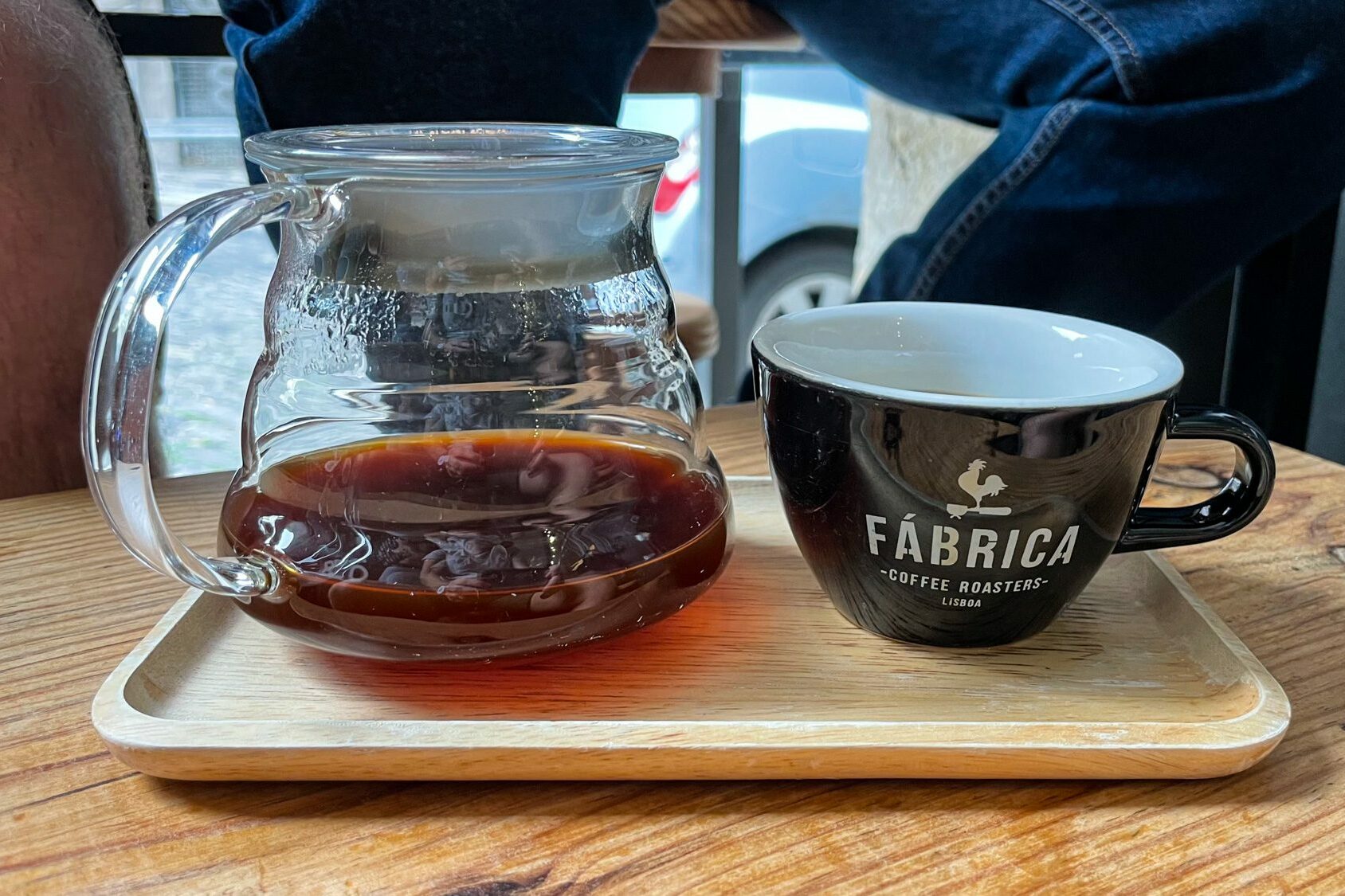 If you're going to see the best of Lisbon in a day, it's inevitably going to be a busy one. And we firmly believe that it's important to get your caffeine fix in before getting started.
Lisbon has a thriving specialty coffee scene – something that really took us by surprise. There are plenty of fantastic coffee roasters and coffee shops all across the city, which can make it difficult to know which to pick with only a day.
Fábrica Coffee Roasters was one of my and my two brothers' favorites. It's a great option for consistently great coffee. I'd highly recommend getting the AeroPress, which is brewed using the AeroPress World Championships winning recipe.
Fábrica has five locations across the city, so you should be able to find one close to your accommodation. There's also a location right near the tram to Belém, so if you're not a morning person and find yourself in a rush to get to the station you can always grab a coffee and pastry to go and enjoy them onboard.
For more coffee suggestions, check out our full guide to the best specialty coffee in Lisbon.
Praça do Comércio and The Tram out to Belém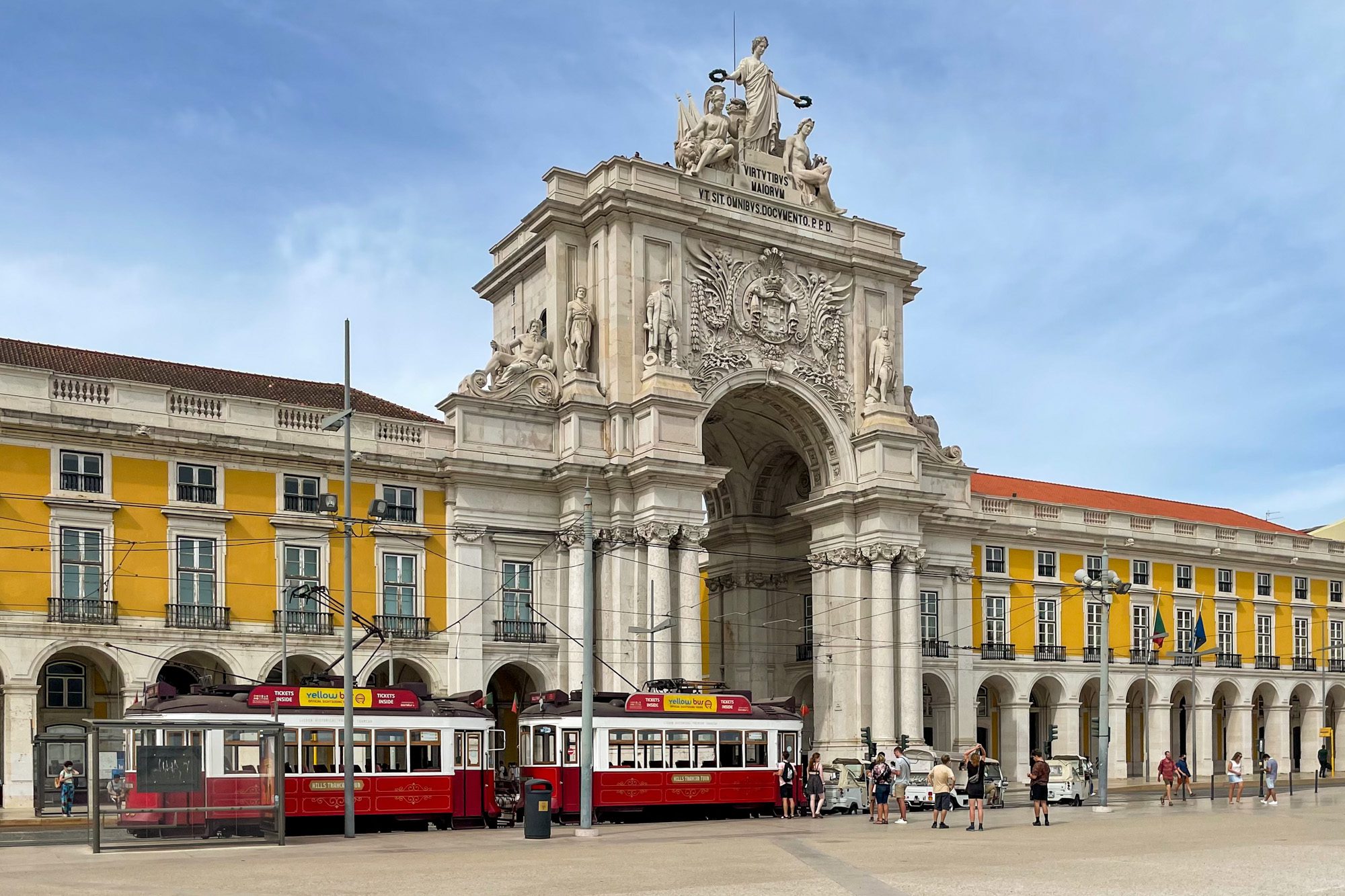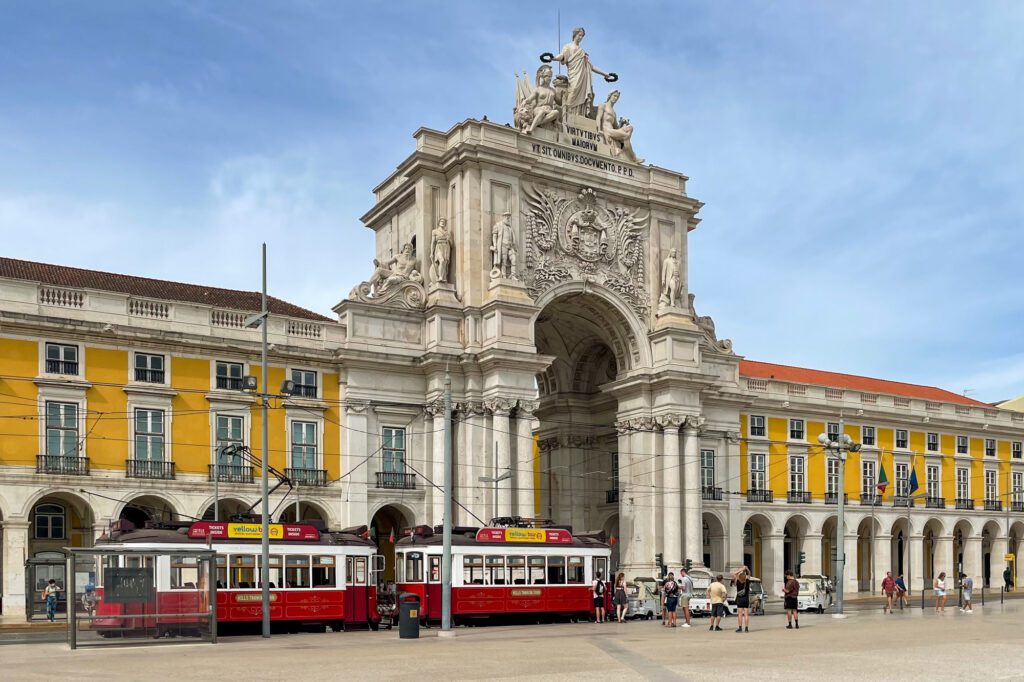 Once you're caffeinated and ready to go, start your day at Praça do Comércio; Lisbon's central plaza and one of the largest public squares in all of Europe.
Once home to a Royal Palace before it was destroyed in the 1755 earthquake, the grand plaza faces the Tagus estuary and is surrounded by exquisite 18th-century arcaded buildings.
Since being rebuilt, the square has become a symbol of the Portuguese city and is a must-visit on any trip to Lisbon. Here you'll find several important landmarks, including the Arco da Rua Augusta and a large statue of King José I on horseback.
More importantly for your purposes, Praça do Comércio is also a key transportation hub for traveling within Lisbon. North of the square is where you'll find Tram 15E to take you to Belém, your first real stop of the day.
The tram journey to Belém takes around 25 minutes.
Torre de Belém, Padrão dos Descobrimentos, and Pastéis de Belém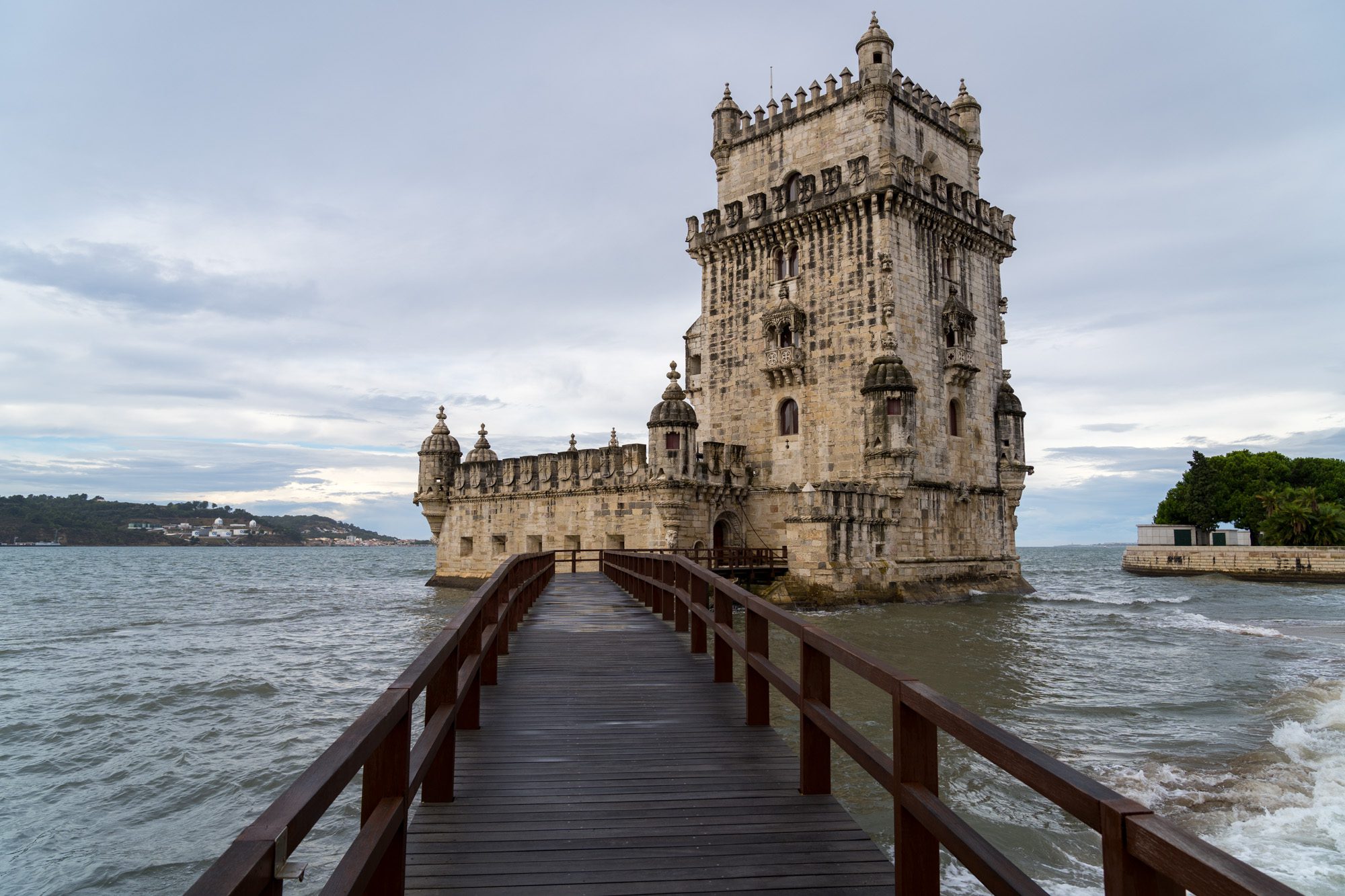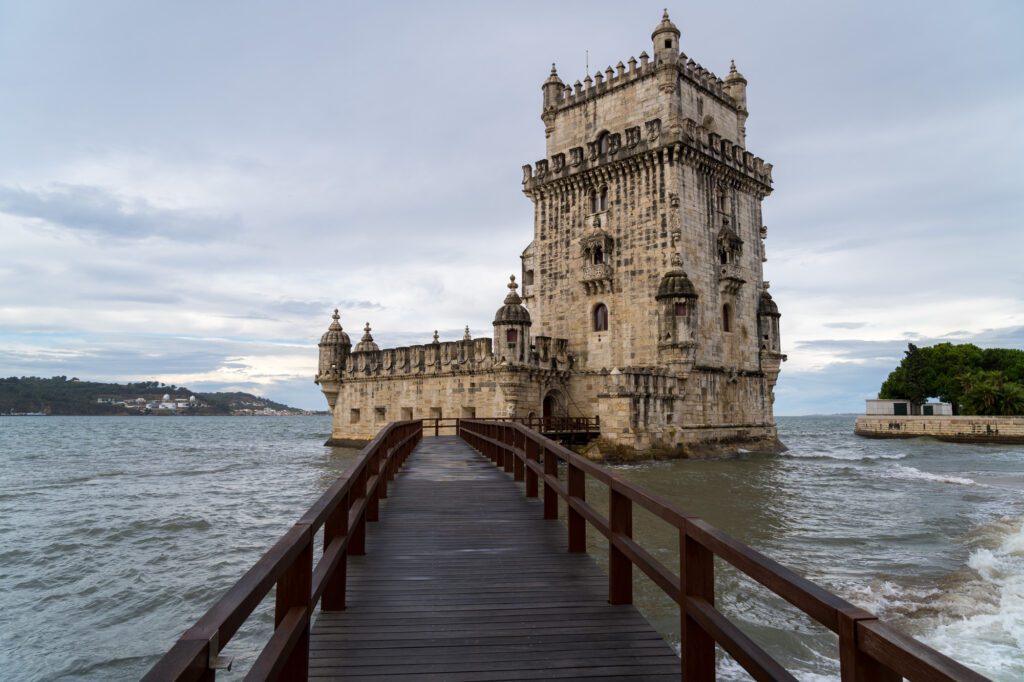 Belém is an outer neighborhood of Lisbon, located to the west of the center, and is one of the most popular tourist destinations in the city.
Dating back to the Age of Discoveries in the 1500s – a significant period of maritime exploration and colonization for Portugal and Europe – Belém is one of the most historical areas of Lisbon. The neighborhood was one of the few to largely survive the 1755 earthquake.
Today, the entirety of Belém is classified as a UNESCO World Heritage Site.
You can easily spend an entire day exploring the historic treasures of Belém. But with only 24 hours in the city, we'd suggest limiting your visit to just a morning.
With a couple of hours in Belém, you'll be able to visit Torre de Belém, Padrão dos Descobrimentos, and Pastéis de Belém.
Here's a quick overview of these three major Belém sites.
Mosteiro dos Jerónimos is another of the top sites in Belém. However, we'd suggest skipping it this time around. The former monastery is packed with amazing Maritime elements and the cloisters are beautiful. But a visit can easily take over an hour – time we'd recommend dedicating to other attractions back in the city center.
When you're done in Belém, take the Tram 15E back to the Praça do Comércio.
Torre de Belém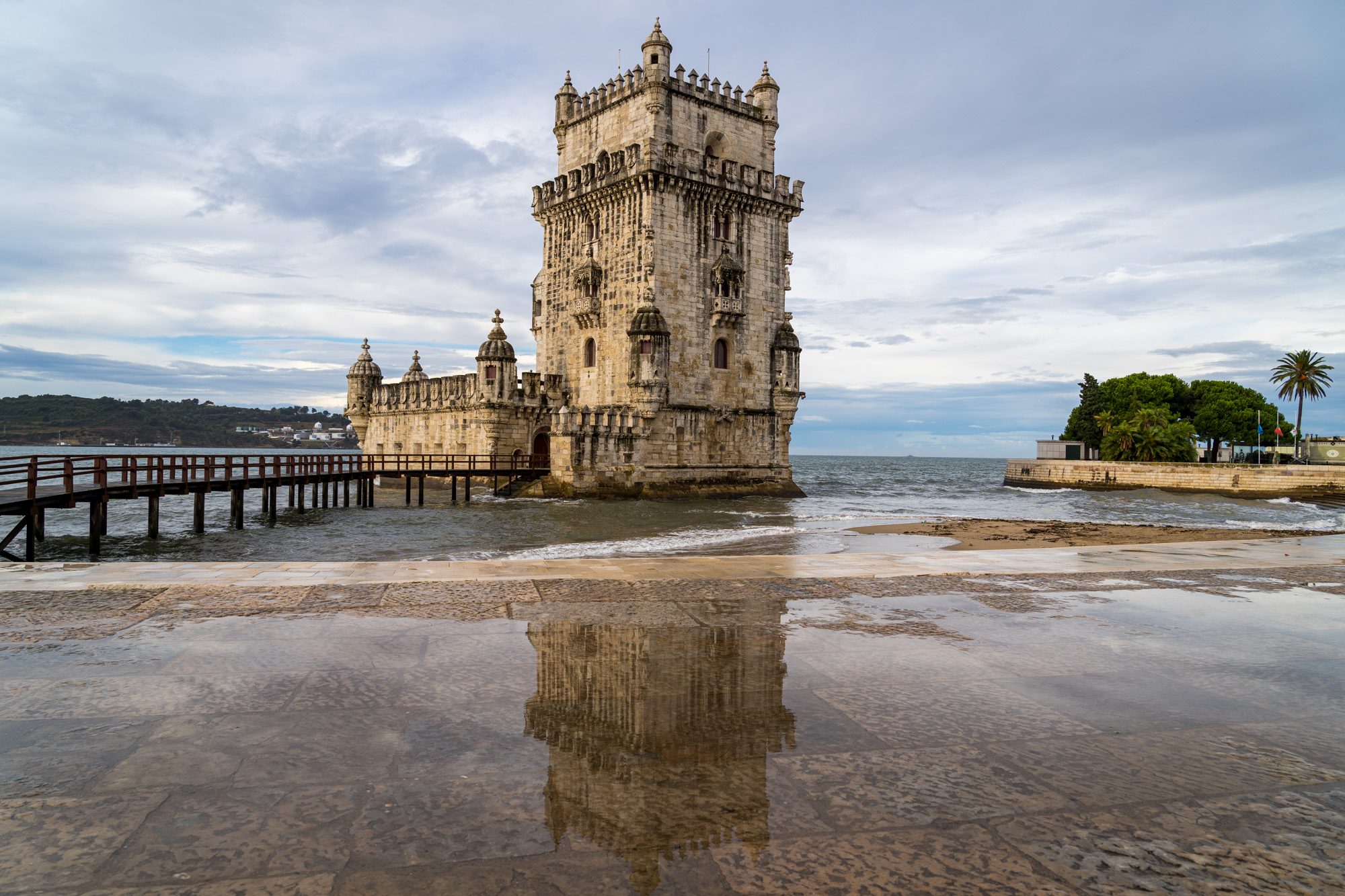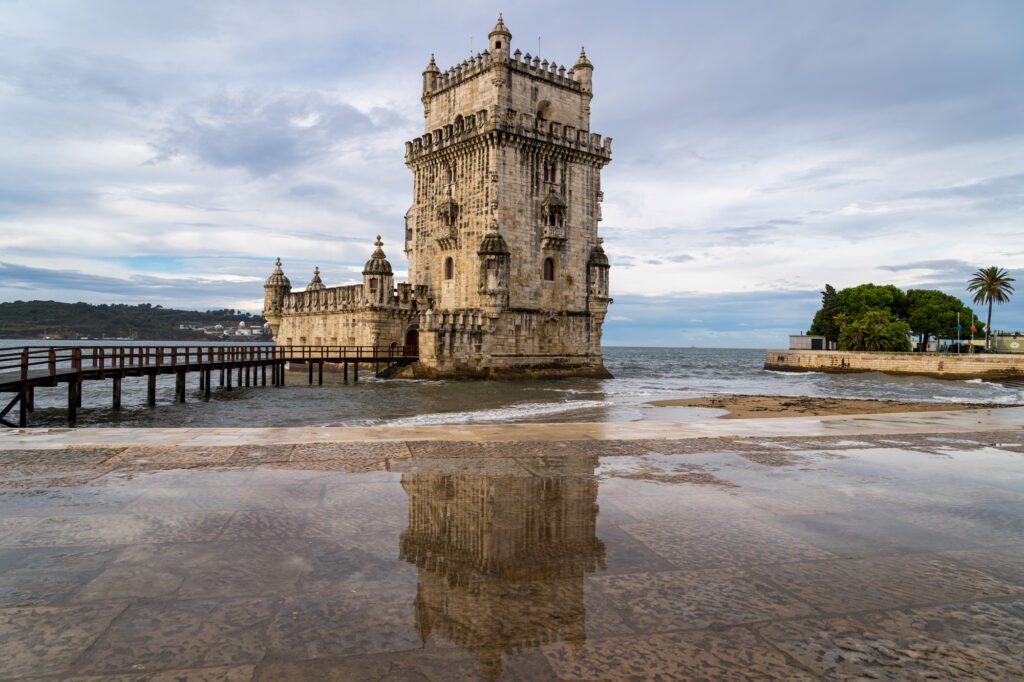 Torre de Belém is a 16th-century fortification sitting on a small island just off the northern bank of the Tagus River.
The now-iconic tower was originally built as an entry and exit point for Portuguese explorers coming in and out of Lisbon by ship, and to serve as a coastal defense for the capital. Take a walk around and check out the many intricate carvings adorning the structure's exterior. But don't bother climbing up to the viewpoint.
Tickets cost €6, the lines are long, and the view from the top isn't really worth it in our opinion – there are better free viewpoints later on in this guide.
Padrão dos Descobrimentos (the Monument of the Discoveries)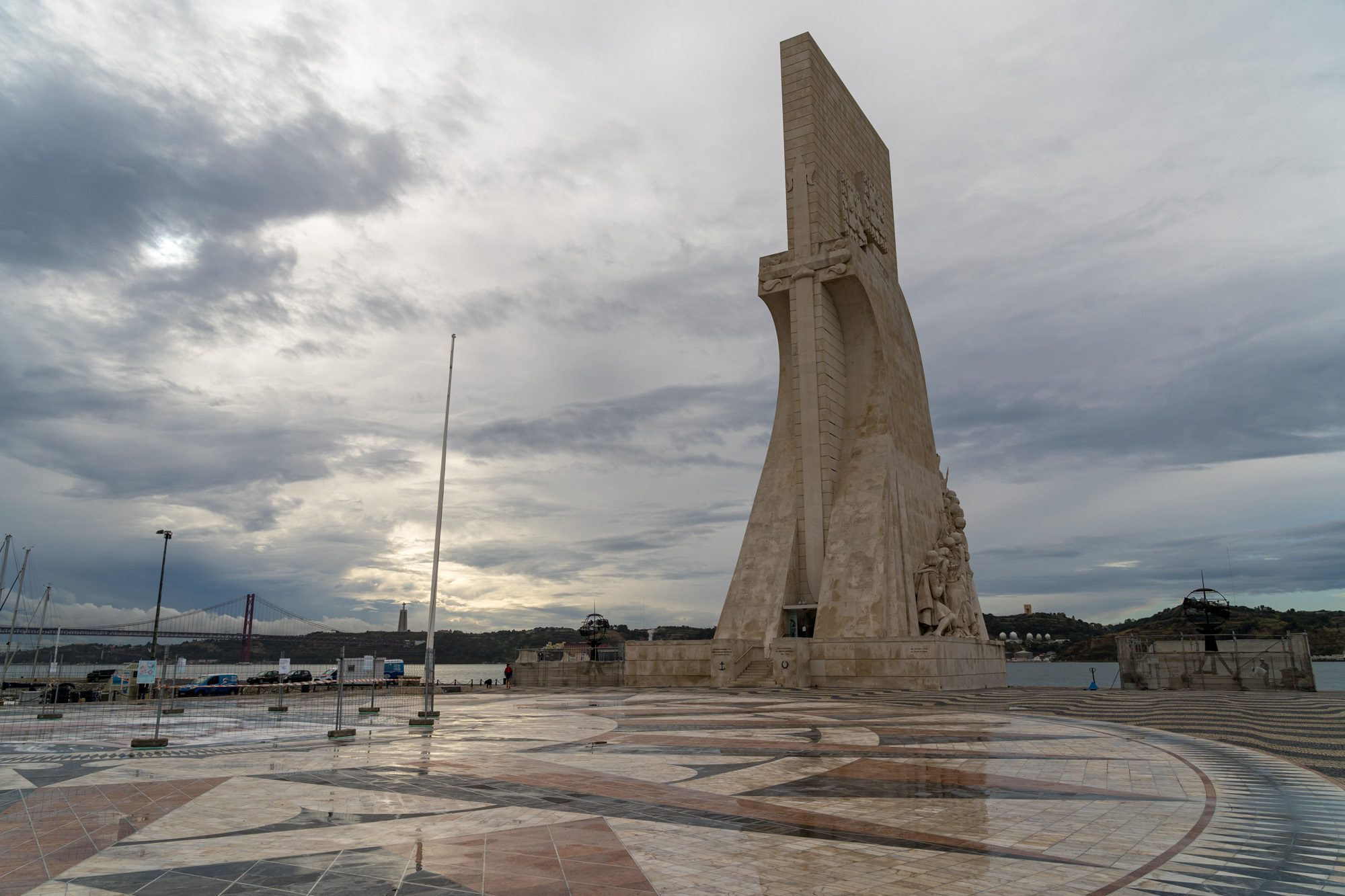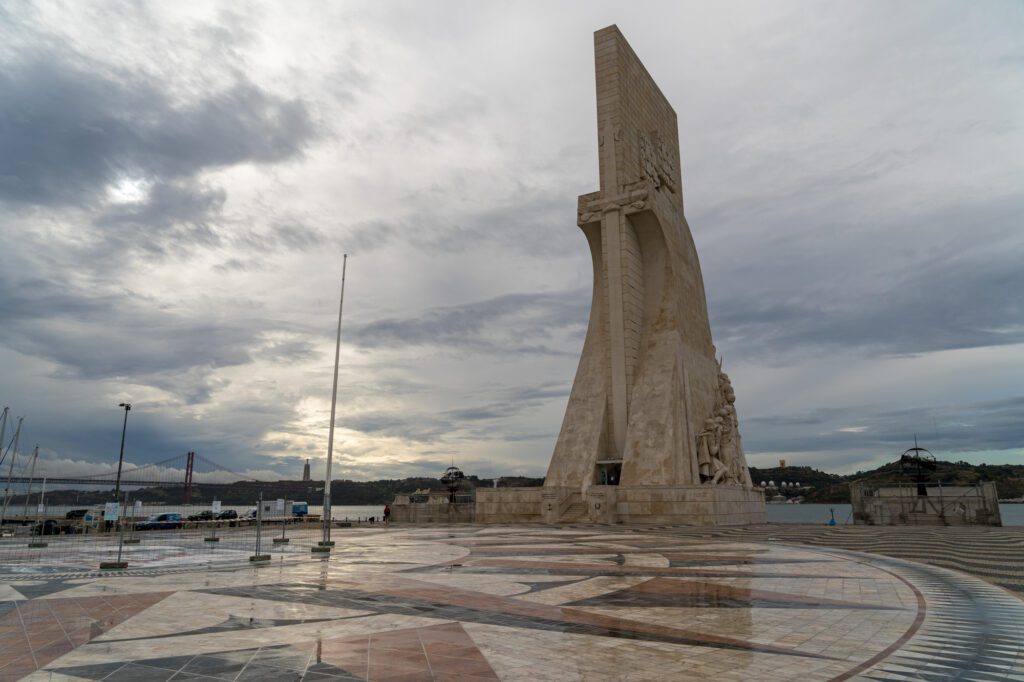 Padrão dos Descobrimentos (the Monument of the Discoveries) is a 20th-century tribute to Portugal's Age of Discoveries. The 171 foot tall monument depicts many historically important Portuguese explorers, including Vasco da Gama, the first European to reach India by sea, and Pedro Álvares Cabral, who 'discovered' Brazil.
Inside the monument is a small exhibition and a viewing platform, but we wouldn't necessarily recommend visiting the viewpoint. You can see everything that's worth seeing from the outside.
Pastéis de Belém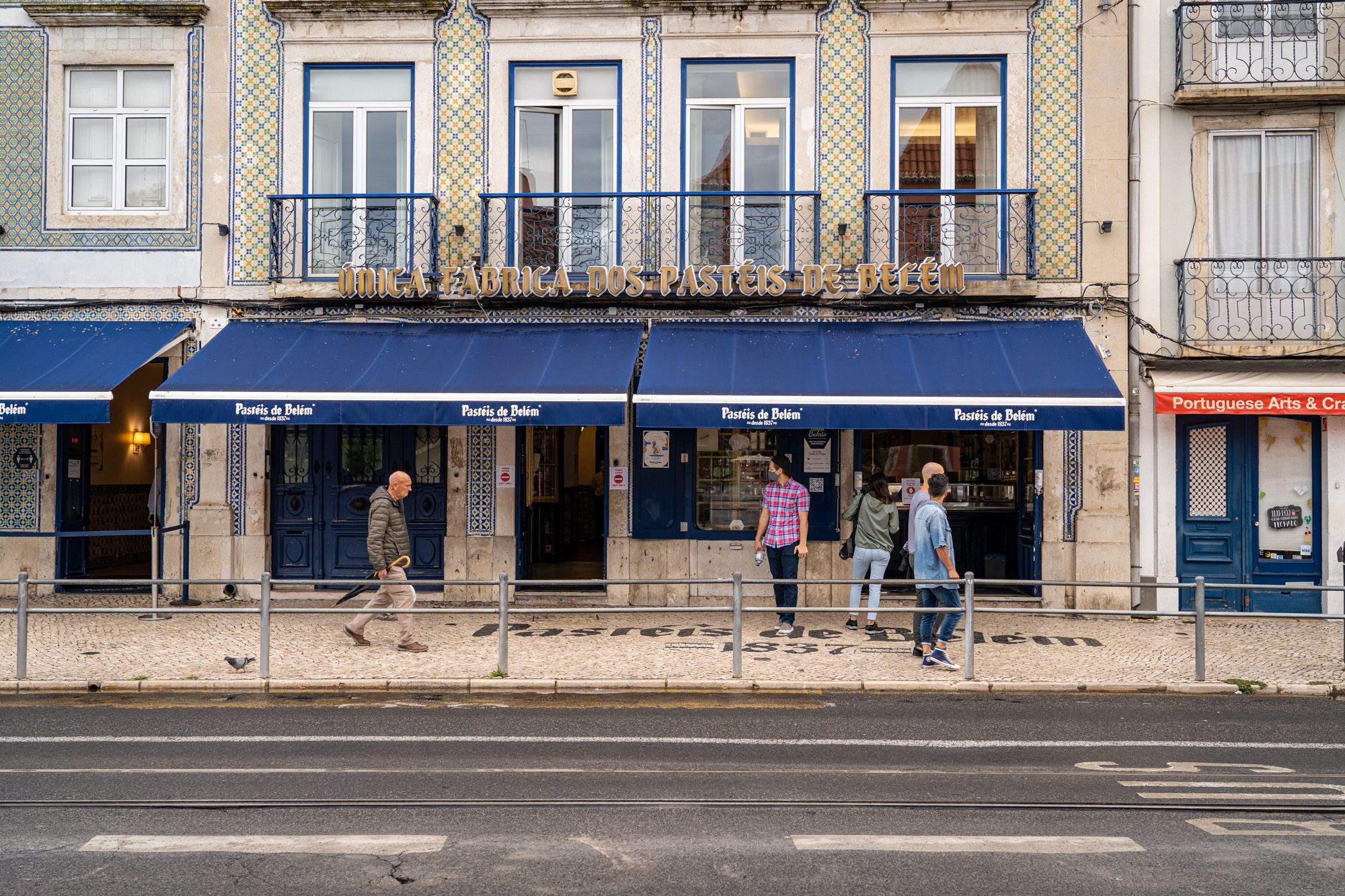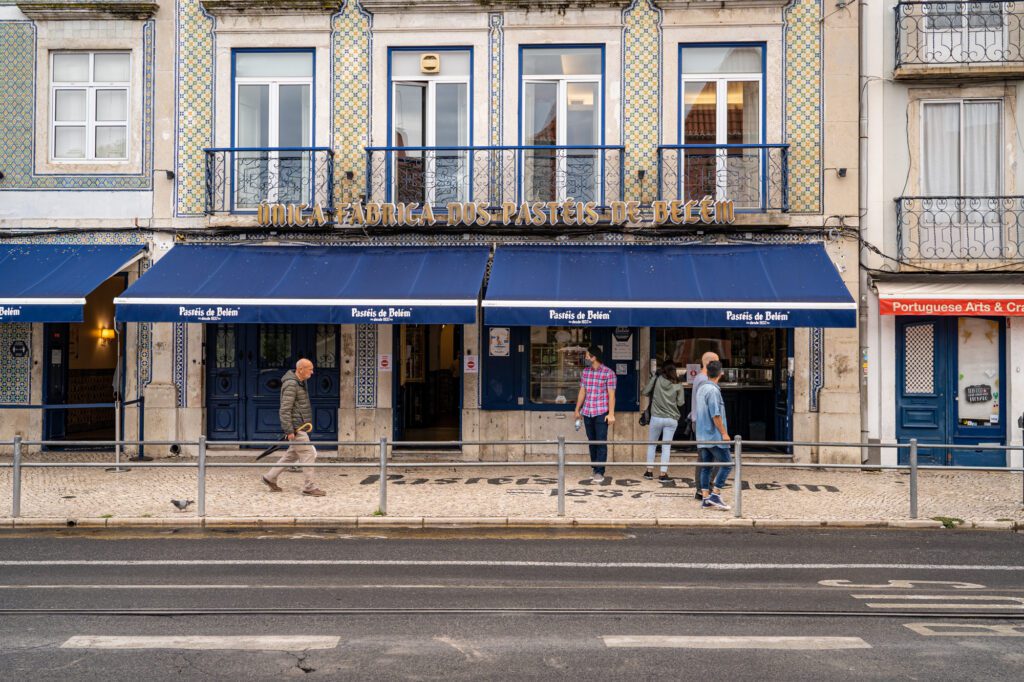 Pastéis de Belém is the alleged birthplace of the pastel de nata and a pilgrimage site for pastry lovers from all across the world.
The legend goes that monks from Jerónimos Monastery created the tasty egg custard tart in the 19th century using leftover egg yolks – the egg whites were used for starching robes.
They then sold their recipe to this nearby pastry shop. The shop still uses the same original recipe to this day and is the only place in the world where the pastries can be called authentic "Pastéis de Belém".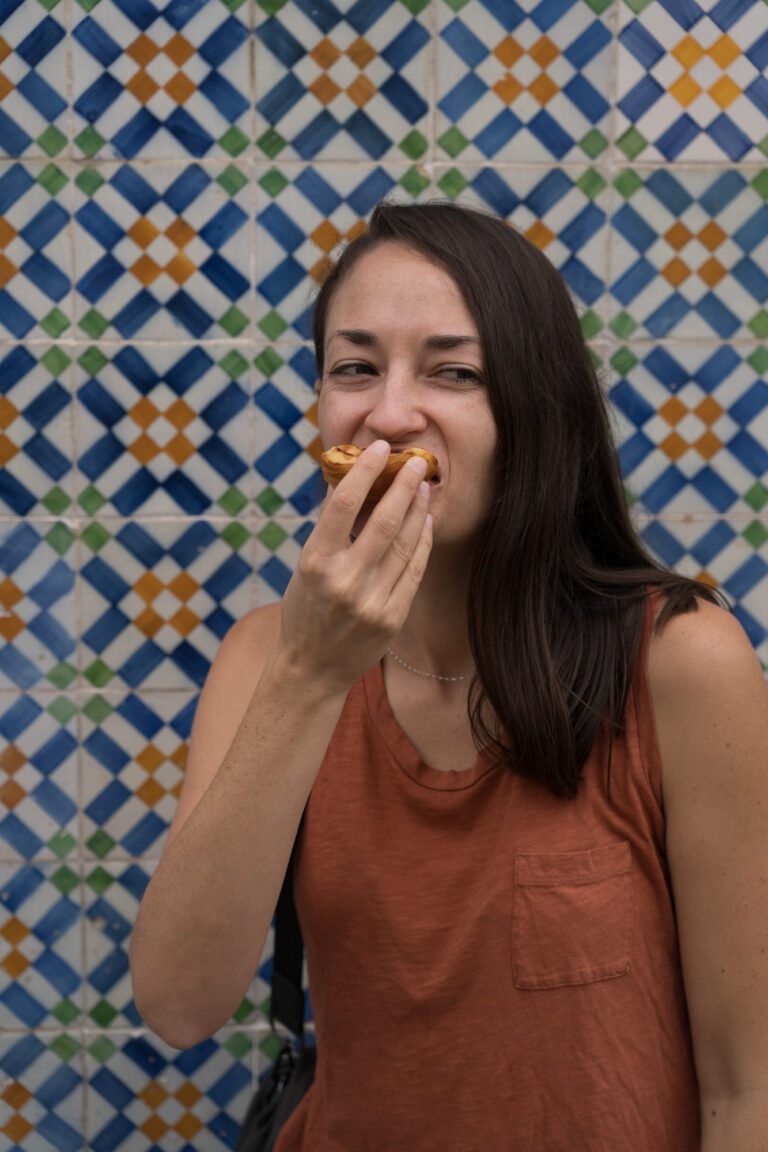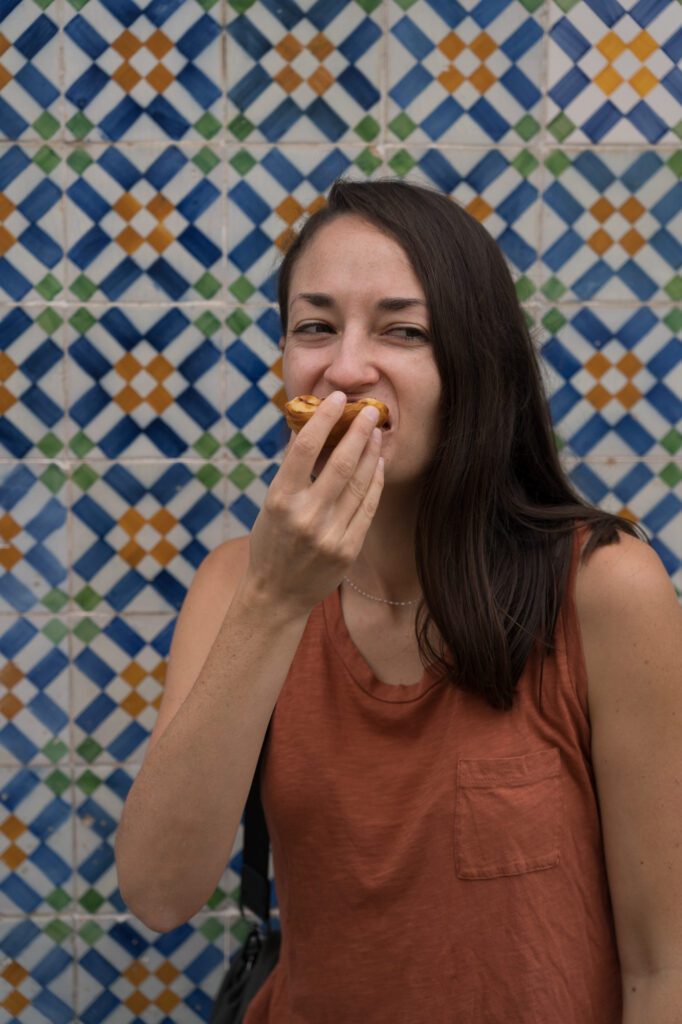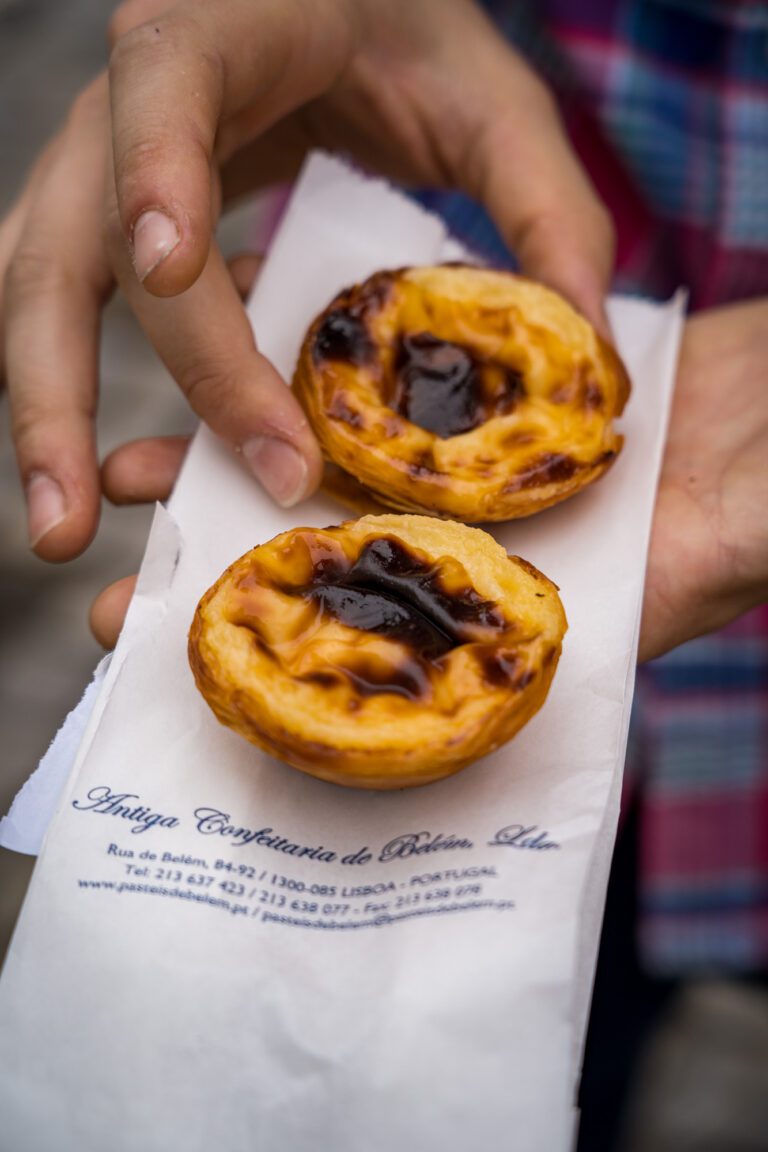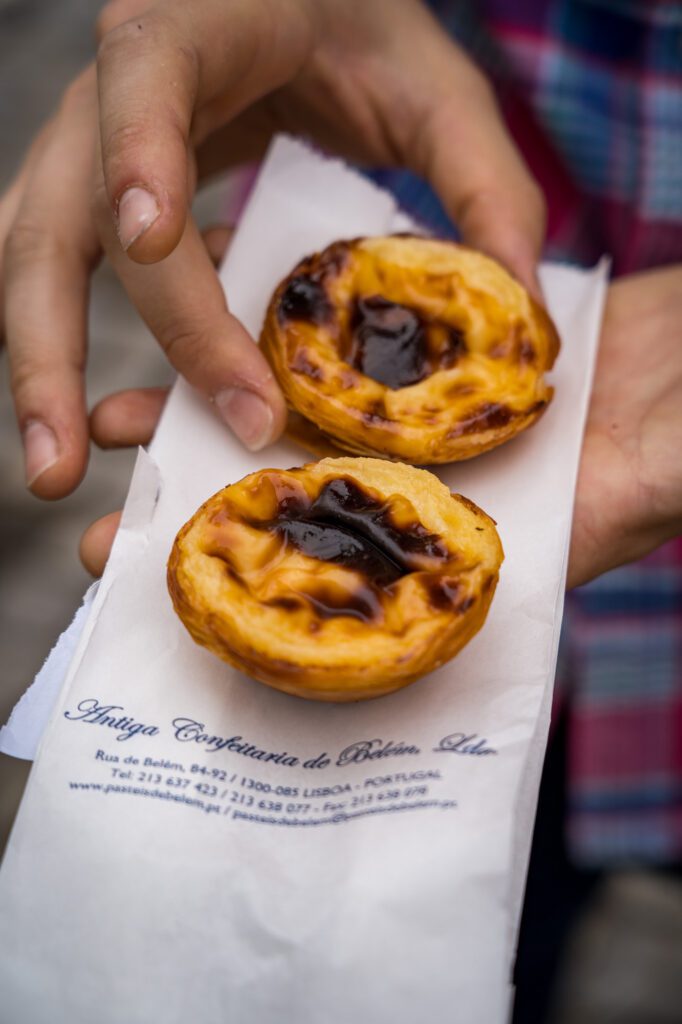 We say "alleged" because there is no consensus on whether the legend is true, but it's a good story nonetheless.
Devour More Pastéis de Nata
Once you arrive back in Praça do Comércio, jump off the tram and start heading uphill to the Chiado district to devour some more delicious pastéis de nata – because you can never eat too many pastéis in Portugal, right!?
You can reach Chiado on foot or via the Ascensor da Bica (lower station is here). The Ascensor da Bica is one of Lisbon's unique public elevators. You can use your Viva Viagem Travel Card to ride the elevators.
Manteigaria and Pasteleria Aloma are two of our favorite spots for the tastiest pastéis de nata in Lisbon. The two sit just a few blocks away from each other in the Chiado district.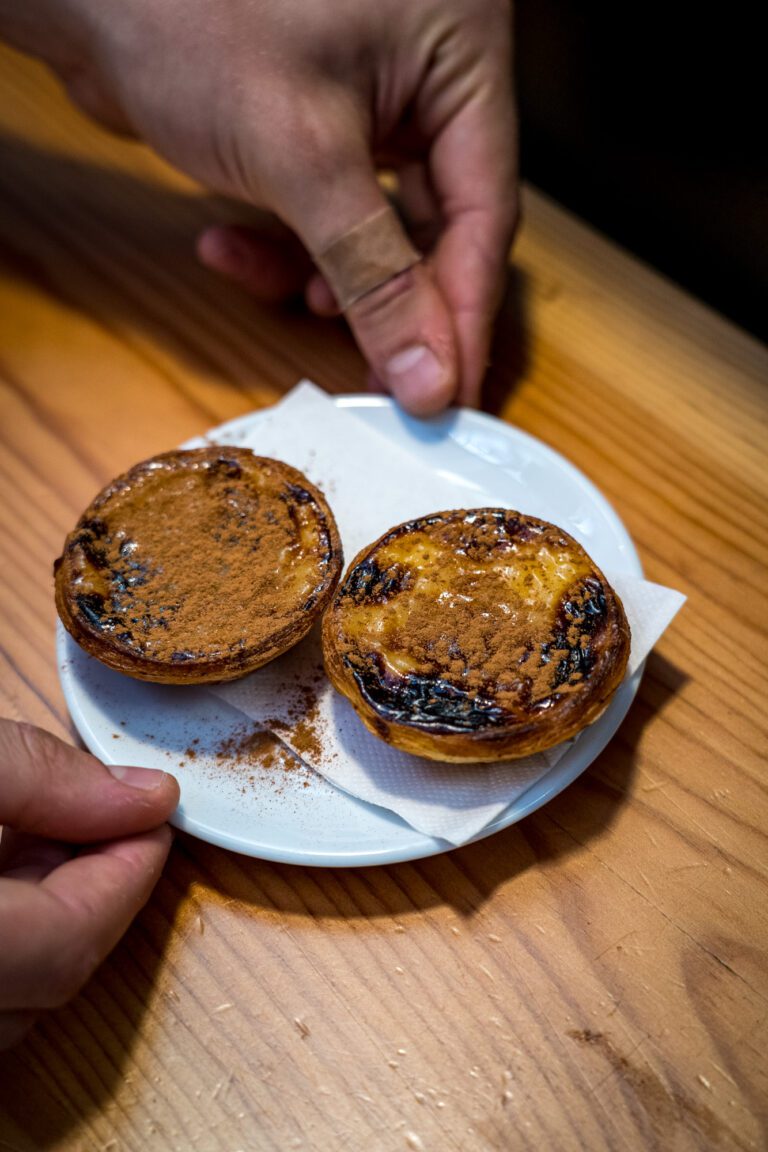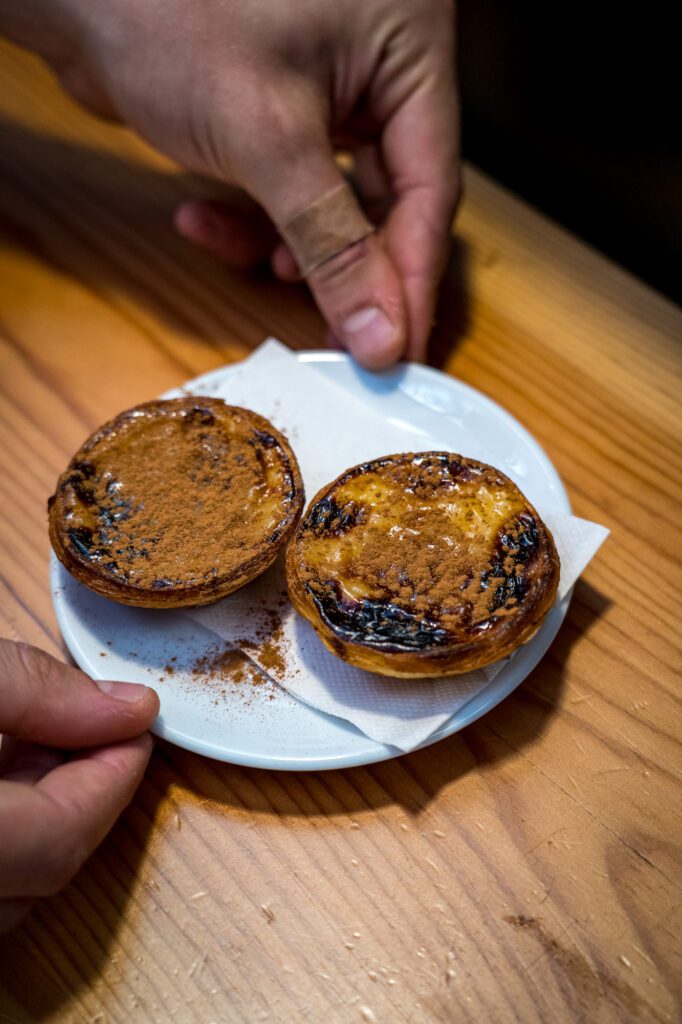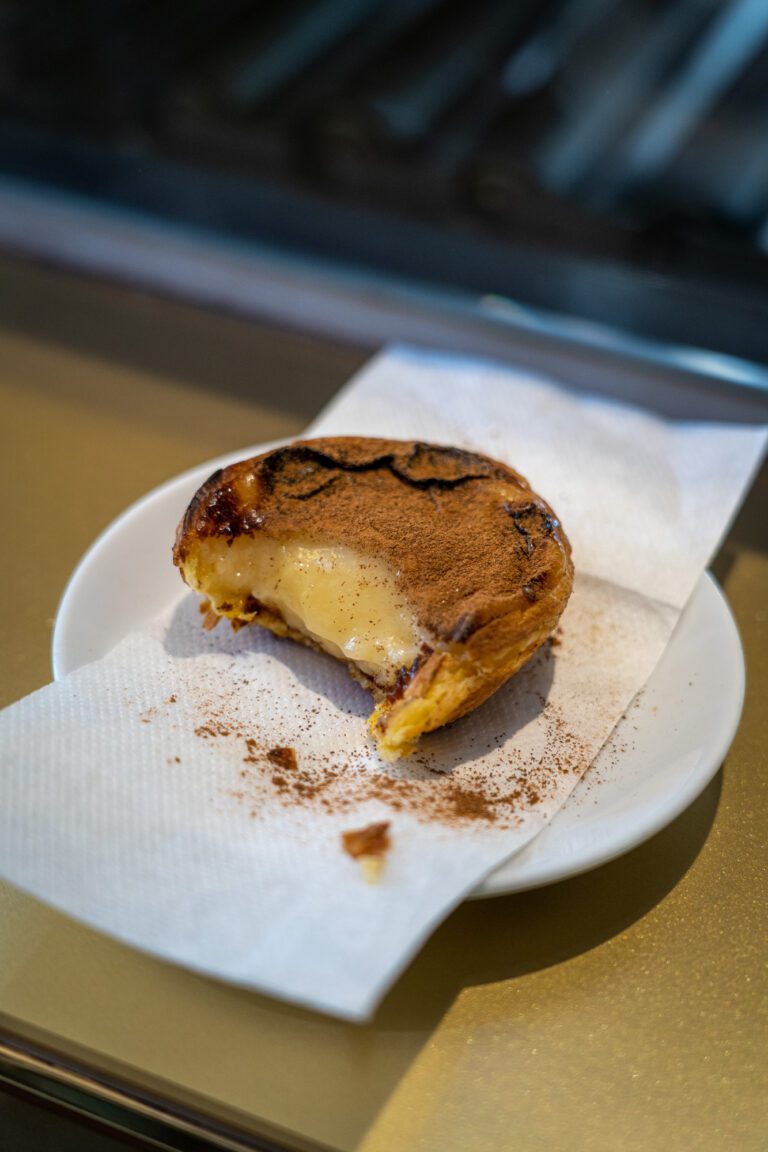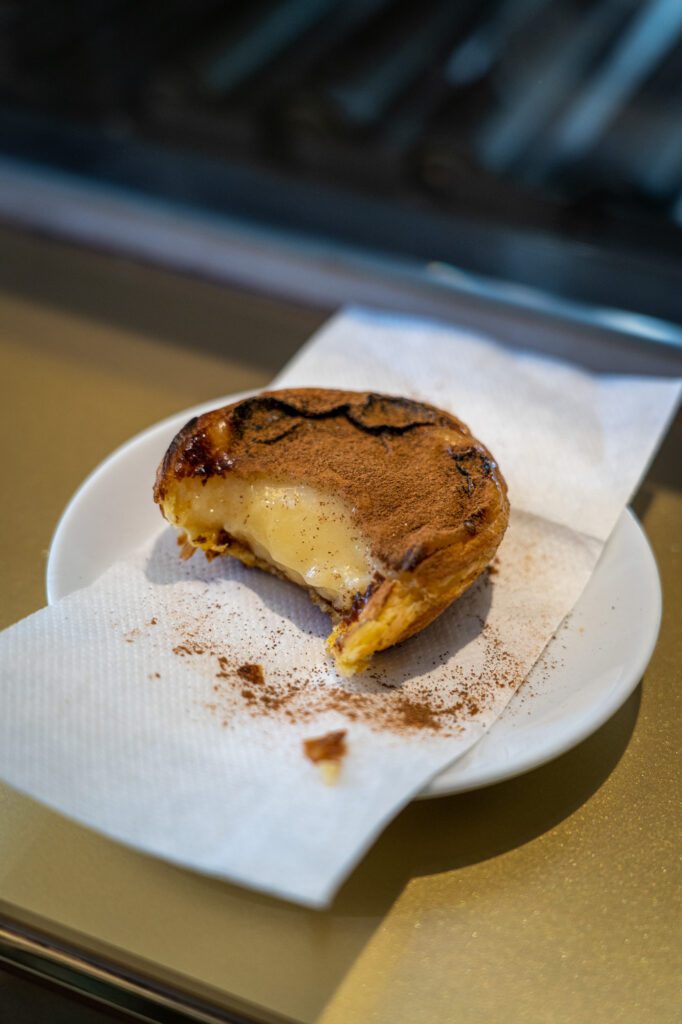 Take a right at the top of the elevator and Aloma will be directly on the right. A few blocks down is Manteigaria.
We tried both spots – as well as the authentic Pastéis de Belém – to see which version of the traditional Lisbon pastry we liked best. Manteigaria was the CLEAR winner.
Manteigaria has really nailed the crispy, flakey shell and the warm, gooey custard to create that perfect texture contrast. Their pastéis are best when served warm and dusted with cinnamon.
But don't just take our word for it. All three were delicious. So try them all and let us know which one you liked the best!
Miradouro de São Pedro de Alcântara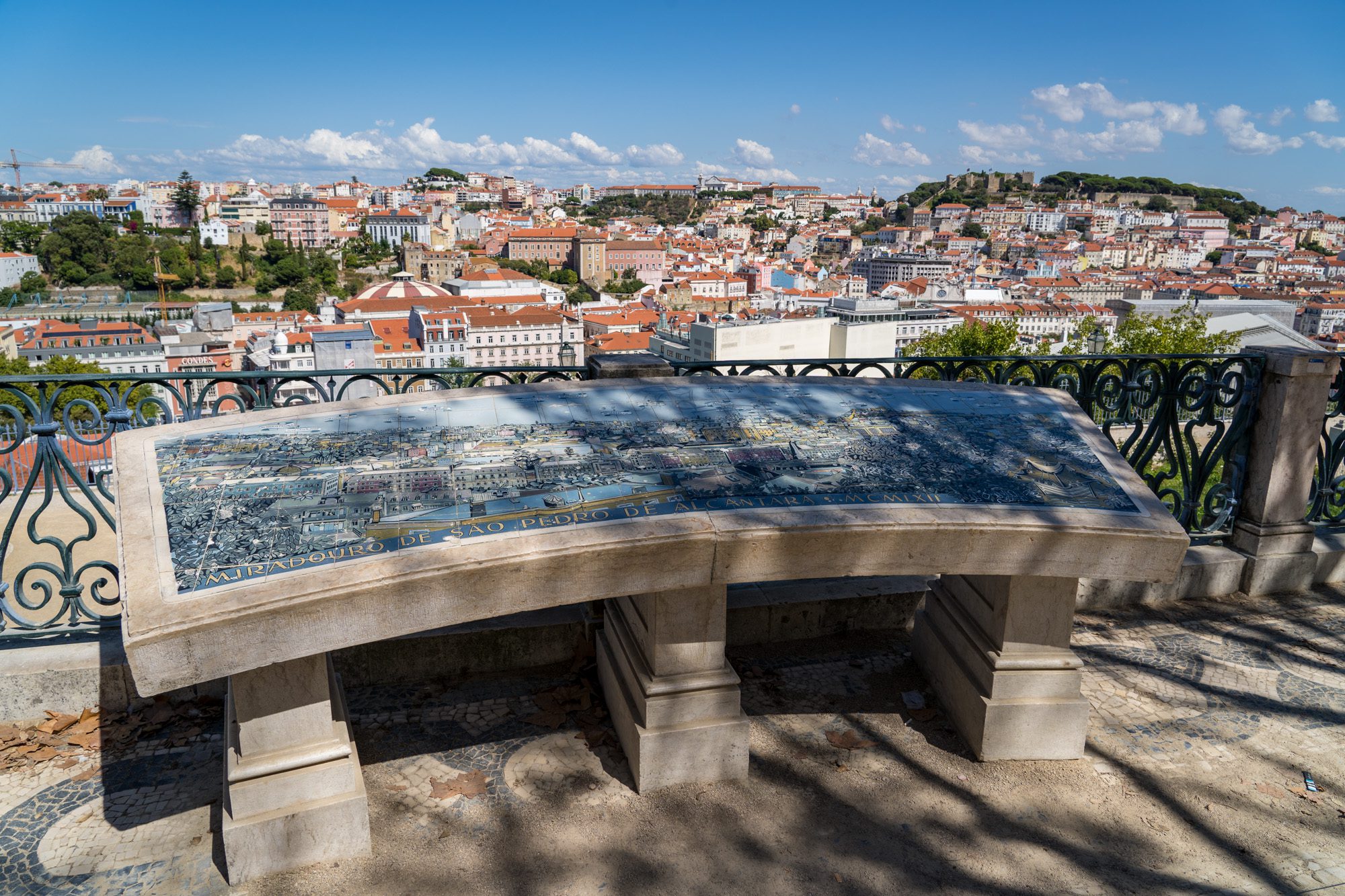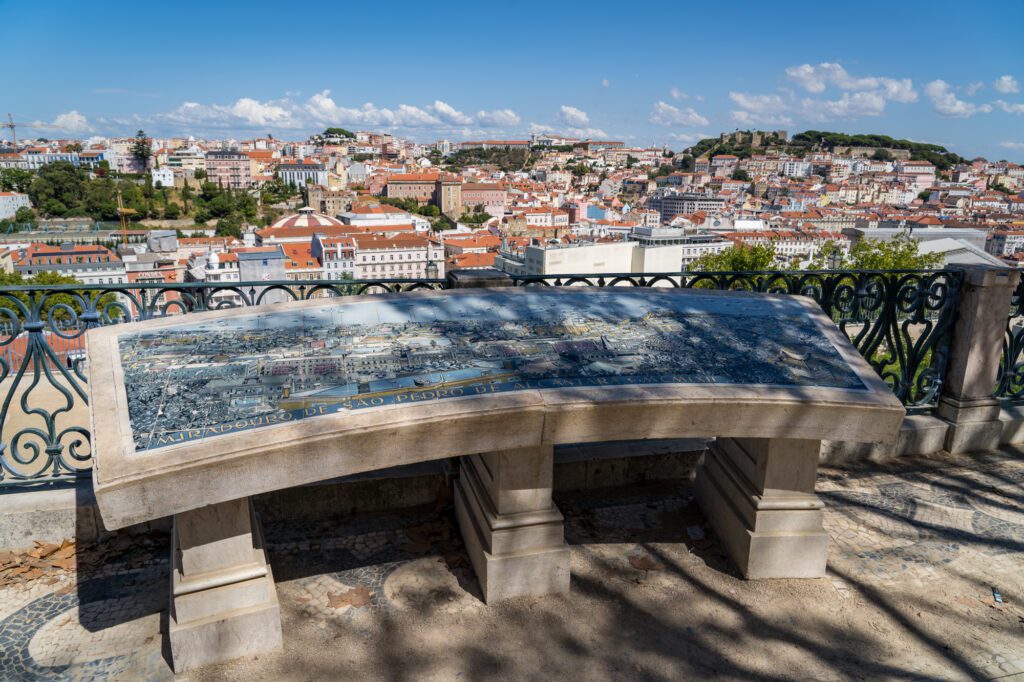 Next, it's time to make the most of the sugar high from all of those custard pastries by climbing up to the Miradouro de São Pedro de Alcântara for some fantastic views over Lisbon.
The walk only takes around 10 minutes. But we'll warn you in advance, it is a pretty steep incline.
If you don't feel like walking uphill, jump on the Elevador Da Glória (lower station is here); another short funicular tram that runs up and down the hill to the viewpoint.
The viewpoint itself consists of a large landscaped terrace with a fountain in the middle. It offers stunning panoramic views over the city skyline.
Learn About the Earthquake at Museu Arqueológico do Carmo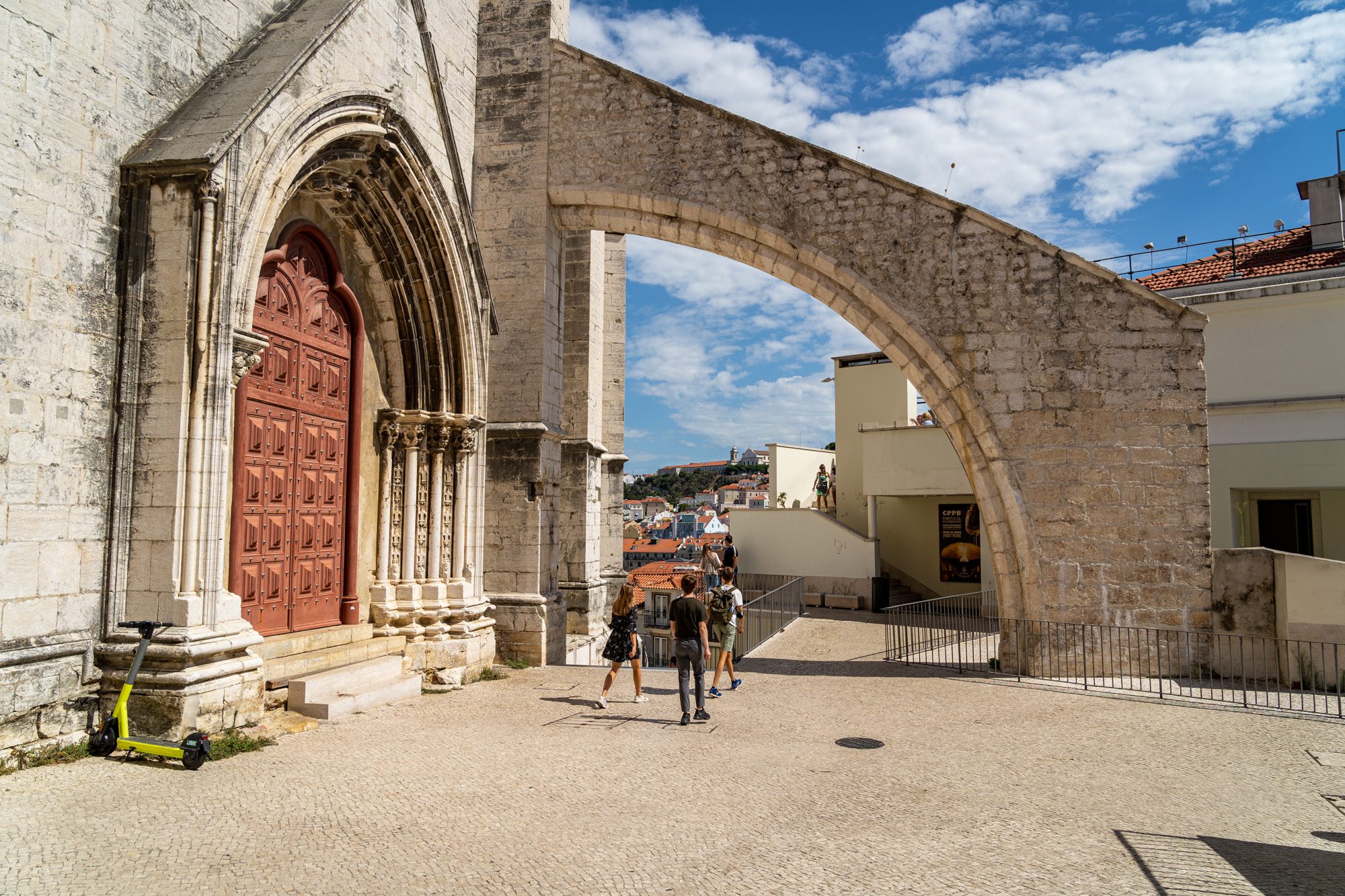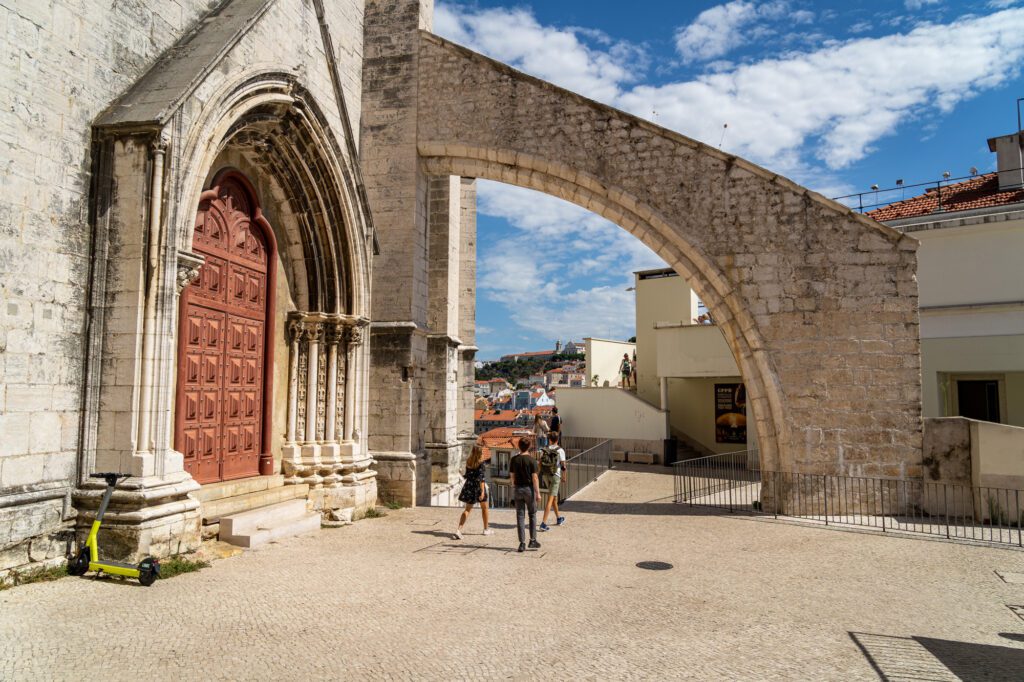 From the hilltop viewpoint, take a 10 minute walk back down towards Museu Arqueológico do Carmo, which sits inside the Convento do Carmo ruins.
Gothic Convento do Carmo was built in the 14th century and was once one of the most impressive churches in Lisbon. However, the historic building was almost completely destroyed in the 1755 earthquake.
Reconstruction of the church was started but never completed. It was finally decided to leave the roofless chapel as a hauntingly beautiful reminder of the extensive devastation caused by the natural disast
The church ruins are open for the public to visit and see firsthand the impact the earthquake had on the city.
Convento do Carmo is now also the headquarters of the Portuguese Archaeological Association and houses an interesting archaeological museum.
The museum has an impressive collection of artifacts relating to the history of Lisbon from prehistoric times through to the Middle Ages, including an unusual collection of tombs and mummies.
Entrance to the church and museum costs just €5 per adult. If you have the time and you're interested in museums, this is one we think is worth visiting.
Rossio Square and Ginginha do Carmo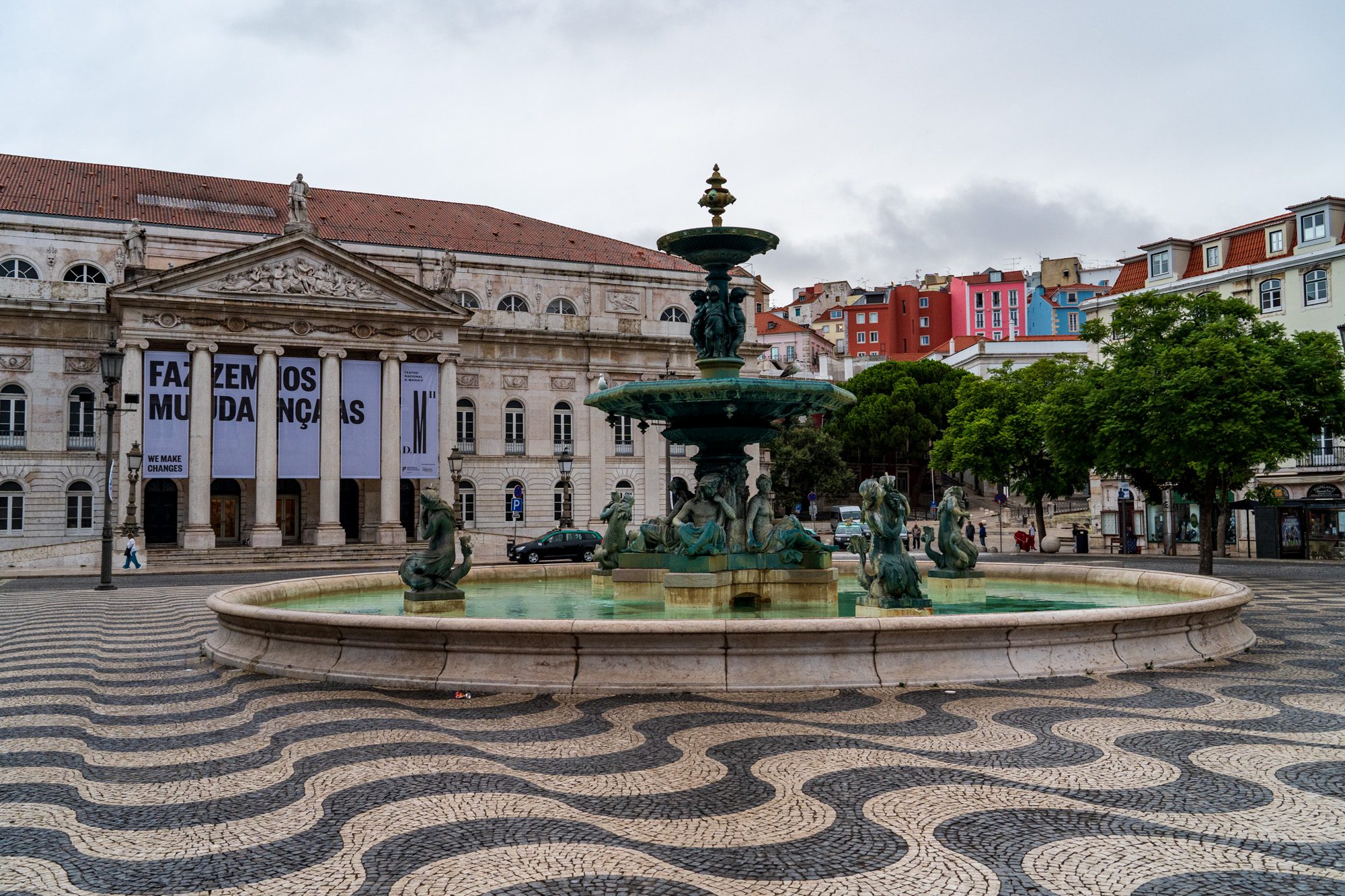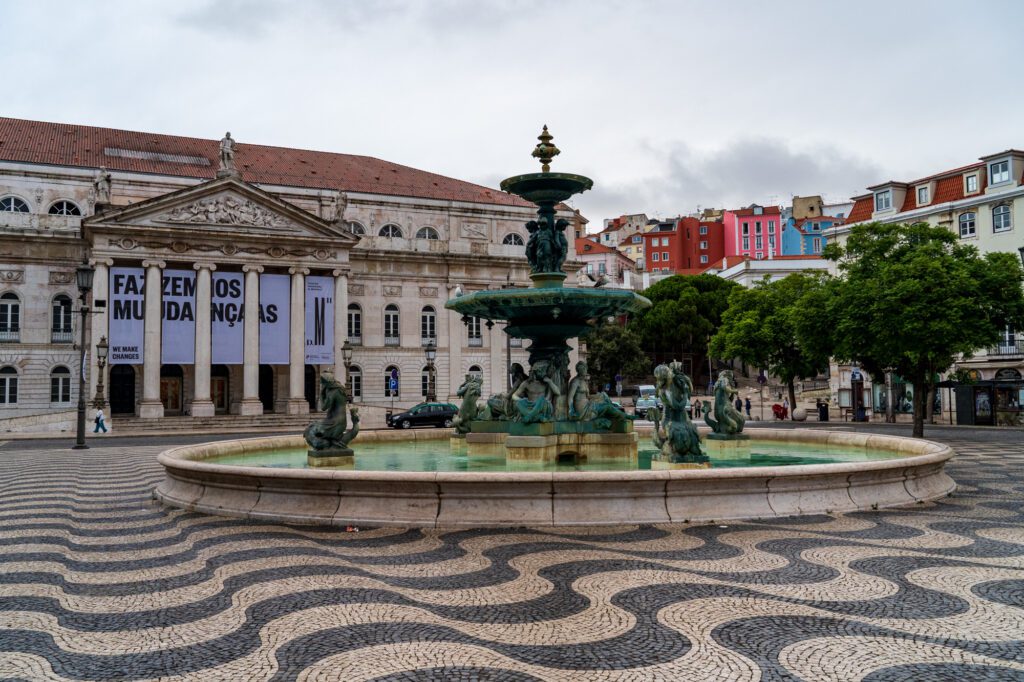 Convento do Carmo sits just off of Rossio Square (Praça Dom Pedro IV), another of Lisbon's main squares, so after you've finished browsing the museum head to the large plaza for a short afternoon stroll.
The lively square is one of the most popular places to gather in Lisbon for both locals and tourists. There are many charming cafes and traditional shops surrounding the square where you can grab a drink or sample some typical Portuguese delicacies.
One of our favorite places to stop on the square is an unsuspecting little bar called Ginginha do Carmo. Dating back to the 1930s, the tiny bar is one of the best spots in the city to try local ginjinha.
Ginjinha is a traditional Portuguese liqueur made from sour cherries. It's served in either a small shot glass or an edible chocolate cup – get the dark chocolate cup for a tasty afternoon pick-me-up.
It's also worth paying a quick visit to Igreja de São Domingos while in Rossio. The historic 13th-century church is free to enter and you can see the damage from two earthquakes and a large fire that broke out in the building.
Wander up to Alfama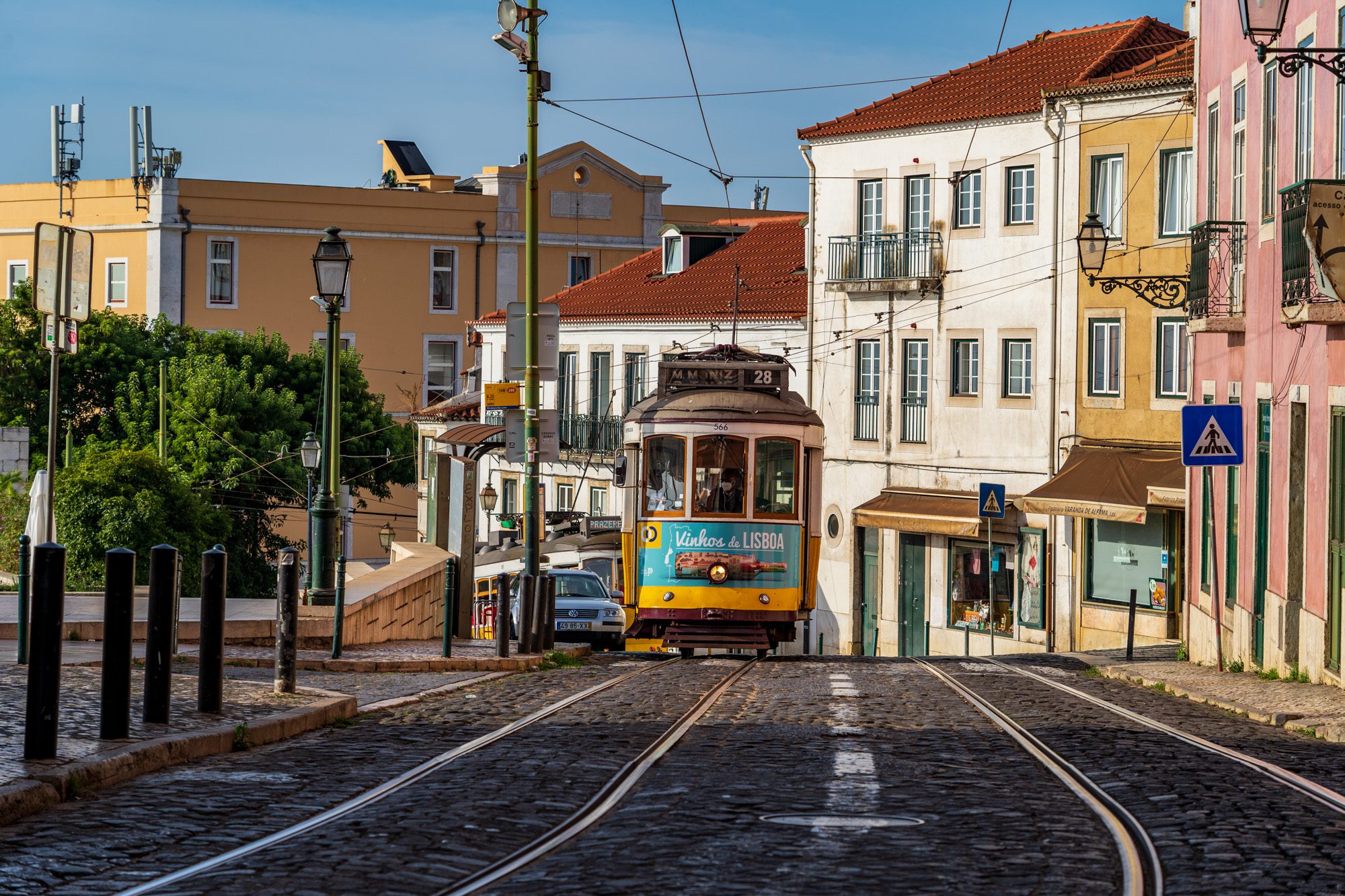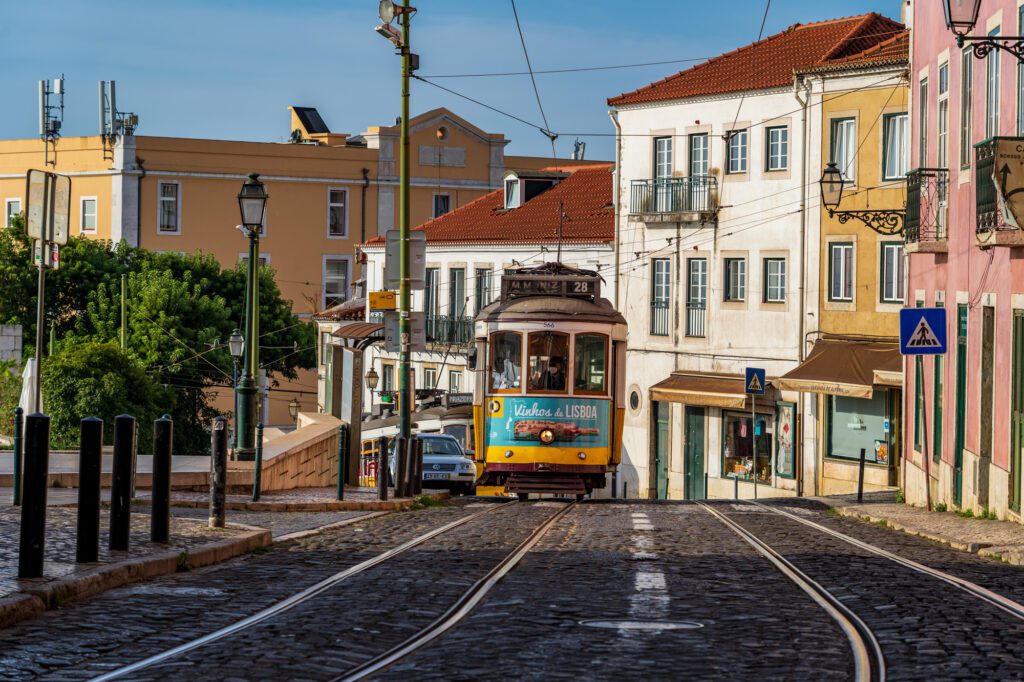 Finally, round off your day in Lisbon by wandering up through the Alfama district. Alfama sits on a hilltop above the city center and is one of Lisbon's oldest and most charming neighborhoods.
The historic district is filled with narrow cobblestone streets and countless amazing views over the city. It's also home to several of Lisbon's most important historic sites, such as the cathedral and castle.
Note: The below route through Alfama essentially follows the path of Tram 28 – the one that's popular with tourists – on foot. We think walking is better than taking the tram (if possible), which is a legitimate form of public transportation for locals that has recently been co-opted by tourists.
Start at the Lisbon Cathedral (Sé de Lisboa) at the base of the hill (here on Google Maps). The 12th-century cathedral is the oldest and most important church in Lisbon. It has been renovated multiple times over its history, but still remains one of the city's most recognizable landmarks. Going inside the church isn't necessary (in our opinion). But if you do still have some extra time left, you can enter for just €4. The ticket includes the cloisters and treasury, so it's good value.


Walk up to Miradouro de Santa Luzia (here on Google Maps), another of our favorite viewpoints over Lisbon. Don't miss the mural depicting the storming of the castle.


Take a slight detour up the hill to Miss Can to sample some local canned fish and a glass (or three) of wine. The family-owned business has been producing delicious homemade canned fish using wild-caught fresh fish and seafood from Portugal's seas since 1911. Plus don't forget to pick up a few cans to take home with you from the on-site shop – we got some as gifts and they were a BIG hit with our family and friends!


Grab a drink on the terrace at Miradouro das Portas do Sol. This is one of the most popular viewpoints in Alfama. It has a number of small kiosks selling drinks so you can sit for a while and enjoy the stunning views.


Head down a few flights of stairs to check out the History of Lisbon mural. Located in a small underpass, this hidden gem is a mural by Nuno Saraiva that depicts the history of Lisbon in comic strip form. It's a quick, fun, and informative way to learn more about Portugal's capital city.


Finish with a visit to Castelo de São Jorge. Located at one of the highest points in the Alfama district, Lisbon's impressive 11th-century Moorish castle is one of the best places to watch the sunset from. For €10, you can enter the castle and take a peaceful walk along its defensive walls while enjoying the stunning views over the city.
Here's a map of that walk.
And here are some pictures along the way.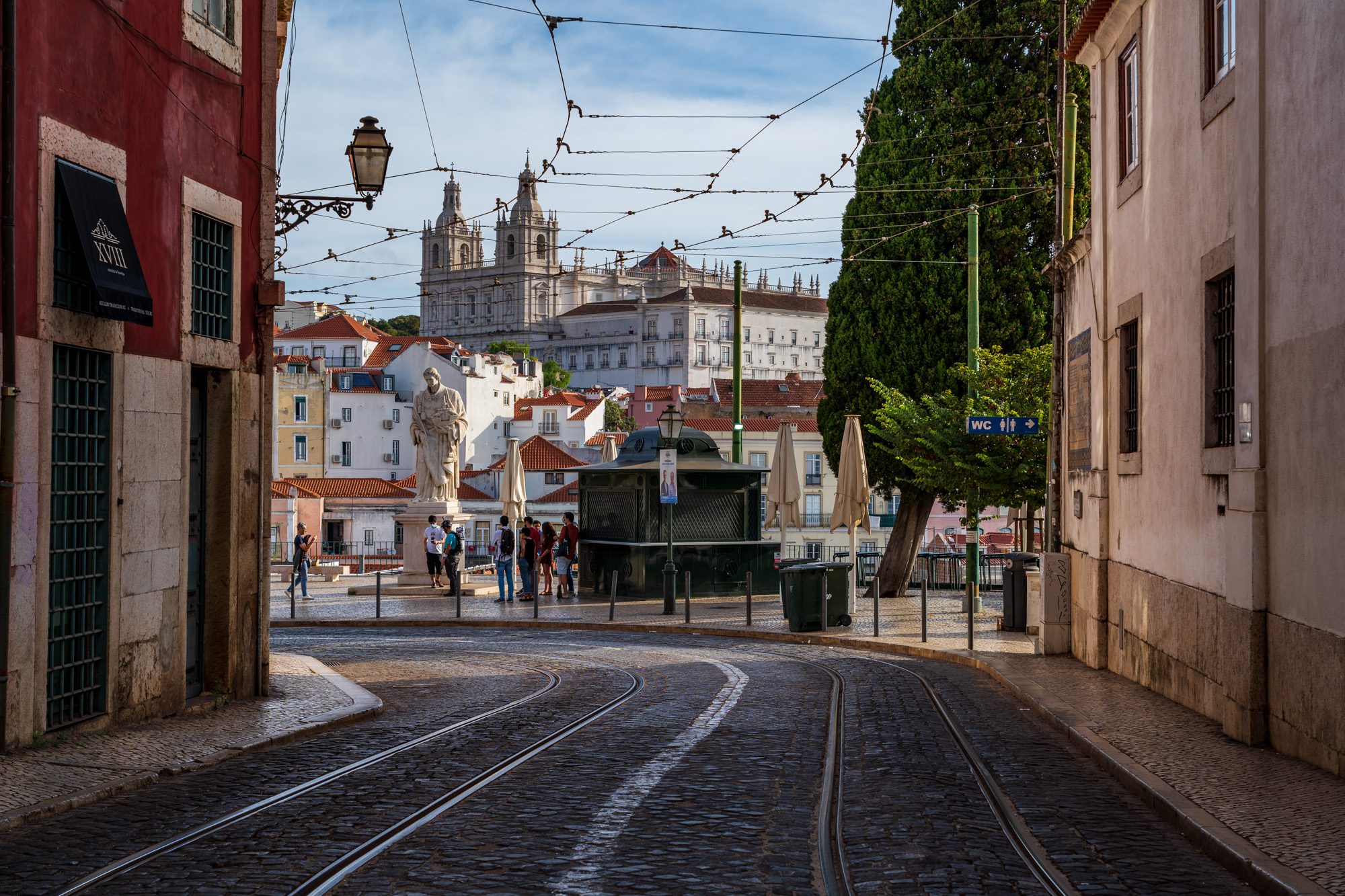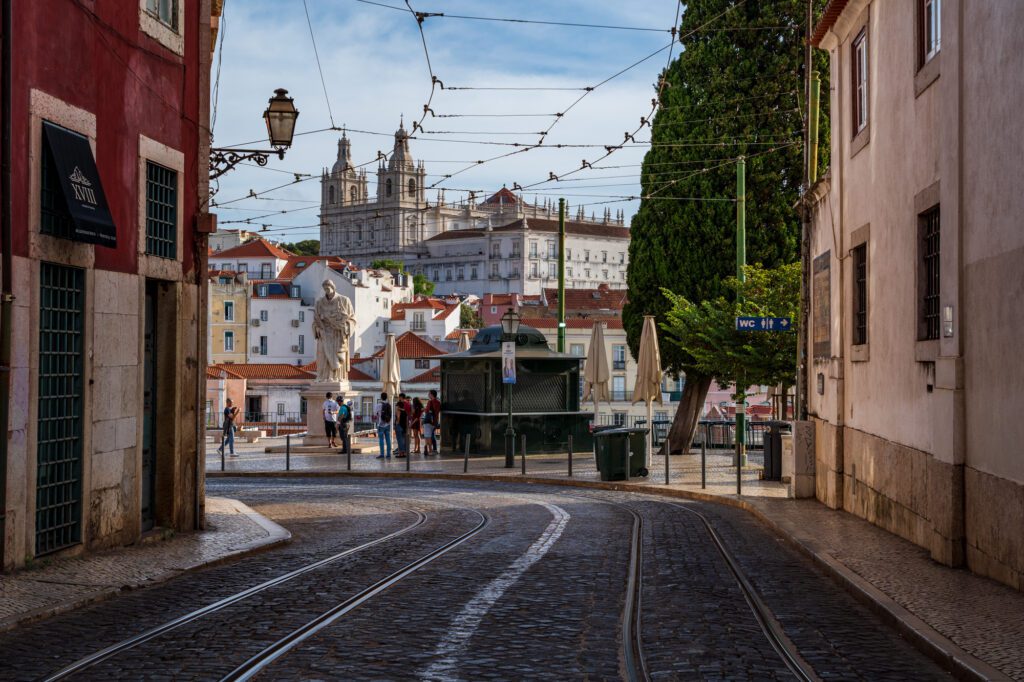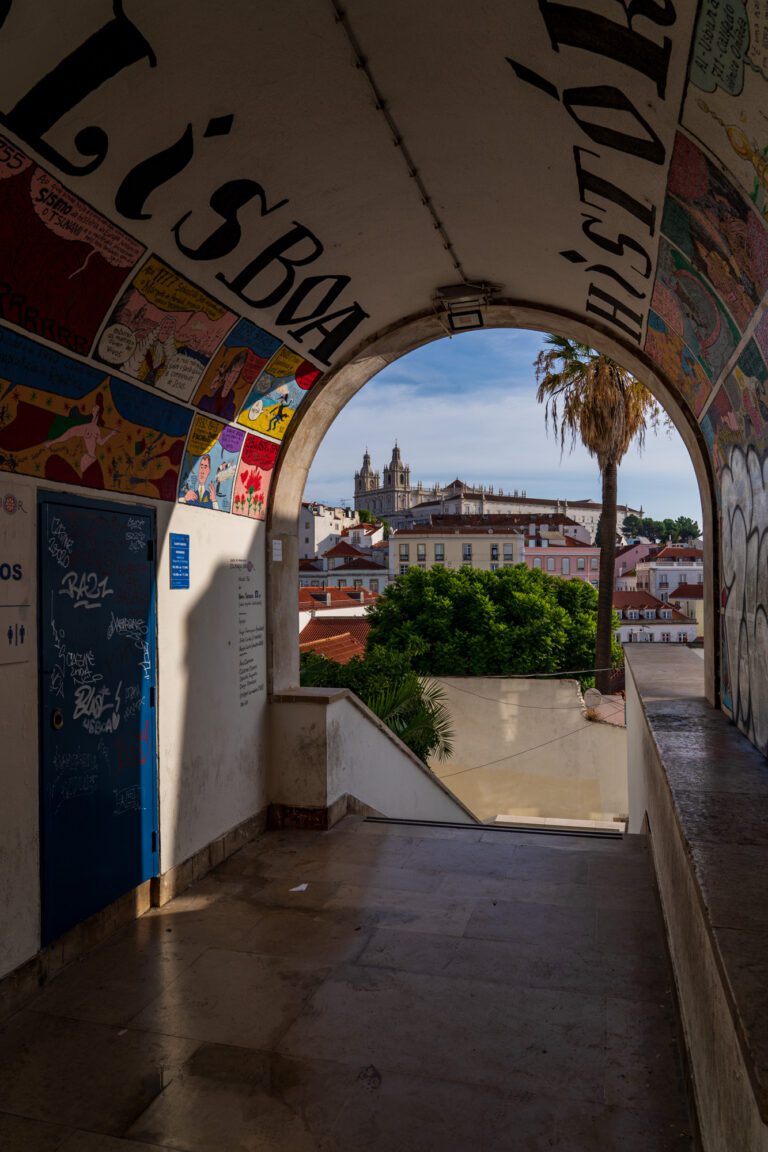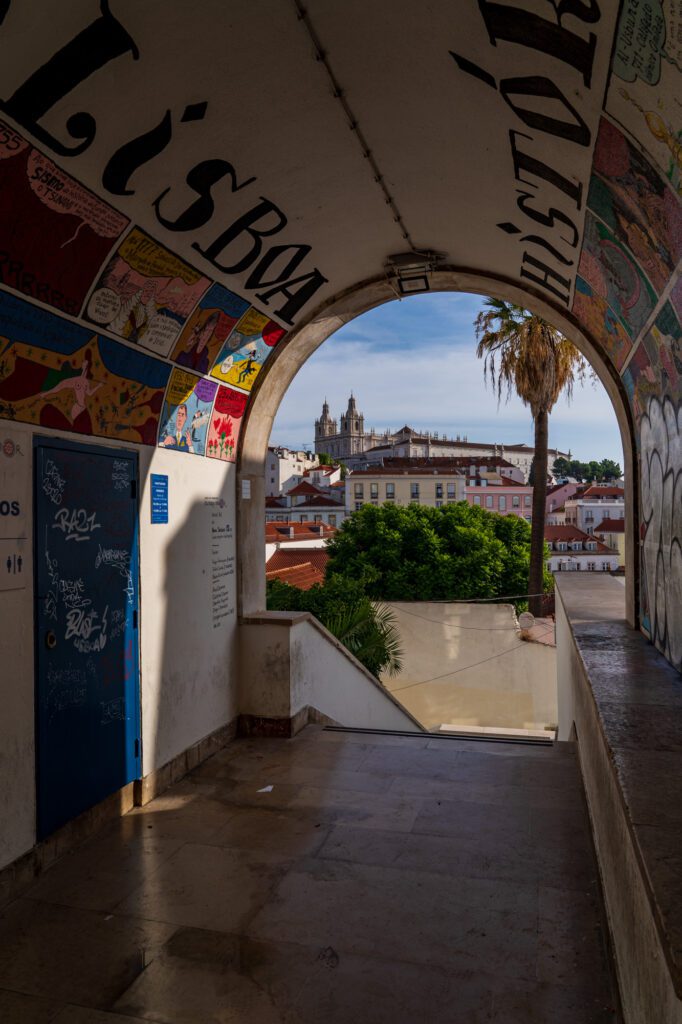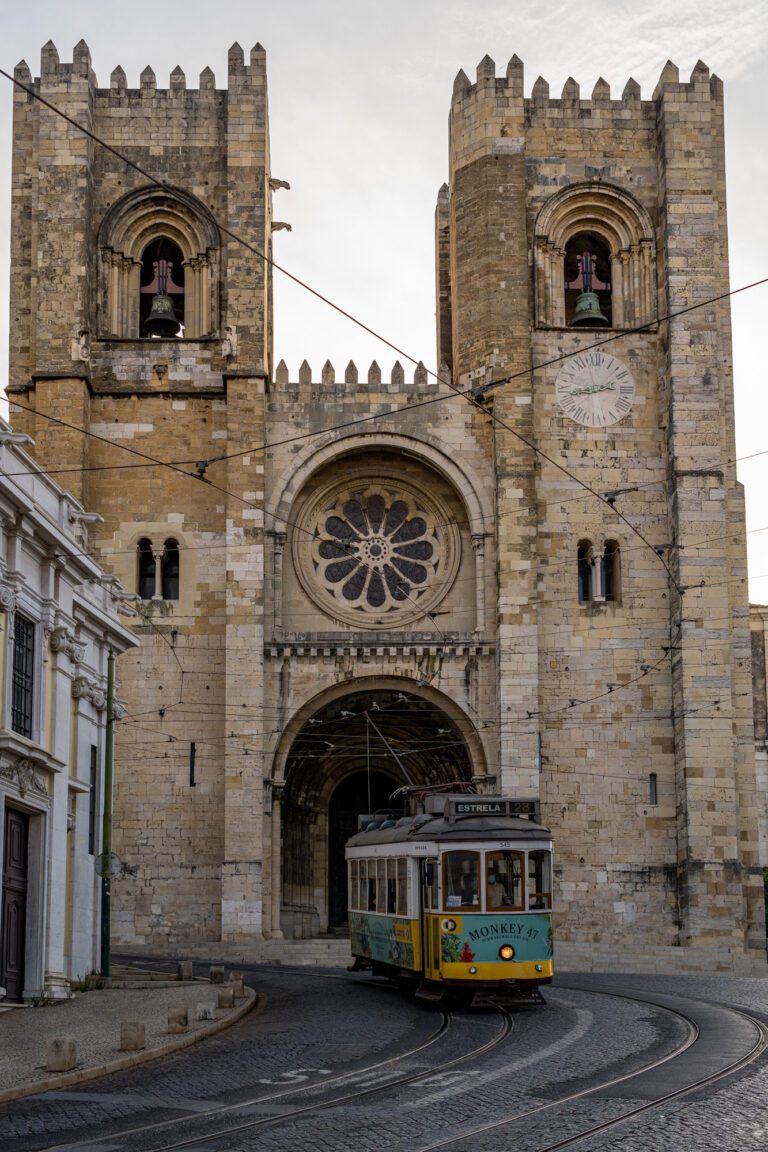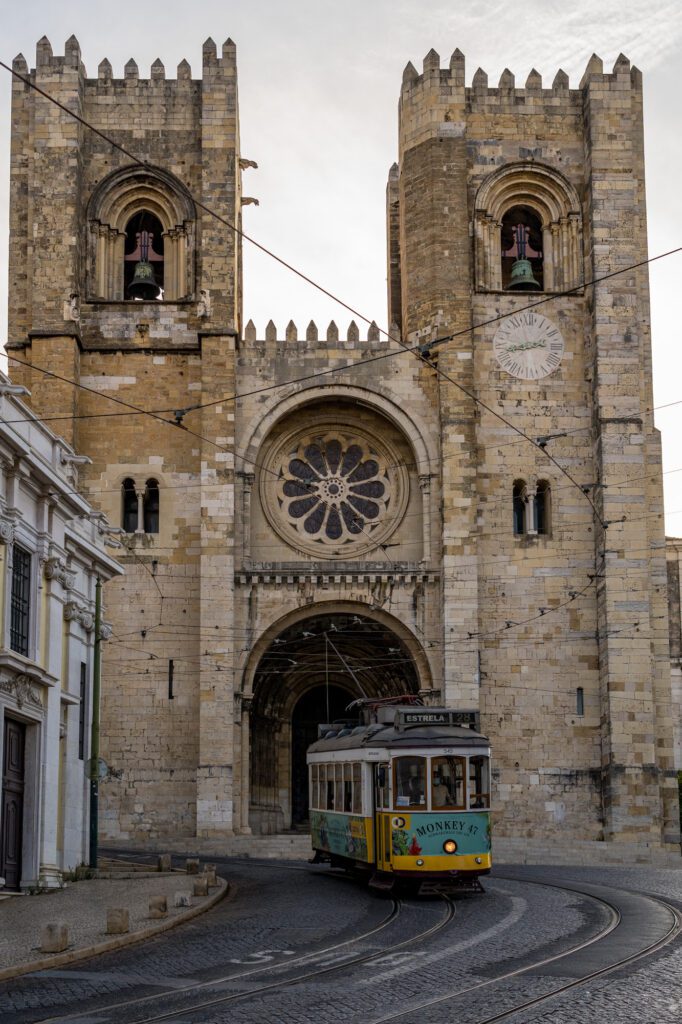 If you're leaving Lisbon this evening, you can finish this one day itinerary here. But if you're not leaving the city until the following morning, end your day with some well-deserved drinks in the Graça district.
Dinner and Drinks in Graça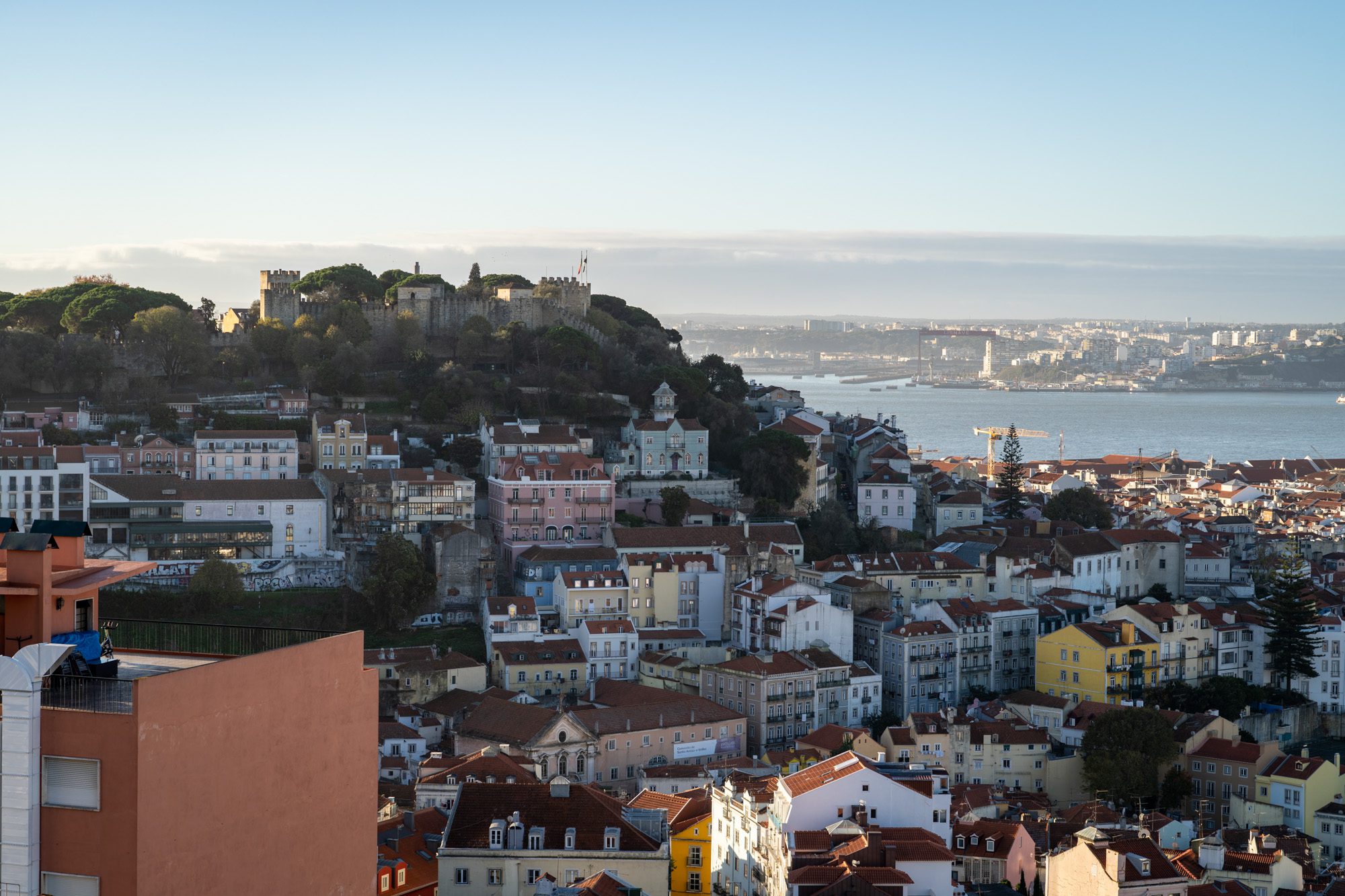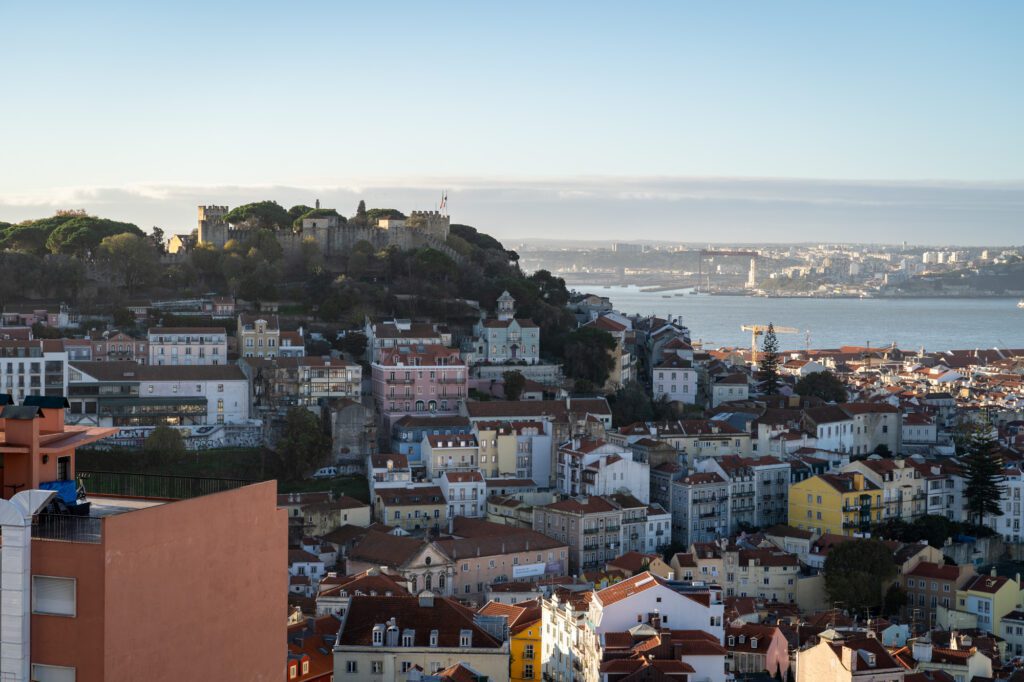 Graça is another of Lisbon's oldest neighborhoods, sitting on the highest hill in the capital, just a few blocks from Alfama and the Castelo de São Jorge.
As well as being home to some of the city's best viewpoints – such as Miradouro da Senhora do Monte, which is another great spot for sunset if you don't want to pay entry for the castle – the neighborhood has many charming and authentic bars and restaurants that are much less touristy than those of nearby Alfama.
Check out Graça do Vinho for an extensive selection of Portuguese wines and some light snacks (think bread and cheese). Or if you're not a huge wine drinker, head to 8a Graça for some of the best craft beer in Lisbon (find it here on Google Maps).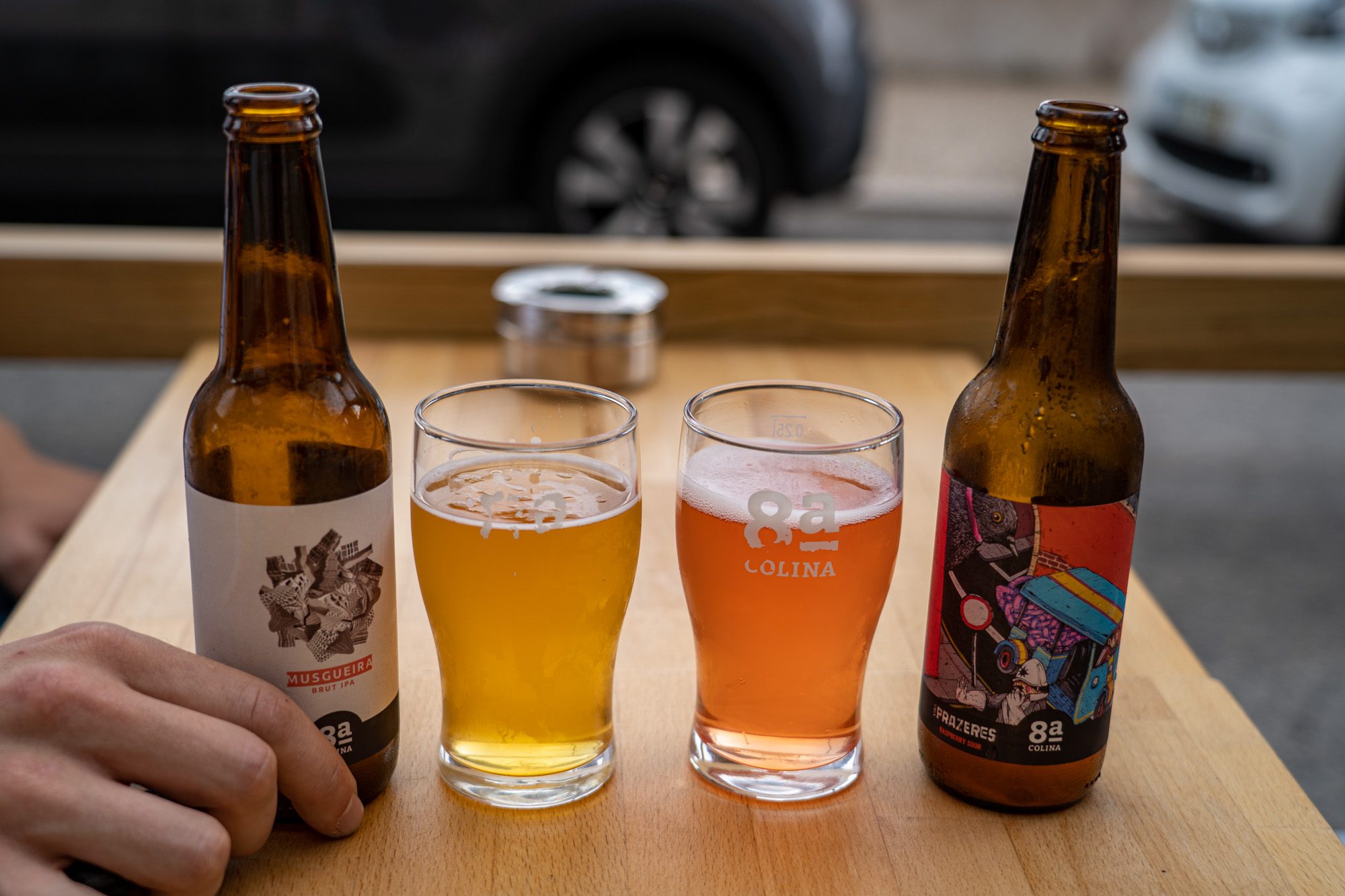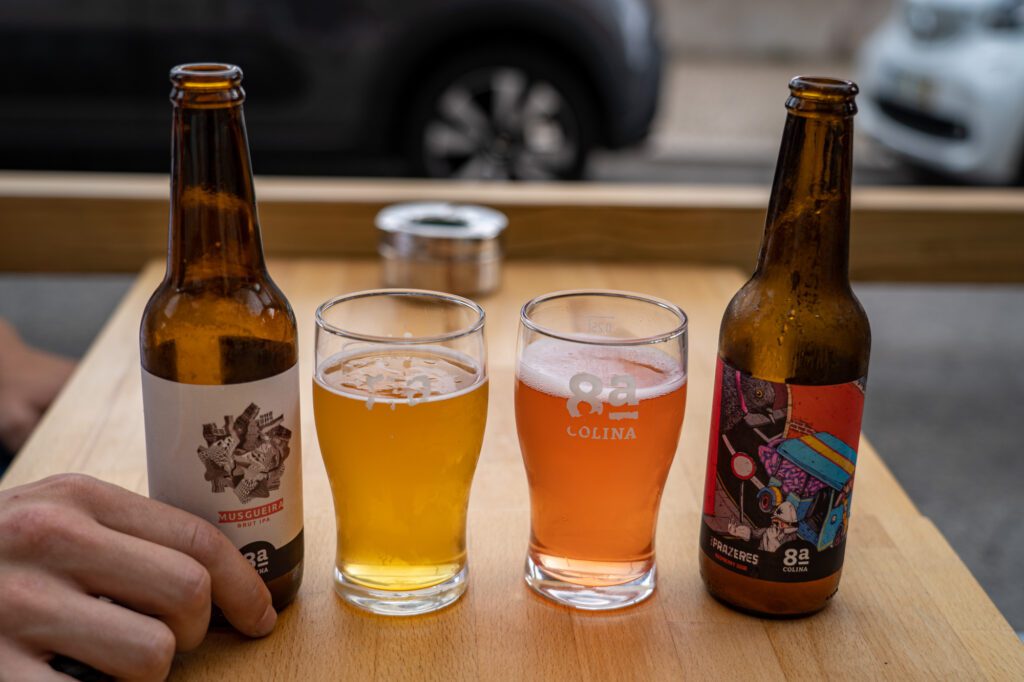 What to Do with More Than a Day in Lisbon
If you have more than one day in Lisbon, there's plenty you can do to expand this itinerary.
Our first suggestion would be to take some extra time to enjoy the above attractions at a slightly slower pace.
For example, you could spend a couple more hours in Belém and add in a visit to the Jerónimos Monastery. Or simply enjoy a leisurely drink in a terraced cafe on Rossio Square while people watching on the grand piazza, before poking around the area's many beautiful shops for a while.
Below are some additional things to do in Lisbon to extend your trip too. We'd highly recommend adding in a guided walking tour (we did this private tour with a group of four – Matt's two brothers were with us – and absolutely loved it) if you're interested in culture and history or a food tour if you're a foodie.
And if you have 3 days or more in Lisbon, a day trip to the historic hilltop town of Sintra is a must.
Take a Day Trip to Sintra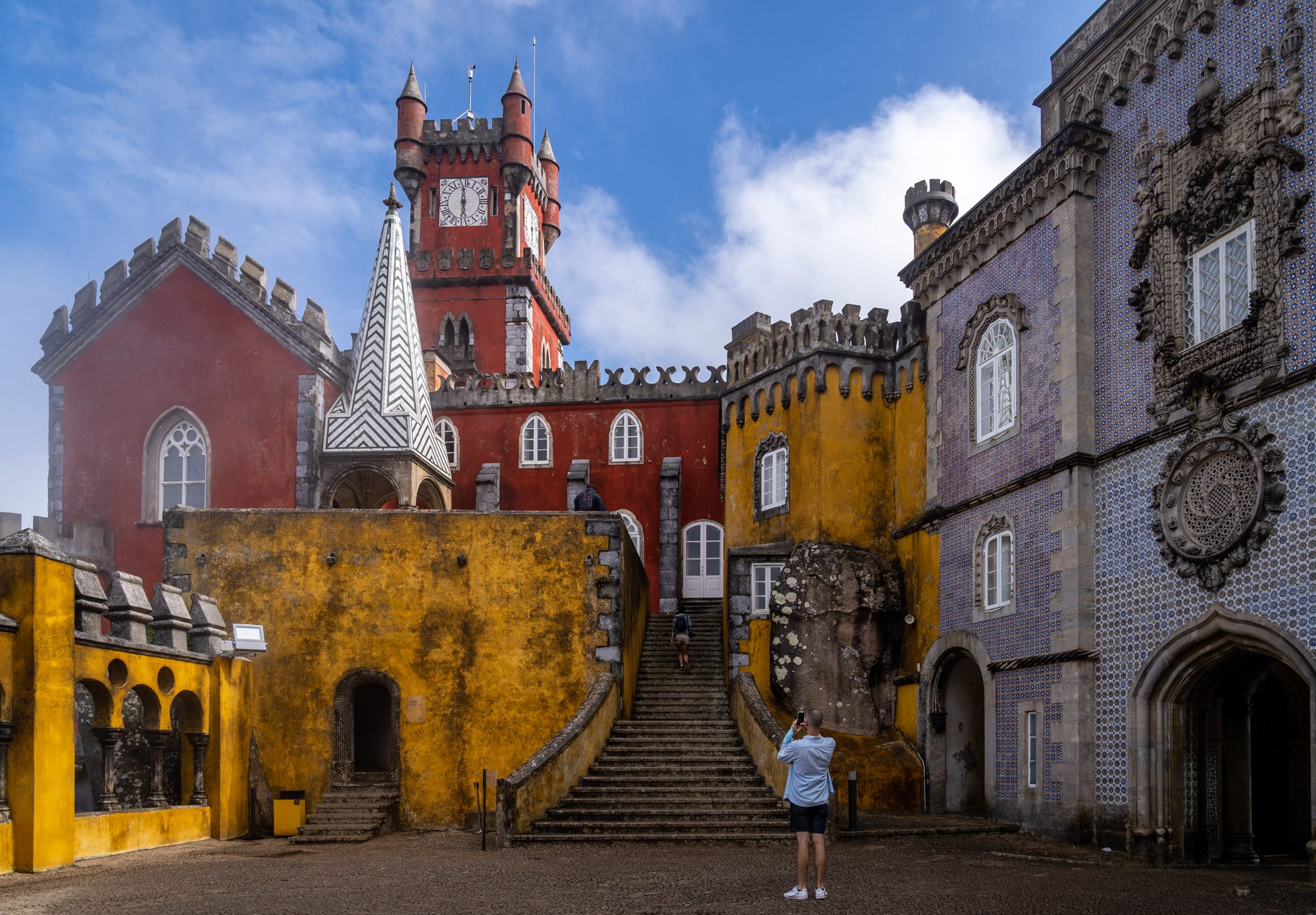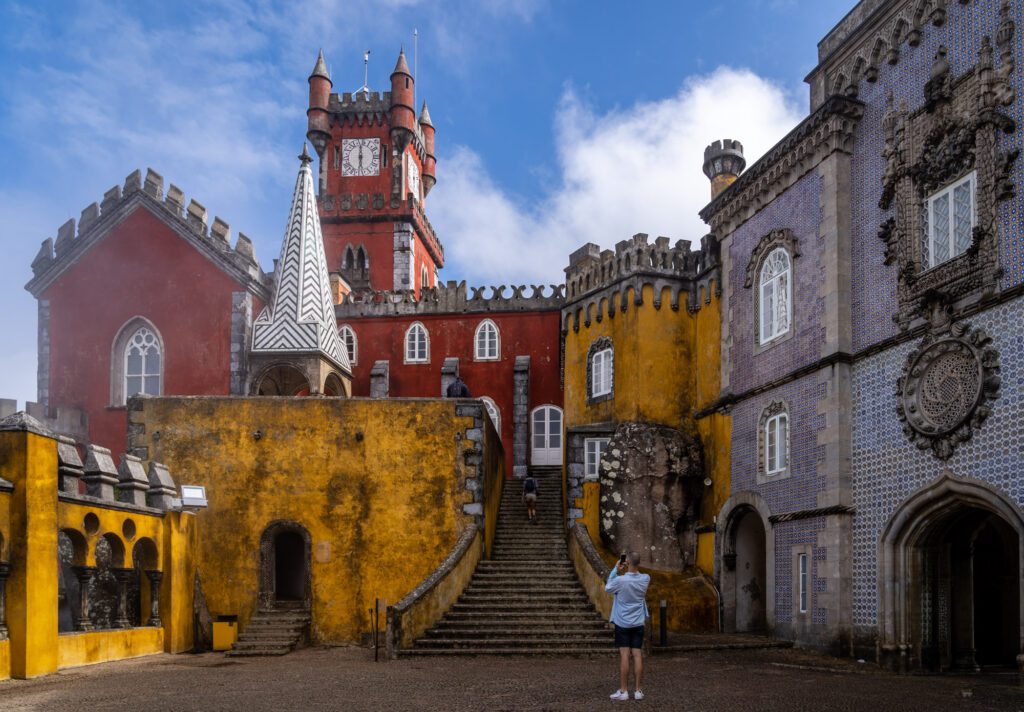 Sintra is one of the most popular day trips from Lisbon and a must-do if you have some extra time in the city.
Sitting 30 km northeast of the capital, Sintra is a picturesque hilltop town that was once a popular summer destination for Portuguese royalty. The town is home to numerous amazing historical sites built in unique architectural styles that you won't find elsewhere in Portugal.
The most popular places to visit in Sintra include:
Pena Palace (Palacio Nacional da Pena) is one of Portugal's most recognizable landmarks due to its brightly colored exterior and Romantic fairytale-esque architectural style. The palace was built as a summer home for King Ferdinand II during the early 19th century. Today, it's a private museum where you can visit the lavish interiors and wander around the expansive gardens and grounds.


Castelo dos Mouros is a restored 8th-century Moorish castle sitting atop the highest hill in Sintra. While the castle itself isn't much to see, the amazing views over the region from the fortress walls are definitely worth the visit.


Quinta da Regaleira is a large country estate in Sintra, comprised of a grand villa, a small chapel, and gardens. The beautiful villa was designed in a neo-Gothic and Romantic revivalist style by Italian designer Luigi Manini. The main draw of the estate is its many unusual mythical elements inspired by its original owner António Carvalho Monteiro's (aka "Monteiro the Millionaire") obsession with secret societies.
Sintra is easy to reach from central Lisbon in just 40 minutes by train from Rossio Station in Baixa. For more information, check out our guide on how to visit Sintra on a day trip from Lisbon.
Take a Walking Tour
We love going on a walking tour on our first day in a new city. It helps us get our bearings, discover many main sites and neighborhoods, and chat with a knowledgeable local guide.
On a walking tour, we always ask our local guide for their recommendations and favorite things to do, see, eat, and drink. Doing this is how we've discovered some of the best hidden gems on our travels.
Here are a few of the top Lisbon tours we'd recommend:
Highlights & Hidden Gems of Lisbon. We did this tour on our first day in Lisbon and loved it. It's a private tour – we had a group of four, so the money worked out – that takes you from one end of the city to the other on foot, with plenty of history and anecdotes along the way. It's a nice mix of the main sights and some more off-the-beaten-path places. The tour is run by With Locals, a Dutch tour company that we've fallen in love with in Europe and have basically used in every city their tours are available.


We Hate Tourism's Walk in the Real City. We also did this tour on our latest trip to Lisbon. It's a cool tour that takes you to parts of the city you'd ordinarily never see on your own as a tourist and teaches you plenty of interesting information about the capital. We love this tour company as they focus on running responsible and sustainable tours and minimizing the impact that mass tourism has on Portugal (especially in Lisbon).


LisboaLove Walk. Another great tour for discovering Lisbon's hidden gems and off-the-beaten-path locations is this alternative Lisbon walking tour with passionate local guide Humberto.
LX Factory
LX Factory is an ​​industrial complex turned creative hub in Lisbon's hipster neighborhood of Alcântara.
The large outdoor courtyard features an eclectic mix of restaurants, bars, shops, and offices – bringing together many local artists, independent artisans, and small businesses. This is a great place to pick up some quirky souvenirs and cool gifts. There's also a flea market at the complex every Sunday.
Two of our favorite shops to visit at LX Factory are:
Ler Devagar. A unique bookstore in a former print shop (the printing machines are still there on the top floor).


More Than Wine. An exclusive selection of Portuguese wines and tasty local delicacies, such as jams and olive oils. Perfect for taking home as gifts.
You can visit LX during the daytime for some uninterrupted shopping, or in the evening when the complex really comes alive with the buzz of locals and tourists alike filling the many terraced restaurants and lively bars.
Alcântara is located close to Belém in the west of the city, so LX Factory is a great way to round off a day exploring the historical sites of Belém.
Take a Food Tour
Lisbon has a fantastic foodie scene, from tasty traditional Portuguese dishes dating back hundreds of years to modern international restaurants.
The problem is, there's so much great food to try that it can be difficult to fit it all into one trip. Especially if you only have limited time in the city.
That's why the best way to explore Lisbon's food scene is on a guided food tour.
On a food tour, you can sample multiple local delicacies and dishes at some of the city's most authentic cafes and restaurants in the space of just a few hours.
You'll also get to learn more about the history of Lisbon's cuisine and each dish from a knowledgeable guide and the restaurant owners themselves.
Here are three Lisbon food tours that we'd recommend (we love Airbnb Experiences, as you might have already noticed):
Lisbon's Best Flavors Tour. Discover real Portuguese gastronomy at several family-owned restaurants in Lisbon's Alfama district on this fantastic small-group tour (12 people max per group). The tour has a ​​4.95 star rating across 5,000 reviews on Airbnb Experiences, including one from ​​the founder and CEO of Airbnb himself, Brian Chesky, which should tell you how great it is. It's also the first food tour in the city to go completely plastic-free, so you'll be doing your bit for sustainable tourism too.


Portuguese Cuisine Tasting Tour. This Lisbon food tour includes 17 food tastings – paired with local drinks – in numerous authentic Lisbon restaurants and shops run by local families. On the tour, you'll also get to learn about the tastes, flavors, cultural influences, and cooking techniques of Lisbon's culinary scene.


The 10 Tastings of Lisbon Private Tour. For a more personalized and intimate experience, this half-day tour takes you to try many traditional Portuguese specialties with a private local guide. One of the biggest perks of a private food tour is that it can be tailored to suit your dietary requirements and preferences (e.g. vegetarian, avoid dairy, etc).
Getting Around in Lisbon
Despite its many hills, Lisbon is a great city to walk around. However, with just 24 hours in Lisbon, you may want to also consider using the city's comprehensive public transport network too.
Walking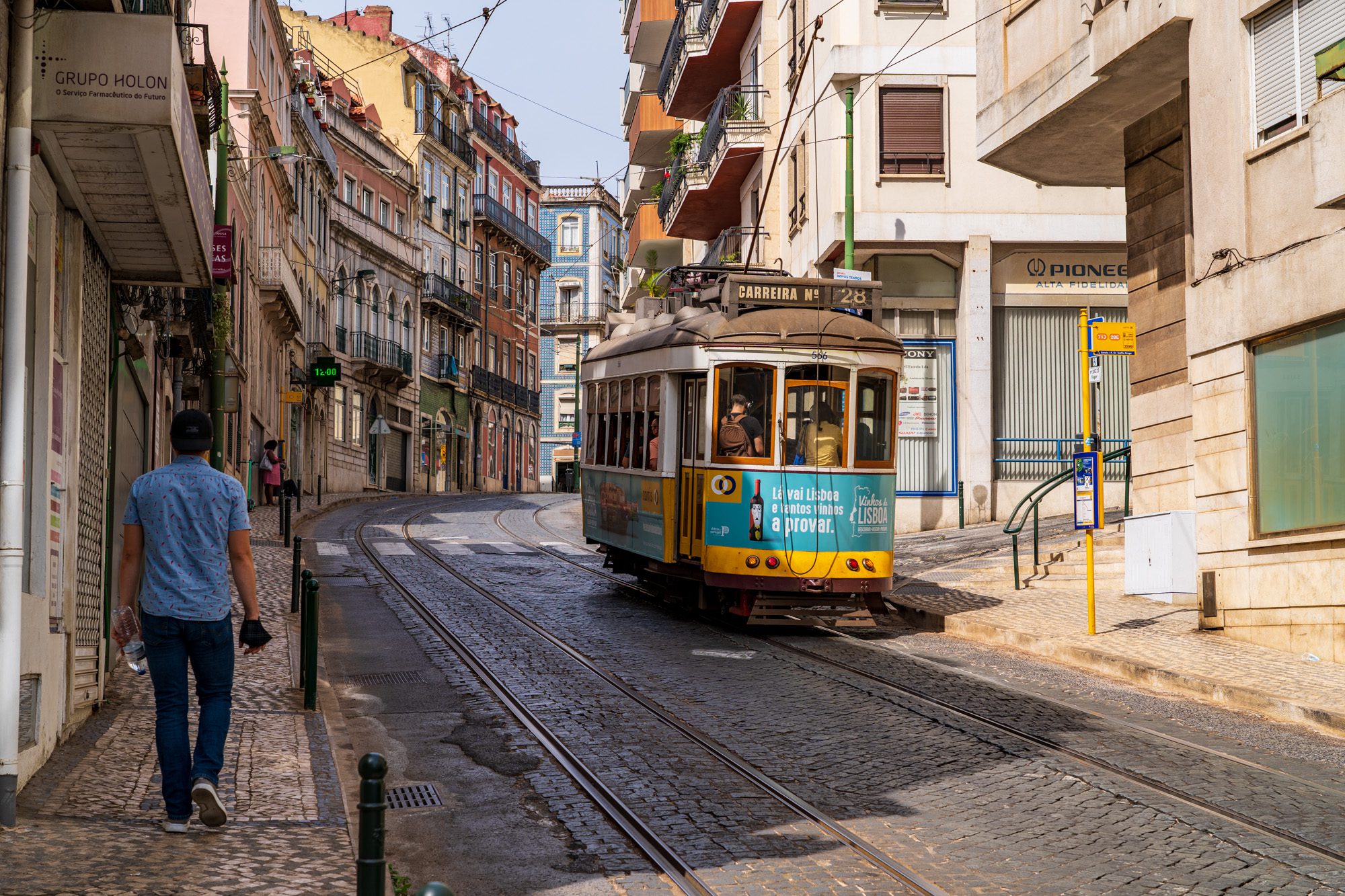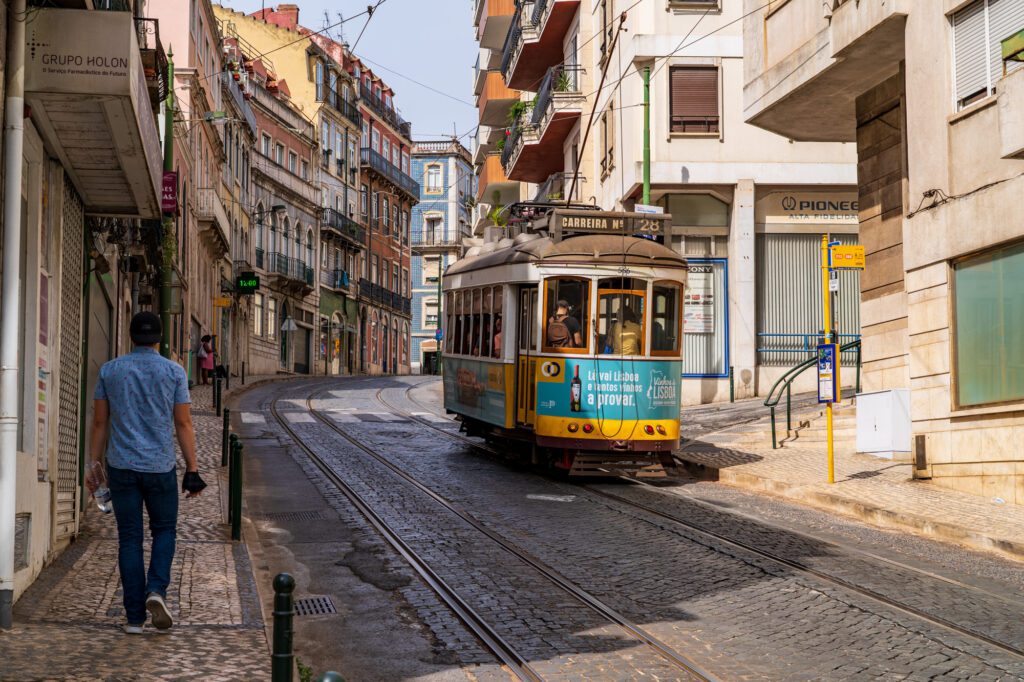 Like many European cities, Lisbon is a great destination to discover on foot. The city center is fairly compact and many of the top attractions are easily walkable to one another.
Plus, by navigating your way around on foot, you'll get to see far more of the city and discover plenty of hidden gems and fun spots along the wa.
However, the one big downside of walking in Lisbon is the city's infamous hills. Away from the central Baixa district and the river, Lisbon is a notoriously hilly city.
The walk from Chiado to Alfama in this itinerary is straight uphill and fairly steep at times. So if you do plan on walking (which we would recommend), make sure to wear sensible walking shoes, carry water, and take things at your own pace.
Belém is located around 9km west of central Lisbon. You can walk from the historic city center to Belém along the Tagus River. However, we wouldn't recommend doing the two-hour walk each way if you have limited time in the city. It's best to use public transport for this portion of the itinerary.
Public Transportation
Lisbon has a fantastic public transport network, which is a quick and convenient way to navigate the city when you have only 24 hours to explore.
The city has an underground metro system, numerous historic and modern trams, a comprehensive bus network, and a handful of funiculars and elevators to help you get up the many hills.
You'll need to use the Tram 15E to get from Baixa to Belém on the below itinerary. And it might be useful to use Tram 28 to get to Alfama if you're not in the mood for walking uphill.
How to Use Lisbon's Public Transportation Network
To use Lisbon's public transportation system, you'll want to buy a Viva Viagem Card. The travel card costs just €0.50 and you can load (and reload) it with the amount of money you need to ride.
Using the Viva card is not only convenient but also makes each journey cheaper. A standard single ride in the city center normally costs €1.50, while using a Viva Card brings the price down to €1.35 per journey.
You can also get an unlimited 24-hour travel pass for €6.45. However, you'll need to make at least five journeys on public transport to get value from the pass. This is quite a lot for one day in the city center, but traveling to and from Belém can make the pass more worthwhile.
Given that a return ticket on Tram 15E to Belém will cost you €6.00 if you buy it on board, the Viva travel pass could be a good deal. You'll only have to make one additional journey to get your money's worth.
You can purchase the Viva Card and 24-hour pass at one of the automated machines inside any metro station or suburban train station – they have instructions in English if you don't speak Portuguese.
The passes can't be purchased on board the city's trams or at the tram stops, so make sure to purchase and top-up the card before you try to travel.
You can check the current ticket rates here. And here's a helpful guide to Lisbon's public transportation system for some further reading.
What About the Lisboa Card?
Another way to use public transport in Lisbon is by getting the Lisboa Card.
The Lisbon city pass gets you unlimited public transport (bus, tram, metro, elevators, and funiculars – though not the Santa Justa lift – Elevador de santa Justa in Portuguese), as well as free or discounted entry to many of the city's museums and attractions.
Some of the attractions included in the pass are Jeronimos Monastery, the Belém Tower, and the National Pantheon.
The 24-hour Lisboa Card costs €21 per adult or €13.50 per child. You can also get a 48 and 72 hour pass which brings the price per day down slightly.
We did the math, and the 24 hour pass isn't worth getting for the 24 hours in Lisbon above. Other than the tram out to Belém and back, you won't get much value from the card. It would be better to get the Viva 24-hour travel pass instead.
We're not huge museum people and we don't attempt to go inside every single church, landmark, and attraction when visiting a city (but we'll be sure to tell you which ones are worth seeing). We like to experience a city through its history, beauty, people, and food. And this is reflected in our recommended itinerary.
---
Planning a trip to Portugal?
Here are our other Portugal travel guides to help you plan an incredible trip (even if you have to eat gluten free!).
If there's no link below, it means we're still working on it – long, in-depth guides take time! We're working on it, though, we promise.
Portugal:
Lisbon
Porto:
The Algarve: