One Day in Porto: How to See the Best of Porto in 24 Hours
Only have one day in Porto? While you definitely won't be able to see everything there is to see in Porto in a day, we think you can certainly get a good feel for what makes the city special and interesting. With its exquisite tiled churches, spectacular viewpoints, indulgent local dishes, and namesake port wine, Porto is a city that everyone needs to visit at least once in their lifetime.
Unfortunately, Porto is all too regularly overlooked in favor of the country's capital of Lisbon or the beautiful beaches of the Algarve. But we would argue that missing Porto is a mistake.
Porto is a fascinating city that offers something a little different from Portugal's other most famous destinations. And it's a place that's definitely worth adding to any Portugal itinerary, even if it's only for a day.
Porto is a city of contradictions. As the country's original capital – there's still a (semi) friendly rivalry with Lisbon to this day – and Portugal's second largest city, Porto has a rich and captivating history, with lots of beautiful architecture and a distinctly older feeling than Lisbon. At the same time, the city has a young and vibrant atmosphere, with a cool cafe culture and nightlife scene.
With 24 hours in Porto, you won't be able to see and do everything in the city. But you can get a pretty good taste of what it has to offer. And if you really enjoy your day in Porto (which we're pretty certain that you will), you can always return to dive deeper next time.
In this guide, we're going to share our take on how to see the best of Porto in one day. We'll give you the things we think you should focus on based on our own time in Porto, and then talk through some important logistics that we think will be useful as you plan your trip.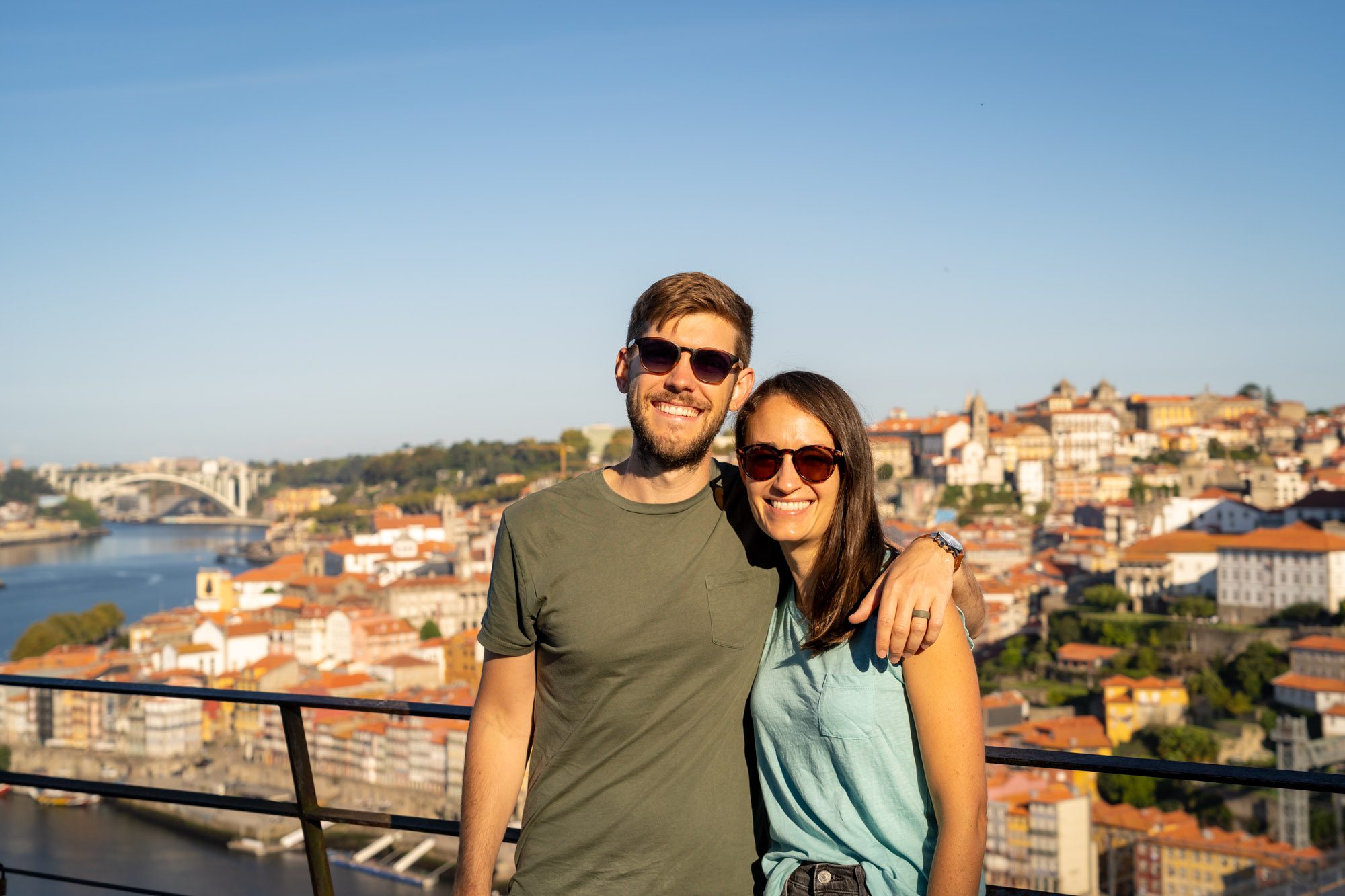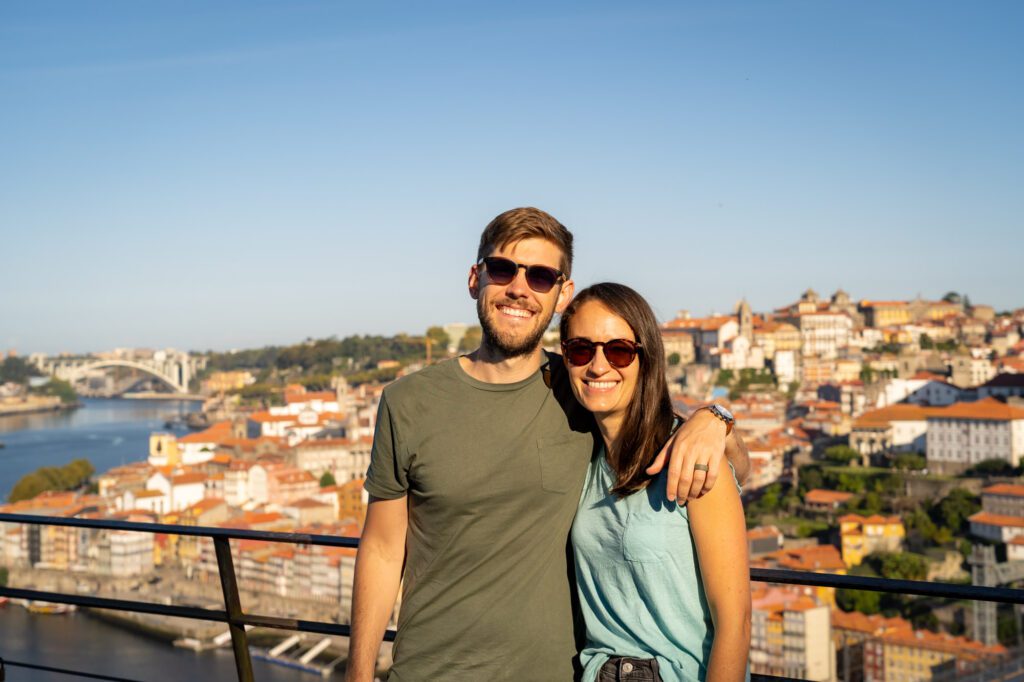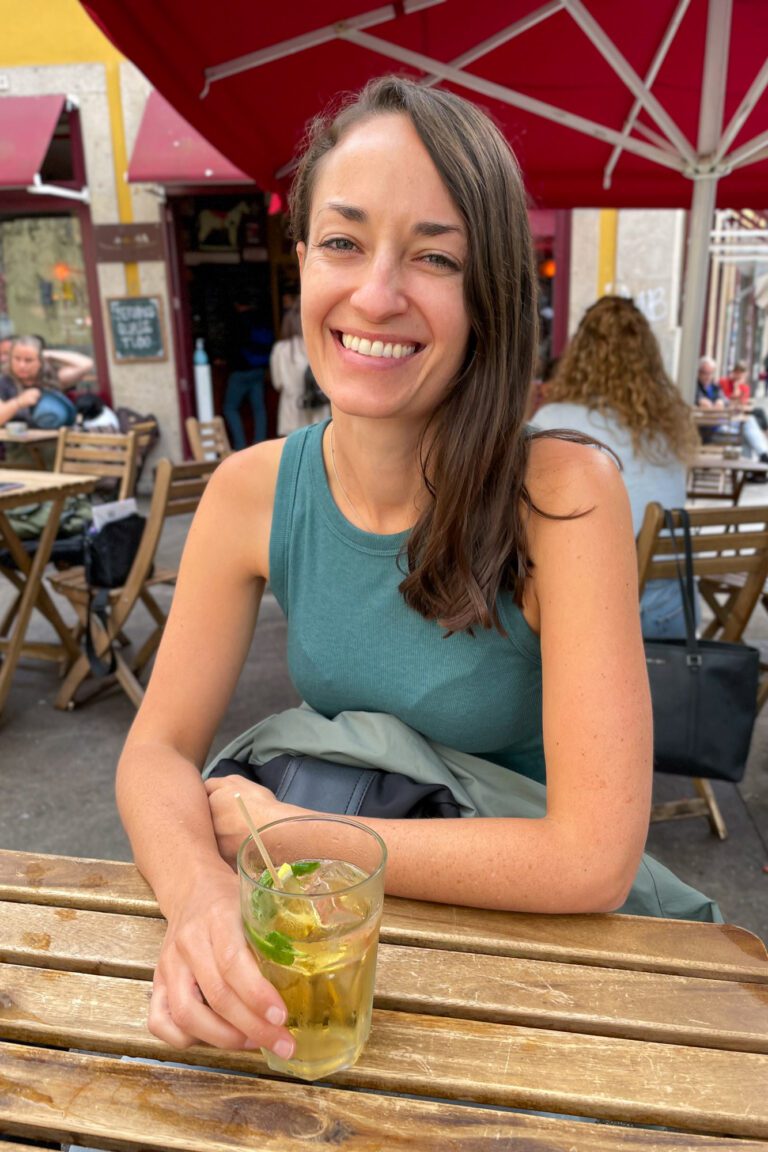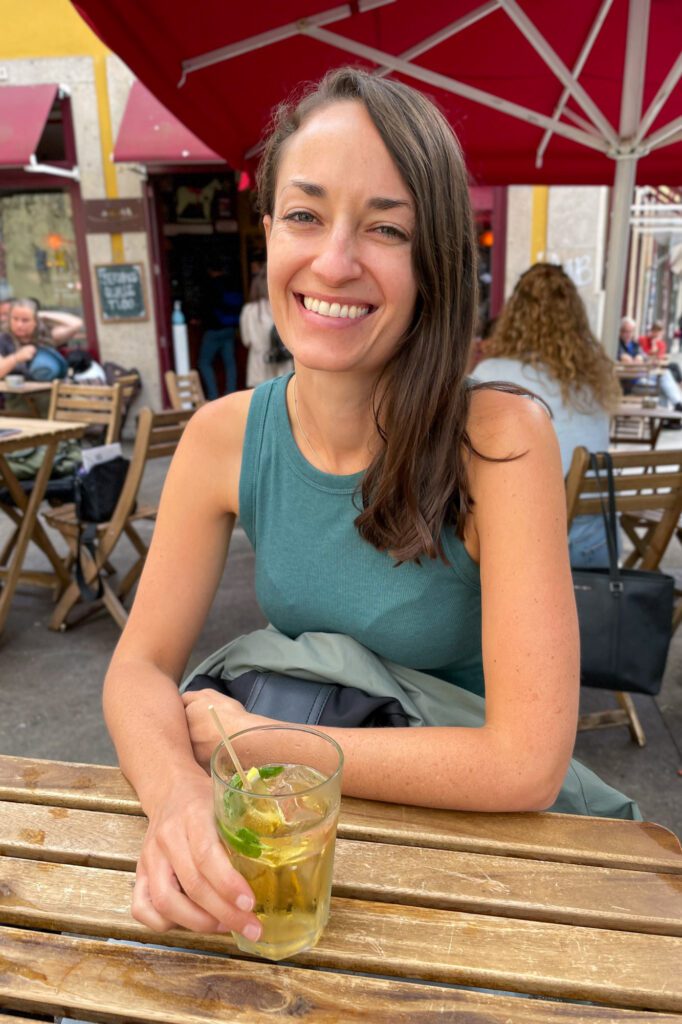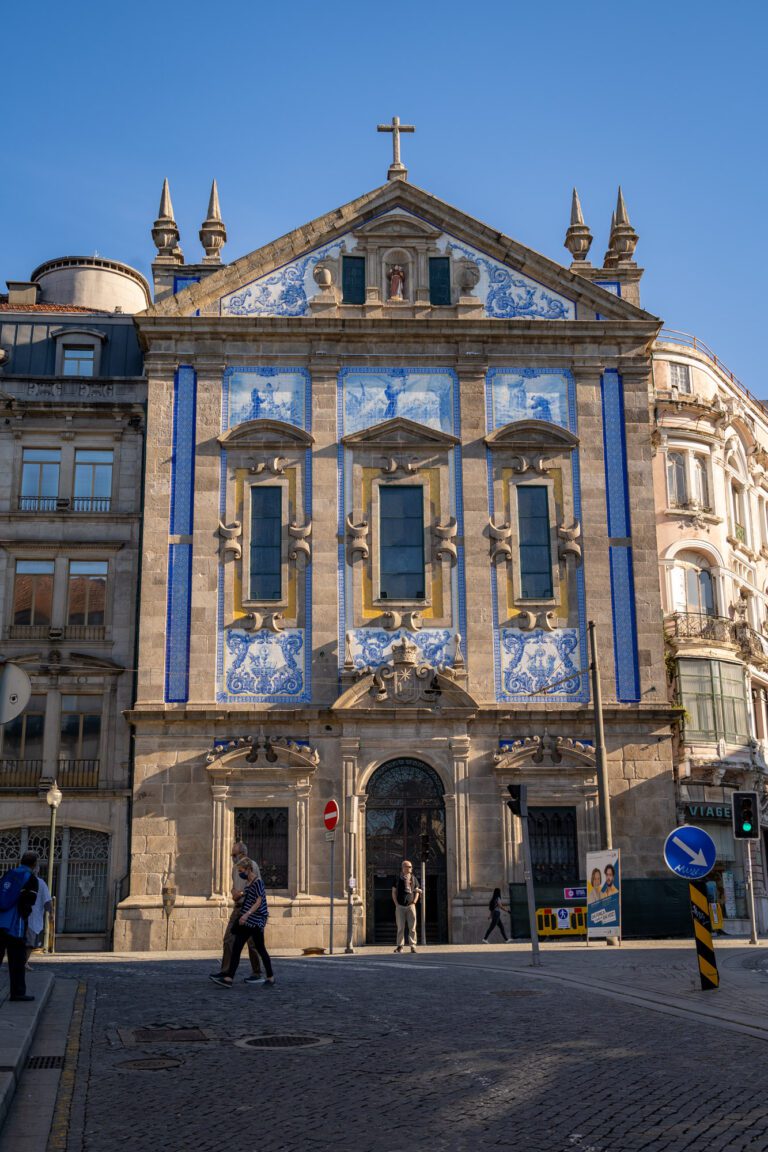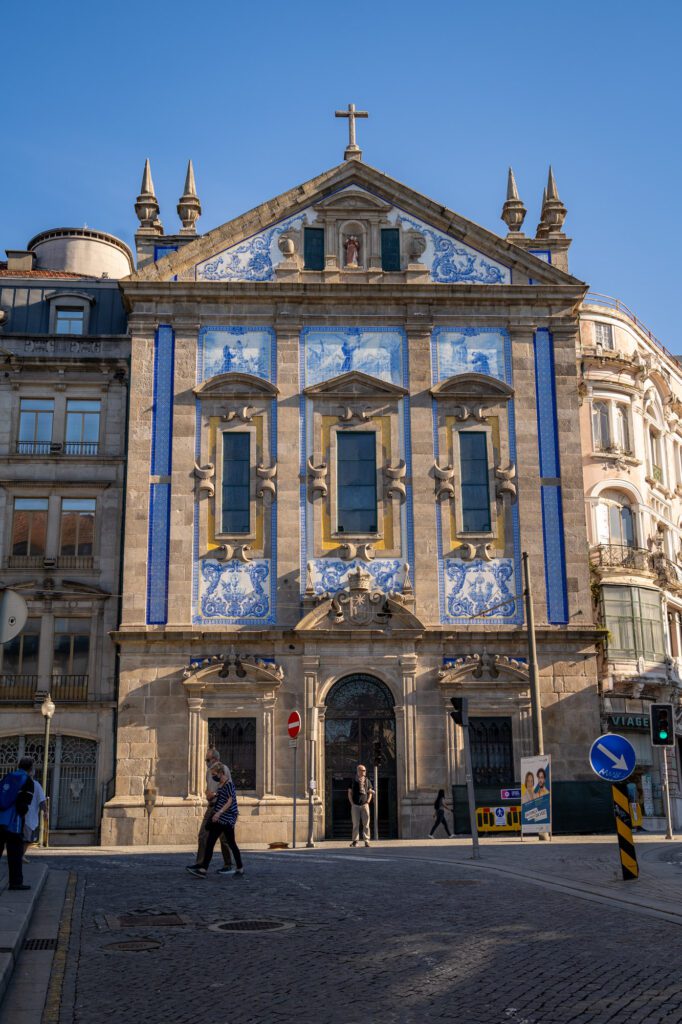 Disclaimer: Some of the links in this post, like hotel links, are affiliate links, meaning at no additional cost to you, we make a little bit of money if you click through and book. That being said, we would never recommend something to you that we don't stand behind 100%.
Is One Day in Porto Enough?
If we're going to be completely honest with you here, one day in Porto definitely isn't enough time to fully experience everything this amazing city has to offer. We'd recommend two days, and three would be even better.
But we also know that not everyone has the gift of time, and we think that Porto is a city that's still worth seeing. Even if you only have a day, we think you should try to visit Porto.
Unlike major European cities like Paris and Rome (or even Lisbon, really), the main city center in Porto is fairly compact which makes it a very walkable city. That means you can string together many of the main attractions in Porto over the course of a day.
There are the four main things we think you should focus on with a day in Porto:
Go tile chasing (azulejos)
Seek out some spectacular views over the city
Eat a bifana (and other types of sandwiches that Porto is famous for, like the heart-attack-on-a–plate that is the francesina)
Drink local port
In the one day Porto itinerary below, we'll help you do all four of these over the course of your 24 hours in the city, along with some time spent exploring some of Porto's other delights.
If you do end up with more time in the city, don't miss our more extensive 3 day Porto itinerary.
We think two or three days is ideal for a first trip to Porto, because it allows for two full days to explore Porto and its neighbor, Vila Nova de Gaia, and gives you a full day to get out into the Douro Valley, where the grapes used to make port are grown. 
Our trip out to the Douro Valley – we did this guided tour with my little brother for his birthday, and it was excellent – was the highlight of not only our entire Portugal itinerary, but of our entire three month European extravaganza that took us beyond Portugal to Spain and Italy. 
Seriously, if you have an extra day, you should do that tour. It's magical.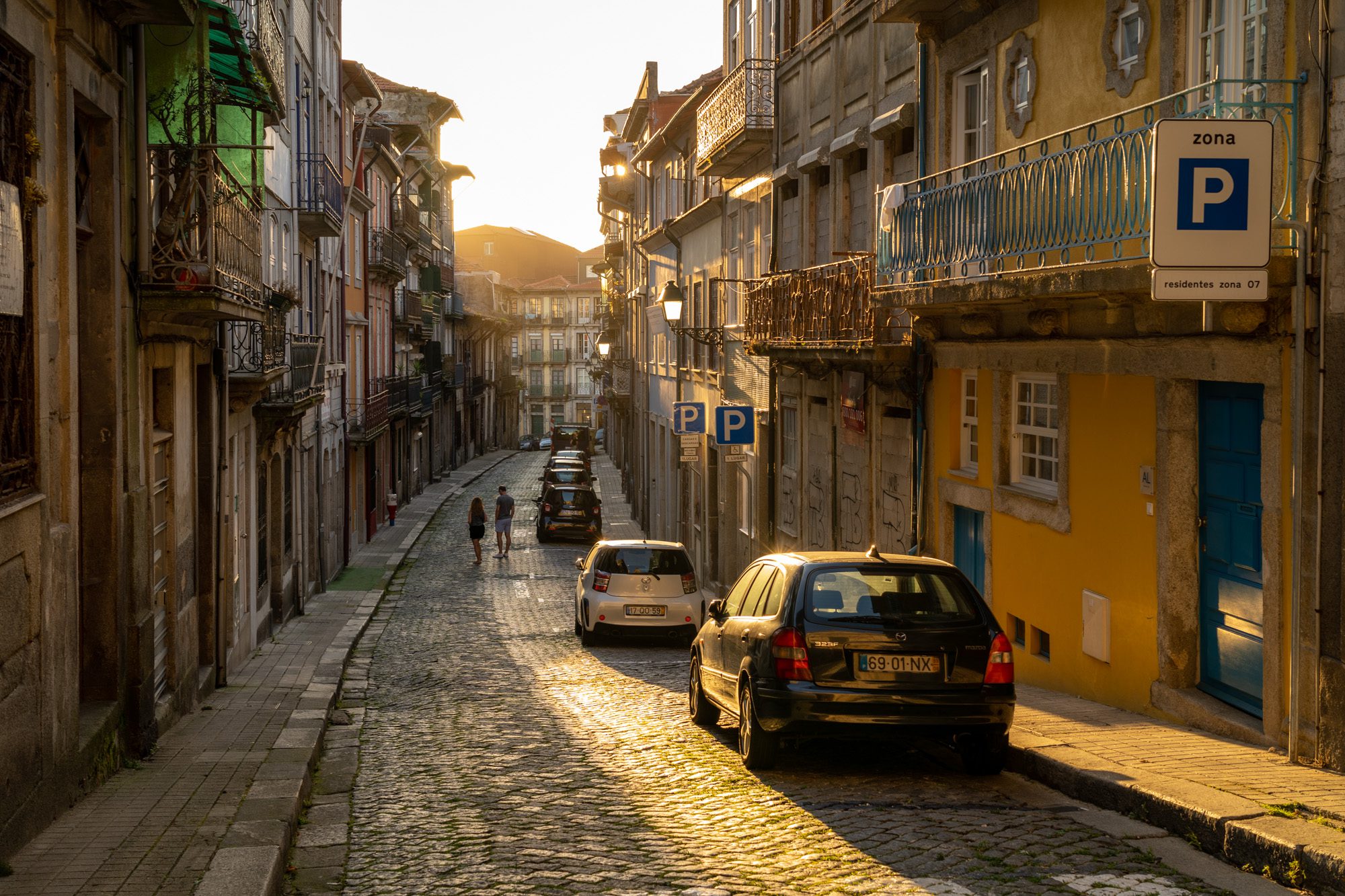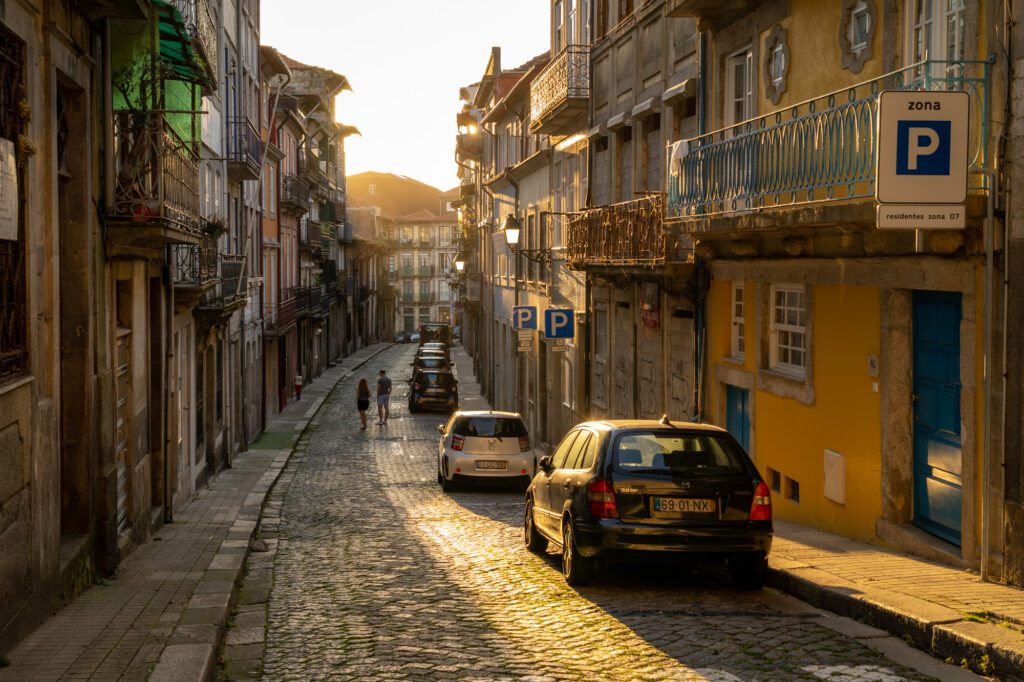 One Day in Porto: How to See Porto's Highlights in 24 Hours
The one day itinerary for Porto that we've put together below will give you a fantastic insight into the history, beauty, food, and wine of Portugal's second city.
For the sake of this itinerary, we'll assume you're arriving the evening before and leaving late in the evening/the morning after, so you have a full day to explore.
By the way, we wanted to add a blurb here about the Porto Card, which we've seen recommended before. The Porto Card gives you access to a bunch of different tourist attractions at a reduced price. So what's not to love?
Unfortunately, If you follow this itinerary as written, it's not worth buying. We did the math, and you likely won't get €13 of value out of it in a day (which is what it costs).
Start With One of the Best Views in Porto at Miradouro da Vitória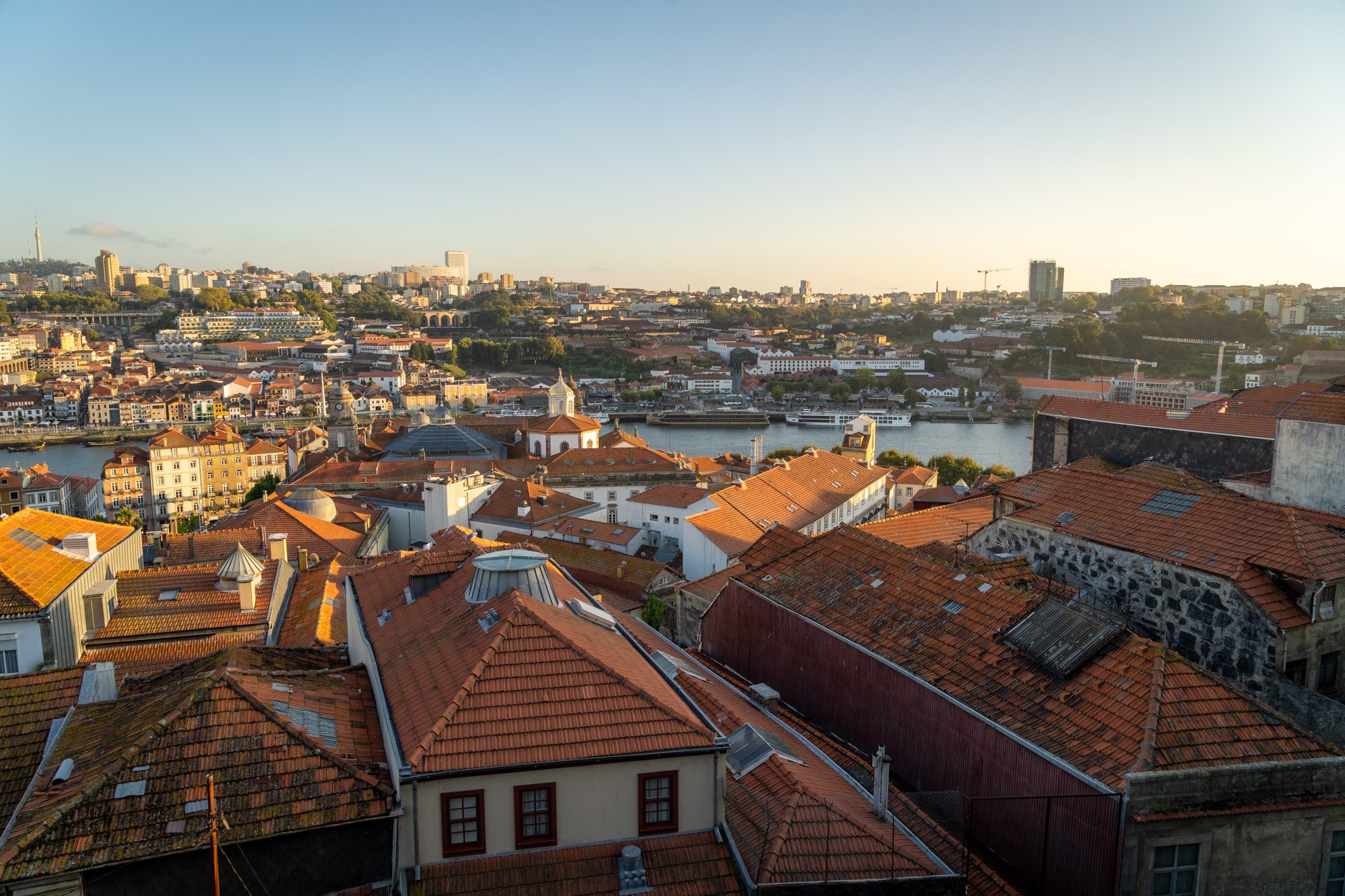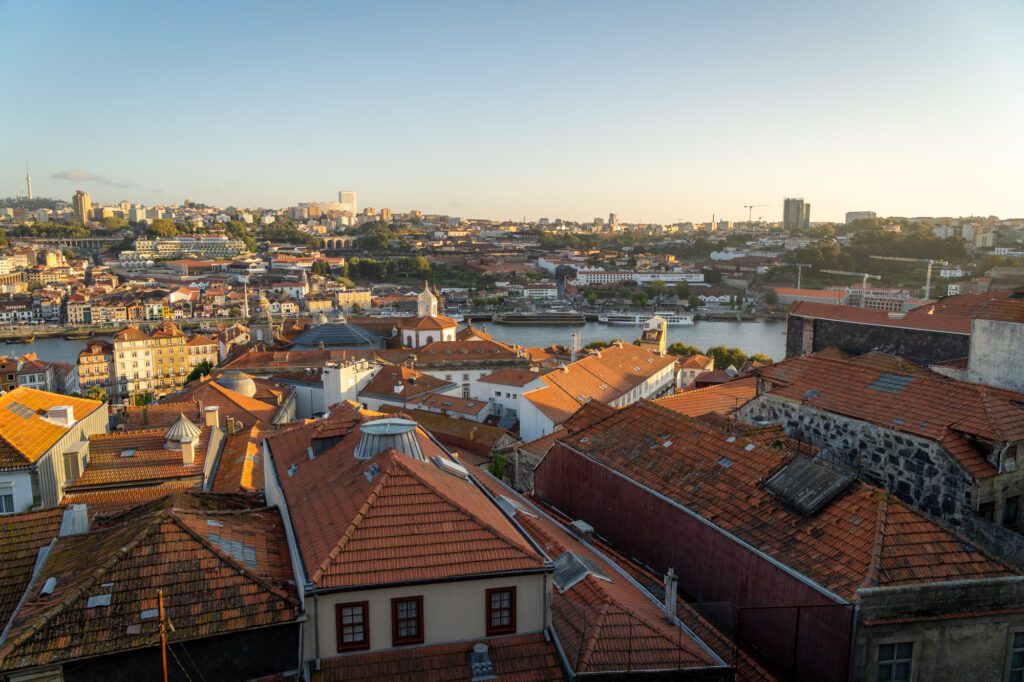 There's no better way to start a day in Porto than by enjoying one of the city's best views and getting your bearings from above. Porto does have a few hills (not nearly as many as Lisbon, though), especially near the river, which means there are some nice views to be had.
Located on the top of a hill in the heart of Old Town, Miradouro da Vitória is one of our all-time favorite viewpoints in Porto.
The viewing platform offers unbeatable panoramic views over the city's rooftops. From it, you can spot many of the landmarks you'll be visiting throughout the day, such as the Cathedral, Douro River, and Dom Luis I Bridge.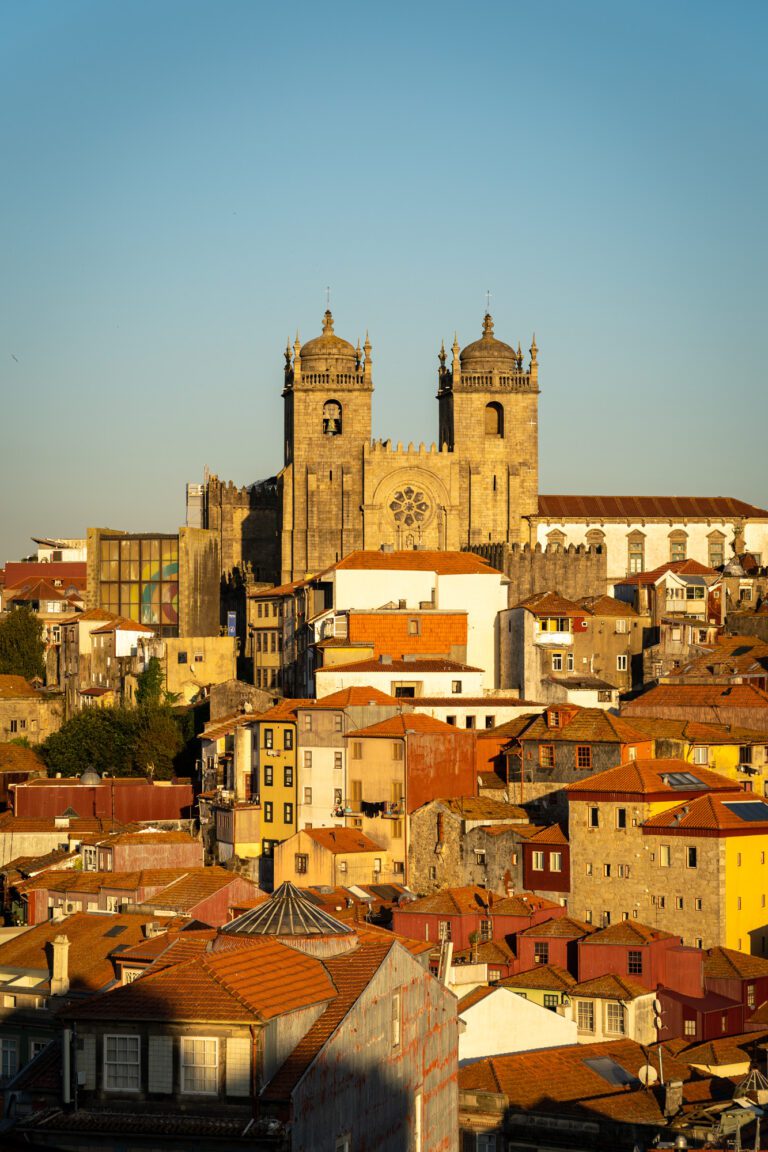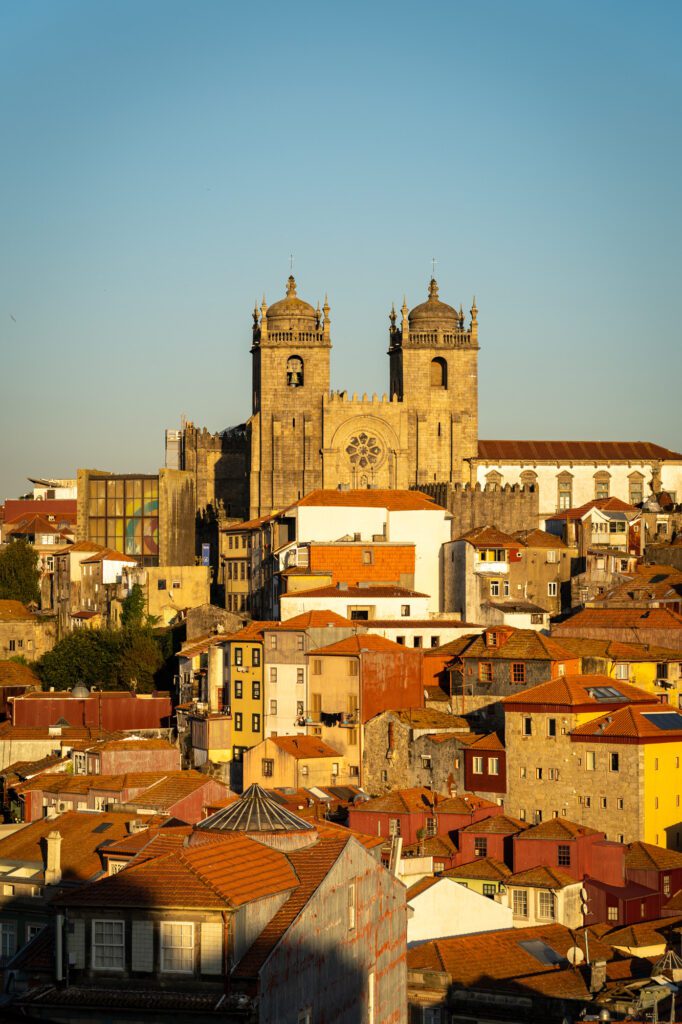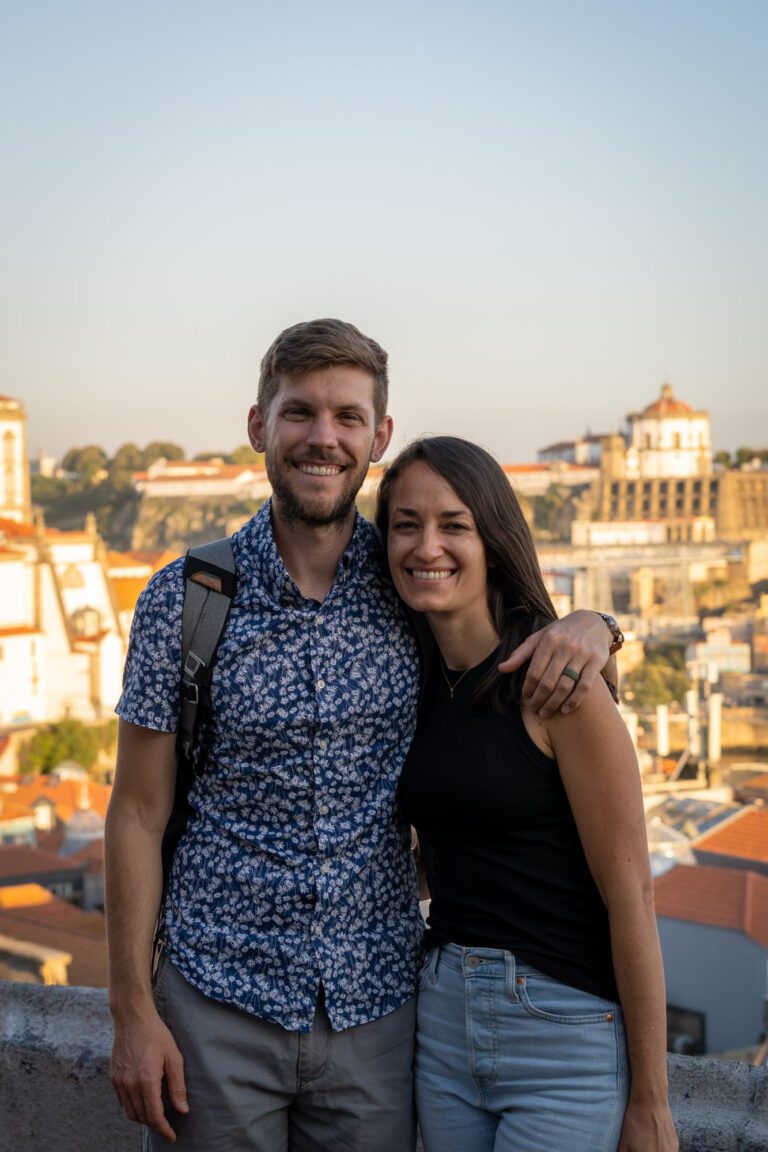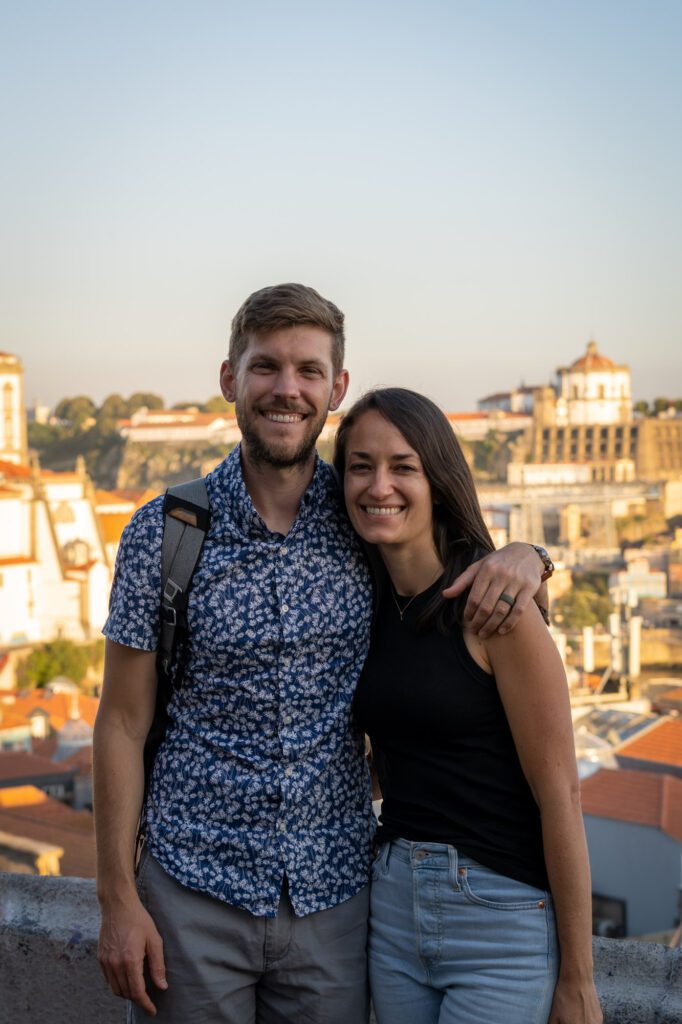 The best part is that, aside from the sweat you'll accumulate walking up the hill, Miradouro da Vitória is completely free to visit.
By visiting in the morning, you'll avoid the large crowds that gather to watch the sunset from the viewpoint each evening (which we should note is pretty spectacular too).
Coffee at SO Coffee Roasters or Fábrica
At this point in the morning, you'll probably be desperate for a strong cup of coffee. So it's time to get caffeinated in preparation for the busy day ahead.
If you're in search of some of Porto's best coffee, we'd highly recommend heading to Fábrica or SO Coffee Roasters. Both coffee shops are located within walking distance of your next stop on this itinerary, and are about a 10 minute walk from Miradouro da Vitória.
Fábrica was one of our favorite coffee shops in Lisbon, and we were delighted to find that they now have two locations in downtown Porto.
They're a specialty coffee roaster that sources their beans from all across the world and roasts them right here in Portugal, producing some of the best coffee in the country. And if you like the coffee in the cafe, you can grab a bag to take back home with you from their on-site shop.
Both of Fábrica's cafes in Porto also serve a delicious breakfast menu, with everything from avocado toast to indulgent fluffy pancakes and more.
SO Coffee Roasters sits just a few blocks away from Fábrica and is another great option for grabbing coffee and breakfast in Porto.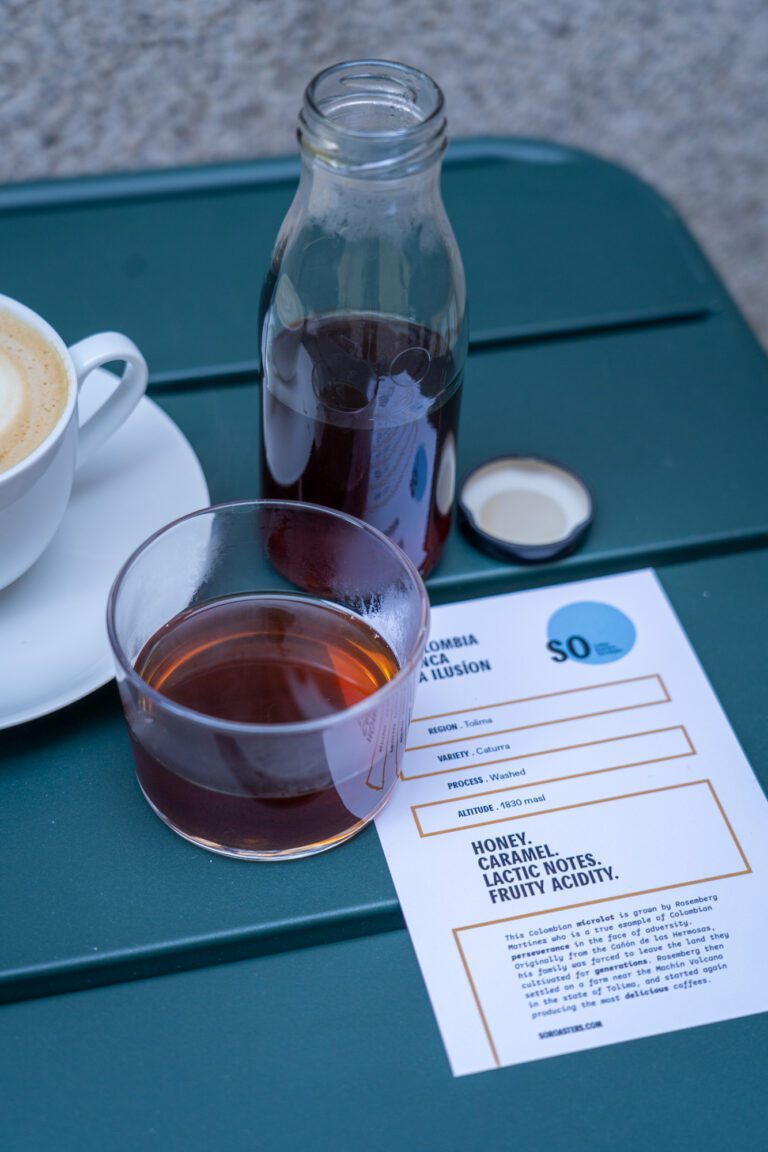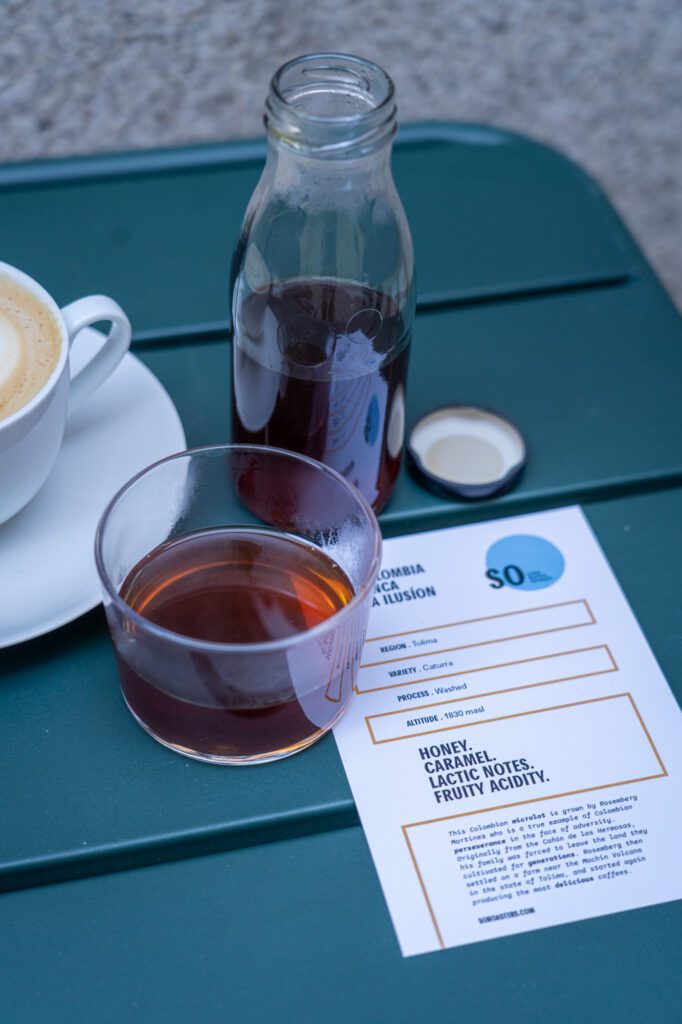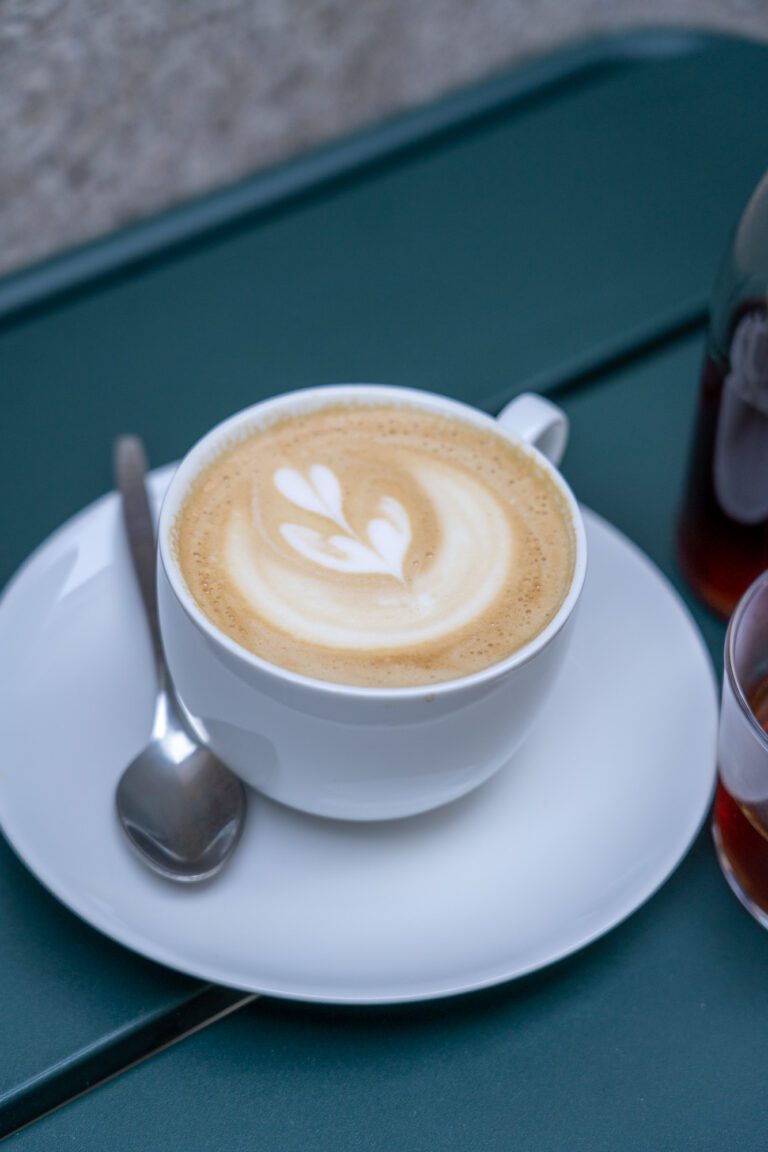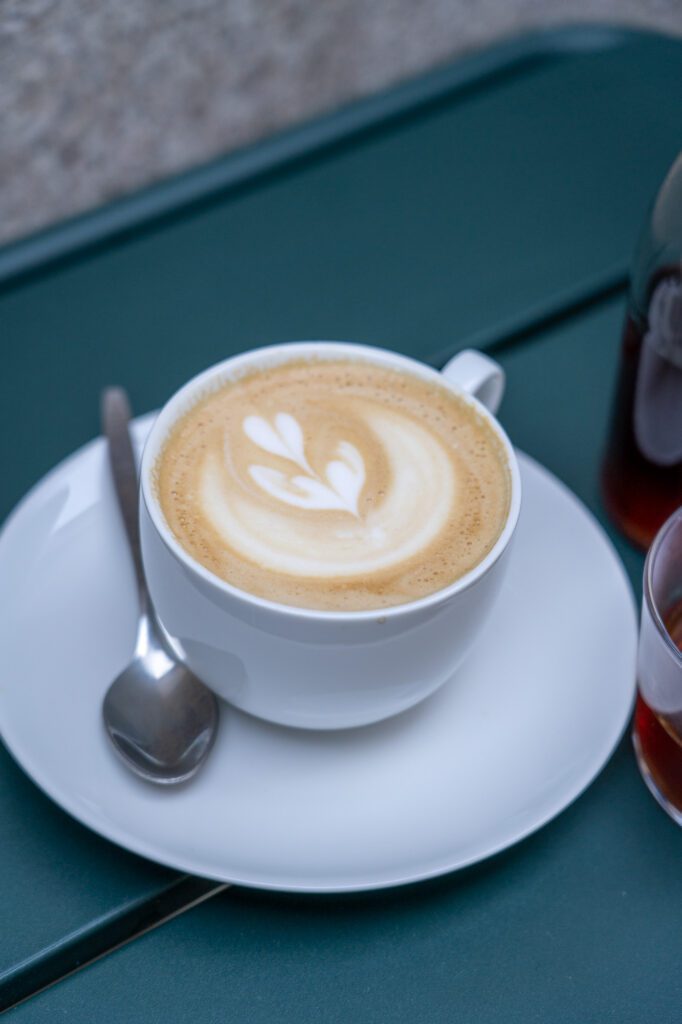 With a coffee shop on the ground floor and a roastery sitting above, SO serves excellent specialty coffee that has been roasted right on-site. The cafe also has a range of tasty cakes, pastries, sourdough sandwiches, and smoothies to help fuel you for the day ahead.
Climb Torre dos Clérigos
Now that you're nicely fed and caffeinated, you can burn off some energy by climbing 240 steps to the top of the Clérigos Tower.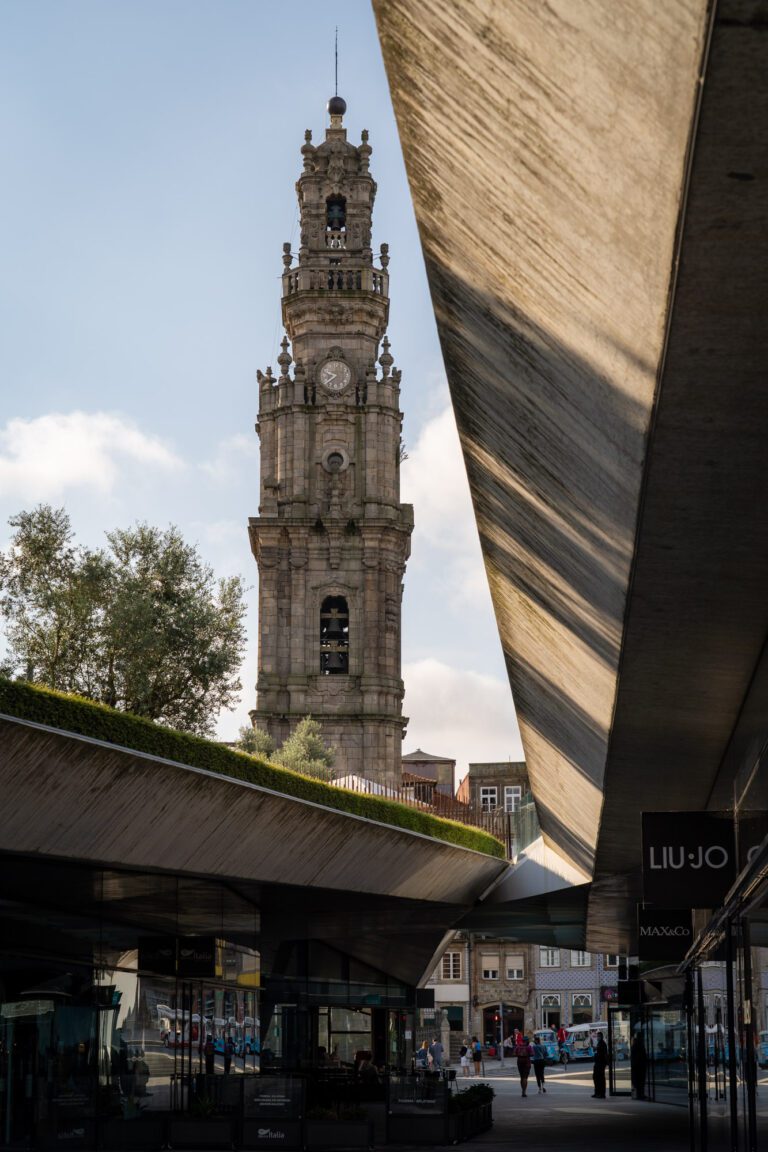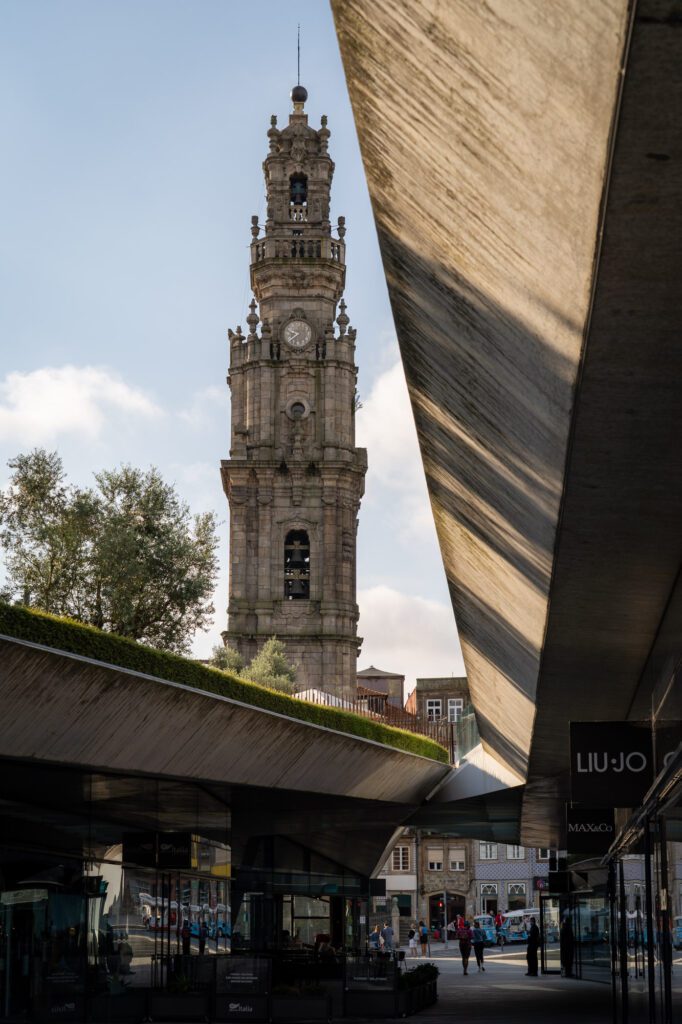 Torre dos Clérigos is the iconic bell tower of the beautiful 18th-century Baroque church of the same name. Standing at 249 feet (76 meters), the structure towers high above the surrounding rooftops and is one of the most emblematic monuments in the city.
Ascending the steep, narrow spiral staircase to the tower's summit is certainly no mean feat. But the breathtaking 360 views over the city you get from the top are definitely worth the climb.
You can also take a quick look around the church's small museum (entry is included in the tower ticket price), which exhibits religious artifacts and artwork from the Brotherhood of the Clérigos. In the 1700s, the Brotherhood of the Clérigos was created to help poor and sick members of the clergy of Porto.
Clérigos Church is free to enter. But it costs €6 to climb the tower and visit the Clérigos Museum. The tower is popular and only a certain number of people can climb it each hour, so it's a good idea to book your ticket in advance.
Marvel at the Tilework at Igreja do Carmo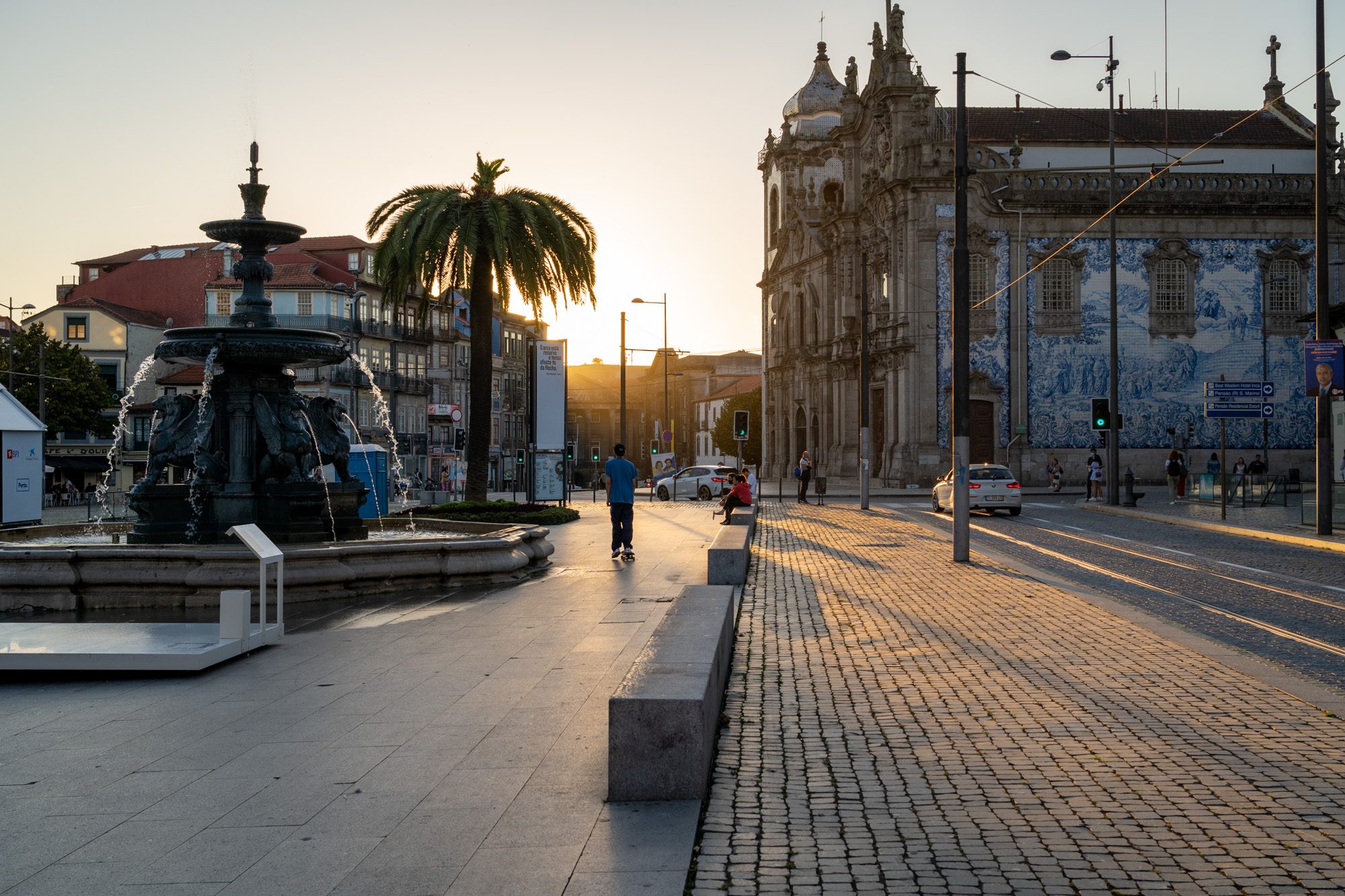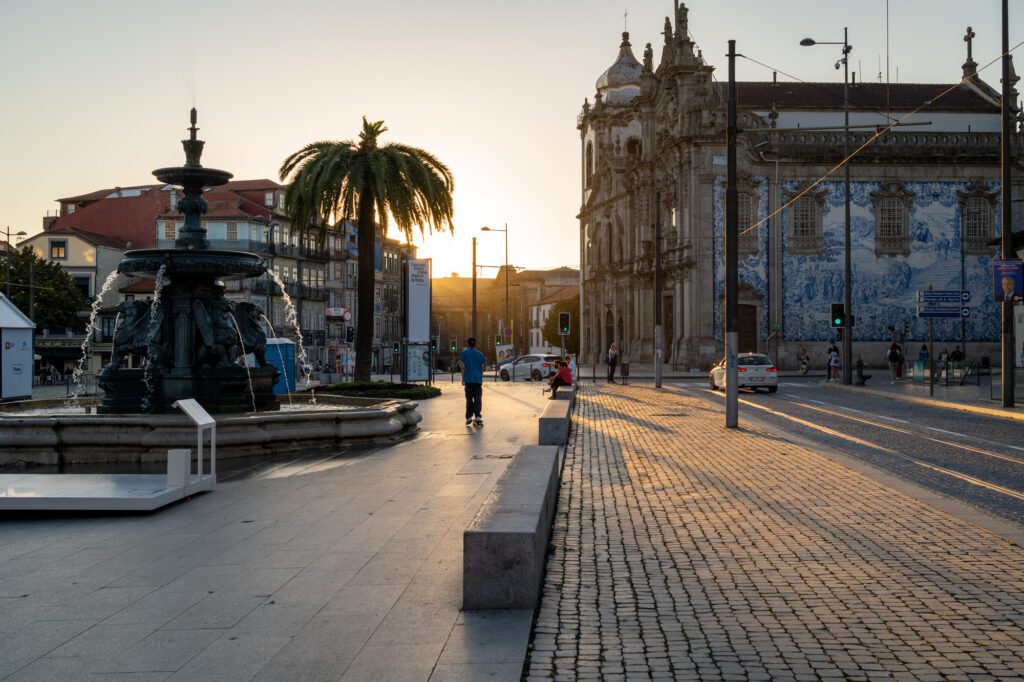 Just a few minutes from the Clérigos Tower, past the lush greenery of Jardim da Cordoaria, you'll come across the impressive Igreja do Carmo.
Igreja do Carmo is one half of a set of twin churches built in the 1600 and 1700s. The striking Baroque church is connected to neighboring Igreja dos Carmelitas by a tiny house (the narrowest house in Porto) that was built to keep the resident monks and nuns separate.
In 1912, thousands of traditional blue and white tiles were added to the church's exterior. Designed by Italian artist Silvestro Silvestri, the tiled facade depicts scenes of the founding of the Carmelite Order and Mount Carmel. The amazing exterior is one of the finest examples of azulejo tiles in all of Porto.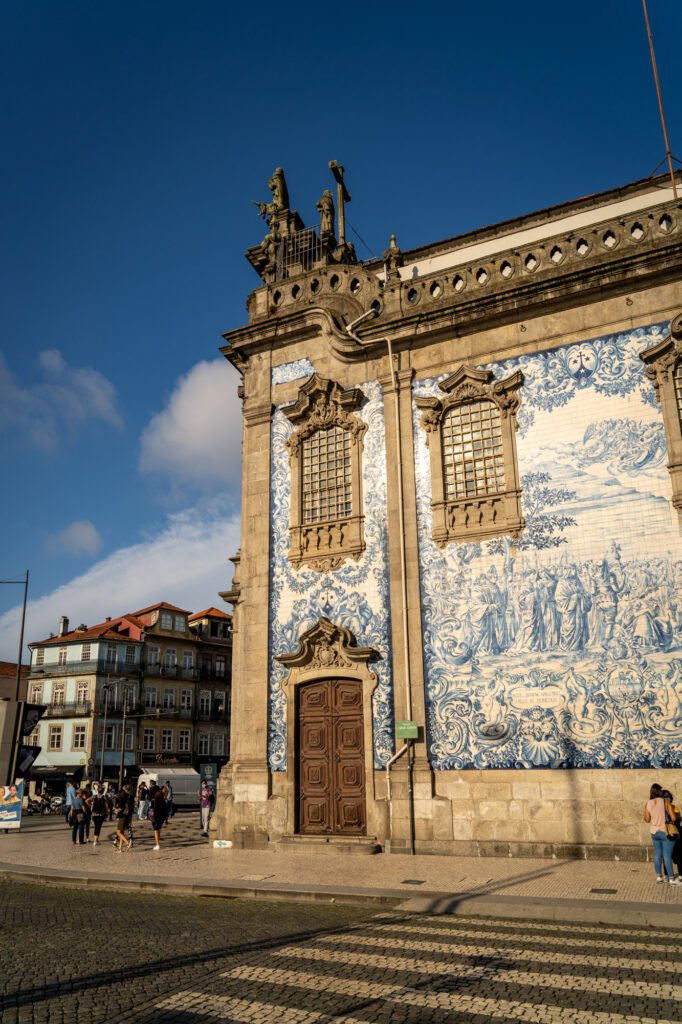 If getting up close and personal with Portugal's famous tiles is on your must-do list, Igreja do Carmo is the place to do it. Despite how intricate its facade is, the church tends to get less busy than some other places where you can marvel at azulejo tiles in the city.
Plus, don't miss the bell tower of Igreja dos Carmelitas on the left, which is also covered in a slightly more simple set of azulejos tiles.
Should You go Inside Igreja do Carmo?
If you're exploring all of Porto in one day, you won't have the time to stop and look inside every church you pass by.
You don't particularly need to either, as most of Porto's churches have relatively similar interiors. And they were largely built in the Baroque period, which means you aren't going to get the intricate, opulent interiors you see all over a place like Italy.
But if you do want to head inside one, Igreja do Carmo is a good choice.
The Baroque and Rococo style interior of Igreja do Carmo is one of the most impressive in the city, filled with ornate gold-plated sculptures and many religious paintings by Portuguese artists.
The €3.50 entrance fee for visiting the church also includes a small museum in the former monastery and the chance to visit the 'hidden house' between the churches.
Stroll through Praça do Município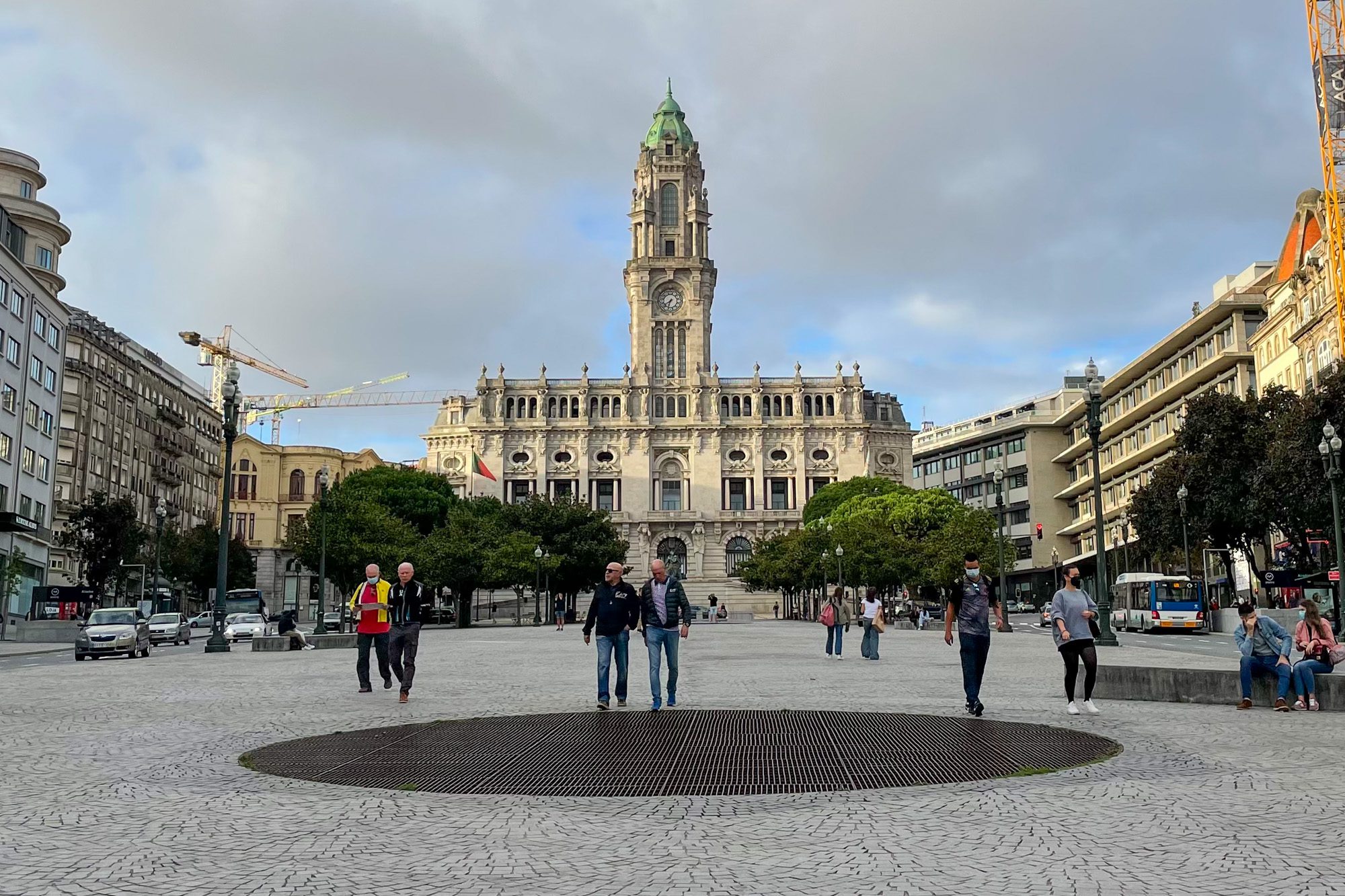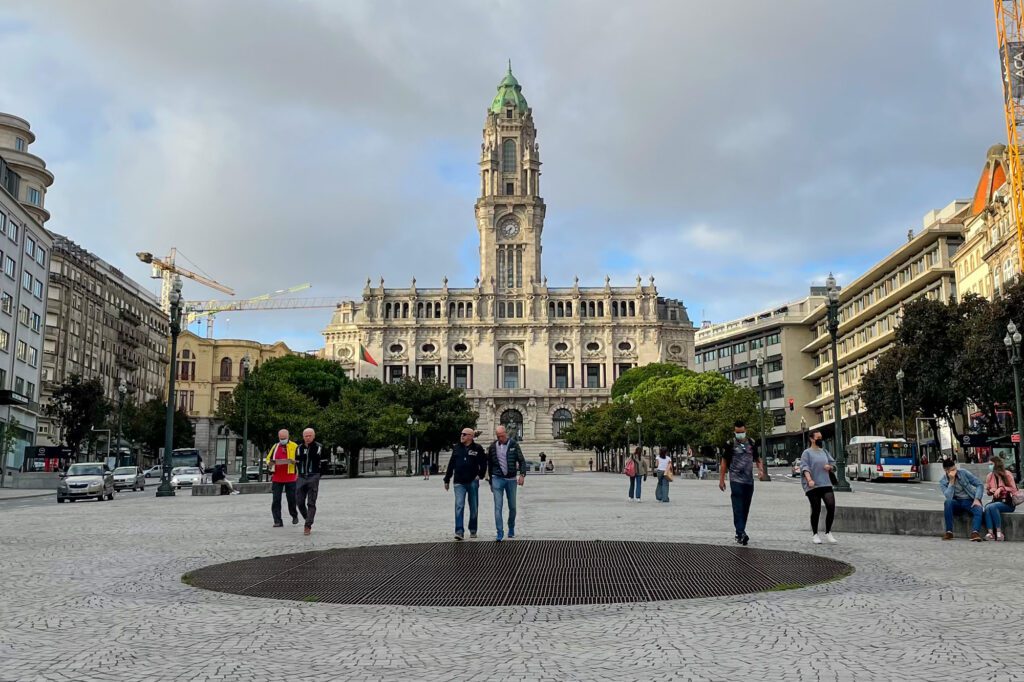 After leaving Igreja do Carmo, take a stroll north through Praça do Município.
Praça do Município is a large square in downtown Porto that's home to the city's grand Neoclassical City Hall, several historic statues, and many other impressive buildings.
This plaza is an important meeting point in the city and where you'll find many political and social gatherings taking place throughout the year. It's also the starting point of most walking tours.
Praça do Município is linked to the equally impressive Praça da Liberdade to its south via Avenida dos Aliados, Porto's main street. The long avenue is lined with cafes, bars, and restaurants with plenty of outdoor seating where you can sit for a while and watch the world go by.
At the southern end of the plaza, you'll find São Bento Train Station (here on Google Maps), which might be the most beautiful train station in the world (although Milan's Stazione Centrale is definitely in the conversation). It's also a good place to see azulejos, those iconic blue tiles.
Try a Bifana at Conga
After a busy morning exploring downtown Porto, it's time to try your first Portuguese delicacy for lunch – the bifana.
A bifana is a traditional Portuguese sandwich made up of a soft bread roll filled with thin slices of marinated pork and plenty of mustard and piri-piri sauce. The tasty dish is one of the most popular fast foods in Porto.
There are many regional variations of the bifana all across Portugal. But the Porto-style bifana has beer and Port wine added to the marinade mix for a more tangy taste.
So Where Should You Try Bifana in Porto?
Our walking tour guide recommended we check out Conga for the best bifana in Porto. And he certainly wasn't wrong!
The casual family-owned eatery has been open since 1976 when the owner claims to have invented the dish. No one quite knows whether this is true or not. But what we can tell you is that they serve up one mean pork sandwich.
When you first arrive at Conga, you'll see the huge vats of pork stewing in the window. It's enough to get anyone's taste buds tingling. You may have to stand in line for a while, but the tasty dish is definitely worth it.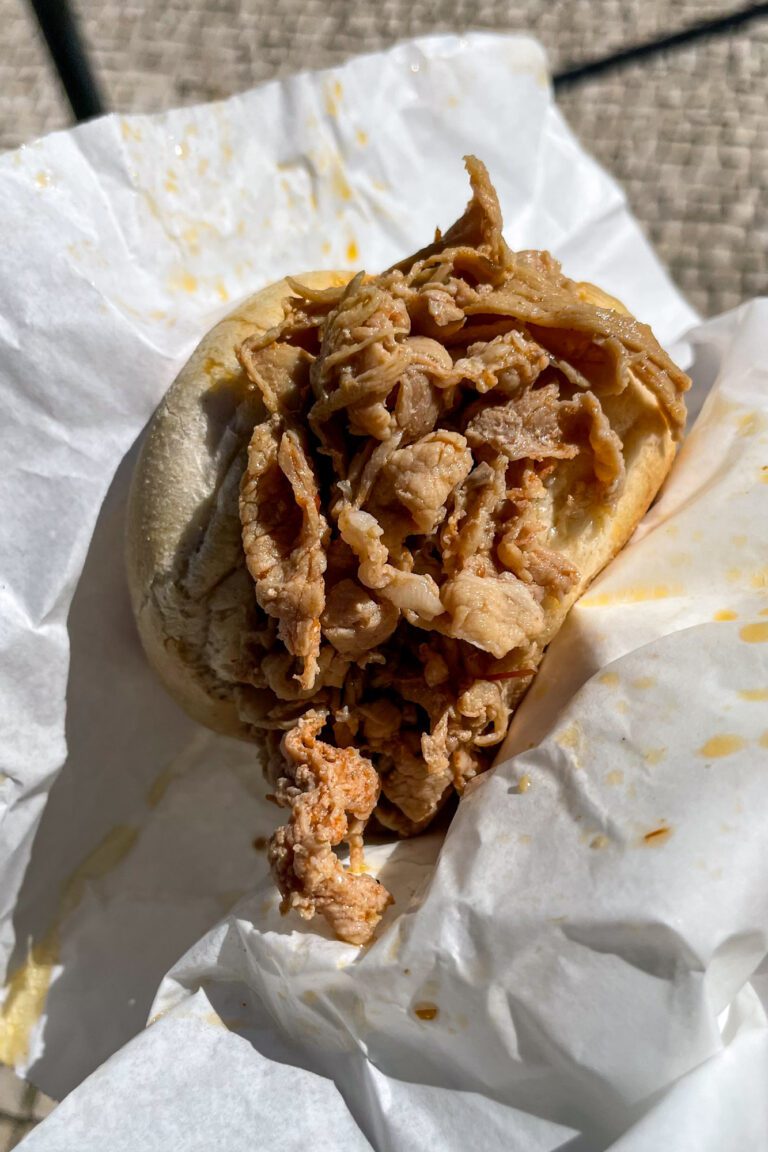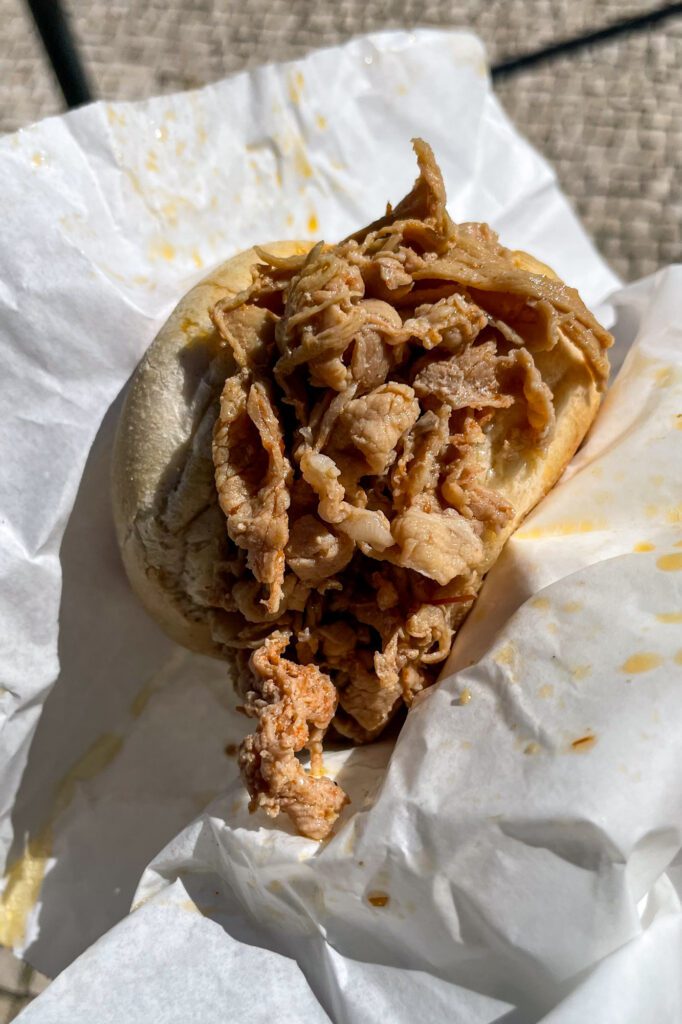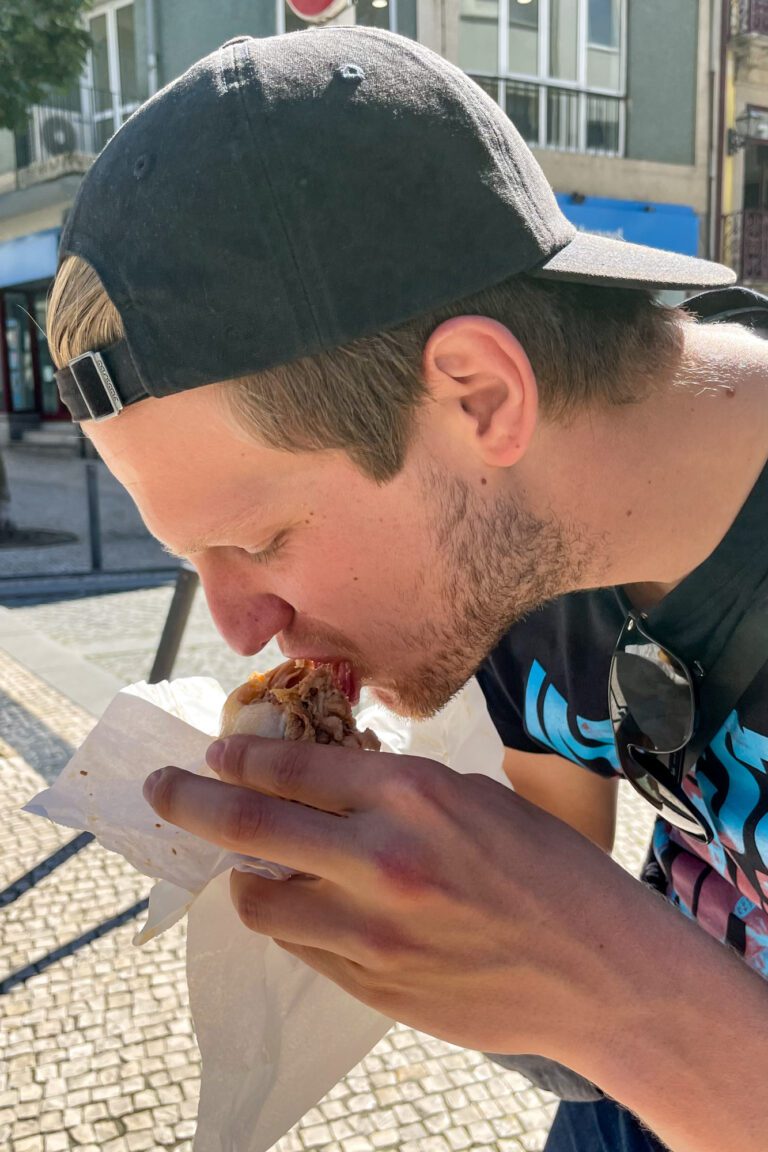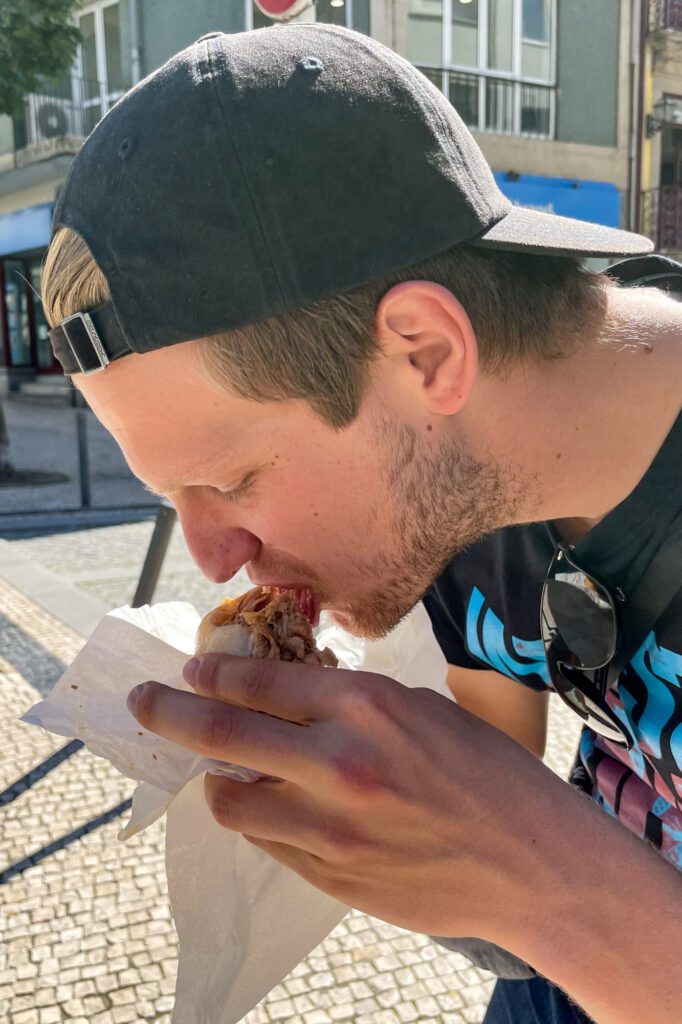 If you're traveling with a couple of people, you could also split a bifana and a franchesina to knock out two of Porto's must-try dishes in one meal.
A franchesina is another indulgent Portuguese sandwich made with layers of sausage, ham, and/or roast beef between lightly toasted bread, smothered in cheese, and soaked in a rich tomato and beer sauce.
Yes, it is as filling and calorific as it sounds. But it's totally worth it!
Grab a Pastel de Nata for Dessert
Round off your lunch with a pastel de nata, another tasty Portuguese specialty.
The pastel de nata is a traditional Portuguese egg custard tart, usually dusted with cinnamon and powdered sugar. The pastel de nata was (allegedly) first invented in a monastery on the outskirts of Lisbon in the late 1700s. But over time, they have become just as popular in Porto and other areas of the country too.
The pastéis de nata (that's the plural version) at Manteigaria are our absolute favorite in Portugal.
We first discovered them in Lisbon but were excited to find they also have a shop in Porto, conveniently located just a few minutes from Conga.
At Manteigaria do Porto, you can watch the sweet pastries being made right in front of you before sampling one (or several) of the warm custard tarts for yourself.
Fábrica de Nata is another great option for a tasty pastel de nata in Porto. Their award-winning custard tarts are served fresh from the oven and can be enjoyed in the cozy cafe or outside on the sunny terrace.
Can't decide which of the above places to check out? If you have the room, we'd highly recommend going to both and trying their pastéis de nata side-by-side. Then you can decide for yourself which is better.
That's what we did in Lisbon, and Manteigaria came out on top. But that's just our experience!
Admire Sé do Porto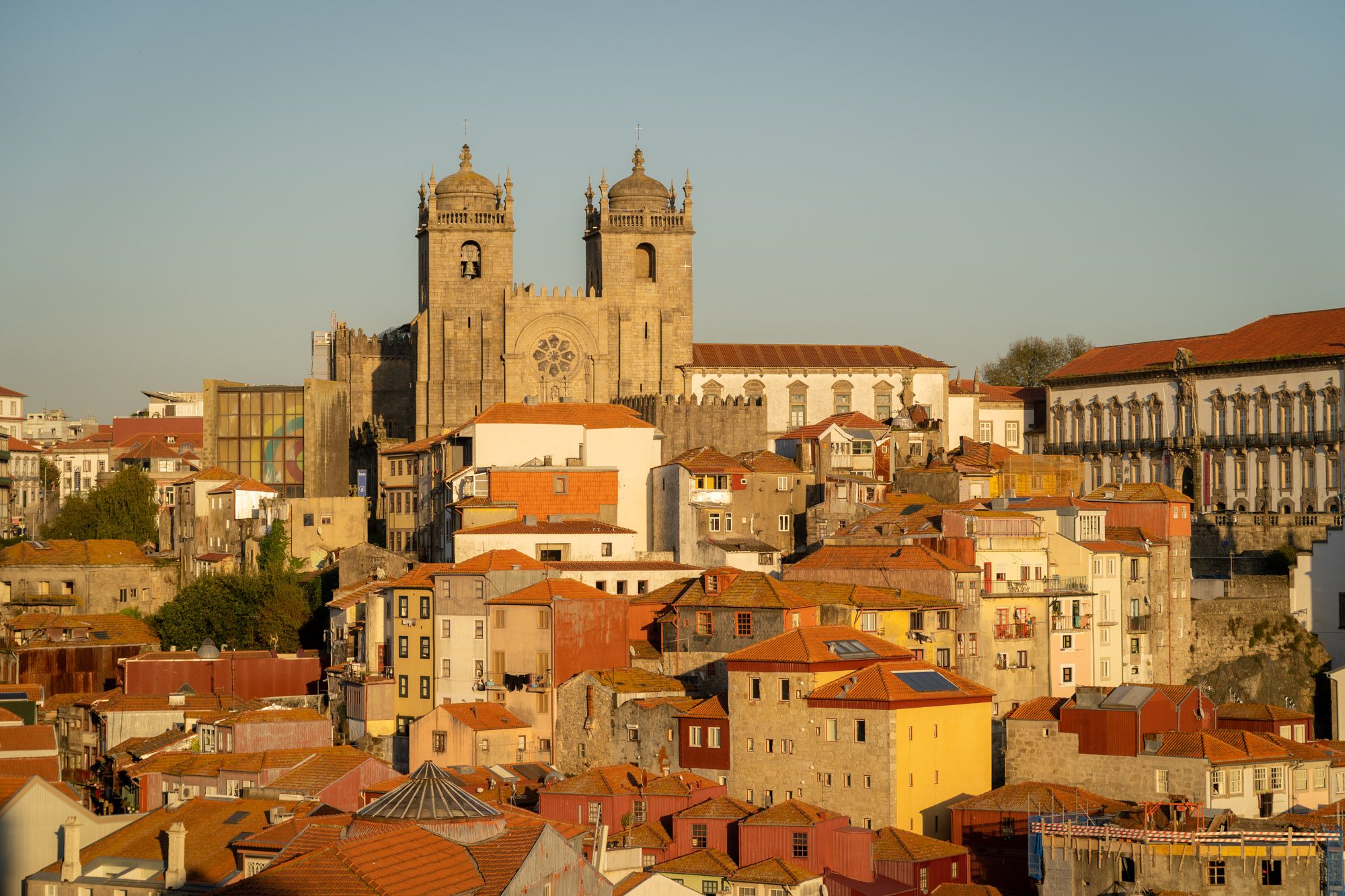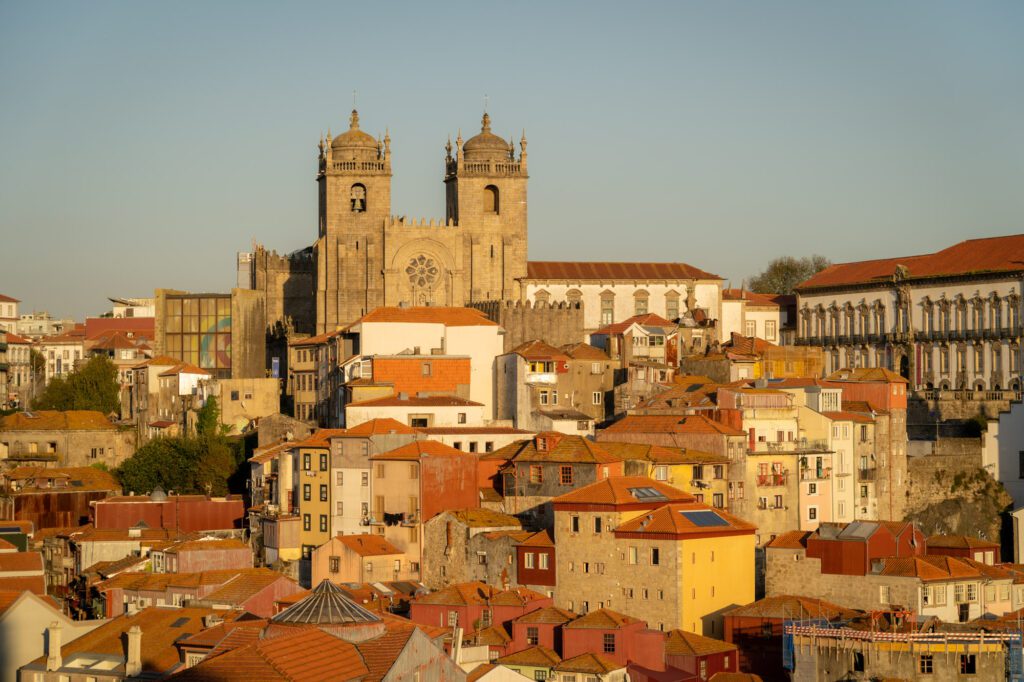 After lunch, start heading down towards the river and into the historic center to discover Sé do Porto, the main cathedral in Porto, which sits on the site of the original Roman settlement that was here centuries ago.
On the way, stop at Igreja de Santo Ildefonso (here on Google Maps) for another example of a beautiful tiled church.
Sé do Porto is Porto's hilltop Romanesque cathedral and the most important religious building in the city. The fortress-like church was constructed in the 12th century, making it one of the oldest buildings in Porto, and has been renovated multiple times throughout its history.
Should You Go Inside the Porto Cathedral?
We don't really think you need to. While it's interesting to see the building from the outside, it's not the most exciting as far as cathedral interiors go.
The interior is an unusual mishmash of different styles, including Baroque, Romanesque, and Gothic, due to the start-stop nature of its construction.
With more time, it might be worth going inside. But if you only have one day in Porto, we'd move on.
Cross the Ponte Luís I Bridge For Spectacular Views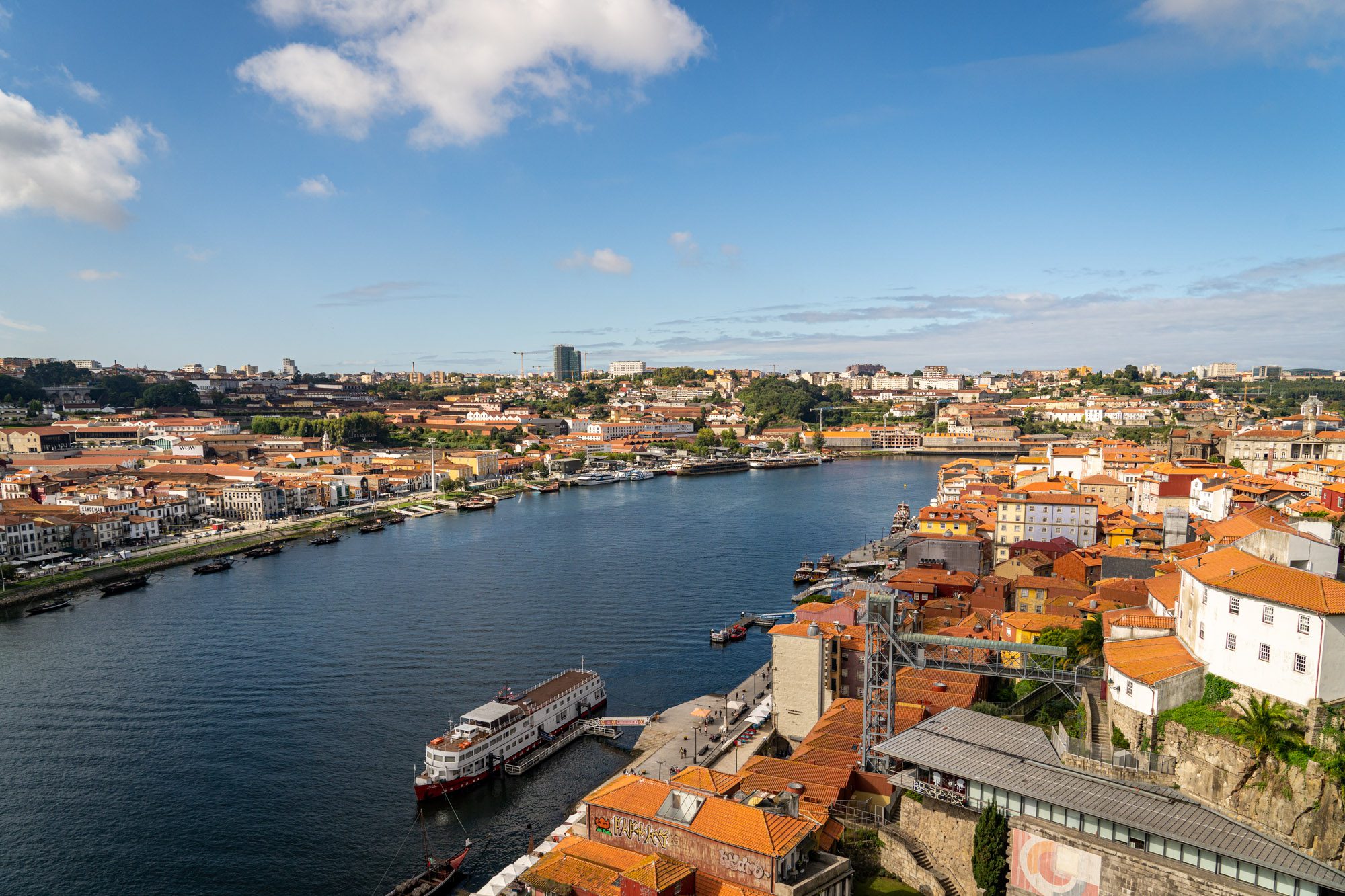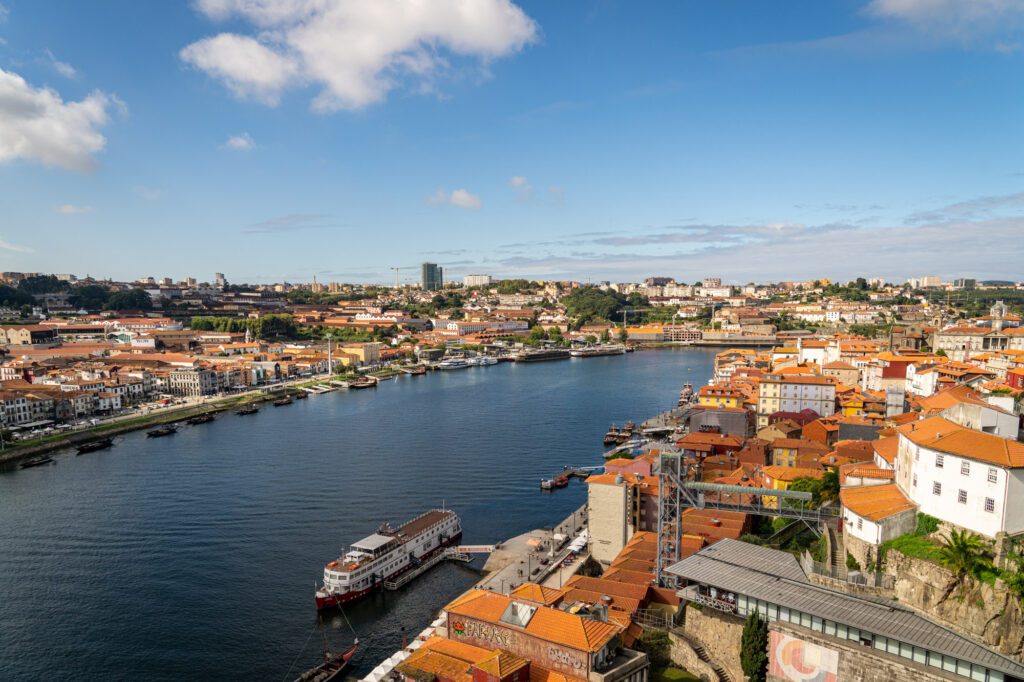 From Porto Cathedral, walk just a few minutes to join the upper walkway of the Ponte Luis I Bridge.
Ponte Luis I crosses the Douro River and is one of the city's most recognizable landmarks, connecting Porto in the north and Vila Nova de Gaia in the south.
When it was completed in 1886, Ponte Luis I was the longest-spanning metal bridge in the world. And the impressive structure is still considered an architectural marvel today.
The upper part of the bridge has a metro line and pedestrian walkway, while the lower level is for cars and pedestrians. Walk across the upper walkway toward Vila Nova de Gaia for amazing 360 views across the river and over both cities.
Once you reach Vila Nova de Gaia, head straight up to Mosteiro da Serra do Pilar, the large terrace of the 15th-century hilltop monastery by the same name. From here, you'll be treated to even more fantastic views back over the famous bridge and the Porto skyline.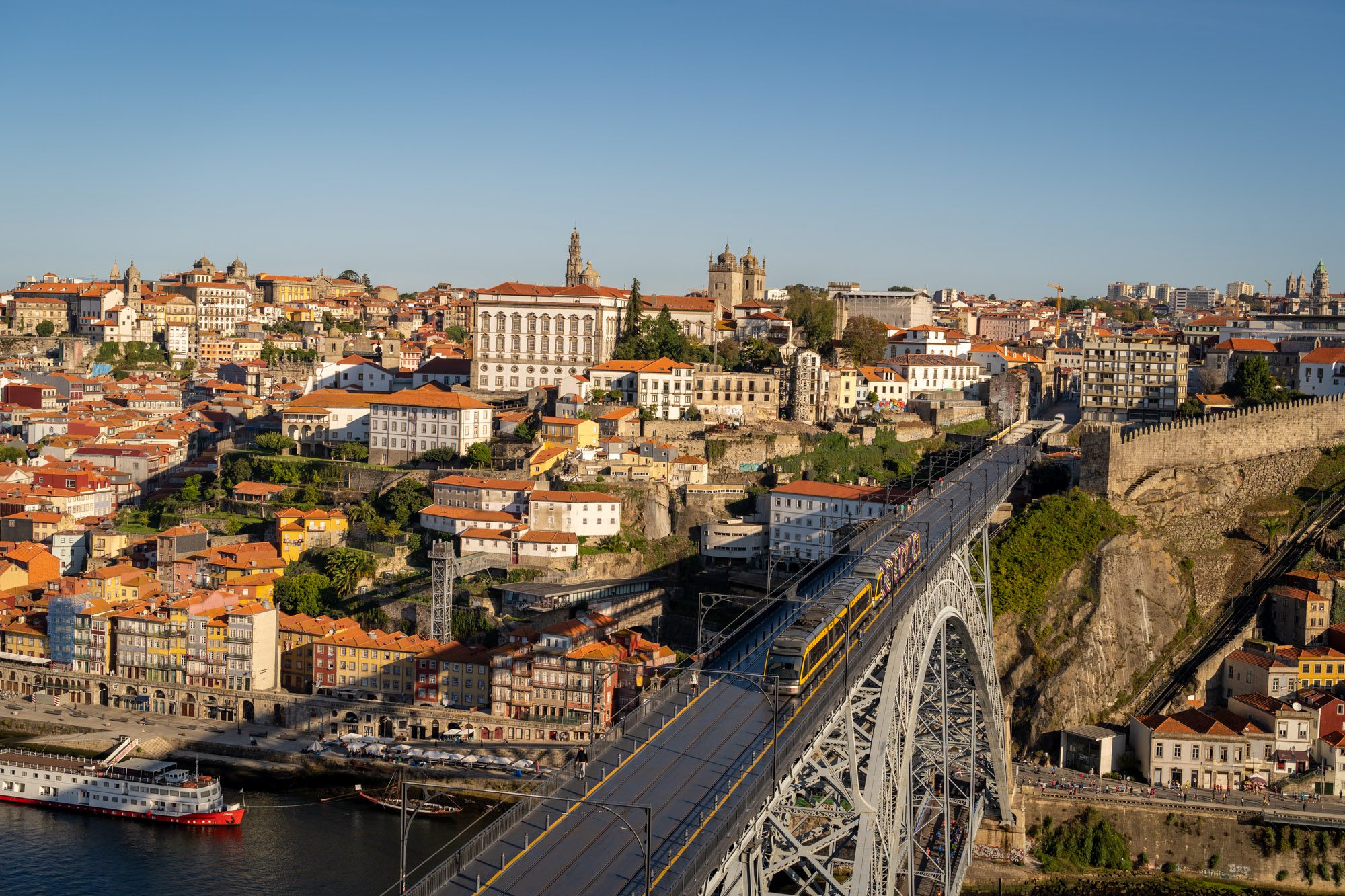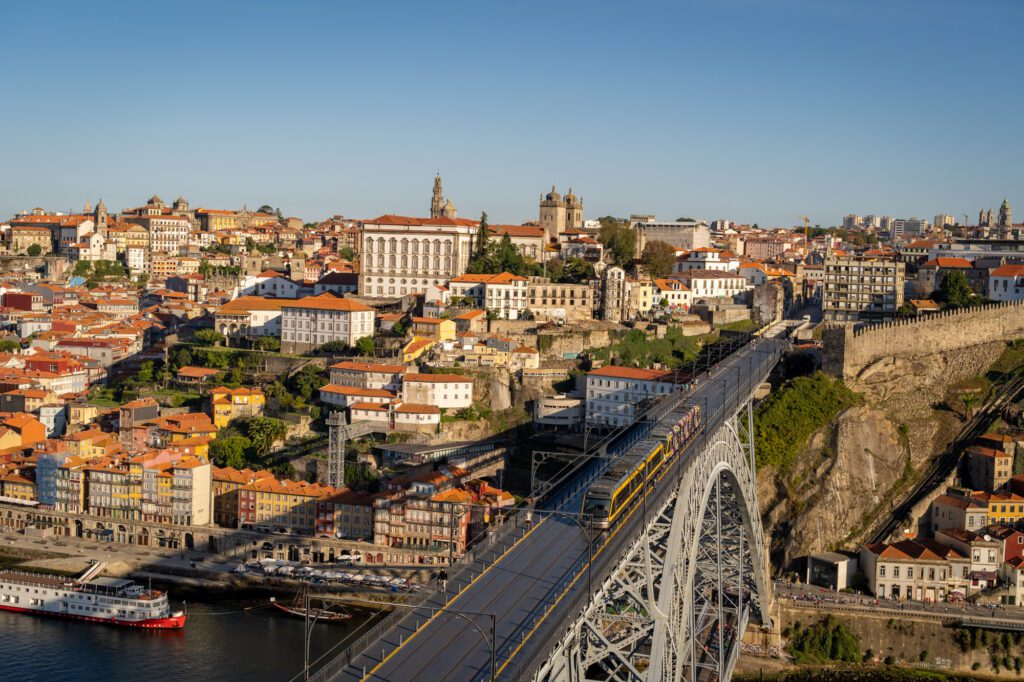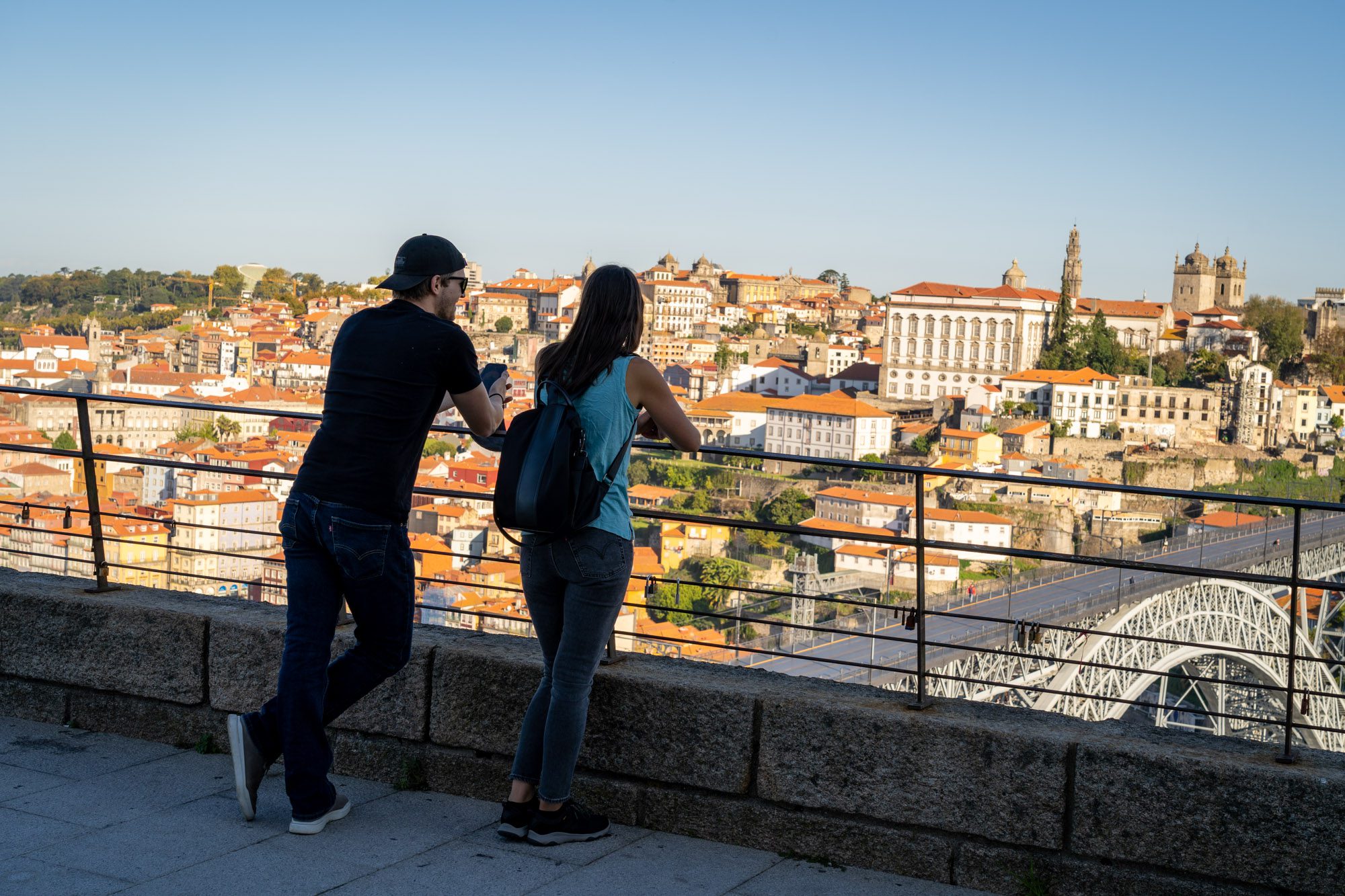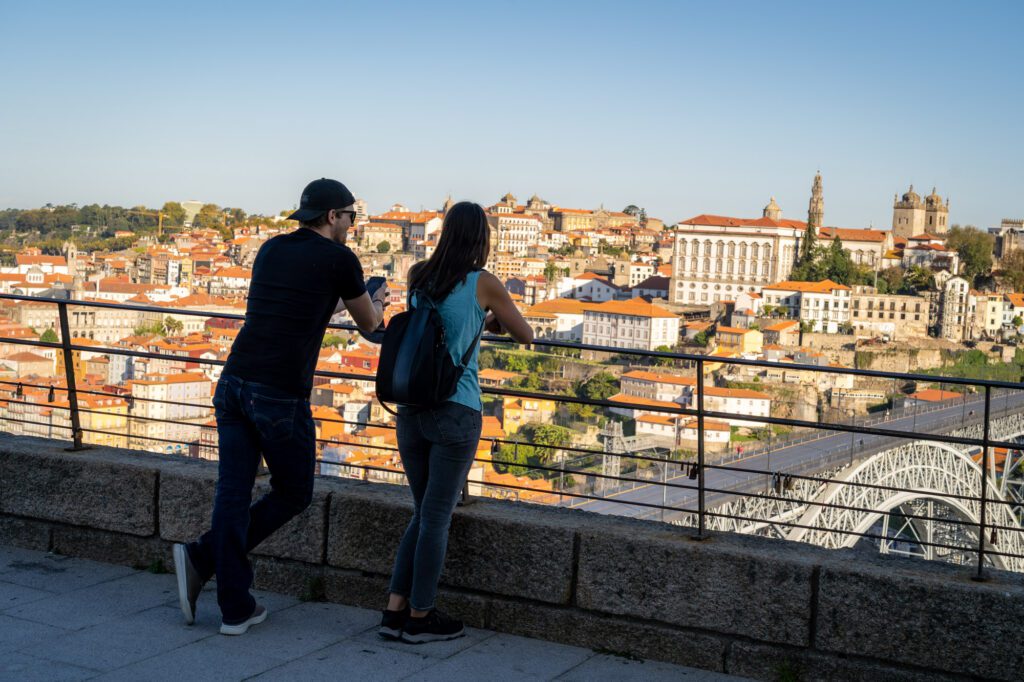 Take a Walk Through Vila Nova de Gaia
Next, make your way down from the hilltop monastery to the Gaia waterfront. On the way, you'll pass some more great viewpoints, including Miradouro da Ribeira and Miradouro do Teleférico.
If the downhill walk is too much, you can also jump on the Gaia Cable Car for €6 per person. The cable car is a little overpriced in our opinion (it's only a 5 minute ride), but it does provide a quick respite from walking and some more fantastic views over the river and city.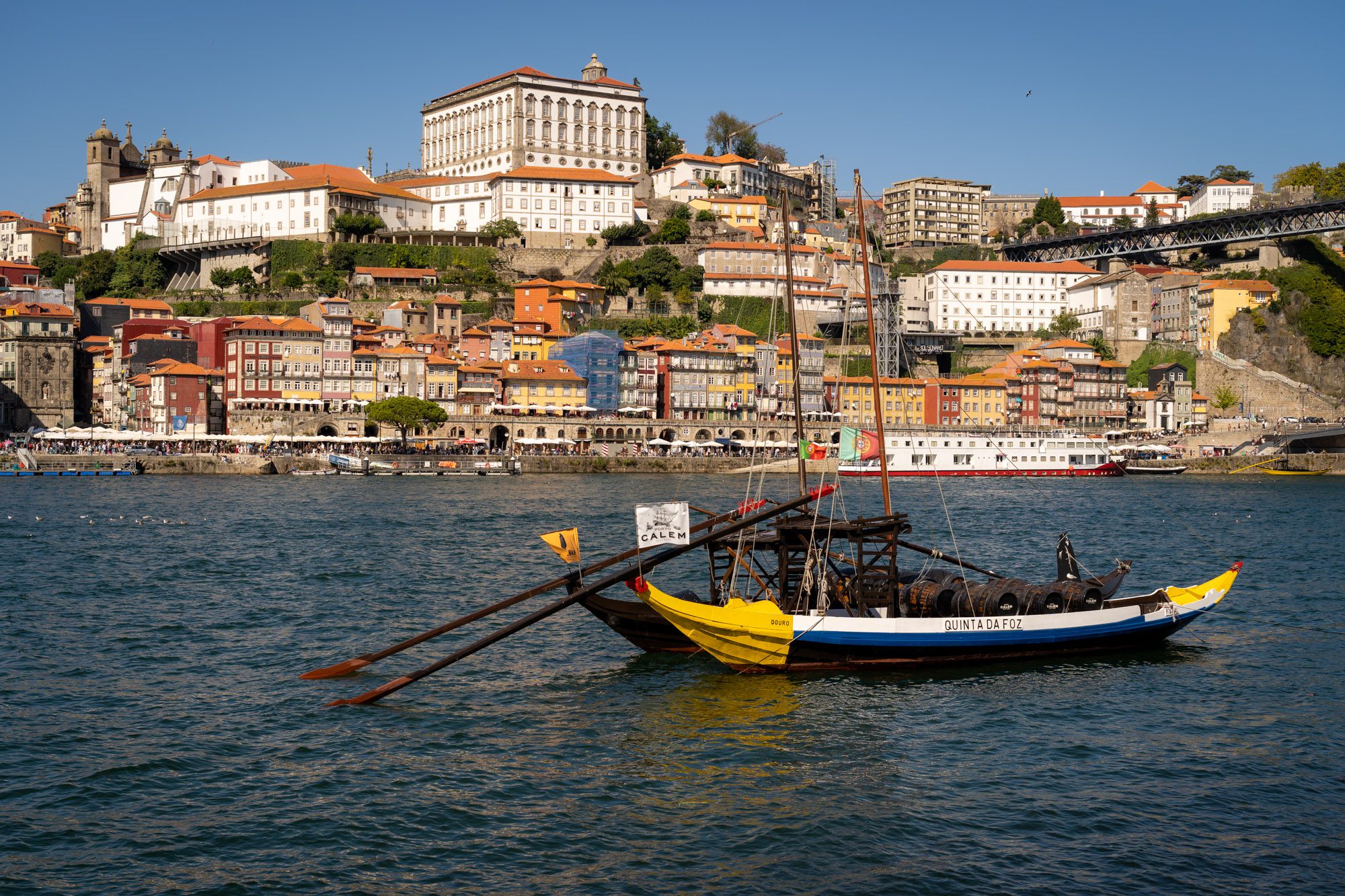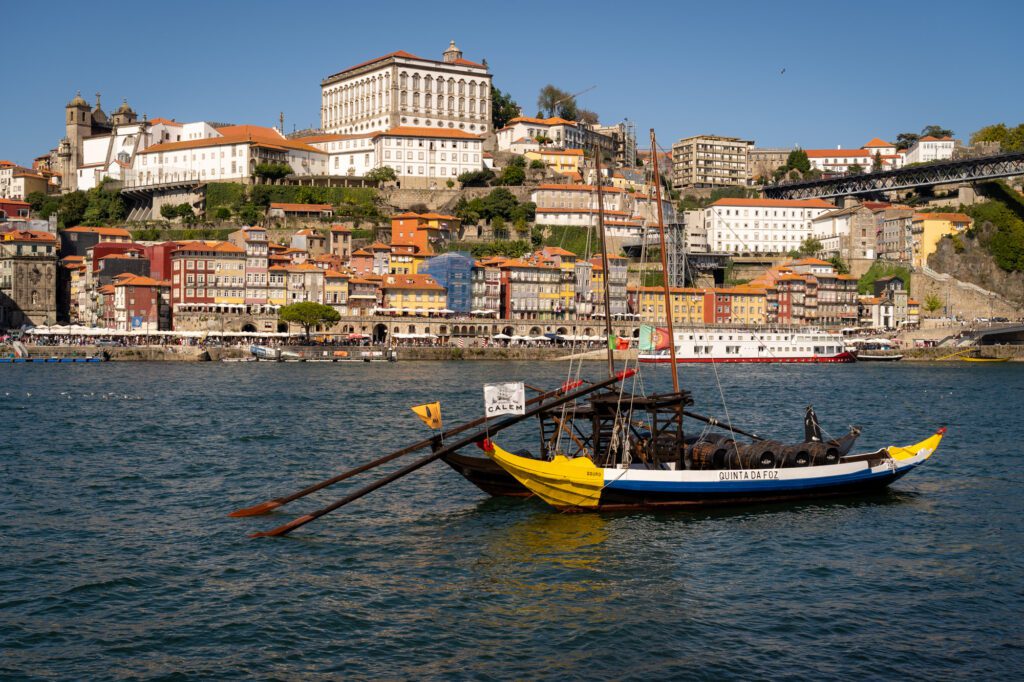 The waterfront in Vila Nova de Gaia is where you'll find many historic port cellars and port houses. If you have the time, it's worth stopping at one to do a port tasting, which was one of our favorite parts of our Porto visit.
Careful, though, every local we interacted with warned us about the brutal hangovers that too much port brings.
And even if you don't have time for a full port tasting at a port lodge, it's still worth taking a walk through the neighborhood and grabbing a quick glass of port at one of the riverside bars.
Finally, head back over the lower level of Dom Luis I Bridge to reach Ribeira.
Dinner in Ribeira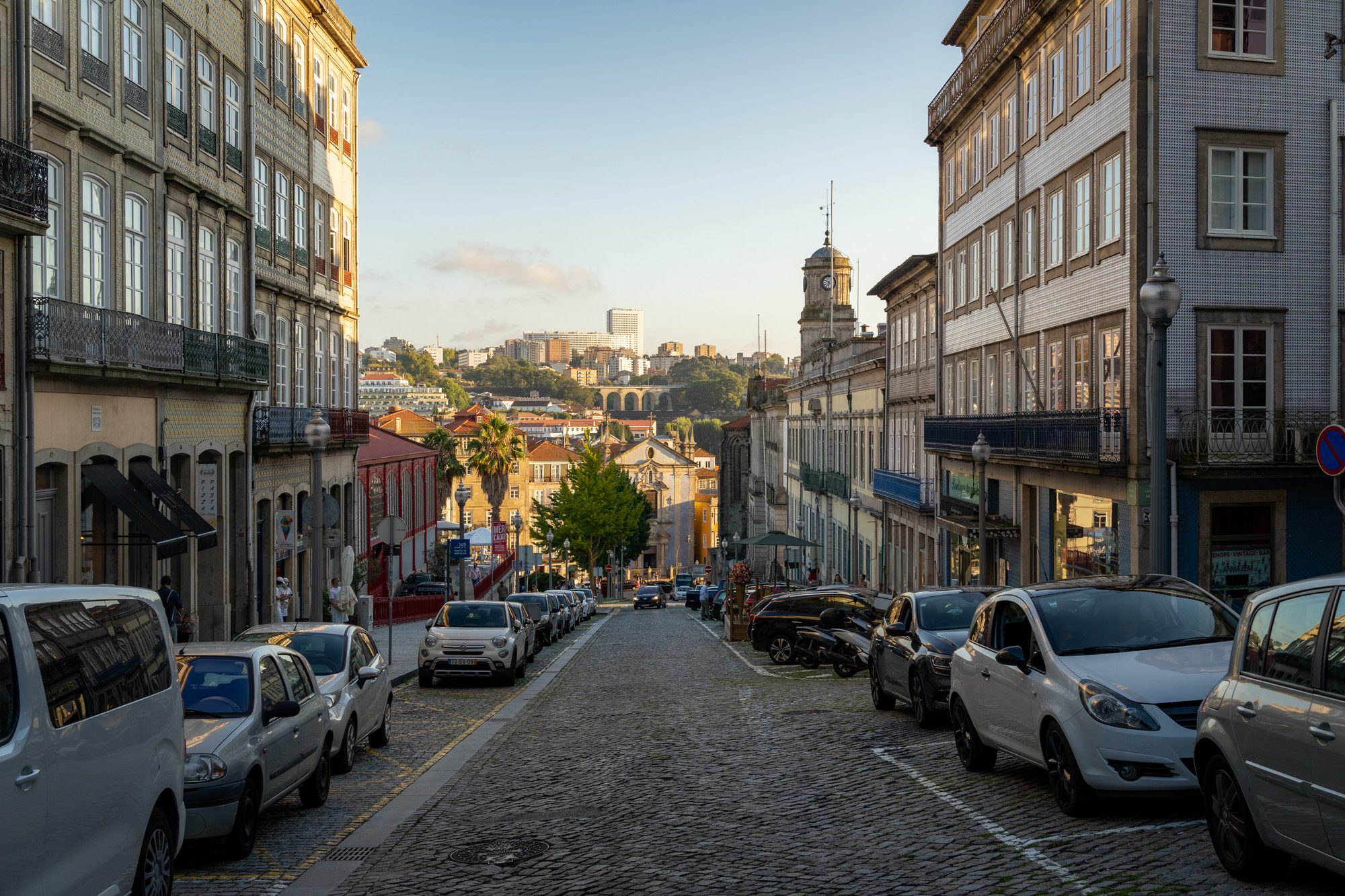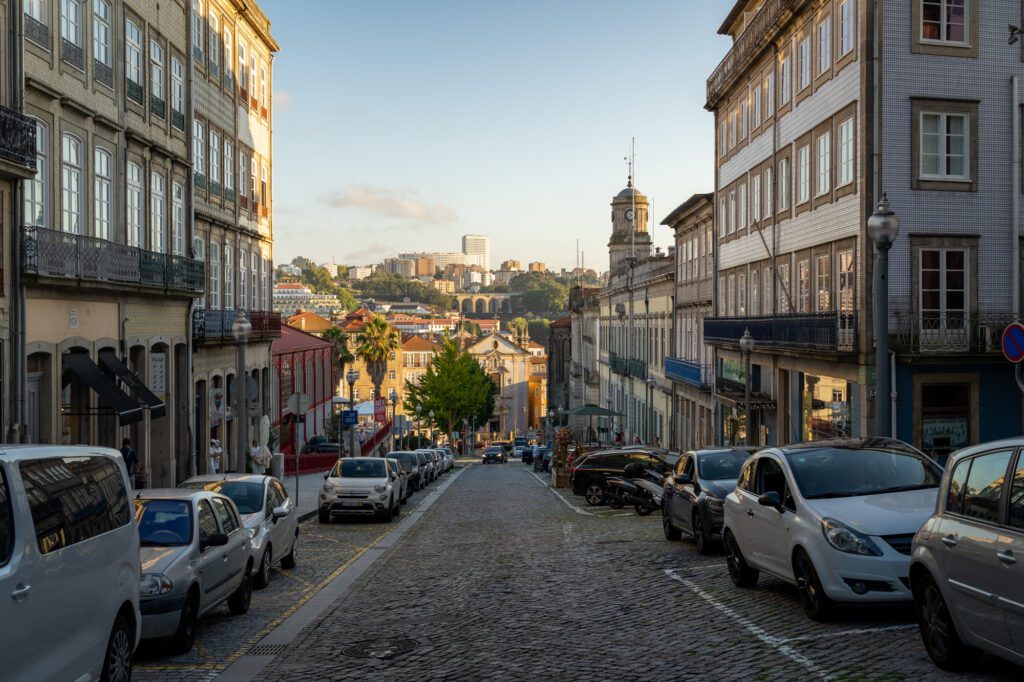 End your day with dinner and drinks in the Ribeira district. Spanning the Porto riverfront, Ribeira is a popular evening spot known for its colorful facades and many restaurants and bars with gorgeous views over the Douro River and Dom Luis I Bridge.
We have three suggestions for where to eat in Ribeira.
Taberna Dos Mercadores is a small, traditional spot in Ribeira that serves a menu of tasty, authentic regional dishes from the Porto region.
The food at Taberna is fantastic and the prices are inexpensive given the high quality. However, the intimate restaurant is extremely popular, so you may have to wait in line for a while to get a table.
If you're looking to treat yourself to somewhere special, check out Restaurante Casario, the on-site restaurant of Gran Cruz House, (one of the coolest places to stay in the neighborhood).
The luxury restaurant has a fantastic menu of Portuguese specialties, made using local and seasonal products. It also has a large port and wine cellar and a beautiful terrace overlooking the Douro River.
Alternatively, head to Casa Guedes Tradicional for a more authentic experience (and more pork stuffed between pieces of bread).
Casa Guedas has been serving delicious roasted pork leg sandwiches in Porto since 1987 when the Correia brothers opened a small snack bar. Today, the casual restaurant has three locations in the city and is a particular favorite among both locals and visitors.
Try Some Portuguese Wine at Prova
If you still have some time and energy left after exploring so much of Porto in a day, you can round off your evening with a glass or two of Portuguese wine at Prova.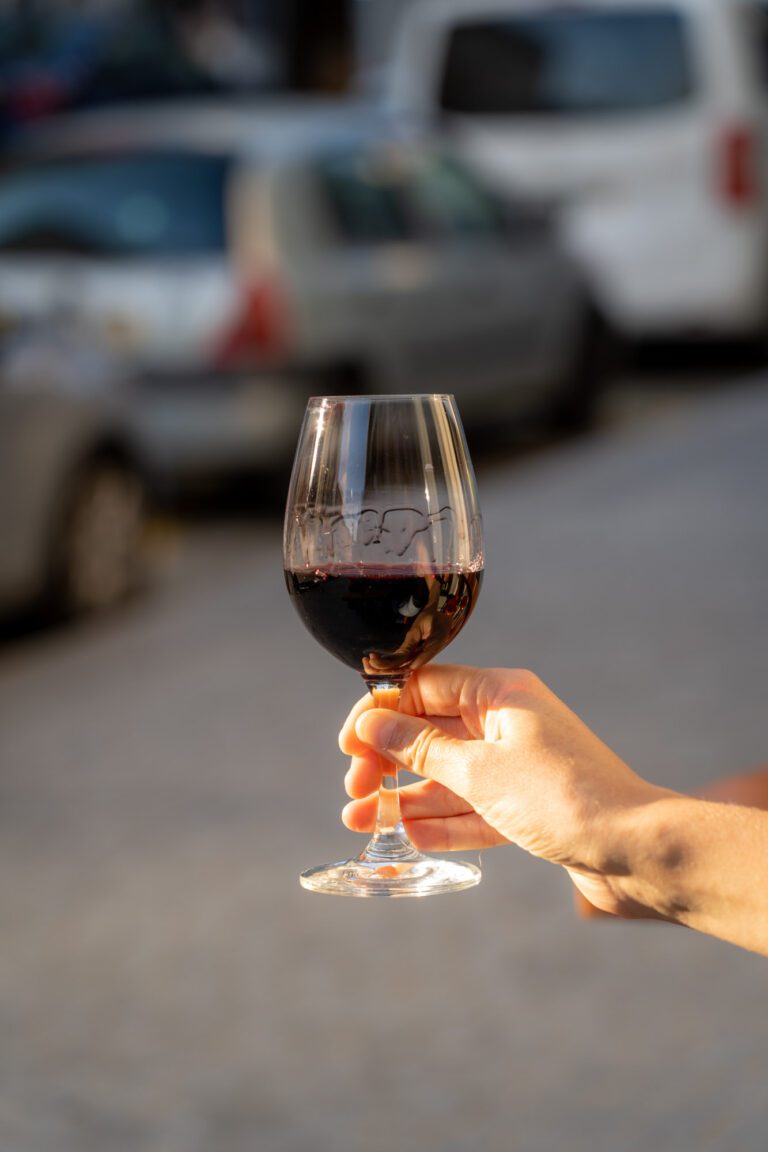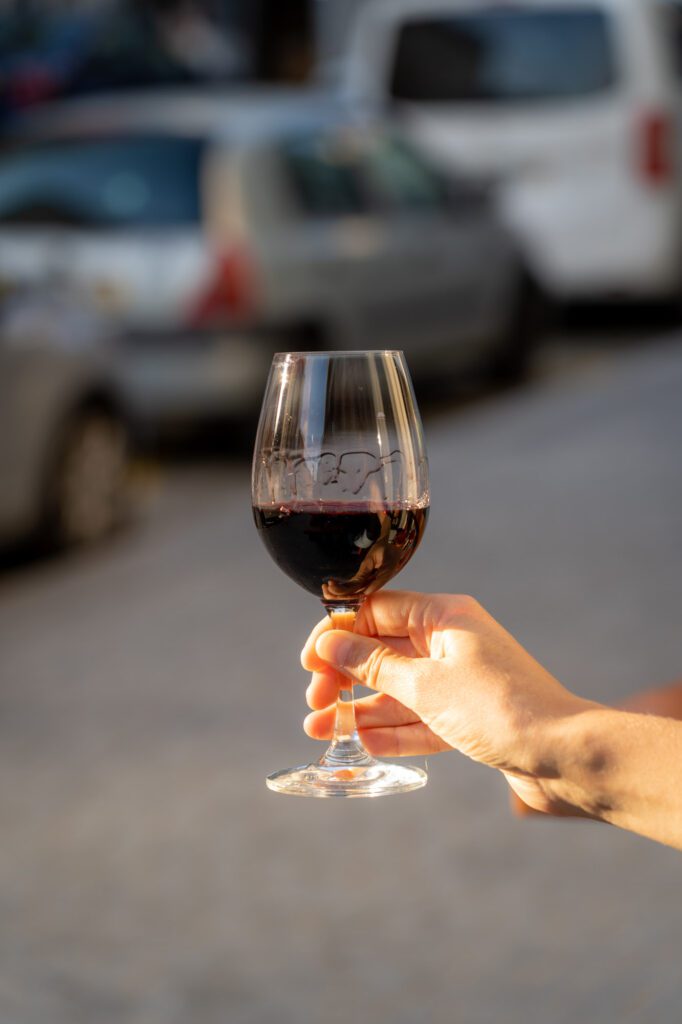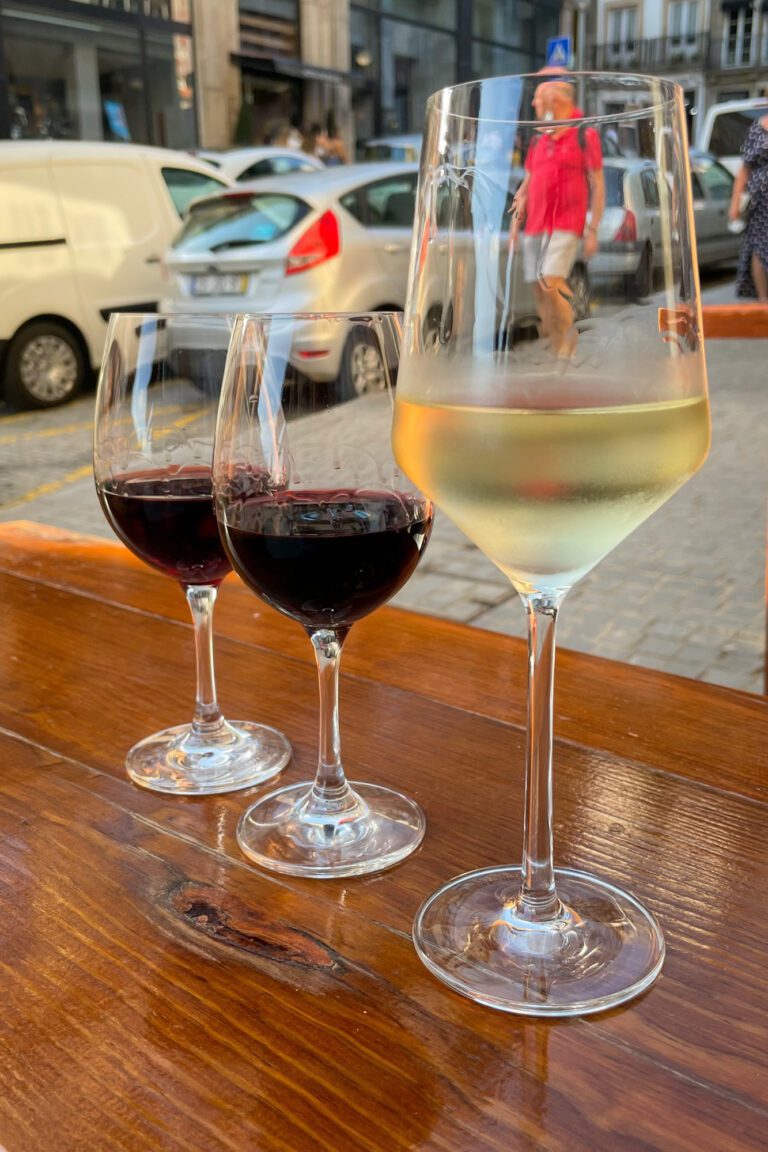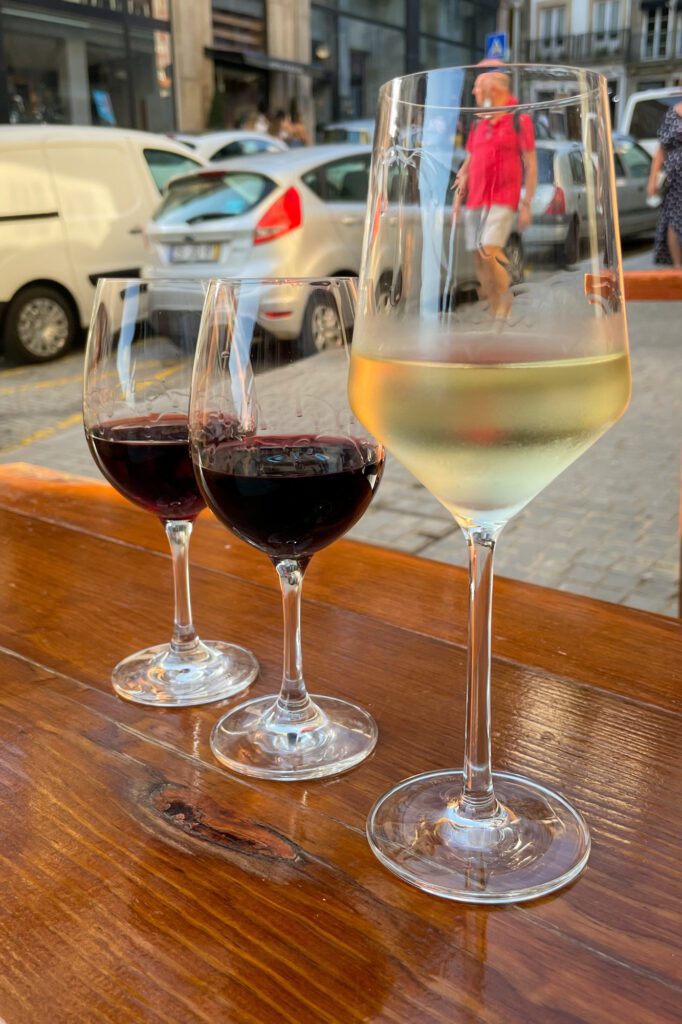 Prova is a cozy and elegant wine bar in the heart of Ribeira, with a fantastic offering of local wine and port, and nightly live music by a local jazz band. All of the wines at Prova are hand selected by owner and experienced sommelier Diogo Amado.
Not sure which wine to order? The extremely knowledgeable and helpful staff will help you find something you like! There's really no better place in Porto for a quick Portuguese wine education.
What to Do with More Than a Day in Porto
If you end up with more than one day in Porto, there are tons of other fantastic things to see and do to expand your trip. This might be spending more time exploring Porto itself or adding in a day trip to the surrounding region.
By the way, we have an entire guide dedicated to spending 3 days in Porto, which is the perfect place to head if you have 2-3 days to spend on the second biggest city in Portugal.
Take a Day Trip out to the Douro Valley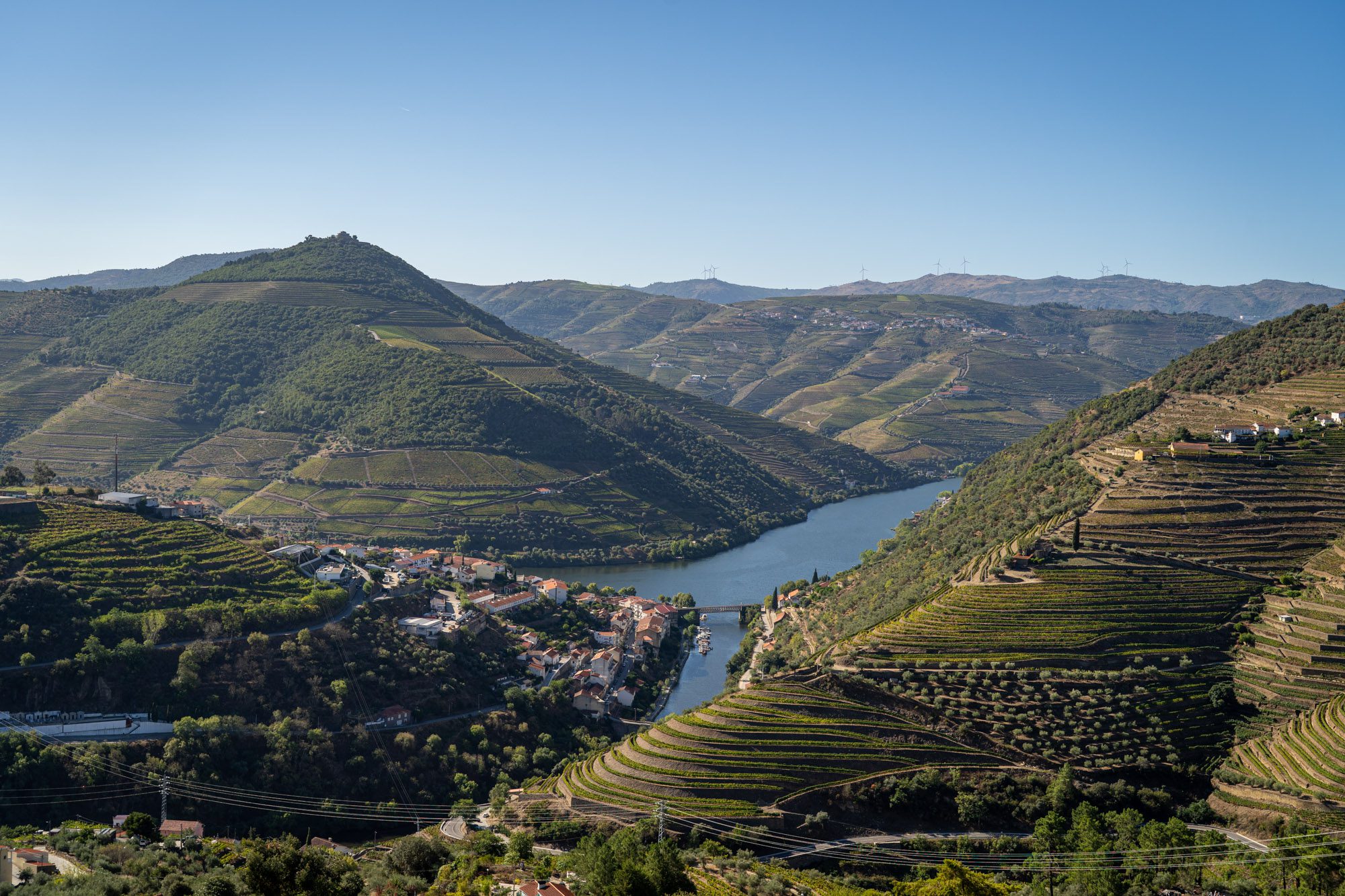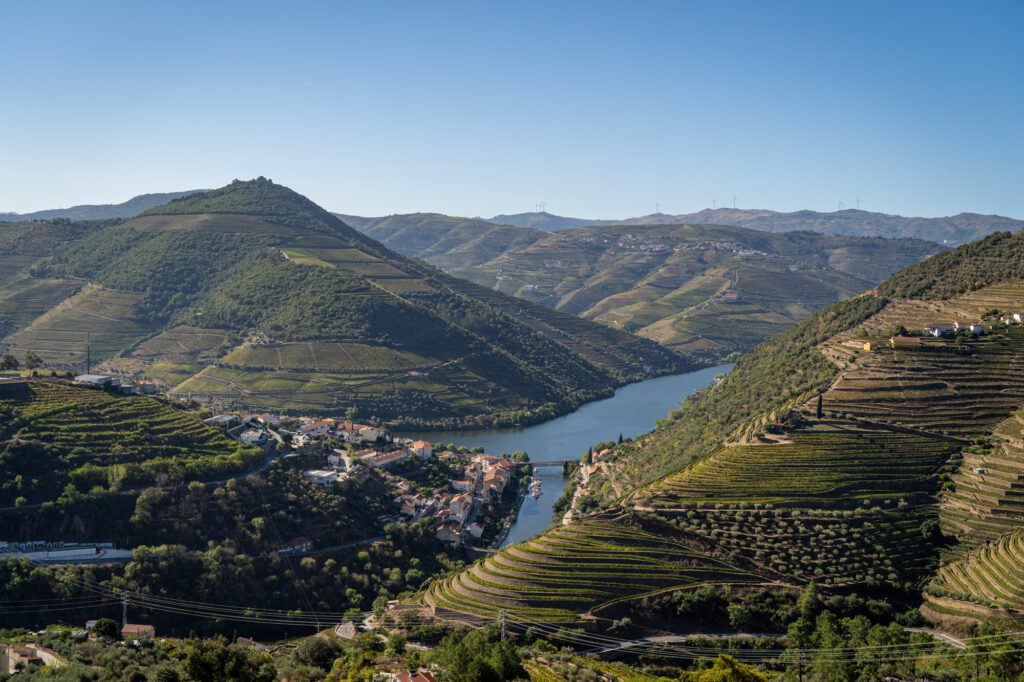 The Douro Valley is our favorite day trip from Porto and a must-do if you have the extra time.
Located 100 km east of Porto, the Douro Valley is where you'll find the many vineyards and wineries that produce the region's famous port wine.
The vineyard-dotted valley is the oldest determined (DOC) wine region in the world. Thanks to its breathtaking natural scenery and historical importance, the region was declared a UNESCO World Heritage Site in 2001.
On a visit to the valley, you can explore the area's stunning countryside on one of its many hiking trails, discover the picturesque towns and villages nestled on the banks of the Douro River, and – of course – visit some of its historic wineries and vineyards.
Most wineries in the region offer tours where you can learn about the port production process and sample plenty of local wine right where it originated.
So What's the Best Way to Visit the Douro Valley on a Day Trip from Porto?
The best way to visit the Douro Valley is on an organized tour. The valley isn't particularly accessible by public transport. And if you drive yourself, someone will need to be the designated driver so won't get to drink the wine.
Plus, on a tour, you'll have access to a knowledgeable guide who can answer all of your questions and give some great insider tips. You'll also get to visit the more off-the-beaten-path vineyards and scenic viewpoints only locals know about.
We did this tour, and it was a highlight of our entire Portugal trip (and our entire three months in Europe, to be honest).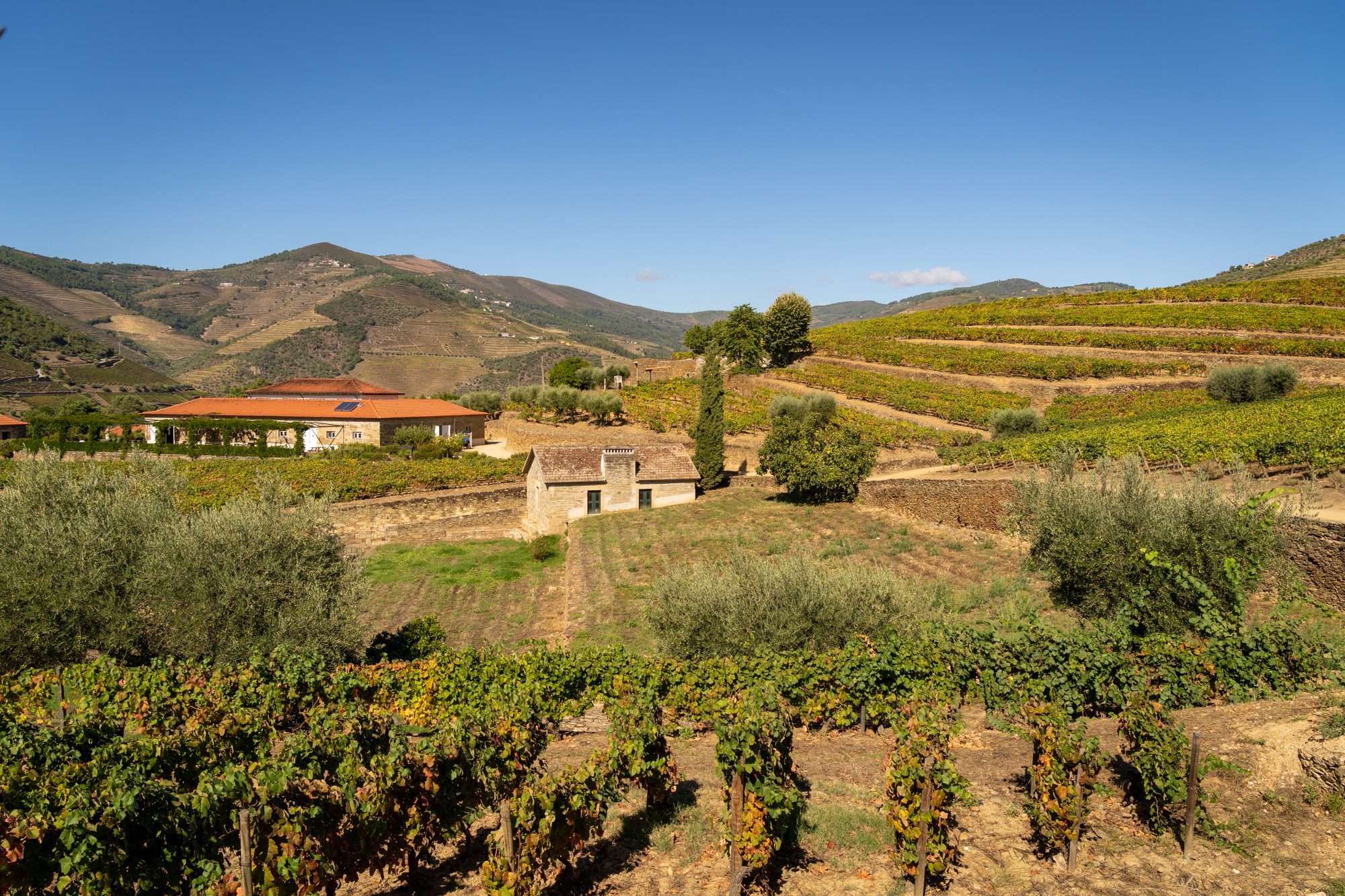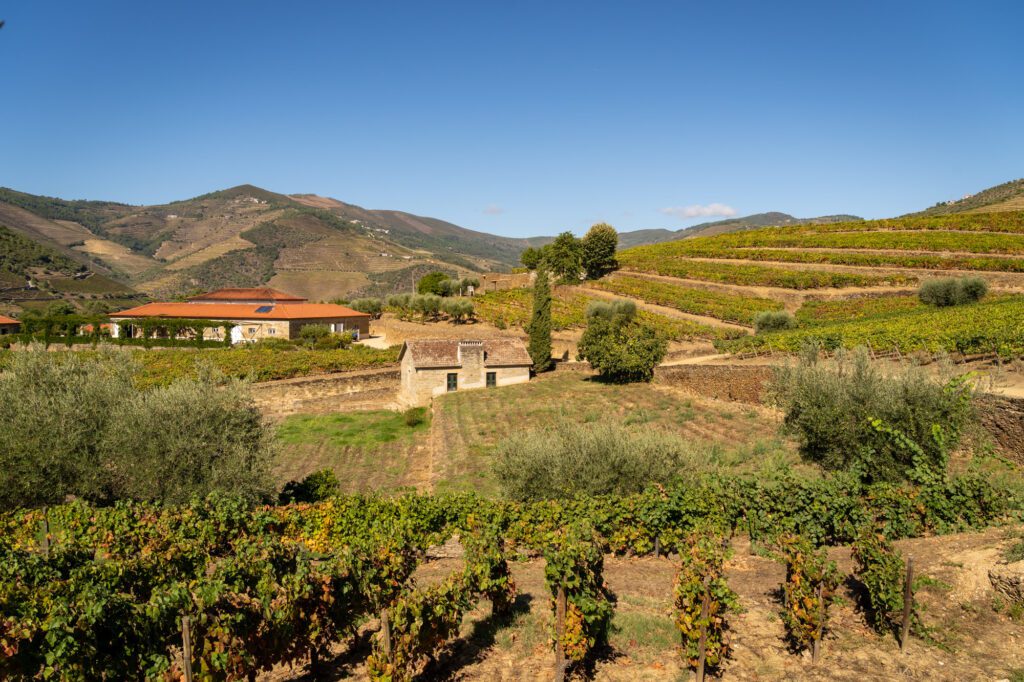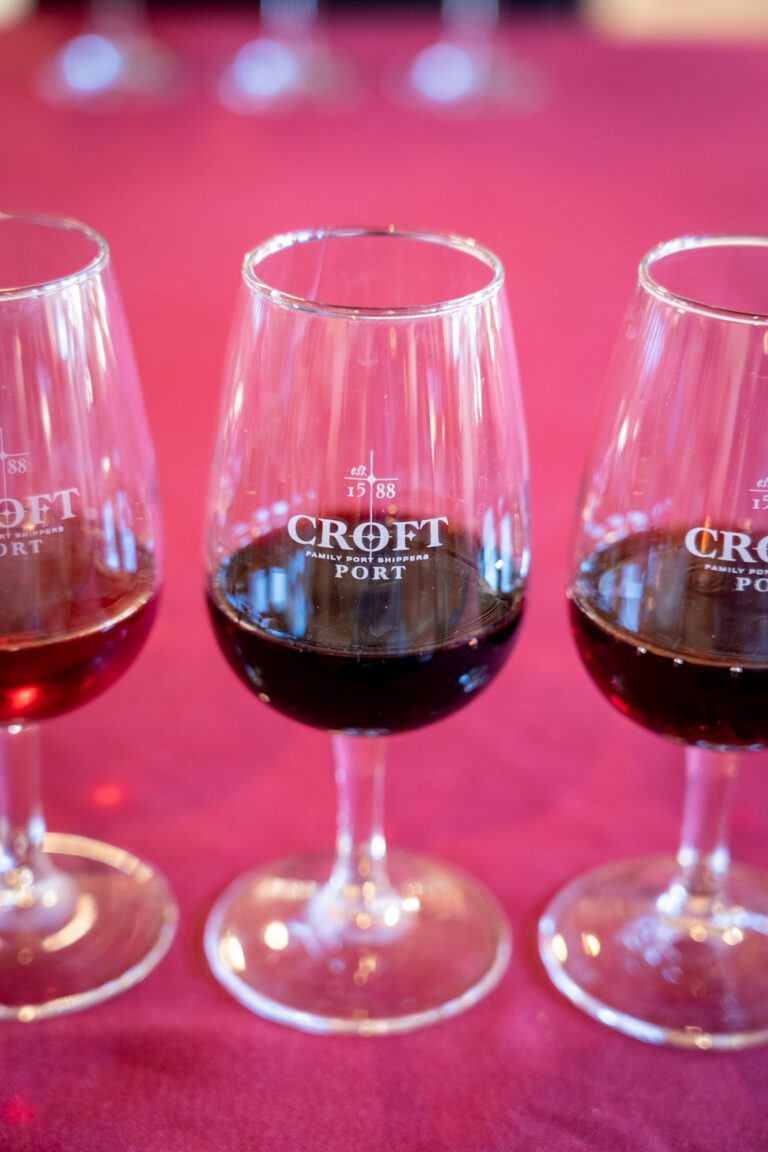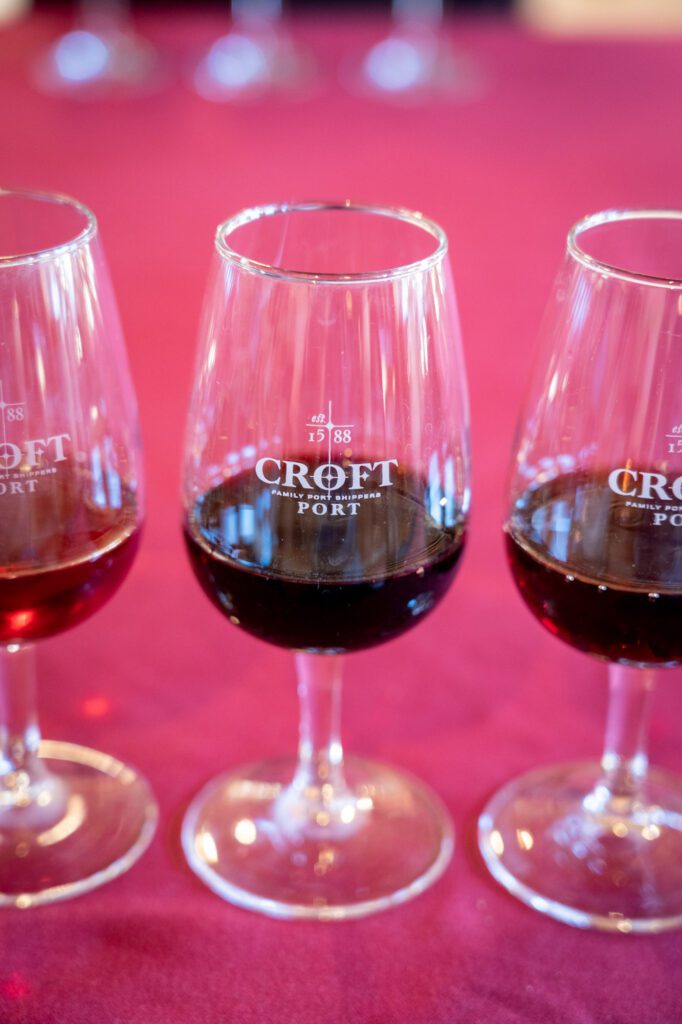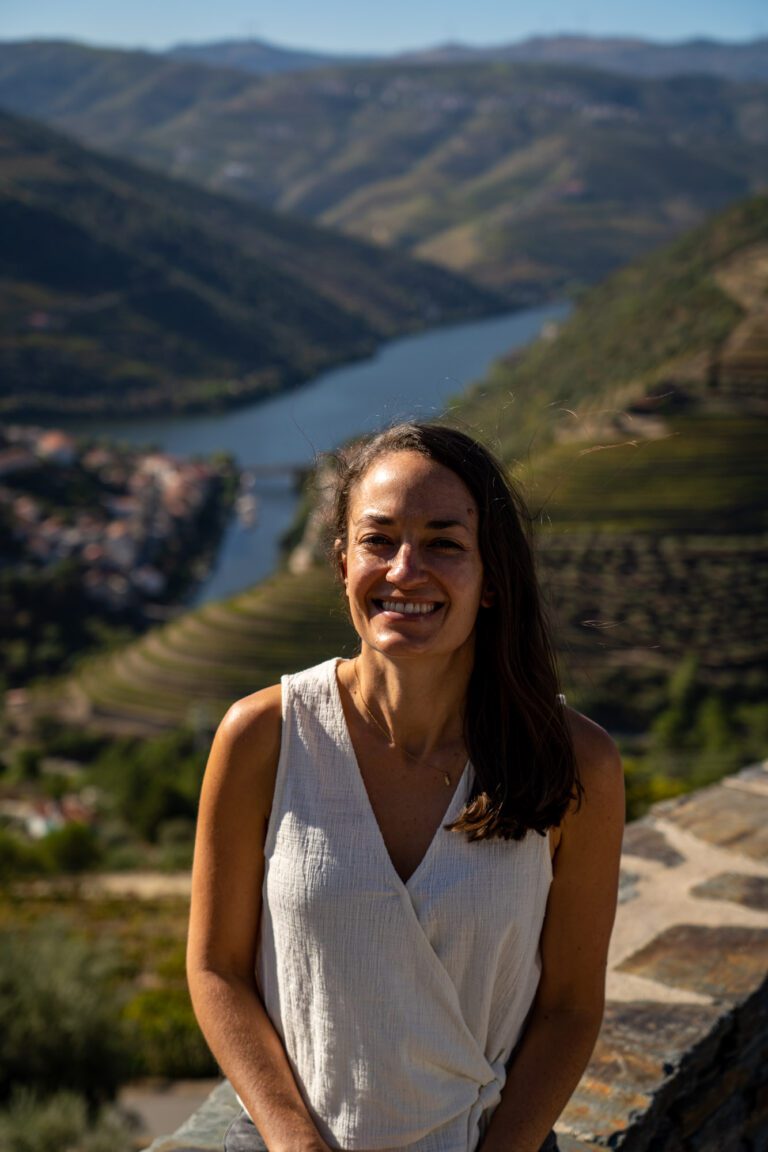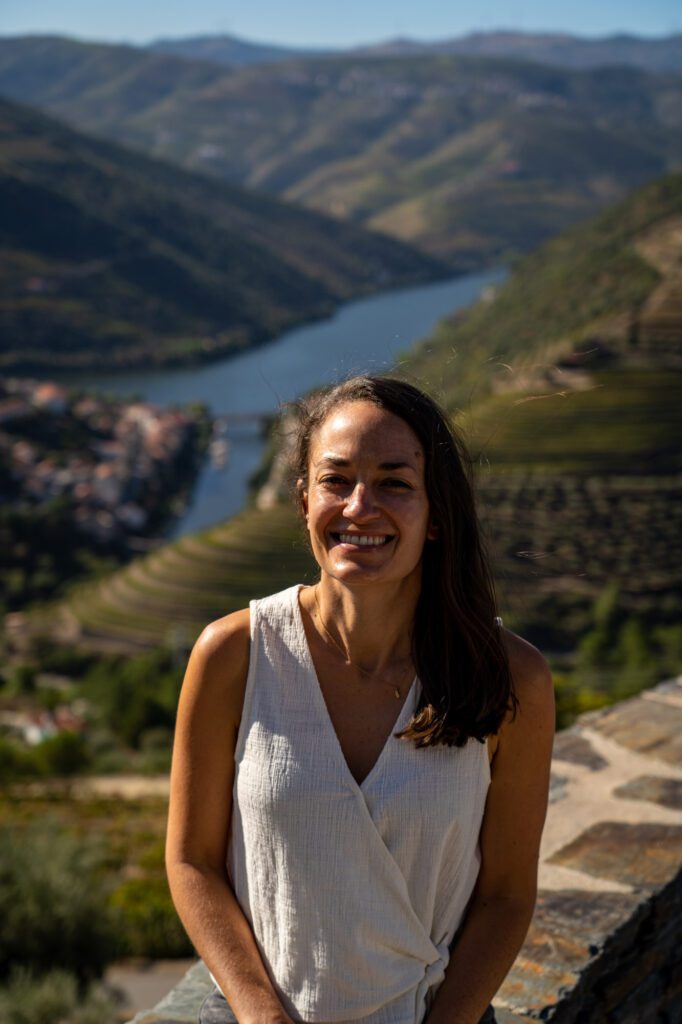 The tour included viewpoints, two winery visits, a delicious lunch at an old estate, and an hour-long cruise along the Douro River with plenty of Porto Tonico (port and tonic) cocktails.
Go Port Tasting in Vila Nova de Gaia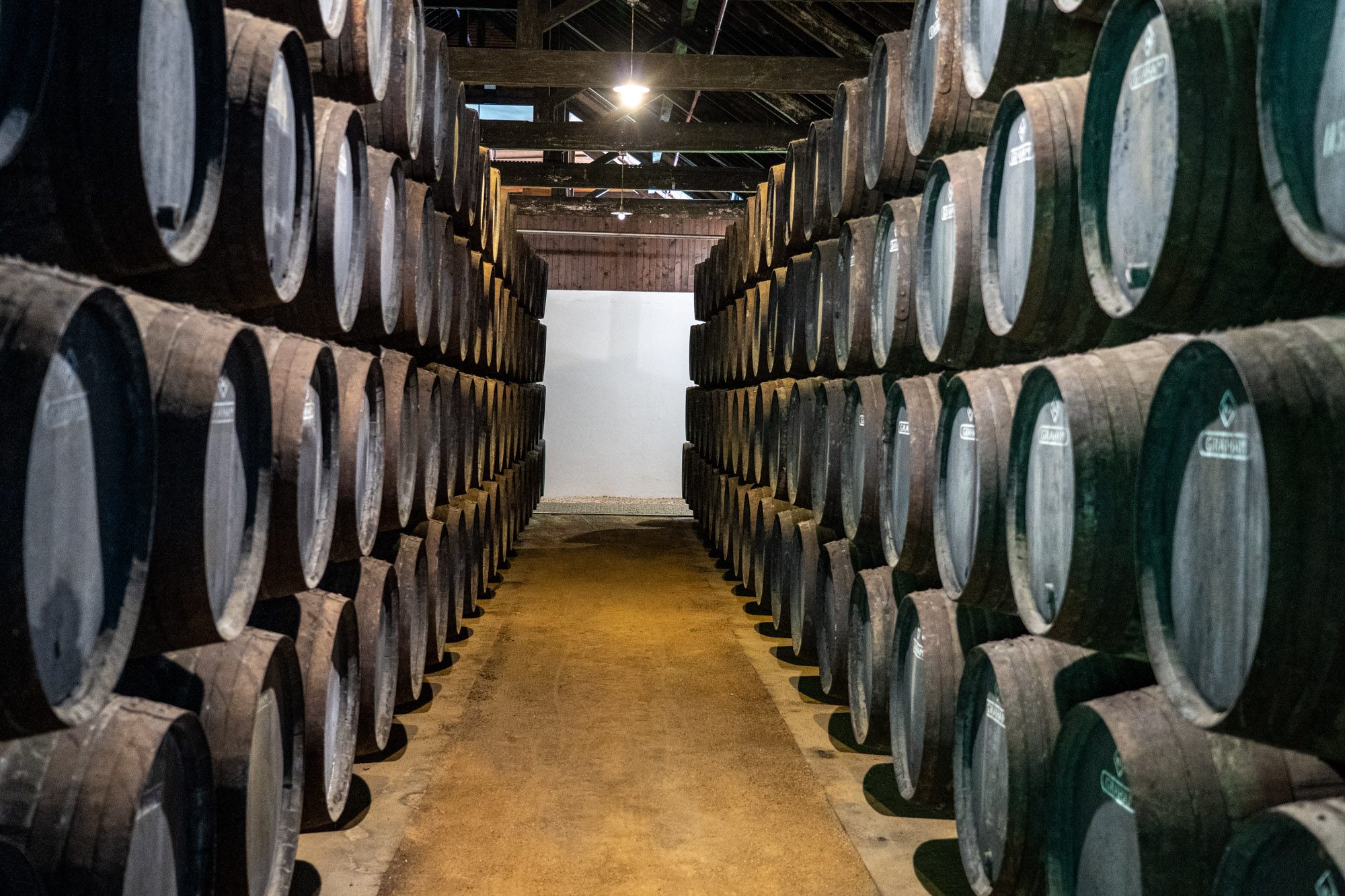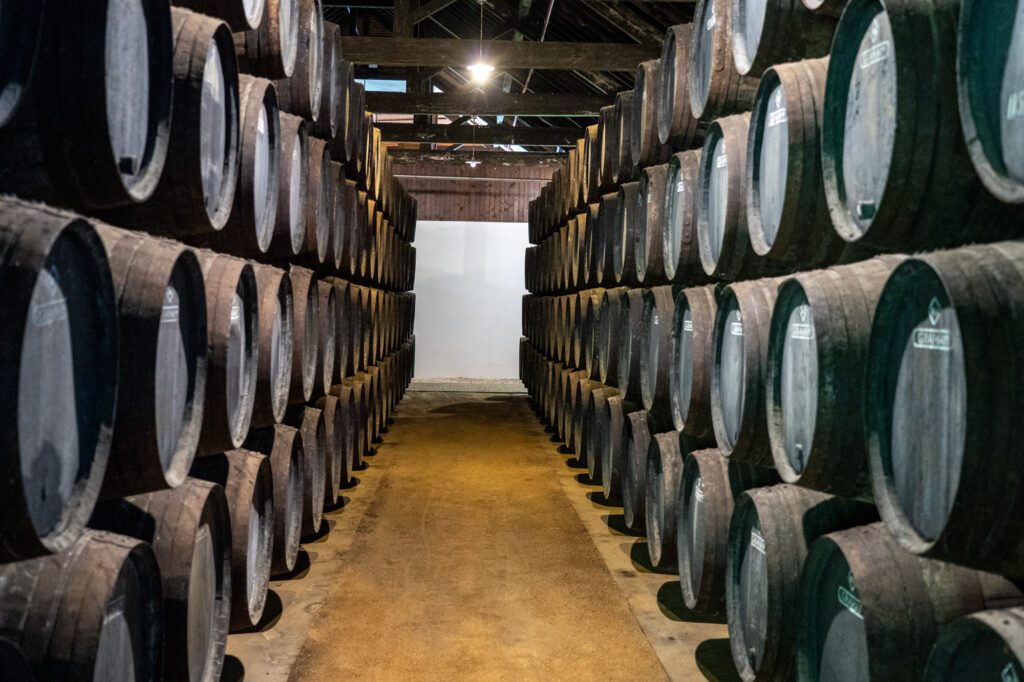 If you were particularly efficient with your day in Porto, you may have already squeezed in a brief port tasting in Gaia. But if not, it's a great way to fill some extra time in the city.
Vila Nova de Gaia is the area lining the south bank of the Douro River and is home to many historic port cellars and port lodges. Most of the lodges offer tours and tastings for guests to learn more about Porto's famous port wine.
It's easy to fill an entire afternoon exploring Gaia and sipping on port at charming hilltop lodges and cozy wine bars.
But we should warn – although it's super easy to drink, port is 20% alcohol and full of sugar, so the hangovers can be pretty rough. If you plan on spending an afternoon sampling port in Gaia, don't forget to drink plenty of water too, and maybe schedule a late start for the next day.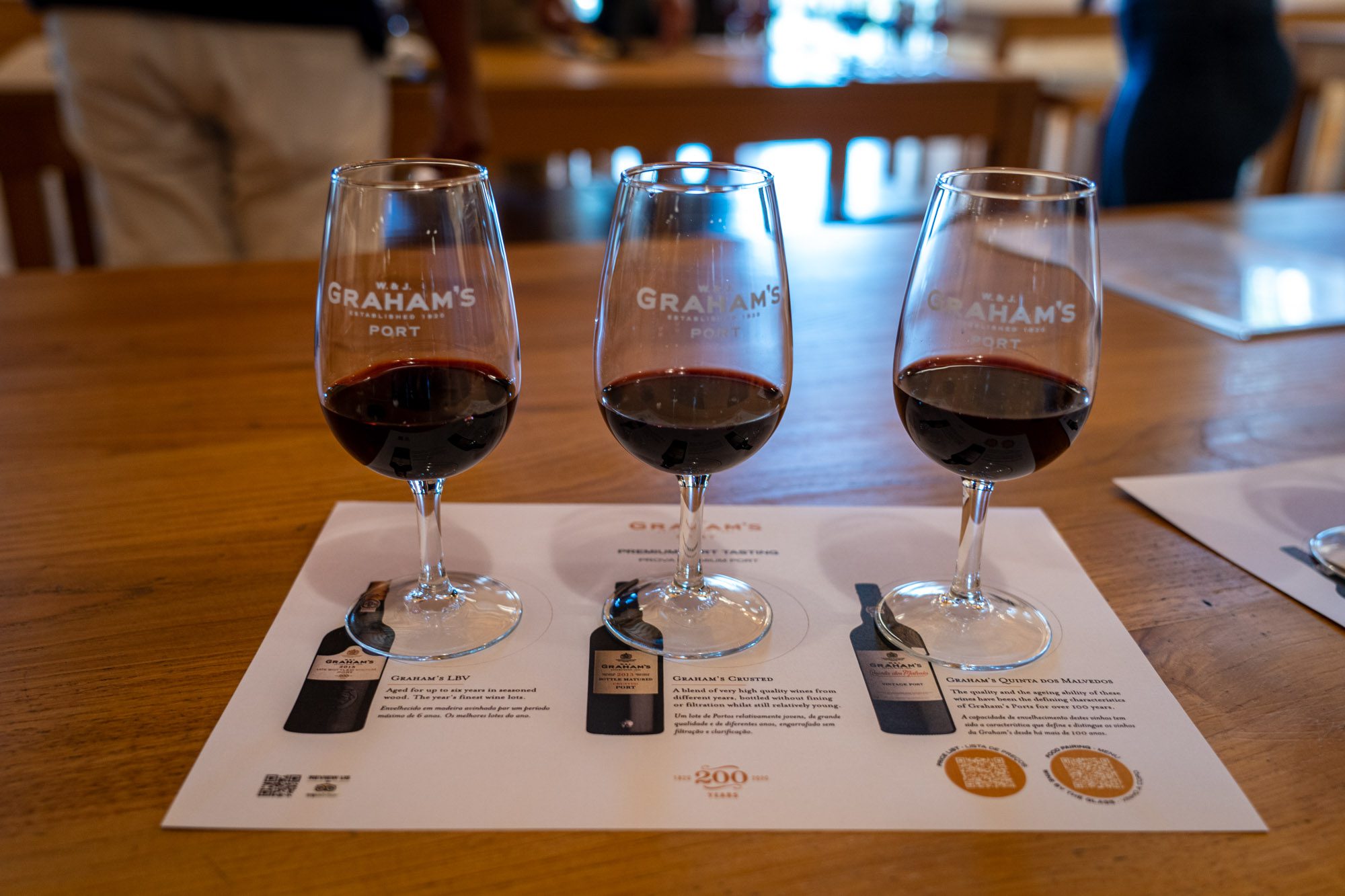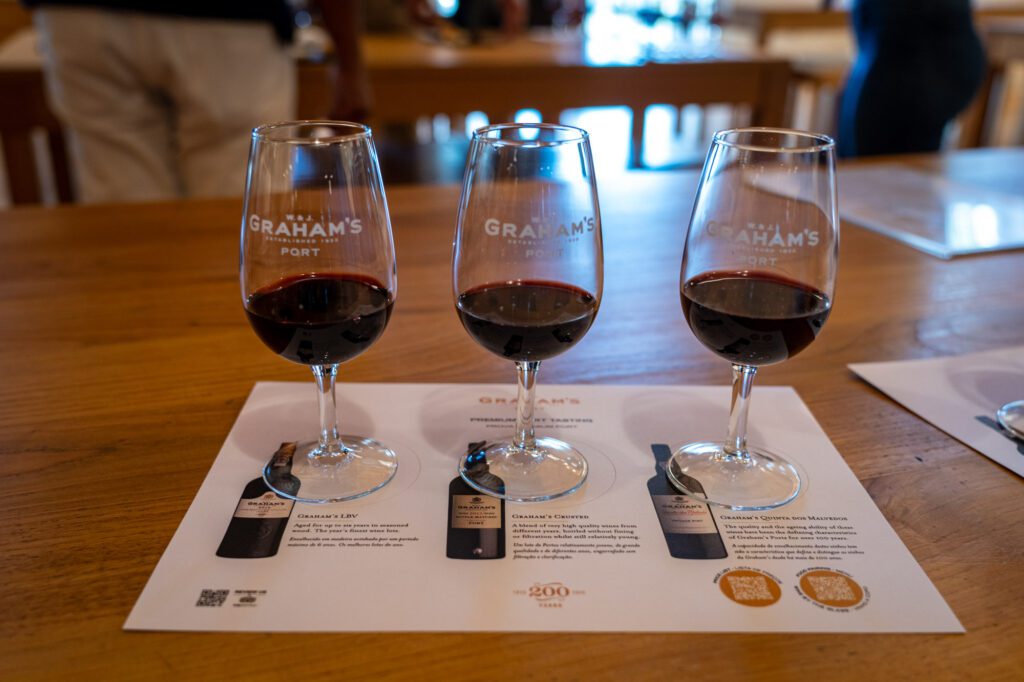 Some of the best port lodges to visit in Gaia are:
Graham's (the one we visited) – Set a little off the main tourist route, Graham's dates back to the 1800s and is one of the most famous names in the industry. Tasting and tours are by reservation only.
Sandeman – A 200-year-old port cellar with one of the most impressive wine bottle collections in Europe.
Taylor's – Taylor's historic cellar is home to a modern museum about the history of port and the house of Taylor's, and can be explored on an extensive ​​audio-guided visit.
Caves Cálem – Calém port lodge not only offers tours of their cellars and museum, but the innovative brand also has a 5D film about port wine production, fado shows, and fantastic port and food pairing sessions.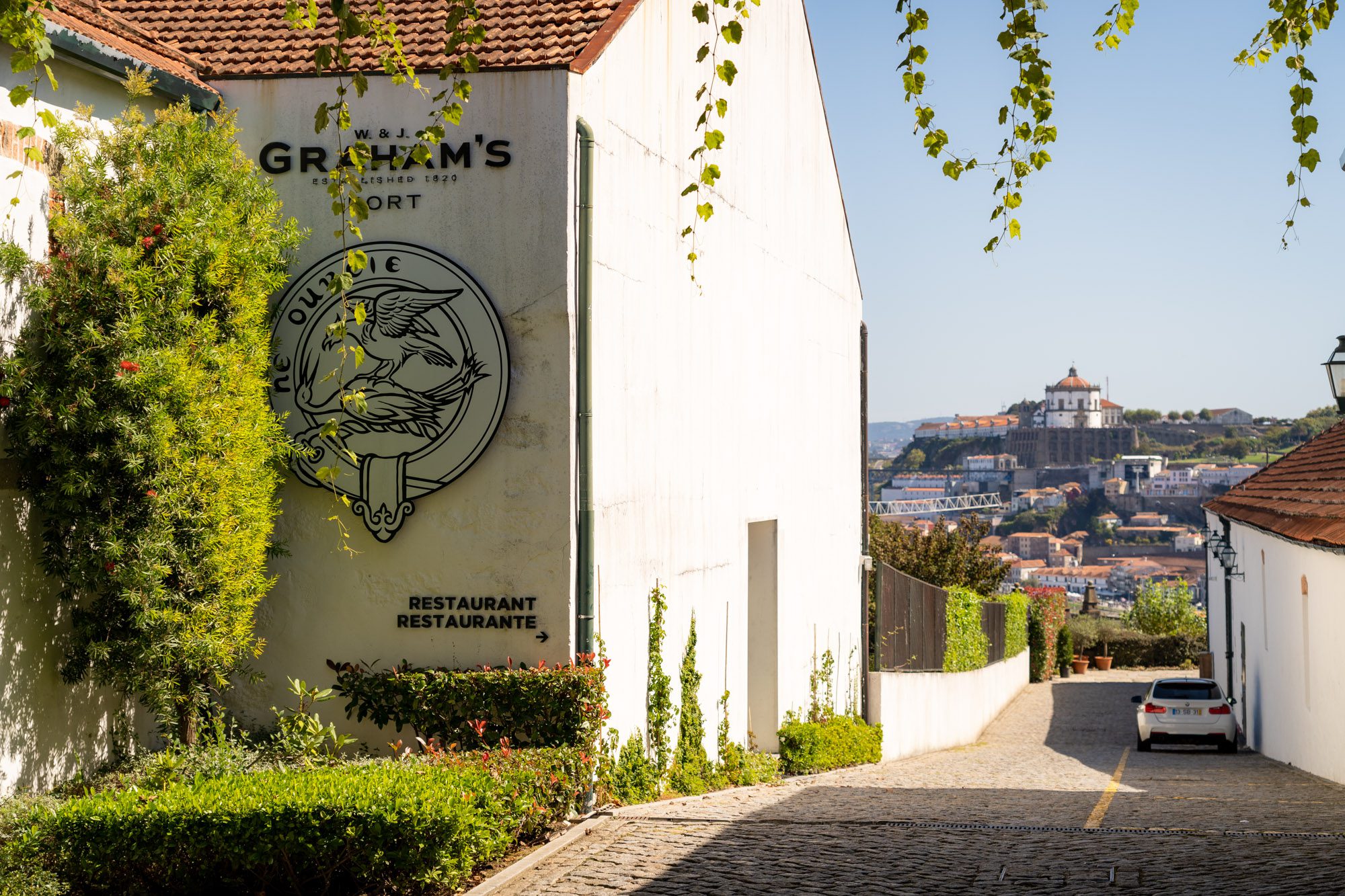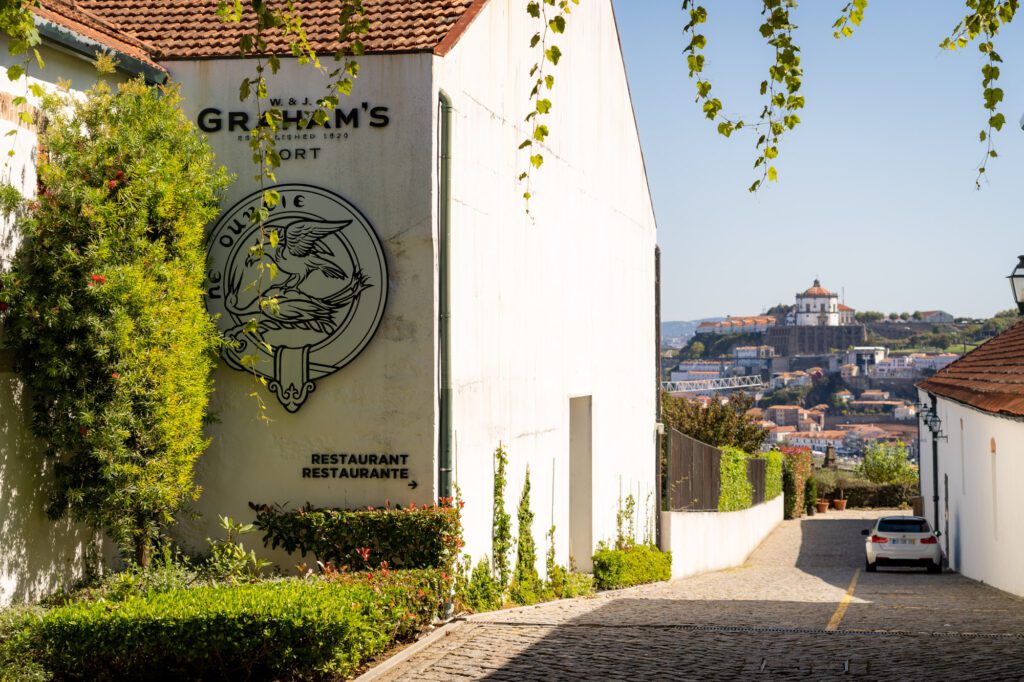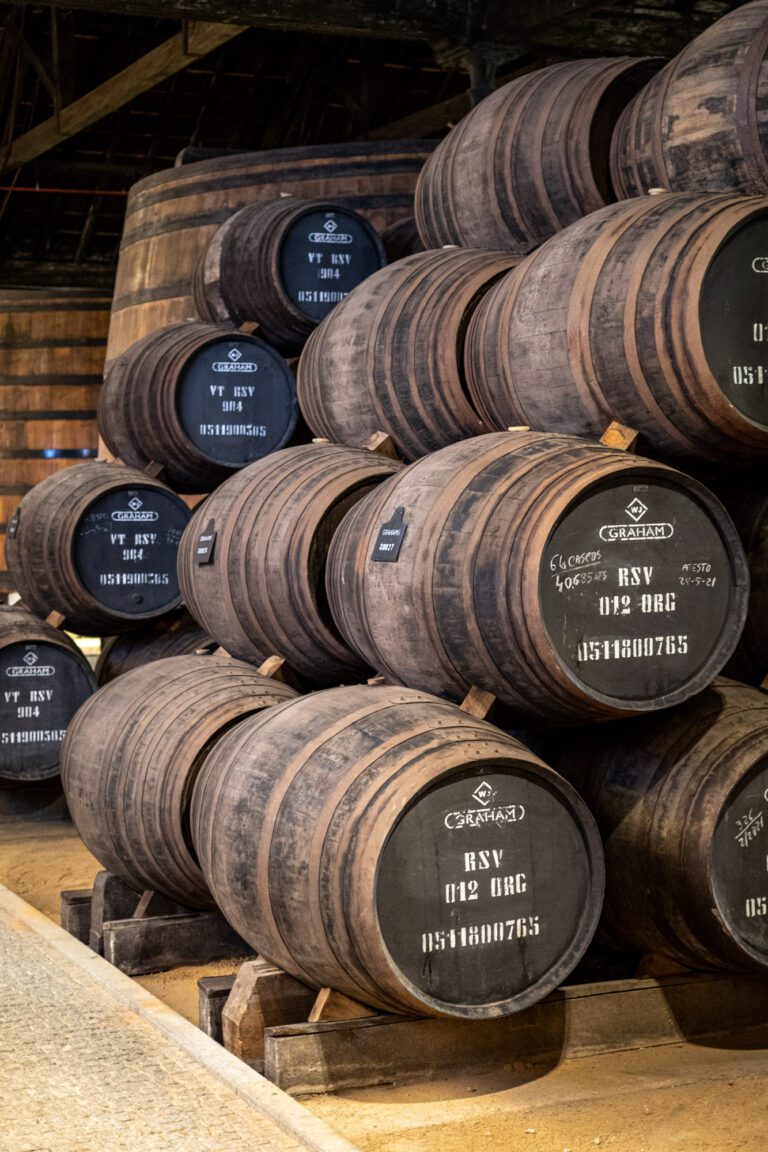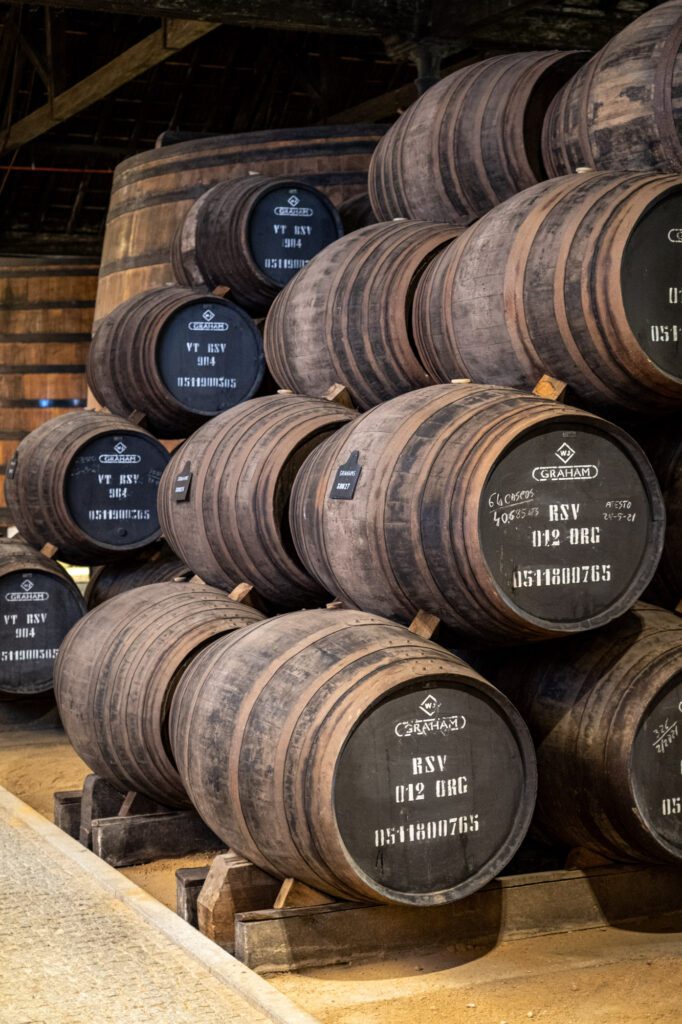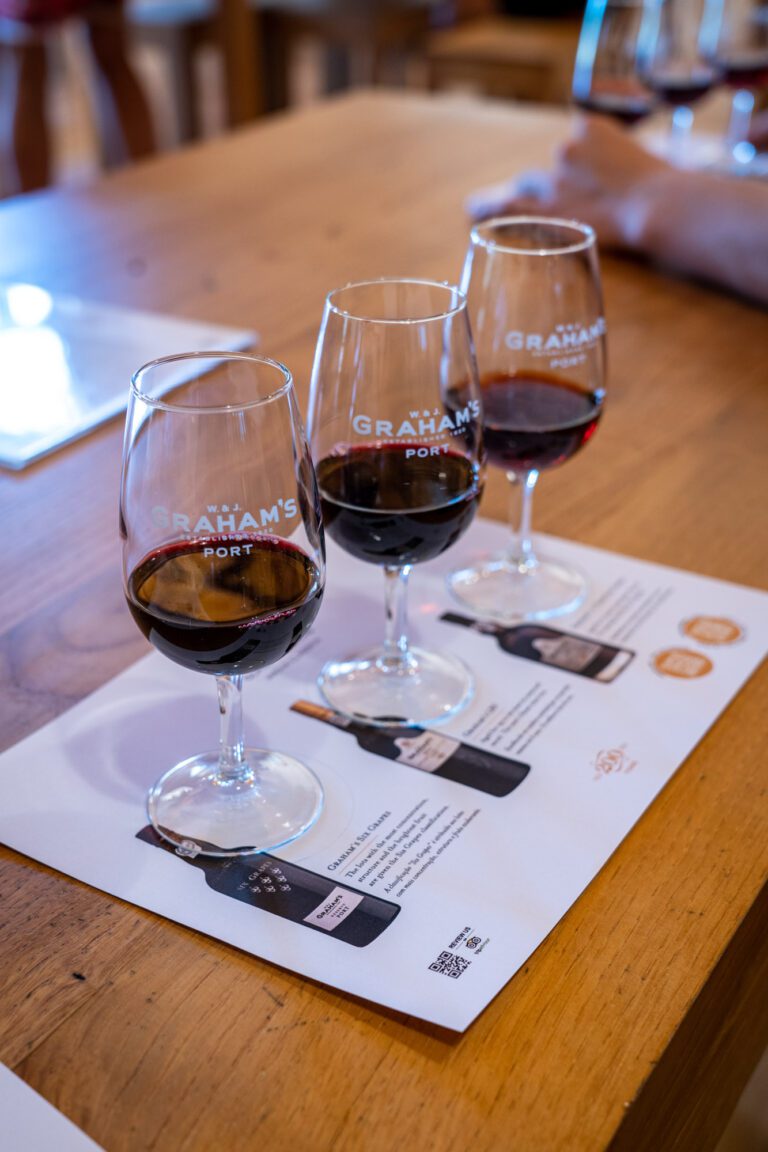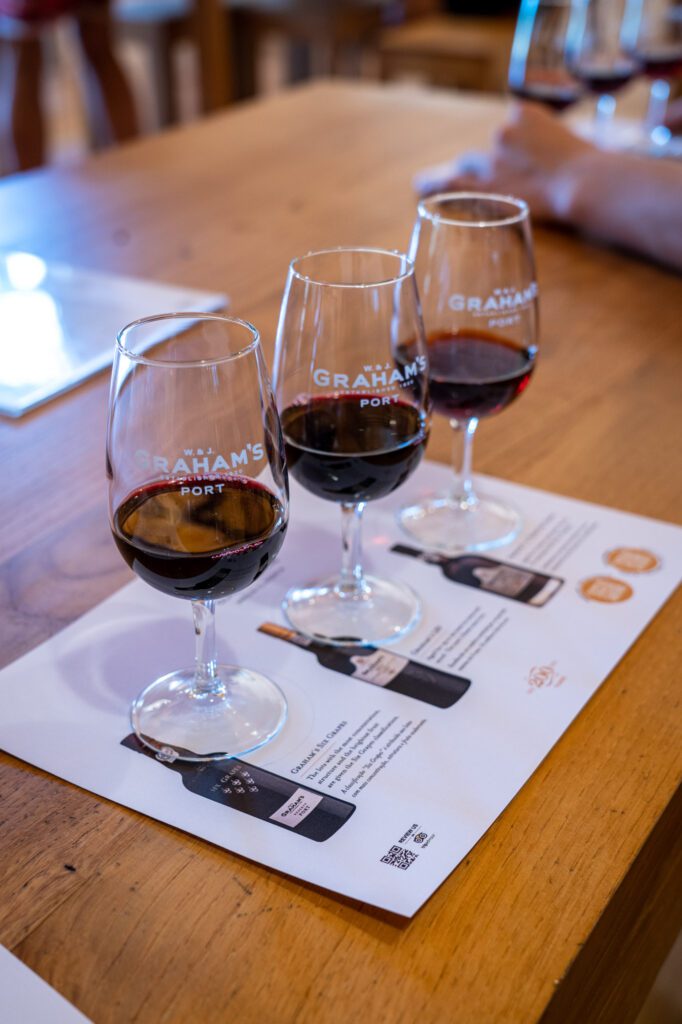 Take a Guided Tour of Palácio da Bolsa
Palácio da Bolsa, aka The Stock Exchange Palace, is a Neoclassical building built in the 19th century as the headquarters of Associação Comercial do Porto (Portuguese Chamber of Commerce).
The majestic palace is classified as a National Monument and a UNESCO World Heritage Site.
The grand palace is mainly used to host official state receptions and visiting representatives, so is often closed to the public. But when it's not being used for official business, you can sometimes visit the architectural jewel of Porto on a 30 minute guided tour.
Visit Livraria Lello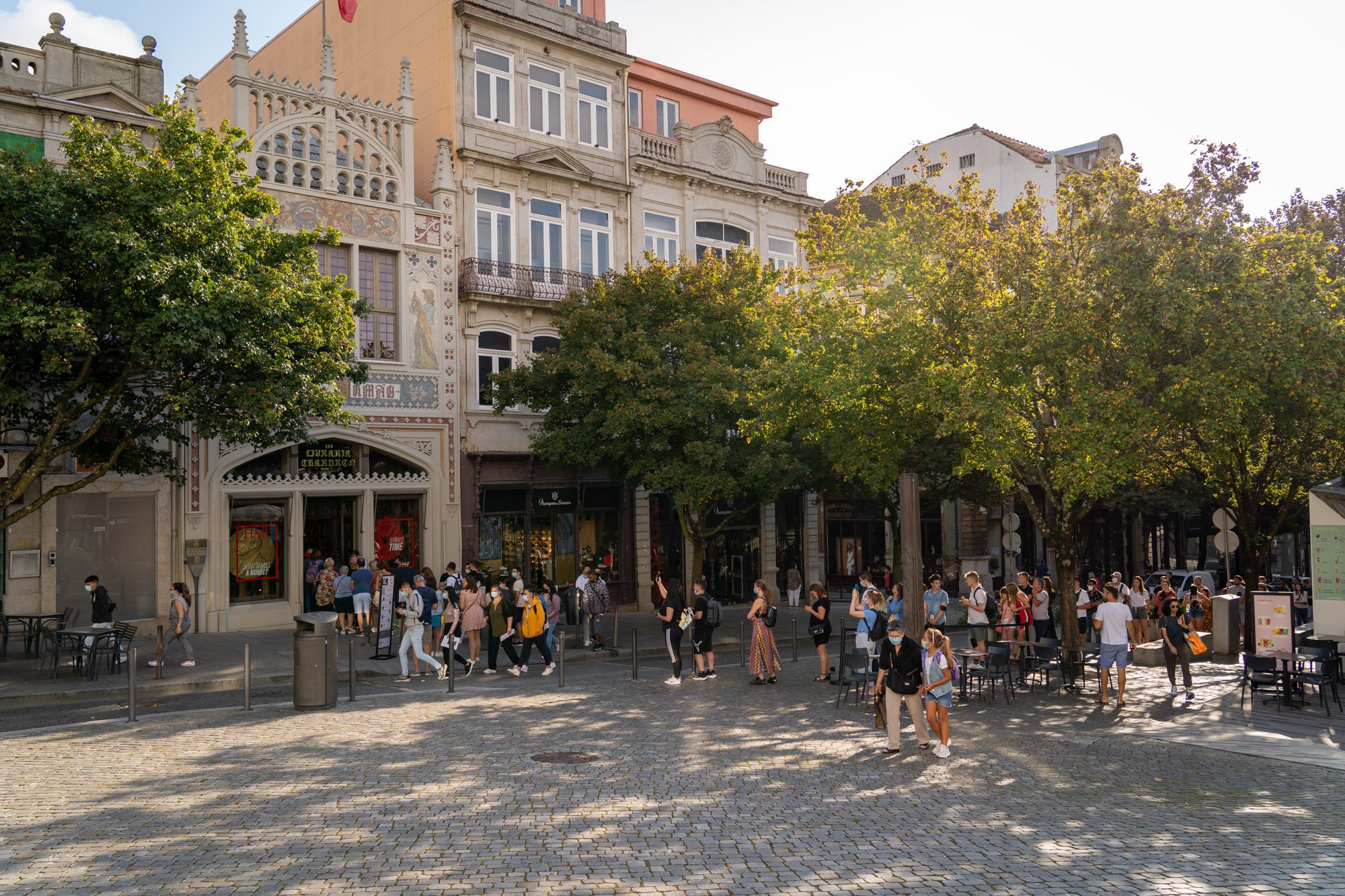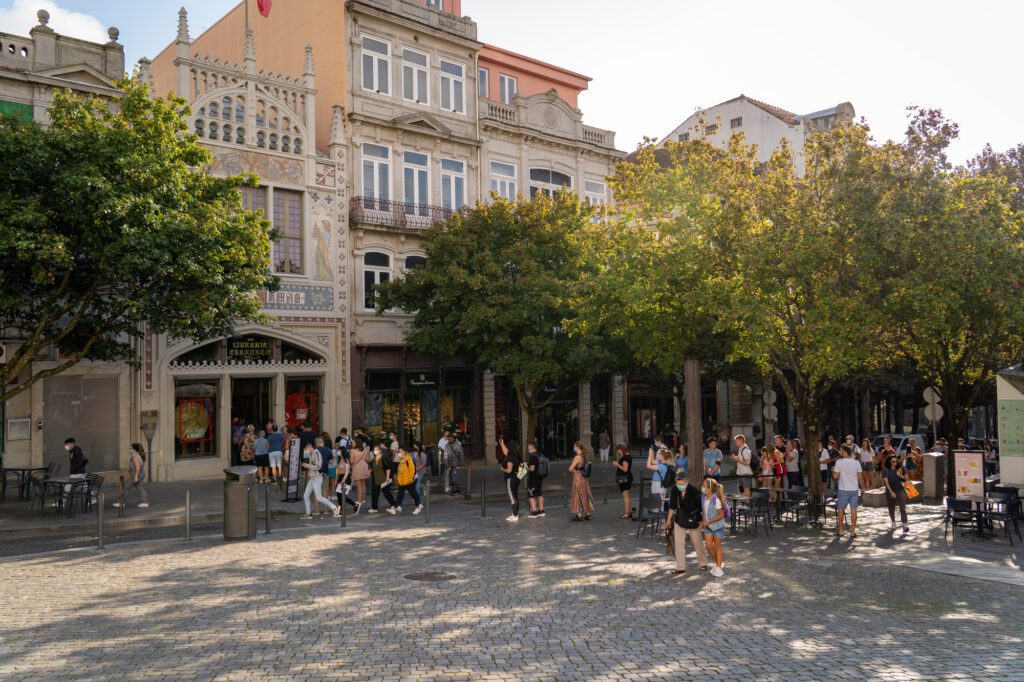 Livraria Lello Bookshop is one of Porto's more controversial attractions. Some people love it and some hate it. So we'll leave it up to you whether you want to add it to your trip or not.
Livraria Lello is lauded by many as the most beautiful bookshop in the world. Dating back to 1881, it's become famous for its lavish neo-Gothic and Art Nouveau interior.
It's hard not to be impressed by the grand staircases, elaborately carved furnishings, floor-to-ceiling bookshelves, and elegant stained-glass skylight.
It was even rumored that J.K. Rowling drew inspiration for the Hogwarts library from Livraria Lello when she was in Porto. But the author herself has since debunked this myth.
So Why Wouldn't You Want to Visit this Beautiful Bookshop?
We're huge fans of independent bookstores, and make a point of seeking them out while we're traveling. However, we decided not to go inside Livraria Lello.
Livraria Lello's recent fame has made the lines and crowds pretty unbearable. From our own experience, there was almost always a huge line to enter, no matter what time of day you visit.
We literally walked by three times – when they opened (and we were considering going), midday, and in the evening right before they closed – and there was a long line every single time.
Then once you're inside, instead of the charming and peaceful bookshop you might imagine, what you'll discover is one big tourist attraction with groups of tourists fighting for photos on every staircase and balcony.
You also now need to pay an admission fee to visit the shop. You can buy your ticket in advance online for €5 (you'll need to pick a date and time slot) or at the entrance on the day for €6. The ticket fee is taken off the price of any books that you buy.
If you happen to pass by when the line is small, and you actually plan on buying something, it's certainly worth popping inside. But if you're short on time, you probably won't want to waste a couple of hours standing in line. Especially if you're trying to explore all of Porto in one day.
Take a Food Tour
For foodies, a local food tour is a great way to experience as much of Porto's amazing cuisine as possible during your visit.
These are two of the best food tours in Porto that we'd recommend:
This Eat Like a Local Tour takes you to visit some of the city's most authentic family-run restaurants and small producers to sample various "petiscos" (sharing snacks and dishes), paired with wine, beer, and port.
The Vintage Food Tour will reach you about the revival of Porto's cuisine by taking you to visit both small local spots and newer restaurants serving fresh spins on traditional Portuguese dishes.
Visit Mercado do Bolhão
Another must-visit for foodies in Porto is the city's large central market, Mercado do Bolhão. The original market dates back to 1914, but it has recently undergone a huge renovation and has just reopened in September 2022.
The lively farmers market is set over several floors and hosts a variety of local traders, selling meat, seafood, fruit and vegetables, dairy products, bread, cakes, flowers, and more.
Even if you're not in the market to buy fresh produce, it's still an exciting place to visit and watch the flow of local life in the city. You'll find a handful of cafes and bars serving prepared food, so you can grab a bite to eat there too.
While at Mercado do Bolhão, don't miss the chance to visit nearby Capela das Almas. This small chapel in the Bolhão district is famous for its striking blue and white tiles painted with scenes from the lives of saints. The church has become one of Porto's most photographed landmarks.
Where to Stay in Porto
If you only have one (or two) night in Porto, you're going to want to stay as central as possible, which means Ribeira or Baixa.
We have an entire detailed guide to choosing where to stay in Porto.
For more detail, head over there and read that, which has an in-depth guide to each neighborhood we'd recommend with pros and cons, neighborhood highlights, and more.
Here are the highlights if you're short on time!
Ribeira: Romantic & Close to the River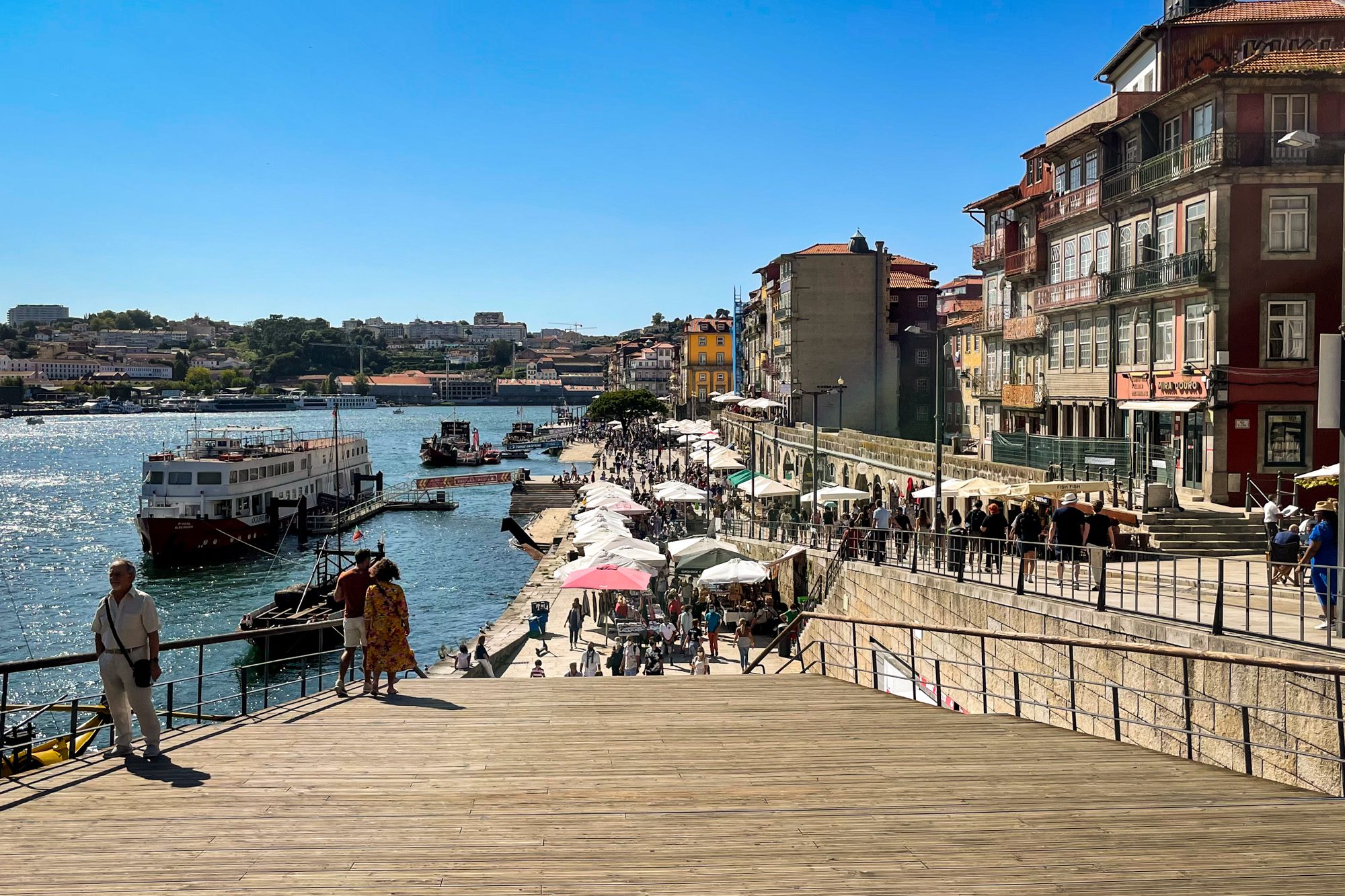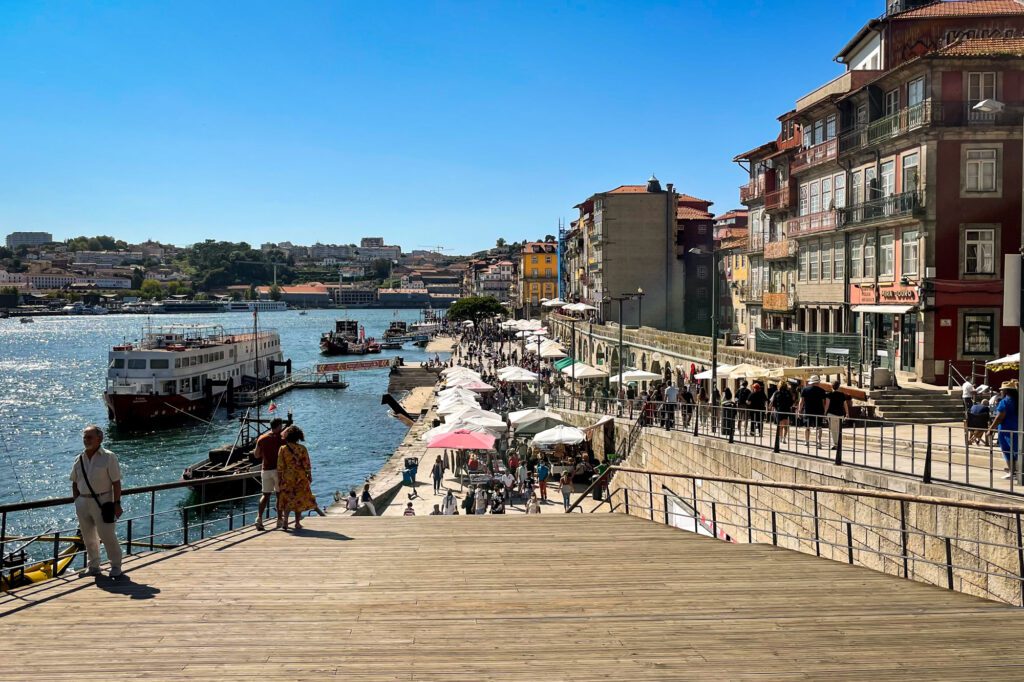 Ribeira is the area of Porto's old town made up of the Medieval harbor and riverfront. The neighborhood is known for its colorful facades and many restaurants and bars overlooking the Douro River.
The area is particularly popular during the evening when people from all across the city come to have dinner on the spacious terraces while enjoying fantastic views of Dom Luís I Bridge and Vila Nova de Gaia.
These are a few of our picks for the best places to stay in Ribeira:
Baixa: Central and Packed with Great Food & Drinks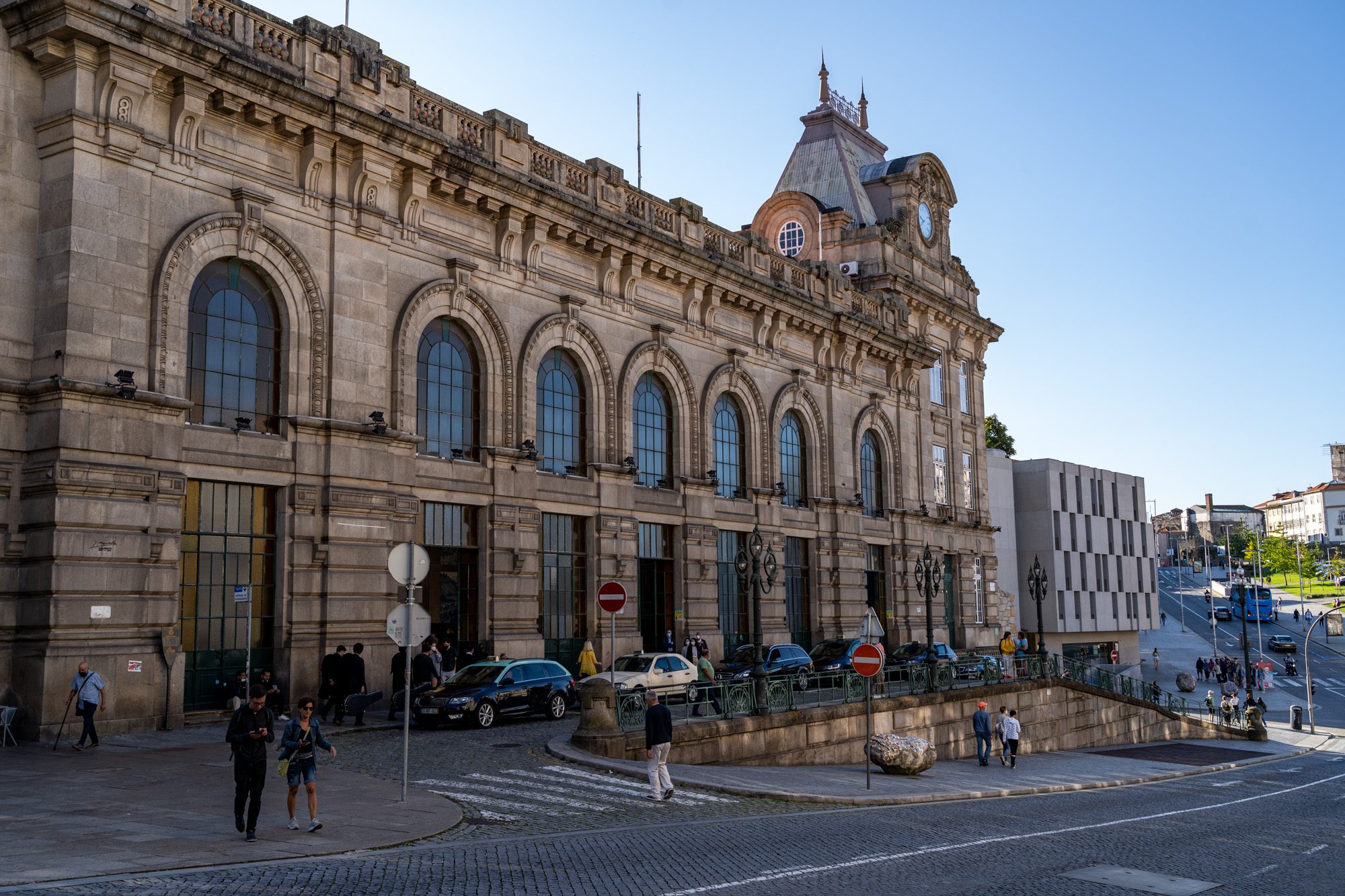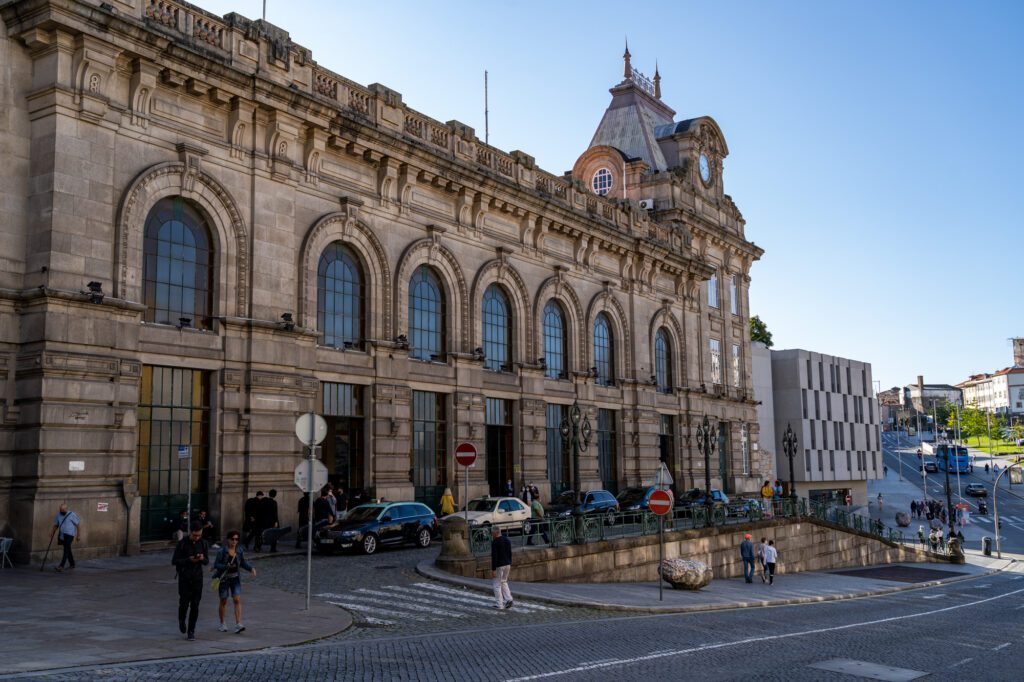 Baixa is Porto's buzzing downtown area. Centered around the Avenida dos Aliados (Porto's main street), the neighborhood is packed with important landmarks, restaurants, and hotels.
Baixa is also known for its cool and trendy vibe. It's where you'll find Porto's young, hipster crowd sipping coffee in cozy cafes by day, and enjoying the vibrant nightlife scene once the sun goes down.
With a wealth of attractions, restaurants, bars, and shops right on your doorstep, it's no surprise that the neighborhood is one of the most popular places to stay in Porto.
Here are some places to stay in Baixa that jumped out to us:
---
Planning a trip to Portugal?
Here are our other Portugal travel guides to help you plan an incredible trip (even if you have to eat gluten free!).
If there's no link below, it means we're still working on it – long, in-depth guides take time! We're working on it, though, we promise.
Portugal:
Lisbon
Porto:
The Algarve: