Where to Stay in the Algarve: 5 Great Places to Stay
Tucked away along the coast in southern Portugal, the Algarve is one of the most popular tourist destinations in the entire country. And with the area's dramatic coastal scenery, beautiful white sand beaches, exciting resort towns, and more than 300 days of sunshine each year, it's not difficult to see why it's a staple on our Portugal itinerary.
We found ourselves in the Algarve in December, when the scorching hot summer days had been replaced with very mild – but still warm – winter days, perfect for hiking (though it was a little cold for hitting the beach).
We spent a little over a week exploring the Algarve from the eastern end at Tavira all the way to the southwestern corner of Europe in Sagres. Even though we're not really beach people, we found it to be a lovely place to spend our time.
One of the things we found interesting is that each area and town along the 100 mile (roughly) stretch of coastline has its own unique charm and draw, and different towns are best suited to different styles of travelers.
Since it is such an expansive and widely-spread out coastal region, deciding exactly where to stay in the Algarve can be a tough decision.
Are you looking for a base to discover the entire region? Or one area to stick around in for a relaxing beach break? Are you an adventure traveler looking for the top surfing and hiking spots? Or a foodie on the hunt for the region's best restaurants and bars?
In this guide, we're going to dive into exactly where to stay in the Algarve based on our own personal experiences exploring the region.
We'll start with a geography overview so that you can understand what we mean when we're talking about location, then we'll dive into the five best places to stay in the Algarve, according to us, anyway.
For each place, we'll give you our view on the pros and cons of staying there (e.g. walking distance to the beach, parking can be tough, etc), go over our favorite things to do and see nearby, and give you three to five specific places to stay that caught our eye, including the places we actually stayed.
By the end of the guide, our intention is that you have the information you need to choose a place to stay in the Algarve that fits your particular style, budget, and interests.
Sound good to you? Let's get into it.
P.S. If you're looking for our thoughts on how to structure your trip – how many days you need, the best things to do and see, how to get there, etc – head over to our guide to planning a perfect Algarve itinerary.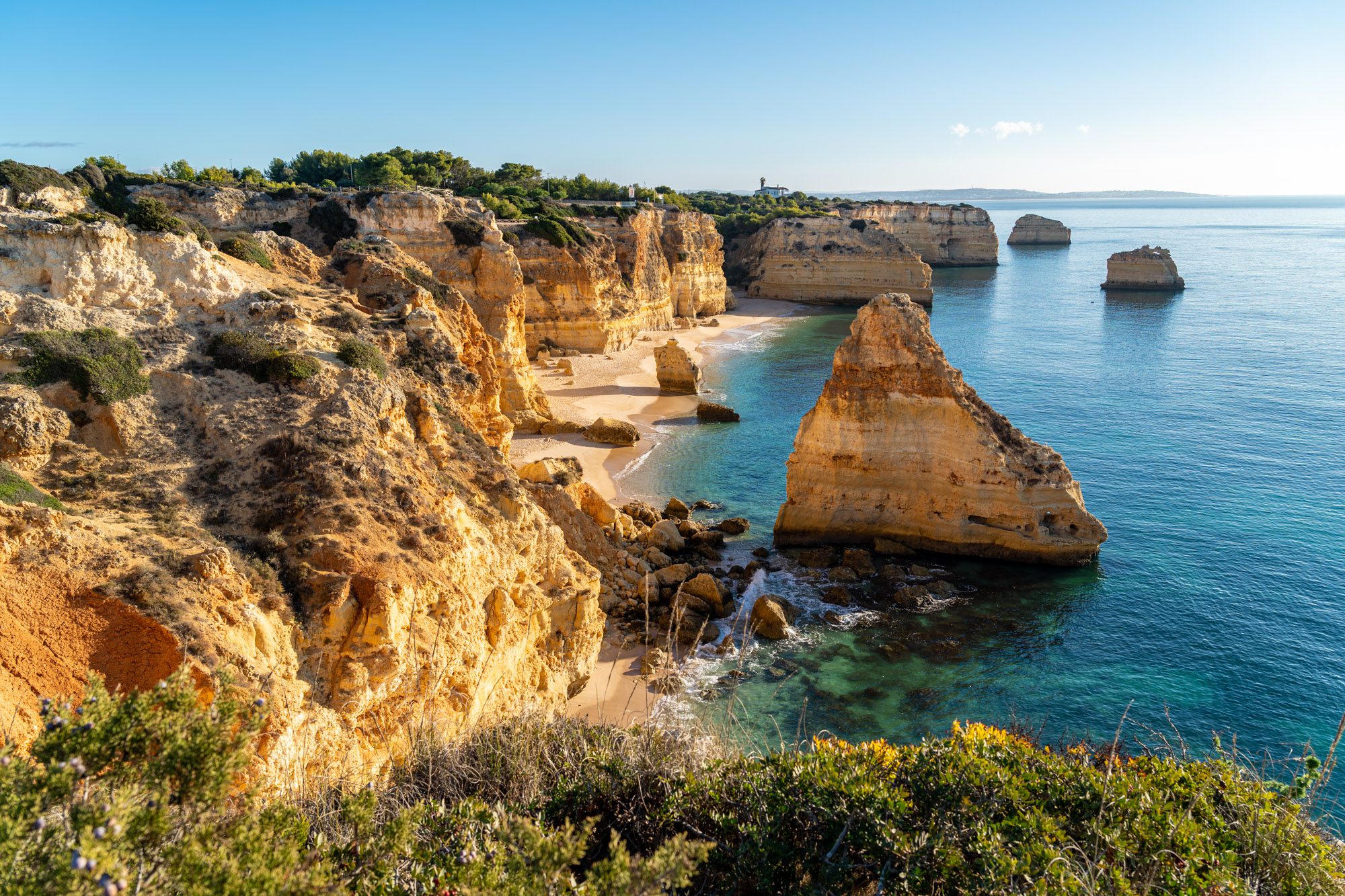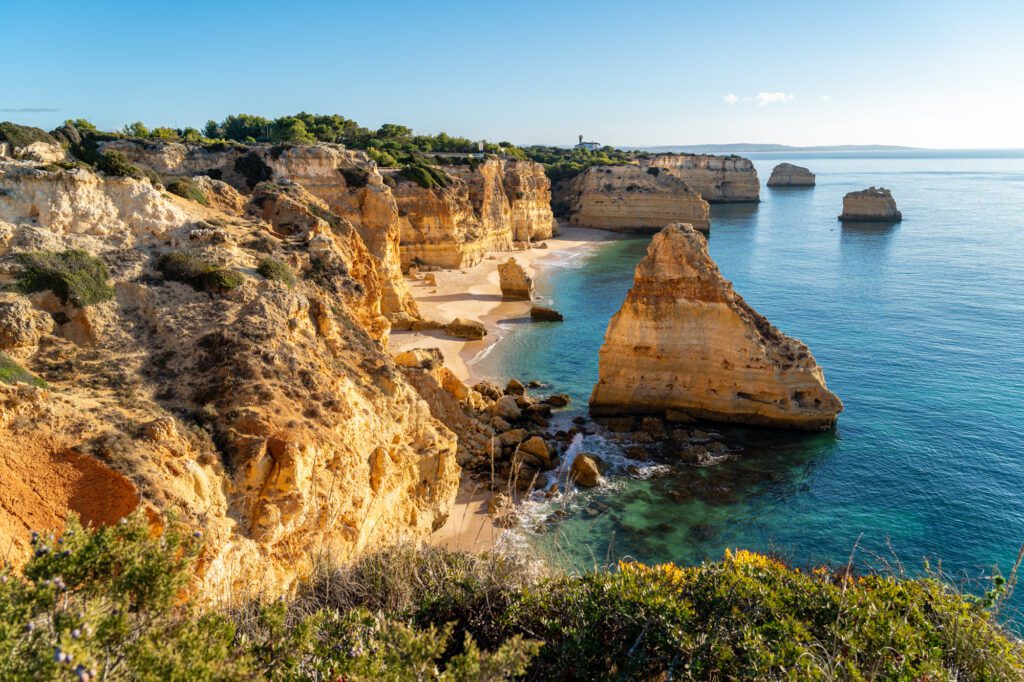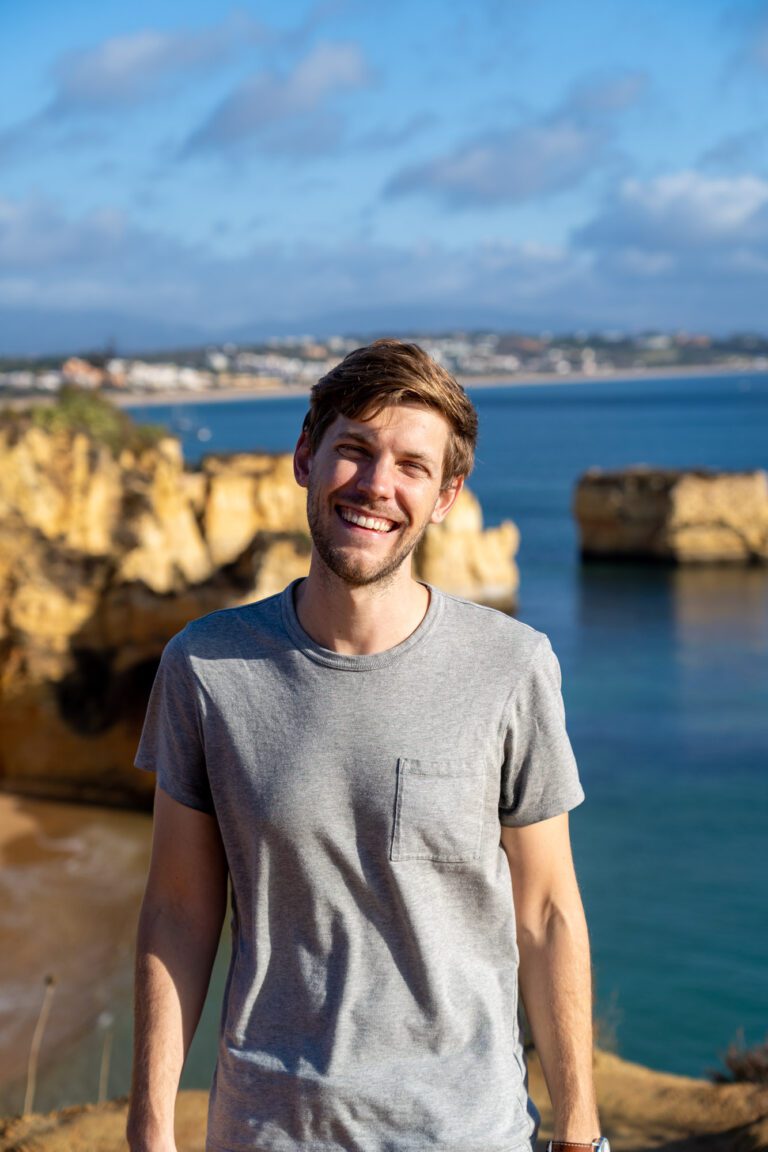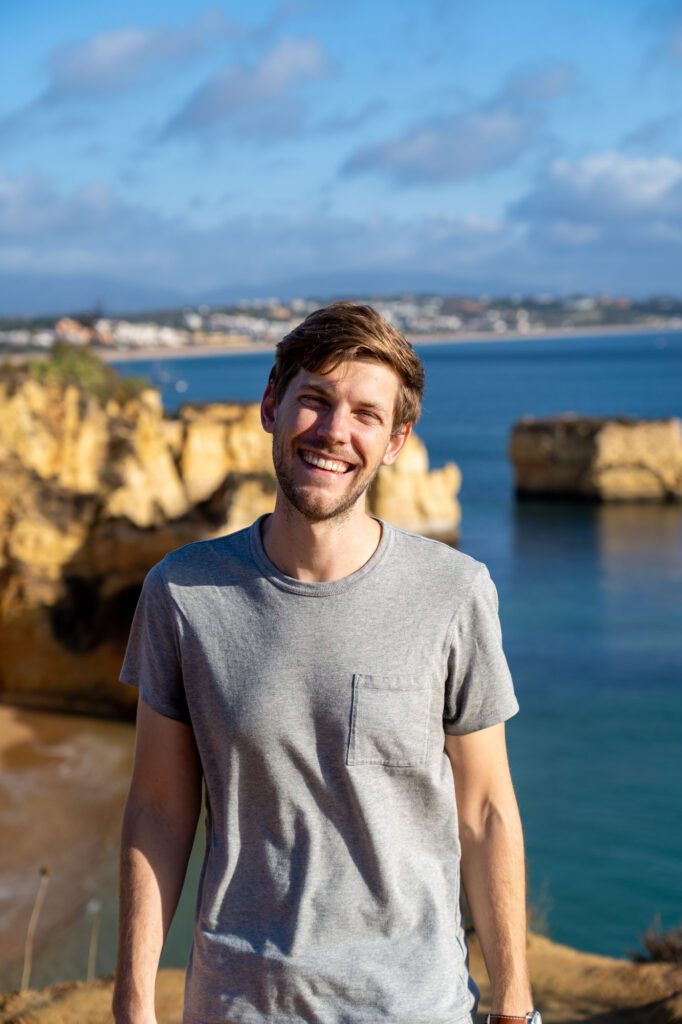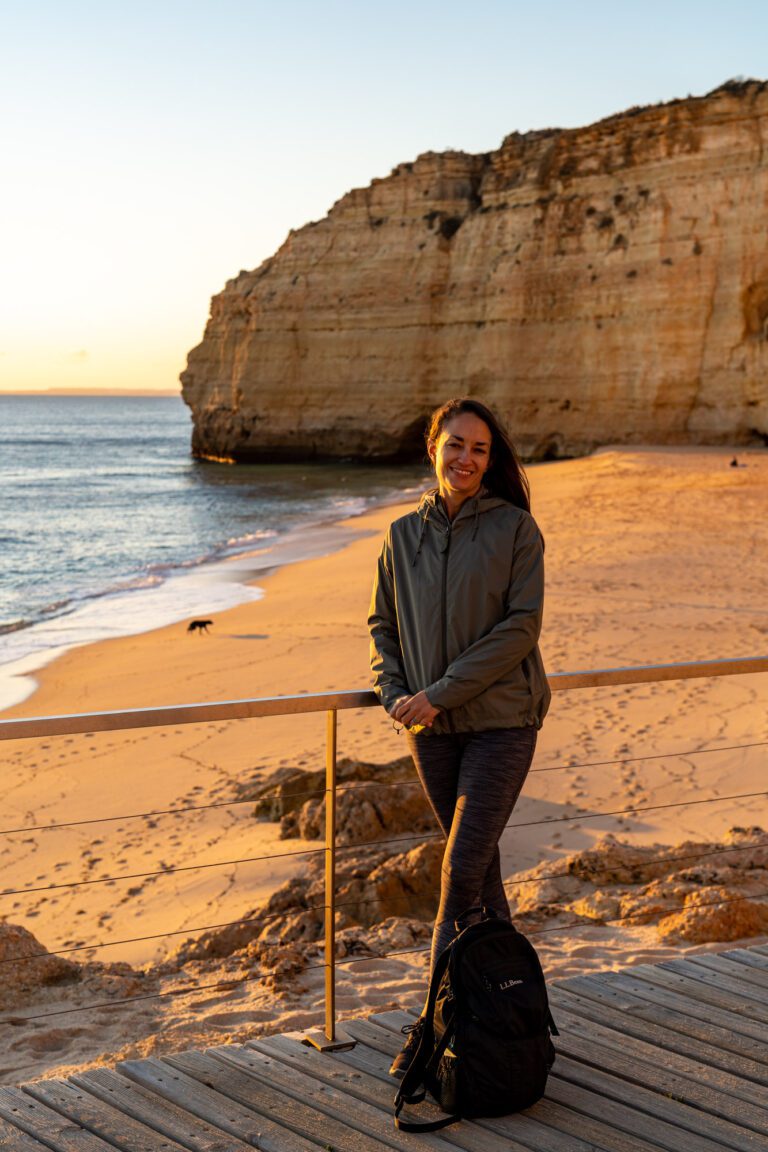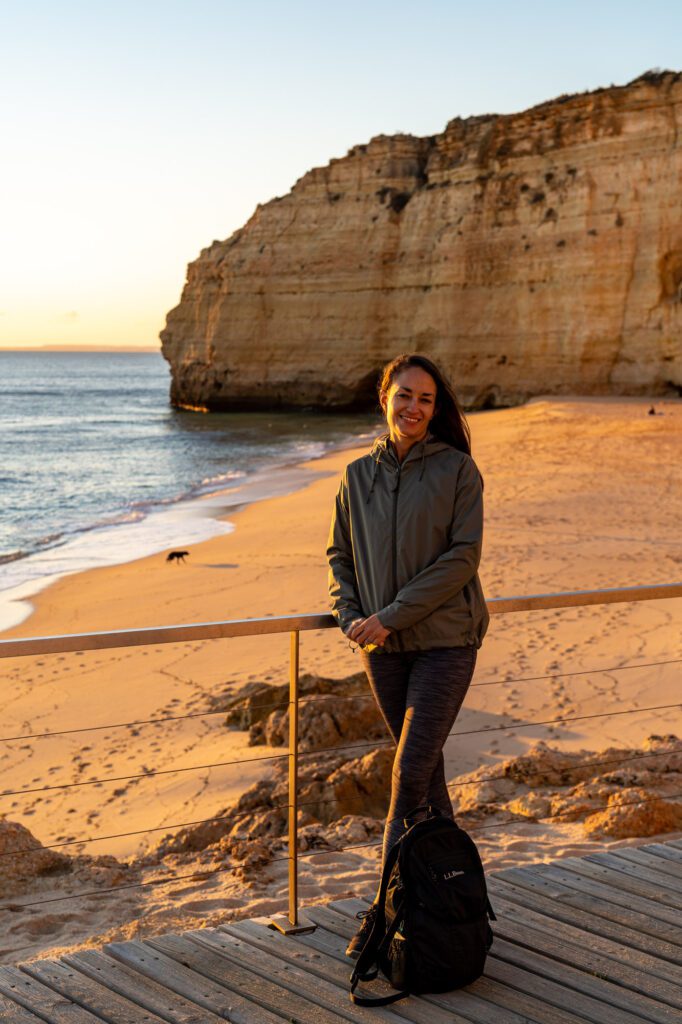 Disclaimer: Some of the links in this post, like hotel links, are affiliate links, meaning at no additional cost to you, we make a little bit of money if you click through and book. That being said, we would never recommend something to you that we don't stand behind 100%.
A Quick Algarve Geography Overview
Before we get into the guide to specific places to stay, we think it's probably worth taking a second to talk about the geography of the Algarve.
The Algarve sits on the southernmost tip of Portugal (and southwestern tip of mainland Europe), bordering Spain to the east and the Atlantic Ocean to the west and south.
The region has three main geographical areas; the coast, the central 'Barrocal' area, and the hilly north. While the entire Algarve is filled with beautiful natural landscapes, the majority of tourists are drawn to the region's stunning beaches and exciting seaside towns along the southern coast.
The Algarve's vast coastline runs roughly 155 km (96 miles) from west to east.
For the sake of comprehension and simplicity, we're going to split the region into three sections; the Western Algarve, the Central Algarve, and the Eastern Algarve.
The Western Algarve is the most scenic stretch of coastline, with dramatic towering cliffs, secluded coves, and crashing waves. Here you'll find many smaller seaside towns such as Sagres and Luz.
The west has fewer big tourist resorts than elsewhere in the region, and offers a much more laid back vibe (Sagres, for example, is a great surf town). 
The Central Algarve is the most popular stretch of the coast with tourists (and we'd argue it's for good reason).
It's home to numerous big beach resort towns, including Lagos, Faro, and Albufeira. It's also where you'll find the Algarve's "Golden Triangle", a prestigious area that has several famous high-end golf resorts.
The Eastern Algarve, close to the Spanish border (we took a bus here from Sevilla), has a slightly less impressive landscape than the two regions to the west but is still a gorgeous area to explore in its own right.
It's home to several picturesque small towns such as Tavira (we loved Tavira, for what it's worth) and the beautiful Ria Formosa Natural Park.
Where to Stay in the Algarve: 5 Excellent Places to Stay
So now you understand the area's geography a little better, where exactly is the best place to stay in the Algarve?
Well, that depends on how much time you have, what style of traveler you are, and what you want from your trip.
Being so spread out, getting from one area of the Algarve to another can be quite the trek. The journey from Sagres in the west to Tavira in the east takes over two hours by car, and even longer by public transportation (by the way, we think you definitely want to rent a car here).
If you want to explore all of the Algarve, it makes sense to stay somewhere central to avoid driving back and forth all the time, which is why several of the places we recommend below are right in that central area.
For what it's worth, we think you should probably focus your time on the western and central areas, which is where most of the best beaches, hikes, and small towns are located.
Below, we'll run you through some of the best places to stay in the Algarve in more detail, including area highlights and our top hotel and resort recommendations.
One important note: If you're traveling in peak season (which is basically anytime between May and September) you need to make sure to book AT LEAST four to six months in advance. My mom is currently planning a September trip in mid-June, and nearly every single place in this guide is sold out for her dates by now. Book early!
Now, we're well aware that a few of you are currently ready to throw your left shoe at the screen, saying "I don't have time to read all of that, JUST TELL ME THE BEST PLACE TO STAY!"
Well, here's a quick summary of this guide if you're short on time (though we'd recommend reading the section of the place you end up staying for tips and places to add to your list!).
Our overall recommendation is to stay in Lagos, which has the best combination of amenities and location for exploring the rest of the Algarve. We based ourselves here for half of our trip, and it was nice to be within walking distance of multiple places to eat, drink, and shop (not to mention beaches). We stayed right in the middle of all the action at the Salty Lodge, and highly recommend it.


If you're looking for a more laid back vibe (or you want to surf), the answer is Sagres. Located at the southwestern tip of Europe, this is one of the best surf destinations in the world, with imposing rocky cliffs and gorgeous sand beaches. There are a plethora of great places to stay, but we like Memmo Baleeira (a beautiful boutique hotel with ocean views) and Casa Azul (more affordable rooms and apartments).


For great access to the central and western Algarve and a more residential vibe, look at Carvoeiro. We stayed here for part of our trip and really enjoyed it. The town itself is great (as is the beach), but the real upside is being within 10-15 minutes of many of the Algarve's best beaches, and the best hike in the region. We stayed at Hello Villas, and had a nice private villa to come home to after a day of exploring. 
Lagos: The City with the Best Amenities in the Algarve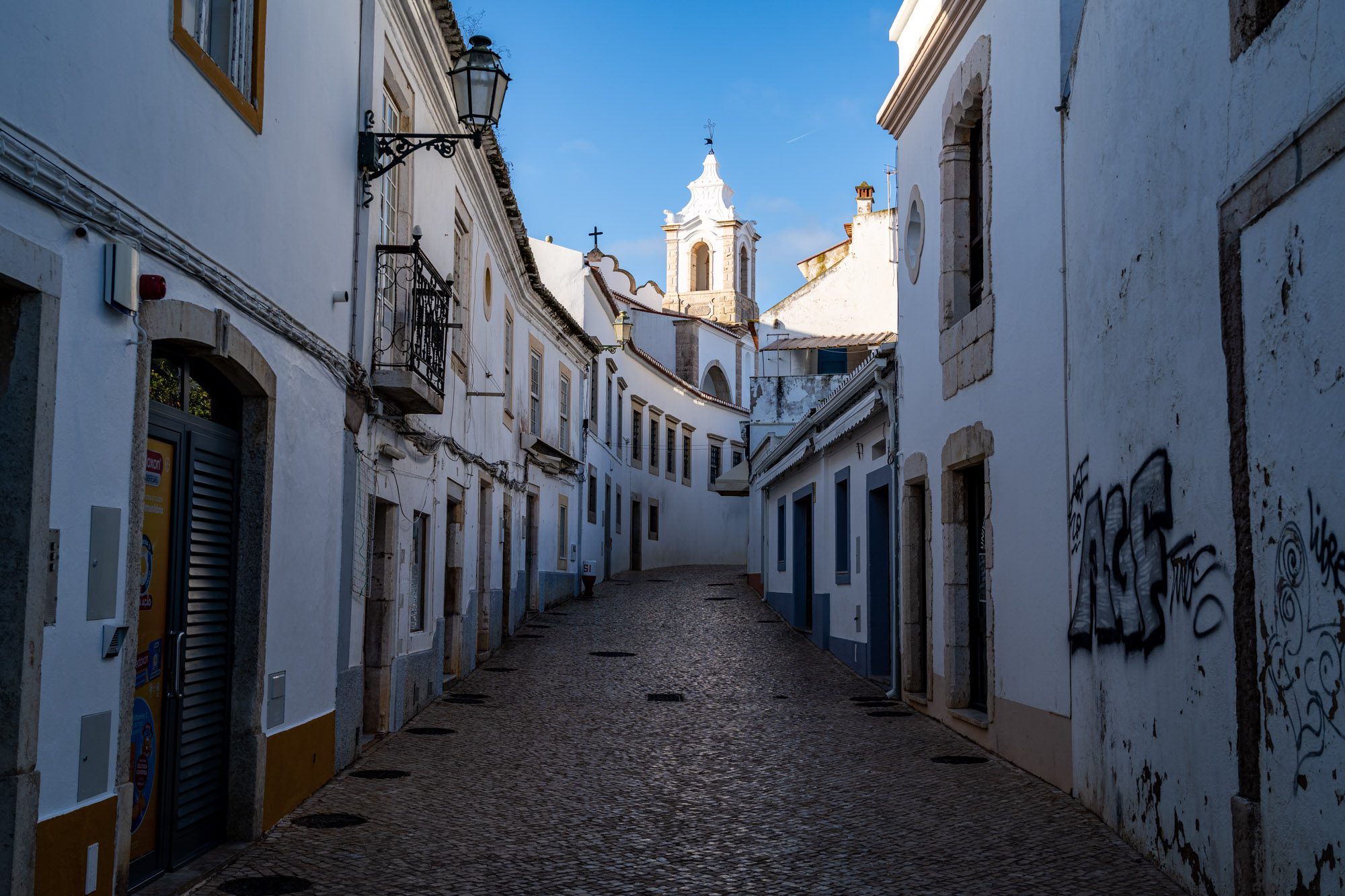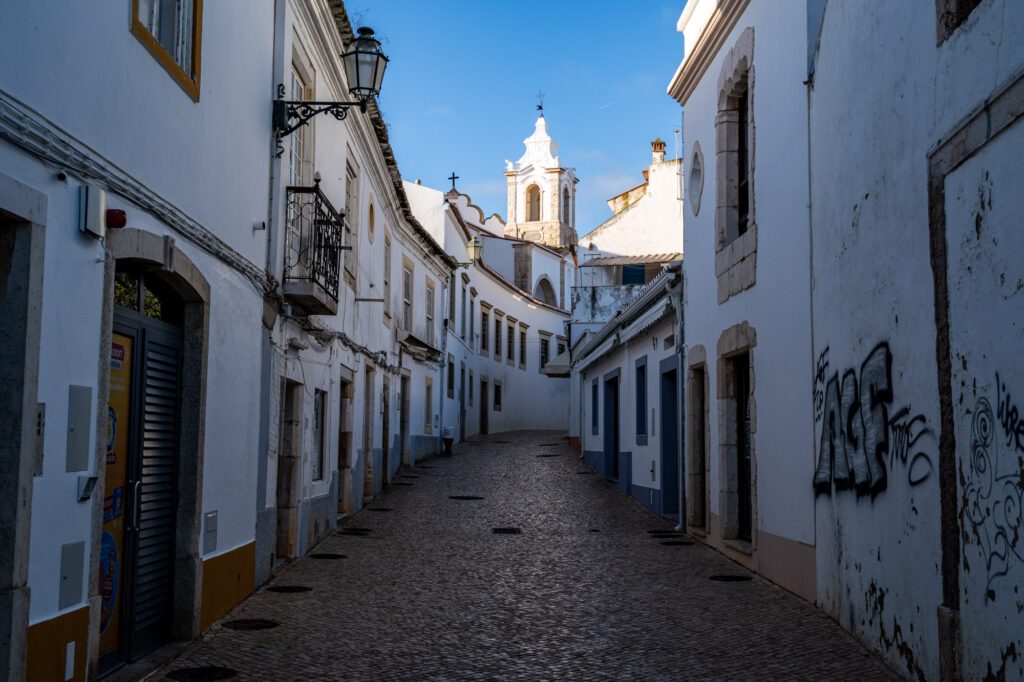 Lagos is an ancient maritime city turned coastal resort town skirting the border of Western and Central Algarve.
Engulfed by some of the region's most beautiful scenery and sandy beaches, the vibrant city is one of the Algarve's most popular tourism destinations.
From sheltered bays and coastal hikes to historic landmarks and exciting watersports, Lagos has something for every style of traveler.
The city also has some of the best amenities of anywhere in the Algarve, with an extensive restaurant, cafe, and bar scene, and plenty of accommodation options to suit all budgets. 
Crucially, staying in Lagos puts you within walking distance of a bunch of restaurants, bars, cafes, and shops, which is probably the biggest perk of staying here. 
Plus, beaches! There's a nice little circuit of beaches that are walkable from the town center, including the excellent Praia dos Estudantes, one of our favorite beaches in the Algarve.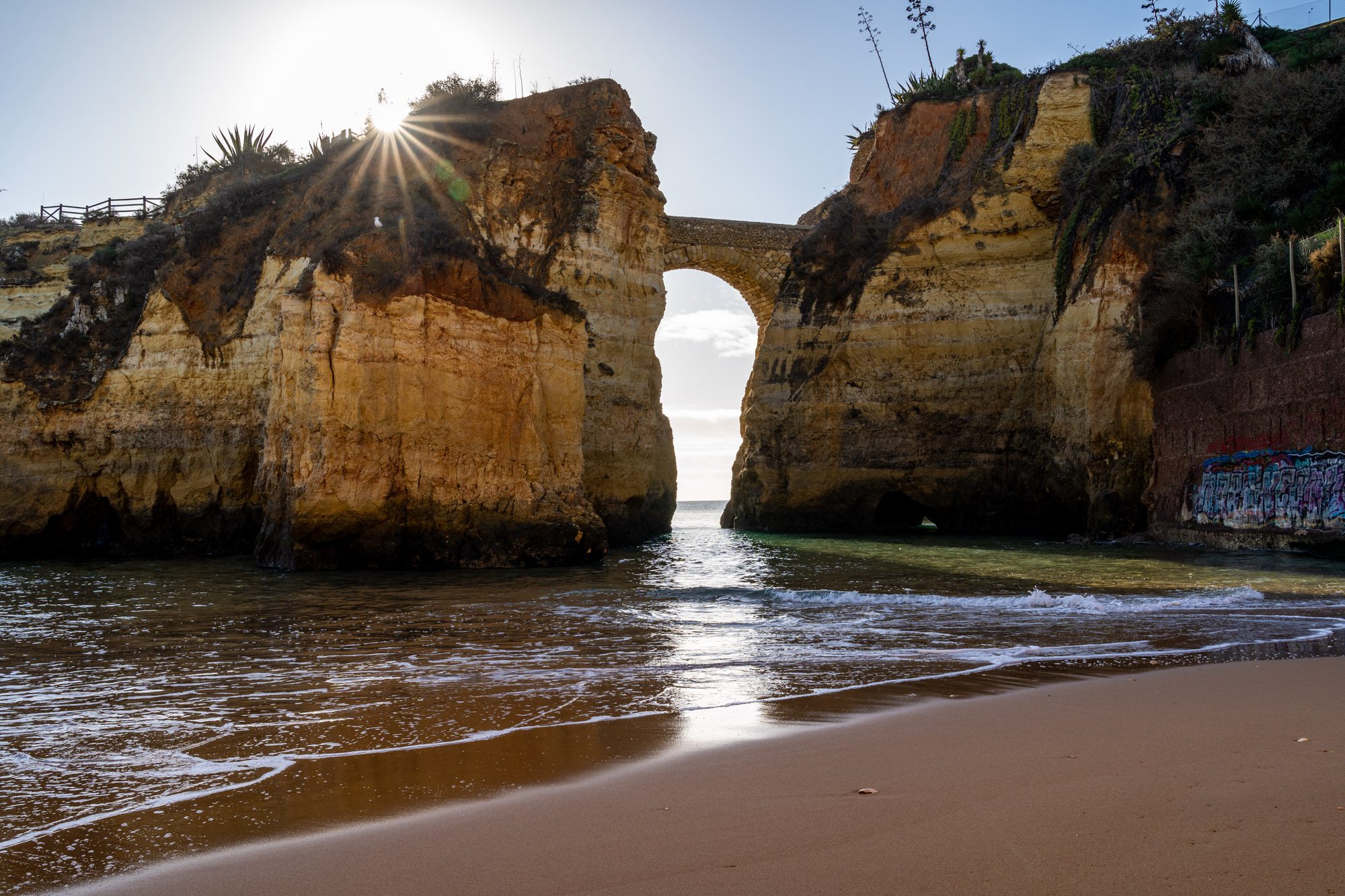 Lagos is also conveniently positioned at the center of many of the area's top towns and attractions, making it a great base for first-time visitors to the region.
Pros and Cons of Staying in Lagos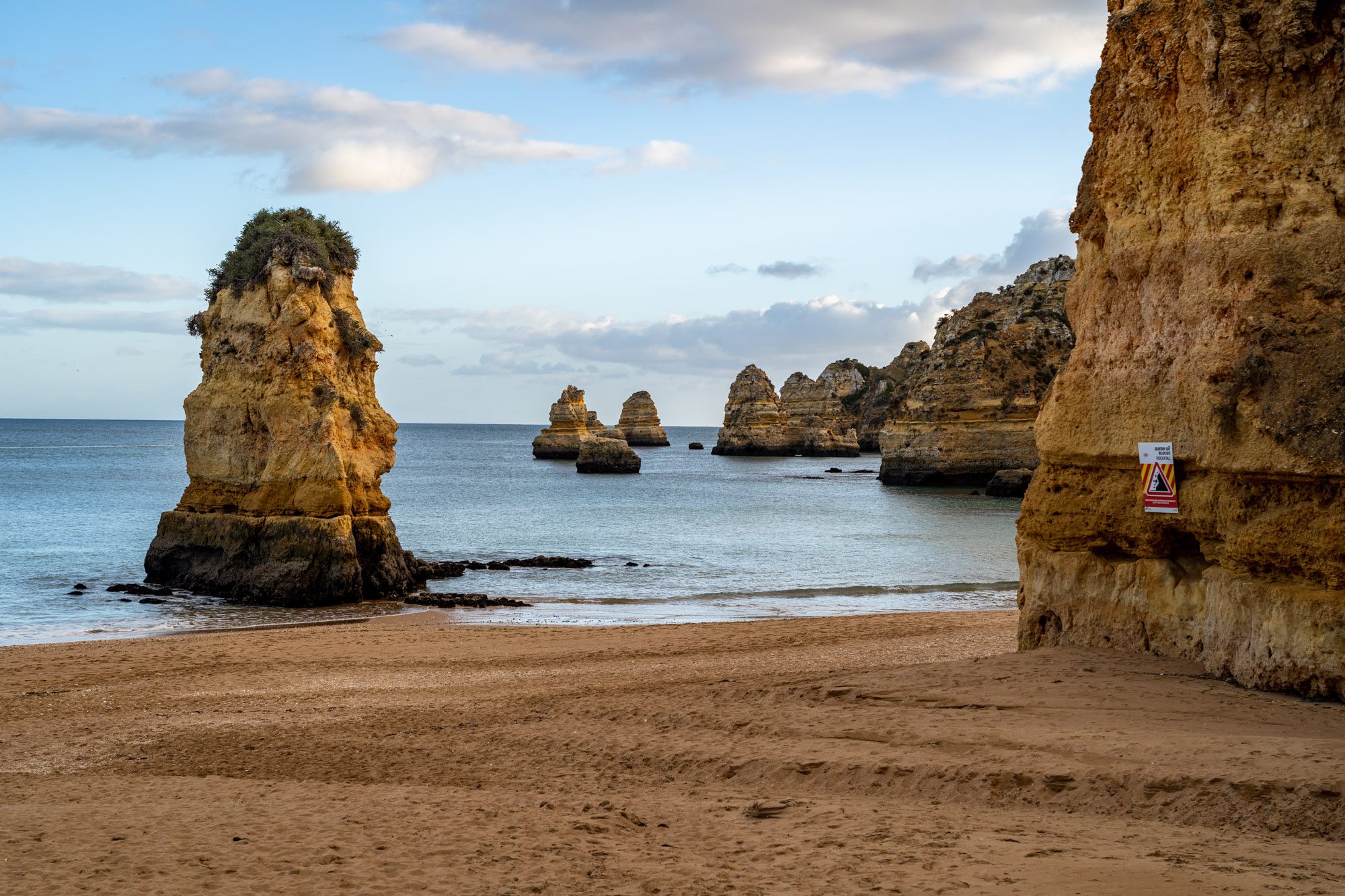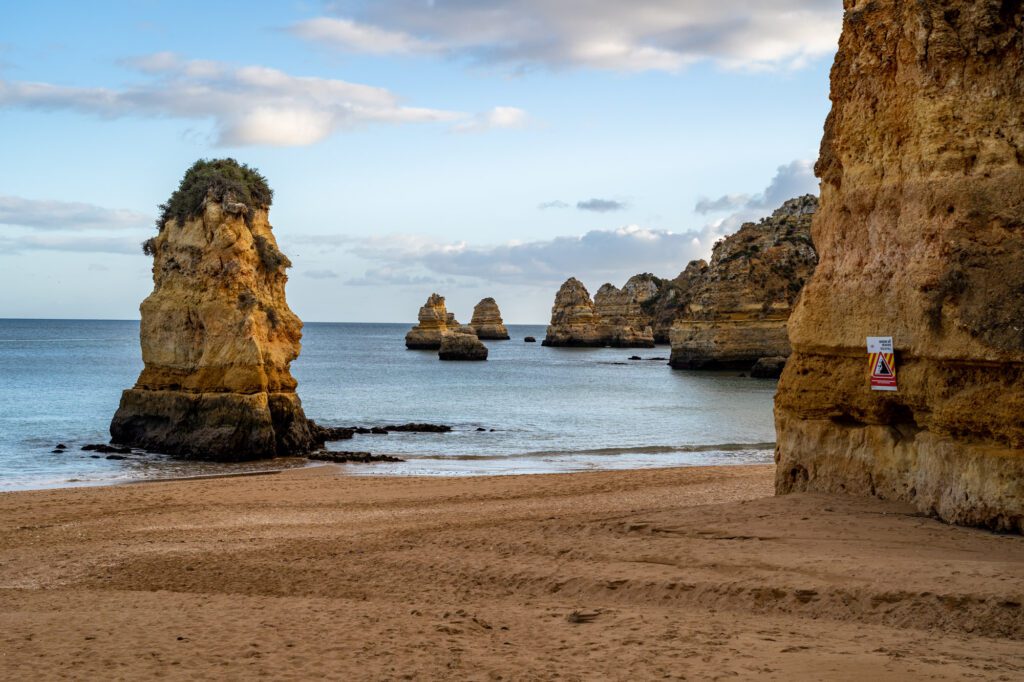 Pros of Staying in Lagos:
Central location. Lagos is an ideal location for exploring all of the best towns, beaches, and attractions along the Algarve.
Restaurant and bar scene. The city has one of the biggest selections of restaurants, cafes, and bars in the Algarve.
Cons of Staying in Lagos:
Tourist crowds. Lagos is one of the most popular places to stay on the Algarve, so you can expect higher prices, busier beaches, and longer lines at attractions during the peak tourist seasons.


Parking is tough. Given the popularity, Lagos is perpetually buzzing. Which means parking can be a little bit of a nightmare. Since we think you definitely want to rent a car in the Algarve, you're either going to want to make sure your hotel has parking available (it's worth paying for here, we think), or park at one of the free lots on the outskirts of town (we parked here and here while we were in Lagos). 
Lagos Highlights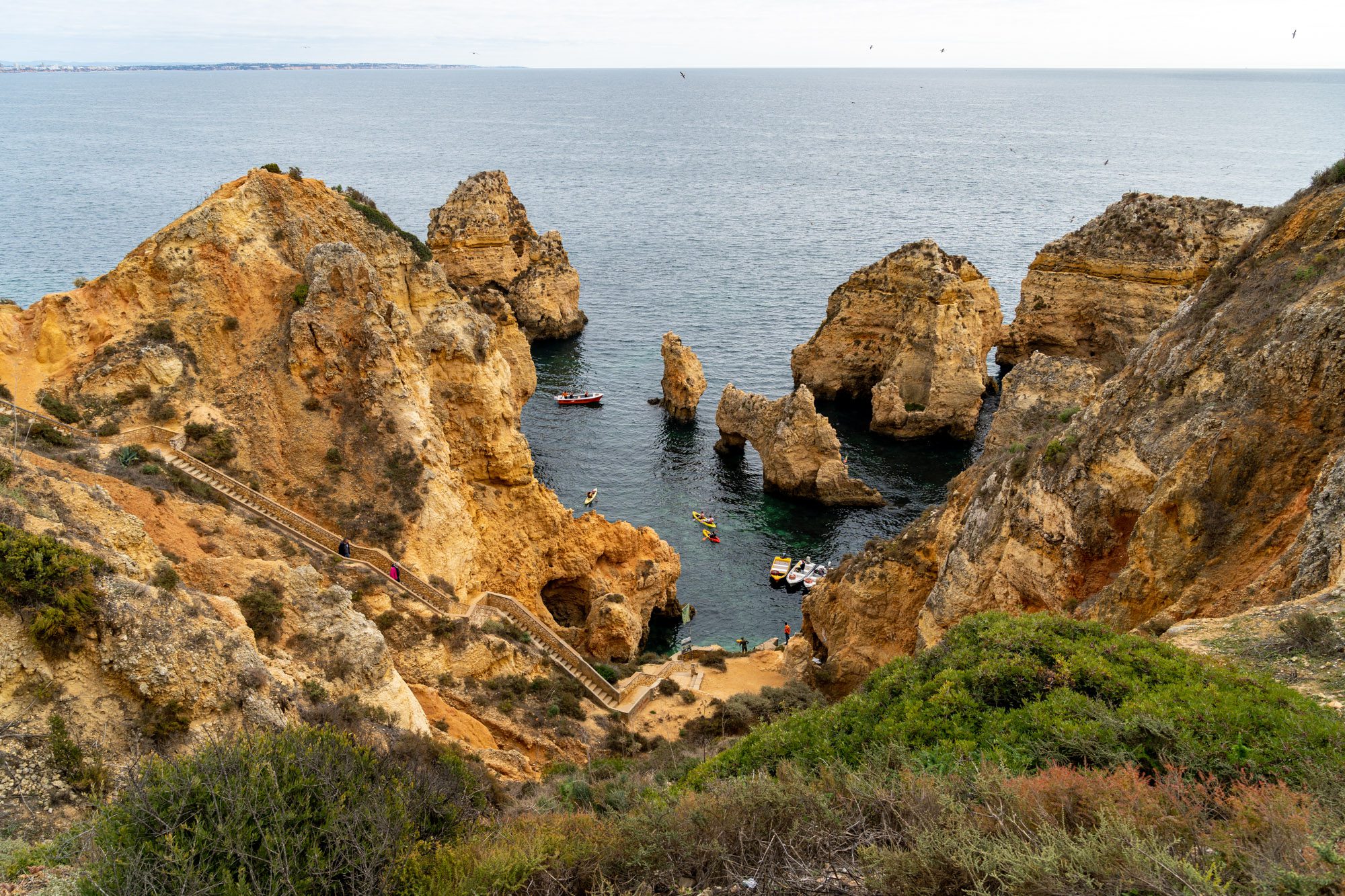 Mar d'Estórias: Cool rooftop bar and restaurant with a ground floor shop selling locally made goods.
Praia do Camilo: One of the most famous golden sand beaches in the Algarve.
Praia de Dona Ana: Lovely protected cove with a wide sandy beach surrounded by rock formations and grottoes.
Praia dos Estudantes: Cool beach with a towering arch out over the water.
Ponta da Piedade: Coastal bluffs with amazing rock formations and arches down at water level. Hike along the bluffs for great views and to visit the famous lighthouse.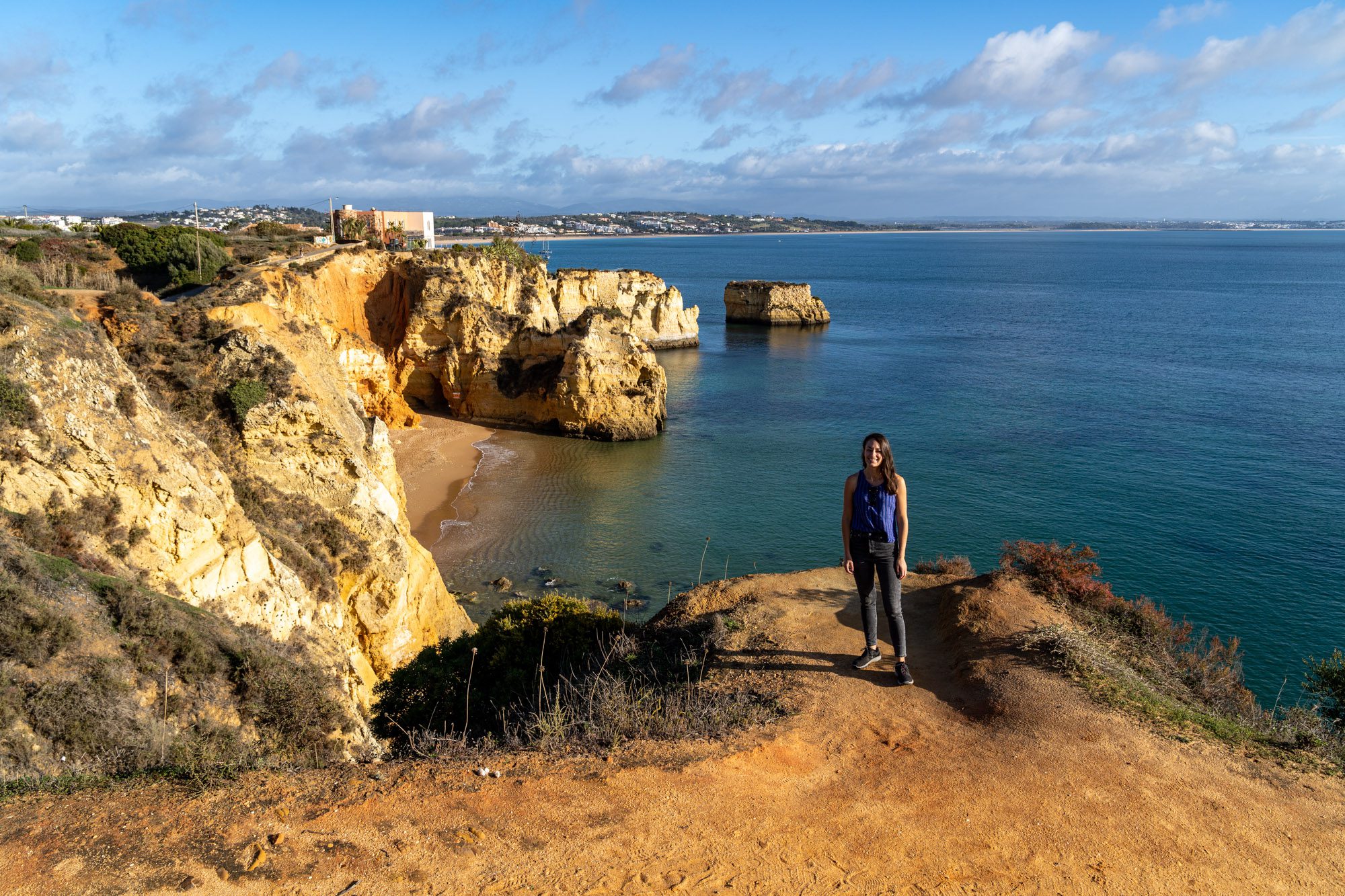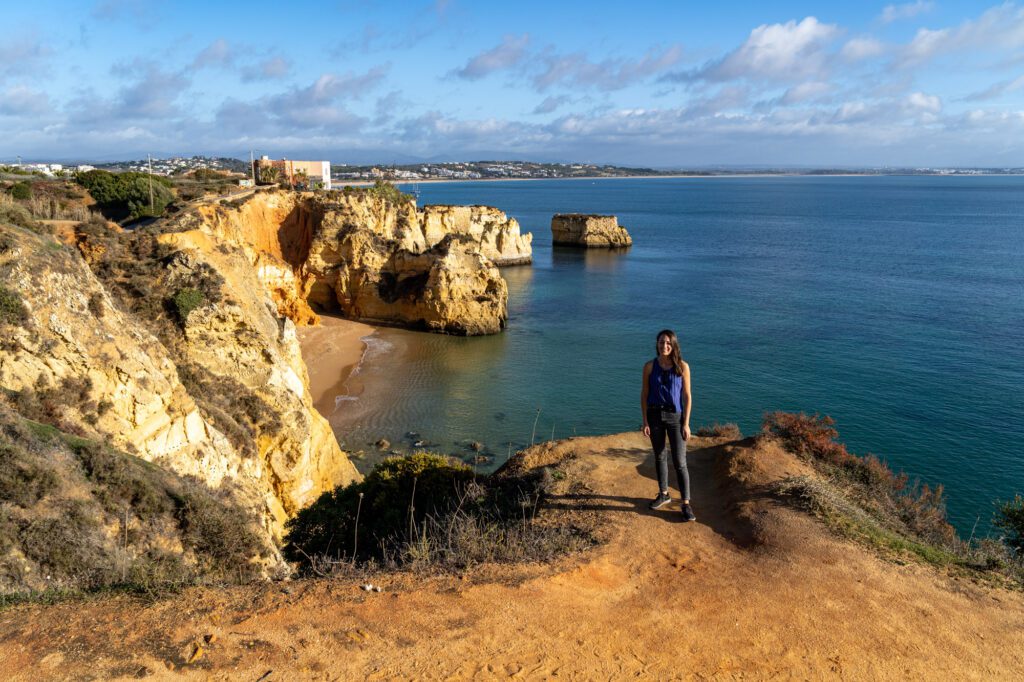 The Best Places to Stay in Lagos
Here are a few of our picks for the best places to stay in Lagos.
The Salty Lodge: Nice Apartments in a Great Location (Where We Stayed)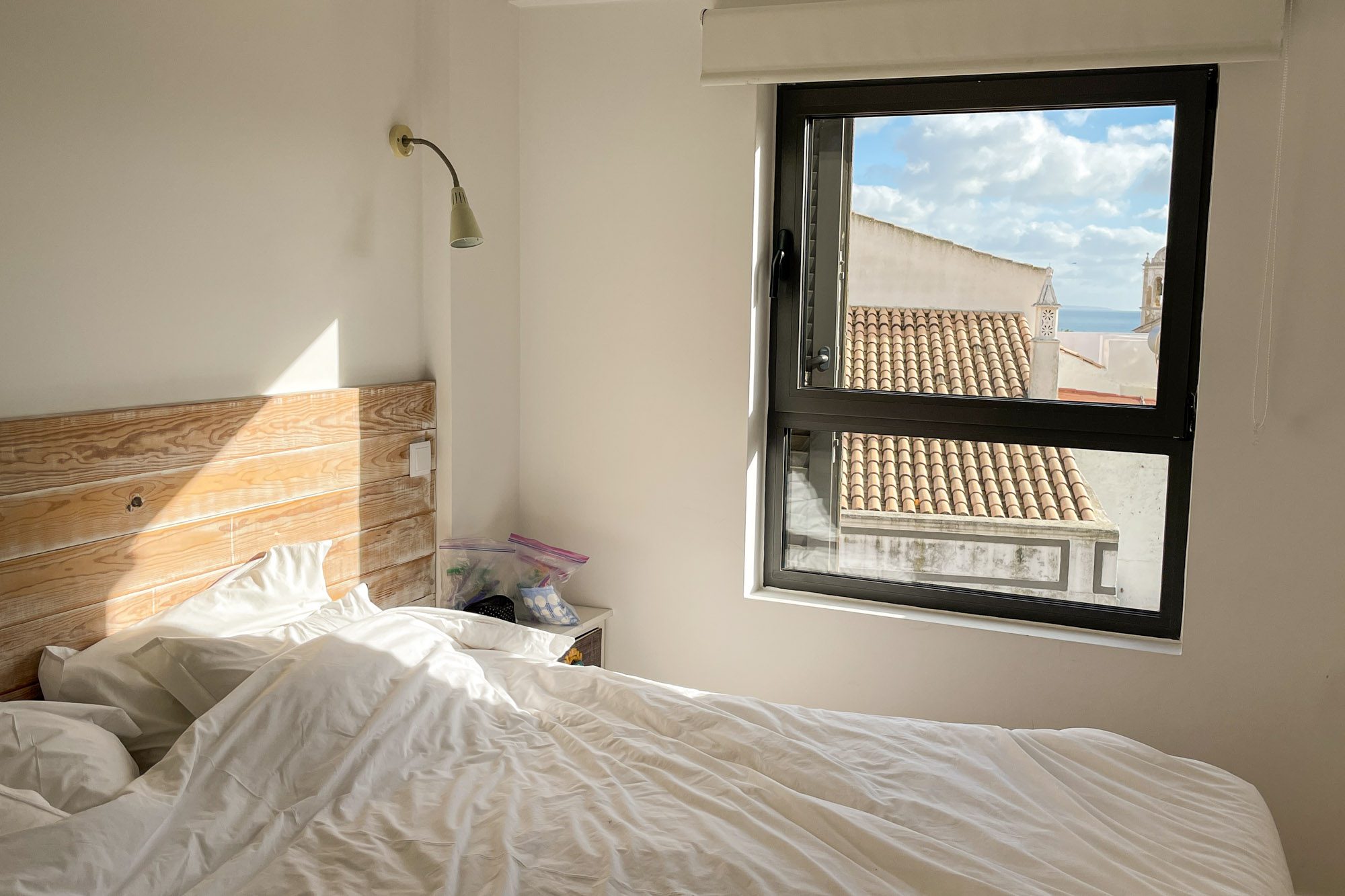 This is where we stayed on our recent trip to Lagos and we couldn't recommend it any more highly.
The Salty Lodge is a small complex in Lagos with several self-catering apartments. Ideally located in the heart of old town, the complex has countless restaurants, cafes, bars, and attractions right on its doorstep.
It's also just a few minutes on foot out to the water with several beautiful bays and beaches within walking distance.
The apartments themself are modern, stylish, and fully-equipped with everything you might need during your stay. Each comes with a small kitchen so you can prepare your own meals.
But the real highlight has to be the communal roof terrace from which you can enjoy breathtaking views over the town and ocean. It's the perfect spot to unwind with a glass of local wine after a day out exploring the coast.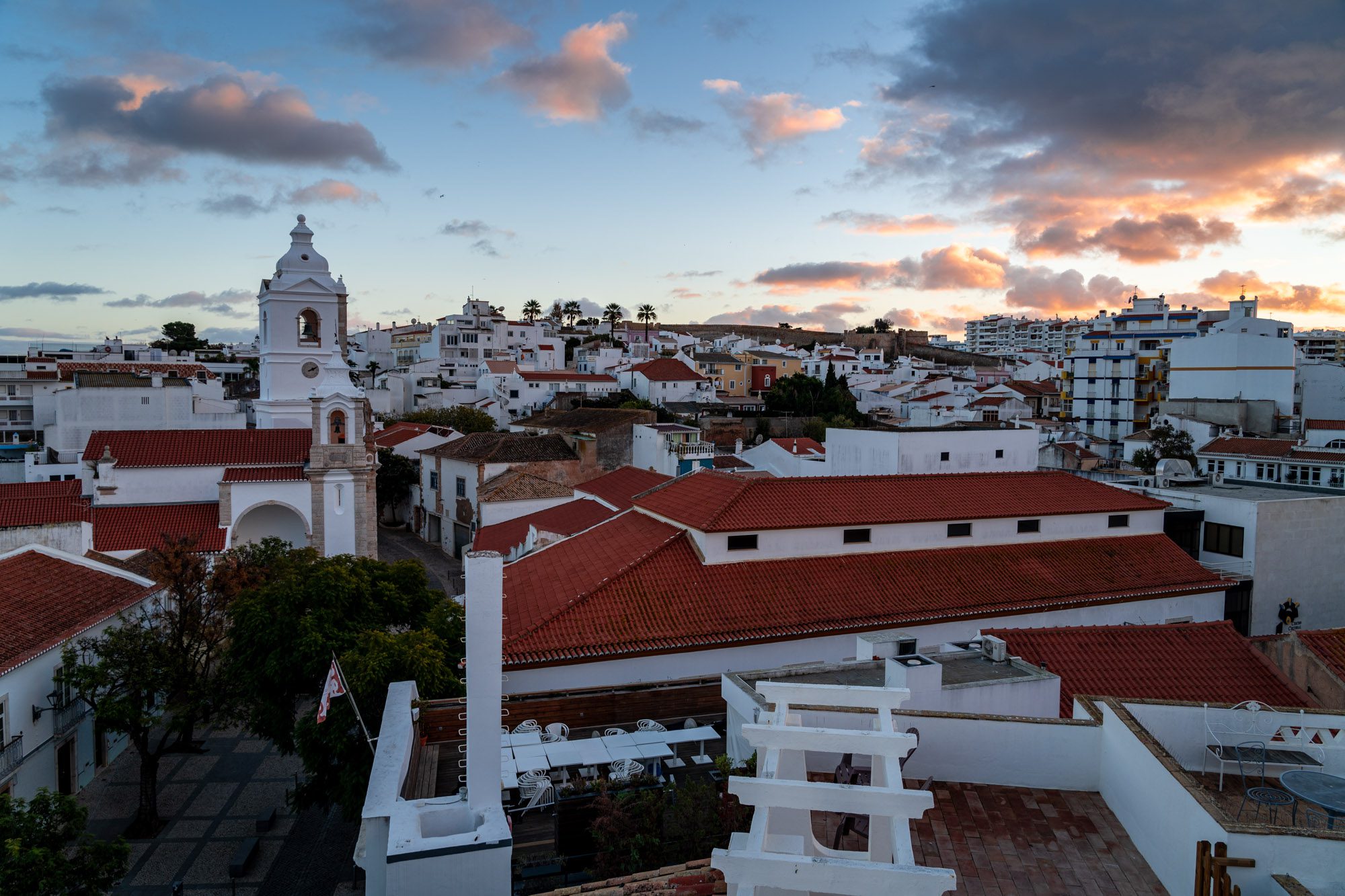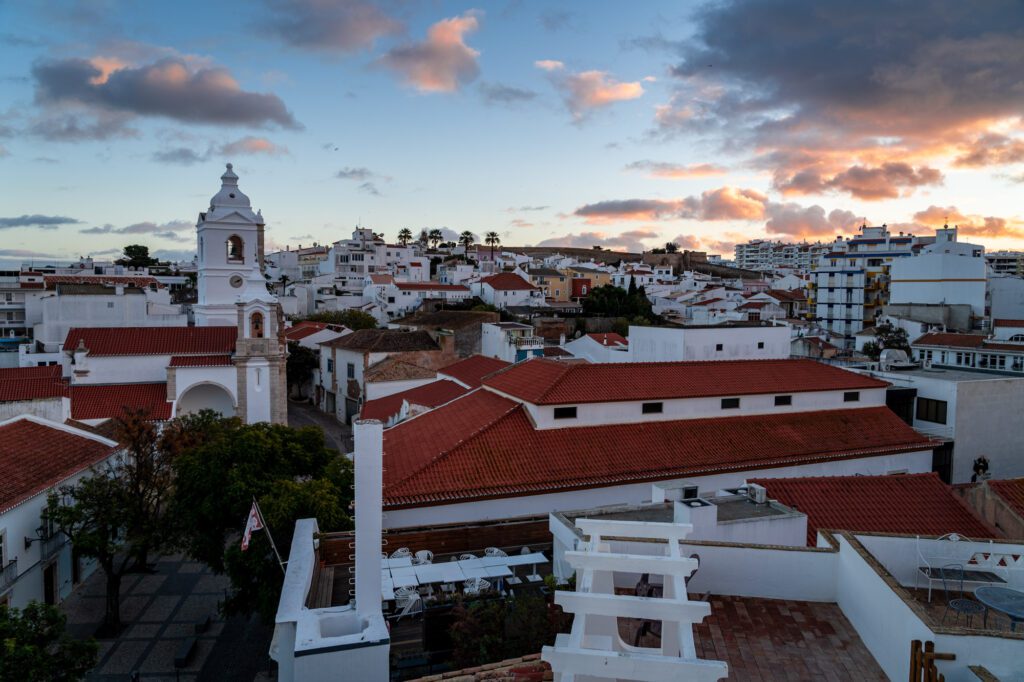 Casa Mãe: The Coolest Hotel in Lagos
An abandoned seaside estate turned dream holiday home, Casa Mãe is without a doubt one of the most beautiful hotels in Lagos.
The luxurious whitewashed property is surrounded by lush Portuguese greenery and is an idyllic setting for a special occasion or romantic vacation in the Algarve.
Set across three buildings, you can choose from boho chic, minimalist, or vintage rooms. The hotel also has a gorgeous pool and sun terrace, plus a restaurant serving homemade dishes using only the freshest local produce.
Lagos Village: An Affordable Guesthouse on the Outskirts
Lagos Village is a charming and affordable guesthouse on the outskirts of the historical center, just a 5-10 minute walk to the city's main attractions and beaches.
The rooms are modern and spacious, with large surrounding windows that bring in plenty of natural light. Each room also has a balcony to enjoy breakfast and your morning coffee on, which you can make in your small in-room kitchenette.
The property has an outdoor swimming pool and sun terrace. And the friendly and accommodating staff are more than happy to help you book excursions and activities.
Lagos Village has everything you could need from a base in the Algarve, without breaking the bank.
Sagres: The Best Place to Stay For Surfing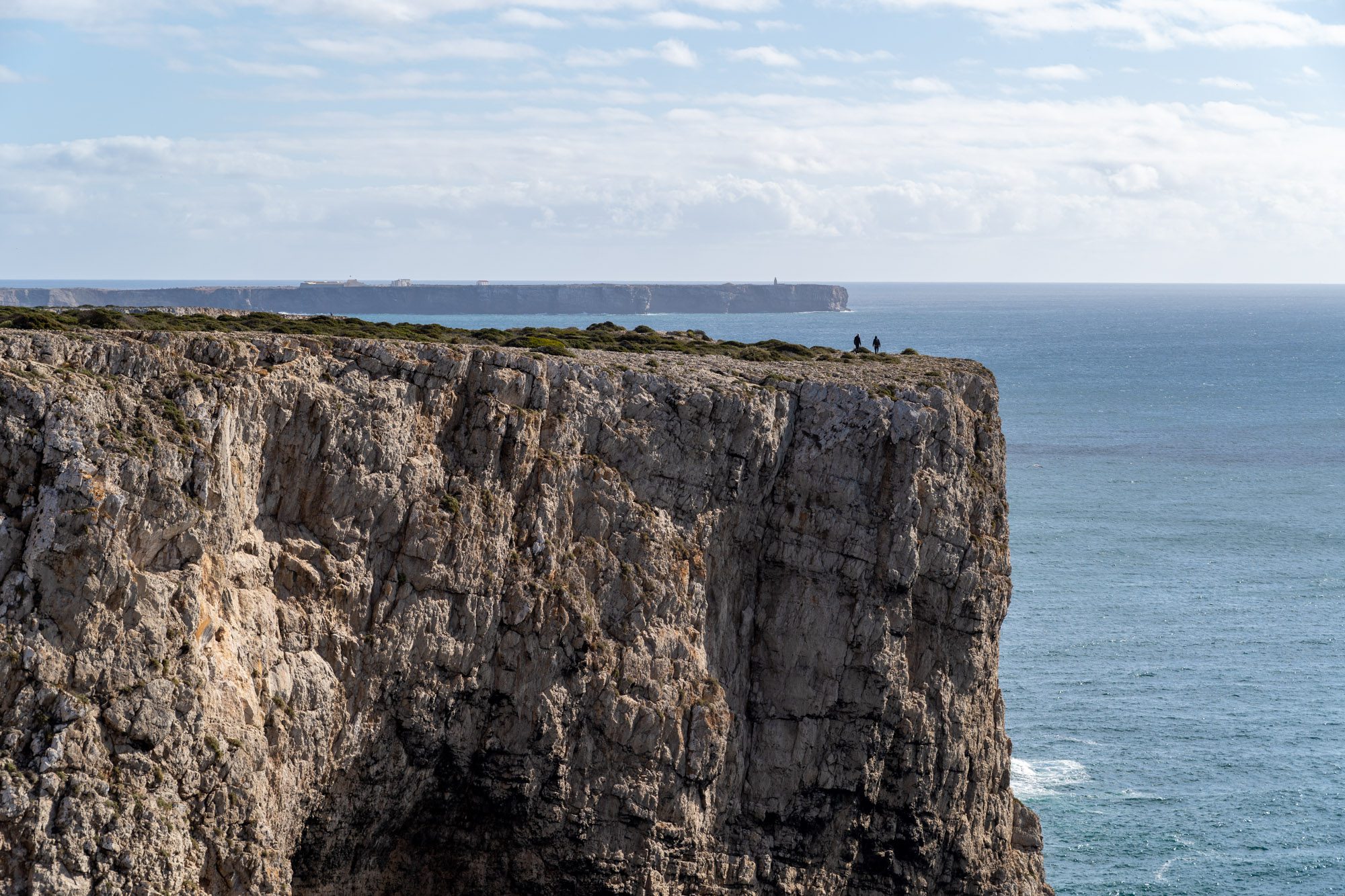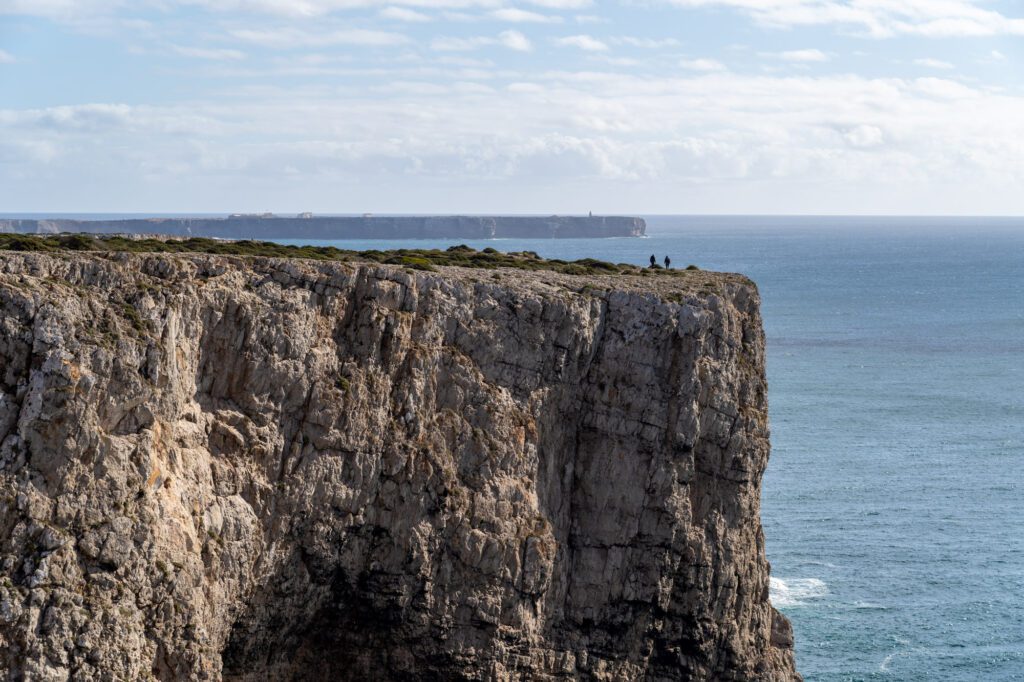 Sagres is a small coastal town on the westernmost point of the Algarve. In ancient Rome, it was the most south-westerly point explored on the continent, so was known as 'Promontorium Sacrum', aka 'the end of the world'.
Today, this is one of the best surfing destinations in Europe (the world?). The town has a laid-back vibe, with lots of cool bars, cute cafes, and local restaurants catering to a younger, surf-y crowd.
It's extremely popular with surfers who come to make the most of the quiet beaches, crashing waves, and rugged natural scenery surrounding the town.
Sagres does have a noticeably younger vibe than elsewhere in the Algarve – probably because of the surfing. This makes it one of the best places in the region to find budget accommodation and for meeting other young travelers.
Located as far west as you can get along the coast – far from the majority of other towns and attractions – Sagres isn't an ideal place to stay if you want to explore all of the Algarve.
But if you're looking for one place to stay and enjoy the local amenities and surroundings, Sagres is a great vacation destination on the Algarve, and there are plenty of places to explore nearby.
Pros and Cons of Staying in Sagres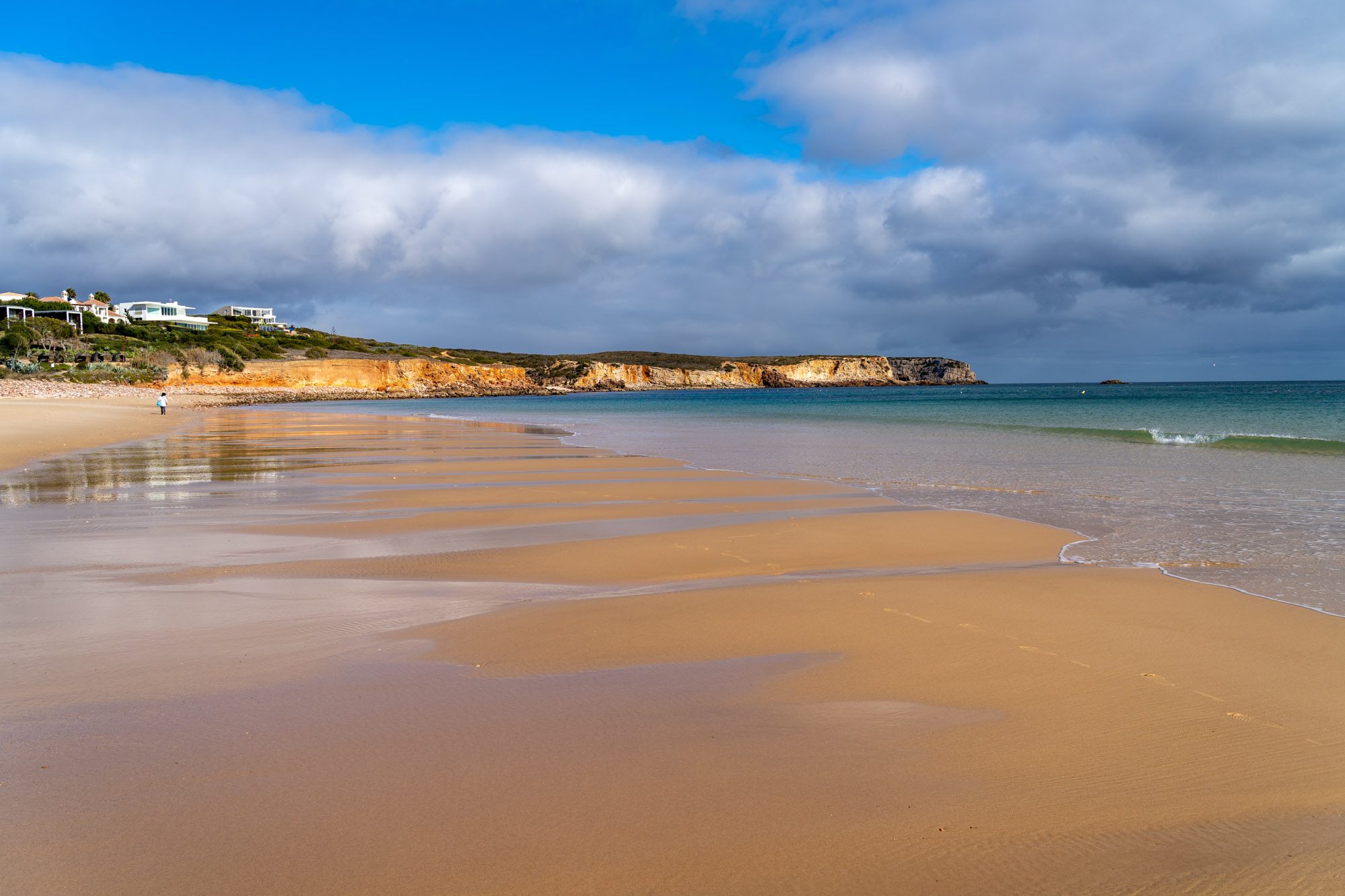 Pros of Staying in Sagres:
Dramatic scenery. Sagres is surrounded by some of the most stunning and dramatic untouched natural scenery in all of the Algarve.
Variety of adventure activities. If you're wanting more from your Algarve vacation than simply sunbathing on the beach, Sagres is the place to be. There's a whole range of exciting activities to enjoy, from surfing and kayaking to deep-sea fishing, epic hiking trails, and so much more.
Less touristy. Sagres has been less touched by tourism than many other towns along the Algarve, meaning you can still enjoy its tranquil natural beauty without the huge tourist crowds.
Good for budget accommodation. Being a popular spot with younger and more adventurous travelers, Sagres has some of the best hostels and budget accommodation in the Algarve. There are also campsites and parking for campervans.
Cons of Staying in Sagres:
It's far from the airport. The town is located 115 km from Faro airport – the main airport in the Algarve. A taxi takes approx. 1hr 15mins, but can easily cost €100-150. To take public transportation, you'll need to jump on the bus from Faro to Lagos, then change buses to Sagres. The journey takes three to four hours in total.
It's far from everything else. Sagres' location in the very west of the region also means that it's pretty far away from many of the towns, beaches, and attractions of Central and Eastern Algarve. Staying in Sagres means you'll be sticking to Western Algarve for most of your trip.
Sagres Highlights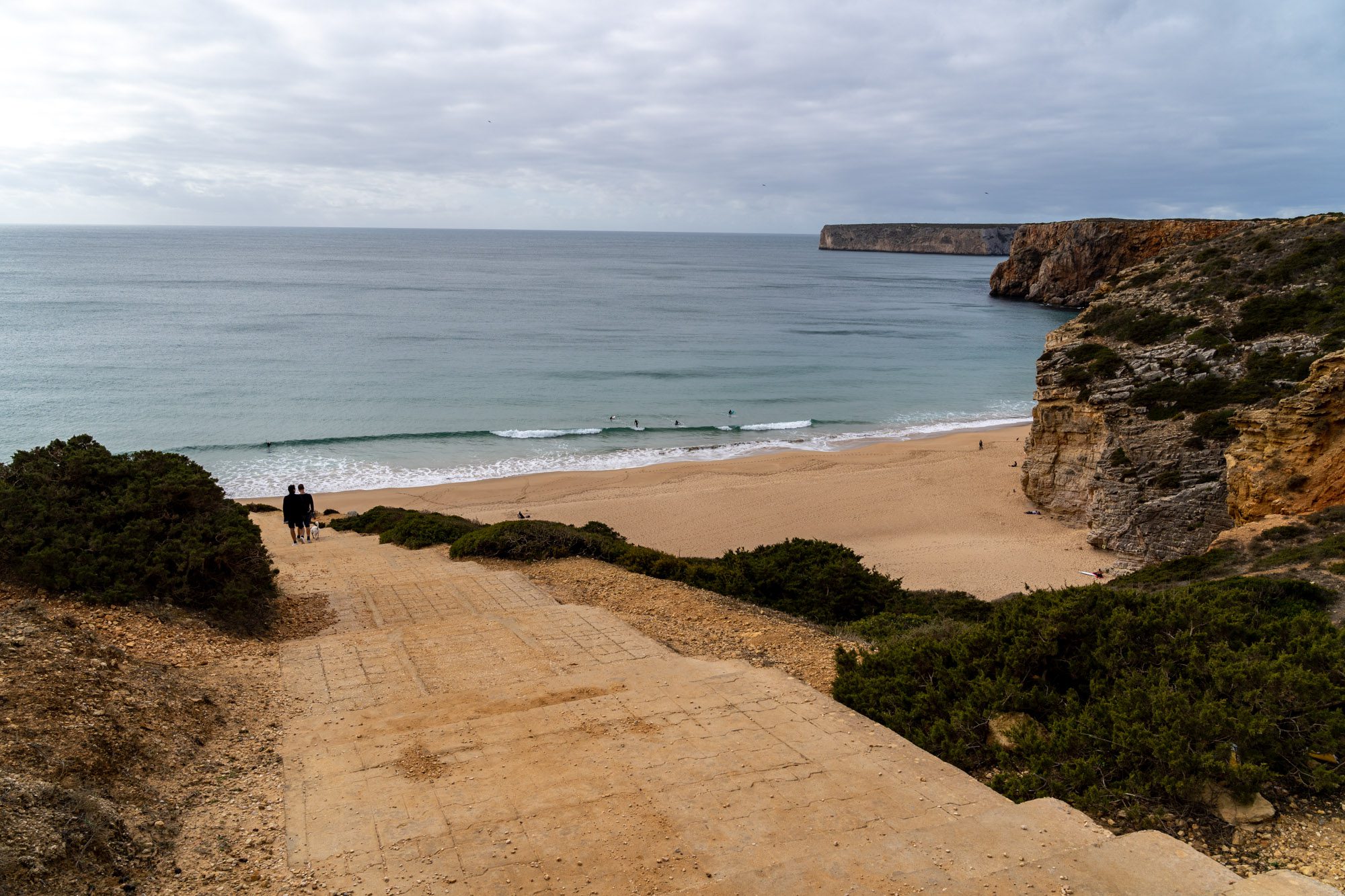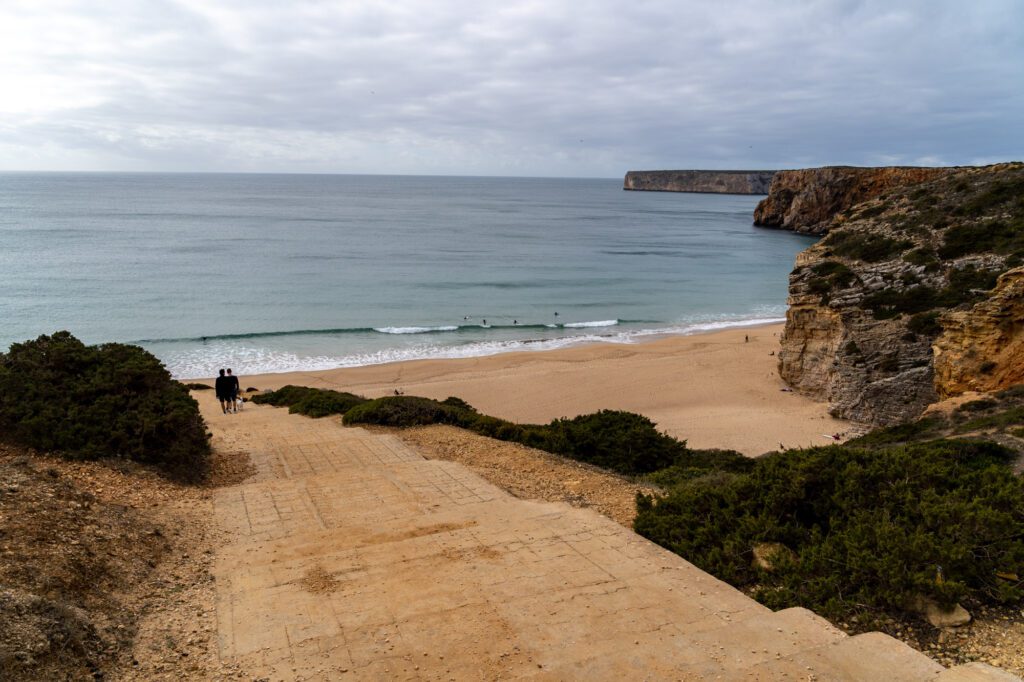 Praia do Martinhal: A wide sandy beach just outside Sagres. Popular for windsurfing and watersports.
Fortaleza de Sagres: Picturesque sea fort on the bluffs offering fantastic views along the coast and over the ocean. The historically important fort was built in the 15th century by Prince Henry the Navigator during the period of maritime Discoveries.
Praia do Beliche: Our favorite beach on the Algarve. Walk down steep stairs and you'll find yourself in a protected cove with views of the towering cliffs. It's also a popular surf spot.
Cabo de Sao Vicente: The westernmost point in mainland Europe! Just be warned, it's always super windy here.
Gelateria Alice, Art & Heart: Exactly what it sounds like… delicious Italian gelato and tasty homemade pastries. Has a good range of dairy-free and vegan ice cream too. Grab something to takeaway or enjoy in their sunny garden out back.
The Best Places to Stay in Sagres
Here are a few of our picks for the best places to stay in Sagres.
Memmo Baleeira: Beautiful Boutique Hotel
Memmo Baleeira is a large design hotel overlooking Sagres' historic fishing harbor and beautiful Baleeira Beach. The luxurious hotel has every amenity you could possibly want or need during your Algarve vacation. 
The hotel's outdoor pool has magnificent Atlantic Ocean views. Inside, you can enjoy the heated spa pool, Turkish bath, and sauna.
On-site restaurant 'Fornaria' serves tasty homemade pizzas, cooked in a wood-burning oven, that you can eat on the terrace as you watch the sunset over the ocean.
Families can also make the most of the hotel's kids club and helpful concierges.
The rooms at Memmo are contemporary and cozy. Each features luxurious bathroom amenities, a seating area, and a flat-screen TV. Some rooms also have a private balcony with ocean views, though you'll pay a little extra for it.
​​Cercas Velhas: Affordable and Charming Apartments
Cercas Velhas is a charming little hotel set inside several renovated houses once occupied by a local agricultural family. The original buildings have been kept much the same, other than the vibrant red and blue paint job that provides a striking contrast from the surrounding greenery.
Set around a central courtyard area, each room is a cozy self-contained apartment with charming and homely furnishings and a fully-equipped kitchenette.
Cercas Velhas is located in a quiet area of Sagres, immersed in untouched nature, and just a short walk from the ocean and Tonel beach.
Martinhal Sagres Beach Family Resort: Cool Resort for Families
An expansive five star family resort overlooking Martinhal Beach, Martinhal Sagres Beach Family Resort offers spacious rooms and villas seconds away from the sand and sea.
The resort is ideal for those looking to keep little ones entertained. There are plenty of fun amenities and activities for kids of all ages, including 5 swimming pools, soft play areas, Playstations, surf lessons, paddle tennis, football challenges, and nightly family entertainment.
And for the adults, the resort also has 3 luxury restaurants, 4 bars, and tennis courts.
The hotel's double and family rooms have a private terrace or balcony overlooking the sea. Each also comes with a minibar and coffee machine. Or if you're looking for even more space, the luxury townhouses and villas all feature a large open-plan lounge area and a fully equipped design kitchen.
Casa Azul Sagres: Hotel Rooms + Apartments
Located in a vibrant blue building in the heart of Sagres, Casa Azul is almost impossible to miss. The modern boutique hotel has numerous stylish and spacious rooms, as well as one and two-bedroom apartments that sleep up to 5.
Each room at Casa Azul has a private bathroom, cozy seating area, TV, and a small terrace or balcony with hammocks/deck chairs.
The apartments also feature a fully equipped kitchen for preparing your breakfast or dinner each day. Some even have BBQ facilities on their private terrace.
Wavesensations: Affordable & Comfortable Surf Hostel
A cozy surf house just seconds from Tonal Beach, Wavesensations is one of the best places to stay in Sagres for those wanting to learn how to surf in the Algarve.
Wavesensation not only offers affordable accommodation in the Algarve but also some of the best surf lessons and camps in the region. With classes for every level of surfer, you can head down to one of the many nearby beaches each day to hit the waves. There's also a yoga shala to stretch and unwind at the end of a day surfing.
Wavesensations has several stylish private rooms, as well as shared female and mixed dorms. Each dorm bed has a curtain, private reading light, power outlet, and a large locker. The shared bathrooms are clean and spacious.
The hostel's communal lounge and terrace are great places to socialize with other surfers and travelers. While it's not a crazy party hostel, there are plenty of events and weekly BBQs to help guests meet each other.
Carvoeiro: Residential Area with Great Beach Access (Good for Families)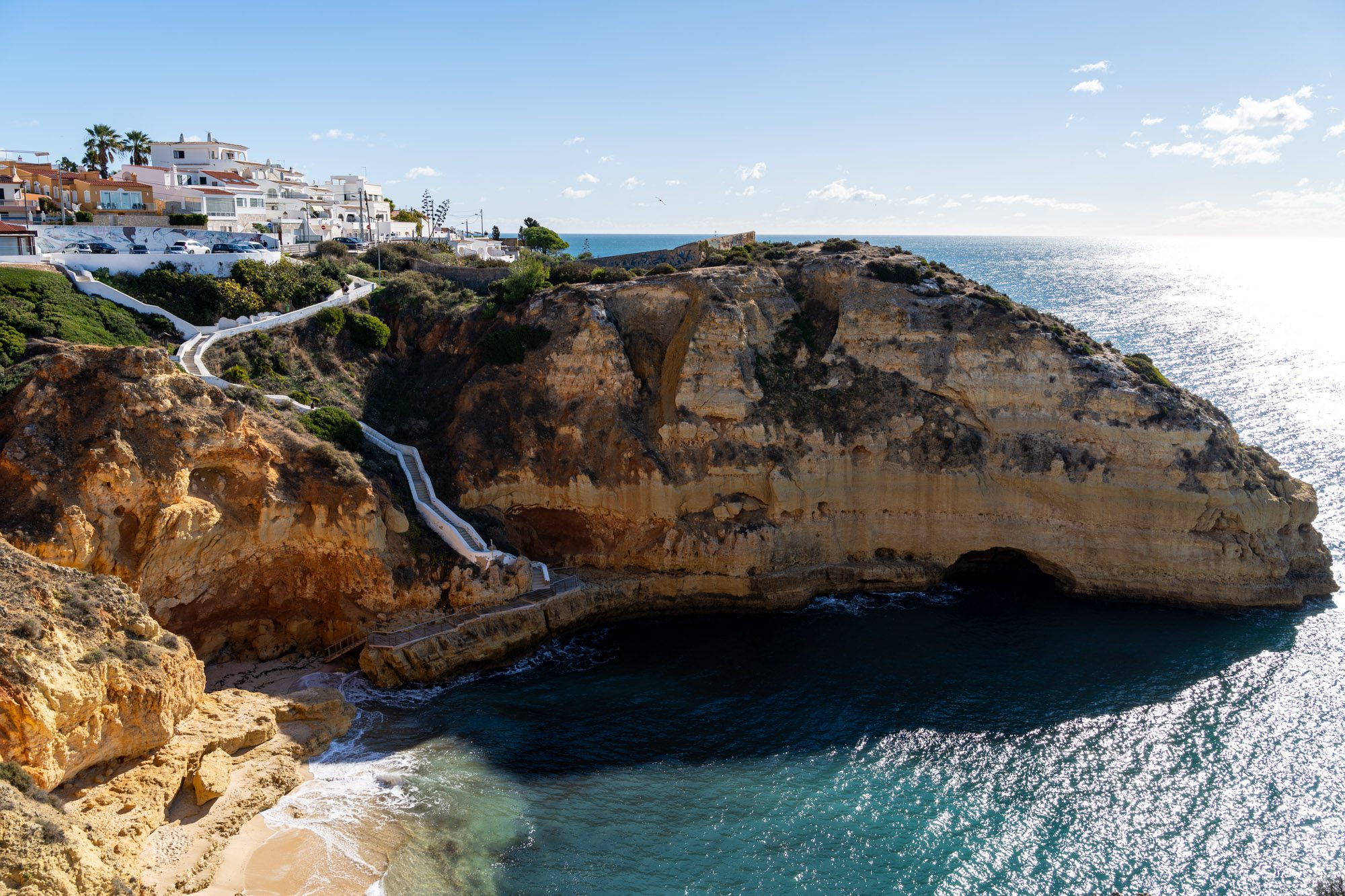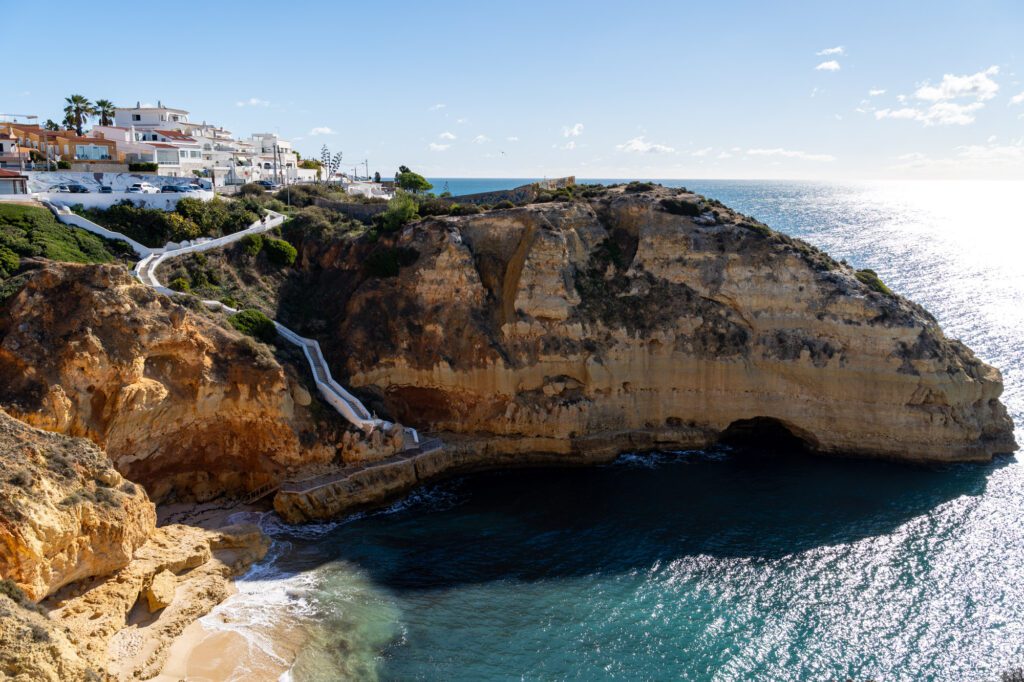 Carvoeiro is a small, picturesque resort town in the Central Algarve. More low-key than the likes of Lagos and Albufeira, the charming seaside town is characterized by traditional whitewashed fishermen's houses surrounded by sweeping golden cliffs.
Carvoeiro's beach, Praia de Carvoeiro, is small but spectacular. Once one of the Algarve's best hidden gems, the beach has grown hugely in popularity ever since being awarded the title of Best Beach in Europe in 2018.
But the biggest draw of staying in Carvoeiro has to be its fantastic location. The town is a great place to stay for hiking the famous Seven Hanging Valleys Trail and visiting the many beautiful white sand beaches along this stretch of coastline.
Pros and Cons of Staying in Carvoeiro
Pros of Staying in Carvoeiro:
Central location. Carvoeiro is located close to the famous Seven Hanging Valleys Trail, many of the region's best beaches, and several of the Algarve's most popular tourist resort towns, including Lagos and Albufeira. It's in a perfect location for exploring everything that Western and Central Algarve has to offer.
Local vibe. Despite being a popular tourist resort, Carvoeiro is still a working and living town. If you visit during the low season, you'll get to experience authentic local life in the Algarve at its finest.
Good amenities. Downtown Carvoeiro has a variety of fantastic restaurants, casual beach bars, cool cafes, grocery stores, and everything else you might need during your stay in the Algarve.
Family-friendly. The town is a particularly popular destination for families, thanks to its abundance of child-friendly amenities and resorts. Carvoeiro also doesn't have a late-night party or clubbing scene like many other resort towns on the Algarve do.
Cons of Staying in Carvoeiro:
Crowded during peak months. Carvoeiro is a small but popular resort town in the Algarve, meaning it can get pretty crowded during peak periods. The small beach can get very packed during the summer months.
Carvoeiro Highlights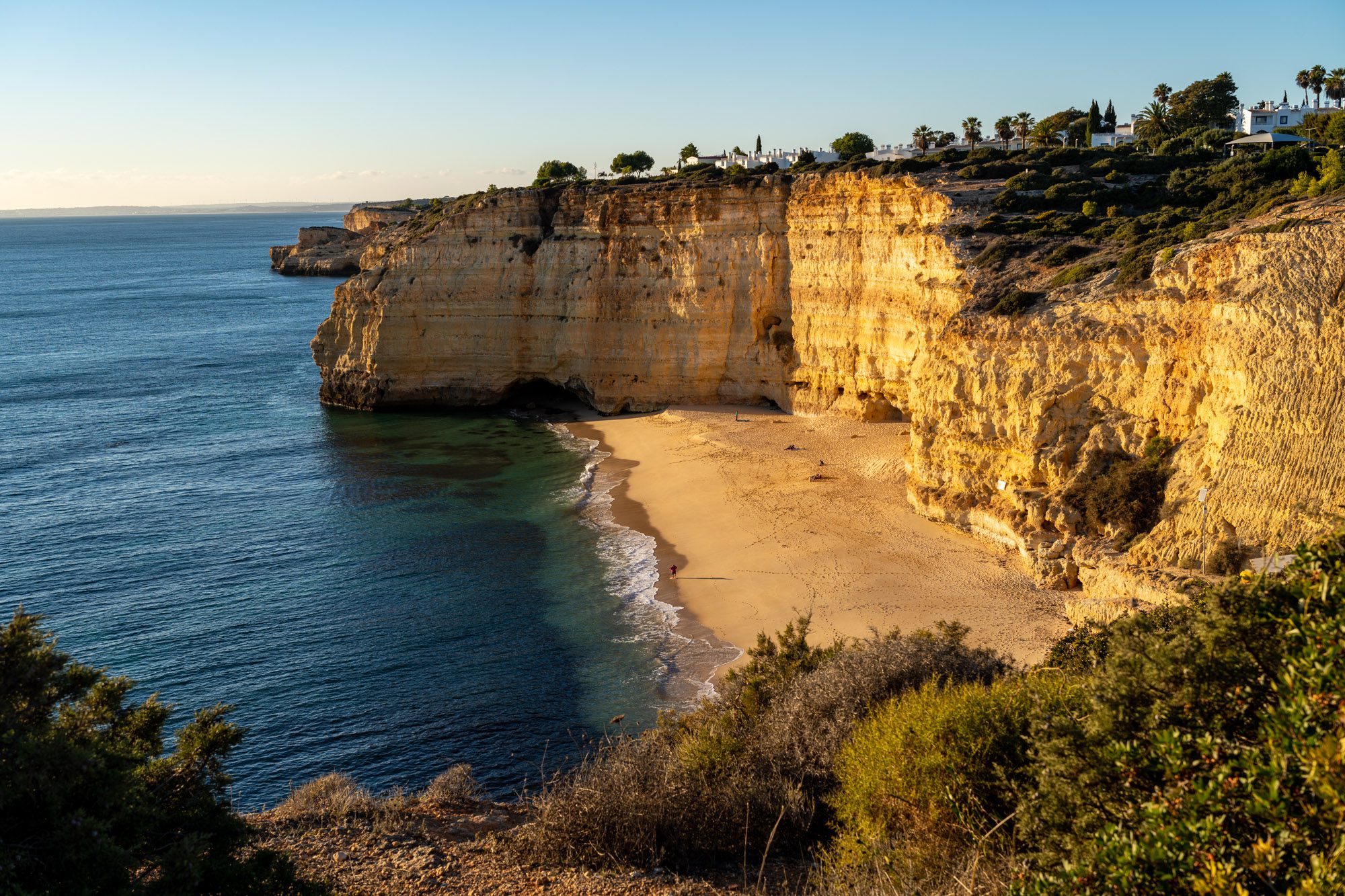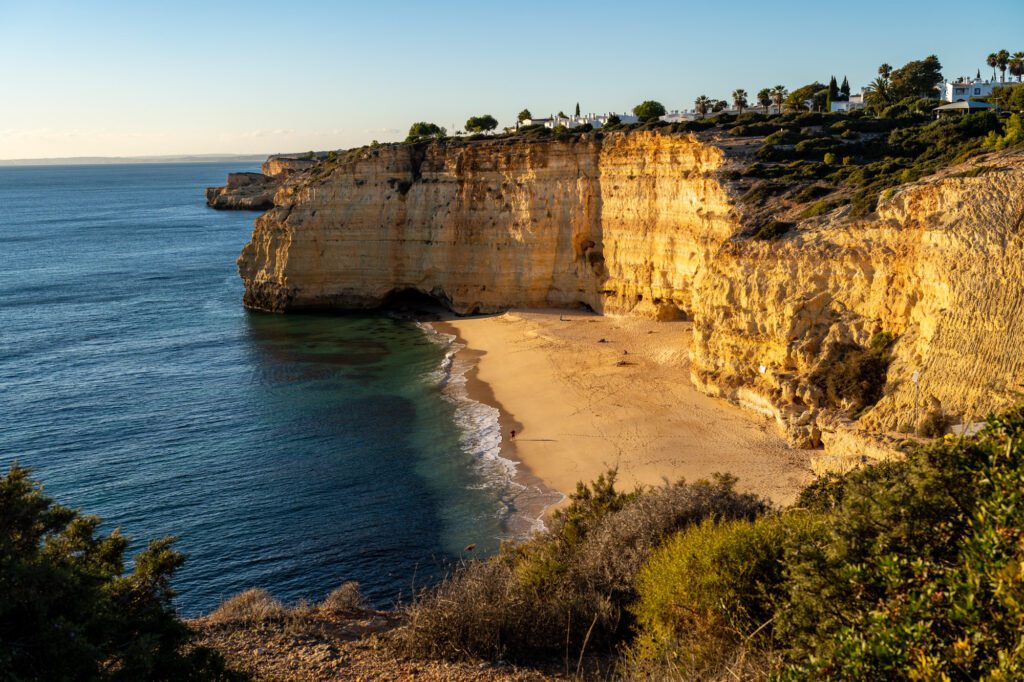 The Seven Hanging Valleys Trail: One of the most popular hikes on the Algarve. Along the 11 km trail, you'll discover sweeping coastal vistas, blue-green waters that perfectly contrast with the golden sand of countless beautiful beaches, and unique sinkholes that form deep caverns (only accessible by boat).
Carvoeiro Boardwalk: A picturesque clifftop walk on the hill above the town's beach with some great views over the coast.
Praia do Vale de Centeanes: A golden sand beach just east of Carvoeiro. Excellent location to watch the sunset.
Praia do Paraíso: Cool narrow beach in a small cove that can be reached via a set of steep white stone steps.
Praia da Marinha: This award-winning beach is one of the most emblematic in the Algarve, if not all of Portugal. Don't miss the picturesque orange sandstone cliffs, sea stacks, and archways that surround the beach.
Benagil Caves: Famous coastal caves known for distinctive holes in the roof. Can be visited on a boat or kayaking tour from Carvoeiro.
The Best Places to Stay in Carvoeiro
Here are a few of our picks for the best places to stay in Carvoeiro.
Hello Villas: Excellent Private Villas (Where We Stayed)
This is where we stayed in Carvoeiro and loved using it as a base for exploring more of the central section of the Algarve.
Hello Villas is a large holiday home complex made up of 58 one and two-bedroom townhouses in a quiet area of Carvoeiro. The villas sit around 15 minutes from the beach and 5-10 minutes from the town center.
Each of the modern villas features a fully equipped kitchen, a separate living area with a sofa and a TV, and both indoor and outdoor dining areas. The large homes are ideal for those who enjoy having a little extra space while traveling.
The complex features a central garden area containing a communal outdoor pool, children's pool, plenty of sun loungers, and a poolside snack bar. There's also free parking on site if you're planning to explore more of the Algarve by car.
Hotel Carvoeiro Plaza: Solid Midrange Hotel a Block from the Beach
If you'd rather stay close to the water, Hotel Carvoeiro Plaza is located just 25m from Carvoeiro Beach, with panoramic views over the scenic bay.
The charming three star hotel features double and twin rooms, and two-bedroom suites for families and larger groups. Each room is equipped with a private bathroom, TV, A/C, and tea and coffee-making facilities. Some rooms also have a private balcony with sea views.
Plus, if you feel like taking a dip in the water without heading to the beach, the hotel has an outdoor swimming pool with a terrace, sun loungers, and a pool bar.
You can also unwind at the end of each day at the hotel's stylish rooftop bar, Skybar; the perfect spot to watch the sunset over the beach with a glass of local wine.
Quinta das Andorinhas: Guesthouse with Rooms and Suites
Embrace the more authentic and local side of Carvoeiro with a stay at Quinta das Andorinhas, a charming family-run guesthouse.
The large home features just 20 rooms, giving it a more low-key, family atmosphere. The friendly owners and staff will ensure that you feel at home right away.
Located inside a traditional whitewashed house with bright yellow trims, the property has a variety of rooms, suites, and studios that can sleep up to 4 people. All rooms are spacious, clean, and modern, with amenities including a TV, hairdryer, and A/C. Each room features a small balcony or terrace with BBQ facilities.
The guesthouse also has a garden with an outdoor pool, a cozy communal lounge area, and a shared kitchen with a refrigerator and microwaves for guests to use.
But don't worry about buying any breakfast supplies. Each morning, you'll be treated to a delicious and filling homemade breakfast by the owners.
Castelo Guesthouse: Affordable Guesthouse with Sea Views
Another great option for staying close to Carvoeiro's scenic beach is the charming three star Castelo Guesthouse, just minutes from the water.
The distinctive yellow building sits on the eastern edge of Carvoeiro Beach, with panoramic views of the sandy beach, the Atlantic Ocean, and back over the town itself. The guesthouse has a summer terrace, lending library, and breakfast room.
You can choose between a double room, family room, or deluxe suite depending on your budget and group size. Each room is decorated in a unique style, from pretty green florals to Portuguese blue and white azulejos and more.
The standard rooms come with a street view. Or you can pay a little extra for a private terrace/balcony overlooking the beach and ocean – 100% worth it in our opinion! There's nothing better than waking up to the sight of the ocean and the sound of crashing waves.
Heads up – in peak season, there's a minimum stay of either three or four nights, which means this isn't a great option for shorter trips.
Salema: A Charming Small Town Right on the Beach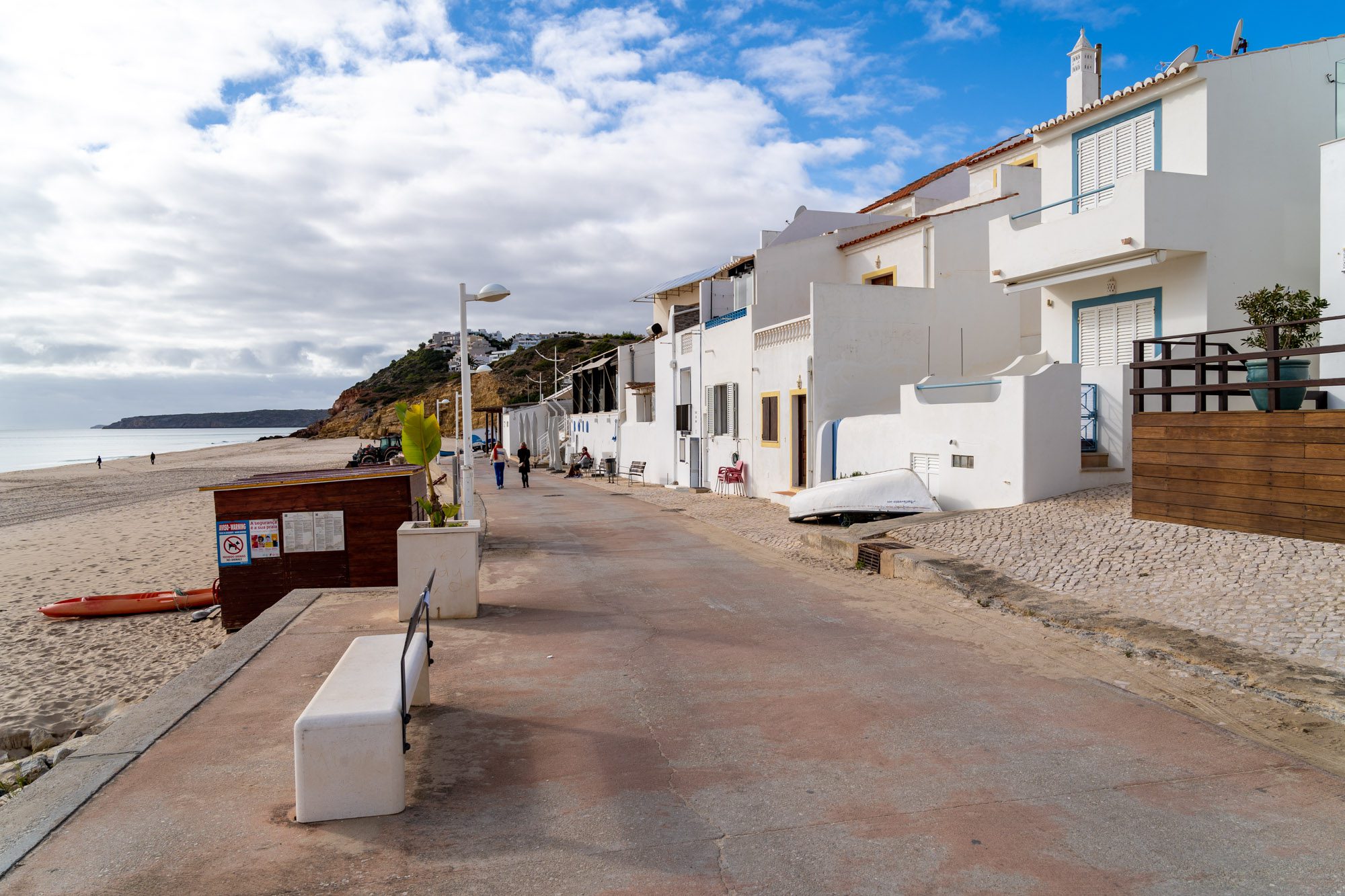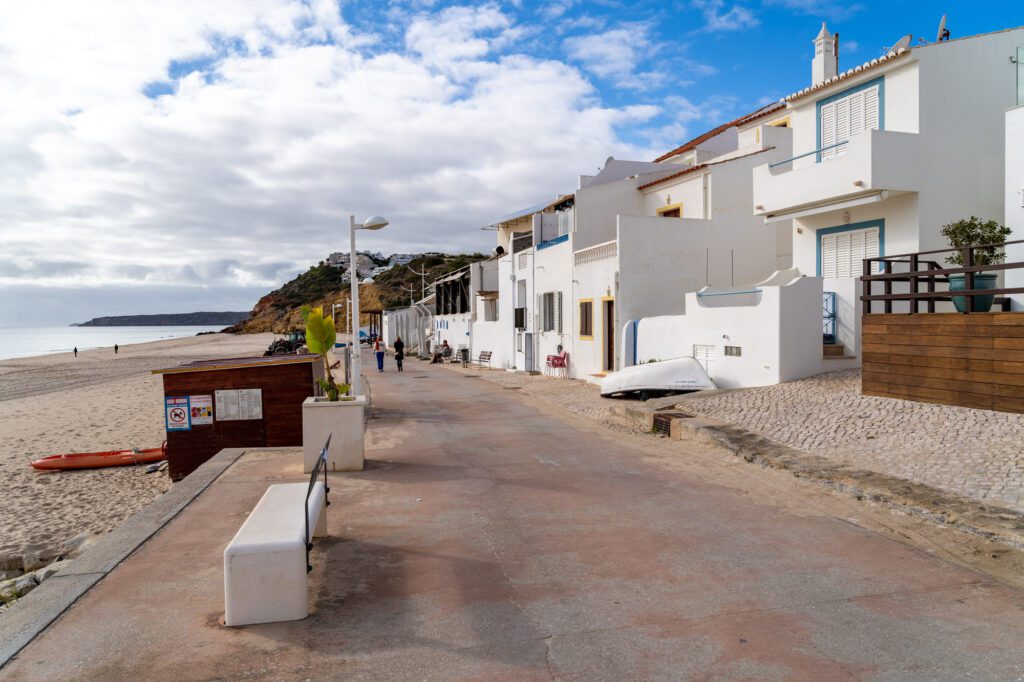 Salema is a working fishing village and quaint seaside resort in Costa Vincentina Natural Park, a protected area of outstanding natural beauty. The charming village is located in Western Algarve, sitting between Sagres to the west and Lagos to the east.
Despite increasing popularity with international tourists over recent years, Salema remains one of the least heavily developed destinations on the Algarve.
Centered around a small bay and golden sand beach, the sleepy little village is known for its whitewashed cottages, narrow cobbled streets, cozy family-run cafes and restaurants, and colorful wooden fishing boats bobbing on the horizon at sunset.
It's one of the few places left in the Algarve where locals and tourists coexist in (somewhat) peaceful harmony.
For a relaxing and lowkey place to base yourself in Western Algarve, you'll find nowhere quite like Salema.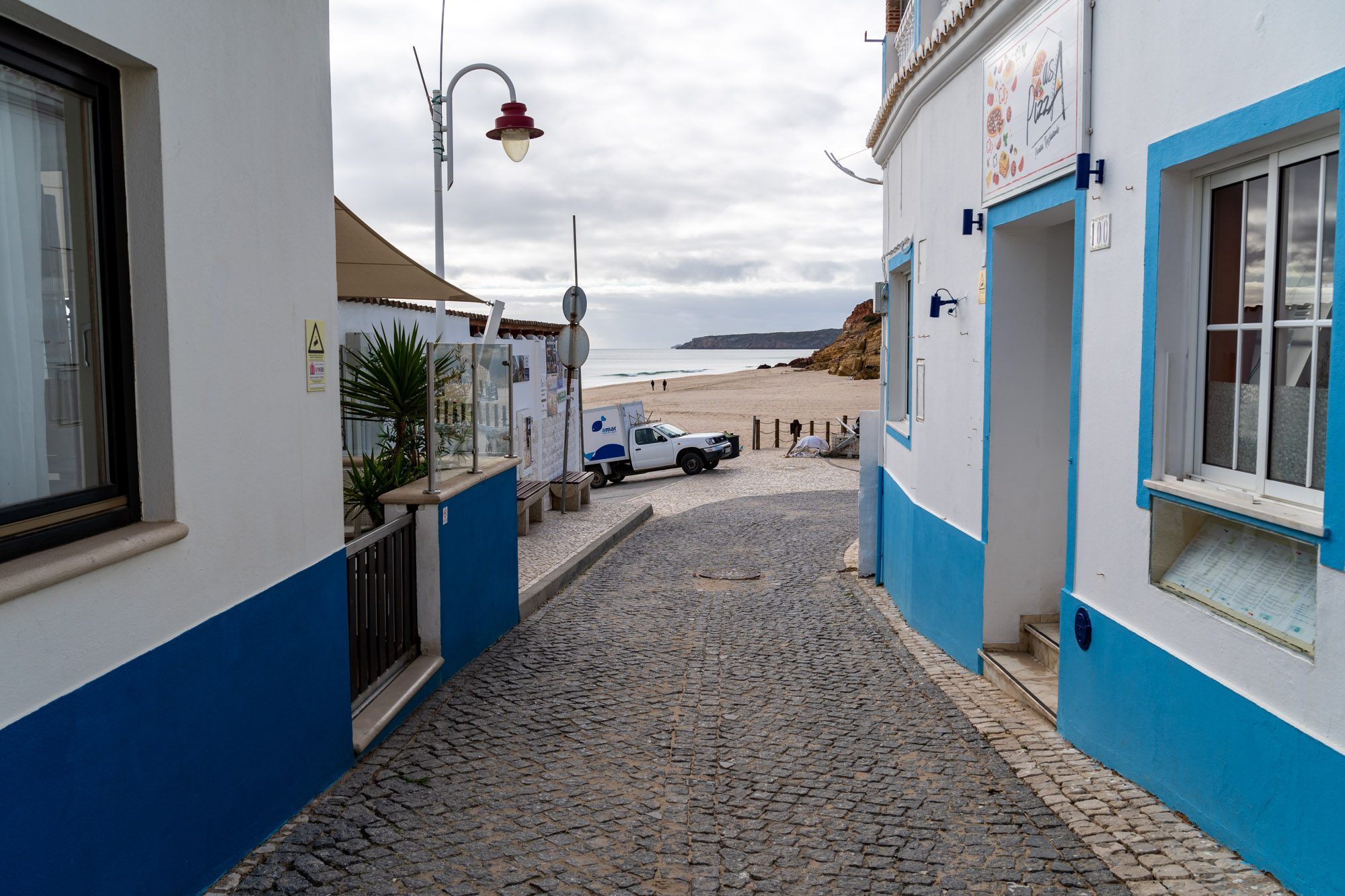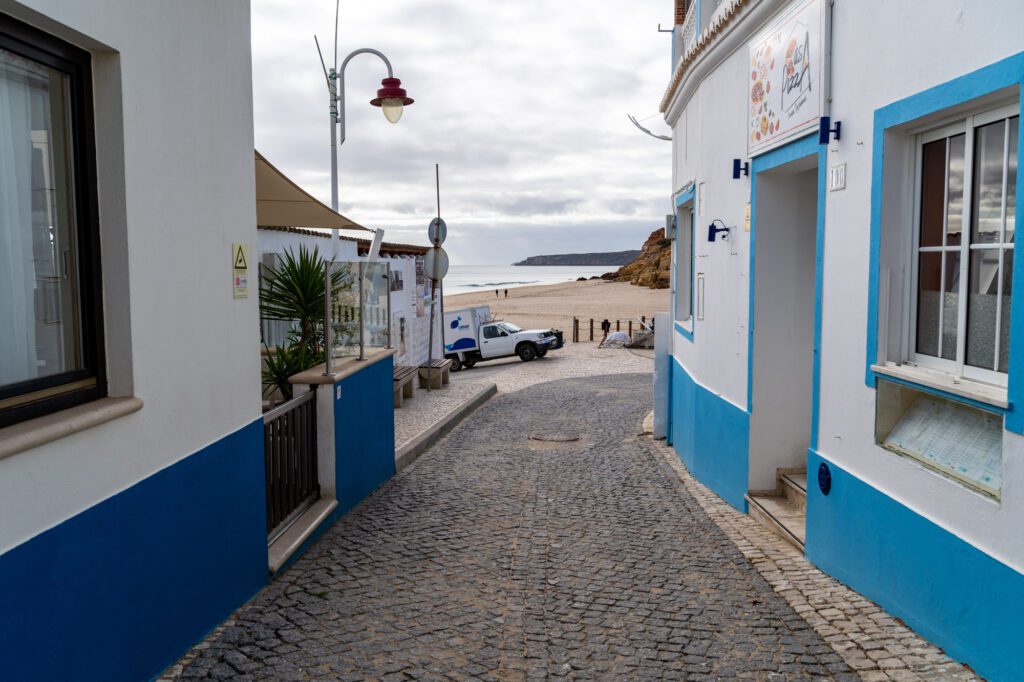 Note: We didn't actually get to see that much of Salema as everything was closed for the season when we were there in early December.
Pros and Cons of Staying in Salema
Pros of Staying in Salema:
Tranquil atmosphere. Salema is one of the more peaceful and laid-back destinations on the Algarve for those wanting to avoid the crazy tourist crowds and bar/party scene.
The seafood. The fisherman's village has some of the best seafood restaurants in the Algarve, with plenty of delicious fresh fish and seafood caught daily.
Cons of Staying in Salema:
Closes during the off-season. While the peacefulness is part of Salema's charm, the village almost completely shuts down during the off-season. Many guesthouses and restaurants close completely and locals leave the village for the winter. We'd recommend only staying in Salema during the summer months.
Fewer tourist amenities. Being a smaller village, Salema has fewer hotels, restaurants, activities, and attractions than other places on the Algarve. Unless you're happy spending your entire vacation sunbathing on the beach and enjoying long seafood lunches, you'll probably need a car to move around regularly and keep yourself occupied.
The Best Places to Stay in Salema
Here are a few of our picks for the best places to stay in Salema.
Hotel Residencial Salema: Affordable Hotel on the Beach
Hotel Residencial Salema is a lovely three star hotel overlooking the golden sand and blue waters of Salema Beach. The affordable hotel is ideally located just seconds from the water and minutes away from many of the town's top restaurants, cafes, and other amenities.
Each double or twin room comes with a private sea-view balcony, on which you can enjoy breakfast overlooking the beautiful beach and surrounding cliffs.
The hotel also has an on-site bar and lounge where you can sip a drink while watching sports on the satellite TV each evening.
Salema Eco Camp: Glamping Just Outside of Town
If you want to fully embrace the region's natural beauty, and if you enjoy a slower pace of life, Salema Eco Camp is one of the best places to stay in the Algarve.
Located just outside of Salema', within the Natural Park of Costa Vicentina, the campsite offers accommodation for every budget and style of traveler.
You can choose from tents, domes, and tipis, to more spacious mobile homes and private apartments. Some apartments can sleep up to 7 people, making it a great accommodation option for larger groups.
Some units have a kitchen, equipped with a fridge, a minibar, and a stovetop. Campers can make the most of the camp's on-site Mediterranean-inspired NAZARI restaurant and bar. Other communal spaces and amenities include a terrace, garden, children's play area, ATM, bike and car hire, and free parking.
Plus, in November 2021, Salema Eco Camp became the first and only accommodation in the Algarve to earn its Certificate of Carbon Neutrality. This makes the camp the number one place to stay on the Algarve for sustainability-conscious travelers.
Salema Beach Village: Private Villas
For a slightly more luxurious stay in Salema, Salema Beach Village is a four star resort complex just 500 meters away from the beach. 
The peaceful complex has many two and three-bedroom townhouses. Each spacious holiday home comes with cozy private bedrooms, separate living, and dining areas, a fully equipped kitchen, a washing machine, a terrace, and a balcony. Some units offer a relaxing spa bath, while others have a stunning sea view.
The resort also offers a seasonal outdoor swimming pool with a pool bar, padel courts, a kids' play area, an outdoor gym, and bike hire for guests.
With everything you could possibly need for a longer stay, Salema Beach Village is truly a home away from home.
Tavira: A Quiet Town at the Eastern Edge of the Algarve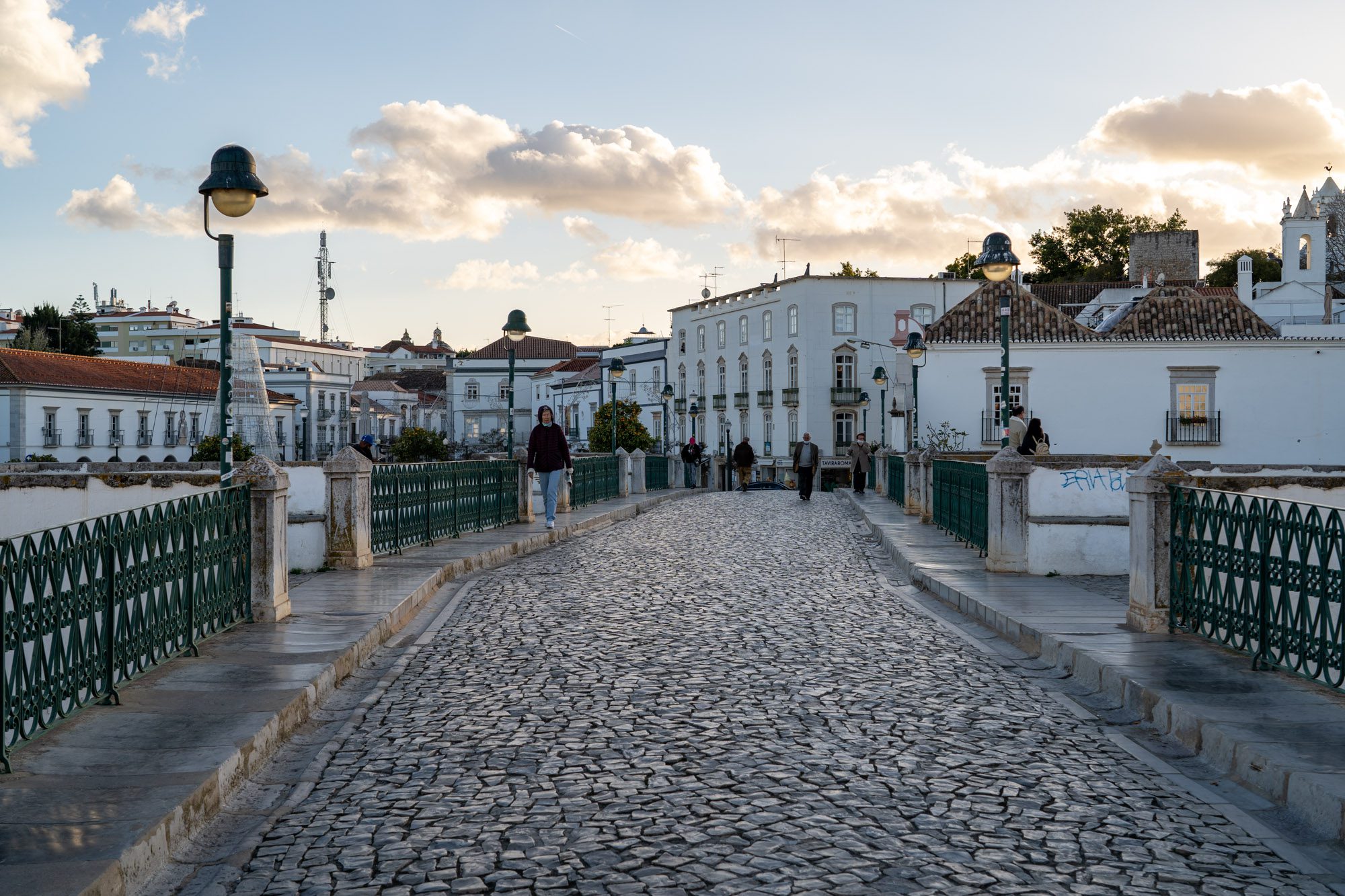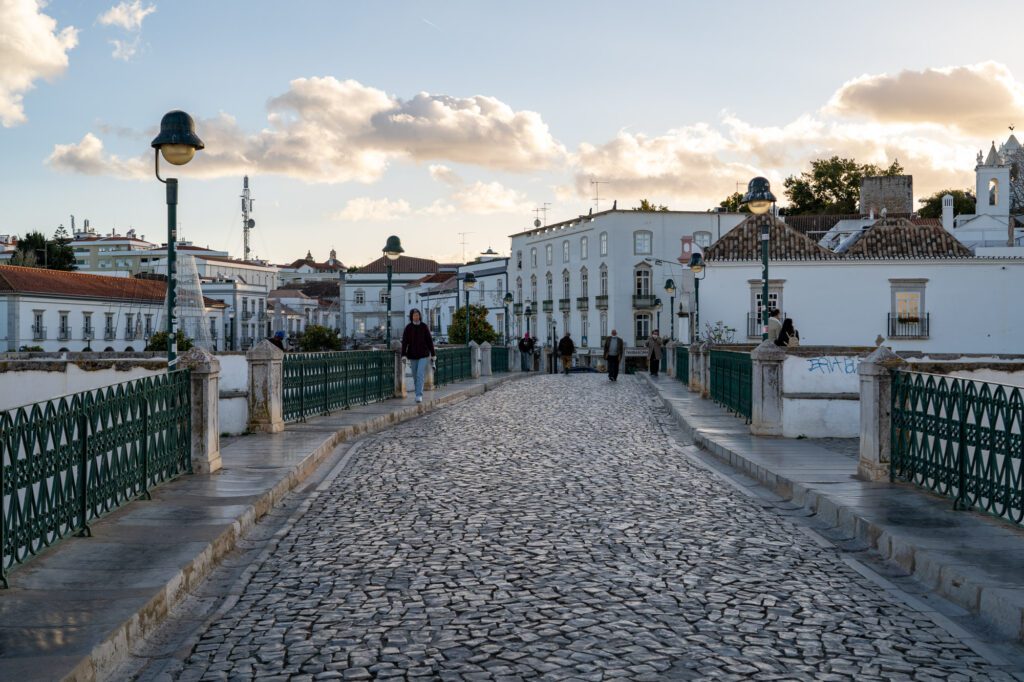 Tavira is a somewhat large, but fairly quiet town on the very eastern edge of the Algarve, close to the Spanish border. The town straddles the Gilão River, which runs down through the beautiful Ria Formosa Natural Park to reach the sea.
Arguably the Algarve's most charming destination, the historic town has been shaped by hundreds of years of occupation by numerous empires, including the Romans and the Islamic empire in north Africa (who controlled most of southern Spain and Portugal for several centuries).
The town is known for its cobbled streets, picturesque squares, stunning Gothic and Renaissance churches, and the grand Roman bridge that crosses the wide river.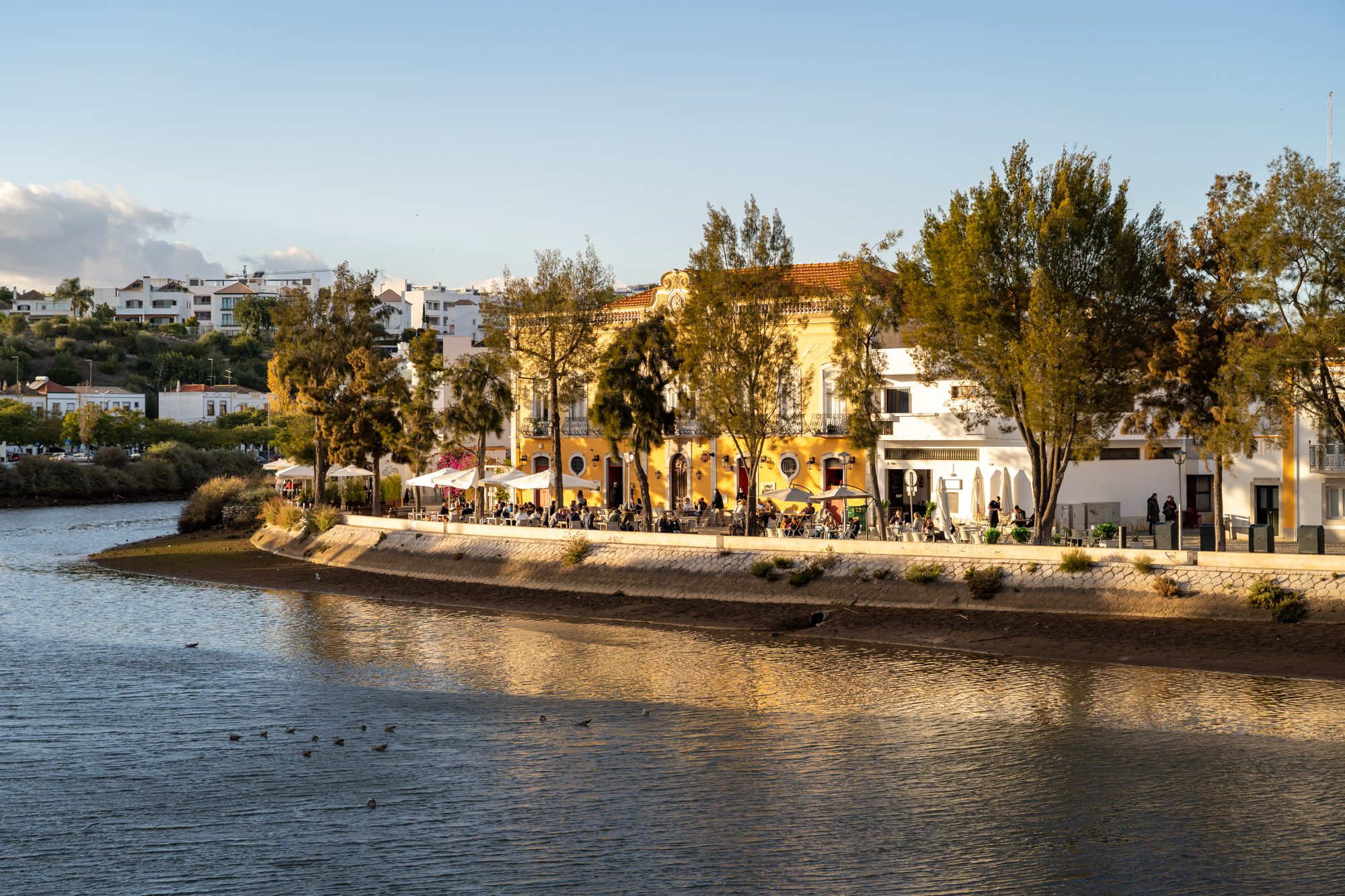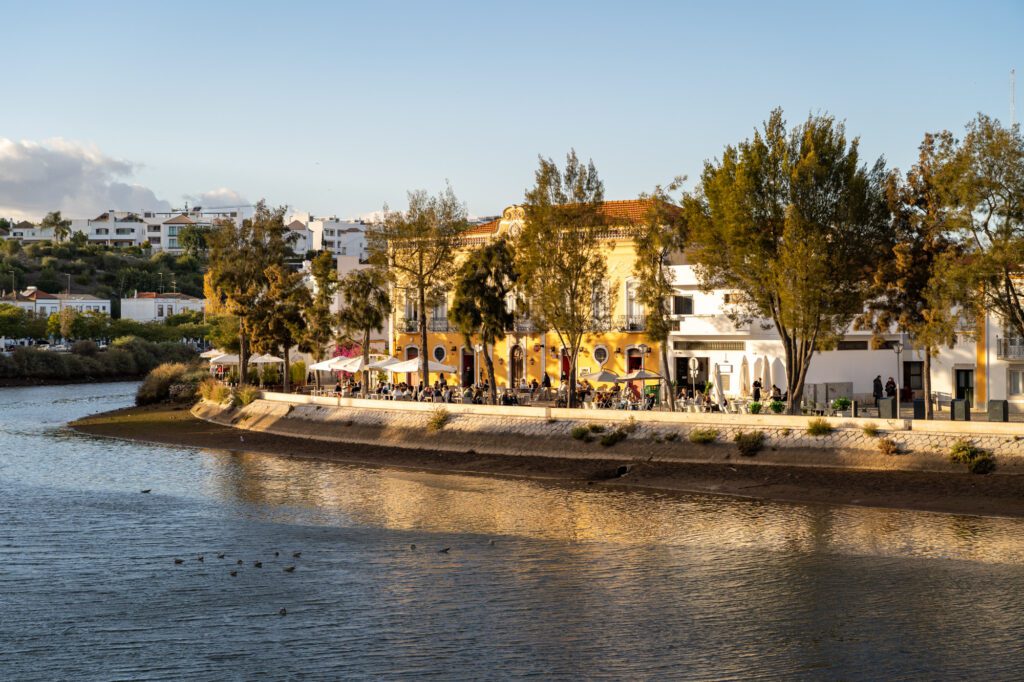 While not located directly on the coast itself, Tavira sits close to some of the most beautiful stretches of beach along the Algarve, including the white sands of Tavira Island.
The most important thing we should note here is that Tavira is not the place to stay if you want to spend time in the Western Algarve and the likes of Lagos, Sagres, etc. 
The eastern town is pretty far from these popular spots. So if exploring the west is your priority, you should stay closer.
That being said, we were coming from Sevilla and took the bus to Tavira, which was a lovely place to spend a couple of nights before making our way west.
Pros and Cons of Staying in Tavira
Pros of Staying in Tavira:
Packed with culture. For those with an interest in history and culture, Tavira is certainly one of the most interesting towns in all of the Algarve. You'll find ancient ruins, historic churches, and fascinating stories from the town's long and interesting history.
Good tourist amenities. Tavira is a large town with many fantastic local and international restaurants, relaxed bars, and modern hotels and guesthouses.
Cons of Staying in Tavira:
Far from everything else. You're not going to be able to visit places like Sagres without a very long drive. Staying in Tavira means you're sticking to the Eastern Algarve.
Not walkable to the beach. Tavira is located on the banks of a river and not directly on the seafront like many other towns in the Algarve. Tavira Island does have a long stretch of beach and there are some other pristine beaches nearby. But you can't walk to any of these beaches from the town center. You'll need to catch a ferry over to the island or drive to the beach. If an easy beach resort vacation on the Algarve is what you're looking for, Tavira may not be the right place for you.
Tavira Highlights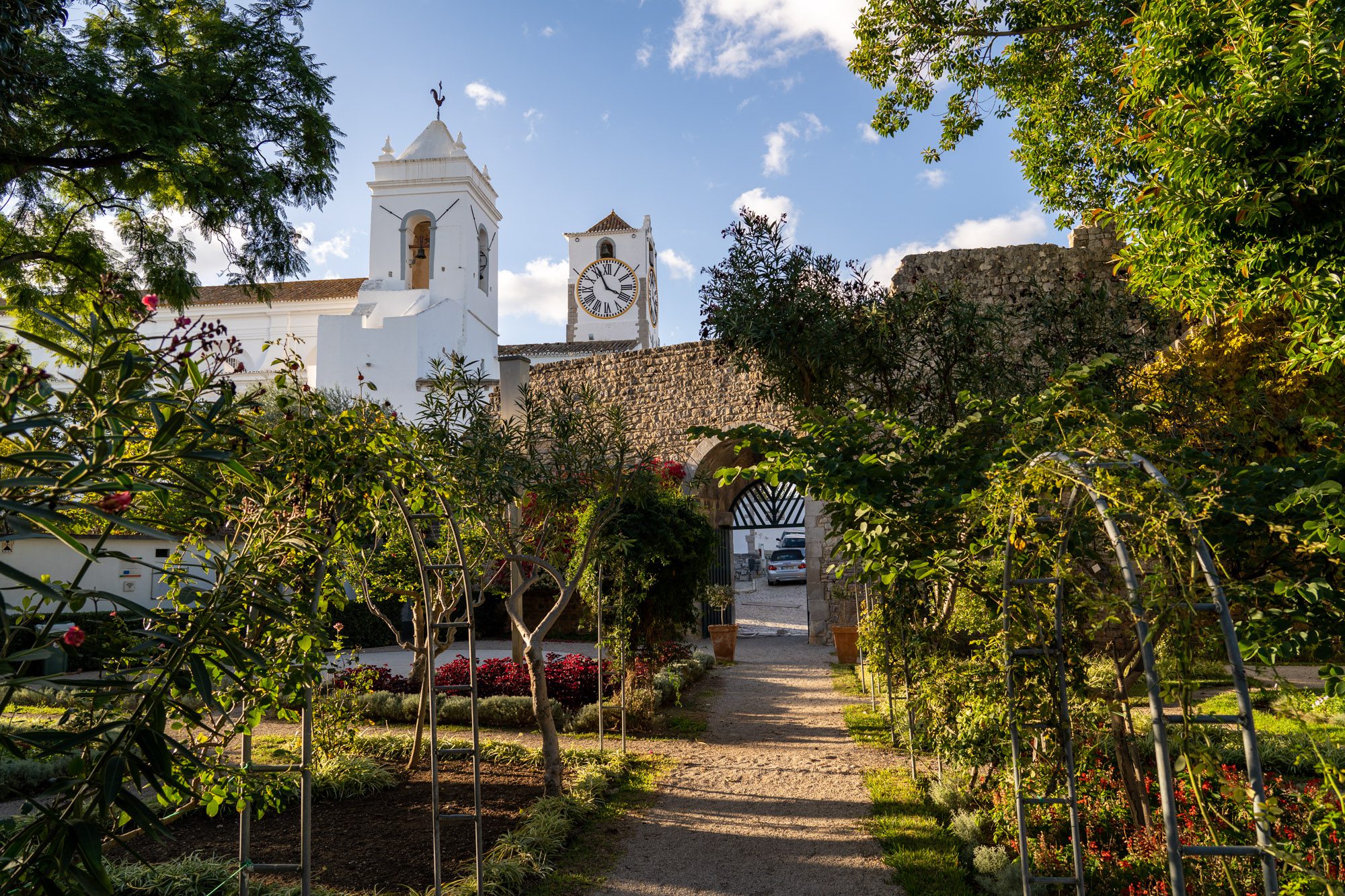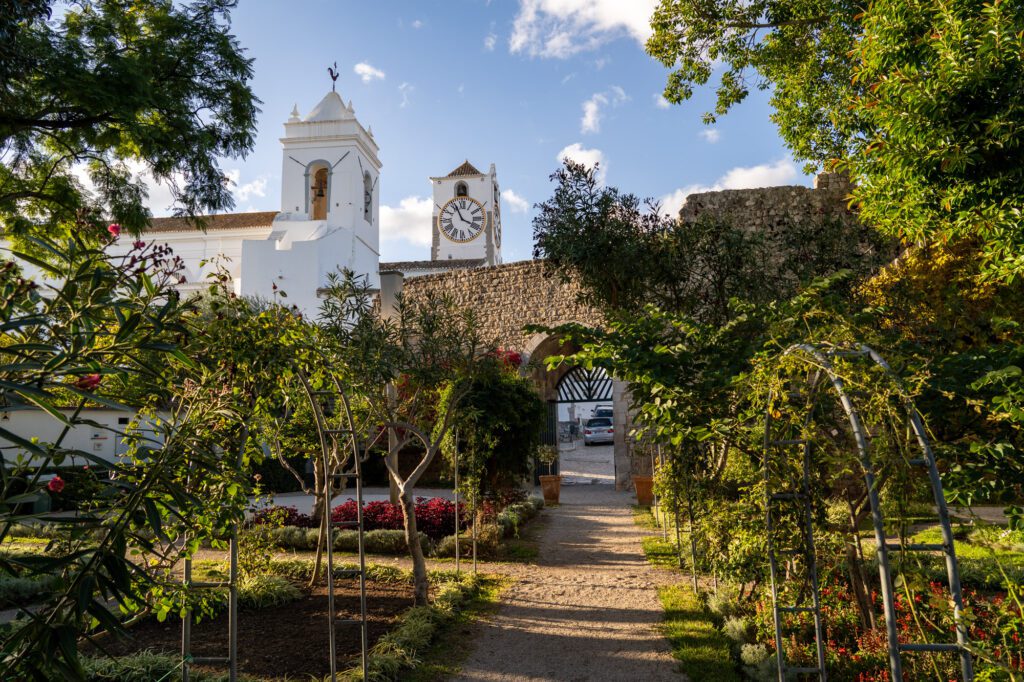 Ilha de Tavira: Take a boat out to this picturesque windswept spit for some tranquility and beautiful deserted beaches and salt pans.
Castelo de Tavira: Visit the well-preserved ruins of the town's medieval hilltop castle. Within the ancient walls, you'll be greeted by fantastic views over the town and river. The castle is free to visit.
Santa María do Castelo Church: This historic church houses the tombs of 7 knights killed by the Moors. You can also climb the bell tower for great views over the town.
O Tonel: This was the best meal we ate in all of Portugal, I think. Excellent food, good (cheap) house wine, and a nice ambiance with friendly staff.
Praia do Barril: Sandy beach close to Tavira. Famous for its unusual cemitério das âncoras (anchor cemetery) of old tuna-boat anchors.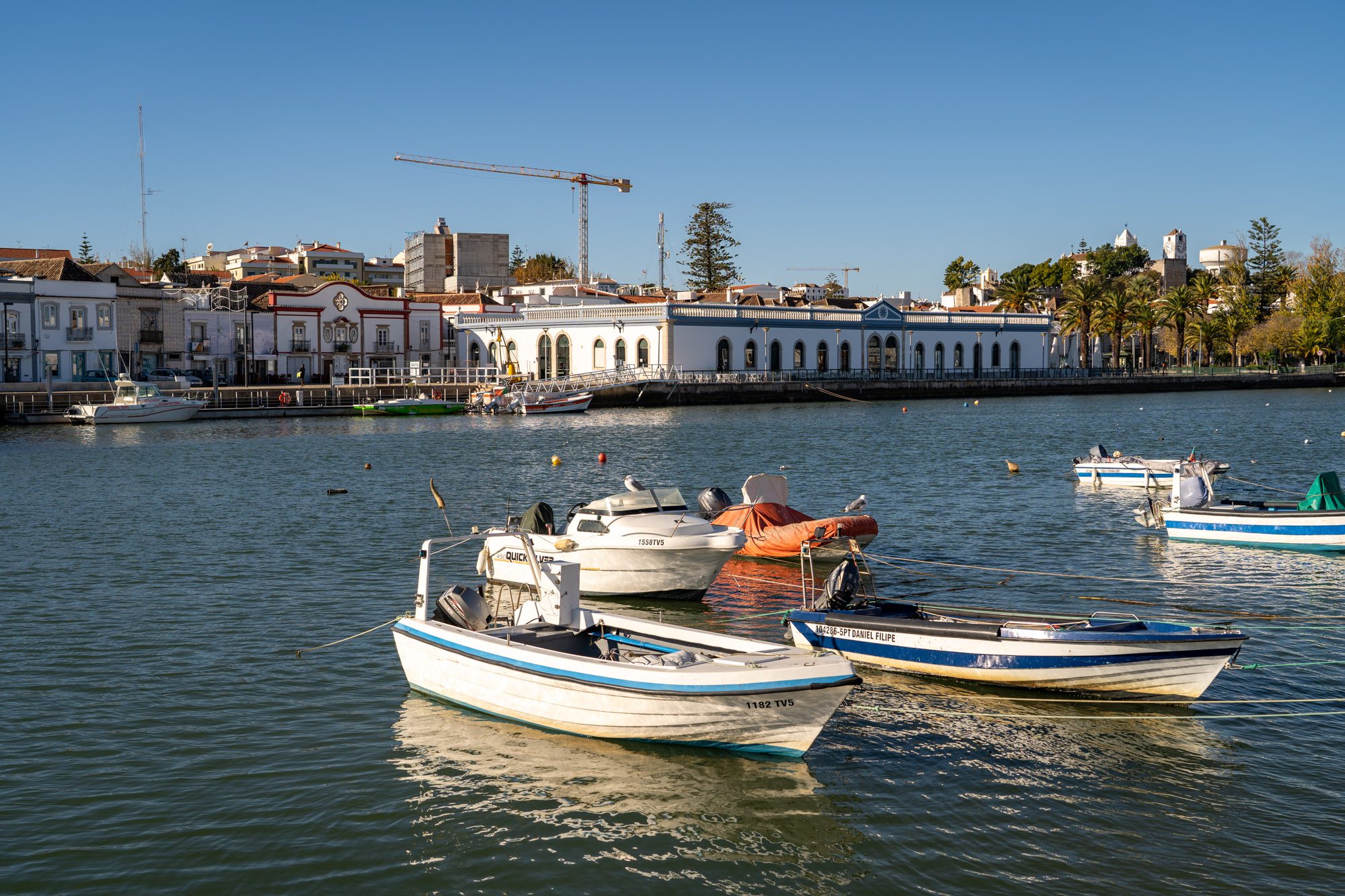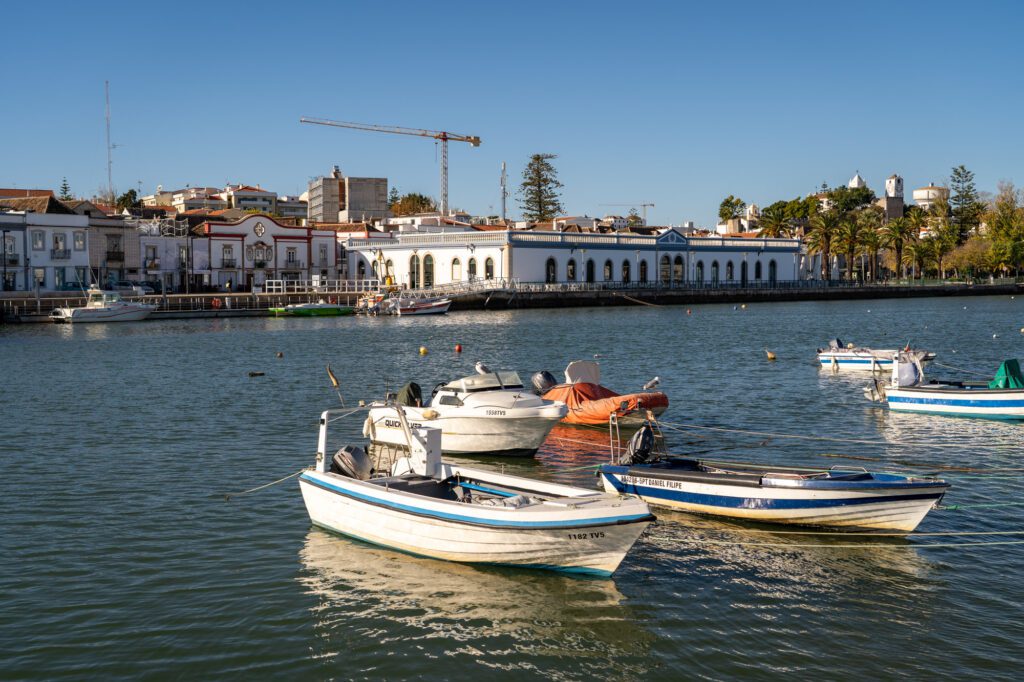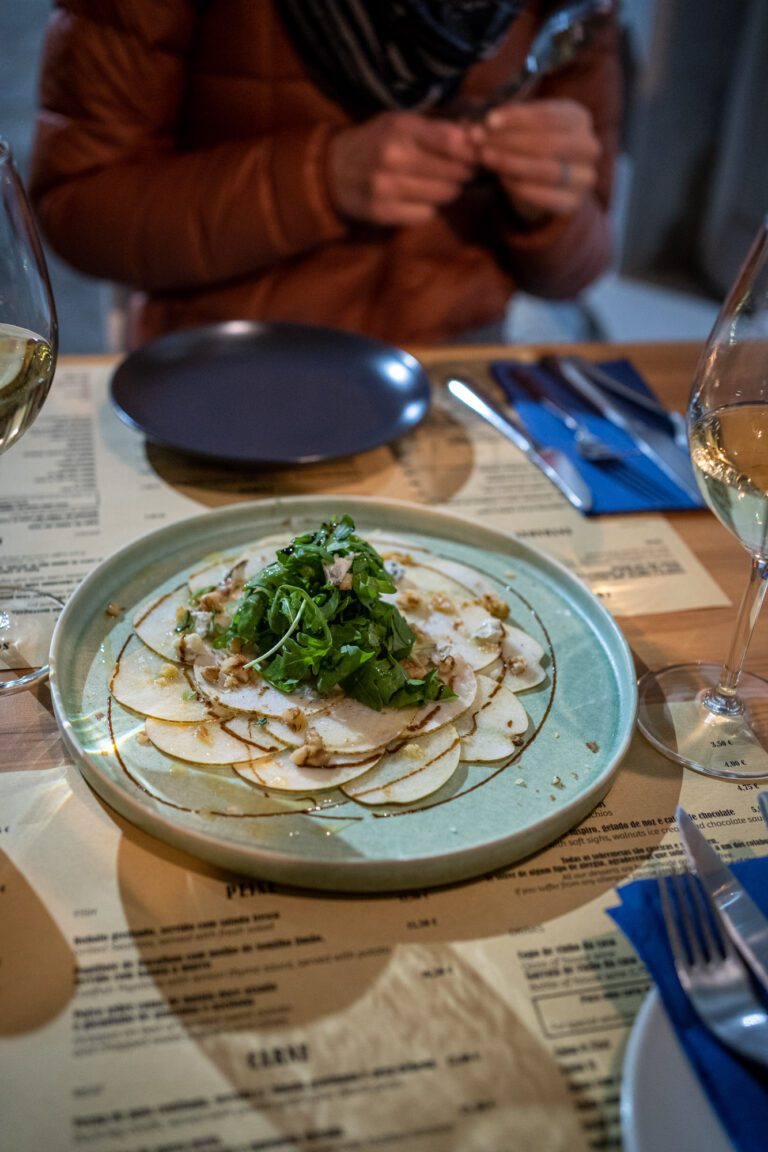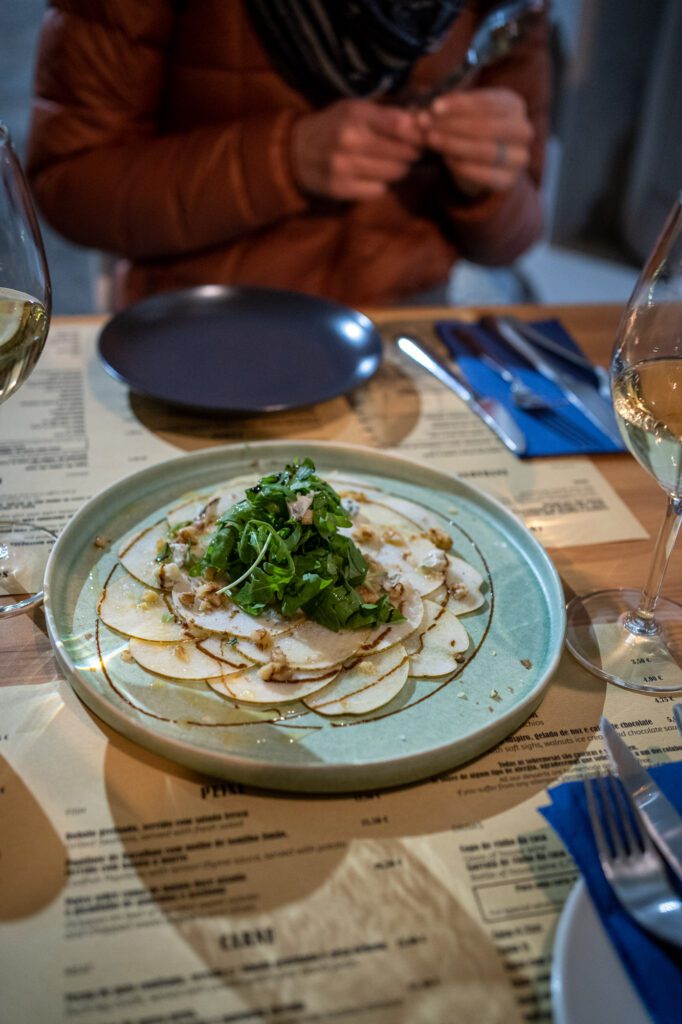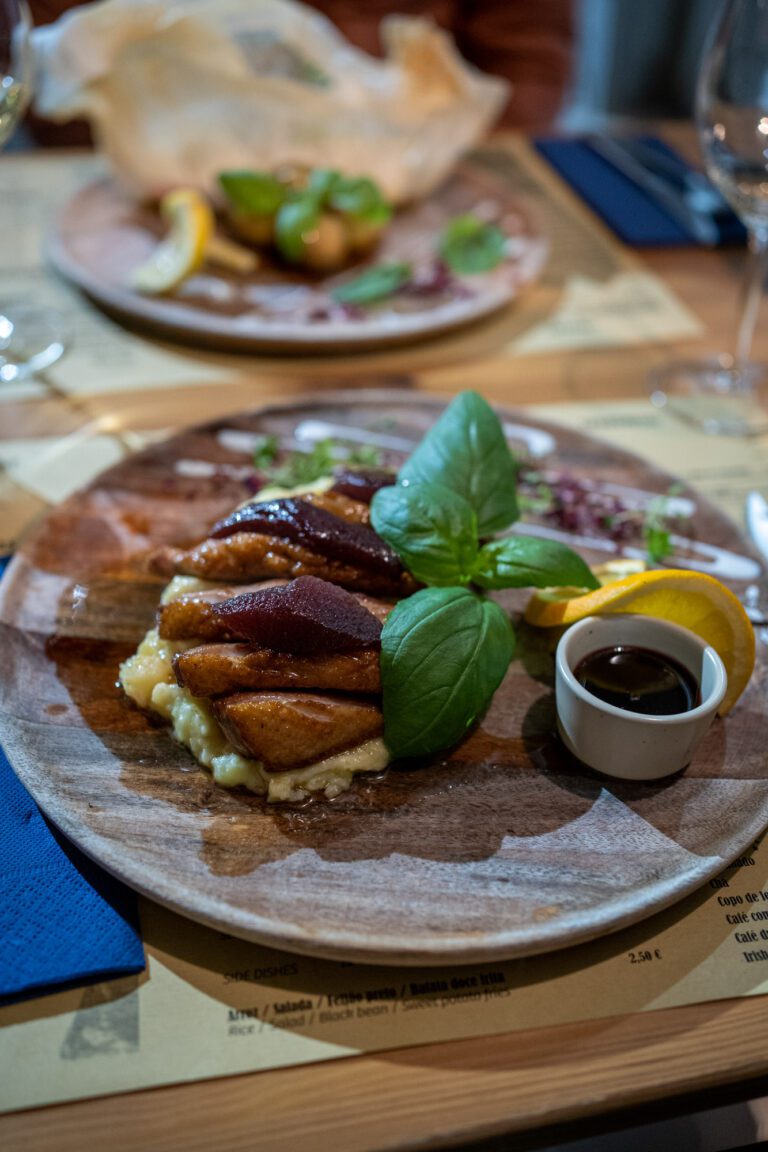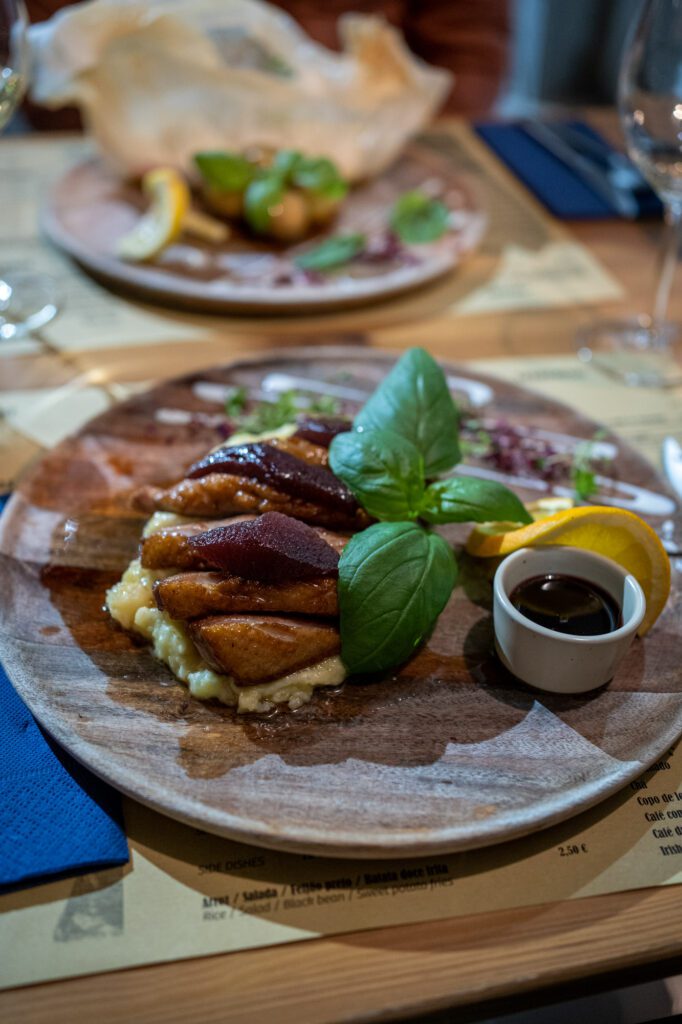 The Best Places to Stay in Tavira
Here are a few of our picks for the best places to stay in Tavira.
Formosa Guest House: Where We Stayed in Tavira
Formosa is a lovely and affordable guest house right on the main square of historic Tavira, just 150 meters from the Roman Bridge.
The guest house has a number of bright, modern, and spacious bedrooms, elegantly finished with antique furnishings.
You can keep your stay cheap with a double or twin room with a shared bathroom. Or splash out a little extra for a room or suite with its own private bathroom. All rooms feature views over the town or river – ours had an amazing river view!
The property's large roof terrace is the perfect place for watching the sunset over the river each evening. While the garden is a relaxing spot to enjoy a morning coffee in peace.
There are two fully equipped kitchens on each floor so you can make your own meals during your stay. That's if you can resist the temptation of the many cafes and restaurants right on your doorstep.
Colégio Charm House: A Beautiful Boutique Hotel
Colégio Charm House is a grand 18th century family villa turned beautiful boutique hotel close to Tavira Castle and just a 5-minute walk to the historic town center.
Only recently opened in late 2021, the impressive hotel features 20 stylish rooms and suites. Each room is tastefully decorated with a mix of contemporary features and antique furnishings, including Portuguese textiles and art, and unusual artifacts from across the world. It's safe to say that no two rooms are the same.
The whitewashed mansion has also been upgraded with an outdoor terrace and heated swimming pool, while some of the larger suites have their own private pool.
Colégio's on-site restaurant and bar serves a delicious seasonal menu using produce sourced from the region's artisan suppliers.
Each evening, you can enjoy the set meal paired with local wines and accompanied by light jazz and candlelight. The ultimate romantic setting for a special occasion.
With its elegant decor, beautiful setting, and extremely accommodating staff, Colégio's is certainly one of the most luxurious hotels in the Algarve.
Pousada Convento de Tavira: Cool Hotel inside a Convent
For one of the most unique places to stay in the Algarve, check out Pousada Convento de Tavira.
The unusual 4* hotel is set around the quiet courtyard of 16th-century St. Augustine's Convent. The historic building and tower have been tactfully renovated to feature a number of spacious rooms that combine modern furnishings with a traditional Portuguese style.
All rooms look out to the colonnaded courtyard or the large garden which contains an outdoor pool. Sun-worshipers can sunbathe on one of the many sun loungers, while those seeking some solace on a hot day can relax under the historic cloisters.
In the evenings, you can enjoy dinner at the hotel's on-site restaurant, which serves tasty local and international cuisine or cozy up with a book by the open fireplace in the elegant lounge.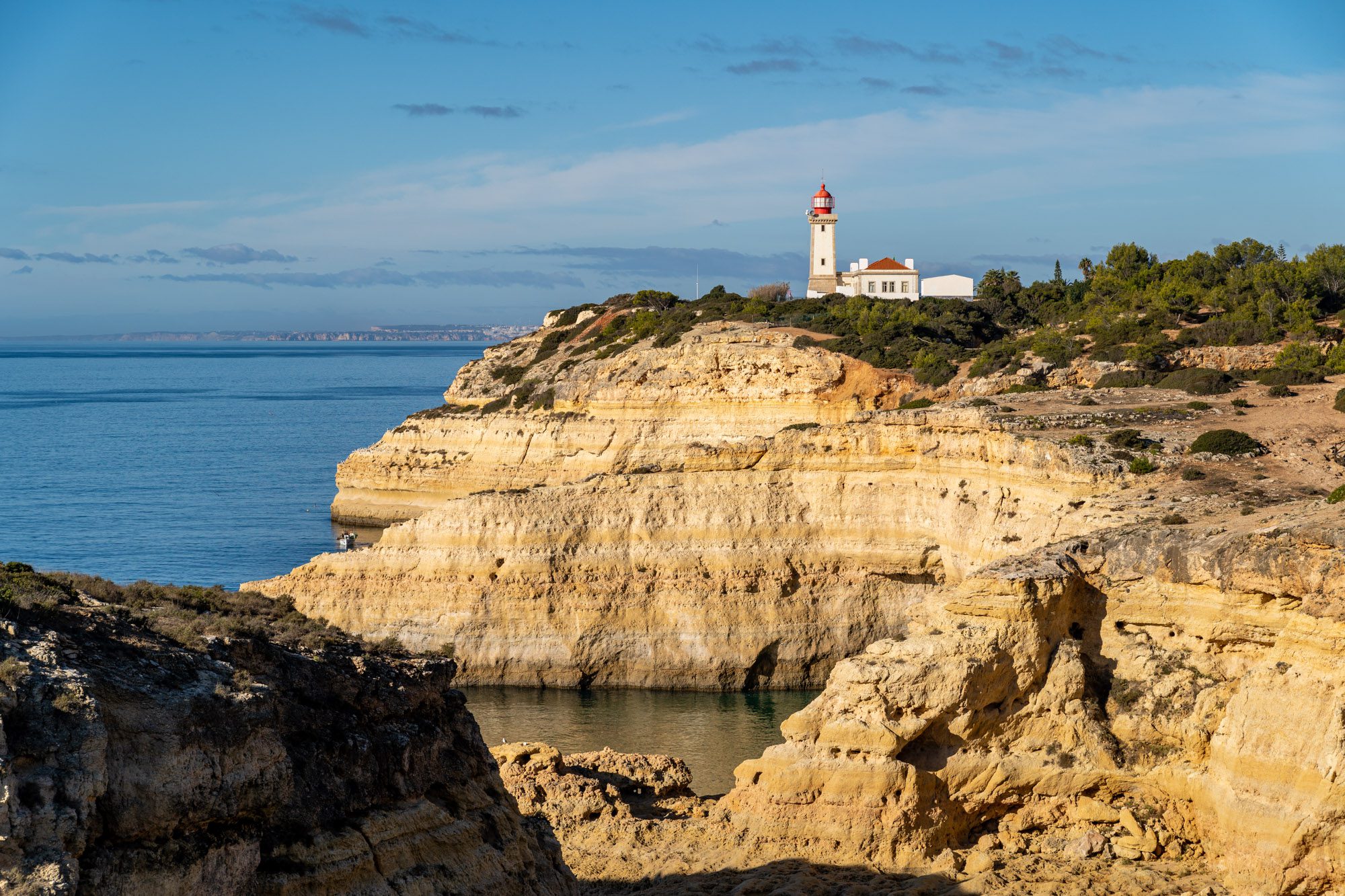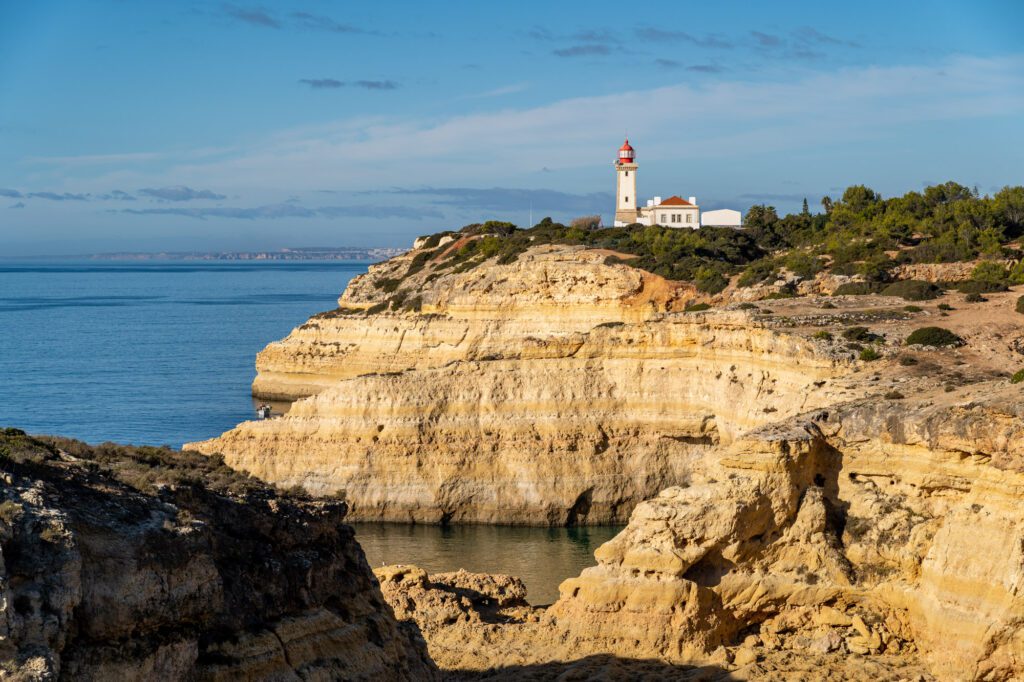 ---
Planning a trip to Portugal?
Here are our other Portugal travel guides to help you plan an incredible trip (even if you have to eat gluten free!).
If there's no link below, it means we're still working on it – long, in-depth guides take time! We're working on it, though, we promise.
Portugal:
Lisbon
Porto:
The Algarve: