Where to Stay in Porto: A Complete Guide for First Timers
Porto was our last stop on our first foray into Portugal, and we found it to be equally charming as its friendly rival to the south, Lisbon. Porto is somewhat of a contradiction in that, on one hand, it feels very young and lively (especially at night) while simultaneously feeling older and more historic than most of Lisbon. Probably because Lisbon was leveled by an earthquake less than 300 years ago.
Porto, like many cities in Europe, straddles the banks of a river with colorful buildings sprawling up the hills on either riverbank. The Douro River – which heads out into the Douro Valley, where the grapes that are magically transformed into port wine are cultivated – shimmers in the sun, and has been the lifeblood of the city for centuries.
As you spend time in Porto, wandering its cobbled Medieval streets below the cathedral, discovering colorful facades and stunning blue and white azulejos tiles, and enjoying its exceptional food and wine scene, it's easy to see why the city has captivated visitors from all over the world.
Including us.
Porto is a relatively small and compact city, but deciding where to stay in Porto can still be a challenge. The city has several central neighborhoods, and each of them comes with their own unique charms and list of tradeoffs.
That's where this guide comes in.
In this detailed guide, we're going to give you four neighborhoods that would make an excellent home base for exploring Porto.
For each neighborhood, we'll go deep on the pros and cons of staying there, some neighborhood highlights that we discovered and liked (and think you might too), and a collection of cool places to stay that we've put together based on our own tastes.
The result – we hope – is a thorough guide to the best places to stay in Porto that will help you make a decision and find the right place to stay for your style, group size, and budget.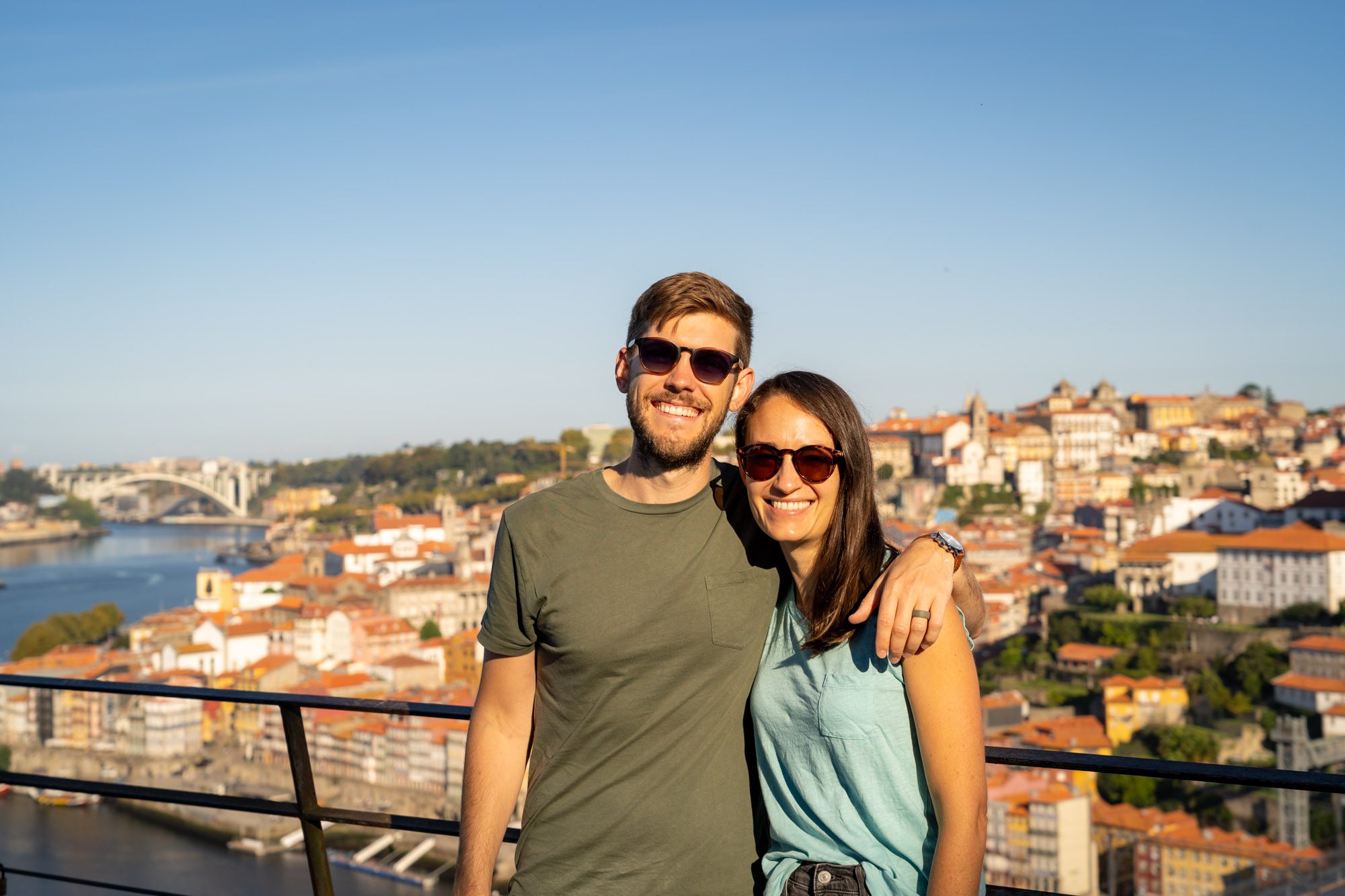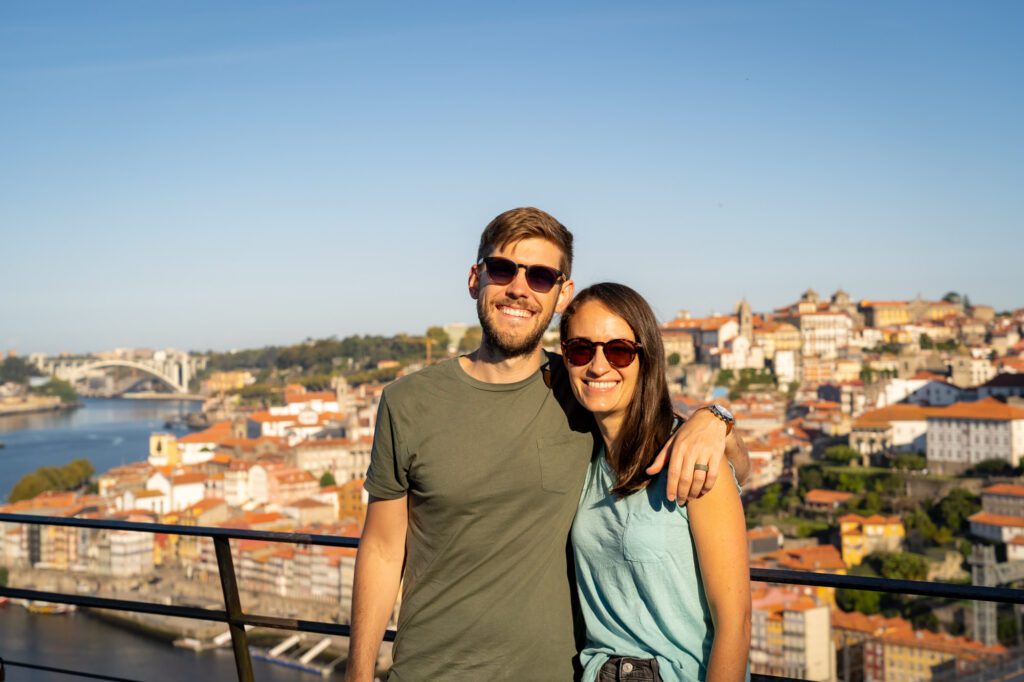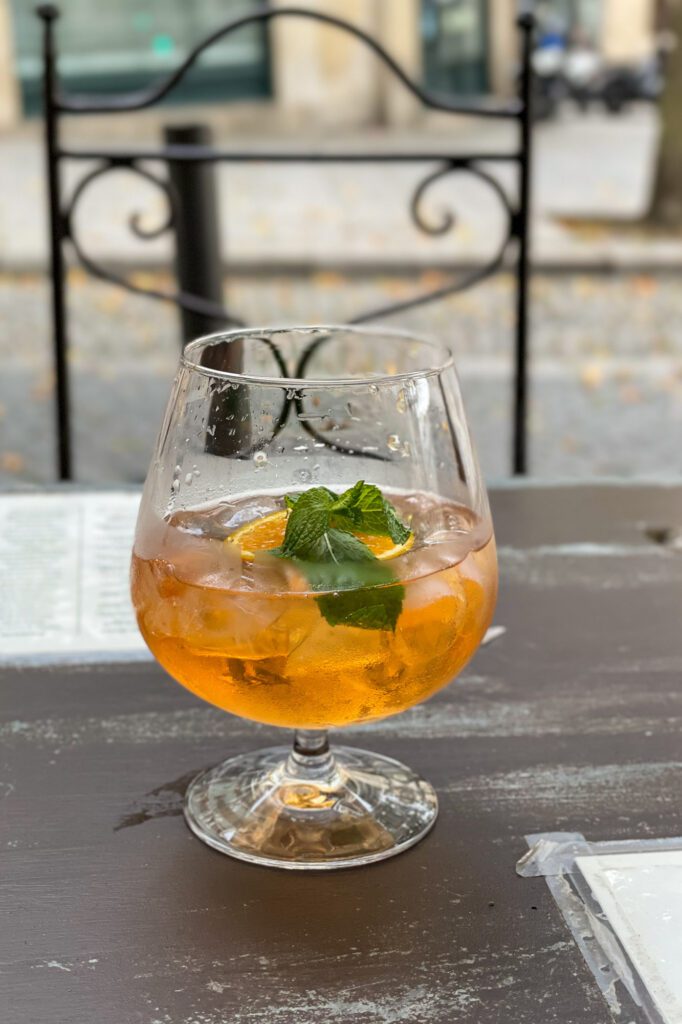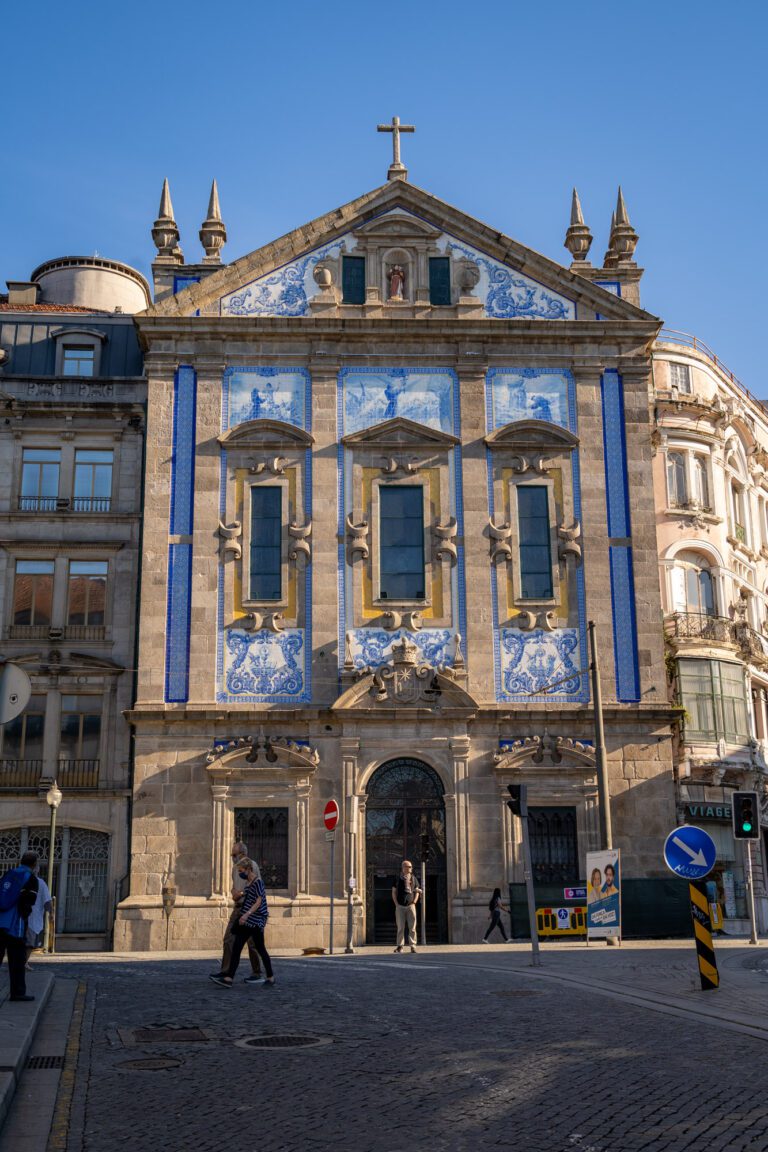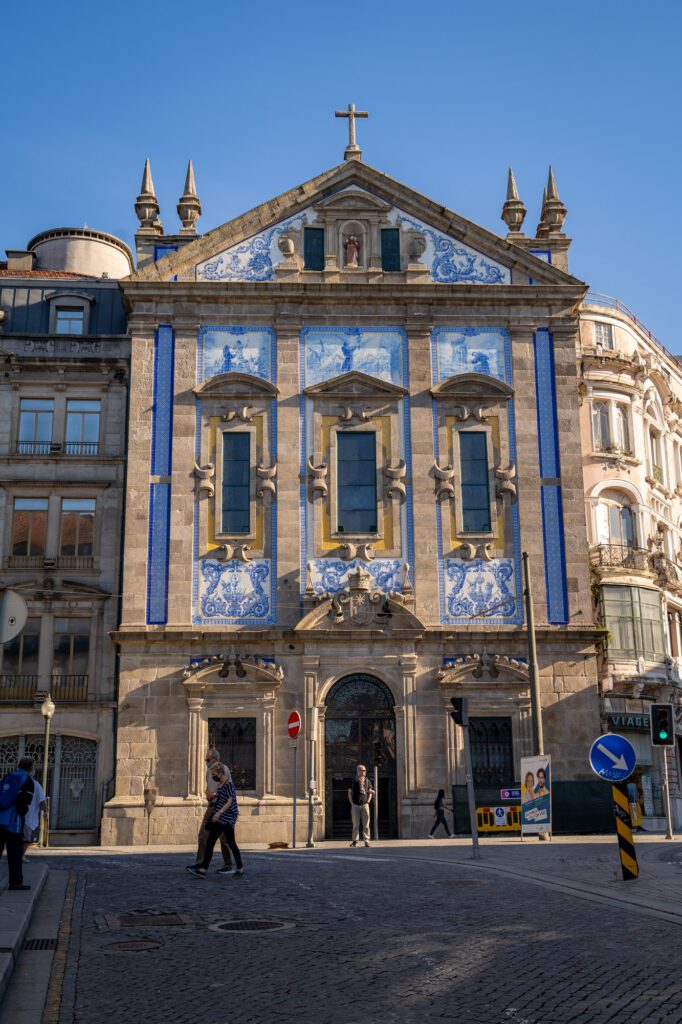 Disclaimer: Some of the links in this post, like hotel links, are affiliate links, meaning at no additional cost to you, we make a little bit of money if you click through and book. That being said, we would never recommend something to you that we don't stand behind 100%.
Where to Stay in Porto: A Complete Guide to Porto's Best Areas to Stay
We believe that the best way to pick where to stay in Porto is to first choose a neighborhood, then pick a hotel, guesthouse, or apartment within that neighborhood. So that's what you'll see below – a breakdown of the best areas in Porto, followed by some cool places to stay in each area to suit a variety of different budgets.
Don't have time to read the entire guide below? Here's a quick summary with some of our top picks.
At the end of the day, 90% of people are going to be choosing between Ribeira and Baixa, which are the two best options to be central to all of the major attractions and other things to do and see (and eat and drink) in Porto.
Here's how we'd think about that decision.
If it's your first time and you want the most charming area in Porto, stay in Ribeira, which is the neighborhood at the bottom of the hill along the Douro River. There's no doubt in our minds that Ribeira is gorgeous, though it's definitely packed with tourists at all hours and isn't the most authentic experience.
If you want a beautiful centrally located hotel (with rooms that have river views), stay at Gran Cruz House, which is by far the coolest place to stay in the neighborhood (in our opinion, anyway). The Exmo. Hotel is a close second.
If you still want to be central, but are more interested in nightlife, food, and drinks, stay in Baixa (also known as "Sé", referring to the cathedral) near Praça do Município.
This is where we stayed, and it's basically the next layer of Porto up the hill from Ribeira. It has great churches with azuelos, breweries, coffee shops, places to eat, and more.
If you're looking for a boutique modern hotel, stay at either Chic & Basic Gravity or Hotel Moon and Sun. If you're looking for a great value, look at the Poet's Inn or the Passenger Hostel.
For what it's worth, we decided to stay in Baixa because it was a better value and it was closer to a lot of the places I had bookmarked before our trip as places I wanted to visit. It turned out to be great, and we'd happily stay there again.
If you're on a budget and looking for an affordable area, stay in Bonfim, which is east of Baixa and has a better selection of affordable places to stay. As a bonus, you'll leave 80+ percent of the tourists behind when you venture east, because most people spend their entire trip between Ribeira and Baixa. Allegro 508 would be our top pick here because it's a small, charming guesthouse at a good value.
P.S. If you're heading to Porto, you'll probably be interested in our 3 day Porto itinerary to help you plan your time. Whatever you do, DO NOT MISS a day trip to the Douro Valley, which was the top highlight of our entire three months in Europe in 2021. This is the tour we did, and we cannot recommend it highly enough – it was magical.
Ribeira: The Overall Best Place to Stay in Porto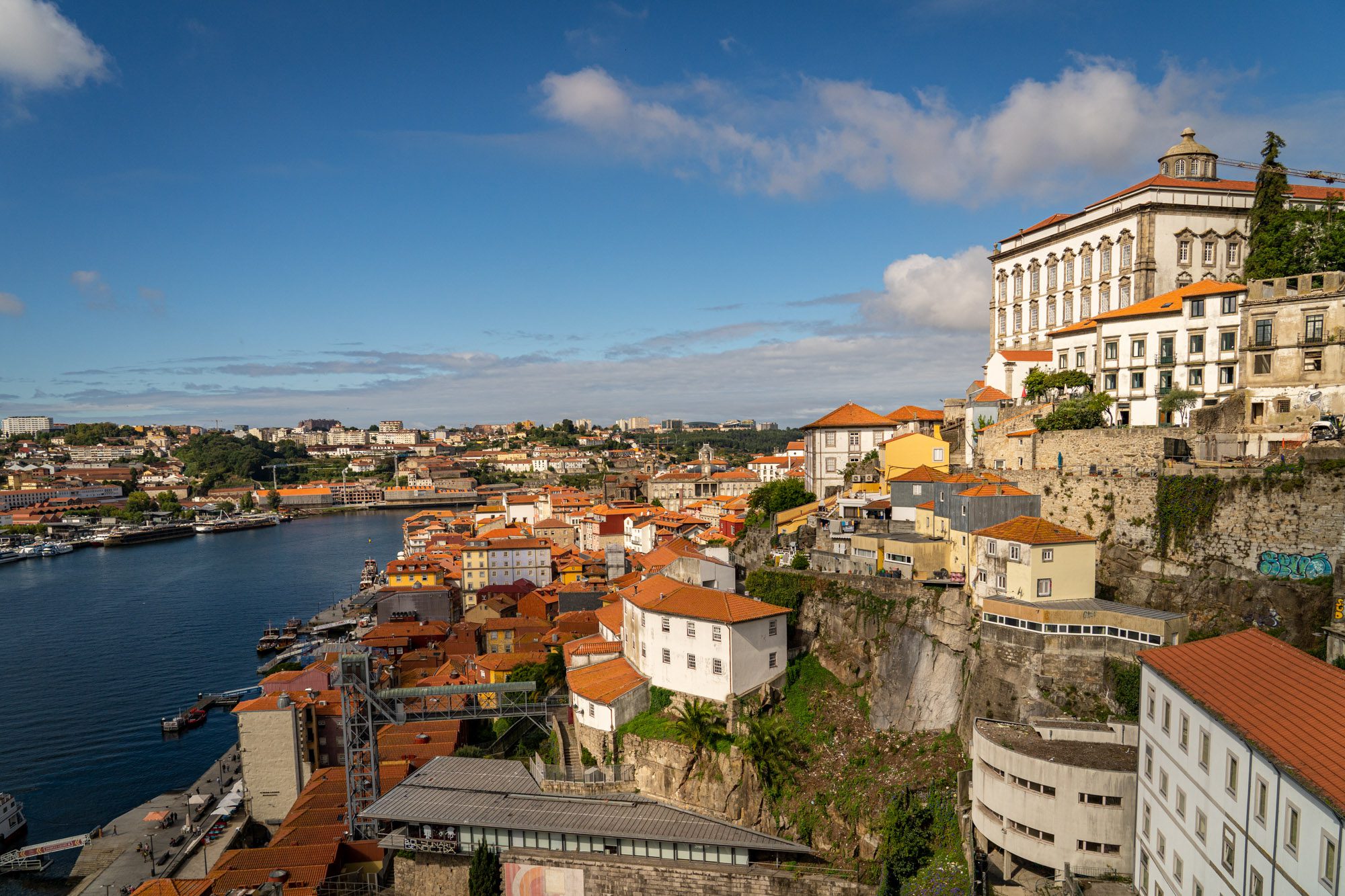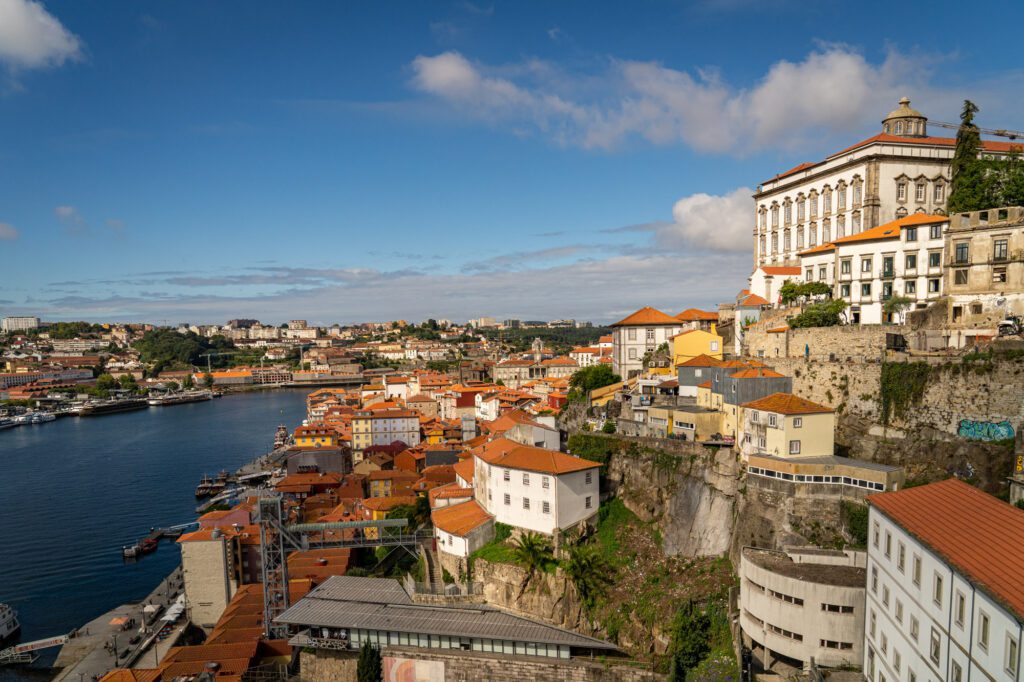 Ribeira is one of the most vibrant and historic areas of Porto. And the most well-known postcard image of the city. Encompassing the Medieval harbor and riverfront, the central neighborhood is best known for its colorful facades and many bustling restaurants and bars overlooking the Douro River.
Wandering through the winding Medieval streets, past 18th-century townhouses and the harbor with its many historic fishing boats, Ribeira feels like taking a step back in time to Porto's past. The area was even designated a UNESCO World Heritage Site due to its historic importance.
While the neighborhood remains busy throughout the day, it really comes alive each evening. Locals and tourists from all across the city come to soak up the vibrant atmosphere and sip wine as the sun sets over the river.
If you enjoy the buzz of a lively city and being within walking distance of many of the main attractions, Ribeira is definitely one of the best areas to stay in Porto.
I will say that it's probably the most "touristy" area in the city (which is not necessarily a bad thing), and some of the restaurants and bars aren't great. You're much better off walking north away from the river to find better, more authentic places to eat and drink.
But at the end of the day, the riverfront location can't be beat, especially for short trips.
Pros and Cons of Staying in Ribeira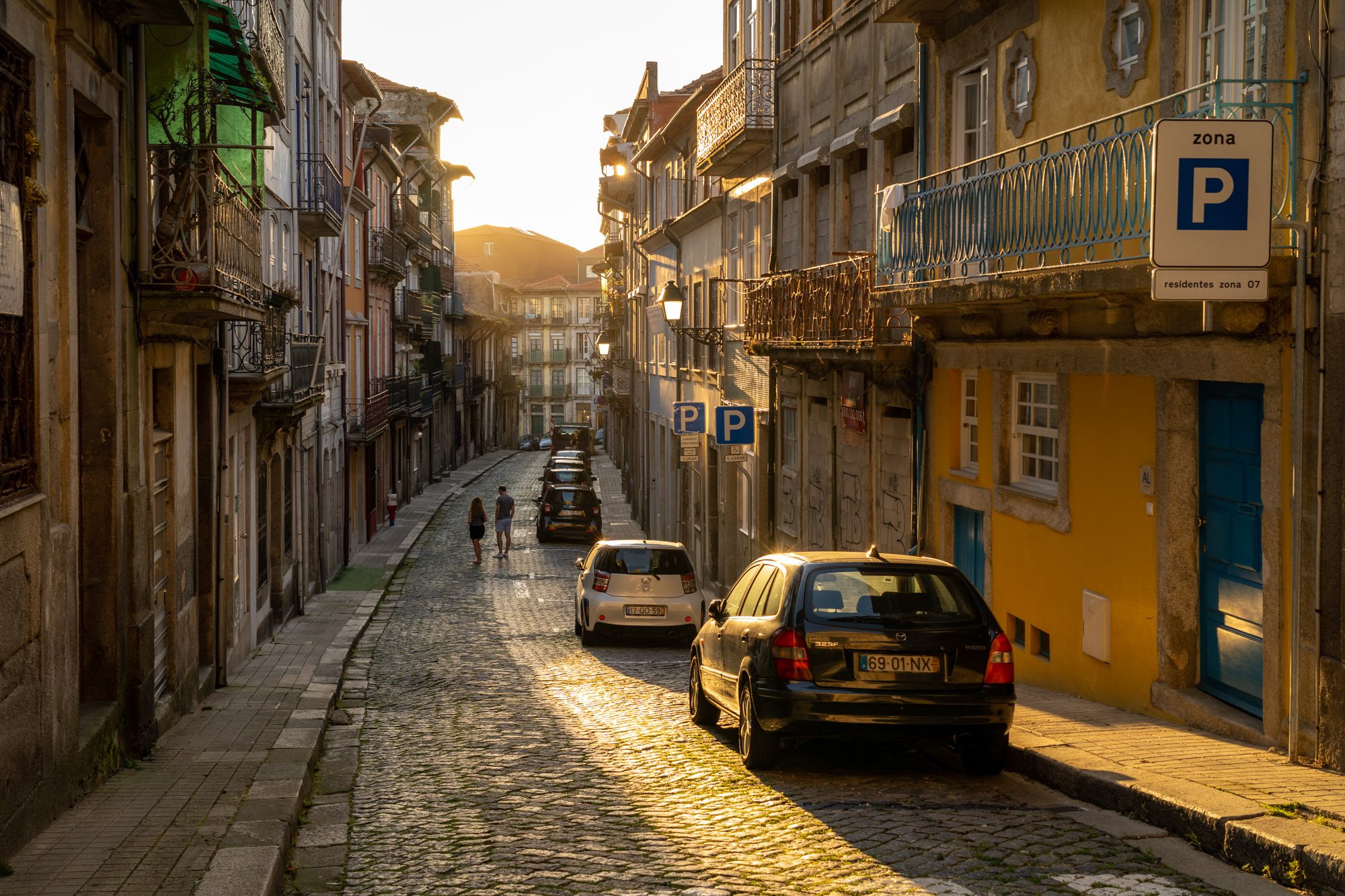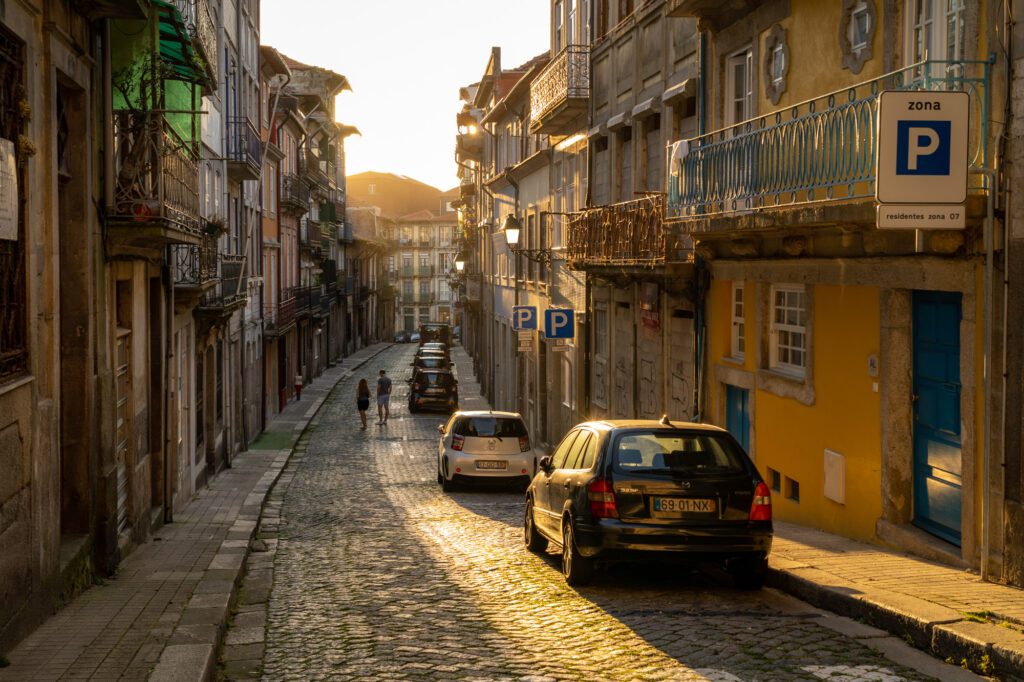 Pros of Staying in Ribeira:
It's extremely central. Ribeira is located right in the middle of everything you'll want to see in Porto. Staying here, you're only a short walk to the attractions of downtown and a quick river ferry/bridge walk across to the port cellars of Vila Nova de Gaia.
The river views. The neighborhood sits on the Rio Douro and has some of the best views of the famous Dom Luís I Bridge and along the river.
Cool accommodation options. There are some amazing places to stay in Porto's Ribeira district.
Cons of Staying in Ribeira:
It's located downhill. From Ribeira, it's a steep uphill walk to popular attractions in Baixa such as Livraria Lello and the Sé do Porto. Don't forget to bring good walking shoes. Or use public transport if you have mobility constraints.
It's pricey. Being so popular and central, it's no surprise that Ribeira is one of the more expensive areas to stay in Porto.
It doesn't have the best food and drinks. If you're looking for the best food in Porto, look elsewhere. Most restaurants in this area are targeted toward tourists so will overcharge you for fairly average food.
It's touristy AF. If you're not a fan of big tourist crowds (and noise), this probably isn't the neighborhood for you.
Ribeira Highlights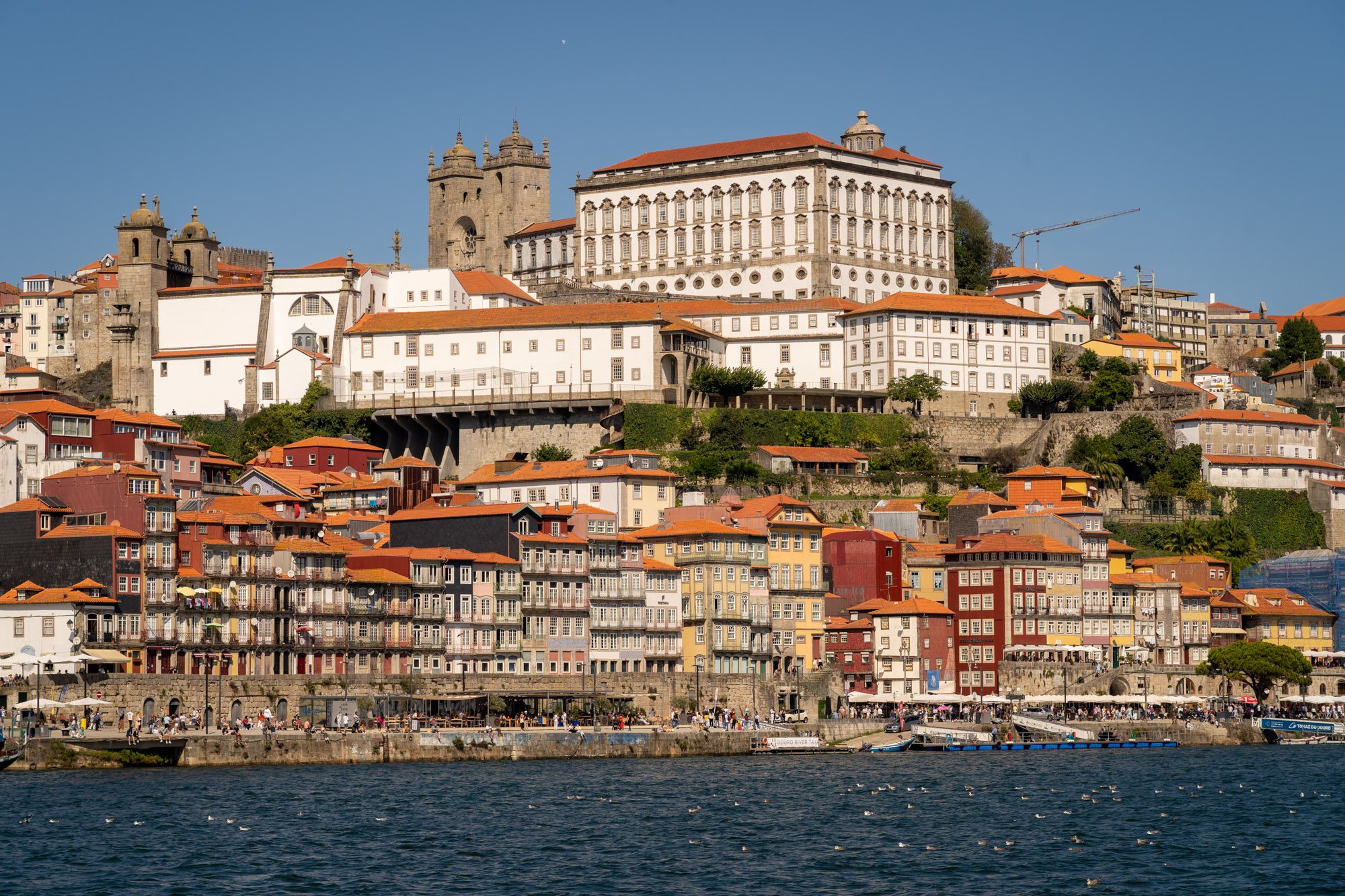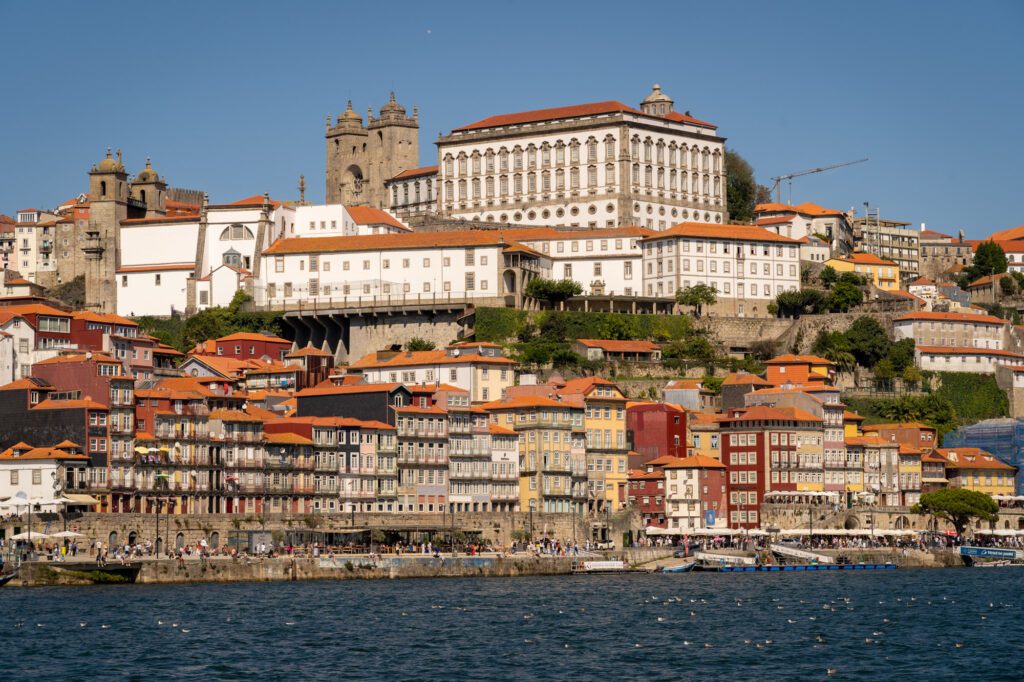 Here are some things to do, see, eat, and drink in Ribeira that we liked, and think you will too.
Go for a wander: The historic neighborhood is an attraction in its own right. Wandering through the maze of cobblestone streets and tiny alleyways is a must-have Porto experience.
Palácio da Bolsa: The Stock Exchange Palace is a stunning Neoclassical 19th century palace in Ribeira. The majestic palace is a National Monument and hosts official state receptions. When it's not being used for official business, you can visit the palace's many impressive rooms on a guided tour.
Miradouro da Vitória: This fantastic free viewpoint is a place we kept getting drawn back to during our time in Porto. It offers stunning views over the rooftops of Ribeira, the Douro River, and many of the city's main landmarks.
Drink local wine at Prova: Probably our favorite wine bar in Porto. Prova has an excellent selection of wines and extremely helpful staff who offer a great introduction to Portuguese wine.
Cask Beer: If you're not a big wine drinker, or you just need a break from drinking too much Port, this bar is the best place to get a variety of different European craft beers in Porto.
Nightlife at Praça da Ribeira: Ribeira's main square is packed with busy bars and clubs where you can party until the sun comes up. Nightclubs in Porto don't get going until after midnight (at the earliest) and many remain open until 6:00 am, so you'll need to be a night owl to make the most of the city's clubbing scene.
Douro River Cruises: Many of the Douro River Cruises depart from the waterfront in the Ribeira district.
The Best Places to Stay in Ribeira
Here are a few of our picks for the best places to stay in Ribeira.
Rio da Vila: A Stylish Guesthouse near the River
Located just a couple of blocks north of the riverfront, Rio da Vila seamlessly blends 19th century charm with 21st century style. The guesthouse has even won an international design award for its elegant and tasteful decor with elements inspired by the building's history.
With just eight rooms in the property, fantastic personalized service is guaranteed. The friendly staff are more than happy to help with recommendations and booking tours during your stay.
Standard rooms are contemporary and spacious, with a small seating area, flatscreen TV, desk, and private bathroom. Or for a small amount more, you can upgrade to a deluxe or balcony room for a little added luxury.
An à la carte breakfast is served each morning at the Bistro Wine Bar on the ground floor, which also offers a selection of wines, cocktails, and snacks throughout the day.
Exmo. Hotel: A Stunning Boutique Hotel
Located just across the street from the grand Palácio da Bolsa and 100 yards from the riverfront, Exmo. Hotel is a stylish boutique hotel right in the heart of Ribeira.
The 4* hotel features large rooms with rustic stone walls and sleek, minimalist Scandinavian-style decor. Each room also has incredible views over the city or river. Some even have a balcony or terrace where you can enjoy your morning coffee.
Rooms range from cozy doubles to spacious suites to suit every budget. All rooms sleep up to two adults in a double or two single beds. An extra cot or bed for younger children can be added to the room for an additional fee.
A delicious buffet breakfast is served every morning. The hotel also has a trendy on-site bar serving food and cocktails throughout the day and evening.
Mouzinho 160: Modern Apartments in the North of Ribeira
These bright and modern apartments are a stark juxtaposition to the 19th century building they're located within. Each of the beautifully designed apartments at Mouzinho 160 has a spacious living space, a well-equipped kitchenette, and its own private bathroom.
The apartments sit on the northern edge of Ribeira, towards Baixa and the many attractions of downtown – the perfect location for exploring both neighborhoods. Porto Cathedral is just minutes away. There's also a bus stop directly outside the building for easily exploring the wider area.
You'll have a choice of one or two bedroom apartments. The largest apartment is split across two floors, with two bedrooms, two bathrooms, and a private roof terrace. Of course, the larger apartments are on the expensive side, but they're ideal for those who like having a lot of space.
Gran Cruz House: A Beautiful Guesthouse with River Views
Gran Cruz House sits right on the bank of the Rio Douro, with fantastic views out over the river and Ribeira Square. The proximity to the water makes it a little more pricey than other hotels in Porto, but it's definitely worth it for the unbeatable location.
The guesthouse features seven bright and colorful rooms, each of which is inspired by a category of Port Wine, including Tawny, Vintage, Ruby, and Reserve. Traditional ​azulejo tiles, local ceramics, and splashes of blue and orange give the hotel a distinctly Porto feel and a uniqueness you won't find elsewhere.
The on-site restaurant Casario has a fantastic menu of Portuguese specialties, a large port and wine cellar, and a terrace overlooking the river. An à la carte breakfast is served on the terrace each morning.
Porto River: Spacious Serviced Apartments on the River
For those who enjoy having their own space, Porto River offers spacious private apartments right on the riverfront.
The charming aparthotel mixes traditional rustic features, such as wooden floors, exposed stone walls, and wooden beams, with chic modern furnishings, to create a luxurious yet homely feel.
There are a variety of studios, one bed, and two bed apartments to choose from. The largest apartment can sleep up to four adults and two children, making it a great option for bigger groups and families.
Each apartment comes with a fully equipped kitchen so you can prepare your own meals. There's also a cozy living area to relax in at the end of a long day exploring the city.
Baixa (Around Praça do Município): The Best Central Location in Porto (Where We Stayed)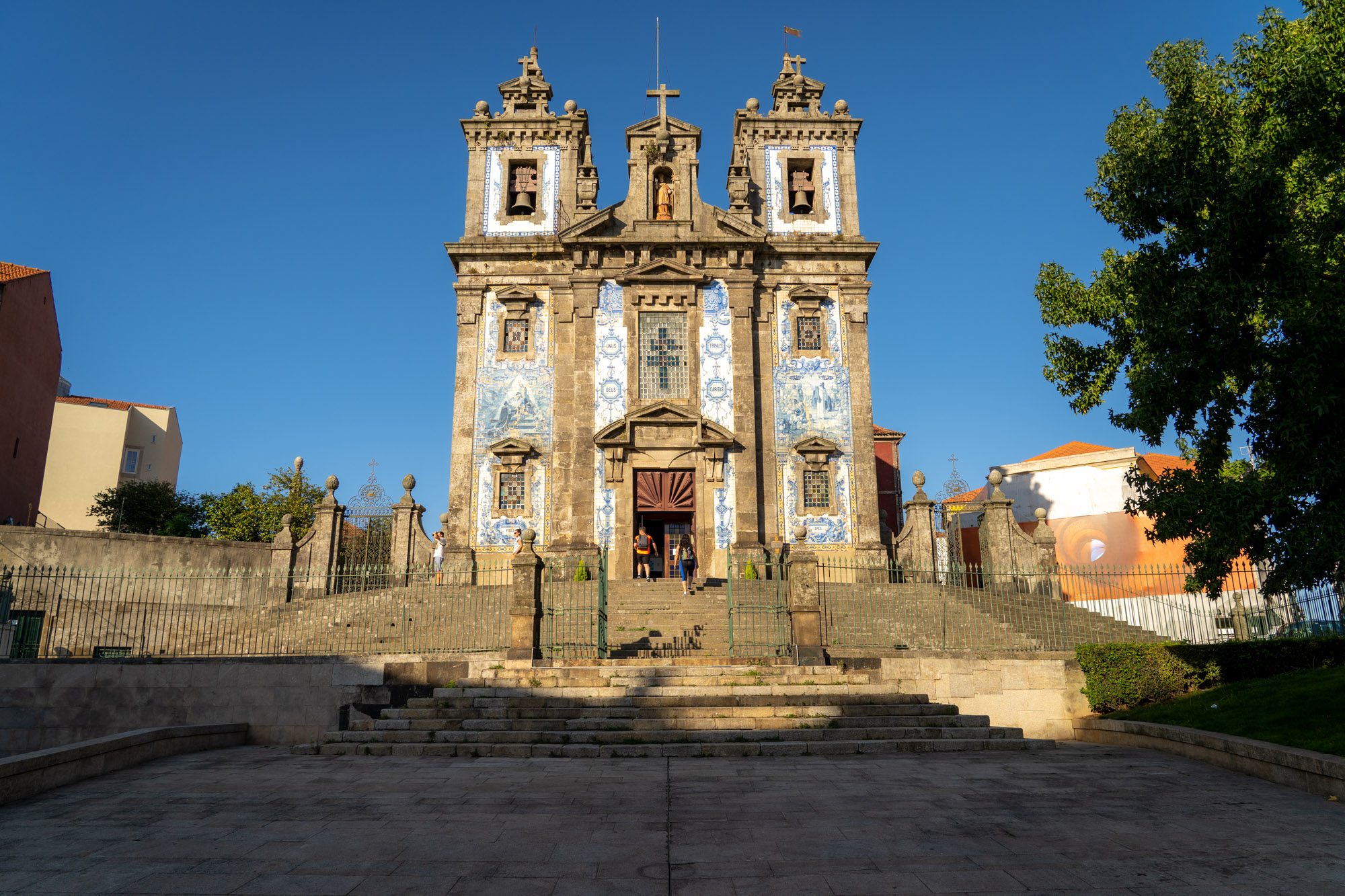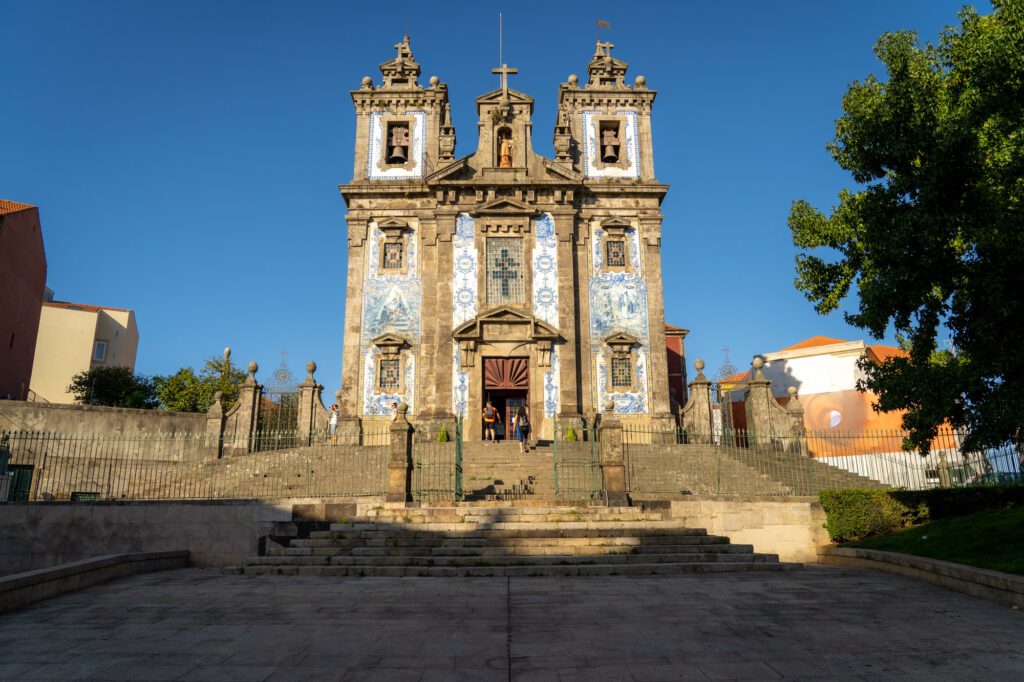 Baixa, also known as downtown, is Porto's bustling city center. Centered around the impressive Avenida dos Aliados (Avenue of the Allies), the neighborhood is home to many of the city's main landmarks and attractions.
The downtown area sits just to the north of Ribeira and consists of two hills. One is home to Porto Cathedral and is the most historic part of the city. The other is where you'll find many other popular attractions, including the grand Town Hall and Clerigos Tower.
As well as its abundance of tourist attractions, the central neighborhood is known for its cool and trendy vibe. Here you'll find Porto's young, hipster crowd sipping coffee in stylish little cafes, eating in fantastic international restaurants, and enjoying the vibrant nightlife scene.
Unsurprisingly, Baixa also has the highest concentration of the best hotels in the city. With a wealth of attractions, restaurants, bars, and shops right on your doorstep, it's definitely one of the best places to stay in Porto for those who enjoy being right in the heart of the action.
Pros and Cons of Staying in Baixa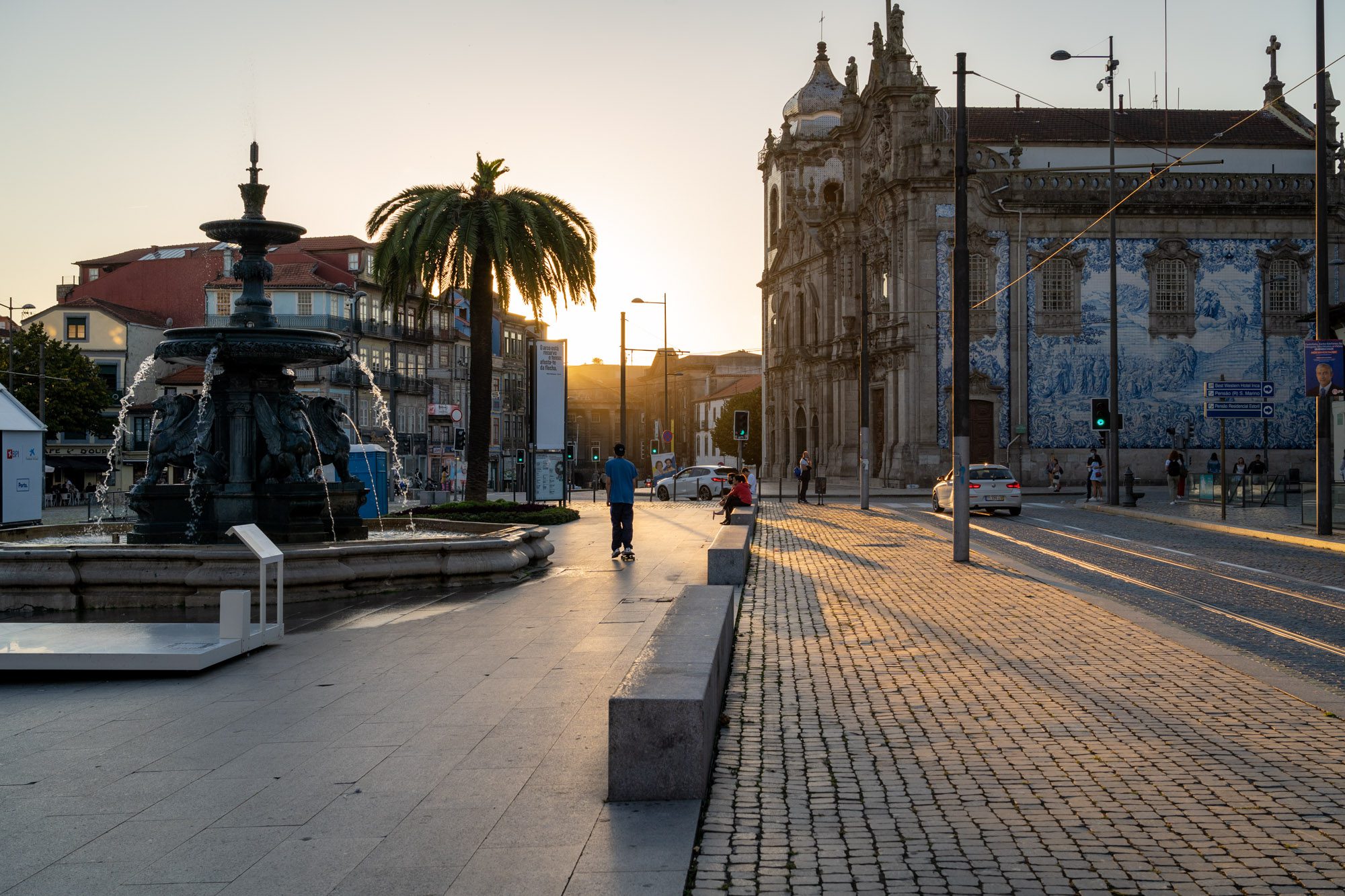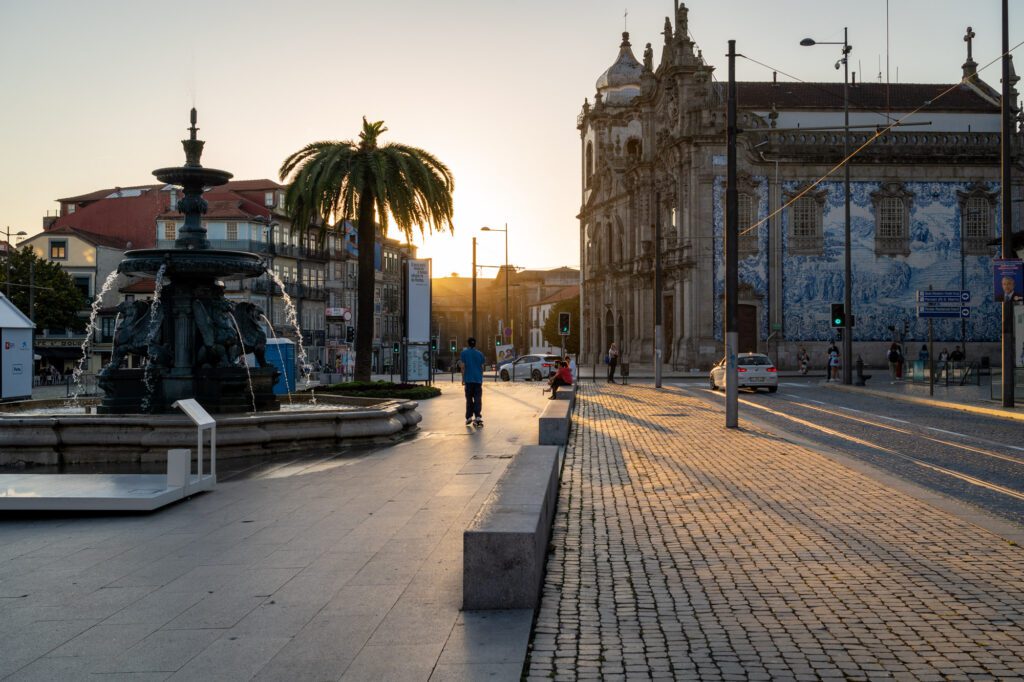 Pros of Staying in Baixa:
As central as it gets. Baixa is not only home to many of the city's most important landmarks and monuments, but most of Porto is also within walking distance. You can walk downhill towards the river and Ribeira, or cross the top walkway of Dom Luis I Bridge to reach the port cellars of Vila Nova de Gaia.
More affordable accommodation options. If you're looking for places to stay in Porto on a budget, Baixa has some of the most affordable options in the city center – more so than Ribeira or Vila Nova de Gaia.
It's home to the best food and drinks in Porto. Foodie travelers, look no further than Baixa! The neighborhood is home to many of the city's best restaurants, cafes, and bars.
Cons of Staying in Baixa:
Large crowds. Being the location of many popular attractions, restaurants, and bars, the neighborhood is packed with tourists and locals at all hours. In particular, the area around Rua Santa Catarina, the city's main shopping street, can get extremely crowded.
Can be loud at night. Depending on where exactly in the district you're staying, it can get quite rowdy at night. Baixa is home to many of Porto's bars and clubs, with people socializing and drinking on the street outside until the early hours.
Baixa Highlights
Here are some things to do, see, eat, and drink in Baixa that we liked, and think you will too.
Sé do Porto: Porto's 12th century cathedral and one of the oldest buildings in the city. With many renovations taking place over its history, the cathedral features a unique mix of Baroque, Romanesque, and Gothic architectural styles. Make sure to wander down the charming narrow alleyways from the cathedral to Ribeira and the river. Check out this route for more.
São Bento Station: One of the most beautiful train stations in the world. The walls of São Bento train station feature over 20,000 blue and white azulejo tiles telling the story of Portugal.
Rua Santa Catarina: Porto's busy main shopping street, full of international stores and brands.
Igreja do Carmo and Igreja dos Carmelitas: Two beautiful tiled churches dating back to the 16th and 17th century and connected by a small house.
Base Porto: A cool outdoor terrace bar in the middle of a park, perfect for enjoying a few cocktails in the sunshine.
Drink Porto Tonico: Made with port, tonic, and citrus, we discovered this iconic drink during our stay in Porto and now regularly make it at home. Take a break from exploring the sites of downtown and enjoy a refreshing Porto Tónico at Livraria da Baixa (better cocktail, more expensive) or Aduela (drink's aren't as good, but cool atmosphere and has a nice little terrace).
Eat a bifana at Conga: Try Portugal's famous saucy pork sandwich at one of the best bifana spots in the city.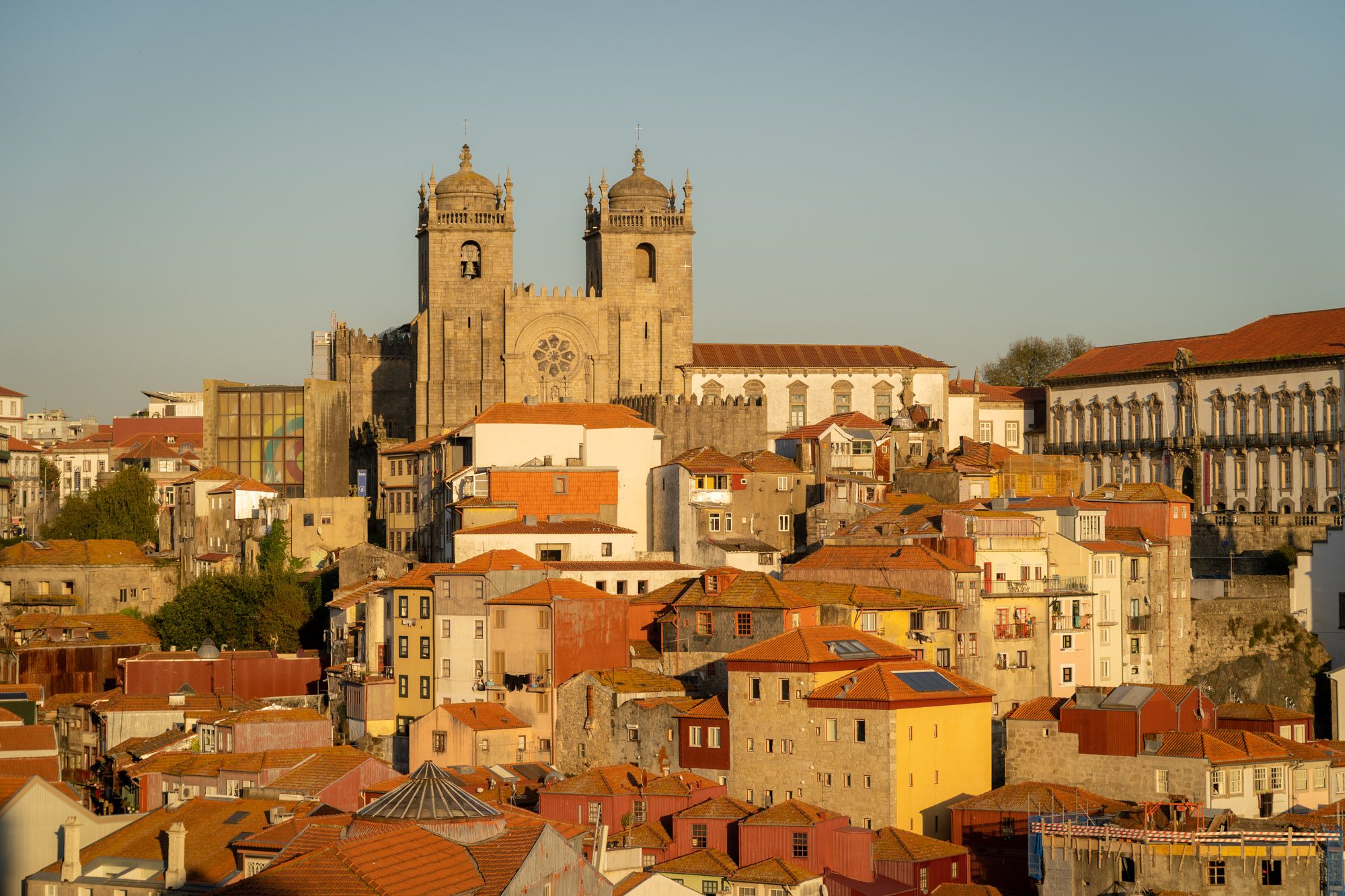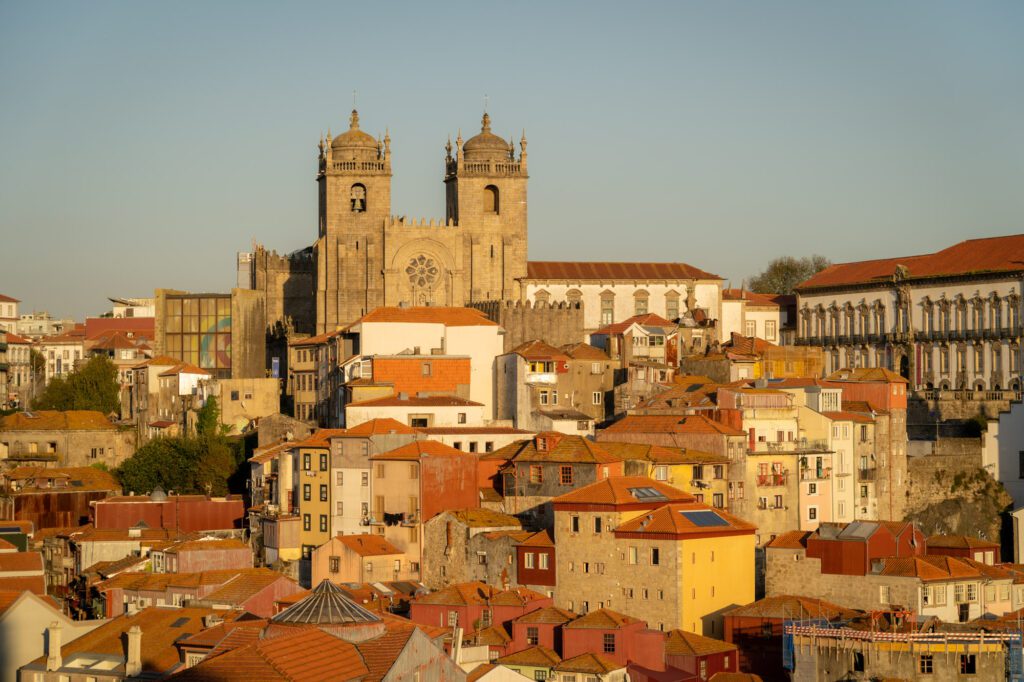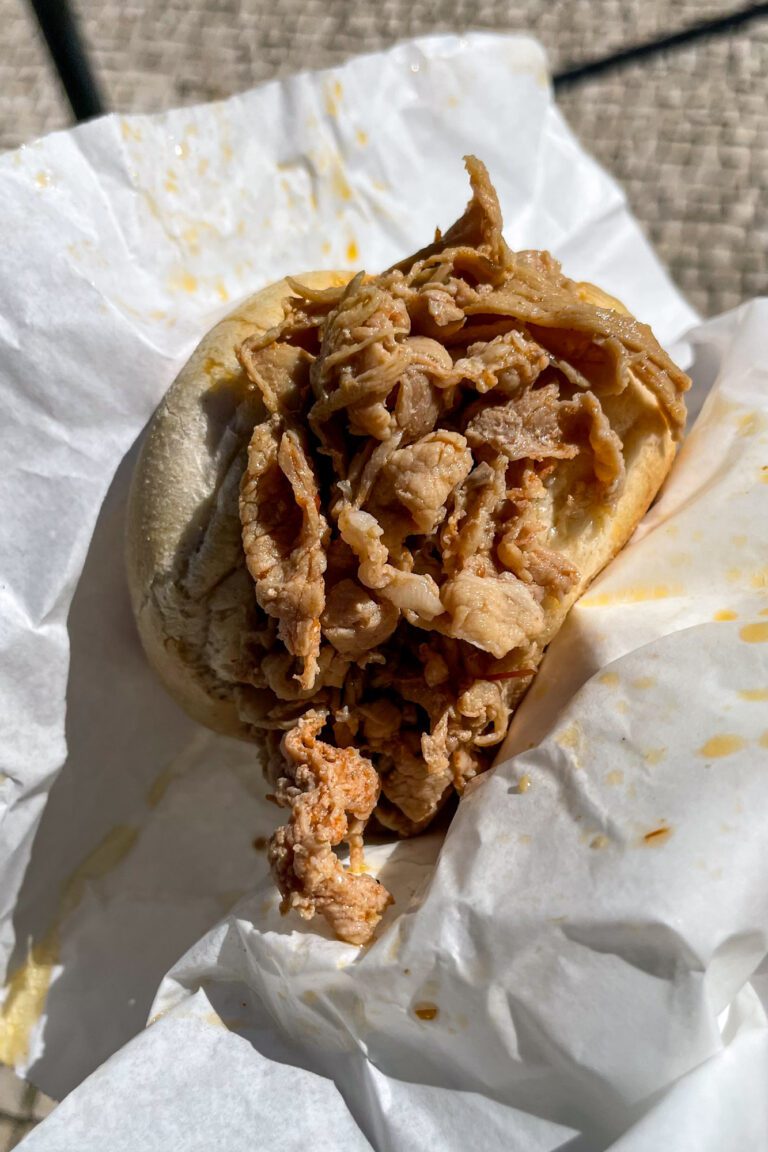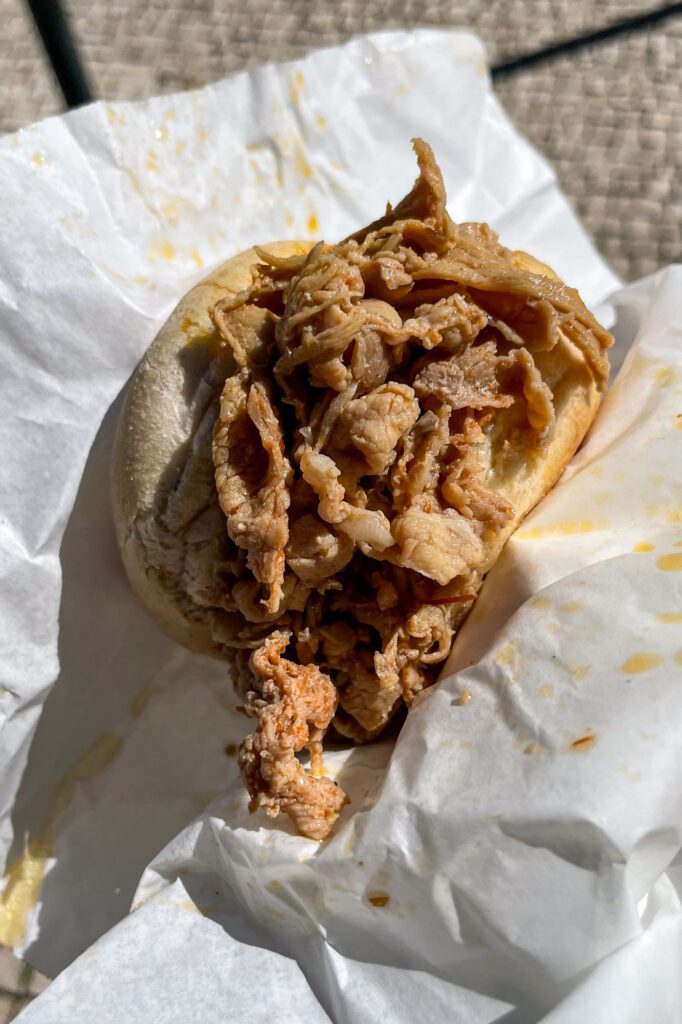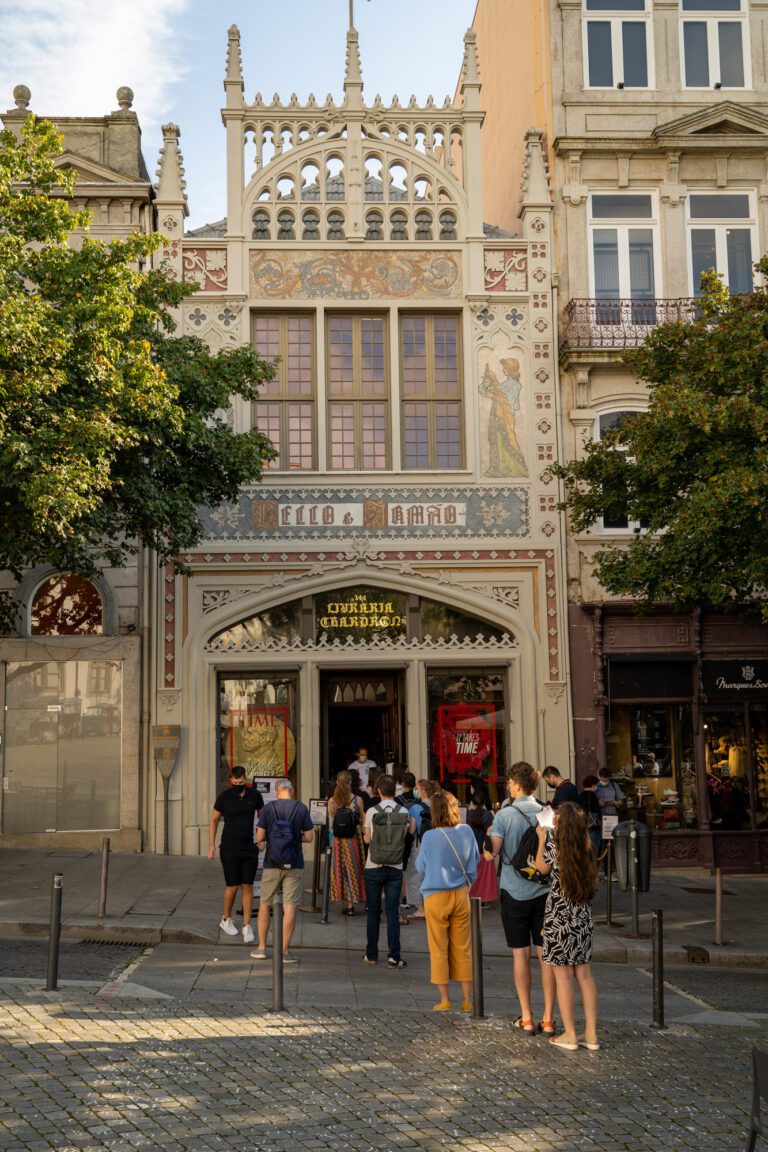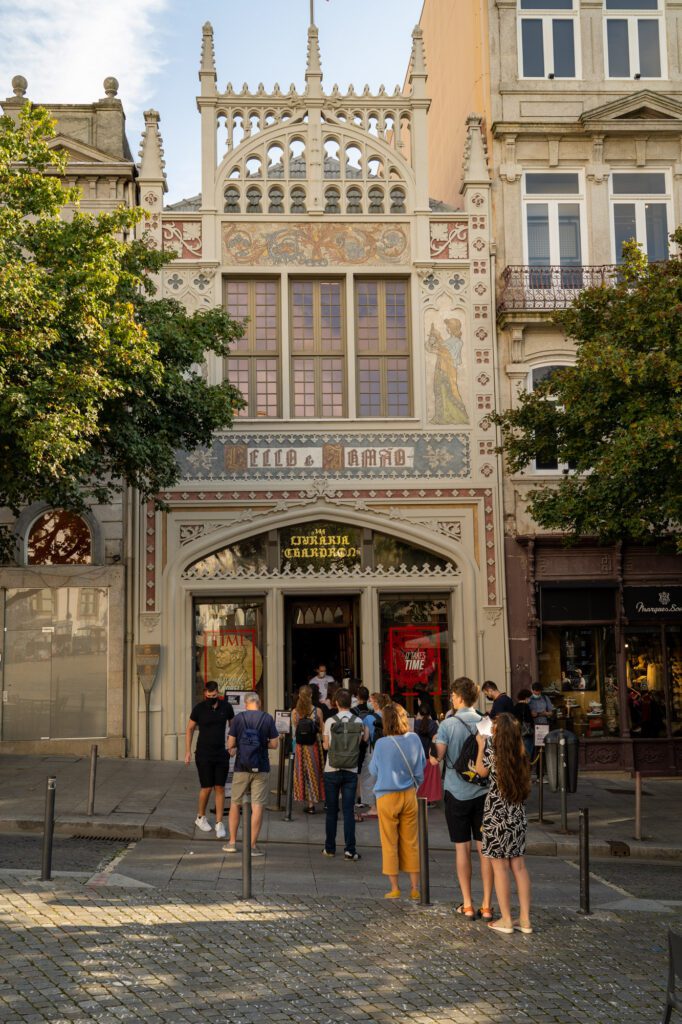 The Best Places to Stay in Baixa
Here are some places to stay in Baixa that jumped out to us.
Chic & Basic Gravity: Nice Boutique Hotel
"A place where sneakers hang from the ceilings, lifts go down but you go up, fish fly, letters are falling, and ceilings become floors." If Wonderland was a hotel, this would be it.
Chic and Basic Gravity is a hotel that's just as hip as the neighborhood it's located in. The hotel's unconventional decor features brightly colored furnishings, plant pots on the ceiling, floating neon lights, and an unusual rooftop pool that bends at a 90-degree angle. We can assure you you've never seen anything quite like it.
As well as the mind-bending decoration, this unique 4* hotel features modern ensuite rooms with A/C, coffee machines, and minibars. There's also a continental or buffet breakfast at the on-site Italian restaurant, a 24-hour front desk, and private parking.
Located just minutes from the Livraria Lello bookshop and Clérigos Tower, most rooms at the hotel come with a balcony or terrace with views over the city. The spacious family room can sleep up to four people (children or adults) so is great for families or groups.
Hotel Moon and Sun: A Charming Mid Range Hotel
Hotel Moon and Sun is a modern, clean, and spacious mid range hotel in the heart of Baixa, walkable to the many attractions downtown.
The hotel is great value for the location and amenities it offers. Each of the rooms at this stylish hotel has A/C, a kettle, a minibar, a safety deposit box, a TV, and a private bathroom. There's also a concierge service, on-site bar, and shared lounge area for guests to hang out in.
But our favorite thing about this hotel has to be its large rooftop terrace where you can enjoy an end of the day cocktail with amazing city views. It's pretty difficult to draw yourself away.
The Poets Inn: An Affordable Guesthouse
A more affordable accommodation option in Baixa is The Poets Inn. The cozy literature-themed guesthouse is located just seconds away from Clérigos Tower and five minutes from Avenida dos Aliados.
There are 10 rooms to choose from, three of which are en-suite and seven with shared bathrooms. If you're willing to share a bathroom with other travelers, the Poets Inn has some of the cheapest and best value private rooms you'll find in central Porto. Several rooms even have a private balcony with fantastic views over the city.
The guesthouse also has a fully-equipped guest kitchen and dining area for you to make your own meals, plus several living areas and a small library so you can cozy up on your balcony with a good book. This fantastic little spot really feels like a home away from home in Porto.
Look At Me Serviced Apartments: Cool Serviced Apartments for Groups
Before family decided to join us on our trip to Portugal (which made it so we needed a bigger place to accommodate more people), we had this place booked.
These beautiful studios and loft apartments are located just off from the central Avenida dos Aliados, close to the Town Hall. Each unit is bright and spacious, with hardwood floors, high ceilings, pastel colored furnishings, and large windows.
All apartments at Look at Me have a fully equipped kitchenette, including a coffee machine and dishwasher, and a dining area. Plus some also have a private balcony.
The studio apartments sleep up to four guests, while the lofts can accommodate up to six people across a ground floor and a mezzanine level. They're ideal for larger families or big groups looking for some extra space in Porto.
Fabrica 55: Nice Apartments for Couples / Solo Travelers
Fabrica 55 has several modern and elegant apartments on a quiet backstreet just seconds from some of Porto's top attractions.
You can choose between studios for up to two guests or one-bedroom apartments that can sleep three people across a bedroom and sofa bed. The studios are a little compact, but they still have all of the amenities you could need for a shorter stay in Porto.
All units come with fully equipped kitchenettes, featuring a fridge, stovetop, and microwave, so you can cook your own meals and save some money on eating out. There's also a dining table and a small living area in each apartment.
The Passenger Hostel: A Boutique Hostel in a Great Location
Located inside the iconic São Bento Railway Station, this trendy boutique hostel is certainly one of the coolest places to stay in Porto on a budget. With its high ceilings, swinging sofas, and large windows overlooking the station platforms, a stay at the Passenger Hostel is certainly a unique experience.
The hostel offers spacious double, twin, and family rooms for a little more privacy, as well as mixed and female dormitory rooms. There are several communal hangout areas and a bunch of daily activities organized by the hostel to help you meet other travelers.
Plus you can walk out the front door and jump straight on a train to explore the areas nearby. Getting around the city couldn't be any easier.
Vila Nova de Gaia: Best Place to Stay for Port Tasting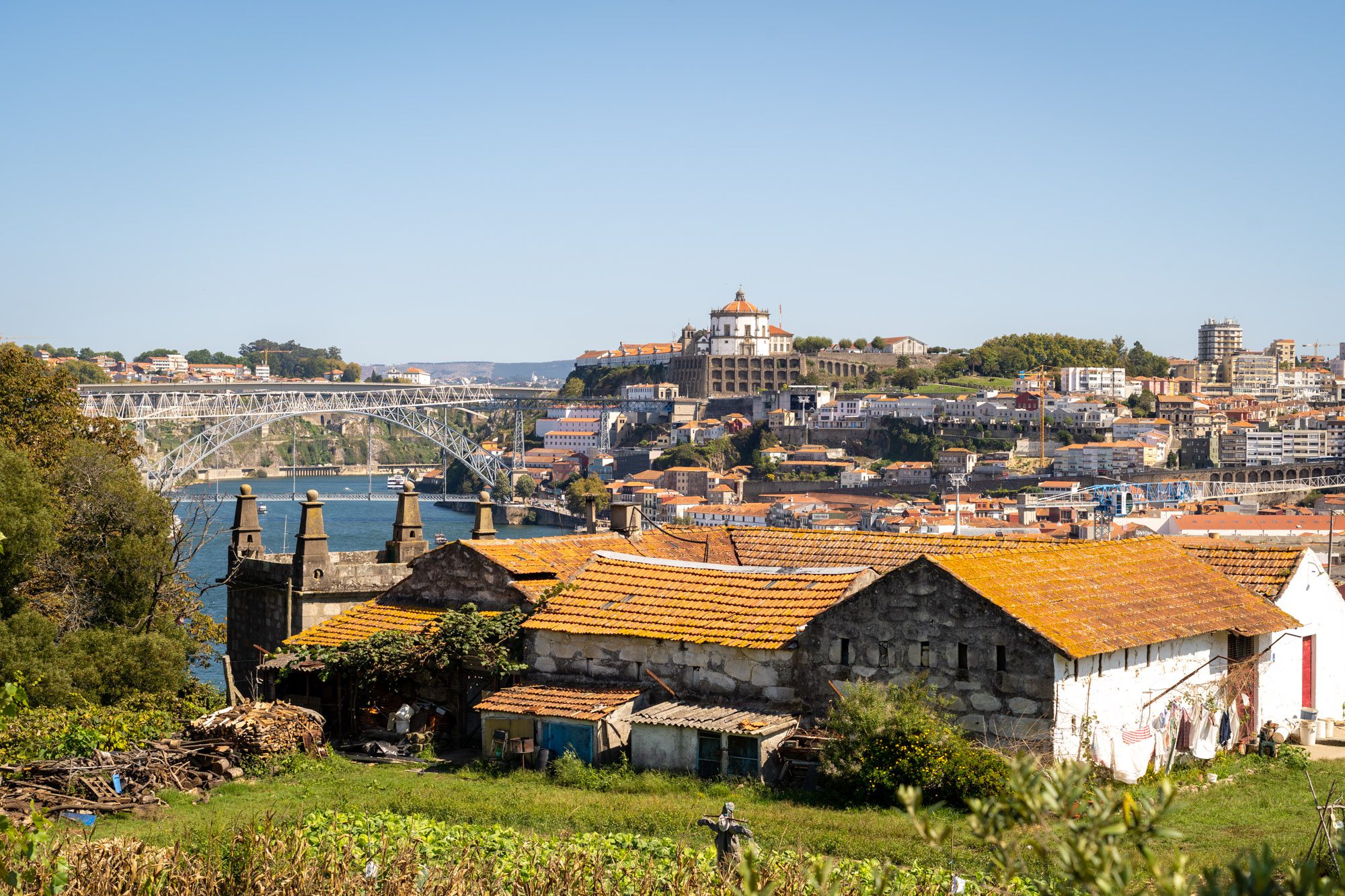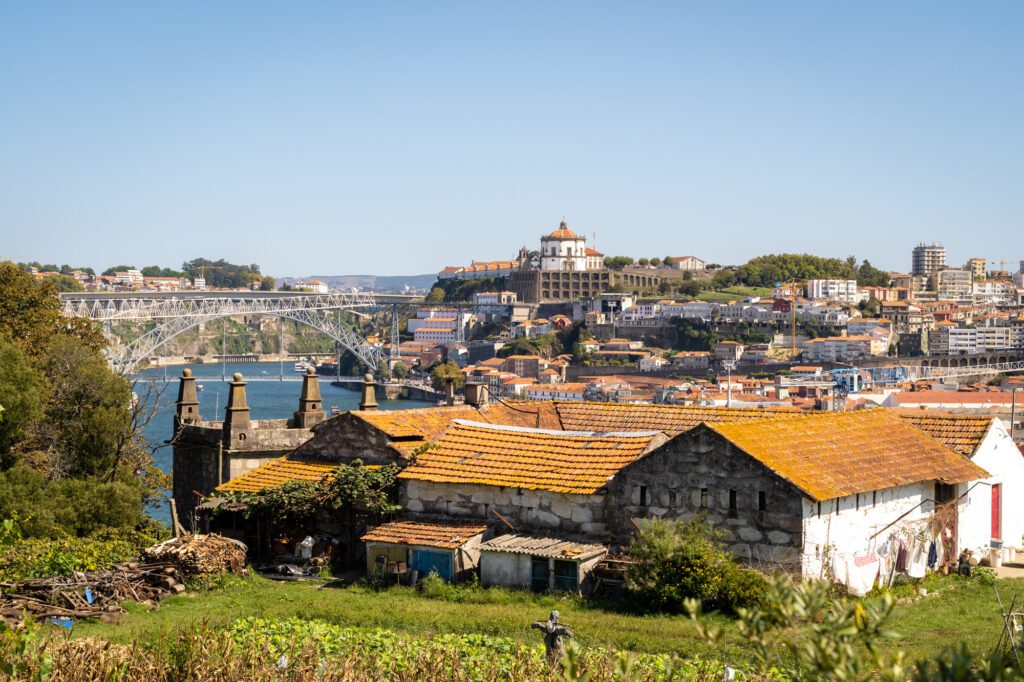 While many people think of Vila Nova de Gaia as a neighborhood of Porto, it's technically a separate city on the south bank of the Douro River. But for the purpose of this article, we'll consider it an extended area of Porto. Gaia can easily be reached from Porto via a quick river ferry or by crossing the Dom Luis I bridge.
Vila Nova de Gaia is known for its many historic port warehouses and cellars, some of which date back to the 17th century. It has become increasingly popular in recent years, with people coming to sample locally produced port at the many riverside port lodges.
Despite being a little removed from the main attractions and landmarks of the historic city center, Vila Nova de Gaia is the best location to stay in Porto if you have an interest in the port industry and like being away from the big tourist crowds.
Pros and Cons of Staying in Vila Nova de Gaia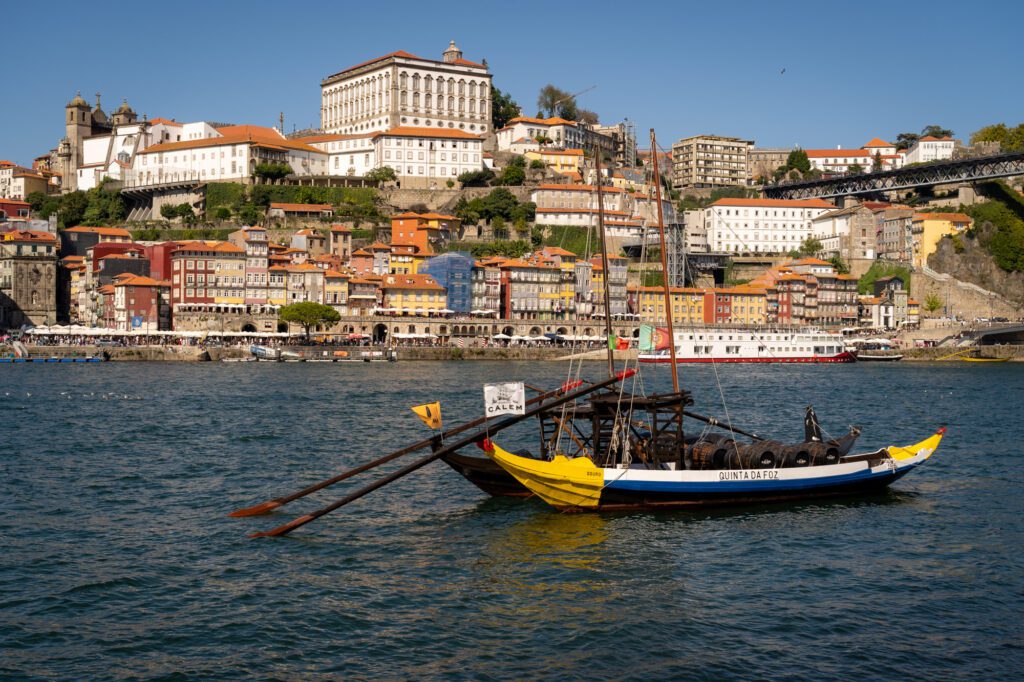 Pros of Staying in Vila Nova de Gaia:
It's close to all the port lodges. There are many historic port lodges right on your doorstep, so you'll have plenty of opportunities to learn about (and sample) the local fortified wine.
The views. The neighborhood sits on a hill overlooking the Douro and Porto, so offers fantastic views of the river and city.
Cons of Staying in Vila Nova de Gaia:
It's expensive. Accommodation in Vila Nova de Gaia is more catered to the luxury crowd, so the area tends to be more expensive.
It's far from other attractions. The neighborhood is quite far from just about every landmark and attraction other than the port lodges.
Vila Nova de Gaia Highlights
Here are some things to do, see, eat, and drink in Vila Nova de Gaia that we liked, and think you will too.
Port tasting! We went to Graham's, but there are a nearly unlimited number of port lodges in Vila Nova de Gaia. Taylor's and Espaço Porto Cruz are two other options that were recommended to us by locals.
Casa Portuguesa do Pastel de Bacalhau: A touristy but fun fast-food spot where you can try pastel do bacalhau (traditional cod cakes) in a beautiful building while listening to live organ music. Skip the port here.
7g Roaster: A hidden specialty coffee shop hidden away in the alleys. This is where you'll find some of the best coffee in Porto.
Churchill's 1982 Garden Bar: A cool little bar in the secluded garden of Churchill's port lodge.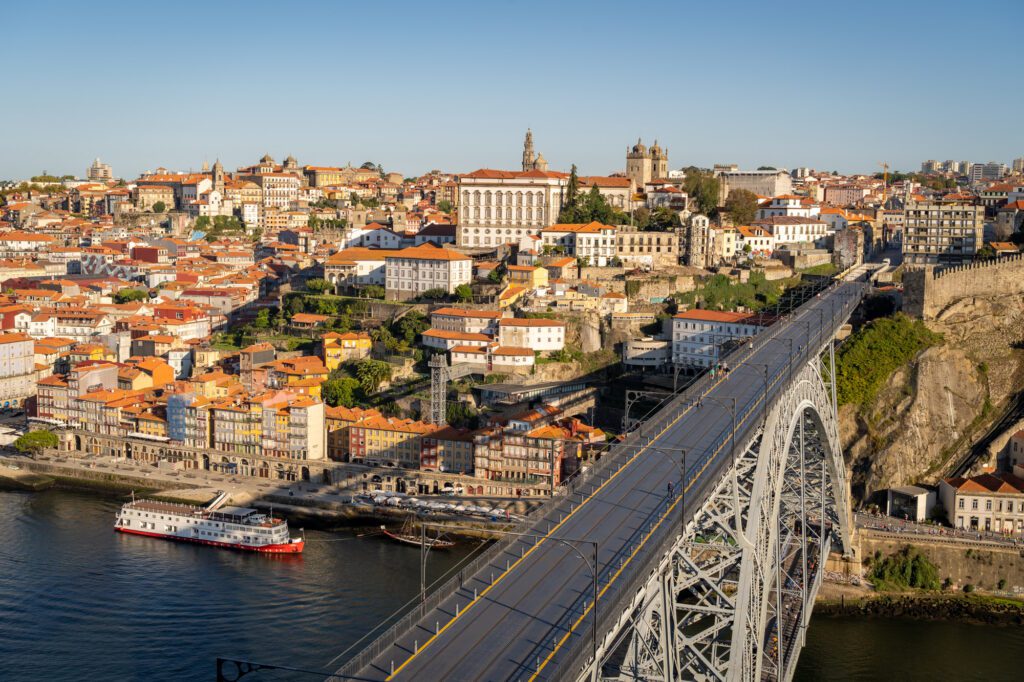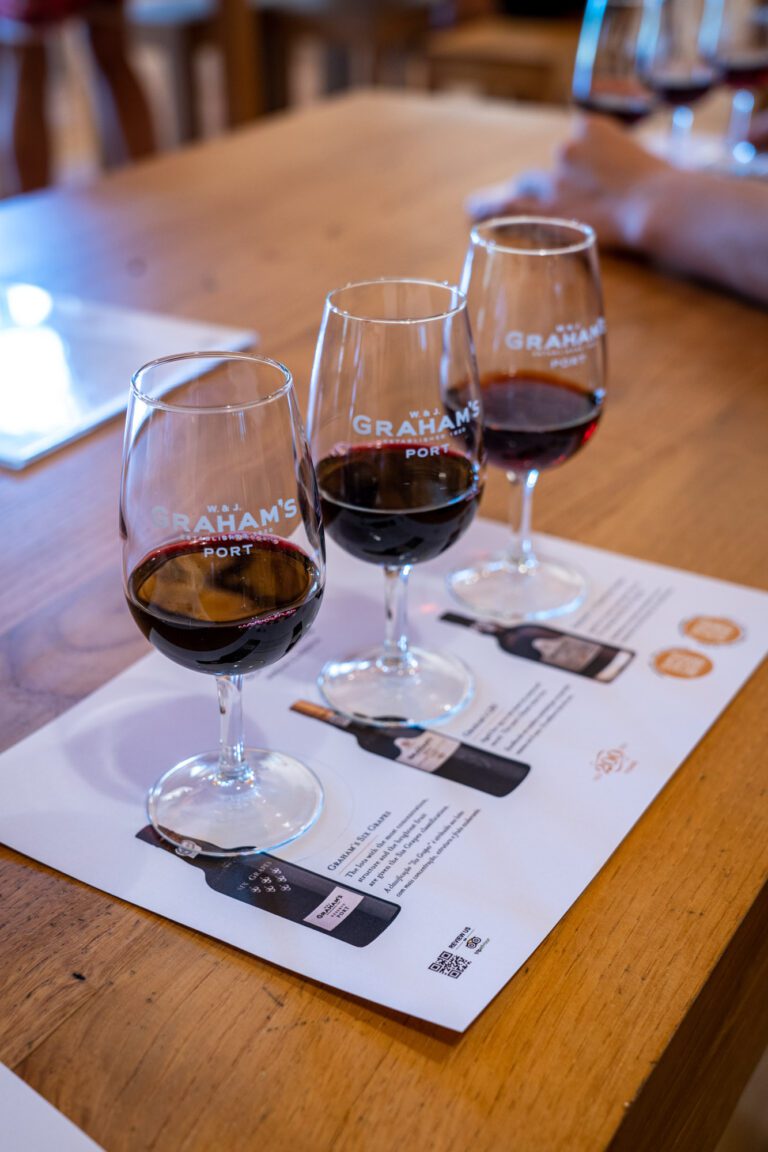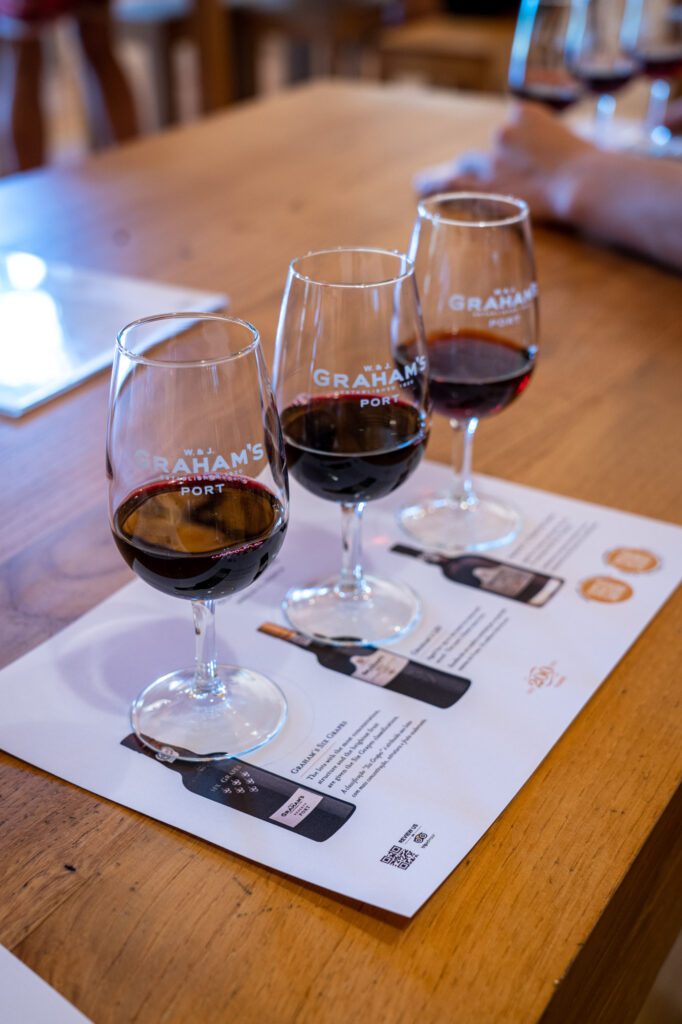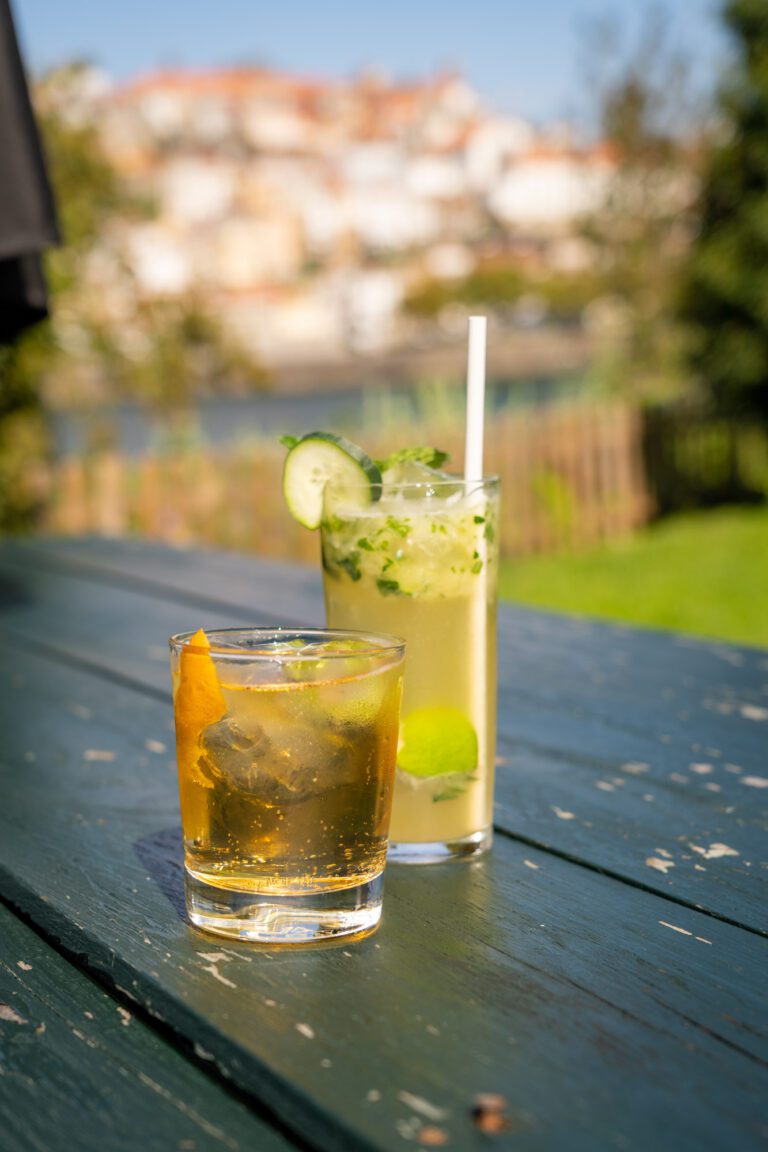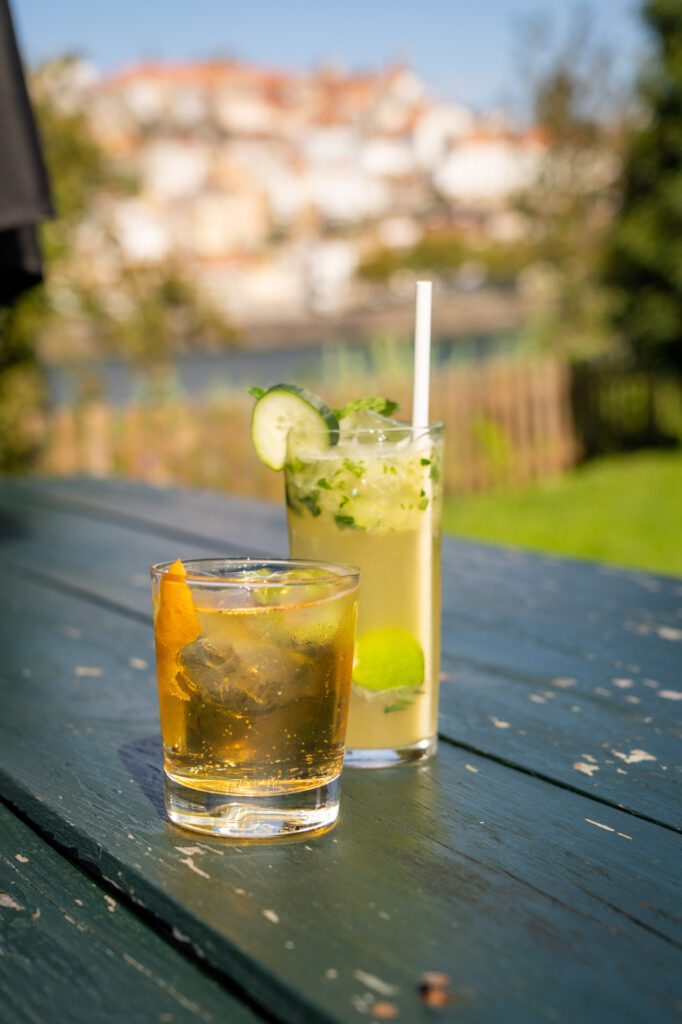 The Best Places to Stay in Vila Nova de Gaia
If you're looking to stay in Vila Nova de Gaia, here are a few places that stand out to us to get your search started.
The House of Sandeman: Affordable Hostel & Suites
Sleep inside a historic wine cellar at this unique boutique hostel in Gaia. The House of Sandeman is the world's very first branded hostel, opened by the iconic Porto wine brand of the same name inside one of their old cellar buildings.
The shared dormitories are clean, spacious, and have unique custom bed frames inspired by port wine barrels. Shared bathrooms and large private lockers are available for the dorms.
The property also has numerous private en-suite rooms. The cozy rooms have a homely feel, with warm wooden furnishings, original Sandeman artworks and pieces, and your very own turntable with a selection of vinyl records.
CHARM by YoursPorto: A Solid Mid Range Guesthouse
Located just a one minute walk from the Douro River banks and the area's many port wine cellars, CHARM by YoursPorto is a charming guesthouse in Gaia with bright and airy rooms and fantastic views over the Douro River.
Featuring exposed stone walls and refined wooden furnishings, each room has amenities including an en-suite bathroom, A/C, safe, and fridge. Many also come with a balcony or terrace. Tea and coffee making facilities are available in the reception area, while breakfast can be added for an additional fee.
The upper floors of the historic guesthouse are only accessible by stairs, so it's probably not the best choice for those with mobility constraints.
Vincci Ponte de Ferro: A Beautiful Boutique Hotel
This luxury spot is a fantastic option for those looking to treat themselves to something special in Porto. The large hotel is bright, modern, and immaculately decorated.
Sitting on the hilltop next to the Dom Luis I Bridge in Gaia, the Vincci Ponte de Ferro has some fantastic amenities that will make you never want to leave. The elegant on-site restaurant and sky bar feature a large balcony with stunning river views. There's also an outdoor swimming pool and sun terrace overlooking the city, a high-end fitness center, and plenty more.
Double, twin, and triple rooms are available and range from standard to superior. All of the rooms are spacious and beautifully decorated, with a small seating area, a clean and modern bathroom, and a coffee machine.
The Lodge Hotel: A Luxury Hotel on the Hill
The suave and sophisticated interiors, state-of-the-art amenities, and attentive staff all make the Lodge Hotel one of the best luxury hotels in Porto.
The blend of dark blues and gold gives the space an almost regal feel. While the natural shapes of the design elements are inspired by the vineyards of the Douro Valley.
Located on a hilltop in Gaia, just minutes from the area's many wine cellars, the property has an outdoor swimming pool, fitness center, and bar with its own wine cellar. The on-site Dona Maria Restaurant serves a Portuguese menu, with a special emphasis on the freshest produce and seasonal products.
Deluxe rooms, superior rooms, and suites are spacious, stylish, and offer fantastic views over the city, while the superior suite is one of the largest you'll find in the city, with a cozy seating area, kitchenette, and private fitness area.
Bonfim: An (Affordable) Slice of Local Life in Porto
If you're looking for the best location to stay in Porto that lets you experience authentic local life while still being close to the city center, Bonfim is our top recommendation.
Located just to the east of Baixa and Ribeira, Bonfim is an up-and-coming area of Porto. Popular amongst locals, the neighborhood is largely residential but has a growing number of artisan coffee shops, craft beer breweries, and cool bars. There aren't really any big tourist attractions in the area itself, but the sites of downtown can be reached in as little as 15 minutes by foot.
Accommodation in Bonfim is a little more sparse than in the central neighborhoods. However, the hotels and guesthouses you do find here tend to be much cheaper than elsewhere in the city. Bonfim is one of the best areas to stay in Porto for budget travelers.
Pros and Cons of Staying in Bonfim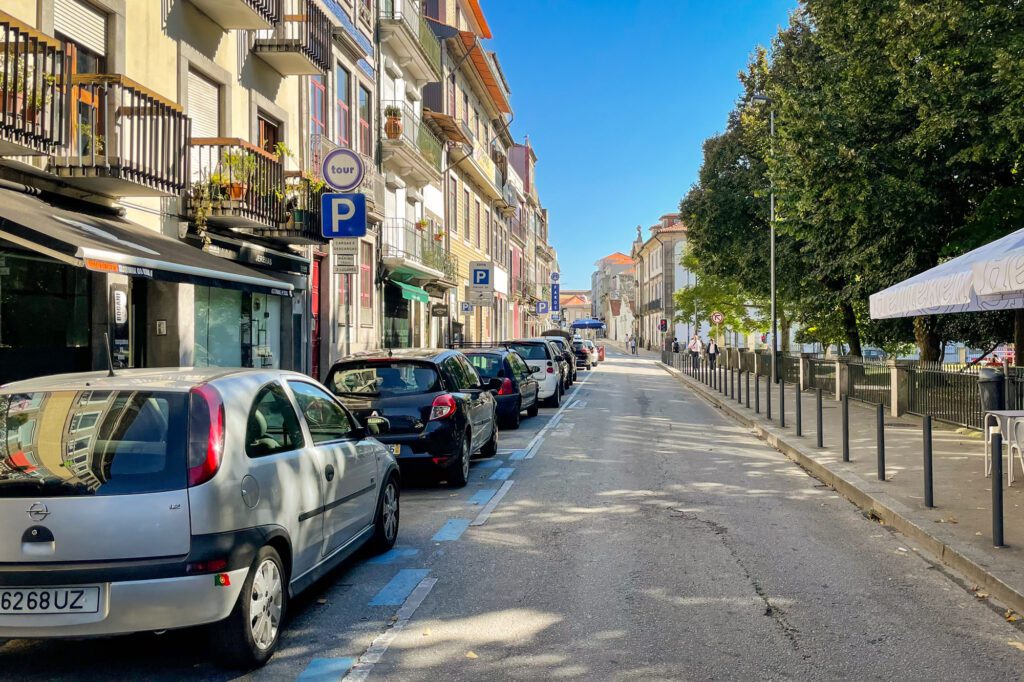 Pros of Staying in Bonfim:
It's affordable. Being away from the main tourist route, Bonfim is one of the cheaper places to stay in Porto.
It's a slice of local life. Bonfim has the best mix of tourists and locals in central Porto. You'll definitely notice the contrast with the likes of Ribeira and Baixa.
Cons of Staying in Bonfim:
Far from some tourist attractions. From Bonfim, it's quite far to reach Vila Nova de Gaia on the south side of the river and some of the tourist attractions in western Baixa. If you only have a day or two to explore Porto, or you have mobility constraints, you may want to consider somewhere a little more central.
Bonfim Highlights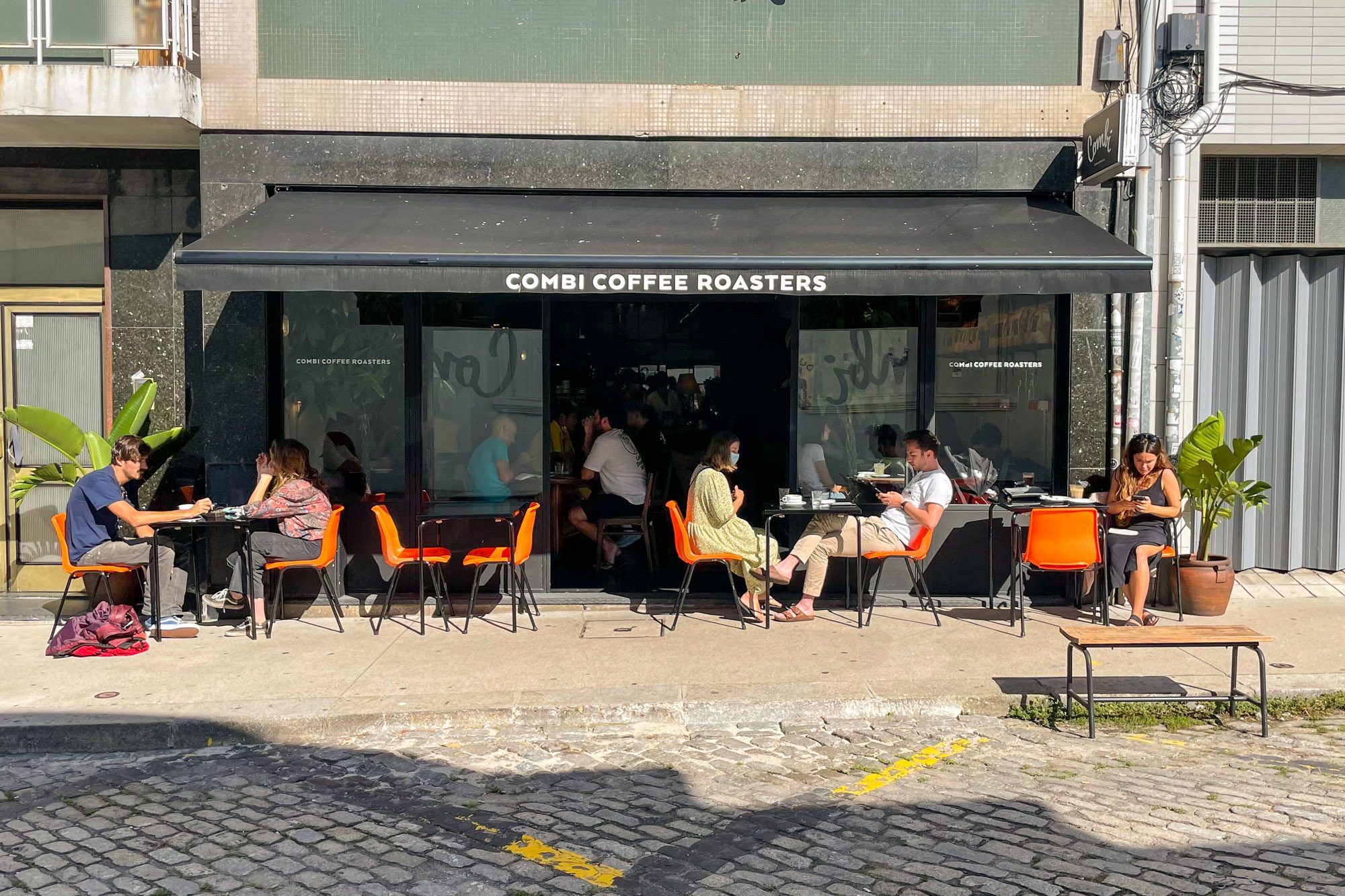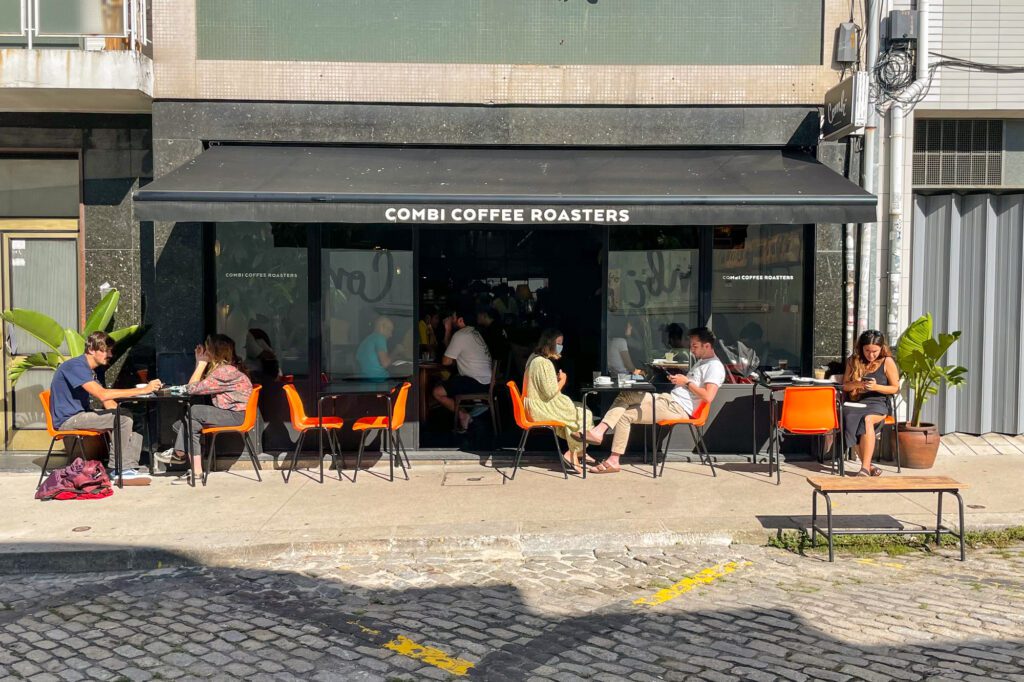 Here are some things to do, see, eat, and drink in Bonfim that we liked, and think you will too.
Combi Coffee Roasters: One of the best independent specialty coffee roasters in Porto.
Mesa 325: Another great little coffee shop with a good breakfast menu and a friendly house dog. Unfortunately, they were closed on the day we tried to stop by, but we'll be back!
TerraPlana Café: A quirky bar with some very unique cocktails, as well as all of the classics.
Letraria Porto: Excellent local brewery on the border of Baixa and Bonfim. The brewery has a great beer garden for enjoying a refreshing craft beer in the sun. Colossus is another great artisan brewery a little further north.
The Best Places to Stay in Bonfim
In Bonfim, there's a range of guesthouse and apartment options for you to choose from. The thing that really ties them all together is the value you're getting. It's not the most central location, but you're going to pay a lot less than other parts of the city.
Eurostars Heroismo: Solid Mid Range Hotel
This 4* property is one of the largest you'll find in the Bonfim area. If you're looking to stay in a quieter local neighborhood but retain the convenience and amenities of an established chain hotel, Eurostars Heroismo is for you.
The modern property has clean and comfortable rooms, each featuring a unique piece of artwork. Spacious en-suite bathrooms come with a hairdryer and free toiletries.
Other amenities include an on-site restaurant, lounge, bar, laundry, and 24-hour front desk. Private parking is also available at the property for those arriving in Porto by car.
Eurostars is around a 20 minute walk to the attractions and landmarks of downtown. Heroismo Station is also just a minute down the road from the hotel, so you can quickly jump on the metro into the city center.
Allegra 508: An Affordable Guesthouse
Allegra 508 is an affordable local guesthouse in the Bonfim district, set inside a historic 19th century building with its beautiful original facade.
And the historic charm doesn't stop on the outside. The interiors of the guesthouse are adorned with Portuguese tiles, complimented by classic decor and refurbished antique furnishings. There's also a lovely terrace and a large peaceful garden where you can enjoy your breakfast in the morning.
All rooms feature a seating area, coffee machine, and small kitchenette. Many also have a private terrace leading out into the garden. You can even have breakfast delivered straight to your door to enjoy on your terrace in peace each morning.
The guesthouse is located on a quiet backstreet in Bonfirm, but still just a 10-15 minute walk away from the Mercado do Bolhão and Avenida dos Aliados.
B. Arts: Spacious Apartments for Couples & Solo Travelers
If you're looking for an even more authentic experience in Bonfim, the private apartments at B. Arts are a great option. Set in a renovated 19th century building in a local area of Bonfim, you'll feel like a Porto local right away.
The spacious and stylish studio and one bed apartments come with a fully-equipped kitchenette and a living area. Some feature a private balcony, while all have access to the property's small private garden.
Studios are spacious and great for solo travelers or couples. The lofts feature a small mezzanine level, reached by a ladder, with a second double mattress. The mezzanine bed is pretty high and without railings, so probably isn't ideal for small children or those with a fear of heights.
Thomaz Palace: Nice Serviced Apartments (with bigger options)
Last but certainly not least, Thomaz Palace is home to some fantastic serviced apartments suitable for larger groups and families.
The spacious two bedroom apartments can easily sleep up to four people without feeling cramped or on top of each other. Studios and one beds are also available for smaller groups.
All of the luxurious apartments feature a clean and minimalist design with modern fixtures and large floor-to-ceiling windows. Each unit has a living room with a sofa, a well-equipped kitchen with a dishwasher, microwave, and fridge, and a private bathroom.
The apartments are located just a 10 minute walk from Avenida dos Aliados and downtown. The property also has free parking for guests.
---
Planning a trip to Portugal?
Here are our other Portugal travel guides to help you plan an incredible trip (even if you have to eat gluten free!).
If there's no link below, it means we're still working on it – long, in-depth guides take time! We're working on it, though, we promise.
Portugal:
Lisbon
Porto:
The Algarve: