Gluten Free Seattle: Best Gluten Free Restaurants & Bakeries
As I've been writing more and more about Seattle, I have realized just how much I love it. I grew up in a suburb of Seattle, went to college in Seattle, and lived there after school for for five years before moving to San Francisco. Seattle holds a special place in my heart because I started my journey with Celiac Disease in Seattle in 2008.
Despite the many changes that it has gone through since I left – namely more and more development and skyrocketing housing prices as everyone and their mother is moving there for Amazon or Microsoft – it's still one of my favorite cities in the country, if not the world, and I visit family several times a year.
If you're visiting Seattle with Celiac Disease, I have some good news. There are a ton of phenomenal gluten free Seattle restaurants that are suitable for Celiacs.
So many, in fact, that you probably won't make it to all of them in one trip. Guess you'll have to plan a return trip!
However, just like other West Coast cities, you're going to find restaurants that claim to serve gluten free food, but don't have ANY processes in place to manage cross-contamination. Which means they can't serve Celiacs safely.
In this guide, you'll find a curated list of gluten free restaurants in Seattle that are safe for Celiacs. I've been to all of them, and in my experience, they were able to explain to me how they would prepare my food safely. Always double check though. For every gluten free restaurant on this list, there are three that claim to serve gluten free food, but back away from that claim when you dig a little deeper. Obviously, they are not in this guide.
Want to learn EXACTLY how to find safe gluten free restaurants around the world?
Click here to get my exact step-by-step process for finding and vetting gluten free restaurants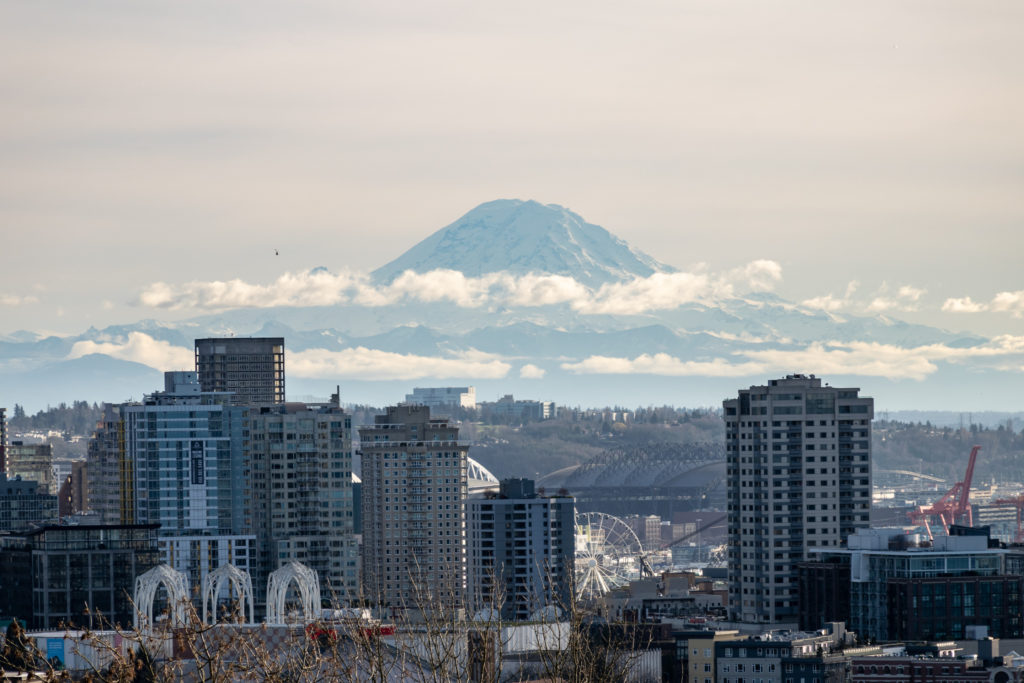 Disclaimer: This post contains affiliate links – if you book something through one of the links below, I make a small commission for referring you. You get a great trip AND you get to support what I do – sounds like a win-win to me!
Gluten Free Seattle: The Complete Guide to Seattle's Best Gluten Free Restaurants
I wrote this guide for two reasons. First, to make planning your unforgettable 100% gluten free trip to Seattle a breeze.
Second, to help you, a gluten free foodie, find the absolute BEST gluten free eats in Seattle and eat your way through the city during your trip – 100% gluten free.
Below, you'll find the best Celiac-safe gluten free restaurants, the best 100% gluten free bakeries, and all the logistics that come with visiting Seattle.
Why should you listen to me? I grew up in Seattle, and lived there for five years post-Celiac diagnosis. My family still lives there, so I spend several weekends a year exploring new gluten free options in Seattle. I've explored all corners of the city, and know where to find the best gluten free eats and interesting things to do and see. 
Wondering what to do with your time in Seattle? I have a detailed guide to the perfect 3 days in Seattle just for you.
This is a guide for gluten free foodies to eat their way through Seattle.
You'll find the best gluten free restaurants in Seattle, a handful of gluten free bakeries, TWO cider bars, and a 100% gluten free brewery.
But first, a Google Map that will help you plan the perfect gluten free Seattle adventure.
Don't take an internet stranger's (that's me!) word for what restaurants in Seattle can accommodate your specific needs.
Use my research as a starting point for your own. Pick the ones you are most interested in and shoot them an email or a social media message to quadruple check that they can handle your needs. Things in the kitchen change all the time, so you need to double check and let them know your needs.
Pssst! Are you a cider fan? Make sure to read our guide to the best cider in Seattle.
Here are my top gluten free Seattle picks:
Best 100% gluten free bakery in Seattle: Niche RIP – now it's Nuflours
Best 100% gluten free restaurant in Seattle: Capitol Cider
Best 100% gluten free brewery in Seattle: Ghostfish
Best cider bar in Seattle: Schilling Cider House
Best Celiac-Friendly (but not 100% gf) restaurant in Seattle: Lola
Best cocktail bar in Seattle: Bathtub Gin Co.
Best gluten free pizza in Seattle: Razzi's
Best coffee in Seattle: La Marzocco Cafe or Victrola Coffee Roasters
The Best Dedicated Gluten Free Restaurants in Seattle
There are a few options if you're looking for 100% dedicated gluten free restaurants in Seattle.
Both should be at the top of your list if you are a gluten free foodie coming to Seattle.
Ghostfish Brewing Co: 100% Gluten Free Brewery & Gastropub
At this point, it probably looks like I am getting paid by Ghostfish to recommend their gluten free beer (100% gf!), brewery, and restaurant to every Celiac that visits Seattle.
For the record, I am 100% open to a gluten free beer sponsorship.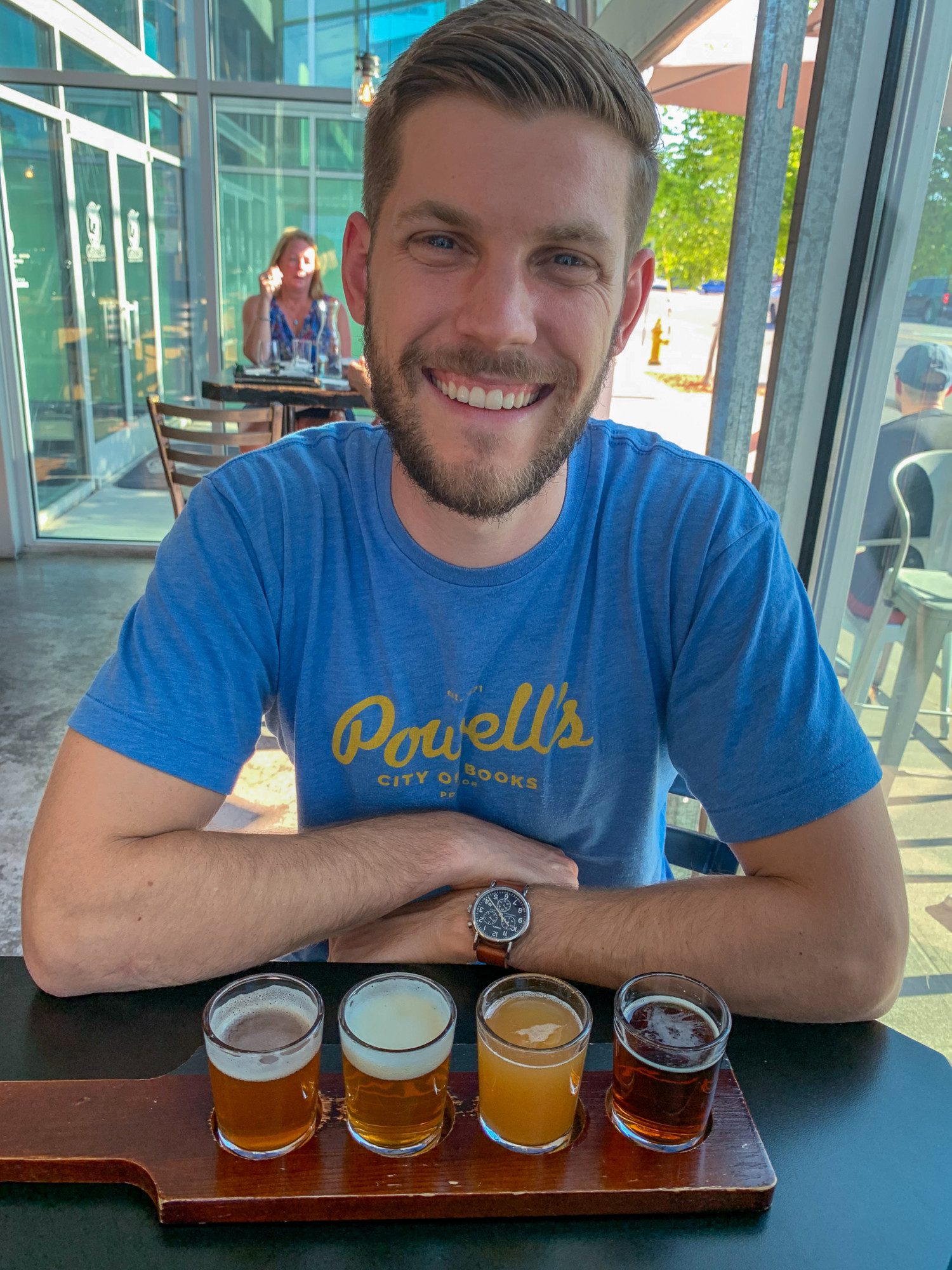 At the top of the menu, it says "Literally everything is 100% gluten free." What more can you ask for as a celiac? How about fantastic gluten free beer, great food, and a safe kitchen, so you don't have to worry about cross-contamination.
Ghostfish Brewing is a dedicated gluten free Seattle brewery and restaurant in Seattle's SoDo neighborhood near the baseball and football stadiums. It's a little bit out of the way if you're staying in Downtown Seattle, but it is well worth the drive or bus ride to get there.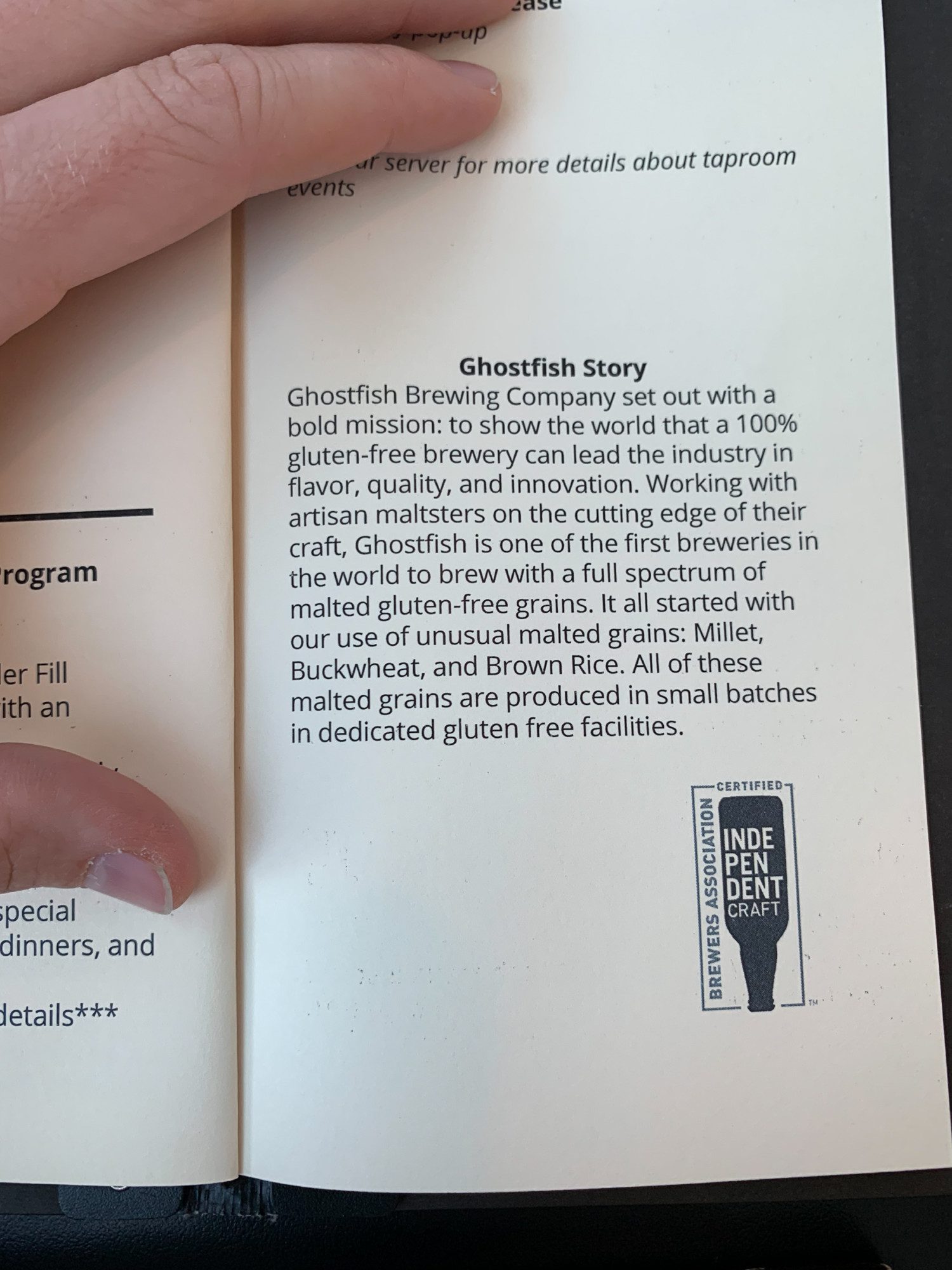 Like Seattle as a whole, Ghostfish is a place that holds a special place in my heart. They brew gluten free beers from gluten free grains, rather than brewing with gluten-containing grains, then removing the gluten later. They are the first truly gluten free beer that I ever tried (besides Redbridge, which doesn't REALLY count).
It is between Seattle-Tacoma Airport and Downtown Seattle, so it should ALWAYS be your first stop if you want to kick your Seattle adventure off right.
Ghostfish Brewing Co has something for everyone.
They have their flagship gluten free beers, like the Grapefruit IPA and the Meteor Blonde, and then they have seasonal experimental releases, like the Ghost Pepper Saison and the Blood Orange Sour. Whatever your taste in beer, you'll probably find what you're looking for.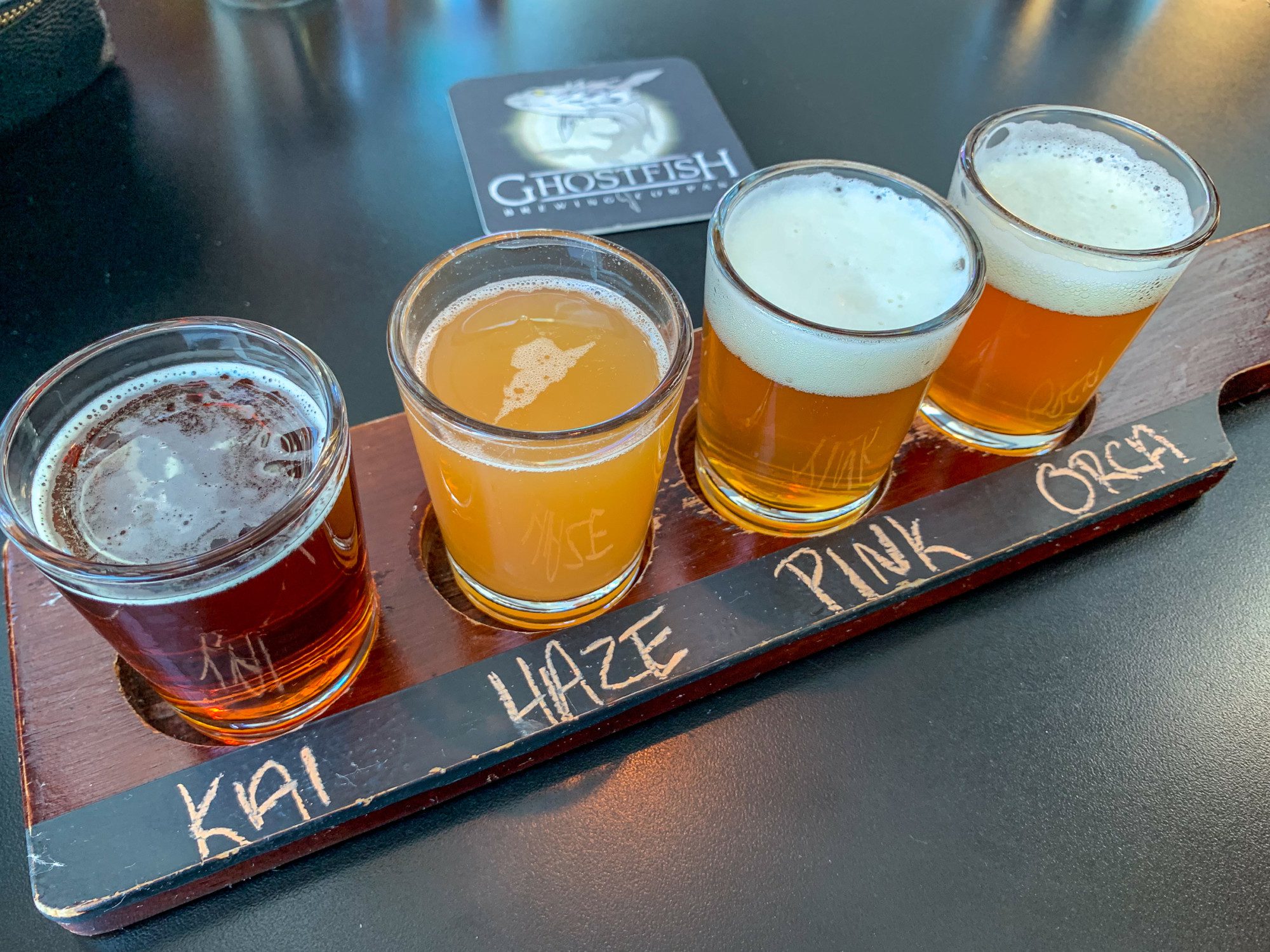 Their food menu is phenomenal too. You can get brunch on the weekends, and dinner every night. When was the last time you had fish & chips that were safe for Celiacs? You can get them (beer battered!) at Ghostfish, along with Cheesecake and a burger on a gluten free bun with bone marrow aoli.
They have a great Happy Hour menu if you can make it work. 3-5pm M-Th, $6-10 small plates and 16oz beers from $5.50.
Cheers!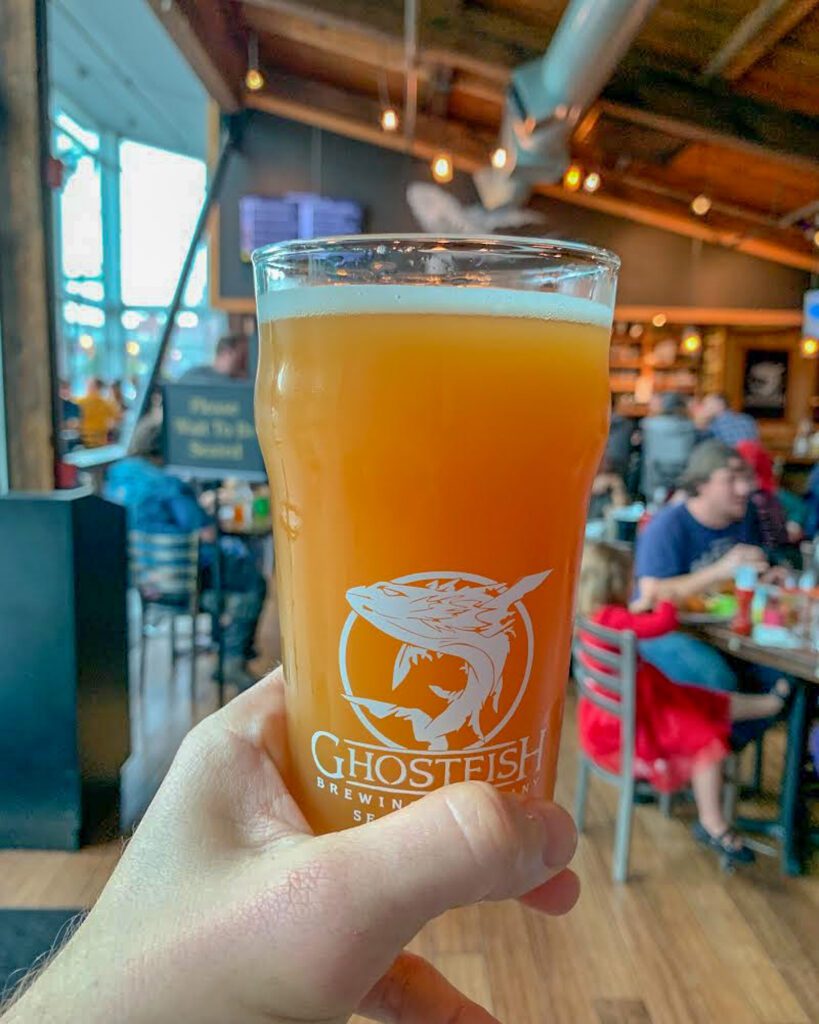 Capitol Cider: Cozy Dedicated Gluten Free Restaurant and Cider Bar in Seattle
Capitol Cider, along with Ghostfish and Razzi's, make up the trio of restaurants in Seattle that every celiac should have on their to-do list. More on Razzi's in a second.
You can visit Capitol Cider for brunch on the weekends, or lunch and dinner every day. I'd recommend brunch if you can swing it.
The food is a little bit like traditional pub food, and it is 100% gluten free. Fried chicken sandwich? Go for it! Cider glazed donuts? Get two orders! Fish and chips? Go crazy!
The best part about eating at a dedicated gluten free restaurant is the fact that you don't have to worry about cross-contamination.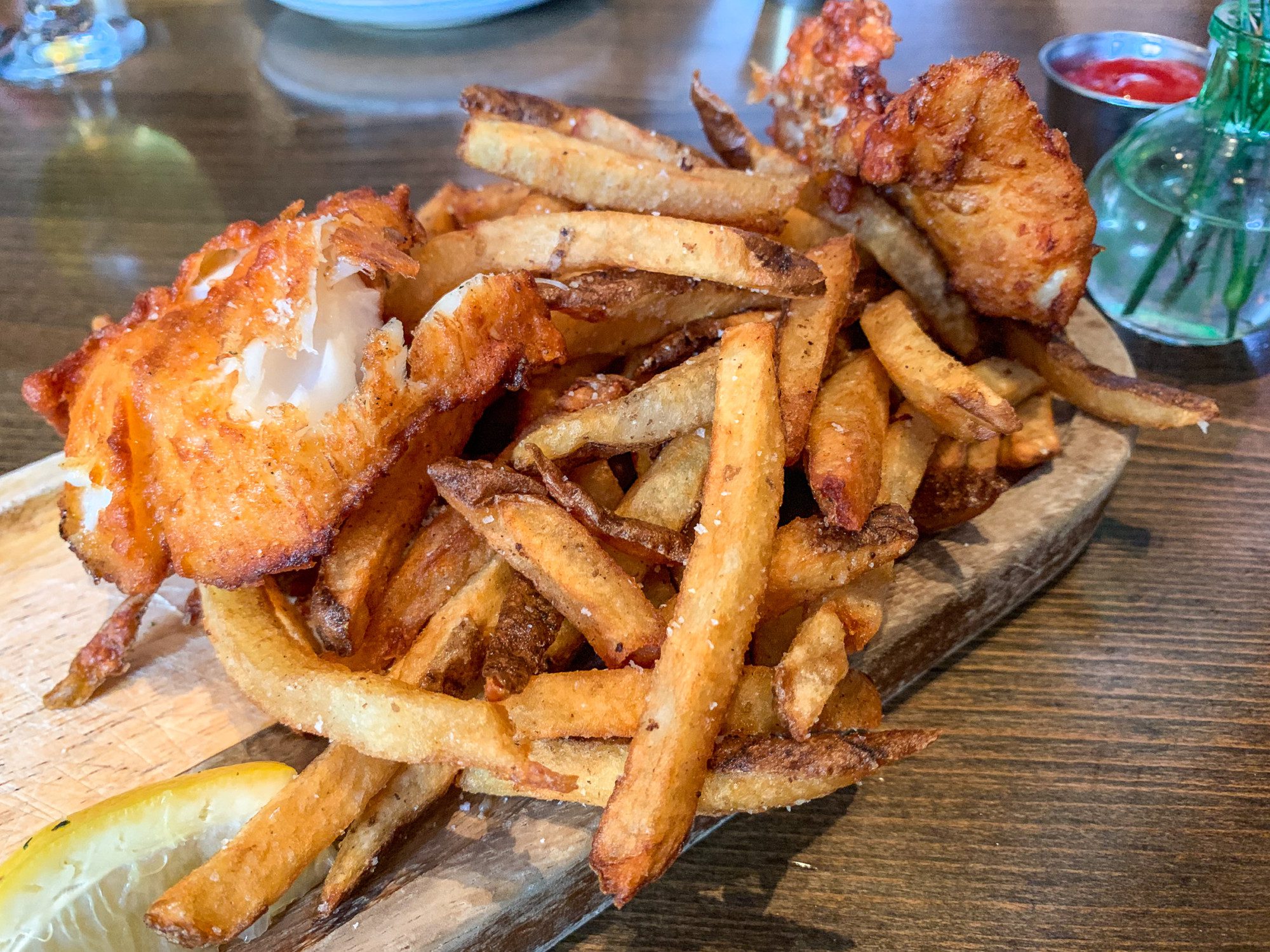 The real star of the show, however, is their cider selection. They have 30 ciders on tap, and 100+ in bottles. The servers and bartenders will help you find one that suits your tastes, whether you're into sweet, dry, or funky ciders. Personally, I love Finnriver Ciders (the Black Currant is amazing). They also do cider cocktails, which are an interesting twist!
Downstairs, you'll find even more seating, live music on some nights, and a variety of board games to enjoy. They have a really solid events schedule too.
It's conveniently located in the middle of Capitol Hill, which makes it easily accessible if you're staying Downtown. While you're there, check out Elliot Bay Books, Victrola Coffee (for the best coffee in Seattle), and the Starbucks Reserve Roastery (for the experience).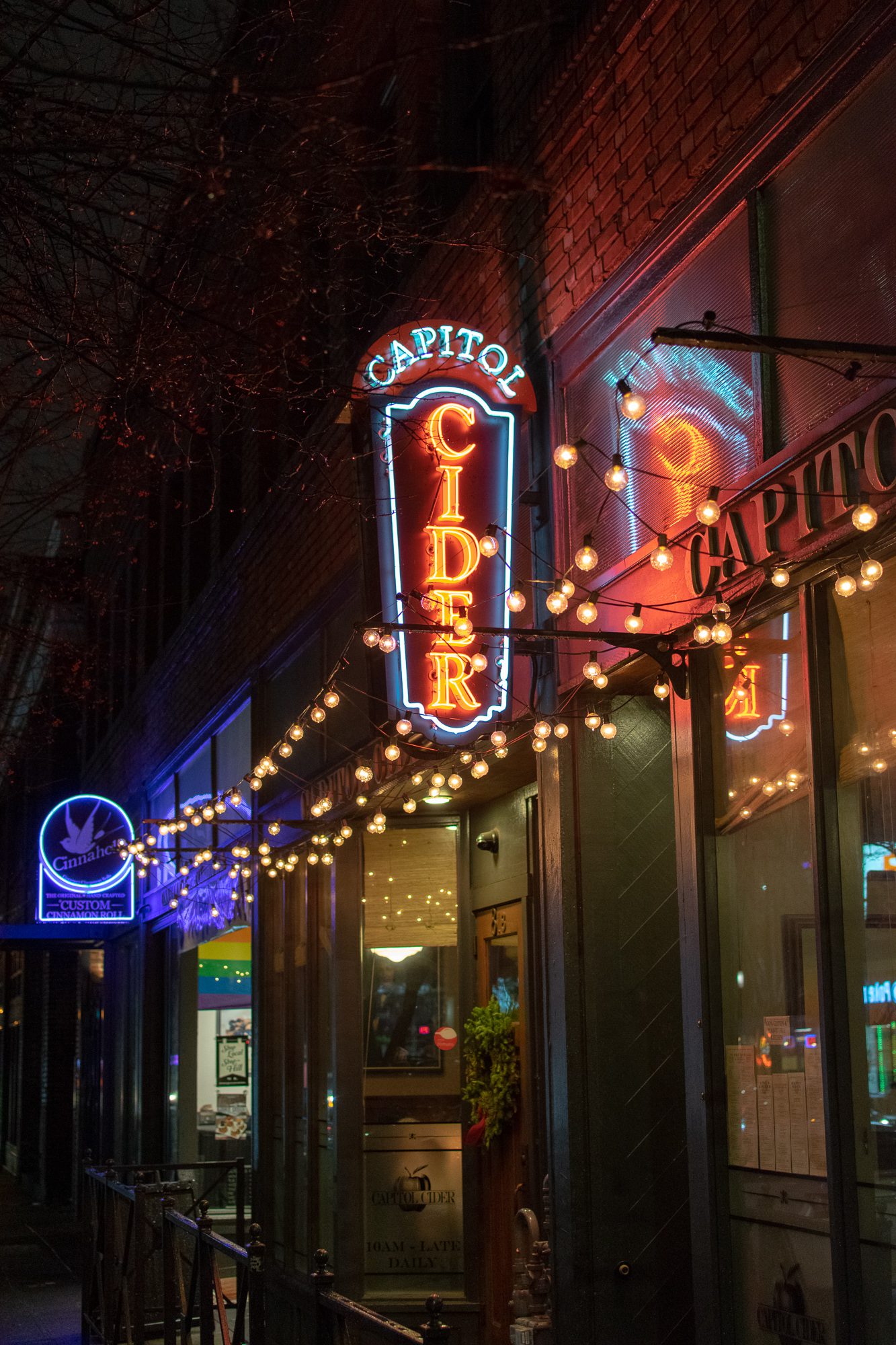 100% Gluten Free Bakeries in Seattle
There are two gluten free bakery options in Seattle that I think are equally good – I can't just pick one! You should try and visit both if you can to try all of the gluten free treats that Seattle has to offer.
Update for 2021: I wrote a guide to the best gluten free bakeries in Seattle with more information and places to find delectable gluten free baked goods.
Flying Apron: My First Dedicated Gluten Free Bakery
Flying Apron Bakery is located in Fremont, and it is the first gluten free Seattle bakery that I remember visiting after being diagnosed with Celiac Disease. They are certified gluten free, vegan, and make delicious gluten free baked goods, made-to-order cakes, and gluten free donuts!
You can also get breakfast or lunch – they are well worth a visit when you're exploring the Fremont area. While you're there, check out Schilling Cider, and coffee at Milstead & Co.
Flying Apron also has a location in West Seattle (stop by Olympia Coffee while you're in the area).
Note: some of their baked goods use oats, but the ingredients are clearly listed. Ask the staff to help you out.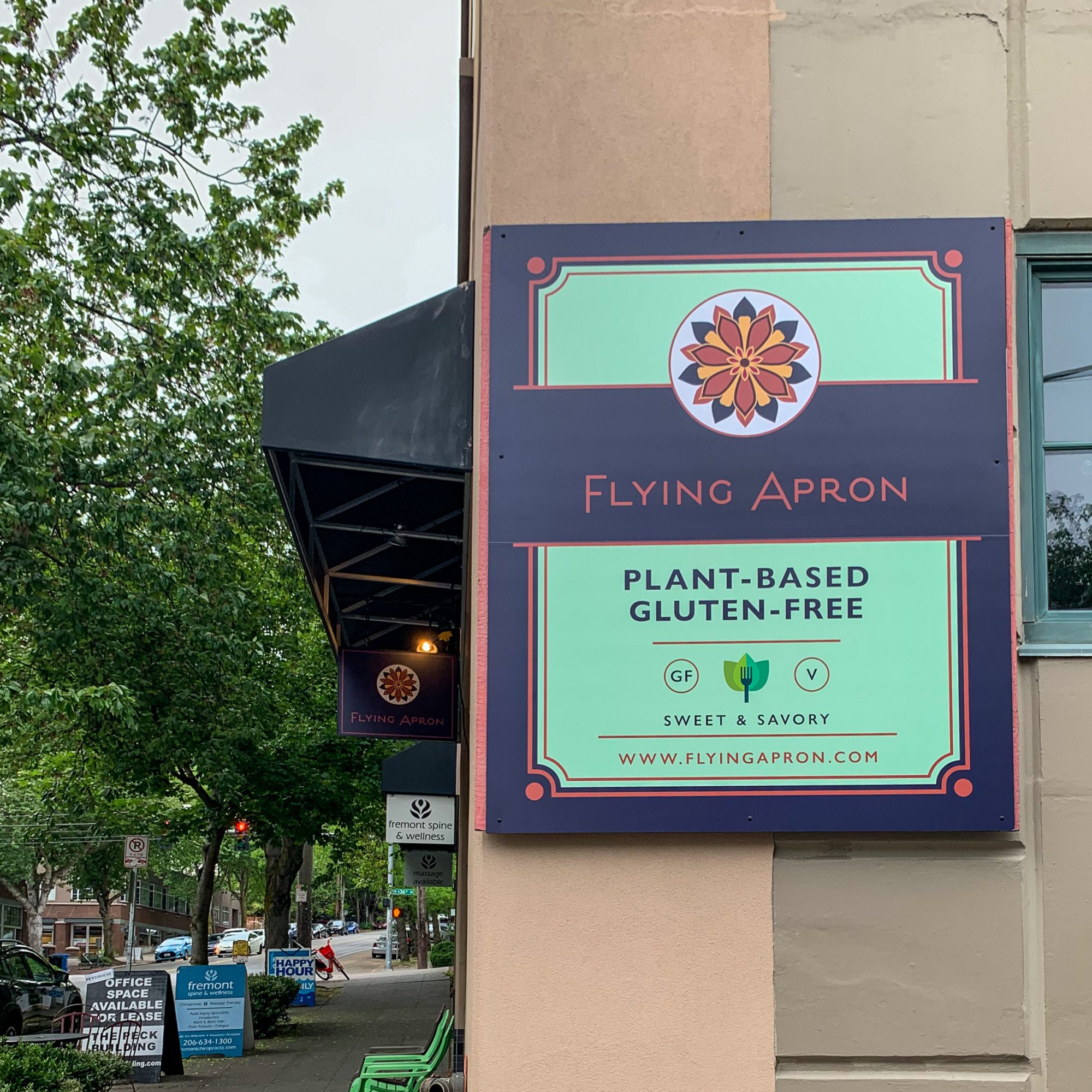 Nuflours: A Newer Player in the Seattle Gluten Free Bakery Scene
Nuflours is another certified gluten free bakery in Seattle. They are also peanut free, which is nice for those with other food allergies.
They have everything from gluten free treats and pastries, to breakfast dishes like toast or quiche, to soups and sandwiches for lunch.
Really a one-stop-shop for those of us craving gluten free baked goods in Seattle!
But the pastries are the real star of the show. You'll find brownies, cookies, and muffins of all kinds, but also eclairs and cream puffs! Stop by on a walk around Capitol Hill, Seattle's most interesting neighborhood, for an afternoon treat.
Or a mid-morning eclair. No judgement here.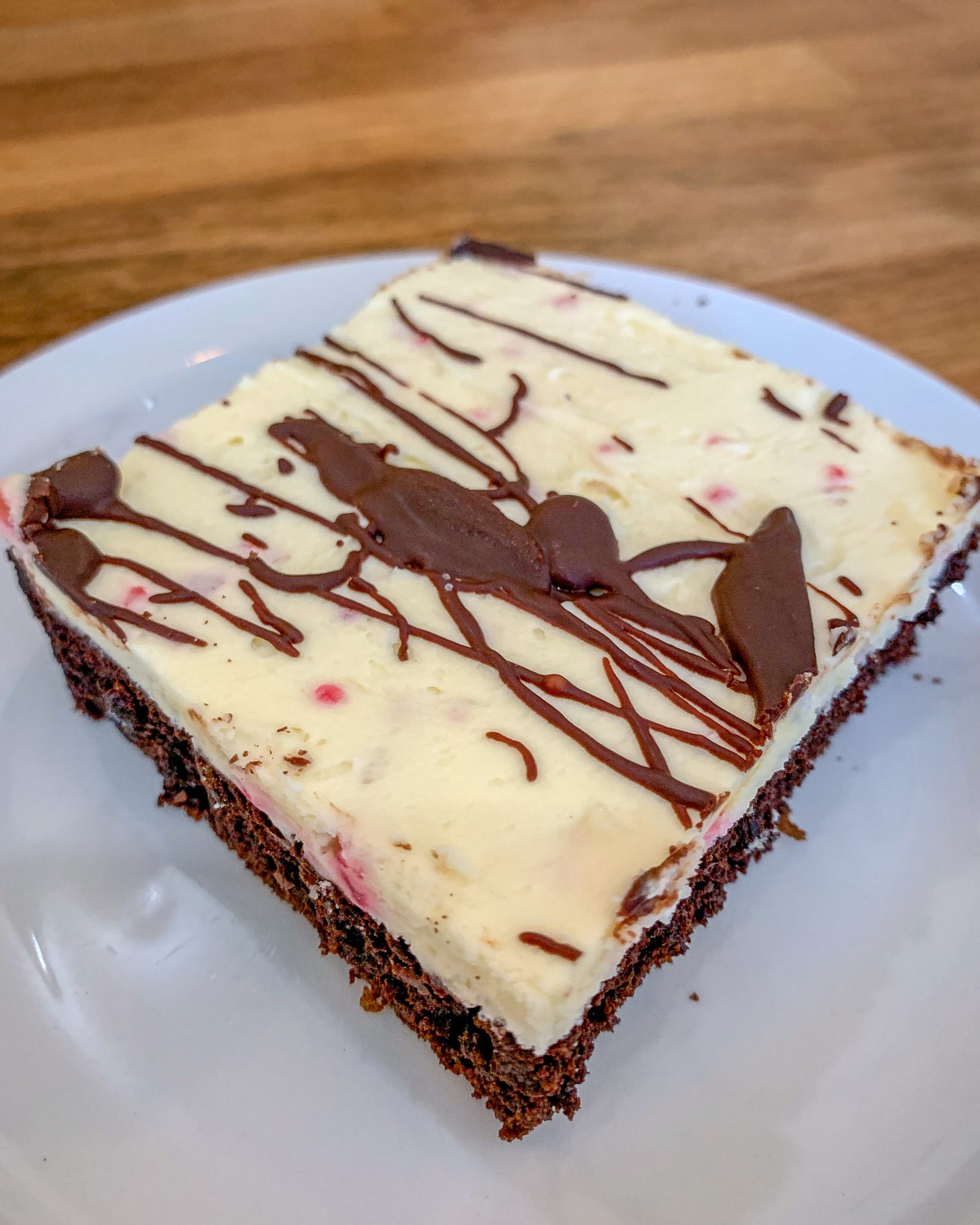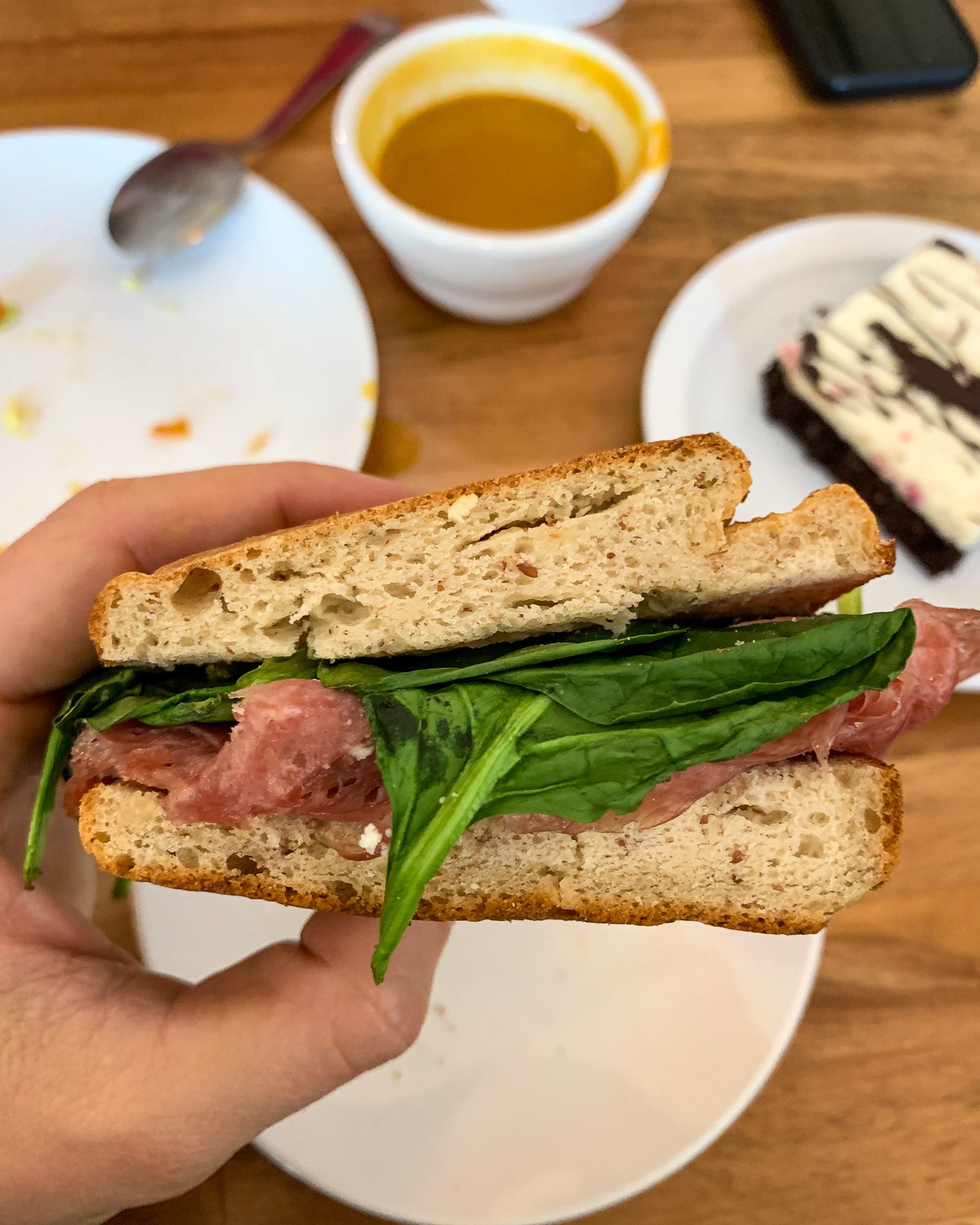 Gluten Free Restaurants in Seattle that are Celiac-Friendly
Here are the other gluten free restaurants in Seattle to add to your list of spots to stop by.
In my experience, these are places that can safely serve Celiacs. This is the part where you're going to have to double check with the restaurant directly. Things change in kitchens all the time.
Razzi's Pizza: Celiac-Safe Gluten Free Pizza in Seattle
I spent my first ~5 years of being diagnosed with celiac disease in Seattle, and Razzi's Pizza was one of the first times I realized that gluten free food can still be delicious.
I was stuck in the rut of eating a lot of quesadillas with corn tortillas, baked chicken and rice, and Rice Chex because they were easy and safe, but not necessarily delicious. I was scared to eat out for fear of getting sick and ruining all of my hard work to heal my intestines.
Then, I met Razzi's.
They were one of the first few gluten free restaurants in Seattle that I ventured out to after my diagnosis. I had heard about them through a friend who also had Celiac Disease, and I wanted to check it out for myself to see what all the fuss was about. Turns out, the fuss was about Celiac-safe gluten free pizza restaurant in the heart of Seattle.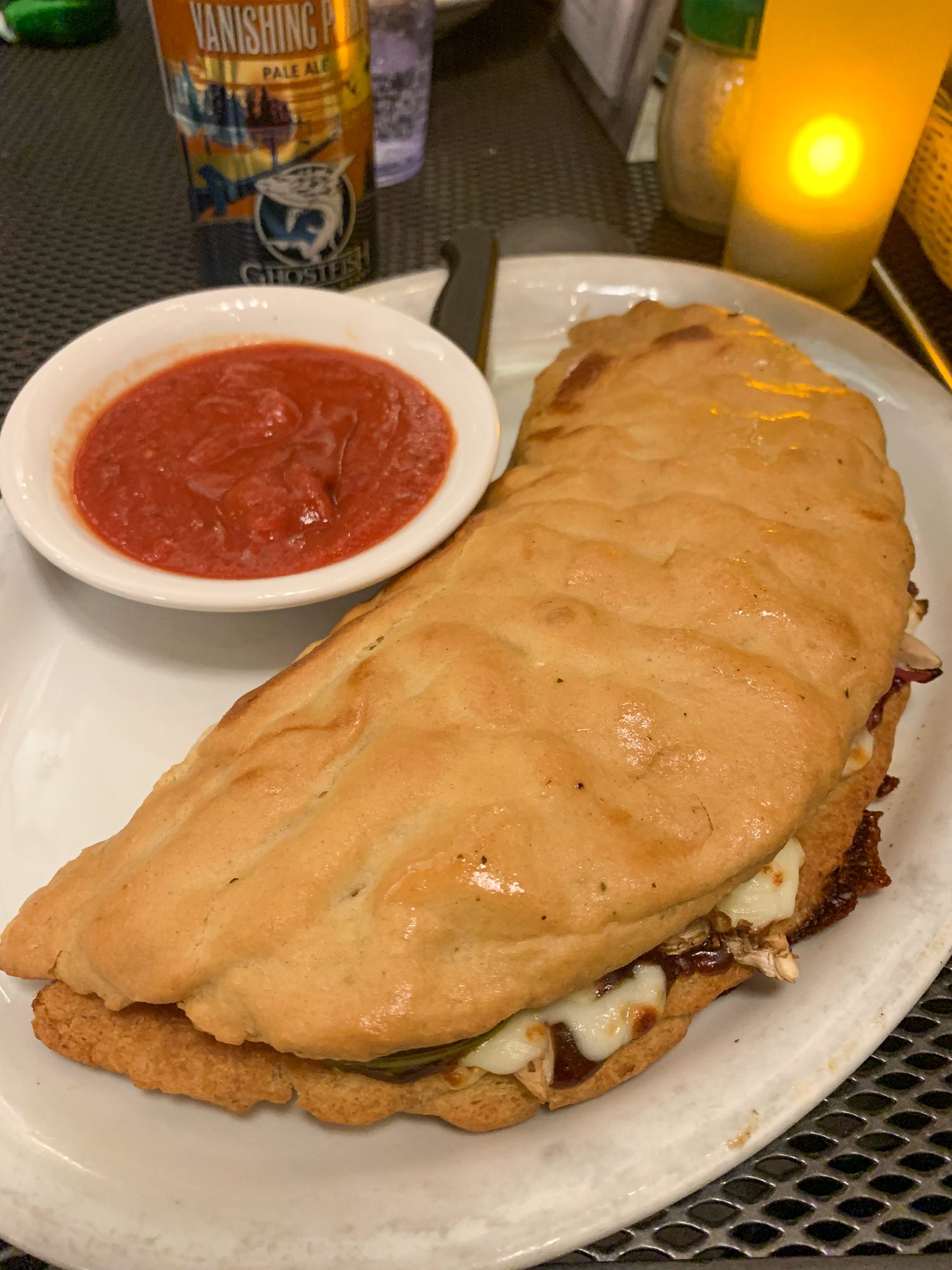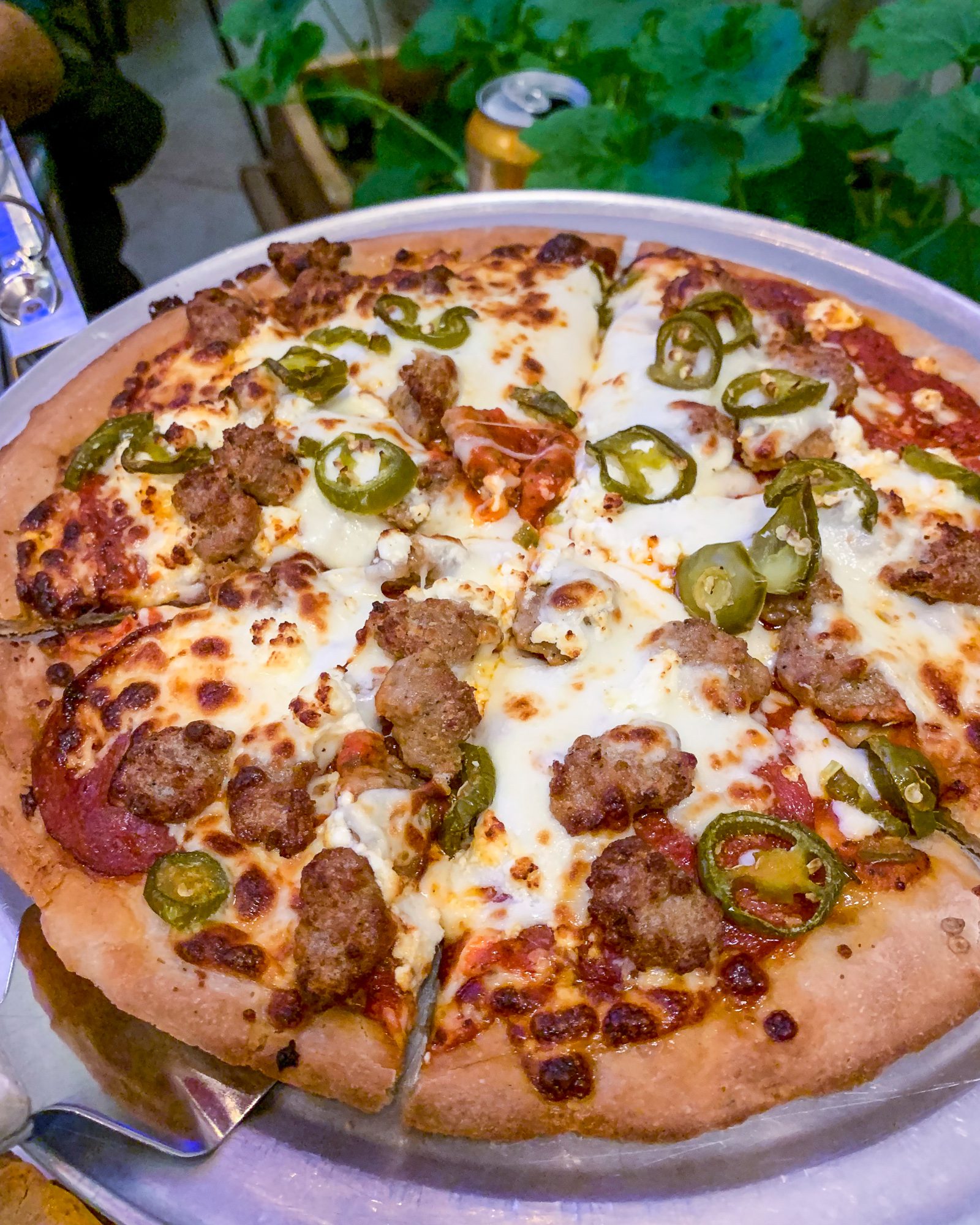 Razzi's Pizza has two locations, one in Downtown Seattle and one in Greenwood, roughly 20 minutes North of Downtown Seattle. They have an extensive gluten free menu complete with gluten free pizza, pasta, and even garlic bread, all prepared in a GFCO-certified gluten free kitchen. What's not to love?
When you get your menu, it should be blue, and have the certified gluten free logo in the top right. They can also accommodate other allergies and food sensitivities, so talk to your server if that's you.
They make all of their gluten free breads and pizza crusts in-house, and you can grab some to take home if you have the room in your bag.
I appreciate their tagline on their gluten free page – "Savor without Sacrifice." All too often, Celiacs like us have to forego delicious food to avoid getting sick. Places like Razzi's make it easy to have your cake and eat it too.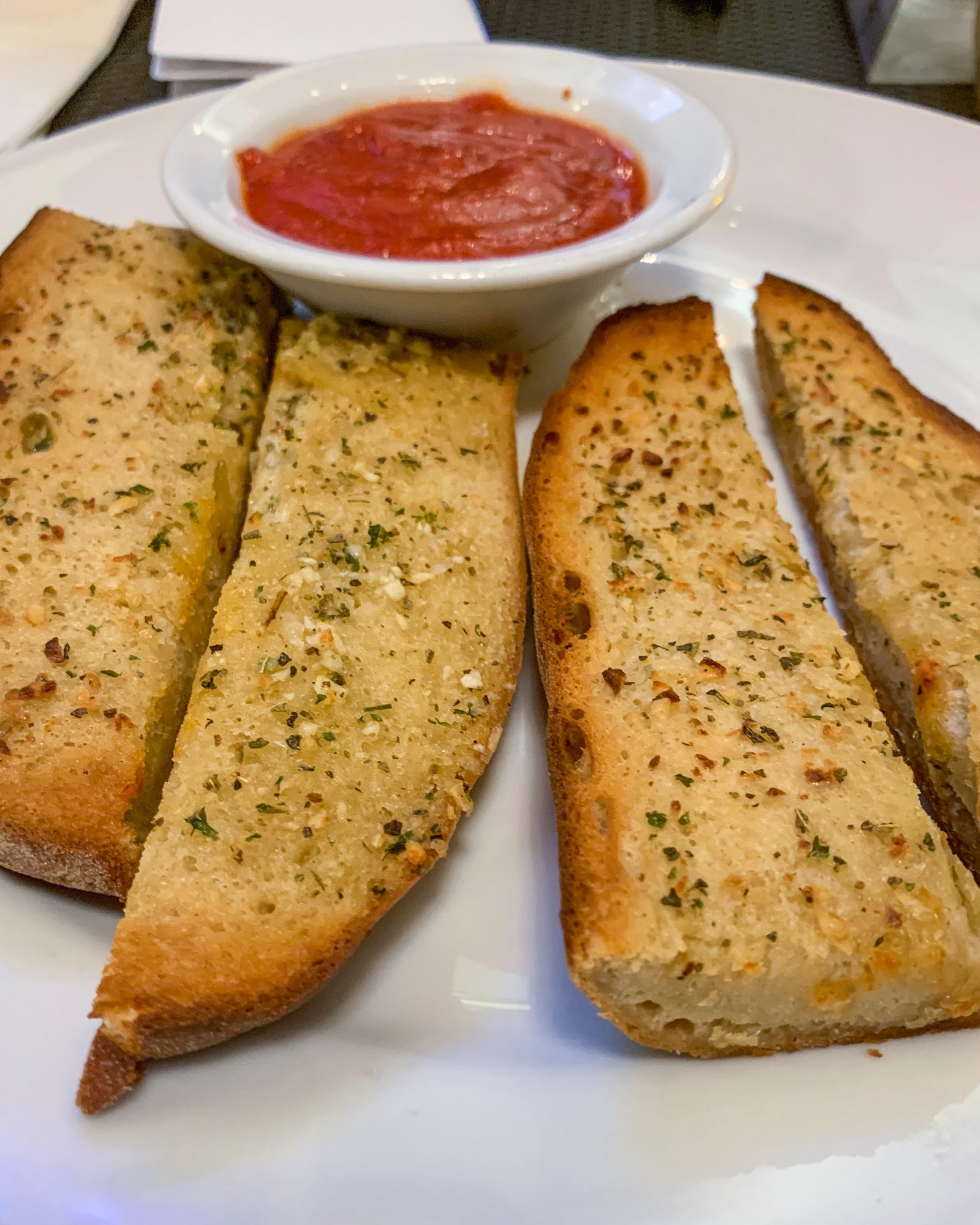 Lola: Gluten Free Mediterranean Restaurant from Famous Seattle Chef Tom Douglas
Tom Douglas is one of the restaurateurs putting Seattle's dining scene on the map. He has a pretty wide variety of restaurants around the city, all of which are fairly safe for celiacs, with the exception of his pizza restaurant Serious Pie.
However, Lola stands out as a clear standout for two reasons.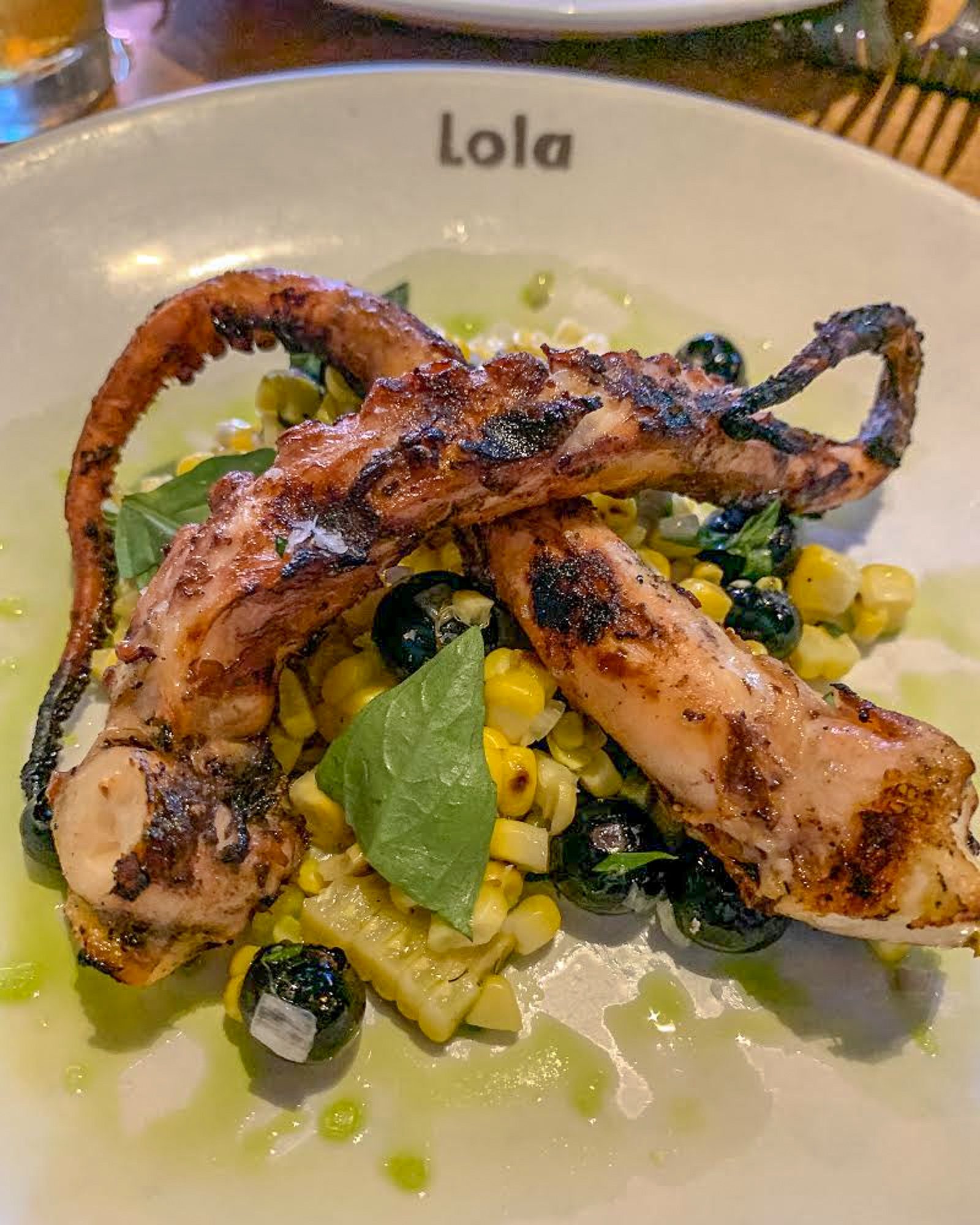 First, the food and drinks are fantastic at both Brunch and Dinner.
For dinner, they have spreads (you can get these with raw veggies instead of pita), kebabs (the haloumi & fig kebabs are to die for), and bigger plates like Lamb and Chicken. The spreads and kebabs are mostly gluten free, and some of the mains either are gluten free or can be modified.
For brunch, they have a variety of gluten free breakfast dishes with a Mediterranean twist – scrambles and omelettes with potatoes (ask about cross-contamination and they will cook them in a separate pan for you!) and the aforementioned kebabs and dips.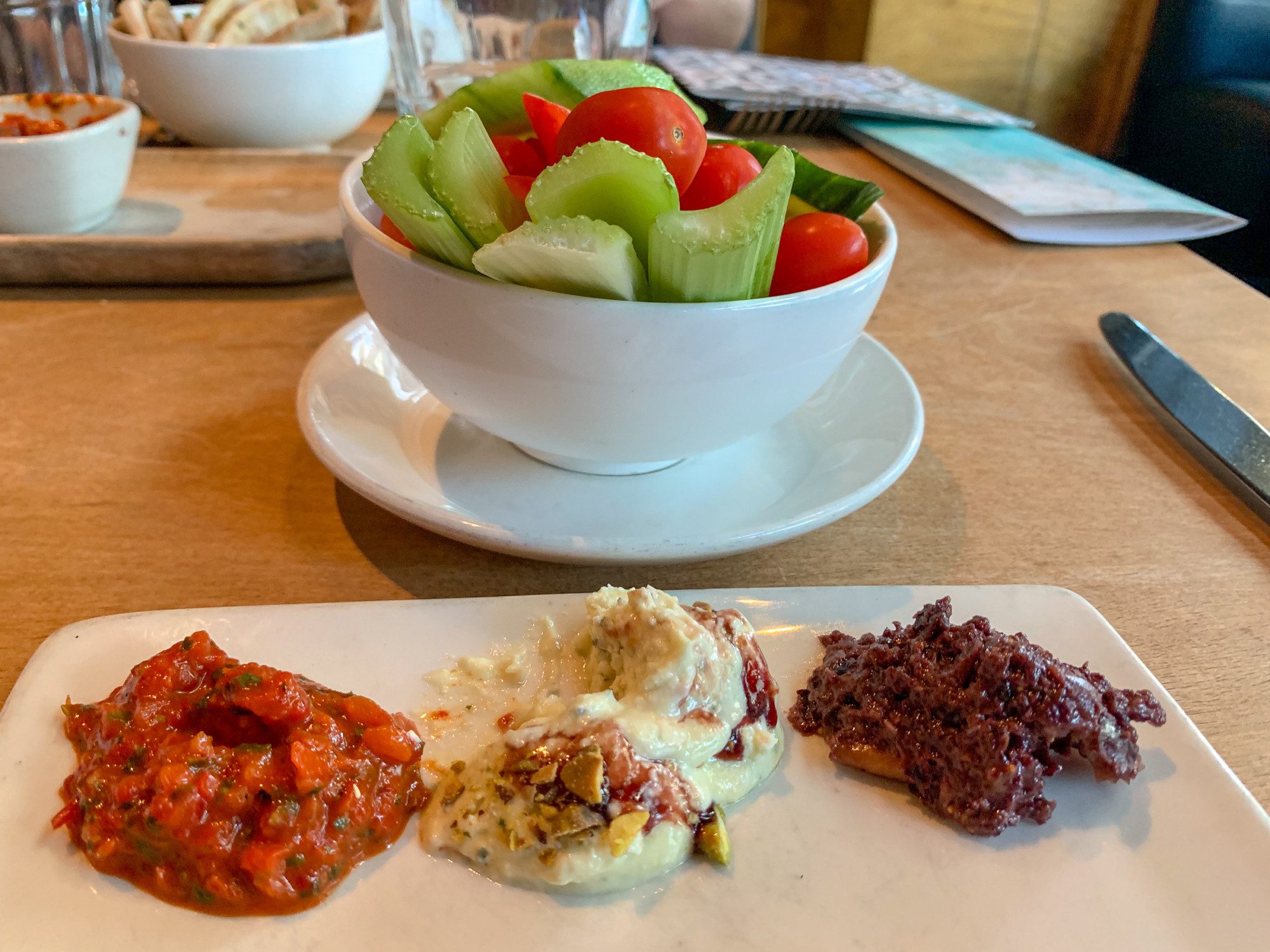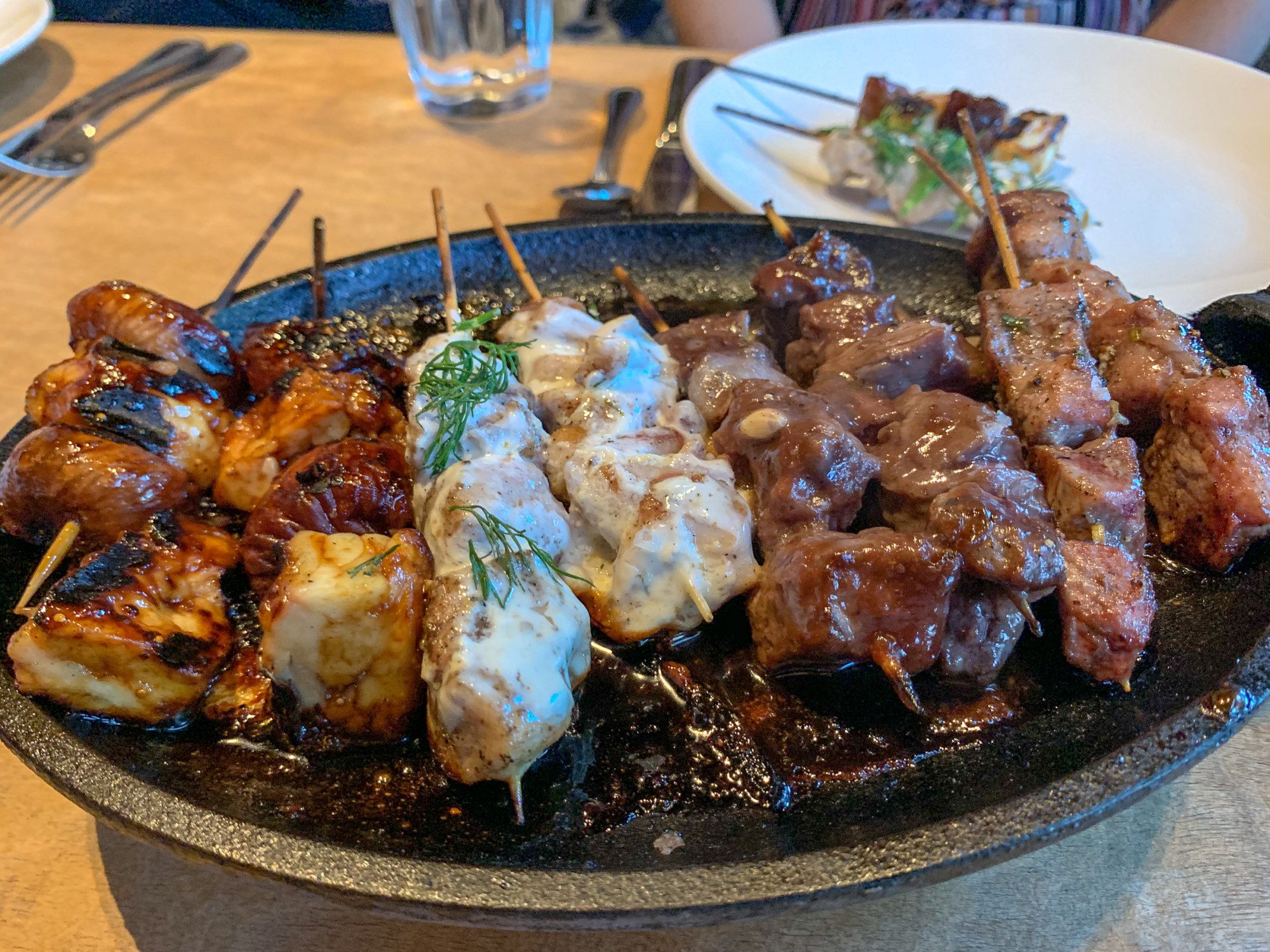 Second, the service is equally good. Every time I've been there the servers have been super friendly and also knowledgeable about celiac disease.
I highly recommend putting Lola on the list of gluten free restaurants for your next trip to Seattle. Make a reservation ahead of time, because it gets packed. For good reason!
Schilling Cider: Lively and Bright Cider Bar in Seattle
Schilling Cider is one of my favorite gluten free ciders, and their Seattle Cider Bar, located in the Fremont neighborhood, is a great place to hang out.
They have 32 rotating cider taps and a huge variety of cans and bottles, featuring a selection of their own ciders like the Grapefruit and Chill (which is phenomenal), and a wide variety of other local ciders. You can check out the cider menu ahead of time and purchase the cans and bottles to go to enjoy later on your trip (grab some cider and do a picnic at Gasworks park!).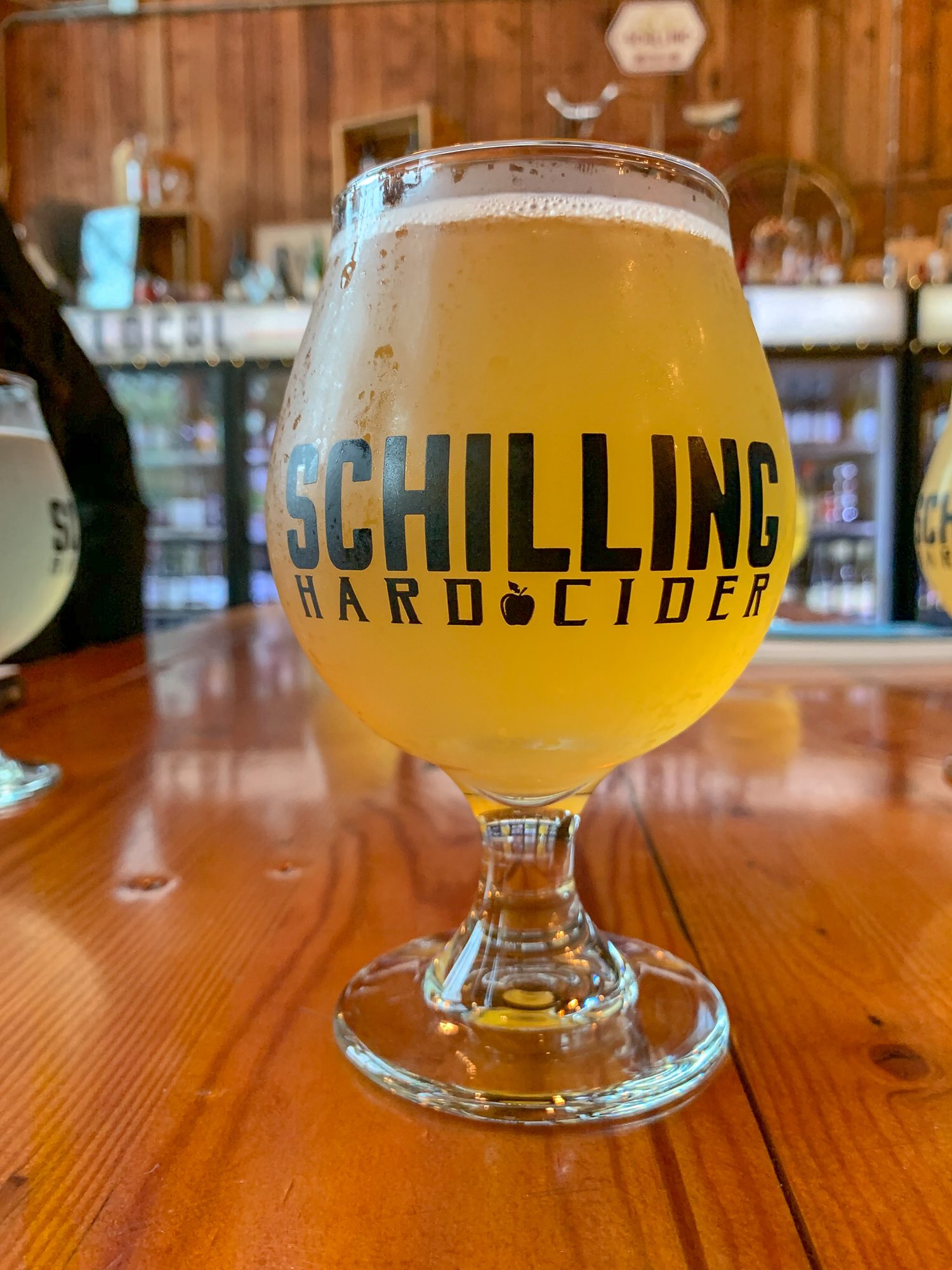 They have a handy color-coded menu so it makes it easy to figure out what ciders you might like based on your preferences around dry and sweet. You can even order a flight and try a bunch, which is what I recommend.
The best part about the Schilling Cider House in Seattle is the fact that they allow you to bring in your own food! That means you should go to either PCC, a local natural grocery store down the street, or Flying Apron, one of the best gluten free bakeries in Seattle, and grab snacks! Maybe a DIY cheese plate with some bread or pastries from Flying Apron? The possibilities are endless!
They also have make-your-own cider classes, which I have yet to try, but I want to sometime soon!
Umi Sake House: Gluten Free Sushi Restaurant in Downtown Seattle!
Gluten free sushi can be surprisingly hard to find. There are a couple of things you need to watch out for, and Umi Sake House does just that.
To be honest, I was never a huge Sushi fan even before diagnosis, but I think it was mostly because I had never had good sushi.
Now, I've had good sushi, but the limitation is more around finding good gluten free sushi. For that, Umi has you covered.
They have great Happy Hour deals, a wide variety of gluten free sake, and they are friendly and knowledgeable about celiac disease. As always, make sure to talk to your server to find what is safe, and sit at the bar if you can to watch the masters at work.
Umi is in Belltown, which is centrally located and convenient if you're staying in Downtown Seattle.
Ester's Enoteca: Celiac-friendly Food in Fremont
Ester's Enoteca is a new discovery for me, although it was recommended to me literally years ago.
And it might just be my new favorite gluten free Seattle restaurant.
It's in a fantastic neighborhood – steps away from Schilling Cider and Milstead & Co in Seattle's Fremont neighborhood – and a few blocks away from the Miir flagship store & coffee shop, which is my favorite brand of reusable water bottles and coffee cups (SAVE THE PLANET!).
The food at Ester's is amazing. They have a dedicated fryer, dedicated panini press, and use dedicated pots, pans, and utensils to make the gluten free pasta. In other words, they get it.
I'd recommend getting basically every single small plate to share – the two crowd favorites (from my non-Celiac family) were the Arancini and the Chickpea Cauliflower Fritters. They also have great paninis – get the jerked jackfruit, even if you're not vegetarian.
There is an upcharge for gluten free bread, which is a bummer to see, but the pros here FAR outweigh that single con.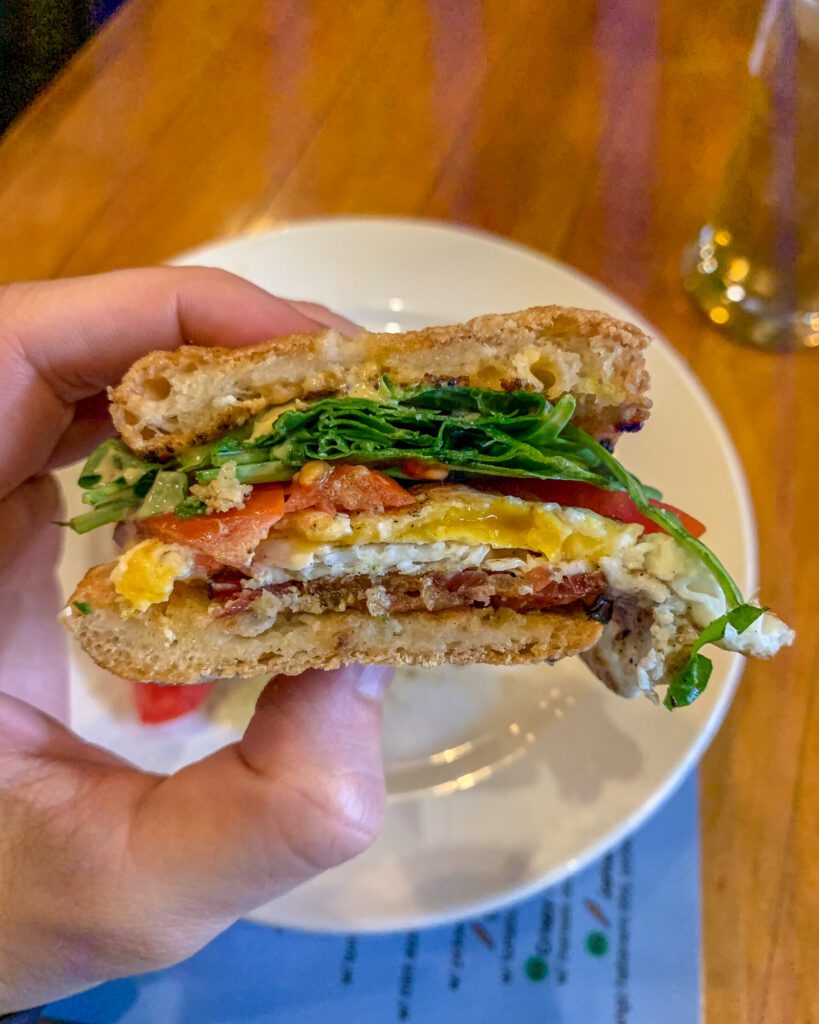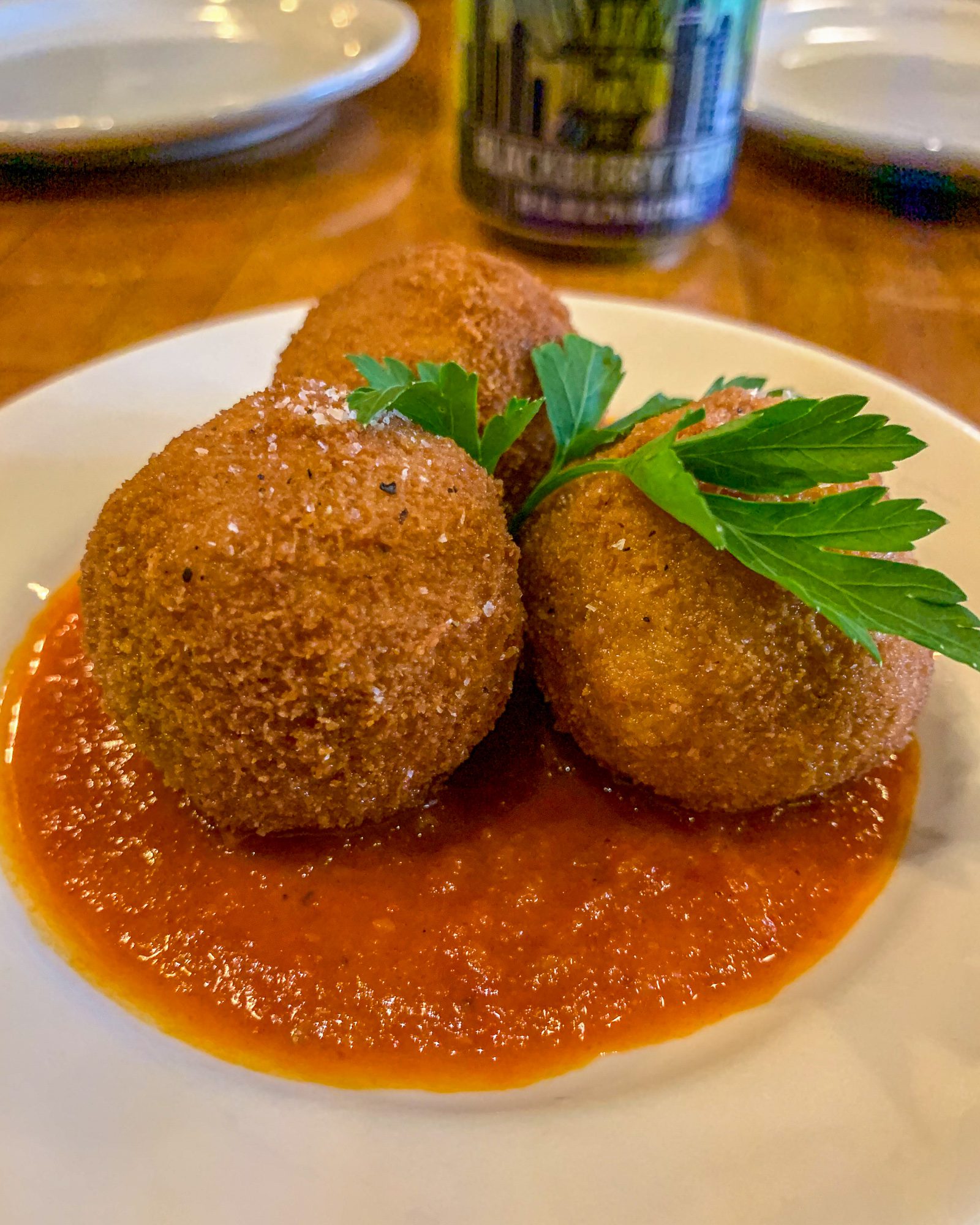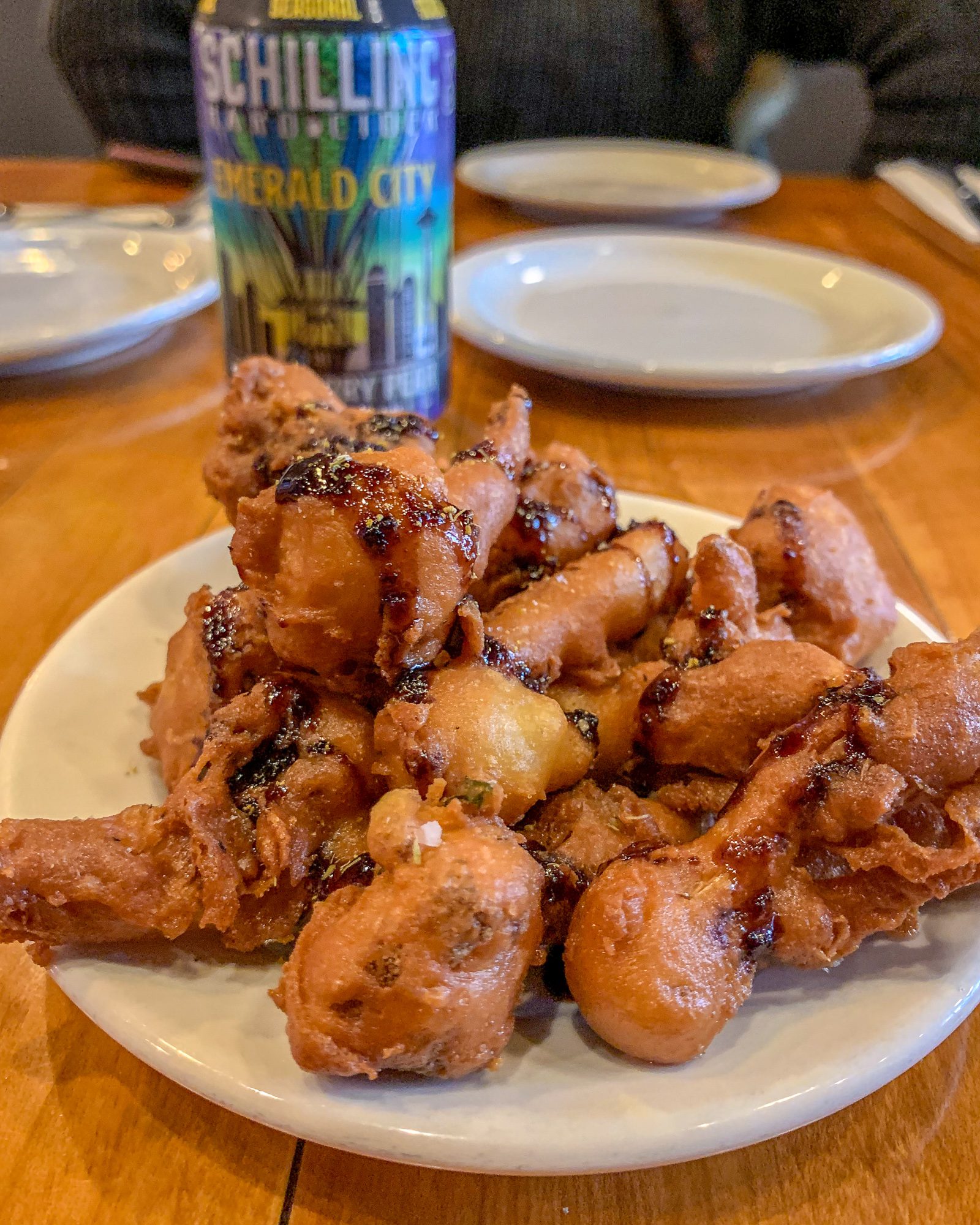 Molly Moon's: Gluten Free Ice Cream with Locations Across Seattle
Molly Moon's has been expanding their Seattle Ice Cream empire for years now, and have locations across the city and even in the suburbs. It is well worth a stop for some gluten free dessert after a day of exploring Seattle. Or before. Or during. Or all three! No judgement here, we've all been there.
They are really good about allergies, and most of their ice cream is gluten free. They rotate through seasonal flavors often, so make sure you ask about their current flavor lineup. The biggest concern is cross-contamination with the cones and flavors that aren't gluten free.
Update November 2019: I talked to an employee extensively on my latest trip, and she walked me through their production process. The ice cream that is labeled gluten free is made on separate equipment from the ice cream that contains gluten. And if you're worried about cross-contamination with the cones, they'll happily grab a scoop from a tub in the back with a new scooper. What a pleasant surprise – the service is just as fantastic as the ice cream.
More Gluten Free (and Dairy Free) Ice Cream in Seattle: Frankie and Jo's
Frankie and Jo's Ice Cream makes dairy-free, gluten free ice cream made from a cashew & coconut base and sweetened with dates.
It is a dedicated, 100% gluten free facility, so cross contamination isn't an issue like it is at a lot of other ice cream shops!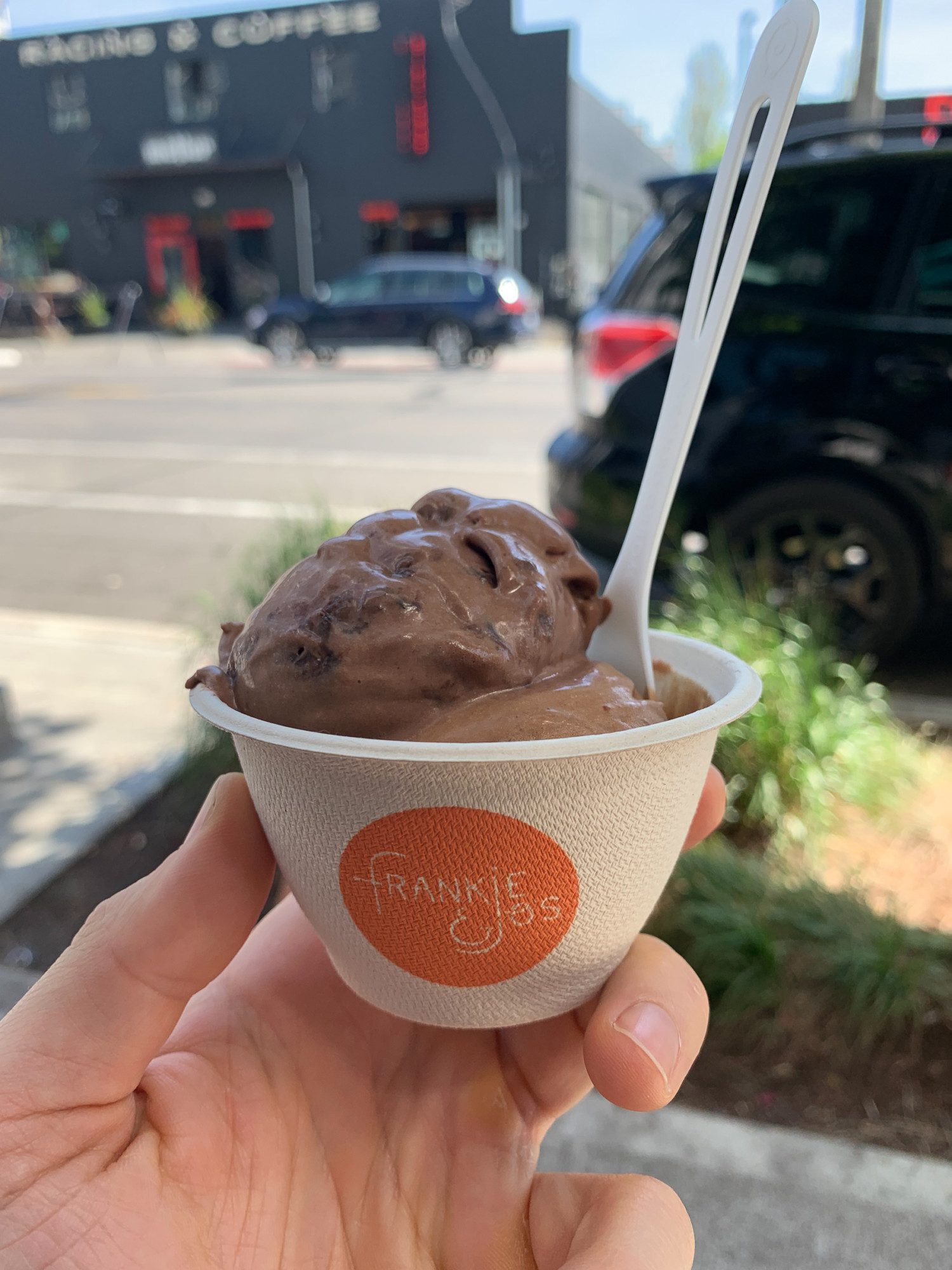 They have locations in both Capitol Hill and Ballard, which also happen to be two of my favorite neighborhoods in Seattle. If you find yourself in either of those areas, which you really should, stop at Frankie and Jo's and support what they're doing.
One important note: some of their cookies and brownies and their waffle cones are made using Bob's Red Mill gluten free oat flour – which is not 100% purity protocol oats. Celiacs should avoid. However, the ingredients for all flavors are posted everywhere, so you can make an informed decision.
Other Celiac-Safe Gluten Free Restaurants
Noi Thai Cuisine: Nice Thai restaurant in Downtown Seattle near the Seattle Art Museum with a clearly marked menu with plenty of gluten free options. All of the curries are gluten free – Thai curries are usually one of my go-to orders at a Thai restaurant.
La Cocina Oaxaqueña: Oaxacan food, which is one of my favorites, with plenty of options for Celiacs, and a dedicated fryer for chips (at least my last time checking – always double check!). Great happy hour, from 4-6pm everyday, and 10pm-12am M-Sat.
Bok a Bok: Gluten free fried chicken with a dedicated fryer! They don't fry anything with gluten in the fryer, although a few of the non-fried wings (dry wings) are not gluten free. You can see the allergen menu here. They have locations around the city – in Capitol Hill and the U District.
Bounty Kitchen: The perfect spot for a gluten free breakfast or brunch in Seattle. You can find them either in Belltown or Queen Anne, and the menu is clearly marked, with "GF" for the gluten free options. However, you'll still need to let your server know about your situation.
Bamboo Sushi: When a place has a menu that has to mark what DOES contain gluten (rather than what is gluten free), it's usually a good sign. They are masters in sustainability, going so far as to create a quarterly impact report talking about the environmental impact they're making, which is unusual for a restaurant. Their menu is marked for what comes from sustainable sources, and what doesn't. I appreciate the transparency. Their happy hour deals, served weekdays from 3-6pm, are a STEAL.
Bitterroot BBQ: Great BBQ, and knowledgeable staff who can immediately tell you what is safe and what is not. Even the cornbread is gluten free! Avoid everything fried, as they don't have a dedicated fryer. All meats except hot links and catfish are gluten free, and all sides except for fries and black eyed peas are also safe.
Morefire: Hot pot, with a clearly marked menu with plenty of gluten free option.
Zouave Restaurant: Celiac-friendly Italian food, including gnocchi? Sounds great. I've never been here, unfortunately, but will be checking it out soon.
Tulio Ristorante: Nice Italian place with gluten free pasta and a good cross-contamination protocol to minimize risk.
Juicy Cafe: Build-your-own-bowl or salad, where most of the menu is gluten free.
Gluten Free Restaurants Outside Seattle Safe For Celiacs
Asiana Bistro (Redmond): Gluten Free Teriyaki! Owner is a fellow celiac.
Revolve Food and Wine (Bothell): Dedicated Gluten Free restaurant, perfect for dinner and drinks after a day of wine tasting in Woodinville (don't miss Locust Cider)! Great small plates and Happy Hour deals.
Sages Restaurant (Redmond): Great food, a separate gluten free menu, and solid cross-contamination protocol that means they cook gluten free meals in a clean pan. What more do you need?
The Best Coffee Shops in Seattle
Seattle is the world capitol of coffee thanks to the global conglomerate with the Siren logo. I will say that I take out of town visitors to the Starbucks Reserve Roastery on Capitol Hill because it's a super cool space and experience, and they do some interesting things like cold brew cocktails. But for the best coffee, you should head a few steps up the street to Victrola.
Update for 2021: I wrote a guide to the best coffee in Seattle! We went to 16 different coffee shops and tasted their brewed coffee and cappuccino to choose our 12 favorites.
La Marzocco Cafe (Queen Anne / Space Needle): Located in the shadow of the Space Needle, this place is part La Marzocco (the really expensive espresso machines) showroom, and part coffee shop with rotating coffee roasters. If you love coffee, it's pretty much a must-stop. It also happens to be a beautiful open space.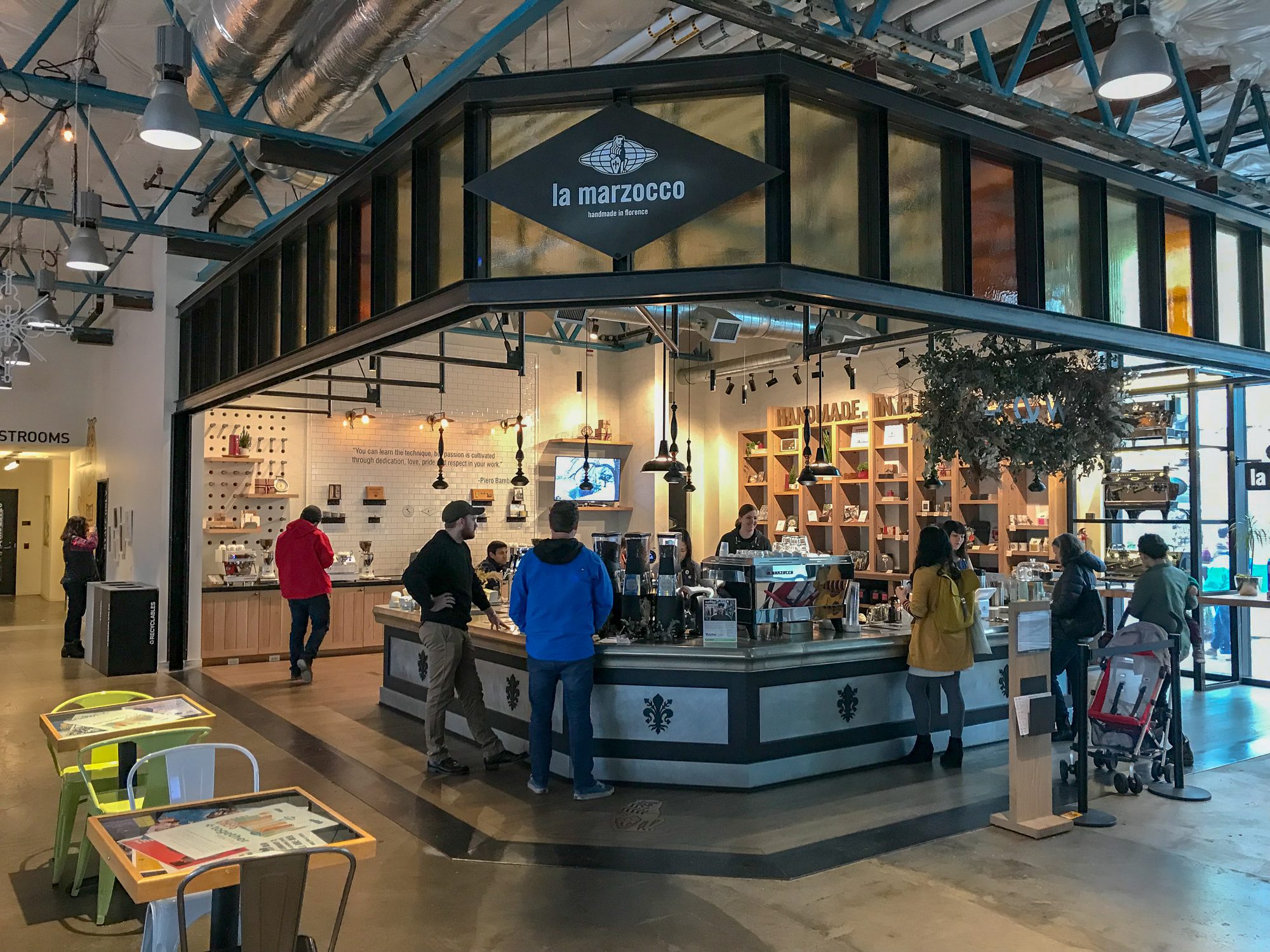 Victrola Coffee Roasters (Capitol Hill): This is my favorite coffee roaster in Seattle. They have a lovely shop in the heart of Capitol Hill, serving up the usual third wave coffee offerings from pour over to lattes with pretty art. Their holiday blend around Christmas is outstanding, as are most of their single origin roasts that they sell at the cafe.
Olympia Coffee Company (West Seattle): Hot on Victrola's heels for the title of "Matt's favorite Seattle coffee roaster" is Olympia Coffee, who is based in Olympia about 2 hours south of Seattle, but opened up this small, charming space a few years ago. Their natural Ethiopia coffee is fantastic, and they make all of their syrups in house and they are gluten free last time I checked. It's a few blocks away from Flying Apron's West Seattle location, so I suggest you do both in one trip to West Seattle.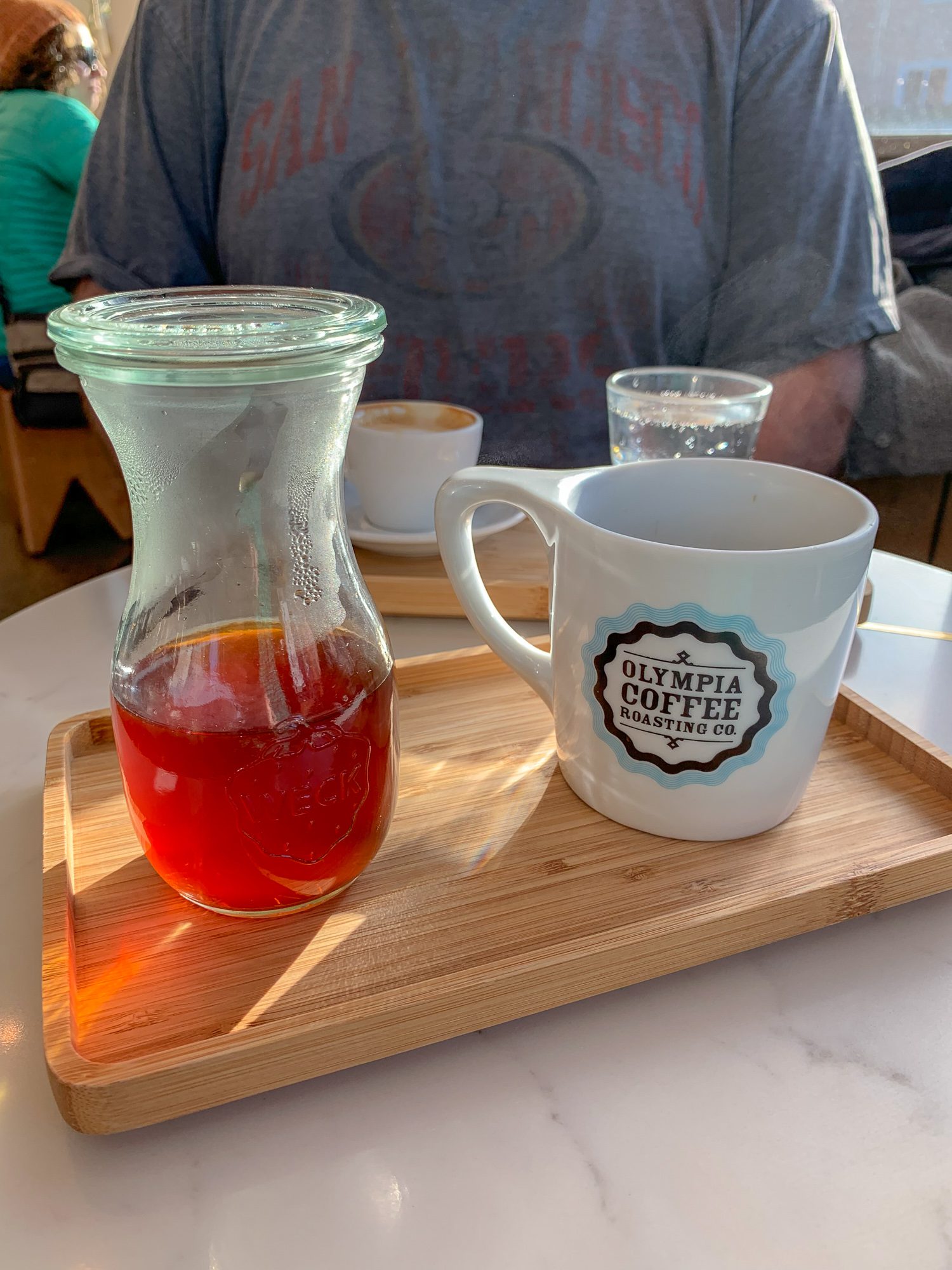 Milstead & Co (Fremont): If you're more in the mood for some flavored milk-based drinks (which may or may not be gluten free, I usually drink my coffee black) and some good cafe vibes, head to this space in Fremont. That being said, they rotate local roasters and offer things like Aeropress and V60 pour over, so there's something for everyone. I love going here because the space is so open and bright thanks to the floor-to-ceiling windows.
Espresso Vivace (Capitol Hill): This is the mecca of Seattle's coffee scene. They literally started latte art. Cool old-school vibes at their standing bar. Get the Cafe Nico – a double shot of espresso, vanilla, orange, and steamed half-and-half.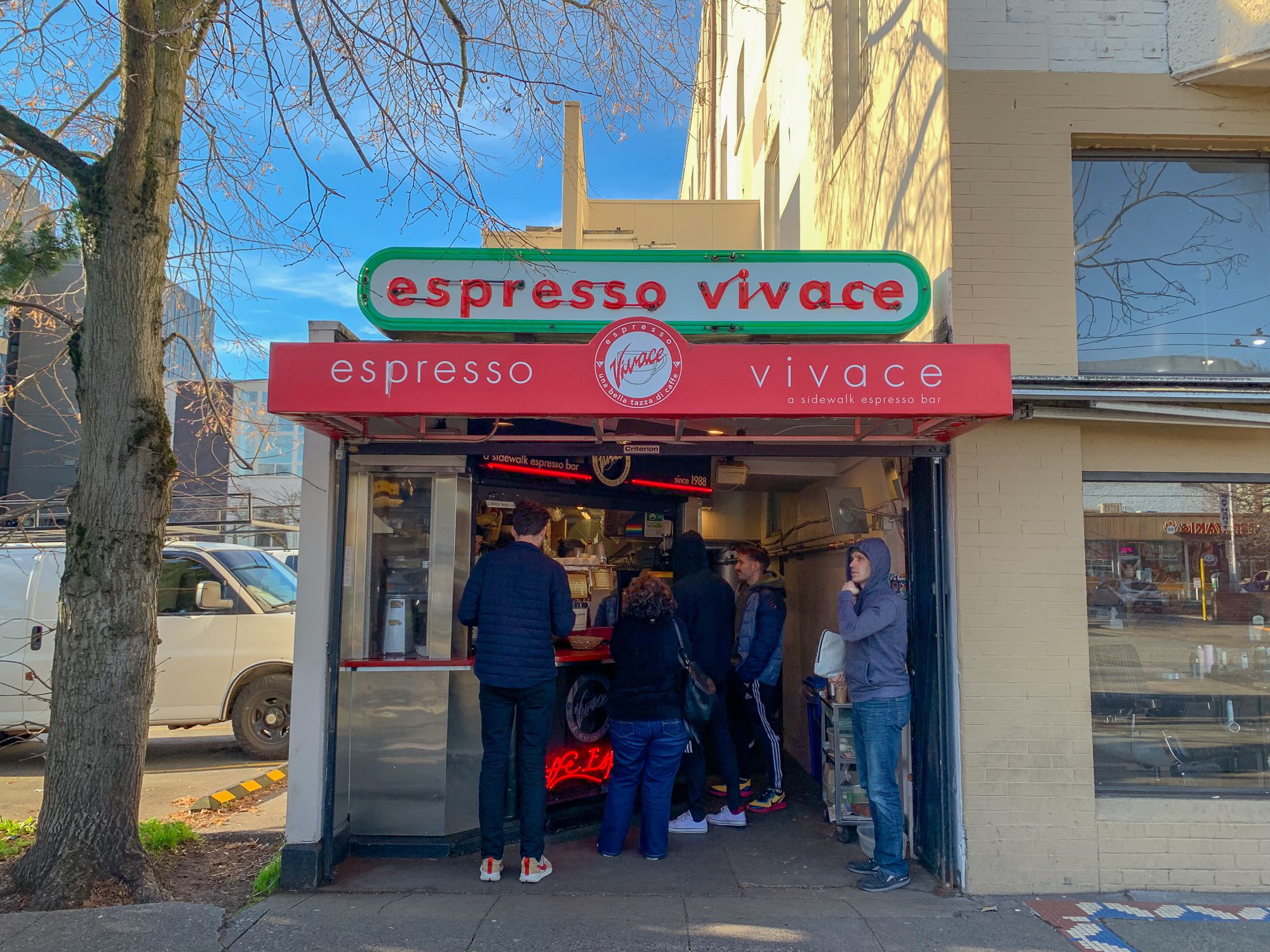 ---
You're going to have an amazing time in Seattle. There are so many good gluten free options, and there are only a handful of other cities that are as good for Celiacs as Seattle is.
Definitely don't miss Ghostfish and Capitol Cider – when was the last time you had gluten free fish and chips? And a cinnamon roll at Flying Apron is probably a must too, while you're at it.
Looking for other Gluten Free Travel Guides for North America?
I've got you covered!
I'm based in San Francisco, and have a guide to Gluten Free San Francisco, complete with things to do inside the city and in the broader Bay Area.