2 Days in Berlin: A Guide to the Perfect Weekend in Berlin
Let's get this out of the way up front – 2 days in Berlin certainly isn't a whole lot of time to explore what is, in my book, one of the most interesting cities in Europe.  
This guide is meant to give you an idea of what to do in Berlin in two days to get the most out of your trip. You'll find a mix of touristy activities, fantastic museums, and some time devoted to exploring local neighborhoods on foot so that you can get a well rounded picture of Berlin. 
Because if you spend your entire 2 days in Berlin doing just one of those things, like exploring Alexanderplatz, it would be a profound mistake. You'd miss out on the diversity of cultures, food, and people that make Berlin special.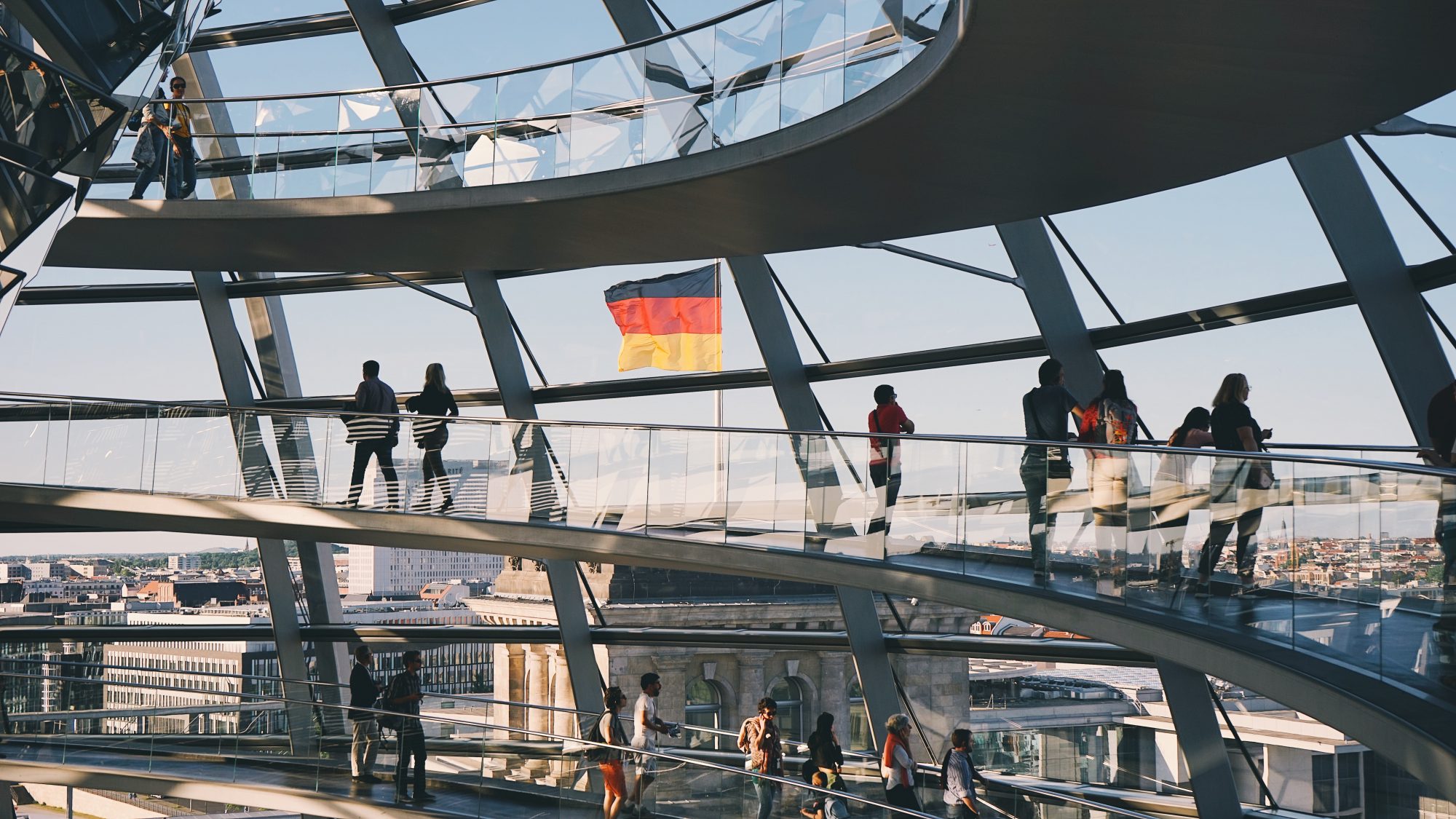 Disclaimer: Some of the links in this post are affiliate links, meaning at no additional cost to you, I make a little bit of money if you click through and book. That being said, I would never recommend something to you that I don't stand behind 100%.
Where to Stay for 2 Days in Berlin
There are three neighborhoods I'd recommend staying in while you're in Berlin.
First is Prenzlauer Berg – this is my #1 recommendation for where to stay in Berlin. The reason I love Prenzlauer Berg is simple – it feels like you're a local. Walking down the Paris-like wide streets, lined with apartment buildings that feature first floor shops, you'll walk by young families and students going about their day. It also happens to have some of the best food and coffee in the city.
Second is Charlottenburg, which is the perfect place to stay for families. Or if you want somewhere quiet and peaceful. It's a very pretty part of Berlin with great architecture, and it's close to the Tiergarten and Berlin Zoo (zoos are for adults too, okay?!).
Last, but certainly not least, is Friedrichshain, which is the spot for you if you're on a tight budget, or if you're looking for the best nightlife in Berlin. Which often go hand in hand.
Want a deeper dive on where to stay in Berlin? I've got a guide to the best places to stay in Berlin with three of my favorite neighborhoods, and places to stay in each.
Circus Hostel, Hotel, and Apartments
I loved the Circus Hostel, which is where I stayed for my trip to Berlin.
They have bunks and private rooms that are clean and relatively quiet. The reason I really like it is that it perfectly merges the value and affordability of a hostel with the cleanliness and comfort that comes with a hotel.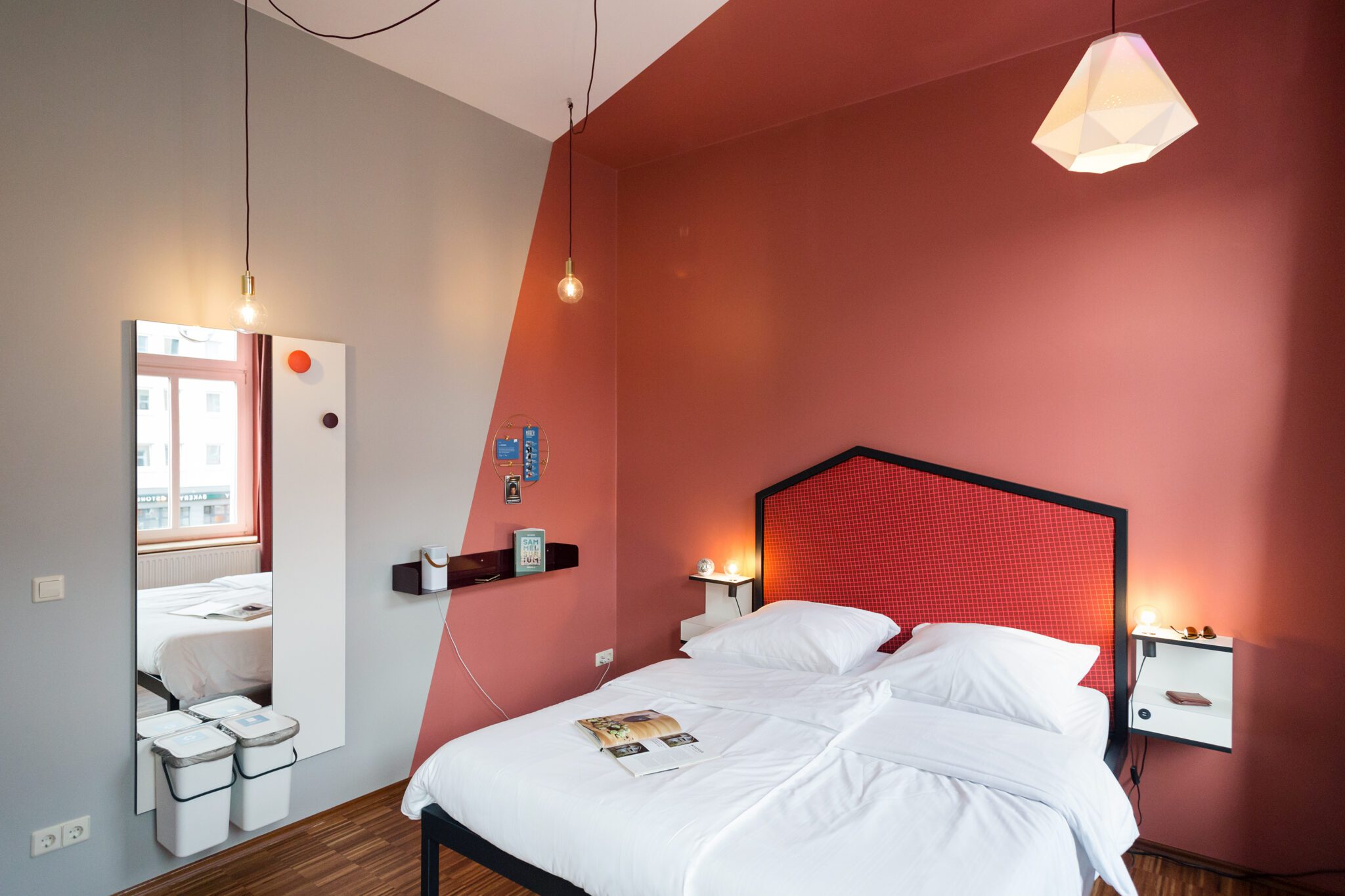 Not into hostels? They also have the Circus Hotel and Circus Apartments for you depending on what level of accommodation you're looking for.
2 Days in Berlin: A Perfect Weekend in Berlin for First Time Visitors
One of the best parts about Berlin is that there is something for everyone. World-class museums and a deep and fascinating historical context? Check. Insane nightlife? Yep. Interesting, walkable neighborhoods? Of course!
My travel style focuses on exploring the best parts of a city on foot. That means a lot of walking, so make sure you've got your comfy shoes packed. You're going to be doing a lot of walking during your 2 days in Berlin.
In this 2 day Berlin Itinerary, you'll explore:
Berlin's iconic sights, like the Tiergarten, the Brandenburg Gate, and Museum Island
Two of Berlin's best neighborhoods – Kreuzberg and Neukölln
The best coffee, bars, and more in Berlin
Day 1 Of Your 2 Day Berlin Itinerary: Sightseeing Day!
A lot of the major tourist attractions are grouped close together, making it easy for people short on time to see the major sights. And that's exactly what you should do on your first of two days in Berlin.
Make sure you leave plenty of time to visit the cafes and gluten free bakeries around the city, because after all, it's not about what to do in Berlin in 2 days as much as what to eat and drink in Berlin in 2 days!
For recommendations on where to eat and drink in Berlin, check out the sections at the bottom of this post.
Walking Tours in Berlin
I almost always start a trip to a new city with a walking tour to get myself oriented and get some tips from the local guide on where to go, what to see, and how to get slightly off the beaten path. After all, the best way to explore a city is on foot.
In Berlin, you'll find a wide variety of walking tours depending on what you're interested in.
For an overview of the city, I recommend the Discover Berlin half day tour. Get on the 10:30am tour and spend 4 hours essentially covering the first half of my itinerary below, but with a guide who has intimate knowledge of the city and its history.
An alternative would be to do the 6 hour Berlin by Bike tour, where you'll see most of the spots on day one of this 2 day Berlin itinerary, but on a bike. With a local expert guide.
Here are some more niche tours that you might be interested in:
Morning: The Iconic Sights in Berlin
Day 1 is going to be all about playing tourist – on day 2, we'll get a little bit deeper into Berlin and see some of the best neighborhoods, and do some self-guided exploring.
Brandenburg Gate
Start at the Brandenburg Gate which has seen a lot of the history of Berlin. It's an obvious first stop on your 2 days in Berlin.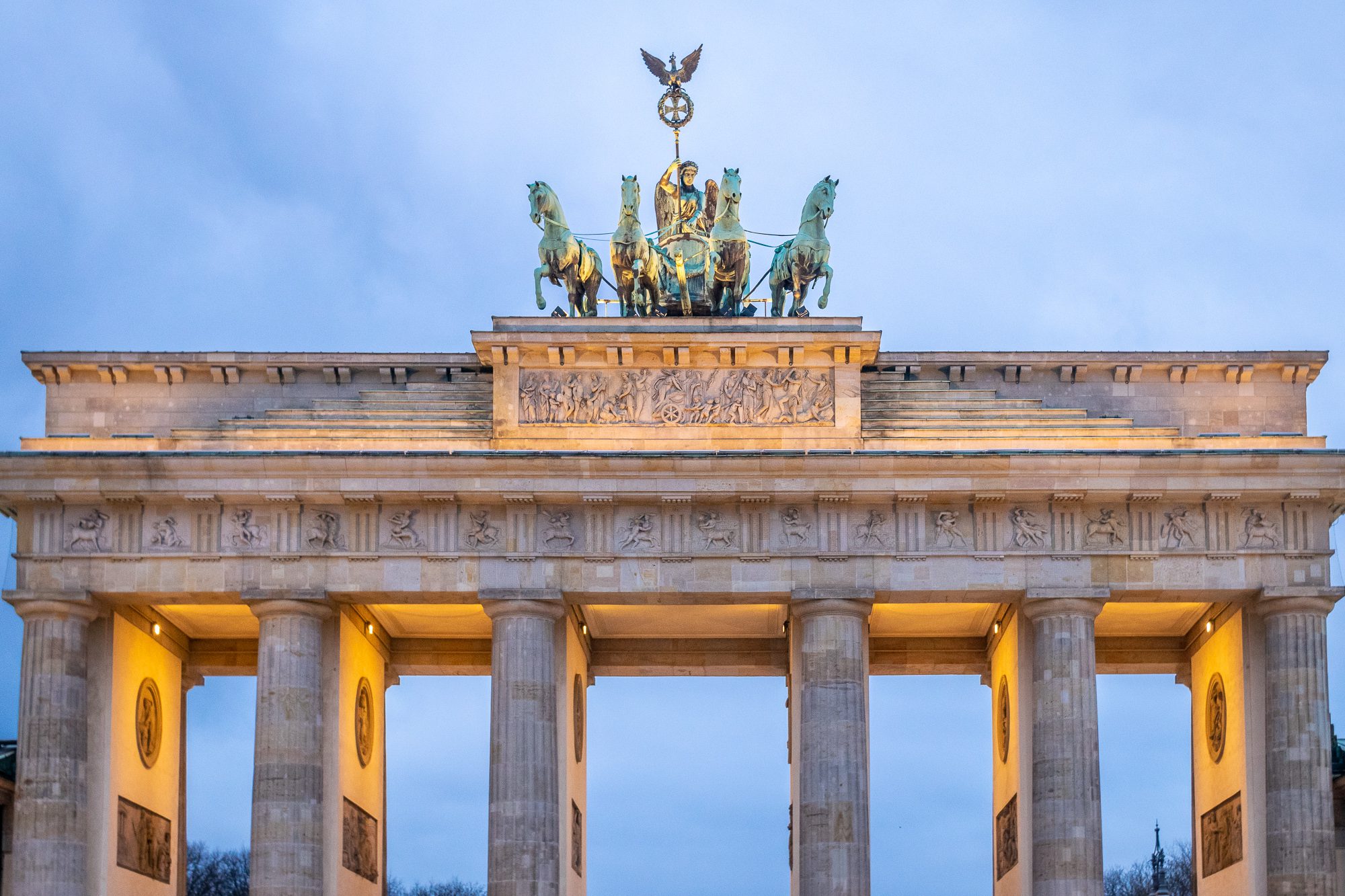 Historically, it used to attract visitors who would climb the viewing platform to look over into the East Side of Berlin to get a glimpse of the world that lay beyond the Iron Curtain.
Today bricks still run around the city to mark where the wall once stood and in some places portions of the wall remain standing.
The Holocaust Memorial
Just south of the Gate is the Memorial to the Murdered Jews of Europe which draws the eye with its 2,711 grey concrete blocks arranged in undulating waves. The Information Center contains information about the individuals and families that died during World War 2, and compliments the abstract nature of the memorial.
The abstract nature of the memorial makes for an introspective experience. Wandering between the blocks, wondering what they mean, and thinking about what they represent. I like to think that's the whole point – the abstractness is meant to get you thinking.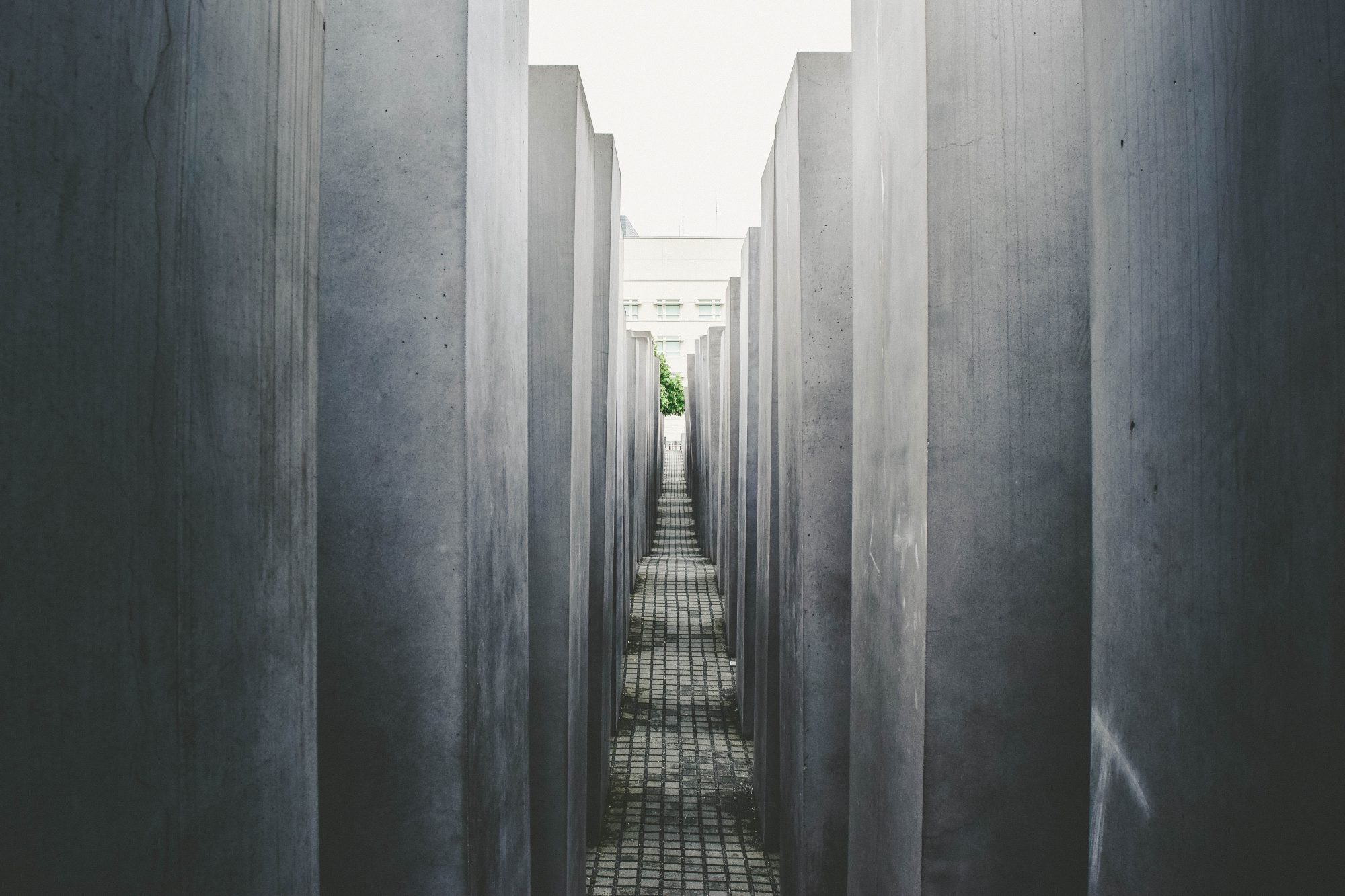 The Reichstag Dome
The Reichstag in Berlin is your next stop, and it is one of the most important historical landmarks in Berlin. It's considered a symbol of democracy and an important art venue. There are both permanent and changing exhibitions which are free to visit. 
Entrance to the Reichstag and the dome are free but visitors to the dome and roof terrace need to be registered in advance. You can do that here. This can be done online up to 2 hours before your visit, but it often fills up. It is definitely worth heading up to the dome for panoramic views of the cities and a birds eye view of the proceedings in the debating room below. Don't miss the audio guide.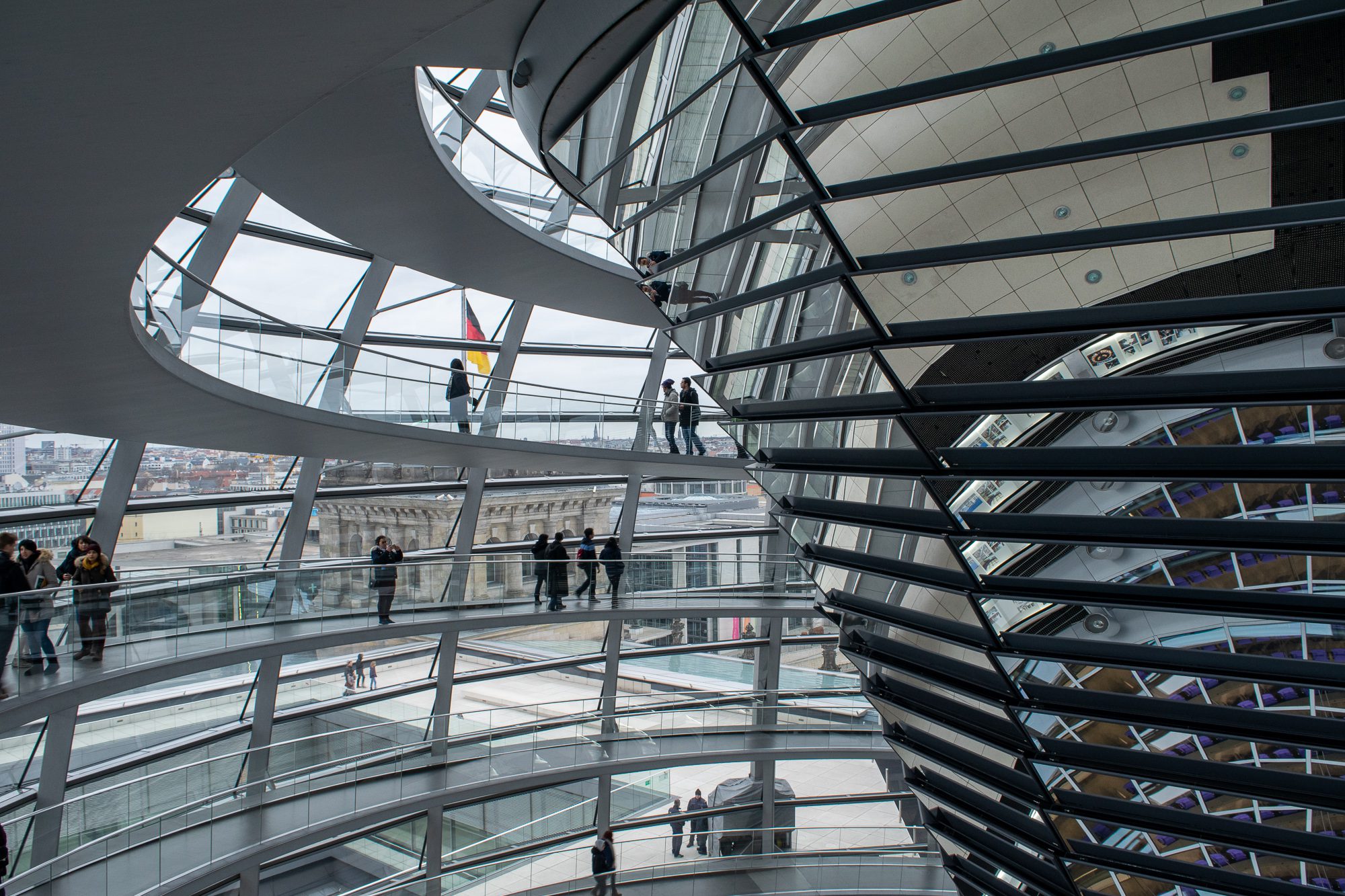 The Tiergarten
The Tiergarten is a must see while you are in Berlin – it's a huge green space in the middle of the city, kind of like Central Park in New York City, or Golden Gate Park in San Francisco.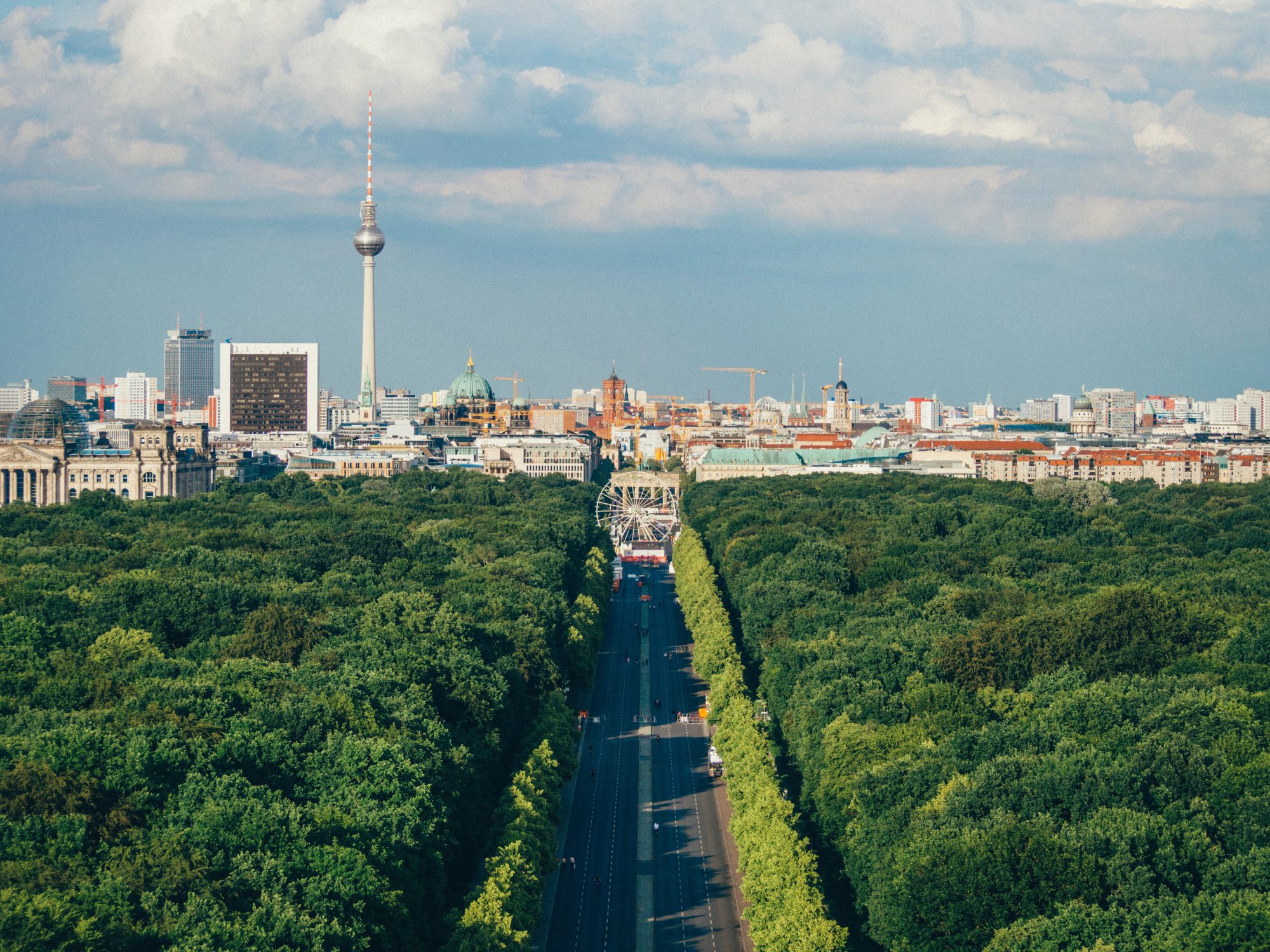 I'd recommend renting a bike to cycle around the park as there are plenty of bike lanes. It used to be a royal hunting ground but in the late 17th century it was turned into a public park.
During World War II it was badly damaged, both from fighting and by people cutting down trees to use as fuel due to a lack of coal. It was replanted shortly after and is now a beautiful place to wander around or relax.
For me, there were three highlights in the park that you can't miss:
The Soviet war memorial
The Victory Column
The Tea House, and Café am Neunen which has a beer garden right on the edge of the lake.
Afternoon: More Culture And Must-See Sights
After lunch we're heading to Museum Island for a little bit of culture. On this little island there are 5 museums which can all be visited with one ticket costing EUR18 for adults. Which is CRAZY AFFORDABLE. Buy your Museum Pass here.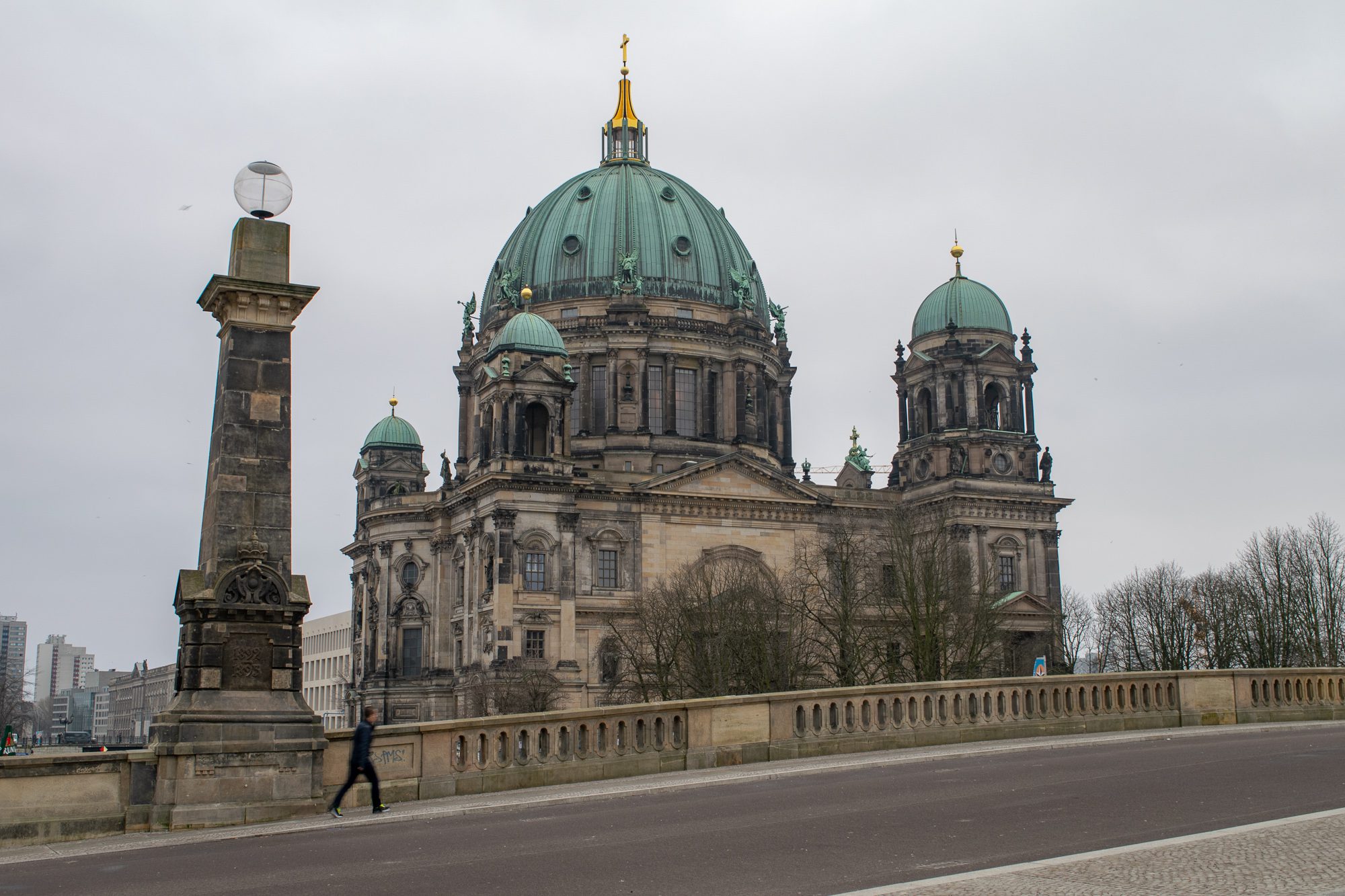 I want to pause here and talk about my philosophy on Museums. When I first started traveling, I was all about the museums. On my first trip to London, Paris, and Rome, I went to EVERY Museum. And I regretted it.
You only have two days in Berlin, you don't want to spend it inside museums. I would pick one or two museums at most and focus on those.
Museum Island
The most popular of these museums, and the one that I would recommend you focus on, is the Pergamon Museum which exhibits monumental buildings like the Pergamon Altar, the Ishtar Gate of Babylon, and the Museum of Islamic Art. If you just want to visit
Of course, there are four other museums to choose from if you're particularly interested in something specific.
The Bode Museum holds a large collection of sculptures from the medieval period through to the 18th century. 


The Neues Museum has a curated selection of pieces from the Egyptian Museum and the Papyrus Collection. The jewel in this museum's crown is the bust of Queen Nefertiti. 


Alte Nationalgalerie focuses on the neoclassical, romanticism, impressionist, and early modernist art. Here you will able to see work from Monet, Manet, Renoir, and Friedrich. 


The final museum on the island is the Altes Museum which is dedicated to art and sculpture from ancient Greece and the Roman Empire. It has the largest collection of Etruscan art outside of Italy.
Coffee Stop!
The Barn Café is a great coffee stop to break up the afternoon and try some of the offerings from the most popular German roaster.
They have a roastery in hipster Mitte, with a handful of tables and chairs outside that are perfect for people watching if you are lucky enough to nab one. There's a brew bar where you can get your coffee prepared in basically any way you'd like, which was a rarity in Germany.
If you're craving a solid pour over or a nice smooth cold brew, get it here. It can be really busy so be prepared to wait a little while but it is well worth the wait!
Can't find a seat? Take your coffee to go and slowly wander through the streets of Mitte towards museum island again to see the best museum in Berlin, the DDR Museum. It is located just before the bridge onto museum island.
This museum is dedicated to life in East Germany and includes a reconstruction of an East German apartment where the TV even shows some of the old programming that would have been shown at the time. The most popular exhibit is a simulated drive in an original Trabant. 
Alexanderplatz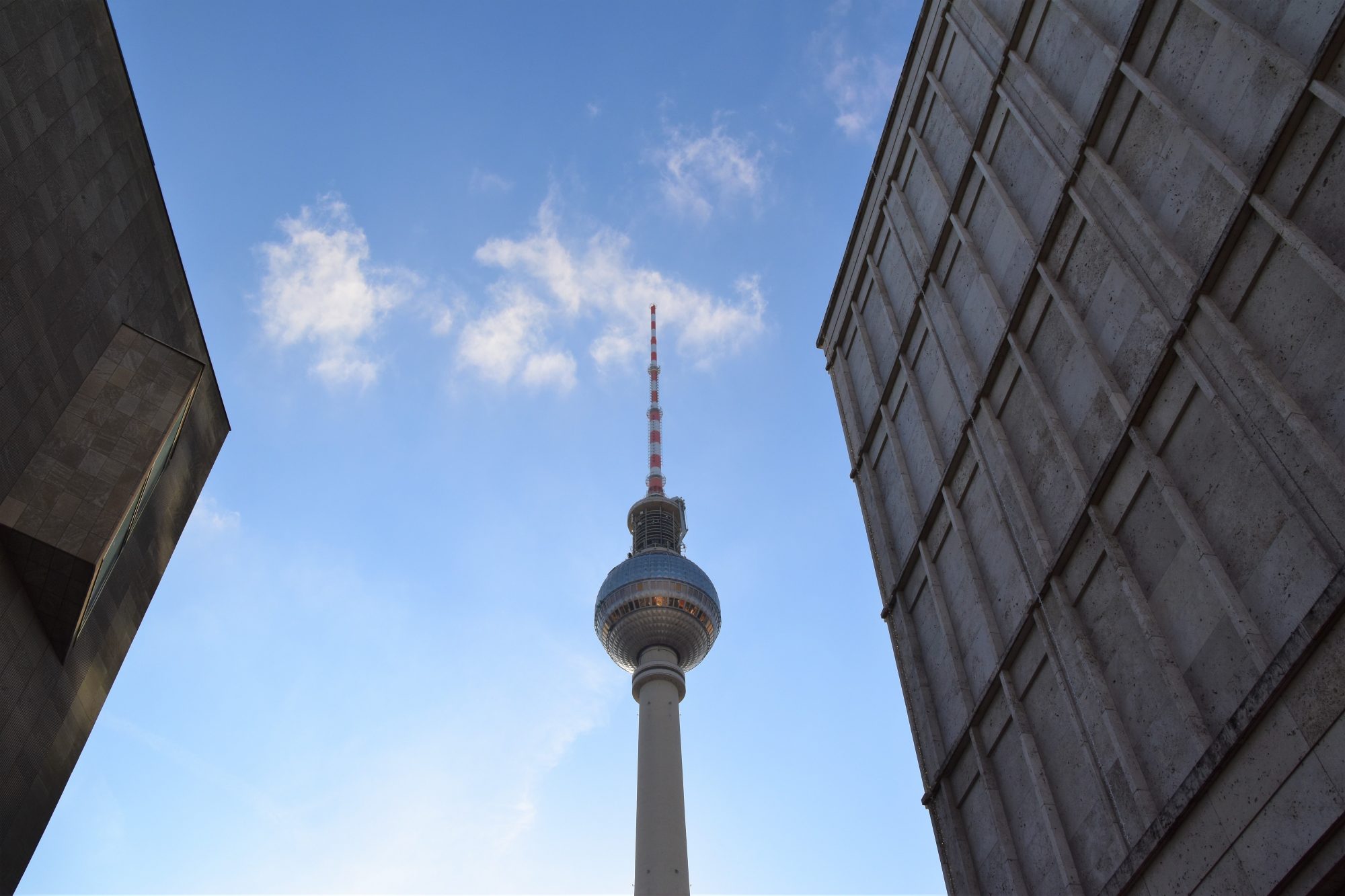 I actually wouldn't recommend investing too much time in Alexanderplatz – there are plenty of more interesting parts of the city to explore during your 2 days in Berlin. But, it's worth a stroll through bustling Alexanderplatz to see the sights.
It is the site of the TV Tower, which is the 2nd tallest structure in the EU. See the panoramic views of Berlin including information about the buildings you are seeing around you. In the square there is also the Fountain of Friendship, the World Clock, and plenty of shopping.
The streets around Alexanderplatz are full of street art so take a wander or if you are spending a bit more time in Berlin book a street art tour.
Evening: Nightlife!
After dinner enjoy some of the amazing nightlife that Berlin has to offer. You only have 2 days in Berlin, so you'll have to choose where you want to go carefully. You can find a list of some of my favorite bars and clubs to visit down below.
Looking for the Best Tours in Berlin?
Airbnb Experiences are designed by locals to bring you, a tourist, into their world, experience, and everyday life. It's my new favorite way to find things to do when I'm traveling – from an amazing cooking class in Mexico City, to an inspiring look at Medellin's transformation from one of the most violent cities in the world to one of the most innovative and forward-thinking.
Here are a few Airbnb Experiences to check out in Berlin to get deeper into the city's rich history, culture, and food scene.
Tours For History Lovers
If you're interested in Berlin's history, particularly in World War 2 and the Cold War, take this WWII + Berlin Wall Tour, which takes you deeper into the story of Hitler's rise and fall, and how it has shaped Germany today.
More interested in the current issues surrounding Berlin, like gentrification, migration, and sustainability? This Changemaker Tour takes you into two of Berlin's most interesting neighborhoods to meet some of the entrepreneurs driving the important conversations in Berlin (and the world). Click here to check prices, availability, and reviews.
Tours For Foodies
One of my favorite things about Berlin is the fact that, more than many European cities I've visited, it is truly a melting pot of different cultures and influences. Those doner kebabs you see on every corner? They're part of the story of migration that has made the city what it is today. Take this tour to learn about the story of Berlin through food (and see the city on a bike!). Check prices, availability, and read reviews here.
Have you ever made your own cheese? I certainly haven't. Now's your chance to make your own cheese (several varieties with your choice of flavors added)! Check prices, availability, and read reviews here.
Into Craft Beer? Explore Berlin's burgeoning Craft Beer Culture with a local brewer in Berlin. You'll get to taste some iconic Berlin beers, learn about the process, and understand the context around beer in Berlin and Germany as a whole. Check prices, availability, and read reviews here.
Take this Kreuzberg Food Tour to focus on Berlin's hippest neighborhood (also one of the best places to stay) and the multicultural story that has shaped it. Check prices, availability, and read reviews here.
Day 2: Explore Hipster (ish) Berlin
Morning: Explore One Of The Trendiest Neighborhoods In Berlin 
Start off the morning in Neukölln, Berlin's up and coming neighborhood. It is filled with vintage stores, graffiti covered alleyways and more quaint cafes than you could poke a gluten free biscuit at!
Pequod Books is a second hand bookshop with books written in 25 languages. The owner Alvaro only sells books he personally likes so you can be sure to find some hidden gems. 


BLUB Spassbad is a closed swimming pool which has been covered in graffiti and used as a place of underground (read: illegal) parties and for fashion photoshoots. 


Weserstraße is a hotspot for small local boutiques and vintage shops. If you are in the vicinity in the evening it is also full of bars with cozy sofas, mood lighting, and vintage furniture. 


Griessmühle Mühlenmarkt is a flea market held in a club in the middle of Neukölln on the first Friday of every month. 
Afternoon: Kreuzberg and the Eastside Gallery
Jump on the U-Bahn and head over to the East Side Gallery in Berlin.
They have turned the longest remaining section of the Berlin Wall into an open-air art gallery showing 1.3km of art. Walk off your lunch as you take in all of the political art covering the former Berlin Wall.
Here are a few of my favorites: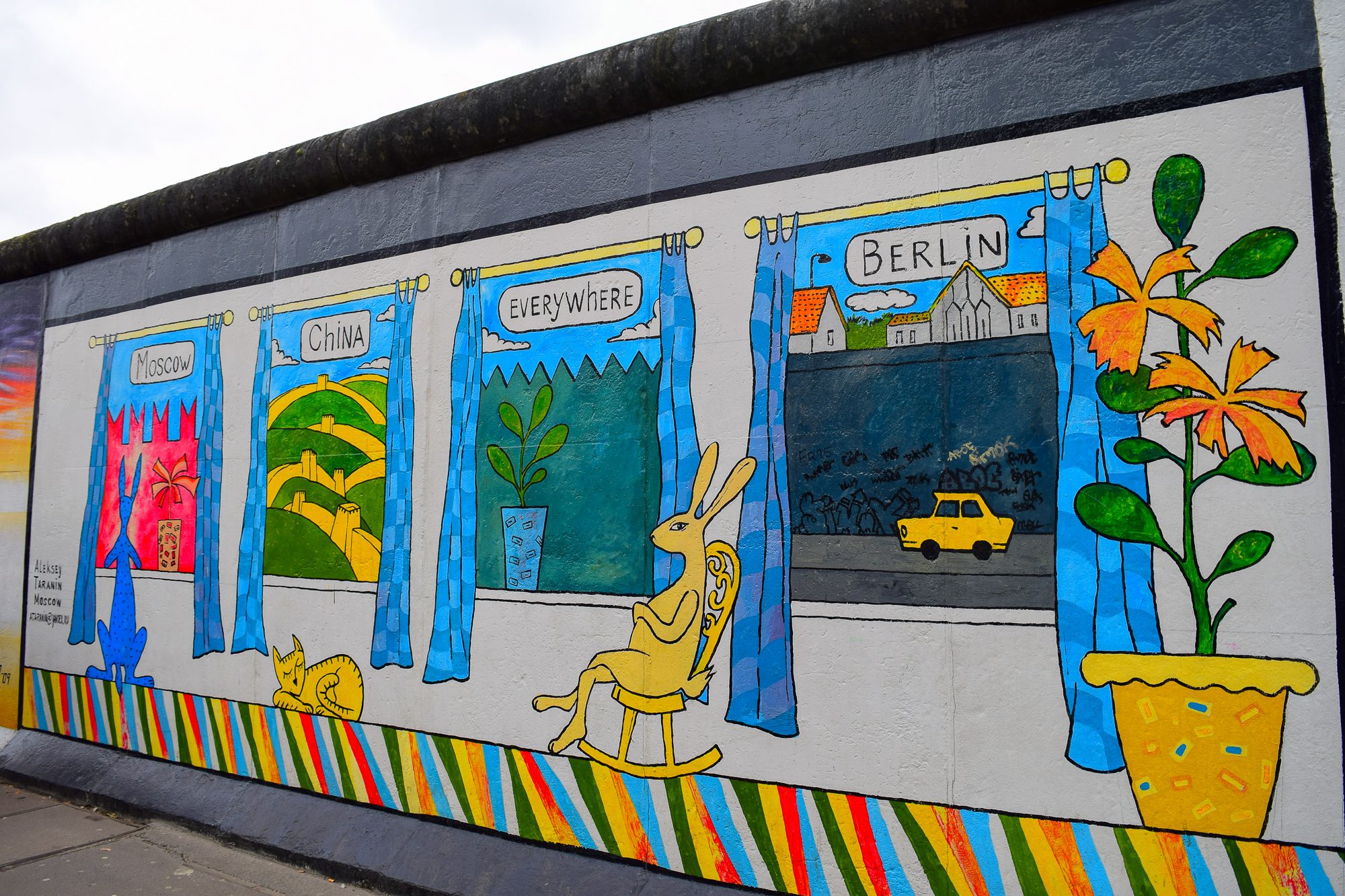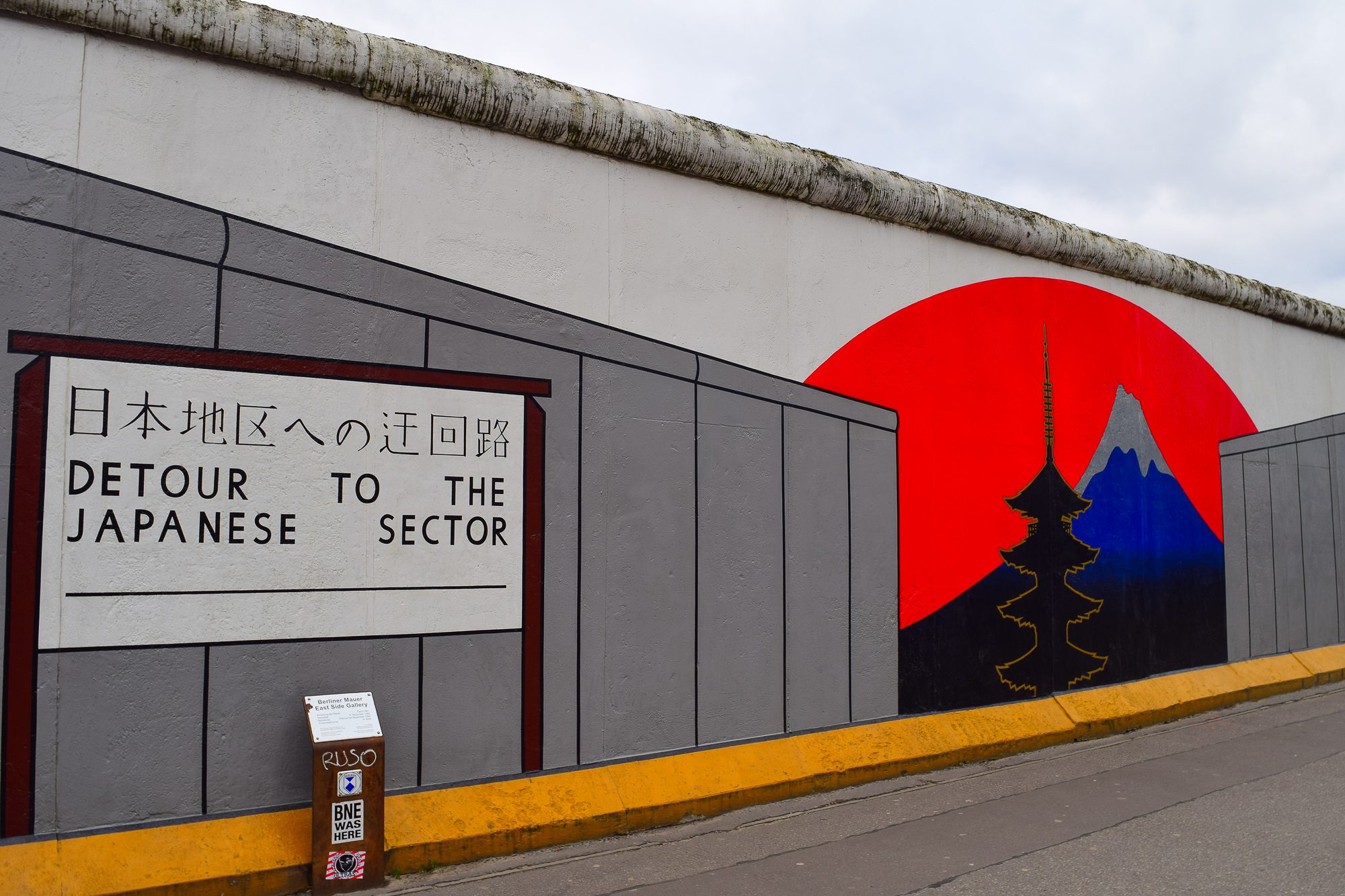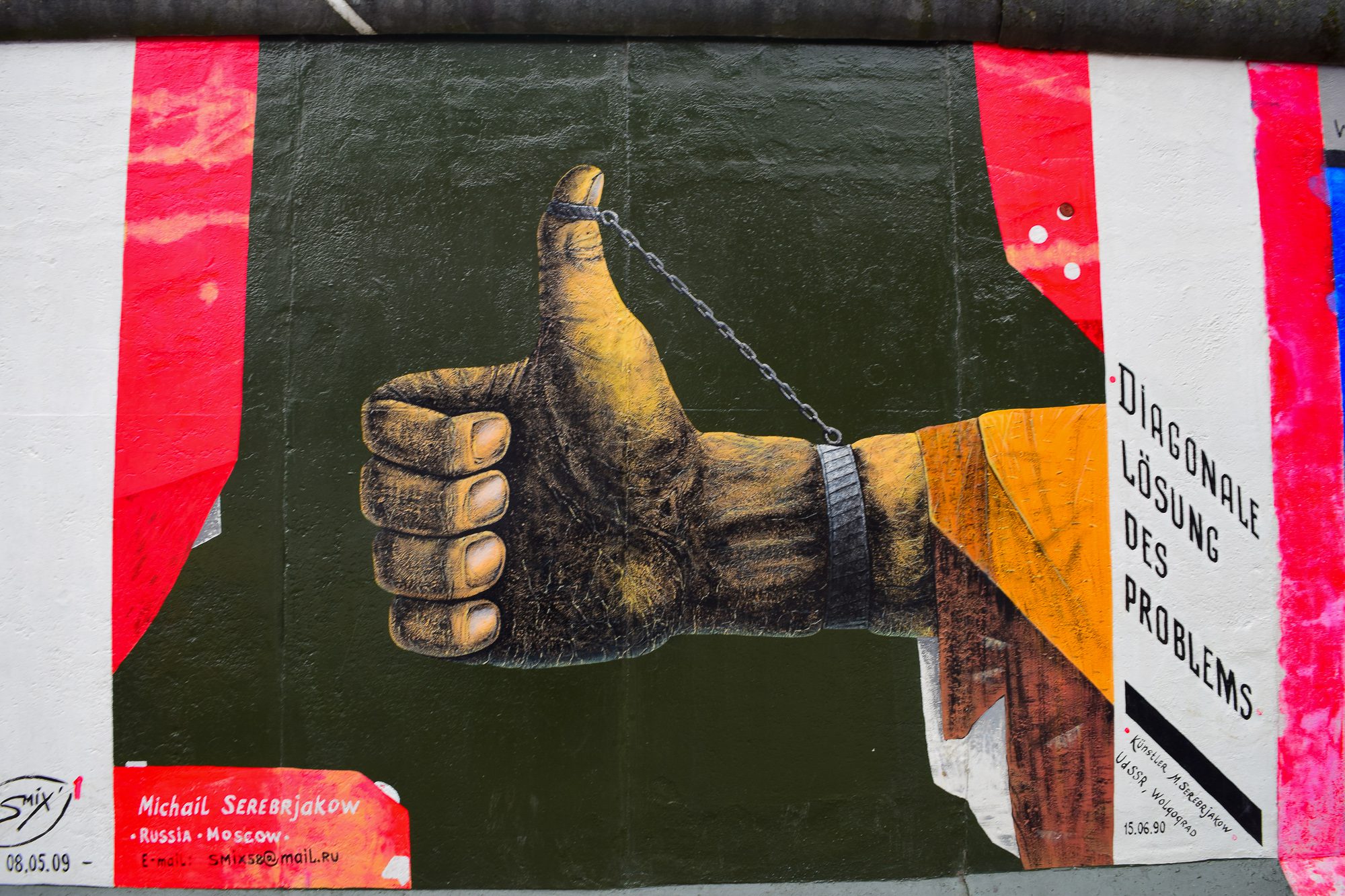 Cross over the River Spree and head to Five Elephant Coffee in Kreuzberg. They offer no frills coffee and cakes, but the coffee is such high quality that Five Elephants has repeatedly been named one of the best cafes in Berlin.
They also make all of their pastries (minus the croissants) in house! If you're a cheesecake fan, they have cheesecake that my little brother, who is NOT a fan of cheesecake, absolutely loved. IT IS NOT GLUTEN FREE. 
Here are some of my favorite things to do in Kreuzberg.
Check out Markethalle Neun, a super cool food hall with all sorts of food vendors. From cheese, to coffee, to bread, to beer (and everything in between). Don't miss "Street Food Thursdays" where you'll find it packed with locals looking for the best street food in Berlin – from Mexican Tacos to Nigerian FuFu, and so much more. 


Stop and rest your feet in the concrete park of Admiralbrücke. Street performers of all kinds set up here most of the day, so it is a pleasant place to relax for a little bit.  


Visit the Konig Gallery, a contemporary gallery housed in a former brutalist church and community center. You will discover plenty of emerging local artists while perusing the art. 


Take a guided tour of Kreuzberg and Friedrichshain where you'll explore the counter culture movements that shaped the area, and learn about how immigration has shaped Berlin. 
Got More Than 2 Days in Berlin? 
Whether you have a late flight or you have more than 2 days in Berlin, these are some of my top picks of extra things to see if you have a little more time in Berlin.
Topography Of Terror Museum 
Located at the site where the headquarters of the Gestapo once stood, this is a museum of remembrance of all the crimes committed. There are permanent exhibitions that detail the history from the moment the Nazis took power until the end of the war. Temporary exhibitions deal with different aspects of socialism.
Checkpoint Charlie
Checkpoint Charlie and the connected museum should be top of your list if you have a little more time in Berlin. This was one of the main crossing points in general for people travelling between East and West Berlin and the designated crossing point for allied forces. However, it's VERY touristy, so know that going in.
Walking Tour
This is one of the best things to do in Berlin to learn interesting little facts about the city you are exploring. I found that I learned very little about the Cold War growing up in the US, and the walking tour I did helped me get a deeper understanding of what it was like to live in the epicenter of the conflict.
You will find all sorts of walking tours – food tours, street art tours, and tours focusing on communist Berlin, and the history of the war. The museum has a wealth of information about each side of Berlin, inventive escape tactics, and the history of the Berlin Wall.
Find the right walking tour for you here.
Charlottenburg Palace
Formerly a summer residence, this is the biggest and most awe-inspiring palace in Berlin. Here you can explore the beautiful rococo ballroom, the Prussian Crown Jewels, and a display of the intricately designed tableware. Admission is EUR12 per person and both audio guides and guided tours are available.
Prenzlauer Berg neighborhood
This little neighborhood is lovely and a calm side of the quirky city. Filled with professionals and young families it is filled with renovated pre-war buildings. Think Sunday afternoon mass public karaoke in Mauerpark, a ruin bar, and quirky little bars around every corner. This is a lovely little suburb for a relaxing wander to see how people live in suburban Berlin.
Day Trip to Potsdam 
Stunning Potsdam is one of Berlin's most picturesque towns, in contrast to Berlin's grey soviet architecture, Potsdam looks like an absolute fairy tale. Just 45 minutes by train from Berlin. The highlight of a visit to Potsdam is a visit to Sanssouci Palace, a UNESCO World Heritage Site. Tickets for this must be booked in advance and cost EUR19. Alternatively, you can book a guided day trip to Potsdam here (or check out this cool bike tour of Potsdam).
Spy Museum
An interactive museum that takes you through the history of espionage throughout the world. It has over 300 exhibits on display, including a laser course, and learn about computer hacking and code cracking. The highlights are an enigma style encryption device, and an exhibit on data protection and social media, a timely topic.
How to Get Around in Berlin 
Berlin's public transportation system is so easy to use; everything runs perfectly to schedule and signs are in English as well as German.
Day passes are just EUR7 per adult and are valid for all types of transport so are well worth it for a 2 day Berlin itinerary so you have more time for exploring. Single tickets are EUR3 each if you just need to make one trip. There is a fine of EUR60 if you are caught travelling without a ticket and ticket inspectors travel regularly so it is worth making sure you buy a ticket.
Central Berlin is easy to walk or bike if you want to be a little more active and experience as much of the beautiful city as possible. The cycling infrastructure is really advanced so there are plenty of bike lanes to explore the city.
Where to Eat in Berlin
Berlin is a great food city. Whether you're looking for world class dining (like at Katz Orange) or some quick and easy street food, like a doner kebab, Berlin has you covered.
Traveling to Berlin with Celiac Disease? Guess what? I have you covered with my Gluten Free Travel Guide to Berlin for Celiacs.
When in Berlin, do as the Berliners do. Which means you have to try Currywurst – a delicious concoction of sausage, fries, and ketchup topped with curry powder. Head to Witty's Currywurst where they have organic and gluten free sausages, and the chips are fried in their own dedicated fryer. The servers will happily change their gloves to make your currywurst to prevent cross contamination.
Amrit – an Indian restaurant that offers all the usual Indian fare. Most of the menu is naturally gluten free but it's worth checking with your server just to be sure. My favourites were the Butter Chicken and Aloo Saag. They have a couple of locations in the city.
Chutnify – more Indian food! This time, it's Chutnify, which has a range of (objectively delicious) curries and dosas, all of which are gluten free. Locations in both of my favorite neighborhoods in Berlin, Prenzlauer Berg and Kreuzberg. Most of the menu is gluten free.
Glutanada – a dedicated gluten free bakery. They serve a fantastic brunch but also do bread, pastries, crepes, and even spaetzle. Located near Tempelhof park.
Cevicheria – a Peruvian restaurant on Dresdener Street in Kreuzberg. Most of the menu is in English and contains plenty of seafood dishes and tapas. Everything is gluten free except the desserts.
Cafe Tante Nanni – 100% Gluten Free cafe in Berlin. It's a little outside the heart of the city center, but worth the detour.
Brotquelle – near the Eastside Gallery, a 100% gluten free bakery that has all the gluten free baked goods you could possibly imagine.
Burgerie – in the mood for burgers? Head to Burgerie in Prenzlauer Berg for delicious burgers and fries. Celiac-safe gluten free options available, and fries are in a dedicated gluten free fryer.
Where to Drink in Berlin
Berlin has such a wide range of places to drink that it's hard to feature them all here, and it totally depends on what you're looking for.
However, I'm pretty confident that whether you're looking for a romantic speakeasy for a date with that special someone, or a rowdy nightclub to find that special someone, you'll find great options in Berlin. Here are some ideas for you.
Cocktail train – a renovated S-Bahn train car from the 1920s that has been made into a lovely cocktail bar.
Tarantino's Bar – a bar in homage to Quentin Tarantino. The walls are covered in movie posters, the majority of them signed by the man himself.
B-Flat – a premier live music and jazz venue in Berlin.
Klunkerkranich – if you're into working hard to even find the bar you're trying to go to, this is the spot for you. I very much enjoy the search – one time in Melbourne, Australia I spent 45 minutes circling a block to find the coffee shop I was looking for. Alysha, my wife, was not terribly pleased.. Some might call me a hipster. And they're probably right. It's located in hipster Neukolln (ish), which totally makes sense.
Department– a stylish restaurant/club in a former post office. Visit later in the evening when it turns into a club to dance until sunrise.
Die Schöne Party – A club spread out over four floors with every floor offering a different style of live music. Some of the best DJs in Berlin line up to play here.
Monkey Bar – a lovely rooftop bar overlooking the zoo, Tiergarten, and the rest of Berlin. Snap some photos of the city lights of Berlin as you sip a cocktail and think of the highlights of your trip. It's expensive though, so keep that in mind.
More on where to drink in Berlin here.
Where to find the Best Coffee in Berlin
Prior to visiting Berlin, I had only heard of one German coffee roaster – Five Elephant Coffee.
I had read about them in a few places, including Sprudge, and was super excited to try their coffee. They lived up to the hype. And they should be a coffee lover's first stop in Berlin. They have a location in Kreuzberg, and a newer location in Mitte. 
If you're not a Celiac, you should know that they make all of their pastries in-house (except for the croissants) and they have excellent cheesecake according to my brother, who doesn't even like cheesecake but devoured the Five Elephant cheesecake in 14.2 seconds.
There were several other fantastic coffee shops that I visited in Berlin – here were the best of the rest to check out during your 2 days in Berlin.
In Prenzlauer Berg: 
Bonanza Coffee Heroes – On the outskirts of Prenzlauer Berg, the first time we tried to go here I accidentally took us to the coffee shop a few doors down (Café KRONE, which was also very nice). So naturally, we had to come back. Lovely outdoor seating area for a nice day in Berlin.
The Barn – they now have locations all over Berlin, and they sell their coffee in craft brown bags, so you know it's good. The roastery location in Mitte has a brew bar where you can have your coffee prepared in all sorts of different ways – a must for coffee lovers. Well worth setting aside some time during your 2 days in Berlin for this coffee experience.
In Kreuzberg/Neukölln:
Chapter One Coffee – In Kreuzberg-ish, stylish but tiny. Don't expect to find a seat in peak hours – grab your coffee to go and get walking!
Roamers CC – cute space with great coffee that turns into a bar in the afternoon.
In Friedrichshain:
Happy Baristas – Looking for a nitro cold brew in Berlin? This is your spot. They use coffee from the Barn (see above).
Final Thoughts on 2 Days in Berlin
Berlin was my favorite city in Germany, and is one of the best and most diverse cities in Central Europe. No matter what you're into, you'll find something for you in Berlin.
Did I miss something that HAS to be on a 2 day Berlin itinerary? Let me know in the comments!