Where to Stay in Berlin: The 5 Best Areas to Stay
Berlin is one of the most exciting cities in the world. It has a fascinating history, an infamous nightlife, a unique art culture, and plenty of amazing places to eat and drink. Just wandering around the city you'll see incredible street art, historical architecture, parts of the Berlin Wall, huge warehouse clubs, and a mixture of restaurants cooking delicious cuisine from around the world.
Knowing where to stay in Berlin isn't easy though, especially if it's your first time.
While Alysha and I have both been to Berlin, we're by no means experts. Which is why we sought out someone who has lived in the city to help you figure out the best place to stay in Berlin for your trip.
Germany's capital is big, and like most cities, it's broken up into many different neighborhoods. But which one is best for you to make your home base for exploring this diverse, cosmopolitan city? In this guide, we're going to do our best to give you all the information you need to figure out where to stay in Berlin.
Charlotte Geary is a travel writer who has called Berlin home for the past five years, and knows the city better than we – or any other tourists with just a few days – ever could. She's here to share the best places to stay in Berlin so that you can live like a local, be close enough to the tourist attractions, and really see what makes Berlin is so amazing.
Take it away Charlotte!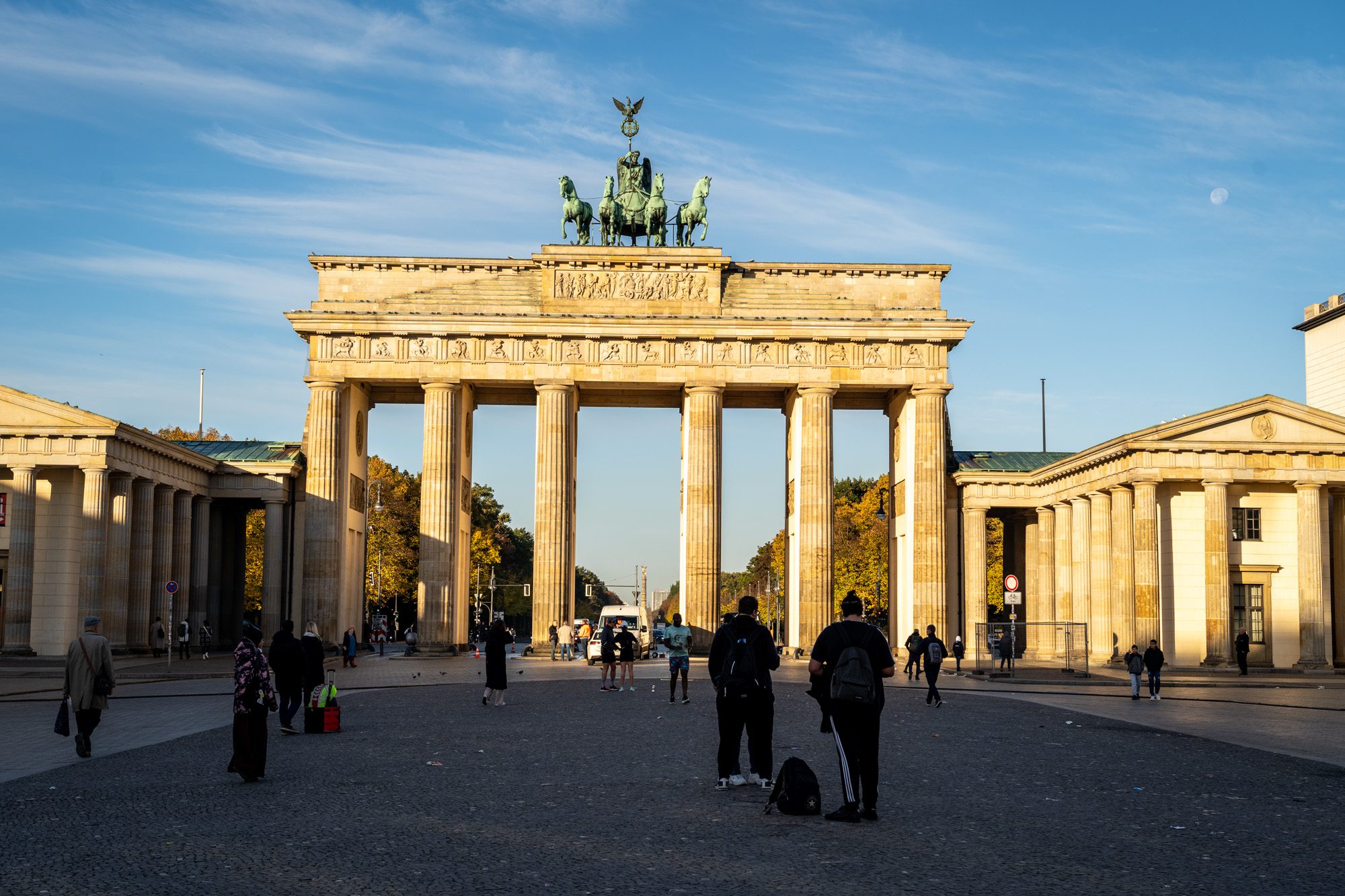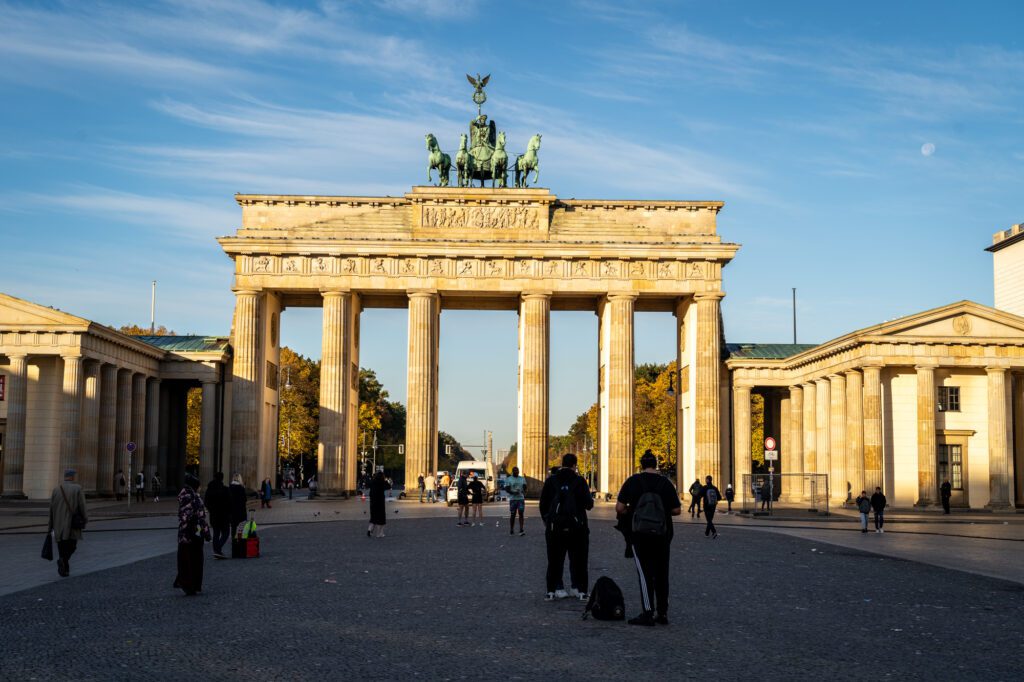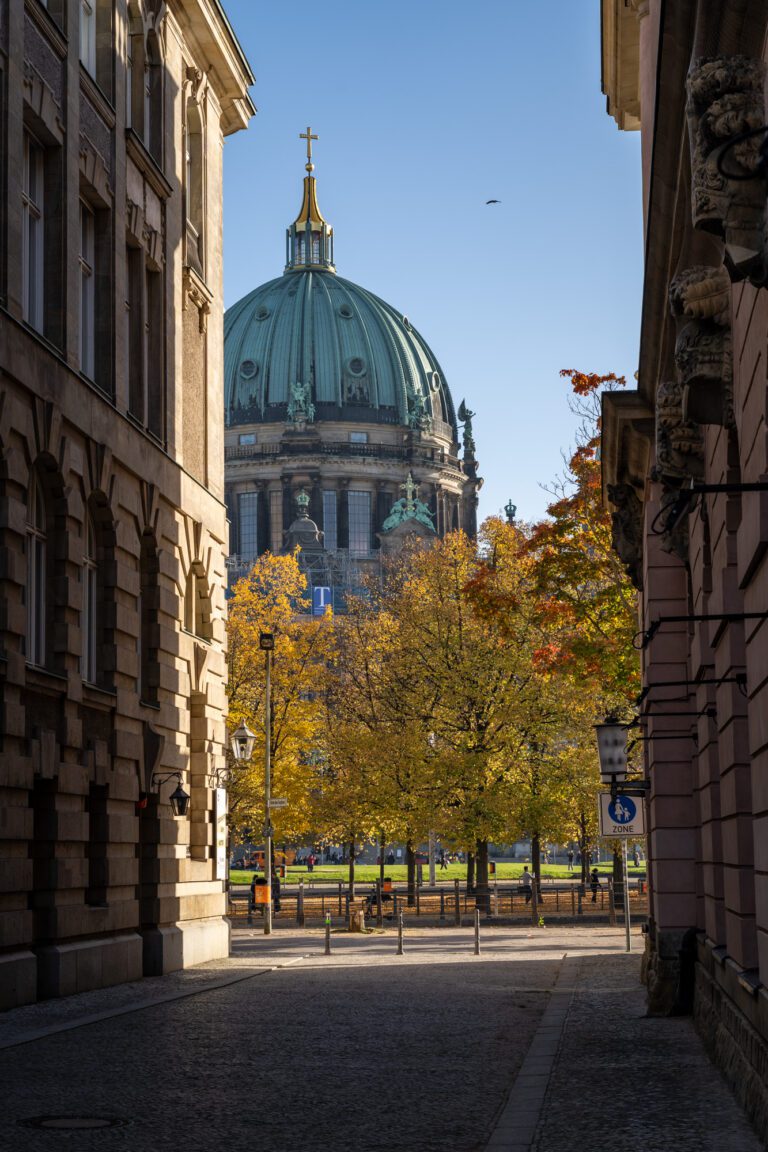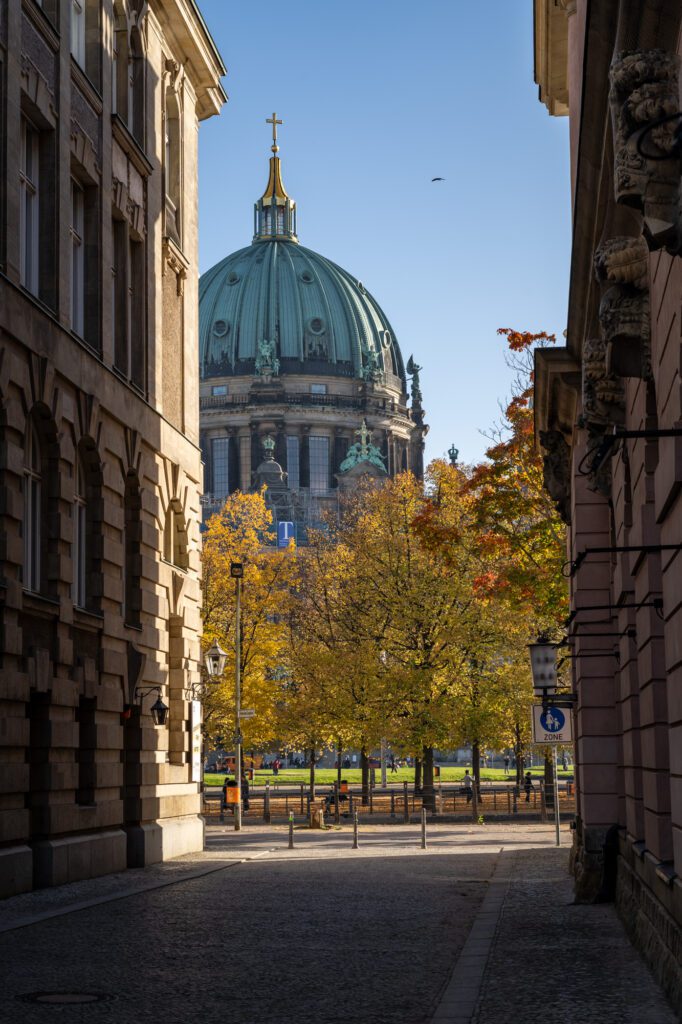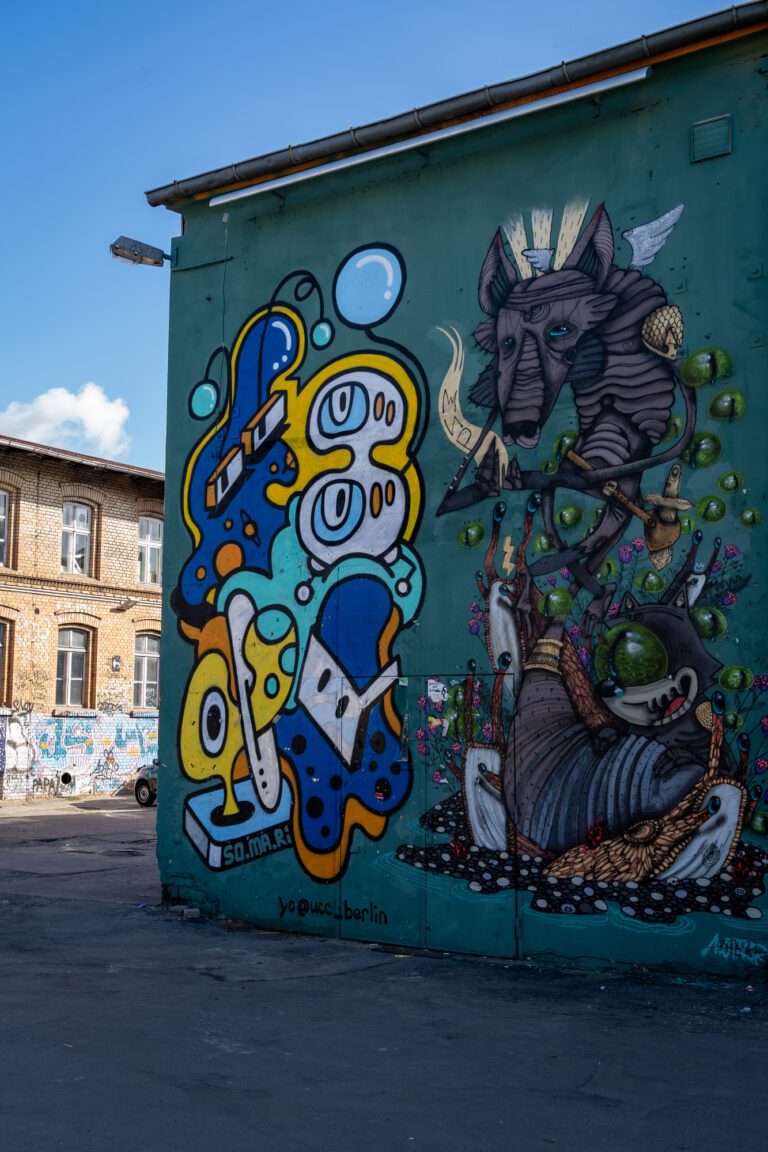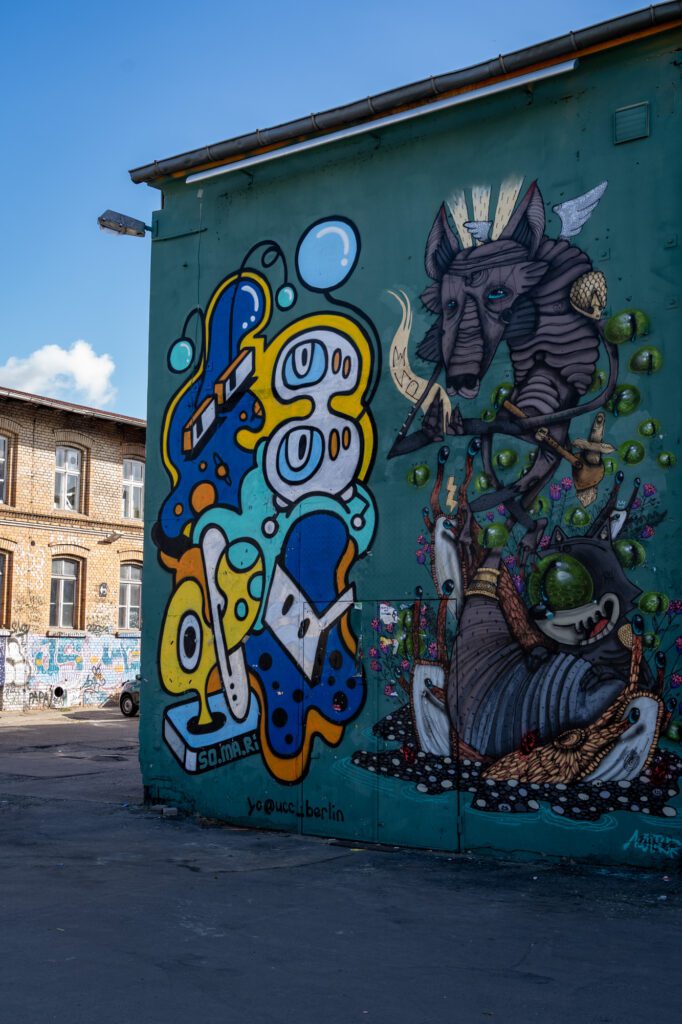 Disclaimer: Some of the links in this post, like hotel links, are affiliate links, meaning at no additional cost to you, we make a little bit of money if you click through and book. That being said, we would never recommend something to you that we don't stand behind 100%.
Where to Stay in Berlin: The 4 Best Areas to Stay
So, enough on where not to stay. Here are the best neighborhoods in Berlin that have a little something for everyone!
Don't have time to read the entire guide? Here's a quick summary.
Our overall recommendation is to find a charming hotel or guesthouse in Prenzlauer Berg, which is probably our favorite part of Berlin. We stayed on the border of this area on our last trip to Berlin, and loved all of the food, drinks, bars, and more within walking distance. It's got tons of character, and it's close enough to the city center and metro to be connected to the rest of the city.


If you're looking for the coolest neighborhood in Berlin, look at Kreuzberg, a hip, multicultural part of the city just south of Mitte that is known for its collection of shops, cafes, bars, and a cool indoor food hall.


If you have a short trip and want to be central and well connected, consider Mitte. Avoid staying near the Brandenburg Gate or Alexanderplatz, and instead look at the area around Hackescher Markt. There are some cool places to stay nearby, like the Circus Hotel (and their hostel, which we stayed at) and Flower's Boardinghouse (nice serviced apartments).


If you're on a budget, stay in Friedrichshain. This is where you'll find some of the best values in the city center. It's also where you'll find the Berlin Wall, and it's walkable to nearby Kreuzberg.
Prenzlauer Berg: A Blend of Quiet and Cool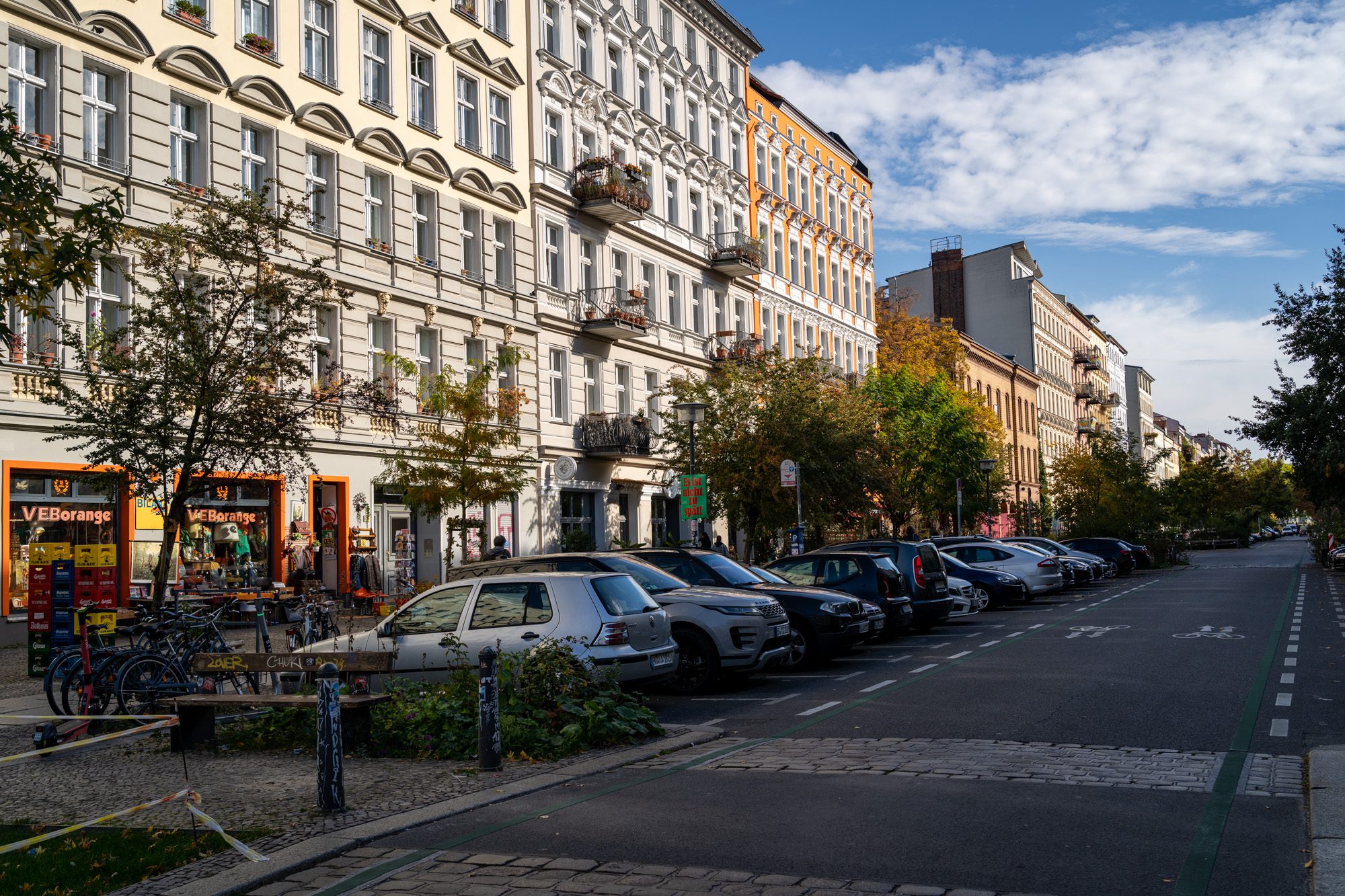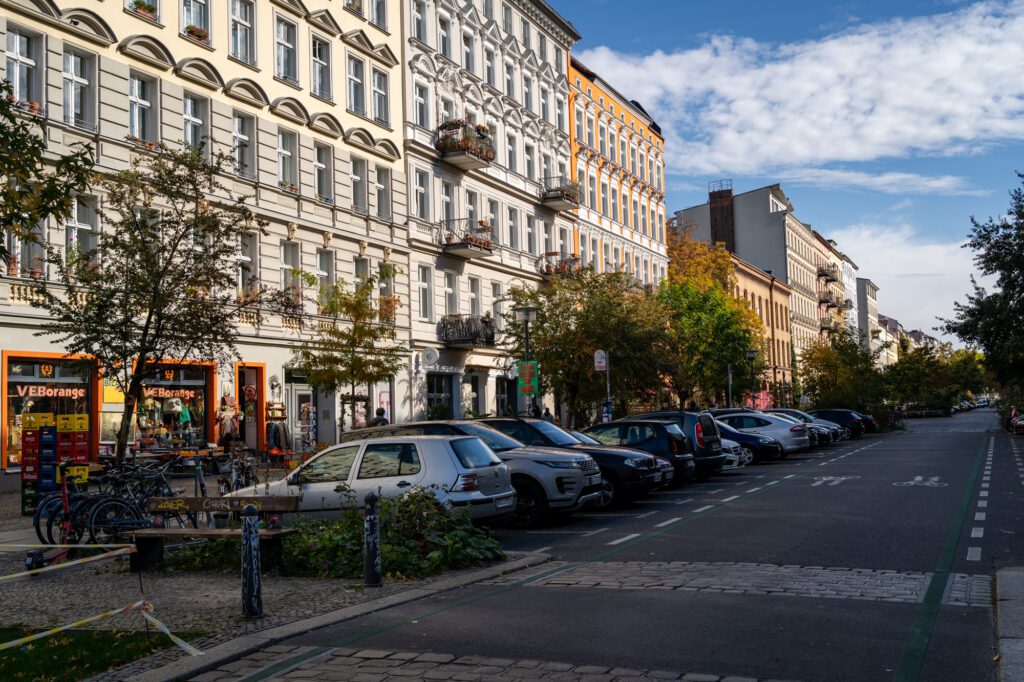 Prenzlauer Berg is to the north of Mitte and borders Friedrichshain on one side of Volkspark Friedrichshain (a really big park). It's probably the most beautiful neighborhood and definitely one of the best places to stay in Berlin.
Compared to Friedrichshain and Kreuzberg it's a little more bougie (there's maybe a little less graffiti), but each individual Kiez – the small neighborhood within a neighborhood – has a really nice feel.
Pros/Cons of Staying in Prenzlauer Berg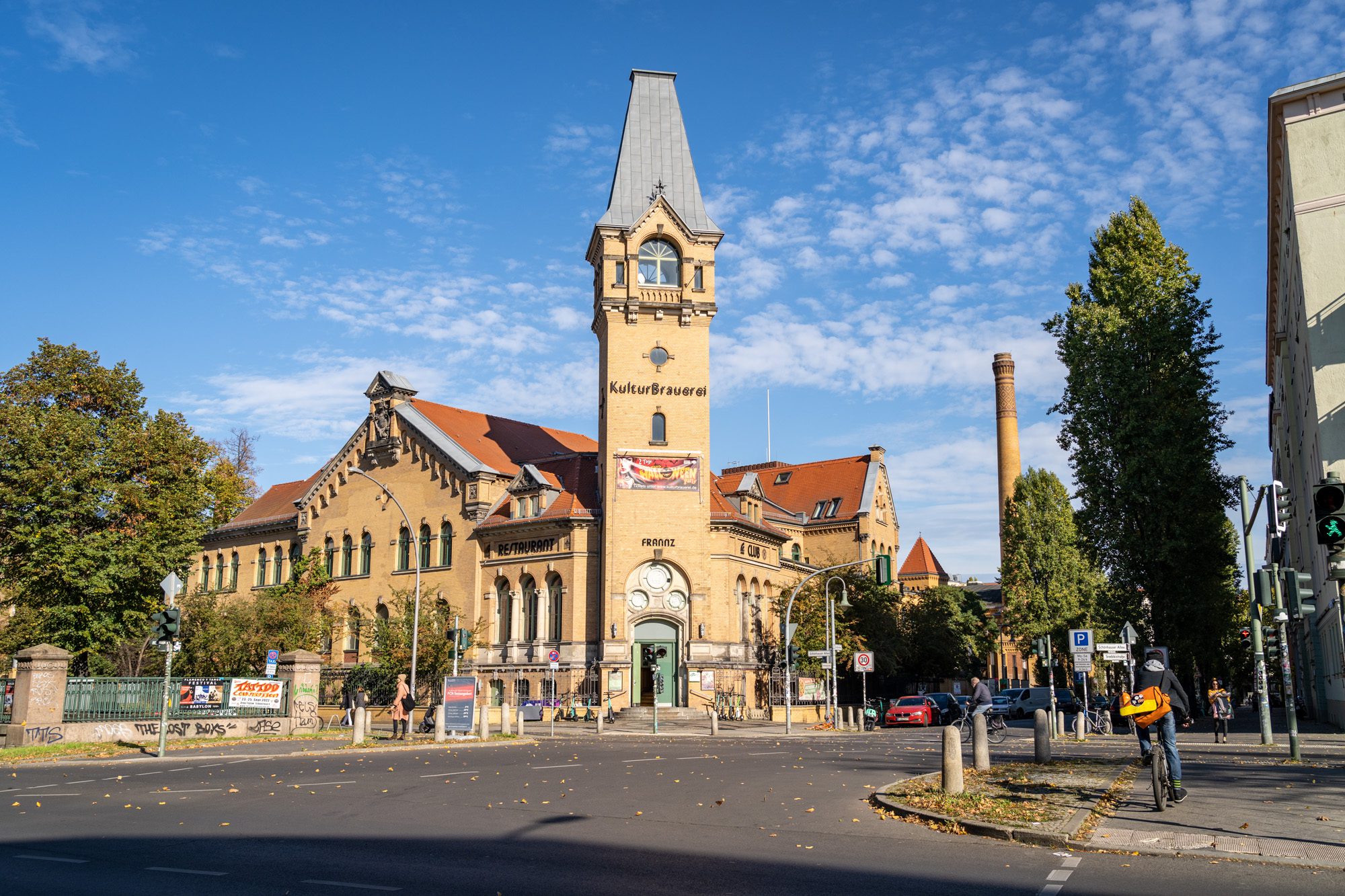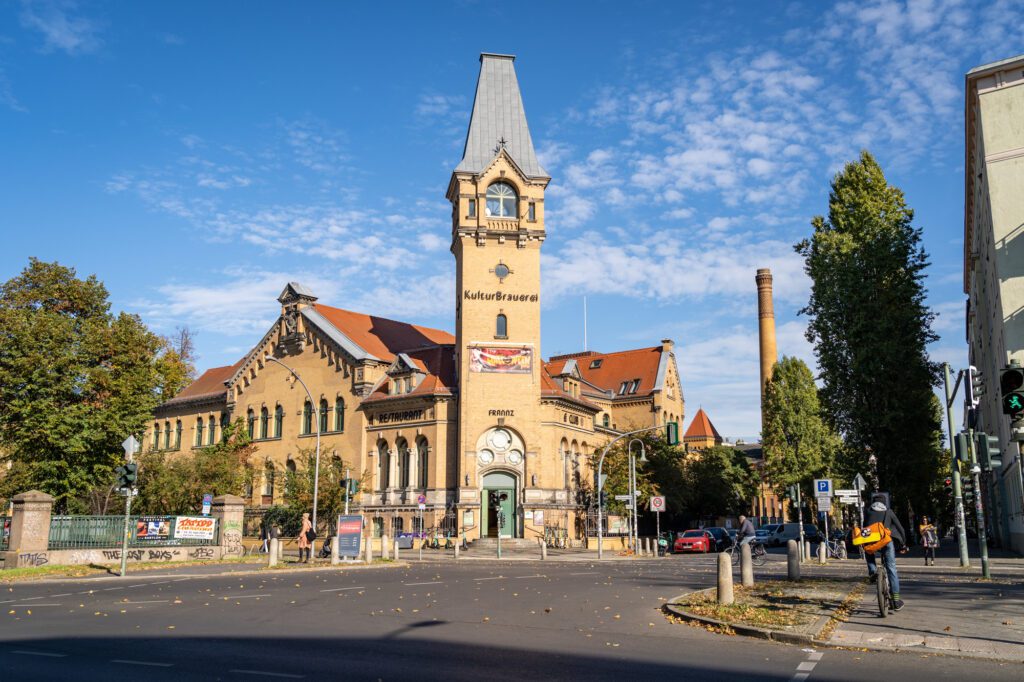 Pros
Depending on where you stay in Prenzlauer Berg, you can easily get to Mitte and Friedrichshain either on foot or by using public transport.
It's one of the easiest neighborhoods to walk around in and some of the most beautiful buildings in Berlin are tucked around every corner. You're not far away from great shopping areas such as Hackescher Markt, where you can find well-known brands as well as indie boutiques.
Kollwitzkiez and Bötzowviertel are two great areas to go for a wander, a coffee, or a glass of wine. There are lots of independent shops (many of which sell handmade children's clothes because, well, it's Prenzlauer Berg), cafes, florists and spätis (it's still Berlin). The buildings are beautiful, often painted in pastel colors with ornate balconies.
Prenzlauer Berg has a lot of great parks too, such as Kollwitzplatz, Mauerpark, and Humboldthain. In summer, lots of people head to them to enjoy a picnic and they're great places to do sport all year round.
Cons
Whilst the location is good for getting to Mitte and Friedrichshain, it does take a while longer to get to Kreuzberg or Neukölln. Maybe not so much of an issue, but it was for me when I lived there and my friends lived in Kreuzberg. It's also uphill on a bike.
Depending on what you like, some might see the well-groomed aspect of Prenzlauer Berg as a bit too much. It's beautiful, but if you're after the notorious Berlin nightlife, you're unlikely to find it there.
There are some bars (actually some really good ones), but it's a very family orientated area. There are lots of play parks, kindergartens, and kid-friendly cafes – which again, isn't really a bad thing, it just depends on what you're looking for.
Prenzlauer Berg Highlights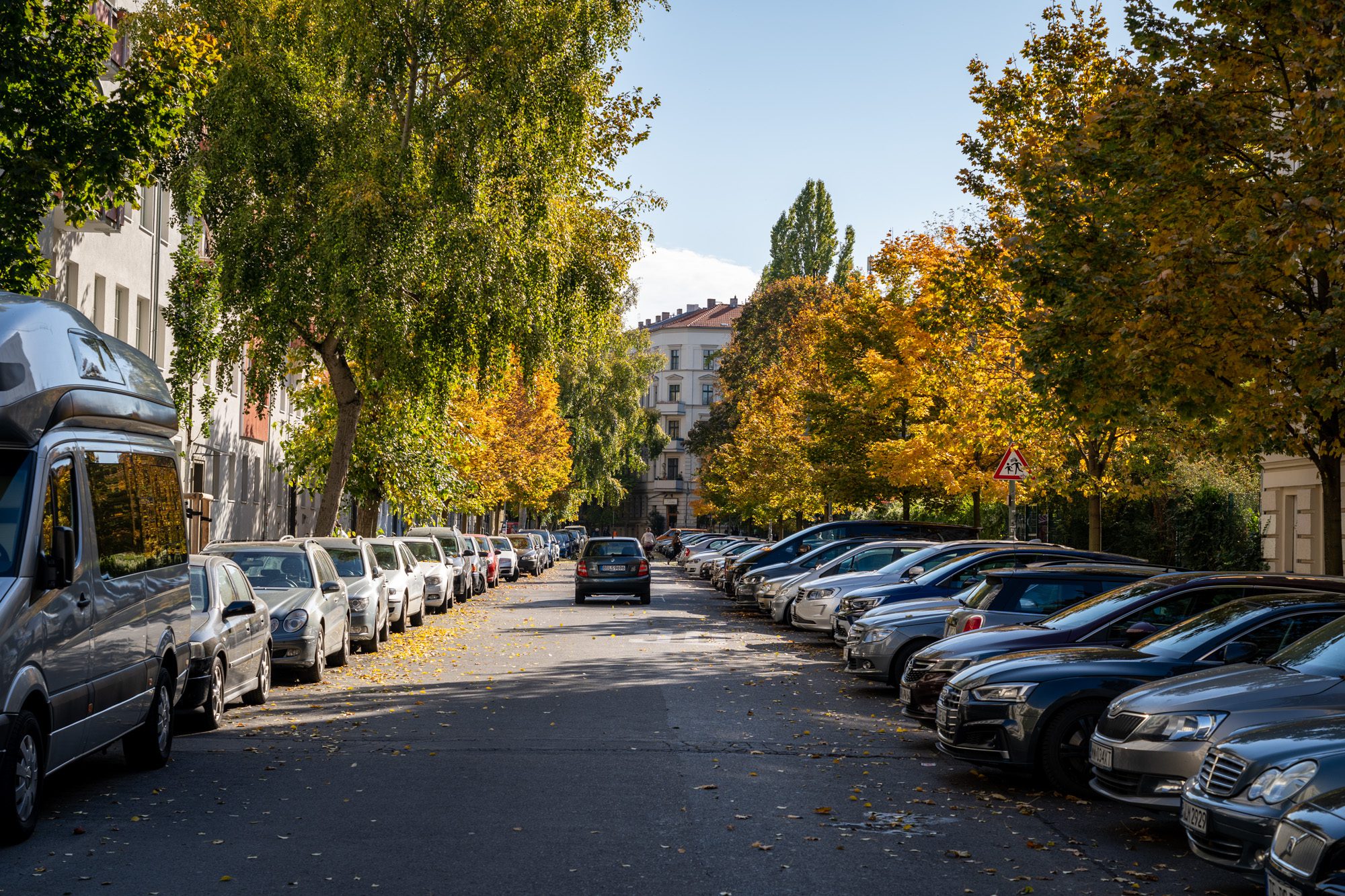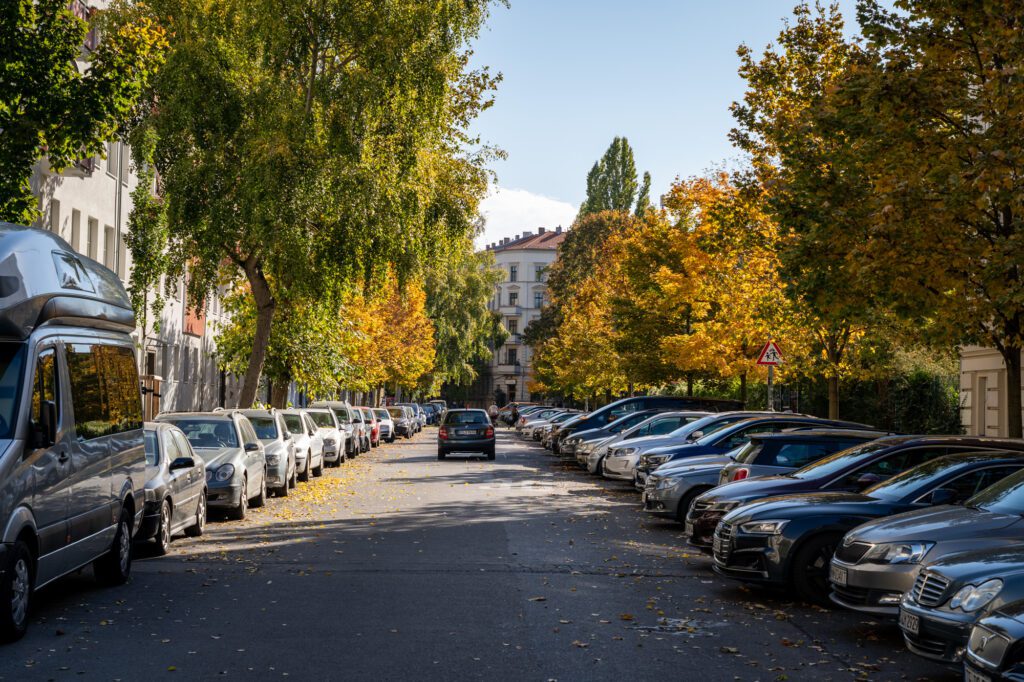 The Kulturbrauerei was once a working brewery, but it's now been changed into a building complex of bars, markets, exhibition spaces, and a cinema. It's a beautiful building to wander around or to grab a bite to eat in one of the cafes.


Mauerpark is one of the most fun things to do in summer in Berlin. Every Sunday, half the park turns into an enormous flea market and the other half is full of people having some beers and enjoying everything that's going on. There's live music, amazing drumming to dance to, bearpit karaoke (which is really fun), people selling homemade products, and food stalls. If you're in Berlin on a Sunday it's definitely something to put on your list.


It's no surprise that Berlin has some great, traditional beer gardens. Prater Garten in Prenzlauer Berg claims to be the oldest, and it's definitely one of the best ones in the city. They have the iconic long tables outdoors and serve a good array of food and drinks.


It's maybe a little weird to have a favorite street in a city, but if I had to choose one it would probably be Oderberger Straße. It's very pretty and full of great restaurants and bars that have lovely outdoor seating. You can actually walk along it to get to Mauerpark.


The Berlin Wall Memorial is a great museum to go to to get a sense of what life was like in a divided Berlin. The border ran right along Bernauer Straße and you can read about the attempts of the inhabitants of the houses trying to flee East Berlin by jumping out their windows.
Places to Stay in Prenzlauer Berg
Vienna House Easy Berlin: A Great Value
Vienna House is a really great value hotel. You can choose from either an 'easy' room or a 'lounge' one. The easy is good, has all the basics you need, and is vibrantly decorated.
The lounge room also has a sofa and desk, which is great if you want to chill out after a day visiting the sites or if you need to do a bit of work.
The immediate area around the hotel isn't exactly the picturesque Prenzlauer Berg I've been talking about, but it is very well located for getting there and for getting to Friedrichshain (I'd actually say it's on the border between the two neighborhoods). Landsberger Allee train station is a short walk away and on the Ringbahn.
Hotel Oderberger: A Nice Midrange Hotel
Guess which street this hotel is on? And it's just as beautiful. This might be the best location in the neighborhood, and you'll be within easy walking distance of just about anything you could possibly want.
This mid-range hotel used to be a swimming hall – in fact, you can have dinner in the old converted swimming pool if you'd like.
The rooms are very comfortable and pretty luxurious. The hotel is very close to the Kulturbrauerei and there are a lot of eateries and cafes around.
Pension Absolut Berlin: An Affordable Guesthouse
This guest house is a little further north than some of the others but is still really well located. They have modern, cozy apartments and rooms that are fully furnished. They cater to solo travelers, couples, and families.
The Schönhauser Allee Arcaden mall is close by, as is Mauerpark. There are numerous train and tram stops around to easily get to Friedrichshain, Mitte, and Kreuzberg (U2 and U8).
Limehome Berlin Prenzlauer Allee: A Perfect Aparthotel
These suites are really practical and really well designed. Even the standard suites have kitchen facilities. They're just a 15-minute walk away from Alexanderplatz but are still in a beautiful area of Prenzlauer Berg.
You're close to the bars and restaurants around Kollwitzkiez and there are lots of public transport options.
A note from Matt & Alysha: We stayed in a limehome property in Granada and LOVED it. Now they're one of the first places we look when we're hunting for apartments in European cities.
Brilliant Apartments: Nice Apartments in Prenzalauer Berg
These beautifully designed apartments are also on Oderberger Straße – so they're not just very pretty, but also very well located. They're modern, chic, and mid-range.
The apartments are well equipped with everything for cooking and there are many grocery stores in the area. Both Mauerpark and Bernauer Straße are very close by.
Belfort Rooms & Apartments
Belfort offers furnished apartments with fully equipped kitchens and more hotel-style rooms. They're elegantly decorated and have everything you'd need.
They're just off a really beautiful park with a water tower – you should go up the hill to watch the sunset over the city. They're also very close to Kollwitzkiez and have plenty of tram and U-Bahn lines nearby.
Linnen Berlin: A Super Stylish Boutique Hotel
This boutique inn has a number of individually designed rooms and apartments and aims to be 'more home and less hotel'. Each room is beautifully decorated and is totally charming.
It's located on Eberswalder Straße and is just a stone's throw away from Mauer Park and Oderberger Straße.
Myers Hotel: A Stylish Boutique Hotel
Myers Hotel is a little more up-market, located in the heart of Kollwitzkiez – which is an amazing location.
It's stylishly elegant and offers a selection of rooms for differing budgets. There's a bar and a restaurant too, although in that area there are some amazing bars and eateries to go to (so I'd maybe do that)!
Chotto is a great Japanese restaurant that does amazing gluten-free ramen and it's a short walk away.
Mitte: Central and Good for Short Trips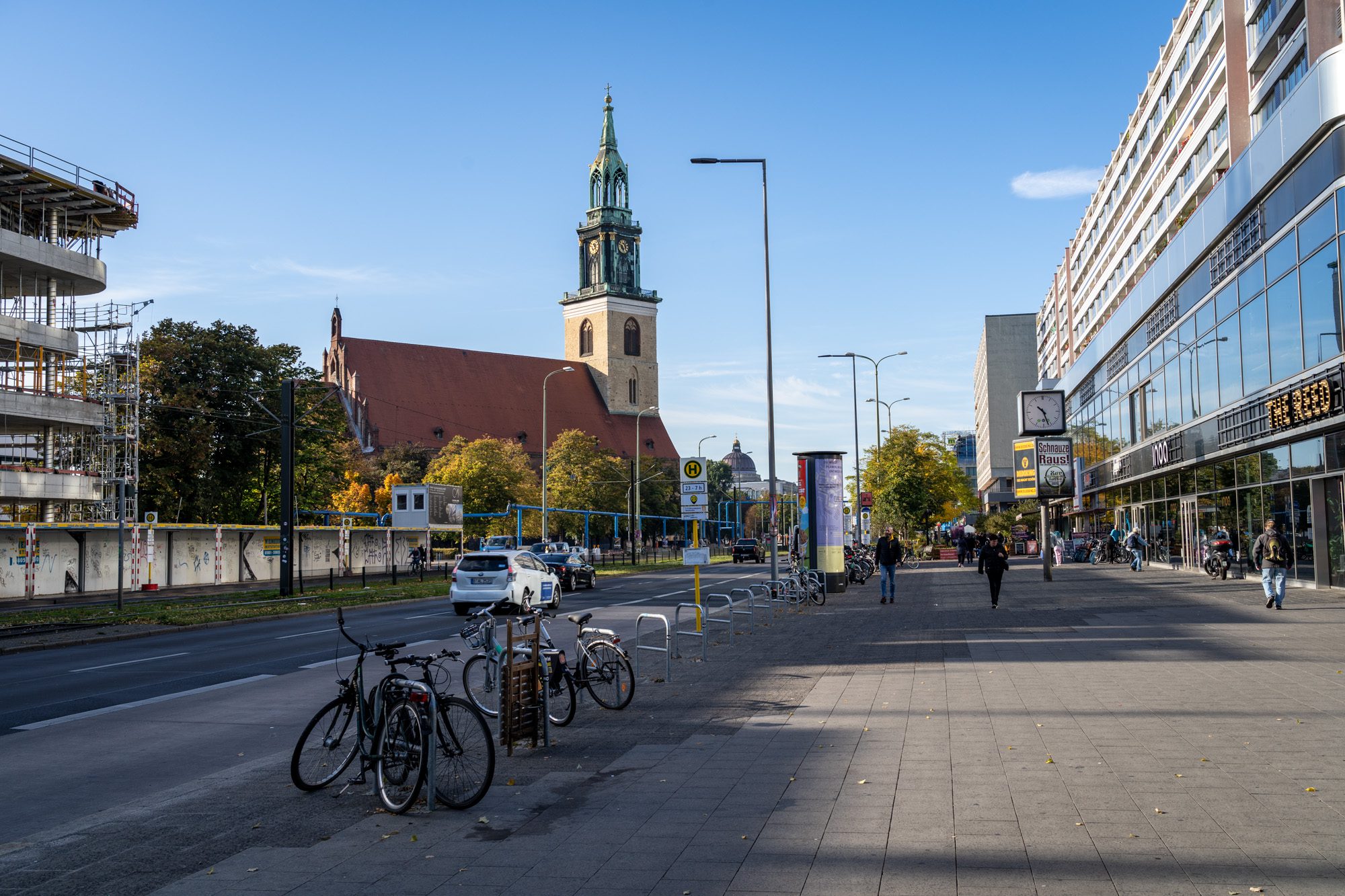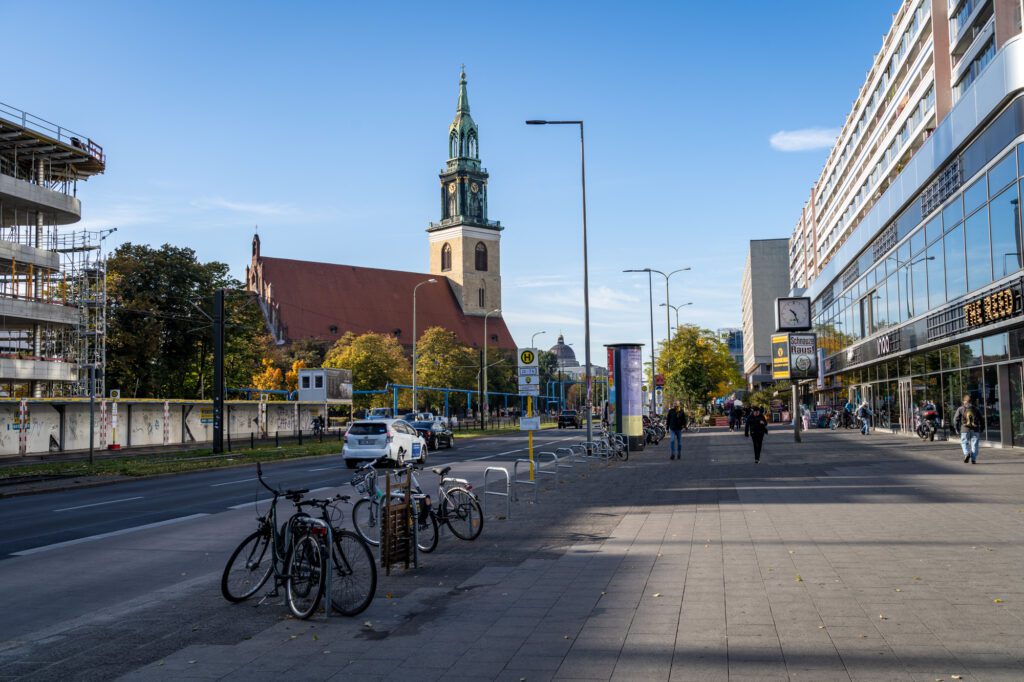 I know, I said this wasn't exactly the best neighborhood in Berlin to stay in – and I still mean that – but there are some great areas outside the center of it.
Mitte is a big neighborhood, and it's really just the bit in the middle around Alexanderplatz and the Brandenburg Gate that you should avoid.
It's also quite possible that if you're in Berlin mainly to sightsee, you'll want to be somewhere more central where you can easily get to the main attractions.
Pros/Cons of Staying in Mitte
Pros
As the name would suggest, Mitte is (physically) in the middle of everything. You can easily get everywhere as it's really well connected by trains, trams, and busses.
There are some beautiful buildings and monuments in Mitte, such as Hackescher Markt and Museum Island. The Hackesche Höfe are really stunning, decorated courtyards with boutique shops, great ice cream parlors, and a stunning cinema.
The main pro of staying in Mitte is that you have a lot of the major sightseeing attractions on your doorstep.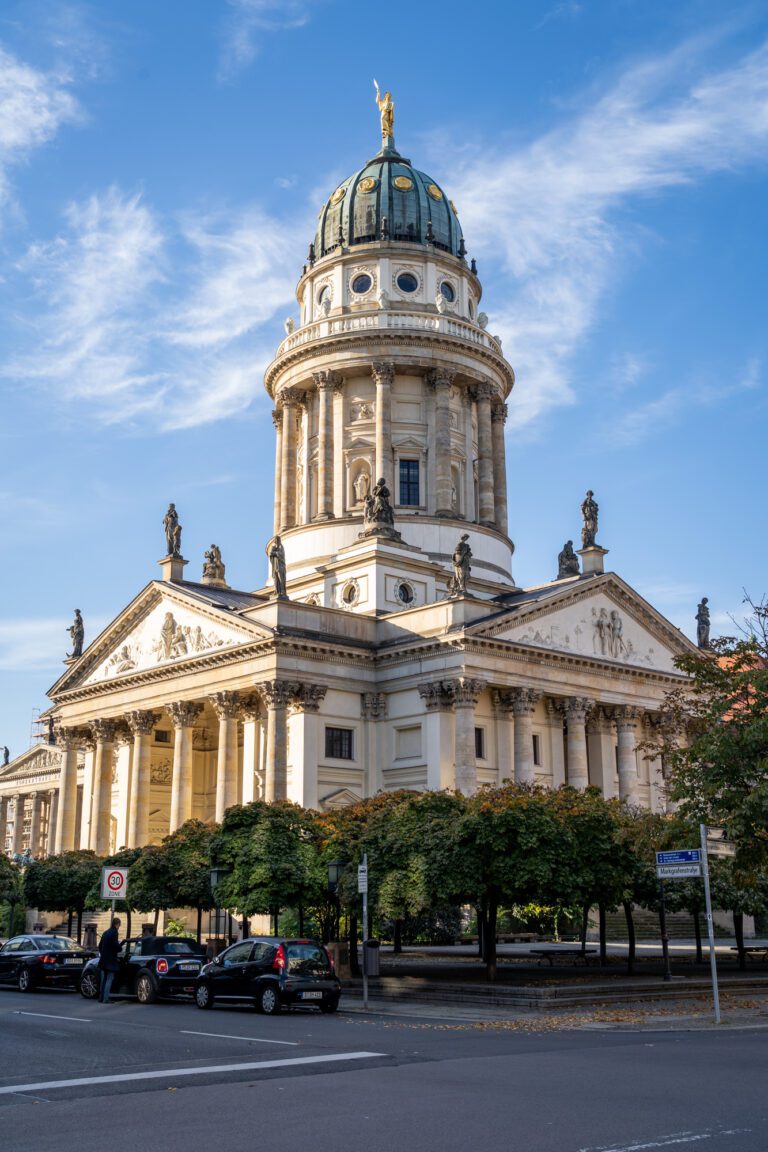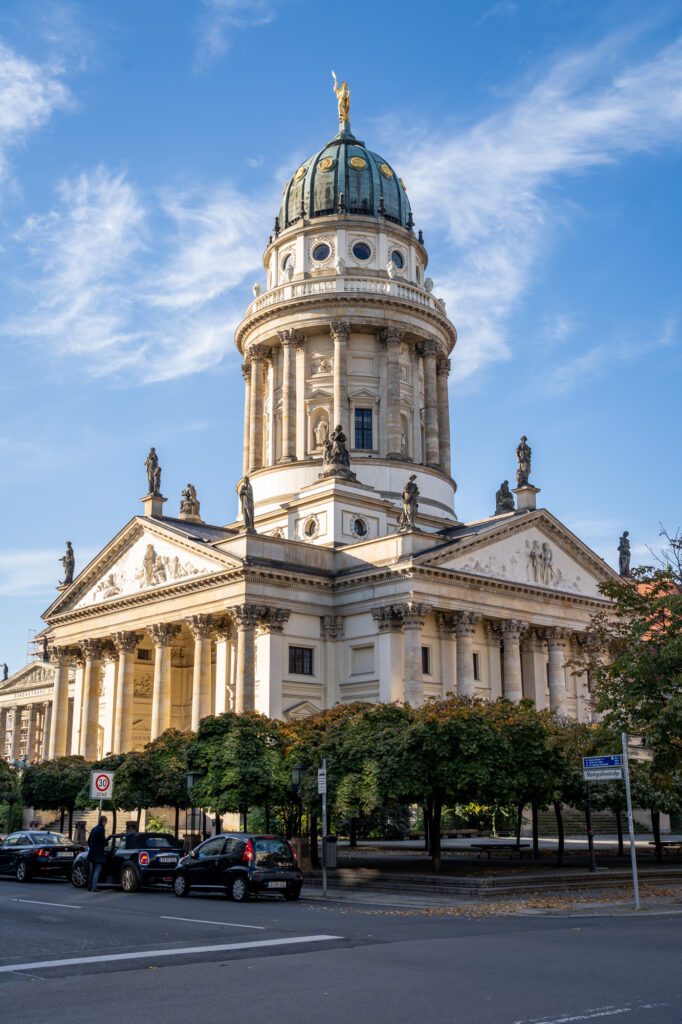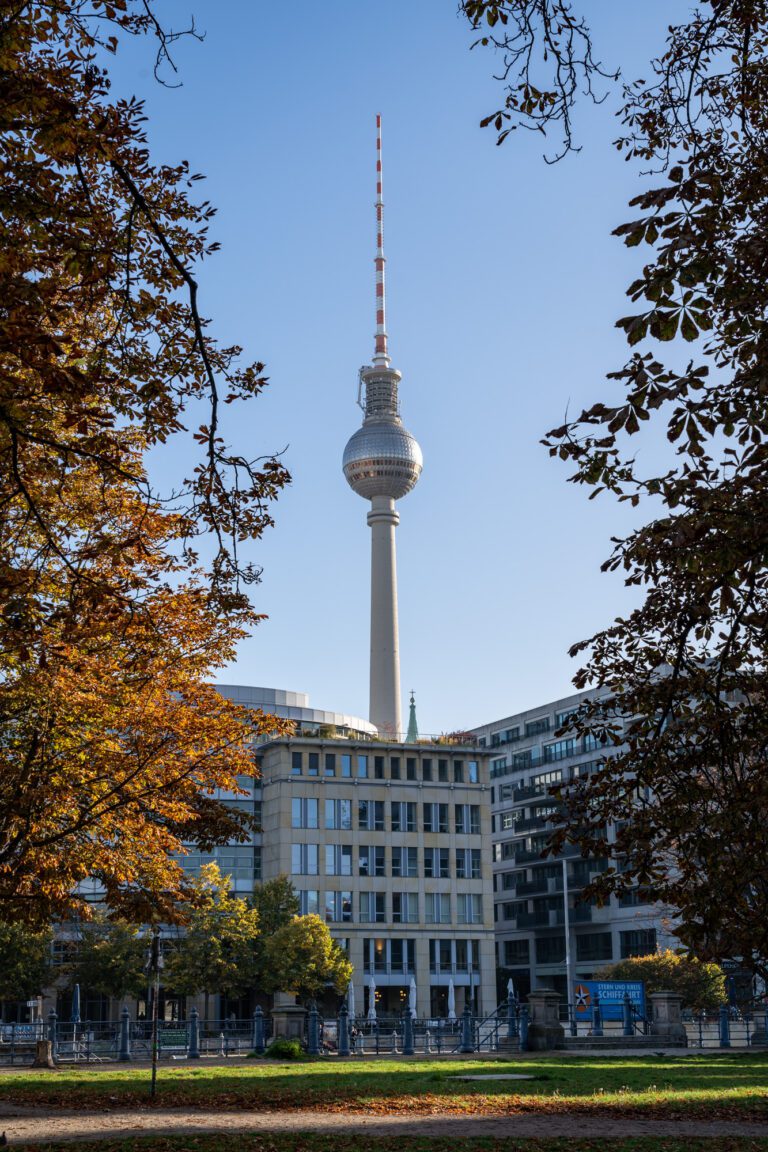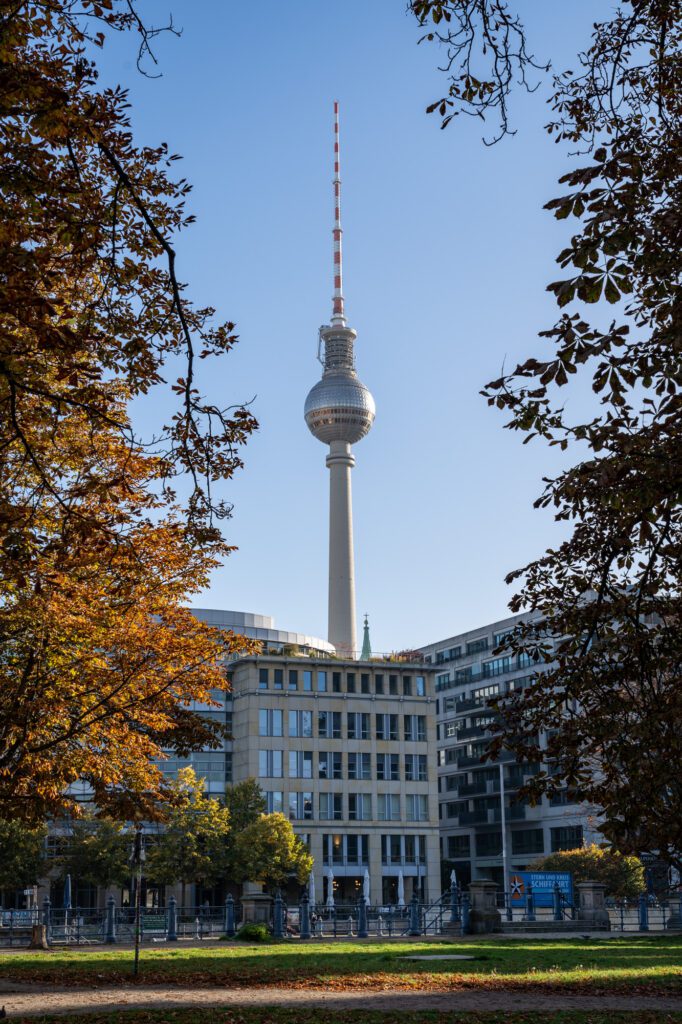 The TV Tower, Brandenburg Gate, Museum Island, the Jewish Memorial, the Berlin Cathedral, and the Reichstag are all in Mitte, to name just a few. You can easily walk from one to the other.
Another reason to stay in Mitte is that you're close to Tiergarten – the big park in the center of the city. It's beautiful to walk around throughout the year, but in winter, when the ponds and canals freeze, you can watch people skating along them.
Berlin Zoo is also on the far side of Tiergarten and just from walking around outside you can see a few of the animals.
Cafe Am Neuen See is a really unique cafe in the middle of Tiergarten (towards the zoo and in front of the Spanish Embassy). In winter they have roaring fires outside and inside and it kind of looks like the building is made out of really beautiful scraps.
I can't really describe it in any other way. The walls are made of different pieces of wood and windows that don't quite fit together. But they do brilliant hot chocolate, coffee, and food.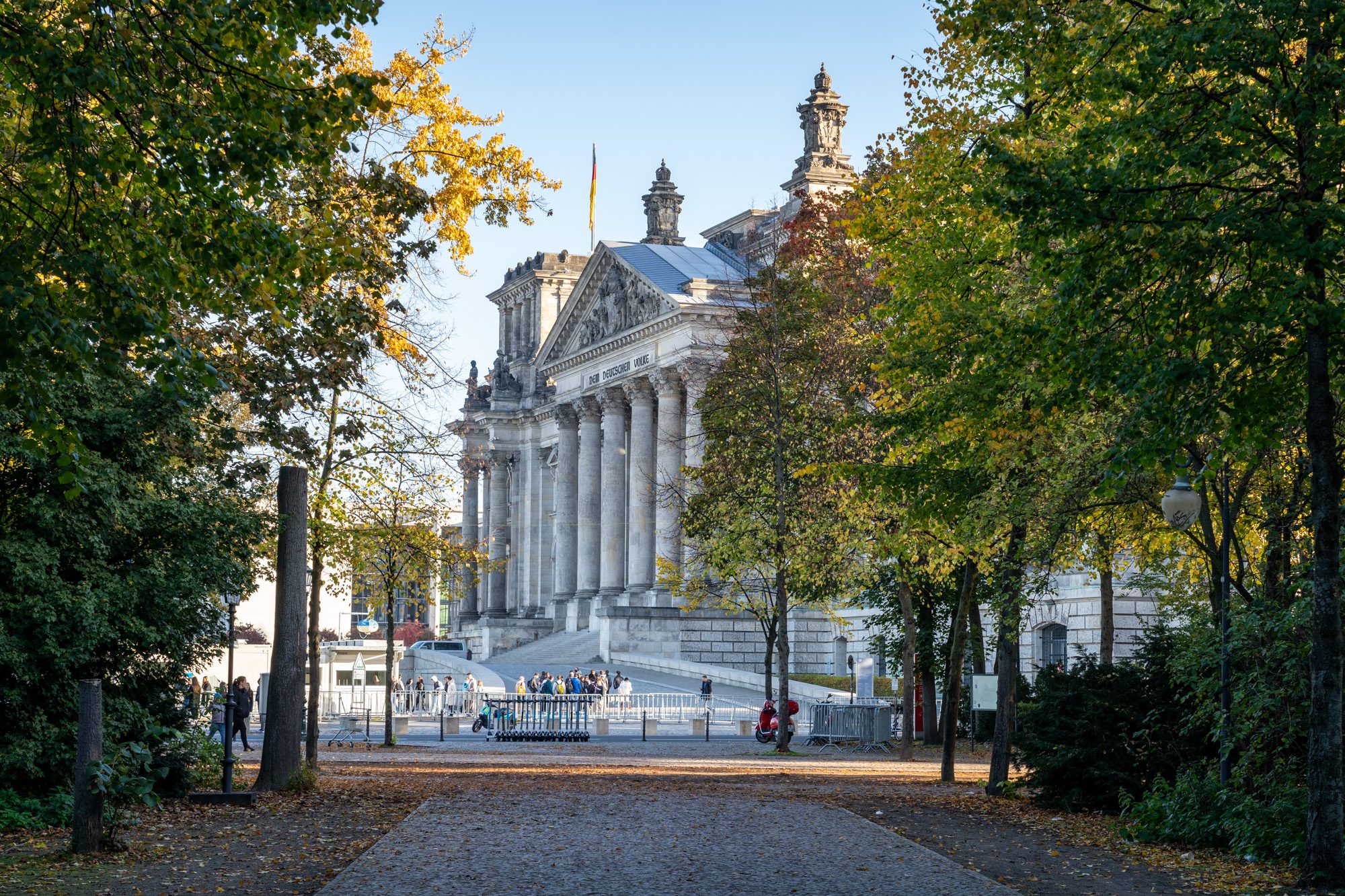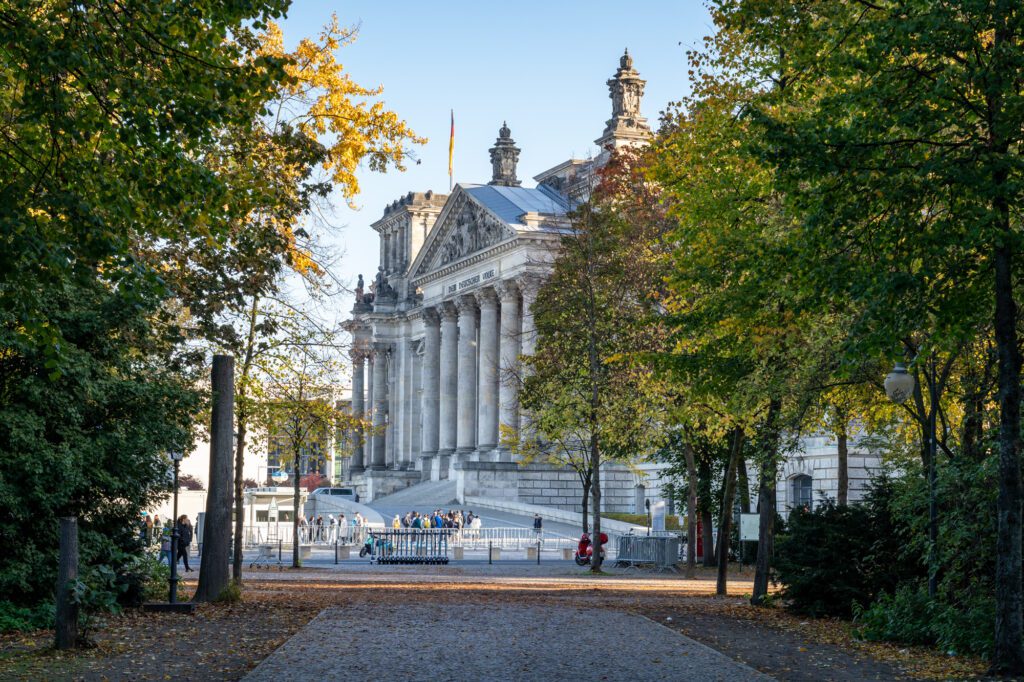 Cons
A big con of Mitte (especially central Mitte around the tourist spots) is that everything is a chain.
There aren't many independent shops, cafes, or restaurants. In fact, I think all the Starbucks in Berlin have to be in this area.
The city is renowned for its hipster cafes, cozy bars, and independent shops, so it seems a shame to be in central Mitte and miss them. There are also very few spätis (not sure what that means? Here's a primer).
It's definitely a bit more touristy, which doesn't have to be a problem, but it does mean that everything is geared towards that. There are souvenir shops on every corner, busses selling tours every few blocks, and the prices are a little higher.
The main con about staying in central Mitte is that you'll leave having seen a version of Berlin which maybe isn't quite 'real'. I think most people around the world wouldn't recommend staying in the touristy center of their city.
Mitte Highlights
If you like to shop, Mitte is great. There are a few malls, including the Mall of Berlin which is enormous and you can find many well-known shops there.


Potsdamer Platz is in Mitte and at Christmas, the buildings always have interesting decorations and there's an enormous tree. Keep an eye out for the old traffic light in the middle of the square, it was the first-ever one in Germany!


There are a lot of museums in Mitte, including the Bodemuseum, the Pergamon, and the DDR museum.
Places to Stay in Mitte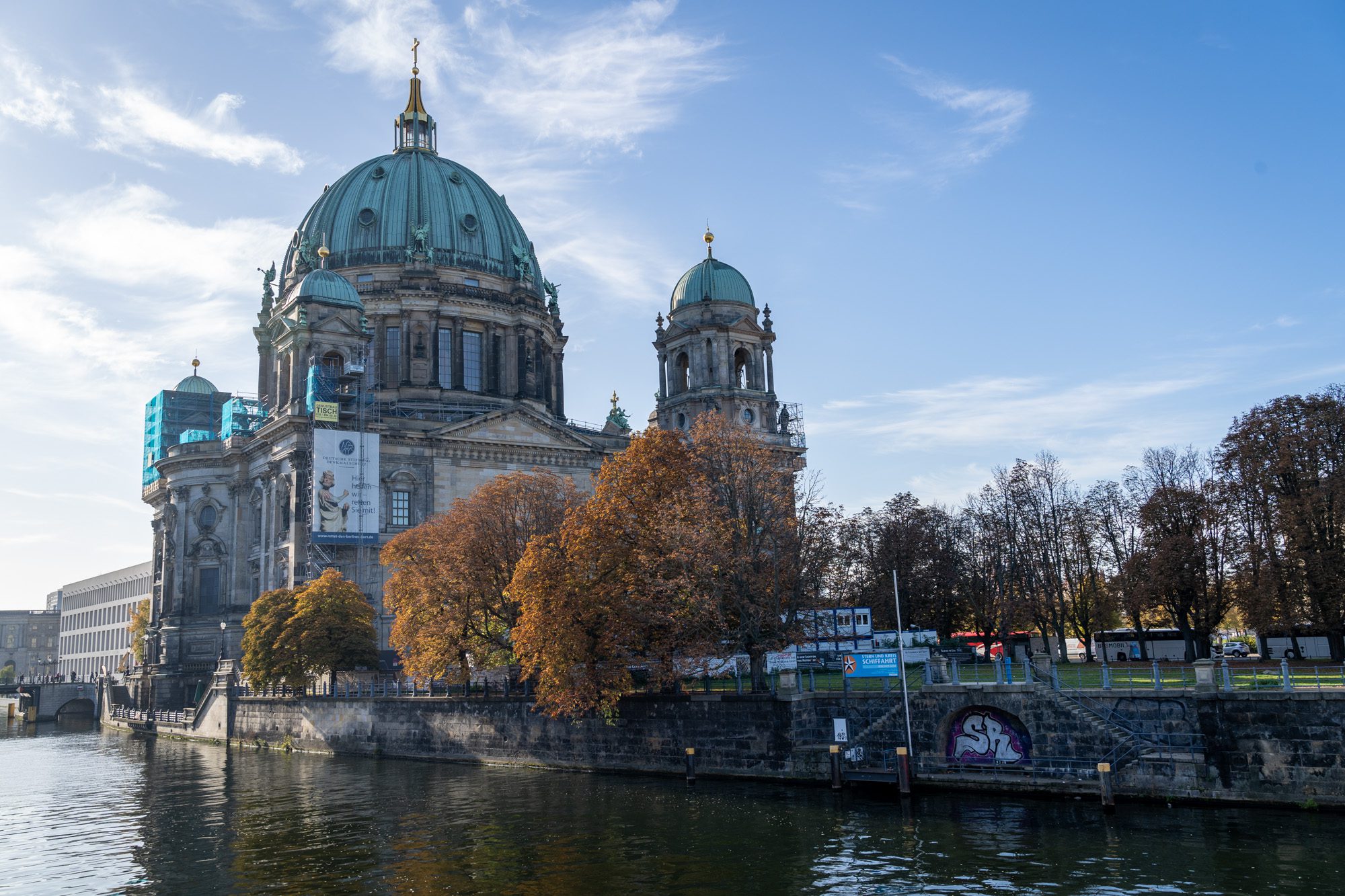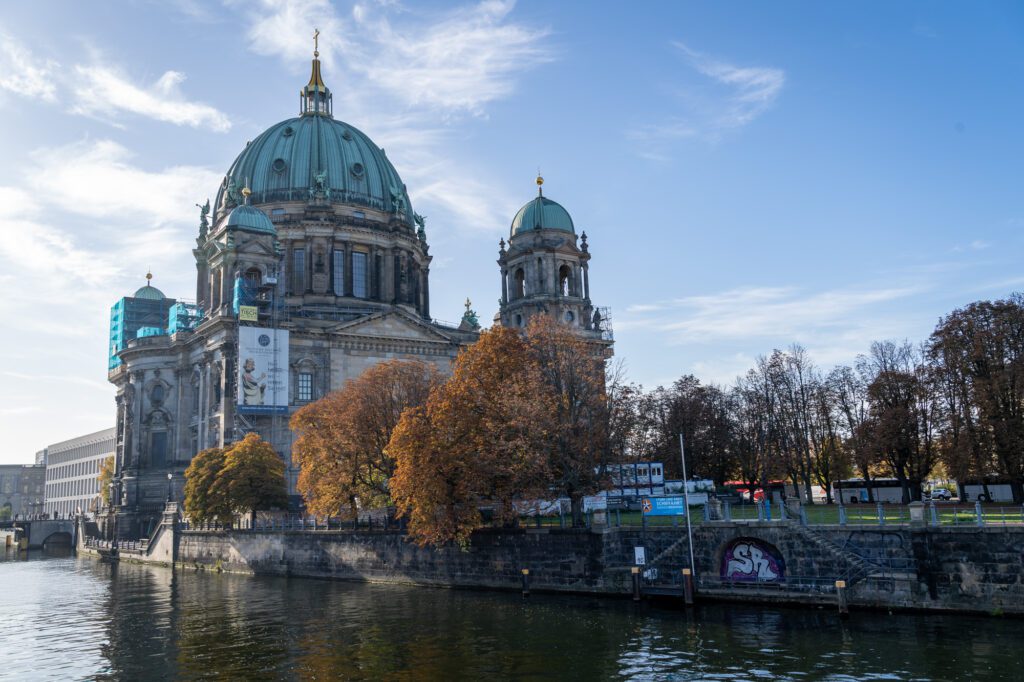 Motel One Hackescher Markt (Mid-Range Hotel)
This hotel chain has a few across the city, but the one at Hackescher Markt is the best located in Mitte. It's a mid-range hotel, offering modern rooms that are stylishly decorated.
You're very close to Alexanderplatz (but not actually there) and not far away from the river – if you have time, walk along it towards the Reichstag and Hauptbahnhof, it's a really beautiful walk.
Circus Hotel (Boutique Hotel)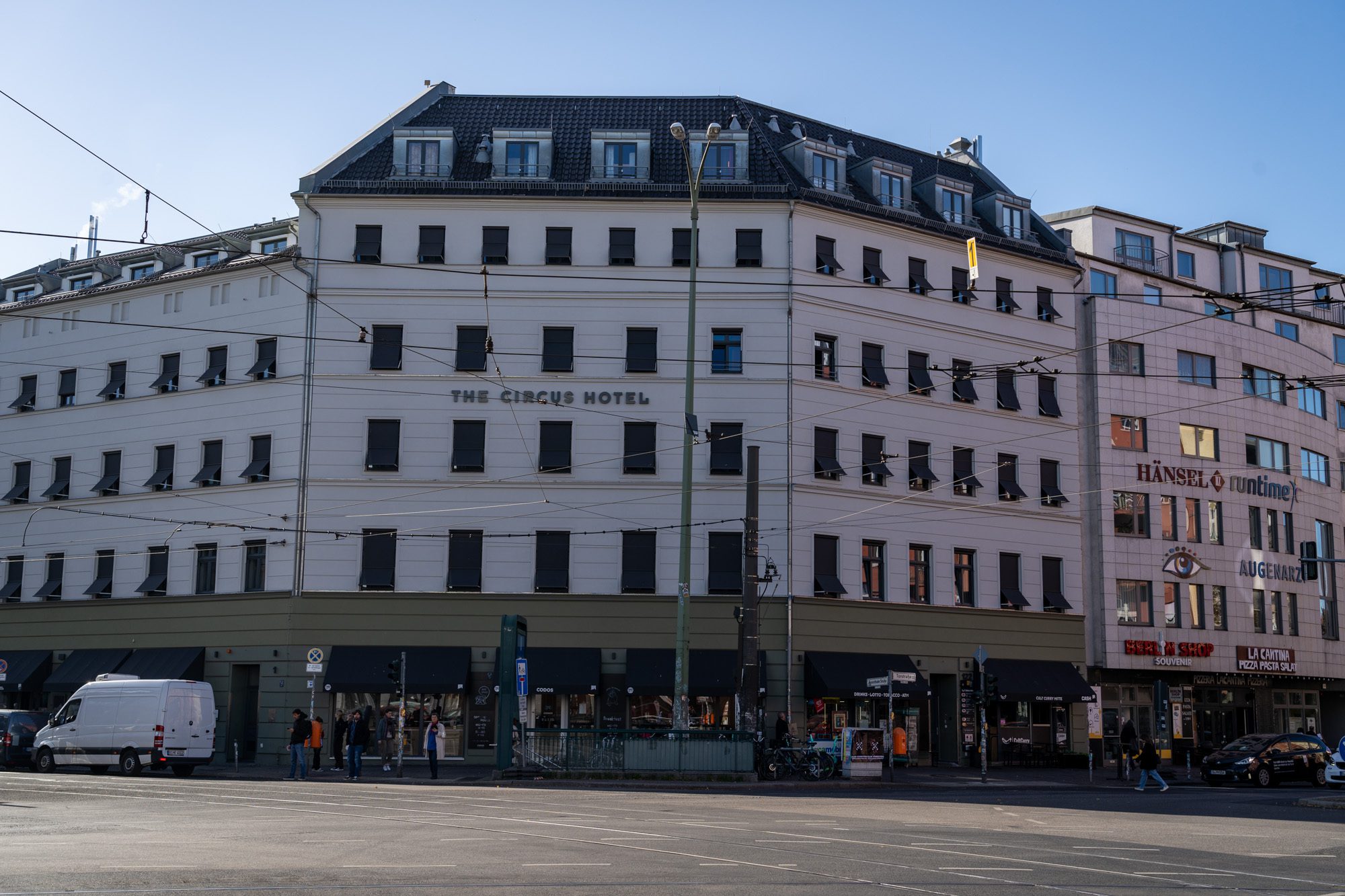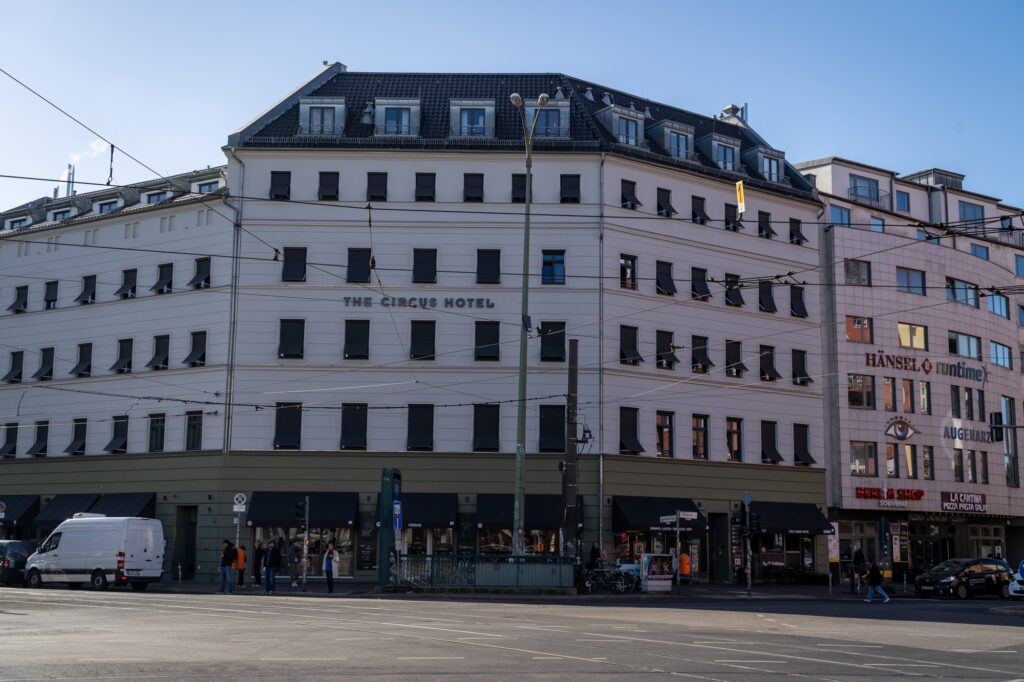 This hotel is really well located at Rosenthaler Platz and is north of Alexanderplatz. You can easily walk up to Prenzlauer Berg and there are loads of nice bakeries, cafes, and bars in the area.
It's a mid-range hotel that offers varying-sized rooms and has its own (great) bar. They also have a hostel and apartments in Berlin.
Casa Camper (Boutique Hotel)
Casa Camper is located close to the Hackesche Höfe. The rooms are minimally designed, modern, and have everything you need.
Rather than providing traditional minibars, they have a 24/7 rooftop bar, where guests can get free drinks and snacks whilst looking out over the city. It's also very close to Five Elephants coffee!
Flowers Boardinghouse Mitte
These apartments are in a beautiful building close to Rosa-Luxemburg-Platz and Tor Straße. They offer standard, superior, and deluxe suites which are all well equipped and spacious. You can easily walk to the main tourist sites and up to Prenzlauer Berg from here.
Adina Apartment Hotel Berlin Hackescher Markt
These apartments are perfectly located for sightseeing. You're very close to Hackescher Markt and to Alexanderplatz, so perfect if you want to do a bit of shopping too! The Berlin Cathedral, Museum Island, the Spree river, and the DDR Museum are all within walking distance.
All of the apartments have a fully equipped kitchen, a washing machine, and there are large grocery stores nearby.
The apartments are also close to the famous Unter den Linden avenue, which you can walk all the way along to the Brandenburg Gate, the Jewish Memorial, and Tiergarten.
Generator Hostel
This is a really cool hostel in a really nice area of Berlin. Oranienburger Straße is full of beautifully elegant buildings and courtyards. It's also the home to the stunning New Berlin Synagogue (which is definitely worth walking by and marveling at the amazing roof).
They offer a great selection of rooms and beds, including private dorms, beds in all-female dorms, and private deluxe king rooms. There's a rooftop terrace, a cafe, and a bar to meet other travelers.
Circus Hostel
Just like its sister hotel, Circus Hostel is at Rosenthaler Platz, so ideally located for getting to Prenzlauer Berg or walking into central Mitte. The U8 stops just in front of the hostel and takes you directly down to Kreuzberg too. There are great bars, cafes, and parks close by.
The hostel offers a mixture of private rooms and dorms and caters really well to larger groups. There's a breakfast buffet, a free walking tour, and the possibility to rent bikes. There's also no curfew – which is handy if you're in Berlin for a late night!
Friedrichshain: The Best Place to Stay on a Budget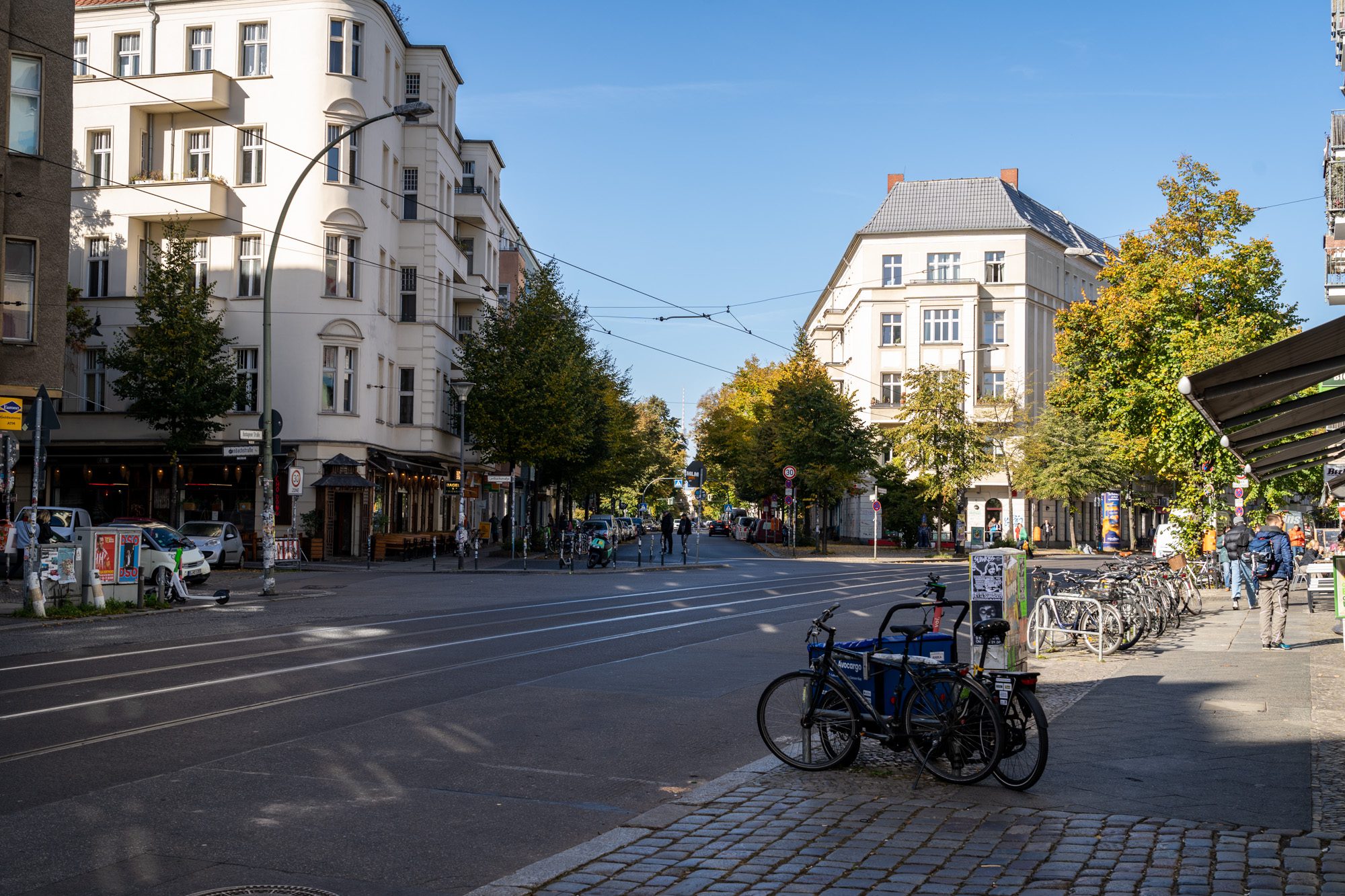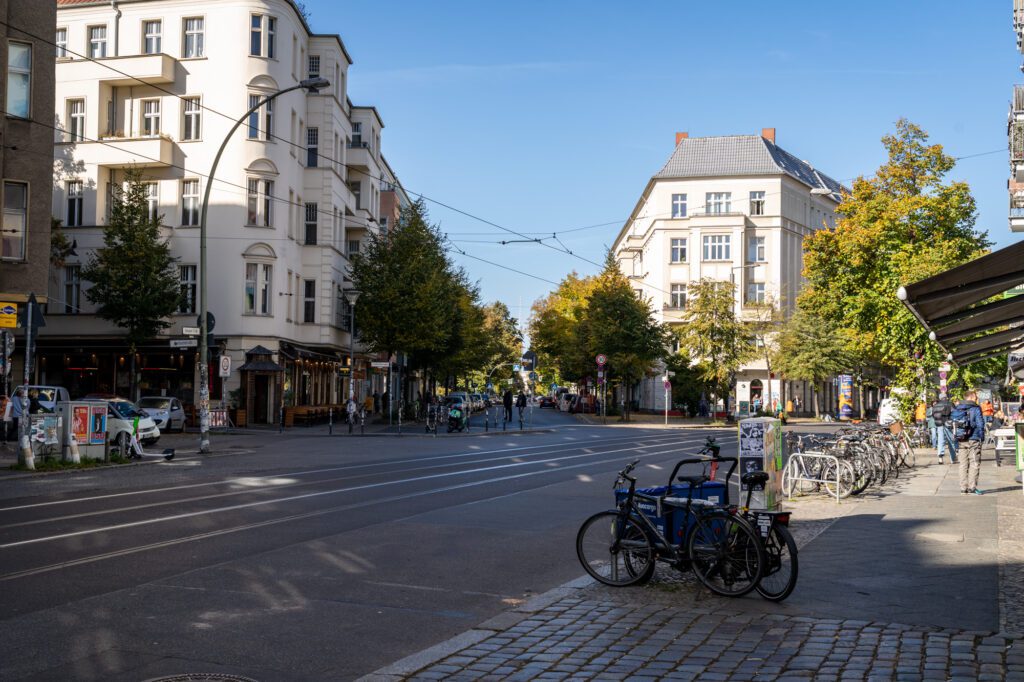 This neighborhood is located to the east of the center of Berlin. It's roughly a 10-minute subway ride directly to Alexanderplatz (on the U5) and has a few different train stations on the Ringbahn – meaning you can easily travel all over Berlin.
If you want to stay in a neighborhood that's a really popular place for people to live in, then you should choose Friedrichshain. The area around Boxhagener Platz is full of independent, hipster cafes that serve amazing brunches and coffee.
There are also lots of great bars, boutique and vintage shops, and a lot of street art. If you're in Berlin for a night out, it also has some of the biggest clubs.
Pros/Cons of Staying in Friedrichshain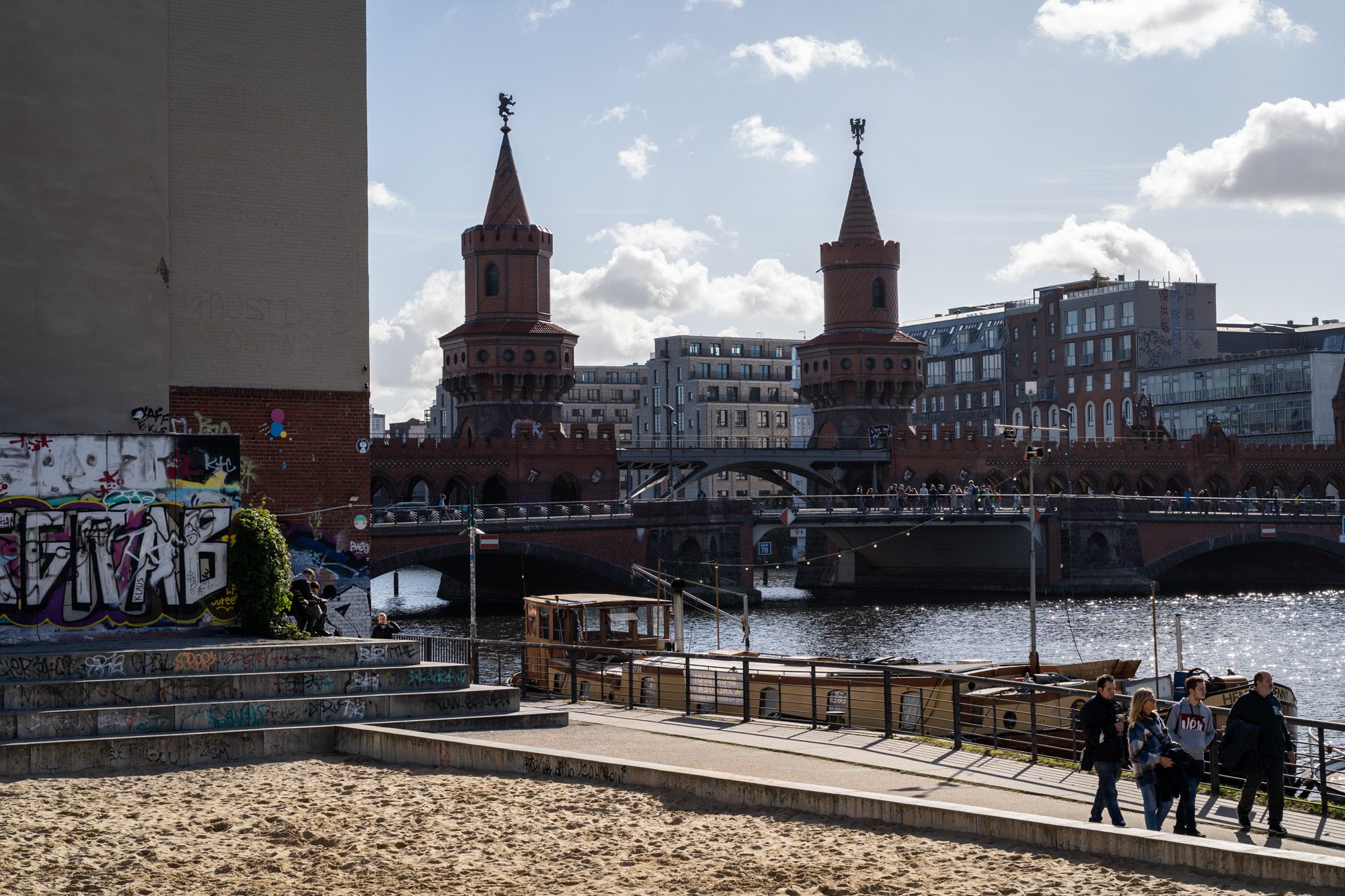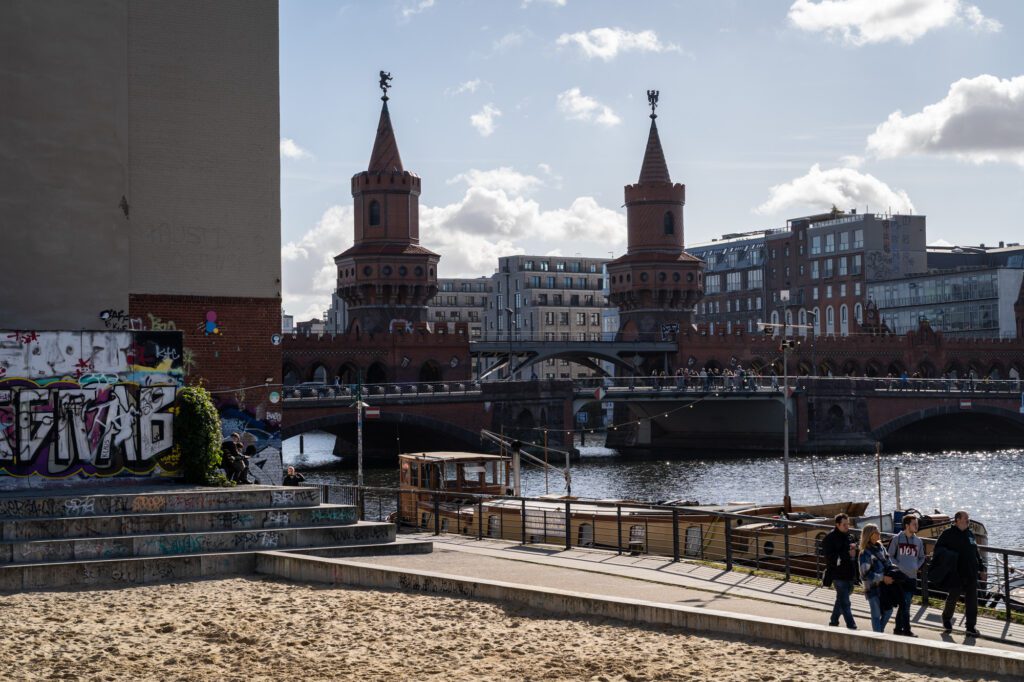 Pros
The pros of staying in Friedrichshain are endless. I live here, so that should give you an idea.
As just mentioned, it's really well connected by the public transport system. As well as trains, there are also trams taking you towards Mitte and Prenzlauer Berg.
One of the best things about Friedrichshain is that you can easily walk to other parts of the city – and they're generally really beautiful walks. You can walk across Oberbaumbrücke (a beautiful, turreted bridge pictured above) to Kreuzberg, or up through the city park to Prenzlauer Berg.
There's also a really relaxed vibe in Friedrichshain and it's very safe. You can really find everything you're looking for, whether it's a fancier wine bar, a bit of a dive bar, someone selling beer on the street, or a cocktail bar. There are also independent restaurants selling everything from Mexican and Turkish food to Vietnamese and Sudanese.
Being part of former East Berlin, it also has some really interesting history and architecture. The best place to see the wall is at East Side Gallery to the south of Friedrichshain (it's also the part with the iconic graffiti of Leonid Brezhnev and Erich Honecker kissing).
Largely because of its divided history and how destroyed the city was after WWII, there has always been a strong counterculture in Berlin. The city is one of the last ones in Europe that still has a squat culture – some buildings of which you can see in Friedrichshain.
Cons
I'm trying. I really am. Maybe too much graffiti? Although that's kind of all over Berlin. There's no canal to sit down by in summer? There are a lot of great parks though, and the river.
I'm sure some people would say it's a bit over-hyped and not that authentic anymore. That could be true, but the same could be said of neighborhoods in cities all over the world, so I wouldn't let that put you off.
Friedrichshain Highlights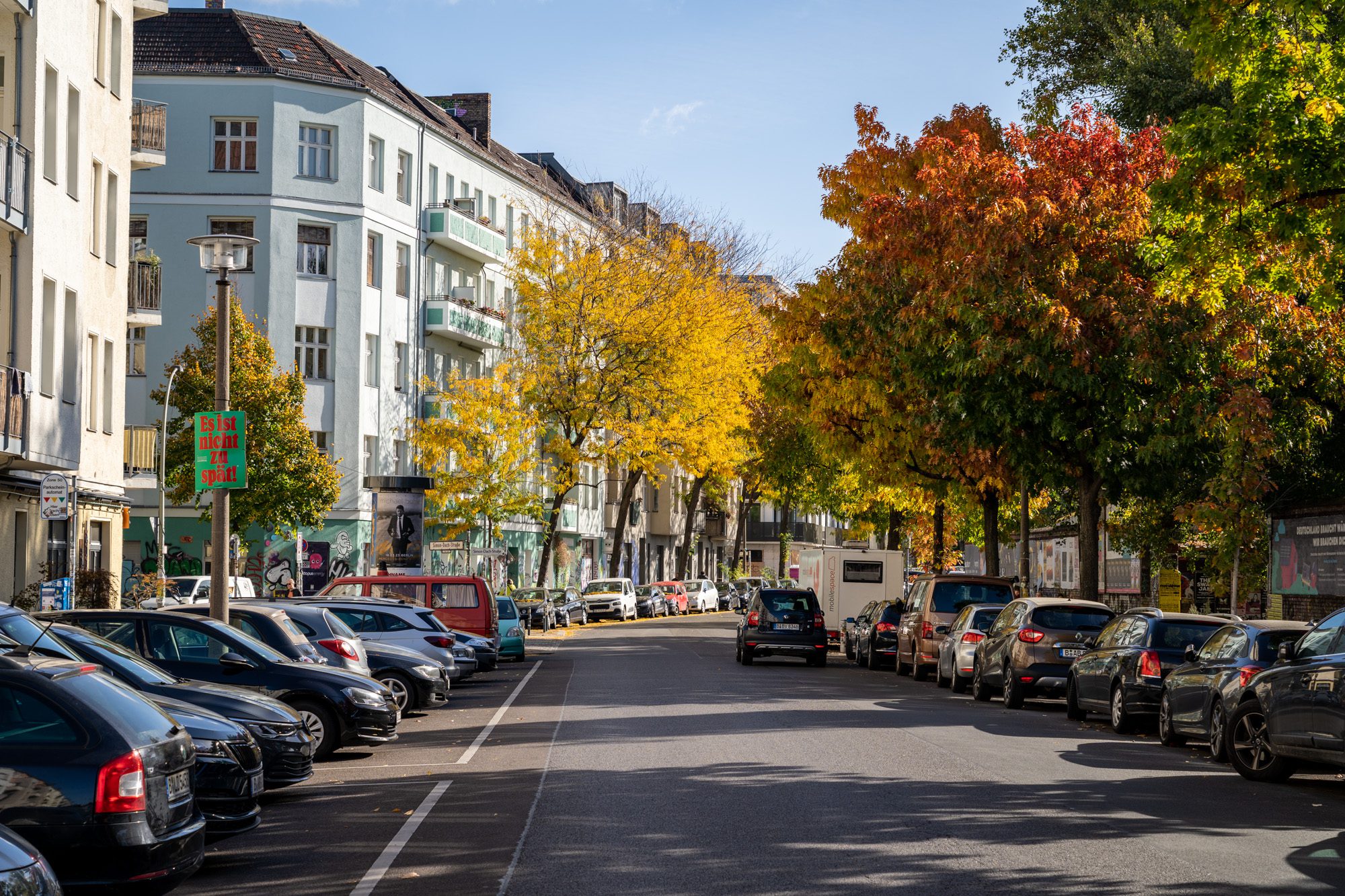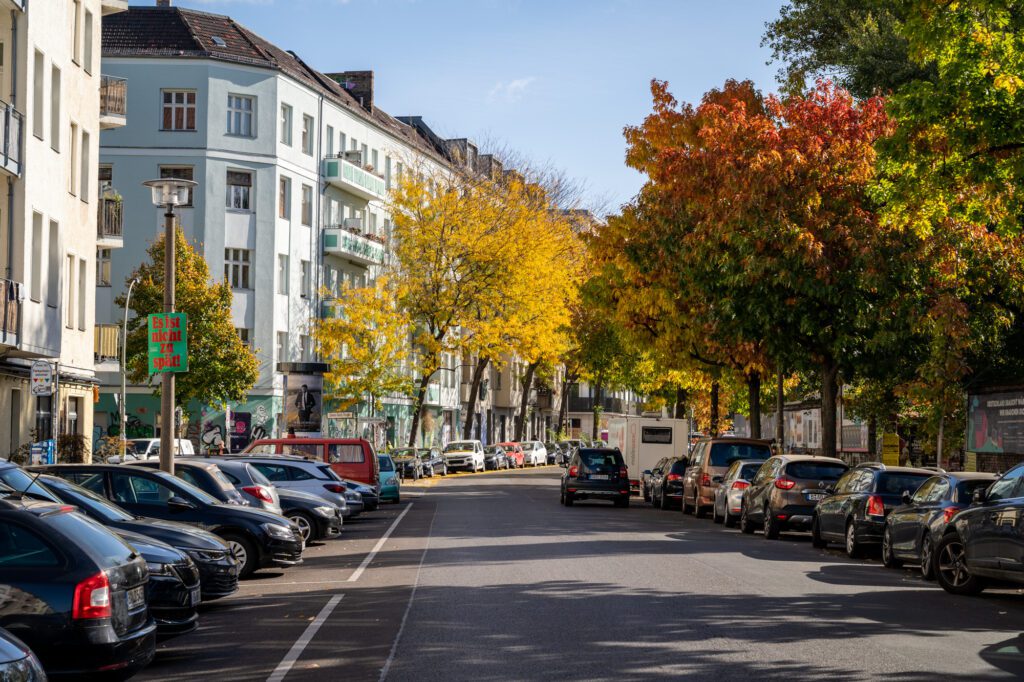 Boxhagener Platz and the surrounding streets are really the heart of Friedrichshain. There's a great market on a Saturday with farmers selling fresh, local fruit and veg and small businesses selling everything from aloe vera products to handmade kimchi. On a Sunday it's a flea market.


There are a lot of parks in Friedrichshain (actually in Berlin in general). Some of the best ones are Volkspark Friedrichshain, Weberwiese, and Boxhagener Platz.


Some of the most famous clubs are in Friedrichshain, including the notorious Berghain, Wilde Renate, Kater Blau, and About Blank.


There are a lot of Spätis – a kind of liquor store that all Berliners go to to buy beer, drinks, chips, and basically everything else.


There are some famous shops, such as Humana, an enormous vintage shop covering 5 floors. Even if you don't want to buy anything, it's worth going into the building as it's really unique. So unique, it's been in quite a few series, such as the Queen's Gambit.
Places to Stay in Friedrichshain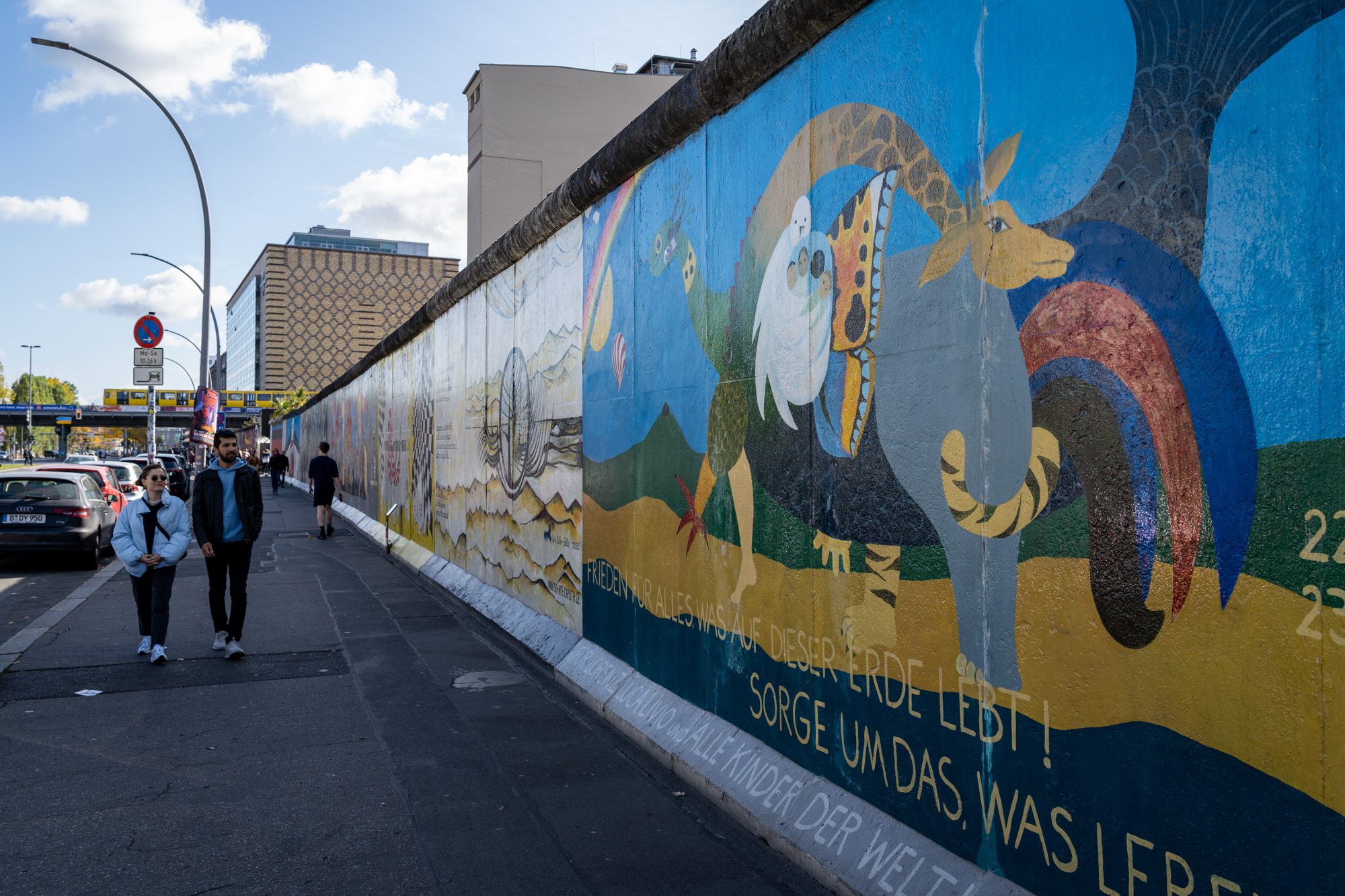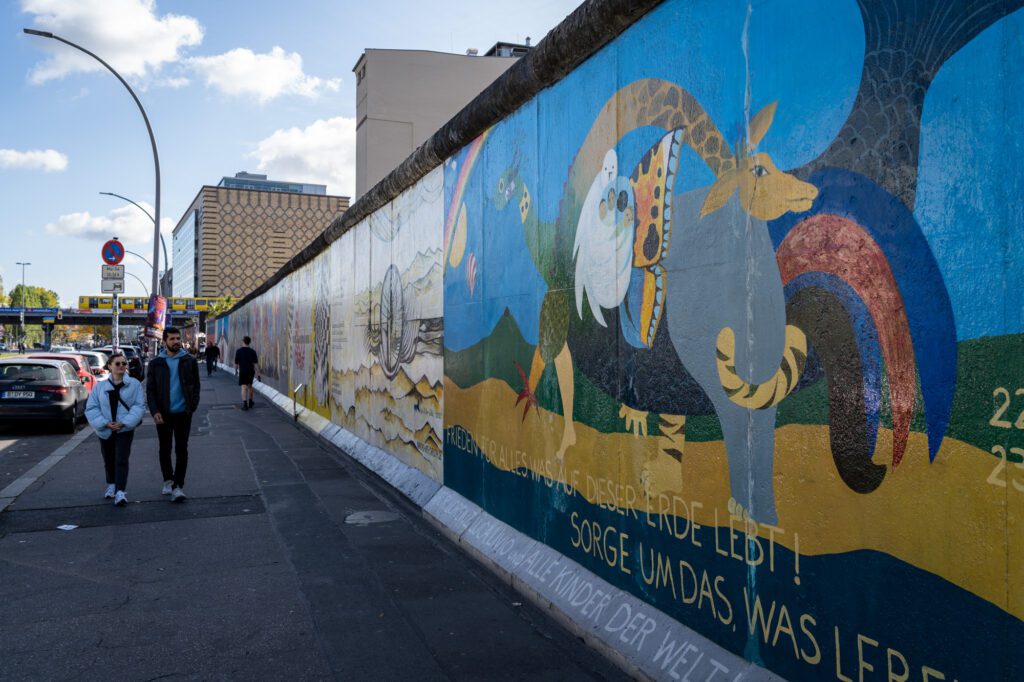 Hotel Indigo Berlin – East Side Gallery (Mid-Range Hotel)
This is a great, super stylish hotel very close to the East Side Gallery. They've combined the urban graffiti of Friedrichshain with modern luxury.
There's a great restaurant covered in art and the bedrooms are spacious and well decorated. It's well located for getting to Kreuzberg and you can walk to Alexanderplatz.
It's close to Mercedes Benz Platz, which isn't necessarily a plus. It's a square full of bright lights, chain restaurants, and a really expensive Odeon. There you go, I knew I'd find a con about Friedrichshain.
Schulz Hotel East Side Gallery (Mid-Range Hotel)
This mid-range hotel is well equipped, super clean, and a bit quirky. It too is located near to Ostbahnhof and is close (as are the other two) to clubs such as Kater Blau and Berghain.
If you're lucky, you'll actually get a room that looks out over the wall. They cater to big groups and families as well as to solo travelers.
Moxy Hotel Berlin (Boutique Hotel)
The Moxy Hotel in Berlin is a well-designed, boutique hotel close to Ostbahnhof (a big train station) – so it's really well connected. It's close to East Side Gallery, opposite Holzmark and close to Yaam (two great bars to go to, right on the river).
From this hotel, you can also easily walk to Alexanderplatz and Mitte. The rooms are stylish, well equipped, and relatively affordable.
STAYERY Apartments Friedrichshain (Apartments)
Stayery is a super cool aparthotel (that's a hotel, but with apartment-style rooms) right in the middle of Friedrichshain. There are a bunch of great restaurants and bars around and they're excellently connected by the tram and are not far away from Ostkreuz.
The apartments are equipped with everything you need, there's a common TV area, a coworking space, and the best bit – they have their own in-building späti.
Backpacker Berlin (Hostel)
This hostel is really well priced, offers single rooms, shared dorms, a kitchen, washing services, and bike rentals. It's really well located and is close to RAW Gelände – a fun urban courtyard full of clubs, bars, and exhibition spaces.
Kreuzberg: The Coolest Part of Berlin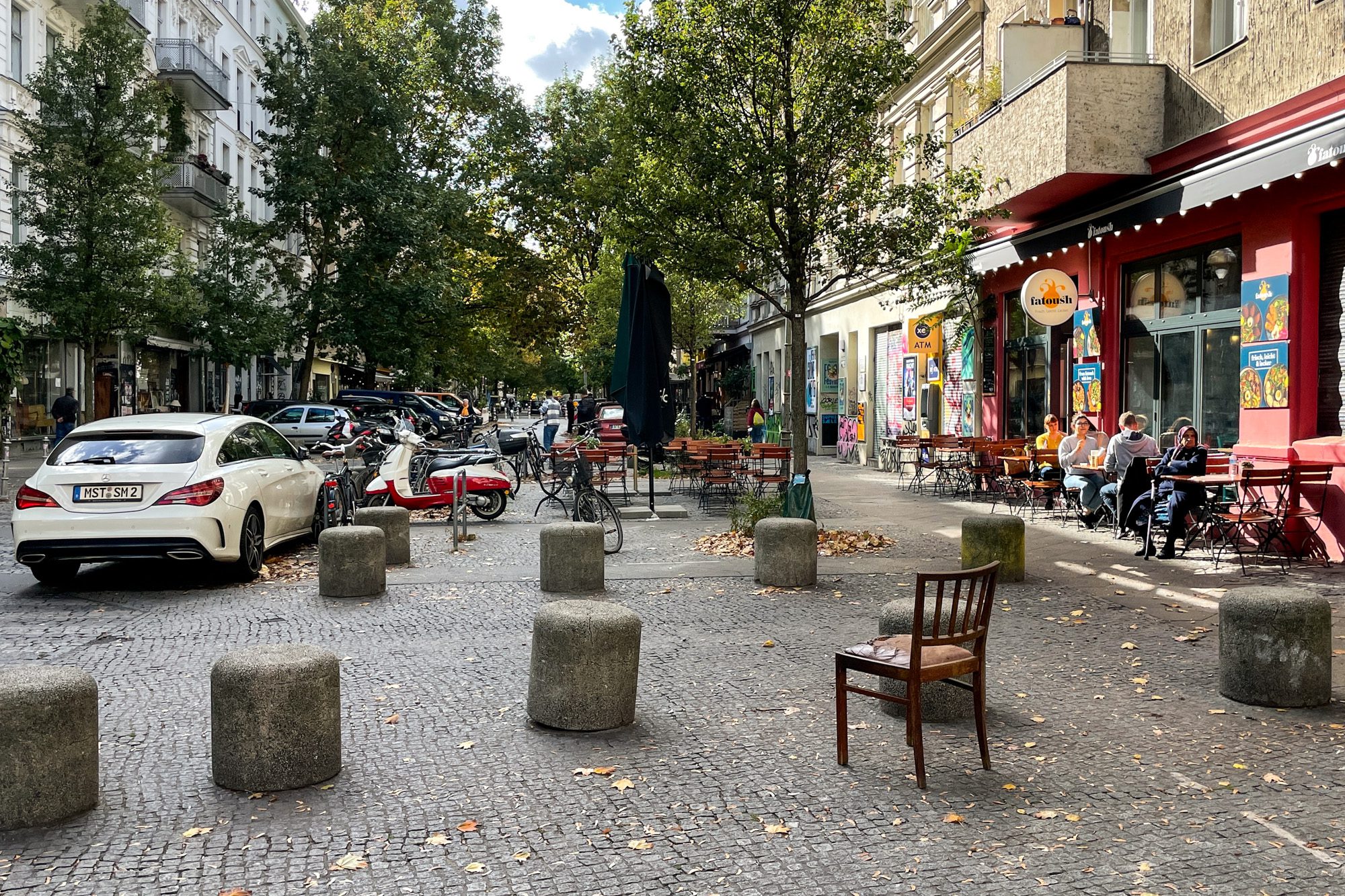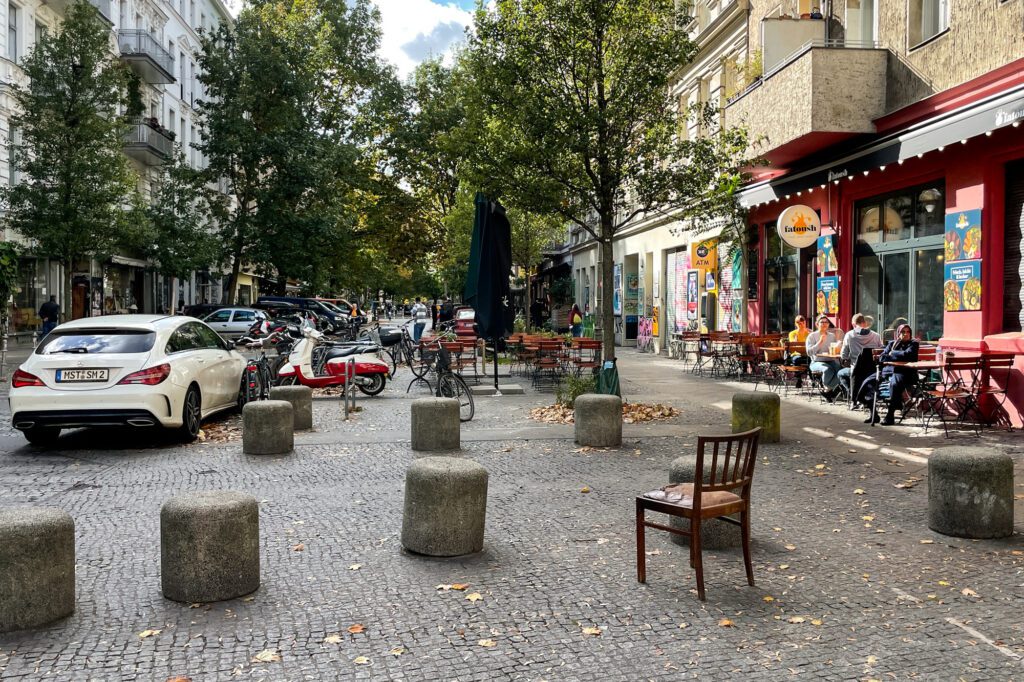 Kreuzberg is a really fun neighborhood to the south of Mitte and close to Friedrichshain. It's famous for its art, multiculturalism, and music.
In fact, it's where David Bowie lived during his time in Berlin. His song Heroes was inspired by a couple kissing in front of the Berlin Wall, which he saw from the recording studio there.
Many people would say it's the best area to stay in Berlin because you really get a mix of everything.
Pros/Cons of Staying in Kreuzberg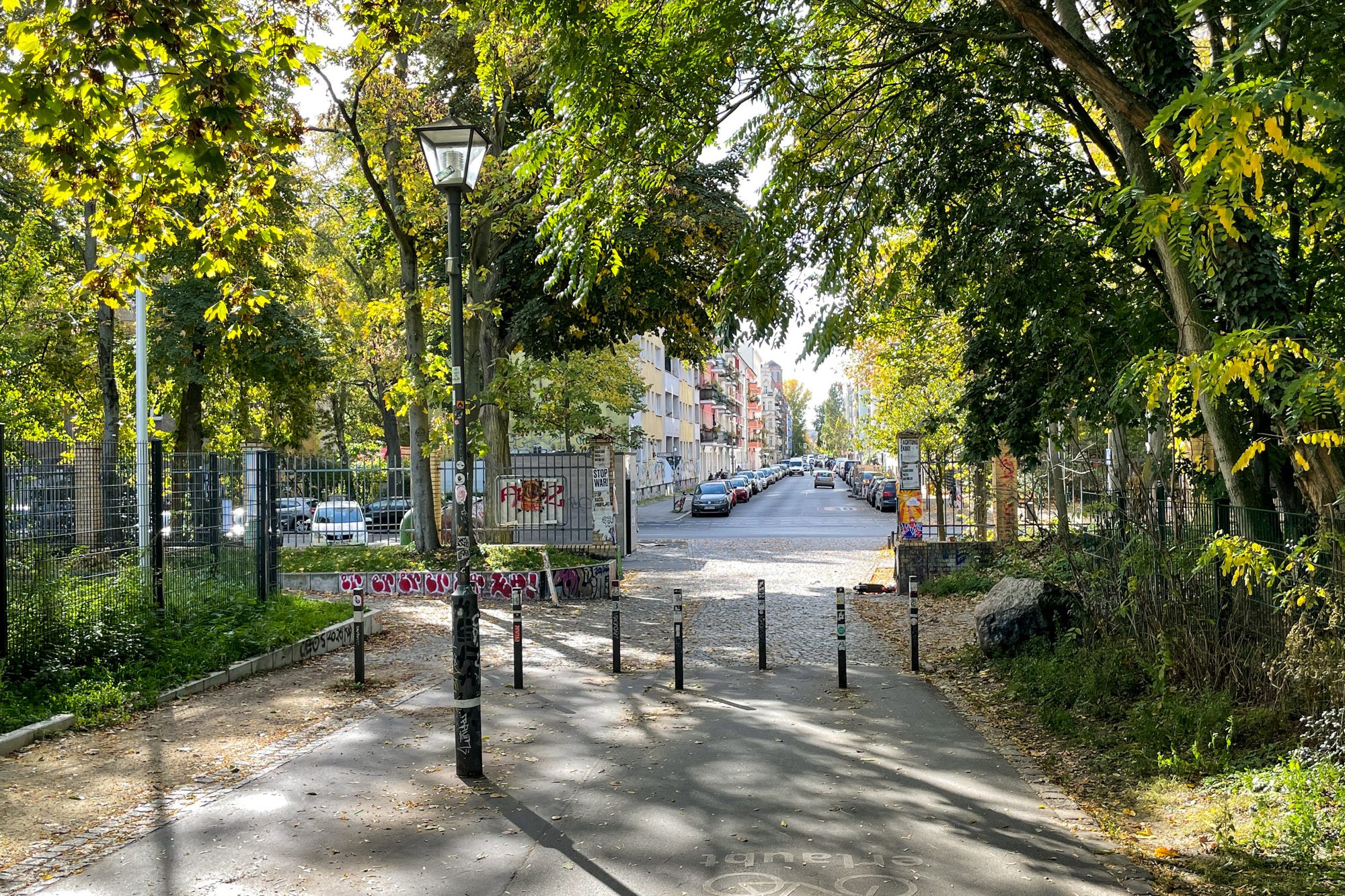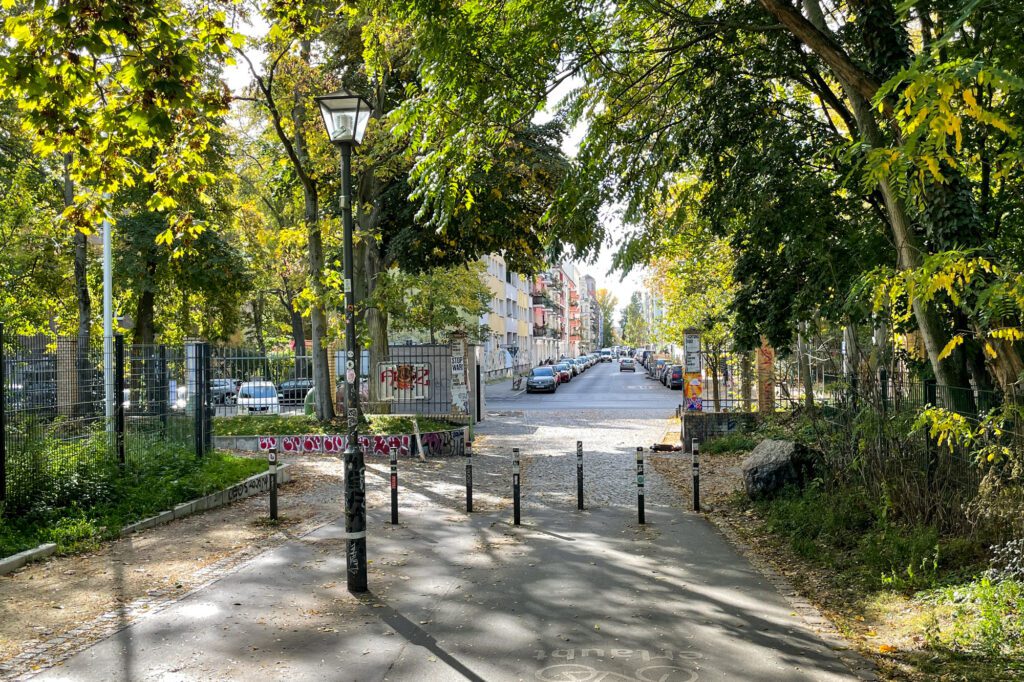 Pros
There's a really big Turkish community in Kreuzberg, which means it has some amazing restaurants serving delicious food. There are also some great 'very Berlin' bars and clubs, which are dark, fun, and very unique.
The area around the Landwehr Canal is one of the most beautiful areas in the whole city. On a summer's day, many people grab a few drinks and head to the canal to sit down and enjoy the weather.
There are loads of other great parks in Kreuzberg too, such as Görlitzer Park, Böckler Park, and Gleisdreieck.
If you happen to be visiting Berlin on May 1st or when the Carnival of Culture is happening, most of the fun is in Kreuzberg. On May 1st, there are lots of street parties, live music, and dancing on nearly all the streets.
During Karneval der Kulturen, there is a huge parade of floats winding through the streets of Kreuzberg, playing live music with traditional dancing. You can either watch as they pass or pick one you like and walk/dance behind it.
Cons
I love Kreuzberg, but when I took a friend once, she said it was a little too Berlin for her. I think by that she maybe meant it's quite hipster and less polished than other parts of the city – which I guess some areas are.
But walk just a few blocks over and there are really beautiful buildings, amazing cafes, and a really fun and relaxed vibe. 
Kreuzberg Highlights
Kreuzberg has some amazing cafes, such as Five Elephant Coffee and La Maison.


It also has some incredible bars. One of my favorites in Berlin is Das Hotel, a beautiful, small bar near the canal.


On Thursdays, Markthalle Neun, a big old market space, has an amazing street food market serving up delicious foods from loads of different countries. They also have a great cheese and wine stand!


Bergmannkiez and Graeferkiez are great areas in Kreuzberg to have a wander through. The buildings are beautiful and it's full of delis, artisan bakeries, bars, and cafes.


Some of the best street art in Berlin is in Kreuzberg including a geisha, an astronaut, and an enormous elephant.
Places to Stay in Kreuzberg
Motel One Berlin Mitte (Mid-Range Hotel)
Don't let the name confuse you. We're still on Kreuzberg. This hotel is really close to Moritzplatz and is within walking distance to tourist sites such as the Jewish Museum, Checkpoint Charlie, and the Berlin Gallerie.
It's also close to the canal and local parks. It's stylishly decorated with big chairs and low hanging lamps and there's a good breakfast buffet. Kids up to 12 can stay free in their parents' room.
Hotel the YARD (Boutique Hotel)
This is a beautiful, stylishly designed boutique hotel close to Böckler Park and the canal. You can walk up to Mitte and east towards other parts of Kreuzberg.
It's a little more up-market, but the restaurant is wonderful as is the cozy bar. They also have a beautiful garden to enjoy a drink in.
Lekkerurlaub (Boutique Hotel)
This is a great place to stay that mixes some aspects of a hostel with others of a hotel. There are no dorms, but there are a few shared bathrooms.
It's perfectly located in the middle of Kreuzberg, near Admiralbrücke, which is a great bridge to sit on and enjoy the sunset. The rooms are good and it has great amenities.
Three Little Pigs Hostel Berlin (Hostel)
This hostel has a mix of shared rooms with bathrooms, private rooms, and large rooms for groups. It's well located for tourist sites such as Checkpoint Charlie, Tiergarten park, and Potsdamer Platz.
It's slightly more towards Mitte, rather than being in the heart of Kreuzberg, but you can walk or easily get public transport. The best of both worlds. The rooms are clean, you can rent bikes, and they have a washing machine and a bar.
The Cat's Pajamas Hostel (Hostel)
This hostel is in the really cool Kreuzkölln area, the part of the city that's between Kreuzberg and Neukölln. Hermannplatz train station is just in front of the hostel so you can get to other areas of the city super easily.
Within walking distance, you have the really cool Graefekiez district, as well as lots of nice restaurants, bars, and quirky shops. There's a mixture of shared dorms and private rooms, as well as a shared kitchen and terrace.
A Quick Berlin Geography Overview
Before we get into exactly where to stay, let's quickly talk about geography to give you a baseline understanding of the city's layout.
Berlin basically works in a circular system. Mitte (which means middle) is, surprisingly, in the middle. Then other more central neighborhoods surround Mitte, and other not so central ones surround them.
There's actually a train (the Ringbahn) that circles the city on the outskirts of the more central neighborhoods. Most people in Berlin want to live within the Ringbahn – it's really something they write on their apartment applications – so for your trip to Berlin, you should aim to do the same.
Depending on how long you're staying in Berlin, you can of course break free of the Ringbahn and explore some of the neighborhoods on the outskirts of the city. Many of them used to be little villages which over time became part of Berlin. They're really pretty to walk around and have a different feel to the city center.
If you're in Berlin for sightseeing, beautiful cafes, and a night out, you'll want to stay somewhere more central.
Of course, it's impossible to talk about geography in Berlin and not mention the city's history. For 28 years, the city was divided into East and West by a concrete wall weaving its way through the middle. Whilst it's now united, it's often possible to know which part of the city you're in based on architecture and street names.
Both sides also had their own pedestrian crossings and when the wall fell, East Berliners wanted to keep their iconic little man. They're a bit mixed up now, but you can still see him proudly crossing the streets in Berlin.
Where NOT to Stay in Berlin
Where to stay in Berlin really depends on what you want to be close to and what vibe you're after. Everyone in Berlin tends to have a neighborhood that's their favorite, so it also really depends on who you ask. Most, however, would agree on a few areas not worth staying in, and Mitte would be one.
Mitte
Mitte is a big neighborhood, so of course, there are some nice places to stay and it's definitely worth visiting, but I wouldn't stay in the area where most of the tourist attractions are (around Brandenburg Gate). It's full of chain restaurants, tourist shops, and there are a lot of offices around there too. It's not somewhere many people in Berlin regularly go, and not somewhere they'd want to live.
One of the most iconic structures in Berlin is the Fernsehturm (TV Tower) at Alexanderplatz. The area is really well connected to the airport and other parts of the city, and whilst the tallest building in Berlin might help you to always find your way home, I really wouldn't recommend staying there. The architecture is much nicer in other parts of the city (that's putting it politely) and it's really touristy. It's definitely worth going for a look around, even up the tower, or for the Christmas market in December, but travel in.
However, if you're in town for a very short period (24 hours) and want to be super close to all the main attractions, then Mitte might be the right choice for you, which is why you see it in the list below.
However, it's probably not the right choice for the vast majority of travelers coming to Berlin.
Outside the Ringbahn
As already mentioned, it's best to stay within the Ringbahn for ease of getting around. The further you go out, the longer it will take you to get to any tourist attractions and you won't be able to walk around as easily. Berlin is a great city to explore on foot and bike, and that includes going back to your hotel after dinner or drinks. It's not the same if you have to spend the best part of an hour on a train.
---
Berlin is an amazing city with loads of great places to stay in. They all have something different to offer travelers. Which neighborhood will you choose for your trip?