2 Days in Granada: A Guide to Spain's Most Fascinating City
Planning a trip to Granada and looking to make the most of your time in one of Spain's most fascinating cities? After spending a few days in Granada, we came away with a much deeper understanding of the impact of the Muslim period – which spanned nearly eight centuries – in Andalucía and on Spain as a whole. There are aspects of Spanish culture – Flamenco, for example – language, and food that are examples of the blending of cultures that happened in southern Spain, particularly in Granada.
Most people spend a day in Granada and call it good – sometimes only a part of a day – but we're going to use this guide to try to convince you that you should spend at least 2 days in Granada if you can spare the time.
We arrived in Granada on a train from Madrid, and as you get further south towards Granada, you start to get a taste of Andalucía. The Sierra Nevada mountains in the background, hilltop towns with white facades in the foreground, and olive trees as far as the eye can see.
Granada was the last Muslim territory on the Iberian Peninsula, lasting into the late 15th Century before being surrendered to the Christian Monarchs in 1492. While the Muslim population is no longer as prominent in Granada as it was in the 1400's, the impact of seven centuries of Muslim control of the region is evident. Which makes it a unique place to visit, especially if you're interested in understanding that period and the impact on Spain more broadly.
The most emblematic piece of that history is undoubtedly the Alhambra, the treasure of Granada that is perched on a hill above the city in a perfect defensive position. It's part fort, part palace, and it's spectacular.
Granada, though, is so much more than the Alhambra, which oscillates between the first and second most visited site in Spain (trading spots with the Sagrada Familia in Barcelona). It's spectacular – the architecture, the gardens, the views, the story – but it's certainly not the only thing worth seeing in Granada.
P.S.: Planning a trip to Spain? We have a detailed Spain itinerary plus guides to Barcelona, Madrid, and Seville to help you plan an amazing trip!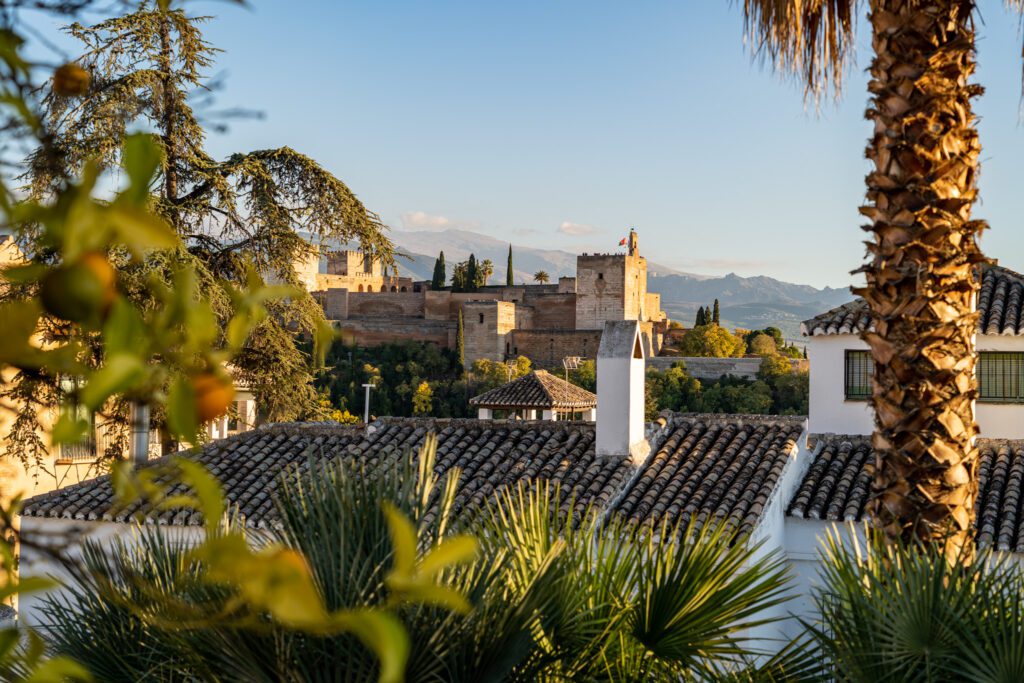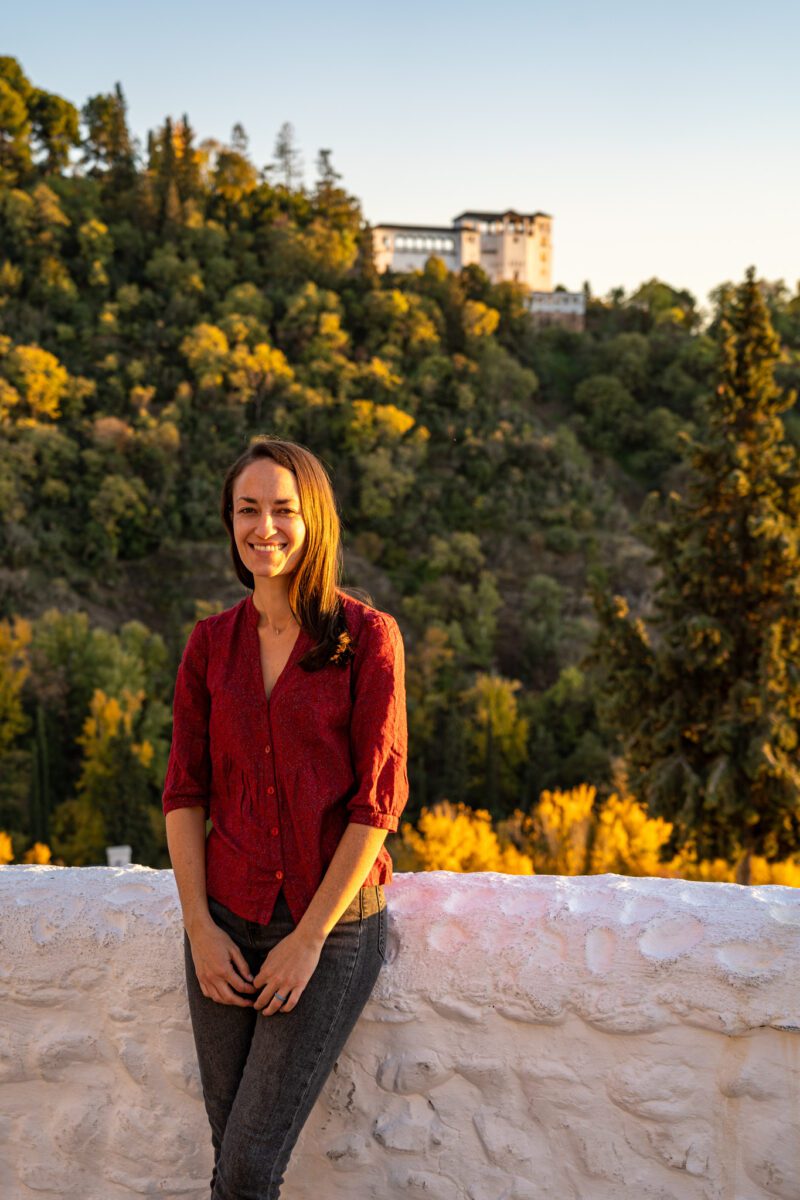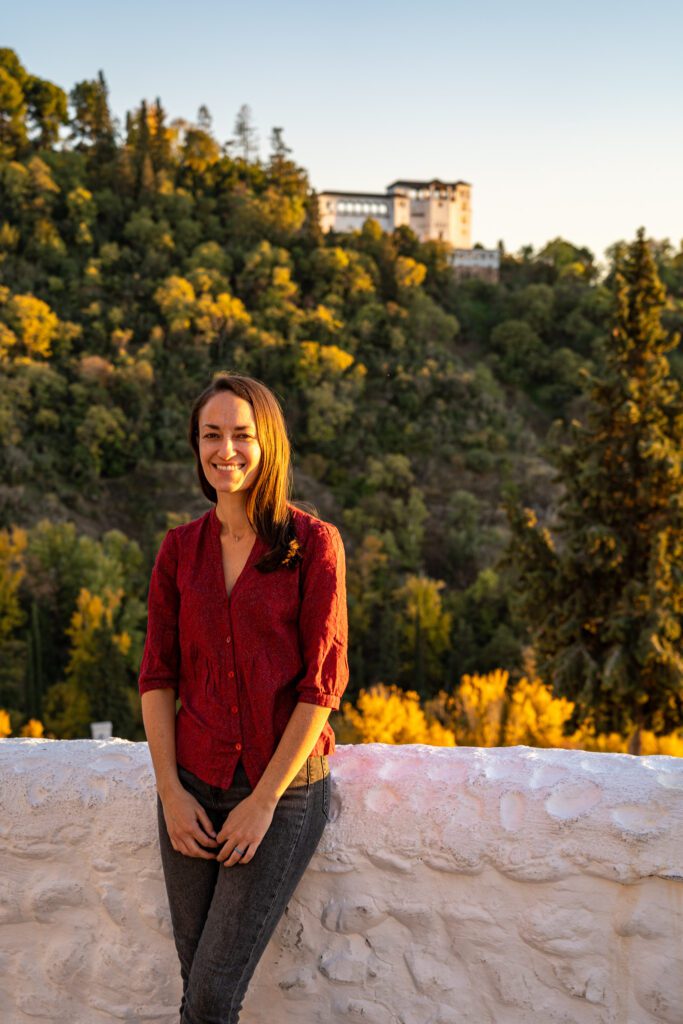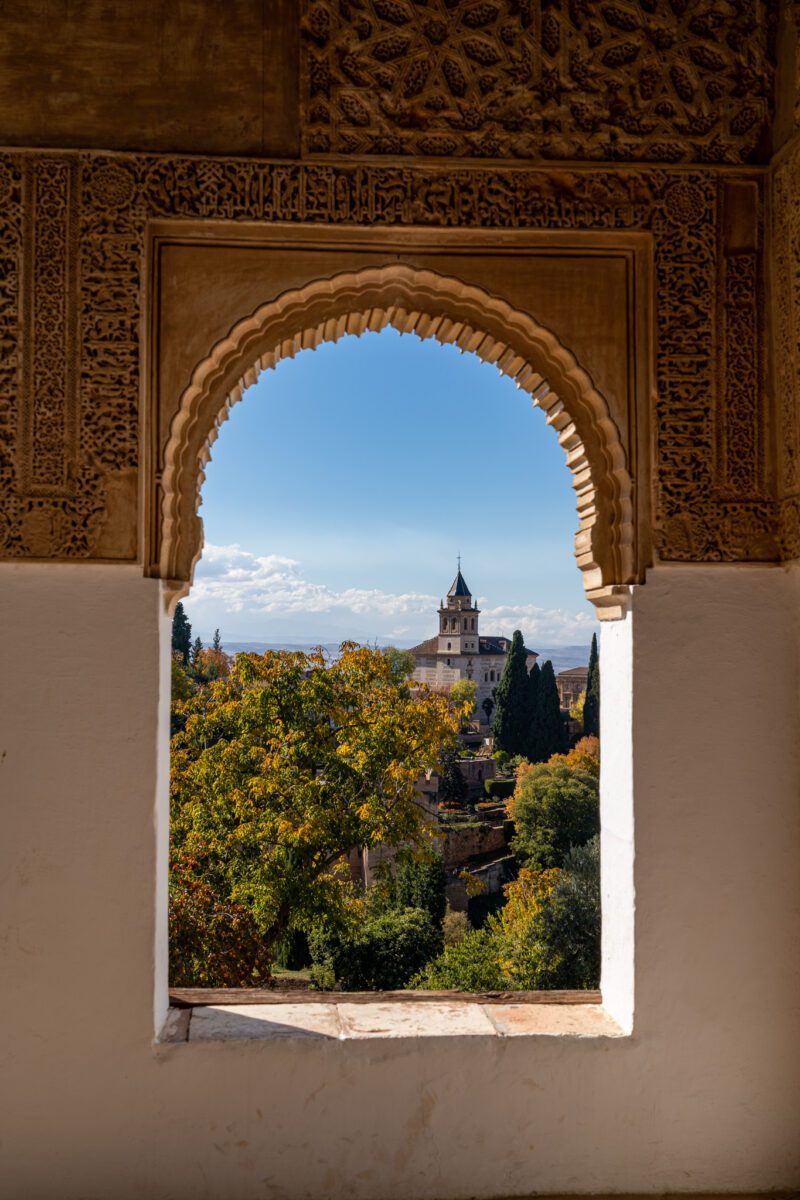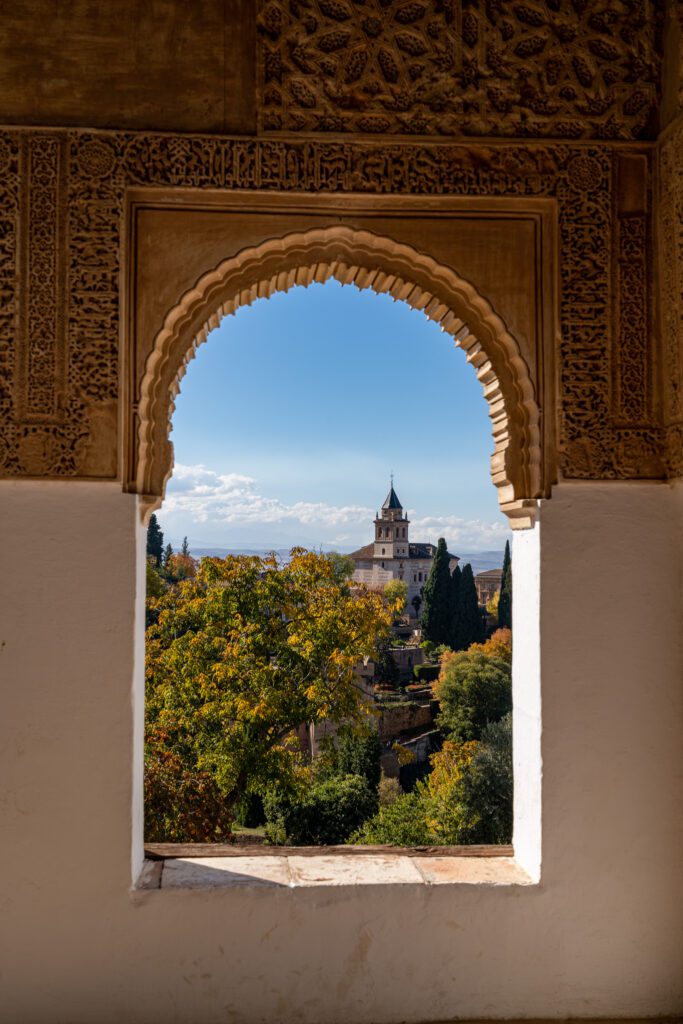 Disclaimer: Some of the links in this post, like hotel links, are affiliate links, meaning at no additional cost to you, we make a little bit of money if you click through and book. That being said, we would never recommend something to you that we don't stand behind 100%.
How Many Days in Granada
Granada is home to the Alhambra, which is going to take most of a day to really see properly. So that's one day in Granada.
However, we also think there is more to see in Granada beyond the Alhambra, which is why we've chosen to write this guide as a 2 day Granada itinerary.
Granada is a lovely city to spend time in, and one day doesn't quite do it justice, especially when most of that day will be spent at the Alhambra. There are interesting neighborhoods to explore, a couple of important sights in Spanish History, lots of good Flamenco to be seen in the neighborhood of Sacromonte, and tea houses with roots in the Arab world.
We'd absolutely recommend devoting 2 days to Granada. Though, we understand that not everyone has an extra day, so we've also included our perspective on how to spend a single day in Granada below the detailed itinerary.
If you have the time, it's worth a second day in Granada, which will allow you to get deeper into the complex history and the relationship between Muslims and Christians that is a huge part of Granada's story.
2 Days in Granada: How to Plan Your Granada Itinerary
We've split the 2 day Granada itinerary into two parts. On the first day, you'll soak up the cultural and historical significance of Granada with a walk through the historic Muslim Quarter and a trip to the Royal Chapel, where King Ferdinand and Queen Isabella are buried. That important context will set you up perfectly for your second day, where you'll focus all of your time and energy on the Alhambra, one of the most spectacular and important pieces of Islamic architecture in Granada, and all of Spain.
Keep in mind, these days are interchangeable. You can totally swap the two days around (and the morning/afternoon setup too) depending on when you're able to do the Alhambra, which is likely to be what you shape your itinerary around.
Day 1: The Albaicín, Tea, and Royals
On your first day in Granada, spend the day getting the proper context you need around Granada's history – both as the last Muslim territory on the Iberian Peninsula, and as a favorite city of the Christian Monarchs after it's conquest – which will set you up nicely for a deeper understanding of the Alhambra, which is on day 2.
The Albaicín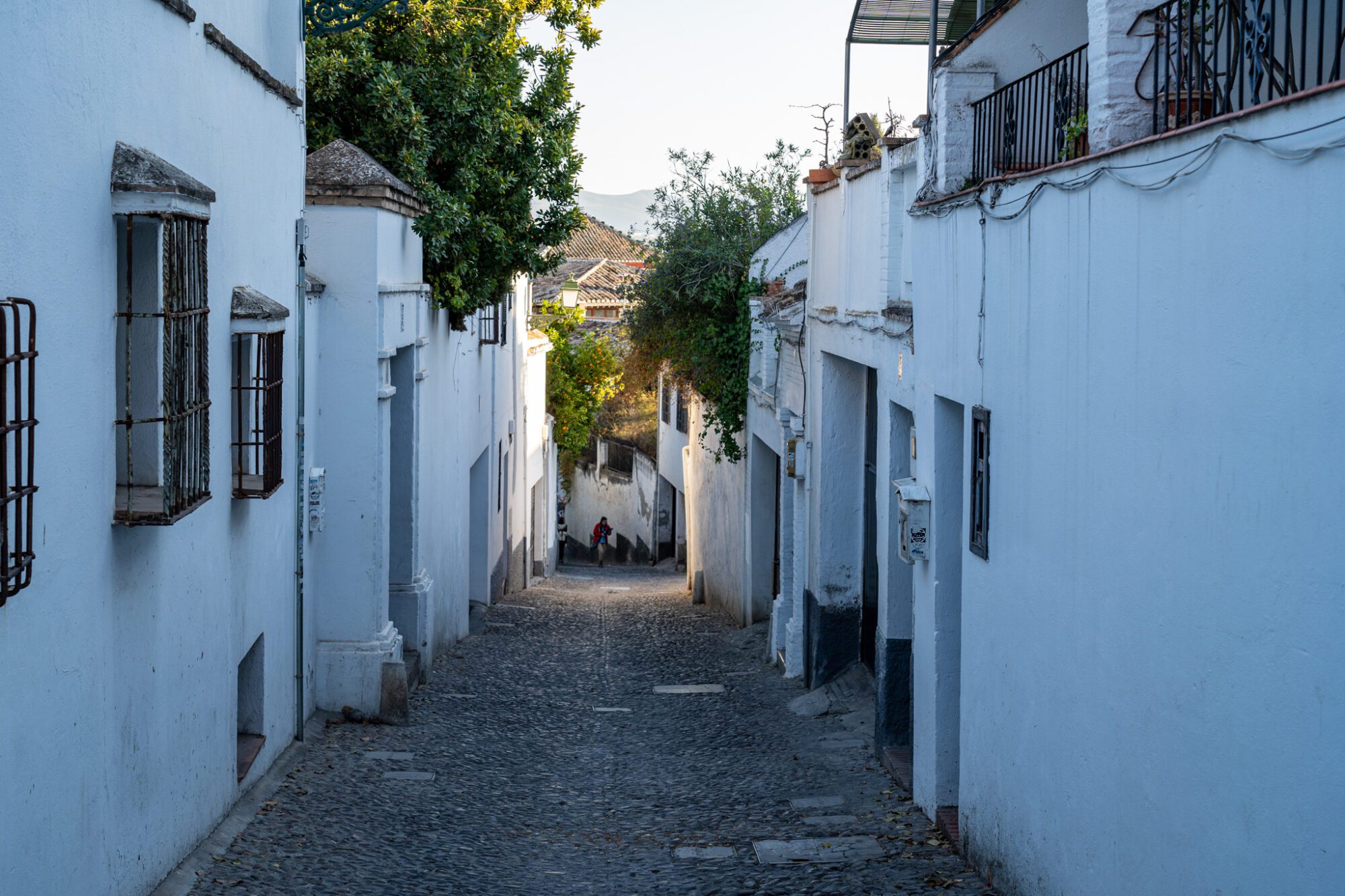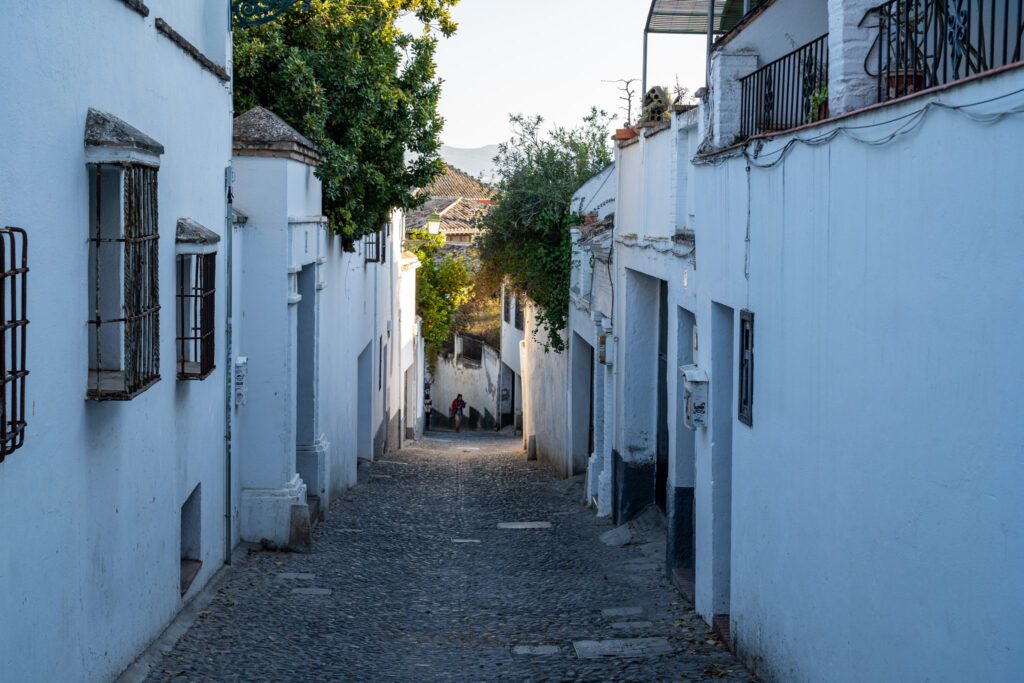 The Albaicín is the most romantic and charming part of Granada, at least in our view. The former Muslim quarter of Granada sprawls up the hill, which used to be the home of the ruling family's palace before it was moved to the Alhambra under a new ruling family. You can still find it today – it's called the Palacio de Dar al-Horra. The charming neighborhood around the former palace is full of narrow streets and open plazas, some of which have spectacular views of the Alhambra across the valley.
We'd recommend wandering, not following any particular route, but it's also one of our pet peeves to see writers say something to the effect of "just get lost!" So here's our route that we'd recommend, though you should feel more than comfortable to go off-script.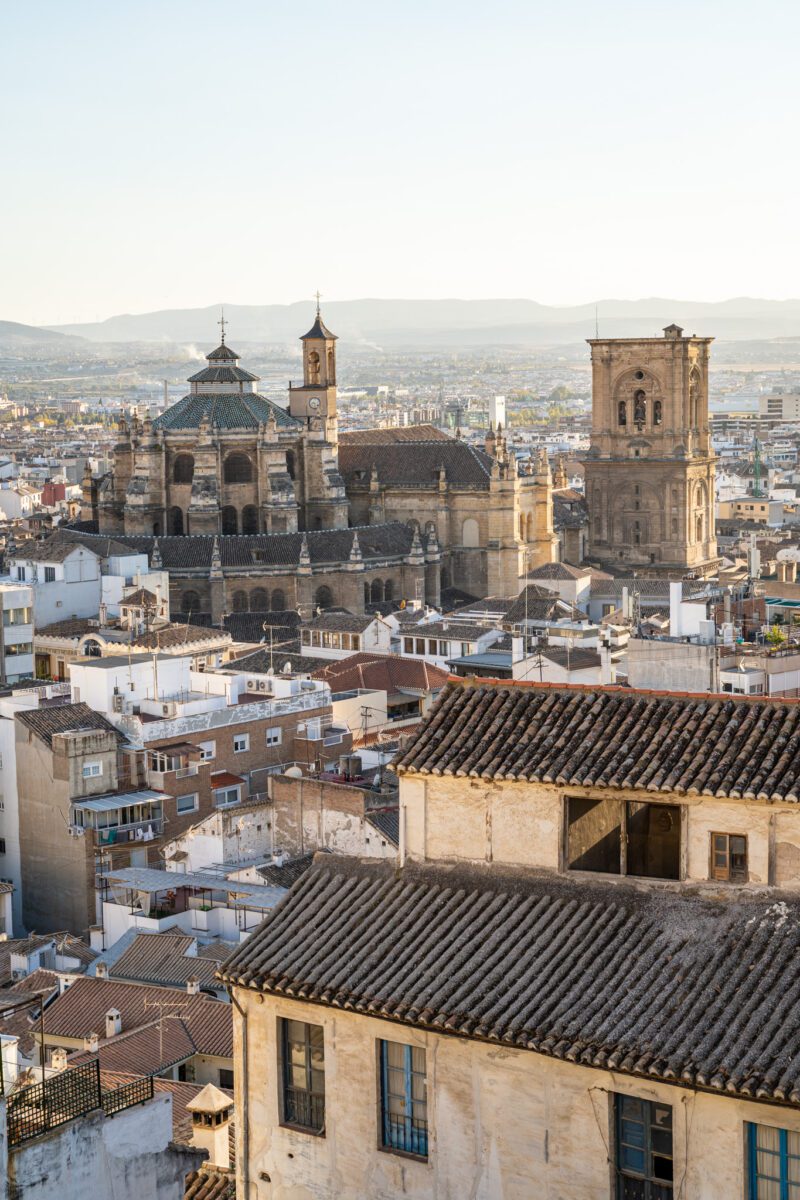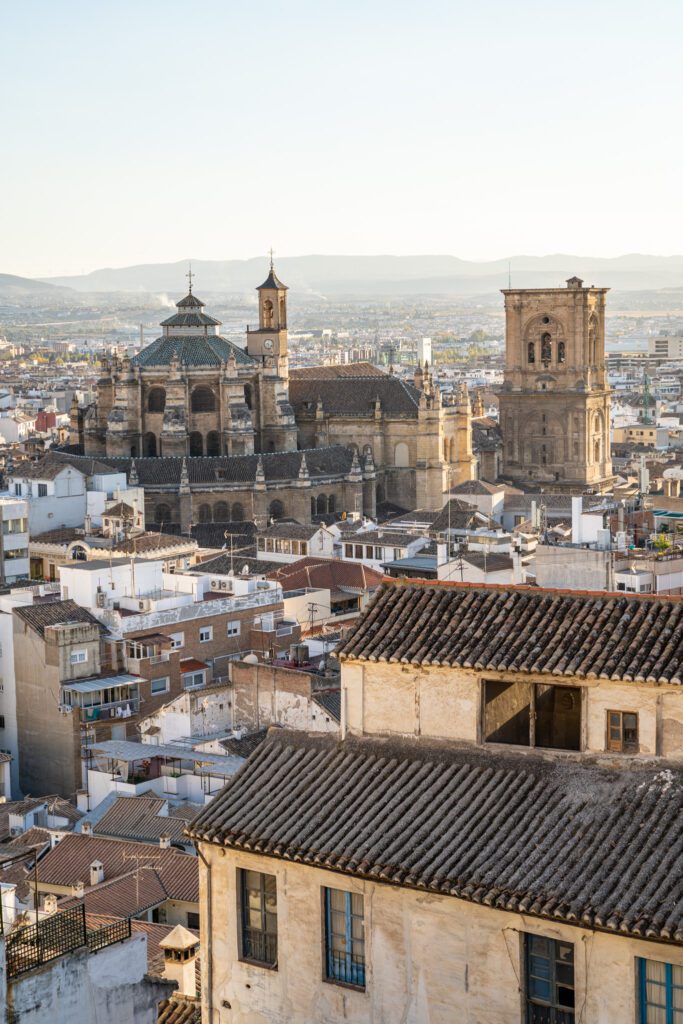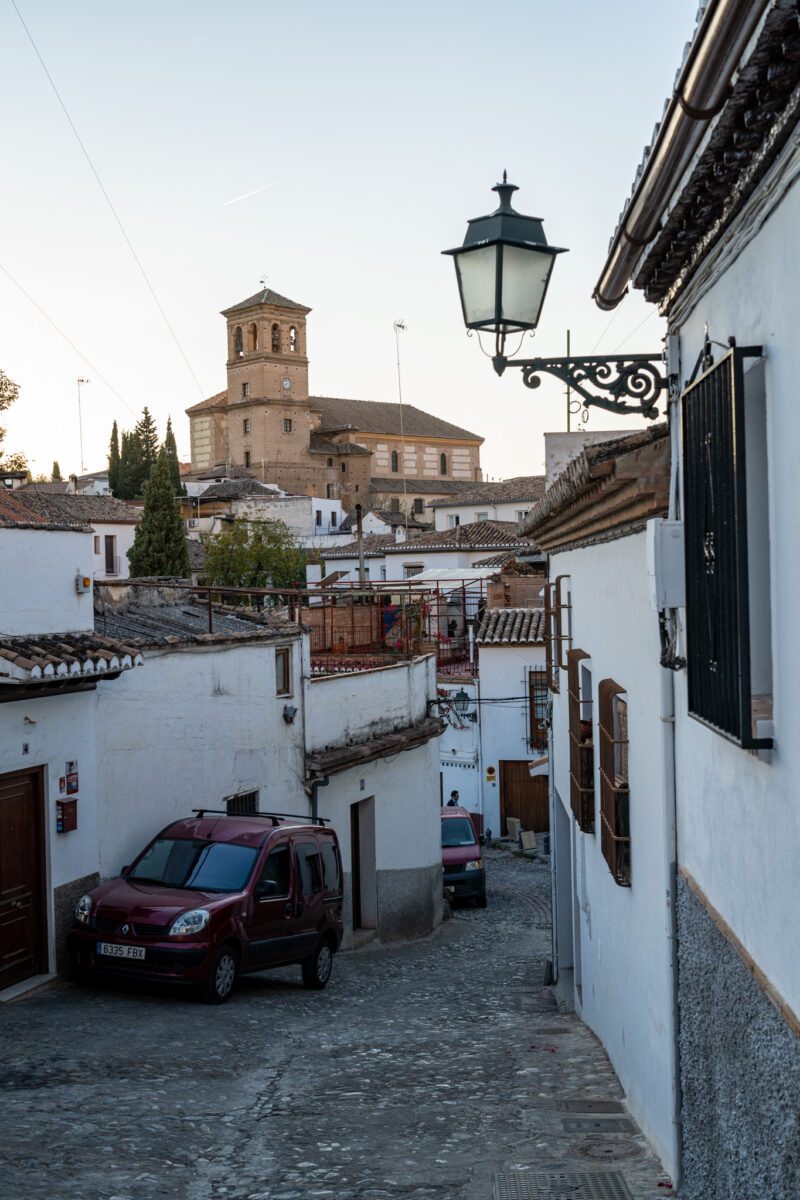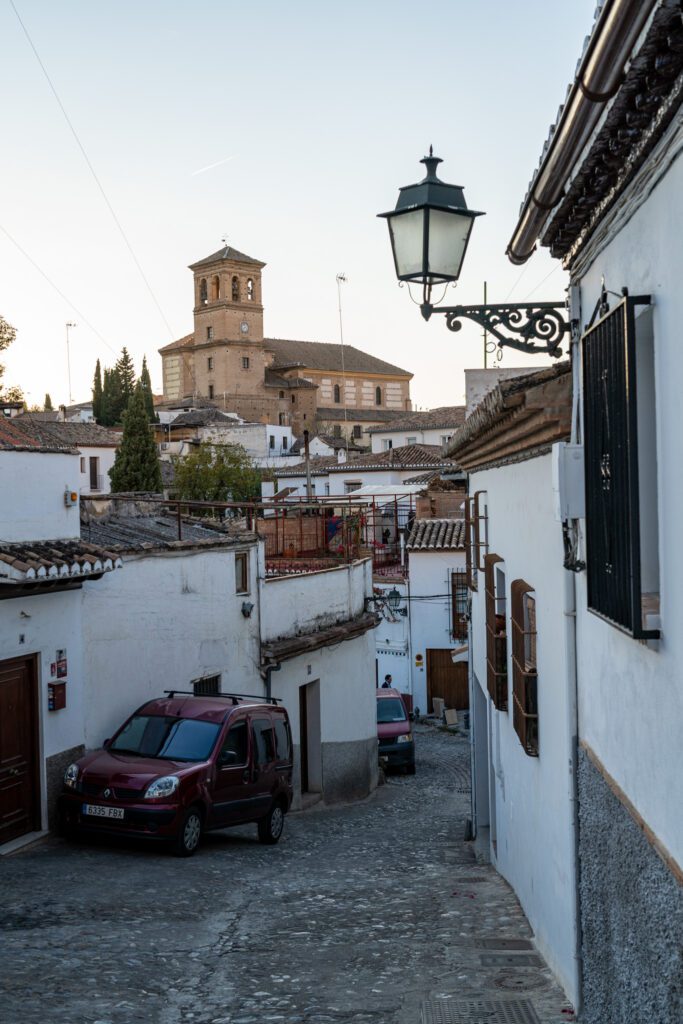 We'd also recommend investing in a guided tour of this part of the city, which is rich in history and culture that you need a trained eye to recognize. We did this walking tour of the Albaicín, which we loved and would recommend to everyone.
Tea Time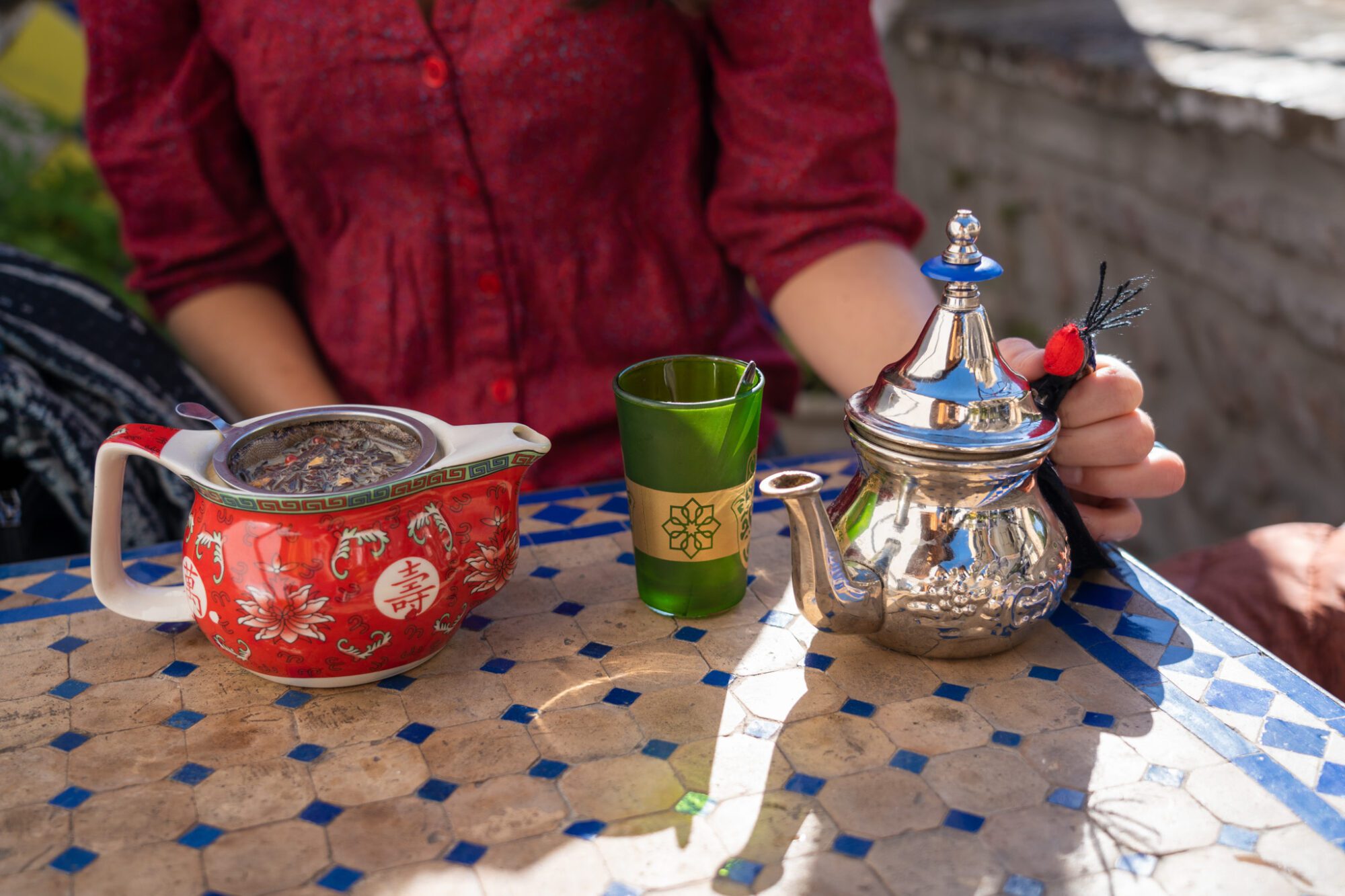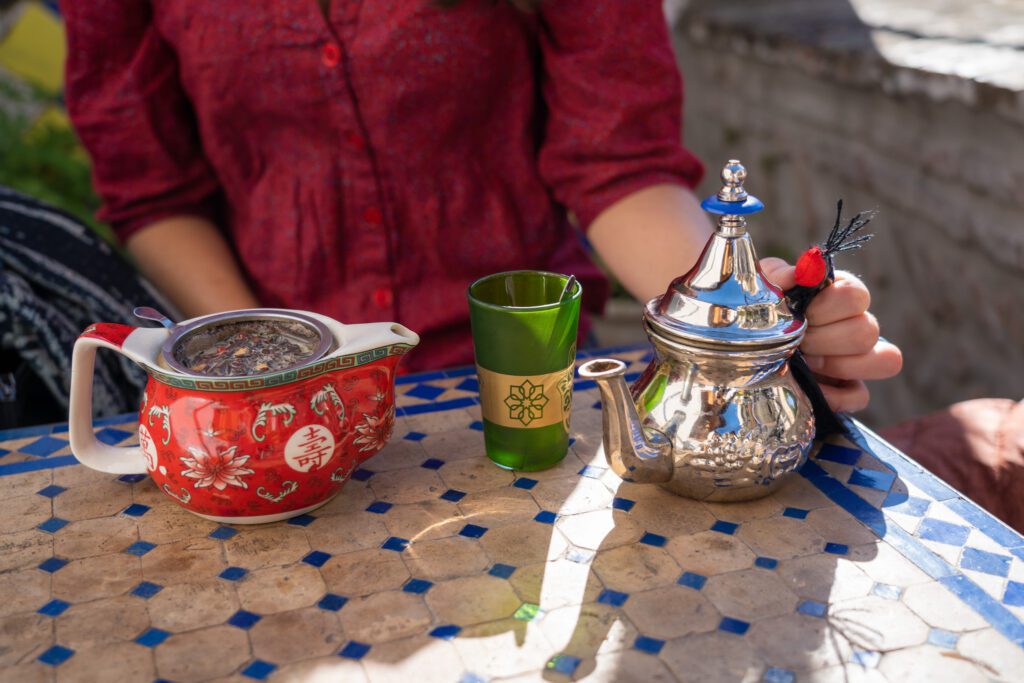 We love a good teahouse – especially Alysha, who isn't a coffee drinker but is a voracious tea drinker at home, when Matt makes her chai extra spicy on mornings where she's assuming her role as editor of Wheatless Wanderlust.
One of the unique things you'll find in Granada (and other parts of Andalucía, though not nearly as prominently as in Granada), are tea houses, which are a clear example of the influence of the seven centuries of Muslim rule in Granada.
We had a favorite that we went to multiple times over our time in Granada. The reason? The quiet outdoor patio area with a nice view of some of the Alhambra's towers. It's called La Tetería del Bañuelo (here on Google Maps), and they have a wide variety of different tea blends, from chai and other teas made with milk, to Moroccan-style green tea with mint and sugar. We liked the teas that incorporated orange into the blend for a nice hit of citrus!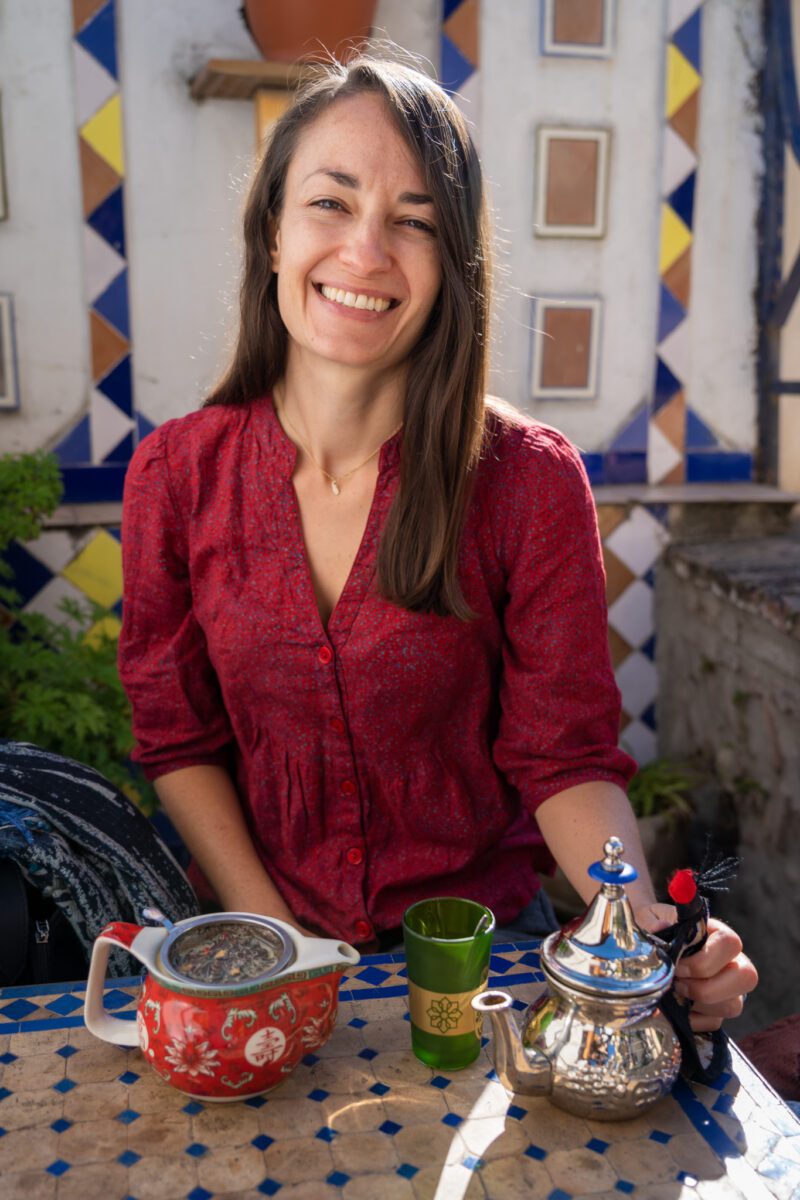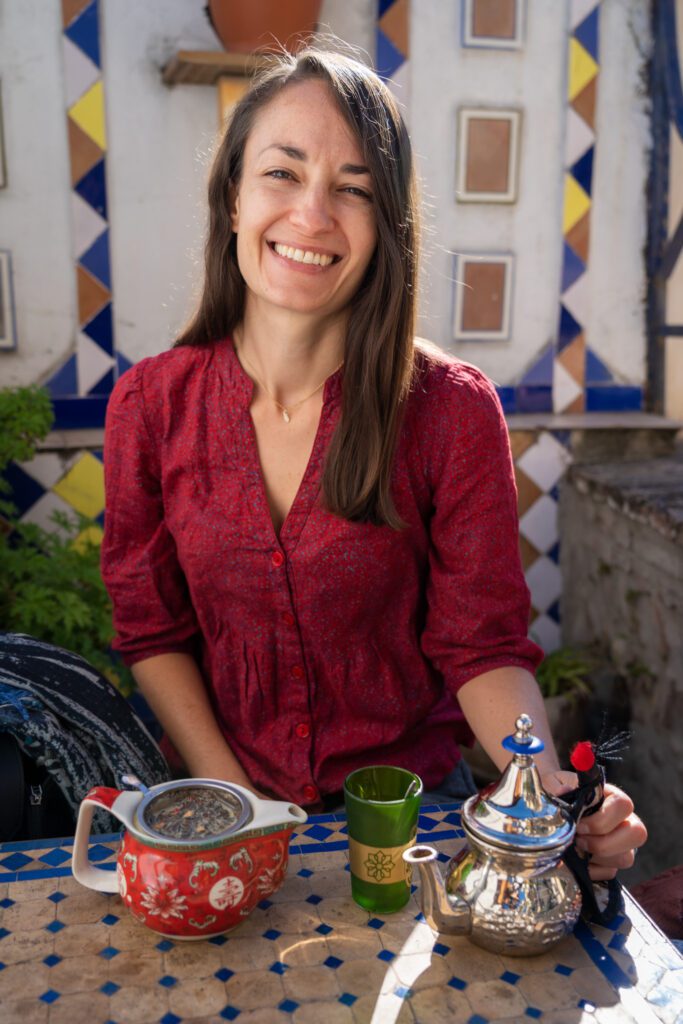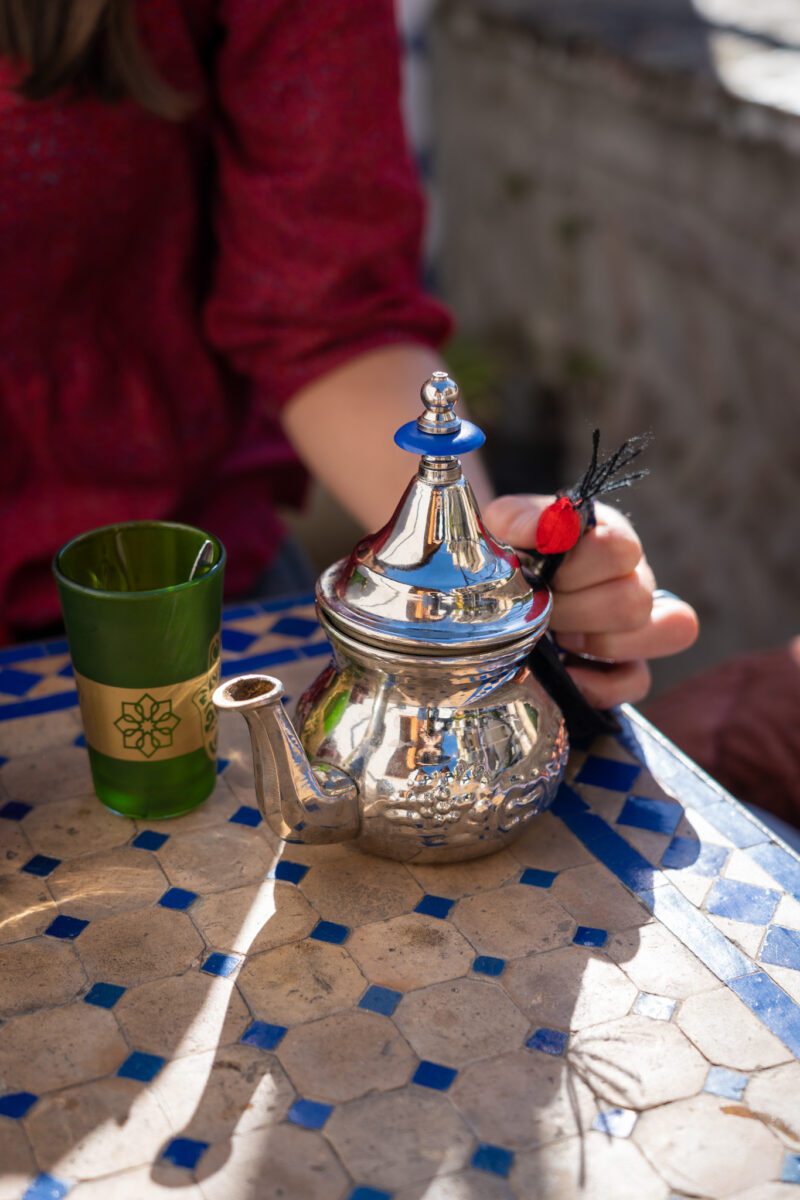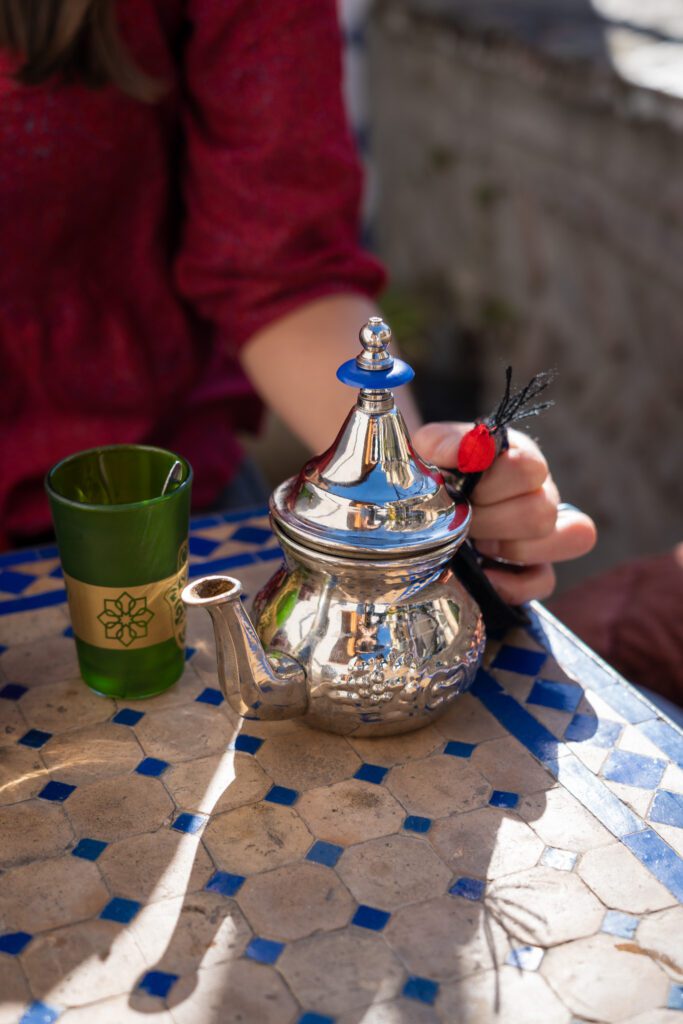 They also have a nice selection of pastries from the Middle East – I asked about one that looked like it was a ball of string wrapped around some chocolate, and the server mentioned that it was a Jordanian treat (though my subsequent Googling found only Greek recipes – like this one).
Anyways, it's a really nice place to spend a sunny afternoon, and you'll likely be joined by one or many cats who descend on the patio as a prime sunbathing spot.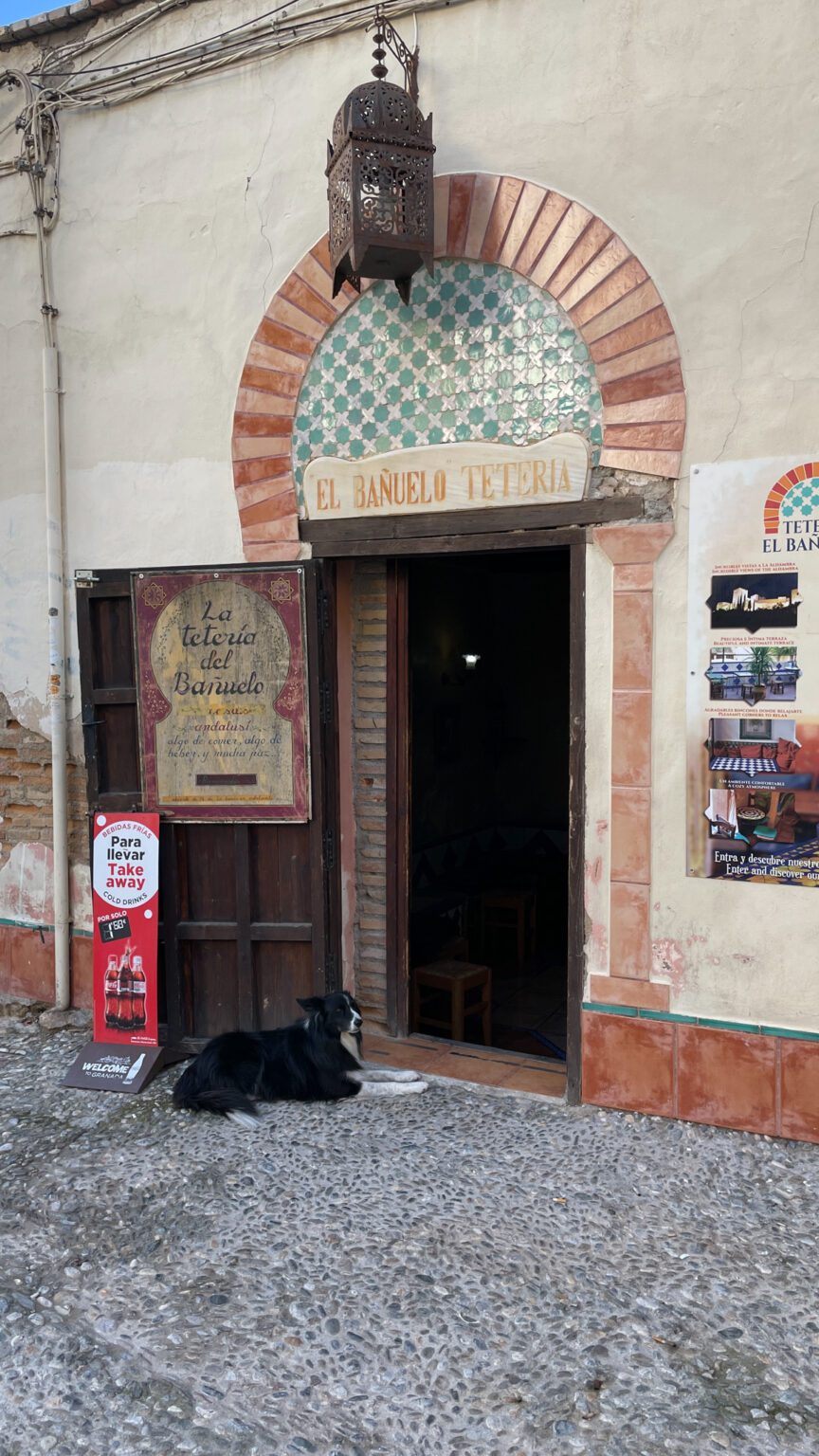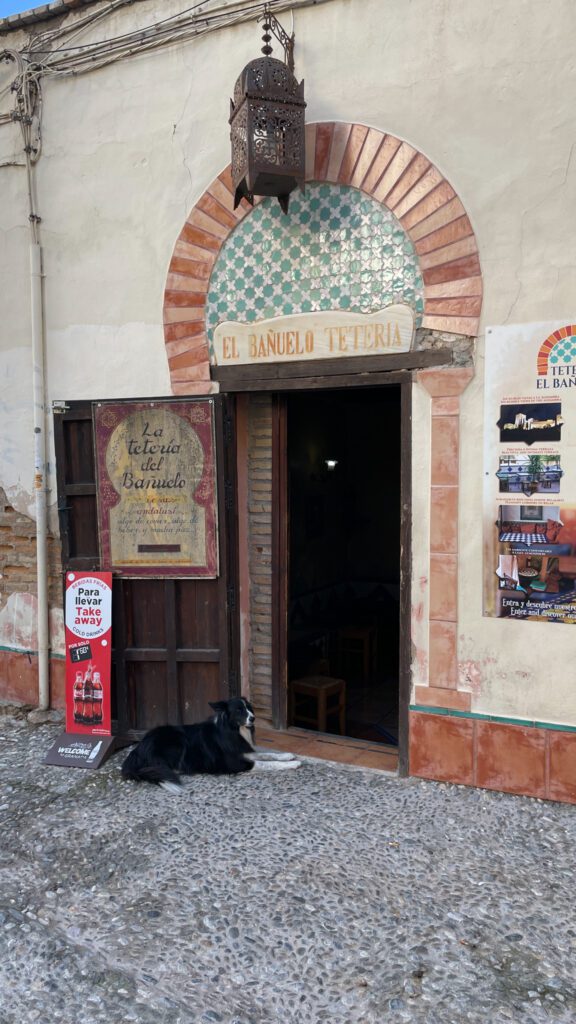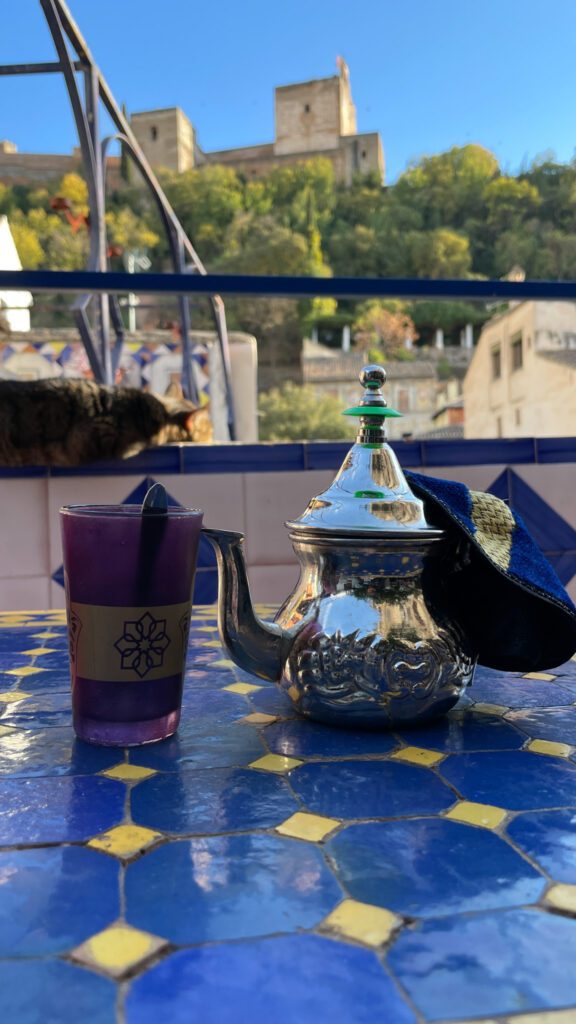 The Royal Chapel and Cathedral of Granada
The Royal Chapel is part of the complex where you'll find the Granada Cathedral, and after seeing plenty of spectacular churches on the other parts of our journey AND hearing from our local guide that the Royal Chapel was far more impressive and interesting, we opted to visit the Royal Chapel instead.
The Royal Chapel was built by Ferdinand and Isabella, the first Catholic Monarchs of Spain and the people responsible for consolidating the Spanish Empire as we know it today by bringing together the kingdoms of Aragon and Castille under the same crown. They recognized the importance of Granada in their legacy, and decided they wanted to be buried there. So, a royal chapel was built in the early 16th Century.
The Royal Chapel and Cathedral of Granada both cost 5 Euros each, and include an audioguide – though it's an app that you have to download via the wifi, and bring headphones to listen to. No pictures allowed inside the Royal Chapel, either.
Inside the Royal Chapel, the first Catholic monarchs of Spain (Isabella and Ferdinand) are buried, along with their children (Joana and Phillip). You can walk down into the crypt to see where they're buried beneath the ornamental mausoleums in the center of the Chapel.
There were two things that stood out to us about the design. Since there are no pictures allowed inside, our words will have to do.
The first thing that was unique is the grills – or gates? – inside the chapel. They're ornamental and meticulously detailed with all sorts of symbology. For example, you'll find scenes from Christ's life, scenes from the lives of the royal family, and the crests of Isabella and Ferdinand, all crafted out of metal.
The second thing is the massive altar with the scenes from the life of Christ, including a depiction of the beheading of St. John the Baptist that appears to be anatomically correct.
Before exiting, there's a mini museum with pieces of the Royal Family's collection of art, including some impressive Flemish paintings (our favorite part of the Prado Museum in Madrid).
Day 2: The Alhambra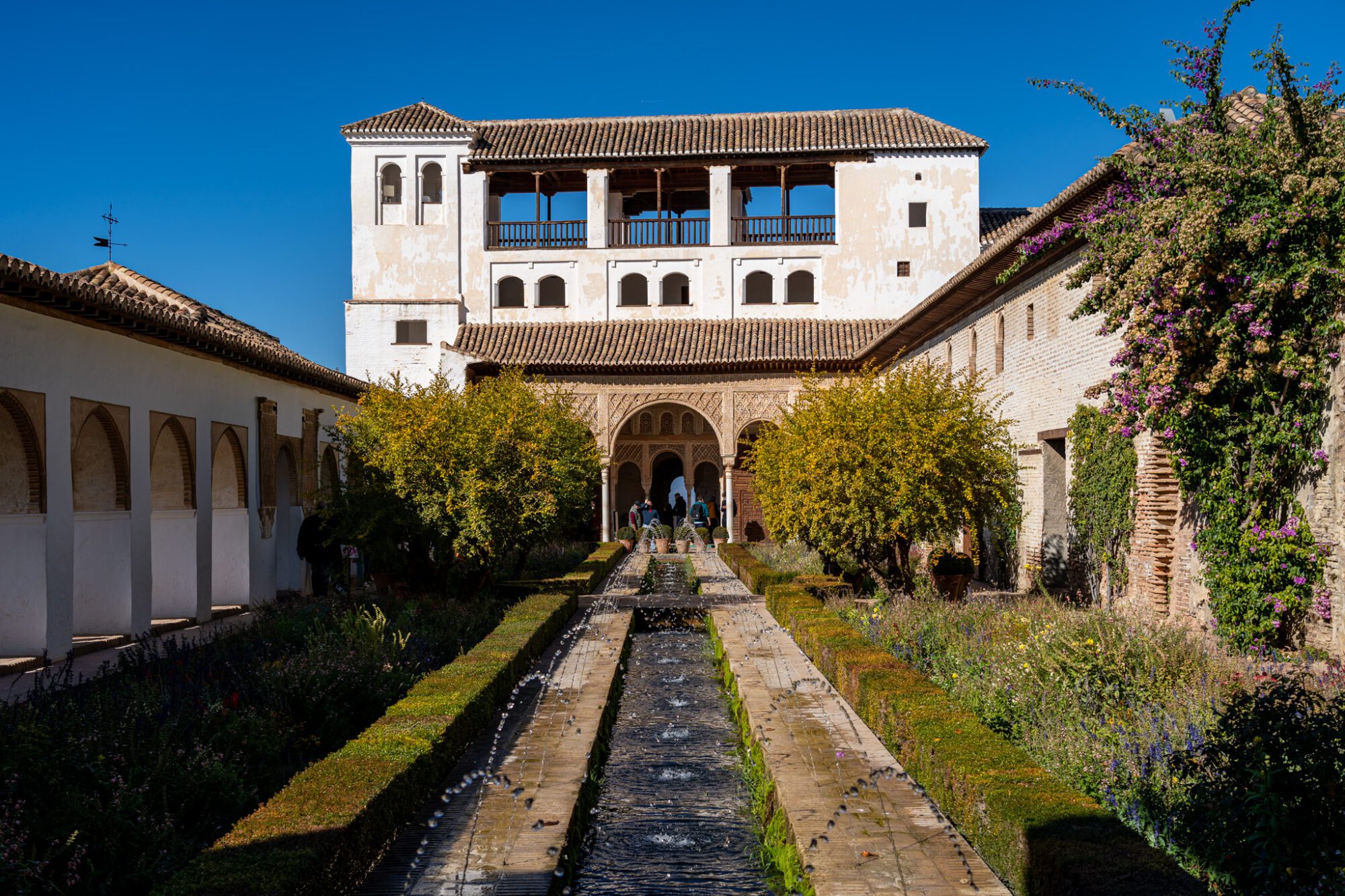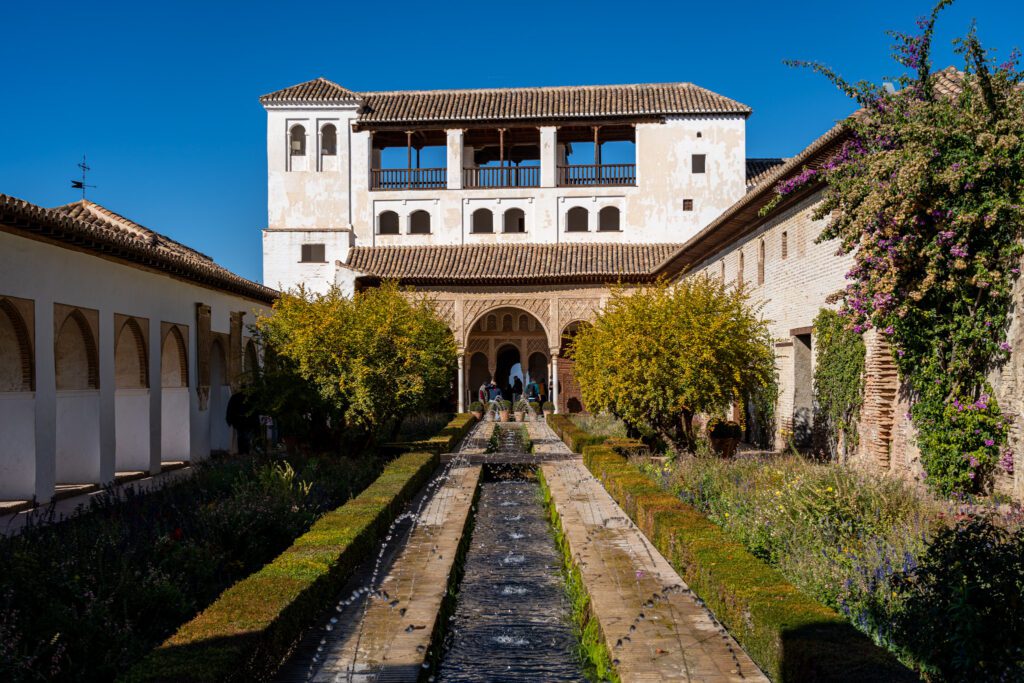 On your second day in Granada, tackle the most popular tourist attraction in the city – the Alhambra – where you'll learn about the Nasrid family that ruled Granada for centuries and is responsible for building the Alhambra.
Breakfast and Coffee at Noat Coffee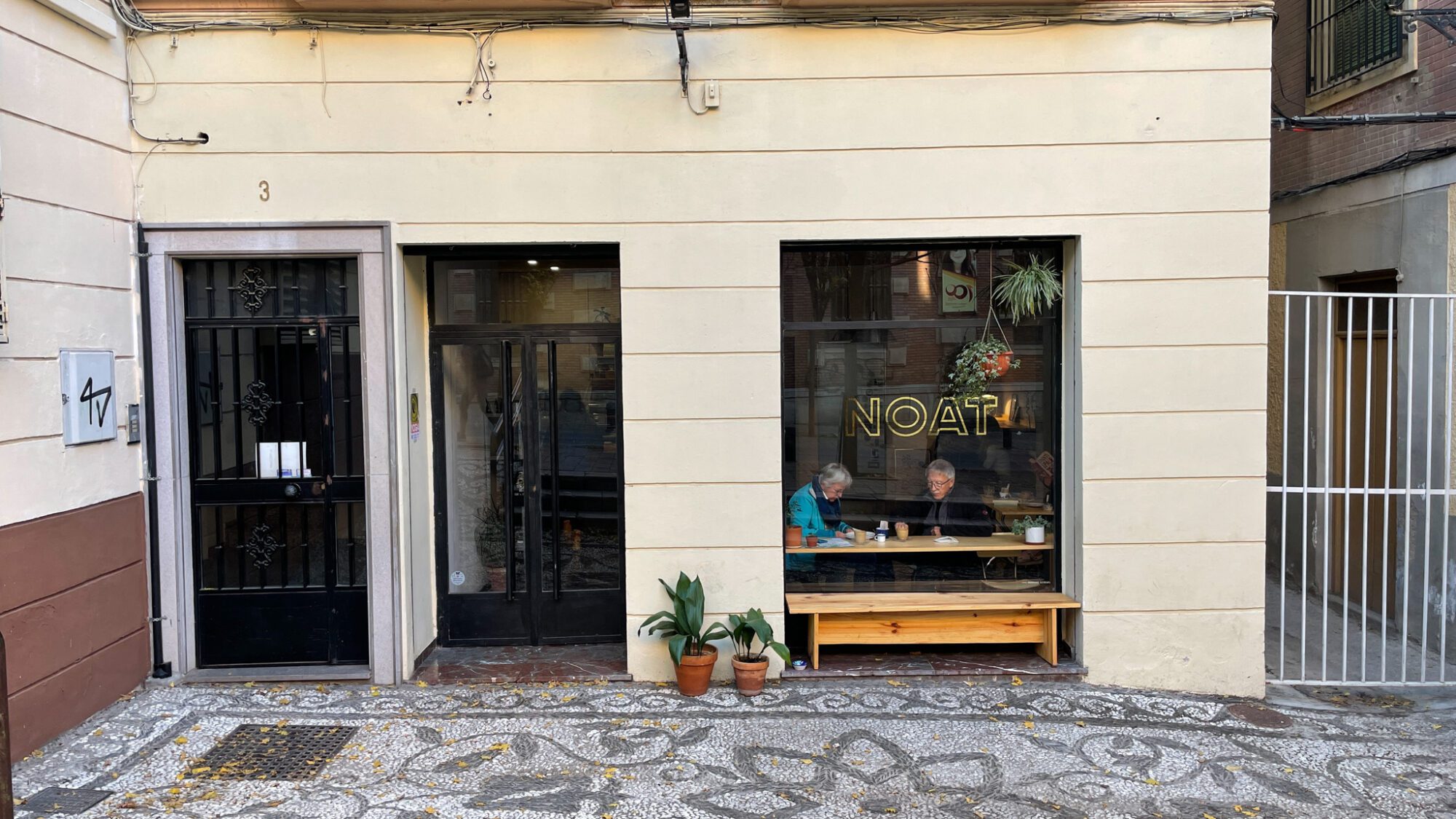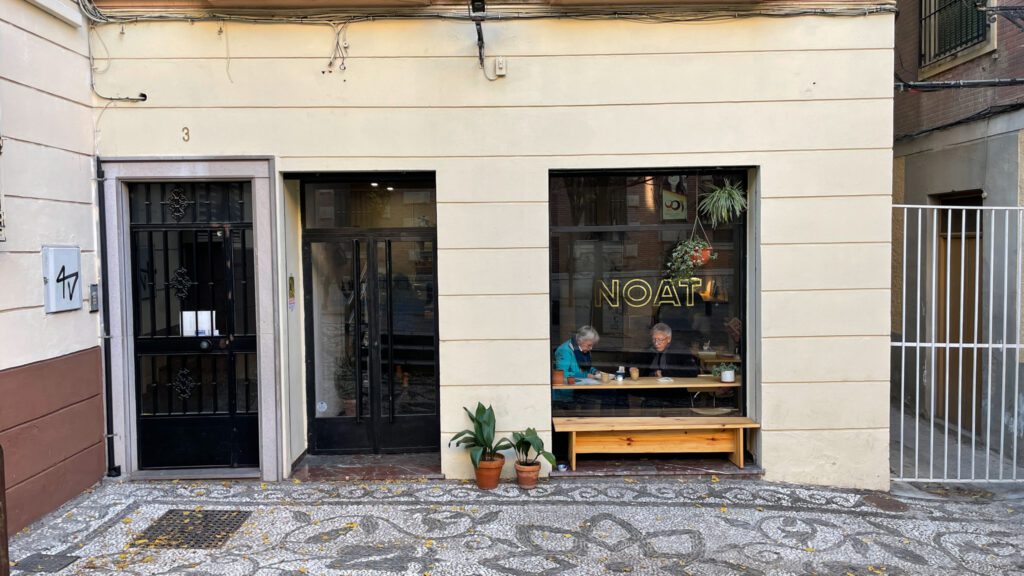 Before heading up to the Alhambra, head over to Noat Coffee for the best coffee in Granada.
Noat is just off of the main street running through Granada, and is about a six minute walk from Plaza Nueva.
Inside are friendly baristas serving coffee from Right Side Roasters, which is just outside of Barcelona. They also have a selection of pastries or sandwiches, which is a nice breakfast before the climb up to the Alhambra.
From there, you can head straight up to the Alhambra – you'll want to go here to start your tour.
Visiting the Alhambra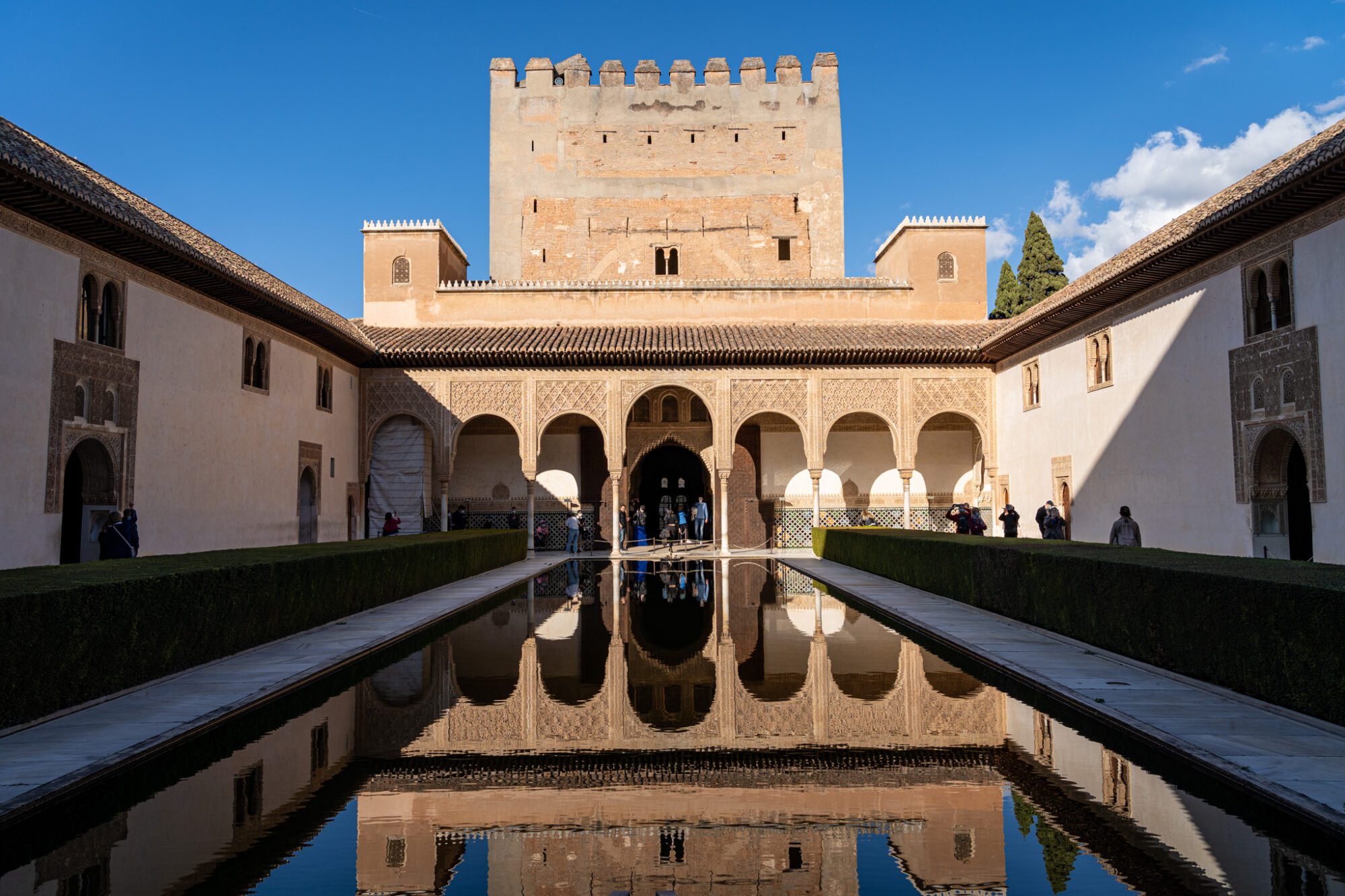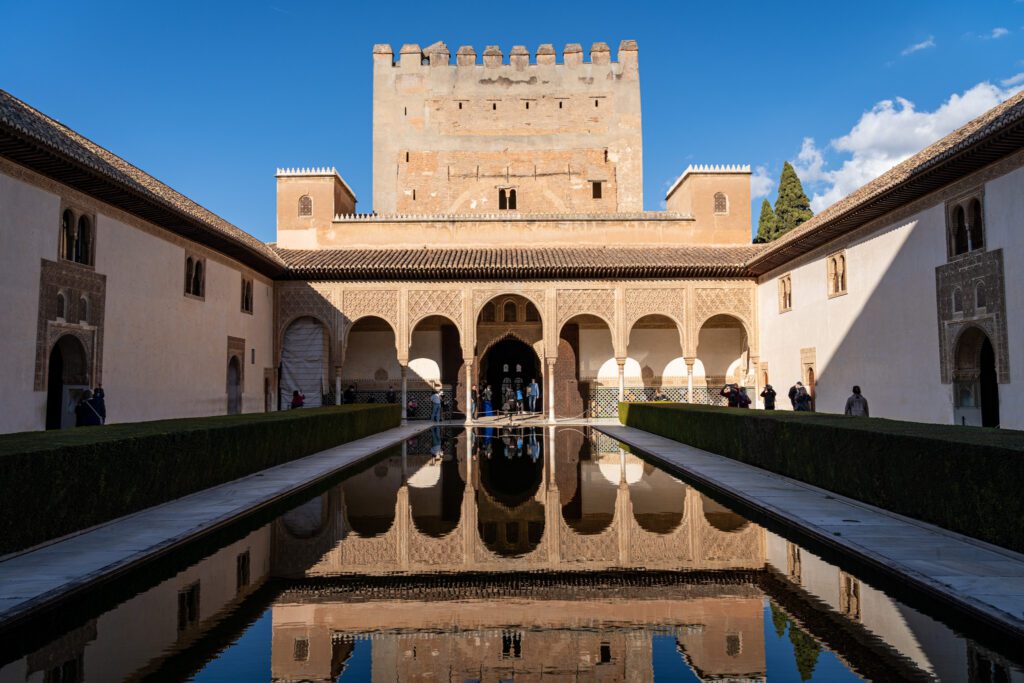 The Alhambra is one of the most visited tourist attractions in Spain, and rotates between the most and second-most visited with the Sagrada Familia, depending on the year. Ask anyone visiting Granada what their number one priority is while they're in town, and it's bound to be the Alhambra.
It's the most important example of architecture from the Muslim period in Andalusia, and despite being abandoned for two centuries, is in relatively good condition.
I get the idea that the Christian monarchs saw the beautiful fort/palace on the hill and said "hm, yeah, let's keep that" when they arrived in Granada, and you can see that they did their best to make it their own once you're inside. More often than not, the changes they made stick out like a sore thumb (like the crowns added to the tilework in one of the palaces), and are a detraction from the experience and take you out of the moment more than anything else.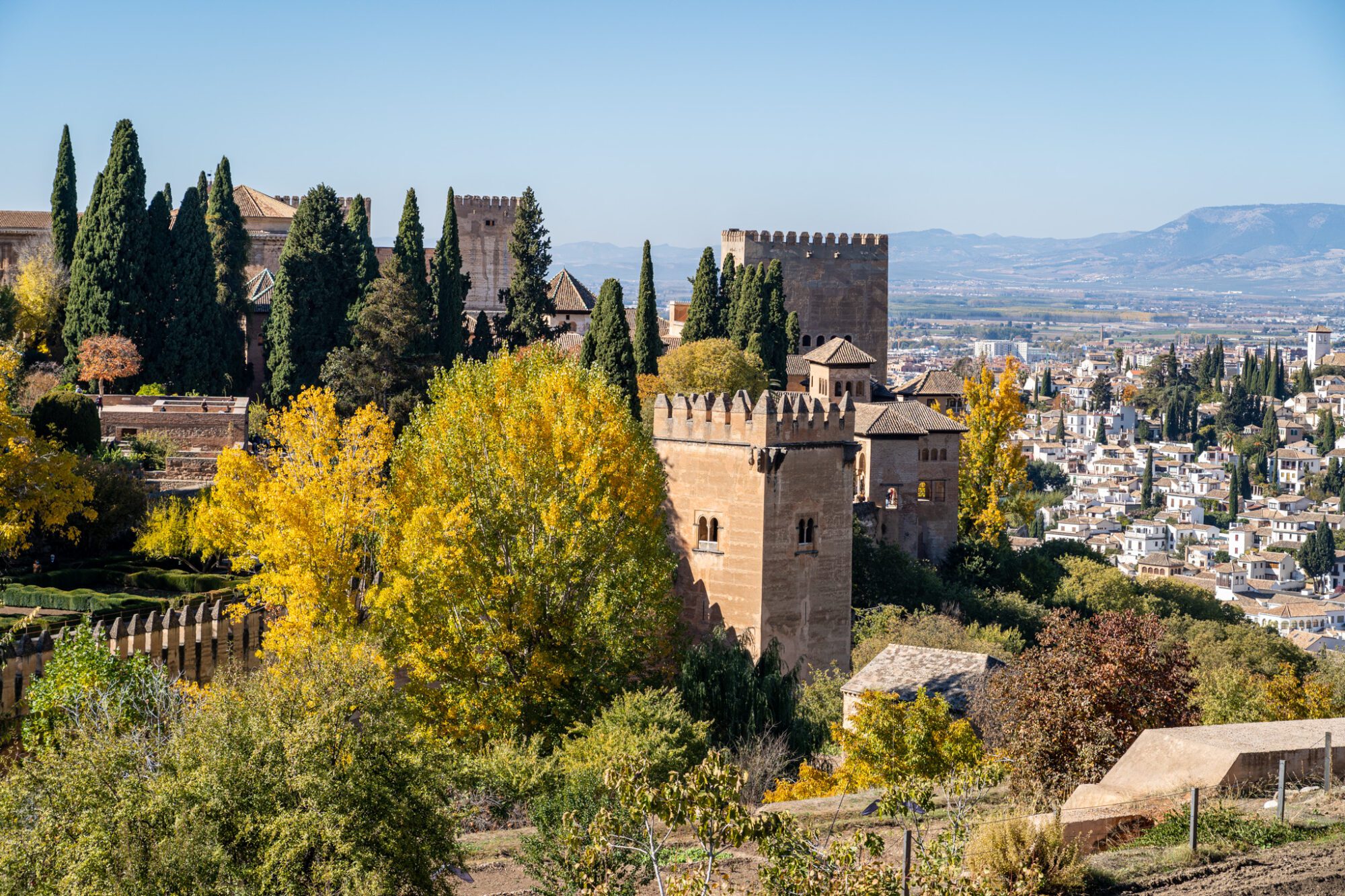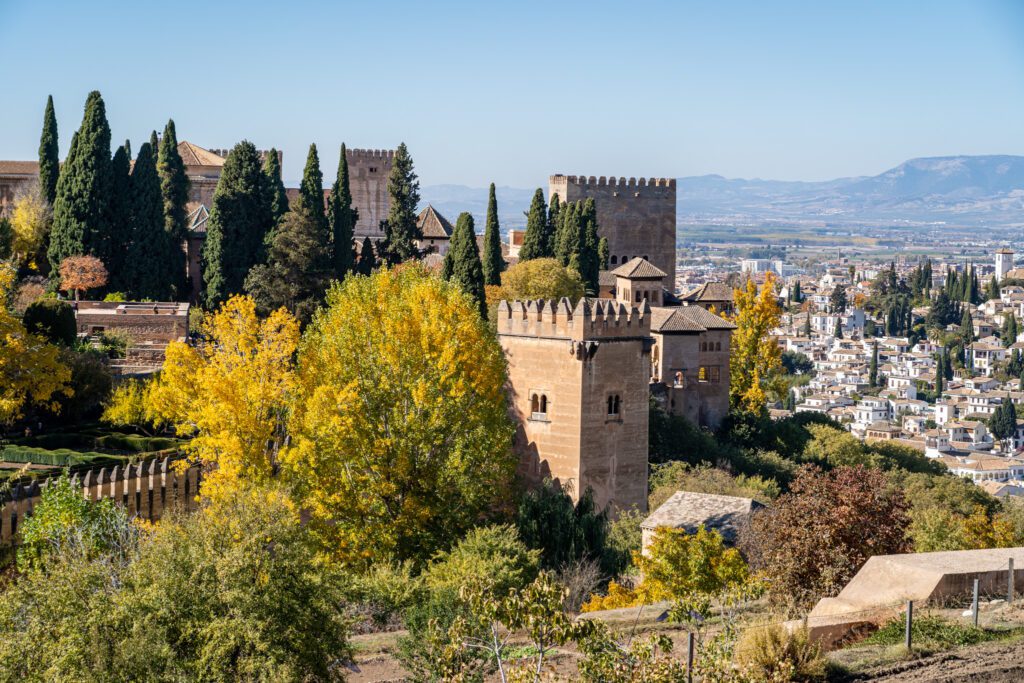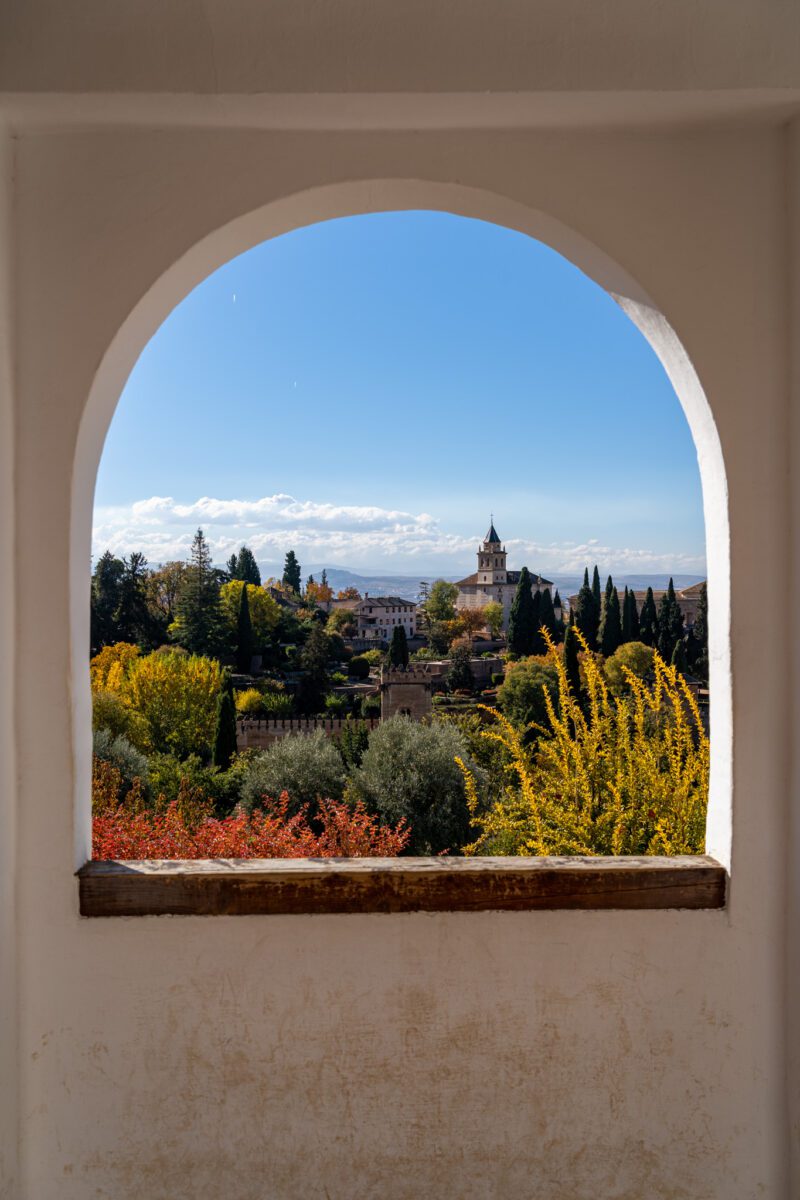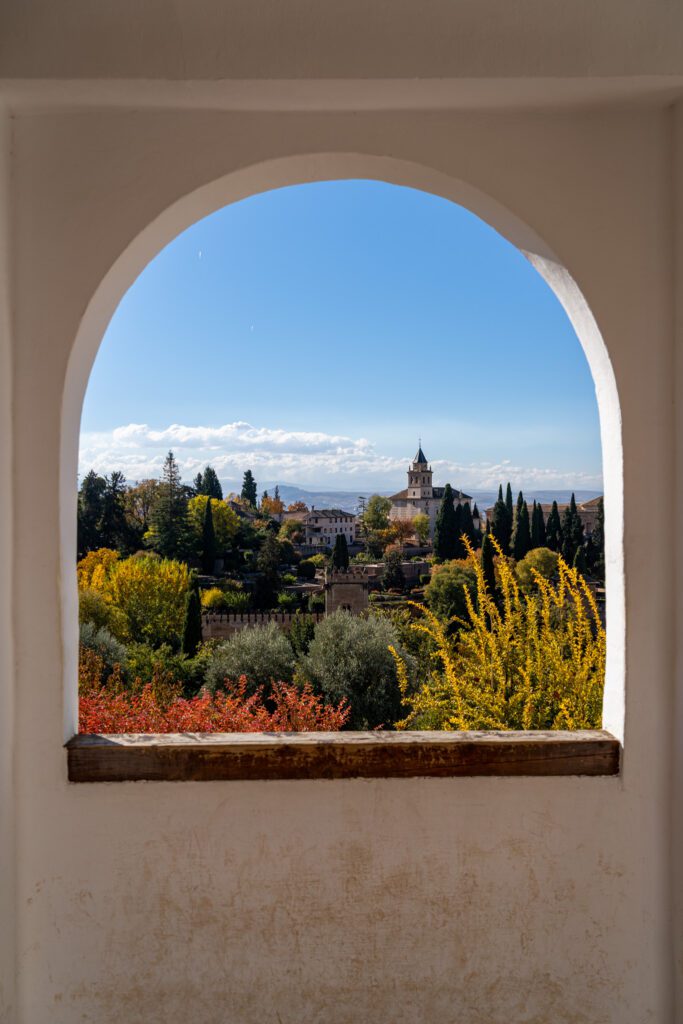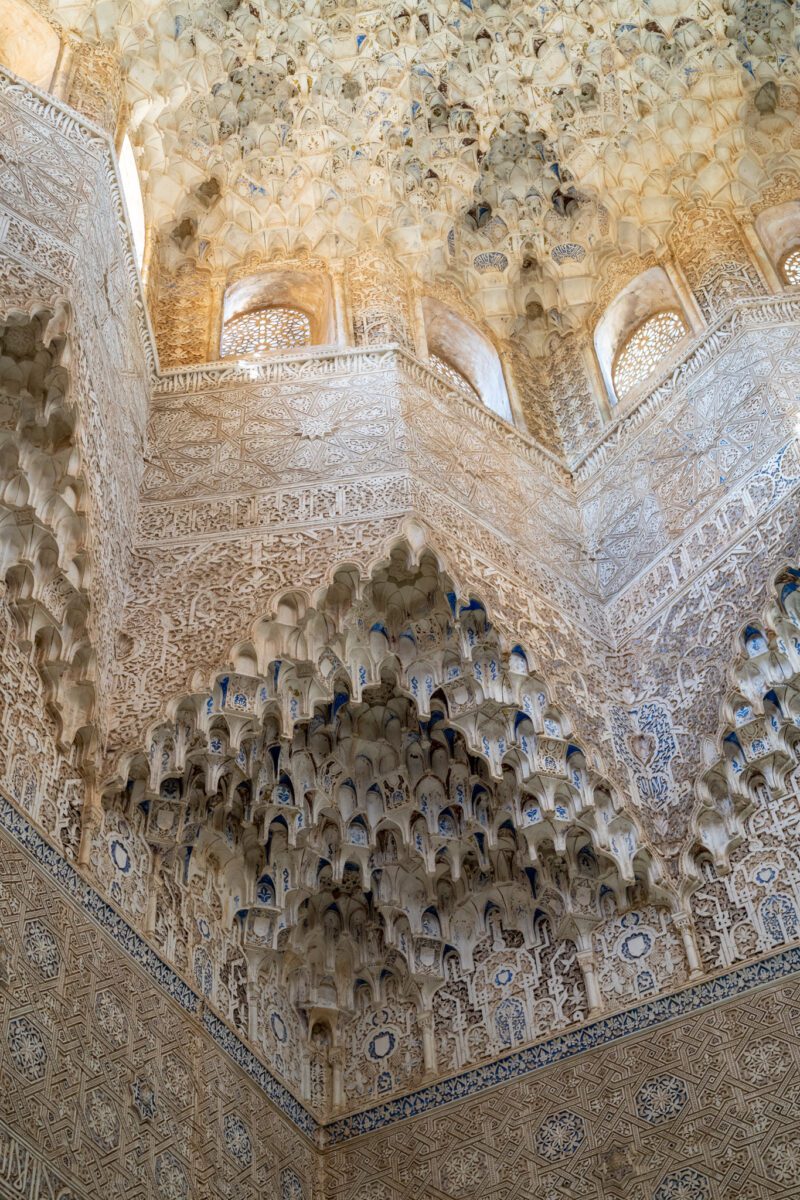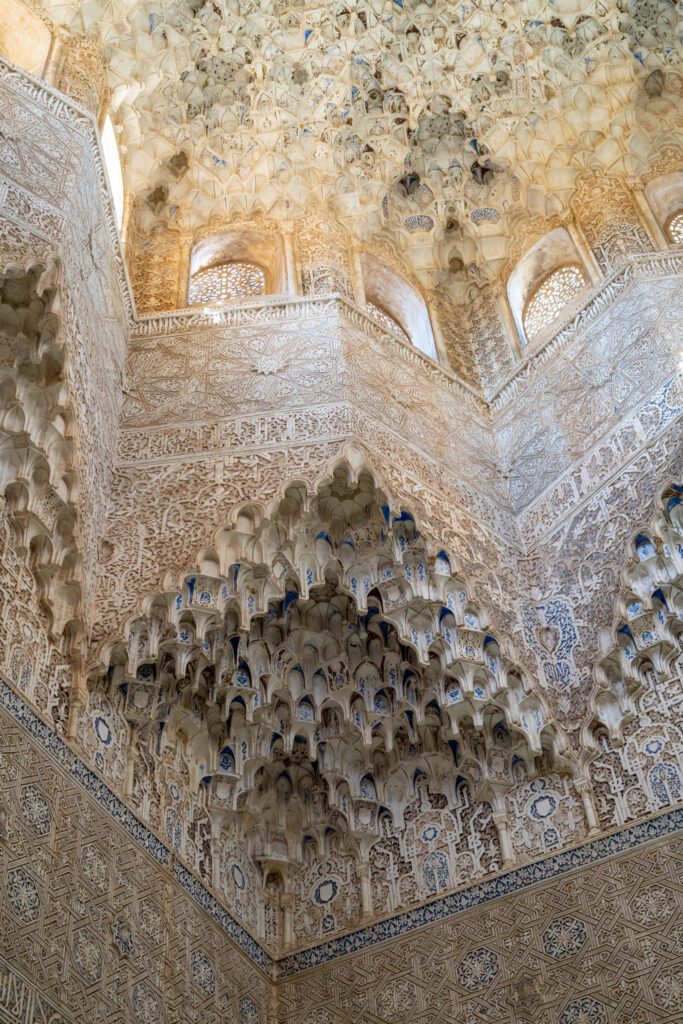 The Alhambra is basically split into three parts:
The Generalife: the summer palace and gardens
The Alcazaba: the castle or fort
The Nasrid Palaces: the coolest part of the visit, with unique architecture, colorful tilework, and intricate plaster patterns decorating the walls.
All three are well worth visiting, and you should do your best to fit them all into your Granada itinerary.
You'll get a specific entry time for the Nasrid palaces, which is what you'll need to structure your visit around. You can enter the other parts of the complex – the Generalife and the Alcazaba – at any time on the day of your visit, but you can only enter the Nasrid Palaces at a specific time.
The Alhambra is going to take most of the day, and there's really no "best time" to see it. Because of its popularity, tickets in high season are essentially sold out all day long.
If you're visiting in the summer, the only recommendation we have is to avoid the heat of the day. Try to visit before 12:00 pm or after 3:00 pm, if you can.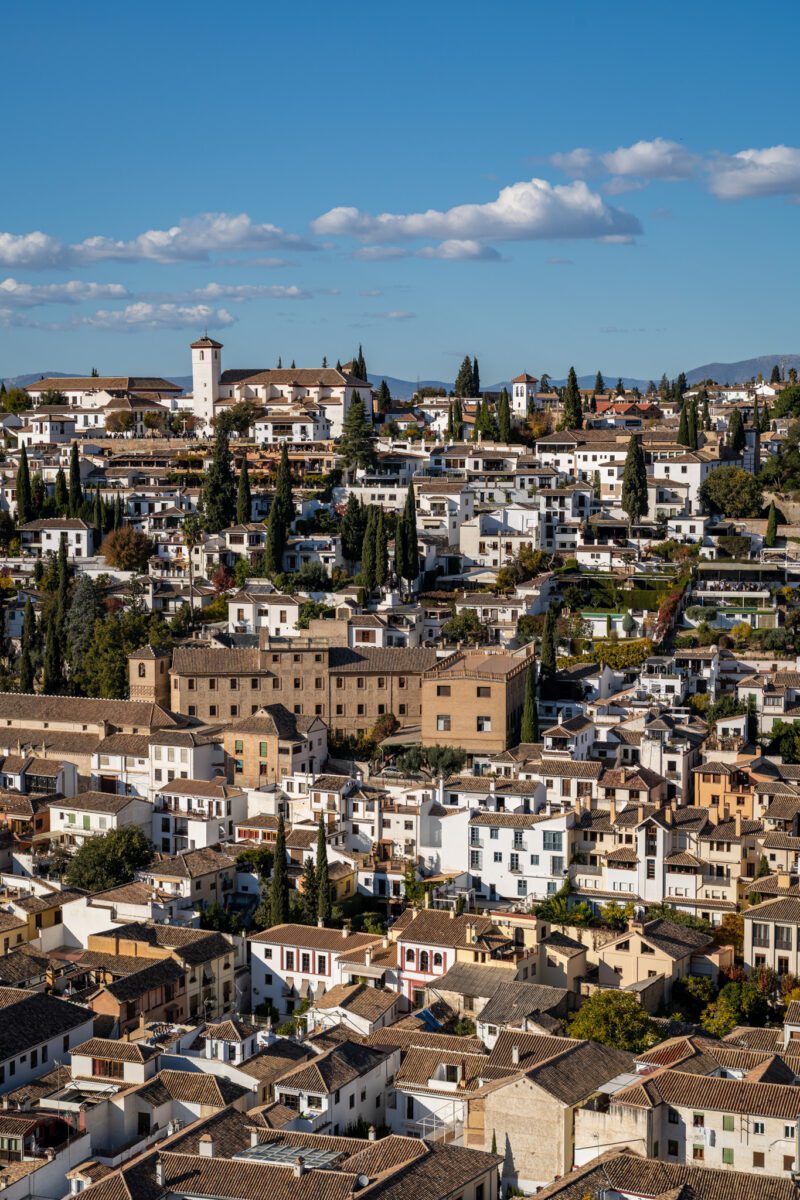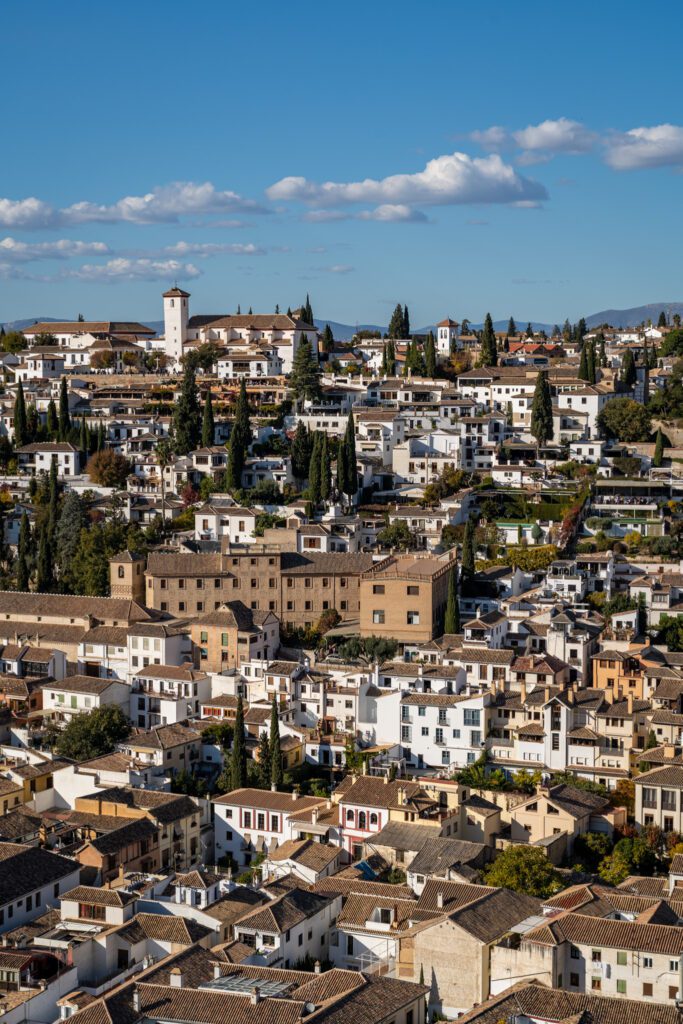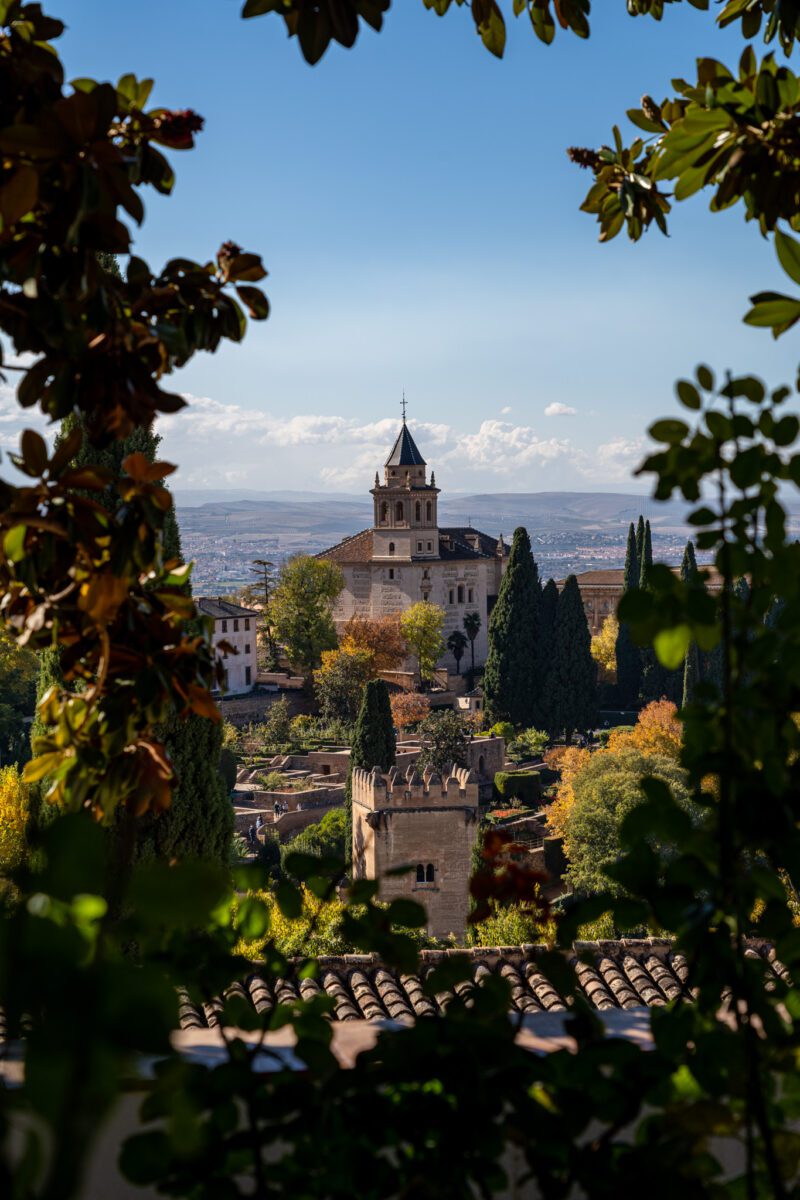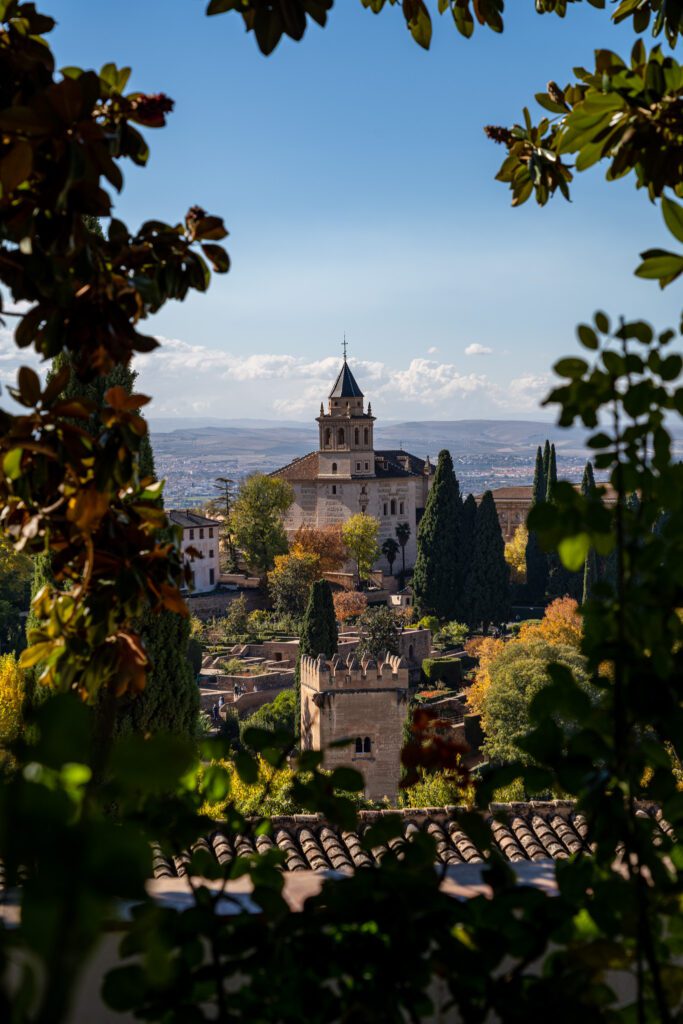 Visiting Independently
Again, it's worth saying one more time that the Alhambra is one of the most-visited attractions in Spain, which means tickets are insanely competitive. Especially in the summer and in December around the holidays.
You should definitely book your tickets in advance if you want to see the Alhambra. Even in shoulder season, the ticket office line gets long, and you can easily skip that line with a little advance planning.
Tickets are available on the official website of the Alhambra.
There are a couple of different ticket types available – let's go through the main options one by one to help you decide which to pick.
Alhambra General (14 Euros): This is the basic ticket that includes access to all three parts of the Alhambra during the day.


Gardens, Generalife and Alcazaba (7 Euros): This ticket ONLY covers the Generalife (and Gardens) and Alcazaba – it DOES NOT include the Nasrid Palaces, which is why it's cheaper.


Night Visit to Nasrid Palaces (8 Euros): See the Nasrid Palaces without all the people. It's a completely different experience, according to our guide. However, it will be harder to take photos without the light.


Night Visit to Gardens and Generalife (5 Euros): Exactly what it sounds like – a nighttime visit to the Generalife and Gardens.


The Alhambra Experience (14 Euros): Nighttime visit to the Nasrid Palaces, plus a daytime visit to the Generalife and Alcazaba the next day.
Important note: You will need to provide passport / identity card information, which must match your tickets to get into the Alhambra. Bring your passport with you for your visit – they will check it!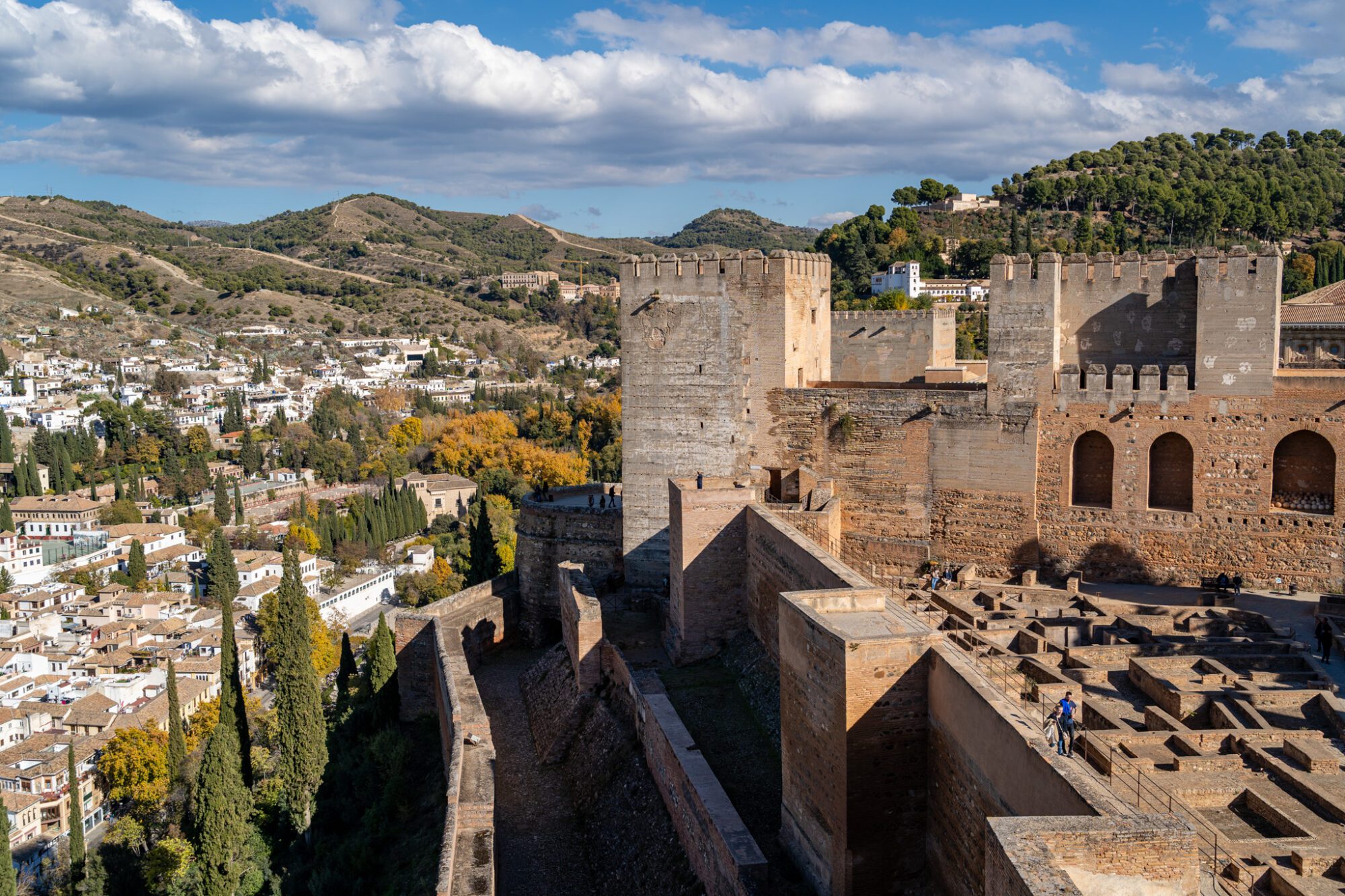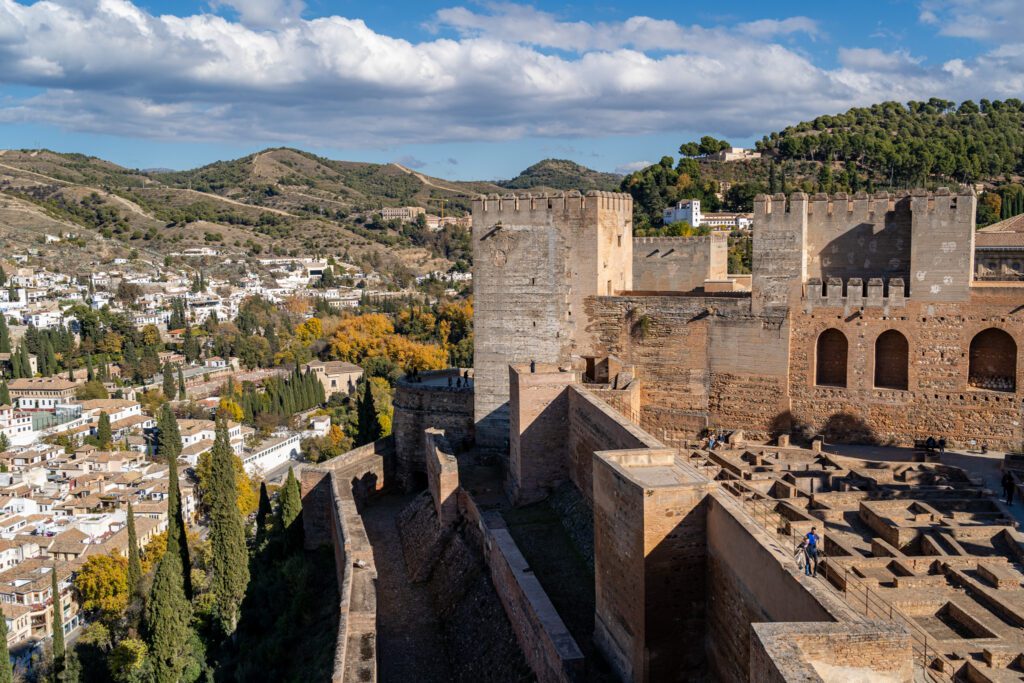 Joining a Guided Tour
Like most cultural sights, the Alhambra is at its best when you have the cultural and historical context and stories to go along with the beauty of the complex itself. Which is why we decided to take a guided tour of the Alhambra when we were in Granada.
In our experiences visiting sites like the Colosseum and Vatican in Rome with and without a guide, the two experiences are going to be vastly different. The independent visit is a lot of ooooh-ing and aaaaah-ing at the beauty, without the deep understanding of what you're looking at and its significance that comes with a guided tour with someone who actually knows what they're talking about.
Guided tours almost always lead to a deeper, more meaningful experience, which is why we both do them as often as possible, and recommend them to everyone we can.
We did this guided tour of the Alhmabra, which was three hours long, included skip-the-line tickets, and visited all three parts of the Alhambra complex. All with a guide who was able to tell stories, point out details, and answer questions that gave us a deeper understanding of why the Alhambra is an important site, and why it has been designated a UNESCO World Heritage Site.
This tour was also on our list, but wasn't available on the days we were in Granada.
Sunset Back in the Albaicín
End your day back in the Albaicín for one of the more spectacular sunset locations in Spain. There are a variety of options to choose from, some more popular than others.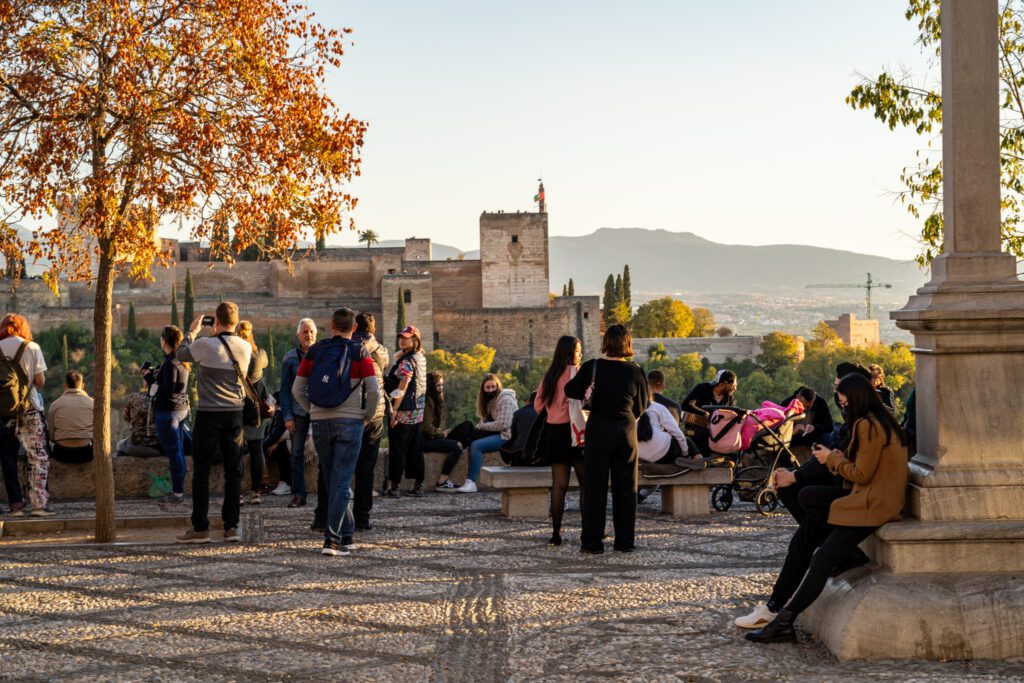 The Mirador de San Nicolás (here on Google Maps) is definitely the most popular, with crowds of tourists arriving hours before sunset to snag a perfect spot along the wall with an unobstructed view of the Alhambra across the valley.
We preferred walking a bit further over into Sacromonte to get away from the crowds and get an equally spectacular view of the palace complex. The Mirador de la Vereda de Enmedio (here on Google Maps) is where we ended up, and there were only a small handful of people around as the golden light washed over the Alhambra.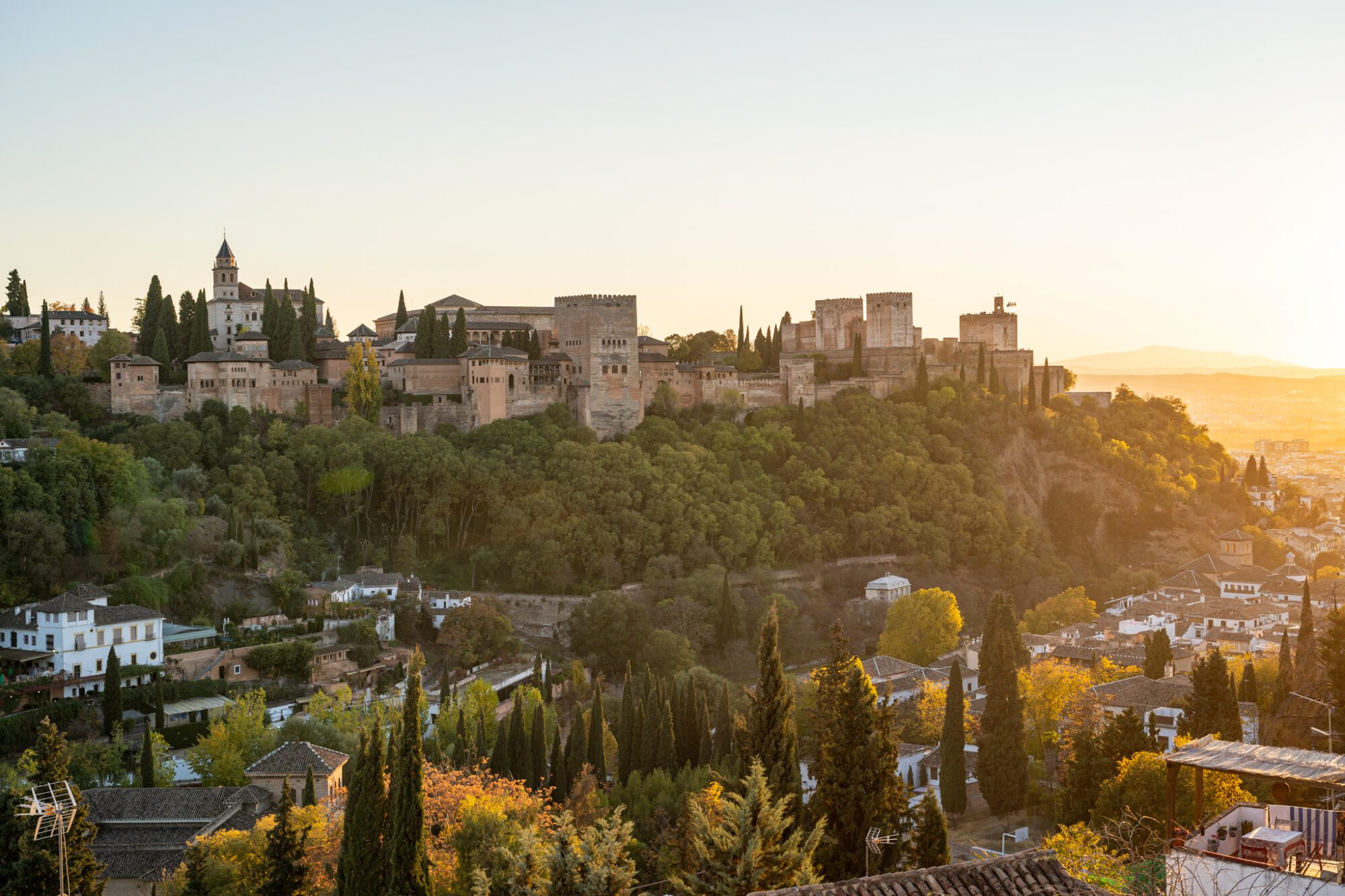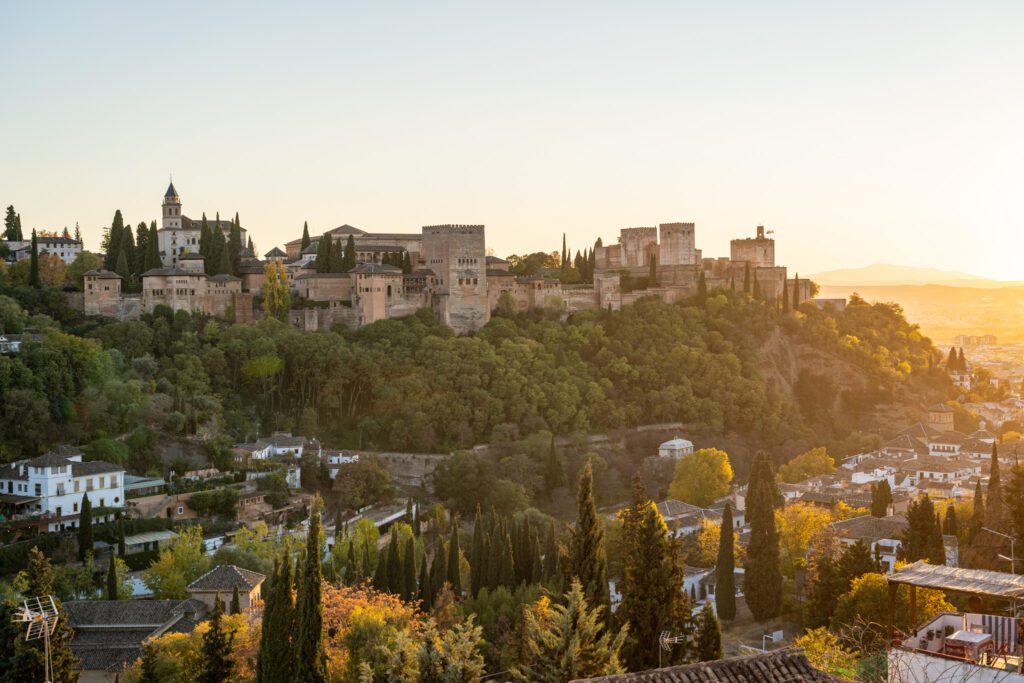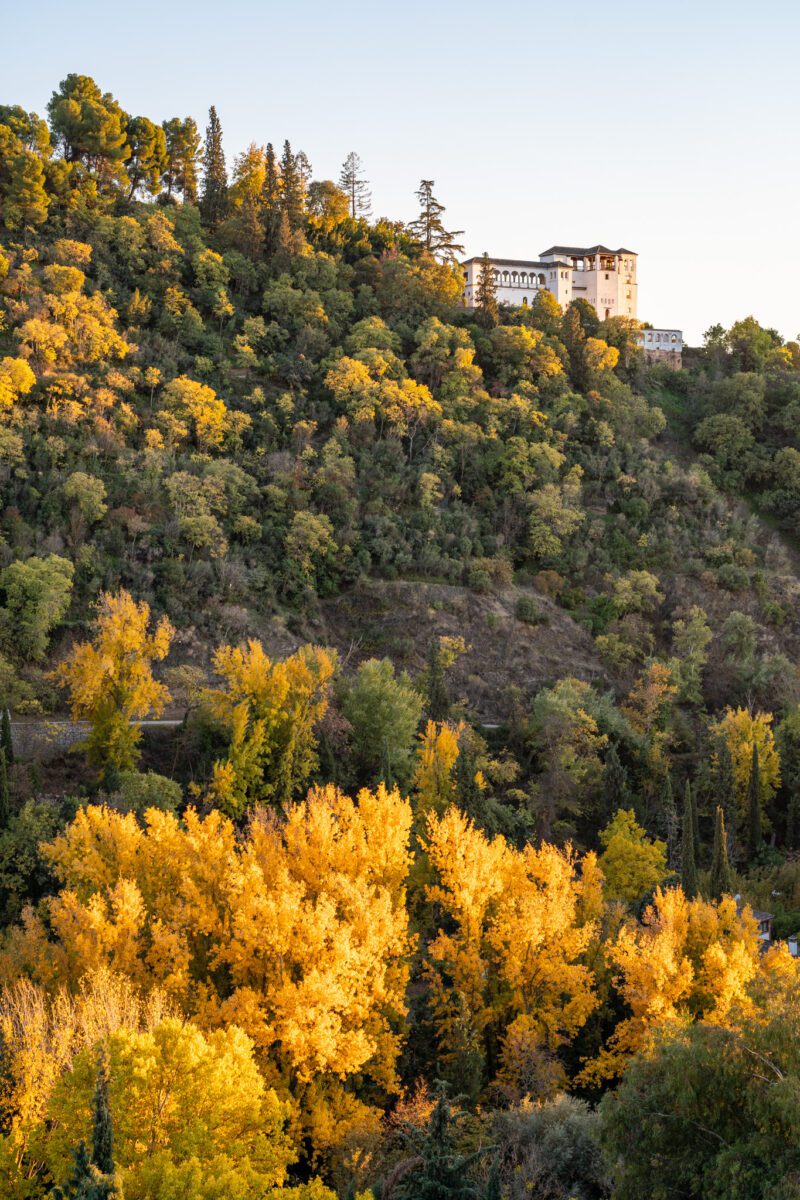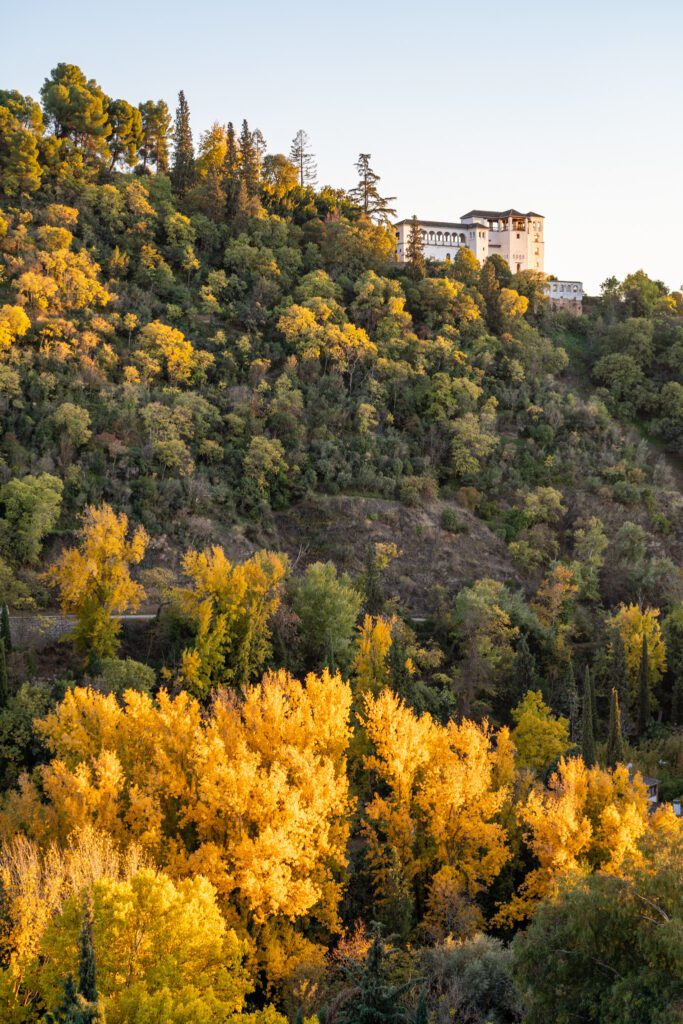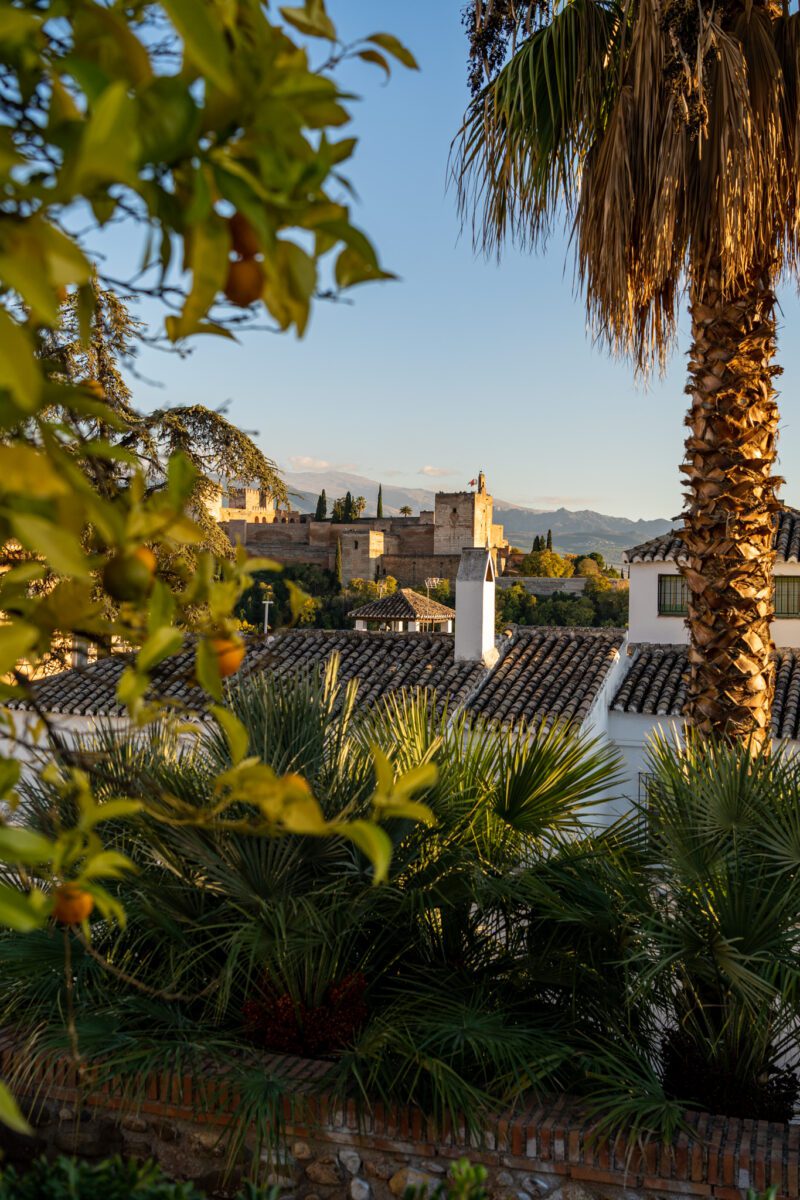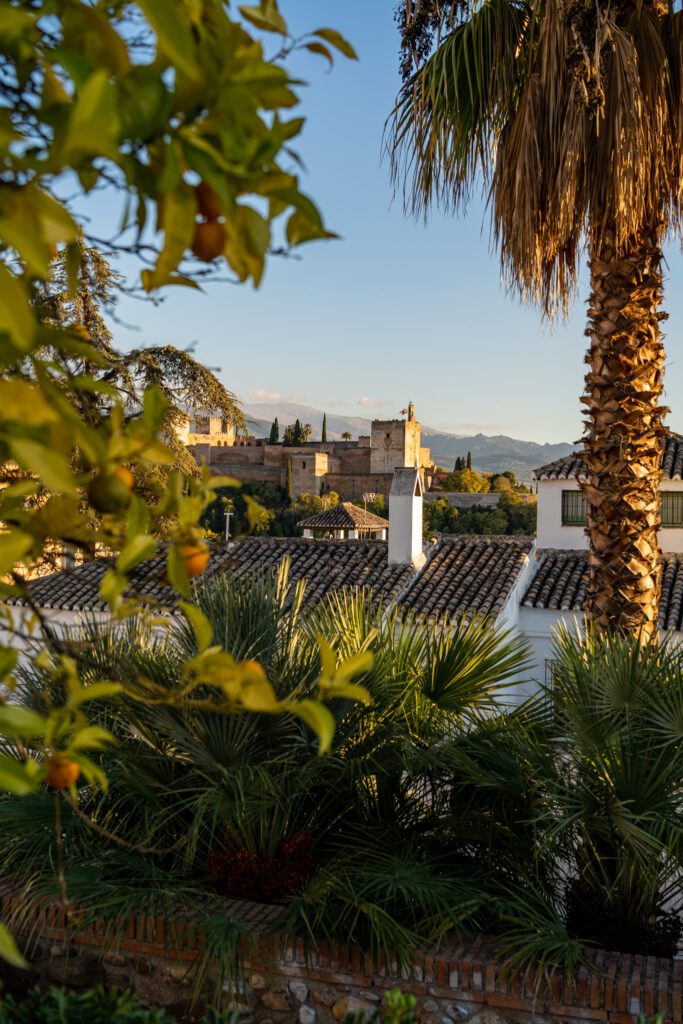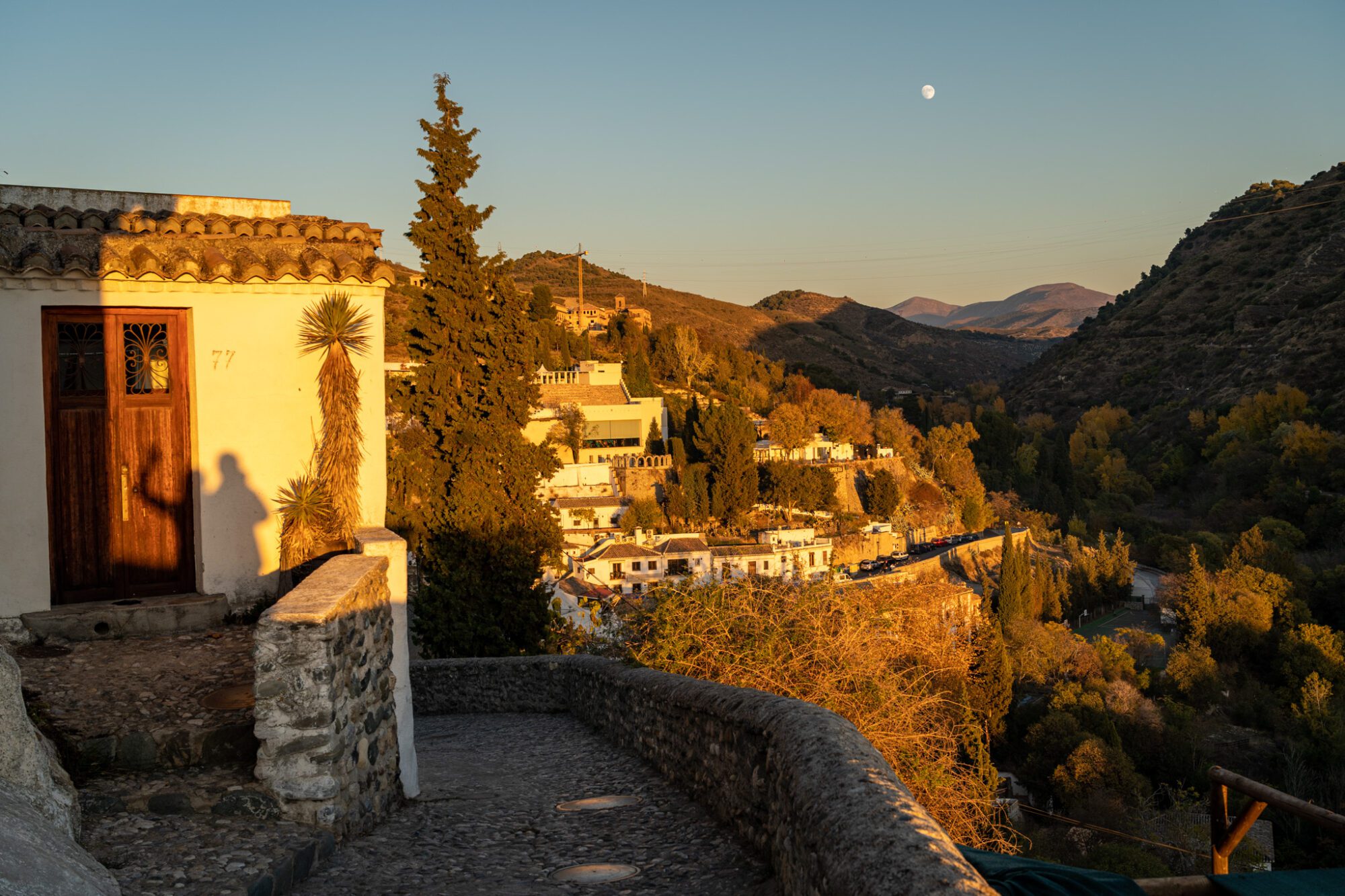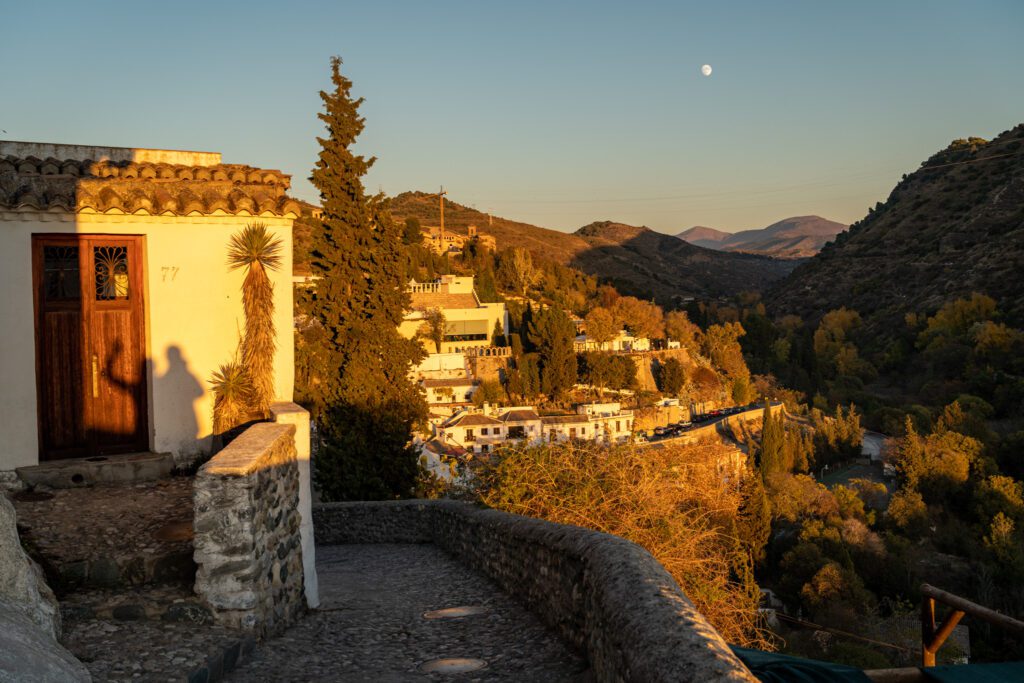 What to Do with One Day in Granada
If you only have one day in Granada, we'd recommend splitting the day between the Alhambra and the Albaicín, which are our two favorite parts of the city and two of the most emblematic of the story of Granada since the 8th Century.
For half of the day, explore the Alhambra either on your own or as part of a guided tour. Make sure to see the gardens and the Generalife, the Alcazaba, and the Nasrid Palaces (there are three of them, and they're super unique).
For the other half of the day, head over to the Albaicín and explore the old Muslim quarter of Granada. Narrow streets, plenty of flowers, and "carmens" with their private gardens are the things you're likely to encounter here. Plus, plenty of mosques-turned-churches.
We did a guided walking tour and enjoyed the history and context that our guide Jaime, born and raised in Granada, was able to bring to the experience. This walking tour at sunset is an alternative.
Where to Stay in Granada
Granada is a relatively compact city, but you'll still want to stay central to maximize your time. In this case, "central" means within about a five to ten minute walk of Plaza Nueva.
We stayed at limehome on Calle Santa Ana, a set of really nice apartments just behind the church near Plaza Nueva, and it might have been our favorite place we stayed in all of Spain. Specifically, we chose the Superior Apartment, which happened to be on the top floor with views of the Alhambra from our little patio outside. The apartments are spacious, have heat and A/C, and are equipped with a full kitchen.
The most impressive part was that every detail was covered – which was not the case everywhere we stayed – from oil/vinegar and every utensil we needed in the kitchen, to a Nespresso machine with plenty of pods, to an HDMI cord to connect our laptop to the TV. We really enjoyed this place, and think it's a great home base for 2 days in Granada. Click here to check prices, reviews, and availability.
There are some other good options in Granada that made our shortlist before we decided on the apartment we did. They are:
Eco Hostel Granada: A nice, clean hostel near the train station. Location is a little further away from the main sites than we'd like, but the facilities are great.
TOC Hostel Granada: We stayed at a TOC Hostel in Barcelona, and it's essentially a boutique hotel with a few dorm rooms, a far cry from other hostels with a more party-oriented crowd that we've stayed in (in a good way).
Casa Bombo: A bed and breakfast with a gorgeous outdoor swimming pool whose rooms have views of the Alhambra? Sounds like an unforgettable stay to us. It's located in the heart of the Albaicín.
Hotel Casa Morisca: Beautiful hotel, rooms have views of the Alhambra, and its rooms are fairly spacious.
How to Get to Granada
Getting to Granada is a little tricky, because it's really not that close to many of Spain's main cities and there's a major mountain range just south of the city.
Granada does have an airport, with a small selection of flights coming in from Europe. It's called Federico García Lorca Granada Airport, and it's 20 km west of the city. There's a bus that will take you directly from the airport to Plaza Nueva, in the center of Granada, but it takes a full hour to complete the journey. It's operated by ALSA.
High speed trains are another option if you're coming from within Spain, though journey times can be long. From Madrid's Puerta Atocha station, it's a 3.5 hour train ride on high speed trains (there are direct trains), and from Seville's Santa Justa station it's 2.5 hours (there are also direct trains).
Check train timetables and prices on Omio, which is what we used in Spain because it's way more user-friendly and doesn't have issues with processing certain cards at random times. You will pay a small upcharge in the form of a service fee of a couple of Euros, but we think it's worth it to be able to pull up tickets offline on their app, and not have to worry about whether your card is going to work on the Renfe site.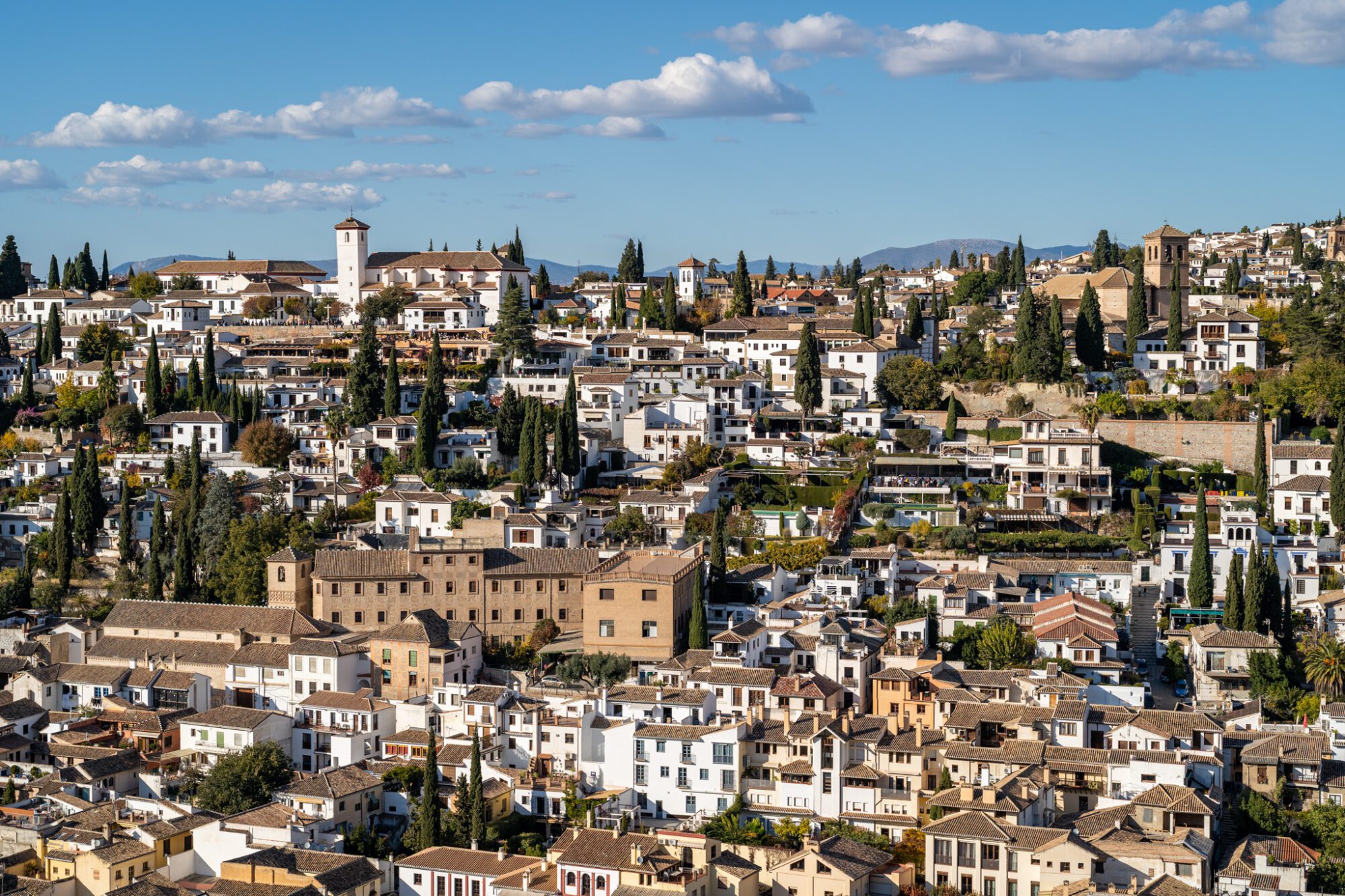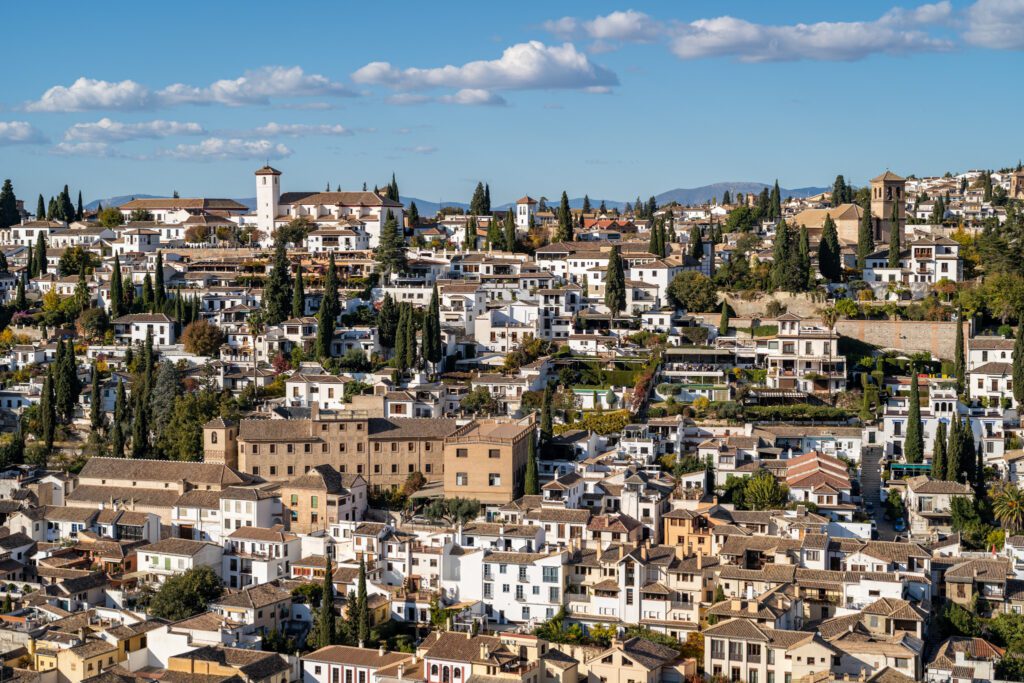 ---
Let Us Help You Plan Your Amazing Trip to Spain!
We've got plenty of other detailed guides for our favorite places in Spain – from Barcelona, to Madrid and Andalusia – that we wrote to help you plan an incredible trip.
P.S.: If the link isn't there, it means we're still working on it and the guide will be up shortly. It takes a lot of time and effort to put together these detailed guides! Bear with us.
Exactly How to Take an Amazing Day Trip to Girona From Barcelona
Taking A Day Trip to Toledo From Madrid: A Complete Guide