Where to Stay in Madrid: Complete Guide to the Best Areas
Wondering where to stay in Madrid? This is the guide for you. In this guide, we're going to give you our picks for the four best areas to stay in Madrid, along with the positives and negatives for each, a few of our favorite spots in each neighborhood, and some specific places to stay that caught our eye as we were perusing the options.
The intention of this guide is to use our experience exploring the Spanish capital to help you find the best place to stay in Madrid for your particular budget and style.
To be completely honest, I'm not quite sure what we were expecting when we arrived in Madrid. I had heard from people we'd met over the course of our travels that it's the most "Spanish" city in the country (whatever that means), and that it is just kind of a somewhat boring big city.
When we arrived in Madrid after spending a week in Barcelona, we were surprised to find a city that has managed to retain its charm despite being the biggest city in Spain (and being the capital).
Whatever expectations we had in our heads going into Madrid, it's safe to say that the city exceeded them. Even though it's massive, it's walkable. Even though it's an expensive city, it's full of great bars, restaurants, and coffee shops to explore.
Even though it has huge, multi-lane boulevards and tons of traffic, it has areas where you'll find narrow, winding streets with charming open plazas.
In this guide, we'll cover four great neighborhoods in Madrid that we think would make a good home base. We'll also give you the pros and cons for each so that you can find the best area for your particular trip, and some of our favorite spots in each neighborhood to help you discover a new spot or two to add to your Madrid itinerary.
Planning a trip to Spain? We have a detailed Spain itinerary plus guides to Barcelona, Granada, and Seville to help you plan an amazing trip!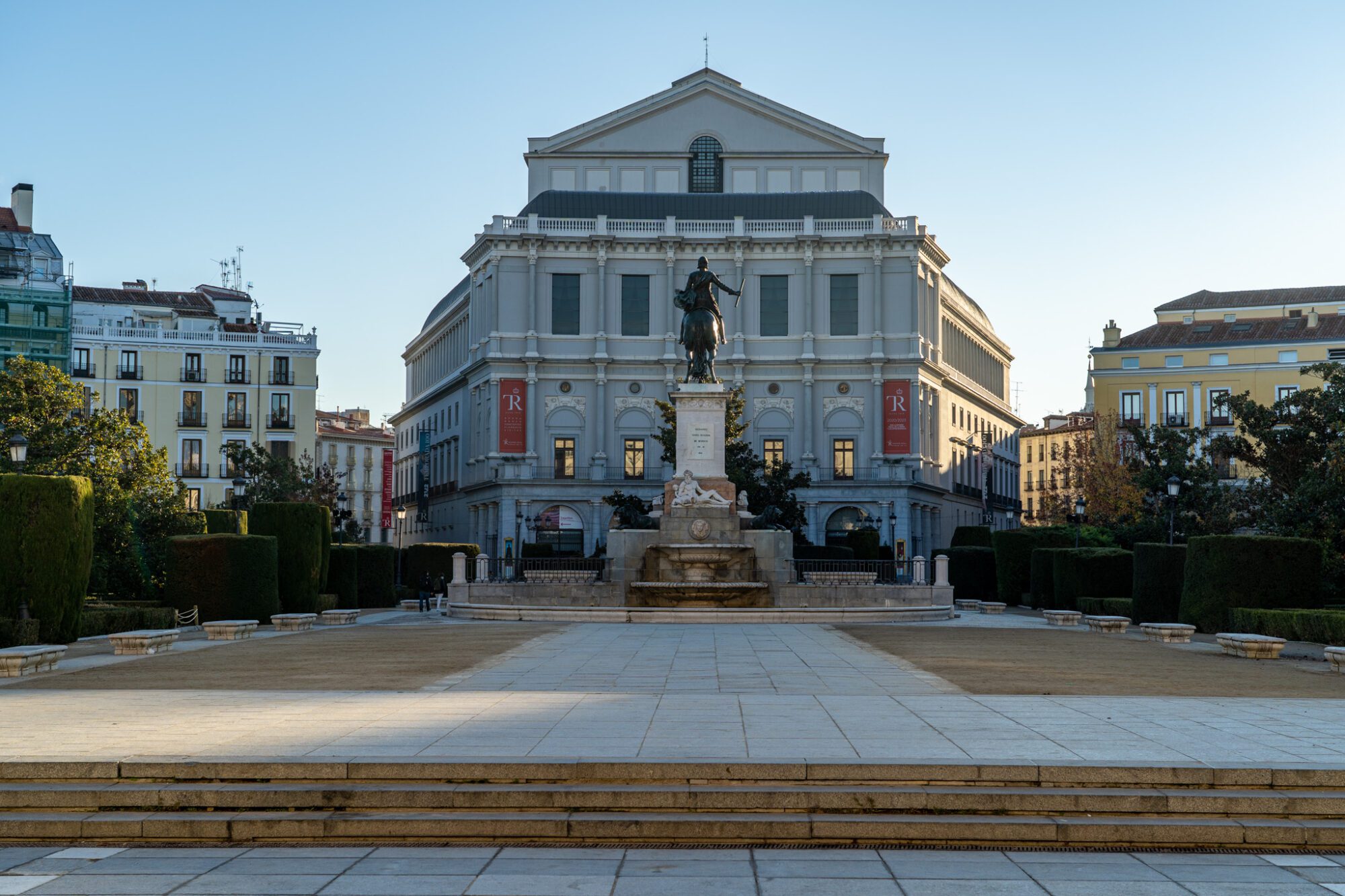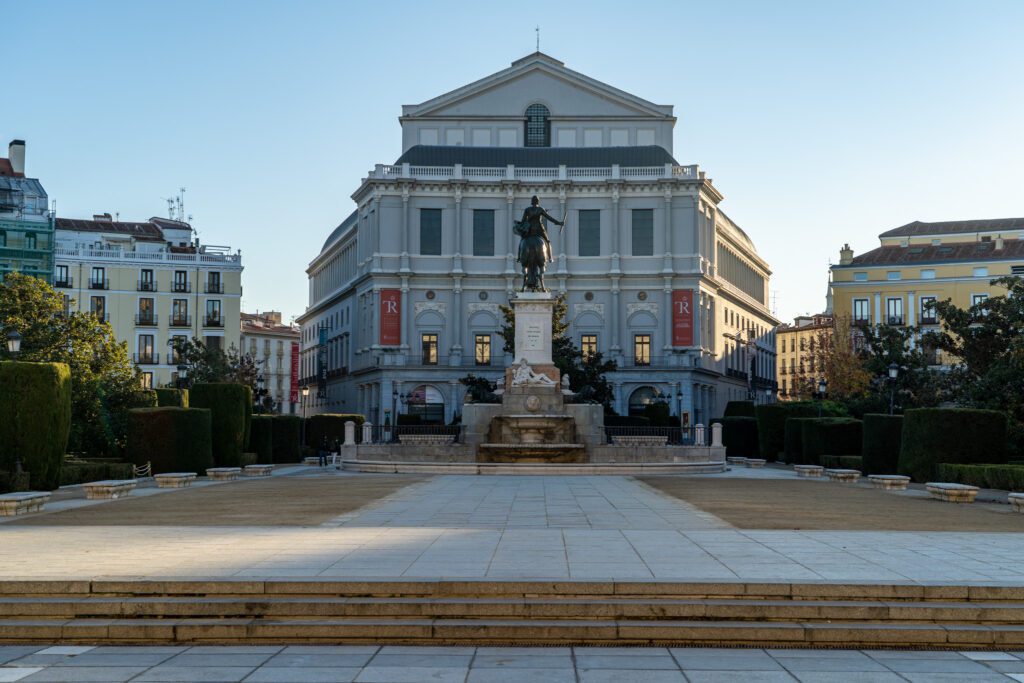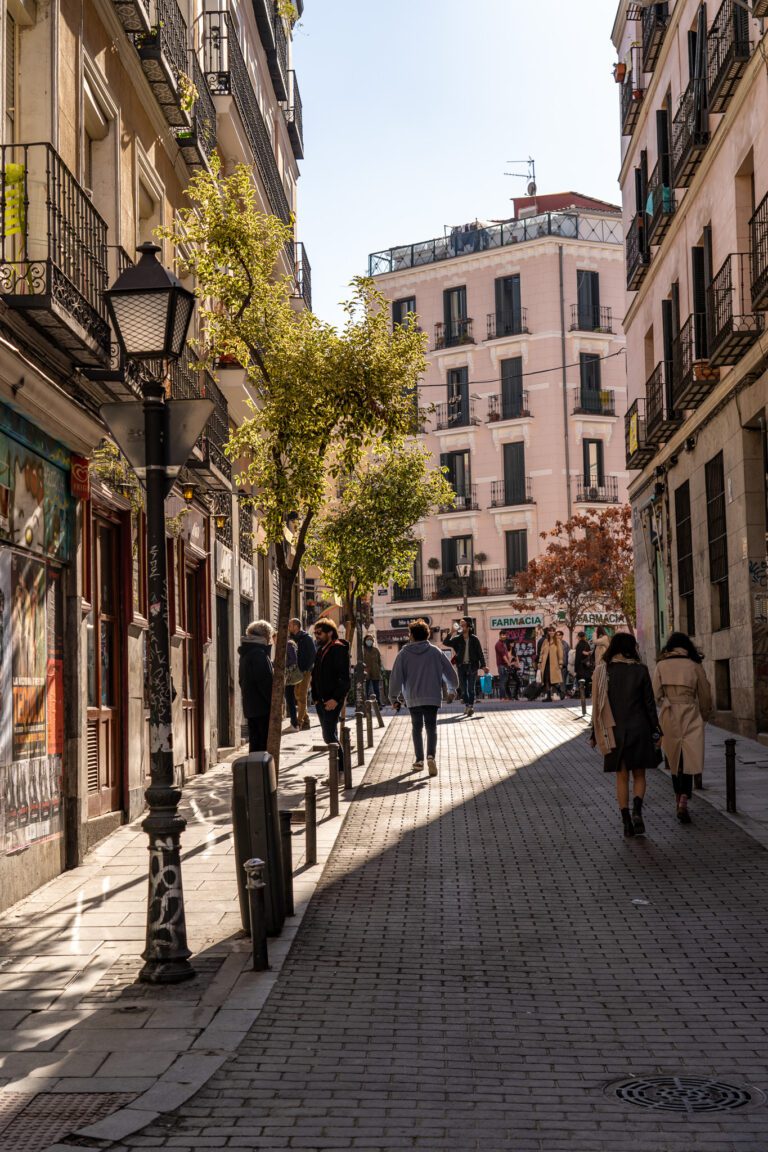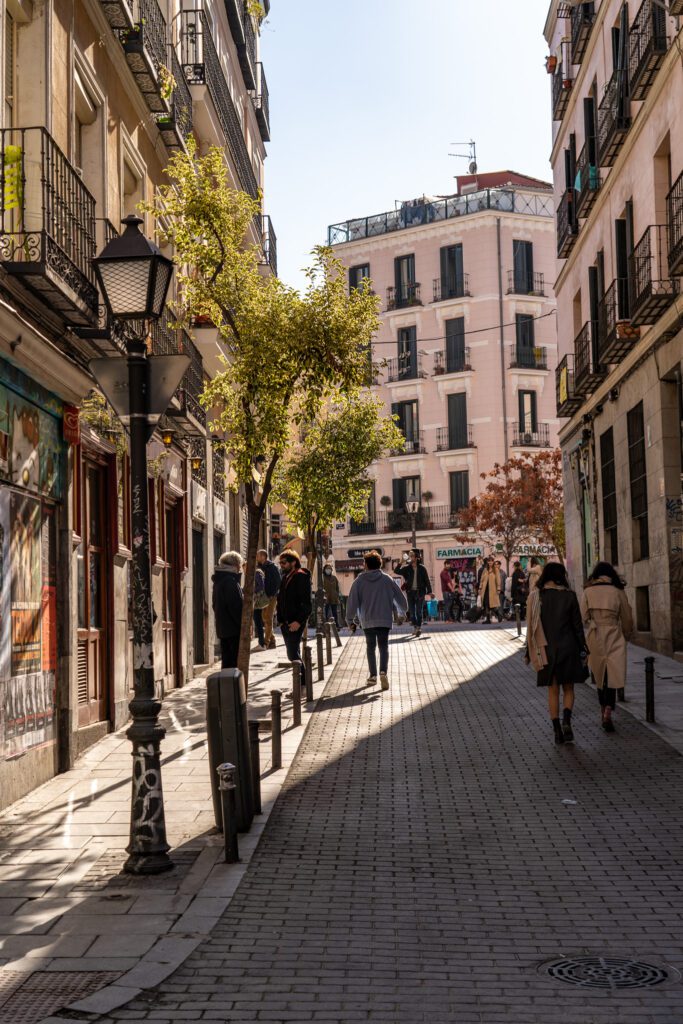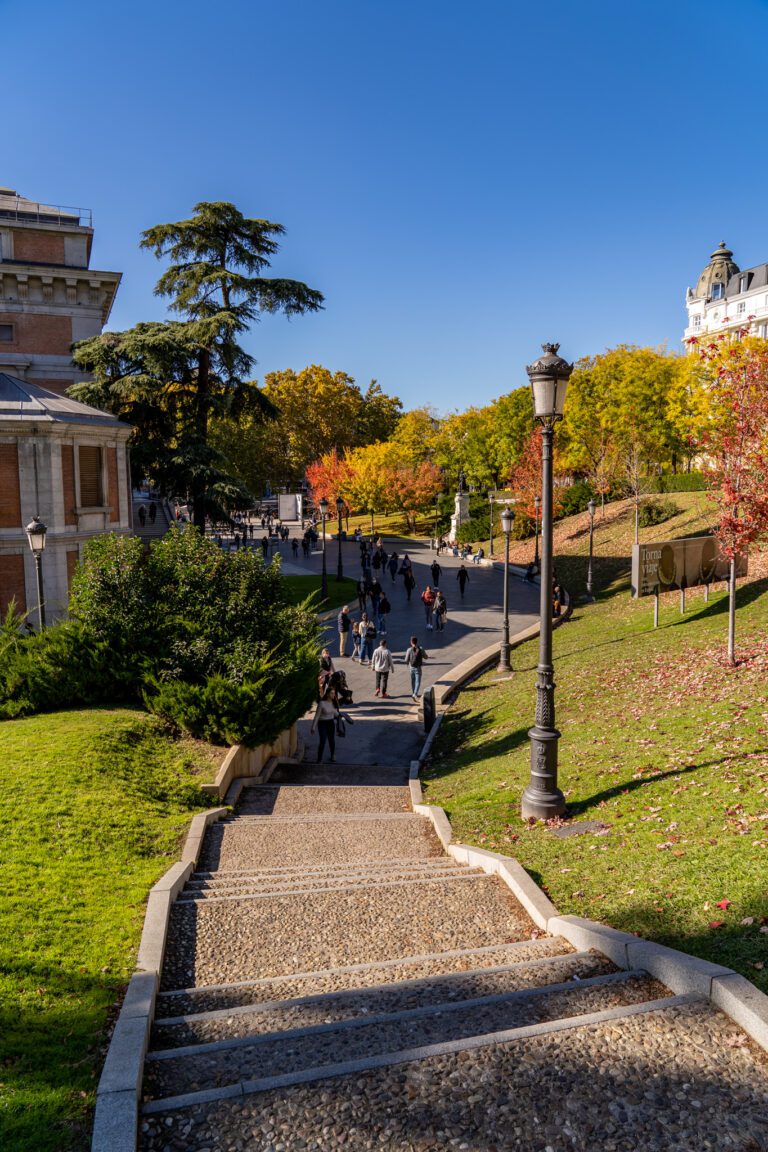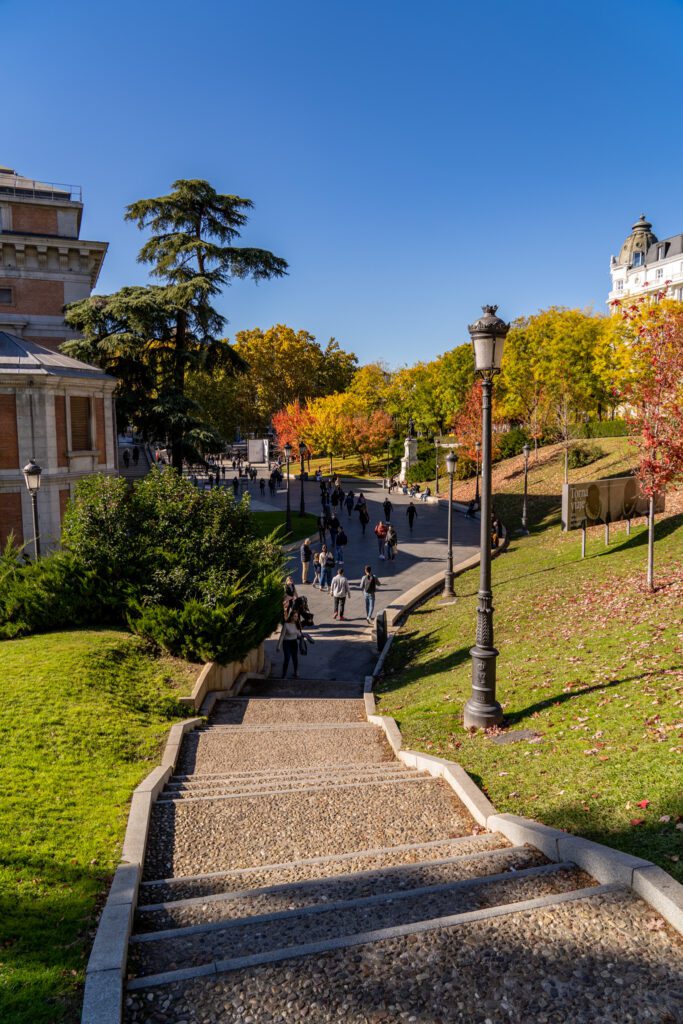 Disclaimer: Some of the links in this post, like hotel links, are affiliate links, meaning at no additional cost to you, we make a little bit of money if you click through and book. That being said, we would never recommend something to you that we don't stand behind 100%.
Where to Stay in Madrid: The 4 Best Places to Stay in Madrid
Now, let's get into our picks for the best areas to stay in Madrid.
Obviously, our preferences might be different than yours, which is why we've got a detailed mini travel guide for each neighborhood below.
You'll find an overview of the area, our take on the pros and cons of staying there, and some highlights that we enjoyed in the neighborhood – think coffee shops, restaurants, parks, and more.
Then, we'll share a few places to stay that jumped out to us as we were browsing the options available. We'll try to give different options for a range of budgets and styles – a boutique hotel, a mid-range hotel, an apartment-hotel, and a hostel.
Don't have time to read the detailed guide below? Here's a quick summary (though we'd recommend that you read the detailed guide for the neighborhood you eventually land on!).
If you're looking for the coolest neighborhood in Madrid (in our opinion, of course), stay in Malasaña. Not only is this area full of great places to eat and drink, it's also super central and walkable to almost everything you're going to want to do and see in Madrid.


If you want to experience life in Madrid like a local, opt for La Latina or Barrio de las Letras. Full of energy, we found ourselves in La Latina multiple times over the course of our trip to Madrid. The area is home to tons of vibrant plazas with people – a mix of locals and tourists – eating and drinking to their heart's content. Plus, narrow winding streets that are endlessly charming, a good selection of bars and restaurants, and La Latina metro station right in the heart of the neighborhood to connect you to the rest of the city.
And now, on to the complete guide to where to stay in Madrid!
Where We Stayed in Madrid
It probably makes the most sense to start with where we stayed in Madrid.
For our weeklong stay in Madrid, we wanted two things. A central location with easy access to the train station, because we were going to be doing a couple of day trips, and a kitchen. That meant we were looking for apartments, and eventually we landed on staying in Sol / Gran Vía.
In fact, we stayed right on Gran Vía, which had its pros and cons. It was walkable to everywhere we wanted to go, and it was literally across the street from the metro.
But it's essentially the Times Square of Madrid, with all sorts of big chain stores like H&M and Zara lining the wide, modern boulevard, and it has none of the charm that we found in some of Madrid's other neighborhoods. 
We stayed in an apartment at Smartrental Collection Gran Vía Centric, and it had a kitchen, a stylish interior, space to spread out a bit and relax, all in a great location.
However, there was one major issue – there's a rooftop club that starts blasting electronic music at around noon, and it doesn't stop until the early hours of the morning. Not ideal for two people with a 9:00 pm bedtime!
So while the apartment itself was nice and the location was pretty good – as central as it gets, really – we probably wouldn't stay there again.
Next time we find ourselves in Madrid, we'll stay in nearby Malasaña at limehome Madrid Calle de la Madera if we're looking for an apartment with a kitchen (if not, we'd go with 7 Islas). We stayed in one of limehome's properties in Granada and LOVED it.
Malasaña: Our Top Pick for Coolest Area in Madrid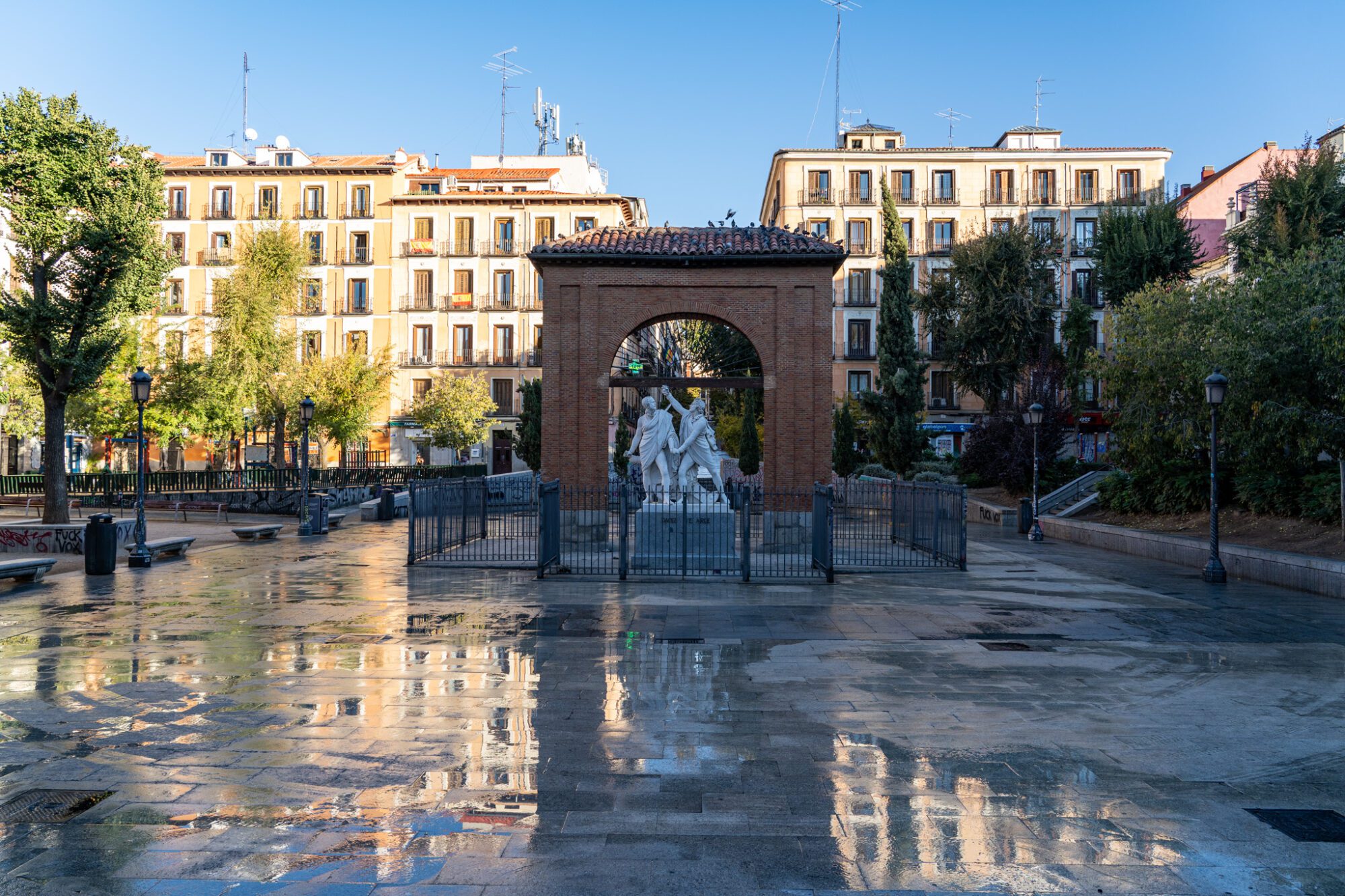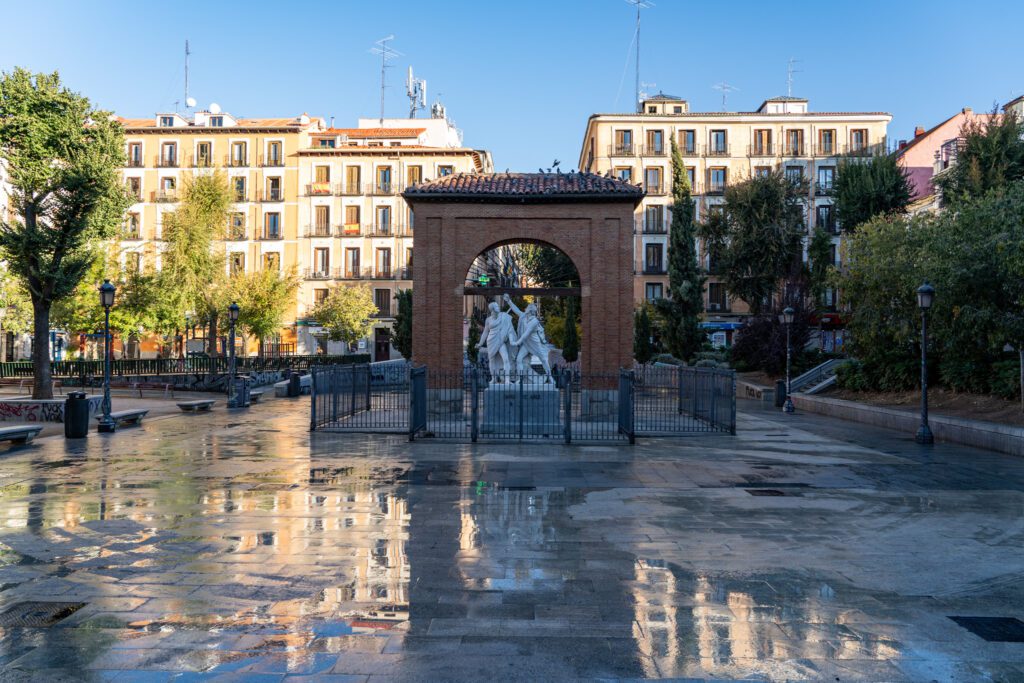 Malasaña – our favorite part of Madrid's city center – is just north of Gran Vía and stretches up north, getting more residential the further north you go.
Just off of Gran Vía, it's lively, full of bars and restaurants that are busy starting in the late afternoon and stretching into the early hours of the morning. 
We found ourselves in this charming neighborhood many, many times – sometimes multiple times in a day – over the course of our week in Madrid.
The number of coffee shops, bars, restaurants, and shops is unrivaled in any other neighborhood in Madrid, at least in our experience.
Being just off of Gran Vía, it's also in a central location that will put you within walking distance of most places in Madrid.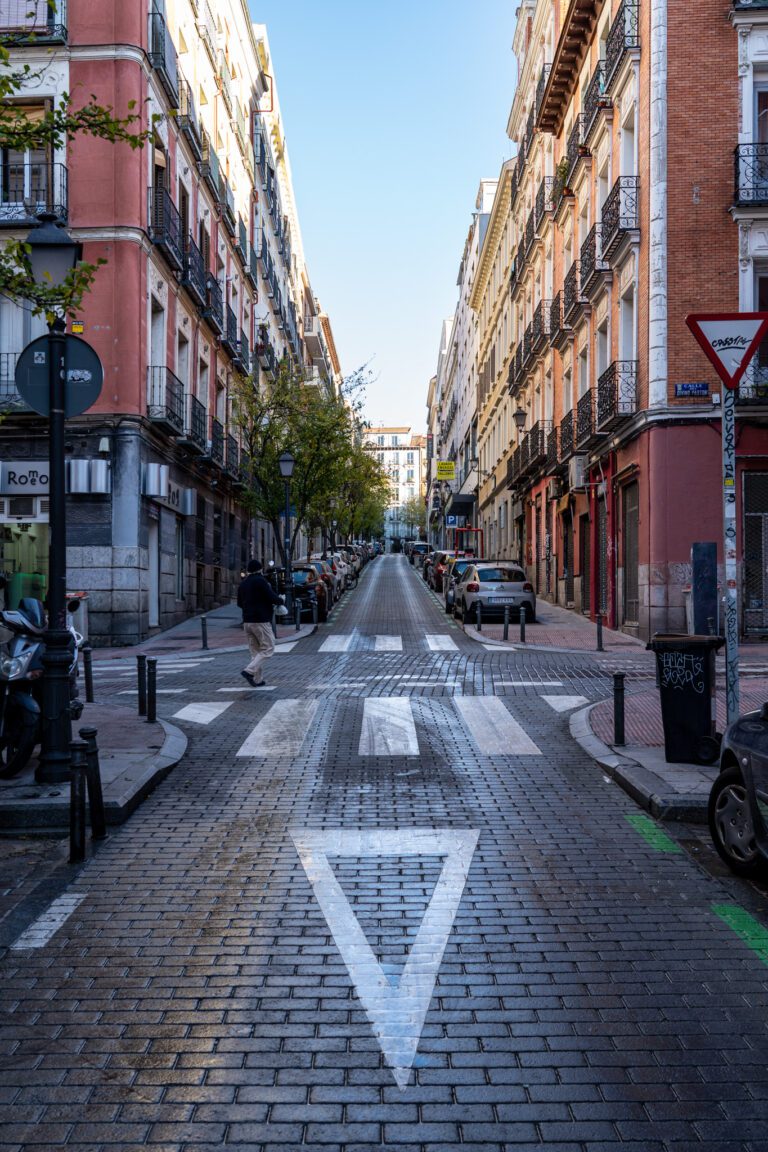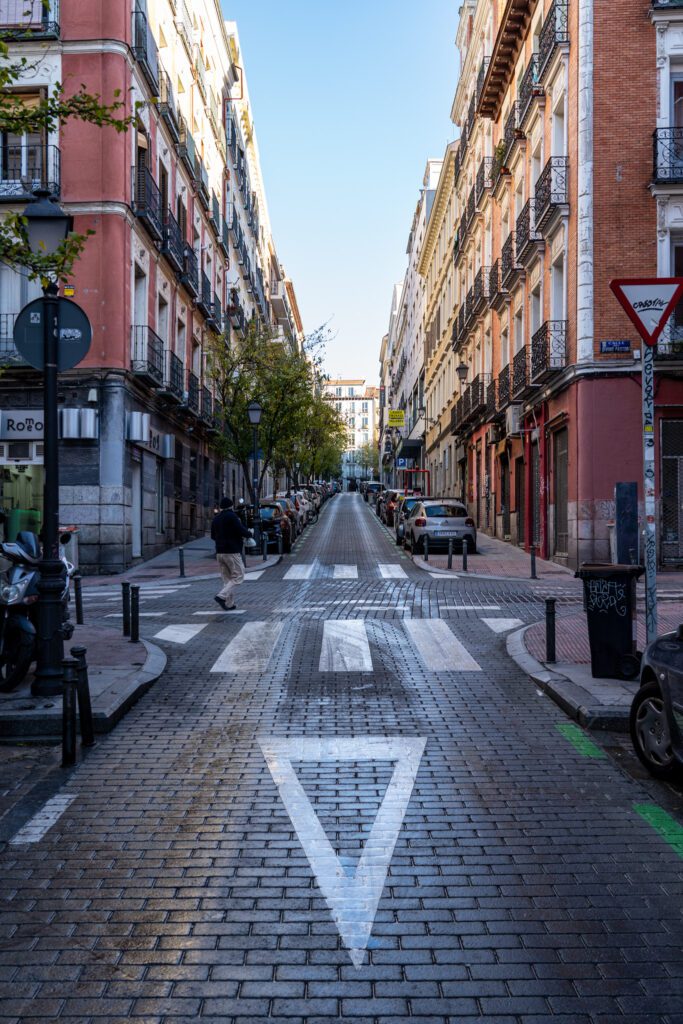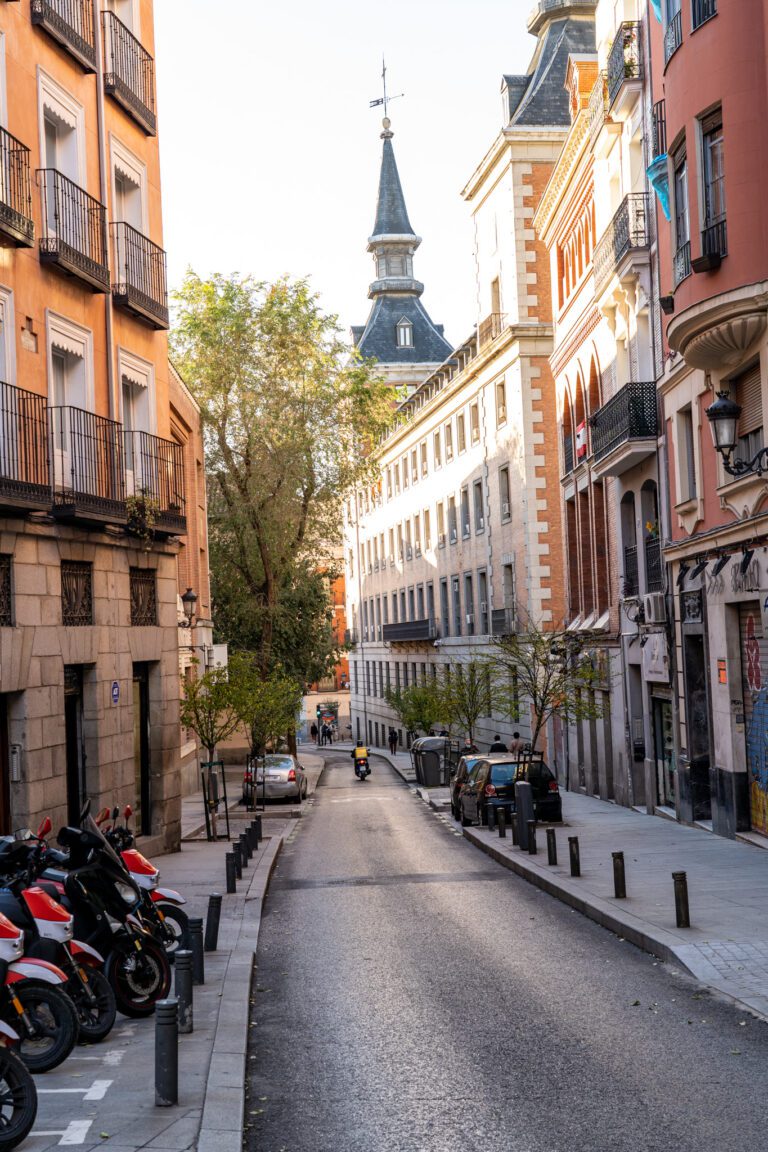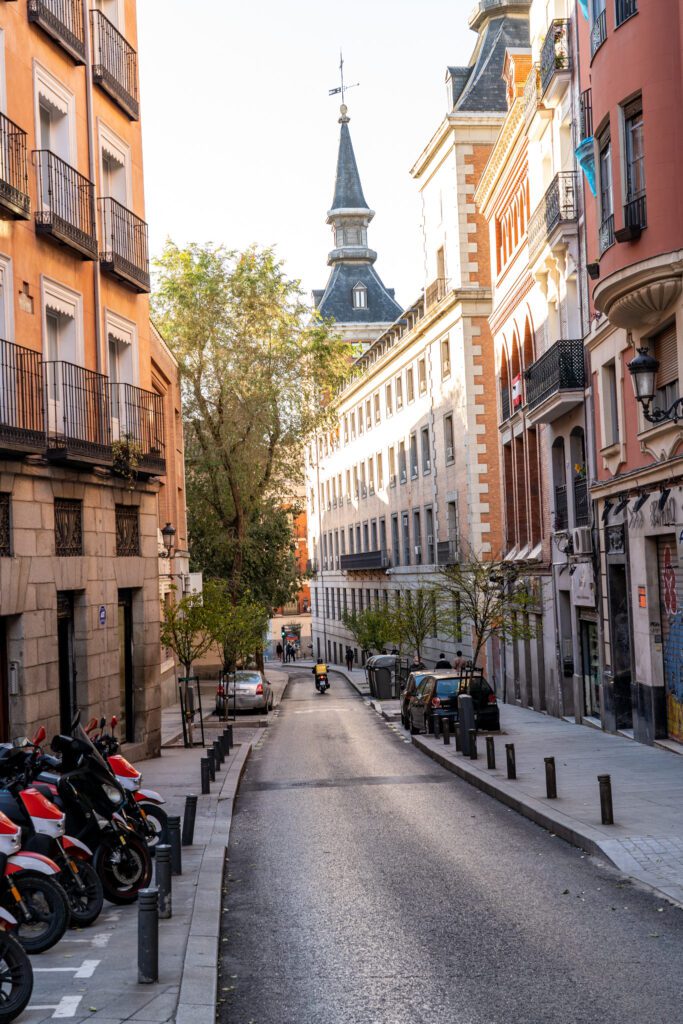 Normally when we talk about hipster, charming neighborhoods in a city – Trastevere or Testaccio in Rome, Capitol Hill or Ballard in Seattle, or Gràcia in Barcelona – the area is not as central as we'd like, but it's worth the tradeoff to stay in a cooler neighborhood than some of the more central ones.
In Malasaña, you truly get the best of both worlds. You're central and within walking distance of just about everything you'll want to see over the course of your Madrid itinerary, and you're also smack dab in the middle of the coolest neighborhood in central Madrid.
The only tradeoff is that it's generally a little louder and more boisterous than other areas, with people packing the plazas, bars, and restaurants at all hours.
However, you can certainly find quieter corners where you'll be able to get a full night's sleep, if that's what you want. 
What about Chueca?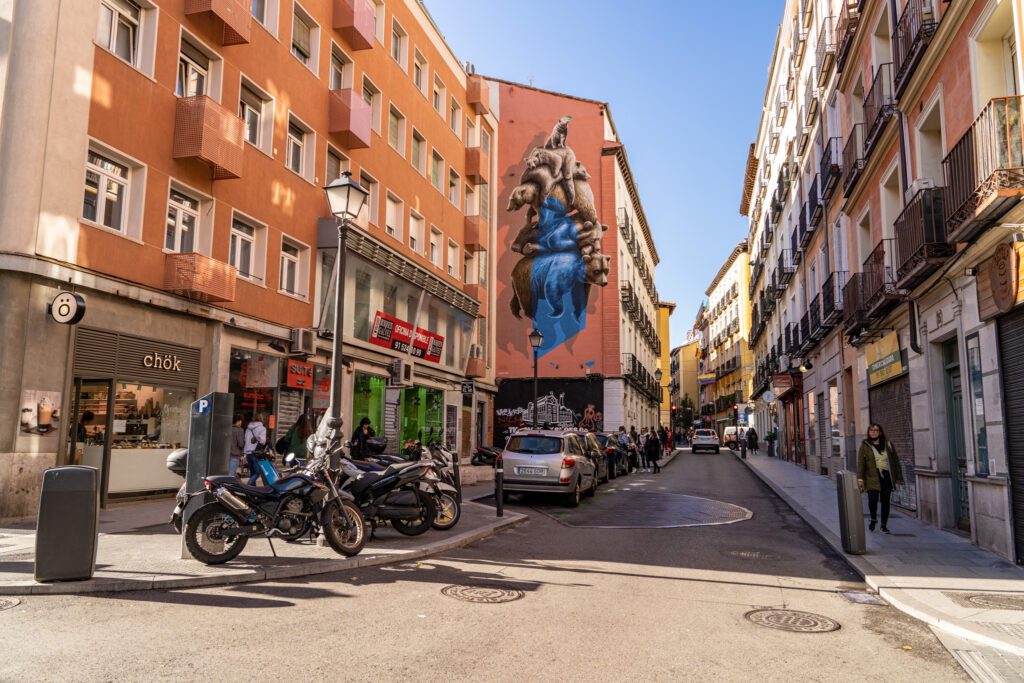 Chueca is the neighborhood immediately to the east, and as I was walking around the two neighborhoods it was really hard to find a real border between them.
They blend together, though as you get closer to where the border is supposed to be, you'll start to notice more and more rainbow flags – Chueca is one of the more LBGTQ+ focused areas in Madrid, and also a nightlife hub (the two seem to usually go hand-in-hand – see: Capitol Hill in Seattle and the Castro in San Francisco).
For the purposes of this guide, we don't see enough of a difference between the two to have a completely separate section for them.
Pros and Cons of Staying in Malasaña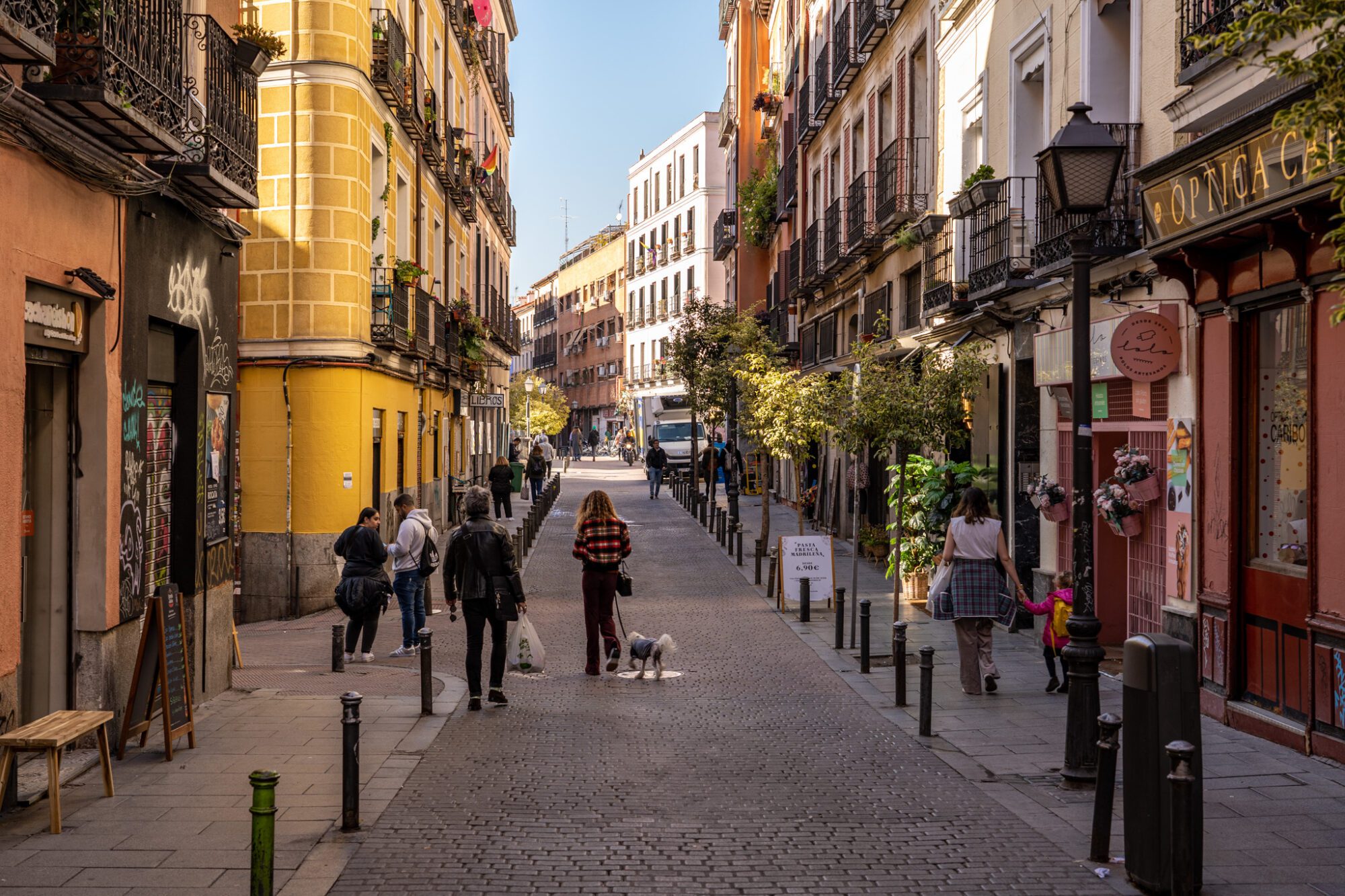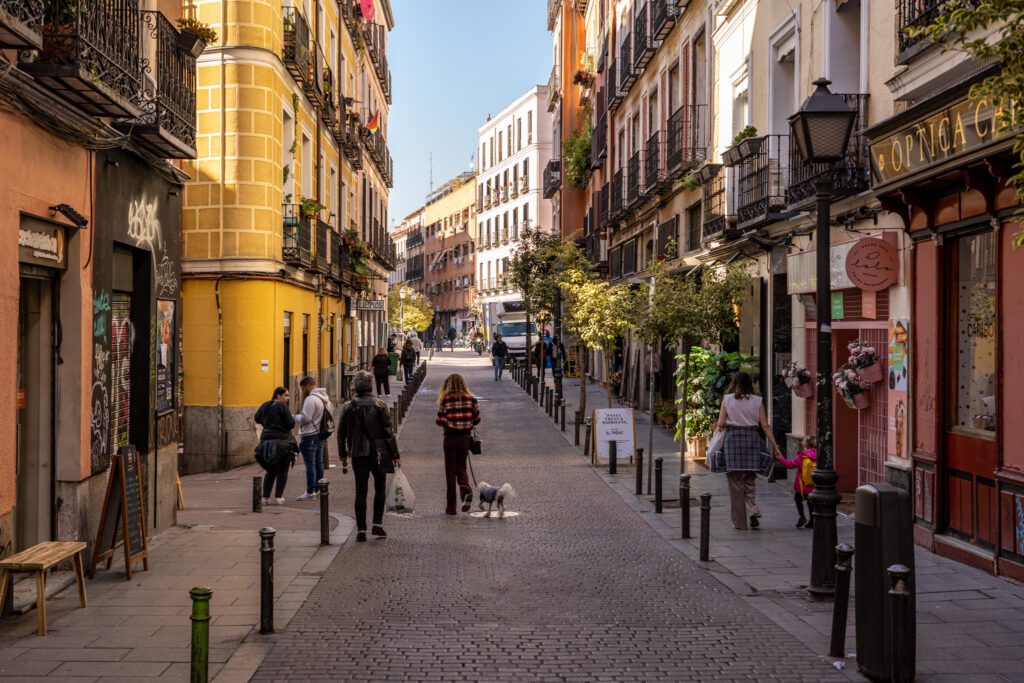 Pros:
Simultaneously Hip and Charming. Malasaña is a little bit hipster, and a lot bit charming. Every few blocks, you'll come across an open plaza with people relaxing in the sun, sipping coffee or a beer, watching the world go by. Open public spaces within cities where people hang out is something that Spain (and Italy, and Colombia, and Mexico…) do really well, and we're here for more of it at home in the US.


Unparalleled Variety of Places to Eat and Drink. In between those charming plazas is an array of shops, bars, and restaurants offering nearly every kind of cuisine or drink under the sun. Authentic Venezuelan, Japanese, Italian – just about every region of the world is represented here.


Central. It's just north of Gran Vía, the main artery running east-west in Madrid. It's within walking distance of the Prado, the Royal Palace, and La Latina, which means you'll be able to walk basically everywhere you want to go.
Cons:
Loud at Night. Parts of the neighborhood are home to some of the best nightlife in Madrid, and as you might imagine, it's not exactly the quietest place on earth. Walking through the streets after the sun went down, we regularly found most streets in the area packed wall-to-wall with people. If you're looking for a quieter part, stay further north or further west.
Malasaña Highlights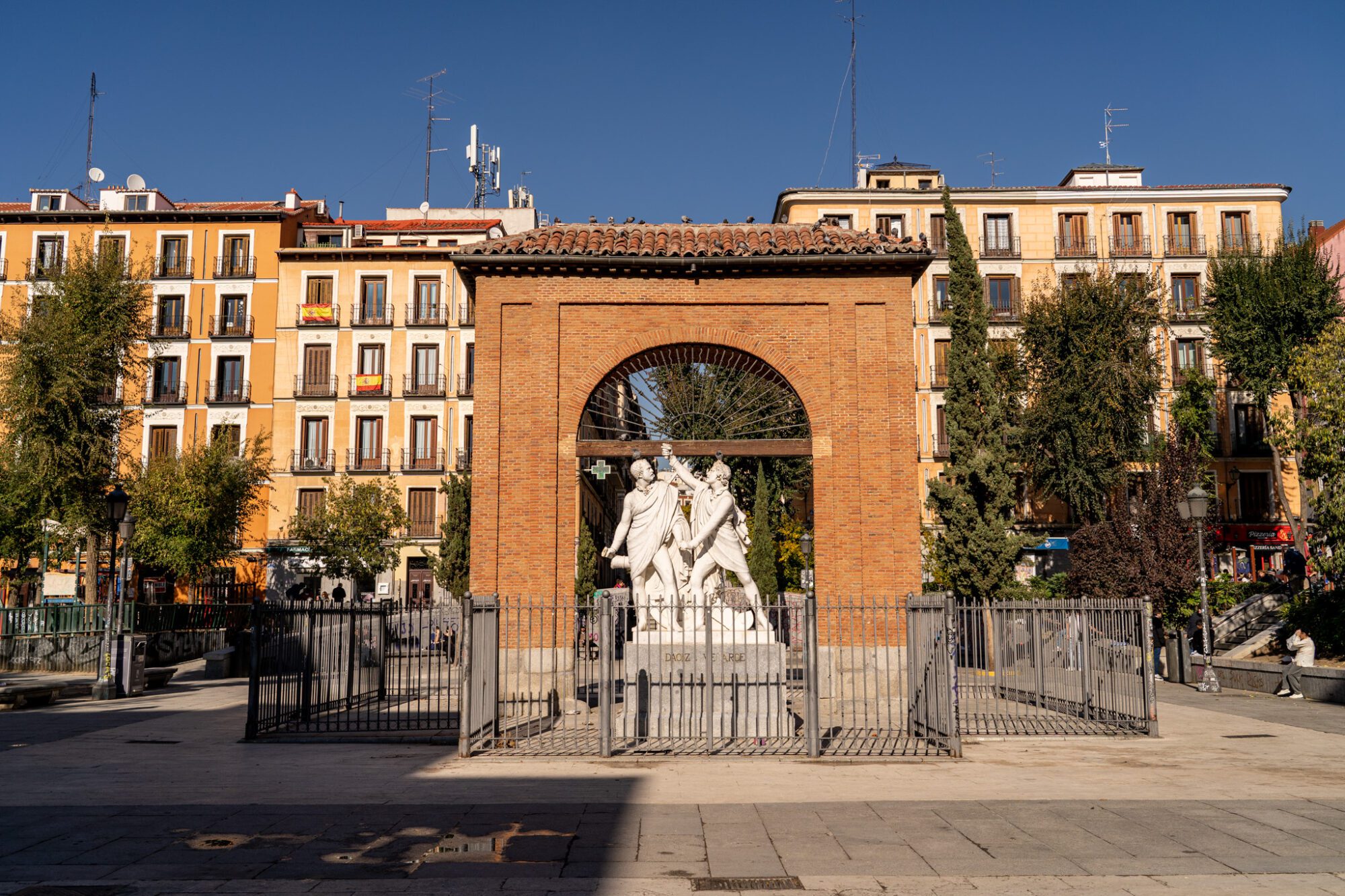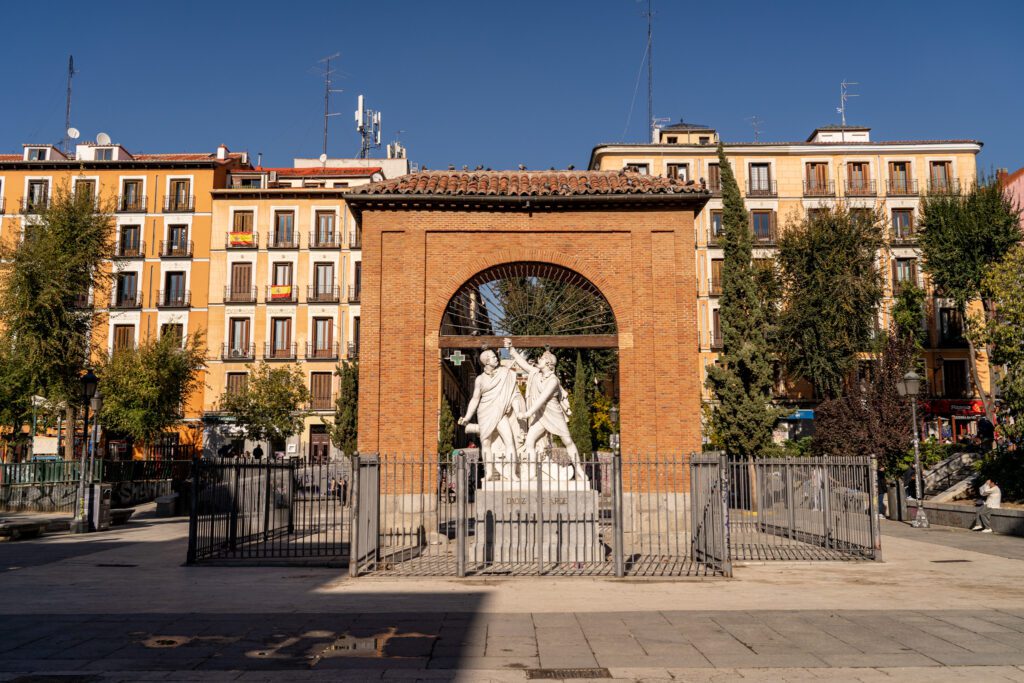 Great Coffee. Two of the best coffee shops in Madrid are mere blocks from each other in Madrid. The first is HanSo Café, which is a coffee curator that brings in all sorts of different beans from roasters across Europe. Inside is a great place to get some work done – not all cafes in Madrid allow laptops – and they have both filter coffee (pour over or batch brew) and espresso drinks. The second is Misión Café, which uses beans from local roaster Hola Coffee Roasters and has some of the best chai in Madrid. In addition, they have a bakery next door, which means this is a great place for breakfast and coffee before a day of exploring.
Plaza del Dos de Mayo. A monument celebrating the uprising of Madrileños against Napoleonic forces on May 2nd, 1808. It's an important moment in Madrid's history, and today it is, for all intents and purposes, the center of the neighborhood.
The Food. Seriously, the food scene here is unreal. Whatever kind of food you're looking for, you'll probably be able to find it in Malasaña. We liked Guasa (Venezuelan-style arepas), Okashi Sanda (gluten and dairy free Japanese), and Grosso Sin Gluten (Neapolitan-style pizza, all gluten free), though there are plenty of other choices in the neighborhood.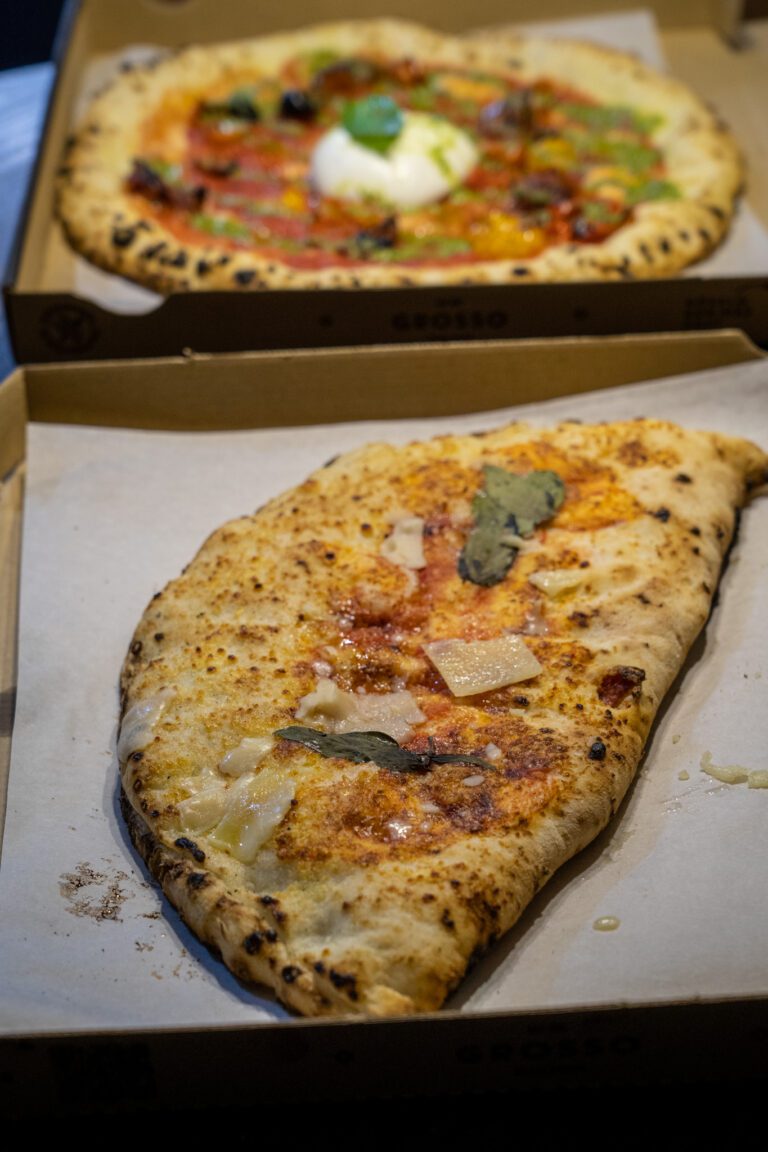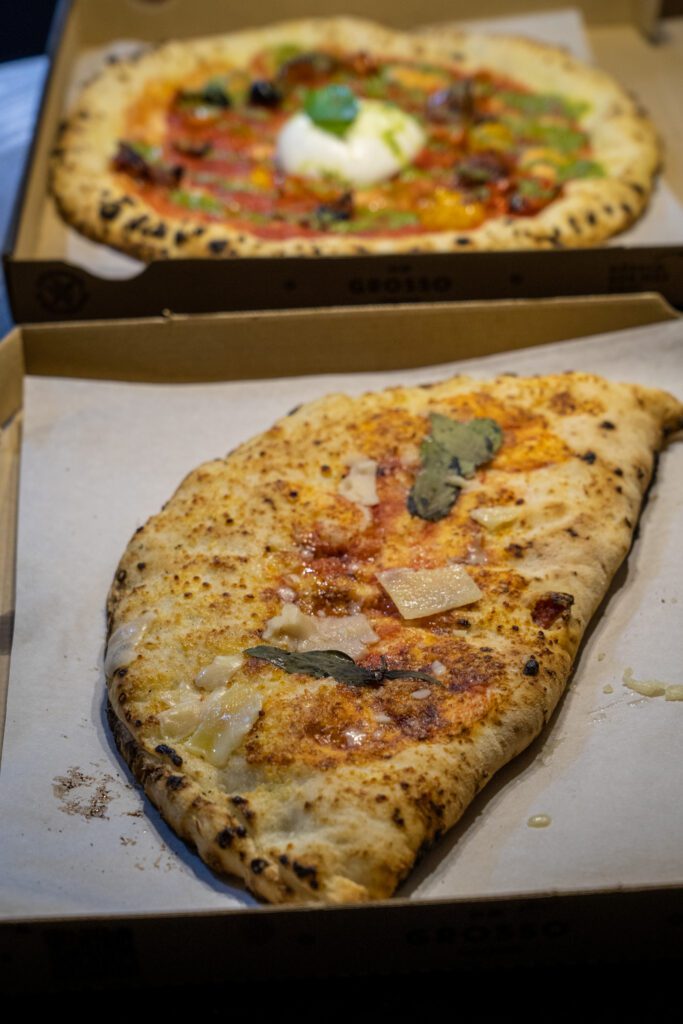 The Best Places to Stay in Malasaña
Here are some places to stay in Malasaña that caught our eye as we were perusing the options.
7 Islas Hotel: Charming & Stylish Hotel
If we hadn't been in need of a kitchen due to Matt's Celiac Disease, we might have chosen to stay in this stylish boutique hotel just a few blocks north of Gran Vía in the southern end of Malasaña.
There's an art gallery on the ground floor, which is probably a little too on-the-nose, but we're okay with it because of the elegant, minimalist decor in the surprisingly spacious rooms.
A family-owned property, the hotel was completely remodeled in 2012 by the original owner's granddaughters and it was transformed into the place it is today.
Despite the corporatization of most hotels in major cities around the world over the past decade or two, this hotel is still run by those same three granddaughters, which we think is something worth mentioning and celebrating. 
Rooms are simple, stylish, and comfortable, with an industrial-chic sort of theme with touches like those fancy light bulbs that stand alone without a shade.
They also have a penthouse suite with a terrace, which has a lot more room to spread out (nearly double the space, in fact), plus a private terrace with a hammock to relax in the Spanish sun. 
Onsite, there's a bar/cafe that serves specialty coffee and cocktails (along with a beer brewed specially for this hotel) throughout the day, but you'll definitely want to branch out outside of the hotel to get into the surrounding neighborhood, which is chock full of amazing bars and restaurants.
IBIS Madrid Centro: A Nice Affordable Hotel
This budget-friendly hotel is up on the northern edge of the neighborhood, which does mean that it's a bit further from most of the places you're going to be visiting on your Madrid itinerary. It is just a couple of blocks away from Plaza del Dos de Mayo, though.
However, the price reflects that less central location, which is why it's here on this list. There are a couple of metro stations within walking distance, depending on which line you need to catch.
IBIS Hotels are nothing particularly special, but they are consistent, which is a nice characteristic to have in a hotel. Rooms are basic but comfortable, with options for double beds and twin beds, depending on who you're traveling with.
limehome Madrid Calle de la Madera: Stylish Serviced Apartments in a Fantastic Location
After staying in a limehome property in Granada that we absolutely loved, we wish we had stayed at these stylish apartments in Madrid instead of the place we ended up staying.
For context, Matt has Celiac Disease, which makes dining out sometimes difficult and means we try to always have access to a kitchen so that we have the option to cook for ourselves.
This property is basically an apart-hotel. Rather than being a single apartment being rented out by an individual or investment group, it's more like a hotel, but the rooms are apartments with amenities like living areas and kitchens.
That generally means you'll have more space to spread out, which we appreciate given we're often doing work and writing when we're traveling, which is not particularly pleasant in a cramped hotel room with only a bed to sit on.
There are a variety of apartments here, from studios (choose between small, medium, and large depending on your needs and preferences) and one-bedroom options, again with various sizes and configurations.
All apartments here have full kitchens (including coffee and tea), air conditioning, and washing machines. Plus, even more modern amenities like Smart TVs and contactless check in and check out.
The apartments are stylish and functional, and would make a fantastic home base for exploring Madrid in one of the city's best neighborhoods.
Bastardo Hostel: An Upscale Hotel / Hostel Hybrid
When we've traveled over the past few years, we've fallen in love with the idea of a "boutique hostel." The reason? We feel like they give you all the benefits of a boutique hotel plus the social aspects that draw people to hostels.
If you're looking for a nice hostel that is more affordable than a hotel, but quieter with more privacy than staying in a dorm, then choosing a private room in this upscale hostel in the center of the neighborhood will be a perfect choice.
If you're really on a budget, they also have dorms, but we're a little too old for that (and more importantly, we value our sleep too much).
There are a variety of common areas to enjoy, including a sunny terrace and light-filled common room on the ground floor.
The private rooms are essentially hotel rooms, some have terraces, some have different bed configurations that will work better for families or couples, and all are at an affordable rate.
Barrio La Latina: Local Vibes + Great Food and Drinks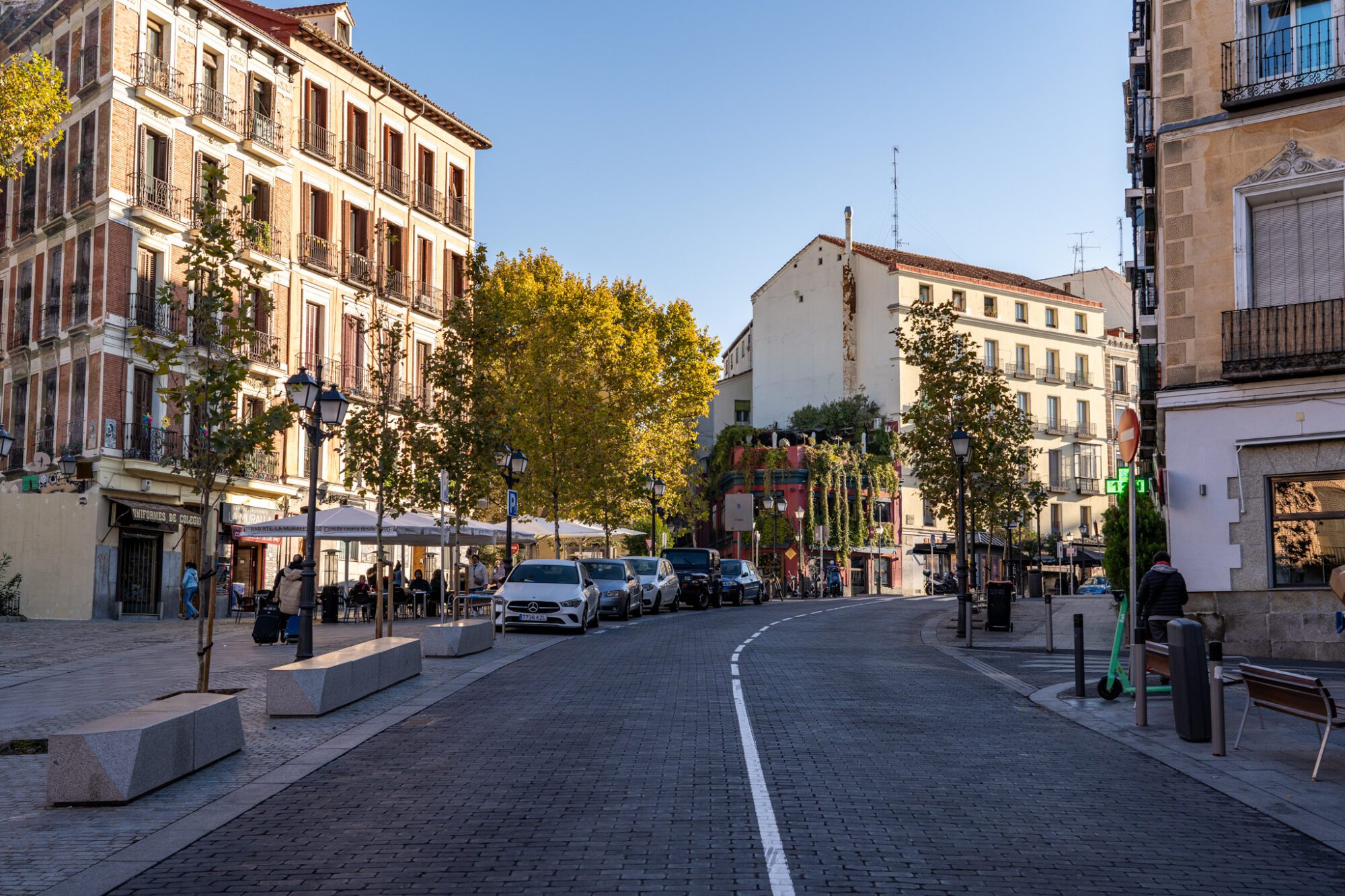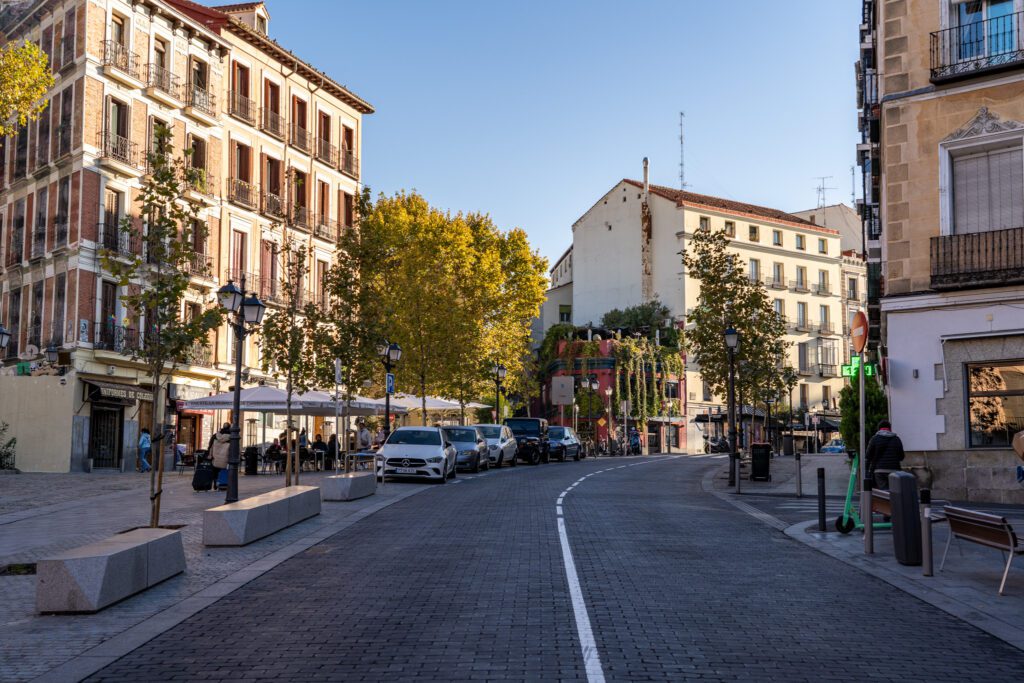 If we had to pick a second-favorite neighborhood after Malasaña, it would be La Latina. The second we crossed over its boundaries from Plaza Mayor, our eyes lit up.
Generally, there's a strong correlation between a neighborhood that has plazas with local kids running around and the amount we like the area. 
La Latina is a neighborhood that is named after Beatriz Galindo, a beloved teacher of Queen Isabella of Castile (and various other famous royals).
She was named "La Latina" because her grasp of Latin was prolific, and the neighborhood here bears her name because of her contributions to the neighborhood and city, where she founded a hospital and was one of the most prominent women in public life at the time. 
There are a couple of things we really enjoyed about La Latina.
First, if you want tapas, go to Calle Cava Baja, which is famously lined with tapas bars on either side of the street for several blocks (more on this in the "highlights" section below).
Second, the bustling plazas. We were here multiple times at various points in the day – early morning, noon, and late afternoon – and at all of those times, the open plazas were full of people either grabbing their morning coffee with friends, taking a break before going about their day, or eating tapas and drinking wine, beer, and vermouth in the warm sun.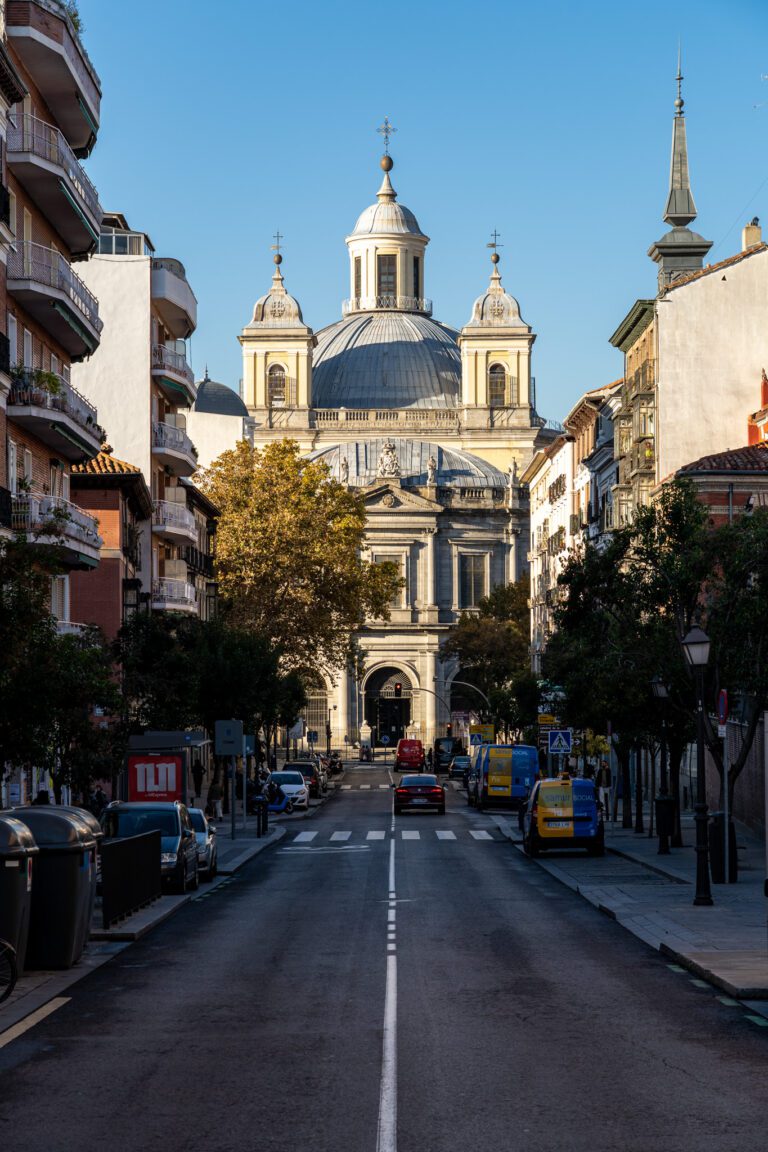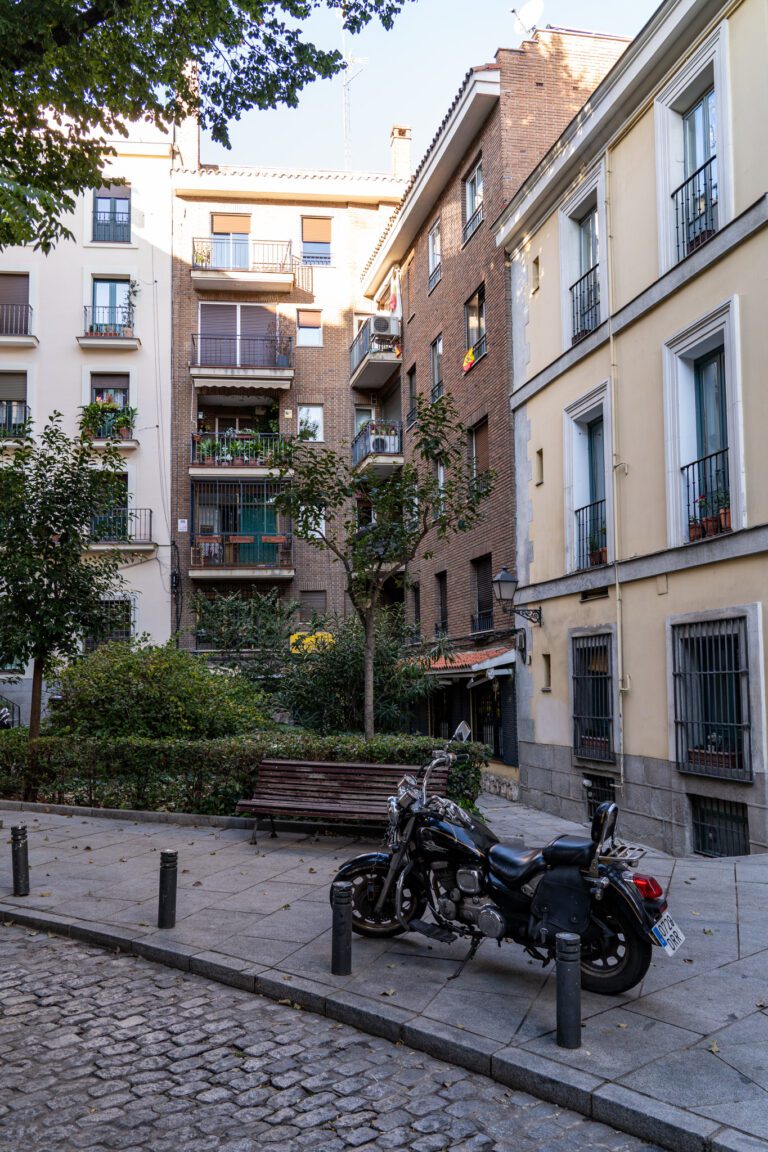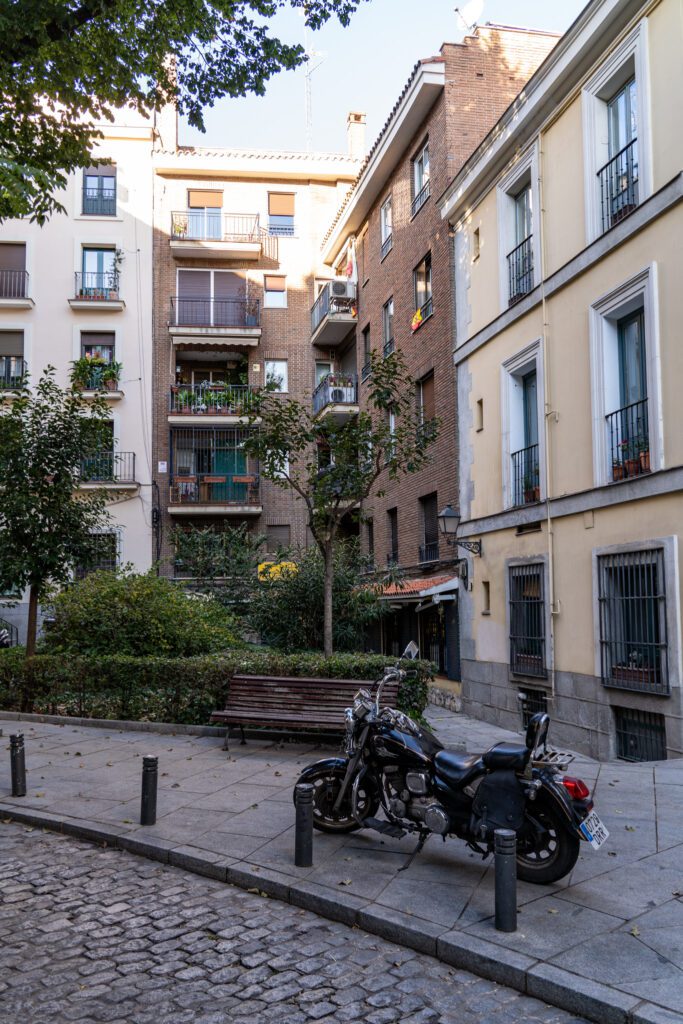 Of course, it should definitely be noted here that this neighborhood, like most places in Madrid and around the world, has seen rising rents displace local families in service of short-term rentals meant for tourists.
We would not recommend staying in an Airbnb in this neighborhood – choose a hotel, serviced apartment, or hostel instead.
Pros and Cons of Staying in La Latina
Pros:
Charm Charm Charm. This area is endlessly charming, with tons of energy and people milling about at all hours. Tapas bars spilling into the streets. Open plazas with people sitting around catching up or taking a break after dropping their kids at school. The neighborhood takes up part of the oldest part of Madrid, and is full of narrow winding streets that feel like a maze. 


Central Location. The other nice thing about La Latina is that it's walkable to most of the city. You'll be able to walk to El Prado and the Royal Palace, and if you don't feel like walking, there's a very convenient metro station right in the heart of the neighborhood.
Cons:
Not Many Places to Stay. Because this area is a bit more residential than some of the others in this guide, there aren't as many places to stay. Since we do not recommend staying in an Airbnb in Madrid, which has helped contribute to a housing crisis where locals who have lived here for decades can no longer afford it, the choices are relatively slim. However, there are still some cool places to stay here, so don't discard it altogether!


Loud and Boisterous. This area is very popular, and as a result it can be loud and filled with a frenetic energy. Particularly on weekends and at night.
La Latina Highlights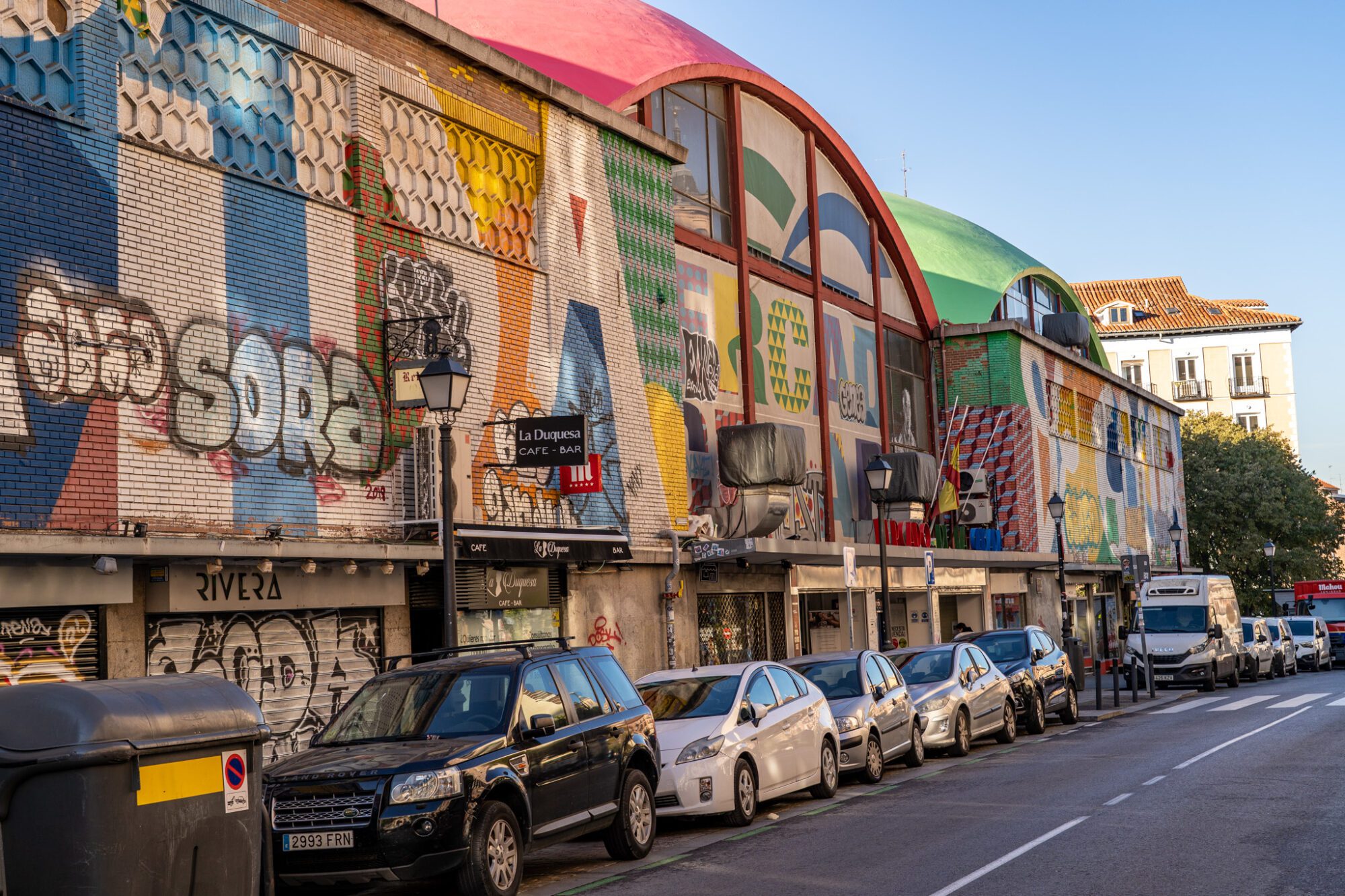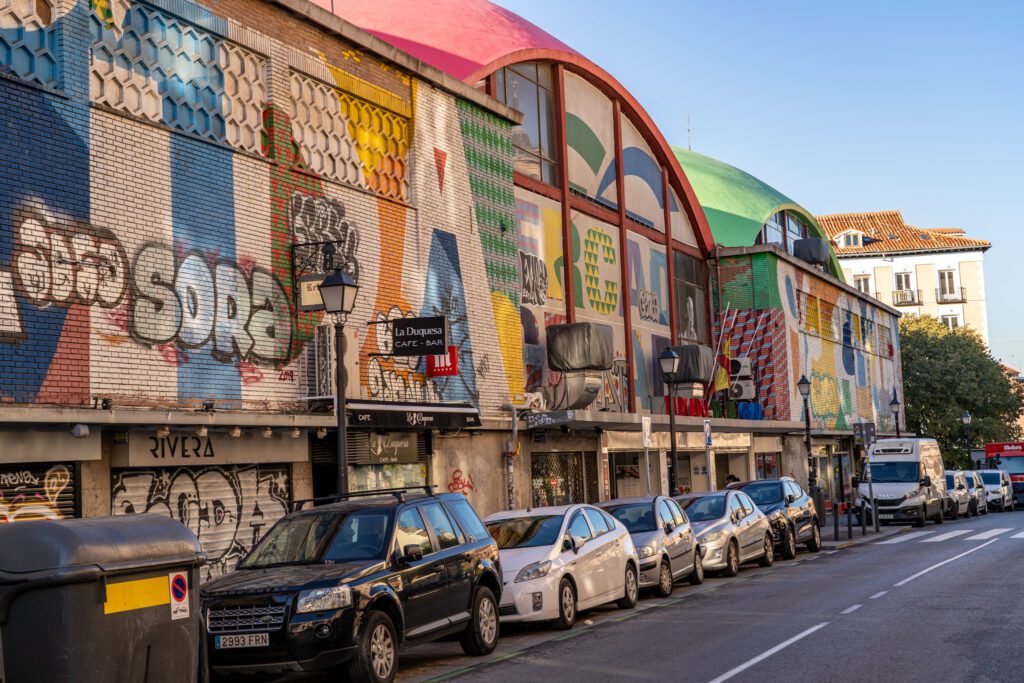 Calle Cava Baja: THE tapas street in Madrid (and maybe in all of Spain?). La Latina is known as the place to go for foodies looking to experience Spanish cuisine, and the Cava Baja is lined with exclusively tapas bars for several blocks.
Museo San Isidro. A museum inside a former church with free entry, this place was a pleasant surprise and is worth 30-45 minutes of your time. You'll learn about the origins of Madrid – from the Paleolithic era, through the Roman period, and up until the 20th Century. There's a nice collection of artifacts from those periods. Did we mention it's free?
Mercado de la Cebada: We did a walking tour with a historian while we were in Madrid, and he pointed out this market as a better example of a local market than the Mercado de San Miguel (which is near Plaza Mayor). This is less tourists, more locals doing their shopping. Fresh produce, meats, and fish, with some places to grab tapas sprinkled in.
Ruda Café: A teeny tiny café on Calle de la Ruda that serves up some of the best coffee in the neighborhood. There's not much seating inside, but the baristas are friendly, and the espresso I had here was perfectly pulled (and the barista gave me a choice between two different coffees, which I always appreciate).
El Rastro: If you're into flea markets, this is the place for you. It's on Sundays, and takes over an entire area at the south end of the neighborhood.
The Best Places to Stay in La Latina
Here are five places that caught our eyes as we were browsing the options of places to stay in the neighborhood.
We've done our best to include places for all budgets and styles – from fancy schmancy boutique hotels, to affordable hostels.
Plus, apartments with a kitchen, which is something we often find we need when we're on the road (Matt has Celiac Disease and needs to eat gluten free – check out our guide to eating gluten free in Madrid!).
Posada del León de Oro: A Boutique Hotel in a Great Location
This boutique hotel is right at the northern end of Calle Cava Baja, which means you're within about three minutes of being right in the heart of all the action. Plus, you can easily walk to places north of La Latina, like Plaza Mayor. The location is honestly just about perfect.
It's in a 19th Century building that has been lovingly restored, and the 17 rooms are modern and elegant, though not in a stuffy way at all. It's a relatively small hotel, which is a nice alternative to some of the bigger mega-hotels in Spain's capital.
L&H La Latina Selection: A Nice Mid-Range Hotel
This mid-range hotel is towards the southern edge of the neighborhood, which means it's going to be significantly more quiet and relaxed than the places up near Calle Cava Baja.
The rooms are nicely laid out, and more importantly, have a microwave, mini fridge, and stovetop in the room! Plus, a Nespresso machine for your morning coffee.
They have standard hotel rooms of various configurations and sizes, plus a couple of deluxe attic rooms with a private terrace, and suites with a little more space, including a living area. 
The decor is stylish and simple, with big gray headboards and two pieces of artwork hanging above the bed, and big rainfall showers.
They also have parking, which is a plus if you're going to be driving in Spain.
Casa du Soleil: A Small, Stylish B&B
Okay, TECHNICALLY this is just outside the eastern border of La Latina, but it's within a few blocks of La Latina metro station, so we're going to include it because we think it'd be a great place to stay.
Casa du Soleil (which, oddly, is French, not Spanish, which we think is because they're leaning into the Mediterranean vibes) is a new hotel, opened in 2021, and you can tell when you look at the style. It's very boho-chic, if you know what we mean.
They ONLY have double rooms, which means it's probably not a great option for families or groups traveling together. They do have a communal kitchen for you to use, where you'll find free coffee and plenty of common areas for relaxing (or getting some work done).
Apartments: Apartamentos Cava Baja
If you're looking for comfortable apartments in a great location, you can't go wrong with these apartments that are on Calle Cava Baja at its northern end, which means you're two or three blocks from both Plaza Mayor and the heart of La Latina.
The apartments are huge, at least by our San Francisco standards, and they have both one and two bedroom options for different group sizes.
Each apartment has a slightly different layout and configuration, though all have full kitchens with nice appliances (full size fridge and dishwashers) and Nespresso machines. 
Overall, if you're looking for an apartment in Madrid, this is at the top of our list.
Upscale Hostel: The Hat
We had this stylish eco hostel booked for our stay in Madrid at one point, but we weren't sure whether the communal kitchen would be accessible when we were there, so we ended up switching to an apartment with a kitchen.
It's also worth noting that the kitchen facilities here are fairly limited – a microwave and kettle, no stove – if that's something you care about.
On our next trip, we'd have this place at the top of our list.
We're all about the boutique hostel trend that is currently taking popular cities around the world by storm.
They combine the comfortable, stylish rooms you'd find at a boutique hotel with the social aspects you get from staying at a hostel, at a relatively affordable price (usually). 
The Hat is one of the nicest hostels we've come across in our extensive search for the perfect place to stay in cities around the world. It's on the northern edge of the neighborhood, pushing into the area around Puerta del Sol, which is a great central location for exploring Madrid.
They have a combination of dorm rooms (including female-only dorms) and private rooms that are essentially hotel rooms.
You'll also have access to their extensive breakfast, the rooftop bar, and their various common spaces that all seem to be filled to the brim with natural light.
Barrio de las Letras: Central and Romantic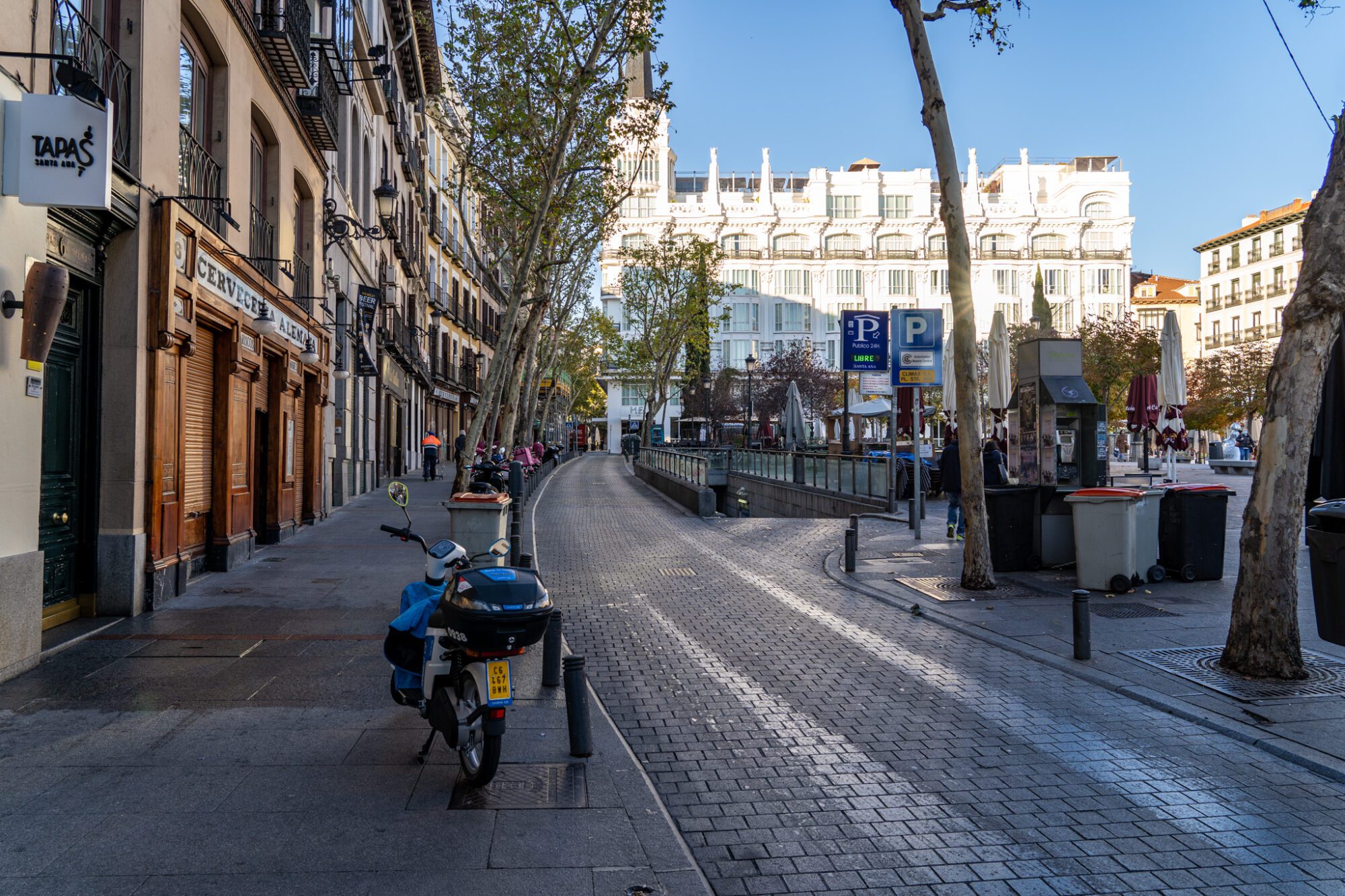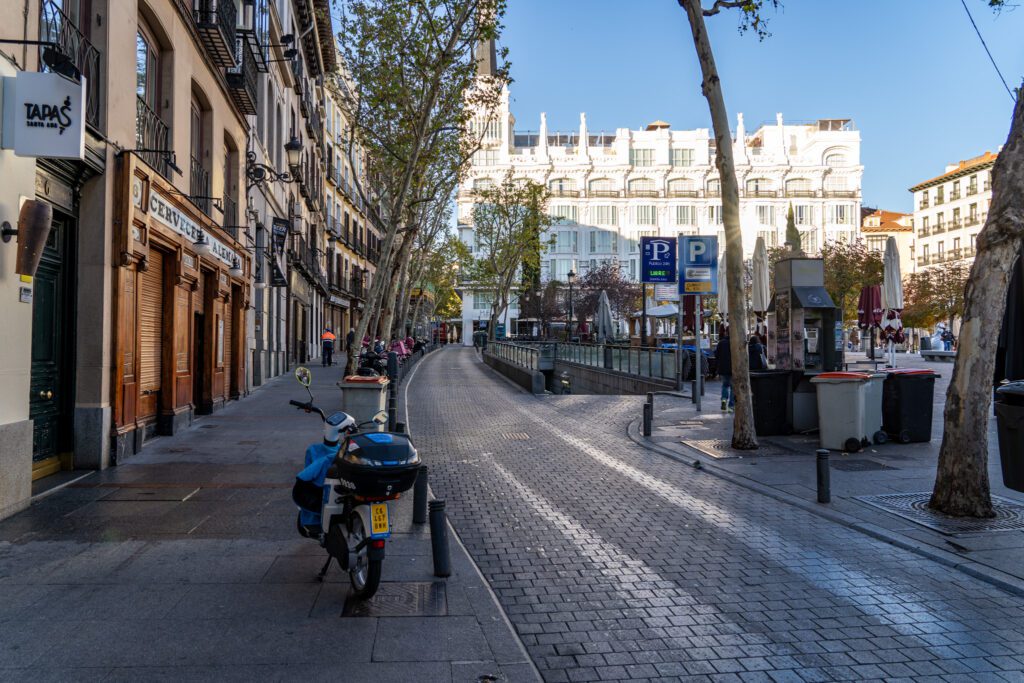 Barrio de las Letras is so-named because of its history of famous writers taking up residence in the neighborhood. It's very central – tucked between Puerta del Sol and the Prado Museum – but it has a distinct feeling from the more commercial parts of town immediately adjacent to it.
Las Huertas is the main street, running west to east towards the Prado and Parque El Retiro, and the offshoots branching off of it are full of great restaurants and bars.
Plaza Santa Ana is the center of the neighborhood, serving as a welcome open space in a neighborhood of dense housing, bars, and restaurants.
The streets of Barrio de las Letras are adorned with gold letters spelling out famous passages and quotes from the many writers who called this area home. As you walk its streets, you'll find statues of Cervantes and Federico García Lorca (a famous poet), among others.
This neighborhood is also full of (or adjacent to? We aren't quite sure where, exactly the border of the neighborhood falls) cultural marvels, from the Prado Museum and the Reina Sofía – two of the best museums in Madrid – to the CaixaForum Madrid, which we were immediately drawn to as we strolled by on a cold November morning thanks to its cool garden wall that climbs several stories with dense greenery, even in the late fall.
Pros and Cons of Staying in Barrio de las Letras
Pros:
Full of Bars and Restaurants. Along with the other neighborhoods on this list, this area is a great place to explore for foodies. We think the moral of the story is that Madrileños love food, which we're on board with.


Hub of Culture. From renowned art museums to music venues and statues of famous Spanish literary heroes, this neighborhood is the place to be for art lovers. You'll be near the best art in Madrid, all the way from famous 15th Century paintings to modern day musical performances, and just about everything in between.


Super Central. Walkable to the art museums and El Retiro park, and a hop, skip, and a jump away from the Sol metro station (near Puerta del Sol), you'll be well connected to the rest of the city.
We don't have a whole lot to say on the cons front. If we were nitpicking, we'd say that there's not a whole lot of options in terms of places to stay and that they're a bit more expensive than in other parts of the city, but that's a little harsh, we think.
Barrio de las Letras Highlights
La Venencia (Sherry Bar): If you're looking to try sherry, a fortified wine that comes from Jerez southwest Spain (near Sevilla), then this is the place to do it. It's a rustic space, with wooden tables and signs that say "NO PICTURES," which will help you focus on the sherry and conversation instead of trying to get the perfect picture for the 'gram.
Acid Café: They served me what I think is the best cup of coffee I had in Madrid, made with La Cabra beans (roasted in Denmark) and an Aeropress. The interior is very industrial-chic, and allows laptops. Another good option is Feliz Coffee, which is a little literal hole in the wall that we walked by and I was so charmed by the barista (Zeis, one of the co-owners, I believe) that I couldn't resist including them here.
Statue of Miguel de Cervantes: At the eastern edge of the neighborhood, you'll find a statue of Miguel de Cervantes, who is the literary equivalent of Shakespear when it comes to Spanish literature. He is known for Don Quixote, and he has a fascinating life story that includes five years spent as a prisoner of pirates. He settled back in Madrid post-release, and started working on the most famous novel in Spanish history.
More Bars and Restaurants: For traditional Basque cuisine (and, more importantly, cider), head to Zerain Asador – Sidrería Vasca. For tapas, Los Gatos is one of the oldest traditional tapas bars in the city serving up beer and vermouth alongside a variety of tapas from Spanish cured meats (YUM) to tiny toasts topped with tasty toppings (yes, I used "topped"/"toppings" twice, but I needed another "t" word to finish the alliteration!).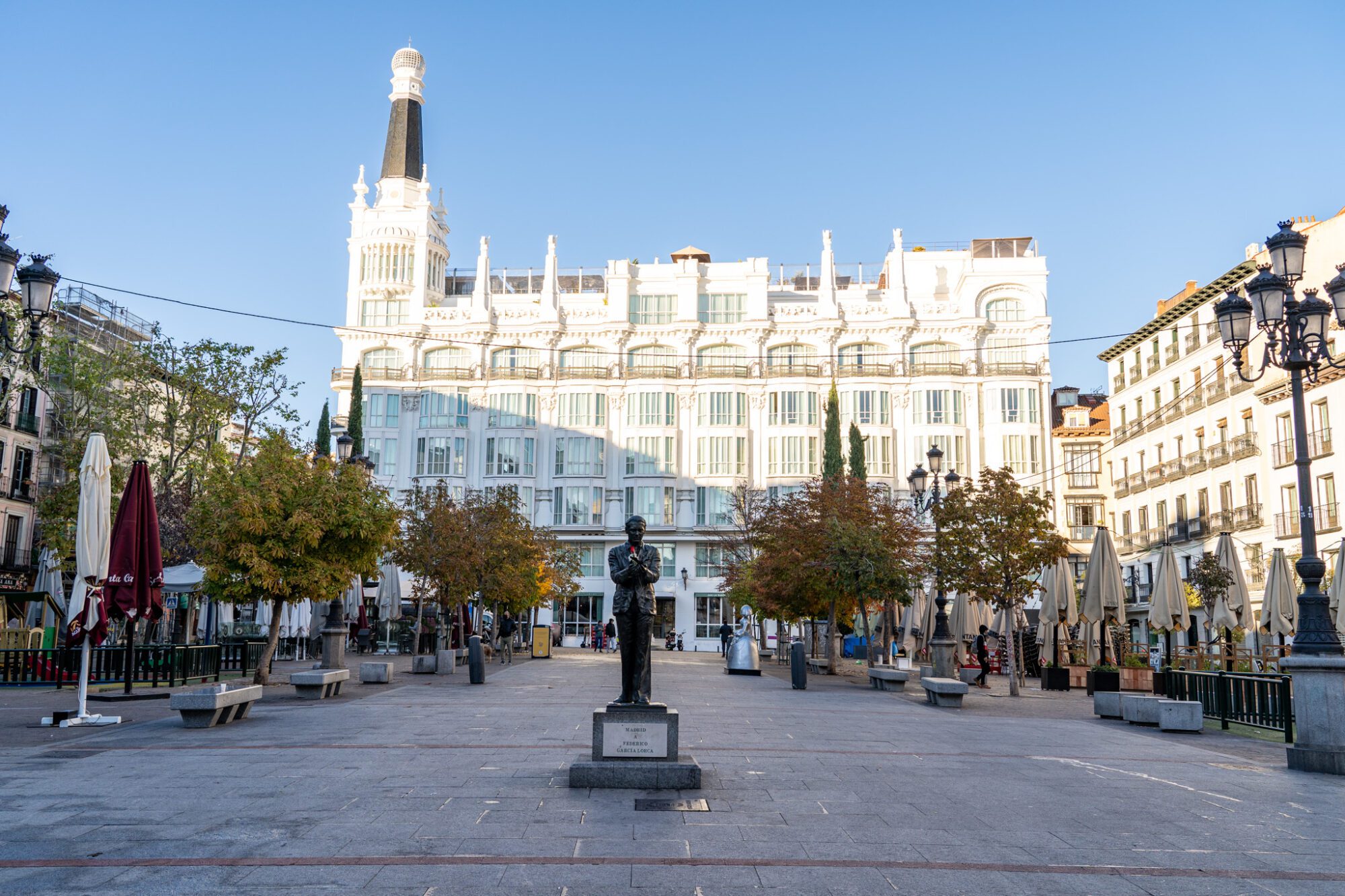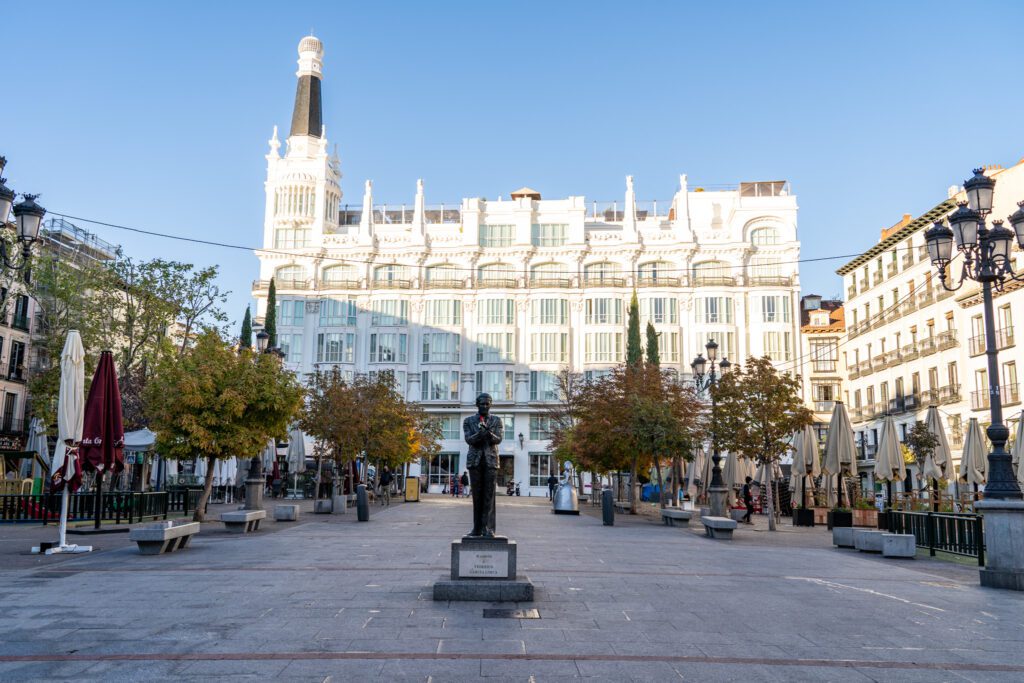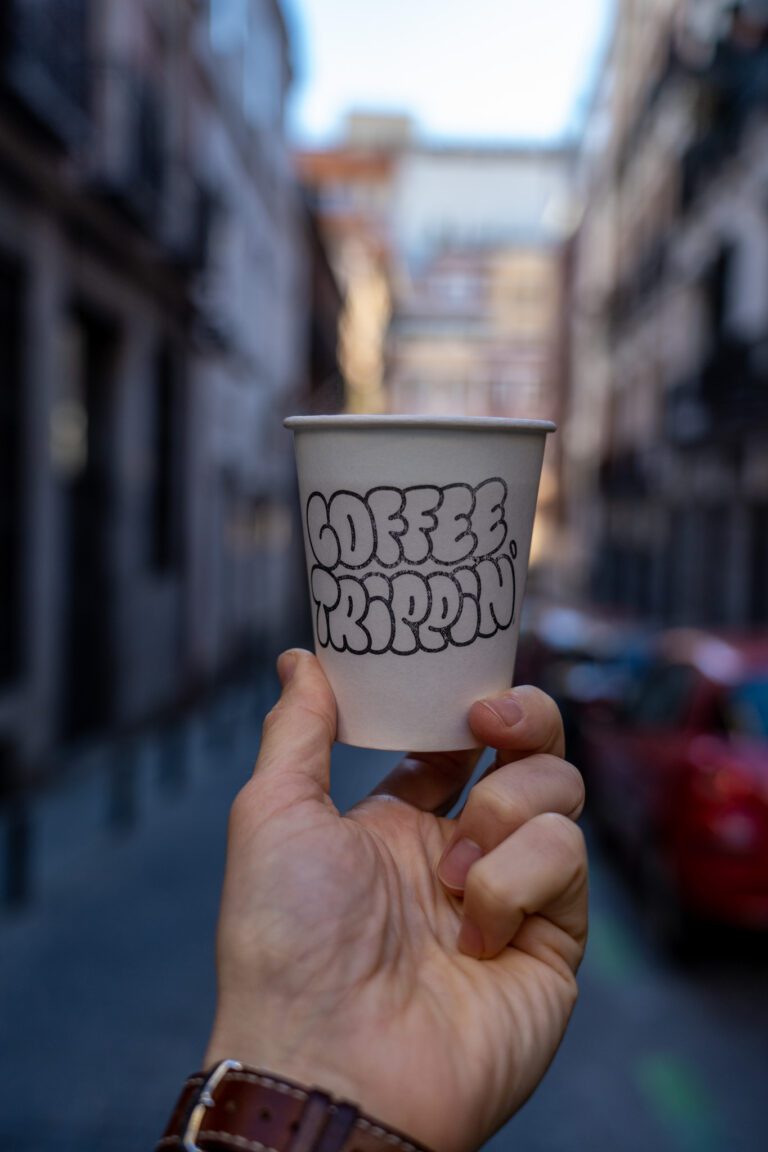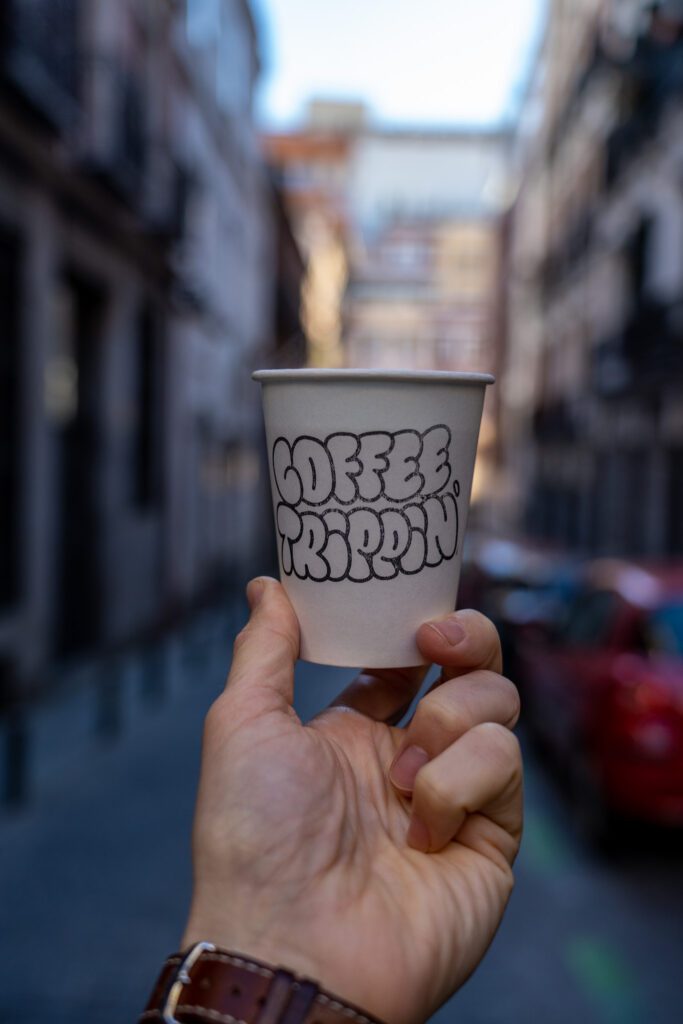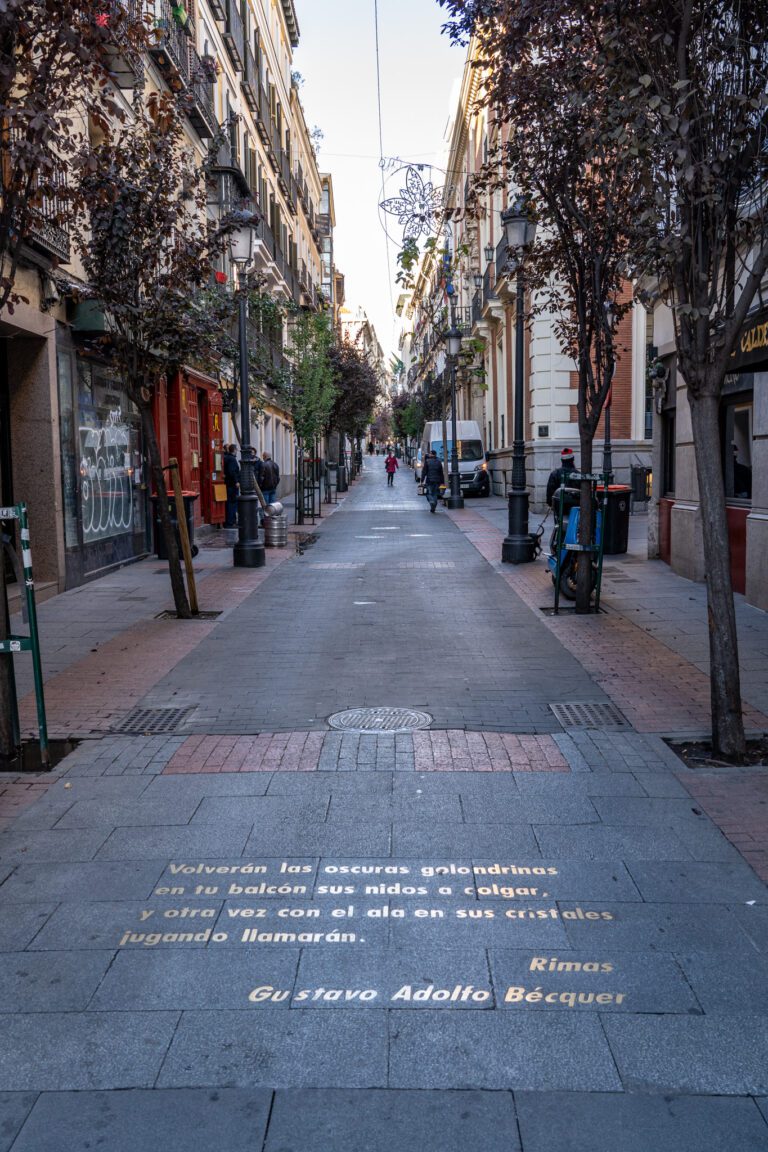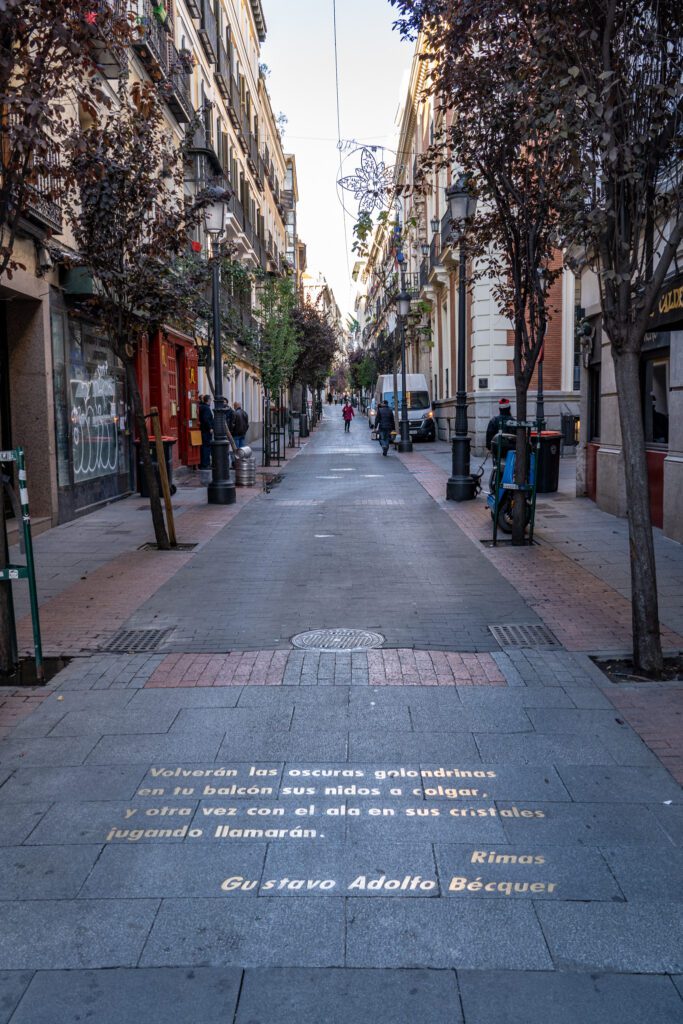 The Best Places to Stay in Barrio de las Letras
Here are four places that caught our eyes as we were browsing the options of places to stay in the neighborhood.
Room Mate Alba: A Nice Boutique Hotel
Room Mate is a fairly well known hotel brand that we've found all over Spain and the rest of Europe. Not as well known as, say, Hilton or Marriott, but they have a presence on multiple continents.
They have a mix of hotels and apartments around the world, and this particular property – Room Mate Alba – falls squarely into the hotel category. And it's a nice one, at that.
Rooms are relatively spacious, starting with the standard rooms at more than 200 square feet and increasing in size from there. Rooms are beautifully decorated, particularly the bathrooms with their intricate tilework that caught our eye.
There's also an onsite gym and a daily breakfast buffet that runs until noon (at an extra cost, of course).
The hotel's location couldn't be better. It's on Calle de las Huertas, about four blocks west of the Prado Museum, and within a couple of blocks of all the food and drinks in the neighborhood, and also the metro station at Antón Martín.
One Shot Prado 23: A Stylish & Affordable Hotel
One Shot Prado 23 is a relatively affordable option in a great location at the northeastern corner of Barrio de las Letras. It's right on Calle del Prado, which means you're just a few blocks from the famous museum, along with other gems in the neighborhood like the statue of Miguel de Cervantes at nearby Plaza de las Cortes.
They're also within 5-10 minutes of three different metro stations, so you'll be able to jump around the city as needed.
The economy rooms – which can be outfitted with two twins or one double bed – are a fantastic value if you're not too concerned about space and you'll be spending most of your time outside of the hotel room.
If, like us, you'll be spending some time in the hotel getting some work done, upgrade to one of the bigger rooms (standard and above), which have more space and, importantly, a desk.
Some rooms have balconies overlooking Calle del Prado, which are both a bit bigger and a bit more expensive.
They have an underground parking garage if you happen to be driving, which isn't something that every place in Madrid has.
Apartamentos Matute 11: Classy Apartments
Look, sometimes living out of a hotel for more than a day or two can get tiresome.
We like to cook, and staying in an apartment allows us to do that and experience a slice of local life as we go to the grocery store or market, try to speak the language (in this case in Madrid, that just means hearing a lot of "vale vale" which roughly translates to…just about anything), and cooking up a simple meal.
In Barrio de las Letras, we'd go with these classy apartments that are located at the southern end of the neighborhood, within a couple of blocks of a metro station.
They have a mix of apartment types – studio, one bedroom, and two bedroom – all with varied layouts, some of which are definitely better than others (though there's no way to tell which one you'll get). Decor is simple but stylish, with hardwood floors or tile (carpet is kind of gross sometimes) and fairly minimal decorations on the walls.
The apartments have a stovetop, but no oven (although the microwaves do double as convection ovens, which we've seen before but haven't quite figured out just yet).

If you're looking for an apartment where you'll have more space and access to a kitchen AND you want to be well connected to the city – both on foot and by the metro – these apartments would be a great option.
Sol / Gran Vía: Great Central Location (+ Where We Stayed)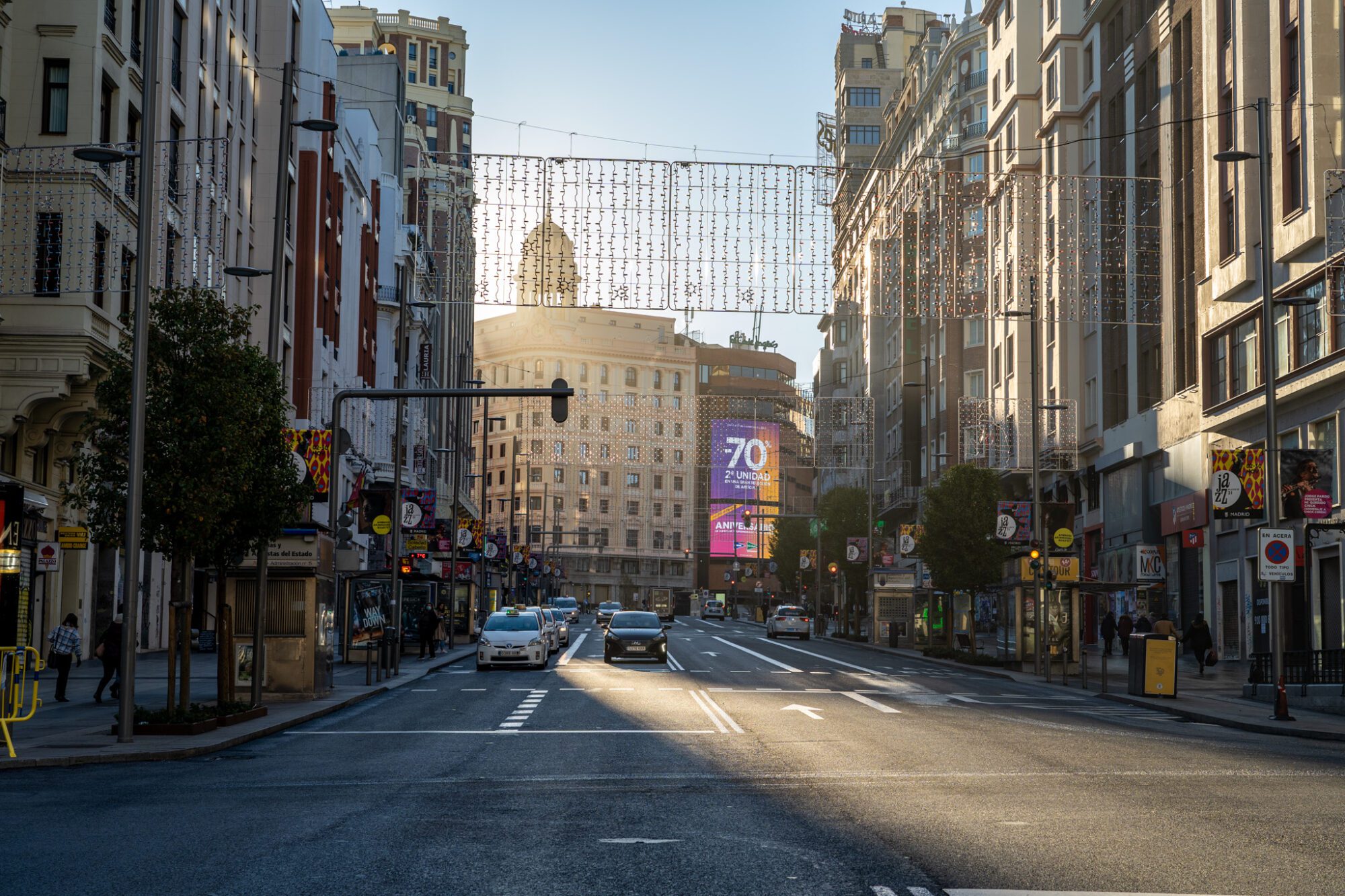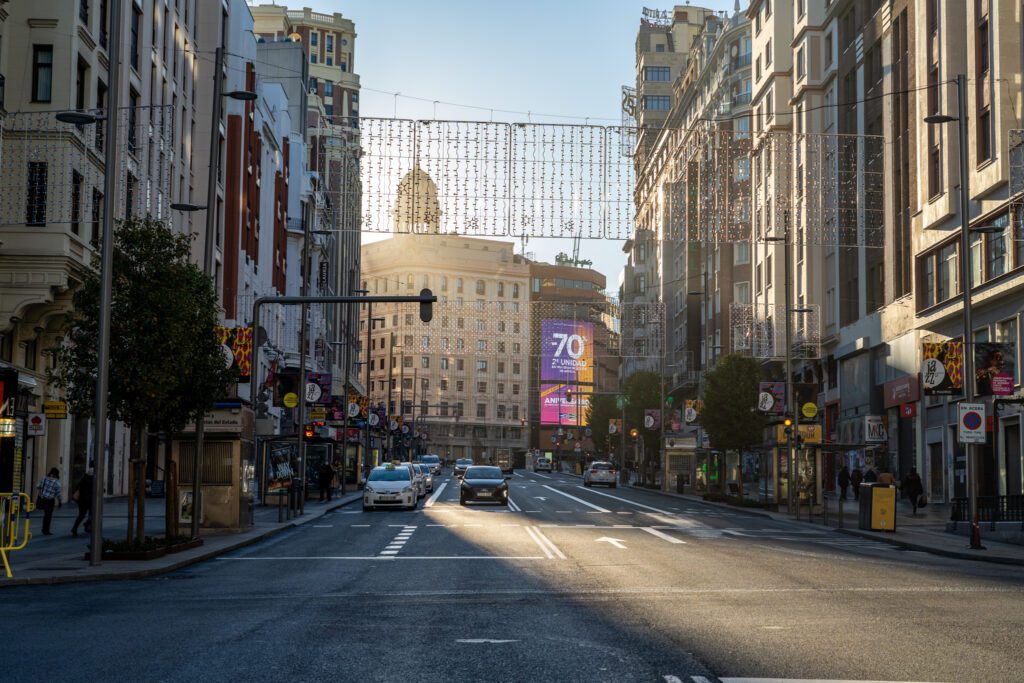 This neighborhood is more about the location, less about the charm. In fact, we'd say it's the least charming neighborhood on this list. It's commercial, with wide, pedestrian-only streets lined with chain stores like Foot Locker and Levi's, and it feels a little bit like Times Square in New York City, or Union Square in San Francisco.
Which is to say that it isn't the sexiest neighborhood around, but it IS super functional.
We stayed here, right on Gran Vía, which is about as central as it gets. We were within walking distance (15 minutes or less) to everywhere we wanted to go in Madrid, and as a result we ended up using the metro a lot less than we had initially planned.
It's also well-connected to the train station (Atocha train station, which is where you're likely to arrive if you're traveling to Madrid by train) and airport thanks to the "Sol" regional train stop.
It's one stop and 2.20 Euros to the train station (the transfer to or from the regional trains is usually included with long distance train tickets), and it's an easy journey to the airport.  
Pros and Cons of Staying in Sol / Gran Vía
Pros:
As Central As It Gets. Puerta del Sol and Plaza Mayor are in the neighborhood, and just outside of it you'll find La Latina (great tapas and full of charm), Malasaña, and Parque el Retiro, among other places.


Good Shopping. If you're looking to do some shopping, this is probably the place to do it. There's an incredible variety of shops selling everything from clothes to electronics, and just about anything else you can think of. If you need a new pair of jeans or a pair of Spanish-crafted Espadrilles, head here.


Lots of Choices. There are a lot of places to stay in this corridor, as you might imagine. From hotels to apartments, you'll have your choice of style and budget.
Cons:
Relatively Lifeless. As you cross Gran Vía coming from Malasaña, you'll trade the charming locally-owned boutiques for chain stores that exist all over the world. Instead of a wide variety of small restaurants, you get Five Guys and Burger King. This is a generalization, of course, but it's just not that charming. You'll end up spending most of your time outside of the neighborhood, which isn't a bad thing especially considering you'll be able to walk anywhere you want to go. I will say that the southern end of the neighborhood – around Plaza Mayor and to the south – is a little more fun and charming.
Sol / Gran Vía Highlights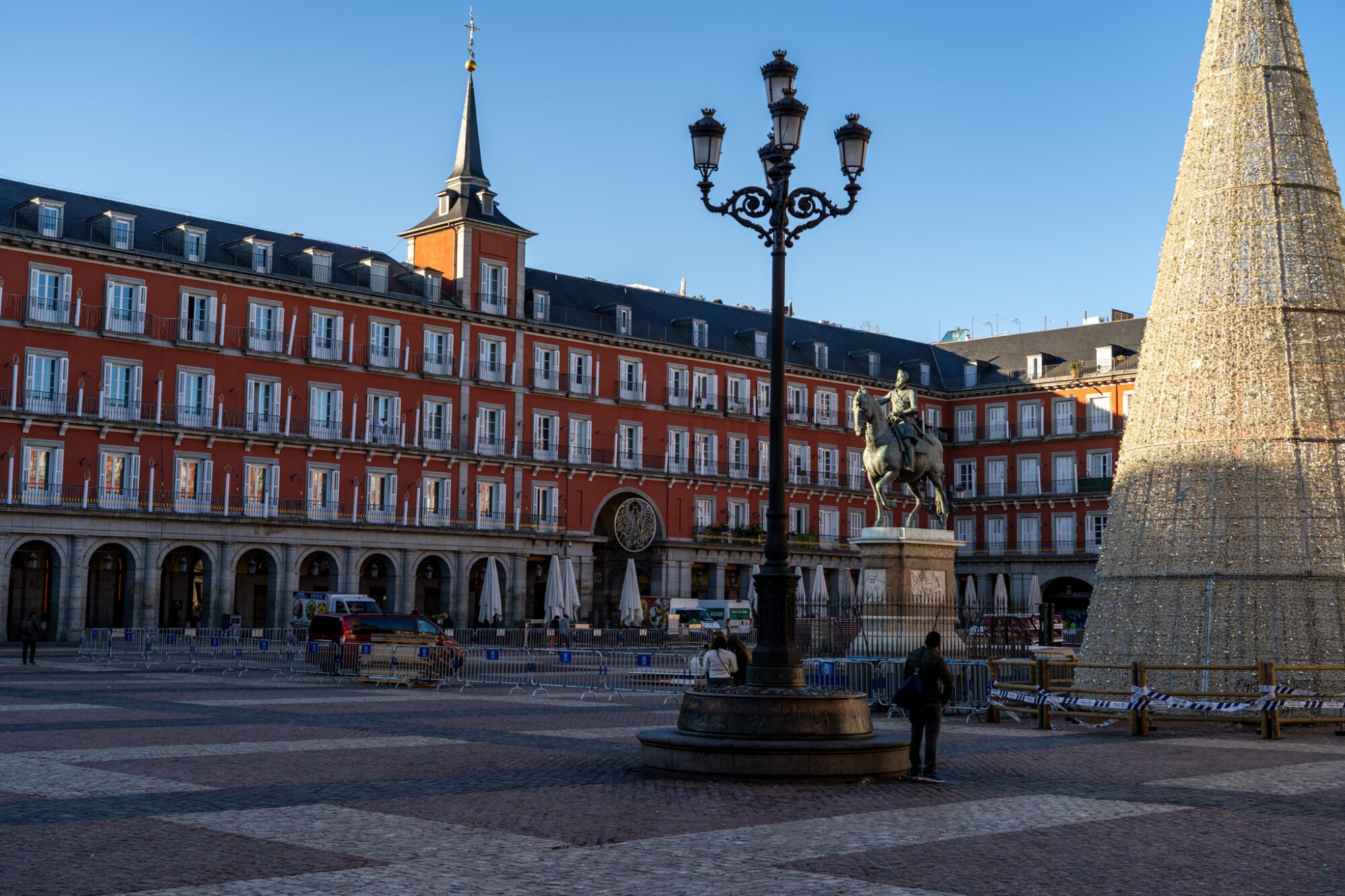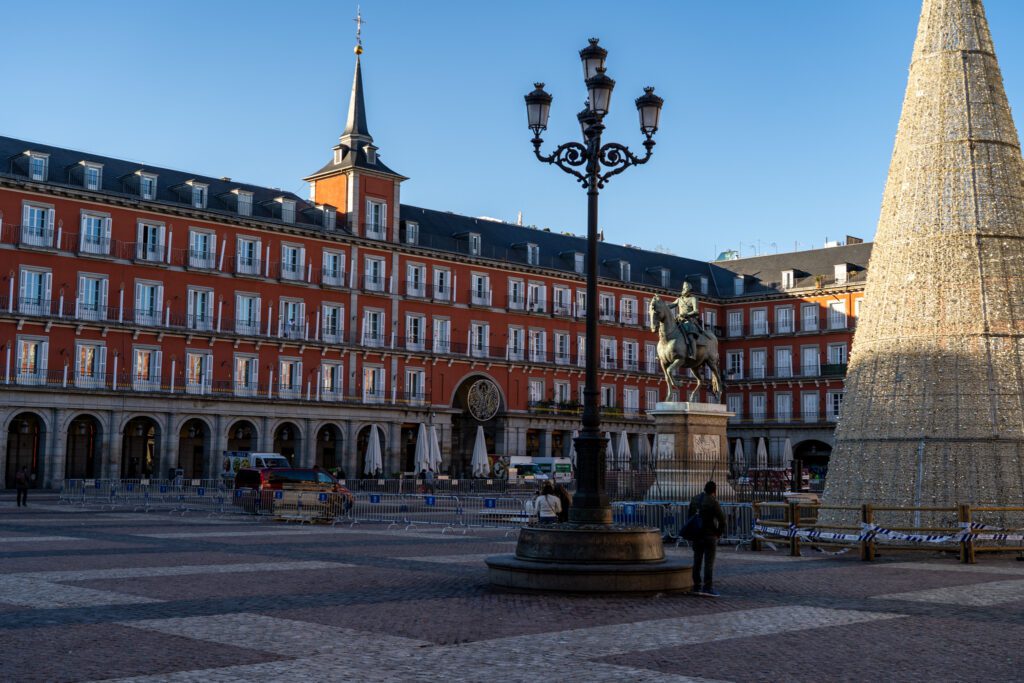 Plaza Mayor: One of the more famous squares in Madrid, this square has burnt down multiple times over the past few centuries, but has a charm to it that makes it feel like you're looking at something that was created in the 16th Century. Mostly because it was, sort of. It has had some upgrades recently – including frescoes covering the walls of the main building.
Puerta del Sol: In many ways, this is the beating heart of the neighborhood, with streets converging on this central plaza that is constantly full of people – both at 9:00 am and 9:00 pm. Don't miss El Oso y el Madroño (statue of the bear and the strawberry tree, in English) which is the official symbol of Madrid and has been for centuries, with some style variations over that time. Yes, there used to be bears in Madrid.
Mercado de San Miguel: While this market is constantly packed with tourists from all over the world, that doesn't necessarily mean it isn't worth visiting. It will be busy, especially around lunchtime in the early afternoon, but it's a great place to try a bunch of different foods made by some of Madrid's (and Spain's) best chefs. Kind of like the TimeOut Market in Lisbon, but without the unnecessary branding.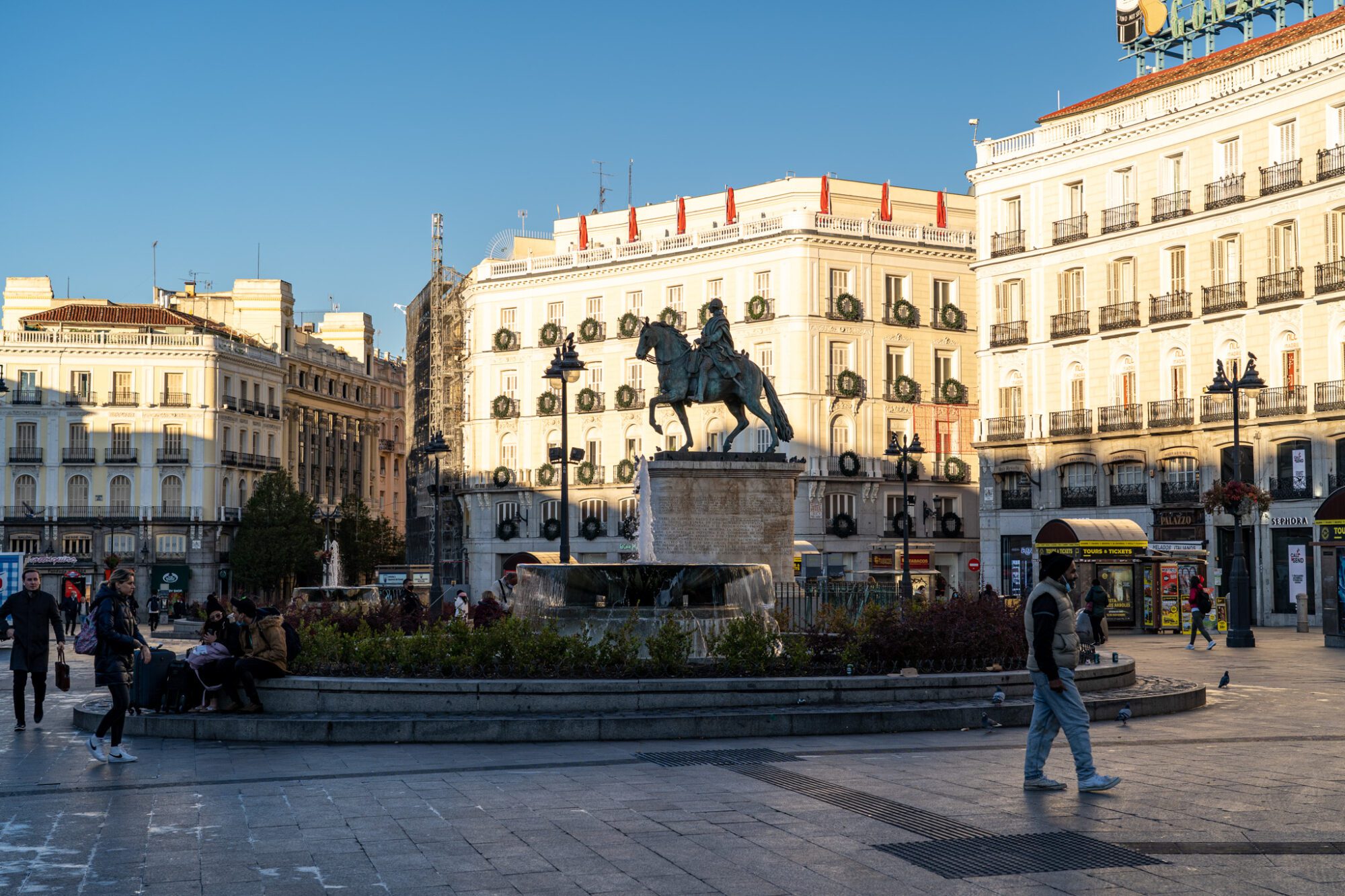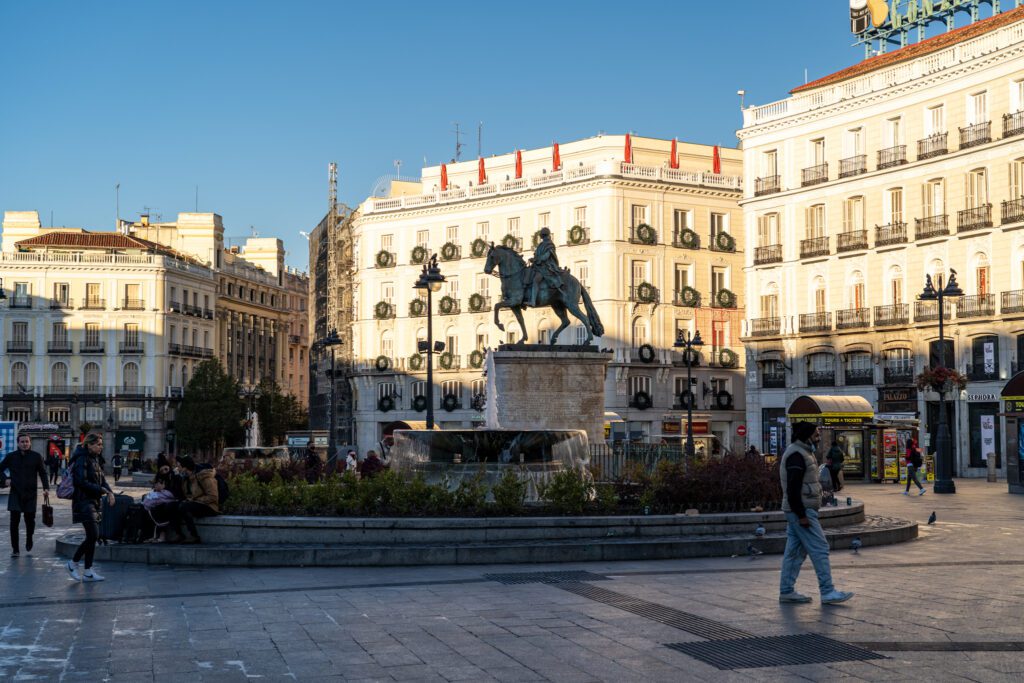 Let Us Help You Plan Your Amazing Trip to Spain!
We've got plenty of other detailed guides for our favorite places in Spain – from Barcelona, to Madrid and Andalusia – that we wrote to help you plan an incredible trip.
P.S.: If the link isn't there, it means we're still working on it and the guide will be up shortly. It takes a lot of time and effort to put together these detailed guides! Bear with us.
Exactly How to Take an Amazing Day Trip to Girona From Barcelona
Taking A Day Trip to Toledo From Madrid: A Complete Guide
A Quick Primer on Madrid's Geography
Before we jump into specific places to stay in Madrid, we think it would be useful to take a step back and talk about the layout of the city.
It makes sense to start with medieval Madrid, which is the area around Plaza Mayor in the center of the city. Madrid was founded by the emir of Cordoba in the 9th Century, though there is evidence of people living where the city stands today well before that. At that time, the main center of power in the area sat in Toledo, so Madrid was little more than a fortress on a hill.
In the 16th Century, Philip II decided that he liked Madrid, and opted to basically move the capital of his empire from Toledo to Madrid. And it has been that way ever since (with a brief five year stint in Valladolid that saw the population of Madrid fall rapidly).
Today, Madrid's growth has continued for centuries, transforming it from a humble fort-town into a huge city – the biggest in Spain.
To understand Madrid's geography, it's helpful to think about the city split into halves, bisected by Gran Vía, which runs west to east through the center of the city and serves as the main artery to go from one side of the city to the other. The modern boulevard was built in the 19th Century, when urban planners realized they needed to create an easy way to get from one side of the city to the other.
Gran Vía is framed by the Royal Palace and Plaza de España on the western end (which marks the furthest west we think you'd want to stay for your trip) and Museo del Prado and El Retiro park on the eastern side (which, again, marks the boundary of where you should probably stay).
We know, it's a little hard to explain in words. Here's a map to help you visualize the layout of the city and what exactly we're trying to say.
---
Plan an Incredible European Adventure
Planning (or thinking about planning) a trip to Europe? We've got you covered! We've been to Europe many times, including a recent three month trip to Portugal, Paris, Italy, and Spain.
Here are our in-depth European travel guides to help you plan a trip full of learning, discovery, and unforgettable experiences.
LONDON: How to Plan your London Itinerary, Where to Stay in London, and the Best Coffee Shops in London
PARIS: A Perfect Paris Itinerary, Where to Stay in Paris, and the Best Coffee in Paris
ROME: A Complete Rome Itinerary, Where to Stay in Rome, and the Best Things to Do in Rome
AMSTERDAM: A Perfect 2 Day Amsterdam Itinerary and Exactly Where to Stay in Amsterdam
BARCELONA: A Complete Barcelona Itinerary and Where to Stay in Barcelona
MADRID: An Amazing 2 Day Madrid Itinerary and Where to Stay in Madrid
LISBON: A complete guide to 3 Days in Lisbon and Where to Stay in Lisbon
FLORENCE: The Best Things to Do in Florence, Where to Stay in Florence, and a Perfect 3 Day Florence Itinerary
SICILY: How to Plan an Amazing Sicily Road Trip and the Best Things to Do in Catania
SPAIN: A Complete 14 Day Spain Itinerary and a 2 Day Seville Itinerary
PORTUGAL: How to Plan an Amazing Portugal Itinerary and a guide to planning an Algarve Road Trip