Gluten Free Milan: A Complete Travel Guide for Celiacs
Looking for the best gluten free restaurants and bakeries in Milan? You're in the right place – we just got done eating our way through the city, on the lookout for the best gluten free spots in the city.
In this guide, we'll give you a complete guide to eating gluten free in Milan, from some travel tips we picked up during our six weeks in Italy, to the best dedicated gluten free restaurants and bakeries in Milan, plus some other Celiac-safe spots that are accredited by the AIC – Italy's Celiac Association.
After a few weeks in Sicily (read about our Sicily road trip here), where the gluten free options were few and far between, we landed in Milan for a 24 hour trip before making our way through northern Italy.
We went from cooking for ourselves for most meals in Sicily (which is delightful thanks to the amazing bounty of fresh produce and ingredients) to trying to figure out how the heck we were going to eat at every restaurant and bakery on the list (we almost made it to all of them, too!).
Milan surprised us, and we found it to be much more of a big, modern European city than we were expecting given our experience in Italy. It's charming, has a lot of important history, and perhaps most importantly, has a pretty good gluten free scene, which we're about to dive into.
Heading to Milan, but short on time? We've got a guide to spending a perfect day in Milan with all the details you need to plan your trip. Including how to get tickets for the Duomo and Last Supper.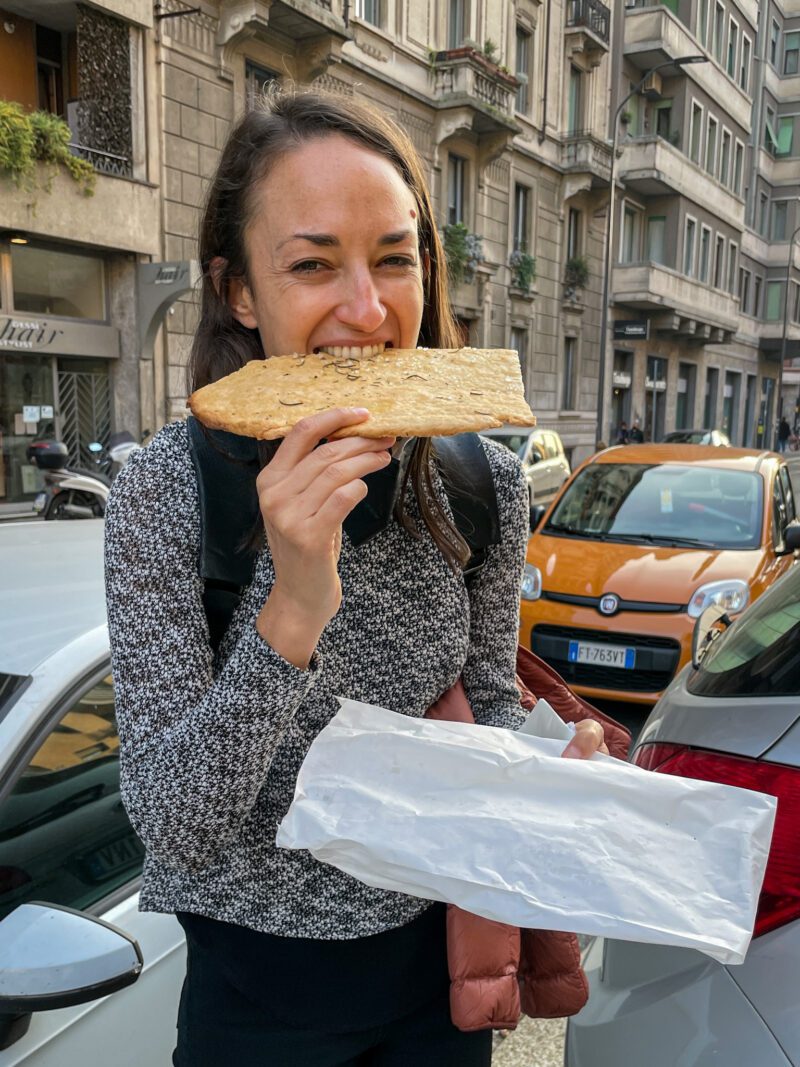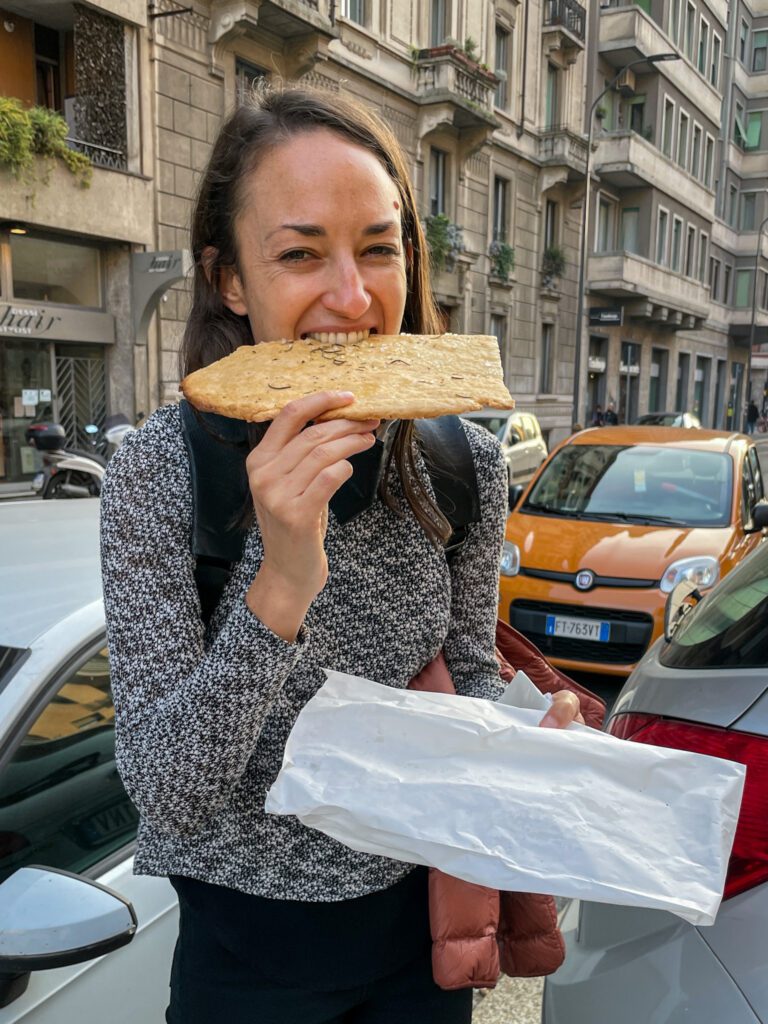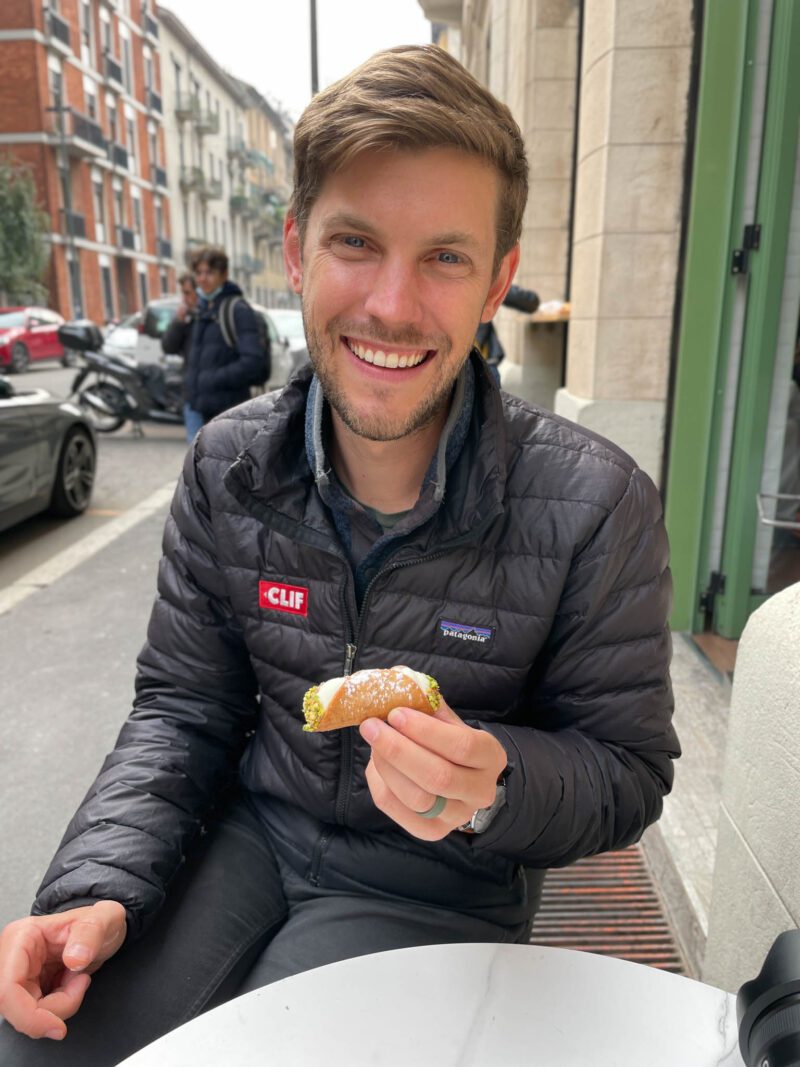 Disclaimer: Some of the links in this post, like hotel links, are affiliate links, meaning at no additional cost to you, we make a little bit of money if you click through and book. That being said, we would never recommend something to you that we don't stand behind 100%.
Tips for Traveling Gluten Free in Milan (and Italy More Broadly)
Here are some tips for traveling gluten free in Italy based on our personal experience spending five weeks exploring the country. And, more importantly, eating our way through it.
One thing I want to say up front – your mileage may vary. These are tips that are based on my experience, needs, preferences, and preconceived notions about traveling gluten free. And, well, your needs and experience might be different than mine.
The AIC is your new best friend. The first thing you should do when you're planning a gluten free trip to Italy is download the AIC app, which costs $2.99 to subscribe for two weeks to their database of accredited gluten free restaurants in Italy (you can extend for another two weeks exactly once, and after that you'll have to get in touch with a local association to subscribe). In that app, they have an interactive map where you can see accredited restaurants in a given area, including the user ratings (though there's not much detail behind the ratings). I automatically disregarded any restaurant with a rating below 4.0, for what it's worth. It's a lifesaver, and it's better than FindMeGlutenFree, I think. 
Gluten free groceries are easy to find. Almost every single main grocery store in Italy has some sort of gluten free section, usually in a whole separate section. The exception would be small convenience stores, which aren't usually a great place to find gluten free bread, pasta, etc. Things are well-labeled, and you'll want to look for "senza glutine" on packaged foods. Carrefour was our favorite in Milan, and they have a nice selection of gluten free items in a dedicated section at most of their locations in the city.
A 100% gluten free grocery store. There's a market in Milan that is 100% gluten free, stocking a variety of pastas, breads, crackers, cookies, and just about anything else you could possibly dream up or want in a gluten free version. It's called, fittingly, Milano Senza Glutine, and it's located about a 20 minute tram or metro ride from the center, over to the east. We didn't make it out there, but if you find yourself that way and need some gluten free groceries, you should totally stop by!
Gelato shops are a minefield of cross-contamination. The gelato goes on the cone, the scoop touches the cone, the scoop goes back into the tub, repeat as needed. Unless you are able to communicate that you'd like a fresh scooper and a fresh container that hasn't been opened AND they're able to accommodate that request (most places don't have extra tubs sitting around like some ice cream shops do in the US), then I'd stick to the 100% gluten free gelato shops in Milan, which you'll find below.
Be skeptical of any "gluten free" beer (spoiler: it's gluten-reduced). Compared to other Italian cities, there's a lot of gluten free beer to be found in Milan. Which I was excited about! Until, of course, I read the labels and saw "barley malt" on every single label. Barley, as you may know, is one of the grains that contains gluten. Literally all eight of the gluten free beers I looked at in Italy – including Greens, one of the safe beers in the United States – was gluten-reduced. Which means these beers are made with barley, then an enzyme is added to break up the gluten, which interferes with the test for gluten's ability to detect gluten. Seems sketchy, right? That's because it is. In both Canada and the US, you can't call these beers gluten free. It's legal in the EU to label these beers as "gluten free," and often the only way you'd know it contains barley is by looking at the ingredients. Here's a quick read on the difference, and why people with Celiac Disease shouldn't drink gluten-reduced beer. Here's another one. And I loved this open letter.
Our favorite grocery store brands in Italy, in no particular order, were Schar for bread and crackers, Rummio for pasta (it wasn't close – this was our favorite gluten free pasta in Italy), and Barilla sauces and pesto (which are all labeled "senza glutine"). In Milan, unlike in Palermo and the rest of Sicily, most people spoke enough English that we, two people who can barely say "ciao," were able to navigate pretty easily. However, if you're concerned that you won't be able to communicate your particular needs around gluten, pick up a gluten free restaurant card from Jodi over at Legal Nomads, who makes the most comprehensive cards around. I personally buy them before every trip, and bring them with me mostly as a last resort. If you're stressed about the language barrier, the $9 investment is well worth it. Get your Italian gluten free restaurant card here.
Expect things to be closed randomly (and on either Sunday or Monday, or both!). There were two places in Milan (out of about ten) where we showed up and they were not open at the hours on their website / social media / Google. This is not just an issue in Milan – this happens all the time everywhere in Italy (and in Paris, Lisbon, and Barcelona, for that matter). The best way to avoid this is to confirm hours with the restaurants ahead of time, either by stopping by in person, calling (if you have that ability while abroad), or messaging them on social media or through Google (they respond about 30% of the time, in my experience).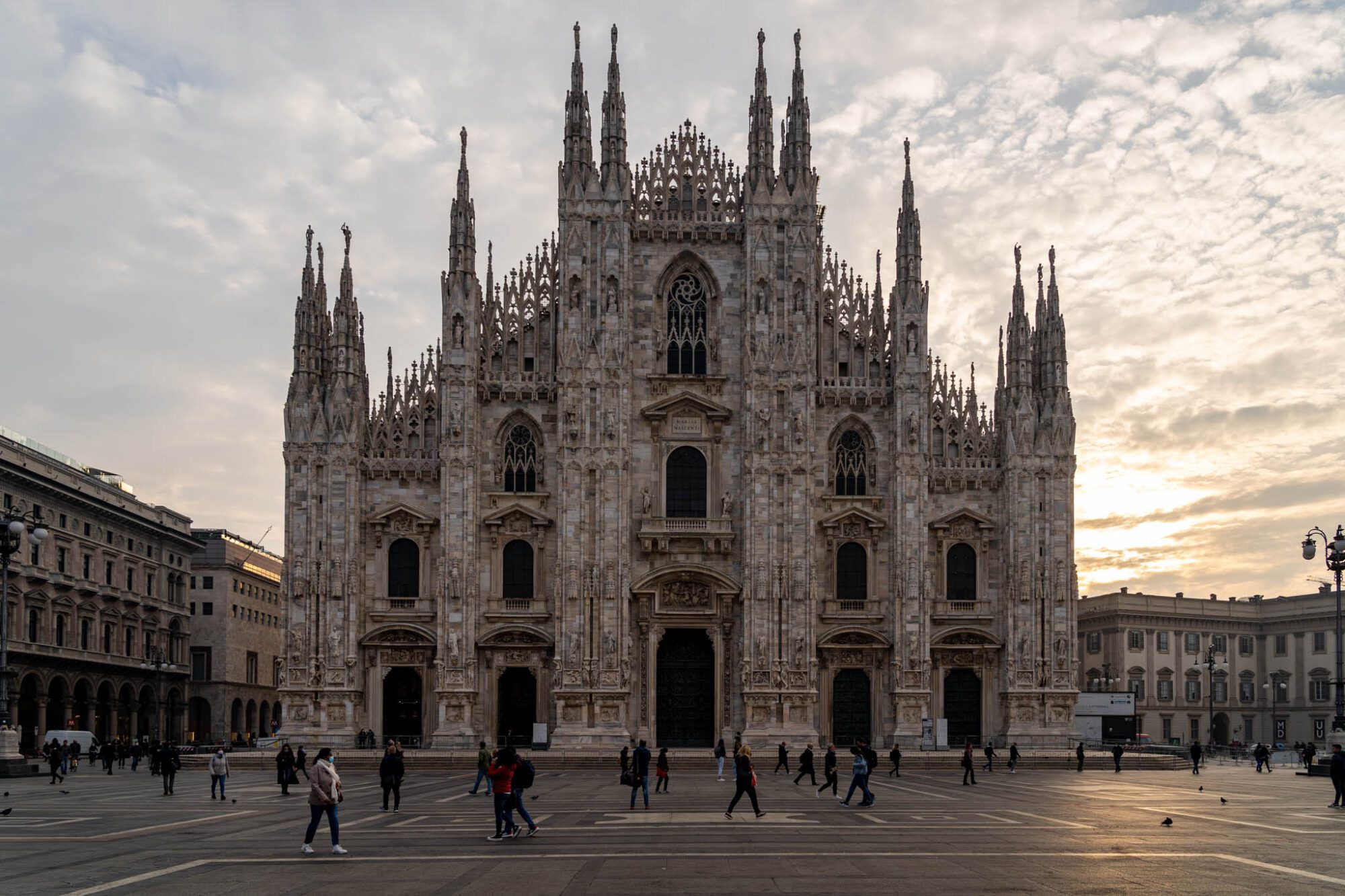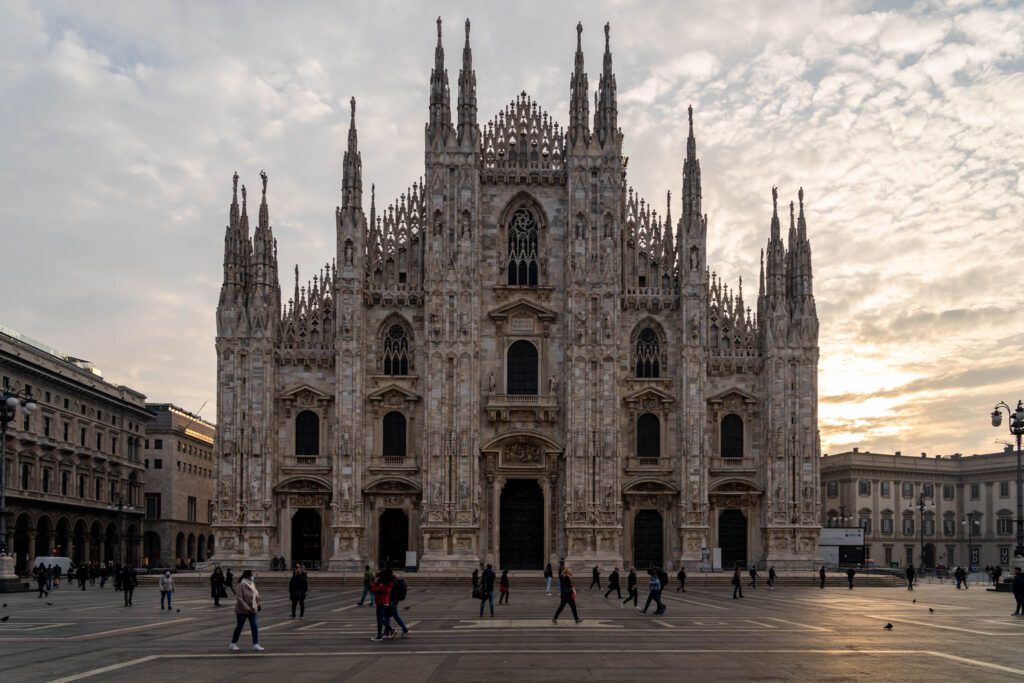 Gluten Free Milan: The Best Gluten Free Restaurants and Bakeries in Milan, Italy
I've split up the gluten free options in Milan into a few different categories. There's the 100% gluten free restaurants (and gelato shops), the 100% gluten free bakeries, and the AIC-accredited restaurants. 
Putting my cards on the table here – I think that if you're a Celiac traveling in Italy, you should focus on either dedicated gluten free restaurants and bakeries, or restaurants that are not 100% gluten free, but ARE accredited by the AIC. 
For that reason, the restaurants you will find below are either dedicated gluten free – that means no gluten in the kitchen, so the risk of cross-contamination is low – or AIC-accredited, which means that the staff has been trained on how to prevent cross-contamination and how to cater to Celiac customers. 
Now, is this a perfect way to avoid cross-contamination? Probably not. Eating out with Celiac Disease always carries some level of risk because it depends on the individual staff members following the procedures put in place. It's still up to you to communicate your needs to staff members and make sure they can meet your needs.
Is it an easy shortcut for finding places that are set up to serve Celiacs safely? I believe the answer is yes, which is why that's how I've organized this guide. It's still up to you to communicate your needs to staff members and make sure they can meet your needs.
Lucky for you, there are plenty of options in Milan in both categories to keep you busy for quite some time!
Dedicated Gluten Free Restaurants in Milan
There is only one dedicated gluten free restaurant in Milan, but there are two 100% gluten free gelato spots (one with many, many locations), which I'm going to go ahead and count in the restaurant category. By the way, if you're not doing a gelato a day in Italy, you're doing Italy wrong (unless you're intolerant to dairy, in which case I have some great news for you below!).
Bistrò and Via Dalla Spiga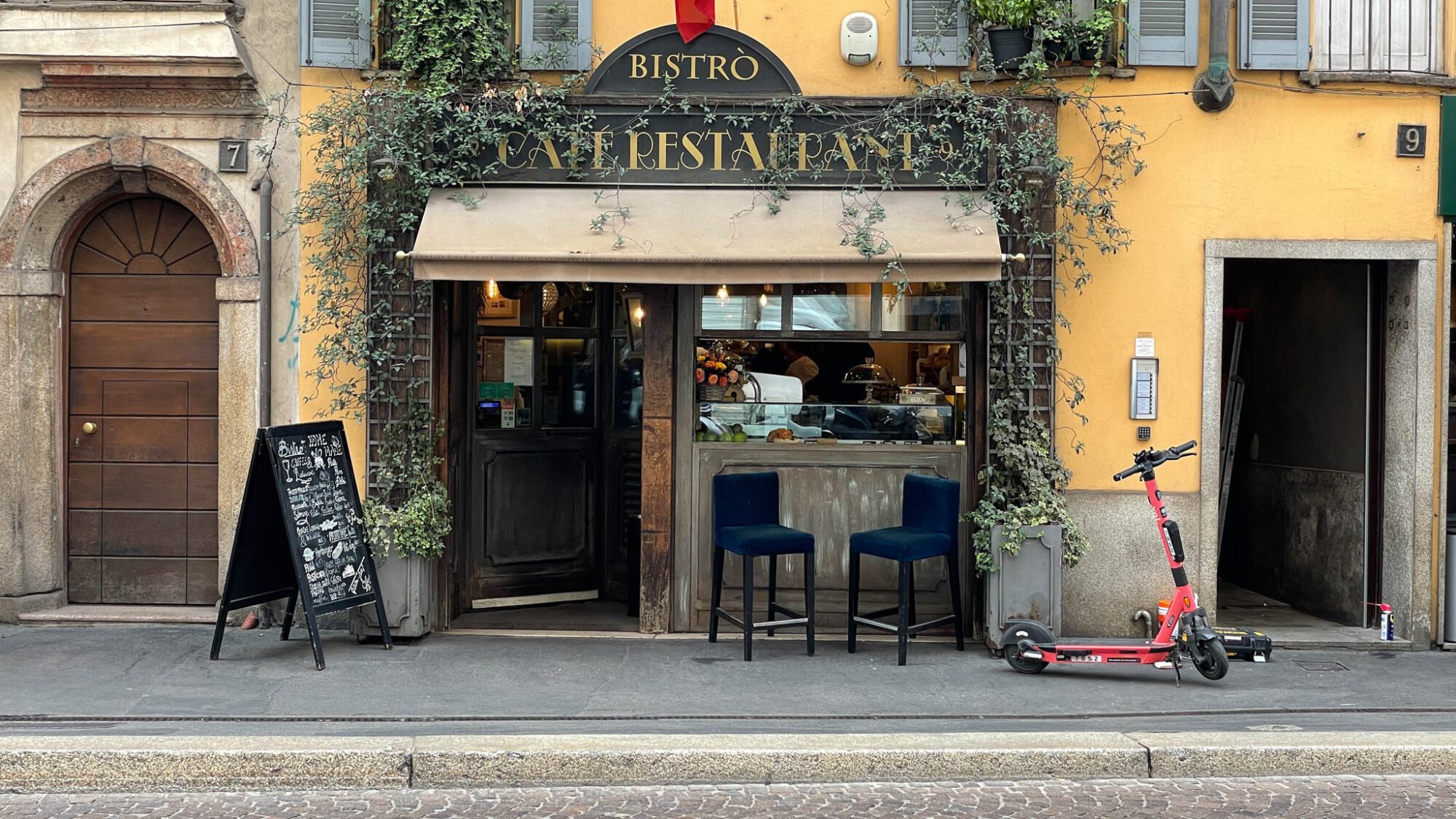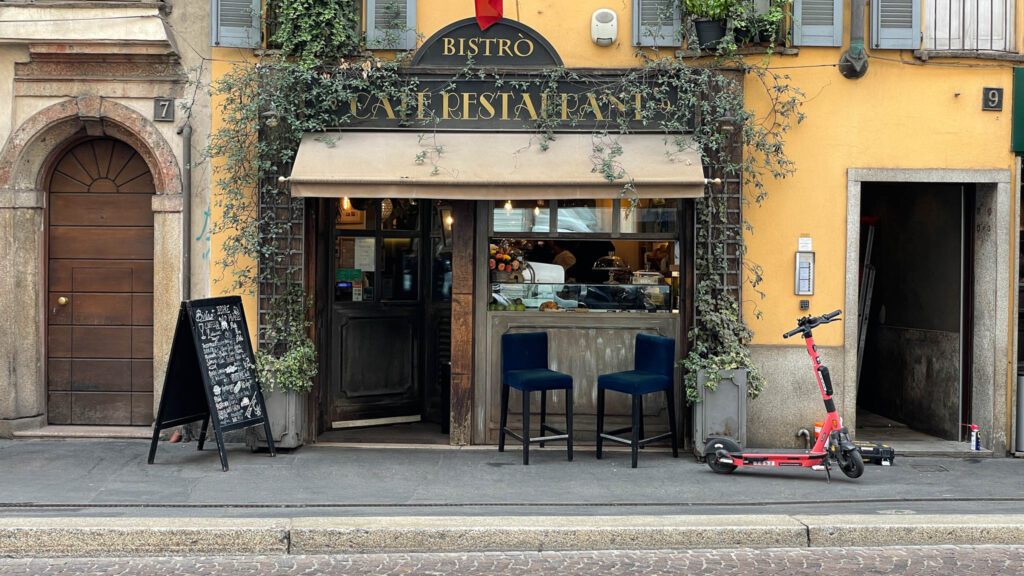 Bistrò was a really, really pleasant place for lunch in Milan, and the food was great! The same group also has a gluten free bakery called Via Dalla Spiga just a 15 minute walk west, which is where they get all the delicious baked goods – sweet and savory pastries and tons of focaccia – in the cases at the restaurant.
We showed up at Bistrò as they opened, mostly because we had a train to catch and more brioche to eat afterwards, and were chuckling as we watched them receive their deliveries for the day ten minutes after opening time.
After we sat down and perused the menu, we were in a state of indecision because the menu is truly massive, featuring everything from pasta to baguettes to crepes, and just about everything in between. Lucky for us, our server was a Celiac herself, and gave us a few recommendations. Namely, the handmade ravioli, which we got with a pumpkin-sage sauce.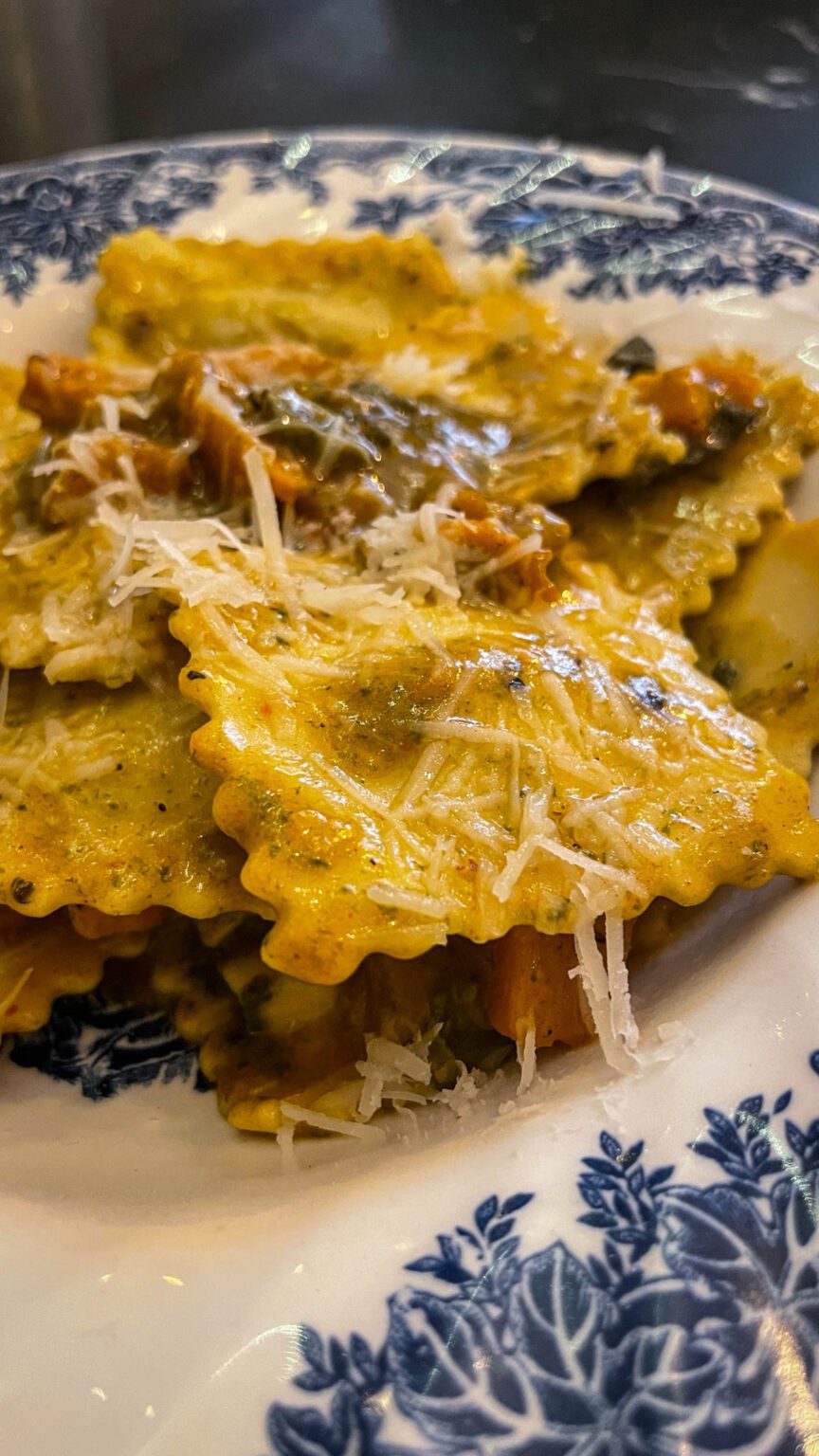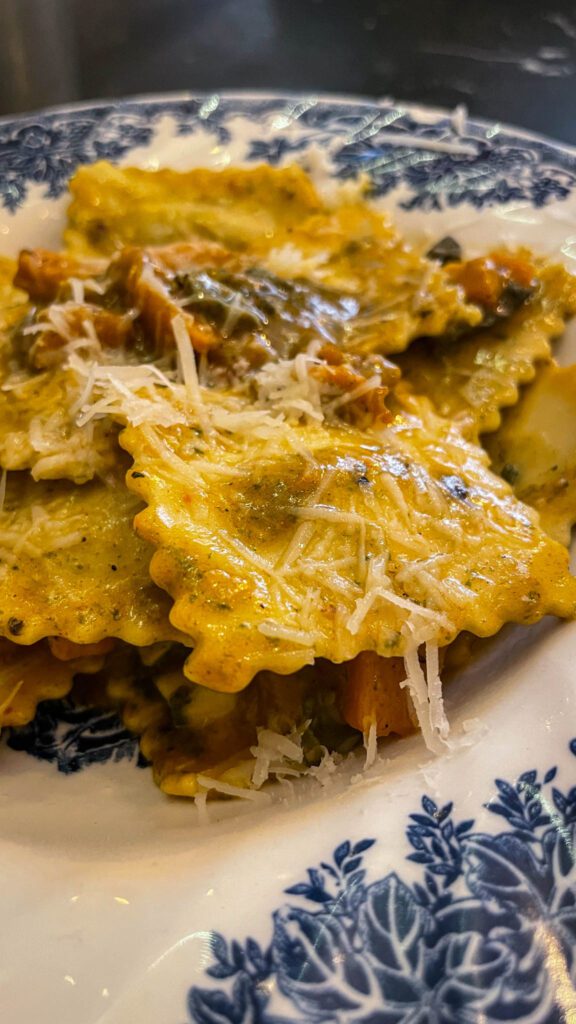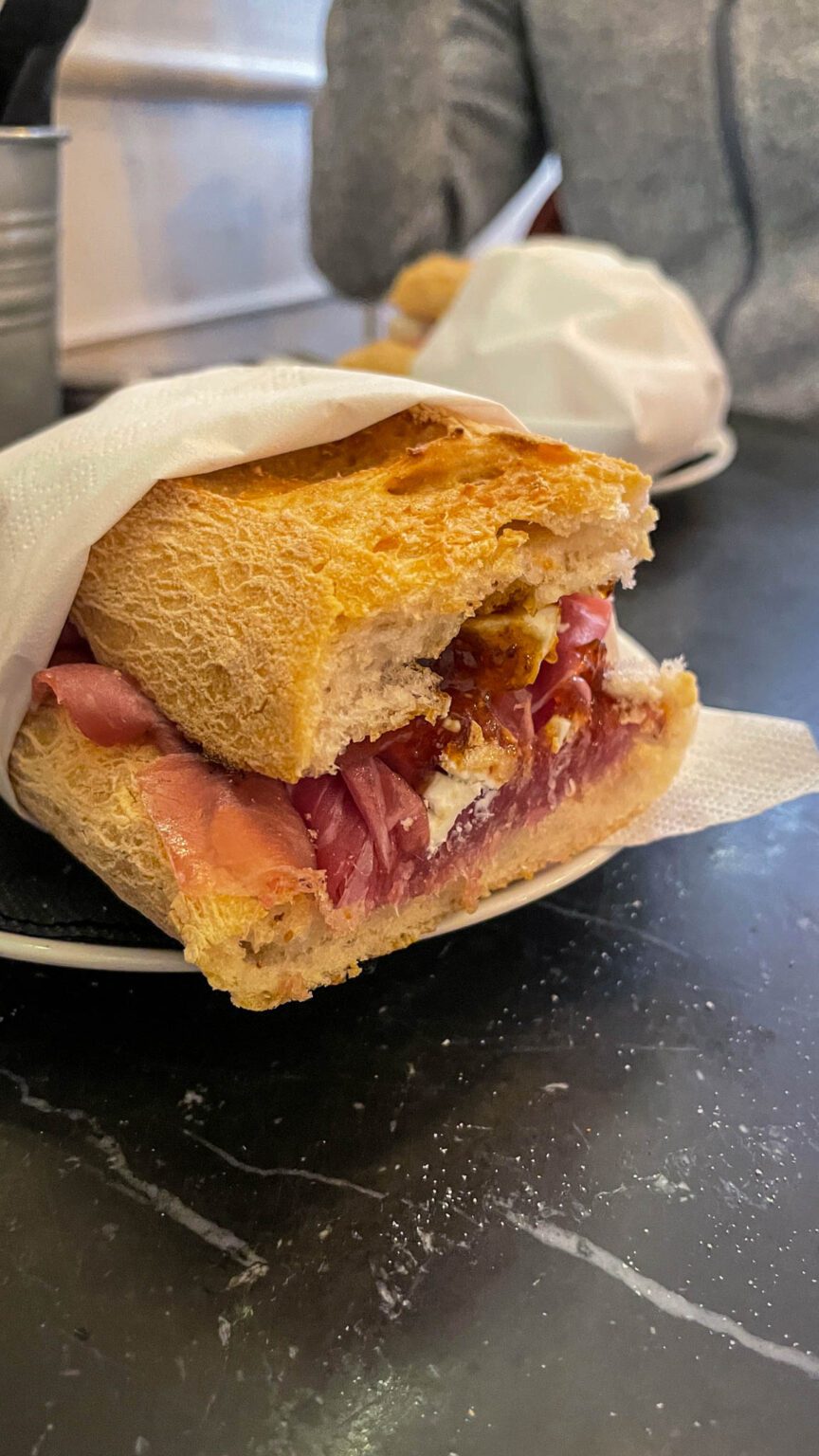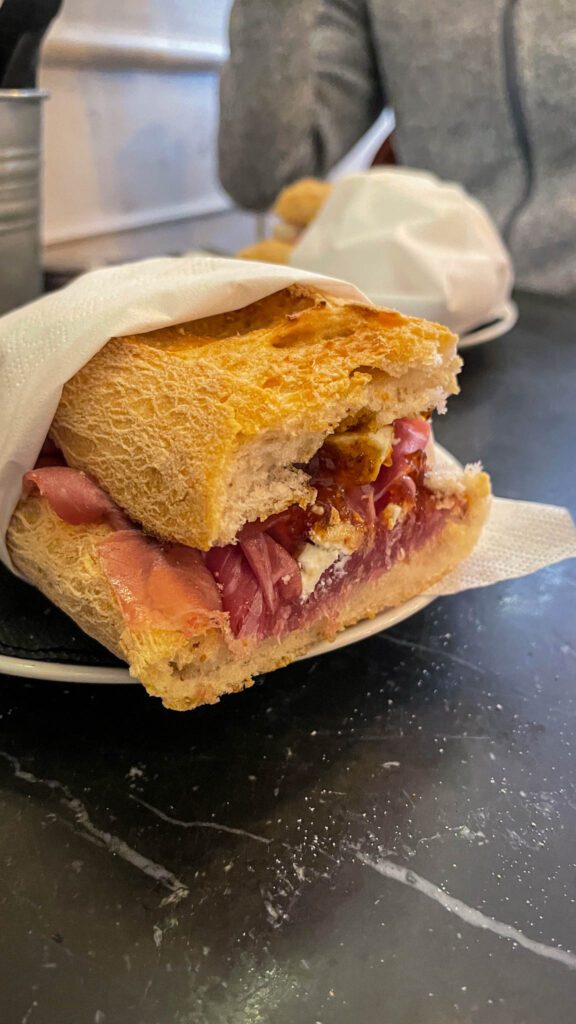 The other thing we shared was a sandwich with goat cheese, fig jam, and some sort of cured meat (pancetta? I'm not quite sure).
This gluten free restaurant started out as a concept and workshop in 2013, and expanded a few years later to include the restaurant in central Milan. The menu, which I mentioned is pretty massive, is designed to be perfect for all times of day, whether you're looking for lunch or an aperitif after a day of work.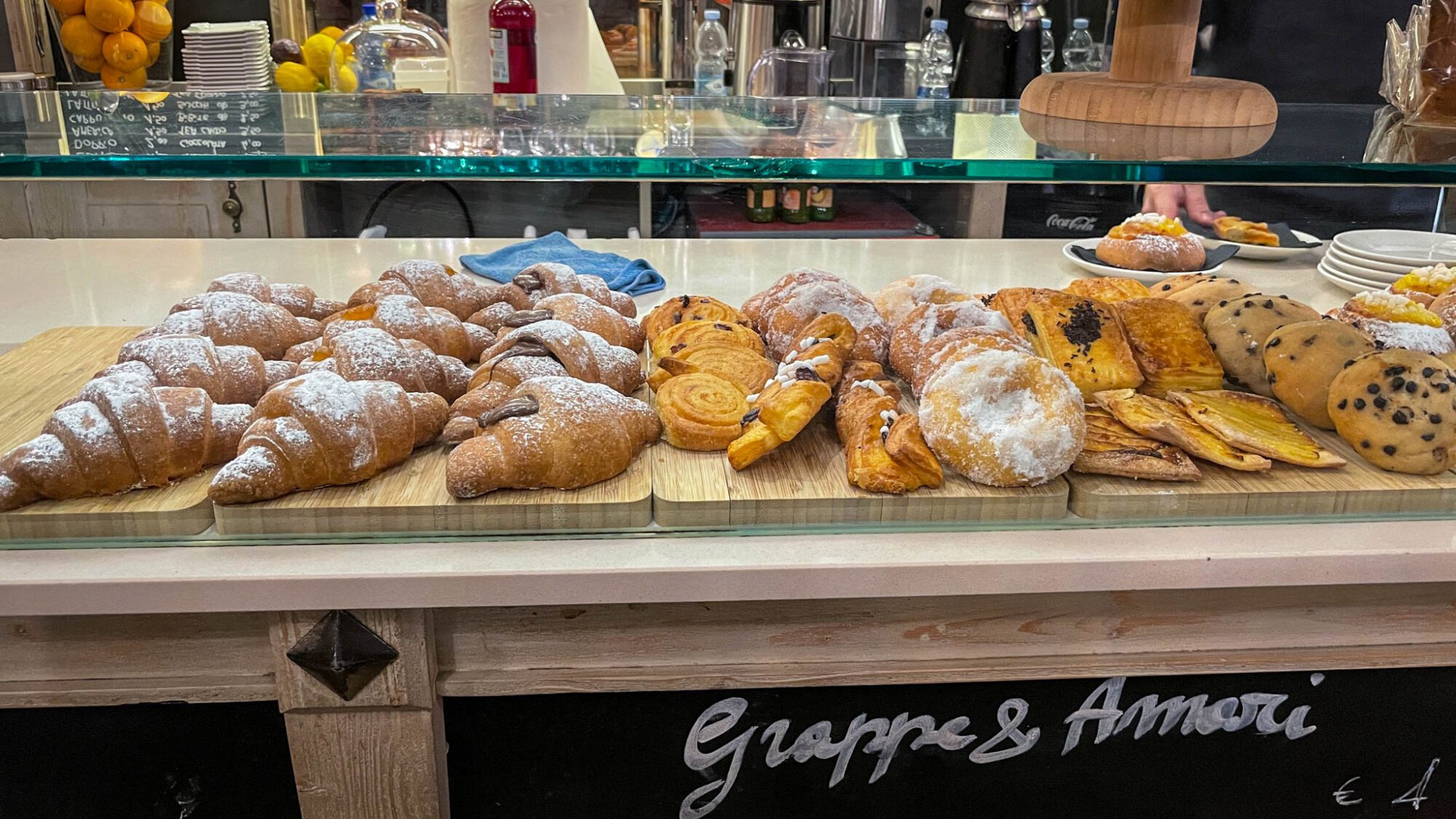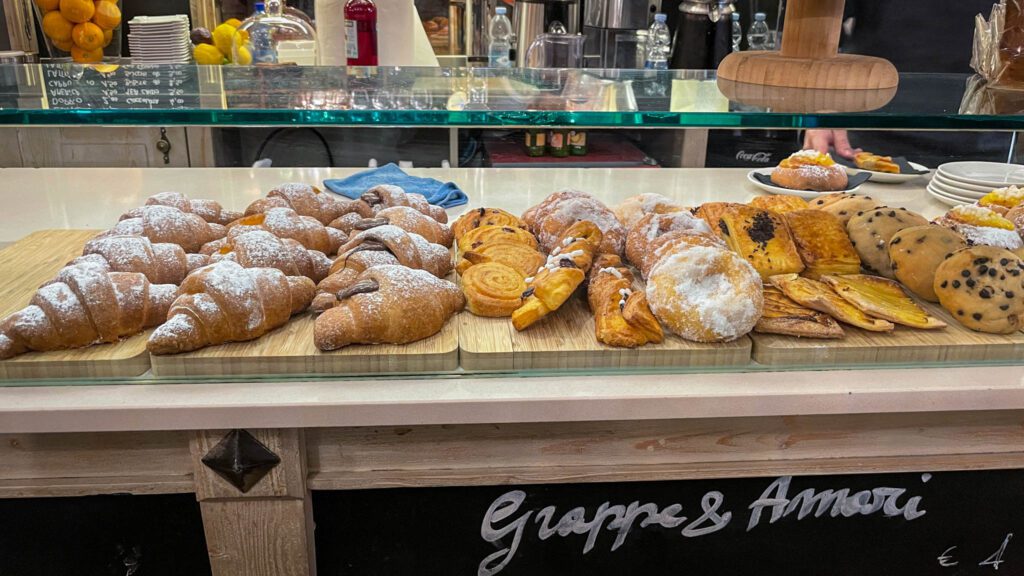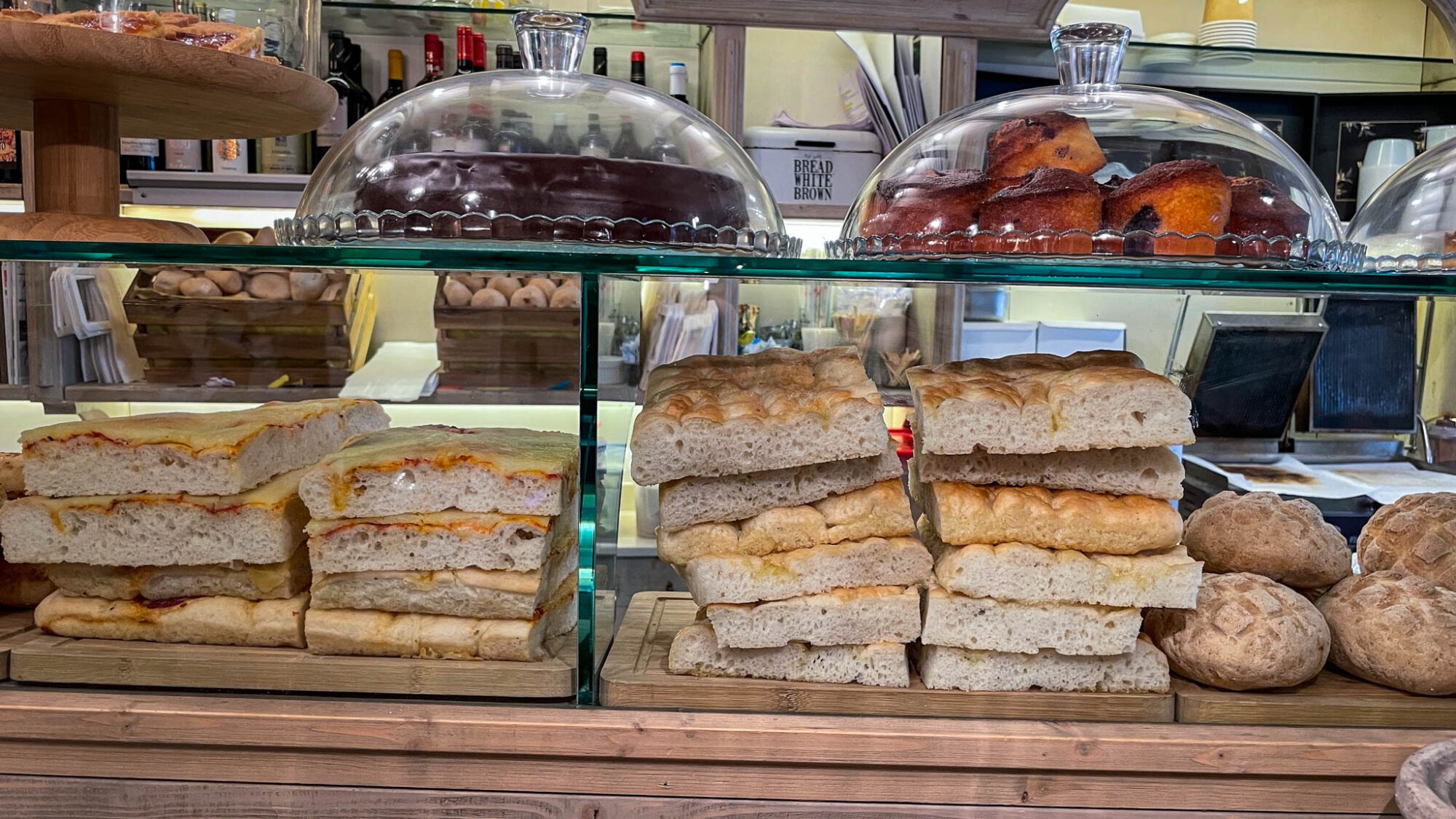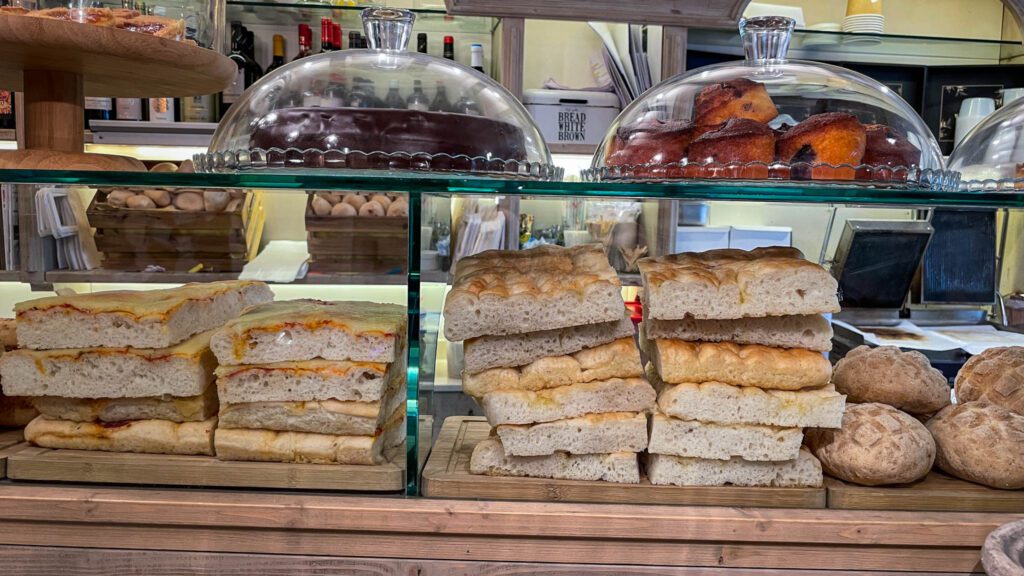 All the baked goods and pastas are made fresh in-house (or in their nearby gluten free bakery / supermarket, Villa della Spiga).
Grom Gelato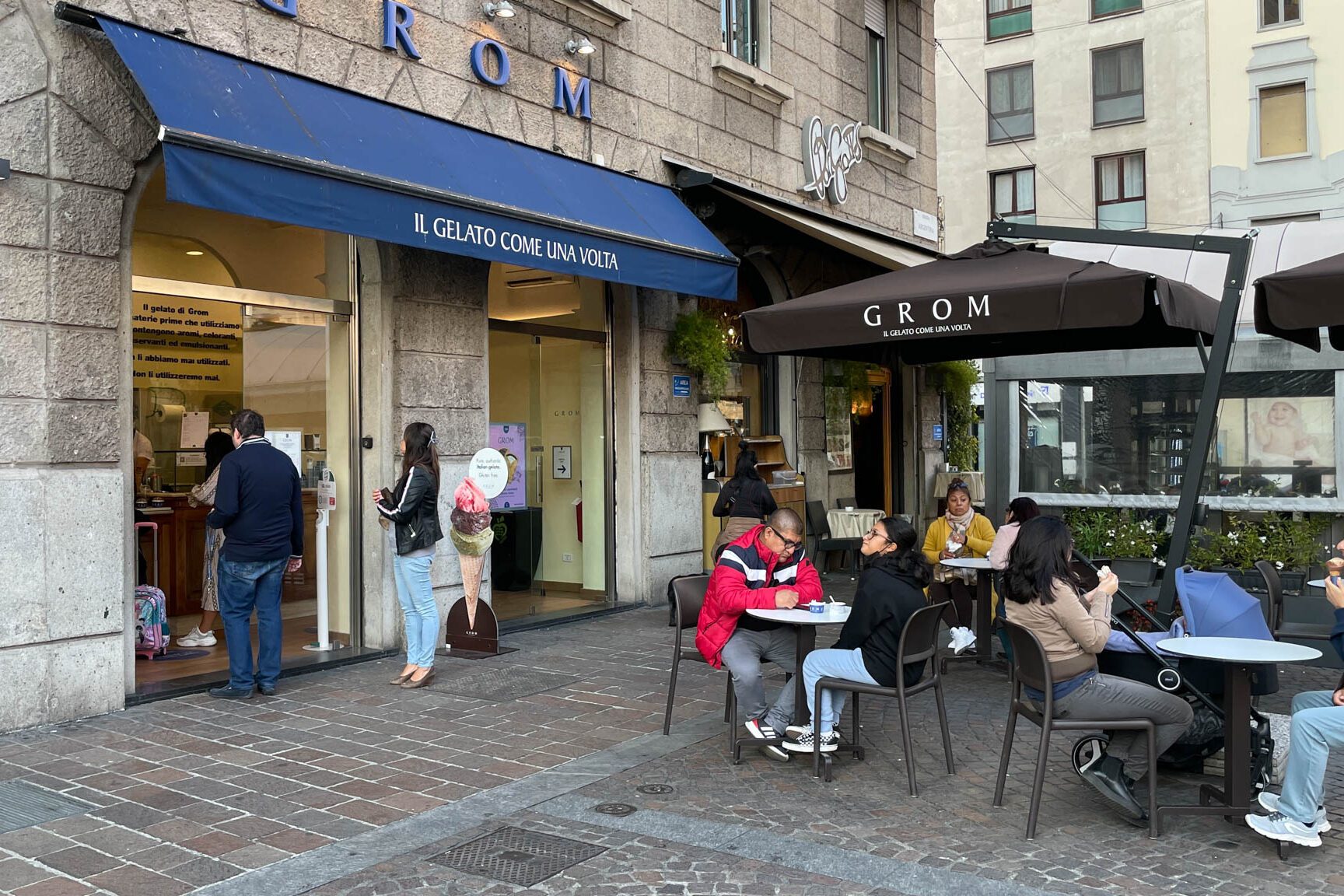 Grom, oh how we love you, Grom. Our introduction to Grom was in New York City a few years ago, and ever since we've found them around the world and make it a personal mission to make it to their shops wherever they exist.
Everything is gluten free – even the cones. Yes, even the cones rolled in chocolate. And yes, even the cones rolled in chocolate and pistachios. Or hazelnuts. All of it!
You know how, sometimes, you're willing to give a little on the "quality" side when a place is dedicated gluten free, so you don't have to worry about cross-contamination?
Well, this isn't that.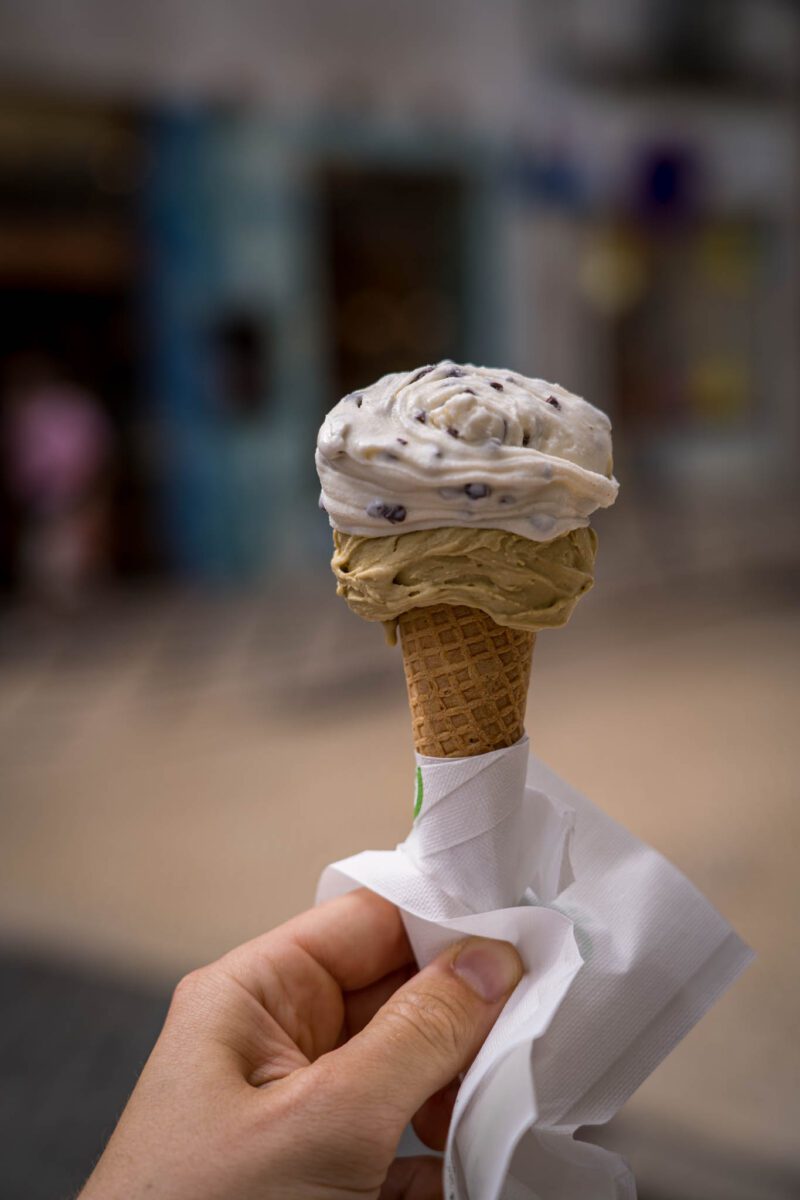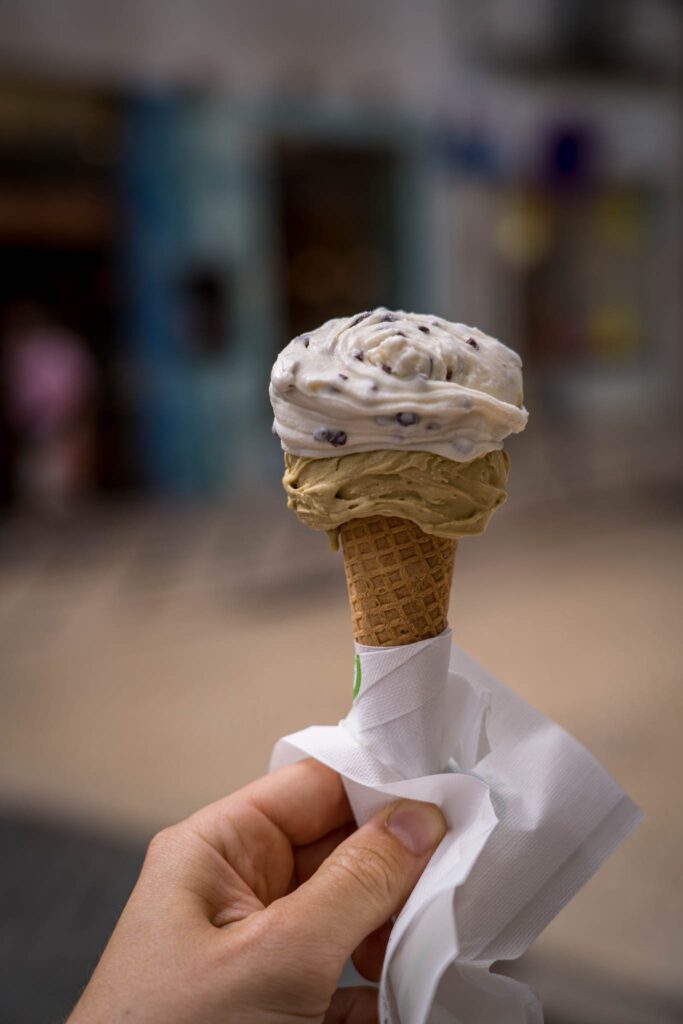 Grom's gelato is legit good. Really good. In Lisbon, my brother had been to a non-gluten free gelato spot across the street from Grom the previous day, and he was wholeheartedly on board with Grom being much, much better after trying it the next day.
Grom has a bunch of standard flavors – the stracciatella, hazelnut, and pistachio are our go-to flavors – and a rotating cast of flavors that change seasonally.
The best part? There's a bunch of locations in Milan. If you're standing somewhere in Milan and think to yourself "I could go for some gelato right now," there's a good chance that you're within a 15-20 minute walk of one of Grom's locations in Milan.
Out of the Box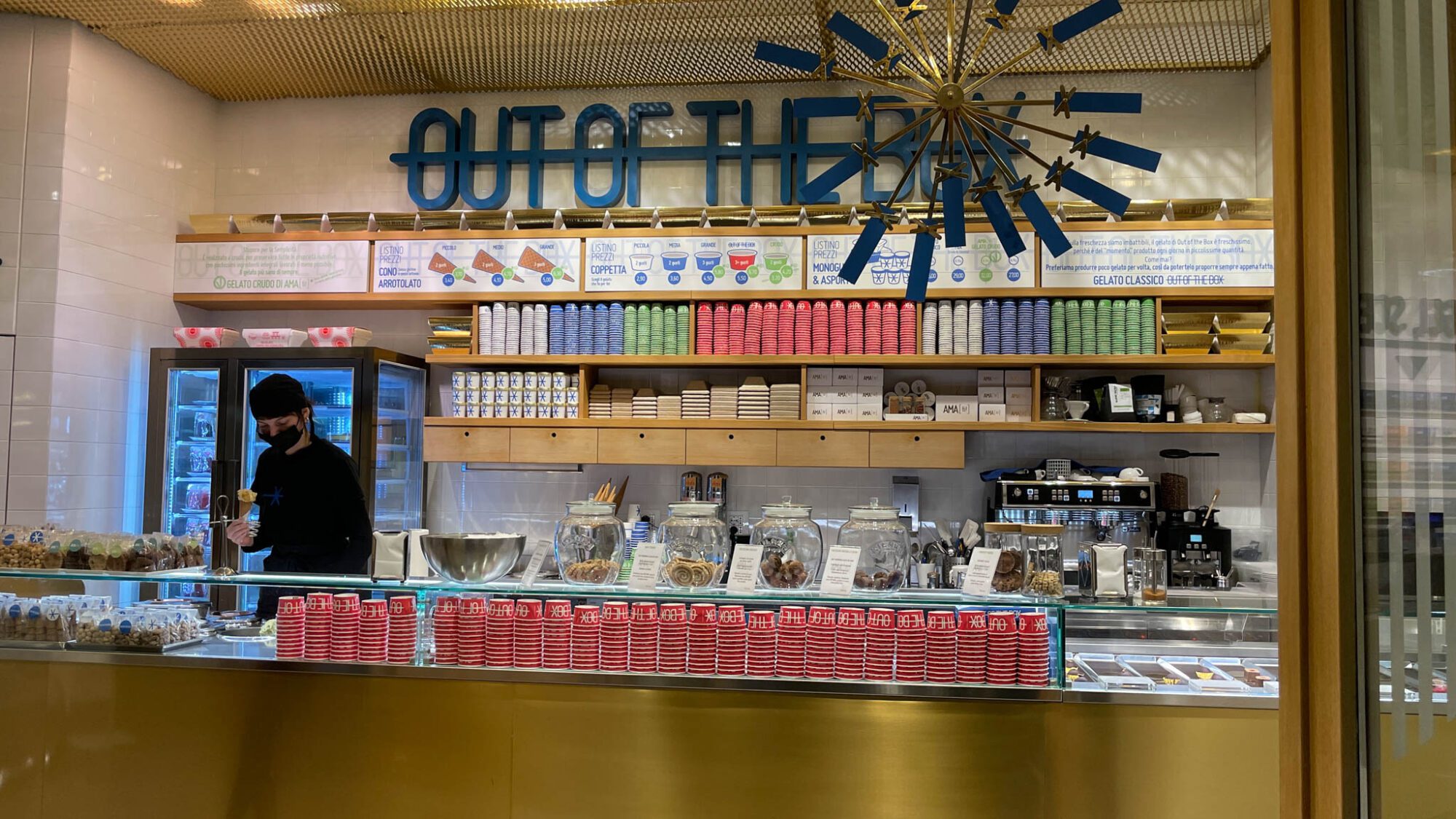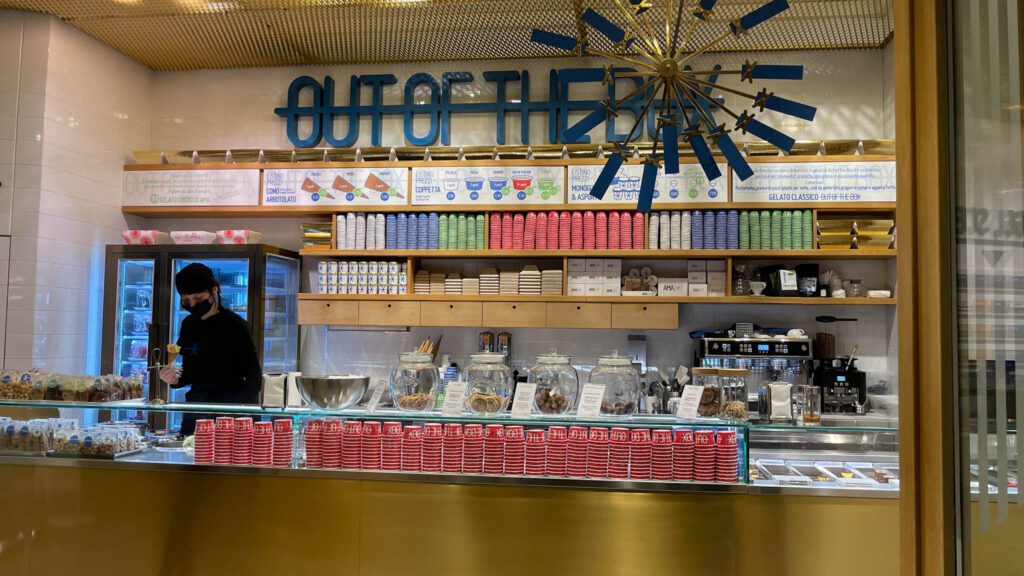 Yes, Milan is blessed with yet another 100% gluten free gelato place. And this one has vegan and dairy free options, too!
When I walked into Out of the Box, I first asked "tutto e senza glutine?" The server smiled and informed me that everything is gluten free, and some things are dairy free. Heaven on earth? Basically, yeah.
The gelato was as good as – and we would actually argue better than Grom – which is saying something considering that we consider Grom to be the best around outside of Rome.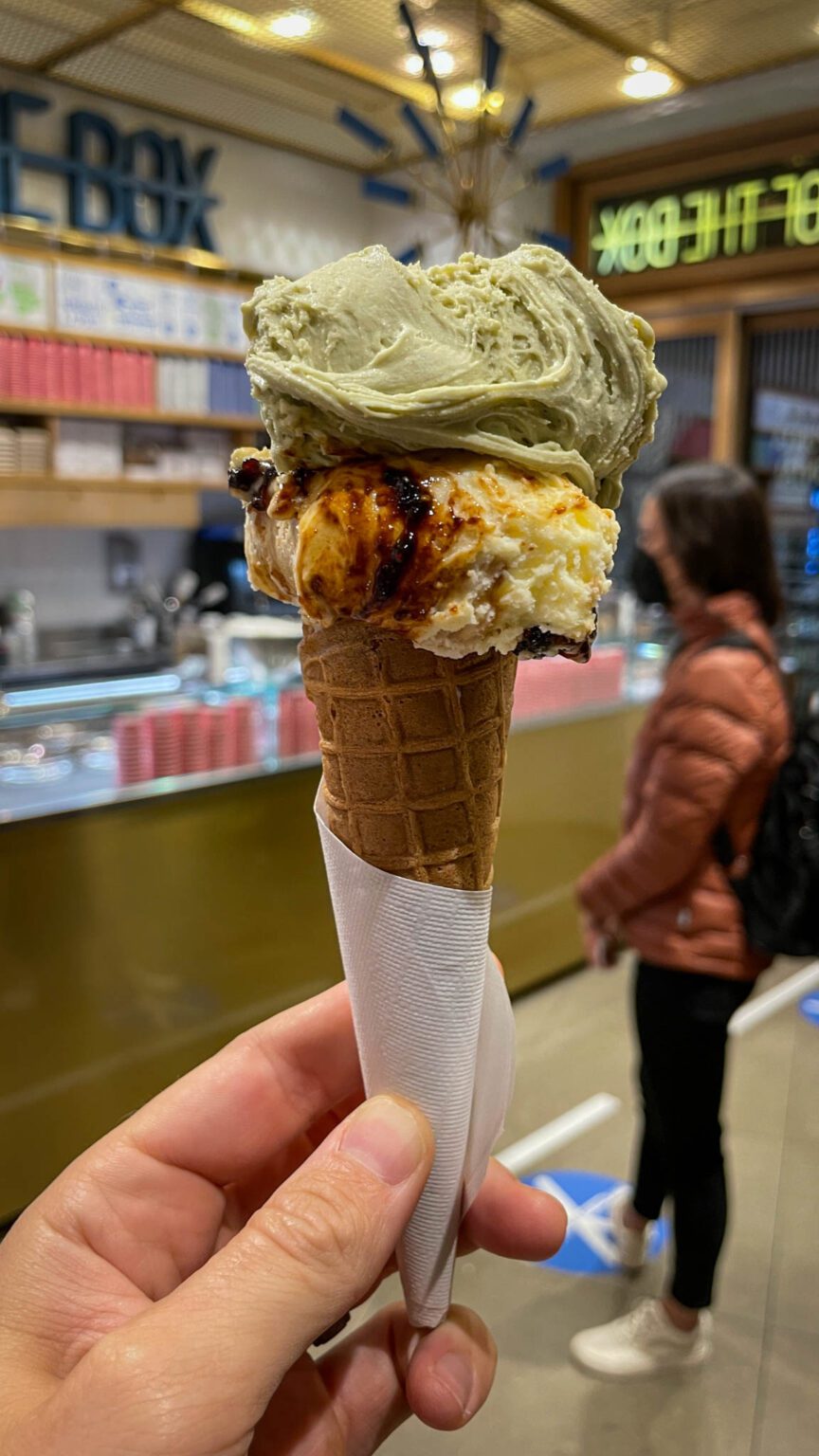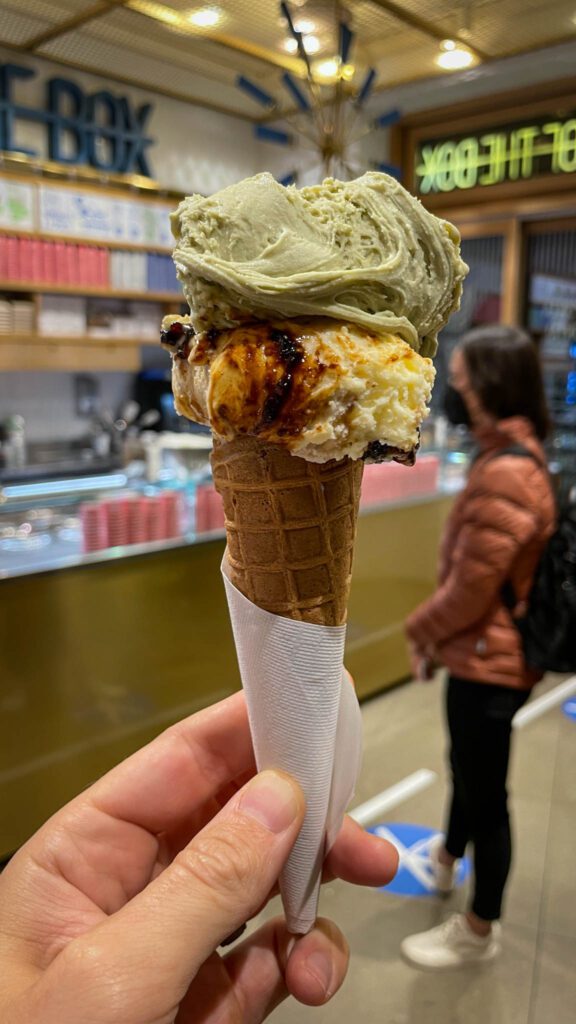 I had a ricotta / fig flavor that was mind blowing – if you ever see ricotta flavors and you tolerate dairy, do yourself a favor and just order them – and Alysha discovered bacio flavored gelato here, which is chocolate hazelnut.
The gluten free cones are great too – you'd never know they were gluten free if you didn't already know.
They have two locations in Milan – one near Milano Centrale, and one near Porta Romana in the southeastern corner of the city center.
Dedicated Gluten Free Bakeries in Milan
There are multiple gluten free bakeries in Milan, and we did our absolute best to make it to all of them over the course of our day in Milan.
Glufree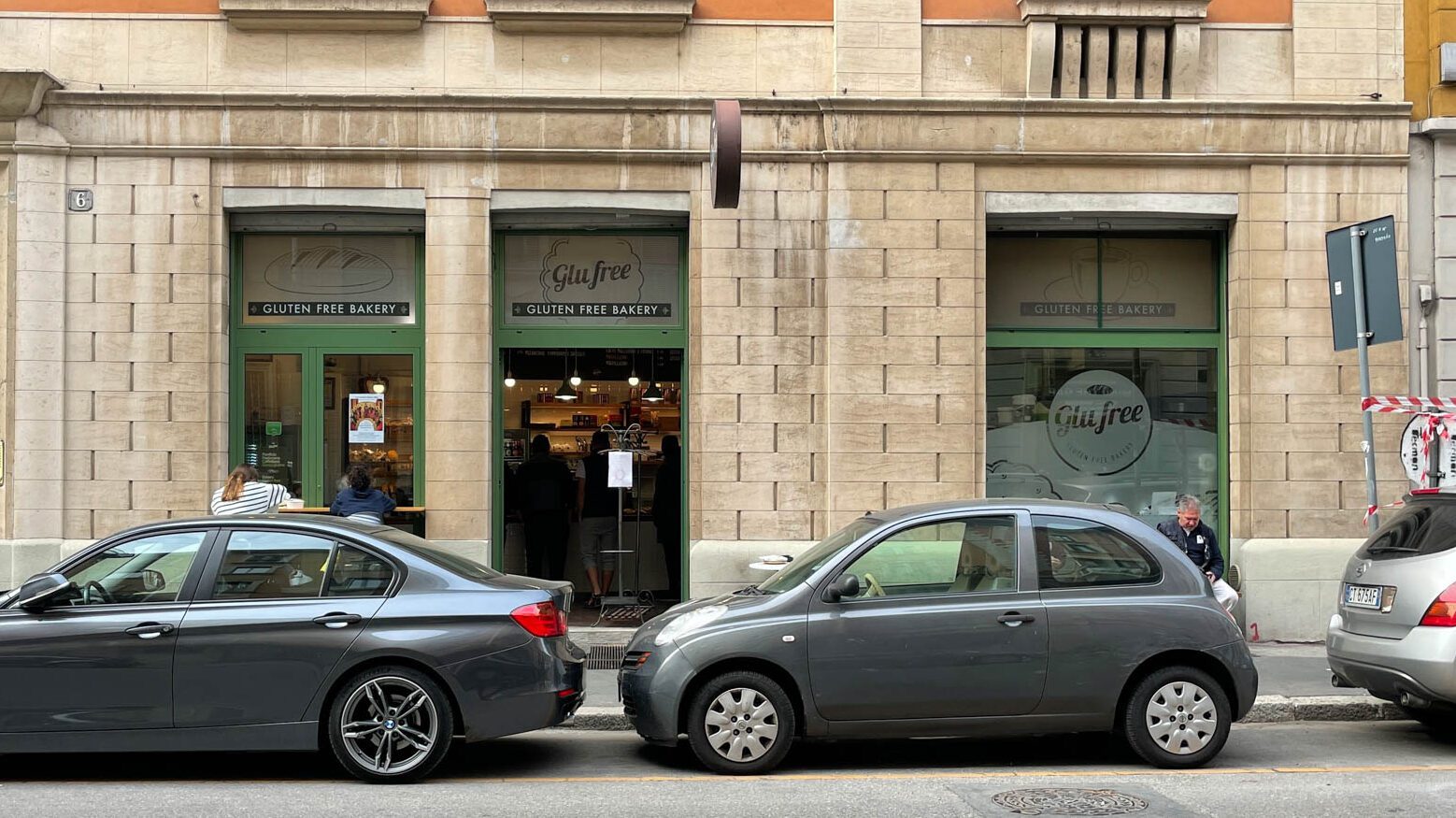 Glufree is the gluten free bakery in Milan that I was familiar with before doing research for the trip, having seen multiple pictures of delicious gluten free pastries on Instagram over the years. We went just before lunch, and the selection was great.
They have a nice mix between pastries – sweet and savory – and more traditional lunch items like pizza, sandwiches, and even arancini.
Everything is gluten free, and they're accredited by the Italian Celiac Association.
Now, when we went, I made a fool of myself because I really, truly could not decide what I wanted. Things are sold by weight here, so I made the poor woman behind the counter re-weigh everything twice because I didn't realize what was happening until I saw her roll her eyes and throw away the original price tag.
My bad, I apologize.
The good news is that their products are great.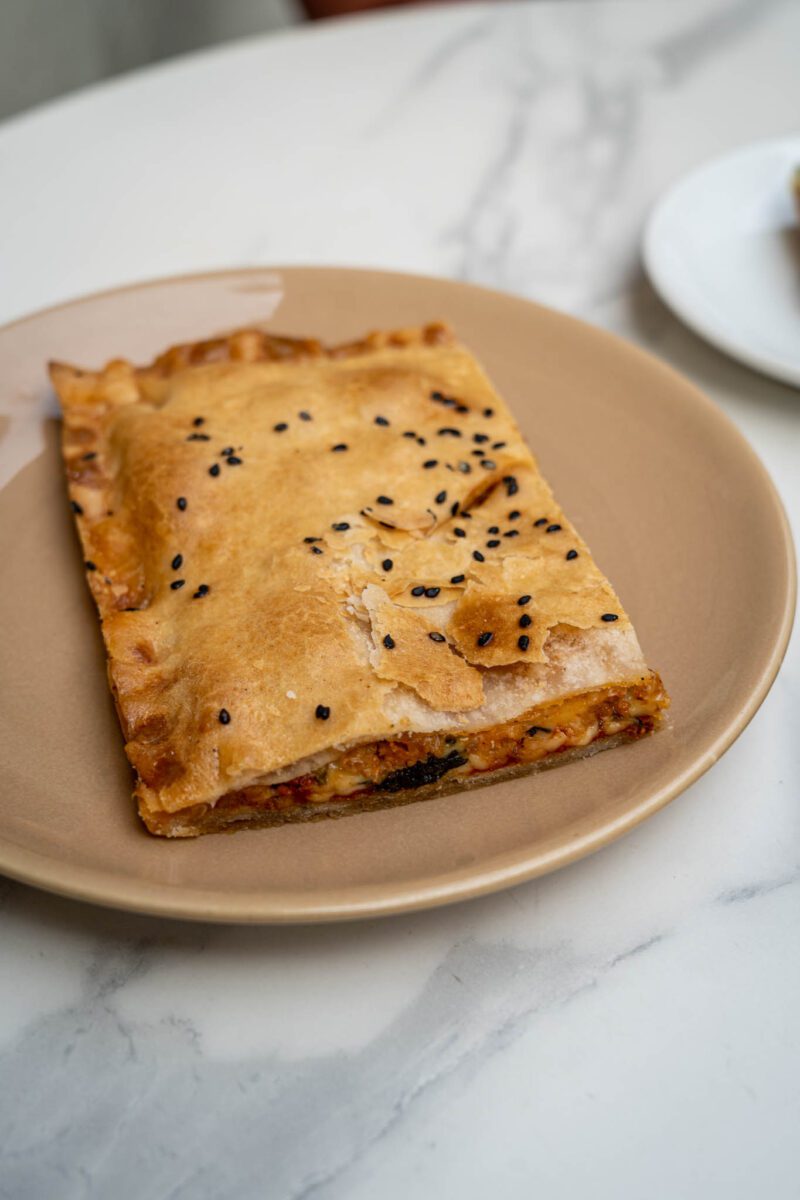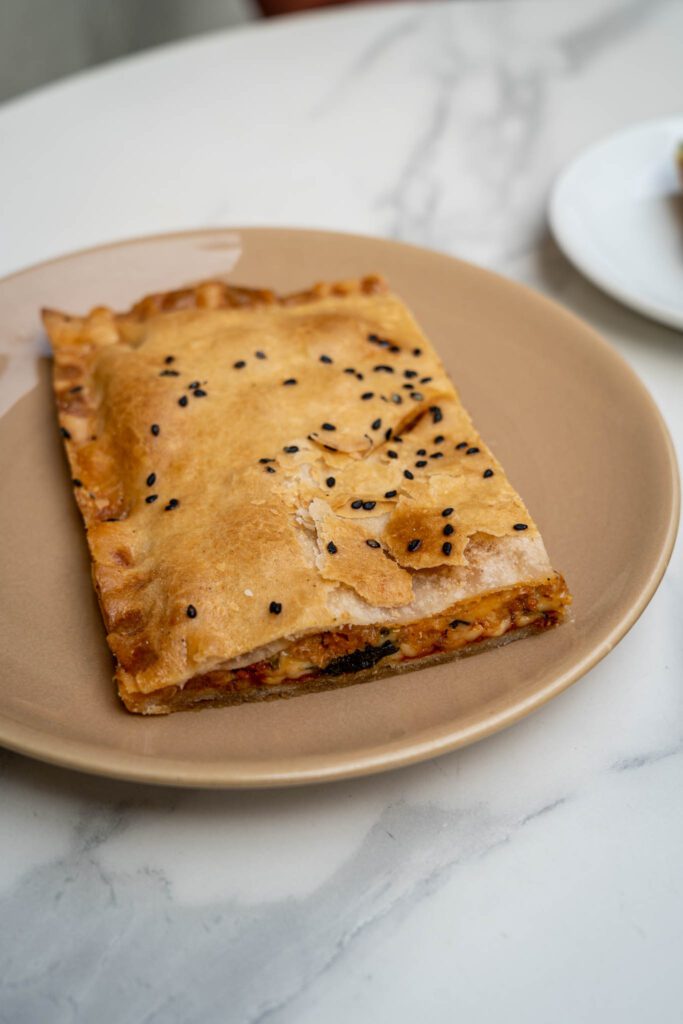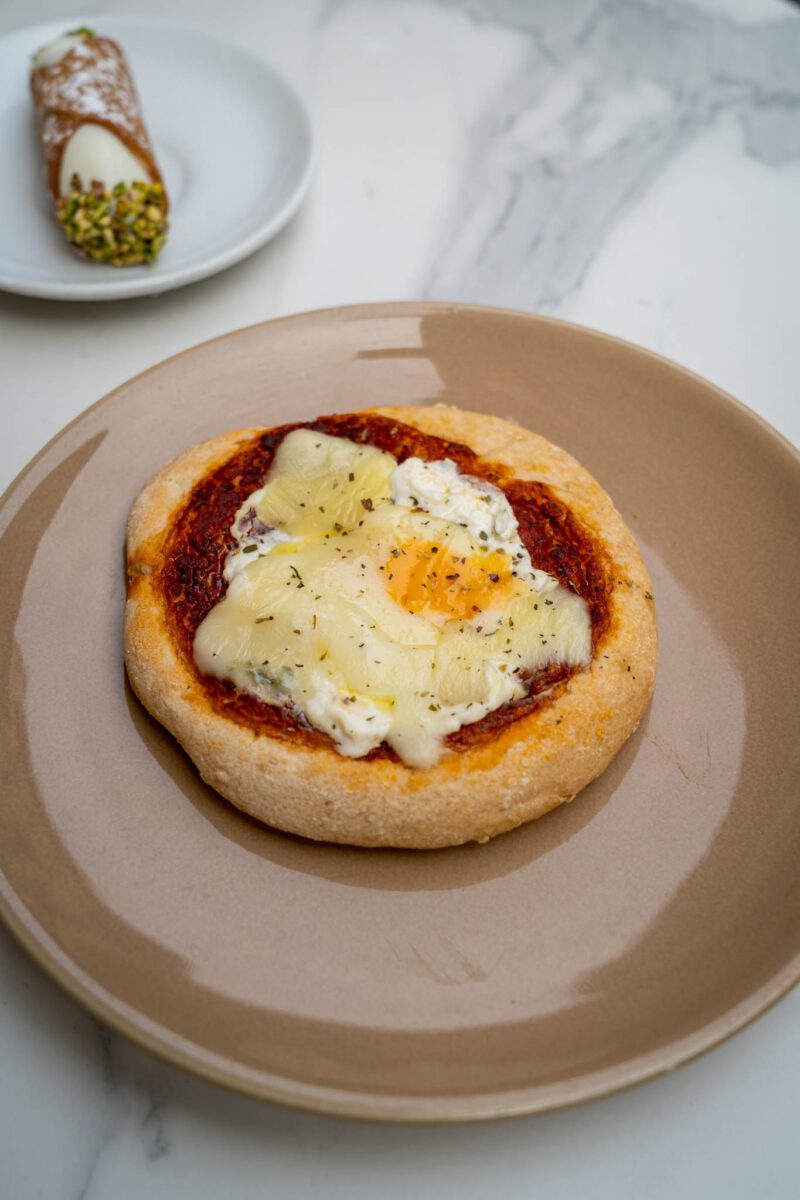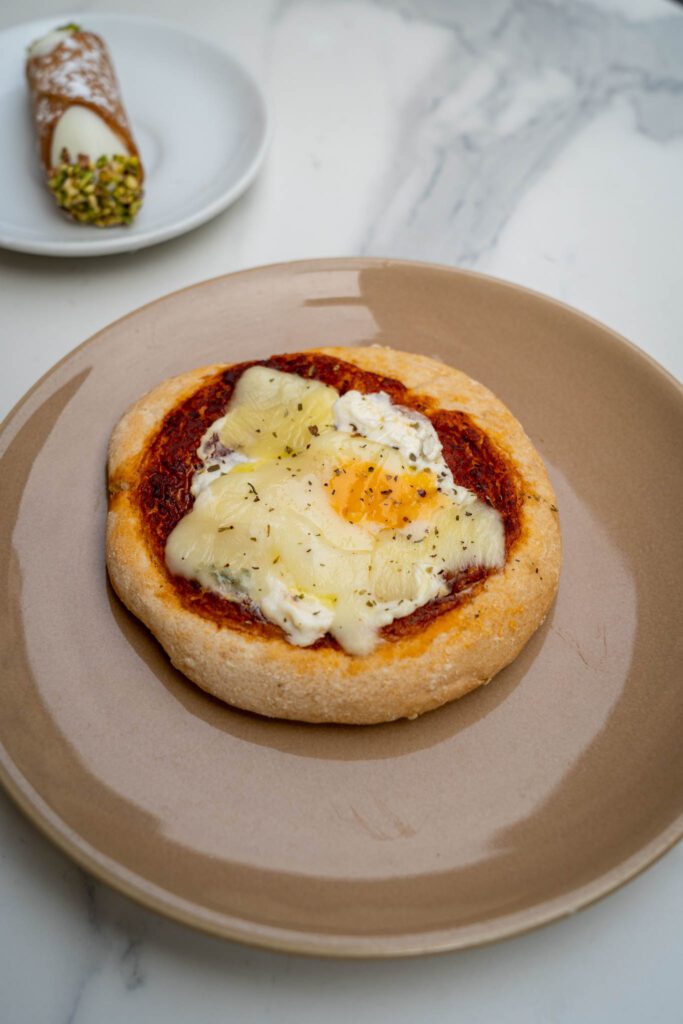 For breakfast, choose between brioches (which are basically croissants, and we learned that they're the same thing as "cornetti" – the name for the pastry in southern Italy), muffins, and a variety of other pastries. Enjoy it at the bar with a caffe (a shot of espresso) to do your best impression of a real Italian.
Like I mentioned, we really enjoyed the parigina – which is like a filled pastry, stuffed with sausage, tomato, cheese, and broccoli rabe (in this case). We had it multiple times in Italy, and it was fantastic every time. The crust is nice and buttery, and the fillings bring a little contrast in flavor and texture.
We ended up getting two brioches – which are filled with a variety of fillings like nutella, chocolate, ricotta, and pistachio cream – to go for breakfast the next day in Verona. We ended up with one pistachio (if you see a brioche con pistachio, get it!) and one with crema. Not the best brioches / cornetti we had in Italy, but pretty solid.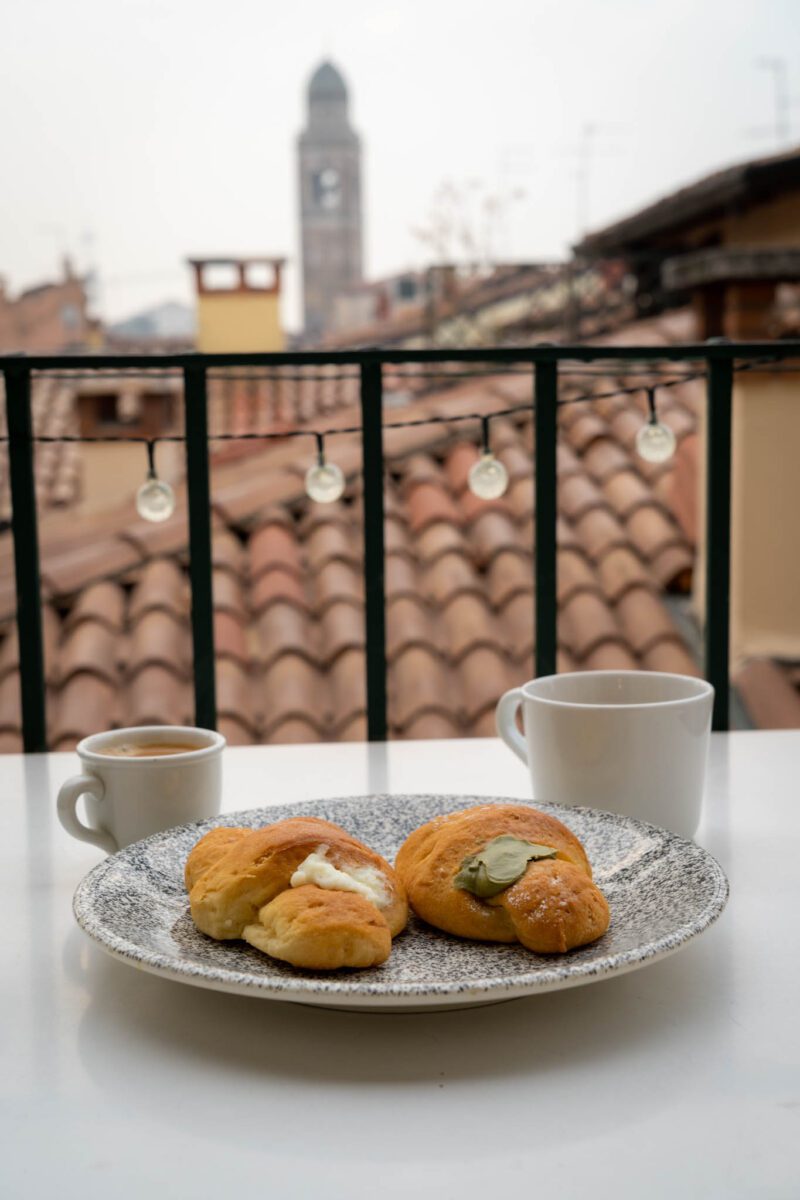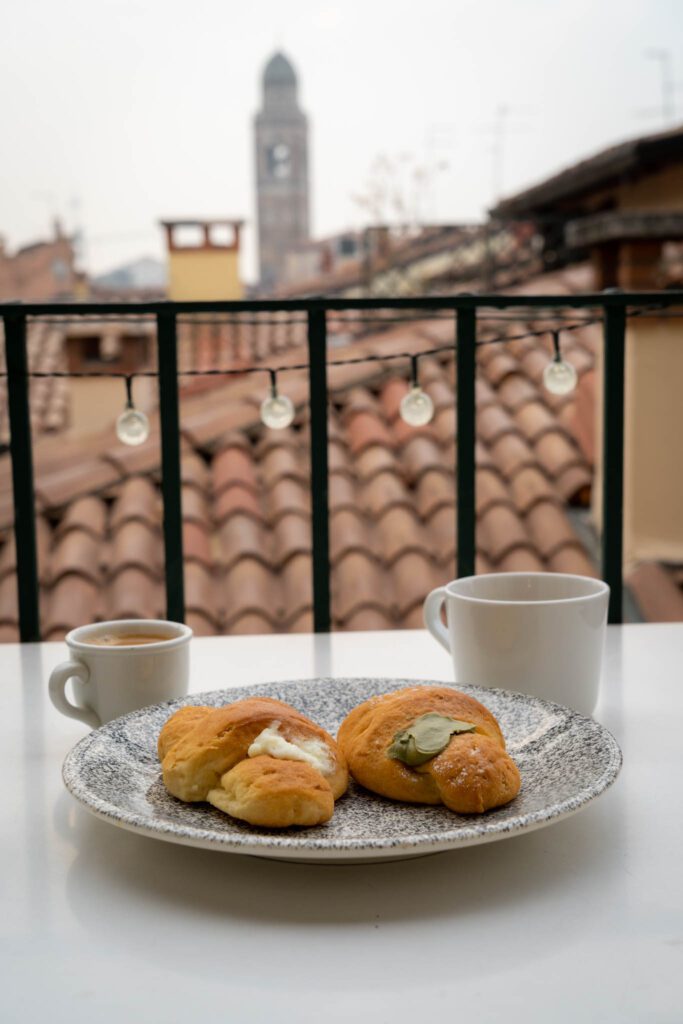 Their bread is also really good, which we know because we ended up with a baguette-ish loaf and a regular loaf, which were enjoyed as part of a cheese plate the next day.
Pan Per Me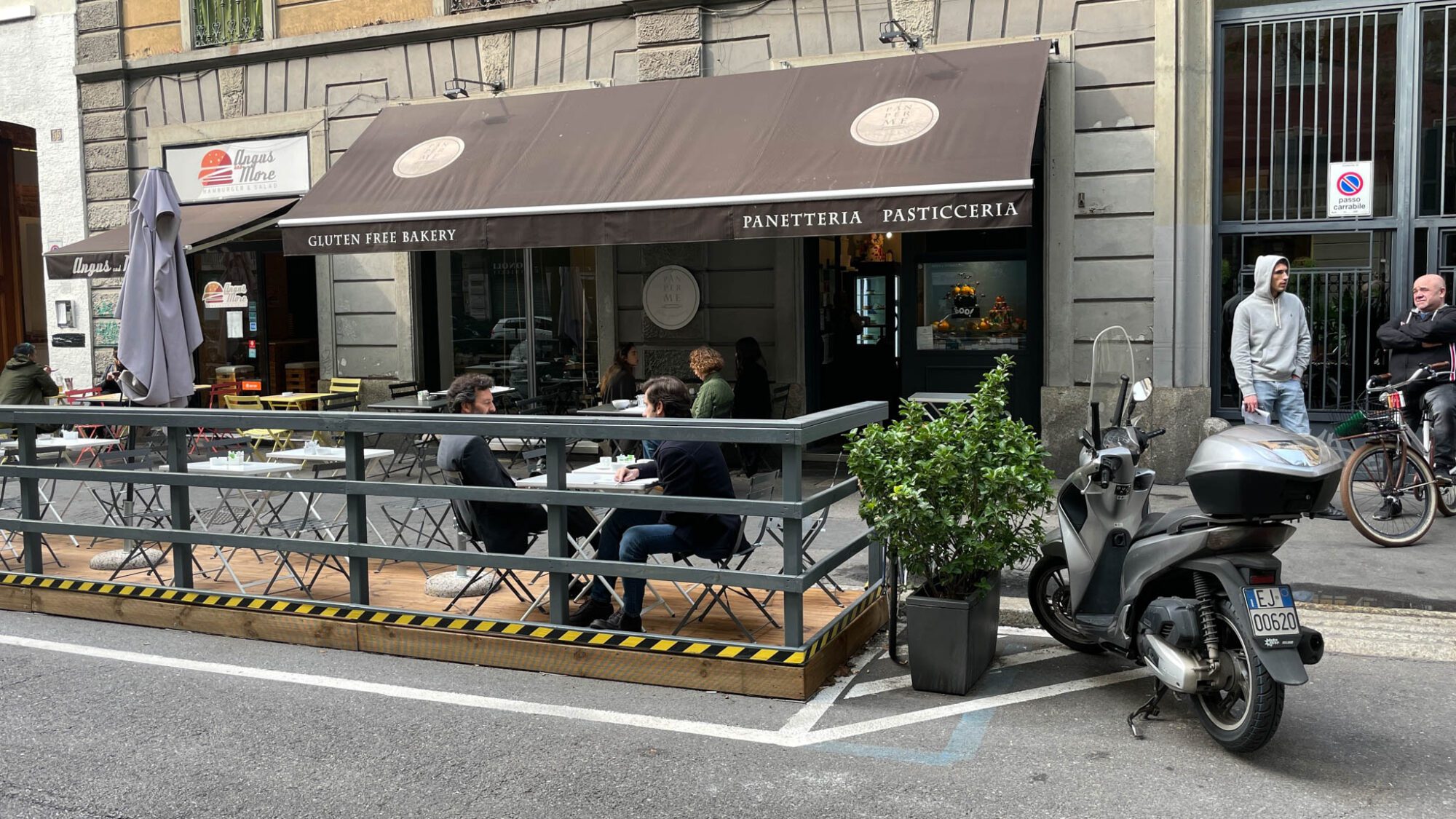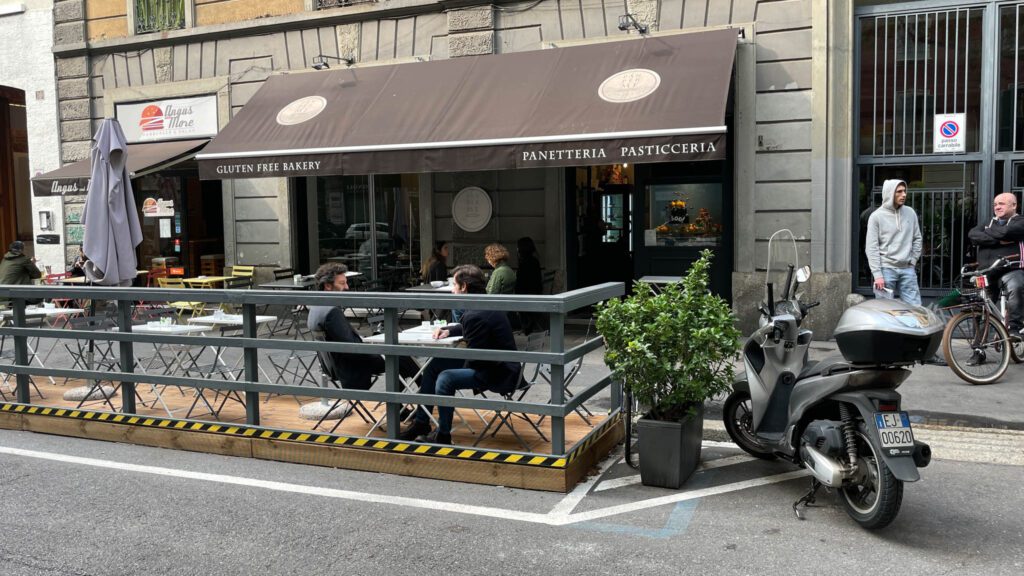 Pan Per Me was our last stop on our tour-de-Milan bakeries, which means we settled for getting things to go to enjoy for dinner later that night after our train ride. It's just a few blocks north of Glufree, so it makes a nice one-two punch if you make your way to the east side of Milan.
Once again, everything here is gluten free, and they are also accredited by the AIC.
I would say that they have two different offerings. The first is their quickserve items, like pizza, pastries, and breads, that are sold by weight at the counter. They have a nice range of tarts that looked delicious (but definitely wouldn't have traveled well), and we were sad to see they were out of brioche at the time we showed up.
We chose a slice of thick pizza (the crust was thick almost to the point of being focaccia) and a pastry that I don't know the name of, but it was essentially a pizza puff. Here's a picture of both the pizza, and the pizza puff.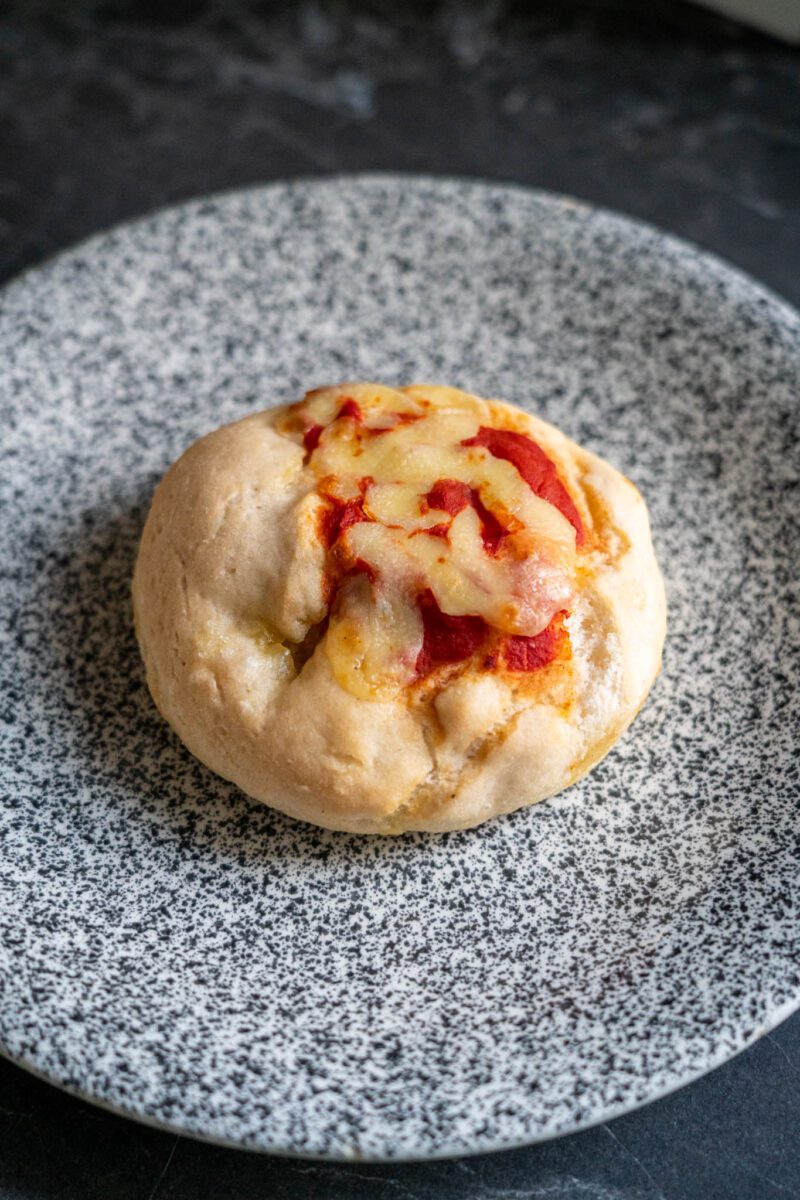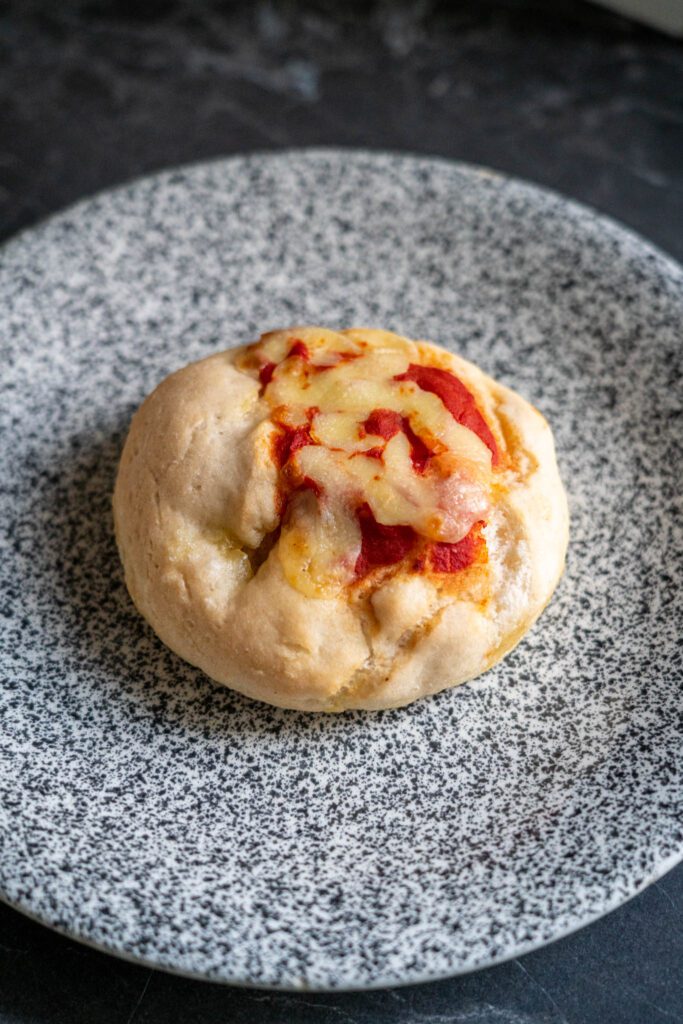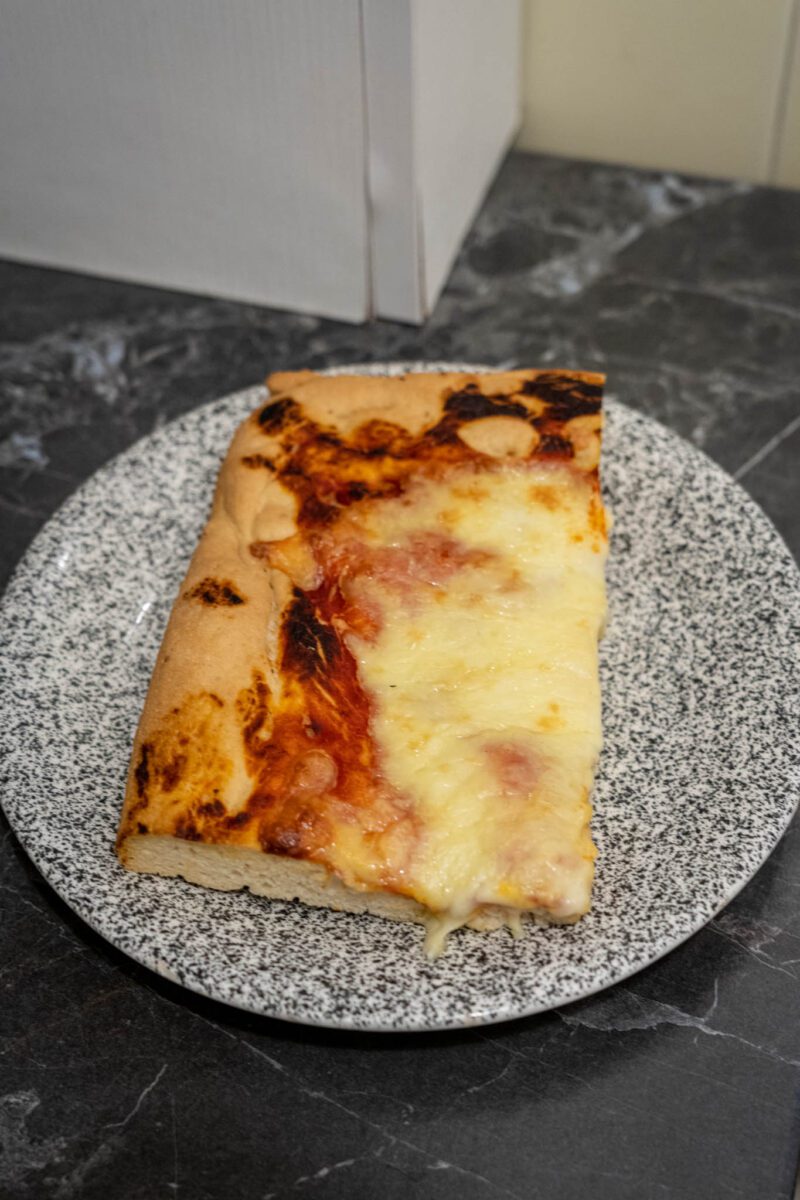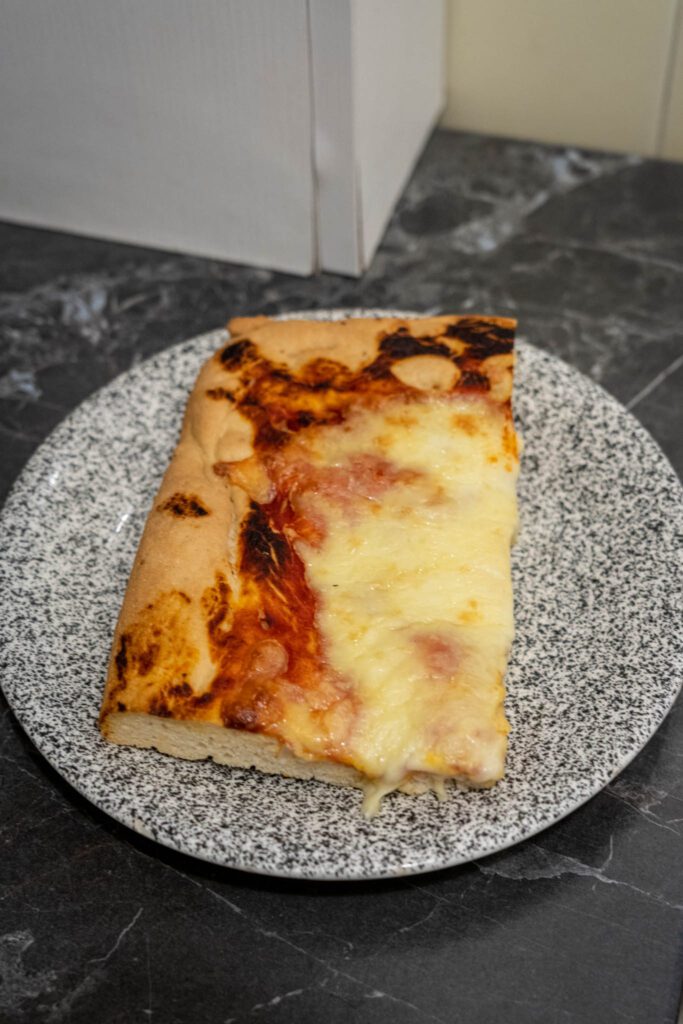 For breakfast, if you make it here earlier in the day than we did, you'll be able to grab a coffee and a pastry – a brioche is our recommendation – and have an Italian-style breakfast.
The second offering is their sit-down brunch and lunch menus, which are table service and are more akin to a regular restaurant than a bakery. You can find the menu, posted weekly, on their Facebook page.
Given we were in a bit of a hurry to catch our train by the time we got here, this would probably be the first stop we made on a return trip to Milan.
Officina Zero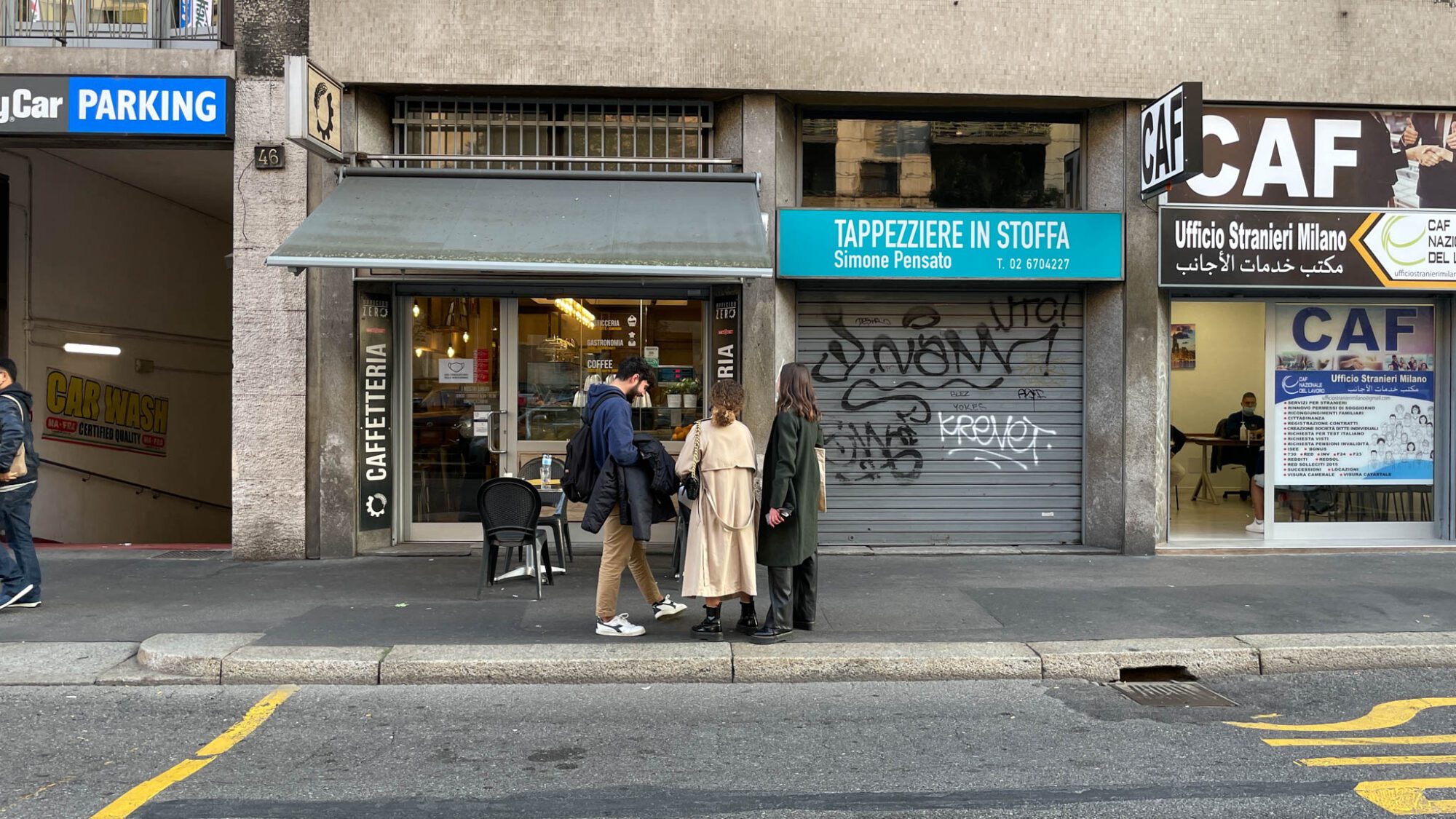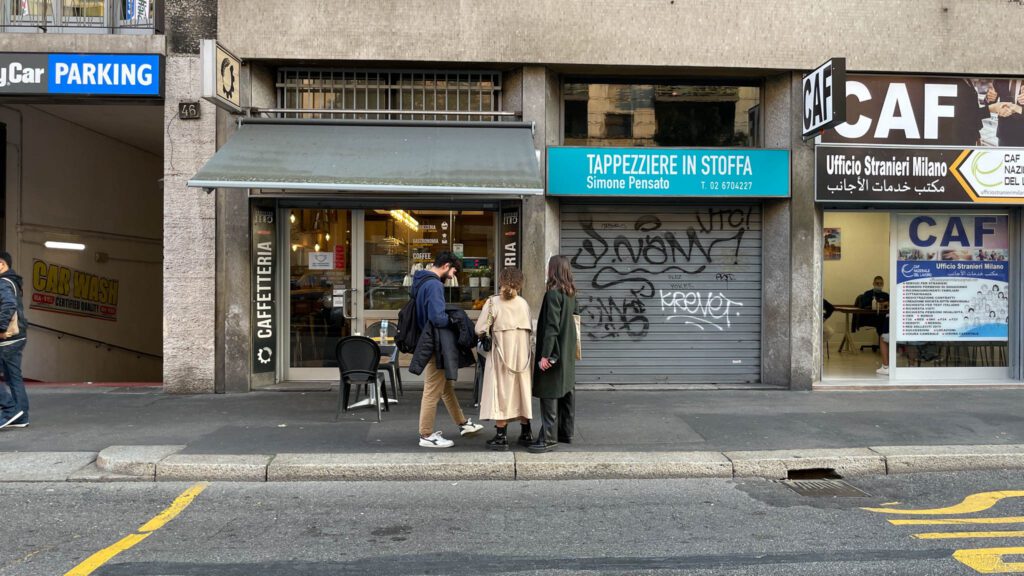 Officina Zero was actually our first stop in Milan after we arrived, and it's walkable from Milano Centrale. Unfortunately, our timing wasn't the best as we showed up right before they closed, so the selection was a little more sparse than it usually would be. Oh well, we pressed on!
We discovered a very thin and crispy flatbread topped with sea salt and rosemary that was absolutely delicious, but I cannot for the life of me figure out the name after I forgot to write it down (if you know what I'm talking about, please leave me a note in the comments!).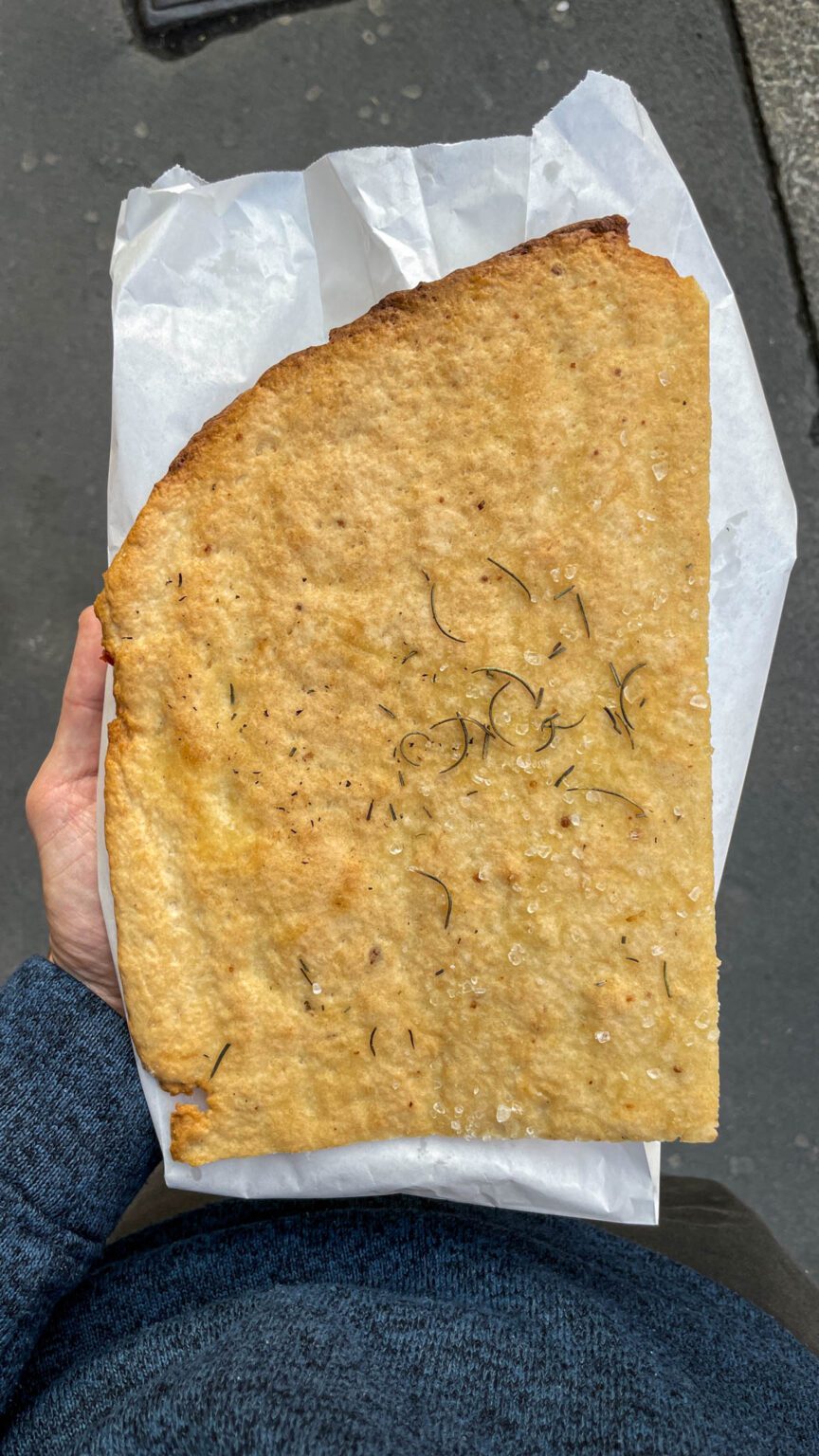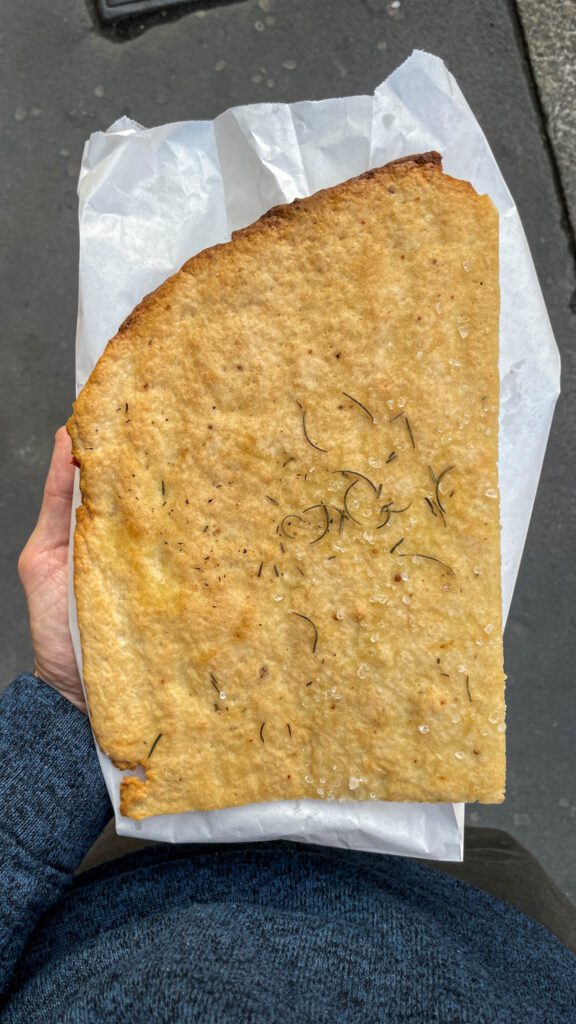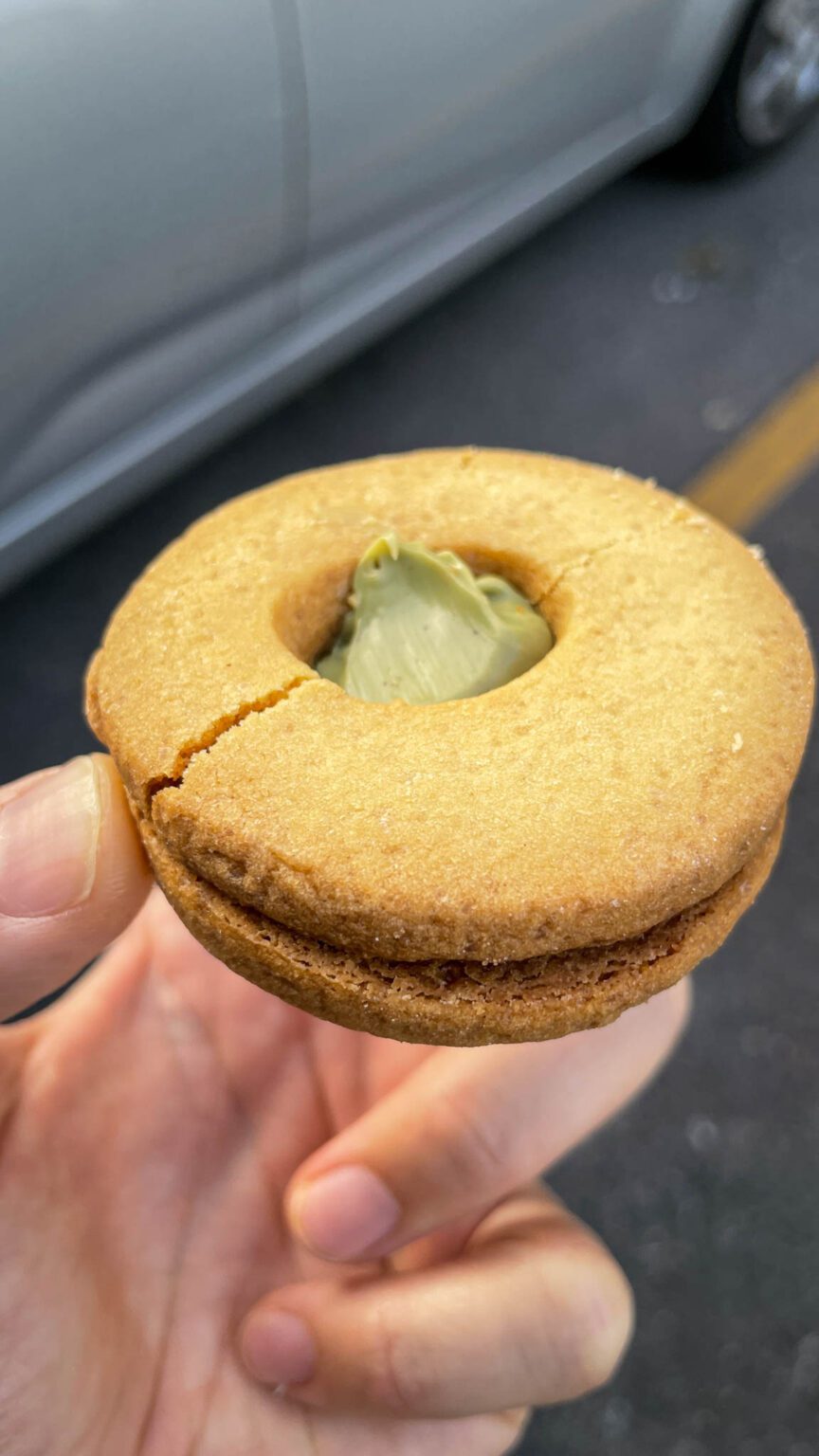 We also got a pair of sandwich cookies – one with red fruit marmalade, one with pistachio cream that were delicious, but crumbled to dust almost as soon as they went in the bag.
We're looking forward to our return trip, when we'll stop by earlier in the day and make sure to get our hands on a bombolone (similar to a filled donut) and a brioche (or three).
This place was a very pleasant surprise. It's a small place with no seating or anything like that, and it doesn't have a fancy online presence like the three bakeries listed above, but the food itself was every bit as good as them.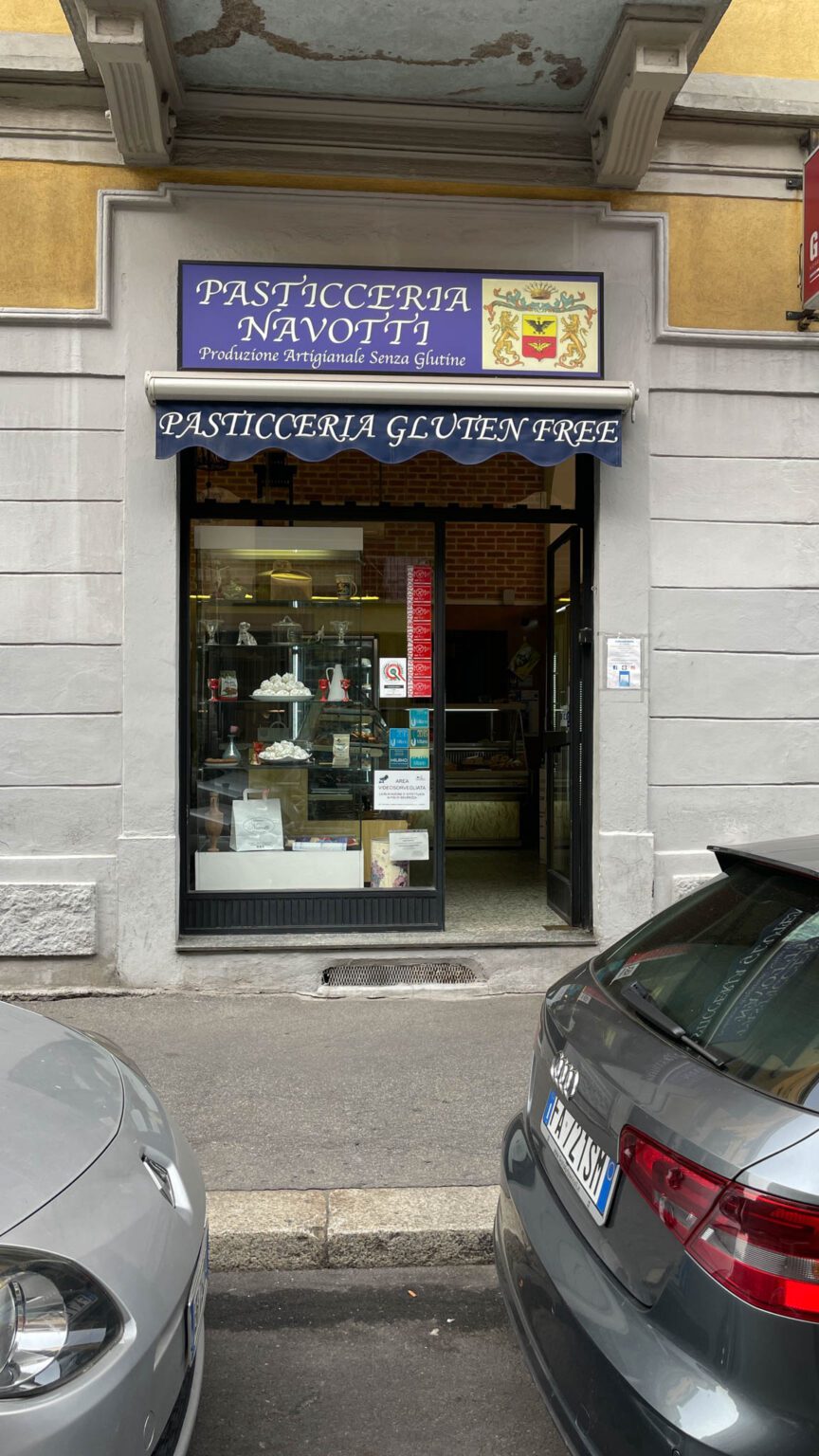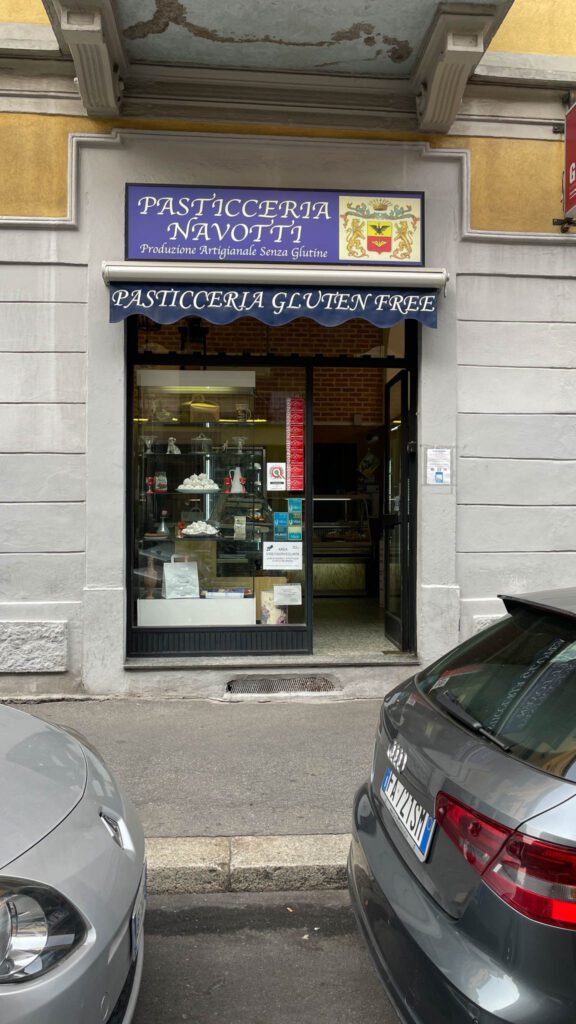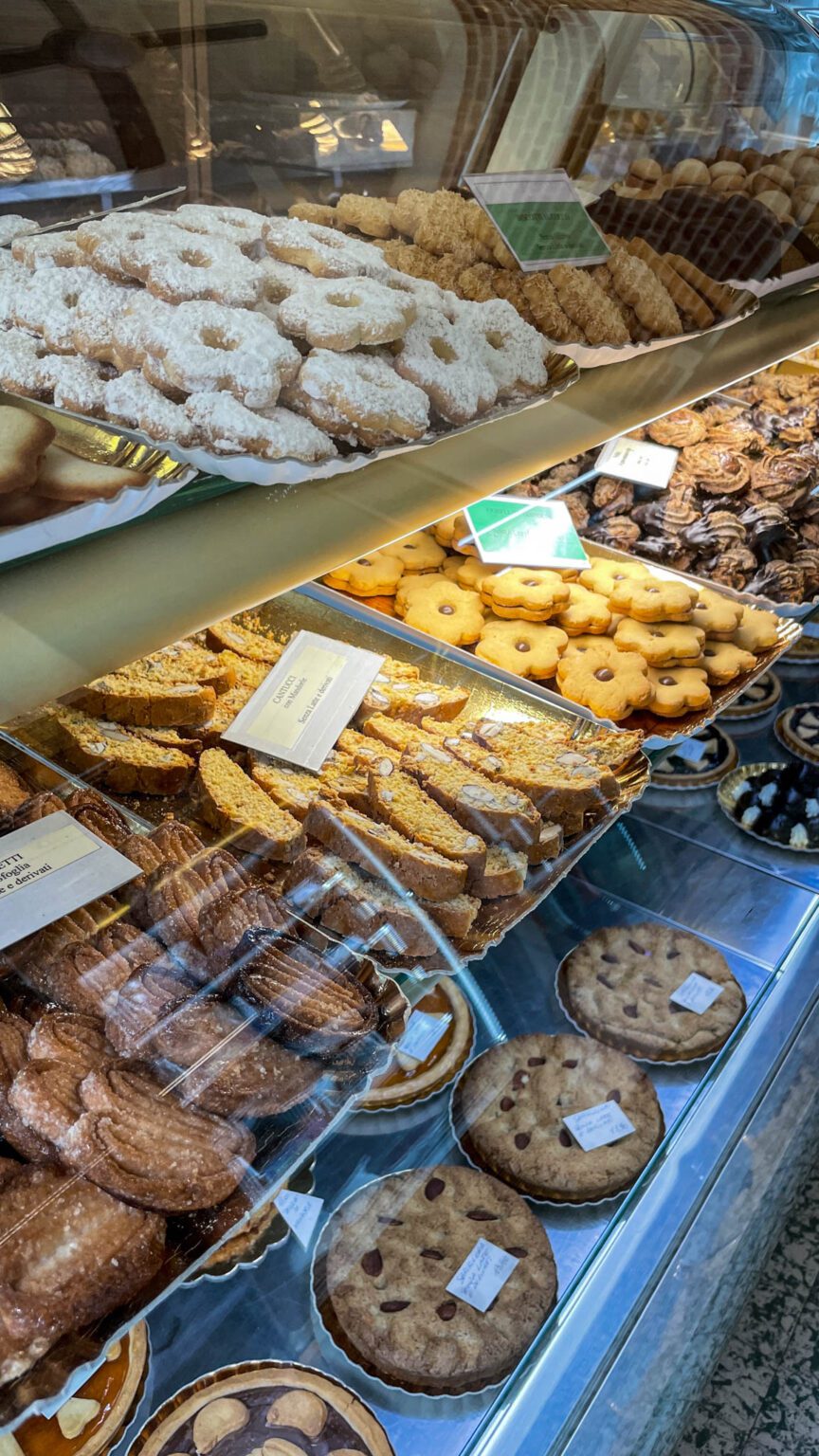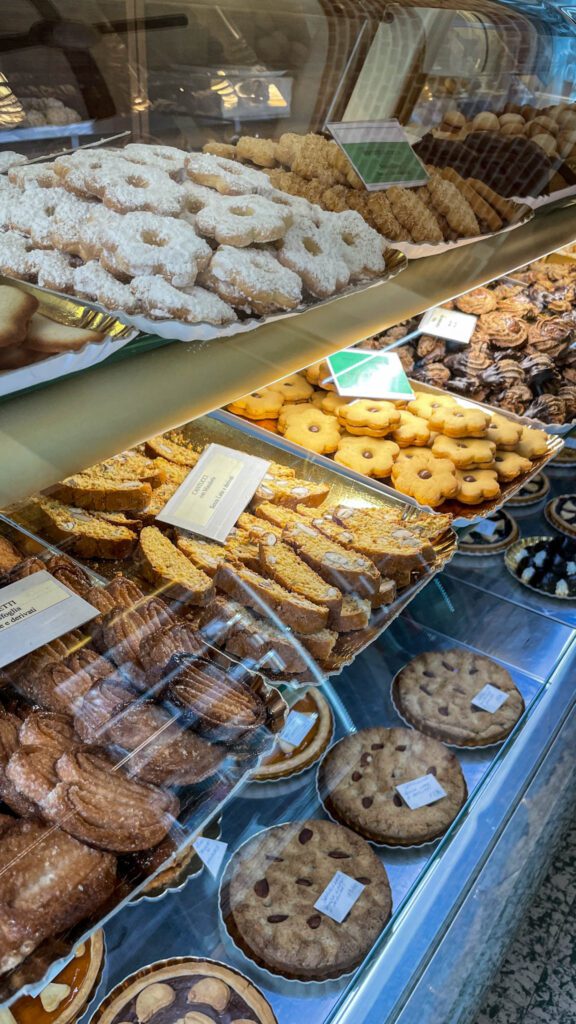 The highlights for us were the huge selection of different kinds of little biscotti (aka cookies) in all shapes, sizes, and flavors. We ended up with a couple of buckwheat-chocolate cookies, and a pair of marmalade cookies. All of them were spectacular (and the lovely woman behind the counter offered to let us try the buckwheat cookie before we bought one).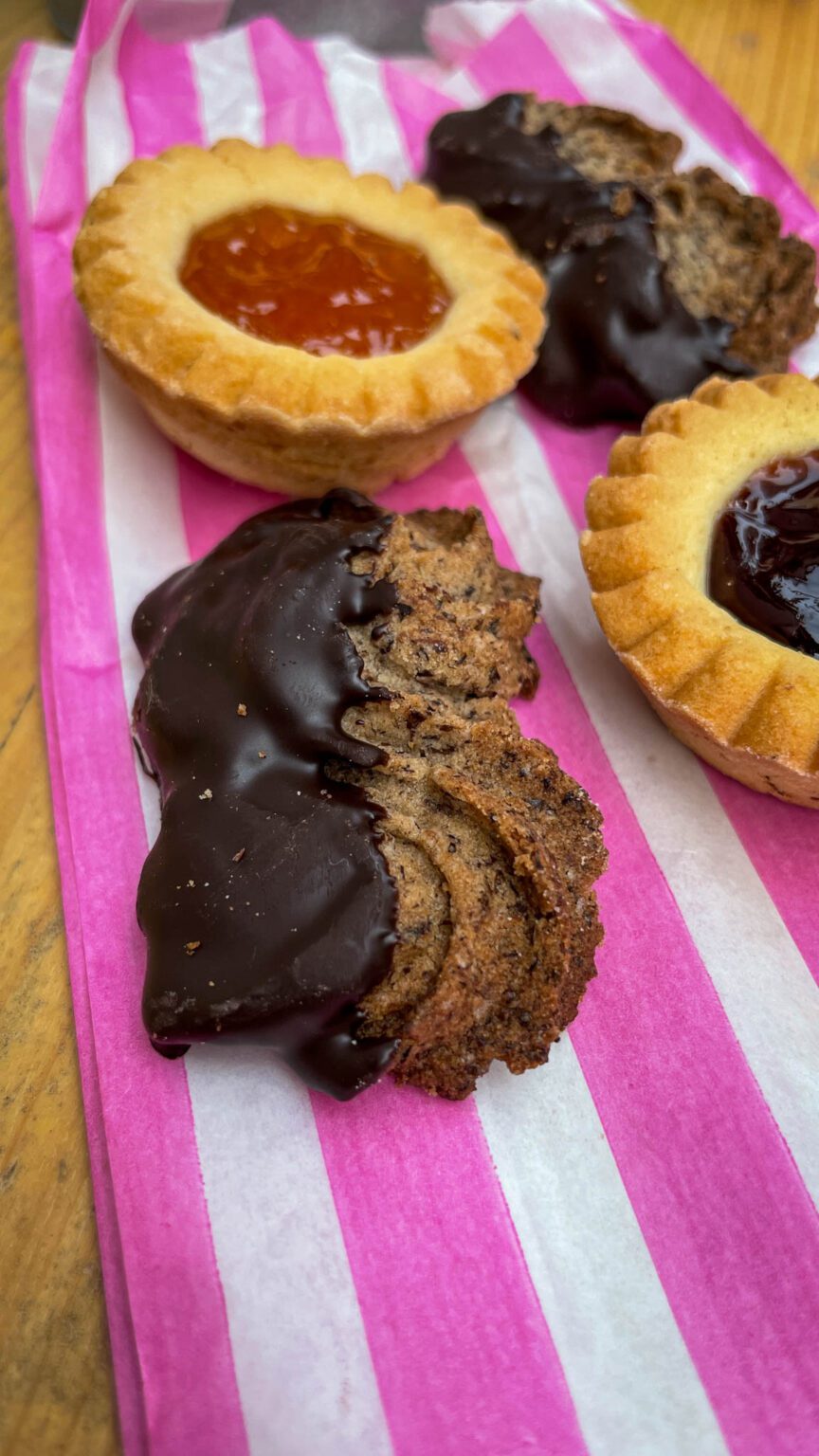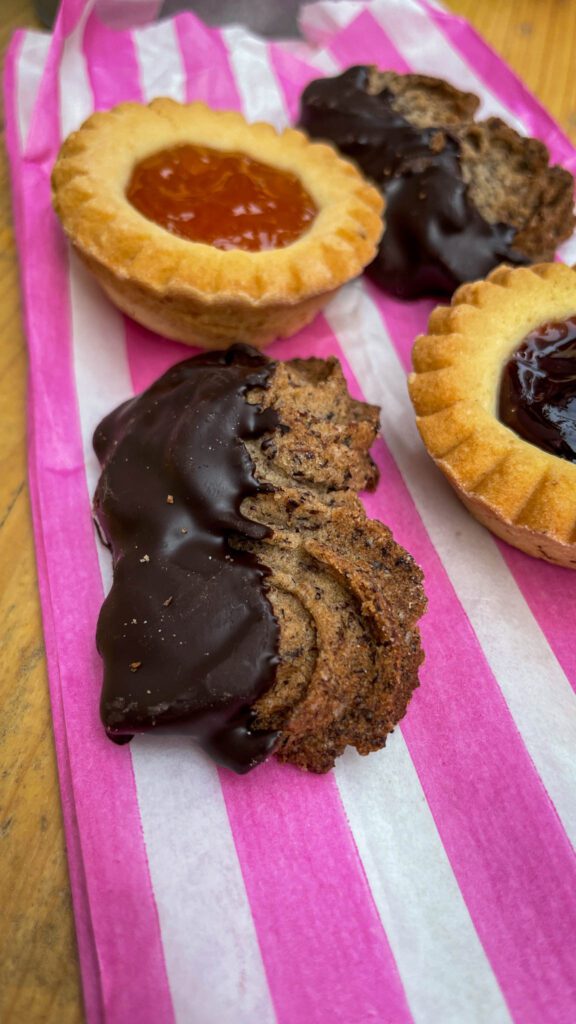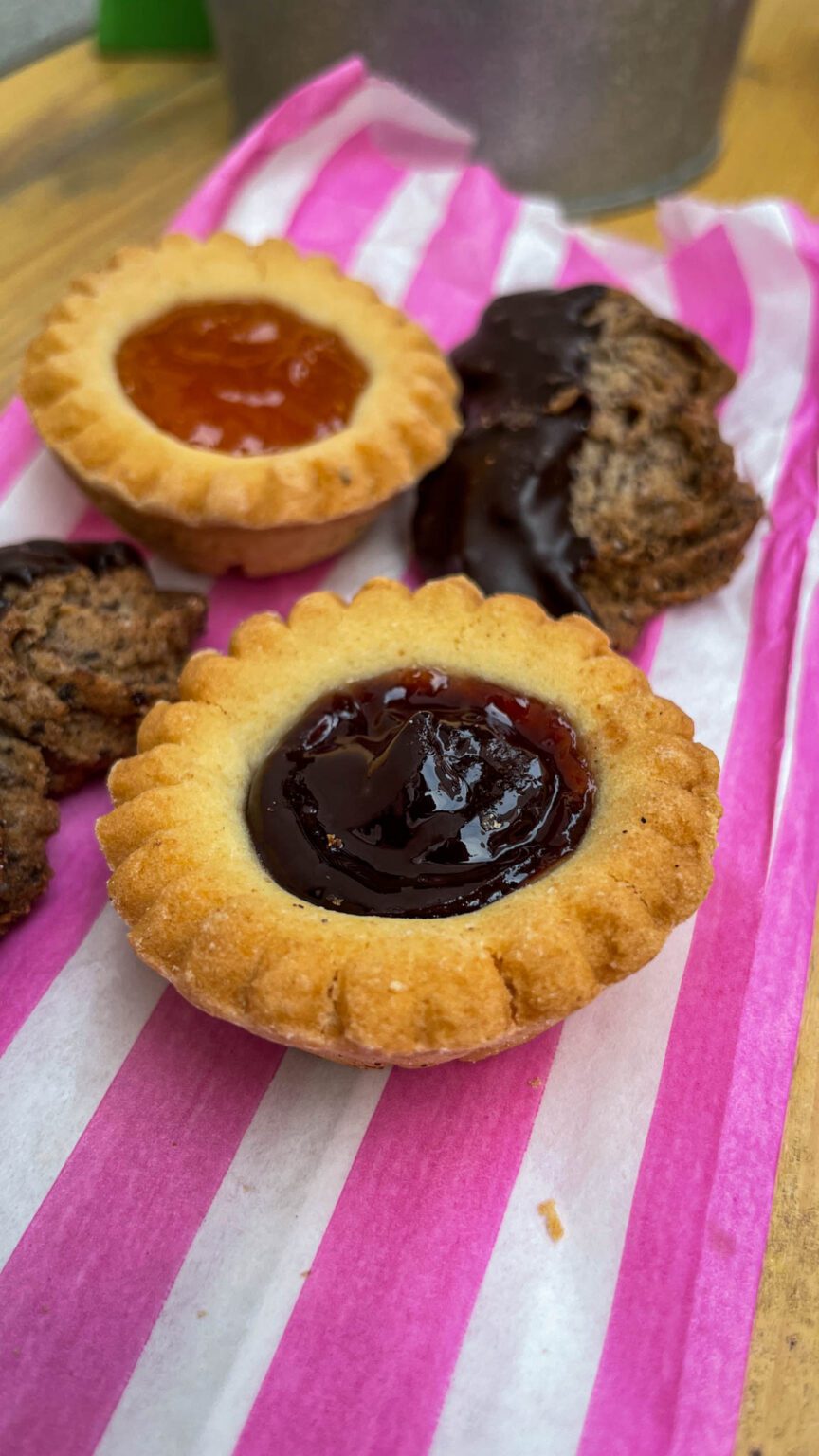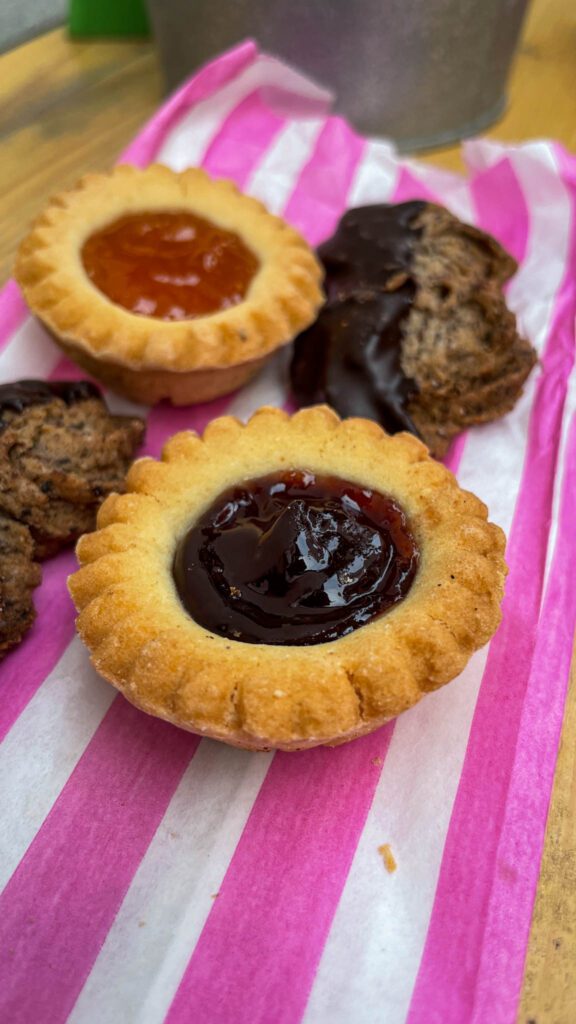 However, while the cookies were great and probably our favorite of the bunch, we also had two Sicilian specialties that we hadn't been able to easily find while we were actually in Sicily. First, a canolo, which is a piece of fried pastry dough stuffed with cream.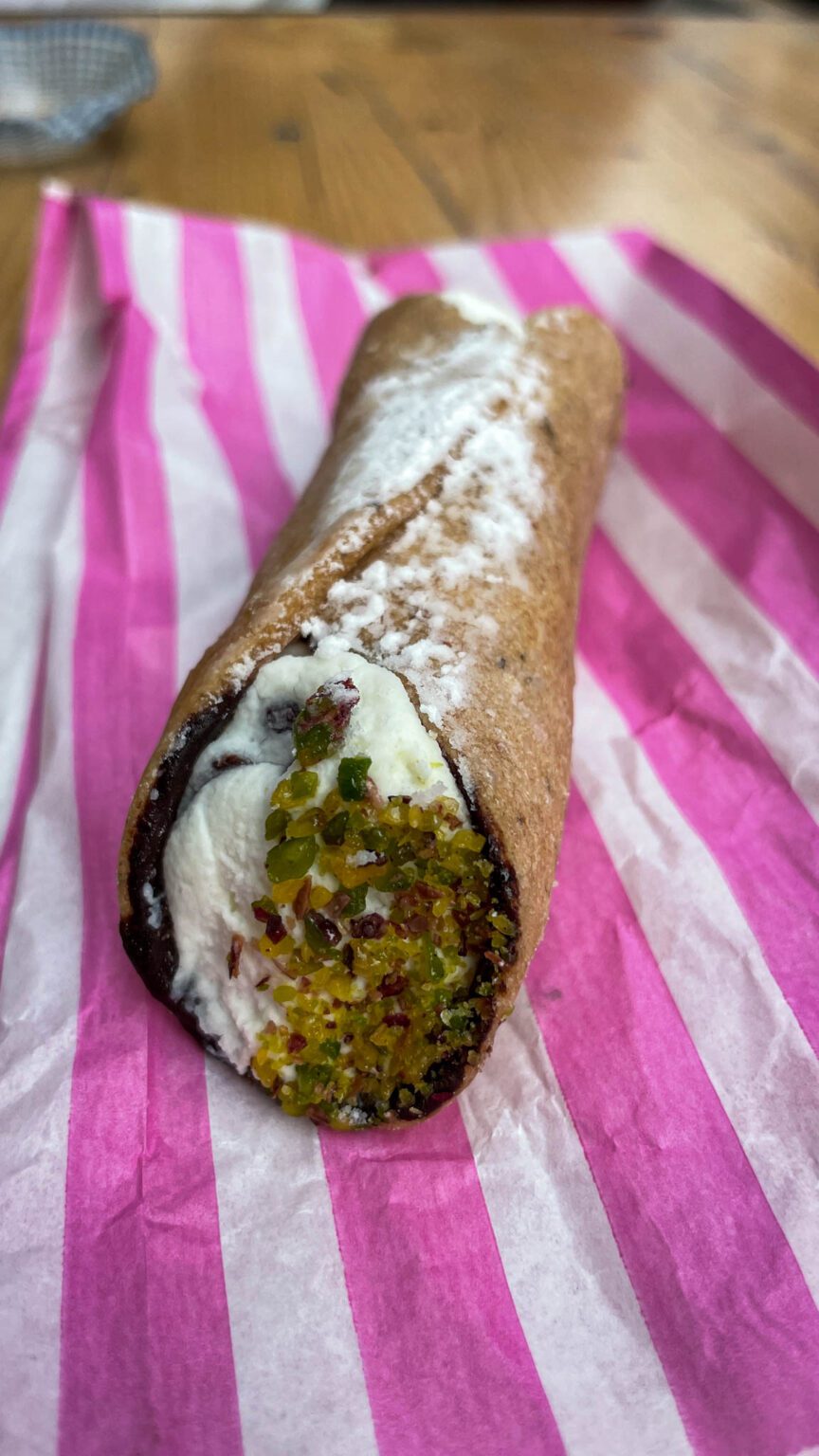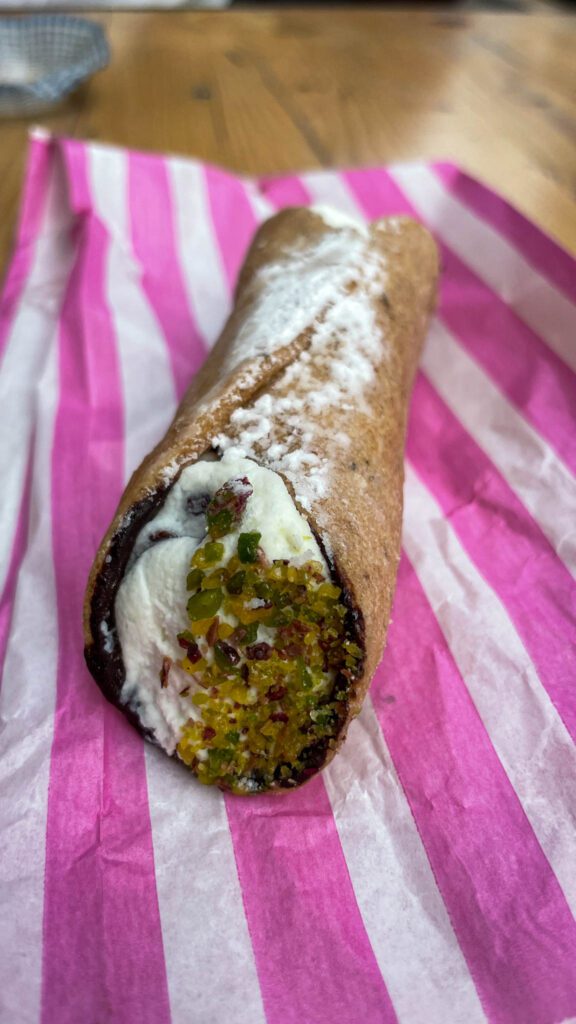 Second is a cassata (or, more accurately, a cassatina), which is a Sicilian specialty that is basically a sponge cake topped with ricotta and fruit juice, then topped with a cherry. It's a little hard to explain, but it tastes a little like marzipan in the balance of sweetness and fruitiness. Here's a couple of pictures, which will hopefully illustrate it a bit better.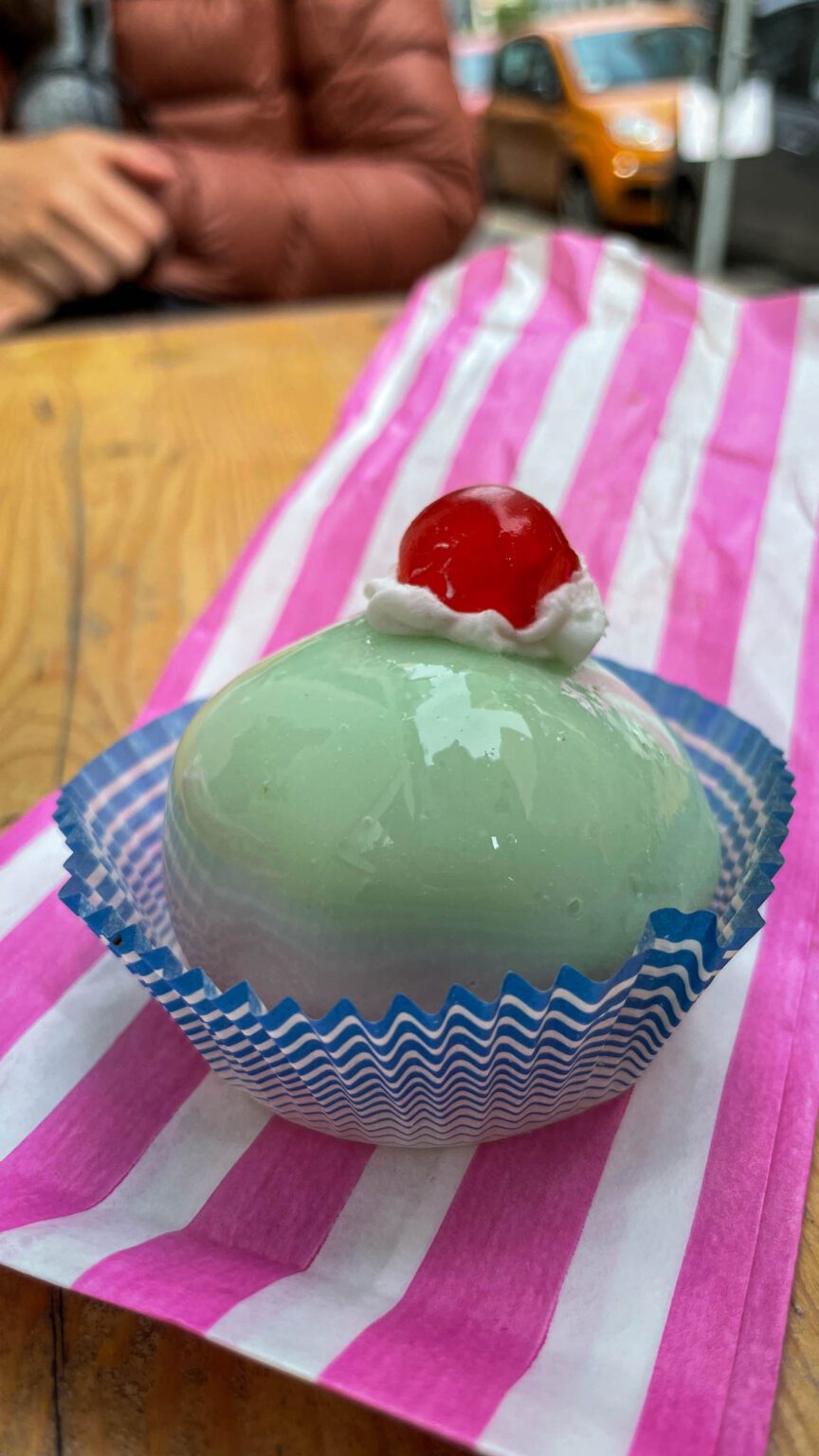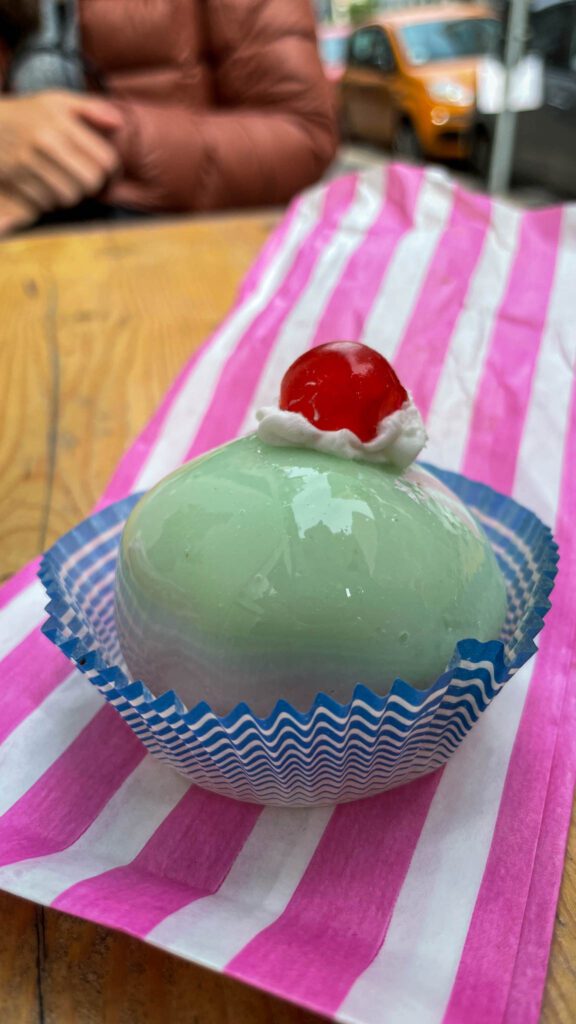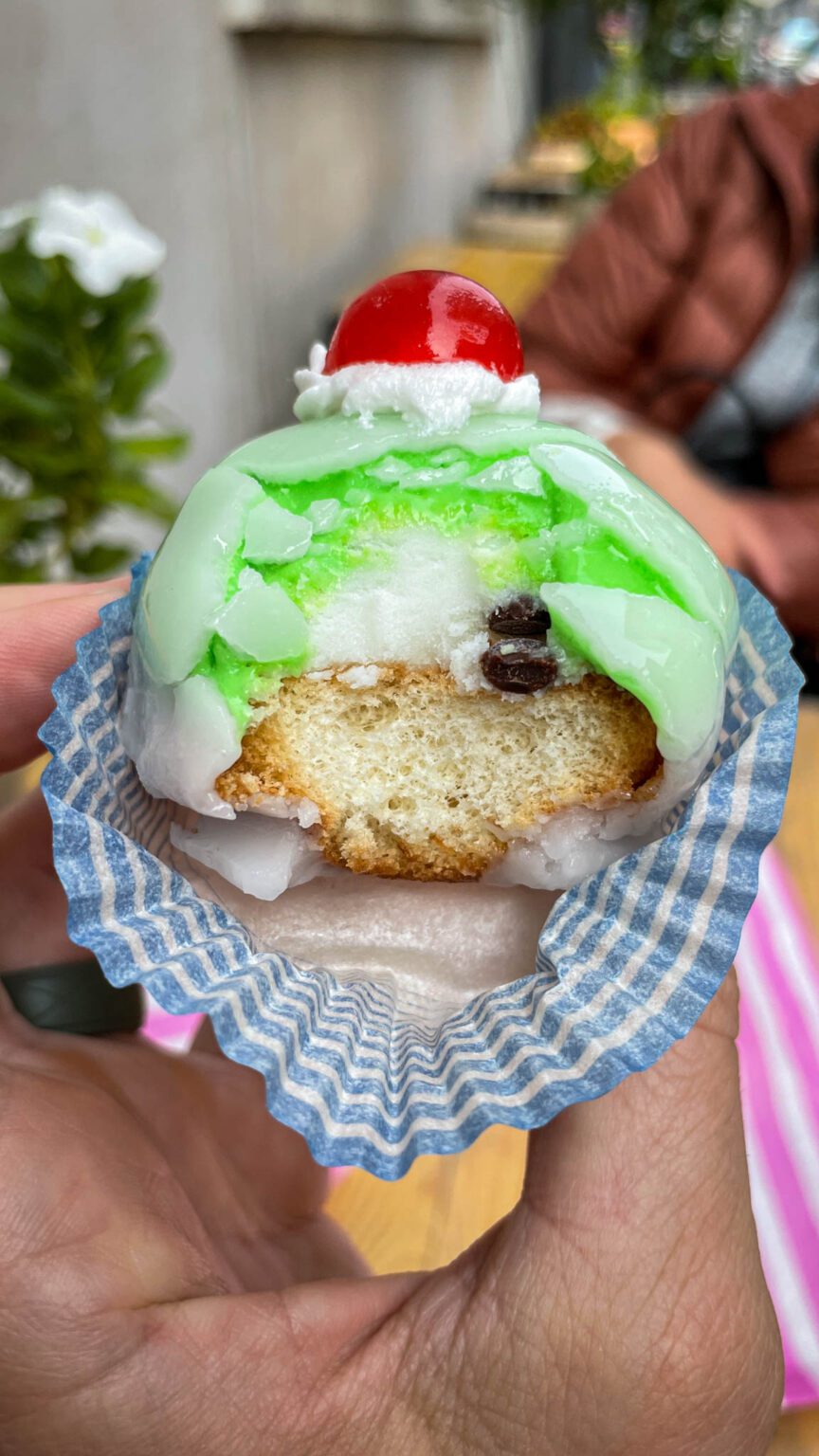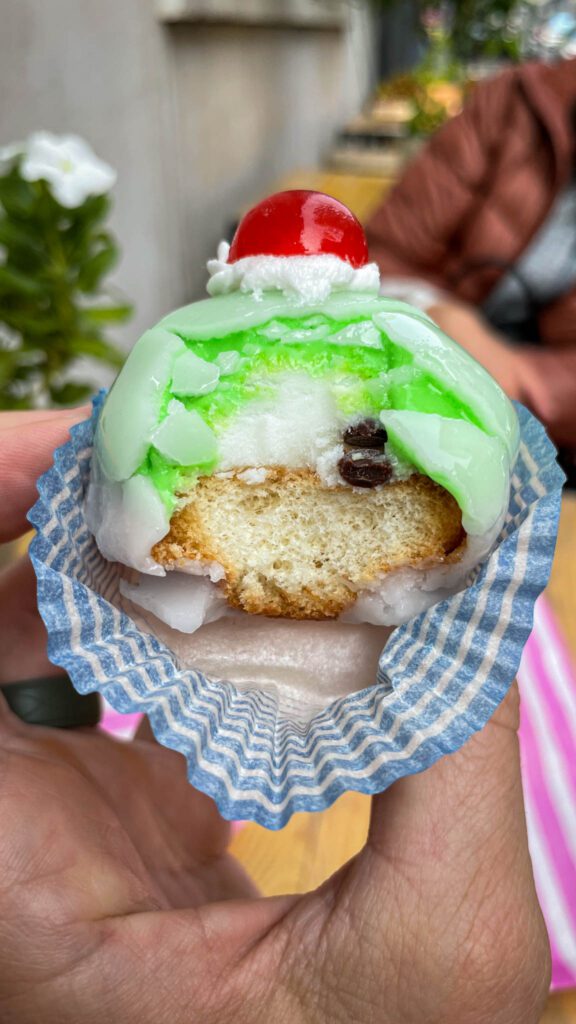 The point is that you should stop by if you're looking for a nice range of pastries and cookies, all made in a dedicated gluten free bakery.
More Gluten Free Travel Guides for Europe
Planning a trip to Europe, but need to eat gluten free? We've spent a fair amount of time in Europe over the past few years, and have written a bunch of in-depth travel guides to the best gluten free restaurants and bakeries in many of our favorite European cities.
AIC Accredited Gluten Free Restaurants in Milan 
Now, this is NOT a comprehensive list of AIC-accredited gluten free restaurants in Milan. This is a list that we put together for our own trip based on what we were interested in, and the ratings for each place on the AIC app.
As a general rule, we didn't eat at places that don't get above a 4/5 on the AIC app (though their review system leaves a bit to be desired, to be honest, because you can't see any detail).
Like I said above, your mileage may vary. Always communicate your needs to the server when you sit down (make sure to tell them you're a Celiac, if you are), and use an Italian gluten free restaurant card if you're concerned about being able to communicate your needs.
Ò Peperino
This is one of those places where we showed up for dinner after looking at their hours in multiple different places, and they were closed despite all indications saying that they should be open. Which was disappointing, especially because I could feel the hangries coming on after a long day of traveling, and I was craving pizza.
Ò Peperino is all about the pizza – specifically, the Neapolitan version of pizza. And it's done in a way that allows Celiacs to enjoy it, with dedicated gluten free equipment, ovens, and fryers and an accreditation from the Italian Celiac Association.
Here's a blurb from their website: "In fact, an oven, a mixer, a fryer and a kettle, an entire area in the fridge, in the pantry and the entire pastry area are dedicated to gluten-free."
When you sit down, the first thing you should do is let your server know that you have Celiac Disease, and need to eat "senza glutine." And confirm again when they bring your food by saying "questo è senza glutine?"
There are a few things on the menu that aren't available gluten free, but most of the menu including all pizzas and calzones are available gluten free. Their beers, which they call gluten free, are gluten-reduced, which means Celiacs shouldn't drink them.
Mama Eat
Mama Eat is a famous gluten free restaurant in Rome (at least among the Celiac crowd) for their ability to cater to Celiacs with two separate kitchens and an extensive gluten free menu. They also have a location in Milan!
We didn't make it there, which isn't a huge deal considering we've been multiple times in Rome, but it's a good option for solid Italian food made safe for Celiacs. Their pizzas are the highlight, at least for us. Get the Diavola.
Maison Bretonne
This was a frustrating one, because we showed up for an early lunch only to find that their hours had changed and they weren't open yet, but it ended up working out in the end because missing out on Maison Bretonne meant we had more room for the gluten free bakeries above.
Maison Bretonne is known for their savory galettes, which unlike their crepe cousin (which is made from wheat flour, usually) are traditionally gluten free because they're made with buckwheat flour (which IS gluten free, despite "wheat" being in the name).
Now, that doesn't always hold true – lots of places use a blend of wheat and buckwheat – but not Maison Bretonne!
The other thing to watch out for is cross-contamination, where crepes and galettes are made on the same griddle. Again, not so at Maison Bretonne! They're AIC-accredited, and have separate prep areas for the buckwheat galettes and the sweet crepes they make. 
There is a small risk of cross-contamination with the couple of non-gluten free galettes they make (one has a bechamel sauce, which isn't gluten free), but I believe that risk is relatively low.
Where to Find Gluten Free Groceries in Milan
If you're staying in an apartment or hostel with a kitchen in Milan and you want to cook for yourself, you'll have plenty of options when it comes to grocery stores.
First, there are two places where you can find a wide selection of gluten free groceries – and ONLY gluten free groceries. Think of them as dedicated gluten free grocery stores.
The first is Via Dalla Spiga, which is a gluten free bakery / supermarket in western Milan, just a few blocks from where you'll find the Last Supper.
The second is aptly-named Milano Senza Glutine, which is a little bit out of the way if you're short on time in Milan, but has a wide variety of different gluten free products including breads, pastas, sweets, and more. They also have some fresh products – breads, pizza, and more – but the huge selection of pre-packaged foods is really the highlight.
As far as normal grocery stores go, we had good success at Carrefour Express in Milan (and all over Italy), but they don't usually have a dedicated gluten free section, so you might have to hunt around the store for gluten free items mixed in with the rest. Still, the selection at Carrefour was the best in our experience.
Pam Local is the second regular supermarket I'd point you towards, and they have two locations in central Milan.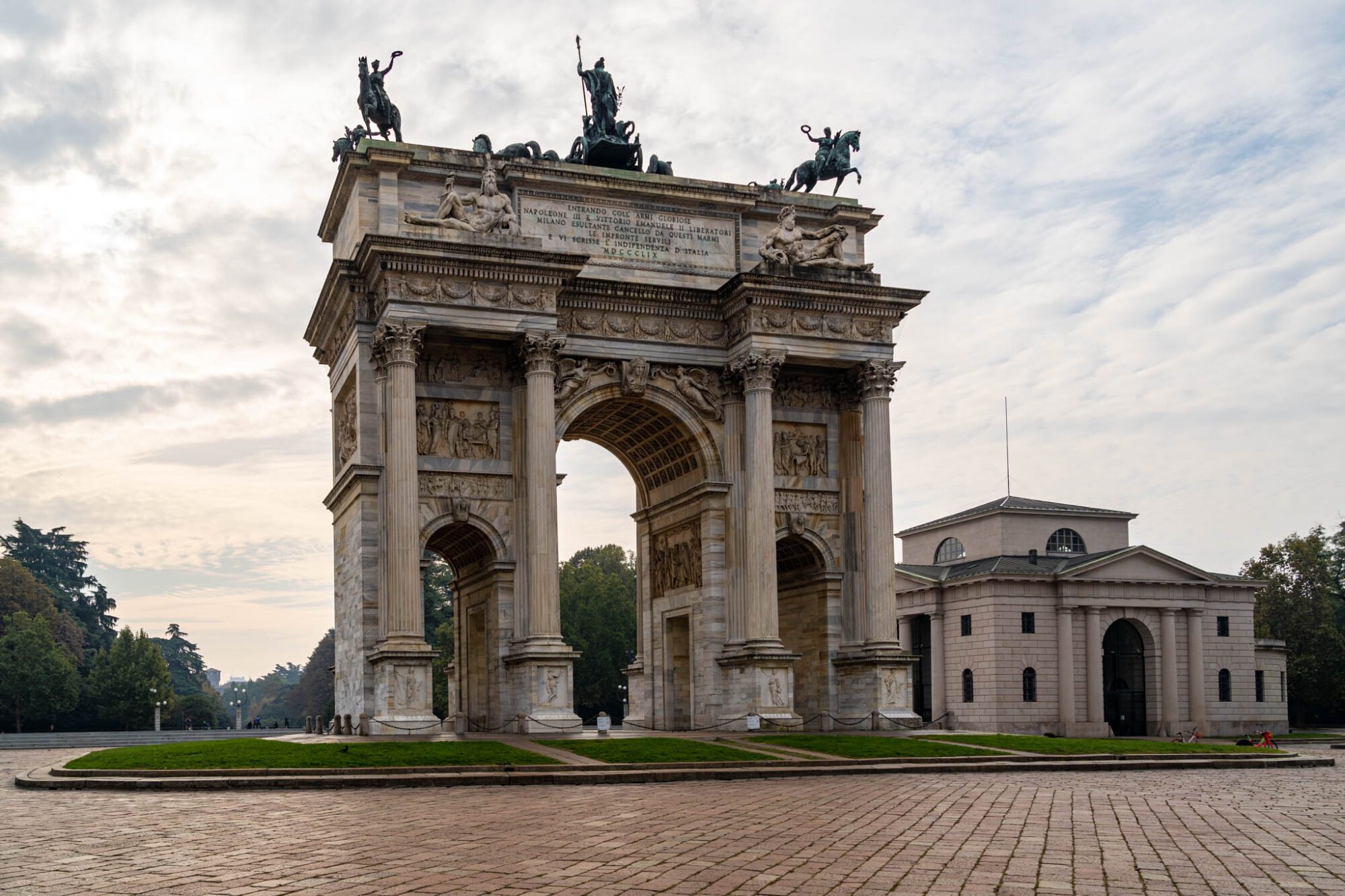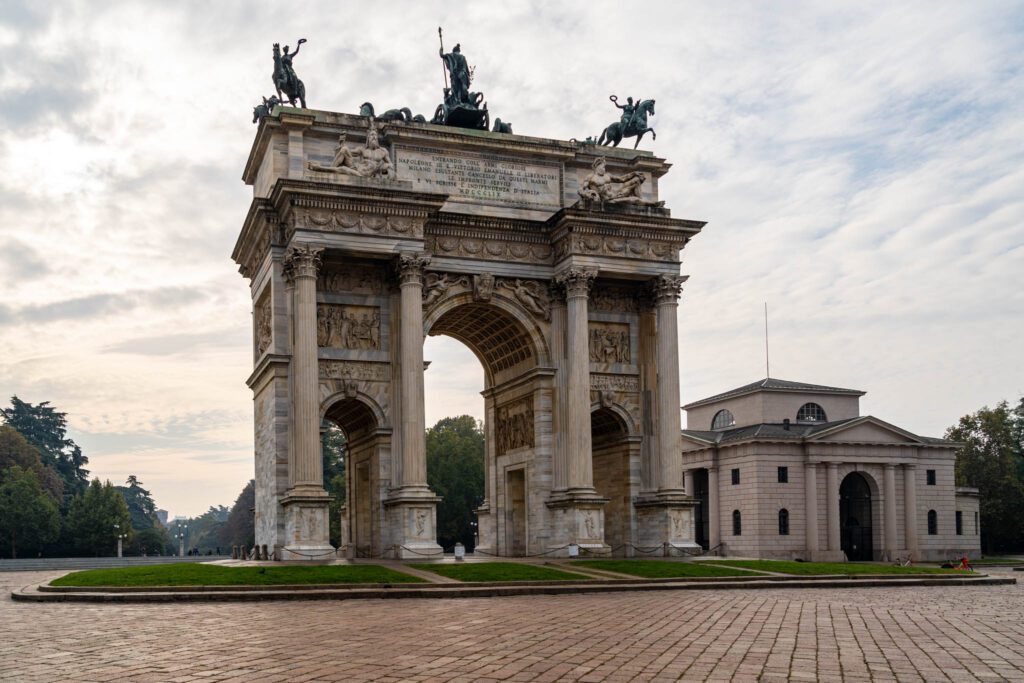 ---
Heading to Italy?
We've been to Italy multiple times – obviously we love it – including more than a month on our last trip!
If you enjoyed this guide and found it helpful, you definitely won't want to miss our detailed guide to planning an amazing 10 Day Italy itinerary, which covers Rome, Florence, and Venice and is perfect for a first trip.
We also have a guide to spending two weeks in Italy, which combines those three main cities with a few lesser known cities (Bologna and Verona), or a guide to spending one week in Italy, which has six different ways to spend 7 days.
Here are some of our other Italy guides to help you plan an incredible Italian adventure.
Rome:
Florence:
Venice & Milan:
Cinque Terre:
Sicily:
Need to Eat Gluten Free in Italy?
If you're traveling and need to eat gluten free like me, Matt (I have Celiac Disease, which is why I started this site in the first place), then you'll want to check out our gluten free guide to Italy, along with our city guides for Rome, Florence, and Milan to help you find the best gluten free pastries, pizzas, and more.