How to Plan an Incredible Oregon Road Trip Itinerary
When we quit our jobs in February 2020 to travel the world after years of talking about it, saving money, and spending hours planning our trip, Oregon barely made the list. We figured, sure, it looks nice, let's spend a week in Oregon on our way up to Seattle. We were lucky enough to spend six whole weeks on an Oregon road trip that summer after we had to scrap all of the plans we had made, and it taught us an important lesson: you don't need to fly halfway around the world to find wild and beautiful places – sometimes they're right in your backyard the whole time.
Having grown up in Washington State and California, Oregon was on our radar as an amazing place to visit, but there were so many other places we wanted to go that it continually got pushed down the list.
Oregon is an incredible state, and it reminded us a lot of California. You have the stunning coast, an incredible mountain range, and forests as far as the eye can see. We spent six weeks in Oregon, and still felt it was not enough time to see everything that this beautiful state has to offer.
This two week Oregon road trip itinerary moves quickly to fit in all the best sights in Oregon, from Crater Lake, to the coast, to Hood River, and everything in between.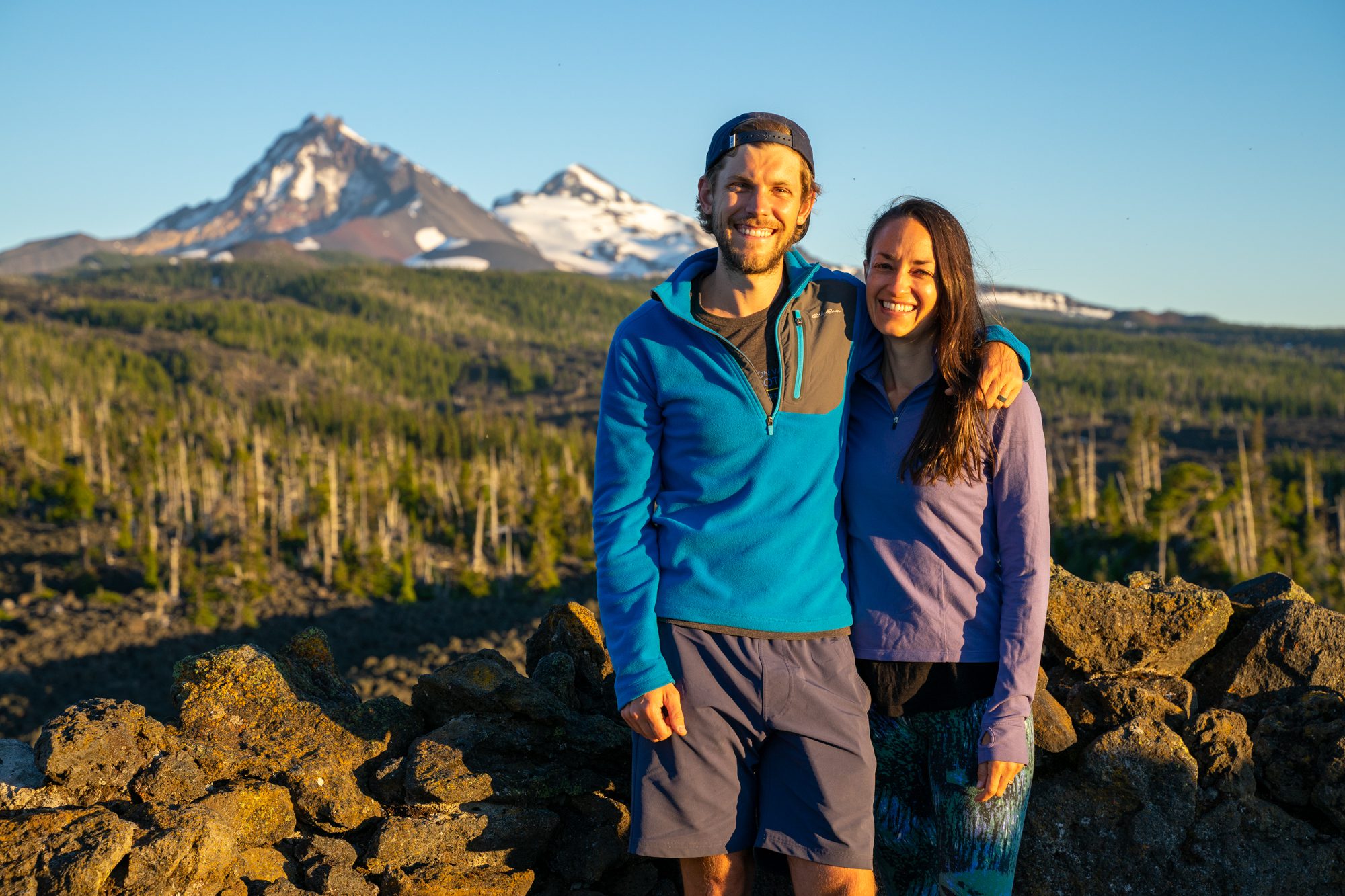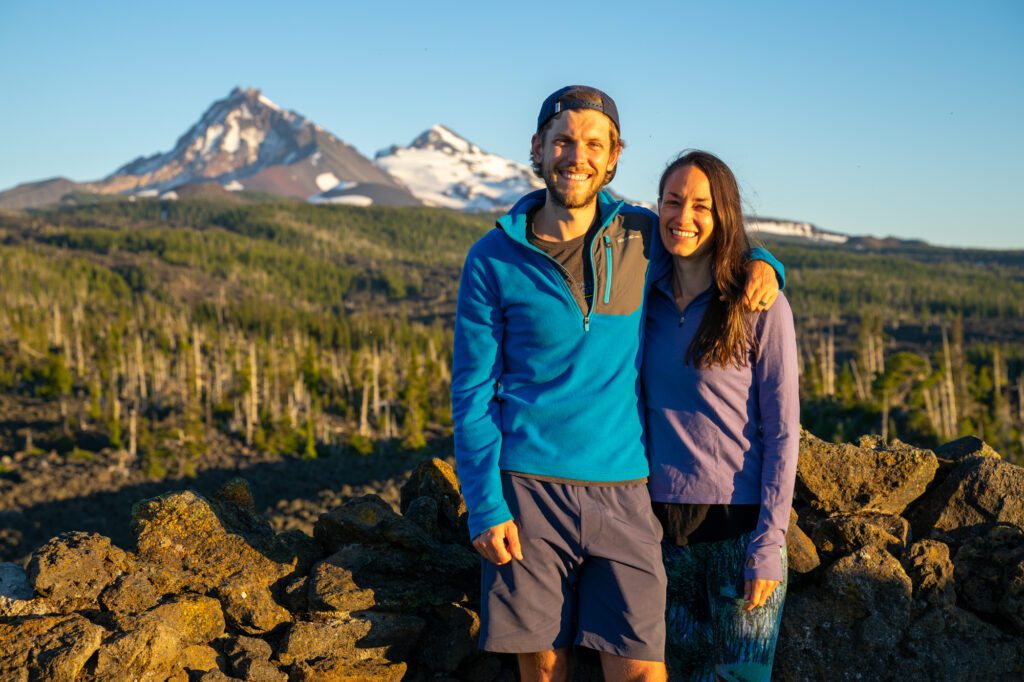 In this guide, you'll find:
10 amazing stops in Oregon
Our recommendations on how much time to spend at each stop
What to do, see, eat, and drink at each stop
How to bring it all together in one big loop
This guide is written for 14 days. If you have more time, we have some suggestions on where to spend it based on our own experiences in Oregon.
Check out our guide to the 19 best Airbnbs in Oregon to find the perfect getaway in the mountains, on the coast, or in Oregon's coolest cities and towns.
Disclaimer: Some of the links in this post, like hotel links, are affiliate links, meaning at no additional cost to you, we make a little bit of money if you click through and book. That being said, we would never recommend something to you that we don't stand behind 100%.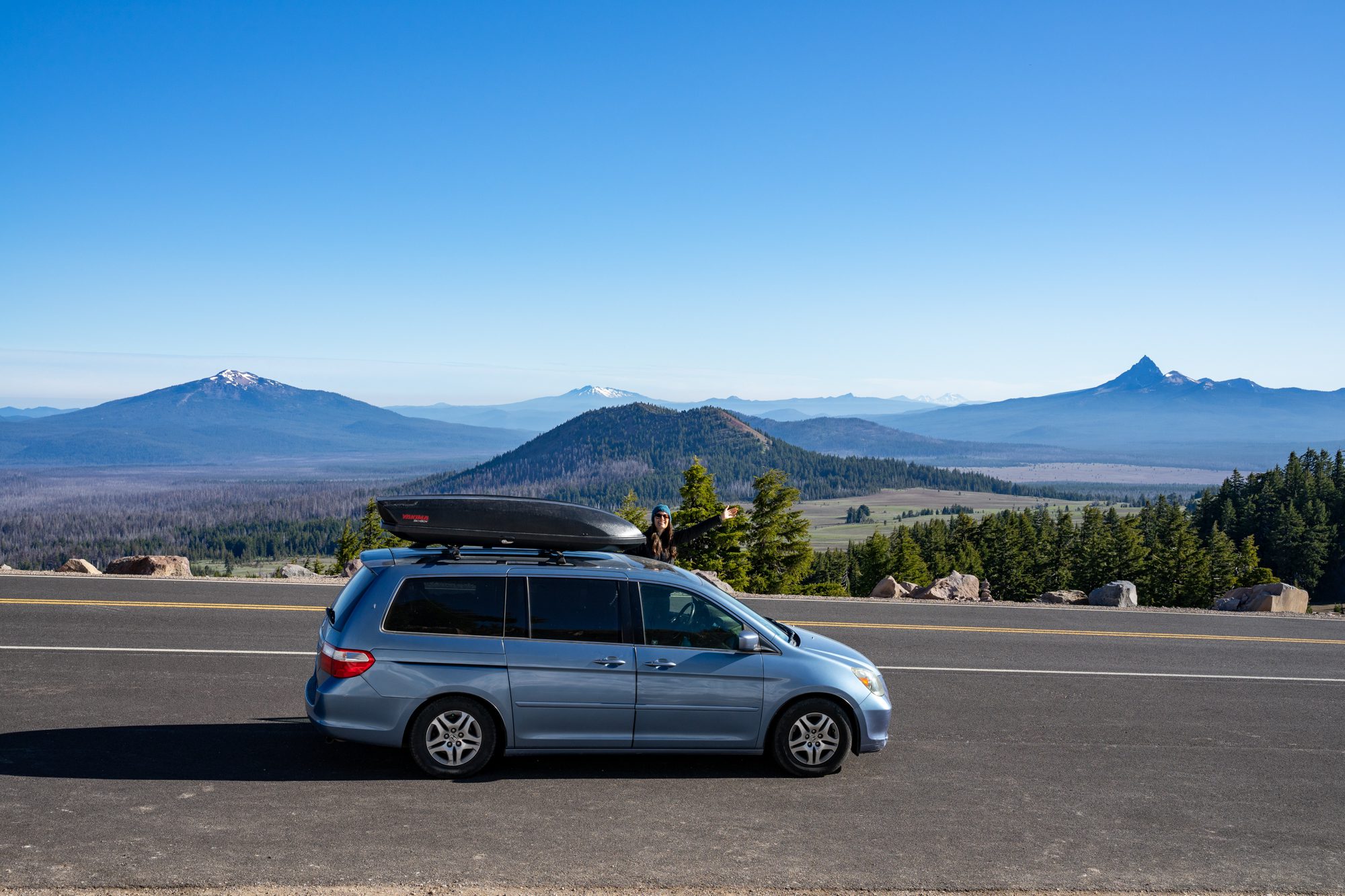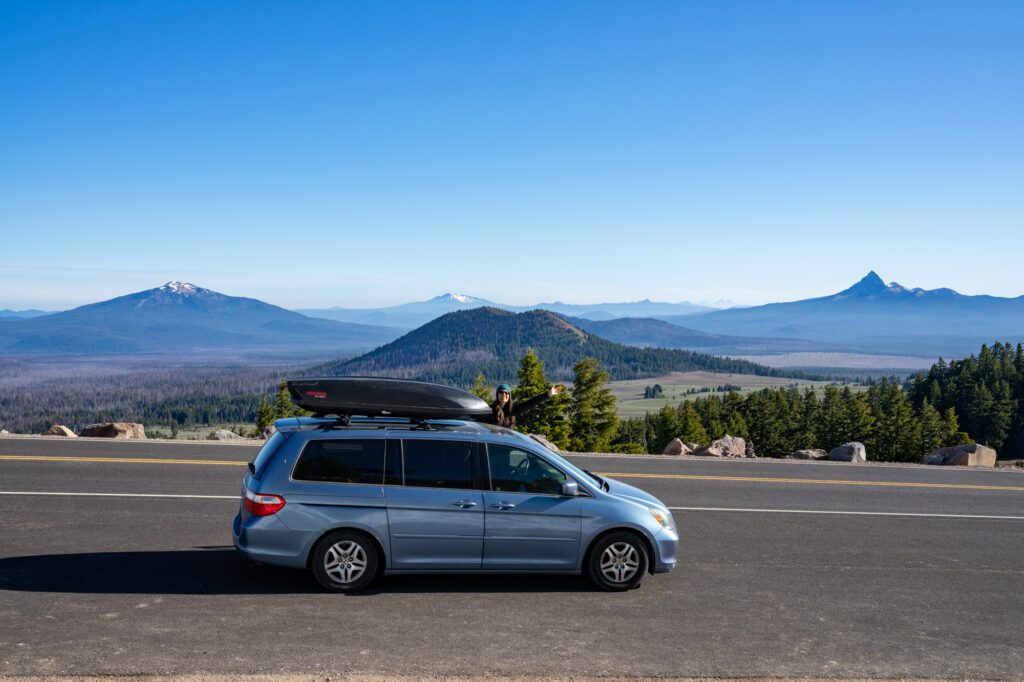 Where to Start & End Your Oregon Road Trip
The obvious answer here is Portland, Oregon, and that's exactly what we'd recommend. If you fly in and out of Portland International Airport (PDX), you'll be able to make a big loop down the coast, over to Crater Lake, and back up the central corridor to Hood River before returning to Portland.
You'll want to book an early flight into Portland, and the latest flight out on your last day to give yourself the most time to explore.
A Complete 14 Day Oregon Road Trip Itinerary
Here is an overview of this Oregon road trip itinerary, which you'll find in painstaking detail below.
We're assuming you have 14 days, and we're going to lay out the best way to spend that time to see the best places in Oregon.
If you have less time, I'd STRONGLY recommend that you don't try to do it all. Either focus on the Oregon Coast + Portland + Hood River, or Hood River + Mt Hood + Bend + Crater Lake.
You'll need to make a gigantic loop around the state. And you won't have nearly enough time to see EVERYTHING in each of those places, but 14 days gives you a good starting point. You're going to have to pick and choose where to spend more or less of your time based on your interests. Don't worry, we'll give you options.
Here's what a 2 week Oregon road trip would look like if we had to do it over again.
Day 1: Arrive in Portland, Explore Portland
Day 2: Northern Oregon Coast: Astoria + Cannon Beach
Day 3: Middle of Oregon Coast: Tillamook, Cape Kiwanda, Cape Perpetua, Sleep in Eugene
Day 4: Eugene + Drive to Crater Lake National Park
Day 5: Crater Lake National Park
Day 6: AM in Crater Lake + Drive to Bend
Day 7: Bend, Oregon
Day 8: Bend, Oregon & Deschutes National Forest
Day 9: Smith Rock State Park + Drive to Government Camp
Day 10: Mt. Hood
Day 11: Hood River
Day 12: Hood River + Columbia River Gorge, Sleep in Portland
Day 13: Eat & Drink Your Way Through Portland
Day 14: Portland + Fly Home
And here's the map of where you'll go on this big loop of the best places in Oregon.
If you only have 10 days: Cut out Crater Lake, which is a bummer, but it's so far out of the way that it will make it hard to complete the loop. Instead, cut over from the Oregon Coast to Bend over the McKenzie River Scenic Byway, which heads out to the east from Eugene. You'll also need to cut a day in Hood River or Mt Hood, depending on what your interests are. Here is what that route looks like – although that map has you going a different route to Bend because right now, that area is recovering from a big fire in the summer of 2020.


If you only have 7 days: You will not be able to do both sides of this Oregon loop with only one week. Period. Instead, we think you should focus on the coastal loop (map here – plus, you should add a day trip down to the southern Oregon Coast!), or the central route (map here). Both of those are worth spending a full week on, and you'll have plenty of time to come back and explore next time.
Now onto the details that will make or break your trip!
Day 1: Arriving in Portland
We looooveee Portland. It's full of amazing (gluten free) food, specialty coffee on every corner, donuts of all shapes and sizes, and the best independent bookstore in the country. So basically, everything we like. You'll return to Portland for two days at the end of your itinerary, so I wouldn't worry too much about running around and seeing everything on this first day.
What I would do is book the earliest flight possible. You'll want to have plenty of time to get in, pick up your rental car (which you'll absolutely need for this road trip), and settle into your accommodations before heading out for happy hour and dinner.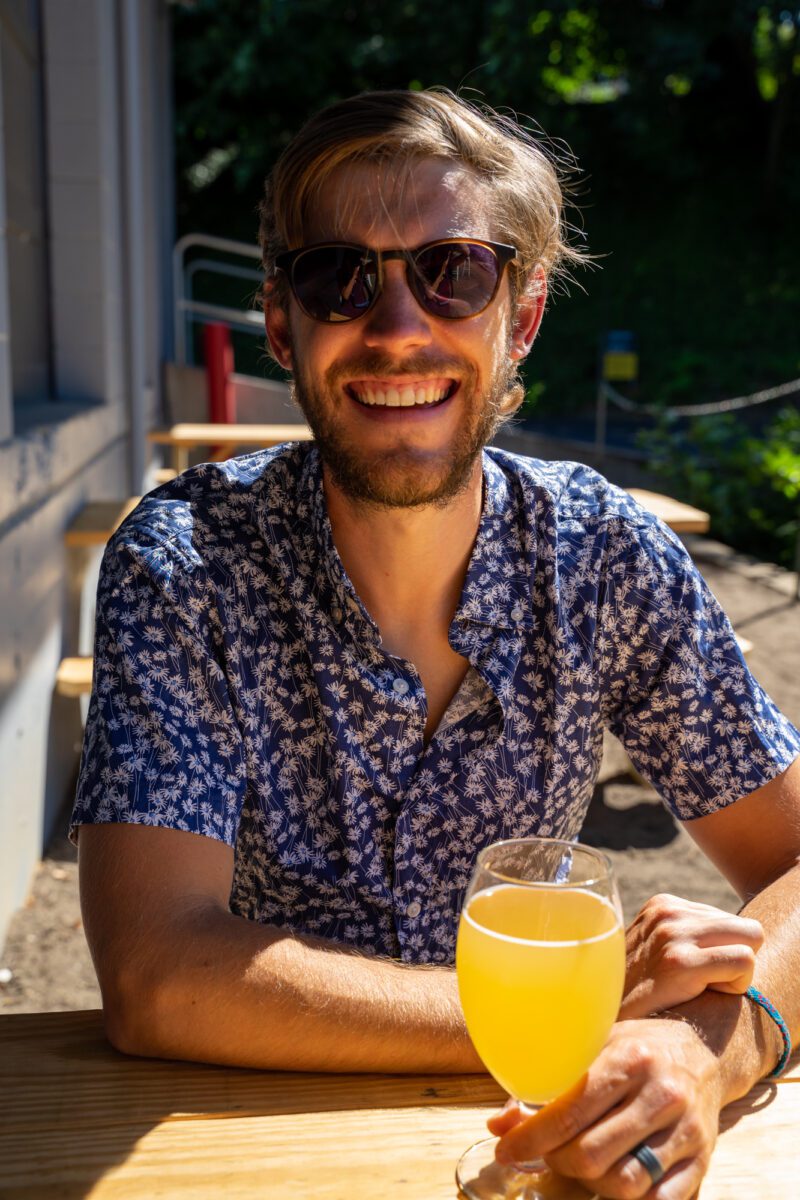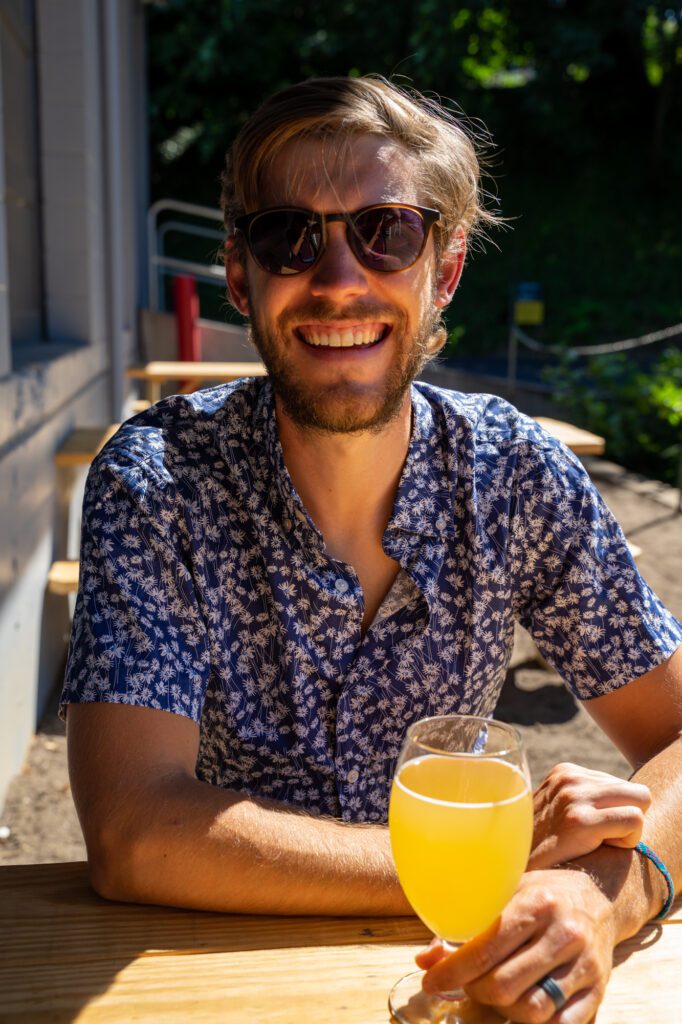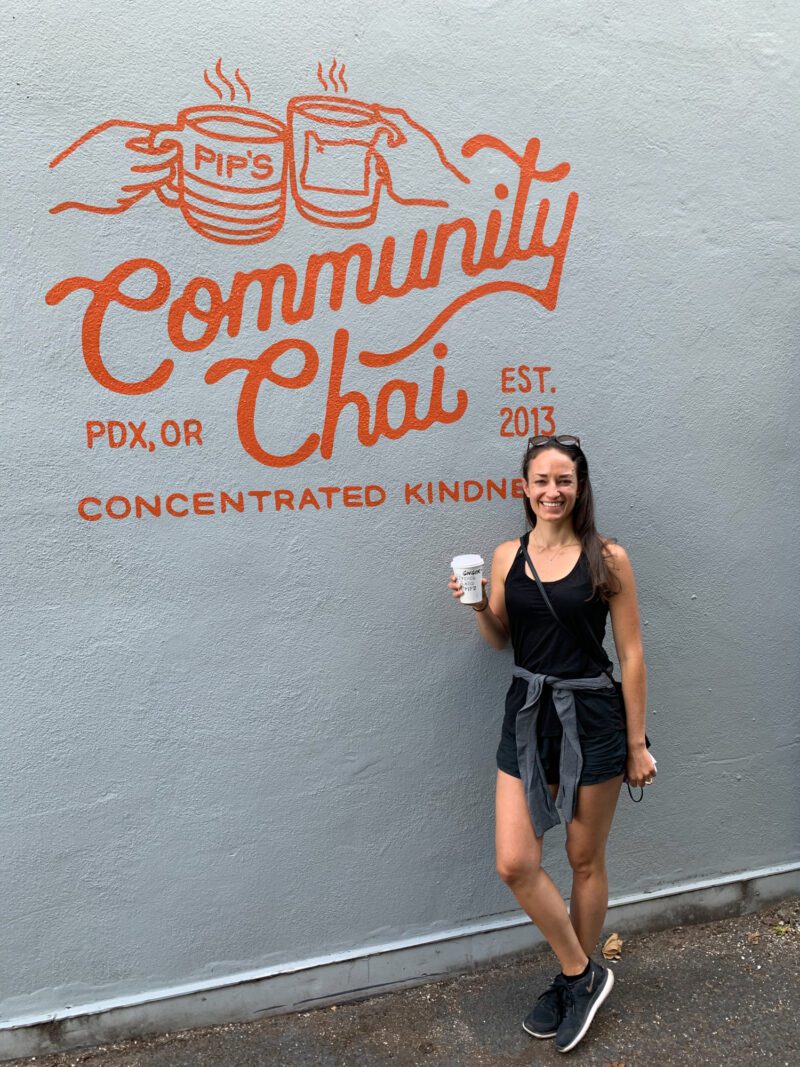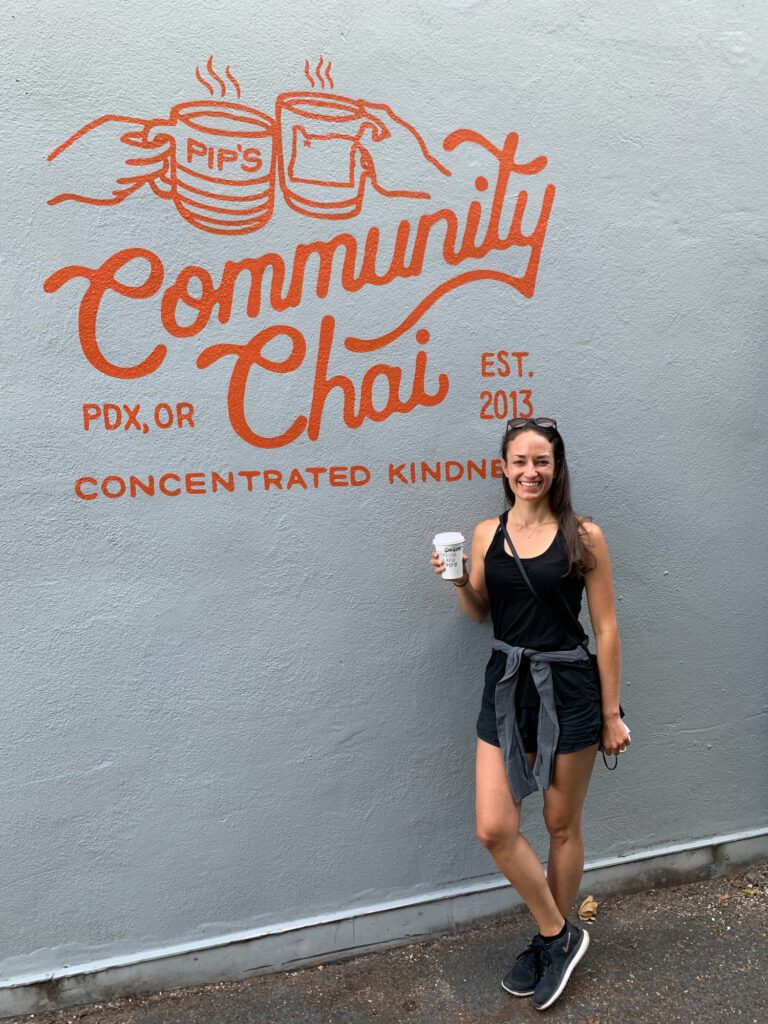 Where to Stay in Portland
Since you'll be taking off in the morning to start your road trip, I'd recommend choosing one of the many cool hotels in Portland for the night rather than an Airbnb. Usually, the Airbnb cleaning fee makes a single night stay more expensive than a hotel.
Best Hotels In Portland: Choose either the Hoxton Portland (Hoxton hotels are one of my favorite blends of value and style) or the Sentinel Hotel, which are right downtown near Powell's Books. Or choose the Jupiter NEXT Hotel, which is on the other side of the river near my favorite part of Portland.


On a Budget? For a great value, choose the Society Hotel. We've stayed there, and they have room options ranging from hostel-style dorms, to private rooms with a shared bathroom, all the way to suites. It's going to put you right in the middle of all the action near Downtown Portland.


Want a Unique Stay? Look at the Caravan Tiny House Hotel. When in Portland, right? I don't know about you, but we're always on board for a good tiny house.
Pssst! We have an entire guide dedicated to the best places to stay in Portland based on our 5+ trips there in the past five years or so.
What to Do for the Evening in Portland
Head out to grab dinner and drinks in what might be the best food city on the West Coast.
For pre-dinner drinks
For cider: I love Schilling Cider, and their taproom in Portland has an outdoor area, features 40+ taps of different kinds of cider (all helpfully labeled to help you find one you'll like), and a 100% gluten free kitchen with CORN DOGS. My other top picks would be Alter Ego Cider (their rose cider is one of our favorites), Reverend Nat's Cider, and Portland Cider Company.


For beer: I have Celiac Disease, which means I can't have any gluten or I'll get super sick. Lucky for me, there's an incredible gluten free brewery in Portland called Groundbreaker Brewing. If you avoid gluten and love beer like me, that's the spot for you. Regular breweries? I haven't got a clue. But here's a beer-lover's guide to the best breweries in Portland for you.


For the views: The Departure Lounge has solid cocktails and is on a rooftop in Downtown Portland.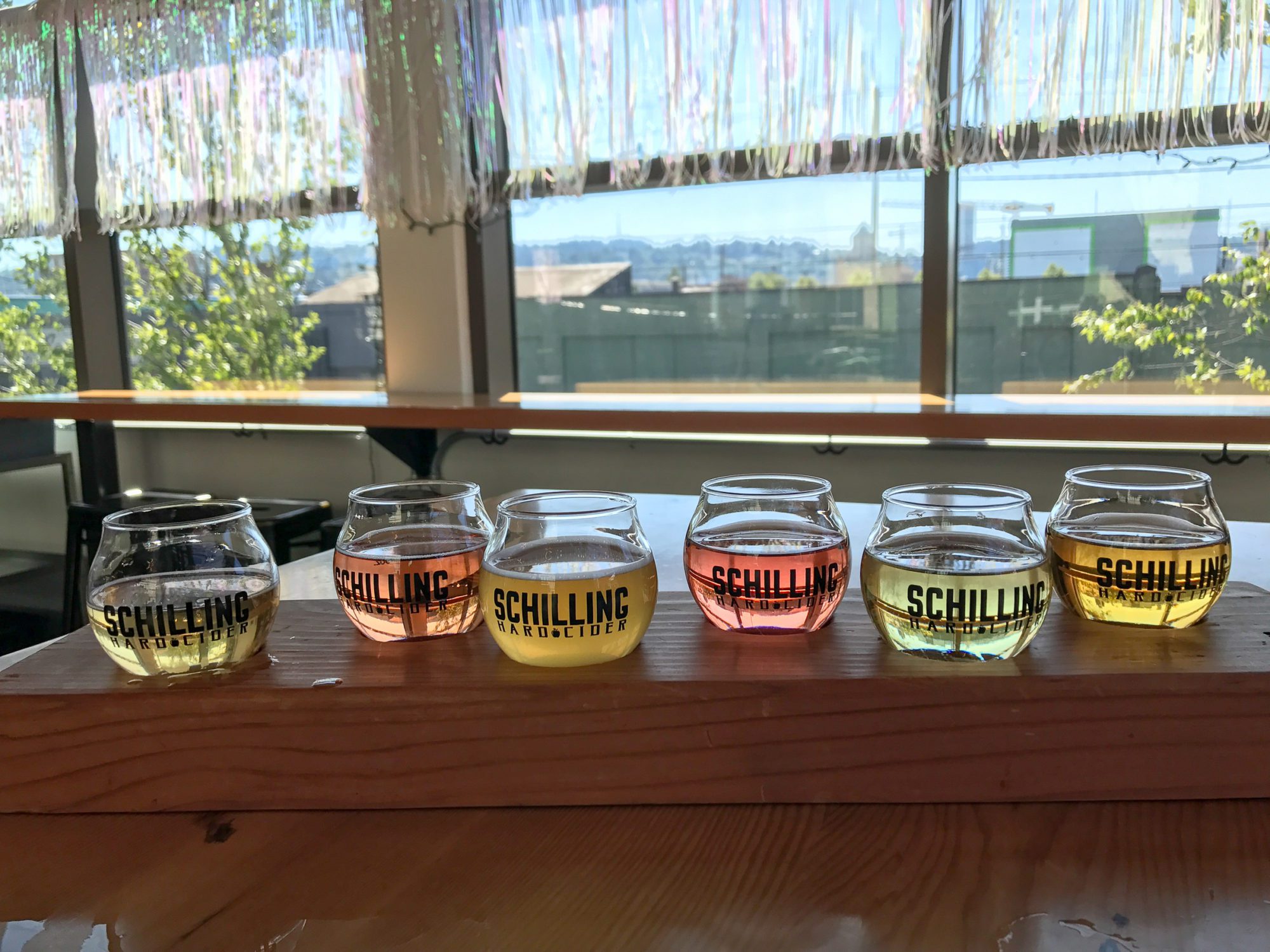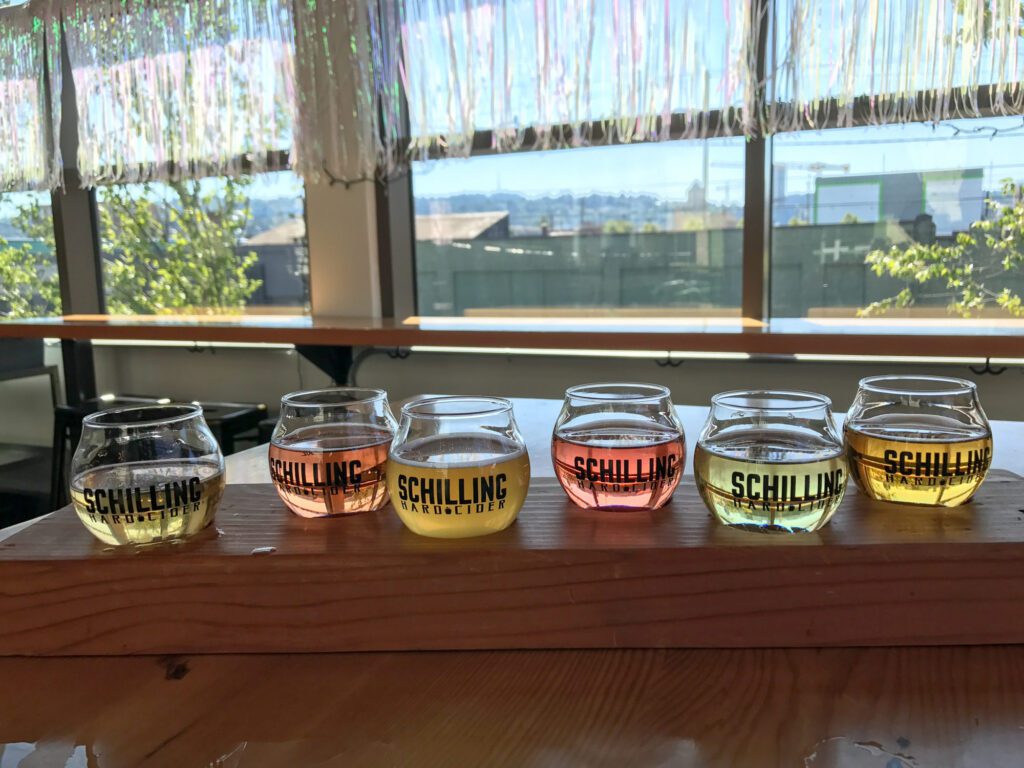 For Dinner
For dinner, you've got plenty of options. Most of them happen to be on the east side of the river, which is my favorite area in Portland.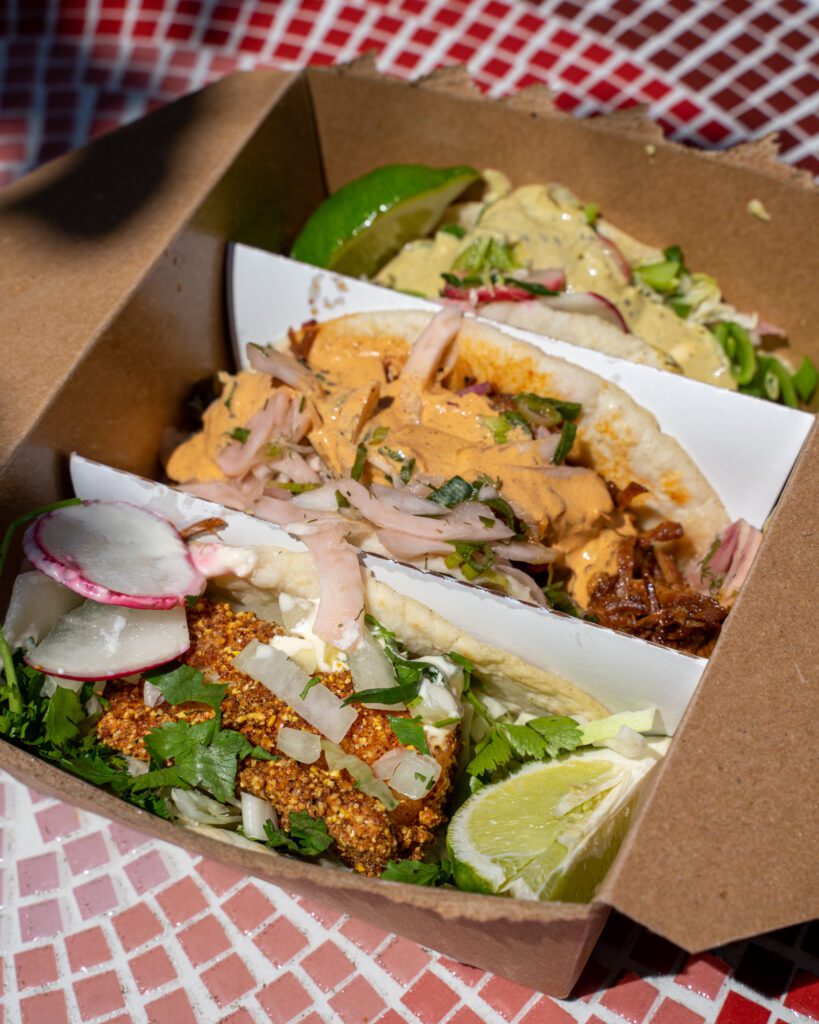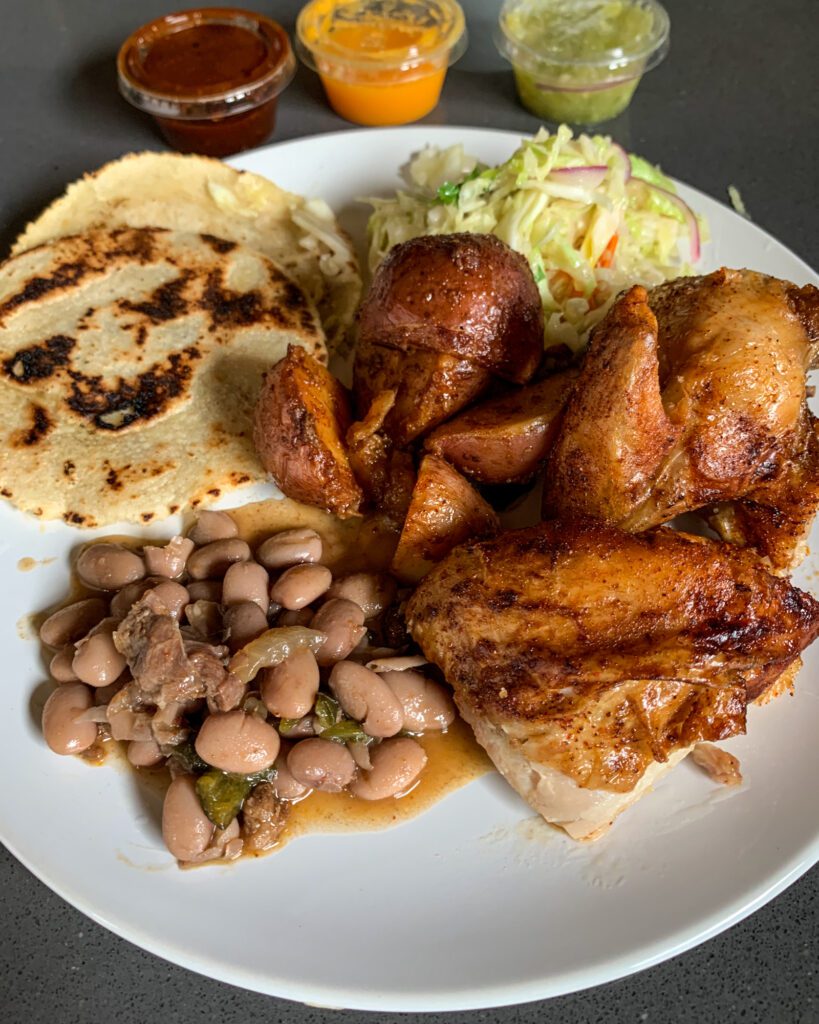 Don't worry about skipping some of the other sights in Portland, we'll get them when you come back to catch your flight home.
Day 2: Northern Oregon Coast – Astoria + Cannon Beach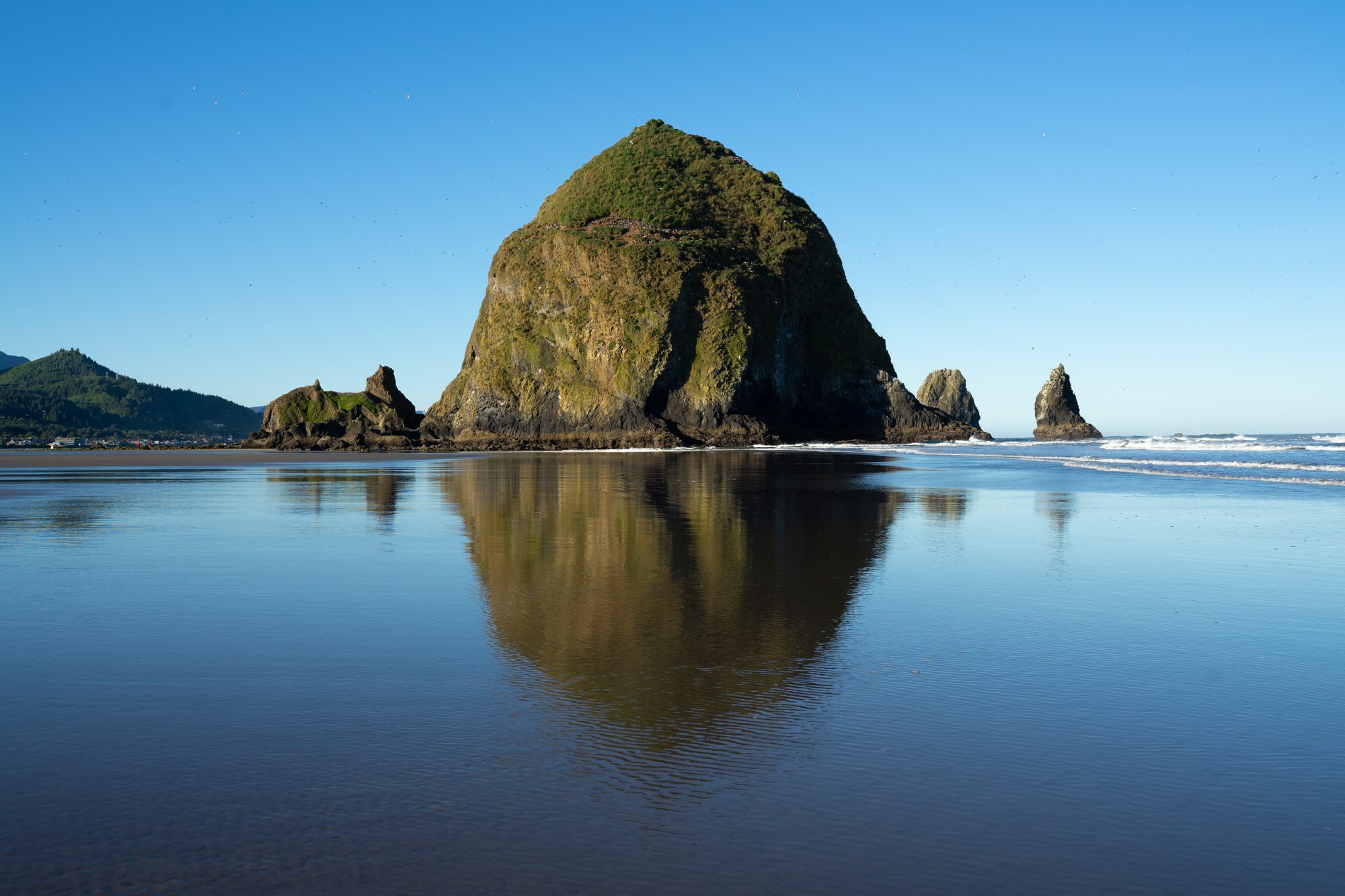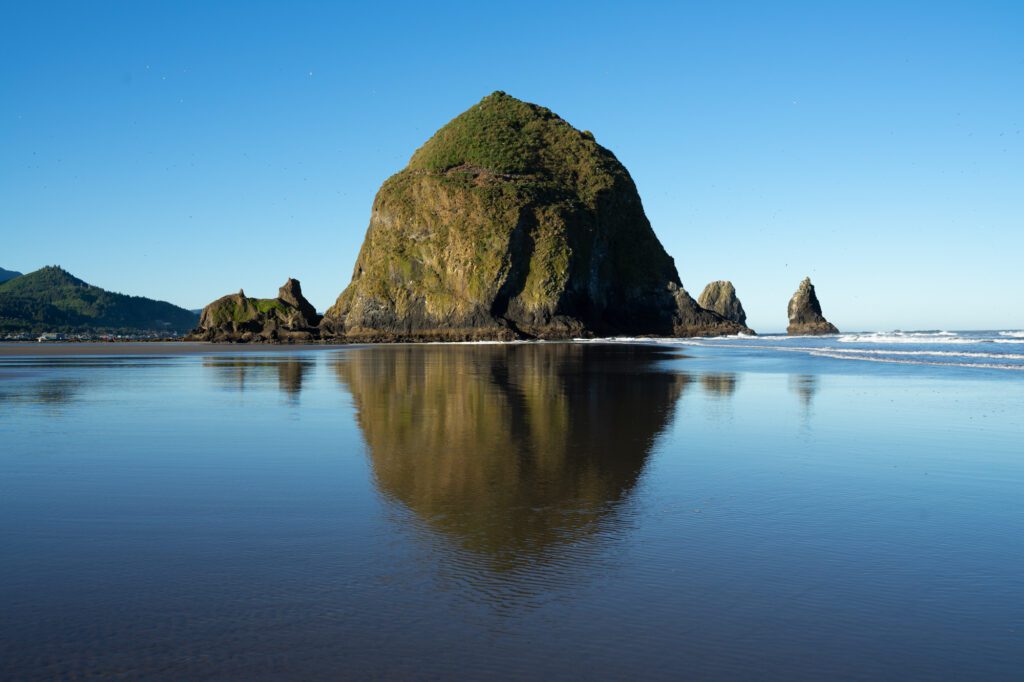 On the second day, get up in Portland, grab a cup of coffee, and hit the road. Today, you'll be heading first to Astoria at the northwest corner of the state before heading to Cannon Beach for the evening.
Drive times: Portland to Astoria: 2 hours (98 miles), Astoria to Cannon Beach: 45 minutes (25 miles)
Most guides would probably have you skip Astoria, which is the oldest city in Oregon and has some really cool American History associated with it. Lewis and Clark passed through here, staying at Fort Clatsop, which you can visit to this day (at least, a re-creation of it). Plus The Goonies was filmed in Astoria, for people more interested in essential modern history.
It's a great place to spend a morning exploring, and serves as a great launching pad for the rest of your Oregon Coast road trip.
What to Do in Astoria
If you want more detail on what to do and see in Astoria, don't miss our guide to the best things to do in Astoria!
Visit the Astoria Column: Rising above the town of Astoria from a hill to the southeast, this tower is covered in a hand-painted mural. You can climb the steps to the top of the column for outstanding views of the Columbia River Gorge and surrounding areas.
Explore Fort Stevens State Park: As you head out to the west from Astoria on the way to Cannon Beach, it's worth a detour to Fort Stevens to see the famous shipwreck on the beach. The Peter Iredale ran ashore in 1906 and has been there ever since. It's an easy half mile hike to get out there and back, and is a perfect way to stretch your legs and get some fresh coastal air.
Lewis and Clark National Historical Park: Where the Lewis & Clark expedition spent a winter in the early 1800's before making the journey back east. It has been restored to give you a sense of what life was like back then.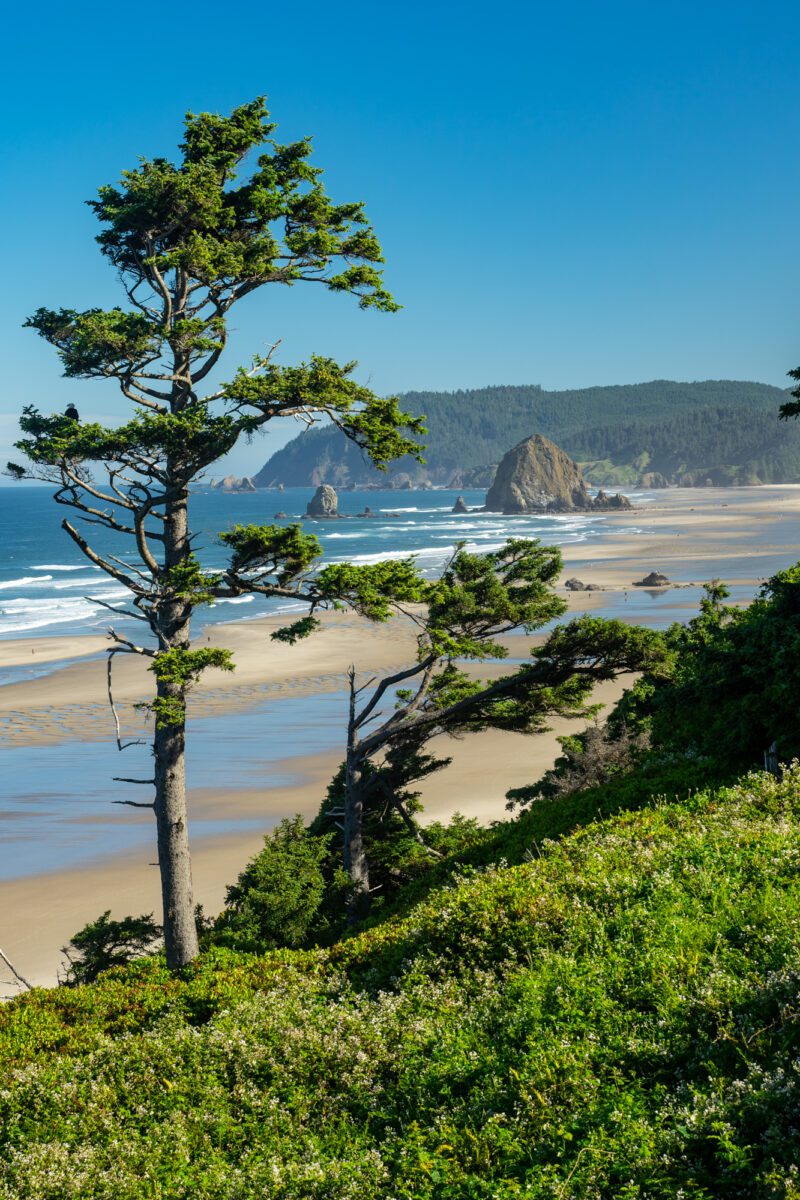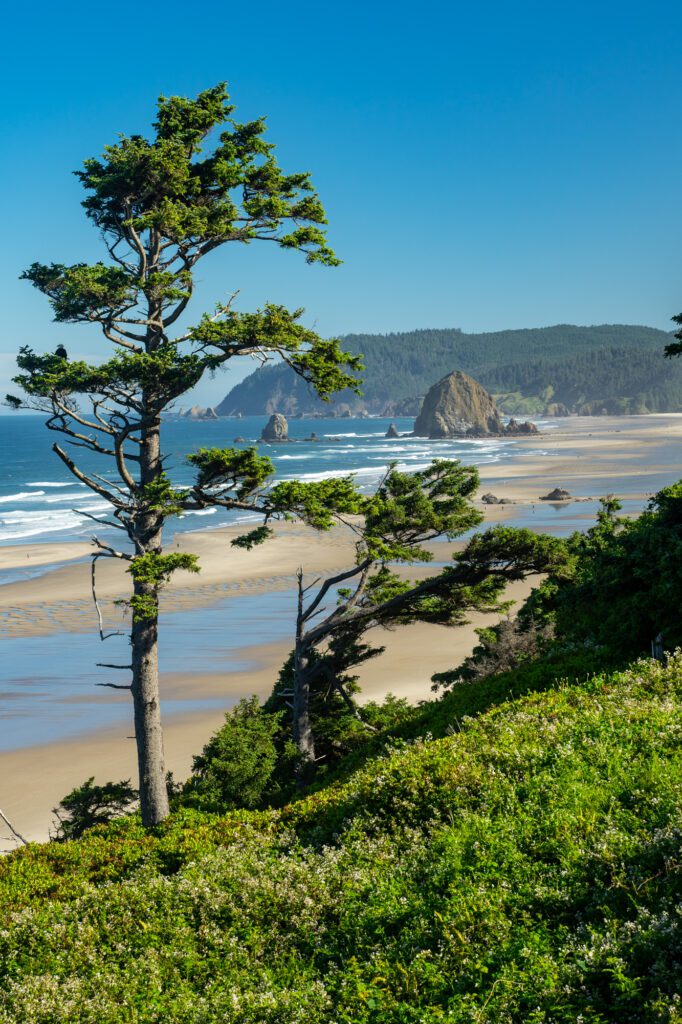 After lunch, continue onwards to what might be the most talked about stop on the Oregon Coast: Cannon Beach.
We spent a few hours in Cannon Beach, and after coming up from the southern Oregon coast, which is more rugged and wild, we were a little disappointed with Cannon Beach, which is clearly a tourist stop.
That being said, it's worth spending a night here, along with the next morning, to see Haystack Rock at sunset, and then hike Cape Falcon in the morning.
On the way from Astoria to Cannon Beach is Ecola State Park, which has some of the best hikes on the Oregon Coast. The best one is the Clatsop Loop Trail, which is just under 3 miles and is a great way to put that lunch in Astoria to good use. The views from this trail over Cannon Beach are pretty amazing, but it was closed when we were there due to a storm that washed out the road.
What to Do, Eat, and Drink in Cannon Beach
In Cannon Beach itself, there's really not THAT much to do.
The highlight, by far, is sunset with Haystack Rock, a 235 foot tall sea stack, rising out of the beautiful sandy beach. We didn't know that it's actually a tufted puffin colony, and when we were there we saw TWO bald eagles stealing eggs from the puffins. Sad, but also pretty cool. The puffins swarmed the eagles as they flew away to no avail.
I would bring some wine or cider (or beer, I suppose) out to the beach to sit back, relax, and watch the magic unfold. Unless, of course, it's raining, which is a distinct possibility. In that case, I'd still do a walk along the beach with your rain boots and rain jacket.
There's some good shopping in Cannon Beach too, mostly along Hemlock St. Our picks are:
For dinner, head to Public Coast Brewing. They brew their own beer right there in Cannon Beach (not gluten free) and have a food menu of pub food that is perfect whether it's 80 and sunny, or 55 and drizzling. Celiac notes: they have dedicated gluten free fryers, gluten free cider, and the only things on the food menu that contain gluten are the burger buns, clam chowder, and salad roll.
For coffee in Cannon Beach, DEFINITELY go to Insomnia Coffee Co, which is a block or two from the beach.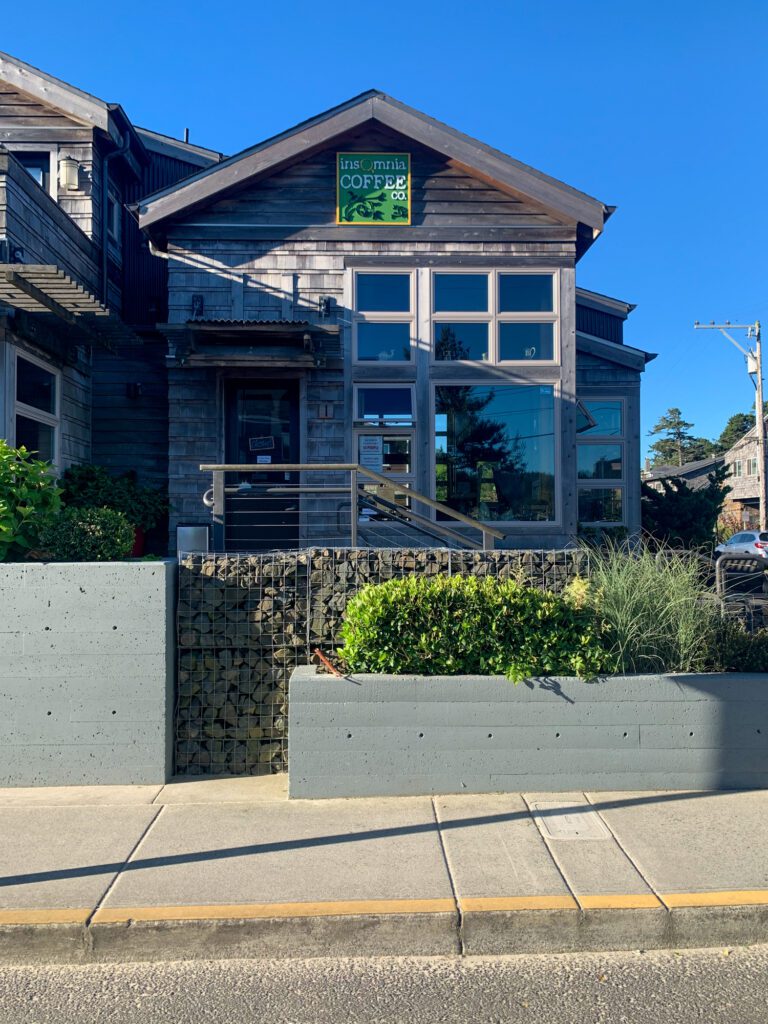 Where to Stay in Cannon Beach
Since you're only in town for a night, I'd choose a hotel. And I'd pick one that's close to the beach itself. There are all sorts of cozy beachfront hotels in Cannon Beach, but the best of the bunch are: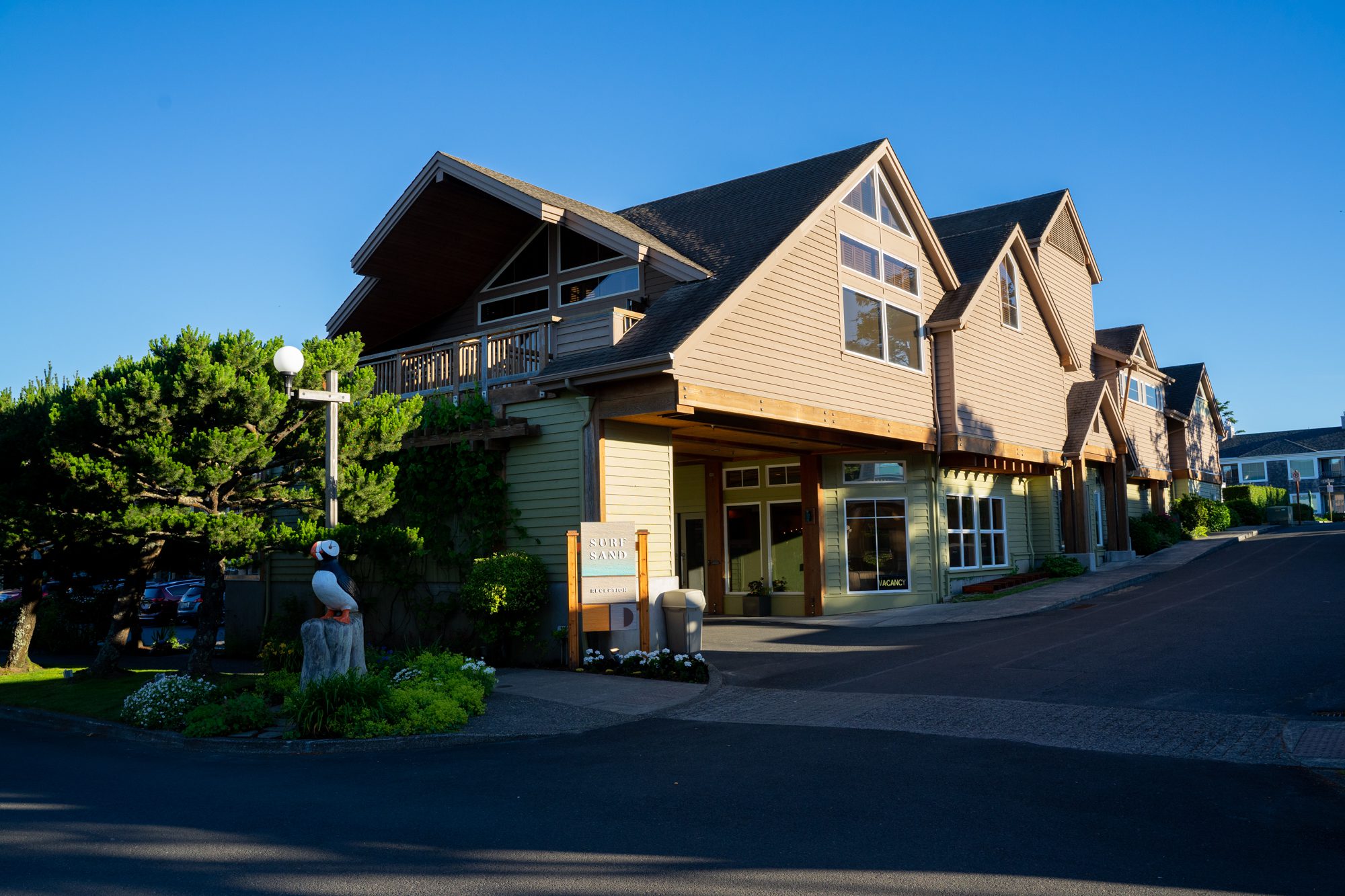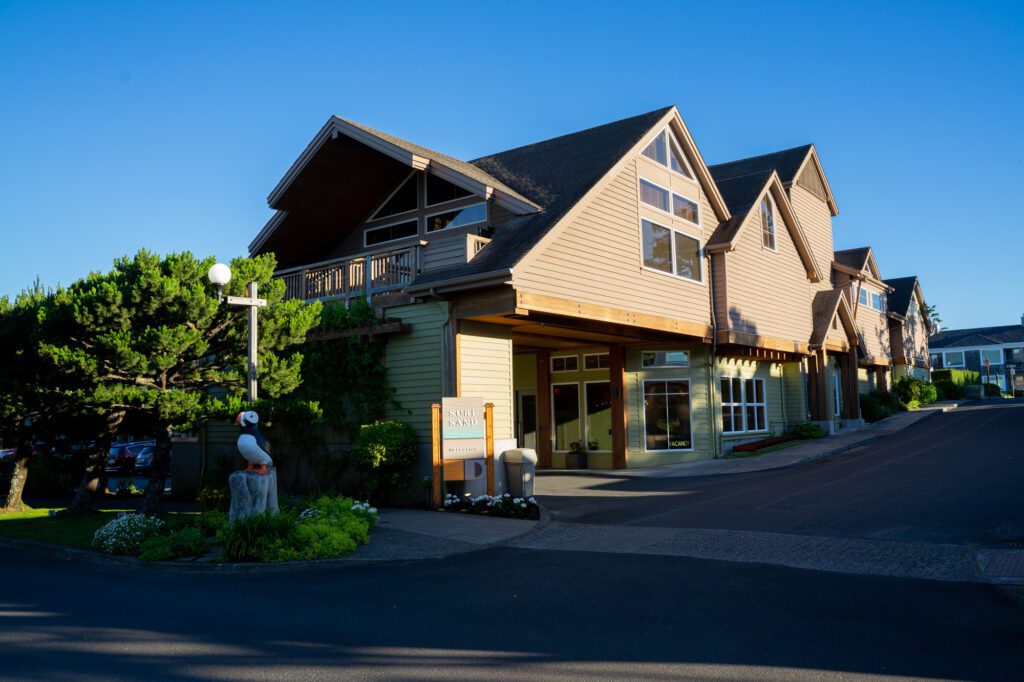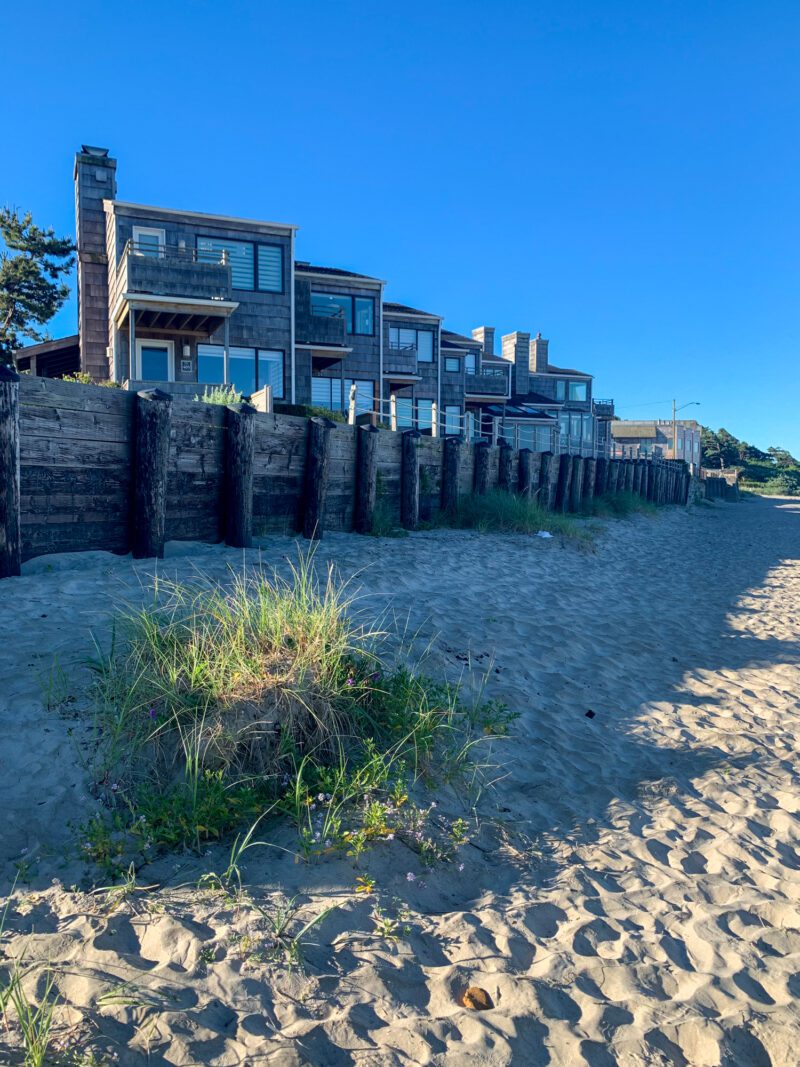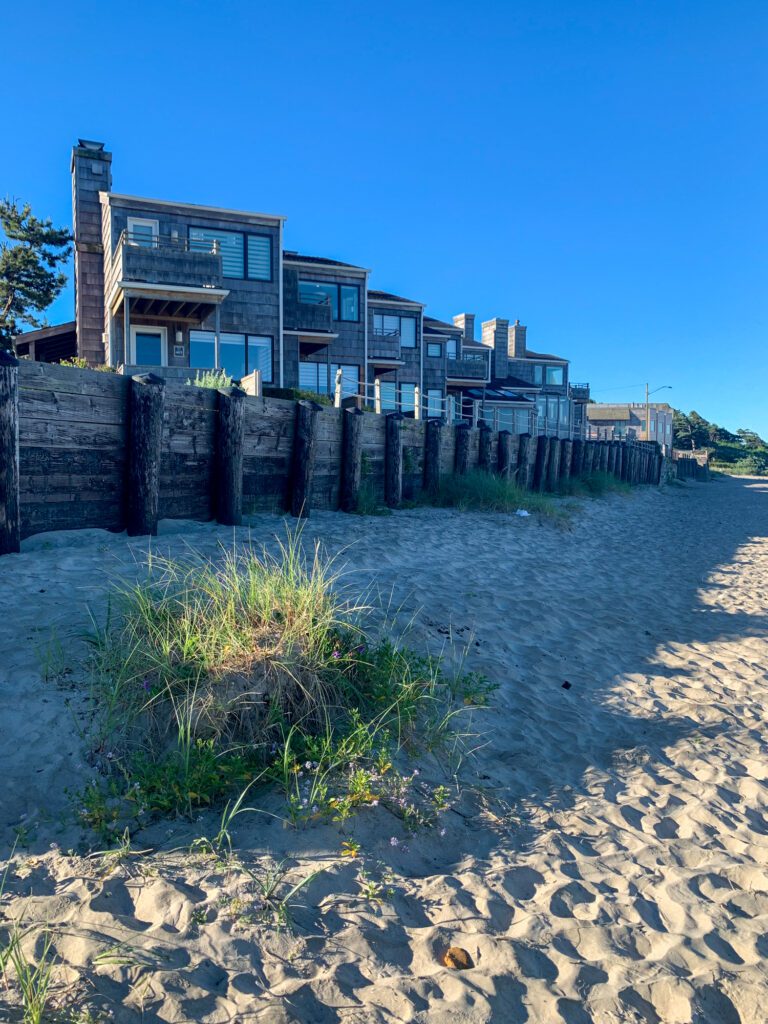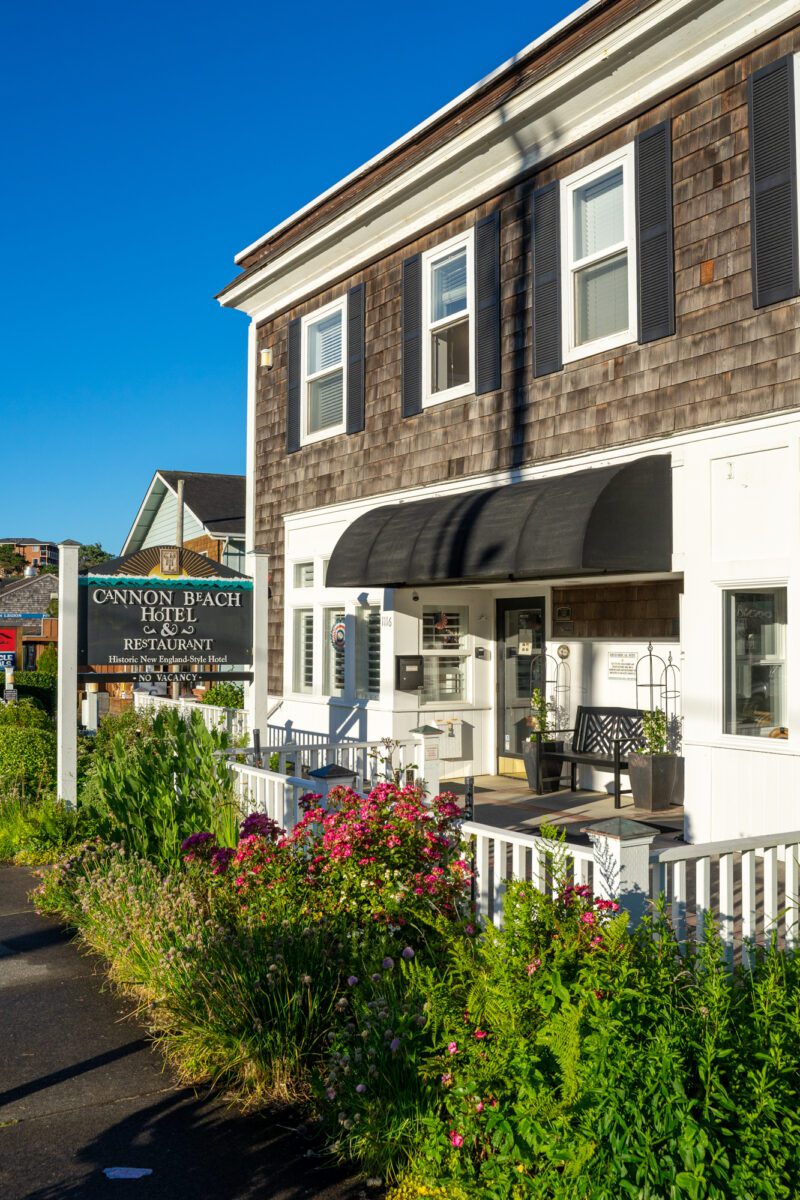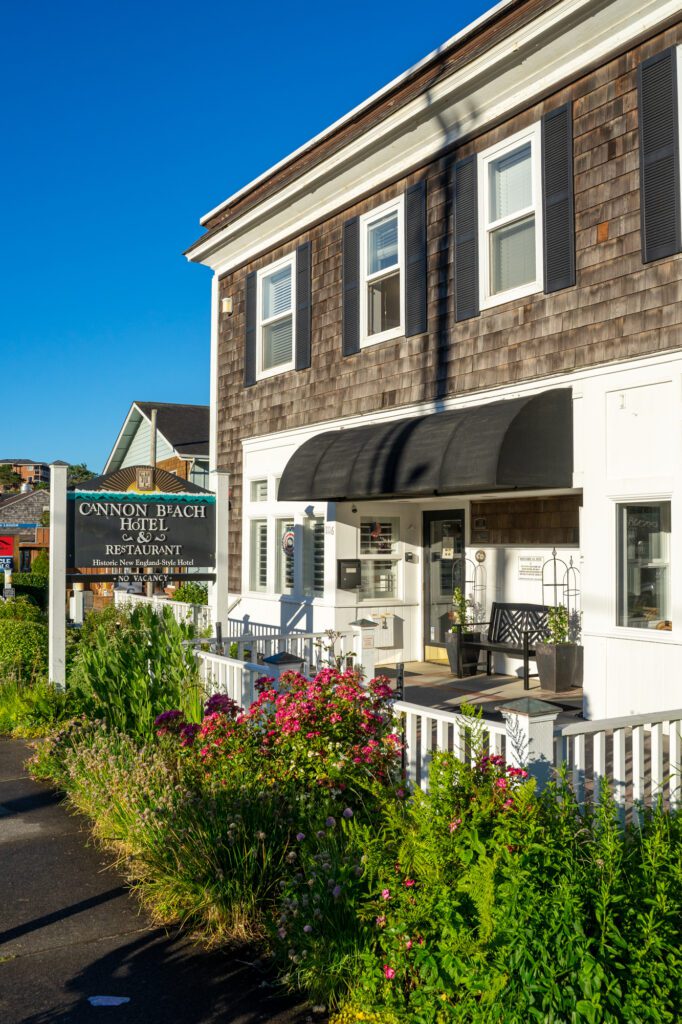 Prefer Airbnb? Click here to see Airbnb options in Cannon Beach.
These places – this King Studio and this 3 bedroom loft – look incredible. They're at Arch Cape, which is a quiet town just south of Hug Point and Cannon Beach,
Day 3: Middle of Oregon Coast – Tillamook, Cape Kiwanda, Cape Perpetua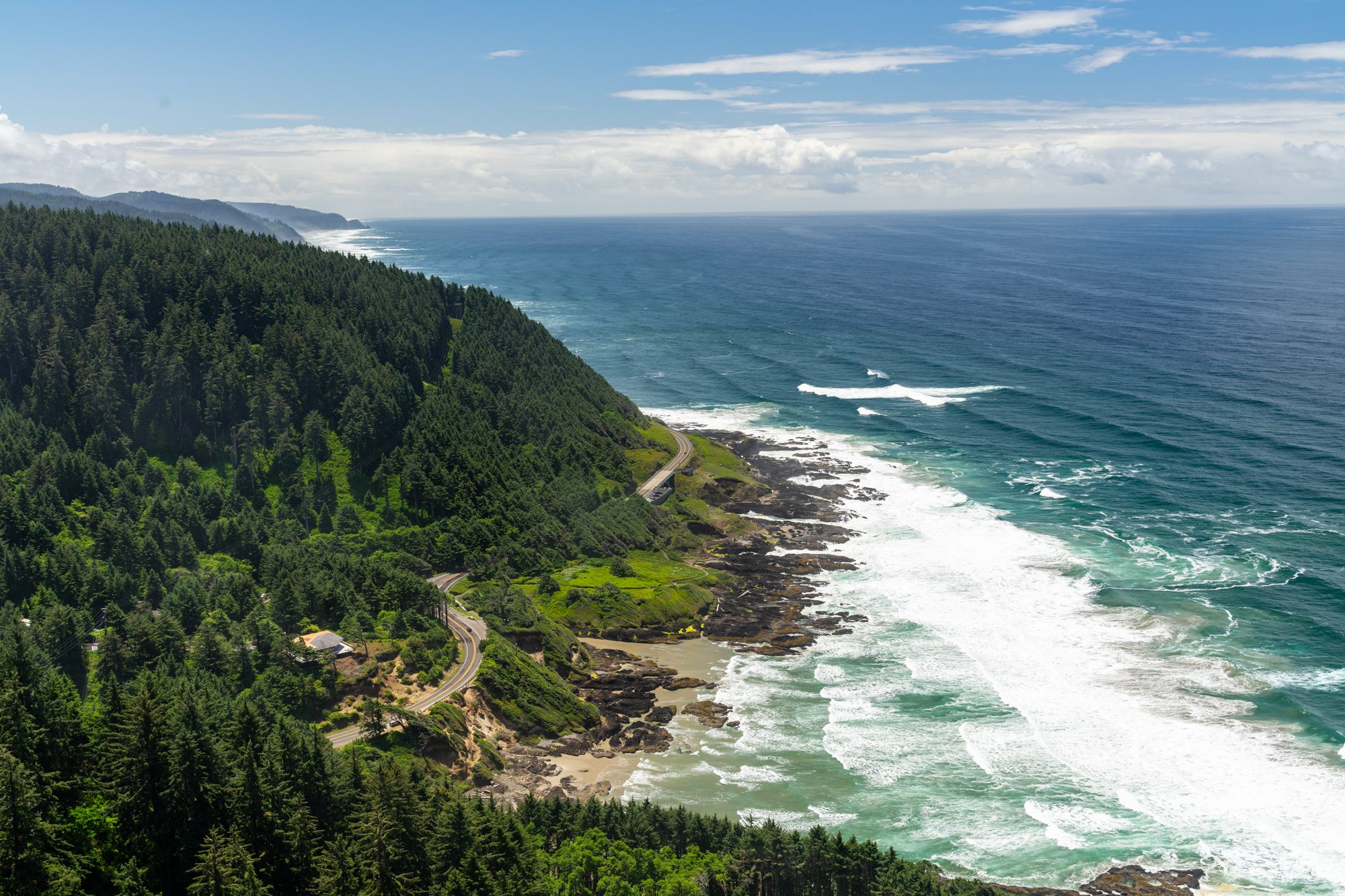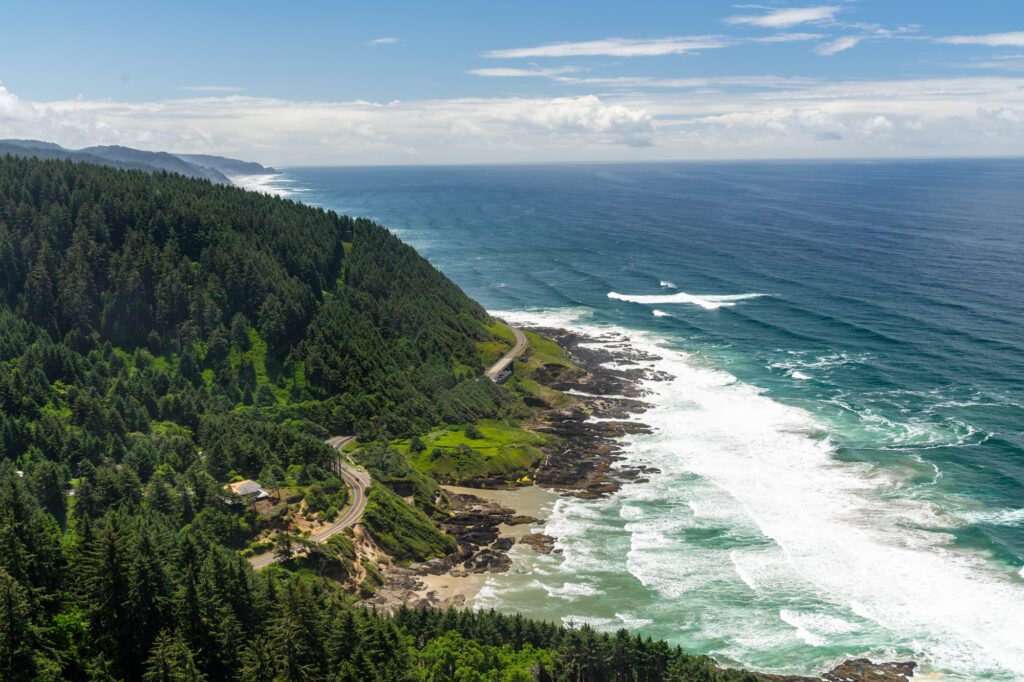 Drive time from Cannon Beach to Eugene: 5 hours (220 miles)
Today is going to be a long day of driving, but it's a GORGEOUS drive. You'll start in Cannon Beach, where you should grab coffee at Insomnia Coffee (the BEST coffee in Cannon Beach, by far), and head south on Highway 101 down the coast past Tillamook, Cape Kiwanda, Cape Perpetua before spending the night in Eugene, one of the best college towns on the West Coast.
We spent a full two weeks on our Oregon Coast Road Trip, making our way from Brookings, Oregon, all the way up to Astoria. In the interest of time, I'd skip the southern Oregon Coast, which is WELL worth a visit, but it's far from any of the other stops on this road trip.
If you have extra time, this is the first place I'd add it. Or, if you're okay with skipping some of the hiking around Mount Hood, spend an extra two days on the coast and go all the way to Brookings, then head east to Ashland, and finally continue on to Crater Lake. You'll skip Eugene and stop in Ashland instead, home of the Oregon Shakespeare Festival, among other things.
What to Do Between Cannon Beach and Cape Perpetua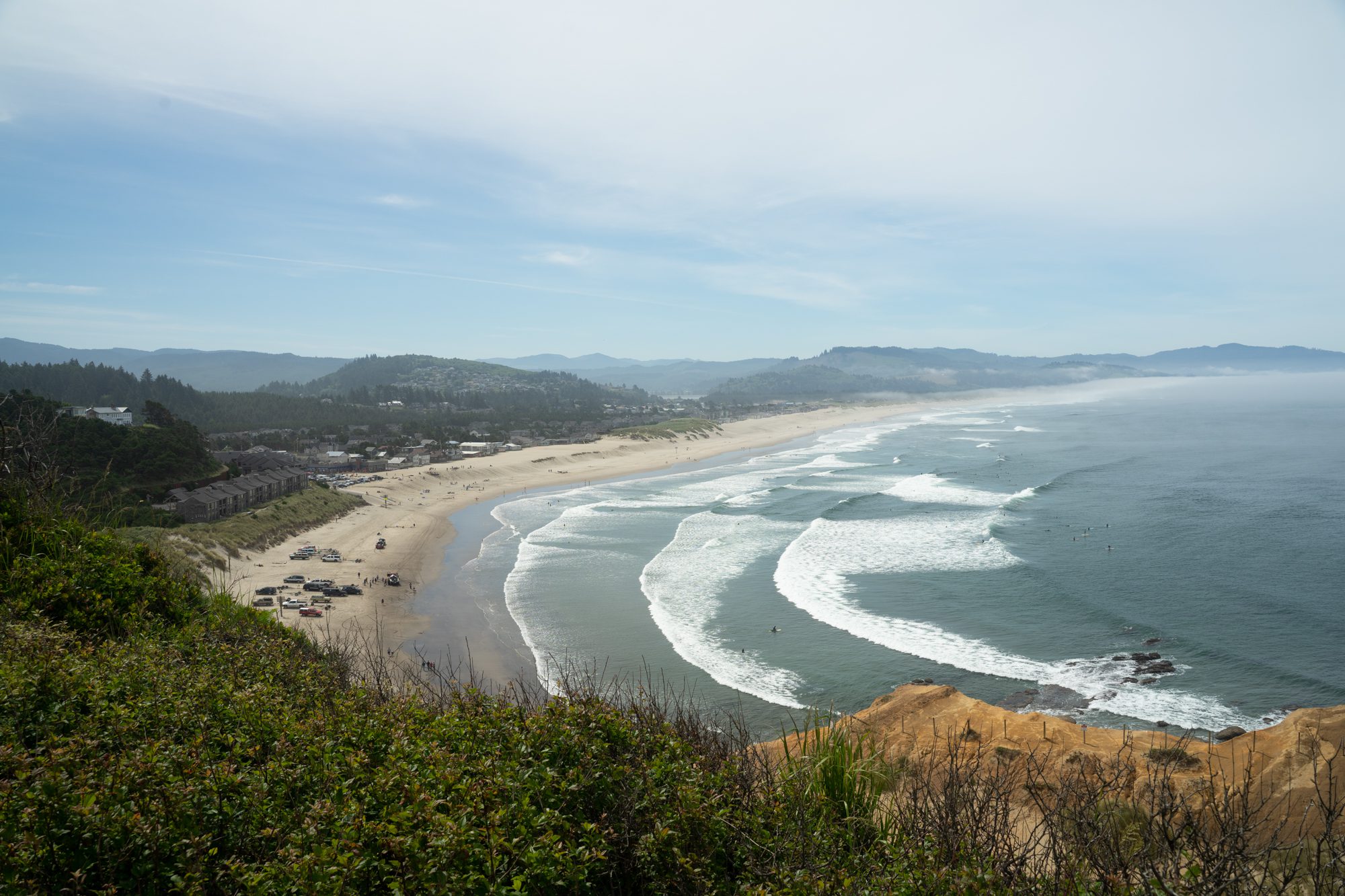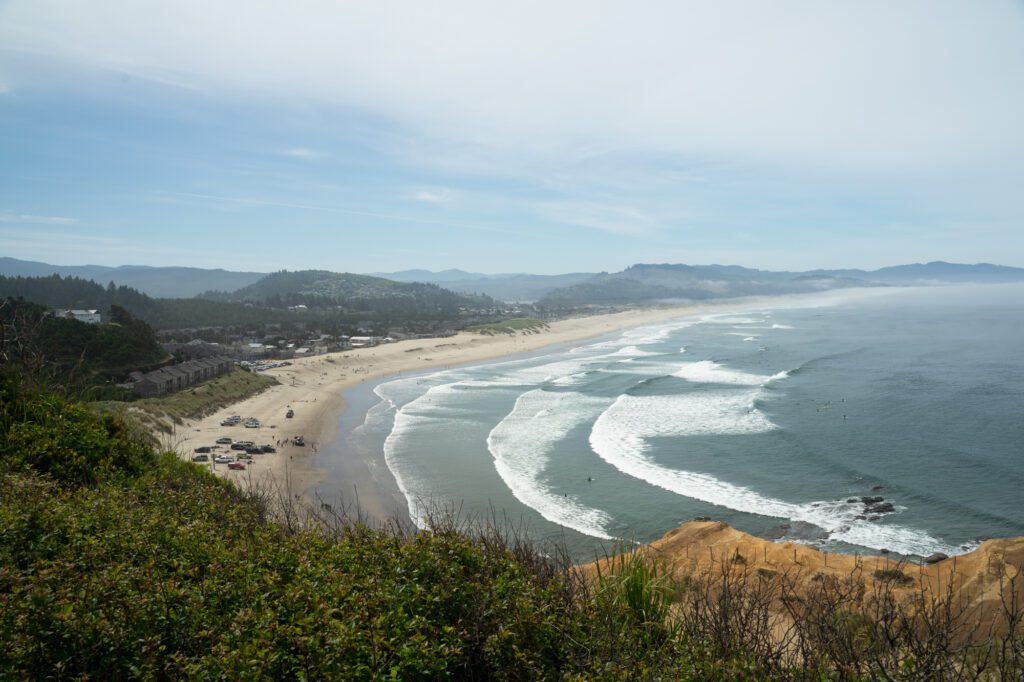 Here are the stops to make along the way from Cannon Beach to Eugene.
Rockaway Beach: cool beach town that's much smaller than Cannon Beach. Worth a stop on the way through.
Cape Lookout: A bit of a detour, but worth it for the hike out to the point.
Tillamook Creamery: Anyone who has lived in the Pacific Northwest knows Tillamook. They make the best ice cream (not gluten free, but we used to get it growing up and it is SO CREAMY) and cheese. They sell cheese curds, which you can only buy at the actual creamery, and do tours of the whole cheese making process. It's a cool stop.
Cape Kiwanda: Surfers flock here in the morning to catch the waves in the cove near the sea stack. Hike up the sand dunes on the right hand side of the beach for awesome views. We found good coffee across the street at Stimulus Coffee and Bakery.
Hiking Near Lincoln City: You'll find two of the best hikes on the Oregon Coast in Lincoln City – Cascade Head and God's Thumb. Pick one to stretch your legs and for great views of the Oregon Coast.
Cape Perpetua: This is one of our favorite spots on the Oregon Coast. It's what we called the Big Sur of the Oregon Coast, because if you showed us pictures of both I don't think we'd be able to tell the difference. Drive to the top of the Cape Perpetua Lookout, stop by Thor's Well (a super unique sink hole in the ocean) and Devil's Churn to see the power of the Pacific Ocean in action.
Heceta Head Lighthouse: The best view of this gorgeous lighthouse is from the first pullout on the right to the south of the tunnel along Highway 101 (to the south of the lighthouse). You can hike to the lighthouse itself, but we think the view of the lighthouse with the rugged cliffs beneath it is actually better.
Sea Lion Caves: We'll admit, we completely drove past this after seeing the line out front, rolling our eyes, and saying "tourists, am I right?" Only later did a friend, completely randomly, mention that this is actually a super cool place to stop. You take an elevator down into a cave that Sea Lions have made their home, and it's like you're in the middle of them. It's a privately owned wildlife preserve protecting America's largest sea cave and the mammals that live inside it. In the winter, hundreds of sea lions call the cave home before venturing out onto the rocks in the springtime.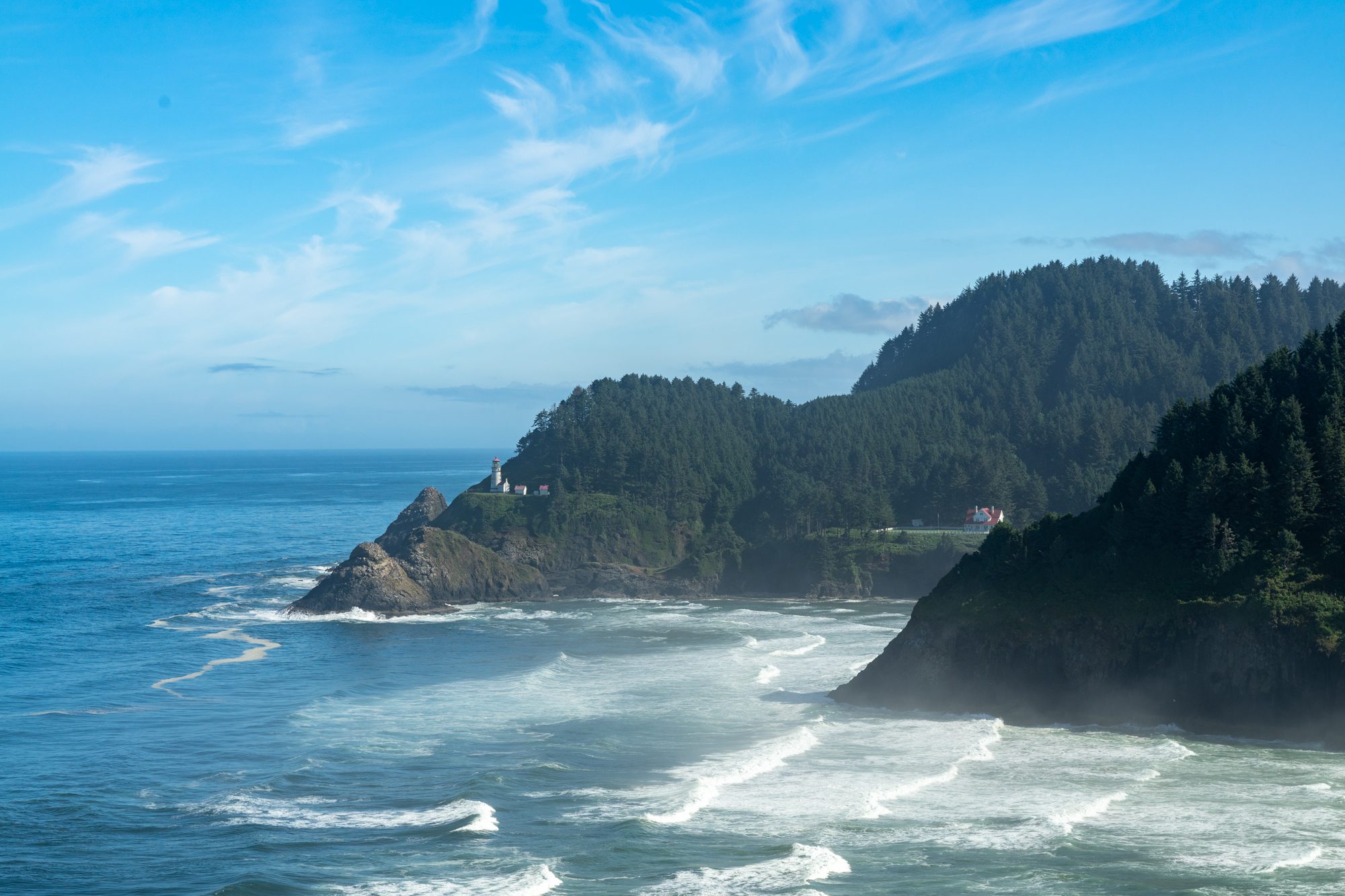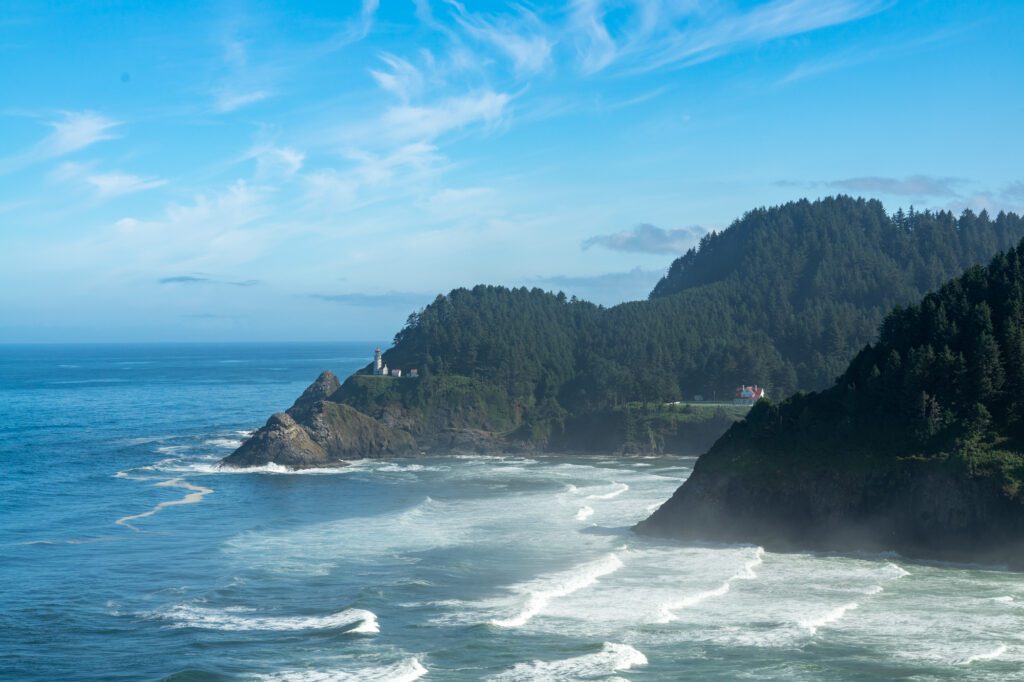 From Cape Perpetua, continue south into Florence and take highway 126 to the east to Eugene, where you'll spend the night.
Day 4: Eugene + Crater Lake National Park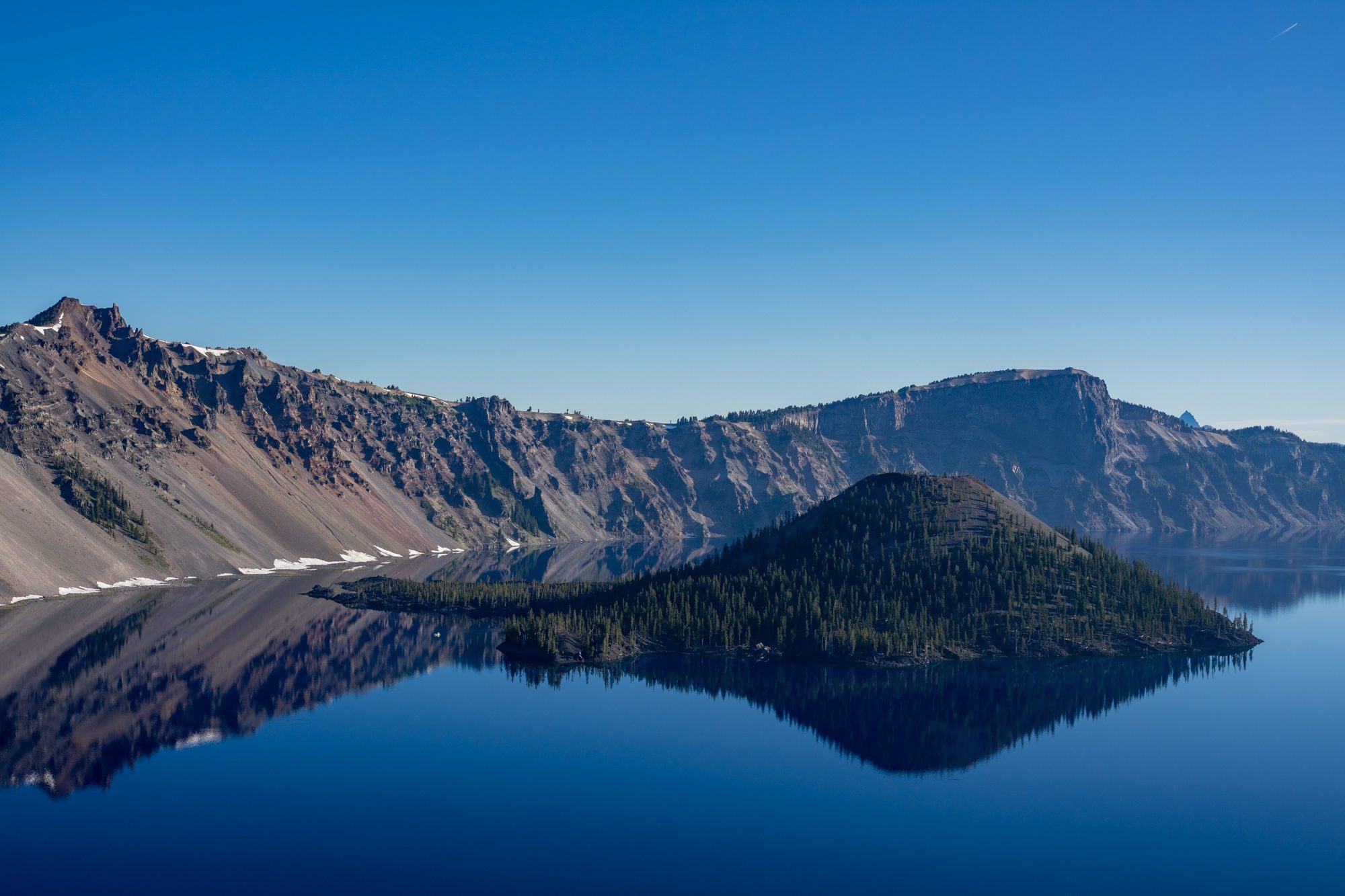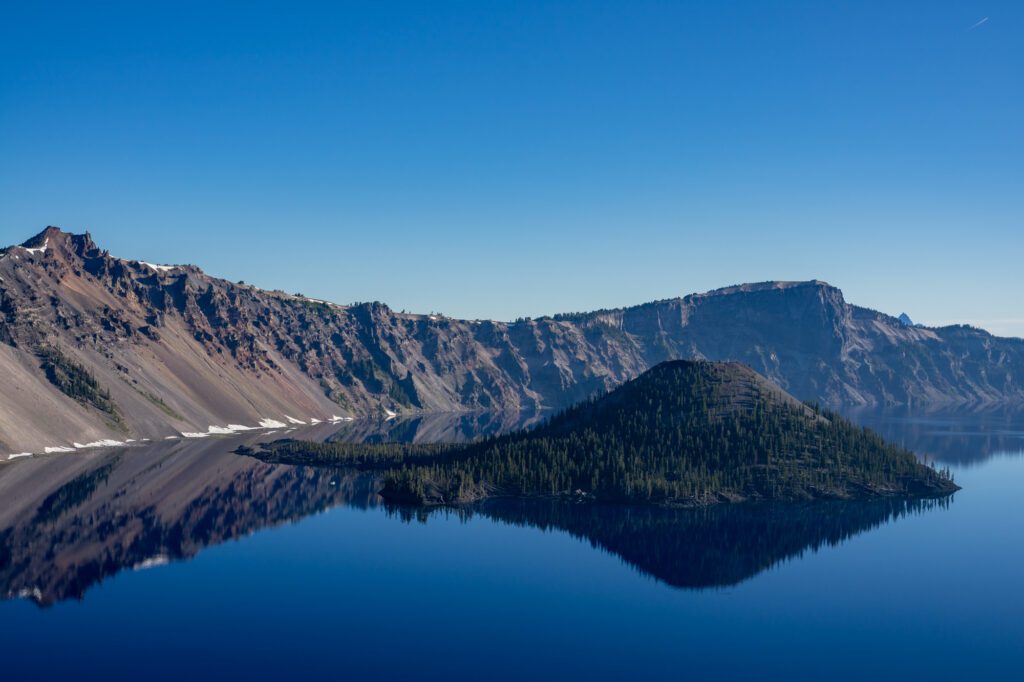 Drive Time from Eugene to Crater Lake: 2.5 hours (140 miles)
Spend your morning in Eugene, a very young, lively place with plenty of hipster coffee shops and cozy breakfast spots, before heading over to Crater Lake for the afternoon and sunset.
Where to Stay in Eugene
In Eugene, look at the Graduate Hotel (a solid chain of boutique hotels that offers a good value) or the Even Hotel, which looks modern and slick.
What to Do and See in Eugene
What to Eat, and Drink in Eugene
But first, coffee. For coffee in Eugene, head over to Wandering Goat or Tailored Coffee, both of whom roast their own coffee and have great spaces to hang out and get caffeinated. Prefer tea? Head to Townshend's Tea House, makers of Brew Dr. Kombucha.
If you're into cider, absolutely do not miss Wildcraft Cider, who are one of our favorite cideries in the Pacific Northwest. They make bone dry ciders from local fruit with no funky additives – just the fruit. They have a tasting room in Eugene, where you can try a bunch with a flight, or just grab a bottle or six to go.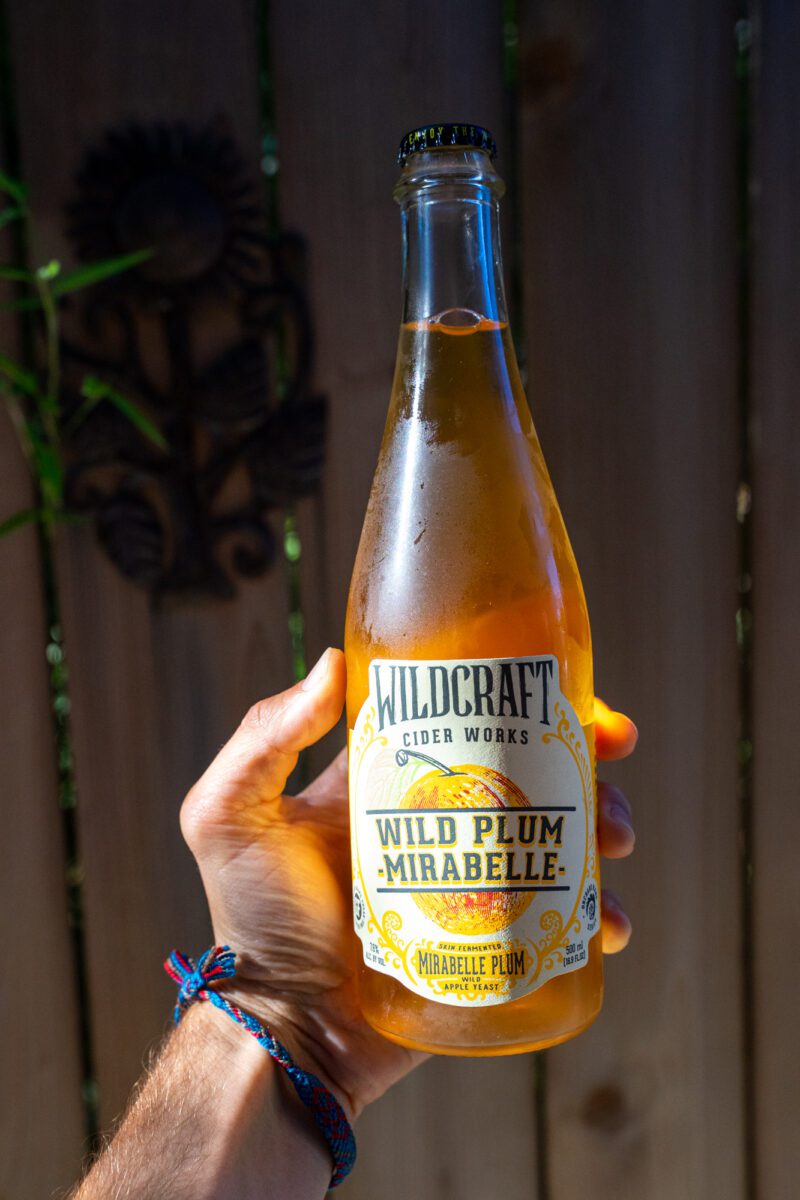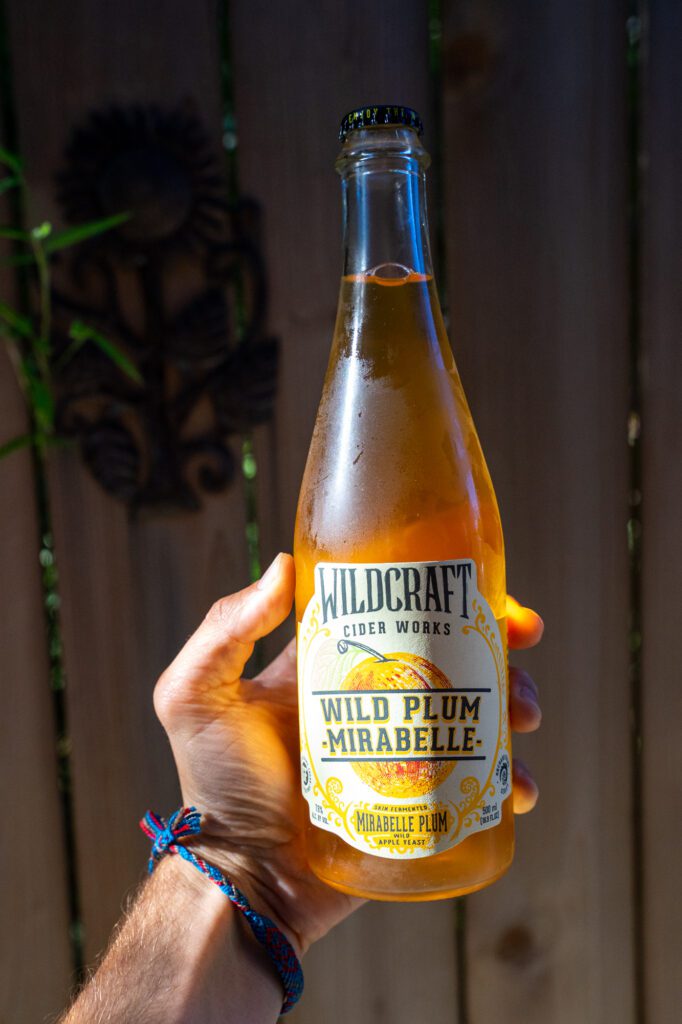 For breakfast or lunch, here are some options.
Jazzy Ladies Cafe (100% gluten free!): A great spot to grab breakfast. They've got a full menu that includes everything from benedicts to breakfast enchiladas. Plus, chicken and waffles, which we're always in for.


Elegant Elephant Baking Co (100% gluten free): If you're looking for gluten free baked goods, head here. You can find them at local high end grocery stores too, like Whole Foods.


Tacovore: One of my favorite gluten free restaurants in Portland. But Celiacs should know that this location isn't 100% gluten free – they make sandwiches, and will do their best to minimize cross-contact with gluten, but no promises from the staff there.
Once you've got a taste of Eugene, it's time to head over to Crater Lake National Park.
What to Do in Crater Lake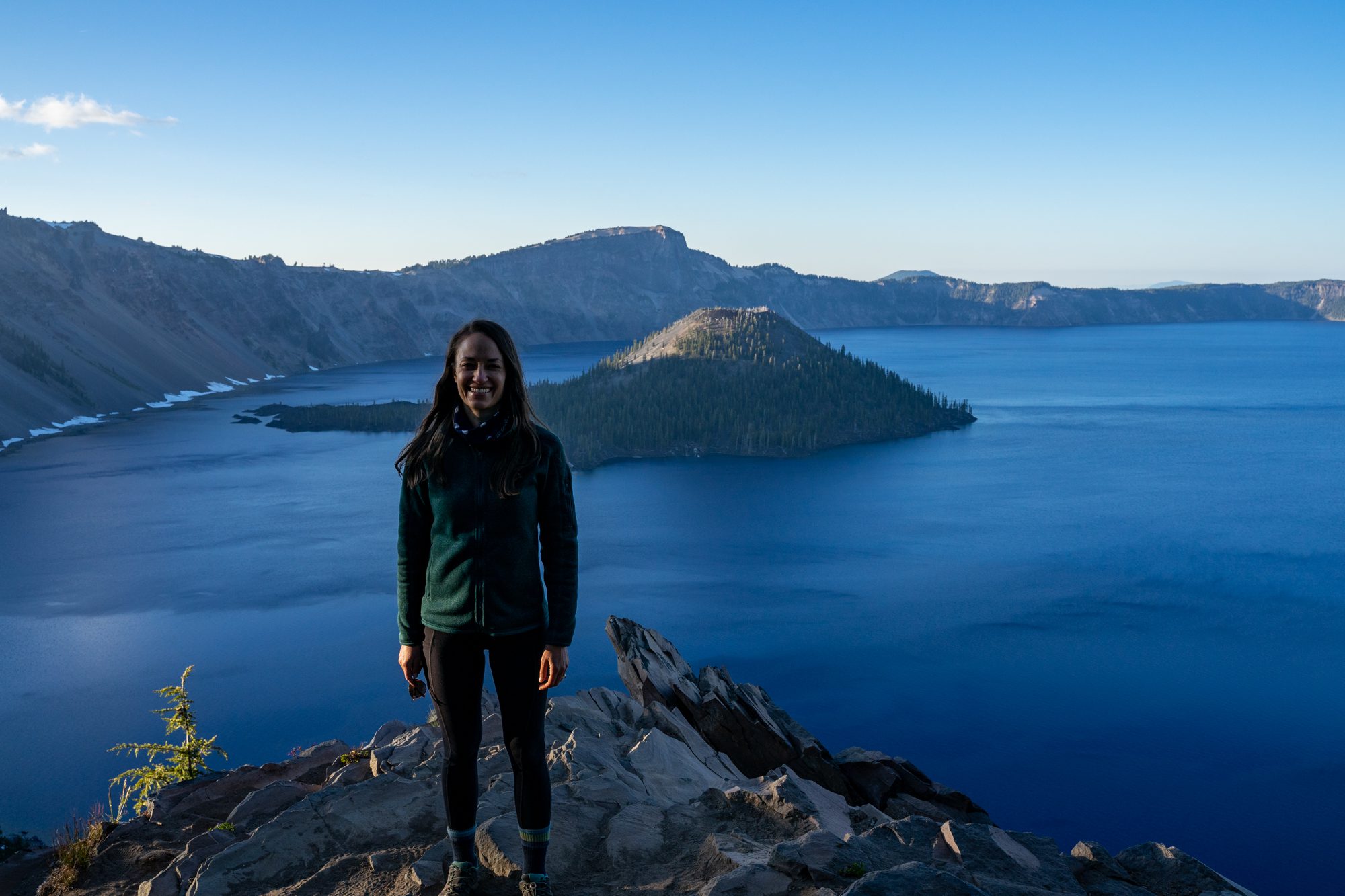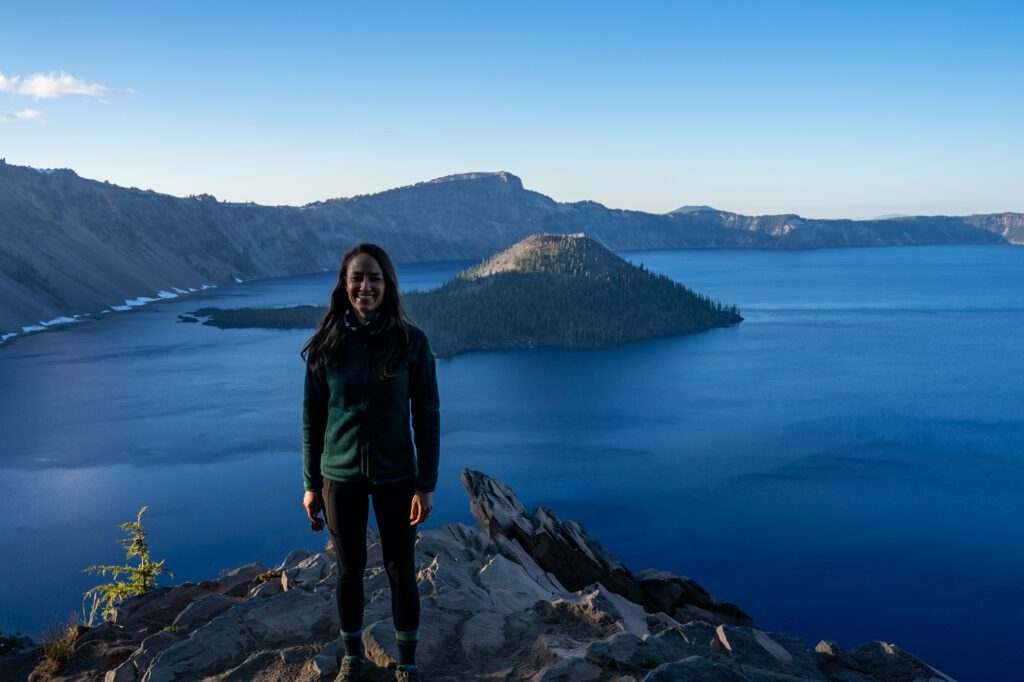 Crater Lake is gorgeous, and is a must-do on any road trip to Oregon. The unfortunate part is that it's a little bit out of the way, and it's a little hard to get to during the winter. When the sun is high in the sky, the water is a deep, sapphire blue. When it dips low towards the horizon, the landscape is bathed in a gorgeous golden light that makes everything around you about 14 times more beautiful.
Top Crater Lake Tip: The road into the north entrance and around the west side of the lake closes during the last week of October most years, opening again in early June. If you're here in the late fall or early spring, you'll have to enter from the south entrance. It's also worth noting that the east rim drive closes at the same time and doesn't open again until July (it was closed when we were there around the 10th of July, only opening up on our last day in the park). See historical closure timing here, and current conditions here. If you're here in the winter or early spring, we'd skip Crater Lake entirely and save it for your next trip, but that call is up to you. It's a longer drive around to the south entrance, you won't be able to do much from there, and you'll have to drive ALLLLL the way around to get to Bend, your next stop.
Sunset in Crater Lake is a must-do, so make sure to leave Eugene with plenty of time to arrive at least an hour and a half before sunset.
There are a couple of good places to watch the sun set – some require a hike, some you can drive right up to.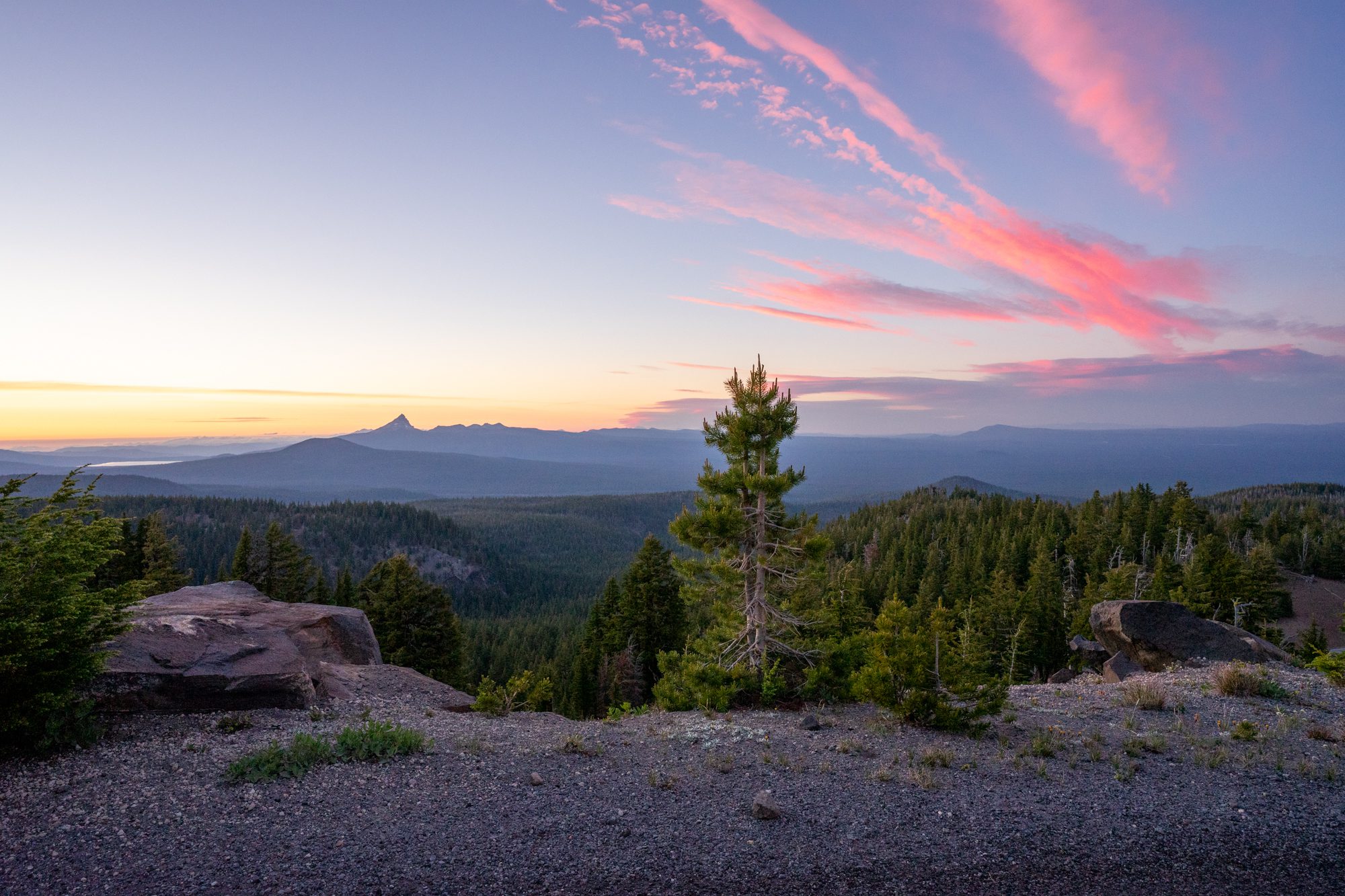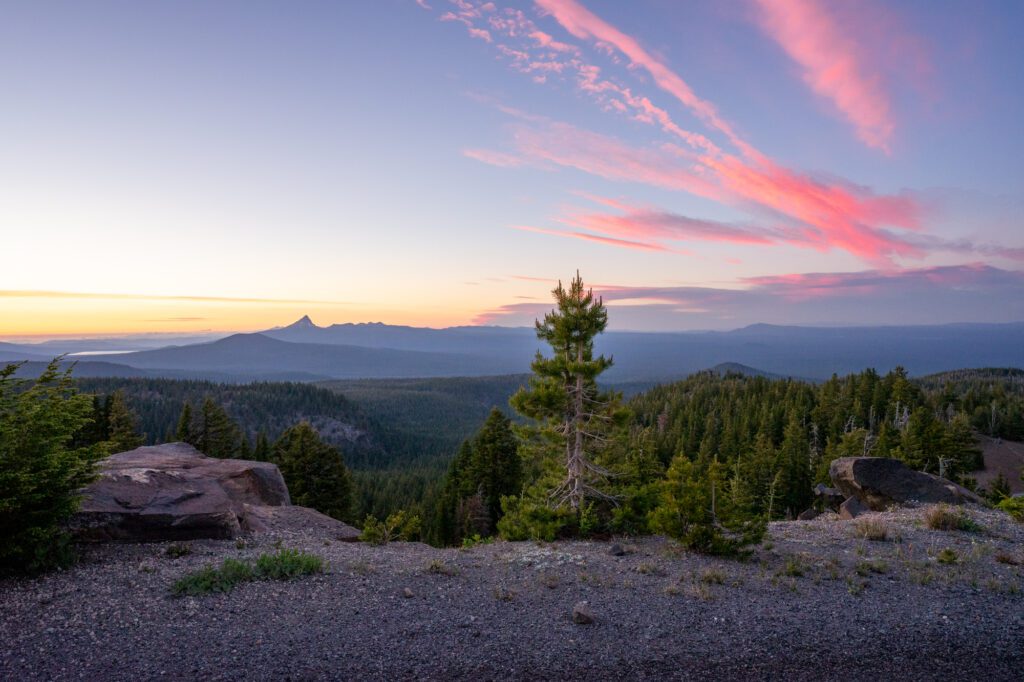 From the top of Mt. Scott: A bit of a hike, but not too bad. You'll end at a lookout at the highest point in the park that looks west, directly towards the sunset. Bring a headlamp for the way down. Note that this road is closed for a majority of the year, well into July most years.


From Garfield Peak: Along the South Rim near Rim Village, this one is a relatively short and steep climb to a different lookout that looks northwest across the lake.


From Cloudcap Overlook: We watched the sunset from this parking lot, and it was a perfect vantage point over the lake towards the sun setting on the horizon. No hike needed, you can watch it right from your car!
Where to Stay in Crater Lake National Park
You don't have too many options in terms of where to stay in Crater Lake. If you're down with camping, stay at Mazama Campground, which is what we did. It's nice, spacious, mostly flush toilets, and there's a camp store and restaurant with plenty of amenities. Book early, it fills up fast.
If you're not camping, your choices start to dwindle a little bit. Crater Lake Lodge and the Cabins at Mazama Village are your only two lodging options inside the park. If you can't get a reservation at any of those spots, you can camp at Diamond Lake, or stay at Diamond Lake Resort.
Day 5: Crater Lake + Drive to Bend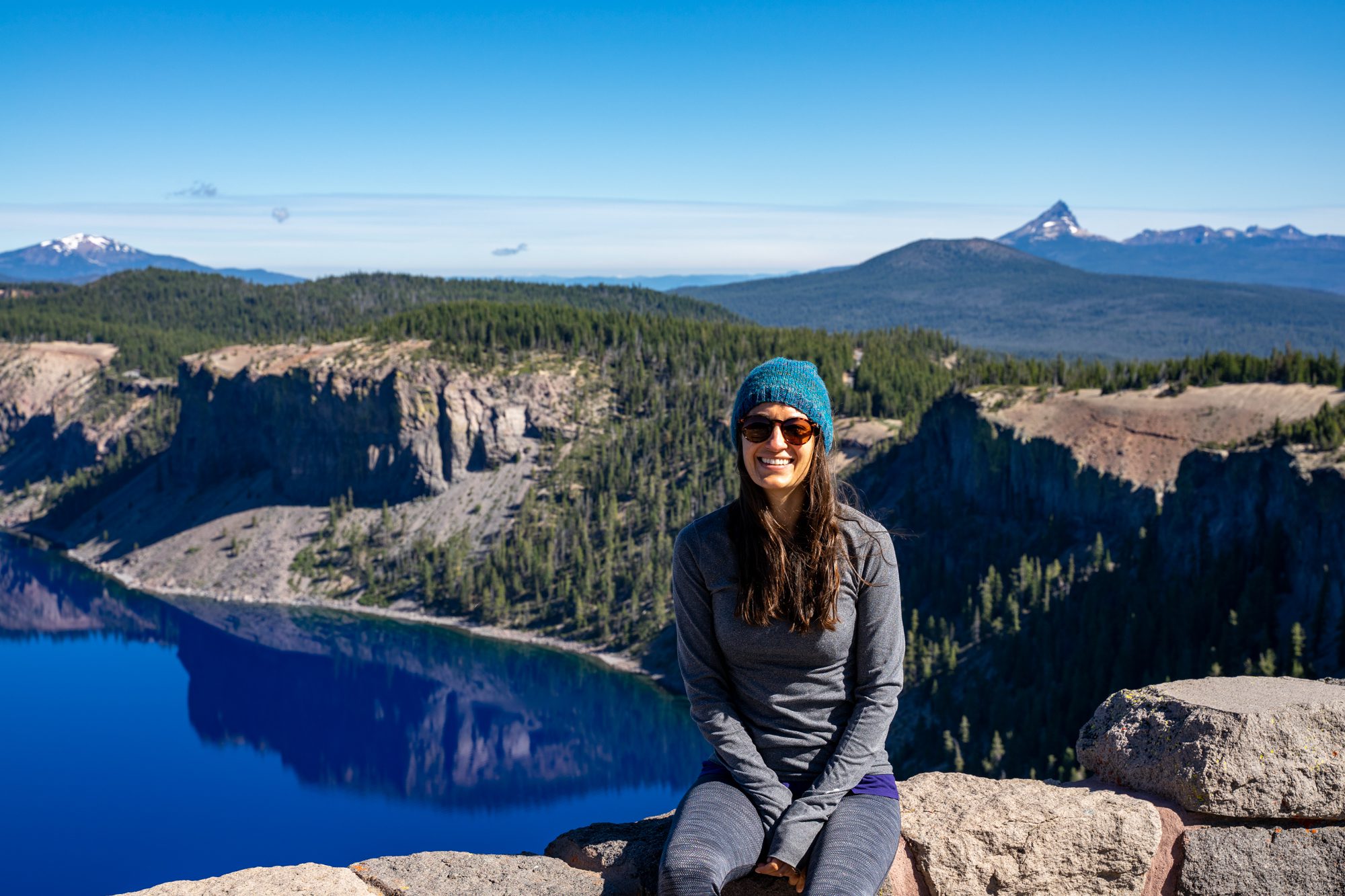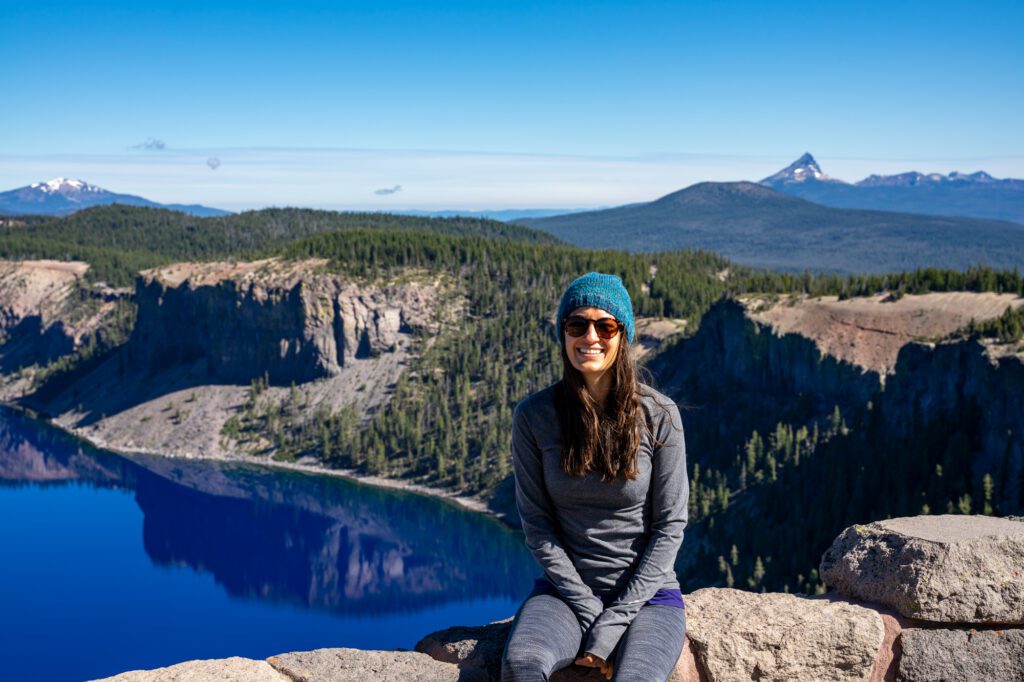 In the morning, get up early and drive the entire 30 mile stretch of the Rim Road on the western side of the lake. It's worth doing it early, when you'll get the best light, and the fewest cars on the road.
After that scenic drive, do two great hikes that will take you to the highest and lowest accessible points in the park.
First, if it's peak summer, hike to the top of Mt. Scott (you might have already done this for sunset, if so, do Watchman Peak instead). This is the highest point in the park, and the views are spectacular. If the east rim road is closed, you can hike the extra 4 miles along the road from the parking lot here, making it an 8 mile hike round trip. That's what we did, and we think it's worth it, but bring plenty of food and water.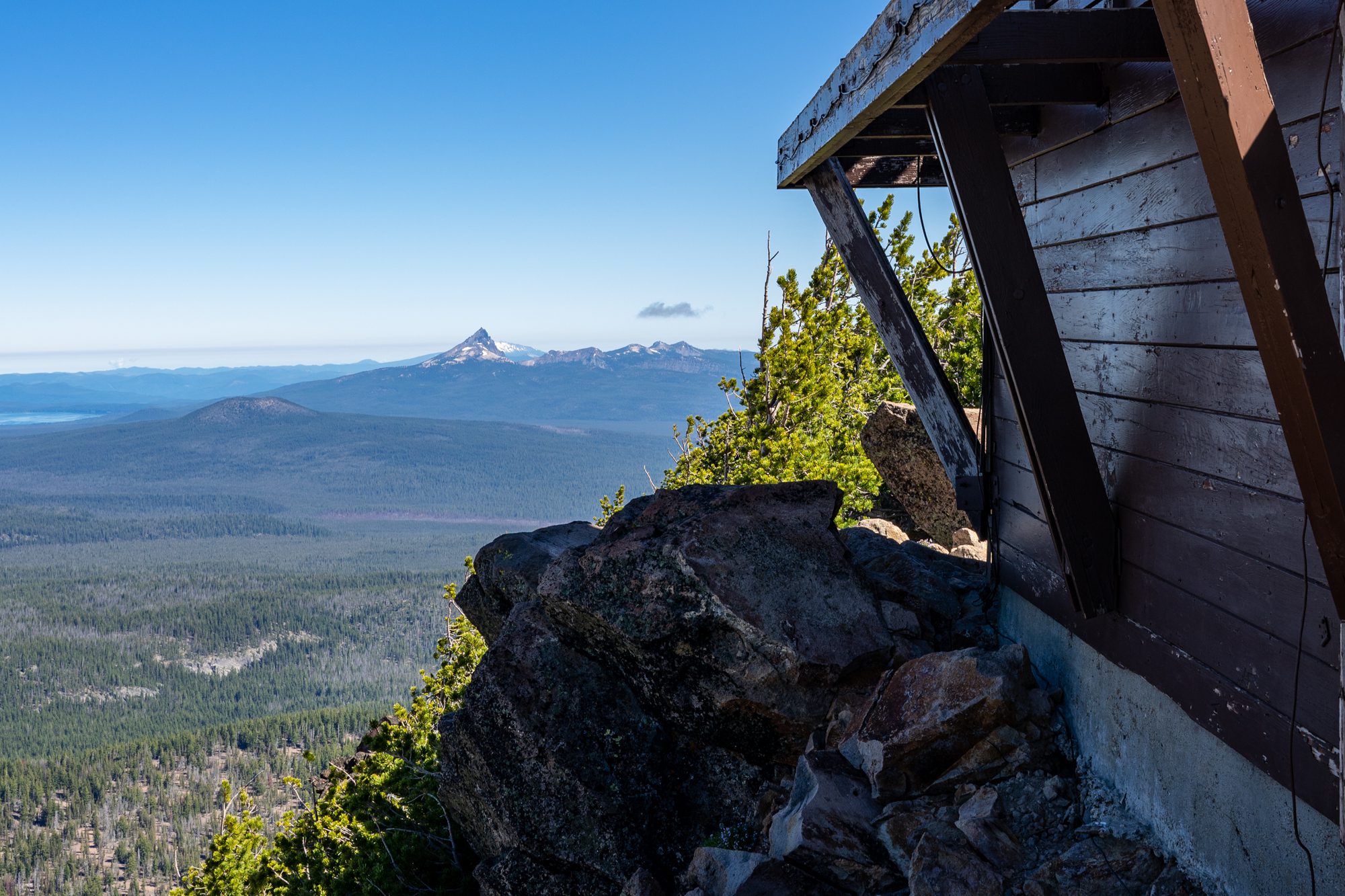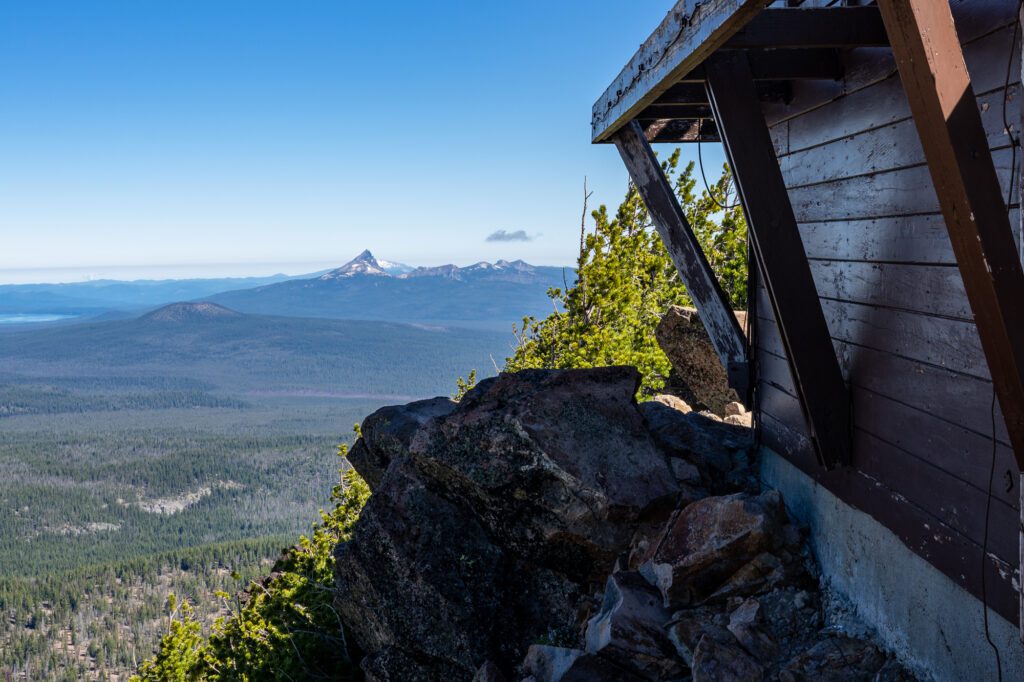 Next, drive to the north side of the lake and drop down to Cleetwood Cove – the only place you can get down to lake level in the park. It's a trail full of switchbacks, which aren't nearly as much fun on the way back up, but the lake-level views are stunning, and you can take a dip in the water on a warm summer day. Spoiler alert: It's freezing.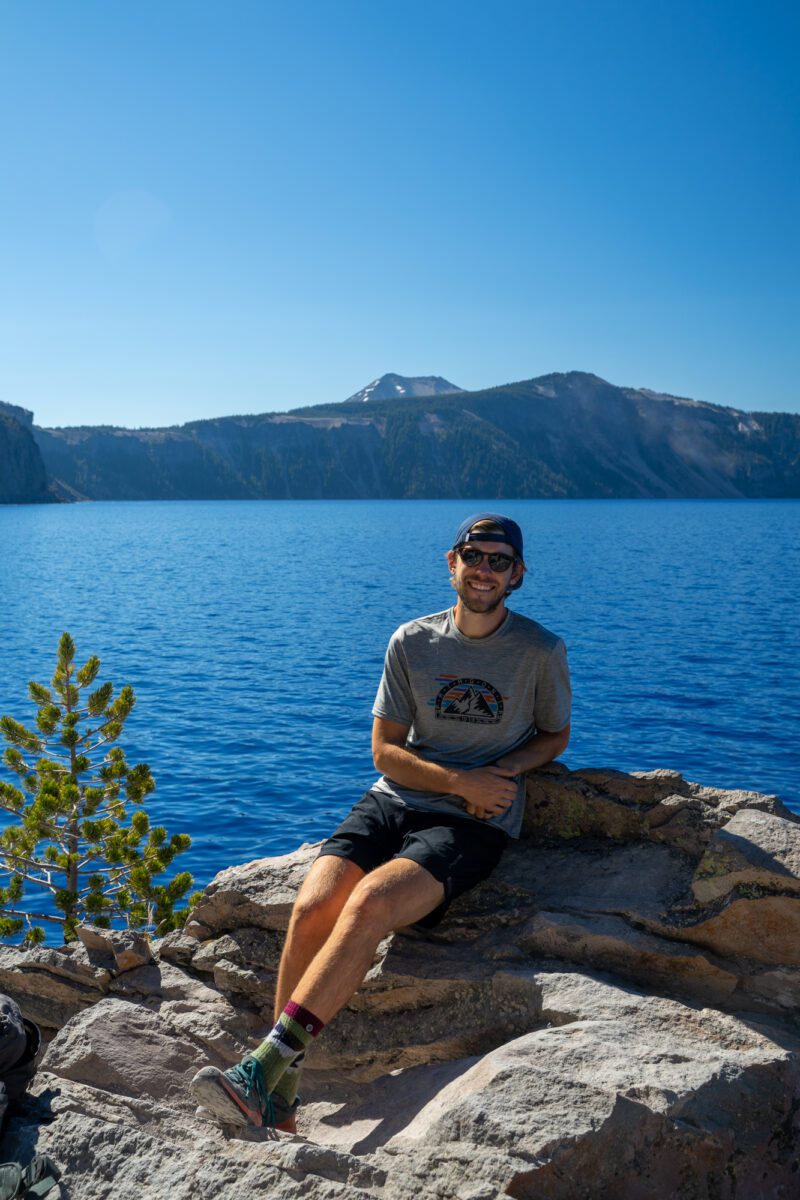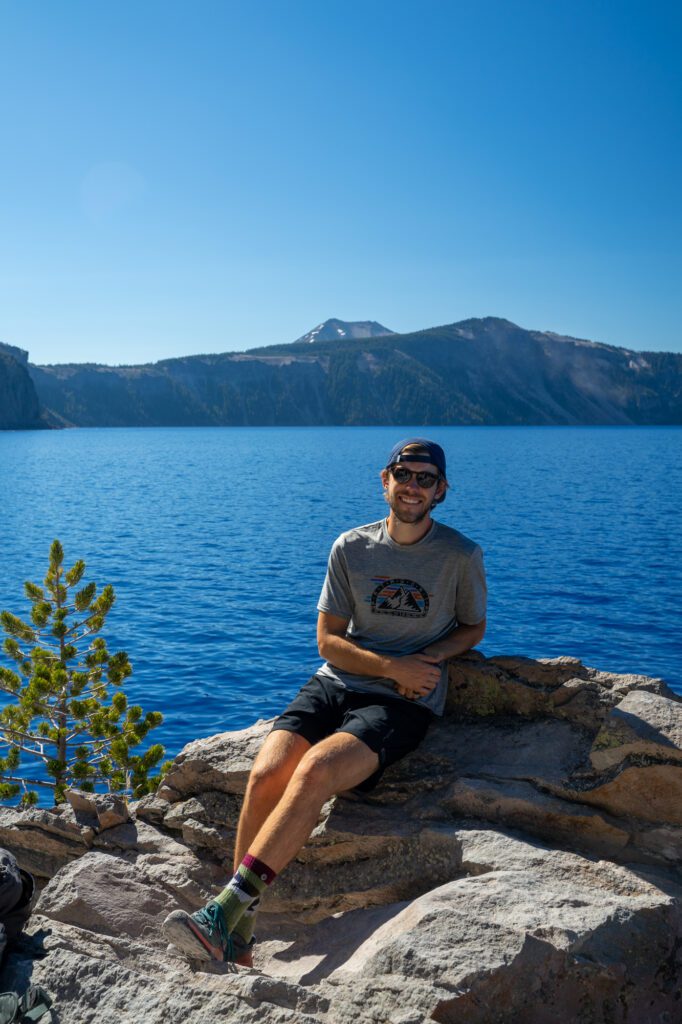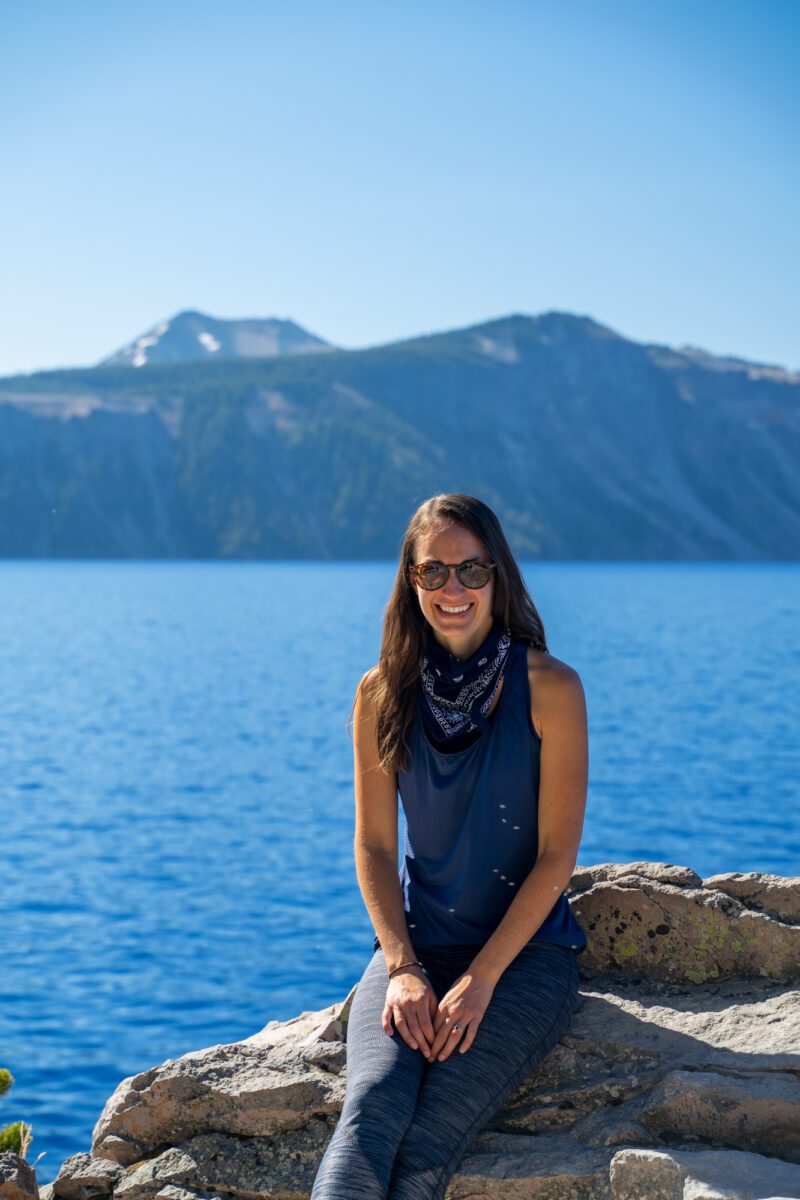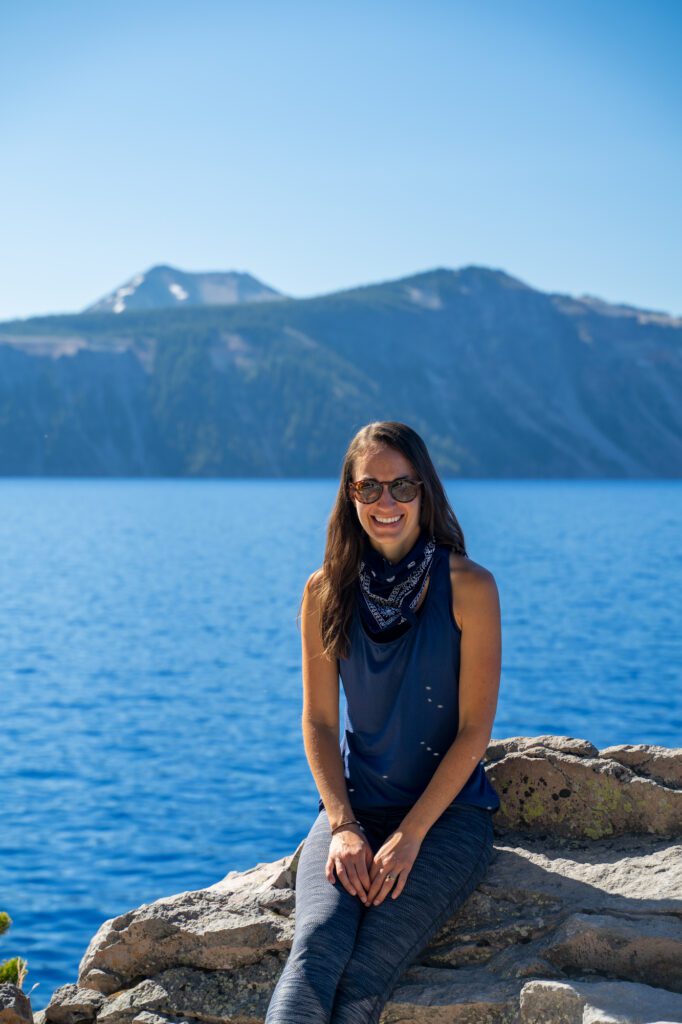 From here, exit the park through the north entrance and make your way to Bend, Oregon, one of our favorite stops on our Oregon itinerary.
Days 6 and 7: Bend, Oregon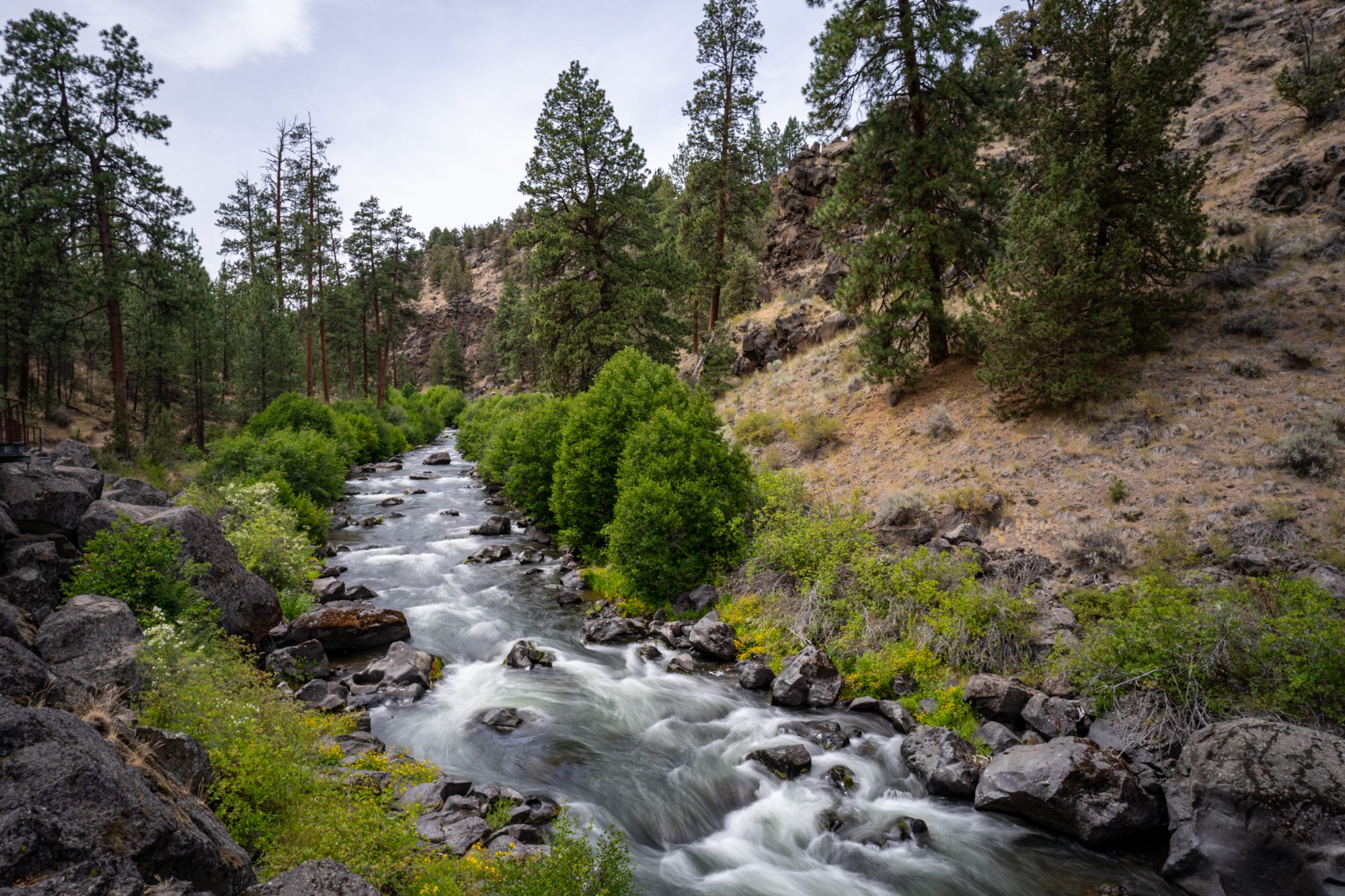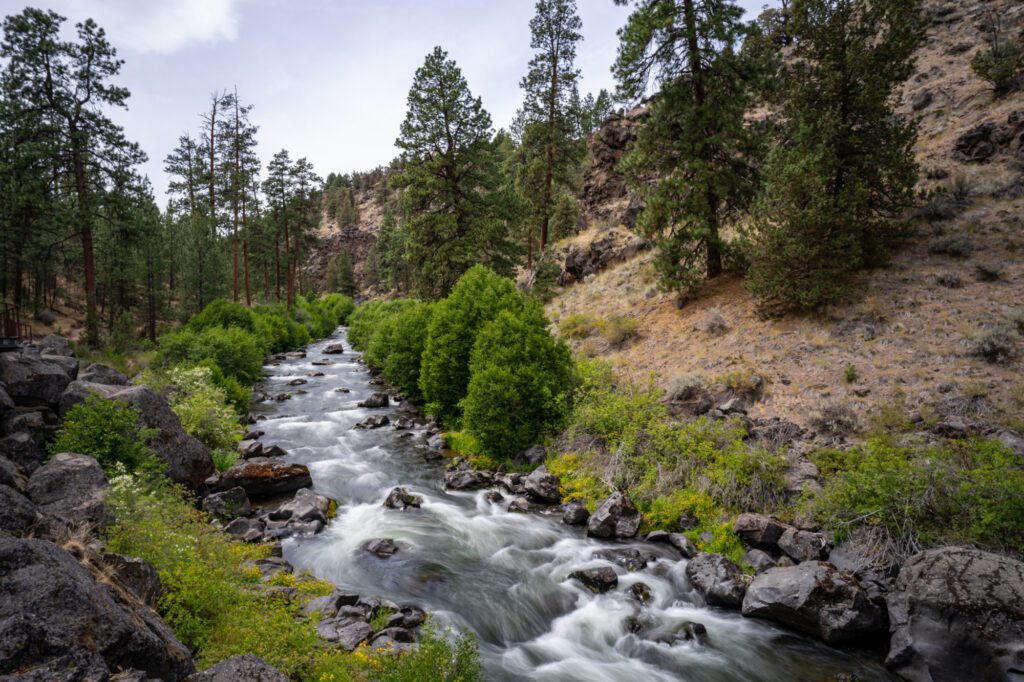 Bend is one of the best adventure towns in the nation. Whether you're into hiking, cycling, water sports like kayaking or paddleboarding, or climbing, there's something in Bend for you. Plus there's an ever-growing number of breweries, coffee roasters, cideries, and great places to eat popping up all over town.
We spent four days in Bend and basically fell in love. Then again, I think we fell in love with multiple places in Oregon, so we might just be easily excitable.
You'll spend the evening of night 5 in Bend, settling into your accommodations and grabbing a bite to eat. The real fun begins during these two days in Bend.
We recommend that you split up your time in Bend so that you spend a full day exploring Bend itself, and then spend part of the next day exploring Deschutes National Forest, which is a half hour away and has some of the best hiking in Bend.
Where to Stay in Bend, Oregon
You'll be in Bend for three nights, so you can choose either a hotel or Airbnb. In general, we lean towards Airbnb in almost all cases. We like having a space that we can call our own, and having access to a kitchen to cook for ourselves if we want to save money.
If you want to camp, we camped at Tumalo State Park and loved it. There are also plenty of camping options in Deschutes National Forest, just west of Bend in the mountains.
Best Airbnb Options in Bend
For couples who want to stay close to downtown, look at either:
For families and groups, look at:
Best Hotels in Bend
If you want to stay in a hotel in Bend, there are some solid options both in the downtown area, and on the outskirts. It depends on what you're looking for.
*Our Pick* Loge Bend: After they remodeled an old motel, Loge Bend quickly became one of the best hotels in Bend for adventure lovers. It's outside of downtown Bend to the west (15 minutes into downtown by bike), on the way into Deschutes National Forest, which puts you in an amazing location if you want to tackle some of the best hikes in Bend. They have all sorts of room configurations, including one called "the whole crew" which has a queen bed and a bunk bed, perfect for families. Plus, free bike rentals!


Oxford Hotel: If you want to be in the heart of Downtown Bend, the Oxford Hotel is the spot. All rooms have a mini-fridge and coffee maker, but the Oxford rooms and the King Suite also have a full kitchen. You'll pay a little extra for the convenience of being downtown, and you'll have access to complimentary bike rentals to cruise around Bend.


Pine Ridge Inn: Tucked away on the south side of town along the Deschutes River, this boutique hotel is a nice, secluded home base for your Bend adventure, especially for couples. Plus, you'll be greeted with a glass of wine or beer, which is always a good start to your trip. Some rooms have views of the river, and jacuzzi tubs.
What to Do in Bend, Oregon
There are so many things to do and see in Bend that, with extra time, you should definitely add a day here.
Walk along the Deschutes River: From the Old Mill District, you can walk south along the river. It's flat and peaceful, and is a great spot to take kids.
Caving, Kayaking, or Canoeing with Wanderlust Tours.
Float the Deschutes River in the summer (use the Ride the River shuttle!).
Where to Eat in Bend
Here are four awesome places to eat in Bend. All have gluten free options.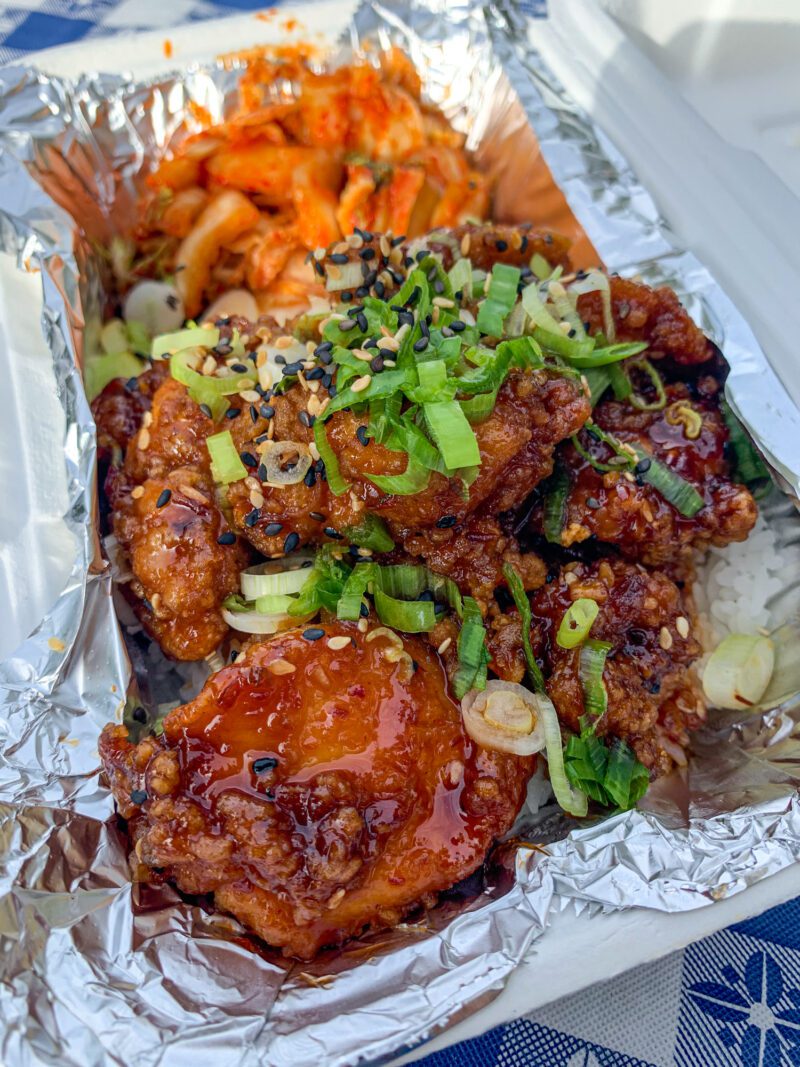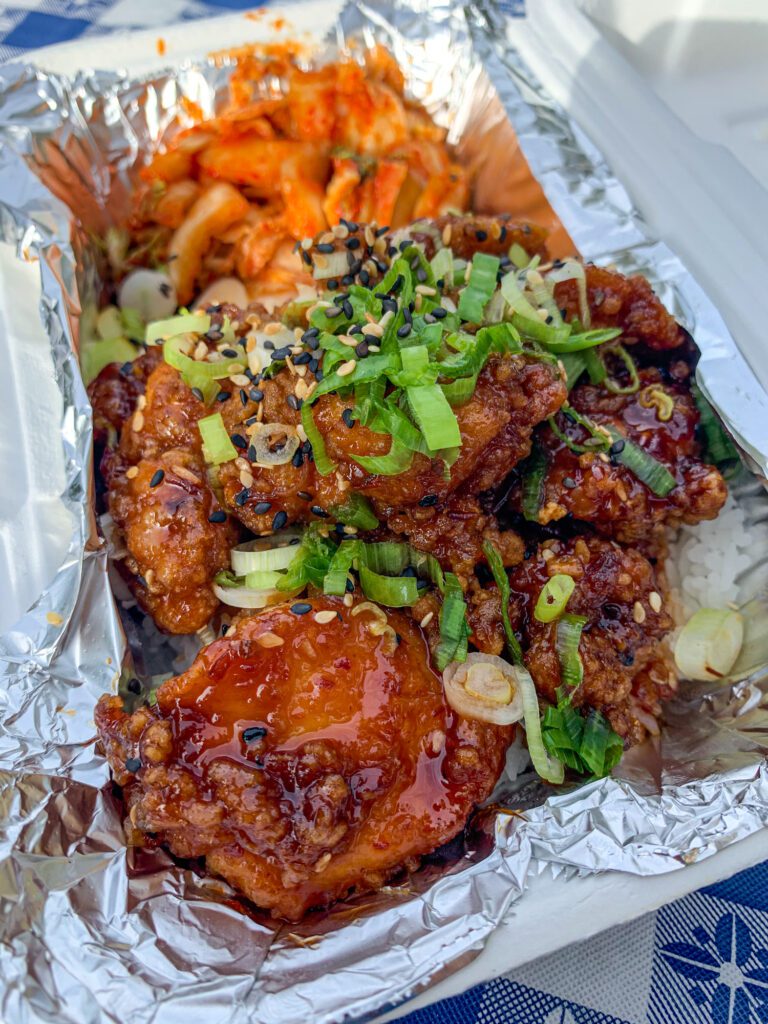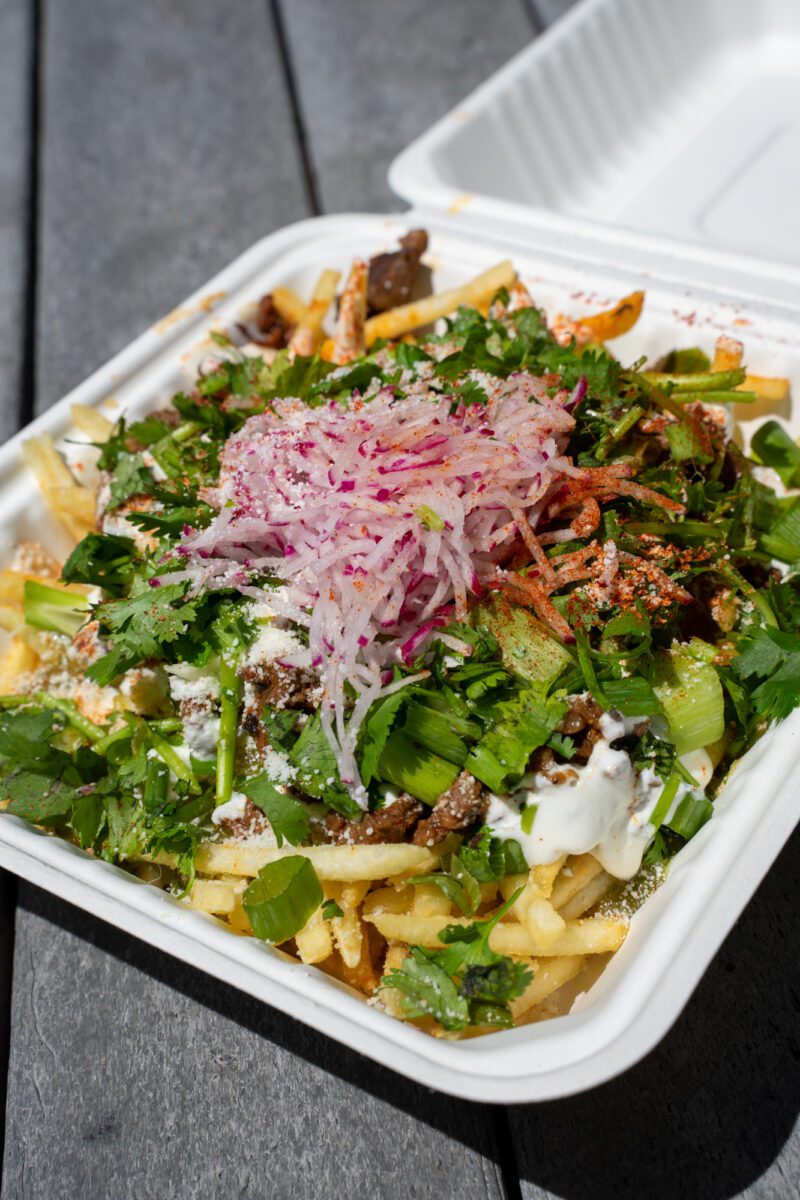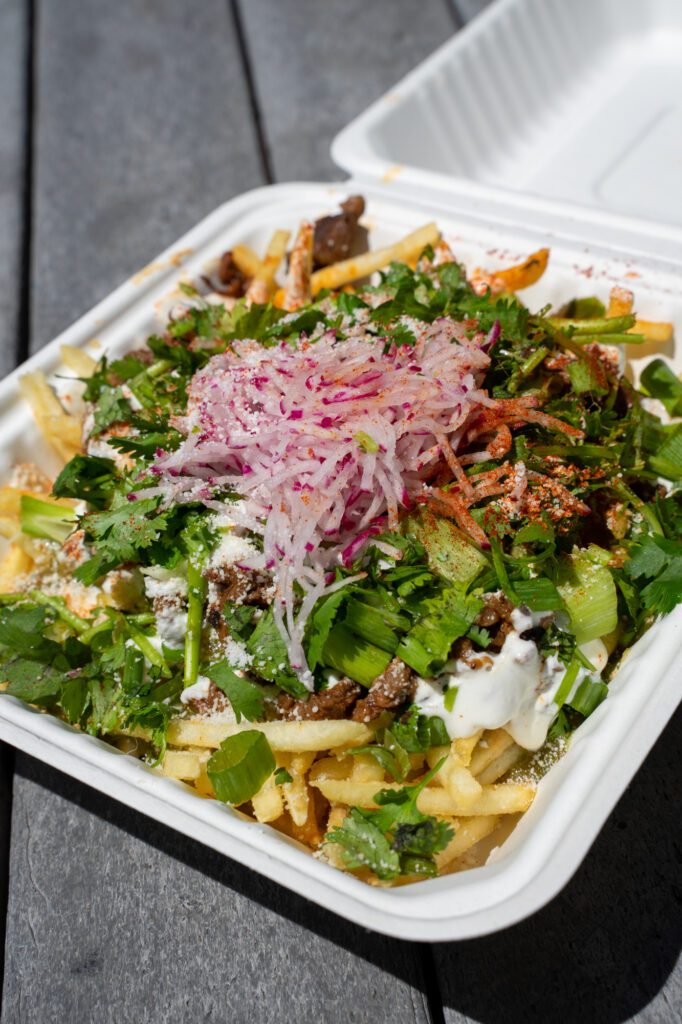 Where to Drink in Bend
This is where Bend really shines. Breweries, cideries, coffee shops – you name it, Bend has seventeen of them.

Here are the best of the bunch.
For coffee
I'm (Matt) a full-fledged coffee snob. Give me the fruitiest single origin pour over you've got. So a part of every single one of our trips includes seeking out the best coffee spots. Here were my favorites.
Lone Pine Coffee Roasters: This was our favorite spot. It's an open, warehouse style space right downtown with the roaster right there in the back. They have plenty of single-origin beans, prepared as filter coffee or espresso.


Thump Coffee: I actually noticed Thump in Denver on our last stop there, which surprised me because I thought it was a Bend company. Turns out, they're doing so well they expanded to Colorado!


Megaphone Coffee Company: Bright is the first word that comes to mind. Both the space, and the coffee. Good coffee, good people, good place to fuel up before a day of exploring Bend.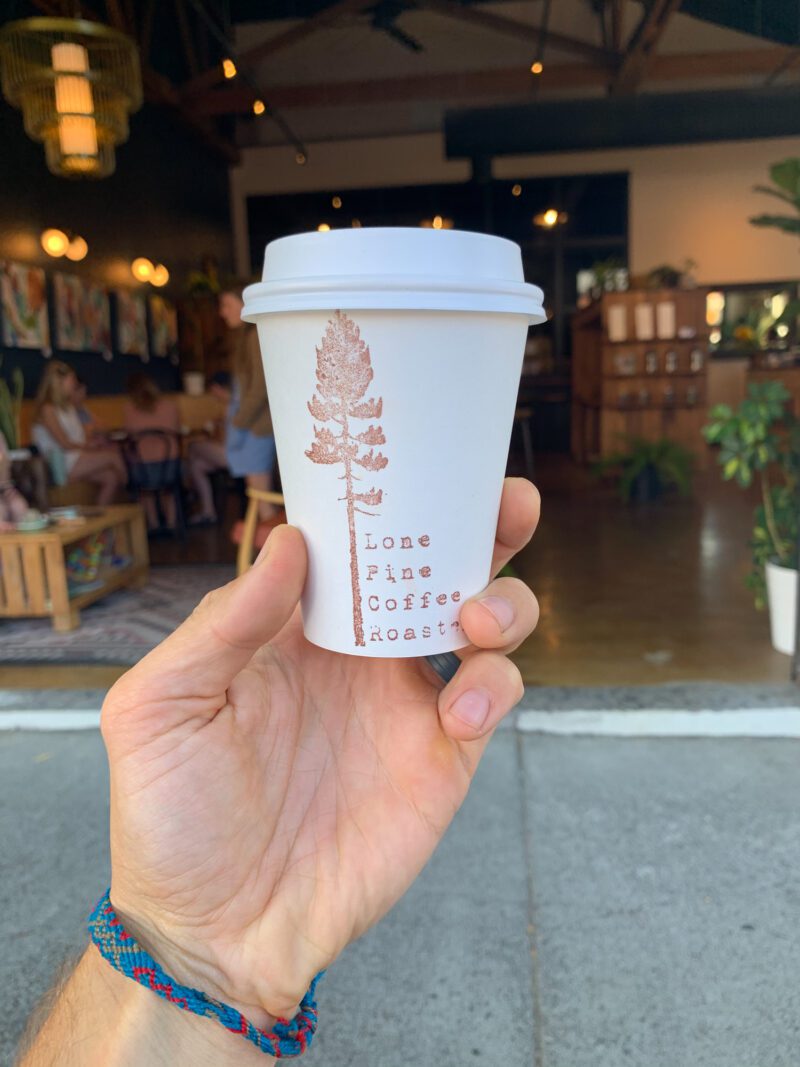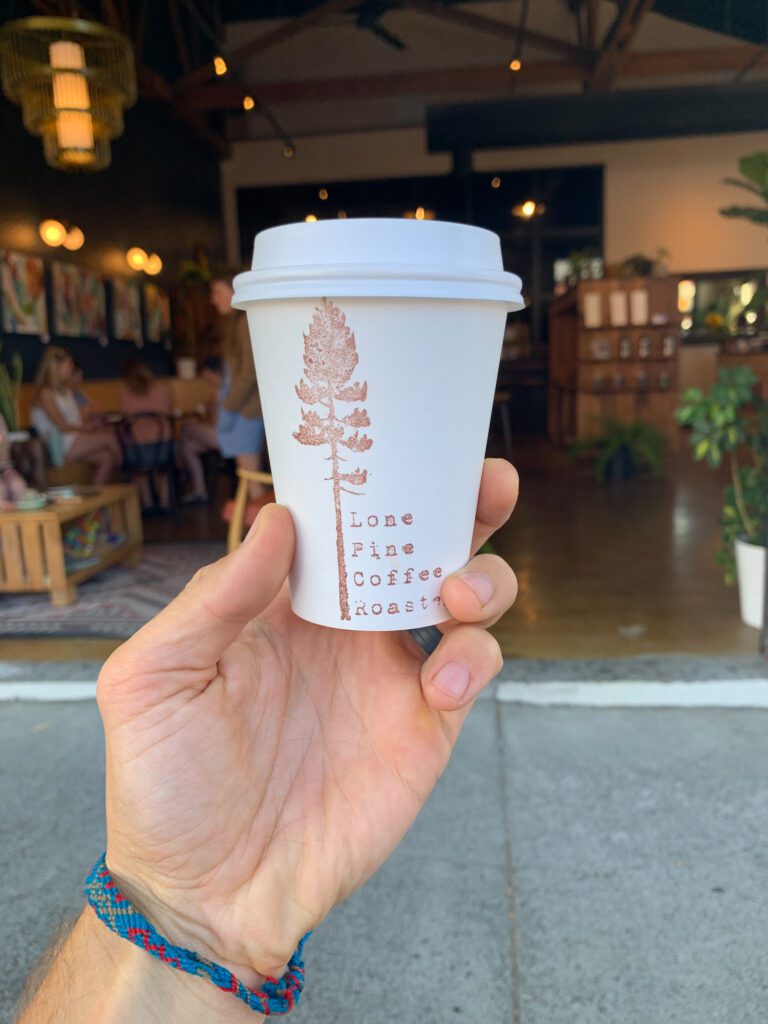 For kombucha, head to either Humm's Tasting Room or the Townshend Tea House.
For Beer
Like I mentioned before, I can't drink 99% of beer because I can't have gluten.
But I have spent time brewery-hopping in Bend thanks to a bachelor party. My favorite breweries (for atmosphere and the space itself) were 10 Barrel Brewing, Crux Fermentation Project, which has a cool outdoor space, Bend Brewing Company, and Silver Moon for their trivia on Thursday nights.

It's also worth doing a tour of Deschutes Brewing, which will take you on a guided tour of their brewing facility in Bend.
For Cider
The best cider in Bend is actually 15 minutes north of downtown Bend within a few blocks of each other.
First is Tumalo Cider, which serves up all sorts of apple + fruit combinations that are on the dry end of the spectrum, which is what we prefer.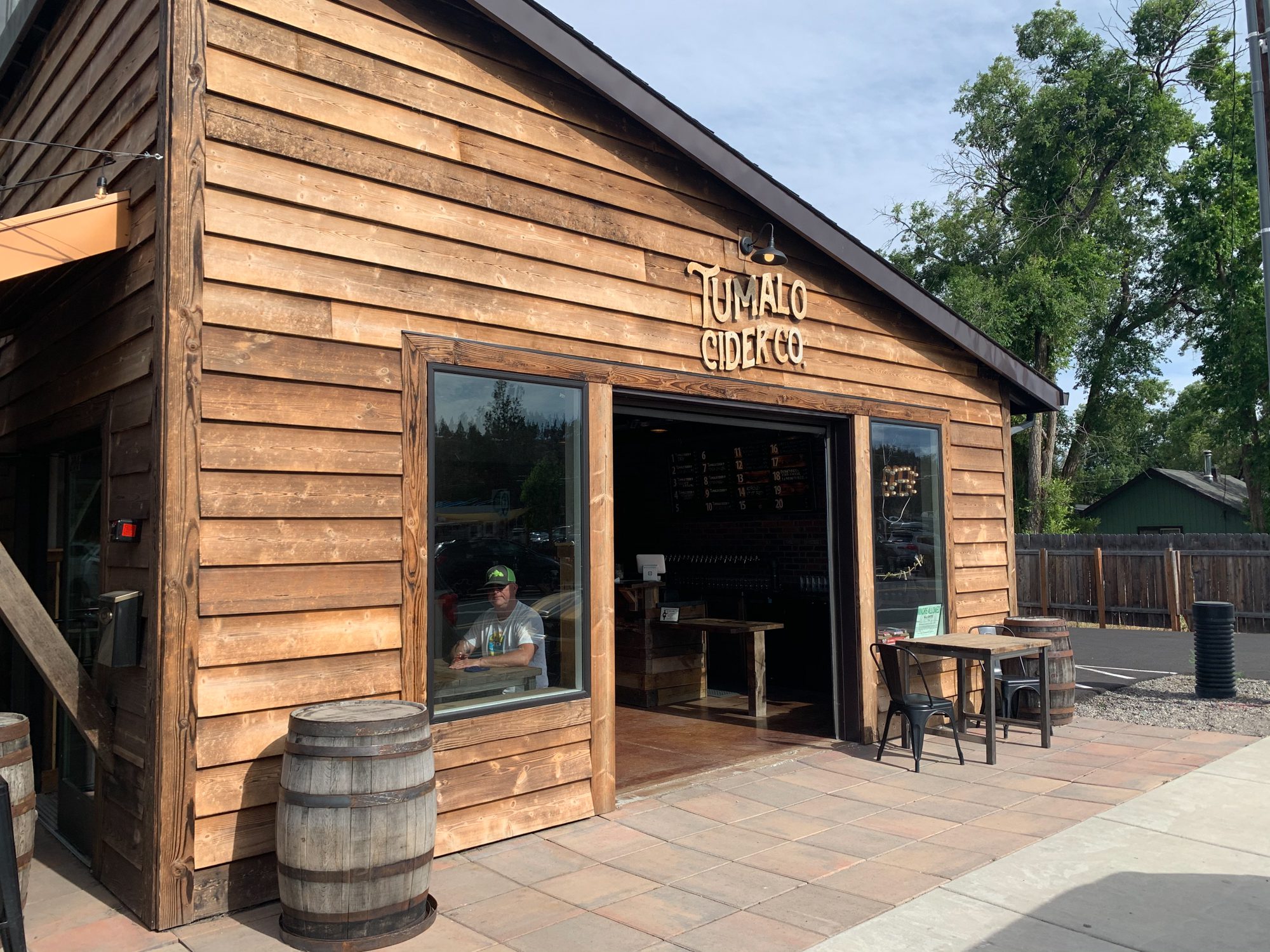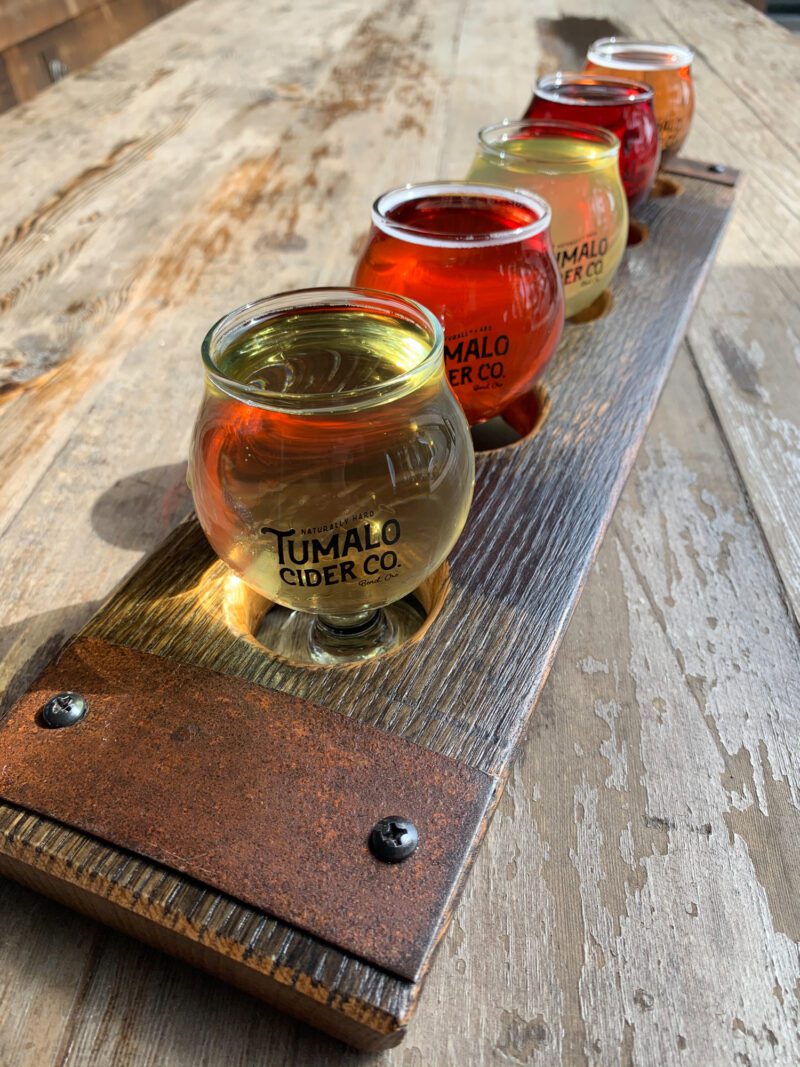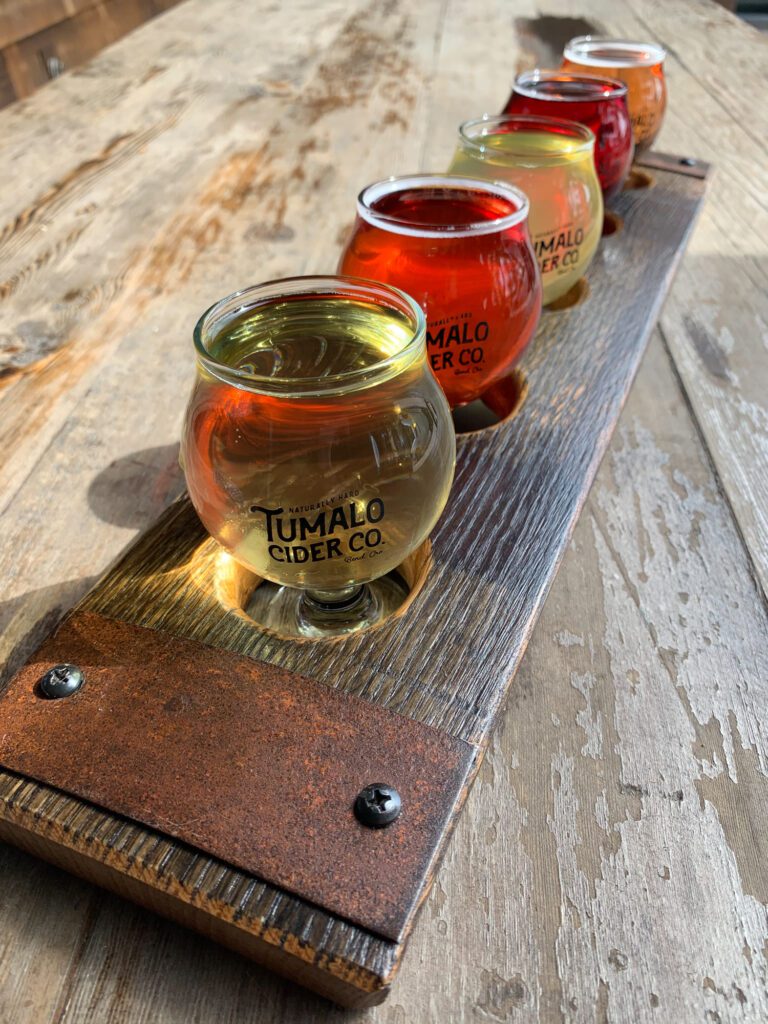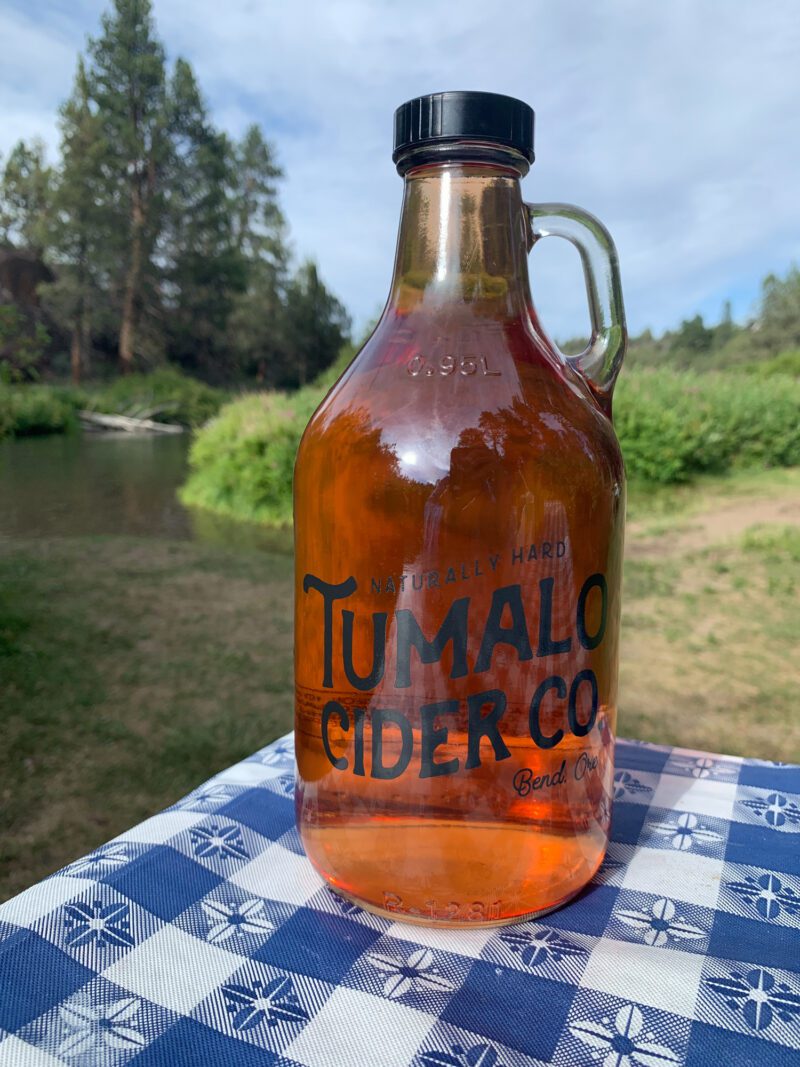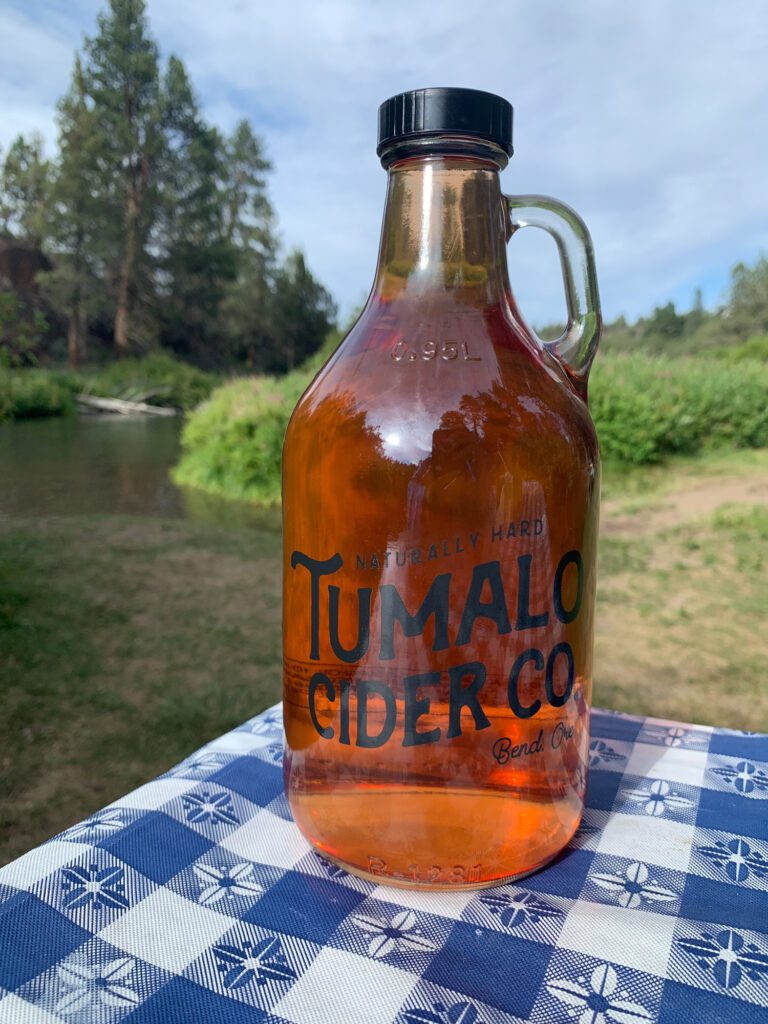 Second is Bend Cider Co, which has a new tasting room just around the corner. They have interesting flavor combinations, like Mandarin Juniper and Acai Mint.
The Best Hikes in and Around Bend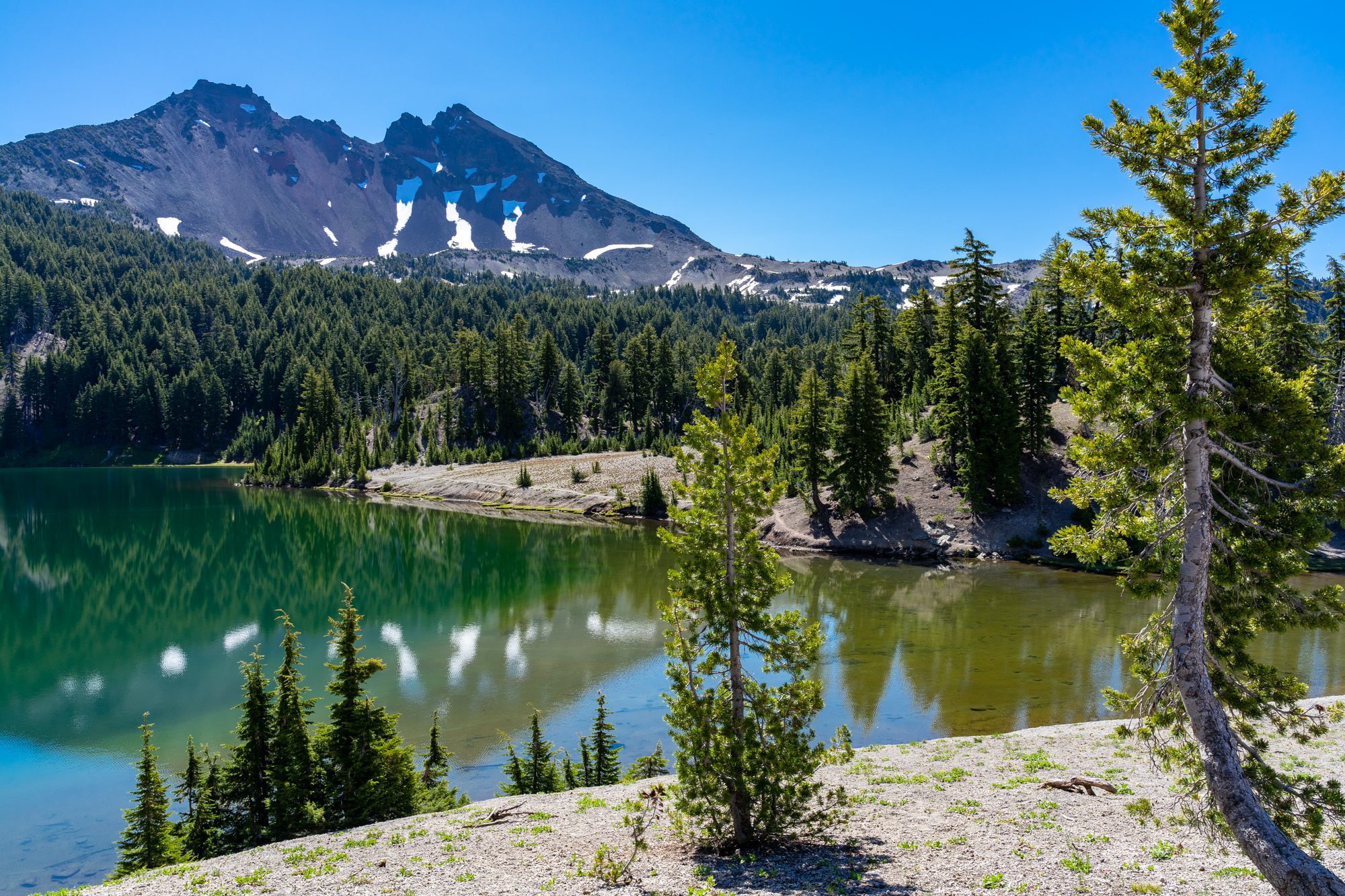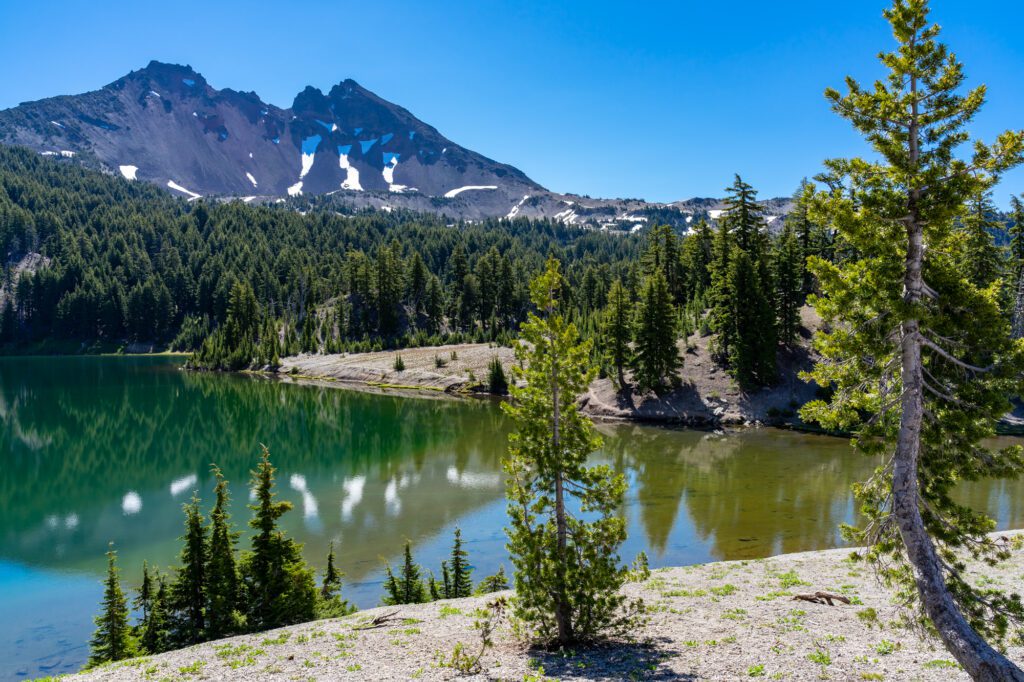 We have a full guide to the 12 best hikes in Bend, but here are the highlights.
Pilot Butte: Short and sweet hike in downtown Bend that takes you up to the top of a cone with views of the surrounding area, including all the mountain peaks.
Green Lakes Trail: Our favorite hike. It's in Deschutes National Forest just past Mt. Bachelor, and takes you up a spectacular valley along a river to a lake nestled between the South Sister and Broken Top.
Tumalo Falls: Medium hike to a gorgeous waterfall. Trailhead is west of Bend.
Day 8: Smith Rock State Park + Drive to Government Camp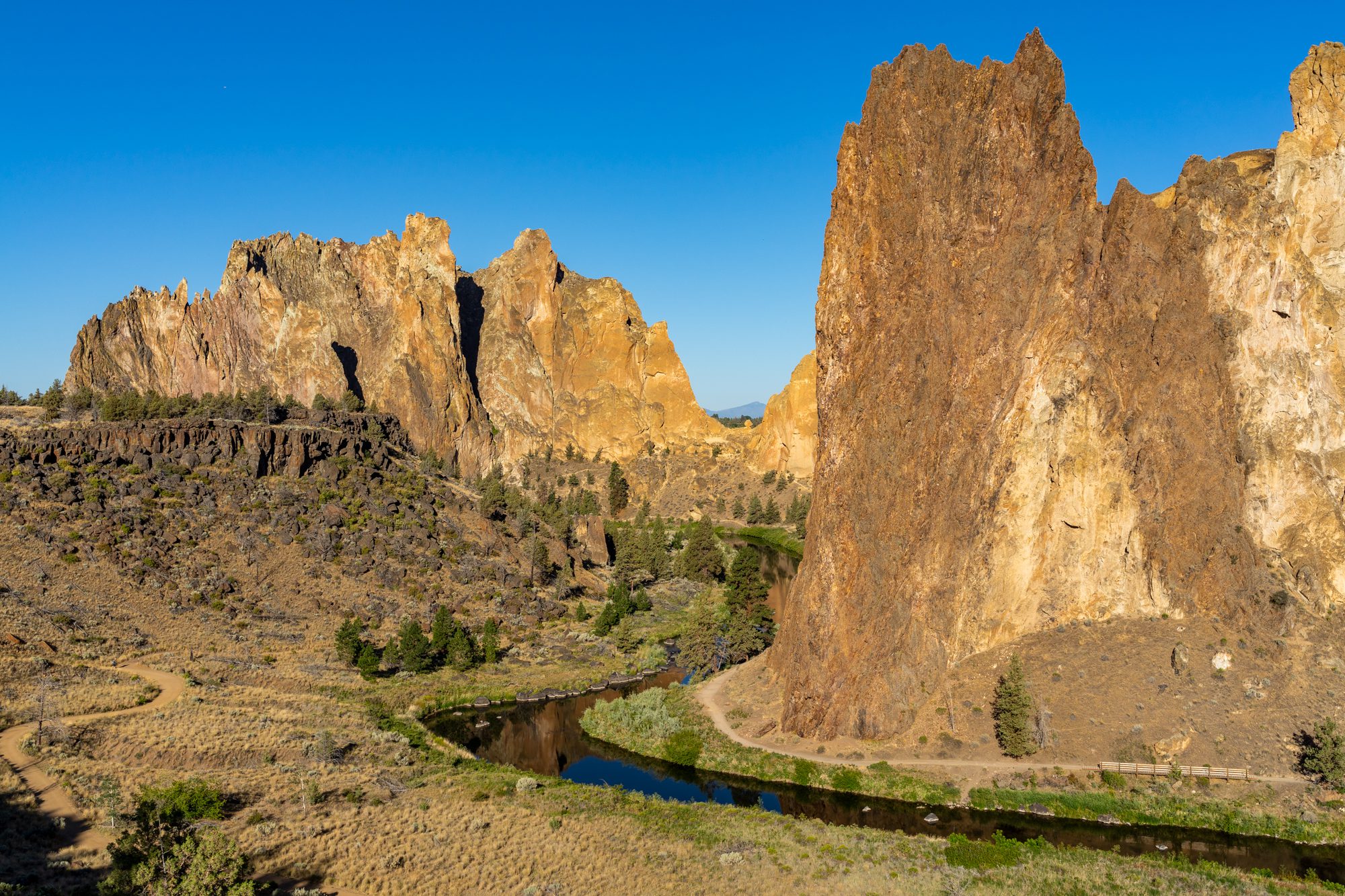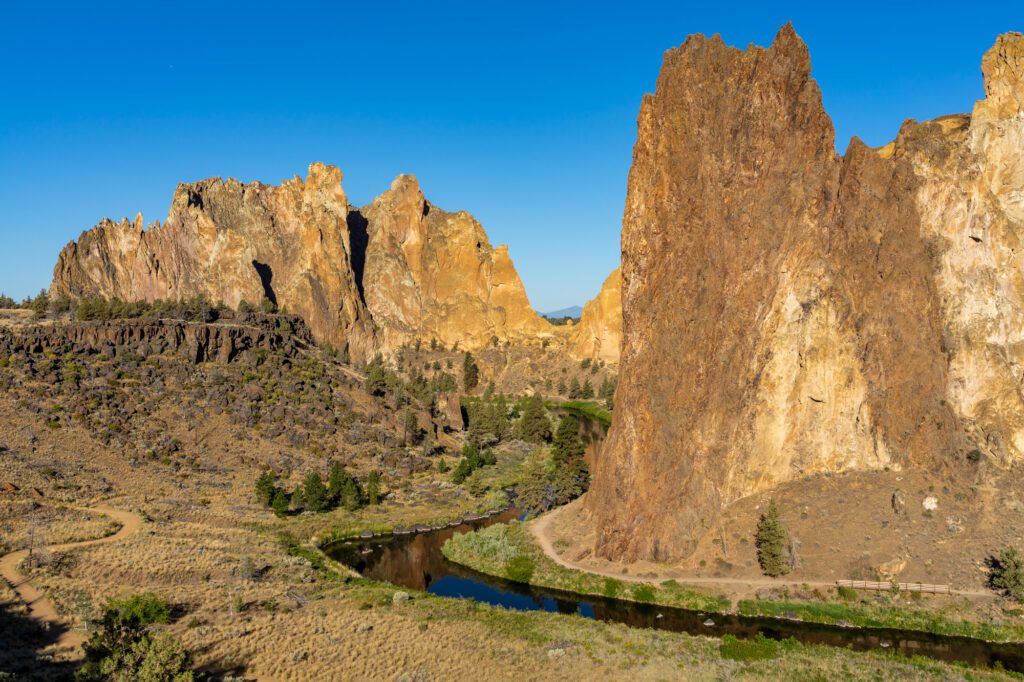 After a couple of days exploring Bend, it's time to head north to Mt. Hood, another great place for outdoor lovers. On the way, make a stop at Smith Rock State Park, which is a great reminder that Bend is between the mountains to the west, and the desert to the east.
Smith Rock State Park ($5 entrance fee with pay stations that take card) is well worth a stop. Every time we've been there, we're flabbergasted by the juxtaposition between the terrain here, and the terrain in the National Forests just on the other side of Bend. It has some of the best climbing in the state, which means climbers flock here early in the day to beat the desert heat.
Not a climber? No worries. Do the 4 mile hike up to Misery Ridge, around the back past Monkey Face, a top climbing destination, and loop back along the river. It's correctly named – the initial climb is pretty brutal, but once you get to the top it's a gradual descent back to river level, where it flattens out. Watch out for rattlesnakes in the summer! We saw one and I almost stepped on it.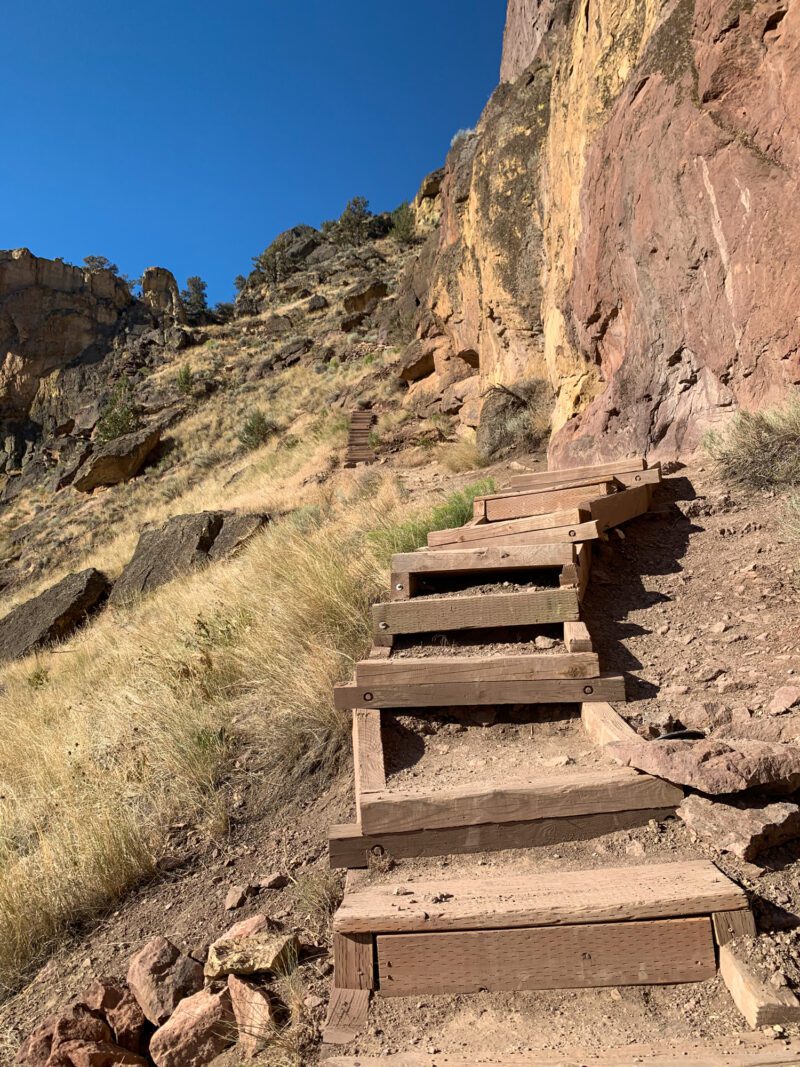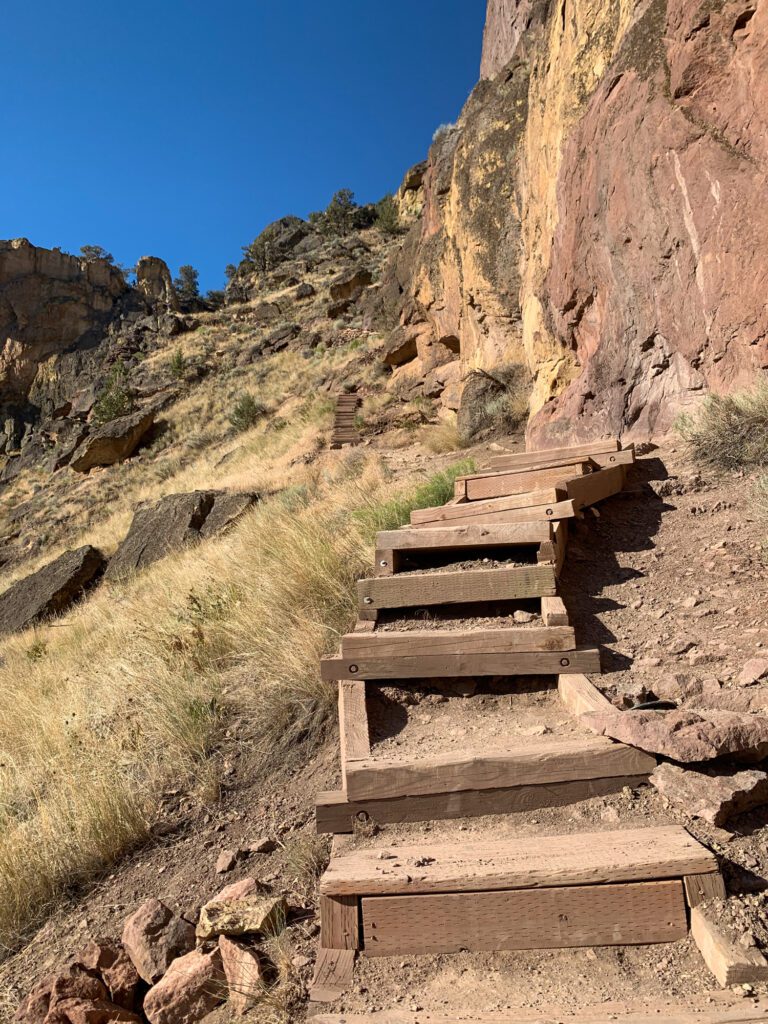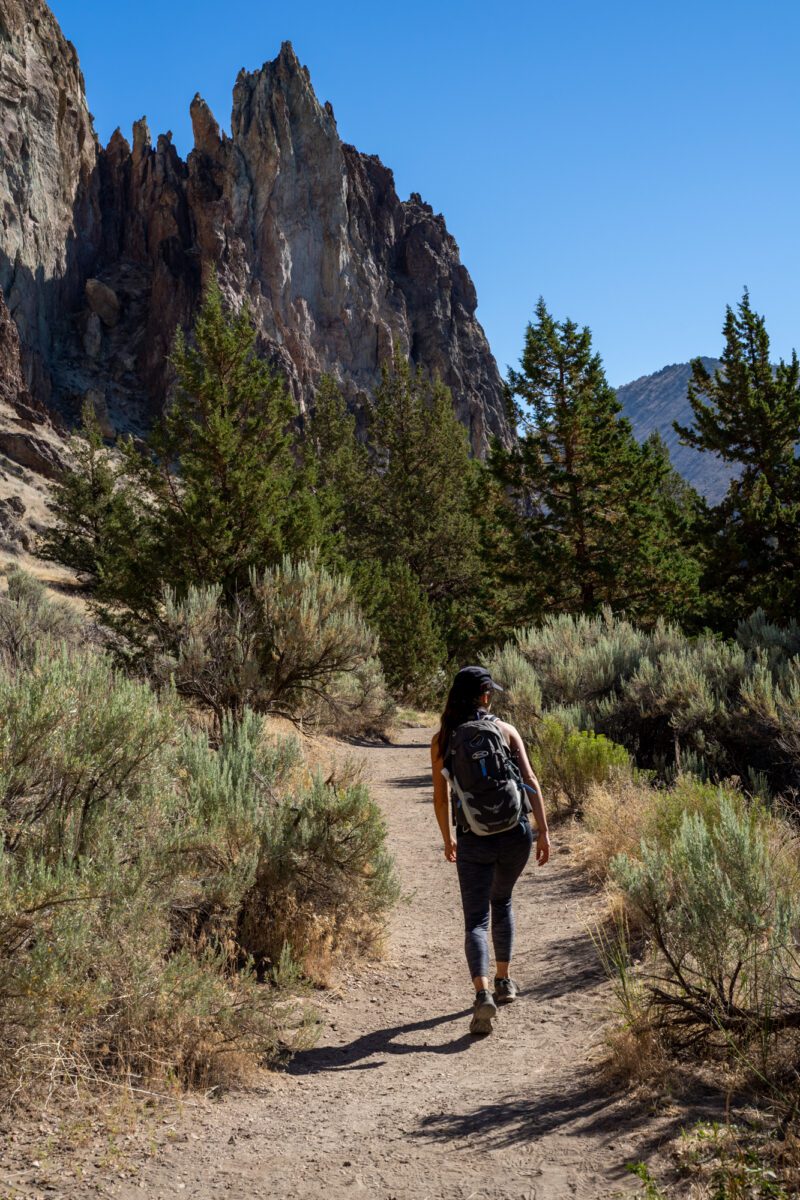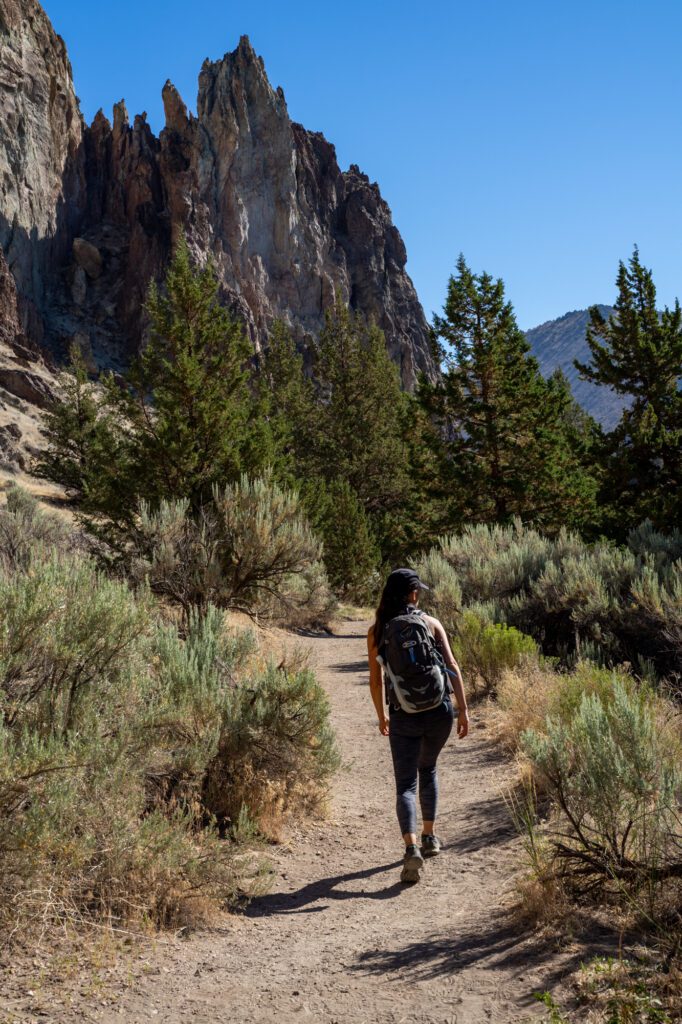 Next, it's time to head up to Mt. Hood, another incredible place full of outdoor activities of all kinds.
Days 9 and 10: Mt. Hood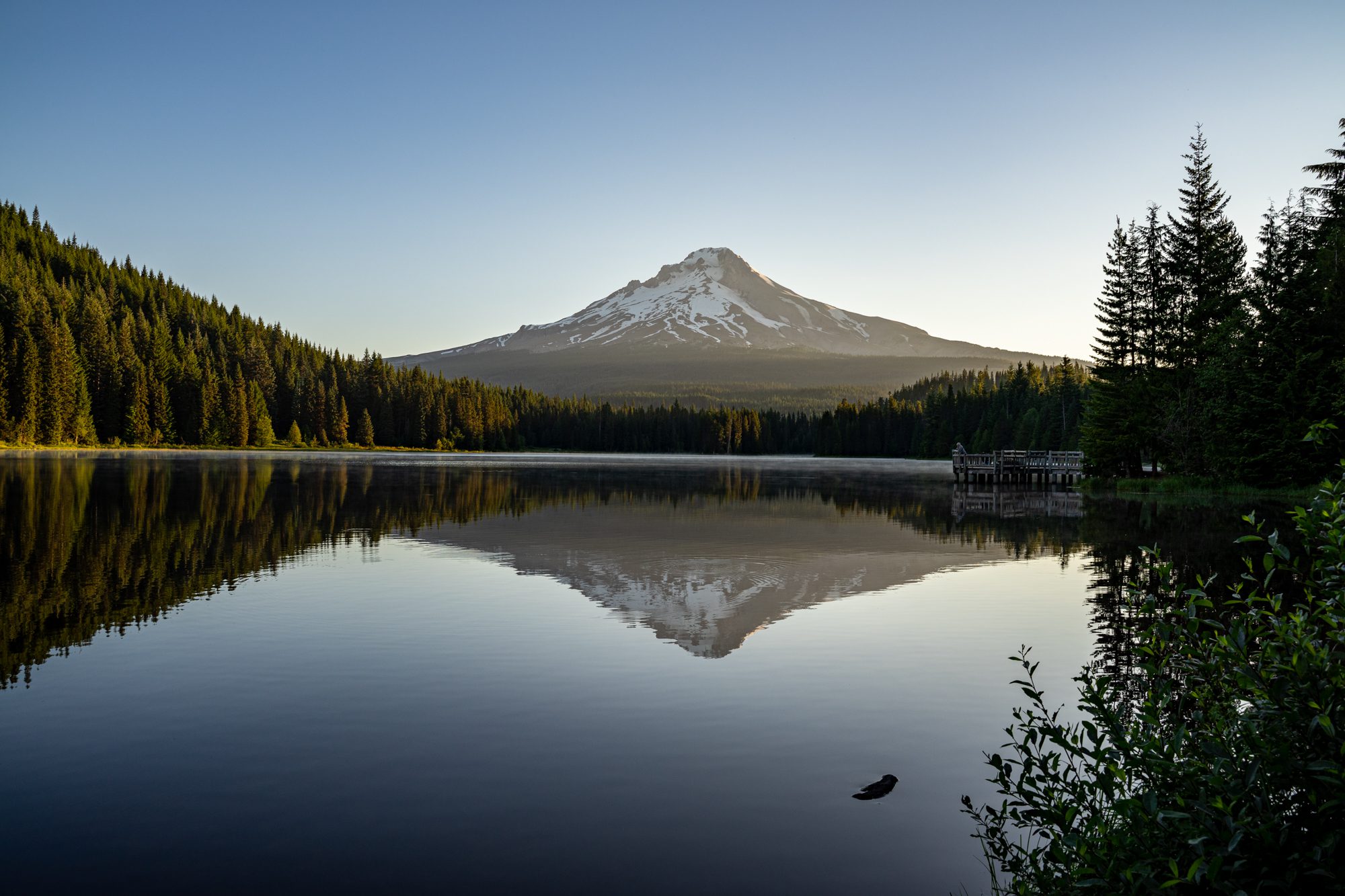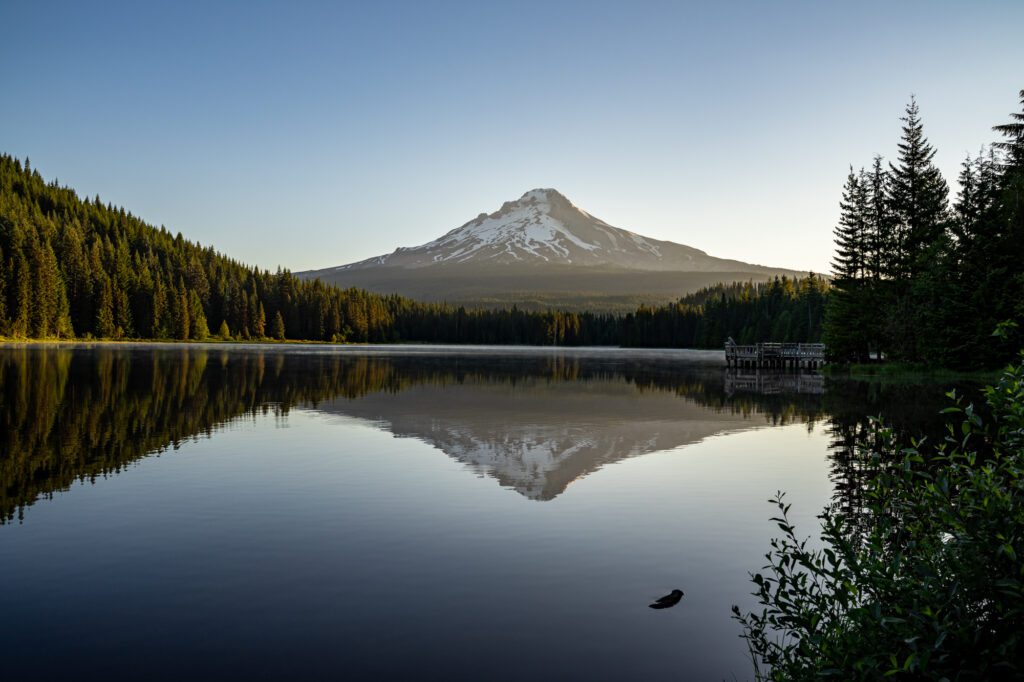 We spent four days in Mt. Hood and basically loved every second of it. It's hard not to be overwhelmed with the area's natural beauty when around every single corner you'll see epic views of the namesake mountain.
Mt Hood has the best hiking in Oregon. Whether you want a flat stroll to a spectacular waterfall or an epic 13 mile climb that takes you so close to the mountain you can basically reach out and touch it, Mt. Hood has a perfect hike for you.
Where to Stay in Mount Hood
Government Camp and the south side are the best base for exploring all the incredible hikes in the area.
However, we did stay at Lost Lake Resort and Campground on the north side of the mountain for a couple of nights and it was an amazing place to stay. Just know that it's significantly further away from places like Trillium Lake and Timberline Lodge.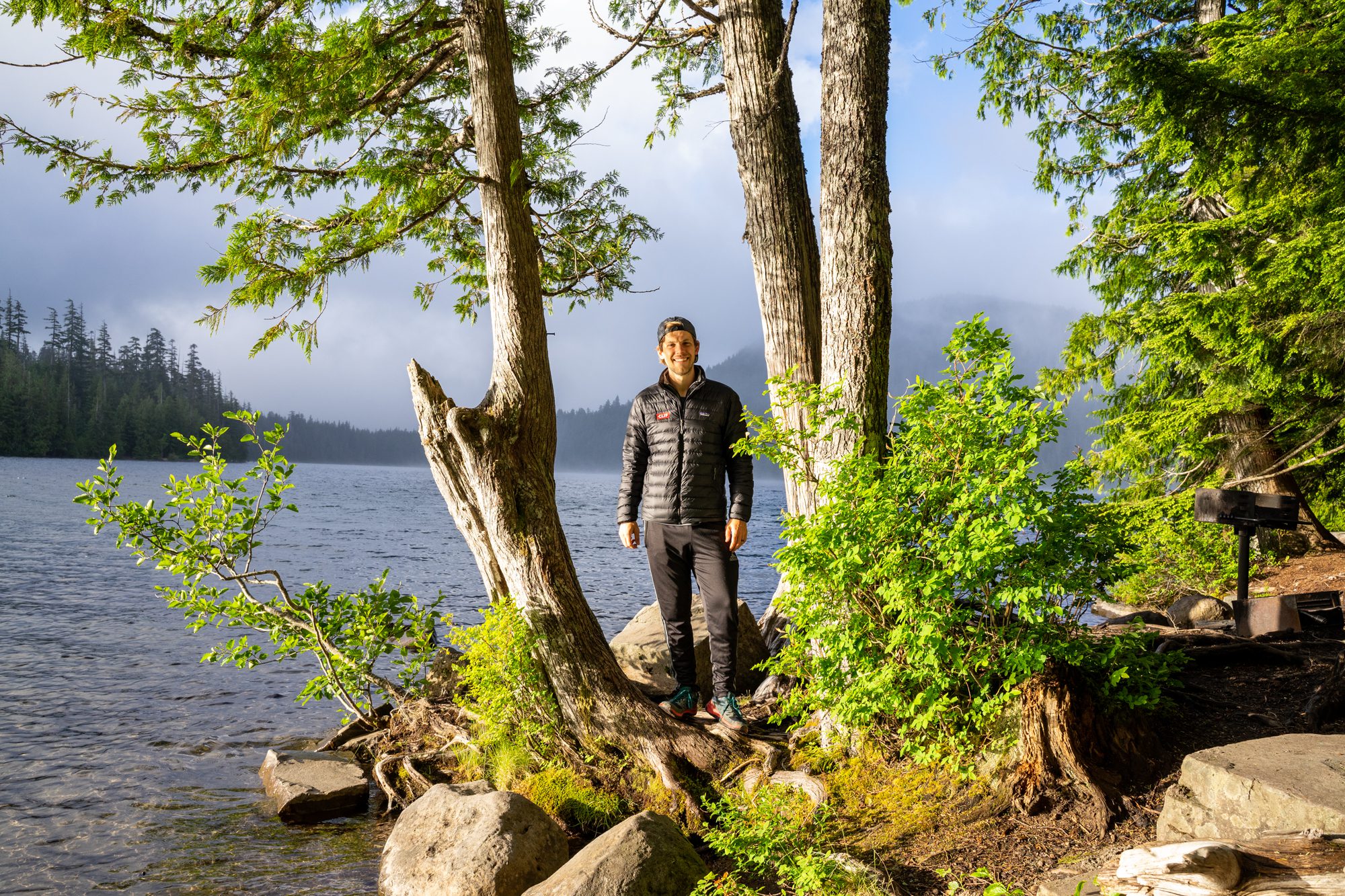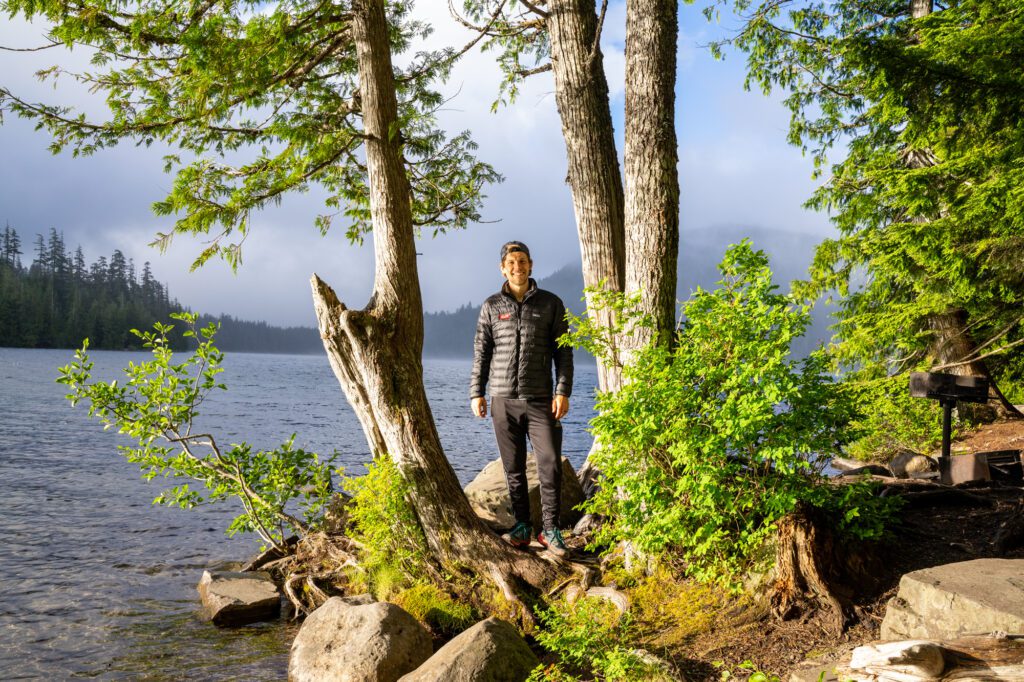 We also camped at Trillium Lake Campground, which is in the vicinity of basically all of the hikes and activities near Mt. Hood. Plus, you'll want to go there for either sunrise or sunset, and camping will put you in the perfect position.
If you don't want to camp, I'd pick one of the countless rustic cabins on Airbnb. Here are three that caught my eye.
By far the best hotel option in the area is the historic Timberline Lodge.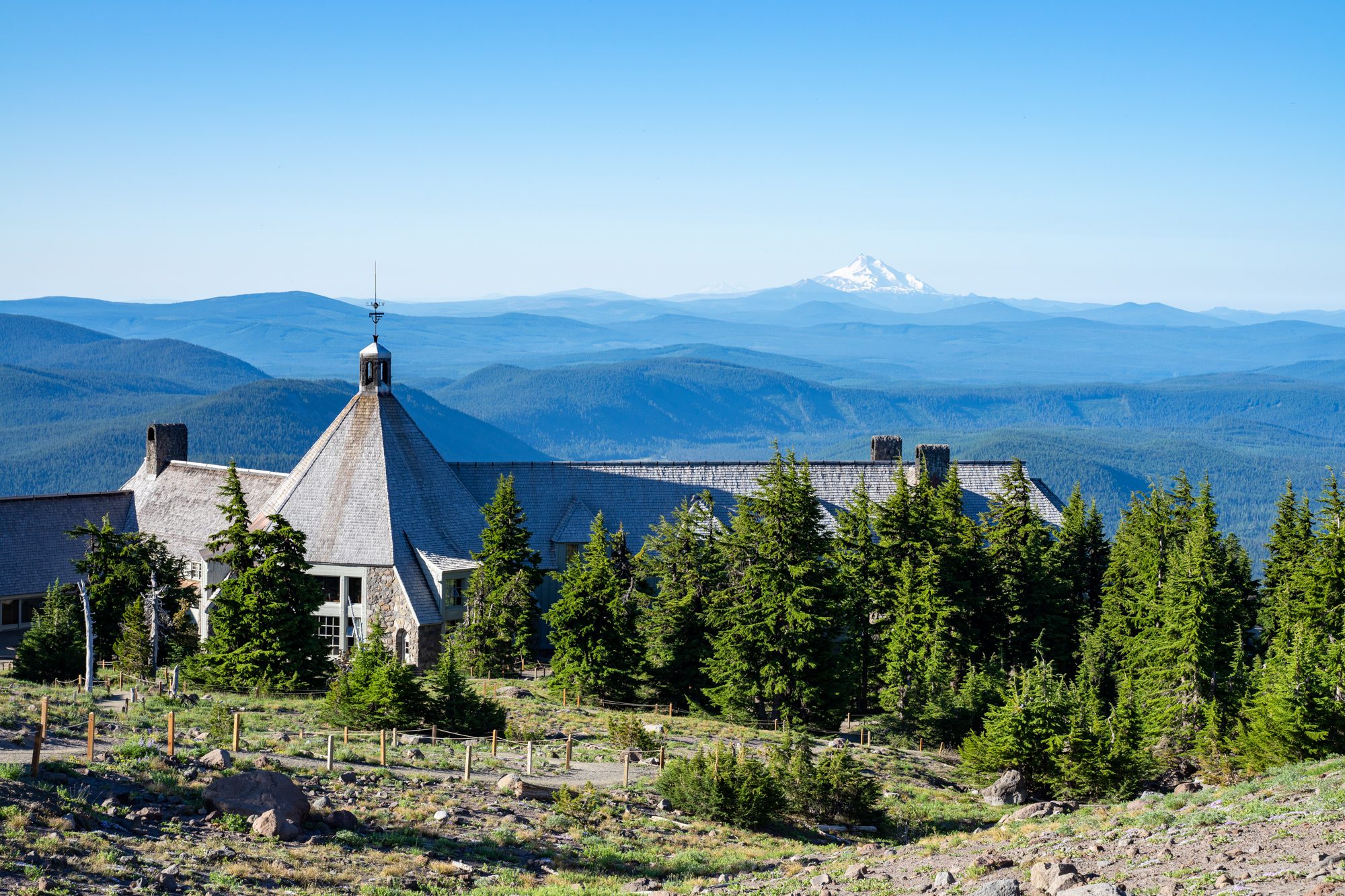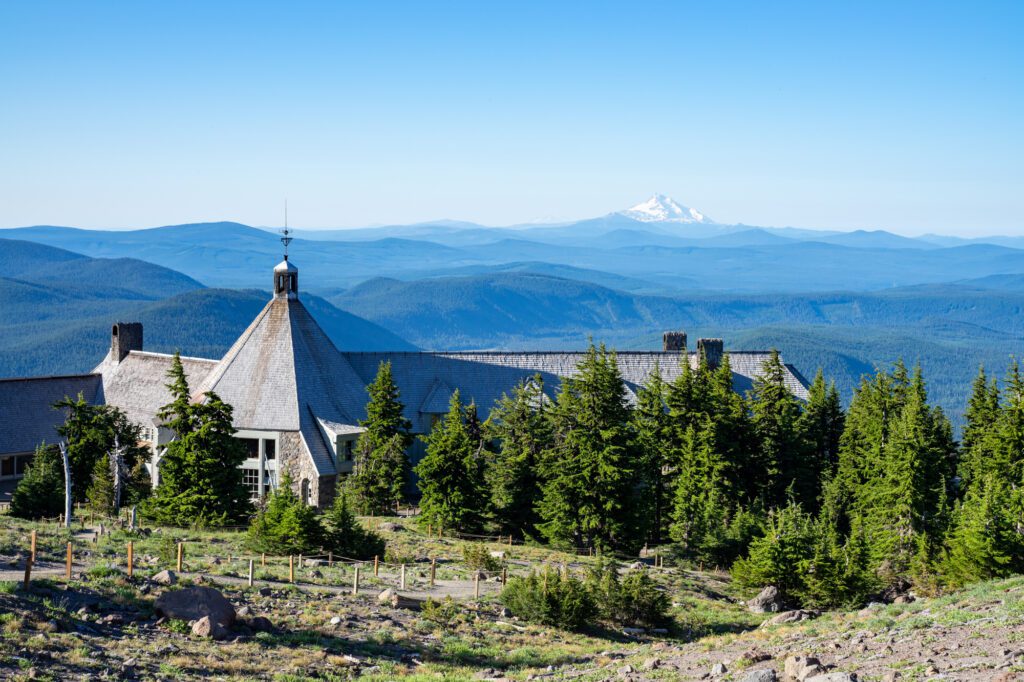 What to Do in Mt. Hood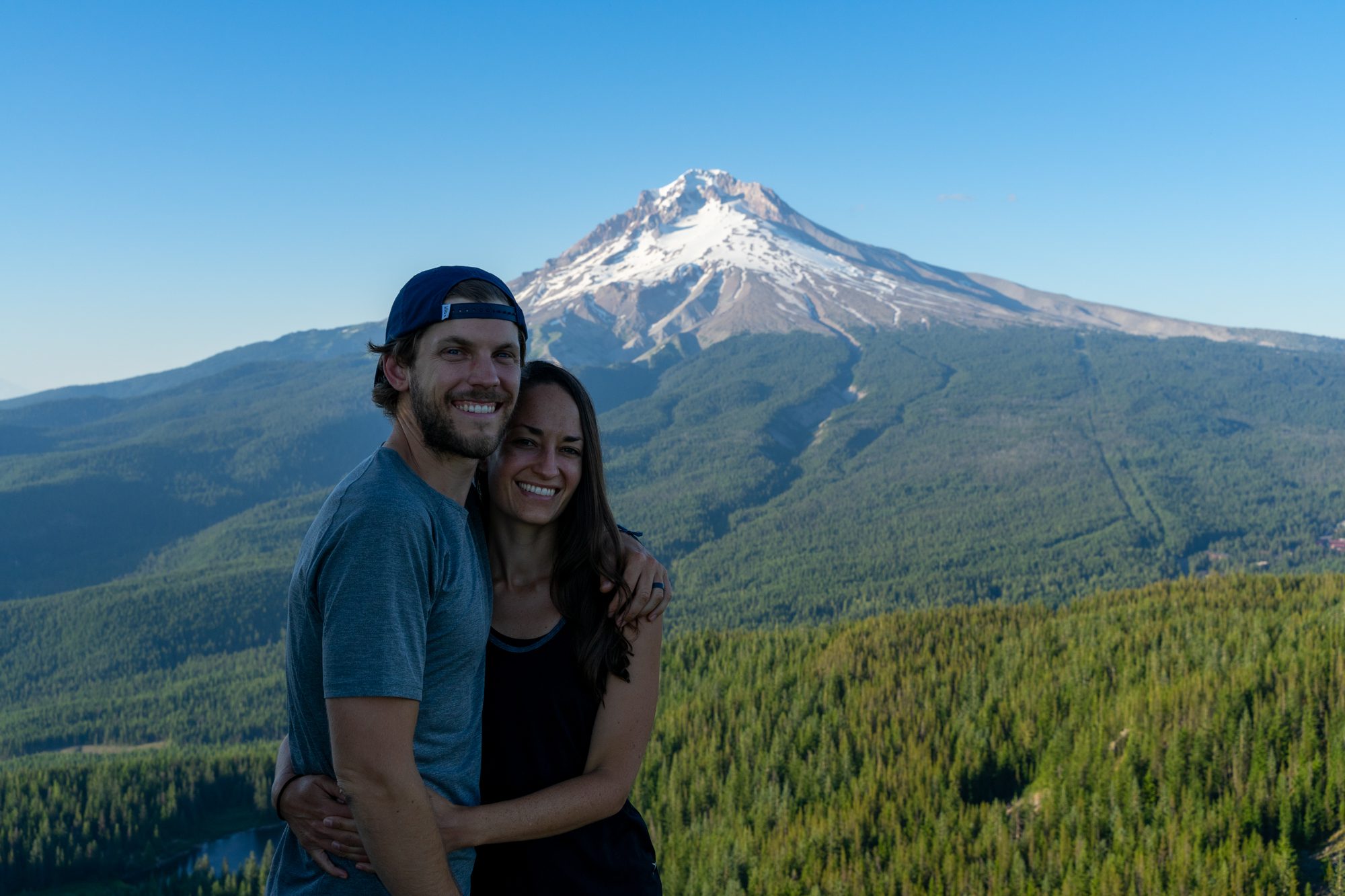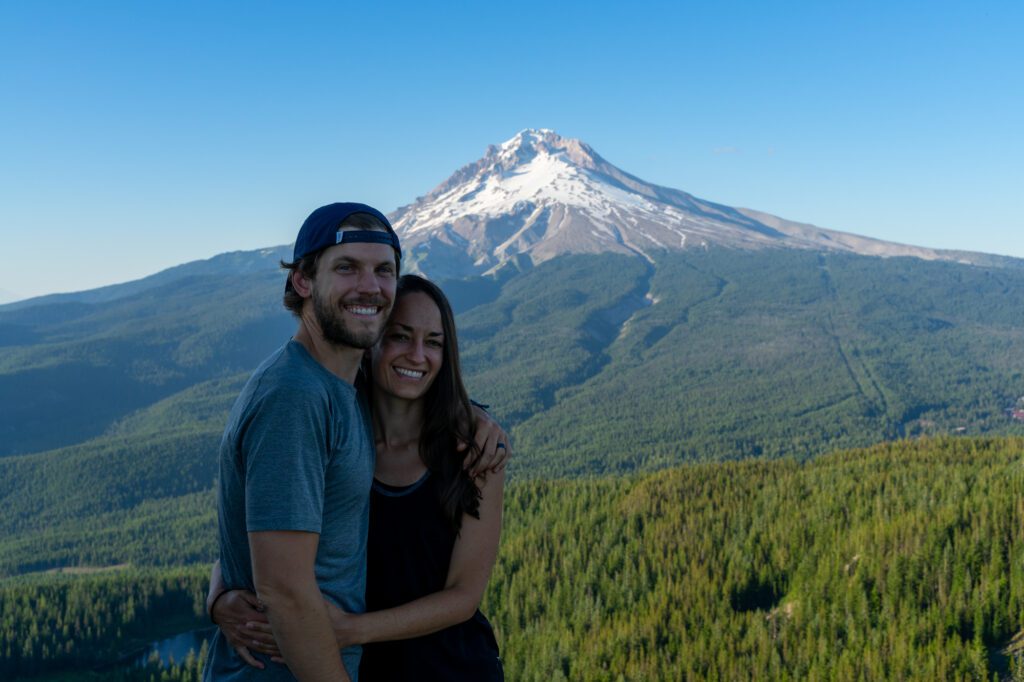 In a word, hike! Here are our picks for the best hikes around Mt. Hood, along with some other things to do in the area. Note that your next stop is Hood River, so you'll have plenty of time to explore the Hood River Valley in a few days.
Get so close to Mt. Hood that you can practically reach out and touch it with the hike to McNeil Point.
Hike to a towering waterfall with a river crossing at Ramona Falls.
Hike to an unobstructed view of Mt. Hood at Bald Mountain from Lolo Pass.
Catch sunset at Trillium Lake, when the stillness of the evening gives you a picture-perfect reflection of Mt Hood on the surface of the lake.
Tackle the easy hike up to Mirror Lake, which is a great hike to do with kids or inexperienced hikers. Adventurous hikers should continue up to Tom, Dick, and Harry Mountain for some of the best views in the area (either one is a good sunset spot).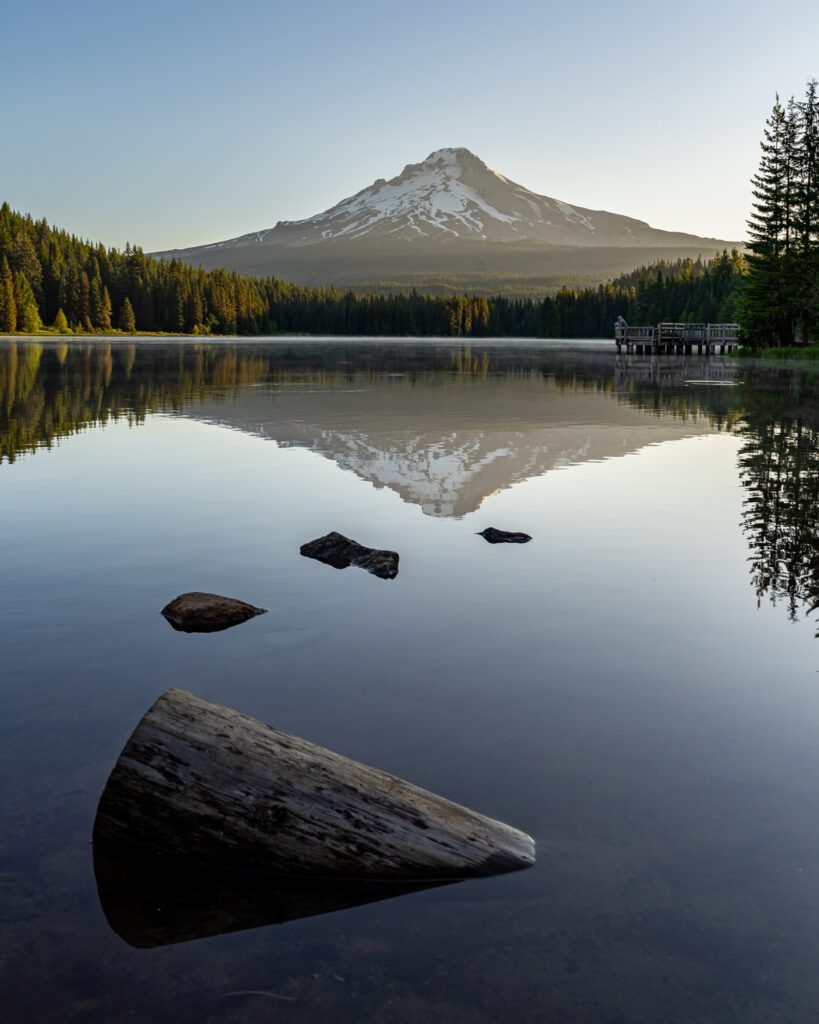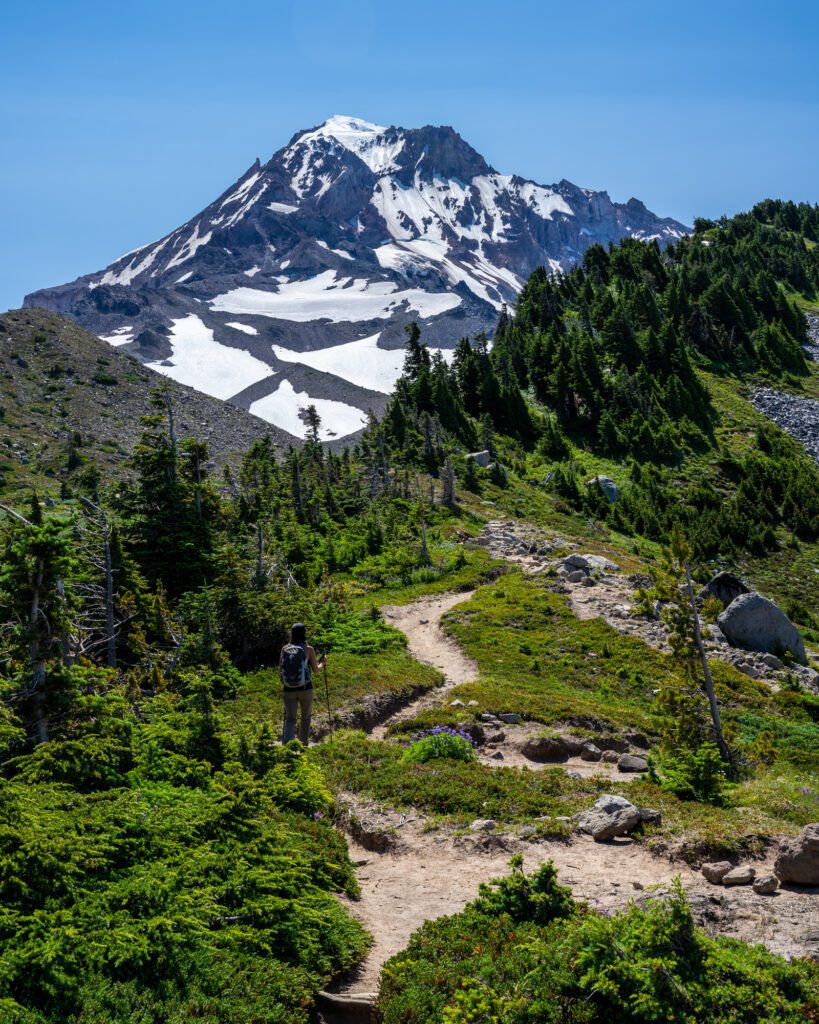 Days 11 and 12: Hood River + Columbia River Gorge
Hood River is a cool town right on the Columbia River that offers great access to the natural beauty nearby. From the countless waterfalls in the Columbia River Gorge, to the lush and bountiful farm land of the Hood River Valley, there are plenty of things to do and see here to keep you busy for a couple of days, if not more.
On your way from Government Camp to Hood River, make sure to drive through the Hood River Valley and do the Fruit Loop. No, not my favorite breakfast cereal growing up (sadly), the loop that takes you through the lush land to the south of Hood River, which is full of farms and orchards that you can visit. Here's a guide.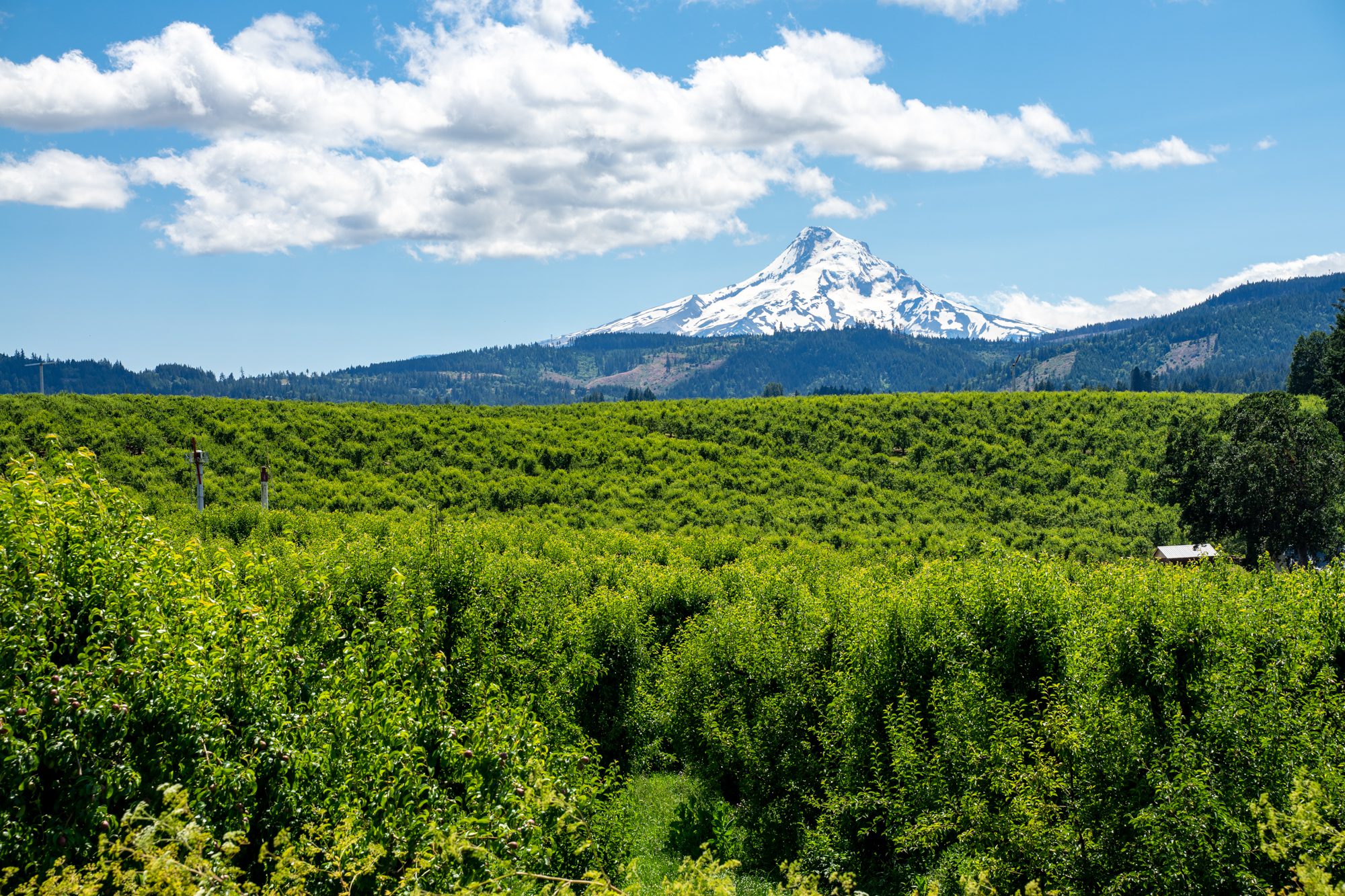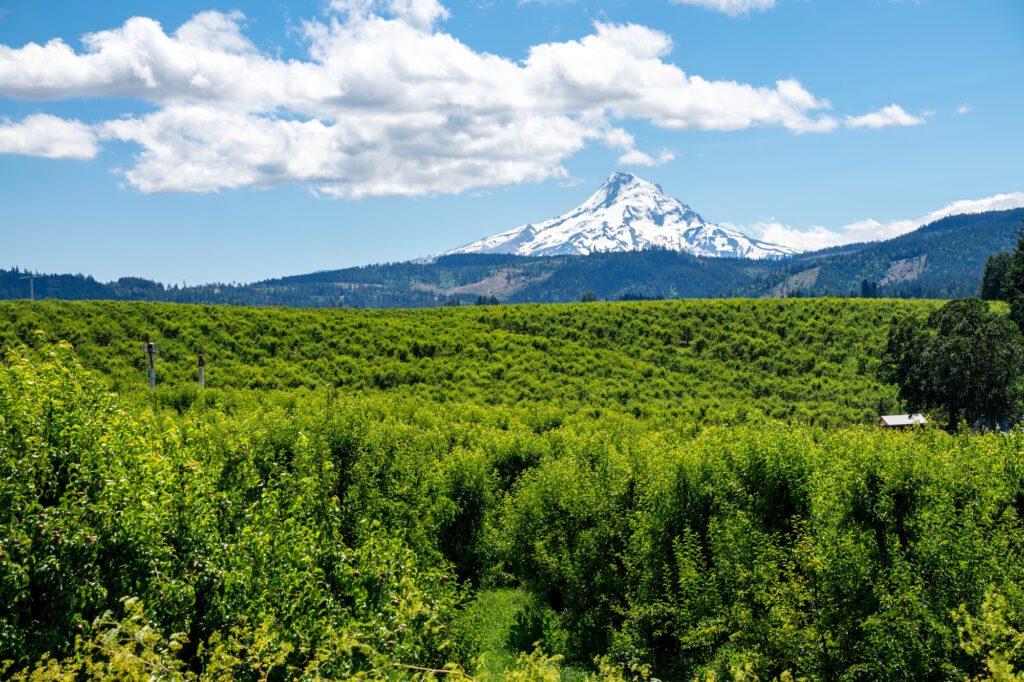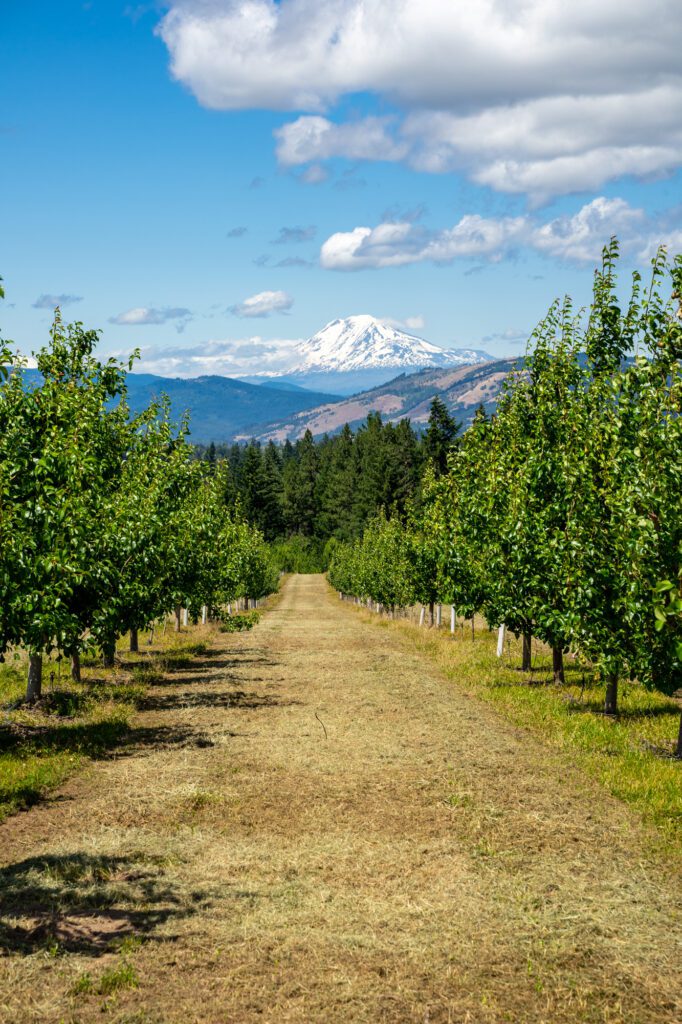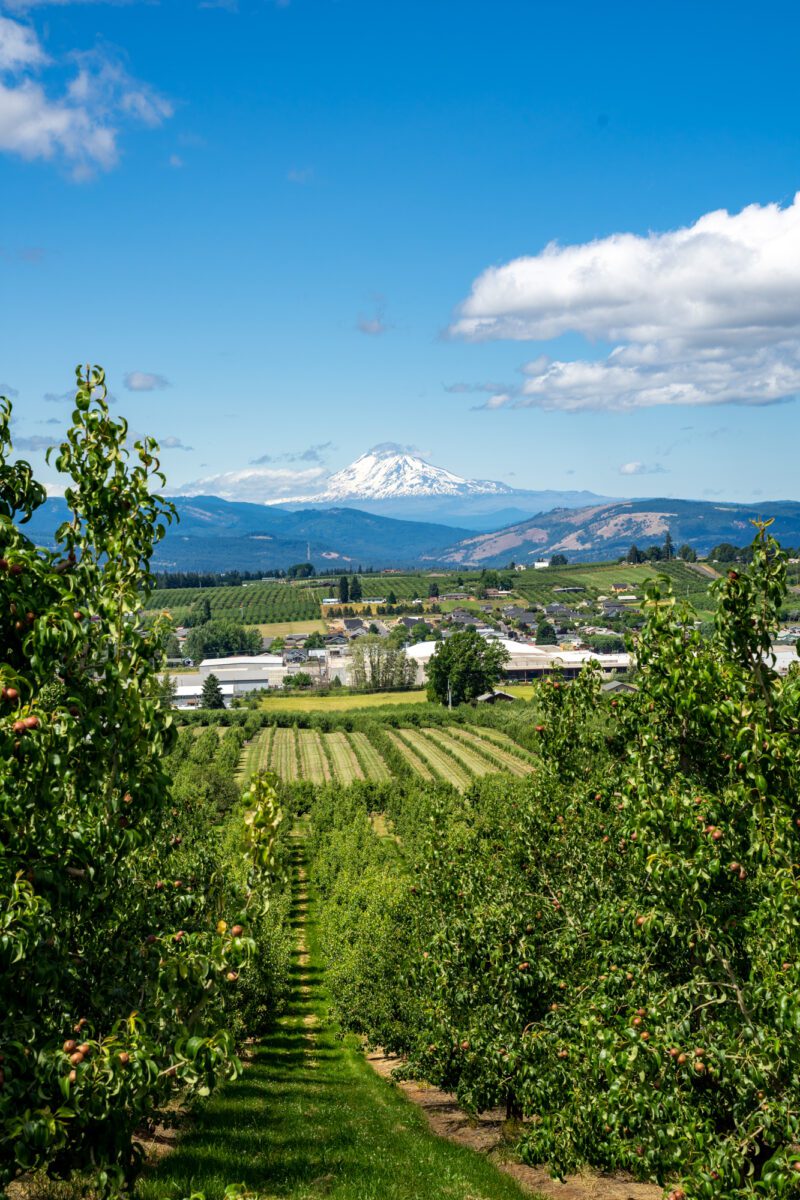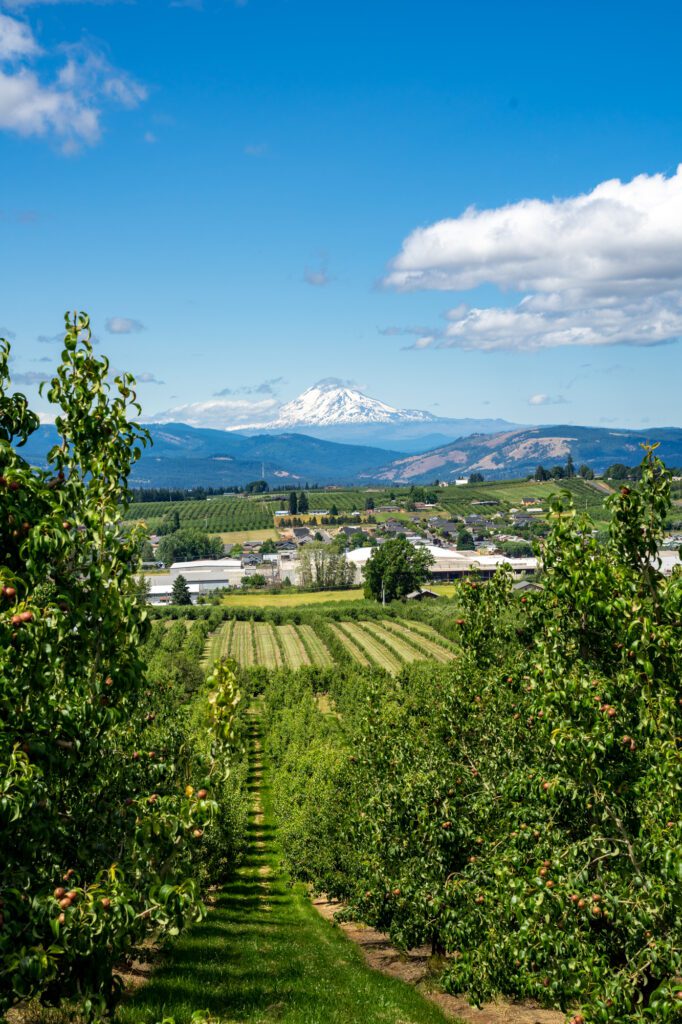 Don't miss Hood River Lavender Farm and Draper Girls Country Farm, especially during cherry season! Another good stop on your way into Hood River is Hiyu Wine Farm, which has amazing wine and cider, and does tastings and farm tours.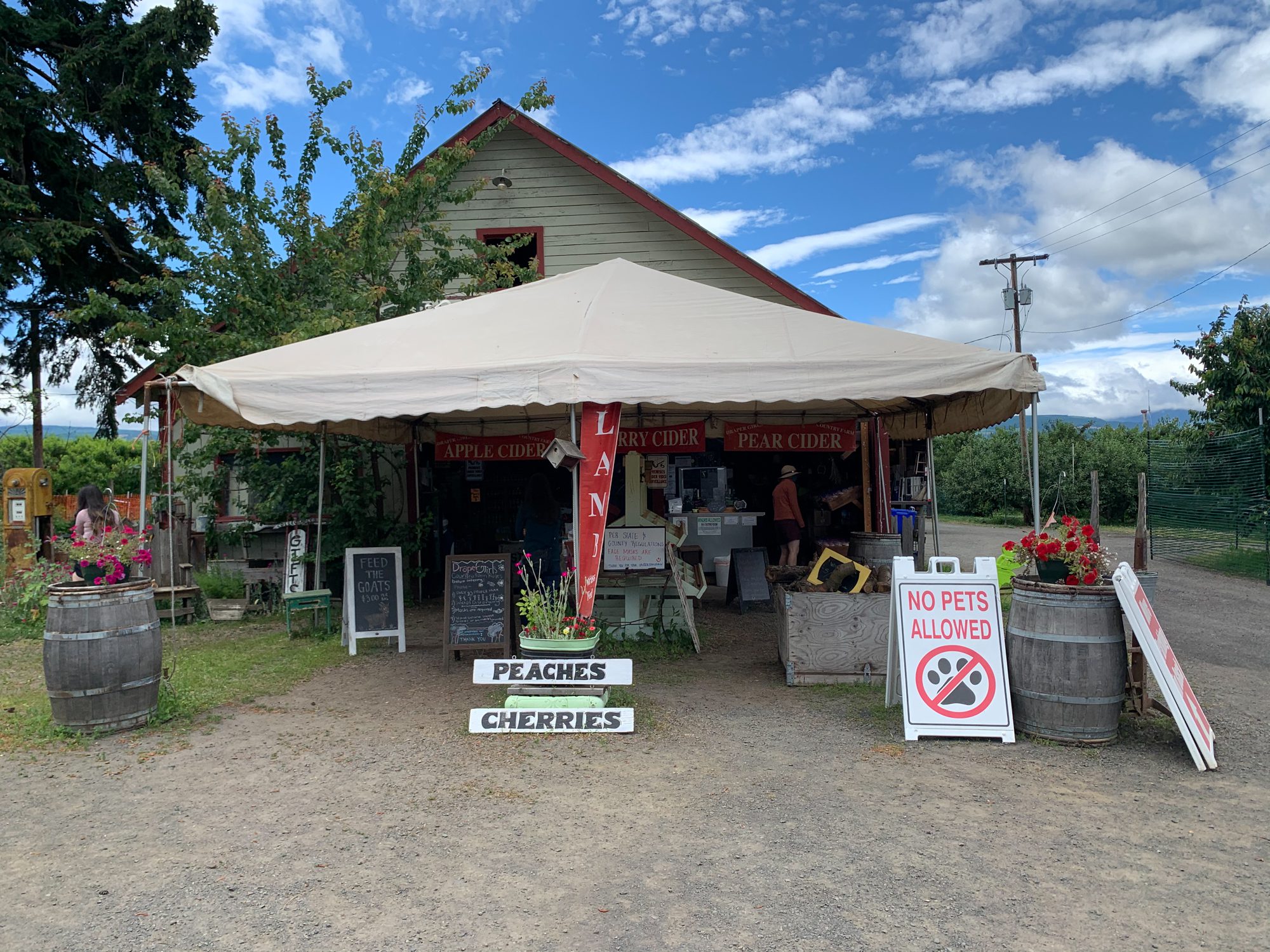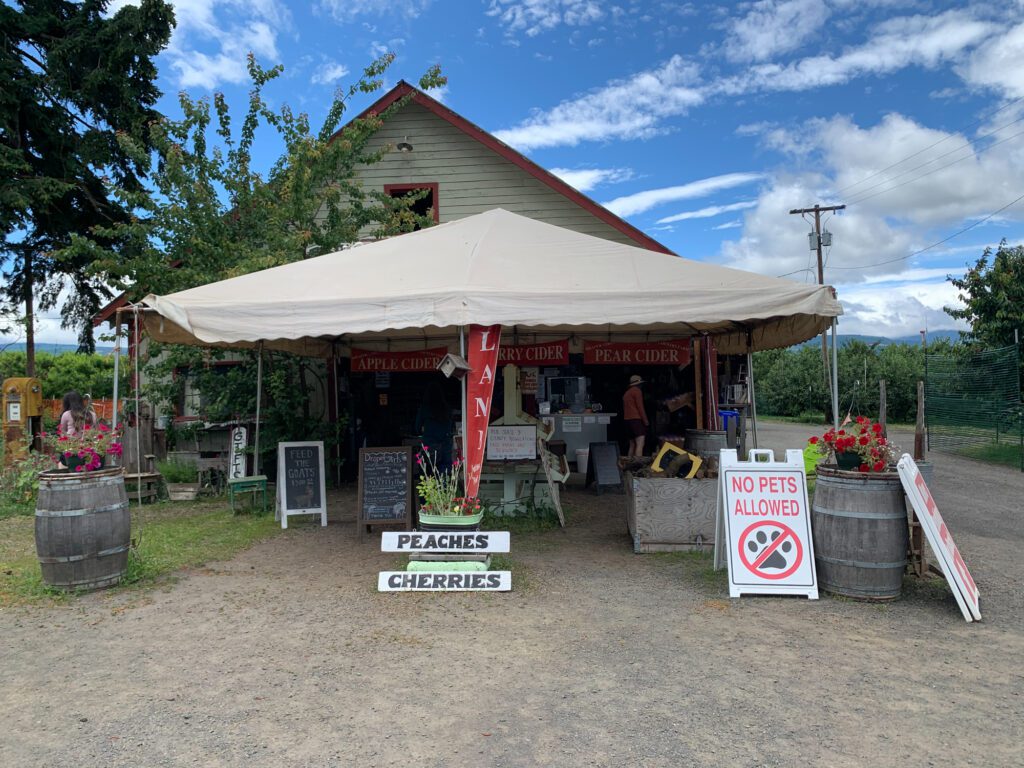 What to Do in Hood River + the Columbia River Gorge
Hiking the Columbia River Gorge – The Columbia River Gorge is a beautiful area filled with tall cliffs, waterfalls, and towering forests. There are a number of different hiking trails depending on the length and difficulty you're up for. As far as hiking goes, you've got a couple of options in the area. Here are three great hikes near Multnomah to get some exercise in: Multnomah + Wahkeena Falls, Dog Mountain (amazing wildflowers in the early summer – May/June), and Cape Horn.
Visit the Vista House – The Vista House is a museum on the Historic Columbia River Highway which is dedicated to the pioneer history of Oregon state. While the museum is interesting, most people come for the view. It is perched on a hill 730 feet above the gorge, affording breath-taking views.
Go paddle-boarding or kayaking – Both perfect water activities if you are looking for something a little more relaxed than kitesurfing. Equipment rental places are easy to find right in Hood River, and you can book lessons or a guided tour.
Drive out to the picture-perfect heavily photographed bend in the road, Rowena Crest.
Raft the White Salmon River – I used to work for a rafting company in the Pacific Northwest, and the White Salmon, with its class III and IV rapids, is one of the best in the region. Here is a highly-rated guided trip.
Wander down Oak Street – The main drag in Hood River is full of shops, cafes, restaurants, breweries, and more. Don't miss Arome, where you can find every spice under the sun, and the Clear Creek Distillery tasting room, where you can taste brandy made from locally-grown fruits like pears, apples, and cherries.
Drink Cider: Hood River has a booming cider scene thanks to the bounty of apples grown on heirloom orchards in the surrounding area. In town, check out Foxtail Cider and Crush Cider Cafe, though you'll basically find cider at every bar in the downtown area. Outside of town, you can visit one of the many cider orchards and breweries, like Foxtail's Farm (the location in town is a taproom), River Cider (5 minutes out of town towards Portland), and Runcible Cider (on the way back from Rowena Crest).
Drink Beer: Hood River has a surprisingly strong set of breweries in its small downtown area. pFriem Family Brewers has both a brewpub and a tasting room on site. This is a great, classic option for beer lovers. The brewpub offers seasonal food and an industrial dining room with river views. Double Mountain Brewery is a sustainably-minded brewery that offers refillable bottles; they usually have four year-round beers as well as some seasonal beers and a range of ciders. The beer isn't gluten-free, but the cider is.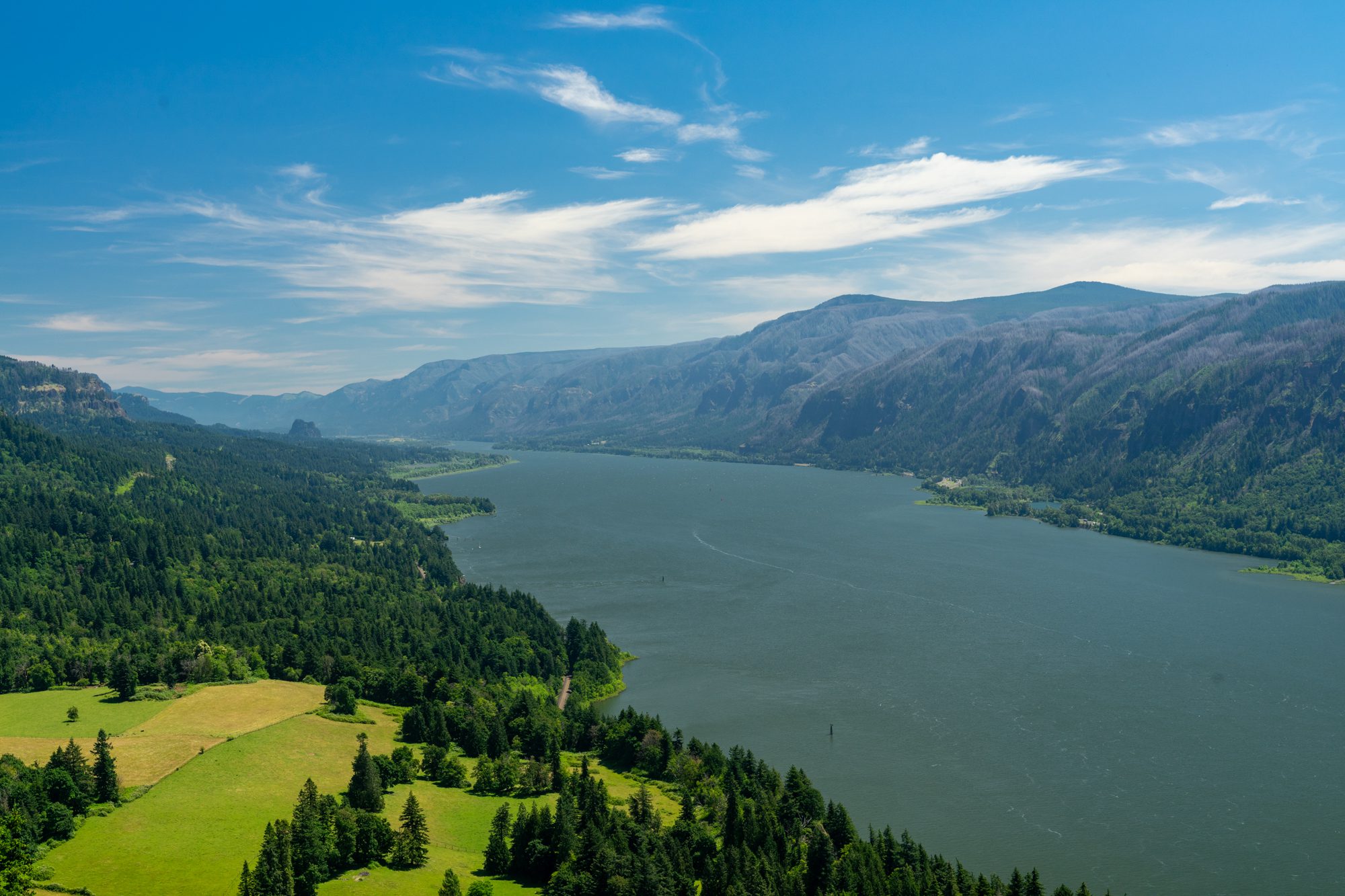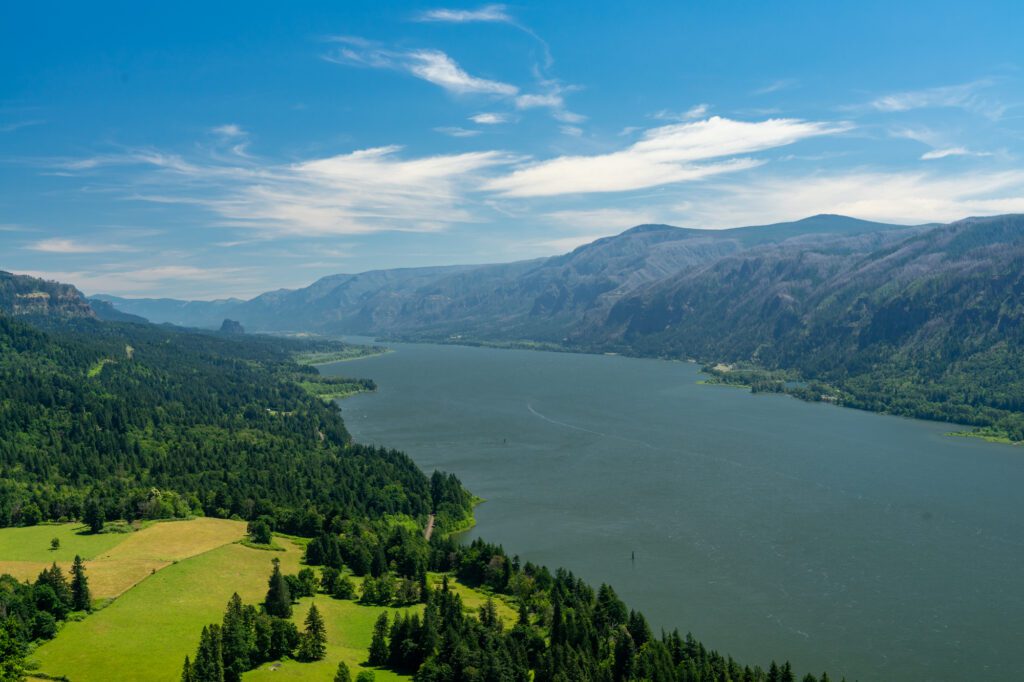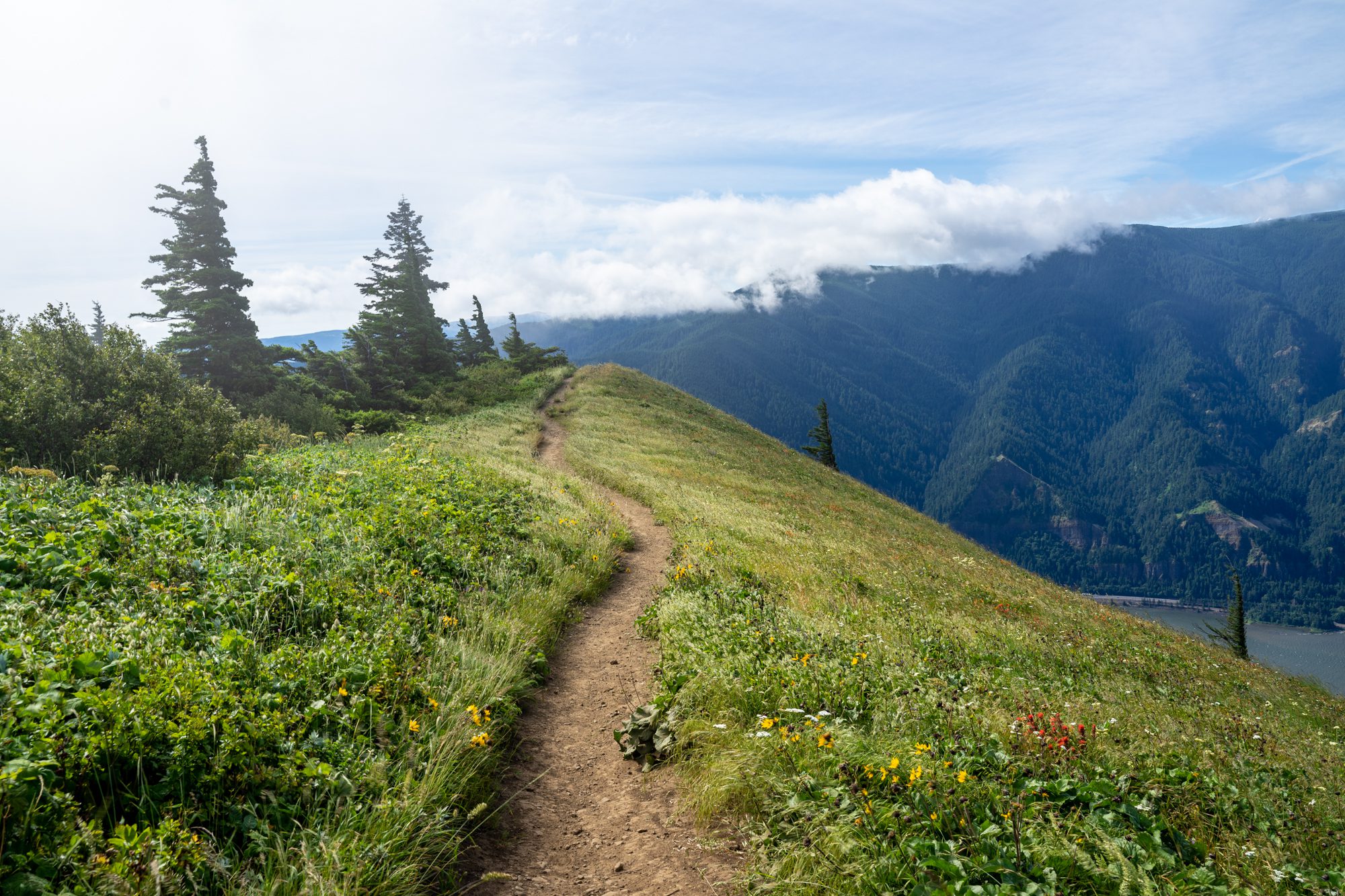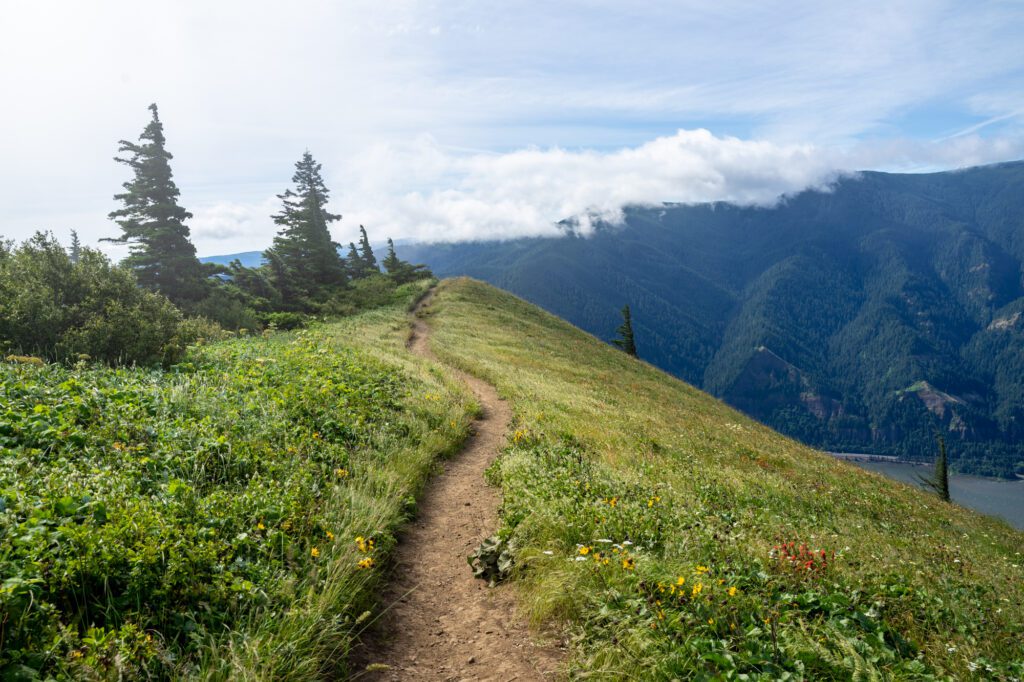 Where to Stay in Hood River
We stayed at this incredible tiny home on the Washington side of the river for a couple of nights. It's about 15 minutes from Downtown Hood River, and we loved every second. It has everything you need, including a lovely porch where you can watch the sun setting over the Gorge. I highly, highly recommend it for a unique stay.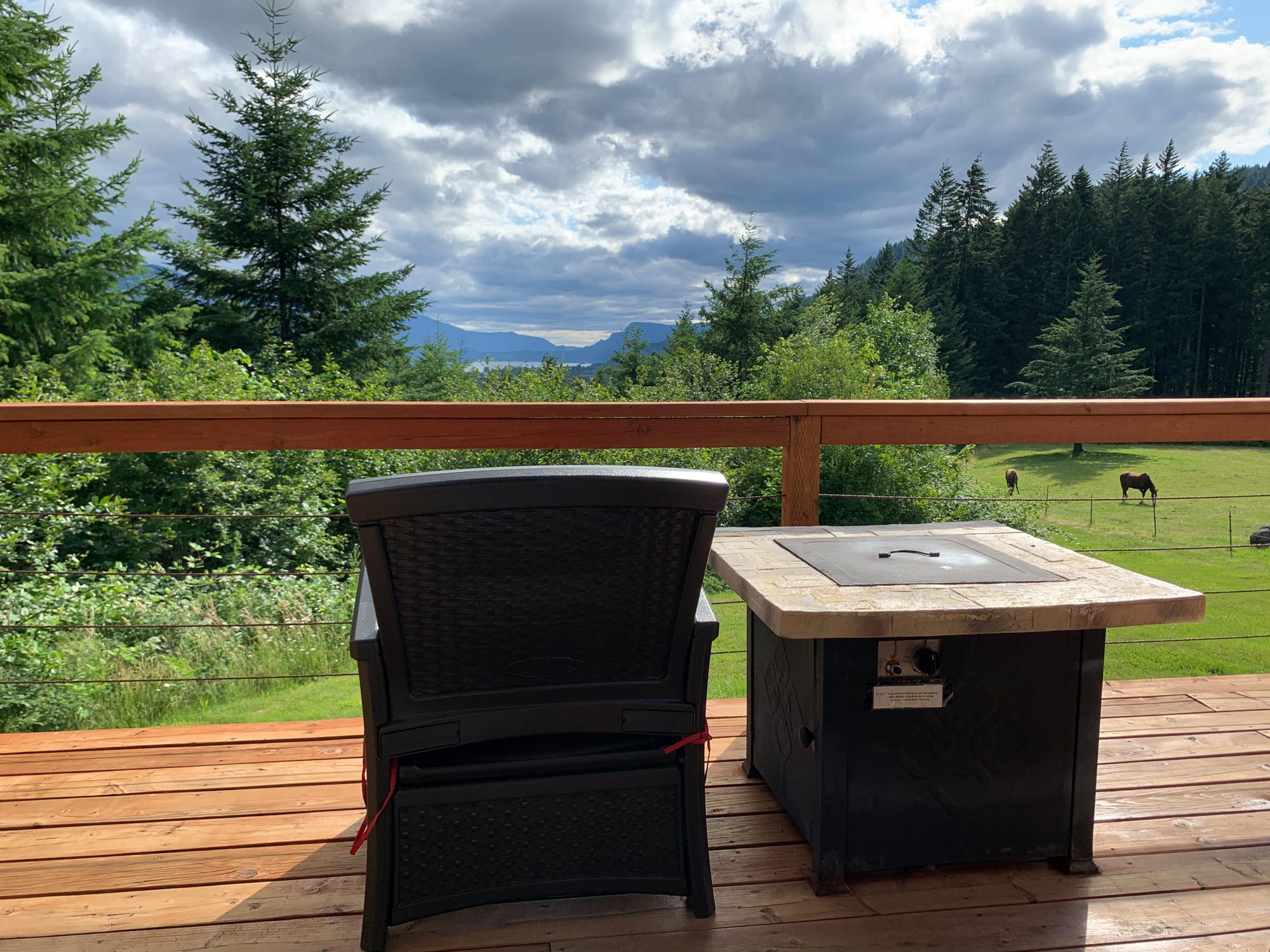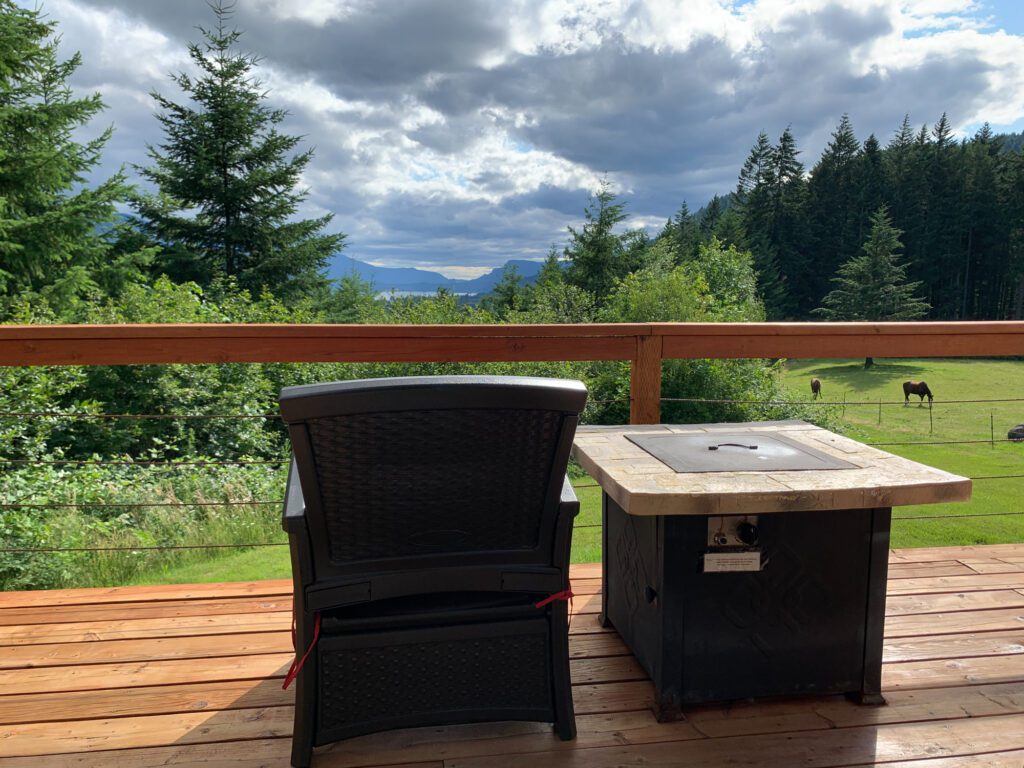 Since you're in town for a couple of nights, both hotels and Airbnbs are on the table.
The best hotel in the area is the Society Hotel across the river in Bingen, Washington. We've stayed at the Portland location, which is one of the best places to stay in Portland, and it's a perfect boutique hotel option for any budget. They have traditional hotel rooms, dorm-style rooms, and private cabins. Some rooms have shared bathrooms, but it's the kind that's actually nice because they're single-occupancy.
If you want to stay in Downtown Hood River, look at either this industrial-chic Airbnb (2 bedrooms) WHICH HAS A ROOFTOP PATIO WITH GORGE VIEWS, or the newly remodeled Hood River Hotel which is a super stylish option. Both places could not be more central – they're within a stone's throw of Oak Street in downtown Hood River.
Days 13 and 14: Eat & Drink Your Way Through Portland
Portland is on our shortlist of places to settle down once we get this whole traveling thing out of our system. The food and drink scene is second to none, particularly if you need to eat gluten free. It's within an hour or two of some amazing outdoor places, some of which you've visited on this road trip.
And it's not incredibly expensive like San Francisco and Seattle. Basically, it has all of our favorite things at a relatively reasonable cost.
We've been to Portland 5+ times over the past couple of years, and we can't wait to go back. If you enjoy hipster coffee shops, (vegan) brunch, donuts, farmers markets, independent bookstores, and shopping tiny boutiques, you're going to love it.
Here are our top spots in Portland to hit during your 36 hours in town before you drop off the rental, catch your flight, and head home.
For more inspiration on Portland, read our guides to one day in Portland and a weekend in Portland.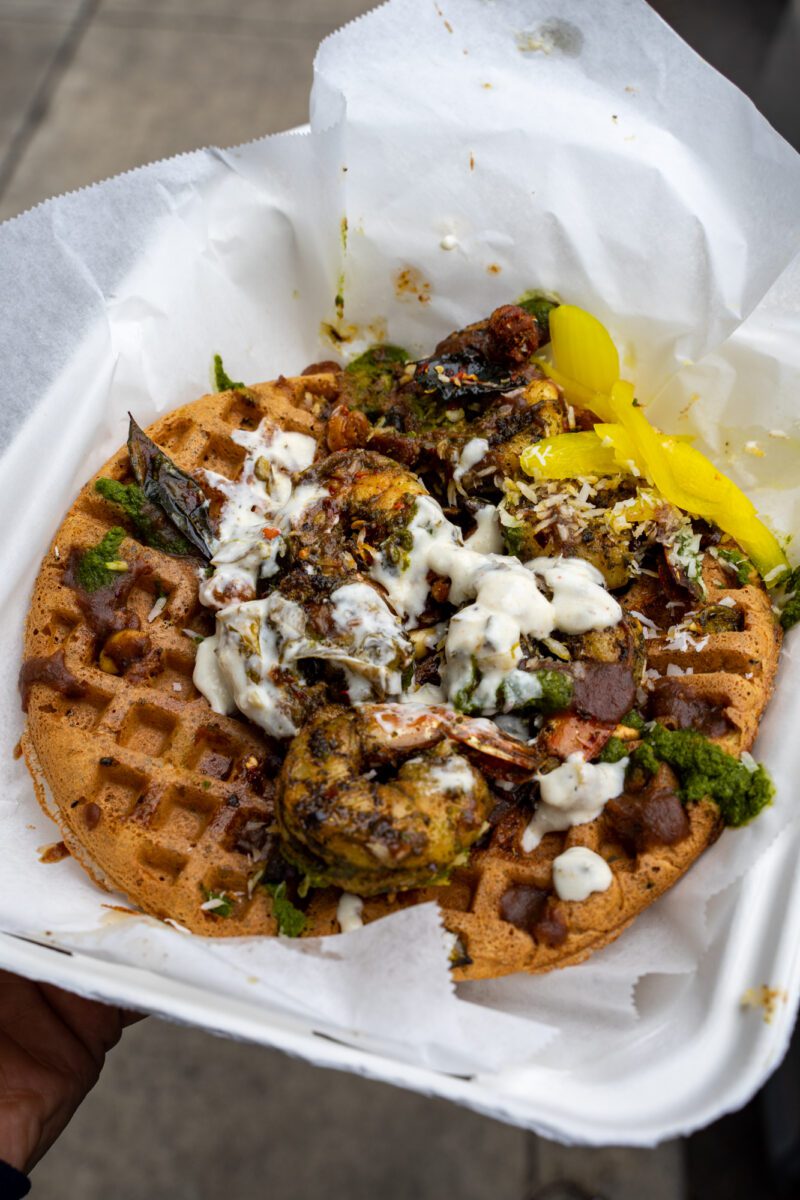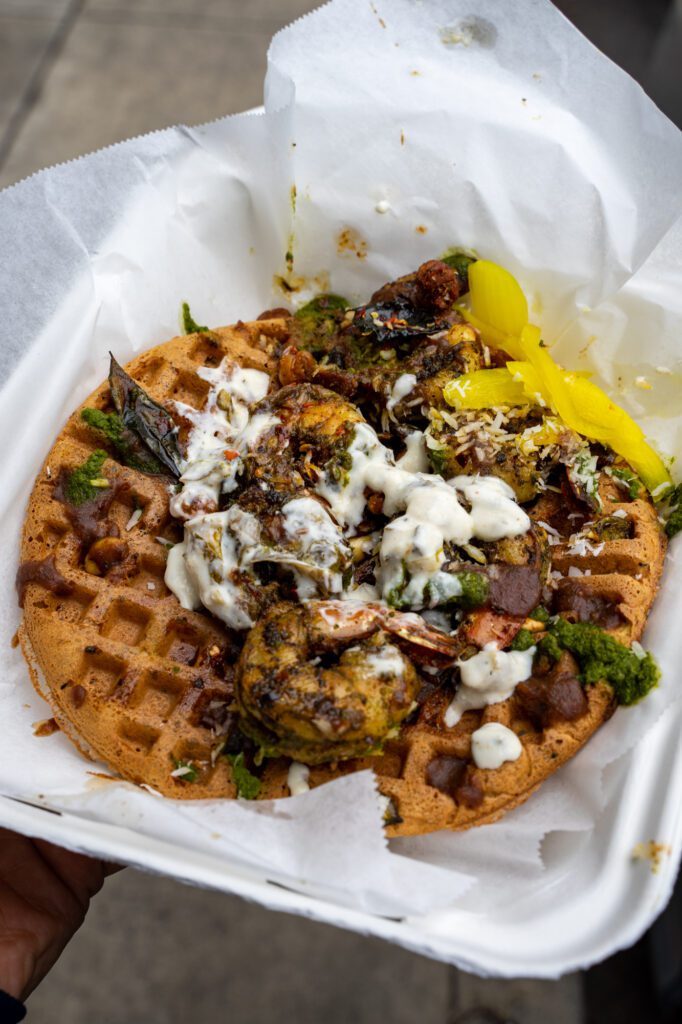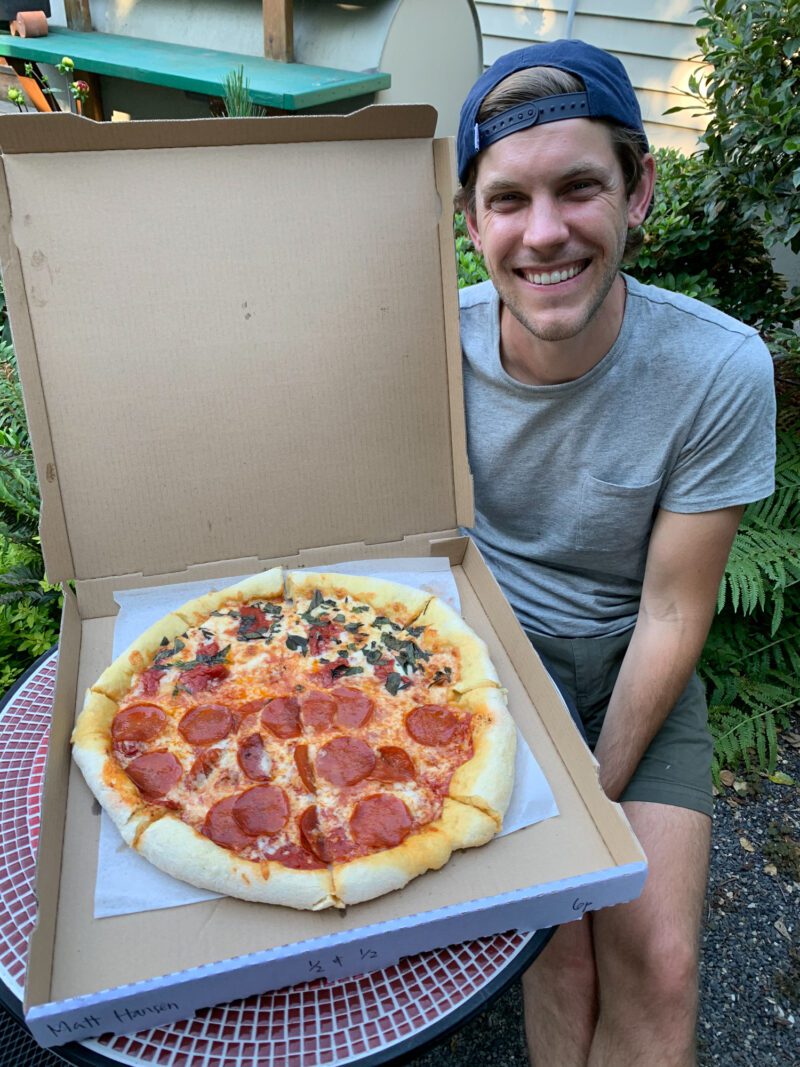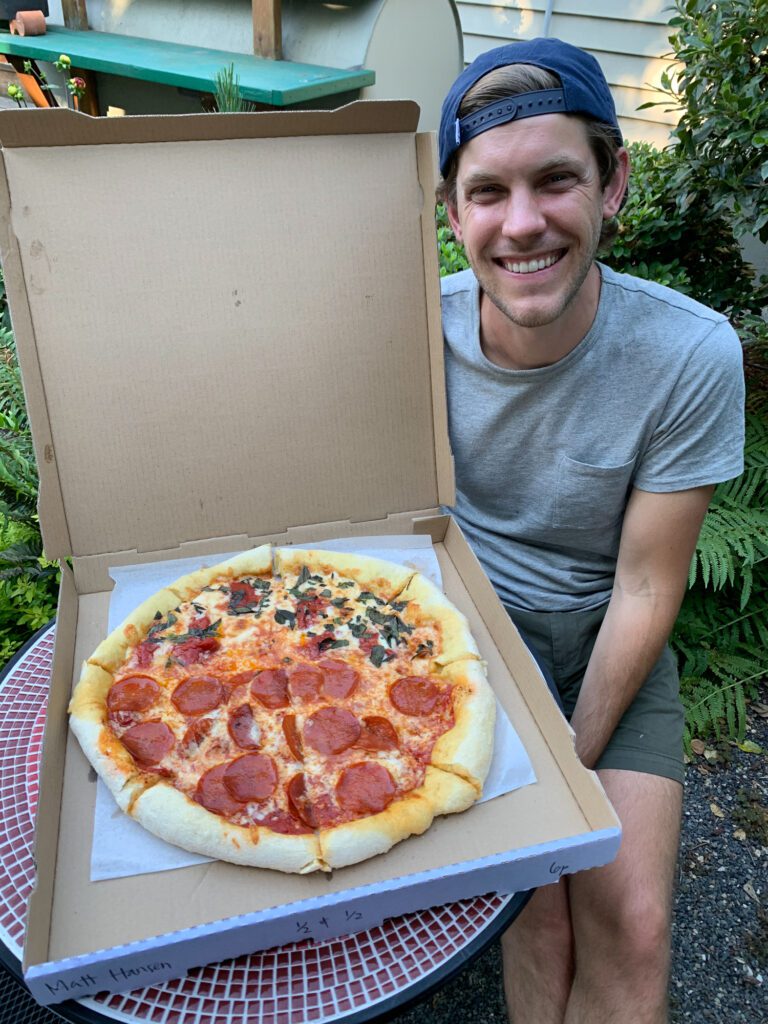 Read Next – More Portland Travel Guides:
Where to Stay in Portland
For these last two days, stay either at:
What to Do in Portland
Unlike most cities, Portland doesn't really have a "signature sight" like the Golden Gate Bridge in San Francisco, or the Space Needle in Seattle.
So spend your days walking, eating, drinking, and walking some more.
Hit the Markets! The PSU Farmers Market, which is also on Saturday mornings (8:30am – 2pm) down at Portland State University's Campus, is a must-do. It's about a 10-15 minute walk from Downtown, and it's the biggest farmers market I've ever been to. The Portland Saturday Market, which focuses more on arts and crafts, is also worth a stop.


Spend an Hour or Seven at Powell's: When I think about the best things to do in Portland, I think about Powell's Books. We've spent hours wandering the multiple floors of floor-to-ceiling books about every topic imaginable.


Eat Donuts! For whatever reason, Portland has an awesome donut scene. Not gluten free? Head to Pip's Original Donuts and Chai for fresh donut holes fried to order (the chai is awesome too – Alysha's favorite – and you can even sample several with a chai flight!) or Blue Star Donuts, which my friends and family agree is the best donut shop in Portland. Voodoo is good for the 'gram and the novelty, but I've heard from multiple friends and family members that the donuts are just okay, and probably not worth the wait. Gluten free? Petunia's Pies and Pastries has incredible gluten free donuts of all shapes and sizes, and New Cascadia Traditional's brioche donuts are basically the real thing.


Stop and smell the roses! A walk up to the International Rose Test Garden is a must-do on any Portland itinerary, particularly in the spring and summer when they're all blooming. It's home to 10,000 roses!


Catch a Portland Timbers Game: If you're into soccer, then a game at the Portland Timbers stadium in downtown Portland should absolutely be on your list. Especially if my Seattle Sounders are in town.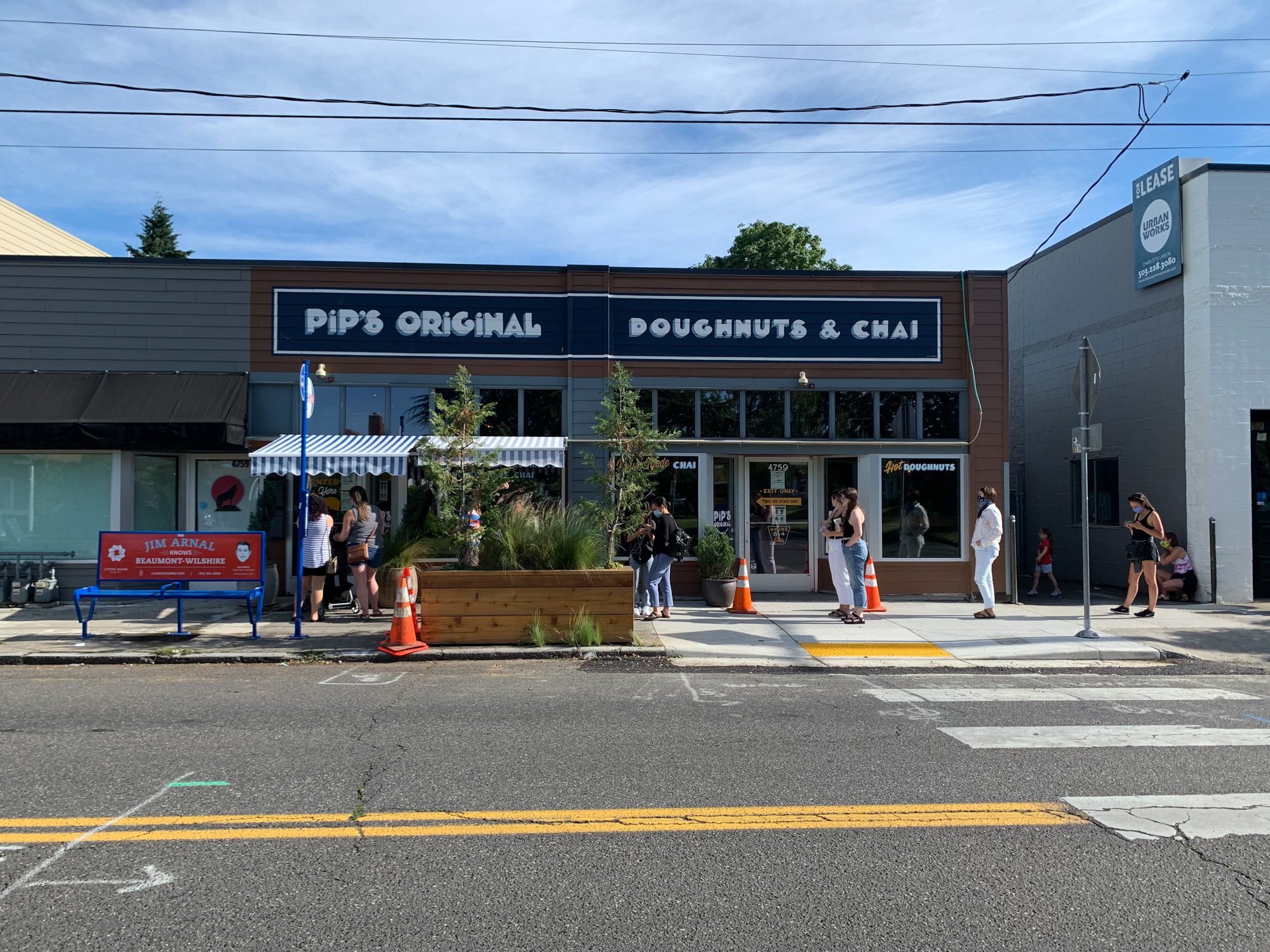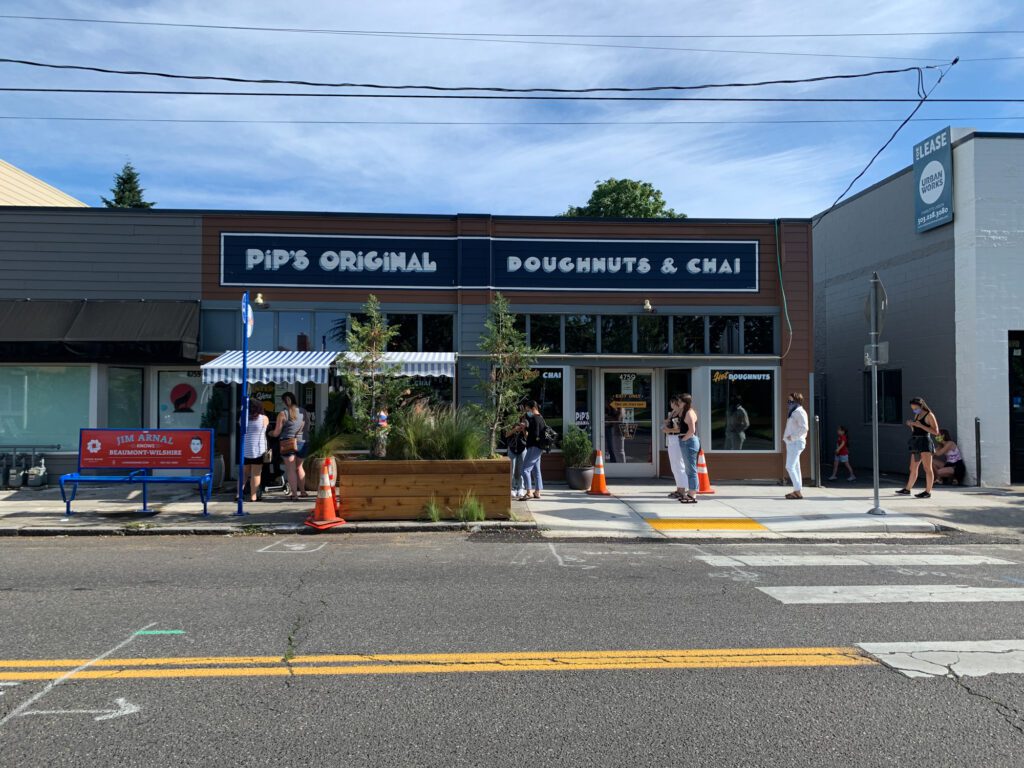 Where to Eat and Drink in Portland
We already covered donuts above, so let's talk about the rest. Here are our must-visit foodie finds in Portland. All have gluten free options, and some are even 100% gluten free (We've got you covered if you're looking for the best gluten free restaurants in Portland).
These are the spots we'd recommend alongside the recommendations for dinner on day one of this itinerary.
Brunch at Tasty and Alder. Be prepared to wait, but they'll take your name and phone number and you can wander over to Powell's Books while you wait.


Ice Cream at Salt & Straw, or plant-based ice cream at Little Chickpea PDX (Little Chickpea is also 100% gluten free).


Incredible breakfast sandwiches (the biscuit egg sandwich +bacon is our top pick) at New Cascadia Traditional (which is 100% gluten free). If you're in town on the weekend don't miss pizza night (Thursday – Saturday; order ahead for the best pizza around!).


The food cart scene at Prost Marketplace – the best is DesiPDX, a 100% gluten free Indian street food cart with amazing cardamom chai chicken drumsticks.


Other food cart locations include the Hawthorne Asylum, the 5th Avenue Pod, Cartopia, and Portland Mercado, the last of which focuses on Latin American flavors and serves as an incubator for local Latinx businesses.


Best coffee in Portland? Coava Coffee, Heart Coffee, and Water Avenue Coffee are my top picks.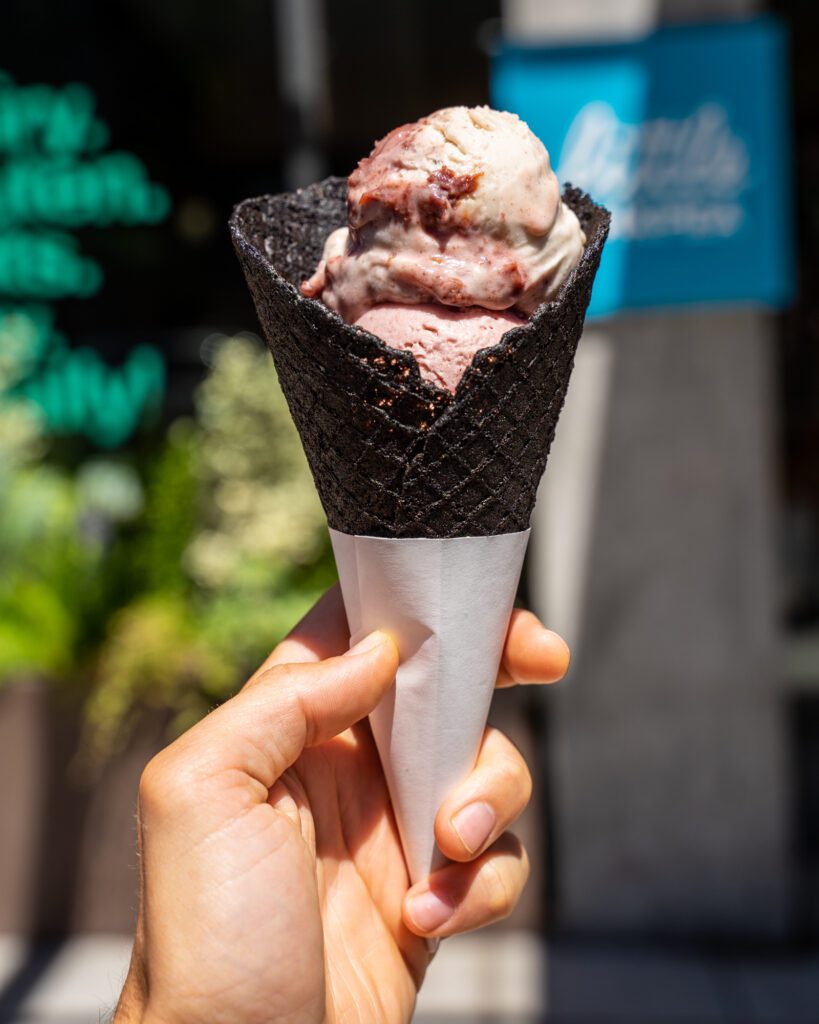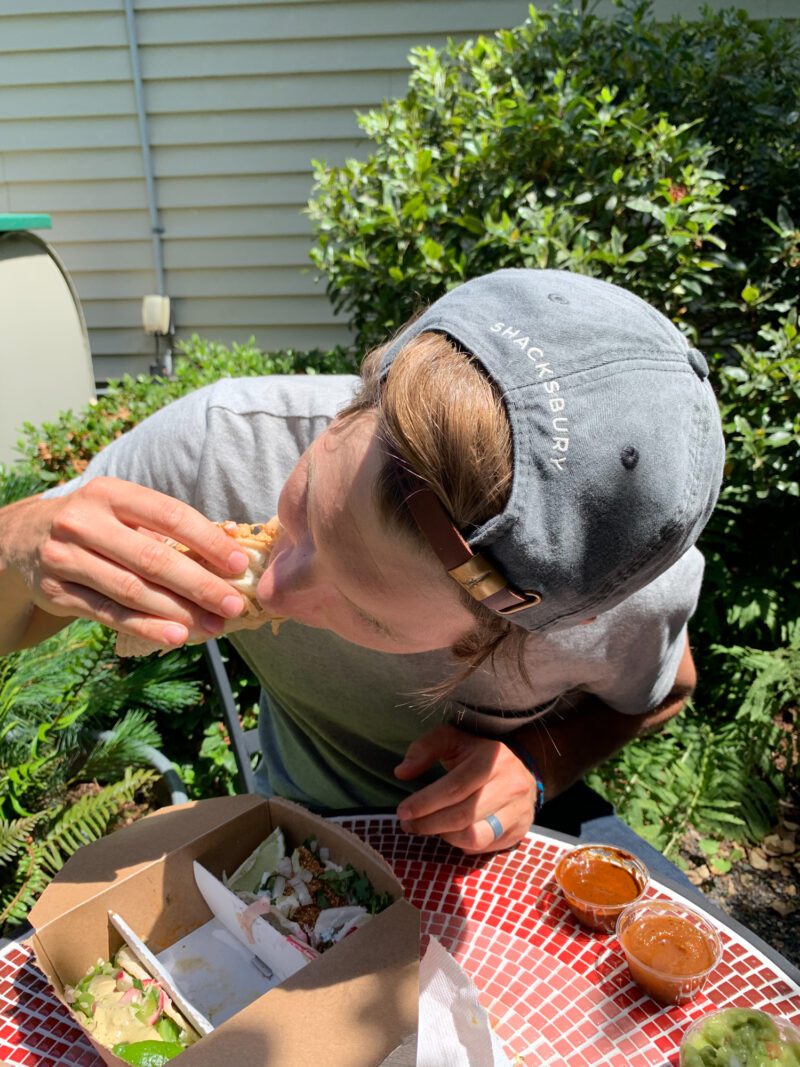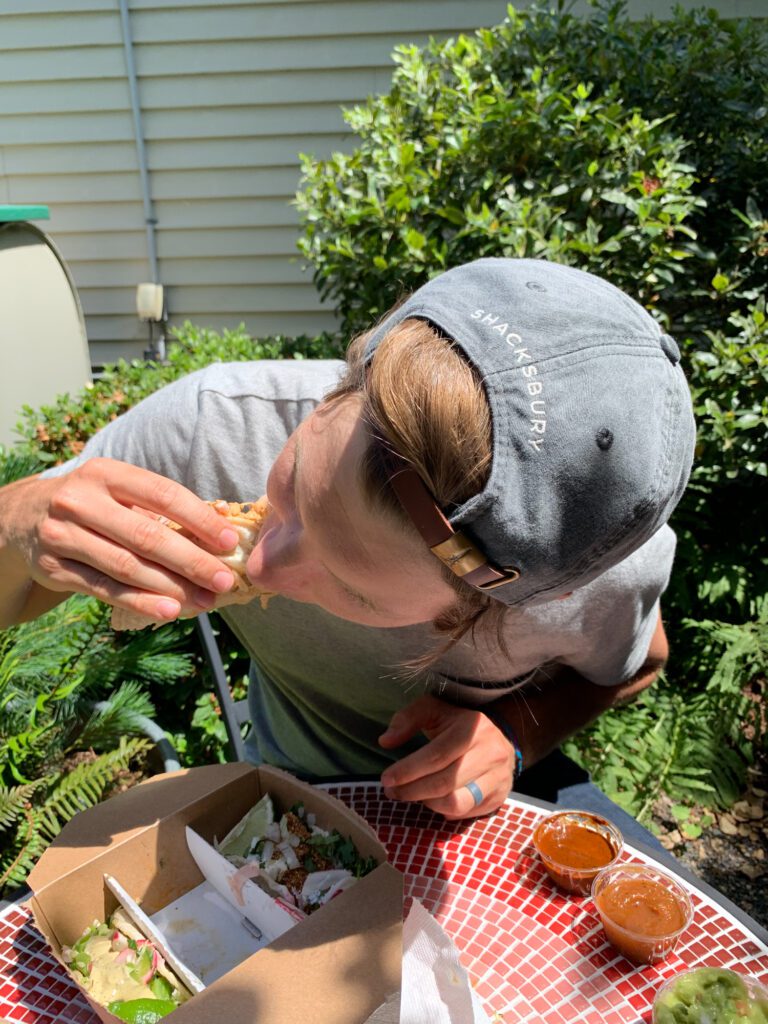 Wondering where to drink in Portland? I already covered some of these spots above on day one. Refer to that list!
When is the Best Time to Visit Oregon?
The best time to visit Oregon, and the Pacific Northwest in general, is the summer.
Particularly July and August, when the weather will be warm, it will be dry, and blue skies will greet you almost every single day. Plus, in the height of summer, days are long – the sun would often set well after 9pm and rise at 5:30am when we were there. But you also run the risk of visiting at a time when forest fires have ravaged the state.
The late spring – May/June – is a great time to visit, but weather will be a bit more unpredictable. You'll probably see cooler temperatures and more rain, but overall it's a pleasant time to be in Oregon. The only thing to consider is that places like Crater Lake and Mt. Hood will still be covered in snow, at least partially. If you're looking forward to hiking in Oregon, I would plan a trip in the summer or fall to maximize your chances of getting out to do the best hikes in Oregon.
Oregon in the fall is generally lovely, though the same caveats mentioned in the spring apply here. More rain, cooler days, and more unpredictable weather in general. The plus side is that the hiking trails will most likely be snow-free, which means fall is a good time to visit if you're into hiking.
There is one more thing to consider: forest fires. We're from California, so these days we're used to perpetual fear of forest fires in the summer. I distinctly remember a flight in August from Seattle to San Francisco a few years ago that, obviously, passed over Oregon. And what we saw from the plane was pretty horrifying. Plumes of smoke rose from all over Oregon. It seemed like the whole state was on fire.
While we haven't personally seen the evidence of fires in Oregon since, the situation has gotten even more dire. Multiple forest fires happen every August and September (mostly), which can leave the state blanketed in smoke, and would make visiting during those months pretty risky. It's not likely that you'd need to cancel your trip, but hiking might be hard, and you might have to re-route around fires that pop up.
---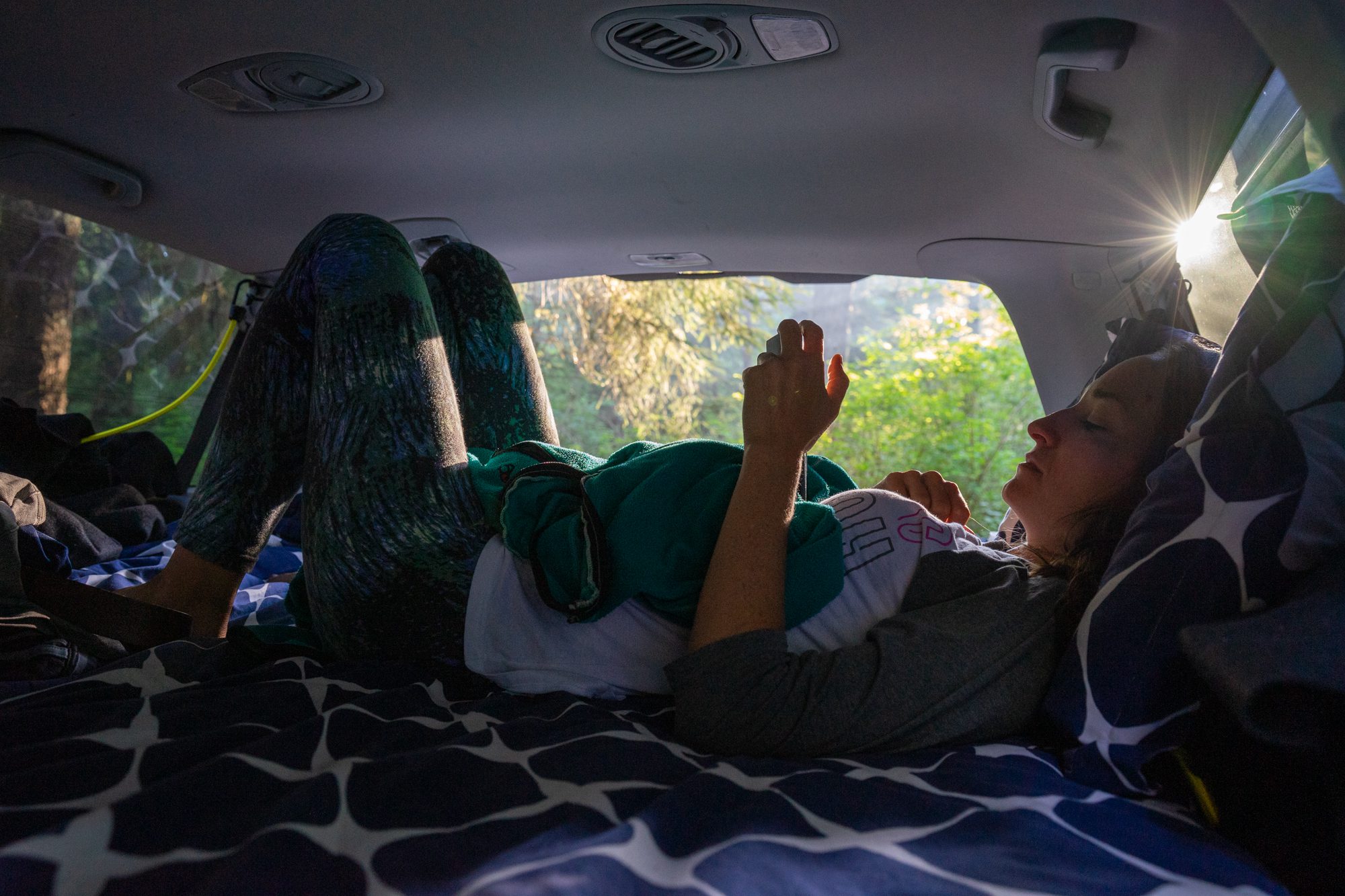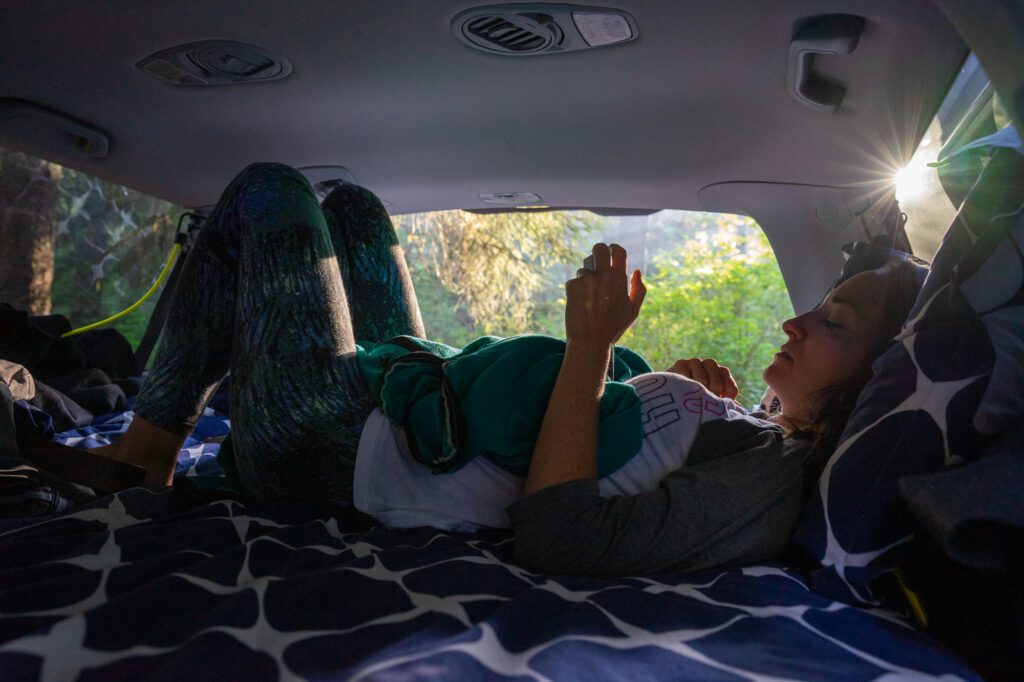 We love Oregon, and will definitely be back. One of the blessings of the summer of 2020 was that we were able to spend a full six weeks exploring a place that we never would have considered spending that much time in under most other circumstances. We learned that you don't necessarily need to fly halfway around the world for incredible landscapes and experiences – sometimes they're just across the border in a neighboring state!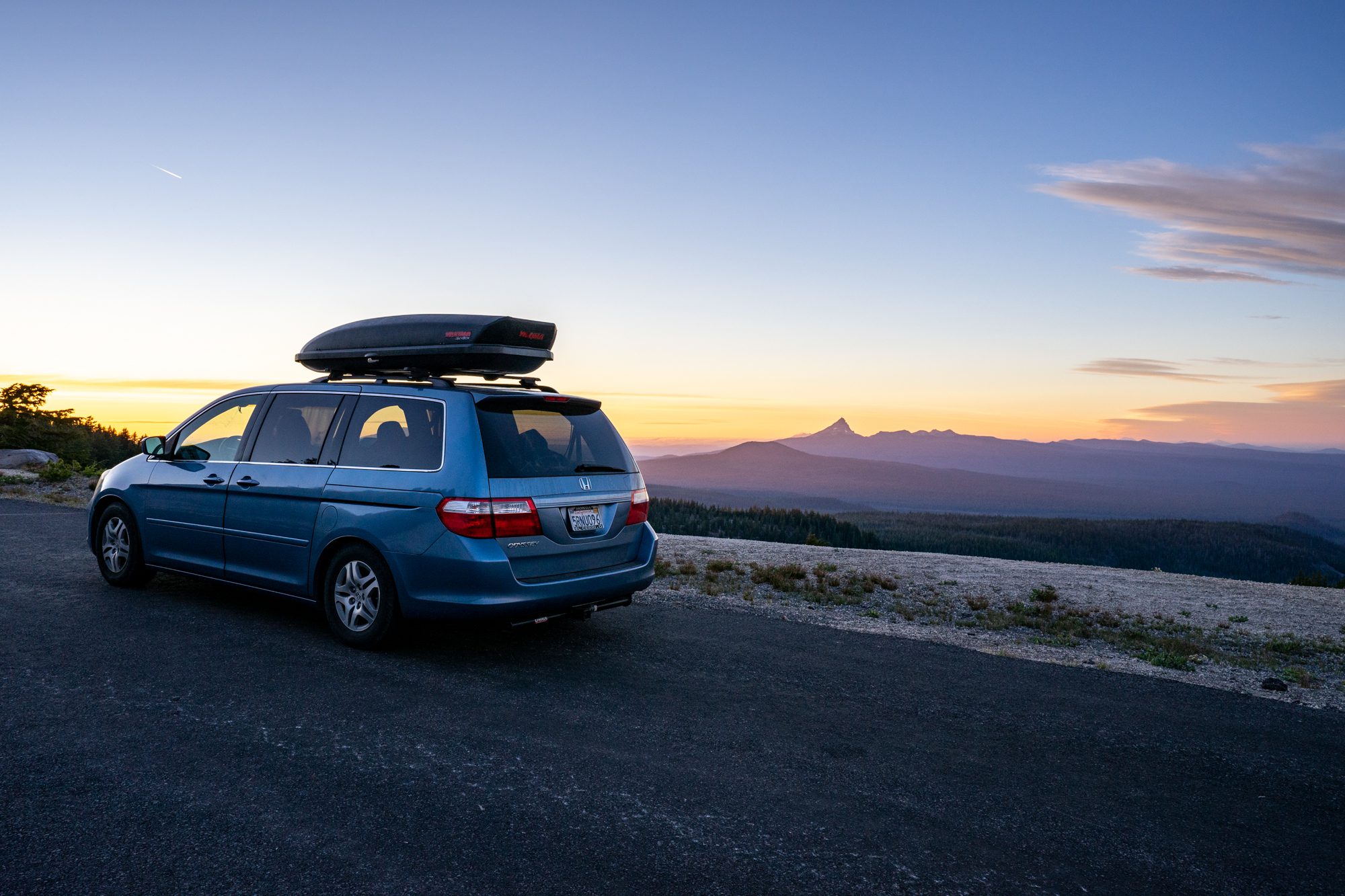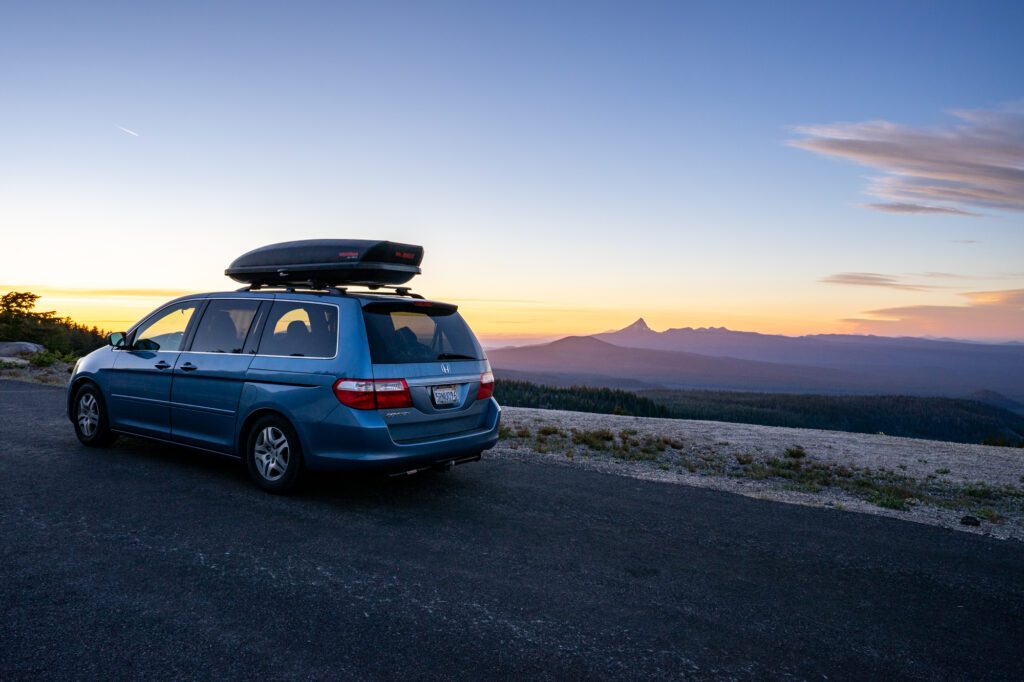 More Oregon Travel Guides
If you like this guide, you won't want to miss our other Oregon travel guides!