The Best Coffee in Portland: 17 Amazing Coffee Shops
One of the reasons we love Portland is the thriving small business community, particularly in the food and drink space. Between food carts on every other corner, multiple kombucha companies, and the most breweries and tea bars per capita in any city we've been to, Portland is an incredible city for foodies.
The coffee scene is no different – as I started putting together this list and making my way to every corner of the city in search of the best coffee shops in Portland, I realized that this was going to be a long one. So let's get straight into where to find the best coffee in Portland, Oregon. 
Who am I? Just an amateur coffee snob who has made the journey from batch brews in a $20 Craigslist coffee pot to get through long nights of studying in college, to a Keurig, and finally to having an elaborate morning pour over ritual that includes a Kalita Wave, Baratza Encore, and my trusty Fellow EKG Kettle (a splurge, but so worth it!).
One of my favorite things to do is explore the coffee scene in cities I'm visiting, and I recently started aggregating my best finds into these coffee city guides.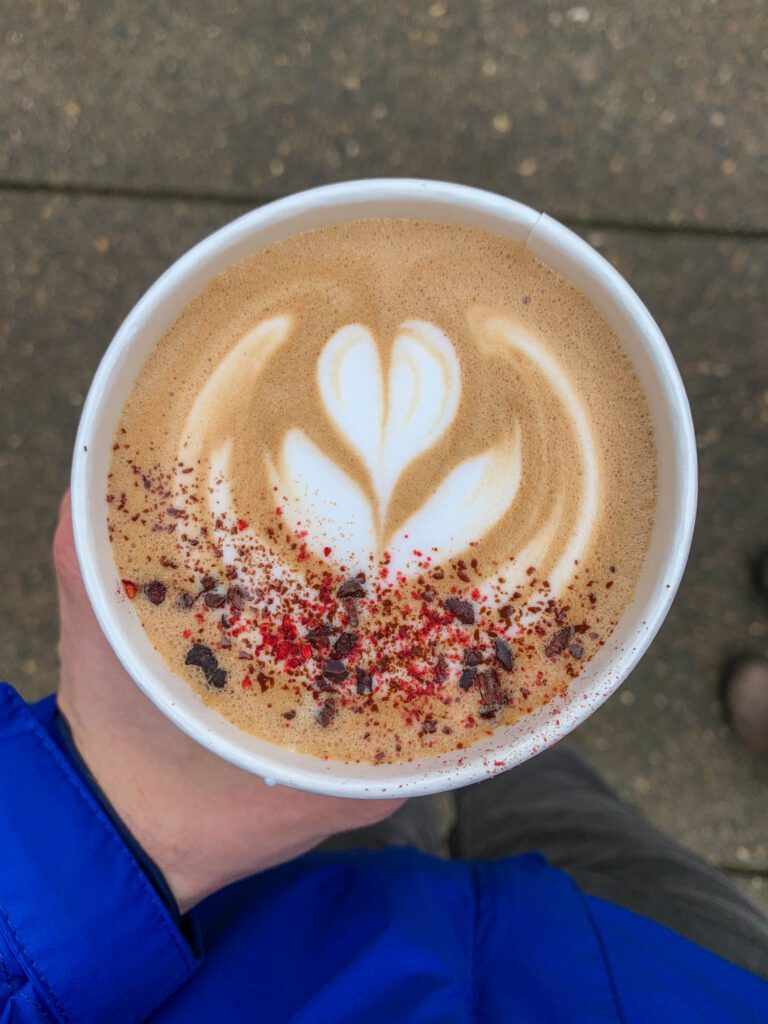 There's no doubt in my mind that I'm missing plenty of spots, and I'd love to hear what I'm missing so I can add it to my own list, and potentially add it to the list of other places to find good coffee at the bottom. Don't hesitate to get in touch! I love talking coffee.
It's also worth noting that, because I have Celiac Disease and can't eat even a crumb of gluten without being sick for days, I'm not really considering other aspects of each of these spots, like who has the best avocado toast. It's all about the coffee. 
This is not a ranking, or a particularly scientific way of thinking about Portland's coffee scene. Instead, it's just me sharing 17 coffee shops I enjoyed, and think you will too if you're looking to find some good coffee while you're in Portland.
Disclaimer: Some of the links below are affiliate links, which means that if you click on one and purchase something, I make a small portion of the sale at no additional cost to you. It goes without saying that I would never recommend something I wouldn't use or do myself.
The 17 Best Coffee Shops in Portland, Oregon
Rather than ranking them, assigning each coffee shop a rating for their drip/pour over and their cappuccino and dying of caffeine overdose in the process (which is what I did in my guide to the best coffee in Seattle, though I had two brothers to help shoulder the caffeine load), I am going to organize this guide by area.
Below, you'll find my top picks for coffee in Downtown Portland, the Pearl, Southeast Portland (roughly Division to Burnside), and North Portland (including the Alberta Arts District).
Of course, many of the shops have multiple locations, so I also included their other locations within each listing, and created a handy map of the Portland coffee scene, which you can find below, at the end of this guide.
La Perlita
The Pearl District, which easily has the highest concentration of fitness studios in Portland ("they have a Fjällräven and a Barry's Bootcamp – must be bougie" – Alysha), also has some solid coffee shops to choose from.
La Perlita was probably my favorite find during our entire time in Portland. In January 2020, we went to Mexico City for the second time, and I did a coffee masterclass with a local coffee shop owner and barista where I learned more about Mexican coffee, including why I didn't see more of it in specialty coffee in the US.
What I learned is that it's complicated, but it's mostly that in the mid-2010's, the Mexican coffee industry suffered from a fungal disease called "coffee rust" that decimated coffee production, and the industry is just beginning to return to pre-rust levels. You can learn more about that story here.
During that class, I got to taste a bunch of phenomenal Mexican coffees, including a natural process coffee from Oaxaca that I ended up buying multiple bags of to bring home and share with family and friends. My older brother, the elder coffee snob, claims is among the best coffees he has ever tried.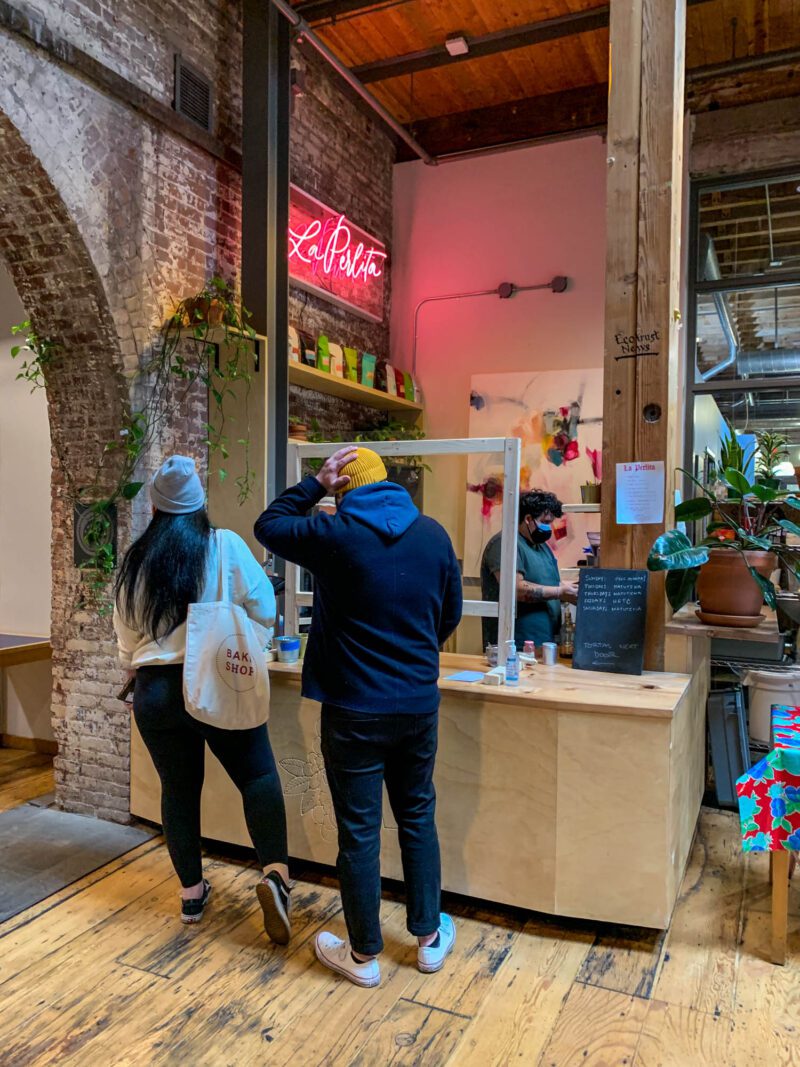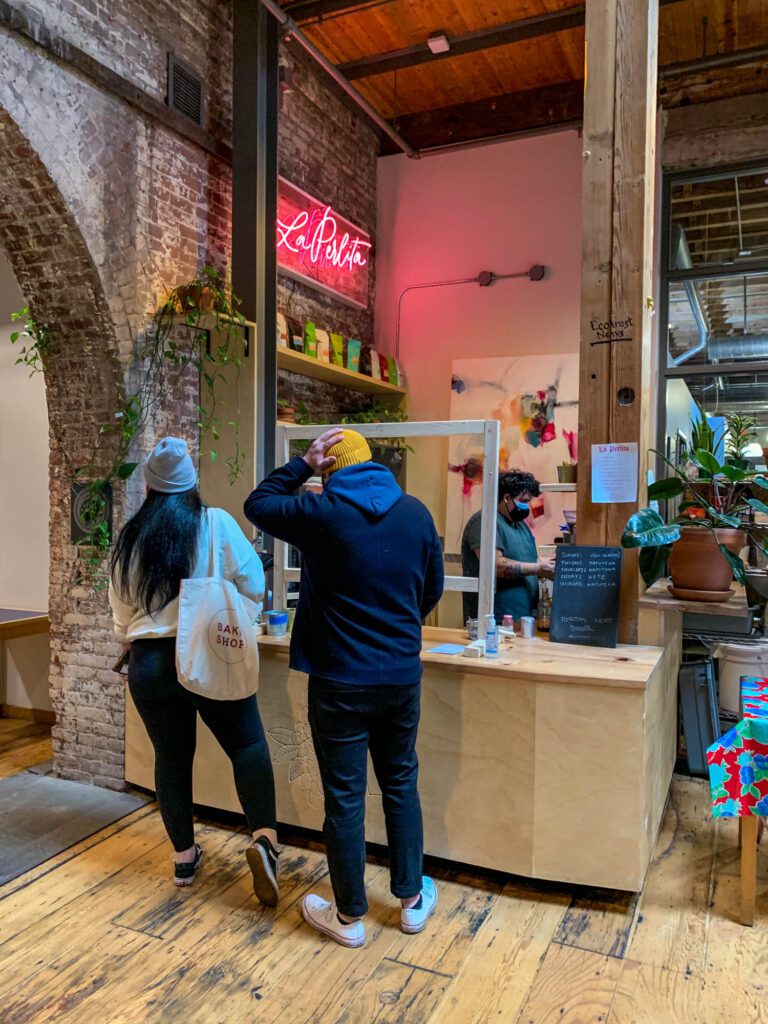 La Perlita is owned by Angel Medina (of Kiosko fame, among an impressive array of other ventures), a Mexican-American who also owns Reforma Roasters (the coffee they serve), and works to highlight a selection of primarily Mexican coffees that come from a variety of different regions and have a wide range of flavor profiles. He started roasting coffee in his apartment in 2017, selling it and donating the proceeds to benefit DACA recipients, then moved into operating coffee shops in Portland.
In 2019, he took a break to dive deeper into coffee, taking some time to visit coffee farms across Mexico before returning to Portland in March of 2020, which as you might recall was not a great time to be operating a coffee shop. Still, he persisted, and a year later it is a hub not only for coffee lovers, but also for BIPOC-owned small food and drink businesses around Portland who host pop-ups in the same space.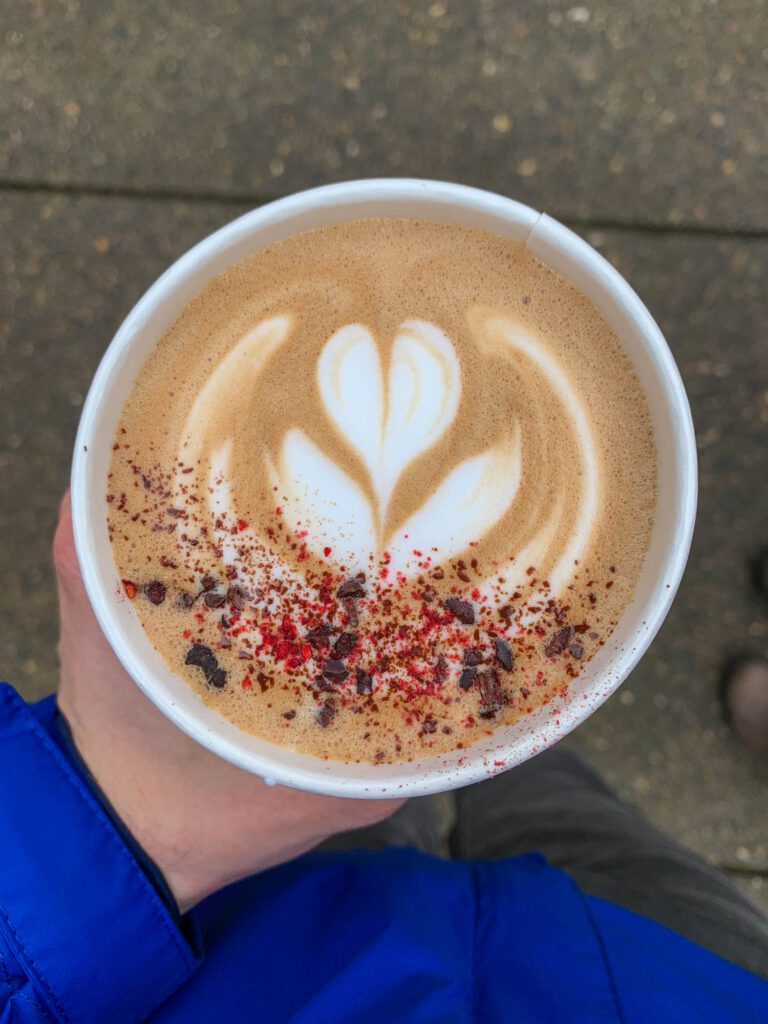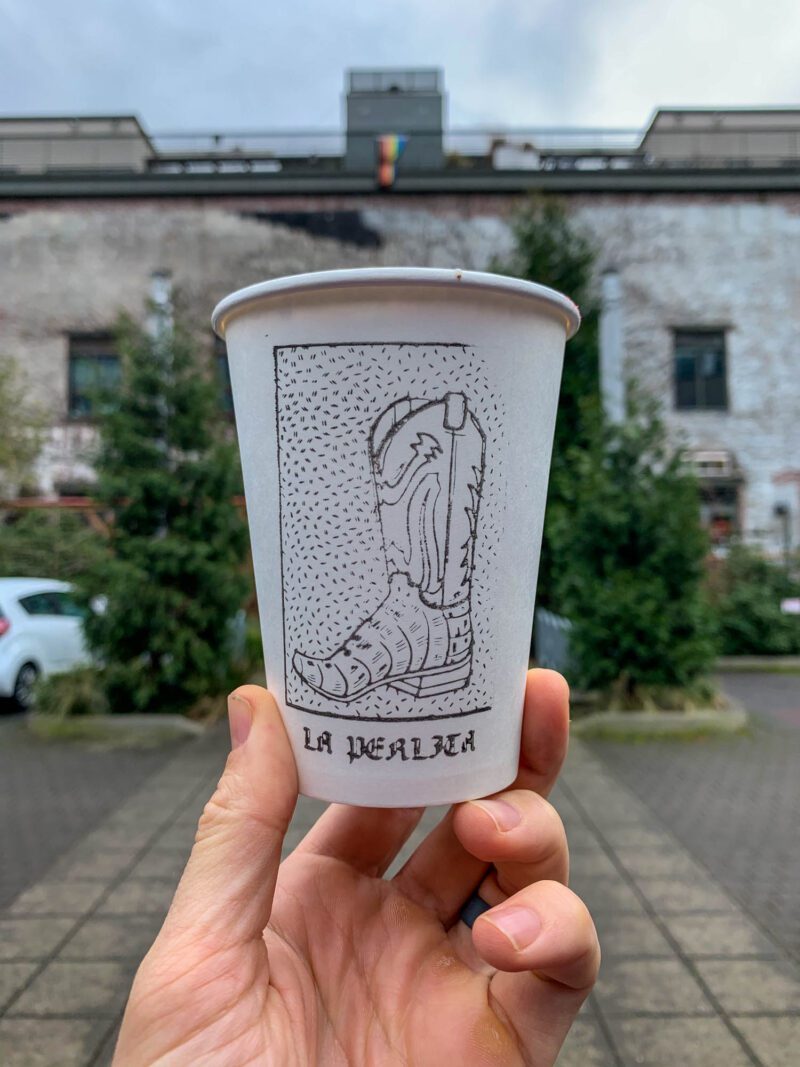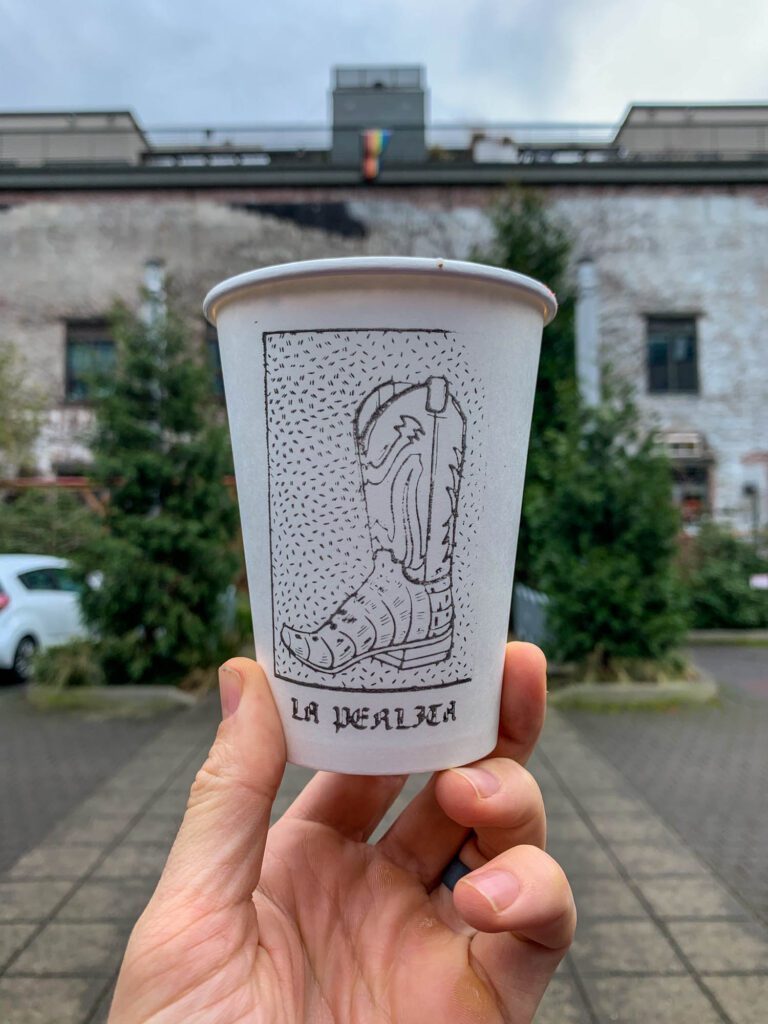 If you've never tried coffee from Mexico before, this is the place to do it (aside from in Mexico, of course). They roast each coffee to highlight its specific flavor profile and bring out what makes it special – I laughed at their description of their dark roasts: "though we retain complex notes of chocolate in our dark roasts instead of notes of ash and sadness like most."
Their menu is relatively simple, with drip coffee and a range of espresso-based drinks.
But you should get the "True Mexican." You won't regret it.
Location: 721 NW 9th Ave
Coava Coffee Roasters
Southeast Portland is our pick for the best place to stay in Portland, and it has an impressive array of the city's best coffee. We've stayed between Belmont and Division at least five times at this point, including a month-long stay recently, and are head-over-heels in love with this part of the city.
I think every coffee lover has a moment they can point to that changed the way that they thought about coffee. For me, that moment was visiting Coava and trying their "Kilenso" coffee, which is a natural process Ethiopian coffee that truly knocked my Keurig-loving socks off. It was like drinking a strawberry.
I immediately ran home and ordered a plastic V60 and started trying to recreate that experience at home, which is a straight line to where I am today in terms of coffee snobbery. Coava Coffee Roasters was a big part of that journey, and I credit them for roasting an extraordinary coffee that, quite literally, changed my coffee life.
They have multiple cafes around Portland (and, oddly enough, one in San Diego, California), each serving up two different filter coffee options, along with two espresso options. I really like going to their flagship on SE Grand Ave, where their filter coffees aren't batch brewed, but are made on a Chemex. Plus, the airy space is gorgeous, full of rustic vibes, exposed wood, and natural light.
In any conversation about the best coffee roasters in Portland, I think Coava has to be near the top of the list.
Locations:
Flagship: 1300 SE Grand Ave
Hawthorne: 2631 SE Hawthorne Blvd
Downtown/PSU: 1171 SW Jefferson St
Heart Coffee
Minimalist. Clean. Hip. Those are all words I would use to describe the design of Heart's coffee shops. I've had their beans many times over the years, and they never seem to disappoint. Whether you want a painstakingly-prepared pour over of one of their single origin coffees, or just a simple drip coffee or a latte, they'll brew it for you with ruthless precision.
One thing I like about Heart is their Transparency Report, which is something few companies in any industry take the time to think about, let alone put together. It takes a long, hard look at Heart's impact on the supply chain, including the farmers they buy from, and gives you insight into the exact prices they pay for coffee. It's a cool thing to read through, and shows how much thought and care goes into the direct relationships they have with farmers, and how seriously they take those relationships.
Locations:
Burnside: 2111 E Burnside St
Westside: 1123 SW Washington St
Woodstock: 5181 SE Woodstock Blvd
Push X Pull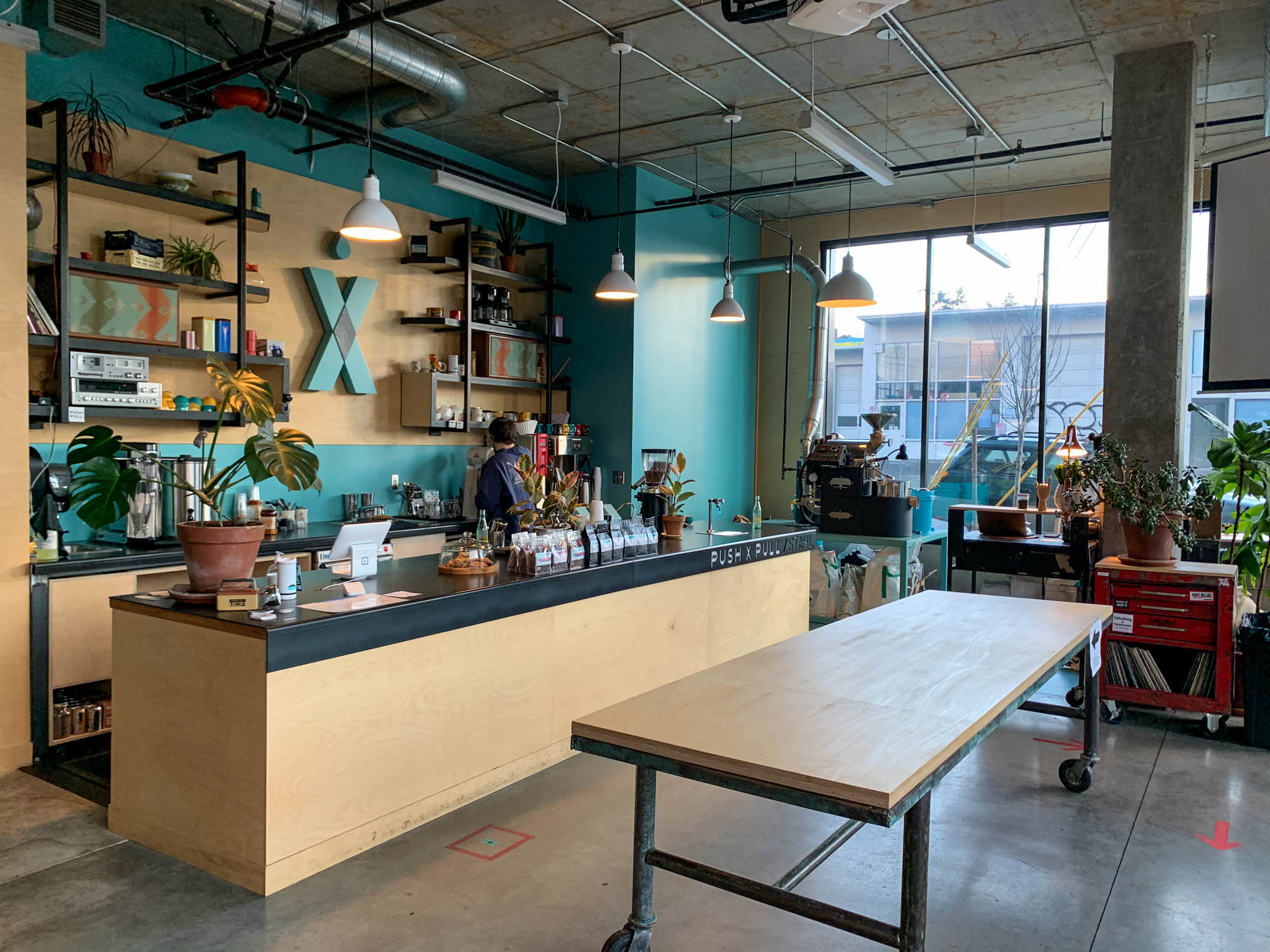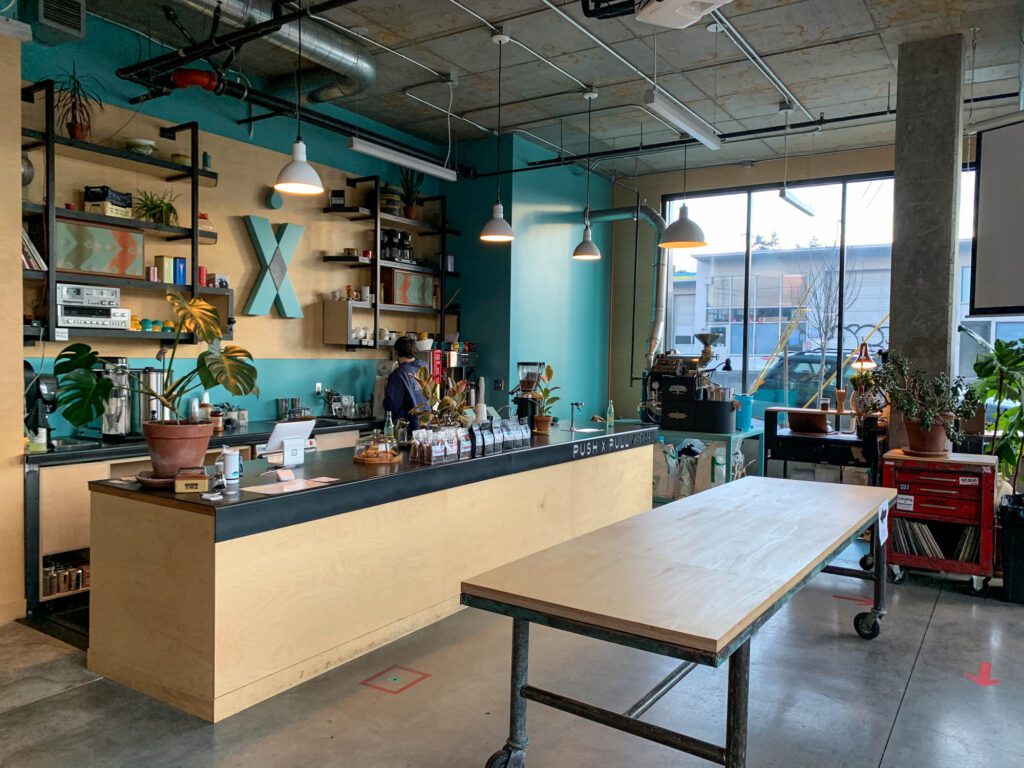 Like natural-process coffee? This is basically a must-stop for you. Push X Pull is a new coffee roaster in Portland, and they focus on wild and fruity coffees, many of which are natural process. They also had a few Gesha offerings when I was there, along with a rum-barrel aged coffee that I kind of wish I had tried, looking back on it.
They also have some fun seasonal drinks, like the "Mister Fox" made with espresso, steamed milk, maple syrup, and chai-turmeric powder.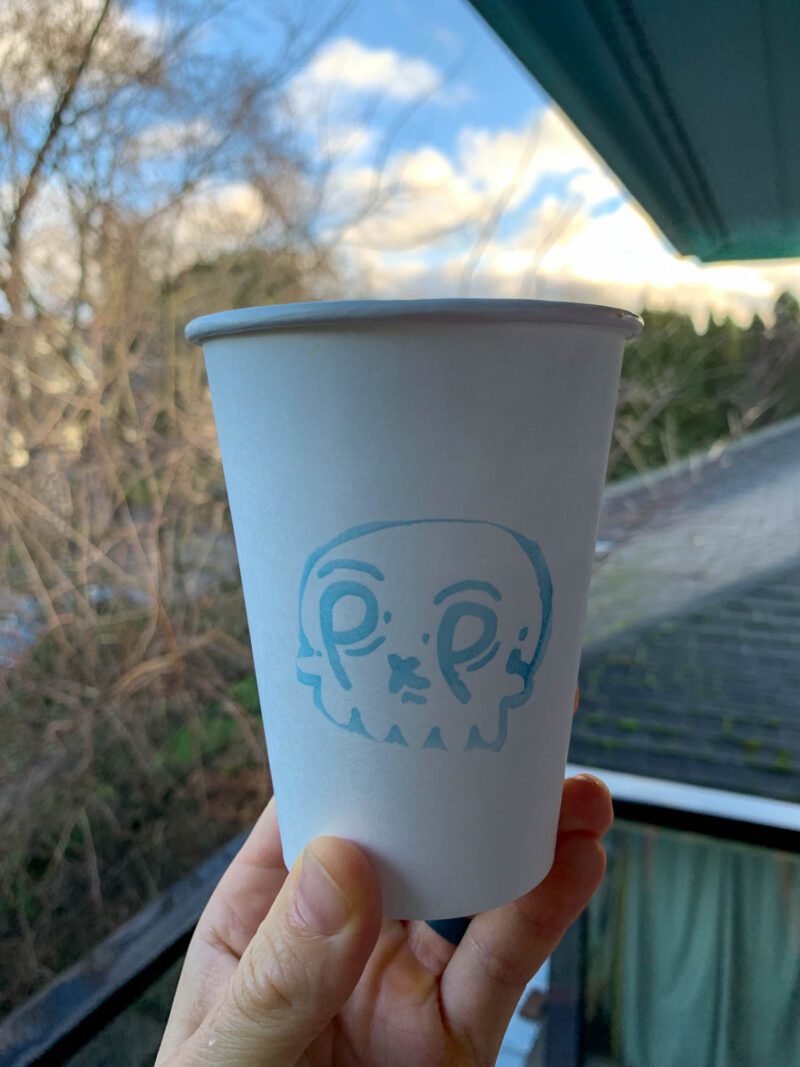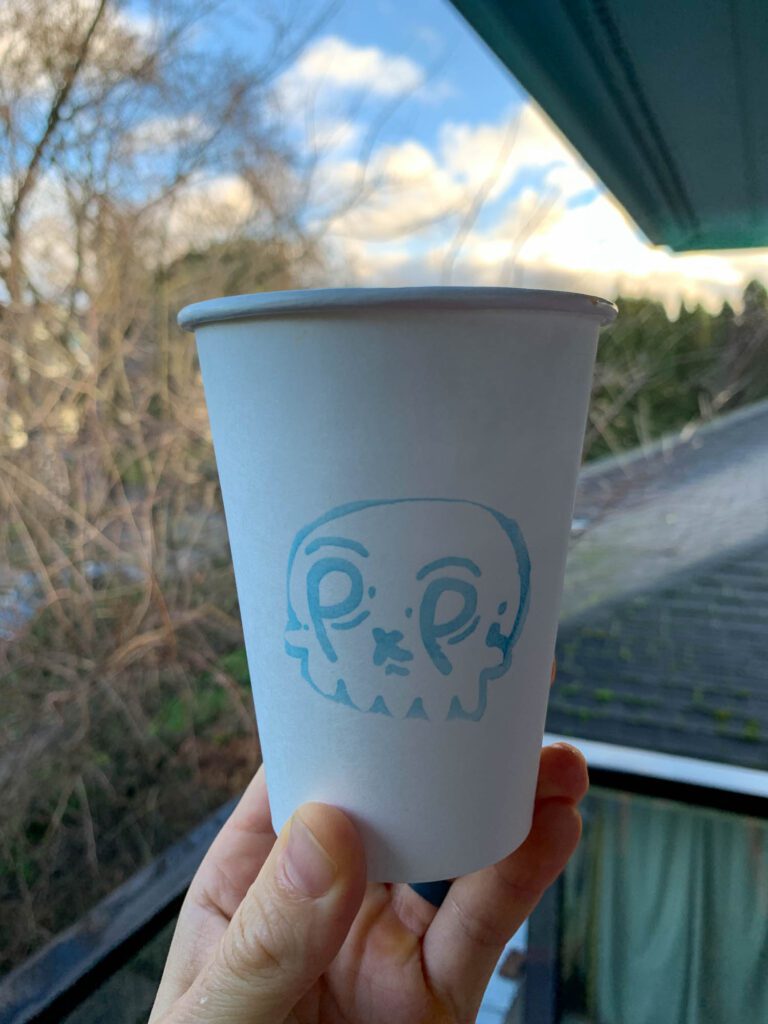 Go for the super unique coffee offerings, stay for the high ceilings and plethora of natural light.
Location: 821 SE Stark St
Ardent Coffee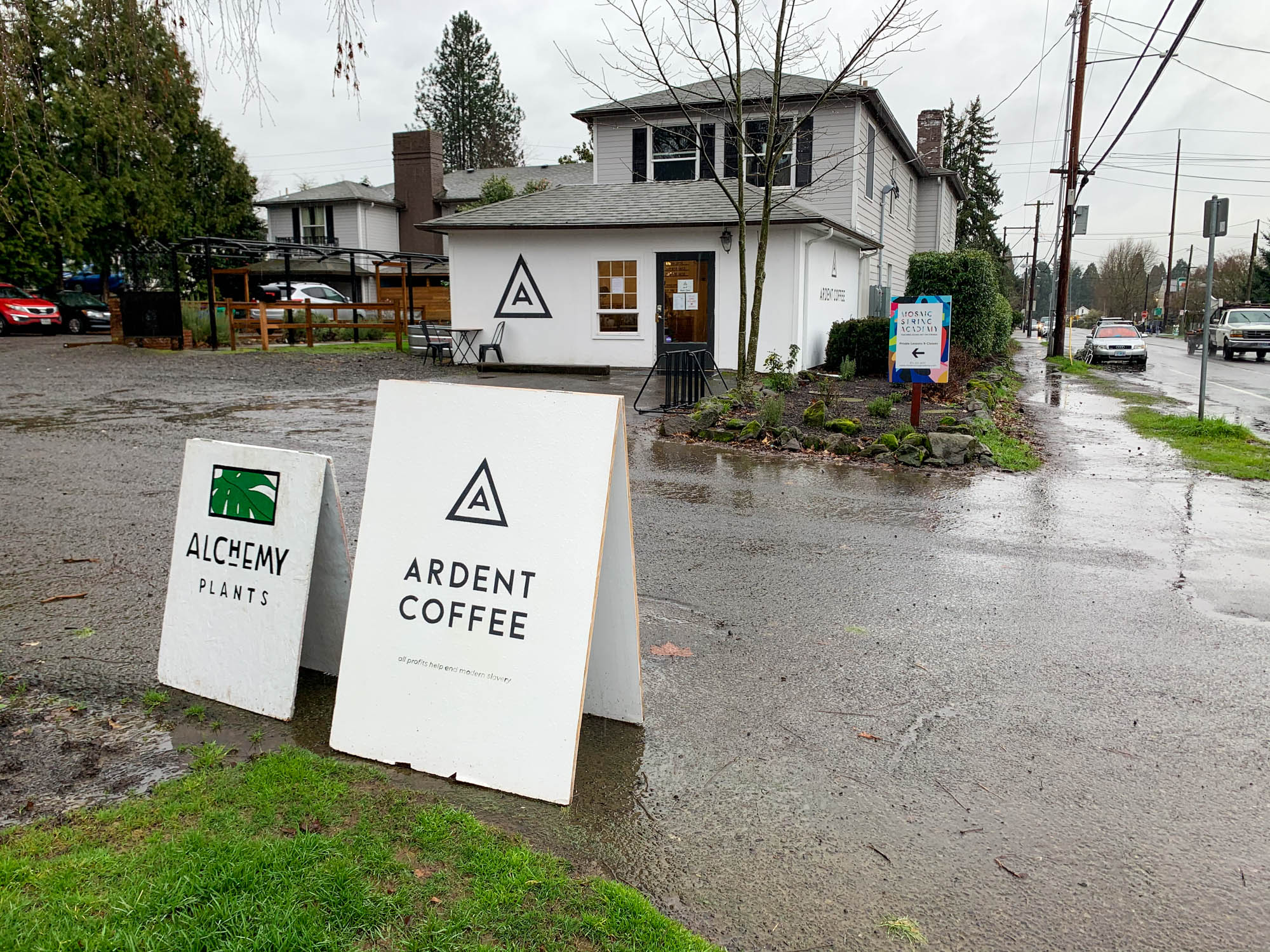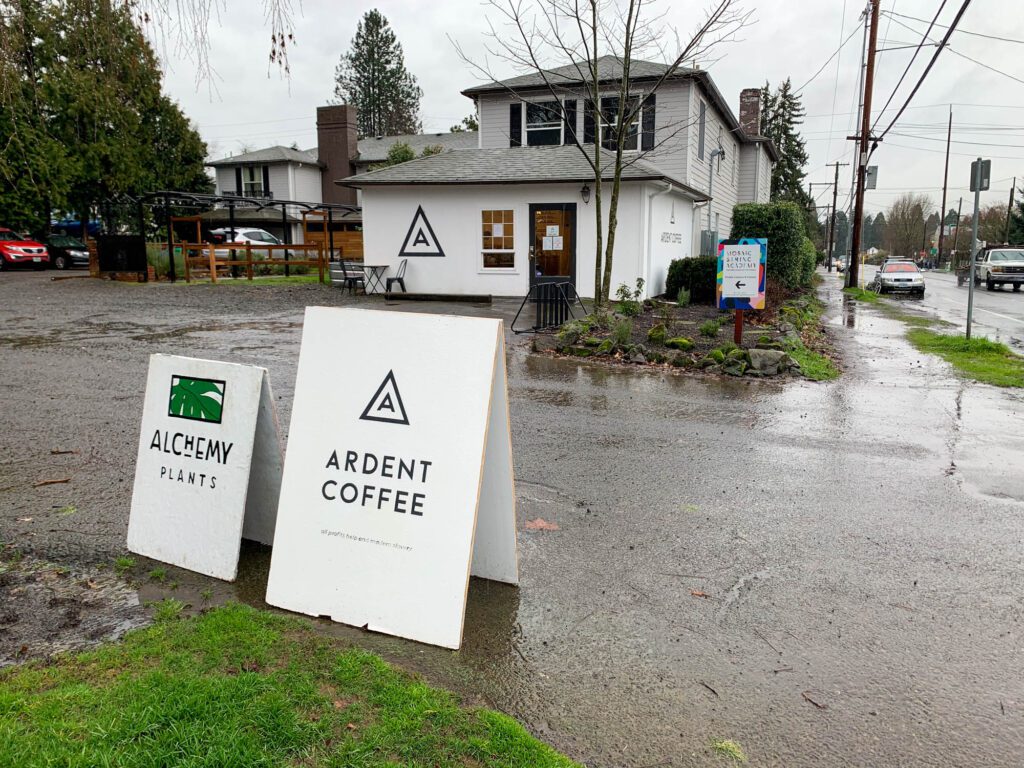 There were several things that took me by surprise at Ardent Coffee, and the first is their mission to end modern slavery. 100% of their profits go to the organization International Justice Mission, which is unique. It's pay-what-you-want, so you insert your card and name your price for your order, which could include anything from espresso, to milk-based drinks, to pour over coffee.
The last thing that surprised me was the fact that they use Sweet Bloom coffee, which is a great roaster out of Denver, but not something I expected to see in a city full of amazing coffee roasters.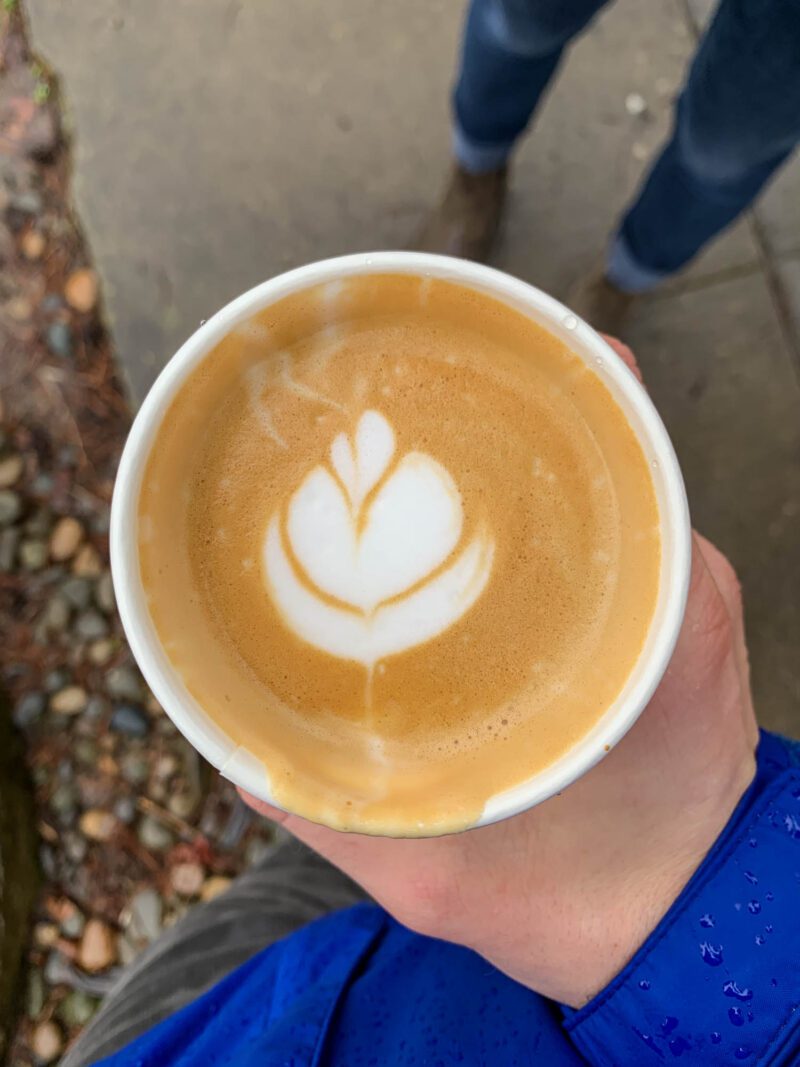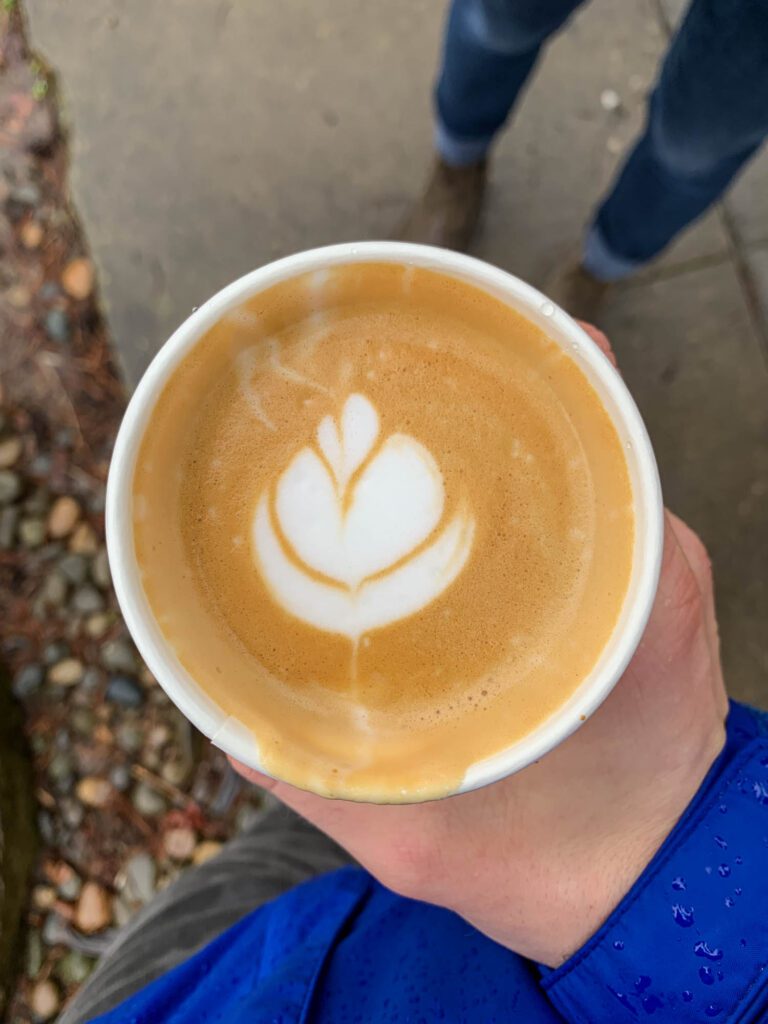 It's a little out of the way, south of Powell Blvd near Reed College, but it's worth the detour to support their mission and try Sweet Bloom coffee if you haven't had the pleasure of making it out to Denver just yet.
Location: 5120 SE 28th Ave
Proud Mary
Before our recent month-long stay in Portland, we had never really explored Northwest Portland. On that trip, we made our way up to Forest Park and Sauvie Island, which meant driving through North Portland (does it have a fancy name like NoPo yet?) multiple times.
We had, however, explored Northeast Portland, having stayed in the Alberta Arts District on one of our trips. It's another one of our favorite areas in the city, and happens to have some solid options when it comes to coffee.
I still dream about the incredible coffee scene in Melbourne, Australia from our Australian adventure a few years back. And as soon as I got my chocolate-dusted cappuccino at Proud Mary in the Alberta Arts District, it took me back to those glorious days. I'm not sure Alysha would use the term "glorious," though. That trip is infamous for the 45 minutes we spent walking around the same block to find a coffee shop in a back alley that used milk cartons as seating. Classic Matt.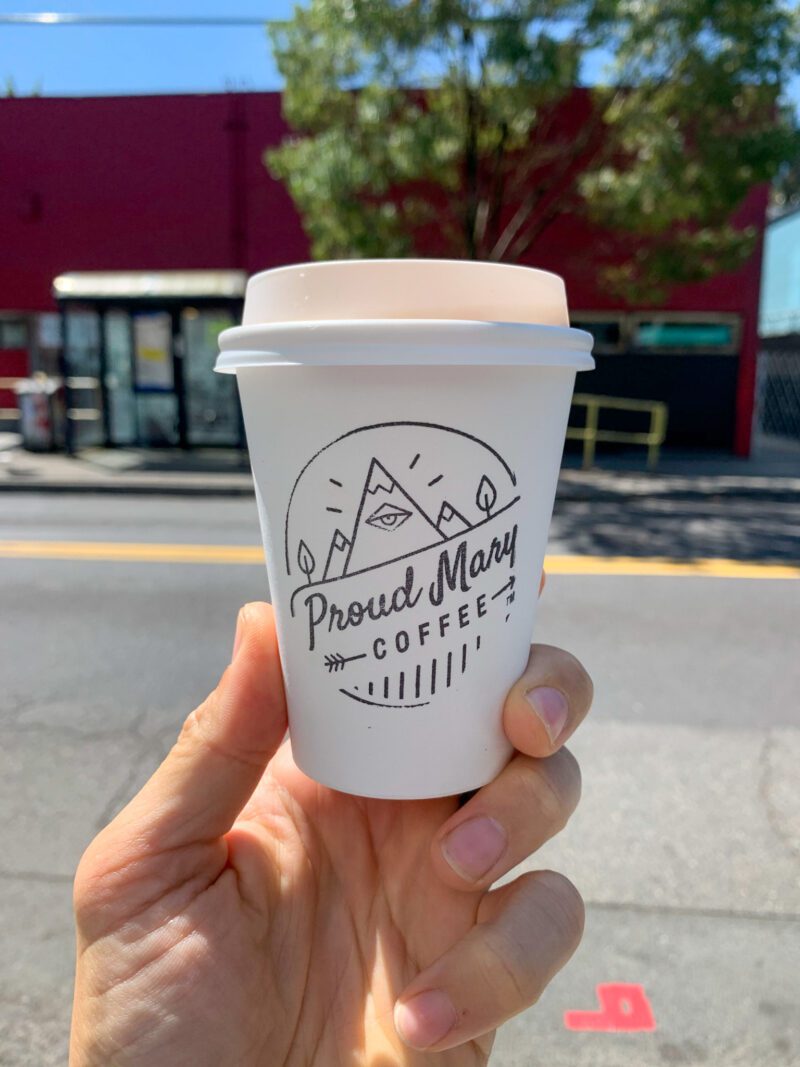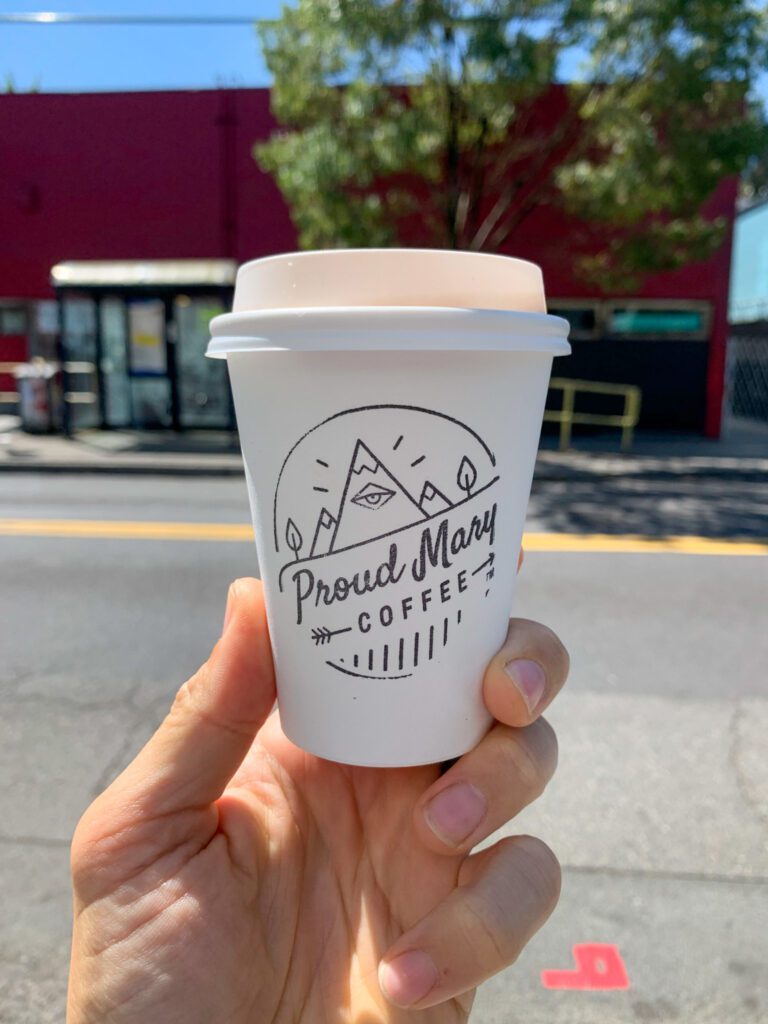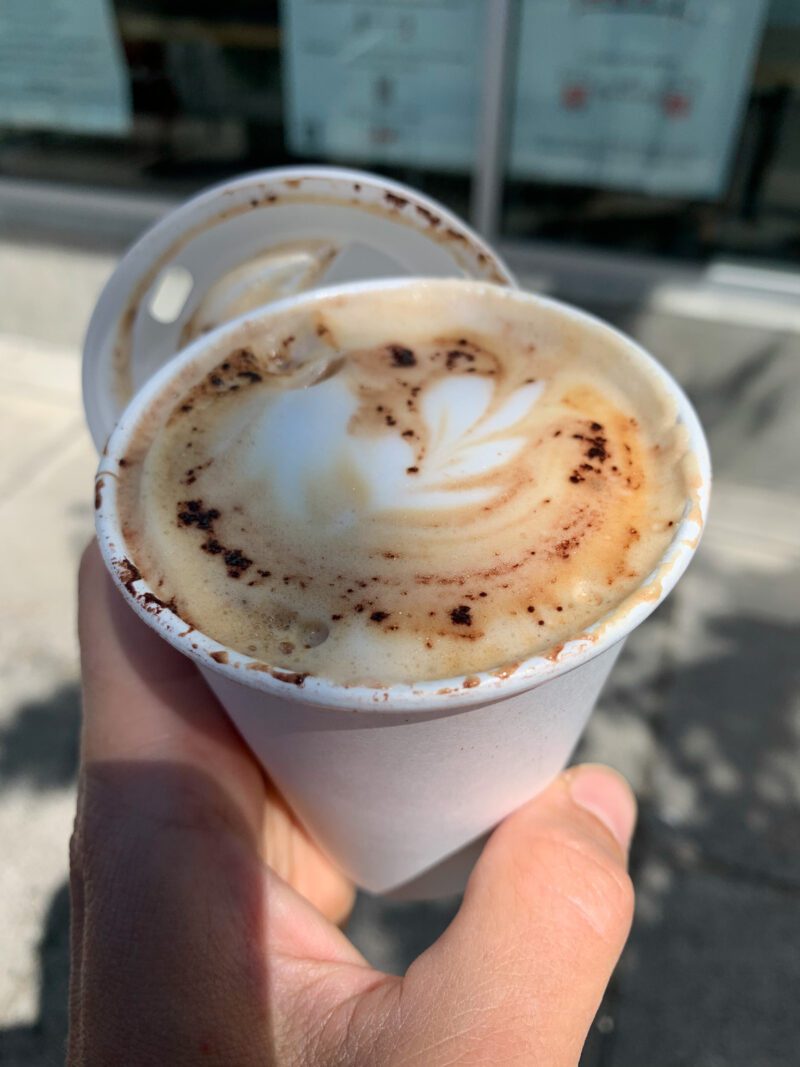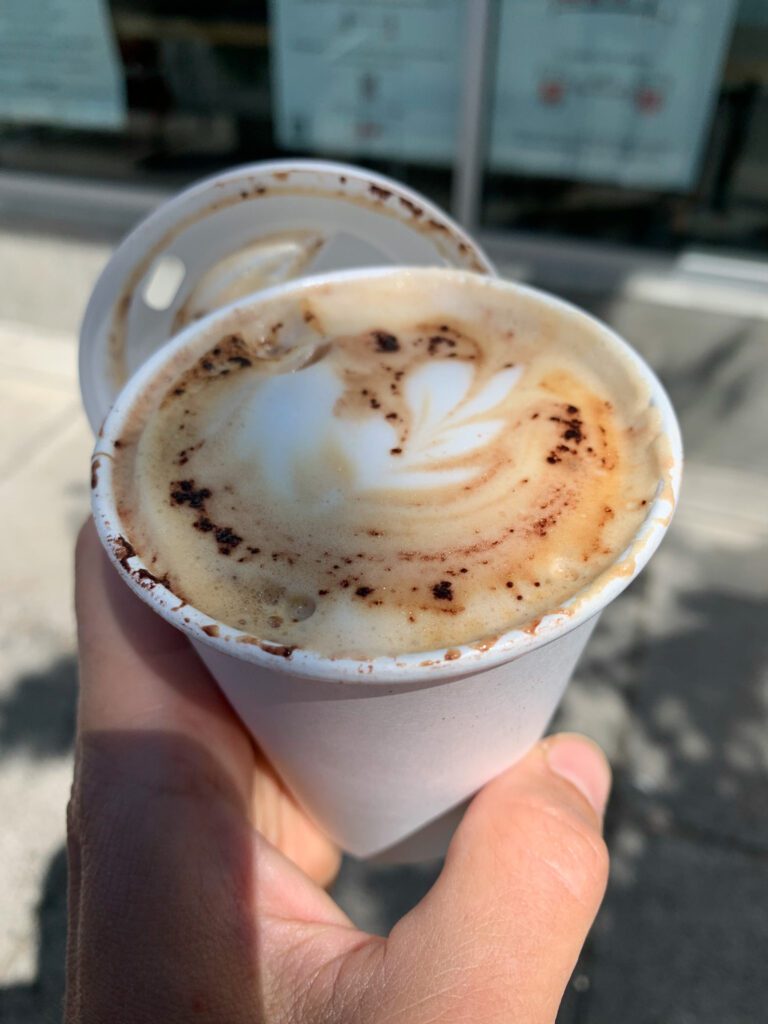 Proud Mary's location on Alberta is the only US location of the Melbourne-based company. They offer brunch too, which we found to be the norm in Aussie coffee shops. We actually had never had avocado toast before our trip to Australia, where we fell in love with it and now apparently we'll never afford a house. Thanks a bunch, Australia.
I really like how Proud Mary divides their coffee into mild, curious, and wild categories, which helps you find the exact right taste profile for your preferences. Not all of us are into the super fruity natural-process coffees (though, I should note, I definitely am), and Proud Mary has options for a variety of palates.
At their cafe, you can get the usual range of espresso-based drinks, including the chocolate-dusted cappuccino, teas (loose-leaf and chai), and a full food menu with everything from avo toast to a dungeness crab omelette (not good for gluten free folks, sadly). Plus, a range of rotating pour over options ranging from pricey to "you said how much?". I will say, however, that the latter group of coffees is usually something pretty extraordinary, like a cup of excellence winner or something of similar rarity, which is a fun splurge on occasion.
Location: 2012 NE Alberta St
Prince Coffee
Prince was an unexpected find – we were headed to Pip's Original Donuts and Chai (not for the donuts, but for Alysha's favorite chai in all the land) and we walked by Prince. "Looks like your kind of place" said Alysha, and she was 100% right.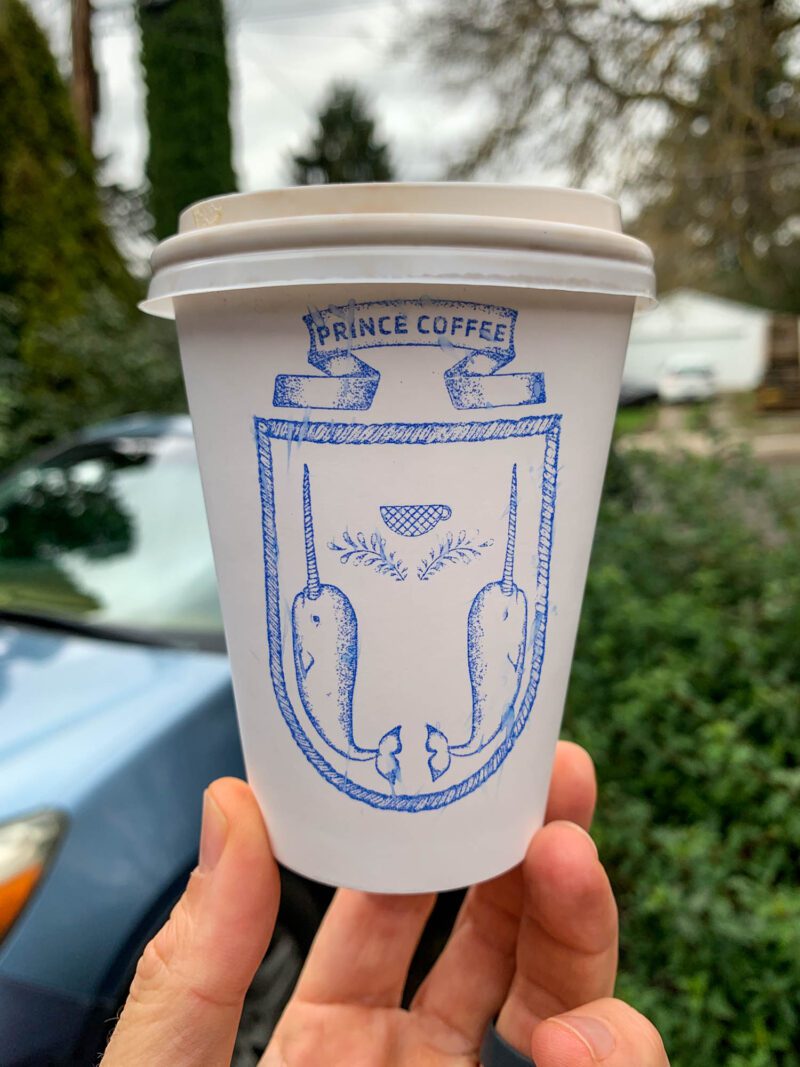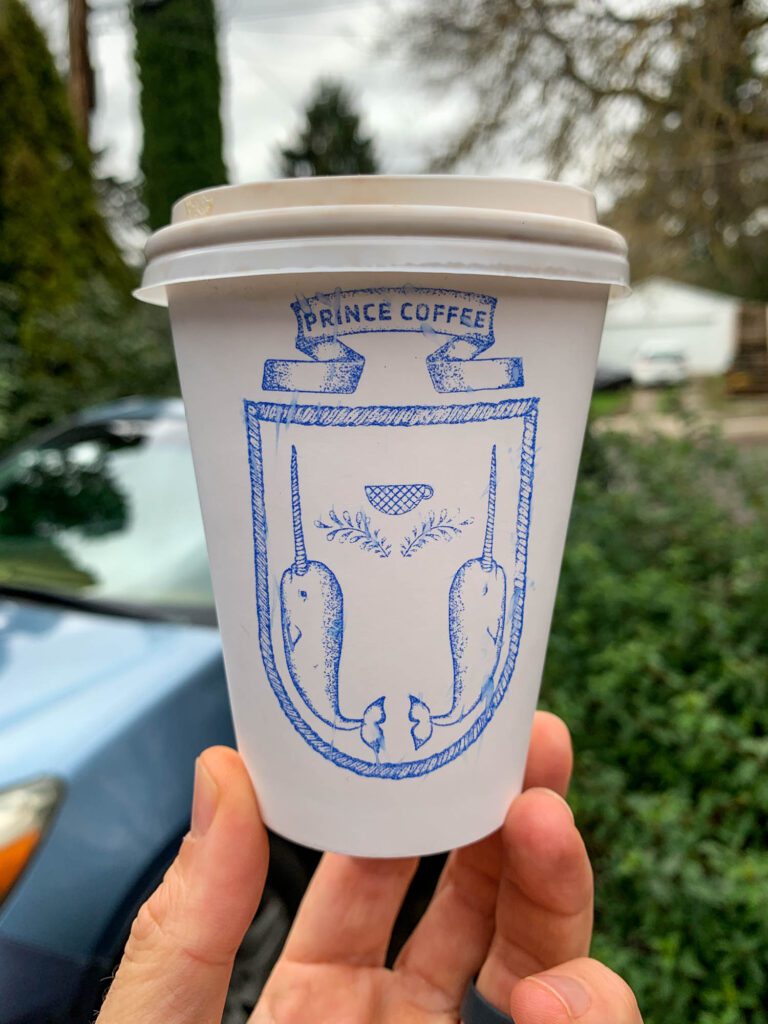 In my Seattle coffee guide, I talk about the three different types of coffee shops that the city has to offer: the roasters, the loyalists who use beans exclusively from one roaster, and the curators, who bring in different coffees from a wide range of roasters, usually local to the Pacific Northwest.
Prince fits into the latter category, and they had coffees from Heart and Proud Mary, among others. Portland seems to be lacking that third category – I didn't come across too many shops that had a selection of beans from multiple roasters, which is probably my favorite kind since I love trying new things, and that's a great way to do it.
They also have stroopwafels, which fits seamlessly with the Dutch theme, and are definitely not gluten free. They are worth trying if you don't have issues with gluten. Consider me jealous.
Location: 4523 NE Fremont Street
Never Coffee
Never Coffee is a fun spot. The colorful sign is a… sign (?) of what's to come when you enter the small shop on Belmont. The creative lattes are the highlight here, with several fun and innovative flavor combinations to choose from. Get the "Hug," their take on a warm and spicy mocha, the "Oregon," which uses hops and dulce de leche, or the "Rich Kid", which is a combination of rose water, saffron, and cardamom.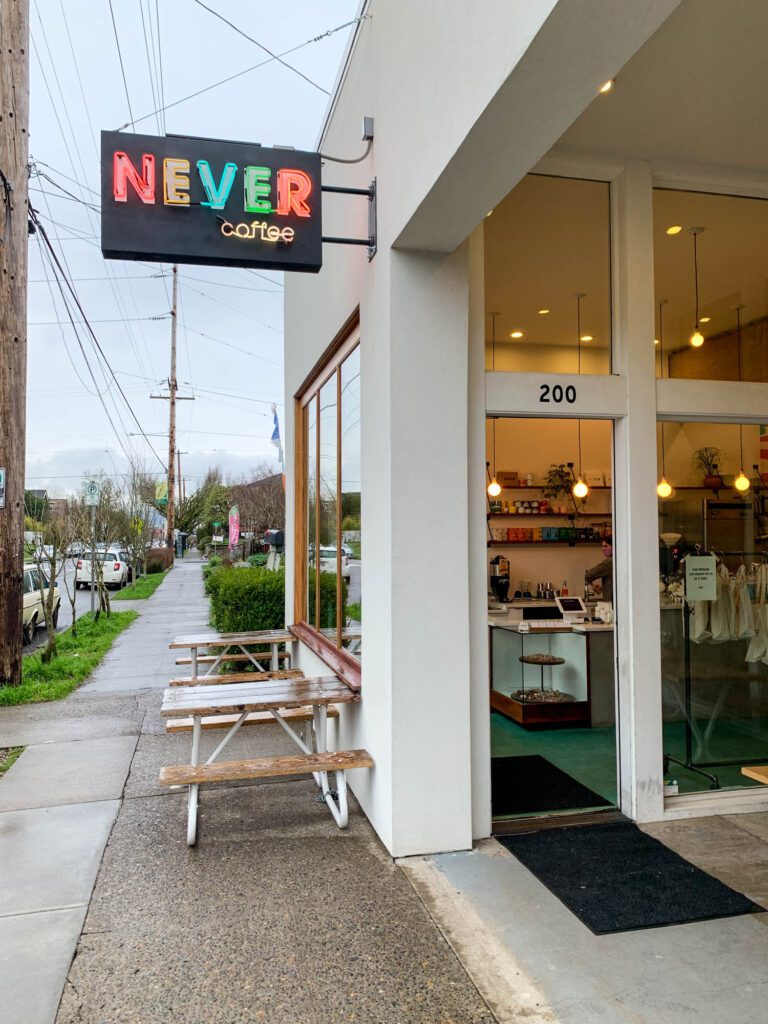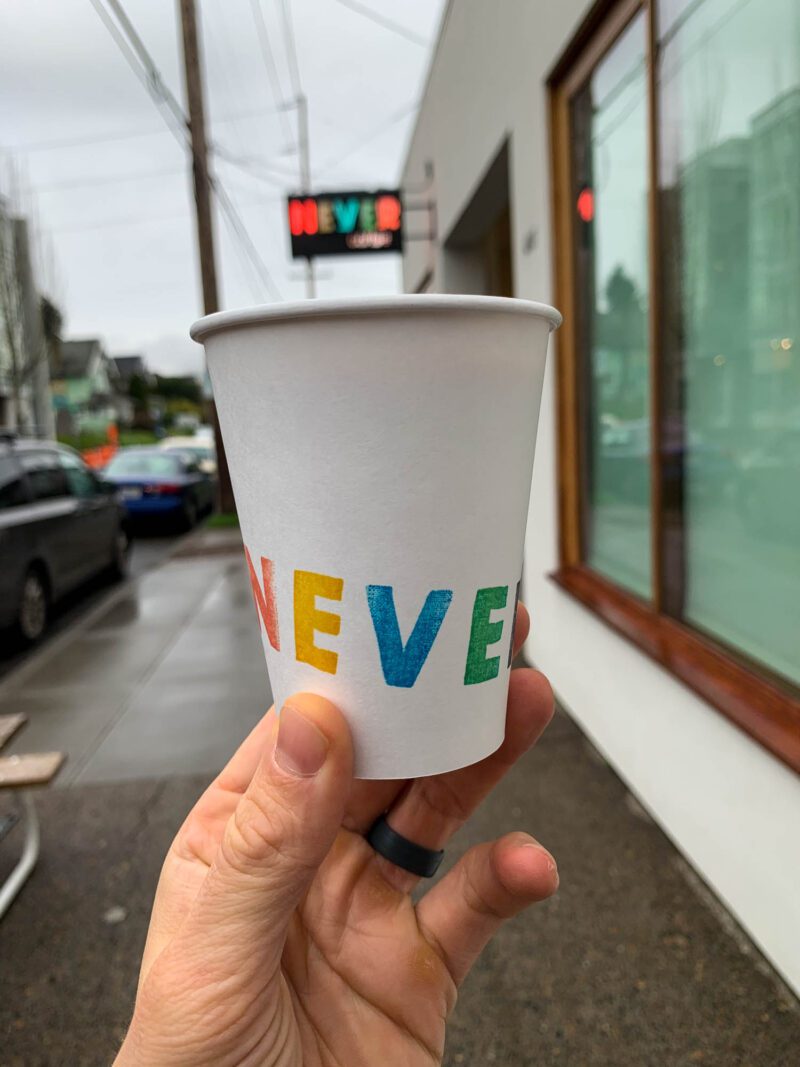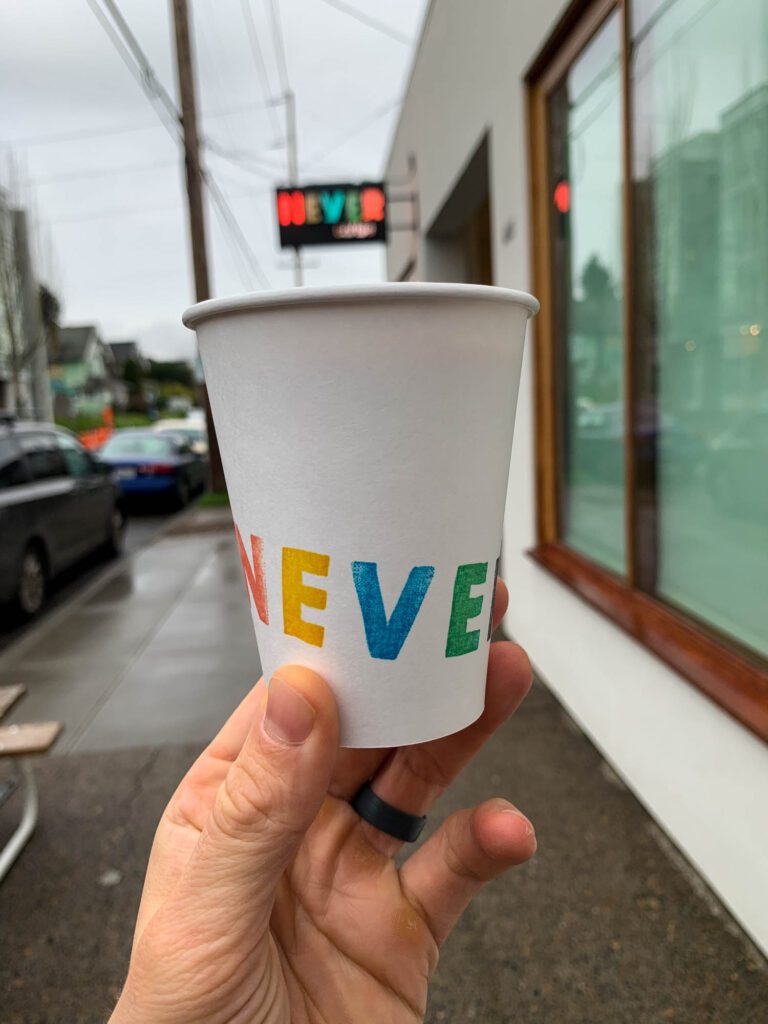 Each of the colorful bags of coffee brings a slightly different flavor profile, and the descriptions on their website are hilarious. Here's an example: "This is dressed up cowboy coffee and best shared with mortal enemies at high noon."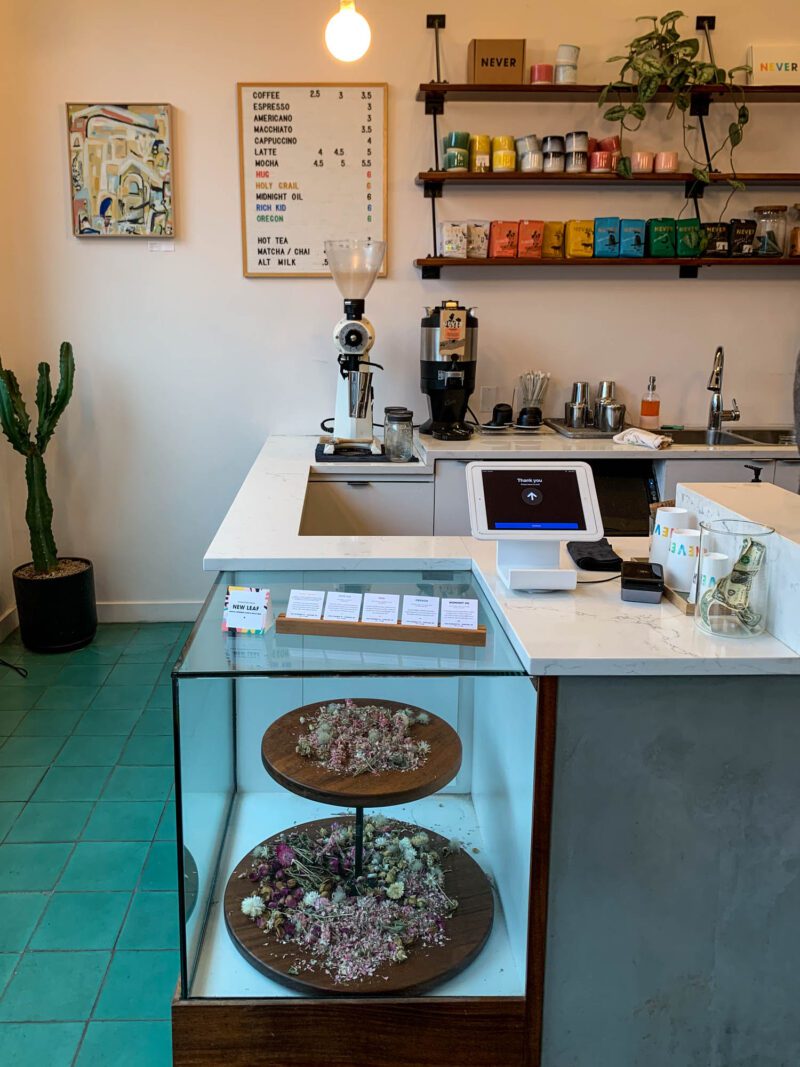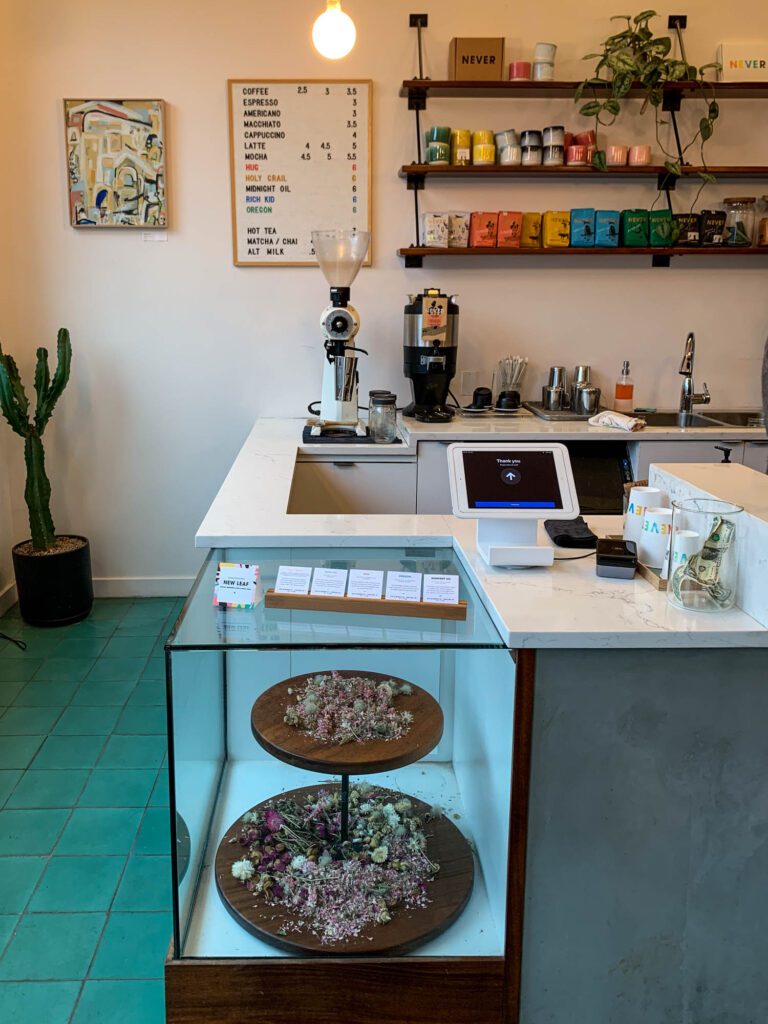 Locations:
Eastside: 4243 SE Belmont St UNIT 200, Portland, OR 97215
Downtown: 537 SW 12th Ave, Portland, OR 97205
Sisters Coffee Company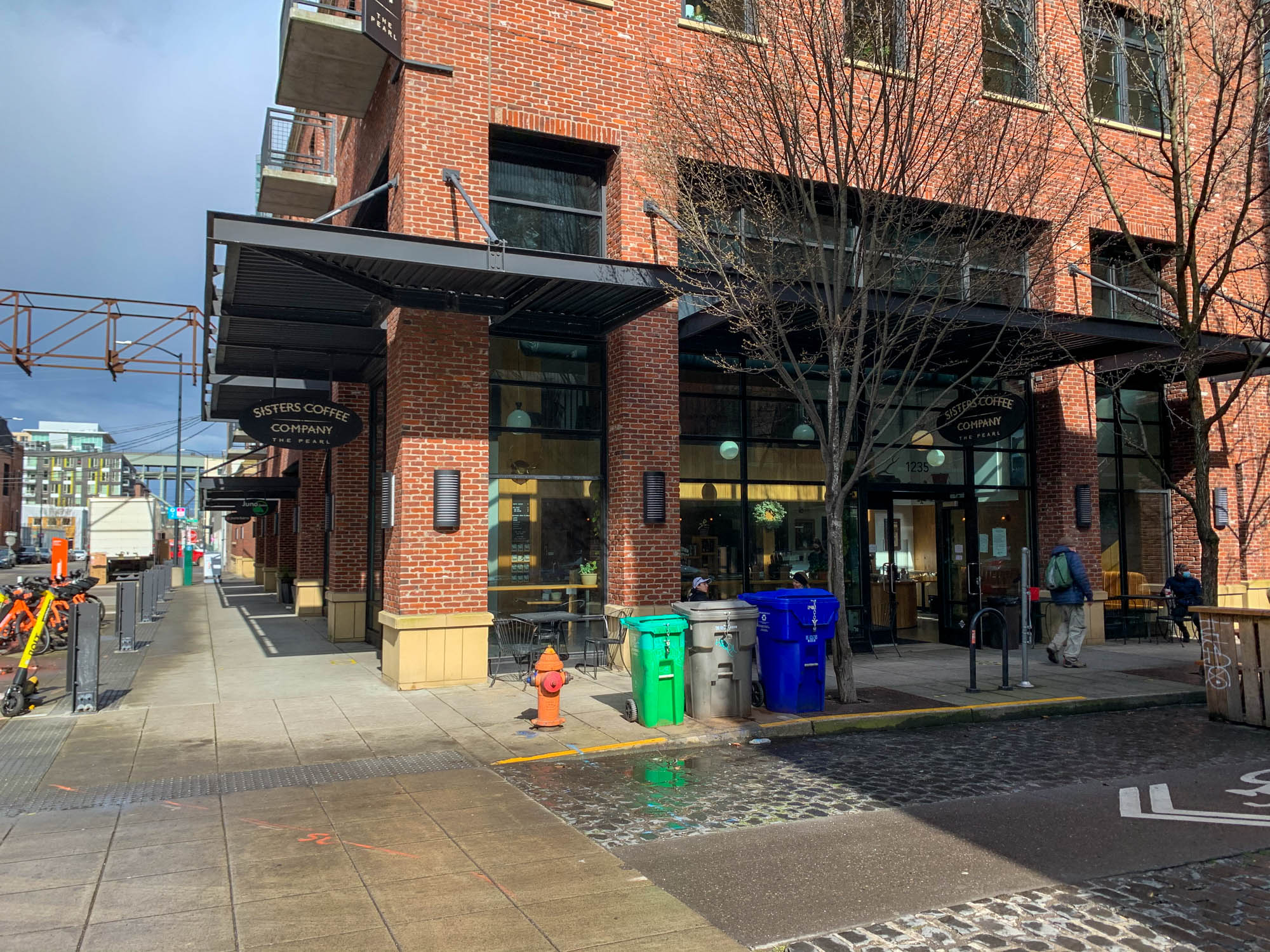 I actually had no clue that Sisters Coffee, which we visited over in Sisters, Oregon as part of our Oregon road trip, had a location in Portland. But when I asked the friendly barista how long they'd been there, she said "oh, our 10 year anniversary just happened!" Which shows how much time I had spent in the Pearl District, I guess.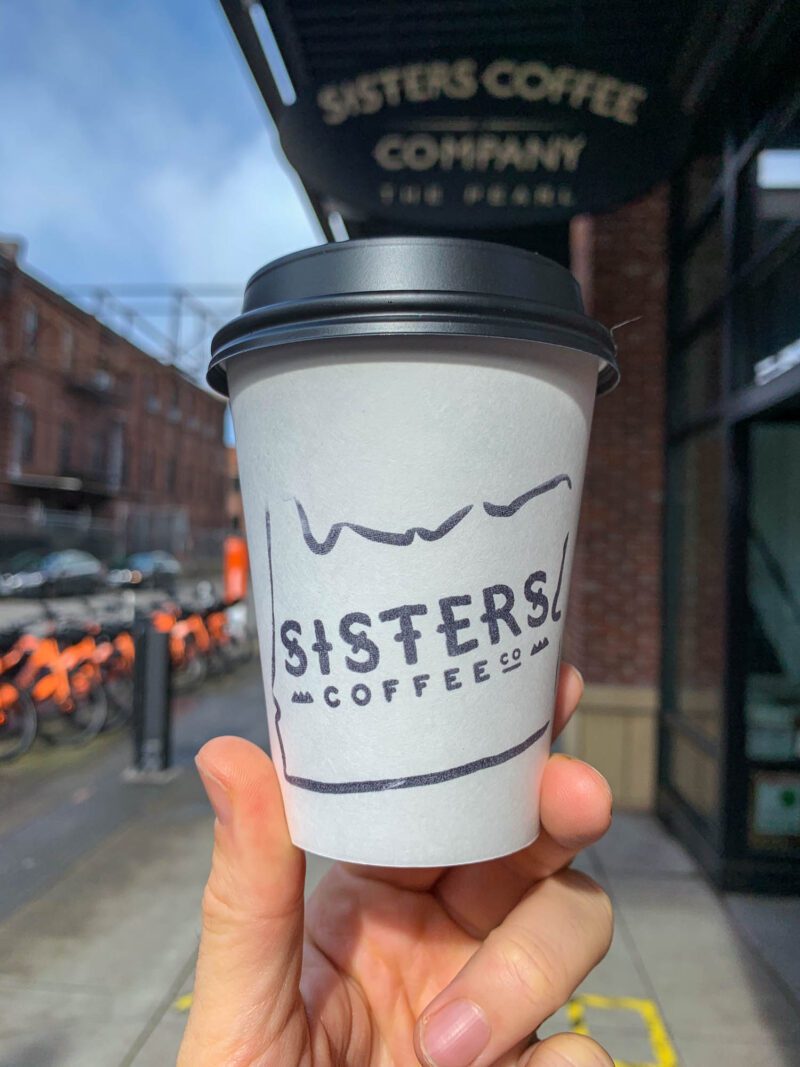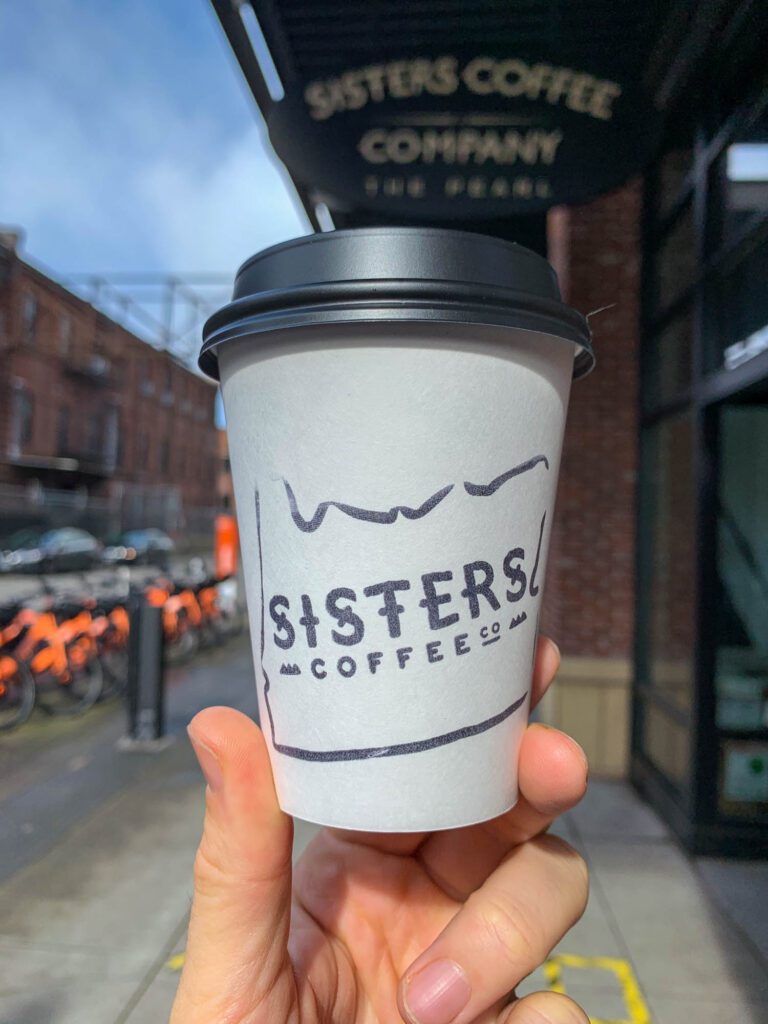 They make their coffee on a deconstructed espresso machine, with separate places to pull espresso and froth milk, which I always get a kick out of. They have some nice blends, ranging from light to dark roast, and usually have a couple of rotating single origin offerings that you can try either as espresso, or as a pour over coffee using a Kalita Wave.
Location: 1235 NW Marshall St
Good Coffee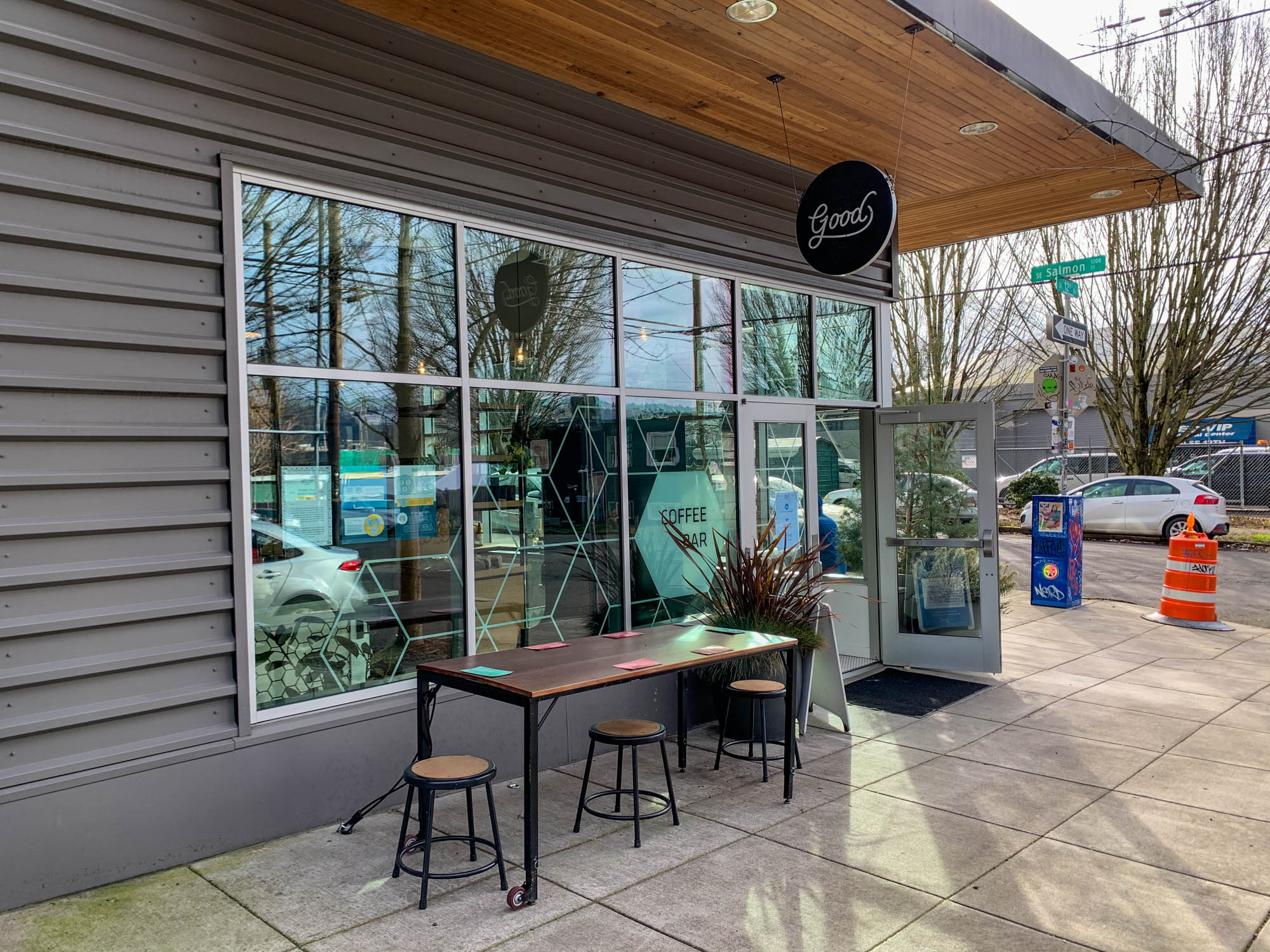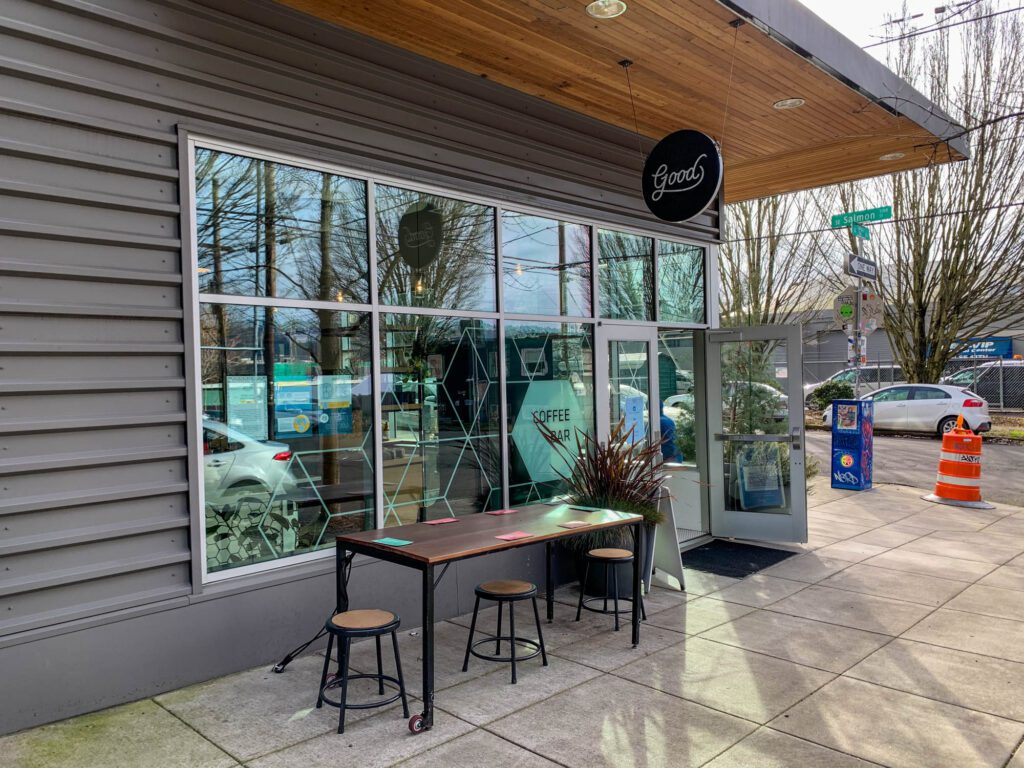 Good Coffee's mission is to use what they do – coffee – to bring others delight. Even if they had just kept it to making great coffee, never thinking about the broader impact that they could make, that's a cool idea.
But the thing I like about Good Coffee after combing through their website and social media is that they take it a step further. They use their platform to make a positive impact in Portland by partnering with local organizations that are doing the work to "build a better Portland" by using one of their coffees to tell that organization's story, and donating 20% of the sales of that coffee directly to the organization.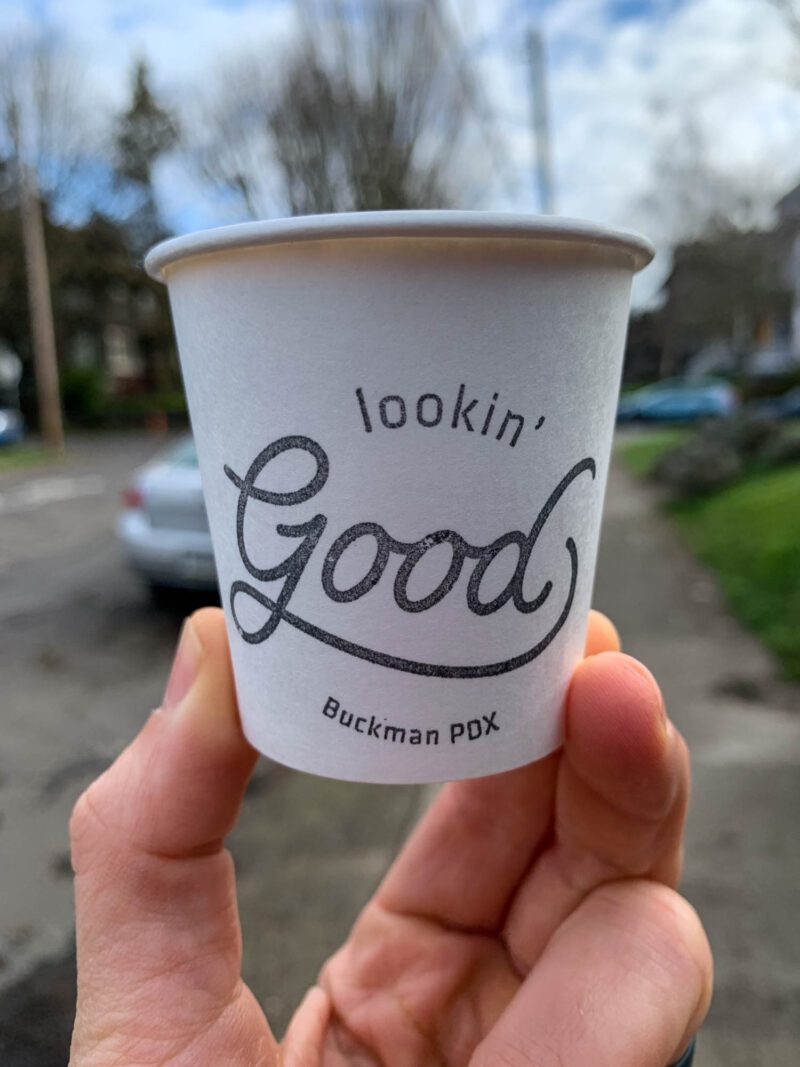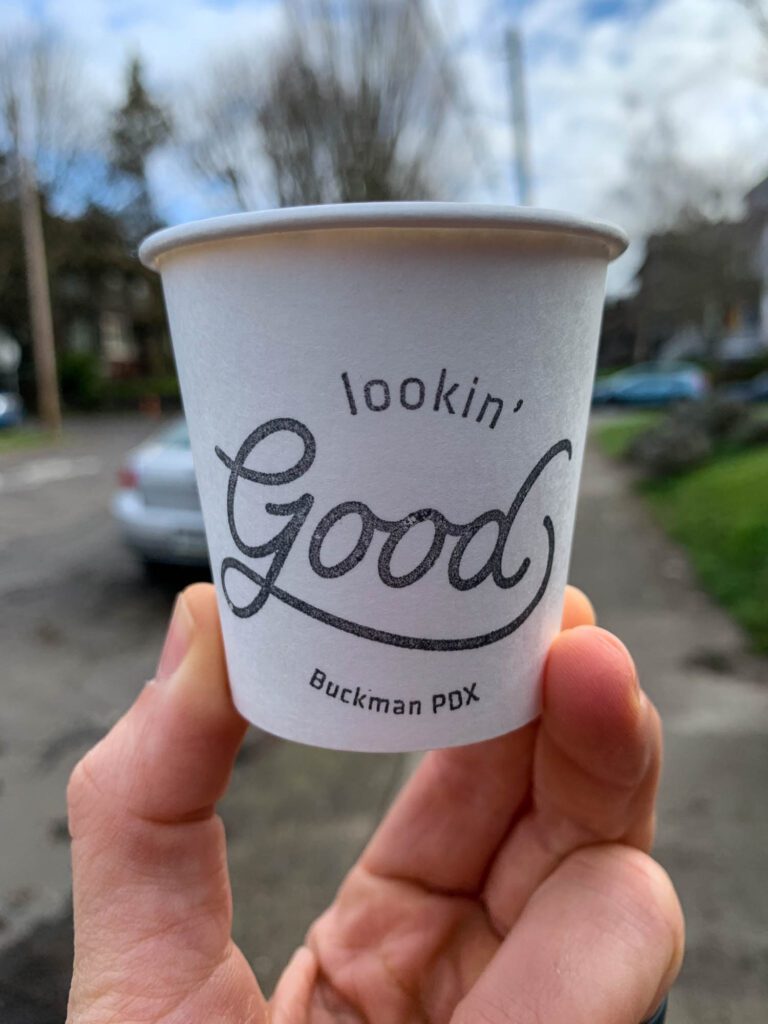 Their coffee is good, their spaces are gorgeous, and they're doing their best to build a better, more inclusive community. What's not to like?
Locations:
Northwest District: 2175 NW Raleigh St
Division: 4747 SE Division St
Buckman: 1150 SE 12th St
Woodlark (temp. closed): 813 SW Alder St
Stumptown Coffee
Downtown Portland has several great coffee options, though you're probably going to have to pick and choose if you're here on a weekend trip to Portland (or be prepared for caffeine withdrawals when you head home).
Stumptown is one of the OG third wave coffee shops in the world, much less Portland. They're at a scale now where you can go to Target and find their beans on the shelves there (depending on where you are in the country), and they have shops in cities around the country, from Portland to NYC.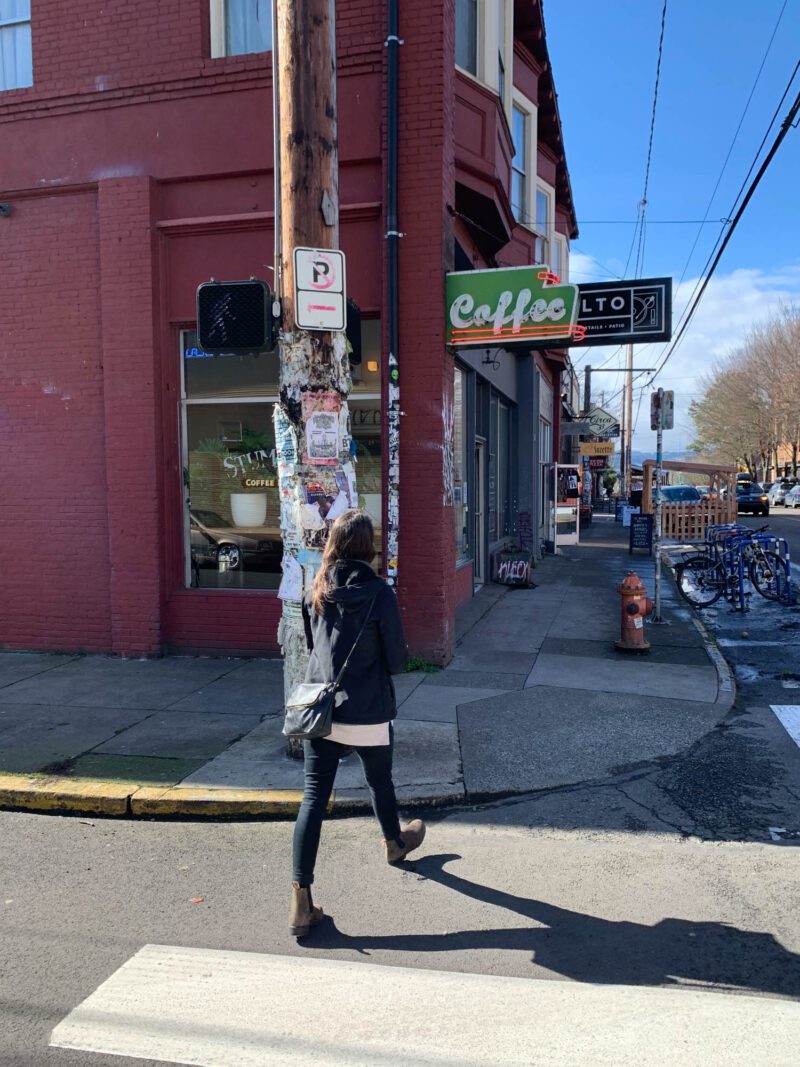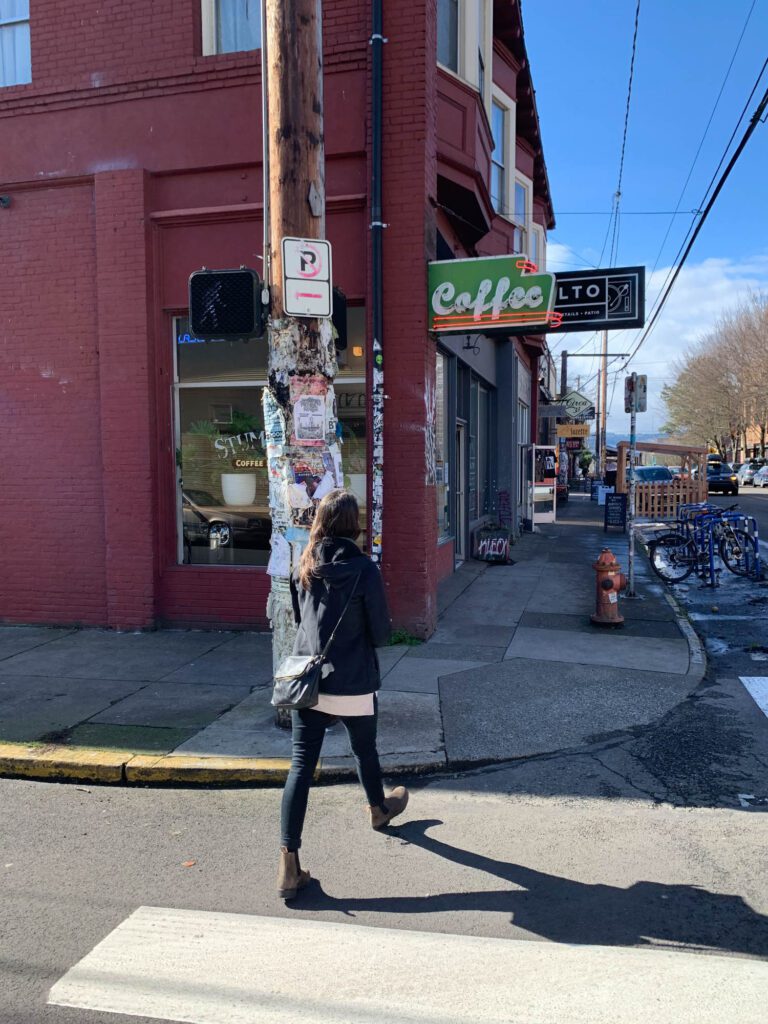 Started in 1999, they started a mini-revolution in coffee, moving on from the Starbucks wave that swept across the world to a more thoughtful coffee experience. Like many people, Stumptown was one of my first experiences with "good" coffee – I distinctly remember buying their beans on one of our first trips to Portland and being SUPER stoked about trying them in my $20 coffee maker I got off Craigslist.
Today, Stumptown Coffee Roasters is owned by Peet's Coffee, which has given them resources that most coffee shops and roasters can only dream of. They have multiple locations around Portland, and they make a damn good cup of coffee, whether you're looking for a light and fruity single origin, or a dark roast to get your morning started.
Locations:
Division: 4525 SE Division St
Belmont: 3356 SE Belmont St
Ace Hotel: 1026 SW Harvey Milk St
Downtown: 128 SW 3rd Ave
Upper Left Roasters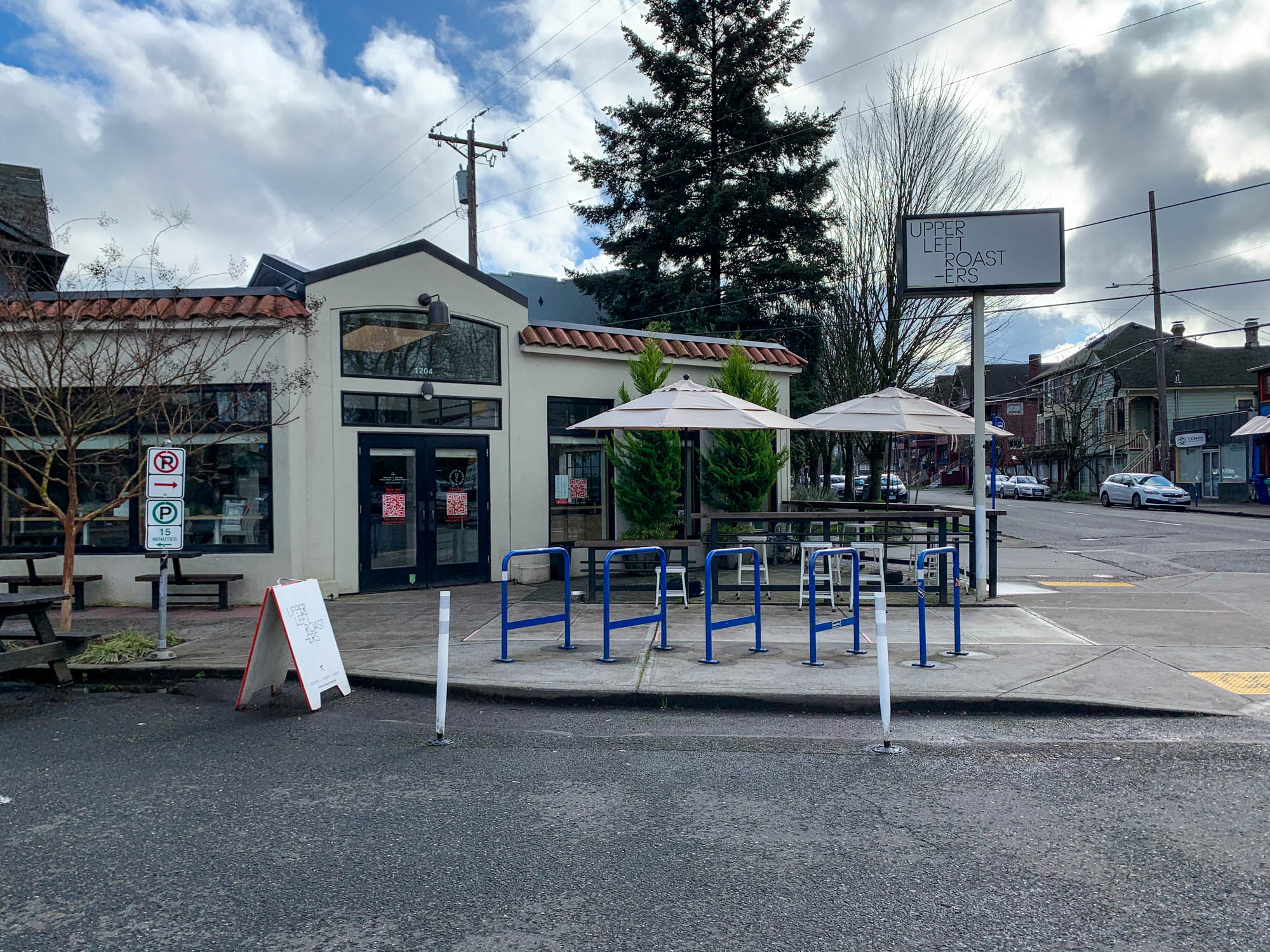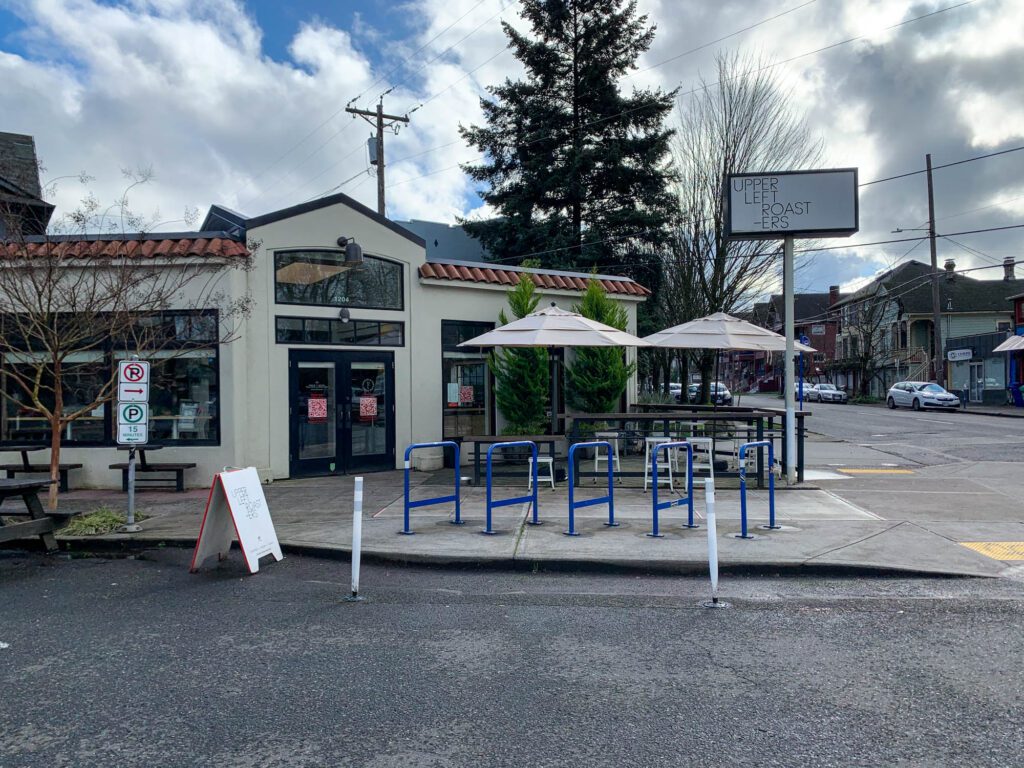 Upper Left can be found at the northwest corner of the Ladd's Addition neighborhood, which is one of our favorite places to wander on Portland's Eastside. As I was standing there, I realized you can watch them roast coffee as you wait. The space is minimalist – with plain white walls and huge windows that bring in tons of natural light. They have plenty of options for all sorts of preferences, from single origin pour overs, to lattes, and a selection of teas for the non-coffee drinkers.
They also have some cool signature drinks – like the Cafe de Olla (cold brew infused with orange peel and served with milk) and a sparkling iced matcha, which is something I've never seen before. The iced matcha is made with strawberry syrup, Topo Chico, and mint, and I'm about five minutes away from going back and trying it just to see what it tastes like.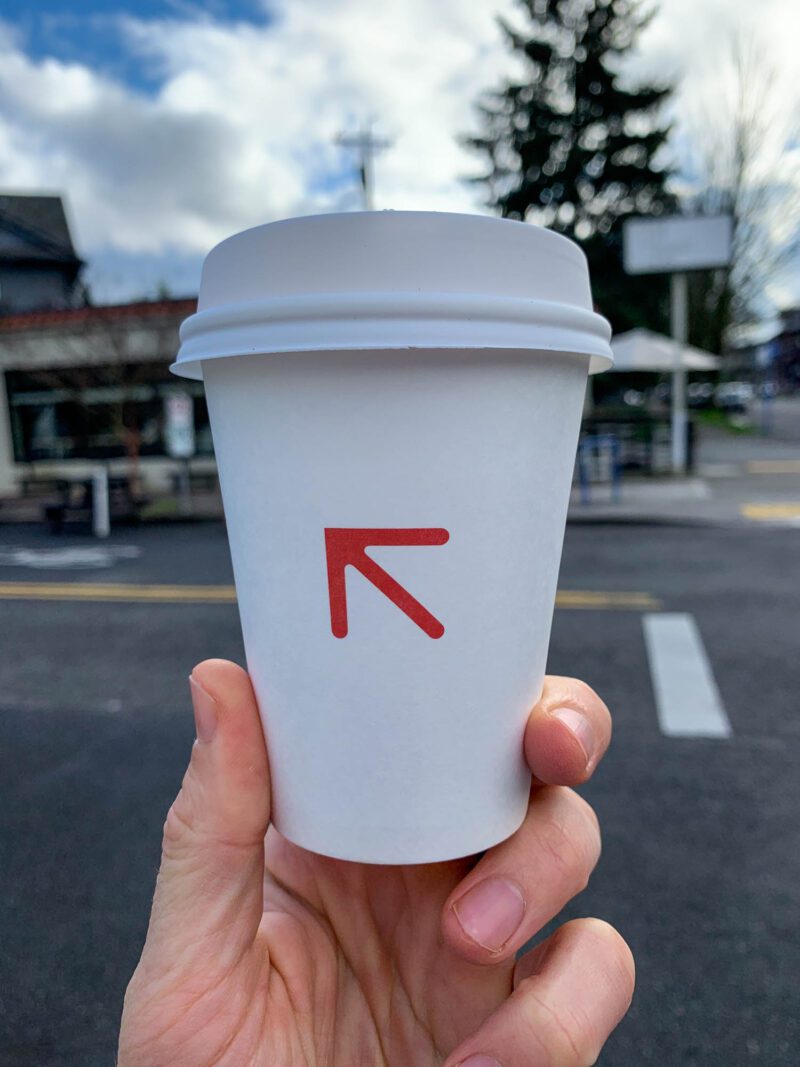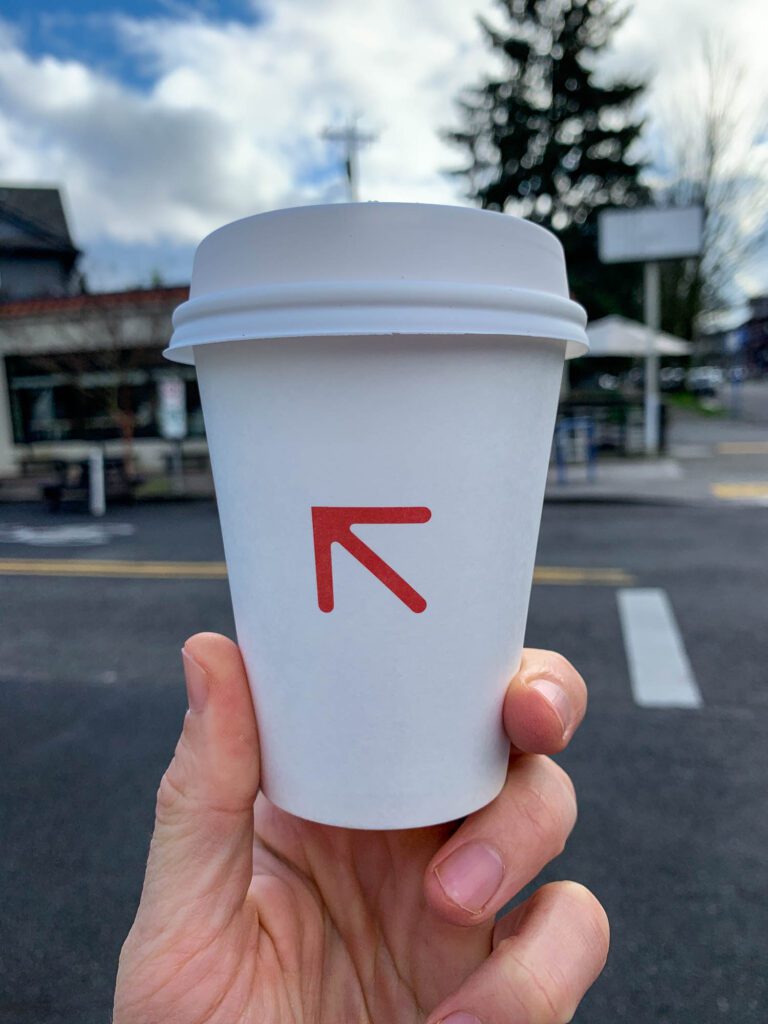 They also have a pretty robust food menu, with all sorts of toasts and "larger toast" to choose from that would make a perfect brunch on a rainy Sunday in Portland. Not gluten free, though. Not even close.
Location: 1204 SE Clay Street
The Great North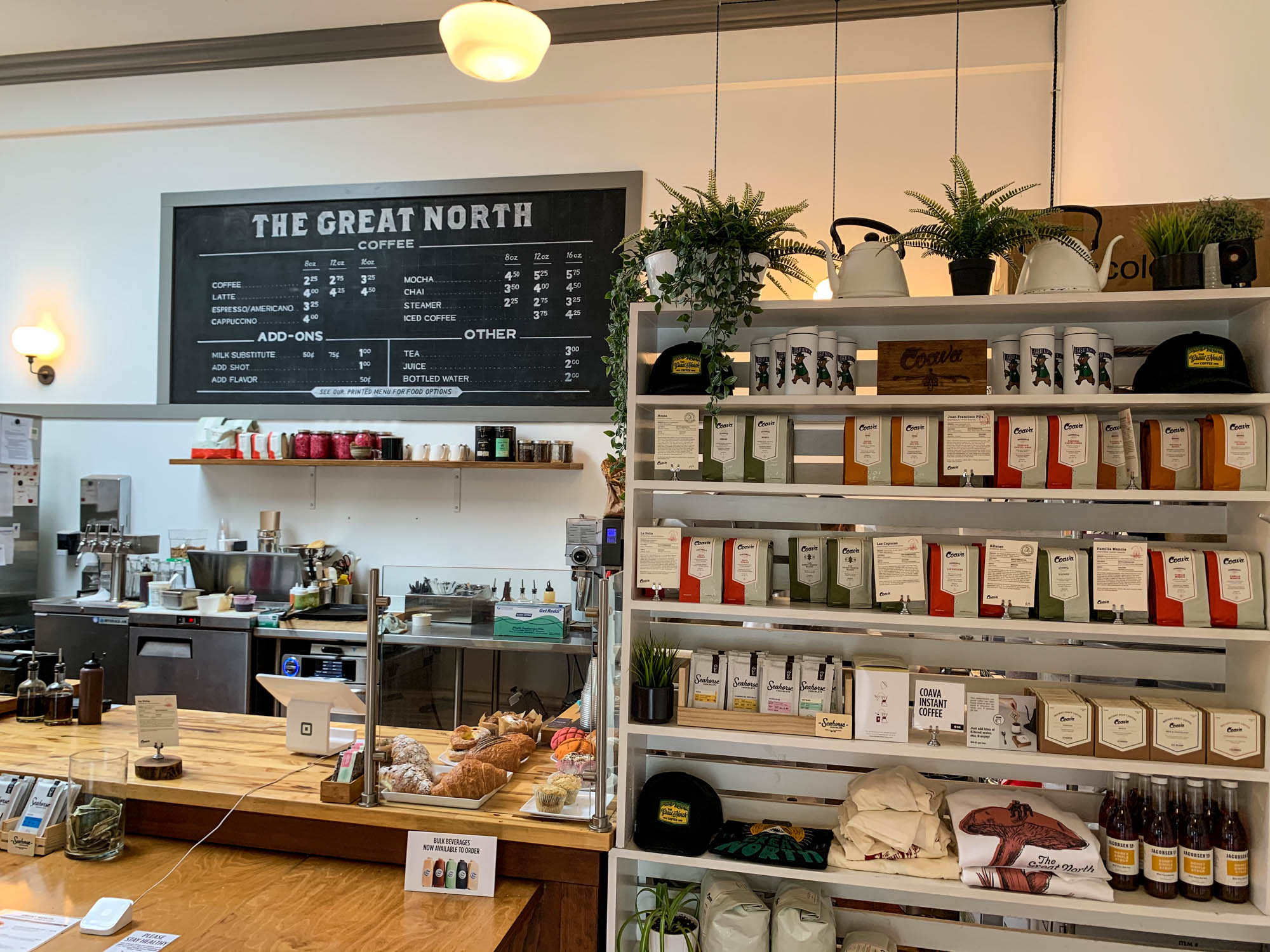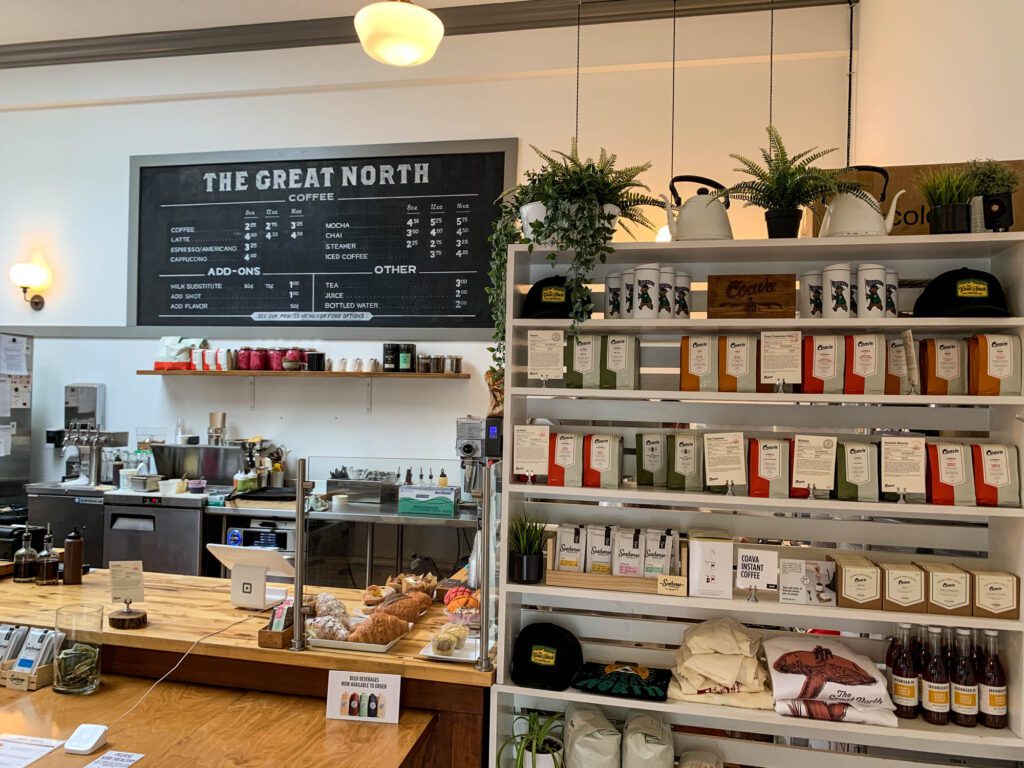 This was another somewhat random find. We had gone for a morning hike in Forest Park, stopped by Cathedral Park for the classic under-bridge shot, and headed up to the nearby stretch of shops to walk the neighborhood, which is when we walked by Great North.
They serve Coava Coffee, with all the usual espresso-based suspects, tea from Jasmine Pearl, housemade chai, and seasonal offerings like the "Cardigan" – a cozy combination of cold brew, homemade star anise syrup, topped with spices and orange zest. They rotate, so you'll have to stop by and see what they're offering at the time.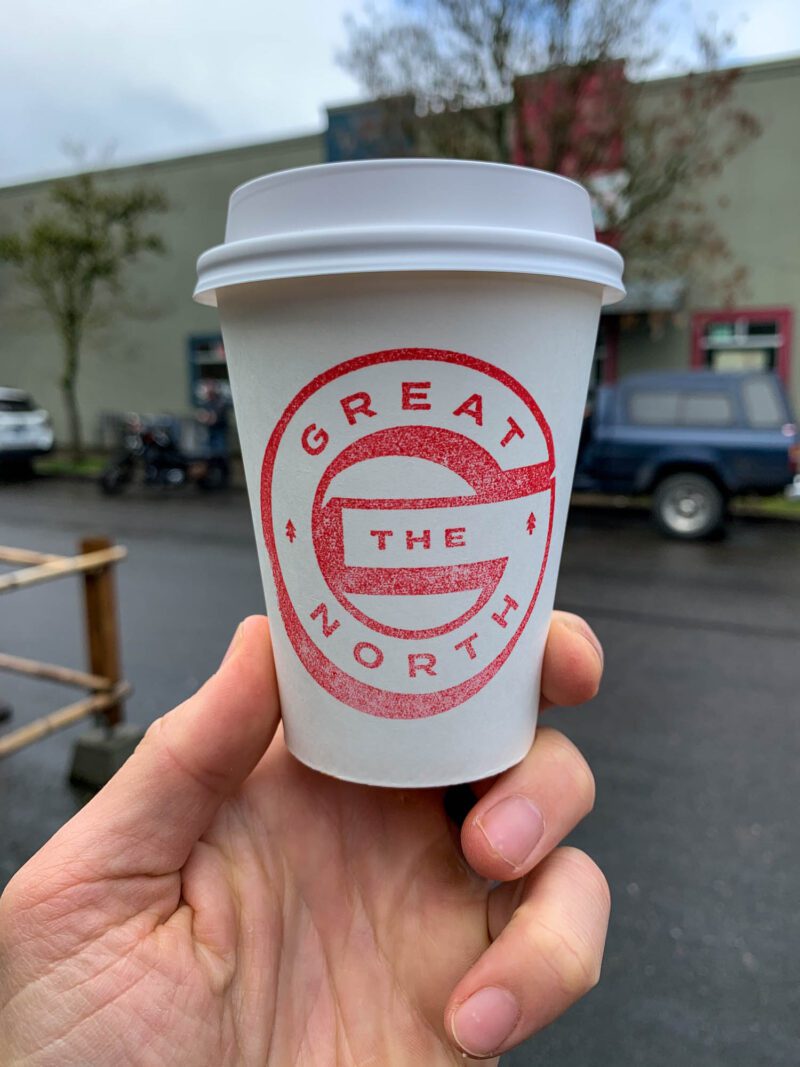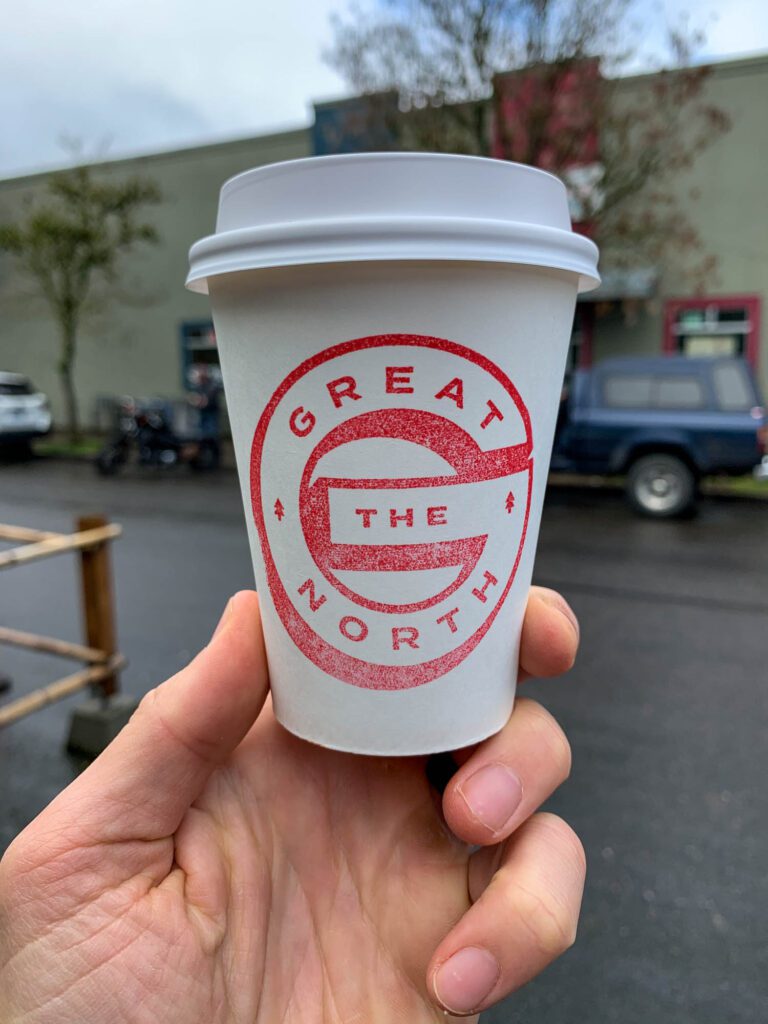 All of their additives – syrups, chai concentrate, and even oat milk – are homemade, which is cool. They have a selection of pastries and breakfast sandwiches, including some from Petunia's, one of the best gluten free bakeries in Portland.
Locations:
Portland: 7373 N Burlington Ave
Vancouver, WA: 602 N Devine Rd, Vancouver, WA 98661
Other Great Spots to Find Good Coffee in Portland
Here are some other spots that I either didn't make it to, or I didn't get to experience enough to really write about.
Courier Coffee (Downtown): Unfortunately, we visited Courier in early 2021, which was a tough time to be evaluating coffee shops as they were adapting their business models to survive in an uncertain future world, where there was barely any hope of returning to a "normal" future. Still, I got to try a Guatemalan coffee that was solid and chat with the owner, who was busy putting in a to-go window in the shop so he could safely serve customers. Looking forward to making it back during normal times.
Roseline Coffee: A great micro-roaster in the Goat Blocks complex near Market of Choice. I got a decaf macchiato, which was good, but I was far too caffeinated to explore their pour over and single origin offerings at the time, so I'll have to go back at some point.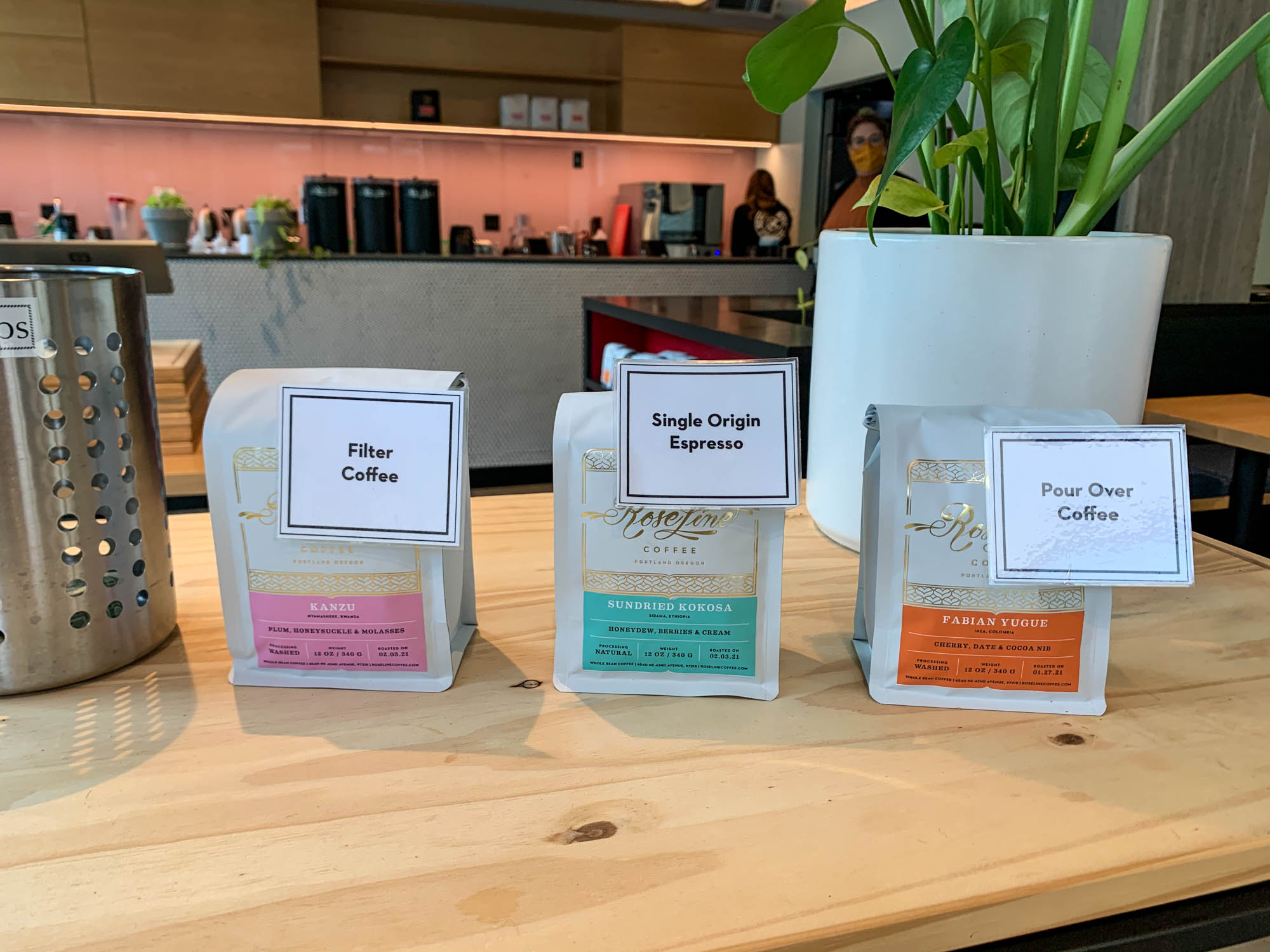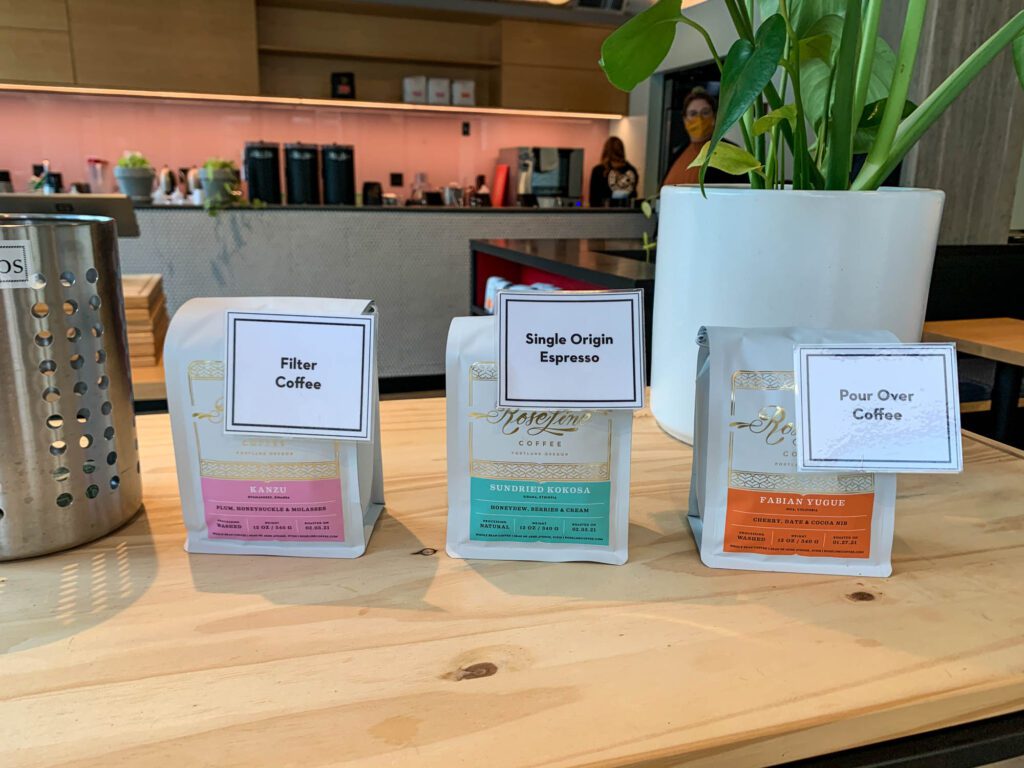 Tov: We visited primarily for the tea drinks for Alysha, but I was intrigued by the Egyptian coffee. Unfortunately, they weren't serving it at the time, but if they were, I would have gotten coffee brewed using a method similar to Turkish coffee, with cardamom added to the grounds. It's not like any of the other coffee shops on this list. It's a double-decker red bus in a food cart pod along Hawthorne, which makes it one of the most unique spots, at least on this list.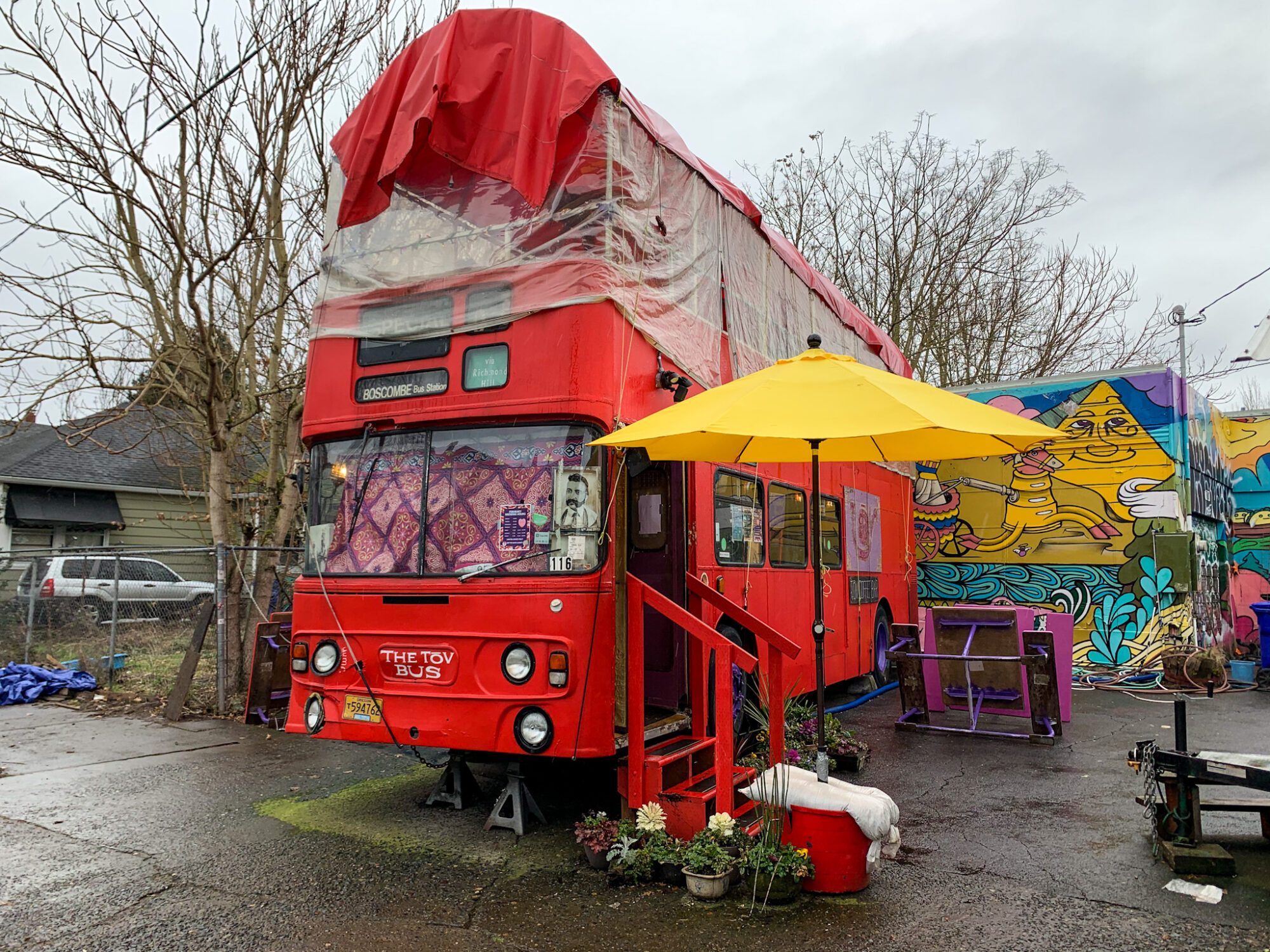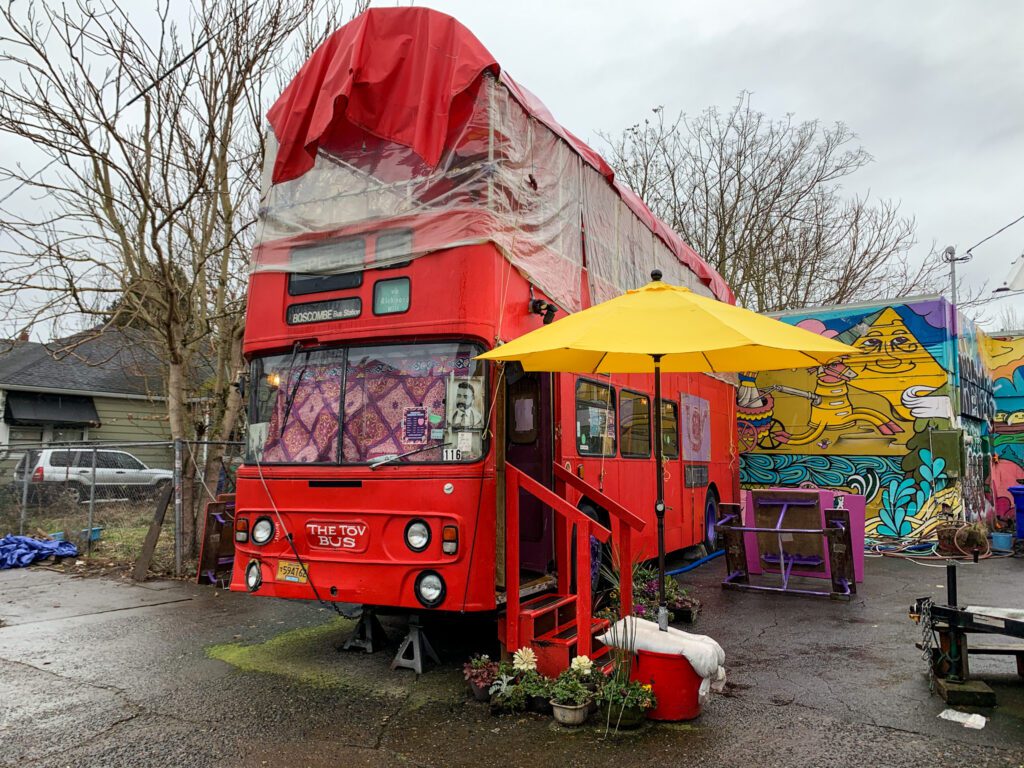 Water Avenue: Water Avenue is down on, you guessed it, Water Ave. I've been there multiple times on past trips, but it has never blown me away. If you can have their breakfast items (I can't), then it might be worth a stop. Don't get me wrong – the coffee is good, and the space is beautiful, but nothing really stands out to me as exceptional or special. Still, one of the more popular coffee roasters in Portland – you'll see their beans at various other establishments around the city.
Where to Find the Best Coffee in Portland: A Map
---
More on Portland, Oregon
Heading to Portland? We've got you covered with detailed travel guides to help you plan an amazing trip.