One Day In Portland: How To Spend A Day In Portland, OR
Portland is one of our favorite cities in the country. The city itself is magical, with a thriving food and drink scene featuring all sorts of craft beers, ciders, coffees, plus its collection of eclectic local businesses selling everything from handmade pet treats to chocolate, salt, and bitters (yes, all under one roof). Drive out of the city in any direction and you'll find yourself immersed in the Pacific Northwest's sheer natural beauty. Even just 30 minutes gets you out to towering Multnomah Falls, which measures 600 feet from top to bottom.
If you only have one day in Portland, you're not going to be able to see it all. However, we do think you can see a solid chunk of the highlights in Portland itself, and we're going to tell you exactly how we'd do it if we were you.
We've been to Portland more than six times now, including living there for five weeks in the dead of winter to see how Alysha – a born-and-bred California girl – would handle a grey Pacific Northwest winter (spoiler: it went just fine).
We love Portland, and think you will too. Here's our complete guide to spending a day in Portland, Oregon.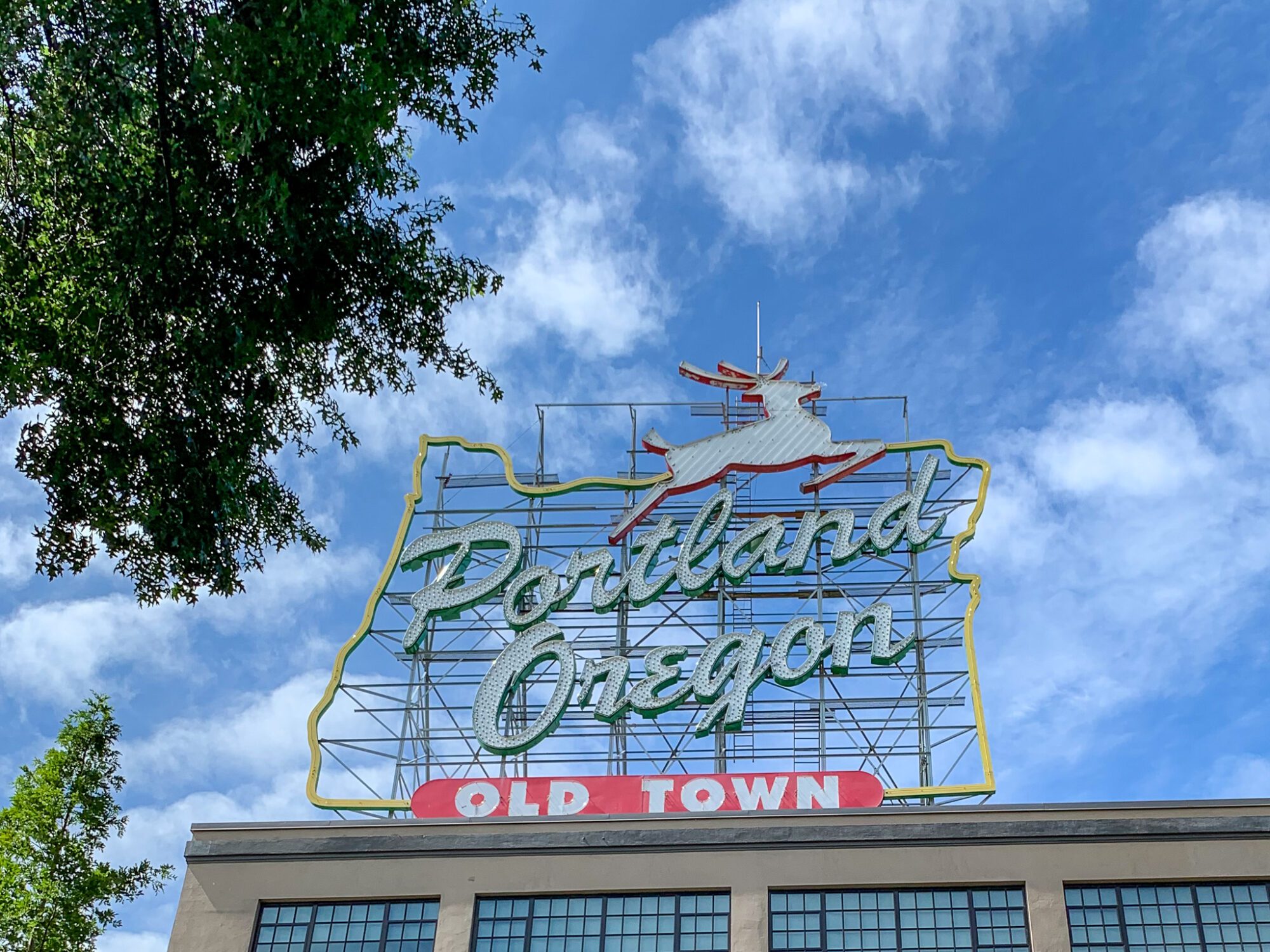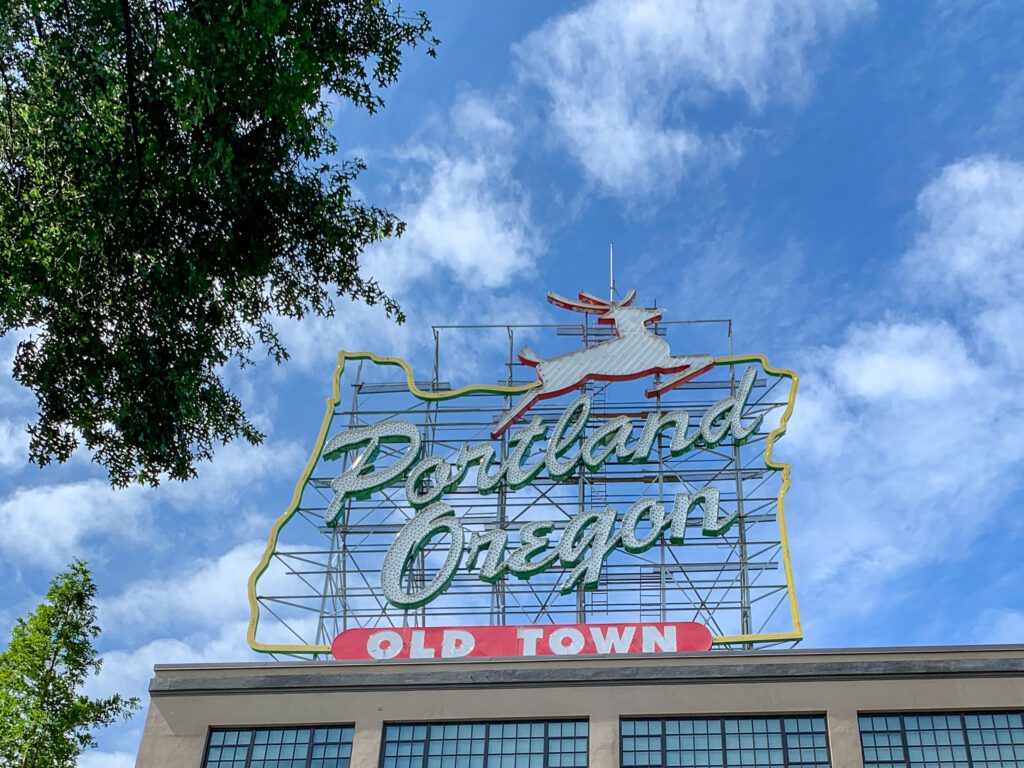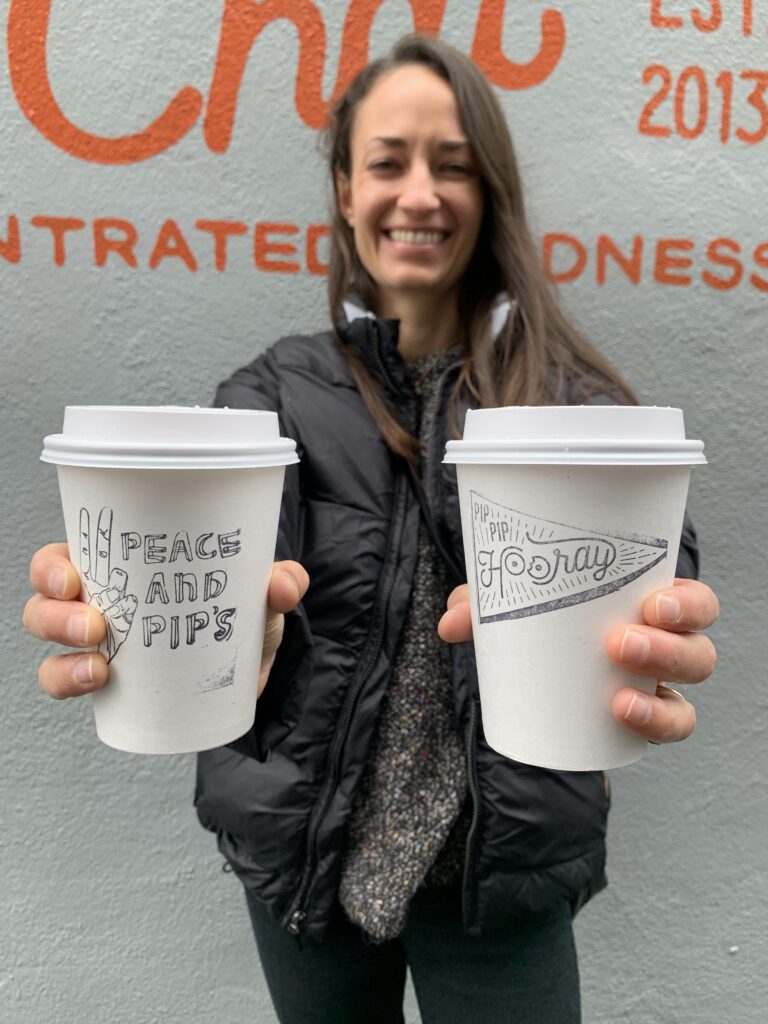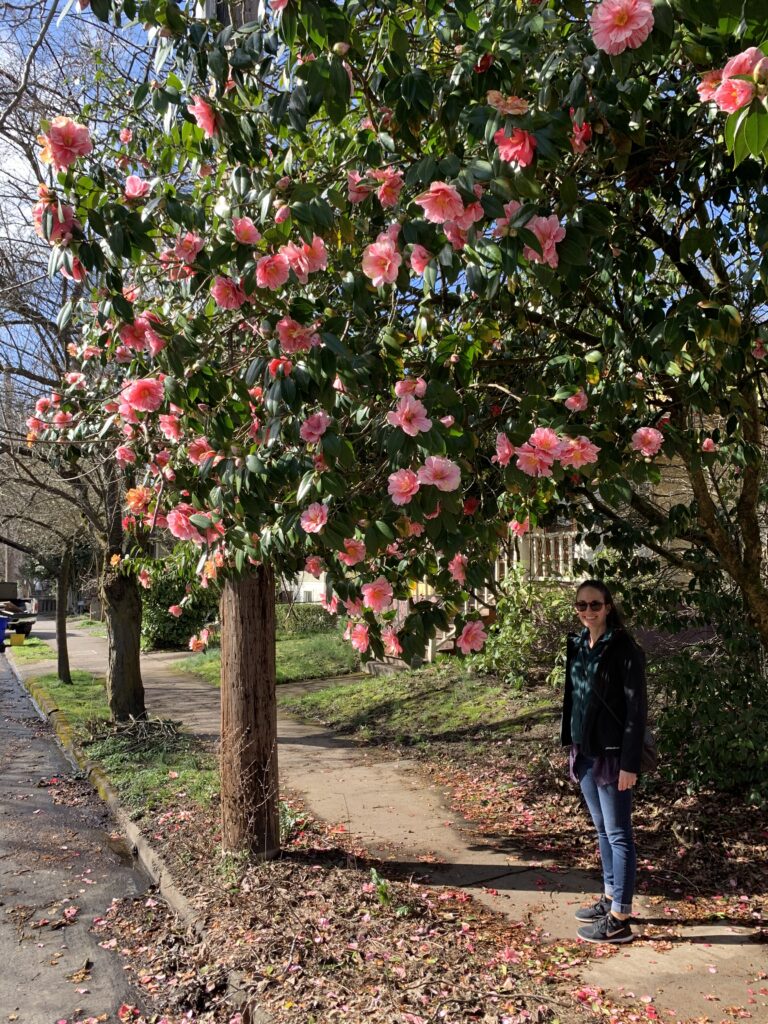 Disclaimer: Some of the links in this post, like hotel links, are affiliate links, meaning at no additional cost to you, we make a little bit of money if you click through and book. That being said, we would never recommend something to you that we don't stand behind 100%.
Is One Day in Portland Enough Time?
In short, no, definitely not. There's a ton to do and see in Portland, especially when you start to include the areas within an hour or so of the city center like Hood River, the Columbia River Gorge, and Silver Falls State Park.
Those are all excellent day trips from Portland that we'd recommend if you have more time to experience the sheer natural beauty that Oregon has to offer.
But you can certainly see some of Portland's highlights in a day. Which is exactly what we're going to help you do below.
With a day, we think you have enough time to tackle a short morning hike to experience some of Portland's amazing urban green spaces, explore downtown Portland, and head over to the east side of the Willamette River for the afternoon and evening to explore Portland's diverse food scene.
Tips for Visiting Portland
Before we jump in, let's cover a few quick tips for planning a trip to Portland.
First and foremost, I want to talk about the visible unhoused population in the city.
On your trip, you will likely see signs of the homelessness crisis and relatively large unhoused population that Portland is currently grappling with. And, to be frank, so are all of the other major cities on the west coast.
If you're not used to seeing the unhoused population on the street, please do your best to remember that they are people. Just like you. They aren't an eyesore, or something that is "ruining our city" – which is something I hear far too often.
They are experiencing trauma brought on by a government – local and federal – that has completely and utterly failed them, and they are largely harmless.
If that makes you uncomfortable, I'd suggest avoiding the area around Chinatown.
With that (somewhat sobering) note out of the way, here are a few more quick tips.
Bring a rain jacket everywhere. At least outside of the summer months. It might not seem like it won't be raining later in the day, but it very well might start without much warning. It doesn't usually rain that hard in the Northwest. It's usually more like a light mist rather than a torrential downpour, which means a rain jacket is more than enough to keep you dry. I personally have and recommend the Columbia Watertight Jacket as a solid affordable rain jacket that'll cost you less than $100, and keep you 100% dry (click here to see the version for women). If you want a performance rain jacket that can stand up to the nastiest weather, look at the Black Diamond Stormline Stretch Rain Shell. Oh, And never, ever trust the weather app.


The Downtown Core (Downtown, the Pearl, Northwest Portland) is walkable, but to get to neighborhoods outside of that area like the ones on the east side of the river, you'll need to use rideshare apps like Lyft


You don't need to rent a car in Portland, but if you already have one it can be handy. Parking is either expensive or a nightmare, but having a car will make it a little easier to get between places below. Make sure to have the Parking Kitty app downloaded – it's the city of Portland's official parking app, and it makes parking in Portland much, much easier.
How to Spend One Day in Portland, Oregon: Complete Guide to a Day in Portland
In this guide, we're going to give you our perspective on the best way to spend a day in Portland, Oregon.
Is this the only way to spend your day? No, there are an endless number of alternatives – you could spend all day relaxing at various cozy coffee shops in Portland, you could go brewery-hopping, or you could spend literally all day browsing the shelves at Powell's Books, buying way too many books to fit in your carry on for your flight home.
With only a day, you're probably not going to be able to dive super deep into any one facet of Portland. This guide is meant to give you a taste of all of those things in one action-packed day.
Over the course of the day, you'll make your way from west to east, starting in the hills above downtown, exploring Downtown Portland, and then crossing the river and exploring the more residential (and also more charming, we think) neighborhoods on the other side of the Willamette River.
You'll want to get an early start!
A Morning Hike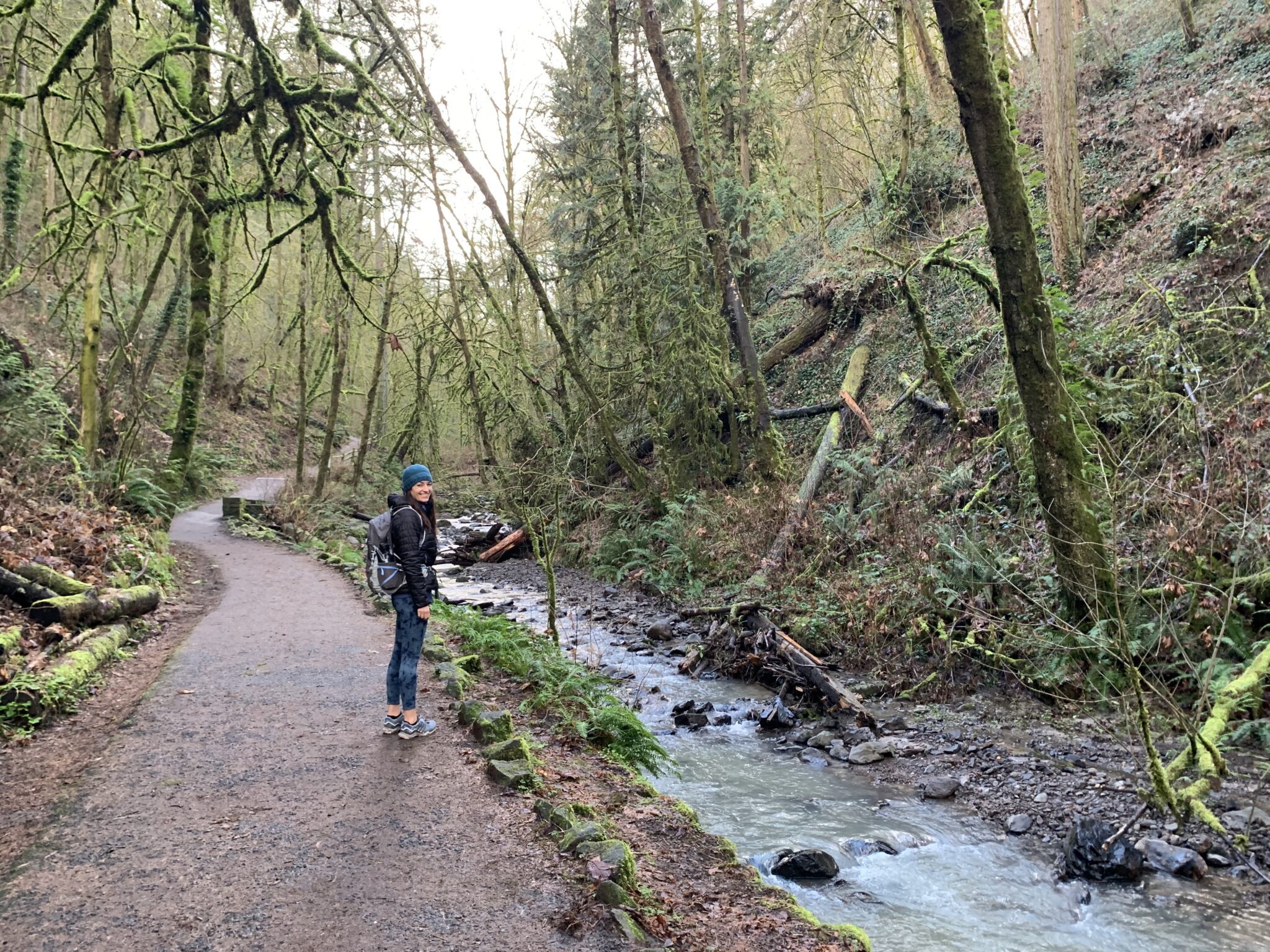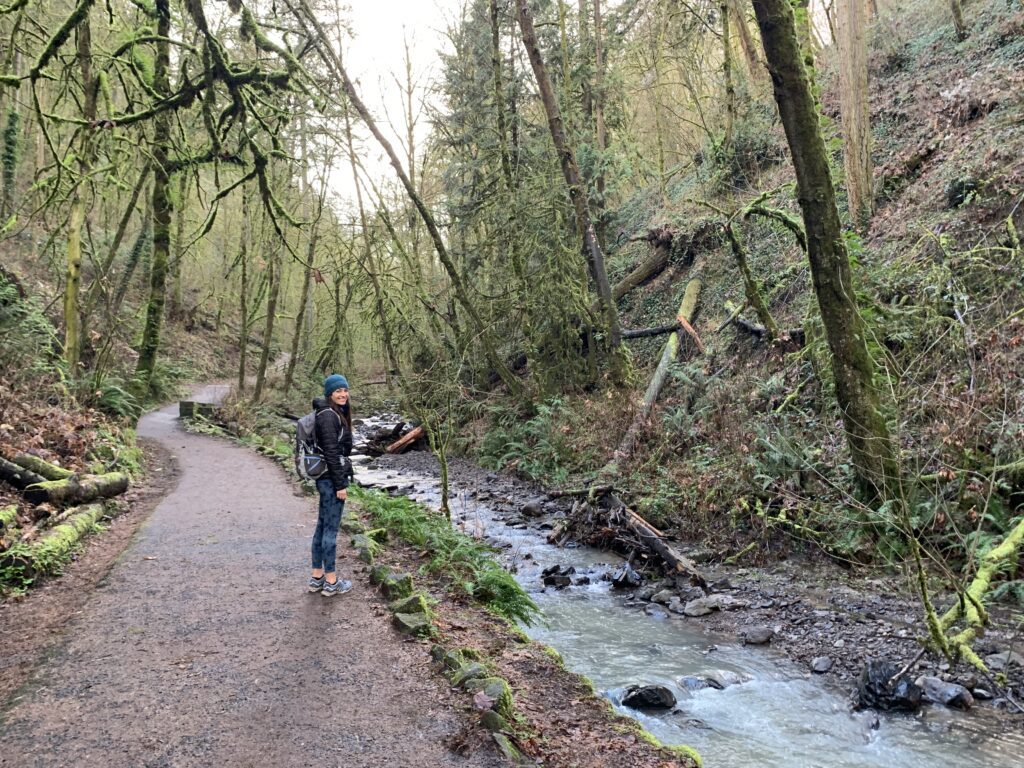 One of our favorite things about the city is the fact that there are a pretty wide variety of hiking trails in Portland. Yeah, inside the city limits.
In places like San Francisco and Seattle, most of the "hikes" inside the city are really more like urban walks. But in Portland, you can do a full-on hike without getting in a car and leaving the city. Which is awesome. 
We have two great options for you – both would be a perfect start to the day before you eat and drink your way through the rest of the city.
Option 1: The Hoyt Arboretum + Rose Garden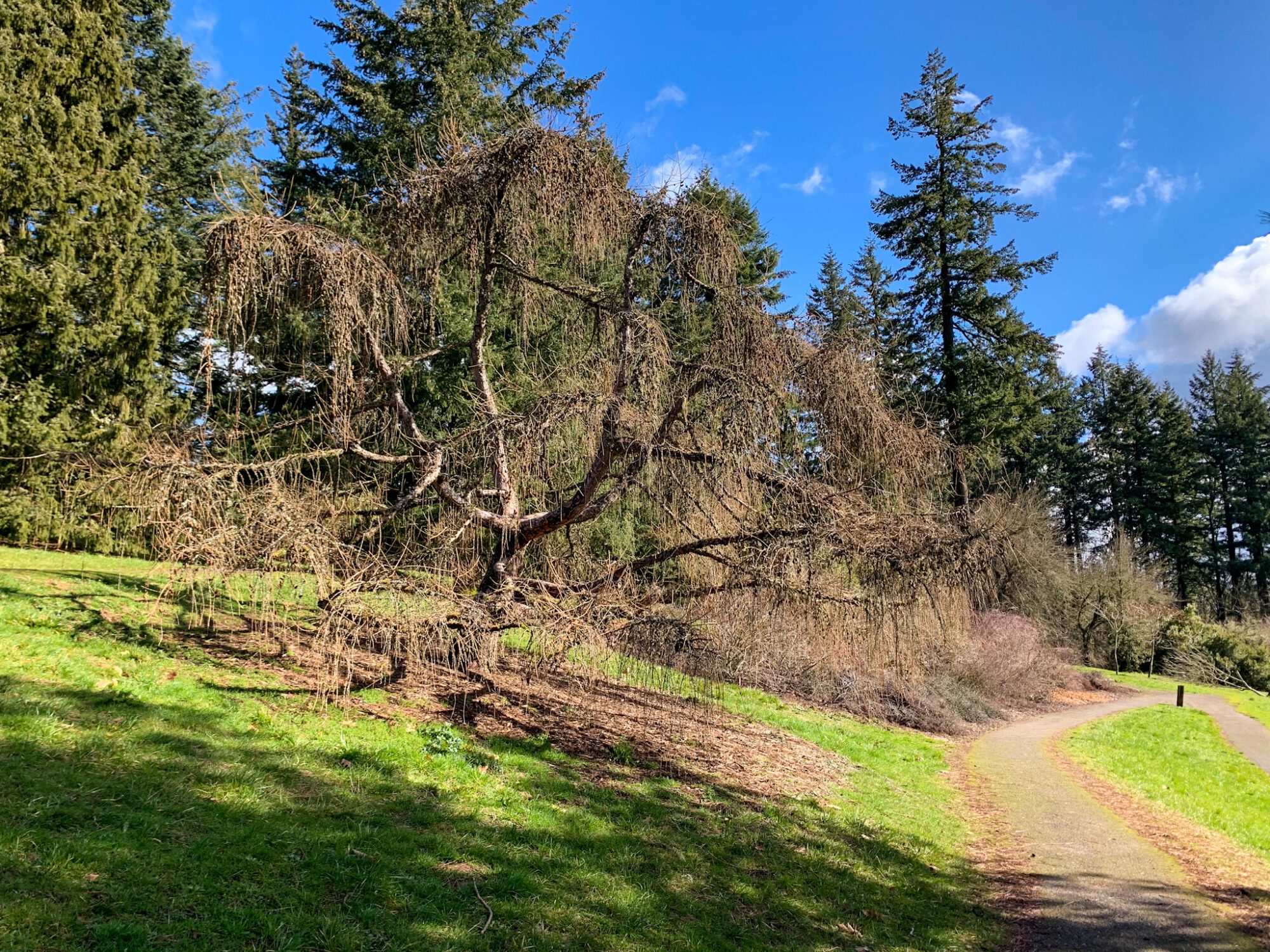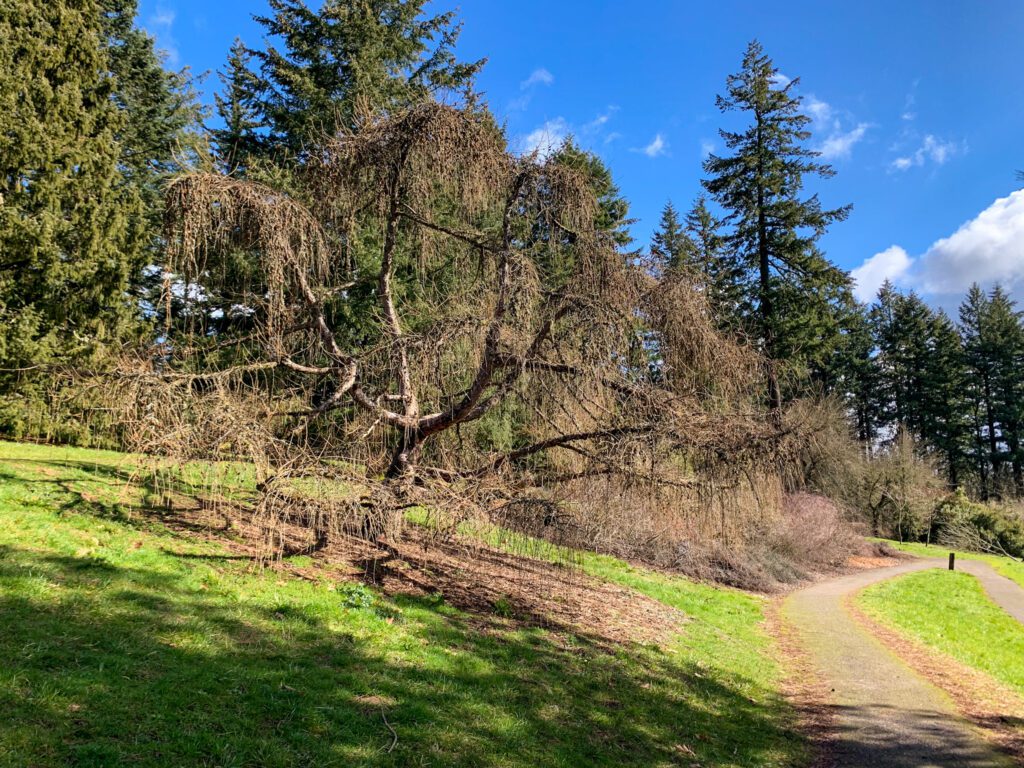 First is a hike through Washington Park, which is perched on top of the hill overlooking the city, to the Hoyt Arboretum and the International Rose Test Garden.
Start at the Hoyt Arboretum, which is a large arboretum tucked away inside the borders of even larger Washington Park. Here's a good trail map that you can save for later.
We like doing a loop that combines the Fir Trail, the Redwood Trail, and the Overlook Trail. Don't miss the picturesque Redwood Observation Deck, the Overlook Trail, and the Magnolias.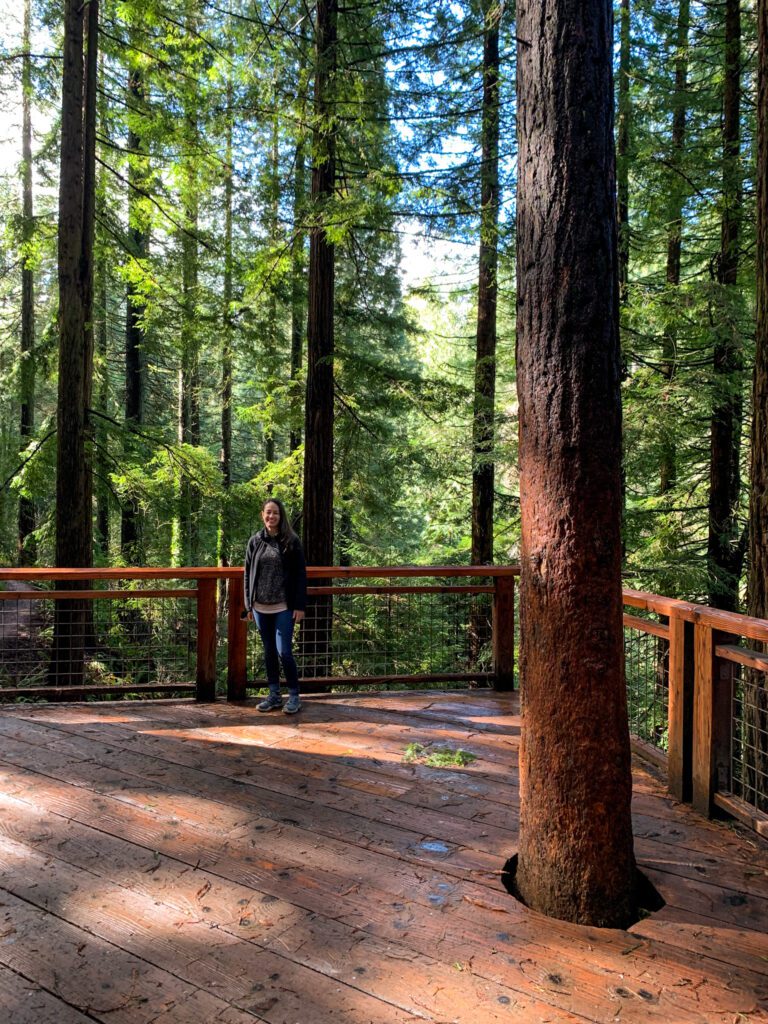 From there, make your way east along the Wildwood Trail to the International Rose Test Garden. You can catch the Wildwood Trail from the northeastern corner of the Arboretum (here on Google Maps) and it's a short walk past the Japanese Garden to the Rose Garden.
The International Rose Test Garden is home to a wide variety of roses of all shapes, sizes, and colors. They come into bloom in the spring, and stay through the early summer. The best part? It's free! And there's a fantastic view of Mount Hood – at least on a clear day.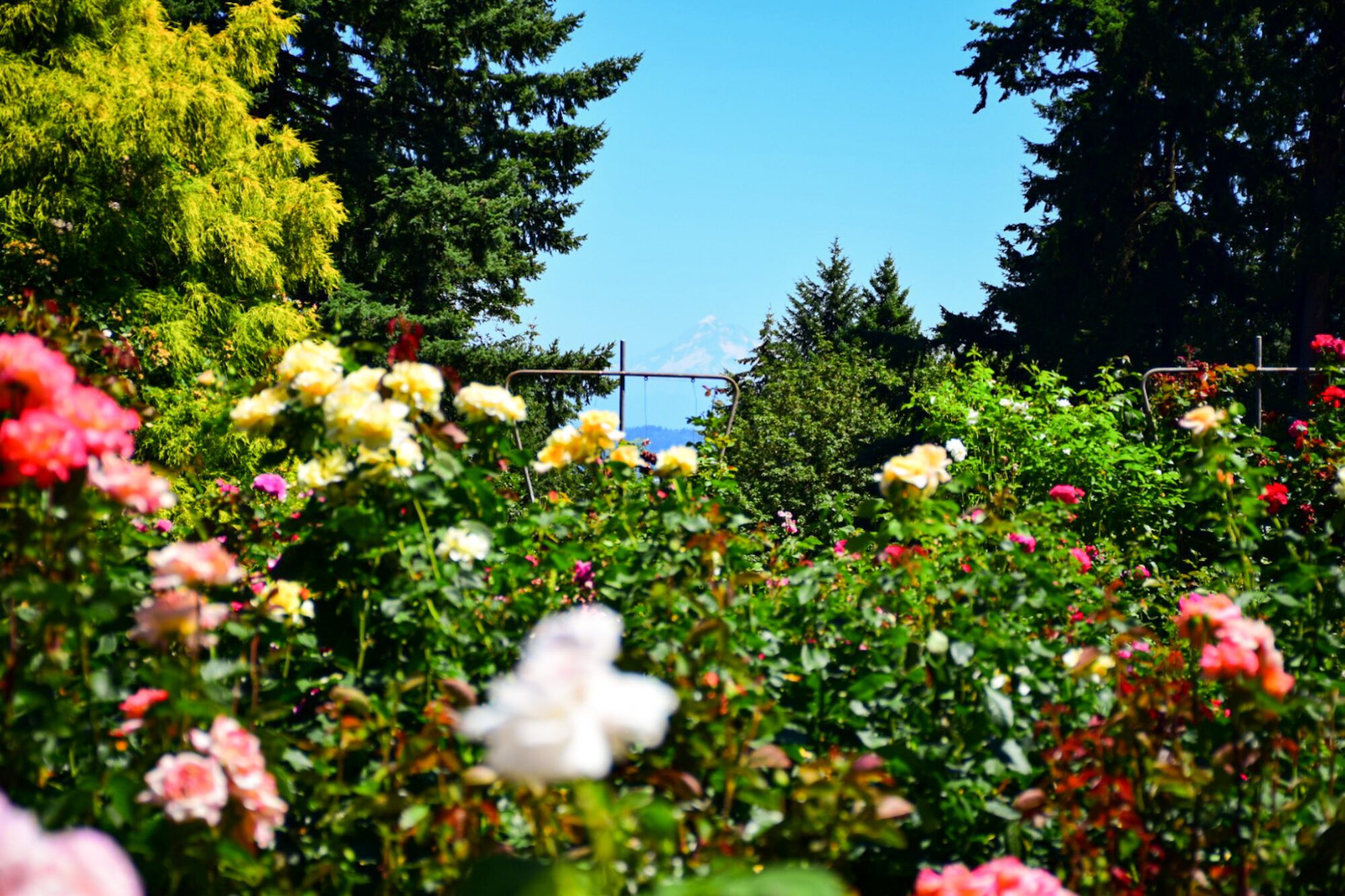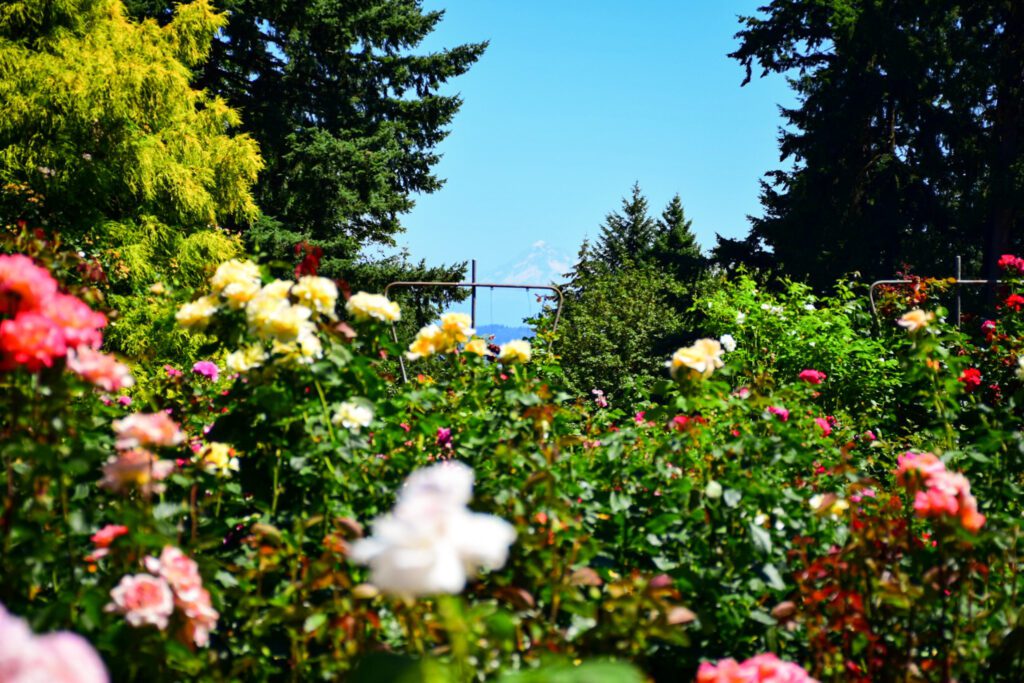 The Portland Japanese Garden is across the street, and is also a nice visit. However, it's not free, and given the choice, we're choosing the roses. More information on the Japanese Garden here.
Getting there: If you don't have a car, the best way to get to and from this hike is via rideshare (we like Lyft more than Uber, because Lyft feels significantly more friendly and less shady to us). Start from this parking lot, tackle the loop clockwise, and catch the trail to the Rose Garden from the end of the hike. From there, catch another ride into Downtown Portland. You could also take the MAX Line to Washington Park MAX Station (here on Google Maps), which adds a bit of a walk to get to Hoyt Arboretum, but is cheaper.
Option 2: The Lower Macleay Trail to Pittock Mansion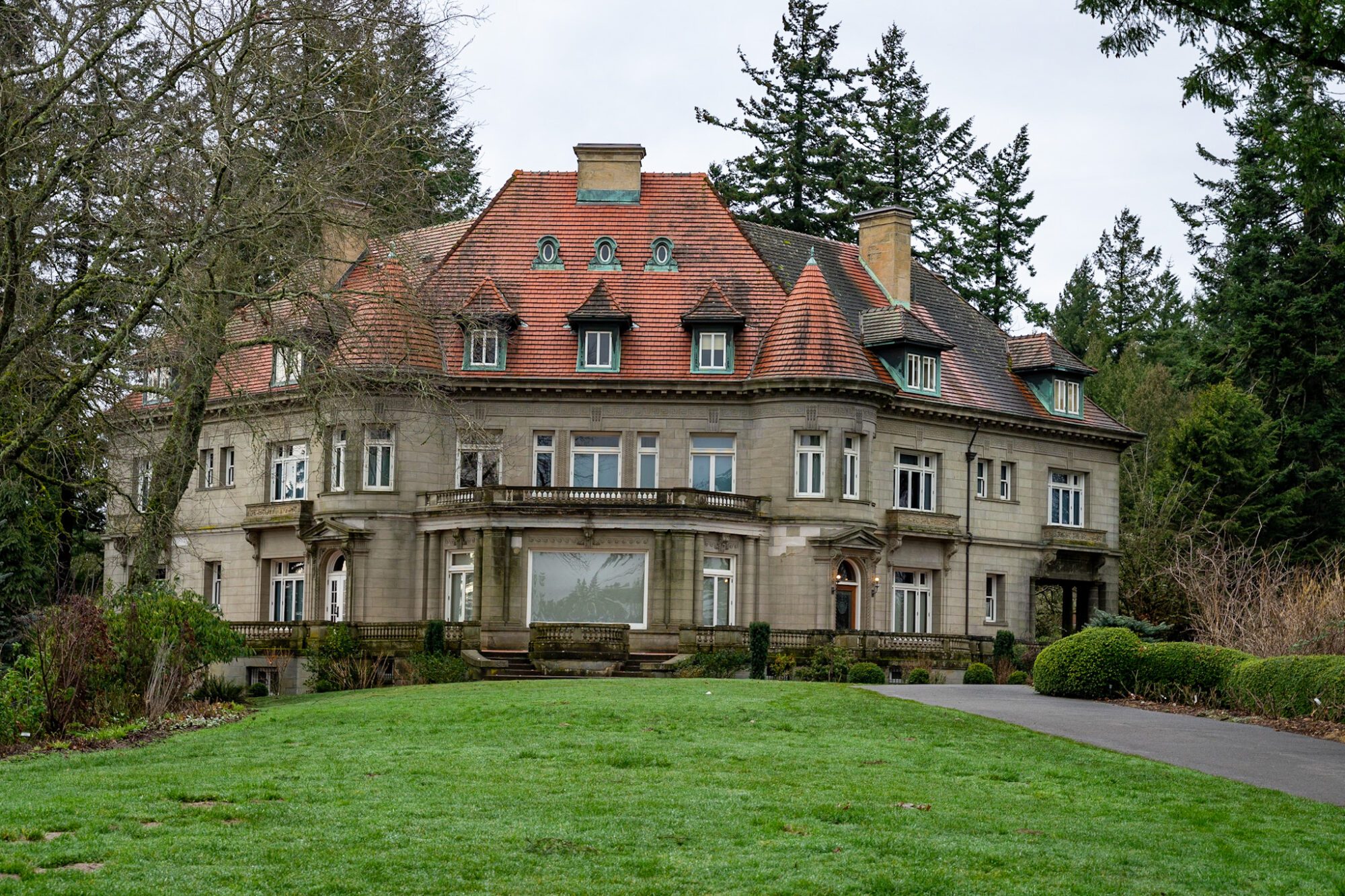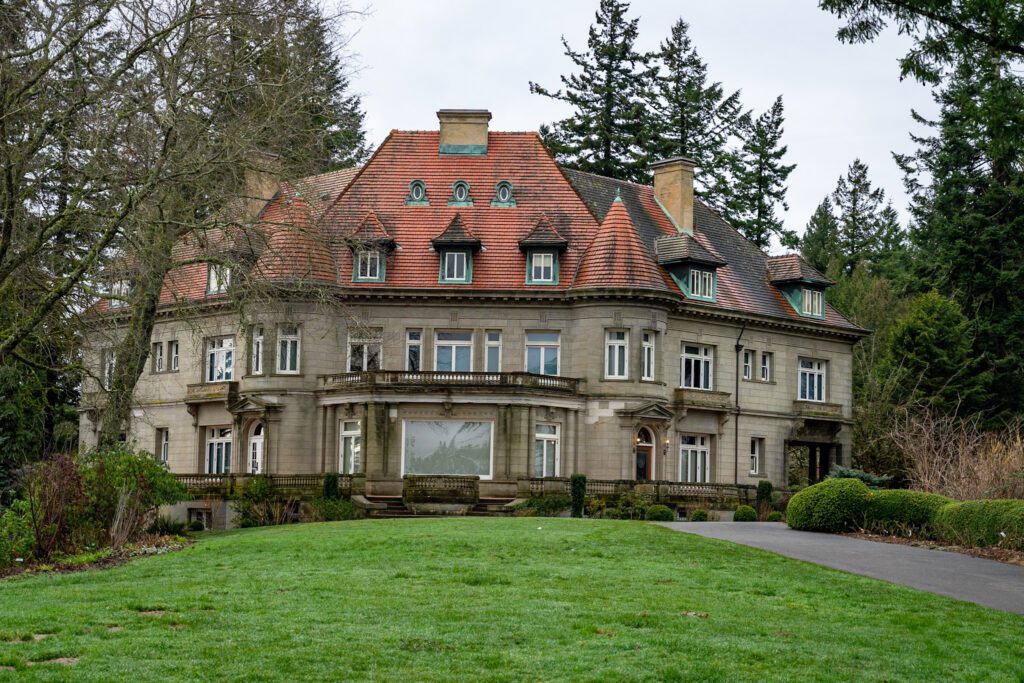 Your second option is to hike through the corner of Forest Park – one of the most picturesque parks in Portland – up to Pittock Mansion, a mansion built by one of Portland's early moguls who played a huge role in shaping the modern city that you see today.
For his trouble, he got a mansion with what might be the best view of the Portland skyline in the entire city. Tough life.
We actually wouldn't recommend going inside the mansion (ticket info here) if you're short on time, but the hike through the forest is lovely, following a babbling creek, passing the infamous Witch's Castle (which is really just an abandoned park service building), and climbing through a ferny forest to an incredible view of Portland.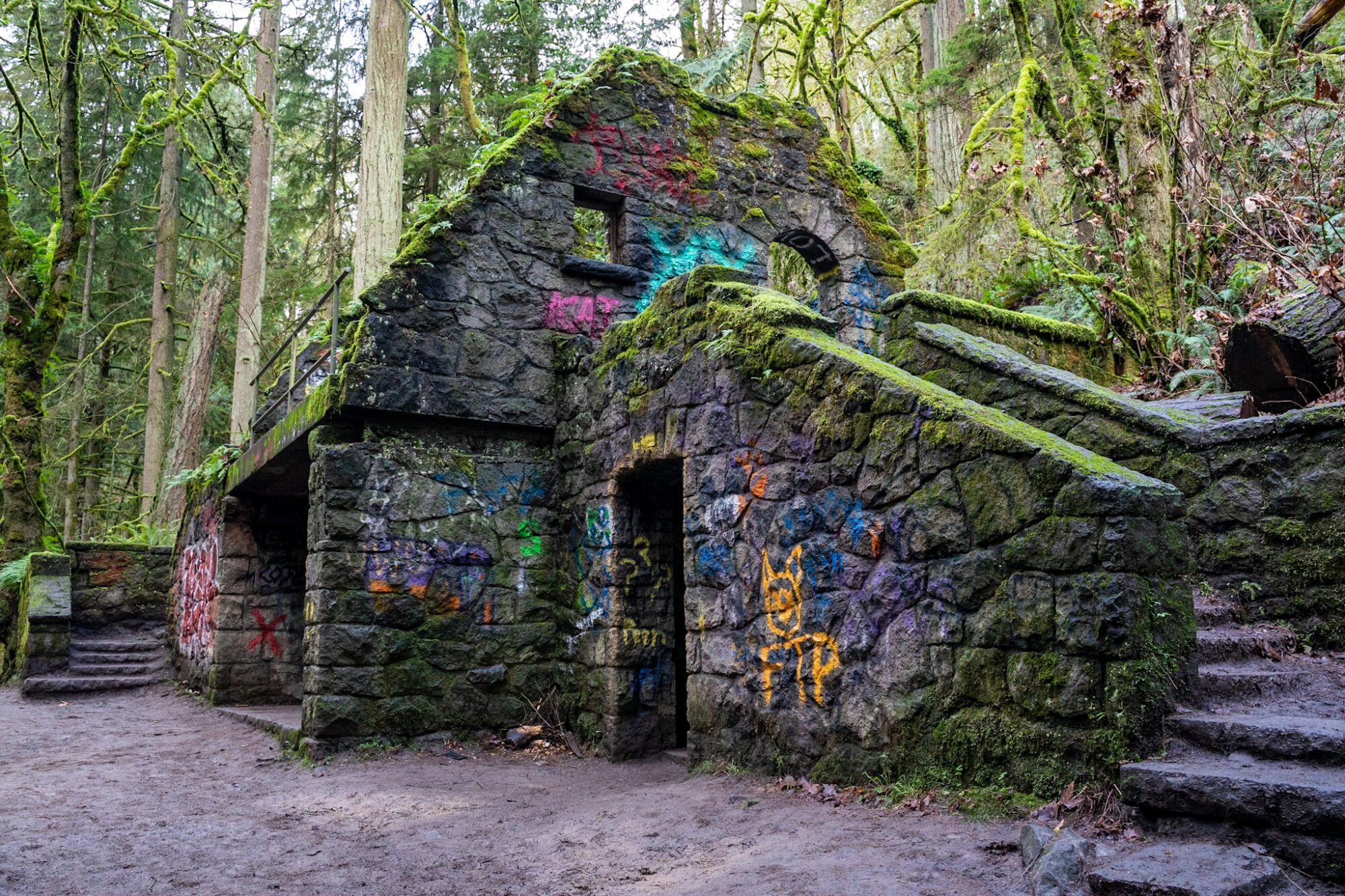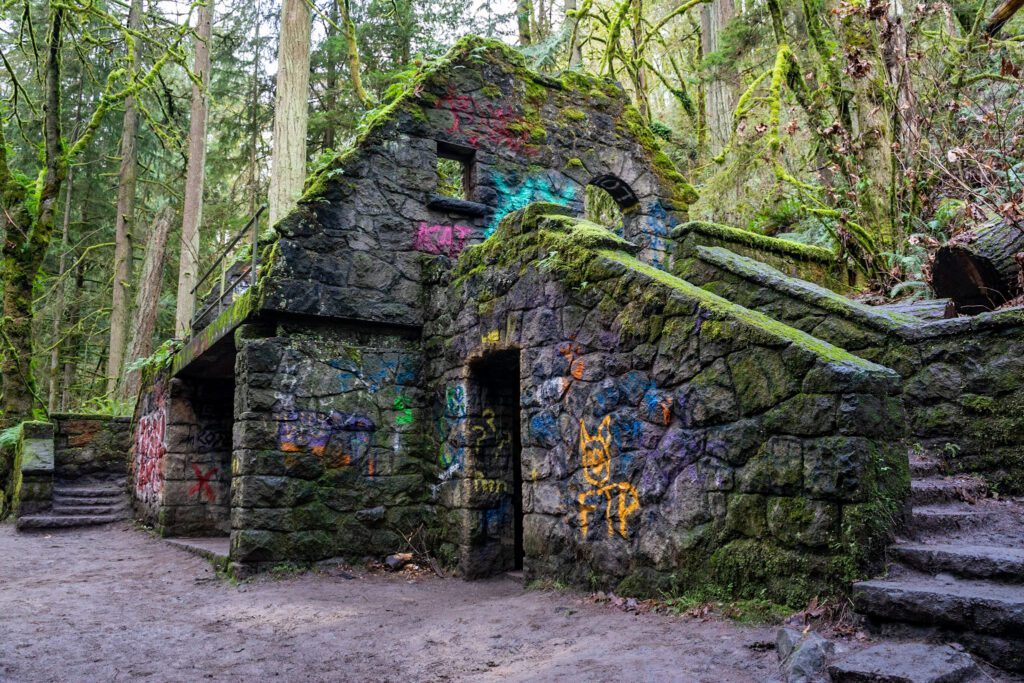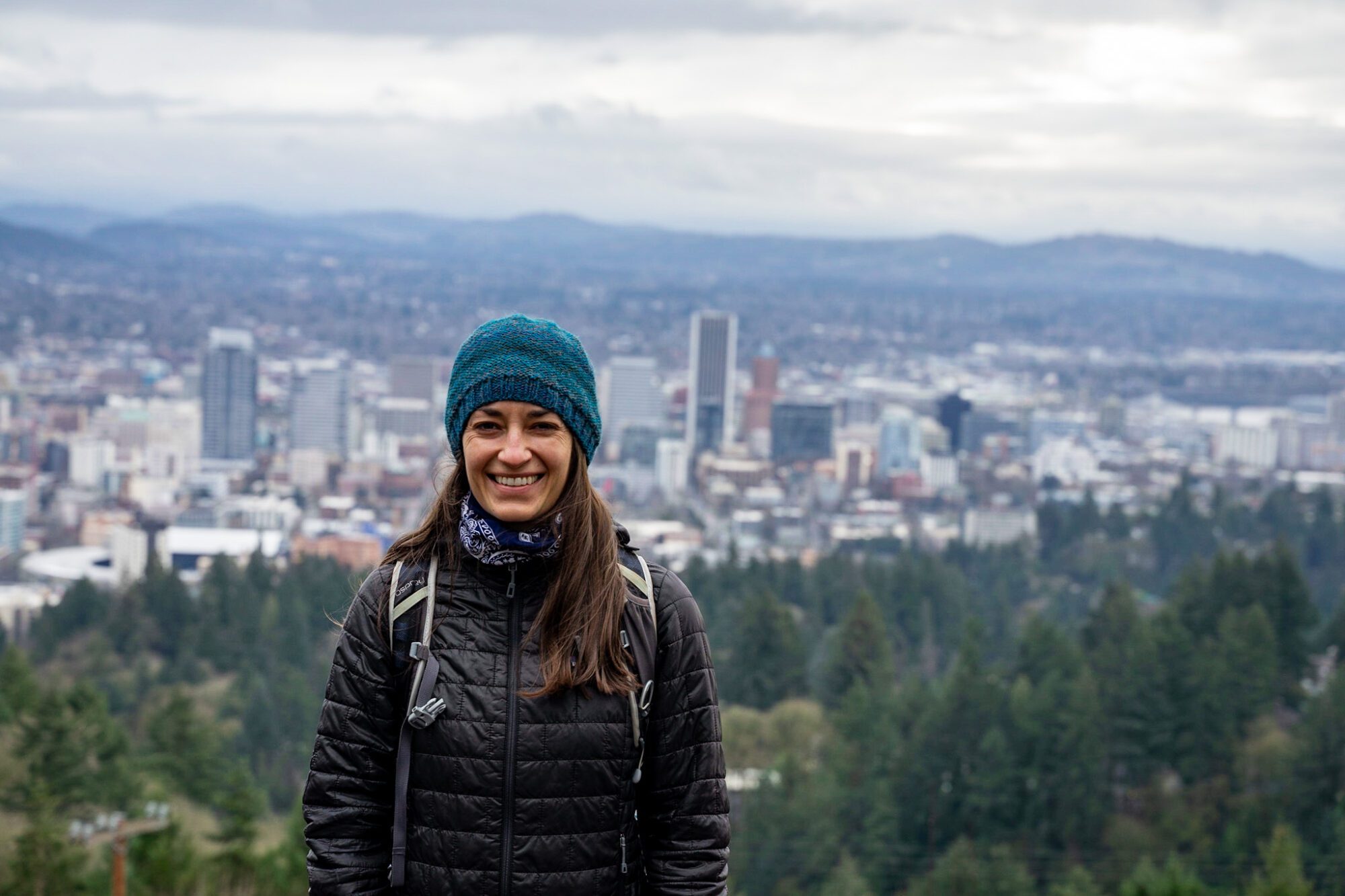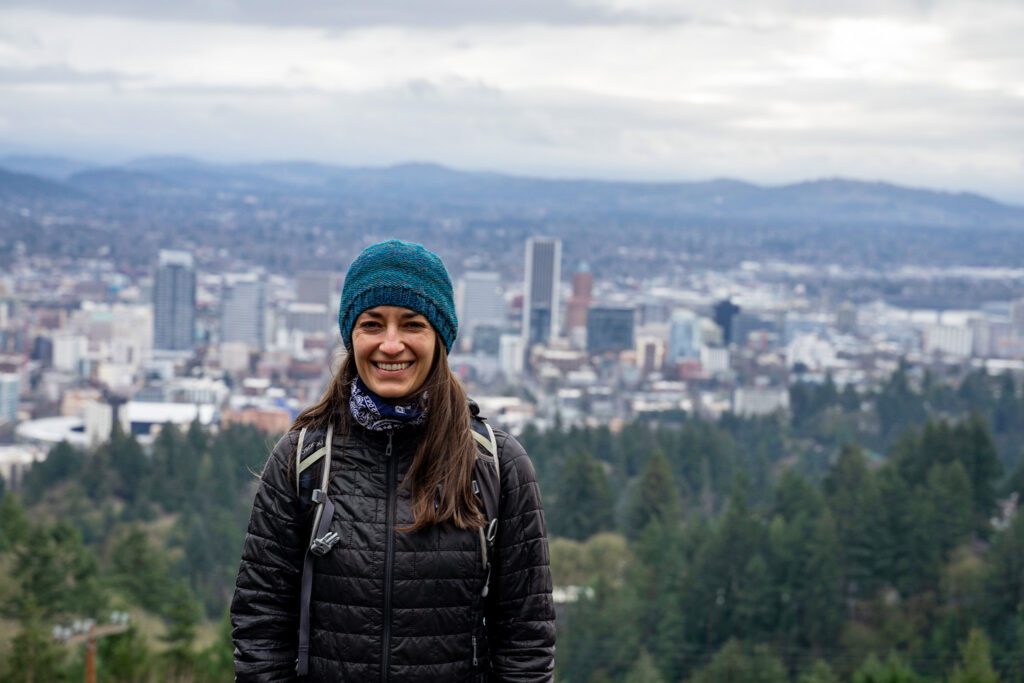 We recommend doing it one way if you don't have a car (if you have a car, it's an easy downhill walk back to the trailhead), which makes it a 2.5 mile hike that is almost entirely uphill, climbing about 800 feet over that time.
It's a moderate hike, but you can shorten it by starting from the small upper parking lot (here on Google Maps) instead, which cuts the distance to just a mile one way, with around 400 feet of elevation gain.
As if that wasn't enough options for you to choose from, you could also do a slightly different hike that combines the Hoyt Arboretum and Pittock Mansion (here's the route you'd take).
Getting there: The hike starts at Lower Macleay Park (here on Google Maps), and ends at Pittock Mansion (here on Google Maps). If you don't have a car, grab a Lyft from your hotel and head up to Lower Macleay Park, tackle the trail, and then get another Lyft back to Downtown Portland from the Mansion after you catch your breath and admire the view.
Exploring Downtown Portland (+ the Pearl & Slabtown)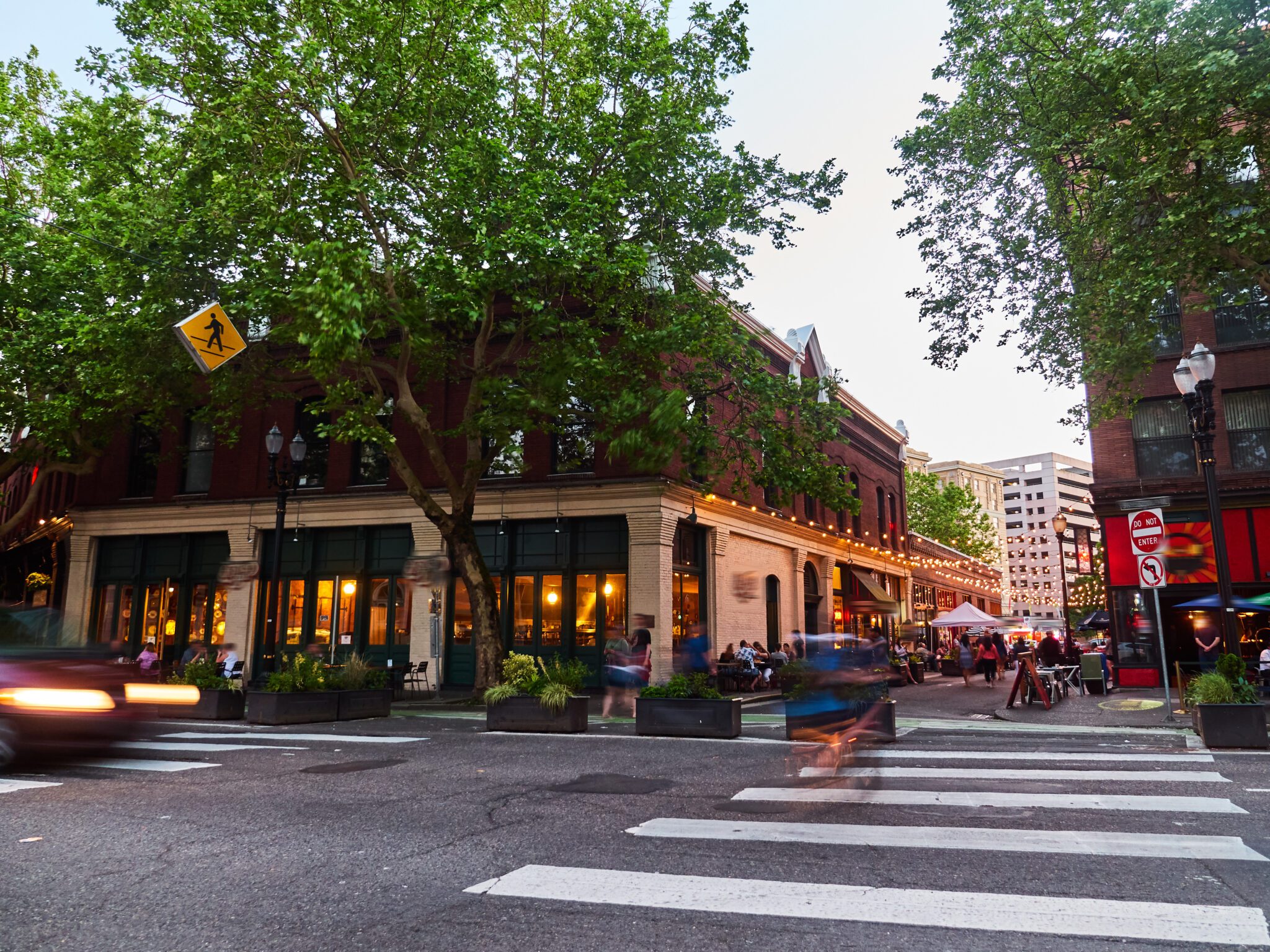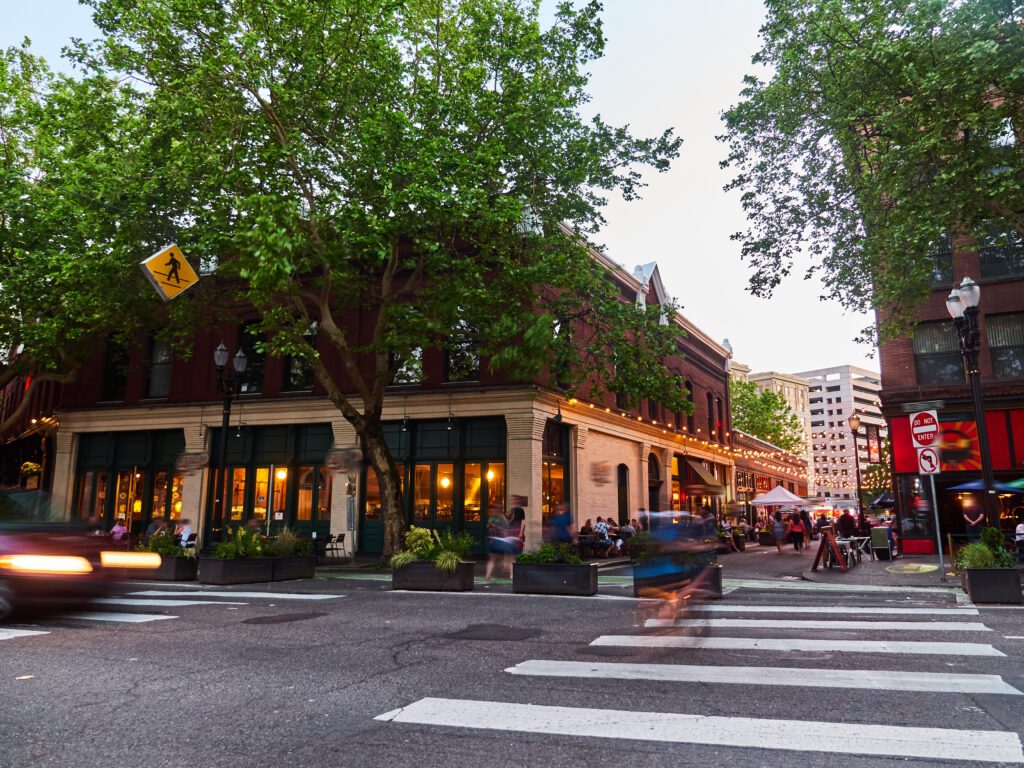 After a morning hike, you've hopefully worked up an appetite. Because you're going to need it with all the great food and drinks to be had in Portland, which SPOILER ALERT is how you'll be spending a majority of the rest of your day.
Spend the middle portion of the day in and around Downtown Portland, which has a nice collection of places to eat and drink along with some must-see attractions. For the purposes of this guide, we're also going to include pieces of the Pearl and Slabtown / Nob Hill here, because they're within walking distance and full of great places to visit.
In general, we'd make your way west to east, ending at the river.
Here is a menu of some of our favorite places to stop, eat, drink, and wander in the area around downtown for you to choose from for your own trip.
Brunch & Donuts
If you've tackled a hike, chances are you're hungry. Our favorite brunch spot – Tasty & Alder – closed in the past few years, which is a major bummer. However, there are plenty of great options here to choose from.
It should be noted that I have Celiac Disease (read my guide to gluten free Portland if you or someone you're traveling with needs to eat gluten free!), which means I can't personally partake in the gluten-filled joy that you're likely to experience at some of these places. Alysha can, and does, though.
One other thing – you will probably notice that I've left off the Insta-famous Voodoo Doughnut, known for their novelty donuts topped with things like Captain Crunch and M&Ms. While we concede that the name for the Cap'n Crunch doughnut – "Oh Captain My Captain" – is hilarious, we don't think that their donuts are, well, that good.
Or at the very least, worth the wait, which is bound to be at least 30 minutes, probably more mid-morning on a summer weekend.
Anyway, here are some great options for breakfast, brunch or donuts in the area.
Pine State Biscuits: A Portland classic known for their breakfast sandwiches, this one is a little out of the way (it's here on Google Maps), but is worth the journey if you're craving something rich, savory, and greasy after your hike.
NOLA Doughnuts: A donut shop started by two Louisiana natives that have a location in the Pearl District. They're known for their La'ssants, which is, in their words, "our flakey, square take on a classic doughnut. Made with dough handcrafted over three days and then layered with locally sourced butter, our signature doughnut is a decadent, crave-able pastry with layers of richness." They also, of course, have a nice range of other, more traditional donuts. But you should definitely try the La'ssant.
Petunia's Pies and Pastries: A 100% gluten free bakery in Portland that also is vegan, this is the place to go for gluten free and vegan baked goods. Especially their gluten free donuts, which are the best in Portland, but they're only available on weekend mornings and they go FAST.
Ken's Artisan Bakery: A bakery started by a Portland local who, well, loves baking. He also happened to write an award-winning cookbook that I've seen many, many times in my life, and just now made the connection that it's the guy from Ken's in Portland. This is a neighborhood spot that happens to accumulate a long line on most weekend mornings, full of people who think the juice is worth the squeeze. Unfortunately, Ken just sold the business, so we'll see what happens in the next few years. They also have a wood-fired pizza spot on the other side of the river.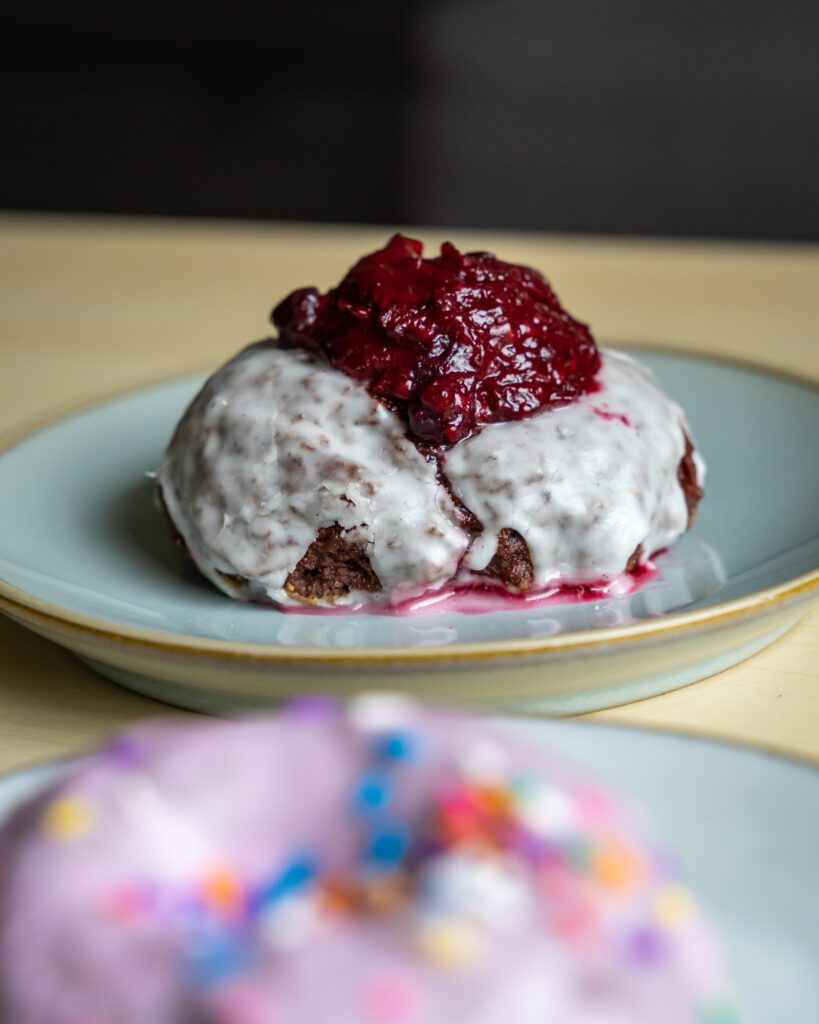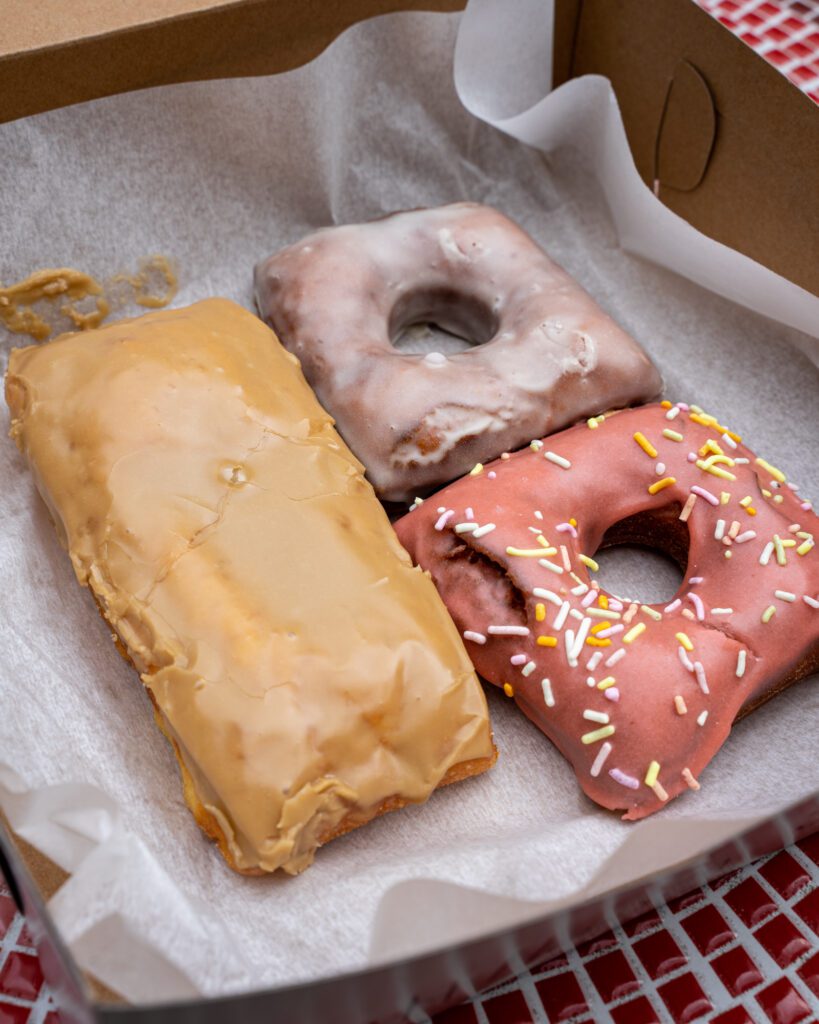 Getting Your Coffee Fix
Portland – and the Pacific Northwest in general – is known for its fantastic coffee cities. Something about the gloomy weather during the winter makes it so that people from the Northwest often consume way too much caffeine. I, Matt, hail from Seattle, which means I am hopelessly addicted to that daily caffeine rush.
We have an entire guide to the best coffee shops in Portland, which you should definitely read if you're a coffee nerd (edit by Alysha: he misspelled "snob") like me.
Here are the top picks in the center of Portland.
Heart Coffee Roasters: One of the best roasters in Portland, they have a bright, airy cafe in the heart of Downtown where you can get a damn good cup of coffee – filter coffee or espresso-based drinks.
Never Coffee: If you're looking for innovative flavored lattes with house made syrups and fun flavor combinations, this is the place for you. The interior of the cafe is gorgeous, and the coffee is great too (though if you're looking for a single origin pour over, head elsewhere – this isn't the right place for that). Examples of the flavor combinations include the "Midnight Oil" which has fennel and star anise, or the "Hug" which is made with chiles and chocolate.
Courier Coffee: A fun little hole-in-the-wall around the corner from Powell's Books serving house-roasted single origin coffees and pastries. They've been around since 2006, and are named because of their innovative bicycle delivery method that they pioneered a decade ago.
Stumptown Coffee: The OG of specialty coffee in Portland has two locations here, one in the lobby of the Ace Hotel (one of the coolest hotels in Portland), and one further north. We'd go to the Ace Hotel location for a nice cup of coffee in a warm, inviting atmosphere.
Tea Chai Té: Not into coffee? Neither is Alysha. But she loves herself some tea from this place, which is on NW 23rd Ave (here on Google Maps). She's on a personal mission to try all of the chai blends they have to offer. Smith Tea, another of Alysha's faves, has a location just down the street too. Heaven for tea lovers!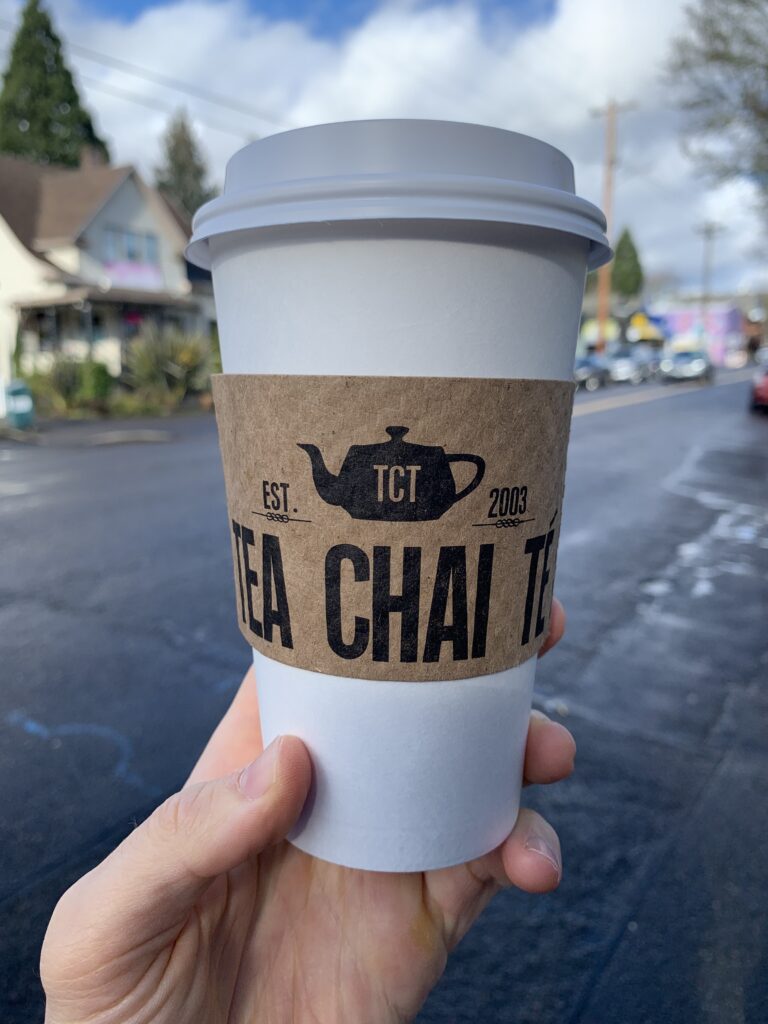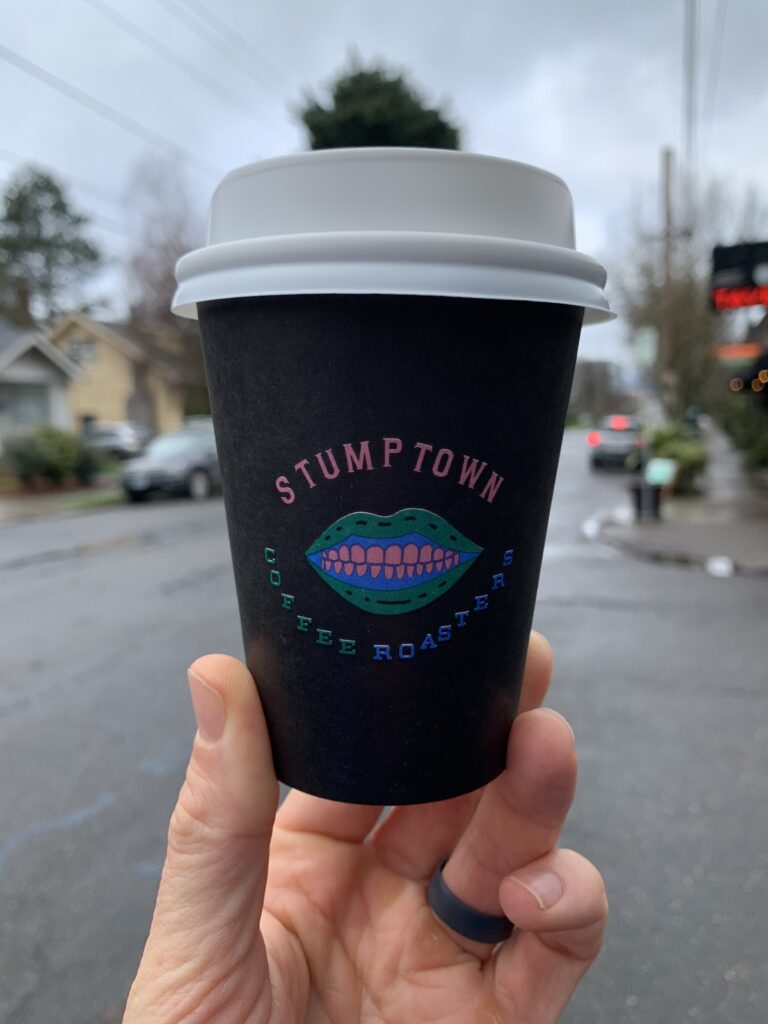 Powell's City of Books
I mean, every single time I, Matt, walk into this bookstore, I cannot help but walk out with $100 of books. Which can present a problem when I go to pack for the trip home and realize I've bitten off more than I can realistically chew.
Anyway, Powell's Books is an amazing independent bookstore right in the heart of Portland that has been locally owned and operated for decades. It's massive, and you could easily spend several hours here wandering and perusing the countless different sections to find your next great read, cookbook, travel book, or whatever else you might be on the lookout for.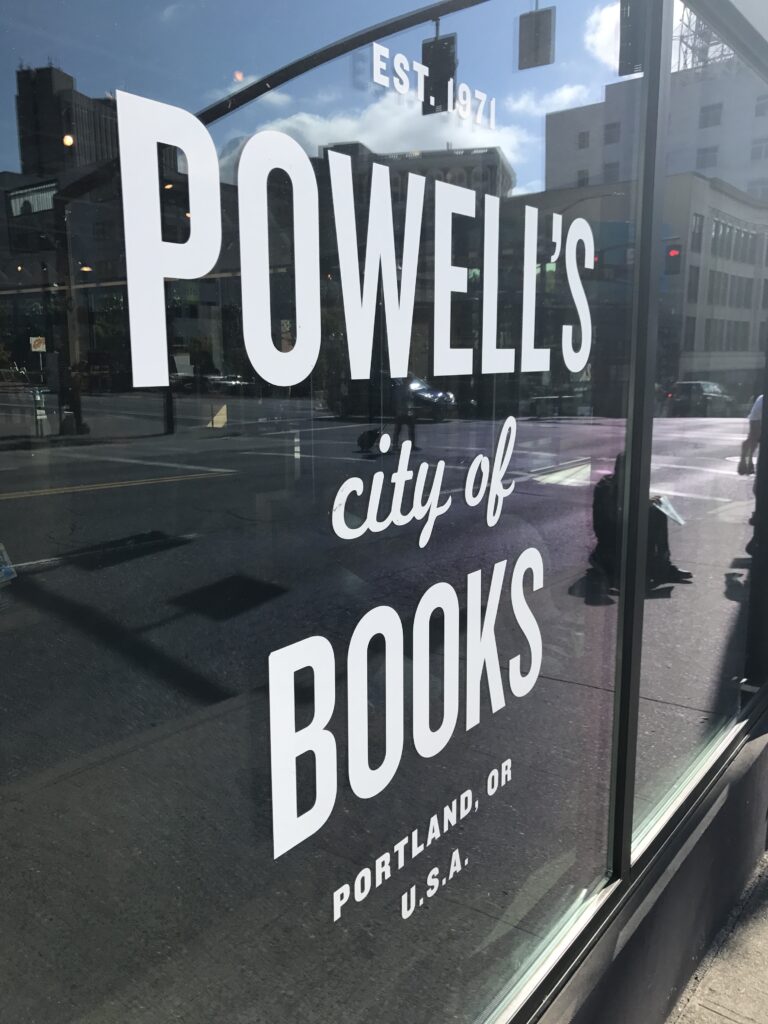 I often wear a Powell's Books t-shirt that I got for $8 seven years ago, and every single time I wear it, someone comments on it, saying something like "I LOVE POWELL'S!"
For us, this is a must-visit, and it's probably our favorite "tourist attraction" in the city (which honestly says a lot about Portland as a city and tourist destination).
Saturday Market + PSU Farmers Market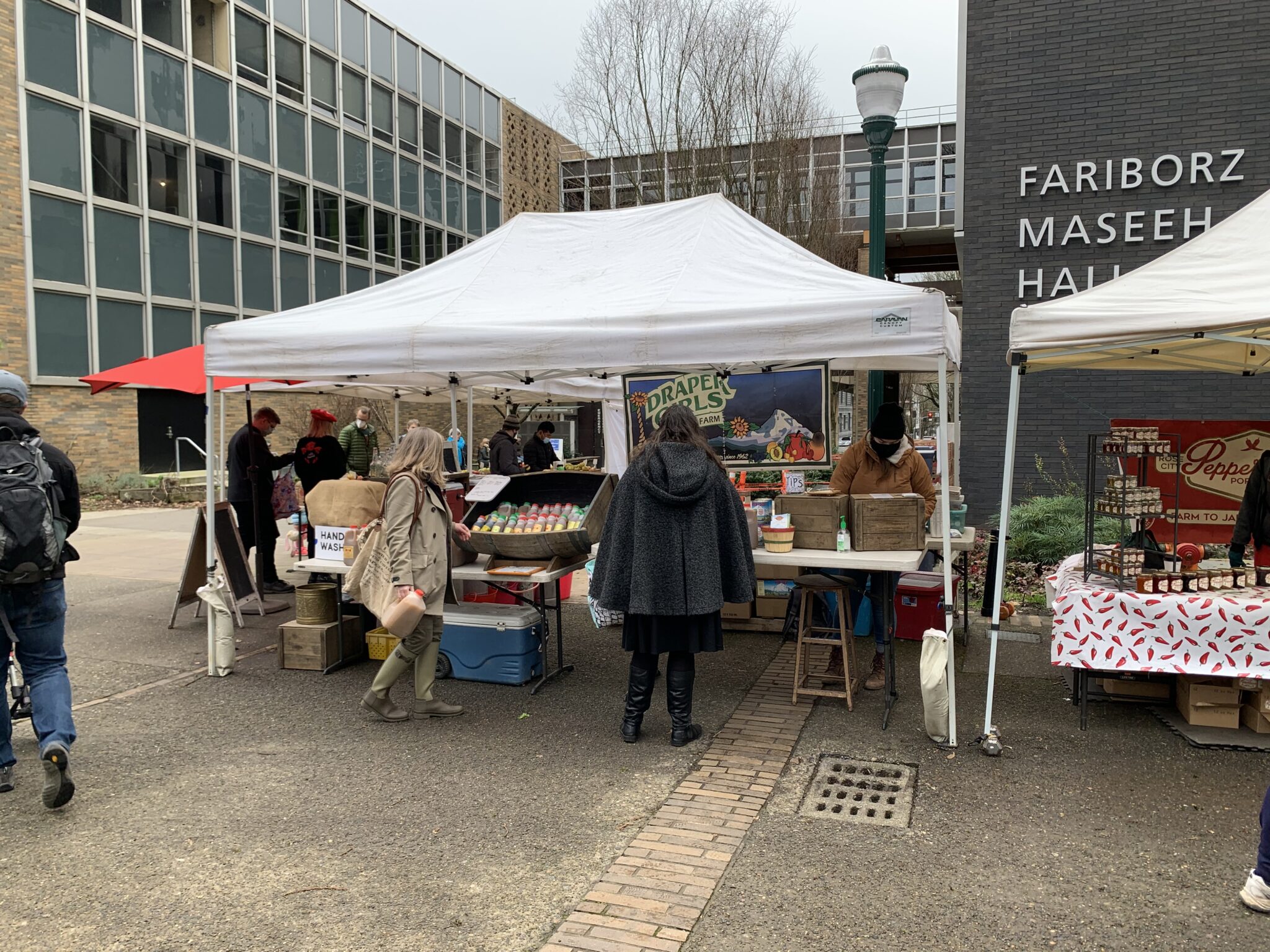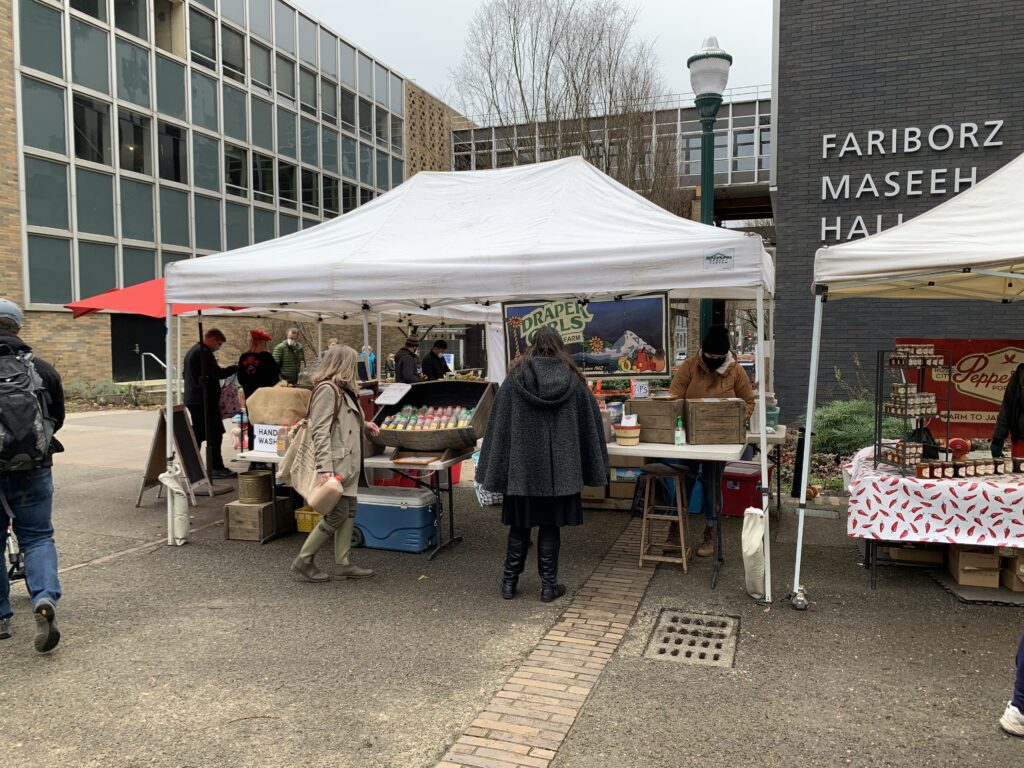 An important caveat here – both of these events only take place on Saturday, which means if you're not in town on a weekend, you're going to have to skip them and save them for next time.
The PSU Farmers Market is a massive, well, farmers market that takes place every Saturday on the Portland State University Campus just south of Downtown. It's year round, though the best time to visit is somewhere in the spring and summer when the staggering bounty of farm-fresh produce is enough to send foodies – including us – into unbridled fits of joy (and the vendor list swells in the warmer, drier months too).
You can see the vendor list here.
We wouldn't miss aMYLK (fantastic plant-based milks), Draper Girls Country Farm (amazing produce like apples and cherries, and cider), One Stripe Chai (this one seems self-explanatory), or Peak Light Cider (farm-to-bottle cider from nearby Sauvie Island).
The Portland Saturday Market is more arts and crafts focused, with local artisans selling everything from photography prints to handmade leather goods, and just about anything else you can possibly think of. It's an impressive nod to Portland's thriving small business culture, which we know is facing ever-increasing pressure due to rising cost of living. It takes place near the river.
Tom McCall Waterfront Park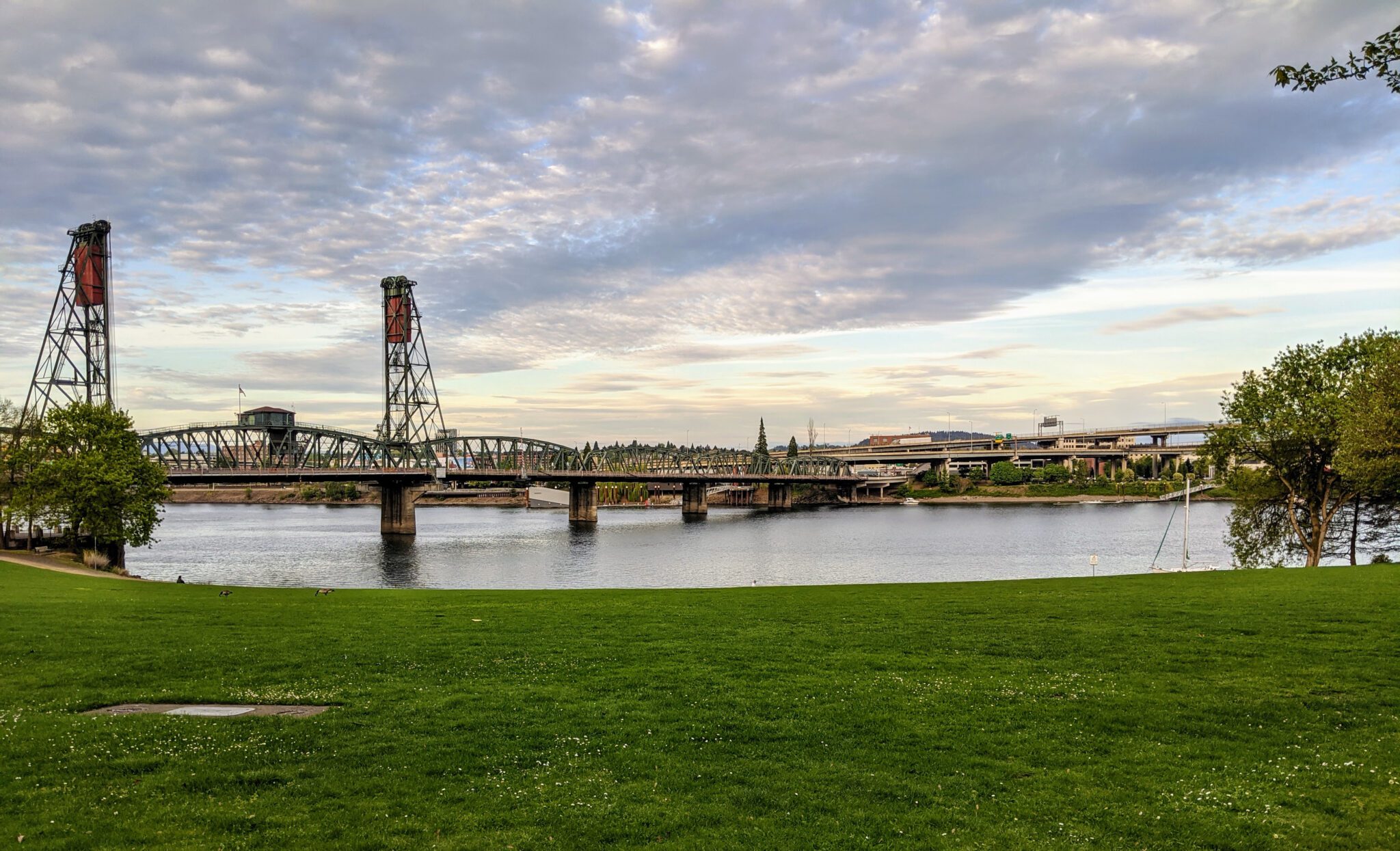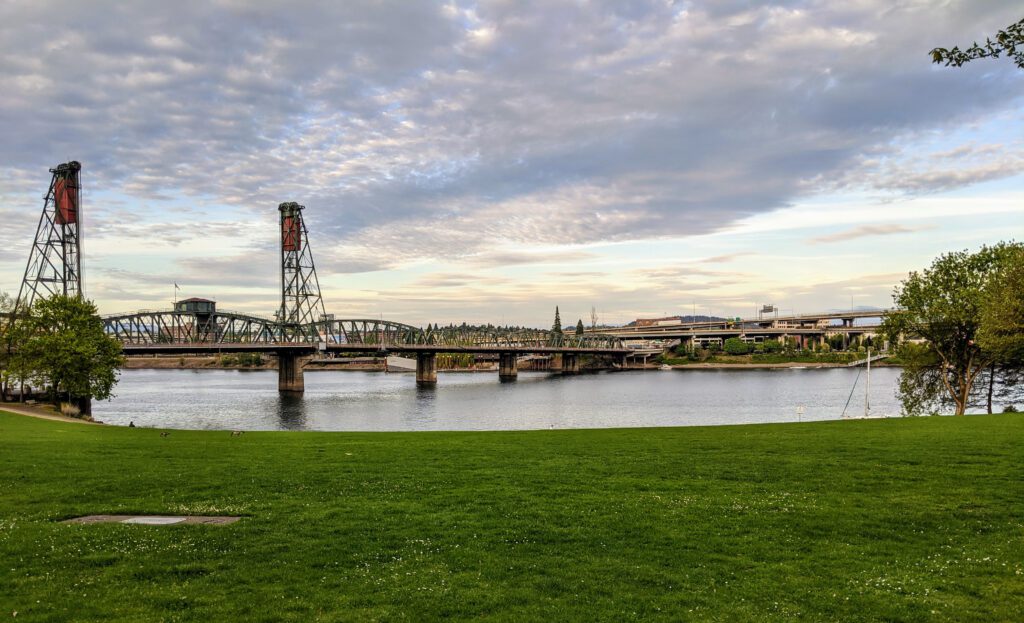 It's worth a riverfront stroll if you have the time, especially in the spring when the cherry blossoms that line Tom McCall Waterfront Park are in bloom.
We'd opt for the section between the Burnside Bridge (which is right where the Portland Saturday Market happens, so this stop makes sense if you've done that) and the Hawthorne Bridge. Here's a rough map of the part we're talking about.
The East Side of the River
The east side of the Willamette River is more residential, though it has a few stretches that are world-class in terms of the density of great places to eat, drink, and browse.
With just a day, it's a bit far to head up north to places like the Alberta Arts District and Mississippi Avenue, which are both amazing but take 20-30 minutes to get to.
Instead, focus on Southeast Portland, which has plenty of things to do in its own right. Think of the section below as a menu from which you can cobble together a perfect end to your day in Portland.
Hawthorne & Division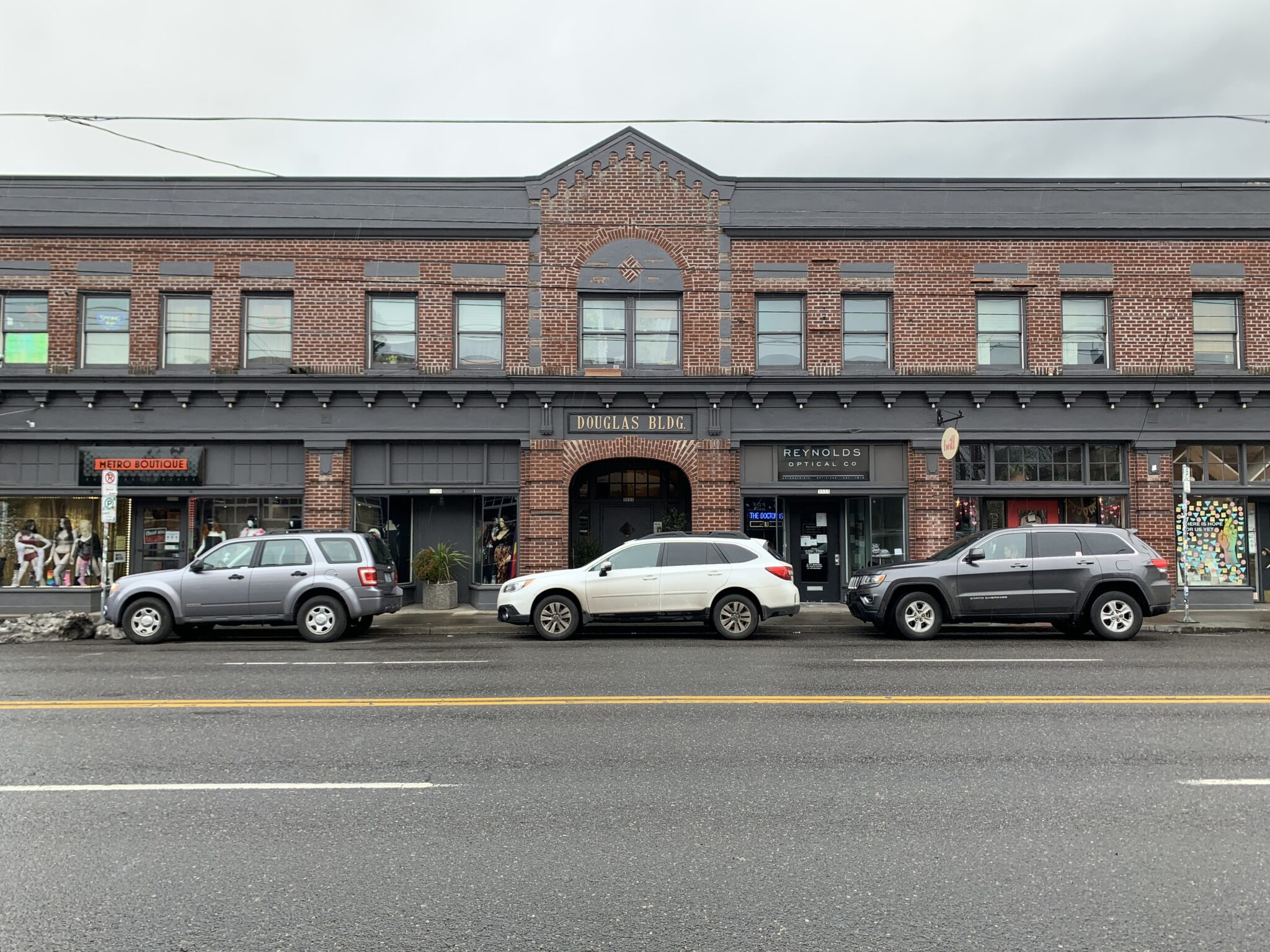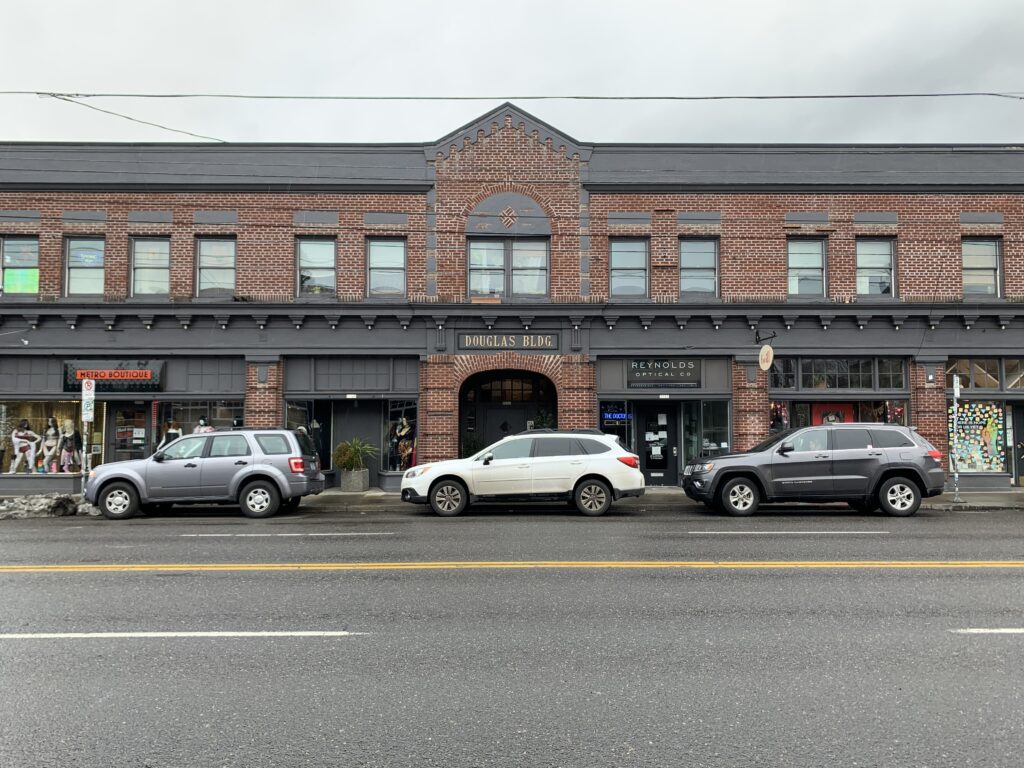 The corridor between Hawthorne and Division streets in Southeast Portland is among our favorite areas in the entire city. It's packed full of great shops, restaurants, bars, breweries, and just about anything else you could possibly want.
It's a great place to spend an afternoon or evening.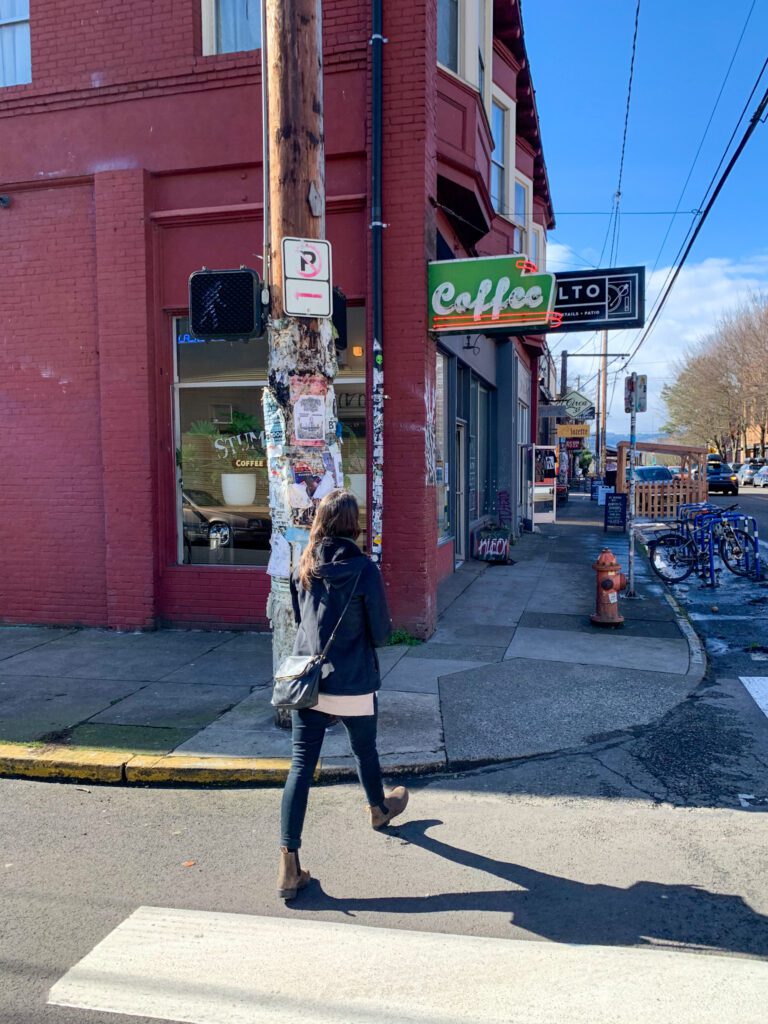 On Hawthorne Blvd, which runs east/west through southeast Portland, you'll find an incredible collection of food and drinks. Head to Harlow for gluten free and vegetarian fare, or Next Level Burger for a more meat-forward option. Cubo is on the western end of the main stretch, and serves Cuban comfort food with a nice outdoor patio area.
There is also a small food cart pod at Hawthorne and 32nd with several food trucks to choose from, including two great spots – Matt's BBQ Tacos and General Burnsides Chicken Cantina. And when you're in Portland, you should probably eat at a food cart, truck, trailer, or something else. I think it's mandated by law or something.
On Division Street, which is four or so blocks south, you'll find a similarly amazing collection of places to eat and drink. In fact, this might be the best food stretch in the city. There are way too many to list in this guide, but here are some options to get you started.
If you're looking for a place to grab a drink on the east side of the river – either before or after dinner – we'd highly recommend Schilling Cider, which is in the Central Eastside close to the river. They have 30+ taps of different ciders, with a focus on Pacific Northwest producers, and they have a nice outdoor patio.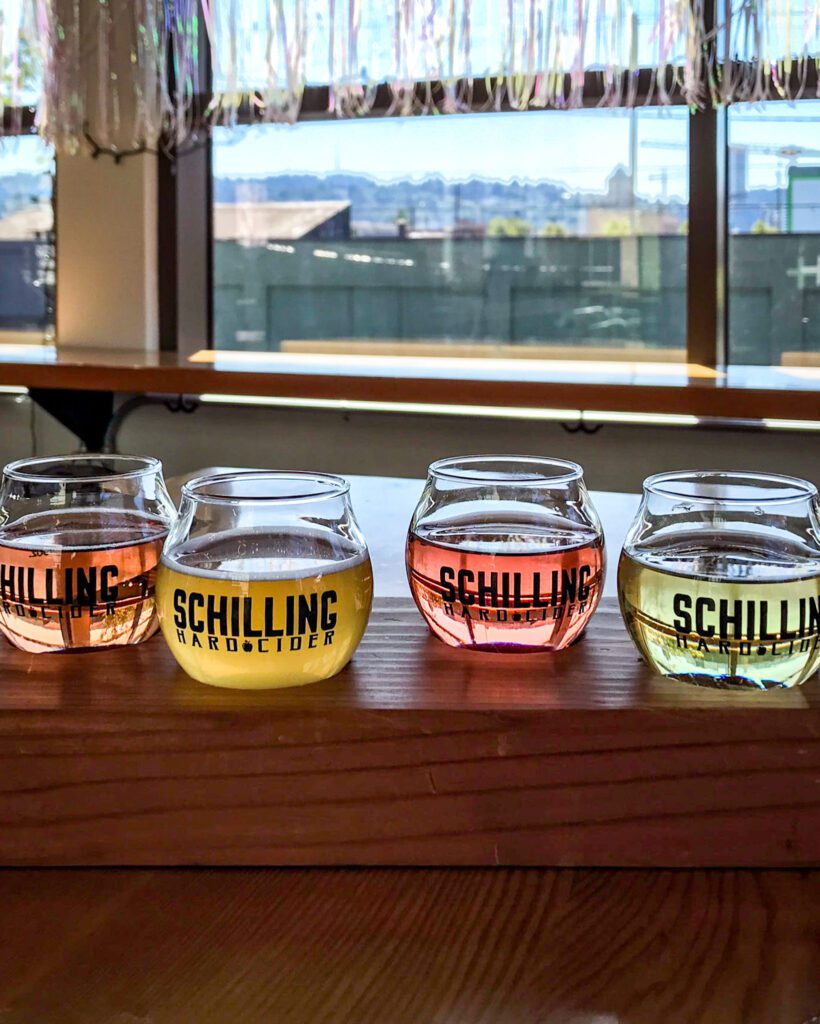 If you're in the mood for a beer, look to the Cascade Brewing Barrel House, which is right across the street from Schilling and is perfect for beer lovers in Portland. They're known for their unique sour beers, which is Alysha's favorite style, but they also have more traditional styles (and plenty of IPA's, as is tradition in the Northwest).
Near Cascade Brewing, there are a couple of other breweries – Modern Times and Away Days – that would make a nice little brewery crawl for beer lovers visiting Portland.
There are plenty of other places to eat and drink along both of these streets that we didn't mention. If we did, this guide would be several times longer, so we'll leave you with a few of our own recommendations above, and you'll have to explore a little bit on your own to discover more.
What to Do with More than a Day in Portland
We have an entire guide to 3 days in Portland with plenty of ideas and details on what to do and see with more time in Portland. That should be your first stop if you're wondering what to add.
We're not going to cover it in detail here, mostly because you can head over there and read exactly how we'd spend two or three days in the city.
Where to Stay in Portland
We have an entire guide to the best places to stay in Portland, which you should read for more detail. Here's the gist of that guide.
If you're planning on staying in Portland overnight AND you only have a short visit, you're going to want to stay as central as possible. We'd recommend staying in either Downtown Portland or on the Central Eastside.
With only a night, staying in a hotel is going to be your best bet because the fees associated with vacation rentals are going to make them significantly more expensive, AND they're less convenient in terms of check in and leaving bags.
Downtown Portland will put you right in the middle of all the action and is the best location for a short visit, but parking is tough and it's generally a little less charming than the areas on the east side of the river.
There are a bunch of fantastic hotels here, and we'd choose either the Ace Hotel (a hipster classic!) or the Benson (a nice hotel in a great location).
The Central Eastside is just across the river from the Downtown core, and is a great central location between the two main parts of the city you'll explore in a day. Plus, we think it's more charming, and parking is a bit easier to come by. There are a bunch of great hotels here.
If you're on a budget, there are two hotel/hostel hybrids that have affordable and comfortable private rooms – look at the Kex Hotel (a cool Icelandic hotel) or Lolo Pass (a nice guesthouse).


The Hotel Grand Stark is another option that is a little more upscale, closer to a traditional hotel than a hotel/hostel hybrid like the previous two options.
When to Visit Portland
If you've spent any significant amount of time at all in the Pacific Northwest, you probably know the deal here.
Summer in Portland is AMAZING. July to September is an incredible time to be in Portland, but you'll find higher prices because everyone wants to visit during that time frame.
In July and August, you'll be treated to blue skies, warm temperatures in the 80's and 90's and by far the least rain. This makes it an ideal time to visit Portland, walk a lot, eat and drink outside, and explore the outdoor activities around the city.
In May, June, and September, it's a little more touch and go in terms of weather, and prices will be somewhat lower. Temperatures will be a bit cooler, it rains more, and it might be gray and drizzly. There's no real way to know what you're going to find until your plane descends into PDX, Portland's airport. And even then, it might change day to day.
The rest of the year, October to April, expect gray, drizzly, and colder temperatures. Sometimes it gets cold in the winter and snows, but nothing like the Midwest or East Coast. Pack a rain jacket and warm layers, for sure.
We spent a month in Portland in February and March because Alysha – a born and bred Californian – wasn't sure she'd be able to survive a Pacific Northwest winter, which usually involves a lot of waterproof jackets and saying things like "well, if we don't do it in the rain, we'll never do it!" or something to that effect.
In the end, she didn't think it was that bad. Sure, it's gray and drizzly, but there were also amazing days with blue skies and clear views all the way out to Mount Hood.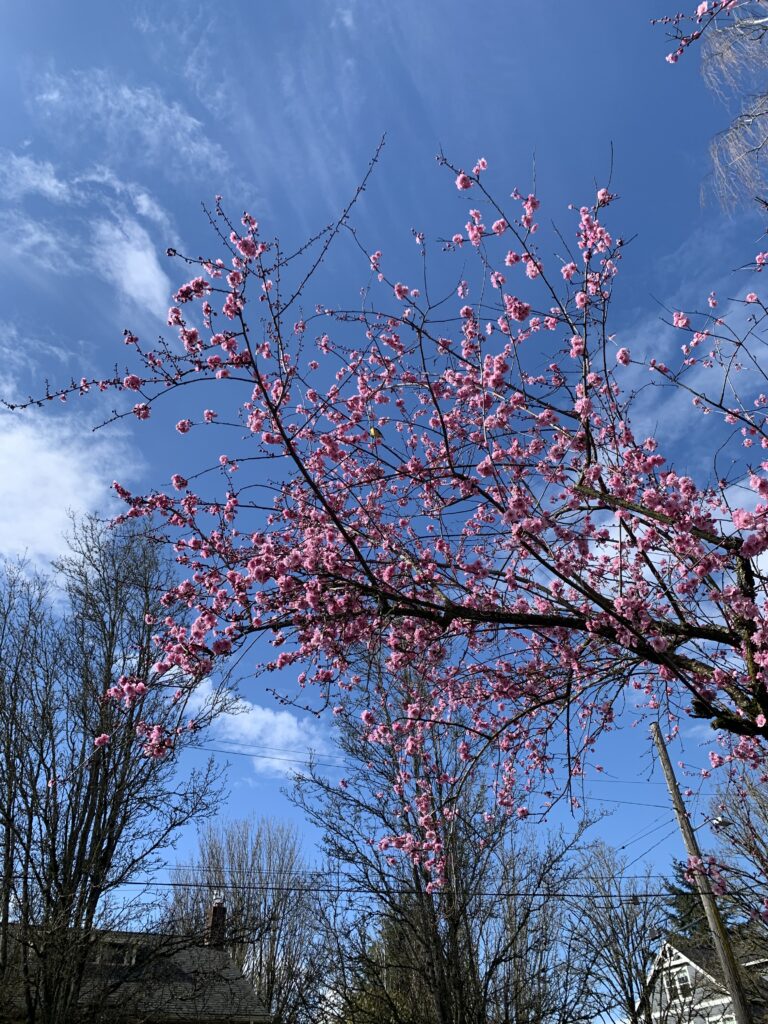 ---