Where to Stay in Portland: A Complete Guide
Wondering where to stay in Portland for a trip you're planning? You're in the right place! In this guide, we're going to take you through the best places to stay in Portland based on our own personal experience of visiting Portland more than five times in the past few years – including living there for five weeks.
Obviously, we recognize that you might value something different than us, so we're going through Portland's best areas to stay and giving you the pros and cons, the neighborhood highlights and things you shouldn't miss, and the best places to stay in each neighborhood.
This guide to Portland's best places to stay is SUPER detailed, and took us a long time to compile, so we hope it helps you find the perfect place to stay in Portland, whatever your style and budget are.
I grew up in Seattle, and Portland was always just a few hours South on I-5. But I didn't actually make it to Portland for the first time until a summer during high school when my older brother and I took a road trip from Seattle down to the Bay Area. We stopped along the way for a day in Portland, hitting all the Portland hotspots like Voodoo Donuts (this was before my Celiac diagnosis and before learning that Blue Star Donuts is actually the best around) and Powell's Books.
I was intrigued by the mix of Seattle vibes and the grittier undertones that have made Portland special, especially as I've found that Seattle has started to soften around the edges and lose some of its "weirdness."
Since then, we've been to Portland no less than five times, including living there for just over a month to see if Alysha, a born and bred Californian, could make it through a Pacific Northwest winter (turns out, she can!). We've stayed in hotels downtown, and Airbnbs east of the Willamette River, which runs right through the middle of Portland and separates downtown Portland from the more residential parts on the east side.
Both are great in their own respects, and you'll find some of the best places to stay in Portland scattered throughout both areas even though they each have a completely different feel.
We have a pretty good handle on Portland as a city after that month spent exploring, and while we're not Portland locals, we're experienced in coming to Portland as visitors, which is likely what you're looking for. We've stayed in several different areas to get a feel for each, and have some strong opinions on where to stay on your trip to Portland.
Read on for an overview of the best places to stay in Portland so you can make the most of your time and stay in a neighborhood that suits both your travel style and your budget.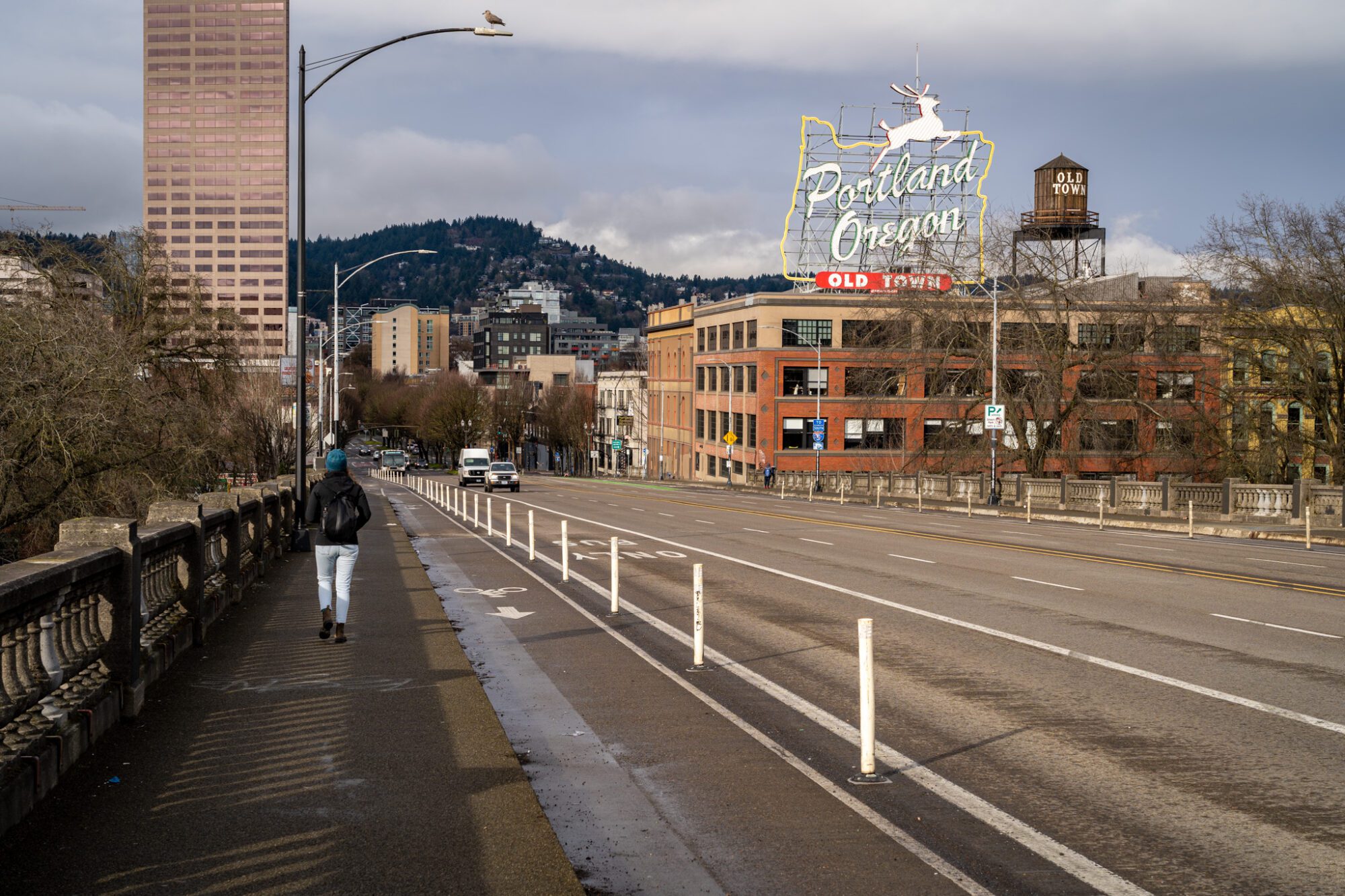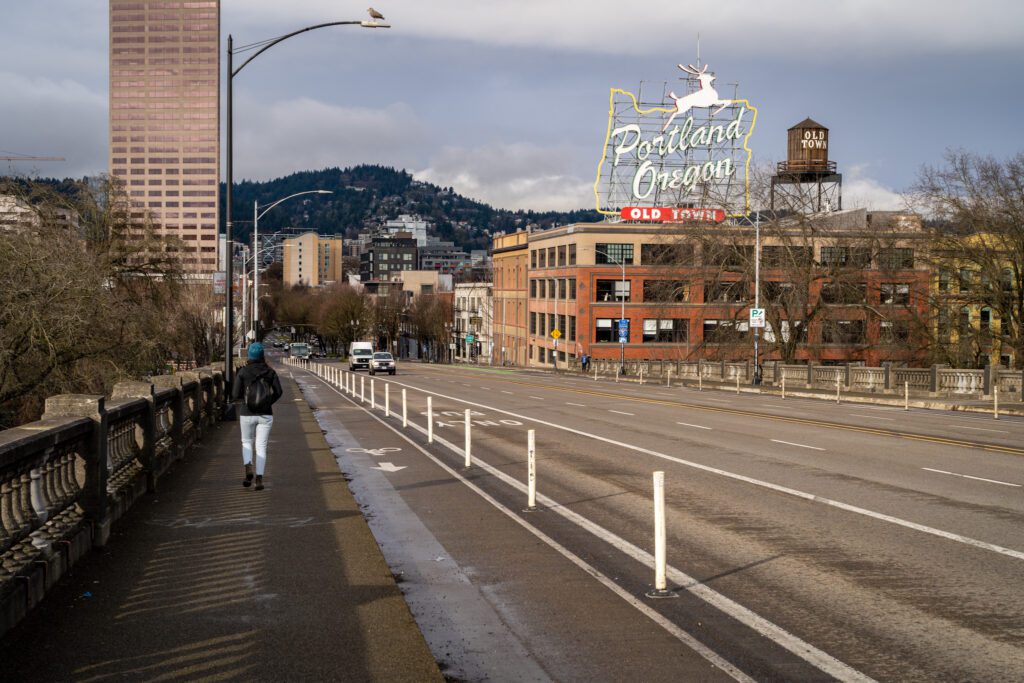 Short on Time? Skip Right to the Coolest Hotels in Portland to find the perfect place to stay.
Disclaimer: Some of the links in this post, like hotel links, are affiliate links, meaning at no additional cost to you, we make a little bit of money if you click through and book. That being said, we would never recommend something to you that we don't stand behind 100%.
Where to Stay in Portland: A Practical Guide to Portland's 6 Best Neighborhoods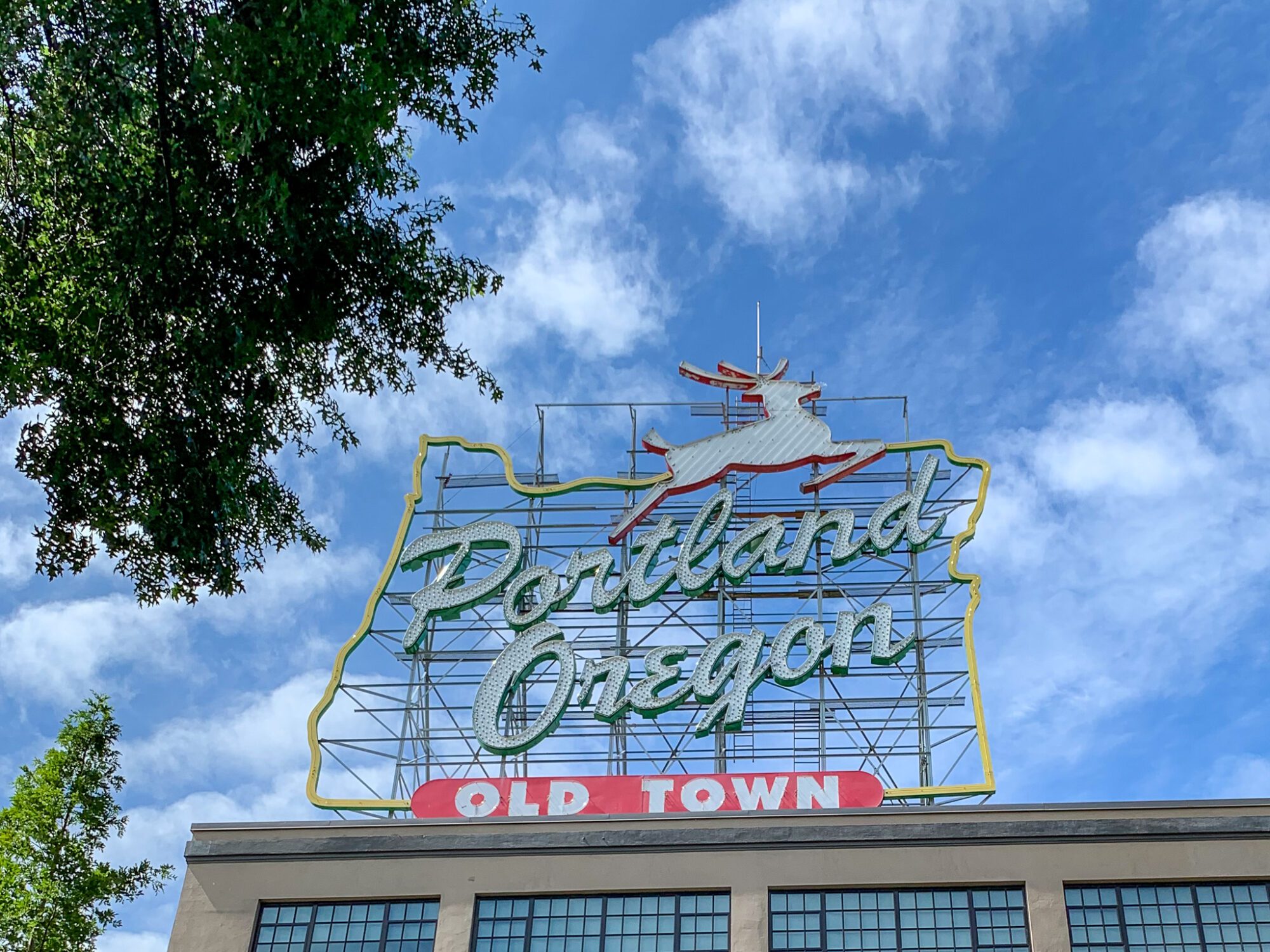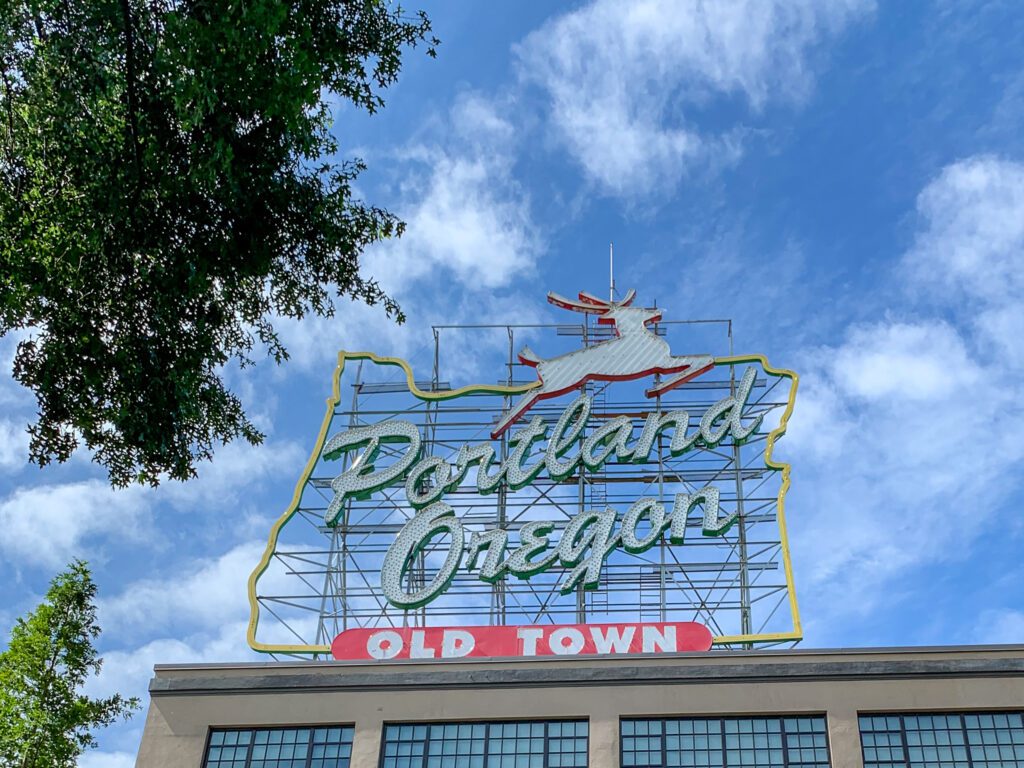 Let's get into the best neighborhoods in Portland for visitors. We're going to give you our perspective based on personal experience exploring Portland, the city we've fallen head-over-heels in love with and will probably end up moving to in the near future.
One time, I mentioned to a bartender in Portland that I was from California, since, you know, I am, and he got all gruff and began a tirade about how Californians are ruining everything. And to some extent, he's right. Portland is facing many of the same issues as Seattle, Denver, and Atlanta (among others) – quickly rising housing costs, an influx of people from California who are fleeing a sky-high cost of living and forest fires for quite literally greener pastures, and TRAFFIC.
I totally understand why people who have lived in Portland for years are a little frustrated at the newcomers. But it's not our fault that Portland is a GREAT city and we just want to visit in hopes that we can soak up some of the coolness that it exudes.
Where you decide to stay while you're in Portland will have a fairly big impact on what your trip is like.
Here's the gist of the relatively long guide to the best places to stay in Portland below. Lucky for you, you can take this brief list, click on the part of the guide you want to read in the table of contents below, and off you go!
Whether you're a couple of foodies looking to stay close to the best bars and restaurants, or it's your first time and you only have a weekend in Portland, we're going to help you find the perfect place to stay.
Our overall recommendation is to find a hotel on the Central Eastside, which is quickly becoming our favorite part of Portland. It's close to the river, which means you can walk to downtown Portland and all the sights there (don't miss Powell's Books!) but it's a little more residential and, as a result, quieter. We recently stayed at the Jupiter NEXT Hotel, a beautiful boutique hotel, but have our eyes on more affordable options in the area like the Kex or Lolo Pass for future trips.


If it's your first time in Portland, you can't go wrong with downtown Portland or the Pearl District. Downtown Portland is about as central as it gets, walking distance to…pretty much everything. We'd recommend staying on the southern half of the neighborhood near Pioneer Courthouse Square (check out the stylish Heathman Hotel or the ever-hip Ace Hotel, which we've stayed at in Seattle and New York City). The Pearl is more upscale, and is a former warehouse district, so they're all-in on the industrial-chic vibes. Stay at the Canopy by Hilton in the Pearl, which is a solid, stylish option at an affordable price.


If you're looking for a slightly different experience, look at staying further into the residential east side. Places like Hawthorne and Division, Mississippi Avenue, and the Alberta Arts District, while they might not be the best place to stay in Portland for your first time, are certainly among our favorite parts of the city. Lots of good food and drinks to be had! Vacation rentals are basically the only option here – try to choose a place that's a part of the owner's house or property (rather than a standalone house or apartment).
Where We've Stayed in Portland
In terms of starting this guide, it probably makes the most sense to start with our own personal experience.
We've been to Portland many, many times now, and we're pretty convinced that the east side is where it's at.
On our last trip to Portland, we stayed at the excellent Jupiter NEXT Hotel, and would completely recommend it.
It's clean, comfortable, has a great bar on the ground floor (Hey Love), free coffee in the mornings, and a super friendly staff. Plus, parking (though it's not free). It's on the Central Eastside, which is quickly becoming our favorite part of Portland.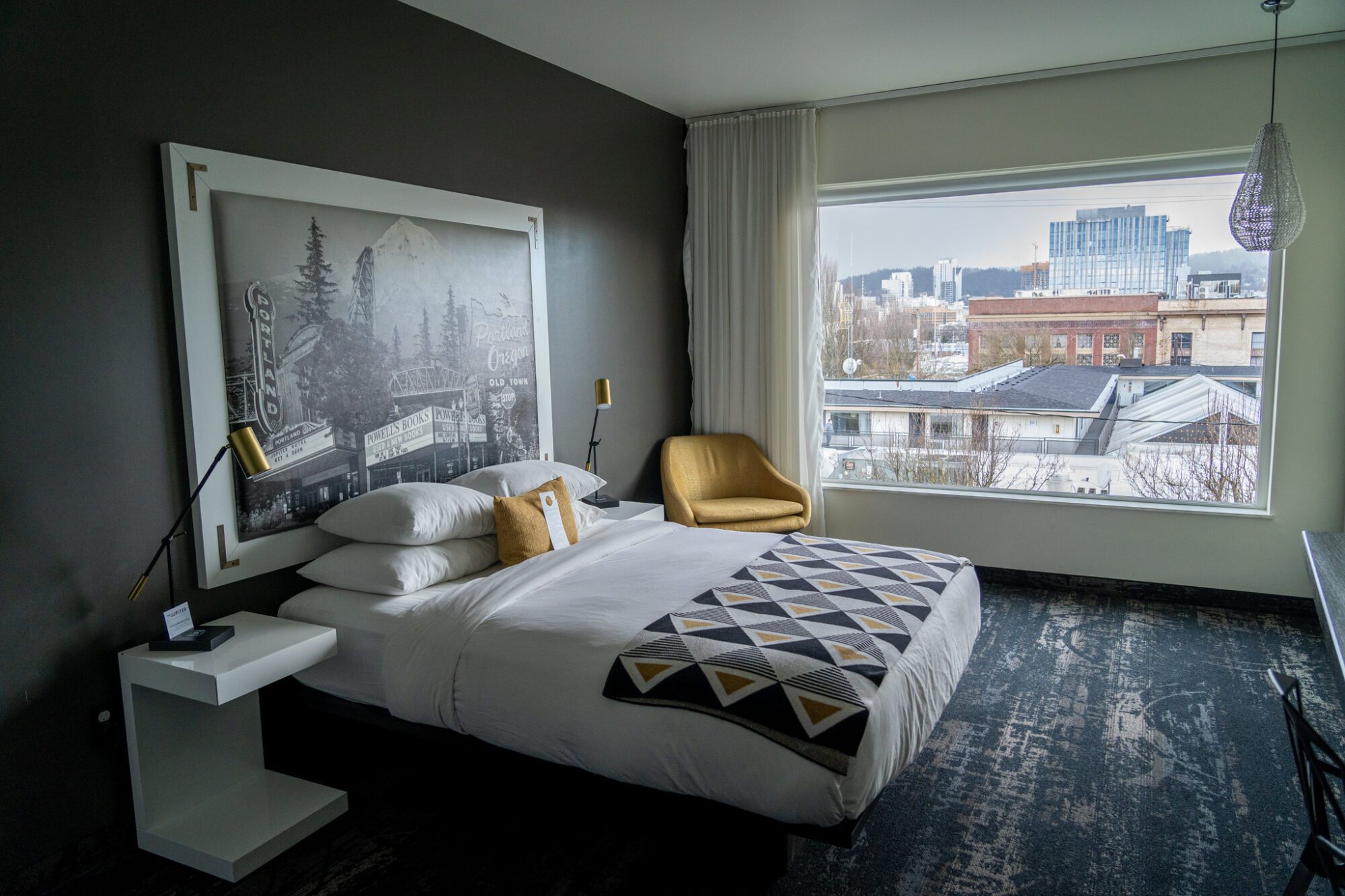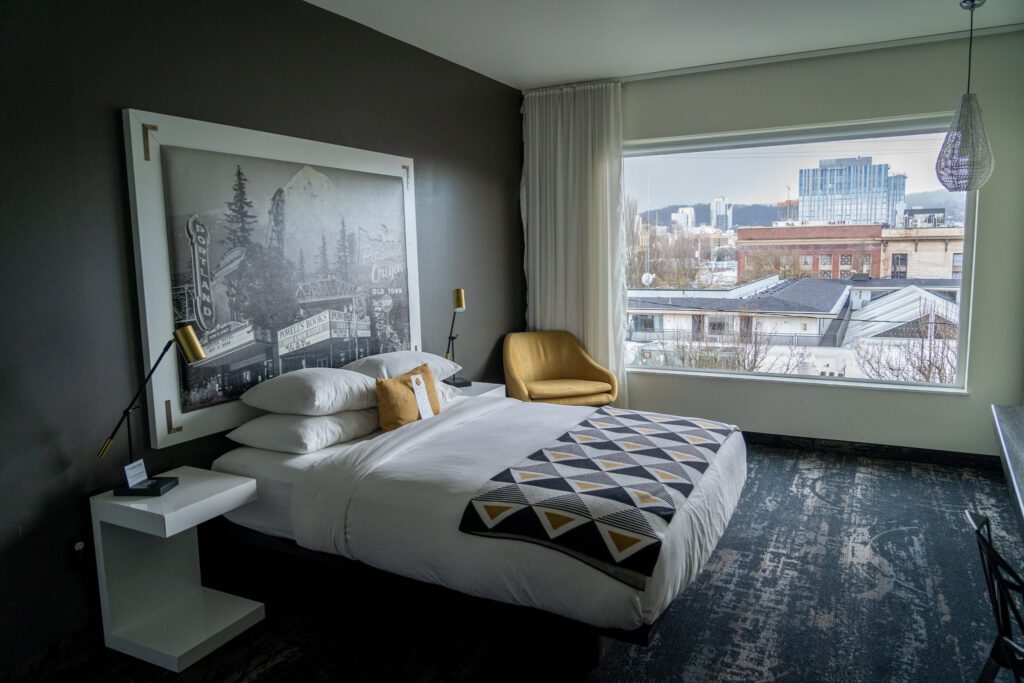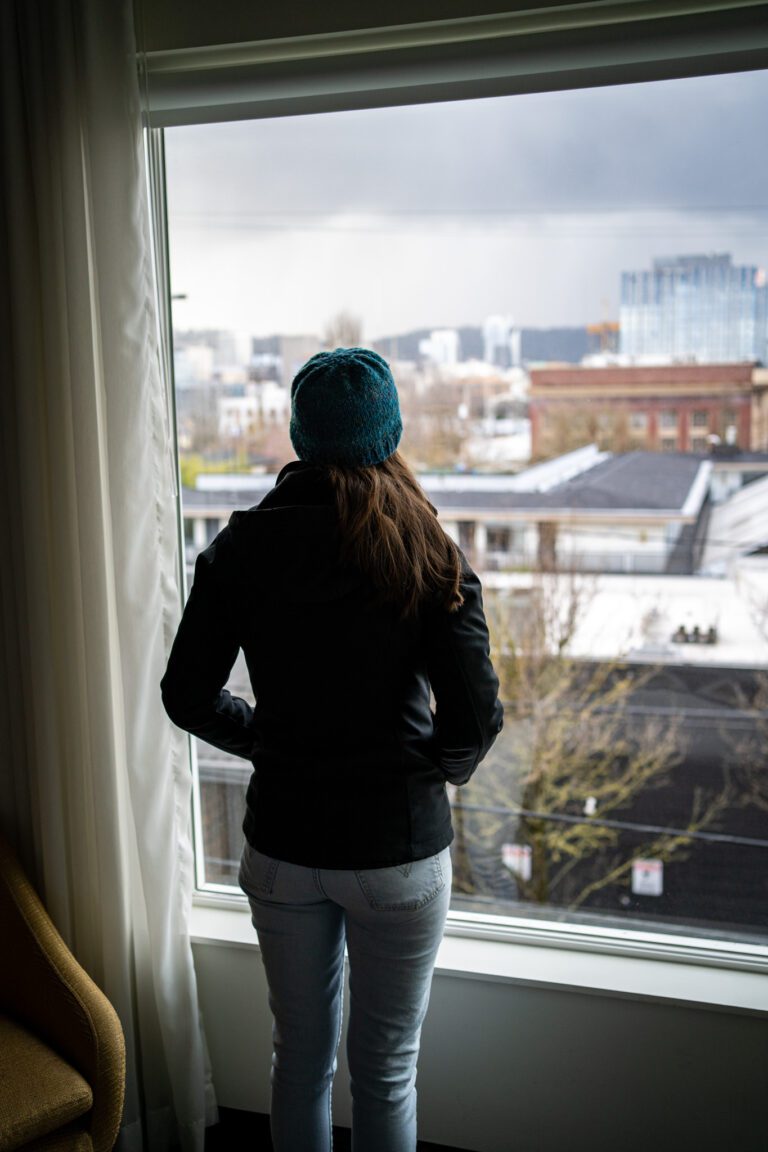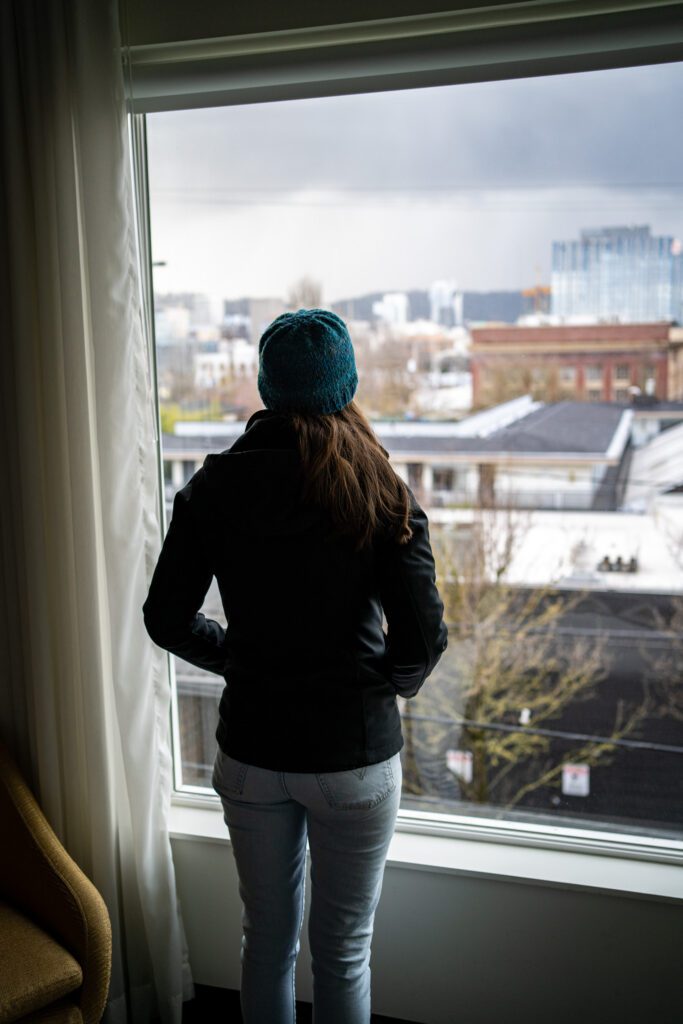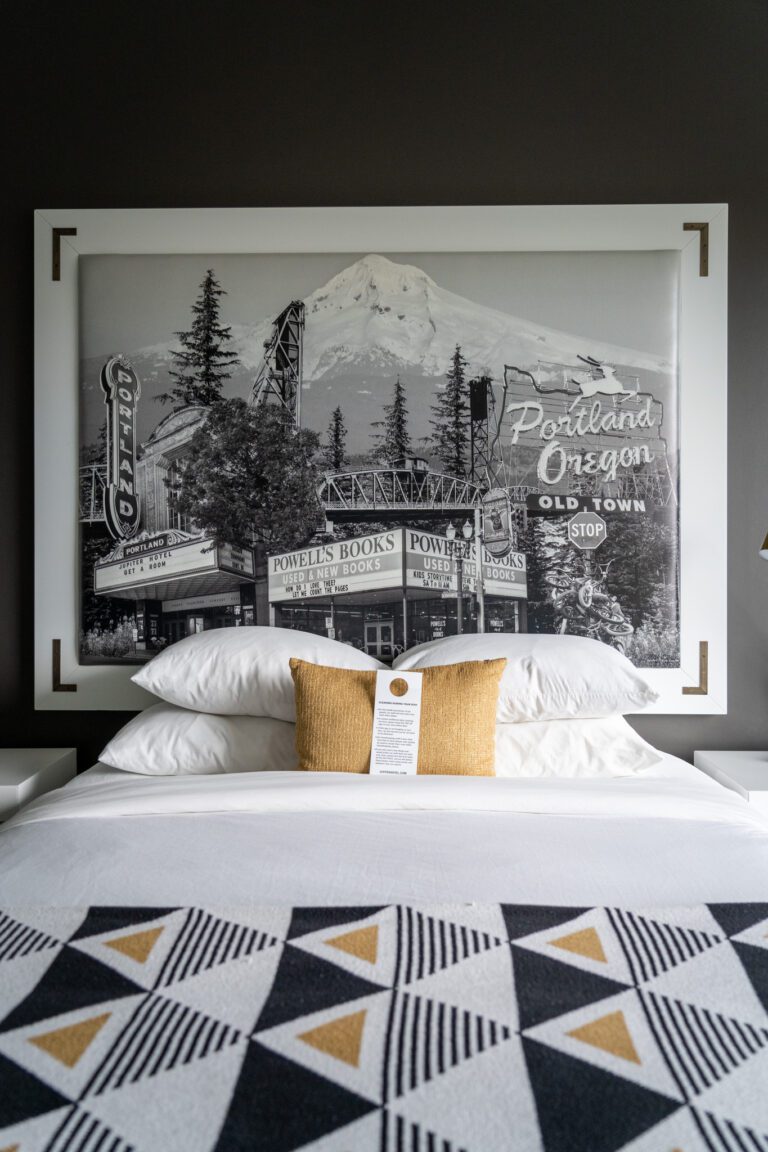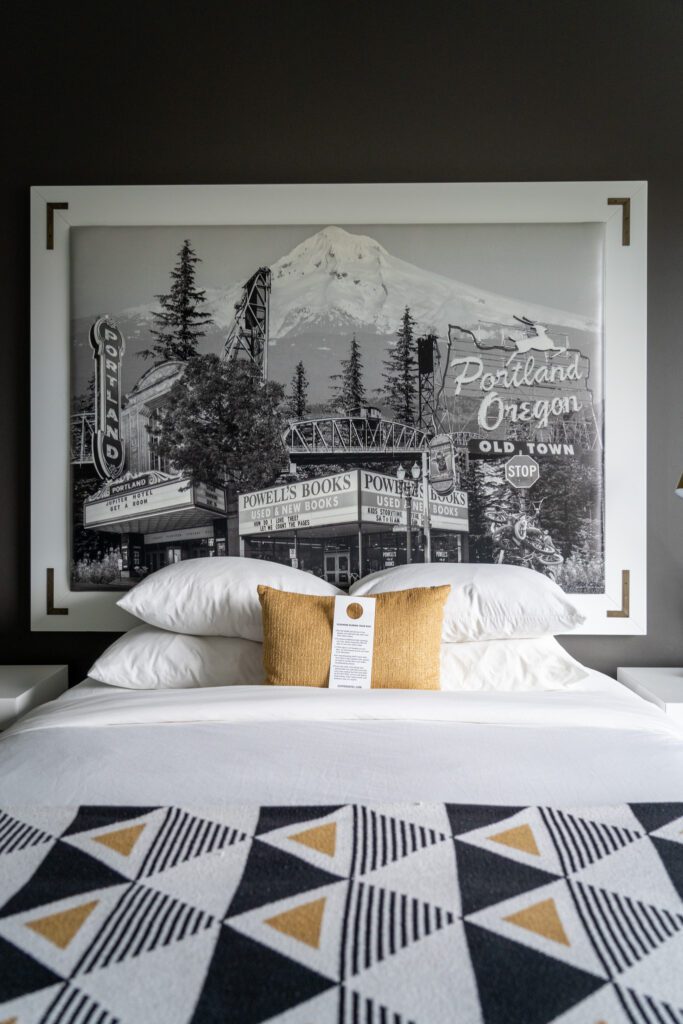 It is a boutique hotel, so it's a little more expensive than some of the other options in the area. If you're budget constrained, there are two fantastic options nearby that are high on our list for future trips. First is the Kex Hotel, a hip Icelandic hotel chain (though there's only two hotels in the world, so does that count as a chain?) that's literally two blocks away. Second is Lolo Pass, a new hotel/hostel hybrid with both dorm rooms and private rooms.
On our first ever trip to Portland years ago, we stayed at the Society Hotel and enjoyed it, especially given that we were traveling on a budget. It's in a good location, walkable to places in the Pearl District and downtown (which is why we stayed there), and they have a variety of room options from dorm rooms (if you're on a serious budget) up to private rooms. They have a cool rooftop deck too with nice views of the city.
The downside is that the area it's in, which is about two blocks north of Voodoo Doughnut, isn't the greatest. It's loud and is a part of the city where there is a visible unhoused population that may make some travelers who have less experience living in cities uncomfortable.
Last, but certainly not least, is southeast Portland. Which is absolutely where we'd want to live if we moved to Portland and gives you a nice taste of local living in the city. The stretches along Division and Hawhthorne are some of the best in the city in terms of food, drinks, and shopping.
The problem is that the only option here is vacation rentals (there are essentially zero hotels), and we have mixed feelings on those in cities where housing costs are not-so-slowly creeping up. On the one hand, vacation rentals are great, especially for longer stays. On the flip side, they're bad for the local housing market, taking valuable stock off the market for longer term residents.
We'd highly recommend a vacation rental in Southeast Portland if you're looking for a longer stay or want to have access to a kitchen, but we'd be selective. Try to choose a place that's an addition to someone's dwelling – a backyard cottage, a loft over the garage, a private guest suite – rather than a standalone apartment or house.
For what it's worth, we like this studio above the garage in Ladd's Addition (a great location), and this backyard eco-cottage.
Downtown Portland: Super Central & Best for First Timers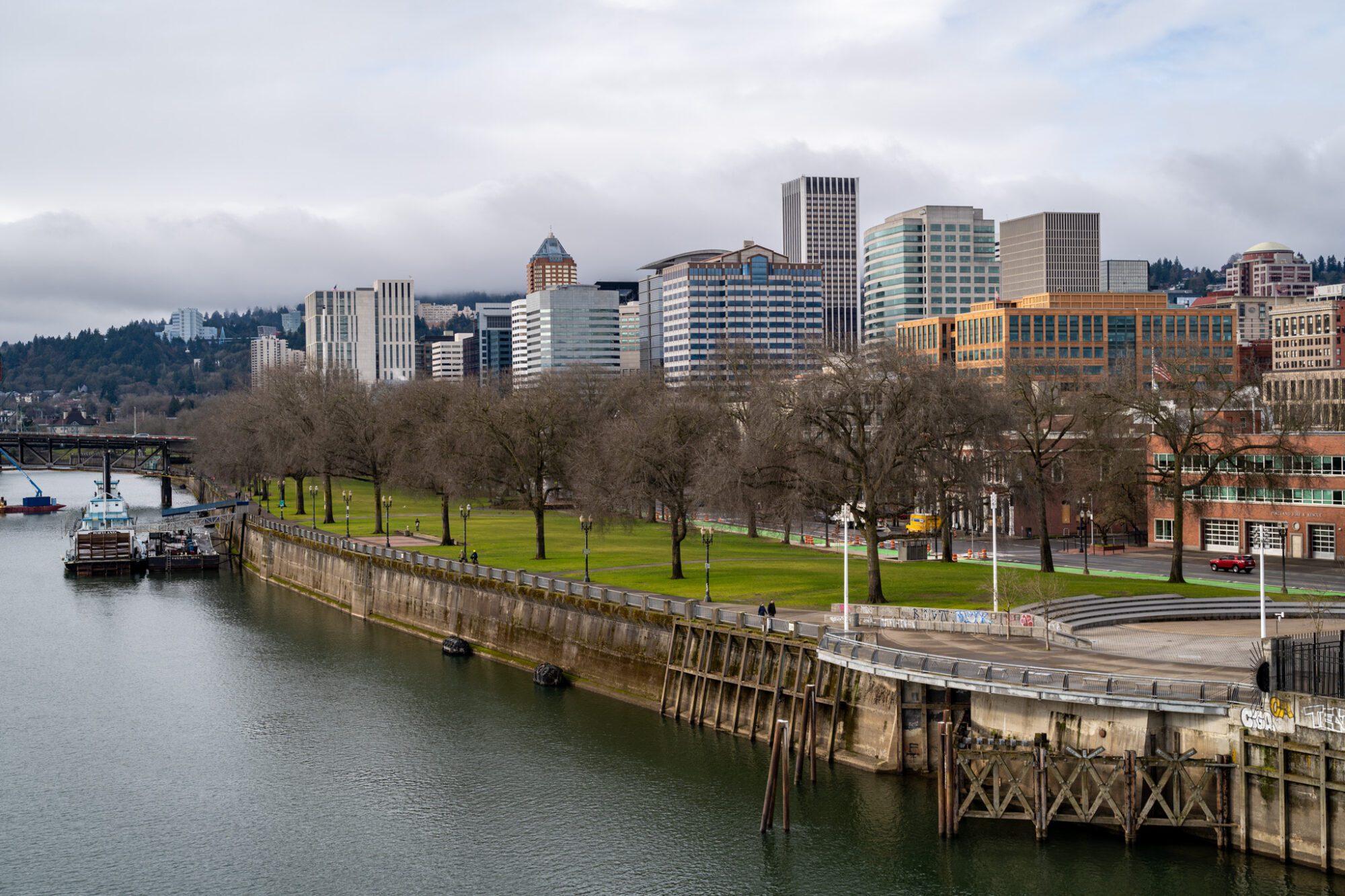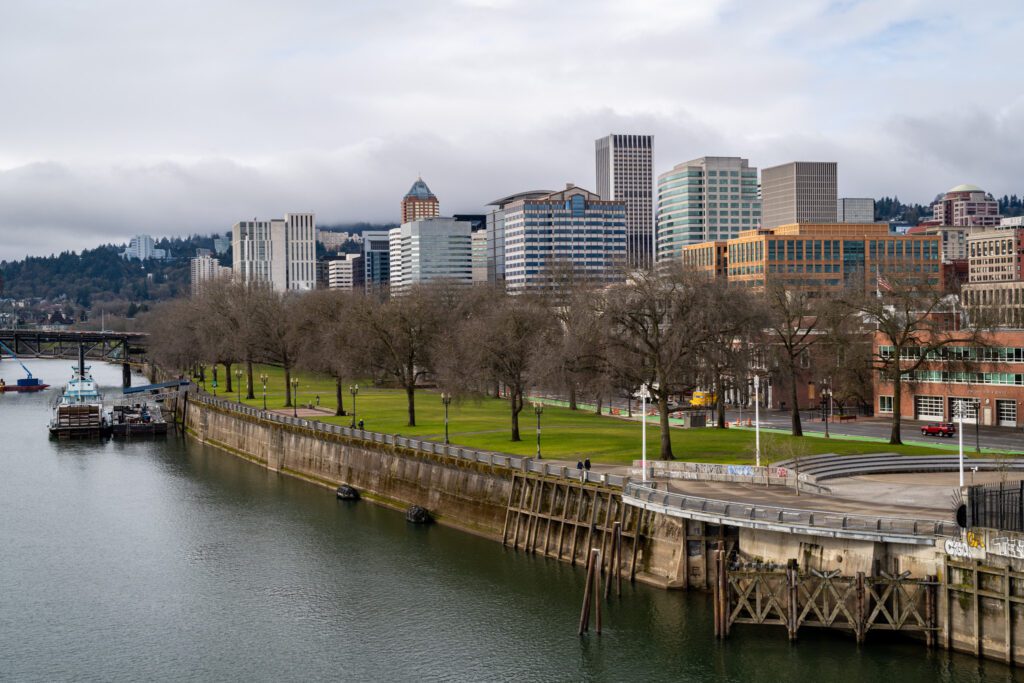 Downtown Portland is a little more charming than some other city's downtown areas we've visited, thanks to the green spaces and food cart pods that you'll likely stumble upon while you're exploring.
You've probably seen on the news that Downtown Portland is a disaster, with protests going on all day and night, and numerous clashes with the police happening at all hours. The reason I say that is that people consistently bring it up when we mention that we love Portland. Especially if they've never actually been to Portland.
This might be shocking, but that's not really the full picture of what's happening. We stayed in Portland five times between June of 2020 and March of 2022, spending over six weeks in the city, and we saw not a single protest despite venturing downtown for donuts and coffee numerous times.
Now, that doesn't mean it's all rose petals and sunflowers in Downtown Portland.
Portland, like Seattle, San Francisco, Los Angeles, and just about any other city on the West Coast, has a relatively large, visible unhoused population.
We don't need to get into the causes here (okay, I'll bite: poor mental health and addiction services and skyrocketing cost of living, among other factors), but the thing I'd encourage you to remember is that they are people, just like you, trying to make the best of what they've got. You may experience being yelled at, or see people using drugs in broad daylight, which is a real bummer. But, for the most part, they are not going to harass or hurt you.
That said, families with small kids and solo travelers might feel safer elsewhere.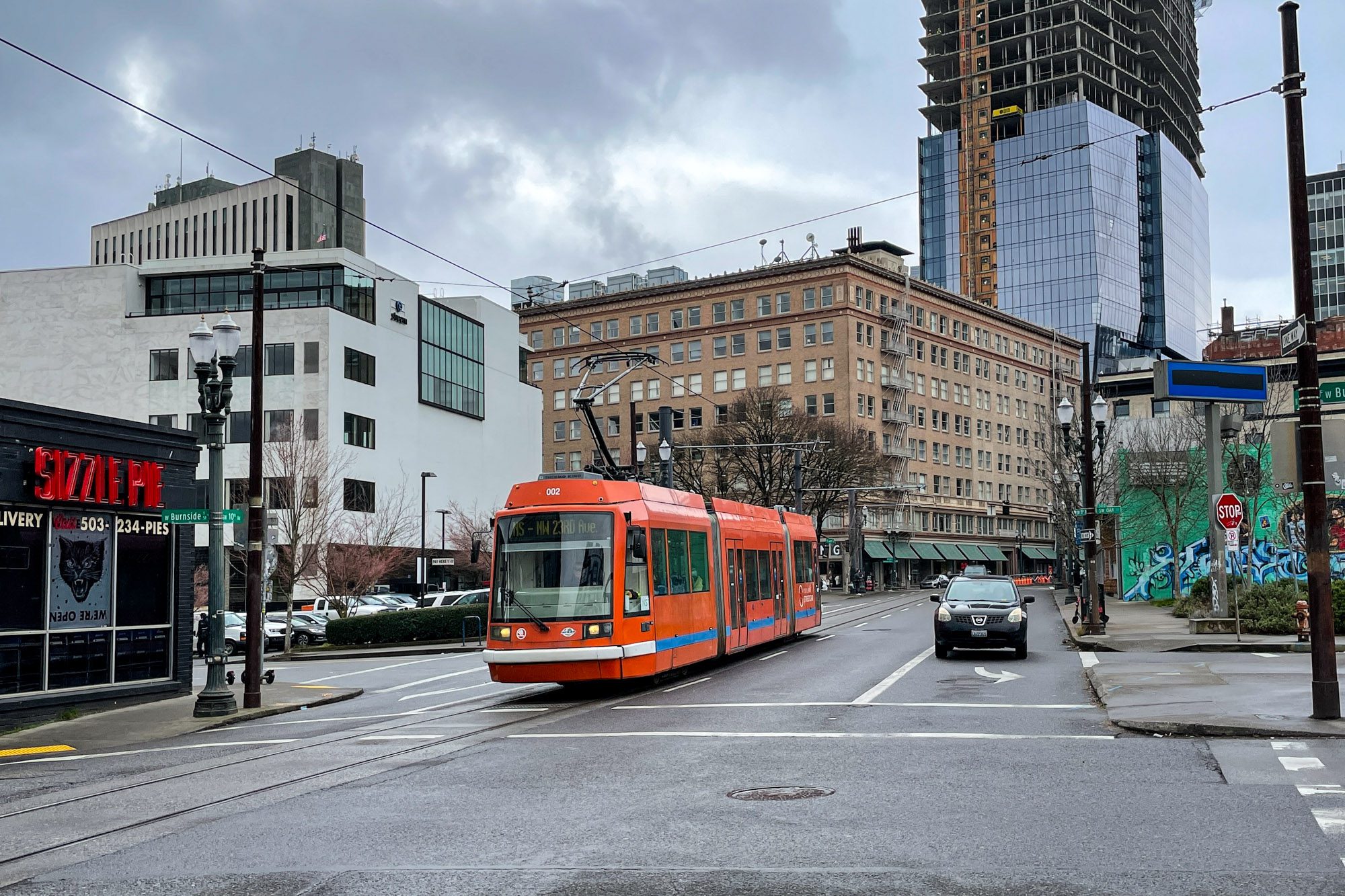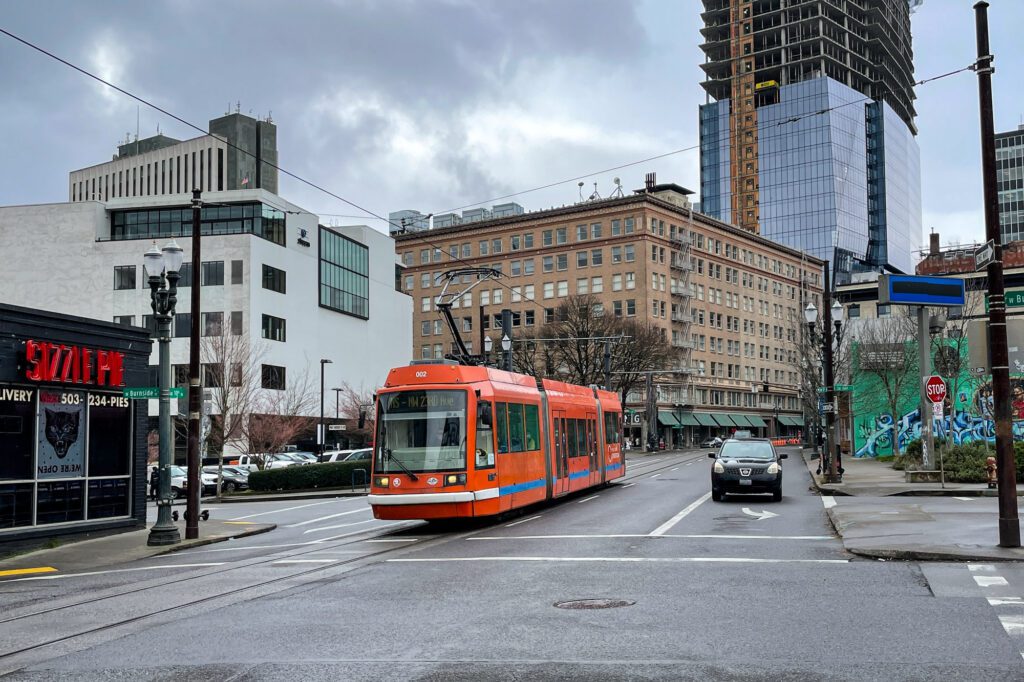 Pros & Cons of Staying in Downtown Portland
Pros: It doesn't get more central than Downtown! Plus, there's a huge variety of great hotels, and places to eat and drink. It's also going to be one of the more affordable places to stay, mostly because of the number of choices.
Cons: Downtown Portland is more charming than other city's downtown areas, but is far less charming than most of the broader city of Portland. The aforementioned unhoused population is most visible in Downtown Portland. If seeing the unhoused population makes you uncomfortable, we'd suggest staying somewhere further away, like the Central Eastside, Southeast Portland, Mississippi, or the Alberta Arts District.
Downtown Portland Highlights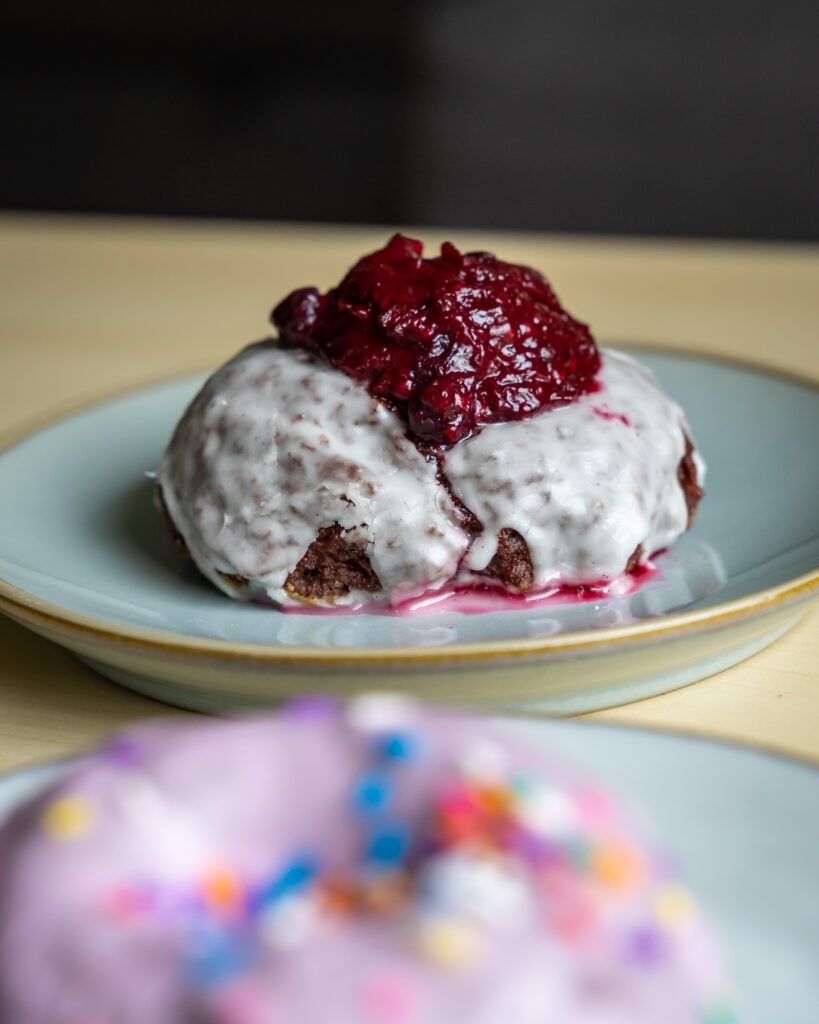 The Best Places to Stay in Downtown Portland
Hotels are the best bet in Downtown Portland. There are only a few vacation rentals, and in general you're going to pay more than what it's worth.
The Ace Hotel: A Classic Boutique Hotel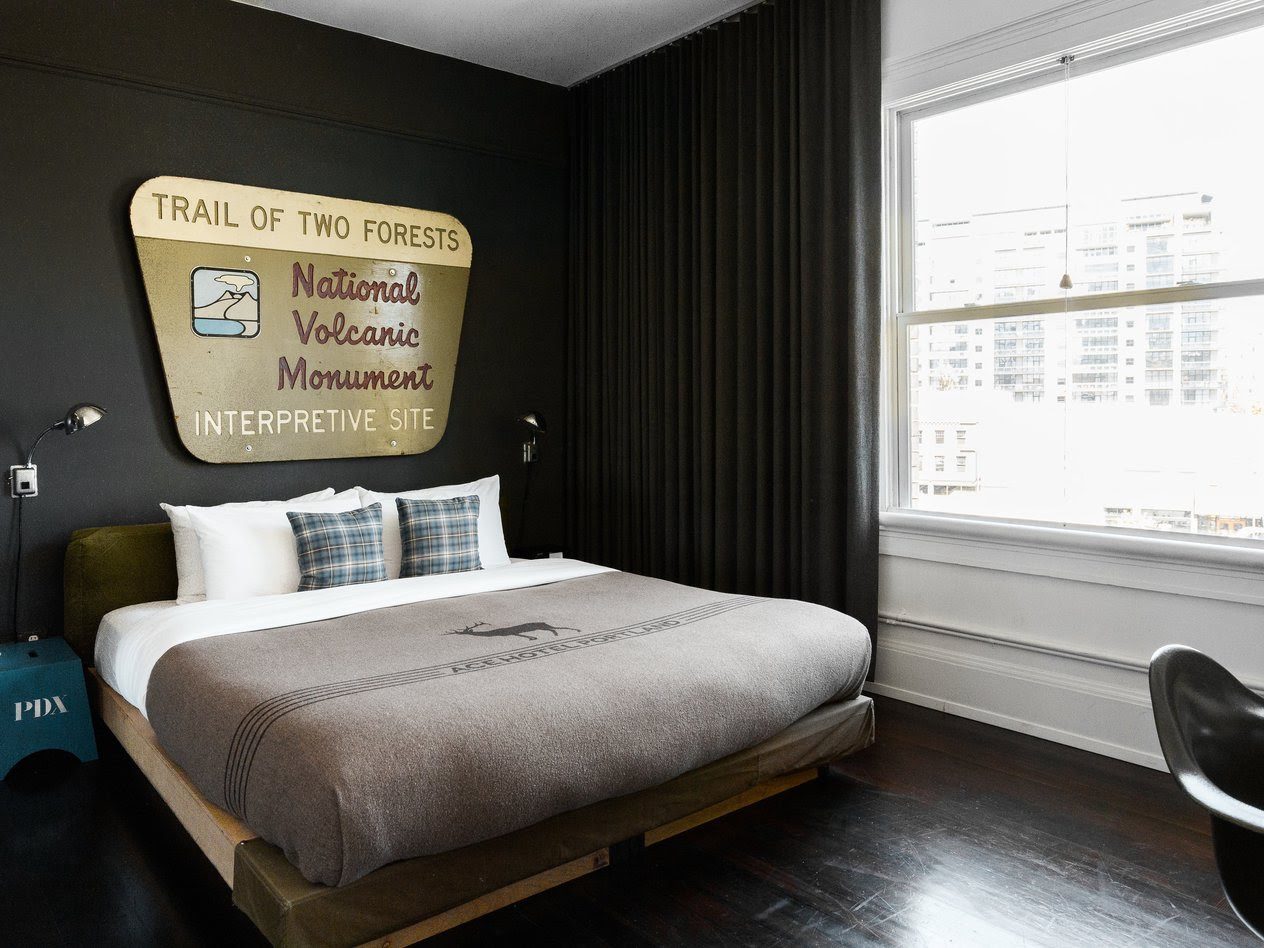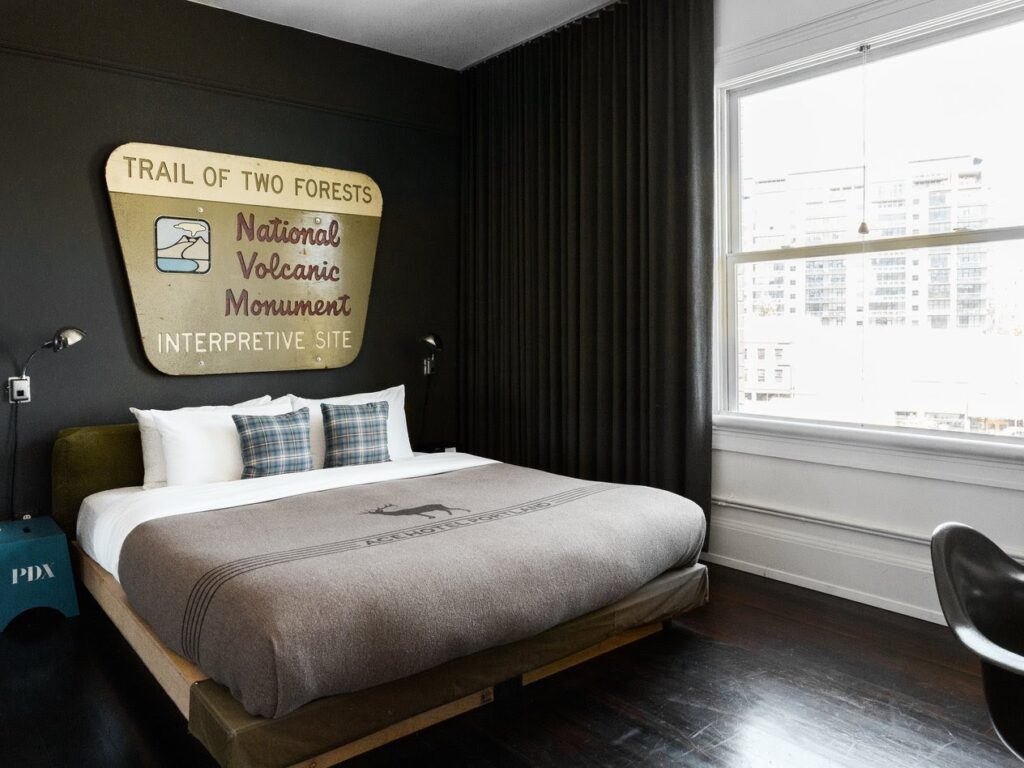 The classic chain of boutique hotels feels right at home in Portland. We haven't stayed at this location, but we've stayed at the Ace Hotel in Seattle and New York City, and it was amazing both times.
The décor of the Ace Hotel is always perfect, the vibes are exactly what you'd expect, and the service is great – reviews mention that the staff was helpful and able to give great recommendations for their trip, which is in line with my experience in Seattle and NYC.
It's a hipster classic, and when in Portland, do as the hipsters do, right? And some of the best coffee in Portland is in the lobby – Stumptown Coffee Roasters. Technically it's not in the Pearl or Nob Hill, but it's right in the middle of Downtown Portland, which is a great spot to be.
The Moxy Hotel: A Great Mid-Range Option In Downtown Portland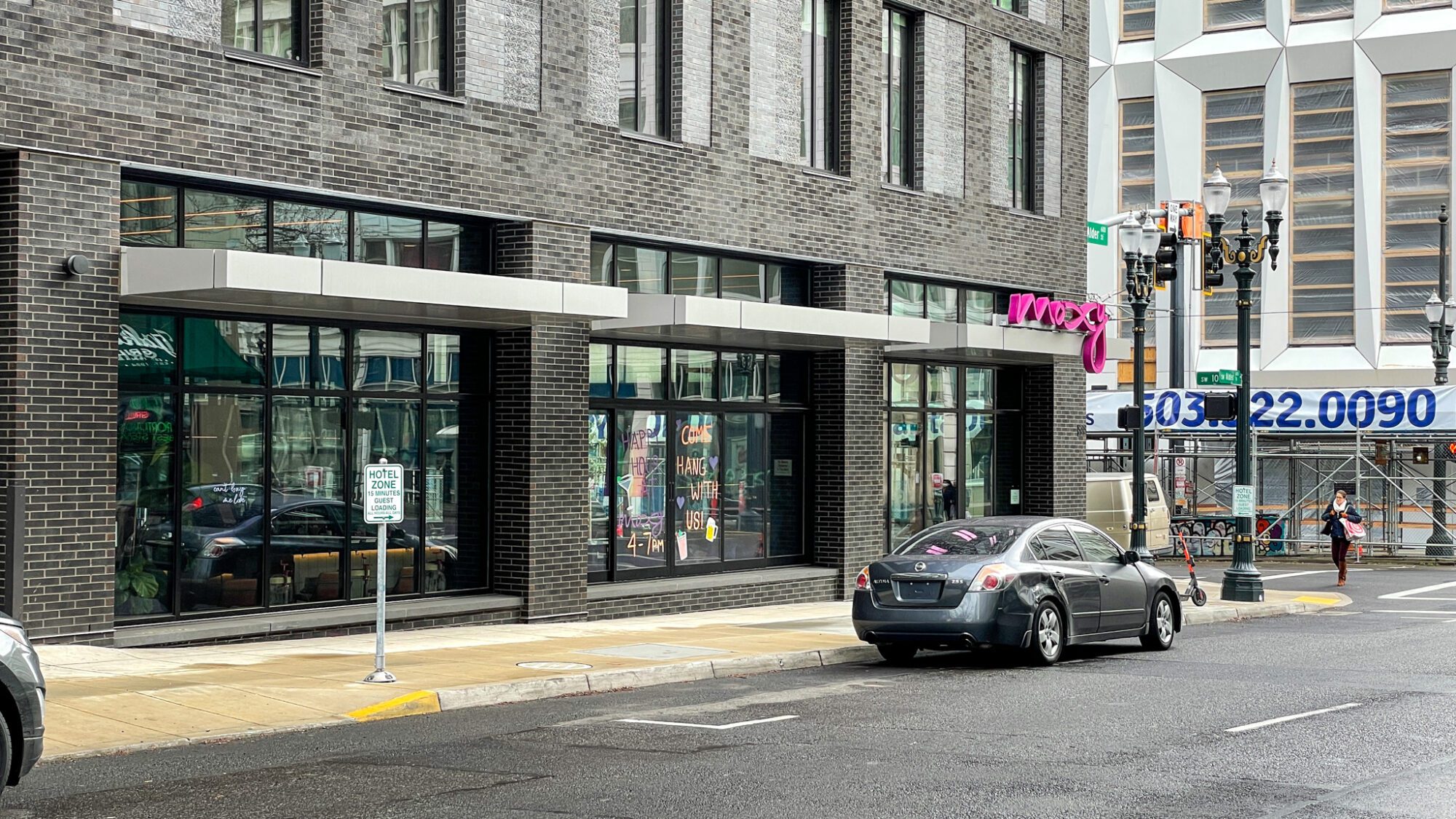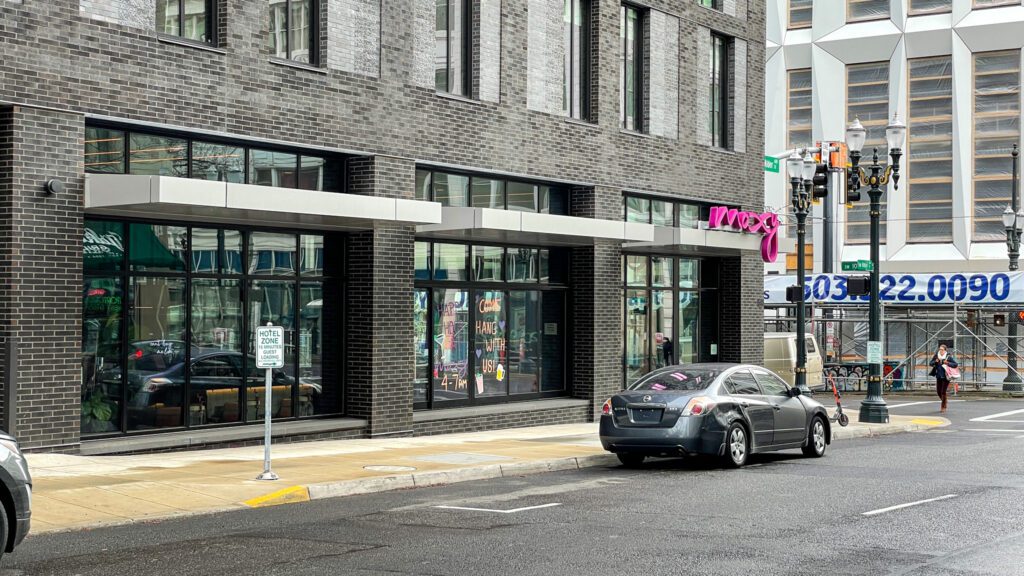 We love the Moxy Hotel in cities like Seattle – which makes our list of cool hotels in Seattle – and the new Portland location is on our radar for a future trip. They deliver small but well-thought-out rooms that give you everything you'll need for your trip at a reasonable rate.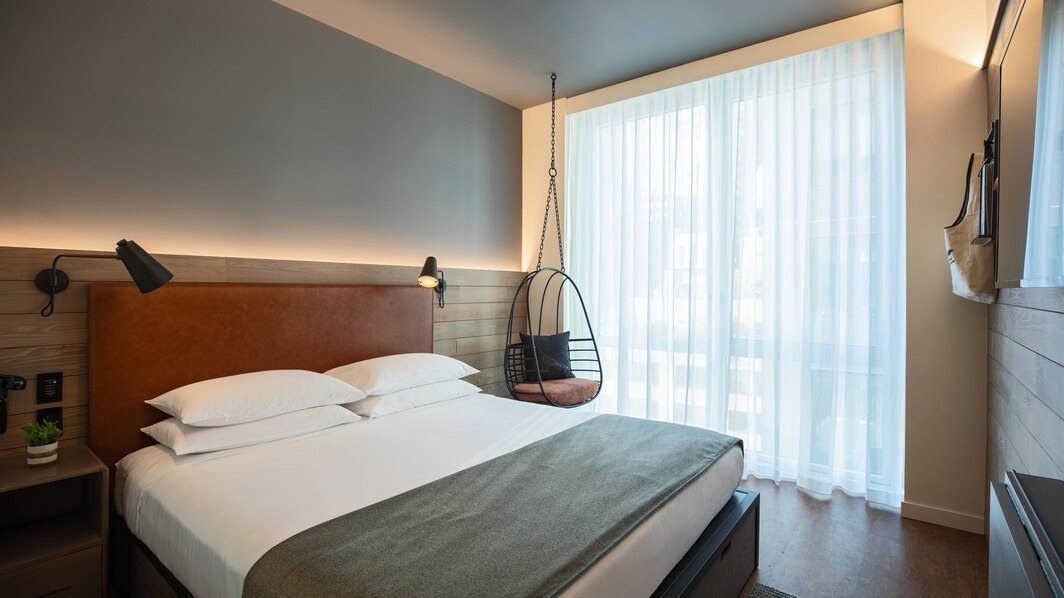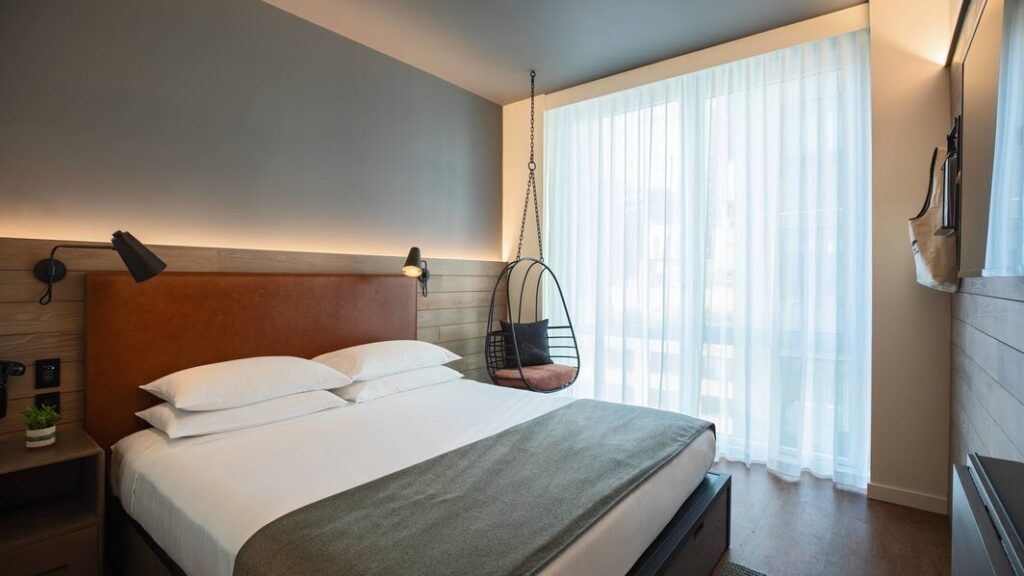 The location can't be beat – it's at 10th and Alder, blocks away from Powell's and some of the other spots worth visiting downtown.
Heart Coffee and Never Coffee – two of the best coffee shops in Portland – are within a few blocks, and Petunia's Pies and Pastries (one of the best gluten free bakeries in Portland – those donuts are amazing) is easily accessible.
The Society Hotel: Affordable & Cool Hotel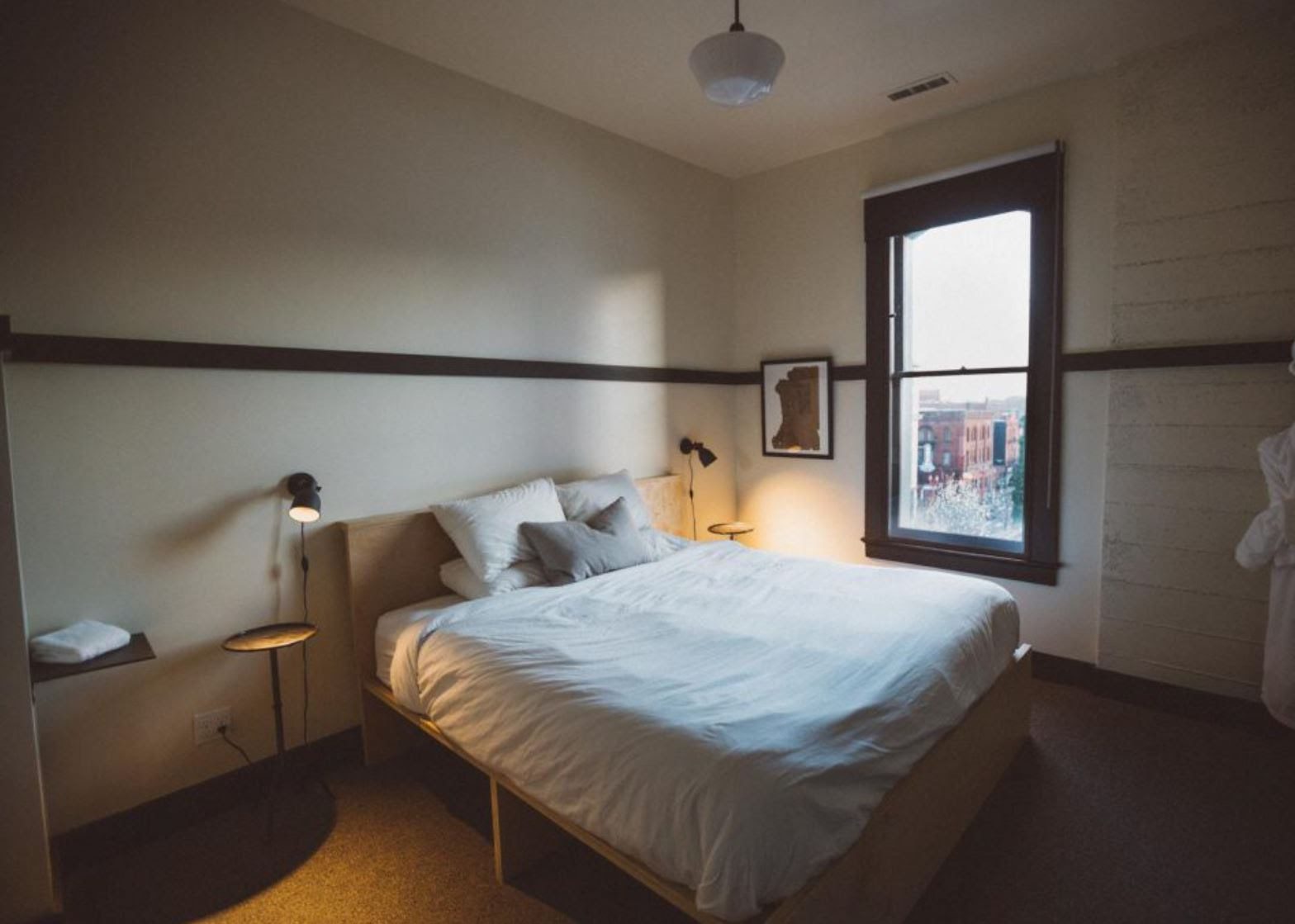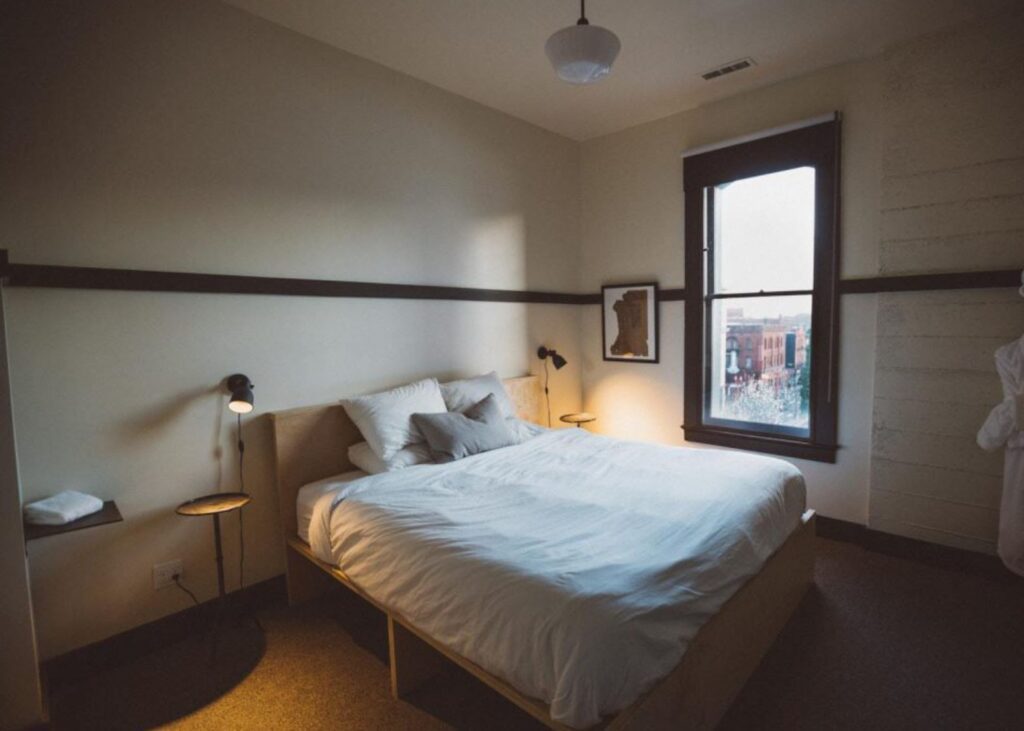 We stayed at the Society Hotel on our very first trip to Portland many, many years ago when we were spring chickens, and we loved it. We'd stay there again in a heartbeat. It's technically more in Chinatown, but it's just a few blocks away from all the action, and will put you in the perfect place to explore the city.
The thing that we liked about the Society Hotel is that it has a range of rooms for different styles and budgets.
They have hostel-style bunk rooms, which are perfect if you're on a tight budget, or if you're looking to meet other travelers while you're in town. Each bunk comes with privacy curtains, a charging station, and a storage locker.
We stayed in a private room with a shared bathroom (they also have rooms with private bathrooms), and were pleasantly surprised that the bathroom, while separate, was a single-occupancy bathroom (not one with multiple stalls and showers). If you're looking for more of a traditional hotel stay, this is the right pick for you.
They have a cool rooftop bar with great views over Portland, which is a great spot for a nightcap, and a coffee shop in the lobby (but why would you want to get coffee there, when there are so many amazing coffee shops in Portland?).
The Hoxton: The Most Stylish Hotel in Portland?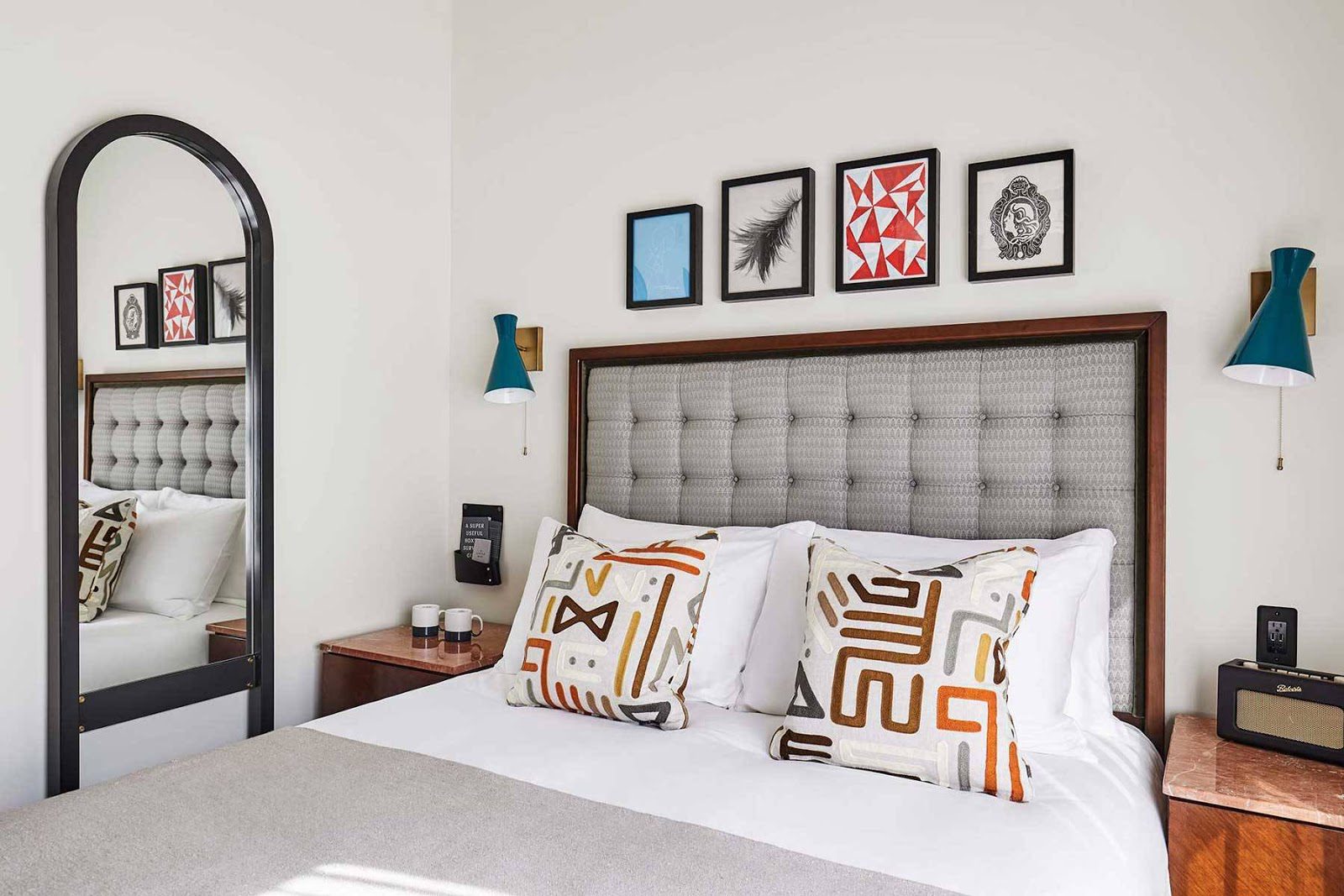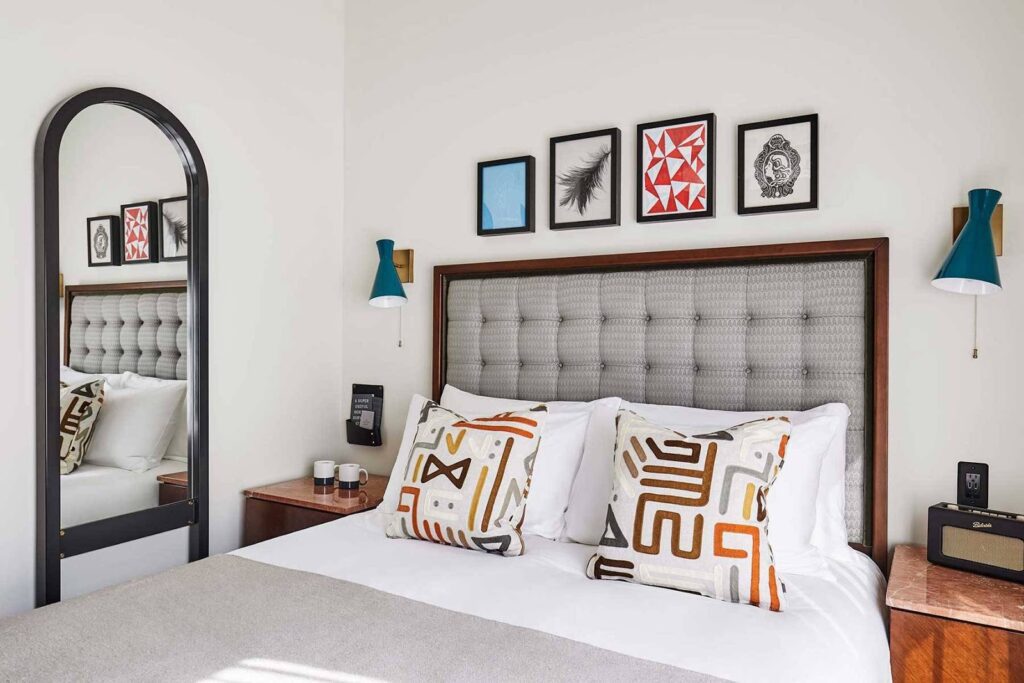 We really like the idea of the Hoxton, which you can find in cities around the world, though we only discovered them relatively recently and haven't actually stayed in one yet. However, they're on our list for some of our upcoming trips. It's one of the coolest hotels in Portland, at least according to…us.
The reason we like them is that they offer a unique combination of style and affordability thanks to their meticulously designed rooms that bring in inspiration from the city they're in – in this case, rich timber paneling and Pacific NW modernist design. The ceramics in the rooms are even handmade by a local artist from Portland!
They have well laid out rooms of all sorts of sizes. If you're traveling solo and don't really need that much space (since you'll be out exploring anyway), they've got their Shoebox rooms.
Couples have several options here, depending on your budget and how much space you need, from their Snug rooms (120 sq. ft.) all the way up to their Roomy rooms (270 sq. ft.).
Traveling with a group of 4? Some of their Roomy rooms come with two queen beds, giving your group plenty of space to spread out.
All rooms are dog-friendly too, so bring the pup and make a weekend of it!
Again, this hotel is on the border of Chinatown and Downtown Portland, but it's plenty central to be a good home base.
Central Eastside: Best Combination of Location, Walkability, Amenities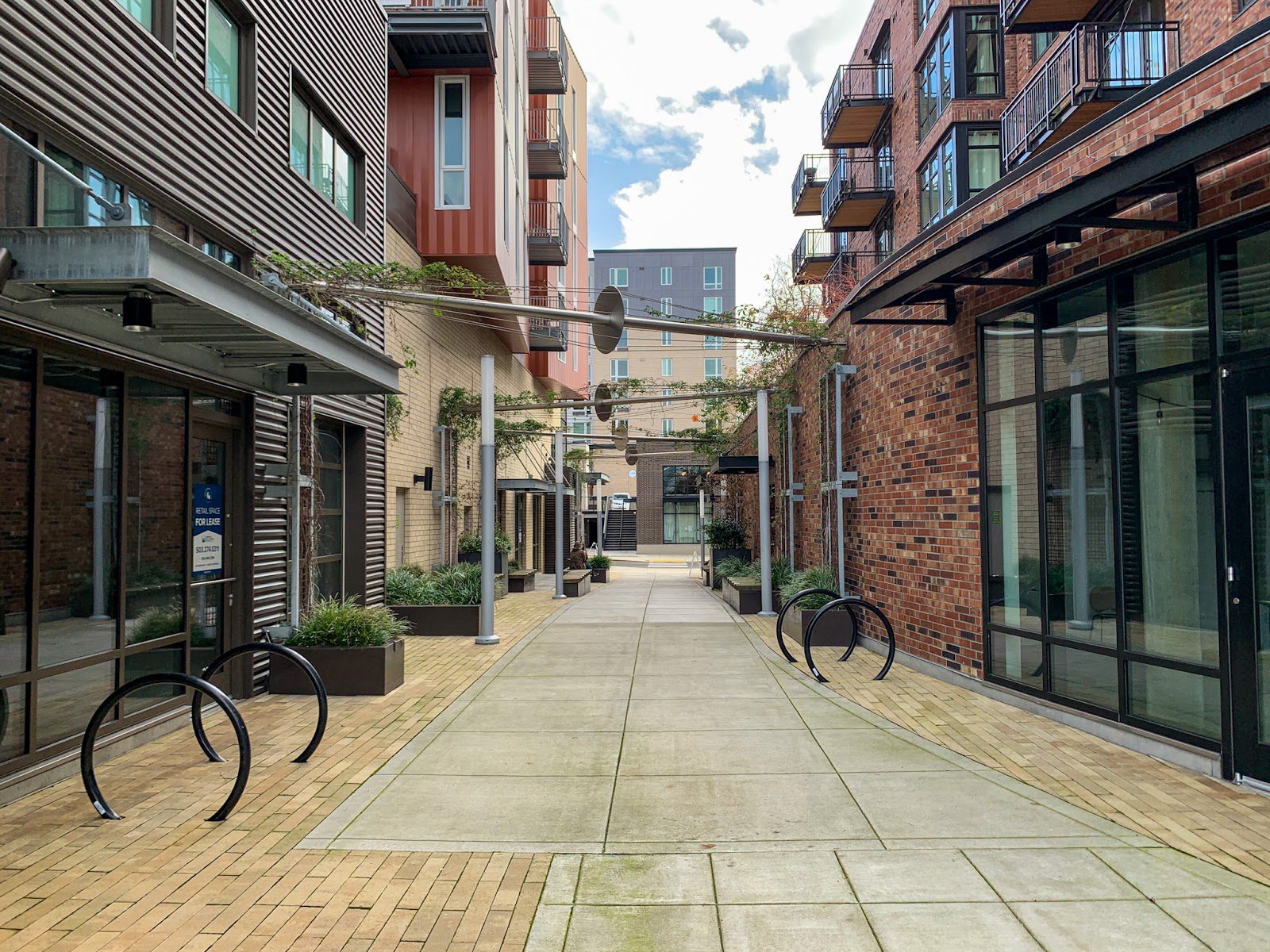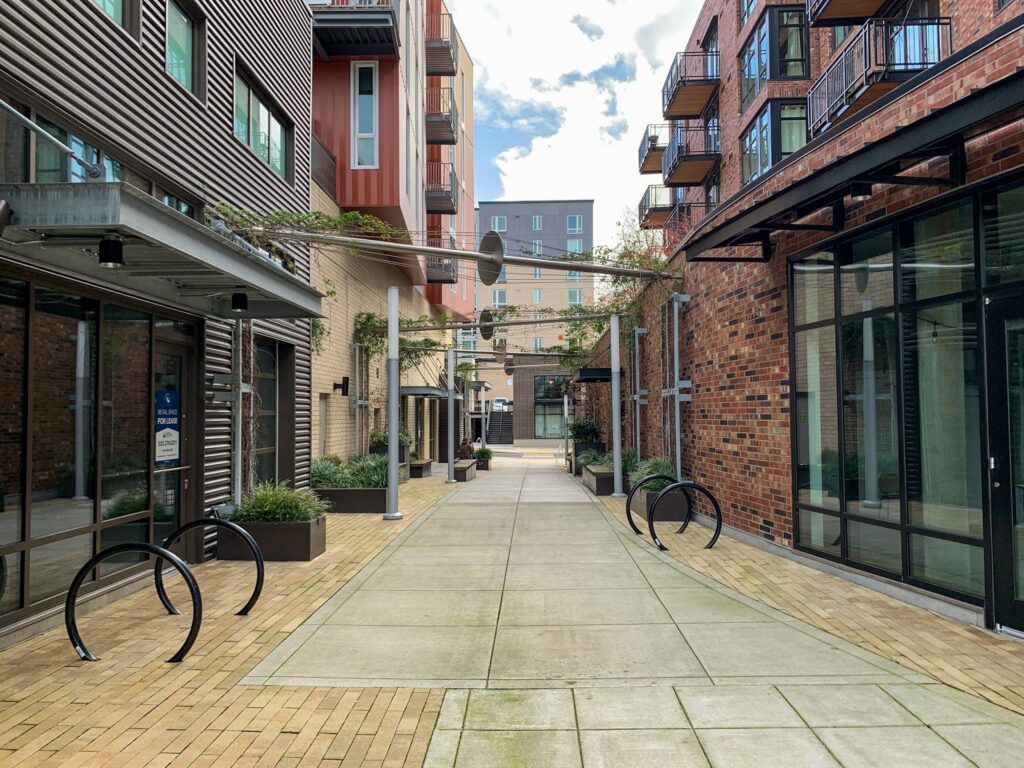 In our humble opinion based on our experience as tourists in Portland (including the five week stint where we lived on the border of this area), this is our top recommendation for most people visiting Portland. I
t's tucked between downtown Portland, which is just across the river (about 1.5 miles away), and the amazing stretches along Hawthorne, Belmont, and Division that are a must-visit during your time in Portland. Plus, there's a really, really solid selection of food and drink within the Central Eastside, and a few excellent hotels.
For the purposes of this guide, we're going to consider the Central Eastside to be anything between:
Division Street at the southern border
Glisan on the northern border
20th Avenue at the eastern edge
The Willamette River on the western side
This area encompasses sub-neighborhoods like Ladd's Addition, which we're including within the Central Eastside because it fits the description of central, walkable, and plenty of bars, restaurants, coffee shops, and more.
If you want to be as central as possible, stay closer to the river, and further north (between Belmont and Burnside). Don't worry, we have specific places to stay below.
Pros & Cons of Staying in the Central Eastside
Pros: It's about as central as you can get, roughly equidistant between Downtown Portland, Hawthorne and Division, and Northeast Portland (Alberta Arts and Mississippi). It's walkable. There are tons of spots to grab local beer and cider, and plenty of restaurants. And there's a nice selection of hotels and vacation rentals.
Cons: If you want a vacation rental, you'll have to look slightly outside of the riverfront area (either in Ladd's Addition or Buckman), which is a little less central. That being said, we've personally stayed in that area two times, and it's still a fantastic location.
Central Eastside Highlights
Here are some of our favorite spots in this neighborhood.
The Best Places to Stay – Central Eastside
The Central Eastside is a little less residential than the areas immediately north and south, which means there are actually some cool hotels here. It's also relatively close to Downtown and the Pearl, which means you'll be able to walk across the famous Burnside Bridge (the one with the light up Portland sign) to access some of the more city-like parts of Portland, if you want.
There are a few cool hotels here that you should look at.
Jupiter NEXT: A Charming Boutique Hotel (Where We Stayed)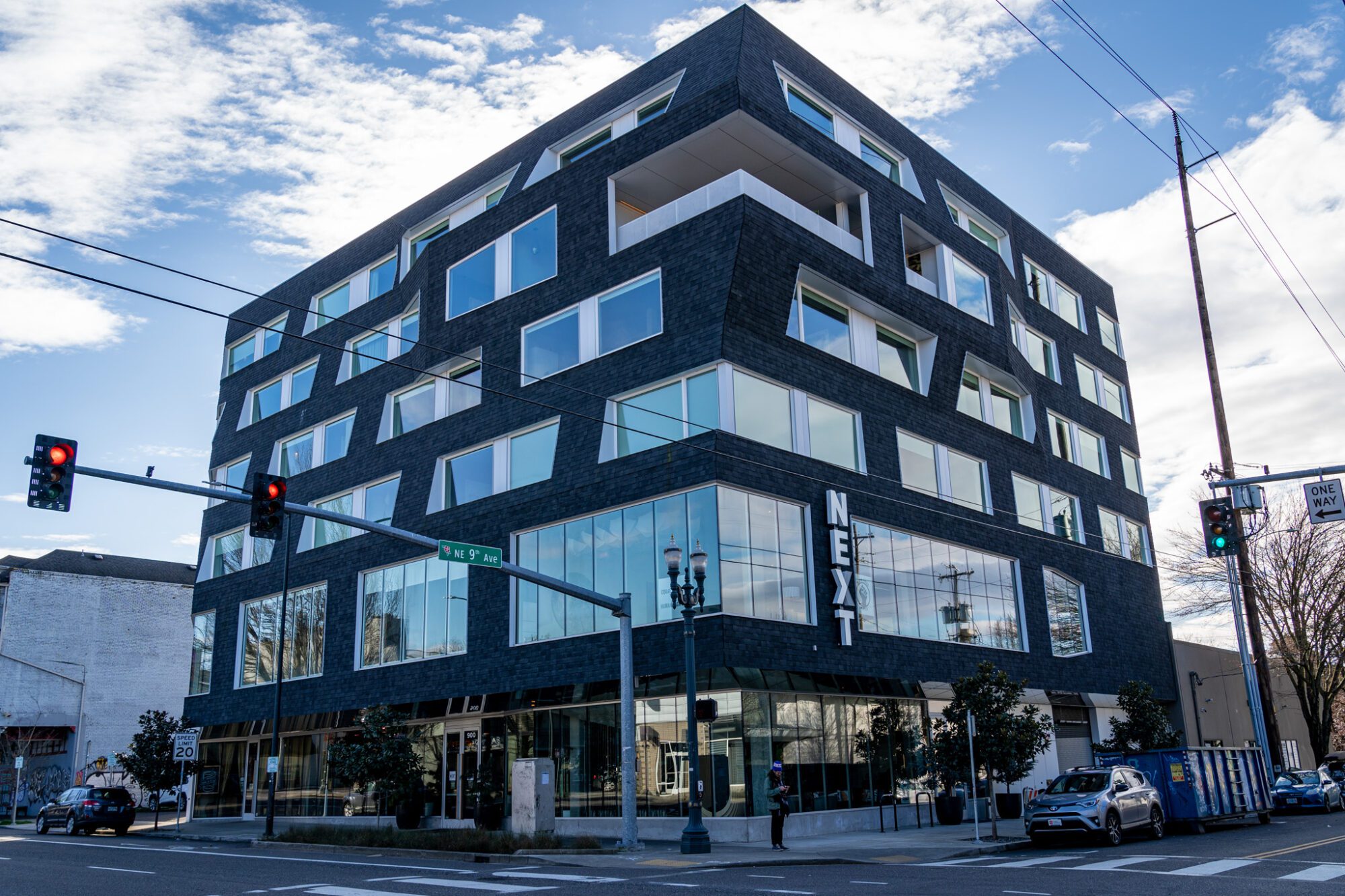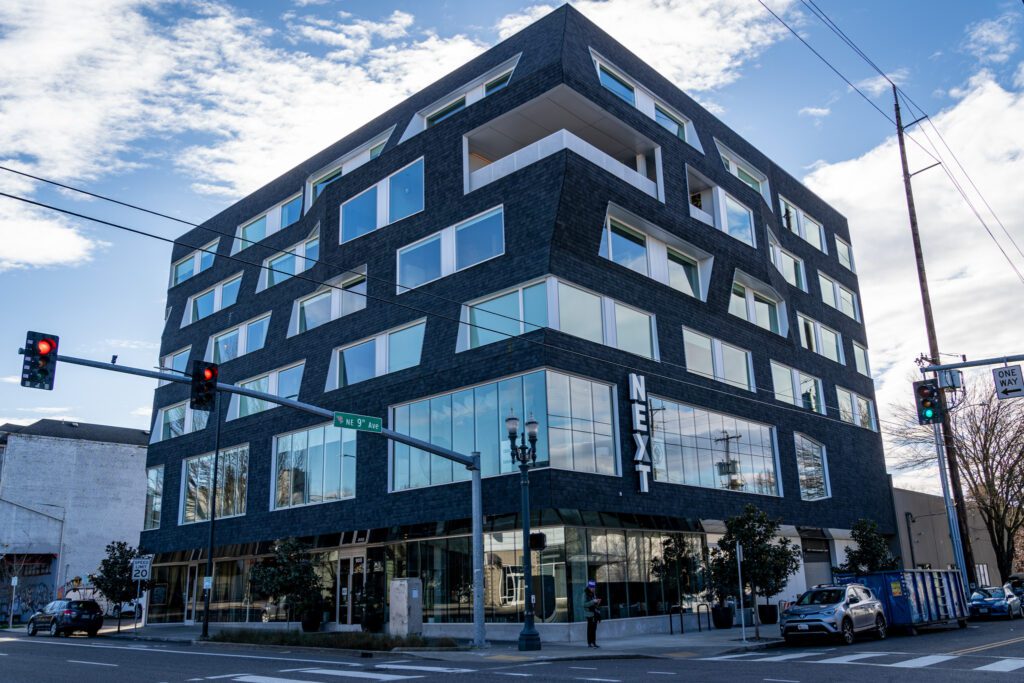 Note: If you prefer peace and quiet, this is NOT the place for you. The bar is serving drinks until 2am. If you're into that, stay here. If not, definitely don't.
On our latest trip to Portland, we decided to stay in a hotel on the Central Eastside because it was a short trip, and we were looking for something close to downtown (for Powell's City of Books, mostly), but also close to our favorite places to eat and drink on the east side of the river.
There are a few options in the area, and we chose the Jupiter NEXT Hotel because it's super stylish, gets fantastic reviews, and is in a great location with a private, covered parking garage. Since we had a car as Portland was our starting point for an Oregon Coast road trip, that was important to us.
The hotel itself is modern, having been built relatively recently, and is in a fantastic location on Burnside Street. You'll be able to walk to downtown (we did), and the industrial area of the Central Eastside where you'll find amazing bars, restaurants, and breweries, among other things (we also did this).
The rooms are surprisingly large, and are decorated in a simple but stylish way, like the cool piece of art hanging over the bed that shows the different elements of the city, boasting stunning views of the Portland skyline.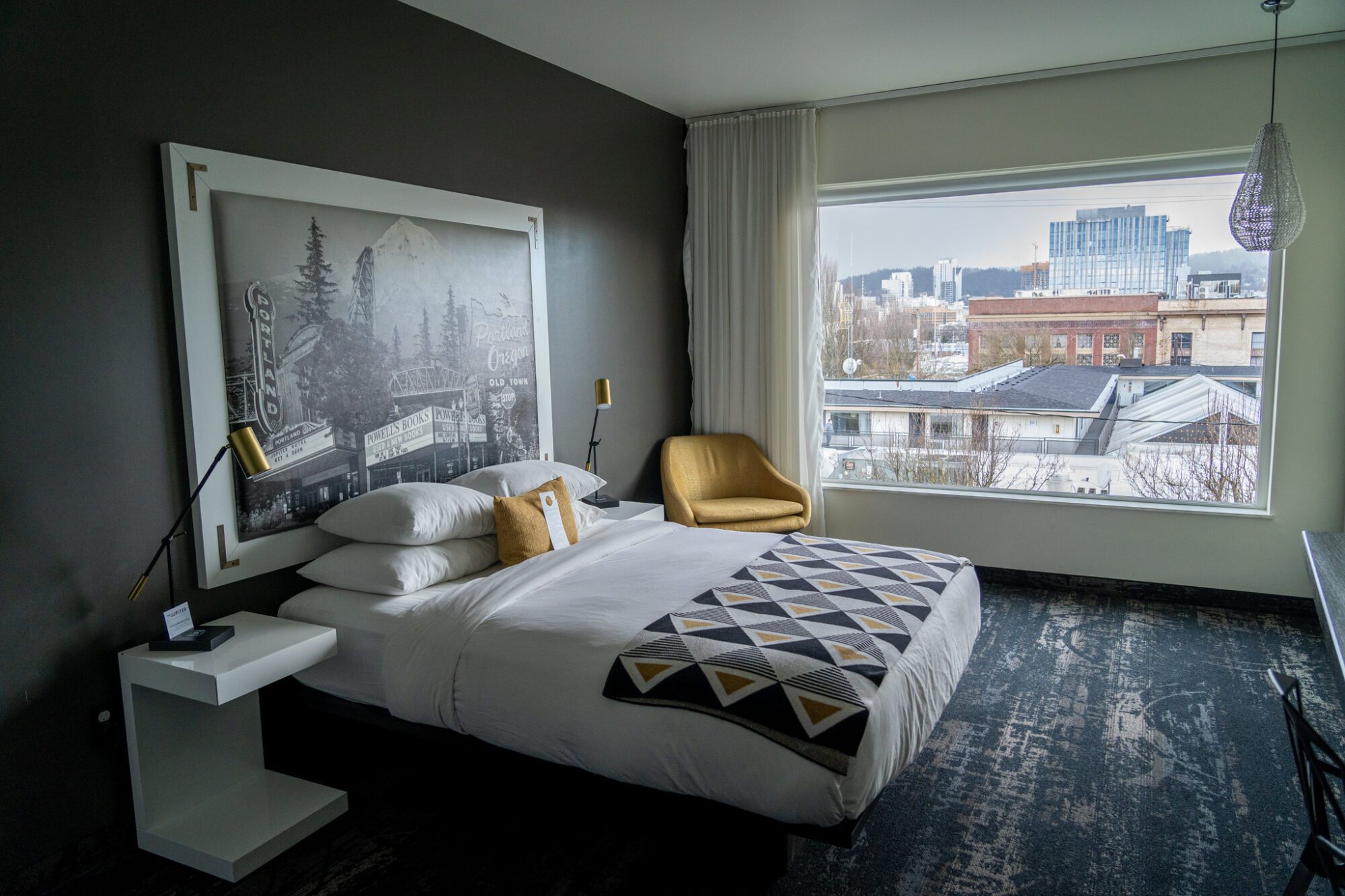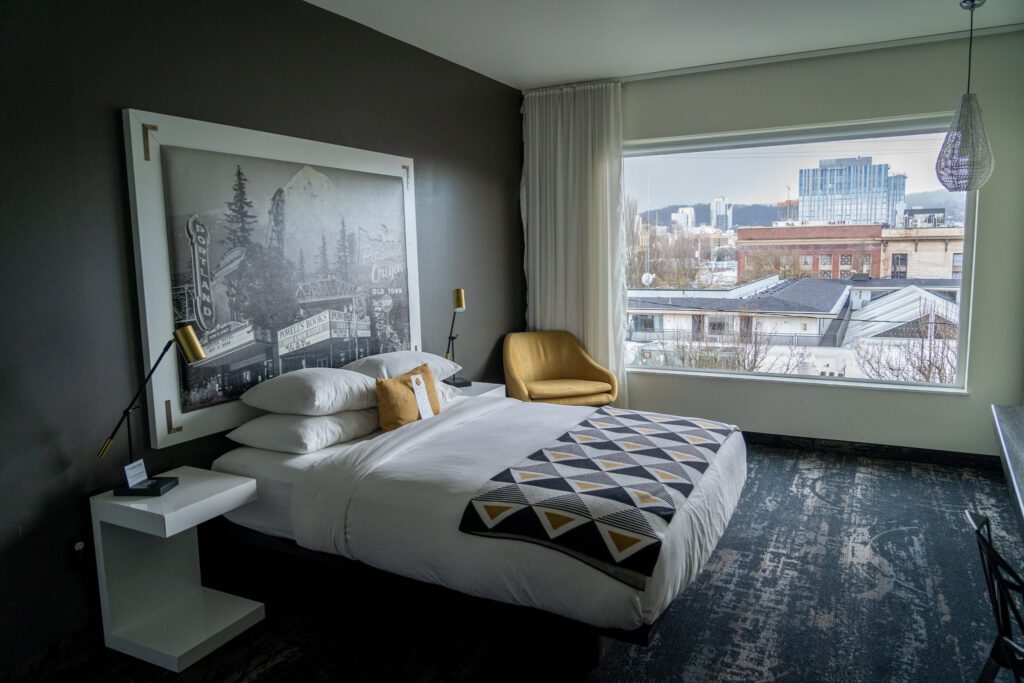 Over the course of the weekend, the staff stood out as particularly friendly, greeting us every time we walked through the doors, to chatting with us about everything from the weather to breweries in Portland.
We'd recommend staying here, though you should know that it's definitely not the cheapest option in Portland. If you're looking for a more affordable stay, check out the Kex and Lolo Pass (both are below), which are in a similar area, but are a little more affordable.
The feather in its cap, however, is the onsite bar and restaurant Hey Love, which is open for all meals and stays open until 2am to serve cocktails. While there are plenty of options on the menu for all meals of the day, brunch is a must do!
Kex: A Social Hostel/Hotel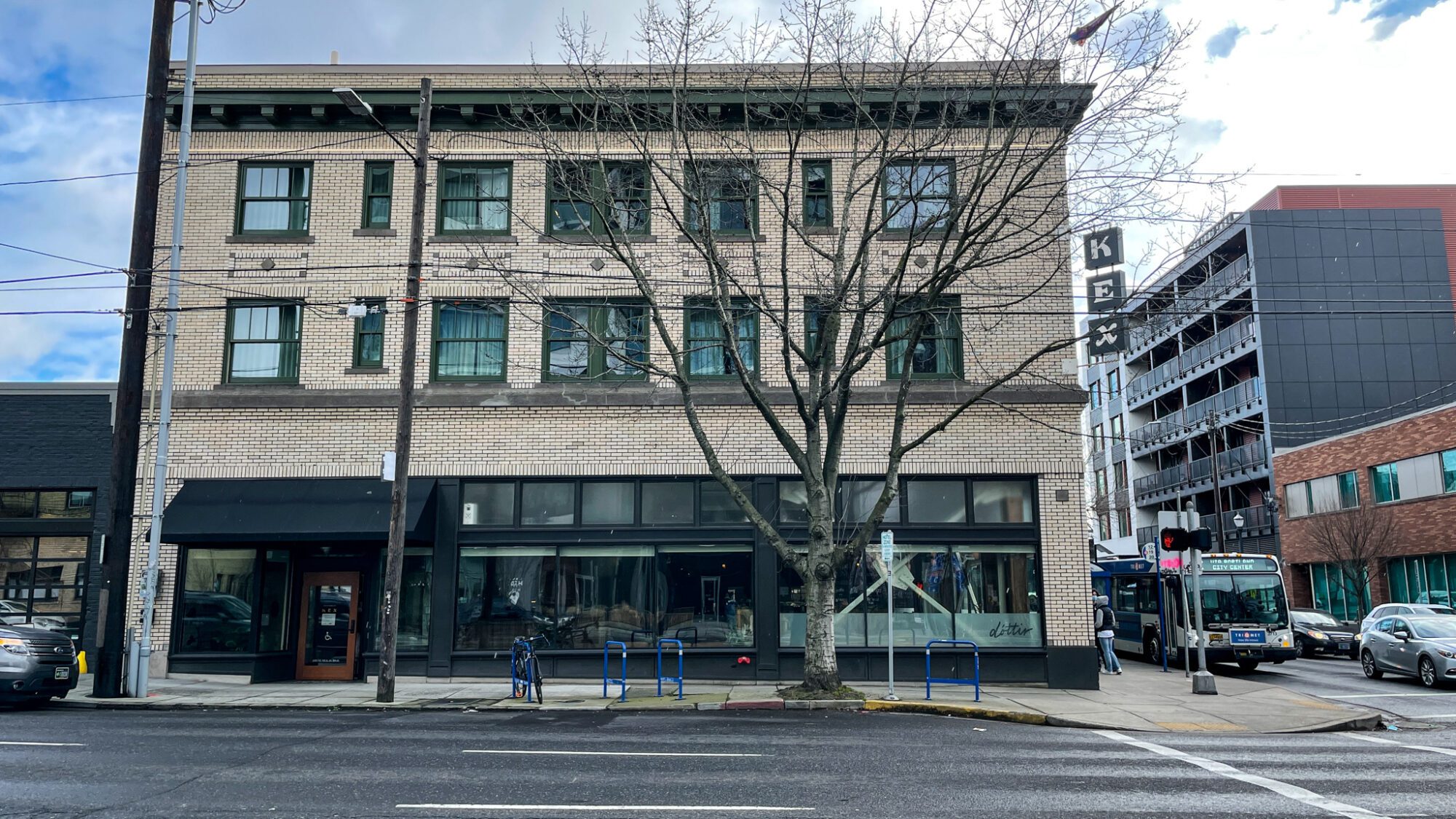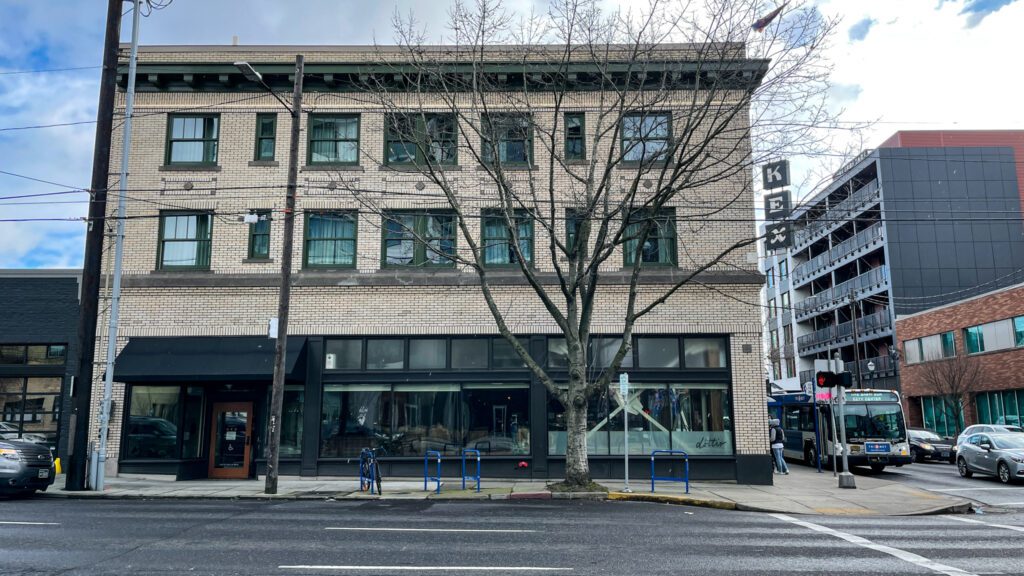 The Kex – a newcomer in Portland – intrigues me. It's kind of like the Society (mentioned below), with a combination of private and shared rooms that gives off distinct "boutique hostel" vibes. We love boutique hostels, which we've gravitated towards over the years because of the kitchen facilities you usually find, so it's no wonder Kex caught my eye.
They have private rooms with ensuite bathrooms, and shared rooms if you're on a budget or feeling social.
Private rooms are available with bathrooms, or with a shared bathroom down the hall (at a lower cost, of course). They have rooms with Queen and King beds, along with family rooms that have one big bed and two bunk beds, sleeping six, which would be a good choice either for families, or for groups that don't mind sharing space.
For shared rooms, you'll be able to choose between 4, 6, 8, and 16 beds per room. There's also one female-only 8 bed room. Bathrooms are either attached (8-bed rooms are ensuite), or a short walk down the hall. You'll have plenty of storage space for your belongings, including two drawers and a locker.
The Hotel Grand Stark: Luxurious and Sophisticated Hotel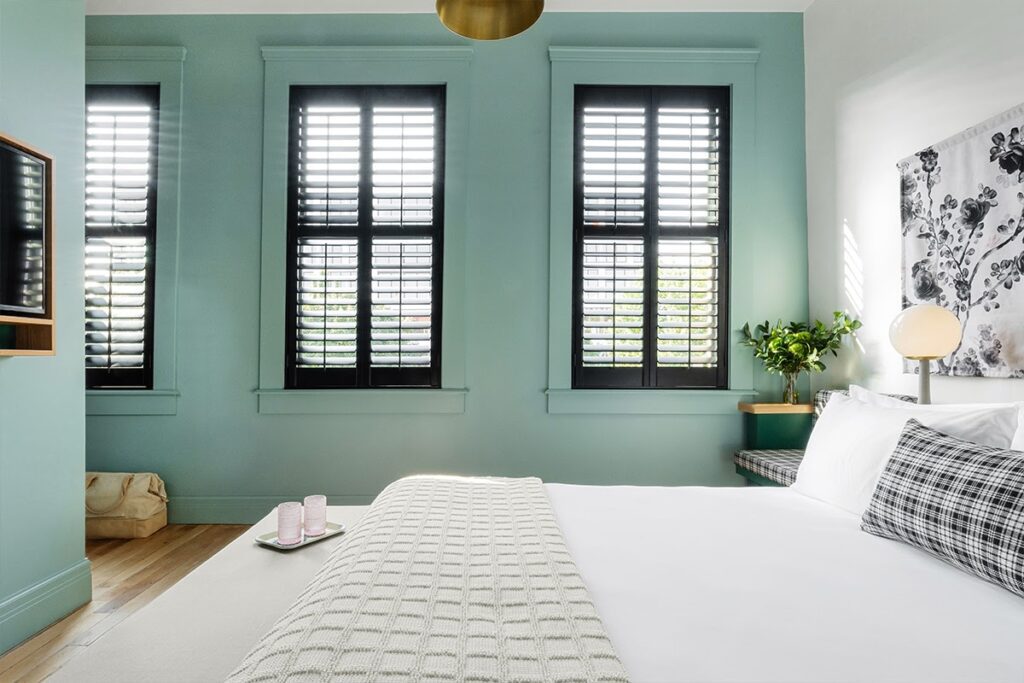 At the Hotel Grand Stark, they've taken an older building and restored it, bringing in modern touches that give a nod to the history of the city, but create a more modern, inviting space for travelers in Portland. Rooms are thoughtfully designed, with Nespresso machines and mini-fridges, with a few touches of luxury like those soft, plush bathrobes.
It's right in the middle of all the action in the Central Eastside, so the location is pretty great. Choose from Double, Queen, or King rooms depending on how much space you need, and how many people are in your group.
It opens in May of 2021, so it's quite literally brand new.
Lolo Pass: A Great, affordable Option in a perfect location
Lolo Pass is another relatively new place in Portland that blends the social aspect of hostels with the style and comfort of boutique hotels. They have a mix of dorm rooms – choose between four and eight beds – and private hotel-style rooms. They have a shared bathroom with single-occupancy lockable toilets and showers, and you'll get a private locker for your stuff.
Private rooms come outfitted with either a queen bed or two twins. All of their private rooms have private bathrooms.
They have hostel-esque amenities onsite, like a shared kitchen, a laundry room, and a plethora of events that will help you connect with other travelers and explore Portland together. Like rooftop movie nights.
If you're looking for a budget-friendly option in Portland, this is a good place to start.
Vacation Rental for Couple: Sparkling Studio in ladd's addition
Studio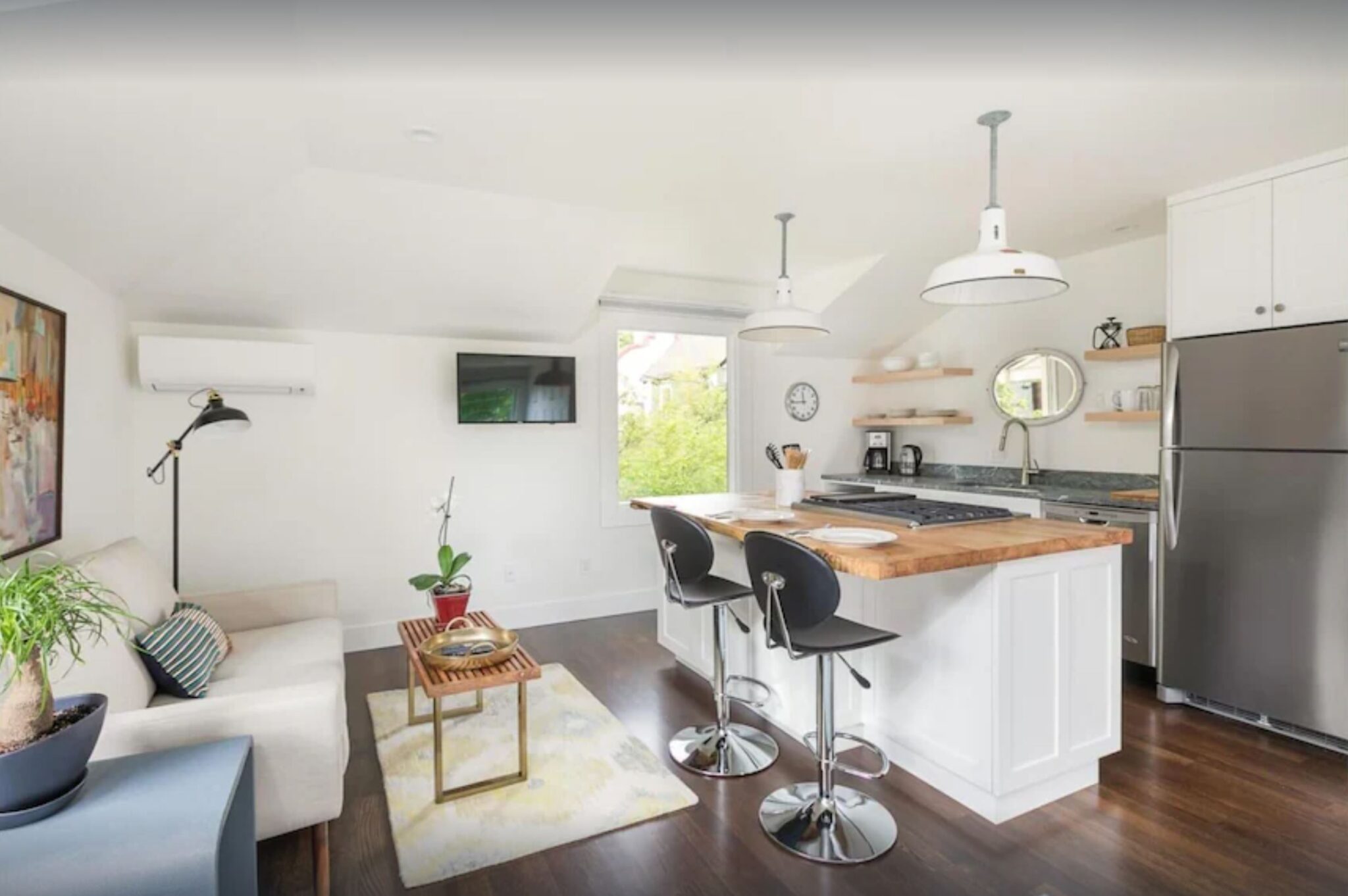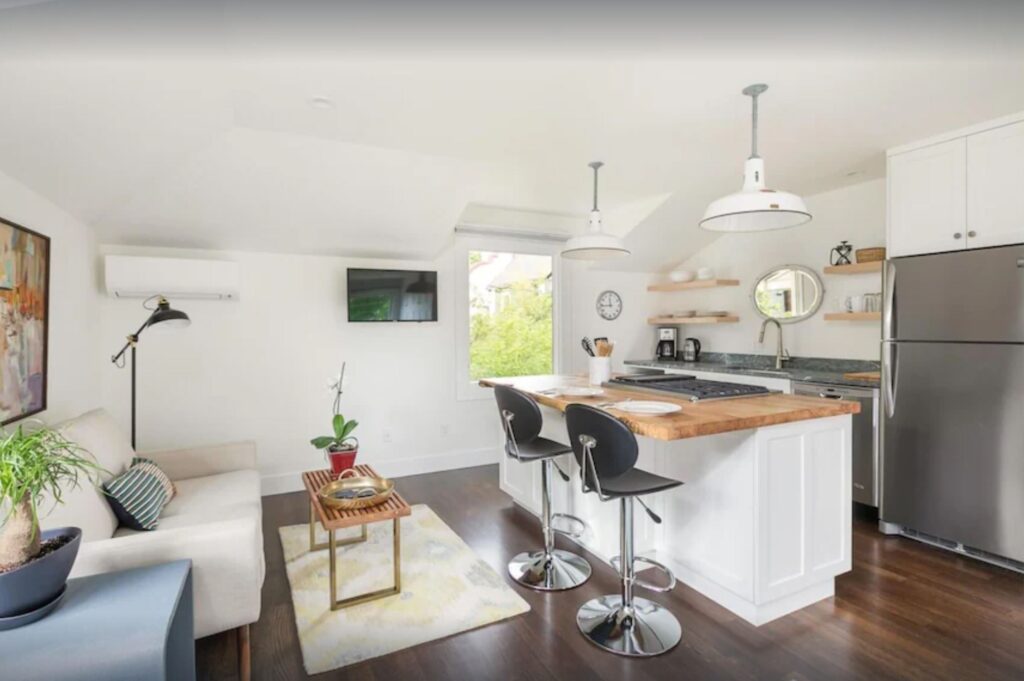 We love Ladd's Addition, and this bright and airy studio would be a perfect home base for exploring Portland in a weekend. It's residential, but close to both the Central Eastside and Hawthorne. The studio itself is above the garage, and features an open floorplan with a kitchenette (gas stove + microwave + fridge), nice island, and a couch, along with the bed.
You'll have to park on the street, but that's not going to be terribly hard in this more residential part of Portland.
Definitely don't miss Teote (arepas + cool outdoor patio) and Upper Left Roasters (some of the best coffee in Portland) which are both nearby.
Vacation Rental for Couples: Backyard Eco-Cottage
1 bedroom / 1 bathroom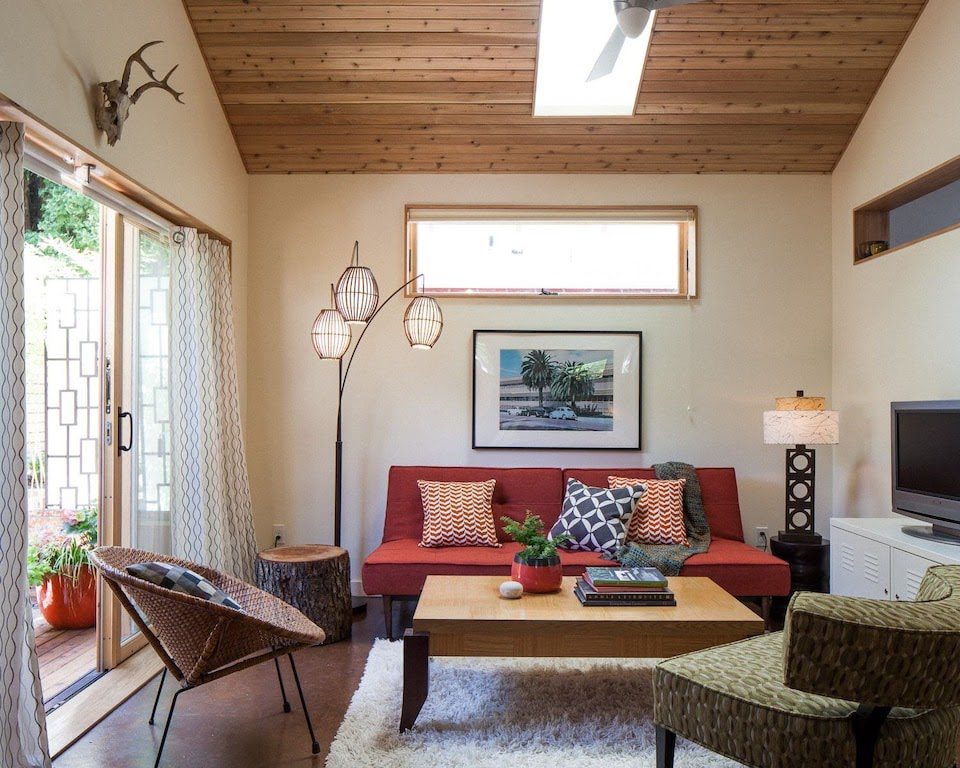 This backyard eco-cottage is compact, but is a perfect choice for couples visiting Portland. It's right in the heart of Ladd's Addition, which puts you in a good spot to explore Belmont, Buckman, Division, and Hawthorne.
It has one bedroom, a full kitchen, and plenty of skylights to bring in ALLLL the natural light. It's a super cool spot with carefully selected furniture and bedding from eco-friendly vendors, and has a nice outdoor patio that is all yours while you're there.
Vacation Rental for Groups: Dog-friendly Condo w/ Fireplace & Amazing Location
2 Bedrooms / 2 Bathrooms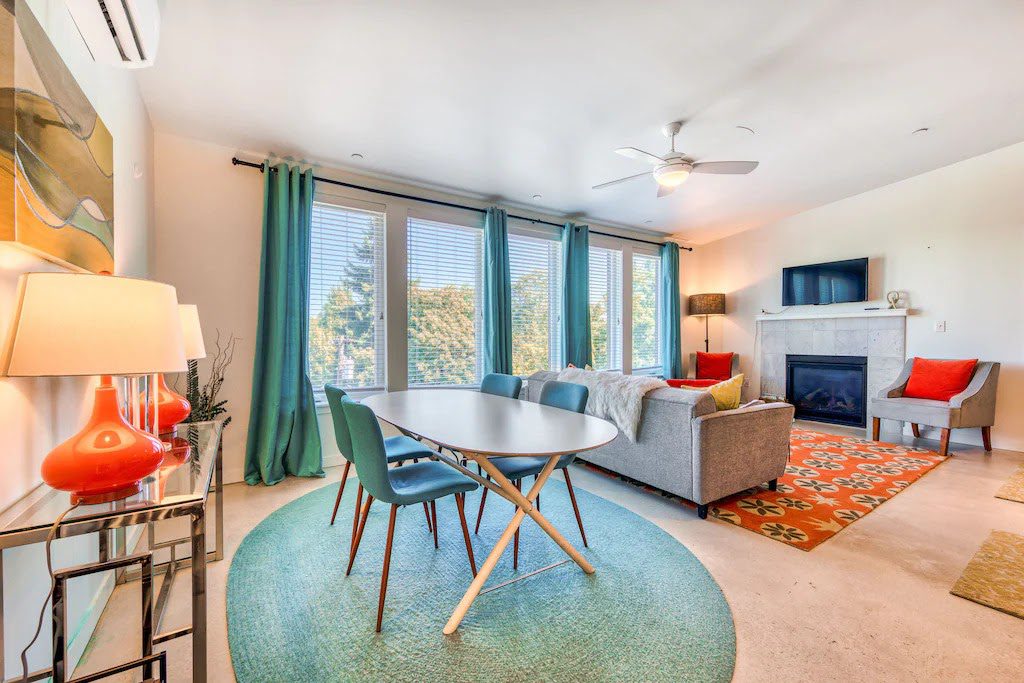 Located on Burnside Street a few blocks away from all the action, this two bedroom condo is a perfect modern getaway. It sleeps four, with two bedrooms – one has two twin beds, the other has a king – and two bathrooms and plenty of space in the common areas to spread out and relax.
Light-filled and colorful, the apartment is also dog-friendly, so you can bring the pup (up to two of them). There's a cozy fireplace, and a full kitchen with just about everything you might need to cook a meal for the group (or just make a quick breakfast before you head out to explore for the day).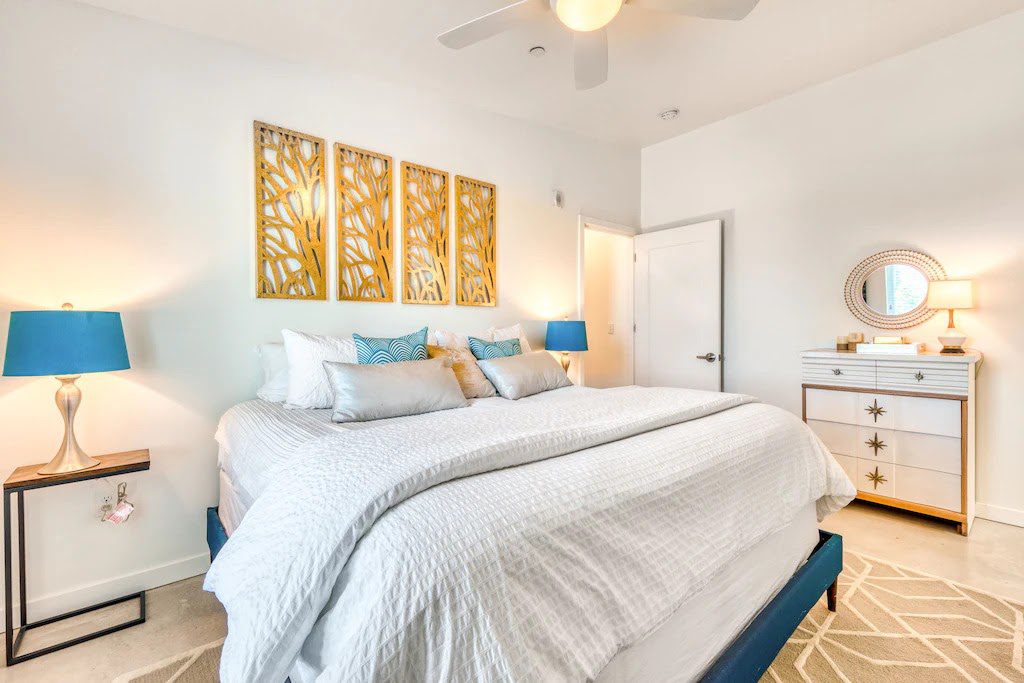 No parking onsite, but street parking isn't too terrible in this part of Portland. If you're arriving without a car, there's a bus that runs downtown along Burnside, which is right outside your front door.
The Pearl District: Central, Walkable, and Charming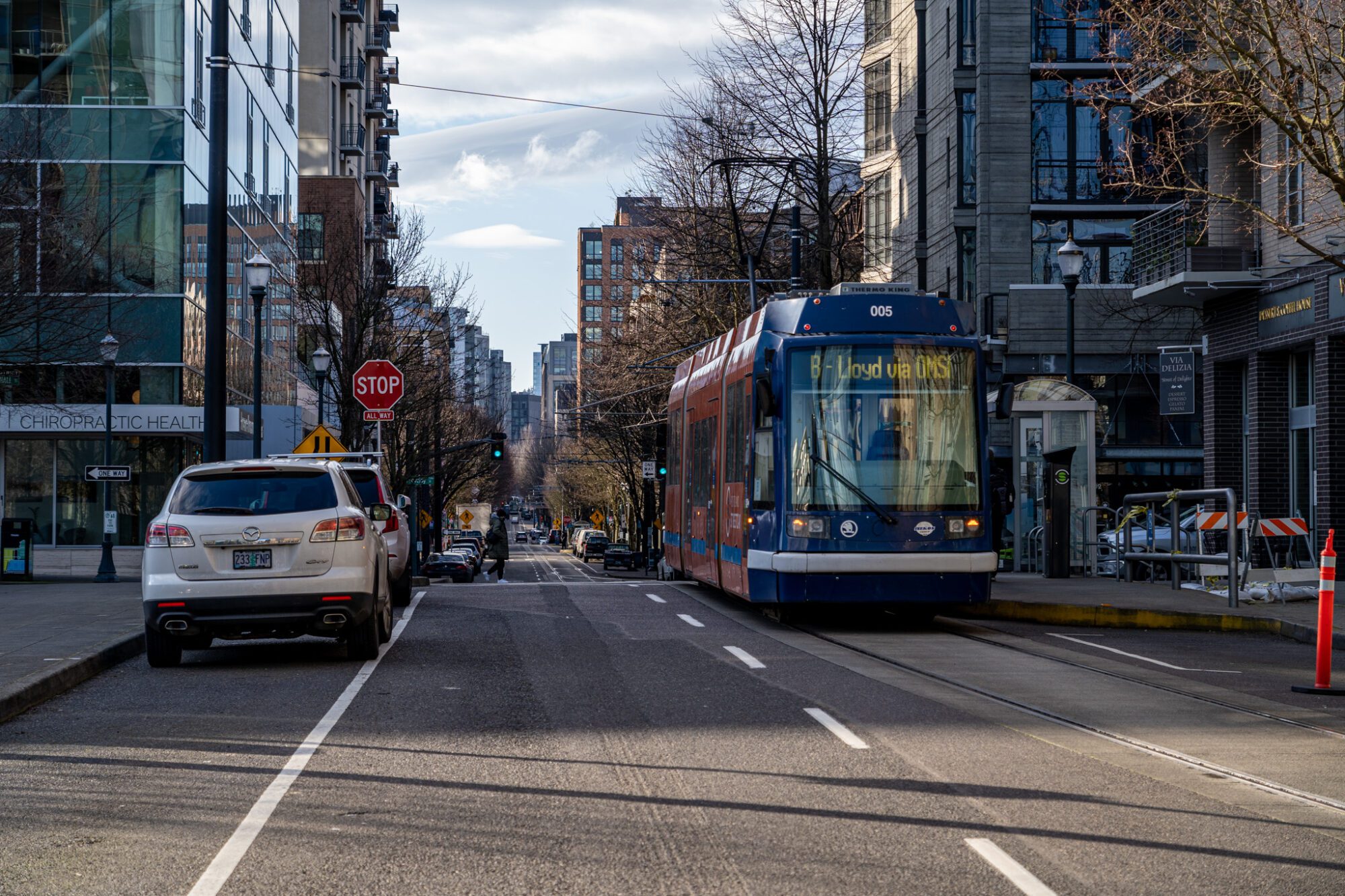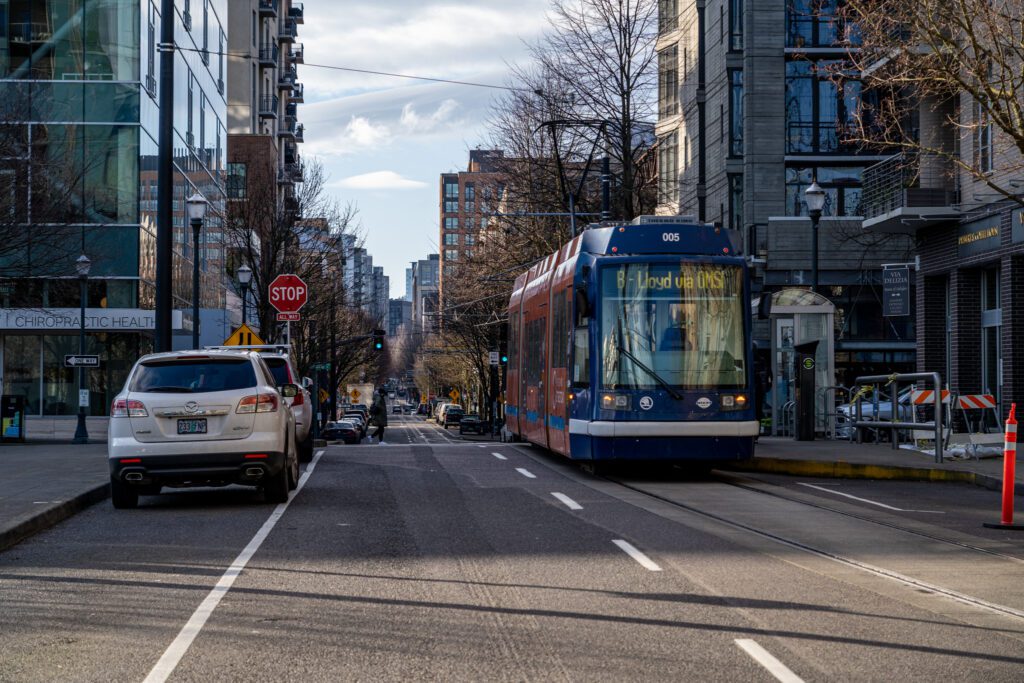 The Pearl District is just north of Downtown Portland, and is a quickly changing former industrial district – hence the brick buildings and industrial-chic vibes – that has become one of the more upscale parts of Portland. It's becoming land of the high-end condos and high rise apartment buildings, but that doesn't mean there aren't cool places to eat and drink, or that it isn't a nice place to stay if you're visiting Portland.
As Alysha put it on one of our more recent trips, it has the highest rates of both Lululemons-per-capita and Barry's Bootcamp locations per capita in Portland.
That being said, the location really couldn't be better – it's walkable to downtown, but is a bit removed from some of the less pleasant parts about downtown Portland like traffic noise.
Pros and Cons of the Pearl District
Pros:
It's central. You can walk to both downtown and the stretches of 21st and 23rd street in northwest Portland.


It's charming. Tanner Springs Park, at the north end of the neighborhood, is one of the cooler parts of downtown Portland. It's a little oasis in a sea of high-rises, with a nice little natural habitat being preserved in the face of so much development.


It's full of places to eat and drink. Even if you exclude everything that is nearby, but technically outside of the Pearl's borders, there's still a ton to eat and drink here. From coffee to beer, from fine dining to hole-in-the-wall sandwich shops, you'll find a bunch of places that are worth your time.
Cons:
It's a little lifeless. I know I said it's charming, and it is in some ways, with historic brick buildings that have been transformed into boutiques, offices, and trendy new restaurants. But it's also a little, I don't know, lifeless. It doesn't feel like real people live in this area, even though they definitely do.
Pearl District Highlights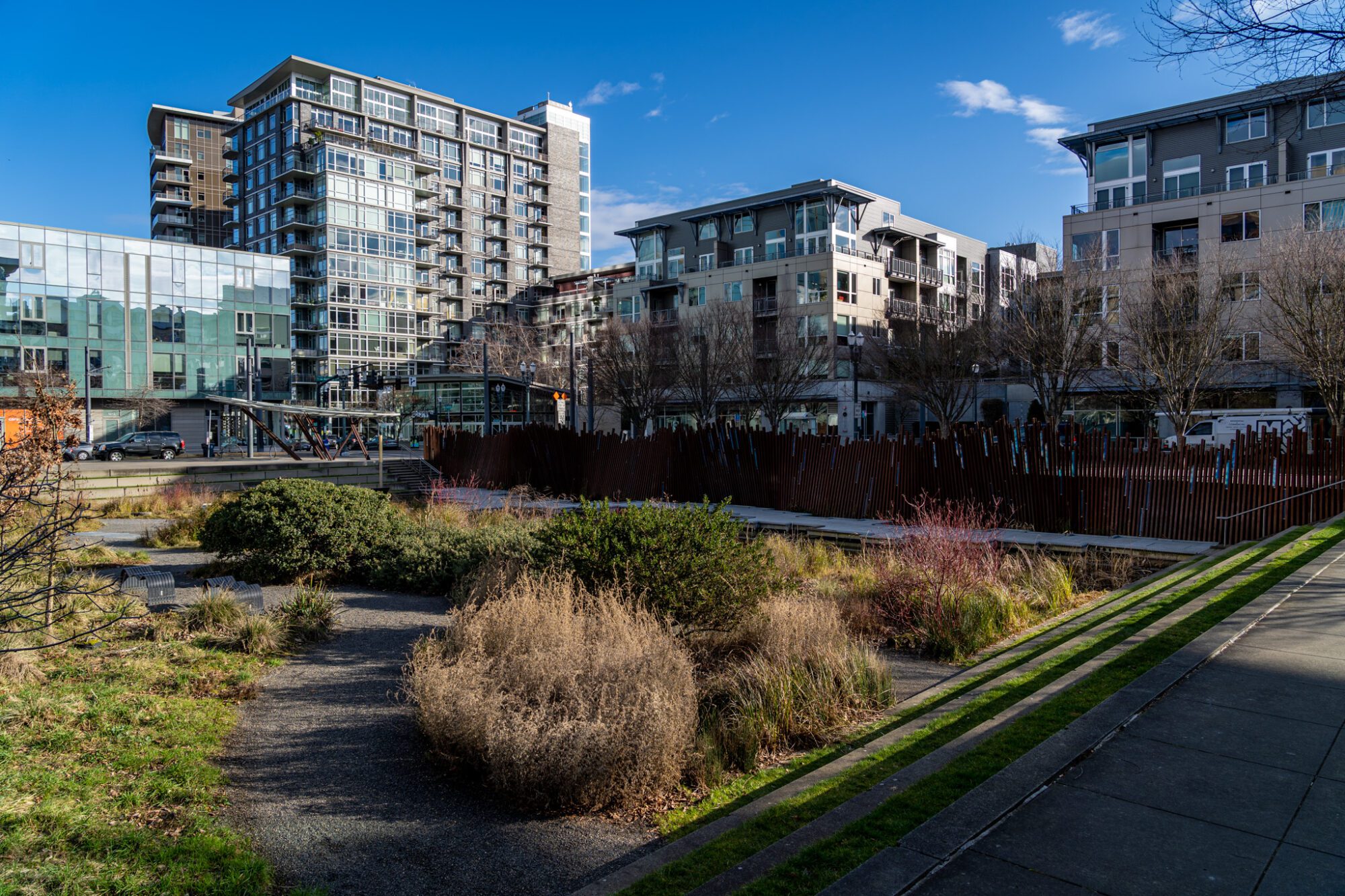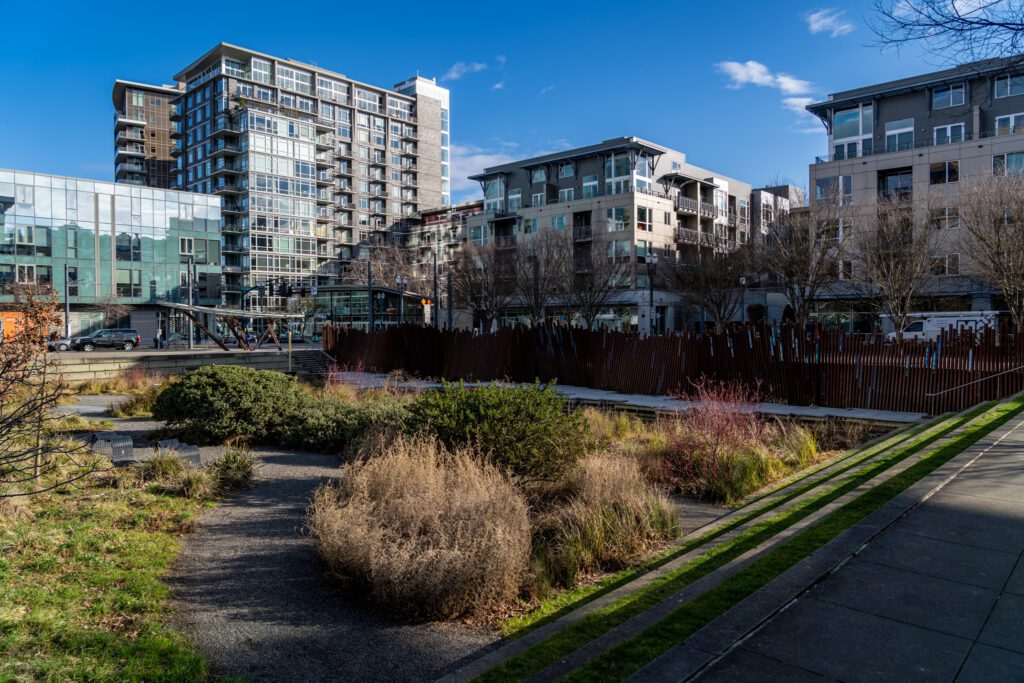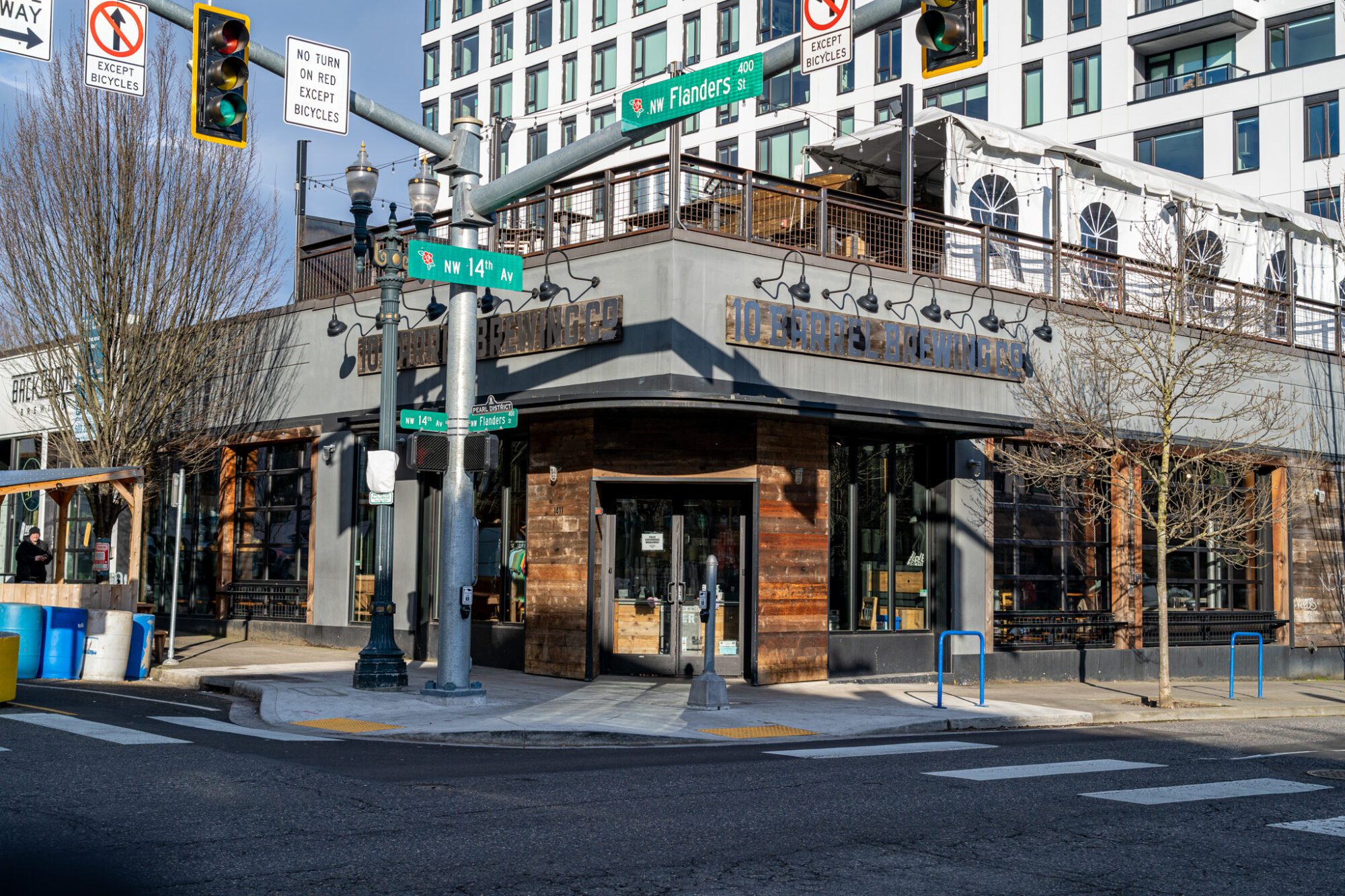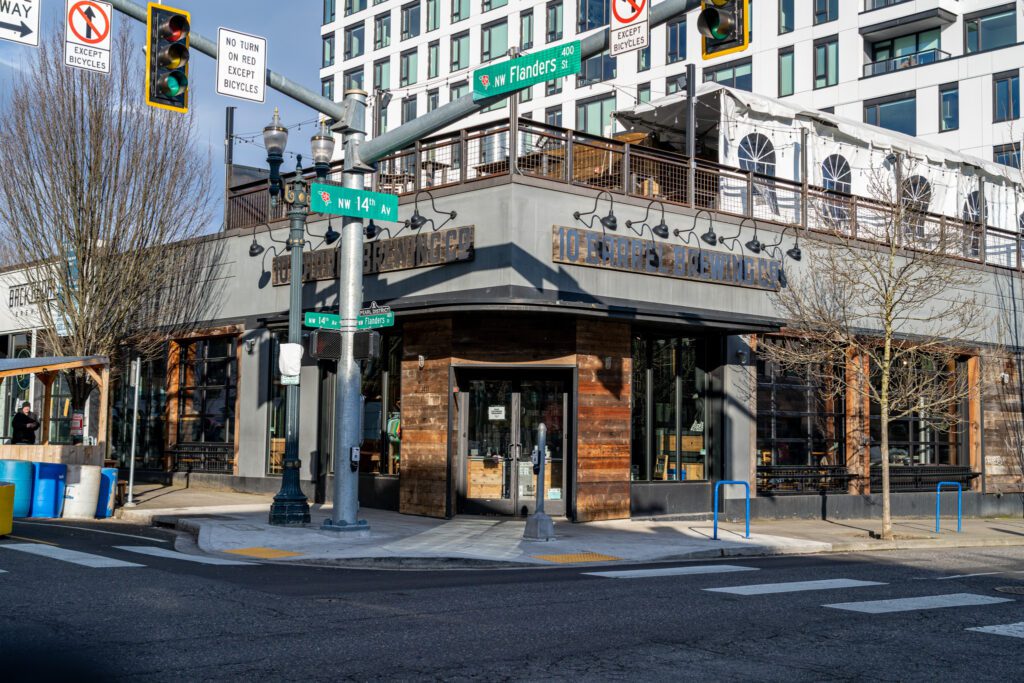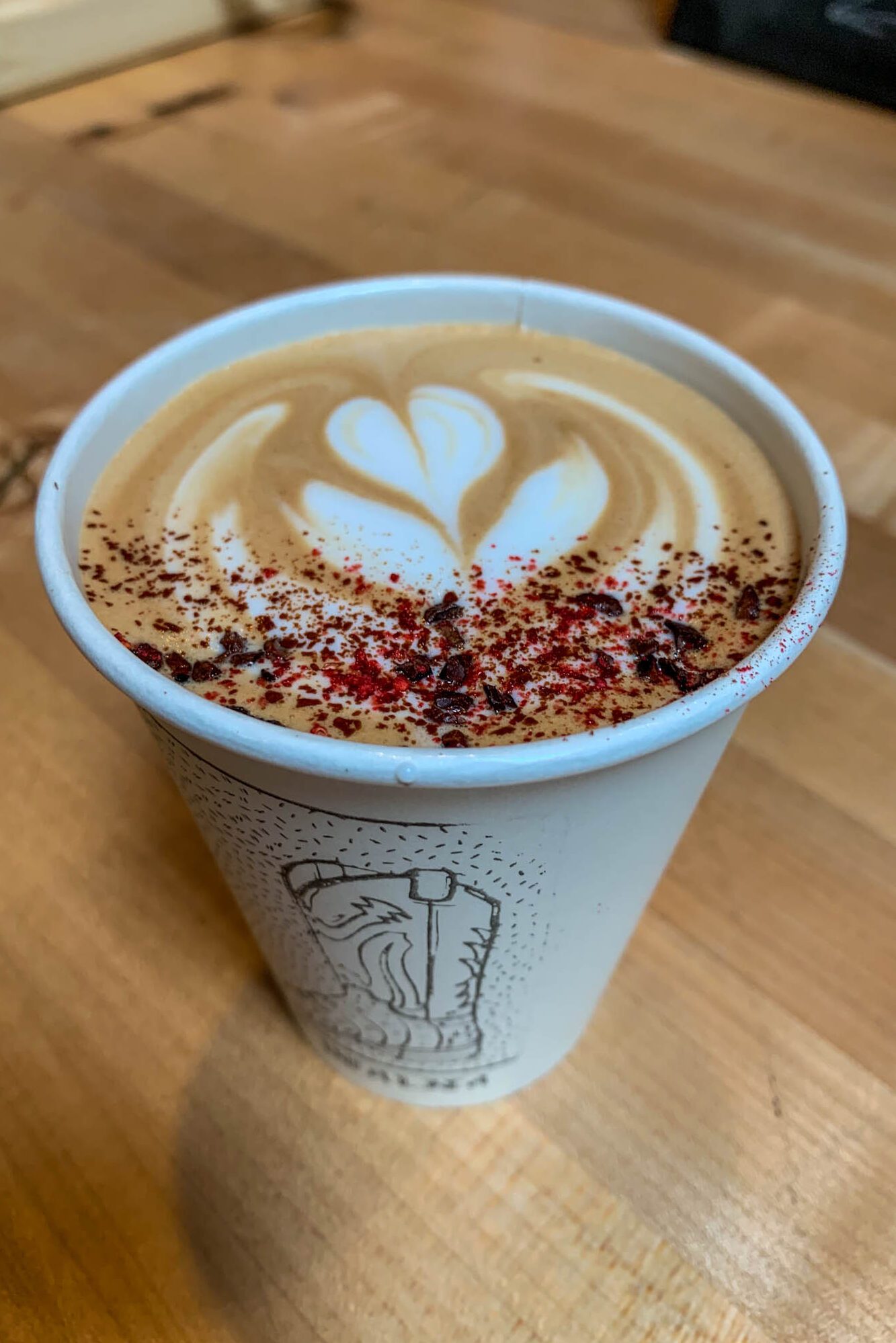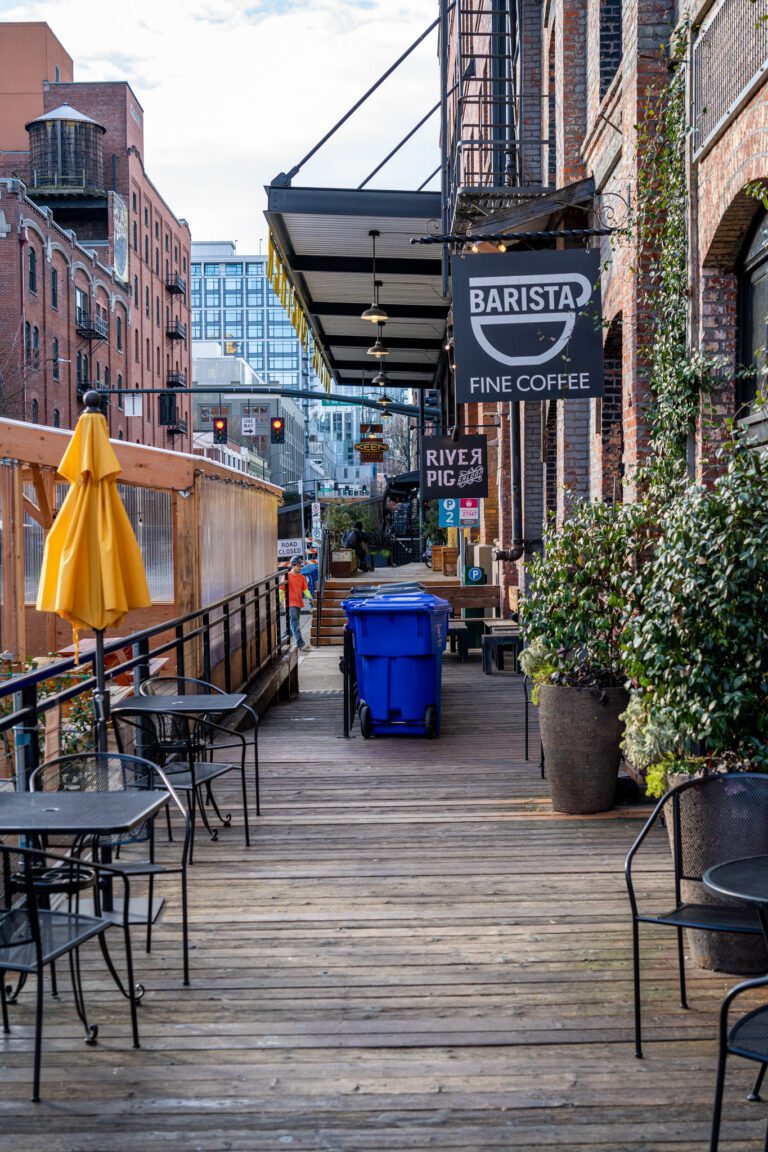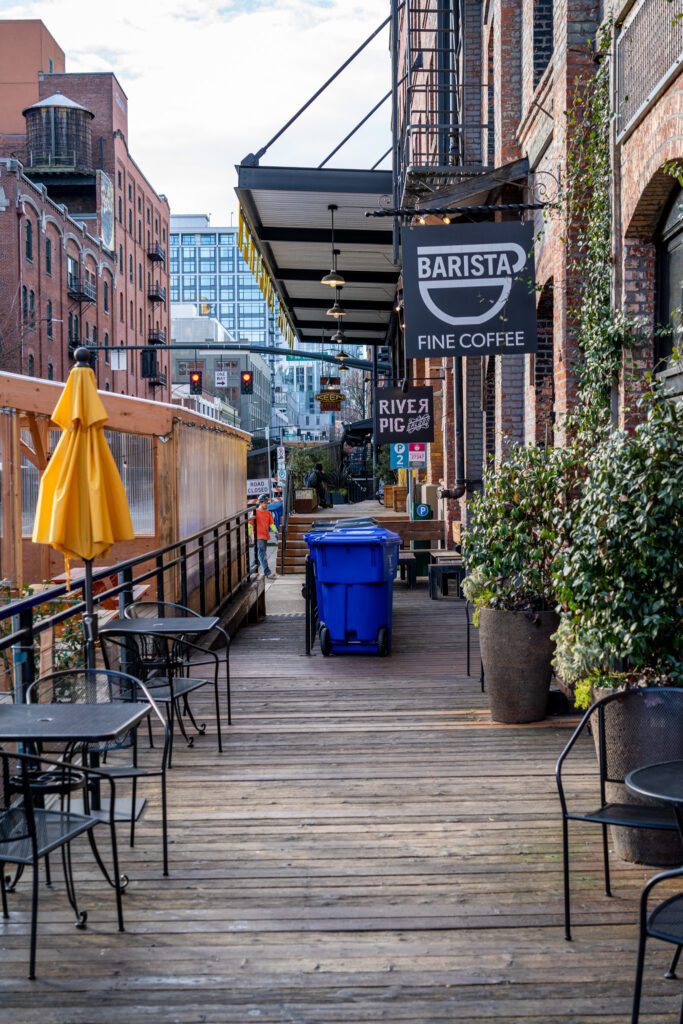 The Best Places to Stay in the Pearl District
One of the downsides of the Pearl District is that there really aren't that many places to stay, and those hotels that do exist are parts of global chains, which means they're not necessarily the most unique or interesting.
There are basically three places in the Pearl District that are worth a look.
The first two – the Hampton Inn and Suites and the Residence Inn, are nothing special, but are in a good location with comfortable rooms at a surprisingly affordable rate.
The third, we think, is worth a write up…
The Canopy by Hilton Portland Pearl District
What happens when a legacy hotel brand tries to compete with the newer boutique hotels that are popping up all over the world? The Canopy by Hilton is pretty much exactly that. It's a Hilton, but make it hipster.
That being said, this seems like a nice place to spend a few nights. The rooms are big by hotel room standards (300+ square feet is massive!), and they have a desk, a mini-fridge, an in-room Nespresso machine, and it all comes at a relatively affordable price (though it's not really cheap either).
The hero here is the common areas, which are designed to be open and inviting, and we think they accomplish that goal. Some are inside, some are outside, and there's a bar and cafe on the premises too. Plus, gym access!
They have onsite parking, but it's valet (which means it will be more expensive), though it does include in/out privileges.
Southeast Portland: Charming & Walkable (Our Personal Favorite)
This is our favorite neighborhood in Portland. We've stayed here nearly every time we've visited the city over the past few times (with one escape to the Alberta Arts District), and if we move to Portland, you'll (hopefully) find us here.
Where is "here" you ask? Division, Hawthorne, and Belmont are three main thoroughfares that cut west to east through a residential neighborhood. Between them, you'll find charming craftsman homes – with an inordinate number of purple houses – and along those three streets you'll find an amazing array of food, drinks, shopping, and more.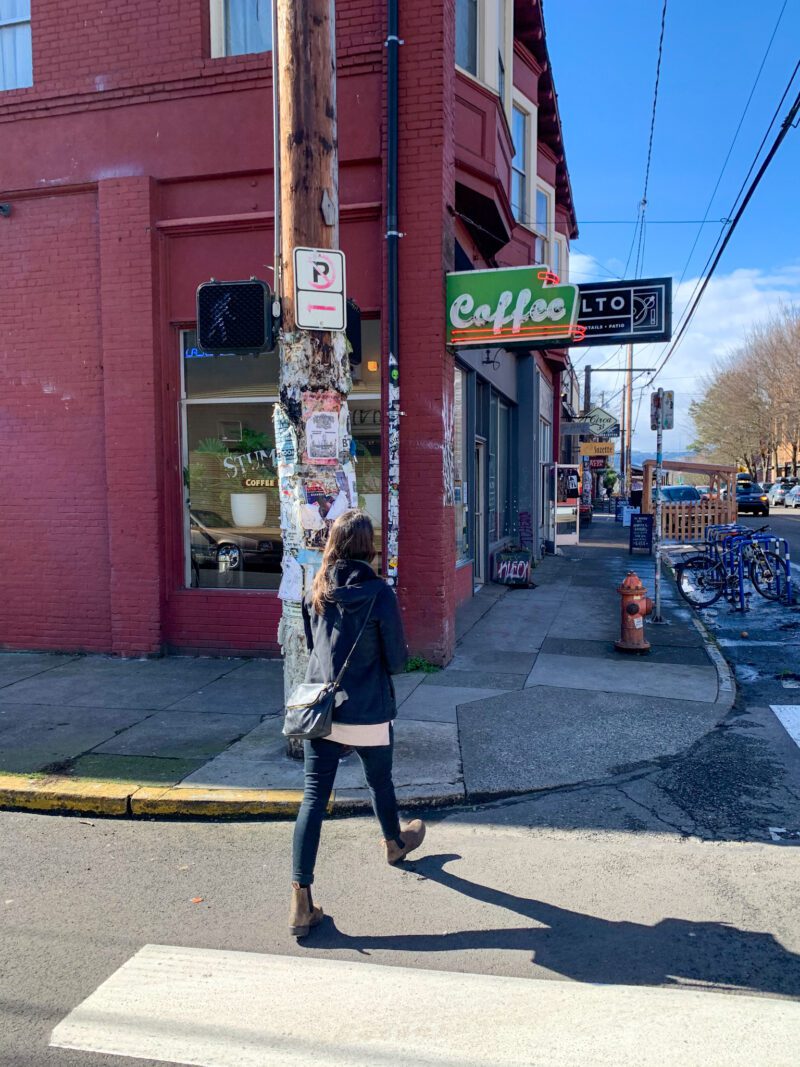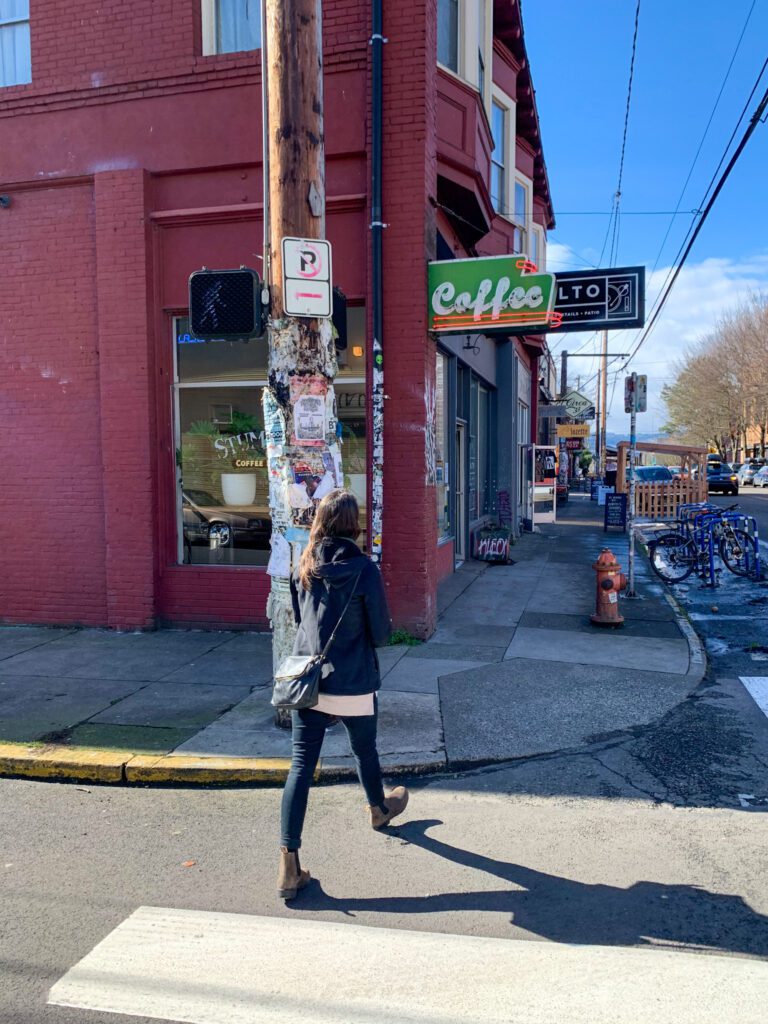 It's quiet, charming, and super walkable, which just about checks all of the boxes, at least for us.
For the purposes of this guide, we're talking about the area between 20th Avenue and about 50th (west to east), and Belmont and Division (north to south).
Pros & Cons of Staying in Southeast Portland
Pros: This is the most charming part of Portland, in our opinion. It's residential and quiet, but has several great stretches along Belmont, Hawthorne, and Division that are packed with bars, restaurants, shopping, and just about anything else you're looking for.
Cons: There are no hotels in this neck of the woods. If you're looking for a hotel in a similar location, look at the Central Eastside. It can feel quiet and sleepy, which is a good thing to us, but might not be for you if you're looking to stay in the heart of all the nightlife in Portland.
Southeast Portland Highlights
Here are our favorite spots in Southeast Portland.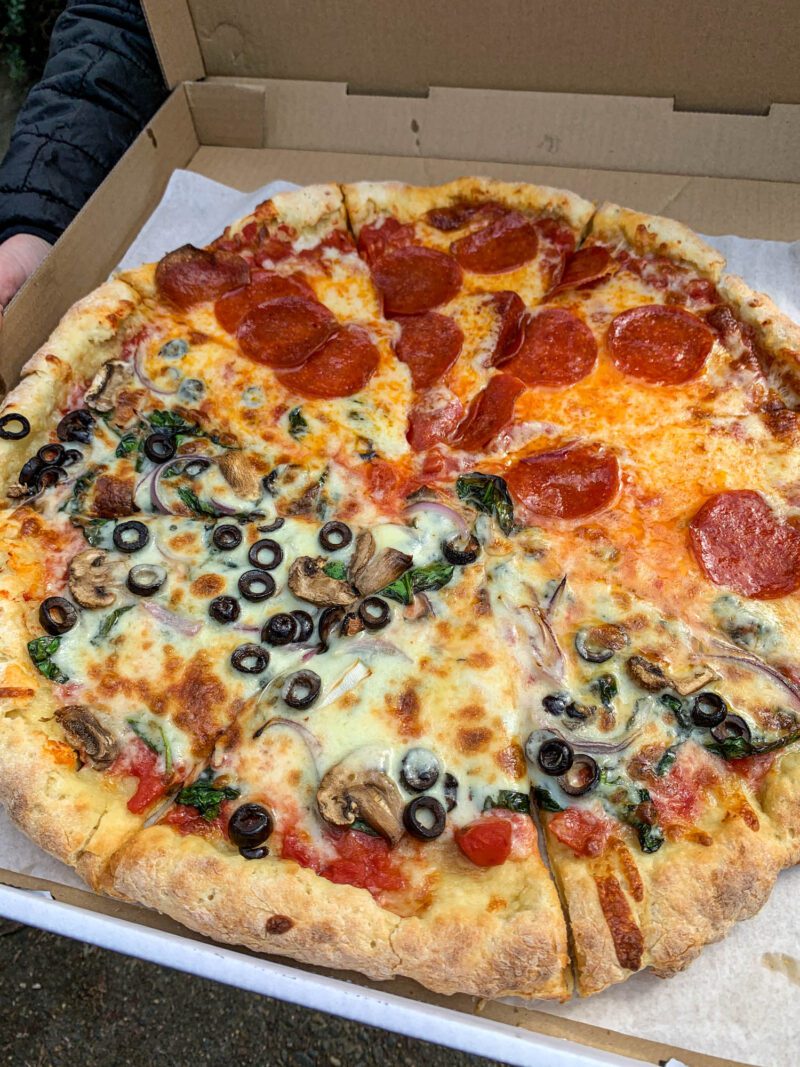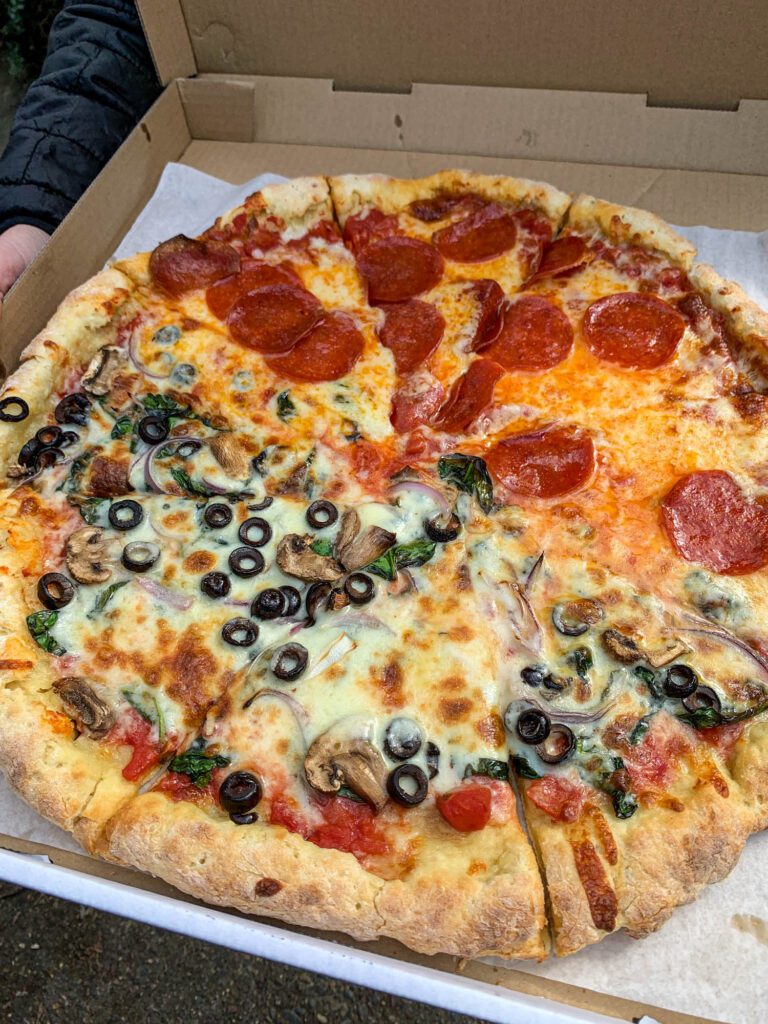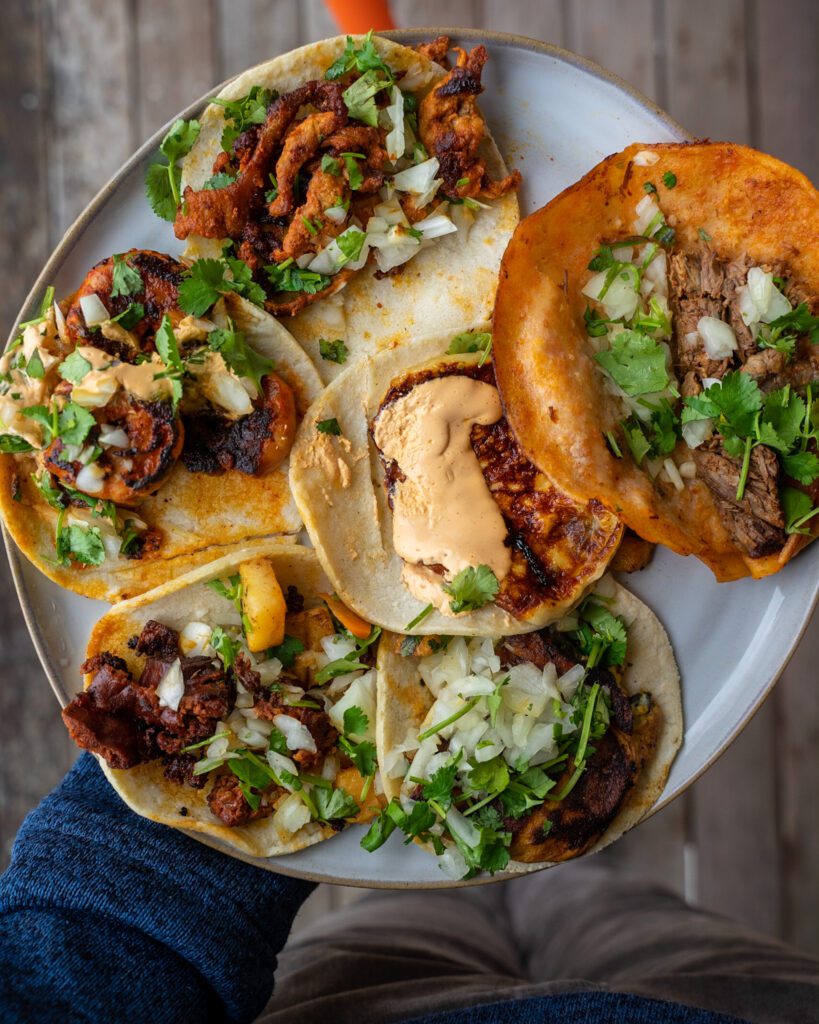 The Best Places to Stay in Southeast Portland
The only option in this area is vacation rentals, and there are plenty to choose from.
Vacation Rentals for 1-2 People
Here are some options for couples or pairs of travelers.
Luxurious & Modern Loft Studio on Hawthorne (Studio)
A compact but beautiful studio at the eastern end of Hawthorne. It's in a very quiet and residential part of town, but if you walk three blocks south, you're on Division Street, and three blocks north, you're on Hawthorne.
It's a loft above the garage, and the owners live onsite, which is the best way to do vacation rentals. There's a sleeper sofa that can accommodate up to two extra guests, but you have to let them know ahead of time. Full kitchen with everything you need to make a nice meal for the group.
Inviting Designer Cottage (1 Bedroom / 1 Bathroom)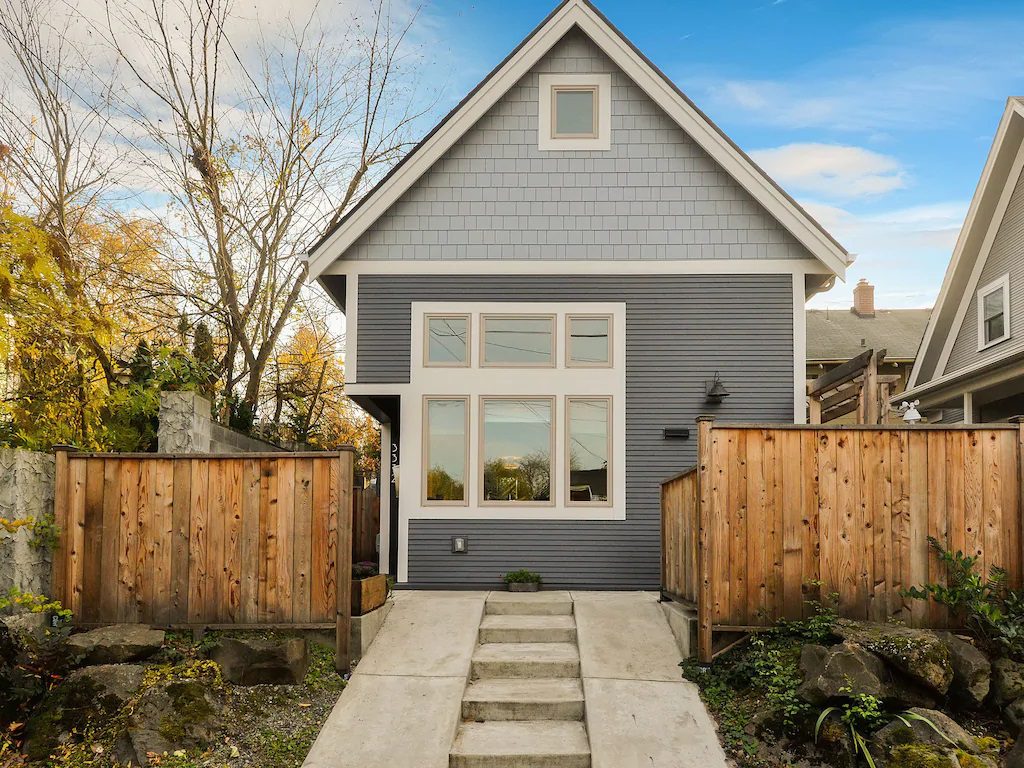 We've stayed in a similar place in Portland – a modern one bedroom house with living space on the ground floor, and the bedroom upstairs. And in a similar location, too.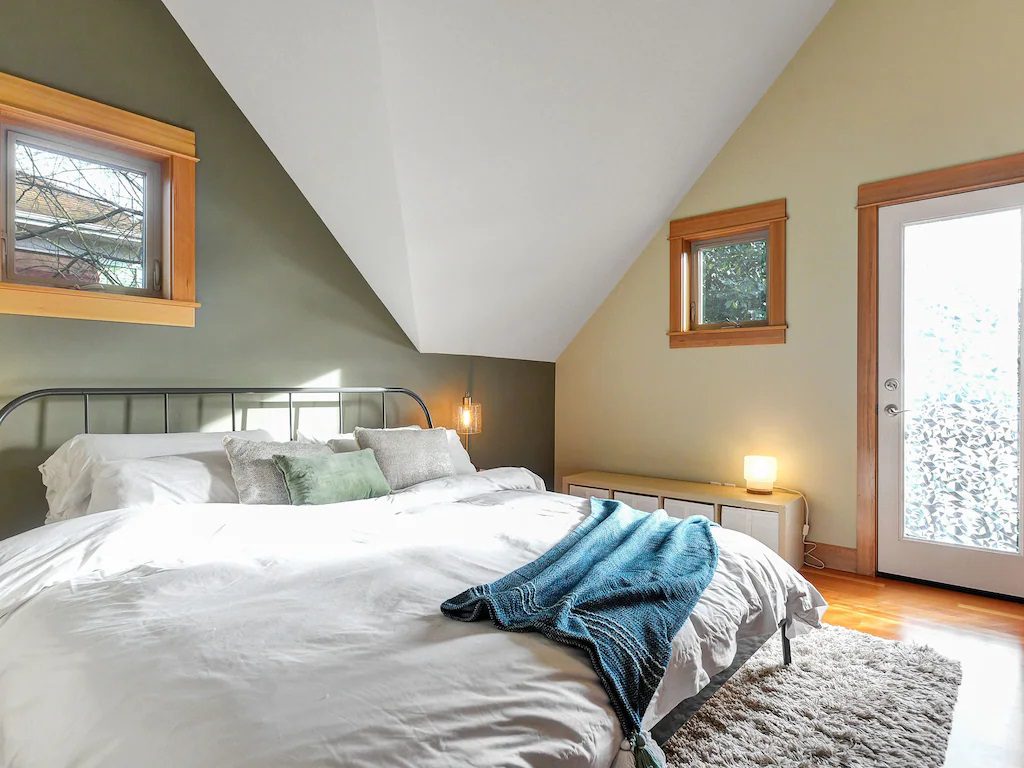 This place is tucked away between Belmont and Hawthorne, and is right where both streets start to get interesting. Lots of bars and restaurants nearby. The cottage is lovely, with high ceilings, lots of natural light, and a nice kitchen. There's also a sofa bed if you need to fit an extra person or two.
Vacation Rentals for Bigger Groups / Families
This part of Portland is a great option for groups or families who need a little more space. It's more residential, which means quiet streets, nice parks, and lovely neighborhood walks.
Urban Barn near Division Street (2 Bedrooms / 1 Bathroom)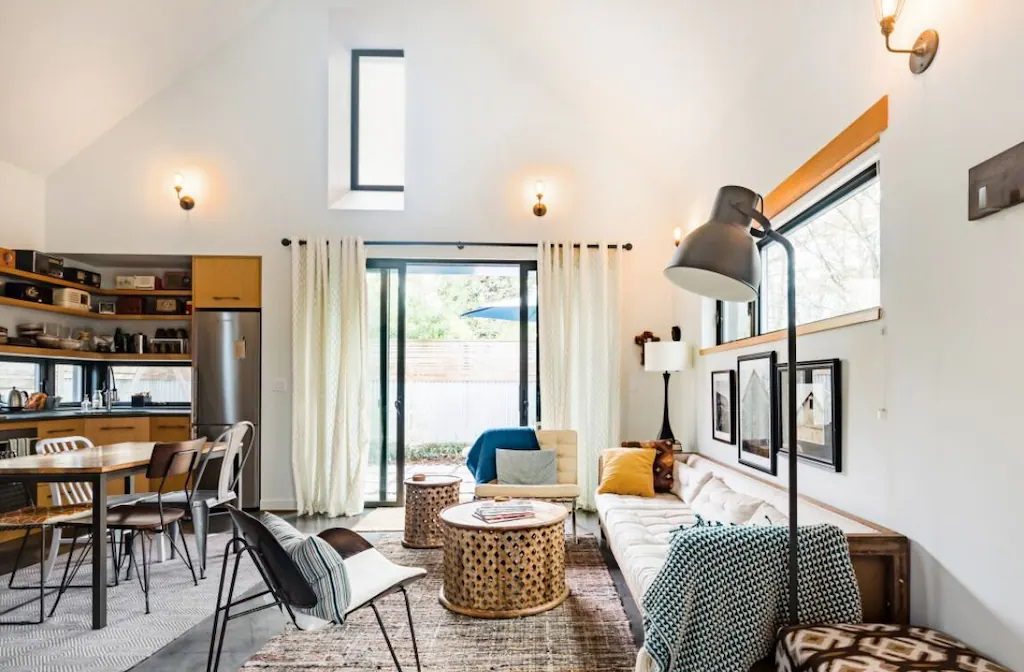 Unbeknownst to us, we actually walked by this urban barn on our latest trip to Portland. We stayed in the same area for over a month, and loved the area. You'll have New Seasons Market, a great grocery store, just down the street.
Fifty Licks Ice Cream is nearby, and the bounty that can be found on Division Street is a hop, skip, and a jump away.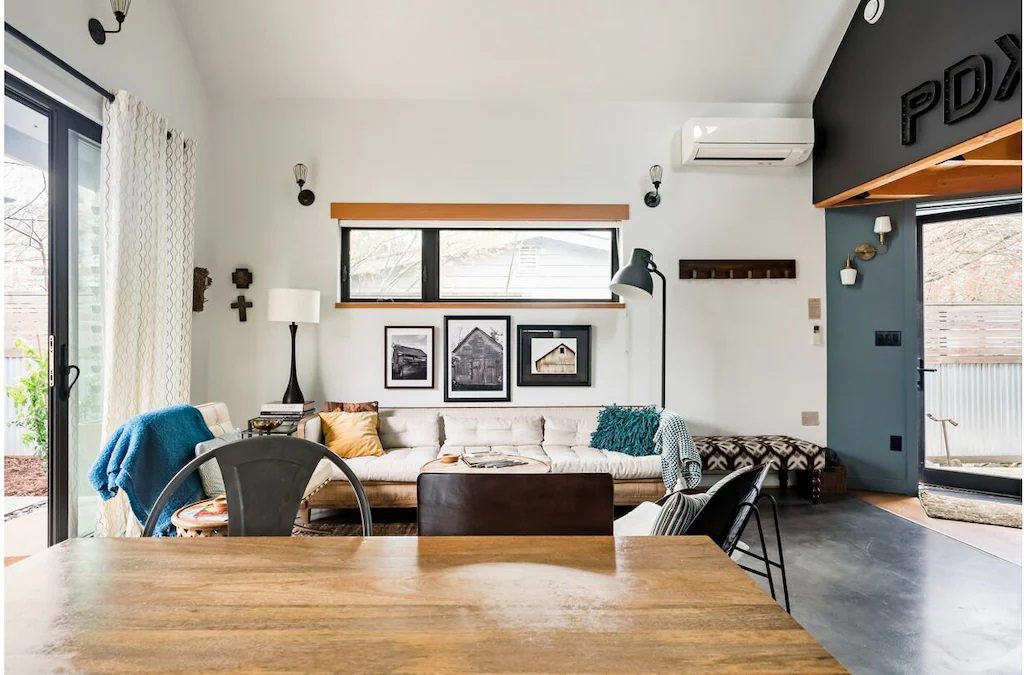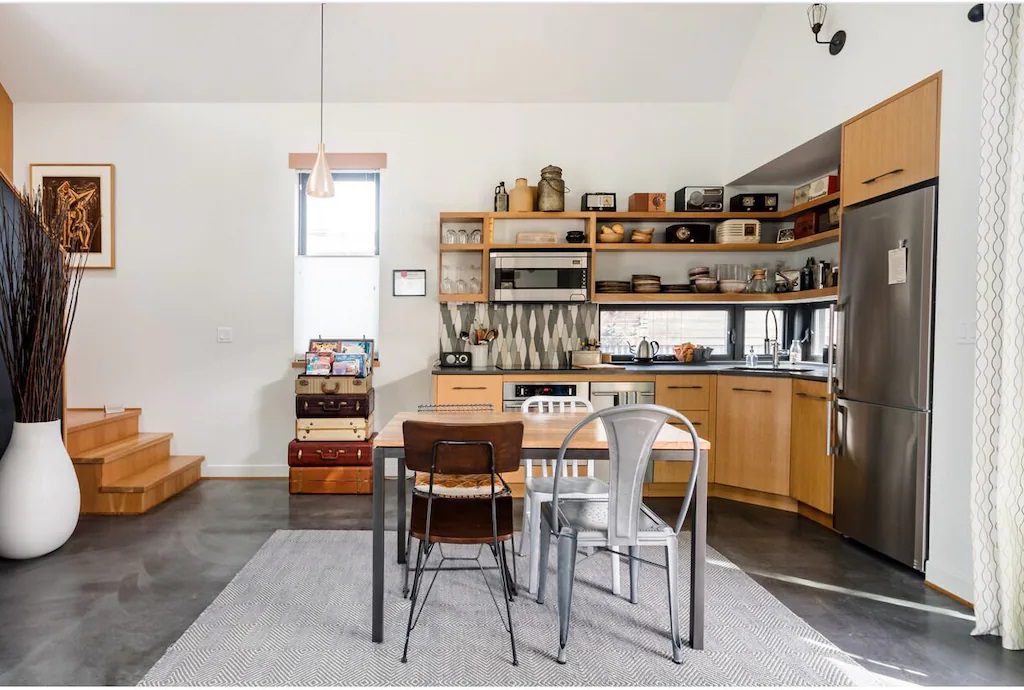 The barn, which is gorgeously constructed, sleeps four, with two bedrooms and one bathroom. It has a full kitchen and high ceilings, which will make it seem plenty spacious for a group of four.
Newly Constructed Eco Cottage (2 Bedrooms / 2 Bathrooms)
This fully detached garden guesthouse is located at roughly 37th and Belmont, which is right near the most interesting stretch of Belmont and walkable to nearby Hawthorne. It sleeps six, with two bedrooms and two bathroom.
The kitchen looks lovely and brand new, complete with a stove, oven, and full size fridge (which means you'll have plenty of space to cook for yourself).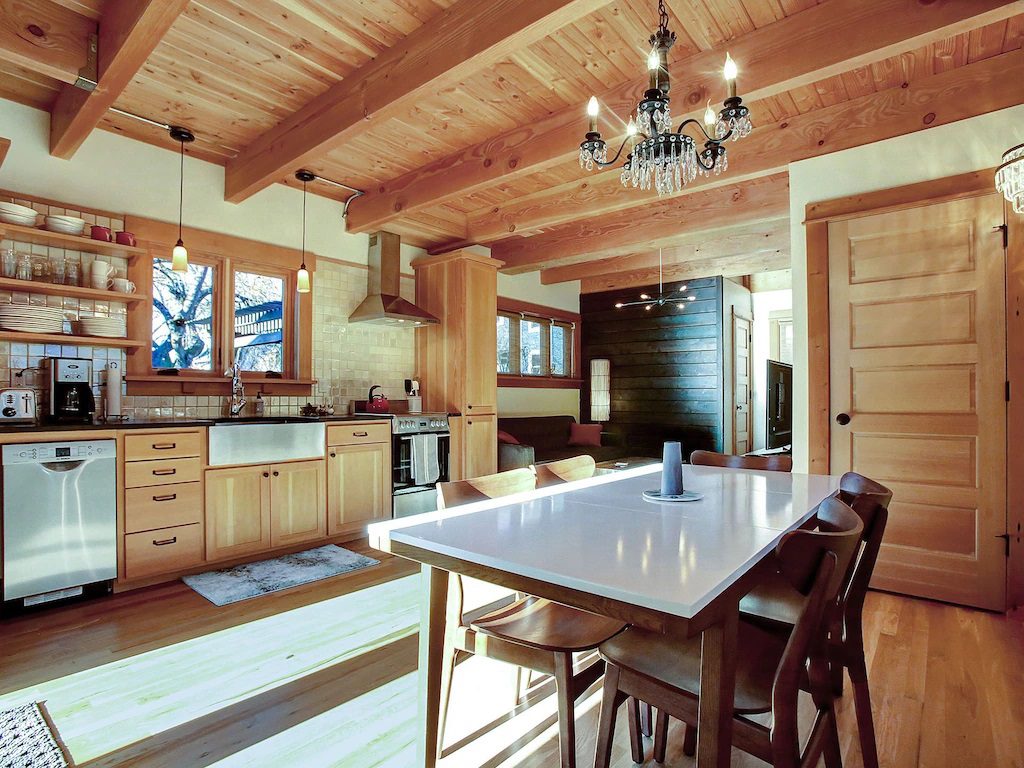 The cottage is built with reclaimed wood and it's made to be eco-friendly. The hosts live in the main house, which has a completely separate entrance from the space you'll be in.
In the summertime, when days are warm and long, the French doors that open out onto the patio outside will be a nice touch, allowing you to bring in some of that warm Pacific Northwest air. There's A/C if it gets too hot, and heating in the winter.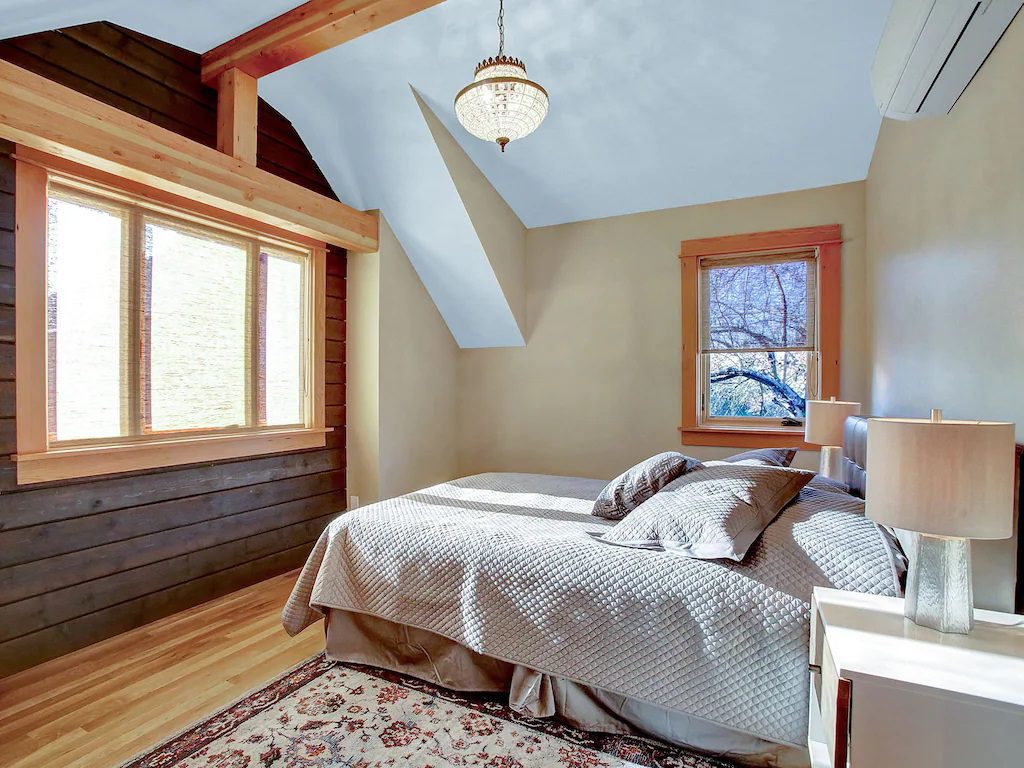 Beautiful Craftsman Near Hawthorne (2 Bedrooms / 2 Bathrooms)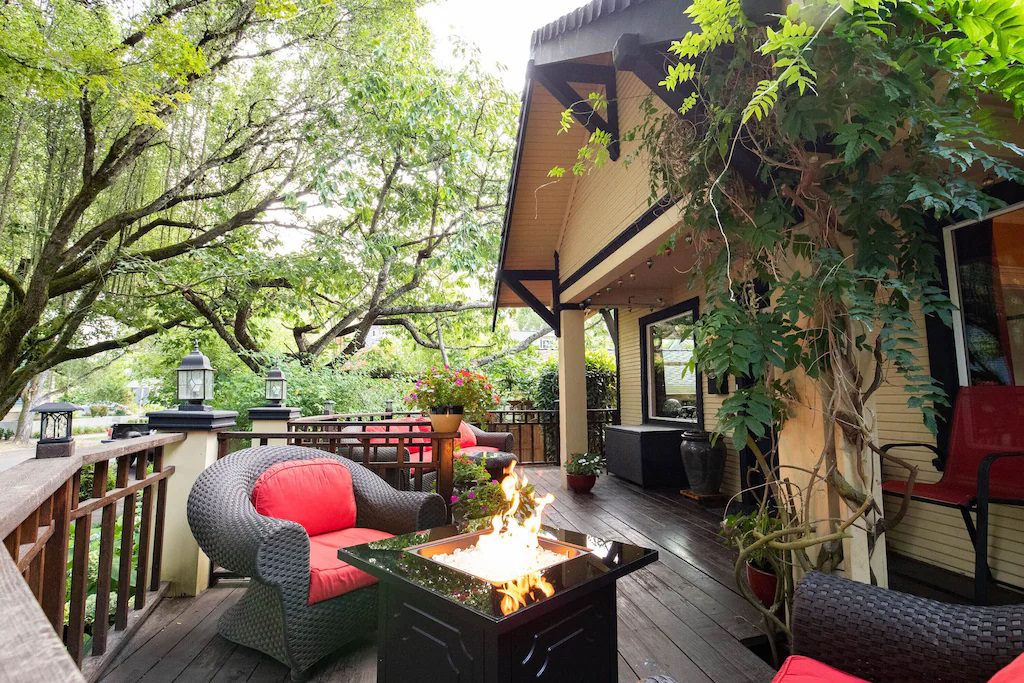 You'll have this entire Craftsman home to yourself, with 2,000 square feet of space to spread out and relax. There's tons of outdoor space to explore, which makes this a perfect summer spot where you can sit out on the deck until it gets dark at 10pm.
You'll be equidistant between Hawthorne and Division, which means that you'll have a wide array of bars and restaurants to choose from if you decide you don't want to use the full kitchen.
The Clinton Modern (3 Bedrooms / 2 Bathrooms)
We stayed just a few blocks away from this beautiful modern home in Southeast Portland on our last trip, and it's a perfect area. Two great grocery stores nearby – People's Food Co-Op and New Seasons Market – and walking distance to Division and Clinton Street.
It's a newly constructed home, and the décor is industrial-chic, with exposed beams and tons of reclaimed wood. There's 2,800 square feet for you to use to your heart's desire, which is perfect for bigger groups and families visiting Portland.
Heating and A/C for those three blistering days that hit the Pacific Northwest every summer, a gorgeous modern kitchen with stainless steel appliances, and laundry round out the amenities here.
Maximum occupancy is six people.
The Alberta Arts District: The Best Food in the City
We love this area, though it's not the most convenient place to stay for exploring downtown and the other parts of the city west of the river. After spending almost all of our time staying in Southeast Portland or Downtown, we decided to stay here on a recent trip and it did not disappoint. Far from it – it's a lovely neighborhood, and it's right next door to Mississippi Avenue, another awesome place to explore.
If it's your second or third time in Portland consider staying here and exploring this amazing neighborhood.
Pros & Cons of Staying in the Alberta Arts District
Pros: Alberta Street is full of restaurants of all kinds, bars, coffee shops, and boutiques to peruse. It's a good place to stay for a slice of local Portland life.
Cons: It's far away from downtown and the major "tourist attractions" that Portland has to offer, like the Rose Garden and Powell's. It's also worth noting that this is an area that is experiencing massive gentrification, and has changed drastically over the past decade.
Alberta Arts Highlights
Proud Mary Coffee: Based in Melbourne Australia, which is at the top of the best coffee cities in the world for me (we spent 40 minutes searching for a hole-in-the-wall cafe tucked in a back alley that used milk cartons as seats…and I LOVED it). This is their only outpost in the US, and they have you covered whether you're looking for a simple latte, or a new and exciting single origin coffee.


Teote Mezcaleria: Arepas, but add a full mezcal bar. Which are two of my favorite things on planet earth. Similar menu to the location in Southeast Portland.


More Food and Drinks: Honestly, the list is basically never ending. Zilla Sake for (100% gluten free) sushi and sake. Tiki Tea for bubble tea. The Bye and Bye for hip cocktails and vegan food (not gluten free). Salt and Straw for ice cream. Blue Star for donuts. Angel's Donuts and Ice Cream. Dar Salaam.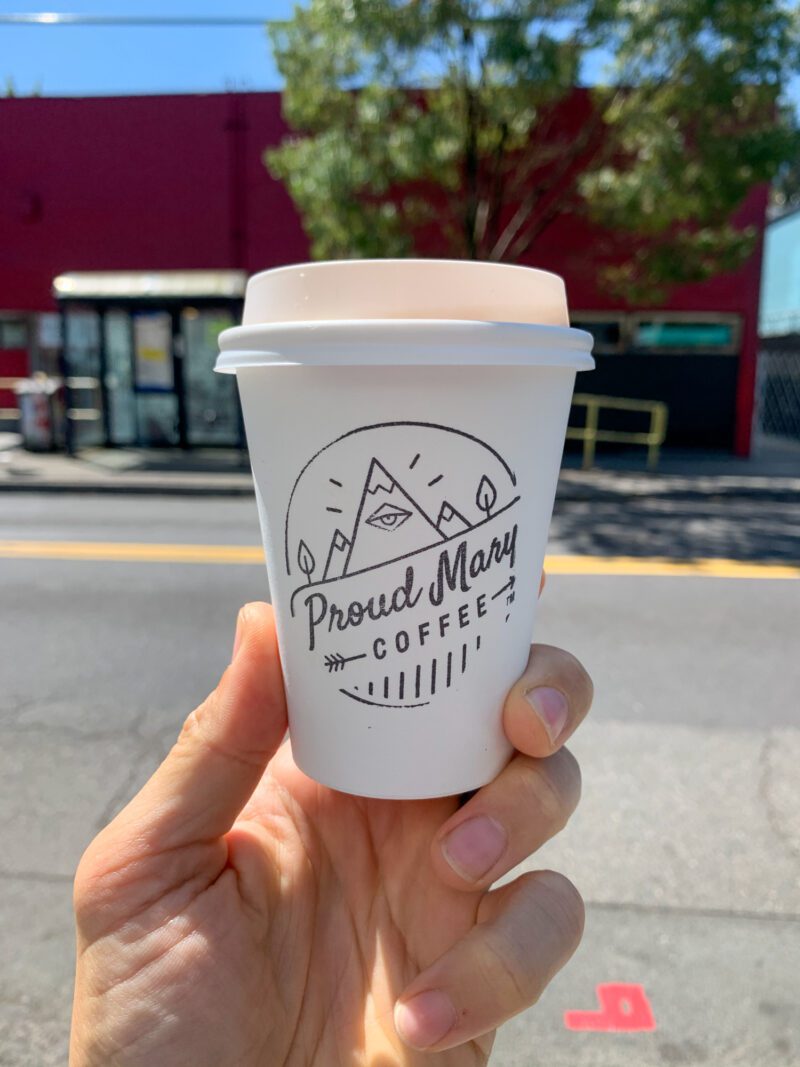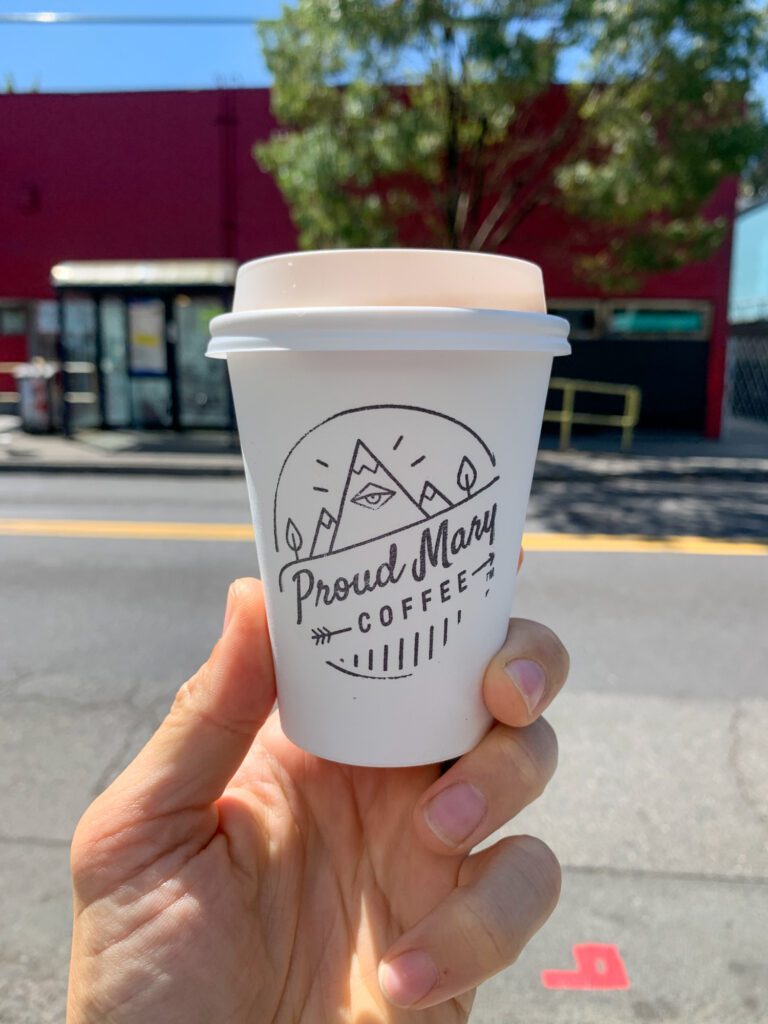 The Best Places to Stay in the Alberta Arts District
There's a variety of places to stay here, from hotels to awesome vacation rentals. Here are some of our picks.
The Alberta Petite Hotel
At the other end of Alberta, the east end in this case, is the Alberta Petite Hotel. It's super conveniently located near some of the best restaurants, bars, and shops that Alberta Street has to offer. This is less "giant hotel" and more "quaint guesthouse," reminiscent of the guest houses in Europe that have all the charm and amenities at a fraction of the cost of the bigger hotels.
It's a renovated craftsman home with multiple bedrooms, a shared kitchen, and modern touches like, you know, a big hot water heater so you'll never run into a cold shower (I laughed at that).
There's a kitchen, but it's for simple breakfasts and meals only – no big culinary productions.
Vacation Rentals for 1-2 People
Stylish Cozy Urban Cabin (Studio): This urban cabin has tall ceilings that make it seem much more spacious than it actually is – it's relatively compact, but you'd never know it from the layout. You'll have a full kitchen, including a four burner stove and full size fridge, so you'll be able to cook for yourself (although you'll definitely want to explore the great food and drink options nearby). It's a block off Alberta Street, which means you'll have a seemingly unlimited number of amazing bars, restaurants, and boutiques to browse.
Dog-Friendly Tiny House (Studio): A tiny house in Portland? Yes please! This dog-friendly tiny house is six blocks from the hustle and bustle of Alberta Street, which means you'll have access to all the great food and drinks there with a quiet refuge at the end of the night. The tiny house is laid out studio-style, with one big open space that has the living room, full kitchen (including stove, oven, fridge, and microwave), and living space. There's a washer and dryer in the unit too, in case this stay is part of a wider Oregon road trip and you need to do a quick load of laundry to avoid running out of underwear (no shame – we've all been there).
Cozy Patio Suite (Studio): This cozy guest suite is one of the most compact spots here, but it has everything you'll need for a quick trip to Portland. It's right on Alberta Street, BUT it's worth noting that it's almost eight blocks away from the best part of the area. On the other hand, it's right near Mississippi Avenue, which has our favorite food truck pod (at Prost) and some great bars and restaurants in its own right. The suite itself is compact, with a small kitchenette (microwave + mini-fridge only), the bedroom and bathroom, and a spacious outdoor patio that would be perfect for lounging in the summer sun in Portland.
Vacation Rentals for Bigger Groups / Families
Modern Comfort, Vintage Charm (3 Bedrooms / 2 Bathrooms): This gorgeous, spacious home is perfect for anywhere between four and eight people. It has a drool-worthy kitchen with stainless steel appliances and a nice island with wood countertops, and New Seasons Market (aka the best grocery store on the planet) is literally one block away. If you're not up for cooking and want to explore the bounty of amazing food on Alberta Street, it's a two block walk to the eastern end of the best food street in the city.
Modern & Beautiful House in Vibrant Alberta Arts District (3 Bedrooms / 2 Bathrooms): This spacious house sleeps up to seven people thanks to three bedrooms and a pullout sofa bed. It's thoughtfully designed, with a beautiful kitchen, stylish bedrooms with comfy beds, and a nice private patio for those warm summer days.
New Alberta Arts Apartment (2 Bedrooms / 1 Bathroom): This relatively new apartment is within a block of Alberta Street, which is a fantastic location. It's super walkable to everything in the area. There's a full kitchen, two bedrooms – one with a queen, one with two twins – and a nice living area. It's worth noting that this is one of those apartments that's basically a remodeled basement that is halfway underground, which isn't necessarily bad, but it's good to know that there will be people above you.
Northwest District (AKA Slabtown, Nob Hill, or Alphabet)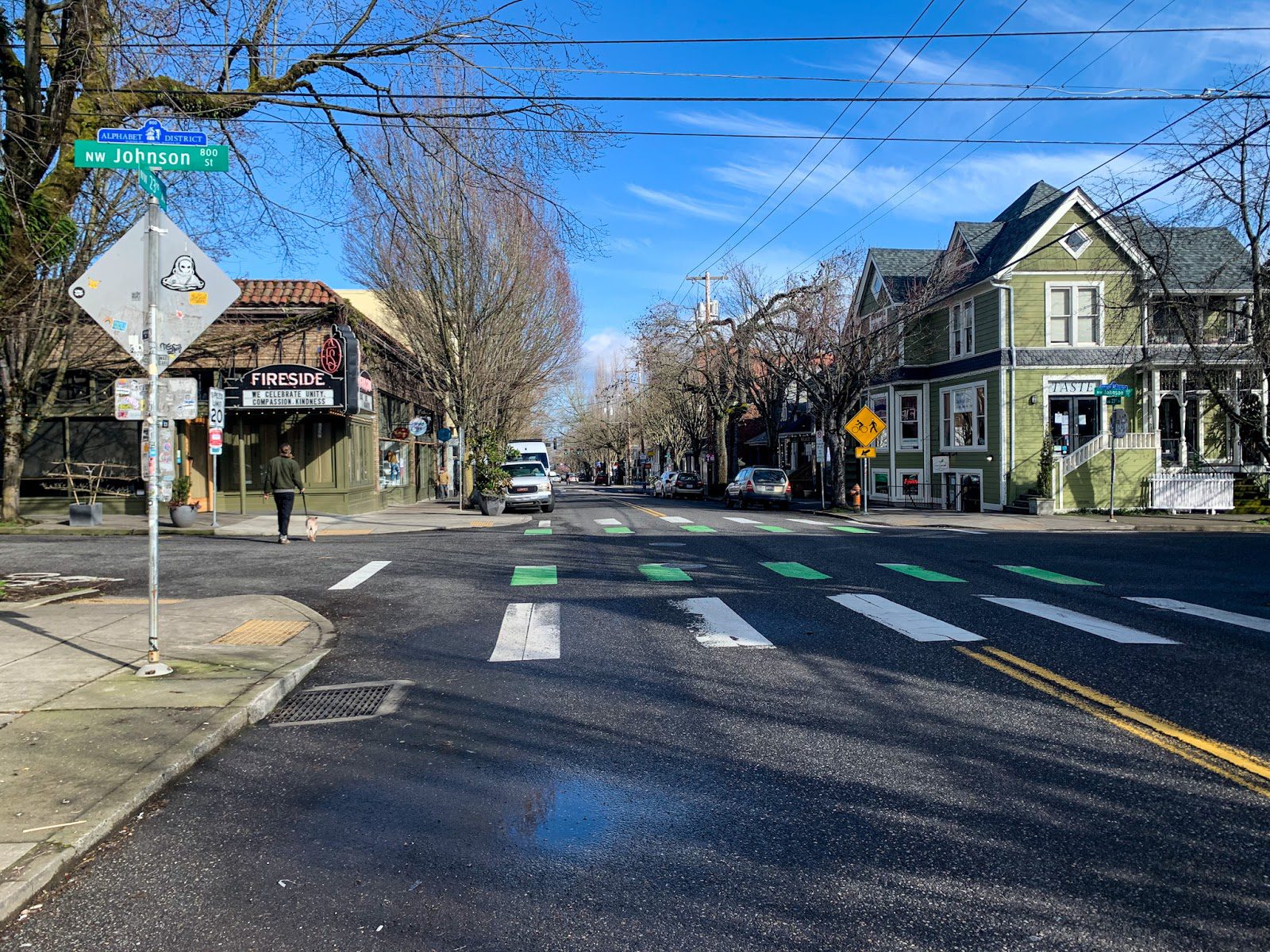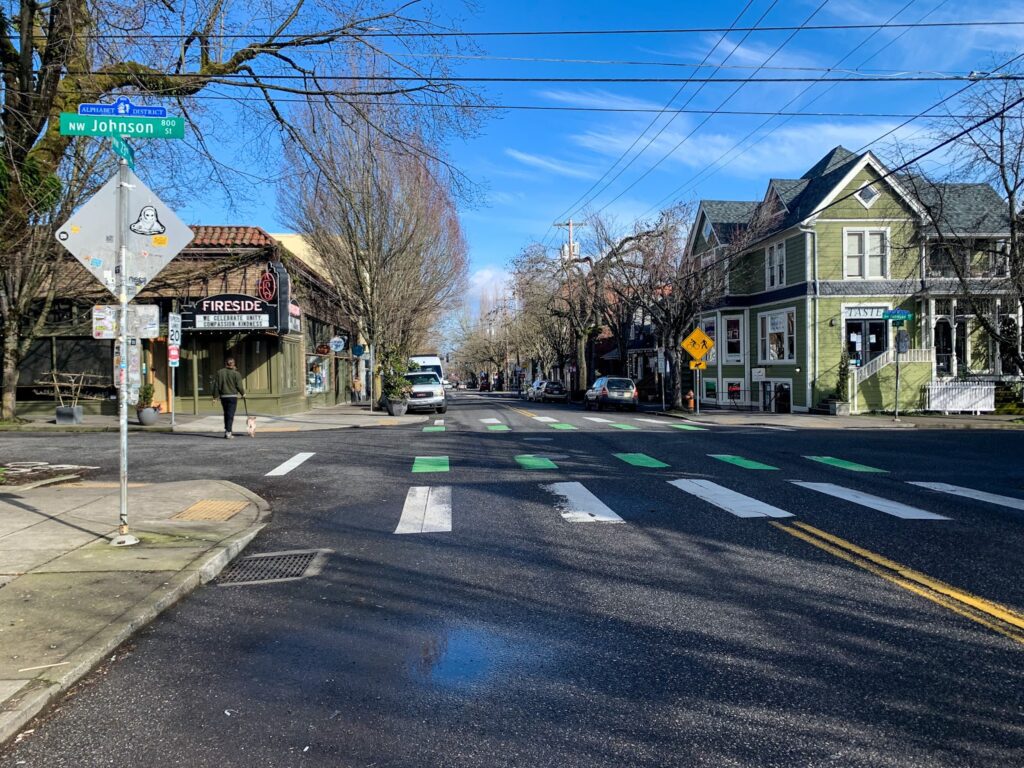 To be honest, we weren't quite sure what to make of this area situated across the freeway from downtown and the Pearl, close to Forest Park. We actually know parts of this area as Nob Hill and Slabtown, but they're all lumped under one umbrella that is called "the Northwest District."
It's a little further from Downtown, but it's absolutely packed full of things to do and see in its own right, so you'll barely notice the distance. It's essentially at the base of the hill that is Forest Park, which puts you in a great position to explore the largest green space in the city. And you'll be able to walk up to the International Rose Test Garden, which is a must-do while you're in Portland.
Overall, it's a nice place to stay. However, it's more residential than Downtown and the Pearl, which means there aren't too many hotels here. There is one highly-rated option, and a budget guest house to consider. Otherwise, vacation rentals it is!
Again, we're combining a few distinct neighborhoods together here for the sake of simplicity. Their key characteristic is that they're across the freeway (I-405) from Downtown Portland. That freeway is the dividing line.
Pros & Cons of Staying in the Northwest District
Pros: It's walkable to downtown, and has great access to Portland's best parks (which is where you'll find many of the best hikes in Portland). Nob Hill and the whole area between 21st and 23rd are lovely strips of bars and restaurants of all kinds.
Cons: There's not much in terms of selection when it comes to hotels. It's pretty residential outside of those two streets, so you'll be heading elsewhere for nightlife and more exploring.
Northwest District / Nob Hill Highlights
Providence Park and the Timbers: Are you a soccer fan? The Portland Timbers play at Providence Park, and it's one of the best atmospheres of any soccer stadium in the USA. Particularly when they're playing the Seattle Sounders, their rivals from the north. Check their schedule here.


Tea Chai Té and Barista: One of the better one-two punches in terms of tea and coffee, and they're about thirty feet apart. Alysha would run into Tea Chai Té, and I would go get my coffee fix at Barista.


Kyra's Bakeshop: Amazing gluten free cupcakes (and donuts, cinnamon rolls, and other various baked goods). She won Cupcake Wars FOUR TIMES. WITH GLUTEN FREE CUPCAKES.


The Parks: Just up the hill, you'll find the International Rose Test Garden, Pittock Mansion, and the Hoyt Arboretum, home to some of our favorite hikes in the city.
The Best Places to Stay in the NW District / Nob Hill
You have a couple of options here, both in terms of hotels / hostels, and in terms of vacation rentals.
The Inn at Northrup Station
This Nob Hill gem is the best place to stay in Portland if you want to get into the eclectic feel of the city. The interior of the Inn at Northrup Station is full of energetic colors, striking local art, and attention-grabbing prints. The overall effect is a modern space that caters for the trendy people that grace this neighborhood.
This hotel is a destination in itself and gives guests a roof terrace, plenty of private decks, and communal areas complete with large jars of candy.
The rooms are sizable with the king suite offering a kitchenette and sleeper sofa and the double queen suite having two queen beds and a sleeper sofa for larger families or a group of friends.
Portland International Guest House
The Portland International Guest House is a great budget option in the Pearl District. Somewhere between a hostel and a B&B, it features six private rooms with shared bathrooms and a basic communal kitchen.
The kitchen has a toaster and microwave with plenty of tea, coffee, juice, milk, and cereal for guests so is more suitable for whipping up breakfast than preparing a dinner as there is no stove.
That's not really an issue, because you'll probably want to be out exploring Portland's amazing food scene. If you plan to be out and about all day exploring the city then this is a great, low cost option for you.
HI Northwest Portland Hostel
If you're looking for an affordable room – bunk bed in a shared room, or a private room – this hostel is one of the better options in town. It was voted third best medium sized hostel in the world in 2020 by Hostelworld, which is quite an accomplishment for a hostel in the US (which generally has a lackluster hostel scene). It's right at the edge of the Northwest District and Downtown, which is a convenient, walkable location.
They're a great option, particularly if you're on a budget, and they have all the social aspects of hostels – walking tours, communal dinners, board game night – along with a selection of rooms from shared rooms with bunks (three rooms – one male, one female, one mixed), private hotel-style rooms, and larger apartments. Most rooms have shared bathrooms, if you care about that.
Vacation Rental Options
For 1-2 People: This lower-level one bedroom apartment is a few blocks away from all the action on 23rd, and is two blocks from Washington Park, which is where you'll find the Rose Garden and Japanese Tea Garden, among other attractions. For a more modern, condo-like experience, look at this beautiful brand new condo (one bedroom).
For Bigger Groups: If you're looking for an entire house you and the group can stay in, look at this charming Victorian. There are a plethora of modern apartments, particularly in the northwestern tip of the area. This industrial-chic two bedroom, this bright and stylish two bedroom, and this spacious three bedroom are all good choices.
Where NOT to Stay + A Geography Overview
The best way to think about Portland is to split it into quadrants. The Willamette River, which runs north/south through the center of the city, is the dividing line between east and west Portland. Burnside Avenue is the dividing line between north and south Portland (though I'd say that the Pearl and Northwest District, which we'll cover below, should be included with SW Portland).
The differences between staying on the west side of the river, with its big hotels and hustle and bustle, and the neighborhoods on the eastside, which are more residential and low key but have lively strips featuring Portland's best restaurants, shops, and bars running through them, are hard to miss.
We love the vibes on the east side of the river, but also see the value of the convenience of staying downtown. Different strokes, right? It depends on what you're looking for.
We'd strongly recommend that you do not stay in Northwest Portland. There are a bunch of fun things to do and see up there – including the St. Johns Bridge, Cathedral Park, and a few good places to eat and drink, but it's FAR from just about everything else in Portland. Head up there to explore for a half day, but we'd recommend staying elsewhere.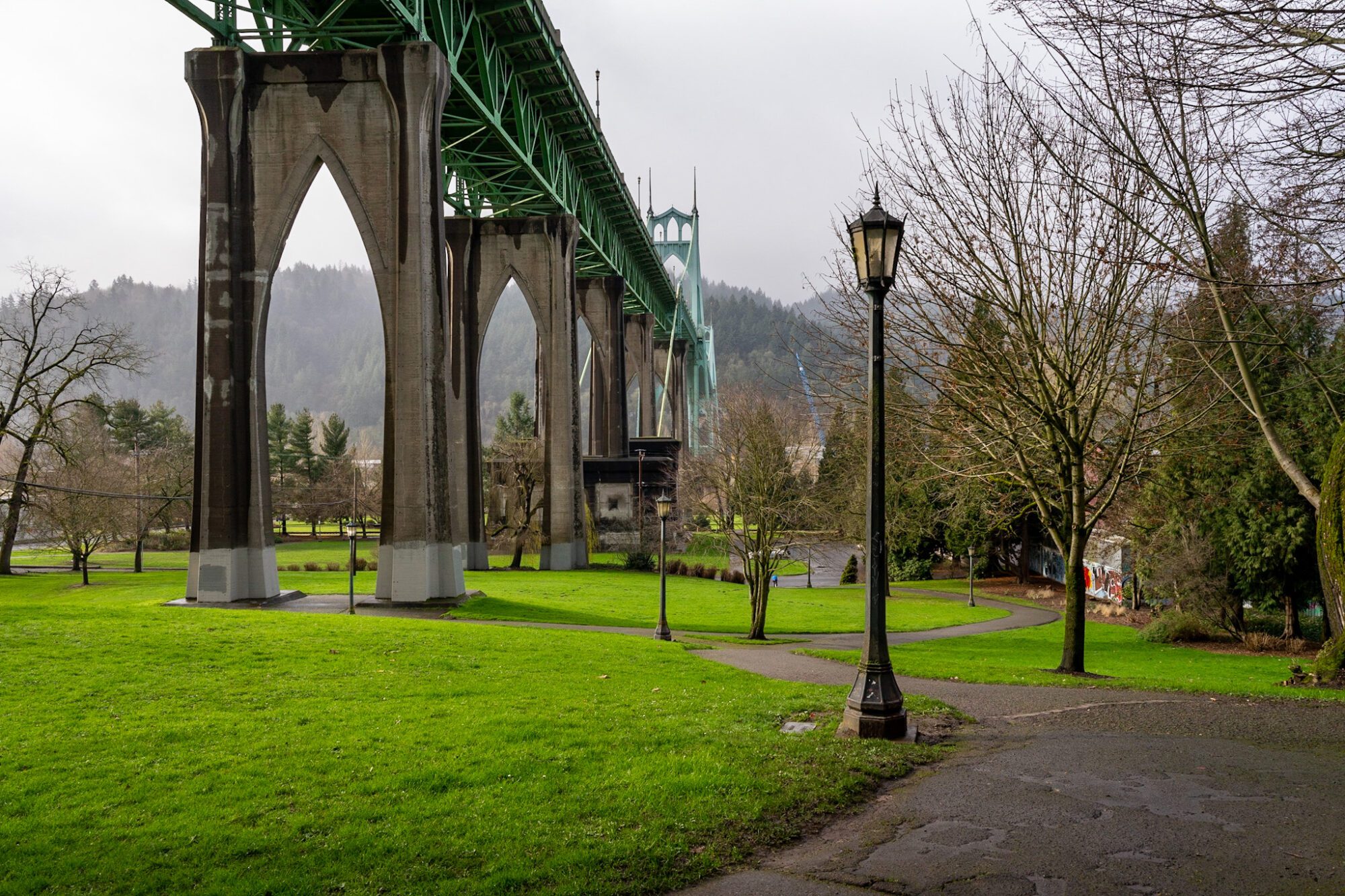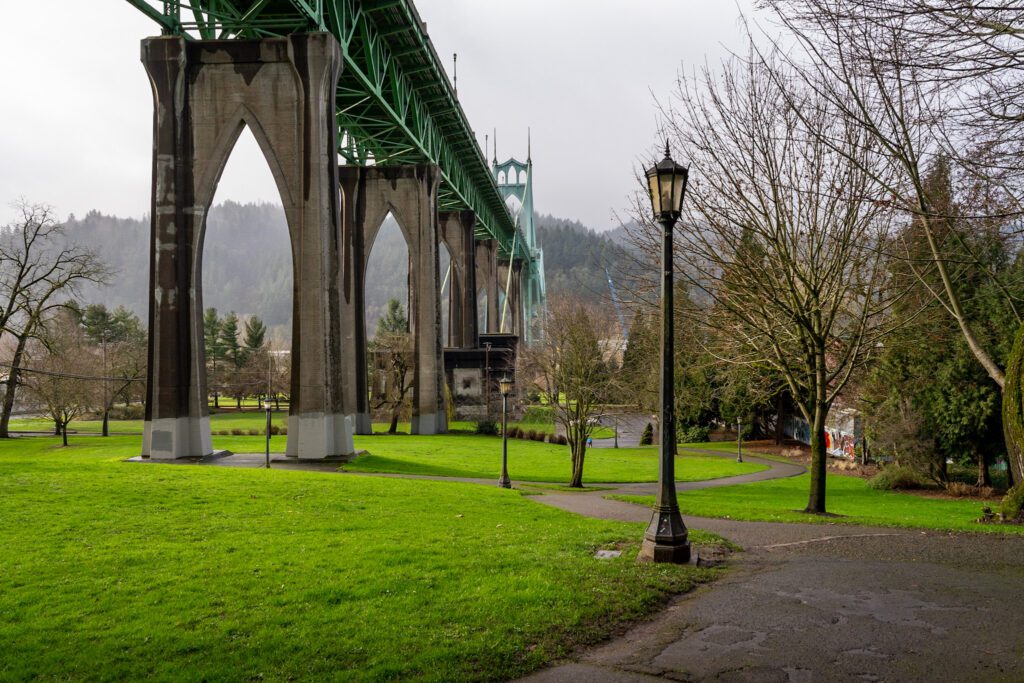 It's also worth saying that you probably shouldn't go further north than Alberta Street, further east than Mt. Tabor, or further south than Powell Boulevard, especially if you only have a few days. Staying a little more central will pay off in terms of time spent getting around.
---
Portland is a great city if you love food, drinks from kombucha to fancy cocktails and craft beer, coffee, and independent spirit that shows itself in the hundreds of unique small businesses around town. Oh, and just a hint of weirdness.
Okay, the weirdness sometimes is turned up to 11.
You're going to love Portland no matter where you choose to stay, but I hope this guide to the best areas helped you navigate the city and book a place that you love.
Looking for the best day trip from Portland? Read my guide to a self-guided day trip from Portland to Hood River – the #1 best day trip from Portland.
More Pacific Northwest Travel Guides