This is Exactly Where to Stay in Cinque Terre
Tucked between the mountains and the sea (the Ligurian Sea, not the Mediterranean), you'll find a gorgeous stretch of coast. On that gorgeous stretch of coast, you'll find five villages full of unobstructed sea views and colorful buildings, collectively known as the Cinque Terre.
Within this stretch of coastline, you'll find spectacular views around every corner, some of Italy's best coastal hiking trails, fresh seafood on every menu, and surprisingly good local wines.
When it comes to deciding where to stay in Cinque Terre, our very first tip would be to pick one of the five villages as a home base, and explore the rest of the Cinque Terre towns from there. The Cinque Terre Express – a regional train line that connects all five villages – makes it really easy to hop between towns.
But which town should you choose?! That, my friends, is the question we're here to help you answer.
In this guide, we're going to go through the best places to stay in Cinque Terre, covering four of the five villages (don't stay in Corniglia because of the brutal stairs from the train station, thank us later). We'll give you an overview of the town and what we liked about it along with a set of pros and cons of using it as your home base, then we'll give you a few specific places to stay that caught our eye.
Of course, a lot of this is subjective and based on our own personal experience exploring each of the villages. You could probably convince us that any of the villages would make a good home base (except Corniglia). However, some of them are definitely better for specific reasons – for example, if you want to be close to hiking, or you want a place that's lively after dark.
In the end, we hope this guide gives you the information you need to decide where to stay in Cinque Terre given your specific needs, budget, and travel style.
Sound good to you? Off we go!
PS: If you're here, chances are you're planning a trip to Cinque Terre. Lucky you! Don't miss our Cinque Terre itinerary and our guide to the best things to do in the Cinque Terre to help you plan an unforgettable trip based on our experiences.
Pro tip if you're visiting in the summer: Make sure the place you stay has air conditioning. It can get HOT in July and August, and air conditioning is the difference between a good night's sleep and drowning in your own sweat.
Disclaimer: Some of the links in this post, like hotel links, are affiliate links, meaning at no additional cost to you, we make a little bit of money if you click through and book. That being said, we would never recommend something to you that we don't stand behind 100%.
A Crash Course in Cinque Terre Geography
Before we can get into a discussion about the best place to stay in Cinque Terre, we need to talk about the geography. Because it's important here.
Cinque Terre (cheen-kweh tear-uh) roughly translates to "five towns." Which is exactly what you'll find in this incredibly gorgeous stretch of coast in northern Italy between Genoa and Pisa.
These days, it's primarily known as a tourist destination, but it is known for its diversity of flora and fauna, which is why it was made a UNESCO World Heritage sight and a national park in the past two decades.
Essentially, the Cinque Terre are five towns located along the rugged, mountainous coast between La Spezia (at the south end) and Levanto (at the northern end). In an attempt to protect the stretch from development, this delightful slice of paradise was designated a UNESCO World Heritage Site in 1997, and a national park in 1999.
The five towns are Riomaggiore, Manarola, Corniglia, Vernazza, and Monterosso al Mare (from south to north).
There are two gateway cities to the national park, one at the northern end (Levanto) and one at the southern end (La Spezia) that are connected by a regional train line called the "Cinque Terre Express," which stops at each town and takes about 15 minutes to get from one end of the line to the other.
Chances are, you'll be coming through one of those gateway cities en route to your Cinque Terre accommodations, and will likely need to hop on the regional train to connect to the town you choose to stay in.
Our first recommendation is to stay in one of the towns of the Cinque Terre, NOT in the gateway cities. Unless you're on a tight budget (Cinque Terre really isn't the most budget-friendly destination to begin with), you're going to have a much better experience if you're able to enjoy the towns and hiking trails at their quietest.
However, if you are on a budget, it's totally feasible to stay in La Spezia or Levanto make the journey in. We'd still recommend you get an early start and stay out late, if you can.
It's just going to be less convenient, because you can't simply go on a morning hike, explore a couple of the towns, and head back to take a quick shower as easily if you're staying further out.
Our second recommendation is to avoid staying in Corniglia like the plague. Not because we didn't like Corniglia (okay, it was actually our least favorite of the five, but that's not the point), but because the stairs to get from Corniglia's train station, which is at sea level, up to the town, which is perched on a cliff high above the sea, are a nightmare.
There's a shuttle, sure, but it's PACKED at peak times, especially in high season (the summer), and you could find yourself making the choice between waiting 45 minutes or tackling the stairs in the heat.
Hard pass from us. It was the first thing I wrote down when I was jotting down notes in preparation to write this guide.
The last thing to know is less a recommendation and more of a general PSA: the Cinque Terre is full of hills (that's, like, the whole thing that makes it special). Including the towns. You will be walking up steep hills and staircases to get to your accommodations in most cases.
There are luggage transfer services in some of the towns, but you're probably going to want to be able to carry your luggage to your accommodations (aka no big suitcases).
Now that we've done a quick geography overview so that you have some idea of what we're talking about in the guide below, let's get into talking about where to stay in Cinque Terre.
Where to Stay in Cinque Terre: A Complete Guide
In this guide, we're going to give you four options in terms of towns to use as a home base for exploring the Cinque Terre.
If you've only got 2-3 days, you're going to want to stay one place for your entire time on the coast to avoid having to pack, repack, and move your stuff up and down the massive hills. Which is simply no fun at all.
For each of the four towns below, we're going to give you an overview, a set of pros and cons of using that town as a home base, some of our favorite spots and highlights in town, and a few places to stay that stood out to us in our research.
For transparency's sake, you should know that we haven't actually stayed in all of these towns, but we have visited them and have a handle on their geography (e.g. is this hotel at the top of the hill or not) and things to do and see in each place.
As we'll note below, we stayed in Manarola, which we enjoyed and would highly recommend if you're looking for a quiet home base with excellent views from the top of the hill.
Manarola: Central & Quiet (Where We Stayed)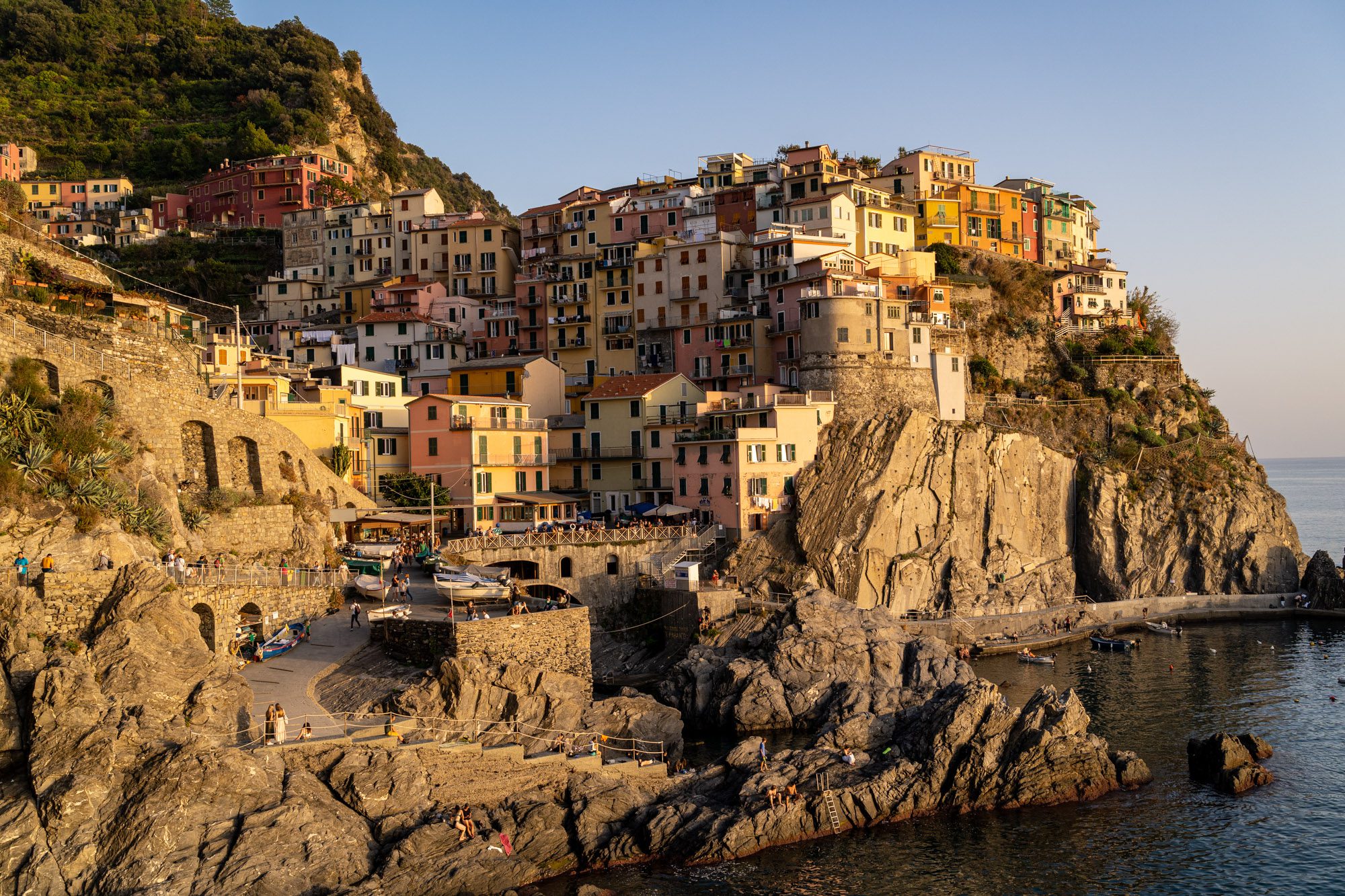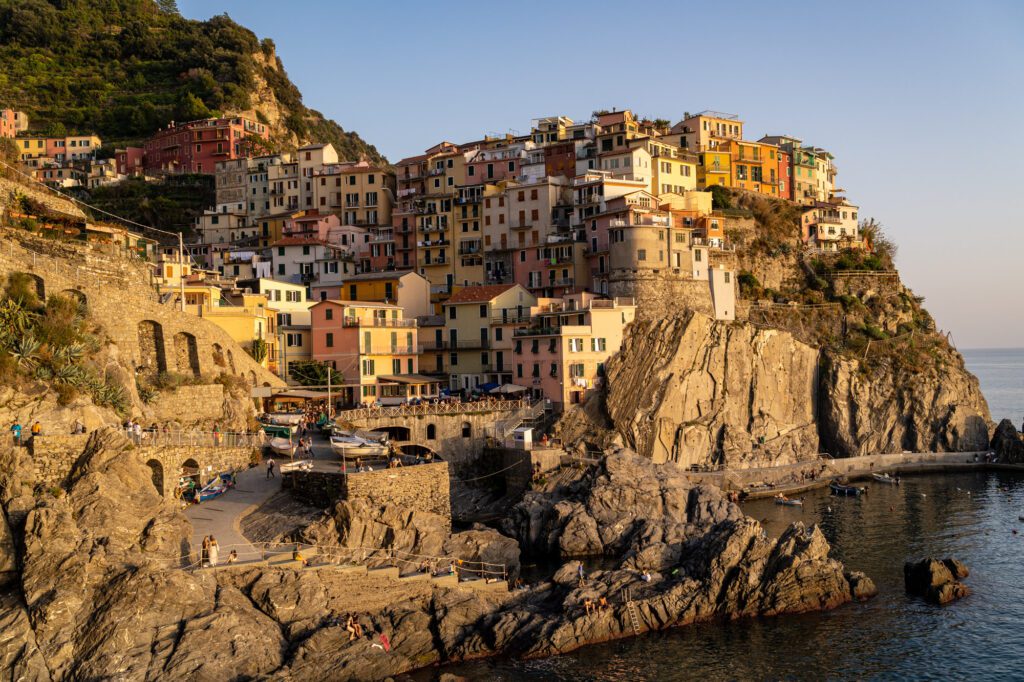 We chose to stay in Manarola because of the fact that I had read that it was the quietest of the five towns, which sounded great to me. It also happens to be our favorite in terms of natural beauty, a realization we made once we had arrived and experienced all five towns.
The town of Manarola sprawls up from the waterfront (which has a little swimming hole – one of the only places to swim on the entire coast), with colorful tall and skinny buildings ascending the steep hills to the east, which are full of the unique terraced vineyards that produce the grapes used in wines from the Cinque Terre.
Between about 10:00 am and 4:00 pm, the streets of Manarola are packed with tourists – especially when the tour groups roll in from cruise ships or stop in La Spezia – but at other times of day, it's downright peaceful.
We were actually surprised how quiet it was by 5:00 pm, which is around the time that the day trippers went home for the day.
One implication of that fact is that if you're looking for nightlife, Manarola ain't it. It's very quiet, and I'm not even sure there was a bar open past 10:00 pm in the entire town.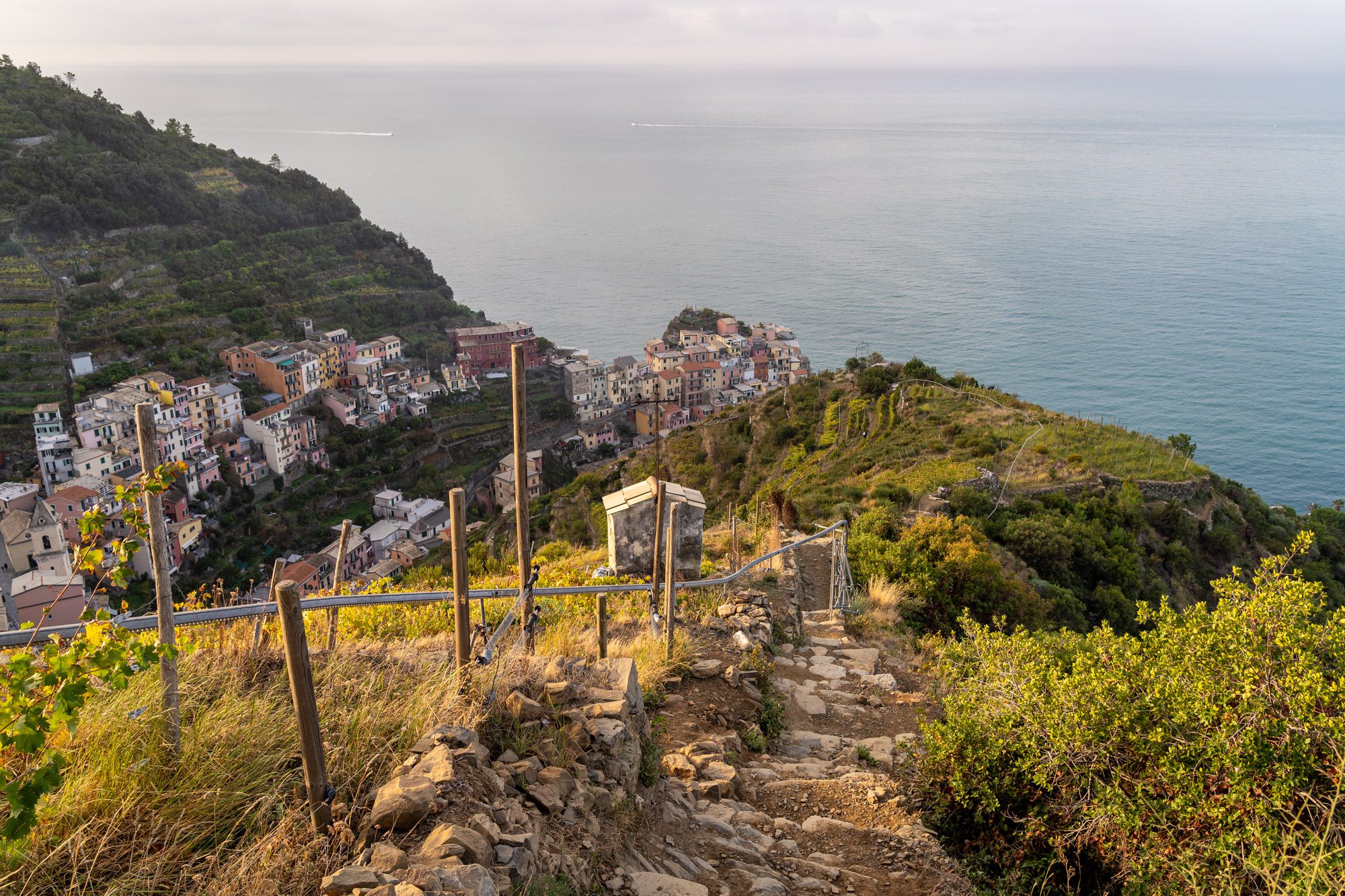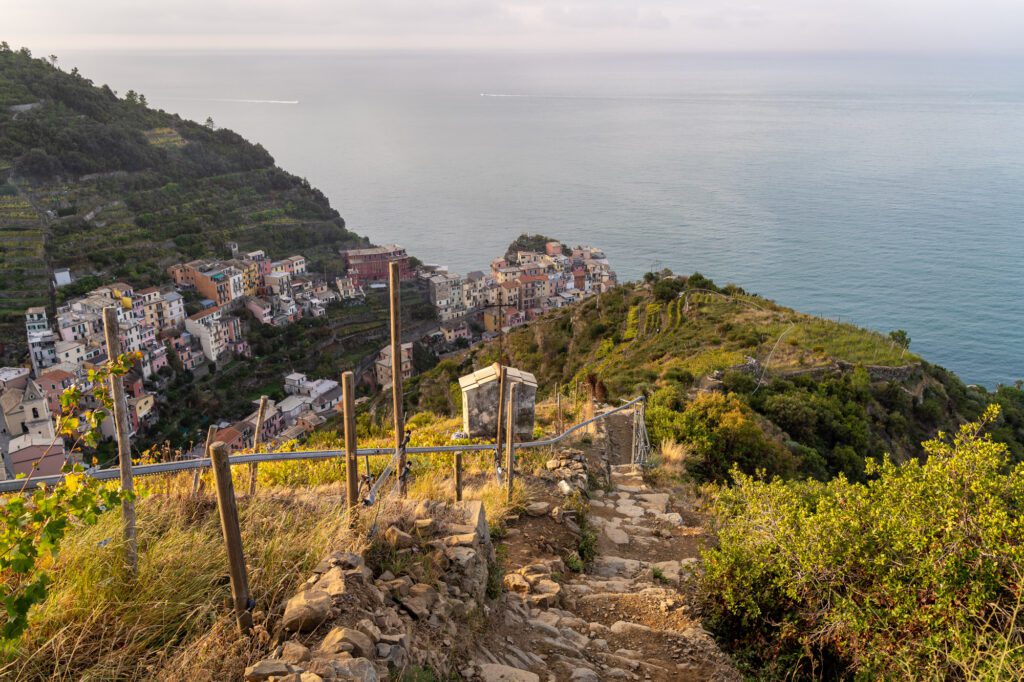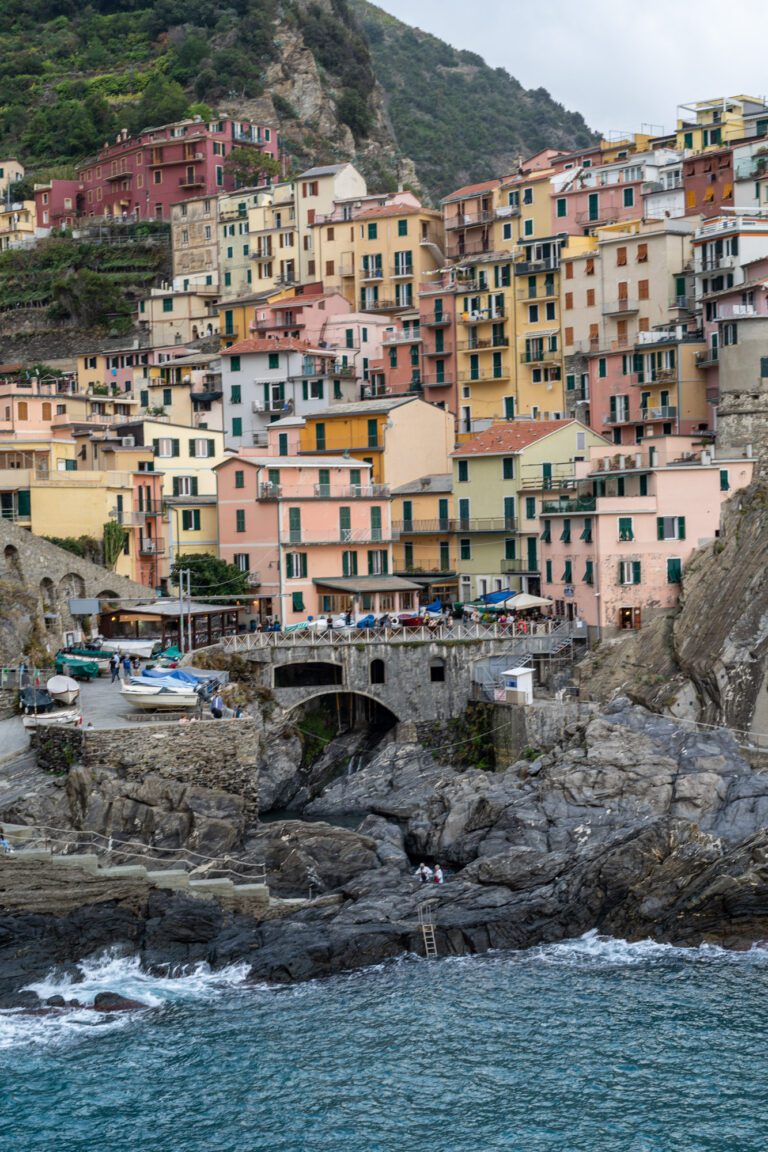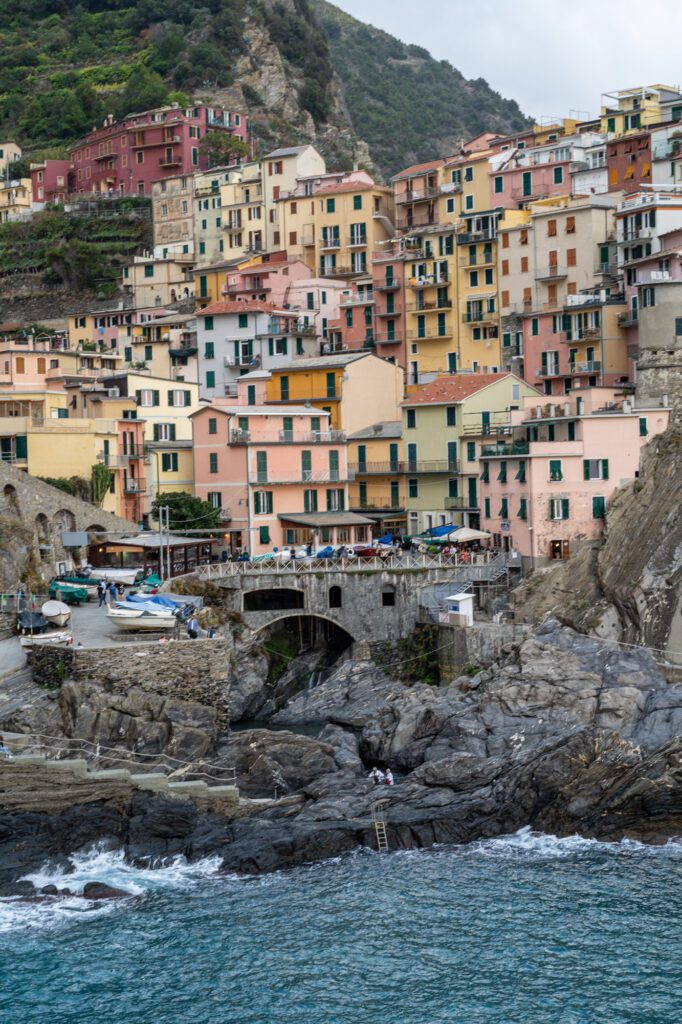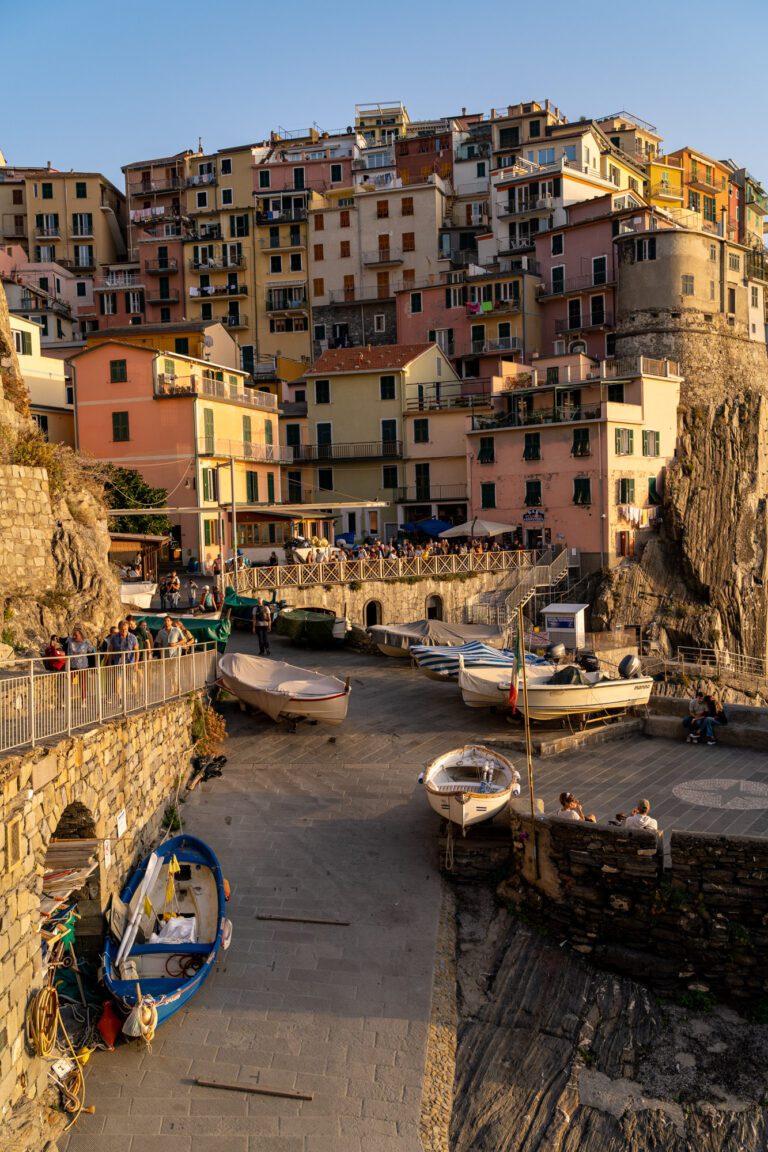 Pros and Cons of Staying in Manarola
Pros:
It's quiet AF. Especially after sundown, when all of the day trippers file towards the train station and head home for the night. About 30 minutes after sunset, the streets are basically empty. This also shows up in our cons section below, because it means that there are fewer options in terms of bars and restaurants in town. It's probably a better choice for apartments where you can cook for yourself.


It's incredibly photogenic. From the panoramic viewpoint at the tip of the peninsula jutting out into the sea, you'll be treated to the postcard-perfect view that's on all the tote bags and t-shirts at the souvenir shops in the Cinque Terre. It's particularly spectacular at sunset, when the golden glow of the setting sun washes over the multi-colored houses.
Cons:
… It's quiet AF. There's about five restaurants in town, and only a couple bars open past 7:00 pm or so. If you're looking to be in the middle of all the action in terms of eating and drinking, stay elsewhere (or plan on heading to one of the other towns to eat).


It's one huge hill. This is true of most of the towns (with the notable exception of Monterosso), but especially Manarola. Now, there is an upside – the views from the places at the top of the hill are nothing short of spectacular – but getting there requires quite the climb. My mom packed a giant suitcase, and let's just say lugging it up the hill was not a fun experience (shout out to my little brother, Connor, for shouldering the majority of the load).
The Best Places to Stay in Manarola
As we mentioned above, we stayed in Manarola for our entire time in the Cinque Terre. And we loved it.
We stayed at these apartments, which are scattered around town. Specifically, we stayed at the "Duplex Apartment", which has an excellent terrace with a view of the sea from the table, where we ate multiple dinners and enjoyed local wine as the sun went down.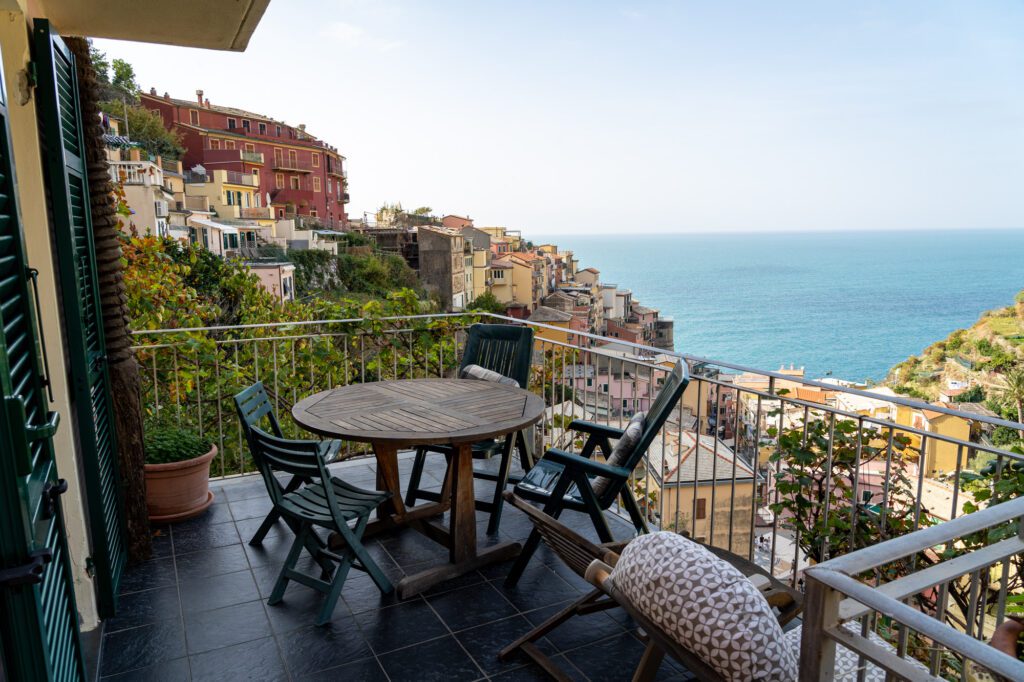 Here are some other places to stay in Manarola that caught our eye.
La Torretta Lodge: Located just off the square in front of the church up the hill from the train station, this boutique hotel isn't going to be the cheapest hotel option in town, but it might be the nicest. They have minimalist rooms, some of which have sea views from private terraces, and modern amenities like rainfall showers and Nespresso machines. Not the place to stay if you're on a budget, but if you're celebrating a special occasion, this would be a great place to do it.
The First Manarola: High up on the hilltop overlooking the harbor and the Ligurian Coast beyond is this small luxury hotel. There are only a few rooms here (and they have air conditioning!), but they pack quite the punch with sea views and luxurious bath tubs. Rooms are on the small side, but have plenty of space to serve as a nice home base for a few nights (longer trips might be a little harder). They have standard hotel-style rooms and bigger suites, some of which have private terraces overlooking the sea.
San Giorgio Guesthouse: While the first two lean towards the luxury end of the spectrum, this small guesthouse is a little more affordable and approachable. You'll trade luxurious touches like big bathtubs and Nespresso machines for comfortable beds and more modest decor. Which, as you might imagine, comes at a more affordable rate. One thing we like is that they have rooms that have two queen beds, but the beds aren't located right next to each other, which is perfect for groups and families who need a bit more space.
Riomaggiore: The Most Happening Town in Cinque Terre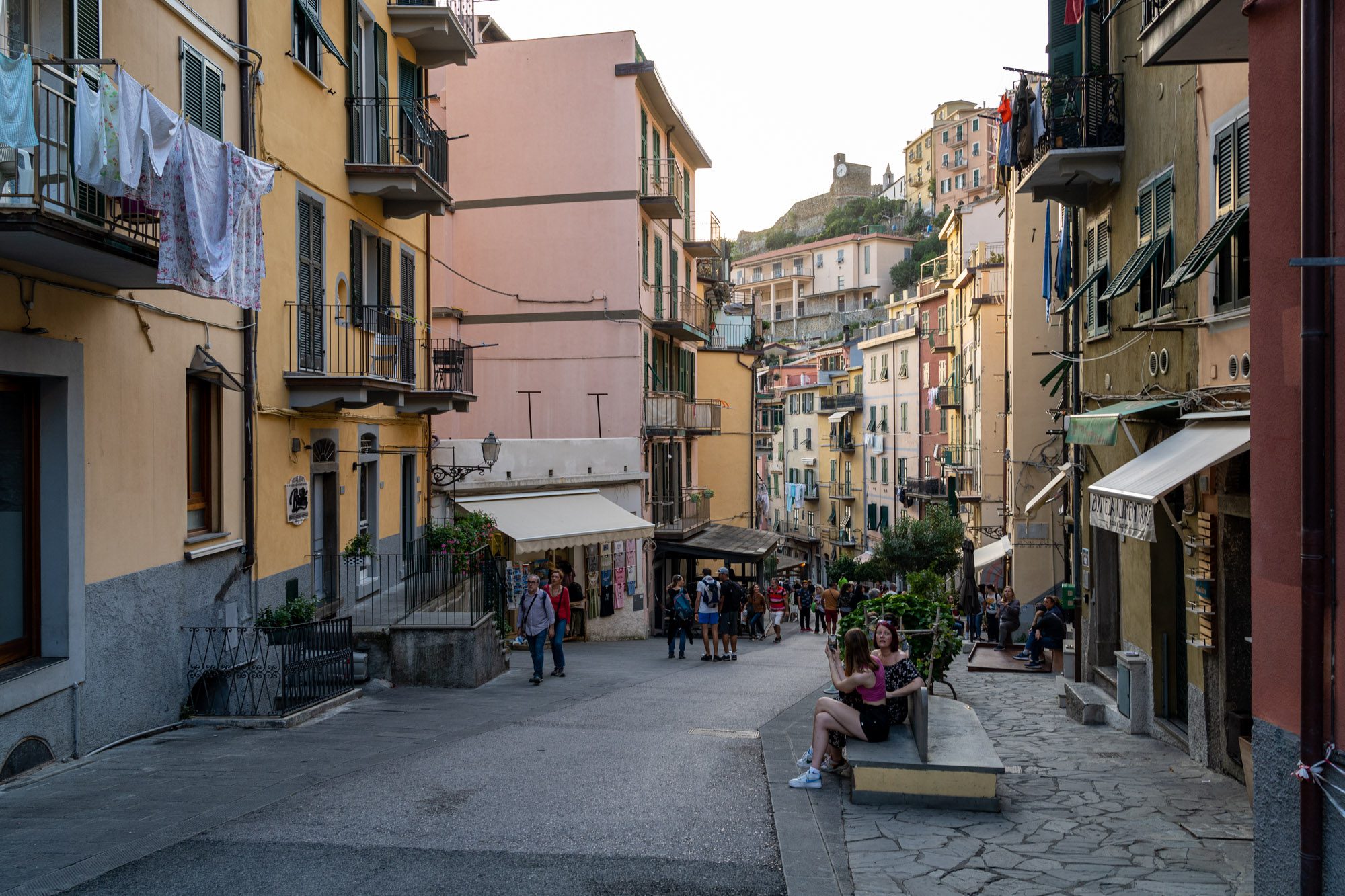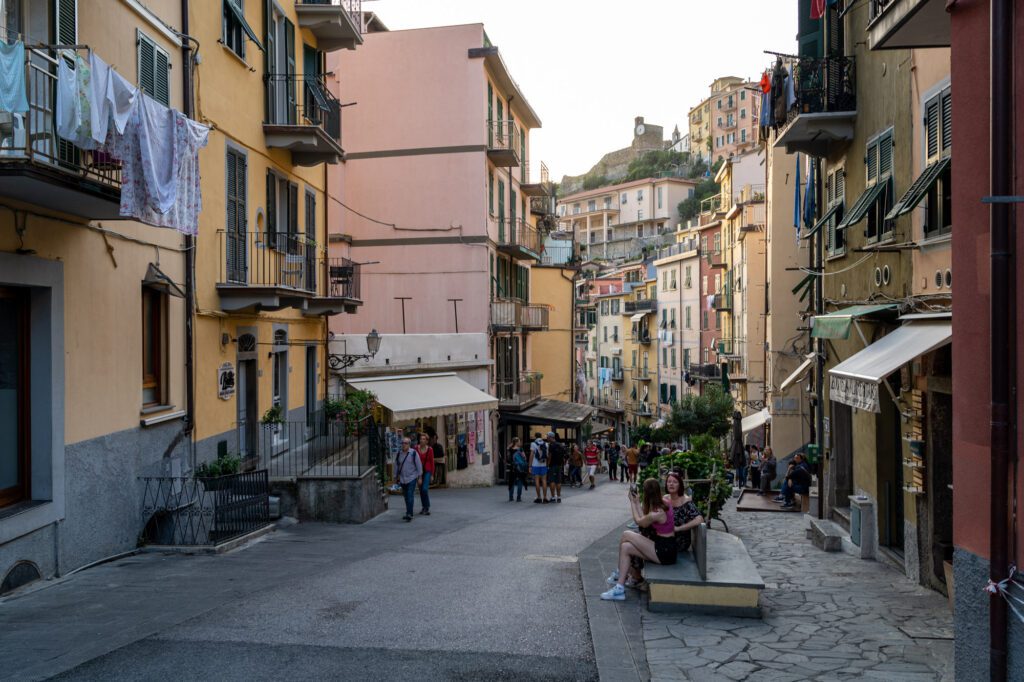 Our impression of Riomaggiore, which is actually the biggest of the five Cinque Terre villages and is the southernmost town in Cinque Terre national park, is that it was the most lively of the five.
Even as the lamps came on after sunset, which is when Manarola (which is where we stayed) would become a ghost town, we could feel the energy here.
If you're looking for nightlife, this is probably your best bet in the Cinque Terre (although, you should know that there's just not a whole lot of nightlife here in general).
The reason might be the sheer number of bars and restaurants in Riomaggiore, the majority of which are located along the main drag between the harbor and the end of Via Colombo. Compared to the five in Manarola, there is a nearly unlimited number in Riomaggiore.
But that's not the only thing that Riomaggiore has going for it. It also happens to be the second most beautiful (after Manarola) of the towns of Cinque Terre according to our very unscientific and completely subjective ranking.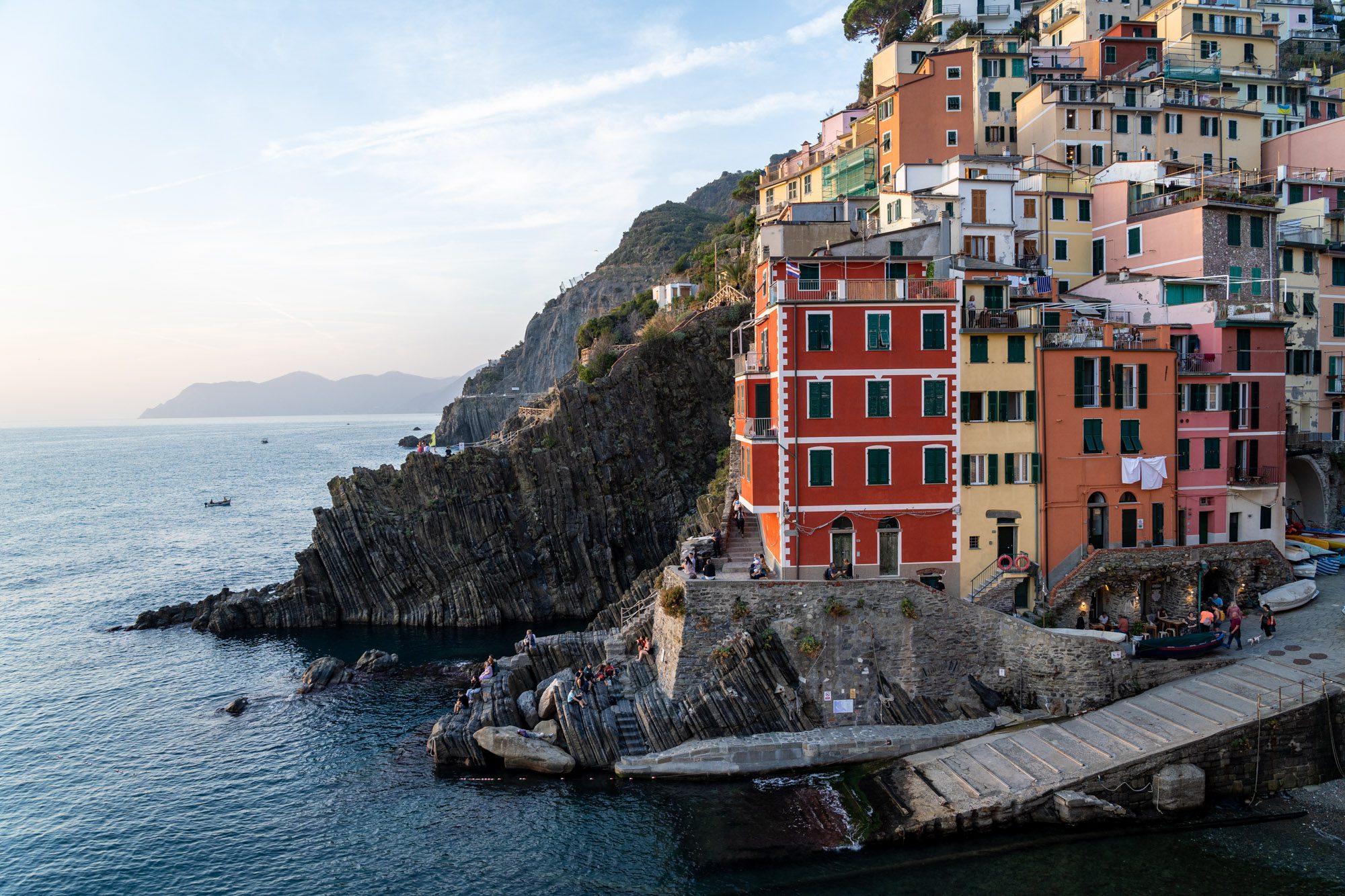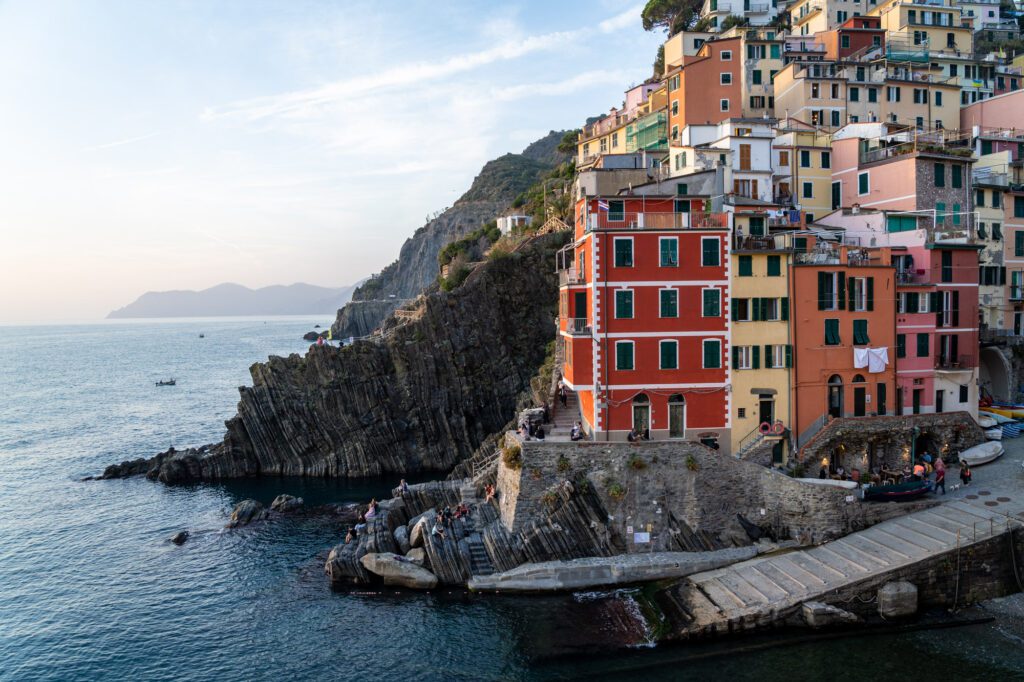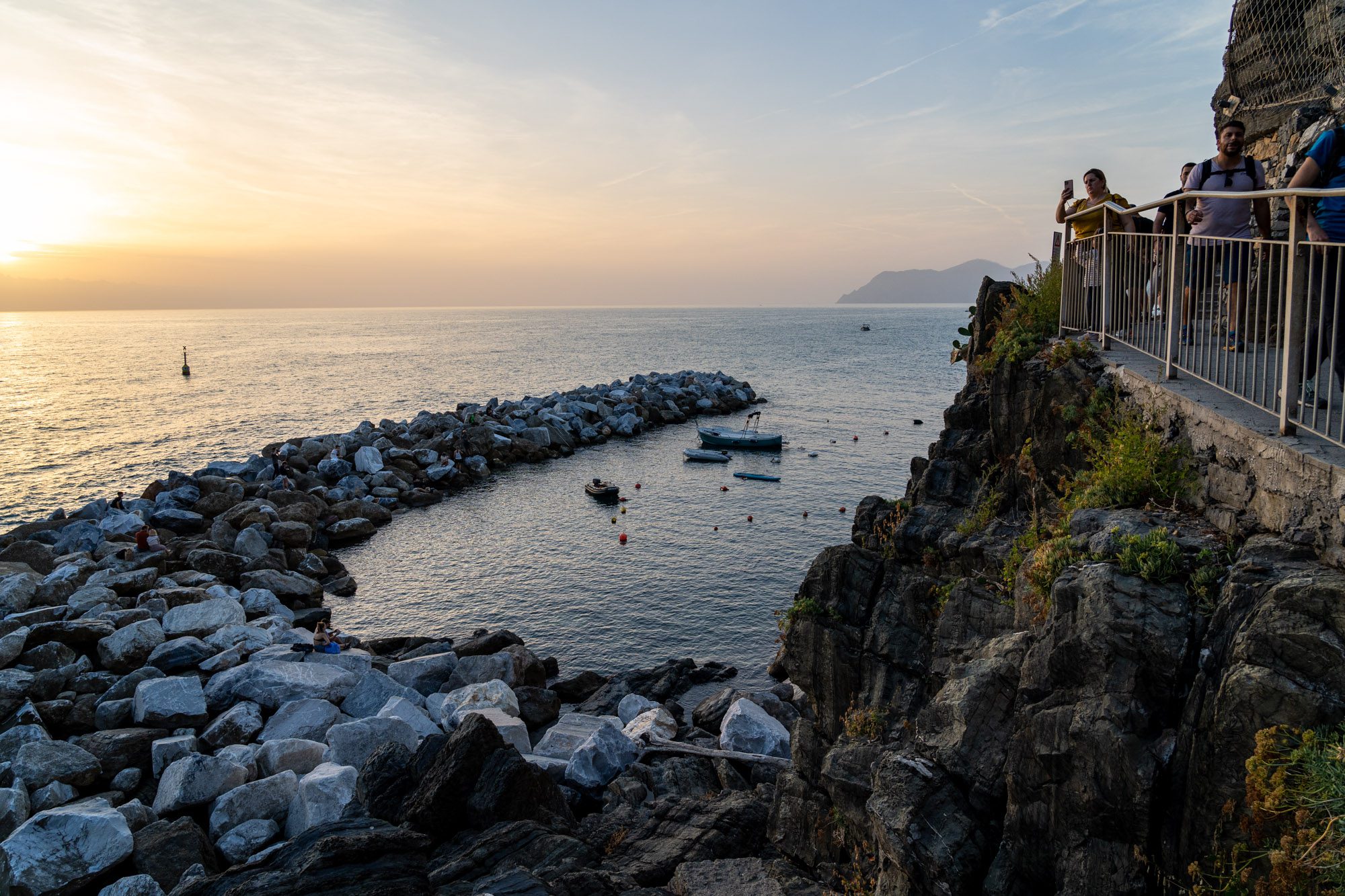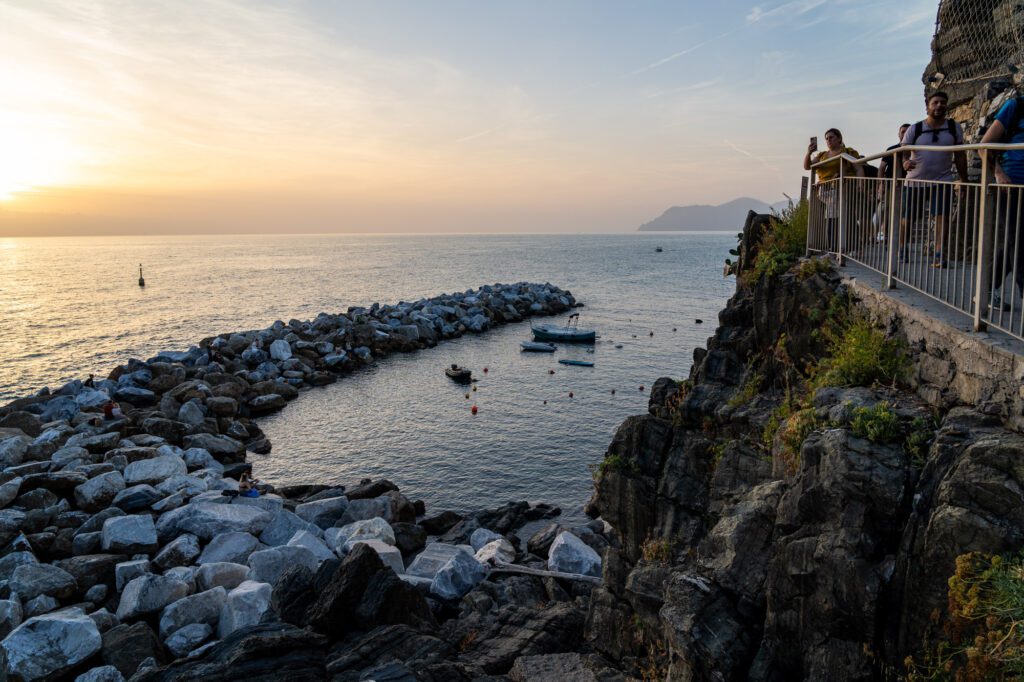 The harbor is a great place to catch a sunset, and there are some amazing views to be had up around the church at the top of the hill, San Giovanni Battista.
If you're looking for a place that is both lively and beautiful, with plenty of places to eat and drink, Riomaggiore is a great option.
Pros and Cons of Staying in Riomaggiore
Pros:
It's gorgeous. All of the towns are extremely photogenic, but Riomaggiore is especially so. Especially around the harbor and at the top of the hill near the church.


Lots of energy. Compared to towns like Manarola and Corniglia, which are a little sleepy, Riomaggiore is lively, even after the sun goes down. Lots of options in terms of places to eat and drink.


Ghemé. We loved our experience learning about the wines of the Cinque Terre here that we decided to include it in our pros and cons list. That should tell you everything you need to know. Go for the wines from small local producers, stay for the friendly staff and crash course on making wine in the Cinque Terre.
Cons:
The location isn't great relative to the other villages. It'll take 10-15 minutes to get to Vernazza and Monterosso al Mare. Which isn't a deal breaker, but is something to consider, especially since that's where the majority of the hiking is.
The Best Places to Stay in Riomaggiore
Riomaggiore has the best breadth of options when it comes to places to stay across the entire value spectrum. Most of them, though, fall in the mid-range category.
Here are a few that we liked.
Crêuza de Mä: You seriously couldn't ask for a better location right above the terrace with a fantastic view at sunset. They have multiple panoramic terraces overlooking the Ligurian Sea in one direction, and the colorful buildings of Riomaggiore in the other. You'll be able to escape the crowds at the viewpoint below and enjoy the sunset with a glass of wine in peace. Plus a hot tub with a view! Rooms are simple and comfortable, coming in two styles (one double bed or two twins). The property is something special – look at the pictures to see for yourself!
Scorci Di Mare: This property is right across the harbor from the famed sunset spot we referenced above, which puts it right in the middle of all the action in Riomaggiore. Rooms are mostly hotel-style with various layouts, and some have sea views or views of the town. There are also a couple of apartments, if you're looking for more space or a kitchen, but they book up fast.
Cinqueterre Residence: If we're being honest, we thought this place was going to be WAY out of our price range based on the photos. But we were pleasantly surprised to find it smack dab in the mid-range category when you consider that prices in Cinque Terre are generally pretty high. It's a bit of a trek up the hill along Via Colombo, but it's a steady grade most of the way there. It's a mix of hotel-style rooms and bigger apartments (with small kitchens). Air conditioning in every room, and a shared jacuzzi for guests.
Affittacamere Le Giare: This might be the best budget-friendly option in Riomaggiore (and maybe the entirety of the Cinque Terre). Rooms are nothing special, but they have everything you need for a few nights, and did we mention they're affordable? They even have air conditioning!
Vernazza: The Best Place to Stay for Hiking the Sentiero Azzurro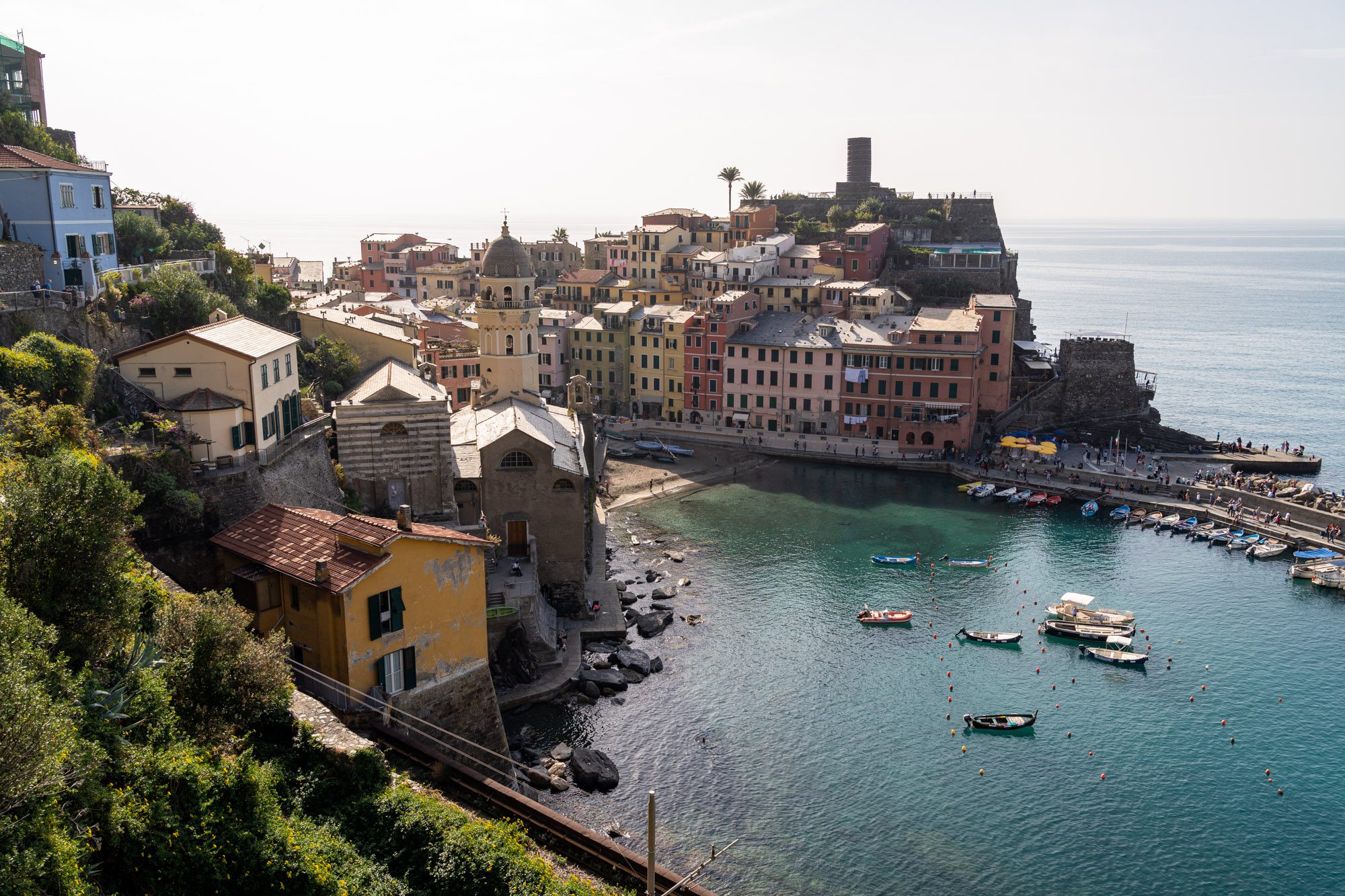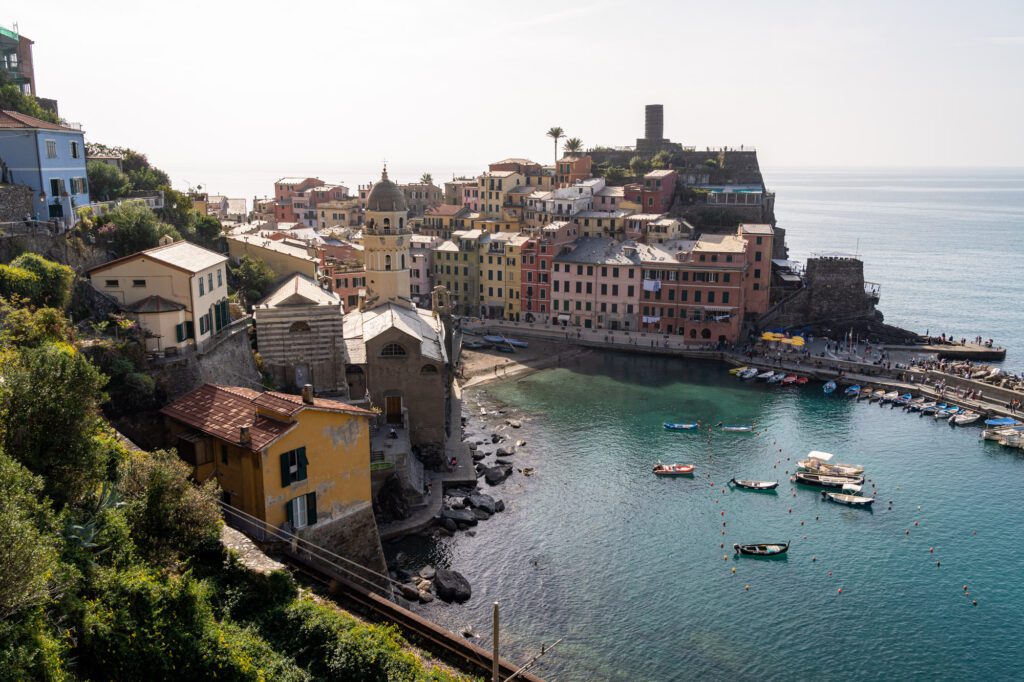 If we were to do it over again AND were going to stay somewhere other than Manarola, it would be Vernazza. Sure, Vernazza itself is lovely. There are some great places to eat and drink in town and the harbor is about as photogenic as any spot in the Cinque Terre.
However, the main reason we'd choose to stay in Vernazza is that, as of late 2022, it's the best place to stay in Cinque Terre for hiking the famous Sentiero Azzurro ("Blue Trail" in English).
As of 2022, only two sections of the Blue Trail are open. They are the track between Corniglia and Vernazza, and the track between Vernazza and Monterosso al Mare.
You've undoubtedly noticed that Vernazza is the middle city in that trio, which means you'll be able to hop on both sections of the trail without having to first take the train, which can be unreliable and crowded.
That, my friends, is the best argument for staying in Vernazza. If you're planning on hiking both sections of the Blue Trail and love the idea of being able to walk to the trailheads for both, Vernazza is your best bet.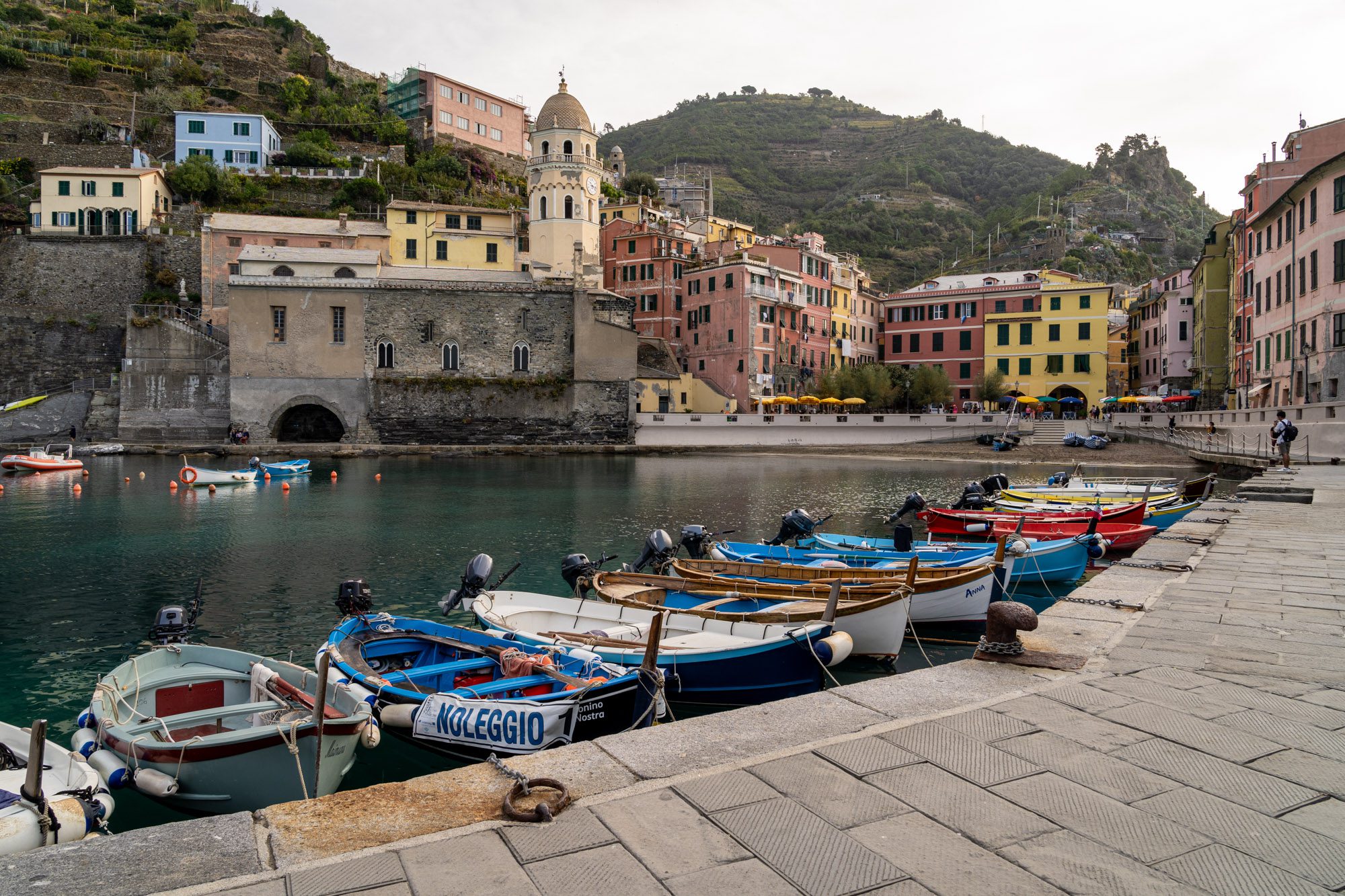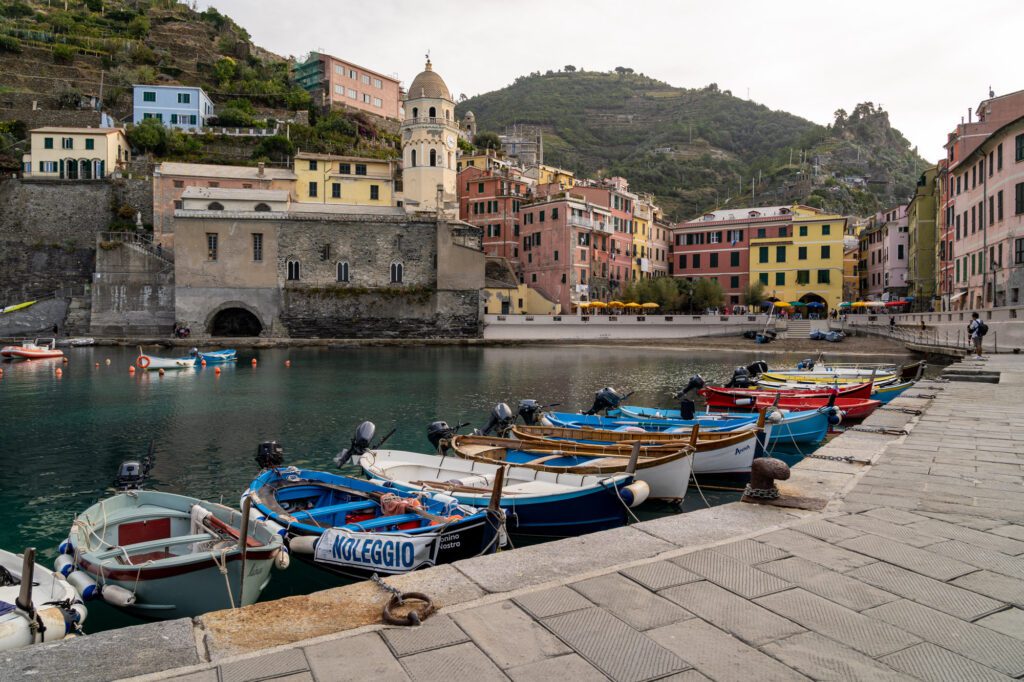 Pros and Cons of Staying in Vernazza
Pros:
It's the best location for hiking. You'll be able to wake up, grab coffee and breakfast, and hit the trail without having to hop on the Cinque Terre Express. Which, speaking from experience, can be a little bit of a pain thanks to crowds and canceled trains.


It has some nice places to eat and drink. Unlike Manarola, which only has a (small) handful of places to eat and drink, you'll have plenty of options in Vernazza.
Cons:
It's crowded. Its place at the center of the Blue Trail means that there are tons of people here, especially in the middle of the day. They clear out come dinner time, but it's pretty overwhelming between 10:00 am and 4:00 pm or so.


There aren't many hotels. Despite the fact that there are a ton of tourists around, there aren't a whole lot of hotel or guesthouse options in Vernazza.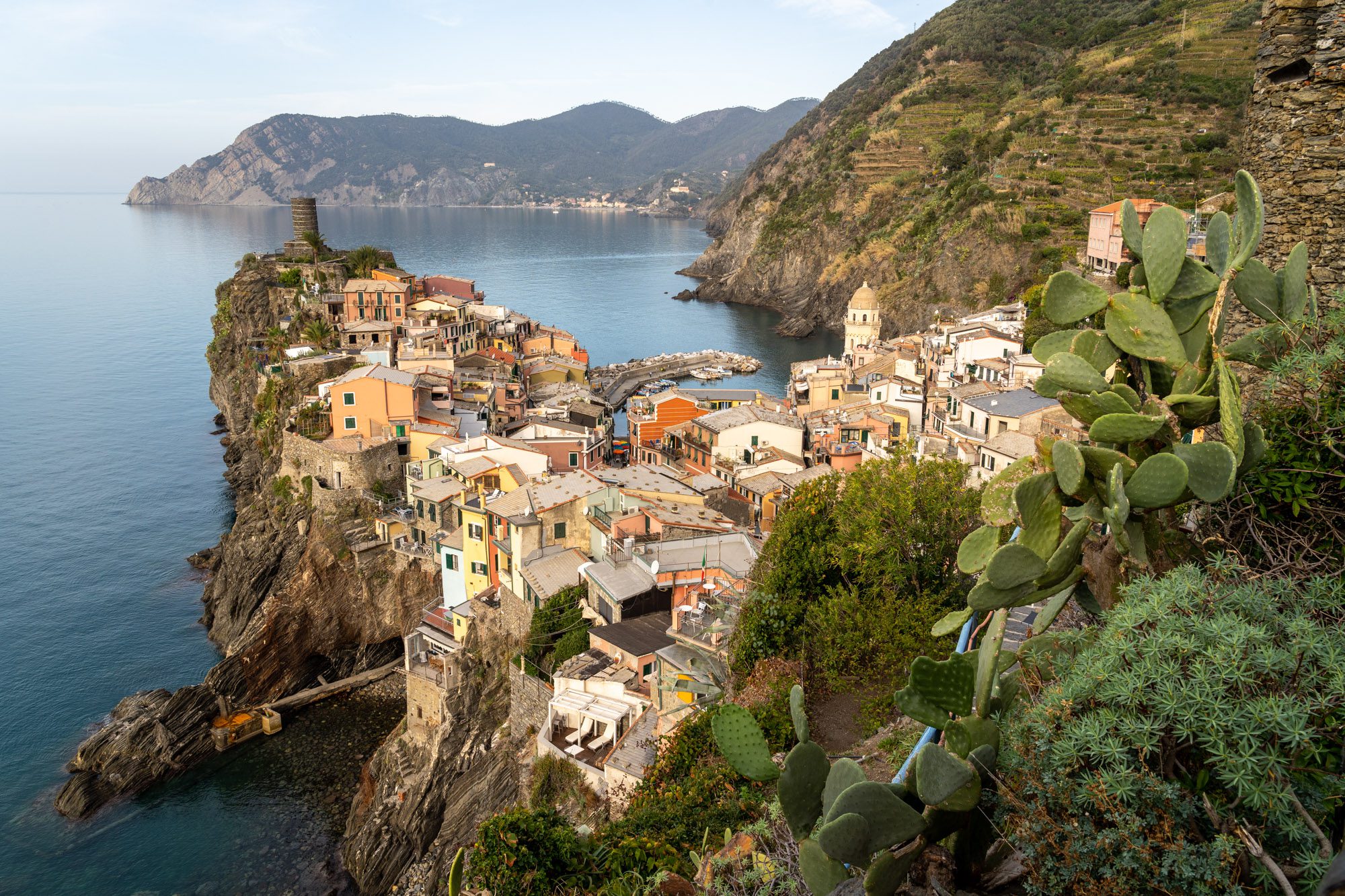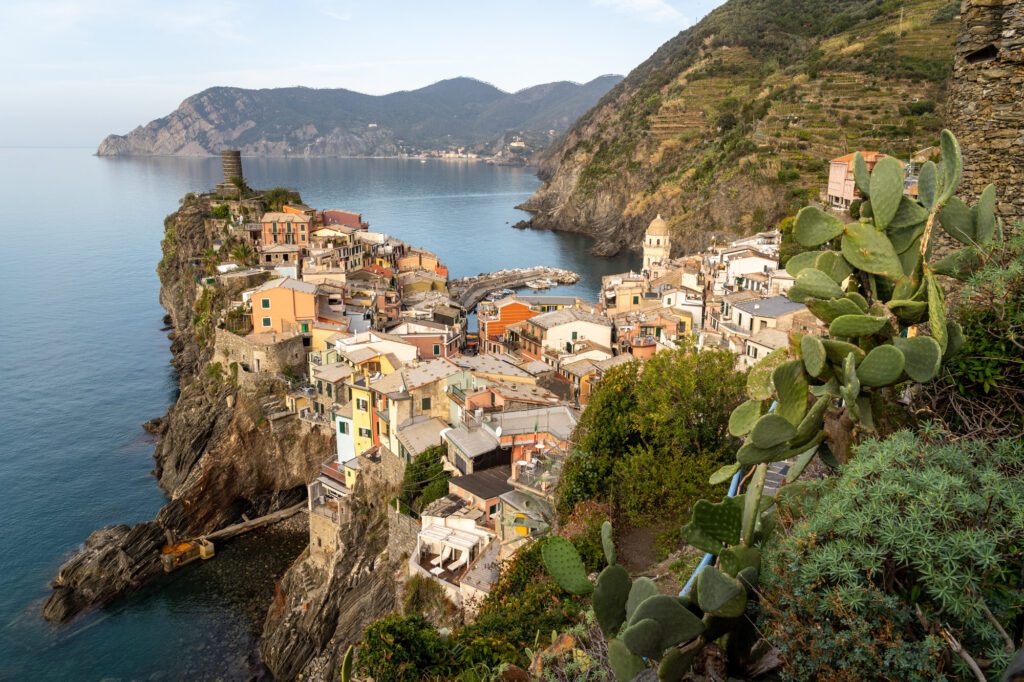 The Best Places to Stay in Vernazza
The options here are relatively limited, which was a surprise to us. Here are a few places to stay in Vernazza that caught our eye.
La Ripa Camere: A nice guesthouse on the hill towards the start of the trail to Corniglia. They have one bedroom apartments (with full kitchens) along with smaller double rooms, some of which have ocean views and balconies. Excellent views throughout the property. They do have air conditioning.
Pippo a Vernazza: We wanted to go to the restaurant on the ground floor here (it was closed for the season, but you totally should), and imagine my delight when I realized they had a small guesthouse over the restaurant! Comfortable rooms without a whole lot of luxurious touches, but a great value five minutes up the hill from the main drag in Vernazza.
Monterosso al Mare: Where to Stay for Beach Lovers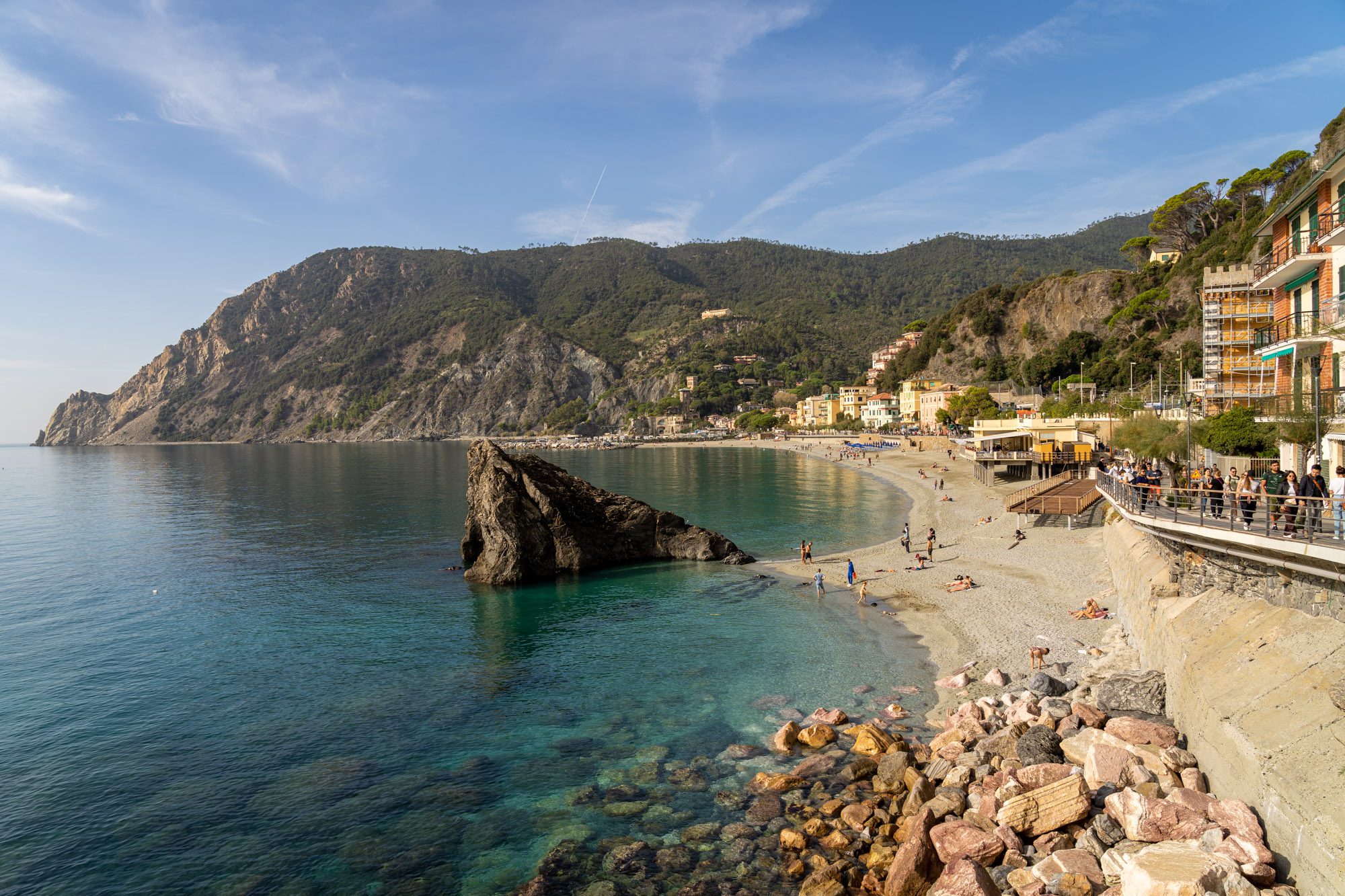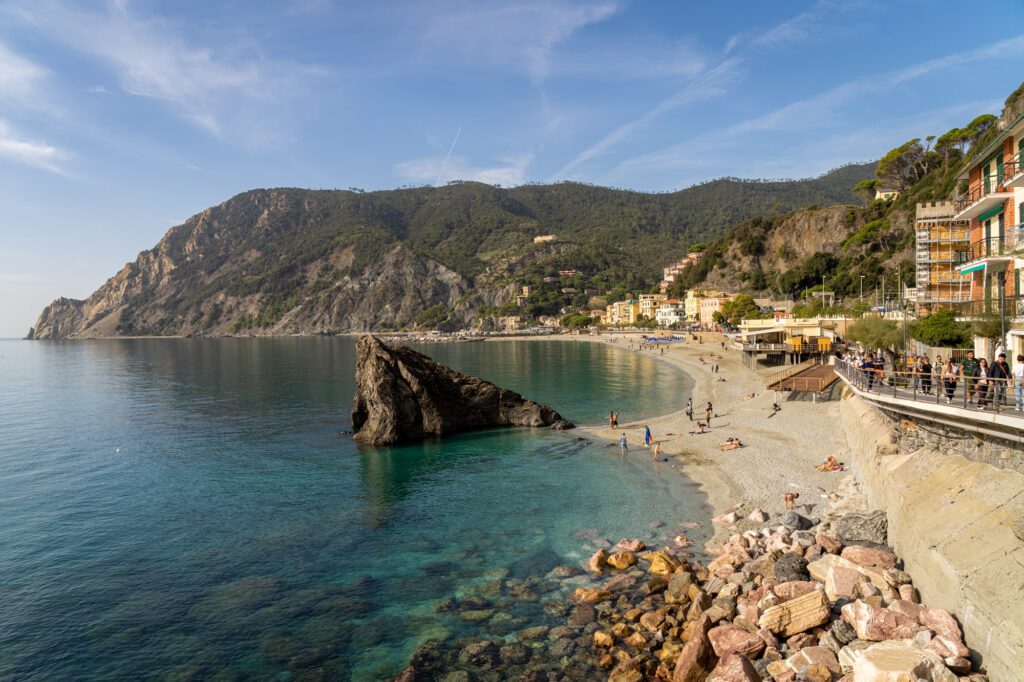 Cinque Terre isn't known for its beaches, but if going to the beach is high on your list of things to do in Cinque Terre, then Monterosso al Mare is the place for you. We found the beaches here (there are two of them) to be the best we came across in the Cinque Terre.
Monterosso feels like the biggest, most popular town of the Cinque Terre (though Riomaggiore is technically bigger in terms of permanent residents), and it's split into the old town and the newer side of town, which is where you'll find the train station and the beach.
The old town in particular is a fun place to wander around, and there are a couple of highlights below that you really shouldn't miss, even if you don't choose to stay here.
One thing we didn't like about Monterosso is the fact that all of the times we were there, it was absolutely overrun with tourists. On the beach, in the narrow alleys, at the restaurants. Everywhere. It was clearly the most crowded town of the five, and we'd definitely count that as a con.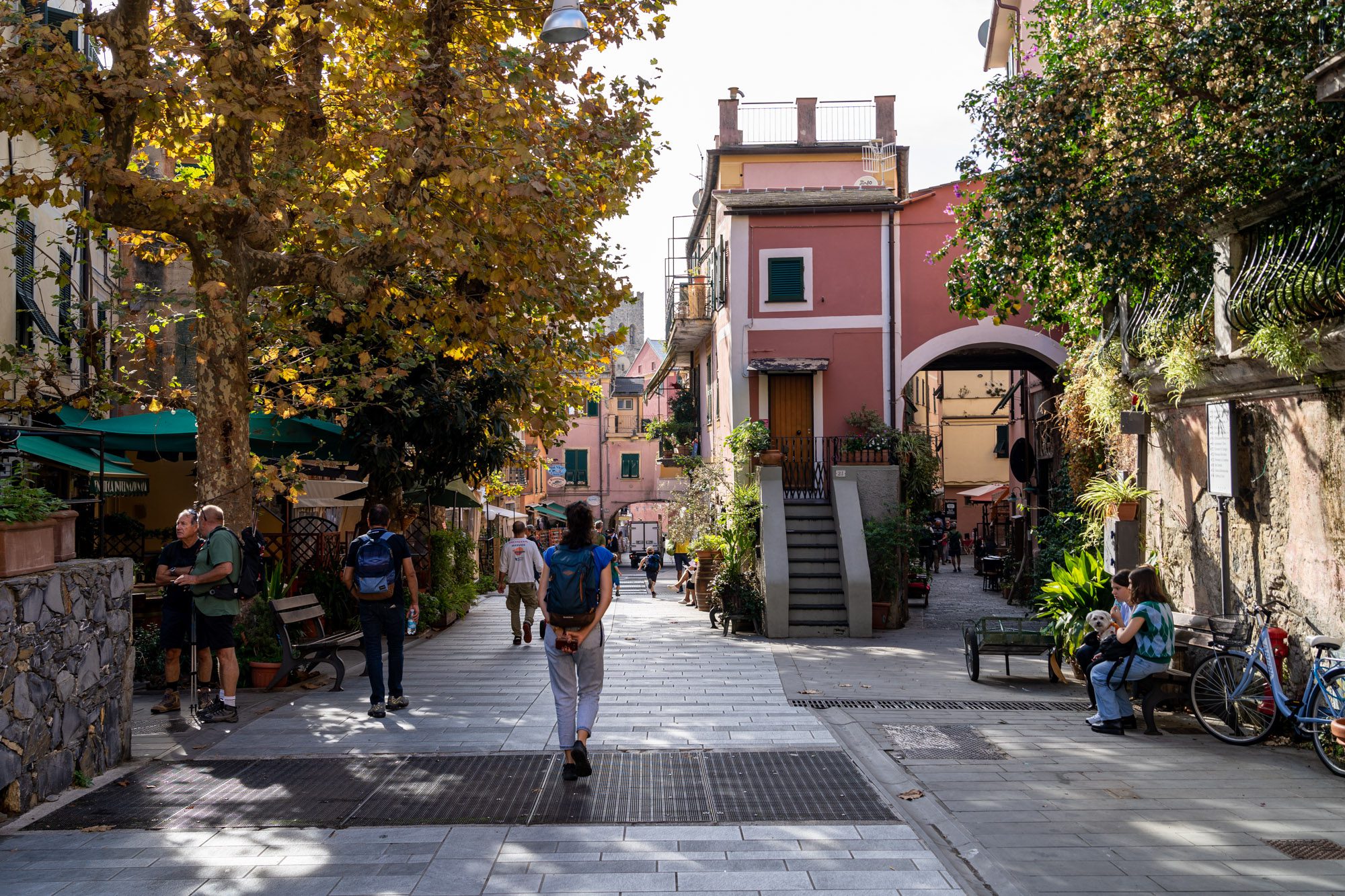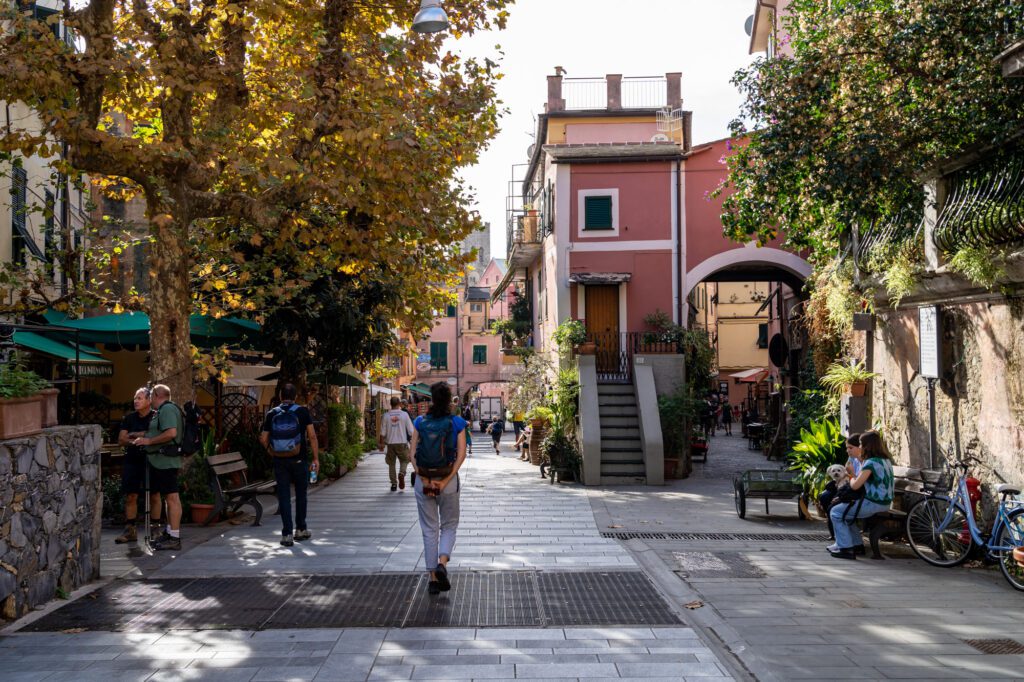 Pros and Cons of Staying in Monterosso al Mare
Pros:
It has some nice beaches. Wide sandy beaches and distinctly Italian lidos with blue umbrellas and beach chairs make this an excellent destination for beach lovers. If the weather's hot and you're craving a dip in the cool sea, this is probably the best place to do it.


There are some unique shops, bars, and restaurants. Two of our top five favorite discoveries of the entire trip were in Monterosso (which we'll cover below), and the narrow streets of old town are packed with shops to browse for souvenirs and gifts to take home.


It's essentially flat. If you want to avoid carrying a big heavy suitcase up a narrow, steep flight of stairs, Monterosso is your best bet. Sure, there are hills, but not nearly as many as other towns.
Cons:
It feels the most "touristy." That's not necessarily a bad thing, but it was packed at all hours of the day. One of the things we enjoyed about the Cinque Terre is the fact that it's a highly trafficked tourist destination, but somehow manages to maintain a somewhat "undiscovered" feeling (we know, it's smack dab in the middle of the beaten path) when you're walking around before 9:00 am or after 7:00 pm, when the streets are relatively quiet. Monterosso doesn't really have that feeling.


It's expensive. We found things were around 10-20% more expensive in Monterosso, from glasses and bottles of wine, to food, to souvenirs. Accommodations, too.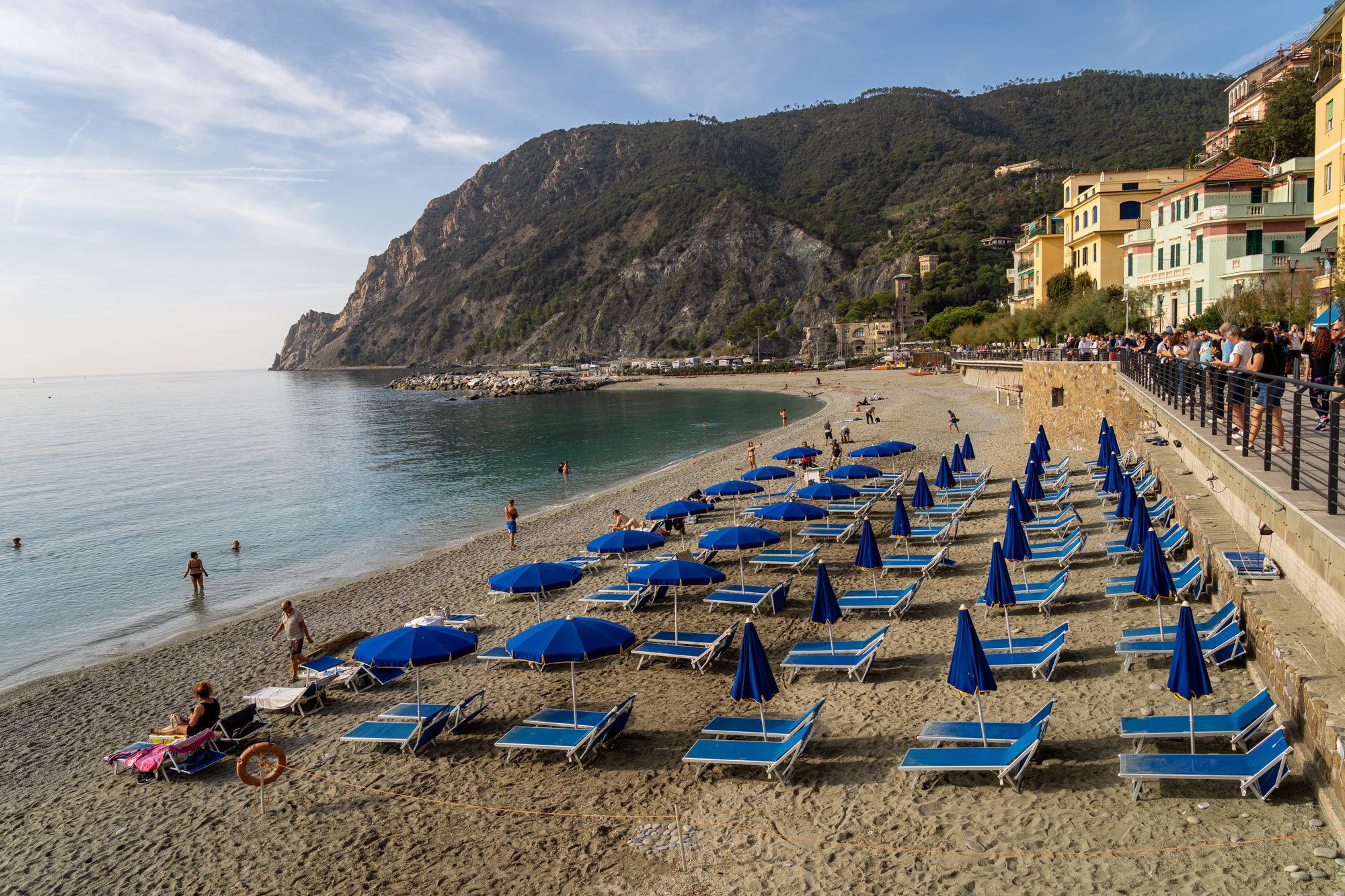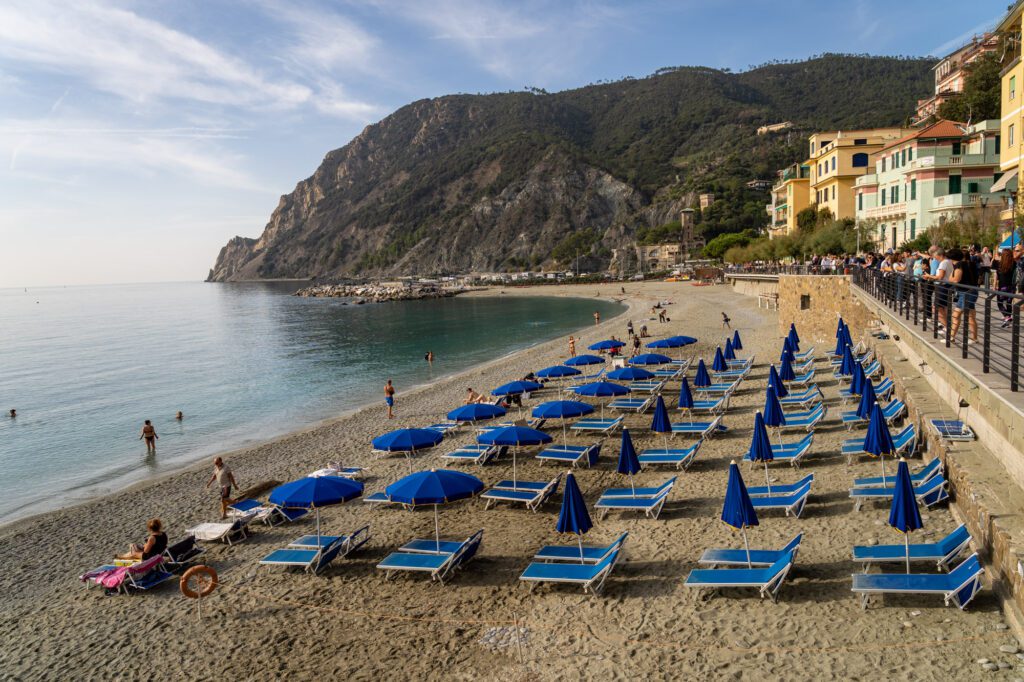 The Best Places to Stay in Monterosso al Mare
While Monterosso al Mare is the most popular place to stay of the five towns, that doesn't necessarily mean it has the nicest places to stay.
It certainly has the widest breadth, but we're not super excited about most of them. They tend to be at capacity year round, which means sometimes they're in some dire need of TLC (tender loving care).
Still, if you want to be able to walk to the beach from your front door, this is the place to be. Here are some places that caught our eye.
Affittacamere Da Flo: Probably the best location in terms of being close to the beach – it's quite literally across the street from the front door. Simple hotel-style rooms, some of them have views of the sea (some don't, so if it's important to you, make sure you choose a room that has one!). Rooms are a good size, too, with a little extra room to spread out.
Affittacamere Lo Scoglio: Another nice guesthouse across the street from the beach, this one is recently renovated and has clean, stylish rooms. It's going to be loud because of the location, but that's the tradeoff you're making for staying across the street from the beach I suppose. A nice communal terrace where you can watch the sunset with a drink, and some rooms have sea views and/or balconies.
La Casa di Zuecca: This one is on the other side of Monterosso al Mare in the old town, which is where you'll find the better selection of bars and restaurants. It's still within walking distance of multiple beaches, it's just not literally across the street. Which means it'll be quieter, if you're looking for a good night's sleep, and also cheaper. It's a simple offering – moderately sized rooms (with air conditioning), simple decor, and a good location. Overall, a great value for the money.
---
Heading to Italy?
We've been to Italy multiple times – obviously we love it – including more than a month on our last trip!
If you enjoyed this guide and found it helpful, you definitely won't want to miss our detailed guide to planning an amazing 10 Day Italy itinerary, which covers Rome, Florence, and Venice and is perfect for a first trip.
We also have a guide to spending two weeks in Italy, which combines those three main cities with a few lesser known cities (Bologna and Verona), or a guide to spending one week in Italy, which has six different ways to spend 7 days.
Here are some of our other Italy guides to help you plan an incredible Italian adventure.
Rome:
Florence:
Venice & Milan:
Cinque Terre:
Sicily:
Need to Eat Gluten Free in Italy?
If you're traveling and need to eat gluten free like me, Matt (I have Celiac Disease, which is why I started this site in the first place), then you'll want to check out our gluten free guide to Italy, along with our city guides for Rome, Florence, and Milan to help you find the best gluten free pastries, pizzas, and more.