Where to Stay in Seattle: 5 Amazing Areas to Stay
Seattle is a city that, over its history, has been in a constant state of change. From the early years when it really got its start as a hub for people setting off for the promise of a better future in the form of the gold rush, to today, when it has become home to some of the world's most influential companies, Seattle is a city built on innovation.
We're here to help you decide where to stay in Seattle, whether you're here for a weekend or a longer stay, and we hope that you'll see that theme of innovation come to life over the course of your stay.
Now, I might be (read: definitely am) biased here, because I grew up in the Seattle area and spent many years both exploring the city and living in it. I think Seattle (and Washington State as a whole) is one of the best parts of the country.
Sometimes, it seems as though the rest of the world is catching on – just go to Mount Rainier or Pike Place Market on a summer weekend and you'll instantly see what I mean – but other times, there's still a side of the Pacific Northwest that feels untouched.
Today, the city I grew up in looks very different than it did a decade ago (really, even just five years ago), but it remains a hub of innovation. And I don't mean that just in terms of the tech companies that have grown up here.
Seattle is also on the leading edge in the food and drink department (though, not as much as our new home, Portland), where you'll find some of the most interesting chefs, brewers, and baristas on the west coast trying new things.
All in all, Seattle is a fantastic city to visit, whether you have a weekend, or more time to dedicate to the wider Seattle area (Mount Rainier and Olympic National Park are two of our favorite places on the west coast, for what it's worth).
In this guide, I – a former local Seattleite – will do my best to help you decide where to stay in Seattle. We'll start with a few places to avoid for various reasons, and then go through the five best areas to stay in Seattle in (sometimes excruciating) detail.
We'll give you an overview of each of the five neighborhoods, our view of the pros and cons of staying there, some of our favorite highlights within each neighborhood, and the best places to stay in the area.
The intention is that by the end of this guide, you'll be able to use the information we've put together for you to make a decision and find the perfect place to stay in Seattle for your particular style and budget.
Sound good to you? Grab a cup of coffee (this is Seattle, after all) and let's get into it.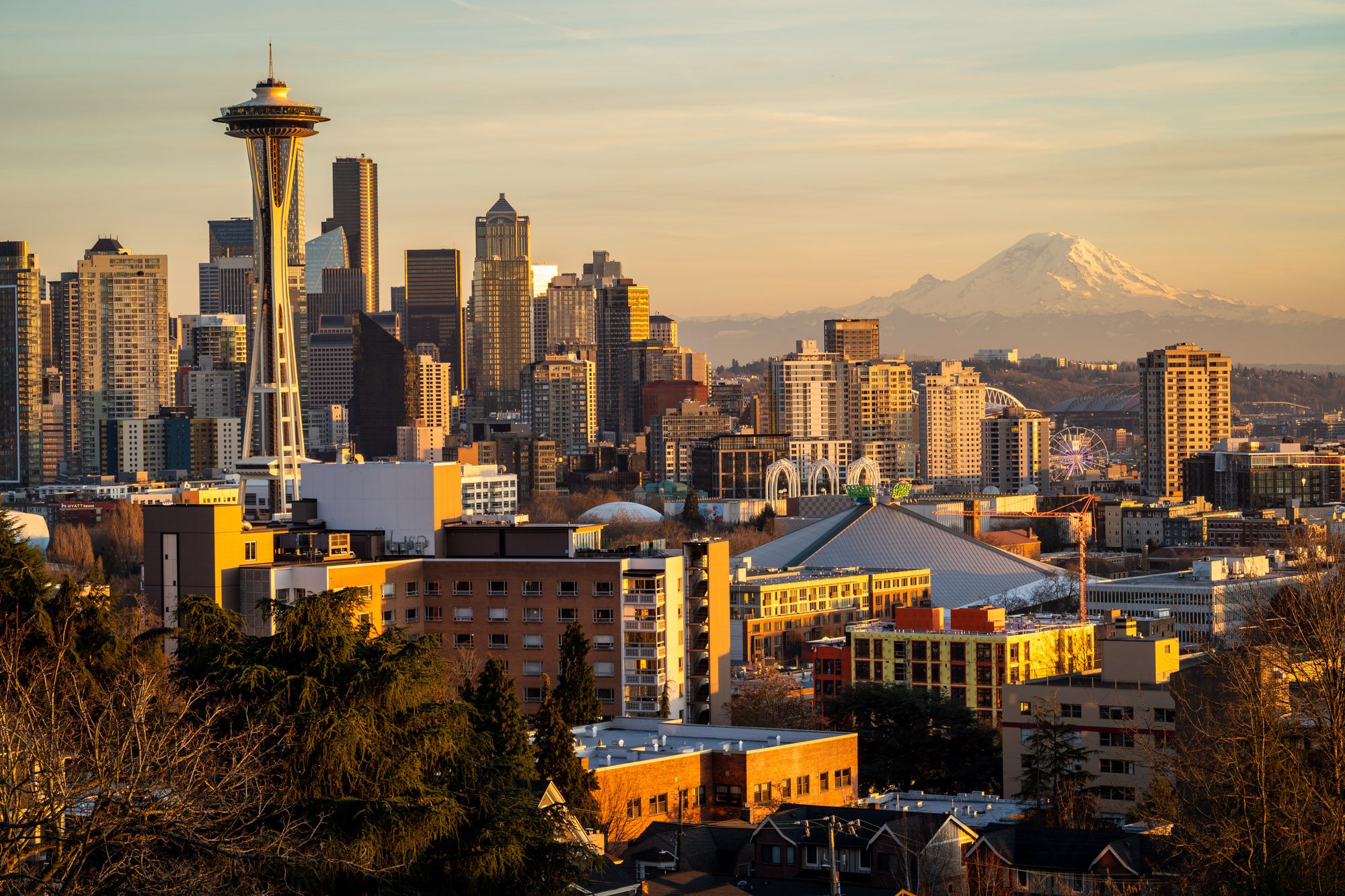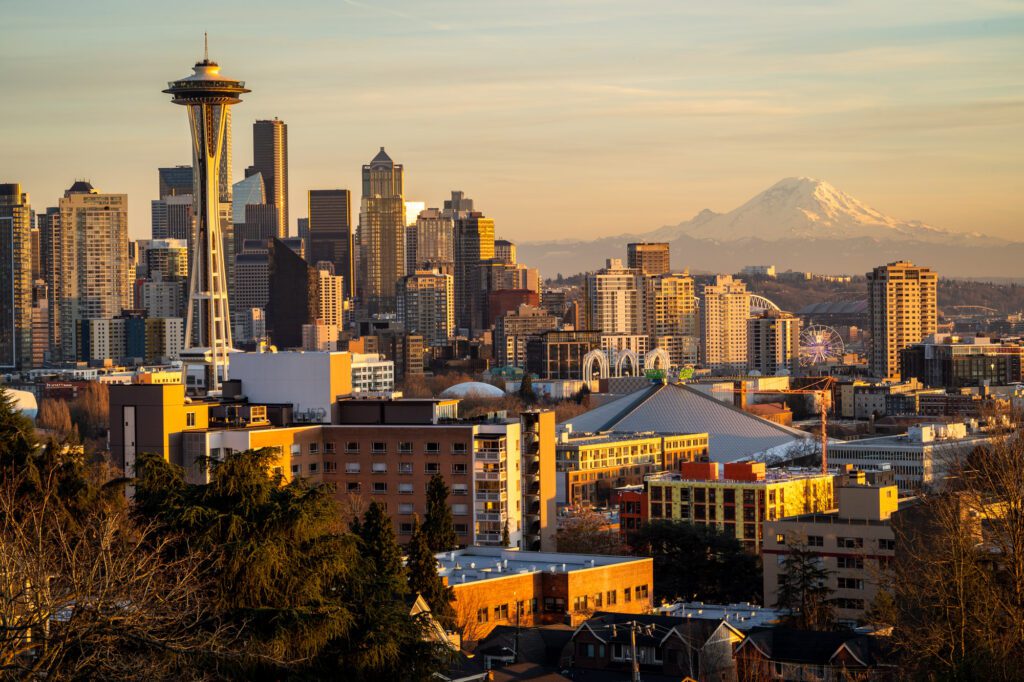 Disclaimer: Some of the links in this post, like hotel links, are affiliate links, meaning at no additional cost to you, we make a little bit of money if you click through and book. That being said, we would never recommend something to you that we don't stand behind 100%.
Where NOT to Stay in Seattle
Before we jump into the breakdown of five great areas that would make a good home base for your trip to Seattle, let's talk about the places you should avoid, either because they just aren't convenient for visitors, or because they're not the nicest areas.
The first place we'd avoid is Pioneer Square, which is a subsection of Downtown Seattle (which we very much do recommend, but would stay further north towards Pike Place Market). Pioneer Square is on the southern end of the downtown core towards the baseball and football stadiums.
One thing to know about visiting Seattle is that there is a sizable and visible unhoused population here. We aren't going to debate causes and solutions here (sky-high – and still rising fast – cost of living probably has something to do with it, though), but the main thing to remember is that they're largely harmless to visitors.
Sure, it's uncomfortable to see someone down on their luck or dealing with addiction issues because it reminds you how good you have it, but they're not a scourge on the city, which is language I hear far too often these days. They're humans, just like you or me.
The point I'm making here is that we'd avoid staying in Pioneer Square because, for a few reasons, there is a large, visible unhoused population that congregates in Pioneer Square. If that makes you uncomfortable, stay elsewhere.
The second place we'd avoid staying is West Seattle. Though the West Seattle Bridge is (thankfully) back open and West Seattle is a pretty cool area to explore, it's still a 20-30 minute journey to get downtown. And that's without traffic. If you've got a short trip and you're planning on seeing the main tourist sights, it's not going to be convenient at all.
The third area (really, areas) we wouldn't stay in are Ballard and Fremont. This pains us, because we really love these two neighborhoods, but they're just too far from the main attractions in Seattle. With traffic, it can take 30-40 minutes by car (more by bus) to get downtown. Plus, they're very residential, and have very few options when it comes to hotels. They're a great place to visit and spend an afternoon eating and drinking, but staying here would be a mistake.
We'd include the University District (colloquially known as the "U-District") in this group of places to avoid too, unless you're visiting Seattle specifically to go to the University of Washington. While there are some cool places to eat and drink (especially in the University Village shopping center), it's far from just about everything else in Seattle.
With those three areas excluded from the discussion, let's talk about the five areas to stay in Seattle that we would recommend.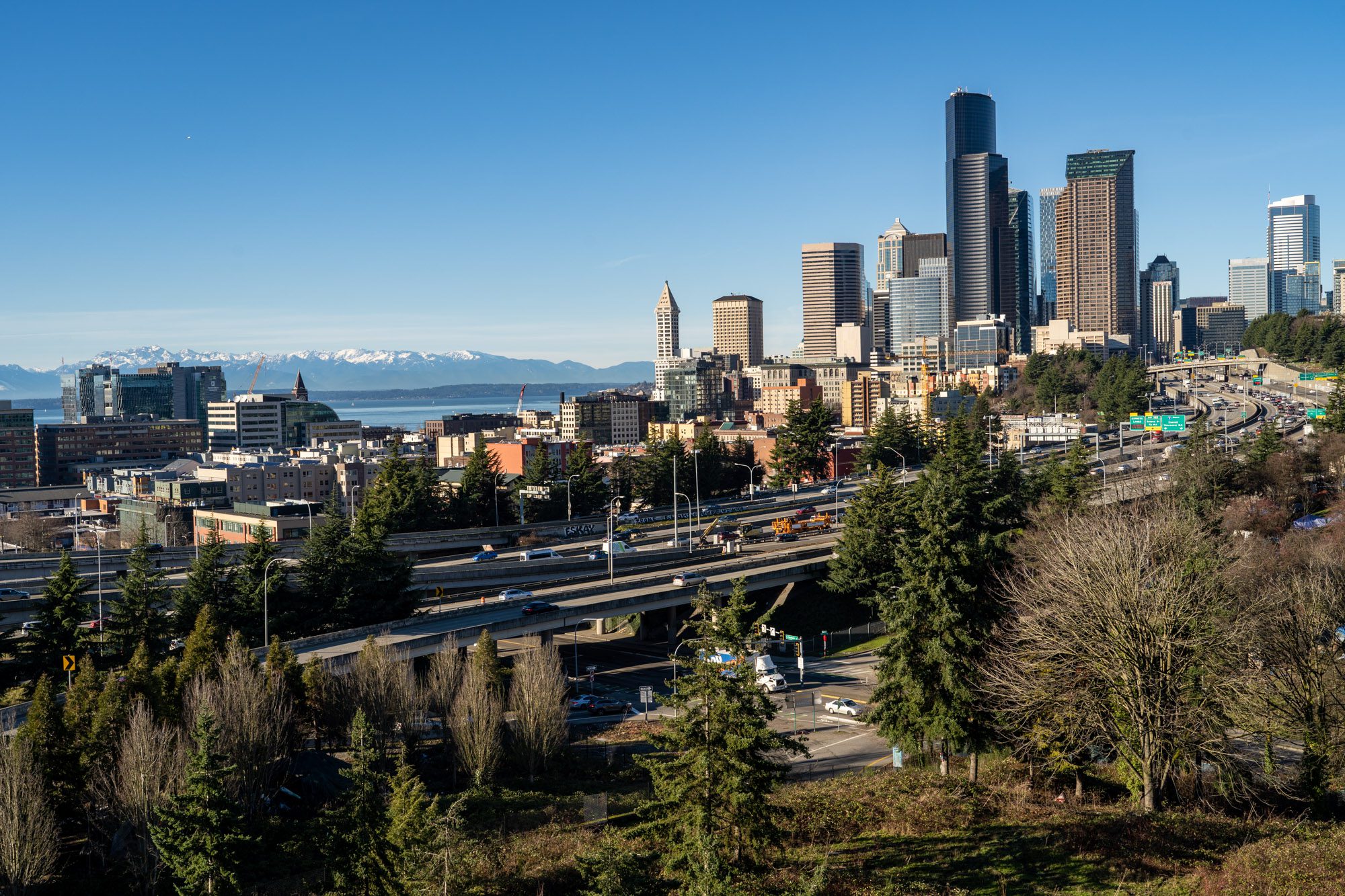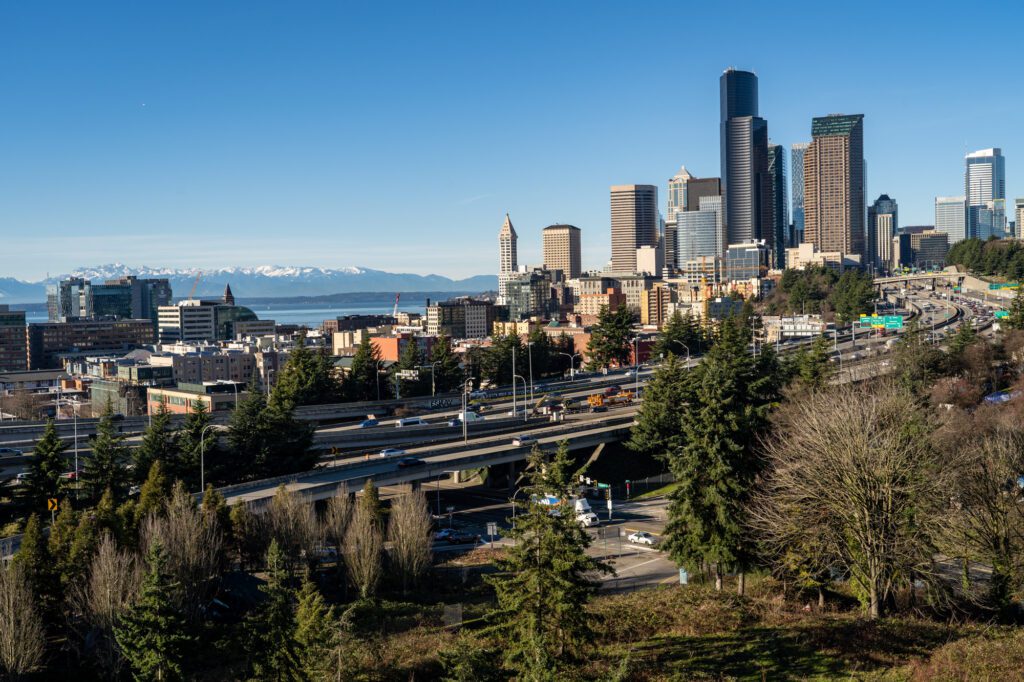 Where to Stay in Seattle: A Detailed Guide to the 5 Best Areas to Stay for Visitors
And now, let's get into our detailed guide on where to stay in Seattle. The intention here is to help you gather all of the information about the best areas to stay in Seattle, and then make your decision.
It will quickly become apparent that we're both planners, who love a good Excel spreadsheet. We love getting into the details, which is what we're going to do in this guide.
However, we also recognize that not everyone has the time or patience for all that information. If you want a quick answer, here it is!
Our overall recommendation for most people is to find a great hotel in Belltown. Belltown is, in our opinion, the best combination of central location and selection of restaurants and bars. It's within walking distance of Pike Place and the Seattle Center. We've stayed at the Ace Hotel (a hipster classic!), which is right near Pike Place Market in the heart of Belltown, and we'd recommend it. Our dream hotel in Belltown is Hotel Ändra, which is a very hip boutique hotel right in the heart of some of our favorite food and drinks in the neighborhood.


If you have a short trip and want to be as central as possible, you should stay in Downtown Seattle (stay near Pike Place Market), which is as central as it gets. You'll be within five minutes of Pike Place Market, and walking distance to both Seattle Center and the Light Rail, which will take you further afield (and to the airport). The State Hotel is a great boutique hotel near Pike Place Market, and Hotel Theodore would also be an excellent choice.


If you want to be in the coolest neighborhood in Seattle, with excellent food, drinks, shopping, and nightlife, stay in Capitol Hill (can you tell we love Cap Hill?). The downside is that there aren't that many places to stay, but it's by far our favorite place to hang out when we're in Seattle. Great coffee, great bars, great food, and the best bookstore in Seattle – what's not to love? In terms of where to stay, we've stayed with Sonder before in other cities, and have our eye on the serviced apartments at Sonder at Solis for our next trip to Seattle. It's also worth mentioning the Silver Cloud Hotel. Though it's not particularly interesting, it is in a great location at a great price.
Belltown: Our Top Pick (Central Area with the Best Bars and Restaurants in Seattle)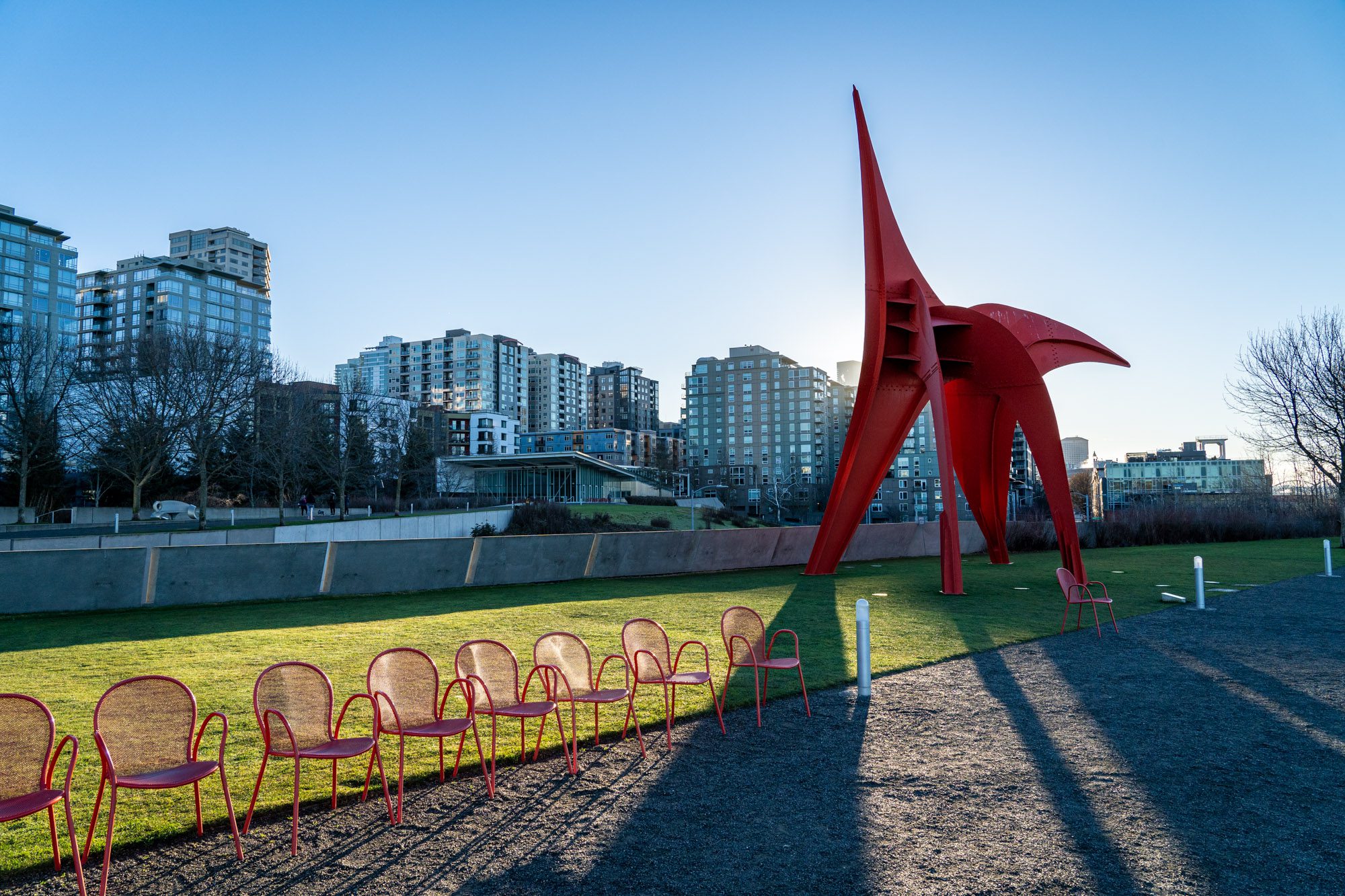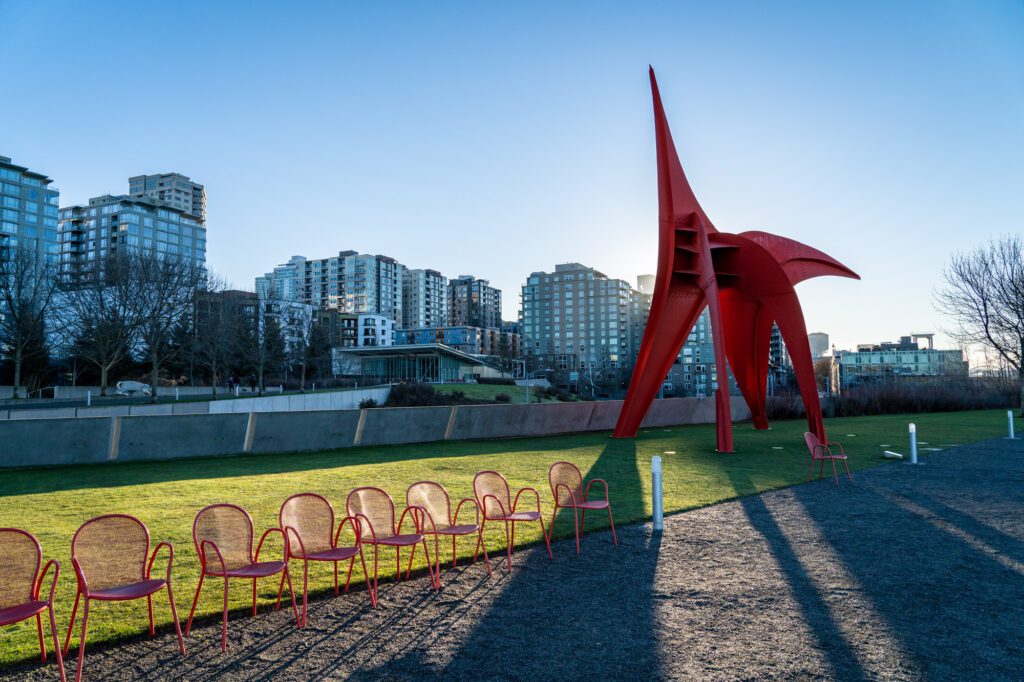 In our opinion, Belltown is probably the best combination of location and amenities. It's smack dab in the middle of the city between Pike Place Market on one end, and the Seattle Center (home of the Space Needle and Museum of Pop Culture) on the other end.
But unlike downtown Seattle, which is full of restaurants of the big chain variety (think Cheesecake Factory and the like), Belltown is home to some of the city's best food and drinks. We'll give you some of our favorites in the "Belltown Highlights" section below.
From charming speakeasies to craft beer, there's a great selection of bars here too, and it's a nightlife hub where the party continues late into the evening.
In other words, if you want the best of both worlds – a central location and a great selection of places to eat and drink on your doorstep – stay in Belltown. There are also a bunch of cool hotels in the neighborhood, which only adds to the appeal.
The tradeoff, as you might imagine, is that it's not exactly quiet. It's loud and raucous, especially on weekend evenings, so if you're looking for a quaint, quiet place to stay in Seattle, look elsewhere.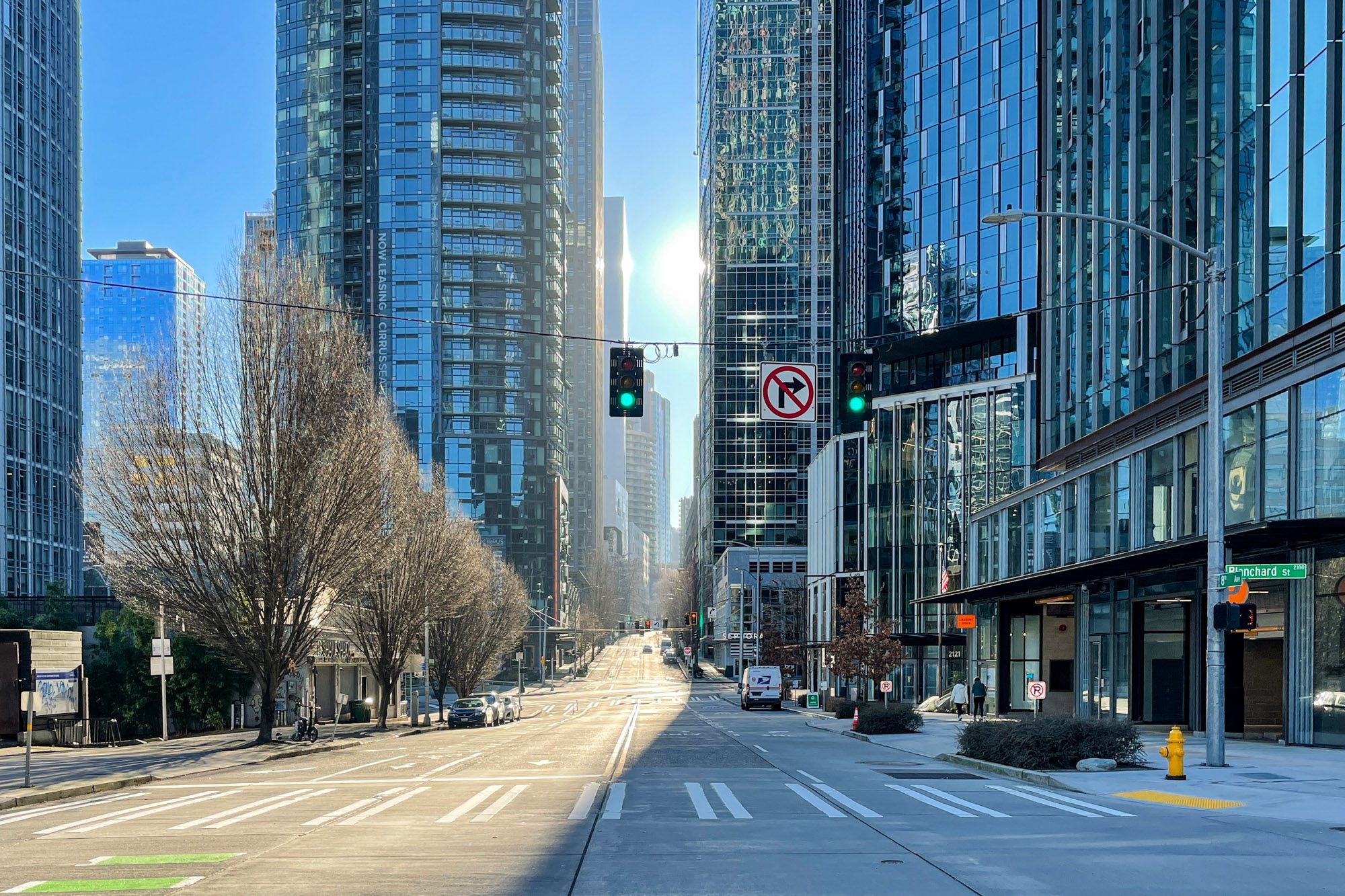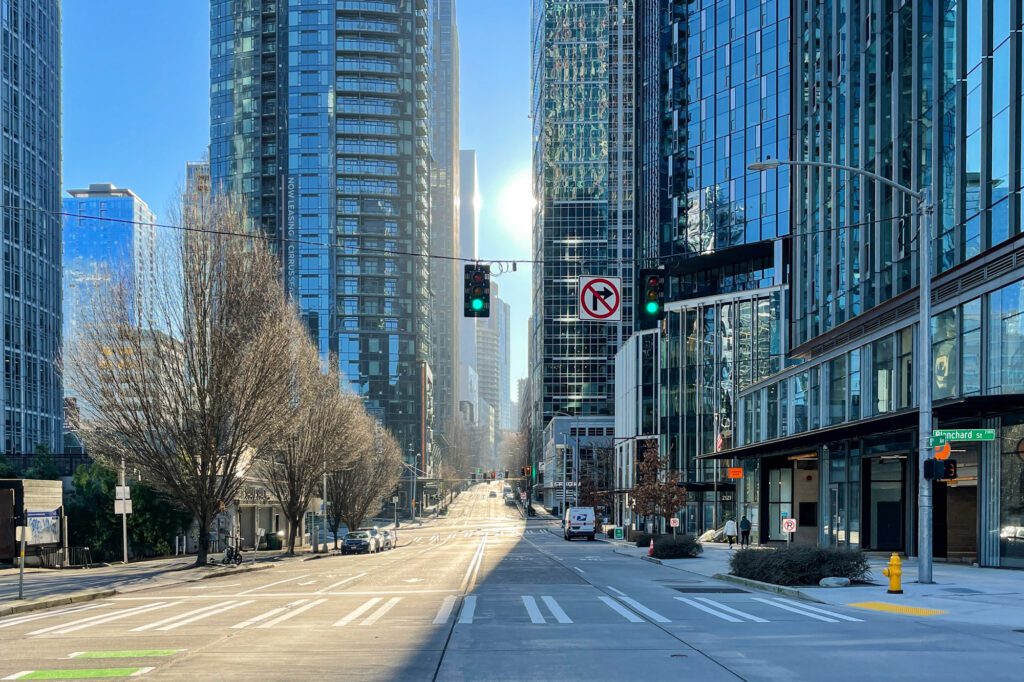 Pros and Cons of Staying in Belltown
Pros of Staying in Belltown:
It's central. You'll be essentially equidistant between Pike Place Market, the Seattle Center and the Space Needle, and Capitol Hill. In fact, all will be walkable.


Great bars and restaurants. If you stay in Belltown, you'll be in the midst of some of the best bars, restaurants, and nightlife in Seattle.


Wide hotel selection. There are several cool hotels in Belltown that are high on our list for future trips up to Seattle, but there are also a few good budget options. All in all, the best range of hotels in the city, we think.
Cons of Staying in Belltown:
It can be loud. Did I mention nightlife? This area can get a bit rowdy and loud, so it might be a little much for families.


Parking is a nightmare. If you have a car, parking is going to be a challenge – we'd recommend not renting a car if you're not planning to leave the city, otherwise you're going to have to pay for parking in a garage (or at your hotel, which will cost approximately 3000% more).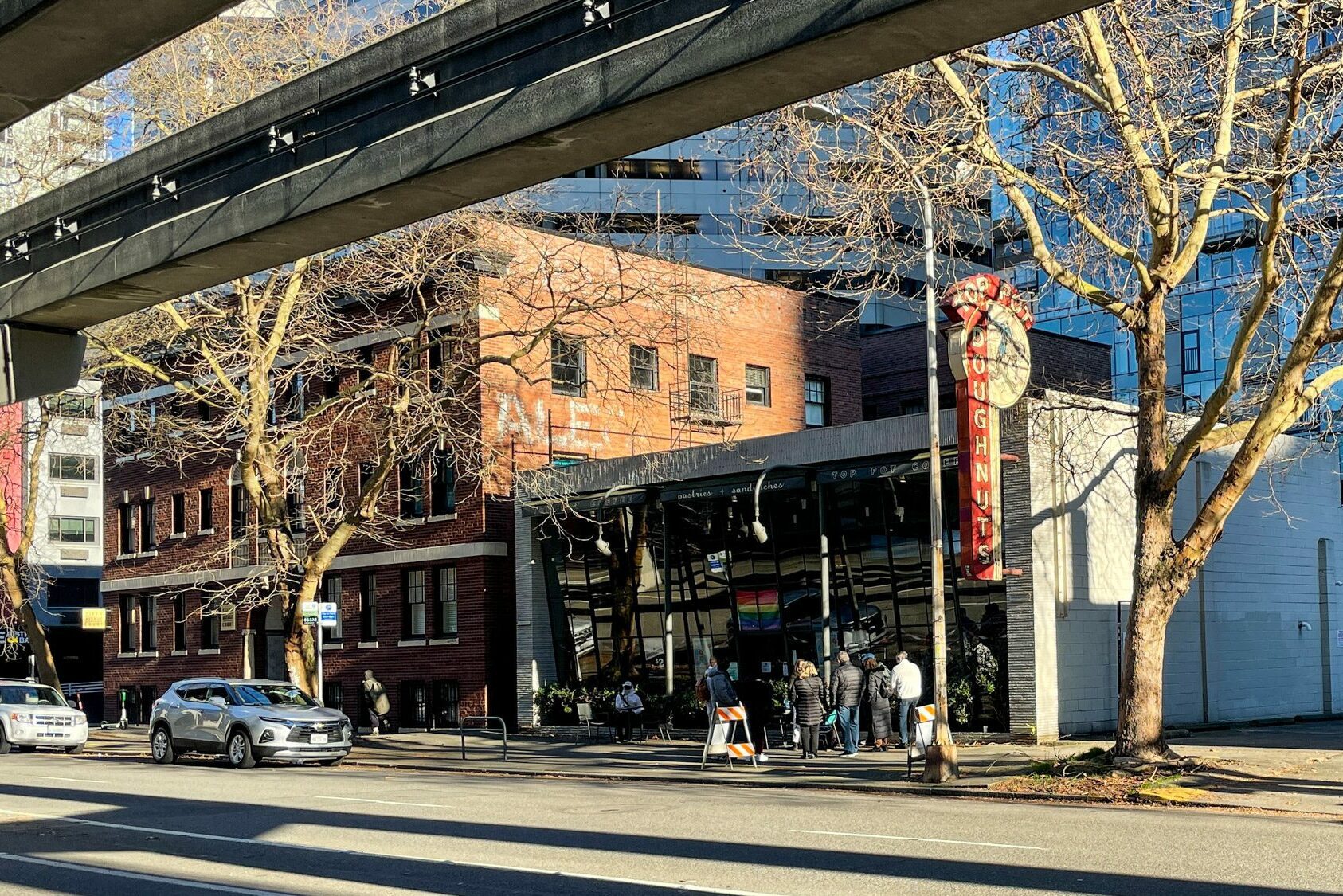 Belltown Highlights
Here are some places we enjoy in Belltown.
Lola: If you don't know him yet, Tom Douglas is a Seattle icon. He's a chef-turned-restauranteur, and he has some of our favorite places to eat in Seattle under his umbrella. Lola might be our favorite (though his pizza place across the street, Serious Pie, is a close second). Good for weekend brunch or dinner. Get the spreads (we love the kopanisti and the spiced red pepper, for what it's worth) and the halloumi-fig kebabs.


Bathtub Gin: Very cozy speakeasy with excellent cocktails. Yes, there's an actual bathtub.


Herkimer Coffee: One of Seattle's OG coffee shops. The location in Belltown is relatively new, and it's clean and modern, with the consistently great coffee that has made them locally famous.


Navy Strength: We already mentioned that this area is known for nightlife and bars, this is another one to add to your list. It's a "tropical bar" – the drinks lean towards rum and tequila – with some small bites to go alongside your boozy cocktail.


Some Random Bar: I have liked this place for years. No fancy cocktail menu or 72 taps of beer here, it's just a really good neighborhood bar with friendly staff and solid prices.


Olympic Sculpture Park: An art installation at the northwestern end of the neighborhood with great views of the Puget Sound and Olympic Mountains. This is another one of our favorite views in Seattle.
The Best Places to Stay in Belltown
Here are some of our favorite Belltown hotels for your trip.
The Ace Hotel: A Great Mid-Range Option (Where We've Stayed)
The first time we stayed in Seattle together (by that time I had moved to San Francisco, which is where we met) was for a work conference, and we stayed in Belltown at the Ace Hotel.
Before that trip, we never realized it was actually the first ever Ace Hotel. We always thought it was the Portland location, because, well, the Ace feels very Portland. Since then, we've also stayed at the Ace Hotel in New York City, and recommend it as a nice, stylish mid-range option.
The location in Belltown is great, but it's not the quietest part of the city, and since it's in an old building, the rooms aren't exactly noise-proof. They have a range of rooms, from budget rooms with shared (single occupancy) bathrooms, to larger suites.
They also have some rooms that have a bunk bed, which is one way to fit two beds in a room, and rooms with two beds in a more traditional configuration, if bunk beds feel weird to you. Some of their rooms have shared (single occupancy) bathrooms, which is a way to shave a few extra dollars off of the nightly rate if you don't mind sharing a bathroom.
One thing that I will say is that the staff at the Ace Hotel locations I've been to are always top notch, friendly, and willing to help with all sorts of questions.
Hotel Ändra: A Cool Boutique Hotel in Belltown
I think Hotel Ändra is the coolest boutique hotel in Seattle, and it's on my bucket list to stay there at some point.
As soon as you walk into the building – which I have before because I've eaten at Lola on the ground floor several times – you're greeted with the warmth (both in terms of temperature, and in terms of friendliness of the staff) of the fireplace in the lobby, a welcome escape from the sometimes brisk air outside.
Hotel Ändra is inspired by Seattle's nordic heritage, and you can see that theme run through elements of the design, from the light wood tones used in the rooms (which is unusual in modern hotels, in our experience) to the fireplace and living room in the lobby.
They also just went through a remodel in 2022, so everything is fresh and new for your stay!
They have a bunch of different room types, from their standard hotel-style rooms all the way up to bigger studios and suites. If we're being honest, most of us are probably choosing the standard rooms, which are 200 square feet and have a queen bed and a desk. A slight upgrade would be their superior rooms, which are 25% bigger and have a nice seating area.
In terms of amenities, you've got a Nespresso maker in every room, a fitness center, and high end bedding and bathrobes. It's pet-friendly, and they have onsite valet parking ($45 a night).
There's a full blown cooking school on the second floor of the hotel too, run by none other than Tom Douglas (who we've mentioned a few times now). It's called the Hot Stove Society, and would make an excellent evening activity.
StayPineapple Hotel FIVE: An Affordable Hotel in Belltown
While this is an affordable hotel – to the extent that "affordable" still exists in Seattle – there is nothing budget about the experience at Hotel FIVE.
They offer big fluffy towels, comfortable bedding, and bathrobes in the room, and at reception guests can use one of the complimentary bikes to explore the city.
If you prefer to explore on foot then this is the best place to stay in Seattle with Pike Place Market, Space Needle, and Seattle Waterfront just a few minutes away.
The Belltown Inn: Another Affordable Option in Belltown
The Belltown Inn is another great value, with relatively affordable rooms. But it's not the kind of "affordable" where you'll be wishing you spent just a little bit more for an upgrade – instead, you'll be wondering how you got such a great deal.
One of the things we like about this place is that kitchenettes come with every room – which will include a mini-fridge, microwave, and coffee maker.
The location couldn't be better – you'll be centrally located between Pike Place, Seattle Center, and Cap Hill, which is a great home base for a weekend in Seattle. Plus, some of the best bars and restaurants will be almost literally out your front door.
The Sound Hotel: A Beautiful Luxury Hotel in the Heart of Belltown
I first noticed the Sound Hotel and its matte green facade a few years ago as it was getting built, and made a mental note to check what that was becoming. Fast forward to a year ago, and I walked by it and said "OH, I remember looking at this place!"
The Sound Hotel is a boutique hotel right in the heart of Belltown on 4th Ave, and it's a great location to base yourself while you're in town. You're a block or so away from three Tom Douglas eateries – the Dahlia Bakery (home of the famous coconut cream pie), Serious Pie, and Lola (our favorite), and plenty of other bars and restaurants.
It's very modern and luxurious, and the rooms are HUGE, coming in at over 400 square feet. That extra space will be very much appreciated if you're planning on trying to get some work done from your hotel room.
In terms of common spaces, they have a gym, a bar, and a nice outdoor patio where you can relax and take in the views.
Parking is valet only, at $49 a night with in and out privileges (there are plenty of cheaper garage options nearby if you have a car). Pets are allowed up to 75 lbs, but incur a nonrefundable $100 fee.
Downtown Seattle: The Most Central and Convenient Place to Stay in Seattle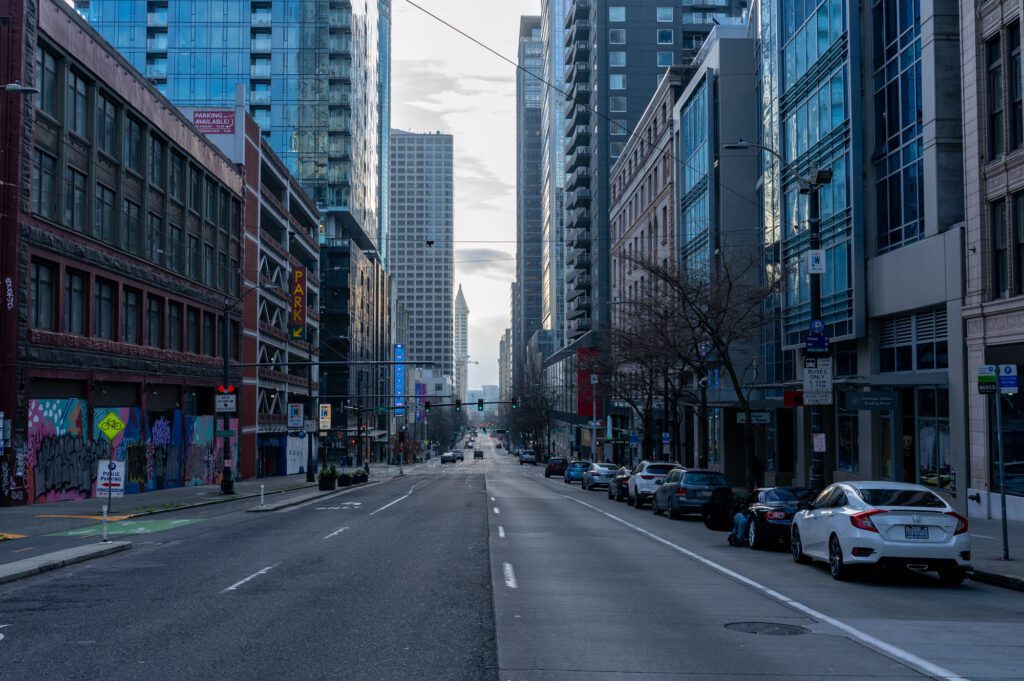 We're going to be honest here. Downtown Seattle is more of a utilitarian place to stay than it is an uber-charming area or a place that's packed with great bars and restaurants.
Downtown Seattle is a fairly big, sprawling area that includes what is essentially Seattle's central business district (or financial district), with a lot of big glass office buildings, a few malls, a Nordstrom and a Macy's (that's how you know it's a commercial district) and a lot of chain restaurants.
We'd encourage you to look at hotels within a few blocks of Pike Place Market, which is our favorite part of the downtown area. Most of the hotels we've chosen below are within a couple of blocks of the market, though there are a few stragglers that are a little further out (but we like the look of the hotel, so we included it).
While Downtown Seattle isn't the most charming area to stay in Seattle, what it does have is an excellent location. From here, you'll be within walking distance of Pike Place Market, the Seattle waterfront (and the ferry terminal, if you'd like to take a day trip to Bainbridge Island), the sports stadiums, and all four of the other neighborhoods we talk about below.
If you're here for a short time (1-2 days) and want to be as central as humanly possible, we'd choose downtown Seattle.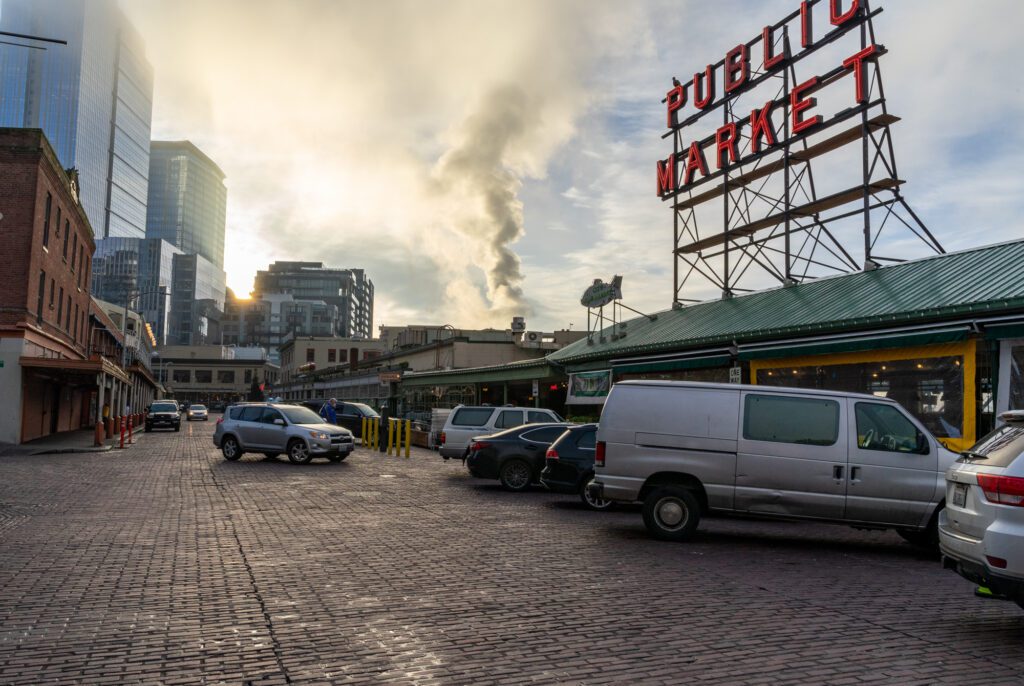 Pros and Cons of Staying in Downtown Seattle
Pros of Staying in Downtown Seattle:
Could you BE any more central? Probably not, we think. Staying here basically means that you'll be within walking distance of Seattle's main sights, or within walking distance of a bus or light rail station that will take you to them. It's well-connected to other parts of the city center via Light Rail and buses, so getting around using public transportation will be relatively easy. If you have kids, the Seattle Aquarium is a good rainy day activity, and it's within walking distance along the waterfront.


There are plenty of hotel options. That central location, which will put you near Pike Place Market, means that there are PLENTY of hotels in the neighborhood.
Cons of Staying in Downtown Seattle:
Staying in Downtown Seattle means you'll be in a concrete jungle, with relatively few green spaces around to give you a break from the towering office buildings and hotels.


It's also not super charming, since it's more of a commercial area. Parking is going to be a nightmare – prepare to either forgo a car, or pay a pretty penny to park it.
Downtown Seattle Highlights
Here are some things not to miss in Downtown Seattle.
Pike Place Market: There's far too much to say about what to do, see, eat, and drink at Pike Place Market to fit into one bullet. Instead, we'll refer you to our Seattle itinerary (which covers this in detail) and our guide to what to do at Pike Place Market (coming soon!). Our favorites are Rachel's Ginger Beer, Beecher's Cheese, and Ellenos Greek Yogurt.


The Seattle Art Museum: Surprisingly fun, and it's right in the heart of Downtown Seattle. It's a good rainy day activity, which you'll find plenty of in Seattle outside of the summer months.


Victrola Coffee: Consistently excellent in two departments. First, the coffee. My favorite cappuccino in Seattle was made here. Second, the playlist. Alternative hits from the mid-2000's are both the soundtrack to my teenage years, and also to Victrola.


The Pink Door: Part Italian restaurant, part burlesque show. This was the place Alysha and my mom first met on one of our early trips to Seattle together. It's right at Pike Place Market, and it's a good dinner spot. Make a reservation!


The Showbox: My favorite music venue in Seattle (which is a city full of great music venues). They host a variety of different act sizes, from bands I've never heard of to bigger acts (for example, the 1975 is playing there in the next few weeks at the time of writing).
The Best Places to Stay in Downtown Seattle
Like we mentioned above, there are a nearly unlimited number of nice hotels in Downtown Seattle.
Here are the best Downtown Seattle hotels for your trip, at least in our opinion.
The State Hotel: A Cool Boutique Hotel a Block Away From Pike Place Market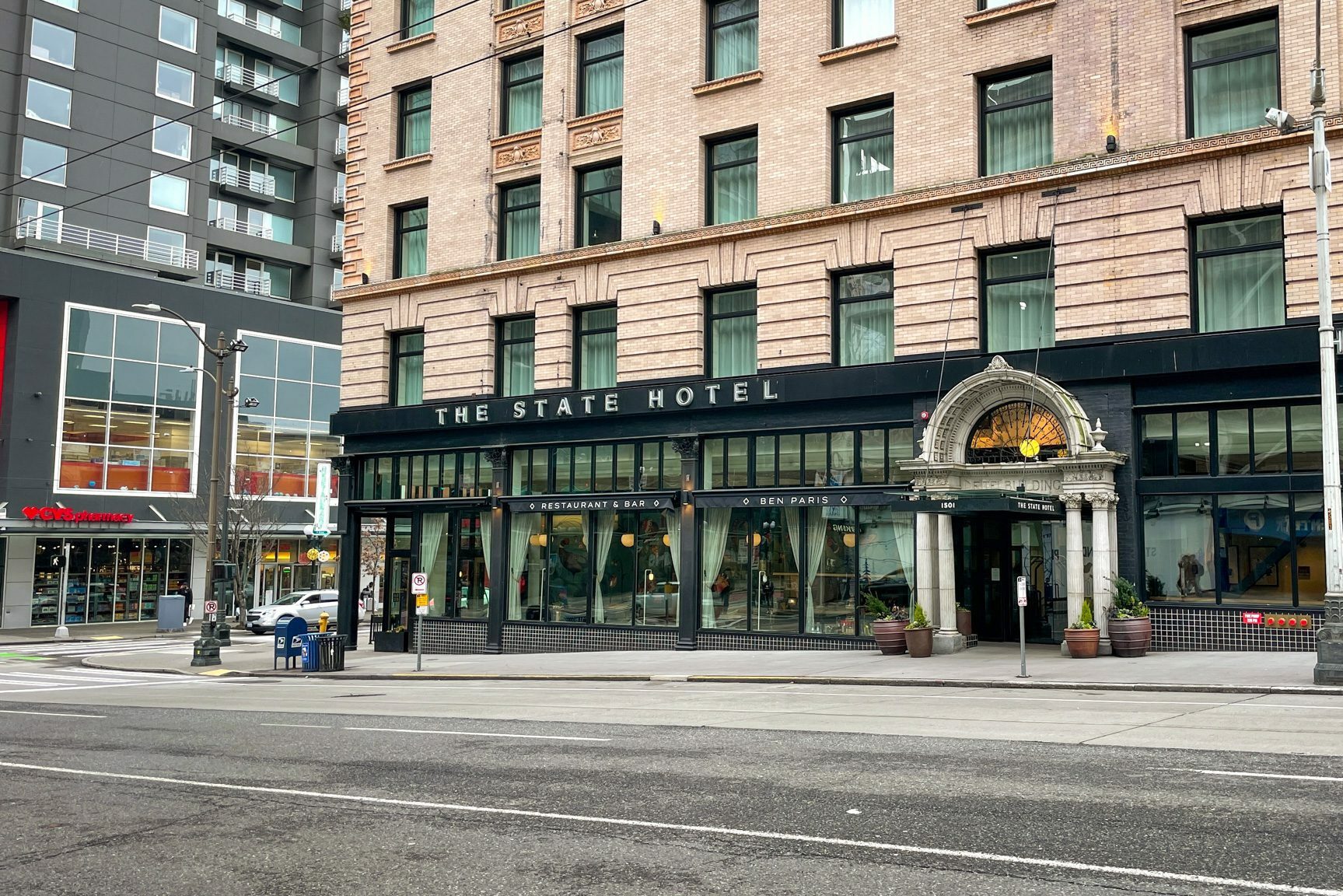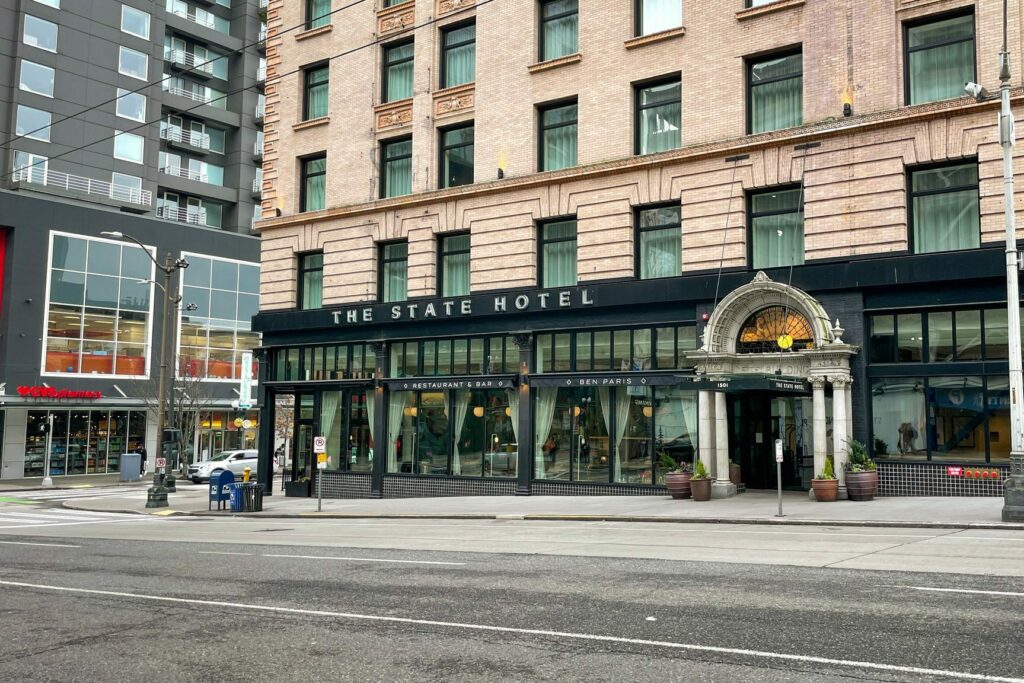 The State Hotel is a beautiful boutique property in a restored 1902 building right around the corner from Pike Place Market. It's on our list of places we want to stay in Seattle, and we're planning on making that happen in 2023.
They have kept many of the historic charms of the building but have updated the interior with new décor and local artwork. Every aspect of this independent hotel is steeped in the local culture – they've even partnered with local artists to decorate the place.
Inside, you'll find 91 rooms ranging from cozy queen rooms, perfect for couples who don't need too much space (you'll be out exploring, after all), to more spacious king rooms, and even a few gorgeous suites.
Rooms on the eighth floor all have terraces but there is also a communal rooftop terrace offering fantastic views over the city.
In terms of parking, they've partnered with a nearby garage to offer parking (with in/out privileges) for guests at $27.50 a day (a STEAL in Seattle), and it can be purchased on arrival. The garage is a block from the hotel.
The hotel is pet-friendly up to 50 pounds, but they only have a limited number of pet-friendly rooms, and there's a nonrefundable $30 pet fee.
There's also a daily amenity fee of $22, which is a bummer (JUST INCLUDE IT IN THE PRICE!) that covers internet and the 24 hour fitness center.
Hotel Theodore: A Very Hip Boutique Hotel in the Heart of Downtown Seattle
Hotel Theodore is the hotel that is a little further out from Pike Place Market in the heart of the financial district (to the extent that such a thing exists in Seattle), but we wanted to include it for two reasons.
First, the location is pretty excellent, since it's actually closer to some of our favorite places in Seattle (namely, the Pike/Pine corridor in Capitol Hill). It's also within a couple of blocks of a Light Rail Station, which is helpful for getting around.
Second, because it looks super cool. They've really doubled down on the "Seattle" theme, featuring an art installation curated by the Museum of History and Industry in the lobby, and a selection of Seattle-themed art in each room.
Rooms are elegantly decorated, with industrial-chic touches like super cool lamps and subway tile in the bathrooms. There are standard rooms, which are on the small side but have enough room to be comfortable for a couple of nights, and have bigger rooms and suites from there.
Parking will cost you $50 a night (valet only, ouch), and the hotel is pet-friendly (with a $30 fee that includes a pet welcome package). There's also a nice fitness center, and it's open 24 hours a day.
There is, however, a $20 "daily amenities fee" for the privilege of accessing the gym and other amenities (it's also not optional), which we absolutely cannot stand. Just include it in the price!
The Inn at the Market: A Luxury Hotel Within Pike Place Market
We were walking through Seattle recently, and my mom pointed up to a building and said "that's where I used to stay when I came here for business before we moved here!"
She was pointing at the Inn at the Market, which is literally steps away from Pike Place Market in the heart of Seattle.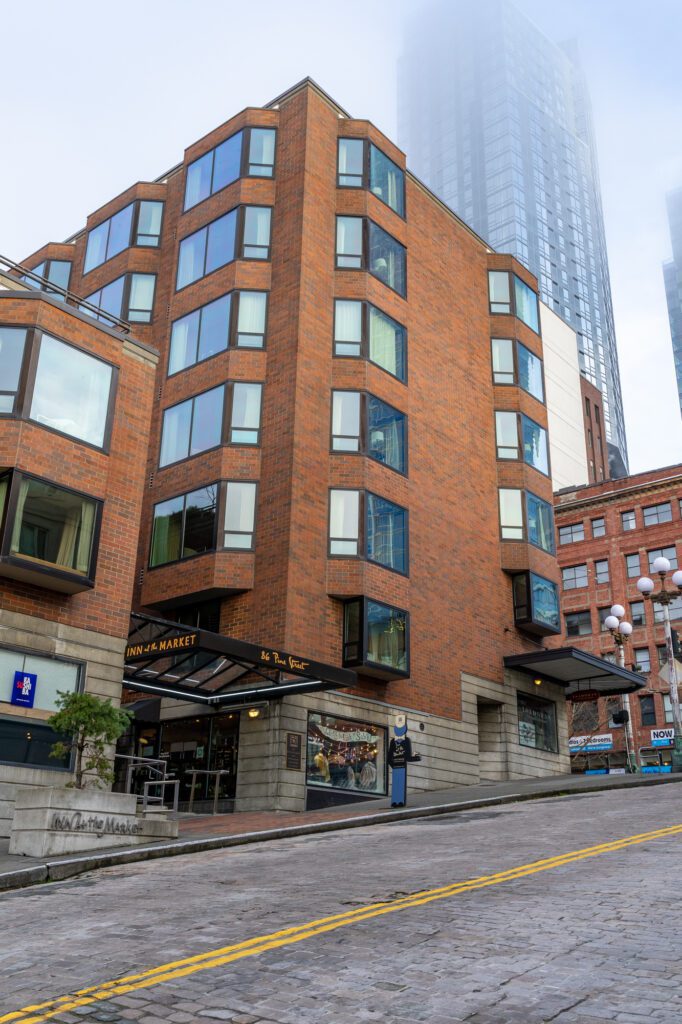 Standard rooms are surprisingly spacious, and some rooms have views of the Puget Sound and Olympic Mountains (though it will cost you a little extra). The decor skews a little more traditional than modern, but everything is comfortable and well thought out.
The rooms aren't cheap – you're inside the boundaries of Pike Place Market, after all – but the location and amenities might be worth it if you're not on too tight a budget.
They have a gorgeous rooftop deck, which looks over the Pike Place Market sign and has sweeping views over the water out towards the Olympic Range.
The Green Tortoise Hostel: The Best Budget Hostel in Seattle
If you're looking to stay in a hostel in Seattle, this is it!
The main draw for the Green Tortoise Hostel is its location. It's just a few blocks from Pike Place Market, and within walking distance of Seattle Center and the excellent Museum of Pop Culture.
They have your traditional dorm rooms, which include some queen beds that are great for couples, as well as private rooms .
Unlike most hostels, they have added small extra touches like heated tiles in the bathrooms, and a well-equipped communal kitchen if you want to cook your own meals to save some money while you're exploring Seattle.
South Lake Union: A Central, Modern Neighborhood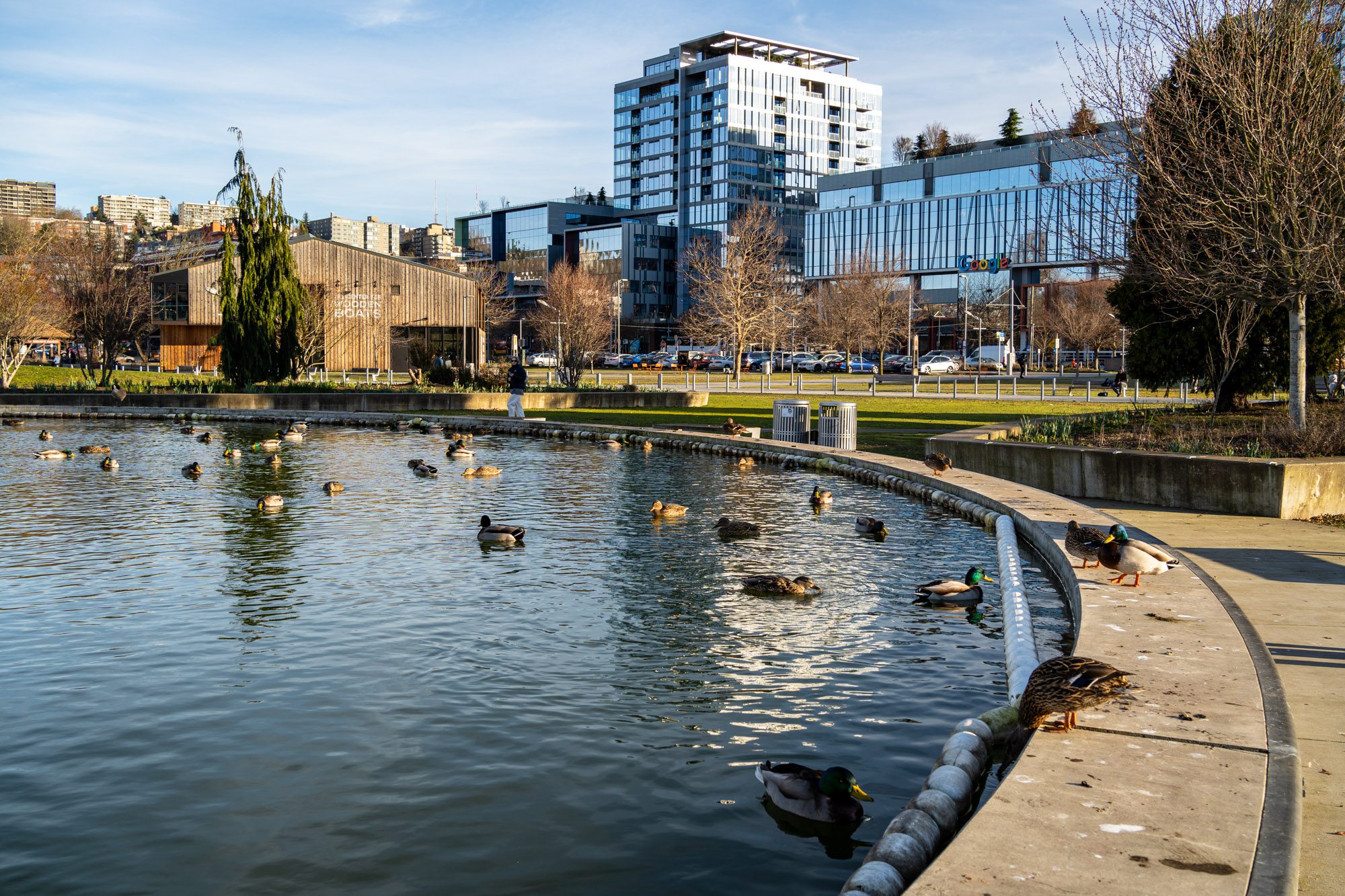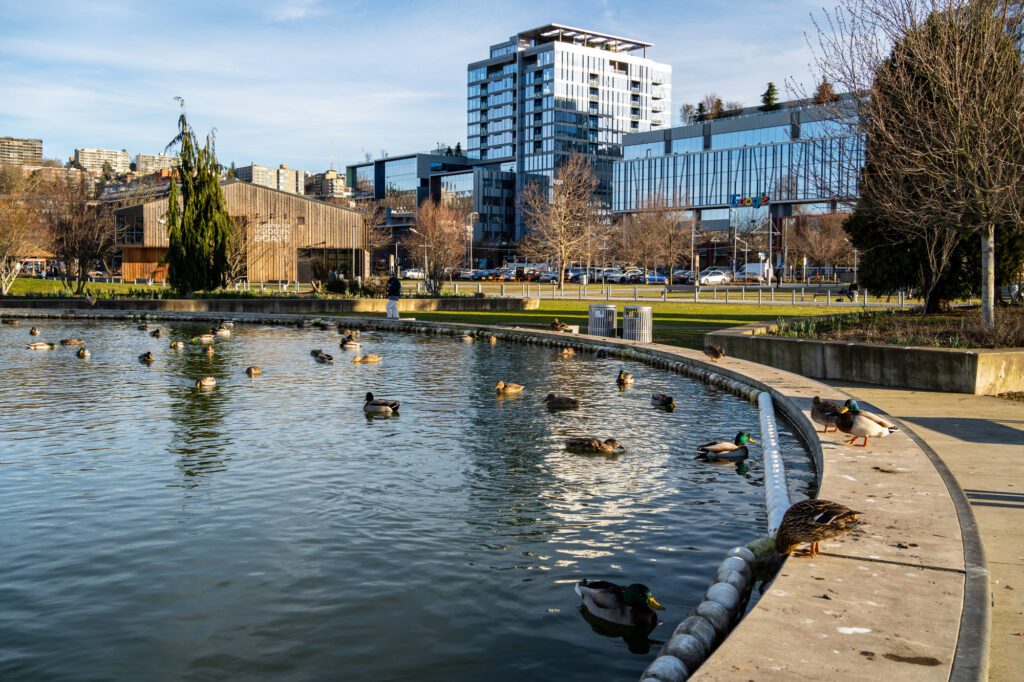 South Lake Union is about as direct a name for a neighborhood as you can have. It's on the south end of Lake Union, which is the lake that is right in the middle of Seattle. It's a central neighborhood, just east of the Space Needle and Seattle Center, and just north of Belltown. Overall, it's a great place to base yourself.
South Lake Union was not a place you'd ever want to stay when I was growing up. It was rundown and generally not super pleasant.
That is, until Amazon showed up.
Now, it's one of the nicest areas in Seattle, full of luxury high rise condos and slick Amazon buildings, along with some of the best food and drinks in Seattle.
I'm not a huge fan of Amazon, but this is not the time or place to go through a laundry list of my concerns about their anti-competitive moves that hurt local small businesses, or their questionable labor practices and union busting.
I think South Lake Union should be on this list of Seattle's best neighborhoods, regardless of how I feel about Amazon itself.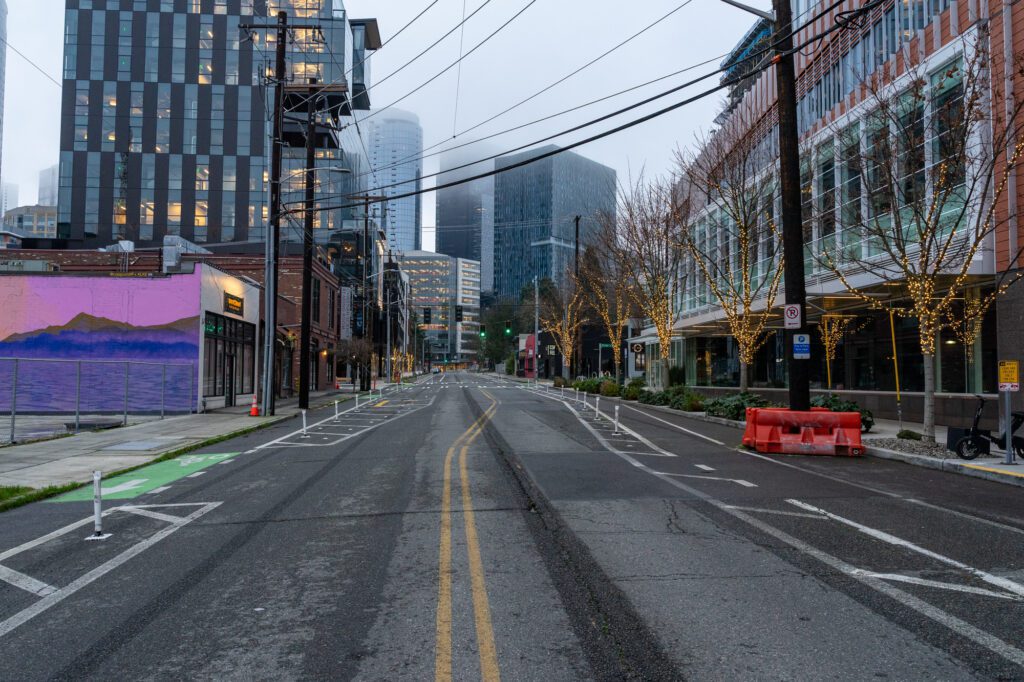 Pros and Cons of Staying in South Lake Union
Pros of Staying in South Lake Union:
It's central. It's squished in between Capitol Hill to the east, Queen Anne to the west, and Belltown to the south, which means you can get to all of our favorite parts of Seattle in just a few minutes by car, or a short walk if you're on foot.


There are tons of places to eat and drink. As you might imagine, a slice of the city that was built as a place for all sorts of office space has also attracted a lot of amenities – bars, restaurants, cycling studios, etc etc – that cater to those workers. There are tons of bars, restaurants, and coffee shops in South Lake Union to keep you busy, and you're plenty close to Belltown, Capitol Hill, and Queen Anne.
Cons of Staying in South Lake Union:
In a word, Amazon. You'll be surrounded by huge, modern office buildings plastered with AMAZON, and most of the residents in the high end condos here are employees of the company that's slowly (okay, quickly) taking over the world. It's not going to be the most authentic local experience.


No Light Rail station. The only downside to the location is that the Light Rail doesn't come to South Lake Union, so you'll have to walk or take another form of public transit to get to Light Rail, which definitely comes into play if you're planning on taking it to or from the airport when you'll have some luggage in tow.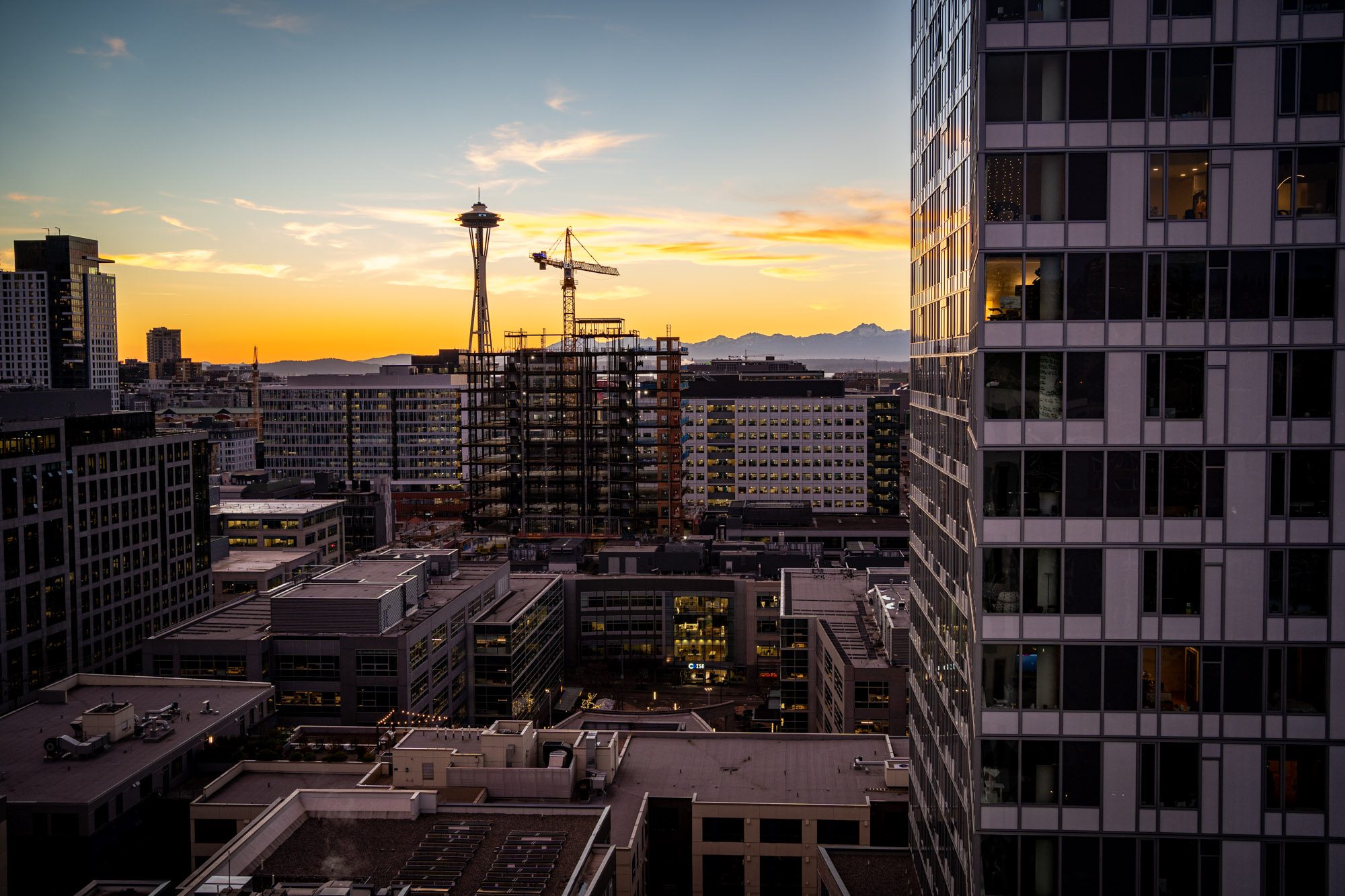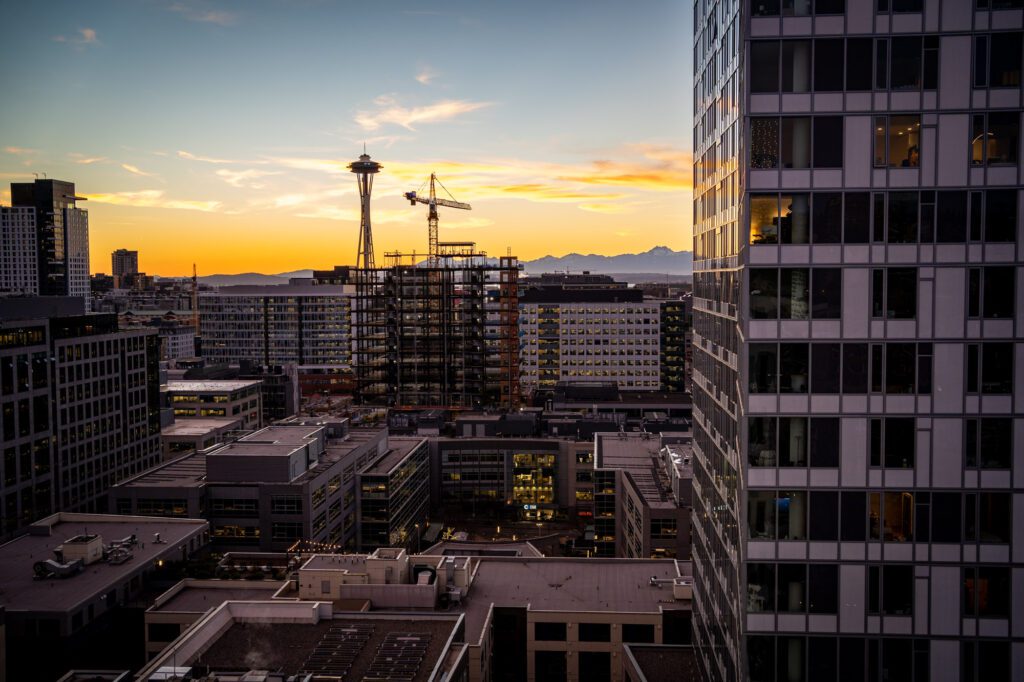 South Lake Union Highlights
Here are some spots we enjoy in South Lake Union.
Mbar: The best rooftop bar in Seattle. Go for sunset, and make sure to get there an hour or two before the sun actually sets to get a spot (they turn people away when it's full). Drinks are pricey, but you're paying for the view of the Space Needle and Lake Union from the rooftop deck. You can make a reservation, but there's a $75 fee if it's canceled within 24 hours (and they require a credit card for reservations).


Kati Vegan Thai: We fell in love with this place when we stayed at the CitizenM last year. Excellent Thai food (particularly the curries), and though it's all vegan, you would never know it.


Cafe Hagen: A very – some might say painfully – hip coffee shop in South Lake Union serving both good coffee and (delicious, according to everyone I've ever gone there with) Scandinavian-inspired pastries.


Flatstick Pub South Lake Union: Booze and mini golf. I dare you to name a better combination. It's a good time, and the course is vaguely Seattle inspired.


MOHAI: Short for the Museum of History and Industry, this basically functions as a Seattle history museum. I hadn't been in a few years until recently, and I was really impressed with the contents of the museum. It's a robust history of Seattle, and covers the two hundred years or so between Seattle being a port city, through its boom during the gold rush, and into the 2000's when it became a tech hub. Worth a couple of hours if you're interested in learning about Seattle's story.
The Best Places to Stay in South Lake Union
Hotels are the name of the game here. There are a few options that have popped up as this part of the city was built up over the past decade or so. Here are some of our favorite South Lake Union hotels for your trip.
CitizenM South Lake Union: Our Favorite Hotel Chain (We've Stayed Here)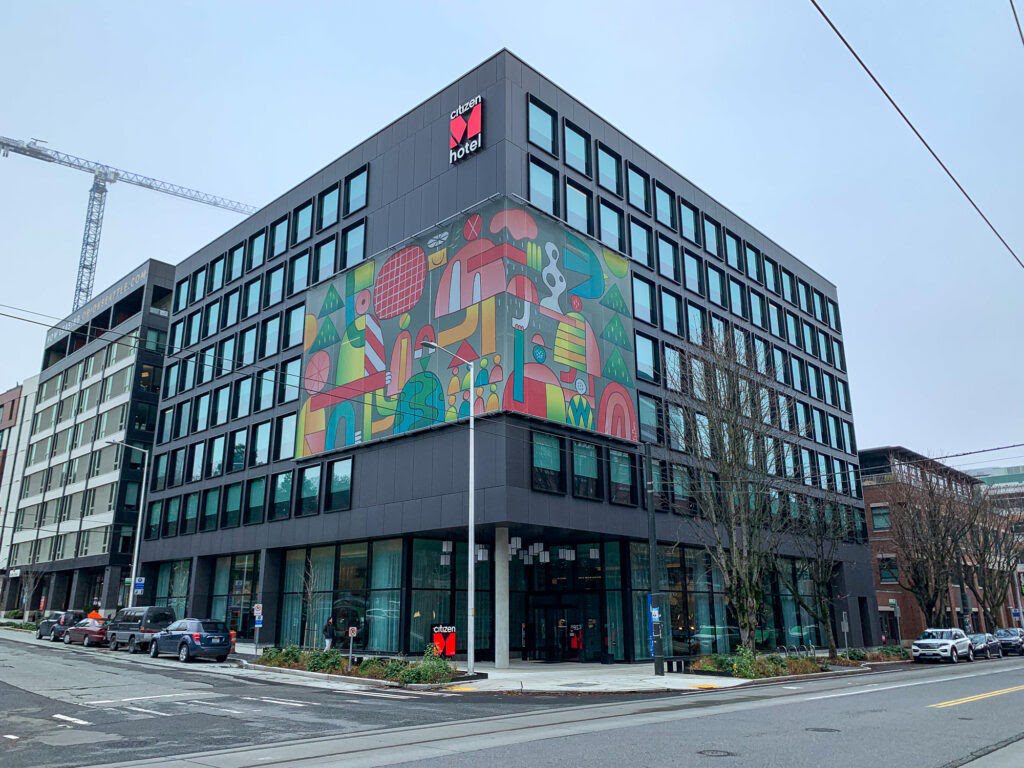 On our latest trip, we stayed at the CitizenM Seattle in South Lake Union and absolutely LOVED it. It's modern, efficient, clean, stylish, and has some great common spaces to hang out in.
We loved it so much that we've actually stayed in two other CitizenM locations since then (London and Boston), with plans to stay in a few more in the future.
This is one of the best hotels in Seattle.
CitizenM is a Dutch hotel chain that has basically made staying in a hotel super easy and streamlined, with all the amenities that modern (read: younger) travelers are looking for (USB charging, climate controls via iPad, and more) without the unnecessary pieces (fluffy robes and slippers or sitting areas, for example) to offer a nice value.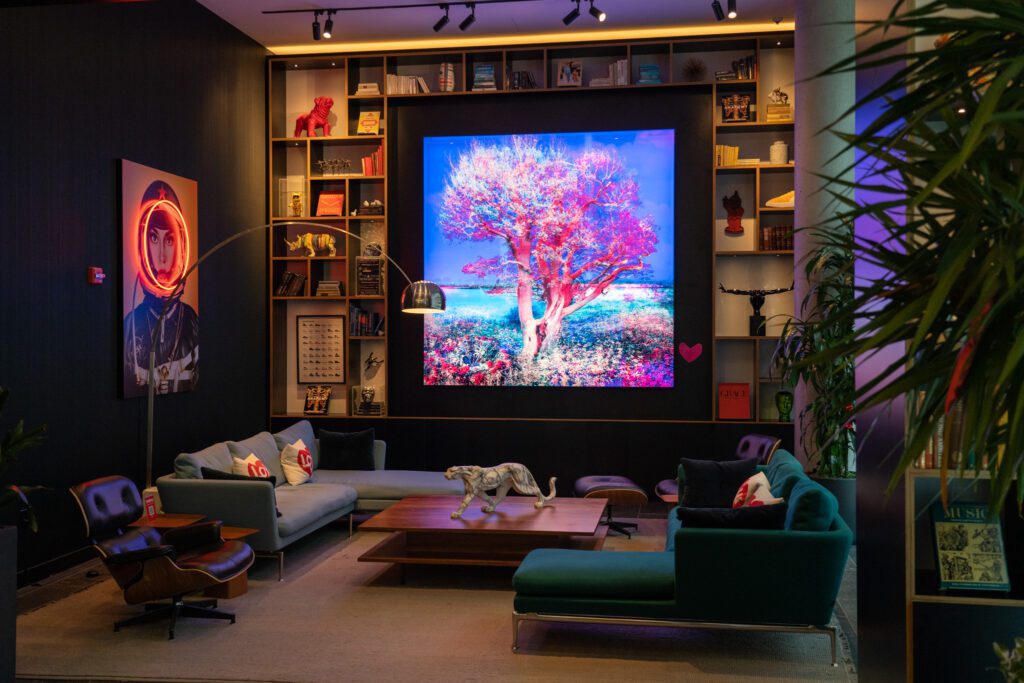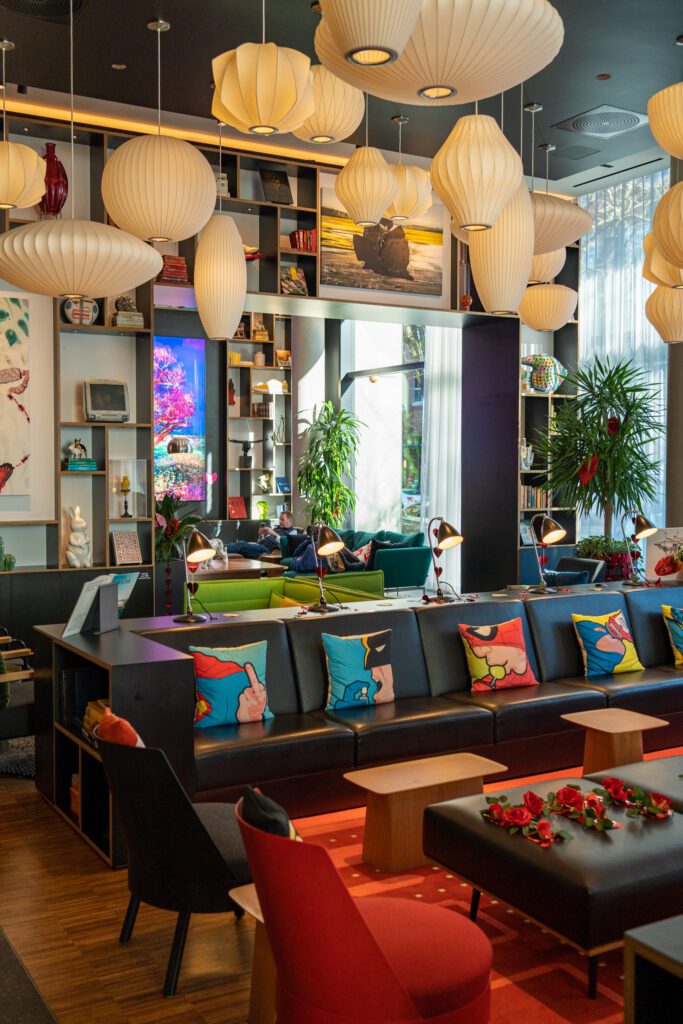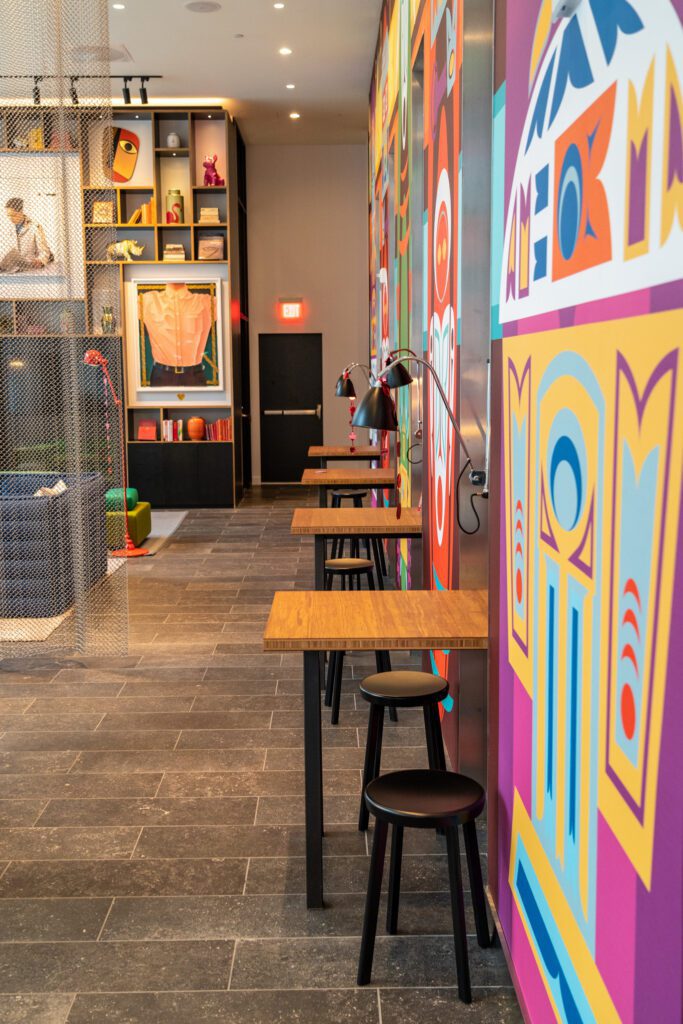 The other thing we like is that, in the interest of simplicity and ease, they've stripped away all the slightly different room types you find in most hotels (small vs. small deluxe vs. small deluxe with partial city view), and there's exactly one room type available: a small room with an uber-comfy king bed.
At check-in, which is done on these cool kiosks reminiscent of checking in for a flight at the airport, you can even choose which side of the hotel you want to be in, and if you want a low or high floor, which we thought was pretty cool.
Try to get a room on the John St. side, which has views of the city (which one of the super friendly staff pointed out to us as we were trying to decide).
The rooms themselves are small (but you have access to their "living room" on the ground floor which has couches, desks, and more), but they have blackout curtains, they're mostly soundproof, and the huge king beds are extremely comfortable. Everything in the room – from lights, to temperature, to room service – is managed on an iPad.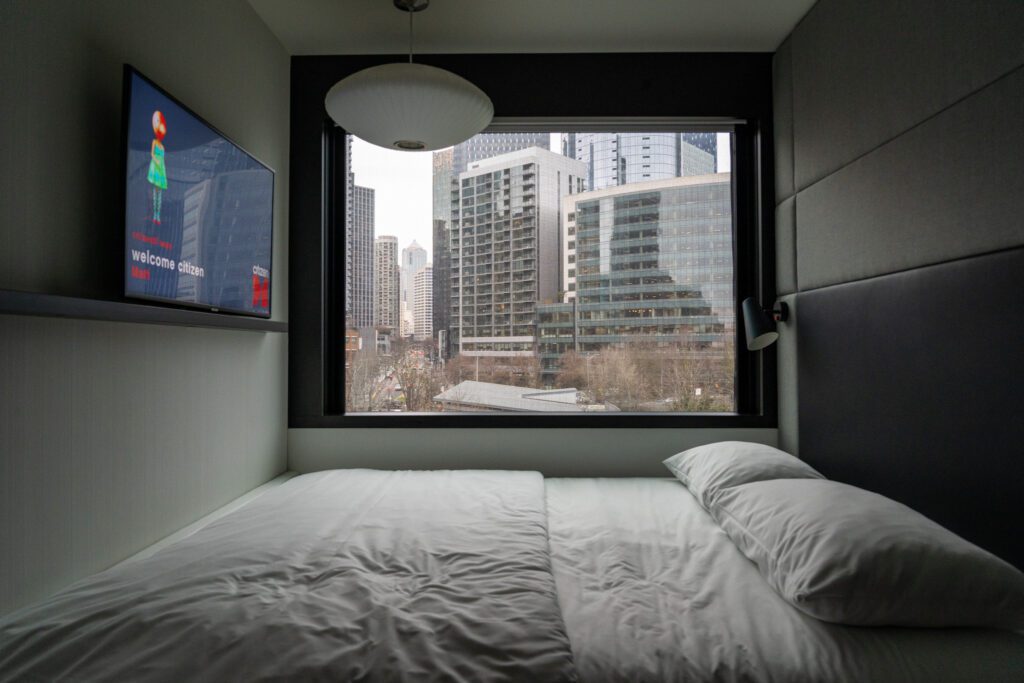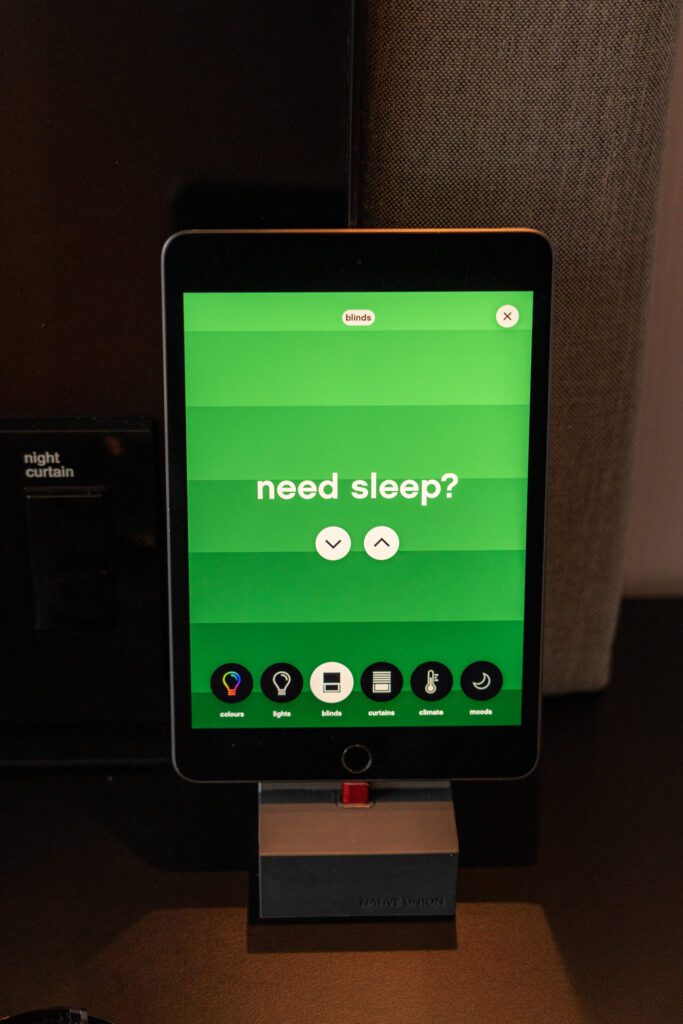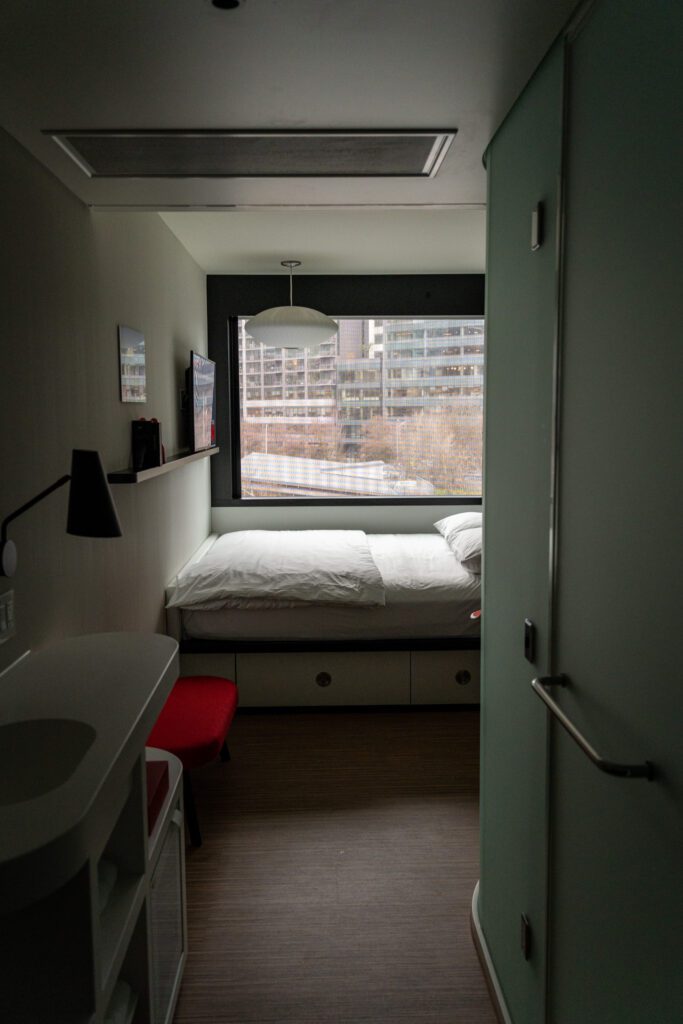 The location is also great. We walked from the hotel to Seattle Center (where you'll find the Space Needle and the excellent MoPop), Pike Place Market, and Capitol Hill. The area around the hotel is also full of great coffee shops, bars, and restaurants.
However, there are a few caveats that you should know before you book.
First, they have one room option, and one room option only. It's a single king bed with a maximum occupancy of two, which means it's not ideal for families with young children traveling together (you'd have to get a separate room).


Second, the rooms are small. They're well thought out, but they don't have some of the bells and whistles you'll find in other upscale hotels. Things like an in-room coffee maker (Elm Coffee Roasters is just down the street, where you'll find some of the best coffee in Seattle) or an ironing board (If we're being honest, I barely know what that is anyway).
Basically, if you value a good night's sleep and you're planning on spending most of your time outside of your room exploring the city or relaxing/working in their common spaces, the CitizenM Seattle is an excellent choice.
If you're a family of four who all want to stay in the same room, or you're a business traveler who wants to iron your shirt before a big meeting, maybe stay elsewhere.
Want to learn more about the CitizenM in Seattle? Read our in-depth review of the CitizenM to decide if it's the right hotel for your time in Seattle!
Level: An Excellent Aparthotel for Extended Stays in Seattle (Kitchens + Laundry)
If you're looking for an aparthotel – a class of accommodations that we've really only seen abroad, but we'd like to see more of here – with a little more space and kitchen facilities that make an extended stay a little more comfortable, Level Seattle is the place for you.
The differences between their suites and a normal hotel room are things like a full kitchen, in-suite laundry, and other amenities that are more geared towards extended stays. There's also a huge fitness center, multiple outdoor decks with play areas for kids / dogs, and several pools (both indoor and outdoor) which is a nice touch.
All in all, if you're looking for a place to stay for an extended trip to Seattle, this would be our pick.
All of those amenities – and there are a LOT of them – come with a cost in the form of a daily $25 amenity fee. JUST INCLUDE IT IN THE ROOM PRICE.
Capitol Hill: Our Favorite Neighborhood in Seattle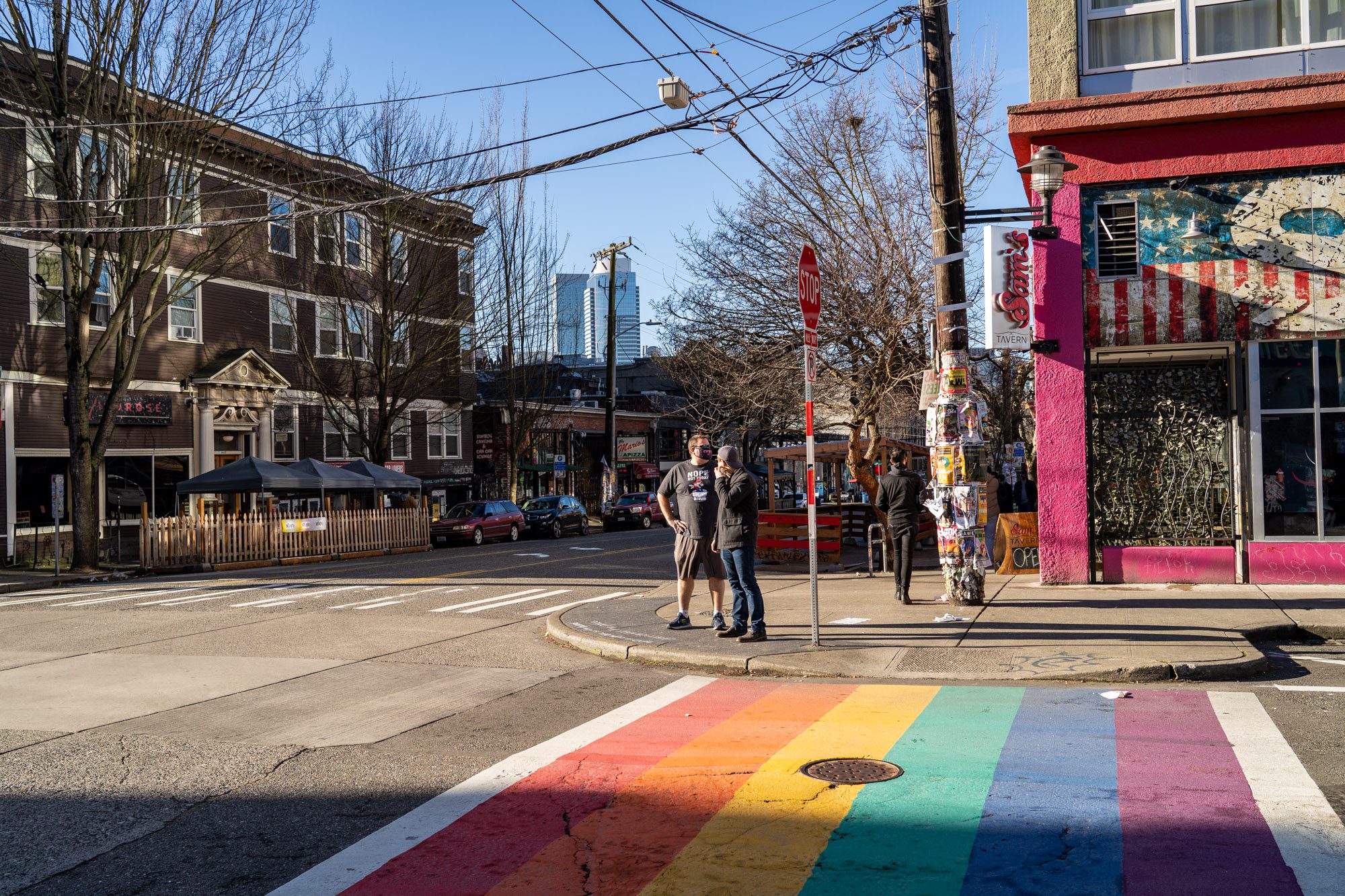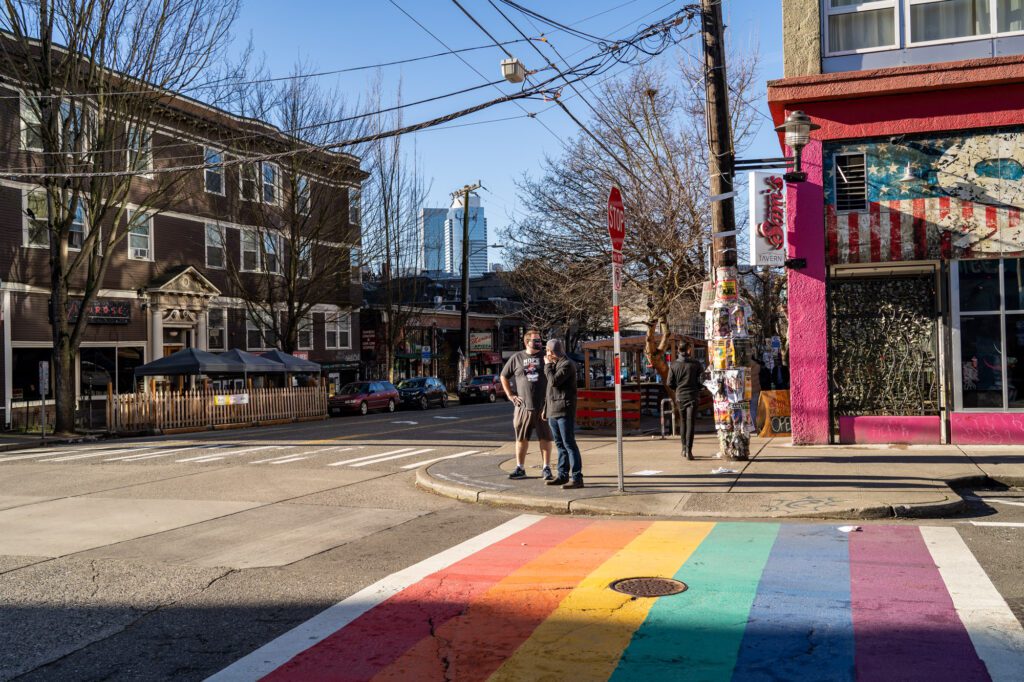 First of all, Capitol Hill is our favorite neighborhood in Seattle, full stop. It's vibrant during the day, lively at night, and all around a really fun neighborhood.
Capitol Hill is the best neighborhood in Seattle for foodies, twenty-somethings, and hipsters, with plenty of bars and restaurants, specialty coffee shops (don't miss Victrola and Espresso Vivace), bars, theaters, and music venues showing a range of established and up-and-coming acts.
It's a staple on any Seattle itinerary, and is worth setting aside half a day to wander around.
There's no getting around it – Capitol Hill is pretty hipster and is packed with the thrift stores, independent fashion labels, and small boutiques that young, trendy people flock to. Capitol Hill is also known for its LGBTQ scene.
As you're walking around, you'll notice the rainbow crosswalks, flags, and other subtle (and not-so-subtle) nods to the LGBTQ scene in Capitol Hill.
Capitol Hill is the best area to stay in Seattle for travelers who want to explore one of our favorite neighborhoods in Seattle, but also be in close proximity to Downtown Seattle and the rest of the tourist attractions the city has to offer, like Pike Place Market and the Space Needle.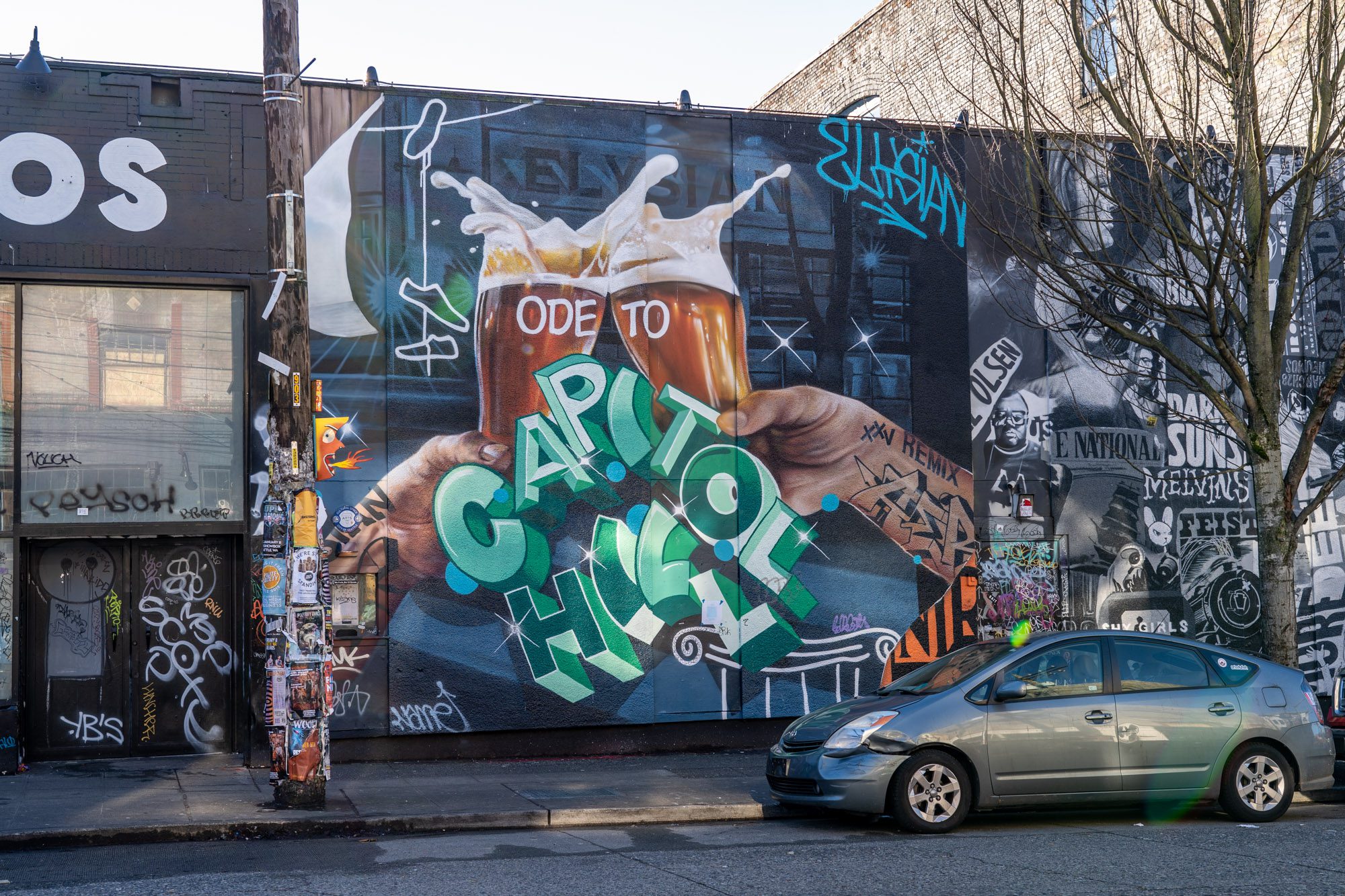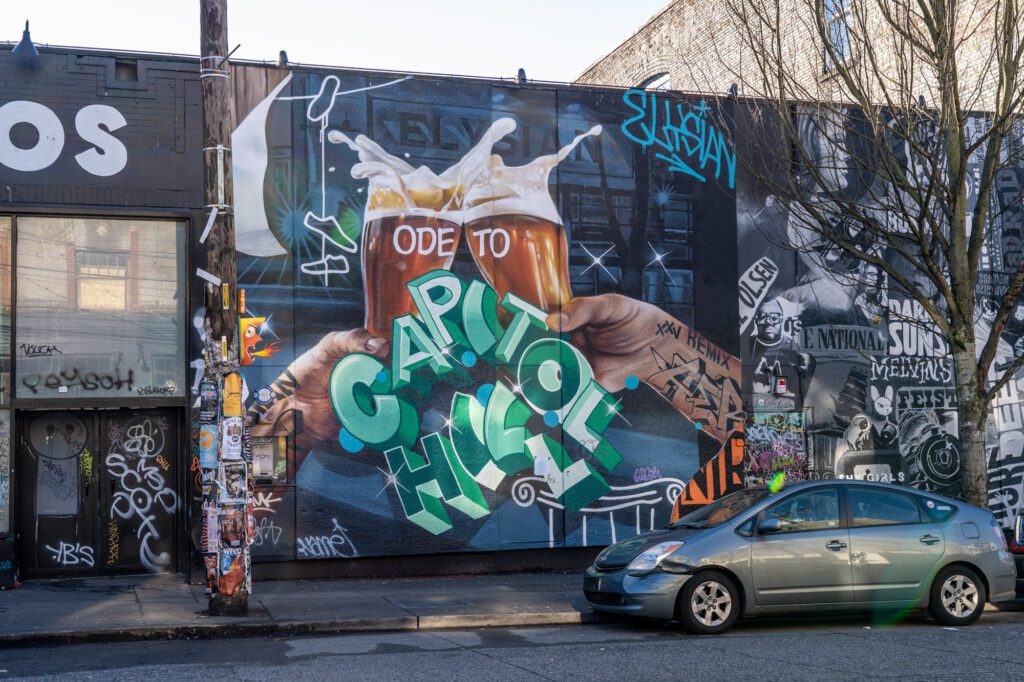 Pros and Cons of Staying in Capitol Hill
Pros of Staying in Capitol Hill:
Great for food, drinks, and shopping. Capitol Hill is our favorite neighborhood in Seattle – you'll find us there basically every time we're in the city. It's absolutely packed with bars, restaurants, boutiques, and a vibrant energy that you start to feel as the sun goes down. The nightlife is great, too.
Cons of Staying in Capitol Hill:
It's loud. It's not a quiet neighborhood, particularly at night.


Parking is a nightmare. Parking is metered throughout the Pike/Pine corridor, and has limits in the more residential areas. If you can avoid having a car when you're staying here, we would do it.


Gentrification. Capitol Hill and the rest of the Central District are a historically black neighborhood, which you'd never know walking around today. Gentrification has pushed local residents out to other parts of the city as rents have risen and luxury condos have replaced more affordable housing. We're not saying you shouldn't stay here, but we're saying you should be aware of the impact that becoming the "hip" place to be has on residents of the community.
Capitol Hill Highlights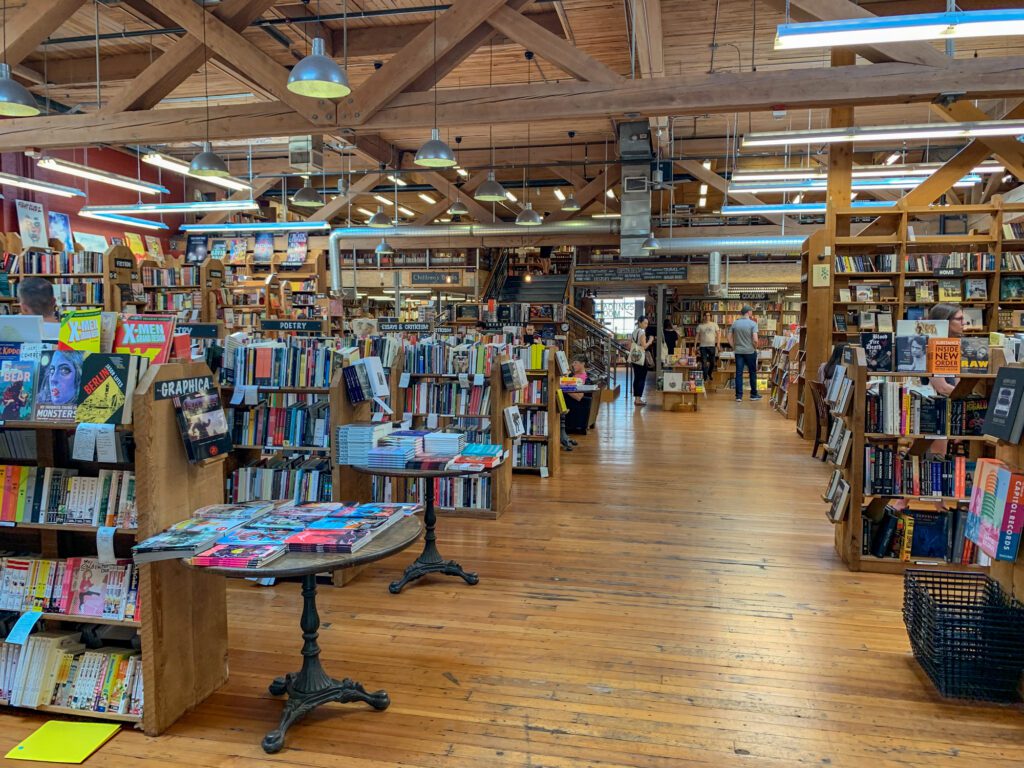 Here are some of our favorite spots in Capitol Hill. Though, honestly, there are way too many great places to eat, drink, and shop to list here.
Elliott Bay Books: The best bookstore in Seattle, I think. If we're within a few minutes of this place, we'll walk over and peruse the shelves. I especially like the staff recommendations sections, which is a great place to discover your next read.


Analog Coffee: Probably my favorite coffee shop in Capitol Hill, they bring in roasters from all over the Pacific Northwest (usually Camber from Bellingham is a staple) and have a nice menu of espresso-based drinks, and pour over options for coffee nerds like me.


Atulea: Alysha's favorite! They do matcha and bubble tea, and their matcha ice cream is a huge draw. Alysha is all about the Ube Matcha Latte.


Molly Moons: Seattle's OG ice cream spot, which now has an empire with locations all over the city. Great seasonal flavors with fresh ingredients, and fresh-pressed waffle cones.


Mamnoon: Lebanese food with a fun selection of very shareable dishes (like the mezze sampler, where you get to try a little bit of everything).


Nightlife in Capitol Hill: There are three excellent bars within a couple of blocks of each other in Capitol Hill. Go to Tavern Law for a speakeasy with great cocktails. Go to Canon for a massive whiskey list. Go to Footprint Wine Tap for wines on tap (which is more sustainable than bottles).
The Best Places to Stay in Capitol Hill
The hardest part about Capitol Hill is the fact that there are very few places to stay. Aside from the Pike/Pine corridor and Broadway/15th, it's a pretty residential neighborhood. There are a few hotels and serviced apartments (aparthotels) to choose from.
Here are some of our favorite places to stay in Capitol Hill for your trip.
Silver Cloud Hotel: Good Price and Great Location in Capitol Hill
It's not particularly sexy, but the Silver Cloud Hotel in Capitol Hill is probably the best place to stay in the neighborhood in terms of both budget and location.
Again, nothing special going on here in terms of rooms and amenities, but it's within a few blocks of the heart of Capitol Hill (though it's a little bit removed so that you're not RIGHT in the middle of all the action, which is nice for the whole good night's sleep thing).
Rooms are fine – they're about as traditional as it gets, with the rolling chair and desk you find in just about every big chain hotel, but the price and location are right!
They have parking for $40 a night, and pets are not allowed here.
Gaslight Inn: A Charming Bed & Breakfast in a Historic Home
This charming bed and breakfast is located inside a historic Craftsman-style home with designated Seattle Landmark status.
There are six different rooms to choose from, some with private baths, fireplaces, or city skyline views. All guests can take advantage of the outdoor heated pool and free continental breakfast each morning.
Sonder at Solis: Serviced Apartments in a Perfect Location
We've stayed in Sonder properties before (notably in New York City, which we liked), and Sonder at Solis is essentially a hotel, but full of apartments (with kitchens and laundry) rather than more traditional hotel-style rooms.
It's a very modern take on travel, and involves contactless check-in, a Roku for streaming, and staffless locations (which, we should note, can be a problem on the off-chance that something goes wrong).
We've chosen Sonder for extended stays before, and would recommend it here too. Especially because of the location, which really could not be much better (it's on Pike at the eastern end of the neighborhood, within two blocks of some of our favorite Cap Hill spots).
The units here come in a variety of sizes and configurations – namely studio, one bedroom, and two bedroom – and all have big windows with good natural light, full kitchens, and in-unit laundry.
They have a rooftop deck with a view of the city, which is a nice touch for summer months. No pets, though, so leave the furry friend at home.
One huge downside here: they have no onsite parking. And street parking in Capitol Hill is a nightmare. If you have a car, we would strongly recommend against staying here (look at Level in South Lake Union instead, which has parking and apartment-style rooms).
Two Blocks Off Broadway (Two Bedroom Apartment)
If you're looking for an apartment for a bigger group or family in Seattle, this charming apartment would be our choice.
In general, we're against vacation rentals in big cities, because they take housing supply that could be used for residents, which has an impact on rising rents in supply-constrained cities like Seattle (and, let's be honest, every other city on the west coast).
However, we do like alternative spaces being used as rentals for tourists – think the loft above the garage or the basement level apartment – which is exactly what's going on here.
This is the ground floor of a 1902 home with two full bedrooms and bathrooms, a full kitchen, and plenty of space to spread out. It was converted into a separate space to accommodate the host's (who live upstairs) family, who visit often enough that they decided not to rent the space annually.
If you're looking for a bigger space for a group of four, this would be an excellent option. They also have onsite parking, so you'll be able to park the car off the street.
Queen Anne: Stay Blocks Away from the Seattle Center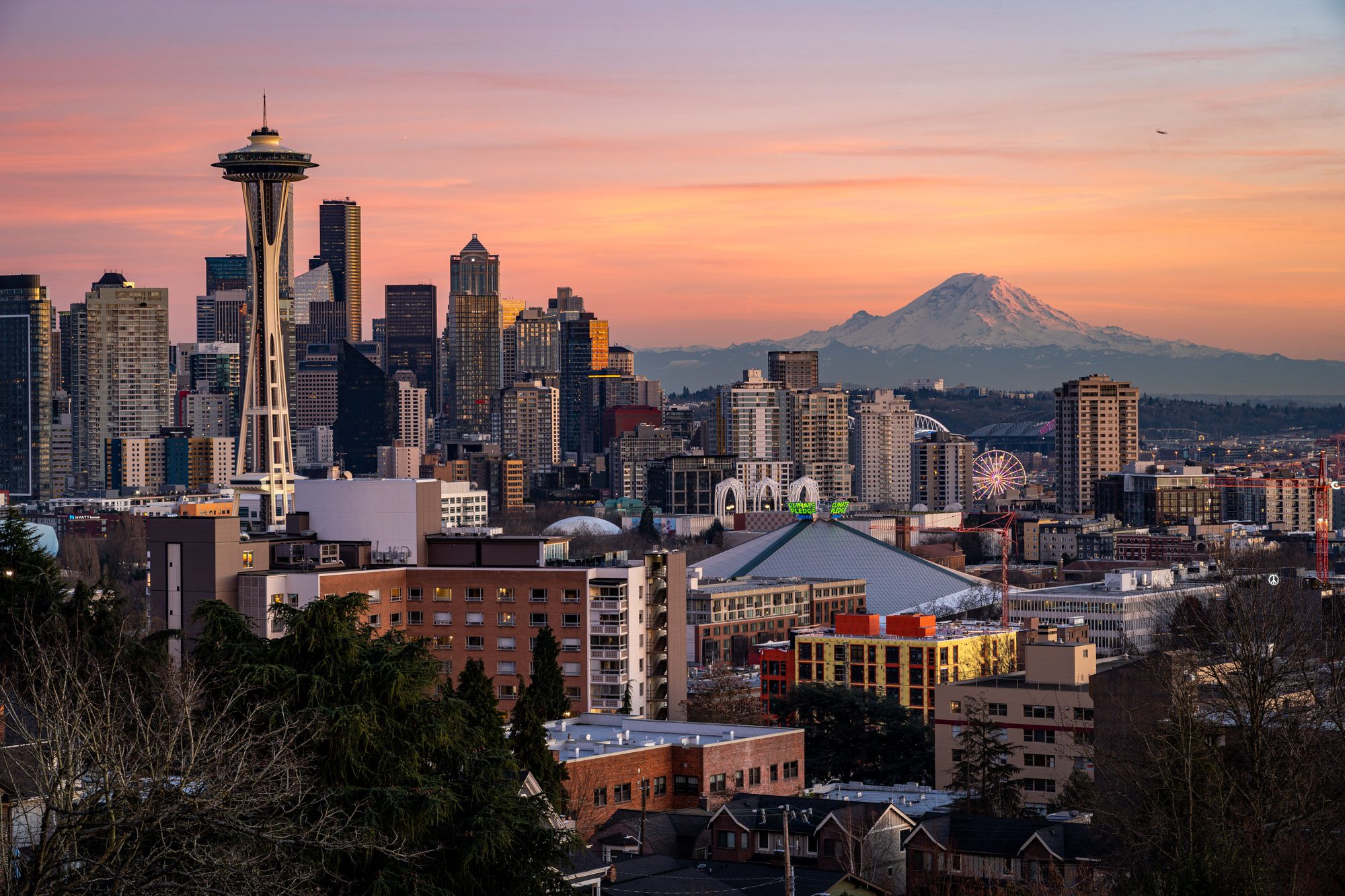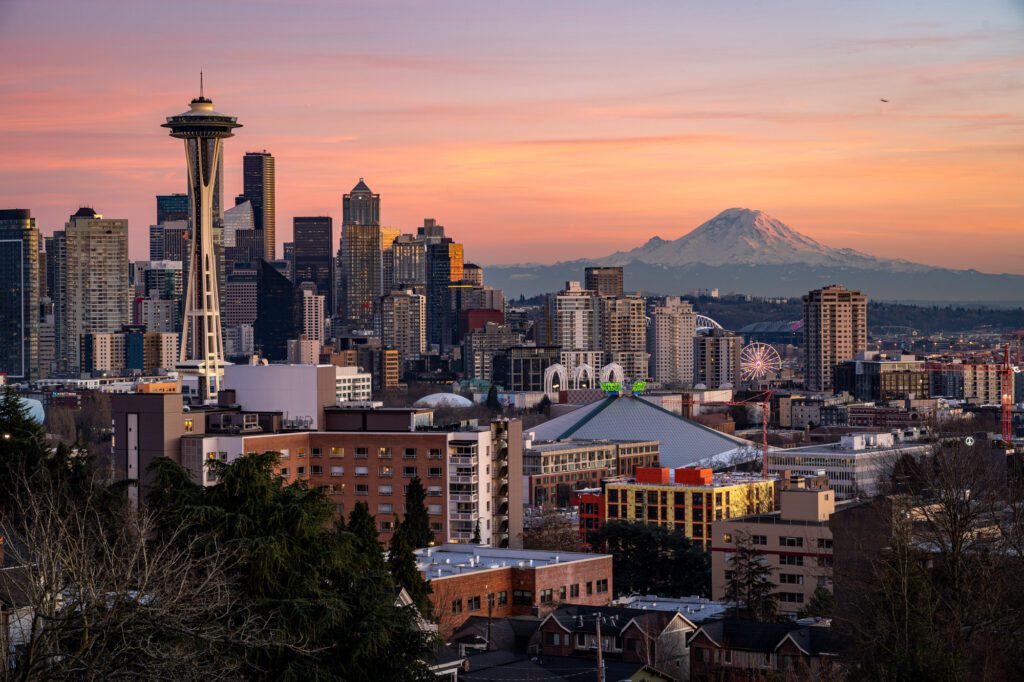 The last of the five central neighborhoods in Seattle is Queen Anne, which is north of Belltown closer to Seattle Center, and west of South Lake Union. The main draw here is the fact that the attractions at Seattle Center – the Museum of Pop Culture, Pacific Science Center, Caffe Vita at KEXP, Climate Pledge Arena, etc etc – will be right at your front door.
Plus, it's plenty close to Belltown and walkable to both South Lake Union and Pike Place Market.
Queen Anne is a fairly large area, spanning from Seattle Center up to the Lake Washington Ship Canal and Fremont Bridge.
For the purposes of this guide, which is focused on helping you find the right place to stay in Seattle for a relatively short trip, when we say Queen Anne here, we mean Lower Queen Anne, which is the area immediately adjacent to Seattle Center (where you'll find the Space Needle and a few worthwhile museums).
This part of the city is more central than Upper Queen Anne, which is a very residential neighborhood up the hill (too expensive for our budget), and has a much better selection of places to stay.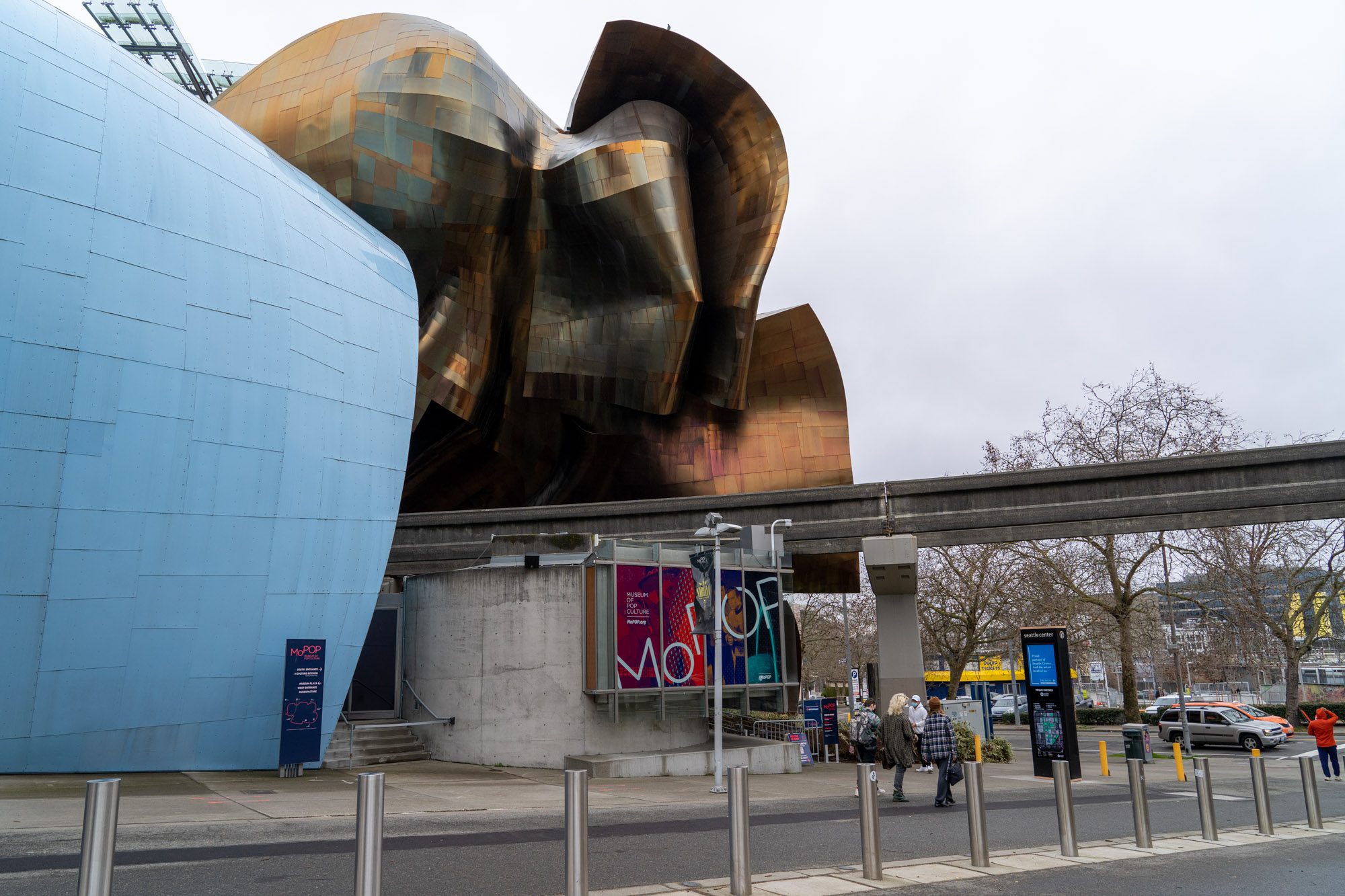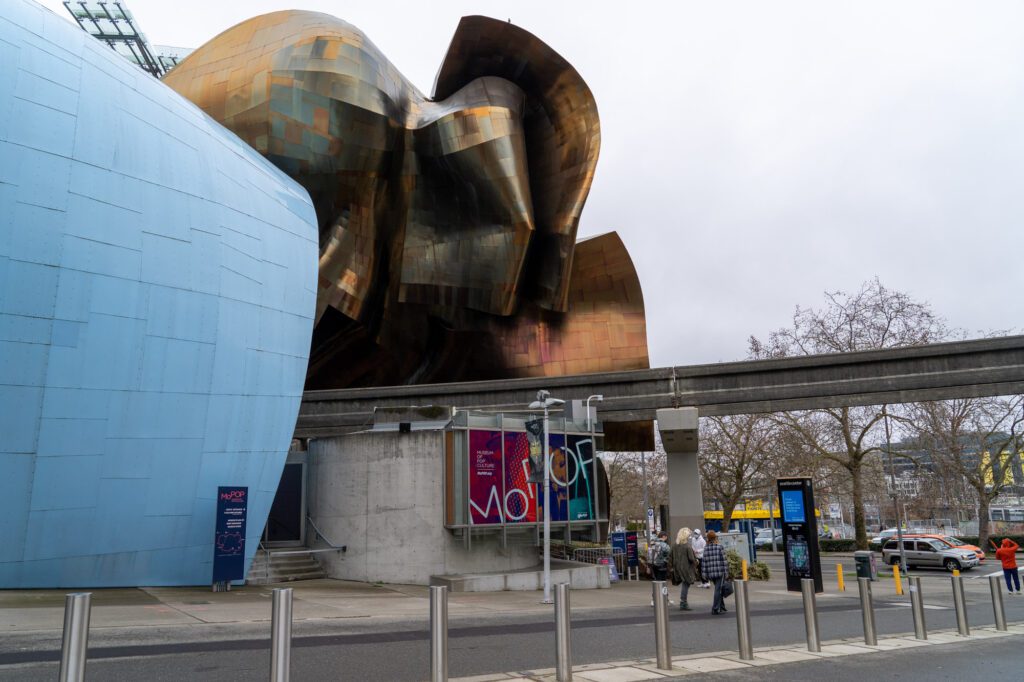 Pros and Cons of Staying in Queen Anne
Pros of Staying in Queen Anne:
Central location near Seattle Center. Queen Anne is basically at the Seattle Center, which means you also won't be too far away from Pike Place Market and Downtown Seattle.


The best view in Seattle from Kerry Park. Just up the hill from Lower Queen Anne is Kerry Park, which is both the best view in Seattle (it's way better than the top of the Space Needle, and it's free!), and the most popular viewpoint in Seattle.


It's relatively affordable. The key word here is relatively. It's not going to be cheap – it's still Seattle – but we have noticed that the hotels here skew towards the more affordable end of the spectrum compared to Downtown and Belltown.
Cons of Staying in Queen Anne:
It's not our favorite in terms of food and drinks. You'll probably spend most of your time outside of the neighborhood if you stay here, but that's totally fine as long as you know that going in.


Parking is impossible. Similar to all of the other neighborhoods on this list, parking is going to be a nightmare. Your best bet is to not bring a car, but if you do, be prepared to pay for parking.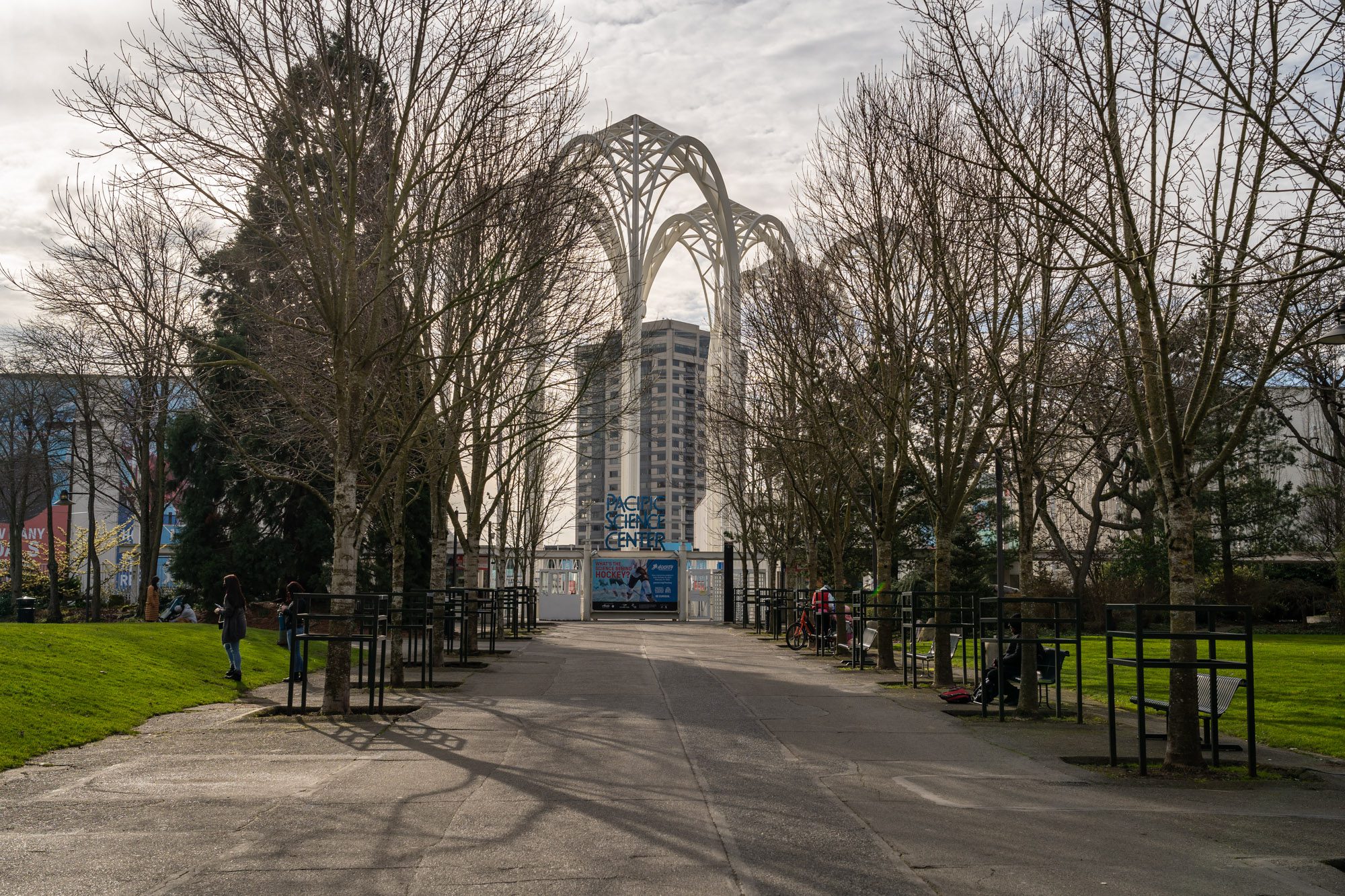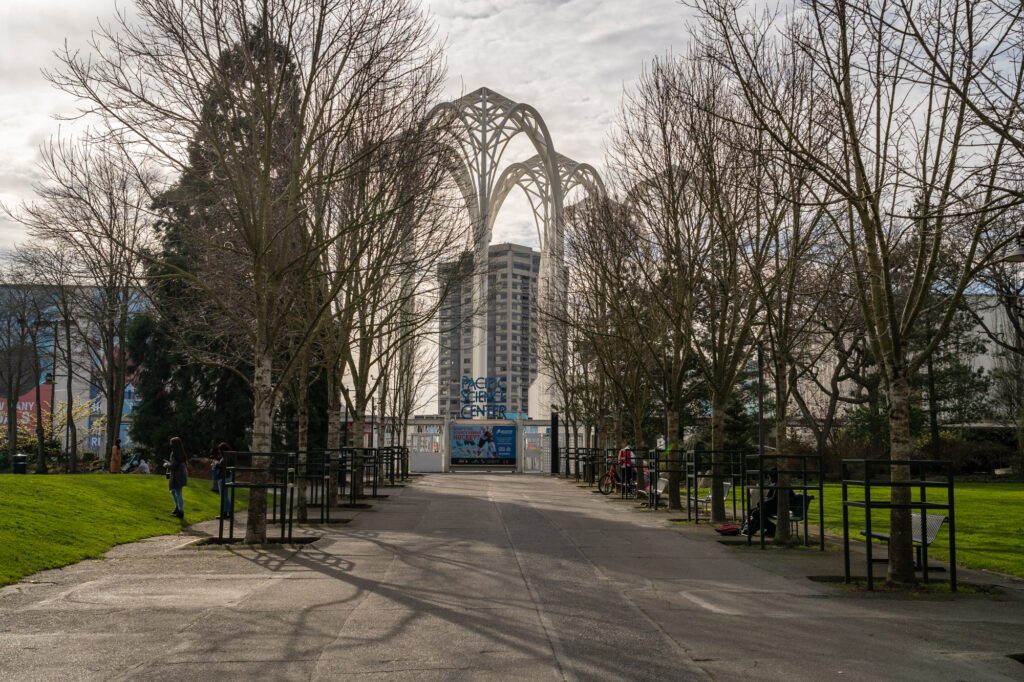 Queen Anne Highlights
Here are a few of our favorite places to visit in Queen Anne.
Dick's Drive-in: Seattle's answer to In-n-Out Burger. It's a no-frills burger joint where substitutions are not accepted, and the food is as affordable as it gets in Seattle. It's a very popular late night spot, with people spilling out of the bars in Queen Anne and forming huge lines at Dick's before heading home for the night.


Toulouse Petit: Excellent cajun creole cuisine. Go for brunch or happy hour. It's one of the most popular places in Seattle, so be prepared to wait if you don't make a reservation in advance.


Kerry Park: Our favorite view in Seattle. We take all visitors that come to Seattle for the first time up here. You can see downtown – including the Space Needle – and the ferries crossing Elliott Bay. It's magical. But it's a popular spot, particularly at sunset.


Vita at KEXP: This is one of my favorite coffee shops in Seattle in terms of the space – it's a cavernous high-ceilinged space that is home to KEXP, an independent radio station in Seattle, where Caffe Vita has taken up residence. Good coffee, good ambiance, good place to visit when you're at Seattle Center.


Queen Anne Ave N: This is the main stretch in Upper Queen Anne, and it is lined with places to eat, drink, and shop. Go to El Mezcalito for Oaxacan food (lots of gluten free options, too!), Big Max Burger Co. for fancy burgers (much classier than Dick's), and How to Cook a Wolf for a slightly fancier meal at one of the most famous restaurants in Seattle that serves Italian-ish food.
The Best Places to Stay in Queen Anne
Most of the places to stay are in Lower Queen Anne, in and around Seattle Center. Upper Queen Anne is more residential, but also more charming.
It's well-worth a trip up the hill to check it out – there are some fun places to eat, drink, and shop (plus the view from Kerry Park!), but it's not the right place to stay.
Here are some places to stay in Lower Queen Anne that would make a good home base.
The StayPineapple Maxwell Hotel: Our Top Pick in Queen Anne (Great Value)
For what it's worth, this is our number one recommendation in Queen Anne. Staypineapple hotels are always among the best value hotels in whatever city they're in, and the two on this list are no different.
The Maxwell Hotel is just north of Seattle Center, and has surprisingly spacious rooms for the price.
Everything in this hotel is colorful – from the huge pineapple in the lobby, to the brightly colored interior corridors. Rooms come in a variety of configurations depending on your specific needs.
They do have a daily amenity fee of $25 that covers Wifi, beach cruisers you can borrow, the fitness center, and other stuff. We think this should just be included in the price of the room (come on, Staypineapple!), but it's better that you know now rather than showing up and realizing it!
It's dog-friendly too (for an extra fee), and they have onsite parking (which is also an extra fee), which can be hard to find in this part of the city.
The Mediterranean Inn
The Mediterranean Inn is right in the heart of Lower Queen Anne, just west of Seattle Center. The rooms here are apartment-style, which means you'll have access to a small kitchenette that has a mini fridge, electric kettle, microwave, and more.
Rooms are simple but comfortable, ranging from rooms with a single queen bed, to two queen beds.
One of the highlights here has to be the rooftop deck, which will give you spectacular views over the Downtown Seattle skyline, including the Space Needle. Plus, you can rent bikes from the hotel to cruise around the city!
---
More to Explore in Washington State
Heading to the great state of Washington? Here are some other posts you might like.
The Best Things to Do in Seattle: A Local's Complete Guide (coming SOON!)