Where to Stay in Seattle: A Complete (Local's) Guide
Grunge music. Coffee. Rain. These are a few things that Seattle is known for. Today, Seattle is world-renowned as the birthplace of Amazon and Microsoft, but there is so much more to this city for visitors to explore. I grew up in a suburb of Seattle, and lived in the city for 5+ years in the early 2000's, when Amazon was not the dominant force that it is today, and now we split our time between the San Francisco Bay Area, Seattle, and traveling.
I have a strong perspective on the best areas to stay in the city, and I'm sharing them with you below to help you find the perfect place to stay for your trip. Below, you'll find a guide to where to stay in Seattle from a Seattleite, with options for every budget and travel style.
I should say that this is by no means a complete picture of everywhere you could stay in Seattle. You could totally stay in West Seattle and spend your time exploring Alki Beach and going to Sound and Fog, one of the best coffee shops in Seattle. But getting from West Seattle to the rest of the city can be a pain, so I wouldn't recommend staying there for your first time in Seattle.
Think of this as a list of the places we will consider staying next time we find ourselves visiting Seattle. Which is, honestly, no matter when you're reading this, is probably soon.
Why should you listen to me? I grew up in the Seattle area, went to college in Seattle, lived in Seattle after college, and we visit my family in Seattle several times a year, including a couple months every winter. Seattle is home, and I know the city like the back of my hand.
Read on for a complete guide to where to stay for your trip. Just remember – there are tons of amazing places outside of these neighborhoods that, given enough time, you should definitely explore. Like West Seattle, Madison Park, and Green Lake (which is the last place I lived, and is an amazing area to explore if you have more time).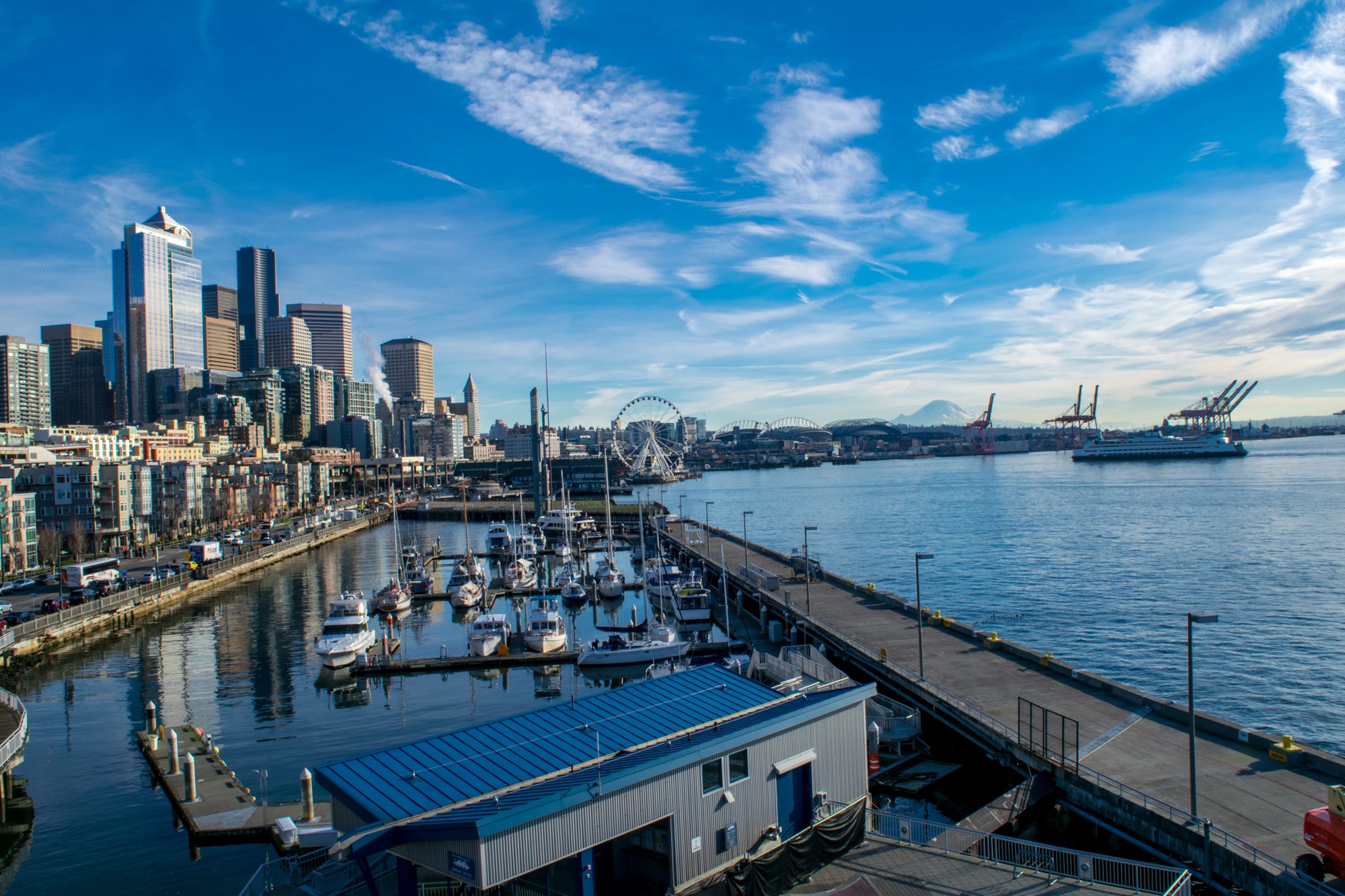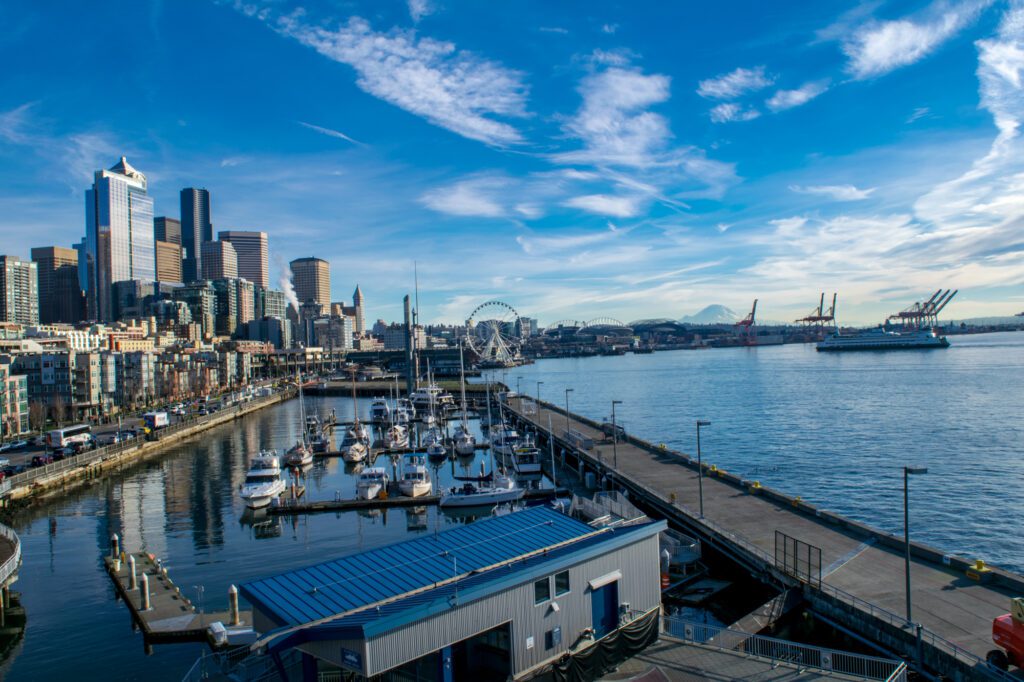 Disclaimer: Some of the links in this post, like hotel links, are affiliate links, meaning at no additional cost to you, we make a little bit of money if you click through and book. That being said, we would never recommend something to you that we don't stand behind 100%.
Where to Stay in Seattle: A Local's Guide to the 7 Best Areas to Stay
And now, let's get into our detailed guide on where to stay in Seattle. The intention here is to help you gather all of the information about the best areas to stay in Seattle, and then make your decision.
It will quickly become apparent that we're both planners, who love a good Excel spreadsheet. We love getting into the details, which is what we're going to do in this guide.
However, we also recognize that not everyone has the time or patience for all that information. If you want a quick answer, here it is!
If it's your first time in Seattle or you have a short trip, you should stay in Downtown Seattle (stay near Pike Place Market). or Belltown (better food, drinks, and nightlife), which are as central as it gets. Both are within walking distance of both Pike Place Market and the Seattle Center (home to the Space Needle, but we wouldn't recommend going to the top!). We've stayed at the Ace Hotel (a hipster classic!), which is right near Pike Place Market in the heart of Belltown, and we'd recommend it. The State Hotel is another great boutique hotel near Pike Place, and if you're on a budget, look at Hotel FIVE.


If you want to be in the coolest neighborhood in Seattle, with excellent food, drinks, shopping, and nightlife, stay in Capitol Hill (can you tell we love Cap Hill?). The downside is that there aren't that many places to stay, but it's by far our favorite place to hang out when we're in Seattle. Great coffee, great bars, great food, and the best bookstore in Seattle – what's not to love? Stay at the Art Inn (which has parking available!) on the border of Cap Hill, or the charming Gaslight Inn.
Planning a trip to Seattle? Don't miss our guide to the coolest hotels in Seattle to help you find the perfect place to stay for your trip.
Where We've Stayed in Seattle
As we try to do with most of our guides on where to stay, it probably makes the most sense to start with our own personal experience here.
Matt lived in Seattle itself for several years (up in Green Lake, which isn't great for tourists) and in the Seattle area for the majority of his life. When we visit Seattle these days, we usually stay with Matt's family, who lives in the Seattle area.
However, we have stayed in the city itself a couple of times over the past few years. Here are the places we stayed, and our thoughts on them.
The CitizenM Seattle
On our latest trip, we stayed at the CitizenM Seattle in South Lake Union and absolutely LOVED it. It's modern, efficient, clean, stylish, and has some great common spaces to hang out in.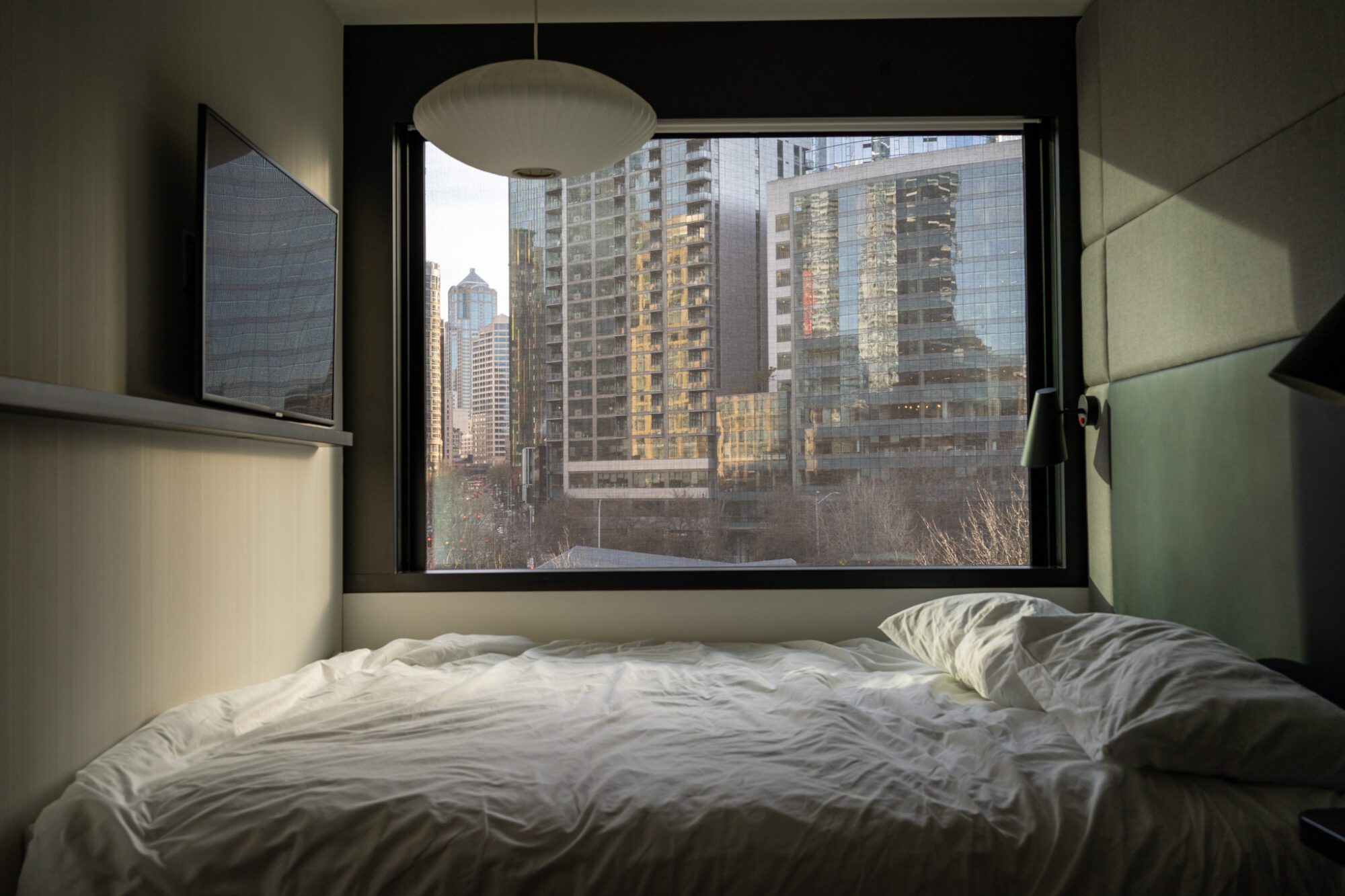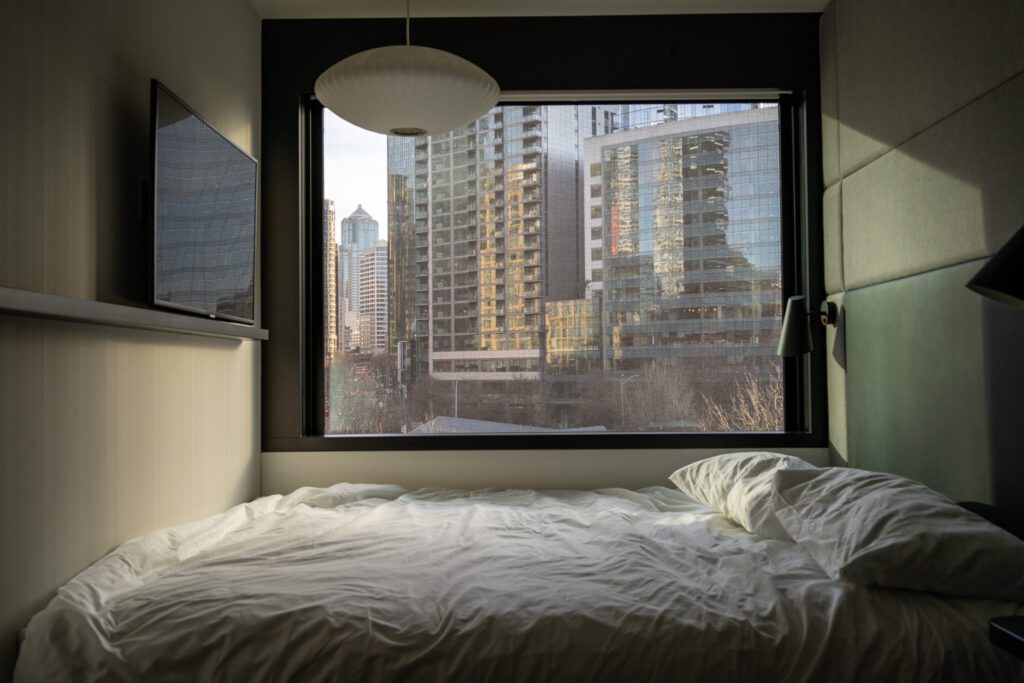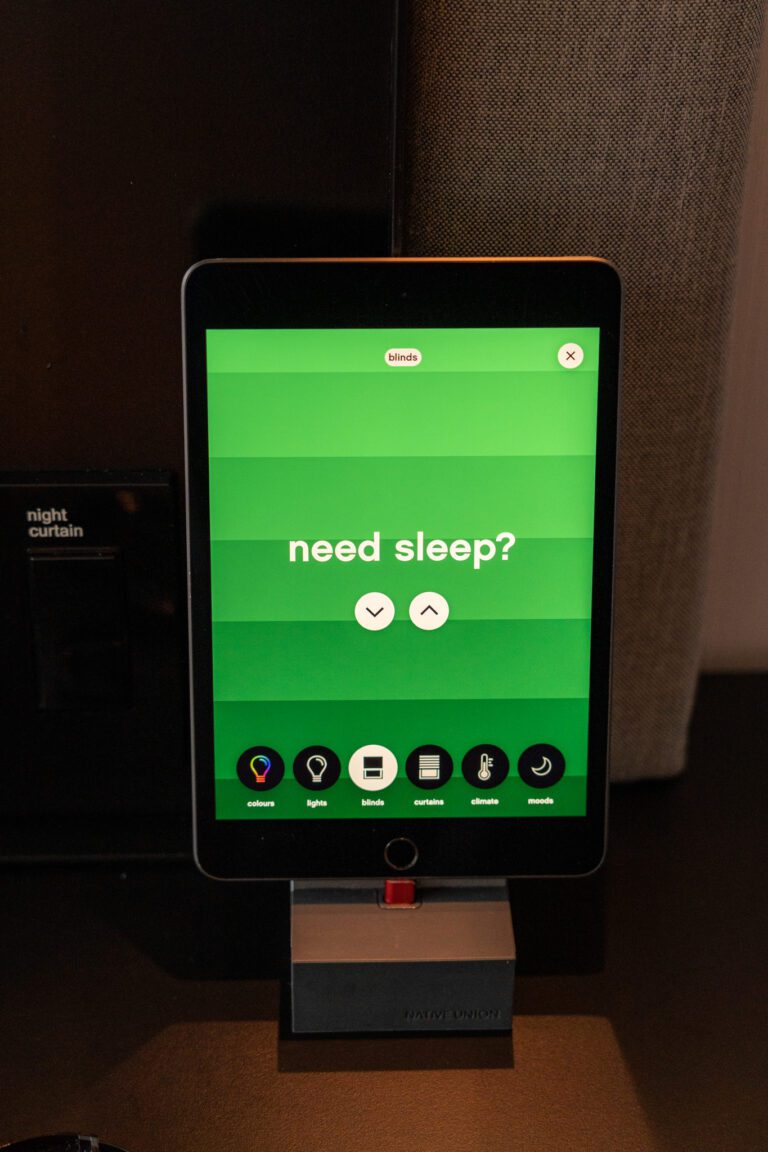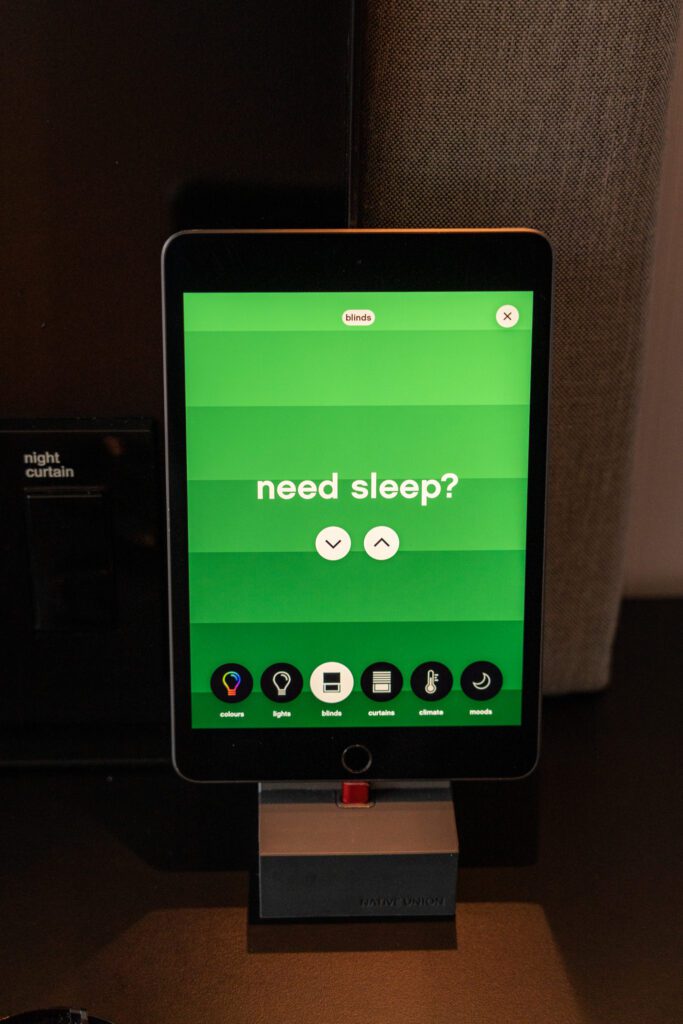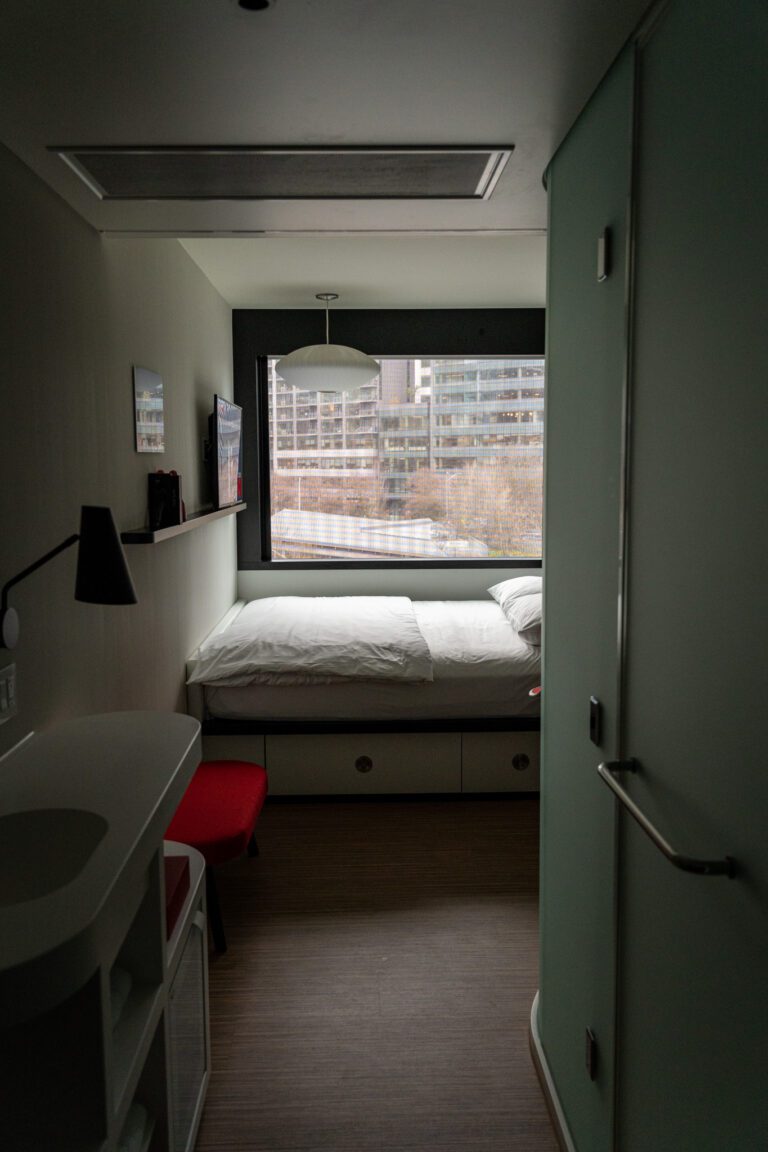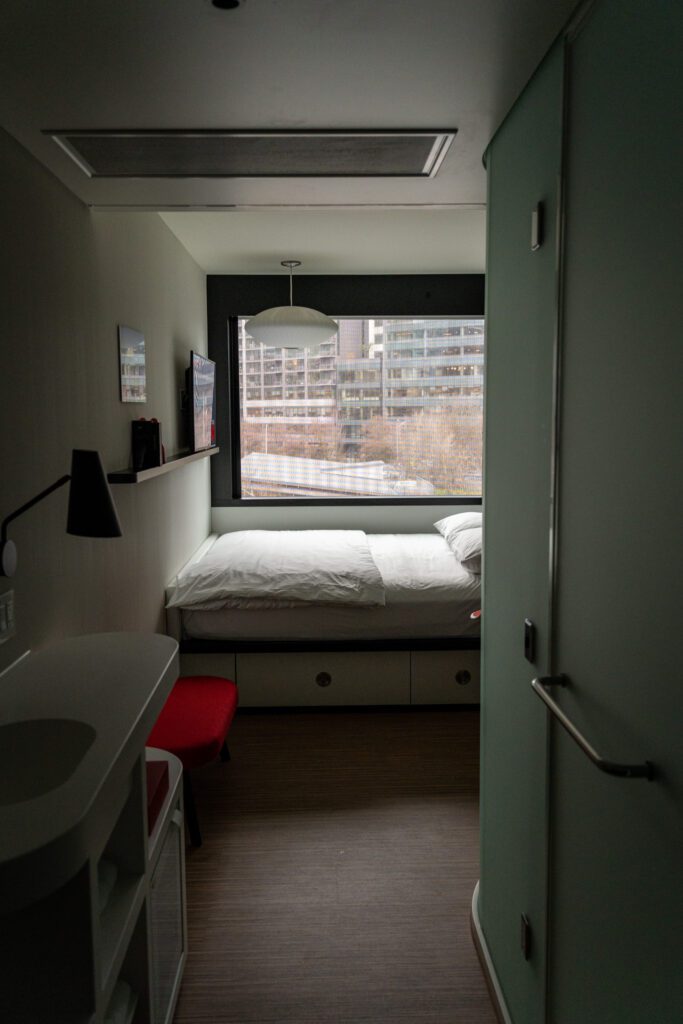 At check-in, which is done on these cool kiosks reminiscent of checking in for a flight at the airport, you can even choose which side of the hotel you want to be in, and if you want a low or high floor, which we thought was pretty cool. Try to get a room on the John St. side, which has views of the city (which one of the super friendly staff pointed out to us as we were trying to decide).
The rooms themselves are small (but you have access to their "living room" on the ground floor which has couches, desks, and more), but they have blackout curtains, they're mostly soundproof, and the huge king beds are extremely comfortable. Everything in the room – from lights, to temperature, to room service – is managed on an iPad.
The location is also great. We walked from the hotel to Seattle Center (where you'll find the Space Needle and the excellent MoPop), Pike Place Market, and Capitol Hill. The area around the hotel is also full of great coffee shops, bars, and restaurants. We like Kati Vegan Thai, Cafe Hagen (before 9:30am on weekends, which is when it turns into a zoo), and a drink at Mbar's rooftop patio is always a good time.
However, there are a few caveats that you should know before you book.
First, they have one room option, and one room option only. It's a single king bed with a maximum occupancy of two, which means it's not ideal for families with young children traveling together (you'd have to get a separate room).


Second, the rooms are small. They're well thought out, but they don't have some of the bells and whistles you'll find in other upscale hotels. Things like an in-room coffee maker (Elm Coffee Roasters is just down the street, where you'll find some of the best coffee in Seattle) or an ironing board (I barely know what that is).
Basically, if you value a good night's sleep and you're planning on spending most of your time outside of your room exploring the city or relaxing/working in their common spaces, the CitizenM Seattle is an excellent choice.
If you're a family of four who all want to stay in the same room, or you're a business traveler who wants to iron your shirt before a big meeting, maybe stay elsewhere.
Want to learn more about the CitizenM in Seattle? Read our in-depth review of the CitizenM to decide if it's the right hotel for your time in Seattle!
The Ace Hotel
The first time we stayed in Seattle together (by that time I had moved to San Francisco, which is where we met) was for a work conference, and we stayed in Belltown at the Ace Hotel.
Before that trip, we never realized it was actually the first ever Ace Hotel. We always thought it was the Portland location, because, well, the Ace feels very Portland. Since then, we've also stayed at the Ace Hotel in New York City, and recommend it as a nice, stylish mid-range option.
The location in Belltown is great, but it's not the quietest part of the city, and since it's in an old building, the rooms aren't exactly noise-proof. They have a range of rooms, from budget rooms with shared (single occupancy) bathrooms, to larger suites. 
Downtown Seattle (Near Pike Place Market): Best Location for First Timers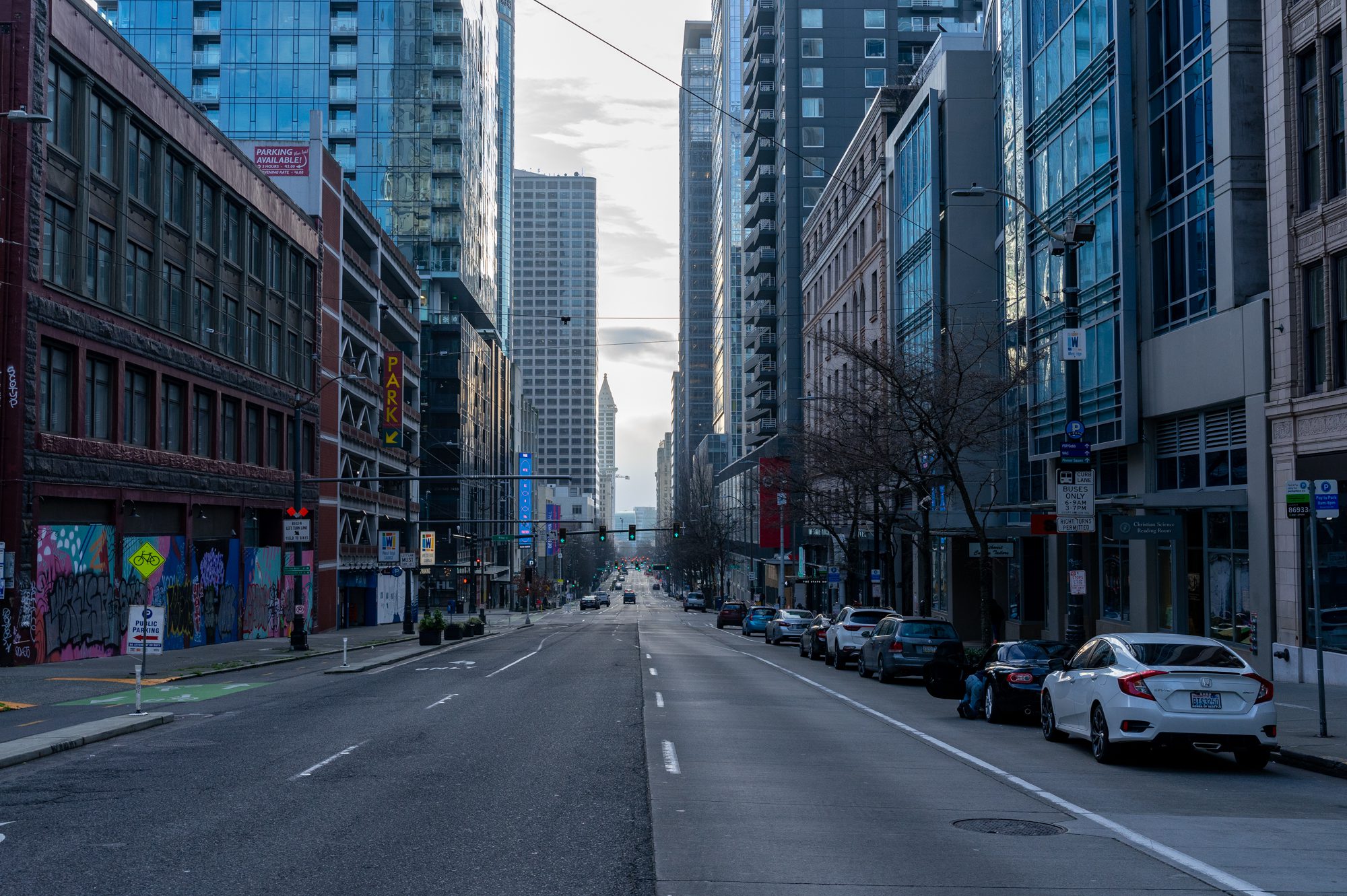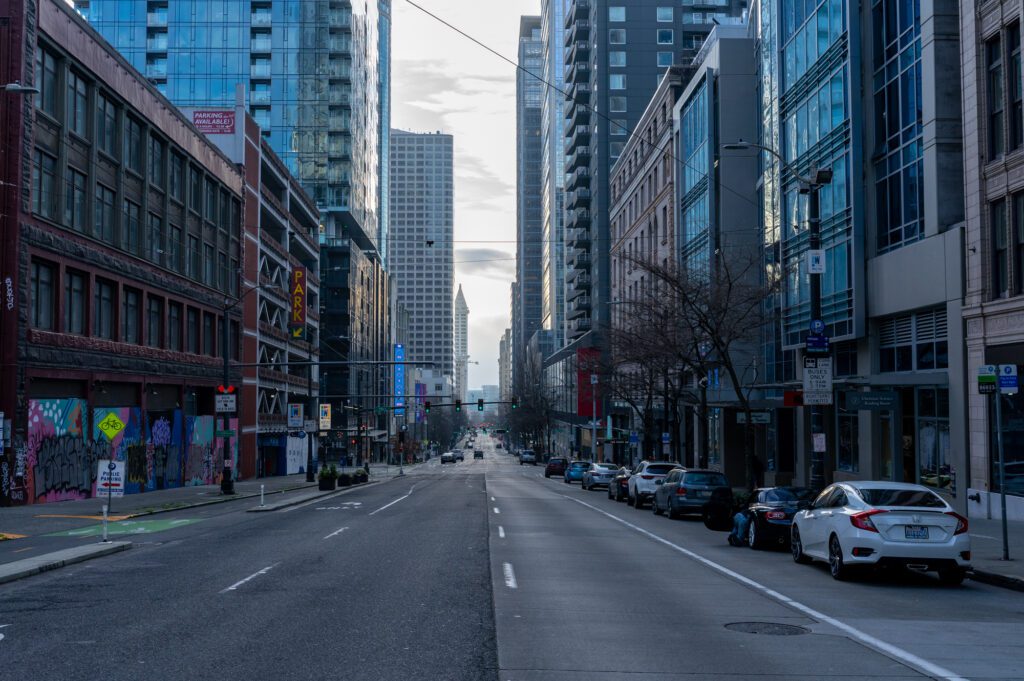 Staying in Downtown Seattle means you'll be right in the heart of all the action. Pike Place Market will be almost literally on your doorstep, you'll be well connected to the airport and other parts of the city thanks to the handy light rail system, and you'll have all sorts of bars, restaurants, and stores to captivate you.
It's a great place to base yourself if it's your first time in Seattle, or if you have a short trip and want to be in the center of everything.
We'd strongly recommend staying on the western end of the neighborhood towards Pike Place Market, which is the best area for tourists, in our opinion.
Pros and Cons of Staying in Downtown Seattle
Pros:
Could you BE any more central? Probably not, we think. That central location, which will put you near Pike Place Market, means that there are PLENTY of hotels and places to stay in the neighborhood. Plus, it's well-connected to other parts of the city via Light Rail and buses, so getting around using public transportation will be relatively easy.
Cons:
Staying in Downtown Seattle means you'll be in a concrete jungle, with relatively few green spaces around to give you a break from the towering office buildings and hotels.


It's also not super charming, since it's more of a commercial area. Parking is going to be a nightmare – prepare to either forgo a car, or pay a pretty penny to park it.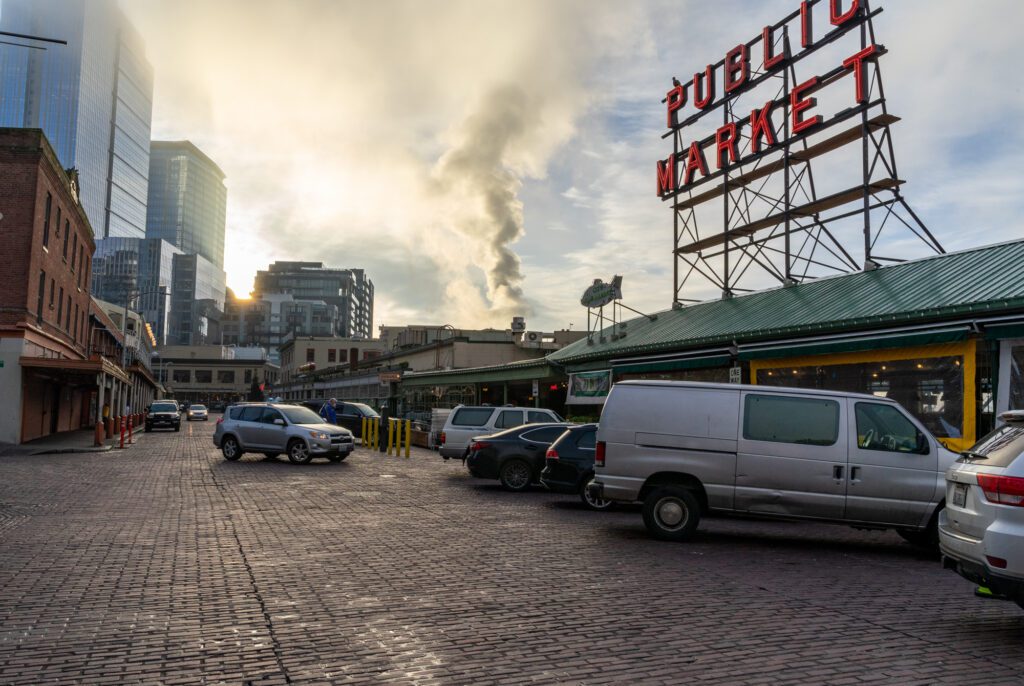 Downtown Seattle Highlights
Pike Place Market is probably the biggest draw in Seattle, and it's basically downtown. Come for the flying fish, stay for the delicious greek yogurt, ginger beer, and Beecher's Cheese.


The Seattle Art Museum is surprisingly fun, and it's right in the heart of Downtown Seattle. It's a good rainy day activity, which you'll find plenty of in Seattle outside of the summer months.


The Seattle Public Library is worth a stop JUST to check out the architecture. It's a gorgeous modern, sophisticated building that stands out in the concrete jungle that surrounds it.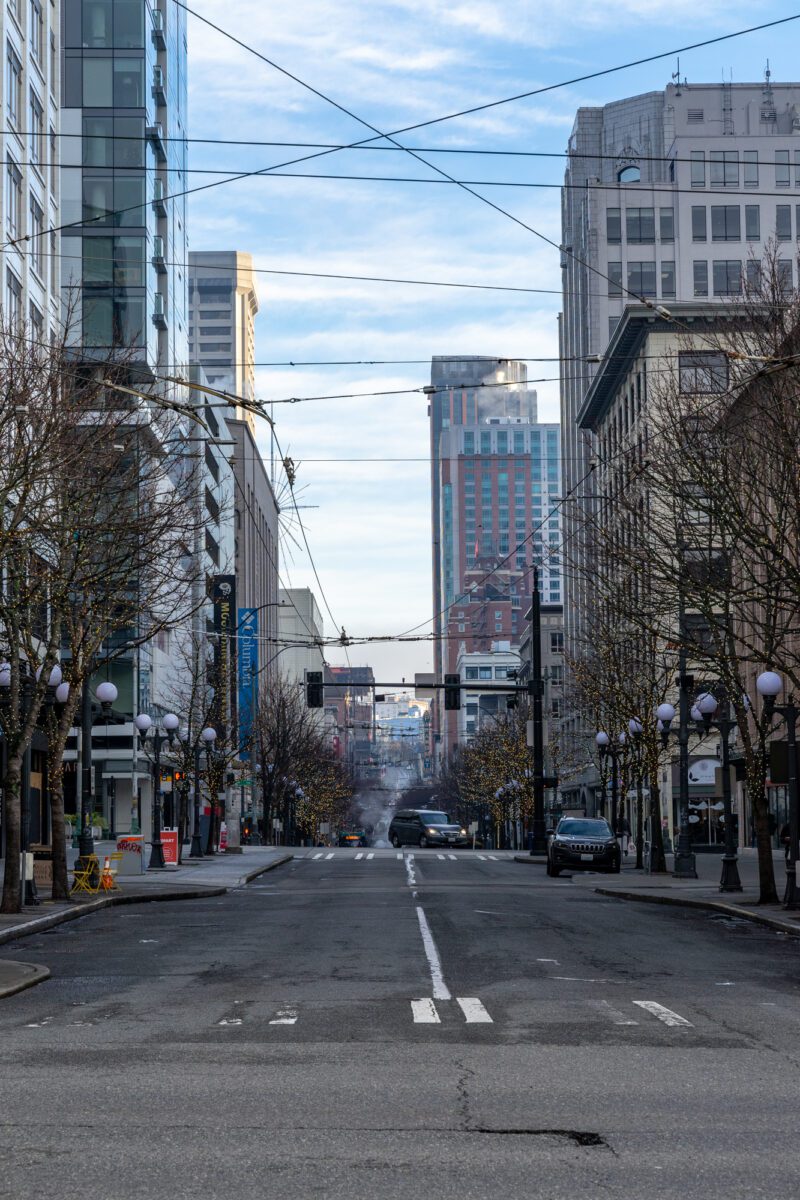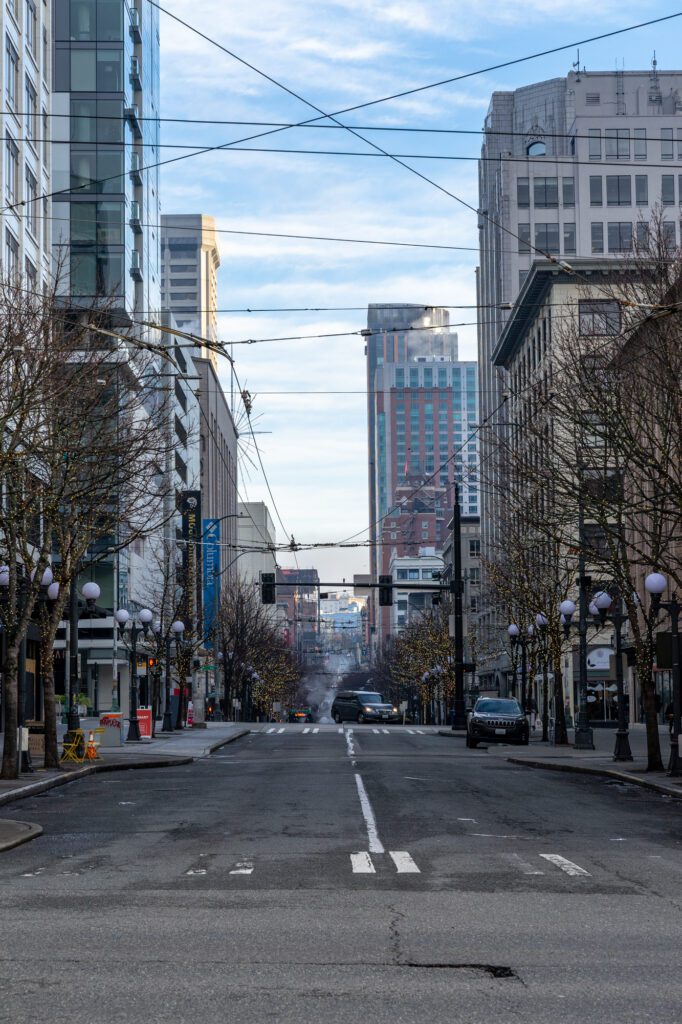 Where to Stay in Downtown Seattle
There are some pretty spectacular places to stay in Downtown Seattle. We'd recommend focusing your attention on the area closest to Pike Place, which is our favorite part of Downtown.
The State Hotel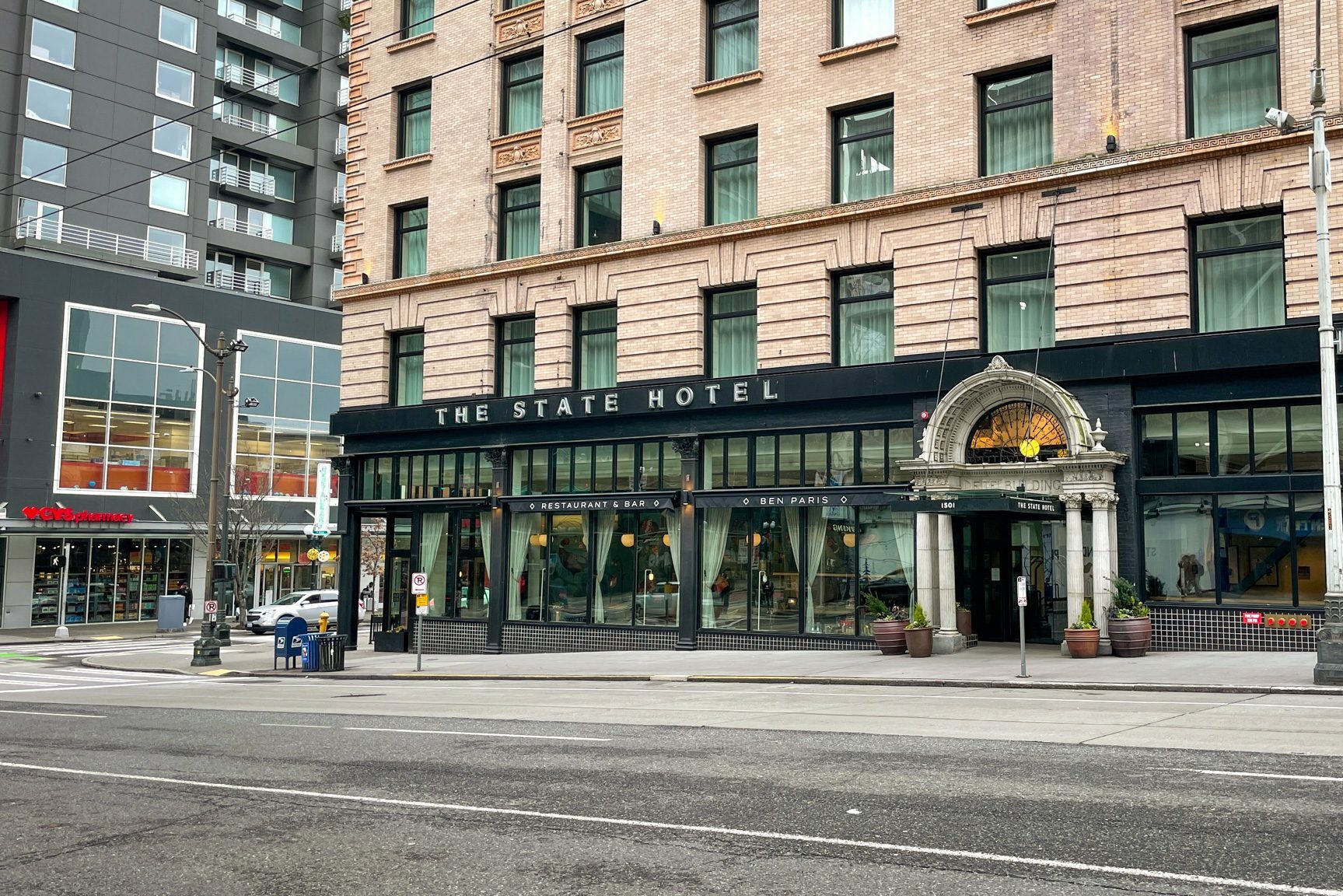 The State Hotel is a beautiful boutique property in a restored 1902 building. They have kept many of the historic charms of the building but have updated it with new décor and local artwork. Every aspect of this independent hotel is steeped in the local culture – they've even partnered with local artists to decorate the place.
Inside, you'll find 91 rooms ranging from cozy queen rooms, perfect for couples who don't need too much space (you'll be out exploring, after all), to more spacious king rooms, and even a few gorgeous suites.
Rooms on the eighth floor all have terraces but there is also a communal rooftop terrace offering fantastic views over the neighborhood.
Inn at the Market
Look, if you absolutely HAVE to stay across the street from Pike Place Market, this is the spot for you.
We were walking through Seattle recently, and my mom pointed up to a building and said "that's where I used to stay when I came here for business before we moved here!"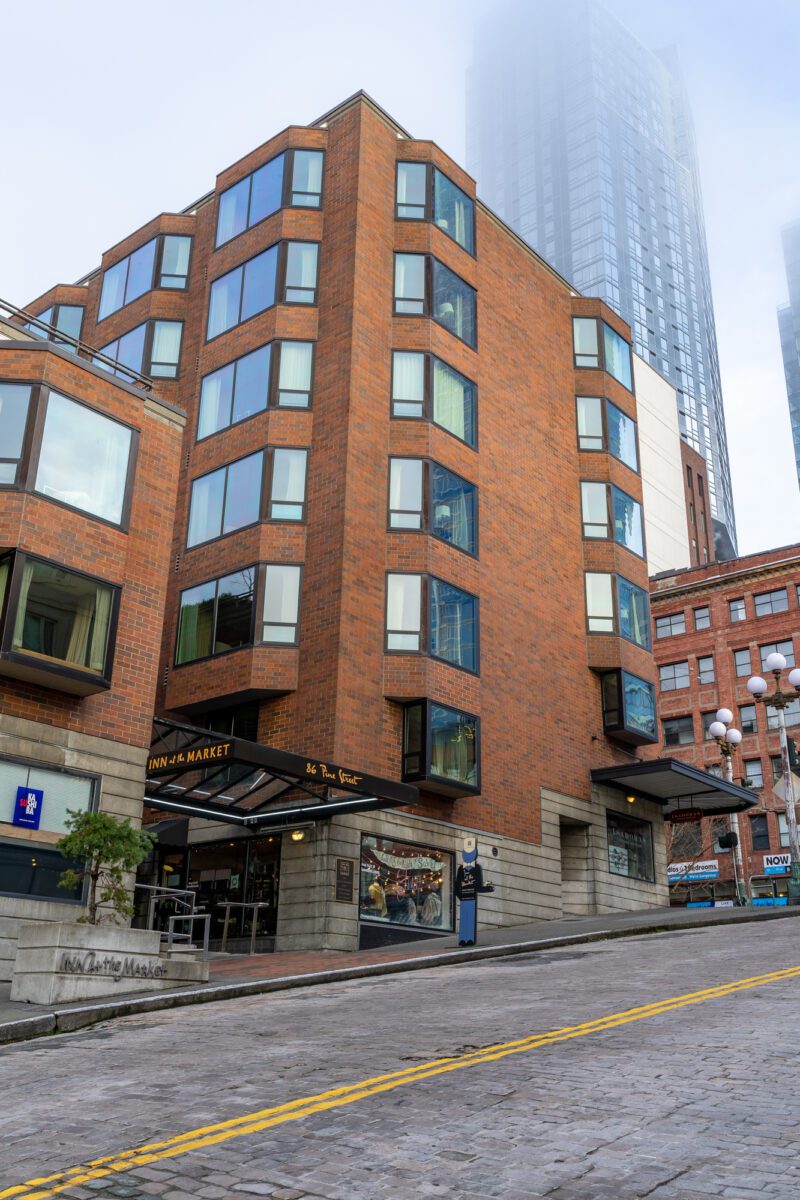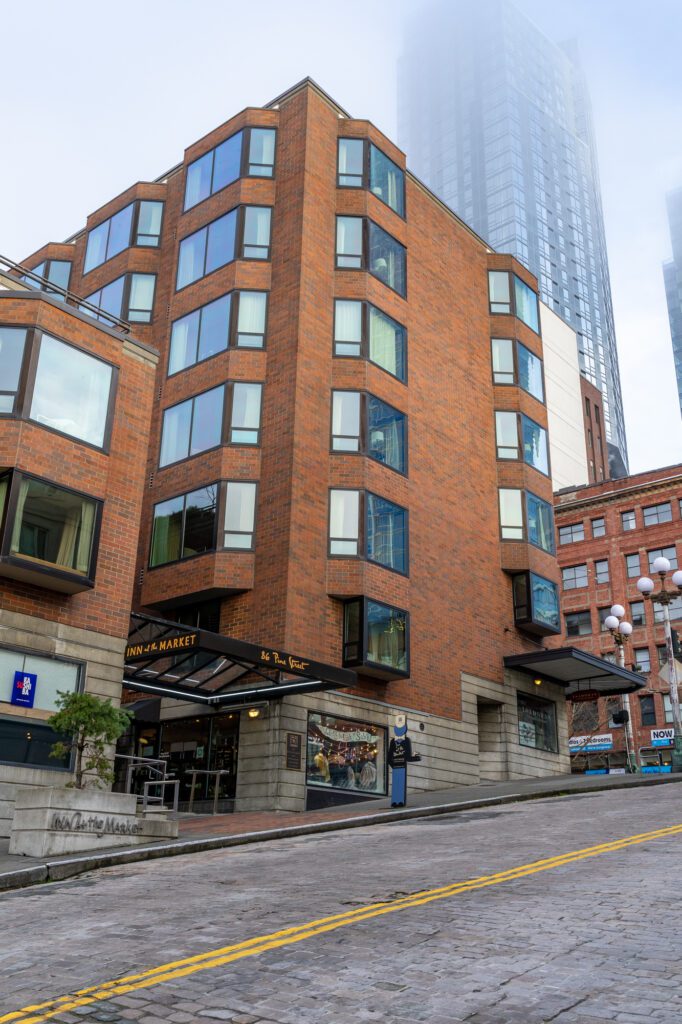 She was pointing at the Inn at the Market, which is literally steps away from Pike Place Market in the heart of Seattle. Standard rooms are surprisingly spacious, and some rooms have views of the Puget Sound and Olympic Mountains (though it will cost you a little extra).
They have a gorgeous rooftop deck, which looks over the Pike Place Market sign and has sweeping views over the water out towards the Olympic Range.
Green Tortoise Hostel: The Best Hostel in Seattle
If you're looking to stay in a hostel in Seattle, this is it!
The main draw for the Green Tortoise Hostel is its location. It's just a few blocks from Pike Place Market and the Museum of Pop Culture. They have your traditional dorm rooms, which include some queen beds that are great for couples, as well as private rooms.
Unlike most hostels, they have added small extra touches like heated tiles in the bathrooms, and a well-equipped communal kitchen for socializing while cooking.
Belltown: Best Combination of Location + Bars and Restaurants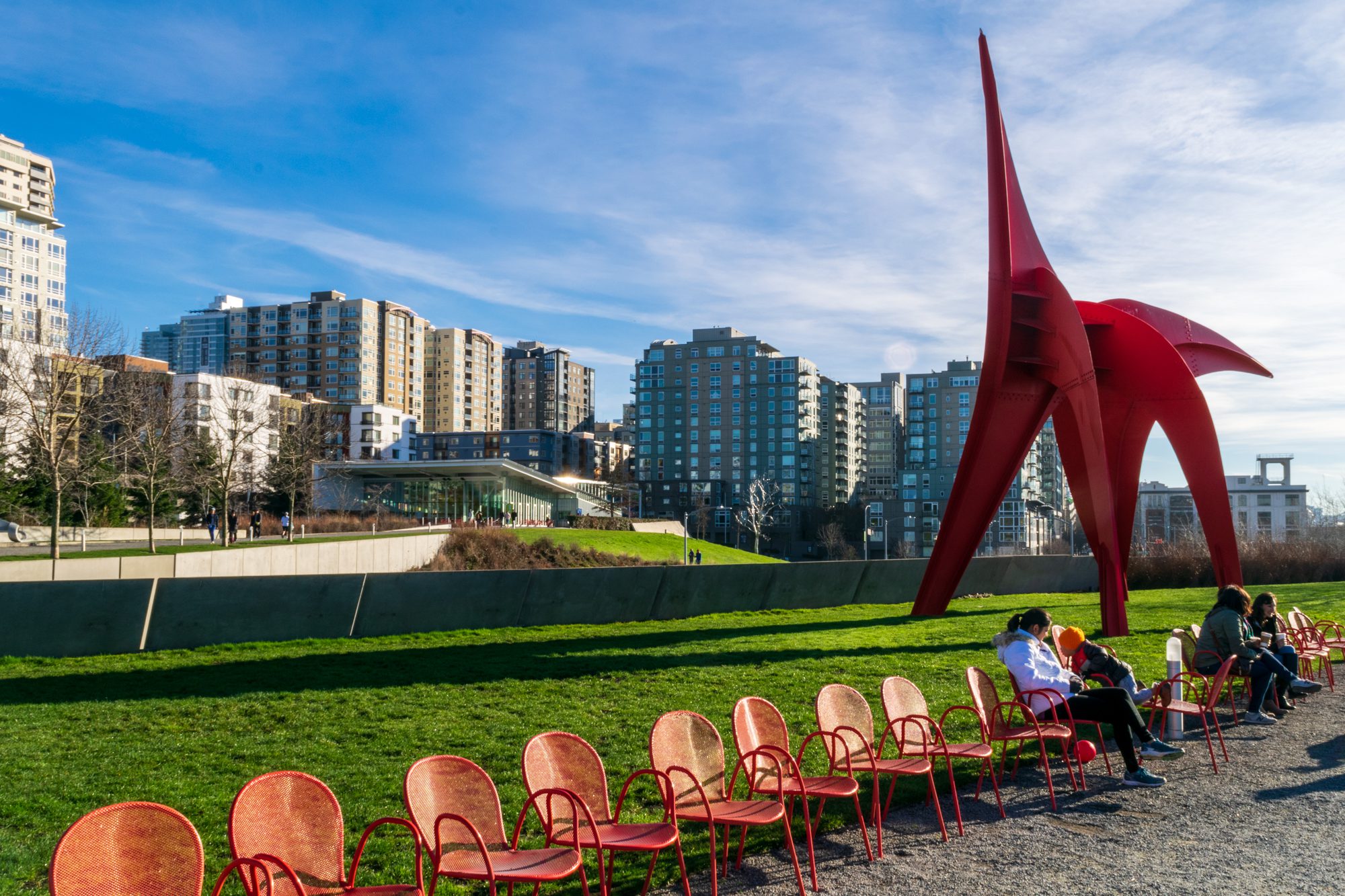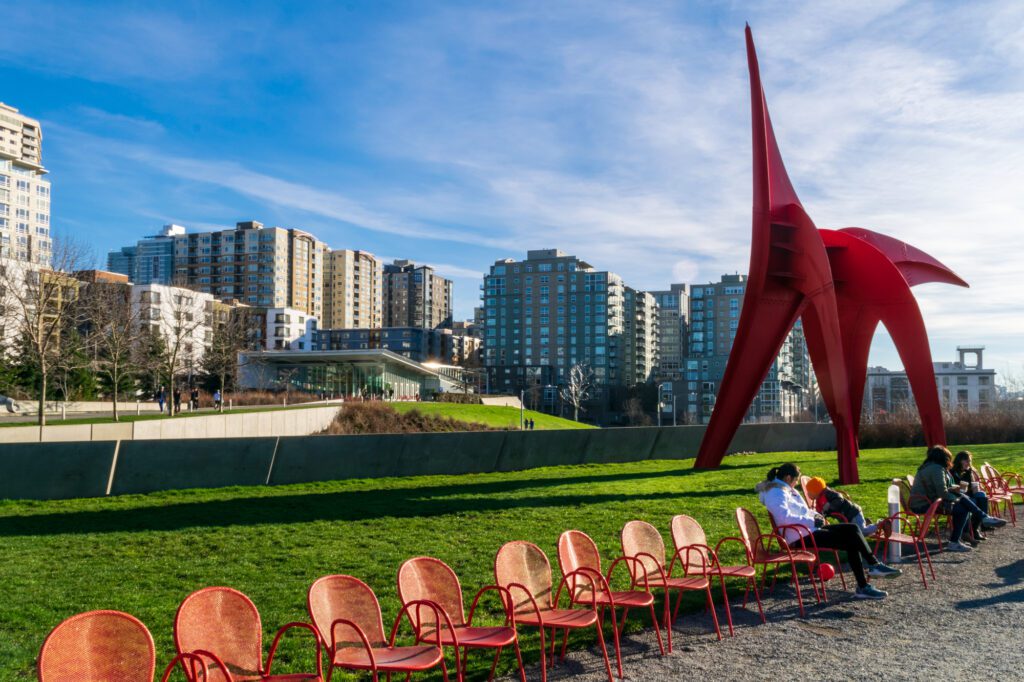 Belltown is a neighborhood just north of Downtown that is full of food, drinks, shopping, and more. It is one of the most walkable neighborhoods in Seattle, so it's a great area to stay in if you prefer to explore on foot.
Plus, it's packed with bars, restaurants, and more, so even if you never want to leave the area immediately adjacent to the neighborhood, you won't run out of things to do over the course of a weekend.
Pros and Cons of Staying in Belltown
Pros:
It's central. You'll be essentially equidistant between Pike Place Market, the Seattle Center and the Space Needle, and Capitol Hill. In fact, all will be walkable.


Great bars and restaurants. If you stay in Belltown, you'll be in the midst of some of the best bars, restaurants, and nightlife in Seattle.
Cons:
It can be loud. Did I mention nightlife? This area can get a bit rowdy and loud, so it might be a little much for families.


Parking is a nightmare. If you have a car, parking is going to be a challenge – we'd recommend not renting a car if you're not planning to leave the city, otherwise you're going to have to pay for parking in a garage (or at your hotel, which will cost approximately 3000% more).
Belltown Highlights
Here are some of our favorite things to do in Belltown.
Eat your heart out: Belltown has a great selection of restaurants and some fantastic gluten free offerings. One of my favorite restaurants in this area is Lola, a restaurant serving Pacific Northwest Classics with a Greek twist. The majority of the menu here is gluten free and the servers are extremely helpful in suggesting modifications to other dishes to make them gluten free. Umi Sake House is another fantastic restaurant for Celiacs. It offers high quality sushi and noodles with plenty of gluten free selections as well as some gluten free sake. Perfect for a night out! The proximity to great (gluten free) restaurants is one of the main reasons Belltown is one of the best neighborhoods for your stay in Seattle.


Explore the nightlife: Belltown has everything from classy wine and cocktail bars to start your night out to a wide range of nightclubs to finish up the night. My two top picks for places to enjoy a cocktail or glass of wine amongst the locals are Mr Darcy's which is filled with books, an antique piano, and a mix of vintage furniture, and Bathtub Gin Co which is a small speakeasy style bar with an effortless cool vibe.


See the sights: Belltown is a great location for being able to walk to tourist attractions. Opt for a slow meander so you can enjoy the quirky little corners of the city as you head to the Space Needle, Pike Place Market, the Seattle Waterfront, and Olympic Sculpture Park. My recommendation would be to visit the Museum of Pop Culture for the most eclectic collection of pop culture items under one roof.
The Best Places to Stay in Belltown
In Belltown, there's a range of hotel and vacation rental options for you to choose from. From swanky boutique hotels, to mid-range charmers, to places that offer a great value.
Here are four fantastic hotels to choose from in Belltown, ranging from nice mid-range options to cool boutique hotels.
The Ace Hotel: A Great Mid-Range Option (Where We've Stayed)
You've probably heard of the Ace Hotel before, but did you know that this is their original location, built way back in 1999 before the Ace was the hipster icon it is today?
A historic red brick building, the Ace Hotel blends the historical features of this hotel with cool minimalist furniture and local art to create an effortlessly cool Seattle vibe. With its central Belltown location, it is surrounded by some of the best bars and restaurants in Seattle.
We've stayed at the Ace in Seattle before, and it was a nice weekend. The beds are comfy, the staff are friendly, and the location can't be beat. Those three things make it a great option in Seattle for pretty much everyone.
Hotel Ändra: Cool Boutique Hotel in Belltown
Hotel Ändra exudes Scandinavian style, with a minimalist design of muted colors and a carefully selected palate of olive green and burnt orange feature colors. Staying here will put you perfectly situated between Pike Place Market, the Space Needle and the rest of Seattle Center's activities, and Capitol Hill.
You'll find that they go the extra mile to bring you all the best amenities and ensure your comfort, like the fluffiest bath robes, cloud-like beds, and Face Stockholm bath products.
Lola is the onsite restaurant here, and I highly recommend eating there during your stay. It's one of our favorite gluten free restaurants in Seattle!
StayPineapple Hotel FIVE: Affordable Hotel in Belltown
While this is an affordable hotel, there is nothing budget about the experience at Hotel FIVE. They offer big fluffy towels, comfortable bedding, and bathrobes in the room, and at reception guests can use one of the complimentary bikes to explore the city.
If you prefer to explore on foot then this is the best place to stay in Seattle with Pike Place Market, Space Needle, and Seattle Waterfront just a few minutes away.
Belltown Inn: The Best Value in Belltown
The Belltown Inn is another great value, with relatively affordable rooms. But it's not the kind of "affordable" where you'll be wishing you spend just a little bit more for an upgrade – instead, you'll be wondering how you got such a great deal.
One of the things we like about this place is that kitchenettes come with every room – which will include a mini-fridge, microwave, and coffee maker.
The location couldn't be better – you'll be centrally located between Pike Place, Seattle Center, and Cap Hill, which is a great home base for a weekend in Seattle. Plus, some of the best bars and restaurants will be almost literally out your front door.
Capitol Hill: Our Favorite Neighborhood in Seattle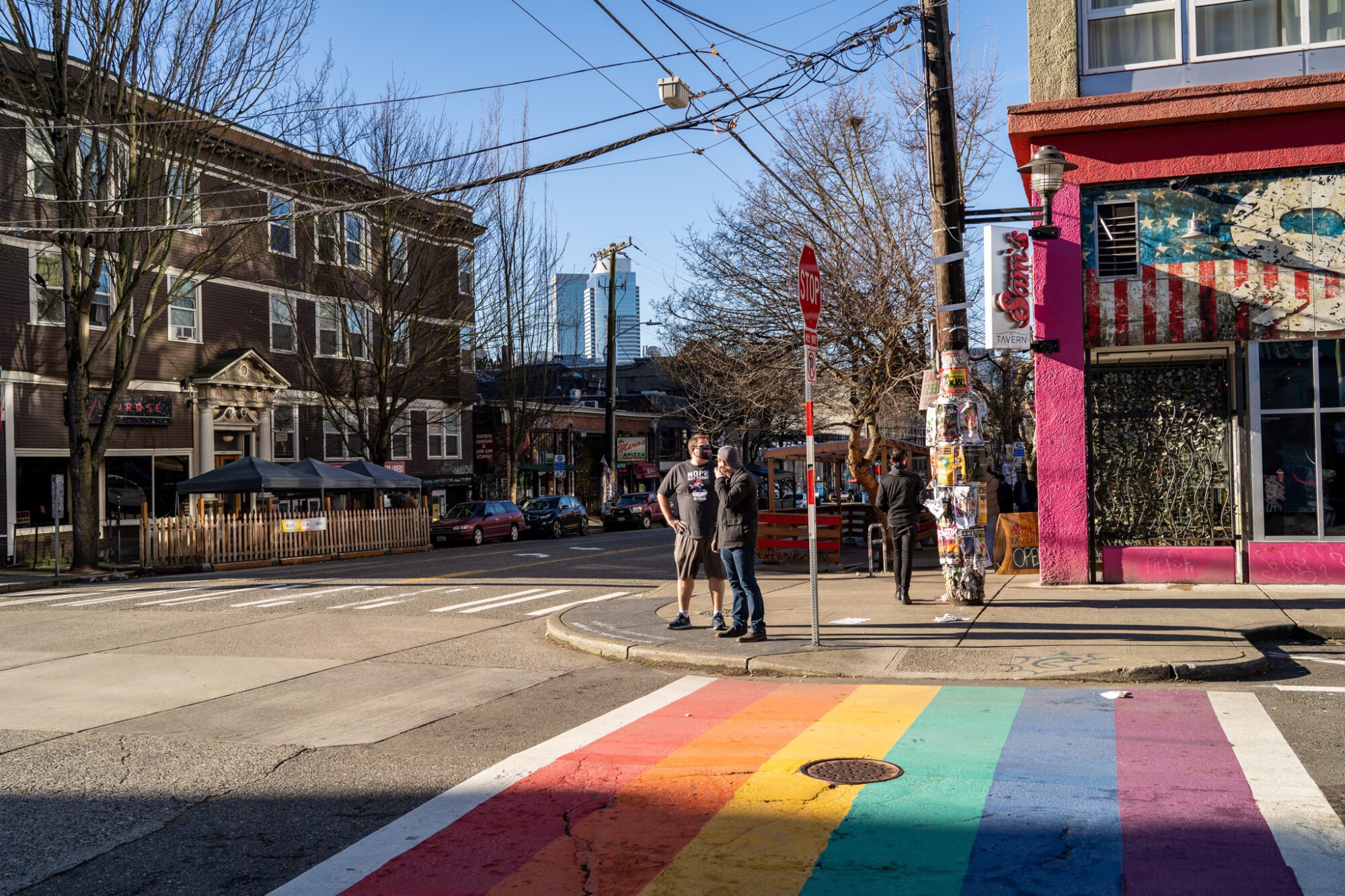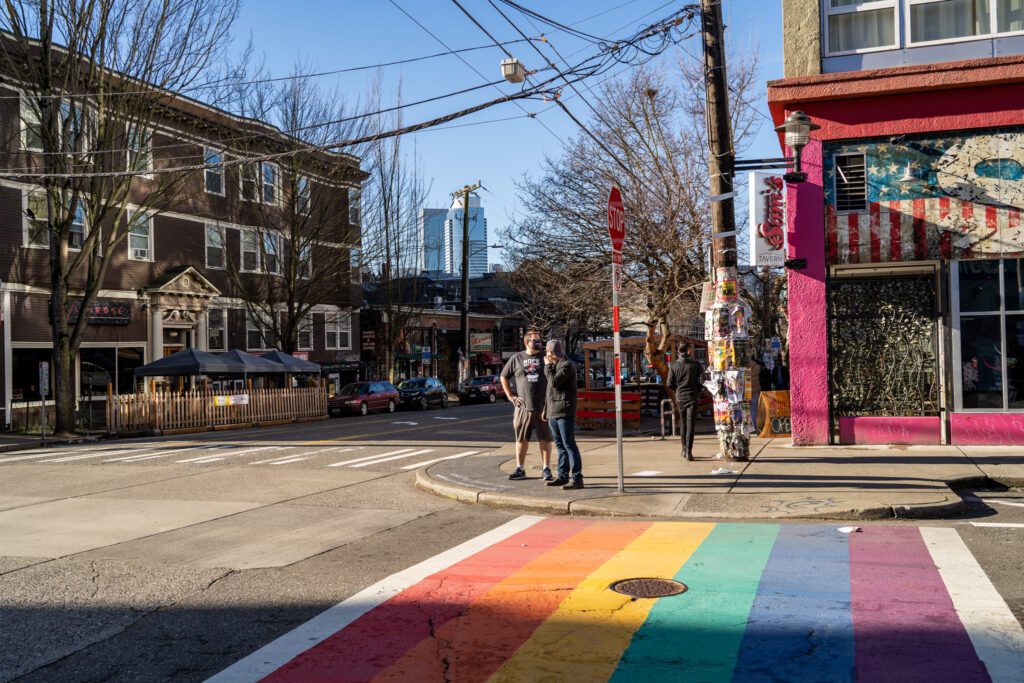 First of all, Capitol Hill is our favorite neighborhood in Seattle, full stop. It's vibrant during the day, lively at night, and all around a really fun neighborhood.
Capitol Hill is the best neighborhood in Seattle for foodies, twenty-somethings, and hipsters, with plenty of bars and restaurants, specialty coffee shops (don't miss Victrola and Espresso Vivace), bars, theaters, and music venues showing a range of established and up-and-coming acts. It's a staple on any Seattle itinerary, and is worth setting aside half a day to wander around.
There's no getting around it – Capitol Hill is pretty hipster and is packed with the thrift stores, independent fashion labels, and small boutiques that young, trendy people flock to. Capitol Hill is also known for its LGBTQ scene.
As you're walking around, you'll notice the rainbow crosswalks, flags, and other subtle (and not-so-subtle) nods to the LGBTQ scene in Capitol Hill.
Capitol Hill is the best area to stay in Seattle for travelers who want to explore one of our favorite neighborhoods in Seattle, but also be in close proximity to Downtown Seattle and the rest of the tourist attractions the city has to offer, like Pike Place Market and the Space Needle.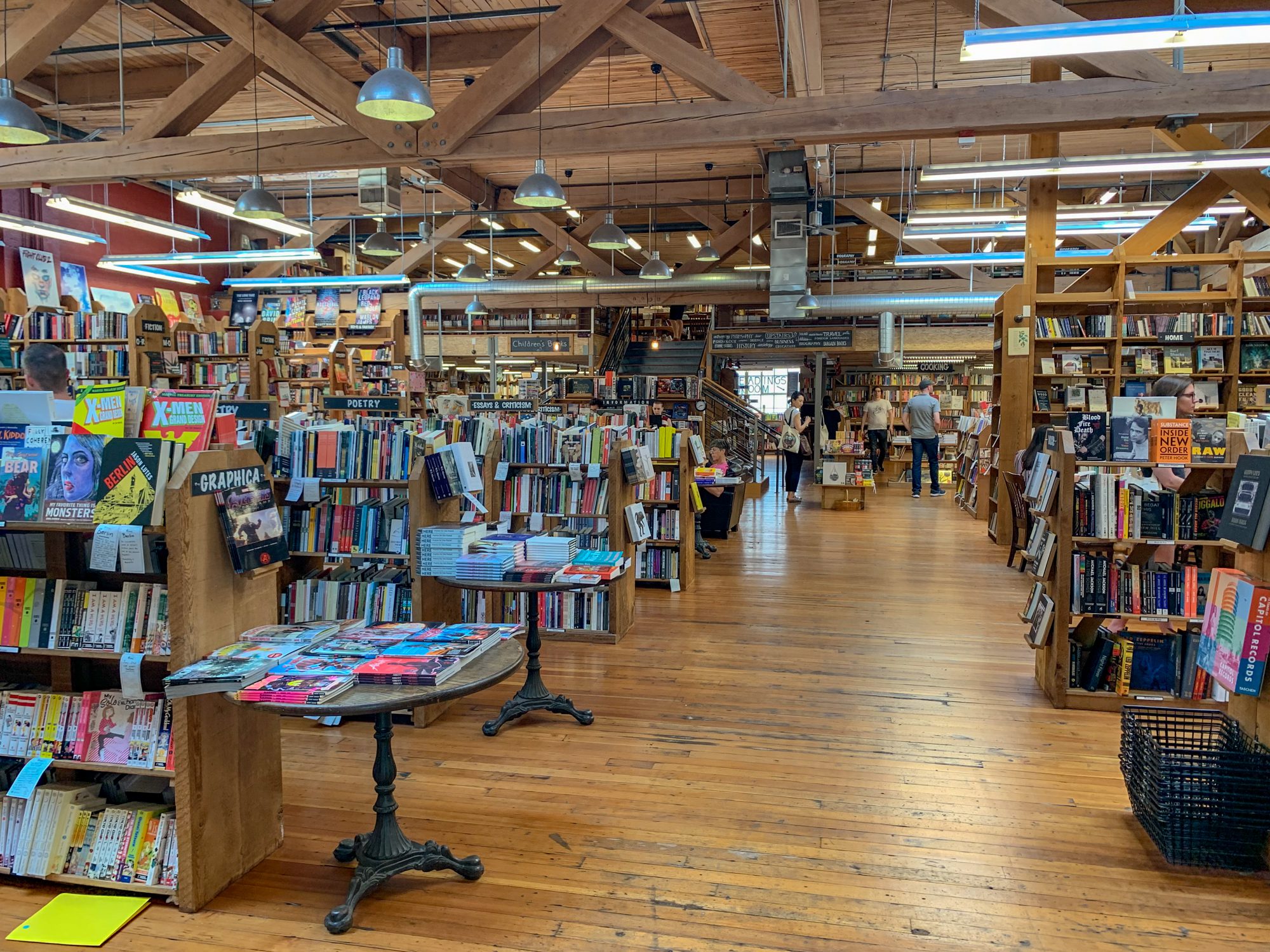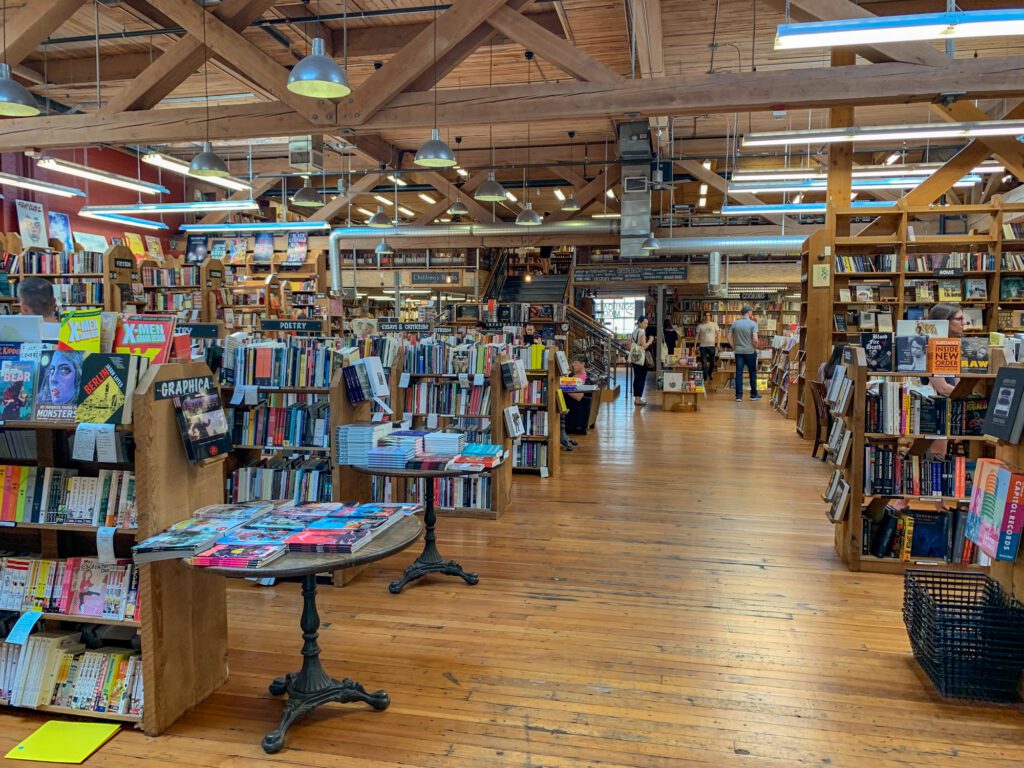 Pros and Cons of Staying in Capitol Hill
Pros:
Great for food, drinks, and shopping. Capitol Hill is our favorite neighborhood in Seattle – you'll find us there basically every time we're in the city. It's absolutely packed with bars, restaurants, boutiques, and a vibrant energy that you start to feel as the sun goes down. The nightlife is great, too.
Cons:
Gentrification. Capitol Hill and the rest of the Central District are a historically black neighborhood, which you'd never know walking around today. Gentrification has pushed local residents out to other parts of the city as rents have risen and luxury condos have replaced more affordable housing. We're not saying you shouldn't stay here, but we're saying you should be aware of the impact that becoming the "hip" place to be has on residents of the community.


It's loud. It's not a quiet neighborhood, particularly at night, and parking can be hard to find.
Capitol Hill Highlights
Starbucks Roastery & Reserve: A mecca for coffee lovers, this roastery is completely different than what we all expect from Starbucks. The custom made furniture, a coffee tasting menu, shop, and unique food and beverage menu all make this an incredible coffee experience. Don't get it twisted though – it's about the experience. You'll find better coffee just up the street at any of the third wave coffee shops littering the neighborhood.


Elliott Bay Books: An independent, family owned bookstore with tables full of staff recommendations and a schedule of readings. The books sold here are carefully curated and boast a selection of international and local international authors.


Molly Moons: A cute ice creamery offering unique flavors such as nutmeg scented cookie, earl grey tea, and honey and lavender. It is a popular place so be prepared to wait in line for your ice cream.


Victrola Coffee Roasters: A small chain of coffee that has done well because of its simple but good quality coffee. On certain days of the week they have cuppings and tastings. One of our favorite coffee shops in Seattle.


Nightlife: Capitol Hill is one of the best places to go for a night out with some of the most quality cocktails and quirky bars you'll find in Seattle. Many bars have fantastic happy hours so be sure to take advantage of some great savings.


Needle and Thread Speakeasy: An interesting spin on the speakeasy concept where this bar is hidden inside another bar! I won't tell you how to get to the speakeasy because that's part of the fun of it, but Needle and Thread is an intimate bar where there are no menus and bartenders design your cocktail based on your tastes.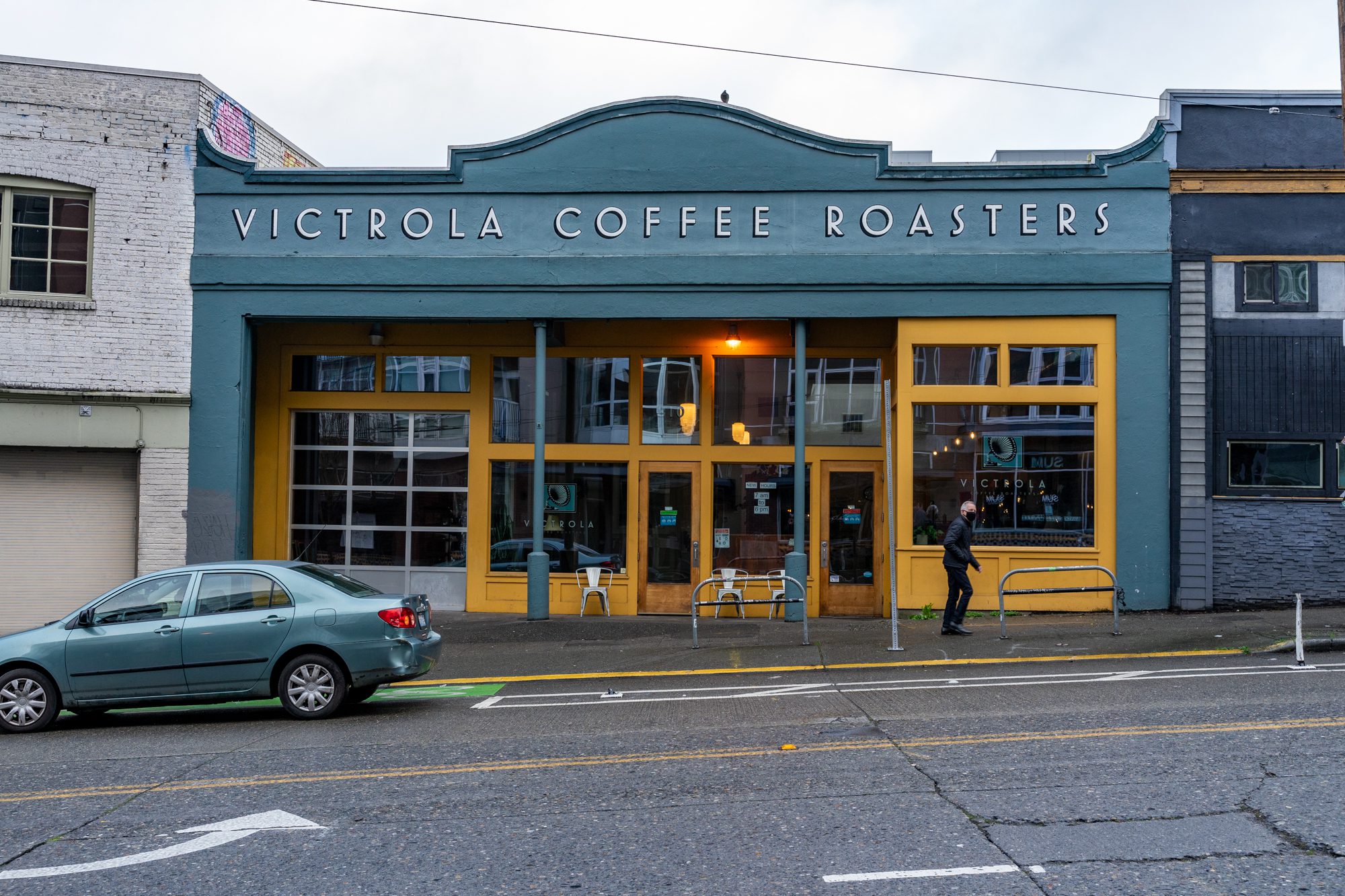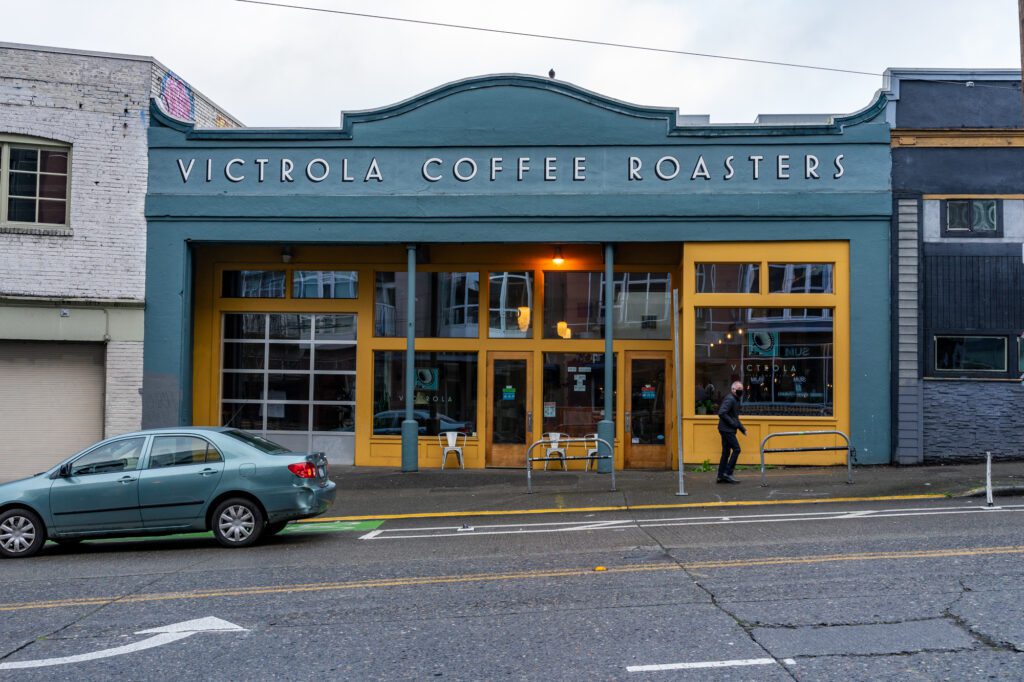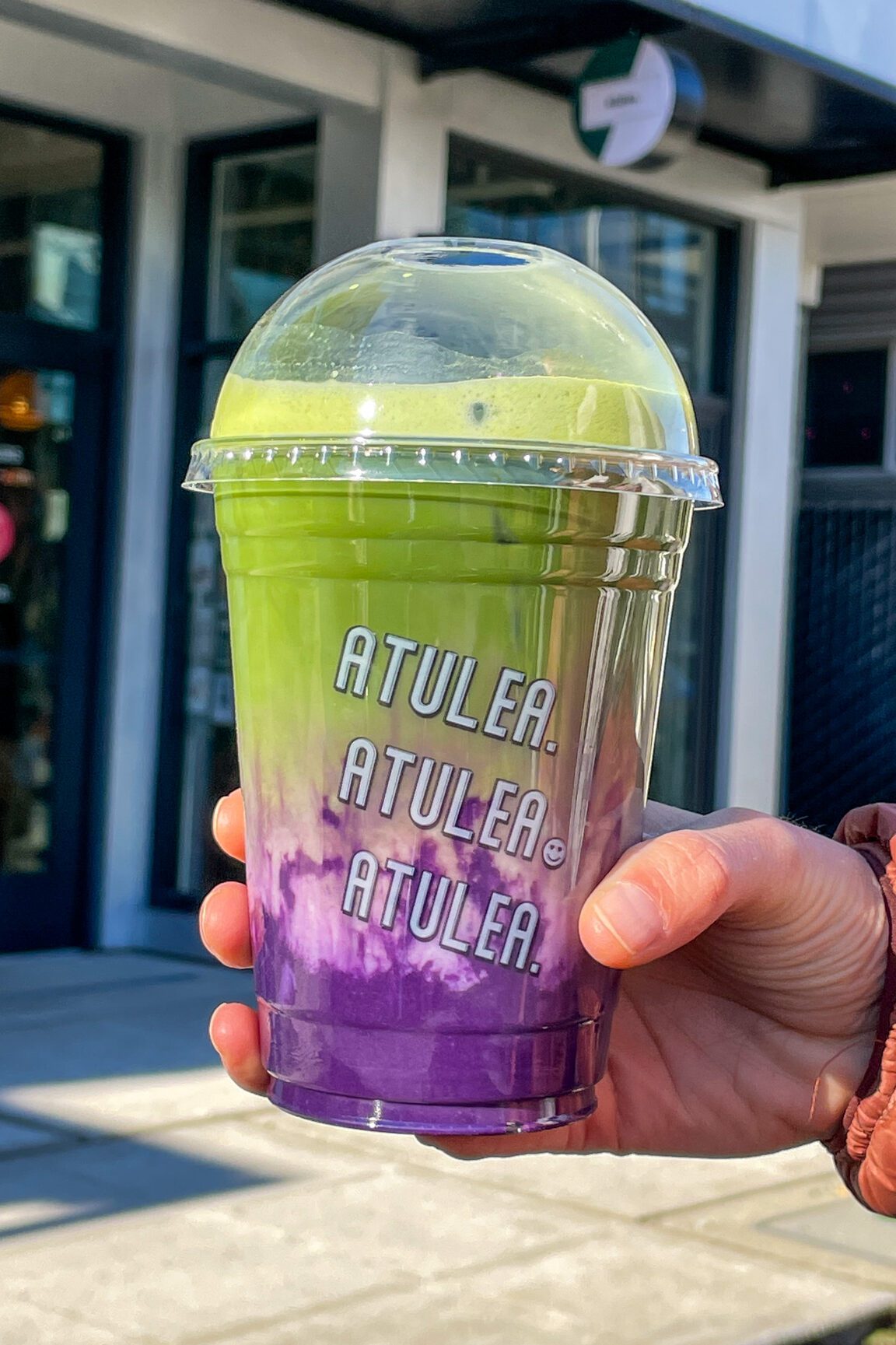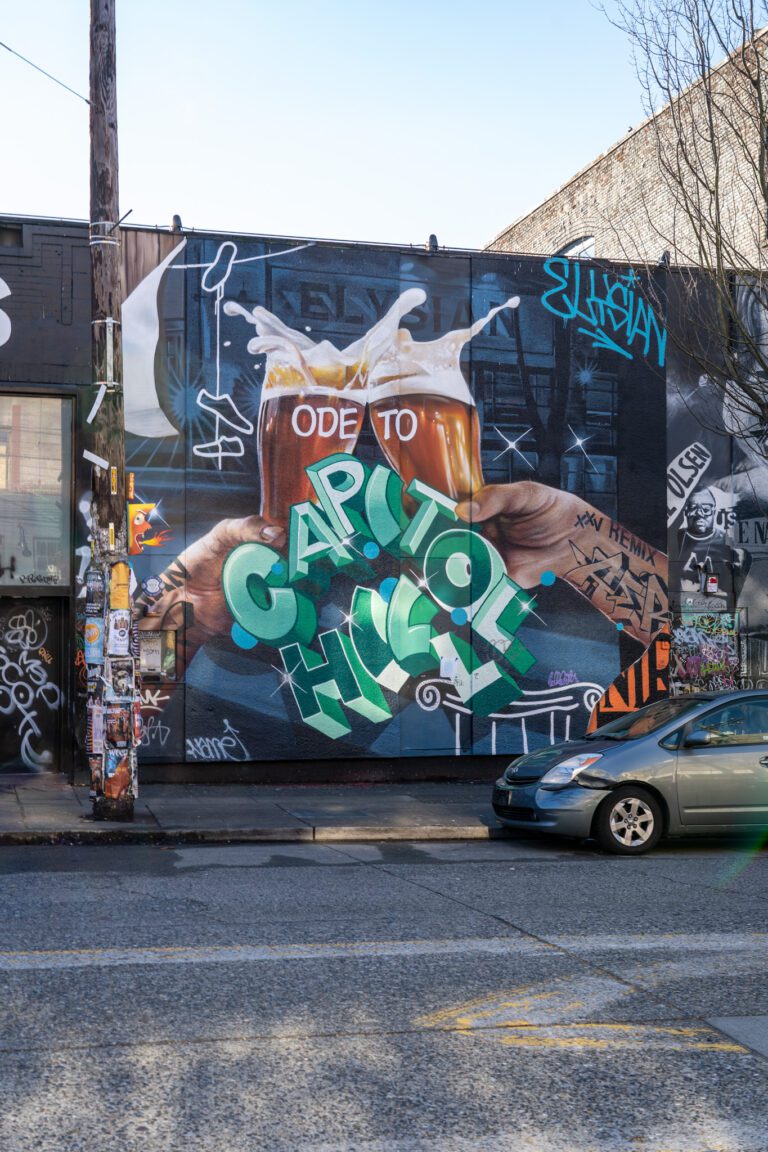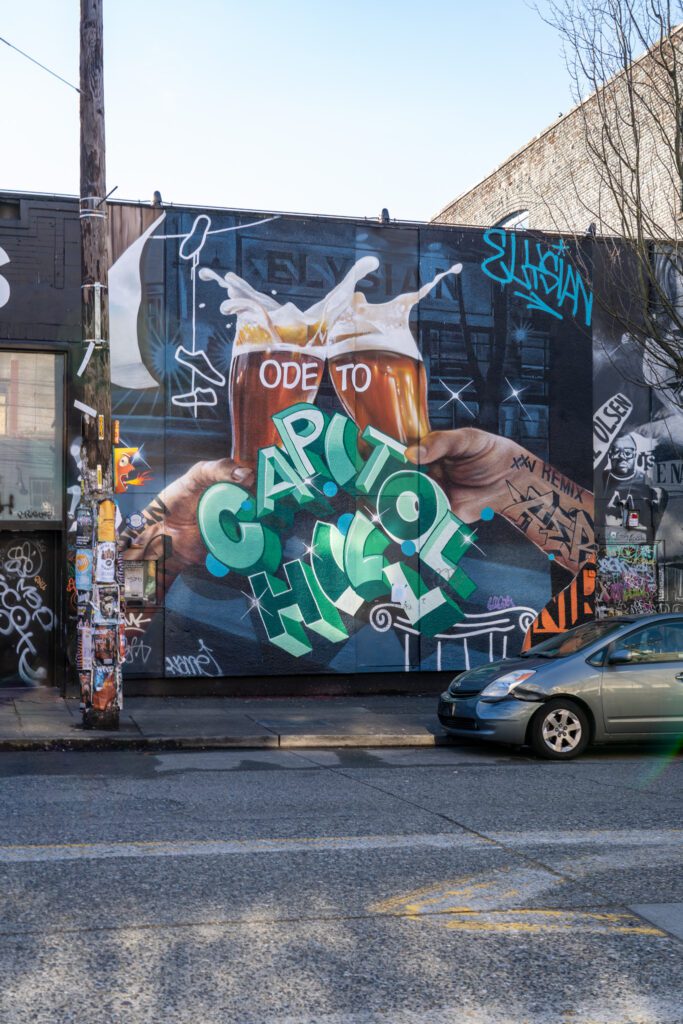 The Best Places to Stay in Capitol Hill
In Capitol Hill, there aren't too many hotels since it is more residential than say, Belltown, which is basically Downtown Seattle. There are a couple of hotels and guesthouses, but the best bet here is going to be vacation rentals.
HOWEVER. Cap Hill is experiencing huge spikes in rent prices thanks to the demand, so make sure to choose a place that is not part of a mini vacation rental empire, which is NOT how the platforms are meant to be used.
Instead, try to find a place where the owner lives onsite, and is renting out an extra space – a basement apartment or a backyard bungalow – to cover some of their mortgage costs. It'll be a better experience, both for you, and for the city.
The Gaslight Inn: A Charming Bed & Breakfast
This charming bed and breakfast is located inside a historic Craftsman-style home with designated Seattle Landmark status.
There are six different rooms to choose from, some with private baths, fireplaces, or city skyline views. All guests can take advantage of the outdoor heated pool and free continental breakfast each morning.
South Lake Union: Cool New Neighborhood (Amazon Land)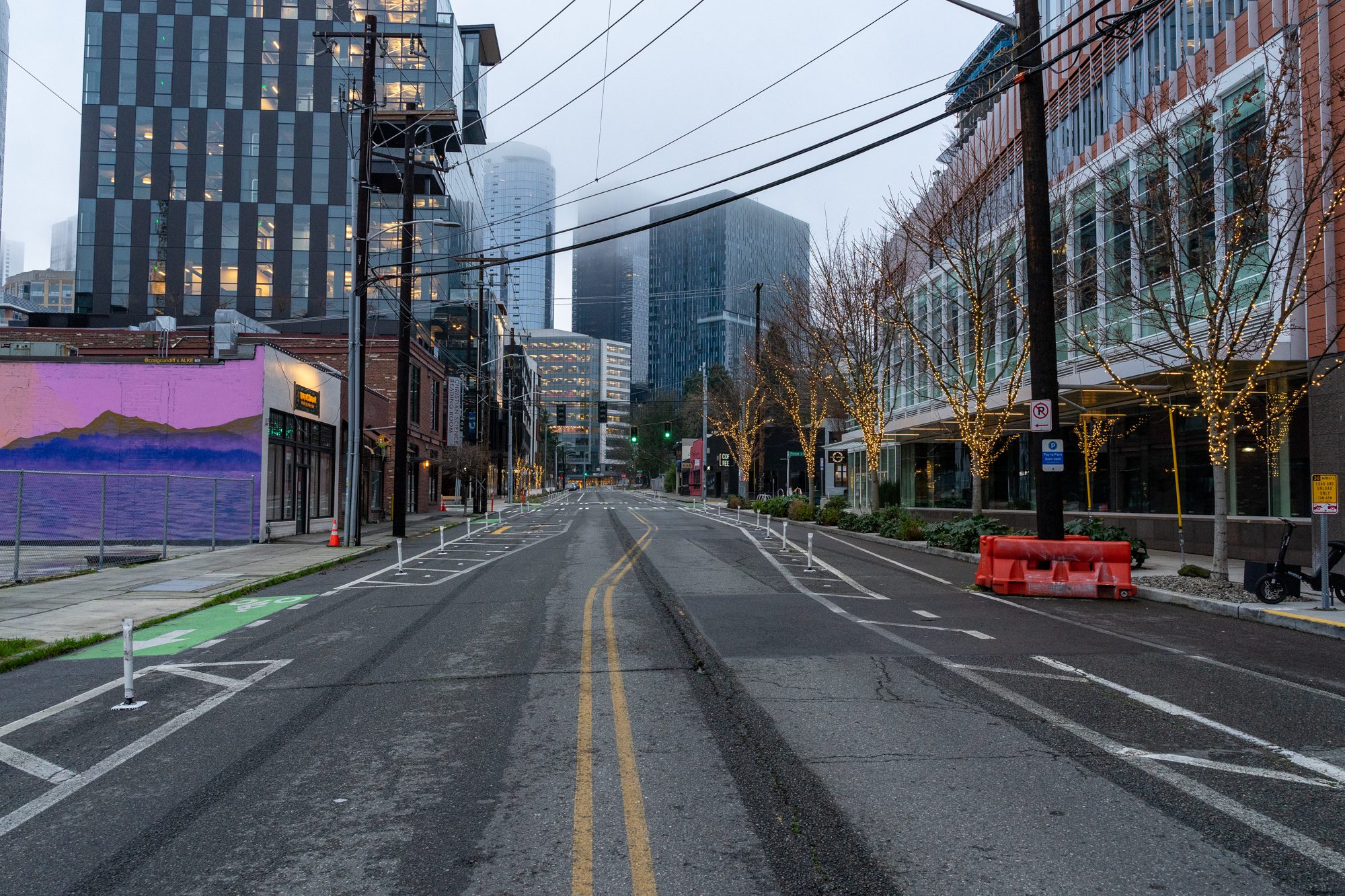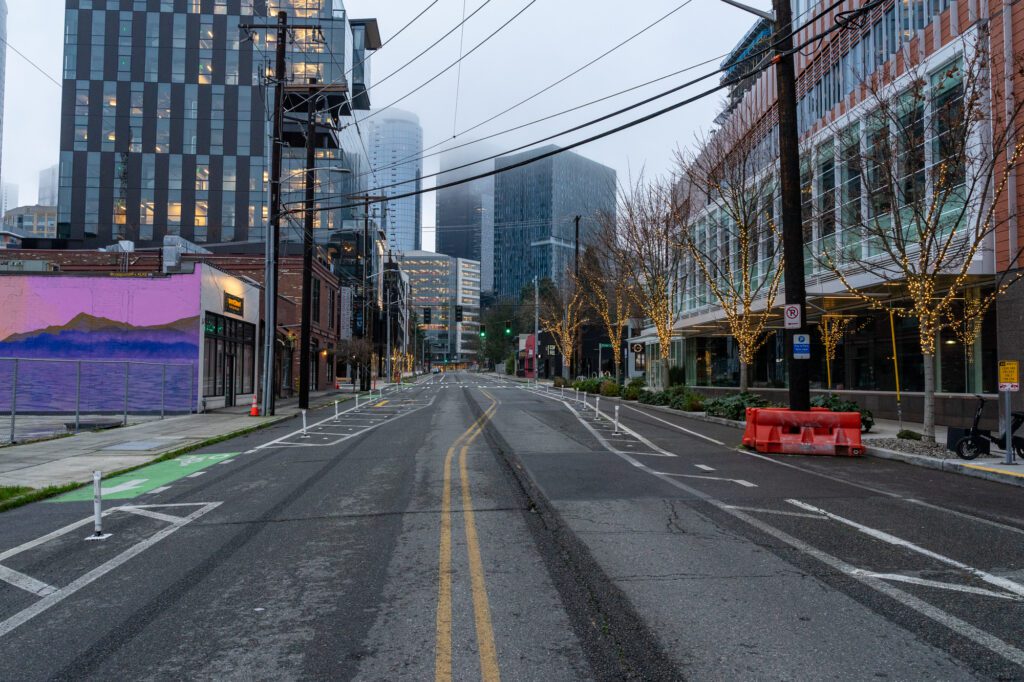 South Lake Union is about as direct a name for a neighborhood as you can have. It's on the south end of Lake Union, which is the lake that is right in the middle of Seattle. It's a central neighborhood, just east of the Space Needle and Seattle Center, and just north of Belltown. Overall, it's a great place to base yourself.
South Lake Union was not a place you'd ever want to stay when I was growing up. It was rundown and generally not super pleasant. That is, until Amazon showed up. Now, it's one of the nicest areas in Seattle, full of luxury high rise condos and slick Amazon buildings, along with some of the best food and drinks in Seattle.
I'm not a huge fan of Amazon, but this is not the time or place to go through a laundry list of my concerns about their anti-competitive moves that hurt local small businesses, or their questionable labor practices and union busting.
I think South Lake Union should be on this list of Seattle's best neighborhoods, regardless of how I feel about Amazon itself.
There's no question that gentrification happened in South Lake Union, but it's an interesting case study because it happened pretty much all at once, rather than happening over a decade or two like some of the other areas in Seattle.
Pros and Cons of Staying in South Lake Union
Pros: It's central, there are tons of places to eat and drink, and two of my favorite hotels in the city are there.
Cons:
You'll be surrounded by huge, modern office buildings plastered with AMAZON, and most of the residents in the high end condos here are employees of the company that's slowly (okay, quickly) taking over the world. It's not going to be the most authentic local experience.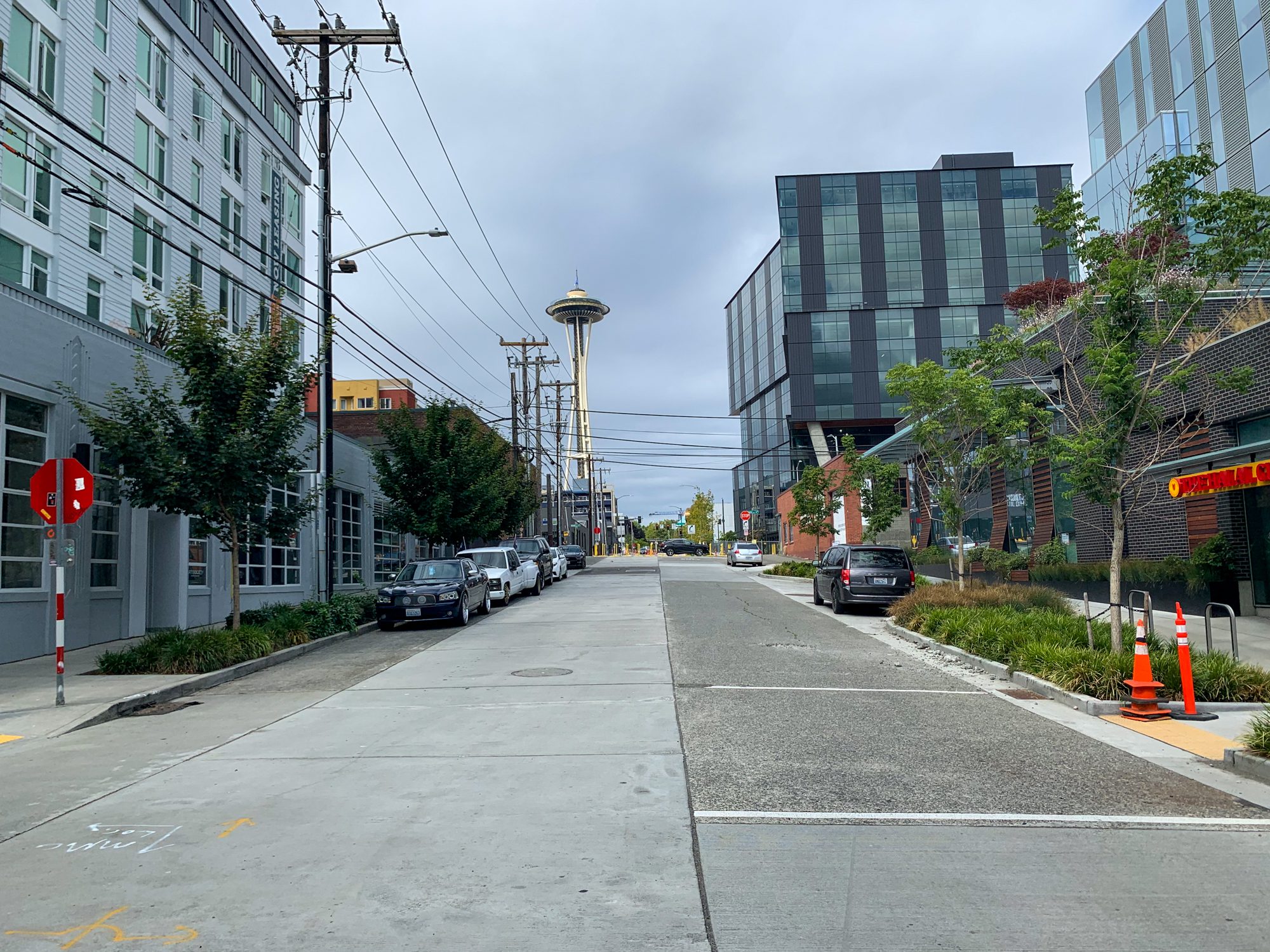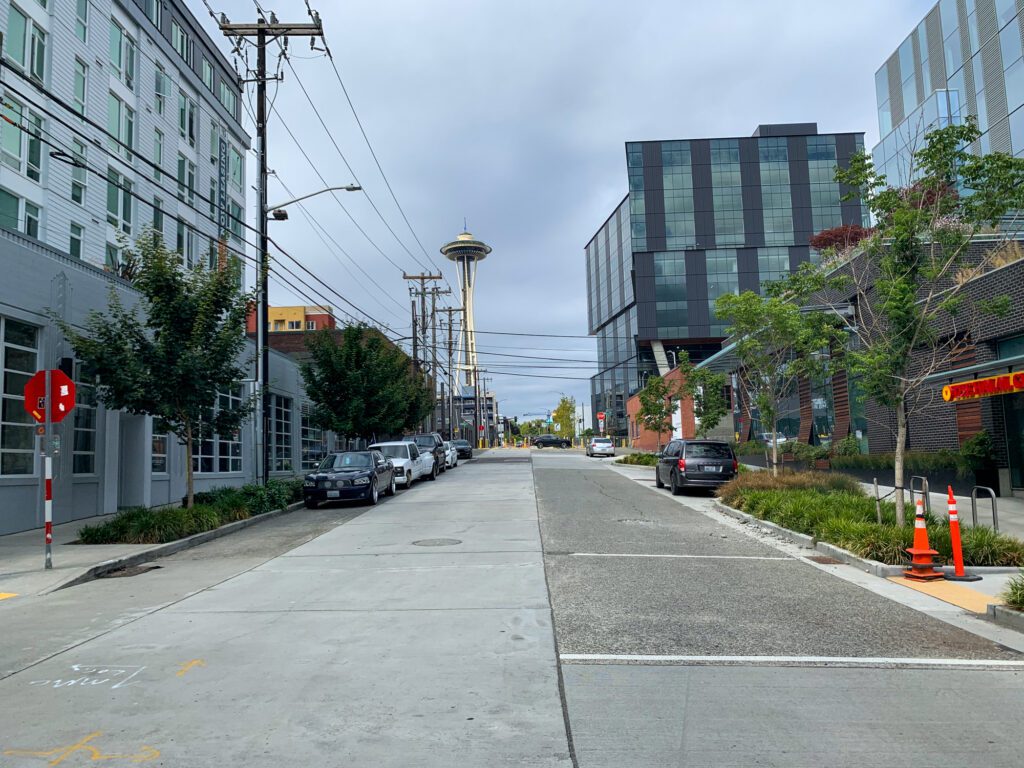 South Lake Union Highlights
While you're there, make sure to check out Elm Coffee and Cafe Hagen for coffee.


The MOHAI (Museum of History and Industry) is actually one of my favorite museums in Seattle.


You'll also be a hop skip and a jump away from the Seattle Center, which is where you'll find the MoPop (the Museum of Pop Culture, where I had my high school prom), the Chihuly Garden and Glass (spectacular glass-based art installation) and the Pacific Science Center (perfect for kids, especially on a rainy day).


Flatstick Pub, which is basically indoor mini golf + a full bar, is always a good time.
Where to Stay in South Lake Union
There are basically two places to stay in South Lake Union, and I love them both. Both are a pretty spectacular value for what you're getting in terms of location and amenities.
The CitizenM Hotel: The Best Value Hotel in Seattle (Where We've Stayed)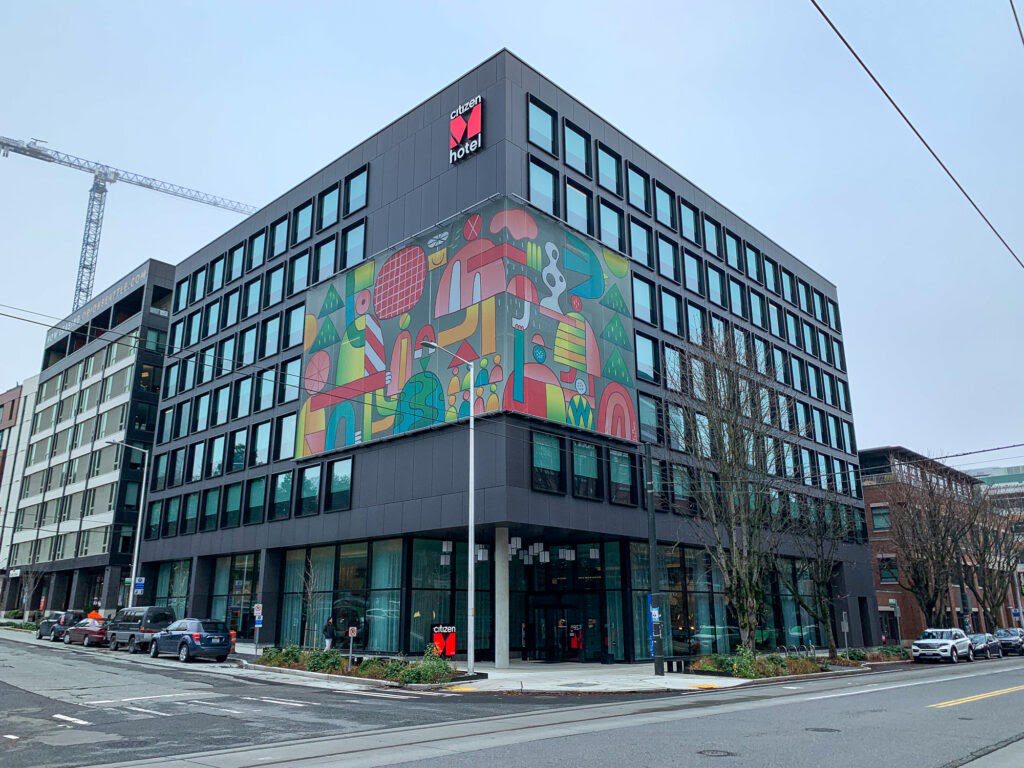 CitizenM is one of my favorite hotel chains in the world, with locations in cities like San Francisco and NYC, that consistently rank among my top picks.
And the number one reason for that is the value.
They have taken the "traditional" hotel experience, stripped out all the unnecessary parts, and created a no-frills, "everything you need and nothing you don't" stay that beats just about every other hotel in the city in terms of price, and more importantly, value.
The CitizenM in Seattle delivers on that promise of everything you need at a great value in spades.
They're a Dutch hotel chain that has basically made staying in a hotel super easy and streamlined, with all the amenities that modern, younger travelers are looking for (USB charging, climate controls via iPad, and more) while simultaneously stripping out the unnecessary pieces (fluffy robes and slippers or sitting areas, for example) to offer a great value.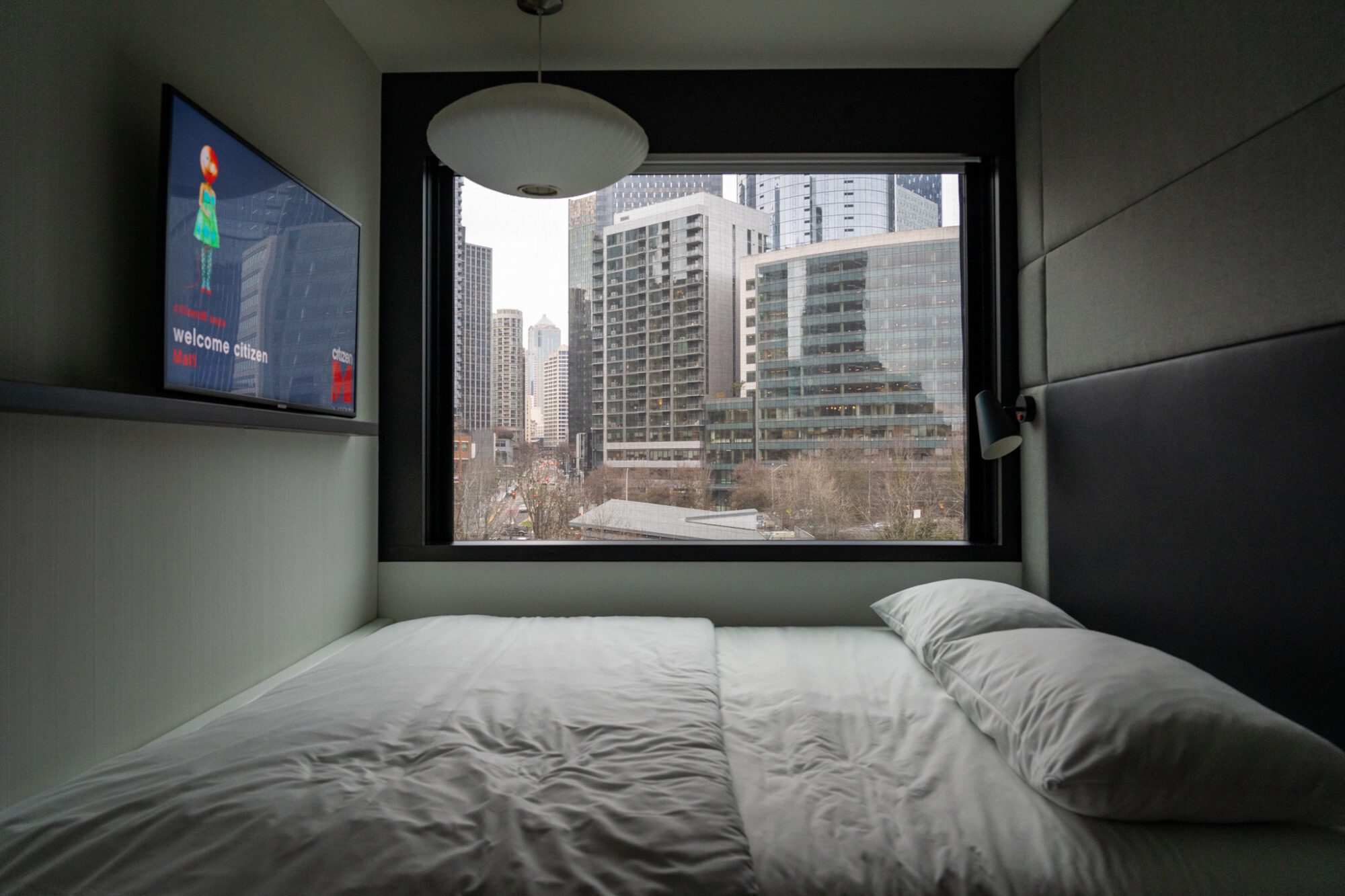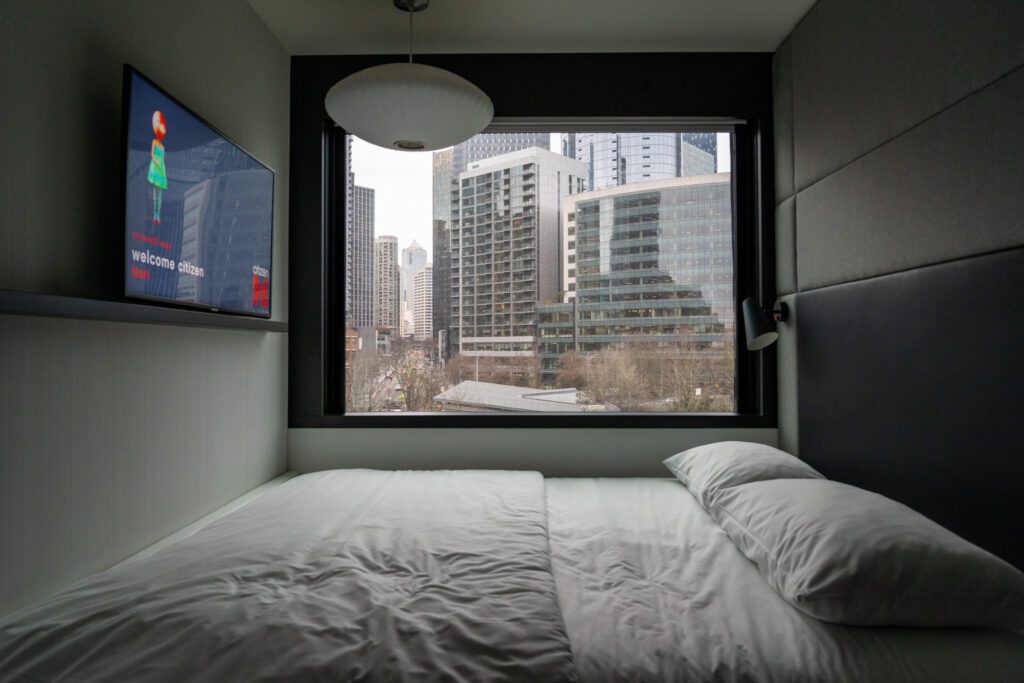 The other thing we like is that, in the interest of simplicity and ease, they've stripped away all the slightly different room types you find in most hotels (small vs. small deluxe vs. small deluxe with partial city view), and there's exactly one room type available: a small room with an uber-comfy king bed.
You'll find free Wifi (nothing grinds my gears more than WiFi you have to pay for), comfy beds, a stylish lobby, and an app or iPad to control everything from the lights to the temperature in the room.
It's also at the south edge of South Lake Union, which essentially means that it's on the border of Belltown. Which is a perfect location to use as a base for exploring Seattle.
The Moxy Hotel: Super Stylish + Good Value
The Moxy Hotel Seattle is a runner up in the "best value hotel in Seattle" category, at least in my book. It features sleek and stylish décor, from the lobby to the individual rooms. You can choose from a few different room types, including some with city views.
All feature a king bed and free high speed WiFi, along with access to the fitness center to get a quick workout in (which is a must to fight jet lag). The bar in the lobby is cool, and is a good place to grab a pre-dinner drink before heading out to find some of the best food in Seattle.
Queen Anne: Upscale and Residential Neighborhood Near the Space Needle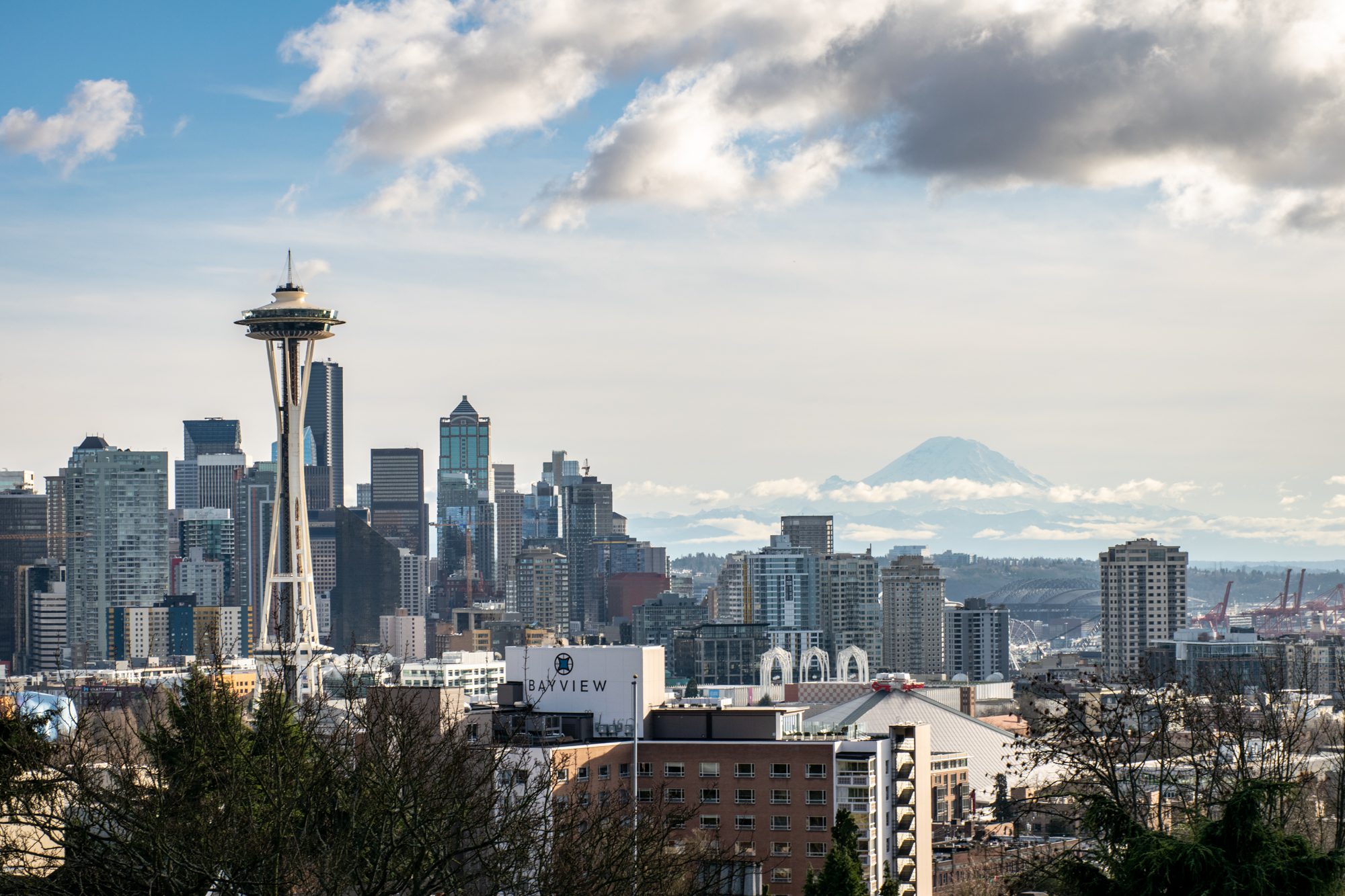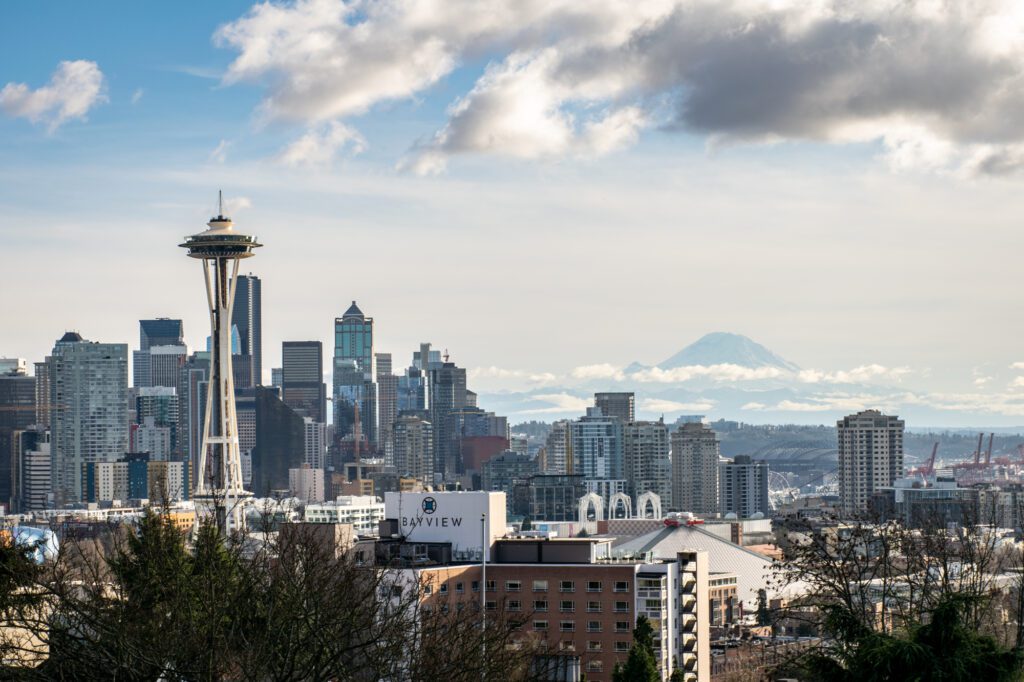 I had never spent much time in Queen Anne until recently, aside from one New Years Eve, and countless trips to Menchie's for FroYo way back in college. But recently I've spent a few days walking around Queen Anne, and I think I'm starting to fall in love. The strip along Queen Anne Avenue has everything I love in a neighborhood.
Now, let's be super clear – Queen Anne is one of the most upscale and wealthy areas in Seattle. I can daydream all day long, but I'll probably never be able to own a home in Queen Anne.
Pros and Cons of Staying in Queen Anne
Pros: Queen Anne is basically at the Seattle Center, which means you also won't be too far away from Pike Place Market and Downtown Seattle. While you'll probably be staying in Lower Queen Anne, Upper Queen Anne is worth a visit to go for a nice stroll, check out the views from Kerry Park, and get some Molly Moon's Ice Cream.
Cons: Lower Queen Anne is a little less charming than other neighborhoods on this list. You'll be trading location for charm. But the area gets significantly more charming as you head up the hill to Upper Queen Anne! Parking is also a nightmare here. If you have a car, you'll be paying for parking.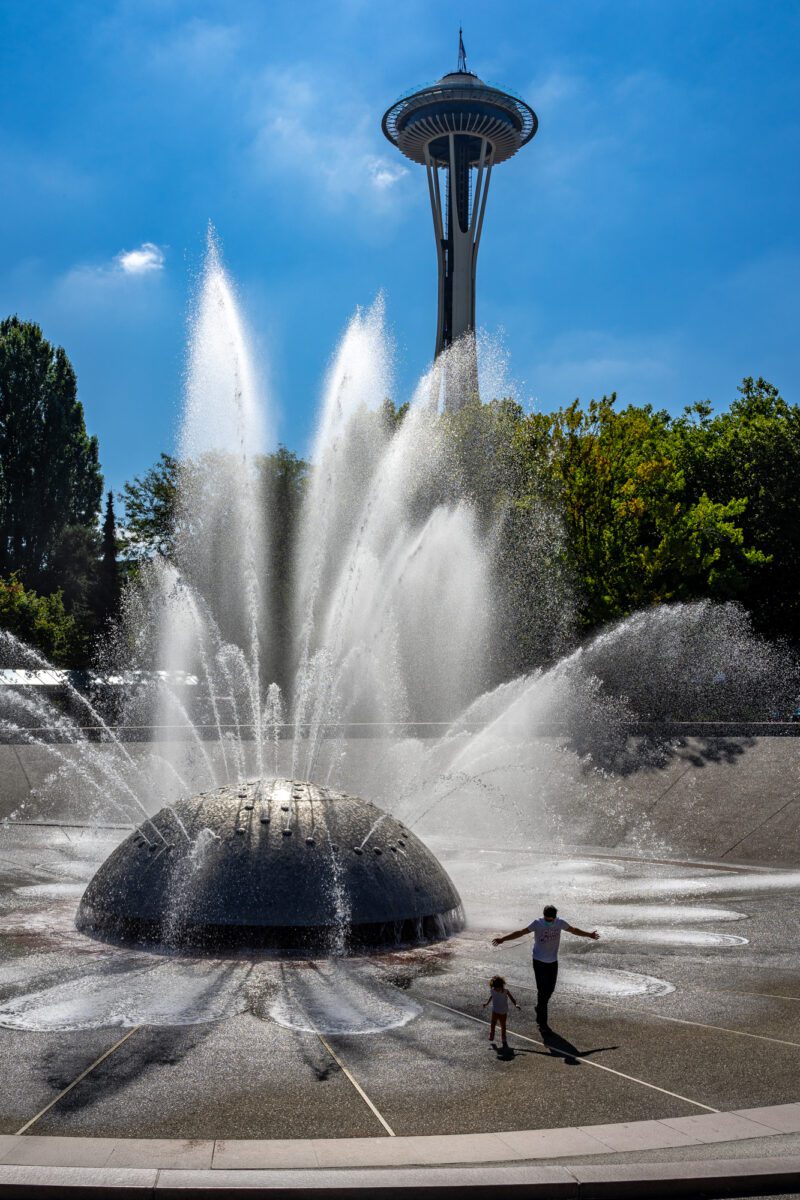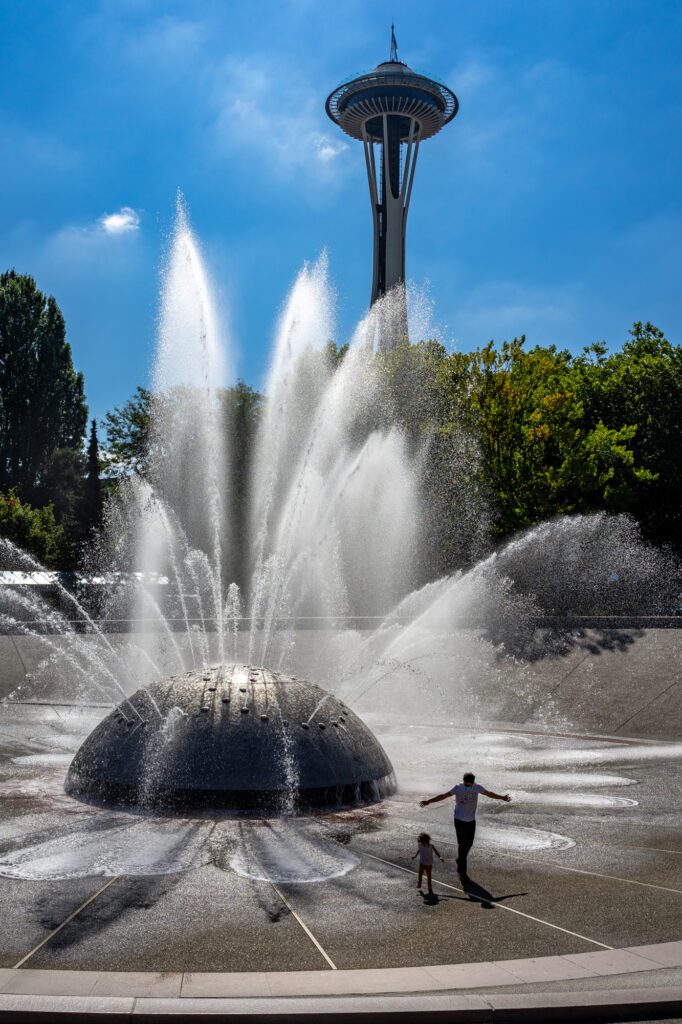 Queen Anne Highlights
Here's why I love Queen Anne, and think you will too.
Central Location: Easy access to all the best neighborhoods in Seattle – Capitol Hill, Belltown, Fremont, and Ballard – and walking distance from the Space Needle and Seattle Center.


Great Coffee: Cafe Ladro, Storyville Coffee, Cafe Fiore, and you can walk to La Marzocco Cafe (aka the best coffee in Seattle, period).


Great (Gluten Free) Food: My picks are Heartbeet Organic Superfoods Cafe (100% gluten free!), a great spot for smoothies and vegetarian bowls. El Mezcalito (tons of gluten free options) serves up tasty Oaxacan food, and has a great happy hour. Bounty Kitchen for incredible brunch with tons of gluten free options. And so much more.


Kerry Park: The best view of Seattle, hands down. By staying in Queen Anne, you'll be in a perfect position to get here at golden hour, either right after sunrise or before sunset, for that sweet sweet golden light.
Where to Stay in Queen Anne
Most of the places to stay are in Lower Queen Anne, in and around Seattle Center. Upper Queen Anne is more residential, but also more charming. It's well-worth a trip up the hill to check it out, and there are some great vacation rentals to choose from (find our picks below).
StayPineapple Maxwell Hotel
Staypineapple hotels are always among the best value hotels in whatever city they're in, and the two on this list are no different. The Maxwell Hotel is just north of Seattle Center, and has surprisingly spacious rooms for the price.
Everything in this hotel is colorful – from the huge pineapple in the lobby, to the brightly colored interior corridors. Rooms come in a variety of configurations depending on your specific needs.
They do have a daily amenity fee of $25 that covers Wifi, beach cruisers you can borrow, the fitness center, and other stuff. We think this should just be included in the price of the room (come on, Staypineapple!), but it's better that you know now rather than showing up and realizing it!
It's dog-friendly too (for an extra fee), and they have onsite parking (which is also an extra fee), which can be hard to find in this part of the city.
The Mediterranean Inn
The Mediterranean Inn is right in the heart of Lower Queen Anne, just west of Seattle Center. The rooms here are apartment-style, which means you'll have access to a mini kitchenette that has a mini fridge, electric kettle, microwave, and more. Rooms are simple but comfortable, ranging from rooms with a single queen bed, to two queen beds.
One of the highlights here has to be the rooftop deck, which will give you spectacular views over the Downtown Seattle skyline, including the Space Needle. Plus, you can rent bikes from the hotel to cruise around the city!
Fremont: Quirky and Cool Neighborhood North of the City Center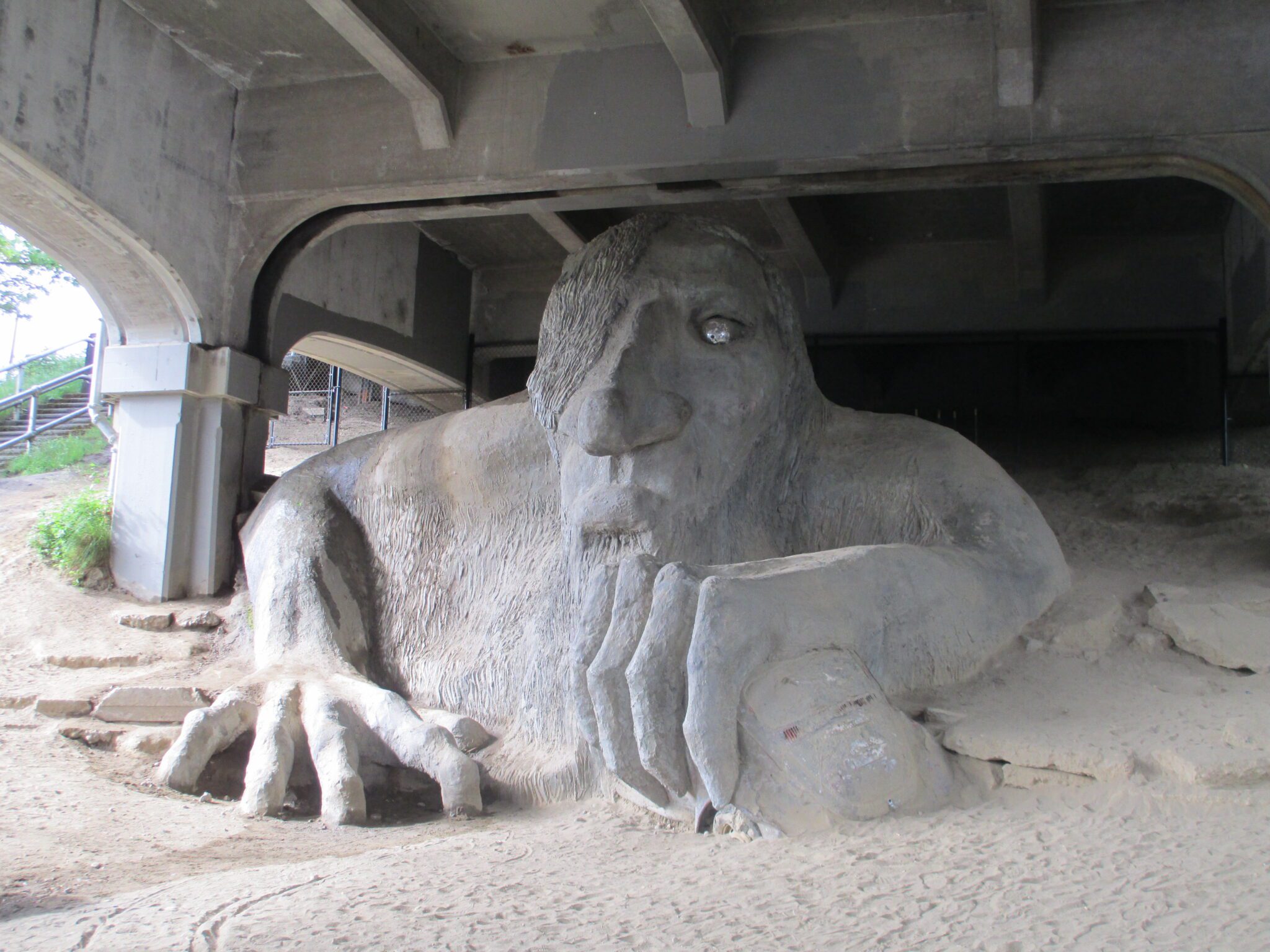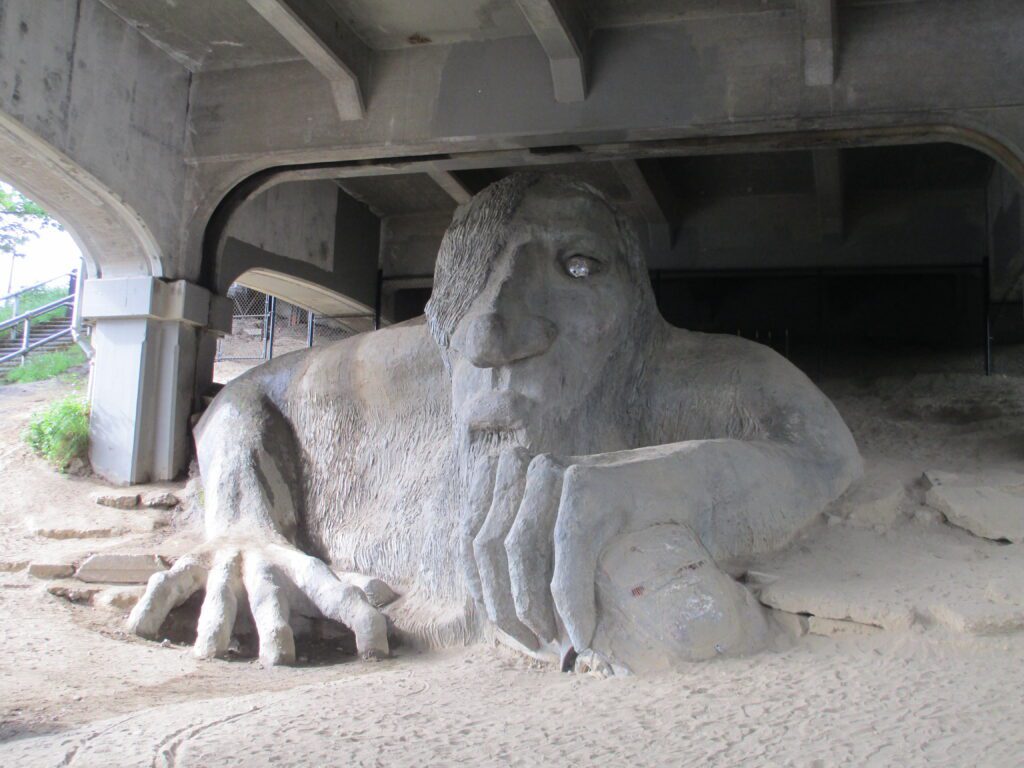 Both of these next two neighborhoods are super hip and have a lot going on, but are much quieter and more residential than both Capitol Hill and Belltown. If you are looking to feel like a local rather than a tourist, then this is where you should stay in Seattle.
Fremont is one of our favorite spots in Seattle, and we find ourselves making the trip there almost every time we're in Seattle. If you're looking for a quieter, more residential experience where you can feel like a local, this is the spot for you.
It's a strip along the water that is full of great restaurants, bars, coffee shops, and more. Plus, it's equidistant to the University District (where the University of Washington is), the Space Needle, and Ballard, which is a great blend of being central, but also quiet.
Pros and Cons of Staying in Fremont
Pros: Fremont is cool. We somehow find ourselves here basically every time we're in Seattle, either for cider, coffee, or both. It's close to Woodland Park and Gasworks Park, two of Seattle's great green spaces.
Cons: Not a whole lot of places to stay. It's residential, and there's exactly one hotel.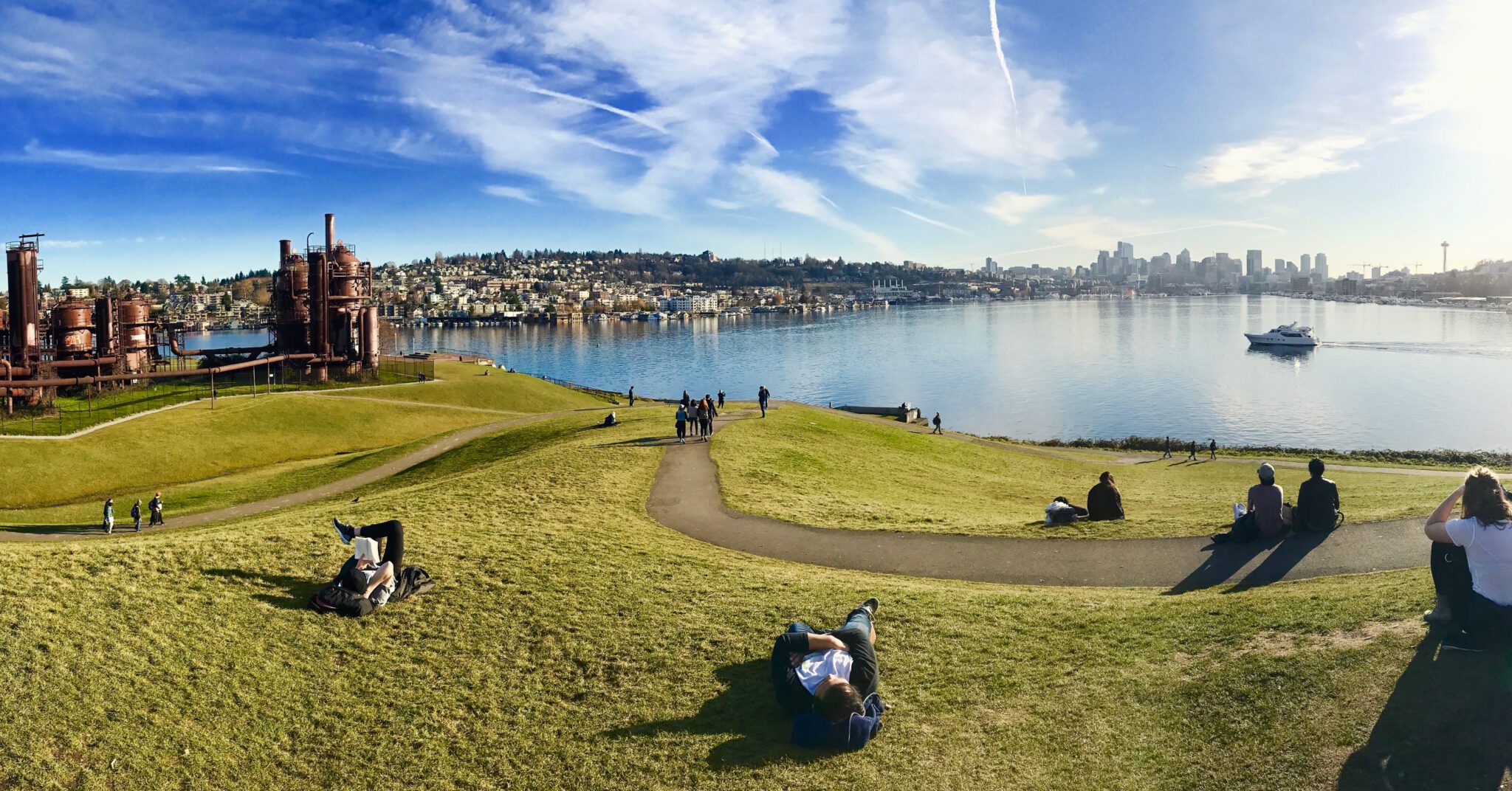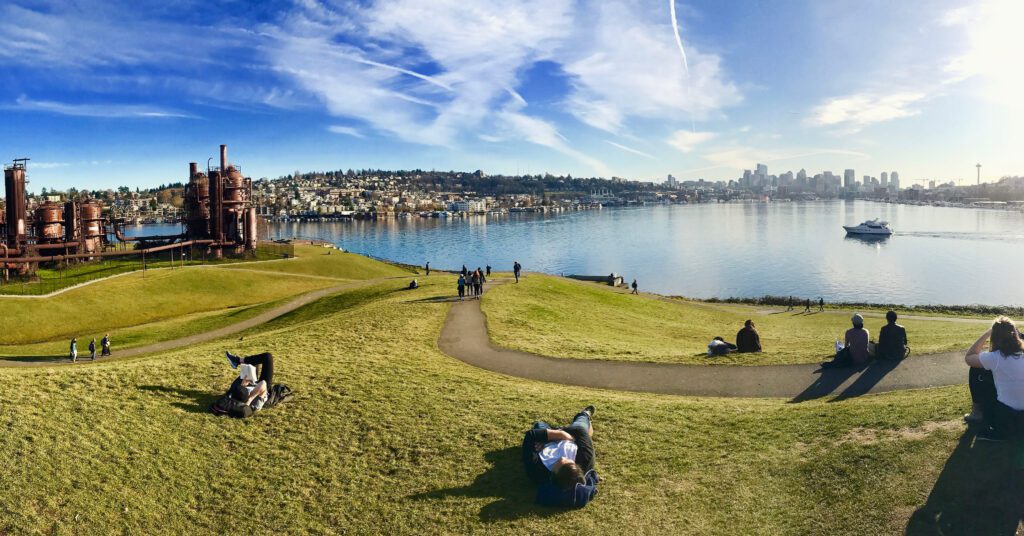 Fremont Highlights
We basically end up in Fremont on every trip to Seattle for one reason or another. Here are a few of those reasons.
Drink cider at Schilling Cider House: With a mix of local craft ciders this is a must for cider lovers. It has an impressive 32 cider taps as well as plenty of other bottled brands. It's an interesting concept – there is no food available onsite but patrons are encouraged to bring outside food in from local restaurants. This is to support the local eateries in the area.


Get your caffeine fix at Milstead and Co: This little coffee shop brings coffee geeks from all over the world to try the handpicked roasts on offer. They are unapologetic about the fuss they make over the smallest of details and that is why they have a near-constant line.


Tour a chocolate factory: Theo Chocolate does factory tours, which we love. You'll walk through their facility in Fremont and learn all about the process of making chocolate from bean to bar. It's cool. If you just want to try their chocolate, you can walk into their shop without booking a tour.
Where to Stay in Fremont
There's one hotel in Fremont – Staybridge Suites – and while it's highly rated, it's a little bit boring. We'd opt for the cool hostel in the neighborhood, or one of the many vacation rentals available in the more residential parts of the area surrounding Fremont (including Wallingford and Woodland Park to the north).
HotelHotel: A Perfect Hostel in Fremont
Ideal for short-term or long-term stays, HotelHotel has a prime location on a tree-lined street in the heart of Fremont. Choose between a king room with a private bath or a private room with a shared toilet and shower.
Either way, you'll be within walking distance to all the hip and trendy shops and restaurants that Fremont has to offer!
Ballard: Amazing Neighborhood, But Very Far Out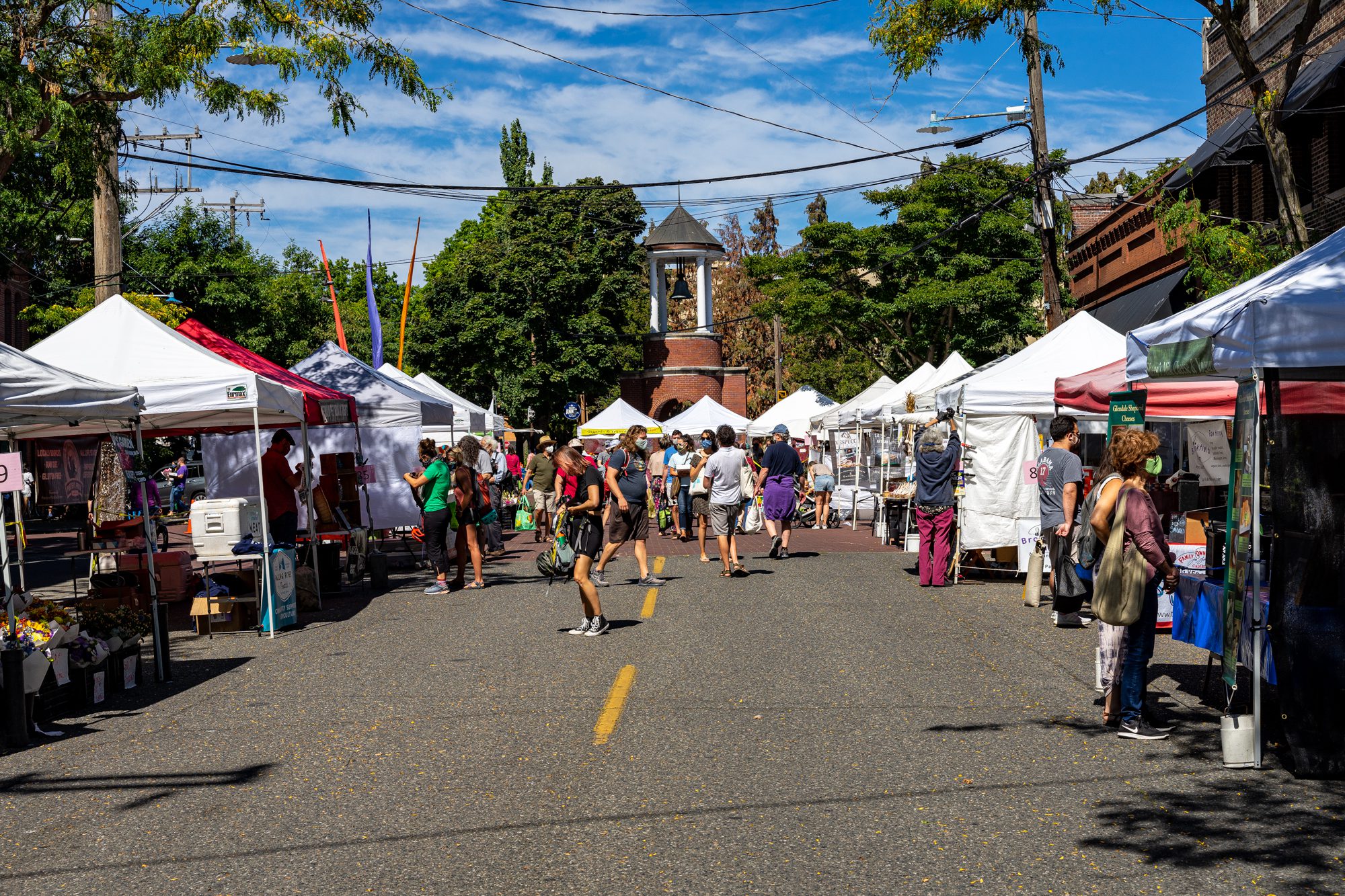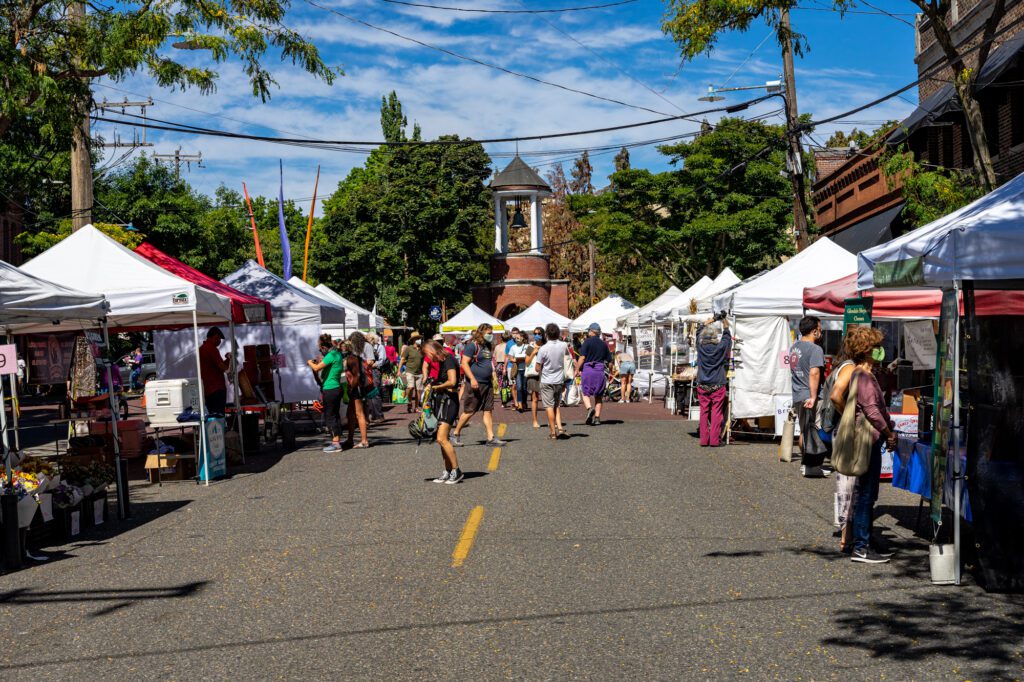 Ballard is a beautiful mix of vintage and modern, with tons of bars, restaurants, walkable streets, and the best farmers market in Seattle. It's further out, so it's not as central, but it's an amazing neighborhood to explore in its own right. If you're in Seattle for more than a couple of days, or this is not your first trip, consider Ballard.
Pros and Cons of Staying in Ballard
Pros: It's one of the most charming areas in Seattle with a sky-high concentration of bars, restaurants, and shopping. Plus, it's close to both Discovery Park and Golden Gardens, two of the best parks in Seattle.
Cons: It's far. Like, really far from most of the major attractions in Seattle. If you're coming to Seattle for the second or third time and you've done the whole "Pike Place / Space Needle" thing, look to Ballard as a fun new area to explore. Otherwise, plan on it taking 20-30 minutes to get from Ballard to Downtown Seattle.
Ballard Highlights
Ballard's Farmers Market: Every Sunday there is a farmers market selling produce and artisan food from Washington State. A mix of seasonal fruits, vegetables, and seafood will be on offer as well as baked goods and preserves. The atmosphere is incredible too with a mixture of locals and tourists flocking to the stalls to sample the produce and other products.


Shopping in Ballard: Ballard, especially the area along Ballard Avenue NW. That entire street is lined with boutiques with everything from art shops, to kitchen supplies, and everything in between.


Where to Eat & Drink in Ballard: For tasty Mexican food, head to La Carta de Oaxaca. The best barbecue in Seattle is at Bitterroot BBQ (it's almost all gluten free, too!). For ice cream, Salt and Straw is right on Ballard Avenue, Full Tilt is nearby, and if you're willing to head north, Frankie and Jo's is a 100% gluten free & plant-based ice cream shop that we're basically in love with. Near Frankie and Jo's you'll find the best brunch in Ballard at the Fat Hen (not good for gluten free folks) and Portalis Wine, one of our favorite places to buy and try wine in Seattle. Miro Tea has amazing…tea. It's one of Alysha's faves. The Noble Fir is one of my favorite bars in Seattle thanks to the incredible cider bottle selection. If you want cocktails, head across the street to Little Tin.


Watch the sunset at Golden Gardens Park: The reason to visit this rugged coastline is for the beautiful beach. Enjoy a hike through the forest, explore the wetlands, and then spend the late afternoon relaxing on the beach waiting for the sunset. Bonus points for a bottle of wine and some snacks.
Where to Stay in Ballard
There are basically two hotel options in Ballard, and they're next door to each other. One is more affordable, the other is a little more lavish and upscale.
Affordable Hotel: The Ballard Inn
A lovingly restored 1902 bank building, the Ballard Inn offers just 16 elegant rooms. The Olympic Athletic Club accessed through the hotel lobby gives guest complimentary access to a range of fitness options and a sauna.
In the evening though, the rooftop pavilion is the place to be with an outdoor fire pit and tantalizing views of the Olympic Mountains.
Boutique Hotel: Hotel Ballard
The sister hotel of the Ballard Inn, Hotel Ballard is located in the same building with 29 rooms. It's a little more luxurious than its sister property though.
It shares the same facilities, so guests here also have access to the Olympic Athletic Club, but the rooms are more luxurious and romantic with California King beds in all the rooms except the standard twin room.
It has luxurious amenities like Molton Brown bath products, blackout drapes, and premium down comforters and pillows to make it stand out.
Hotels vs. Vacation Rentals in Seattle: Which to Choose?
One thing I do want to touch on is vacation rentals in Seattle. Seattle is in the midst of a full-fledged housing crisis, and while I wouldn't point to vacation rentals as the primary cause, they're certainly a contributing factor.
I have mixed feelings about staying in vacation rentals in cities.
On one hand, as a traveler who has Celiac Disease and usually needs access to a kitchen, they are a godsend that has allowed me to travel to places that just would not have been easy to visit if I had to stay in a hotel, where I MIGHT get a mini-fridge.
On the other hand, in cities where there's a housing crisis driven by a lack of supply and surging demand (which basically describes every major city on the West Coast, at this point), vacation rentals contributes to the problem by taking long term rental units off the market, since the landlord can usually make more money by renting it out for a weekend at a time, and pushing rent and housing prices through the roof.
There are certainly pros and cons to staying in vacation rentals. To be a responsible traveler, our recommendation would be to try to stay in places where the owner lives onsite, like a basement guest suite or a backyard bungalow. That's what we've tried to do in the past, and we think that it's the most responsible way to use these platforms in cities.
There are tons of great hotels in Seattle, so if you want to avoid that choice altogether, you'll have no problem finding an amazing place to stay.
---
Your decision on where to stay in Seattle will play a huge role in shaping your trip.
If you choose to stay in Belltown or Capitol Hill, you'll be doing tons of walking within several blocks to see everything the neighborhood has to offer. If you choose Ballard and Fremont, you'll be living like the majority of locals do, with strips of boutique shops and hip bars and restaurants between streets full of single family homes.