Where to Stay in New York City for First Timers
We've now spent a few weeks in New York City, split between a couple of different trips, and the first thing we're always struck by when we arrive in Manhattan is the buzzing energy that fills the streets of NYC at all hours. 6:00 am? Tons of people out and about. 2:00 am? Same thing.
It boggles my mind, but I guess that's what happens when you pack millions of people into a place the size of Manhattan. 
The second thing that strikes me every time is the size of the buildings and the density. It truly is a concrete jungle. I grew up in Seattle and lived in San Francisco where there is a downtown area with massive buildings, but once you get out of that relatively small area the tallest building is roughly three stories – and you find green spaces around every corner. 
In New York City, I regularly looked up and saw a 40 story building, no matter where I was – from Lower Manhattan to the Upper Eastside. The density is mind boggling.
In this guide, we're going to share our take on where to stay in New York City, based on our own experience and point of view, to help you find the perfect place to stay for your trip. For each one, we'll give you an overview of each area, then dive deep into the pros and cons, a few highlights that we love, and some handpicked places to stay.
Sound good? Let's get into our top picks for the best areas to stay in New York City for your style and budget.
PS: Planning a trip to NYC? We've got some other super detailed travel guides you might find useful. Read our guide to planning an amazing NYC itinerary for our take on EXACTLY how to spend a few days in New York City, and our guide to the best gluten free restaurants and bakeries in NYC if you're a gluten free foodie, like us.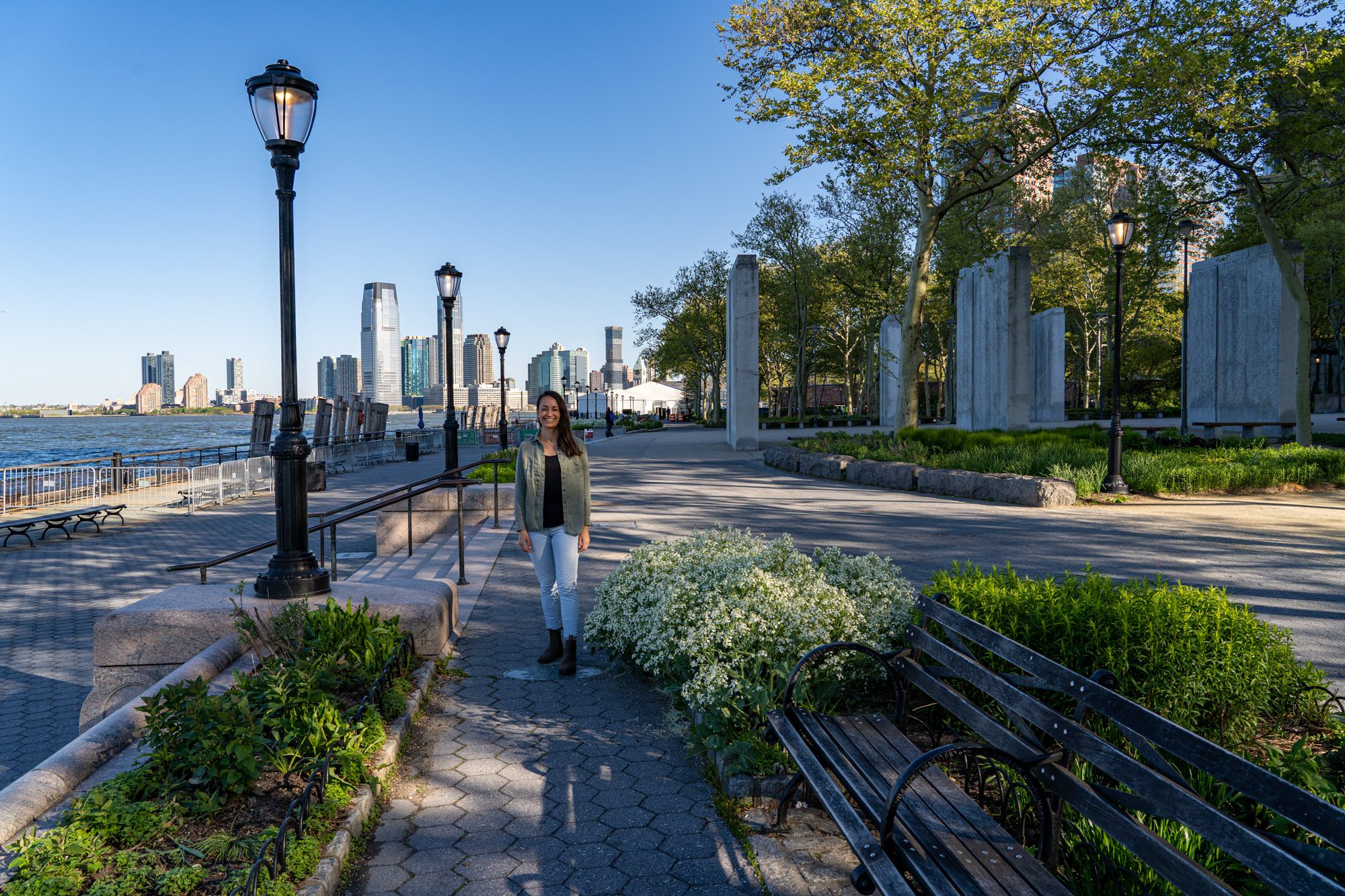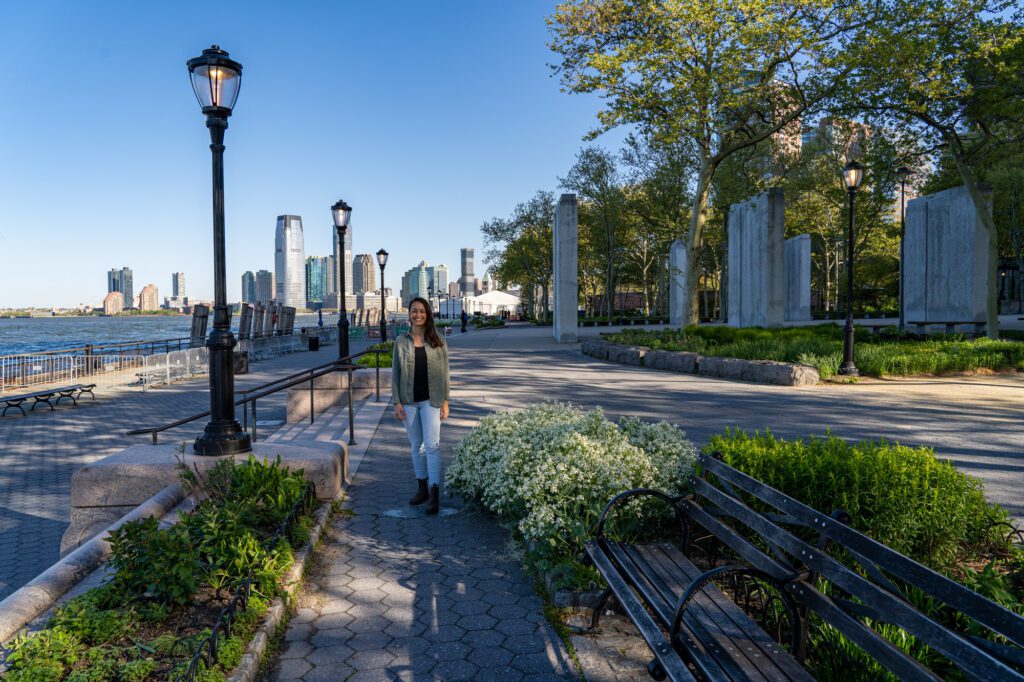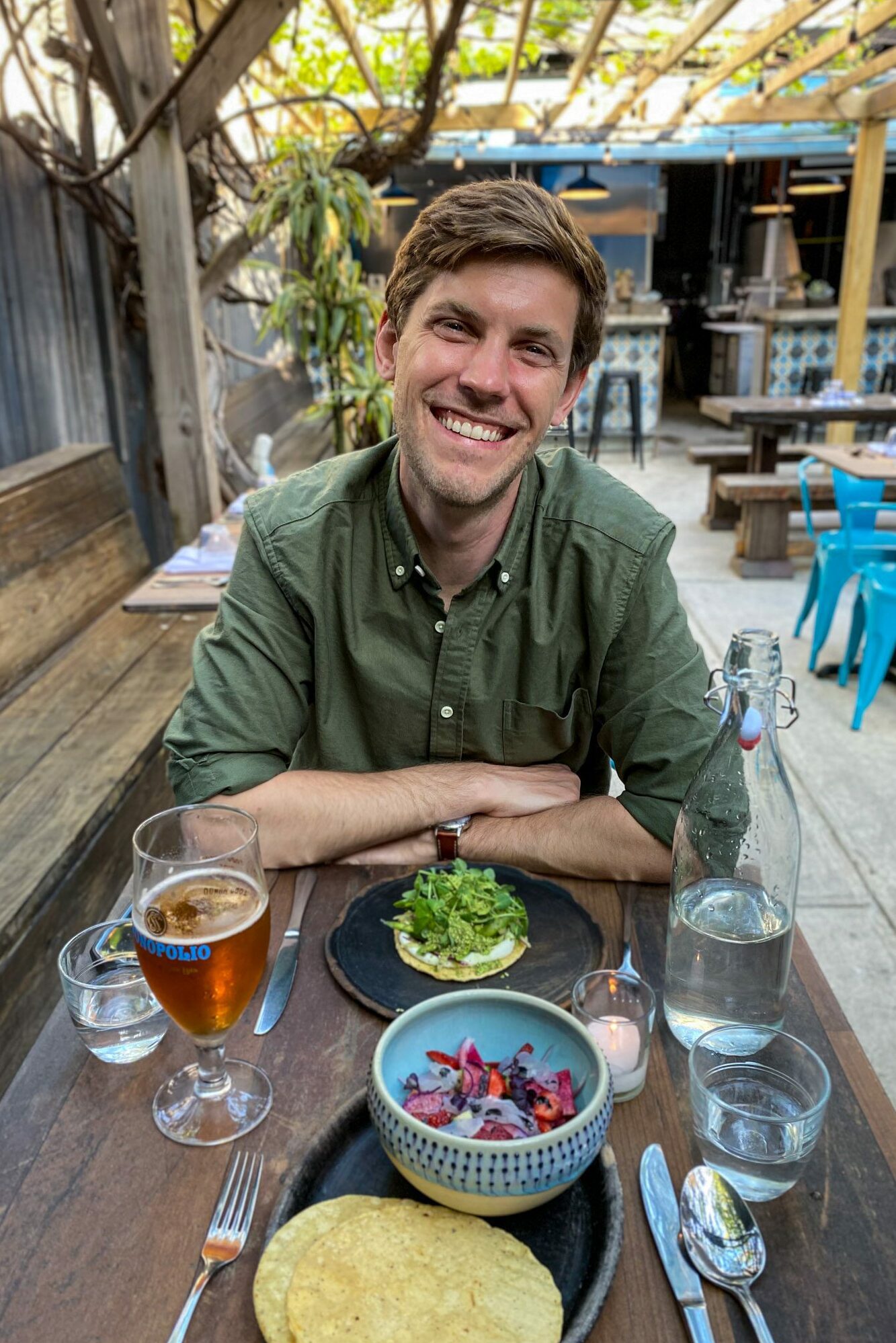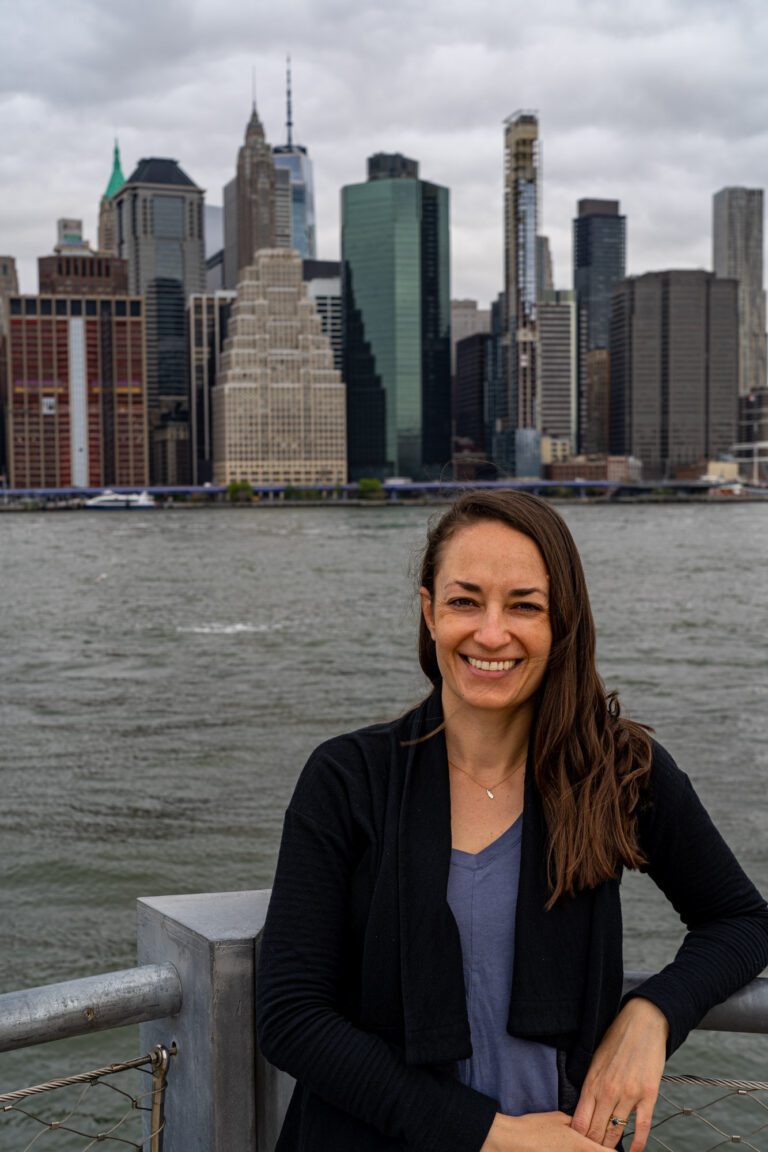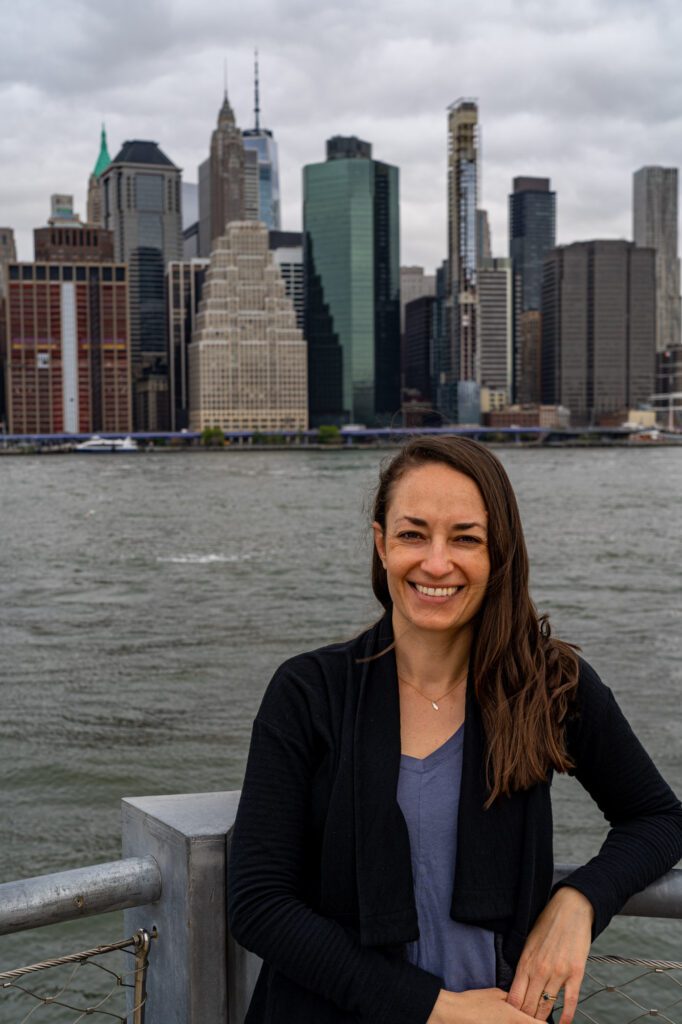 Disclaimer: Some of the links in this post, like hotel links, are affiliate links, meaning at no additional cost to you, we make a little bit of money if you click through and book. That being said, we would never recommend something to you that we don't stand behind 100%.
Where to Stay in New York City: A Complete Guide for All Budgets and Styles
When you're trying to decide where to stay in New York City, it is important to think about what kind of New York experience you're looking for.
Are you there to eat all the best food and see the city like a local (I am)? Do you want to visit all the art galleries and museums? Or are you wanting to see as many tourist attractions as humanly possible (I don't recommend it)?
The best place to stay in New York City will vary depending on your style, budget, and expectations.
Luckily for you, we put together this DETAILED guide of the best neighborhoods to stay in, complete with pros and cons, neighborhood highlights, and handpicked highly-rated hotels in each area. 
Don't have time to read the entire guide below? Here's a quick summary to get your search for the perfect place to stay started.
Where We've Stayed in New York City
As always, we like to start these guides with our own personal experience staying in New York City.
I'm going to disregard my first time in New York City, which was a two day trip where I spent most of my time inside a conference room.
The next two trips were both weeklong affairs, and over the course of that time we stayed in a couple of different places.
Hotel Recommendation
The Arlo Midtown
We've stayed here, and loved it. It's in a great, central location a few blocks from both Penn Station and Times Square. This is a solid mid-range hotel with compact-but-comfortable rooms (some have city views!) and a nice rooftop bar.
Our First Real Trip to New York City
For the first weeklong trip, we stayed in the Flatiron District, which is – SPOILER ALERT – our top recommendation. We love this area, from the greenery of Madison Park and Union Square, to the excellent bars, restaurants, and coffee shops that it has to offer.
Plus, it's a great central location between Midtown and Central Park, and Lower Manhattan (not to mention where Penn Station is located, which means an easy journey if that's where you're arriving).
We stayed at two separate hotels during that trip.
First, we spent a few nights at the budget-friendly Freehand Hotel. The Freehand is part hostel, with smaller-than-average rooms, great common areas (including a nice rooftop), and lower-than-average prices, and part boutique hotel, with stylish decor and good service.
Rooms are smallish, though they do have some bigger configurations, and have some creative layouts for groups traveling together (some of which include bunk beds). Overall, we were fans, and the price was right at the time.
Next, we moved a few blocks over to the Ace Hotel. We've stayed at the Ace in Seattle, and this hotel was an upgrade from that experience, with bigger, quieter rooms, and a nicer lobby area. There are rooms of various sizes, from cozy single rooms to huge loft suites that are bigger than the average NYC apartment. 
It's not the cheapest hotel in New York City, but it's somewhere around the mid-range category, and probably is one of the better options in that particular tier.  
Our Most Recent Trip to New York City
On our most recent weeklong NYC adventure, we spent most of our time in Lower Manhattan, and Matt spent a couple of nights at the end of the trip on his own staying in Midtown.
We were pleasantly surprised at how nice it was to stay in Lower Manhattan, which we thought would be a little lifeless with tons of office buildings and not all that many cool spots.
To an extent, that's true, but there's also some very real positives: good transit connections to the rest of Manhattan and Brooklyn, and some of the best museums and traditional tourist attractions in the city. 
We stayed at Sonder Battery Park, which is sort of like a hotel whose rooms are apartments, with full kitchens and bigger living spaces.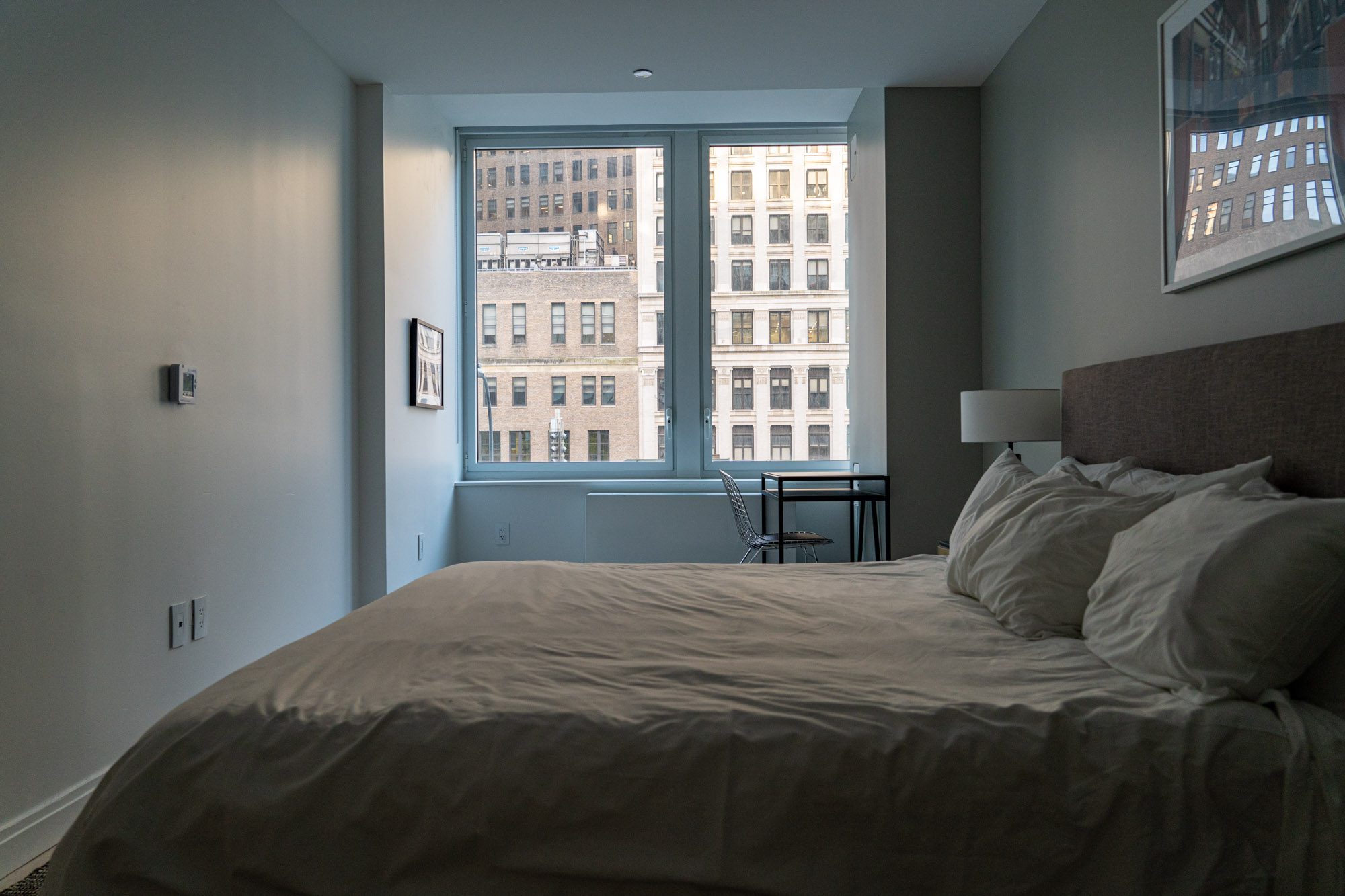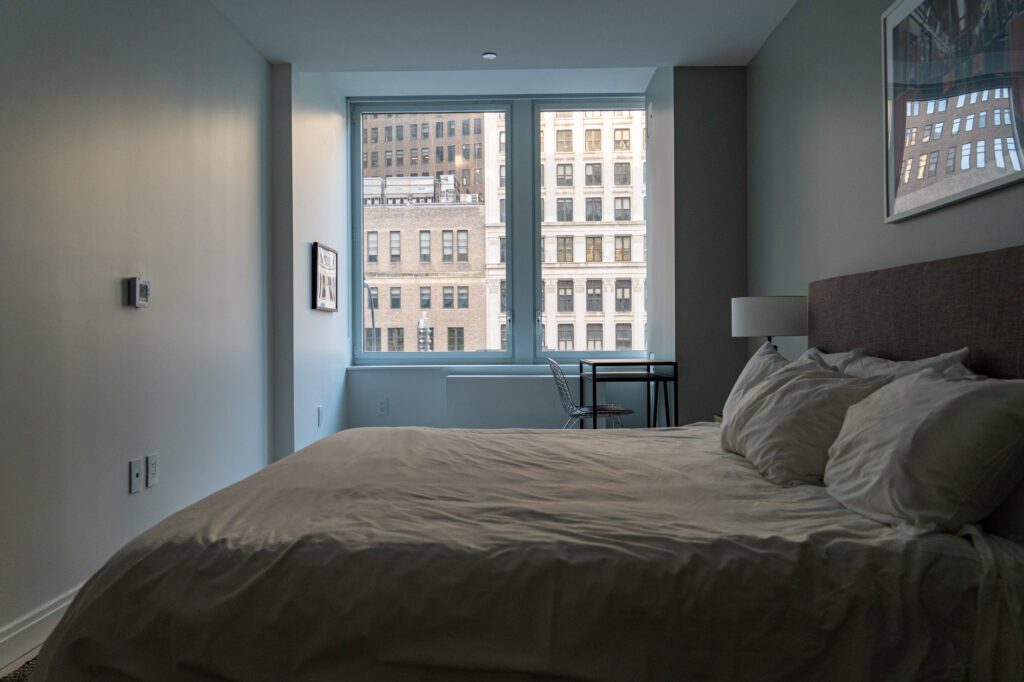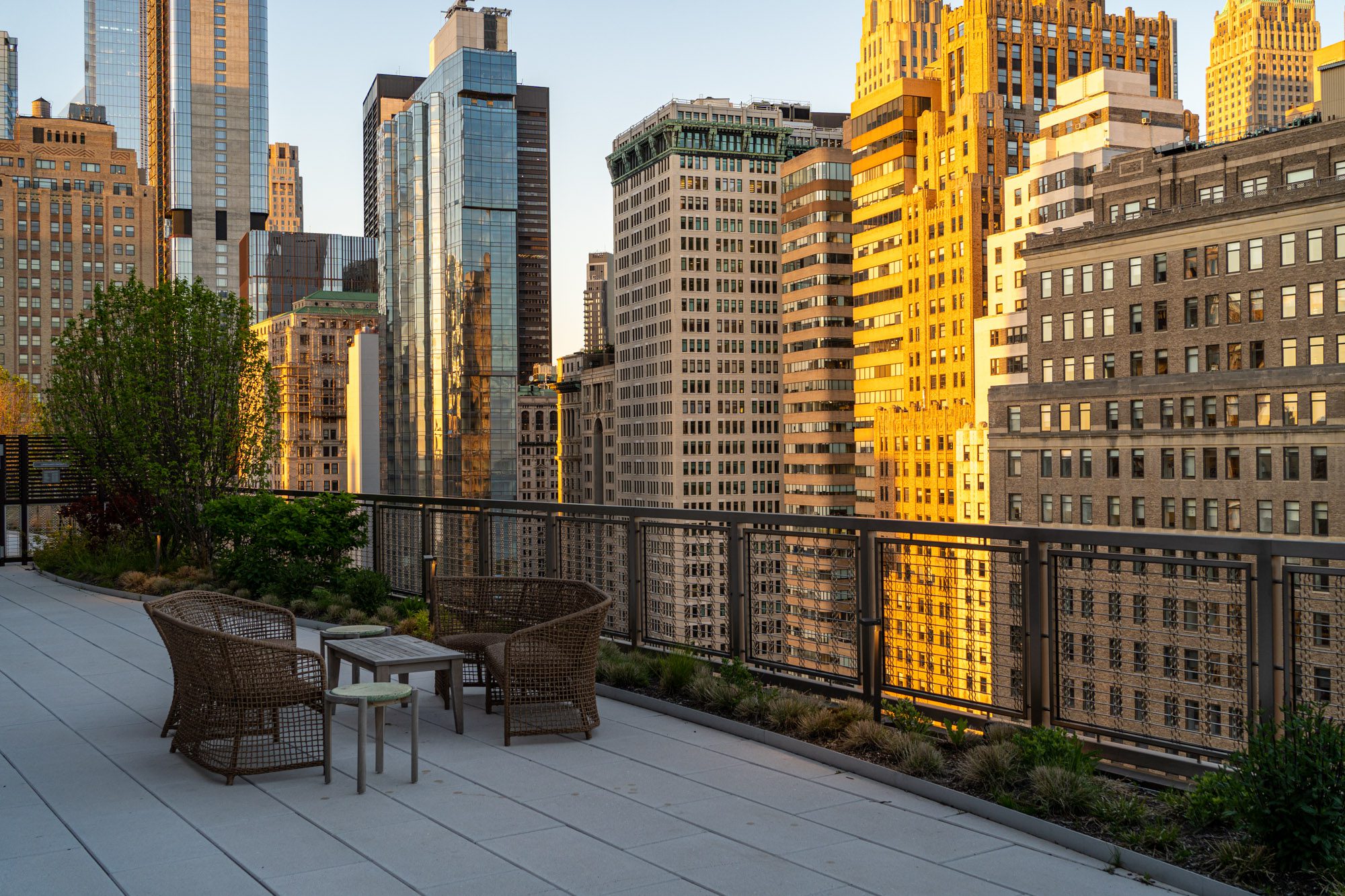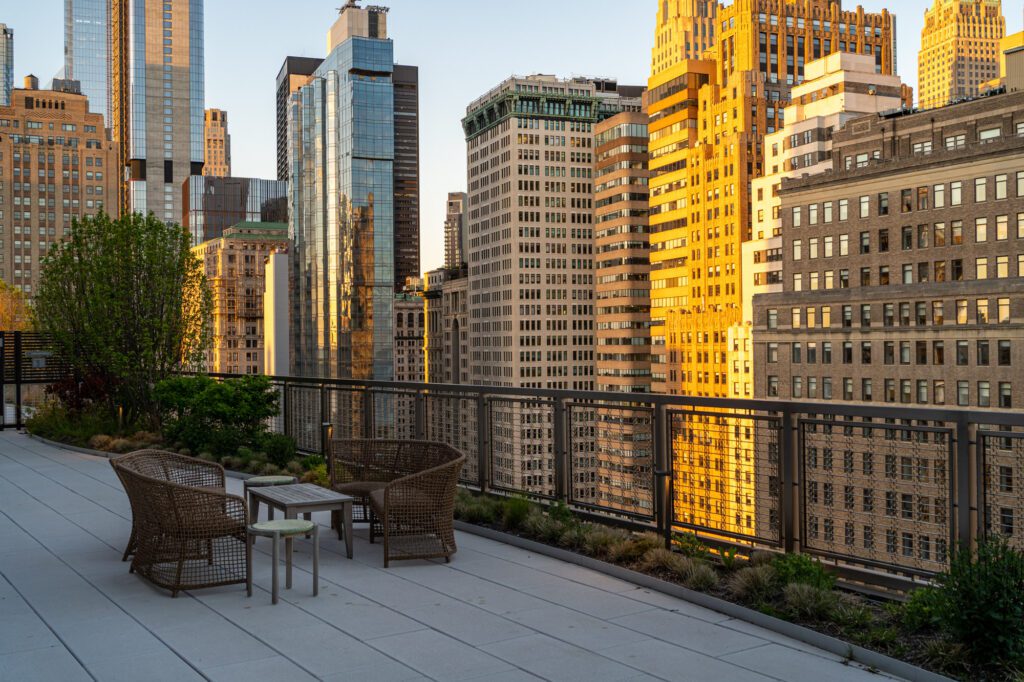 There are a few Sonder locations in Lower Manhattan, but we liked this spot a block away from Battery Park. There's a nice rooftop deck, a fitness center, a couple of lounges, and more amenities in the building.
Our apartment – which is a contactless experience (though there are staff at the front desk if you have questions) – was nice and spacious, and was stocked with everything we needed for our trip. We'd definitely stay there again.
On the back end of our trip, which took us to Boston, Vermont, and NYC, we split up and I, Matt, spent a week doing some more exploring on the east coast, including a few days in Philadelphia. I flew out of JFK in New York, so I came back to the city for a couple of nights before my flight, and stayed in Midtown. 
To be honest, Midtown is a little much for me. I'm a city person at heart, but Midtown is just too hectic for me. Every single sidewalk is packed wall-to-wall from 8:00 am to 8:00 pm. It's wild.
But, I also think Midtown is a solid place to stay. Because of the sheer number of hotels, the prices are actually decent considering their proximity to places like Times Square and Central Park. Plus, it's super central.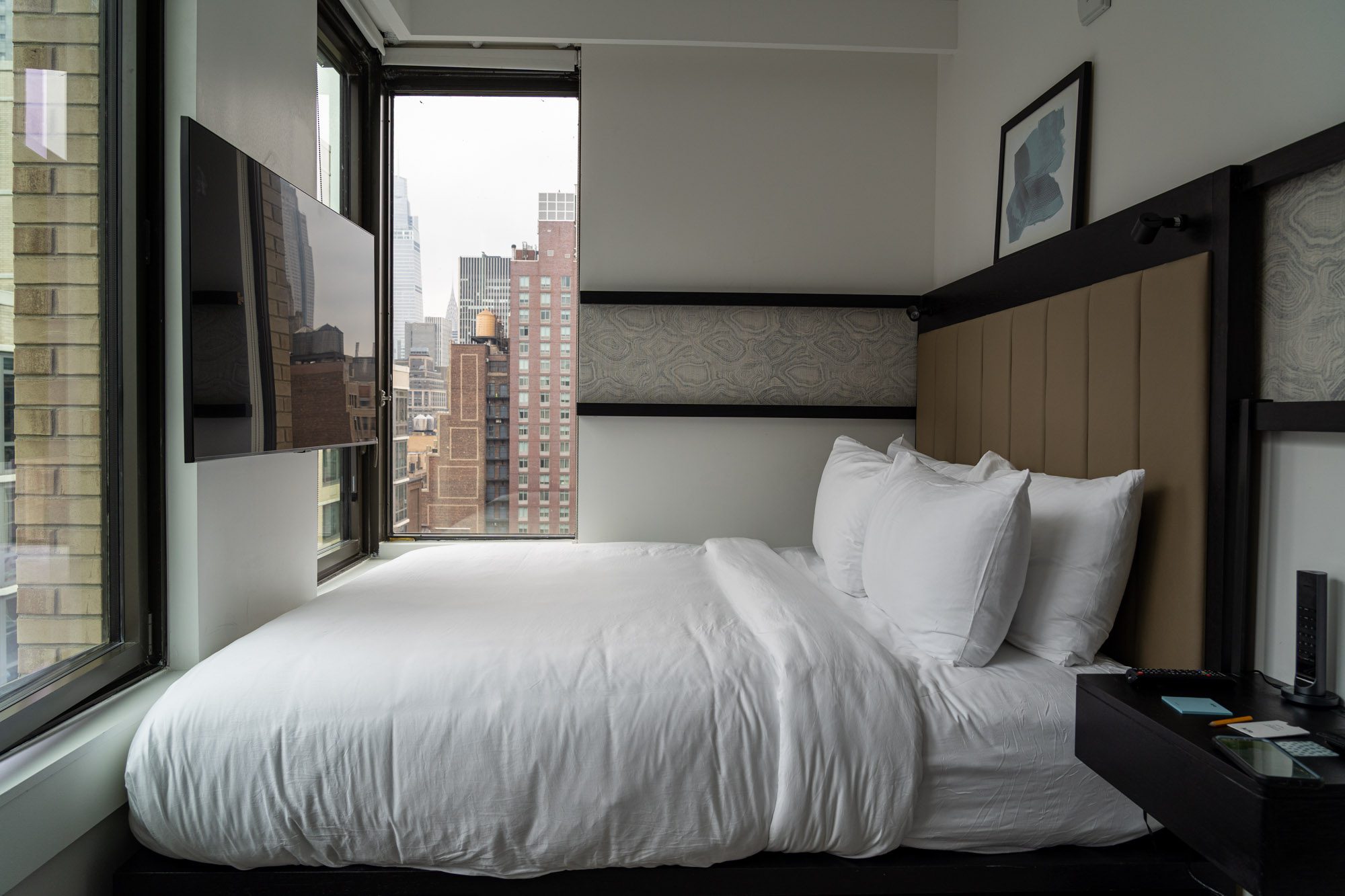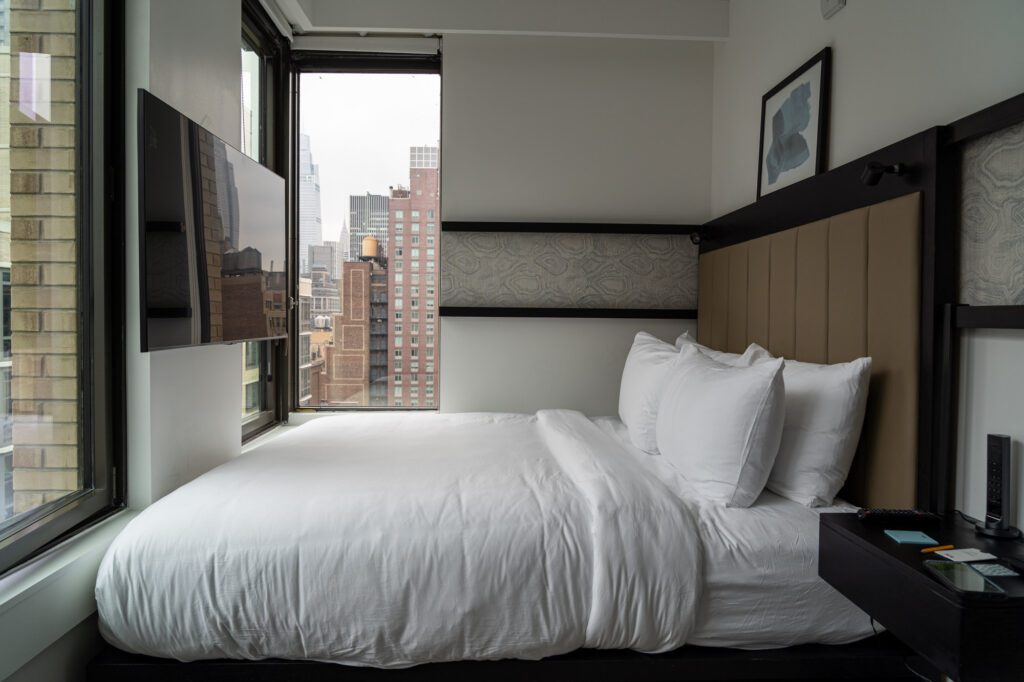 I stayed at the Arlo Midtown, which I'd recommend as a boutique hotel that's fairly affordable (I probably wouldn't splurge for the city view, although I could see the Empire State Building from the foot of the bed).
The CitizenM Times Square was also on our list because we LOVE CitizenM hotels (we've stayed in three of their hotels in the past four months, at the time of writing).
Flatiron and NoMad: Our Personal Pick for Best Area To Stay In New York City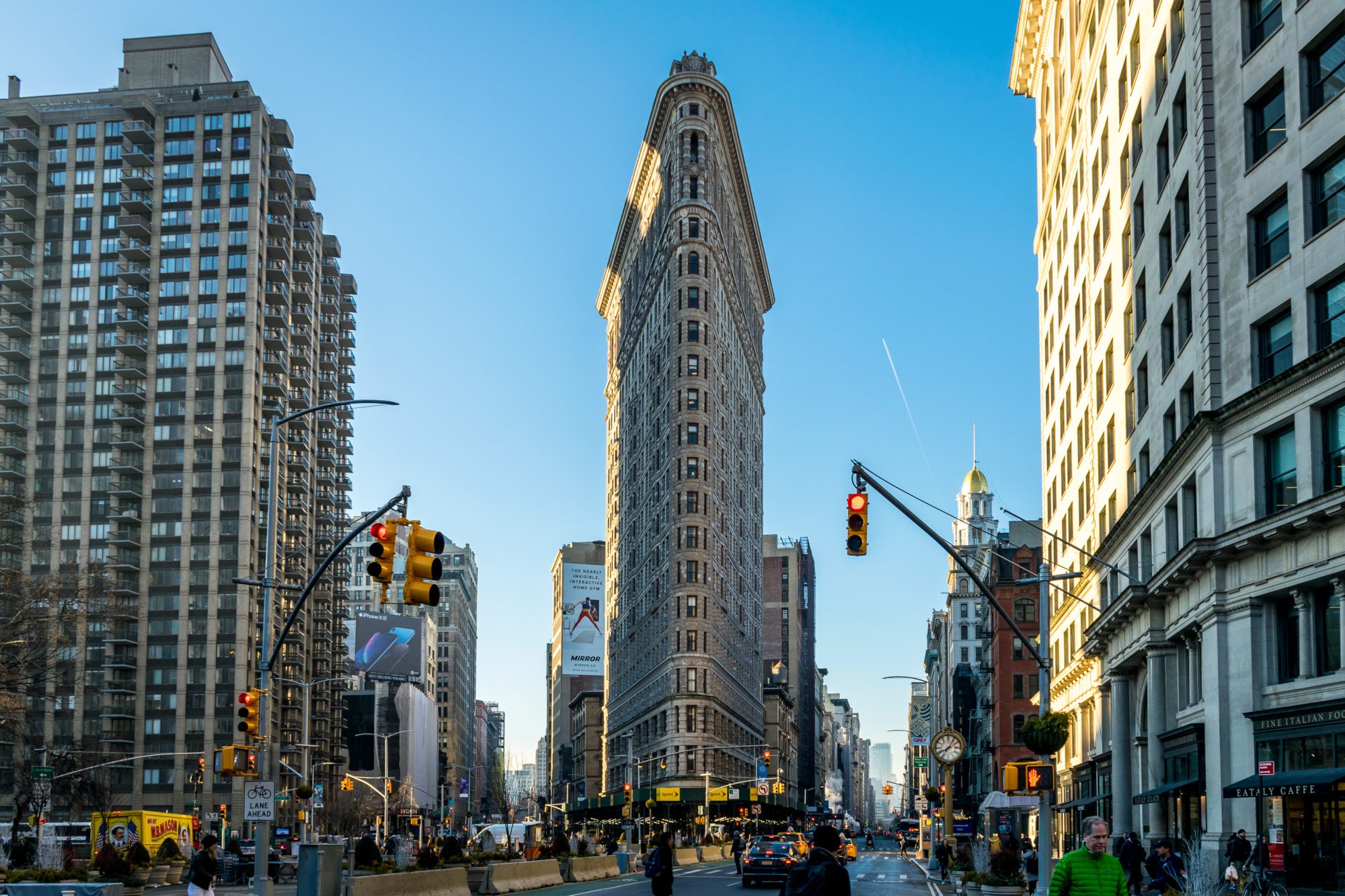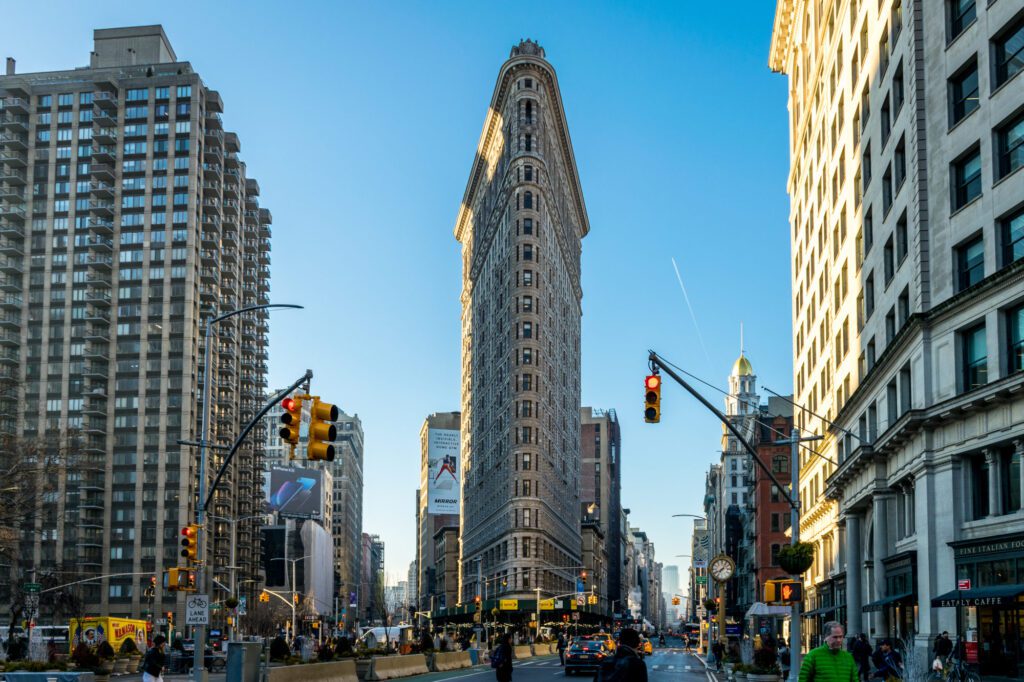 The reason we think Flatiron and NoMad should be at the top of your list of the best places to stay in New York City is simple. It's essentially the lower end of Midtown Manhattan, which has a decidedly different, more pleasant character than the area further north towards Times Square.
It combines the energy and centrality of Midtown and the excellent access to food and drinks of Chelsea and Greenwich Village (and the West Village).
First, let's talk about geography. In terms of location, what are we talking about here? Essentially, I'm referring to the area between Union Square on the southern end and W32nd St on the northern end. In terms of east/west borders, it's going to be something like Park Ave and 7th.
This little slice of paradise in the city has everything we like in a neighborhood: excellent green spaces (Union Square and Madison Square Park), great food and drinks (Cosme for Michelin starred Mexican) and Devoción (for excellent Colombian coffee), and a perfect central location between Midtown, Chelsea / Greenwich Village, and the East Village. 
As you get further north into Midtown, the energy gets to be a little much, at least for us. This part of Manhattan has a taste of that energy, but it's far more accessible and less overwhelming, and shares the same transit connections that makes Midtown a perfect place to stay for your first trip to New York.
Pros and Cons of Staying in Flatiron / NoMad
Pros:
Excellent food and drinks. This area is PACKED with restaurants and bars, and chances are whether you stay here or not, you'll end up here to eat at least once.


Good public transit connections. With the exception of Brooklyn (more on that in the cons section), this is a perfect location to use to explore Manhattan. It won't take you much more than 30 minutes to get anywhere you need to go, from Battery Park to the Upper West Side.
Cons:
It's a trek to Brooklyn / Williamsburg. This is the exception to the "good public transit" bullet above. Not that it's bad, but you're going to have to transfer, and it's likely to take you 40-45 minutes, if not more. If you can, catch the East River ferry here – it's a much more pleasant journey than the subway.
Things To Do In Flatiron And NoMad
Here are some of our favorite spots in the neighborhood, in no particular order.
Madison Square Park: Not to be confused with Madison Square Garden, the stadium just a few blocks west, this park is right at the base of the Flatiron Building at the intersection of Broadway and 5th Ave. There's some excellent people watching to be had here, from old men on their daily coffee meetups, to street performers, and flustered office workers. There's also a Shake Shack right in the park, a great place for a lunch (or snack?).
Union Square: At the southern border of the neighborhood is this nice green space, famous for its centerpiece, the statue of George Washington. Don't miss the Greenmarket, which takes place Monday, Wednesday, Friday, and Saturday year round (8:00 am – 6:00 pm).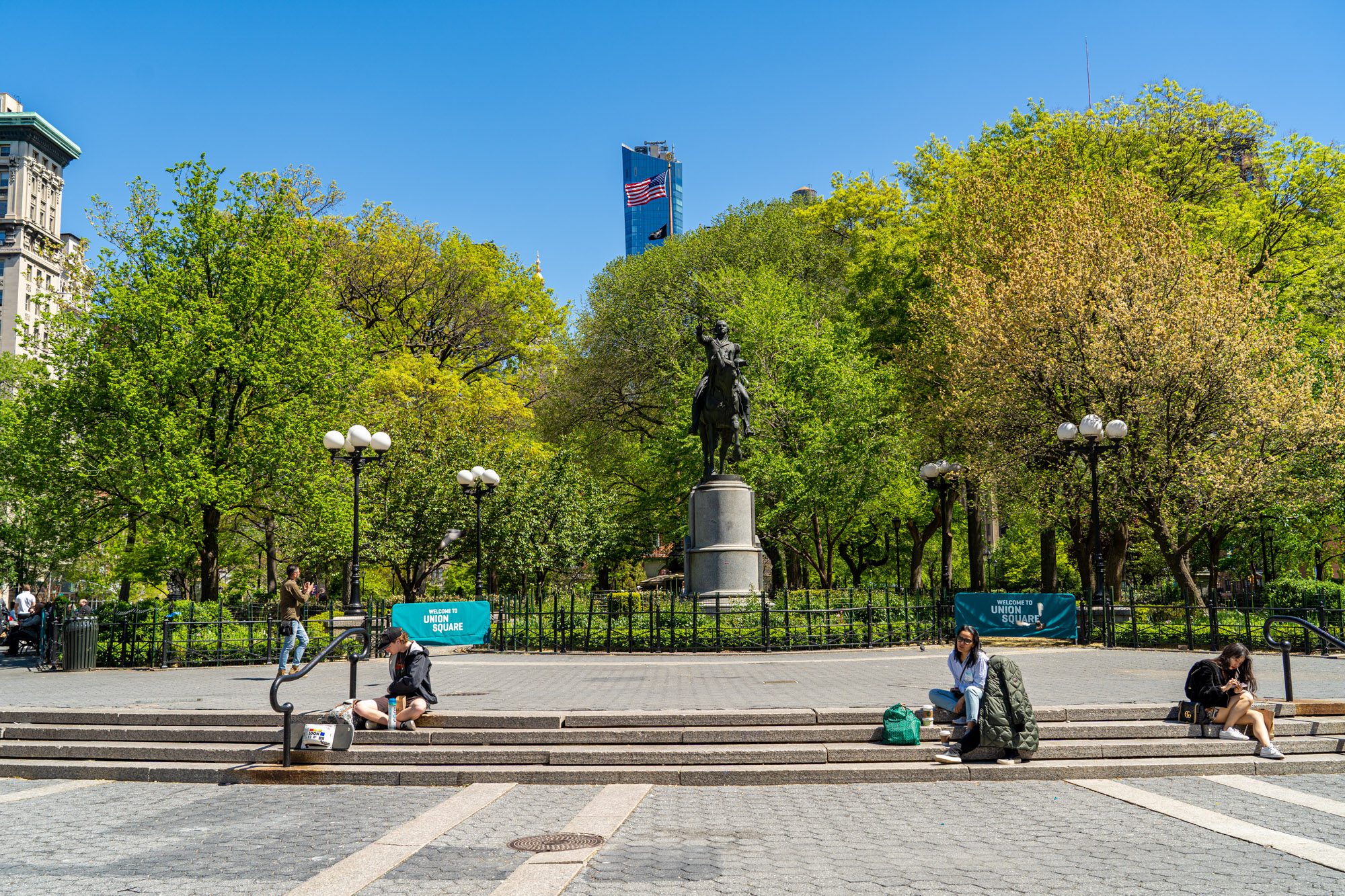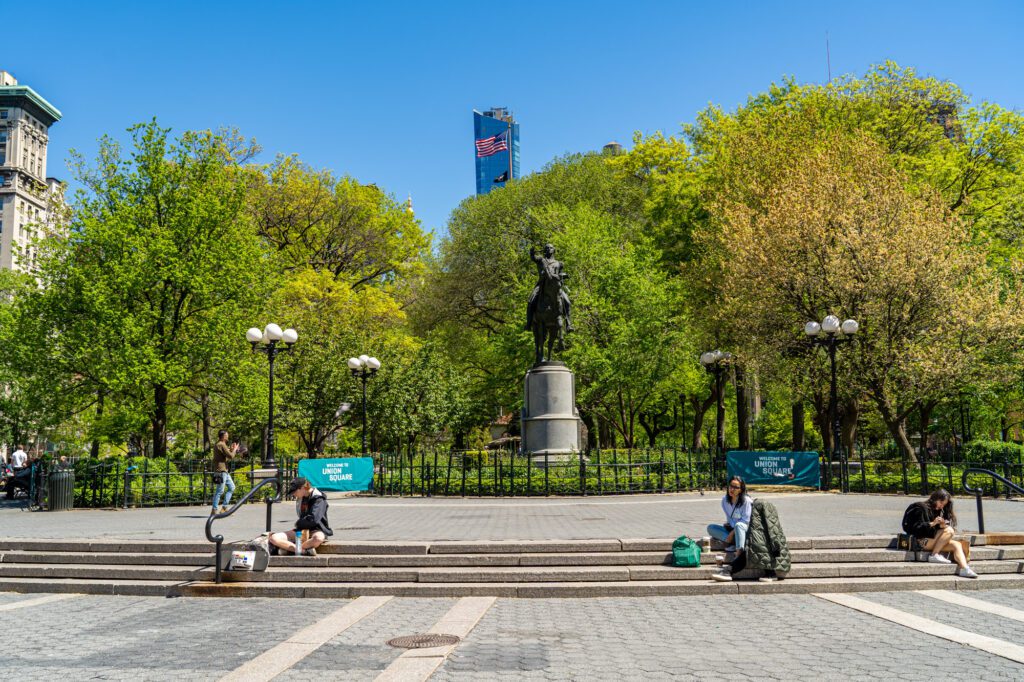 Cosme: I love Cosme, chef Enrique Olvera's (of Pujol fame) outpost in the Flatiron District. I've been twice, and both times it was a stellar experience. It has a Michelin star, and the service, ambiance, and food are impeccable. Get the duck carnitas, which are enough to feed a small army, and DO NOT MISS the corn husk meringue, which might have been the best thing we ate on our entire trip.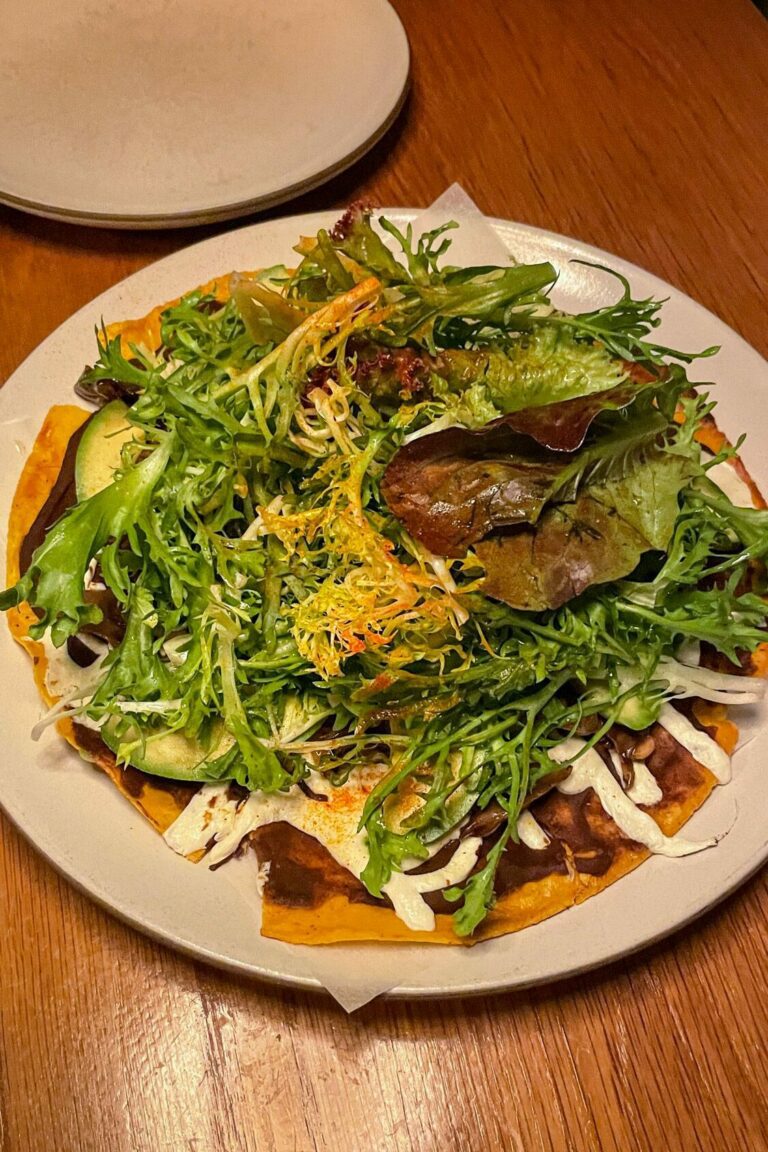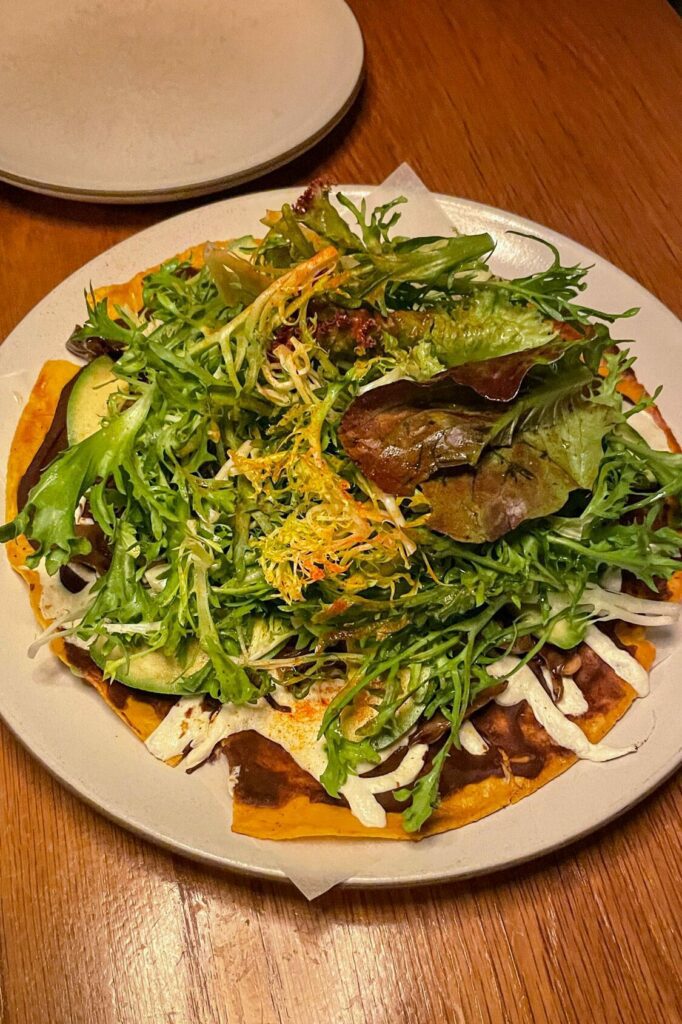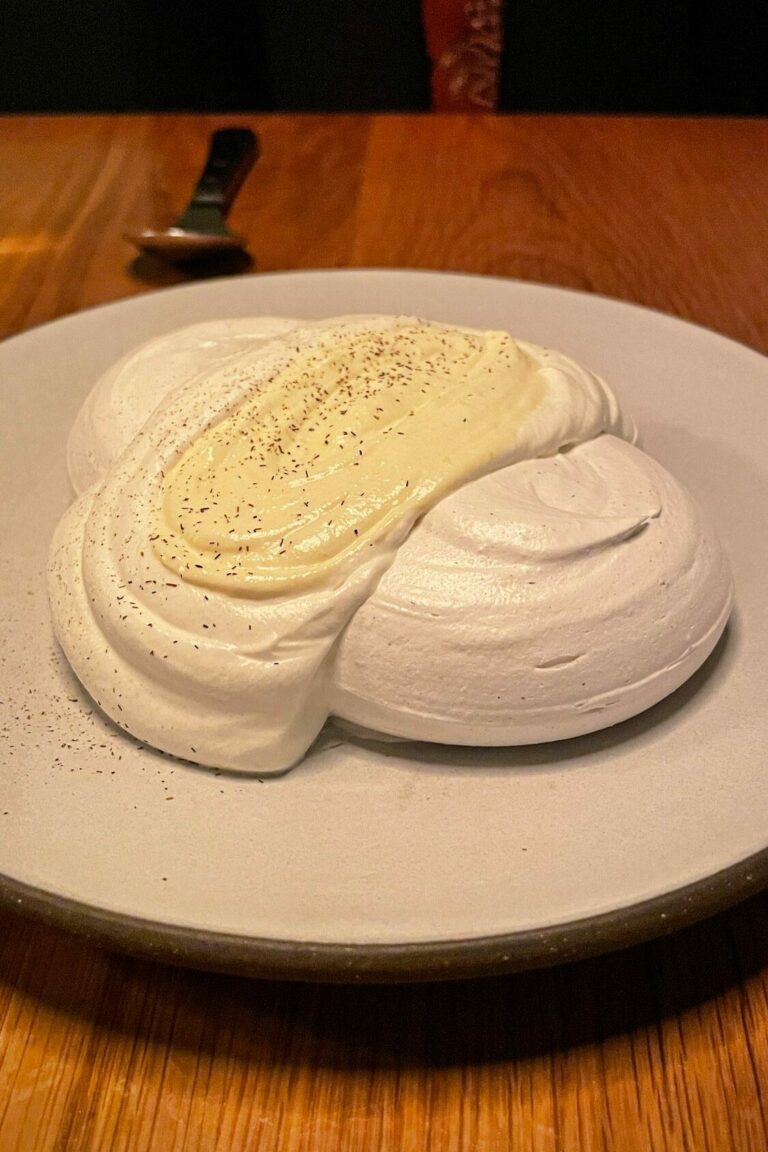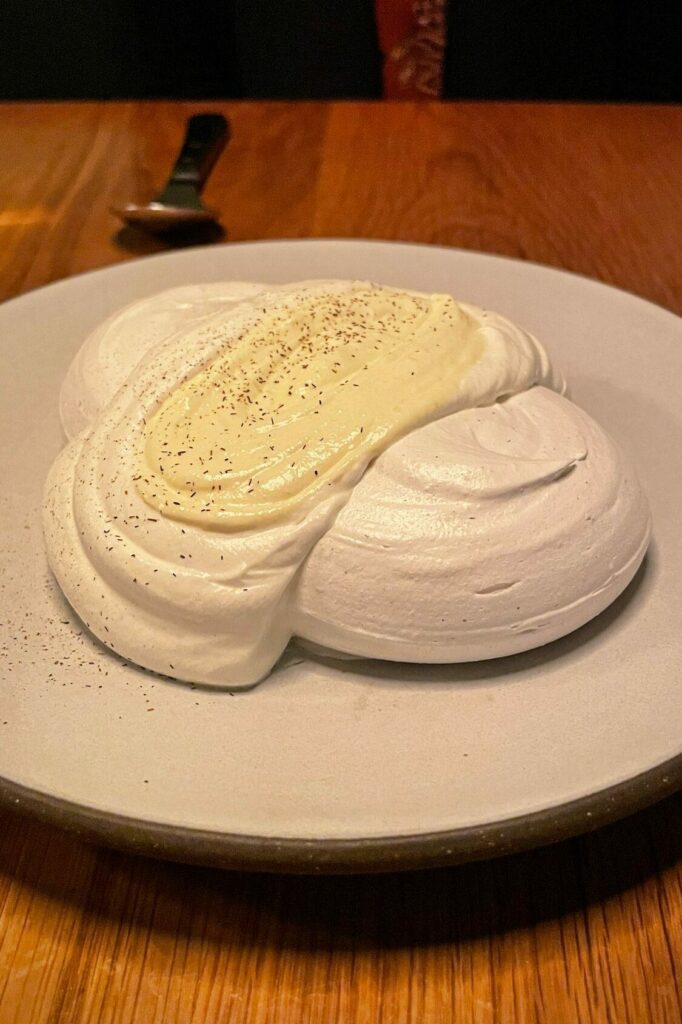 Devoción: We have actually been to their cafe in Bogotá, Colombia, and I didn't even know they had shops in NYC until we walked by the one in Williamsburg. The beans come straight from Colombia (within 10 days of roasting), and they have a BEAUTIFUL space filled with lots of plants and natural light. 
Beecher's Cheese: Hey, look, a company from Seattle (Filson also has a location not too far away – we're taking over!). I love Beecher's Flagship cheese – my mom almost always has a chunk of it waiting for me when I visit her house – and they do a mean mac n cheese here (though I can't partake, because gluten). Bedford Cheese Shop is another good spot nearby, if you're looking for a wider selection of cheese. 
Where To Stay In Flatiron And NoMad
Part of the reason I like this particular area is the great assortment of charming hotels. From budget to boutique, it has something for everyone.
The Freehand NYC: Best Affordable Hotel in New York City
Listen, if you're looking for an affordable place to stay in NYC, and you're not too concerned with having all the bells and whistles that some of the upscale hotels have, this place is great. Besides, you won't be spending much time in your hotel anyway, you'll be out exploring!
We stayed here for three nights on our first trip and were blown away by the value. The Freehand is a great option for groups of friends or couples traveling together. It is a beautifully designed, minimalist hotel with really reasonable rates.
They have large plant-filled social areas and restaurants. My favorite part of this hotel was the rooftop bar and lounge; such a great way to finish up a day exploring!
The Ace Hotel: Best Combination of Style and Budget
Another fantastic option in the heart of NYC, I stayed at the Ace Hotel for 3 nights and it was a great home base for exploring the surrounding areas. In particular, it's the best combination of style and budget in the neighborhood. Big, bright rooms, a mix of modern amenities and vintage touches, and a central location.
The Ace Hotel is located right in the middle of NoMad, a five-minute walk from Koreatown and some great cafes. The hotel's public areas and rooms are decorated in vintage style with some of the larger rooms having a turntable. Rudy's Barbershop is located onsite for a bit of pampering. I stayed here and loved how easy it was to get around by subway.
The MADE Hotel: Splurge-worthy Boutique Hotel
The Made Hotel is the hotel I have always wanted to stay at when visiting New York, but it was fully booked last time I visited. It has a zen-like vibe to the entire hotel with lots of exposed wood, greenery, and natural light. Aka my ideal style.
There's a cafe, rooftop bar, and a patio for hotel guests only. Minimalist rooms with sweeping city views and super comfortable beds are the main draw, though.
Midtown Manhattan: Best Central Location for First Timers and Short Trips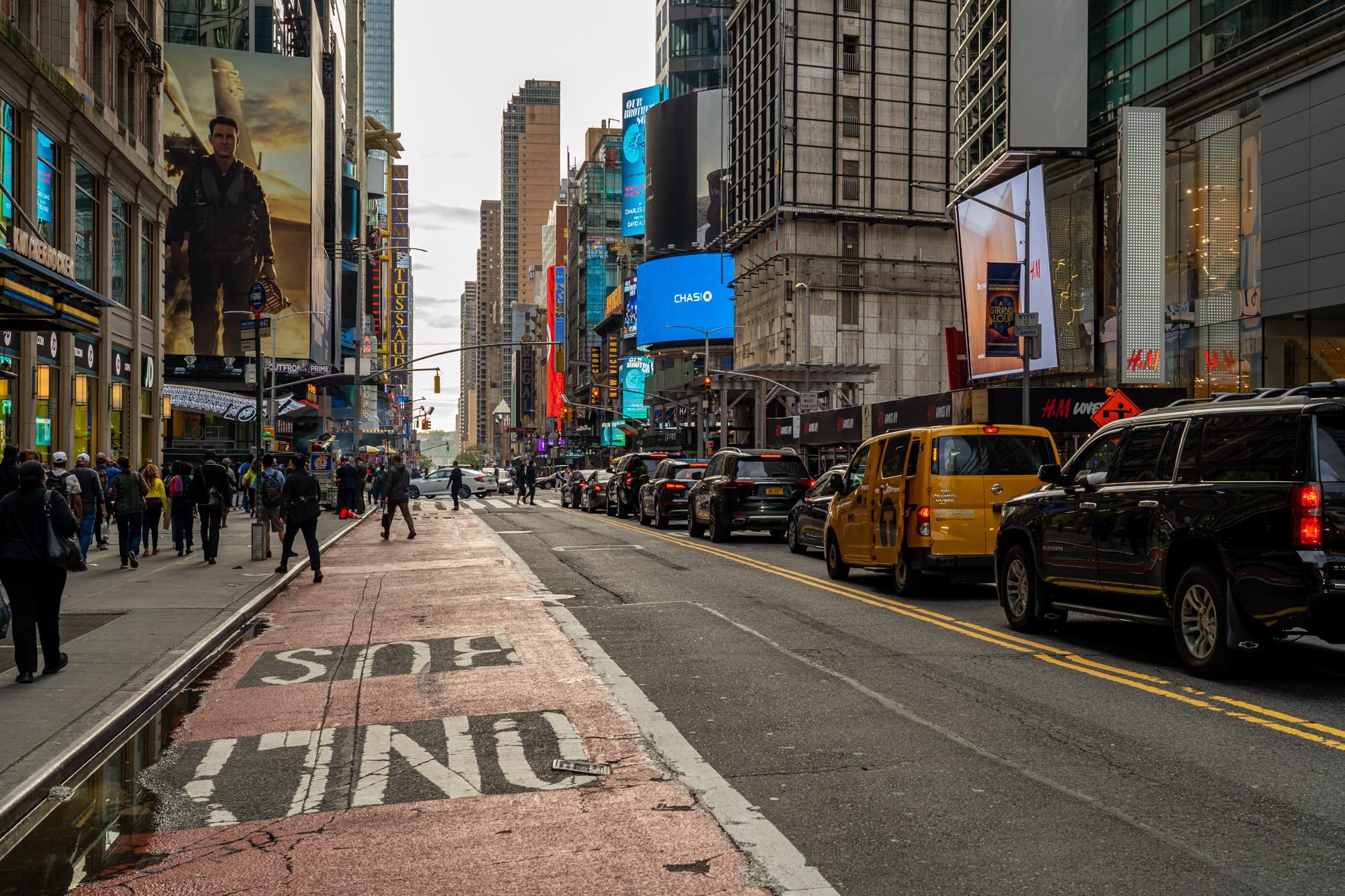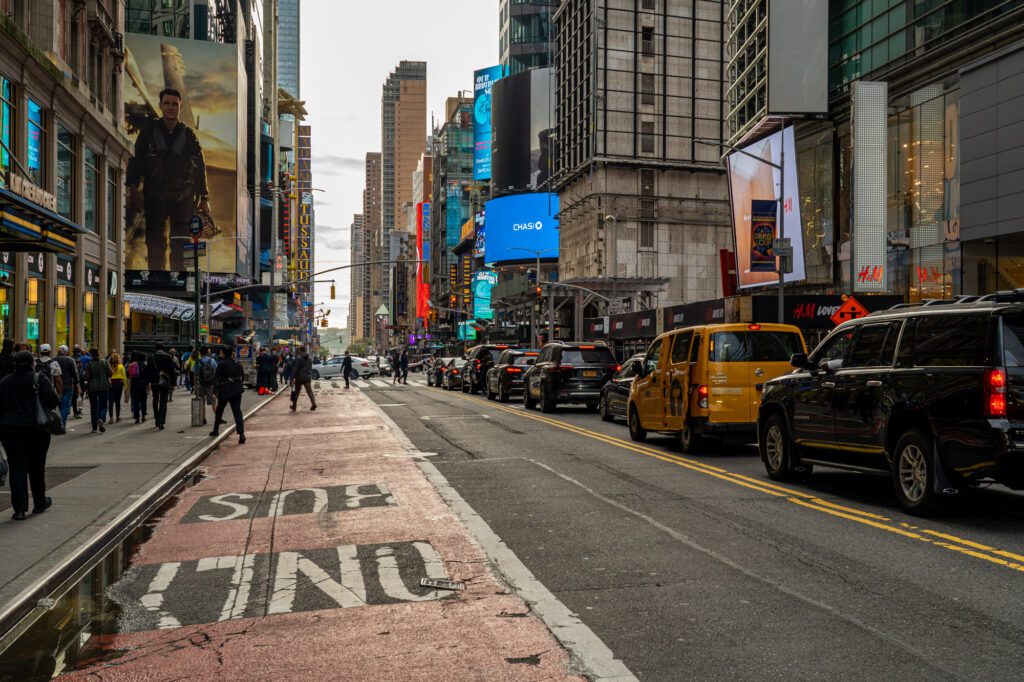 There's truly no better place to soak up the boundless energy that characterizes New York City than Midtown Manhattan.
Especially during the day, when tourists and office workers make it so that, no matter where in Midtown you find yourself, it's a pretty good bet that the sidewalks will be packed. 
Truth be told, we're very much city people (we've lived in San Francisco and Seattle, and at the time of writing are in the process of moving to Portland, Oregon) and Midtown is a little overwhelming, even to us.
However, for a few nights, this is the most central place to stay in New York City. Just north is Central Park, the best urban green space in the country (sorry, Golden Gate Park), and you'll be surrounded by some of the most iconic sites, sounds, and eats in Manhattan.
Matt has stayed in Midtown a couple of times over the course of his last few trips to New York, and firmly believes that it's best in relatively small doses.
The location is great – though it is hectic – and has convenient subway connections to just about everywhere in NYC. Plus, there's a bunch of great places to eat and drink… as long as you walk at least four blocks from Times Square. 
One of our favorite memories from this last trip is finding ourselves in the middle of a spontaneous-ish dance party in Bryant Park. At 4:00 pm on a Thursday afternoon. That kind of energy is emblematic of New York City, and it's best experienced in Midtown, which is the beating heart of Manhattan in terms of energy.
A note on geography: Midtown Manhattan refers to a giant swath of Central Manhattan that swallows up distinct neighborhoods like Hell's Kitchen, not to mention areas like "Midtown East" and "Midtown West." We're going to combine them all, and this section covers everything in Manhattan between the southern end of Central Park and the Empire State Building (roughly).
Pros and Cons of Staying in Midtown Manhattan
Pros:
The Location is as central as it gets. There's plenty to do and see within Midtown itself, and just outside the borders of the neighborhood, you'll find even more amazing sights (the Met and Central Park to the north, and Chelsea Market, the Highline, and Flatiron Building to the south).


The Transit Connections. Penn Station, NYC's main train station, is at the southwestern corner of Midtown, where you'll find trains to Newark International Airport and the Amtrak to various other Northeastern cities. Plus, just about every subway line runs through Midtown, which will get you anywhere you need to go in the New York Metro Area.


The Unbridled Energy. When we think of New York City, we think of a sort of buzzing energy at all hours. Which is exactly what you'll find in Midtown. Is it overwhelming at times? Yes. But also, where else in the world will you find a spontaneous-ish dance party at 4:00 pm on a Thursday, like we found in Bryant Park during our trip?


It's Budget-Friendly. Despite being one of the most "touristy" parts of Manhattan, this is actually a relatively affordable area to stay in.
Cons:
It's dirty. I mean, given the "unbridled energy" bullet above, it should come as no surprise that there's a tradeoff to the constant flow of people. This is a pretty dirty part of the city. Lots of humans usually means lots of trash, and that's certainly true of Midtown.


It's just… A LOT. Especially around Times Square, which is an overwhelming place to visit. We like the northern end of Midtown because it's walkable to Times Square, and the southern end because we love the Flatiron District / NoMad, which is walkable from there.


The restaurants around Times Square are mostly pretty terrible. Please don't eat at Olive Garden while you're in New York City! There's so much good food and places to drink in Midtown, but the six square blocks around Times Square are, generally, not a good place to find it. The exception being Los Tacos, which is supposedly incredible (but they serve flour tortillas, so no tacos for us because Matt has Celiac Disease and gluten makes him sick for days).
Midtown Highlights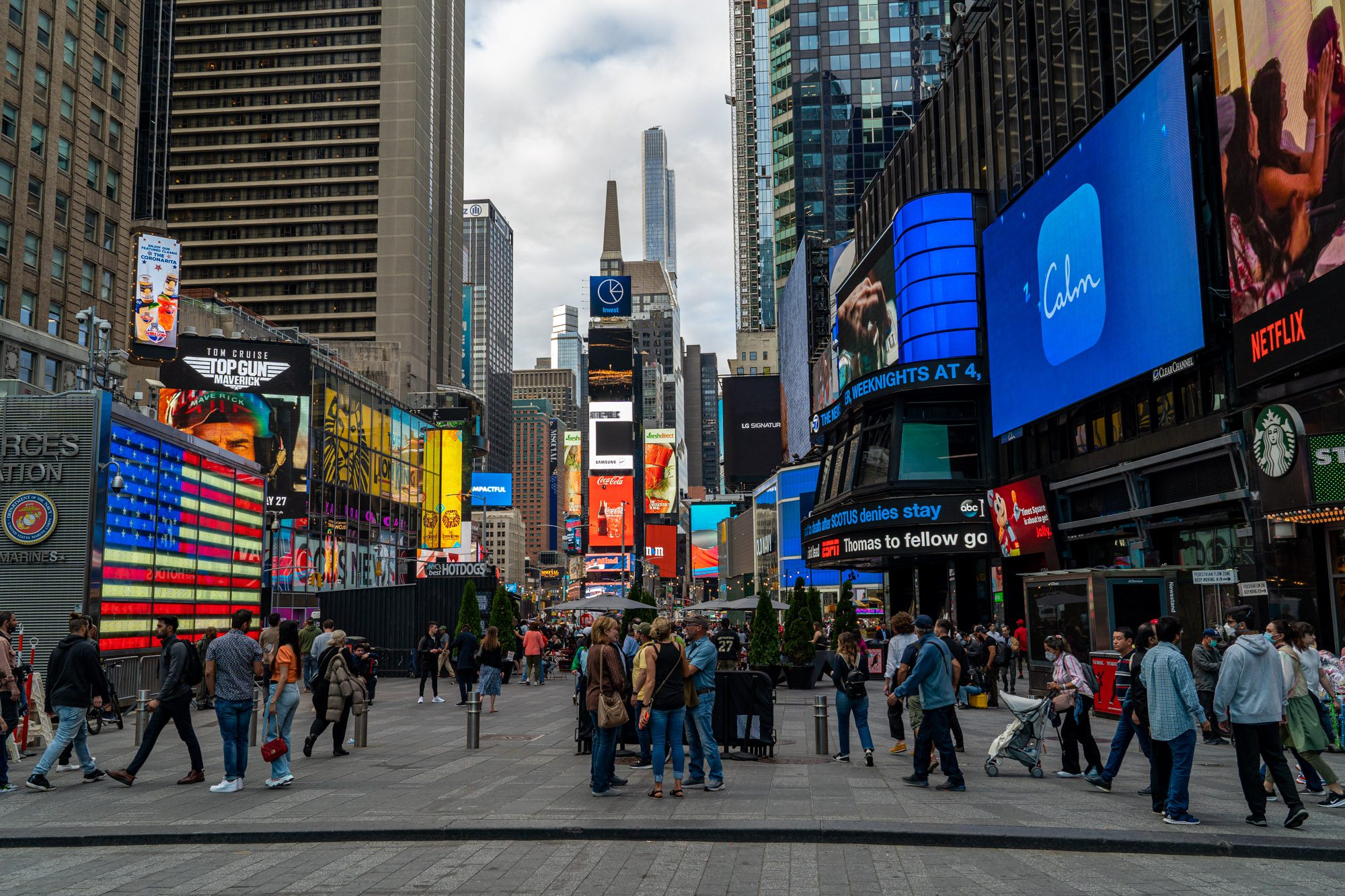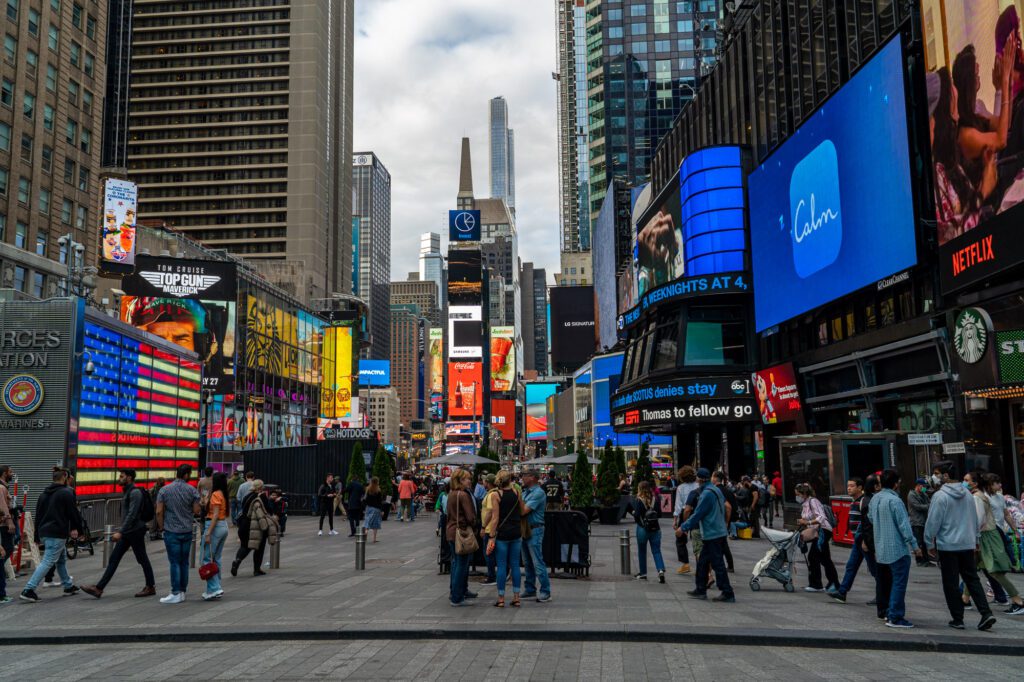 Los Tacos No. 1: As we mentioned above, we didn't actually get to eat here because they serve gluten in multiple forms. But it was recommended by a couple of New Yorkers we know who didn't think about that aspect. They also have a location in Chelsea Market, but if you're in Times Square and you're hungry, don't be afraid to brave the fast-moving line for their tacos. 
Tanner Smiths: A lovely cocktail bar in Midtown that was the first bar we ever went to in the city. We also discovered Stormalong Cider here, which has become one of our favorite hard cider brands. 
Top of the Rock: We've found that the top deck of the Empire State Building is similar to other viewing platforms on top of major tourist attractions, like the Eiffel Tower in Paris or the Space Needle in Seattle. It's missing a key element of the NYC skyline… the Empire State Building. Instead, head over to the Top of the Rock, the viewing platform on top of Rockefeller Center, for a jaw-dropping view of New York City, including the Empire State Building and Central Park. It's pricey, but it's the best view of the city for us.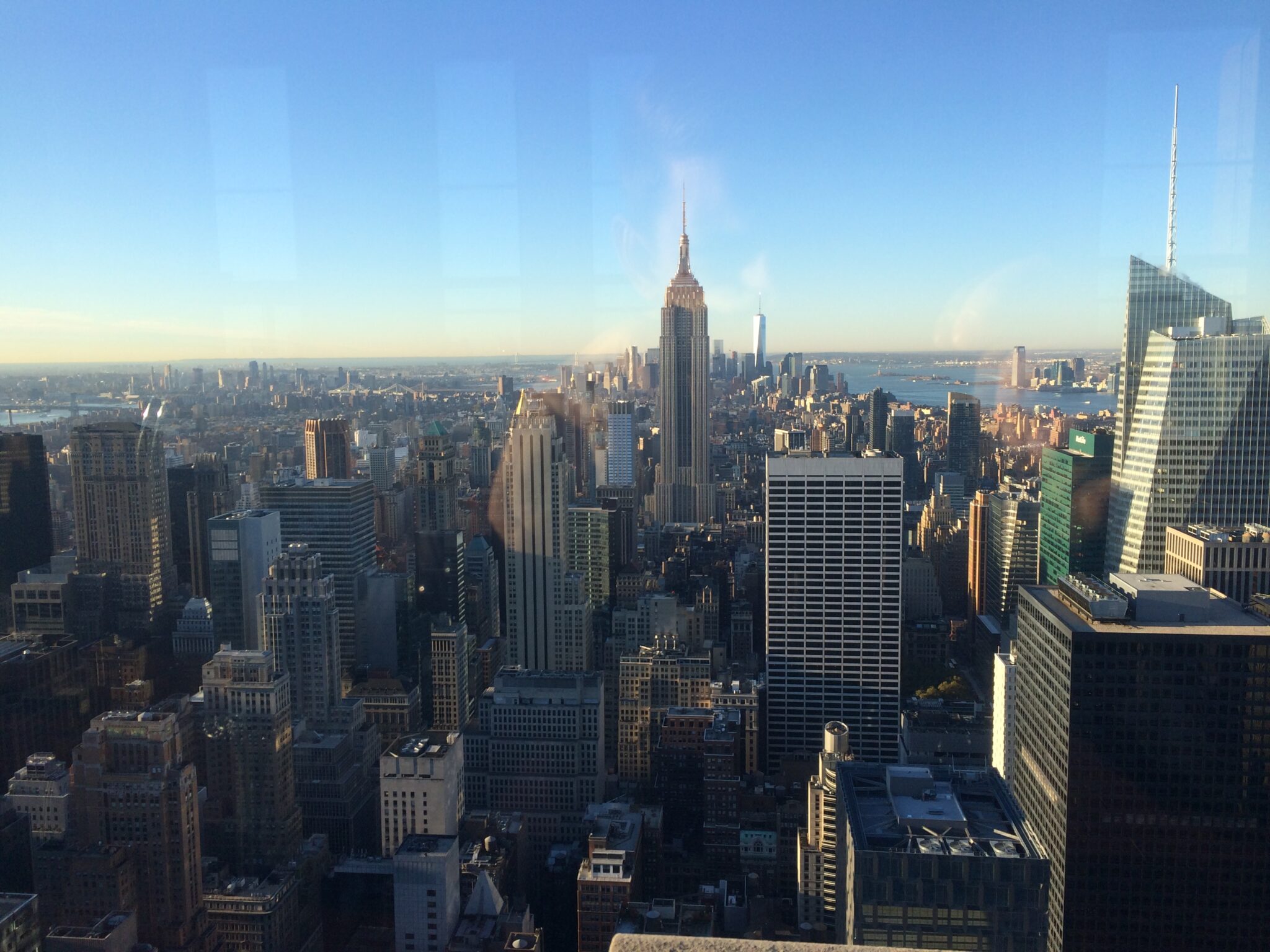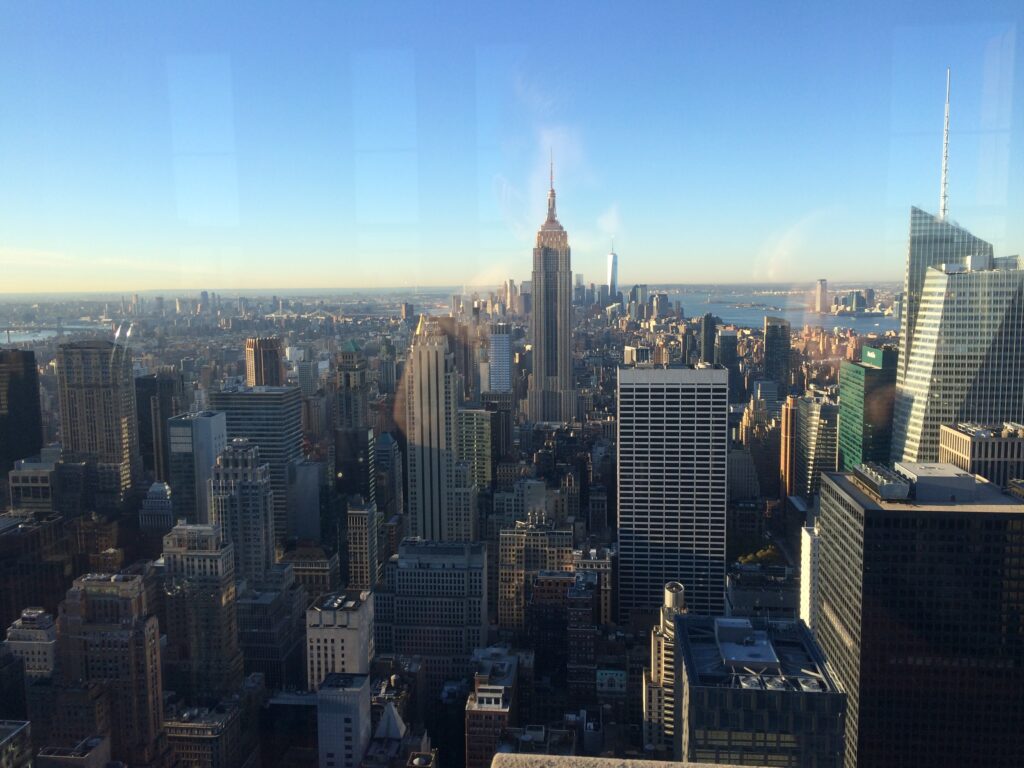 Bryant Park: A lovely green space in the middle of a concrete jungle. Surrounded by 30+ floor buildings, this park is packed at all times of day with workers getting a coffee or a drink and basking in the sun (when it's out). The New York Public Library at the eastern end of Bryant Park is worth a visit for their collection of various artifacts, including a handwritten copy – by Thomas Jefferson – of the Constitution, and the original stuffed animals that inspired Winnie the Pooh. Plus, it's free!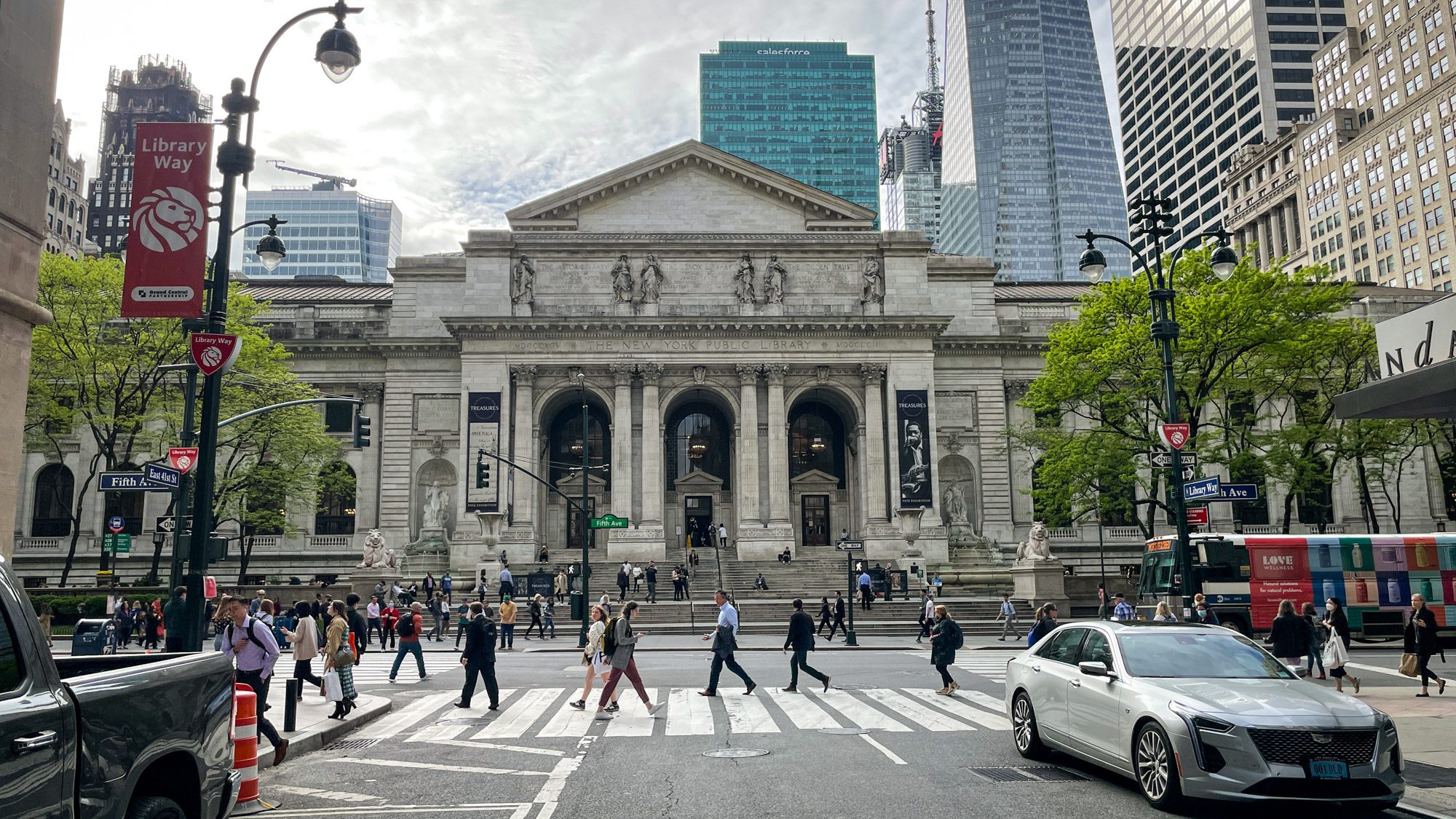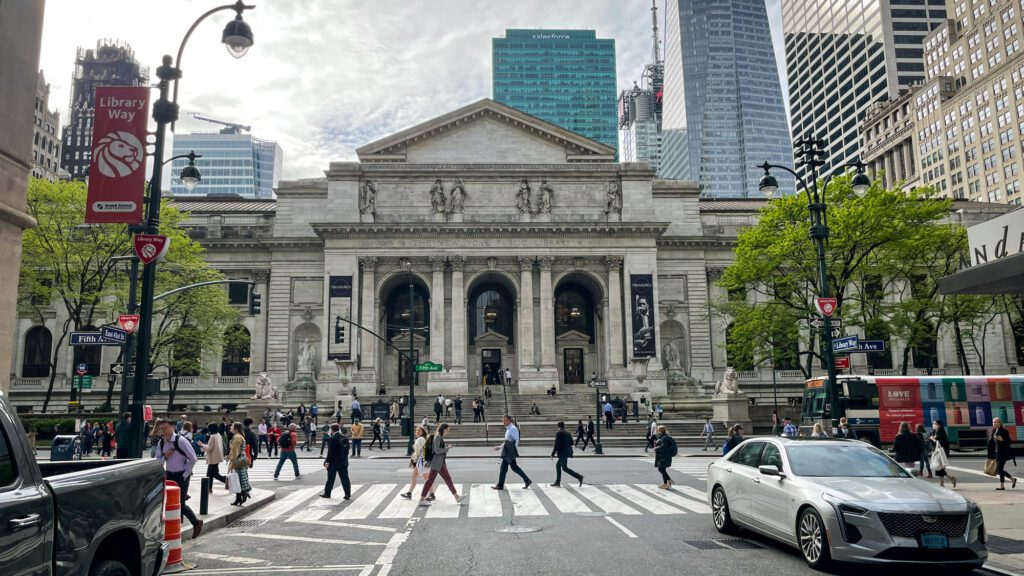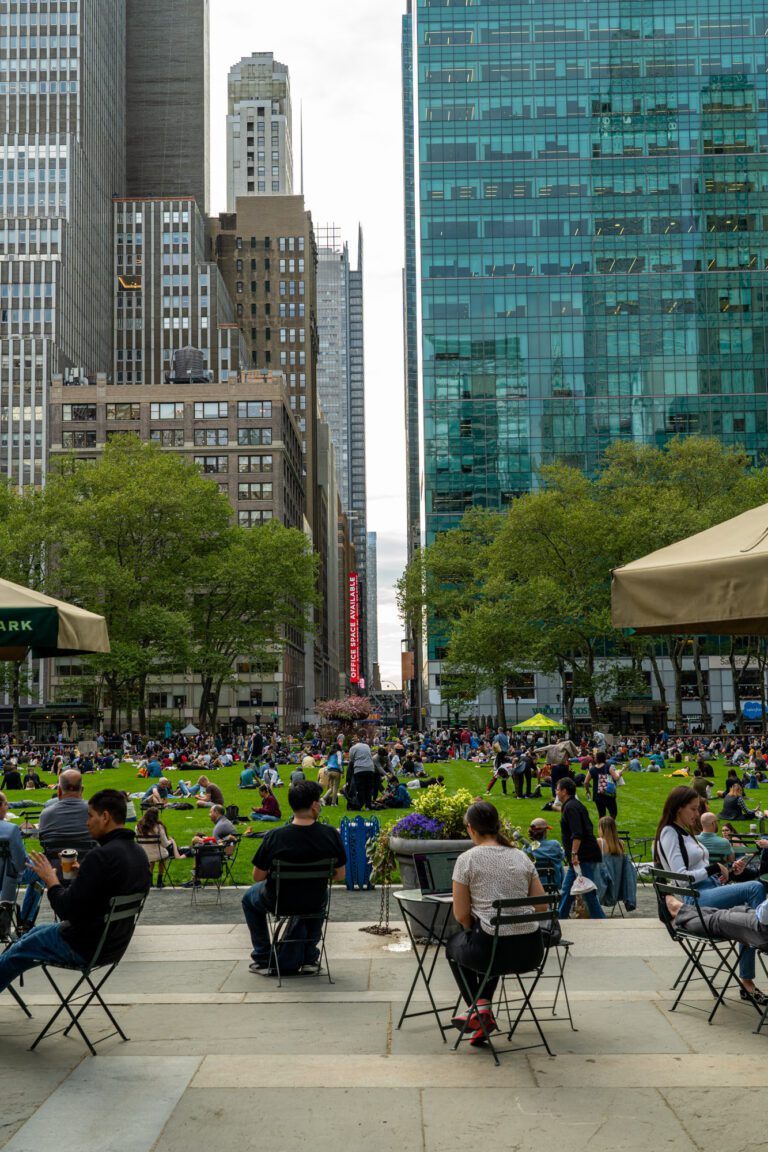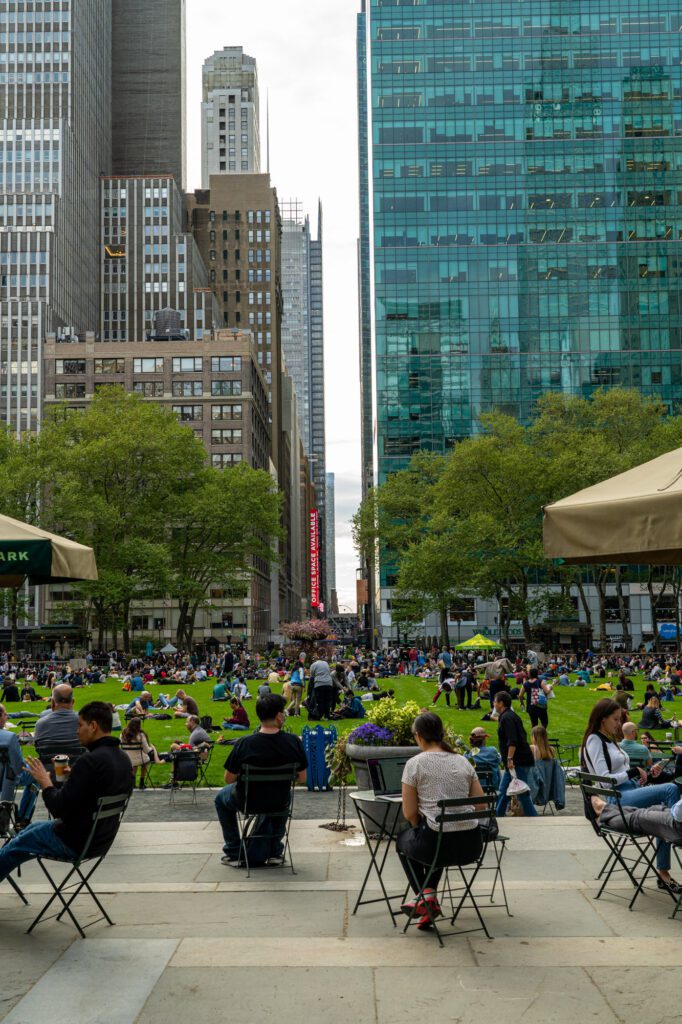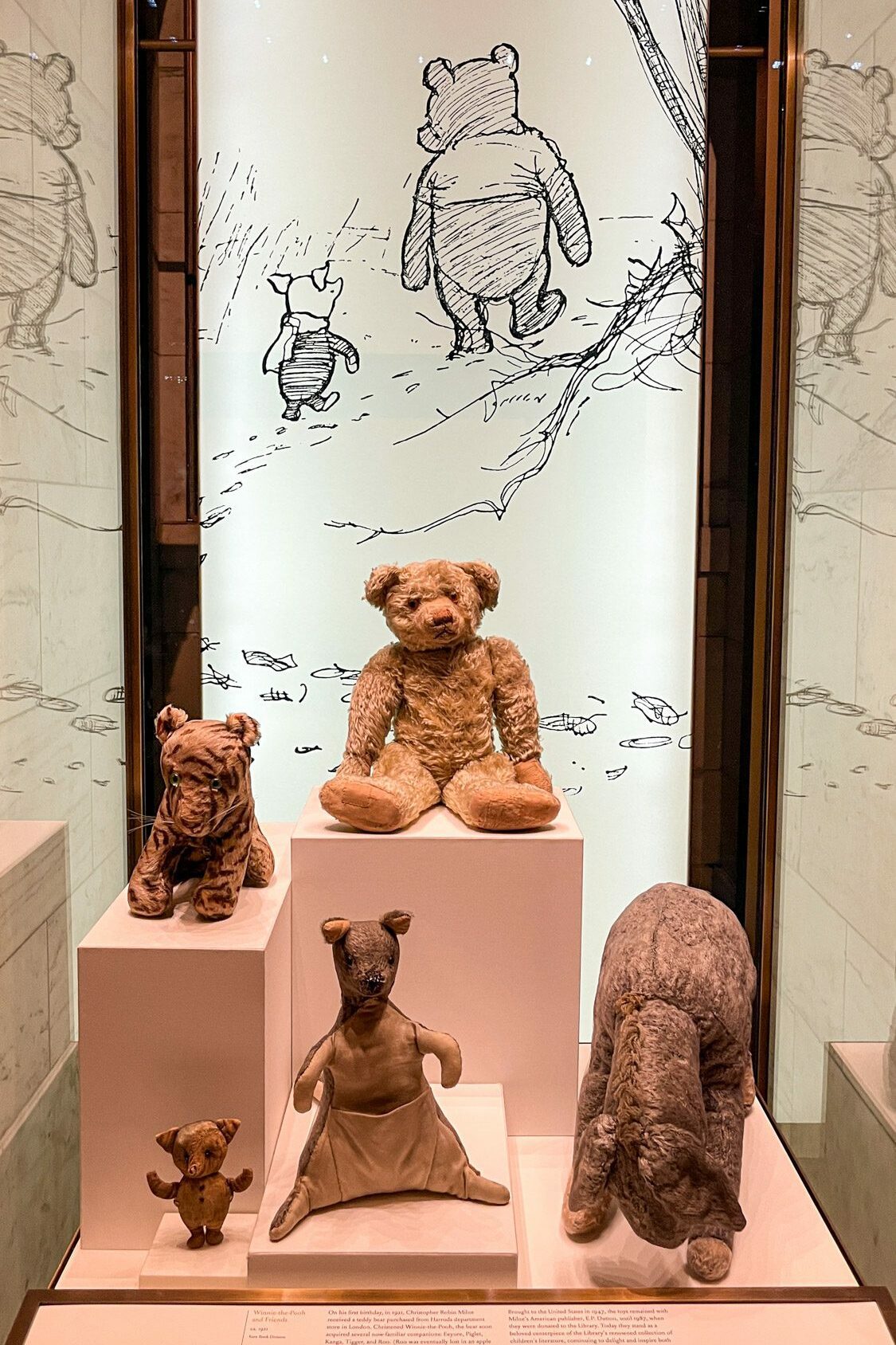 The Museum of Modern Art: We're not huge art museum people – we really need a guide to tell us what to focus on and craft a narrative – but we enjoyed MOMA. They have some great works on the fifth floor, like Van Gogh's Starry Night and Monet's Water Lilies, and some of the more experiential, multi-medium exhibits were enthralling and immersive. We also really liked some of the abstract art, including some of Picasso's works.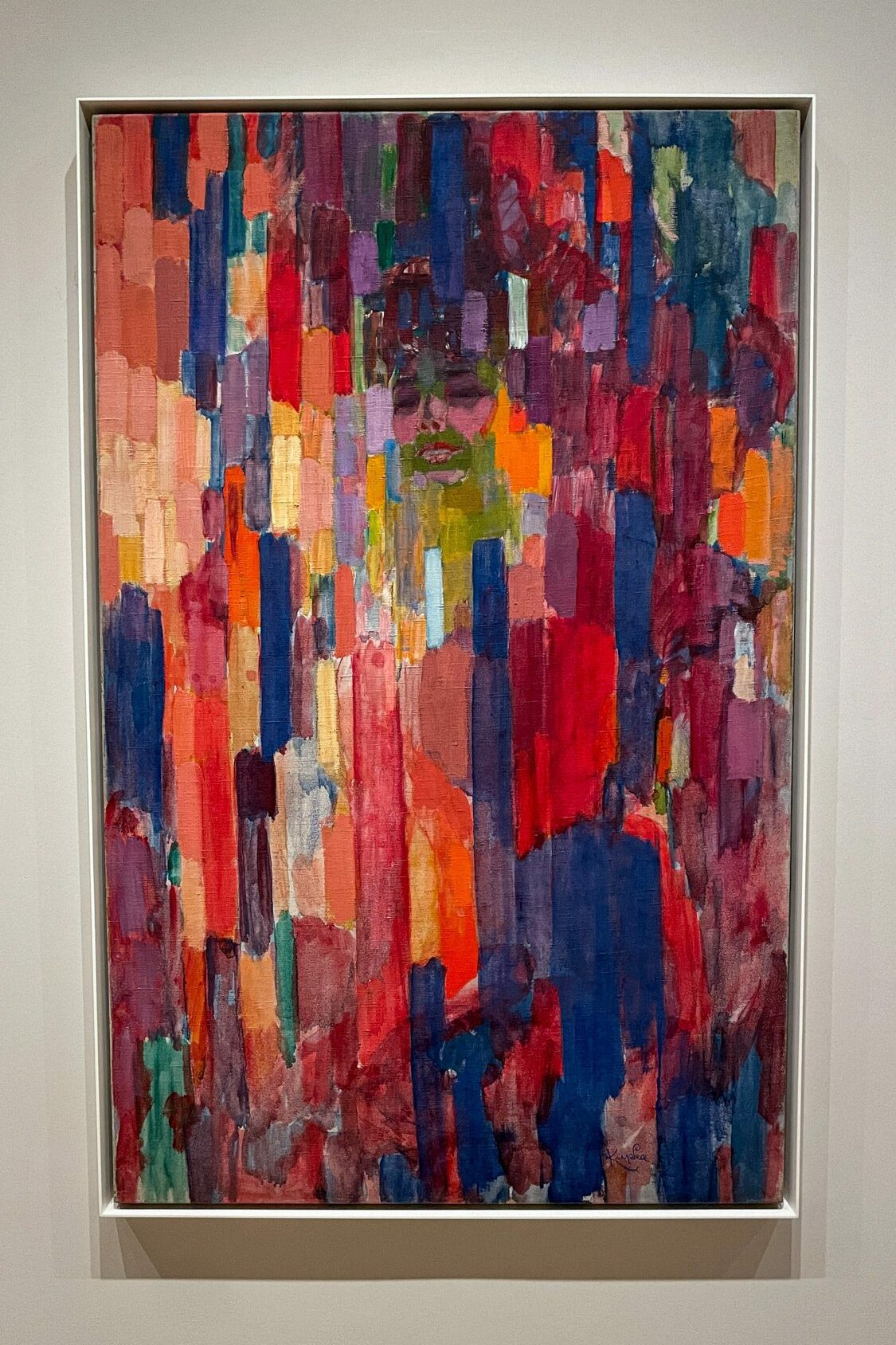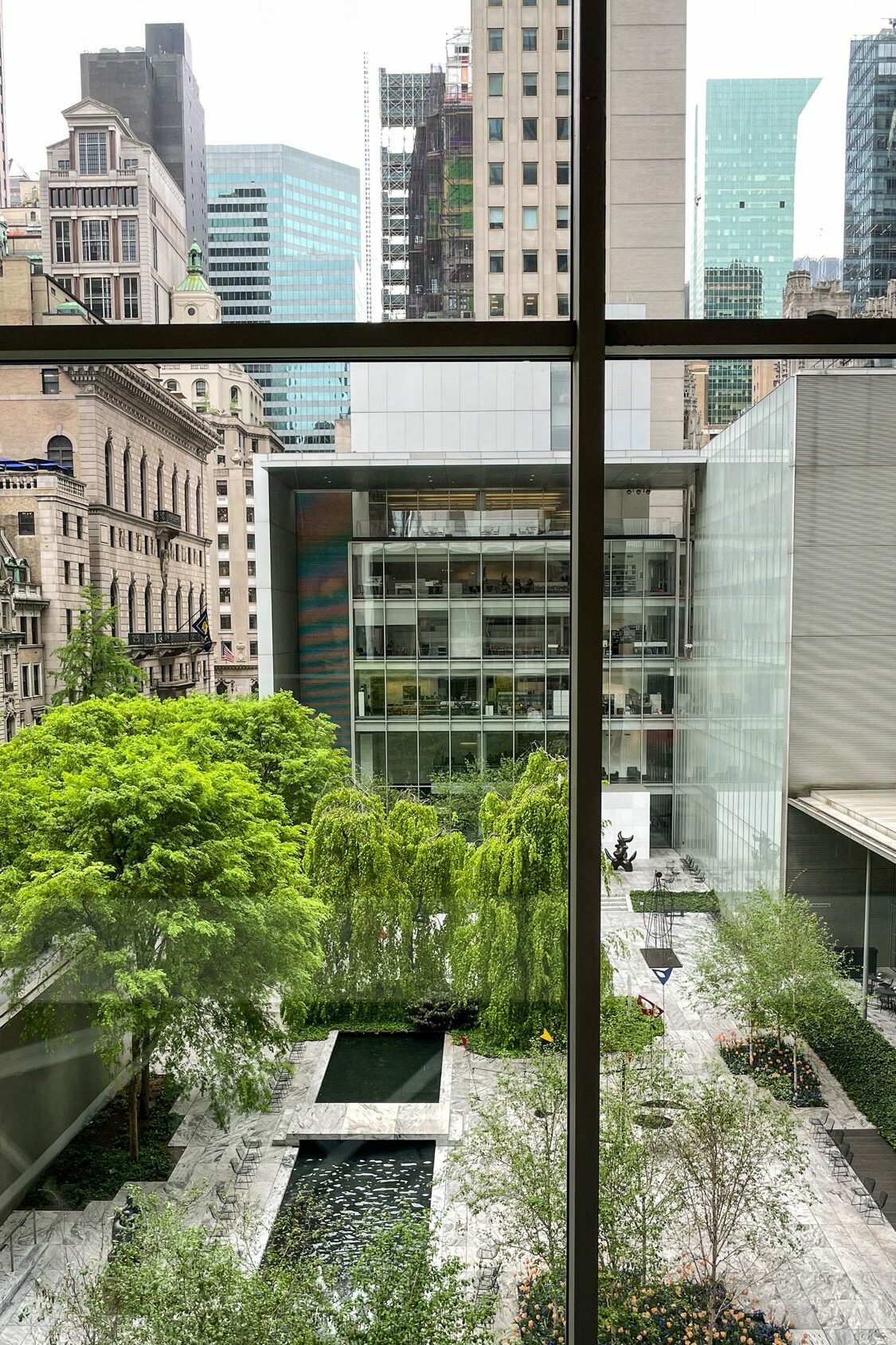 The Best Places to Stay in Midtown Manhattan
Here are some places to stay in Midtown Manhattan, from affordable stays to a splurge-worthy boutique hotel.
Arlo Midtown: A Great Mid Range Option in a Great Location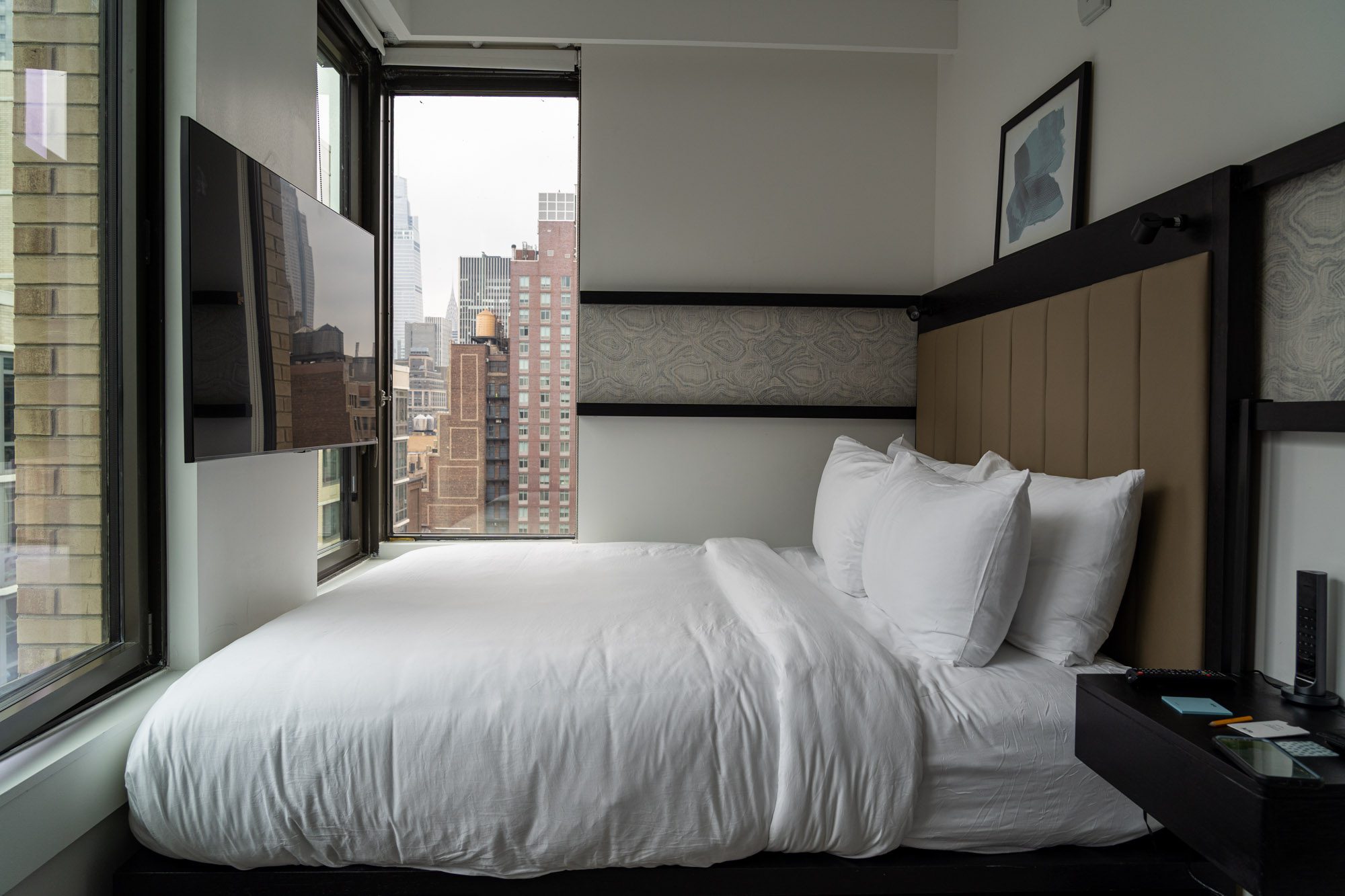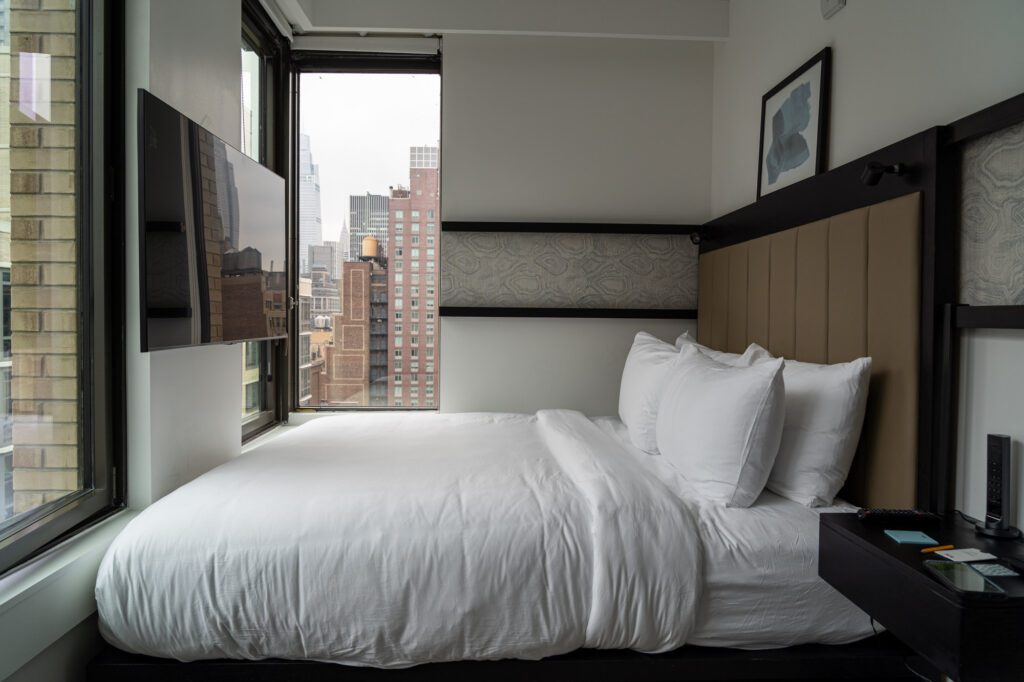 I, Matt, stayed at the Arlo Midtown for a couple of nights alone before flying back home to California, and I really enjoyed it. The rooms are compact, but they're comfortable, thoughtfully laid out and designed (USB ports by the bed, reading lights, and mini fridges!), and some have excellent views of Manhattan.
It's also a few blocks north of Penn Station, so you'll be able to walk to your hotel if you're arriving by train, which makes for an easier day of travel.
I paid a little extra for a room with a city view, and loved the amount of light that the big windows let in. If you're looking for a special stay, the King rooms with a city view are a good choice, though I will say that the views vary by room, and my room had an Empire State Building view, but only from the foot of the bed.
If you're not too concerned with what kind of view you'll have, you'll save a few dollars by booking a room without a view.
They also have a nice rooftop bar with great views (it's small, so you'll want to get there early if you want to be up there for sunset), a fitness center, and a bunch of great common space on the ground floor, including a fun little atrium.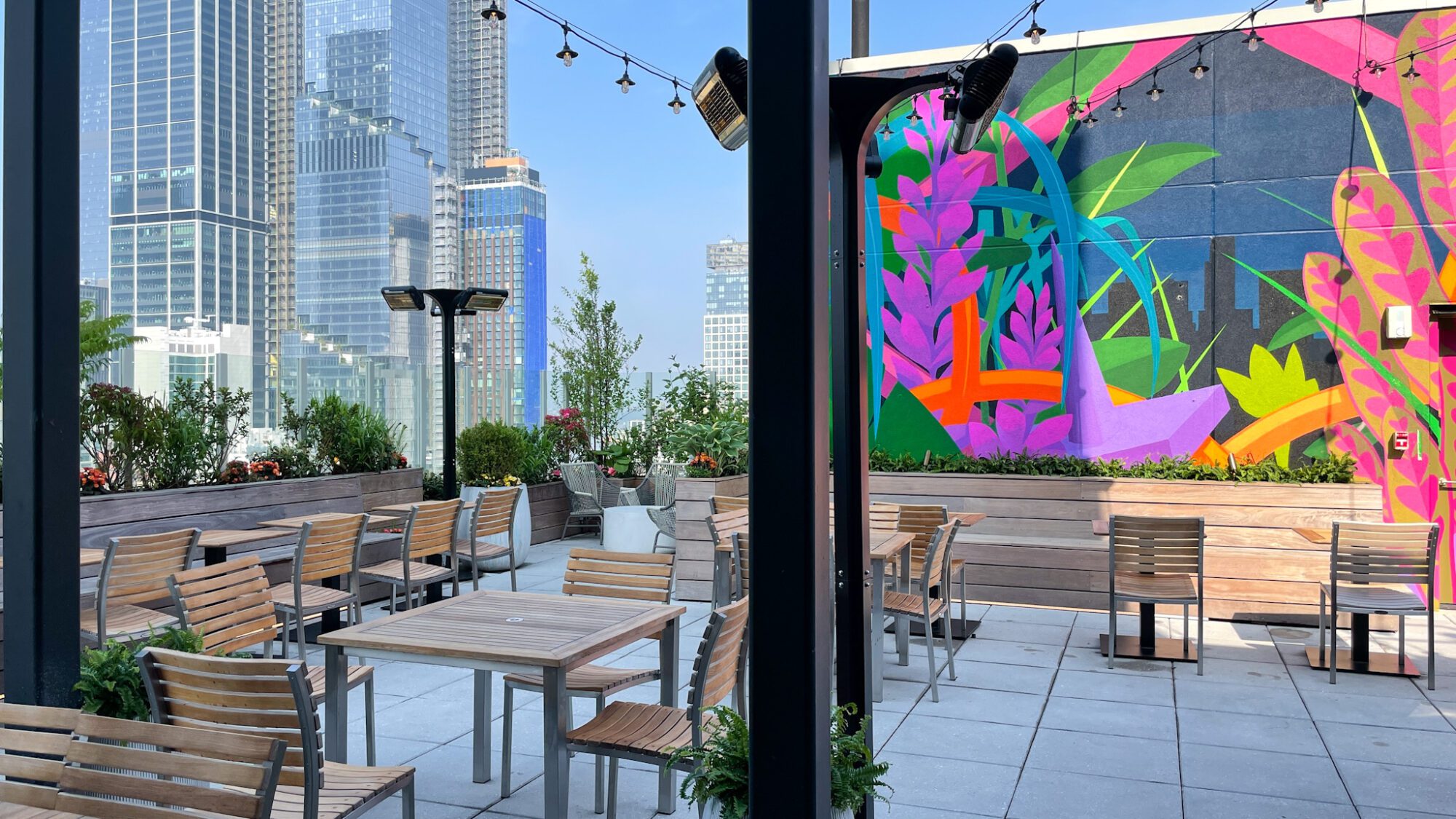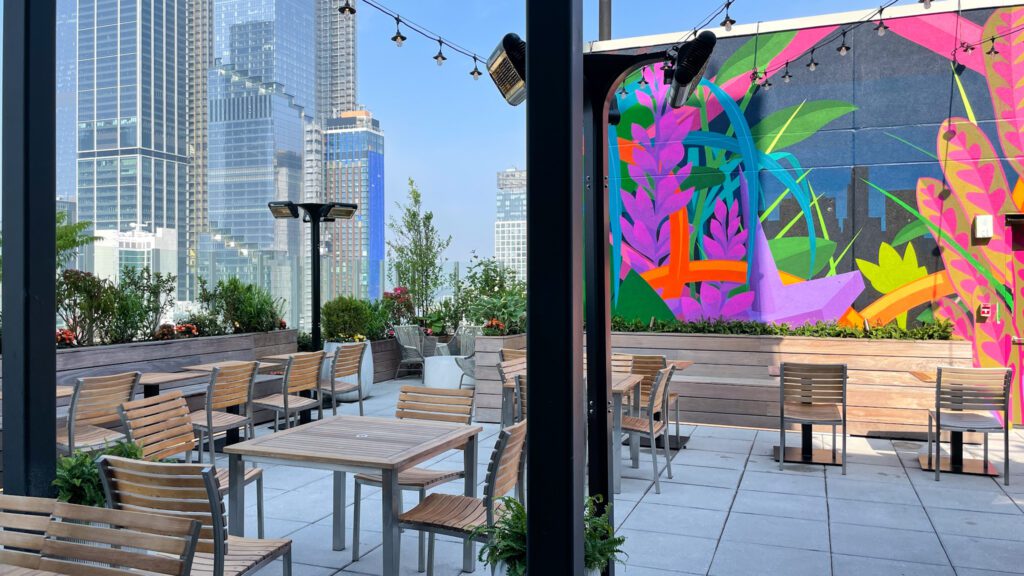 Overall, I'd recommend it, and I'd stay there again if I wanted a place in Midtown (though, to be honest, I don't think I'd stay in Midtown again).
They also have hotels in NoMad and SoHo, which are similar concepts in different neighborhoods.
CitizenM Times Square: The Best Overall Hotel in Midtown
First of all, we LOVE CitizenM hotels. They regularly make our list of the best hotels in cities like Seattle and London because they do one thing, and they do it well: affordable hotels with everything you need and nothing you don't.
Perfect for travelers that will be spending most of their time out exploring, they only have one room size. No more decision fatigue around whether you should choose "comfort" or "economy."
The CitizenM Times Square is super highly rated. If it's your first time in New York City, this might be the perfect place to stay. It's located right in the heart of all the action with a Times Square address.
It's a great value with no frills – instead of a reception desk, there is a self-check-in with staff on hand if you need assistance. There is a gym on the 20th floor with impressive views over the city and a rooftop bar, so they provide the things that count.
They also have a location in Lower Manhattan that would be a great location for business travelers who want to be close to the Financial District.
Pod 51: The Most Affordable Hotel Near Times Square
This charming, affordable hotel is all about the location. Pod 51 is located in the heart of Midtown, 15 minutes from Times Square and across the street from Greenacre Park with its huge waterfall, but the prices would make you think it's in Jersey.
The best feature is the rooftop deck with colorful sun loungers, perfect for soaking up the sun in summer. It also has an onsite restaurant and bar as well as a cafe. Hostel style rooms and private rooms are available.
Library Hotel: A Splurge-worthy Boutique Hotel
The Library Hotel is a super central option – a hidden gem located right near New York Public Library and Grand Central Station. It is library-themed, as you probably guessed from the name, and goes as far as designing its rooms on the Dewey decimal system.
So room 500.005 is dinosaur themed, room 800.005 is fairy tale themed and so on.
It also has a reading room on the second floor with Madison Avenue views and hundreds of books to browse. Coffee, tea, and cookies are always available in the reading room, so there is no need to ever leave to grab a snack or pick-me-up.
Lower Manhattan: A Well-Connected Hub with Plenty to See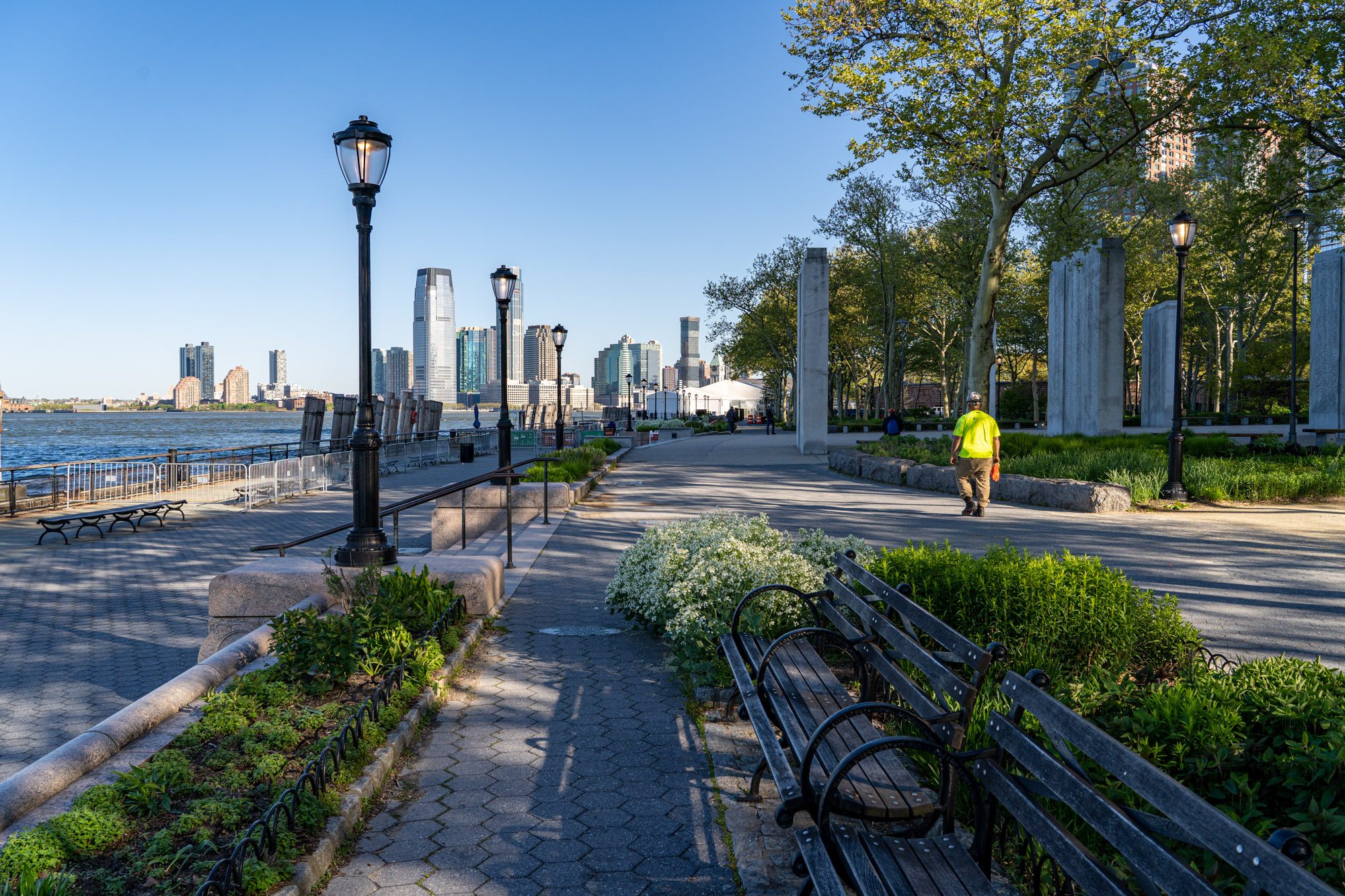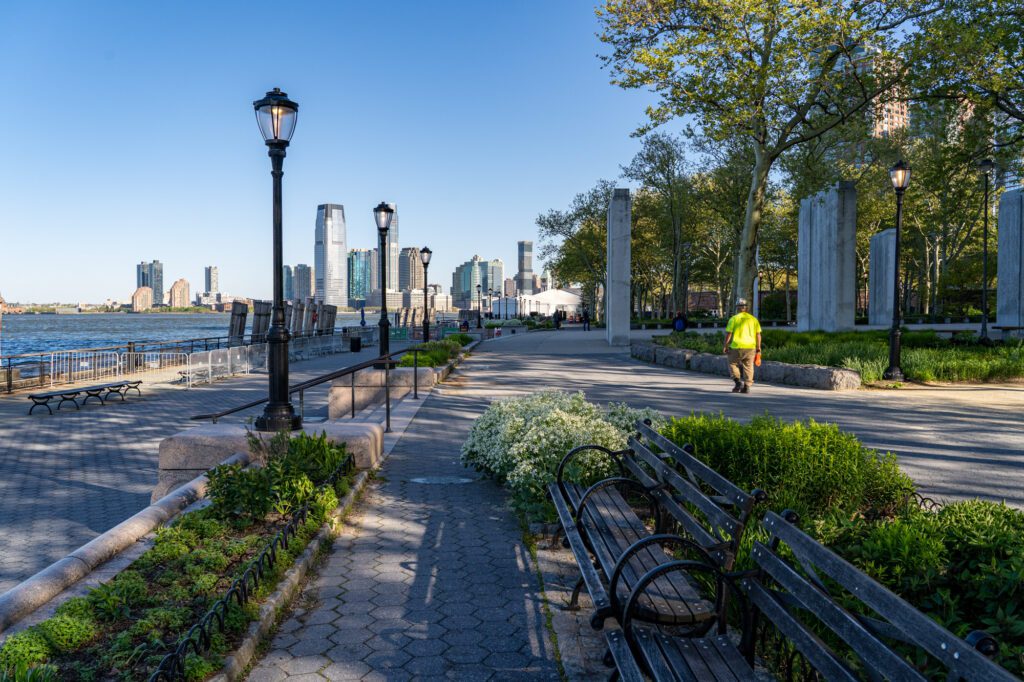 On our latest trip to New York City, we spent the bulk of our time staying in Lower Manhattan just a block away from Battery Park, which has views of the Statue of Liberty.
Originally, I will admit that I was fairly against staying in Lower Manhattan, which felt like it was a little soulless, full of towering office buildings with workers milling about during the day. 
However, after staying there for five nights, I would like to say that I have completely changed my tune. Not only are there a huge variety of things to do in Lower Manhattan (like the moving 9/11 Memorial and Museum), but it's also one of the most conveniently located neighborhoods for accessing places like Brooklyn and the Lower East Side.
This is downtown New York City (or, the Financial District), which means it's a lot of office buildings, sharply dressed office workers, and the businesses that support them (a lot of fast-casual lunch options, for example).
Combine that with several subway lines running north to get you to Midtown in 20-25 minutes or so, and it's not such a bad place to make your temporary home in New York City.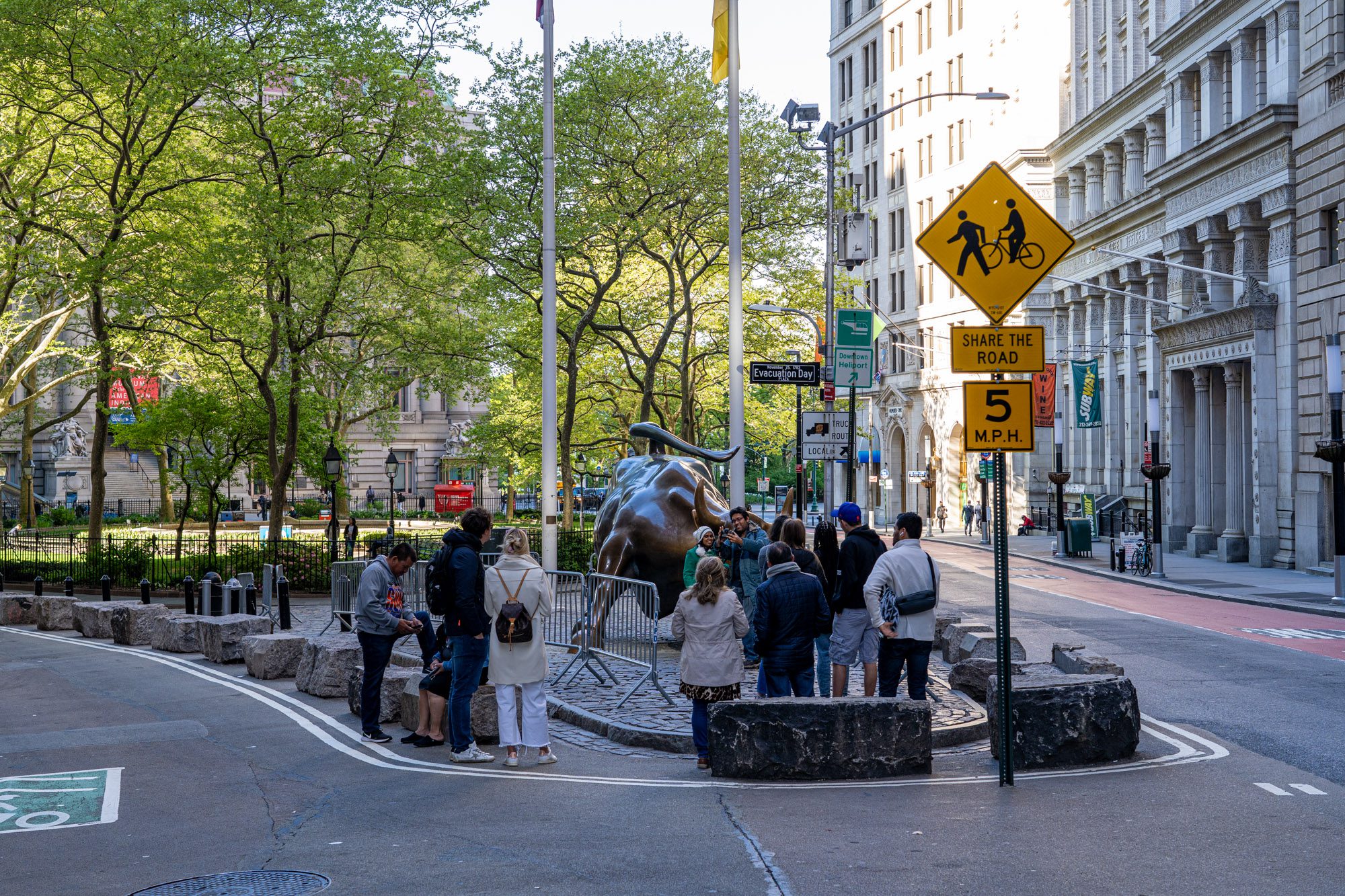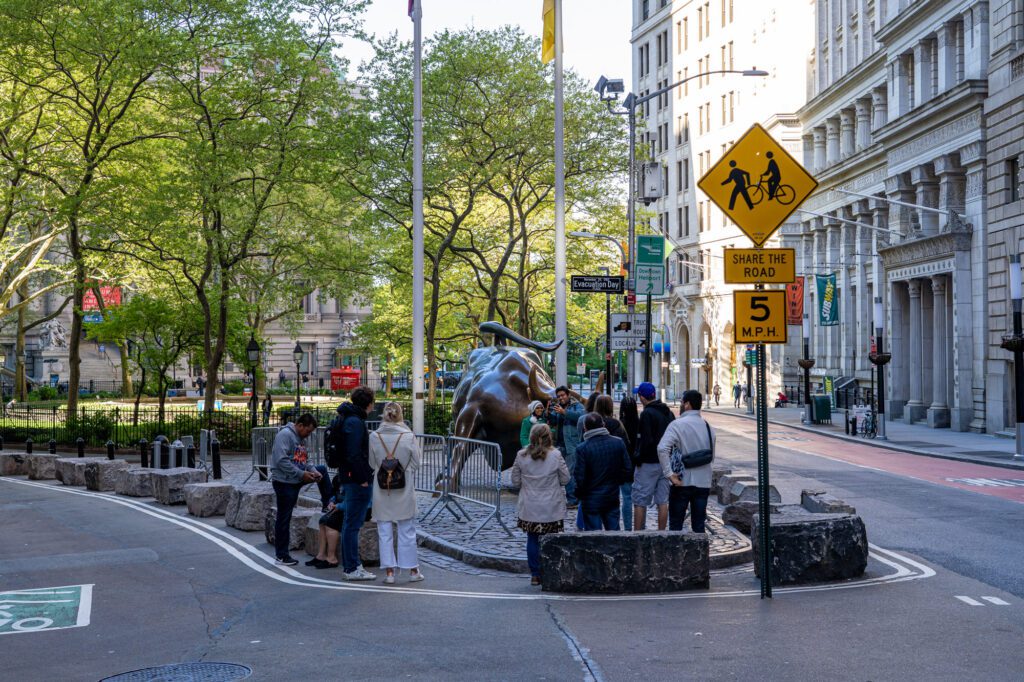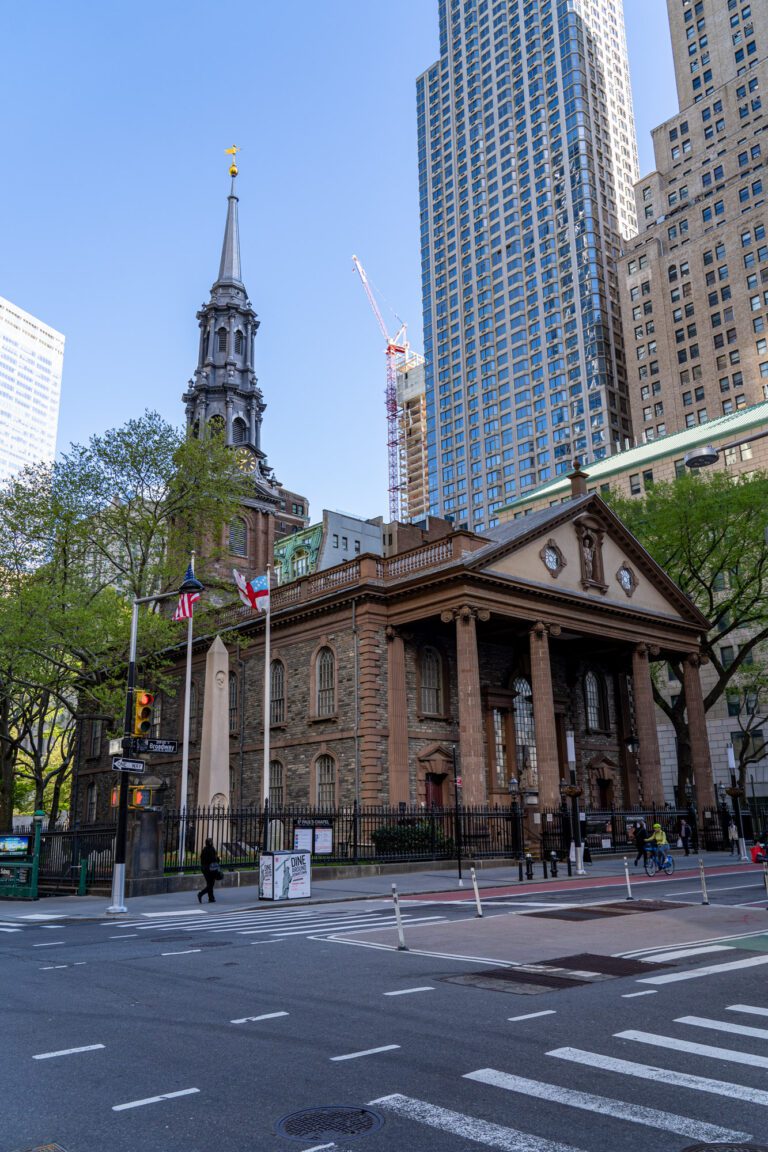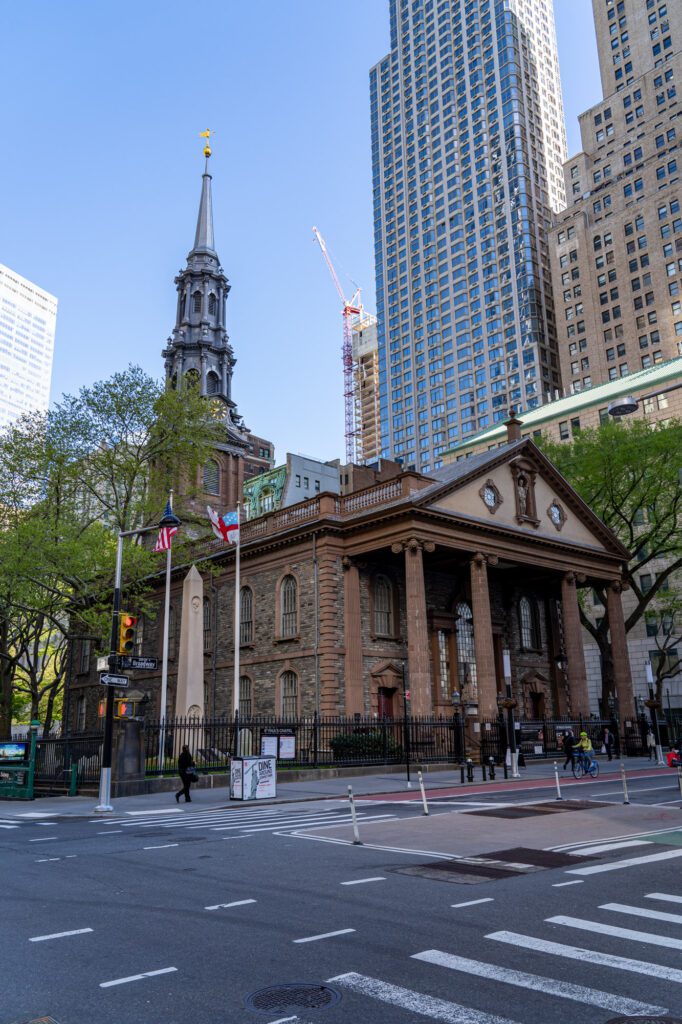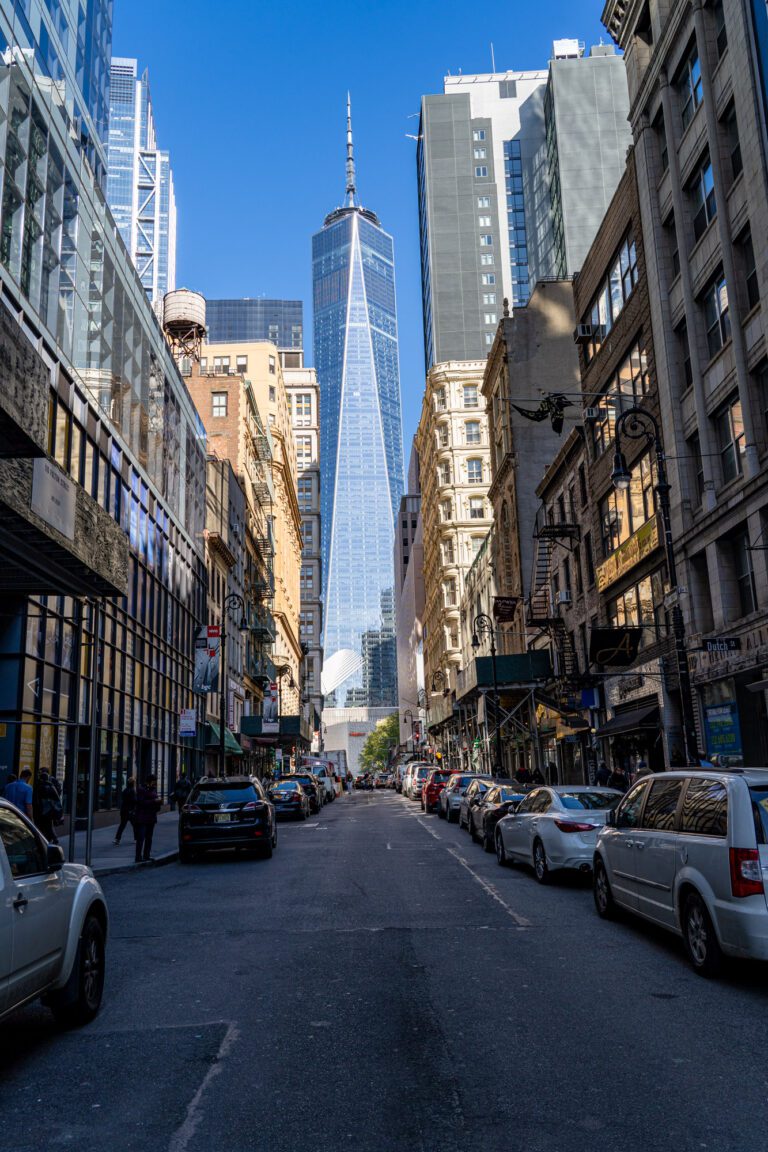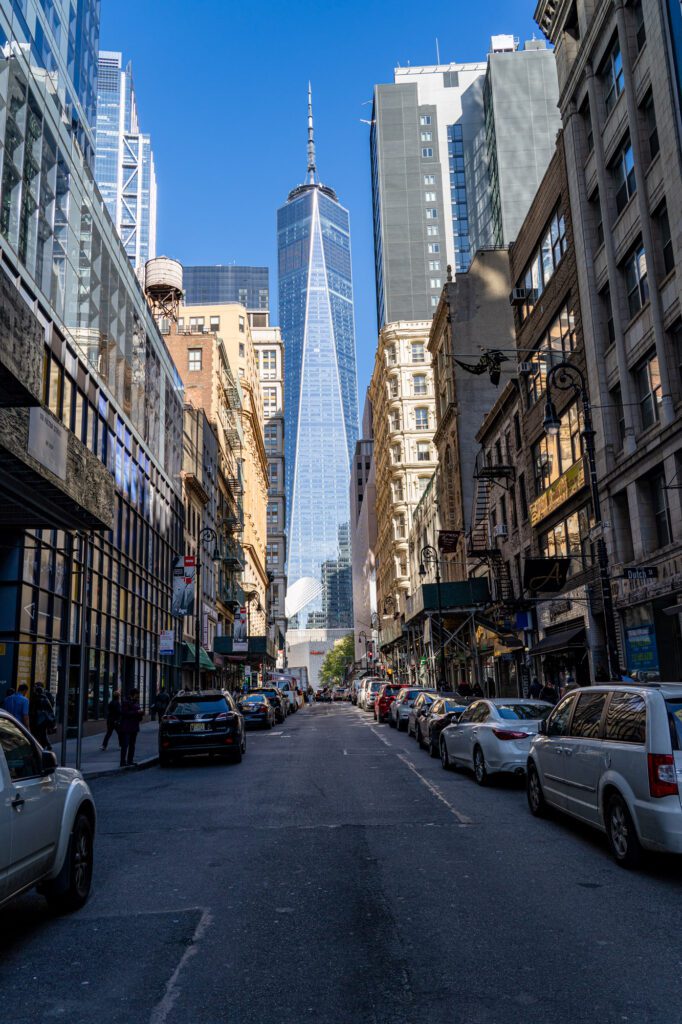 Pros and Cons of Staying in Lower Manhattan
Pros:
Great transit connections. Between express trains that move from Lower Manhattan to uptown, skipping stops along the way, to an easy hop over to Brooklyn and Williamsburg, you'll be able to go just about anywhere you need to go within a half hour. Even getting to the Upper West Side (81st Street) only took us about 25 minutes.


Tons of things to do and see. Within the neighborhood (which is big), there's a ton to see. Battery Park, the famous bull, the Stock Exchange, the 9/11 Memorial and Museum… the list goes on!
Cons:
It's boring in terms of food and drinks. Plan on eating elsewhere. This is a sea of Dunkin Donuts, Starbucks, and there's even a TGI Fridays, which I haven't seen in a decade or so.


It's dead on weekends. Unsurprisingly, given the number of office buildings and workers in this area, it's pretty dead come Saturday and especially Sunday. Not a huge deal, but worth noting.
The Best Places to Stay in Lower Manhattan
Here are some of our picks for the best places to stay in Lower Manhattan.
Where We Stayed: Sonder Battery Park (nice apartments, modern contactless check-in, cool roof deck)
Affordable Options: Hotel Mulberry or the NobleDEN Hotel (affordable by NYC standards, anyway)
Hip Mid Range Hotel: CitizenM Bowery (we love CitizenM, and have stayed at three different locations in the past four months)
A Touch of Luxury: The Roxy Hotel
Chelsea / Greenwich Village: Cool Neighborhoods with Tons to Eat and Drink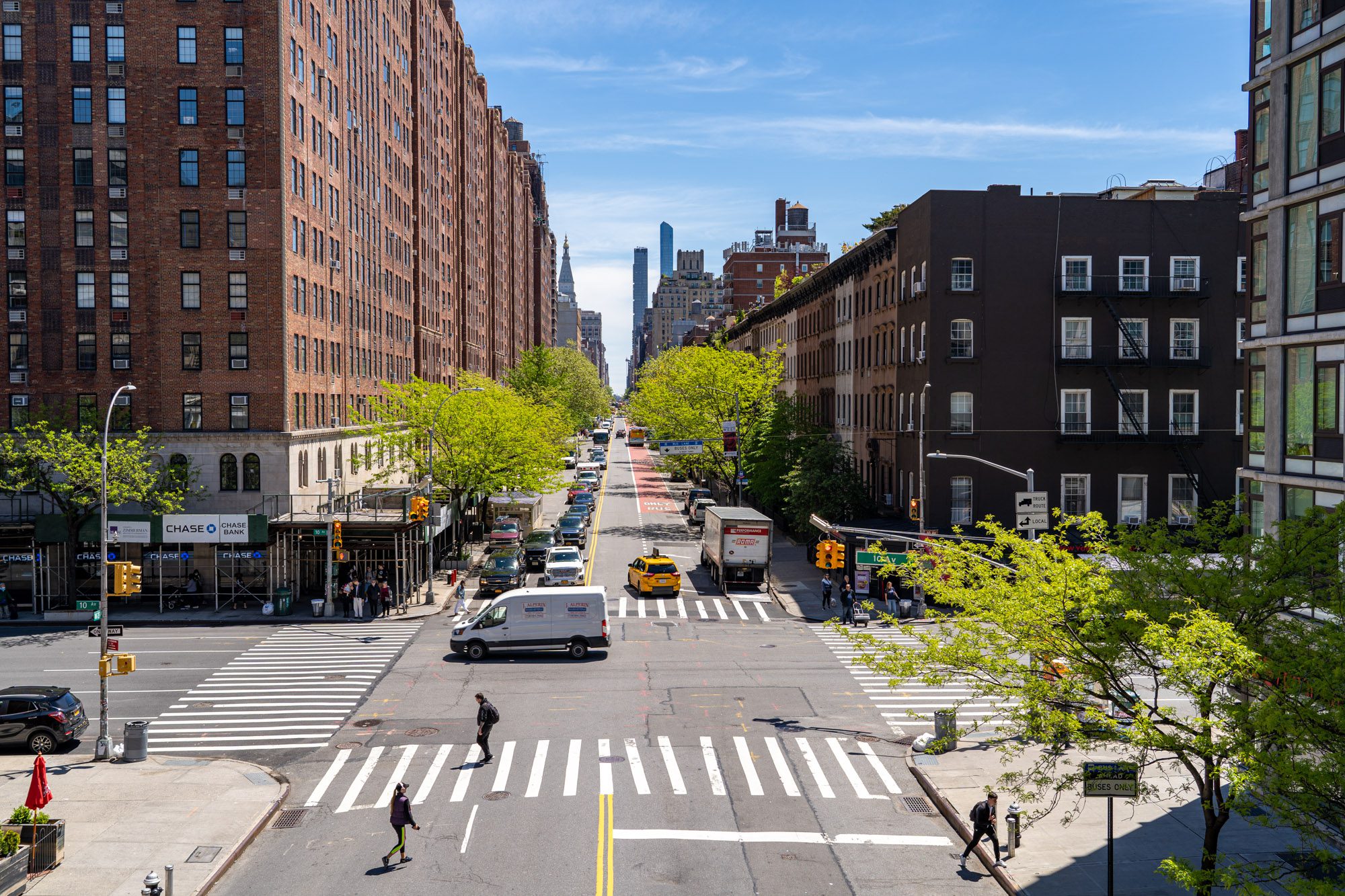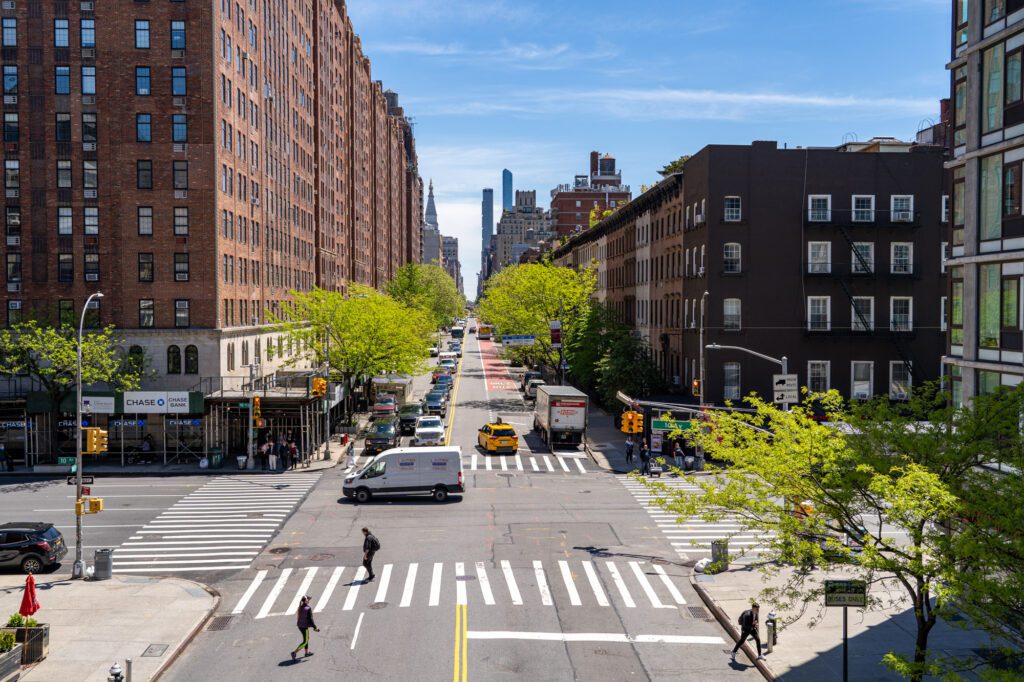 Chelsea is one of the trendiest neighborhoods in New York, full of art galleries and industrial-chic galleries.
It is wedged firmly between Midtown and Greenwich Village, making it easy to get around and explore. It has pretty cobbled streets and plenty of great places to eat, drink, and shop to explore as you meander your way through. 
Plus there's the most unique green space in New York, the Highline, to wander slowly through and enjoy the greenery and art installations.
It is a repurposed rail line suspended above the streets. Now it is full of wildflowers, art installations, and shrubbery. It is about a mile and a half long and runs between Chelsea and the Hudson Yards, and it offers some spectacular views of the NYC skyline. 
Get up there in the early morning to take it in before the rest of the tourists show up.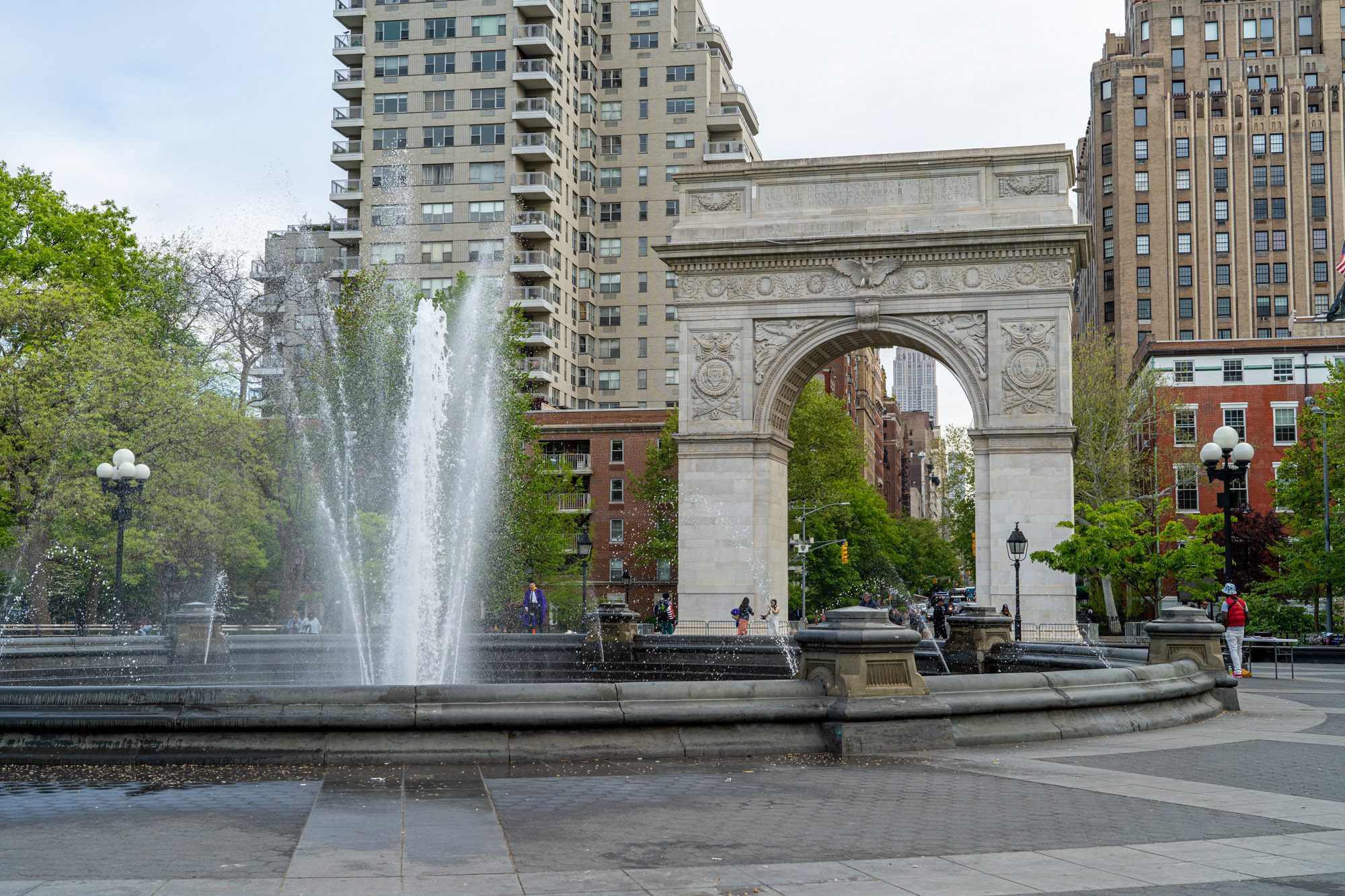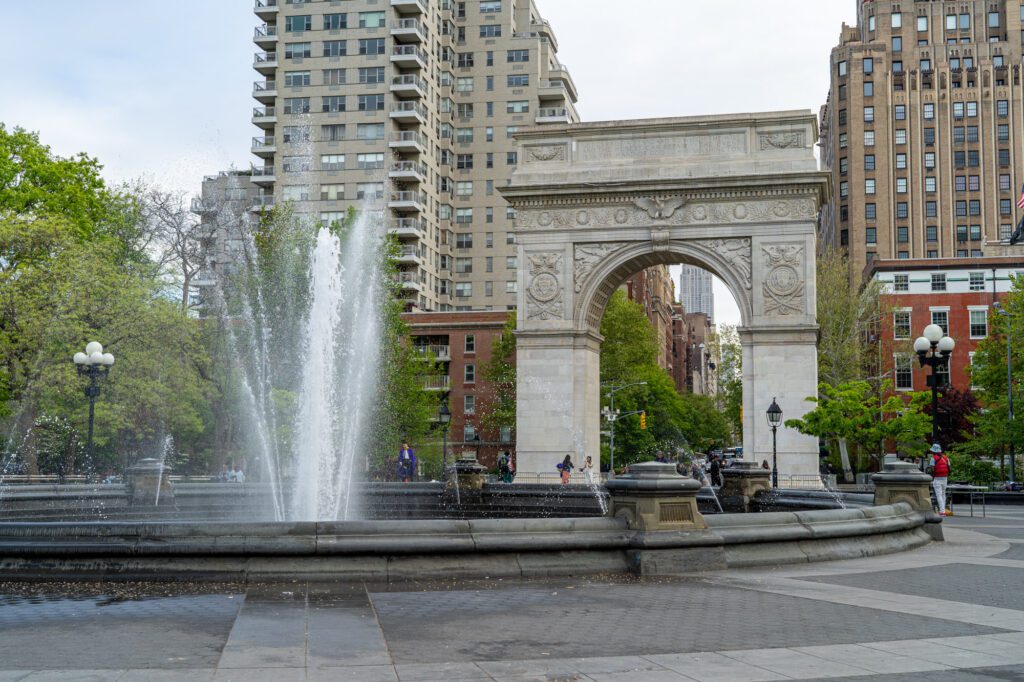 Greenwich Village is just south of Chelsea, but has a completely different vibe, which was apparent as we walked north from Washington Square Park towards the southern end of the highline.
Greenwich Village is much more residential, with commercial strips with bars, restaurants, and shops interspersed with brownstones. The best stretch is probably along 7th Avenue, though Hudson Street is another good one.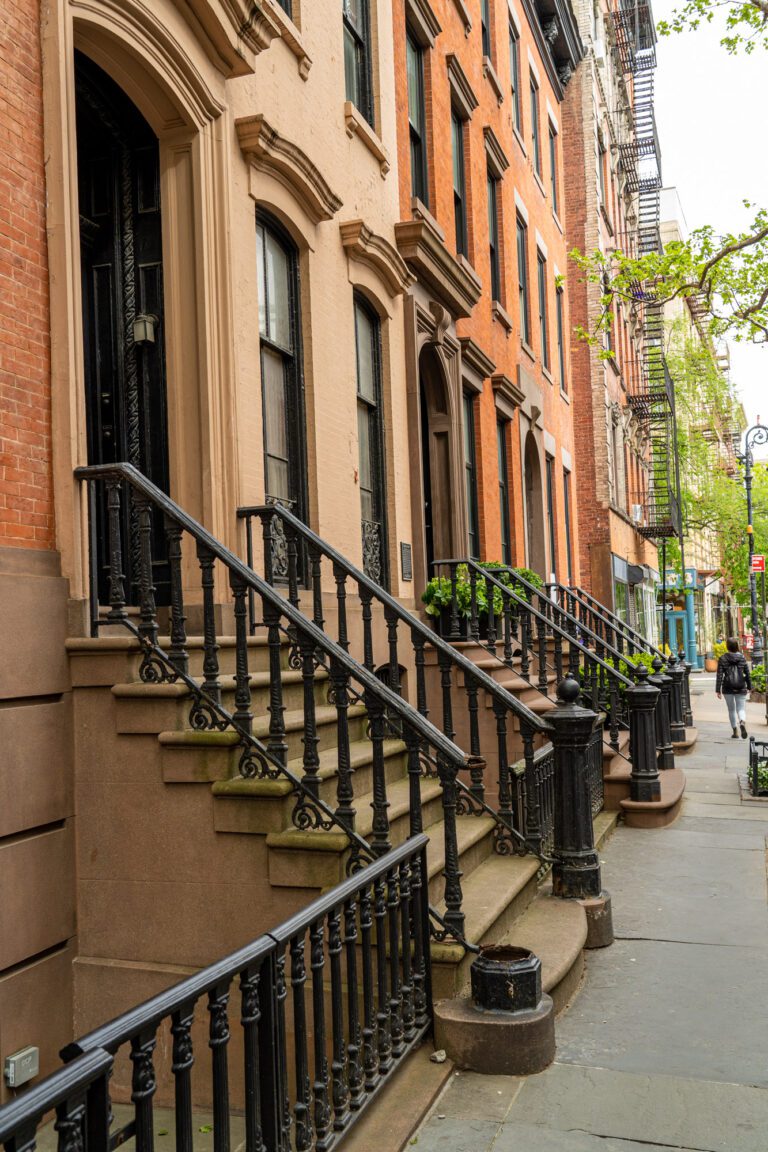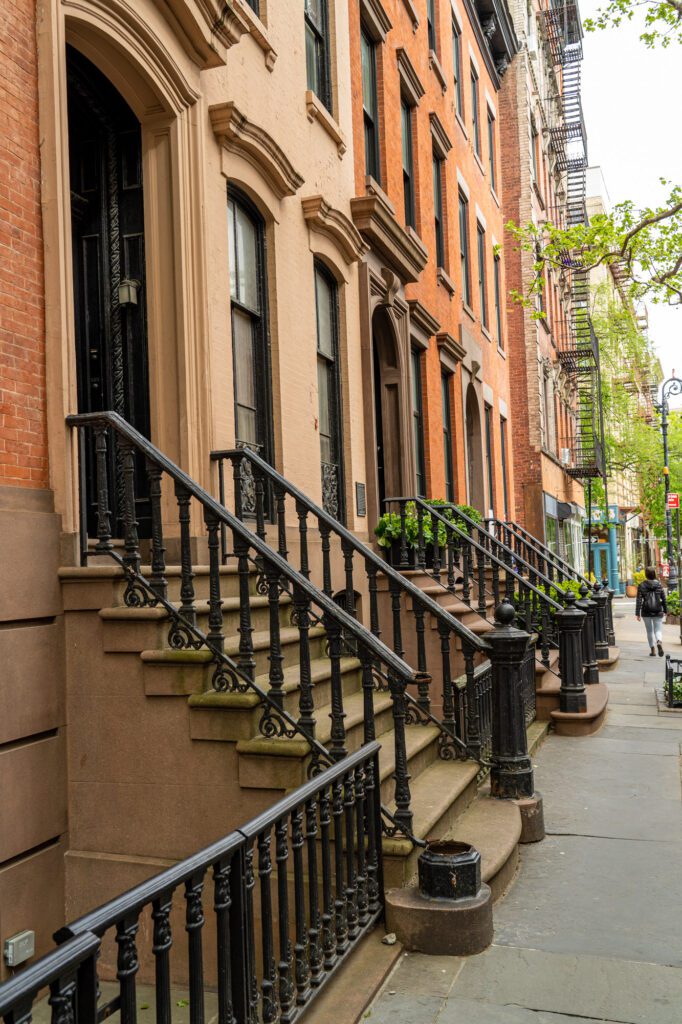 If you are looking to experience the New York you see in movies, then Greenwich Village is the best place to stay in New York City.
There are plenty of brownstone-lined streets, long curving lanes, and romantic little cafes tucked away just waiting to be stumbled upon. Your favorite 90's shows, like Sex and the City and Friends, were filmed in this part of the city.
It is also the home of NYU which gives the area a young feel to it while still remaining upscale and picturesque. 
The area just south of Washington Square Park is one of our favorite parts of the entire city, and the streets are lined with some of our favorite bars, restaurants, and coffee shops (Nami Nori, Posh Pop Bakeshop, and Senza Gluten Cafe to name a few). 
Pros and Cons of Staying in Chelsea / Greenwich Village
Pros:
It's about as charming as it gets. Particularly Greenwich Village. Lots of tree-lined streets, typical brownstones with fancy porches (we love the elevated porches!), and bricks and cobblestones (we're suckers for both).


Unparalleled food and drink options. The concentration of great restaurants might be higher here than anywhere else in the city.


The great urban green spaces. Between the Highline and the piers that have been transformed into green spaces, it's not hard to break free from the concrete jungle for a little fresh (ish) air.
Cons:
It can be pricey. Two things are true here – there aren't a whole lot of hotels in either of these neighborhoods, and it's a desirable place to stay. Which means if you want to stay here, you're probably going to be paying for it (though there are a couple of good budget options).


It can be loud. As you might imagine given its proximity to NYU and the sheer number of places to eat and drink, the nightlife here is great. It can get loud and rowdy.
Chelsea / Greenwich Village Highlights
Here are some spots in Chelsea and Greenwich Village that we enjoyed, and think you might too.
Chelsea Market: An indoor market with a craft market at one end, and a bunch of food options inside. Peruse the stalls, but don't miss Los Tacos (you'll know it because of the line outside around lunch time).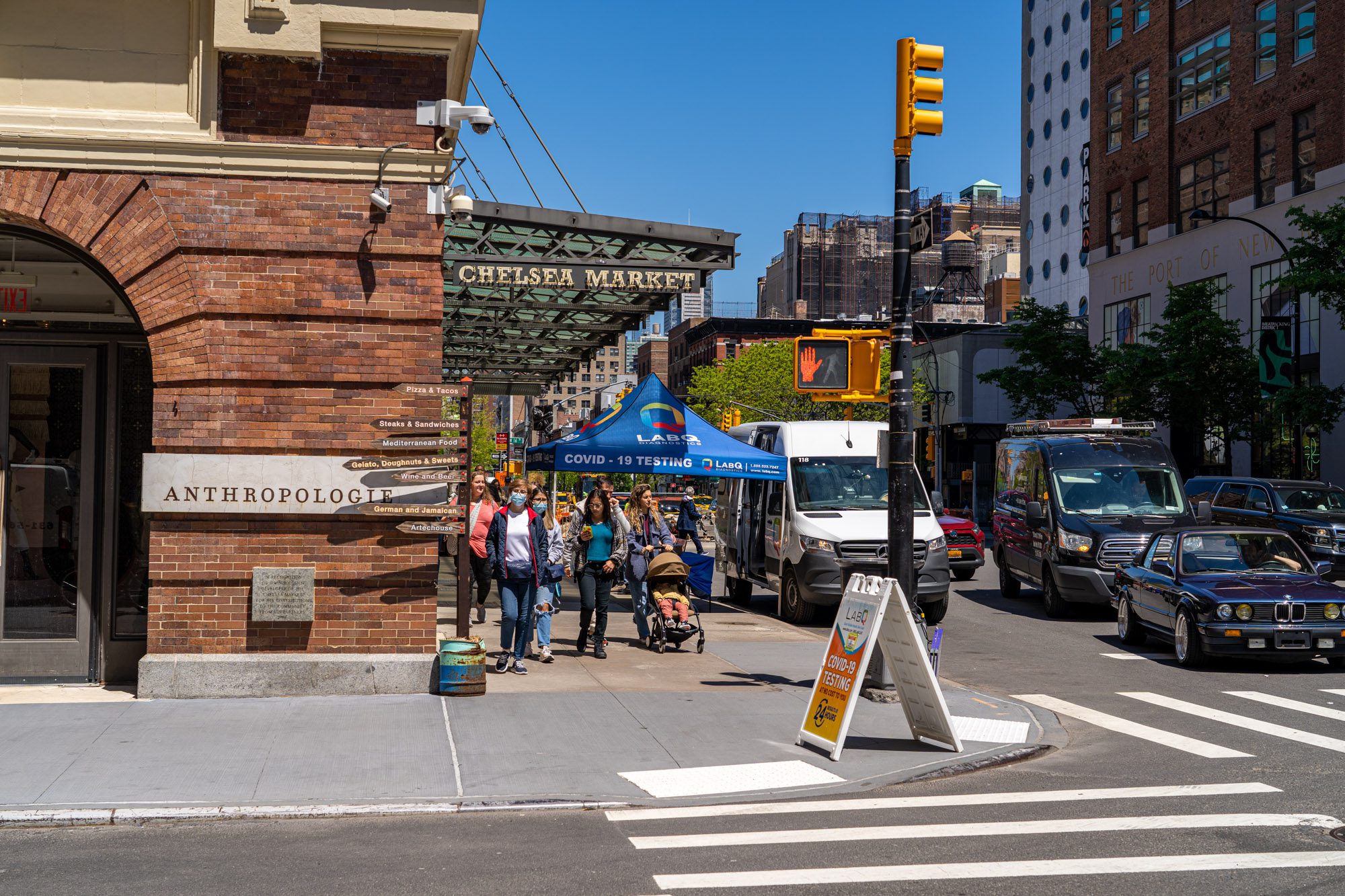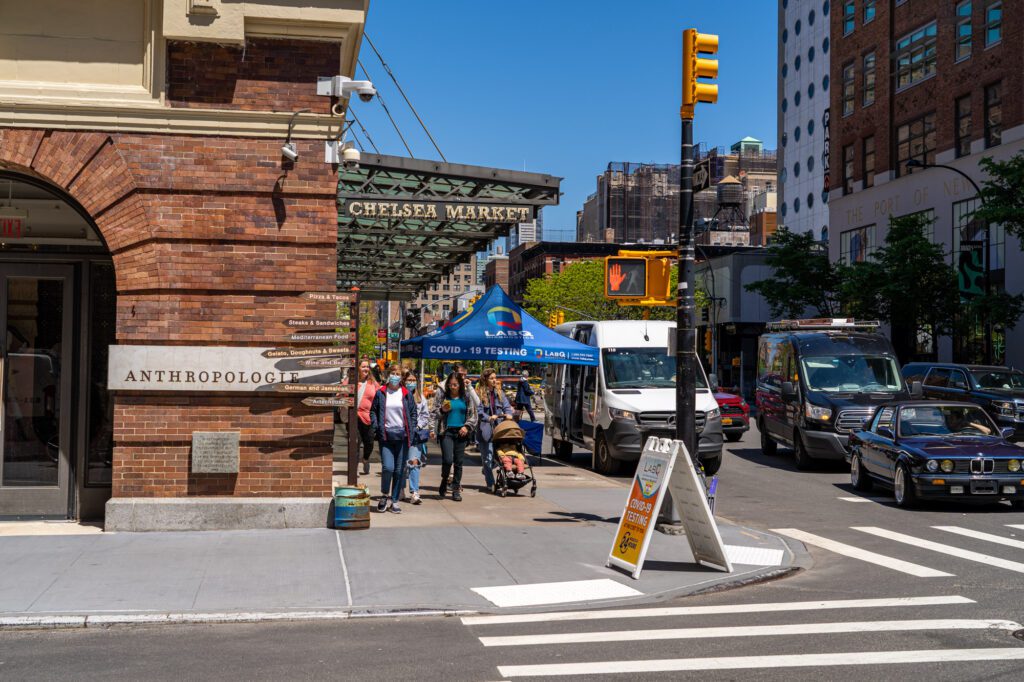 Terremoto Coffee: If you're into places where you can choose what coffee beans you're served in your drink, this place is for you. They serve Unity Coffee, and have a couple of beans available for filter coffee and espresso, along with a couple of special beans that you won't find elsewhere (for a slight upcharge). It's a tiny spot a block away from Chelsea Market, and it's a good stop for coffee lovers in the neighborhood.  
Washington Square Park: The centerpiece of Greenwich Village / the West Village, known best for its arch. Although pup-watching at the dog park is probably the highlight for us.
Nami Nori: We loved this sushi spot in Greenwich Village that serves temaki, which are basically single-serve handrolls that are kind of like tacos. Definitely get the furikake fries with tonkatsu ketchup, and the green curry shrimp roll, which was BY FAR our favorite. Sit at the bar for the best experience, where you get to watch them crafting your rolls individually.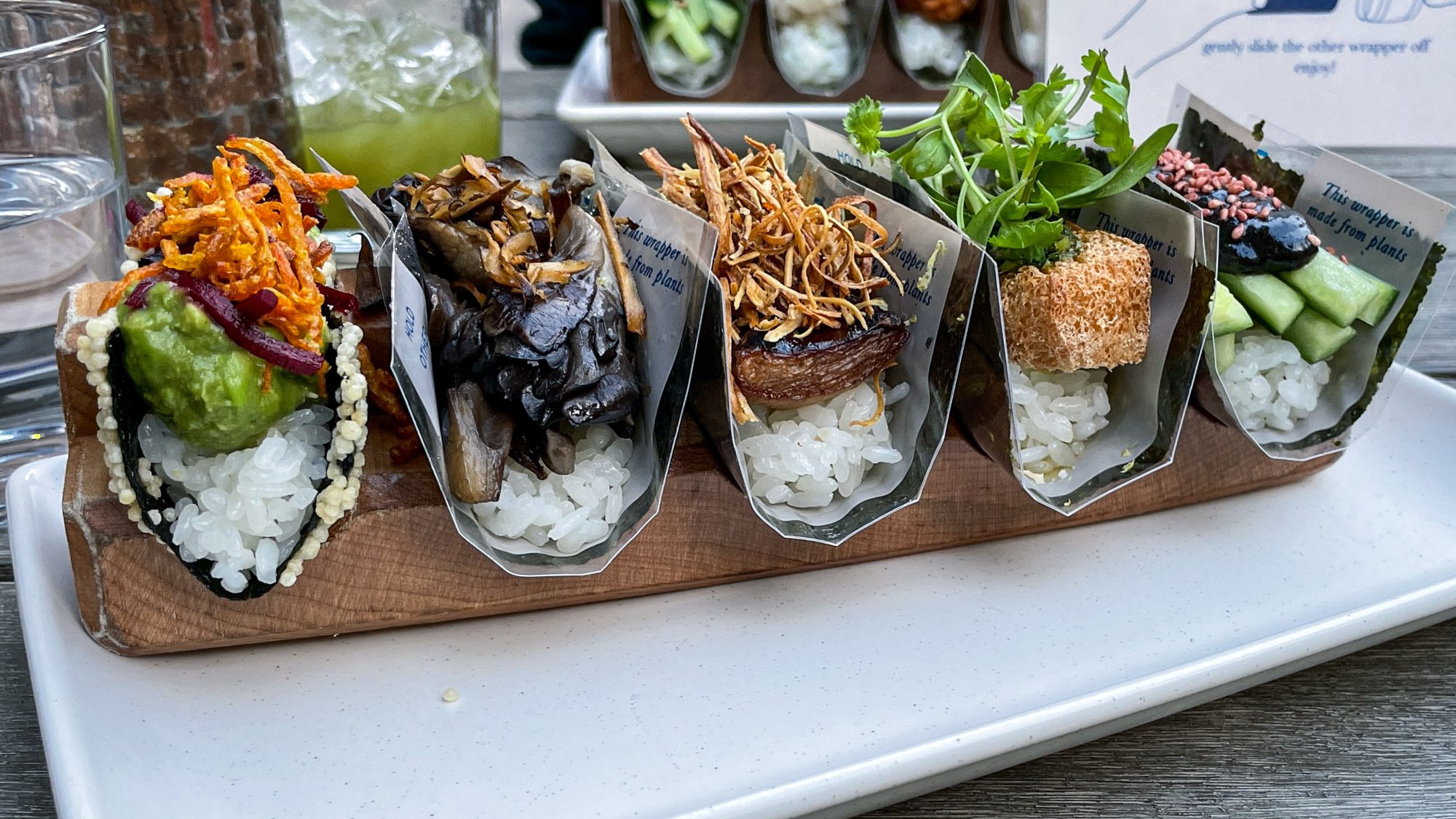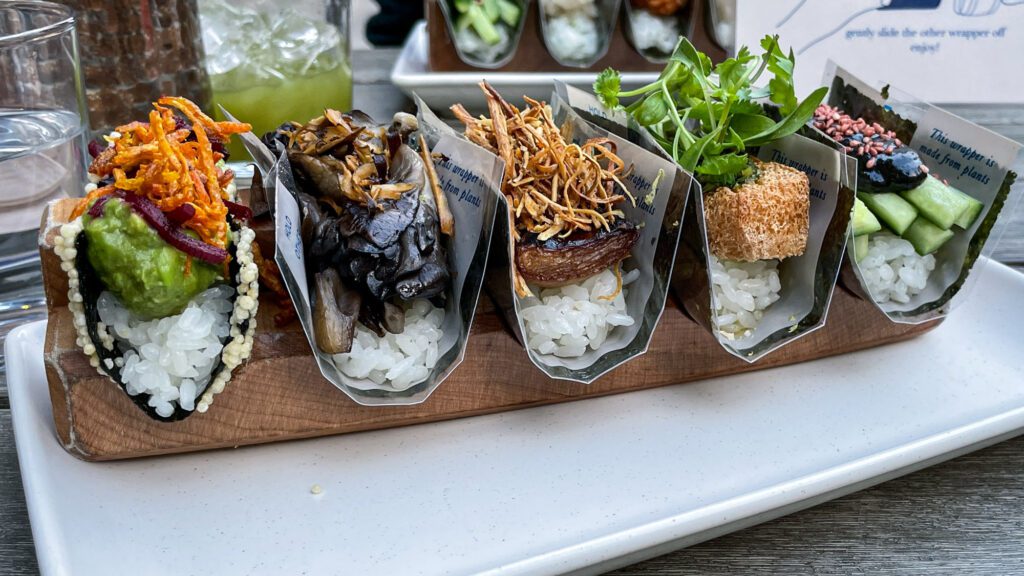 Little Island: One thing that New York does really well is repurposing formerly industrial spaces into more practical spaces. Especially in places like Brooklyn Bridge Park and on the western side of Manhattan, where you'll find defunct piers that are now amazing green spaces. Little Island is a great example of that, and is one of the newer piers to be renovated. It's gorgeous, and it's just a block or two away from Chelsea Market. You need to make a timed entry reservation after 12:00 pm in the summer, which you can do here.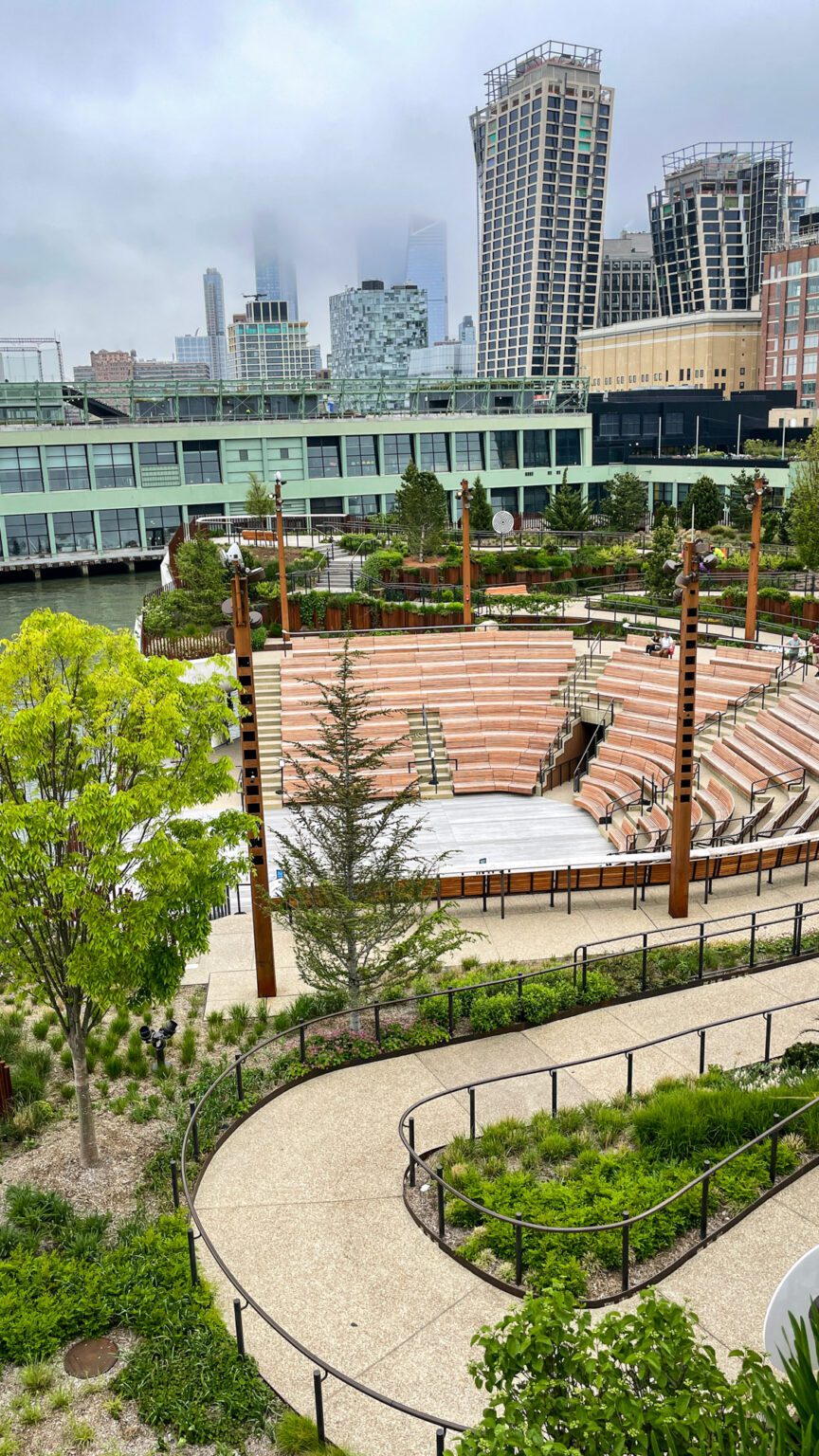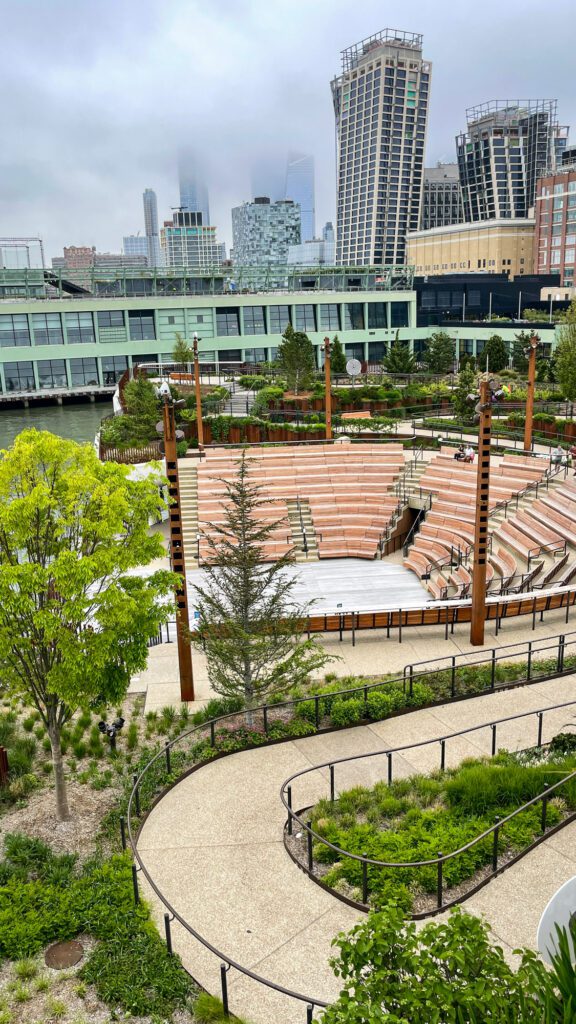 The Highline: Another great example of a manufactured green space in the concrete jungle that is New York City! This is an elevated walking path from Hell's Kitchen down past Chelsea Market that is lined with plant life and is definitely worth a stroll, especially on a sunny day.
The Best Places to Stay in Chelsea / Greenwich Village
Here are three solid options in Chelsea and Greenwich Village to look at, depending on your style and budget.
Budget Option: Leo House
Hip Midrange Hotel: Moxy NYC Chelsea
A Touch of Luxury: The Maritime Hotel
Downtown Brooklyn and Williamsburg: Cool Areas for Your Second or Third Trip to NYC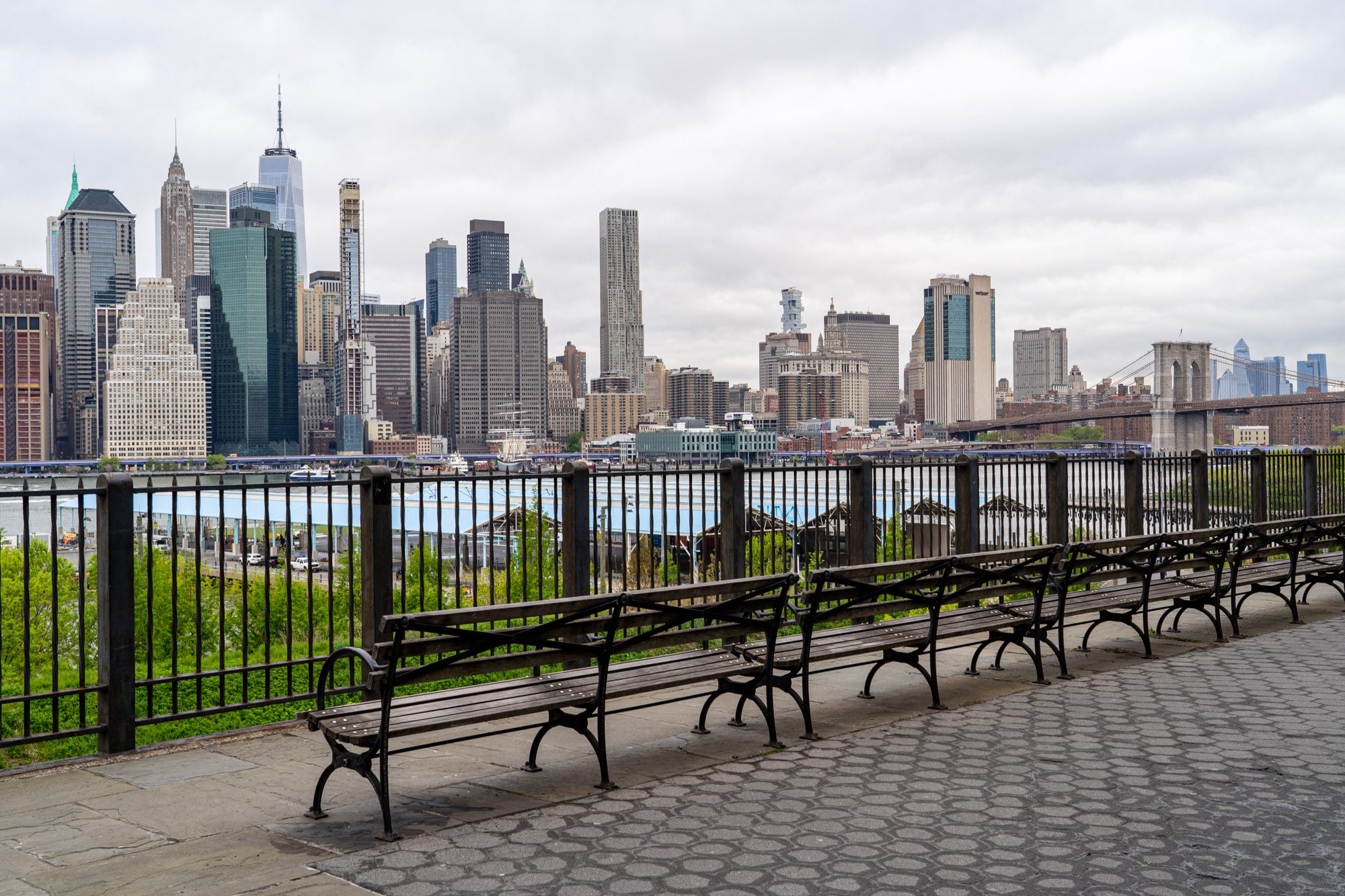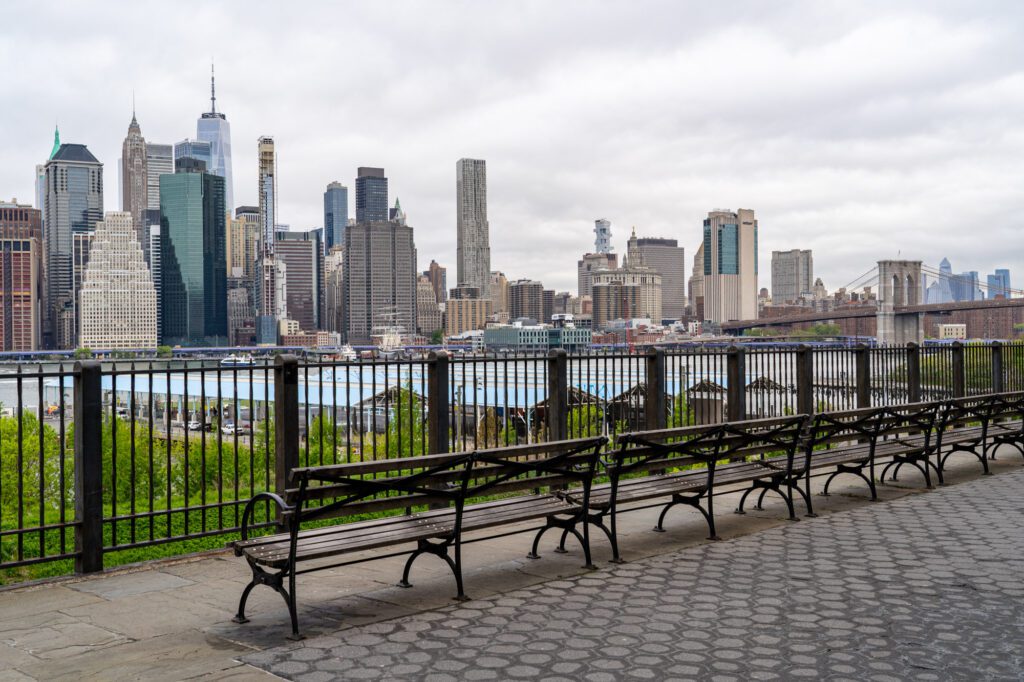 When you think of Brooklyn, what comes to mind? For us, after our last trip, it's great food, excellent views of Manhattan's skyline, and charming waterfront parks.
Oh, and hipsters. In the 2010's (ish), it felt like every cool food and drink brand, from coffee shops to single origin chocolate, was started in Brooklyn.
Other than a quick trip over to Brooklyn for dinner at Claro – which we highly, highly recommend – we had never really spent any meaningful amount of time east of the East River until our latest trip, when we found ourselves in both areas multiple times.
At this point, Brooklyn is hardly a hidden gem or hipster area – it has been firmly on the tourist map for a solid few decades. It's full of great food and drinks – some of our favorite restaurants in NYC are here – some nice green spaces (Prospect Park and all the piers in Brooklyn Bridge Park), and the DUMBO area is cool.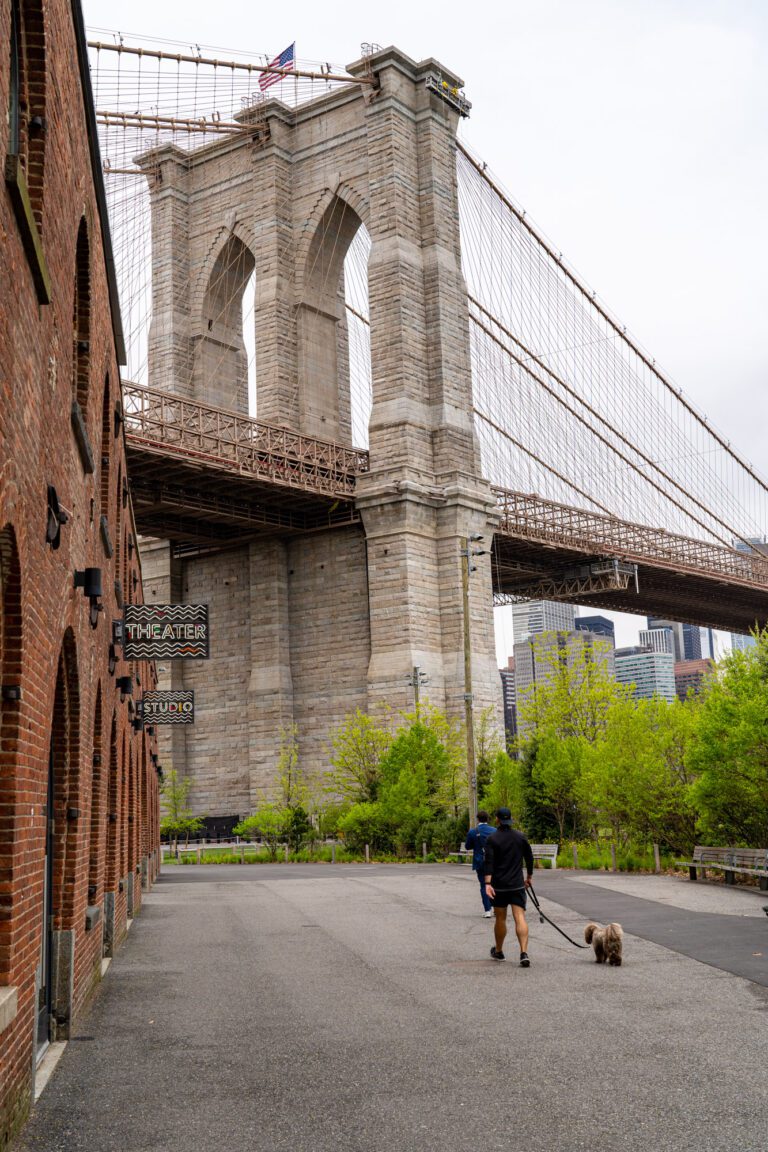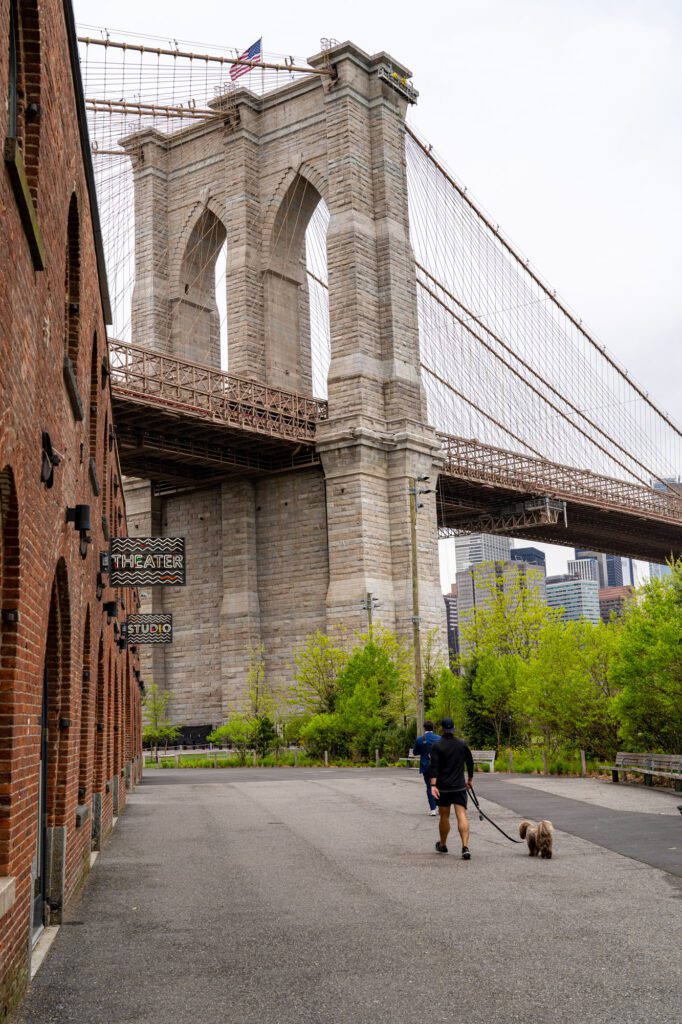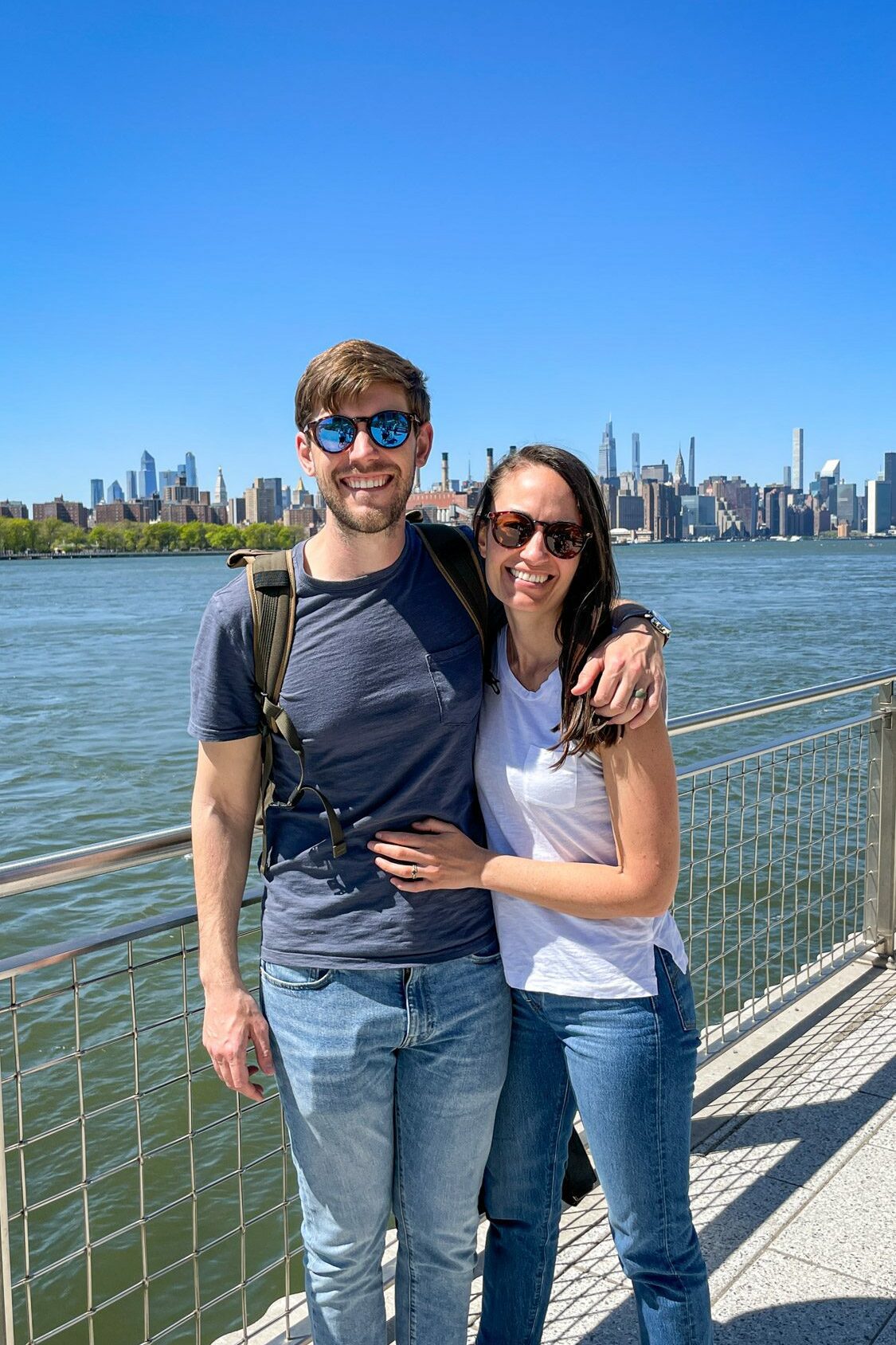 First of all, the ferry system that runs up and down the East River is an excellent way to get around, particularly between Lower Manhattan and Brooklyn / Williamsburg. We got a tip from a local friend who pointed us to the ferry on our first visit, and we ended up taking it several more times after that.
Second of all, multiple places that make our "best places to eat and drink" section in our New York City itinerary were in Brooklyn.
The biggest knock on Brooklyn is that, if you stay in Brooklyn, it's going to take you FOREVER to get anywhere in Manhattan north of about 30th Street. Which means Times Square, Central Park, and the Upper East Side and Upper West Side are going to be a little hard to reach. If you've got a short trip, that's going to be a little bit of an issue.
However, if you're in NYC for a longer trip and have the luxury of time OR you've done most of the typical New York tourist stuff and are content spending the bulk of your time in Brooklyn and Williamsburg, this would be an excellent place to base yourself.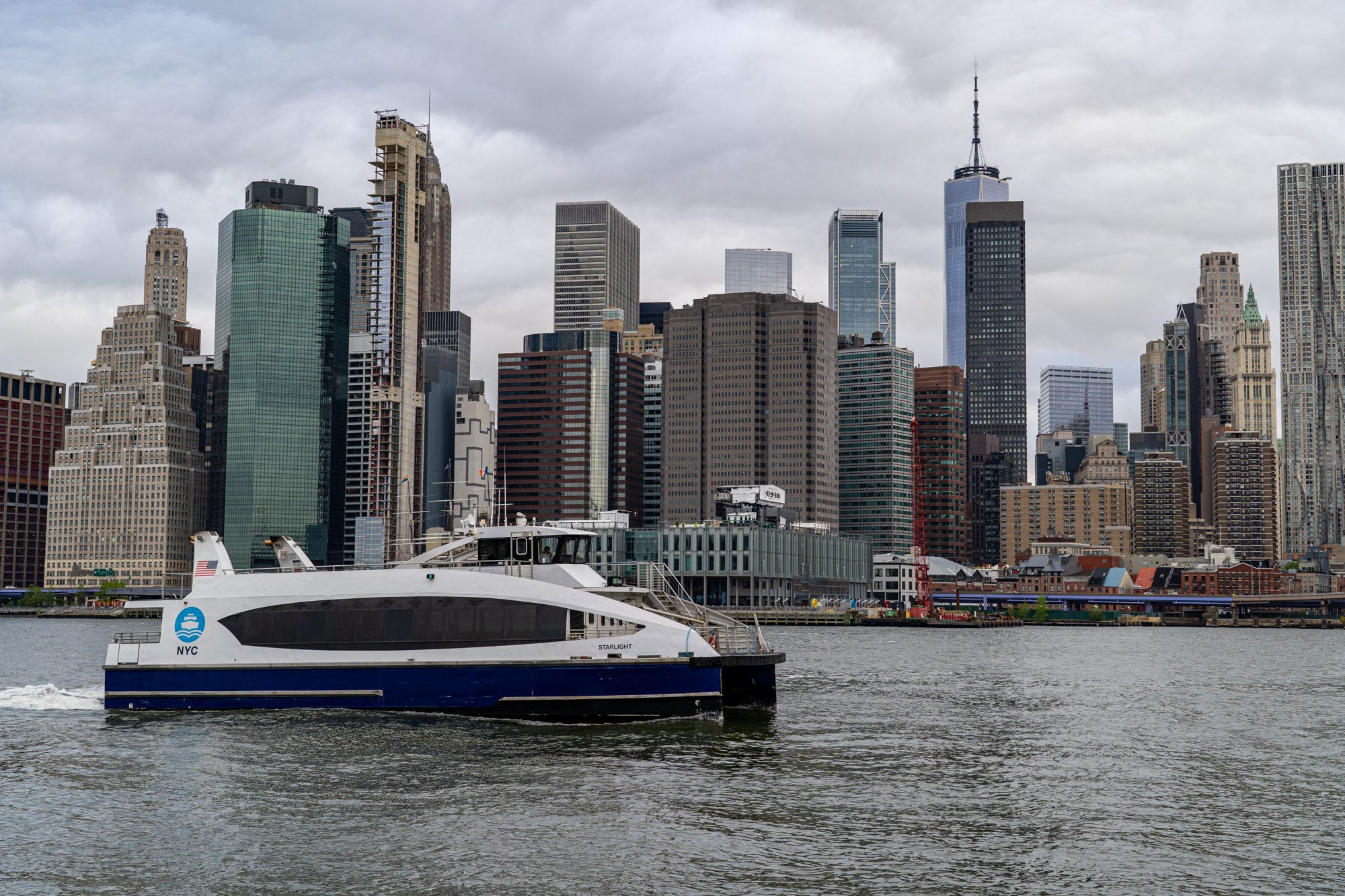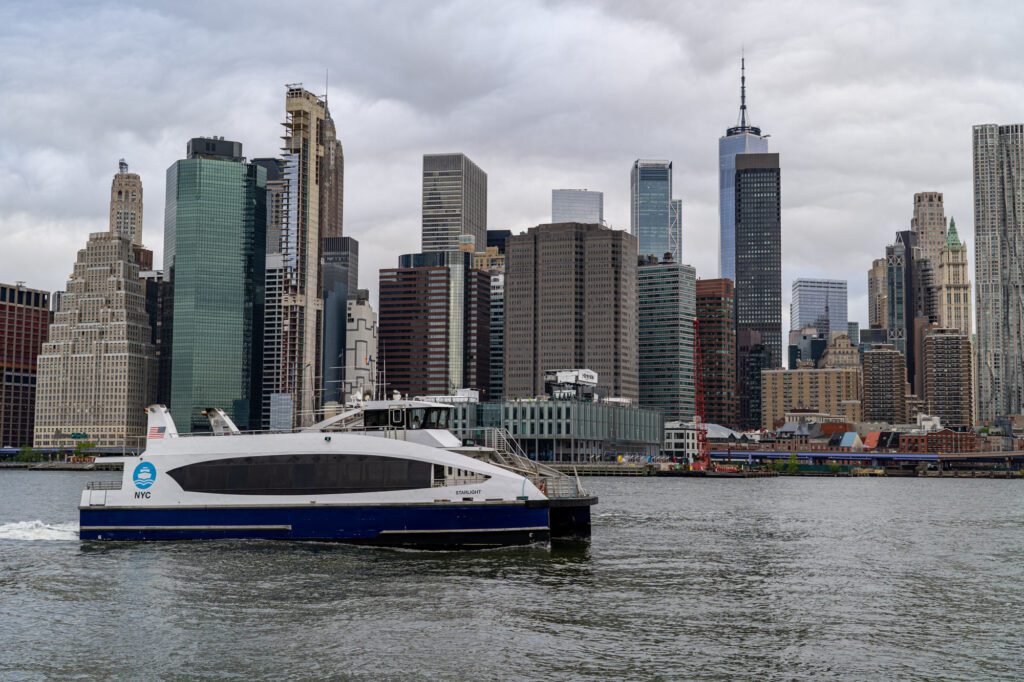 A geography note: We're going to go ahead and combine Brooklyn and Williamsburg, which are two neighborhoods that are east of the East River in the Brooklyn borough. Though they're not actually particularly easy to get between, they are similar in terms of the pros and cons of staying there, and what they offer tourists. However, because they are distinct neighborhoods, we are going to give you a separate section for highlights and places to stay for each.
Pros and Cons of Staying in Brooklyn / Williamsburg
Pros:
It's charming. From the tree-lined streets in Brooklyn Heights to the waterfront real estate of Domino Park in Williamsburg, there's a lot of charm to be had up and down the eastern side of the East River.


It's full of great eating and drinking. Some of our food and drink highlights from our entire trip are located here (you'll find them sprinkled in the neighborhood highlights sections below). And it's a diverse food scene, featuring foods from all over the world.
Cons:
It's FAR from most of the main sights in Manhattan. Via the subway or ferries, you're looking at 30-40 minutes to places like Chelsea, Times Square, and Central Park. If you've already done the tourist stuff and are happy spending most of your time on the east side of the river, then this would be a lovely place to spend a few days eating, drinking, and exploring.


Gentrification. Brooklyn and Williamsburg are one of the original epicenters of gentrification in the United States (along with the Mission District in San Francisco), with brunch spots and third wave coffee shops – and the people who frequent those places – replacing local residents and businesses. It's not a reason not to stay here, but it is worth knowing the context going into your decision. Many parts of Brooklyn and Williamsburg used to be primarily non-white, and those residents have been pushed out due to rising cost of living. 
Downtown Brooklyn Highlights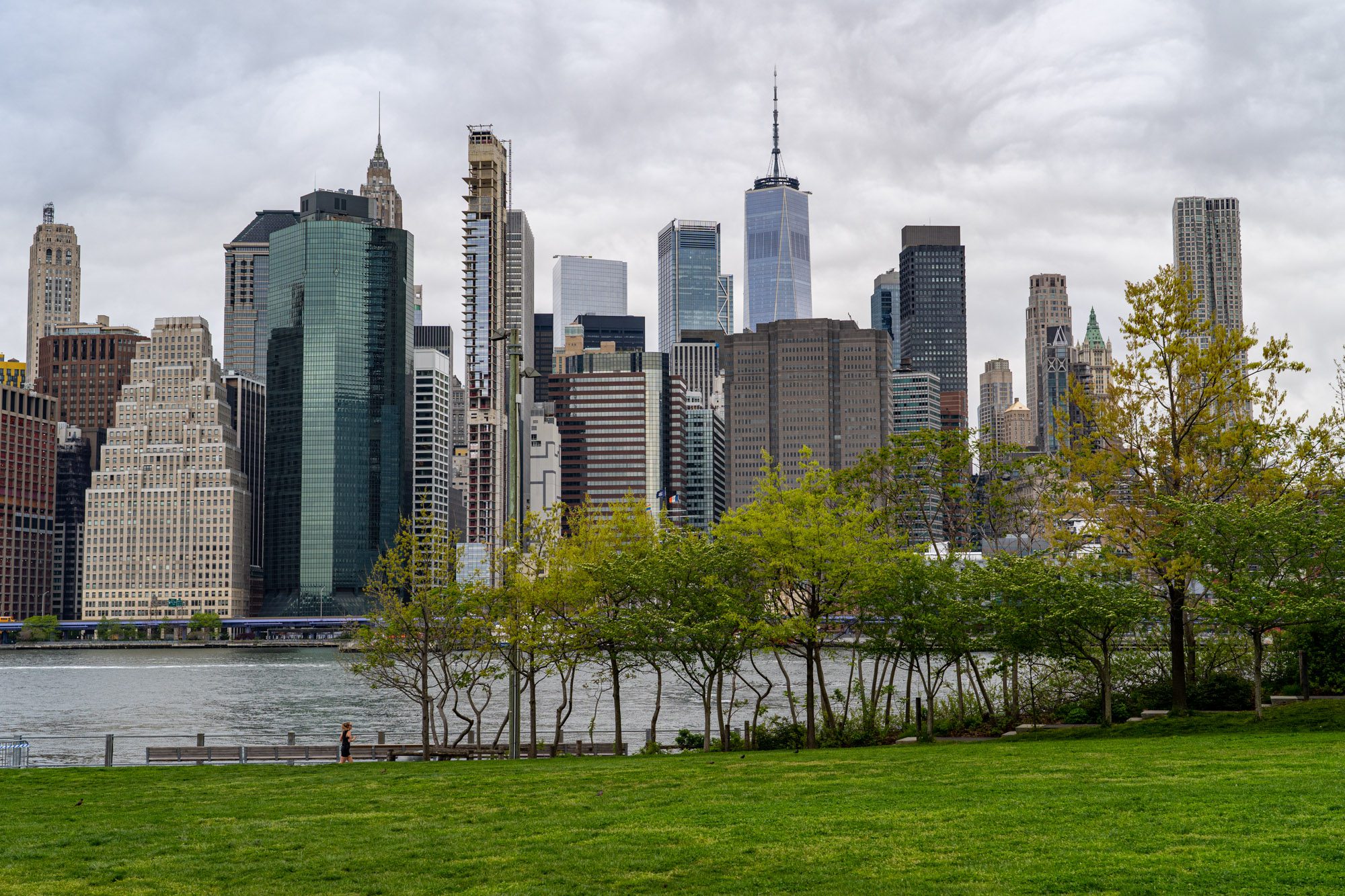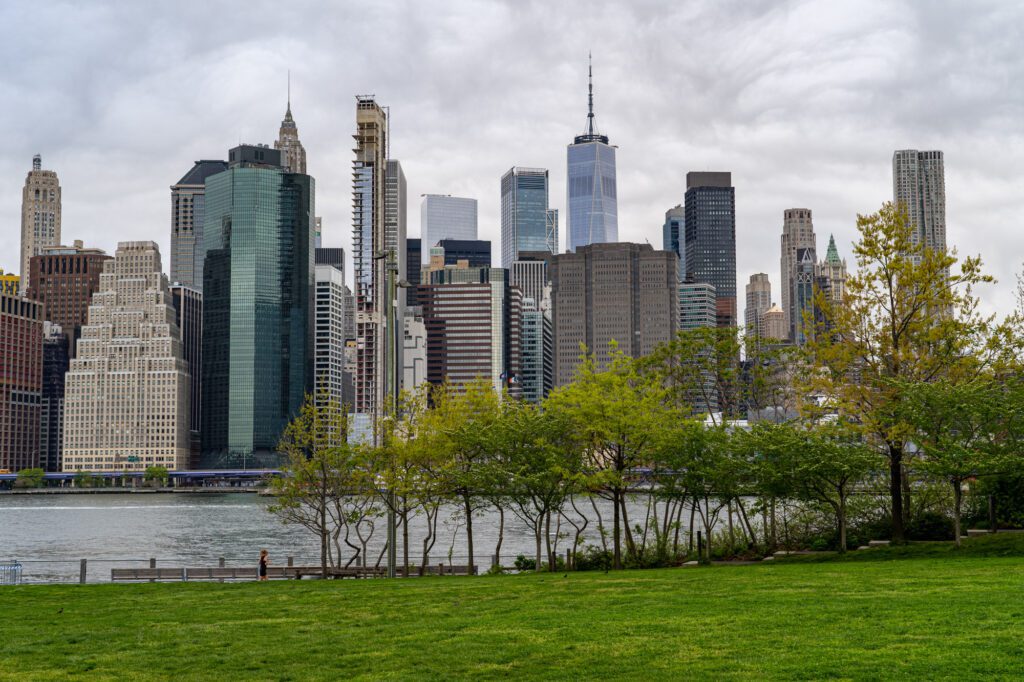 Brooklyn Bridge Park: Stretching south from Dumbo and the Brooklyn Bridge, this park covers a fair amount of ground, including a few defunct piers that have been transformed into green spaces, basketball courts, and soccer fields. It's worth doing a loop from Dumbo down to Pier 6, and walking back through Brooklyn Heights (which also has great views of the Lower Manhattan skyline).
Cardiff Giant: If a bar that serves EXCLUSIVELY beer, wine, and cider from New York state sounds like a good time, this is the place for you. Plus, the back garden is an excellent place to spend a sunny afternoon procrastinating on all the stuff you're supposed to be getting done.
Claro: We've been twice, and love this place. The back garden is where you should reserve if you're coming in the summer. It's now exclusively a tasting menu, and the most interesting things on the menu for us were the strawberry aguachile (it's spicy!), though everything we ate was fantastic. Plus, it's entirely gluten free!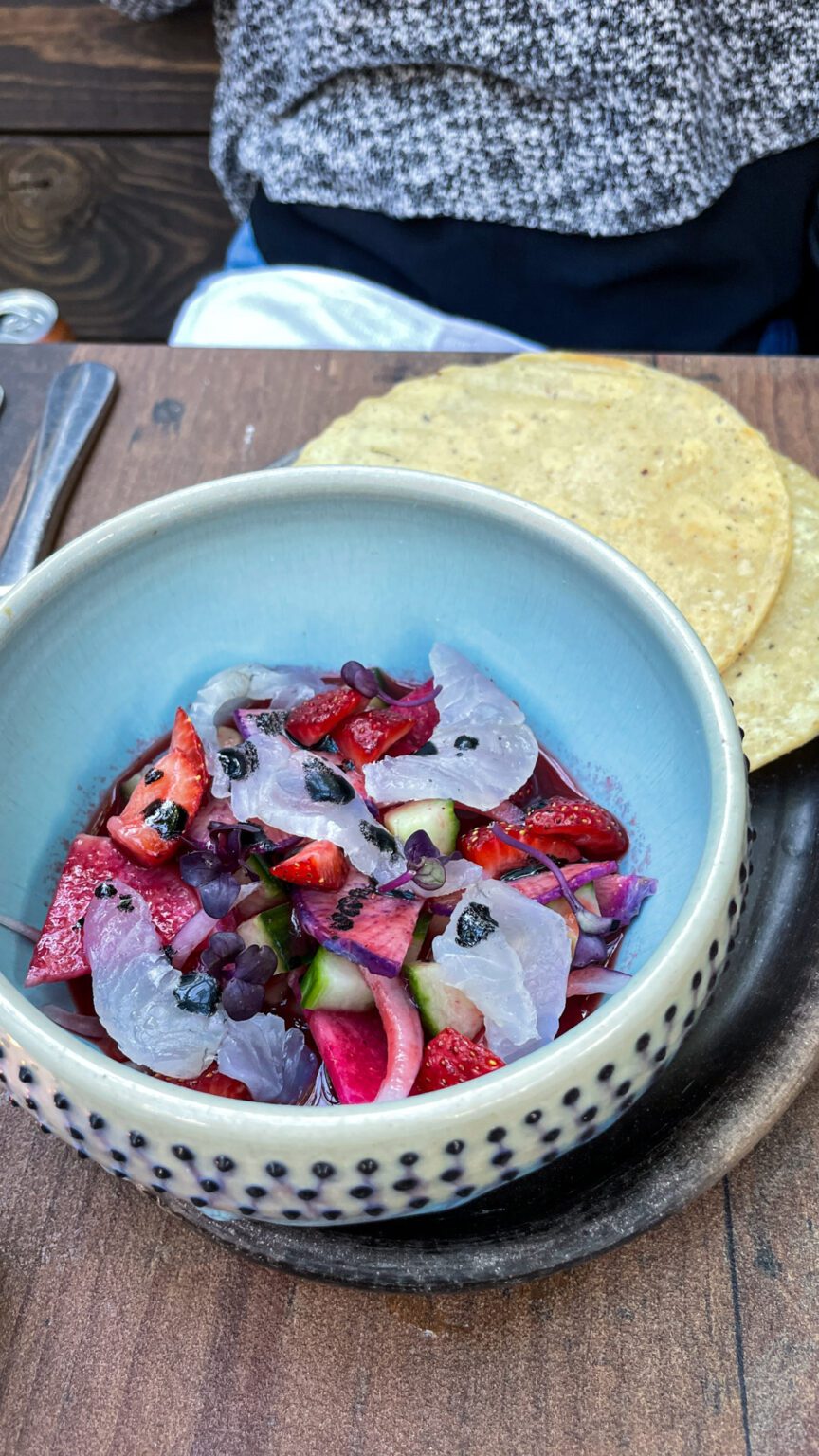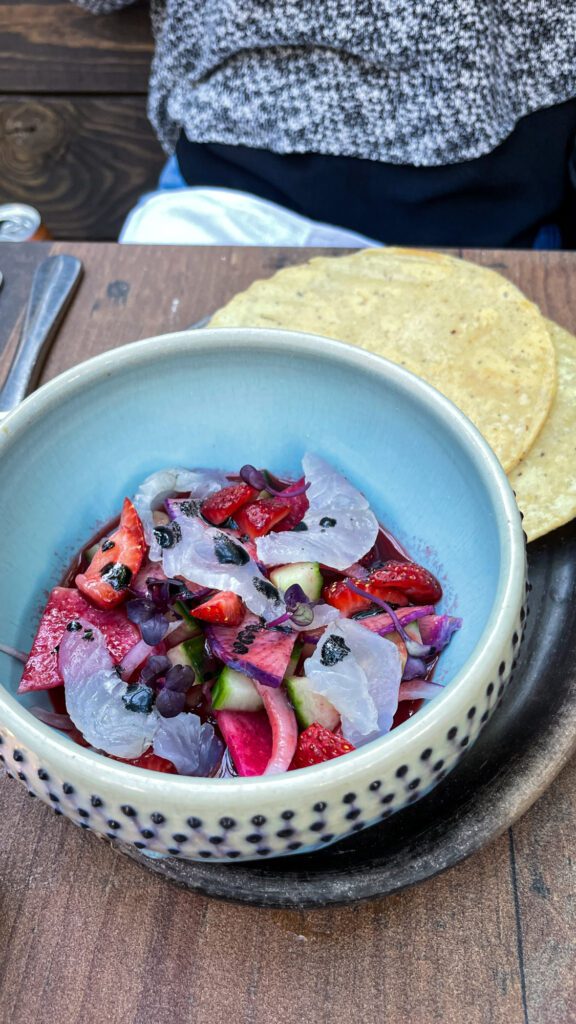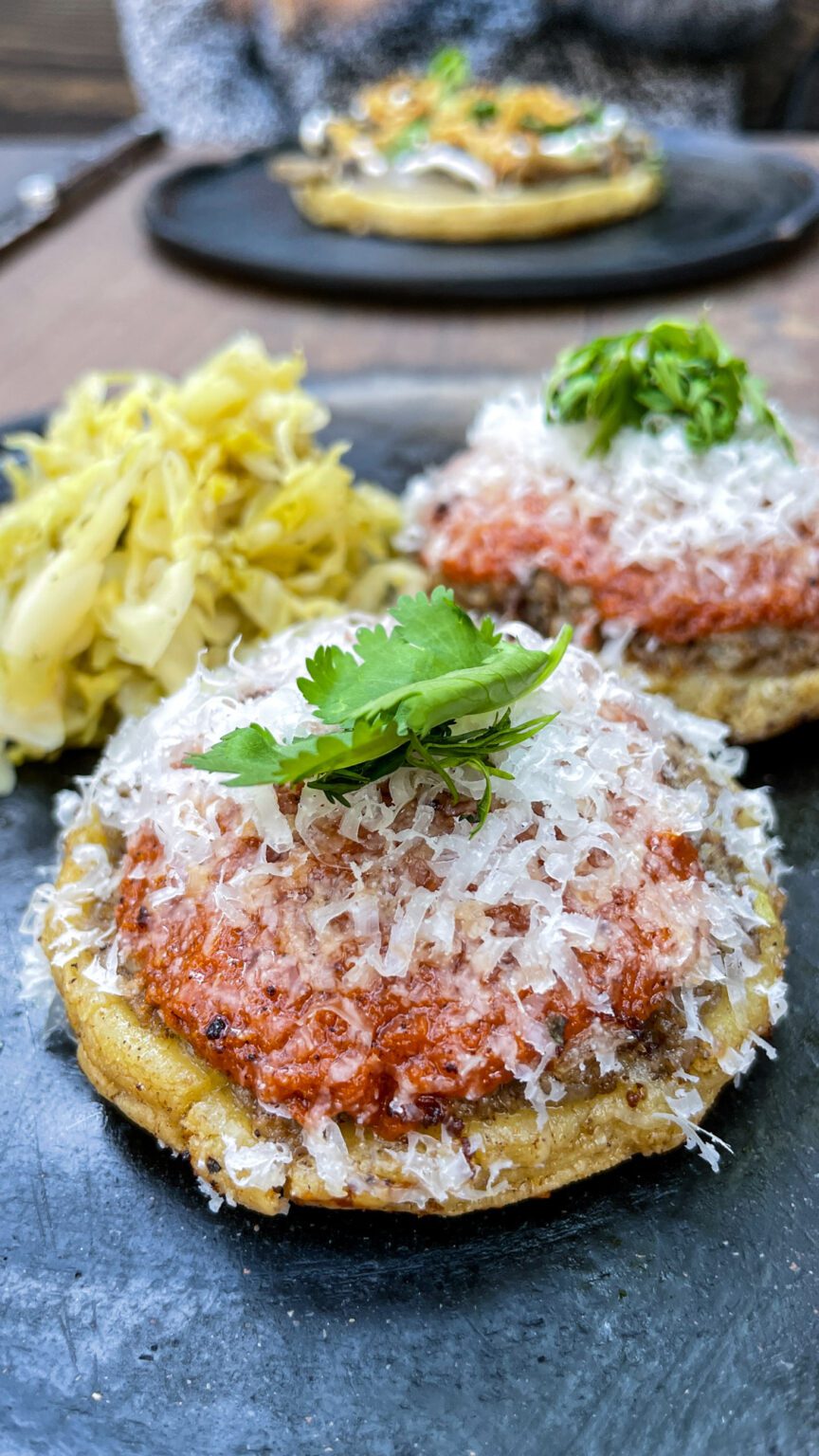 Dumbo: The formerly industrial area just north of the Brooklyn Bridge has been on the map for a decade or more now, but it has recently been taken up a level with the opening of the Time Out Market (similar to the one in Lisbon), whose rooftop has great views of NYC. Cobblestone streets and red brick buildings are the name of the game here, and the iconic view of the Manhattan Bridge that you've probably seen on Instagram can be found here.
The Brooklyn Bridge: Walking the Brooklyn Bridge is a great activity at any hour, but it's especially spectacular in the early morning and late afternoon / early evening. It's a long walk, it's loud, and there's a lot of cars whizzing by, but the views of the bridge and the skyline are worth it.
Best Places to Stay in Downtown Brooklyn
Here are two solid options in Brooklyn to look at, depending on your style and budget.
Solid Mid Range Hotel: NU Hotel or Even Hotel Brooklyn
A Touch of Luxury: The Ace Hotel
Williamsburg Highlights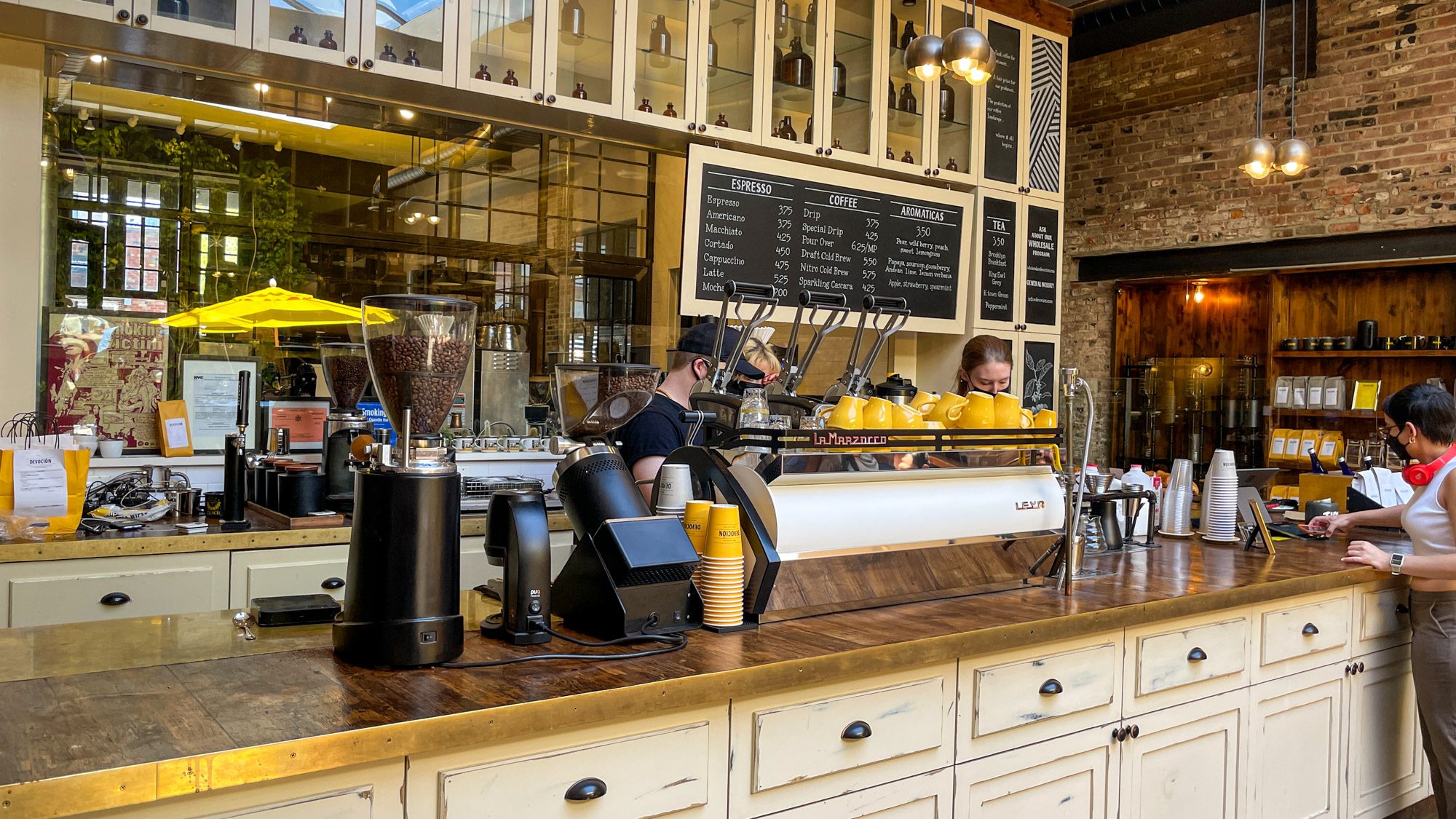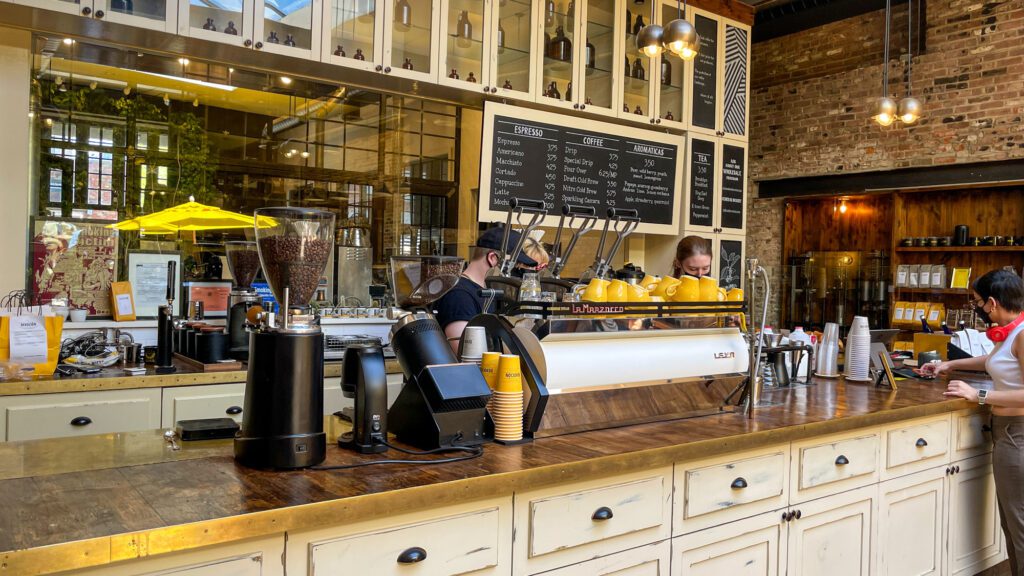 Devocion: We have been to their cafe in Bogota! This place serves exclusively Colombian coffees that are shipped straight to their roastery in Williamsburg and served within 10 days, roughly. Super fresh! They have a BEAUTIFUL space, with lots of natural light streaming through the glass ceiling and all sorts of plant life. And the coffee is great, too. They have some fun pour over offerings, for true coffee enthusiasts like Matt. 
Domino Park: A beautiful waterfront park with stunning views of the Manhattan skyline. There's a seasonal mini golf course that opens in the summer, too!
Caracas Arepa Bar: The first thing you need to know is that we LOVE arepas. Specifically, the Venezuelan variety, which are cut in half and stuffed full of all sorts of delicious fillings. This place has a lovely back patio, great cocktails, and a mix of classic and inventive arepa offerings. 
For All Things Good: While we love Claro and Cosme, two Michelin-starred Mexican restaurants in New York City, this might have been our favorite Mexican food of the trip. They use SUPER fresh masa, and the first thing we noticed is HOW MUCH BETTER tortillas, memelas, and tlayudas are when the masa is fresh. They had just started their dinner service when we were there, and we opted to stop by for brunch. Don't miss the tlayudas (basically, a pizza with a masa base, beans, cheese, and other toppings) and tetelas (triangle-shaped stuffed masa).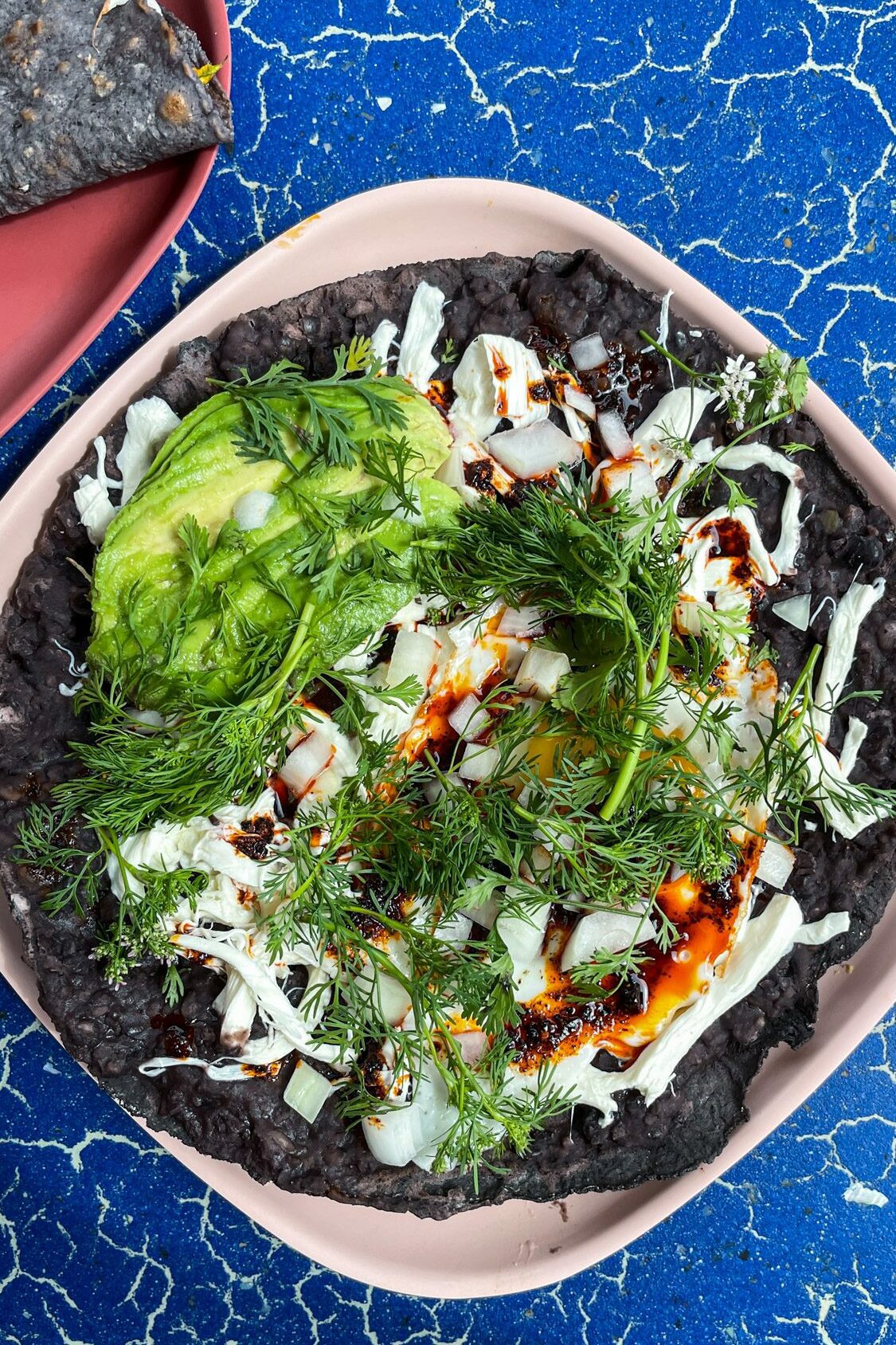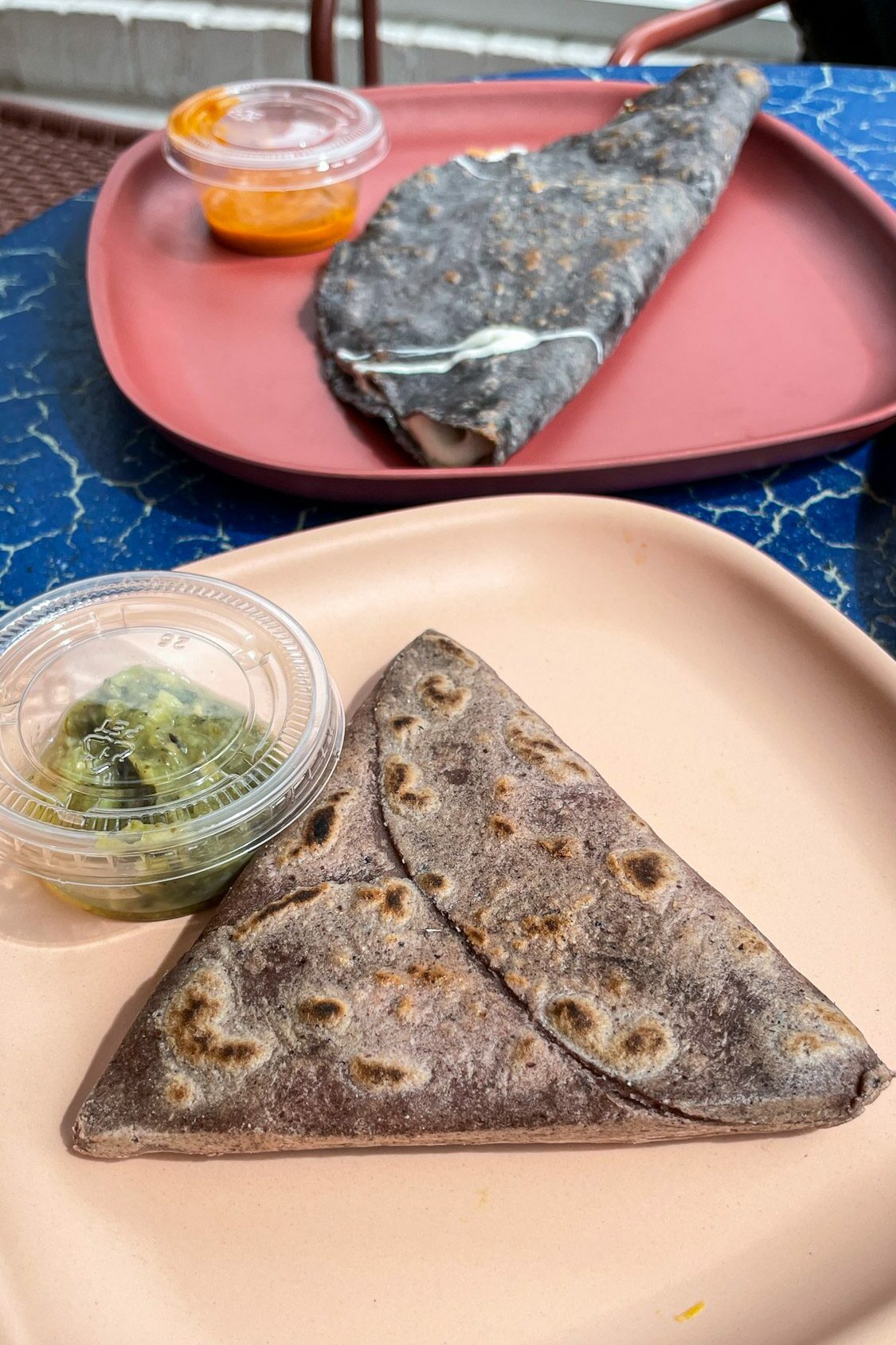 ---