Where to Stay in Olympic National Park: A Complete Guide
Olympic National Park is a stunning natural wonderland with nearly a million acres that is a place you can keep coming back to and always discover something new. Between the serene beaches and the lush rainforest, you'll find solitude and incredible scenery around every bend in the road, making it a perfect long weekend getaway from Seattle and the surrounding area. The massive park is a hop, skip, and a jump from Seattle, so it's easy to get to. One trip won't be nearly enough to see all four major regions of the park, so I bet you'll want to plan your second trip once you get out there for the first time.
In this guide, you're going to discover the best places to stay in Olympic National Park so your adventure can go off without a hitch and you can find the perfect place to stay for your style and budget.
One important note: Olympic National Park is ENORMOUS. It's going to make your life a lot easier if, rather than staying in one place to explore the entire thing, you move around a bit. For most people, that means staying in Port Angeles / Lake Crescent for a couple of nights to get to Hurricane Ridge and Lake Crescent, and then staying in Forks for a night or two to explore the Pacific Beaches and Hoh Rainforest.
Make sure to read my Olympic National Park itinerary to help plan an unforgettable trip that will have you exploring the rugged mountains, serene lakes, and sandy beaches of this incredible gem in the Pacific Northwest.
If you're into hiking, you won't want to miss my guide to the best hikes in Olympic National Park.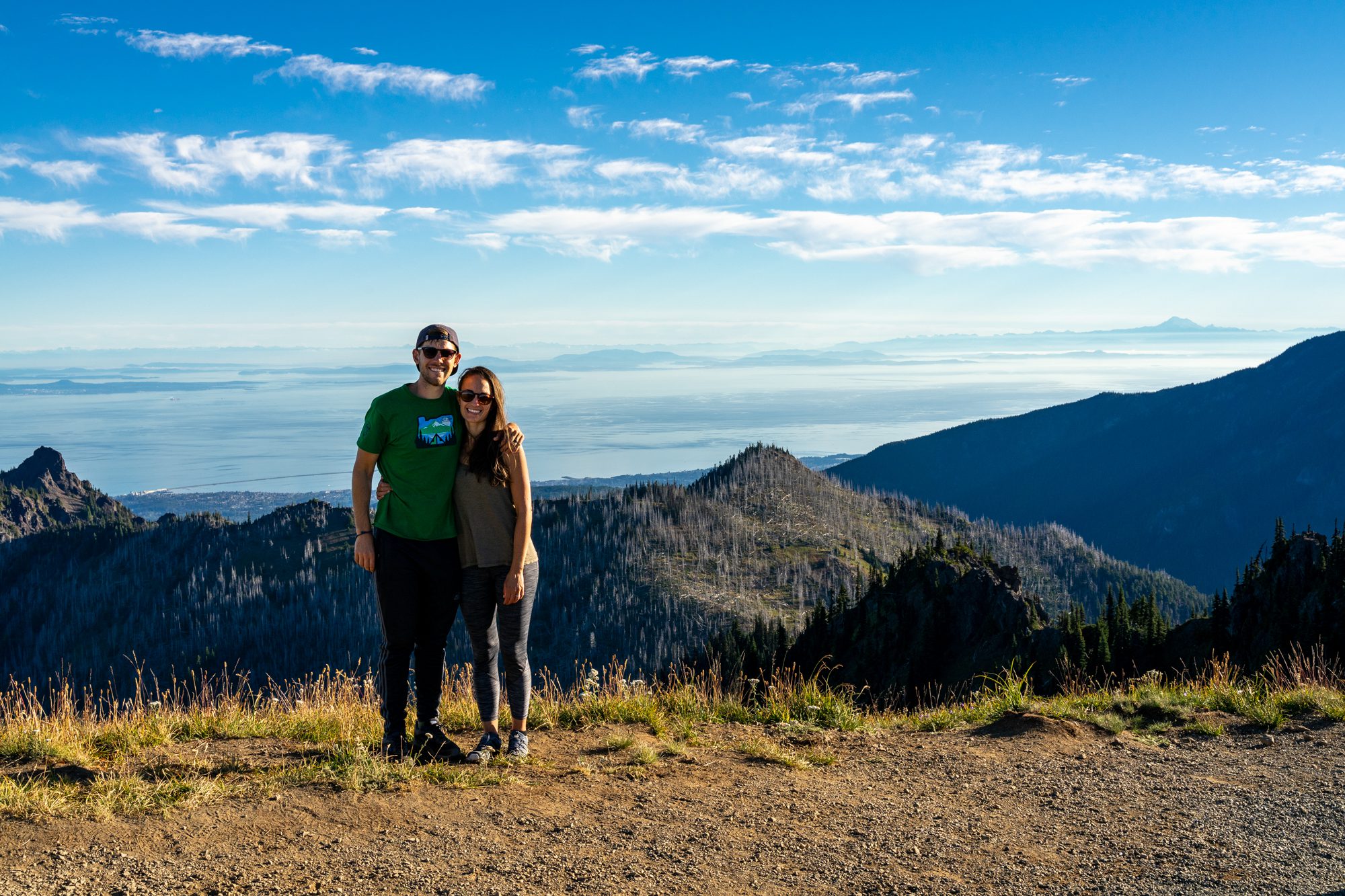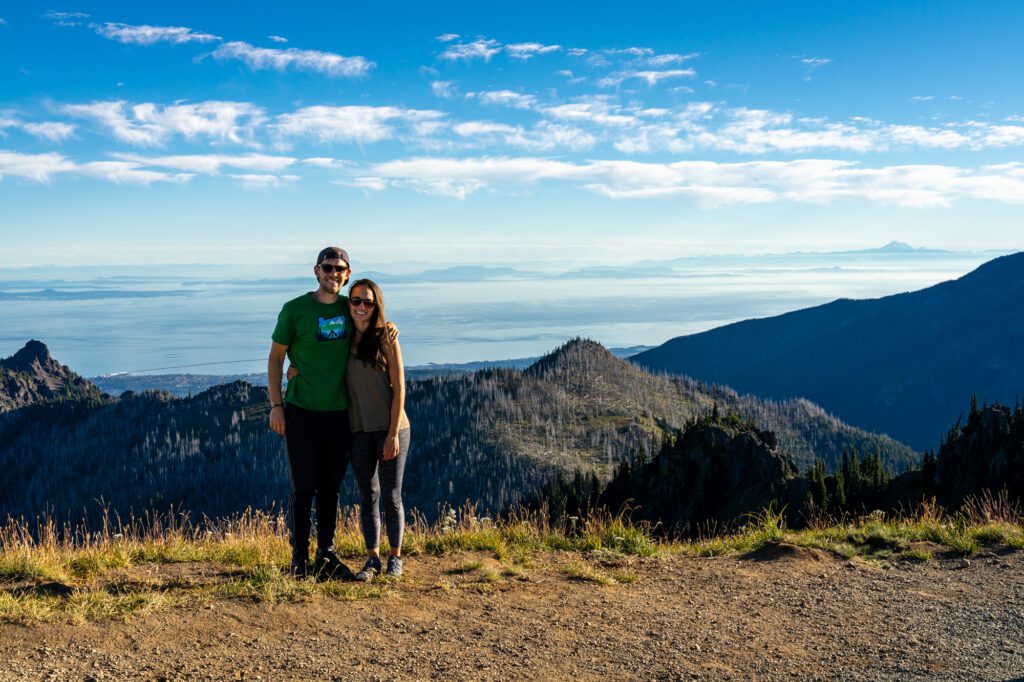 Disclaimer: Some of the links in this post, like hotel links, are affiliate links, meaning at no additional cost to you, we make a little bit of money if you click through and book. That being said, we would never recommend something to you that we don't stand behind 100%.
Where to Stay in Olympic National Park: A Complete Guide to the Best Places to Stay
While there aren't any hotels in Olympic National Park itself, there are plenty of historic lodges, great vacation rental options, campgrounds, and other types of lodging on the outskirts.
There are a few towns and villages surrounding the park that all offer something different.
Since this park is gigantic, there are different regions that each provide a unique kind of experience. I'll give you the rundown of each one so that you can decide on what sort of magical wonderland you want to explore.
An Overview of the Park's Regions
If you want to know where to stay in Olympic National Park, you should first know about the regions of the park. There are five major regions of Olympic National Park. These are:
Hurricane Ridge – This region features towering mountains on the North side of the Olympic Peninsula. It's easy to get to from all points east, like Seattle, and it also sits just 17 miles south of Port Angeles.


The Coast – The Coast is an expansive region featuring 57 miles of coastal wilderness. There are beaches, cliffs, sea stacks, and breathtaking views. Some popular destinations on the Coast are:

La Push Beaches – Rialto, First, Second, and Third Beach will all provide you with million-dollar sunsets and views onto the sea stacks with cliffs rising up from the sea. Make sure to look up too! you might spot the elusive Bald Eagle waiting patiently for its next meal (we saw two).
Ruby Beach – This beach lays where the Hoh River meets the Pacific Ocean. If you want to see starfish, different kinds of crabs, and mystical-looking sea stacks, this is a great beach to visit.
Kalaloch Beach – This popular beach is incredibly wide and a sandy reprieve from the usual rocky Washington beaches. You will have the highest chance of successful bird watching here.



Hoh Rainforest – This is the moss-covered rainforest region that features sphagnum moss, wildlife, old-growth Sitka spruce, ferns, banana slugs, and wildlife of all kinds.


Lake Quinault – This is a region in the Western part of the park that features the stunning Lake Quinault, located within the extraordinary Quinault Rainforest.


Eastern Side – This side of the park runs along the Hood Canal. It's the least-visited and driest area of the park, where you will find forests, stony rivers, and lots of sunshine.
For most people, who only have a long weekend, you're likely going to be focused on Hurricane Ridge, La Push, and the Hoh Rainforest.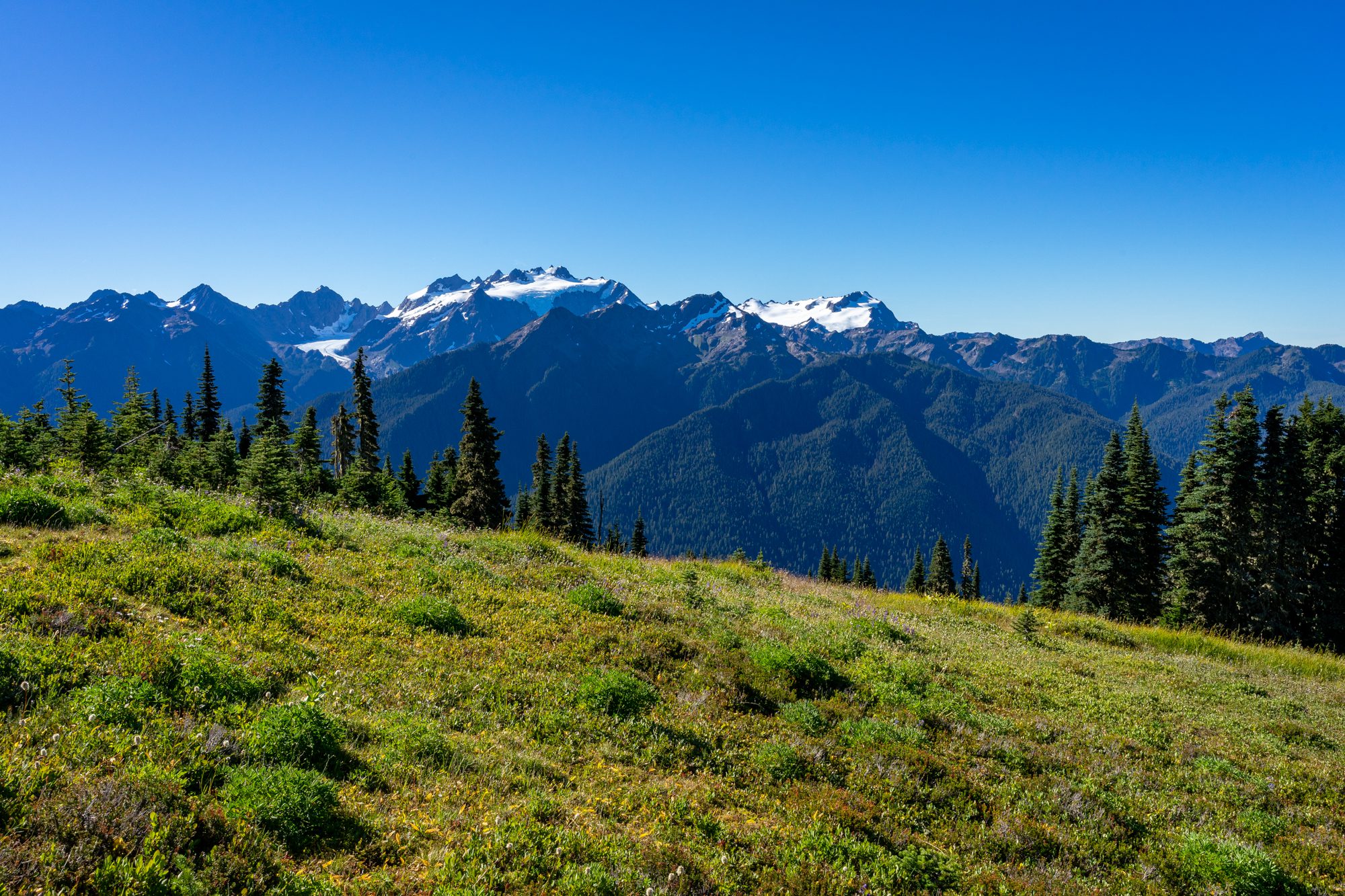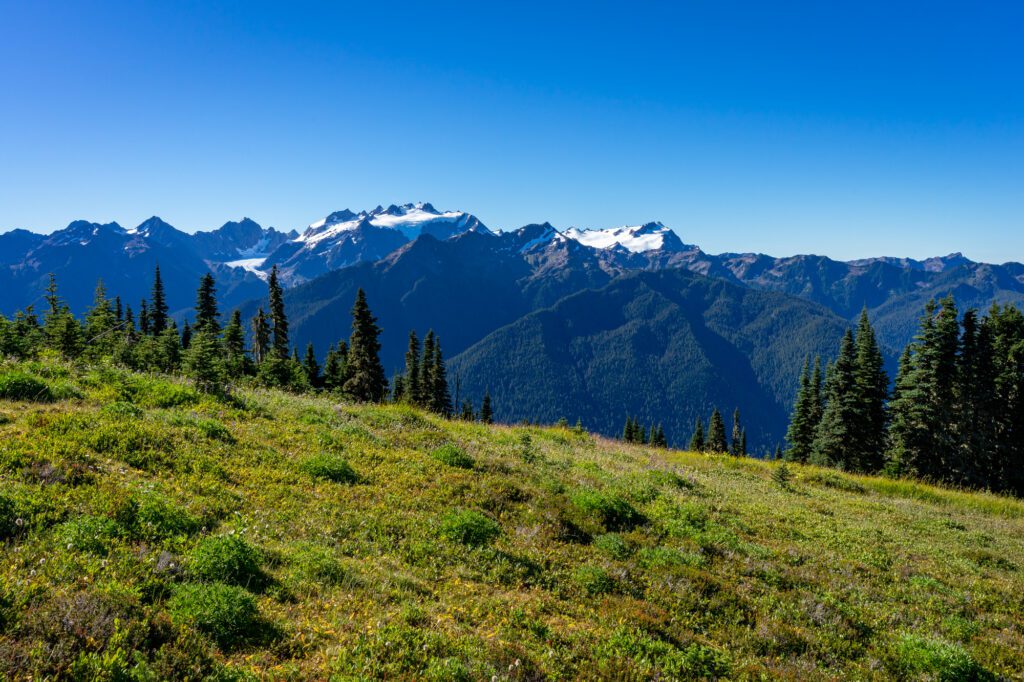 The Best Places to Stay to Explore Each Region
There are plenty of places you can stay within each region. I think it's important to emphasize just how huge this park is before going any further.
If you were to decide to stay in one place, you'd end up doing a lot of driving.
Depending on how much time you have, I'd recommend staying in different places during your trip. This will drastically reduce how much driving you're doing. For example, if you stayed in Port Angeles for your entire trip, it would be a four-hour round trip to get to the Hoh Rainforest!
Port Angeles: This is an area you will want to stay at if you want quick and easy access to Hurricane Ridge and Lake Crescent. There are some great cabins near Lake Sutherland, which is a nice middle ground between the two locations.


Forks: This town sits on the Western side of the Olympic Peninsula and is an excellent jumping-off point to get to La Push Beaches and the Hoh Rainforest. And yes, it's THAT Forks.


Kalaloch: To access the southeastern Pacific coast area of Olympic National Park, Kalaloch is a great option. This is an unincorporated resort area that features a lodge, cabins, and a campground.


Lake Quinault: Lake Quinault is a great entry point for accessing the Quinault Rainforest. You have your pick of a resort, lodge, cabins, and campgrounds.
Unless you have more than three days or so, I'd stick to staying in Port Angeles and Forks to explore the three areas I mentioned above, otherwise you're going to spend more time driving than exploring.
Camping in the Park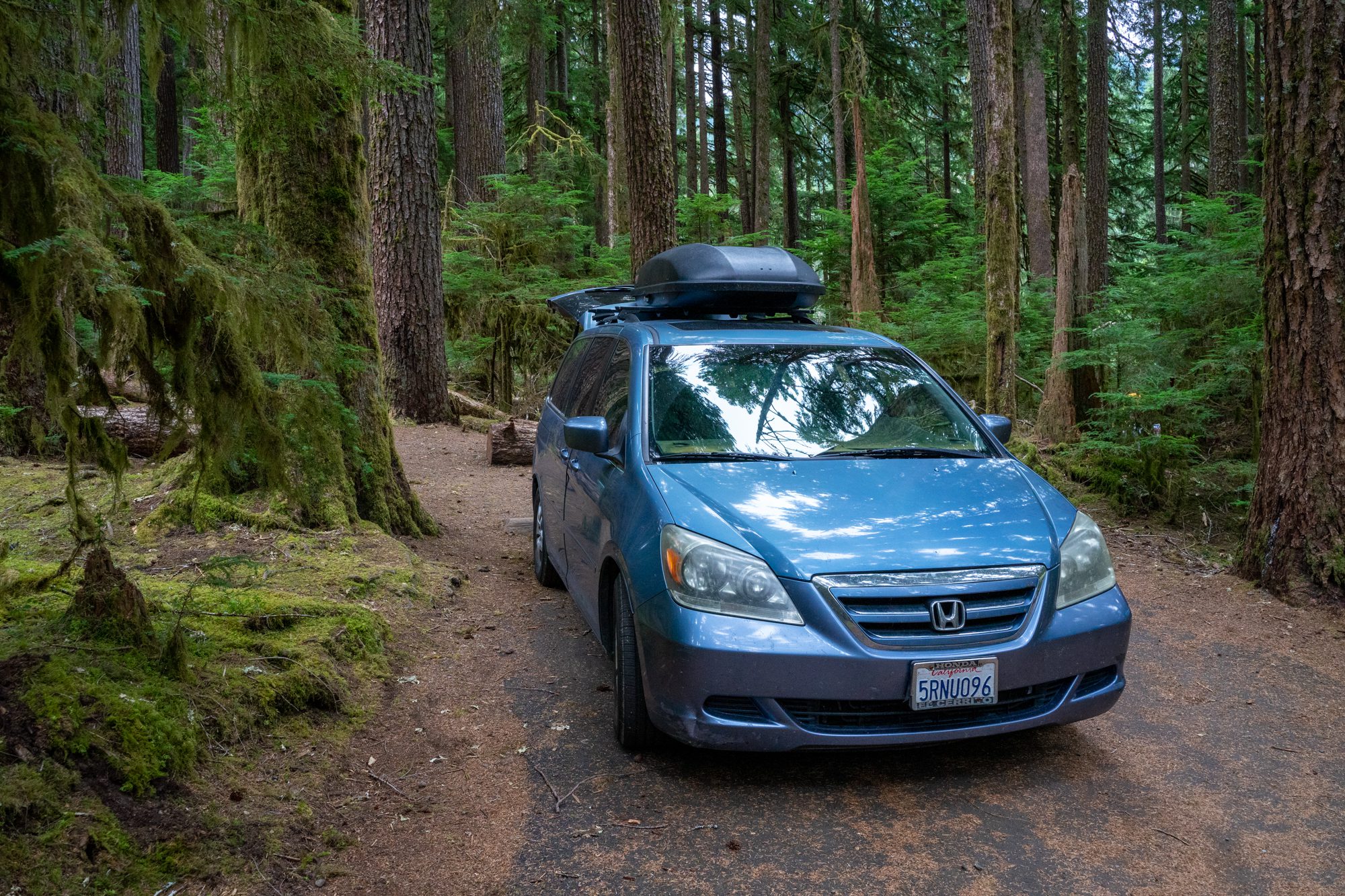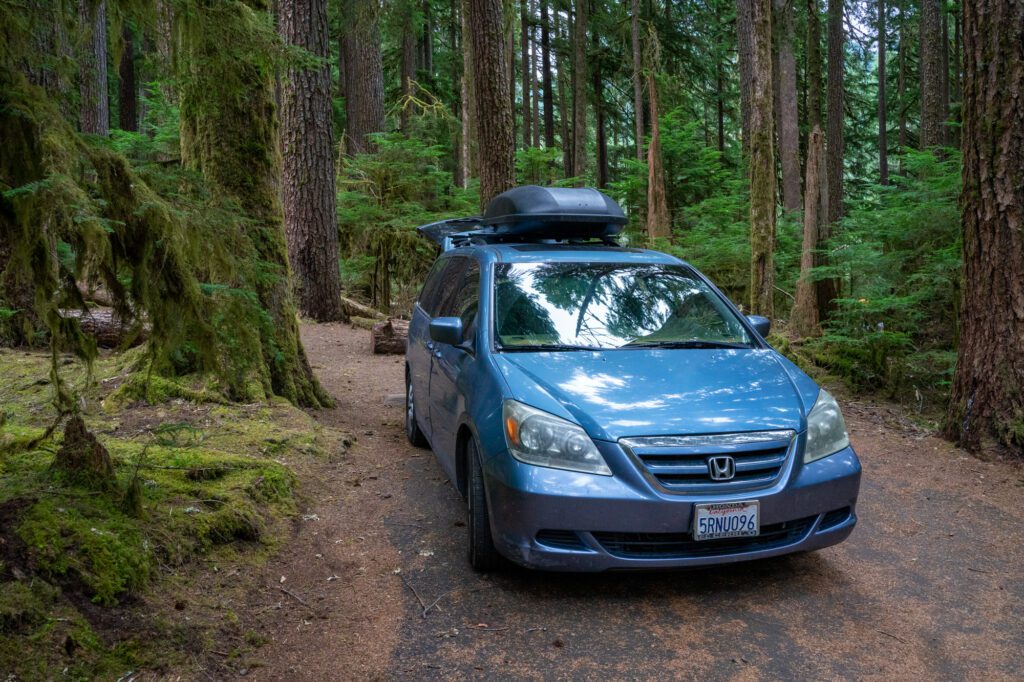 Since this is a National Park, there are tons of camping options. If you're like most people who visit the park for an overnight stay or multi-day, you might be looking to do some camping.
There are three reservable options for you inside the park. This means that there's no chance that you'll be fighting off others for a camping spot. This park can get crowded at certain times of the year, which is why I highly recommend booking a camping reservation way in advance.
The three main campgrounds that you can reserve in advance are Kalaloch, Sol Doc, and Mora. We've stayed at Sol Duc and Mora on our most recent trips, and both are about as nice as any national park campground we've ever stayed at.
The rest of the available campground options operate on a first-come, first-serve basis and will get very busy during the summer. You can see a full list of all the campgrounds available here.
The Best Places to Stay in Olympic National Park
I'm going to go through each region of the park and give you the best places to stay in Olympic National Park. This is meant to give you a menu of great options to choose from based on your style and budget. Obviously you're not going to stay at a luxury lodge (not that there's many of those here) if you're on a shoestring budget, so you'll find a range of options.
Best Places to Stay Near Hurricane Ridge and Lake Crescent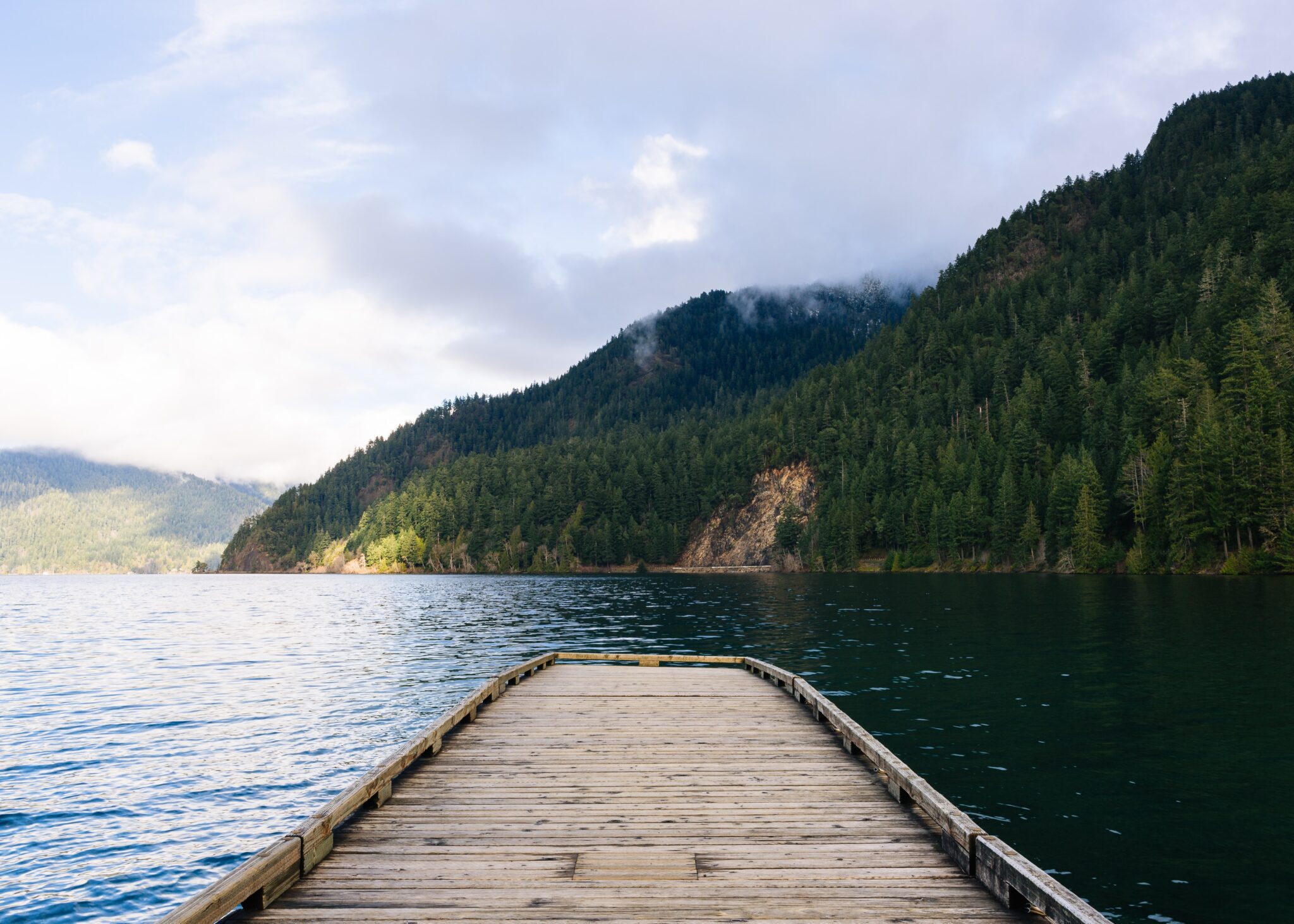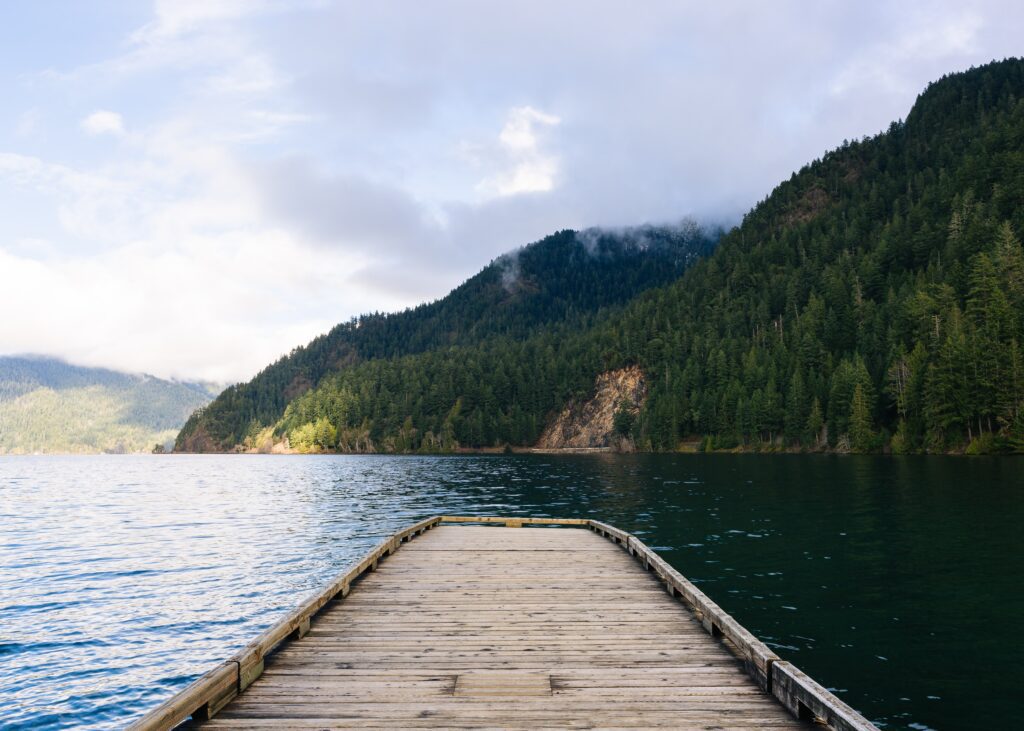 The following are the best places to stay at that are situated near Hurricane Ridge and Lake Crescent.
Port Angeles is a great place to stay if you prefer being closer to a city with all the amenities (gas, restaurants, food, etc).
Overall, my top recommendations in this area would be camping at Heart 'o Hills Campground, or finding a vacation rental in Port Angeles or near Lake Sutherland.
For what it's worth, this rustic treehouse and this coastal retreat caught my eye.
The lodges, while gorgeous, are outdated and relatively expensive for what you get.
Hotels and Lodges
There are three hotel and lodge options in this area.
Lake Crescent Lodge
Lake Crescent Lodge sits on the shores of, you guessed it, the magnificent Lake Crescent. It's around 17 miles from Port Angeles and 30 miles from Forks, and features 52 accommodations, as well as a restaurant. This lodge is close to hiking attractions like Mount Storm King, Marymere Falls, and others.
Unfortunately, like most National Park Lodges, the value for the money isn't great. But the location is, so there's that.
Sol Duc Hot Springs Resort
A charming resort that features soothing hot springs is awaiting you at Sol Doc Hot Spring Resort. Rustic, yet comfortable, the rooms that are available will be great options as places for you to stay while you hike around the park. It's surrounded by beautiful evergreens, while nestled in a gorgeous valley. After a long hike, you will love having the ability to soak in the hot springs on the property.
I have the same issue with this place as with the one above – the value for the money leaves something to be desired. Though the location is awesome.
Olympic Lodge
Olympic Lodge in Port Angeles is a very comfortable, rustic, and charming hotel on the Olympic Peninsula. It's right off Highway 101 and close to attractions like Hurricane Ridge and Lake Crescent. There's even a pool and bistro when you want to relax after your hike.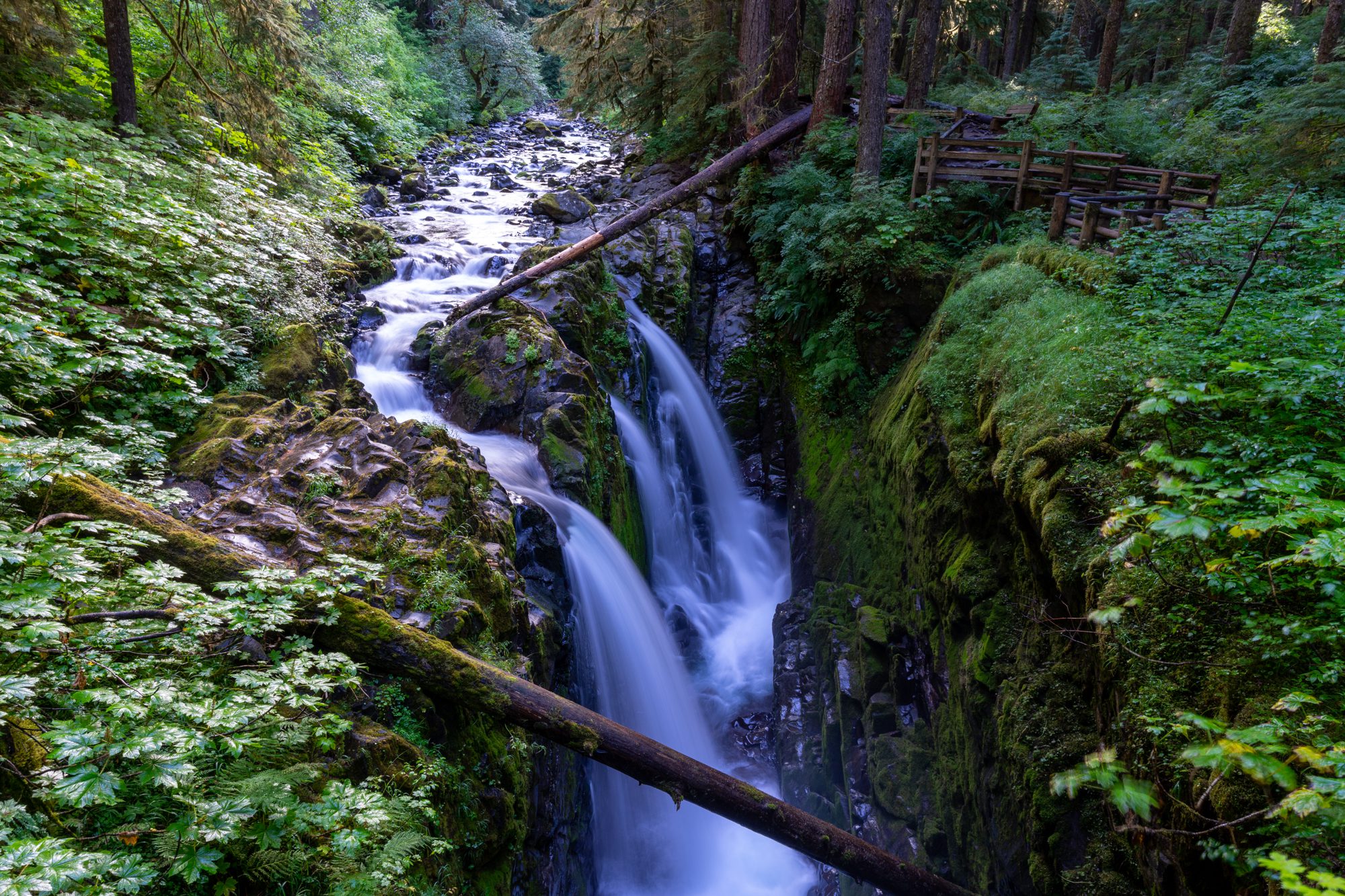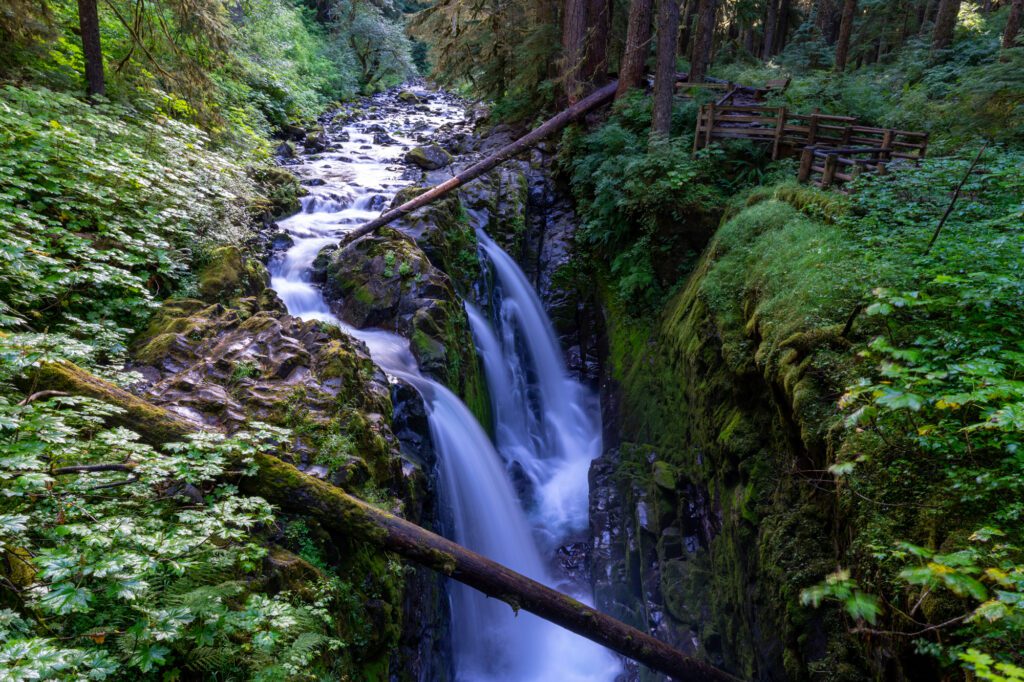 Vacation Rentals Near Port Angeles
If you're more of a vacation rental kind of person, like us, you'll love the following stays in and around Port Angeles, which is a great area to stay to explore Hurricane Ridge and Lake Crescent.
In particular, the area along the Strait of Juan de Fuca and the area around Lake Sutherland are probably your best bets.
Although we usually camp on our trips to National Parks because it's part of the experience we're looking for, we're big fans of vacation rentals, and usually opt for them over hotels and lodges when we have a choice and we're not in a city, where we prefer hotels.
A Rustic Cabin Getaway On the Strait of Juan de Fuca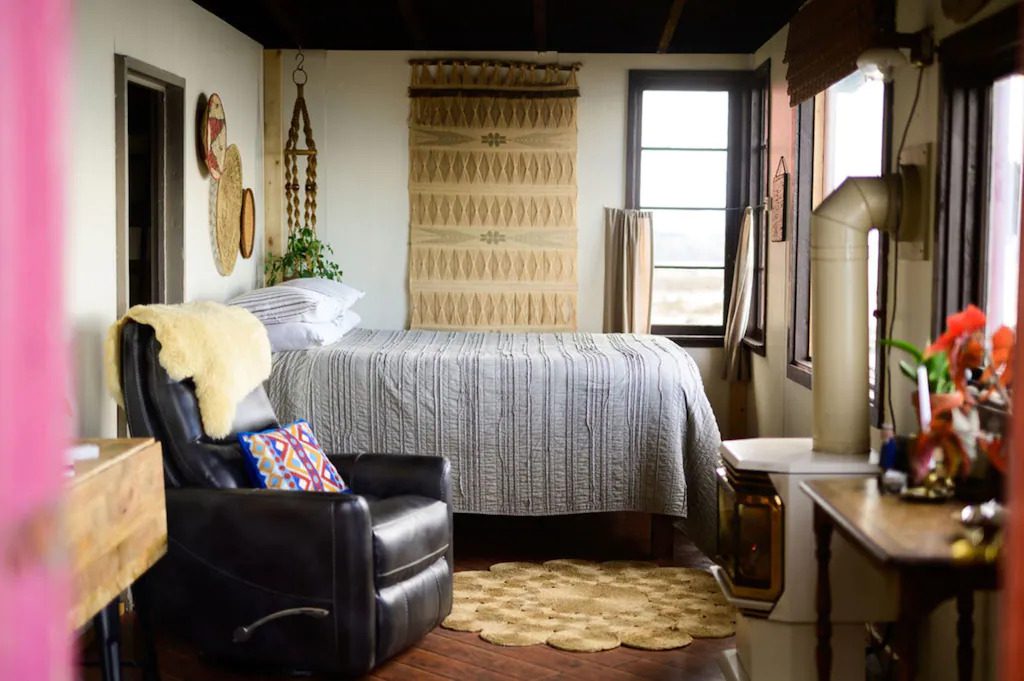 Imagine staying in a rustic cabin that's sitting right on the beach in Port Angeles. With ocean views from the comfort and warmth of your cozy bed. This cabin doesn't have electricity, but it does run all appliances on propane. Also, if you enjoy a nice and cozy wood-burning stove for those chilly evenings, then you're in luck because this cabin has one. Plus, it's LITERALLY right on the water.
That place booked? The host has two other listings nearby, which are essentially the same: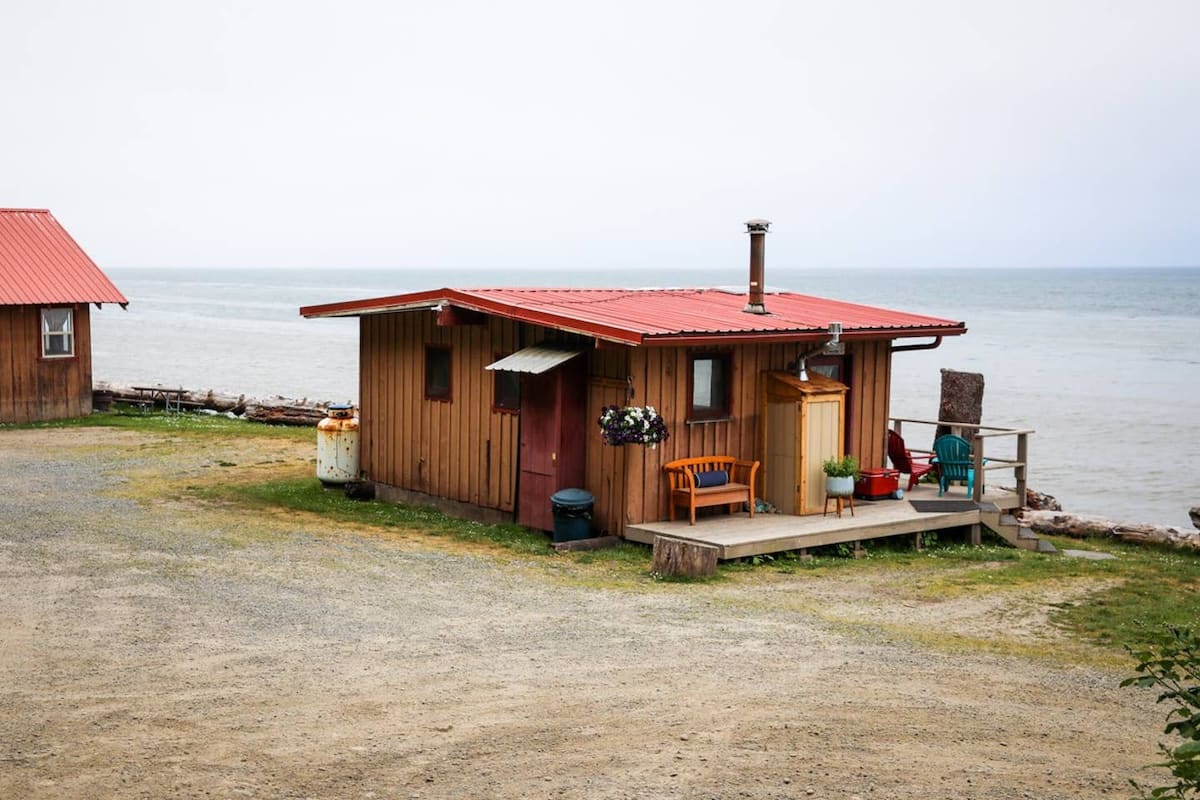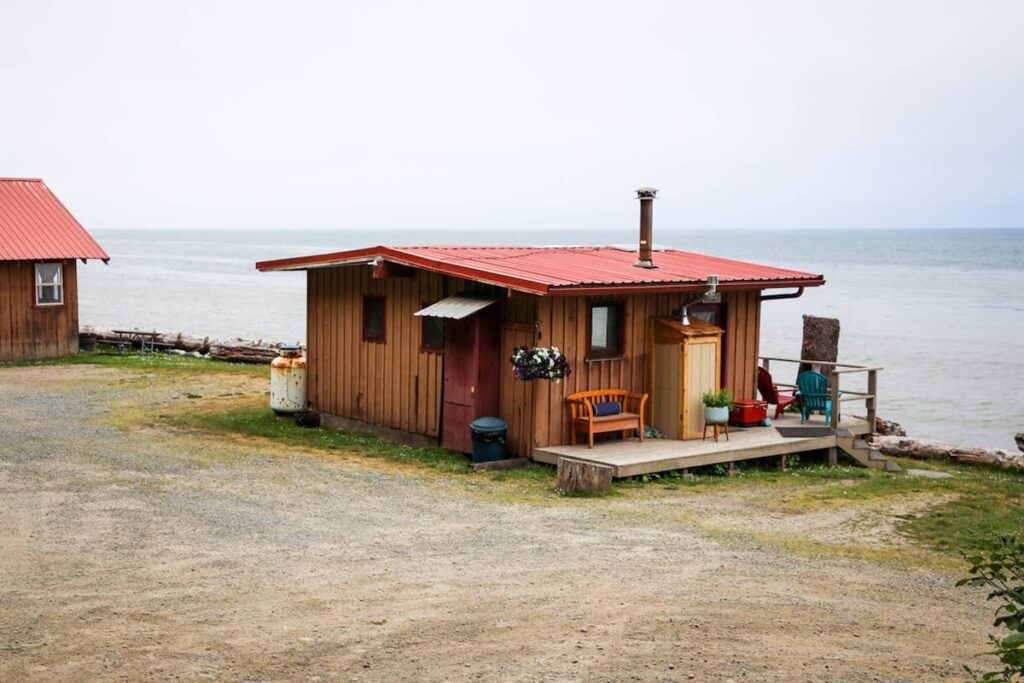 ---
A Unique Treehouse in Port Angeles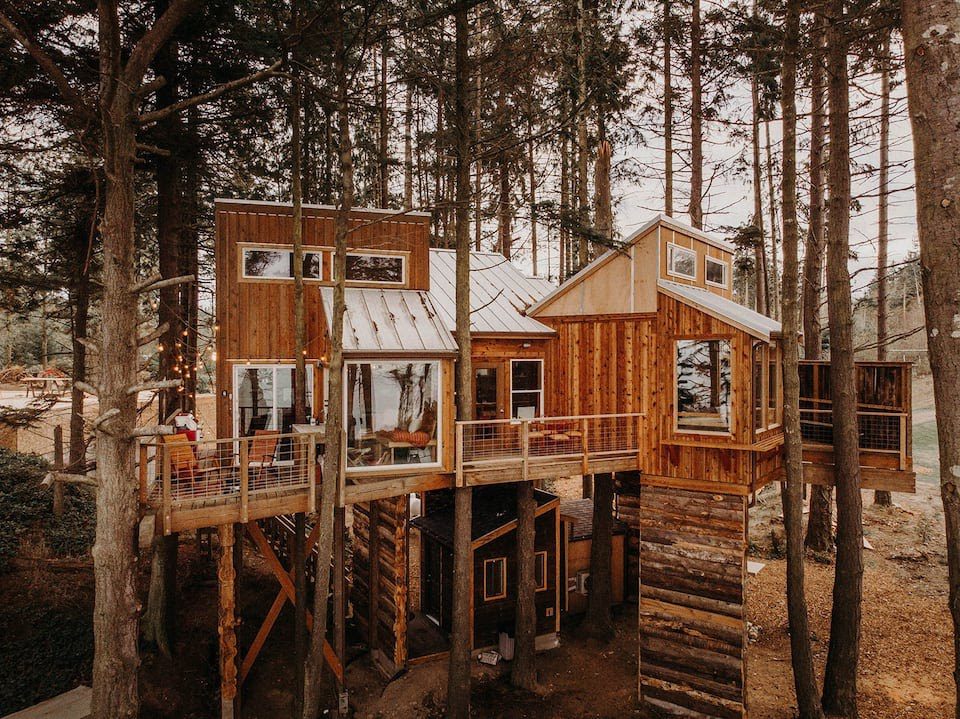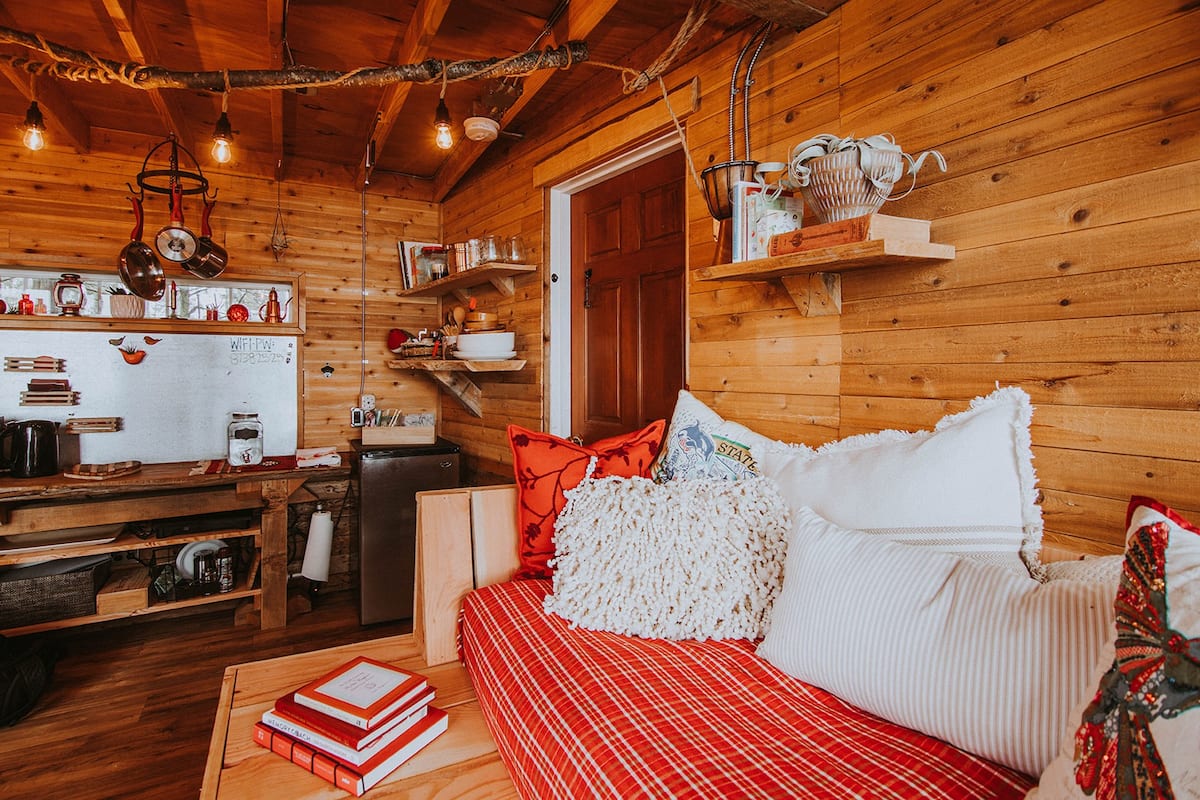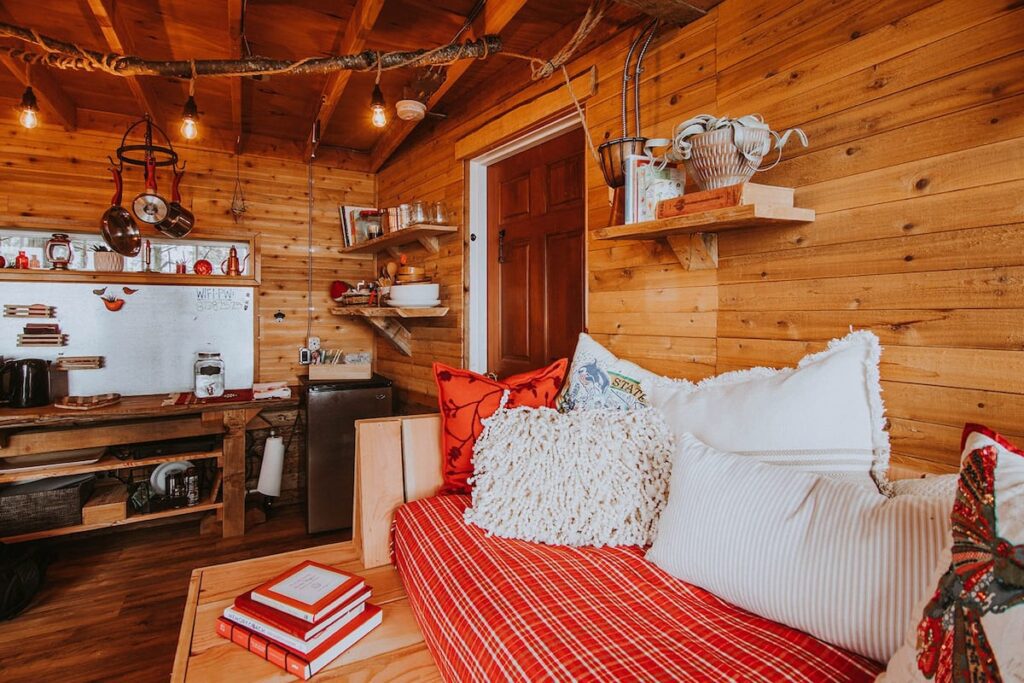 A tree house? Sign me up! This gorgeous treehouse property has views of the Strait of Juan de Fuca from the living room, along with a kitchen and a shared firepit that overlooks the ocean.
This is a super unique stay on the Olympic Peninsula, and makes a great rustic weekend getaway from Seattle.
It's worth noting that it's about 45 minutes away from Lake Crescent and Hurricane Ridge, which is plenty close for a day trip to either location. Still, this property is worth the drive, we think.
lakefront houses on Lake Sutherland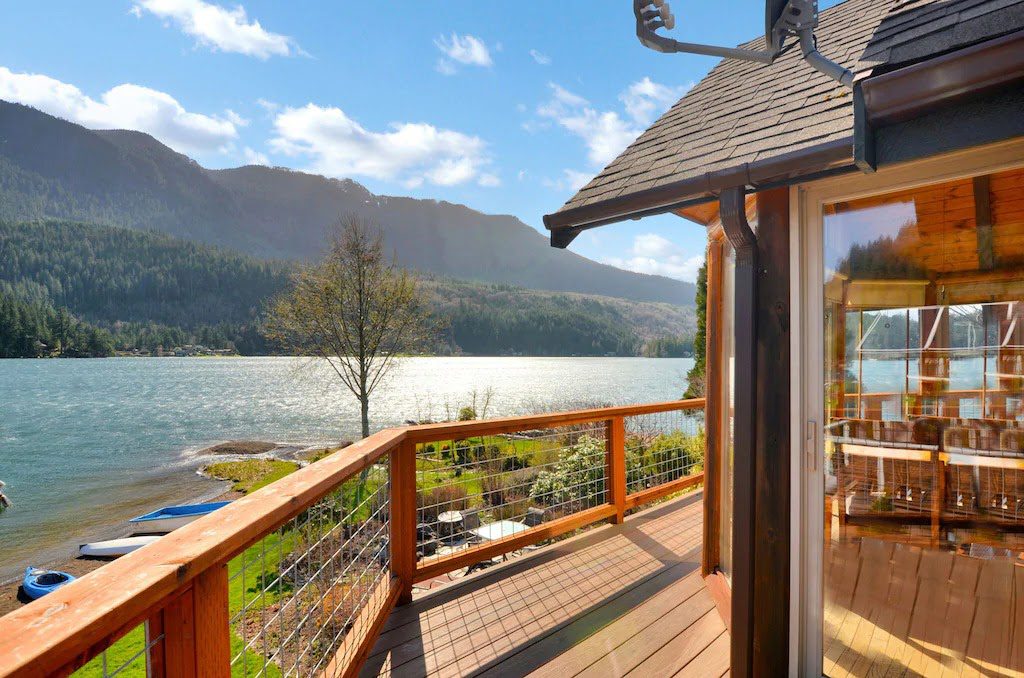 Lake Sutherland, which is just east of Lake Crescent (roughly five miles away), is a great home base for families and groups who want plenty of space and a waterfront property. Since there's not really too many options on Lake Crescent, this is your best bet for a lakefront stay.
There are a bunch of options along the north shore, which is right off of 101 and puts you in a good spot for exploring the areas around Hurricane Ridge and Lake Crescent. Here are a couple of places that caught our eyes:
Sunny Lake Sutherland Charmer (sleeps 4-8): Right on the lake with its own dock! Two bedrooms with a variety of other sleeping options, like a murphy bed.
Lakefront Home with All the Amenities (sleeps 6-8): Amazing wraparound deck with plenty of room for groups and families looking to explore Olympic National Park.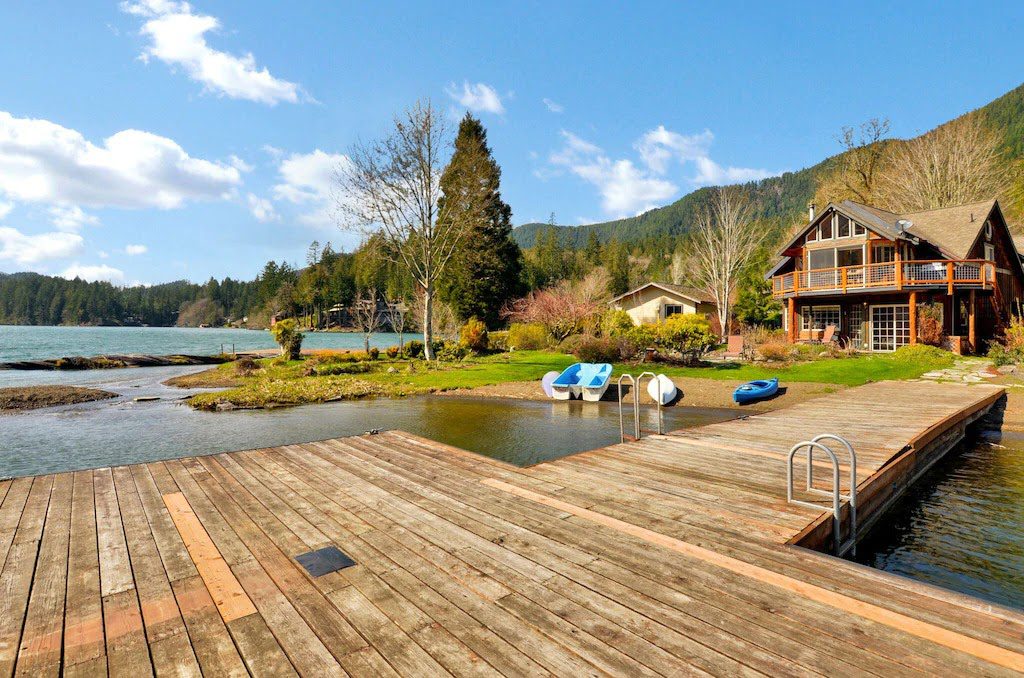 Camping Options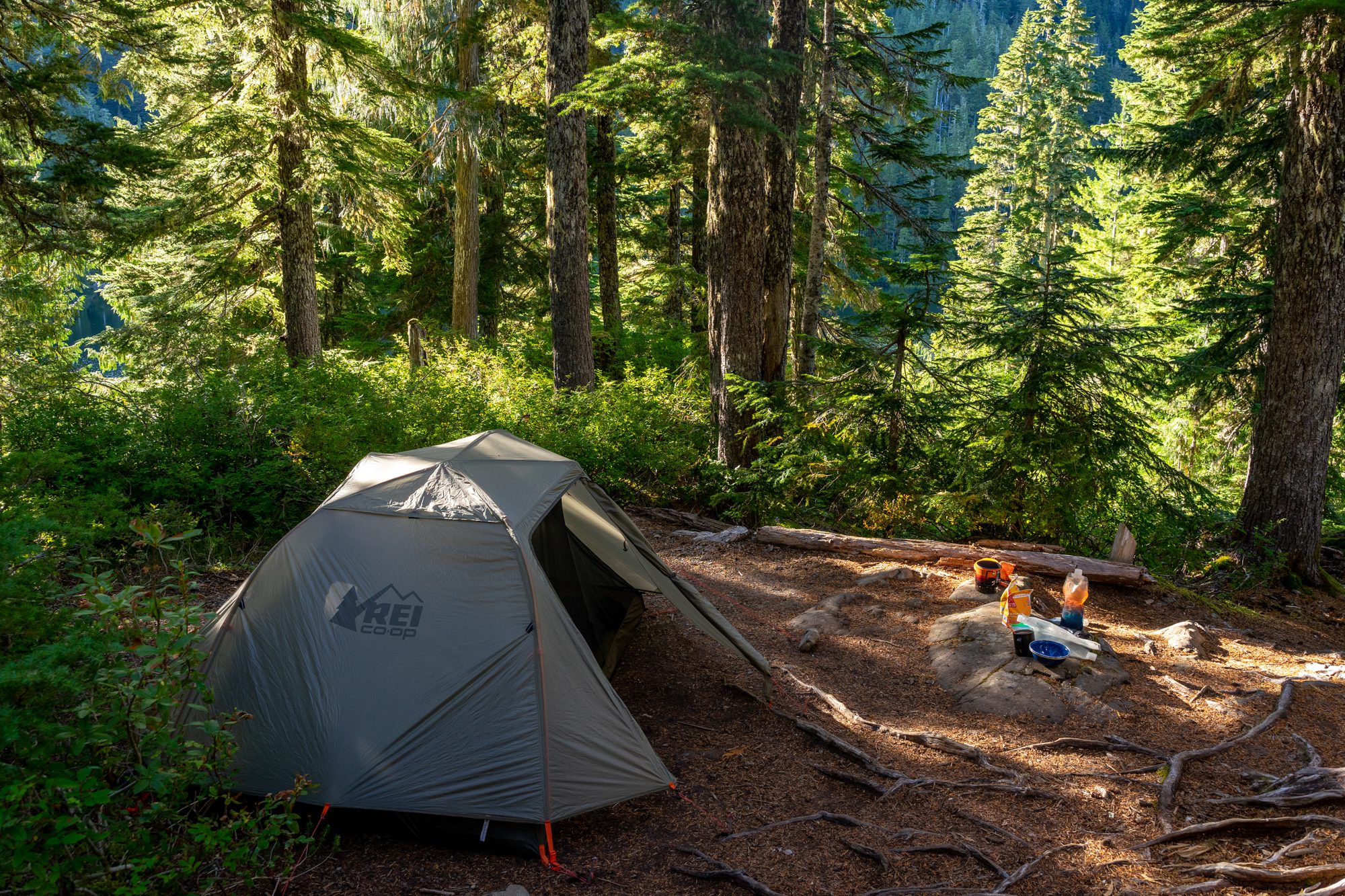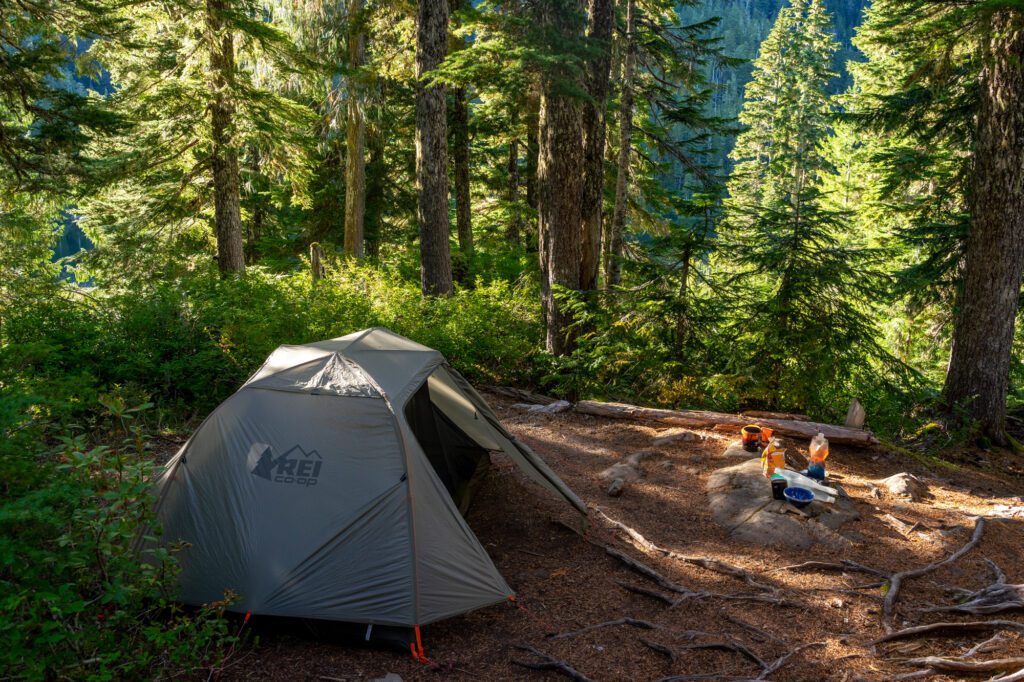 If you're looking to go as rustic as it gets, then here are three great camping options.
Heart o' Hills Campground
This is a first-come, first-serve campground. Heart o' Hills is situated nearby the Hurricane Ridge trailhead and is surrounded by old-growth forest. Given its location, it's a very popular campground, so make sure you come early enough to snag a spot.
Fairholme Campground
Fairholme is another first-come, first-serve campground that provides you with direct access to Fairholme Beach. There are 88 sites and a lot of RV traffic. The campsites are surrounded by stunning Douglas firs and western red cedars.
Sol Duc Campground
You can reserve a spot at Sol Duc Campground in advance, which is what we did before hiking the High Divide Trail for the next few days. It's located right by the Sol Duc River, which is at the edge of the backcountry of Olympic National Park. There are hot spring pools you can enjoy after your treks in the park.
Forks & La Push: Best Place to Stay to Explore Pacific Beaches and Hoh Rainforest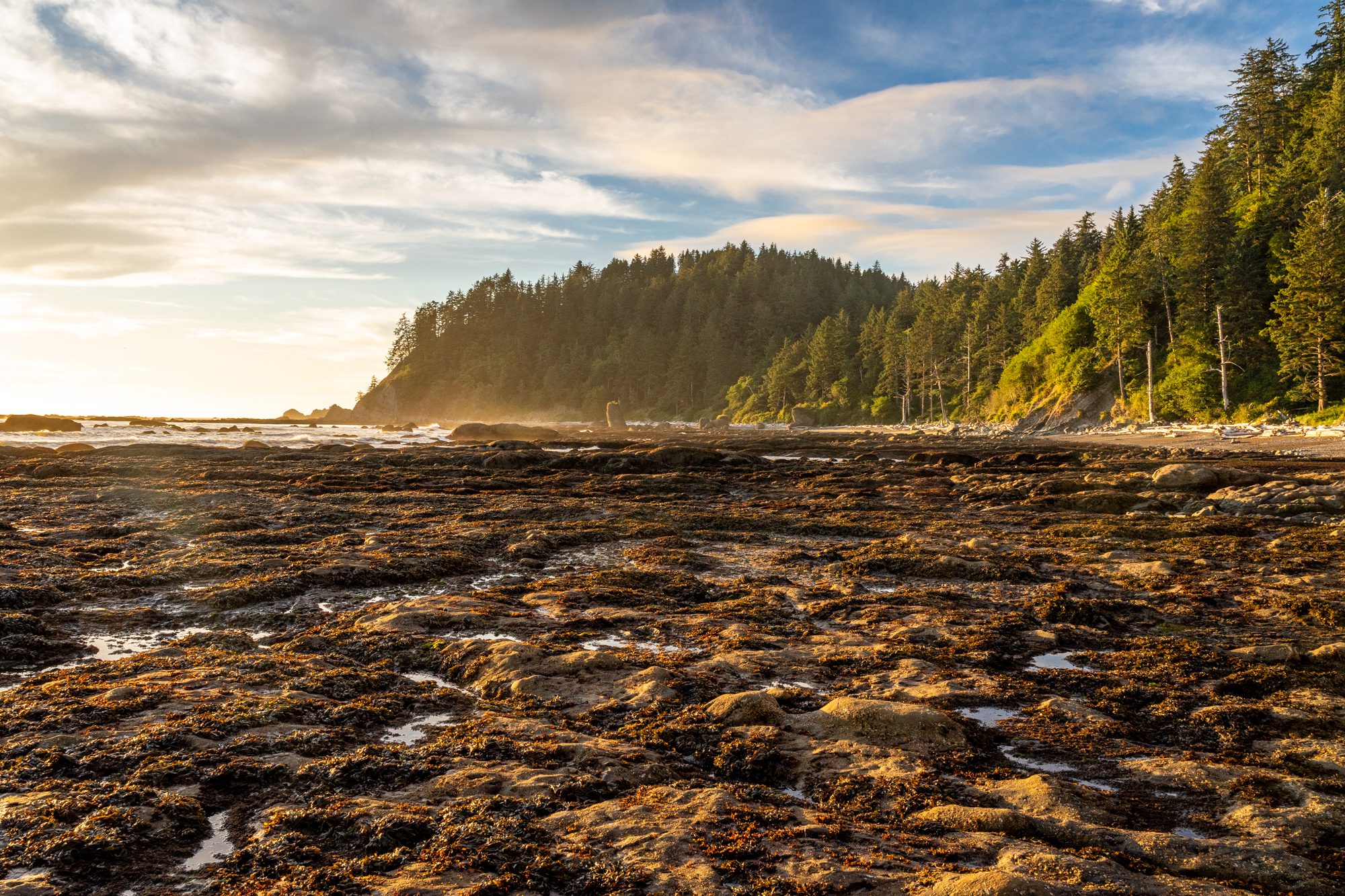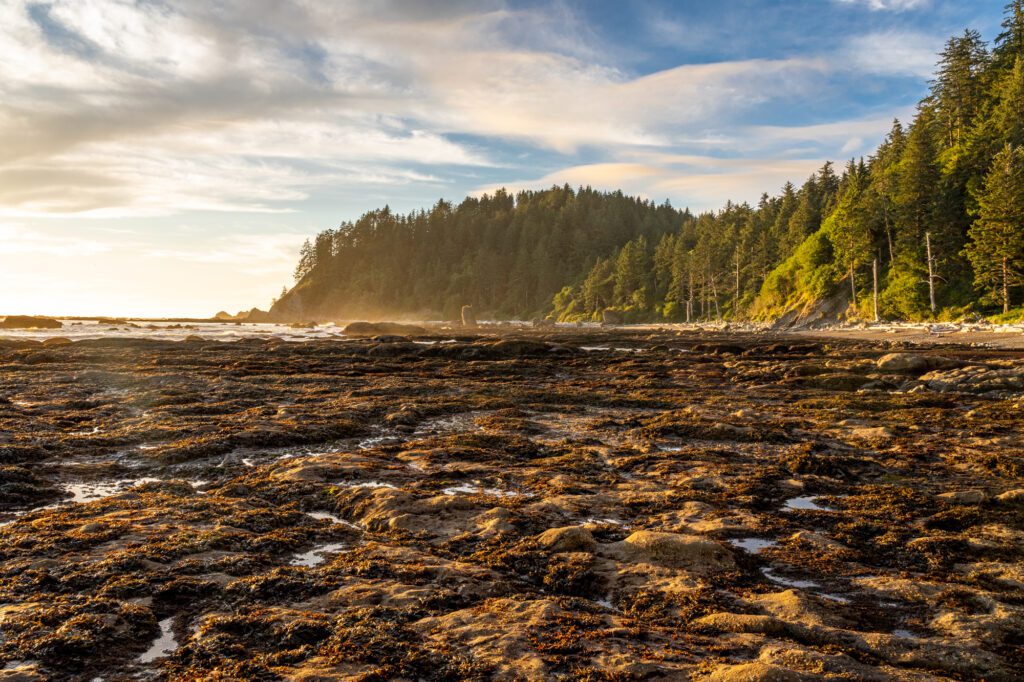 If you're looking to explore the Coast and Hoh Rainforest, there are some great options in Forks and La Push.
Hotels & Lodges near Forks
If you want to be able to return to a warm, comfortable room after a day out exploring, here are some great hotel and lodge options that caught my eye.
Quillayute River Resort
Located in the town of Forks, Quillayute River Resort has several suites available, each with a full kitchen. This gem has gracious hosts and features gorgeous river views. The Quillayute River meets the Pacific Ocean, so you'll have access to the stunning coastal beaches in the area.
Manitou Lodge
Located between Forks and La Push, Manitou Lodge has that classic lodge look, with a high-vaulted ceiling and enormous stone fireplace. If you want a place that has Native American and Pacific Northwest artistic charm, then this is the place for you.
Quileute Oceanside Resort
For an even closer stay to the coastal beaches, Quileute Oceanside Resort is the tranquil resort to choose. The Quileute Nation has provided its land to act as a base camp for your trekking throughout the Coast and Olympic National Park wilderness. There are dozens of oceanfront cabins on this gorgeous property.
Vacation Rental Options in Forks / La Push
There are some nice vacation rentals near Forks that would make a lovely home base for exploring the Pacific beaches and Hoh Rainforest. Here are our top picks in the area.
Rustic Tiny Home Cabin in Forks (sleeps 2)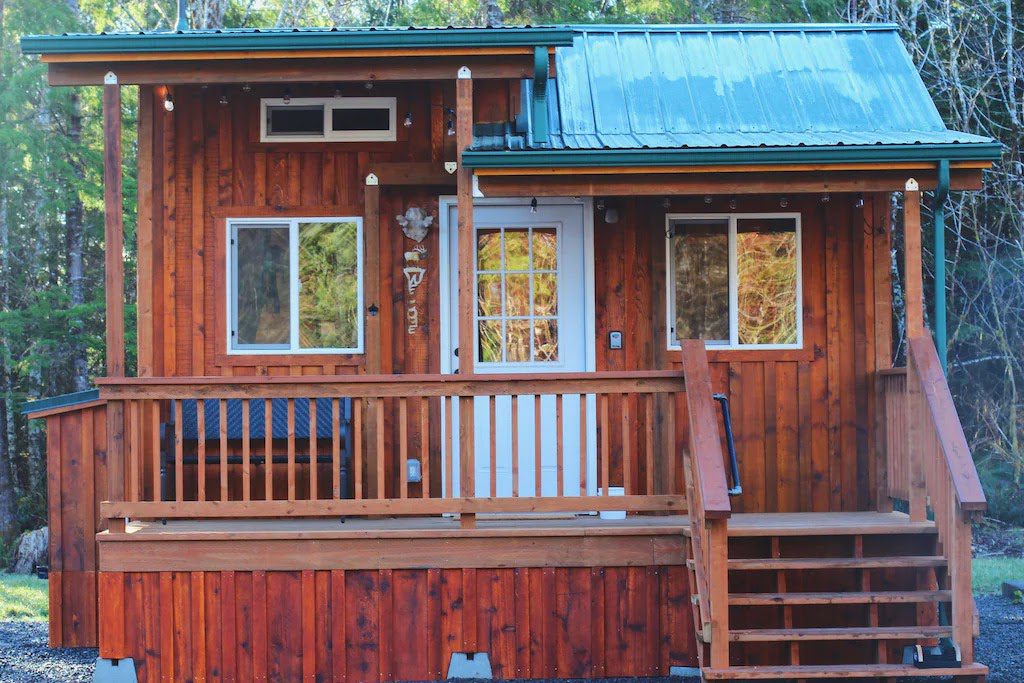 This cozy tiny house is a rustic cabin that's just a few minutes away from Forks and the Sol Duc River. You'll be able to enjoy serenity on a covered porch and later on have a fire going in the fire pit.
It's cozy, so don't expect a ton of room here, but it has everything you might need for a couple of days exploring the coast and the rainforest nearby.
There are actually two nearly identical cabins here – Cabin 1 // Cabin 2.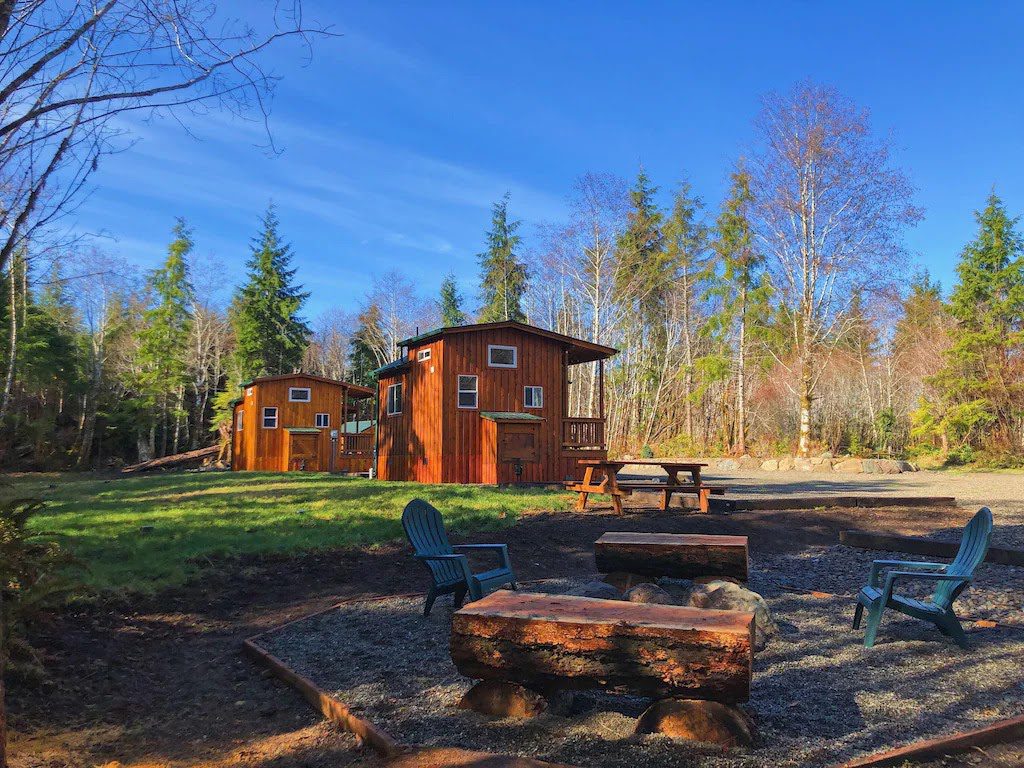 Wild West Coast Getaway (sleeps up to 6)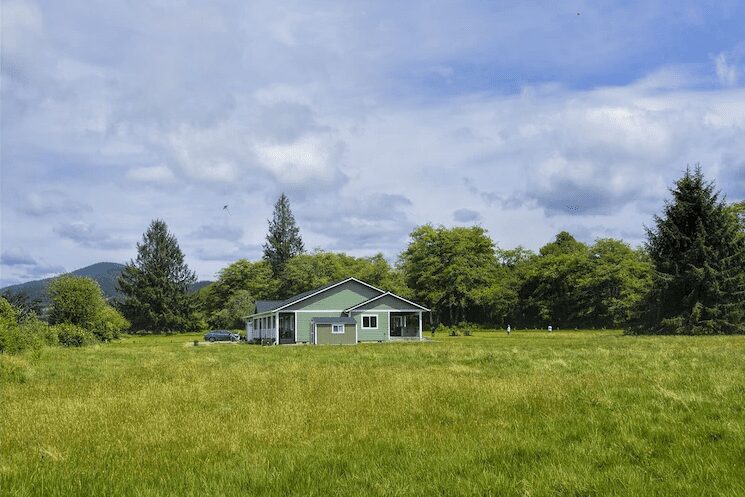 This charming house has three bedrooms with plenty of space for groups and families to spread out a little bit. Plus, it has a nice kitchen that has everything you need to cook your own meals here, minus the groceries, which you'll need to bring from home or pick up in the town of Forks. Lucky for you, this home is fairly central to Forks, so it'll be a short journey into town.
Spend the evening around the firepit in the backyard, or soaking in the hot tub after a long day of hiking and exploring.
Camping Near the Beaches
There are two great campgrounds to choose from on the Western side of Olympic National Park that I recommend. Either one of these will be a good base camp for your outdoor adventures – we stayed at Mora, which you can reserve in advance.
Mora Campground
Situated in a coastal forest filled with mossy trees, Mora Campground is also nearby Rialto Beach, which gives you quick access to the breathtaking Coast. There are nearly 100 campsites here, which are just a short walk from the banks of the Quillayute River.
Bogachiel State Park
Another great – and less popular – option in Forks is Bogachiel State Park. This campground is 127 acres, meaning plenty of room for you to pitch your tent. It's a great base for exploring the entire western region of Olympic National Park.
Southern Coast & Lake Quinault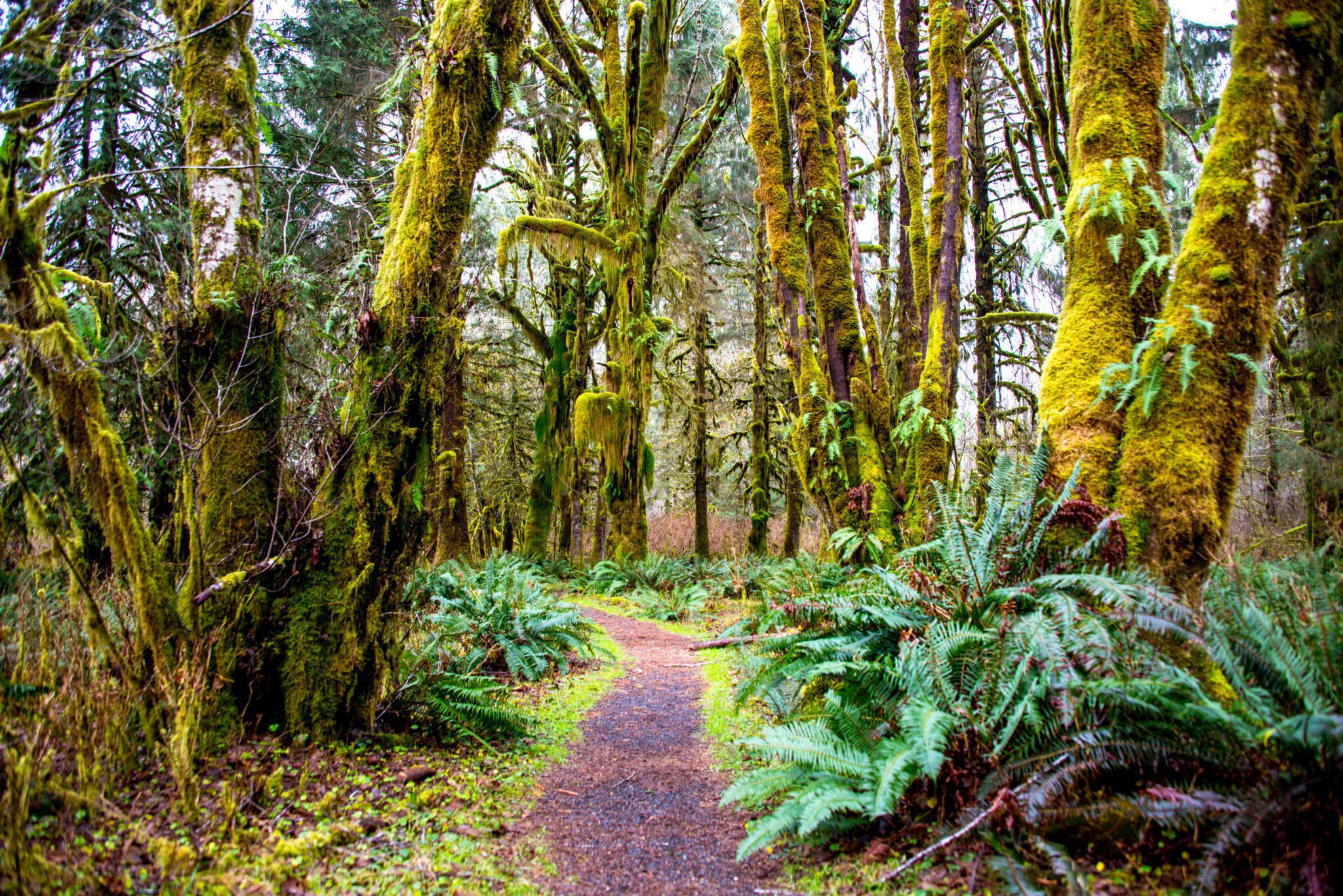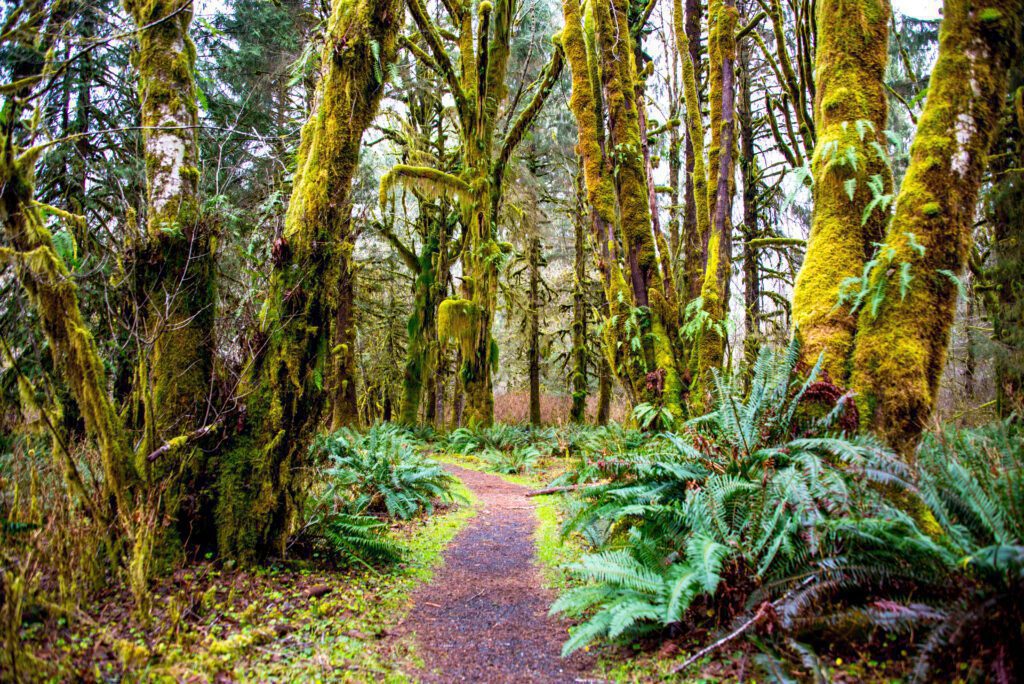 The last region I'll go over is the Southern Coast and Lake Quinault area. This is going to be a place that's more sparse when it comes to places to stay, with only a few lodges and campgrounds in the area.
Unfortunately, there are very limited vacation rental stays available here at this time – although we did come across this large property along the shore that would be a perfect getaway for groups!
While that could change, for now, you'll have to look for something else, like lodges and campgrounds.
Hotels & Lodges
The lodges and hotels in this region are minimal. Still, there are two great historic lodge options to consider if you don't want to camp.
Kalaloch Lodge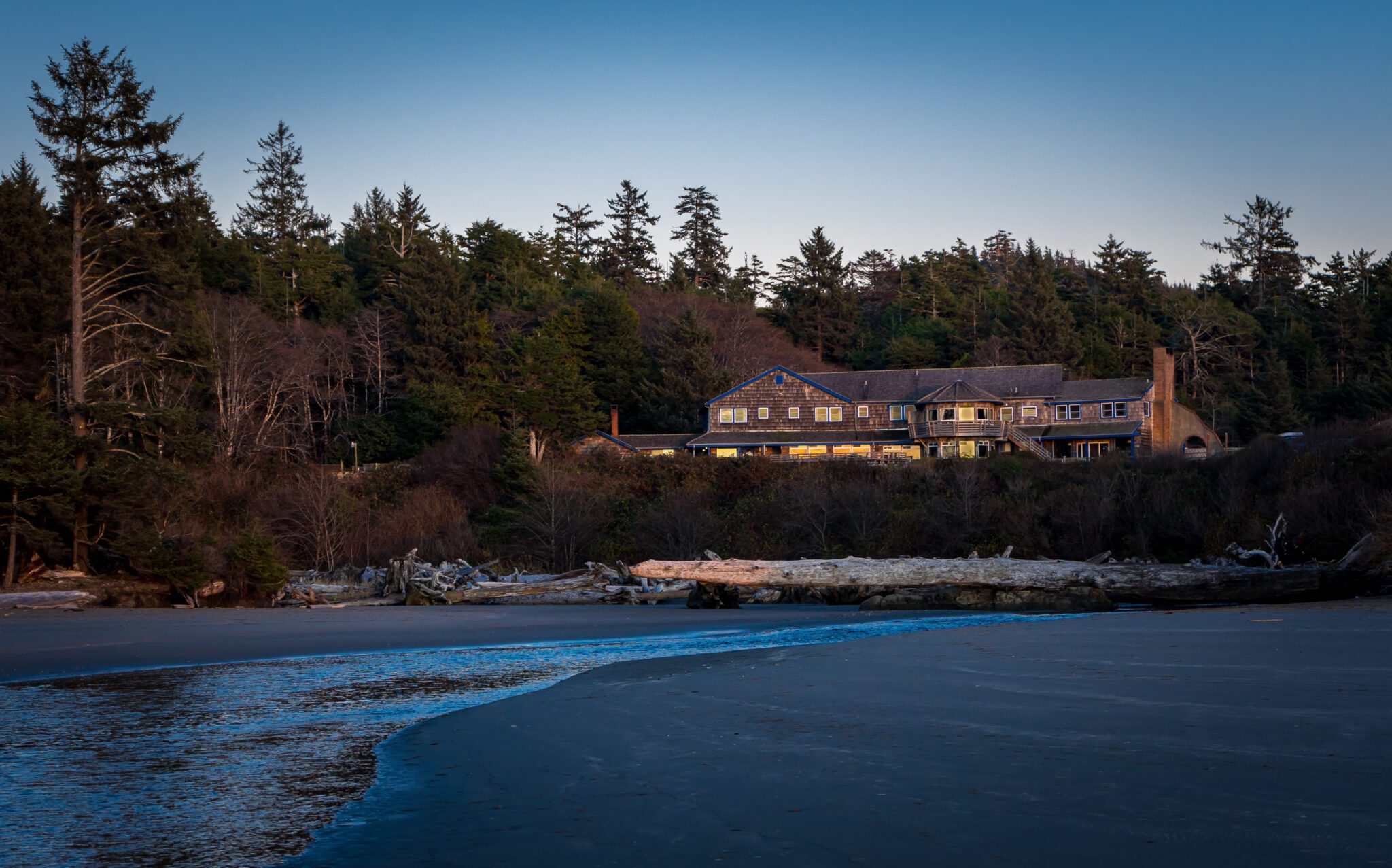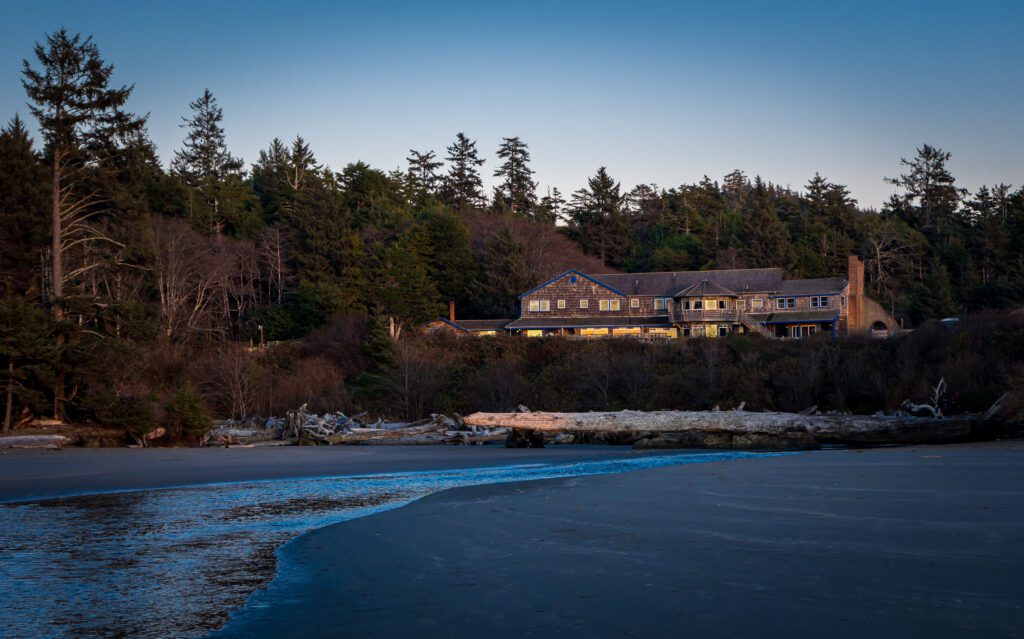 Located on the Southern Coast, Kalaloch Lodge is situated right on the cliffs of the Southern Coast. You will have extraordinary views from your stay, There are evergreen forests all around the lodge, helping provide the laid back charm that you will come to enjoy.
Lake Quinault Lodge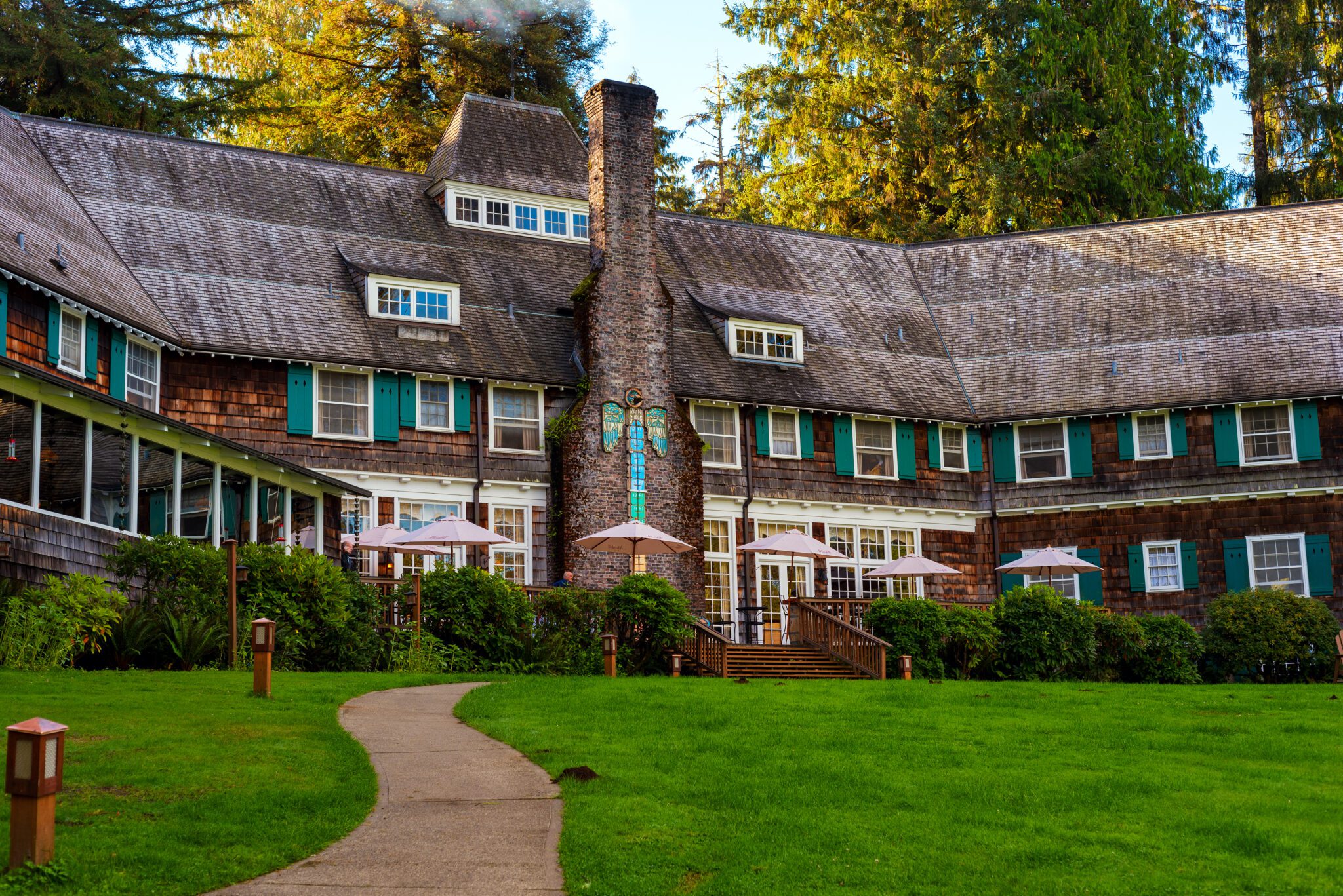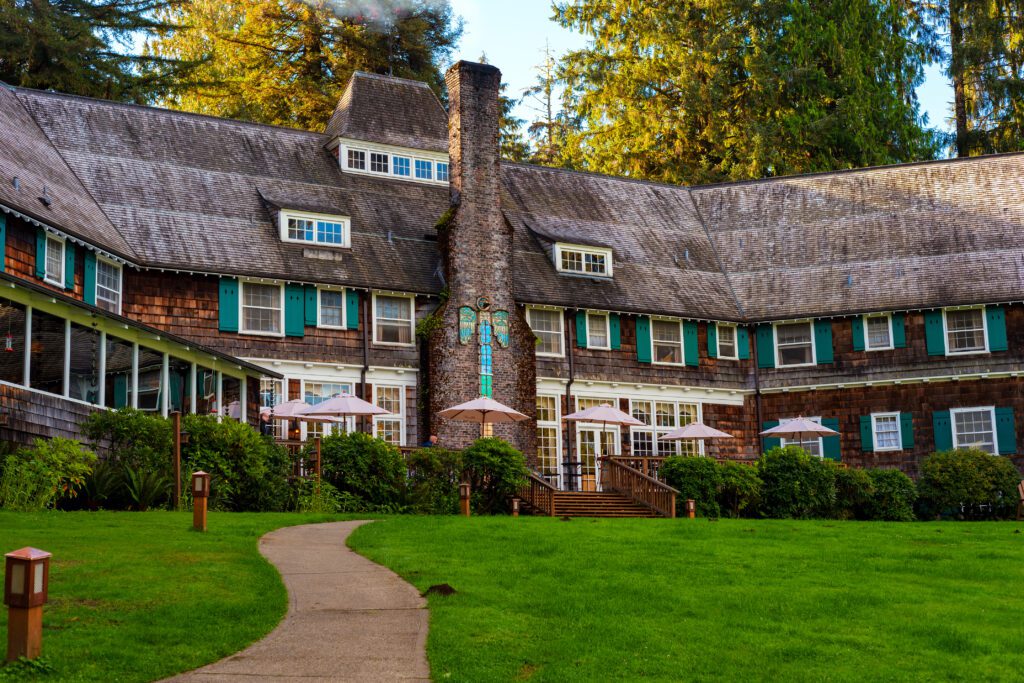 If you want to stay at a PNW-style lodge that is disconnected from the modern world, then Lake Quinault Lodge is a fantastic place to stay. This rustic lodge is nearly 100 years old and will feel like a home away from home. You'll even have a lakeside views of tranquil Lake Quinault.
Camping Near Lake Quinault
This area of the park has several camping options, including several that you can reserve in advance.
Kalaloch Campground
A reservable campground on the Southern Coast is Kalaloch Campground. There are 168 campsites located on a high bluff near the Pacific Ocean. You can easily and quickly get to the beach from this campground.
Falls Creek Campground
Another place to pitch your tent is Falls Creek Campground, which you can also reserve in advance. This one is located right on the shores of Lake Quinault. There are just 31 campsites, so make sure you reserve your campsite as soon as you know when you want to visit Olympic National Park.
Wallaby Campground
A third reservable campground, Wallaby Campground, is also alongside Lake Quinault. There are even fewer campsites here than at Falls Creek, so if you want to stay somewhere surrounded by evergreen trees in a temperate rainforest, you will need to reserve a campsite well in advance.
---
Olympic National Park is a massive 1,406 square mile area that features all sorts of diverse terrain, from snow-covered mountains, to temperate rainforests, and even sandy beaches. There's an extraordinary amount of biodiversity to explore here, which is why I recommend you take three to five days for your trip.
The best places to stay in Olympic National Park are all here, so decide on what region of the park you want to explore and pick the style of accommodation you prefer.
Planning a Trip to Olympic National Park? Make sure to check out our other travel guides for this PNW gem!
I hope you have an incredible time exploring a park that has some of the most fantastic hiking in the United States!