13 of the Coolest Hotels in Seattle, WA to Book Now
At this point, Seattle is world-famous all sorts of things. To name more than a few, for its weather, coffee culture, Nirvana, and of course, the TV show Frasier. As one of the fastest-growing cities in the U.S, it is also home to Boeing, Microsoft and Amazon (world domination here we come!), the Space Needle, Pike Place Market, Pioneer Square, and of course, Starbucks.
With so much history and culture, it's no surprise that there is a ton to do and see, and a plethora (love when I get to sneak in my favorite word!) of coolest hotels in Seattle to spend a night or four as a home base for exploring the Emerald City.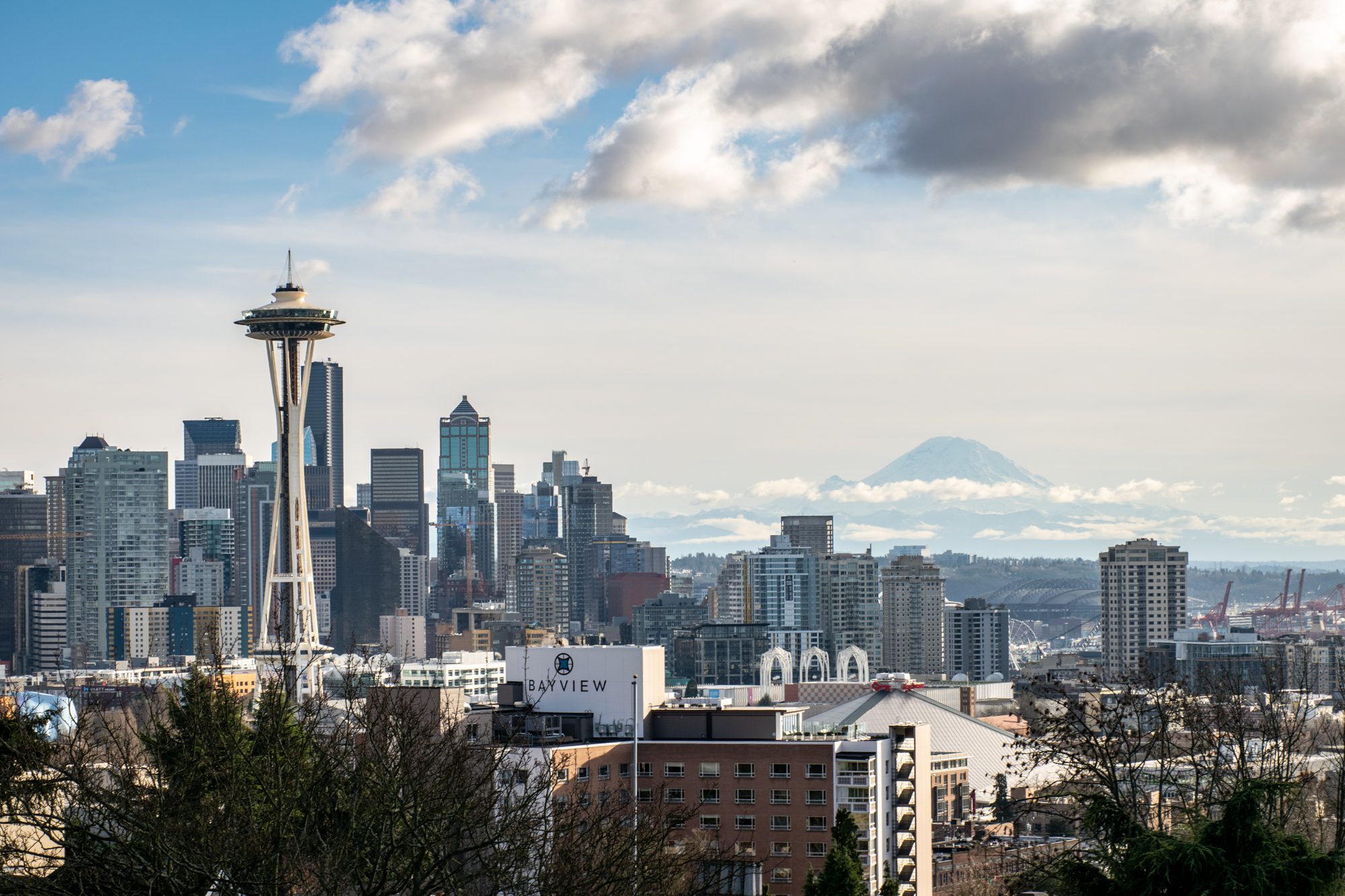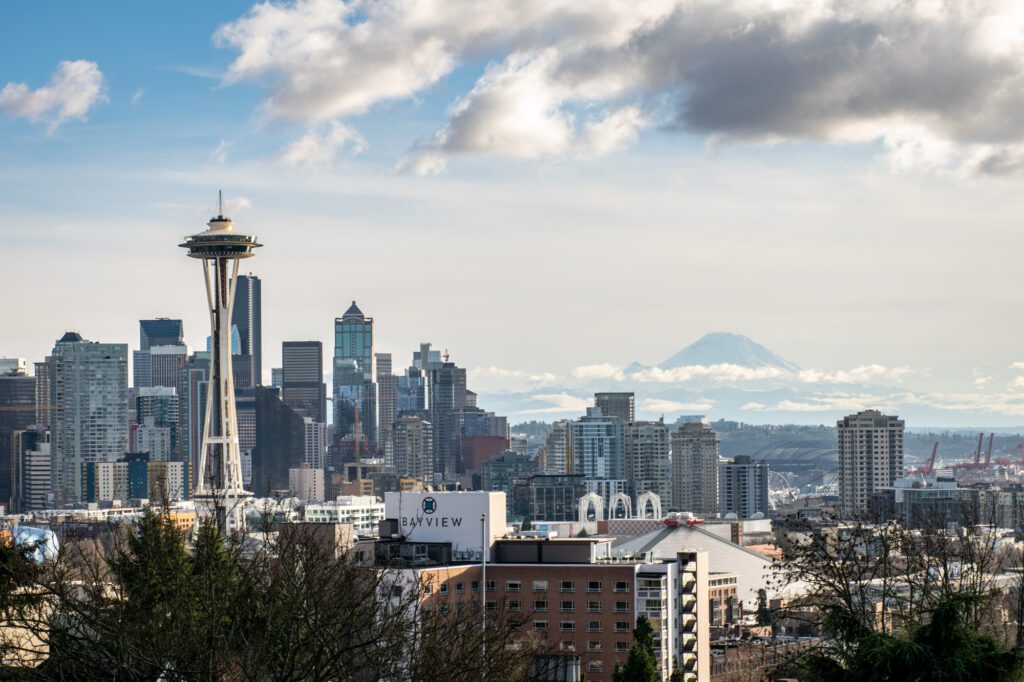 Disclaimer: Some of the links in this post, like hotel links, are affiliate links, meaning at no additional cost to you, we make a little bit of money if you click through and book. That being said, we would never recommend something to you that we don't stand behind 100%.
13 Cool Hotels in Seattle: A Complete Guide to Finding the Perfect Hotel
So the question is, when (not if!) you go, where should you turn to for the best stay? Keep reading to discover 11 of the best hotels in Seattle to book for your upcoming trip!
The first part of this list will be the six of the best boutique hotels in Seattle.
We have personally stayed at the Ace Hotel Seattle, and recommend it for the helpful staff, central location, and comfortable and stylish rooms. For the others, I've scoured reviews, pictures, and more to whittle down the long list of amazing Seattle hotels to get to the spots on this list.
The CitizenM Seattle: A Modern Hotel at a Great Value (Where We've Stayed)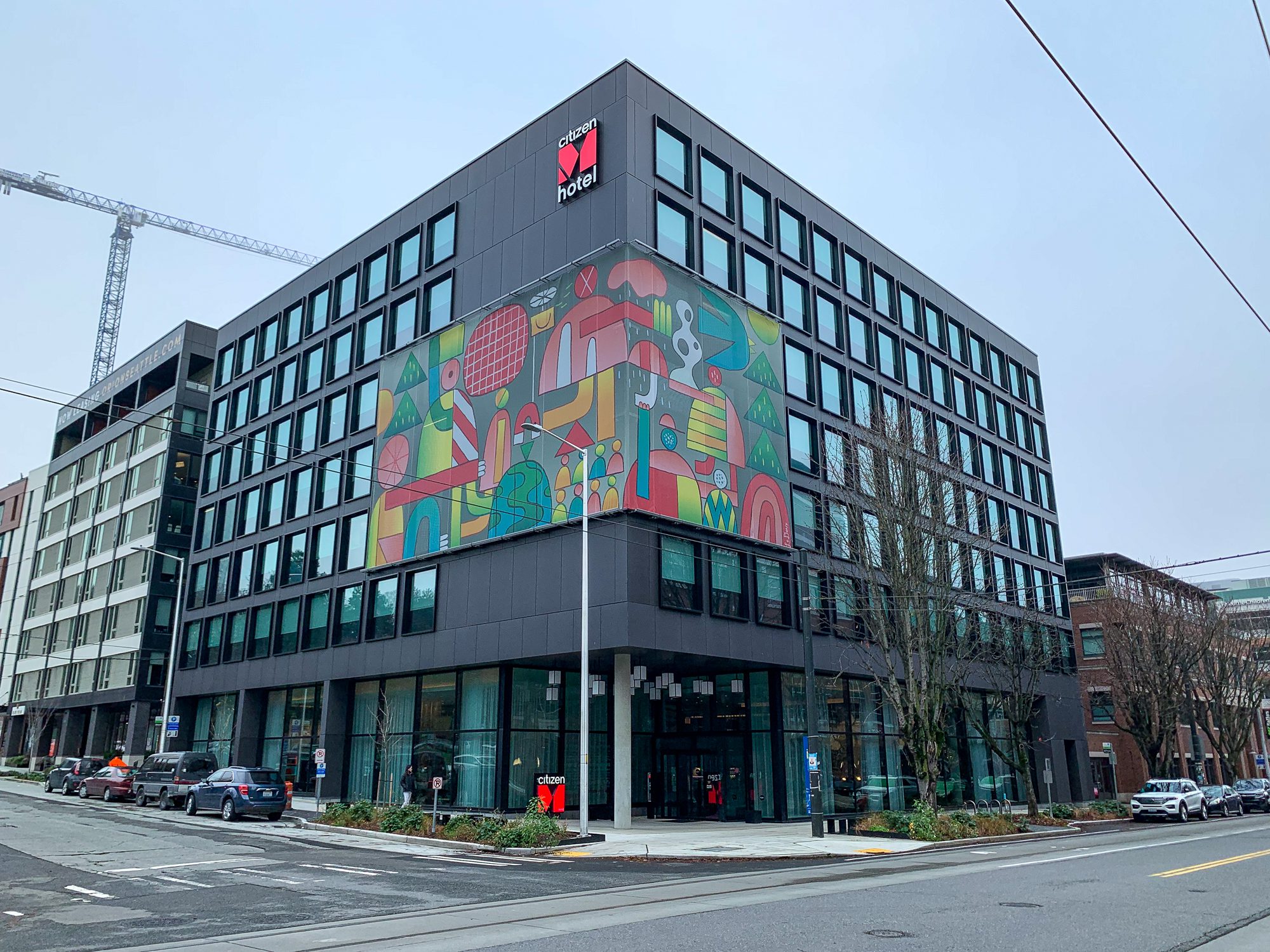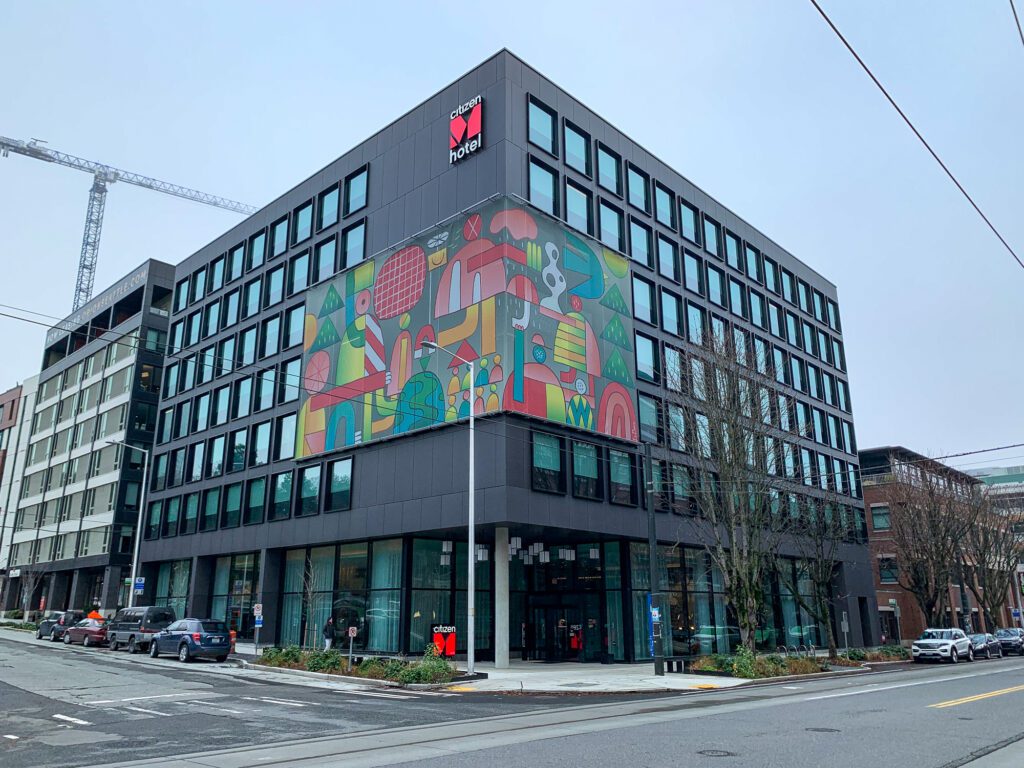 We love CitizenM Hotels, full stop. And the CitizenM Seattle is no exception. We stayed there on a recent staycation in Seattle, and absolutely loved it.
What CitizenM – a Dutch hotel company with hotels all over the world – brings to the table is everything you need, and nothing you don't.
Unlike other hotels, where you'll have a choice between "basic" to "super suite," all rooms are CitizenM are the same. They all are relatively small, and have one big king bed. And they don't have unnecessary amenities like bathrobes and soaking tubs that you're usually paying a premium for.
It's like they started with a blank slate and said "what do modern travelers really need in a hotel?" The result is a clean, modern, stylish experience with rooms that have everything you need to get a good night's sleep.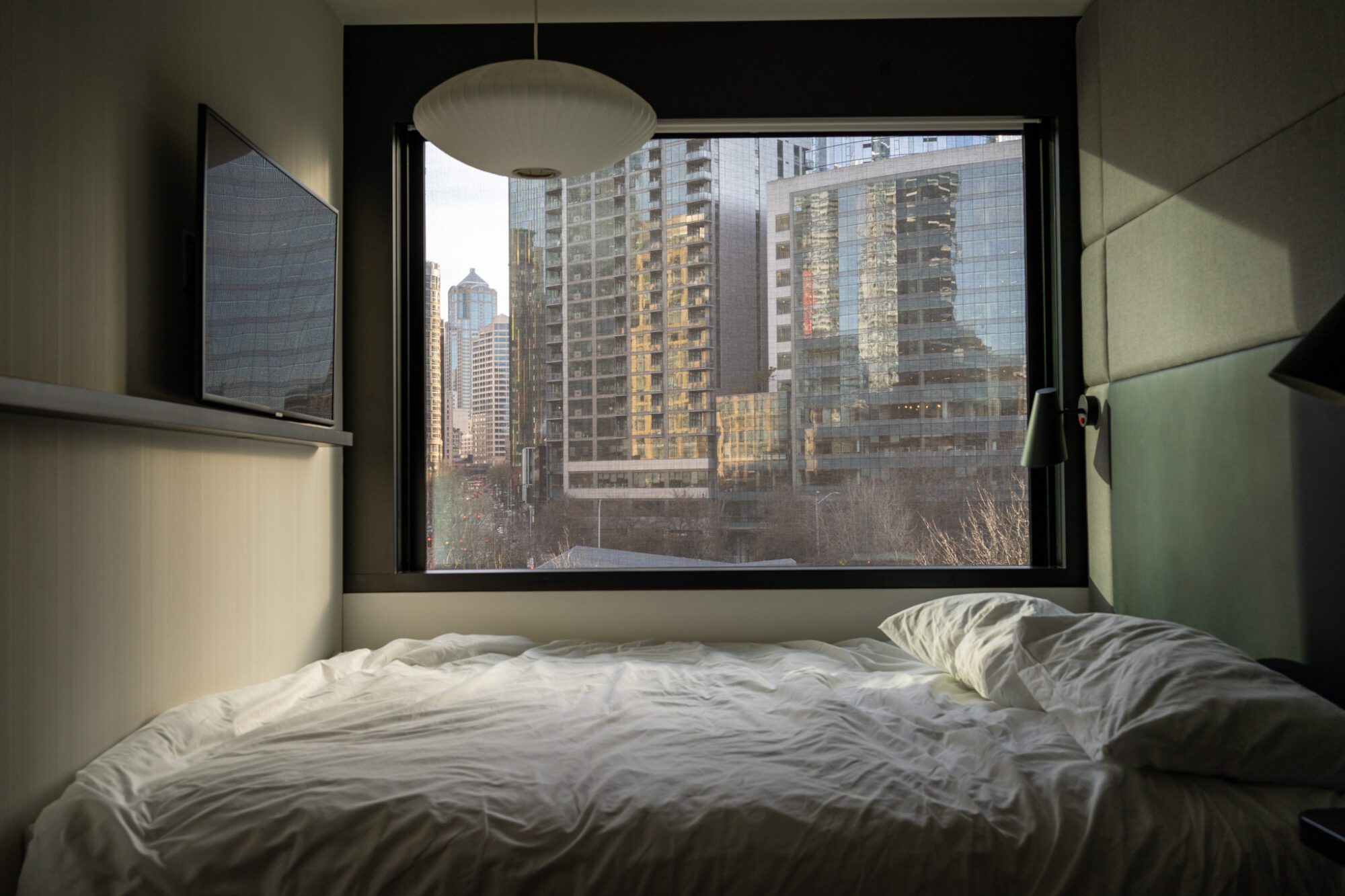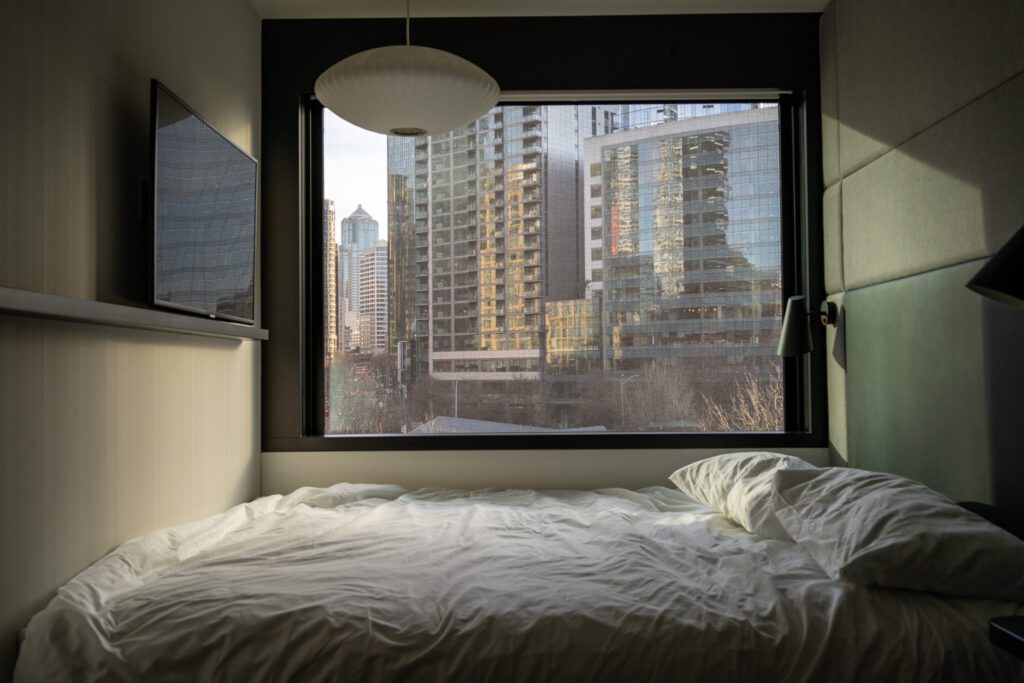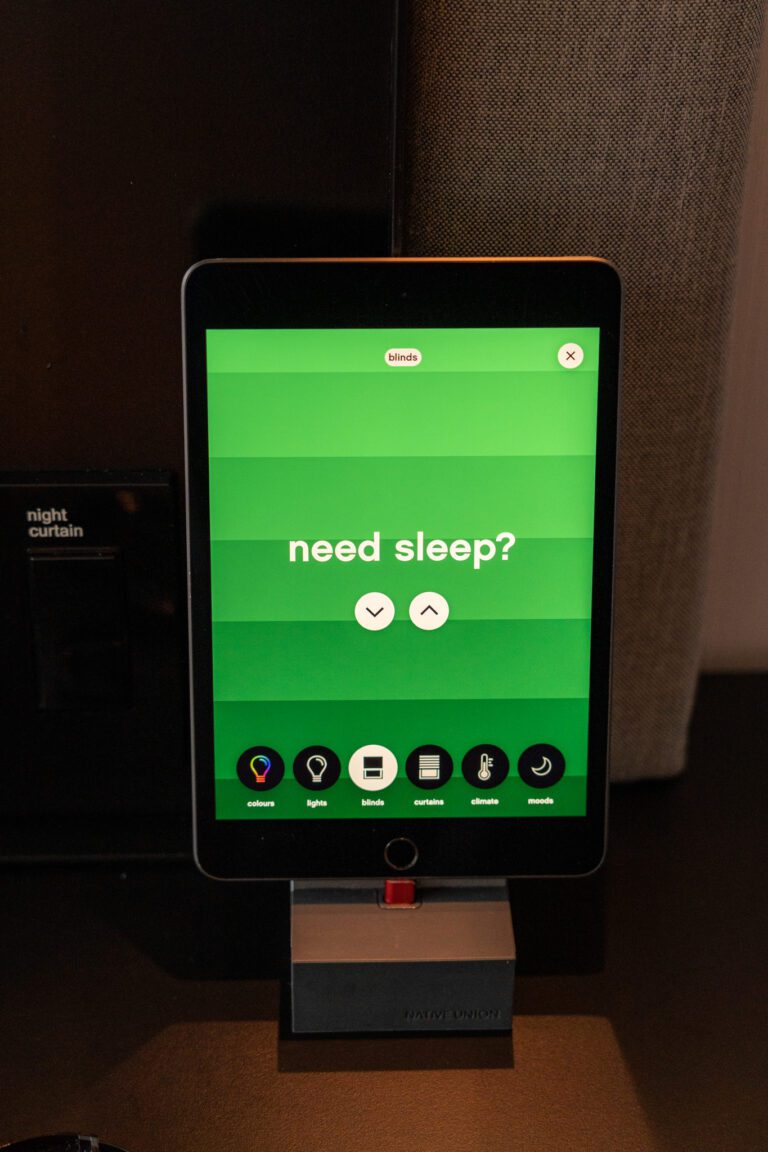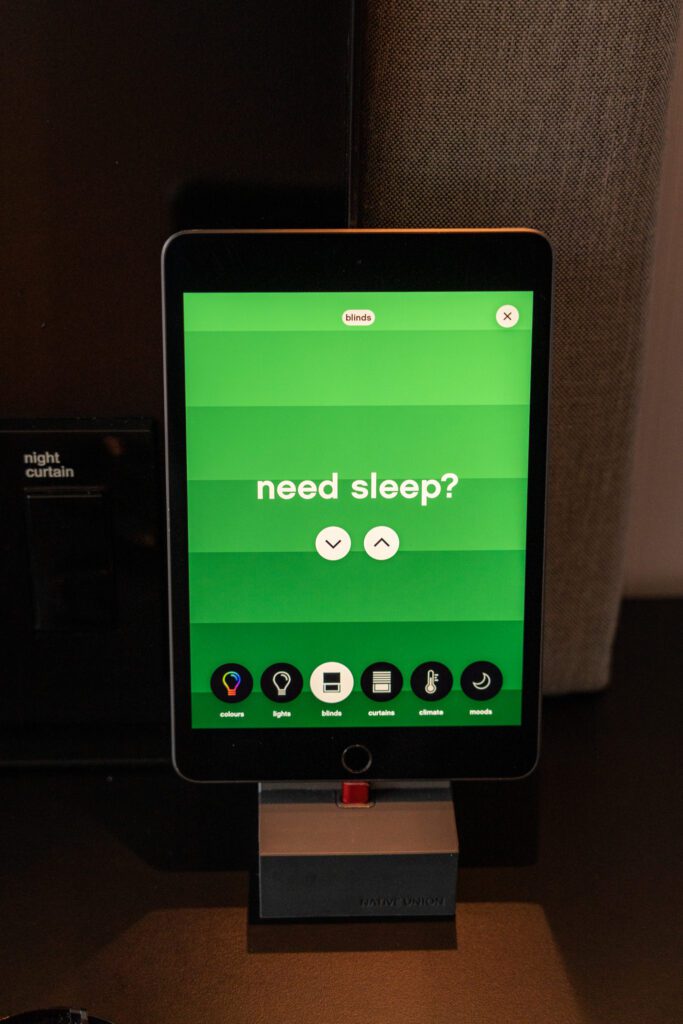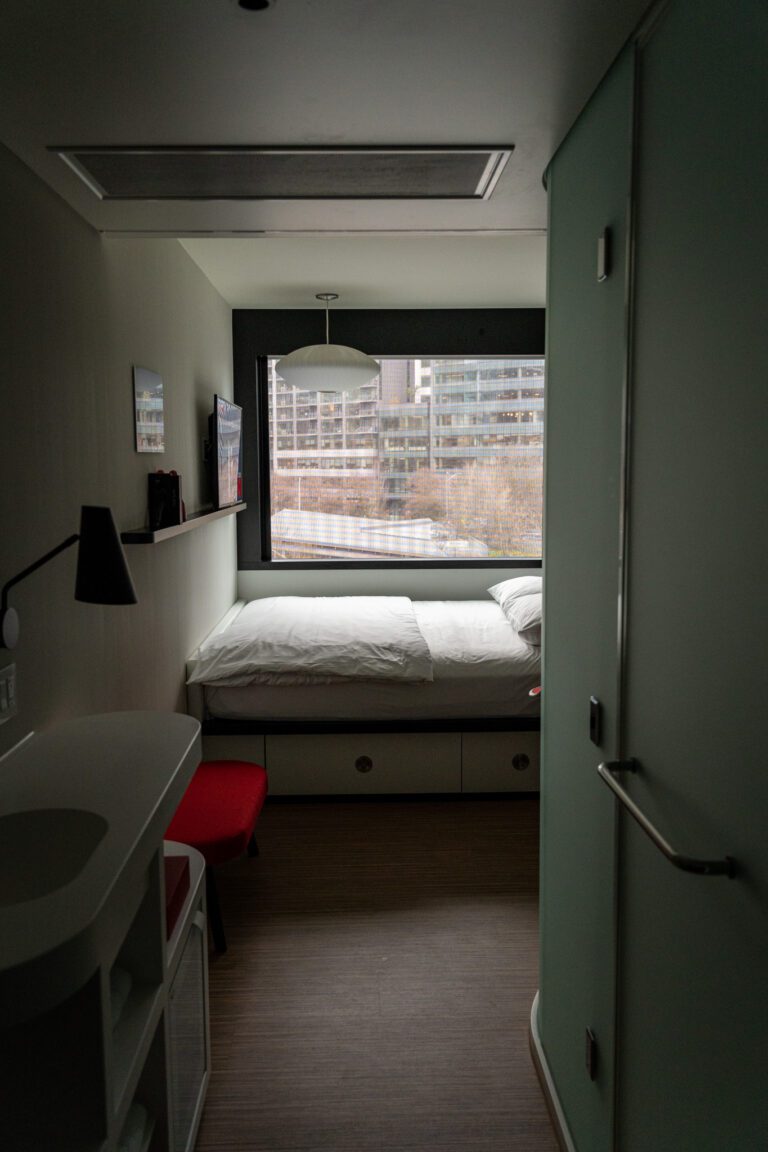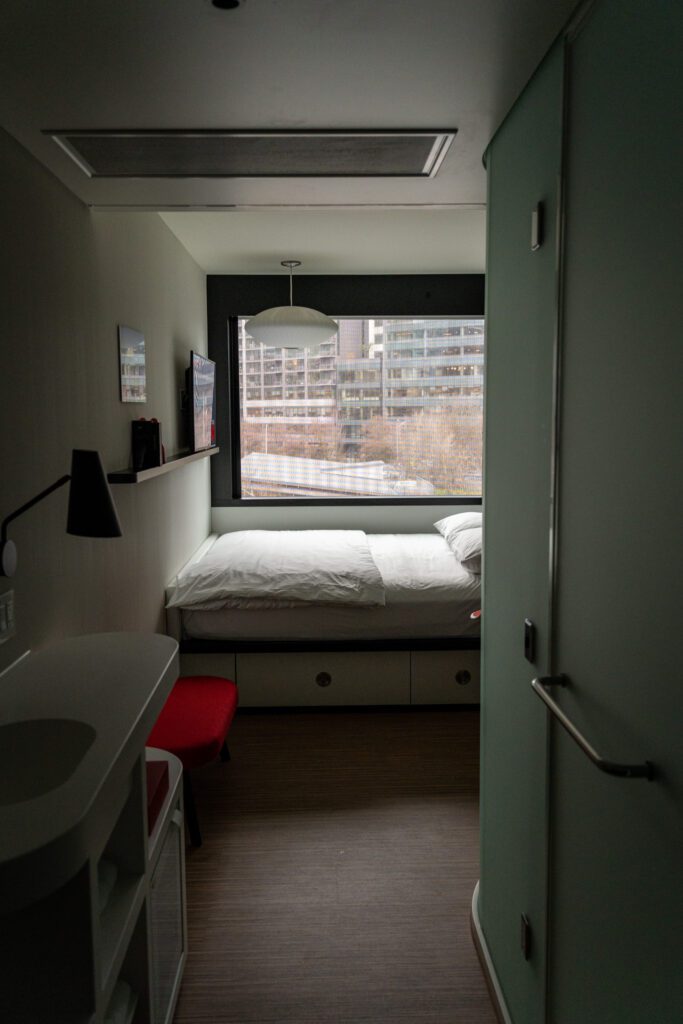 Want to learn more about the CitizenM in Seattle? Read our in-depth review of the CitizenM to decide if it's the right hotel for your time in Seattle!
Instead, you'll get a modestly-sized room with an extra large king bed and modern amenities like lights and heat controlled by an in-room tablet, USB charging, and blackout curtains and soundproof windows.
One important thing to know is that if you're a family with young kids who want to all stay in the same room (with two queen beds, for example), you won't be able to do that here. It's really more geared towards traveling couples and friends, or solo travelers.
And rooms are definitely small. There's not much room to do anything other than sleep or lounge, which isn't really an issue if you're planning on being out and about for most of the day anyway. The lack of space in the room itself is offset by the fact that they have all sorts of great common spaces in their first floor "living room" – couches, desks, conference rooms, and a bar.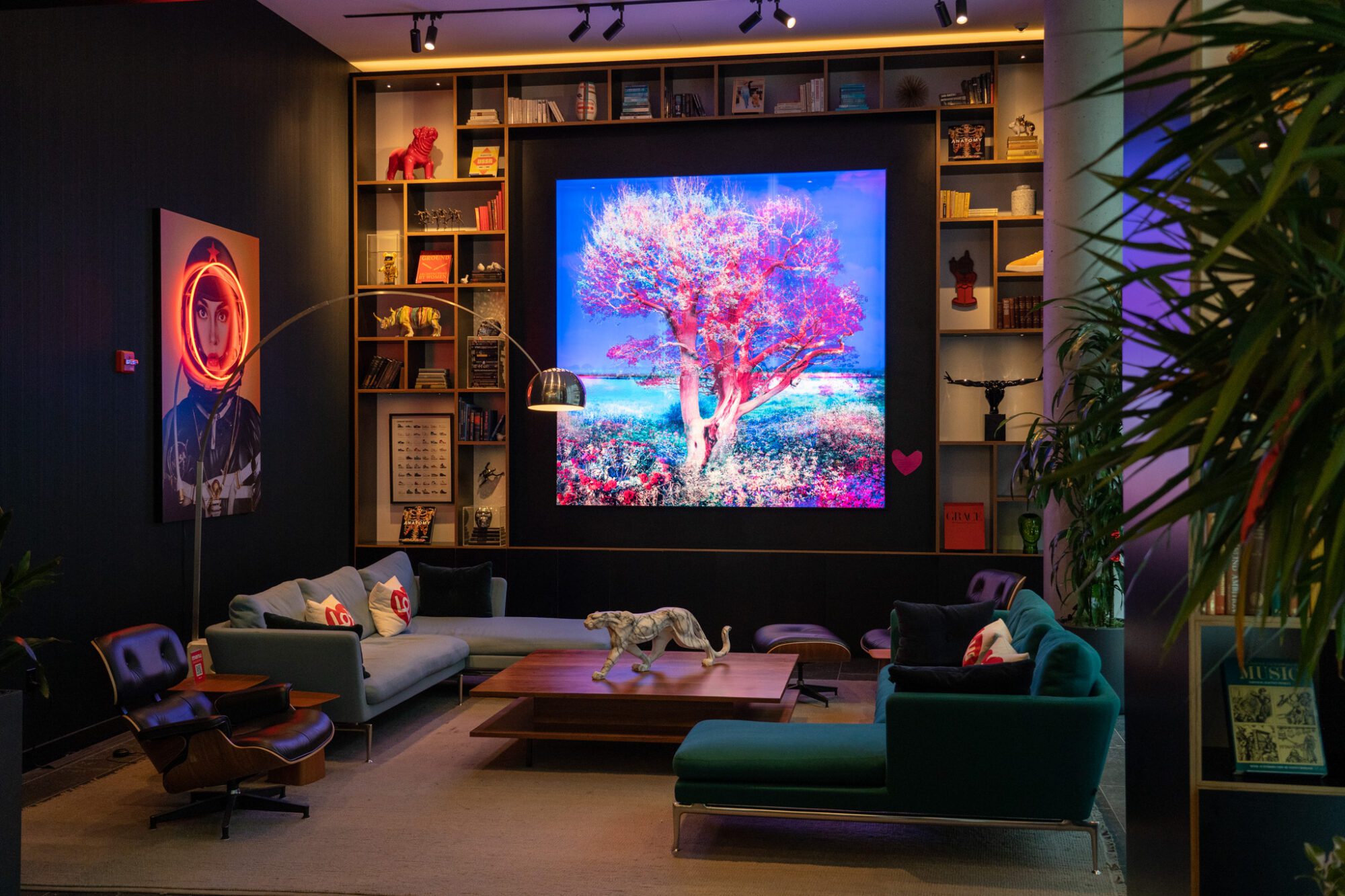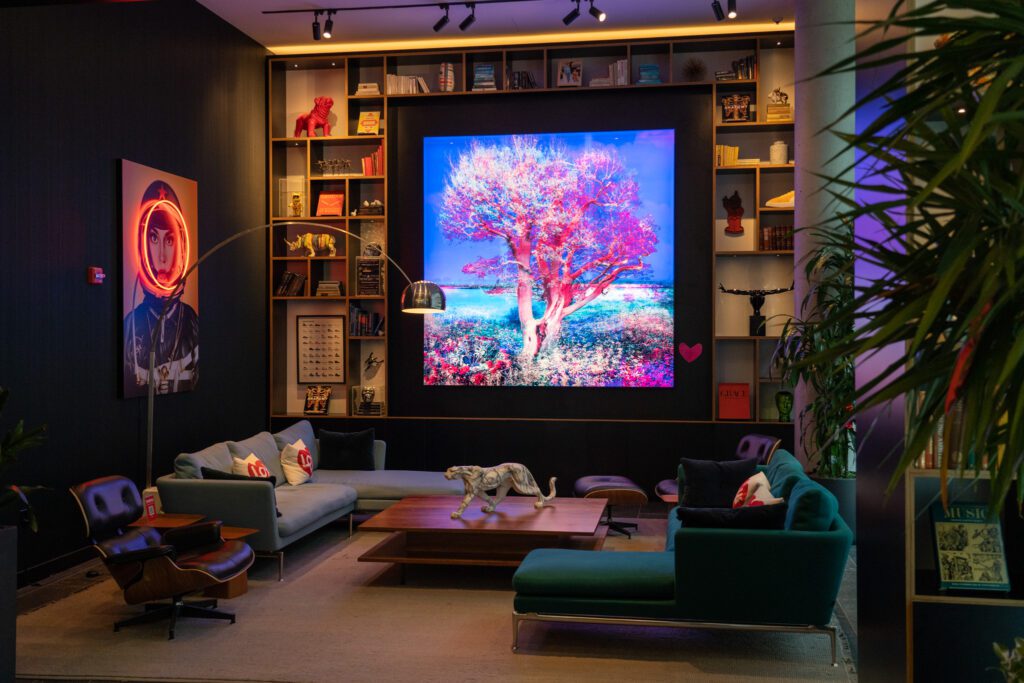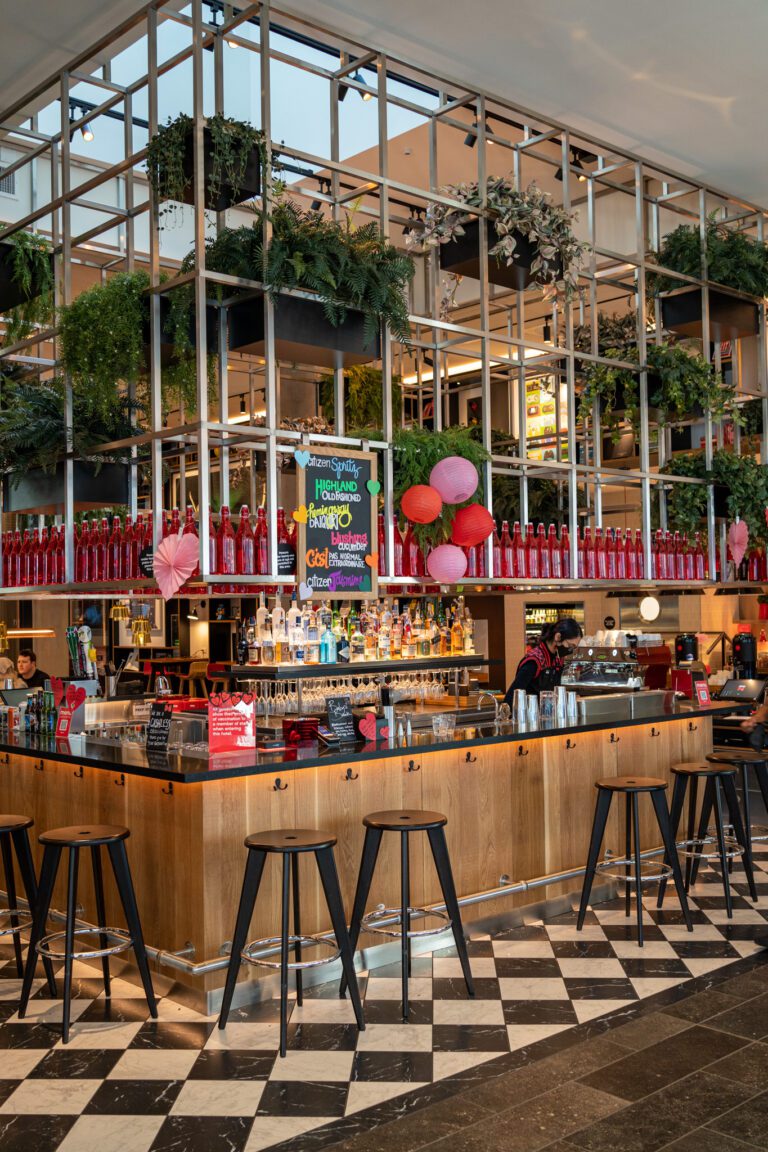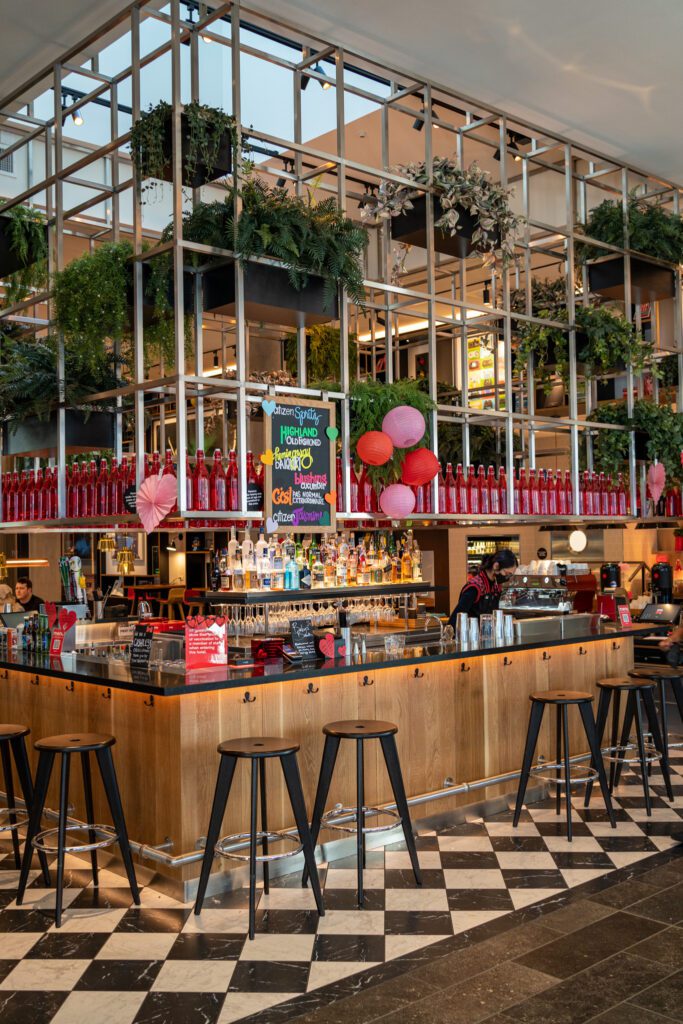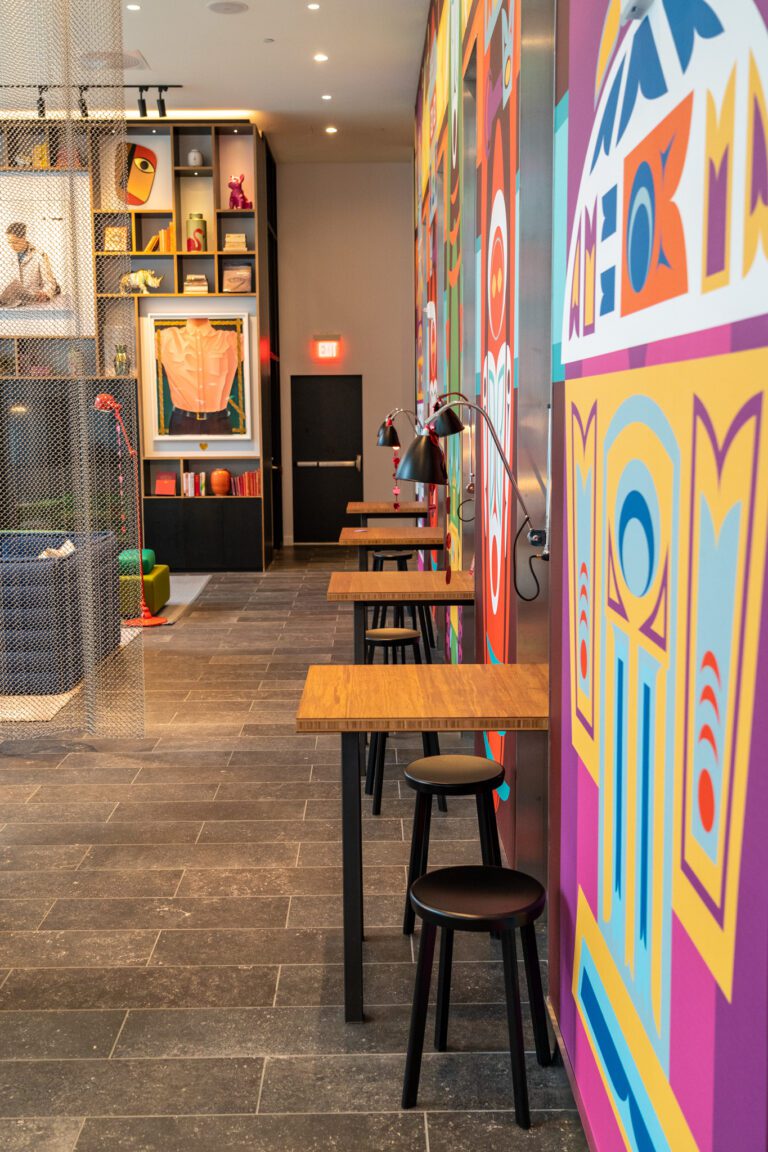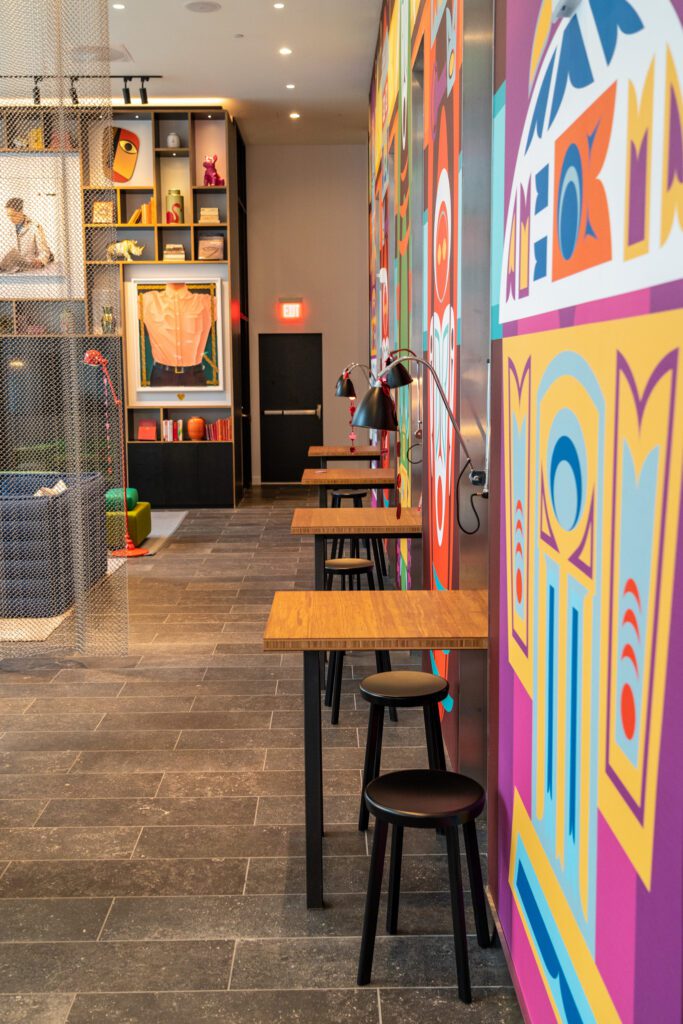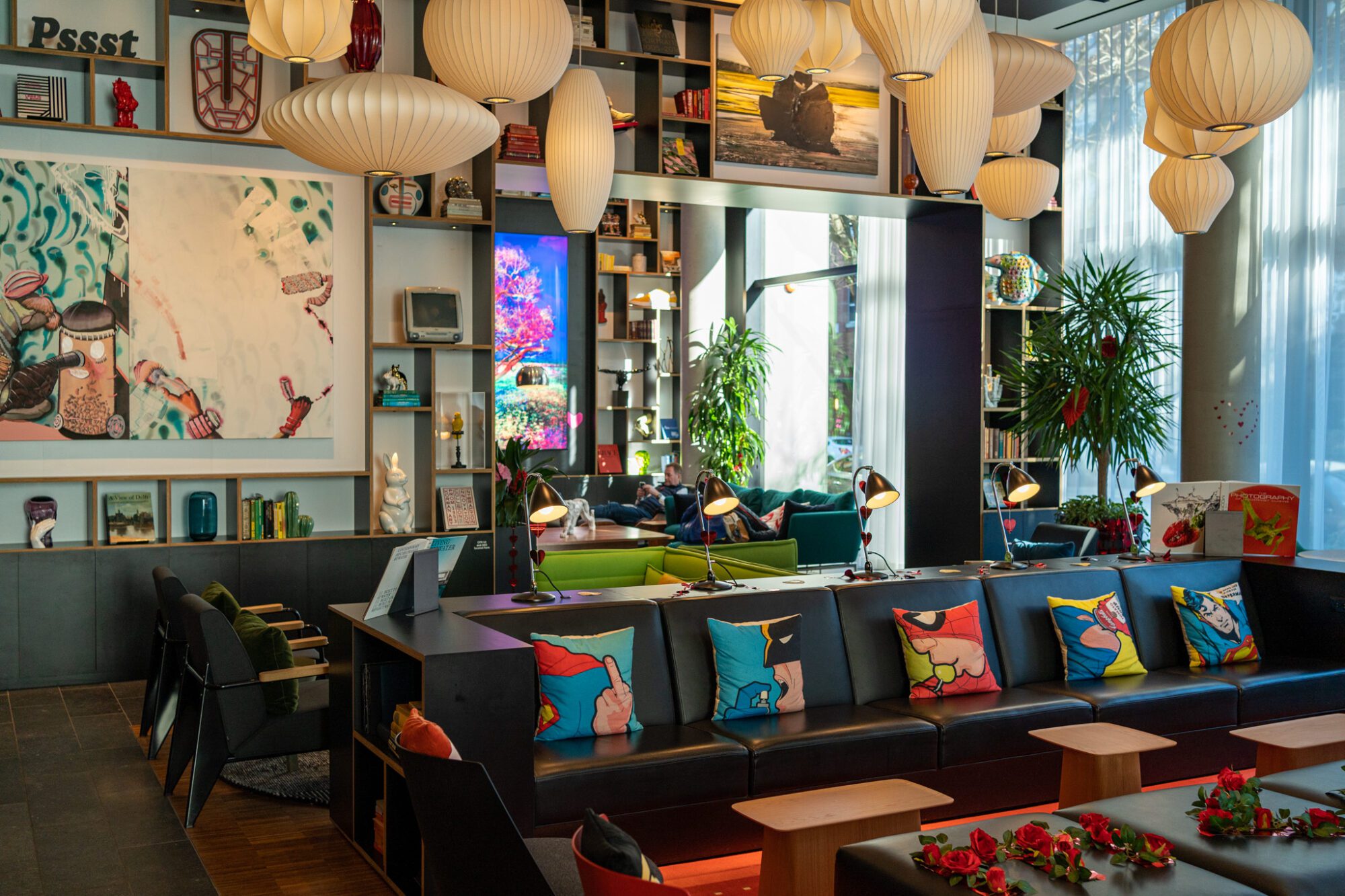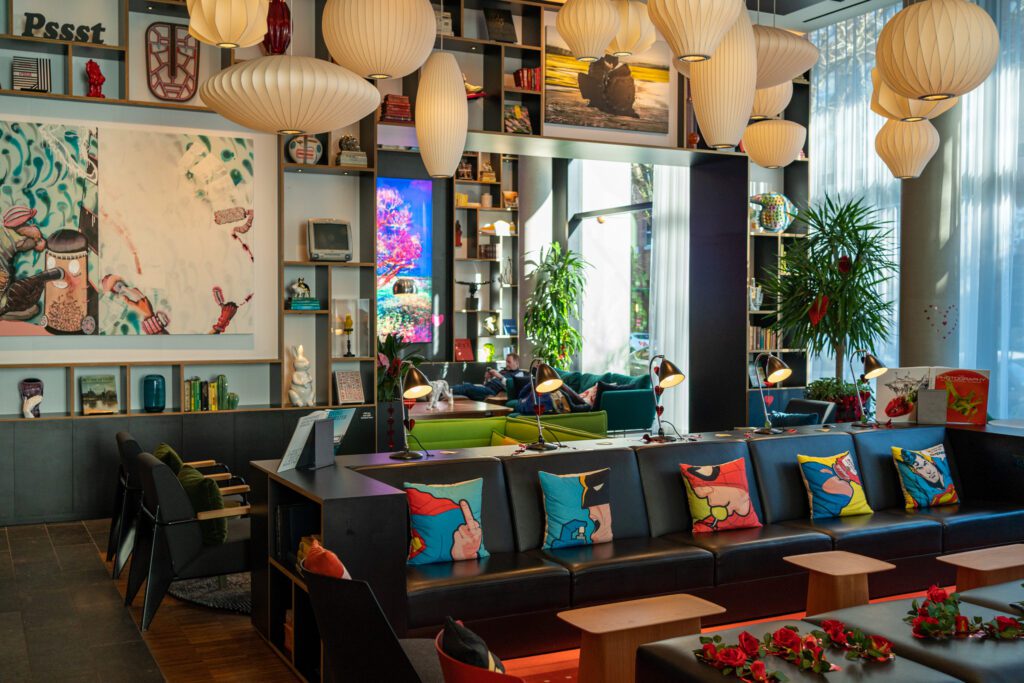 It's also right in the middle of South Lake Union, one of the most central and well-connected neighborhoods in Seattle. From the hotel, we walked to Capitol Hill, Pike Place Market, and the Space Needle and Seattle Center.
Because of their philosophy, it's one of the best values in Seattle. This is a great choice if you don't need those extras – you'll be out exploring, after all!
The Ace Hotel Seattle: A Stylish Mid-Range Option in a Great Location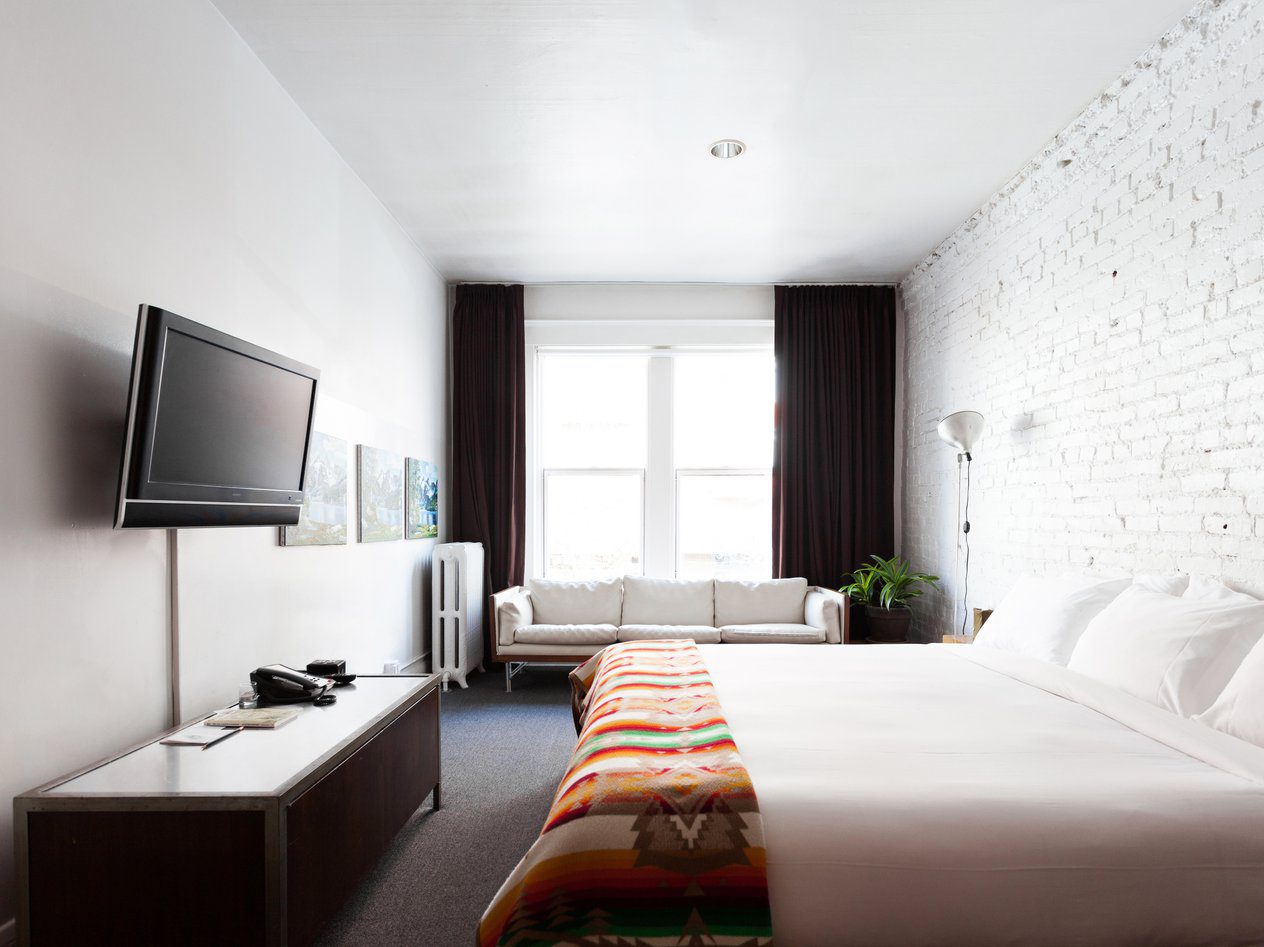 Let's start this list with one of my favorite hotel chains – Ace. When I think about cool hotels in other cities like New York City and Portland, the Ace Hotel usually rises to the top.
Their hotels around the country are often the best combination of style and value that I've found, and the same is true of the Ace Hotel Seattle.
We stayed here for a few nights a couple of years ago when we were in Seattle for a work conference, and it's a solid option for travelers who want a comfortable stay in a central location with plenty of bars, restaurants, and coffee shops within walking distance.
The first location of the Ace Hotel brand is located in the trendy waterfront neighborhood of Belltown, famous for its hip restaurants, boutiques, and vibrant nightlife.
This historic red-brick building exudes back-to-basics chic with white walls, high ceilings, repurposed furniture and striking artwork. You'll find record players, organic cotton sheets, platform beds and terrific minibars. The deluxe bedrooms have private bathrooms, and the service here is top notch.
You can help yourself to breakfast in the communal kitchen to start your day right, including Stumptown Coffee, and will have plenty of choices for something more substantial in the numerous restaurants and bars right outside the doors. The Space Needle and the Olympic Sculpture Park are just a stroll away, and the Seattle waterfront is a couple of blocks away at the bottom of the hill.
The combination of style and value at the Ace is unbeatable.
We have personally stayed here, and can recommend it as a great home base for exploring Seattle.
The State Hotel: Super Close to Pike Place Market (+ Our Next Stay in Seattle)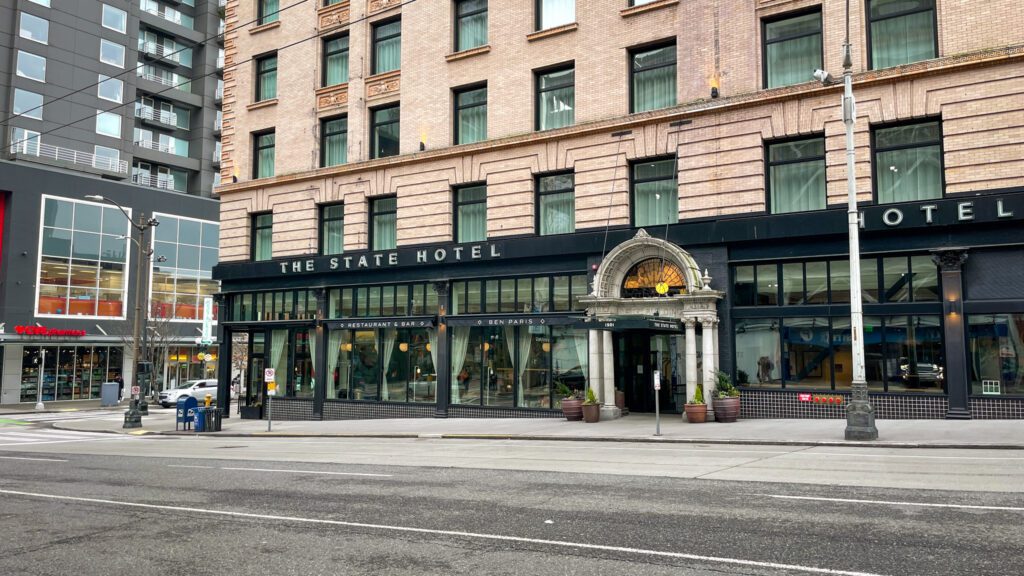 The State Hotel, which is quite literally steps away from Pike Place Market, is one of the best spots in Seattle for a combination of a great location, stylish rooms and common spaces, and plenty of modern comforts like walk-in showers and plush bathrobes.
We finally made it to the CitizenM on our last trip, and this is probably the next hotel we'll stay at when we want to stay in the city itself (normally we stay with Matt's family, who still live in the Seattle area).
Situated in a fine turn of the century building on the corner of 2nd and Pike right in the heart of Belltown, it has 91 classically styled guest rooms, most offering great views of the city or Elliott Bay, with the upgraded rooms also enjoying private rooftop terraces. Rooms are full of natural light thanks to huge windows.
The location means that you'll be able to walk pretty much everywhere while you're in town – Pike Place, the Space Needle, and Cap Hill are all walkable from your doorstep.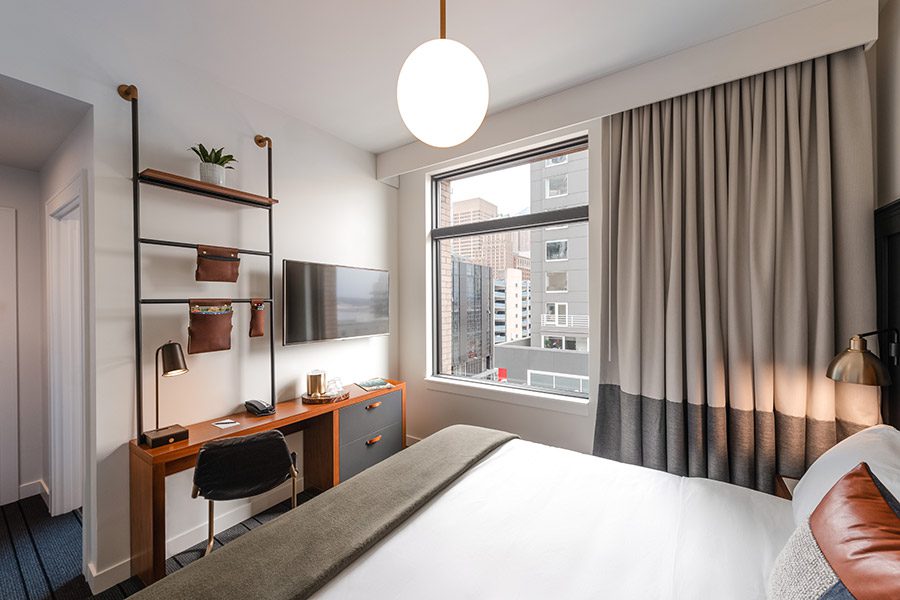 The centerpiece of the lobby is a display of illuminated door knobs (it's art!) along with low sofas, bookcases and oriental rugs. The walls of the public areas are covered in sensational wallpapers by Kate Blairstone and contrast with the calming white of the guest rooms.
Ben Paris, the restaurant, is named after the entrepreneur and conservationist who used to operate his Cigars, Lunch and Cards store from the same location. It offers modern American cuisine and is open all day. All this is just steps away from Pike Place Market.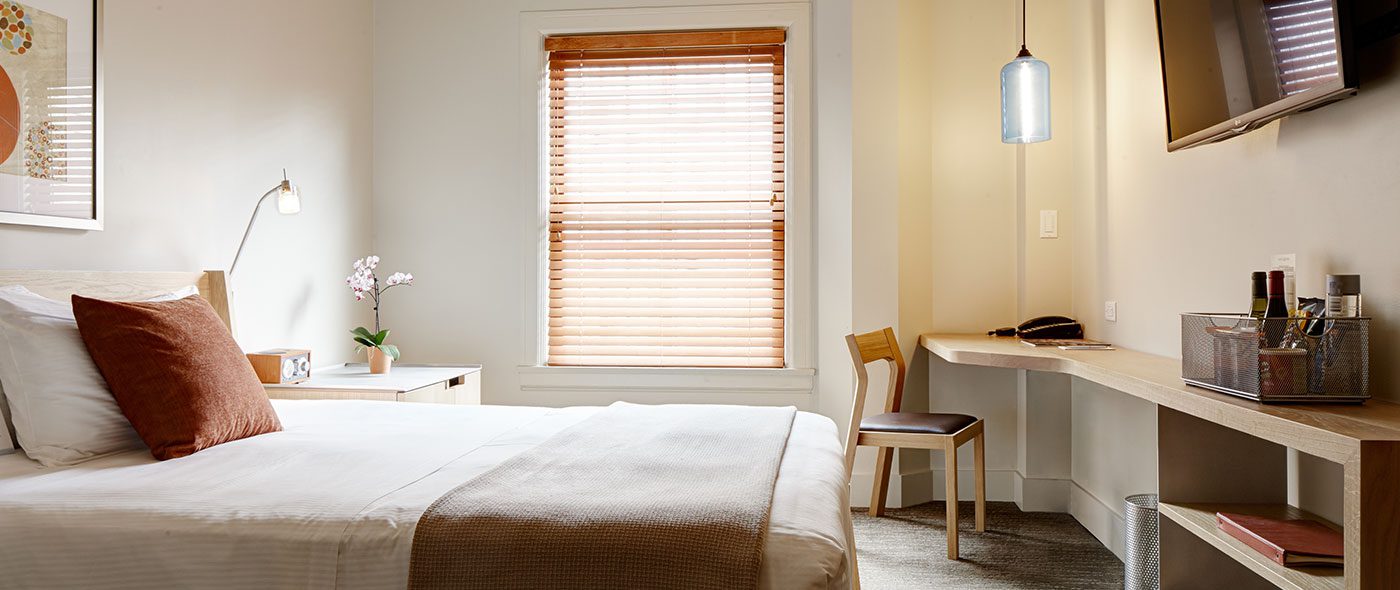 Another top spot in Belltown, Hotel Ändra is an exquisitely designed boutique hotel that manages to be sophisticated and charming, with Scandinavian influences everywhere you look.
Walking into the lobby is like visiting a wealthy friend's house, stylish seating and an open fire providing a soothing contrast to the urban bustle outside. But when you look at the prices, you'll probably be surprised they aren't higher. They have rooms of all shapes and sizes to fit your budget – from standard hotel rooms outfitted with their signature Scandinavian décor, to luxurious suites
The restaurant, the Greek-inspired Lola, is very popular with locals – including me. We often go there to celebrate occasions like birthdays and Mother's Day because of their great gluten free options (for my gluten-avoiding friends, don't miss my guide to 25+ gluten free restaurants in Seattle). To avoid disappointment, my advice would be to book ahead to ensure you can enjoy the exquisite food and sample the extensive wine list.
There's a good gym, free parking and it's dog-friendly too!
The Sound Hotel Seattle: Stylish and Central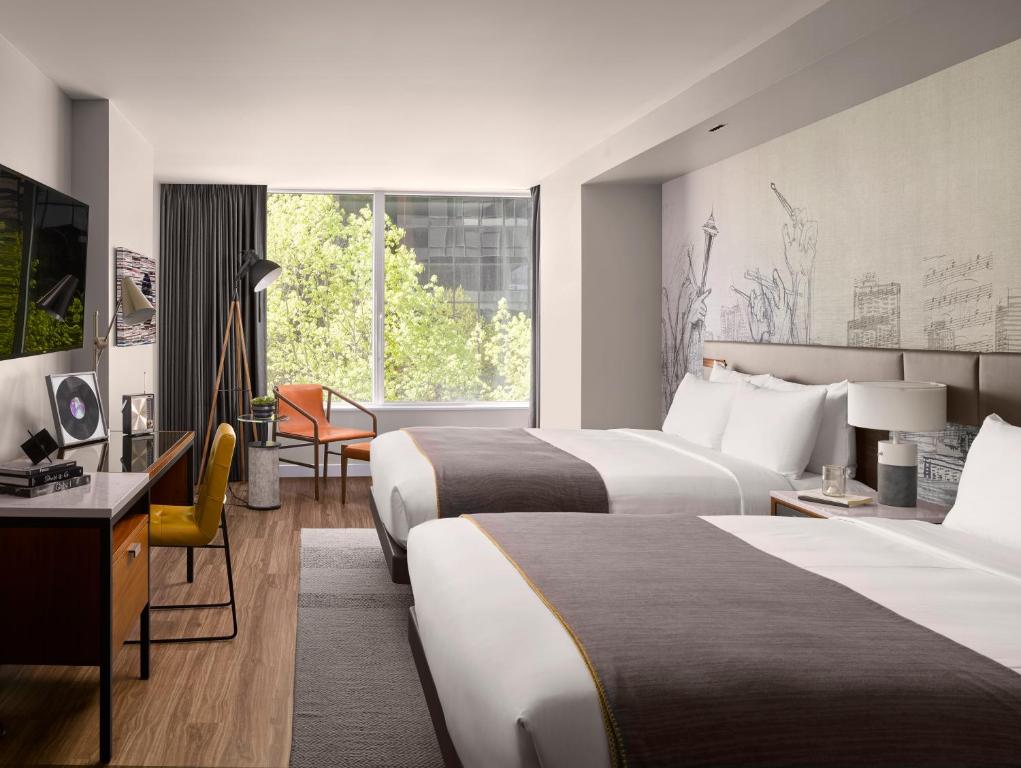 Located at 4th and Lenora right in the middle of Belltown, the location of this modern boutique hotel is fantastic.
It's part of the Tapestry Collection by Hilton, which is their urban, modern, stylish line of hotels. You'll be able to walk to Pike Place Market (~6 blocks), the Space Needle and Seattle Center (~10 blocks), and South Lake Union (also ~10 blocks, give or take a few).
I first noticed the green building with orange accents on our last trip to downtown Seattle because it sticks out like a sore thumb compared to the far less colorful buildings nearby.
Room choices include the King Studio, which has a bit more space to spread out (562 square feet!), regular King Rooms (which are still plenty spacious with 445 square feet) or a King Room with a Space Needle view, and rooms with two queen beds.
Rooms are plenty bright thanks to the huge windows, and have Keurig coffee makers and large TVs. Let's be honest though, you're going to want to get out and explore the best coffee shops in Seattle, since the city is known for its amazing coffee scene.
The Moxy Seattle Downtown: Affordable Style in South Lake Union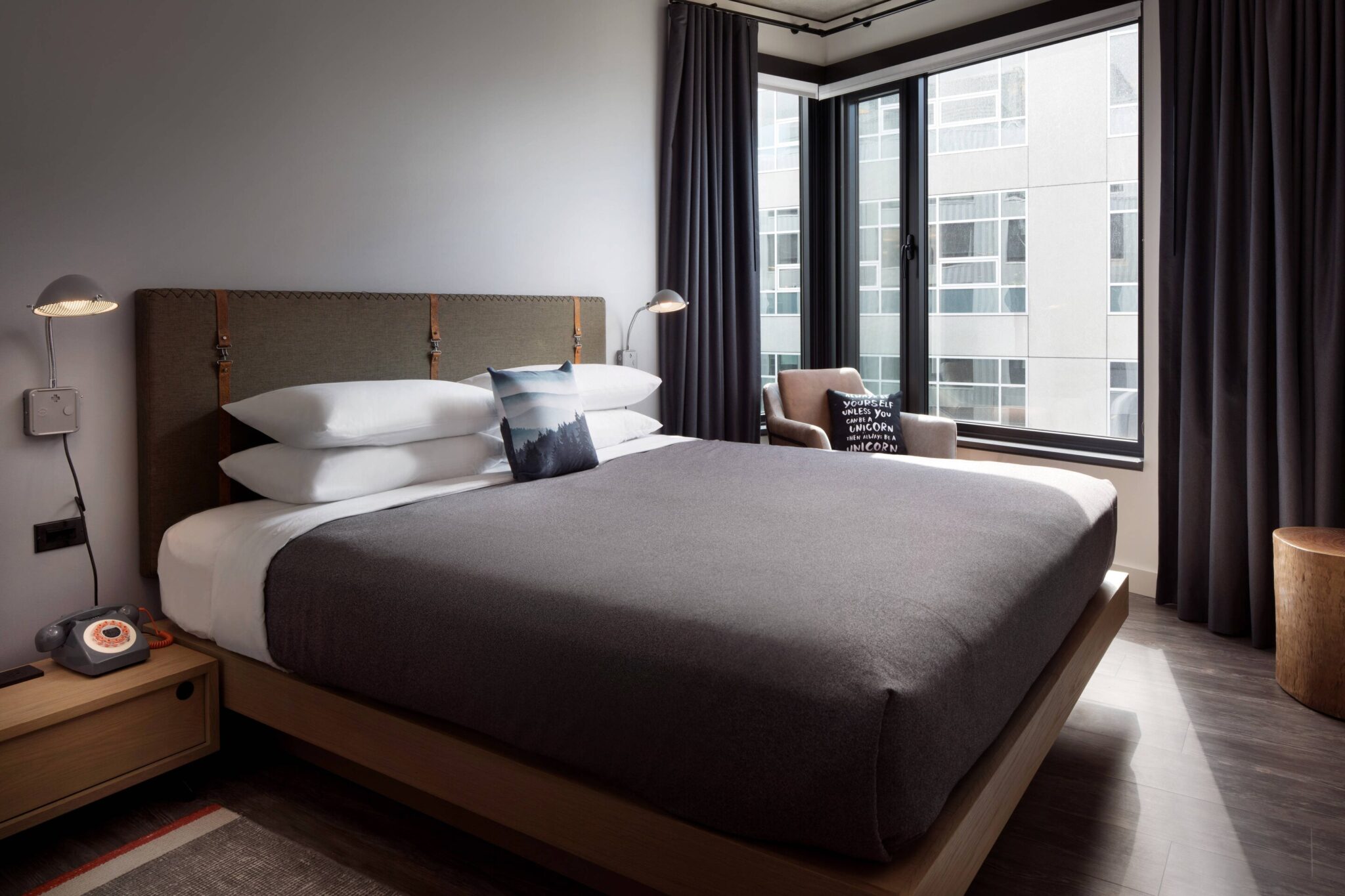 Situated in South Lake Union, one of the up and coming parts of the city that has undergone an incredible transformation over the last decade, is the Moxy Seattle Downtown. It's super close to Lake Union Park and its Museum of History and Industry (MOHAI).
The relaxed Moxy offers simple, well thought out accommodations in the heart of Seattle. The guest rooms, decked out in pastel grays, have some nice touches like motion-activated LED lights, walk-in rain showers (wow), 42-inch flat-screen TVs and free, fast Wifi. The onsite bar, Bar Moxy, is known for its imaginative cocktails and hot food offerings.
The Inn at the Market: A Nice Hotel Steps from Pike Place Market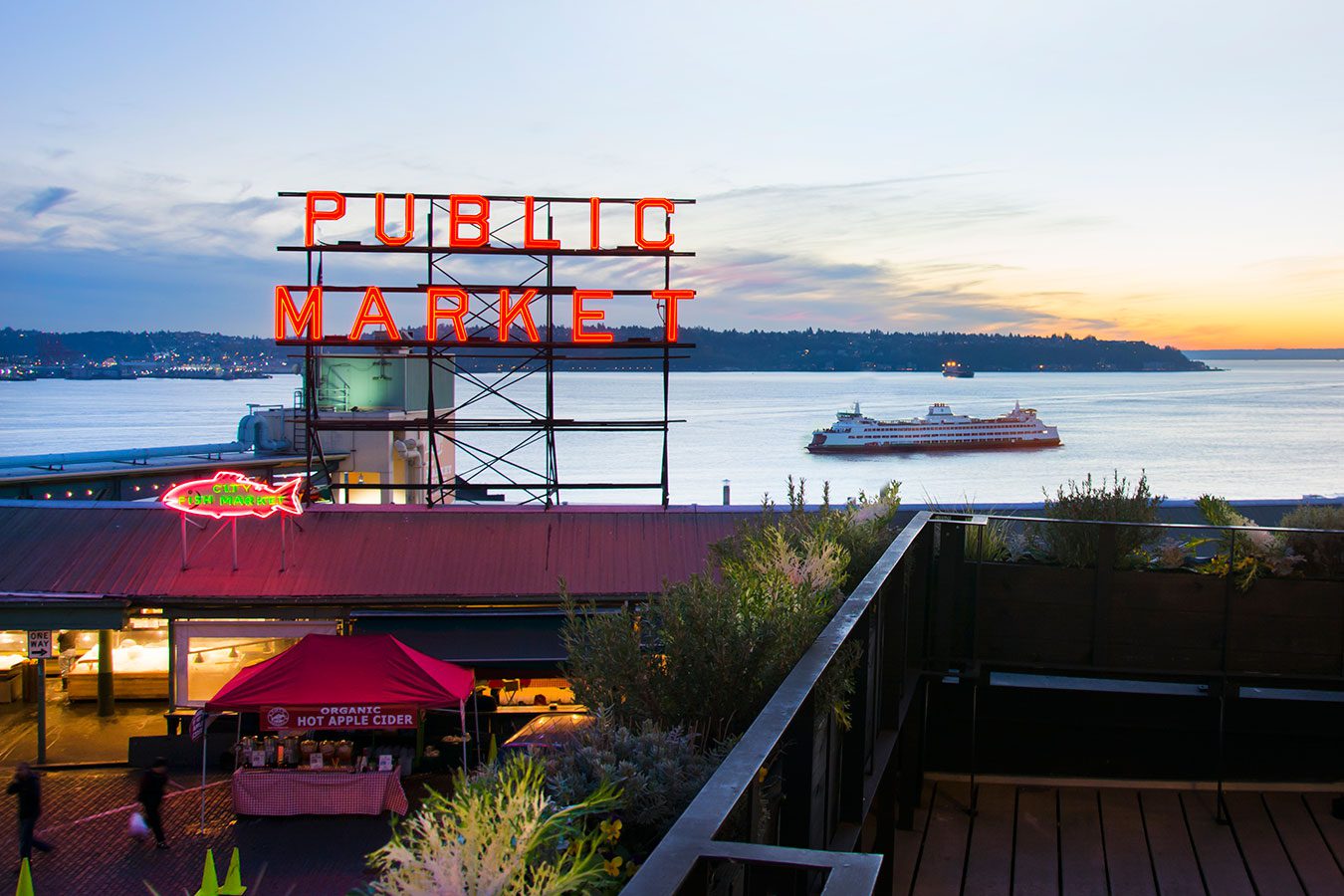 If you thought State Hotel was convenient for visiting the renowned Pike Place Market, well, Inn at the Market is what it says it is – in the market! Or, at least, right across the street.
From its rooftop terrace, you can gaze over the market's neon sign, past the Great Wheel, and on over Puget Sound. It is a five-minute walk from the Seattle Art Museum and only a mile from the Space Needle.
The rooms are large and luxurious with subdued colors, accented by hot orange and mustard. Most rooms offer awesome views from the floor to ceiling windows, and all with spacious bathrooms.
For restaurants, you have the choice of four: Café Campagne (French bistro), Bacco (an all-day café), Cha:n (Korean gastropub), and Sushi Kashiba. None are safe for my gluten free friends, but just a few blocks away you'll find both Umi Sake House (gluten free sushi) and Lola (gluten free Mediterranean).
Hotel Ballard
Named after the hip waterfront neighborhood where it is situated, Hotel Ballard is a 29-room boutique hotel that is nothing short of opulent. Even the standard rooms are spacious and have large bay windows, or a Juliet balcony, with generous bathrooms. Gunmetal grey walls and white linen project a sophisticated calm in their rooms.
The location and style earn it a spot on this list, but you'll need to be prepared for being a little further from Downtown Seattle. Luckily, Ballard is awesome, so you'll have plenty to explore on your doorstep.
You also get complimentary access to the adjacent Olympic Athletic Club and all it has to offer, such as pools, exercise studios, racquetball and steam rooms – all open 24/7!
The Stoneburner Restaurant features a Mediterranean menu with homemade pasta, Neapolitan pizza and great vegetarian options. And, of course, Ballard is just outside the door, offering tons of food and drink options including a few that are great for gluten free travelers (try Bitterroot BBQ!).
Pssst! For a more budget-friendly option, look at the attached Ballard Inn.
The Kimpton Palladian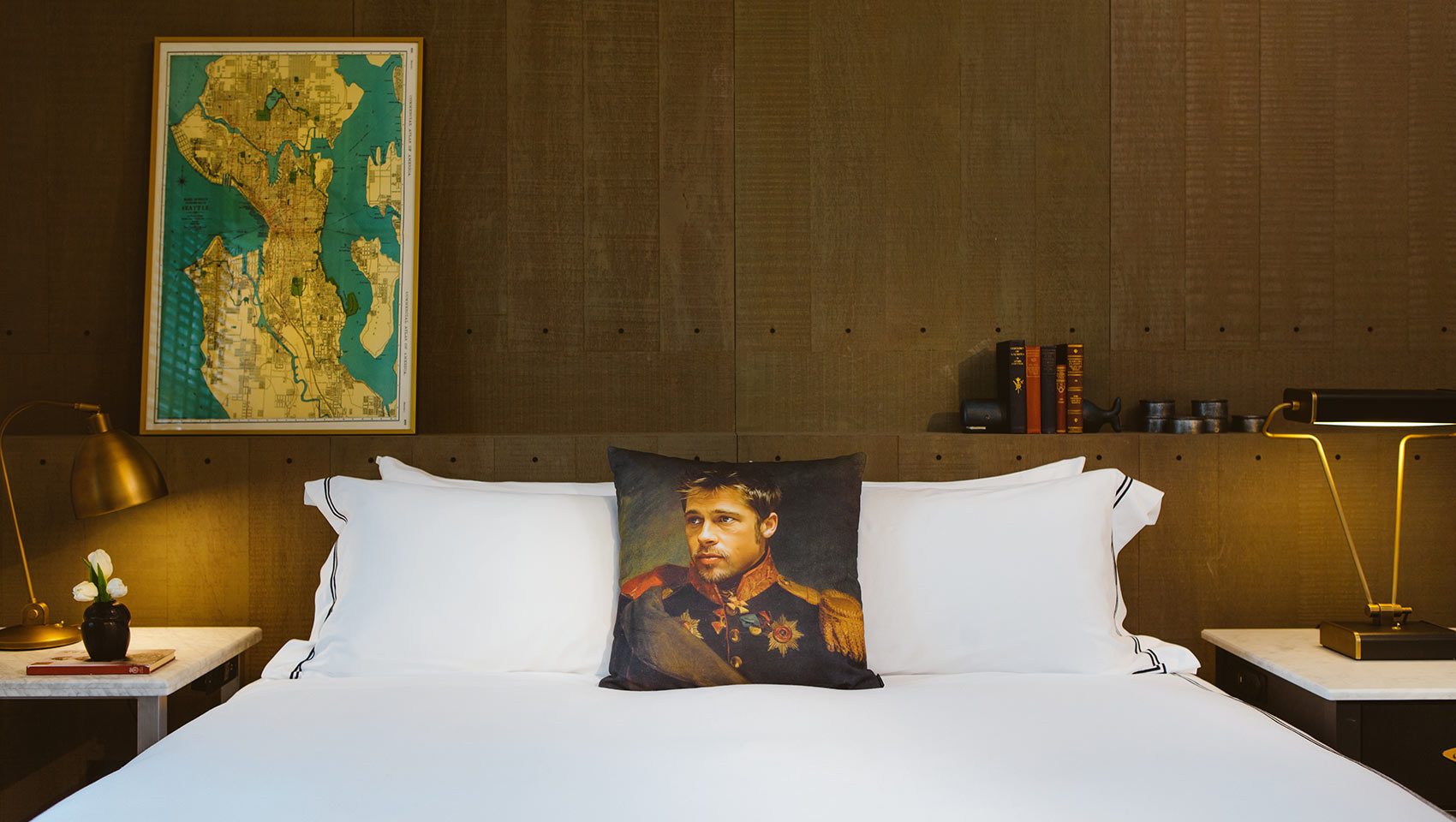 Another boutique hotel in the Pike Place Market vicinity, the Kimpton Palladian is a 1910 building that embraces its age with its beautiful brickwork and moldings. The stylish guest rooms have fun touches, such as pop-art pillows, gold accents, old maps, and are spacious and ultra-comfortable. They are also equipped with yoga mats, just in case you want to get in an early Vinyasa session. The Palladian also has an outstanding gym.
For food, you have the Shaker + Spear restaurant, a seafood lover's dream – clams, snapper, smoked salmon, for example – all prepared with panache and care under the guidance of head chef, Carolynn Spence. The bar, the Pennyroyal, is a 21st-century speakeasy.
The Gaslight Inn
Not far from the heart of Capitol Hill stands the Craftsman-style house that is the Gaslight Inn. This adults-only B&B has eight large yet cozy guest rooms, each unique, most with a private bathroom. Expect large wooden headboards, quilted overlays, fireplaces and comfort. The entrance hall and other common rooms are wood-paneled, the whole place designed for gracious living. If you're coming in Fall or Winter, this hotel is hard to resist!
Capitol Hill is famed as the birthplace of grunge-rock, has a large LGBT community, and is the Seattle center for artists and free-thinkers, so it is a great place to be. In fact, it tops my list of the best areas to stay in Seattle, and is by far my favorite neighborhood in the city.
Click here to check prices, reviews, and availability
The Arctic Club
Just steps away from Pioneer Square, Seattle's oldest neighborhood, the Arctic Club, is another of Seattle's stunning Beaux-Arts buildings, famous for the walrus heads made of terracotta that line its third floor. Everything is custom made – even the wallpaper! This is the kind of hotel that will make you want to dress up for dinner.
The Arctic Club was a destination for people returning from the Yukon gold rush in the 1890's who had struck it rich. And so, it is decorated around the theme of the gold rush, using Alaskan marble and naming its dining room the "Northern Lights Dome Room."
Speaking of which, The Juno restaurant offers locally sourced seasonal food with a Northwest edge in an upscale environment, while the Polar Bar is an example of an elegance that you thought had gone forever. Places like Pioneer Square and Seattle Art Museum are just a stroll away.
Click here to check prices, reviews, and availability
The Graduate Hotel Seattle
The Graduate Hotel is an incredible Art Deco building that doesn't shy away from its origins. The guest rooms are a homage to that period, elegant, refined and smart. The building is 16 floors so you can bet the view from the rooftop is spectacular!
It's in the University District, so it's the best hotel in Seattle for visiting the University of Washington.
Poindexter, a café by day and a wine bar at night, makes a great place to sit and relax. On the rooftop, you'll find the aptly named Mountaineering Club, boasting a menu that highlights regional produce and is heavy on the seafood. All with that view.
Click here to check prices, reviews, and availability
The Shaffer Baillie Mansion
Would you like to stay in a Tudor Revival mansion on Capitol Hill? Then you should definitely be looking at the Shaffer Baillie Mansion immediately. The eight guest rooms take their lead from the architecture, and you'll find big oak and mahogany beds (even a couple of four posters!), oriental rugs, antique and reproduction furniture and period details.
The entry hall, salon and restaurant are all paneled, and the furniture is upholstered in leather or rich velvet. The library is a beautiful place to sit and relax, read a book, or have a conversation.
Capitol Hill itself is full of art galleries, independent cinemas, gorgeous restaurants and coffee shops. Volunteer Park offers a huge conservatory and the 75' water tower is a must-climb for a breathtaking view of Seattle.
Click here to check prices, reviews, and availability
---
So there you have it! 12 great hotels in Seattle that are all highly rated and will help your stay be a memorable one.
Of course, if you come back for a repeat visit, you can always try another on your next stay.
Or, check out my guide to the best places to stay in Seattle and the best Airbnbs in Seattle, and find a new and interesting place to base yourself for your return to the Pacific Northwest.
More to Explore in Washington State
Heading to the great state of Washington? Here are some other posts you might like.
The Best Things to Do in Seattle: A Local's Complete Guide (coming SOON!)