Where to Stay in Amsterdam: 4 Amazing Places to Stay
Amsterdam is famous for its canals, art galleries, and unique architecture. And flowers. And museums. Not to mention the somewhat overwhelming number of great restaurants and cute cafes. Basically, there's tons of stuff to do and see in Amsterdam, and it is one of our favorite cities in the world.
When I, Matt, was planning my first of several trips to Amsterdam a few years ago, I found that I didn't know as much about Amsterdam's neighborhoods as I knew about places like Paris and Rome. Isn't it just one big collection of canals?
Sure, I was aware of the Red Light District, partially because Ludacris has been one of my favorite rappers for over a decade now, but other than that, I wasn't sure where to start. Now that I've been to Amsterdam a couple of times, I formed my own thoughts on where to stay.
Each of Amsterdam's different neighborhoods has something special about it, whether it's an eclectic mix of bars and restaurants, or access to the best parks or museums in the city.
This guide will take you through the best areas to stay in Amsterdam, along with pros and cons and some things to check out in each neighborhood.
If you're not quite sure where to stay in Amsterdam, we've got your back. Below, you'll find five great places to stay in Amsterdam, along with their pros and cons, different activities and sights they have to offer visitors, and specific places to stay that have caught our eye.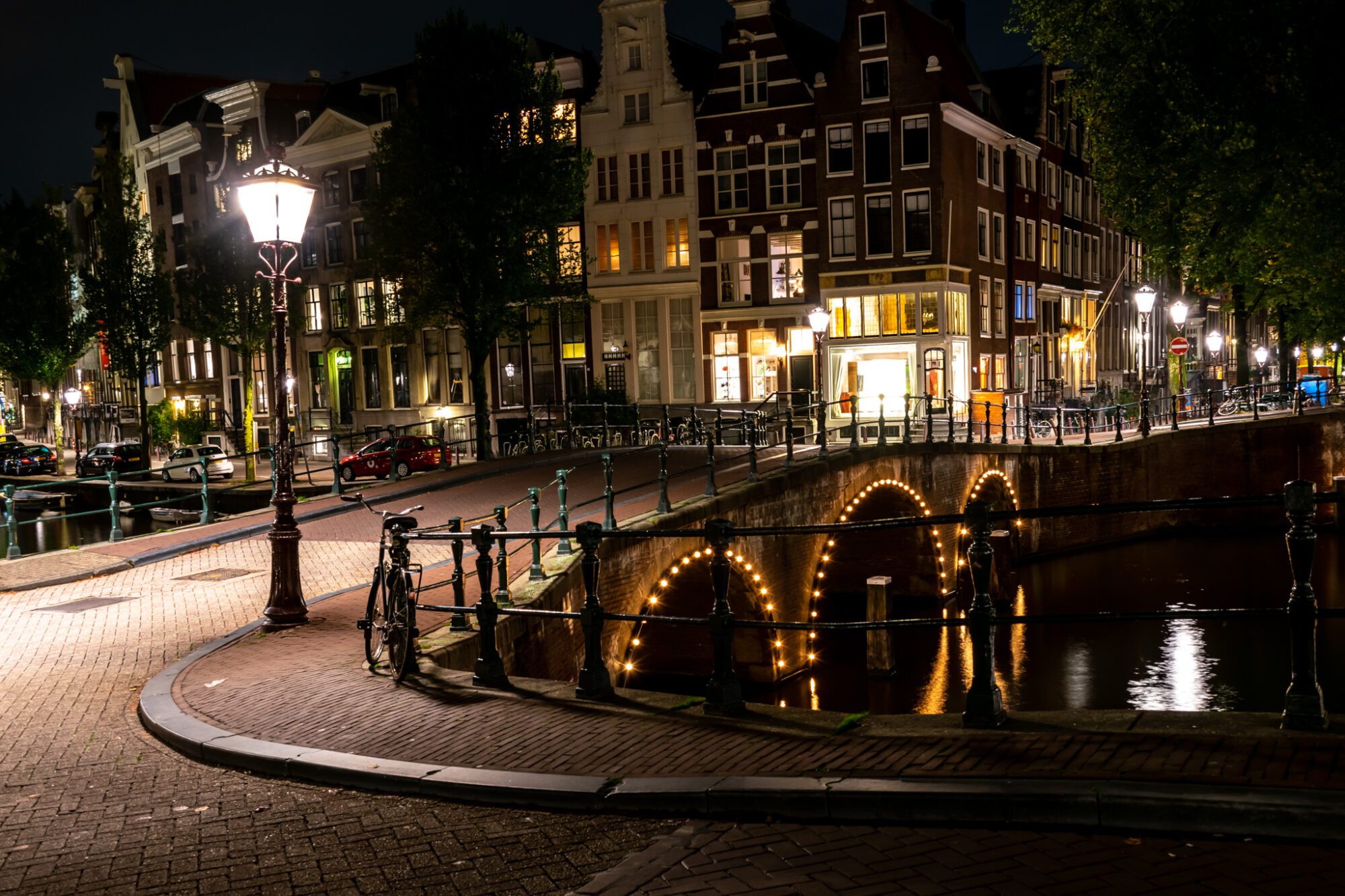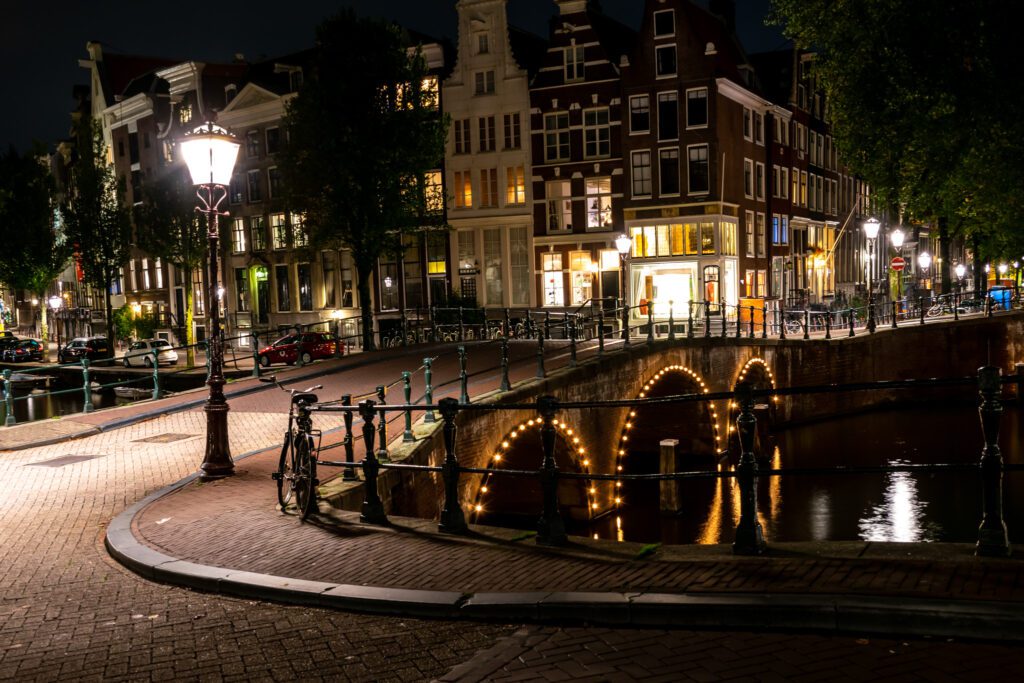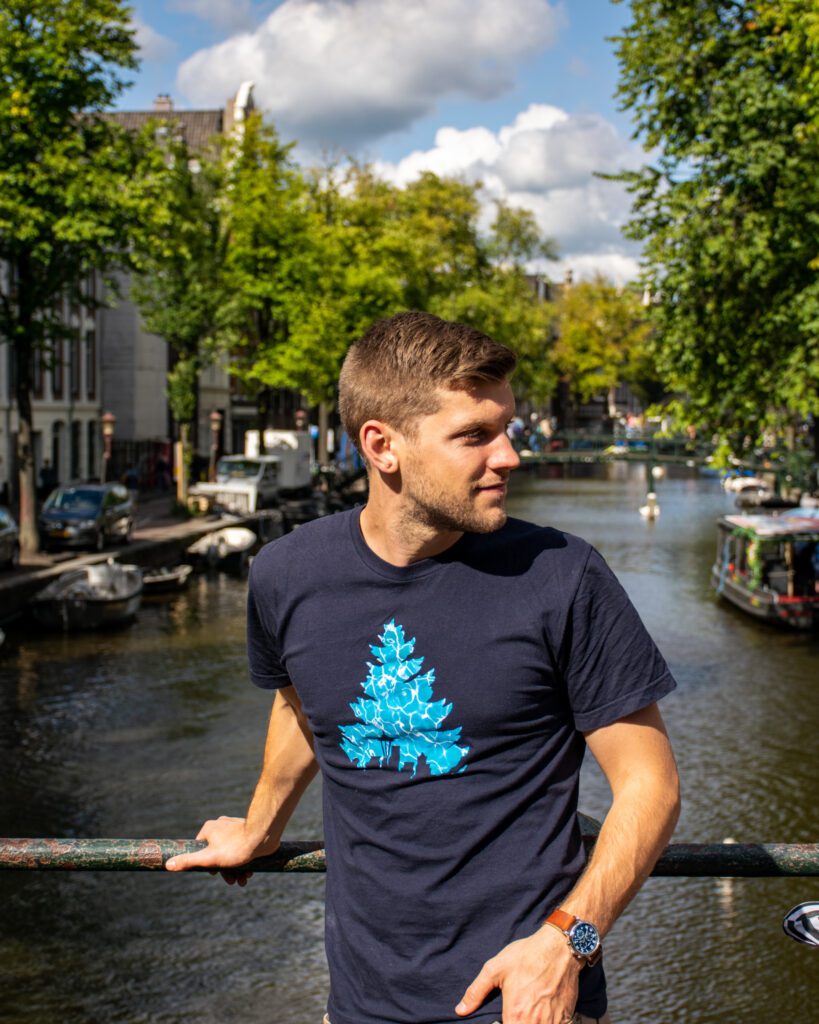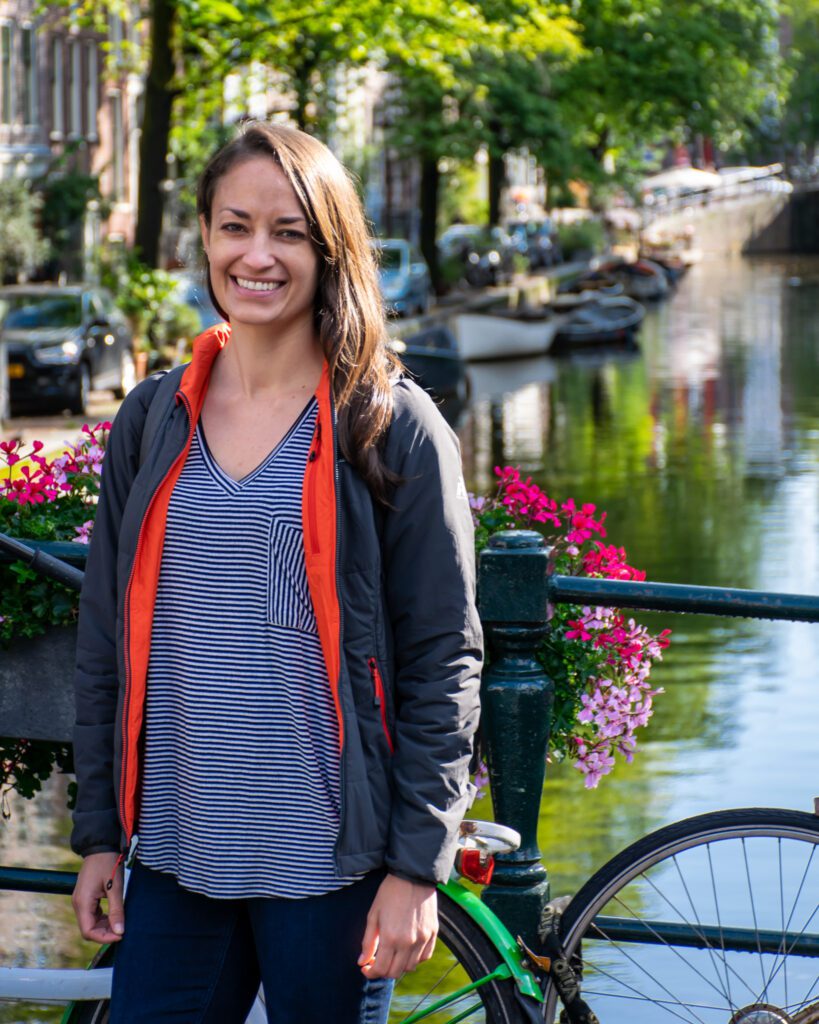 Disclaimer: Some of the links in this post, like hotel links, are affiliate links, meaning at no additional cost to you, we make a little bit of money if you click through and book. That being said, we would never recommend something to you that we don't stand behind 100%.
Where to Stay in Amsterdam: A Guide to the Best Places to Stay in Amsterdam
Amsterdam is lovely, and you're going to have a fantastic time. This guide is meant to help you figure out where to stay in Amsterdam. Whether you're looking for a stylish boutique hotel, or a cheap bed in a hostel, you'll find a range of options below.
Generally, when we're thinking about choosing a place to stay, we have two things in mind.
First is the location. If we have anything less than a full week in a city, we're looking for a central location that is within walking distance of many of the main attractions in the city. In this case, Amsterdam is SUPER walkable, so nearly every area in the city center is going to be "within walking distance" of basically anything.
Second is the vibe. Which is very, very subjective, but we're going to try and explain it here. We do our best to avoid areas that cater exclusively to tourists – like the Red Light District in Amsterdam (more on that in a second). Instead, we tend to gravitate towards areas where there's a blend of tourists and people who actually live there.
In Amsterdam, one of the most visited cities in the world, nearly every neighborhood in the city center is full of tourists… but some have a different ratio than others.
We're looking for places where we can find a grocery store to pop into for lunch ingredients and a bottle of wine, a nice green space where people flock to on a nice sunny day, and ideally a farmers market that we can peruse alongside locals to pick up some fresh produce.
One place we'd avoid staying is Amsterdam's famous Red Light District. It's worth a visit for the novelty, particularly in the evening, but it's not really worth staying in because it's absolutely packed with tourists at all hours of the day and night. And those tourists are loud at night, which isn't great if you value your sleep (we do).
We'd also avoid staying in the area right around Amsterdam Centraal Station, the Amsterdam Central Station. For basically the same reason. It's packed, wall-to-wall, with tourists at any given time. And the bars and restaurants here are more expensive and less pleasant than other places in Amsterdam.
Don't have time to read the more detailed guide below? Here are our top recommendations.
If it's your first time OR you have a short trip, stay in either Jordaan or Nine Streets. This is the charm-filled heart of central Amsterdam, where you'll find canal-side houses, a plethora (my favorite word!) of great food and drink options, and the famous Anne Frank House, which we think is a must-visit. Both neighborhoods – which are right next to each other – are central and beautiful, and that's why we think they're the best areas to stay in Amsterdam. We could wander around this part of the city for hours – day or night.


If you're looking for something a little more hip and happening, stay in De Pijp. We think this is the coolest part of Amsterdam, and foodies and hipsters will find this part of the city a delight. It's a little further out of the center, but it's still just a 15 minute walk or 10 minute ride on public transit to the center. Plus, you'll be blocks away from the Albert Cuyp Market and the Heineken Experience (which is really just a big Heineken ad, if you ask us). You'll be minutes away from the Rijksmuseum and Vondelpark, which is a great place to be.


If you're on a budget OR want an apartment, stay in Westerpark. This area to the west of the main tourist center of Amsterdam is a little further out, and as a result, a little bit cheaper. There are a couple of great aparthotels (hotel-style buildings with apartment-style rooms) in this part of Amsterdam, so if you're looking for an apartment in Amsterdam, this might be your best bet.
Ready to find the perfect home base for exploring Amsterdam? Read on for our more detailed recommendations on where to stay.
Where We've Stayed in Amsterdam
Our own personal experience is probably a good place to start this guide.
We've been to Amsterdam twice in the past few years, and we stayed in two different areas.
On the first trip, I was on a budget, traveling with my little brother. We stayed at Clink Hostel, which is across the water from the heart of Amsterdam. We liked it, but it was a little less convenient because of the ferry ride into the city.
The second time, we stayed in a lovely apartment in Oud Zuid. It's more quiet than staying in the city center, and is more in line with what kinds of neighborhoods we like when we're exploring a city. Close enough that you can get to the action within 10 or 15 minutes, but far enough out that you don't have partiers walking by your window at all hours of the night.
If we were planning another trip to Amsterdam, our top pick would be either Jordaan, the most charming neighborhood in Amsterdam, De Pijp, the coolest and most cosmopolitan neighborhood, or Westerpark, a less-heralded alternative (which also means cheaper).
Jordaan: Our Top Pick – Quintessential Amsterdam with Endless Charm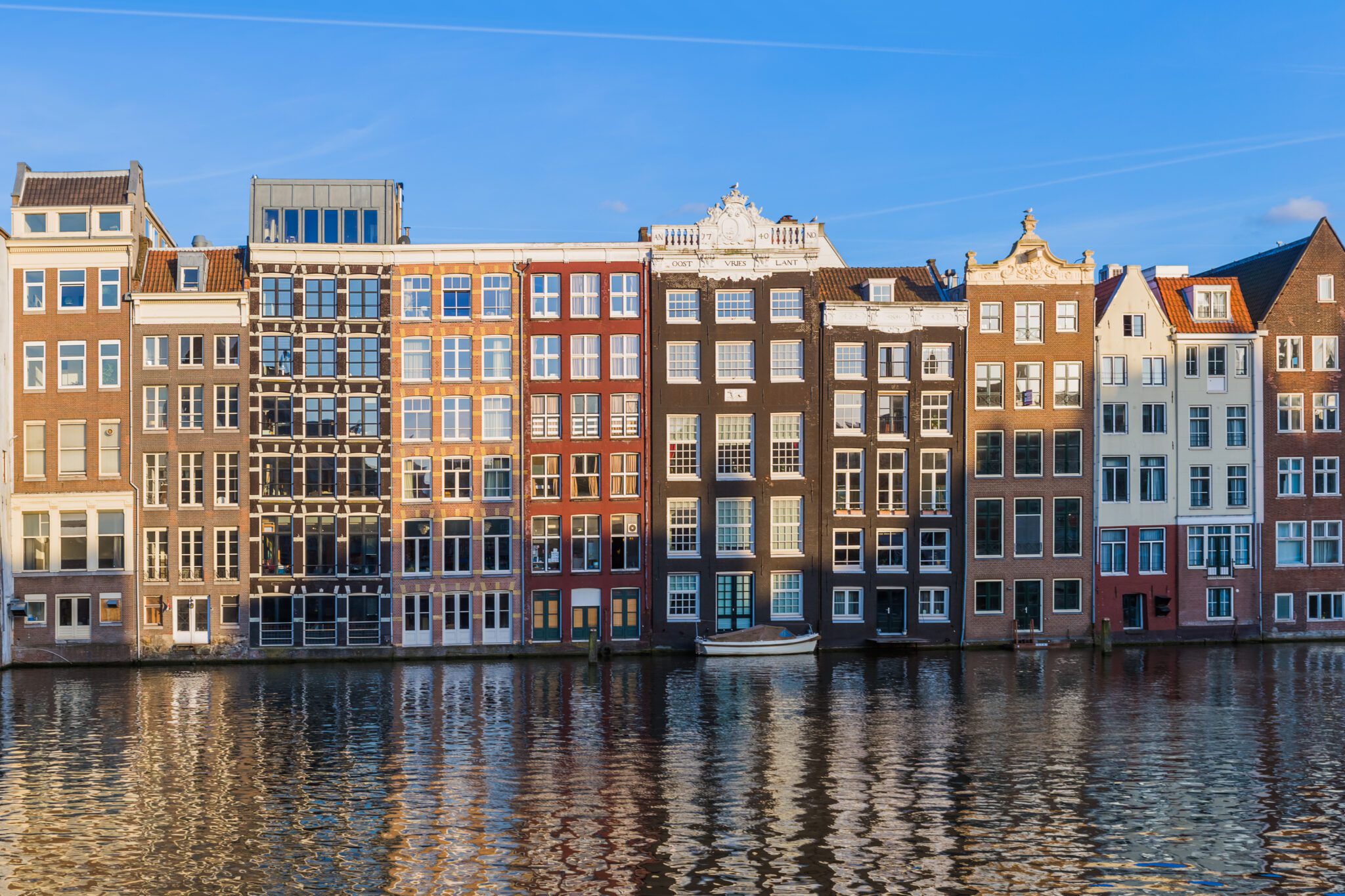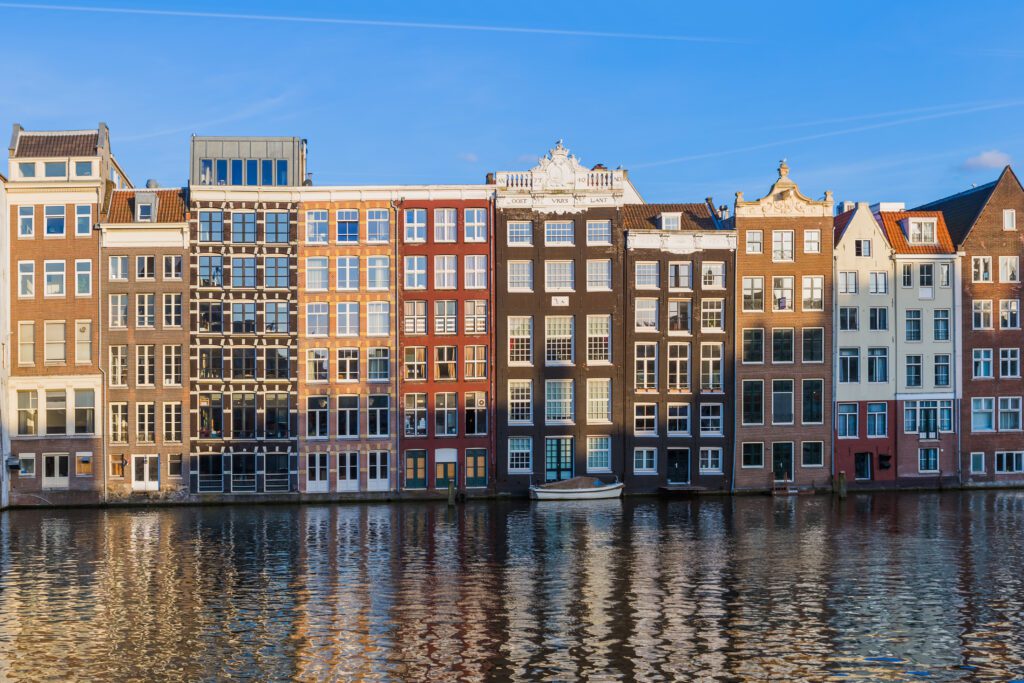 Jordaan is a charming neighborhood nestled in the heart of Amsterdam.
For us, it's quintessential Amsterdam. If we were heading back to Amsterdam, we'd probably book one of the fantastic boutique hotels in Jordaan, at least for part of our trip.
Walking through Jordaan alongside the meandering canals is an adventure in itself. I could spend all day and night wandering, enjoying the crisp evening air and the dim orange glow that lights the canals after dark.
If you're wondering where to stay in Amsterdam, we think that Jordaan is the best answer for the vast majority of people.
The narrow streets and alleys of Jordaan are bursting with boutique shops, pubs, and trendy restaurants, which, for us, puts it at the top of the list of the best places to stay in Amsterdam.
Whether you want to take a walk down the cobblestone streets, or just sit in a cafe and watch the world go by, Jordaan has something for everyone.
This neighborhood boasts some of the best restaurants, cafes, bars, and shops in the entire city. It's a well-connected area, meaning that you are within walking distance to some of the most famous spots in Amsterdam.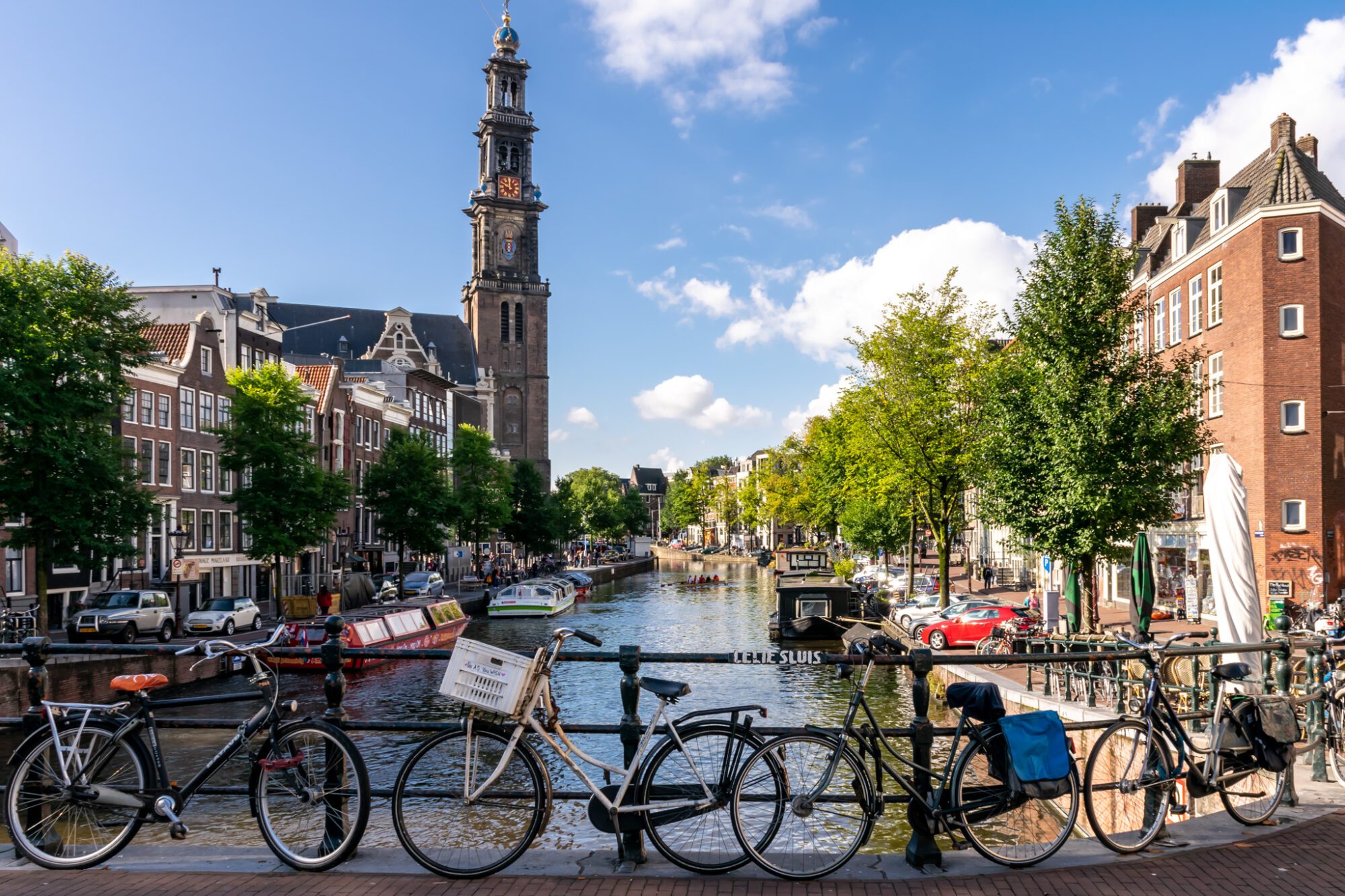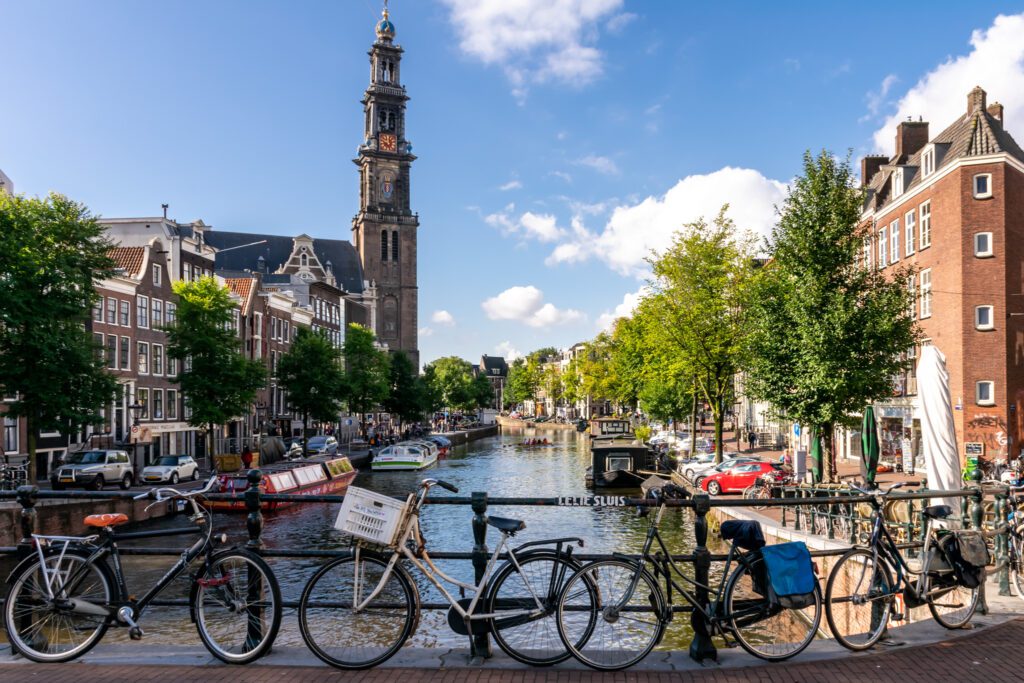 Pros and Cons of Staying in Jordaan
Pros:
It's charming and romantic. There's something special about waking up, walking out of your hotel, and being face-to-face with Amsterdam's most picturesque canals (and on your way to a great specialty coffee shop, which Jordaan also has plenty of).


It's central. It's walkable to Amsterdam Centraal – the main train station – which means you can walk from the train station to your hotel. And you'll be able to walk to Westerpark, the museums, and Nine Streets.


It's full of great bars and restaurants. From the most famous apple pie in Amsterdam to some great bars and coffee shops, you could spend an entire weekend in Amsterdam just in Jordaan, and not run out of places to eat and drink.
Cons:
There's no parking. It's nearly impossible to park in Amsterdam's city center, and Jordaan is no different. If you have a car, we'd recommend leaving it in a lot outside the center and taking the train or tram into the city. Trust us.


It's relatively pricey. Given the location and desirability of this area, it should come as no surprise that it's a little more expensive than some of the less famous, further out places to stay on this list. And that's on top of the already astronomical Amsterdam prices.
Jordaan Highlights
Jordaan is packed full of great things to do, see, eat, and drink… and that doesn't even count the things in Amsterdam that will be outside the neighborhood, but within walking distance of your hotel thanks to the central location.
The Best Places to Stay in Jordaan
Here are a few places in Jordaan that caught our eye.
Mr. Jordaan: The Coolest Guesthouse in the Neighborhood
Mr. Jordaan is a charming guesthouse in the heart of Jordaan that has been around since the 60's, consistently expanding as more and more travelers have experienced their hospitality.
As far as rooms go, they have a variety of sizes and configurations, from single rooms to accommodate solo travelers, to triple rooms for a family or group of friends.
They have free tea and coffee in the lobby (along with a kettle and tea/coffee in the rooms), along with a nice collection of books that is also free to peruse (but don't take them home with you!). Perhaps the best amenity they have is a set of OV cards – which are good for using public transit like a local – that you can borrow and load up so that you don't have to buy a ticket from the driver every time you hop on.
The Blossom House: A Cozy Guesthouse in the Heart of Jordaan
This small, cozy guesthouse only has two rooms, but they're about as stylish as they come. Set inside a building with a 17th Century façade, the rooms have been renovated and redesigned to bring them firmly into the 21st Century, with industrial-chic light fixtures, subway tile in the bathroom, along with some nice modern touches like heated floors!
They have two rooms – the double room, and the deluxe double room, which is almost twice as big and has more of a seating area and room to spread out and relax. Both room types have mini fridges, water kettles, and Nespresso machines.
The location on Bloemstraat is a block from Prinsengracht, one of the more picturesque canals in the city, and is right in the heart of Jordaan, just minutes away from bars, restaurants, coffee shops, and shopping in the Nine Streets area.
Linden Hotel: A Good Mid-Range Option in Jordaan
Tucked away at the northwest corner of Jordaan, the Linden Hotel is a solid value in a city of, well, pretty expensive hotels.
Rooms are modern, stylish, and cozy – no huge suites here – but have everything you'll need to get a good night's sleep after a day spent exploring Amsterdam.
After all, if you're spending most of your day inside your room, you're kind of doing the whole traveling thing wrong, aren't you?
We like that they've leaned into the whole "tiny" theme – the first thing you read on the frontpage of their website is "Where everything is tiny: tiny cafes, tiny shops, tiny restaurants and tiny gardens. You'll feel the cosiness of tiny everywhere you go".
While rooms are on the small side, the upside of that is that so are prices – particularly in the shoulder seasons and in low season, when you can find rooms under 100 Euros a night (prices rise in summer, as they always do).
Breakfast is available (15 Euros a person), and there's free coffee and tea in the lobby for those times you need a quick pick-me-up before hitting the streets of Amsterdam.
Hotel Mercier: Boutique Hotel in Jordaan
This boutique hotel will add a touch of style to your stay in Amsterdam. It has a great café called "Ons Huis" which is a local staple. Its art deco design and light, airy space make it a perfect place to grab a coffee to start your day, or a cocktail to end it.
Hotel Mercier is close to everything you need in the Jordaan area. It's a meeting place in the community and you'll feel right at home with its cozy rooms and friendly atmosphere.
De Pijp: The Coolest Place to Stay in Amsterdam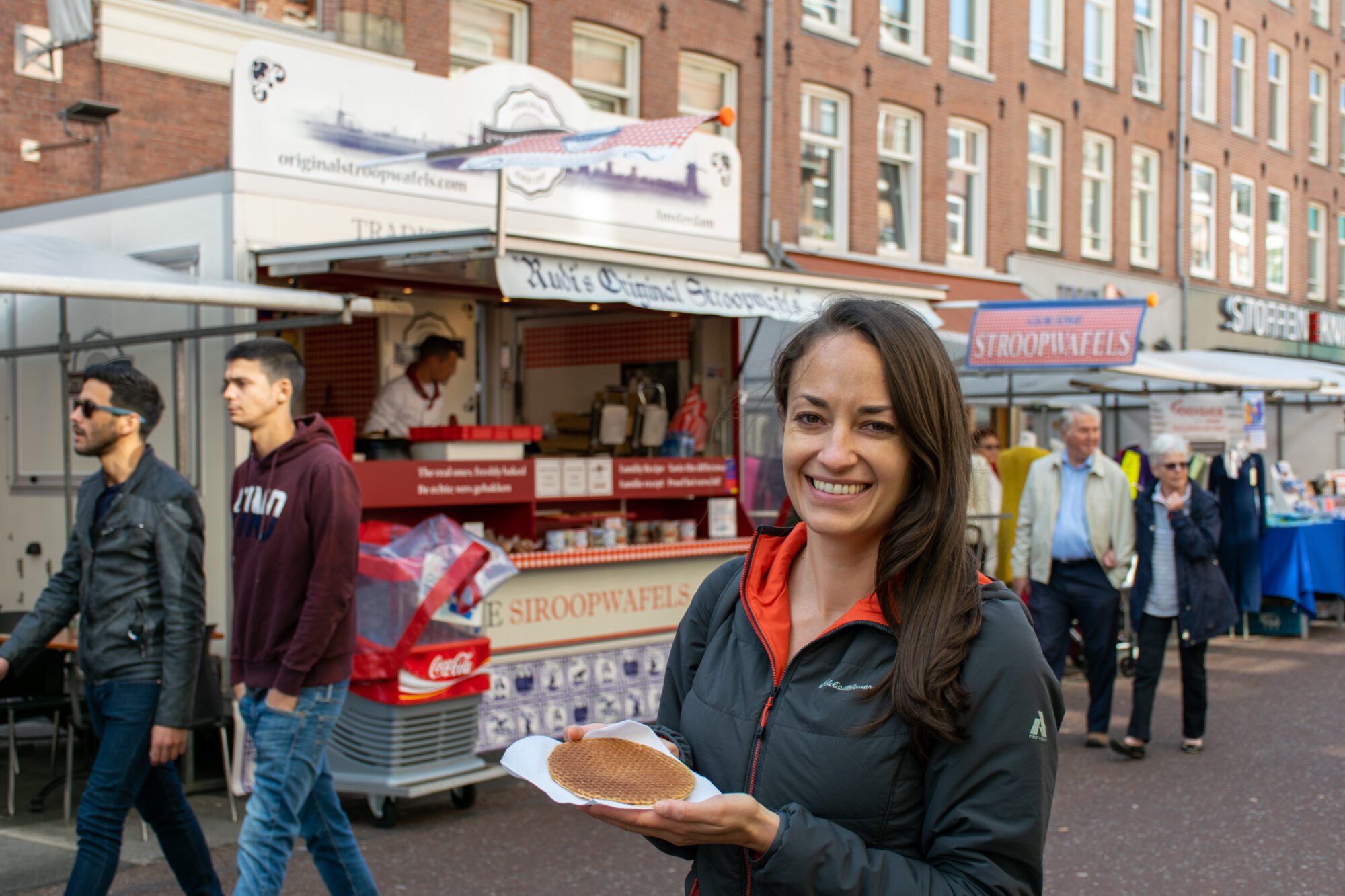 De Pijp is a great neighborhood to explore in Amsterdam, whether you opt to stay there or not.
It's within walking distance to places such as the Albert Cuyp Market where you can seek out a bargain on some souvenirs to bring home or try some mouth-watering warm stroopwafels straight off the press. There is a seemingly never-ending stream of restaurants, cafes, and bars.
This area stands out from the rest because of its rich multi-cultural history and penchant for creativity. The population looks and feels very young, and that energy carries through to all aspects of the neighborhood.
By day, it's full of people walking dogs, shopping for groceries at the open air market, and by night, the area transforms into one of the best nightlife scenes in the entire city.
The nightlife of De Pijp is bursting at the seams with energy. You might stumble across all sorts of events, music, and DJ sets. There are some great breweries and cocktail bars to be had, too, which is more our speed – a 9:00 pm bedtime isn't super convenient for hitting the clubs (although I guess you could show up as they're closing in the morning instead?).
If this wasn't enough, the city's best museums and the Red Light District are all easily accessible – within walking distance, in fact – of this vibrant area.
Pros and Cons of Staying in De Pijp
Pros:
It's a cool place to hang out. De Pijp is one of the cooler neighborhoods in Amsterdam.


You'll be somewhat removed from the hectic city center. Yes, tourists still make it to De Pijp. In droves, in fact. But far less of them make it this far south than you'll find in places like the Red Light District or Museum Quarter. You're far more likely to run into a local young professional walking the dog on their lunch break here than in most of the other neighborhoods in this guide.


It's full of an eclectic mix of different people. There are all sorts of people in De Pijp from all over the world. It's a slightly more affordable area than some of the closer in neighborhoods in Amsterdam. You'll find food from Indonesia, Brazil, Turkey, Vietnam, and more. Along with a bunch of more bougie, brunchy places for fancy coffees and cakes.
Cons:
It's a little further out. But not really that much – you'll be 15-20 minutes (on foot) from just about everything you might want to see in Amsterdam. Except the train station, which you'll need to take the tram to get to and from.
De Pijp Highlights
The Best Places to Stay in De Pijp
Here are some places to stay in De Pijp that caught our eye.
If you're looking for an opportunity to stay on a houseboat, this is a good place to do it. There are two really nice options in the neighborhood – the Houseboat Family has apartments on a houseboat at the southwest corner of De Pijp (near the museums), and Houseboat Little Amstel is on the opposite side, at the northeast corner closer to the Albert Cuyp Market.
CitizenM Amsterdam Amstel: A Modern, Mid-Range Hotel (We Love CitizenM!)
CitizenM Hotels are one of our favorite hotel chains in the world.
They're a Dutch hotel chain that has basically made staying in a hotel super easy and streamlined, with all the amenities that modern, younger travelers are looking for (USB charging, climate controls via iPad, and more) while simultaneously stripping out the unnecessary pieces (fluffy robes and slippers or sitting areas, for example) to offer a great value.
The location of their hotel in the Amsterdam City Center is great, though it's technically just across the canal from the border of De Pijp. We're still including it, because close enough, right? It's a 15 minute walk to Museum Square, and a 20 minute tram ride from Amsterdam Centraal (or a 30 minute walk).
Each room comes with all the amenities we're looking for – blackout blinds, showers with good water pressure (which we've found is fairly uncommon, at least in Spain, Portugal, and Italy, where we spent a lot of time recently).
Another modern touch is that you can control the lights, climate, and blinds with either a tablet in the room, or an app on your phone.
Hotel Notting Hill: Nice Boutique Hotel in De Pijp
Just across the canal to the north of De Pijp (which I think means it's not technically in De Pijp, but is literally a block outside of the border), this boutique hotel is a stylish, mid-range option.
Rooms are fairly spacious, starting at 180 square feet (22 square meters) and going up from there. Some rooms are underground, which might be kind of dingy and depressing, but those rooms are also the cheapest of the bunch, so if you're on a budget, they might be a good option. Some rooms also have canal views!
Since it's on the northern end of the neighborhood, that means that you're a few minutes closer to the action in Central Amsterdam, and tram #4 stops literally right outside the hotel, which gets you to Amsterdam Centraal in 15 minutes flat.
Het Kabinet: A Charming Bed and Breakfast in De Pijp
This small-but-mighty bed and breakfast in the heart of De Pijp might not be huge, but the rooms here make a great home base for exploring Amsterdam. Their location is central to everything De Pijp has to offer (and the museum quarter), and is well-connected to the rest of the city via the tram (which has a couple of stops within a few blocks).
Canal Belt / Negen Straatjes (Nine Streets)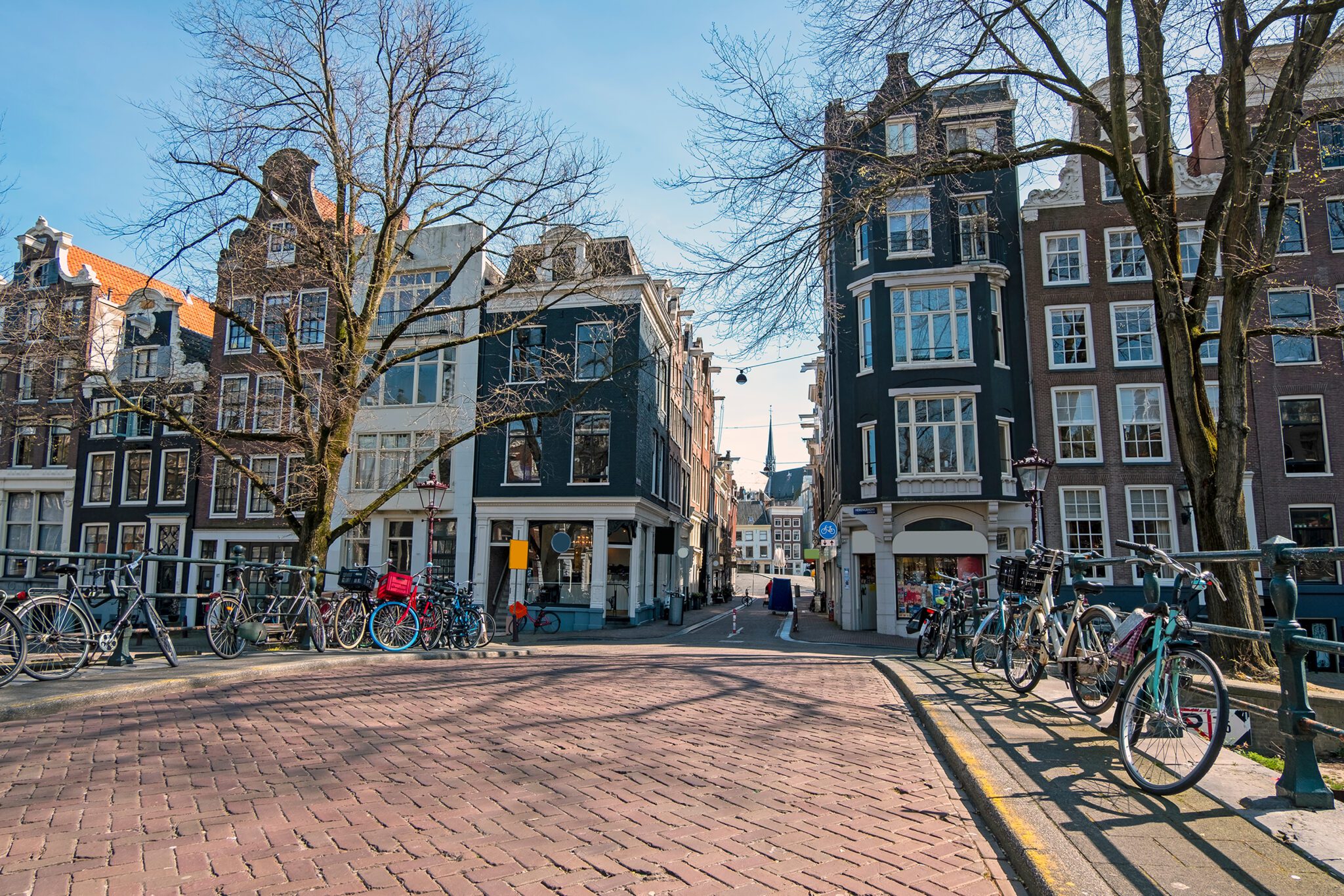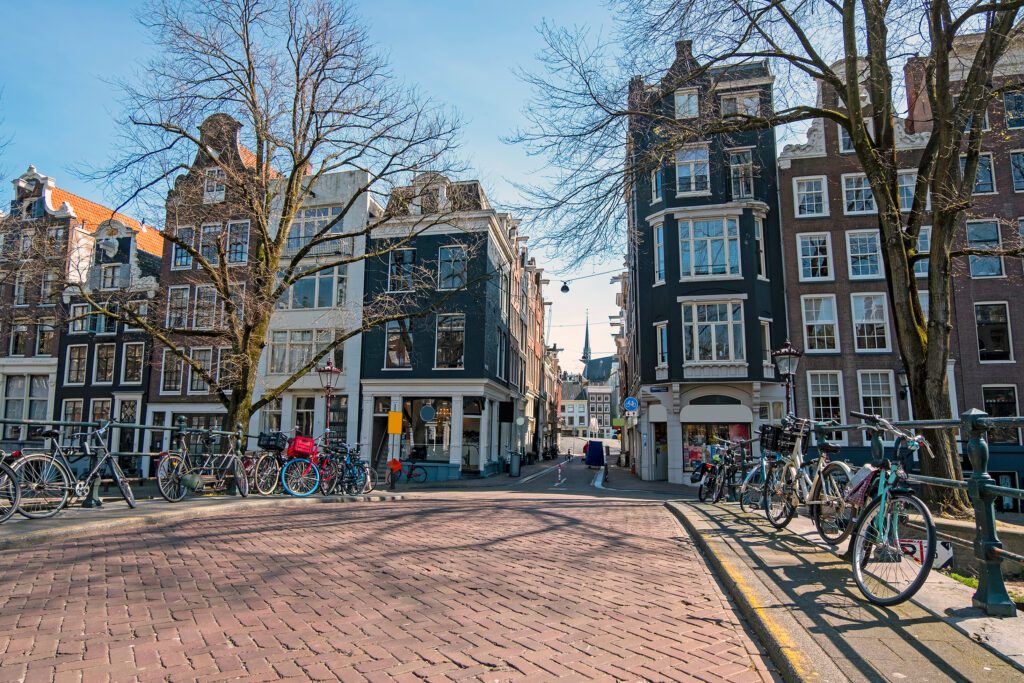 In our opinion, Jordaan and Nine Streets are the only two places you should even consider staying in the center of Amsterdam because they offer an unmatched combination of charm and beauty that comes with slightly (and we do mean slightly) fewer tourists. Though, this area is still dominated by tourists and businesses catering to said tourists.
Roughly covering the areas along three of Amsterdam's most famous canals – Singel, Herengracht, and Keizersgracht – this area is adjacent to Jordaan (to the east) and has a similar vibe. It's full of great food, drinks, shopping, and, of course, an endless number of canal scenes, filled with boats and bicycles, that will stick with you long after you leave Amsterdam.
Raadhuisstraat is the northern border, separating this area from the area closer to Centraal (which starts to get significantly less charming FAST), and Leidsgracht serves as the southern border, which is a hop, skip, and a jump away from the Rijksmuseum and the iAmsterdam sign.
This part of the city brings a nice blend of great location, charming architecture that is quintessential Amsterdam in our minds – tall, skinny buildings alongside the canals – and a nice mix of shops, bars, and restaurants to explore.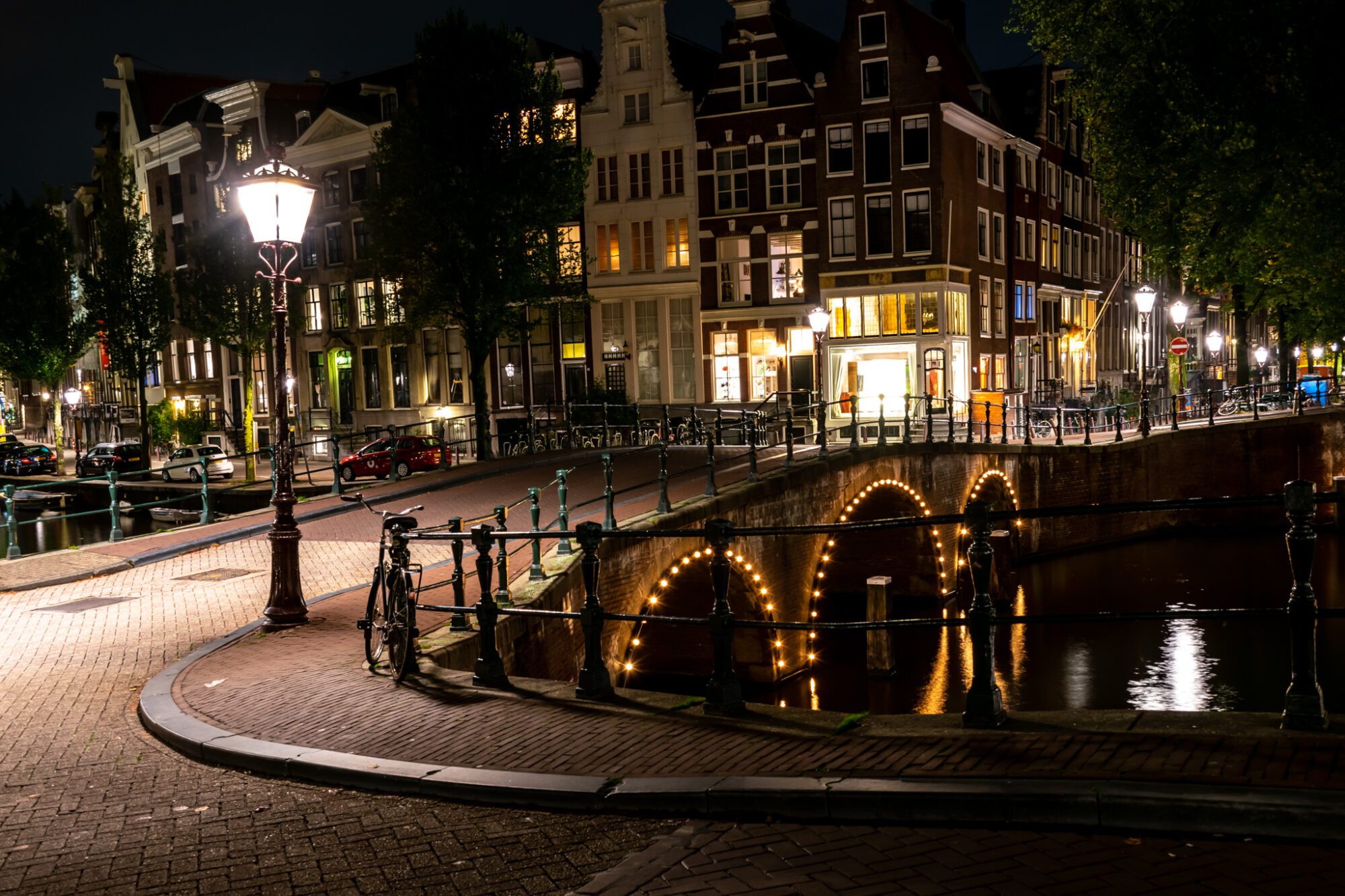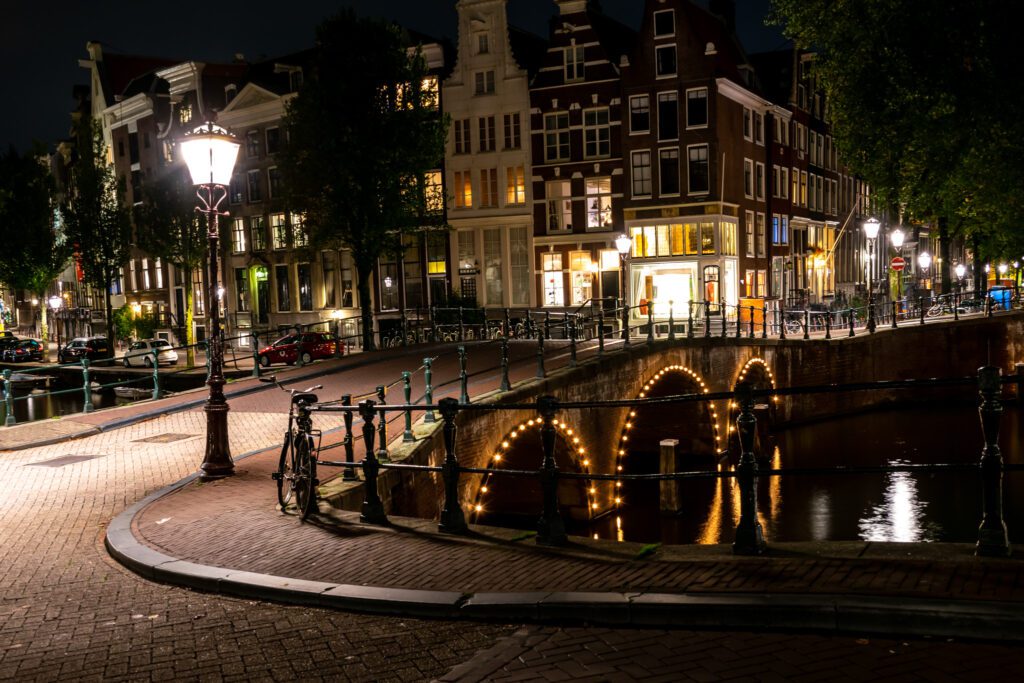 Pros and Cons of Staying in the Canal Belt / Nine Streets
Pros:
It's beautiful. Truly one of the most beautiful parts of the city, the architecture here is quintessential Amsterdam with canals, tall skinny houses, and bicycles chained to bridges over the canals.


It's central. Even more central than Jordaan, this area is within walking distance of everything, from the train station to the Rijksmuseum and Vondelpark.


It's packed with small businesses. Cheese shops. Ramen spots. Specialty coffee. Homeware boutiques. You could spend a full day just browsing here.
Cons:
It's expensive. Given the pros we listed above, this probably shouldn't be too much of a surprise. If you're on a budget, look at De Pijp instead.


It's full of tourists. This area is adjacent to the main center of Amsterdam (where we wouldn't recommend staying), which means many of those tourists make their way west and find themselves in the Nine Streets. Not necessarily a bad thing, but something to know because it can get crowded and claustrophobic, especially around holidays.
Canal Belt / Nine Streets Highlights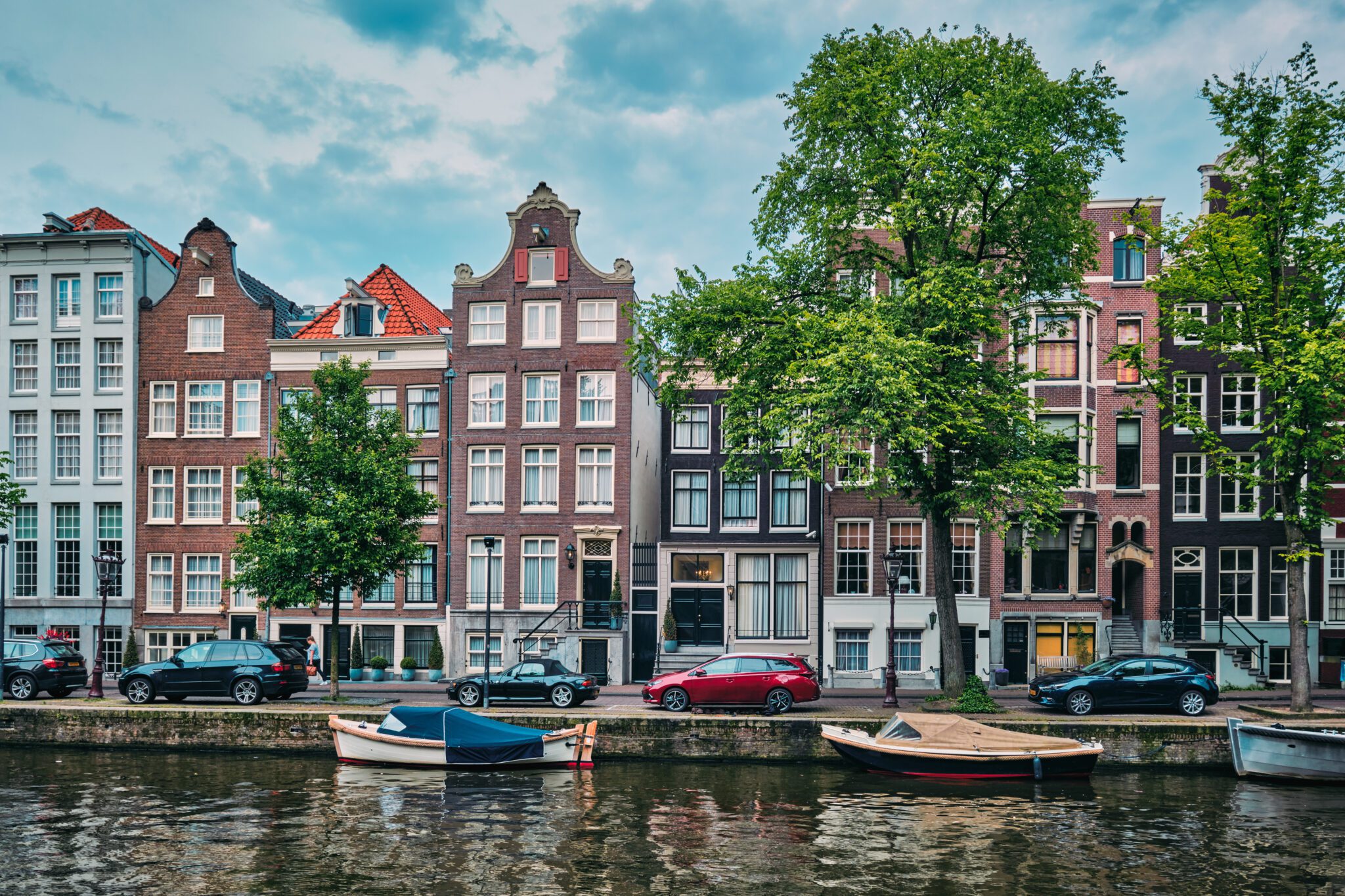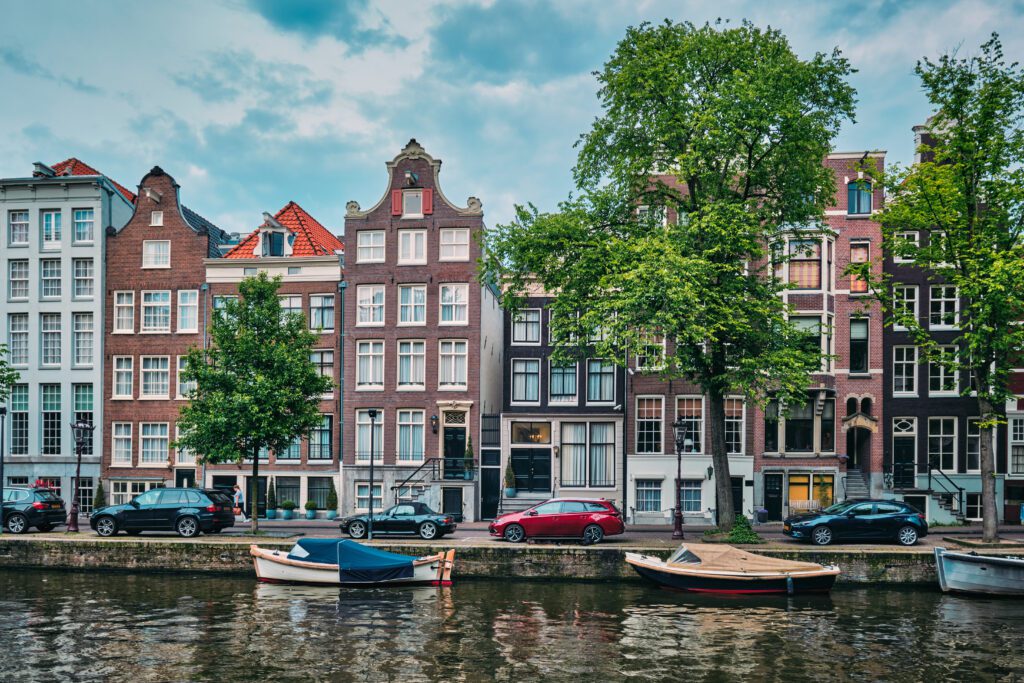 Aside from the wide variety of places that will be within walking distance of your hotel if you opt to stay here, there are some great spots within the boundaries of the neighborhood itself (and just outside – we cheated a little bit on a couple of spots, but love them so much that we decided to include them anyway).
Great coffee: Hummingbird and Kaldi are two amazing coffee shops all in this little slice of Amsterdam. But our top pick is Screaming Beans, which is right on Keizersgracht.


Cheese shops galore! If you're looking to try some Dutch cheeses, there might not be a better place to do it in the entire city. Reypenaer Proeflokaal, De Kaaskamer, Amsterdam Cheese Company, Henri Willig all have locations in this area, or right on the outskirts of it. On our last trip, we brought home a vacuum-packed cheese from Reypenaer Proeflokaal that was a big hit with our families for Christmas.

Proeflokaal Arendsnest: An old-school beer bar with 50+ rotating taps dedicated entirely to Dutch beers. They also had ciders in bottles, last time we were there. We've been here three or four times now, and would go back again in an instant.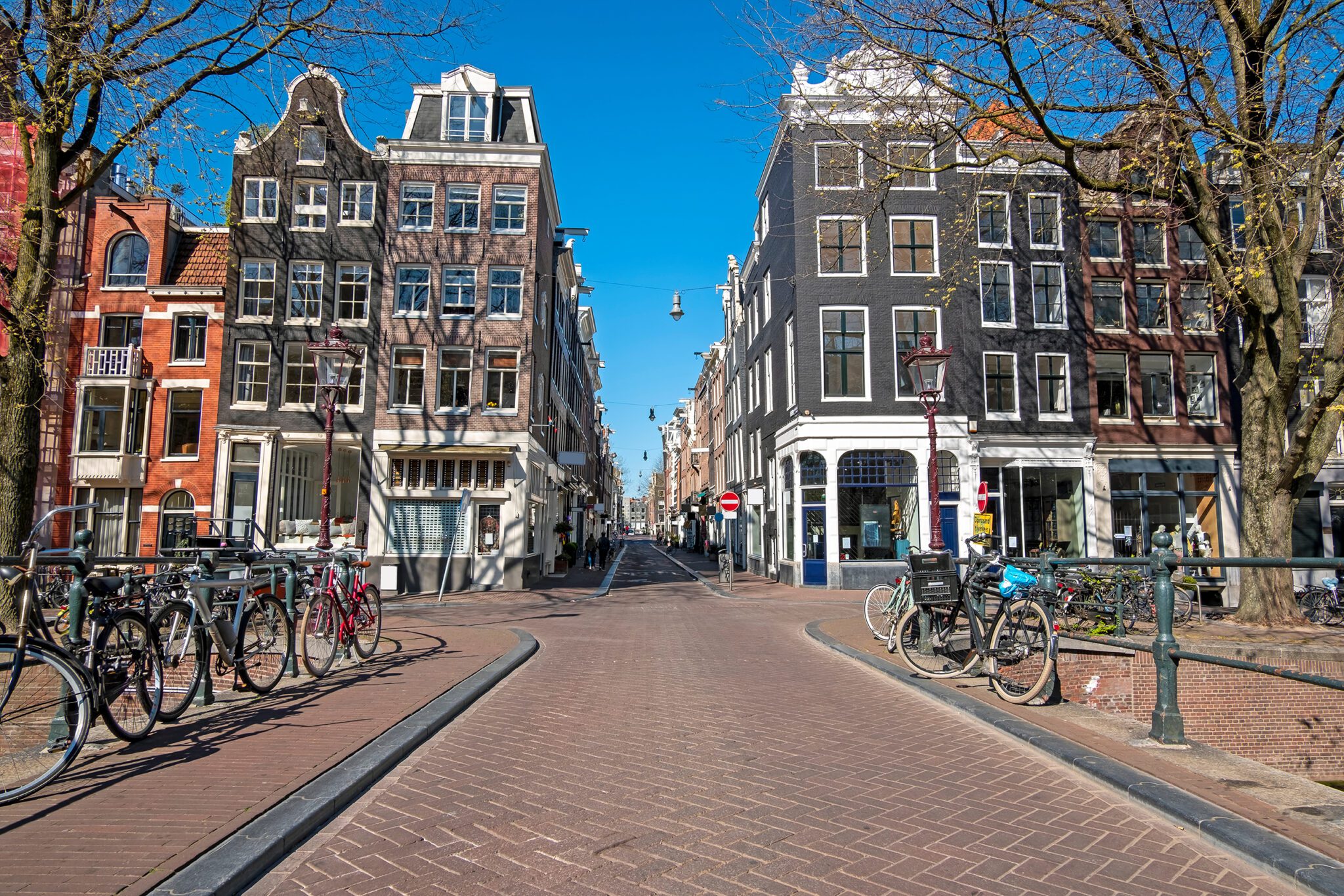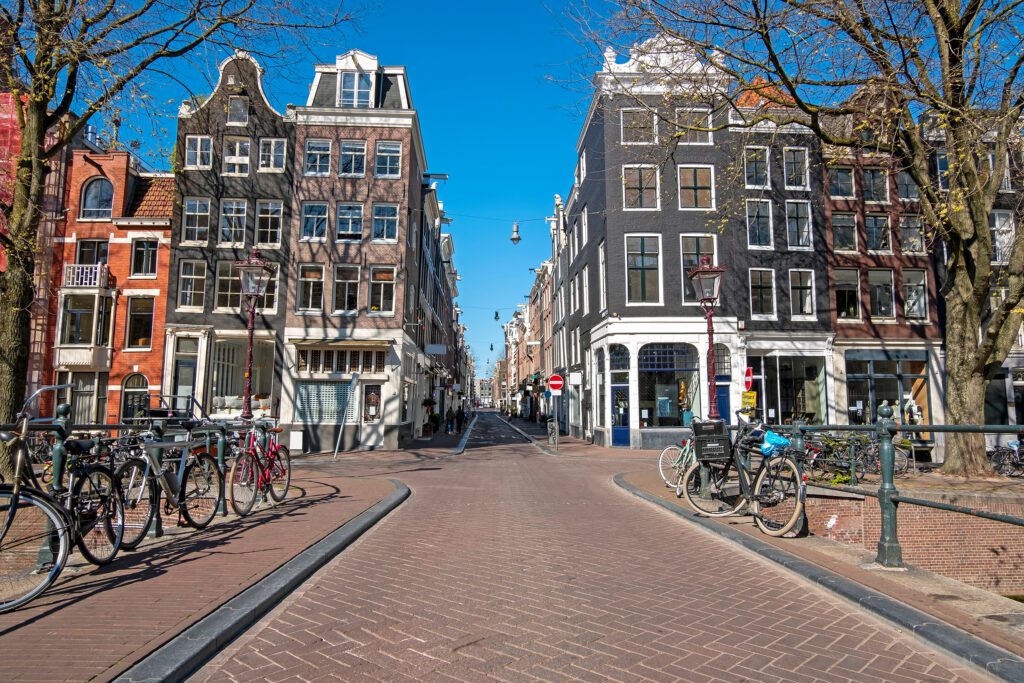 The Best Places to Stay in Nine Streets
Here are some cool hotels in the neighborhood that caught our eye.
The Hoxton Hotel: One of the Coolest Hotels in Amsterdam
The Hoxton is as stylish as it gets, and the location is perfect. You'll be right in the middle of all the action, in a super central area between the Anne Frank House and the Red Light District. It's right on the Herengracht, one of the most famous canals in the city.
It also happens to be a surprisingly good value given the location and amenities, though it's by no means the cheapest hotel in Amsterdam.
The Hoxton is one of our favorite boutique hotel chains, catering to people who crave style, simplicity, and authenticity, which is right up our alley. Every time you walk into a Hoxton Hotel, it feels like a natural extension of the neighborhood it's in, which is a perfect way to immerse yourself in the place you're visiting.
They have a variety of room types and sizes, from their "cosy" rooms (180 sq. ft.) to their "biggy" rooms (300+ sq. ft.), and some have canal views.
They also have an onsite restaurant – Lotti's – that operates as an all-day spot for coffee, cocktails, and bites.
Hotel IX Streets: Modern Mid-Range Hotel in a Great Location
This brand new boutique hotel in Amsterdam is in a restored 17th Century building that has been renovated, top to bottom, to create a modern oasis for your stay in Amsterdam.
It's a small building with just five rooms, and they have a completely contactless check-in system, which might be a pro or a con, depending on your particular preferences (we're on board with contactless, for what it's worth).
There's no onsite restaurant, bar, or cafe, but there is a nice selection of those things within a few blocks, so it doesn't really matter too much.
Each room – or "suite" as they call them – comes with a Nespresso machine and tea kettle, plus a stocked mini bar (that is free!).
You'll be in the heart of the Nine Streets, and the Royal Palace is a few blocks east.
Westerpark: A Budget-Friendly Alternative to Jordaan & Nine Streets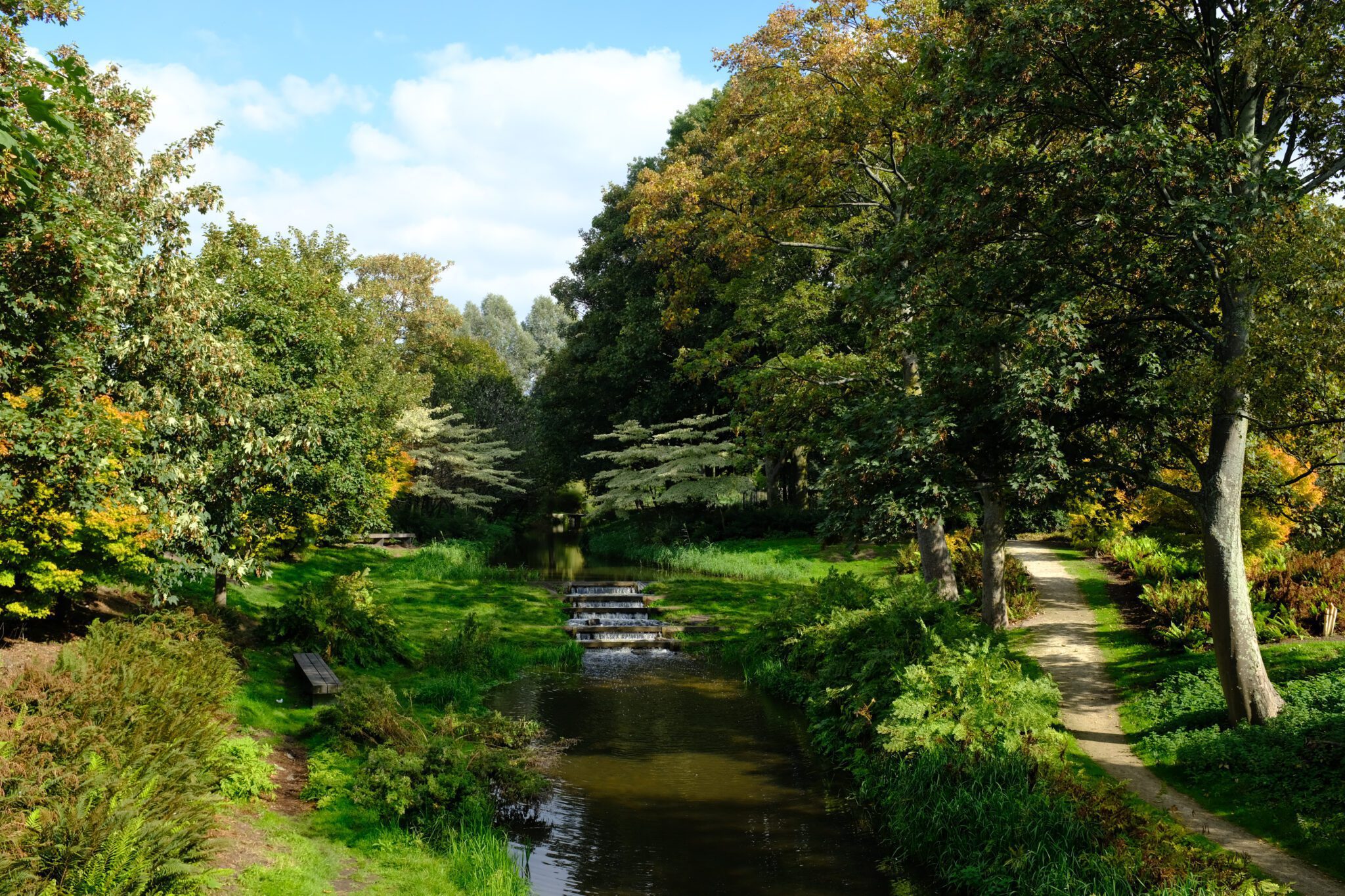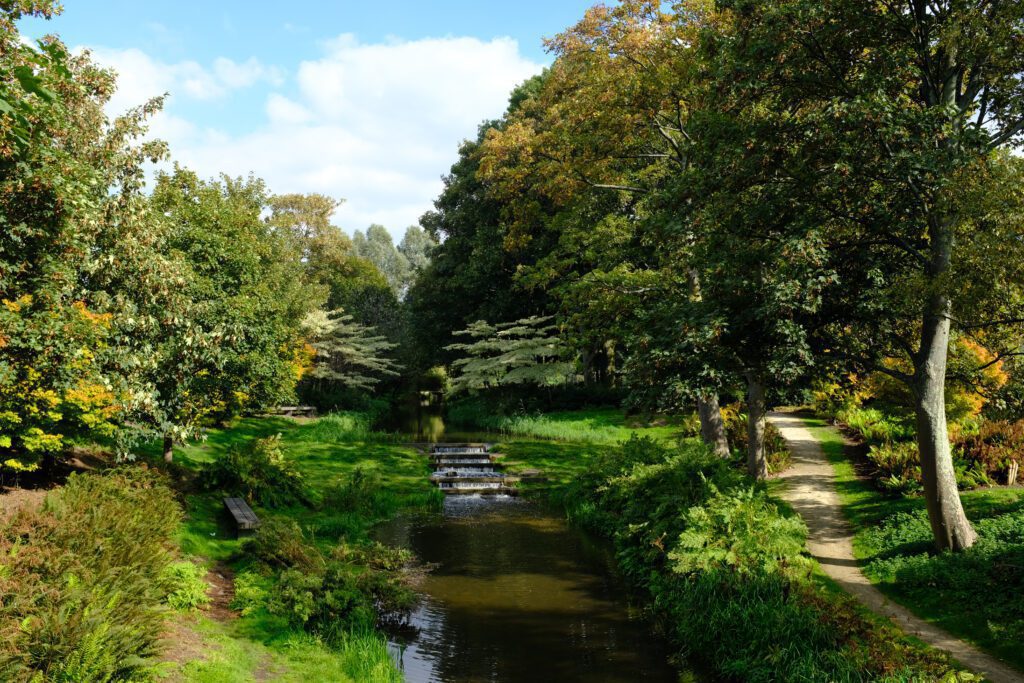 Westerpark is a neighborhood that wasn't really on our radar until our last visit, when we spent an afternoon wandering through it mostly by accident.
From the northern end, where you'll find the Foodhallen, a food hall that could easily have been in Brooklyn, to the southern end where the park that the neighborhood is named after is located, there's a bunch of cool things to see, eat, and drink in this part of the city.
It sprawls a little bit out to the northeast, and there are some really cool places to stay up along the water that, while less convenient than staying closer in, really offer a unique experience for your stay in Amsterdam.
Another thing we noticed about this part of the city is that there are tons of legal (we think, at least) apartment options, which is not the case for most of Amsterdam. Amsterdam is trying to combat overtourism (worth reading this piece and this piece if you're interested in the topic of overtourism in Amsterdam) and the effects of Airbnb by basically outlawing most Airbnb listings with few exceptions.
In Westerpark, there are a few aparthotels (hotels that have apartment-style rooms) that have kitchen facilities, which we try to find when we're traveling because I have Celiac Disease – no gluten for me! – and I often need to cook my own meals.
Side note: Don't use Airbnb in Amsterdam, or your booking risks getting canceled at the last minute leaving you high and dry. Plus, we think Airbnb is bad for cities based on our own experiences in Seattle and San Francisco, and would encourage you to opt for hotels or hostels instead.
Pros and Cons of Staying in Westerpark
Pros:
It's more affordable. It's less "on the map" and further out from the main attractions, and prices are a touch lower as a result. It's still Amsterdam, so nothing for 50 Euros a night here, but it's more affordable than staying right in the center.


There are fewer tourists. Most tourists never even make it to this part of the city, and if they do, it's just to go to Foodhallen at the southwest corner, which means you'll feel at least a little less like a tourist and be able to immerse yourself in the everyday life of Amsterdam.


There are some cool places to stay. From spacious apartments to trendy boutique hotels, there's a variety of great options here (and they're generally a pretty good value). Particularly for apartments.
Cons:
It's further out. Especially at the corners of the neighborhood along the water on the north end. That's not necessarily a huge issue though, because public transportation in Amsterdam is great.
Westerpark Highlights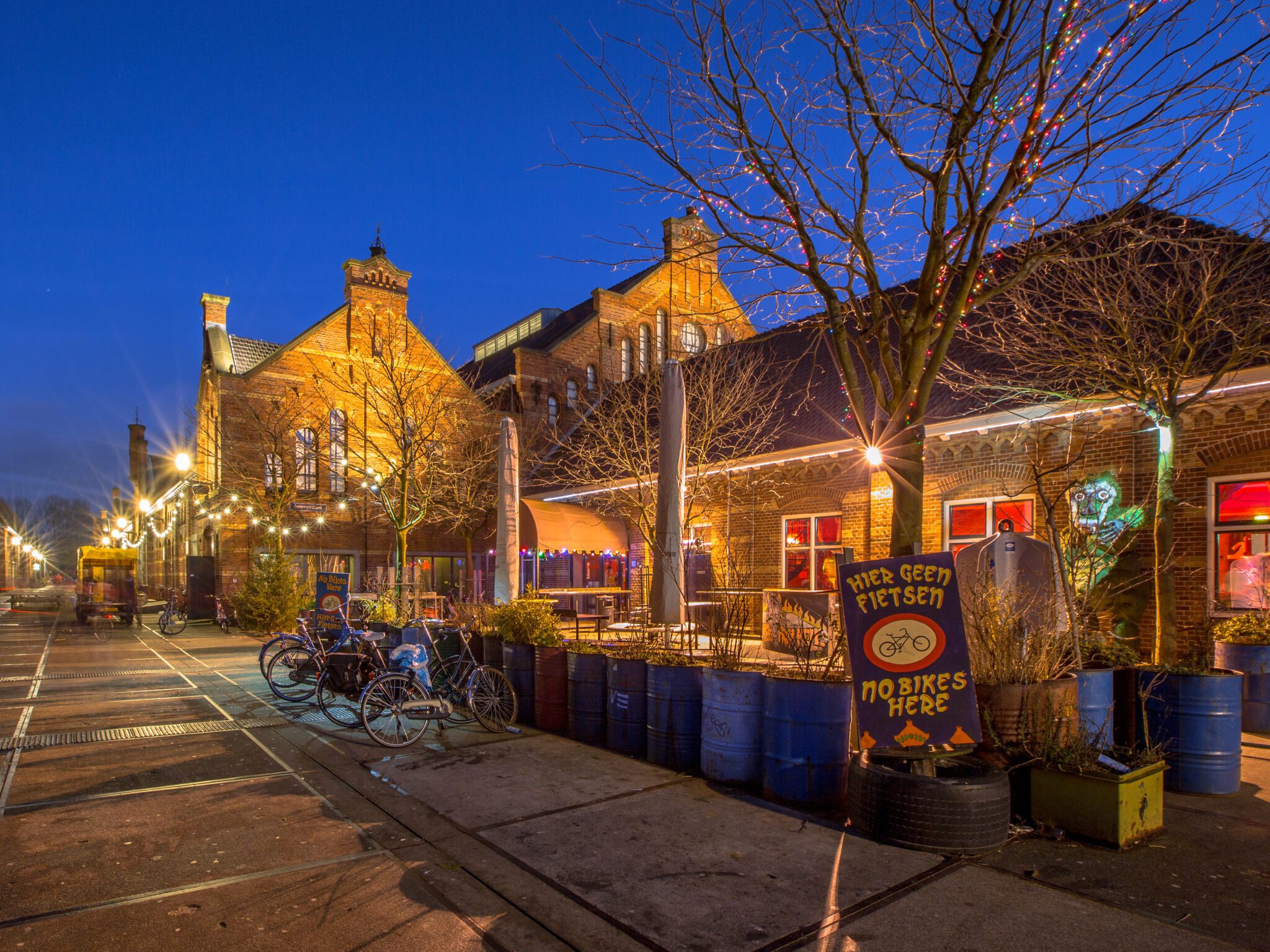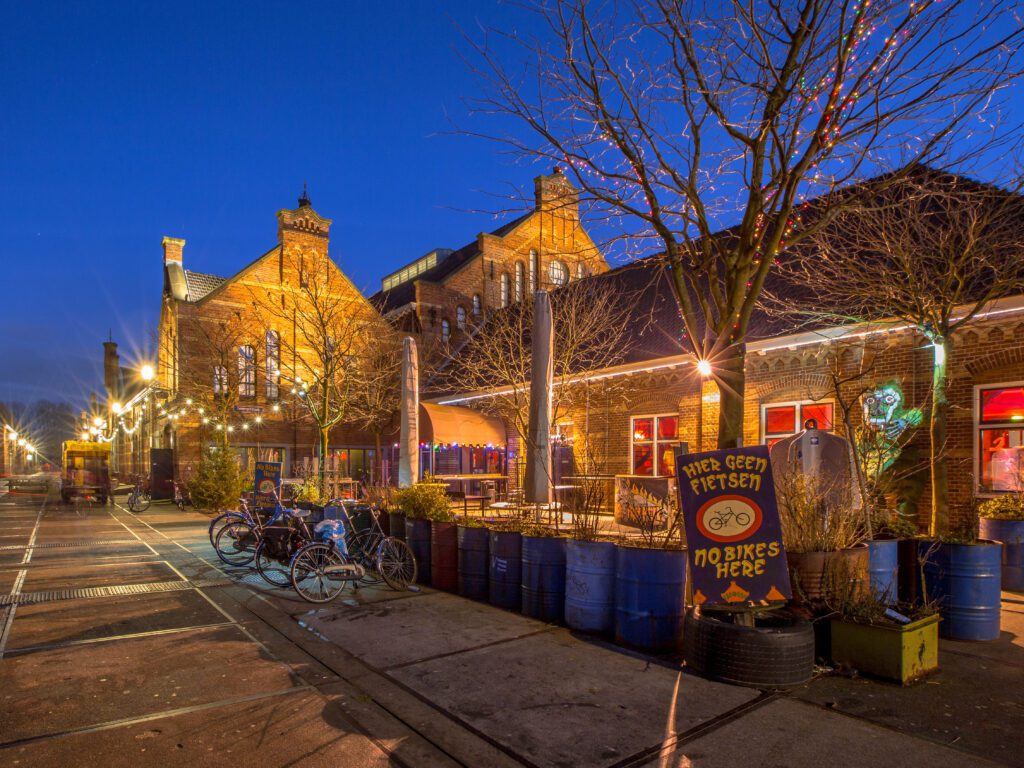 Here are some of the highlights in the neighborhood.
The Best Places to Stay in Westerpark
Like we mentioned above, there are some great places to stay in Westerpark, though some of them might be a little further out than you'd want for a short trip.
In a city where it's relatively hard to find an apartment rental (because Airbnb is severely capped to protect housing prices – though they're still outrageous), this is an area where there are a couple of good "aparthotels," which have apartment-style rooms in a hotel format.
Morgan & Mees: A Cool Boutique Hotel in a Great Location
This upscale boutique hotel is at the top of our list of the coolest hotels in Amsterdam. It's right on the border between Jordaan and Westerpark, which means the location is basically perfect. It is a few blocks away from the Anne Frank Museum, so you're right in the middle of all the action, and the style is right up our alley.
It's set in a cool brick building, and has a restaurant with huge windows and plenty of light on the ground floor.
The rooms themselves are relatively spacious, especially for Amsterdam. It's a little funny to us that their lowest level room is still a "deluxe" room, but we're going to look past that.
They have "deluxe" double rooms that are spacious and full of natural light, suites that are downright gigantic with separate living areas and balconies, and split level rooms that, while relatively small, feel bigger because the bedroom is on a separate floor. Each room has a mini fridge and coffee machine.
Hotel BOAT&CO: Stylish & Spacious Apartments
If you're in the market for an apartment in Amsterdam, this is one of our top picks. It's a bit further out than some of the other options on this list, but we'd say that the spacious, stylish apartments here are worth the extra 10-15 minutes spent on public transit to get to the city center.
It's on the water to the northwest of Amsterdam Central, which is a 30 minute walk to the Anne Frank House and a 30 minute ride on public transit to the Rijksmusem and Van Gogh Museum.
They have a range of different apartment sizes and configurations, including studios, one bedroom apartments, and two bedroom apartments. All apartments are huge (their two bedroom and family apartments are a whopping 61 square meters!), with kitchen facilities (all but the studios even have an oven, which is truly a luxury), dining and seating areas, and a separate work area.
We very much appreciated their recognition that trying to work on the bed in a tiny hotel room isn't always the most pleasant experience, and sometimes it's nice to have some extra space.
All rooms have views of the water, which is an added bonus. Plus Nespresso machines, tea kettles, a rain shower, and all the other modern touches you'd expect in a place like this.
Other amenities in the building include a gym, barber service, and underground parking. Plus, a bar/cafe on the ground floor, which has a waterside patio for those warm summer days.
Conscious Hotel Westerpark: Eco-Friendly, Mid-Range Hotel Literally IN the Park
This eco-friendly hotel is quite literally inside Westerpark. Like, inside the park that the area is named after. There's something inherently appealing about a hotel inside a park, at least to us. The hotel is 100% electric, which means they use exactly zero gas (natural or otherwise) in an effort to reduce their carbon footprint.
They also offer onsite bike rentals – though it's worth noting that they're not free – so you can take advantage of the bike-friendliness of Amsterdam's streets.
Bar Kantoor is on the ground floor, along with the Conscious Cafe, a coffee shop / breakfast spot to grab a quick bite on your way out into the city.
Room sizes are about average, but prices are surprisingly affordable given the location and amenities.
They also have hotels near Museum Square and at the western end of Vondelpark, which is the far end from the city center.
---
The Best Places to Stay in Amsterdam: A Map
Here's a handy map version of the detailed guide above to help you visualize the layout of the city.
---