Where to Stay in Boston: The Best Places to Stay
Boston is a fascinating city full of rich American history – especially around the American Revolution – far too many colleges and universities to count which gives it a very young feeling, and an undercurrent of rebelliousness that runs through its entire history. Add to that some excellent sports culture and cool architecture, and it's a cool city to visit.
The first thing to know about finding a place to stay in Boston is that nearly everything is expensive. It's an expensive city in general – it's consistently in the top 10 highest cost of living cities in the country – and hotels are not exempt from that trend.
It's a little more affordable in shoulder seasons and the offseason, but if you're visiting in the summer, it's not going to be cheap. 
The second thing to know is that it's a relatively compact city. Similar to San Francisco, which is where we met and lived for a decade, it's constrained by water on three sides, which means it can only sprawl so far.
Central Boston is extremely walkable, and it's almost perfectly flat. Anywhere you stay in the central corridor, which stretches from the North End to Fenway Park, roughly, is going to be convenient.
In this guide, we're going to share our take on where to stay in Boston, based on our own experience and point of view, to help you find the perfect place to stay for your trip.
For each area, we'll give you an overview of the neighborhood, then dive deep into the pros and cons of staying there, a few highlights that we love, and some handpicked places to stay.
Disclaimer: Some of the links in this post, like hotel links, are affiliate links, meaning at no additional cost to you, we make a little bit of money if you click through and book. That being said, we would never recommend something to you that we don't stand behind 100%.
Where to Stay in Boston: How to Decide on the Best Place to Stay
In this guide, we're going to cover – in detail – three great places to stay in Boston.
For each, we'll give you our honest take on the pros and cons, give you some neighborhood highlights that we enjoyed, and point you to two to three different hotels to start your search. 
We're strong believers that the best way to do it is to first pick the neighborhood you want to stay in, then pick a place within that neighborhood.
That's what you'll see below – we've organized this guide to first cover the neighborhoods, then recommend some cool places to stay within each neighborhood. 
Before we get into it, you should know that short term apartment rentals in Boston (like the ones you might find on say, Airbnb) are HEAVILY regulated to protect the local housing market, which means they're not really a great option here.
Which is kind of unfortunate, because we do like staying in apartments when we're traveling, especially if we're in a city for more than three or four days.
We're not going to cover every single neighborhood you COULD stay in here, because Boston is a relatively compact city.
Unlike a city like Paris or London, where there's a nearly unlimited number of cool neighborhoods that offer something a little different, there are only a few places that really deserve to be on the list.
We're strong believers that the best approach is to first pick the neighborhood you want to stay in, then pick a place within that neighborhood.
That's what you'll see below – we've organized this guide to first cover the neighborhoods, then recommend some cool places to stay within each neighborhood. 
What about the North End? You're not going to find the North End in this guide. The North End doesn't have all that many places to stay, and the few it does have aren't really in the parts of the North End that, well, make it the North End.
We think it's a better option to stay elsewhere and come to the North End for an afternoon or evening. 
What about Fenway? If you're going to Boston to see a Red Sox game at Fenway Park, then staying near Fenway would be a great option. Specifically, at the Verb Hotel.
However, for other people, we wouldn't recommend staying here. It's a little loud and boisterous, and a little… fratty? Good nightlife, but that usually means it's not the best place to stay, at least if you value a good night's sleep (like we do).
Plus, it's pretty far from just about everything you're going to want to see in Boston. 
Where We Stayed in Boston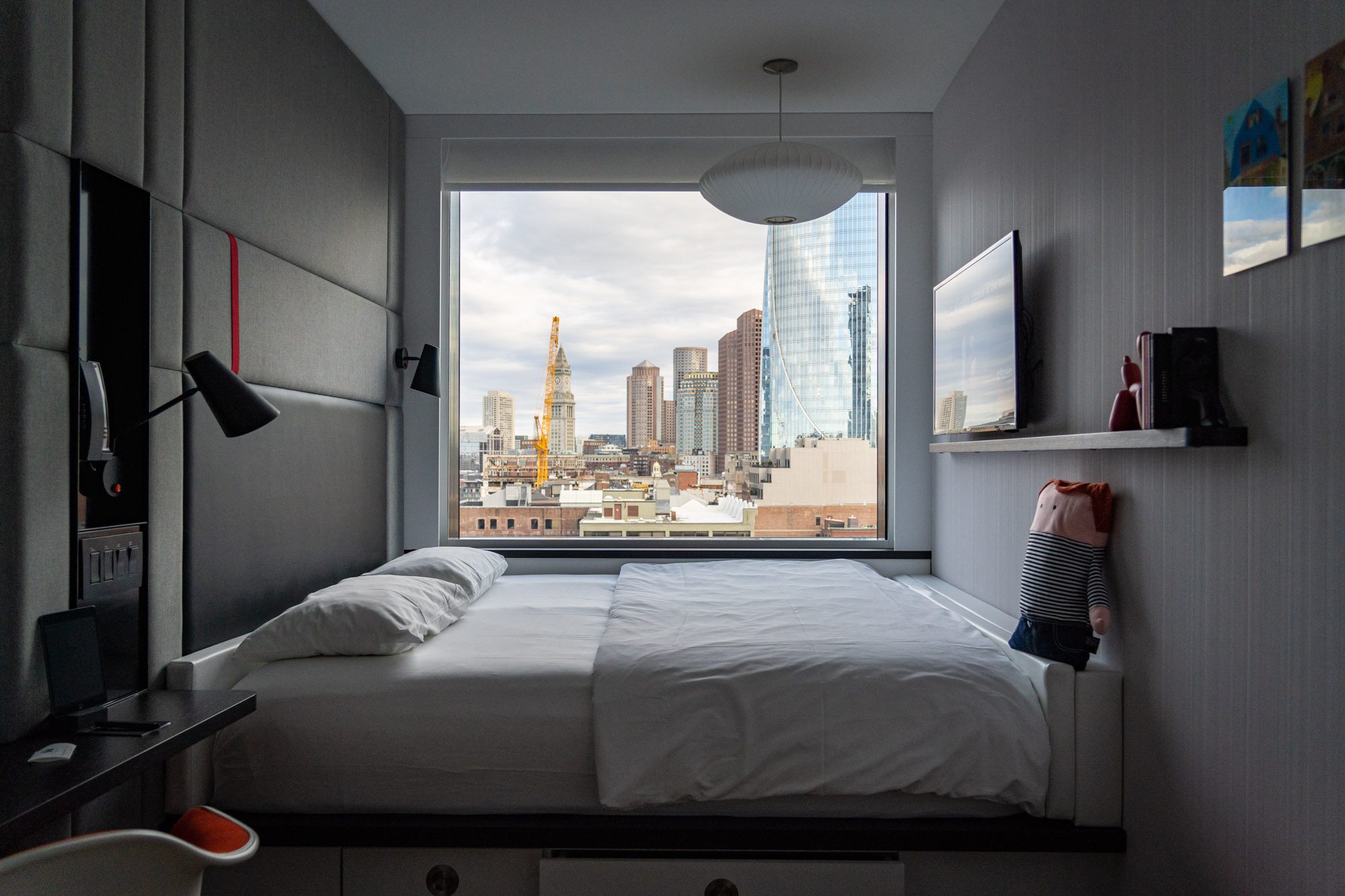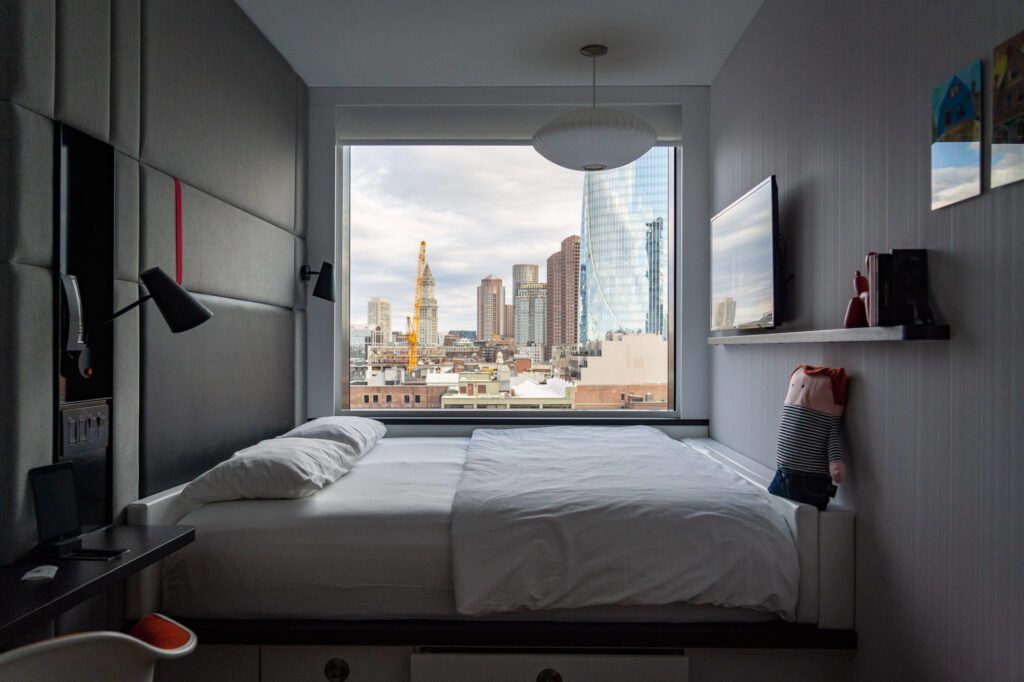 We spent five days in Boston, and we stayed at the CitizenM Hotel at North Station, which is in the complex where the TD Garden (Boston's main sporting venue) is.
The location isn't the worst, but it also isn't the best. We walked everywhere – the North End is a 5-10 minute walk, the Old State House is 10 minutes away, and Boston Common is 15-20 minutes (through Beacon Hill).
It is well-connected via the T – that's Boston's version of the Subway – which totally makes sense when you think about Celtics and Bruins games being there. 
Back Bay and the South End were a little further away than we'd like, which is why you'll see us recommending neighborhoods further south below.
The most important thing to know about the specific area around the hotel is that you'll be spending exactly none of your time there, unless you're going to a game or concert at the arena. It's not that exciting. At all.
If you like the idea of walking out your front door and having the best of Boston at your fingertips, this probably isn't the right place to stay.
Again, love the hotel – CitizenM is our favorite hotel chain in the world (we've stayed at 3+ locations in the past year or two) and the location isn't particularly bad.
Buuuuut… there are definitely better areas to stay in Boston.
We'd opt for downtown (for a central location) or the South End (for a cooler neighborhood) next time.
There are parts of the city that could be just about any big city's downtown core, with towering skyscrapers and people in business suits bustling about, talking on their Airpods on their way to their next important meeting. 
But there are also parts of the city's downtown area where you'll find buildings made of warm, red brick that are hundreds of years old.
Or a cemetery with dates from the 1800's featuring a who's-who of the American Revolution – Sam Adams, John Hancock, and more.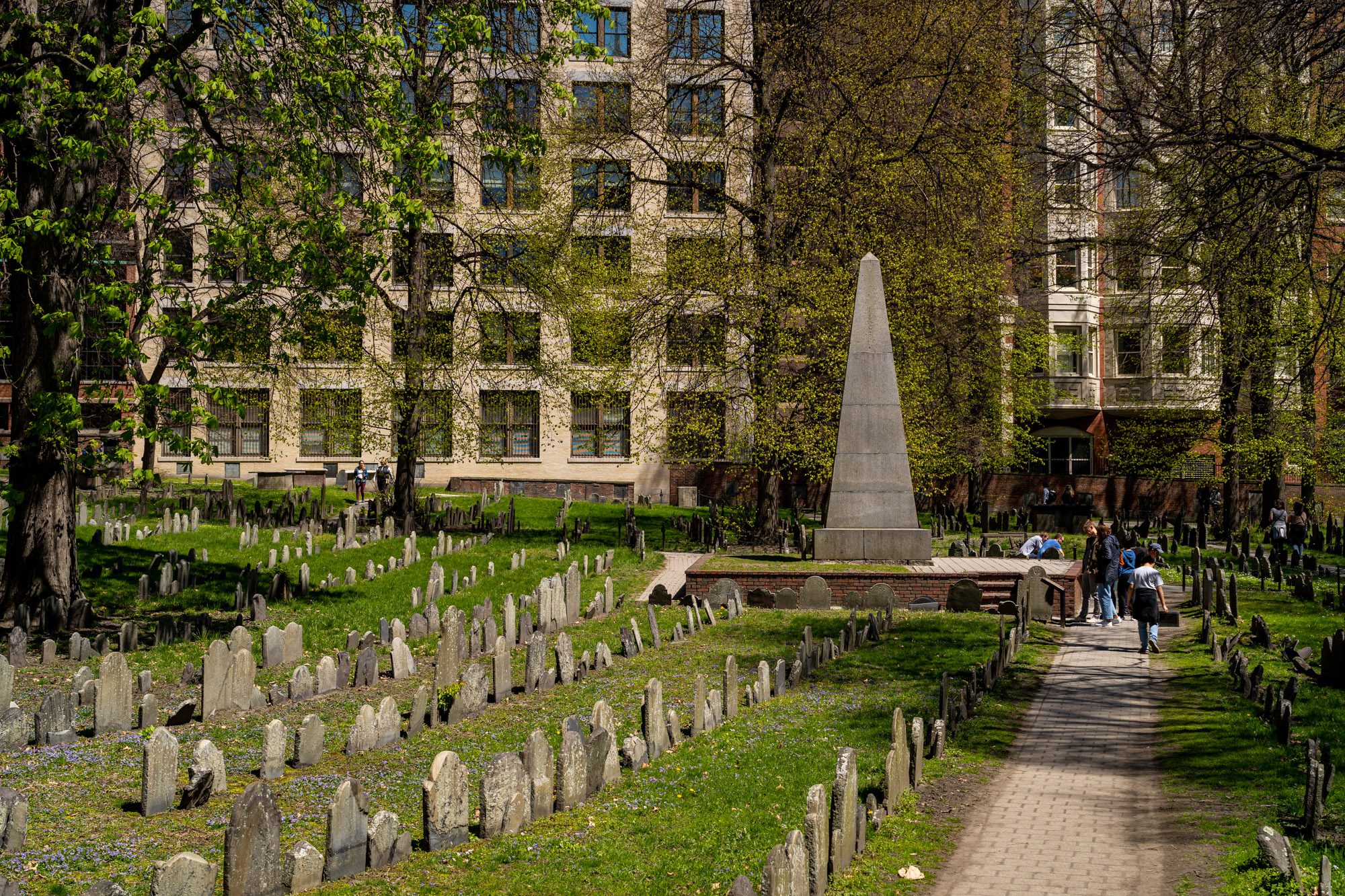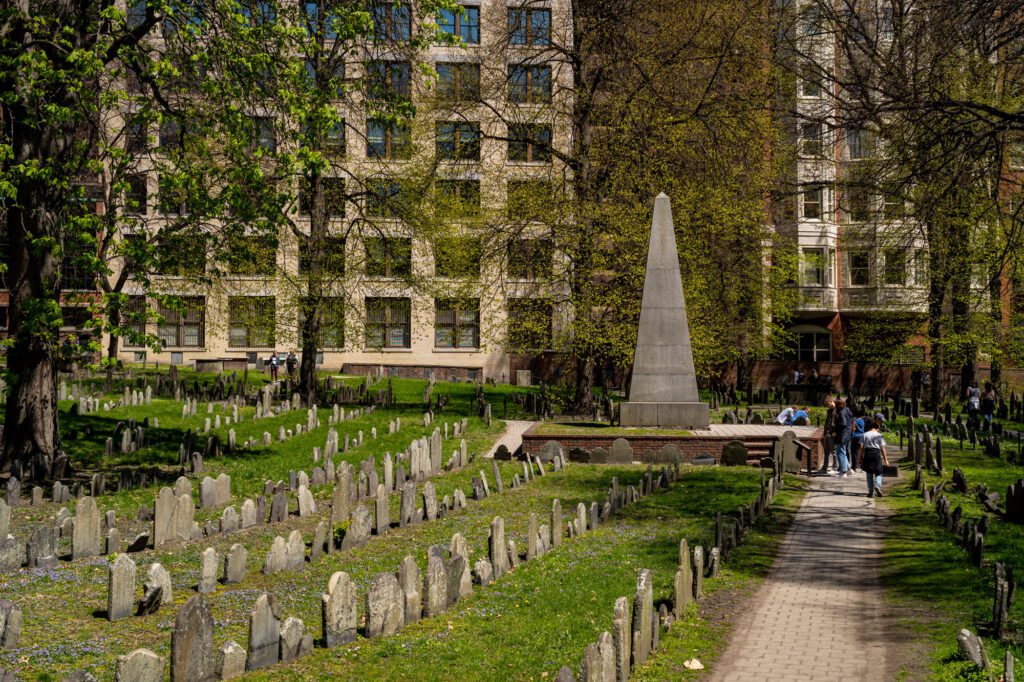 Oh, and then there's Boston's City Hall, which is a few hundred yards from the Old State House, which is a brutalist monstrosity made of nothing but concrete and 90 degree angles.
It's an odd mix of architectural styles, and we found ourselves constantly confused as to how this all came to be.
If there's one thing to know about Downtown Boston, it's that it's about as central as it gets. That's not always true of downtown areas, but in Boston's case, it truly is the best area to stay if you've only got a day or two, and you want to maximize your time.
You'll be able to walk to just about everything (Boston is SUPER walkable), and you'll be within walking distance of most of Boston's main tourist attractions, like the Old State House, the southern end of the Freedom Trail, and more. 
That all being said, it is worth saying that there are parts of it that aren't super charming, and we think that's fine. The central location is worth the "charm" tradeoff for short trips and first timers.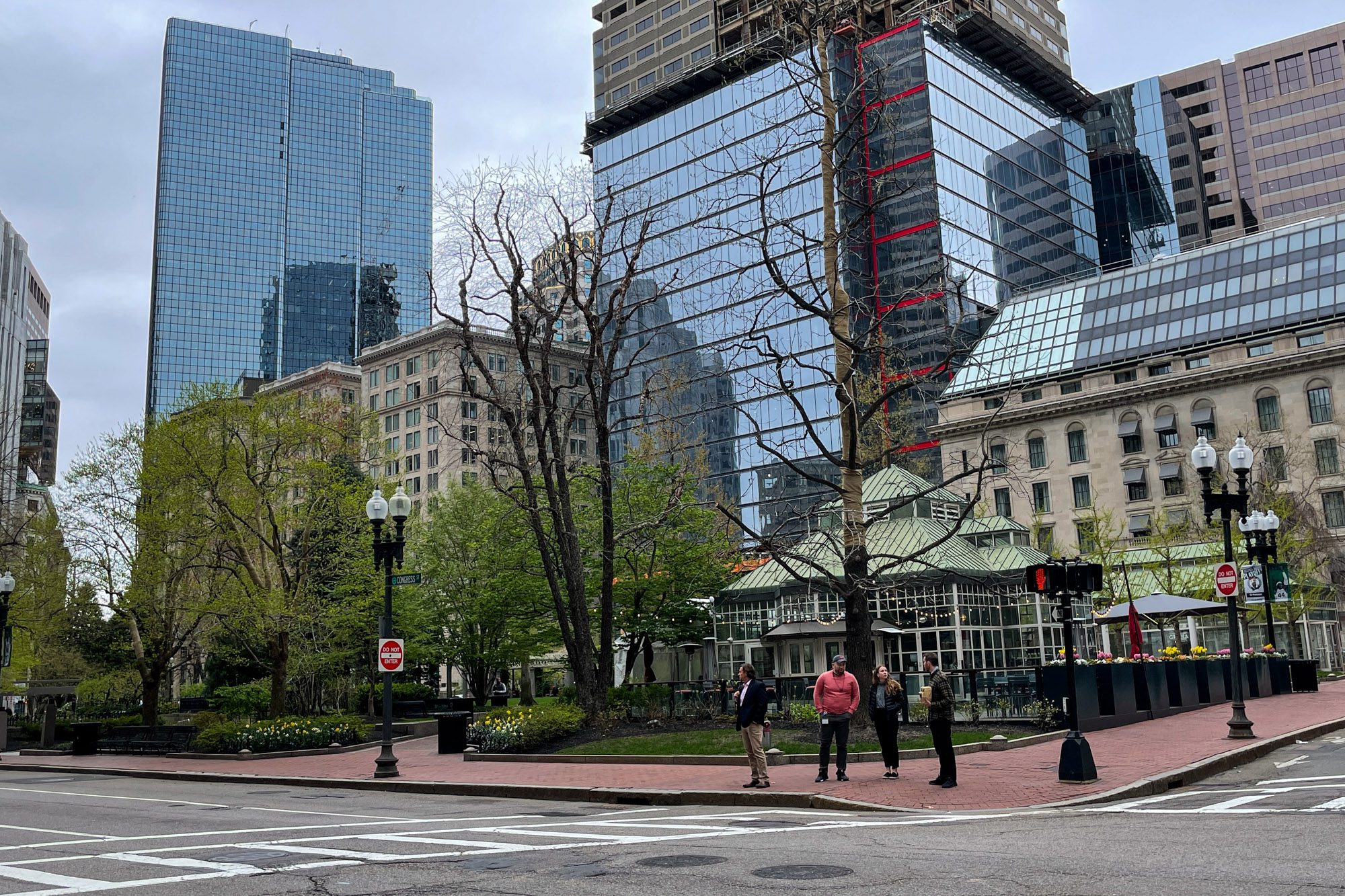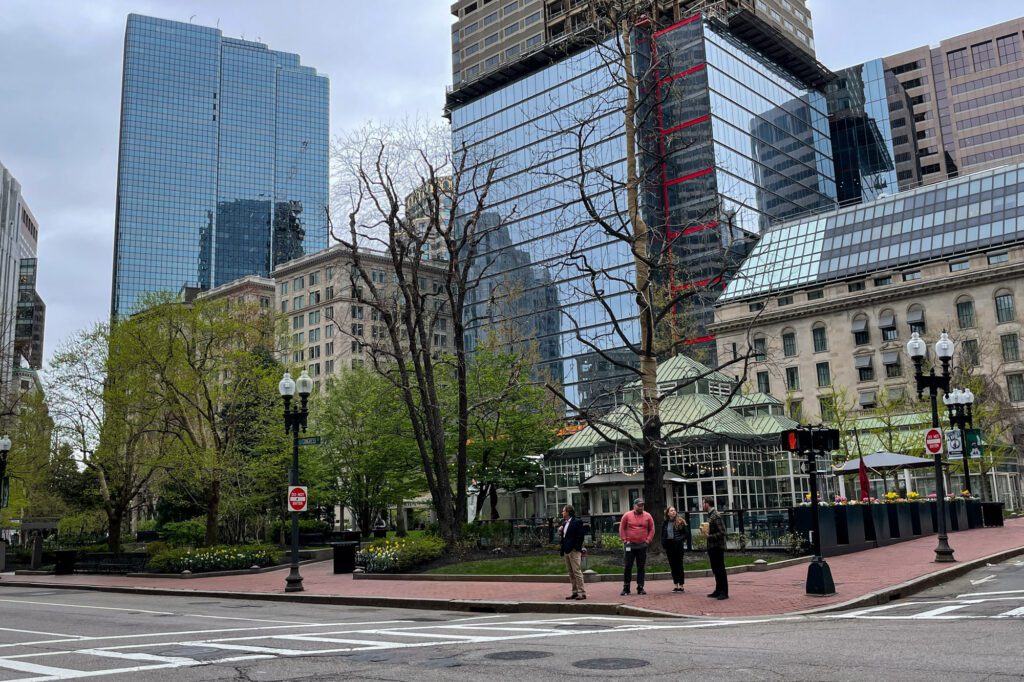 Pros and Cons of Staying in Downtown Boston
Pros
It's central. If you think about Boston as a fan, downtown is basically the handle. Everything else fans out from downtown Boston in all directions. To the north, you've got the north end. South is – unsurprisingly – the south end. West is Back Bay, and east is Seaport. It'll all be within walking distance if you stay downtown.


It's well connected to the T. The "T" is Boston's subway system – the oldest in the country – and it's not surprising that downton is littered with metro stops for all of its lines. Basically, wherever you need to go, you'll be within 5-10 minutes of a stop that will take you there.
Cons
It can be a concrete jungle. One of the things that surprises us about downtown Boston is that, from above or outside, it looks like it's all modern high rises. But once you're actually in downtown, especially near the Old State House, there's more brick and charm than it looks like from afar. However, there are definitely parts of Downtown Boston that feel like a concrete jungle – especially the further south you go. Not as charming as, say, Back Bay, but that's not really the point of staying here I suppose.


It's pricier. The average price of hotels is already fairly high in Boston, and there aren't all that many budget options in Downtown Boston. It's all mid-range hotels and up, many catering to business travelers. If you're on a budget, we'd probably stay elsewhere (in the South End).
Downtown Boston Highlights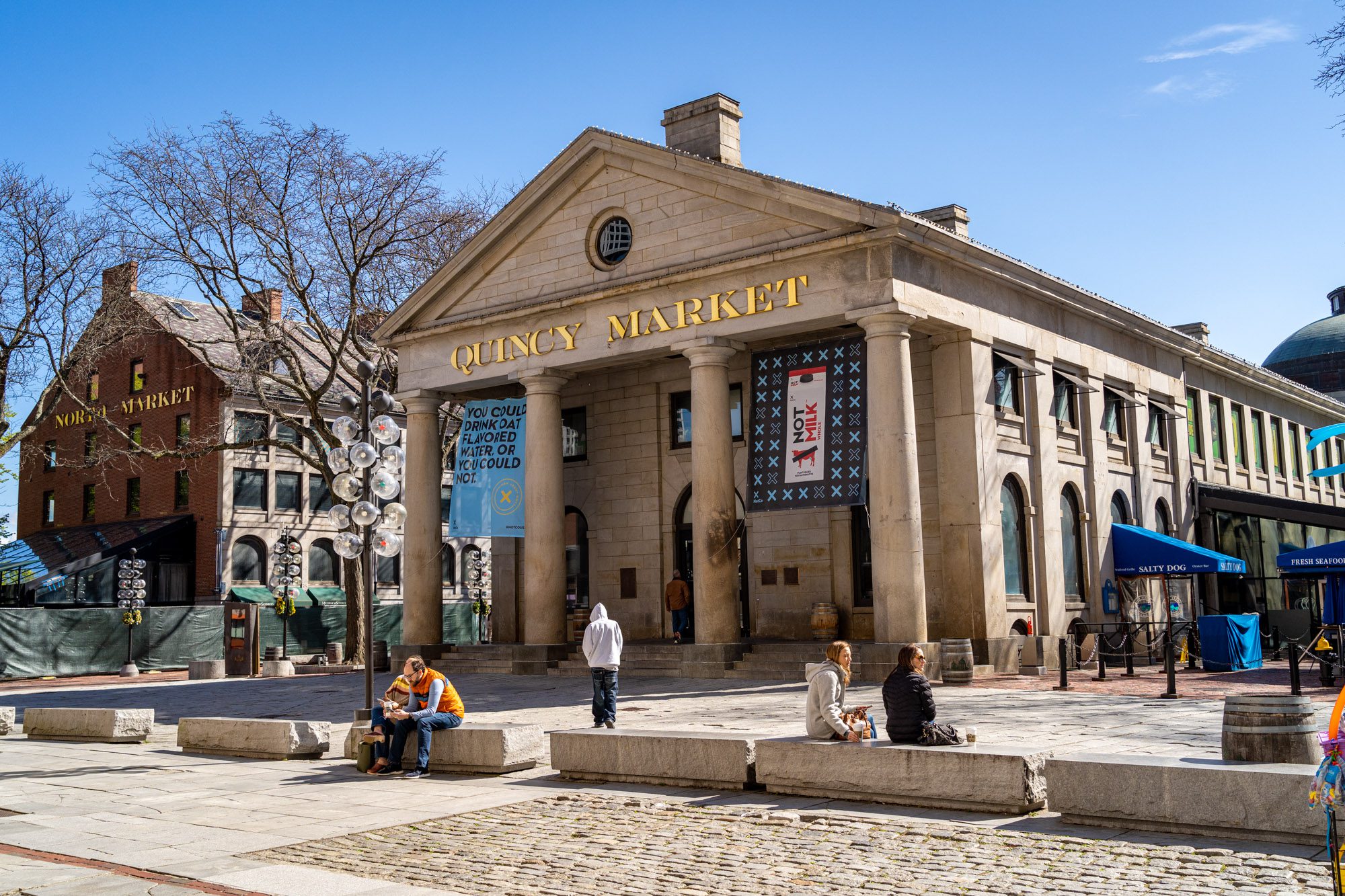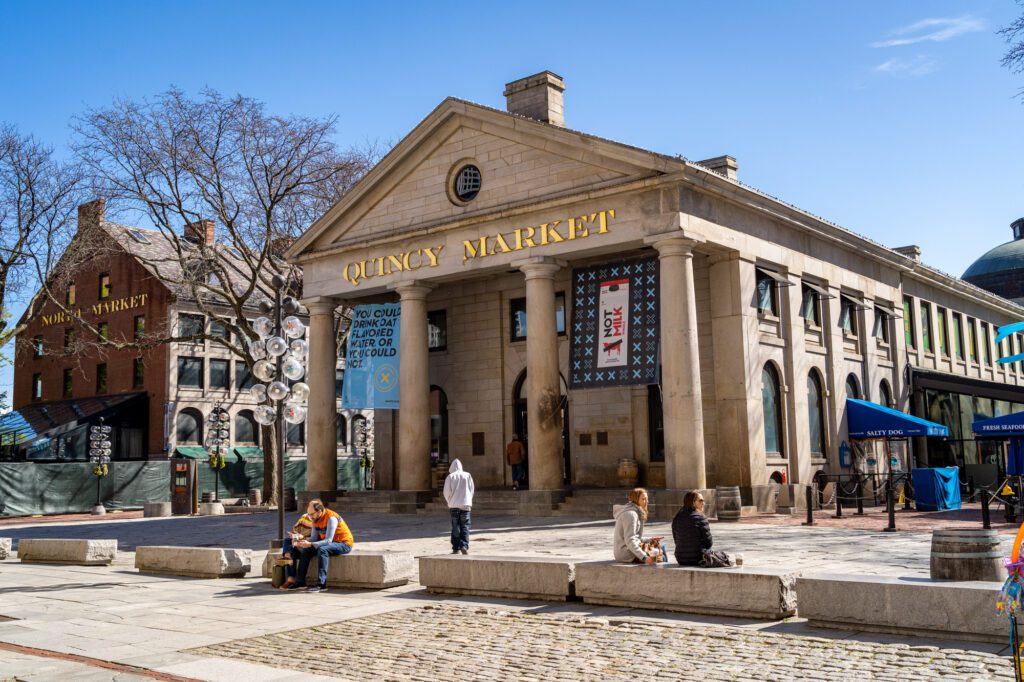 There's a lot to do and see in Downtown Boston, especially if you're into the historical stuff, but here are some of our favorites.
The Old State House: The old seat of government back in the 17th Century (before it was moved to the "New State House," an incredibly creative naming convention), this is one of the oldest buildings in Boston, and is an important stop on the Freedom Trail. Just outside, in the middle of the busy intersection, is where the Boston Massacre happened (despite the scary name, only five people died). Arguably, that sad day set in motion a series of events that directly led to the Revolution.
Quincy Market: An indoor food hall with all sorts of options, including Pizzeria Regina (which is a North End staple) and a bunch of places to get lobster rolls and other seafood. Though not the best food hall in Boston (we'd say that's the Boston Public Market, which is a few blocks away), it's definitely worth a stop.
The Cemetery: There are actually several cemeteries, especially on the northern end of downtown. Why, you might be asking, did they bury their dead inside the city? Well, at the time, the North End was Boston, and Downtown Boston was outside the city limits. Since then, the city has continuously expanded, swallowing up the areas where the cemeteries existed. They've been kept intact, though, and the Granary Burying Ground (here on Google Maps) is a who's-who of the American Revolution. John Hancock, Paul Revere (who was not actually famous until well after his death, so his original tombstone is actually tiny) Sam Adams (who was definitely Chief Propaganda Officer), and the five who died in the Boston Massacre are all buried here.
Boston Common and the Public Garden: This is a gigantic public green space right in the heart of the city, which we love. There are two parts separated by a road – the Boston Common (which is a sprawling public park that used to serve as a cattle pasture back in the day) and the Boston Public Garden, which is the oldest botanical garden in the country. We loved the Boston Public Garden, particularly in the spring when we were there and everything was just starting to bloom. This is also where you'll find the swan boats that will take you on a little ride around the lake (pond?), and "Make Way for Ducklings" sculpture (at the northeastern corner of the park).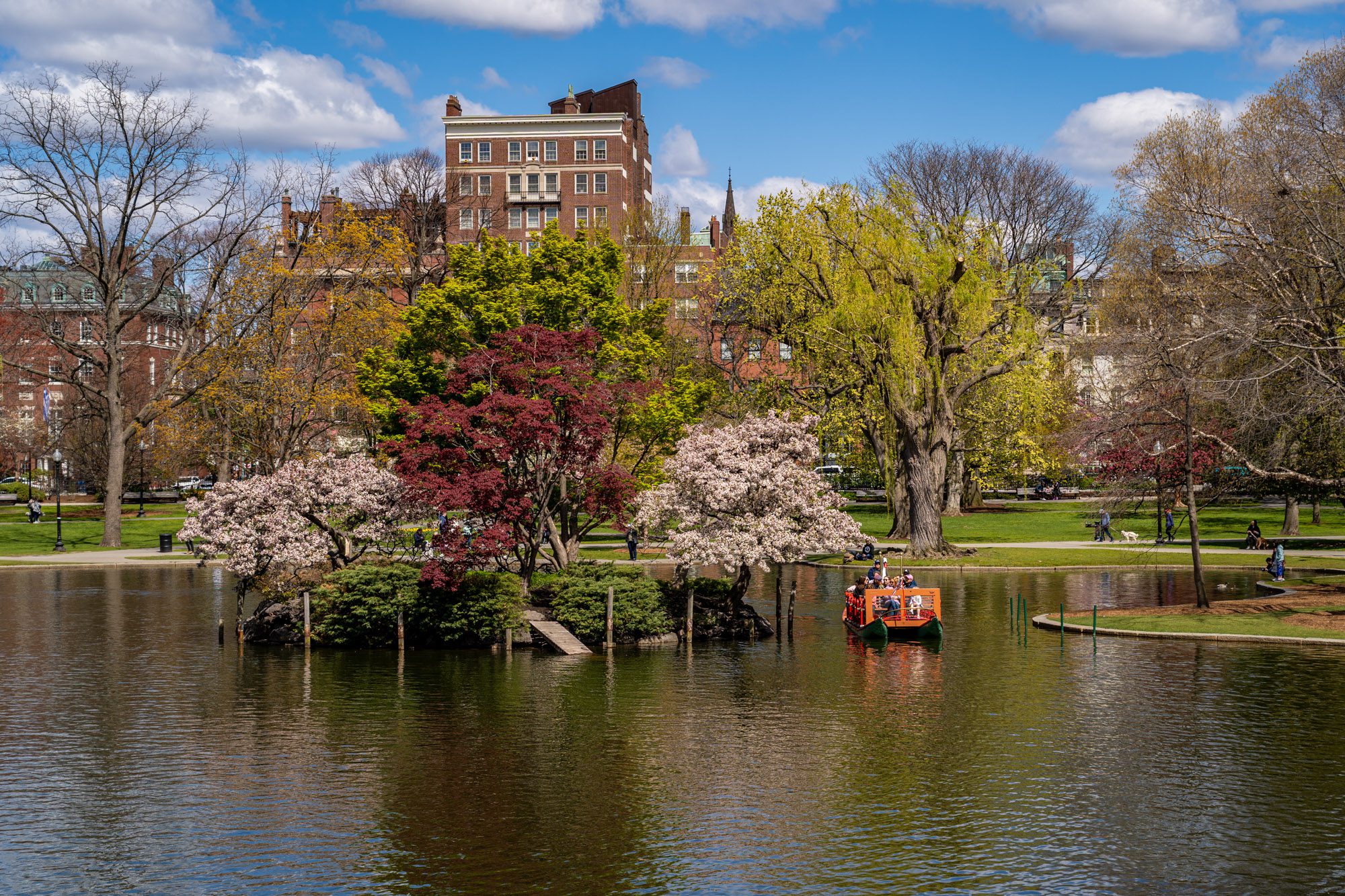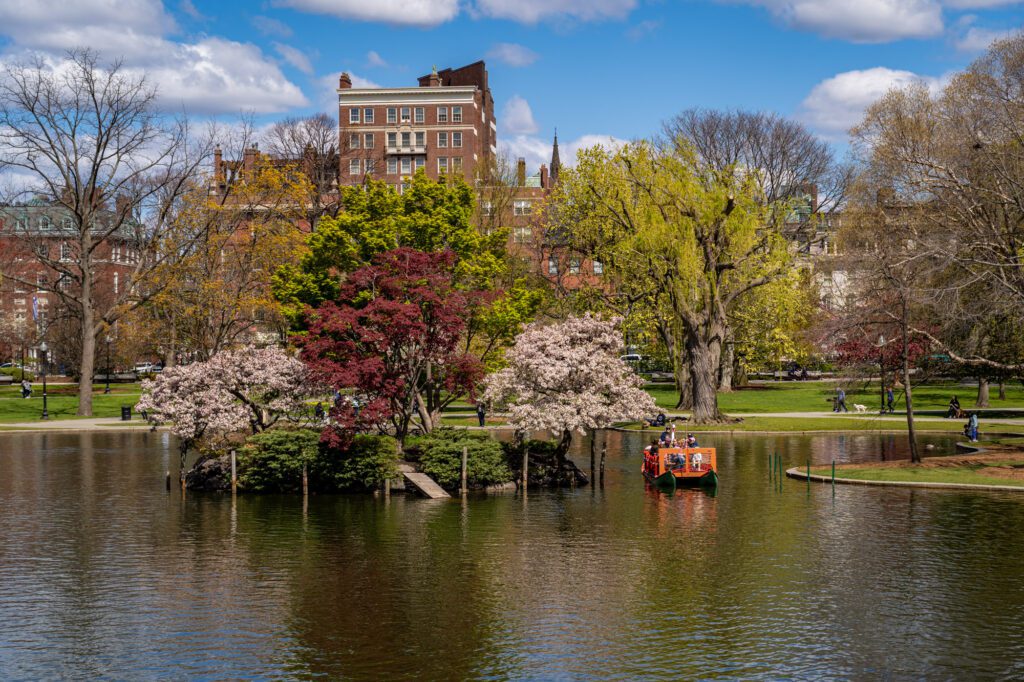 The Best Places to Stay in Downtown Boston
Here are a couple of hotels in Downtown Boston that caught our eye. We either bookmarked them as we were searching for our own stay, or as we were putting together this guide.
It's a solid mid-range option and while the exact location on Washington Street isn't the greatest, the location a few blocks from Boston Common is fantastic. If you stay at the Godfrey, you'll find yourself just a short walk away from most of central Boston's main sights.
Rooms are modern and comfortable, especially considering the price. You're not going to get all the design elements that you might get at a super hip boutique hotel, but you've got everything you need for a nice stay and a good night of sleep. Plus, some rooms have more space and / or city views (though it'll cost a little bit extra).
Side note: There is a $30 "urban fee" that covers amenities like the gym and free Wifi. We HATE these fees, which usually go by terms like "resort fee." It's absurd that the rate you see on their site / other booking sites isn't actually the rate you pay. Make sure to account for that extra fee in your budgeting.
It's right on the greenway, which means you'll be an easy walk away from the North End and across the water to the Seaport District.
Rooms are nothing particularly special, although I will say that I like the style of the rooms with exposed brick. The rooms with exterior windows, while a little bit louder because they're on the street side, look to be much more inviting with more natural light.
They also have rooms on the ground floor with no windows, which they're marketing as "good for light sleepers." Which we chuckled at.
The thing to know is that you're not going to get a huge room here, with plenty of space to spread out and lounge on a couch.
But you are going to get a well-thought out room with stylish touches, a comfortable bed, and nice views thanks to big windows (if you choose a room with a view). 
If you read reviews of basically any Moxy Hotel, the main complaint is that the room is a little small, and it feels more expensive than it should be.
The concept probably works best for shorter trips, where you'll be spending most of your time outside of the room. Like, say, if you're spending a weekend in Boston. 
The whole idea here is that your room should be one thing – a good place to sleep and shower. High thread count sheets and walk-in showers accomplish that goal. The rest of the time, you should be out exploring!
If you do need a space to hang out in the hotel to relax or get some work done, they have nice common spaces.
If you need some of the more niche amenities that old school hotels have in each room (an ironing board, for example), they have separate public spaces with those amenities for you to use. 
Overall, if you're good with a smaller-than-average room, this is a great, hip, young-feeling home base in Boston. If you'd like a little more space or you're staying for more than 2-3 days, you might want more space and should probably look elsewhere.
Resort fee: You should know that there's a $25 a night resort fee here, which covers the gym, Wifi, and other amenities. It's not optional, and we really wish this trend would die and they would just bake that into the price.
Walking through Back Bay is a delight. Most of the buildings are charming red brick, which we just don't get on the west coast (because earthquakes) and they get us every time. Back Bay is full of brick.
As we walked down Newbury Street – the shopping corridor in Back Bay where you'll find all sorts of name brand stores, from Indochino to Patagonia – we stopped at the corner of Newbury and Hereford, where a brutalist monstrosity breaks through the sea of red brick.
That building, which is all concrete and 90 degree angles, is *checks notes* the School of Architecture? It feels very much out of place, but in some ways, that's kind of refreshing (and I'm sure architects appreciate the contrast).
Copley Square is the other place in Back Bay that we should probably talk about, because it holds a couple of gems.
First is Trinity Church, which is gorgeous inside and out and was recommended to us by not one but TWO walking tour guides. The audio guide is worth it!
The second, which is completely free, is the Boston Public Library, which is a gorgeous building at the western end of the square.
It's free to go inside, and the eastern wing (the McKim Building, at the entrance on Copley Square) is a an impressive work of art, with romanesque (or Greek?) columns, paintings in the grand staircase, and a reading room called Bates Hall that is just as grand as the entryway. 
Pros and Cons of Staying in Back Bay
Pros:
It's a nice location. Bordered by the Boston Public Garden, Downtown, Fenway, and the South End, you've got some of Boston's coolest areas within walking distance. The only thing that's a little further away is the North End, which is worth spending an evening exploring.


It's charming. We're suckers for the red brick buildings, which we NEVER get in San Francisco because they've been knocked down by earthquakes (or, people are scared they WILL be knocked down in the near future). Back Bay is full of brick! Plus, the tree-lined Commonwealth Avenue Mall is an exceedingly pleasant place for a walk (and dog-watching, one of our favorite pastimes).
Cons:
It's pricey. It's easy to understand why this is one of the more exclusive – and by that, we mean expensive – neighborhoods in Boston as you stroll the tree-lined streets surrounded by red brick buildings. That, of course, translates into higher hotel prices.


You probably will be eating and drinking elsewhere. While there are certainly some gems mixed in, this area has a lot of chains. Dunkin, Chipotle, and the like. You may find a couple of independent spots that you're into, but plan on dining elsewhere (like the North End or the South End).
Back Bay Highlights
Here are some of our favorite things to do, see, and eat in Back Bay.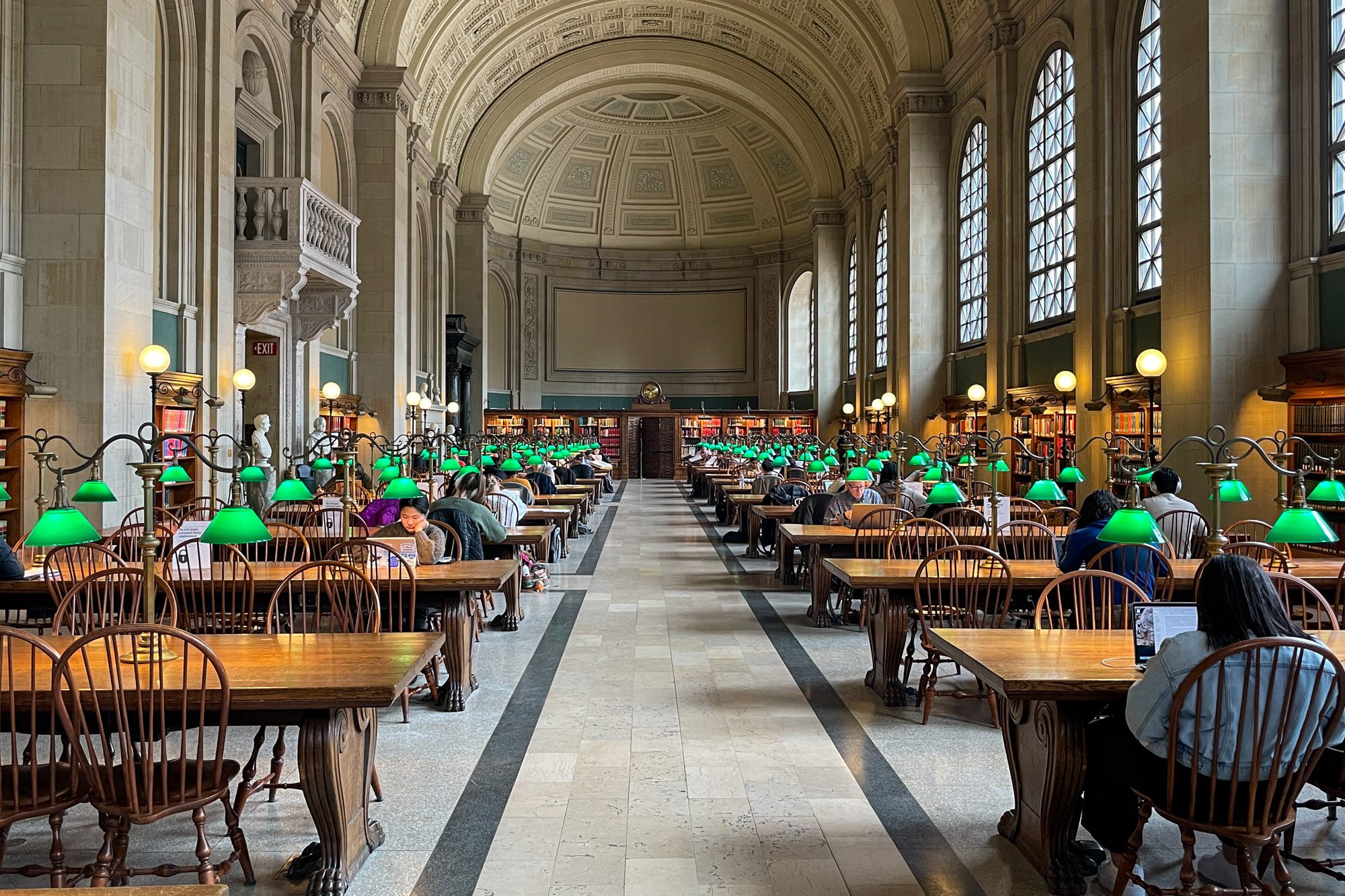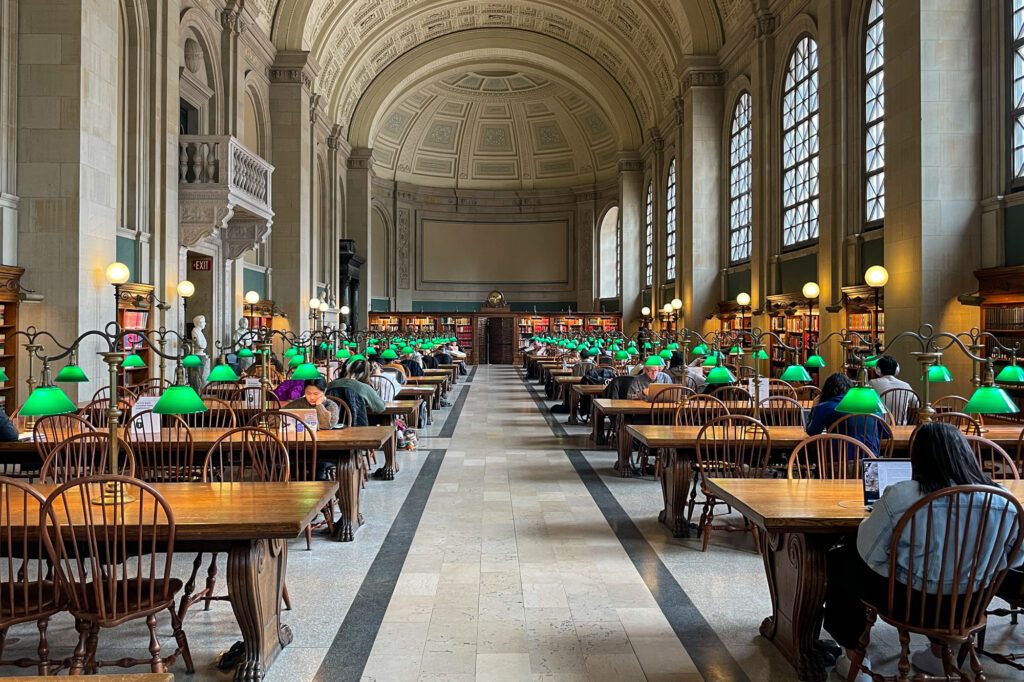 The Boston Public Library: This place is incredible, and it's hard to believe that it's a public building. The architecture in the older McKim Wing (the entrance on Copley Square) evokes Ancient Rome or Greece, with columns and a grand staircase as you head up to the cavernous Bates Room, which is like stepping into a scene from Harry Potter. The whole thing reminded us very much of the Benedictine Monastery in Catania, one of the highlights of our trip to Sicily. The modern eastern wing is less impressive architecturally, but it's cool that they do live tapings of Boston Public Radio here, which you can see for yourself at the northwestern corner of the complex.
L.A. Burdick Handmade Chocolates: Outstanding chocolatier, with both hot chocolate (thick and delicious, just like it should be!) and handmade chocolates (the Earl Grey was our favorite of the few we tried). All of their chocolates are gluten free, too!
Newbury Street: The main shopping street in Boston, if you're looking to take advantage of the lack of sales tax on clothing and shoes, this is probably the place to do it. Though, if you're shopping at the places here, it's worth noting that you MAY go over the $175 limit on items that are exempt from sales tax (in other words, an item is only exempt up to $175, and you pay tax on anything over that amount).
The Charles River Esplanade: At the northern end of the neighborhood along the Charles River, there's a lovely walking path that connects North Station to Back Bay and the bridge over to MIT. It's a nice green space, but you should know that you can definitely hear the traffic that runs parallel to the greenway, which is kind of a downer. We preferred the Commonwealth Avenue Mall.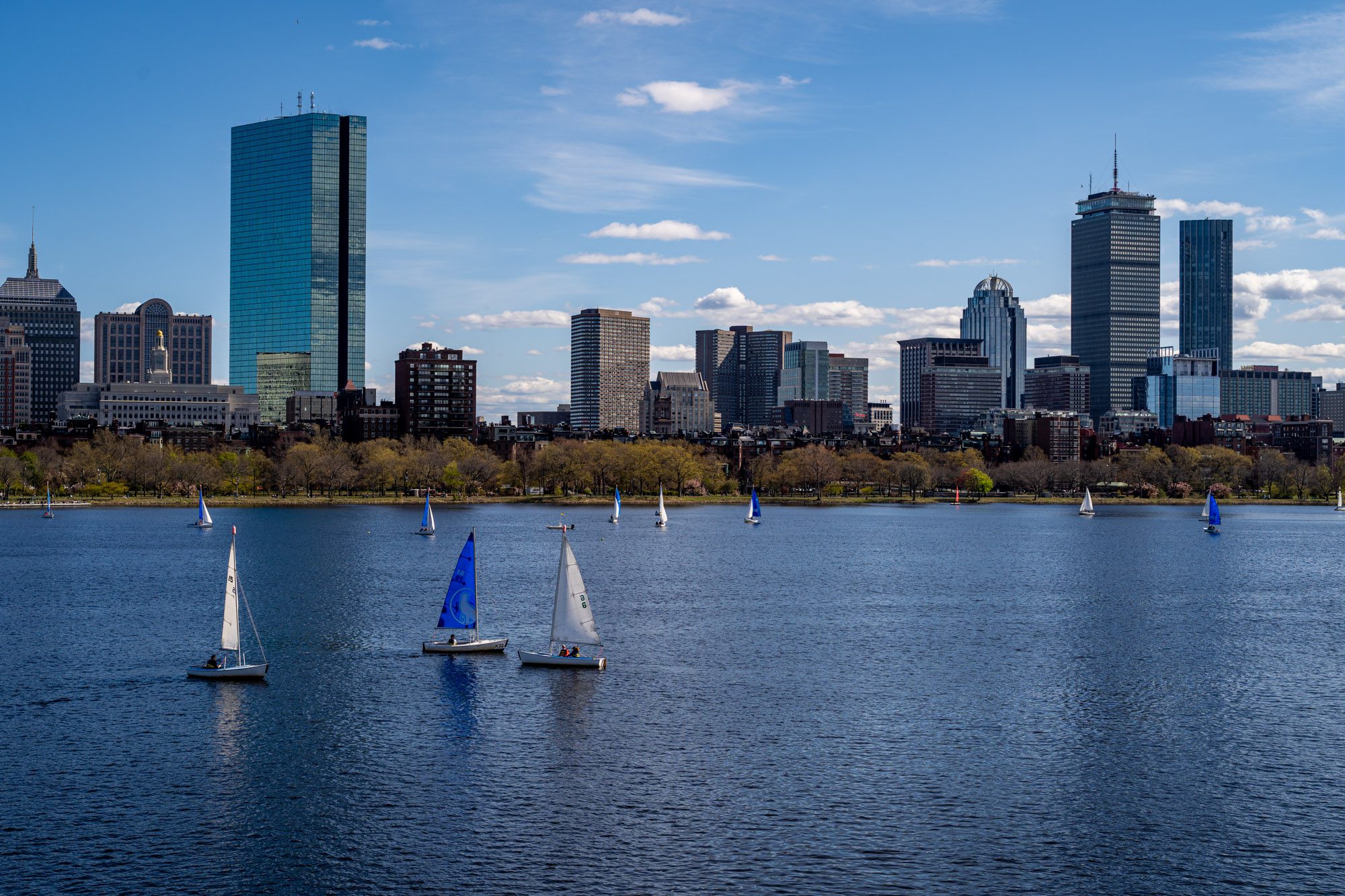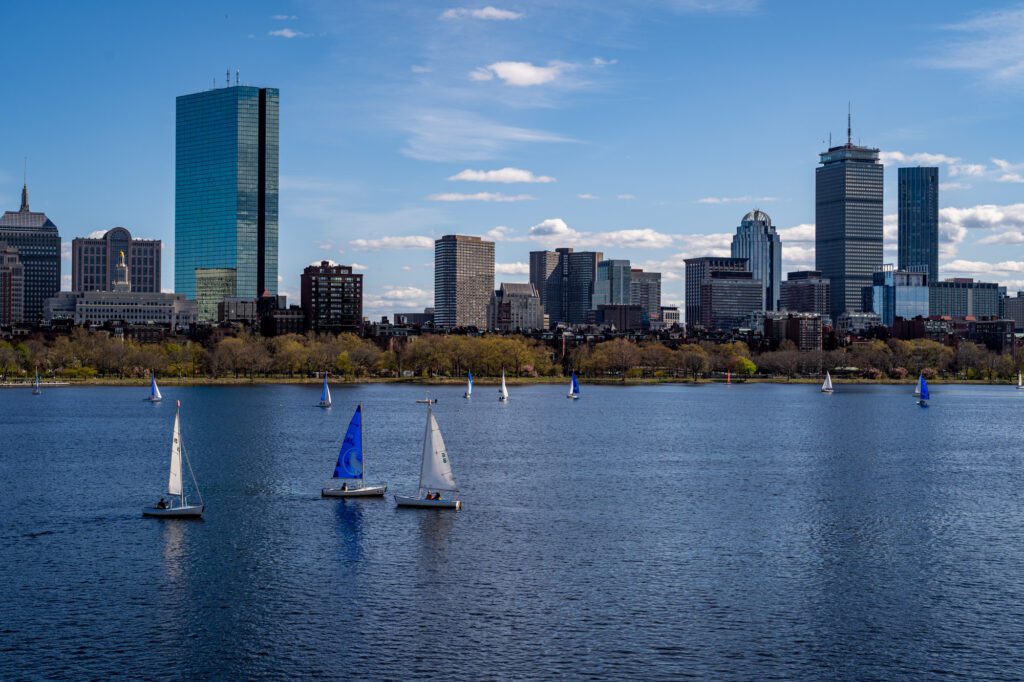 The Queen rooms are pretty spacious at 240+ square feet (they also have standard rooms with full beds and 140 square feet, and even smaller budget rooms…with no windows).
Rooms are simple and stylish, with light wood accents and stylish tile in the bathrooms. Nothing ostentatious, but they're well thought out with desks and seating areas. 
There's a Mediterranean-inspired cafe on the ground floor with a nice outdoor patio, and complimentary continental breakfast – nothing extravagant, just fruit, granola, coffee or tea – if you need a quick on-the-go meal before heading out for the day.
Despite the somewhat small hotel, there are two French inspired in-house restaurants – a wine bar and a brasserie – if you don't want to leave the premises for a meal.
They have four room types, the largest of which has big bay windows and views of downtown Boston. They also have smaller, more affordable rooms, some with two queen beds.
The beds are comfortable, there's a refrigerator in every room, and they have fluffy bathrobes waiting for you. Parking, if you need it, is also available at $30 a night (with in and out privileges), which is nice if you have a car.
This solid midrange hotel is in the heart of one of the best neighborhoods in the city, but you'd never know it if you're looking at the price (remember, nothing is cheap in Boston). It's also the second oldest continuously operating hotel in the city, which is a cool piece of history.
Rooms here are going to be minimalist, giving you everything you need for a good night's sleep without any of the more luxurious perks like plush bathrobes and fuzzy slippers.
Which are absolutely a nice-to-have, especially if the room comes at a more affordable price (are you willing to pay an extra $50 a night for those extra touches? We definitely aren't). 
Despite the "minimalism," they're definitely above average in size – the smallest room ("cozy") is still 175 square feet, and bigger rooms get up to 300.
They basically have two types of rooms, with a couple of configuration options for each. You've got the basic hotel rooms, which come in a "cozy" variety with very little space at the lowest price, and bigger queen and two-queen rooms.
Then they have studios, which have a little more room including dedicated work space in the form of a desk and chair with side table. They also have corner king studios, with views of Boston. 
Overall, a nice home base for exploring Boston, even if it's not ACTUALLY on Copley Square.
Heads up, because I saw multiple reviews complaining about this – there are no fridges or microwaves (or tea and coffee) in the rooms, and there is no onsite restaurant.
As we walked south into the heart of the South End, we passed a big public park with a dog park and a set of basketball courts where, on a sunny spring Saturday morning, it was packed to the gills with locals chatting as their dogs chased various balls and sticks, and regulars taking advantage of the nice weather to get a few pickup games in.
The more we learned about it, the more we realized that this is an underrated home base for exploring Boston.
Is it the most central neighborhood? No, definitely not.
Is it the most charming neighborhood in Boston, where you'll be surrounded by locals and have a huge variety of bars, restaurants, coffee shops, and more on your temporary doorstep? We think yes. 
It is worth noting that this is a heavily gentrified area. In the 1950's, the city began a process that they called "Urban Renewal," which at its core involved leveling city blocks of dense housing (at the time, the population was mainly immigrants and minority families) and rebuilding the area to appeal to middle and upper class white families.
Similar to neighborhoods like the Mission District in San Francisco and Capitol Hill in Seattle, it started to become an affordable area for artists to live before, decades later, becoming one of the trendiest places in all of Boston.
The consequence of that transformation is that poorer, largely minority residents have been pushed out due to skyrocketing prices.
We're not trying to lecture you or tell you not to stay there. We just told you that we enjoyed the South End! We're telling you that the context is important, and it's worth thinking about as you're enjoying the modern version of the South End.
SoWa Open Market: Unfortunately, this wasn't quite happening yet when we were last in Boston, but if you're there from May to September, make sure to stop by on Sundays for a cool open air crafts market! It's a huge space that is home to a bunch of different Boston artists, and the Sunday Market looks amazing – food, artisans selling their crafts, and more.
Peter's Park: This is the park we walked through that has a dog park, pickup basketball, and a nice playground that made us realize that this is a more residential area. It's a nice urban greenspace that serves as a gathering point for the residents of the neighborhood.
If you're looking for more space, they also have lofts and suites with kitchenettes and more living space to spread out (with BEAUTIFUL leather couches, which we're very much into).
Parking is available in their garage for $30 a day, BUT there are no in/out privileges, so if you're planning on driving around Boston, it might not be the best choice (though, you don't really need a car in Boston anyway).
They have a fitness room – with Peloton bikes – free use of their bikes to get around, and a spacious lobby with plenty of room to set up a workstation if the desk in the room isn't doing it for you.
Oh, and it's dog-friendly, though there's a $25 a night amenity fee, which includes a bed, a bowl, and snacks for the pup.
It's also worth noting that, because you're getting more space and amenities in your room, it's going to be more expensive than some standard hotel rooms in Boston.
If more space and kitchen amenities are things you value (like we do), then that slight price increase probably isn't a huge deal for you. 
When we stay in a city for more than a couple of days, we almost always try to stay in an apartment mainly so that we have the ability to cook for ourselves (eating out everyday for a week is brutal on our bodies).
We like the Upton because, like one of the places we stayed in London, it combines the positives of both hotels and apartments. There's staff onsite to help you out, hold onto your bags if you check in early or check out late, and whatever else you might need, which is a definite positive of staying in a hotel.
But the apartments are more spacious than a hotel room, and offer you the ability to cook, work from your room more comfortably, and more.
Each apartment has a slightly different layout – which makes sense because the building is an old South End brownstone – and all have full kitchens including stoves, dishwashers, and ovens. Plus, washer and dryer in the building, high-speed internet, and contactless check in.
The apartments range in size – some are studios, some are one bedrooms – and because they're in a Victorian, they've done a nice job of retaining some of that character in the way they've decorated the place.
Worth noting: Max occupancy for each unit is 2-3 people, so bigger groups would need to book separate units to accommodate more than that.
Comfortable beds, efficient layouts, and affordable prices are the name of the game here.
Beware: Another resort fee, this one is a little cheaper ($15 a day) but equally infuriating. JUST BUILD IT INTO THE COST OF THE ROOM, OR LET PEOPLE OPT IN/OUT TO WHAT THEY WANT. But, of course, capitalism always wins in the end.
Allegedly, the resort fee covers bottled water (please drink tap water), internet, in-room coffee and tea, and complimentary use of their beach cruisers.
So… just the Wifi for most people?
We hate this trend of resort fees, especially when these amenities should come standard (with the exception of beach cruisers, which I'm guessing nobody uses anyway). 
Still, despite that rant about resort fees, it's still a solid value, especially considering the astronomical prices of some hotels in Boston. And we like the area, which is why it's on this list.
---
Planning a trip to Boston? Don't miss our guide to planning an amazing Boston weekend itinerary.
If you have Celiac Disease, you'll definitely want to read our guide to the best gluten free restaurants and bakeries in Boston.