Where to Stay in Tuscany: The Best Places to Stay
Known for its breathtaking countryside, historic cities, and world-renowned art and architecture scene, it's no wonder that Tuscany is one of the most popular destinations in Italy and attracts millions of visitors every year.
From the bustling streets of Florence to the charming hilltop towns of the Val d'Orcia and the rolling hills covered in vineyards of Chianti, Tuscany has something for everyone.
Whether you want one place to base yourself for your entire trip, or you'd rather stay in a few different destinations as you move around (as we usually do), there are so many unique areas and beautiful accommodation options to choose from.
Now before we get into the guide, it's worth acknowledging that your choice on where to stay in Tuscany depends on your specific trip – how long you have, your budget, what you're interested in, and plenty of other factors.
If you're interested in our thoughts on how to structure your trip, you should head over to our Tuscany itinerary where we go through what regions to focus on (especially with limited time), what to do and see in each region, and more. 
In general, our perspective is that you should choose one home base in each region (e.g. Siena, the Val d'Orcia, San Gimignano & Volterra) and use it to explore the broader area, spending 2-3 nights in each place to avoid moving around every day.
In this guide, we're going to take you through a guide to the best places to stay in Tuscany. The intention is that, by the end of the guide, you'll be able to choose the perfect home base for exploring each region of Tuscany, though you may not be visiting all of them on this particular trip.
Think of this guide as a menu you can choose from to plan the perfect trip.
Sound good to you? Let's get into it.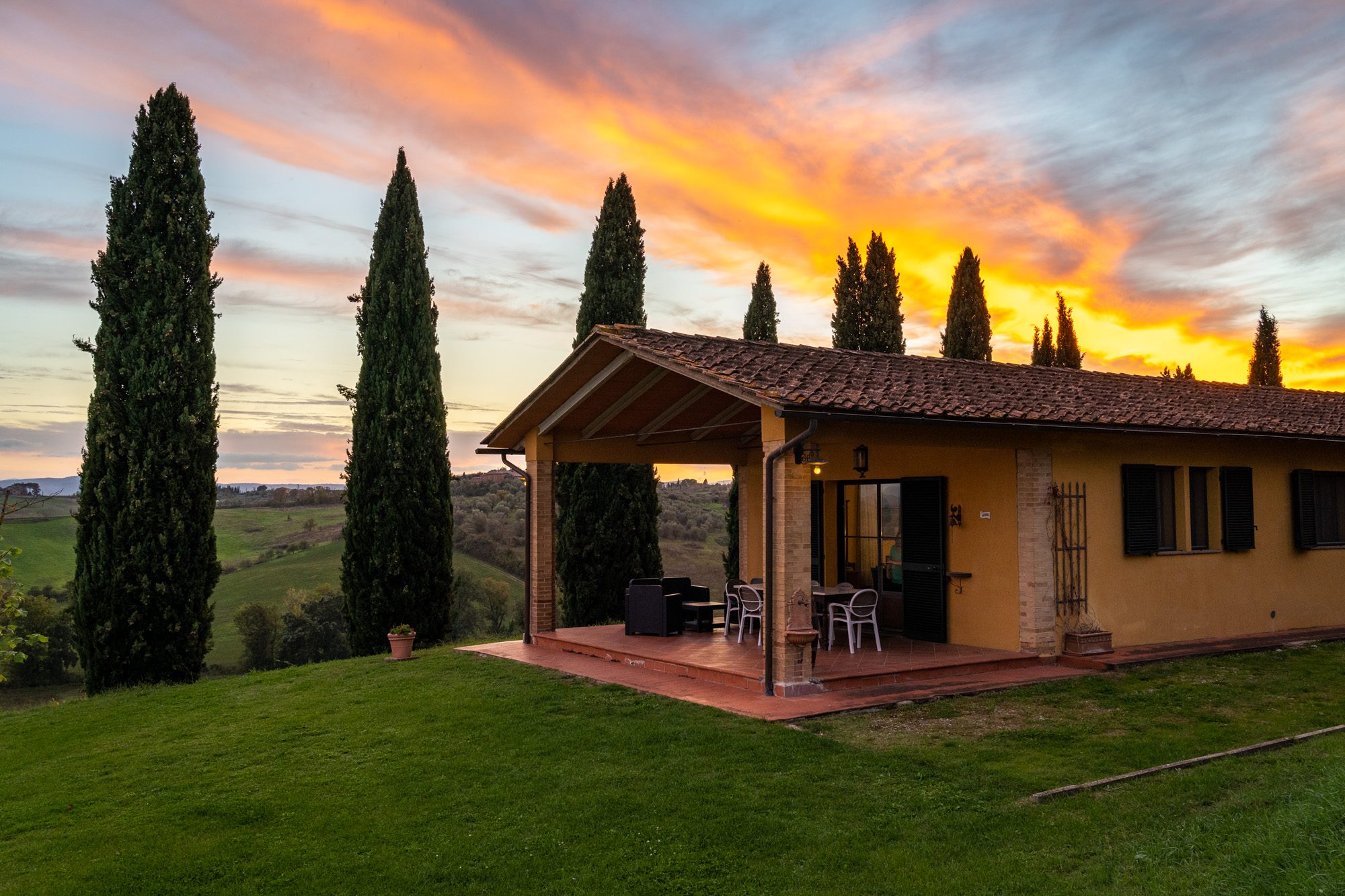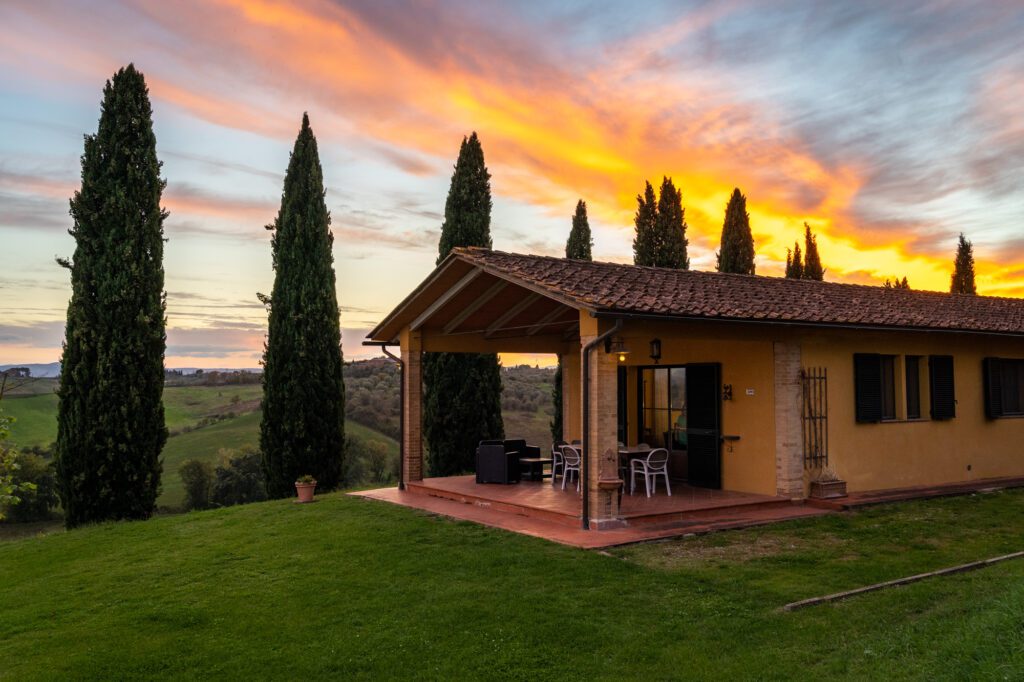 Disclaimer: Some of the links in this post, like hotel links, are affiliate links, meaning at no additional cost to you, we make a little bit of money if you click through and book. That being said, we would never recommend something to you that we don't stand behind 100%.
Agriturismo in the Countryside vs. Hotel Inside the City: Which is the Best Place to Stay in Tuscany?
First thing's first, if you're new to Italian hotels – especially outside the city center – you may be wondering… what is an agriturismo?
An agriturismo is basically just the Italian version of a farm stay. It's (usually) an independently-owned hotel or guesthouse located on a working farm or vineyard, nestled deep in Italy's beautiful countryside.
Agriturismi (that's the plural for agriturismo) can be found all across Italy. But being a top agricultural region, Tuscany is known to have some of the most beautiful and luxurious agriturismi in the country.
So, back to the original question, should you stay in an agriturismo or a hotel inside a town or city?
The short answer is… it depends.
The first deciding factor will be whether you have your own car or not.
If you're exploring the region using public transportation, you're going to be more limited to staying inside the towns and cities. A lot of agriturismi are quite rural and secluded, making them difficult to reach without a car.
But if you are exploring Tuscany on a road trip, you'll have much more freedom to choose between an agriturismo or a hotel inside each city.
The second deciding factor is simply personal preference and the type of trip you're looking to take.
We generally prefer staying in agriturismi. Especially in a place like Tuscany, which is much more about slowing down and experiencing the dolce vita (sweet life).
However, in some destinations – like the regional capital of Florence – staying in the city center is more advantageous because you'll be able to walk to everything inside the city center, cutting 20-30 minutes of time each way versus commuting from an agriturismo.
For each destination listed below, we'll give you both options along with our recommendation on which we think you should choose for each particular place.
Pros and Cons of Staying in an Agriturismo in Tuscany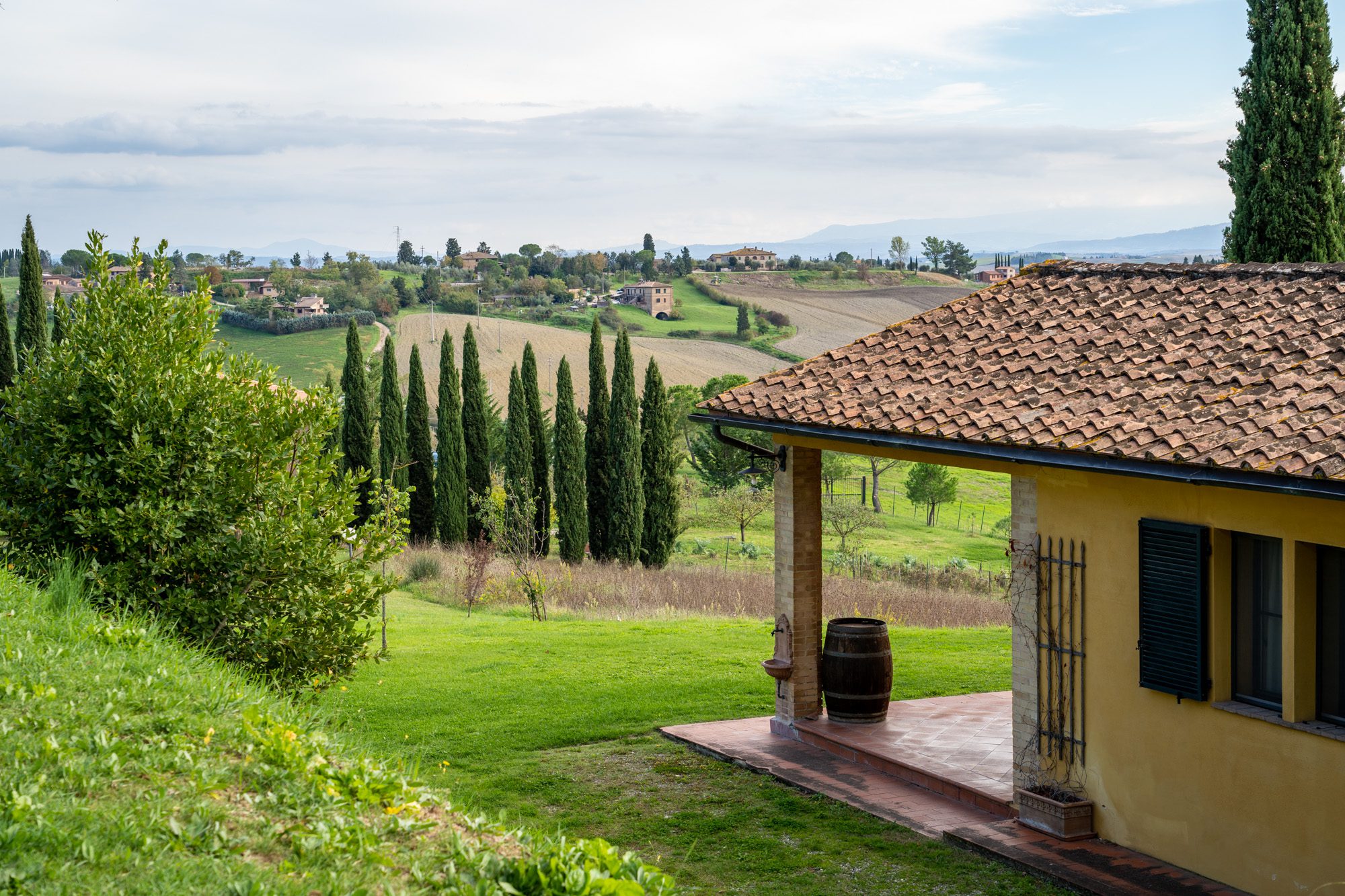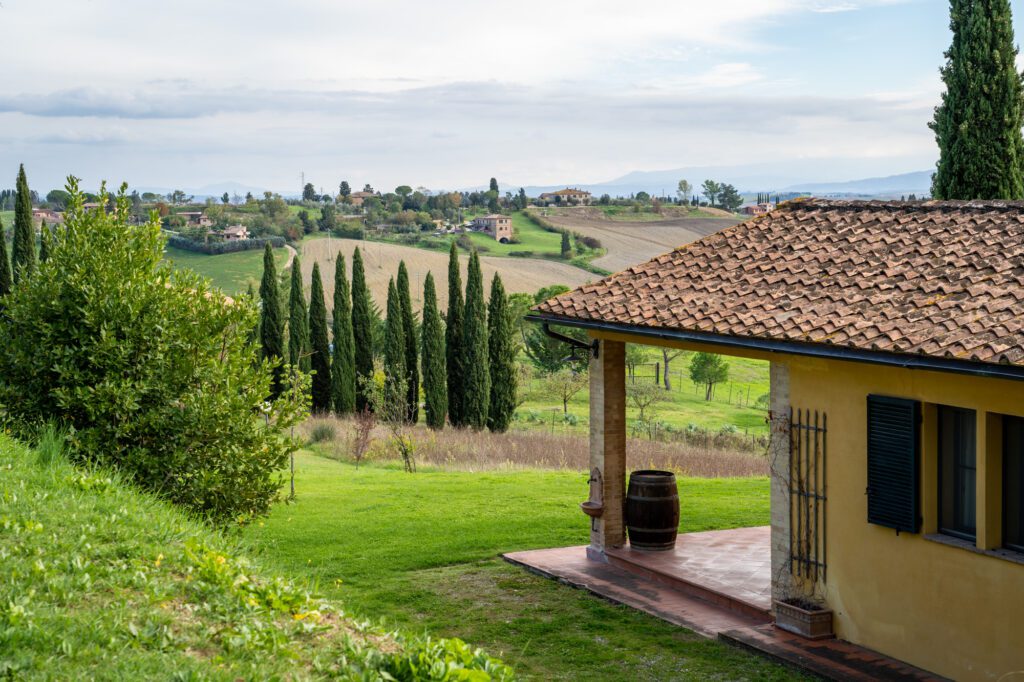 Let's delve a little deeper into some of the pros and cons of staying in an agriturismo.
Pros of Staying in an Agriturismo:
Romantic and charming. There's really nothing quite as romantic as staying in a farmhouse in the beautiful Tuscan countryside, surrounded by olive trees and vineyards. Most agriturismi have retained much of their authentic rustic charm, with just a few stylish and practical updates.


Dolce vita. Agriturismi offer a relaxing and peaceful atmosphere immersed in nature, so you can fully experience Italy's famous "dolce vita" (sweet life).


Free parking! Most agriturismi offer free parking on-site, so you won't need to worry about expensive overnight parking costs during your stay.


You don't have to drive in the city center. By staying out in the countryside, you won't need to navigate the streets of a busy city center after a long day trip to find parking near your hotel.


The food. Most agriturismi offer a delicious breakfast using fresh seasonal products from the farm itself. Many also have an on-site restaurant using locally-grown ingredients, as well as other foodie experiences such as farm tours, cooking classes, or wine and olive oil tastings.
Cons of Staying in an Agriturismo:
Further away from the city center. Most agriturismi are fairly rural and isolated, meaning you'll need to jump in your car every time you want to reach the city center (and have to deal with parking when you do go). This can be a bit of a pain if you want to enjoy a few glasses of local wine at dinner or don't enjoy driving down small country roads at night.


Usually more expensive. Thanks to their extra charm and amenities, agriturismi usually come with a slightly higher price tag than regular hotels.


Minimum stay. Some (but not all) agriturismi have a minimum stay requirement, which you need to keep an eye out for. Longer stay requirements may not be ideal if you're limited on time and plan to move around and stay in different places throughout your trip.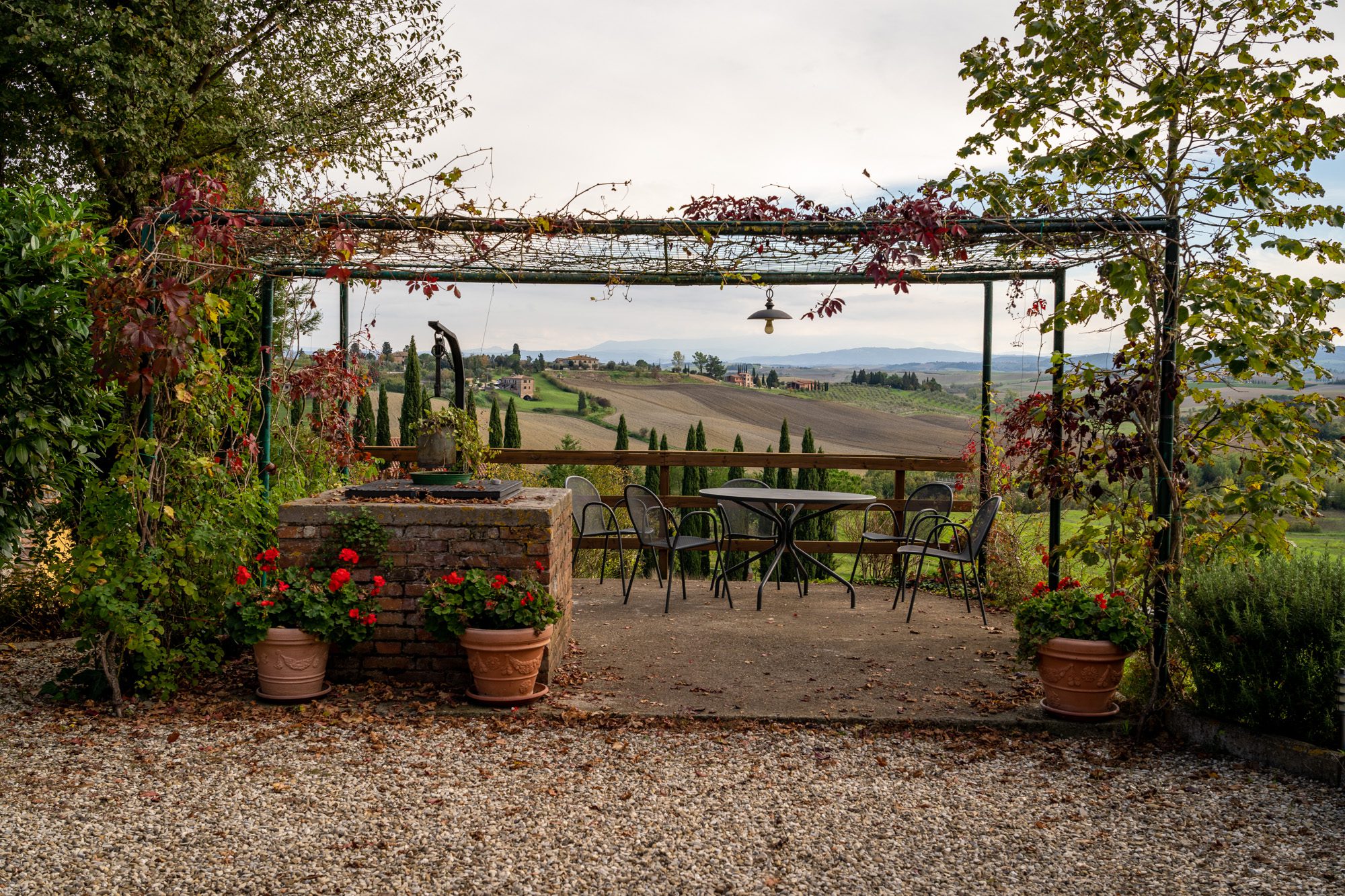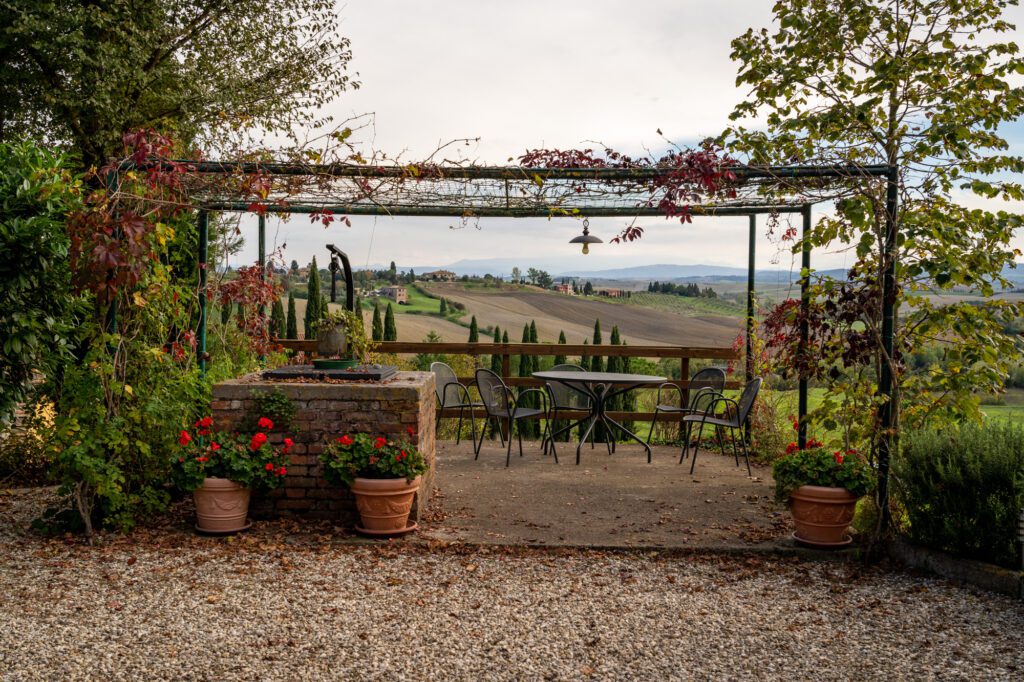 Pros and Cons of Staying in a City Center Hotel in Tuscany
What about staying in a hotel in the city center? Obviously, there are upsides and downsides to this approach in Tuscany too.
Pros of Staying in the City Center:
Walking distance to attractions. By staying in the city center itself, you'll be within walking distance of many of the top attractions. You'll also have a variety of cafes, restaurants, and bars right on your doorstep. There's no need to jump in the car every time you want to go anywhere.


Good if you don't have a car. Basing yourself in the city means you'll have better access to public transportation like trains and buses. This accessibility will make your trip much easier if you don't have a car to move around.


Usually more affordable with more options. There tends to be more accommodations within the bigger towns and cities, so you can find more variety and affordable options if you're traveling on a budget.
Cons of Staying in the City Center:
If you have a car, it can be a nightmare. Depending on where in the city center you stay, driving and parking may be a pain. Many Italian cities have a ZTL (Limited Traffic Zone) where traffic is restricted, so you'll need to find a hotel outside of this zone if you want to be able to park nearby.


Less charming. While there are plenty of lovely guesthouses and modern hotels in the towns and cities, none quite compare to the charm of a Tuscan farm stay.
Where to Stay in Tuscany: A Complete Guide to 5 Great Places to Stay
Now on to the main reason that you're here, for the best places to stay in Tuscany.
Depending on how much time you have, you're likely going to be staying in multiple places on this list throughout your trip to Tuscany (at least, that's how we'd do it).
Again, if you're trying to figure out how to structure your trip, we'd highly recommend reading our guide to planning your Tuscany itinerary which is based on our own experience. 
Florence and Siena are accessible without a car, while the rest are much easier to access if you have your own vehicle, which has implications for where you choose to stay (parking and driving in Italy's city centers, no matter how big or small the town, can be a nightmare).
One very important note before we jump in: Your answer to where to stay in Tuscany is going to depend – almost entirely – on what your specific trip looks like. Think of this guide as a menu to choose from.
We've taken the five most common destinations in Tuscany and given you a few things for each: a recommendation on whether to stay in an agriturismo or a hotel in the city center, and then three to four specific places to stay for each category.
The intention here is to help you take your itinerary and use this guide to find the right place to stay on each stop.
Florence: The Best City in Tuscany for Art Lovers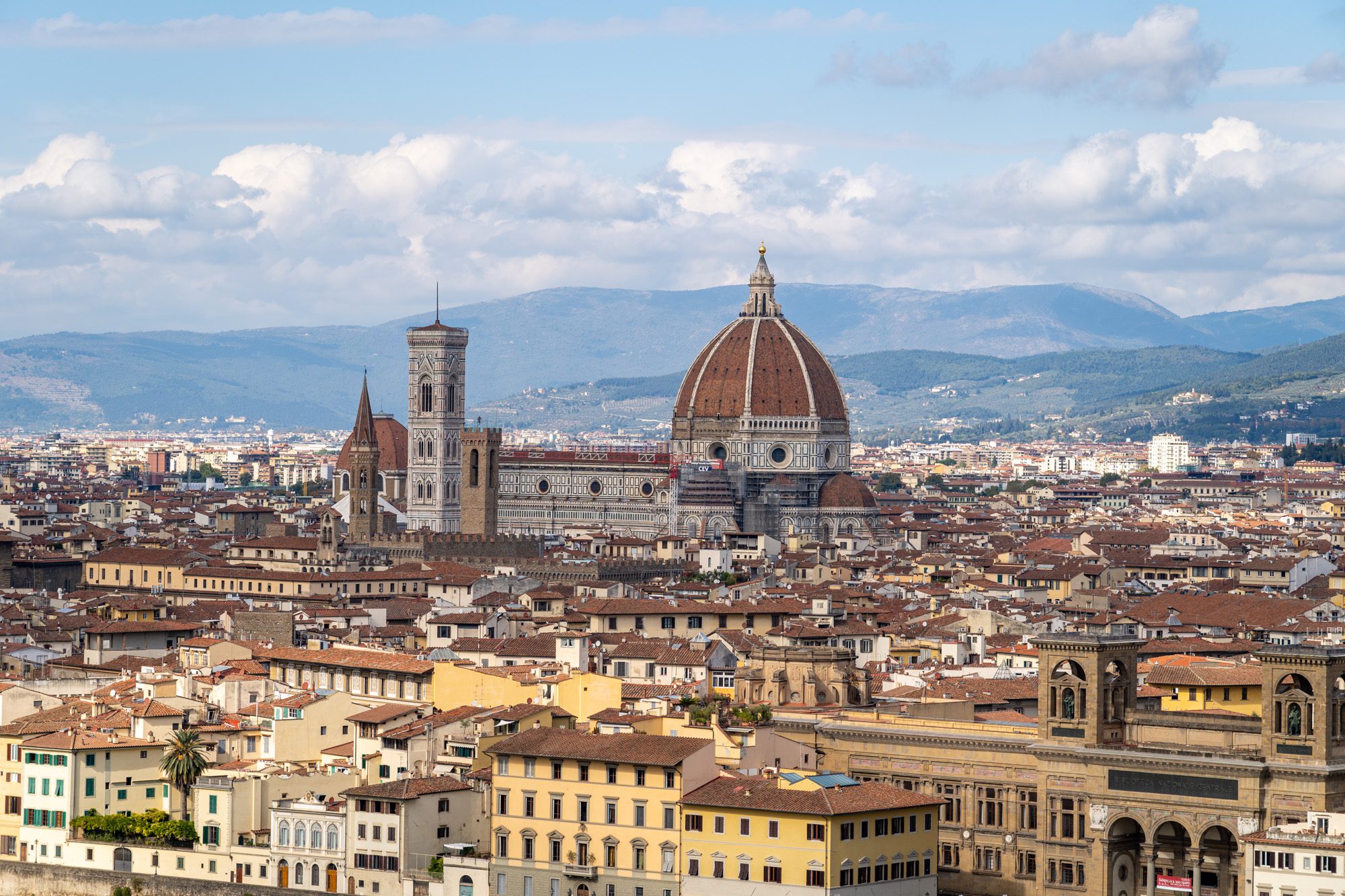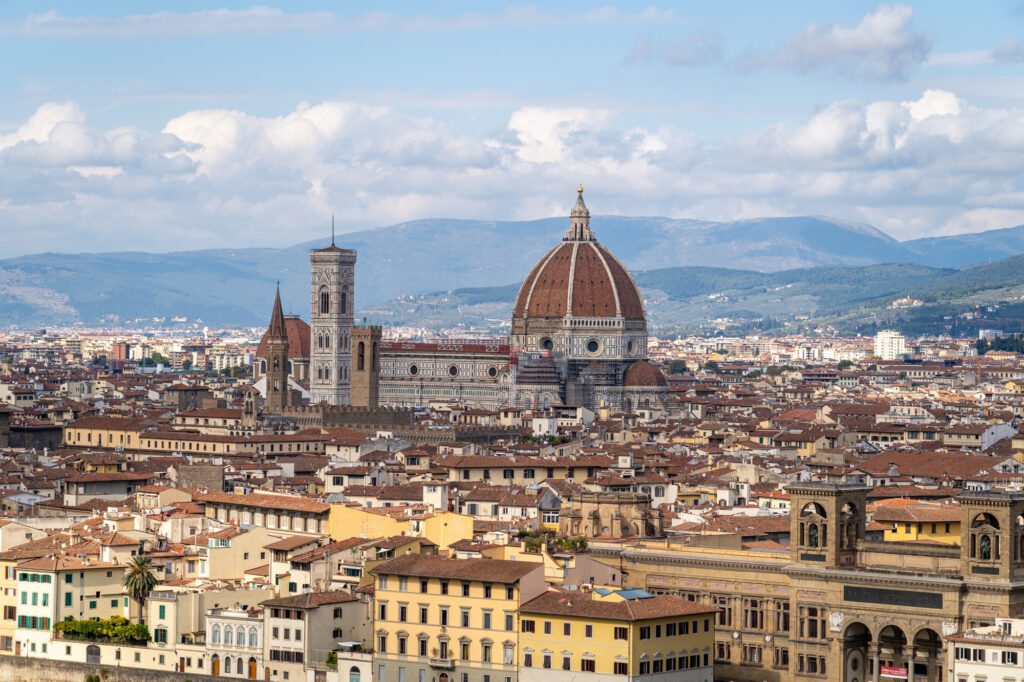 Florence is the capital city of Tuscany and a must-visit destination on any trip to the region. Especially for art lovers. It's definitely not off the beaten path, but we think it lives up to the hype.
Often referred to as the "Birthplace of the Renaissance," Florence was one of the richest and most influential cities in all of Italy, if not the world, during the 14th and 15th centuries. This unparalleled wealth led to the commission of the abundance of world-famous Renaissance art and architecture you can still see in the city today.
While it may be small, there's so much to see and do in Florence – from world-class art galleries and breathtaking churches to delicious food – that you can easily spend multiple days uncovering everything the city has to offer.
As the regional capital, it also makes a great home base for exploring other parts of Tuscany on day trips from Florence.
By the way, we have an entire guide dedicated to finding the perfect place to stay in Florence. For even more detail – like the best areas to stay in and even more hotel recommendations – check that guide out. 
Read more: How to Spend 3 Amazing Days in Florence
Should You Stay in an Agriturismo or Hotel in the City Center in Florence?
In Florence, we'd definitely recommend staying in a hotel in the city center, rather than an agriturismo nearby.
Florence is a relatively compact city, with most of the famous landmarks and attractions sitting in the historic center. Staying in the city puts you right in the heart of the action and within walking distance of everything you'll want to see.
Plus, driving to and in central Florence is a nightmare. The historic center is a ZTL (limited traffic zone), so you can easily end up with a hefty fine for driving on restricted roads at the wrong time.
If you're visiting Florence at the start of a Tuscan road trip, we'd suggest picking up your car on the day that you leave the city. You won't need a car while in the city and it'll save you several days of car rental and expensive parking fees.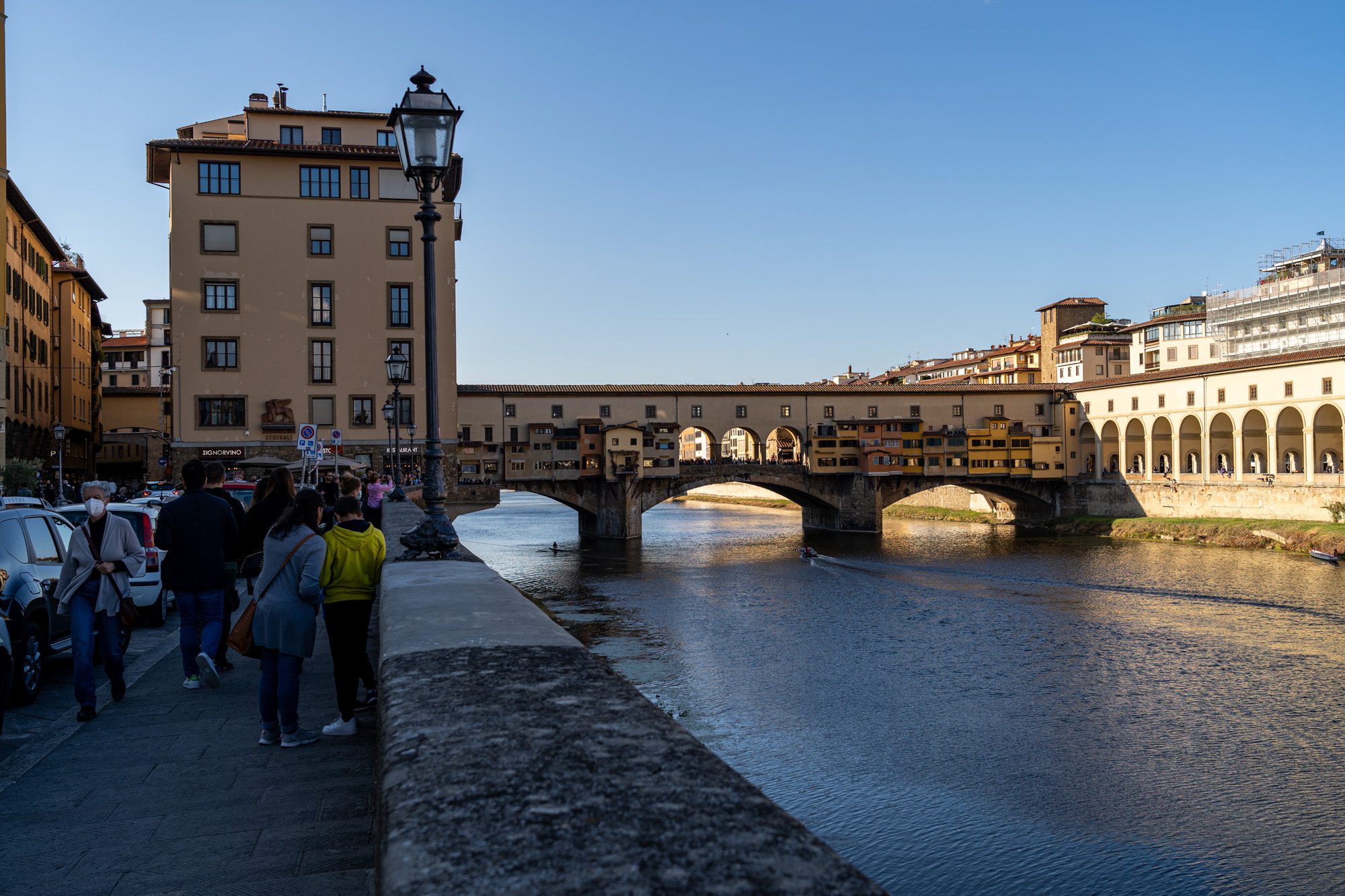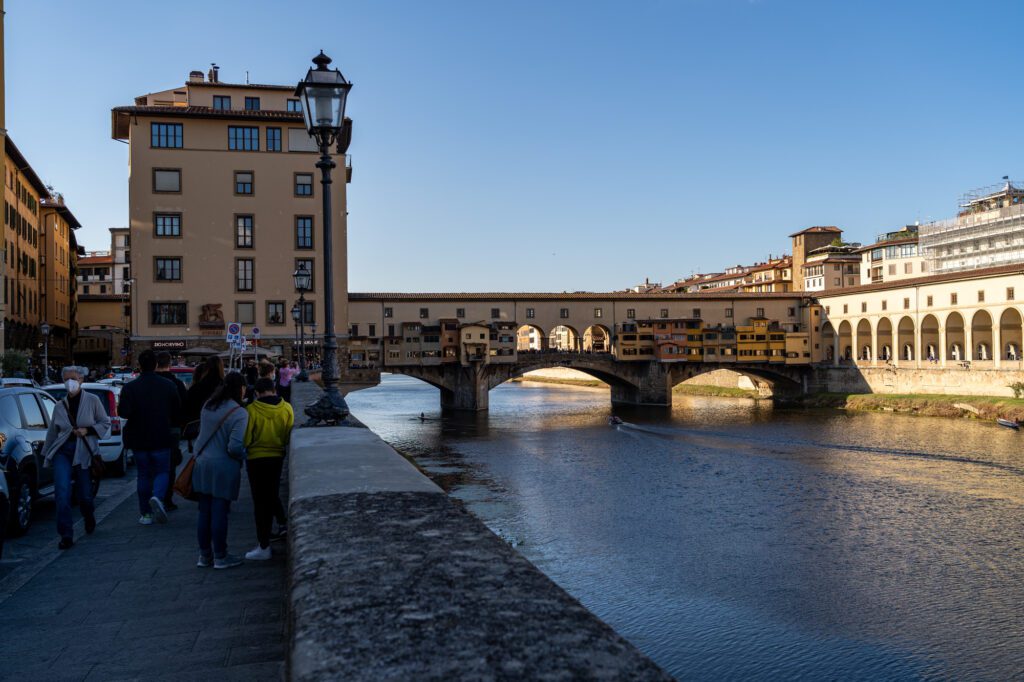 Hotels in Florence's City Center
For a comprehensive rundown of our favorite areas and hotels in Florence's city center, check out our full detailed guide to where to stay in Florence.
But for now, here are a few of our favorites.
Pietrapiana Boutique Apartments (Where We Stayed) 
Located in Sant'Ambrogio, a neighborhood on the eastern edge of Florence's historic center, Pietrapiana Boutique Apartments is a fantastic option to suit every style and budget. 
Once a large family home, the property now has 12 units that range from hotel-style doubles without kitchens to studios, one-bedroom, and two-bedroom apartments that sleep up to five people.
On our last trip to Florence, we stayed in a one-bedroom apartment, which featured a cool Scandinavian-chic decor and had all of the modern amenities we could possibly need, including a fully equipped kitchenette and a small dining area.
You can even leave your luggage at the property before or after checking in or out, which is a useful amenity that many other apartments don't have.
Hotel Milù
Hotel Milù is a modern, design-focused boutique hotel set inside a beautifully restored 14th-century palace in the heart of Florence. 
The hotel's central location next to Palazzo Strozzi makes it an ideal base for exploring the city's most famous landmarks. The Duomo, the Uffizi Gallery, and Ponte Vecchio are all just a short 5 minute walk away.
Milù's rooms are fashionably furnished and decorated in a contemporary style, with bright block colors and modern artwork hanging from the walls. There's a mix of deluxe doubles and luxurious superior rooms featuring a private balcony.
Each room comes with its own coffee machine, and a buffet breakfast can be enjoyed each morning on the spacious rooftop terrace with views over the city. There's also a cozy library area for you to escape and unwind with a good book.
25hours Hotel Florence Piazza San Paolino
25hours is a popular hotel chain across much of Europe that's known for its playful quirkiness and eccentric styles – something they have certainly brought to this Florence hotel.
The hotel boasts a unique design that's a tribute to the Divine Comedy – a famous Italian narrative poem by Florentine writer Dante Alighieri. Each of the unusual yet tasteful rooms belongs either to Paradiso (Heaven), with dreamy white decor, or Inferno (Hell), with a slightly more risqué red and black theme.
Located in the Santa Maria Novella district in the west of the city center, the hotel is just a short walk from many of the city's main attractions.
But if you don't feel like heading out, the hotel also has an on-site restaurant, Negroni bar, bakery, garden, sauna, gym, and even a film lounge showing a selection of curated movies.
The Frame Hotel
The Frame Hotel has quite a unique claim to fame. This historic hotel is where Leonardo da Vinci's famous portrait painting of "Mona Lisa" was discovered two years after being stolen from the Louvre in 1911.
Now also known as "La Gioconda Ritrovata" (The Rediscovered Mona Lisa), the hotel embraces its notoriety by retaining the original elements of an ancient Florentine mansion, but with the addition of modern artworks depicting the Mona Lisa in different artistic styles.
The hotel is perfectly located in the city center, just a few minutes from Piazza del Duomo. It has a variety of rooms, from small doubles and twins to a luxurious suite with a private panoramic terrace and hot tub.
Each room has a minibar and coffee machine, while a tasty local breakfast is served every day in the dining room.
Room Mate Luca
Room Mate Luca sits in a quiet area in the north of Florence's historic city center, away from the noisy crowds but still just 350 yards from the Accademia Gallery (home to Michelangelo's David) and a 10-15 minute walk to many of the city's top landmarks.
The 4* hotel sits inside a renovated 19th-century neoclassical palace, with elegant vintage features and bold, colorful decor by Lorenzo Castillo, one of the world's best interior designers. Single, double, and triple rooms are available to choose from.
A free Mediterranean breakfast is served in the dining room each day between 7am and 12pm – fairly late compared to most other hotels in the city, so good for late risers. There's also a spacious lounge area with cozy antique sofas and chairs.
Agriturismi Near Florence
If, for whatever reason, you do want to stay in the countryside outside of central Florence, here are two options not too far from the city.
Villa Neroli
Villa Neroli is an elegant agriturismo hotel built inside a former ancient monastery on the outskirts of Florence. The building has retained much of its original classical charm, with antique furnishings and traditional decor, but with the addition of all the modern amenities and comforts you could need.
You can enjoy a generous buffet breakfast each morning in the breakfast room, chill out in the stylish lounge area, recharge in the gym and sauna, and spend some time relaxing in the garden with its outdoor swimming pool.
The hotel is located a 10-minute drive from the center of Florence and has free on-site parking. If you don't want to drive into the city yourself, you can jump on a public bus from just outside the hotel to reach the historic center. Another option is renting a bike and cycling to the city, which takes around 20 minutes.
Art Hotel Villa Agape
In the hills just to the south of Florence, Art Hotel Villa Agape is located in the majestic former home of Duchess Anna D'Orleans and is surrounded by an 8-hectare private park filled with olive and cypress trees.
The villa features spacious rooms with traditional furnishings. There's also an indoor lounge and plenty of outdoor seating within its Italian-style gardens. A free breakfast is served each morning on the sunny terrace or in your room.
There's even a free shuttle service to and from the city throughout the day, making Villa Agape a convenient option for staying outside the historic center.
You can also walk from the hotel to the Oltrarno district in around 20-30 minutes and take in the beautiful views of the Tuscan hills and over the city along the way.
Siena: The Most Beautiful Hilltop Town in Tuscany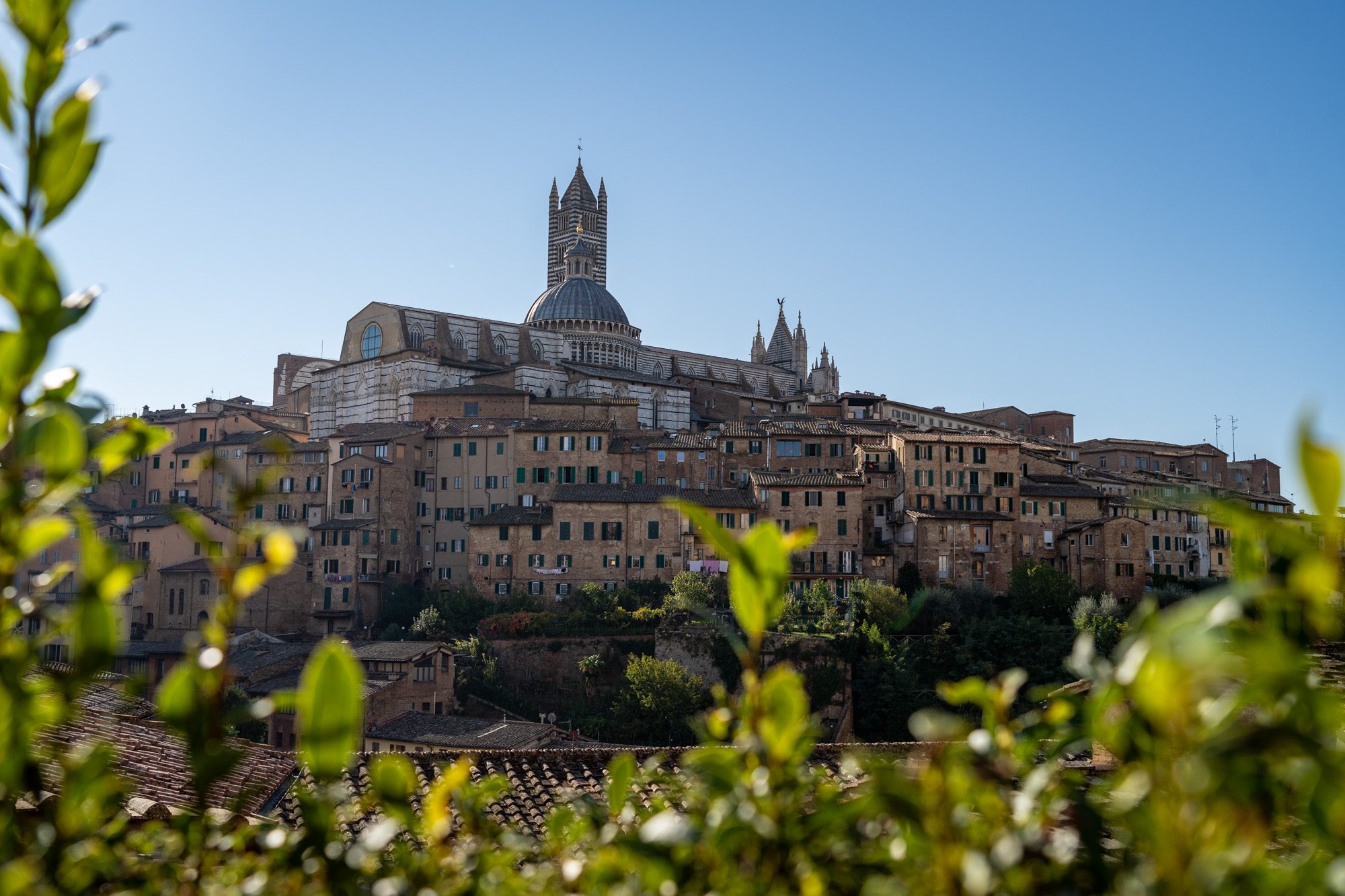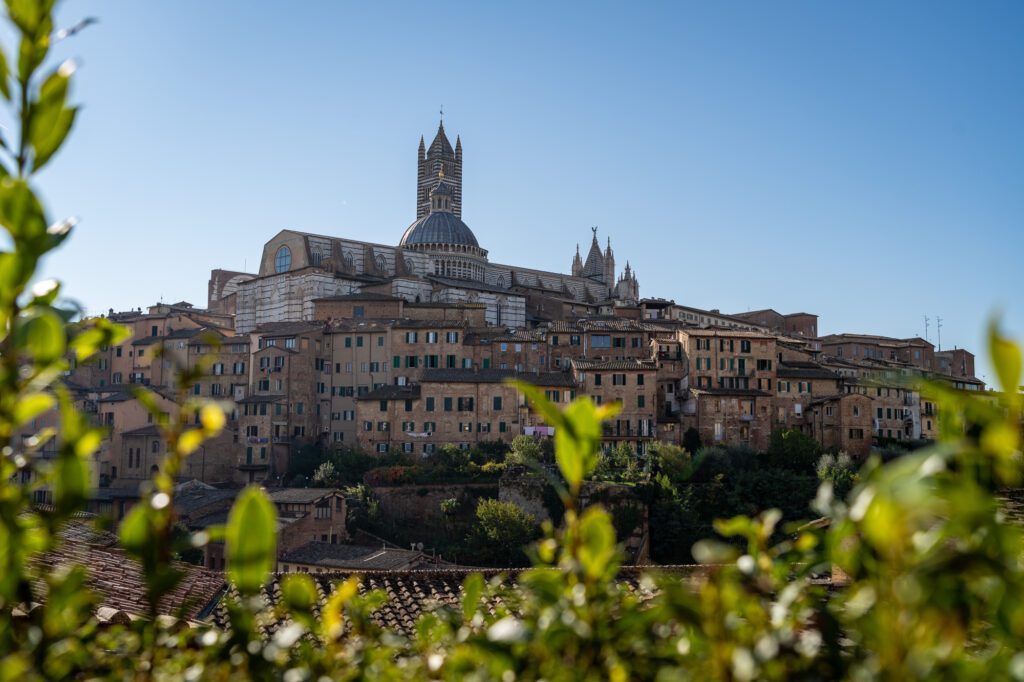 Siena is perhaps the best example of a traditional Tuscan hilltop town. Imposing Gothic churches and grand medieval palaces tower over the characteristic red brick roofs that cascade down the hill from the city center.
The historic city once rivaled nearby Florence in its wealth and power, which you can see in its incredible architecture and art scene. The entire city has even received recognition as a UNESCO World Heritage Site.
Siena is a must-visit destination in Tuscany and a popular day trip within the region. Although, this means that it can get extremely busy during the daytime.
Staying in Siena overnight will give you the unique opportunity to see the charming city at its quietest, during the late evenings and early mornings. So make sure to set your alarm early and head out before the large day trip crowds arrive.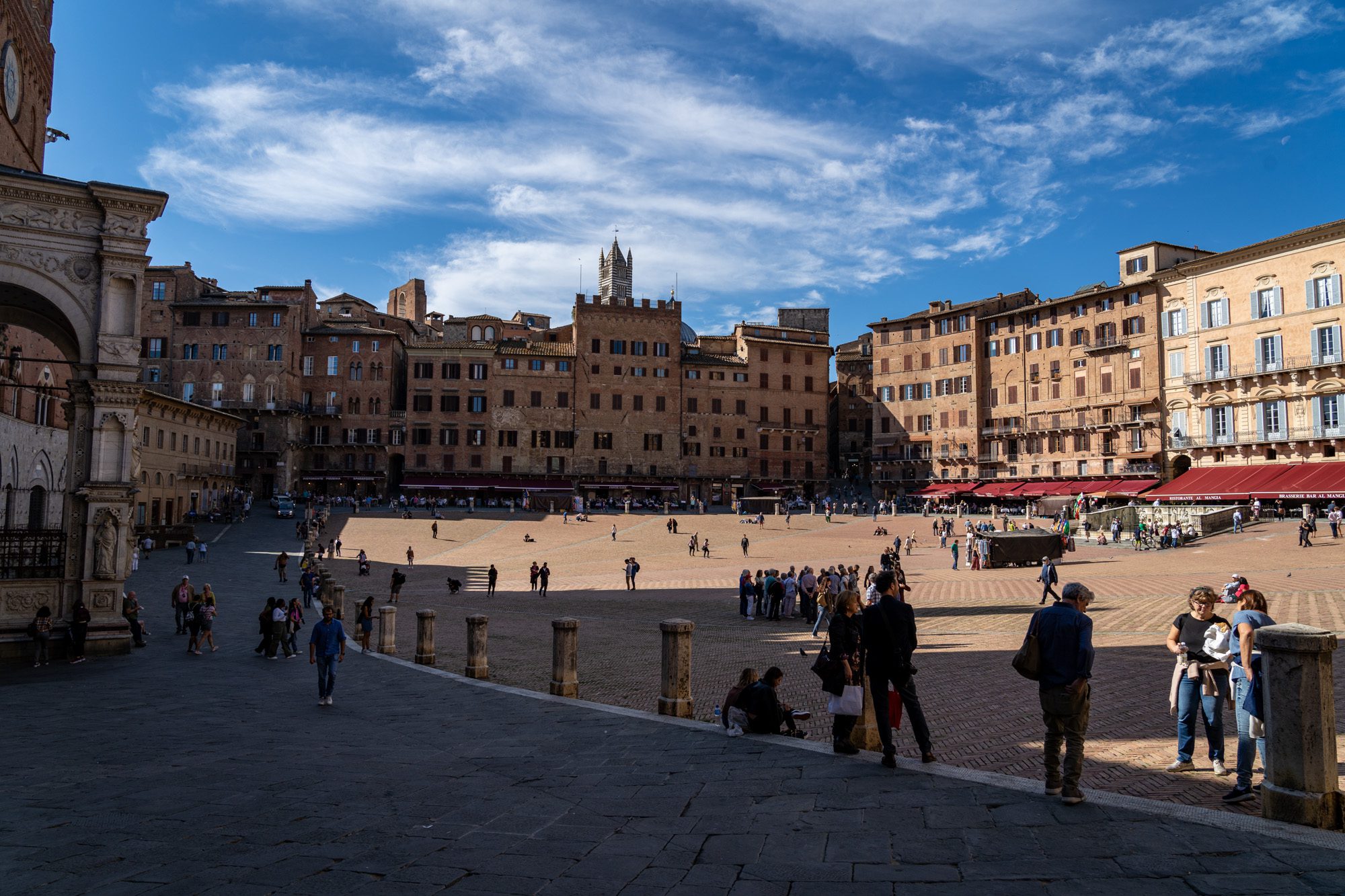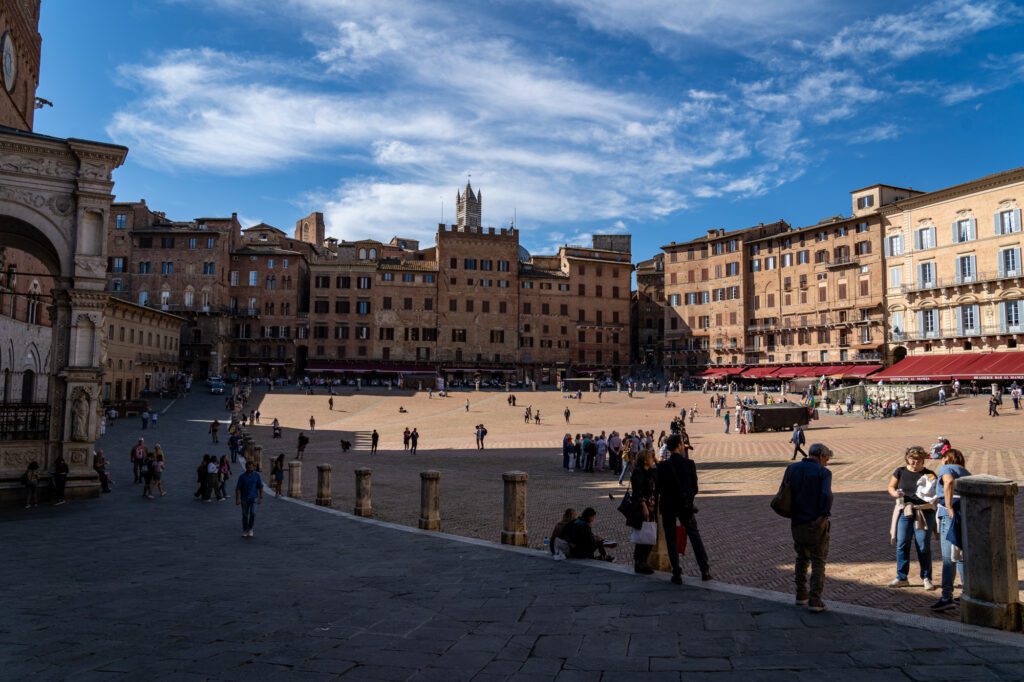 Should You Stay in an Agriturismo or Hotel in the City Center in Siena?
This one's a toss-up.
We chose to stay in an agriturismo just outside the city.
If you don't have a car and are traveling around Tuscany by train, staying inside the city center is a better bet.
Hotels in Siena's City Center
Here are a few hotel options in the heart of Siena.
B&B Il Corso
B&B Il Corso is a charming bed and breakfast located in the bustling heart of Siena. The property is just 40 yards from Piazza del Campo (Siena's main square), making it ideal for beating the crowds to the city center in the morning.
The cozy accommodation sits inside a 16th-century building and offers an authentic Tuscan experience, with rustic exposed beam ceilings and traditional furnishings. The rooms are tastefully decorated and available as doubles or twins. There's also a larger suite with a private terrace and city views.
Breakfast isn't available at the property itself, but if you book the breakfast option you'll receive a voucher that's valid for a cafe on the same street.
B&B Le Logge Luxury Rooms
B&B Le Logge Luxury Rooms is another fantastic accommodation option just a short distance from Piazza del Campo and the Cathedral in central Siena. 
Situated in a renovated historical palace, this amazing B&B offers four spacious and luxurious individually-designed suites that can sleep between two and three people.
The four suites are all tastefully decorated in their own unique style, each offering something a little different. Some have frescoed ceilings, some have a spa bath or a sauna, while one has amazing panoramic views over the city and the Torre del Mangia tower.
The attentive owners are regularly on-hand to offer tips and advice, as well as to serve a delicious Italian breakfast each morning in the lovely breakfast room.
Hotel Athena
While we've included this one under hotels, Hotel Athena is almost a blend between the two categories. It's a little further out from central Siena, so you get a quieter stay and free parking as with an agriturismo, but it's still close enough to walk to the city center in around 10 minutes.
Located inside Siena's historic walls, Athena is a large yet cozy hotel with warm color schemes, classical furnishings, and traditional tiled floors. It has a variety of rooms available that can sleep up to four people, making it a great option for families with younger children.
A buffet breakfast is served each morning. The on-site restaurant also offers a dinner menu of Tuscan and international dishes which can be enjoyed on the large terrace overlooking the city. The terrace views are definitely one of the highlights of the hotel!
Agriturismi Near Siena
Here are a few options just outside Siena, including the place we stayed (which we loved and highly recommend).
Il Palazzetto (Where We Stayed)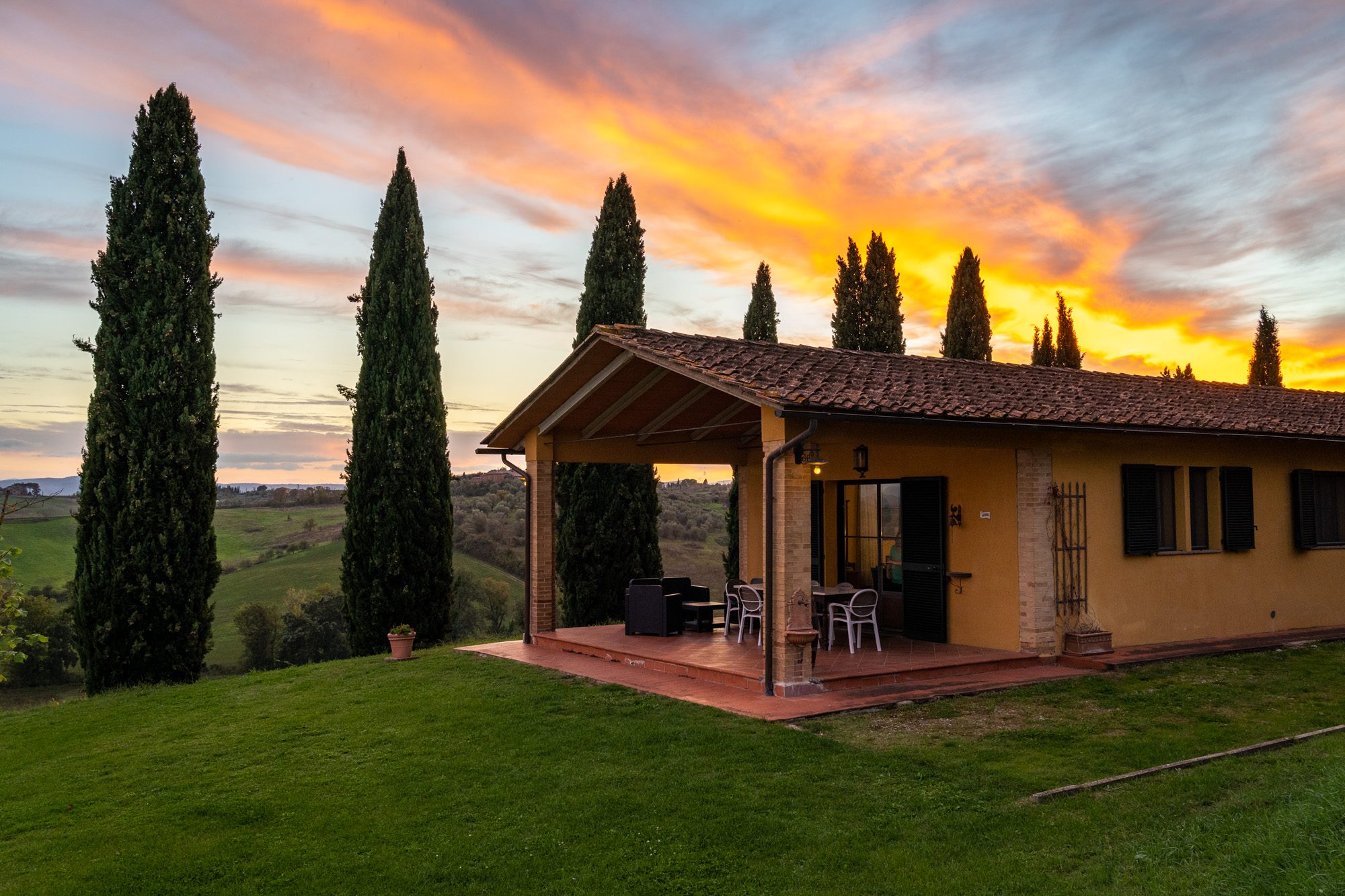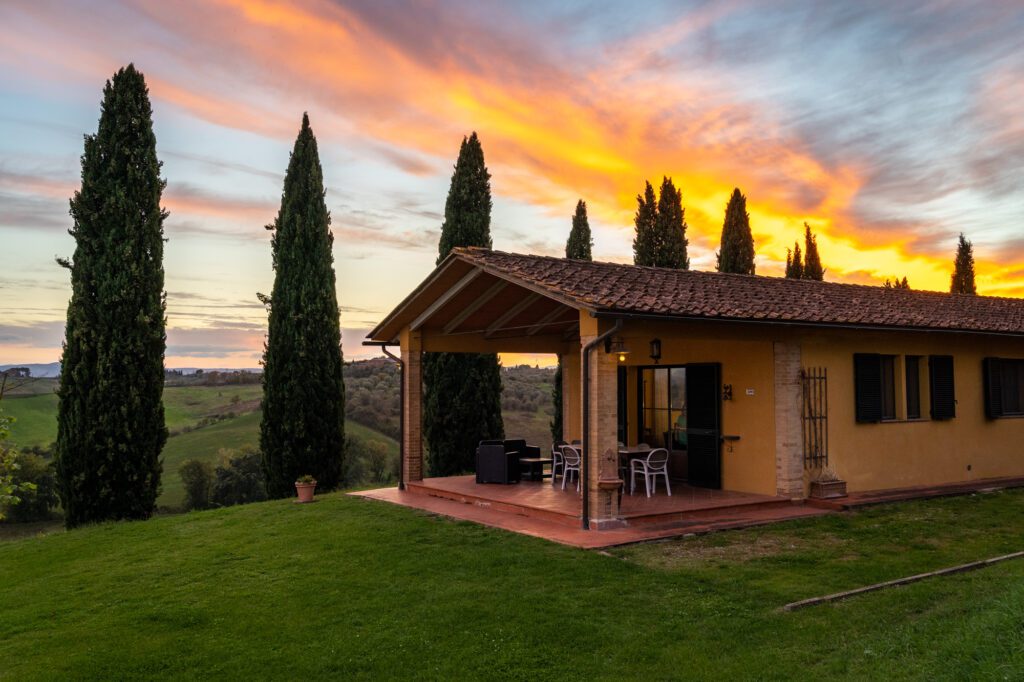 Il Palazzetto is a historic residence surrounded by lush gardens and rolling green hills just a 5-minute drive from Siena.
It's a perfect place to stay if you want to be immersed in the Tuscan countryside but still just a stone's throw from the bustling city.
We stayed here for the first few nights of our Tuscany adventure, and absolutely loved every minute of it. But especially the sunsets from our private patio.
The elegant property has a mix of rustic one and two bedroom apartments that can sleep up to 5 adults (with a sofa bed). Each apartment has its own cozy living and dining room and a fully equipped kitchenette for making your own meals.
Il Palazzetto is where we stayed on our most recent trip to Siena and we couldn't recommend it more highly. Some of our highlights included the breathtaking 360 views, the large outdoor pool and beautiful sun terrace, and the welcoming staff who gave us all sorts of great recommendations and helpful advice during our stay.
Palazzo del Papa Country Suites
Palazzo del Papa Country Suites is a collection of sleek and modern apartments inside a beautifully restored farmhouse in the countryside just outside of Siena.  It's the ideal spot for an authentic Tuscan experience with all the modern luxuries.
Each of the spacious self-contained suites features a fully equipped kitchen and a large living and dining area. There's also a communal sun terrace in the property's large garden and barbeque facilities for guests to use on a sunny day.
The property is located just a 5-10 minute drive from central Siena, with free parking available for guests.
Hotel Santa Caterina
Hotel Santa Caterina is a 3* hotel in a convenient location just outside of Siena's ancient city walls, just a few steps away from the medieval city gate, Porta Romana. 
The hotel is just outside of the limited traffic zone and private parking is available for €15 a day, so it's a great option if you do have a car. Once at the property, you can take a short bus ride or a 15 minute walk right to the heart of Siena.
The hotel itself sits inside a renovated 18th-century stately building with a large garden boasting stunning panoramic views over the Tuscan countryside.
The rooms are decorated in traditional Tuscan style, with exposed beam ceilings, terracotta and parquet floors, antique furniture, and classical decor. 
A free breakfast of Tuscan delicacies is served in the dining room or out on the terrace each morning.
The Val d'Orcia (near Pienza): The Best Place to Stay for the Quintessential Tuscan Landscape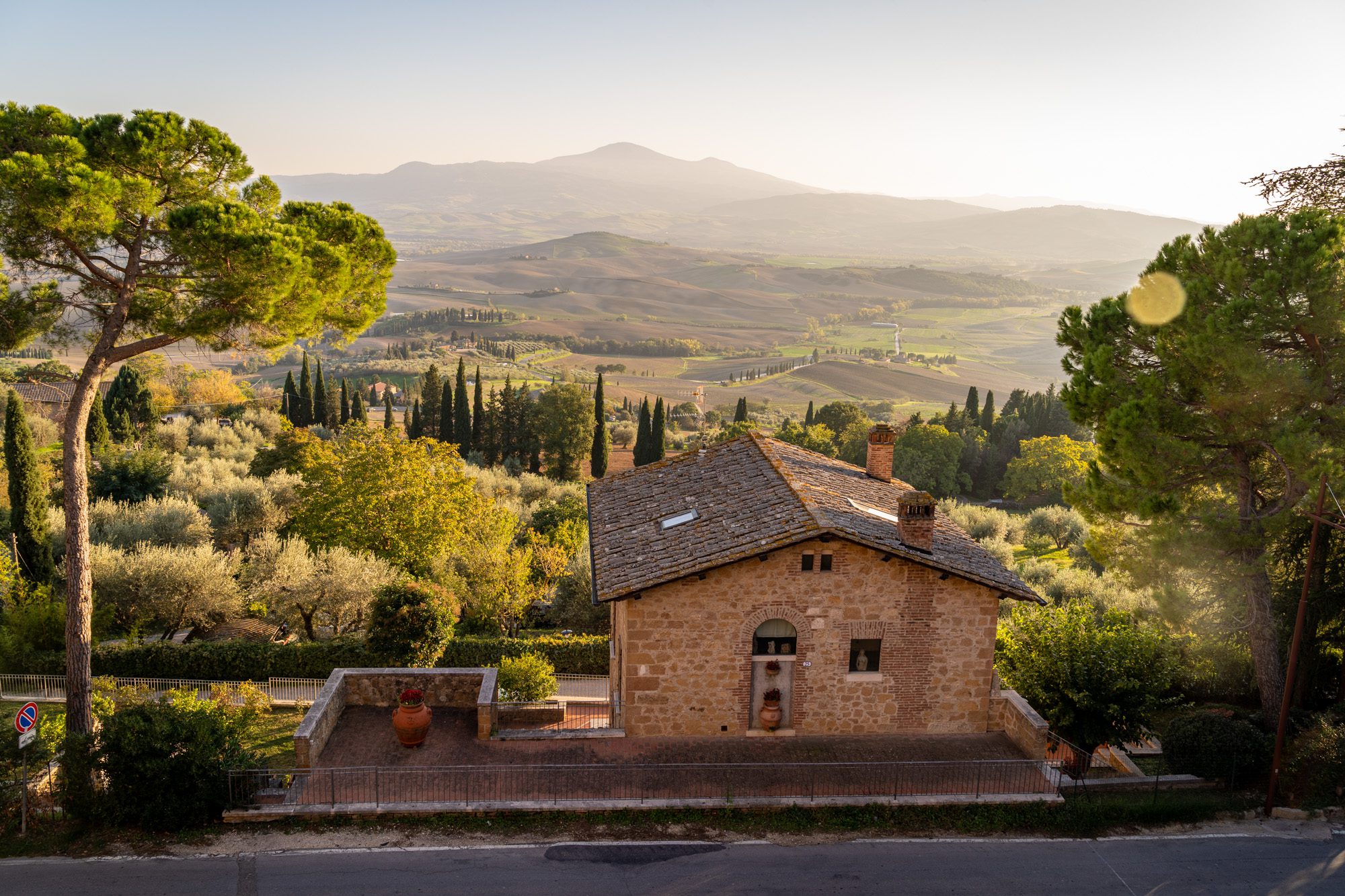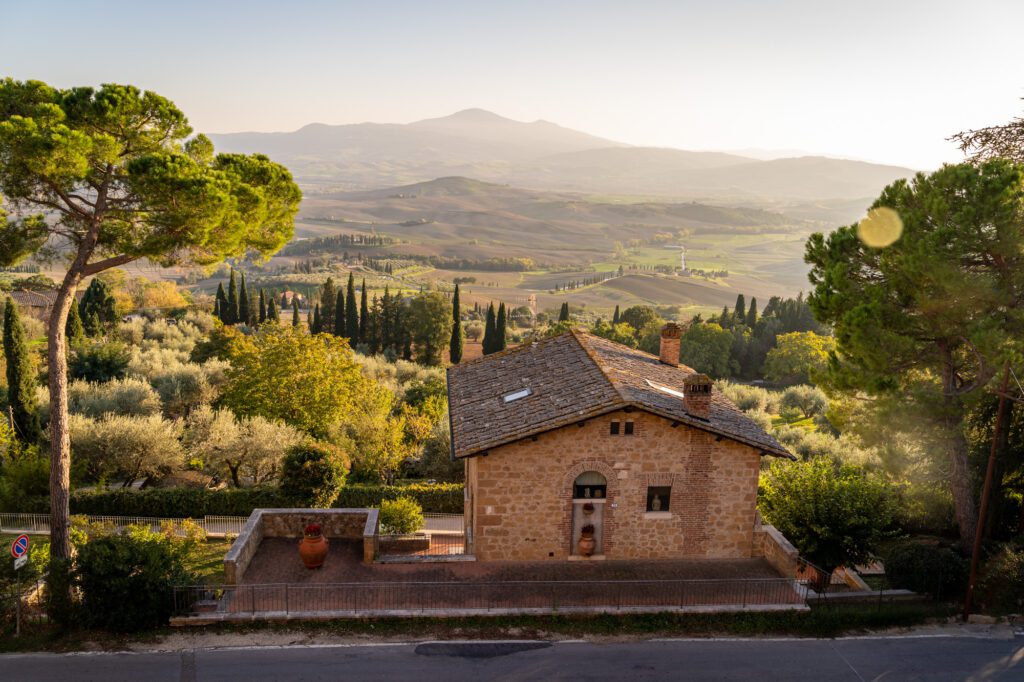 The Val d'Orcia is a beautiful green valley just to the south of Siena and one of our favorite regions in all of Tuscany.
The valley is characterized by its rolling hills filled with quaint hilltop towns, historic vineyards, and cypress trees leading up to grand Tuscan villas.
To us, it's quintessential Tuscany at its finest.
The valley is centered around its three main towns (all of which are worth visiting) – Montalcino, Montepulciano, and our favorite, Pienza.
The valley is also a great wine tasting destination, particularly Montalcino where you'll find world-famous Brunello wine being produced.
Should You Stay in an Agriturismo or Hotel in the City Center in the Val d'Orcia?
Definitely choose an agriturismo here. The landscapes are jaw-dropping, and staying outside of the towns is a great way to immerse yourself in them.
Agriturismi in the Val d'Orcia
If you do decide to stay in an agriturismo in The Val d'Orcia, we'd recommend choosing somewhere close to the town of Pienza.
Pienza sits right in the heart of the valley, in between the other main towns of Montalcino and Montepulciano, making it an ideal area to base yourself in to explore the region.
Il Casalino (Where We Stayed)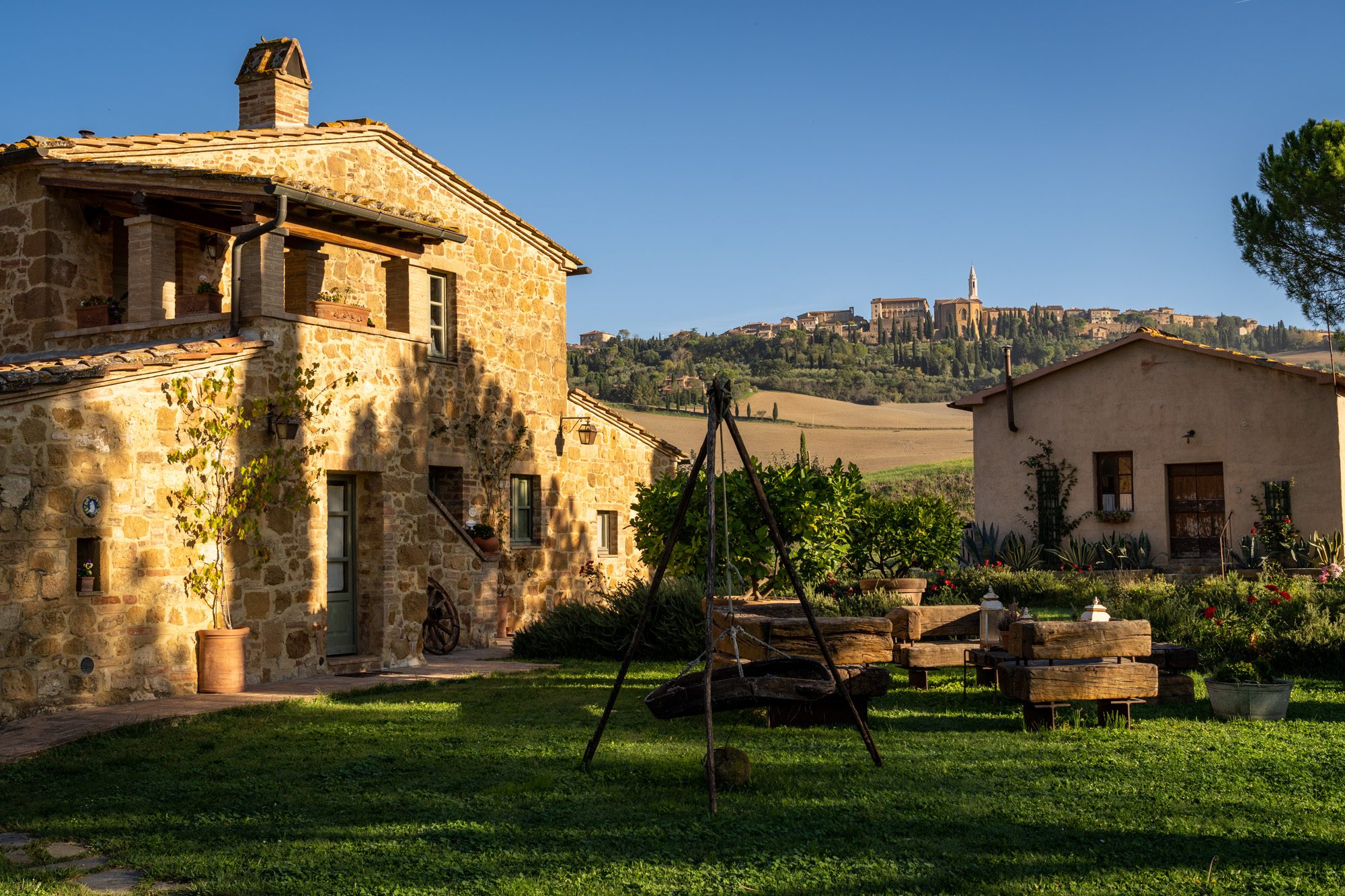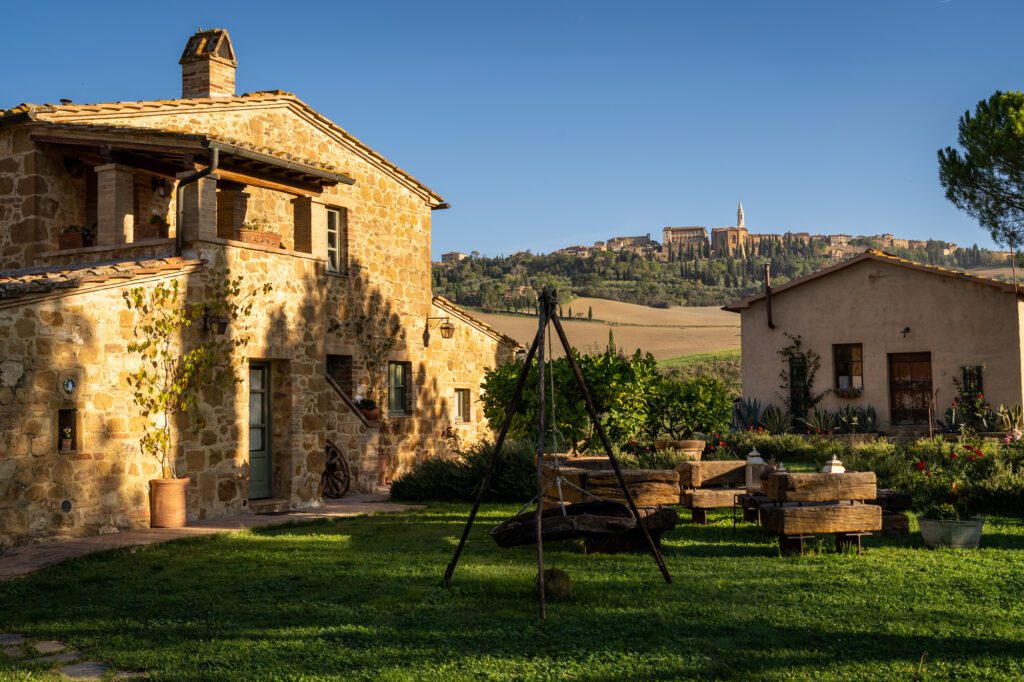 Il Casalino is a small agriturismo in an excellent location on the hill facing Pienza. The property is just a 5 minute drive into town, while still feeling fully immersed in the beautiful Val d'Orcia countryside, complete with views of the rolling hills, vineyards, and cypress trees. 
Set in a charming 19th-century farmhouse, the traditional property has several double ensuite rooms, as well as a handful of one and two bedroom apartments.
Each of the apartments features its own private entrance, a fully equipped kitchen, and access to the spacious shared garden and terrace. 
The friendly owner Marco is always around to help with any requests and offer tips and advice for the area. During our stay, Marco even went out of his way to give me gluten free products in the welcome basket. A lovely personal touch!
Agriturismo Il Macchione
Agriturismo Il Macchione is a lovely B&B in an 18th-century restored farmhouse just a few minutes away from Pienza by car. The estate produces quality olive oil on-site.
The property has a handful of hotel-style rooms and four spacious self-contained apartments. All of the apartments are decorated in a rustic style with wood-beamed ceilings and antique furniture.
They feature a living and dining area with a fully equipped kitchenette for cooking your own meals.
But the real highlight of Il Macchione has to be its beautiful gardens, with a brand new outdoor swimming pool and jacuzzi overlooking the rows of olive trees, a spacious sundeck with a barbeque area, and a children's playground.
Relais Osteria Dell'Orcia
Relais Osteria Dell'Orcia is a cozy agriturismo set in a former 16th-century post office just outside the small village of Bagno Vignoni. 
Sitting around a 15-20 minute drive to the south of Pienza, Bagno Vignoni is a village that's famous for its unusual hot spring pool in the middle of the main town square.
The property itself is a traditional Tuscan home with a handful of rooms ranging from cozy classics to larger suites. The rooms all feature beautiful terracotta floors and handmade Tuscan furnishings. Each has its own color scheme, with lots of floral designs and small elegant touches.
Outside, you'll also find a large outdoor swimming pool surrounded by a beautiful garden where you can enjoy your free breakfast each morning. The on-site restaurant also serves Tuscan dishes and Italian specialties on its romantic terrace throughout the day and evening.
Relais Mastrojanni
Relais Mastrojanni is a luxury agriturismo located between the towns of Pienza and Montalcino. The property sits in a peaceful location surrounded by lush vineyards and olive groves.
The recently renovated hotel features several beautiful rooms and spacious suites, each decorated in a chic modern style with some traditional Tuscan features such as beamed ceilings.
Most rooms sleep two guests, while the family suite sleeps four and the executive suite can sleep up to six adults across three rooms.
In your downtime, you can relax by the amazing outdoor infinity pool while taking in the stunning views of the surrounding valley.
Or stay inside and enjoy the property's luxury wellness center, which features a mini pool with hydromassage, sauna, Turkish bath, and more. You'll never want to leave!
Hotels in Town Centers in the Val d'Orcia
If you would rather stay in one of the towns, below is an option in each of the region's three main towns.
La Bellavita B&B (Pienza)
La Bellavita is a charming family-run B&B located in the very heart of Pienza's historical center, within walking distance of all of the town's main sights.
The B&B sits on one of the upper floors of a typical historical building from the region, with great views over the town's characteristic red rooftops.
The rooms are decorated in a simple yet elegant style, with a mix of antique furnishings and modern features.
Some rooms have their own terrace or balcony. But if you don't have a private balcony, you can still enjoy your tasty homemade breakfast each morning on the shared rooftop terrace, which offers fantastic city views.
Osteria Del Borgo B&B (Montepulciano)
Located just off the central Piazza Grande in the very heart of Montepulciano, Osteria Del Borgo B&B isn't only one of the best places to stay in town, but it's one of the best places to eat too. 
The B&B offers guest rooms and apartments right above the family's traditional Tuscan Osteria, where you'll be able to enjoy your free breakfast each morning and local Tuscan dishes for lunch and dinner. Ideal for foodies!
The B&B and Osteria sit inside a historic building with high ceilings, exposed beams, and arched windows that give the feeling of being inside a medieval castle.
From one side of the building, you'll be treated to views over the central town square, while the other has beautiful views of the surrounding countryside.
You can choose from a smaller double room, two spacious suites with spa baths, or a large three-bedroom apartment with a kitchen that can sleep up to 6 adults.
Drogheria and Locanda Franci (Montalcino)
Locanda Franci has accommodation options in Montalcino to suit a range of budgets and group sizes. The hotel has 9 boutique rooms across two properties, an annexed apartment (Casa del Dago), and a spacious private villa (Villa La Fortezza) that can sleep up to 6 adults and has a private jacuzzi.
All of the properties are located in central Montalcino and each is decorated in its own unique style. Some have traditional wooden floors and beamed ceilings, while others boast a more simplistic and modern design.
The main hotel sits above Drogheria Franci, a fantastic Tuscan restaurant and wine shop run by the same family (they have a real passion for local wines – you can even visit their winery)! Plus all of the rooms include a free breakfast at the restaurant.
Chianti: The Best Place to Stay for Wine Lovers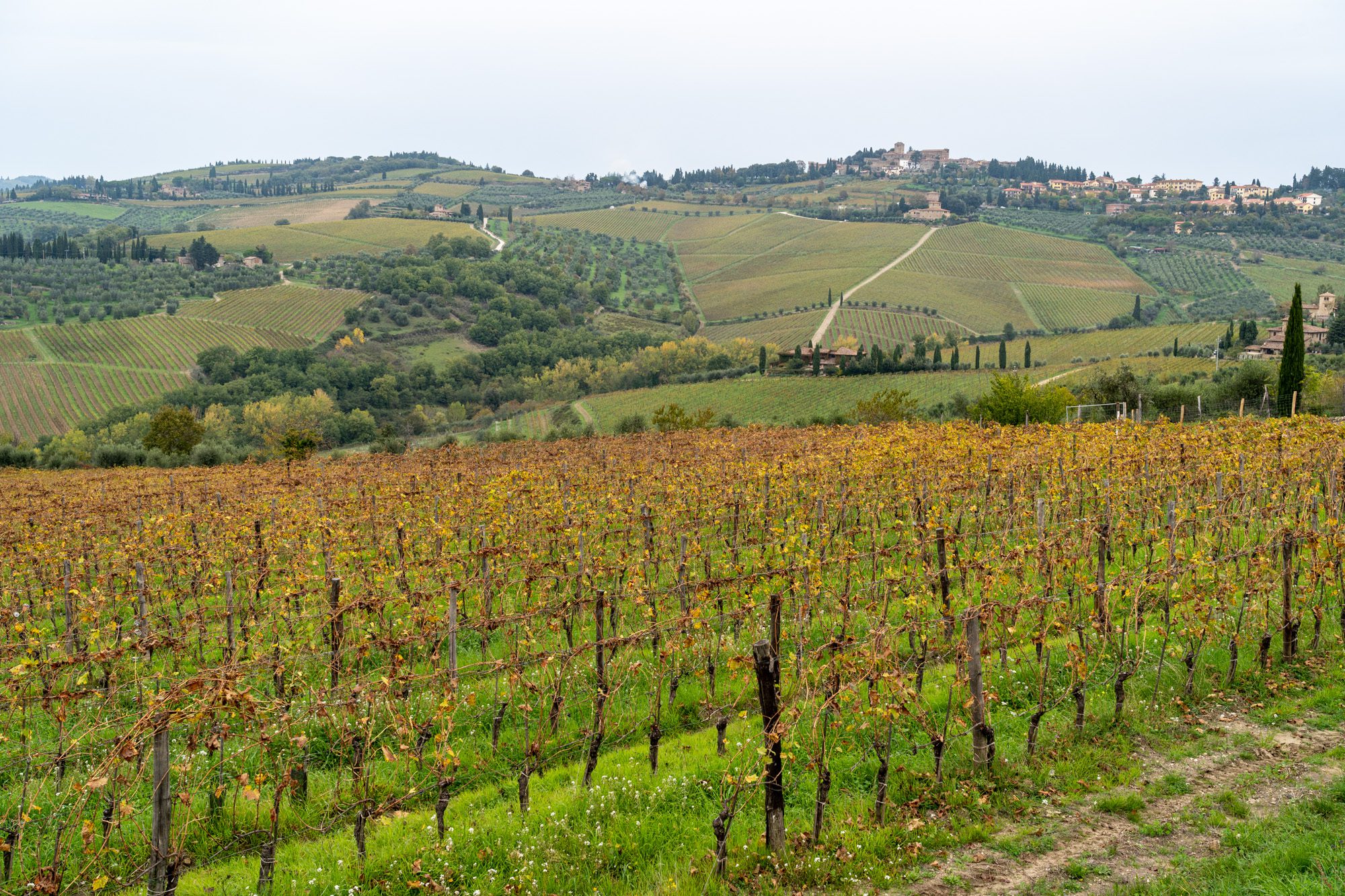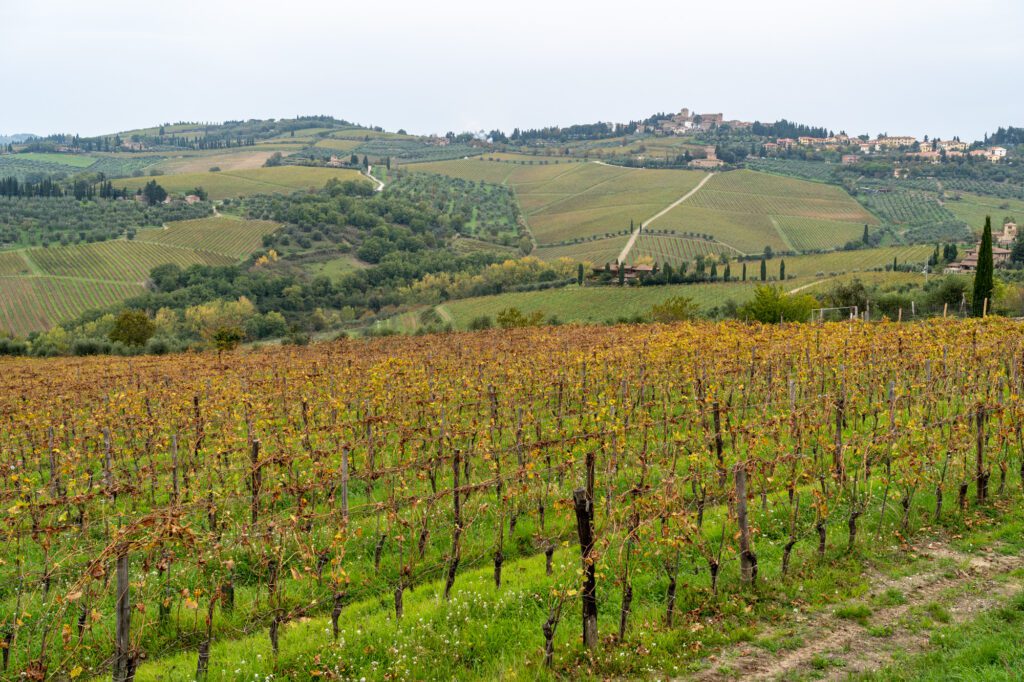 Located to the south of Florence, the Chianti region is Italy's largest wine-producing region and is best known for producing the prestigious Chianti Classico red wine.
While there are some charming towns to visit in the region, such as Strada and Greve, Chianti's main draw is its many vineyards and wineries offering tours and tastings, set among rolling hills, olive groves, farmhouses, villas, and castles.
Chianti is the best place to stay in Tuscany for the perfect Italian wine tasting vacation.
Should You Stay in an Agriturismo or Hotel in the City Center in Chianti?
There aren't really any "city centers" here – so agriturismi will be your go-to option. 
Agriturismi in Chianti
Here are some places in Chianti that caught our eye.
Locanda Le Piazze
Locanda Le Piazze is a luxurious boutique hotel set inside a former 16th-century farmhouse, surrounded by beautiful vineyards and olive groves.
The rooms at this elegant hotel are bright, stylish, and spacious, with traditional Tuscan features such as beams or vaults and terracotta tile floors, fitted out with clean, modern furnishings.
Some rooms also have a private patio to sit and enjoy the stunning views in the Tuscan sunshine. But even if you don't have a patio, you can still enjoy the panoramic vistas from the property's beautiful garden, with a sun terrace and a large outdoor swimming pool.
The hotel also has an on-site gourmet restaurant, using fresh products from local farms, and a luxury spa and wellness center, offering an extensive menu of treatments and massages. The perfect way to end a day exploring the Chianti Hills.
Terre di Baccio
Terre di Baccio sits immersed in a 20-hectare park with olive trees and vineyards, just a stone's throw away from the town of Greve.
Set inside a traditional 16th-century farmhouse, Terre di Baccio's luxurious interiors are more on the unusual side. In the early 2000s, the property was redecorated in an eclectic style that combines traditional Tuscan rustic features with unique touches from all around the world.
You can choose from a variety of rooms and suites, as well as larger one and two bedroom apartments with a separate living space and well-equipped kitchen.
The restaurants and shops of Greve can be reached by foot in around 15-20 minutes using the property's private pathway, which winds through the stunning gardens and vineyards. Ideal if you've already knocked back a few glasses of wine with lunch.
That's if you ever want to leave. Being a working farm, there's plenty to do around the property itself too, such as tasting olive oil and wines in the historic wine cellar, visiting friendly alpacas and goats in the animal farm, or taking a Tuscan cooking class at the on-site restaurant.
Or for something a little more relaxing, you can spend your free time lounging around the outdoor pool and pampering yourself at the luxury spa.
Podere Campriano Winery
Podere Campriano is a charming family-run organic farm and winery surrounded by the vineyards of Chianti, just a few minutes walk from the town of Greve.
The property has a cozy and homey atmosphere, with traditional Tuscan features and warm, classic furnishings. You can choose between a standard hotel-style room or suite, or a larger apartment with a small kitchen and private living space.
Outside the house, there's a large saltwater swimming pool overlooking the vineyards and lush Tuscan countryside.
Podere Campriano is also a great place to learn about Chianti wines on a tour and tasting of the on-site family-run winery that's been producing Chianti Classico DOCG wines for four generations.
San Gimignano / Volterra: Charming Hilltop Towns in Western Tuscany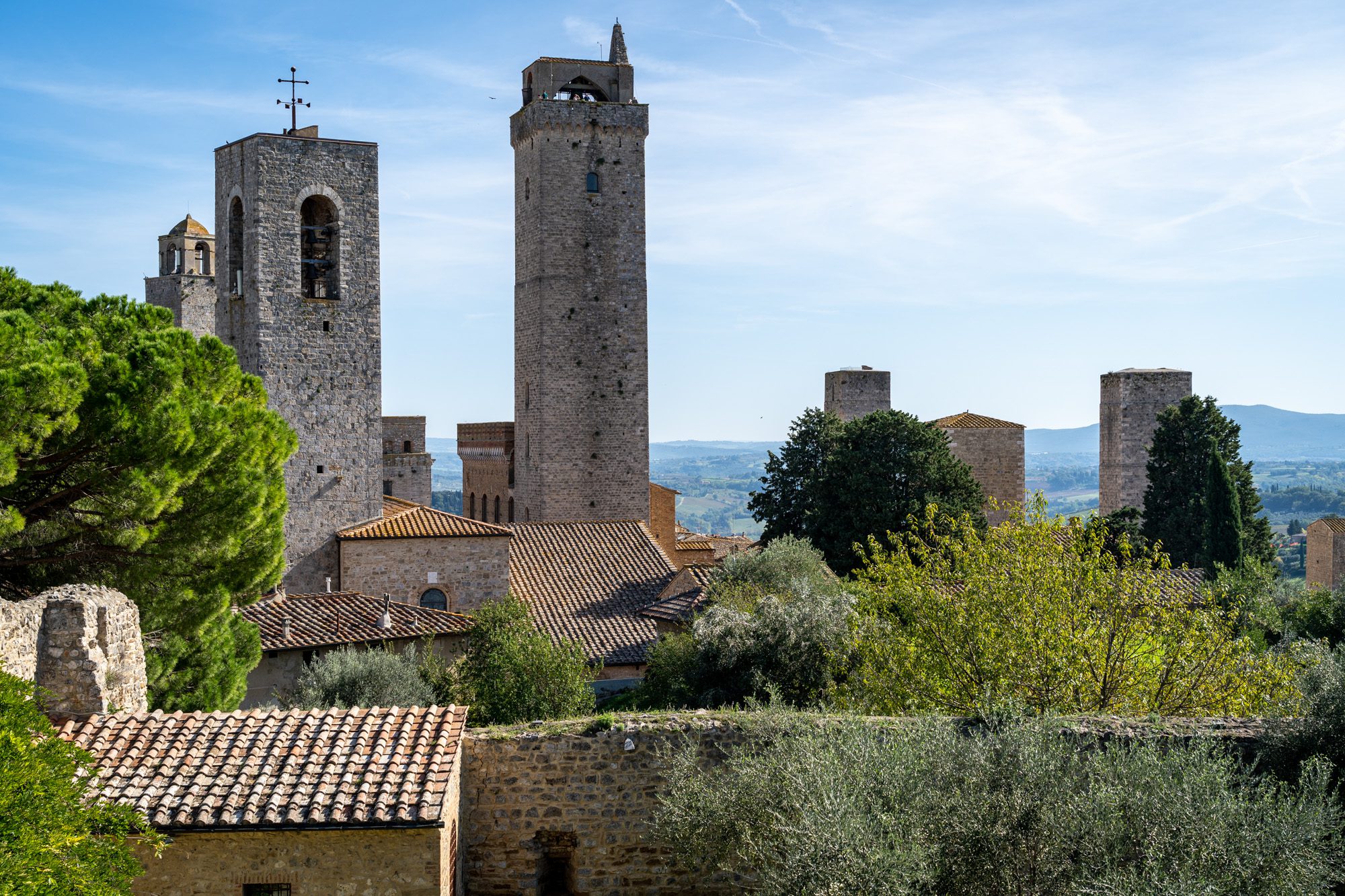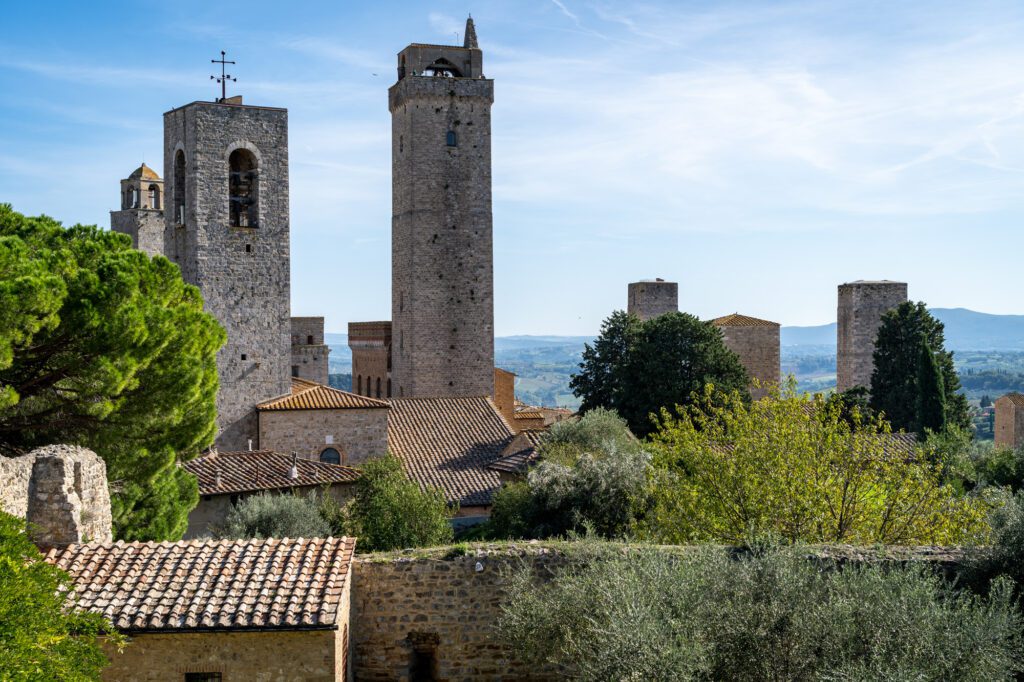 San Gimignano and Volterra are two charming hilltop towns in Tuscany, located around 30km from each other in the west of the region towards the coast (side note: we didn't really know Tuscany had a coastal section until we planned our trip, but you can see the coast from Volterra on a clear day).
San Gimignano is a UNESCO World Heritage site known for its many medieval towers. The small town once had over 70 soaring towers making up its skyline, gaining it the unique title of the "Manhattan of the Middle Ages". Today only a few remain, but it's still quite the sight!
Nearby Volterra is another lovely walled medieval town with a handful of important historic and archeological sites, including its world-class Etruscan museum and ancient Roman ruins. The town is slightly less known than San Gimignano so usually has smaller tourist crowds.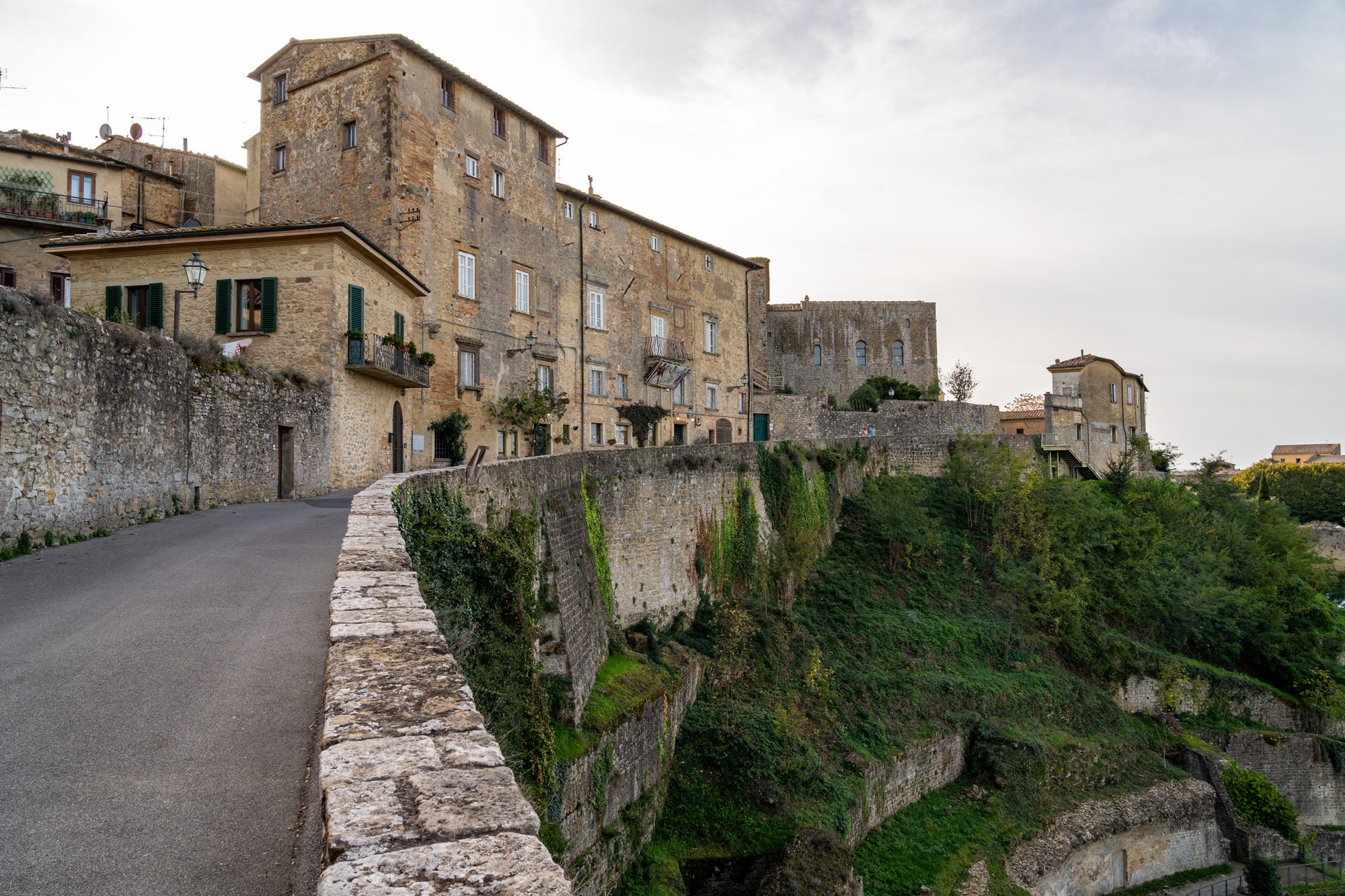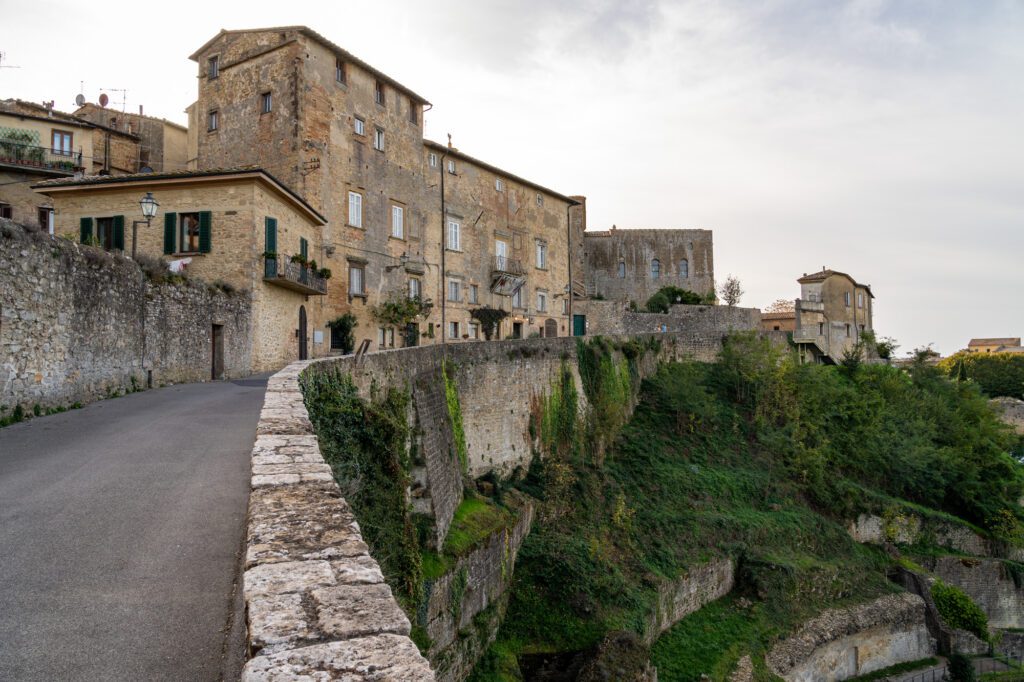 Should You Stay in an Agriturismo or Hotel in the City Center in San Gimignamo?
Stay in an agriturismo if you have a car. Or stay in the bigger city of San Gimignano (or do it as a day trip from Florence or Siena) if you don't. 
Hotels in the City Center in San Gimignano or Volterra
Here are a few hotel options in San Gimignano (and Volterra).
Leon Bianco (San Gimignano)
Leon Bianco is a 3* hotel located in a medieval palazzo in San Gimignano's main square, Piazza della Cisterna. You really can't get any more central than this.
The hotel rooms are spacious and comfortable, with classical Tuscan decor and all the modern amenities you could need. There are several different room configurations to choose from, ranging from singles up to quadruples, making it a great option for groups and families of all sizes.
The hotel also serves a delicious Tuscan breakfast each morning, which you can enjoy on the rooftop terrace with stunning views over the historic town.
Hotel La Cisterna (San Gimignano)
Also located on central Piazza della Cisterna, Hotel La Cisterna sits inside a beautiful 14th-century building and is furnished in a simple and elegant Florentine style.
There are double, twin, and quadruple rooms to choose from. Some have views over the central square, while others offer fantastic views out to the surrounding valley.
The hotel's onsite restaurant is the only eatery on the Piazza della Cisterna with a panoramic view and is the ideal spot to enjoy some delicious Tuscan cuisine at the end of the day.
With its great location right in the heart of the historic city center, you won't be able to drive or park near to Hotel La Cisterna. But the hotel does offer a free transfer to and from the designated parking area for guests.
Hotel La Locanda (Volterra)
If you do want to stay in nearby Volterra rather than San Gimignano, Hotel La Locanda is a great option. 
The hotel is situated within a 14th century converted nunnery that once belonged to historian Anton Filippo Giacchi (famous for his study of Etruscan history). The hotel's facade is uniquely decorated with carvings of Etruscan archaeological finds from the surrounding region.
Inside, the design-forward hotel has a retro style, with colors and patterns that play tribute to neoclassical design. Most rooms are doubles, but there is one triple and family room for larger grounds too.
A buffet style breakfast is included each morning for all guests. There's also a small inner courtyard for you to relax away from the town center.
Agriturismi Near San Gimignano
For a more tranquil stay in the Tuscan countryside, here are a few options between San Gimignano and Volterra.
Fattoria San Donato (Where We Stayed)
Sitting within the hills of San Gimignano, Fattoria San Donato is an old convent turned working farm and rustic agriturismo.
Rooms at the hotel are decorated in a Traditional Tuscan style, with wood-ceilings, exposed stone walls, and vintage furniture.
You can choose between hotel-style doubles or apartments that sleep up to four guests and feature a cozy living space, kitchen, and working fireplace for the winter months.
The farm itself produces a variety of delicious wines (including Vernaccia di San Gimignano), olive oil, and organic vegetables. And as a guest, you can enjoy activities like guided tours of the vineyards and olive groves, product tastings, and cooking classes at their traditional Tuscan restaurant.
On a hot day, you can also make the most of the property's large garden and outdoor swimming pool set amongst the lush Tuscan countryside.
Agriturismo Il Casolare Di Bucciano
Agriturismo Il Casolare Di Bucciano is a charming farmhouse and winery nestled among the rolling hills and vineyards surrounding San Gimignano. You can reach the town from the agriturismo in around a 10-15 minute drive.
The 16th century farmhouse has been lovingly restored in a traditional Tuscan style, with features such as exposed stone walls and terracotta floors.
The rooms are beautifully furnished with antique pieces and many have direct access to the property's beautiful gardens and swimming pool. There's a selection of double and triple rooms, as well as a spacious suite with its own private garden and a living area with a sofa and fireplace.
Agriturismo Castello di Montauto
Around three miles south of San Gimignano, Agriturismo Castello di Montauto is a historic hilltop farmhouse in the ancient village of Montauto, with an amazing 360° view of the surrounding Tuscan countryside. 
The property is named after the village's ancient castle, which you can still see the remains of nearby.
The large agriturismo features five classically furnished apartments, all of which can sleep up to four guests. Each apartment also has a living space with a sofa, smart TV, and a fully equipped kitchen. Most also have a private garden area.
There's also a large private villa which can sleep up to 10 people across its five spacious bedrooms. Spread across four floors, you'll also find two living rooms, a separate dining room and large kitchen, and five bathrooms. The villa is perfect for large groups looking for extra space and privacy.
Outside, all guests can enjoy the property's large garden, barbecue facilities, and large pool with spectacular views over the surrounding vineyards.
---