2 Days in Venice, Italy: Plan An Amazing Venice Itinerary
There's really nowhere else in the world quite like Venice. Taking a slow stroll down the historic cobblestone streets and over historic bridges, a romantic gondola ride along the canals, and evenings sat sipping wine in tiny piazzas. Located on its own island in the Venetian lagoon, Italy's floating city is a unique destination that should be on everyone's European bucket list.
While it may be small, there are so many amazing things to do in Venice. That's why it's important to plan your itinerary before you go. This guide to 2 days in Venice will help you to see and experience as much of this magical city as possible.
Planning a trip to Italy? You won't want to miss our guide to planning an incredible Italy itinerary, with ideas for 7, 10, and 14 days in Italy, how to organize your trip, and the best things to do and see along the way.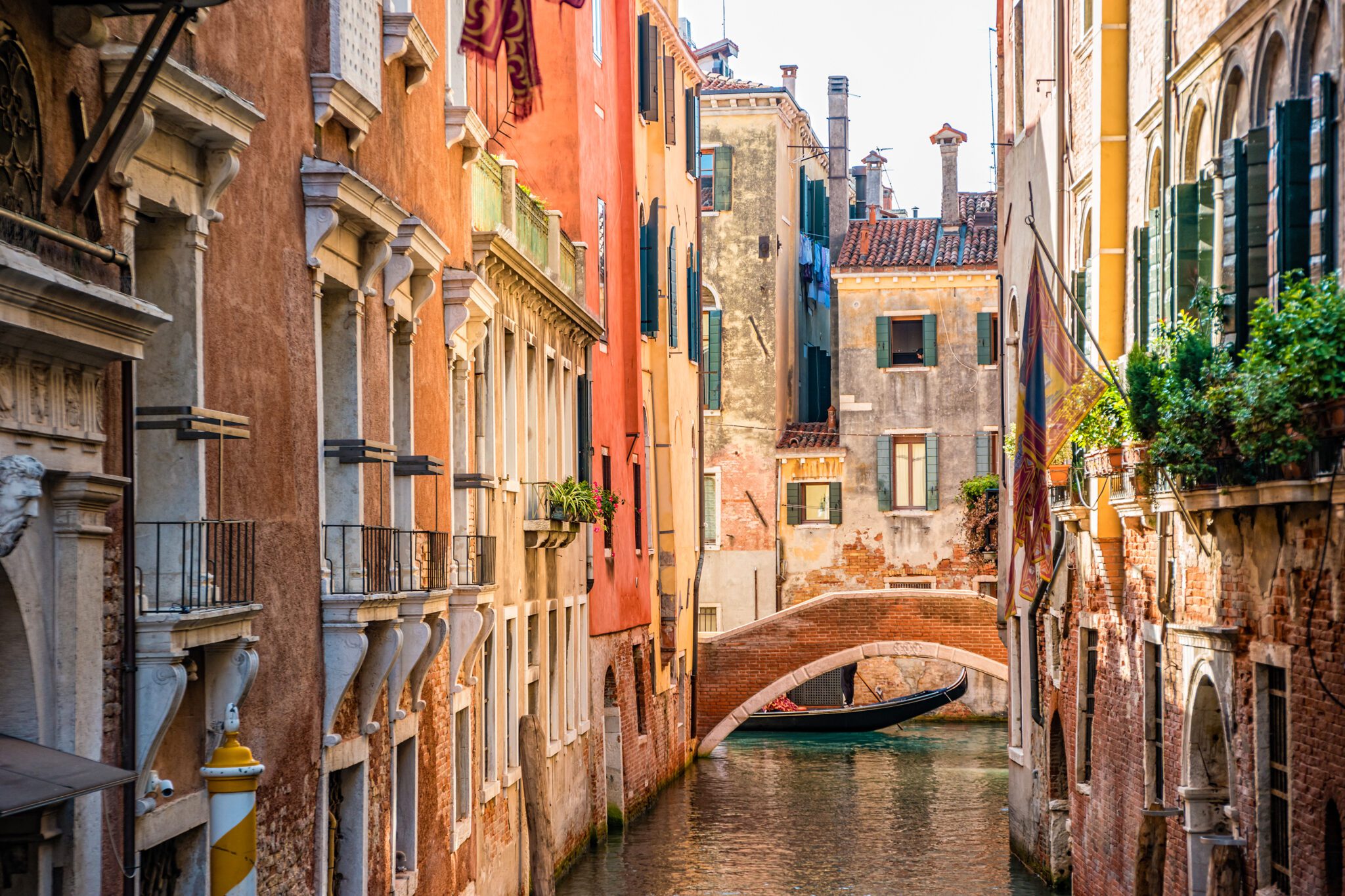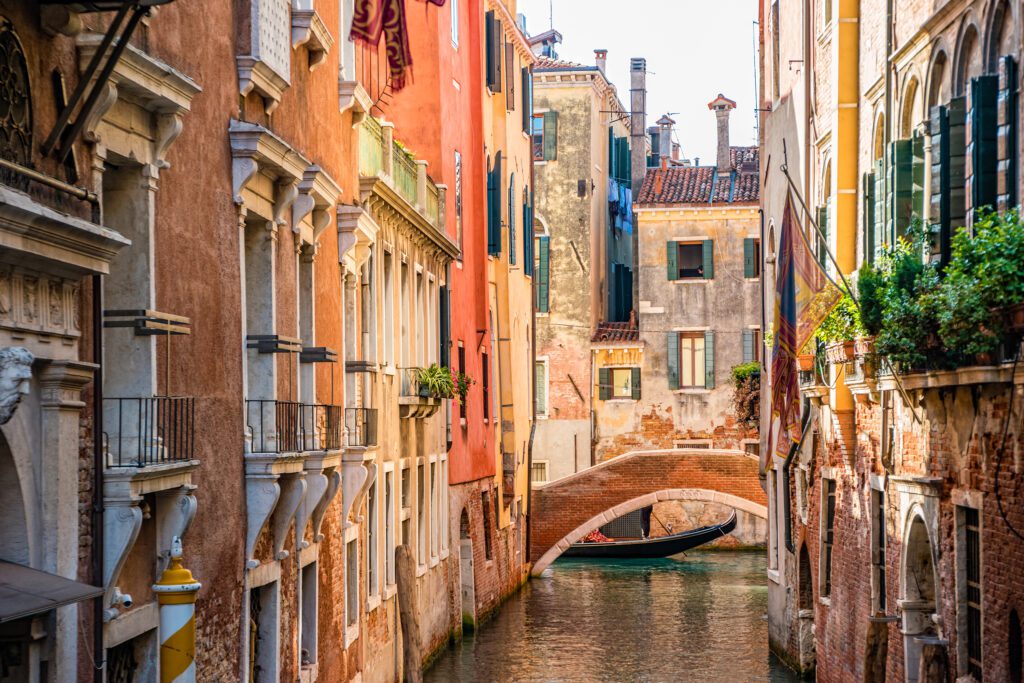 Disclaimer: Some of the links in this post, like hotel links, are affiliate links, meaning at no additional cost to you, we make a little bit of money if you click through and book. That being said, we would never recommend something to you that we don't stand behind 100%.
Where to Stay in Venice
With Venice being a relatively small city on its own island, you can't really go too wrong no matter where you decide to stay. But to maximise this Venice itinerary, we'd recommend basing yourself in Cannaregio or Castello.
Cannaregio District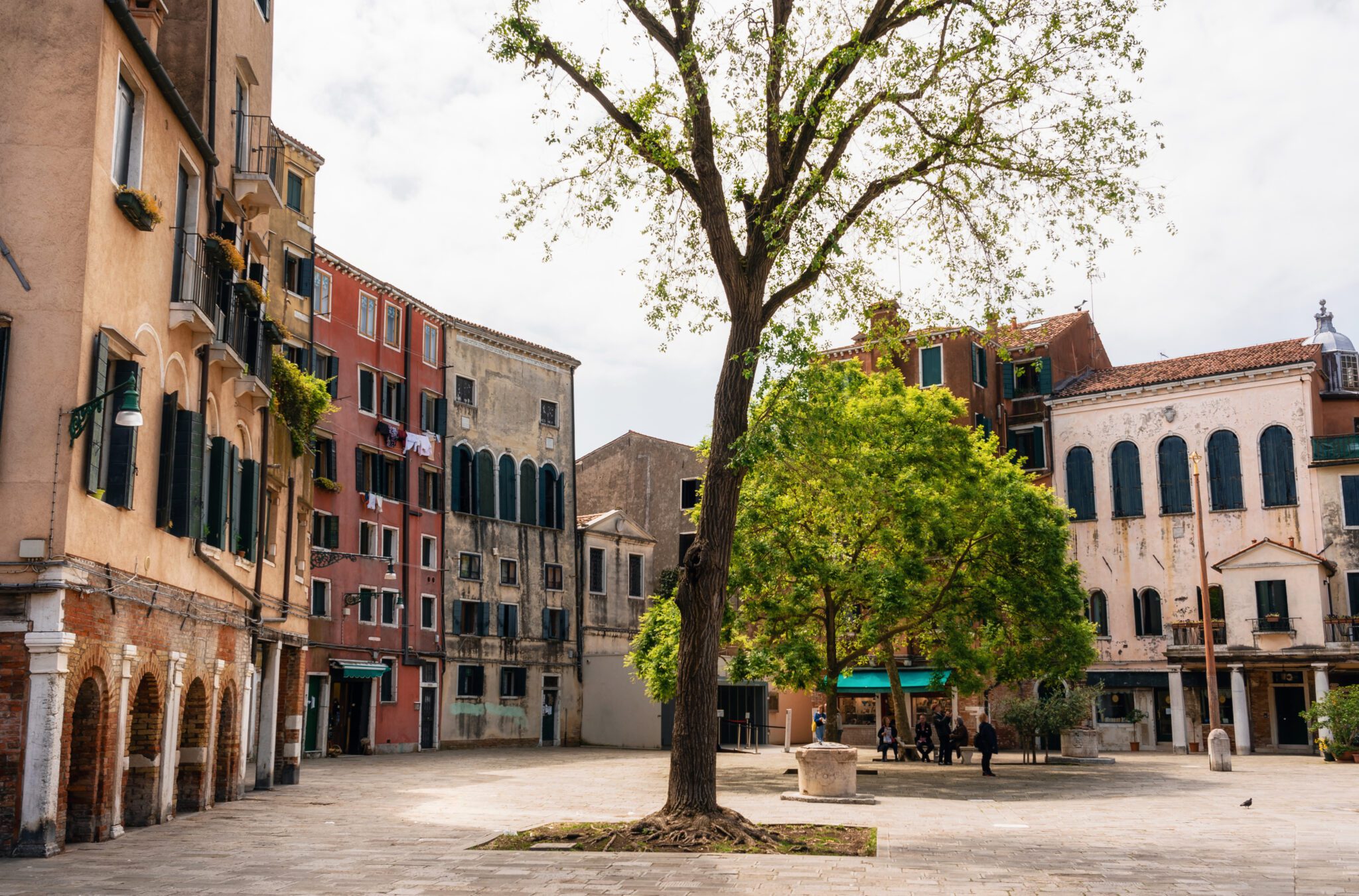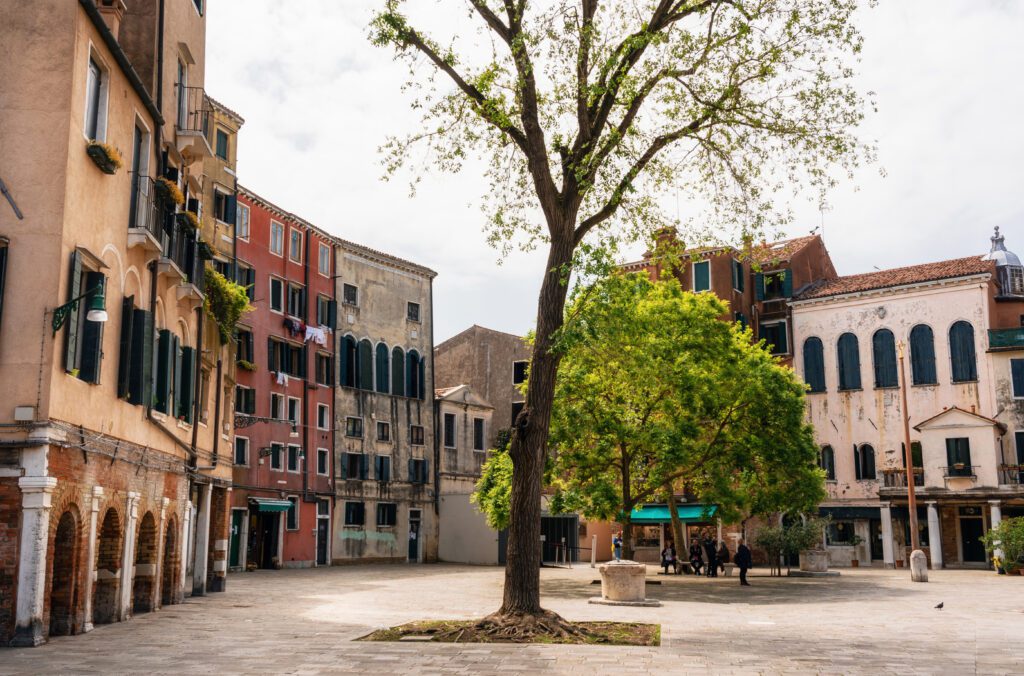 Cannaregio is a district in the north of Venice. Located within walking distance to Venezia Santa Lucia train station, it's convenient to stay for shorter trips.
Also known as the Jewish quarter, Cannaregio was once the world's first Jewish Ghetto and has many beautiful synagogues and a museum of Jewish history.
Today, Cannaregio is one of the more residential areas of Venice, so not only will you be able to escape the crowds but you'll also get a real glimpse into authentic Venetian life. There are also plenty of great local restaurants and bars to enjoy in the area each evening.
The best hotels in the Cannaregio District are:
Combo Venezia ($) – Located inside a converted 12th-century monastery, Combo is one of Venice's most unique and affordable hotels. Plus, most of their rooms have a small kitchenette (great for Celiac travelers).


NH Collection Grand Hotel Palazzo Dei Dogi ($$$) – A luxurious and ornate 5 star hotel located inside a grand 17th-century Venetian palace. The hotel has an onsite spa, a large garden and is only two minutes from a Vaporetto stop.


Palazzo Vendramin Costa ($$$) – For a little more privacy and extra space, Palazzo Vendramin Costa offers large private apartments with fully equipped kitchens and fantastic views over Venice.
Castello District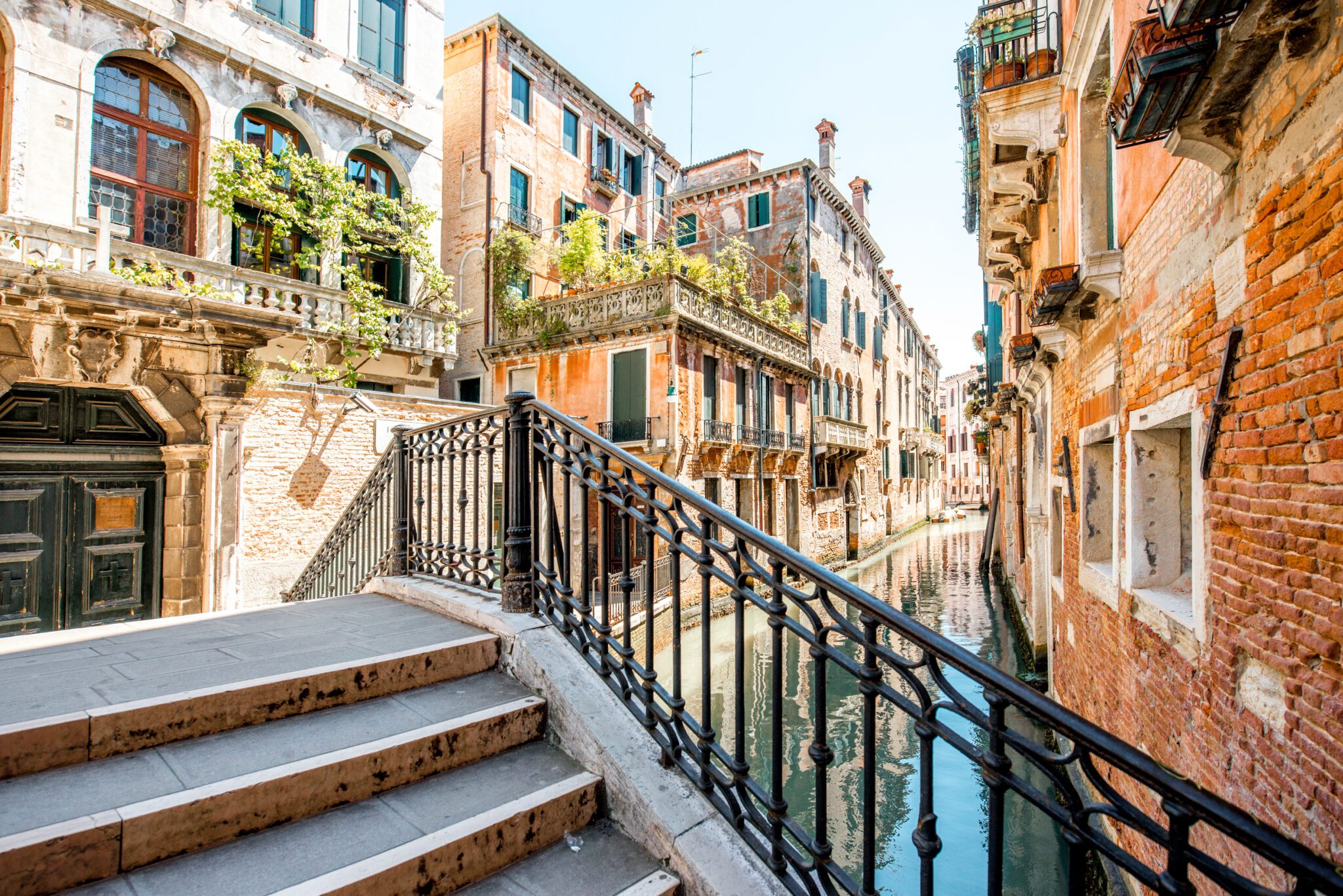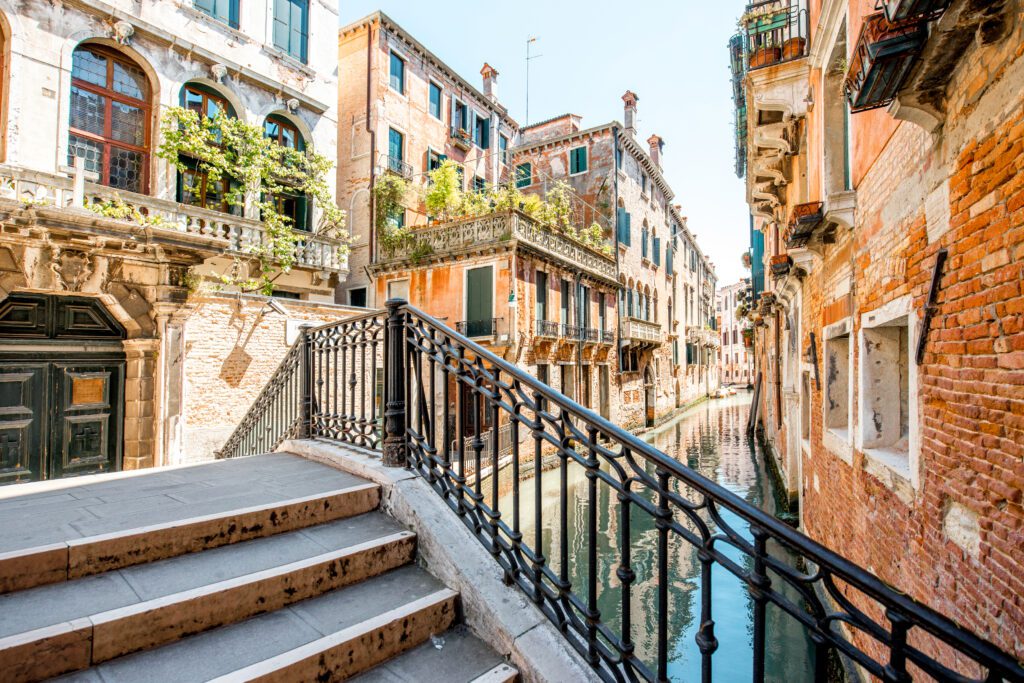 Castello is the largest neighborhood in Venice. It can be found just to the east of the main tourist district of San Marco, making it a great place to base yourself for 2 nights in Venice.
The area has plenty of attractions of its own, including the Arsenale di Venezia (historic shipyard), many important churches, and the beautiful Giardini park where the annual La Biennale Art Festival takes place. Castello is also home to the widest street in Venice – Via Garibaldi – which is packed with lively cafes and bars.
The best hotels in the Castello District are:
Locanda Vivaldi ($$) – An elegant 4 star hotel just a five minute walk from Saint Mark's Square with an on-site restaurant and an amazing rooftop terrace with panoramic views across the Venetian Lagoon.


Hotel Ai Cavalieri di Venezia ($$) – Only 500 yards from Rialto Bridge, this 4 star hotel is in an ideal location for exploring Venice's main sites on foot. It has spacious and opulently decorated rooms that are fit for Venetian nobility.


Prince Apartments ($$) – Affordable and large apartments which sleep from two to six people and have fully equipped kitchens. A great option for families, big groups, or Celiac travelers who benefit from having their own kitchen.
Tips for Visiting Venice
Here are a couple of things to know before your trip.
Wear Comfortable Shoes
Even if you're only spending 2 days in Venice, you're going to want to bring comfortable shoes – trust us! Venice is a walking city with many uneven cobblestone streets and steep bridges to navigate. It may be tempting to throw on some kitten-heeled sandals or flip-flops on a warm day, but by the end of your trip, we can pretty much guarantee you'll be wishing you wore your sneakers instead.
Bring Layers to Cover Up
Like all of Italy, Venice has its fair share of churches and important religious sites. Most of which have a dress code that requires visitors to cover their shoulders and knees. Even if you visit Venice during the hot summer months, you'll want to make sure you're covered or bring extra layers to cover up when entering these sites.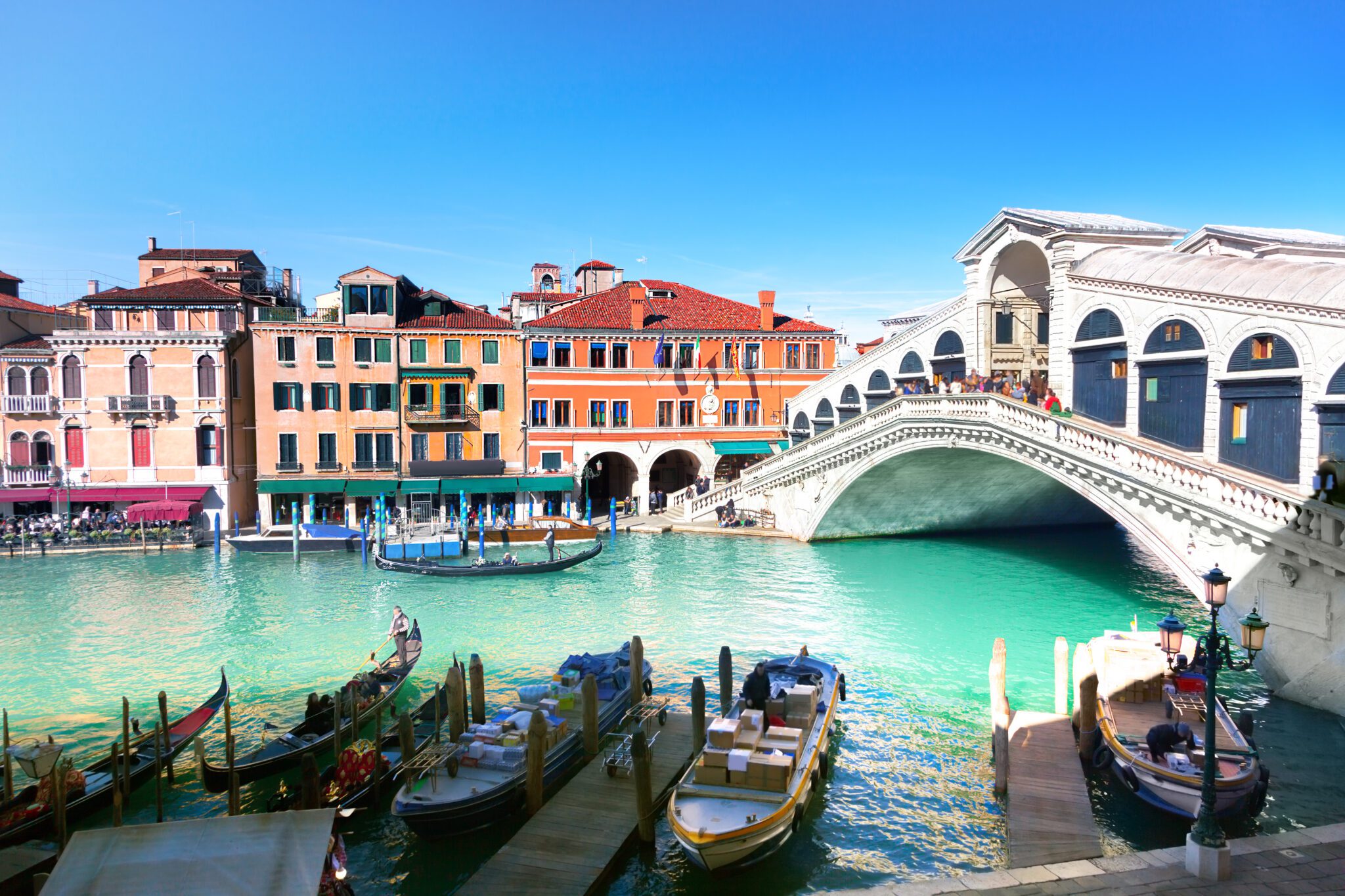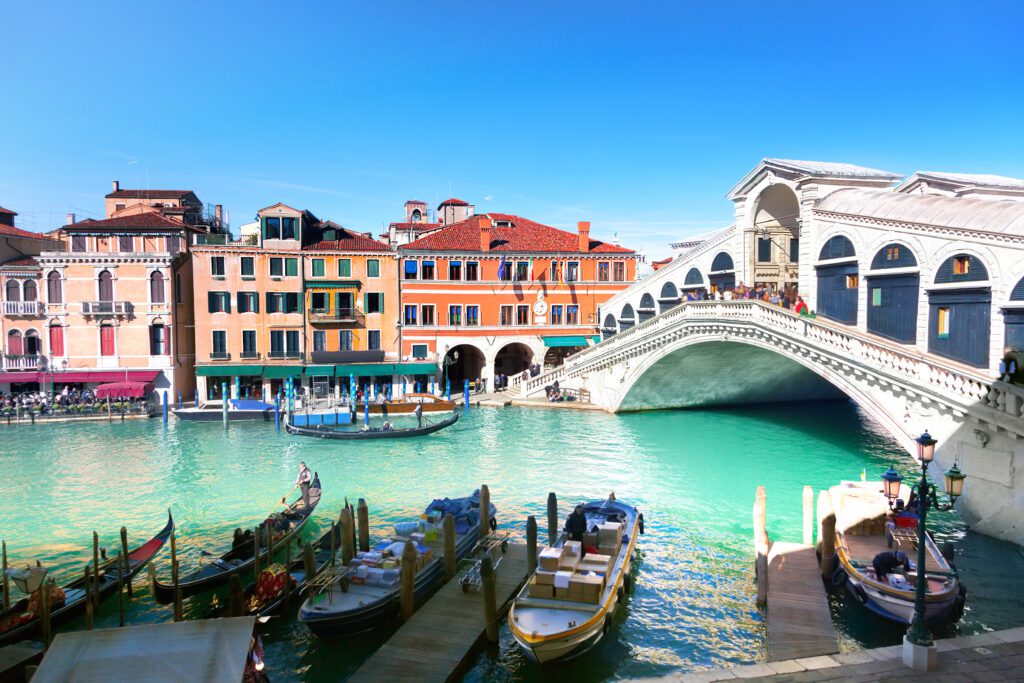 The Sestieri of Venice
Venice Island is split up into six main districts, known as sestieri. Getting to grips with these will help you plan your trip and easily navigate the city.
San Marco – The central tourist district of Venice with many of the major attractions and plenty of upscale shops.


San Polo – On the opposite bank of the Grand Canal from San Marco, San Polo is home to the Rialto Markets and numerous restaurants.


Dorsoduro – Venice's cool student district with several important museums and active nightlife surrounding Campo Santa Margherita.


Castello – The biggest district in Venice with residential areas, beautiful gardens and a medieval shipyard.


Cannaregio – Historic Jewish Quarter which is now a lovely residential area with many local bars and restaurants.


Santa Croce – The least touristy area of Venice which is home to the city's car and bus terminal Piazzale Roma.
Getting Around Venice
The best way to get around Venice is on foot. With its maze of small cobblestone streets and bridges, Venice is a beautiful city to walk around. All of the main attractions on the island can be reached by foot.
With no cars or roads, the only method of public transport in Venice is Vaporetto. Vaporettos are Venice's public water buses that run on 20 lines around the city's canals. They also connect Venice to other nearby islands.
Vaporettos are a quick and fun way to get around Venice while still taking in the sites along the canals on your way.
A single Vaporetto journey will cost you €7.50. But if you plan on using Vaporettos regularly during your trip, you can save money by investing in a travel pass. A 24-hour unlimited travel pass costs €20 or 2 days is €30. For this itinerary, a travel pass will definitely come in handy on day one.
Don't forget to validate your ticket at the ticket machine each time you get on a Vaporetto or you could end up with a fine. Hold your ticket close to the electronic reader until you see a small light flash or hear a beep.
---
A Complete 2 Day Venice Itinerary
There's certainly no shortage of things to do in Venice, so filling a couple of days isn't difficult. This itinerary is for people who really want to uncover the city and see the best of Venice in 2 days.
For the purpose of this itinerary, we'll assume you're arriving in Venice the evening before and have two full days to explore.
Day 1: Walking Tour and Venice's Hidden Gems
On day 1, get to know some of Venice's lesser-known spots and local neighborhoods with a walking tour followed by an afternoon out in the Venetian lagoon.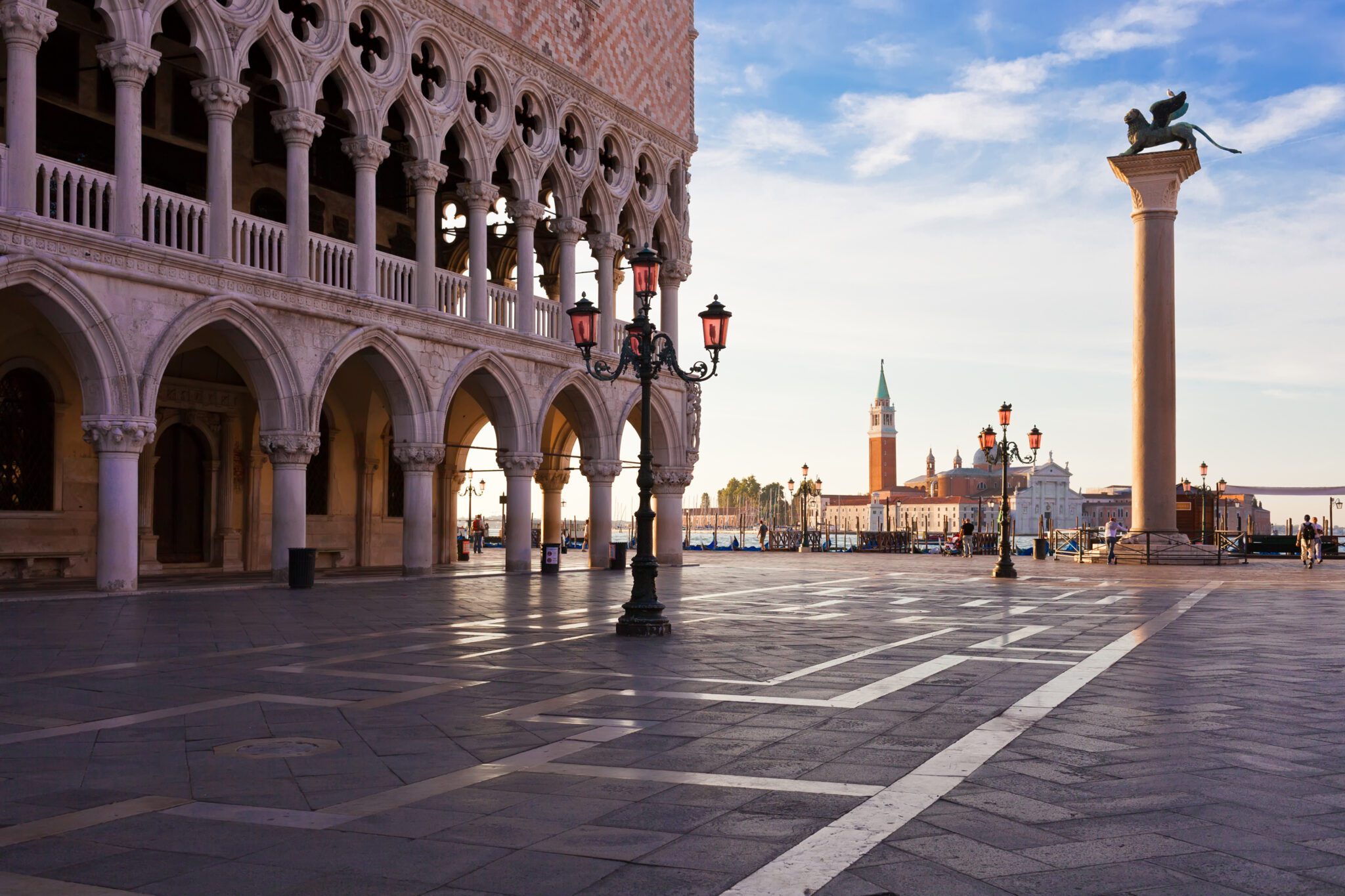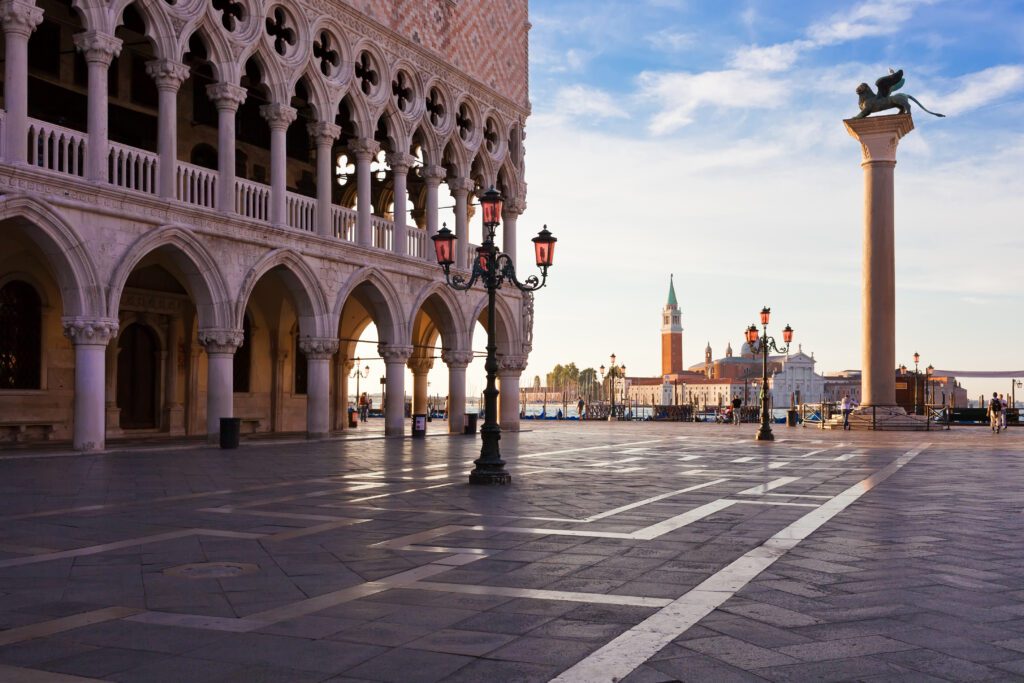 Morning: Venice Walking Tour
There's no better way to get to know a new destination than with a walking tour. Especially in Venice where many of the tours take you away from the main tourist areas and to the city's hidden gems and local districts.
Along the way, you'll also get to learn plenty of interesting information about Venice and its attractions from a knowledgeable local guide.
We've done a wide range of walking tours – from the free walking tours led by expats and students, to the paid tours led by historians and other local experts. We prefer the latter, where we often learn far more than we ever could have imagined both about history, but also about contemporary issues. However, they are certainly pricier, so we understand that it's not going to fit in everyone's budget.
Whichever you choose, we definitely think you should do a walking tour on your first day in Venice.
There are a few different walking tours of Venice that we'd recommend.
Venice Free Walking Tour (2.5 hours) – This free walking tour is a great introduction to the city. Taking you through the Cannaregio and Castello districts, the tour covers the history of Venice, from its notable residents to the iconic architecture and so much more. The local guides will also provide you with plenty of useful tips, such as the dos and don'ts in Venice and lots of foodie suggestions. The tour may be free, but don't forget to tip your guide at the end!
The Real Hidden Venice Tour (Airbnb Experience, 2 hours) – Discover Venice off the beaten path with this Hidden Venice tour. Your native Venetian guide will help you see the real Venice with a walk through the Cannaregio district, a stop at bustling Rialto Food Market and a visit to the city's oldest mascareri (makers of Carnivale masks) in Santa Croce. This walking tour really lets you experience authentic local life in Venice.
A Tale of Venice Tour (Airbnb Experience, 2.5 hours) – On this walking tour of Venice you'll get the chance to learn about the city's history, architecture, art, and culture while exploring some of the lesser-known areas. The tour offers a great combination of an introduction to Venice and uncovering the city's hidden gems.
Welcome to Venice Walking Tour (3 hours) – This comprehensive walking tour covers many of the city's main attractions, from St. Mark's Square and the Rialto Bridge to the more local Cannaregio district. Although it is a little more expensive than the other tours, it does include a visit to St. Mark's Basilica and a 30 minute Gondola ride, meaning you'll be able to tick these things off of the itinerary and fit in some other attractions or activities later on instead. They also have this tour, which is similar and swaps the walking portion for the Doge's Palace instead.
Afternoon: The Venetian Lagoon
In the afternoon, jump on a Vaporetto and head out into the Venetian lagoon to explore some of Venice's other islands. You can do this on your own, or you can book a guided tour, which includes the cost of transportation and a knowledgeable guide.
Murano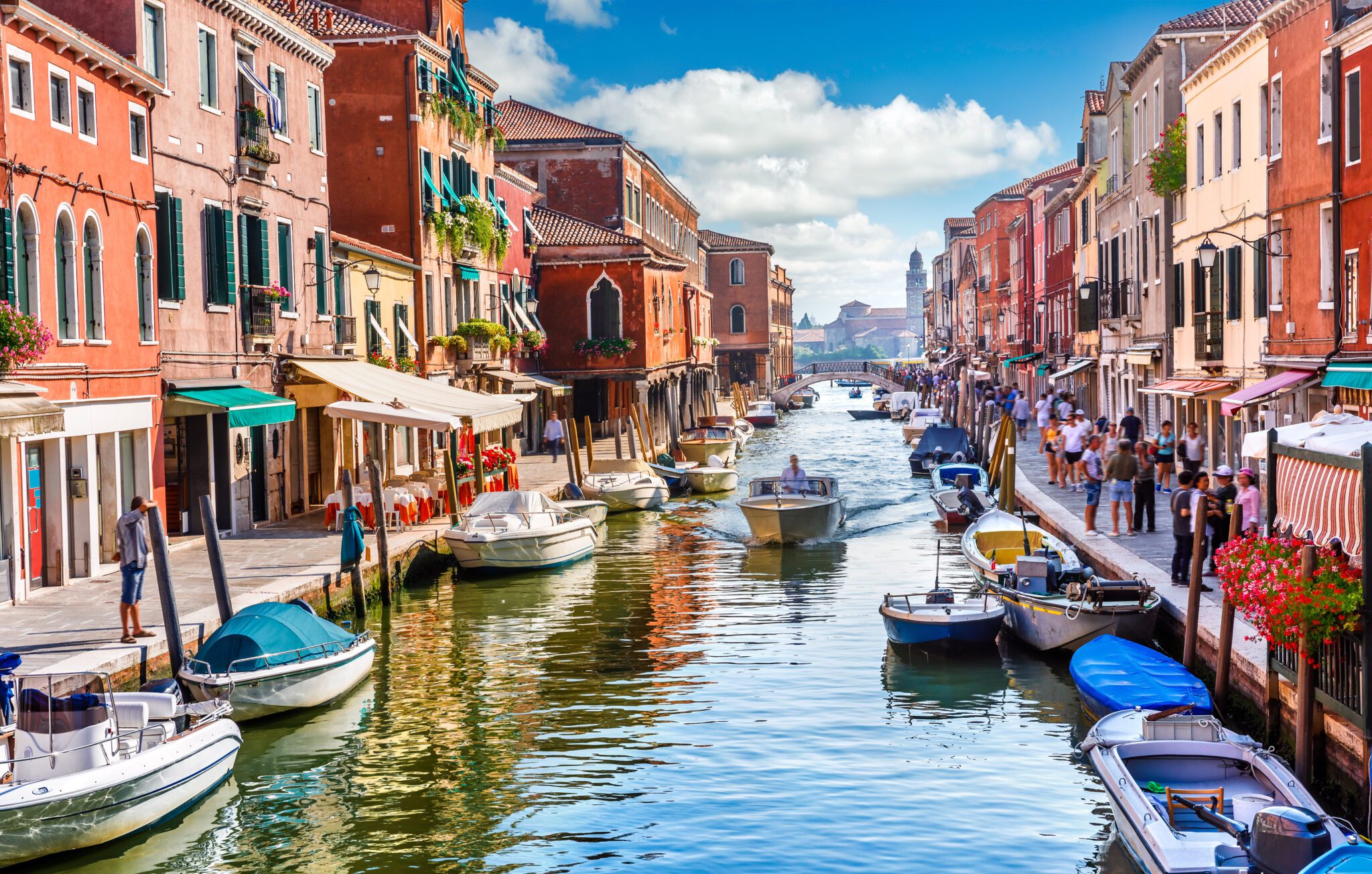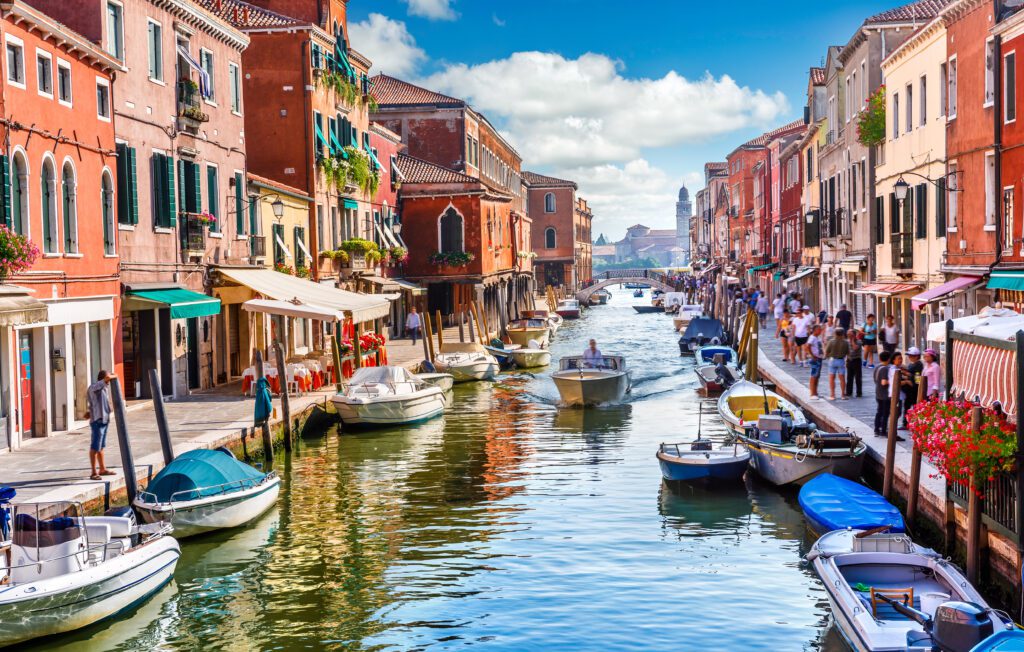 Murano is a series of small islands linked by bridges, only a 15 minute Vaporetto ride from Venice.
In the 13th century, all of the glassmakers of Venice were required to move to Murano and it quickly became one of the main producers of glass in Europe. Today, beautiful Murano glass is a symbol of quality and luxury around the world.
On a visit to Murano, you can watch glass masters blowing glass in their workshops, browse the shops for beautiful glass jewellery and household goods, and visit Murano Glass Museum (in Palazzo Giustinian).
Burano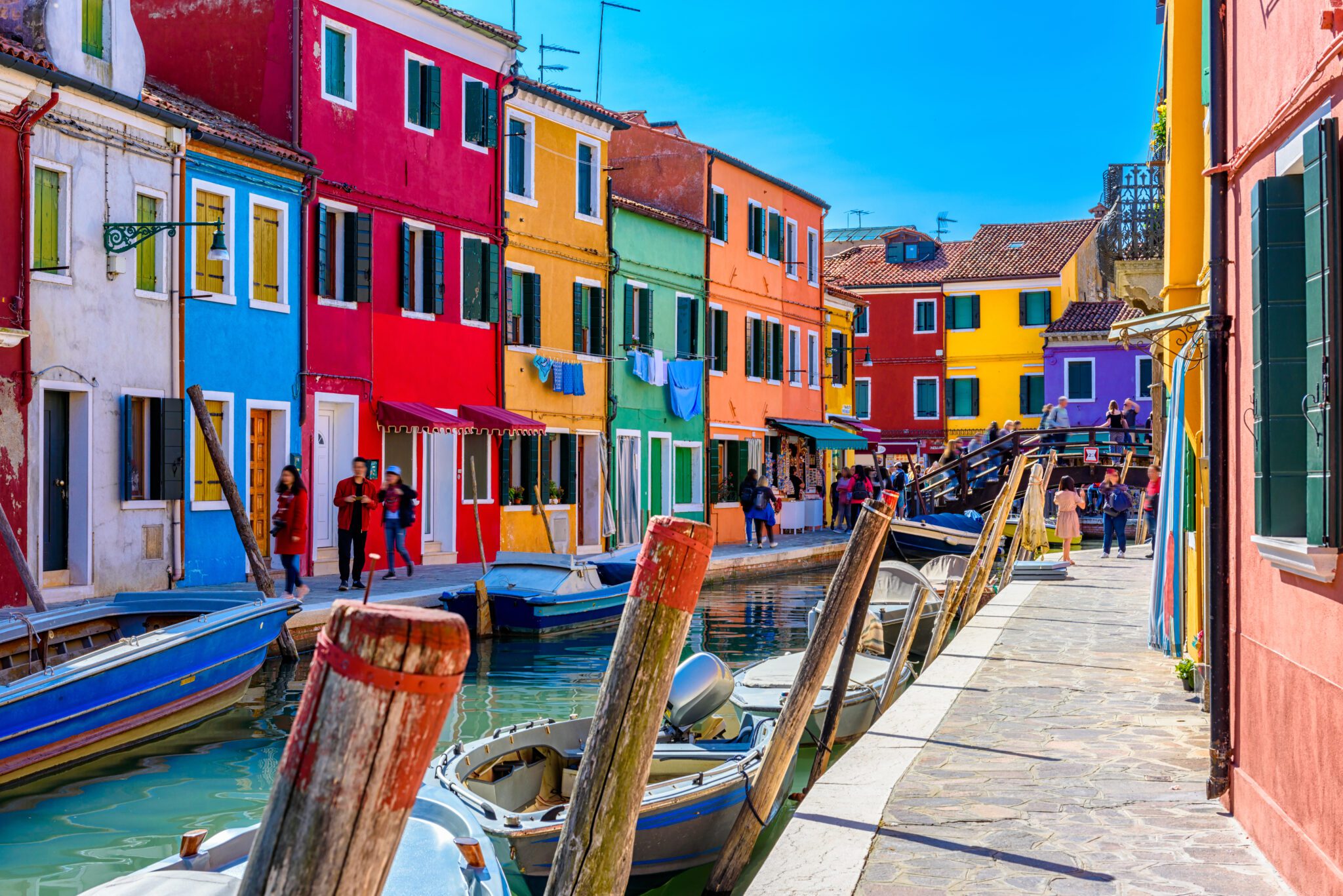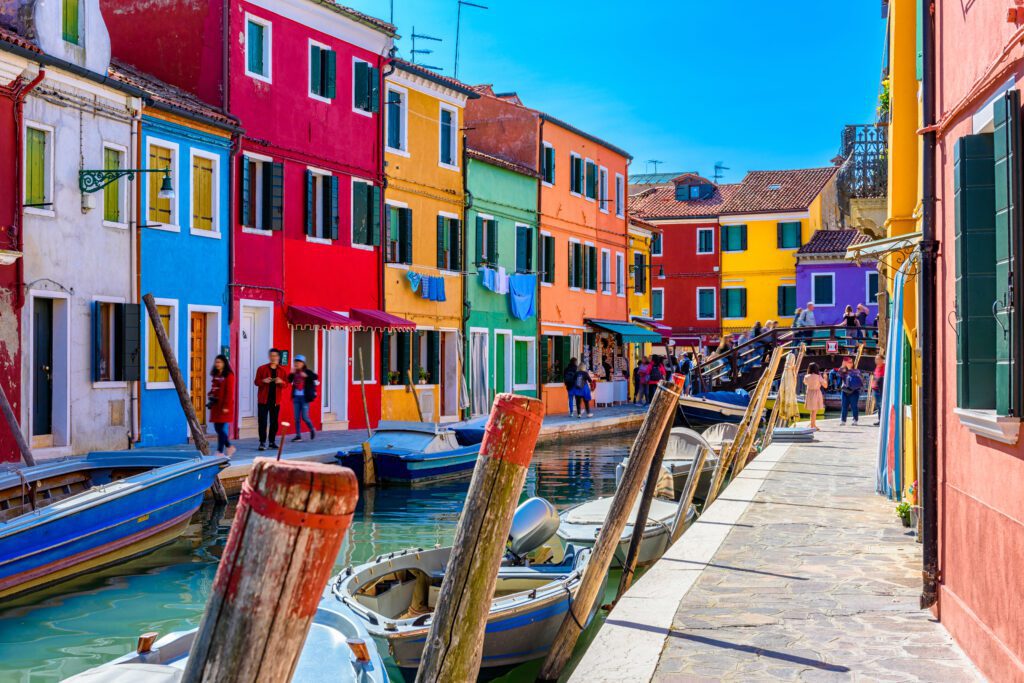 From Murano, continue on the Vaporetto to the island of Burano which is a little further out into the Venetian lagoon.
Burano is one of our favorite spots in the entire Venetian lagoon. The historic fisherman's town is known for its rows of brightly colored houses which line every street and canal. It's also now a popular place to live for Italian artists.
Take a leisurely wander around, snap some photos and stop for a spritz at one of the town's canal-side bars. There's not an awful lot to do in Burano other than admiring the pretty houses, but it's still definitely worth a short visit in our opinion.
Vaporetto Ride at Sunset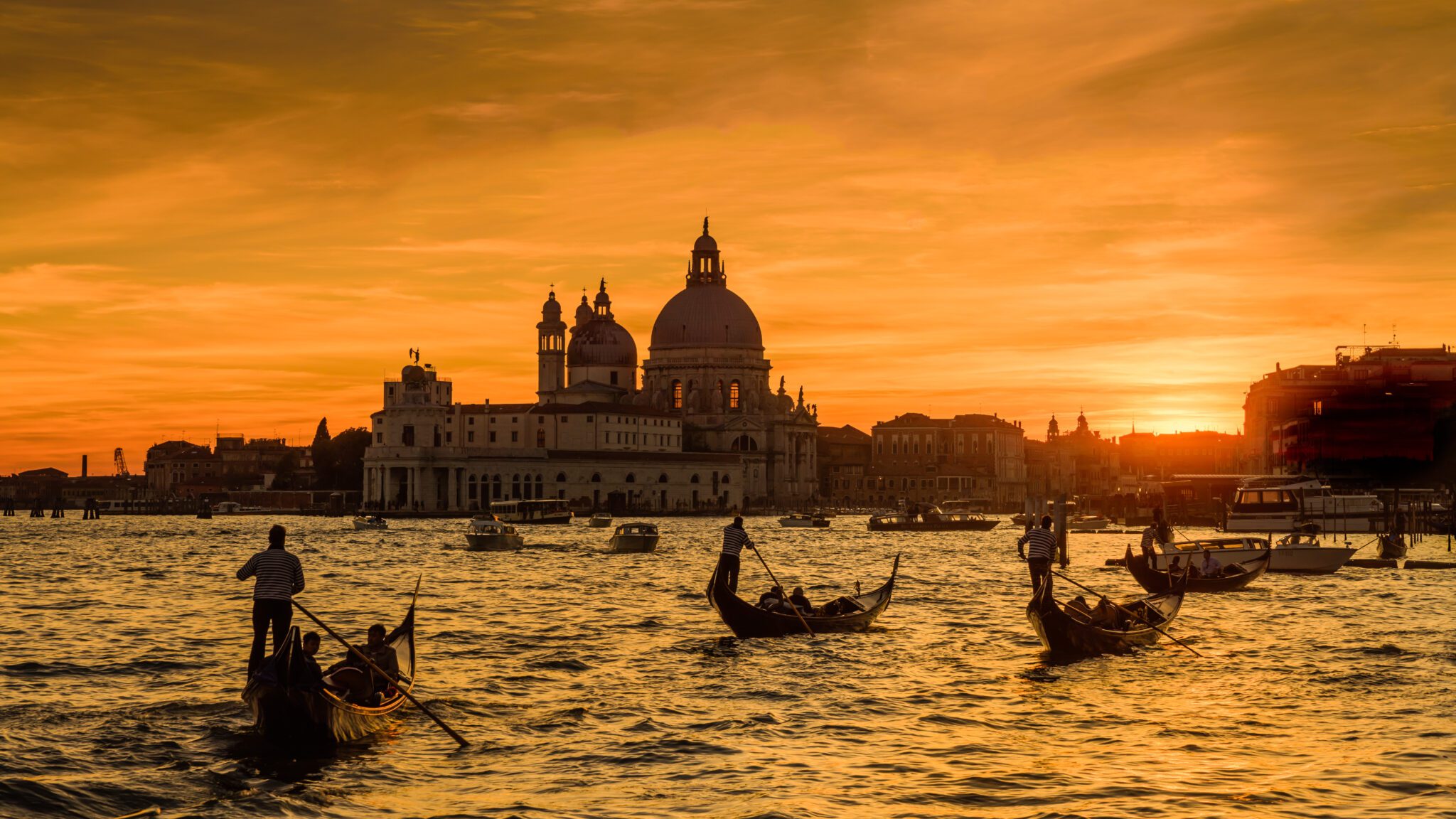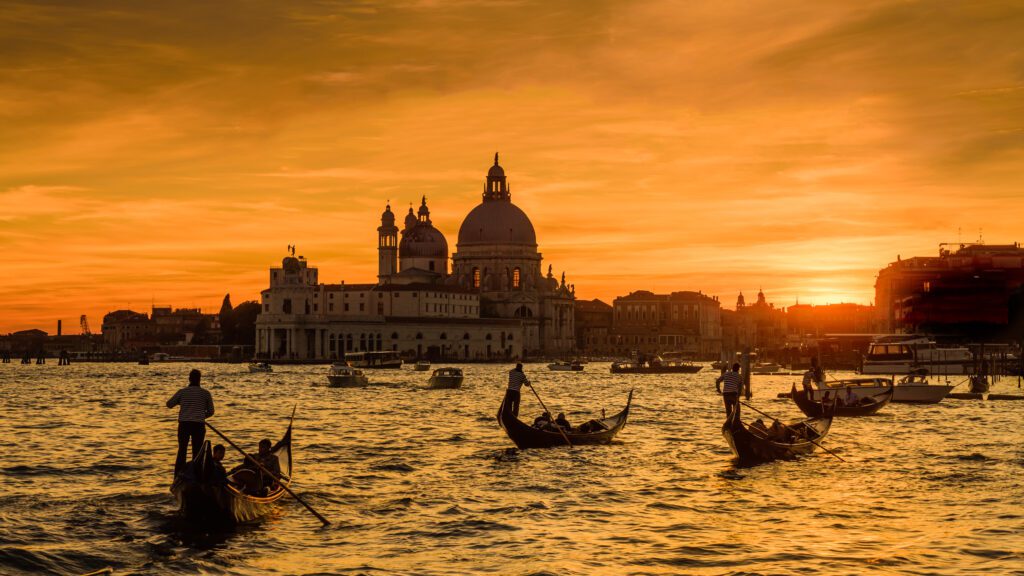 Try to time your afternoon so that your 45 minute Vaporetto ride back from Burano to Venice is at sunset. You'll get fantastic views over the Venetian skyline as you return to the historic center.
Dinner: Vecia Cavana
Enjoy dinner at Vecia Cavana, a great restaurant with gluten free options inside a former 16th-century boathouse. The restaurant serves a delicious fish-based menu of local Venetian dishes.
Evening: Get Lost on an Evening Stroll
If you've still got any energy left after dinner, take this evening to enjoy a slow stroll around either Cannaregio or Castello (depending on where you're staying). This walking tour would be a fun way to cap of the night, exploring the history of the Cannaregio District.
You may have already walked through parts of these districts on your morning walking tour, but simply letting yourself get lost down the little maze of backstreets for a while is a must-do when in Venice.
Walk until you can walk no more, or until you're done drinking in one of the many local wine bars, then head back to your hotel for a well deserved night's sleep.
Day 2: Piazza San Marco and Iconic Venice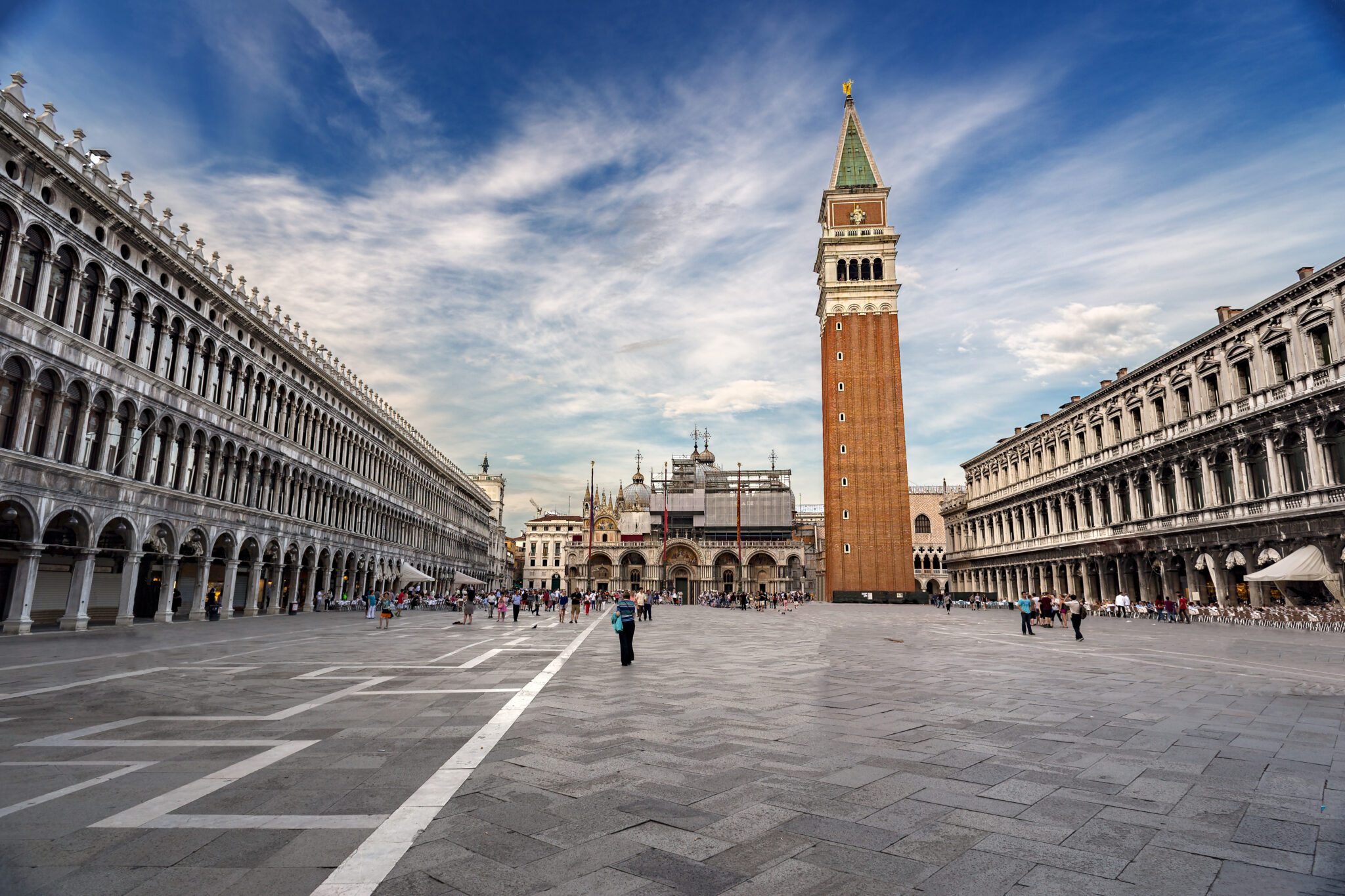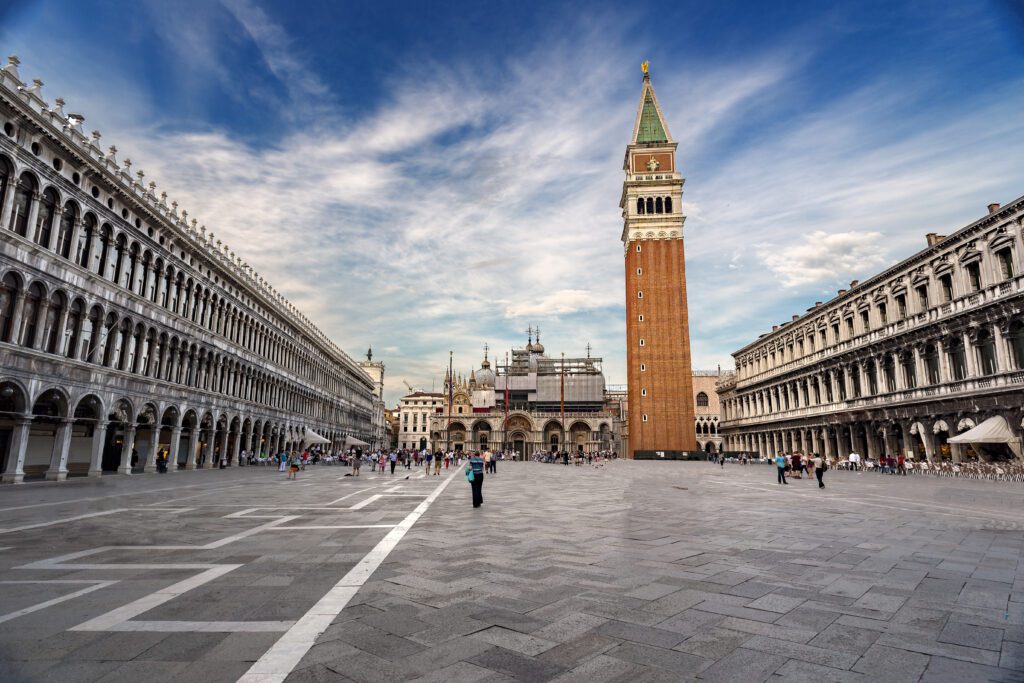 Spend day 2 of your trip ticking off many of the biggest Venice bucket list items, from the landmarks of St Mark's Square to a gondola ride down the Venetian canals.
Morning: Piazza San Marco
Begin your second morning in Venice early so you can beat the crowds to the big tourist attractions of Piazza San Marco (St Mark's Square). We'd recommend arriving in the square by 9:00am to hit the attractions as they first open.
Saint Mark's Basilica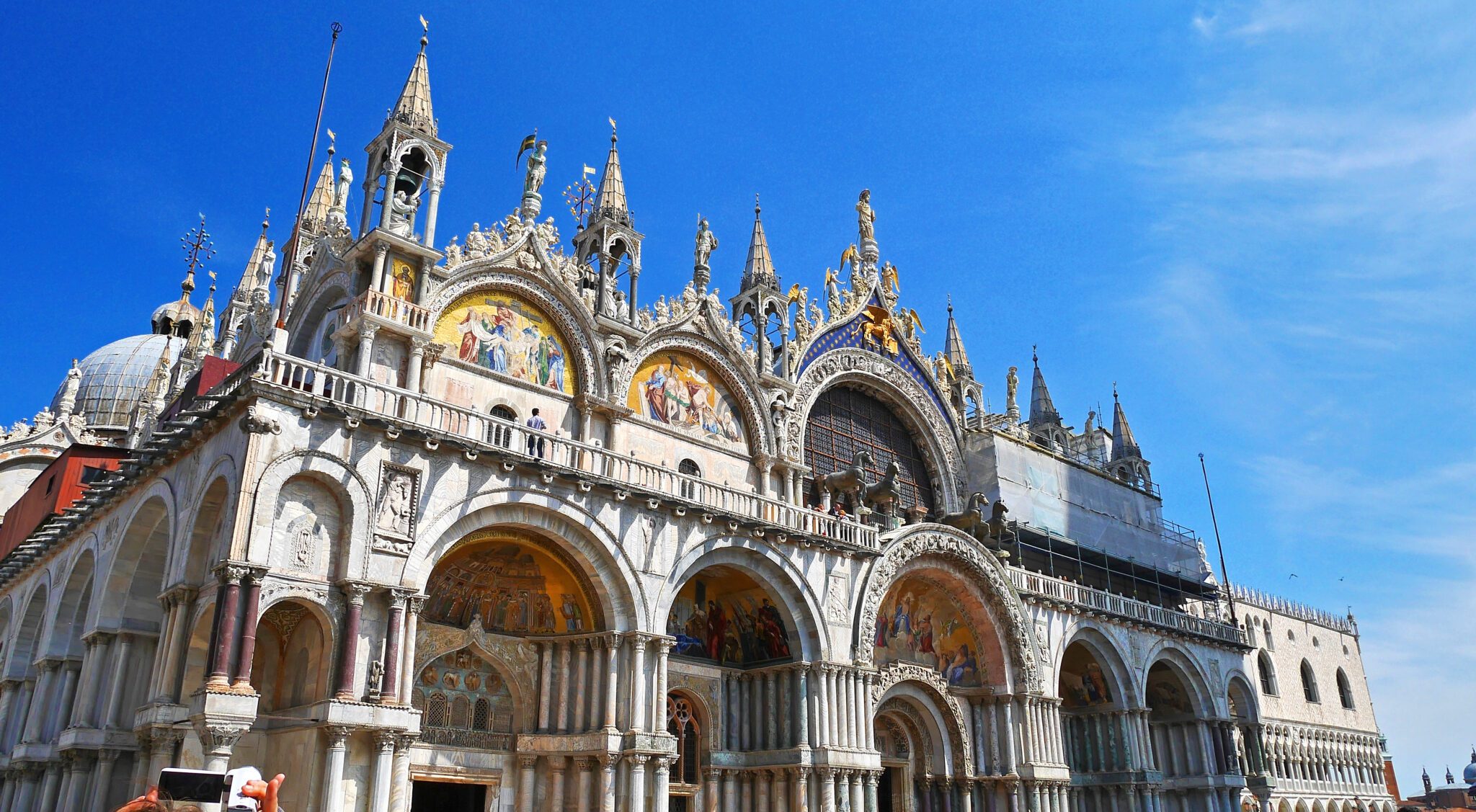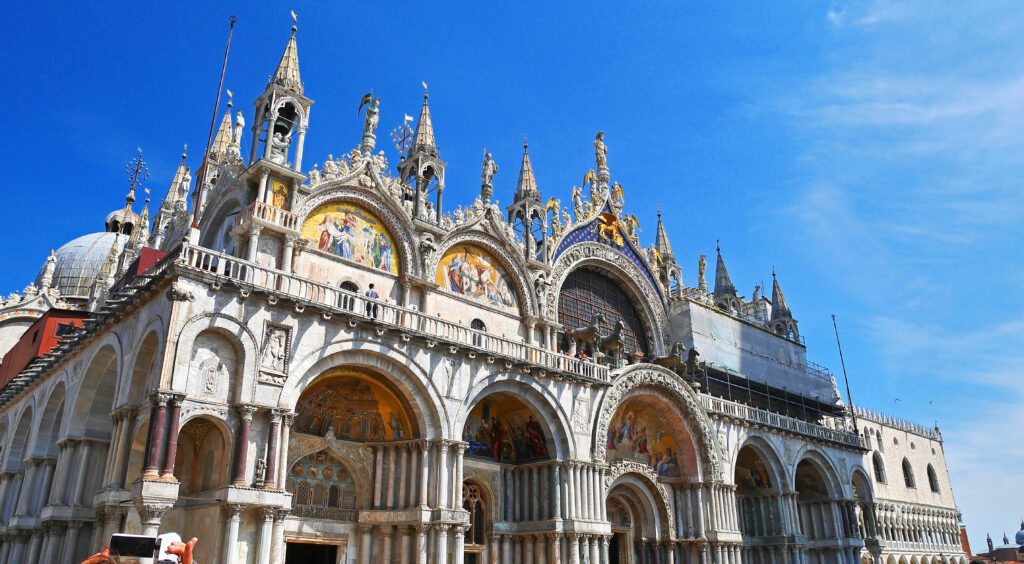 Start the day by visiting one of Venice's most famous attractions; St Mark's Basilica.
St Mark's Basilica is the cathedral church of Venice and the most famous and beautiful church in the entire city. The breathtaking 9th-century building is one of the best-known examples of Italo-Byzantine architecture and often referred to as the jewel in Venice's gem-laden crown.
Inside the basilica, you'll find golden domes with depictions of religious scenes, as well as mosaic floors and marble inlays with detailed animal and floral designs.
St Mark's is completely free to visit. However, being one of the city's most iconic landmarks, the line to enter can get very long. By arriving when it first opens at 9:30am you'll be able to avoid the worst of the lines.
Or, if you're visiting Venice during a particularly busy period, you can pre-book a skip-the-line entry time slot online for €3.
To fully make the most of the basilica, you can also buy additional tickets on the day to access St. Mark's Museum (€5), the Pala d'Oro (Golden Alter, €2) and the Treasury (€3). We'd definitely recommend adding these on – especially the museum which lets you visit the terrace (Loggia dei Cavalli) with fantastic views back over Piazza San Marco.
The cathedral doesn't open until 2:00pm on Sundays due to morning mass. Swap the morning and afternoon activities around if your second day falls on a Sunday.
Doge's Palace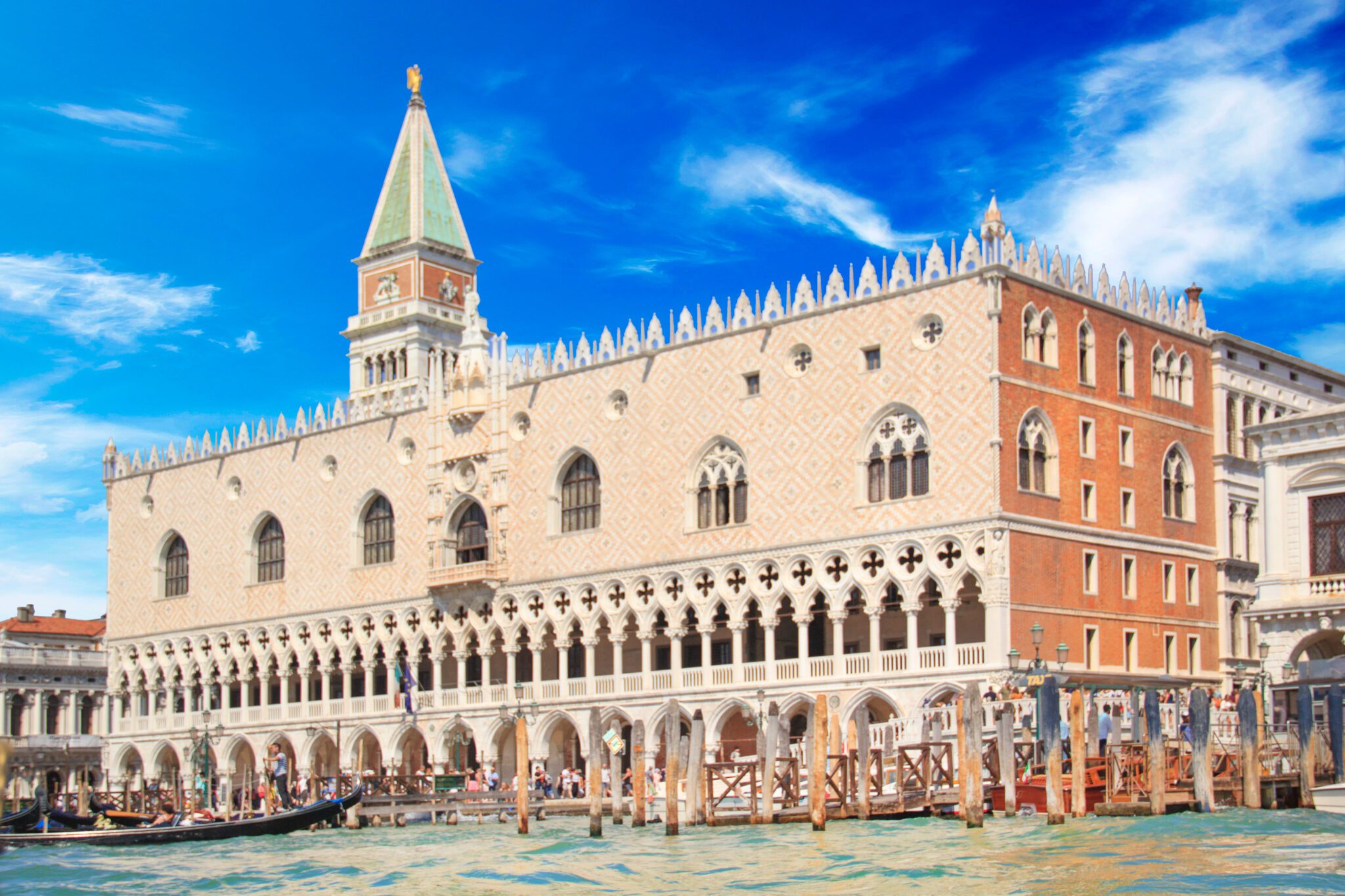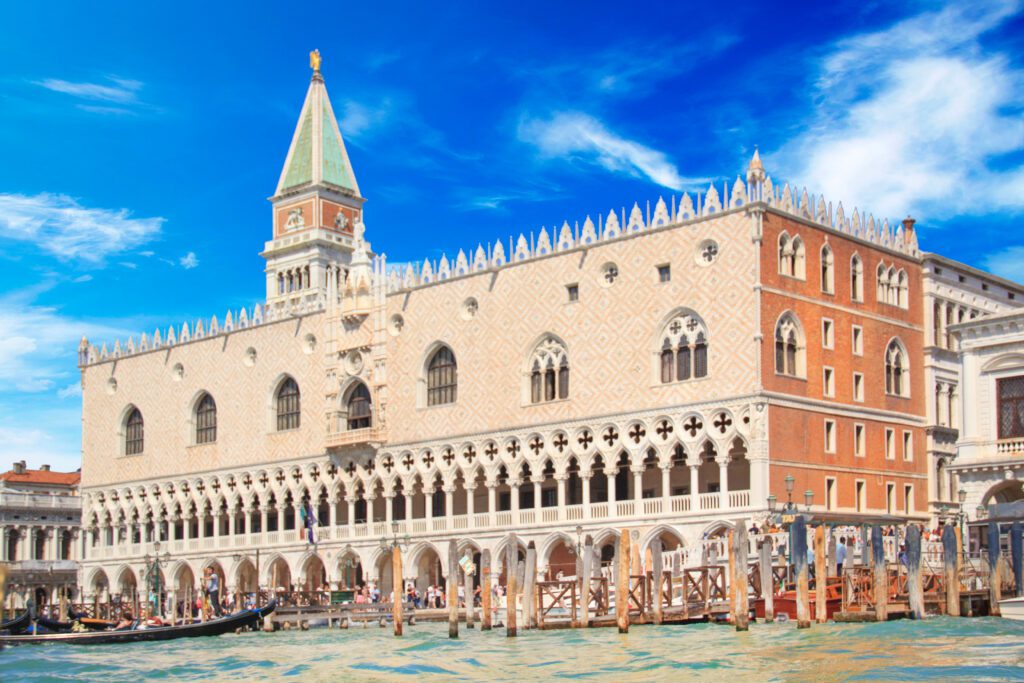 From Saint Mark's Basilica, head next door on the piazza to another of Venice's most famous landmarks; the Doge's Palace (Palazzo Ducale).
The stunning Gothic-Renaissance building was the former residence of the Doges – the rulers of Venice – for more than 1,000 years. It once housed the city's government offices and a large prison.
Step inside the majestic palace and see its amazing features such as the huge central courtyard, the elaborately decorated Golden Staircase (Scala d'Oro), and historical Venetian artwork such as Tintoretto's 'Il Paradiso', one of the largest canvas paintings in the world.
The best way to visit the Doge's Palace is on The Secret Itineraries tour. This guided tour allows you to explore usually inaccessible parts of the palace. You'll get to visit the governmental administrative offices and meeting rooms, secret torture chambers and the prison cell from which notorious womanizer Casanova made his escape.
The tour costs €28, which is only €3 more than a general access ticket to the Doge's Palace so it's certainly worth paying that little bit extra.
Bridge of Sighs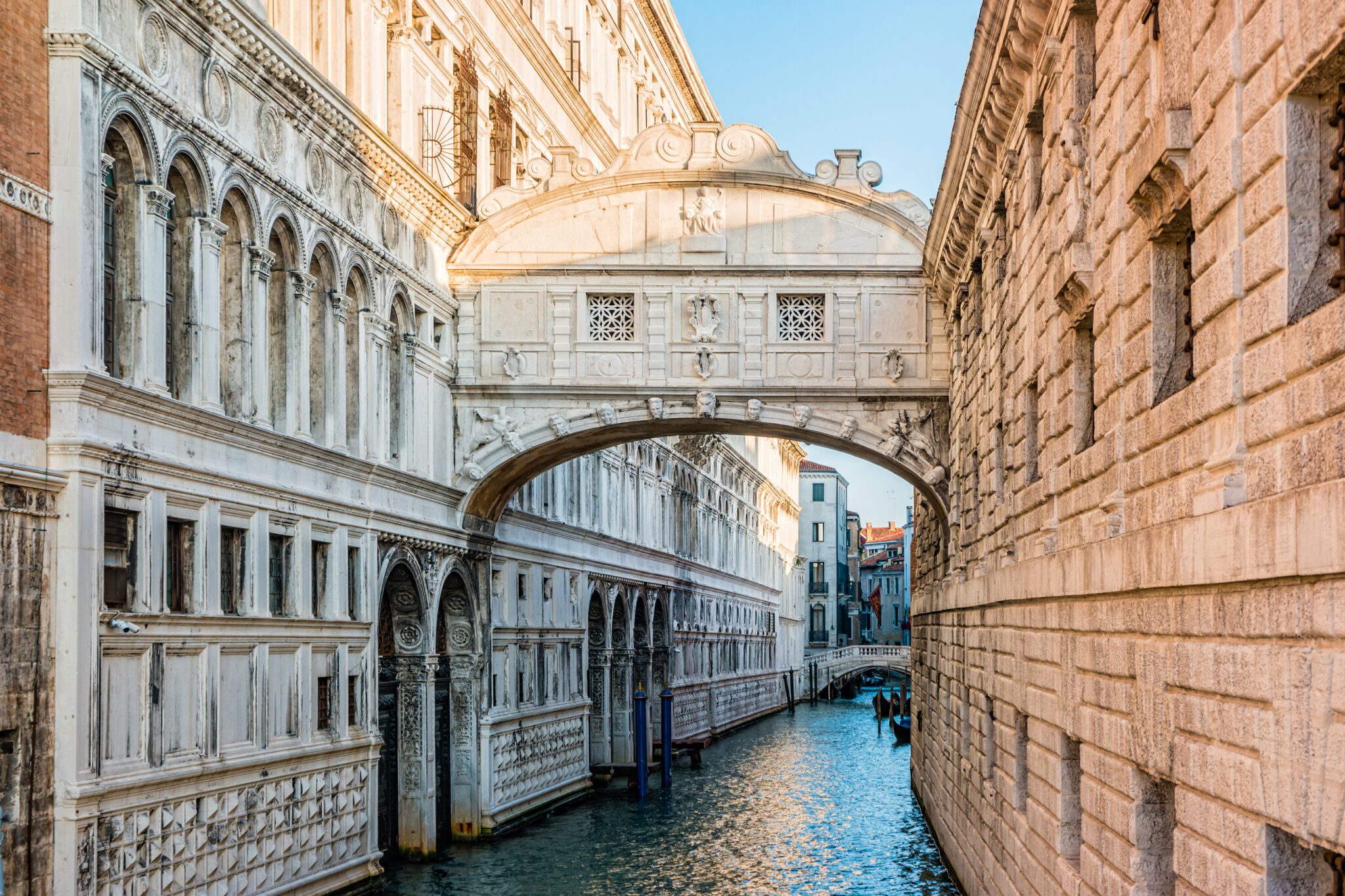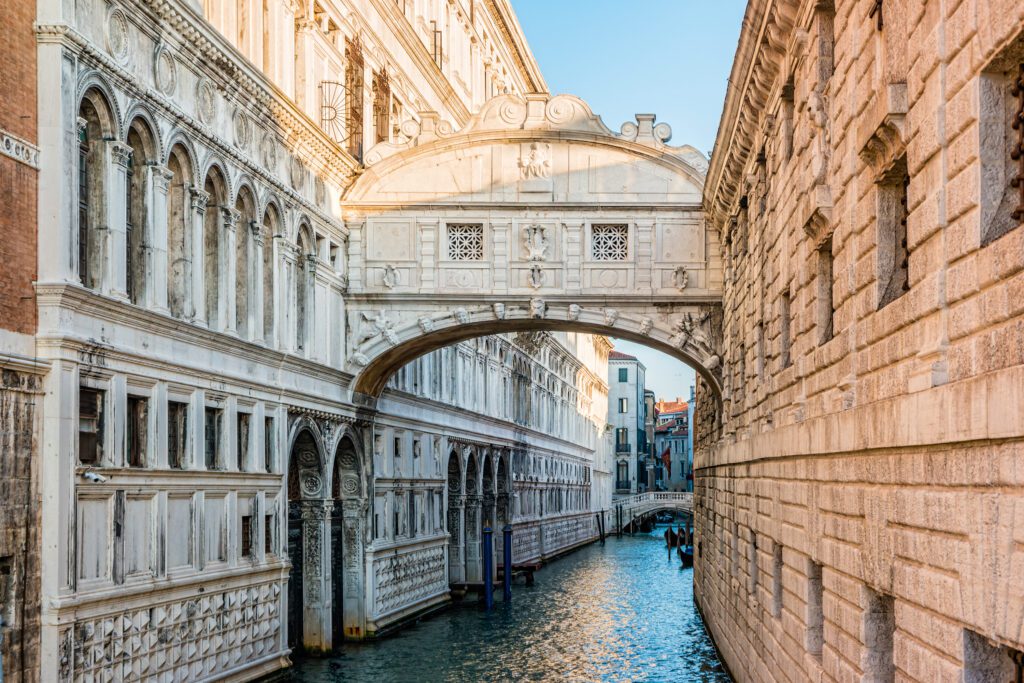 The Bridge of Sighs connects the Doge's Palace to the adjoining prison over a small canal. The bridge supposedly gets its name from the time when prisoners would cross over and sigh as they caught their last glimpse of Venice through the small windows before being locked up for good.
You can cross over the bridge while visiting the Doge's Palace, however, the most famous view is from the outside looking back down the canal towards the bridge. Be sure not to miss this photo op before leaving Piazza San Marco.
Lunch: Al Giardinetto da Severino
For lunch, head away from the expensive tourist traps surrounding Piazza San Marco and walk just a few minutes into neighboring Castello where you'll find Al Giardinetto da Severino.
The historic restaurant dates back to 1949 and has a large vine-covered garden and courtyard for you to enjoy during the warmer months. It offers traditional Venetian dishes and is one of the best restaurants in Venice for Celiacs, with a gluten free menu.
Afternoon: Self Guided Walking Tour of Venice Landmarks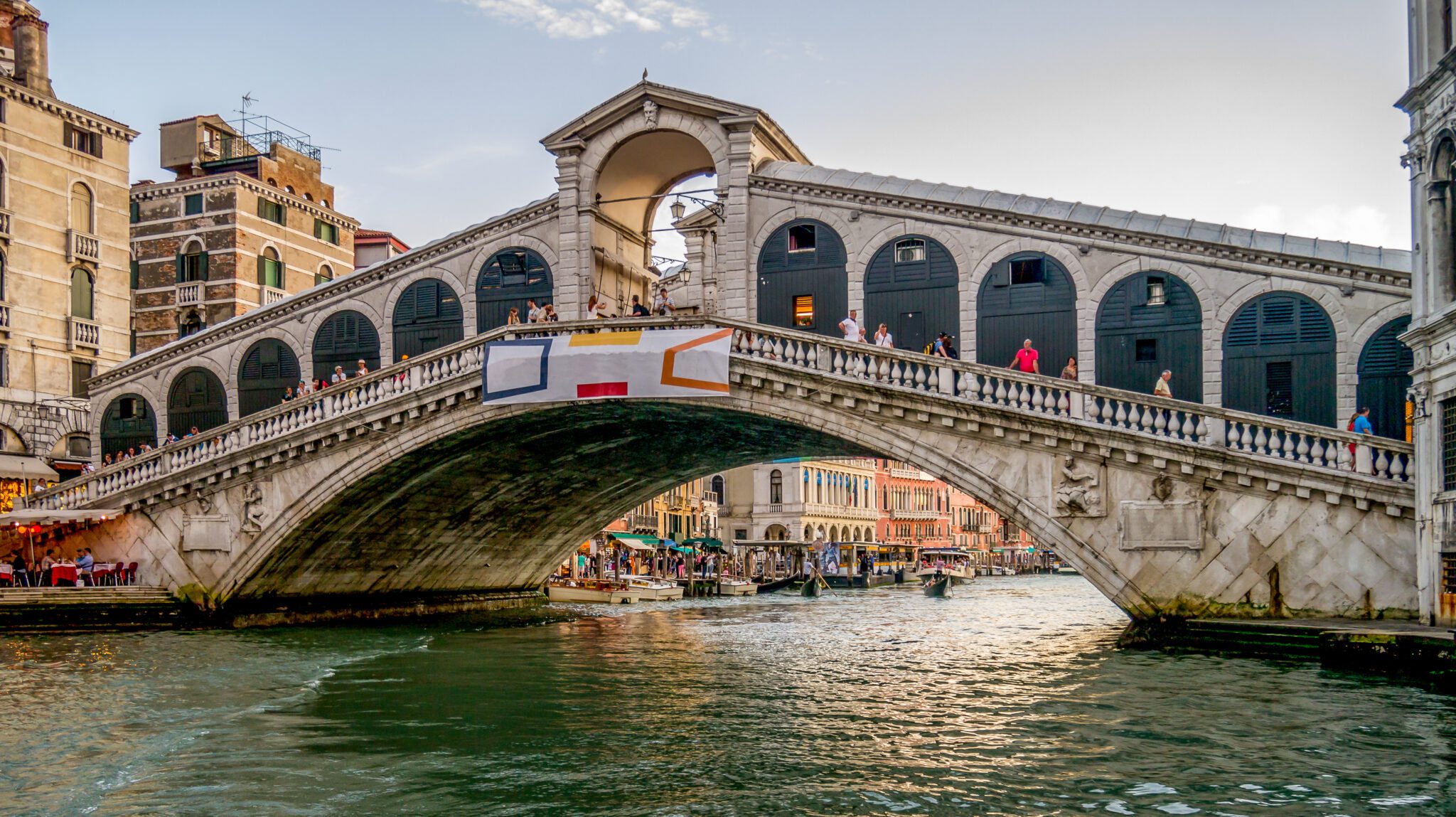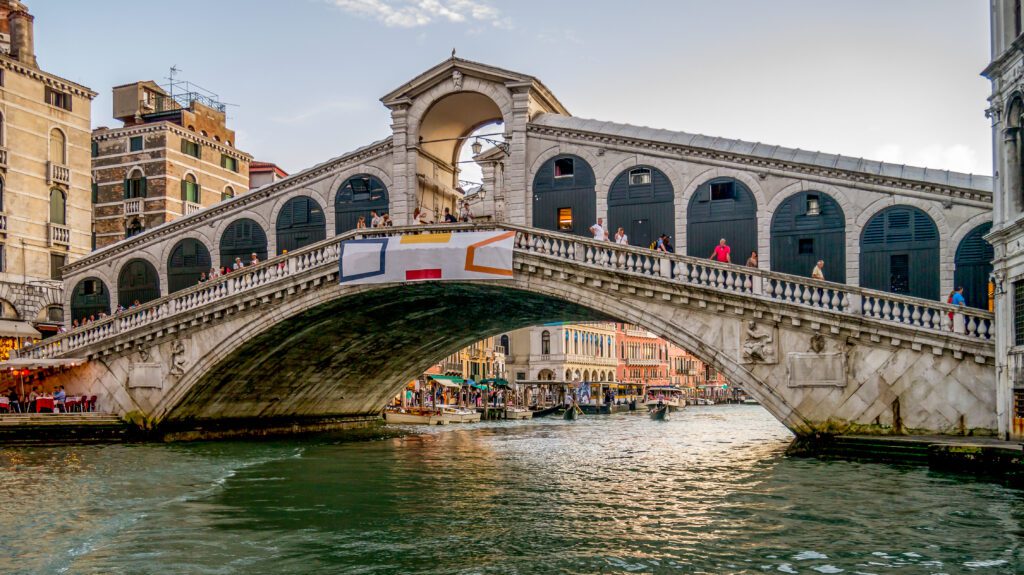 After lunch, it's time to explore more of Venice's famous landmarks and attractions on a self-guided walking tour. Starting in the Castello district in the east, you'll walk back through San Marco and finally on to Dorsoduro in the west.
Follow the landmarks in the order you find them below when leaving the lunch restaurant. There's roughly a 5-10 minute walk between each spot.
You might notice that other than St. Mark's Basilica, we haven't included any other churches in the itinerary. There are countless beautiful churches all over Venice, several of which you'll pass by on this walk. If you're interested in churches, pop your head in and take a quick look when walking past. Many of the smaller churches in Venice are completely free to visit and rarely have any lines to enter.
Ca Del Sol – Just down the road from Al Giardinetto da Severino, you'll find one of Venice's most celebrated traditional mask makers. Head inside Ca Del Sol where you can watch the masks being made right in front of you by local craftsmen, take a look around their huge range of beautiful Venetian masks, and maybe even buy one to take home with you.
Libreria Acqua Alta – Next, pop by Venice's coolest bookshop. Acqua Alta became famous after deciding to protect itself from flooding by keeping its book collection in bathtubs, bins, boats and even a full-sized gondola. Don't miss the classic Instagram photo standing on the pile of old encyclopedias in the courtyard.
Gelatoteca SuSo – You're in Italy so of course there has to be a gelato stop or two! SuSo is one of the best gelaterias in central Venice. It has plenty of exciting flavours and gluten free cones for a mid-afternoon treat.
Ponte de Rialto – Cross over Venice's most famous bridge for spectacular views down the Grand Canal. There are a few small shops on Rialto Bridge where you can pick up some souvenirs to take home.
Palazzo Contarini del Bovolo – From Rialto Bridge, walk down the Grand Canal then on to 15th century Palazzo Contarini del Bovolo and its stunning brick and marble "scala", or spiral staircase. You can see the staircase from the outside, or for €7 you can purchase a ticket to climb the staircase and experience the great views back over Venice from the top.
Teatro La Fenice – Venice's Teatro La Fenice is one of Italy's most famous opera houses. The venue hosts regular opera, ballet and music concerts throughout the year. Even if you don't have time to watch a performance, you can take a short 45 minute tour of the prestigious theater for only €11.
Ponte dell'Accademia – Walk across another of Venice's most famous bridges. Ponte dell'Accademia crosses over the Grand Canal and connects the central San Marco district to the Dorsoduro district in the west.
Gallerie dell'Accademia – End your self-guided walking tour with a visit to the most important art museum in Venice. Housed in a former church and convent, Gallerie dell'Accademia was founded by Napoléon himself. Inside you'll find one of the largest collections of Venetian paintings from the 14th to the 18th century. You can pre-book tickets, however, the museum doesn't get too busy compared to other attractions in Venice so you shouldn't need to.
Peggy Guggenheim Collection – If modern art is more your thing, skip Gallerie dell'Accademia and head to the nearby Peggy Guggenheim Museum instead. This museum houses one of the best modern art collections in the world, with works from Pollack, Picasso, Dali and more.
Afternoon Aperitivo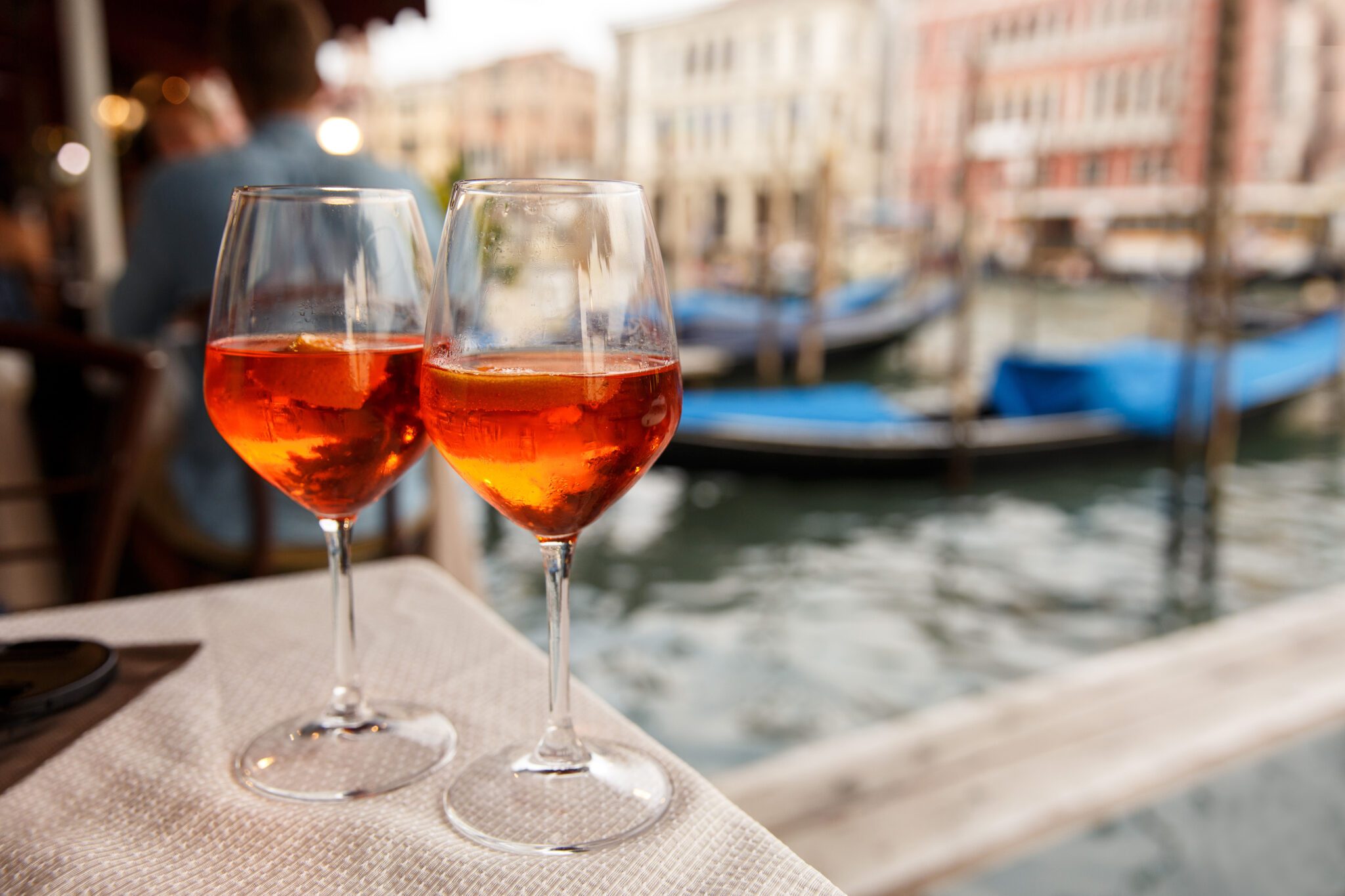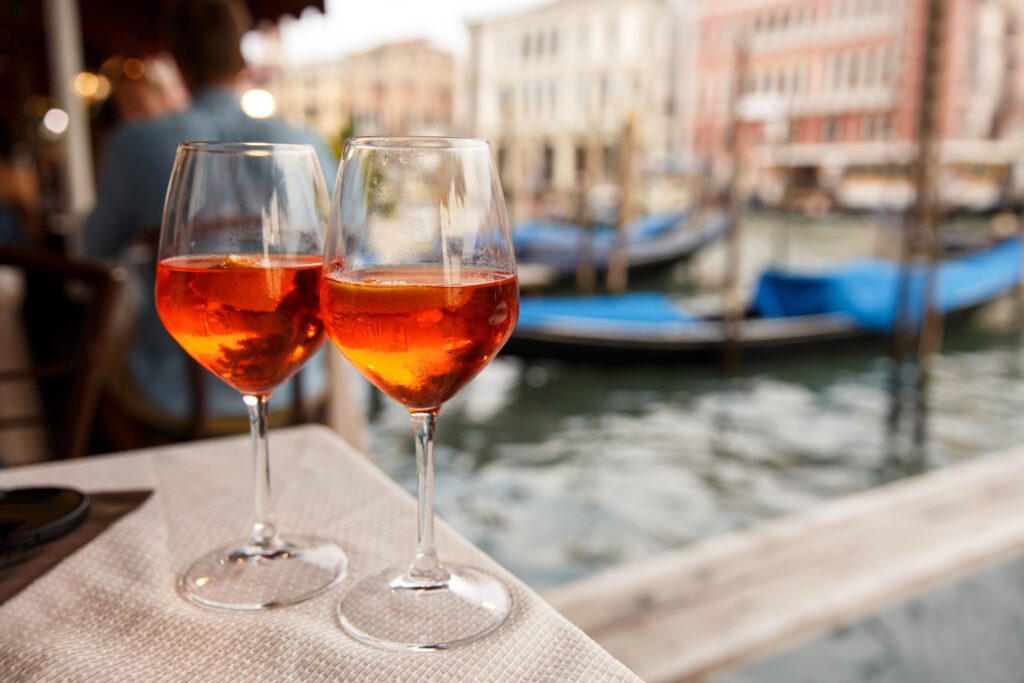 Enjoying a late afternoon aperitivo is a compulsory part of any Italian adventure. So take a much-needed break after your busy self-guided walking tour and stop for a spritz or glass of wine at the lively Corner Pub, which sits in between Gallerie dell'Accademia and the Peggy Guggenheim Collection. If you're feeling hungry, accompany your drink with some Cicchetti – small traditional Venetian finger food which you can pick from the counter inside.
Evening: Gondola Ride on the Grand Canal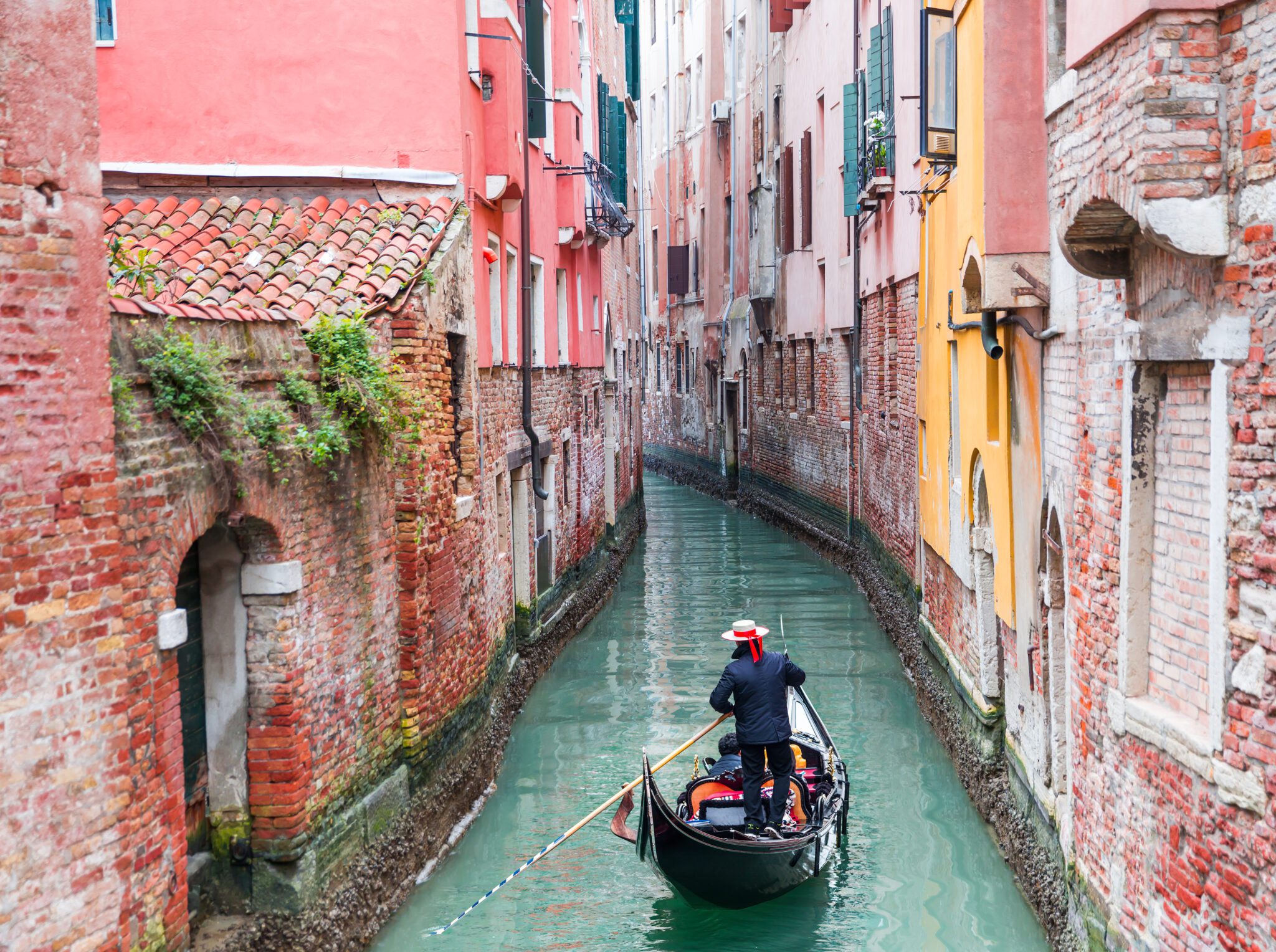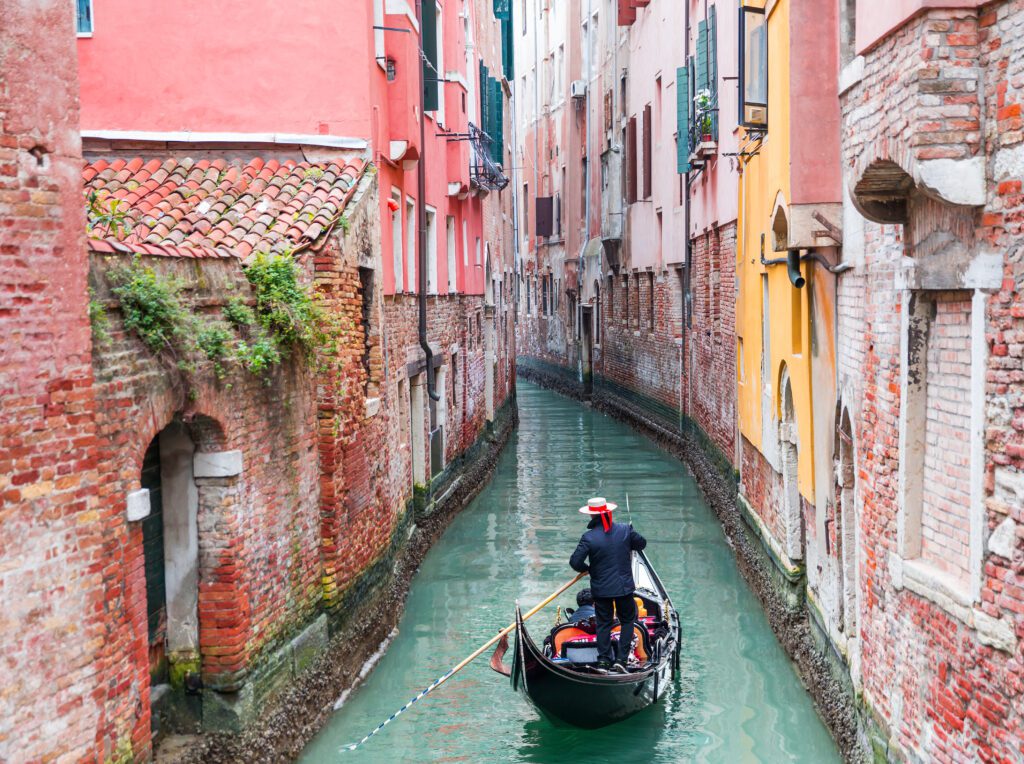 For your final evening in Venice, tick off one final bucket list item with a gondola ride down the Venetian canals.
While undoubtedly a romantic and once-in-a-lifetime experience, gondolas are on the pricey side. Before 7:00pm you'll pay €80 for a 40 minute private gondola ride, while after 7:00pm it'll cost €100 for 30 minutes. Try and arrive a little before 7:00pm so you can get the peaceful evening ambience without the increased prices.
You don't need to pre-book as there are plenty of gondolas all over Venice. You'll have a better chance of finding one without a big line if you stay away from Piazza San Marco and the Grand Canal. Take a wander down some of the smaller canals instead and keep an eye out for a gondola stand – they're everywhere!
It's also important to know that gondola rides aren't quite like what you see in Hollywood movies. Unfortunately, the gondoliers don't sing to you. They might point out some points of interest but that's it.
If you really want the full romantic experience, you can pre-book a gondola ride with a serenade in advance.
What To Do With Extra Time in Venice
If you've got more than 2 days in Venice, there are a few extra activities and day trips you can take to fill up the rest of your trip.
Lido di Venezia – Take a short Vaporetto ride over to the island of Lido where you can relax on its beautiful beaches for the day.
Treviso – A small city just 30 minutes by train from Venice, Treviso is a hidden gem that often falls under the radar due to its famous neighbor. You can wander along the canals, visit the morning fish market and eat the famous Italian dessert Tiramisu in the restaurant where it was first invented.
Prosecco Wine Region – Jump on the train from Venice and in just one hour you'll be amongst the beautiful rolling vineyards of the Prosecco hills where the highest quality Italian Prosecco is produced. Once you're in the region, the best way to explore the many wineries is with a local Prosecco wine driver.
Verona – Continue your romantic trip to Venice with a day in nearby Verona, the fictional setting of Shakespeare's Romeo and Juliet. Verona has plenty of attractions of its own, including a 1st-century Roman amphitheatre, historic castles and many charming piazzas.
Drinking in Venice
If there are two things we can't get enough of in Italy, it's the coffee and wine. So for a mid-morning pick me up or end of the day sip, here's where you'll find the best coffee shops and bars in Venice.
Cafes in Venice
Marchini Time – A popular spot in central Campo San Luca where both locals and tourists pile in for great coffee, beautiful cakes and delicious pastries. The cafe is standing room only or you can take your coffee to go.
Caffè Florian – A luxurious and historic café right on Piazza San Marco with amazing views across the square and musicians serenading you. Just be prepared to pay the hiked up prices for one of the most popular and glamorous spots to stop for a coffee in all of Venice.
Bars in Venice
Skyline Rooftop Bar – Located on the eighth-floor terrace of Hilton Molino Stucky Hotel on the island of Giudecca (there's a shuttle boat to reach it), Skyline is one of the best rooftop bars in Venice. It's got amazing panoramic views, creative cocktails and no reservation needed.
Gritti Terrace & Bar Longhi – Sip a bellini on the large canal-side terrace bar of The Gritti Palace Hotel, with unbeatable views along the Grand Canal. Or head inside to Bar Longhi and drink in all of its Venetian grandeur.
Al Prosecco – A cool neighborhood wine bar in Santa Croce where you can drink local prosecco produced in the surrounding Veneto wine region.
The Best Time to Visit Venice
Being one of the most popular tourist destinations in Europe – if not the world – it should be no surprise that Venice can get very crowded. It's pretty much guaranteed to be busy no matter when you visit.
To avoid the biggest crowds, try skipping peak times such as public holidays and the summer between July and August. If you can plan your trip to Venice for mid-week rather than over the weekend it'll be a little quieter too.
Summer is a lovely time to visit Venice for blue skies and hot temperatures, however, it's also by far the busiest period to visit. Many of the locals even choose to leave Venice in late summer to avoid the hordes of tourists that descend upon the city.
Venice in fall is still warm but the crowds are starting to die down a little. It's an ideal time for wandering around the city, riding along the canals and eating outside. Just bring a couple of layers in case it does drizzle.
During winter, you can expect freezing temperatures in Venice. Heavy rain often causes the canals to flood and cover the streets in ankle-deep water. The only reason to visit Venice in winter is for the famous Venice Carnivale in February each year. The city can get extremely busy during Carnivale but the crowds are worth it for one of Europe's most famous celebrations.
Spring is another great time to visit Venice. Visiting between Carnivale and peak summer means you'll avoid the big crowds but still get warm, sunny weather.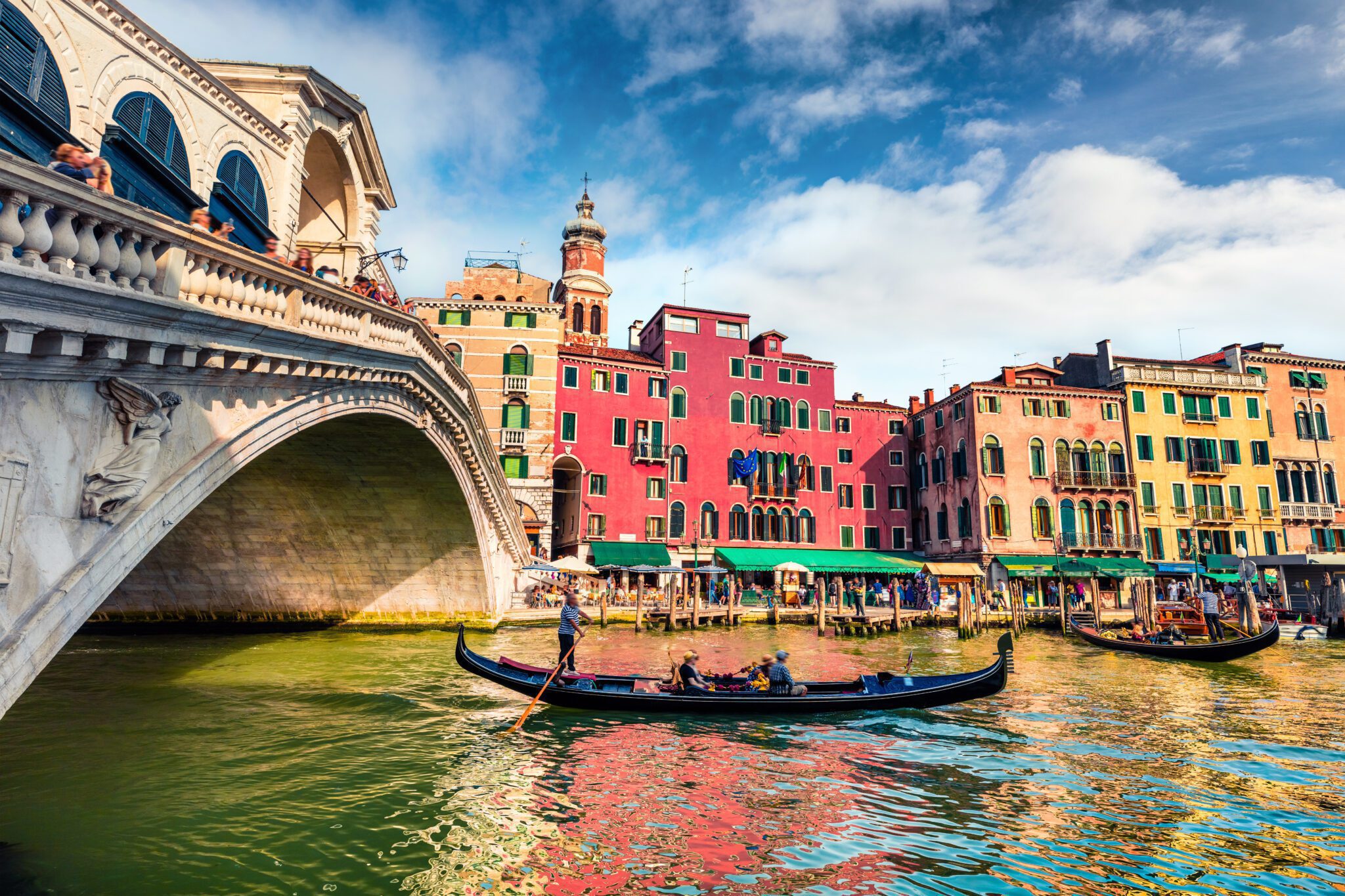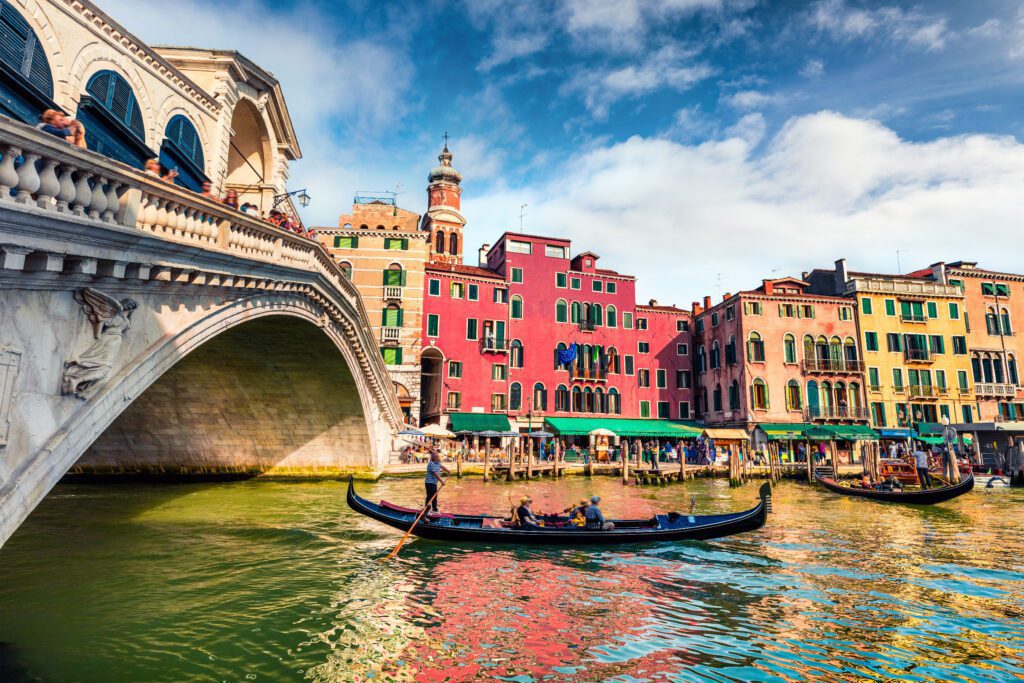 Getting to Venice
Venice is extremely well-connected and easy to reach by plane or train from all over the world. Although, it's important to remember that Venice itself is a car-less destination. You can only get to the entrance of Venice island by most methods of transport before needing to swap over to boat or foot.
Flying to Venice
Venice Marco Polo Airport (VCE) is the primary international airport of Venice. It's located on the mainland just a few kilometers north of the floating city.
There are multiple options for getting from Venice airport to the historic center depending on your budget:
Alilaguna runs three Vaporetto (water bus) lines between the airport and the city. Tickets cost €15 one way or €27 return. This is the simplest but longest journey, taking up to 70 minutes.


A private water taxi can take you from the airport directly to your hotel in 30-40 minutes. This is the easiest way to travel but also the most expensive option as it will cost around €200 per group.


A regular taxi will take you from the airport to Piazzale Roma at the entrance of the city for €40. You'll then need to walk or get a Vaporetto to your hotel.


ATVO buses also run from the airport to Piazzale Roma for €8 per person and take around 20 minutes.
A lesser-known – and often cheaper – alternative for flying into Venice is Treviso Airport (TSF) around 40km north of Venice. Treviso Airport is used by low-cost European carriers Ryanair and Wizz Air.
The options for getting from Treviso Airport to Venice are:
ATVO airport bus runs from Treviso Airport to Piazzale Roma at the entrance of Venice island for €12. The journey can take between 40 minutes and an hour depending on traffic.


You can also get a private taxi from Treviso Airport to Piazzale Roma for around €90. You'll then need to get a Vaporetto onwards to your hotel, so this is by far the most expensive option.
Arriving by Train
There's only one train station on Venice island; Venezia Santa Lucia. The station is right on the Grand Canal with a Vaporetto station directly outside so you can continue your journey onwards by water bus.
The other train station in Venice is Venezia Mestre, however, this is located on the mainland rather than in the historic center. If your train arrives at Venezia Mestre, you can easily swap onto a train to Venezia Santa Lucia. Trains between the two stations run every five minutes and take just 10 minutes. Tickets cost €1.35.
Arriving by Car
With Venice being a notoriously car-free city, many people don't realize that you can still arrive in Venice by car. It may be a little more expensive, but it's a convenient option if you're planning to incorporate this 2 day Venice itinerary into a longer Italian road trip.
You can drive across to Venice island where there are two main parking options:
Tronchetto is an artificial island connected to Venice which was built just for parking. 48 hours will cost you €42 and you'll have to jump on a Vaporetto (water bus) over to the city center. Be sure to book a space in advance.


Piazzale Roma is a large square at the entrance to Venice and is the last stop for cars, taxis, and buses. There are several small parking garages in Piazzale Roma, but they're the far more expensive option being within walking distance from the historic center.