One Day in Florence: The Best of Florence in 24 Hours
From the iconic Duomo di Firenze and the beautiful Renaissance buildings of Piazza del Duomo, to the countless masterpieces of the Accademia and Uffizi Galleries, Florence packs far more than its fair share of world-class landmarks and attractions into its compact historic center.
Despite its small size – as far as Italian cities go at least – you could easily spend several days exploring this magical little city.
But what if you only have one day in Florence?
While one day isn't enough time to make the most of everything historic Florence has to offer, it is enough to get a good taste for the city.
If you're prepared for a busy day, it's possible to visit several of Florence's most famous sites in just 24 hours. And if you enjoy your visit (which we're sure that you will), you can always return again one day to explore even more.
In this guide, we're going to run you through how to see the very best of Florence in one day and make the most of your limited time in the Tuscan capital. We'll also walk you through some logistics, such as how to get around and when to visit.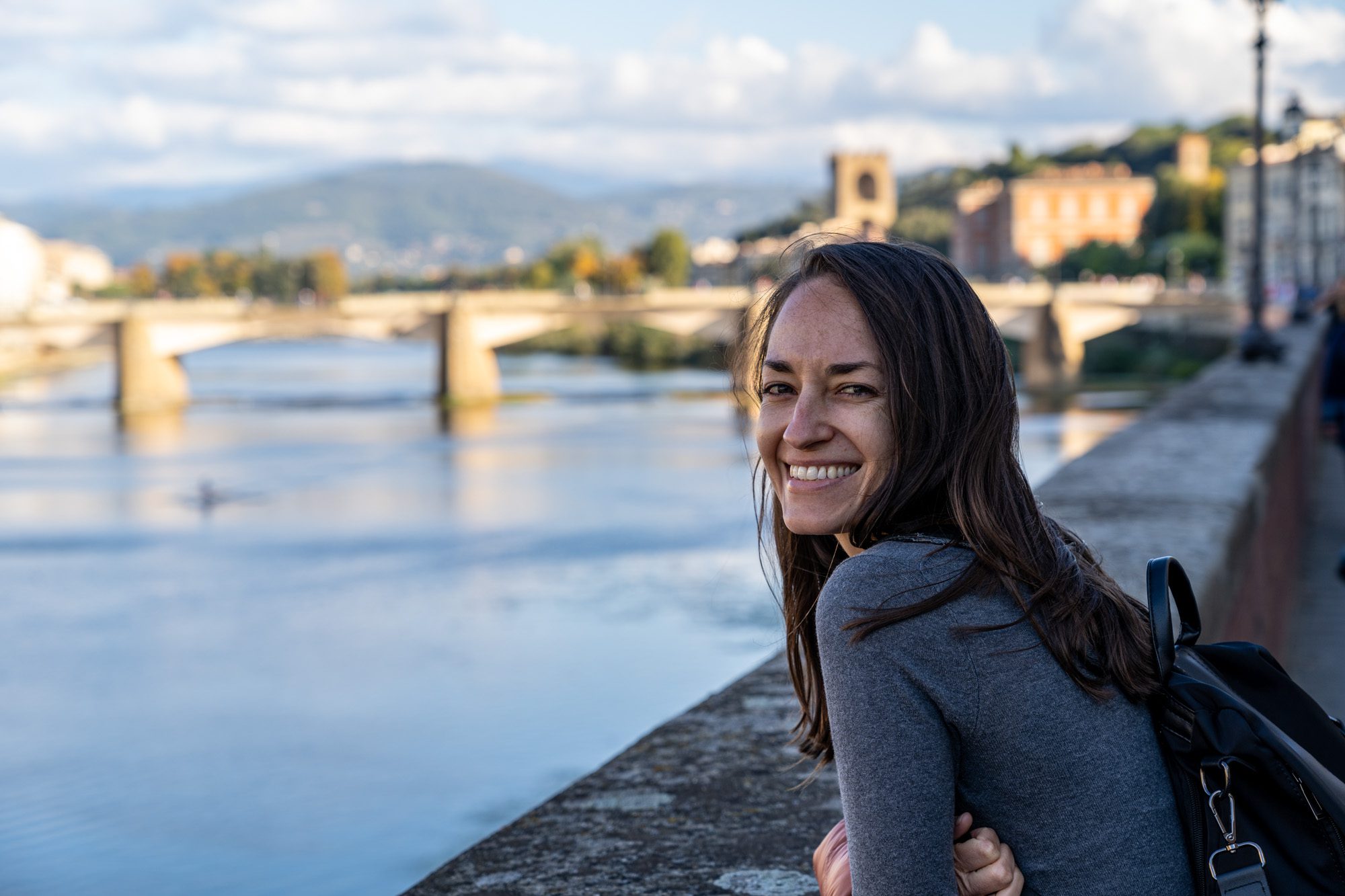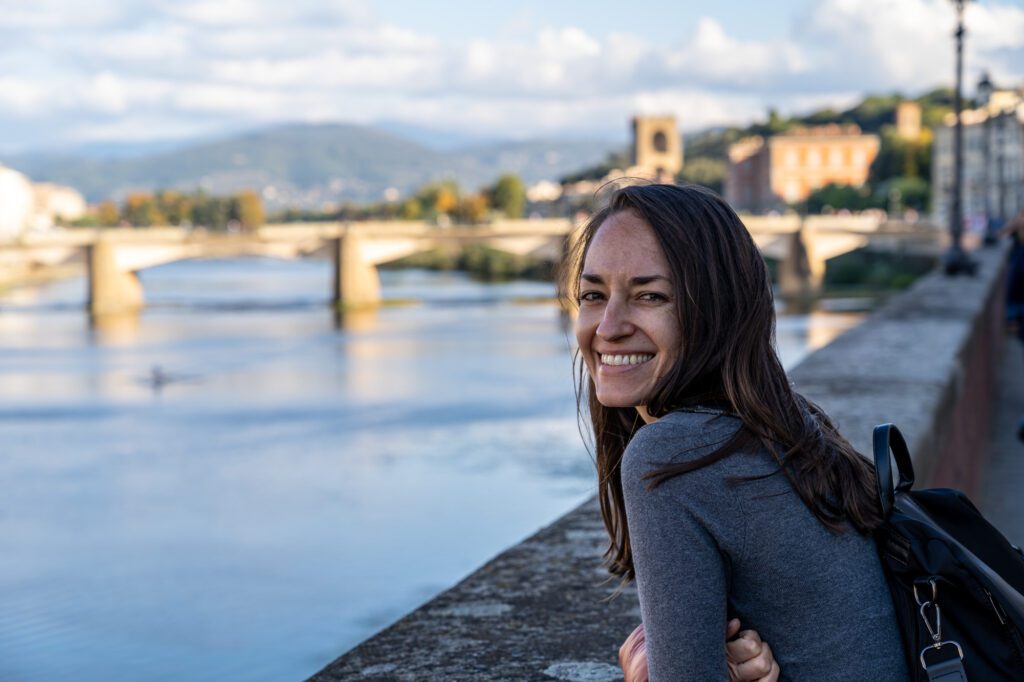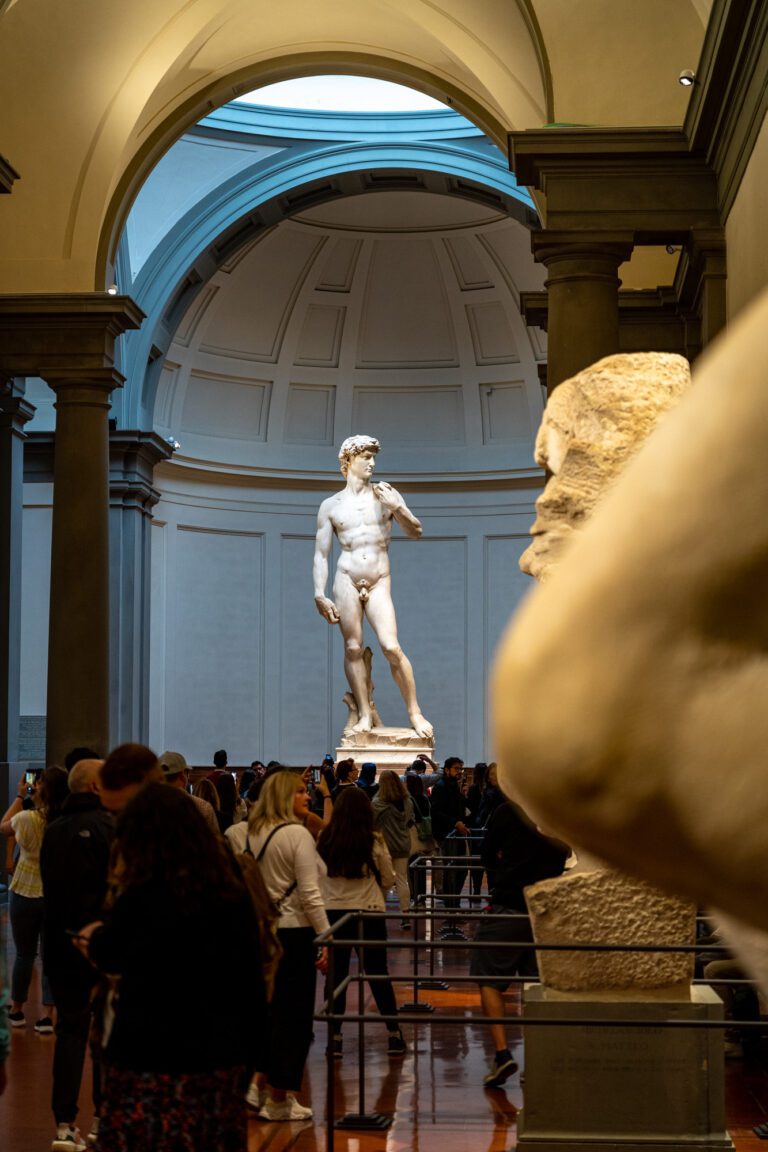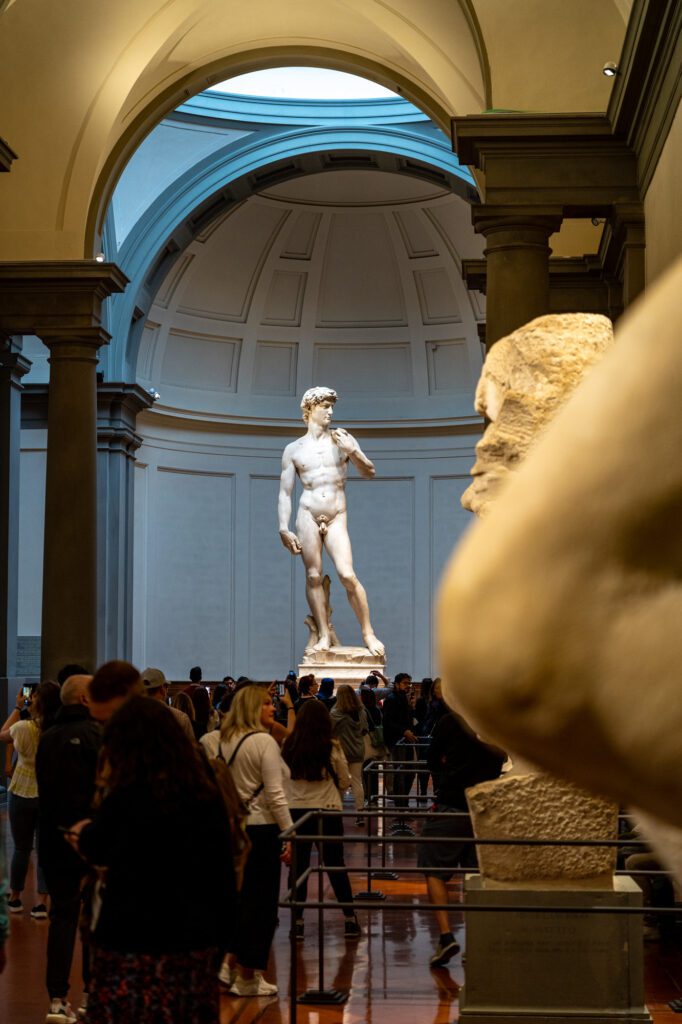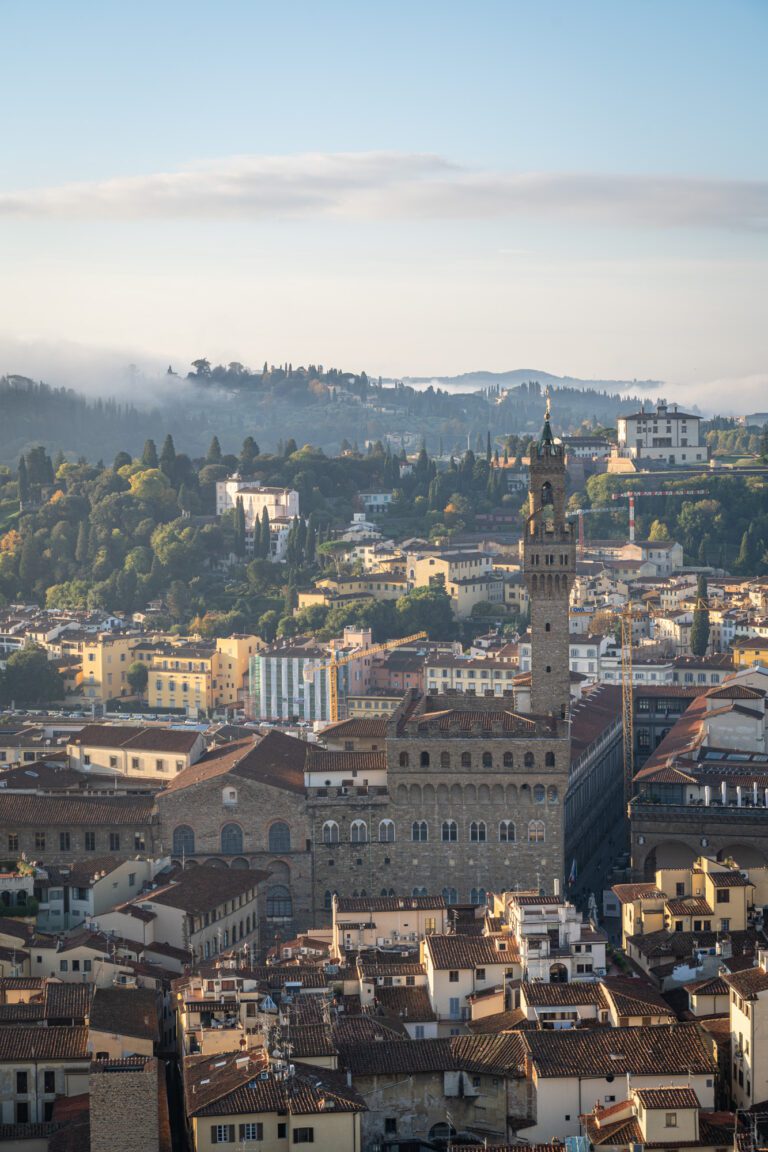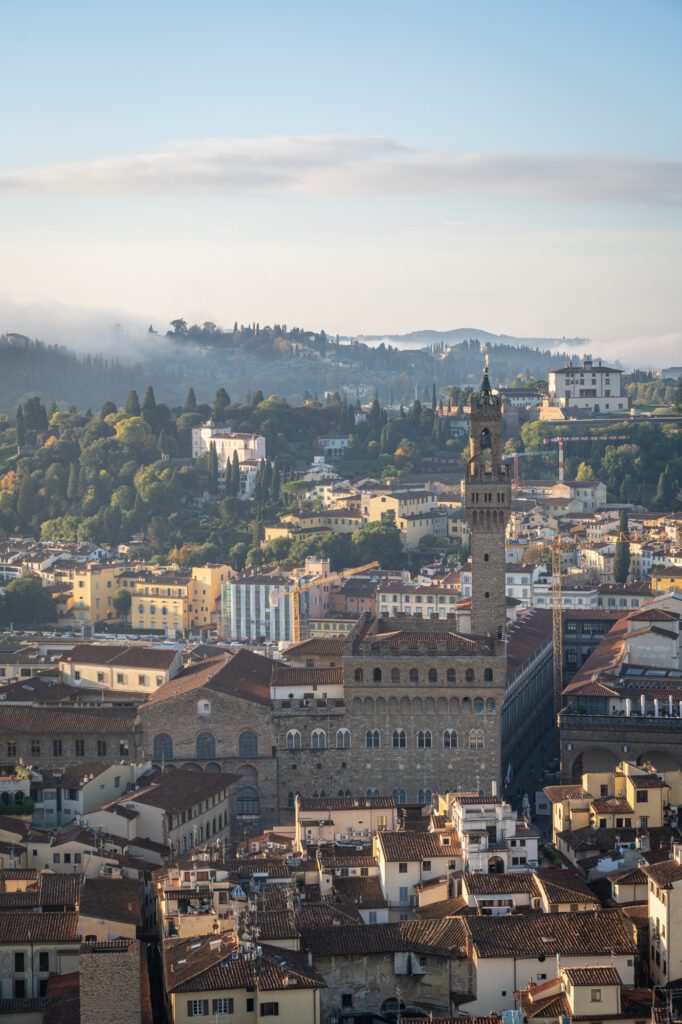 Disclaimer: Some of the links in this post, like hotel links, are affiliate links, meaning at no additional cost to you, we make a little bit of money if you click through and book. That being said, we would never recommend something to you that we don't stand behind 100%.
Is One Day in Florence Enough?
No, not really. There are so many amazing things to do in Florence that you could easily spend several days exploring.
With its world-famous art galleries and captivating Renaissance architecture, Florence is a destination that's best to savor and enjoy at a slow, leisurely pace. Not to rush around ticking off landmarks and attractions.
Florence is also a great base for exploring the rest of the Tuscany region, with plenty of exciting day trips from Florence within just a couple of hours of the city.
We think 3 days is a better amount of time to spend in Florence. It's enough to make the most of the main sites and even take a day trip within wider Tuscany. If you haven't already, check out our 3 day Florence itinerary.
But if you do only have a day in Florence, it's definitely a city that's still worth seeing.
With just a day in Florence, it is going to be an action-packed one. Especially if you want to see both David at the Accademia Gallery AND the Uffizi Gallery – which is what we're assuming in the one day Florence itinerary below.
With one day, we'd recommend that you focus on these two museums, as well as the Duomo and Brunelleschi's Dome, and Piazza Michaelangelo.
Yes, it's a lot. But it's doable (source: I just did it with my mom in late 2022, and we followed most of this exact one day Florence itinerary).
One Day in Florence: A Complete Guide for First-Timers
One day is just about enough time to visit most of Florence's most iconic landmarks and attractions, including the mighty Duomo and the city's two most famous galleries. In the below itinerary, we'll run you through our version of how to see the best of Florence in 24 hours.
For this itinerary, we're going to assume you're arriving in Florence the night before and leaving late in the evening or the following morning, so you have one full day to explore.
Start Your Day with Some of Florence's Best Coffee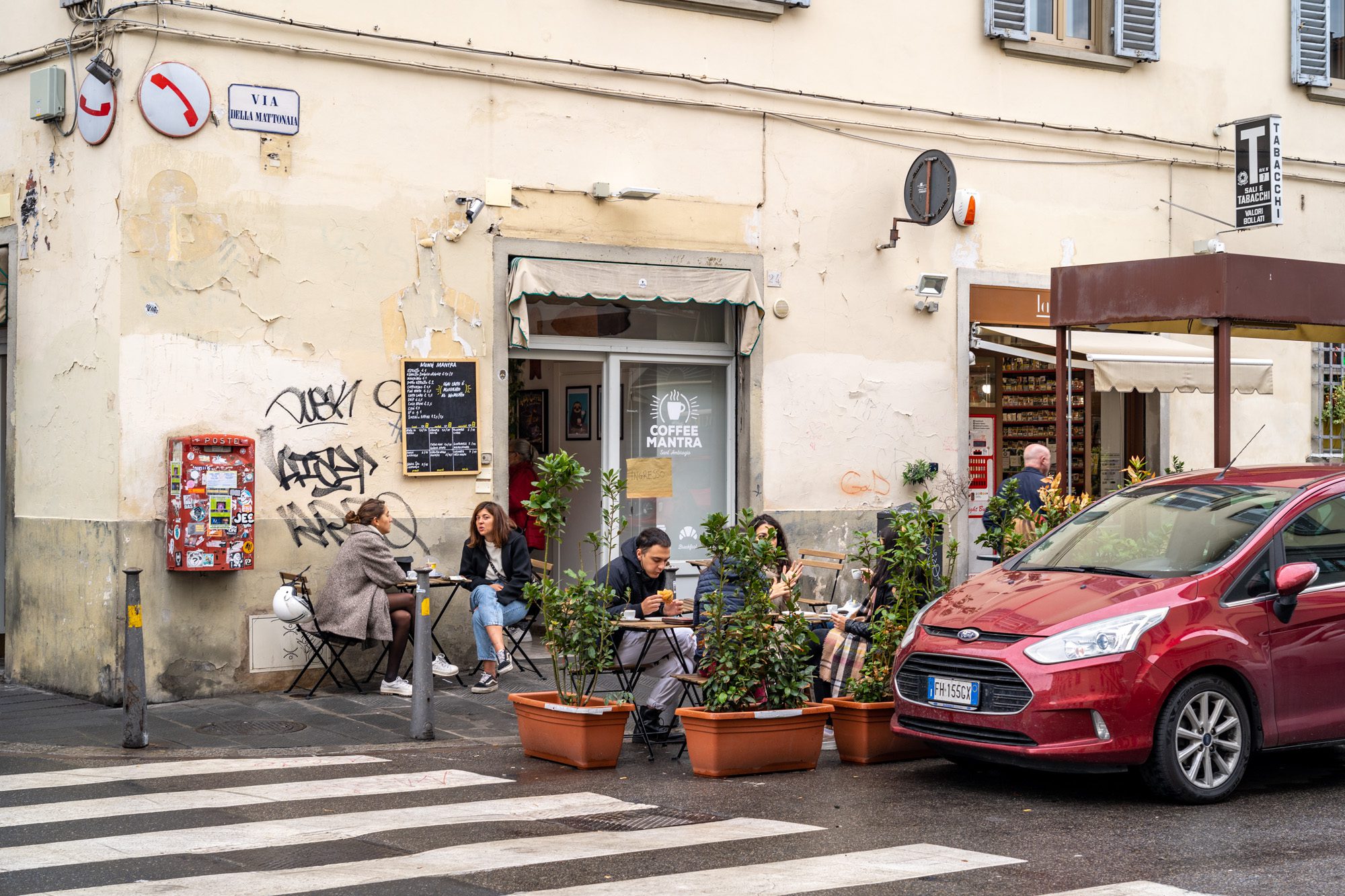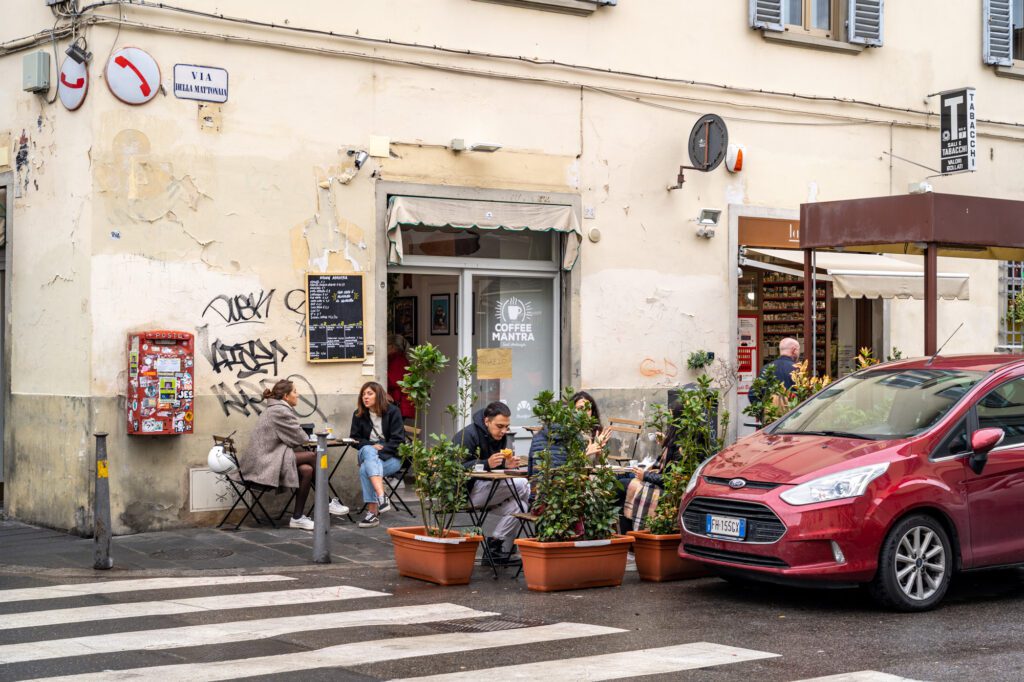 To see the best of Florence in one day, it's going to be a busy one. And we firmly believe that it's important to get your caffeine fix in before getting started.
Like the rest of Italy, coffee is a way of life in Florence. Starting your day in a local cafe, sipping on an espresso and enjoying a delicious, freshly-baked pastry is the only way to start a day in Florence.
The city also has a thriving specialty coffee scene, which you can read more about in our guide to the best specialty coffee shops in Florence.
Coffee Mantra is our favorite coffee shop in the city. The cozy little spot has multiple different coffee options to choose from, excellent pastries, and super friendly staff. And for real coffee connoisseurs, they rotate through different single origin coffees every day, so there's always something new and exciting to try.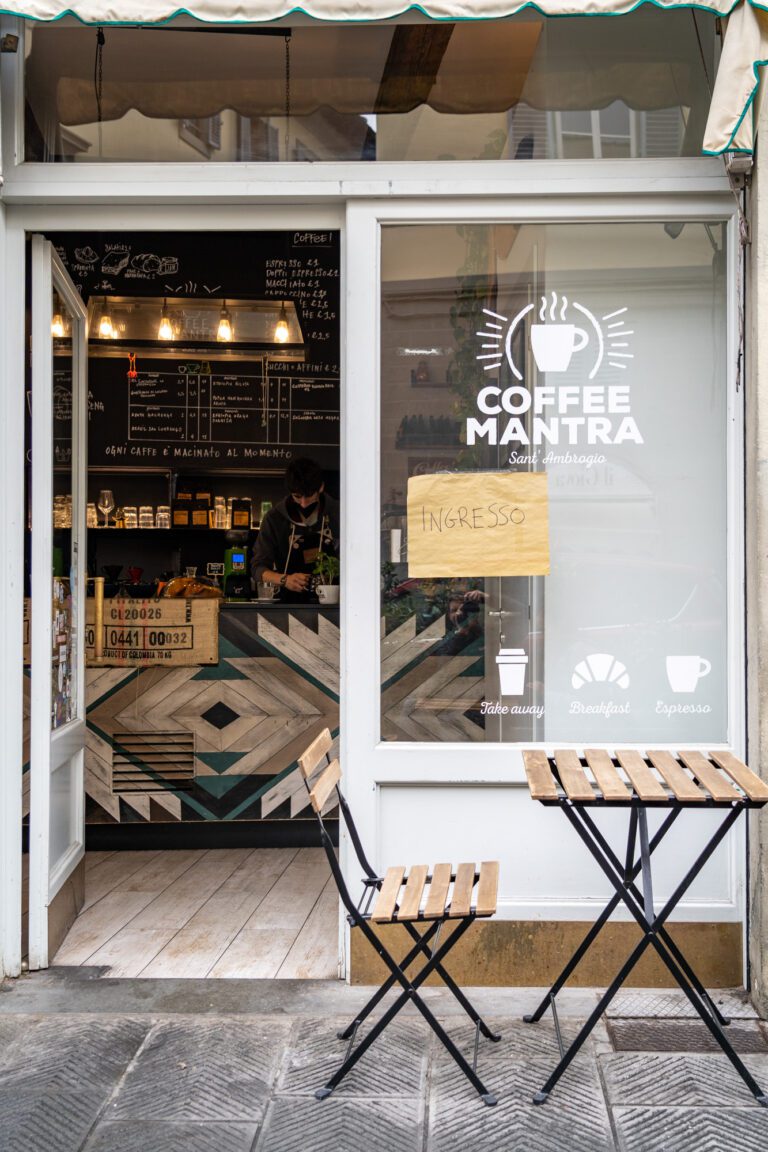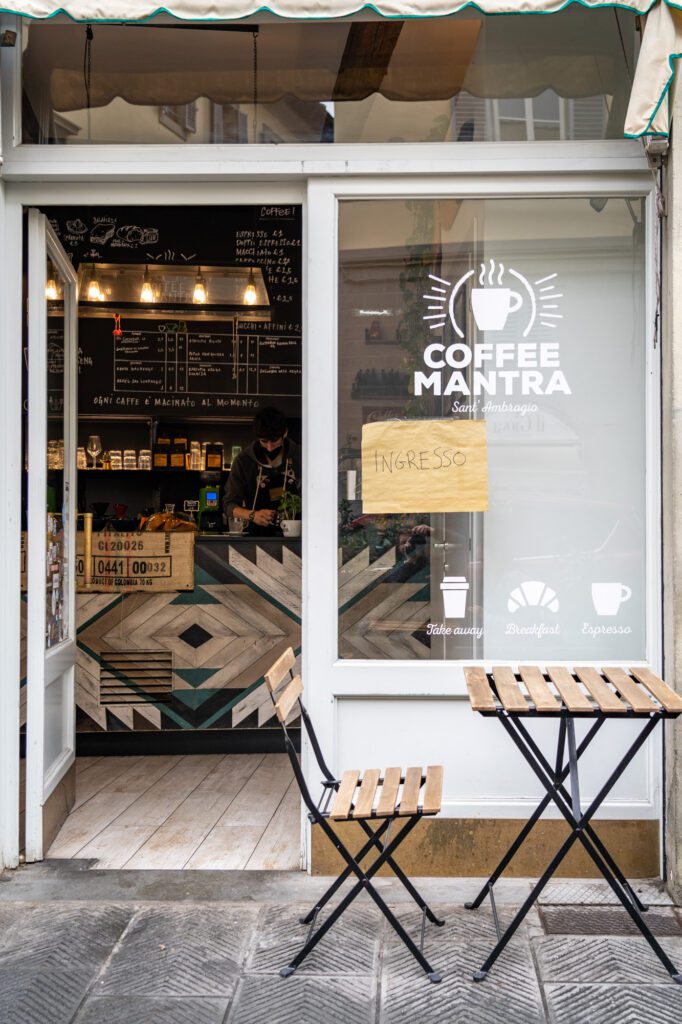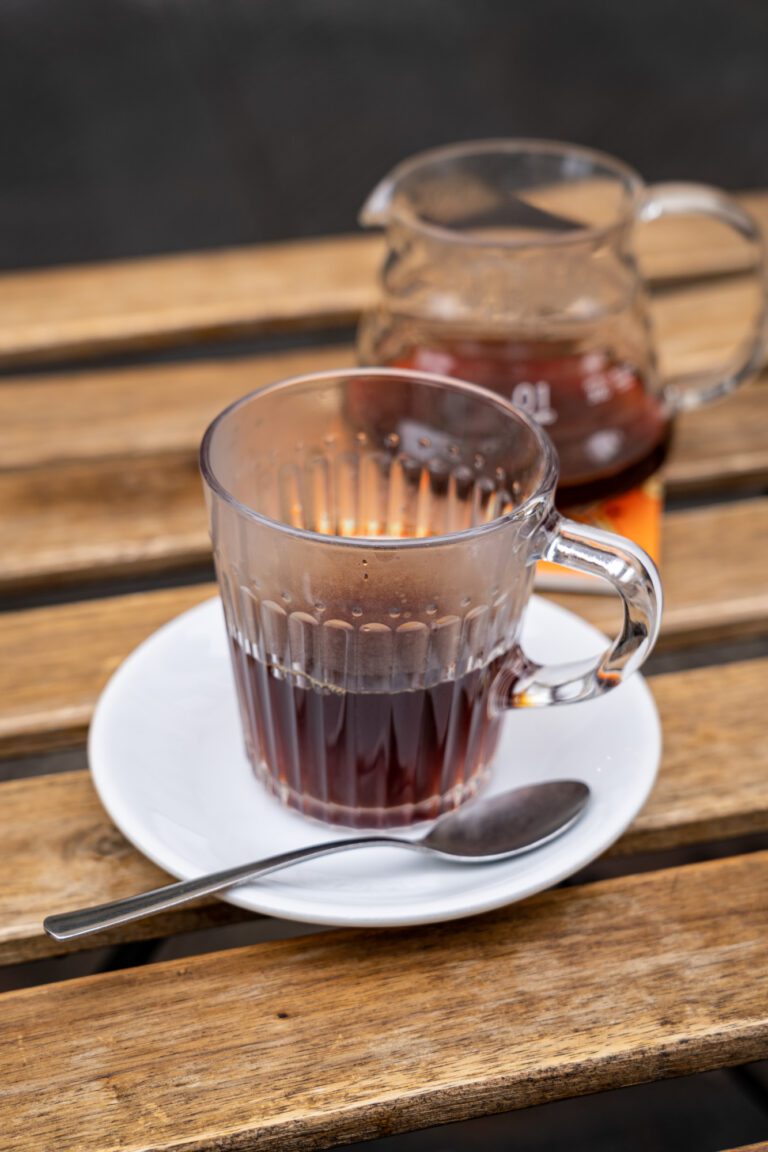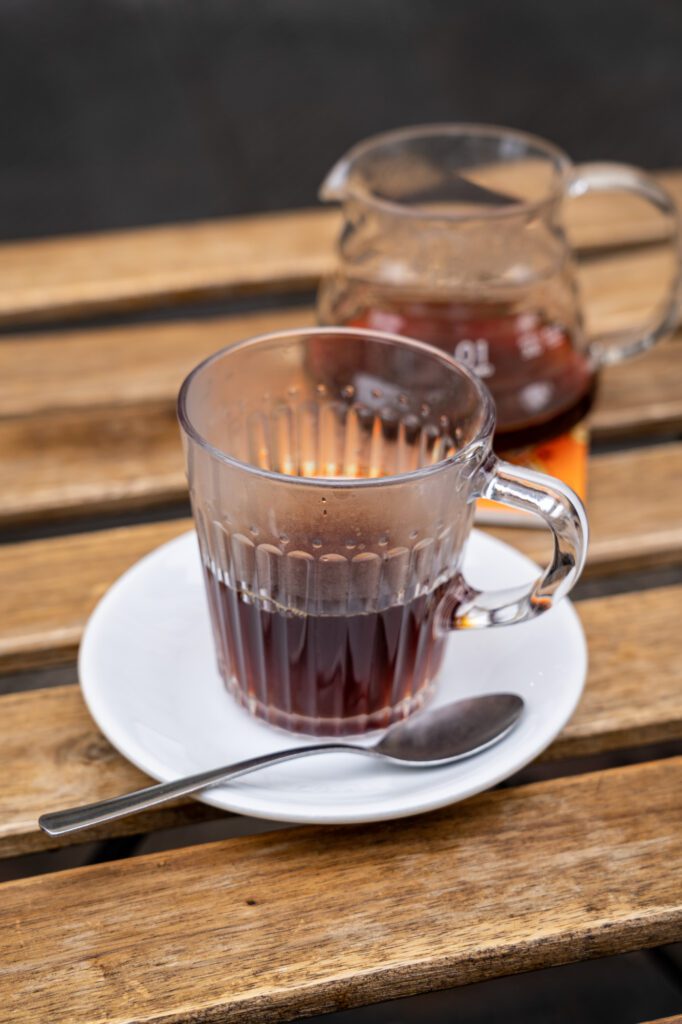 However, unless you're staying in the east of the city, Coffee Mantra may not be the most convenient spot considering your first stop of the day. It may be worth choosing somewhere closer to properly maximize your time.
SimBIOsi Organic Cafe is the best option close to the Galleria dell'Accademia di Firenze. The small coffee shop uses beans from local specialty coffee roasters D612 and has a small but fantastic menu of espresso and filter coffees. Unfortunately they don't have any pastries to accompany the coffee, but you can always grab breakfast at their bistro next door if you have the time.
The Statue David & the Galleria dell'Accademia di Firenze
Next, it's time to head to your first attraction of the day, the Galleria dell'Accademia (aka the Accademia Gallery). The gallery opens at 8:15 am, so try to arrive early to avoid the lines and to really make the most out of your day.
The Galleria dell'Accademia di Firenze is a must-visit in Florence for one important reason, the David.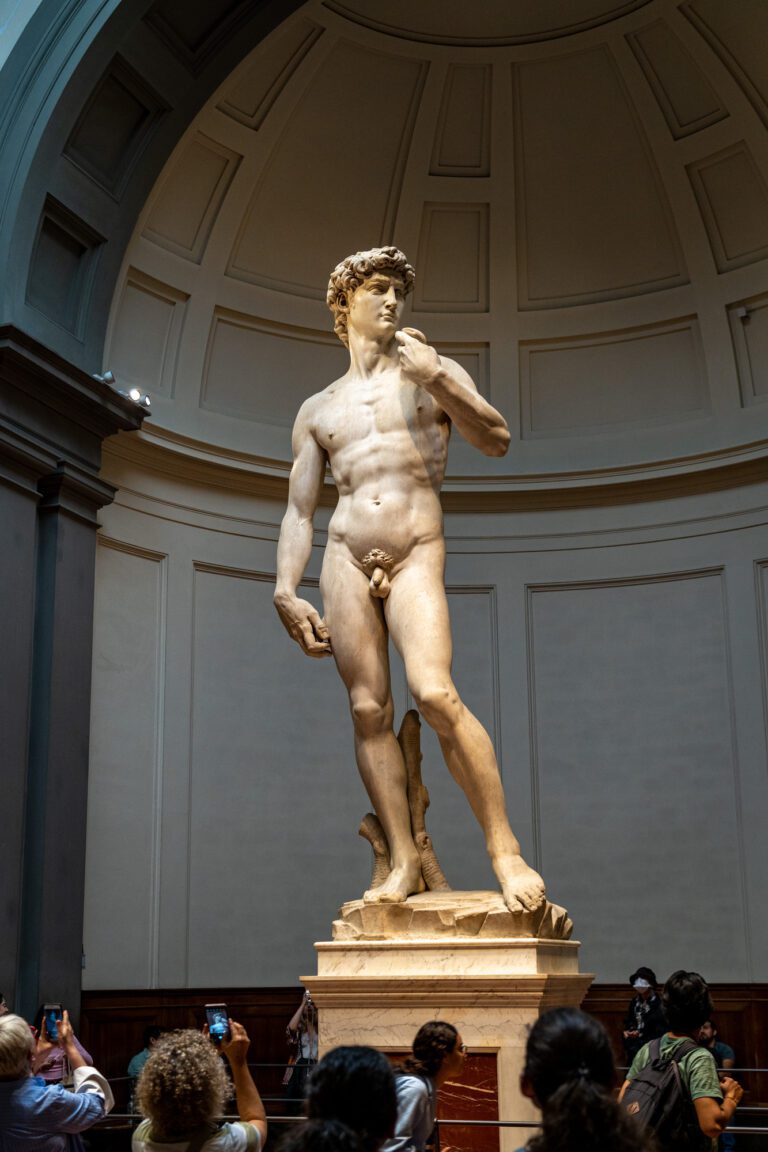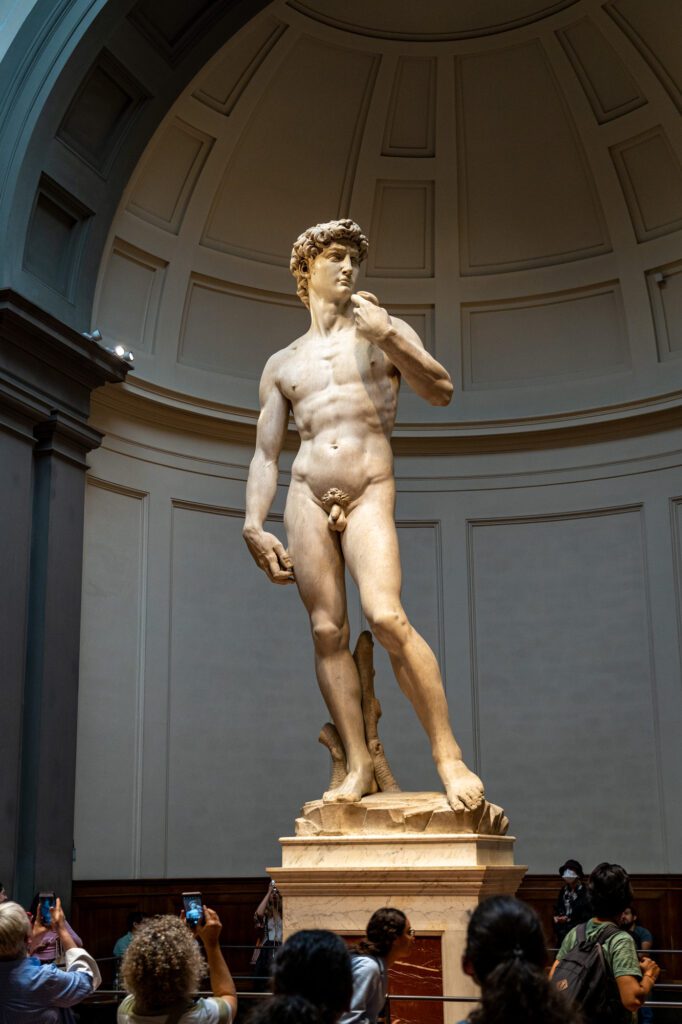 Sculpted in the 16th century by esteemed Italian artist Michelangelo, the 17 feet tall statue of David is a Renaissance masterpiece and one of the most famous sculptures on the planet.
The gallery has a couple of other noteworthy pieces that you should spend some time exploring, but the real focus of the Accademia is the David.
How to Visit the Galleria dell'Accademia
You essentially have two options for visiting the Galleria dell'Accademia and the David.
You can pre-book tickets and visit by yourself, or you can join a guided tour – which we'd highly recommend doing.
I did this tour with my mom on our last visit to Florence (when the David was a must-do for her), and I enjoyed the added context we got around Michaelangelo and his style and life before we got to the main attraction.
If you want to visit by yourself, it's best to pre-book your tickets as soon as you know the date of your trip. You can book tickets through B Tickets (official seller) or GetYourGuide (a bit more expensive but less confusing than the official website).
Standard online tickets cost €16 for adults. This price includes a €4 online booking fee. You'll also need to choose a timeslot, which is a 15 minute window during which you are able to enter the museum.
But despite the extra fee and reduced flexibility, booking your ticket in advance will save you a great deal of time waiting in the long lines at the ticket office AND at the entrance. So we think it's 100% worth it.
Another way to explore the Accademia Gallery is on a guided tour. Taking a tour is the more expensive option. But we firmly believe the added context and stories about Michaelangelo are worth it.
We did this one, and really enjoyed it.
If you're booking your trip last minute and tickets are already sold out – which they often are quite far in advance – a guided tour is a good way to still get into the popular gallery.
Although, if you only have the budget for one guided tour in Florence, we'd do a tour of the Uffizi instead. You'll get more out of it.
Climbing Brunelleschi's Dome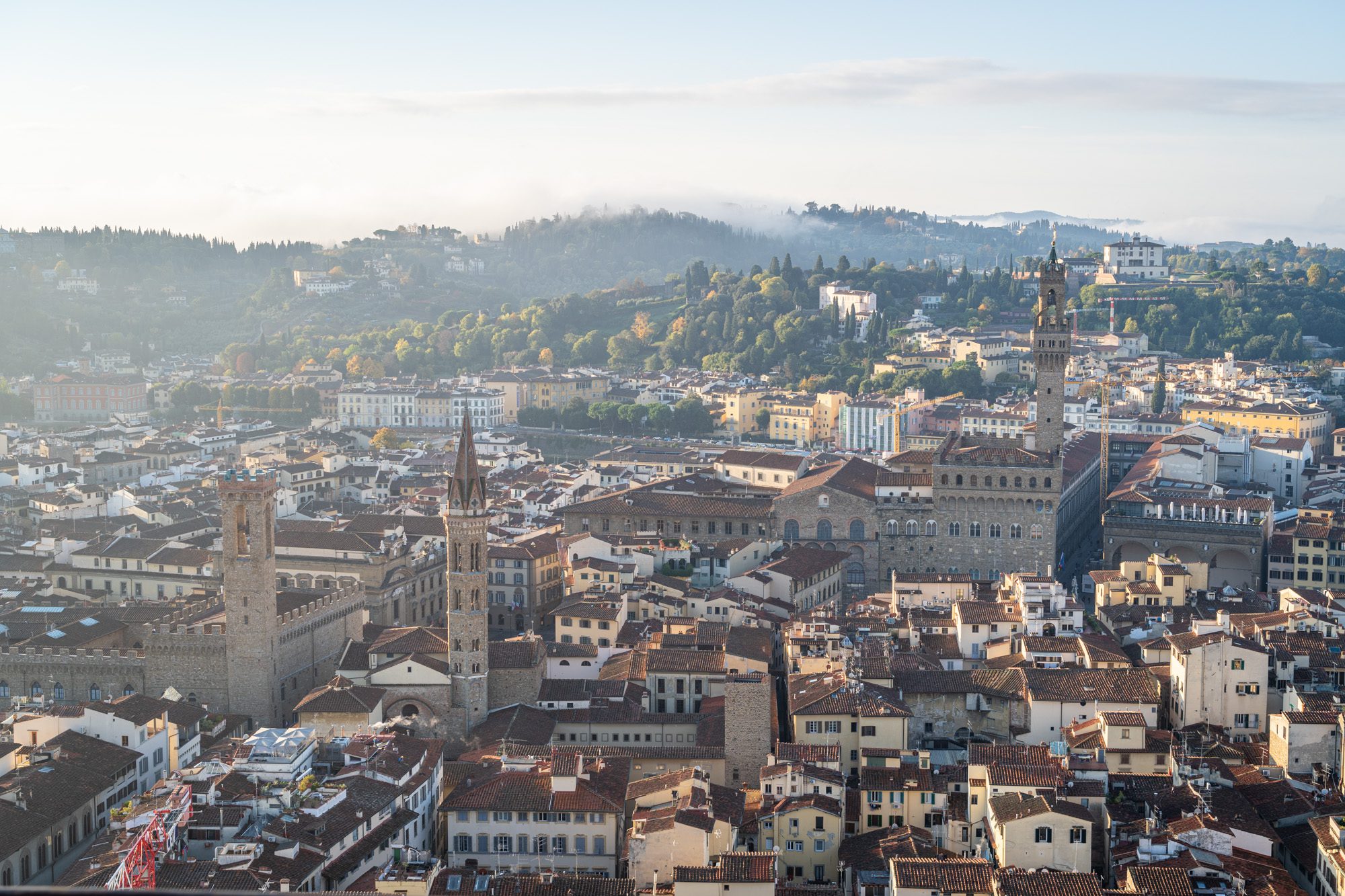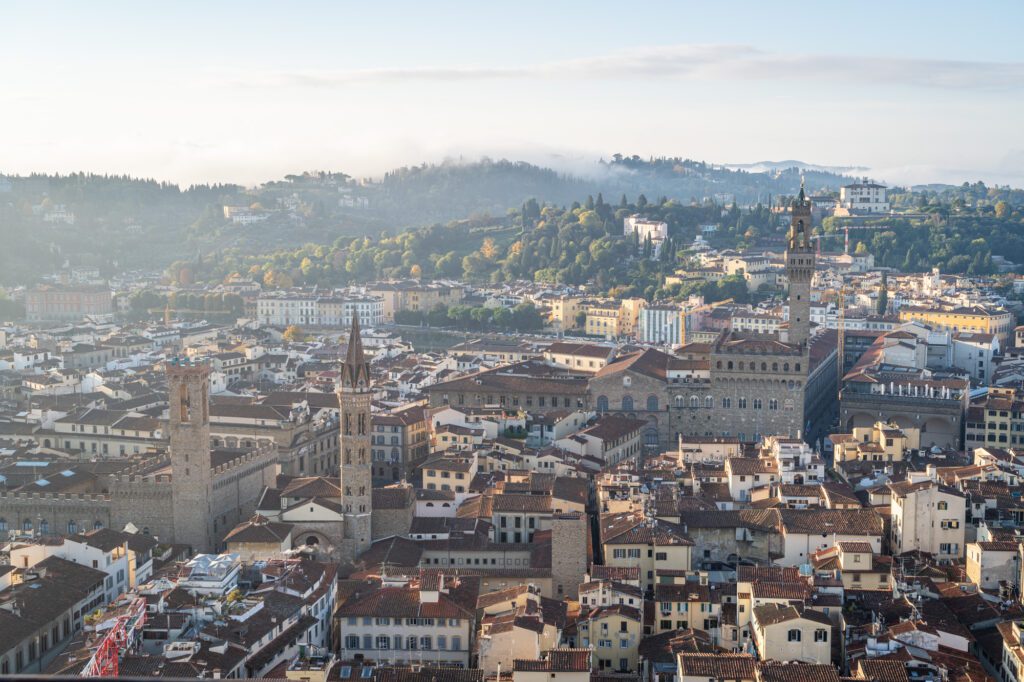 From the Galleria dell'Accademia, walk just a few blocks down the street to discover Florence's striking Gothic-Renaissance cathedral.
Cattedrale di Santa Maria del Fiore – or simply, the Duomo (di Firenze) – is one of the largest Christian churches in the world and Florence's most important landmark.
Construction of the cathedral first started in the 13th century in a Gothic style. But upon final completion and the addition of Brunelleschi's Dome around 150 years later, it became one of the first and finest Renaissance buildings in all of Italy.
With limited time in Florence, Brunelleschi's Dome is the part of the Duomo that you should focus on. The cathedral interior is free to visit, but there are always very long lines to get inside.
When you climb the Dome, you'll get to see the stunning interior from above, and get up close and personal with the striking frescoes on the inside of the dome. Plus, the 360 views over Florence and wider Tuscany from the top are pretty spectacular.
To reach the top of the Dome, you'll need to climb 463 steep steps (there's no elevator).
The walkways to the top are a little cramped and the balconies overlooking the church's interior are high and narrow (there's a glass wall so you're perfectly safe), so it's not something we'd recommend for anyone who is super claustrophobic or has a bad fear of heights (Alysha had some anxiety when we were stopped for a few minutes on the elevated walkway right under the dome).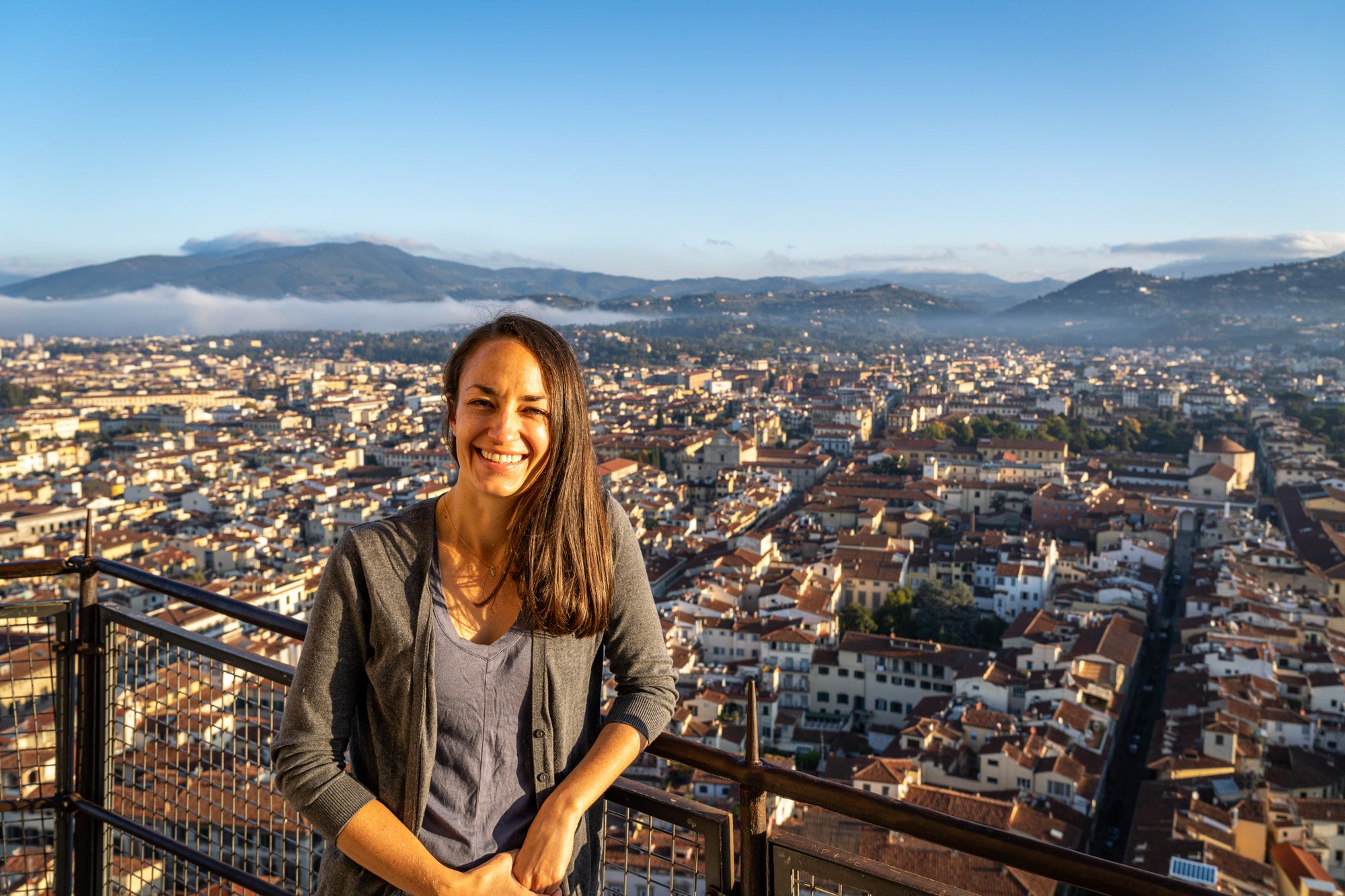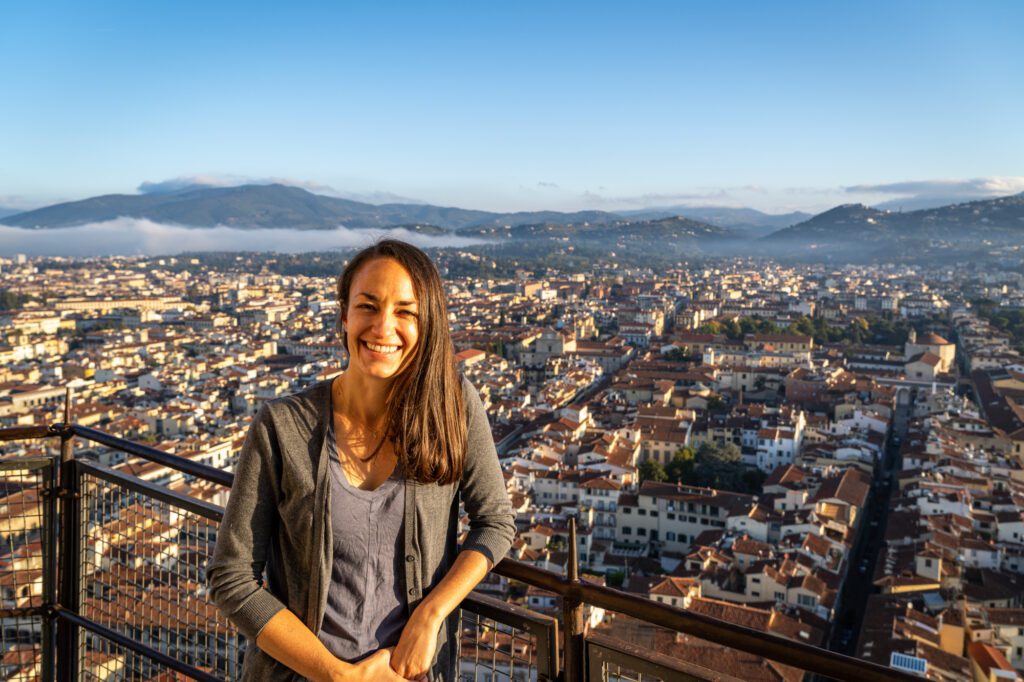 How to Climb Brunelleschi's Dome
The most important thing to know here is that booking your tickets for the Dome in advance is a MUST. The Dome climb is only possible with an advance reservation and ticket.
To climb the Dome, you'll have to purchase the 'Brunelleschi Pass' for €30 per person (€12 for reduced price tickets) through the official website here. You'll need to pick the date and time you want to visit when you buy the pass.
They clearly know that the dome climb is the moneymaker, because it's the only one of the multiple passes for the Duomo that includes the dome.
Once you arrive at the cathedral, you can enter the Dome via Porta della Mandorla on the north side of the building.
The 'Brunelleschi Pass' also gets you free entry to Giotto's Bell Tower, the Duomo Museum, the Baptistery, and Santa Reparata over the following 72 hours after your Dome climb.
Although, with only one day in Florence, we'd suggest skipping these other attractions in the Duomo Complex and using your time elsewhere. But if you do happen to stay in Florence an extra day or two, they're all certainly worth visiting.
Take a Well Deserved Lunch Break!
After a busy morning exploring the Accademia Gallery and Duomo, it's finally time for a well-deserved lunch. And we have two suggestions for where to go.
Mercato Centrale Firenze (aka San Lorenzo Market) is Florence's large food hall, with a market on the bottom floor and a food court on the top floor. While we didn't eat here ourselves, we did take a wander through to see what was offered.
Pasta Fresca on the ground floor looked amazing and was packed with locals – which is always a good sign in Italy.
The second option is one of the several sandwich shops on Via dei Neri (here on Google Maps).
The specialty here is schiacciata, a local sandwich that's almost like focaccia. All'Antico Vinaio is the most famous, with lines around the block. Portions are massive, so be sure to arrive hungry.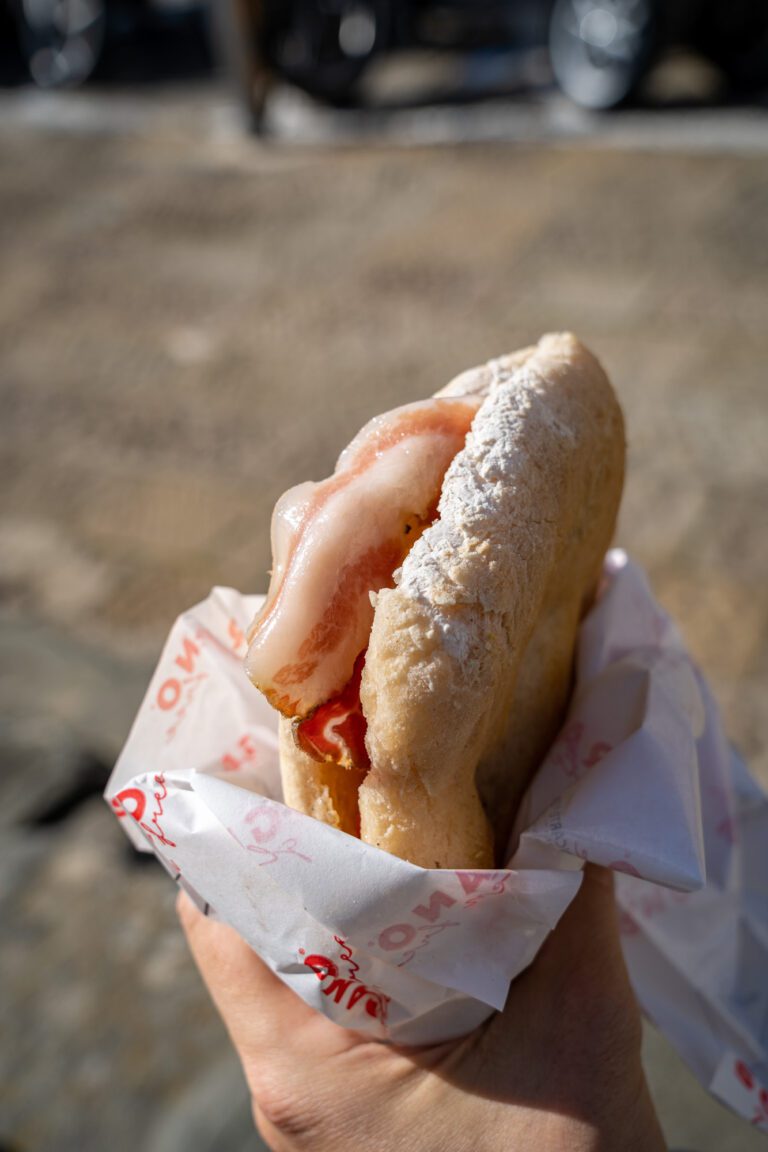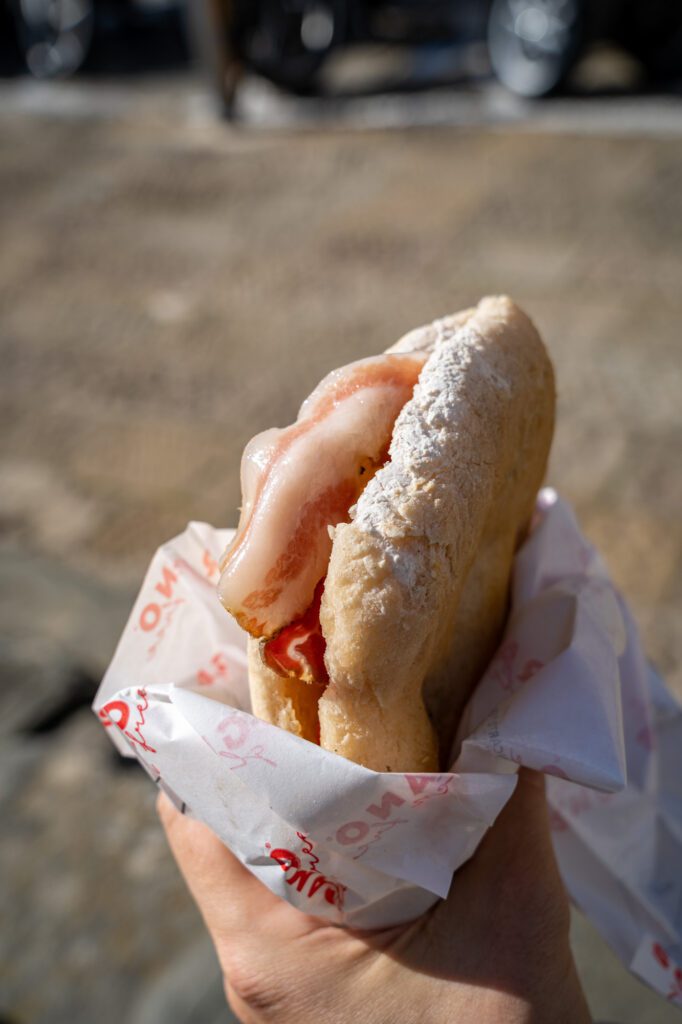 Another good option on the street if you need to eat gluten free is Sgrano (it's 100% gluten free!). You can get a thick schiacciata stuffed with all sorts of cured meats – we liked the Sbriciolina, with grilled peppers, pecorino, and ham. YUM.
Dive Deep into Renaissance Art at the Uffizi Gallery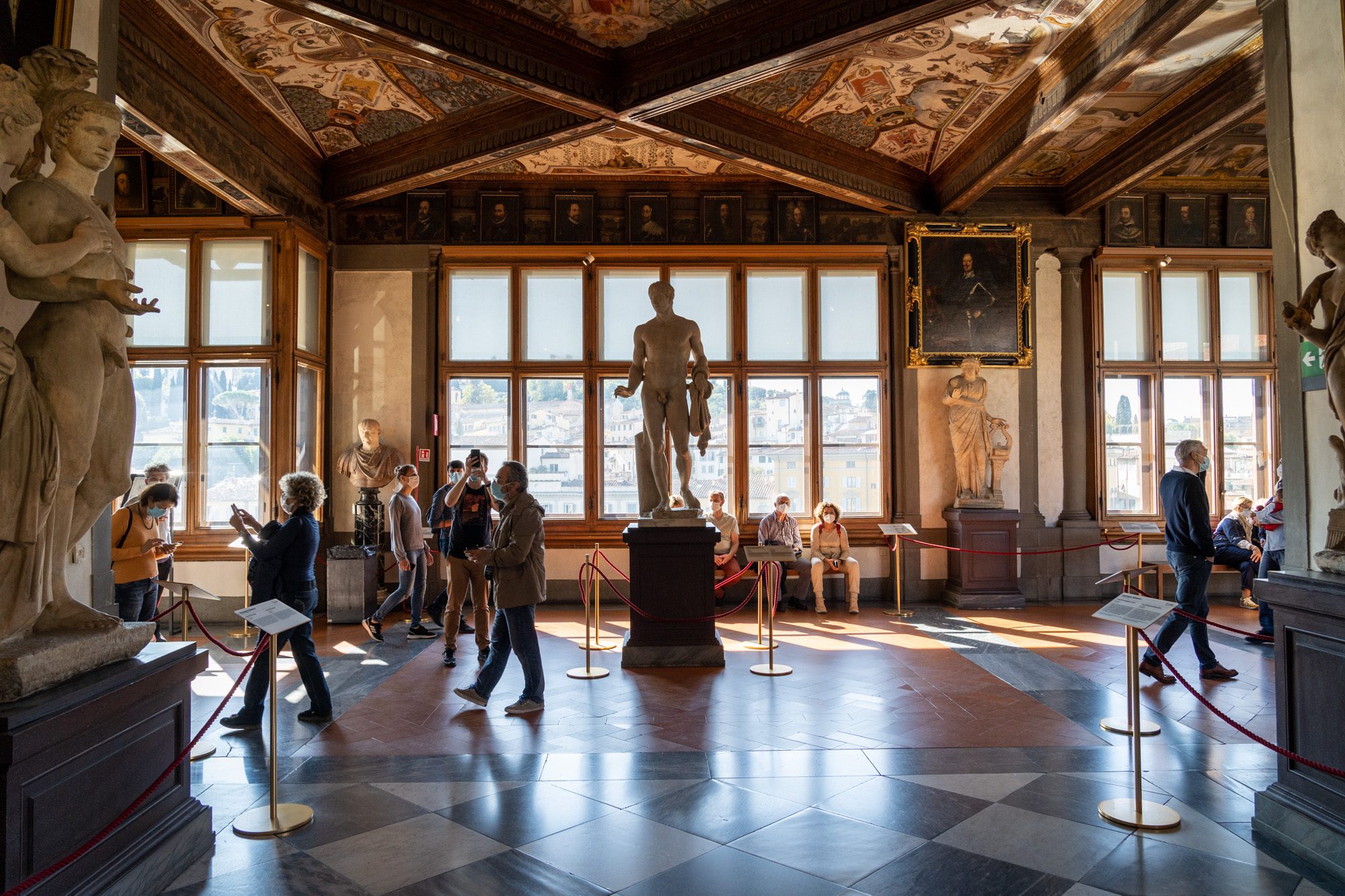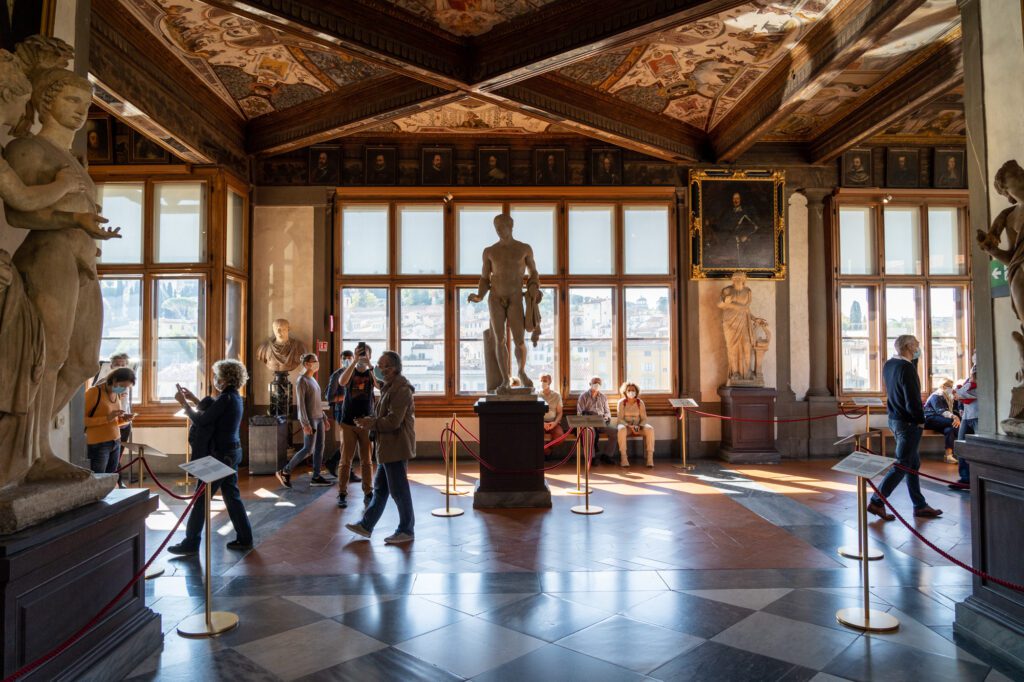 After lunch, begin your afternoon with a visit to the world-famous Uffizi Gallery, which is known for its unparalleled collection of Renaissance and European art.
The massive gallery is home to countless priceless masterpieces accumulated by the rich and powerful Medici family during their reign in Florence. Here you'll find works by many of the most famous Italian artists, including Botticelli, Michelangelo, and Leonardo da Vinci.
Although, with over 100 rooms and thousands of artworks to see, the gallery can be a little overwhelming if you're not an art history buff. This is why we'd recommend taking a guided tour.
We did this tour of the Uffizi and it was one of the highlights of our time in Florence.
The gallery is laid out chronologically, which gives you a great perspective into how the style of art progressed over time through the Renaissance. And by visiting on a tour, you'll have access to an expert guide who will curate the pieces as you wander, adding context and teaching you more about each of the artworks and artists.
How to Visit The Uffizi Gallery
As we already mentioned above, we'd highly recommend taking a guided tour of the Uffizi Gallery to really get the most out of your visit.
We did this tour and absolutely loved it. Our guide was an extremely passionate art historian named Francesco who helped us understand the historical and cultural context that led to the art, along with helping us understand what we were looking at.
By visiting on a tour, you'll also get skip-the-line entrance into the gallery, so you won't have to waste valuable time waiting in a long line to get inside.
It is also possible to visit the gallery on your own. Tickets cost €12 from November to February or €20 from March to October (and just €2 for reduced tickets).
While you don't HAVE to book tickets for the Uffizi in advance, you really should if you're visiting during the busy summer months. The line to buy tickets for the Uffizi Gallery without advanced reservation is the longest wait you'll have in Florence.
Tickets can be purchased in advance on the official website here. Much like the Accademia Gallery, advanced online tickets have a €4 booking fee and will require you to choose a specific time slot in advance. But if you only have a day in the city, you'll save yourself a significant amount of time.
You can also book skip-the-line tickets on GetYourGuide, which will allow you to skip the long ticket line and head straight to the security checkpoint.
Even with the advance and skip-the-line tickets, you will have to wait in line to go through security and enter the gallery. But it's relatively short compared to the intense ticket office line.
If you do choose to visit The Uffizi Gallery independently, we'd strongly recommend picking up the audio guide, which is well worth the small extra fee.
Piazza delle Signoria
Upon leaving the Uffizi Gallery, take a quick walk via Piazzale degli Uffizi to reach Piazza delle Signoria.
The historic square is the political heart of the city and is home to numerous significant buildings, monuments, and sculptures.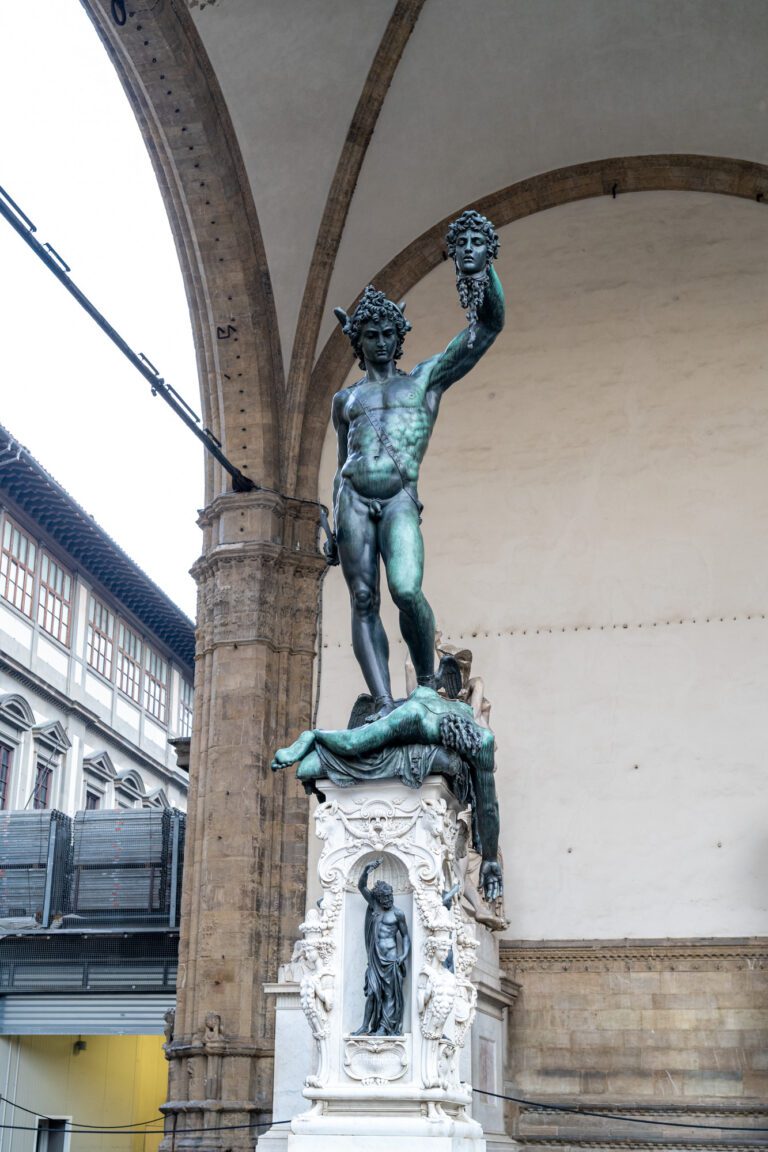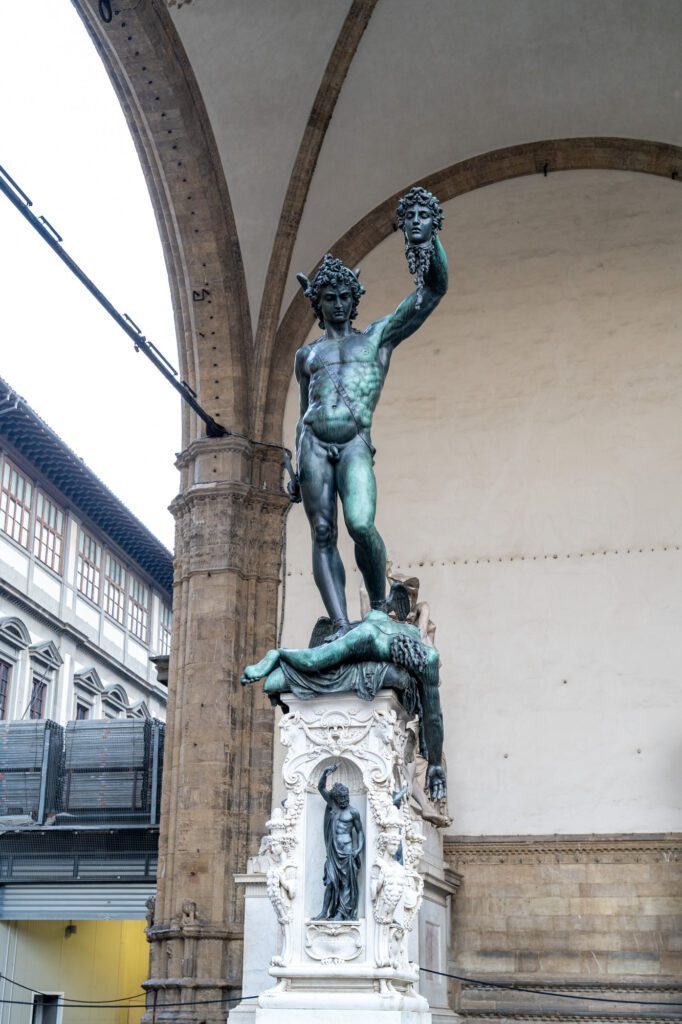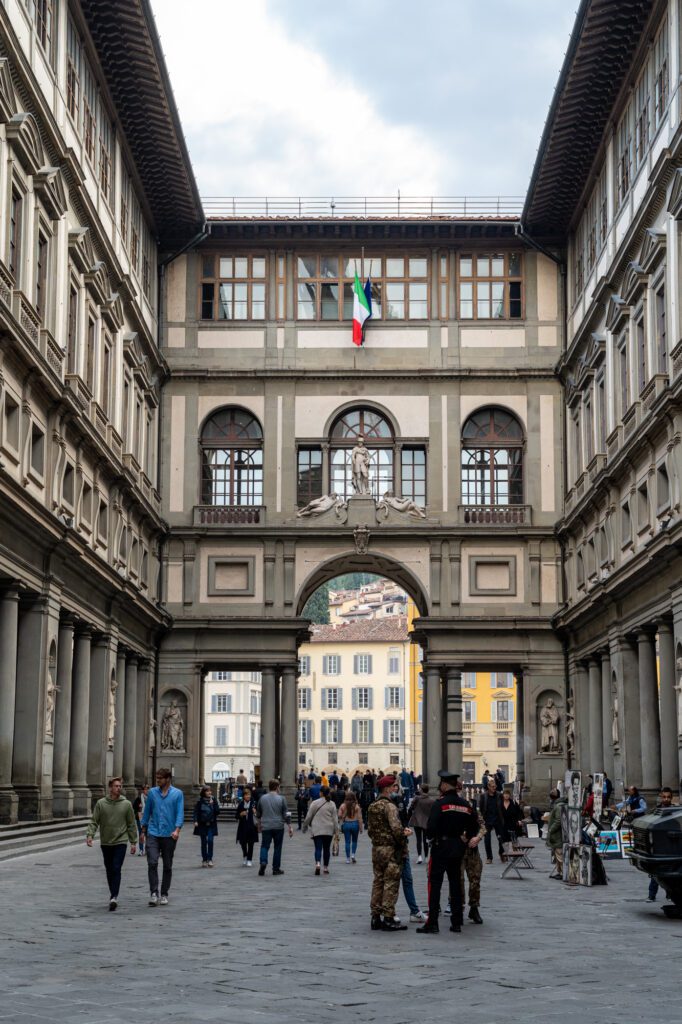 The free-to-visit open-air museum features countless amazing statues and busts, including a replica of Michelangelo's David (in its original location) and many famous figures such as Galileo Galilei, Donatello, and Leonardo Da Vinci.
Ponte Vecchio and Oltrarno
From Piazza delle Signoria, head a few minutes south towards Florence's most famous bridge, Ponte Vecchio.
Ponte Vecchio (Old Bridge) is the oldest bridge in the city and the only one to survive the bombings of World War II.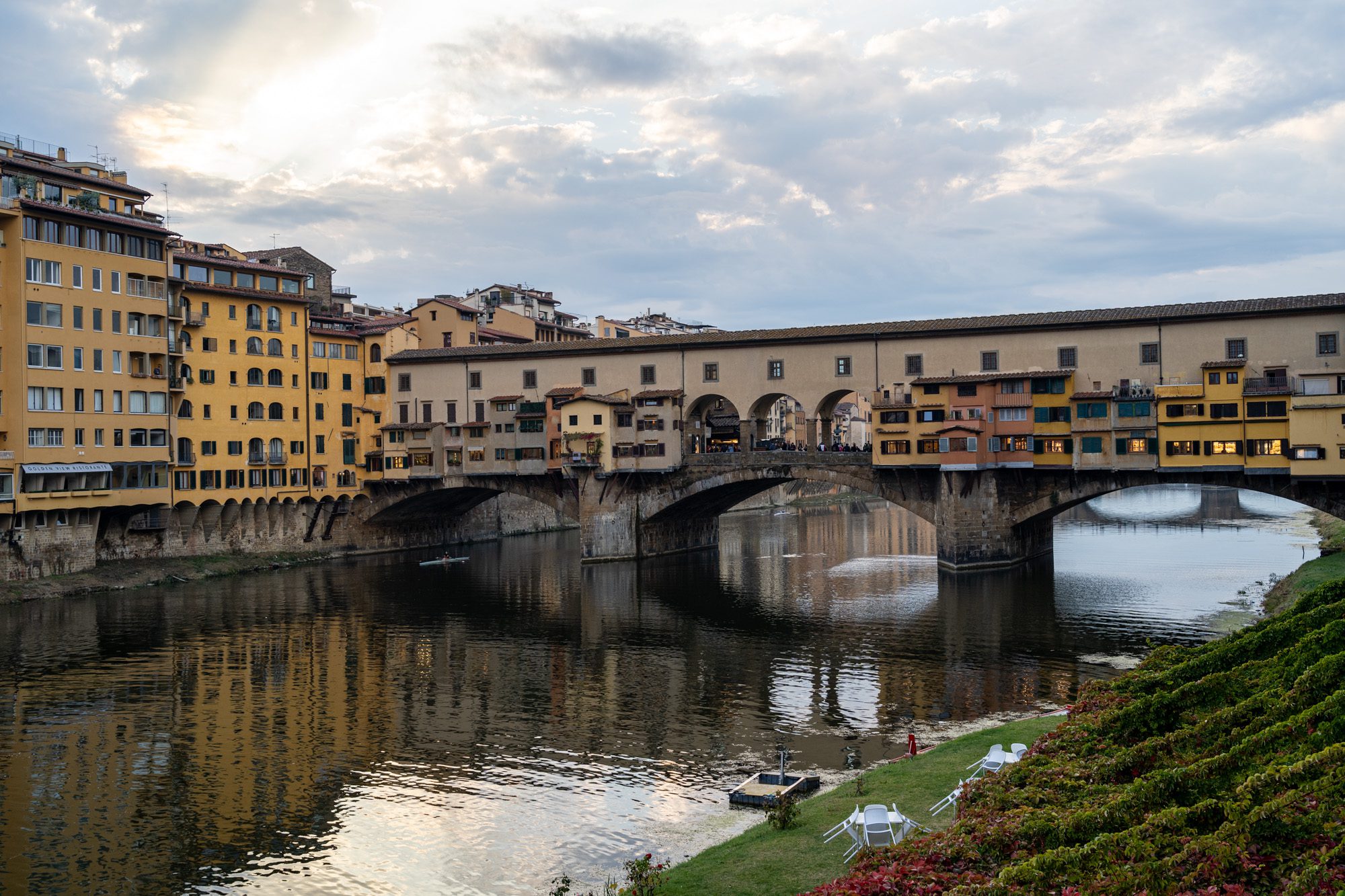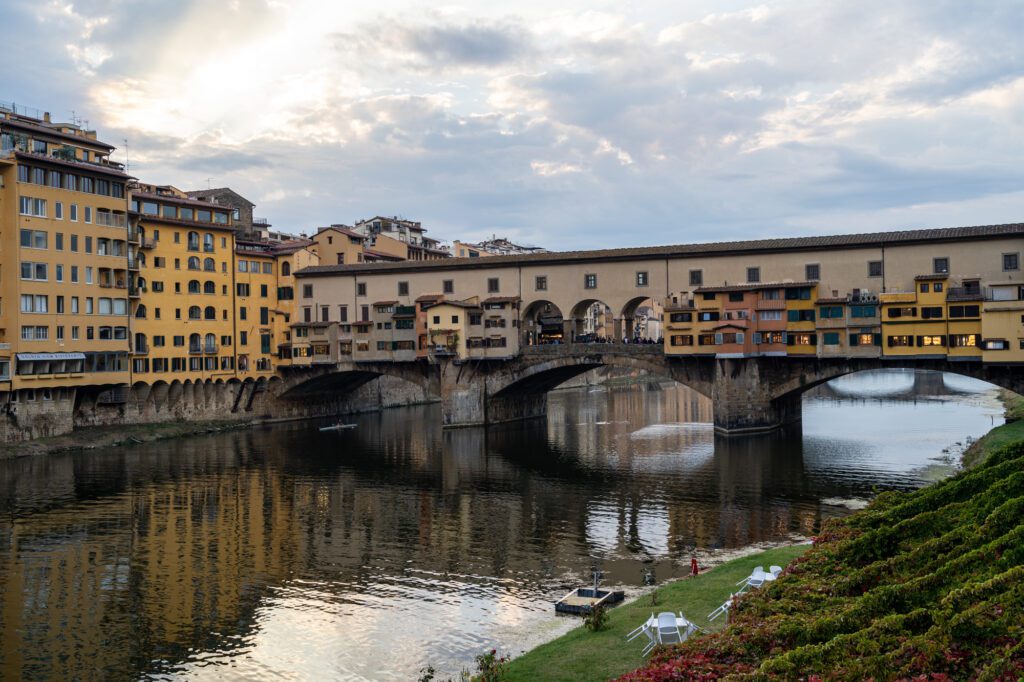 The unusual bridge has been lined with shops since the 13th century. In its early days, most of these shops were butchers or fishmongers. However, the Medici family – who had to cross the bridge regularly to get to the Pitti Palace – got sick of the awful smell and banned them.
Today, most of the shops you'll find on the bridge are high-end goldsmiths and jewelers. The shops are a modern symbol of Florence's elegance and wealth.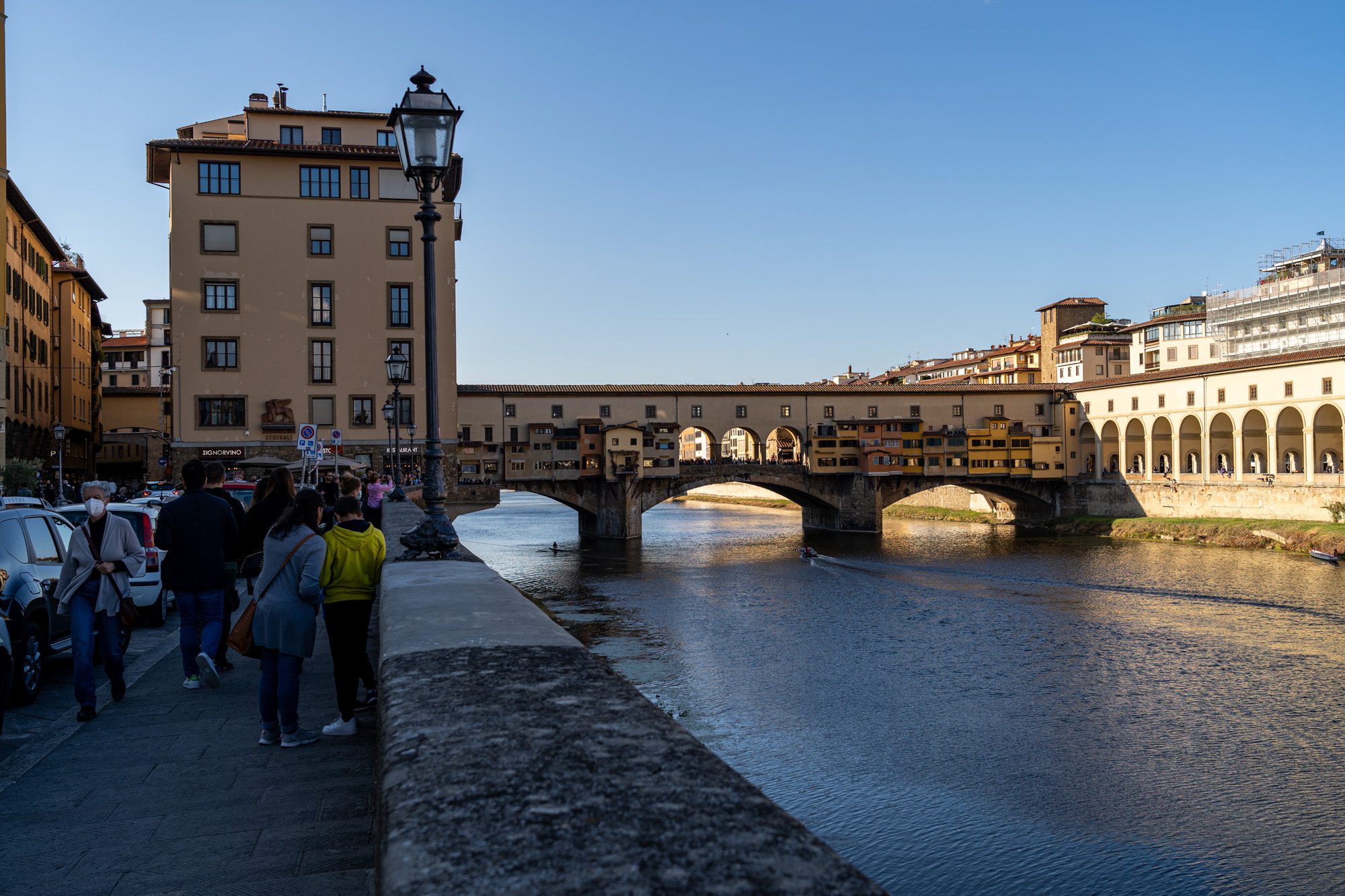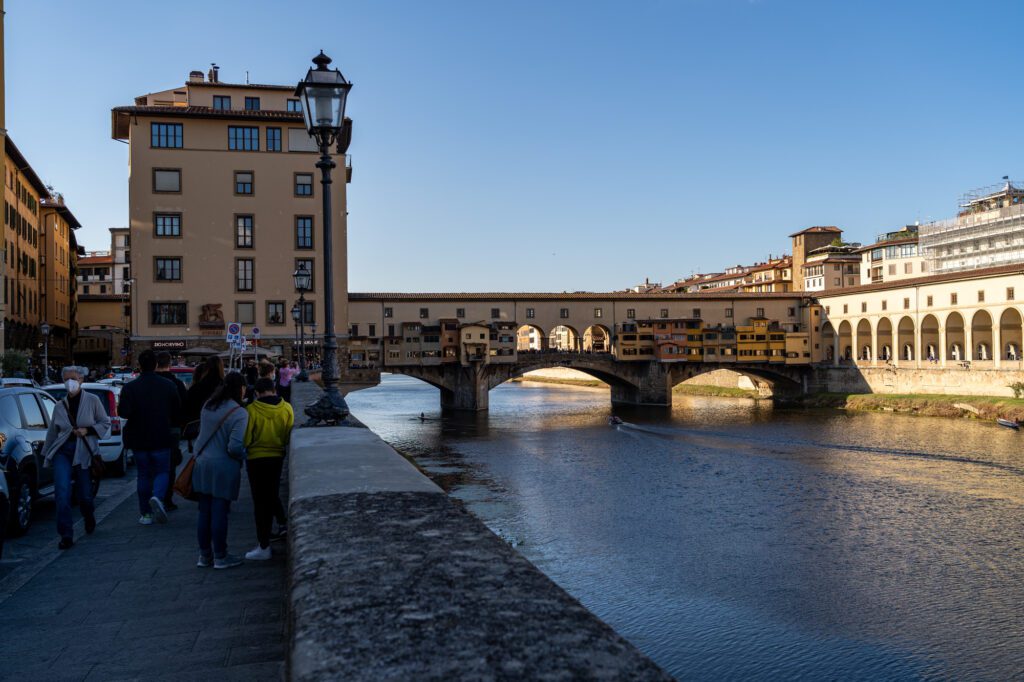 Cross over the bridge and take a quick browse around the shops. Most remain open until 6:00 or 7:00 pm. Don't forget to take in the views along the river too. Then once you're done, head south to enter the Oltrarno district.
Oltrarno is full of charming little piazzas, local restaurants, and cozy bars. If you have some time before sunset, it's a great place to stop for a late afternoon aperitif.
Le Volpi e l'Uva is one of our favorite places in Oltrarno for fantastic wine sourced from all over Tuscany and wider Italy, as well as delicious charcuterie and cheeses.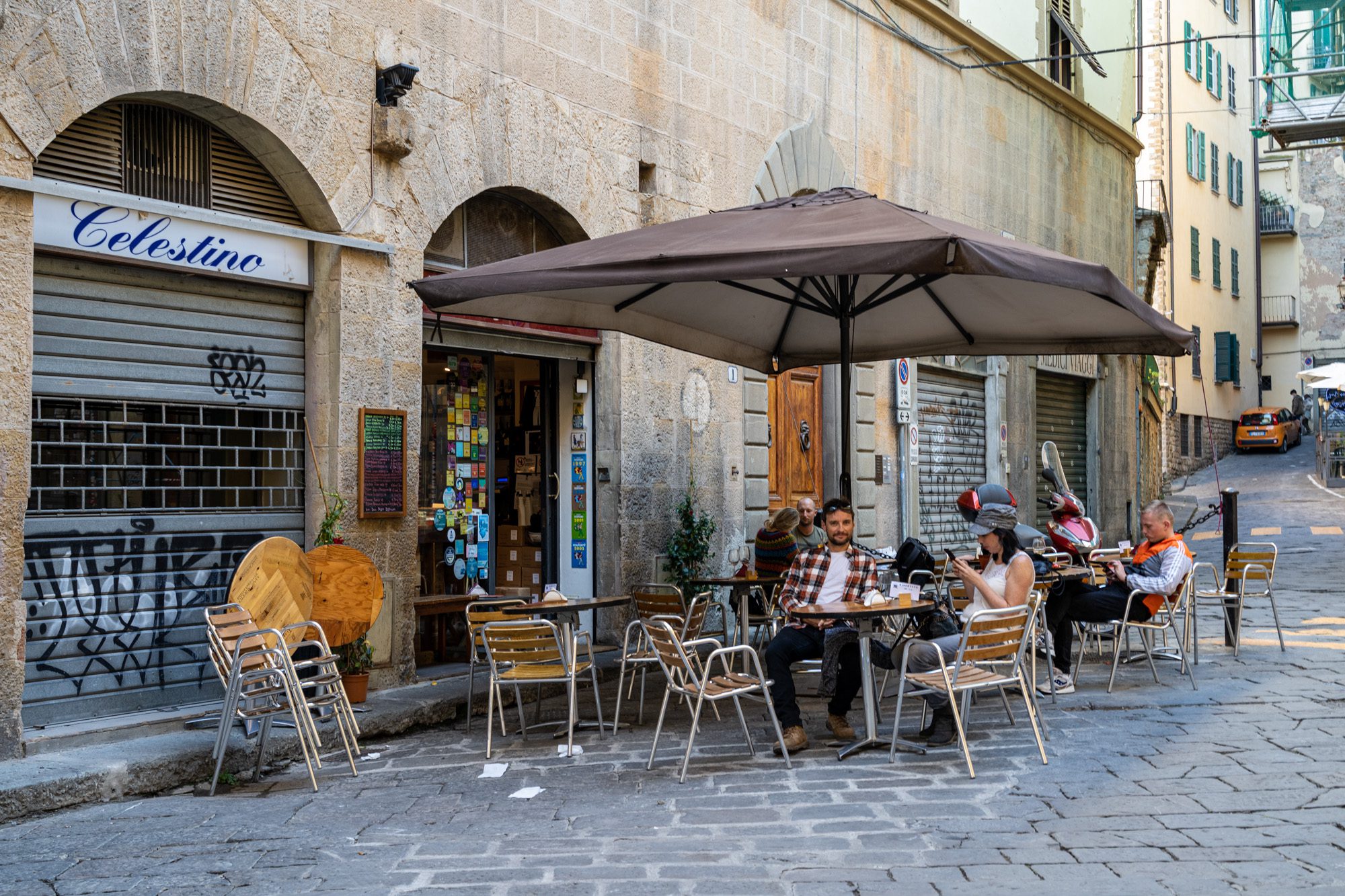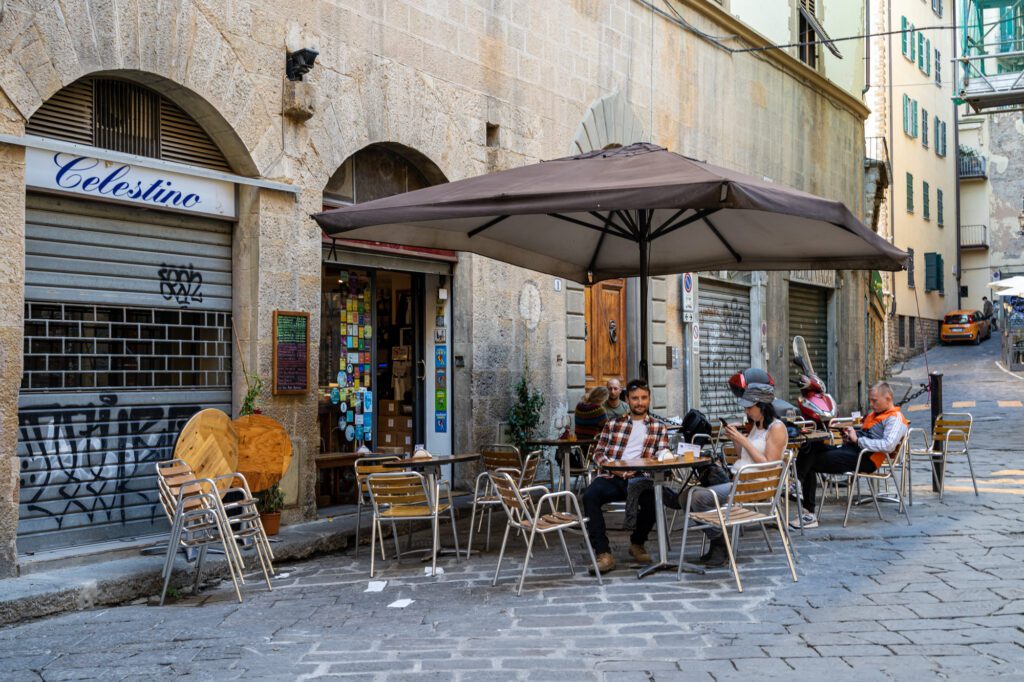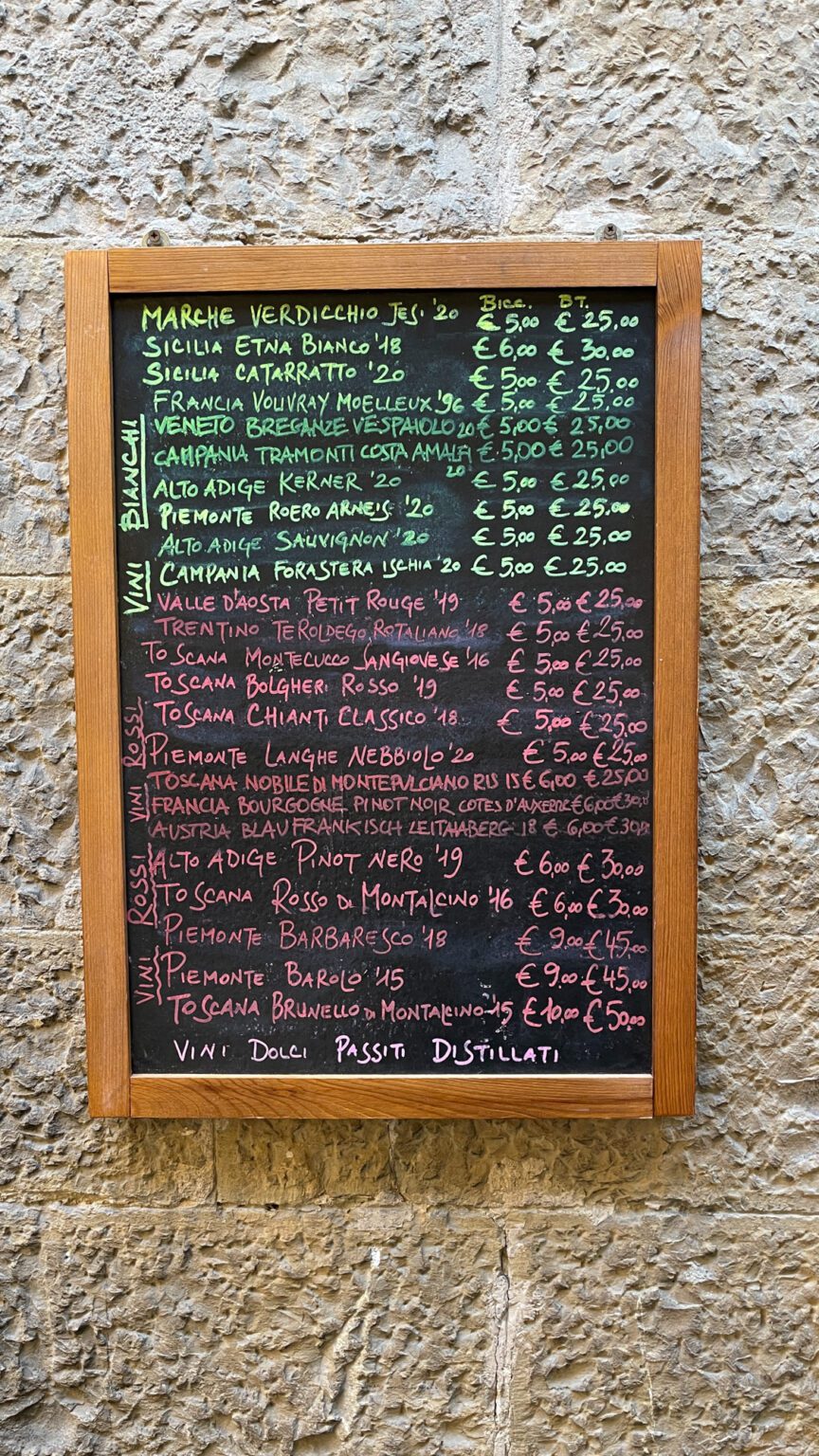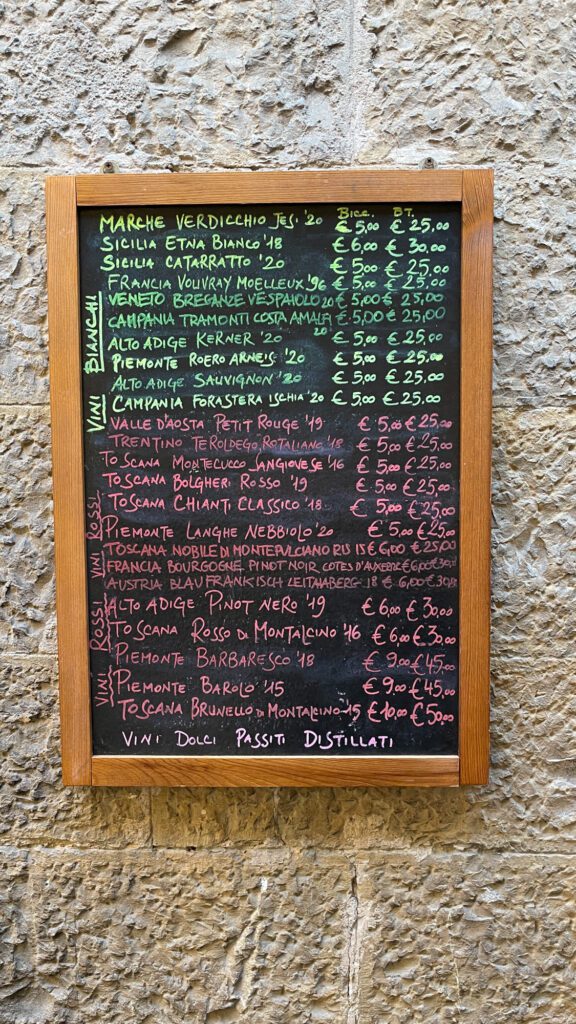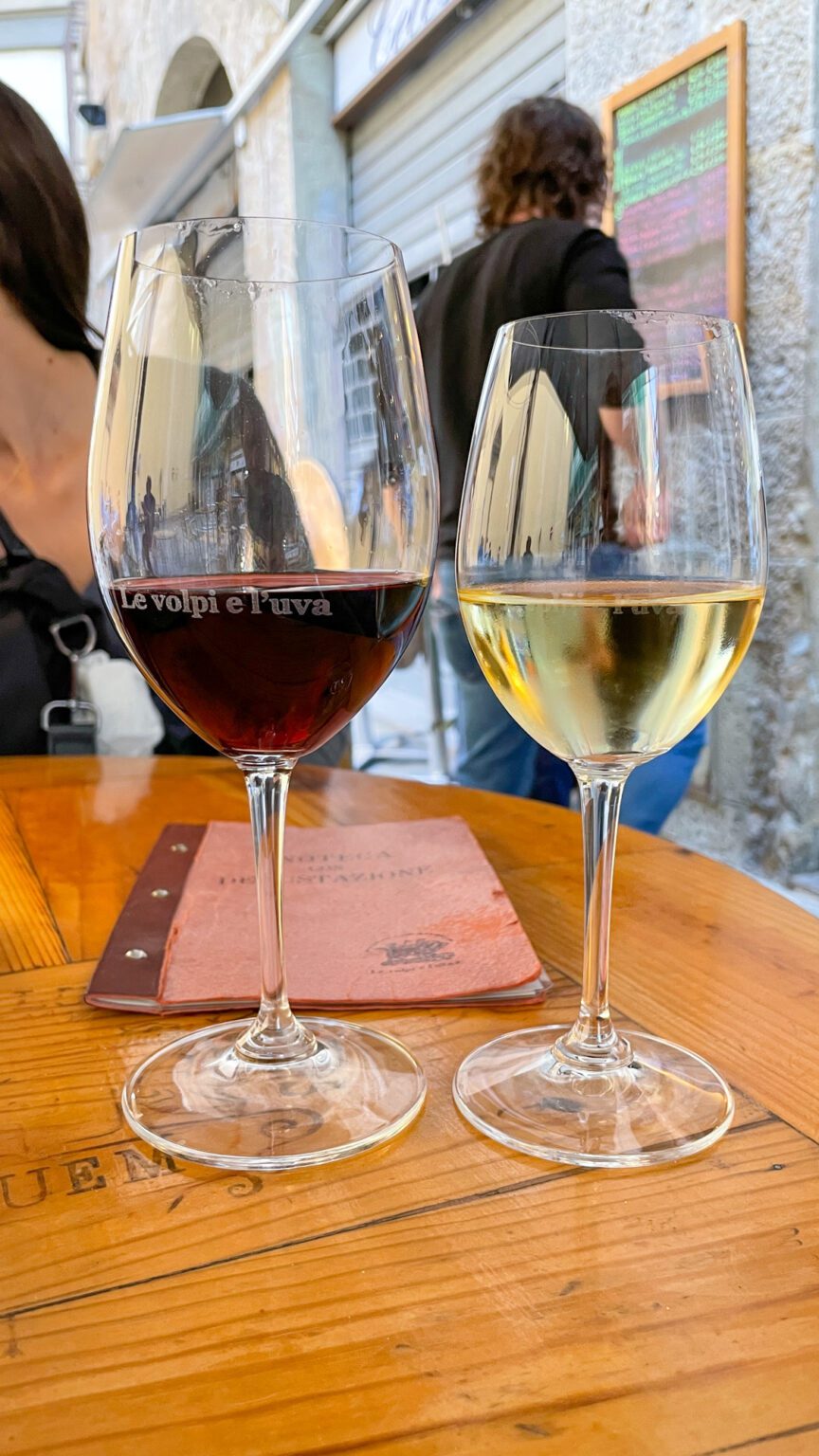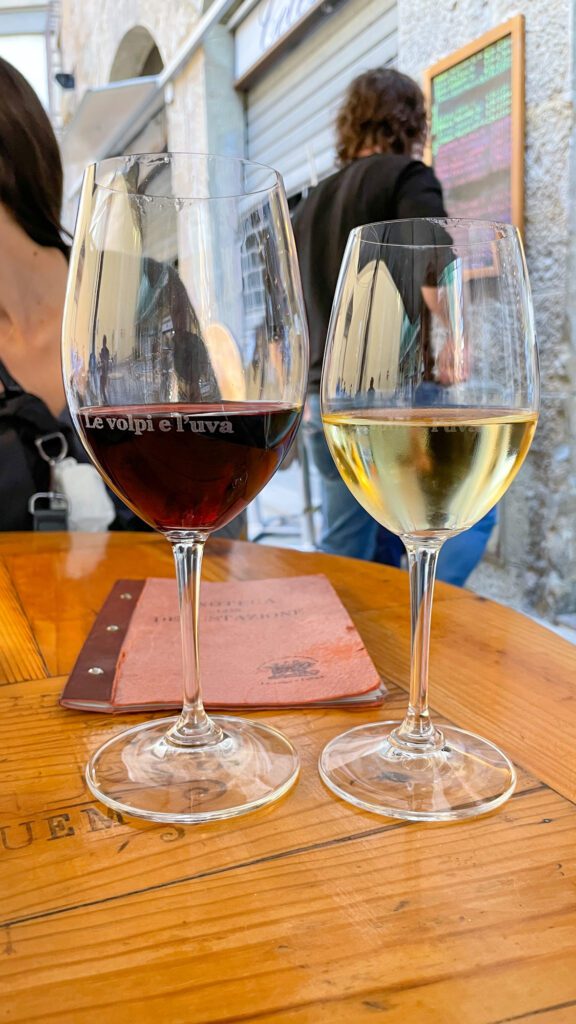 The staff are extremely passionate about wine and willing to chat about the different grapes and wines they're loving at the moment. One of our favorite parts about Italy is that each region has a different group of wines that they make, and this is a great place to explore that idea a little bit.
And if you're in need of a sugary pick-me-up, Gelateria Della Passera is Alysha's favorite gelato in Florence.
Piazzale Michelangelo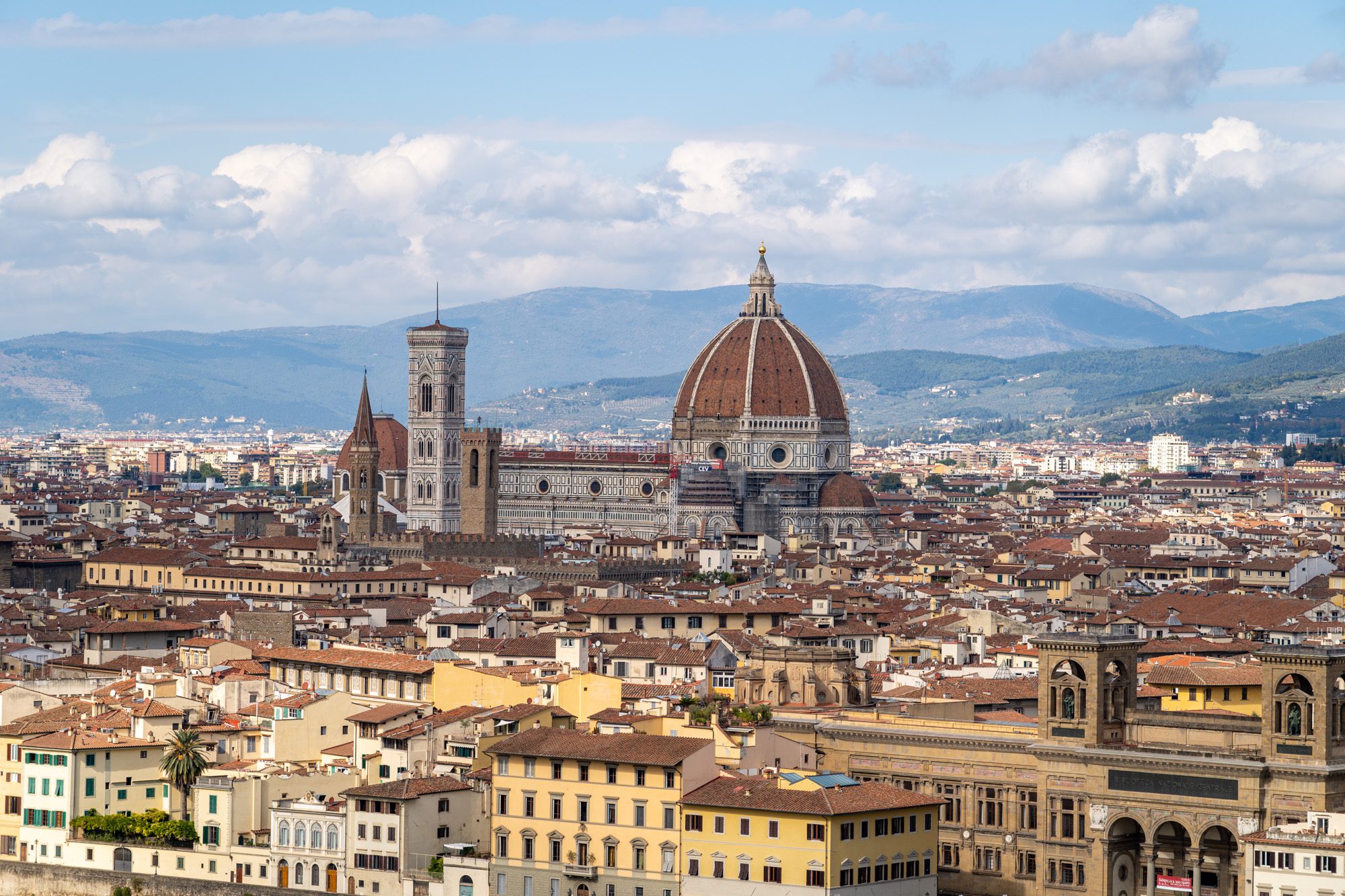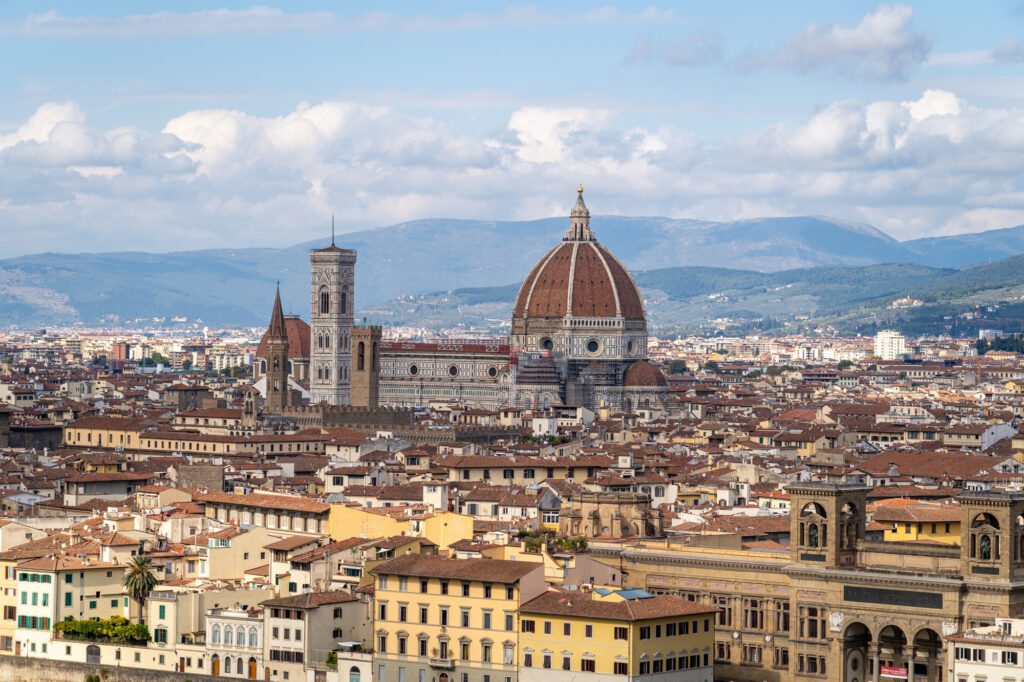 Piazzale Michelangelo in Oltrarno is the best viewpoint in the city to watch the sunset from, which will be more than evident from the crowds of locals and tourists making their way up the hill around this time of day.
From Le Volpi e l'Uva in central Oltrarno, you can walk up to Piazzale Michelangelo in around 20 minutes, so make sure you give yourself plenty of time to get up there before the sun sets.
The walk takes you through a beautiful rose garden, which is worth a stop to admire the blooming roses during the spring and summer months.
If the uphill walk is too much, you can also jump on bus line 12 to reach the top of the hill. You can catch the bus from Porta Romana, located close to The Boboli Gardens (here on Google Maps).
From the large hilltop terrace, you'll be treated to sweeping views out over the rooftops of Florence and landmarks such as the Duomo, Palazzo Vecchio, and Ponte Vecchio.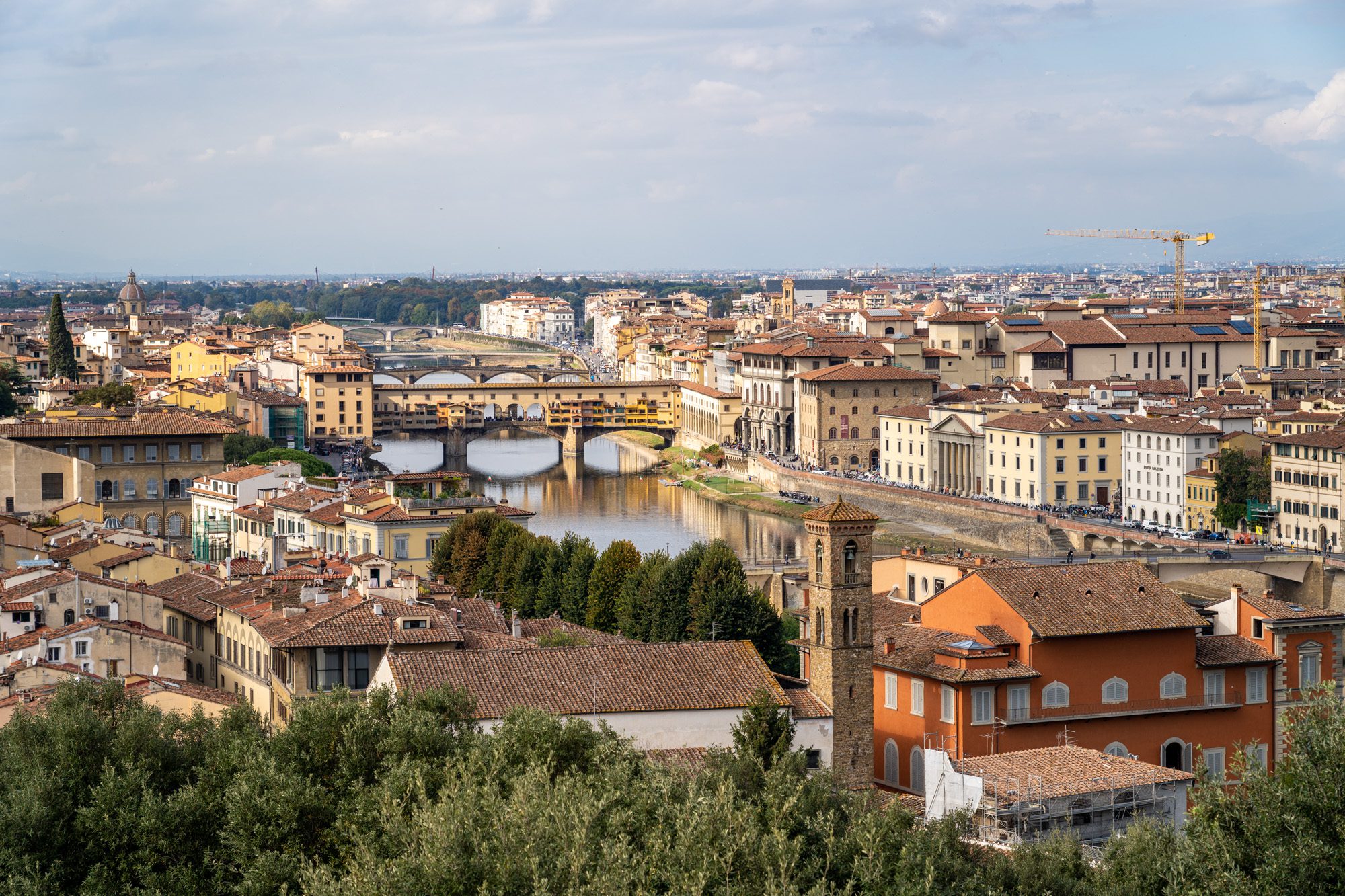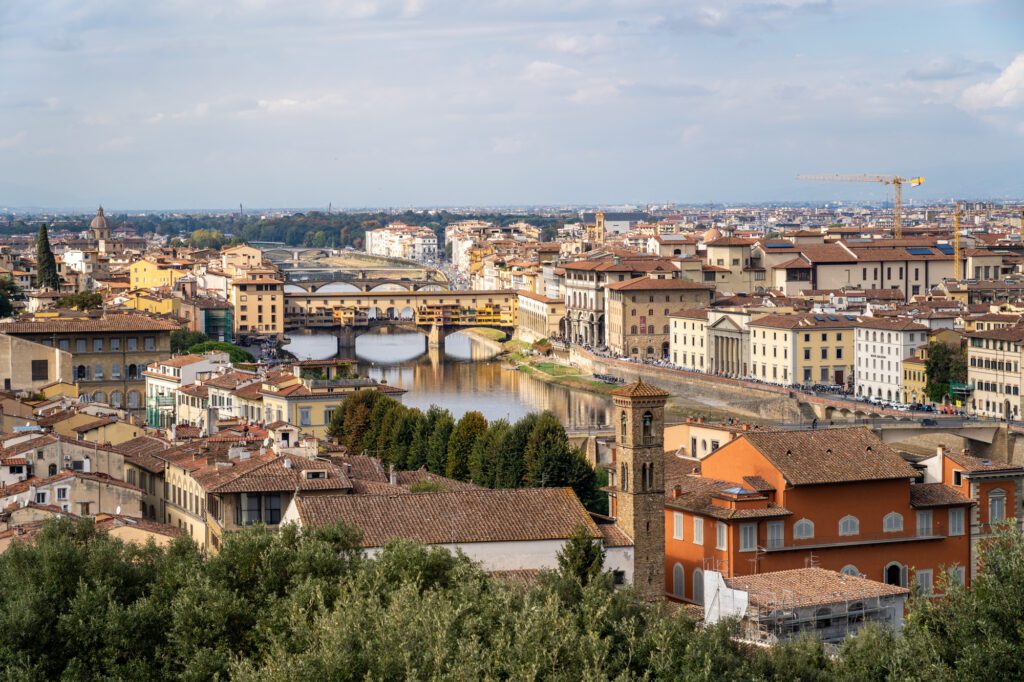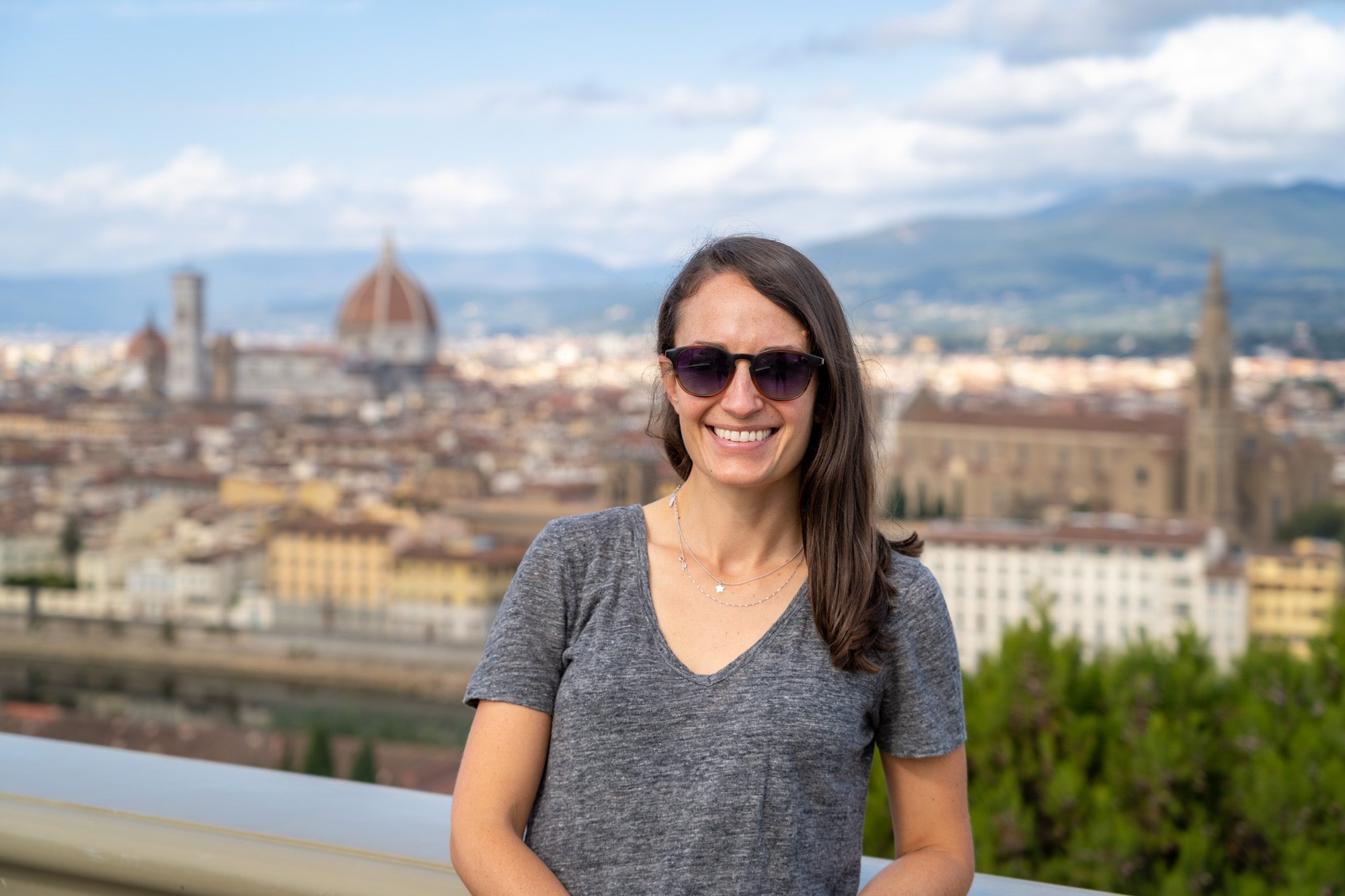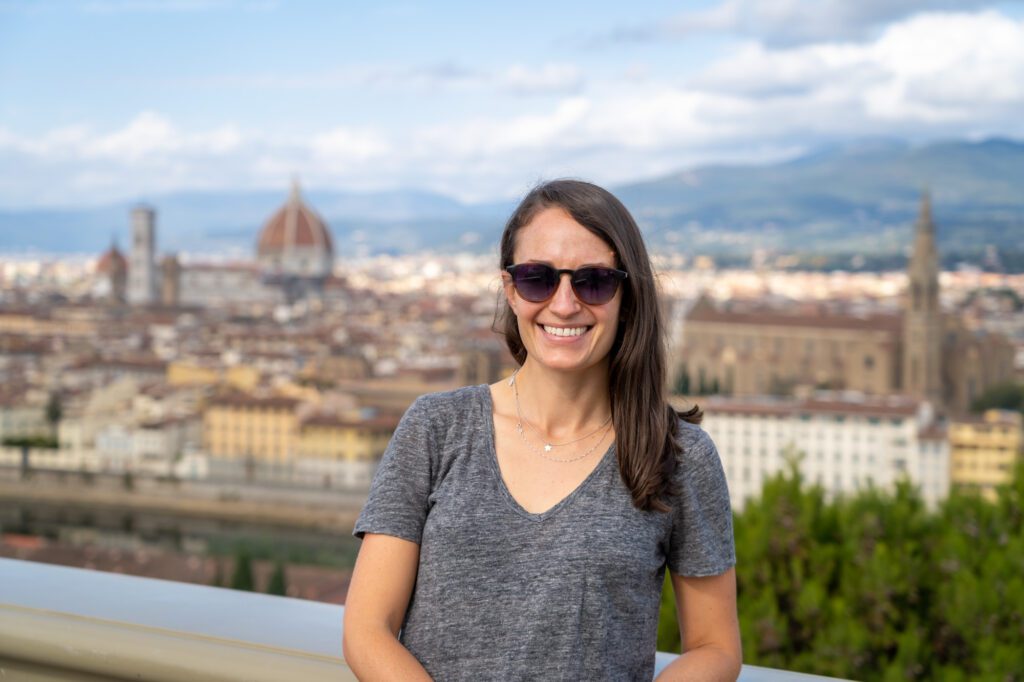 There's also a bronze replica of the David – don't let anyone convince you that it's the original – and plenty of vendors selling snacks and drinks at the top too.
Dinner in Florence
Finally, it's time to end your day in Florence with a relaxing dinner and a glass of local wine – or three.
If you want to taste authentic Tuscany, get Pappardelle al Cinghiale (pasta and wild boar ragu) with a glass of Chianti Classico. My mom was against the idea of eating wild boar, but it ended up being her favorite dish we ate on our Tuscany road trip.
There are two options we'd recommend for dinner – Ciro and Sons and Da Garibardi. Ciro and Sons is less authentic, because it's pizza instead of Tuscan cuisine, but it's incredible pizza.
Ciro and Sons is an award-winning pizzeria located close to many of Florence's main attractions in the heart of the historic city center. The line to get a table can be long, but the tasty pizza is certainly worth the wait.
Da Garibardi is a small local trattoria serving tasty traditional Tuscan cuisine. This is where you should get the wild boar ragu! There's also a great wine list and plenty of gluten free options to pick from.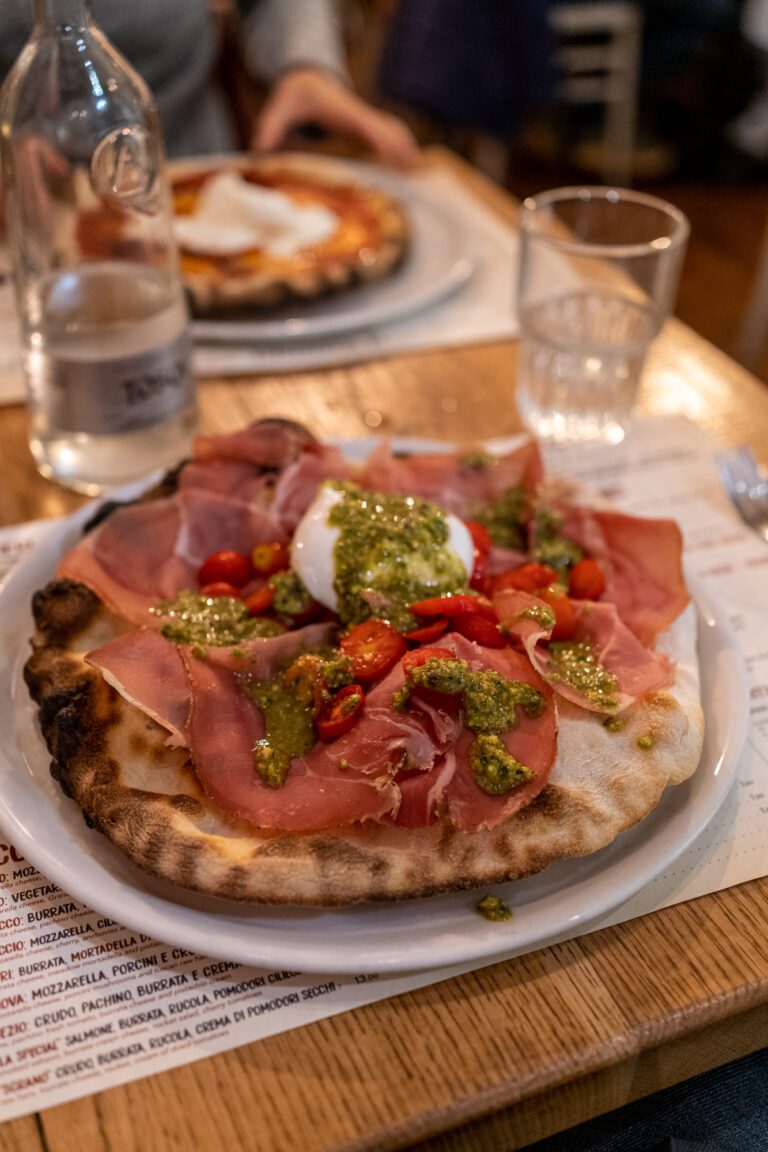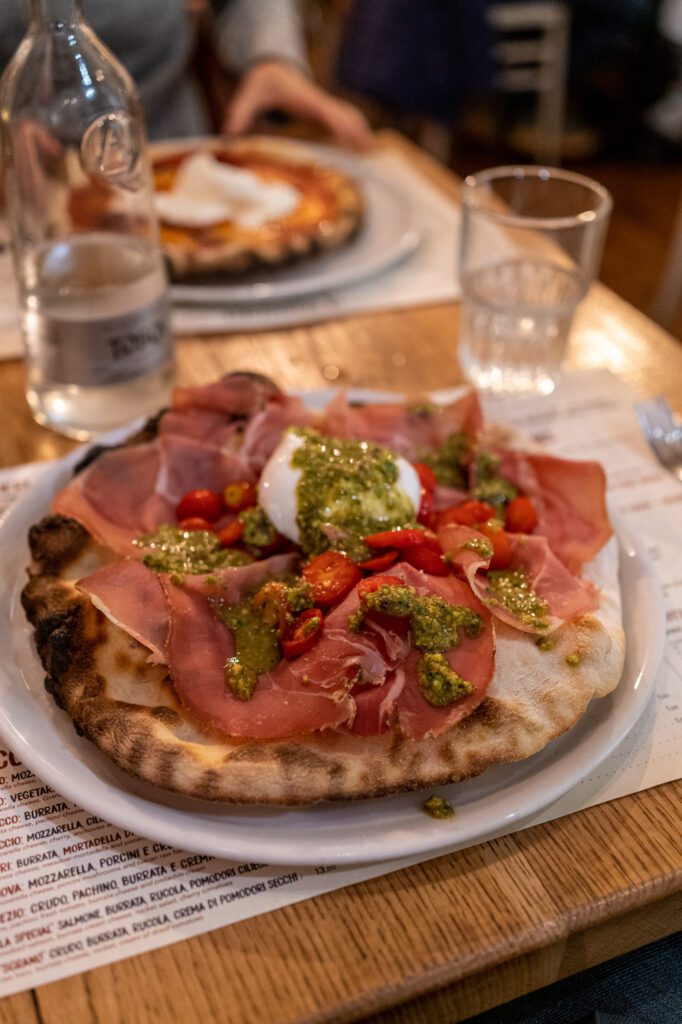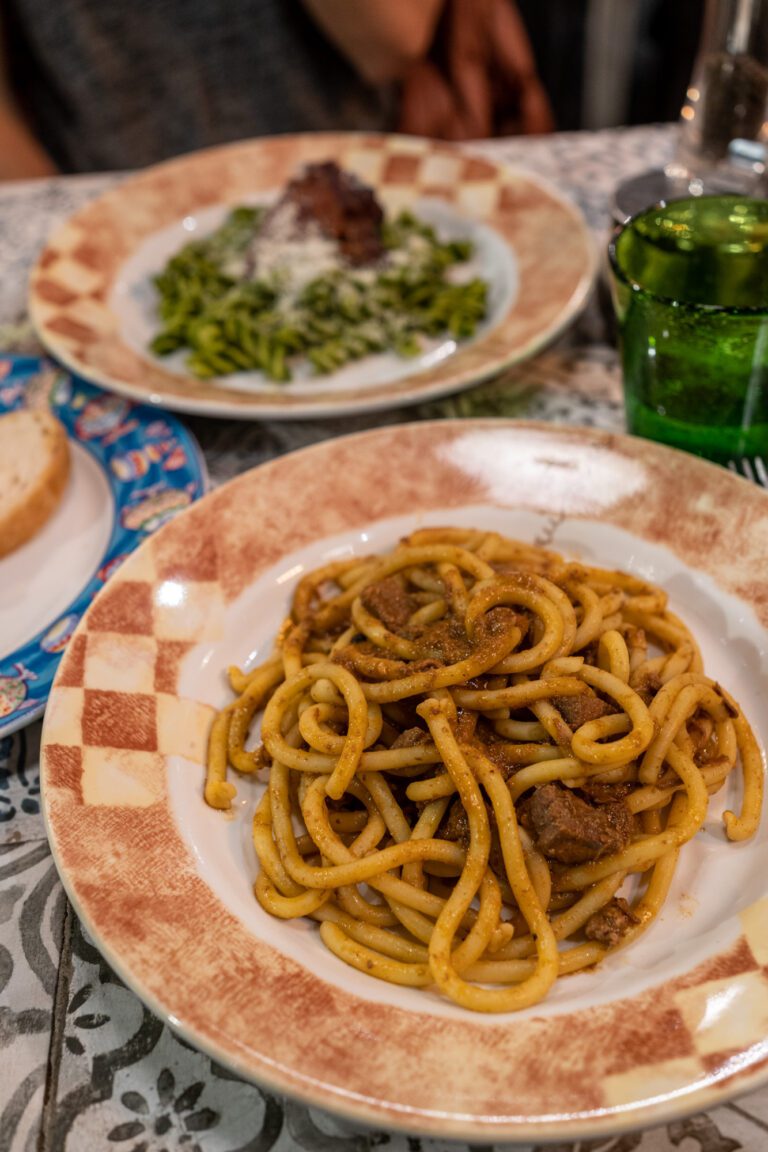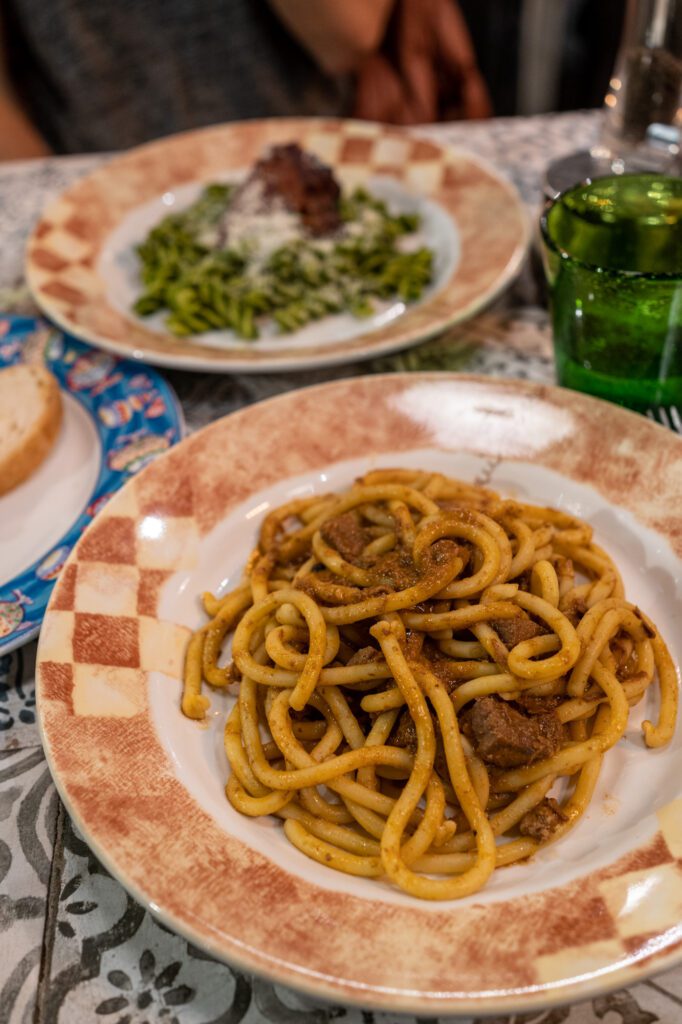 One Day in Florence: A Map
Here's a map to help you visualize what this itinerary looks like in terms of the amount of ground you'll cover.
What to Do With More Than One Day in Florence
If you do end up having more than a day in Florence, there are plenty of other sights and attractions you can add to expand this itinerary.
However, our first suggestion would be to spread out the above one day itinerary and take things at a slightly slower pace. We generally don't recommend multiple big sights on the same day, and you've got three in one day here.
Take your time wandering around the Accademia and Uffizi Galleries, explore more of the Oltrarno district, and enjoy a slow leisurely lunch or mid-afternoon aperitif in one of the city's charming piazzas.
Below are some additional things to do in Florence to extend your trip too. We'd definitely recommend dedicating some more time to the Duomo Complex. And if you're a foodie, a food tour will be a great addition to your trip.
With 3 days or more in Florence, a day trip out to wider Tuscany is also a must. Be sure to check out our 3 day Florence itinerary for a more detailed guide.
The Rest of the Duomo Complex
With more than a day, you'll not only have time to properly visit the cathedral's stunning interiors, but you can discover the rest of the attractions on Piazza del Duomo too.
Florence's Piazza del Duomo is home to far more than just the iconic cathedral and its impressive Dome. The Duomo Complex also includes Giotto's Campanile (Bell Tower), the Baptistery, the Duomo Museum, and Santa Reparata.
Giotto's Campanile is the slender and elegant 277.9 foot bell tower belonging to Florence Cathedral. You can climb 414 steps to the tower's summit for more amazing panoramic views over the piazza and city.


The Baptistery of San Giovanni is the oldest religious building in Florence. The Octagonal church is best known for the 13th century Byzantine mosaics adorning the inside of its large dome and its intricately decorated doors.


Opera del Duomo Museum houses many of the original objects and artworks from the Duomo complex, including the original panels of Ghiberti's Baptistry door known as the Gates of Paradise.


Santa Reparata was the original cathedral of Florence, dating back almost 2,000 years to Roman times. You can visit the excavation site and see the archeological remains of the ancient church in the crypt underneath the current Duomo.
The cathedral itself is free to visit – although the line to get inside can be long.
Plus, if you've already purchased the 'Brunelleschi Pass' to climb Brunelleschi's Dome, it includes free access to the entire Duomo Complex for 72 hours. So you won't have to pay more to add any of the above attractions to your itinerary.
You should also take some to wander around Piazza del Duomo and admire the amazing architecture in the square.
It's not hard to see that the Duomo, the Bell Tower, and the Baptistery are all part of the same complex from their shared Gothic-Renaissance style and famous marble design.
Pitti Palace and Boboli Gardens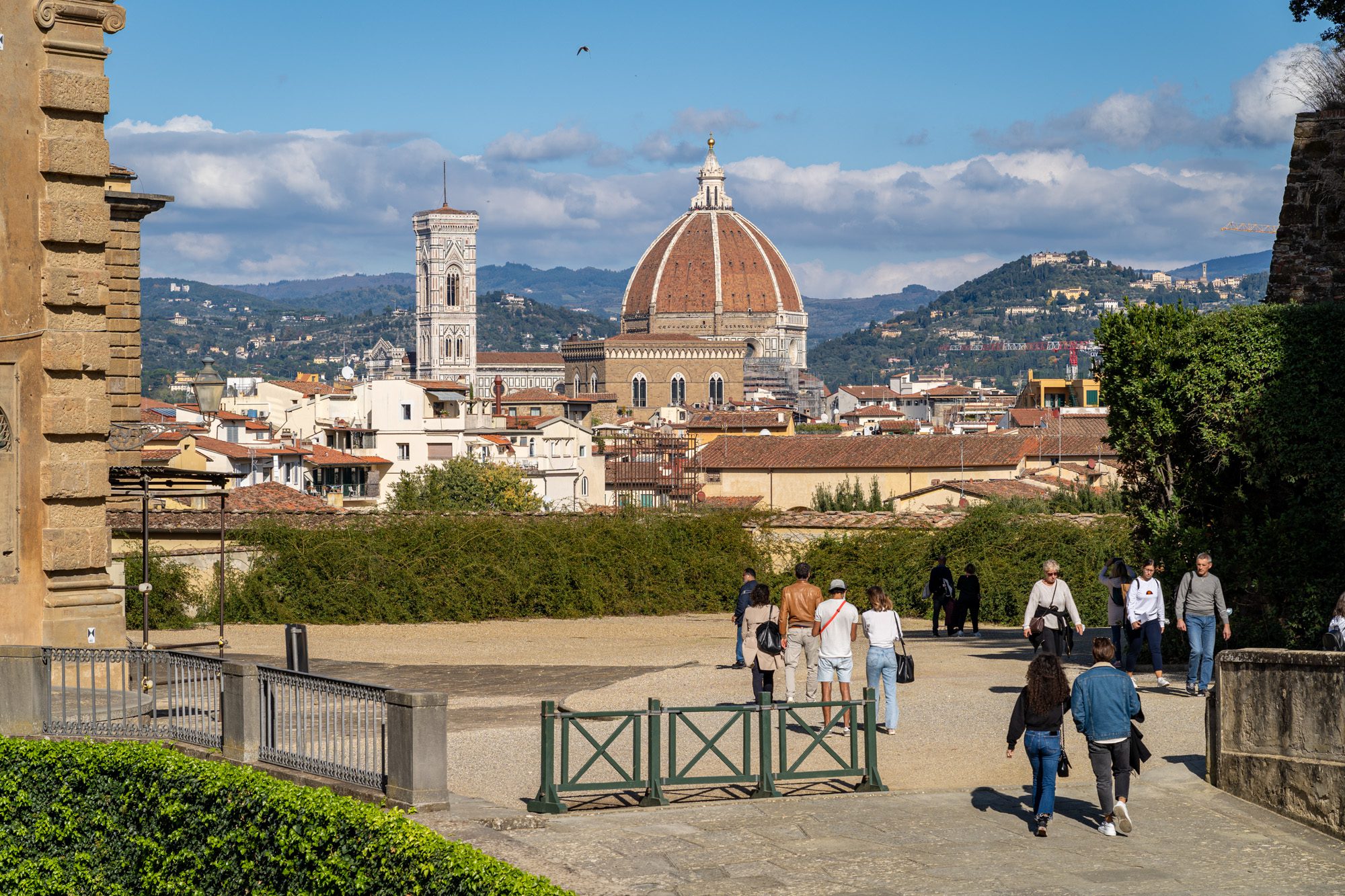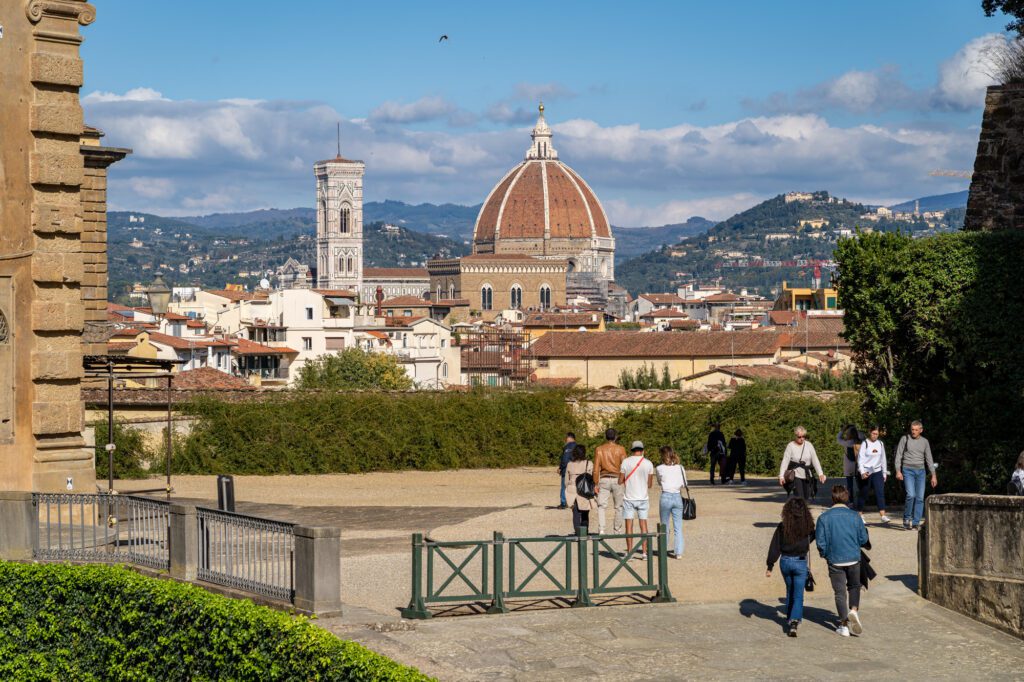 The Pitti Palace is a 15th-century palace located in the heart of Florence's Oltrarno district. The grand Renaissance palace was purchased by the Medici family in 1549 and served as the chief residence of the ruling families of the Grand Duchy of Tuscany for several centuries.
Today, the palace is an expansive museum complex with four main galleries:
The Treasury of the Grand Dukes
The Palatine Gallery and the Imperial and Royal Apartments
The Gallery of Modern Art
The Museum of Costume and Fashion
The palace is HUGE and you can easily spend an entire day exploring the many galleries. However, if you've already had enough of museums after visiting the Accademia and Uffizi (we don't blame you!), we'd recommend focusing on the lovely green space that sits behind the palace – the Boboli Gardens.
Spanning over 45,000 square meters, the Boboli Gardens are the largest green space in Florence. On a stroll around, you'll discover fountains, pergolas, grottos, a small lake, botanical gardens, and hundreds of ornate Renaissance statues.
The palace gardens are a beautiful and peaceful spot to escape the busy city streets for an hour or so. On a warm day, you could even bring a picnic or drink to enjoy in the park.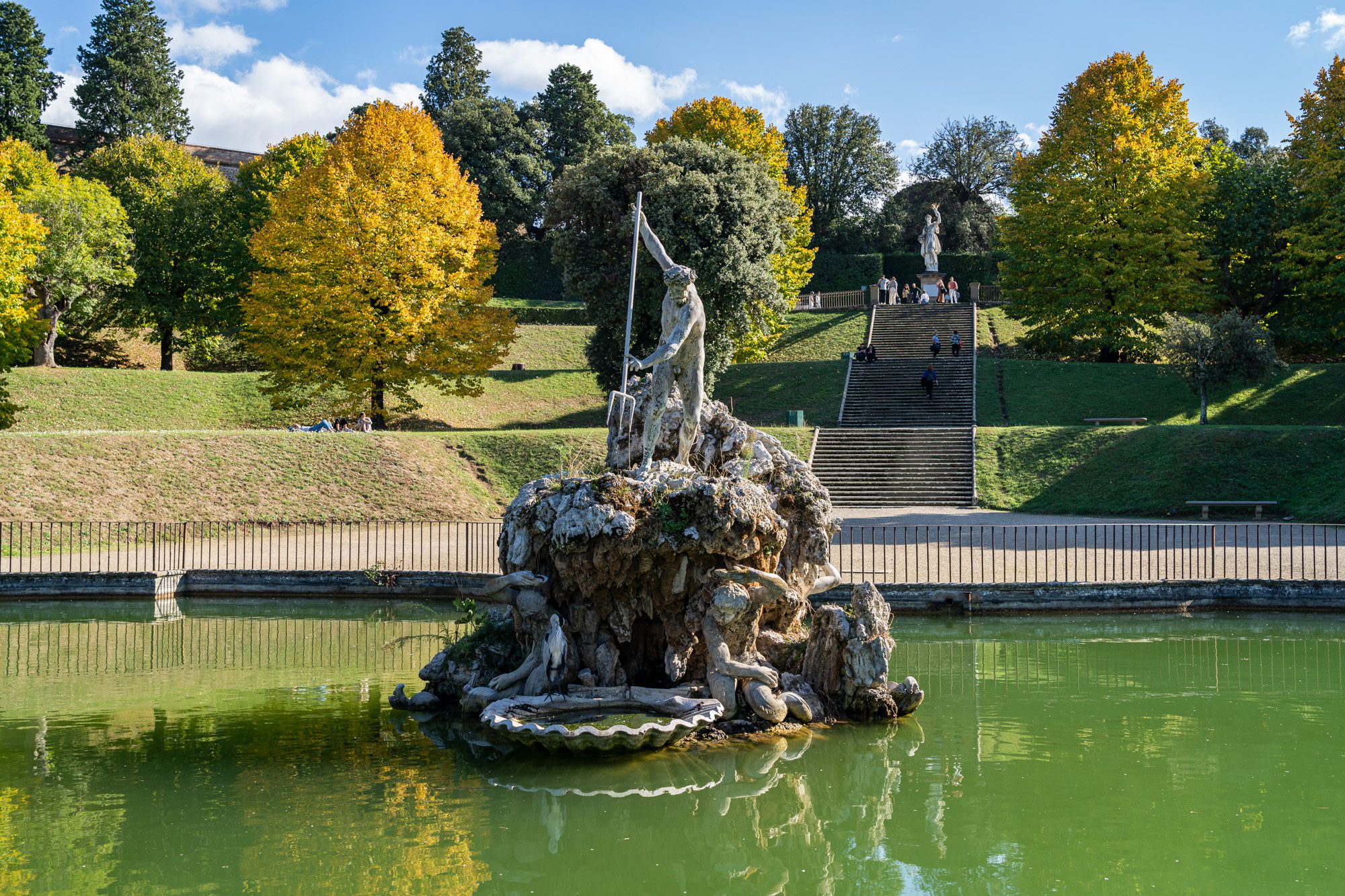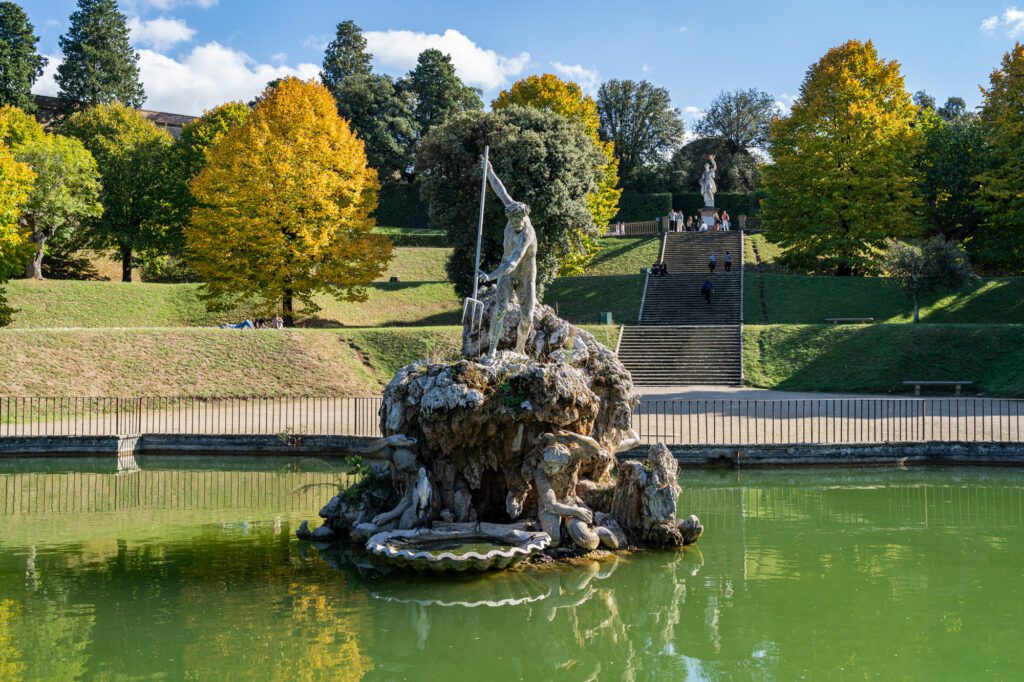 It's best to buy your ticket to either or both attractions in advance as the line to buy them at the gate gets long during busy periods.
You can buy a single ticket to visit all of the museums of the Pitti Palace (€10), a single ticket for the Boboli Gardens (€6), or a combo ticket for both (€14).
If you plan on visiting the Pitti Palace, Boboli Gardens, and Uffizi Gallery, you'll save money by purchasing the PassePartout combination ticket for all three (€38).
The entrance to the Pitti Palace and Boboli Gardens is the same (here on Google Maps). If you're looking at Pitti Palace, the ticket office is off to the right.
Mercato Sant'Ambrogio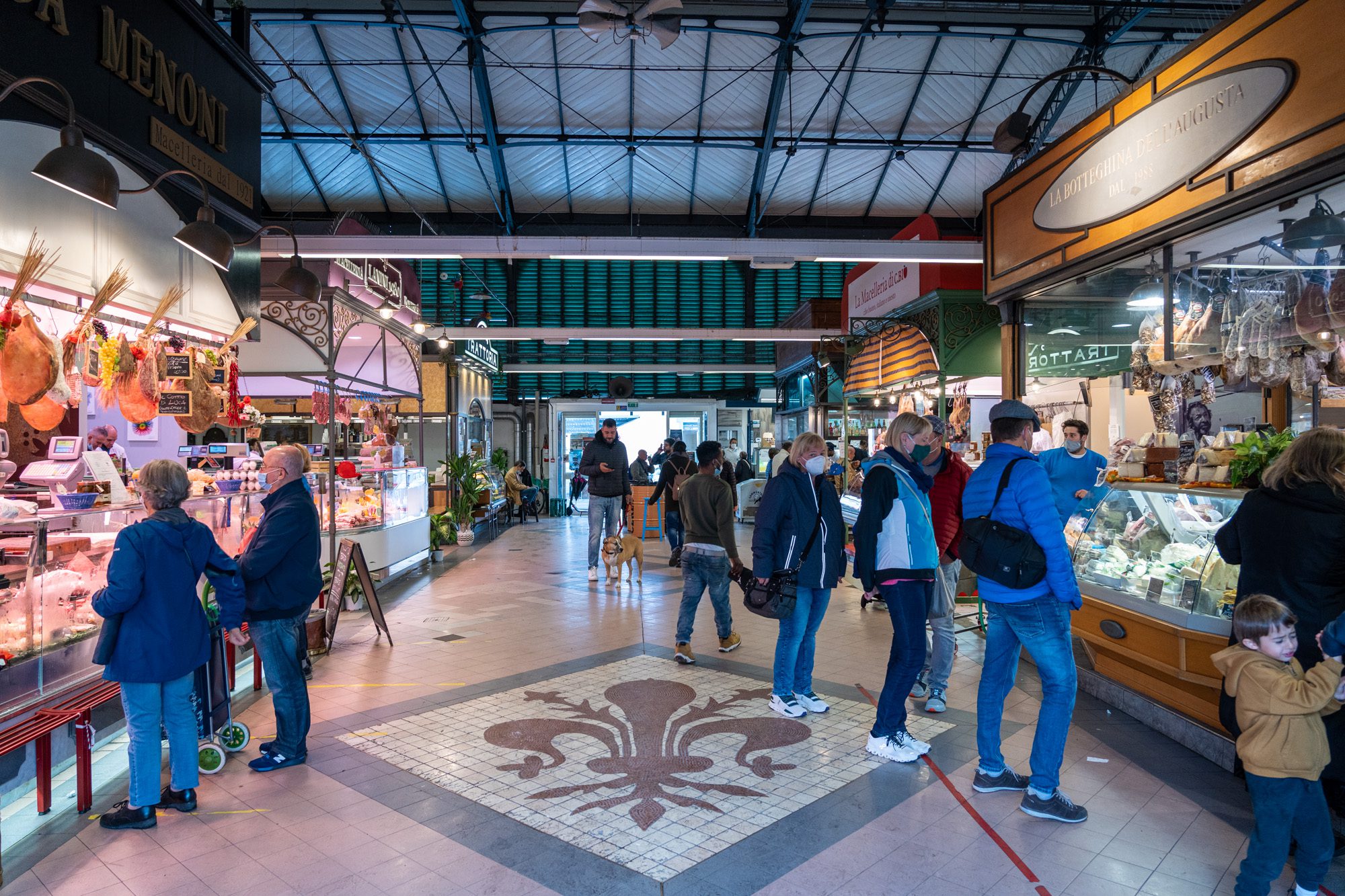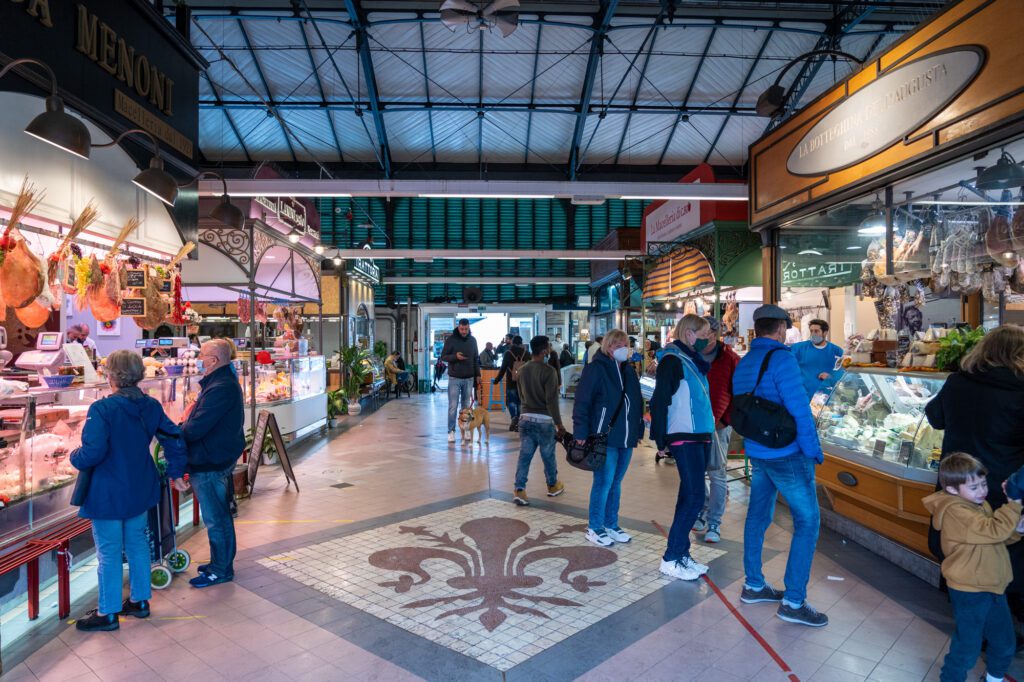 In the above itinerary, we already mentioned Florence's exciting foodie hub that is Mercato Centrale. For an even more local food experience, don't miss Mercato Sant'Ambrogio.
Mercato Sant'Ambrogio is less well-known than Mercato Centrale, and therefore less crowded with large groups of tourists. The local market is about as authentic as central Florence can be. We heard far more Italian being spoken here than anywhere else in the city.
Inside the covered market are numerous traders selling fresh ingredients such as meats, fish, and cheeses, as well as tasty ready-to-eat dishes.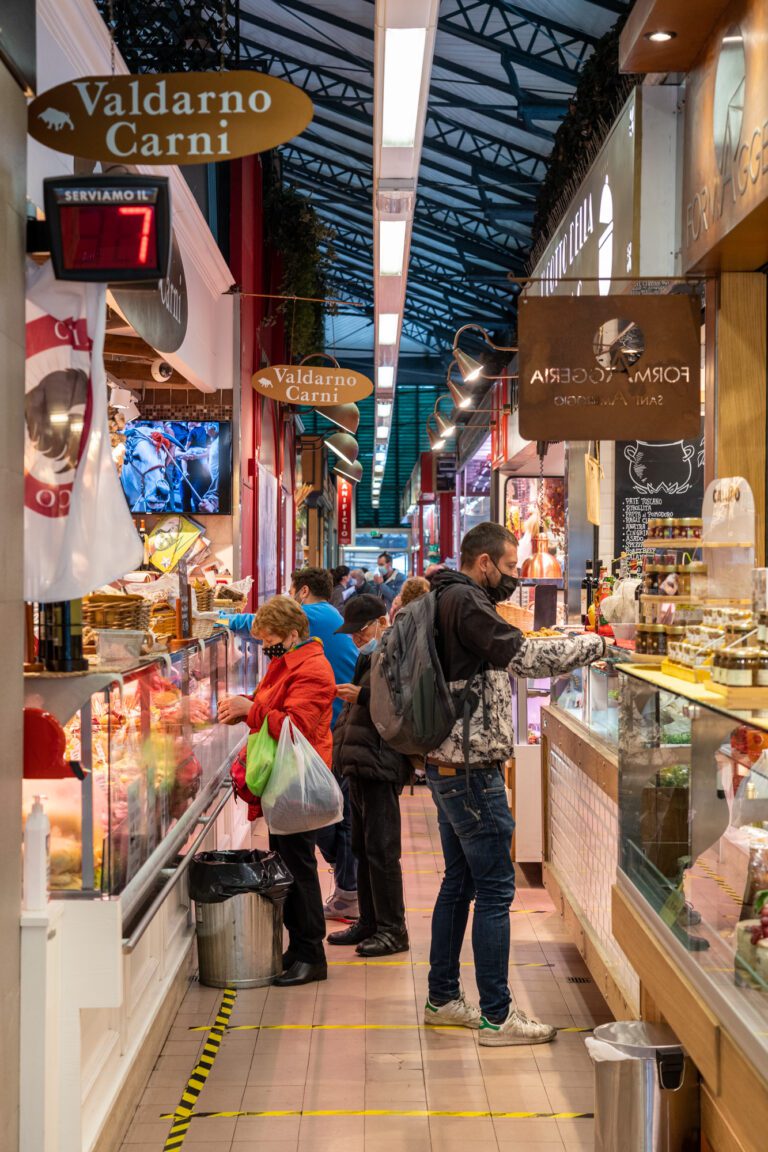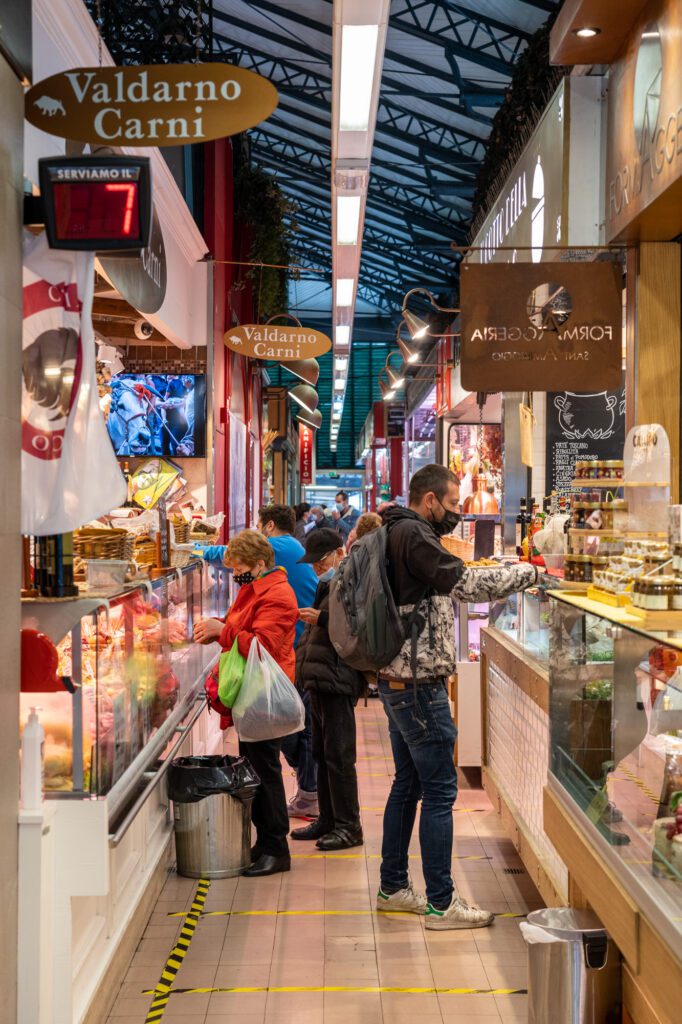 While outside is the bustling farmers market, where you'll find many locals enthusiastically haggling for freshly picked produce.
The market is open from 7:00 am to 2:00 pm Monday to Saturday, so make sure to head there in the morning.
Take a Food Tour
Another great option for foodies looking to dive deeper into Florence and Tuscany's world-class cuisine is going on a food tour.
On this 'Secret Food Tour', you'll visit Mercato Sant'Ambrogio and several other hidden spots in the city while learning about Florentine cuisine and food culture from passionate local guide Massimiliano.
Along the way, you also get to sample 20 delicious local delicacies, including schiacciata (the unique Florentine sandwich), olive oil, truffle, cheese, gelato, coffee, wine, prosecco, and more.
Go On a Walking Tour
A walking tour is one of our favorite things to do whenever we first arrive in a new city. And Florence was certainly no exception.
We did Andrea's Walking Tour on our first evening in Florence and it was one of the best walking tours we did during our three months in Europe! Andrea is about as Italian as it gets, and we loved the energy and enthusiasm he brought.
Andrea's tour is a great introduction to the city and its complicated history. It also helped us get to grips with the layout of the compact city and figure out where all the main attractions were. Plus, the tour is only two hours long, so it doesn't eat into your time too much.
The other recommendation we have, though we haven't done the exact tour ourselves, is the Take Walks Best of Florence Tour.
We love Take Walks, and have done four different tours with them over the past few years (read about our Colosseum Tour and our Louvre Tour with them). This is a great small-group walking tour of Florence that covers the histories and stories of all of the city's highlights.
The tour also includes skip-the-line entry to Florence Duomo and Michelangelo's David at the Accademia Gallery, so it's well worth the price.
Take a Cooking Class
This cooking class is an excellent opportunity to learn more about local Florentine and Tuscan cuisine and food culture in a fun and interactive way.
The full-day cooking class takes place in an old woodland house in the beautiful northern hills of Lucca, just 20 minutes from central Florence. The farm house overlooks a beautiful vineyard and the region's signature olive groves.
During the class, Eleonora and Marco – the lovely owners of the small organic farm – will guide you through making several authentic Tuscan recipes using traditional cooking techniques.
When you've finished your creations, you can sit back and enjoy your homemade meal with a glass of local wine and admire the spectacular views of the Tuscan countryside as the sun sets. It doesn't get any better than that!
Transport between the farm house and Lastra a Signa station is included with the cooking class. The station can easily be reached by taking a 17 minute train from central Florence for as little as €2.70 each way.
Take a Day Trip
Florence's central location in the heart of Tuscany makes it the perfect base for exploring the surrounding region, as well as some of wider Italy. If you have more than a few days in the city, we'd definitely recommend taking a day trip or two.
Below are a few day trips from Florence to consider, depending on what you're interested in. 
Siena is a charming hilltop town located in the Tuscan hills, around an hour south of Florence. The historic town once rivaled Florence in its wealth and power, which is evident from its elegant Medieval architecture, lavishly decorated Duomo, and world-class art scene. The town is also well known for hosting the Palio horse race, which takes place twice each summer and is an exciting – though extremely busy – time to visit.


Bologna is widely regarded as one of the top food cities in Italy, making it the best day trip from Florence for foodies. You can try the local dish of Tagliatelle al Ragù Alla Bolognese and sample plenty of parmesan cheese, prosciutto di Parma, and mortadella sausage, all of which are products of the surrounding Emilia-Romagna region. The best part? The high speed train gets you from Florence to Bologna in as little as 40 minutes, giving you plenty of time to eat to your heart's content.


Chianti is one of the world's oldest and most famous wine regions, and is located just to the south of Florence. Famous for its bold reds, a visit to Chianti is a must for wine lovers in Italy. You have two options for visiting Chianti from Florence. The first is a tour that visits multiple wineries and includes transportation from Florence (like this one or this one). The second is to make your own way to the region, then go deeper with a more comprehensive winery tour and tasting (like this one or this one).
Getting Around Florence
Considered by many to be a 'living museum', Florence's world-renowned Renaissance architecture is what makes it one of the most beautiful cities in all of Italy, if not the world. To really soak in its unparalleled beauty and rich history, the city is best explored on foot.
Plus, Florence's historic city center is pretty small, so walking between attractions won't eat into your limited time when you only have a day. You can walk from one side of the city to the other in less than 30 minutes.
Everything in this Florence one day itinerary is walkable – see above for a map so that you can visualize how everything fits together.
If you do want (or need) to use public transport, you can also utilize Florence's fleet of small electric buses. The buses can't fit down many of the small streets in the historic city center, but routes do run between most major attractions.
A bus ticket costs €1.50 and is valid for multiple journeys up to 90 minutes, so you can jump on and off different buses if there's no direct route. Tickets can be purchased from convenience stores around the city.
If you can't find a store, you can try to buy a ticket on the bus instead. When purchasing tickets on board, the price jumps up to €2.50, you'll need to use exact change, and it's not guaranteed that the driver will even have any. So it's definitely best to purchase your ticket beforehand if at all possible.
Don't forget to validate your ticket as soon as you get on the bus. Otherwise, you could still receive a fine if a ticket inspector gets on board.
The Best Time to Visit Florence
Florence is a popular year-round tourist destination, meaning there's no real low season. However, summer is definitely the busiest period in the Italian city.
During July and August, you'll find that the small streets are considerably more crowded and the lines for the major attractions are much longer. It can also get unbearably hot in Florence during the peak summer months.
Fall is a better time to visit Florence in our opinion, with milder temperatures and slightly smaller crowds. Travelers also tend to be older compared to the many families that travel during the school summer vacation.
Winter is the quietest time of year in Florence. However, many places are going to have limited hours compared to summer (and might be outright closed in late December and early January). Temperatures also drop to a daytime average of 52°f.
Spring is another lovely time to visit Florence. You'll get to experience the flowers and foliage of the city's parks in full bloom. Weather and crowds are similar to fall, but with a bit more traffic around the school breaks and Easter.
If you only have one day in Florence, the day of the week you visit is also an important factor to consider.
Most museums in Florence are closed on Mondays, so it's best to avoid visiting the city on this day. Sundays can also be a little tricky, with some bars and restaurants closed, and some restrictions on entering the Duomo.
---
Heading to Italy?
We've been to Italy multiple times – obviously we love it – including more than a month on our last trip!
If you enjoyed this guide and found it helpful, you definitely won't want to miss our detailed guide to planning an amazing 10 Day Italy itinerary, which covers Rome, Florence, and Venice and is perfect for a first trip.
We also have a guide to spending two weeks in Italy, which combines those three main cities with a few lesser known cities (Bologna and Verona), or a guide to spending one week in Italy, which has six different ways to spend 7 days.
Here are some of our other Italy guides to help you plan an incredible Italian adventure.
Rome:
Florence:
Venice & Milan:
Cinque Terre:
Sicily:
Need to Eat Gluten Free in Italy?
If you're traveling and need to eat gluten free like me, Matt (I have Celiac Disease, which is why I started this site in the first place), then you'll want to check out our gluten free guide to Italy, along with our city guides for Rome, Florence, and Milan to help you find the best gluten free pastries, pizzas, and more.