Traveling with Celiac Disease in New Zealand: NZ South Island Trip Recap
The South Island of NZ is basically paradise, even for those of us traveling with celiac disease.
Within several hours of driving, you can do world class hiking, see some of the most stunning landscapes in the world, drink wine from one of the best wine regions in the Southern Hemisphere, and get your heart pumping in the world's adventure capital.
In the bigger cities, there is a thriving community of restaurants that cater to those of us who need to eat gluten free. From gluten free fish and chips, to tacos, to Indian food, to Pizza, you can find it in New Zealand.
You can find more tips for traveling in NZ with celiac disease on my Gluten Free New Zealand page.
Here is a recap of my three week New Zealand adventure.
Don't miss my crazy detailed 2 week New Zealand itinerary to help you plan your trip with the best places to go and things to do, best places to stay, and where to find safe gluten free food.
Can't Miss South Island Destinations
We did a big 3 week roadtrip loop around the South Island of New Zealand. Here were some of the most amazing places that you should try to hit on your New Zealand trip.
Aoraki / Mt Cook National Park
If you love hiking and being in the mountains, Mt Cook National Park is for you.
Lake Tekapo
Bright blue water and the most photogenic church in the world – what's not to love?
Abel Tasman National Park
Pristine sandy beaches and tropical vibes at the Northern tip of the South Island.
New Zealand's Wild & Scenic West Coast
A picturesque drive down the West Coast with stunning vistas and must-stop viewpoints all along the way.
Wanaka
World-class hikes, that weird tree, and celiac-safe gluten free eats made Wanaka my favorite place on NZ's South Island.
Milford Sound
In the running for the most stunning landscapes I've seen in my life alongside Patagonia. Don't miss the Kayak tour!
Queenstown
Perfect for adrenaline junkies and gluten free foodies! (Why not both?)
Traveling with Celiac Disease in NZ
The first thing you should know about traveling in NZ with celiac disease is that you will likely need to cook a lot of meals yourself – which I actually enjoy because it's cheap, and eliminates the risk of getting sick on vacation. More on that below.
In general, I found that traveling with celiac disease in New Zealand was relatively easy compared to some other places I've been (looking at you, Gerrmany). Here's why:
There's no language barrier in New Zealand, so navigating grocery stores for gluten free products and asking about cross-contamination at restaurants is easy.
They have very clear labeling laws that make it hard to hide gluten in a product, like you can in the US. You can't label a product gluten free if it contains oats! According to CoeliacNZ, if it doesn't say the word wheat or gluten on the label, it's gluten free (if made and processed in NZ or Australia).
Speaking of which, CoeliacNZ is a fantastic resource for everything from a (limited) dining out guide, to lists of certified gluten free products to look for.
Most people in NZ I encountered knew exactly what I meant when I said "celiac disease" and were super friendly and willing to help me figure out what I could and couldn't eat.
However, outside of bigger towns and cities, I would not expect to find many celiac-safe gluten free restaurant options. Luckily, many of the accommodations we looked at and ultimately stayed at had kitchen facilities.
I would recommend stopping at "The Warehouse" (basically, a department store like Walmart or Target in the US) to grab new pots, pans, dishes, and glasses to avoid cross-contamination with the ones that your accommodations provide. We spent $45 (USD) on them in our first few days, and used them countless times right up until our last day.
The only places I ate out were in Wanaka, Queenstown, and on a brief stop in Christchurch. The other 90% of meals were cooked ourselves, which saves considerably on food costs, and also eliminates the risk of getting sick on vacation.
Where to Find Safe Gluten Free Groceries
There are three main supermarkets that I came across in New Zealand: New World, FreshChoice, and Countdown. Each one had a gluten free section, gluten free labeling on the shelves (a tag that called out "gluten free"), and helpful staff. I will say that the selection of gluten free products and snacks varied by store – stores in bigger towns and cities had much better selections.
Here are my favorite gluten free foods I found in NZ.
FreshChoice was my favorite in terms of selection, but it was a bit more expensive. Kind of like a Whole Foods.
New World was the best balance of price and selection, plus they are EVERYWHERE. 80% of our grocery shopping in NZ was done at New World.
Countdown was fine. There are a lot of them. Selection is okay. Prices are good. But the shopping experience wasn't as good as New World.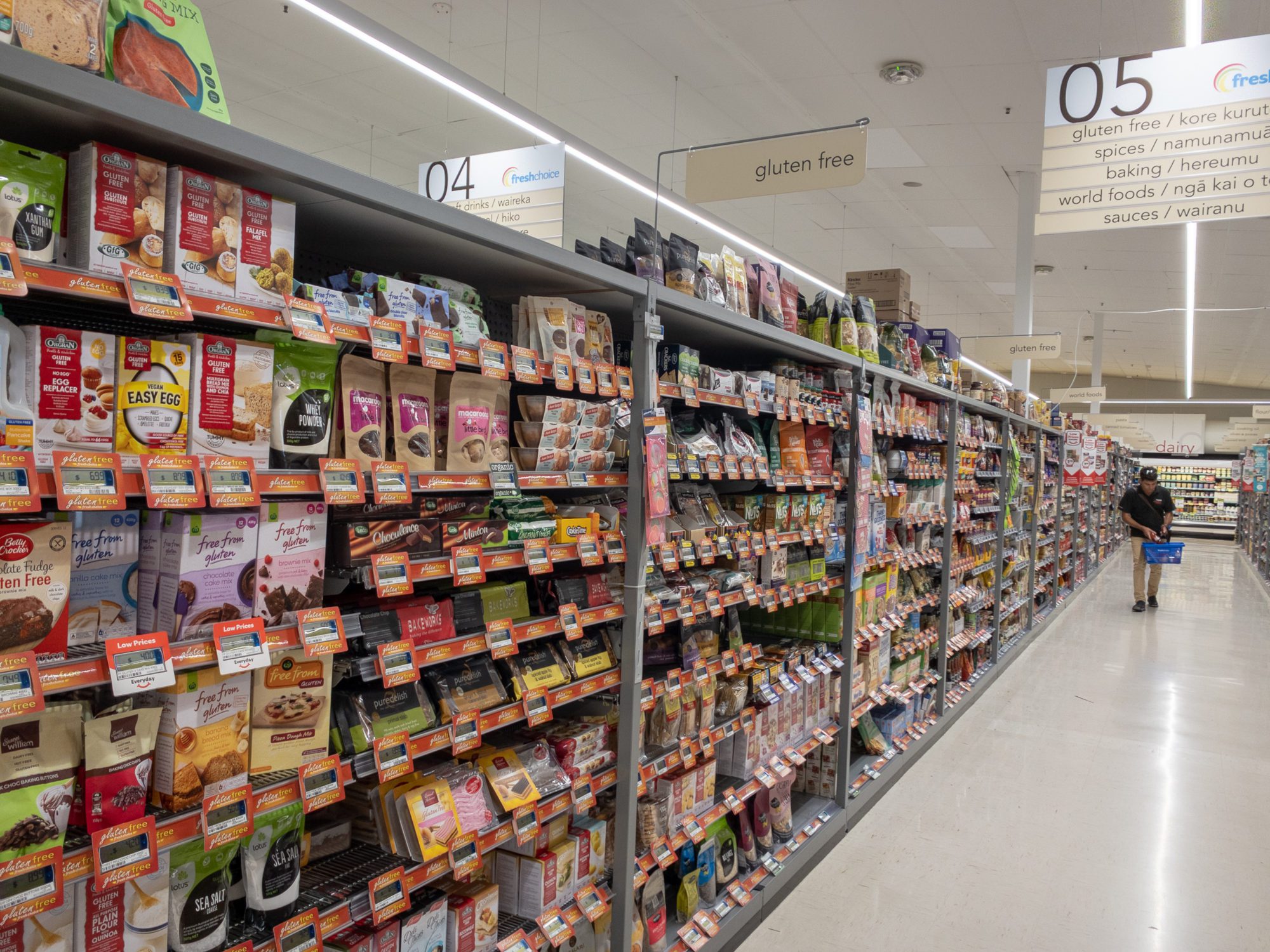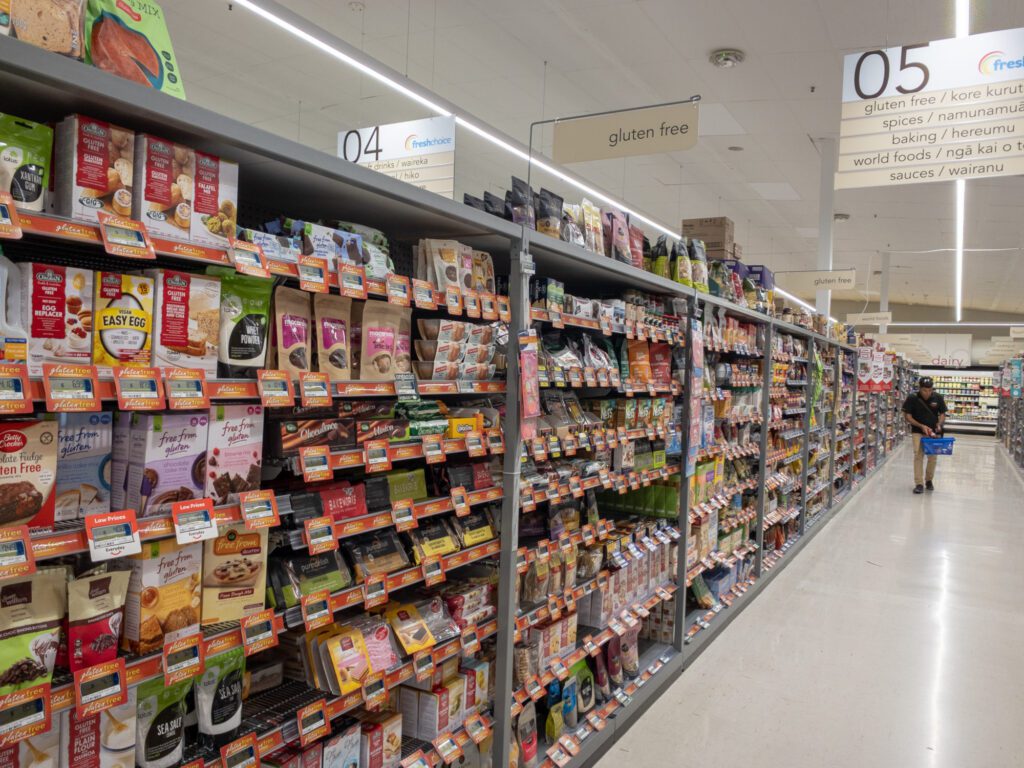 Gluten Free Alcohol for Celiacs on the South Island of NZ
It's vacation! You deserve to relax and enjoy some drinks while you take in everything that NZ has to offer. Here's what I found in terms of gluten free booze.
Drinking New Zealand Wine
Wine is gluten free, with a few minor exceptions.
New Zealand is known for Sauvignon Blanc, which you can find pretty much everywhere. It's worth exploring some of the wineries between Wanaka and Queenstown (We loved Wet Jacket Wines, particularly their Gewurztraminer), and then up in Marlborogh, NZ's primary wine-producing region. Stop at Forrest Wines for a gluten free cheese plate safe for celiacs (tell them you have celiac disease and they will take care of you), and Wairau River for some of the best Sauv Blanc that we found.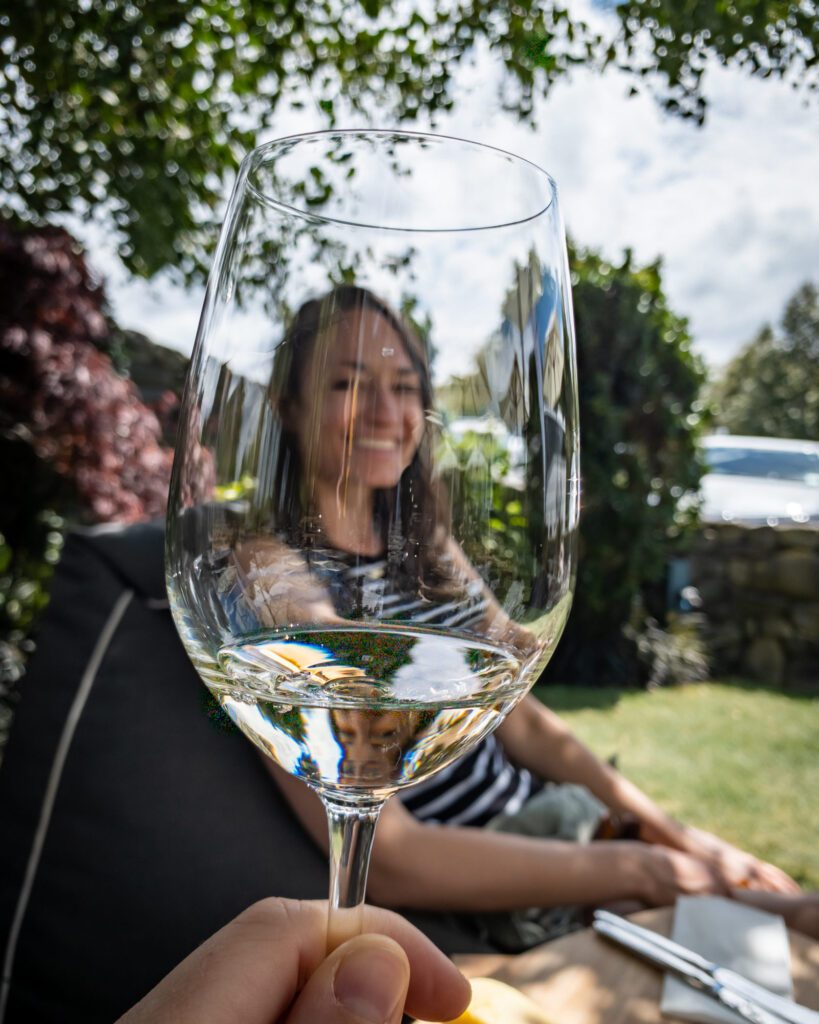 Gluten Free Beer in NZ
I found exactly one 100% gluten free beer on the South Island of NZ – Scott's Gluten Free Pale Ale.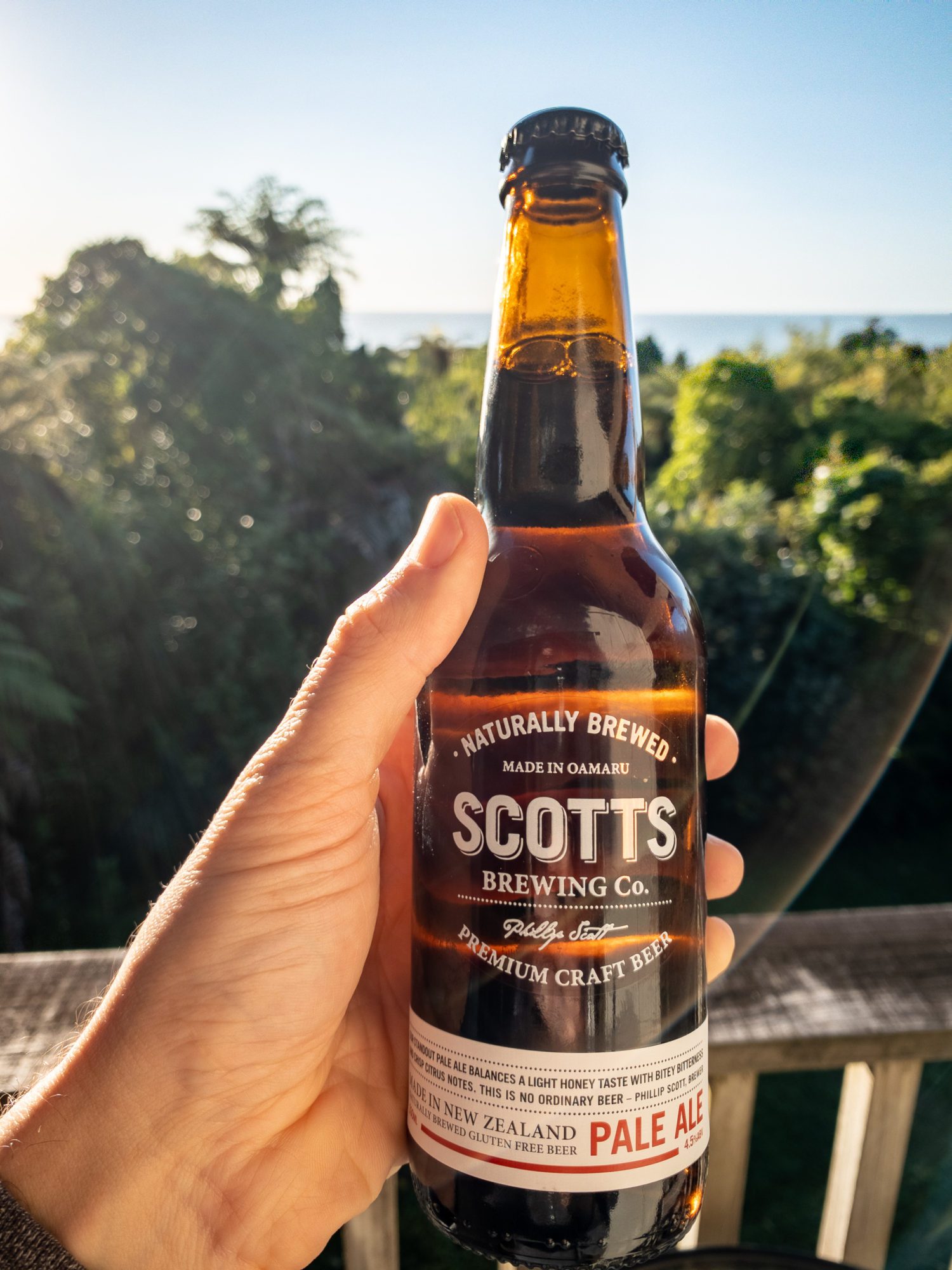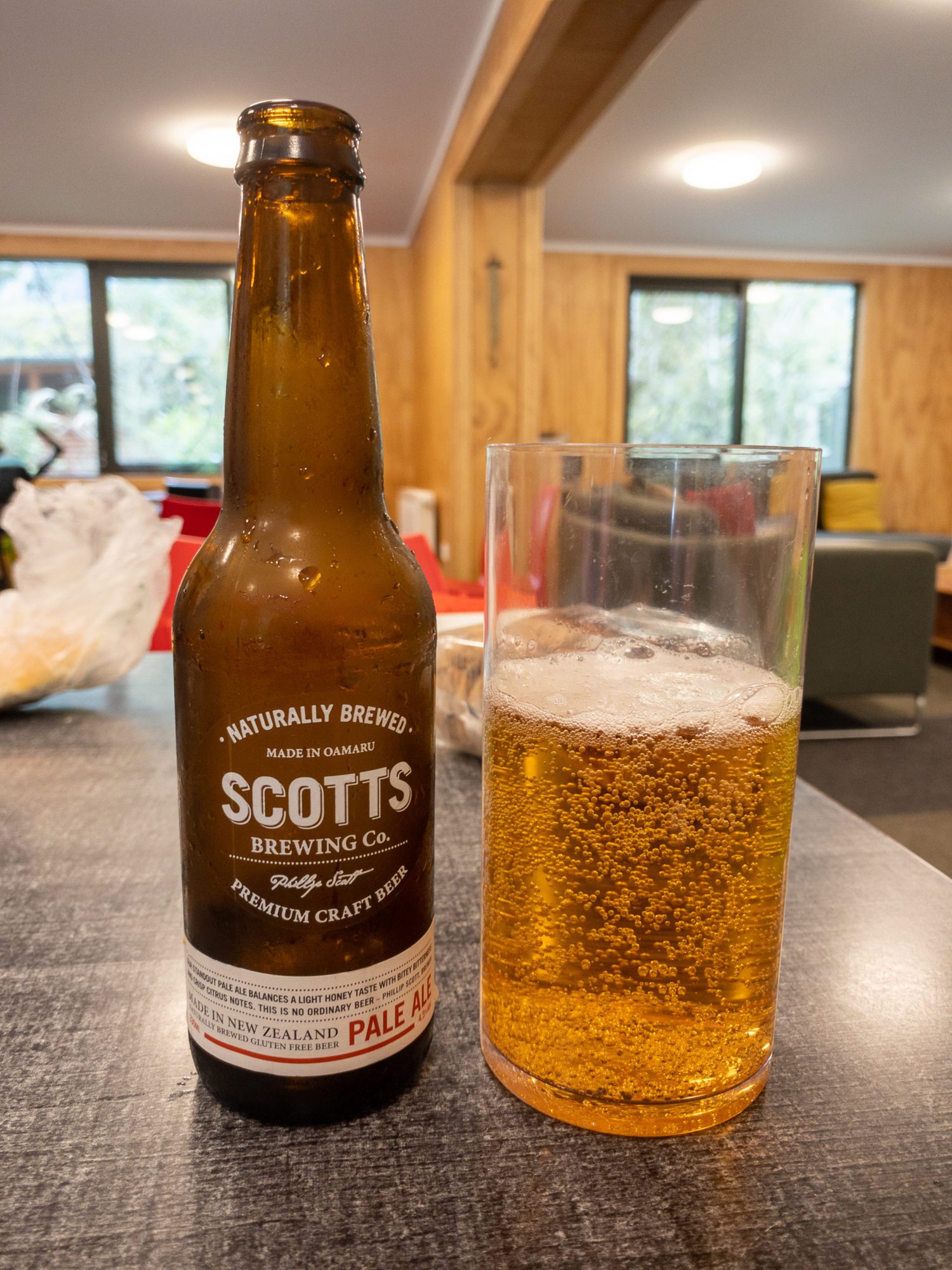 It comes in 6 packs made of cardboard, and I found it at all major supermarkets and liquor stores I stopped at in New Zealand. They make beer that is not gluten free, so make extra sure you are grabbing the right one.
They started making gluten free beer after their beer-loving founder was diagnosed with coeliac disease, and found it really hard to get his hands on gluten free beer. So he made his own out of sorghum, buckwheat, and corn.
It's not the best gluten free beer that I've ever had, but it was enjoyable to drink and easy to find, which is half the battle with gluten free beers!
Best Gluten Free New Zealand Cider
As you might already know, I'm a cider lover. I used to love beer, then I was diagnosed with celiac disease, and turned to cider to scratch that itch.
In NZ, the cider industry is a little bit behind the US.
Here in the US you have seen hard cider elevated to a level that is approaching mainstream relevance, with a lot of bars in cities across the country starting to stock at least one cider. New Zealand's Cider industry is akin to what cider in the US looked like 5 years ago – you'll find a bunch of "Angry Orchard-esque" ciders that are sweet, albeit drinkable, but you're not seeing as much cider innovation as we are seeing here in the US.
That being said, there was one brand that stuck out to me as the best cider on the trip – Peckham's Cider. Don't take my word for it – they've won a bunch of NZ Cider Awards, including Champion Cider 2018, 2017, 2016 and 2015, and 7 Gold (out of 10 awarded) and 5 Silver medals in 2018. The best part? It's all gluten free!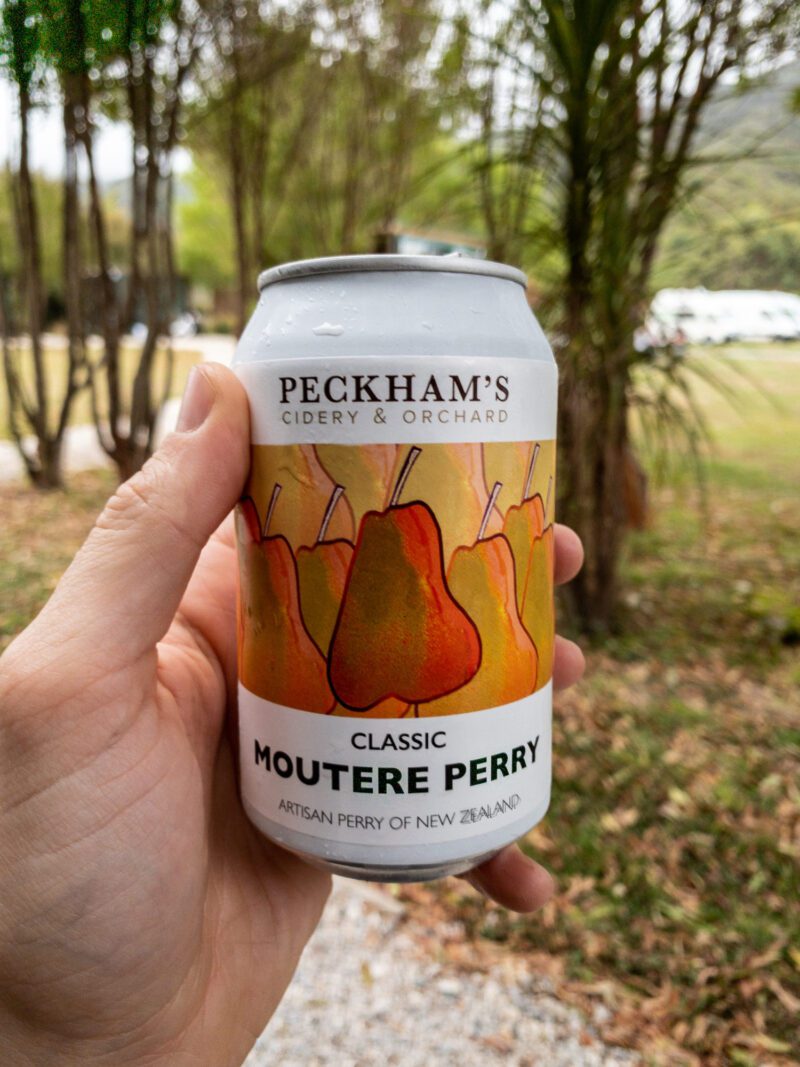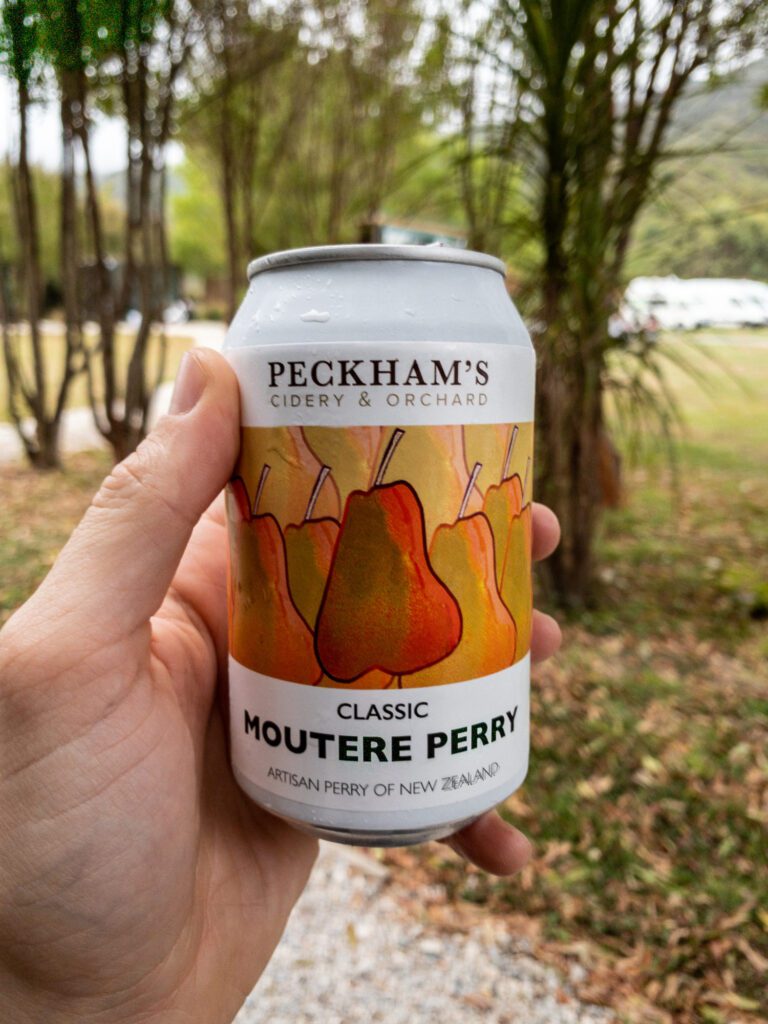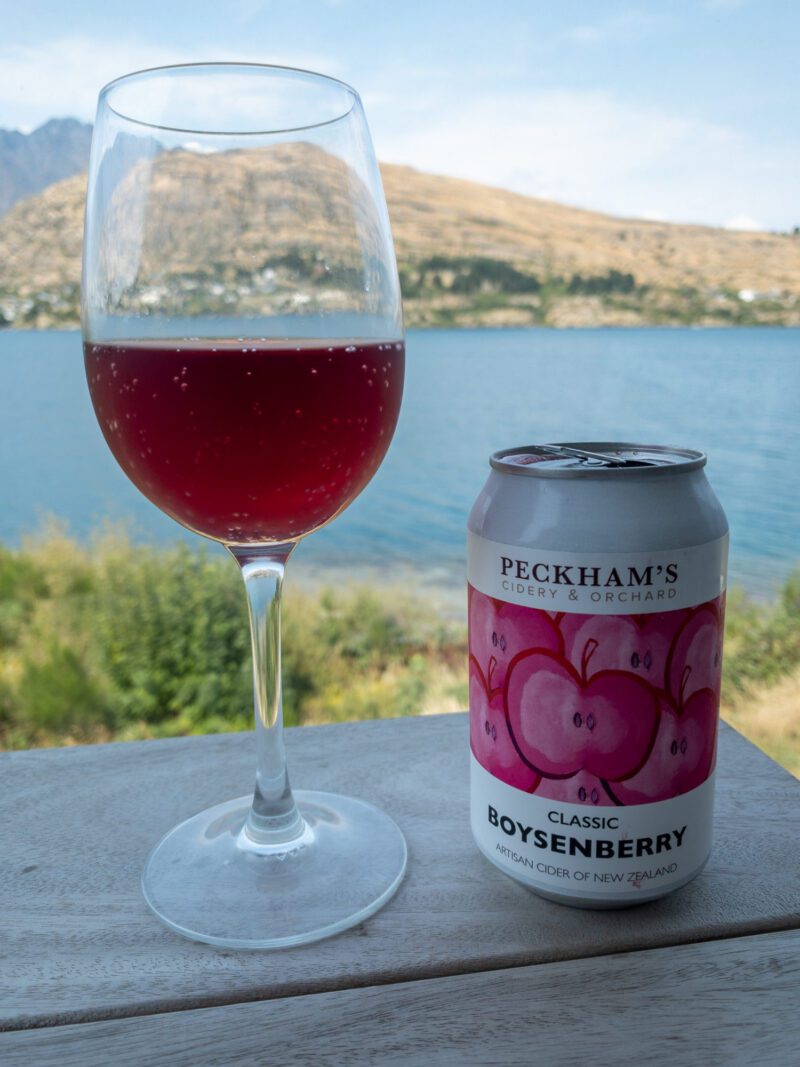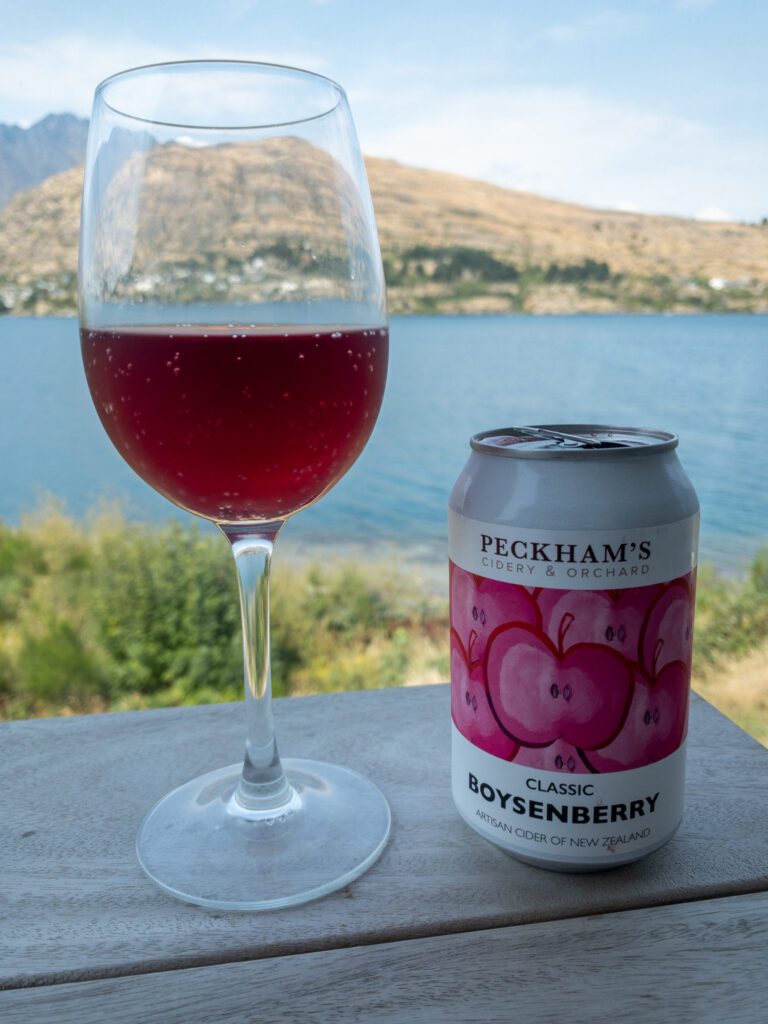 I tried all four of their classic ciders (Moutere Apple, Moutere Pear, Elderflower, and Boysenberry) along with a few of their "reserve" ciders, and they were all fantastic. Really. We had some bad cider on this trip, and every single one from Peckham's was phenomenal. The Boysenberry was our favorite, and ranks among the best ciders I've ever had. We brought as much home as we could fit in our checked bags.
Some other gluten free cider brands to try:
Zeffer Cider: Easy to find, hit or miss (some were very sweet), all gluten free. Get the Cherry-infused.
Abel Cider: Really good, bone dry, and gluten free. Hard to find though – I only saw it once on the trip.
Wild Side Cider: Some interesting fruit combinations, gluten free, on the sweeter side of the spectrum.
My Three Week New Zealand South Island Itinerary
When I started planning a trip to New Zealand, I booked a flight before I had done any research at all on a flight deal from Scott's Cheap Flights. More on that below in "Finding Cheap Flights to NZ."
Originally, I had thought that 3 weeks would be plenty of time to see both of New Zealand's islands. I booked a flight into Auckland (the Northern tip of the North Island) and out of Queenstown, (Southern South Island). No problem right?
As I dove into full planning mode, I realized how wrong I was. New Zealand is BIG.
I decided that we would need to focus on one island, and we chose the South Island because of its diverse landscapes and reputations for being one of the best destinations for outdoor enthusiasts like us.
Full disclosure – our itinerary includes A LOT of driving. You will need to rent a car or campervan. The reason for the amount of driving is that both the Northern tip and Southern tip (ish), or Abel Tasman and Milford Sound, were on both of our "Must-do" lists. So we made it happen!
Here is our three week itinerary.
Aoraki / Mt Cook National Park – 2 days
Lake Tekapo – 1 day
Kaikoura / Marlborough – 1 day
Abel Tasman National Park – 3 days
Drive the West Coast – 2 days
Franz Josef / Fox Glacier – 1 day
Wanaka – 2 days
Milford Sound – 3 days
Queenstown – 2 days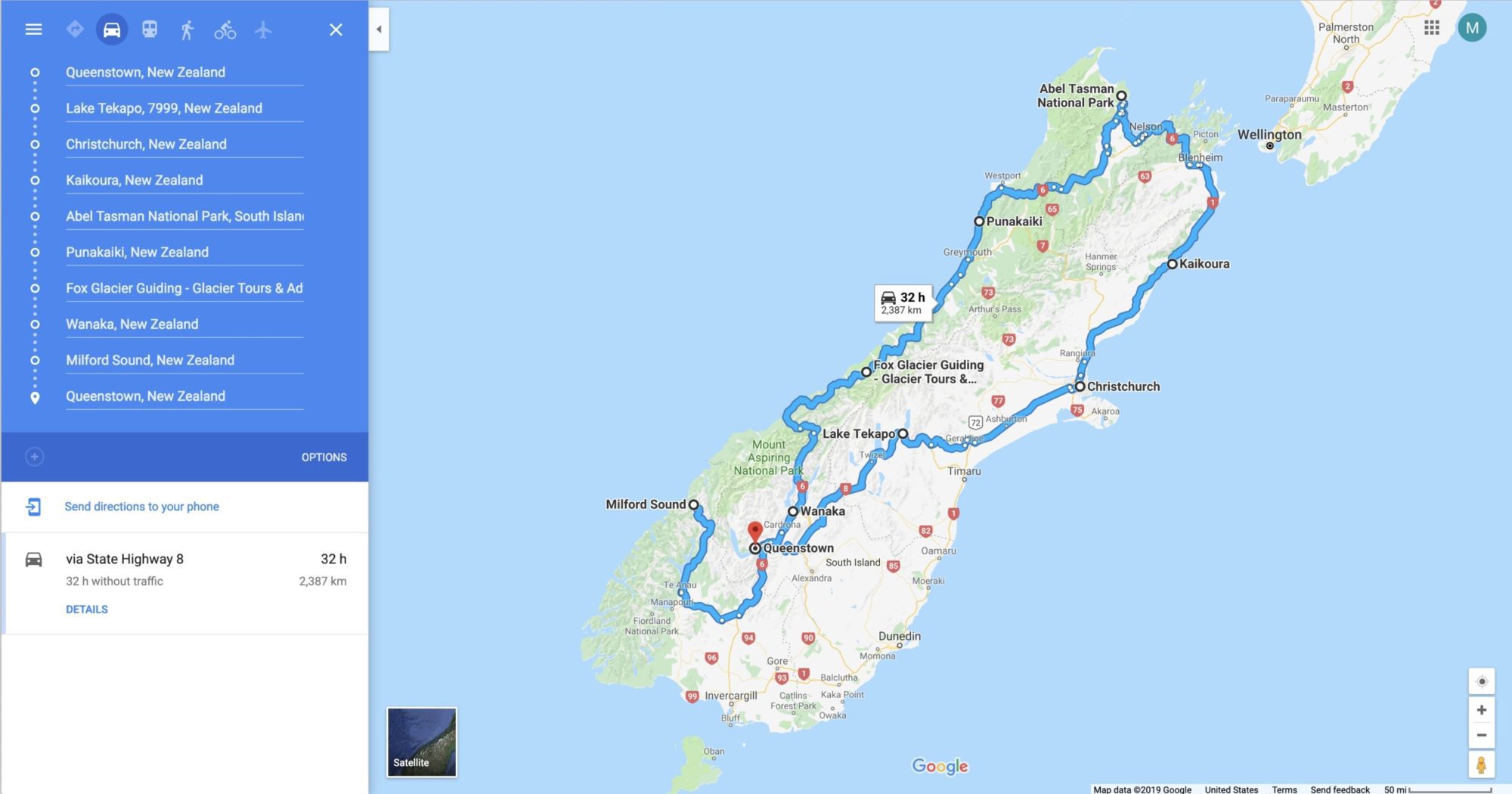 What Did My 3 Week Trip to New Zealand Cost?
In total, our 3 week trip around New Zealand's South Island cost us $6,915. That includes all flights, car rentals, activities, gluten free food, accommodations, gas, etc.
Per day, excluding flights, we spent $132 per person. That's a good number to use to budget for your trip. Here is the breakdown of those costs. Before that, a few notes:
We got our flights on a deal from Scott's Cheap Flights, who will send you flight deals from your home airport for $39 per year. They also have a more limited free version, but here's why Premium is an essential if you're planning to travel internationally in the next year: I got an email from Scott's Cheap Flights for a flight deal to New Zealand on Qantas for ~$700 RT that lasted for 48 hours. Normal price of our tickets was ~$1,600. I saved $900 for a cost of $40.
We stayed in a combination of Motels, Airbnb's, and Backpacker spots – always in a private room (we're too old for #hostellife). You could certainly do this cheaper by staying in shared accommodations, or shifting the balance of Airbnb's (the most expensive places we stayed) to more motels and backpacker spots. Or camping.
Our food bill was REALLY cheap, all things considered. That's because we cooked for ourselves for the majority of the trip, only really eating out in Queenstown and Wanaka.
We rented a car with GoRentals, a local NZ company, and had a great experience. It was also cheaper than the international companies (e.g. Hertz) by quite a bit, especially if you pick up and return in the same location (so you would do a loop).
Most of our activities were hikes, which are FREE! However, we splurged for a kayaking adventure on Milford Sound, and used the water taxi in Abel Tasman twice, which added up.
We did a lot of driving to get to all the places we wanted to see, so gas was expensive.
| | | | | |
| --- | --- | --- | --- | --- |
| Bucket | Total $ | $ Per Day | Per Day ex Flight | $/Day/Person (ex flight) |
| Acommodations | $2,301.74 | $115.09 | $115.09 | $57.54 |
| Flights | $1,629.13 | $81.46 | N/A | N/A |
| Car Rental | $909.47 | $45.47 | $45.47 | $22.74 |
| Activities (Kayaking, Water Taxi, etc) | $627.87 | $31.39 | $31.39 | $15.70 |
| Groceries | $545.74 | $27.29 | $27.29 | $13.64 |
| Eating Out | $354.71 | $17.74 | $17.74 | $8.87 |
| Gas | $272.46 | $13.62 | $13.62 | $6.81 |
| Travel Insurance | $154.34 | $7.72 | $7.72 | $3.86 |
| Transporation (Uber, Bus, Parking) | $120.08 | $6.00 | $6.00 | $3.00 |
| Grand Totals | $6,915.54 | $345.78 | $264.32 | $132.16 |