Where to Stay in Yellowstone: The Best Areas + Hotels
Yellowstone was around the middle of our big national parks road trip in 2020, where we hit 13 amazing national parks over the course of 12 months. Needless to say, it was an incredible year. It was both of our first times in Yellowstone National Park, and while it wasn't our favorite (that honor goes to the Utah National Parks), there's no doubt that Yellowstone is spectacular. The incredibly diverse landscapes (did you know there's a Grand Canyon… in Yellowstone?), the plentiful wildlife, and the out-of-this-world geysers combine to create an immersive, unique experience that should probably be on everyone's list of national parks to visit.
However, the thing about Yellowstone that we didn't quite realize is that is is MASSIVE. Huge. You could find yourself driving for hours between destinations within the park, and that's not counting the driving you could do if you choose a place to stay that's relatively far out.
We wrote this detailed guide to places to stay near Yellowstone to help you make an informed decision about where to stay in Yellowstone National Park. Below, we'll cover the regions of the park as we see them, the best areas to stay to explore each region, and a strategy for choosing which areas to choose based on your travel style and budget.
You're going to love Yellowstone, and we hope we can help simplify the decision on where to stay at the park.
One note before we get into it – if you're visiting in the summer, book as early as humanly possible. People legitimately book a year in advance (looking at you, mom). It's extremely competitive, and you'll need to plan accordingly.
Pssst! Planning a trip to Yellowstone? Don't miss our 4 day Yellowstone itinerary where we dive deep into what to do and see, and how to organize your time in the park.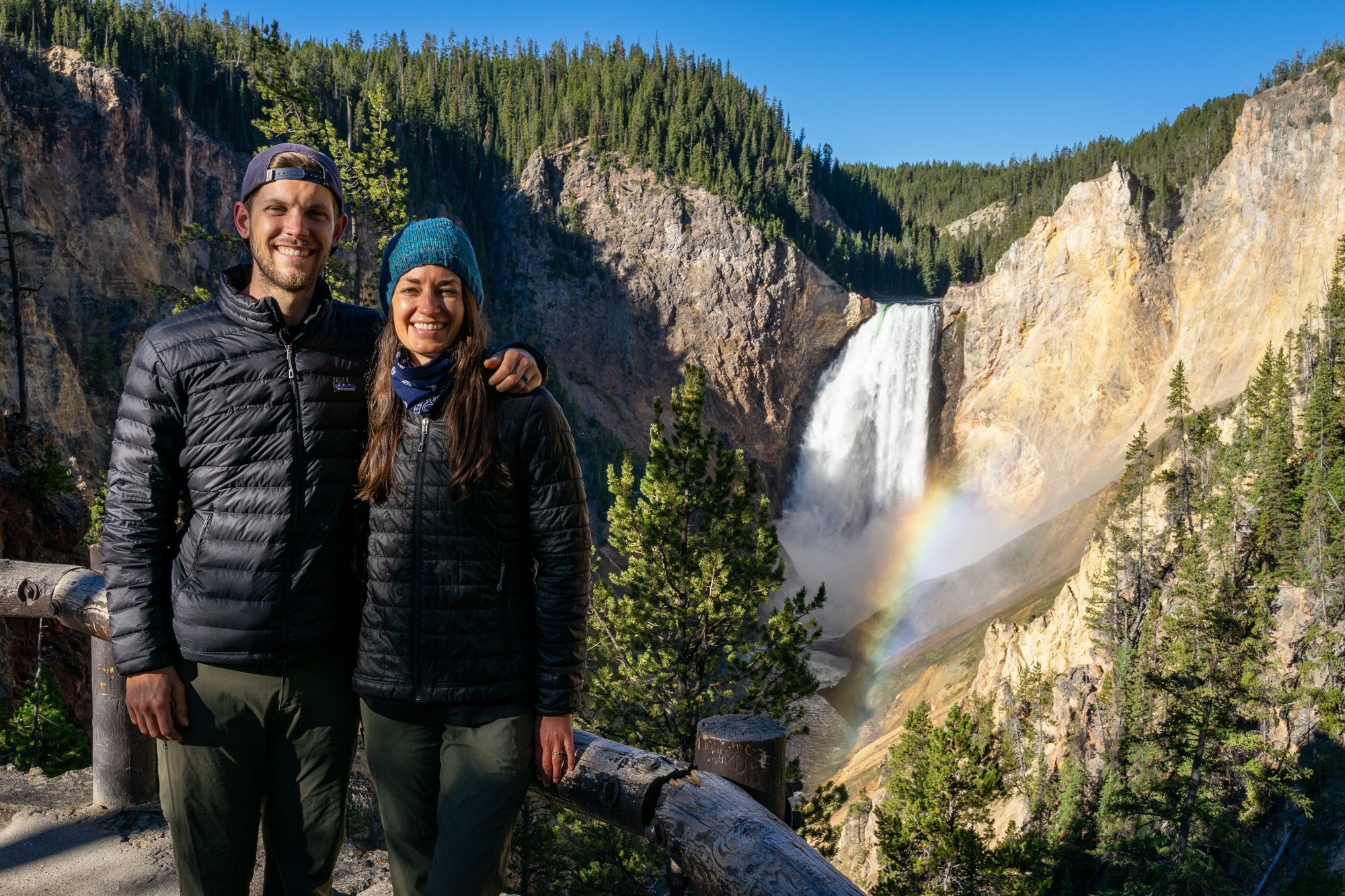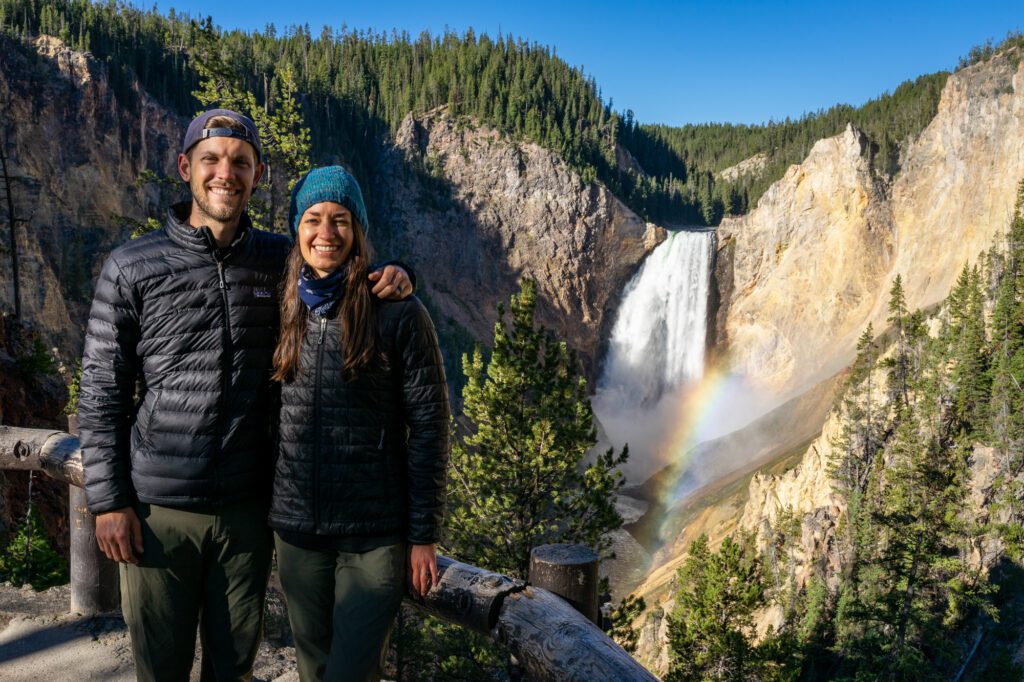 Disclaimer: Some of the links in this post, like hotel links, are affiliate links, meaning at no additional cost to you, we make a little bit of money if you click through and book. That being said, we would never recommend something to you that we don't stand behind 100%.
A Yellowstone Geography Overview
In order to talk about the best places to stay to explore Yellowstone, we need to start by covering the park highlights and where they're located.
First of all, it's worth getting this out of the way early – Yellowstone is MASSIVE. We've been to 13 national parks in the past year or so, and Yellowstone felt the biggest to us (though Olympic National Park and Death Valley National Park feel like close seconds).
There are a few implications for that fact. First, you're going to be driving a lot. No ifs, ands, or buts about it.
…HOWEVER, you can cut down on that driving by being strategic in terms of where you choose to stay.
We'd strongly recommend splitting your nights between two different locations so that you can spend your time seeing the sights rather than driving. Which is exactly what we have you do in our 4 day Yellowstone itinerary.
With that out of the way, let's quickly talk about Yellowstone's geography.
At a high-level, we'd split the park into five regions. They are:
The Lamar Valley (northeast)
Mammoth Hot Springs (northwest)
Grand Canyon of the Yellowstone (central)
Old Faithful & Geyser Basin (southwest)
Yellowstone Lake (southeast)
That's probably not a perfect split, but it's good enough to use to talk about the best places to stay.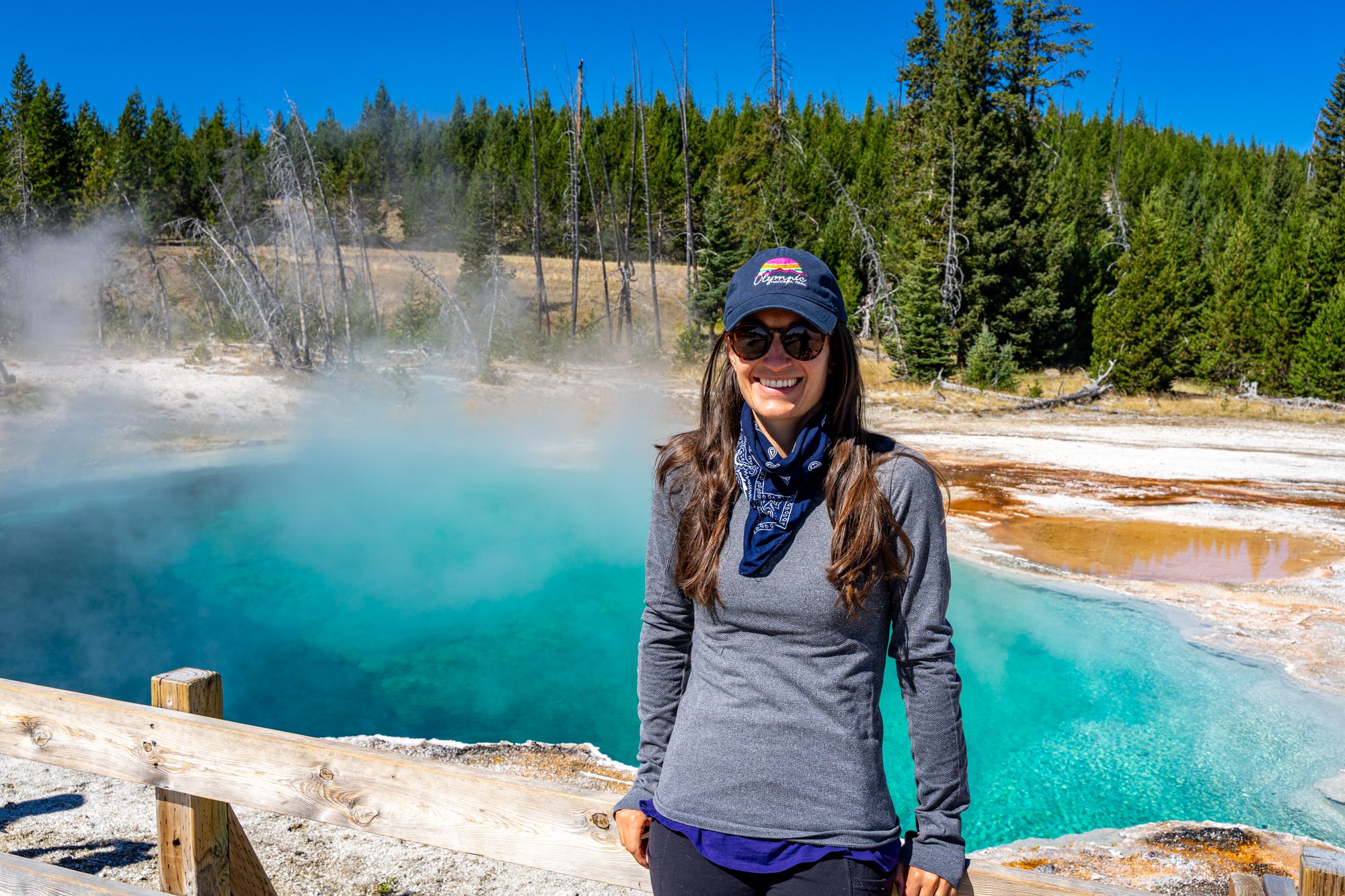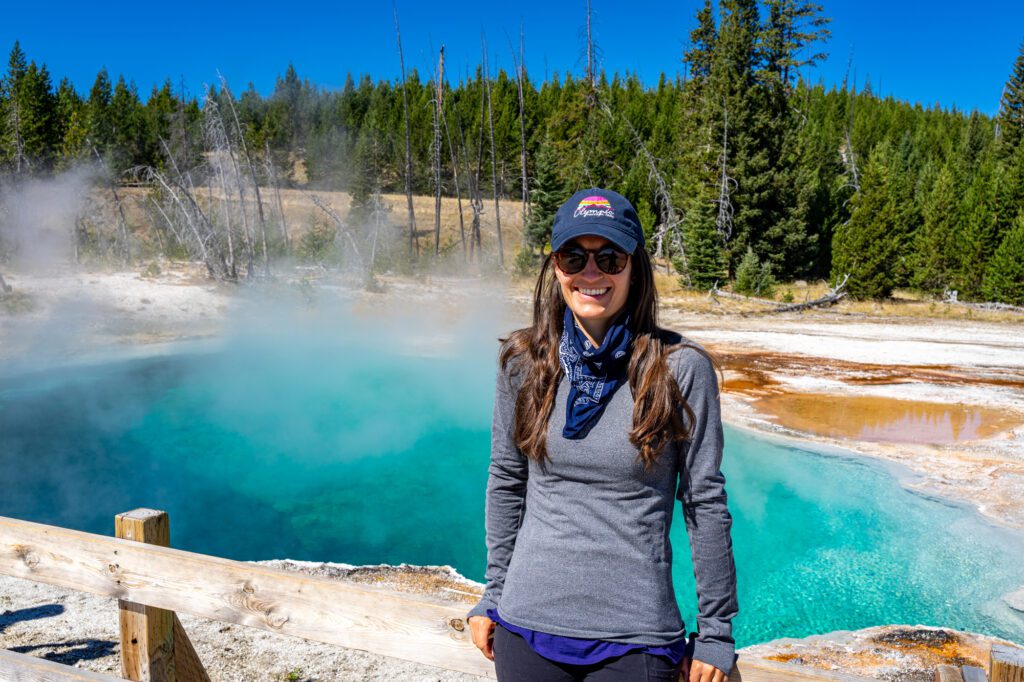 The Best Places to Stay to Explore Each Region
We'll get into specifics for each region – including accommodation options for your particular style and budget, but first let's cover where to stay for each part of the park at a high level.
For the Lamar Valley and Mammoth Hot Springs, the best place to stay is either inside the park at Mammoth (at Mammoth Hot Springs Hotel) or Roosevelt Lodge, or outside the park in the town of Gardiner, which is just outside the park's northern border. If you stay in Mammoth, you'll be at Mammoth Hot Springs and you'll be about an hour away from the Lamar Valley. If you stay in Gardiner, it's an hour and fifteen minutes to the Lamar Valley, and just 15 minutes to Mammoth Hot Springs.


For the Grand Canyon of the Yellowstone, stay at Canyon Village. There's no great option outside the park here, but Gardiner is your best bet at an hour away.


For Old Faithful and the Geysers, stay either at Old Faithful (there are multiple lodging options) inside the park, or in the town of West Yellowstone outside the park, which is about an hour away from the massive geyser.


For Yellowstone Lake, the most convenient options are going to be along the lakeshore. On the north end, you've got the town of Lake, with a couple of different options. On the south end near the West Thumb, you have Grant Village.
Now, you could stay one night at every single one of those places, but lodging is so competitive in the park that it's not quite realistic to expect to do that.
The best compromise would be to spend half of your time on the north side of the park – either at Canyon Village or in Gardiner, ideally – and the other half in the south end of the park – either at Old Faithful or West Yellowstone. This is exactly what we did – we spent two nights at Canyon Village, and two nights at the West Thumb.
If you want to stay in the same place for your entire trip, we think Canyon Village is the best option because it is the most central location. You'll be driving a lot, but it's doable.
Don't stay in Cody or anywhere further out than Gardiner and West Yellowstone – you'll be driving hours and hours to get anywhere.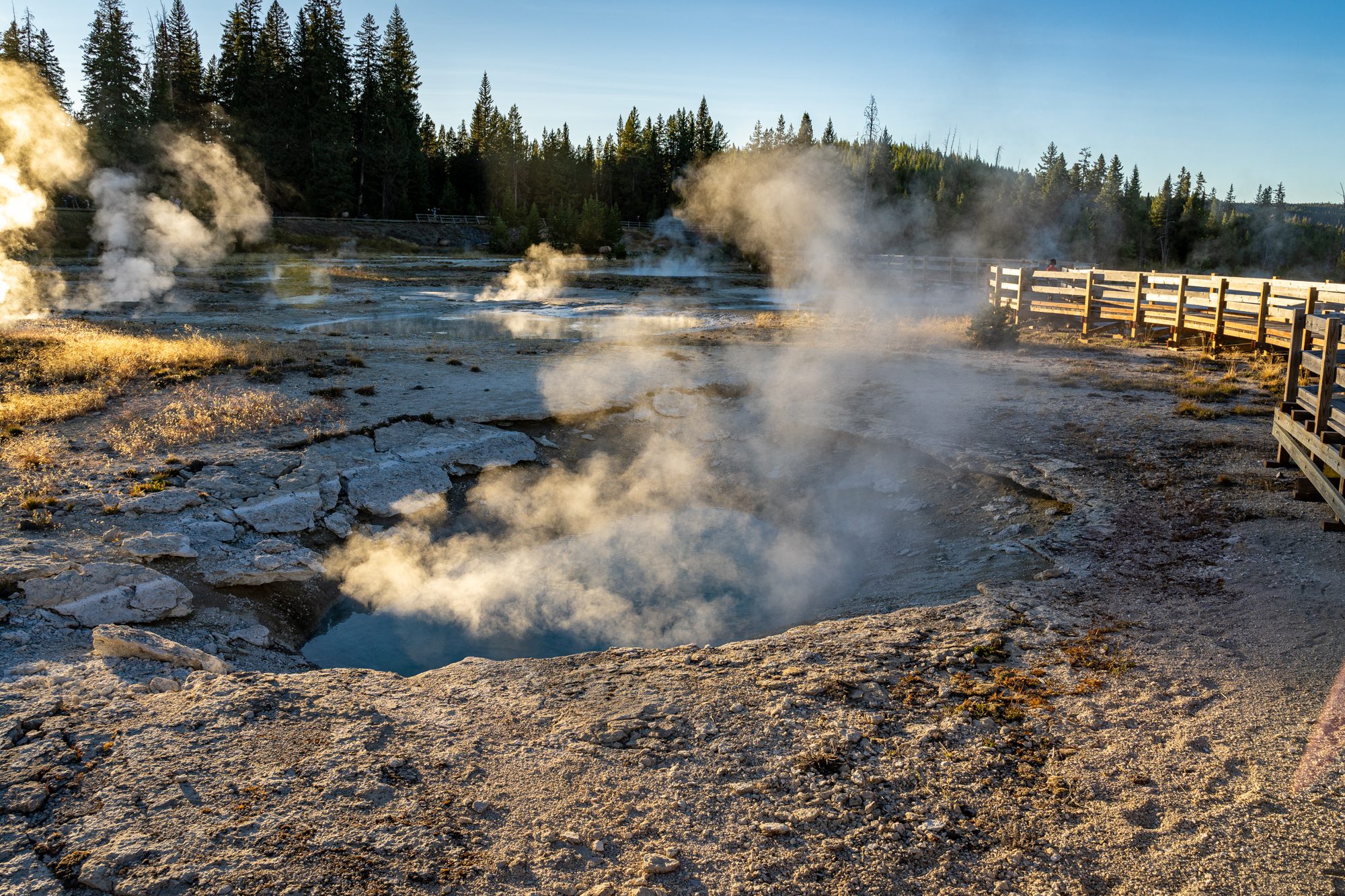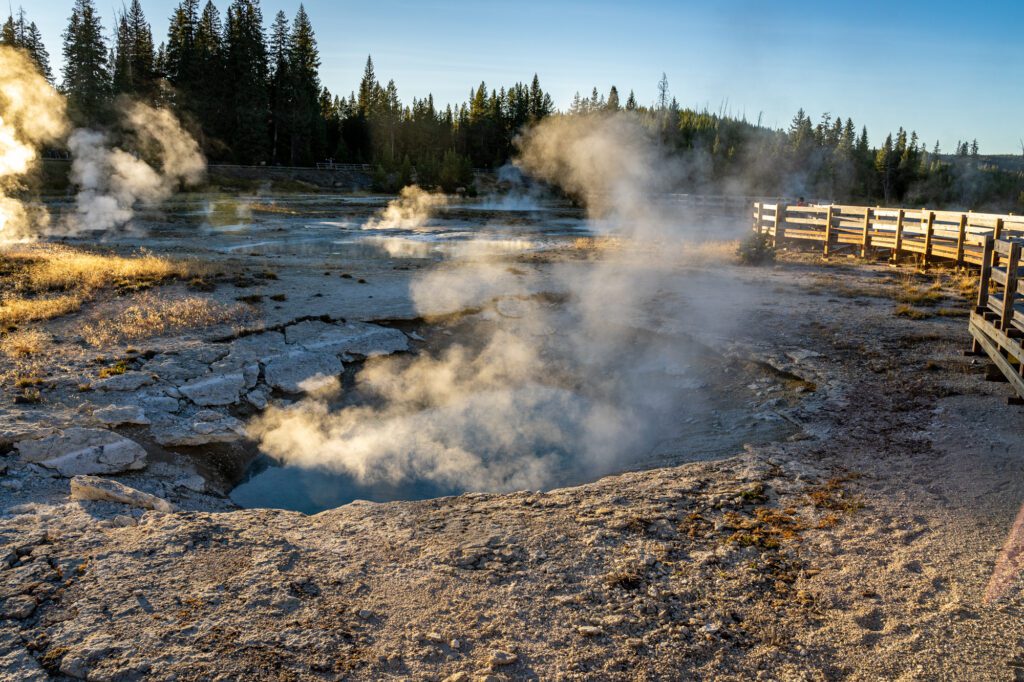 Staying Inside the Park vs. Outside the Park
We love staying inside the park, and we usually are camping, which makes it relatively affordable.

However, if you're not up for camping or it's all booked up, we should talk about the pros and cons of staying inside and outside of Yellowstone National Park.
Staying Inside Yellowstone National Park
Staying inside the park is, by far, the most convenient option. You'll wake up to the sights and sounds of the park, from elk lounging outside the lodge, to beautiful sunrises over Yellowstone's diverse landscapes. It's the best way to immerse yourself in the stunning natural beauty of the park you're visiting, which gets lost when you have to drive 60-90 minutes just to get into the park.
And in a place like Yellowstone, where wildlife is such a big part of the draw, you'll want to make it easy to be in the park at both dawn and dusk when animals are most active.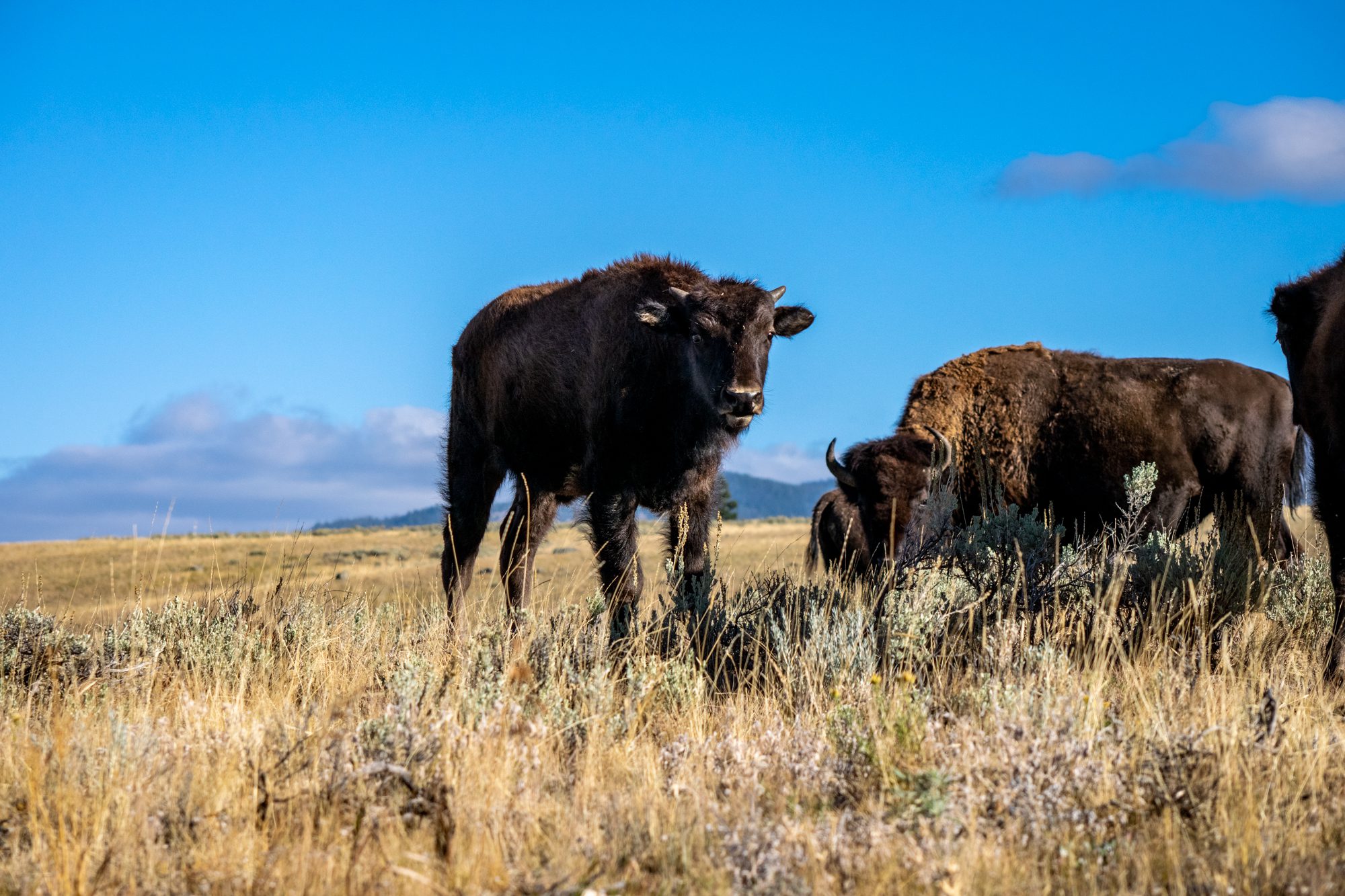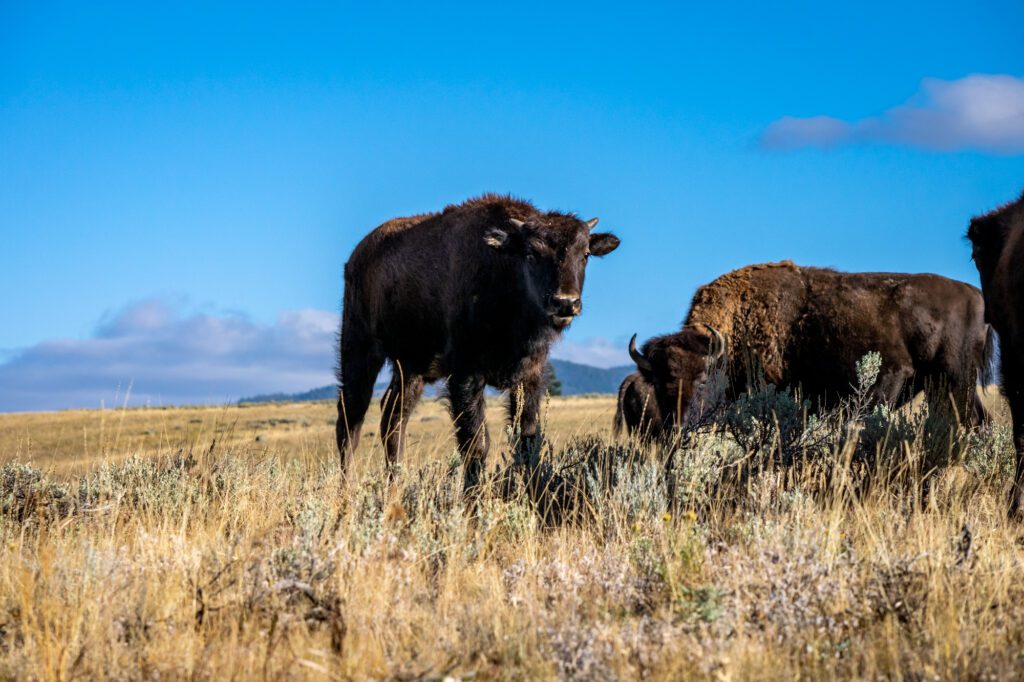 However, it's also expensive, and generally a poor value for what you're getting.
Hotels and lodges in national parks are usually relatively outdated because they're constantly at full capacity, so there's no time to do a big remodel. That, combined with the premium price you're going to pay for the convenience, is a recipe for poor value.
Staying Outside the Park
In this case, there are a couple of good towns near Yellowstone National Park that would make a solid home base, especially if you split your time between them.
On the pro side, there's going to be a better selection of places to stay, slightly less competition, and much lower prices in both of the towns below.
On the cons side, it's far less convenient, and drive times are something to think about.
Gardiner is a great home base for the northern half of the park, putting you within about an hour of the Lamar Valley, Mammoth Hot Springs, and the Grand Canyon of the Yellowstone. And there's plenty of places to stay in Gardiner, from hotels to cozy cabins.
West Yellowstone is a decent home base for the southern half of the park, but it's a little further out than Gardiner. It's an hour to both the Grand Canyon and Old Faithful, and 90 minutes to Yellowstone Lake.
There are other towns, like Cody, WY and Bozeman, MT, but they're more than two hours away from the park and are generally not a great place to stay to explore Yellowstone.
Again, we strongly recommend splitting your time between the northern part of the park and the southern end of the park to cut down on driving time during your adventure. Trust us.
How Many Days Should You Spend in Yellowstone?
We think four days is a good amount of time for exploring Yellowstone, which is why we wrote our 4 day itinerary. You'll have plenty of time to explore without feeling rushed, catch prime wildlife viewing at dawn and dusk, and tackle some of Yellowstone's hikes.
If you have more time, great! But we'd recommend no less than four days, since there is so much to do and see in the park.
Plus, if you add on 3 days in Grand Teton National Park, it makes for a nice weeklong Wyoming adventure. Check out our Yellowstone and Grand Teton itinerary to see how to combine the two.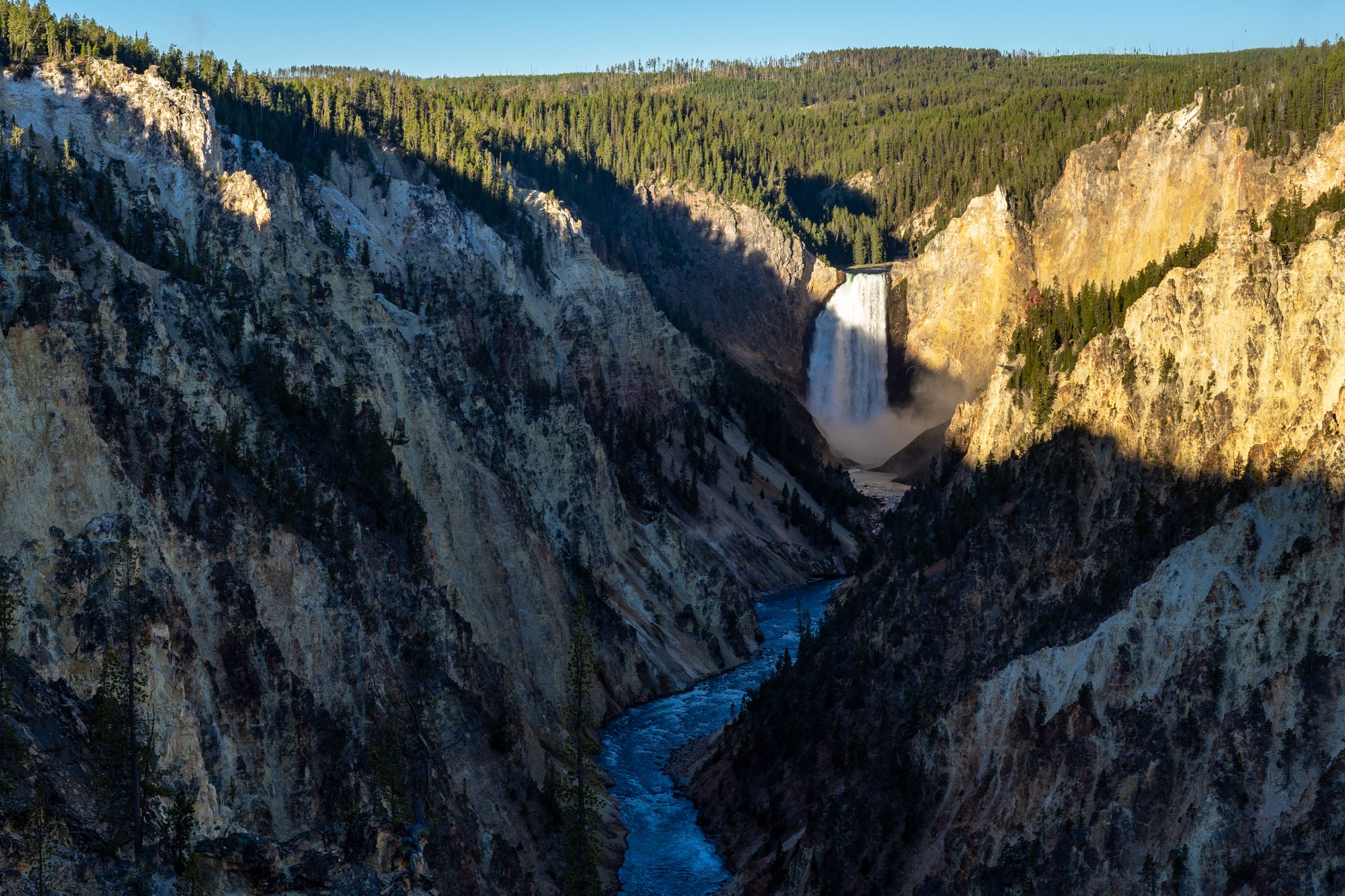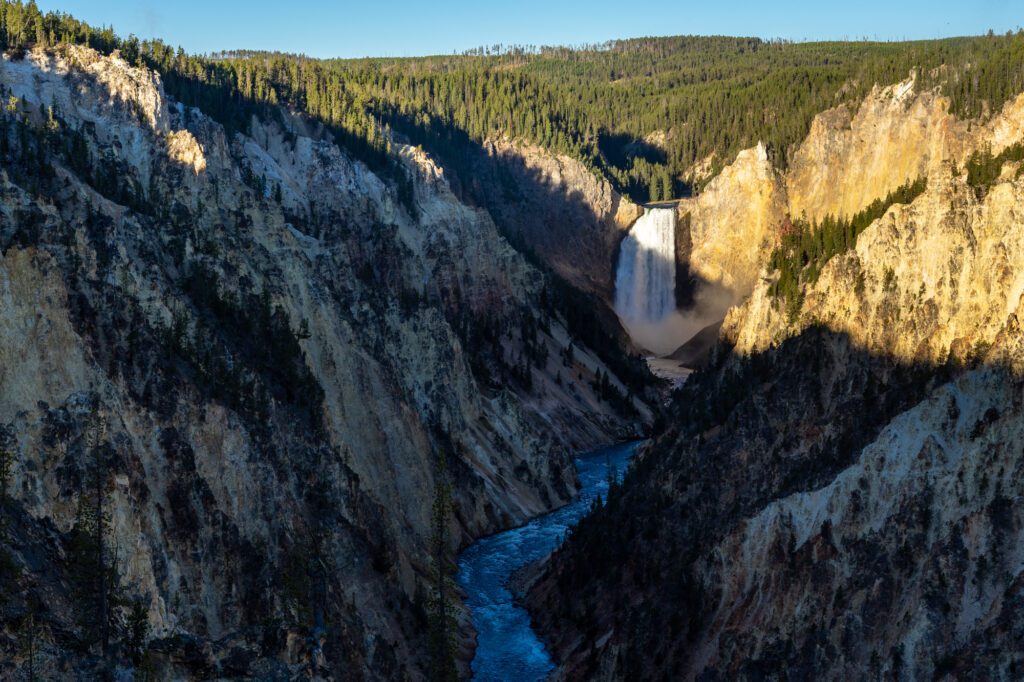 How to Decide Where to Stay
First, decide whether or not you're up for camping. If you're up for camping, choose a campground in the areas you want to stay and call it a day. It's that easy.
Not up for camping? No problem. Let's talk about how to figure out where to stay based on your travel style and budget.
The next thing to think about is your budget. If you're on a tight budget, you're immediately going to be able to cross off certain places like the Old Faithful Inn.
There are a couple of budget-friendly lodging options inside the park – Old Faithful Lodge, Roosevelt Lodge, and Mammoth Hotel – but they involve communal bathroom facilities. If you're up for sharing a bathroom, this is the best option.
If using a shared bathroom isn't for you, then your best option for visiting Yellowstone on a budget is to stay outside the park in Gardiner and West Yellowstone. Split your time between the two to cut down on extra driving.
If budget isn't much of a concern and you want to minimize driving as much as possible, jump around to multiple different lodges over your visit. For example, if you're entering the park from the north with three nights to spend in the park, spend the first at Mammoth, the second at Canyon, and the third at Old Faithful (or something like that).
If you want the best of the best, Old Faithful Inn is the way to go. It's rustic. It's historic. And it's also expensive, so know that going in. Lake Yellowstone Hotel is another good option with their private cabins.
Where to Stay in Yellowstone: The Best Places to Stay
Alright, now that we've got the framework for deciding where to stay based on your style and budget, let's talk about specific lodges, hotels, and vacation rentals inside and outside of Yellowstone National Park.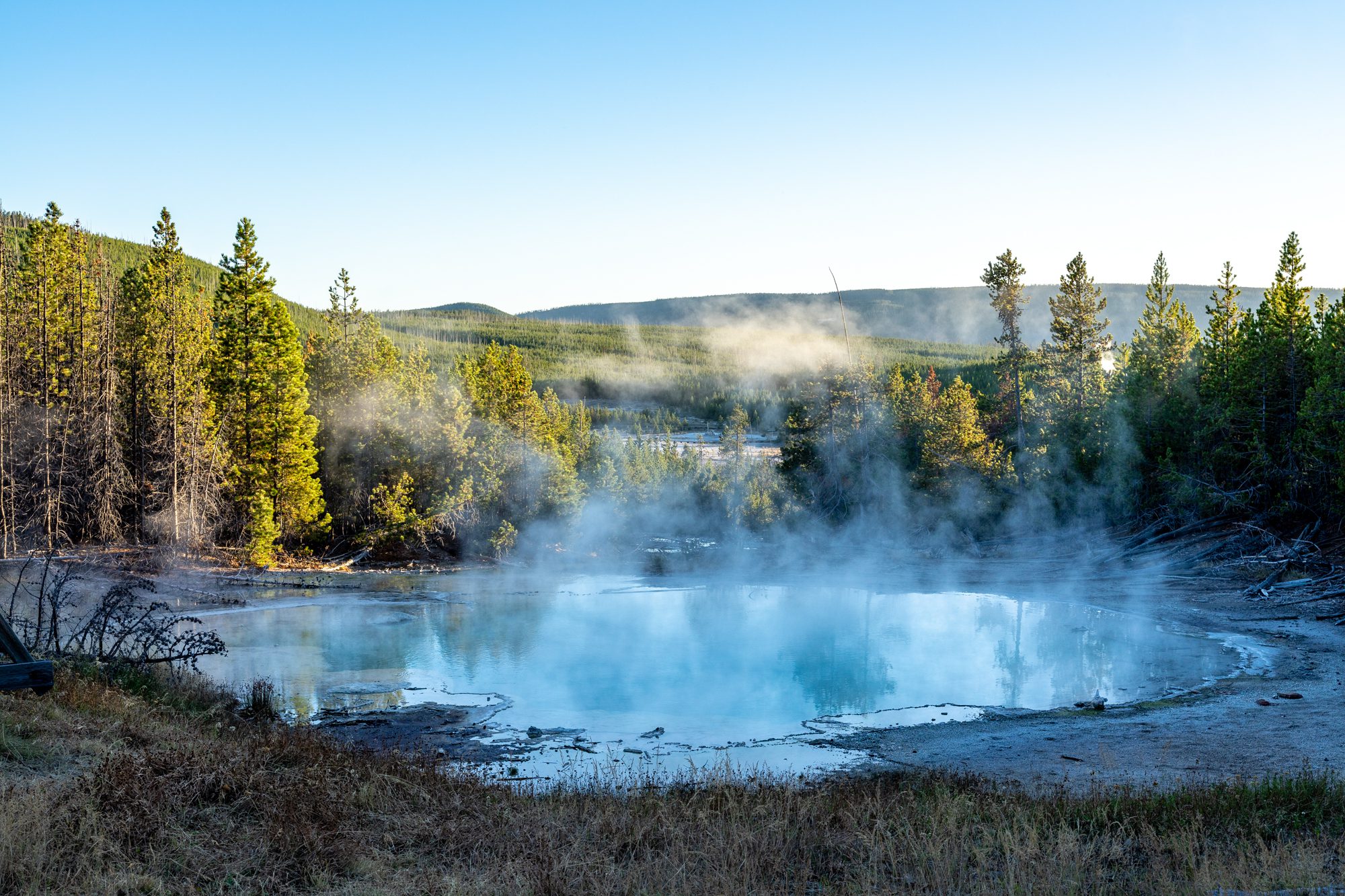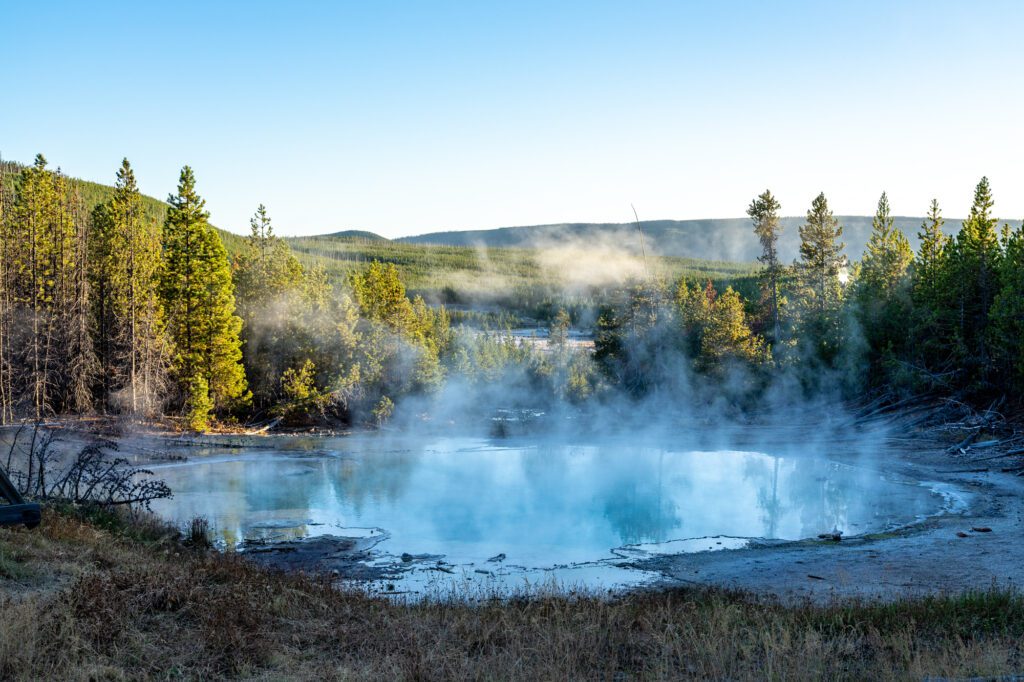 Staying Inside the Park: Expensive + Convenient
There are nine lodges / inns / hotels inside the park. Here they are, from north to south, along with their relative cost and things to know.
Remember how we split the park up above? Keep that in mind as you're considering which places to stay. You'll want to choose one in the northern half of the park (probably either Canyon or Mammoth Hot Springs Hotel) for part of your trip, and one in the southern half (Old Faithful Inn or Lake Yellowstone Hotel) for the other part.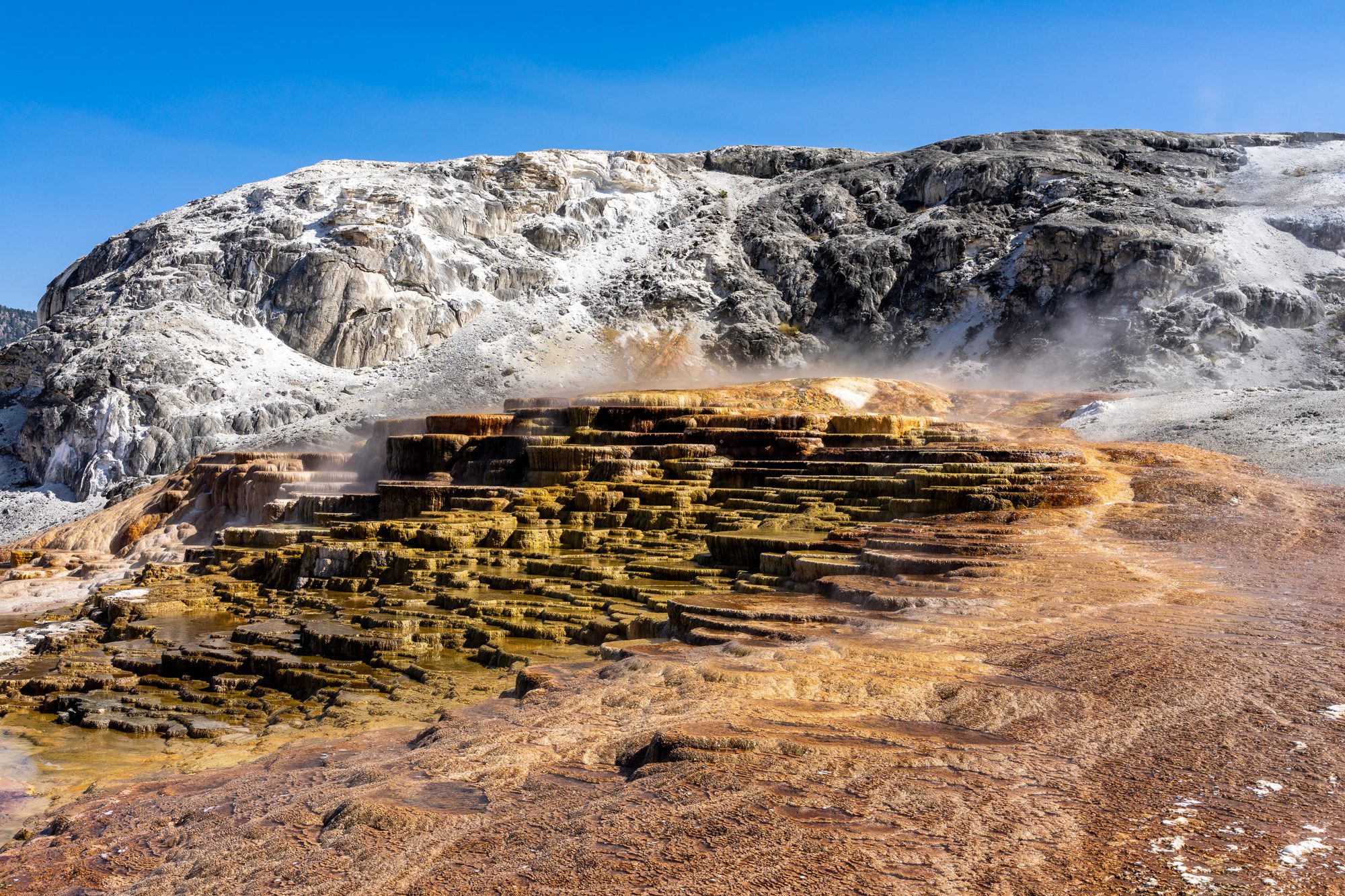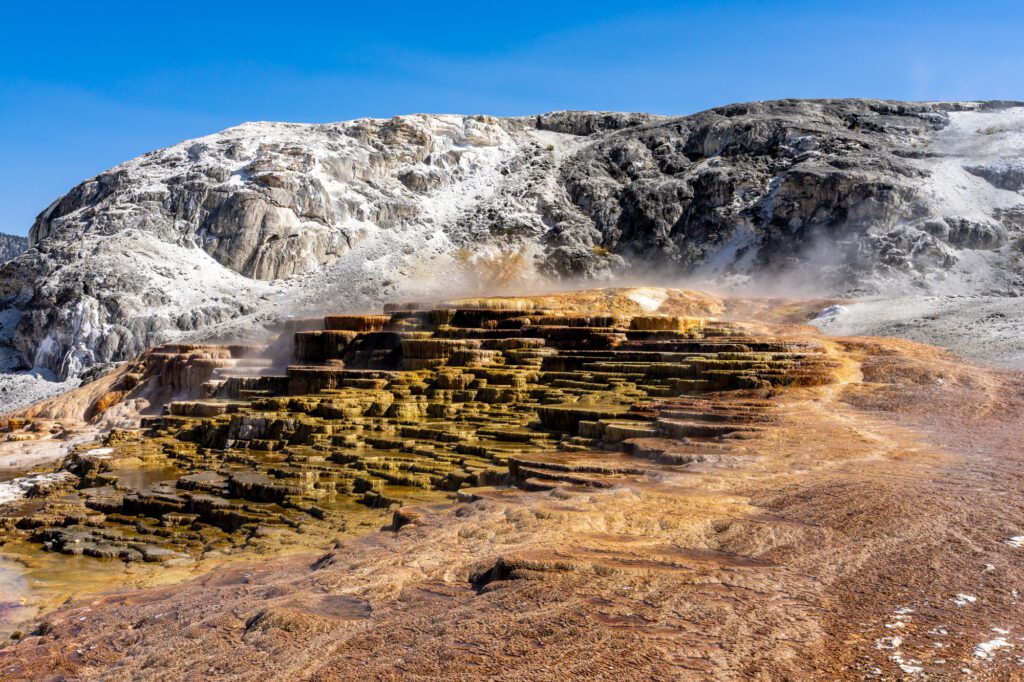 Mammoth Hot Springs Hotel ($-$$): Mammoth Hot Springs Hotel has a range of rooms, both in terms of size and price. They have cozy cabins with shared bathroom facilities, which are some of the most affordable places to stay inside the park. They also have bigger cabins with private bathrooms, which are a good mid-range option, and hotel-style rooms which are kind of boring, at least to us.
Roosevelt Lodge ($ – $$): These cabins were built in 1920 near dear old Teddy Roosevelt's favorite place to camp in the park. While they are a little outdated, they probably fit in your budget. Some have shared bathroom facilities, some have ensuite private bathrooms. The "roughrider" cabins don't have heat, but they are equipped with a wood burning stove. The "frontier" cabins are more expensive, but have heat and private bathrooms.
Canyon Lodge and Cabins ($$): I was reading reviews about this place and came across one that basically said "like a Holiday Inn in a national park, but not as nice." It's not rustic. It's not sexy. But it's the most central location in the park, which is worth something, right?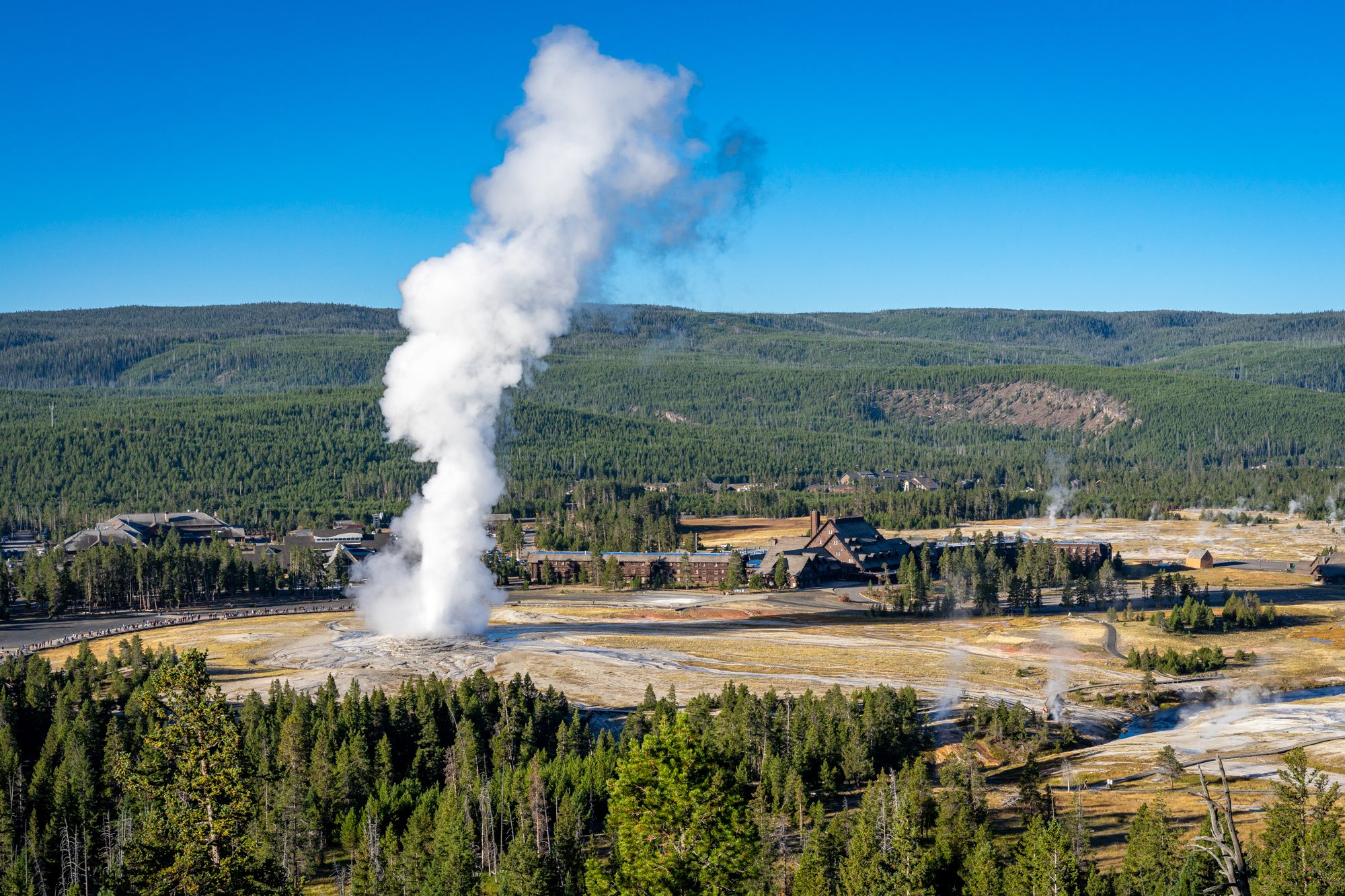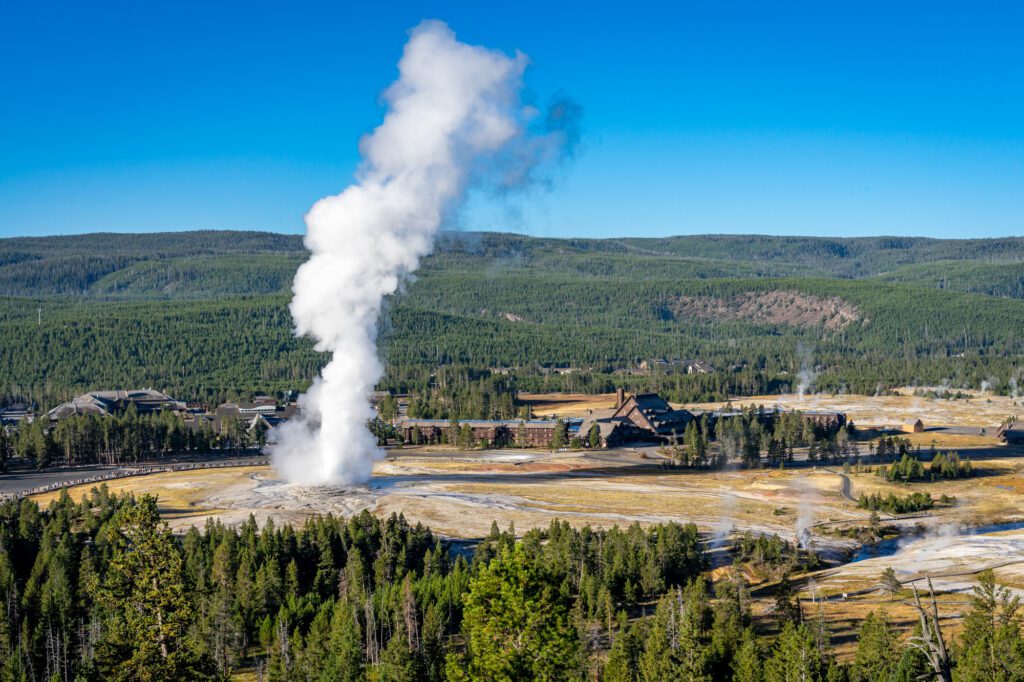 Old Faithful Inn ($$ – $$$): On the other hand, the Old Faithful Inn IS rustic and sexy. It was built over a century ago using local logs and stone, and is the most popular lodge in the park today. Which also means it's the most expensive. Even rooms with shared bathrooms – some of the "Old House" rooms – are over $200 a night, and it only goes up from there. However, it is a gorgeous lodge with all the wood-paneled, rustic vibes you could possibly want. If budget isn't an issue, stay here for at least one night. They have nice hotel-style rooms in the newer part of the lodge too.
Old Faithful Lodge ($ – $$): A more budget-friendly option in the same complex as the Old Faithful Inn, the Lodge has great cabins, some of which have shared bathroom facilities to bring the cost down. They also have options with private bathrooms, which are more expensive but still relatively affordable. From the lobby, you can see Old Faithful, which means you'll be in a perfect position to check it out before the hordes show up later in the day.
Old Faithful Snow Lodge ($$): The newest lodge in the park – built in 1999 – the Old Faithful Snow Lodge is the third option in the Old Faithful Complex. It's objectively beautiful. And it's at a price point in between the other two options at Old Faithful. In the winter, you need to arrange "over-snow" transportation to reach the lodge. Choose between lodge rooms and cabins, all with private bathrooms. Multiple dining options onsite too.
Lake Lodge ($$): The 186 cabins at Lake Lodge are all recently renovated and have private bathrooms. There are two options – the frontier cabins are a little more rustic, while the western cabins are a little more luxurious, with front porches and a full bath, including a bathtub.
Lake Yellowstone Hotel ($$$): Recently renovated, the Lake Yellowstone Hotel is along the western shore of Lake Yellowstone. It's an eco-friendly building, and the original design was preserved in the recent renovations, keeping the iconic white columns out front. They've got cabins and lodge rooms, like a lot of places on this list. It's relatively expensive – the most pricey option near the lake.
Grant Village ($$$): The offering here is pretty simple – lodge rooms only in a solid, but not perfect, location on the south shore of the lake near the West Thumb. It's pretty far from everything other than the West Thumb and the Lake. All rooms have mini-fridges and coffee makers. Choose from layouts with one queen bed or two.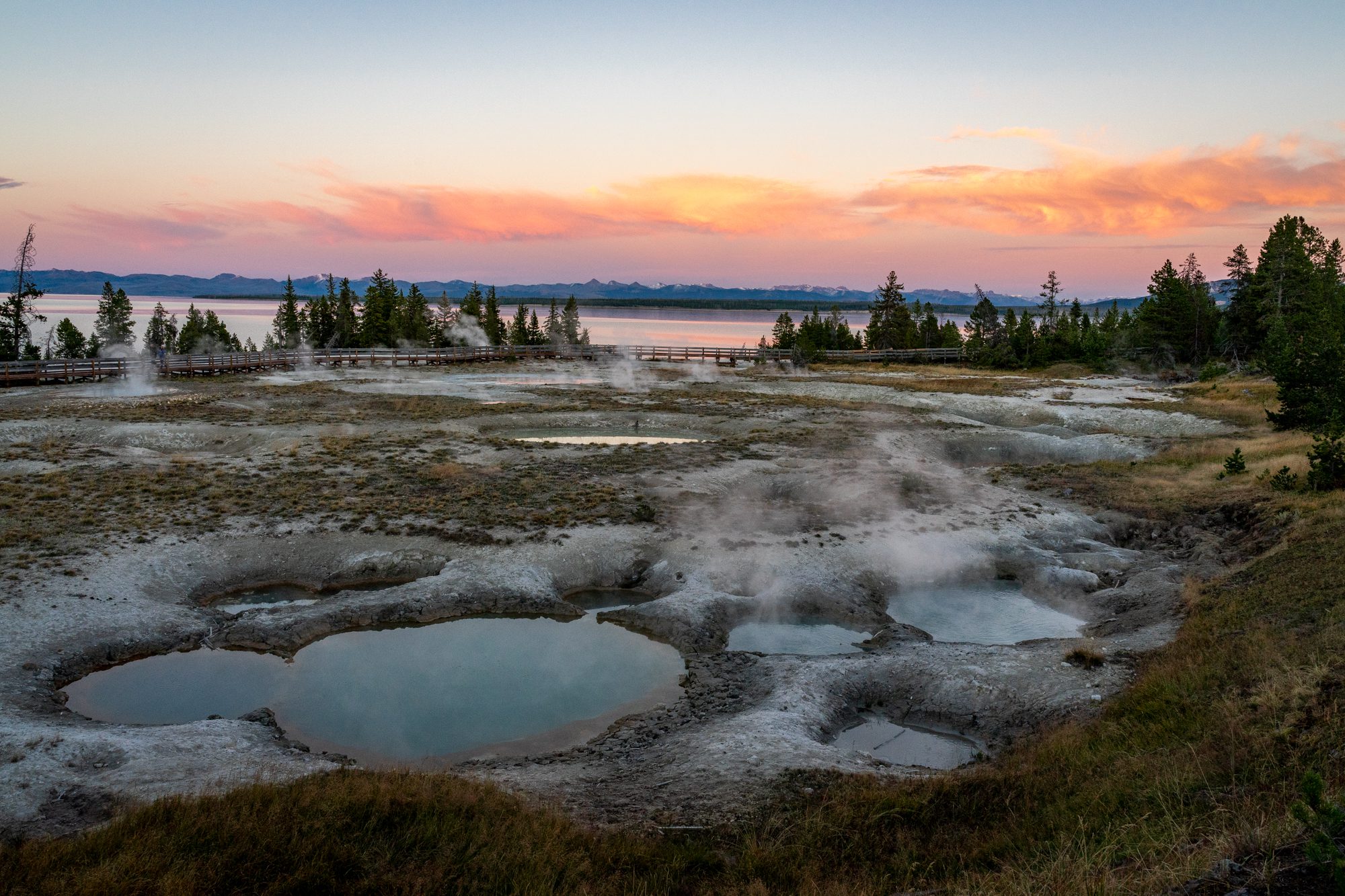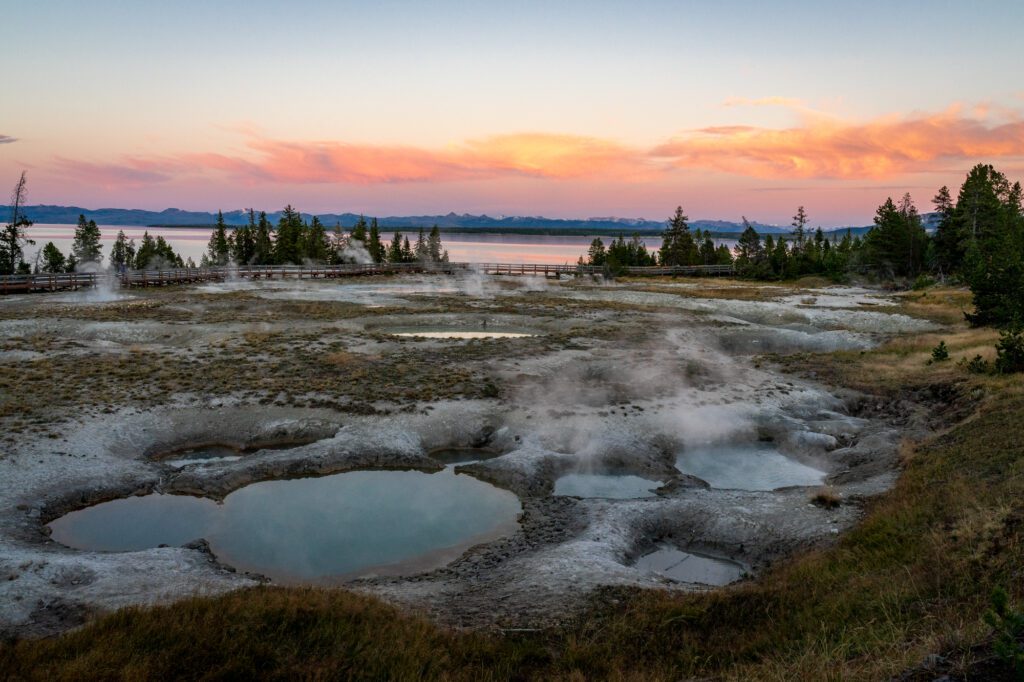 The Best Places to Stay Near Yellowstone National Park: Gardiner & West Yellowstone
Like we mentioned above, the two places outside the park that you should consider staying are Gardiner, Montana, and West Yellowstone. Further than that you'll be driving hours to get to the park, then driving even more to see the park itself.
Staying in Gardiner, Montana
Gardiner is right outside the northern border of the park, just 15 minutes away from Mammoth Hot Springs, which makes it a perfect home base for exploring the northern half of the park. There's a solid range of hotels – from budget to luxury – along with cozy cabins and more rustic accommodation options.
Hotels in Gardiner
Here are some hotels in Gardiner that we think you'll like. There's a mix of budget-friendly, mid-range, and more upscale options.
Yellowstone Riverside Cottages: Located right on the Yellowstone River, this property is one of the best values in Gardiner. They have cottages, suites, and studios that can sleep from two to six people, and each one comes with a kitchen (the studios have a kitchenette with toaster, microwave, coffee machine, and mini-fridge). The deck, which is right over the river, has nice views of the park, and the open field below is a favorite spot for local wildlife like elk and deer. It's one of the more affordable places to stay in Gardiner too.
Yellowstone Gateway Inn: This beautiful, recently renovated property has apartment-style rooms – all with a kitchen, which you're going to appreciate – that can accommodate the whole group or family. It's a great location five minutes from the park entrance, and you'll have plenty of space to spread out and relax. We love having room to sit somewhere other than on the bed, which you'll have here. It's not the cheapest option in town, but we think you're going to get what you pay for here.
The Roosevelt Hotel: This may be the nicest hotel option in Gardiner, but certainly less affordable. They've got hotel-style rooms, and a couple of cozy cottages with kitchen facilities. We think the cabins are where it's at, especially if you've got more than two people.
Click here to see all of your hotel options in Gardiner.
Vacation Rentals in Gardiner
There are also some quality vacation rental options in Gardiner. Here are our top picks.
Brand New, Centrally Located, One Block from Yellowstone (sleeps 2-4): Perfect for couples, this brand new space has everything you'll need – a full kitchen, a pullout sofa bed for the kids (if you're traveling with a family), and best of all, a great location mere blocks from the park entrance.
New to the Gardiner Market, 1 Block from Park Entrance (sleeps 2-5): Another good option in a great location, this two story house has enough space for up to five people thanks to the queen bed and two twin beds in the bedroom. It has a deck, but not much of a view if we're being honest.
Amazing Yellowstone River Views (sleeps 4-6): This place is gorgeous. From the kitchen sink, you'll look out over the Yellowstone River. And from the deck upstairs, the view gets even better, if you can believe it. Lots of natural light. Plus, a washer and dryer! Lots of space to spread out and relax, which is nice after a long day out exploring the park.
Gorgeous Home One Mile to Yellowstone (sleeps 4-8): Perfect for bigger groups, this 2,700 square foot house is tucked away in the hills above Gardiner, which means views! And the floor to ceiling windows bring in plenty of light, along with great views of the mountains near Yellowstone National Park. Plus, you'll have a spacious kitchen and some nice deck space.
Click here to see all of your vacation rental options in Gardiner.
Staying in West Yellowstone
West Yellowstone sits just outside – you guessed it – the western edge of Yellowstone National Park. It's about an hour to both Old Faithful and Canyon Village, which isn't the closest, but is totally doable.
Hotels are going to be your best bet in West Yellowstone. There are plenty of vacation rentals, but none really jumped out to us as a good value or something special, while there are some cool hotel options, from excellent value to something special.
Hotels in West Yellowstone
West Yellowstone has hotels from the chain hotels you see at every national park – the Holiday Inn Express and Best Western – to the more boutique end of the spectrum.
Below, you'll find our picks, where we've tried to avoid recommending the chain hotels, though those are a good, solid choice too.
Explorer Lodge & Cabins: This lodge + cabins combination is a nice option for people looking for a little more space. It's on the south end of town, but still plenty close to the park entrance. Each cabin is stylish and has a full kitchen, including stovetop, which means you'll be able to cook for yourself and save a little bit of money. There's a communal fire pit, where you can spend your evening roasting the marshmallows from your complimentary s'mores kit. Some cabins have indoor fireplaces, and some are even pet-friendly! Plus, an indoor heated pool and game room, which are good options on the not-so-nice days in the winter.
Moose Creek Inn: This is our favorite budget / mid-range hotel in West Yellowstone. Good value, great location. It's motel style with plenty of free parking, and gives you everything you'll need for your stay, and nothing you don't.
1872 Inn: ADULTS ONLY. If you're looking for a nice boutique hotel in West Yellowstone, this is it. It's right on Yellowstone Avenue in downtown West Yellowstone, so you'll be within walking distance of everything you might need. With the notable exception of the park entrance, which is a quick drive away. Rooms are well thought out, with nice touches like high-end bath products and fluffy robes that will take your stay up a level. Plus, each room has a gas fireplace – extra cozy!
Click here to see all of your hotel options in West Yellowstone.
---
That's all we've got – we hope this guide has helped you narrow down the choices in Yellowstone so that you can make an informed decision about where to stay!