Where to Stay in Denver: Your Guide to 5 Amazing Areas
Denver is one of our favorite places to visit, and we've been to Denver five times in the last few years alone, including a month-long Colorado adventure last fall. If you've spent any time at all poking around here, then you know we are absolute suckers for cities that have a thriving food and drink scene and a plethora (favorite word alert!) of amazing outdoor activities within driving distance. Cities like Seattle, Portland, San Francisco, and, well, Denver.
Denver is a city that is sunny roughly 300 days a year, which is perfect for taking advantage of everything to see and do within an hour or two of the city. Whether you're into hiking, water sports, or just going for a stroll in the park, you'll find plenty to do while in Denver.
You're here, though, not to hear us wax poetic about how amazing Denver is, but to figure out where to stay in Denver. Since you're looking for the best places to stay in Denver, you probably already know that it's an amazing place to visit.
Lucky for you, we worked with Erin Rouxx, a Denver local (though she now lives in Europe) to put together a comprehensive guide on the best places to stay. She has the insider knowledge on Denver neighborhoods you need to plan your trip. From here on out, it'll be Erin guiding you through finding a perfect place to stay for your trip. Take it away Erin!
Hello fellow travelers! My name is Erin, and lived in Denver for 15 years. It's a city that has captured my heart over and over again. I grew up moving around, so after my first couple of years in Denver, I thought I was ready to move on. But, after a couple of years away, I found myself moving back. This happened three times, to be exact. Denver continues to lasso my heart in her direction. It's impossible to resist the spell of spacious skies, incredible food, and the authentic southwestern beauty that awaits.
So, you're planning a trip to the Mile High City! Or, is it the Queen City of the Plains? The birthplace of that omelette with the ham and peppers? Denver…who are you, really?
Denver is where the midwestern plains transform into steep and rolling hills. The Rocky Mountain backdrop of this historic city frames a modern urban oasis that still tips her hat to wild-western roots. Knowing where to stay will set the stage for the kind of trip you can expect. With that in mind, the part of town where you decide to unpack your bags should tick the boxes that best apply to you. It's time to saddle up, partner, and choose your own adventure with the wisdom of my hometown experience as your guide.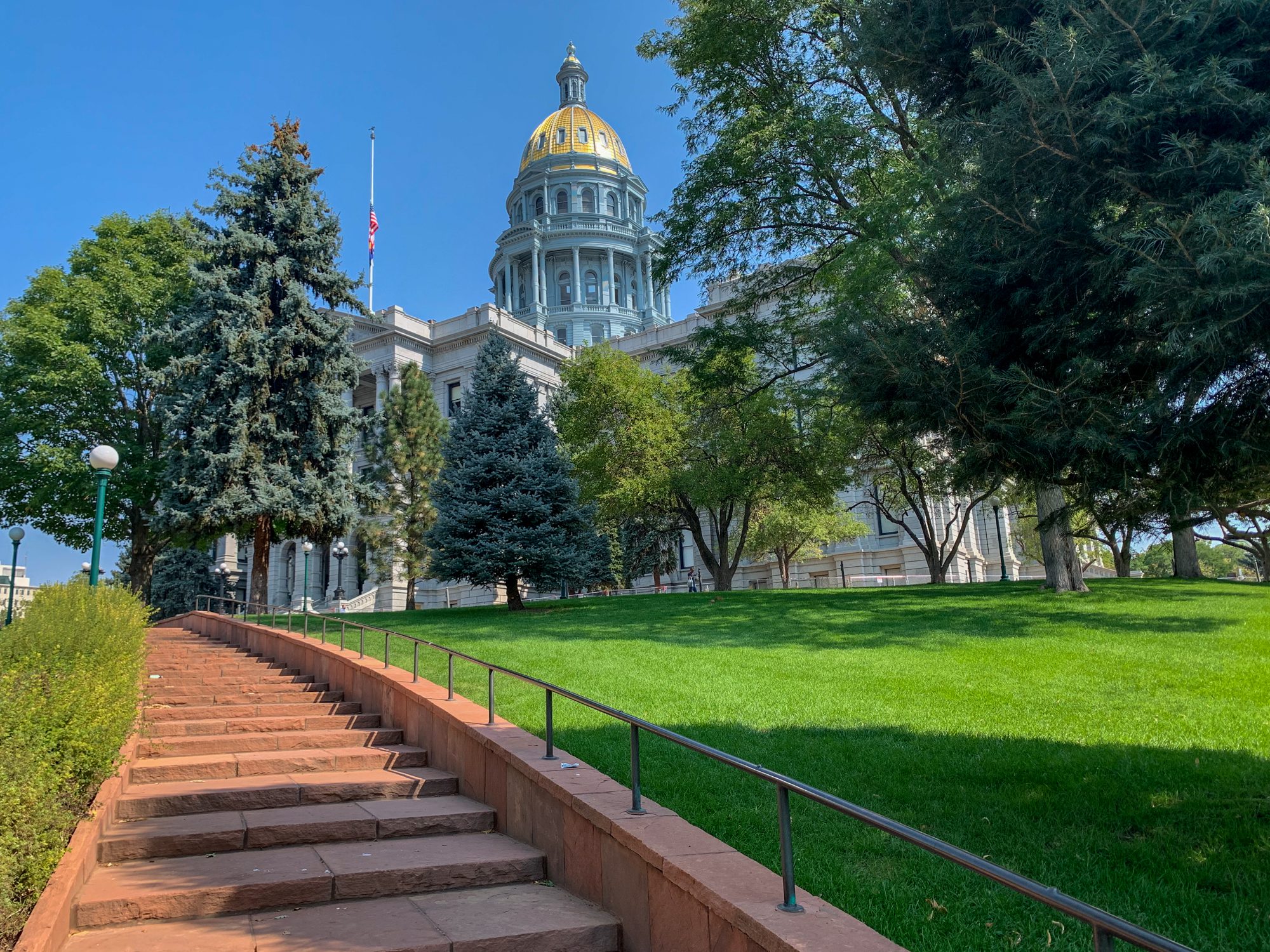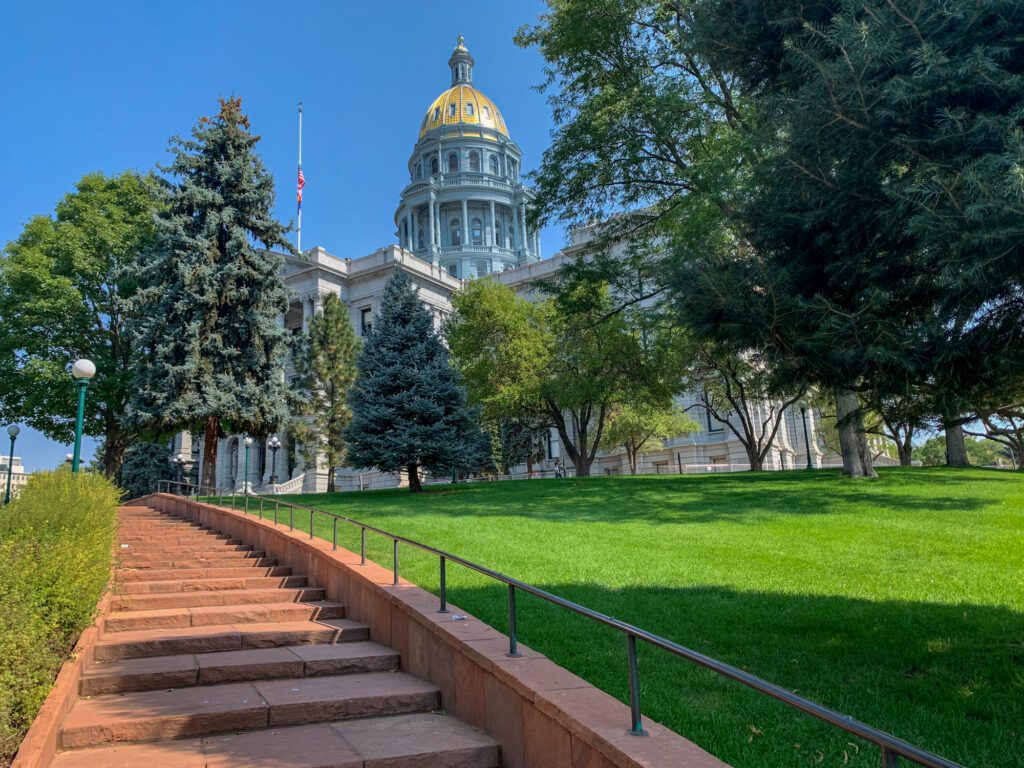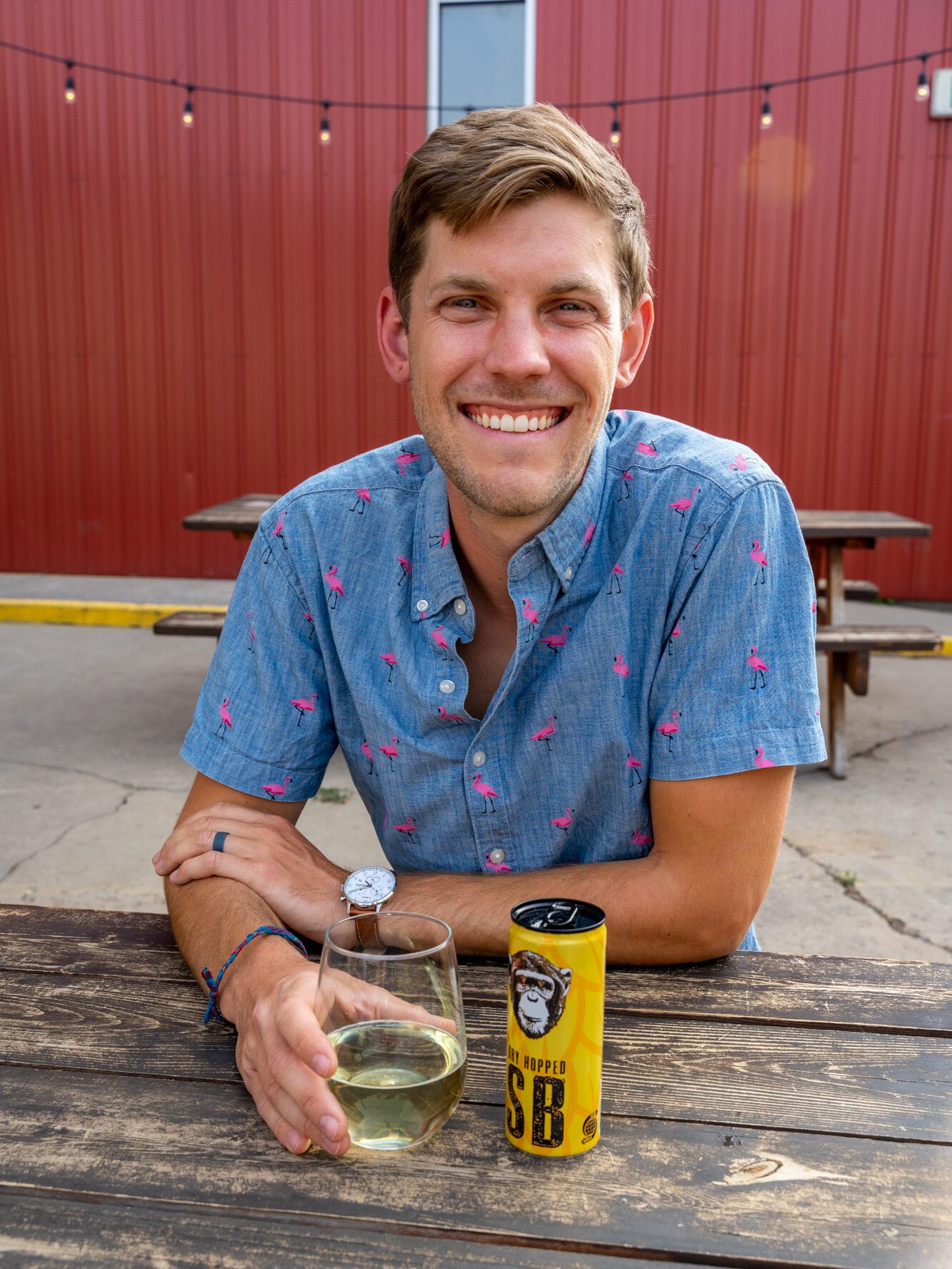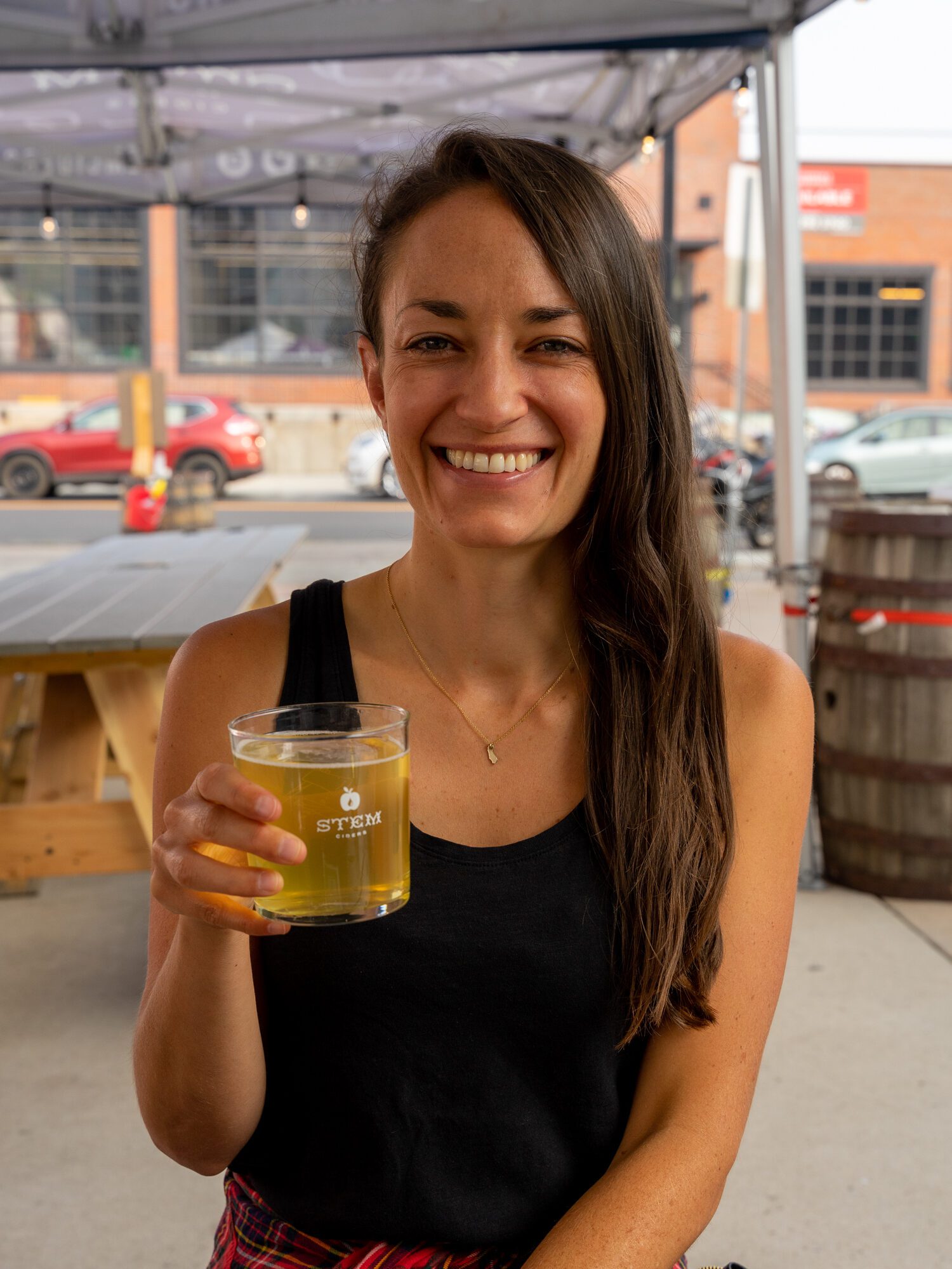 Disclaimer: Some of the links in this post, like hotel links, are affiliate links, meaning at no additional cost to you, we make a little bit of money if you click through and book. That being said, we would never recommend something to you that we don't stand behind 100%.
Where to Stay in Denver: A Local's Guide to 5 Amazing Places to Stay
The layout of the city, the well kept bike paths, and the abundance of choices in regard to shared transportation all contribute to making the city easily navigable. So, don't feel like if you stay in one part of town, you won't be able to dip in and out of the others.
The main thing is to find a part of town that fits your vibe so that you're soon to be favorite coffee shops and breakfast joints are only a stone's throw from your accommodation. Then, with your morning fueled and your belly full, you can use your neighborhood as a jumping off point for wherever you're planning to explore each day.
Matt and Alysha here, interjecting our personal experience to help you find a place to stay! We've spent a lot of time in Denver over the past three years or so. Matt has been to Denver for work multiple times, and we've been together to visit family in the Denver area. We have personally stayed at the Maven Hotel in LoDo, which we LOVED (and is in a fantastic central location) and in a vacation rental in LoHi (that sadly no longer exists), which is probably our favorite neighborhood in the city.
Before I get into the neighborhoods, let's talk about the elephant in the room….all of those acronyms. You'd think it dates back to the days of secretarial short-hand and the 4-letter words just stuck. Not exactly.
In reality, the names were concocted by realtors to lend an urban "cool-factor" to neighborhoods when trying to market homes to buyers. Long-time locals, who refer to themselves as "natives", tend to use the elongated names for these neighborhoods, while transplants use the acronyms because that's what they were told.
The one exception to this is RiNo because the area was coined "The River North Arts District" relatively recently. And well, that's a mouthful. So, RiNo it is.
Don't have time to read the entire guide below? Here's what you need to know. Though we'd strongly recommend that you read through the relevant section for the neighborhood you choose!
If it's your first time in Denver, stay in LoDo (Lower Downtown). There's something special about being right in the heart of all the action, with Union Station, the ballpark, and a whole host of great bars, shops, and restaurants within walking distance. We stayed at and liked the stylish Maven Hotel, which is a block away from Union Station. If you're looking for a solid, affordable option, stay at the Hotel Indigo, which is one of our go-to midrange hotel chains around the world.


If you're looking for something quieter and more residential, stay in LoHi (the Lower Highlands). We stayed there on our first ever trip to Denver, and it's a great area, full of good food, drinks, and just a hop, skip, and a jump across the river to downtown. An apartment is your best bet here – look at Sonder Osage, a cross behind a hotel and an apartment complex, or find a vacation rental in LoHi.


If you want to stay in the coolest neighborhood in Denver, full of industrial-chic breweries and art galleries, stay in RiNo (River Arts North). The Ramble Hotel is the best option here, and it might be the coolest hotel in all of Denver. The new Catbird Hotel is an intriguing entrant into the neighborhood's hotel scene that we'd love to stay at on a future trip. If you stay there, let us know how it is!
LoHi: The Best Overall Place to Stay in Denver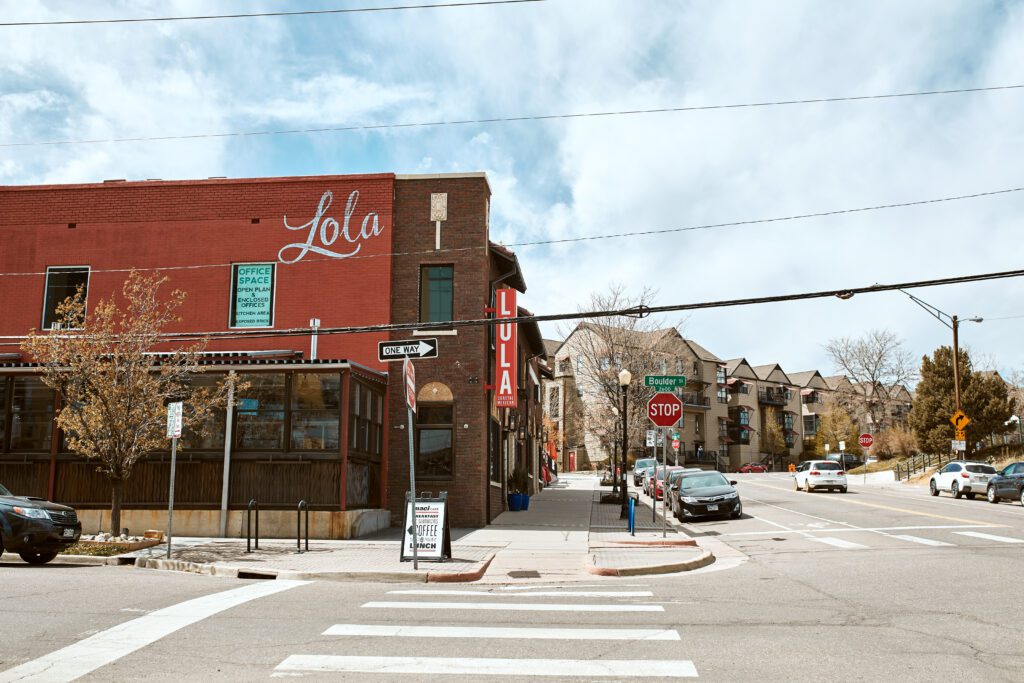 LoHi is a fraction of what locals simply refer to as "The Highlands". Remember when you were drawing that silly map of the neighborhoods earlier? This is the one on the west side of the highway, closest to the mountains. It's a great location for families and lovers of architecture and design.
Pros and Cons of Staying in the Lower Highlands
PROS: You'll find great views of both the city and the mountain peaks from this hilltop locale. It's also home to some of the best restaurants, and boy do those restaurants have some views. I'm talking about you, Linger (go for happy hour)..
CONS: It's the furthest from the heart of downtown. But, if you bring your walking shoes or opt for a bike or scooter rental, you get to take advantage of the scenic Cherry Creek Trail, a beautiful paved pathway that follows the artery of the Platte River through the city.
What to Do in LoHi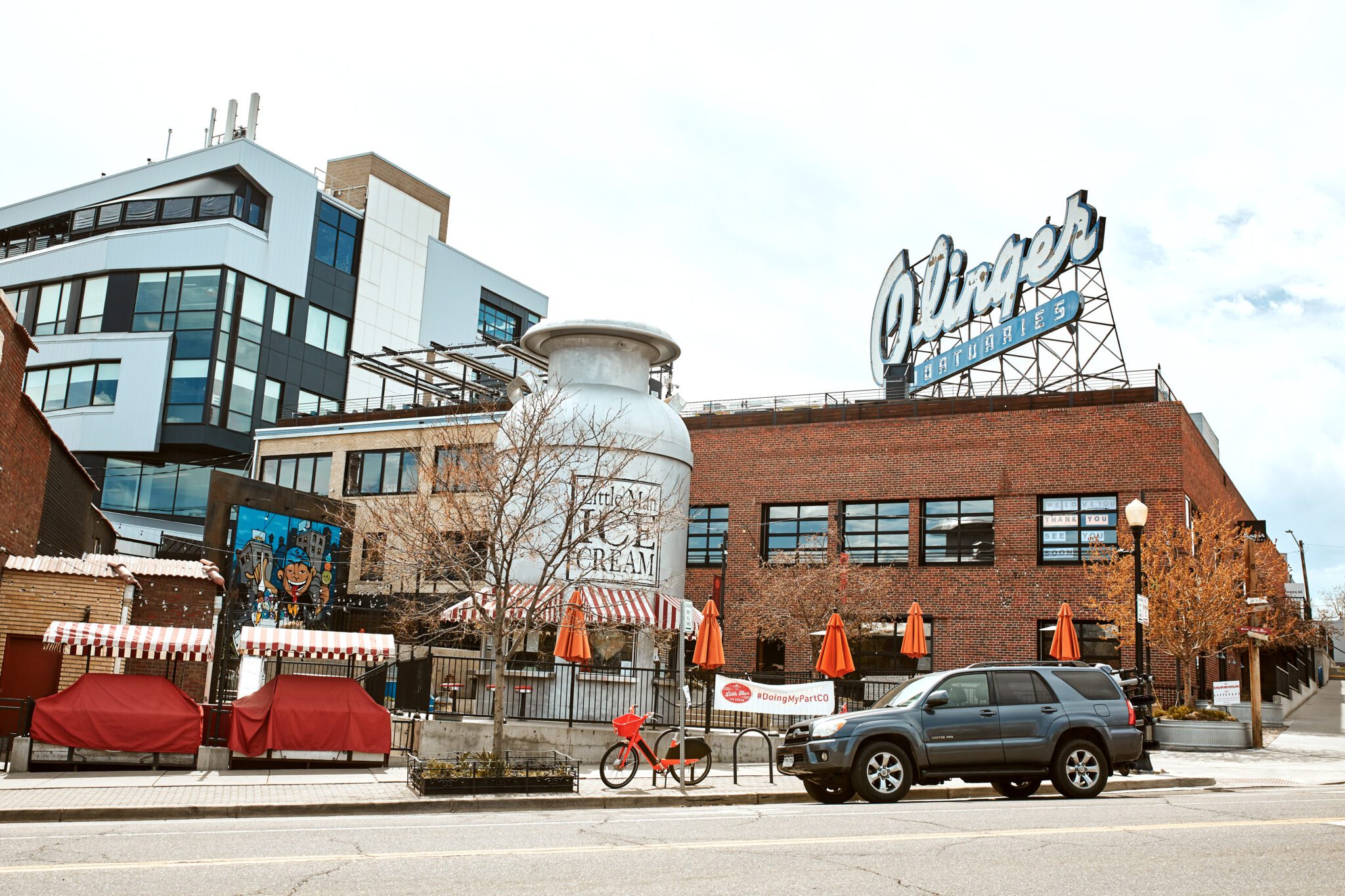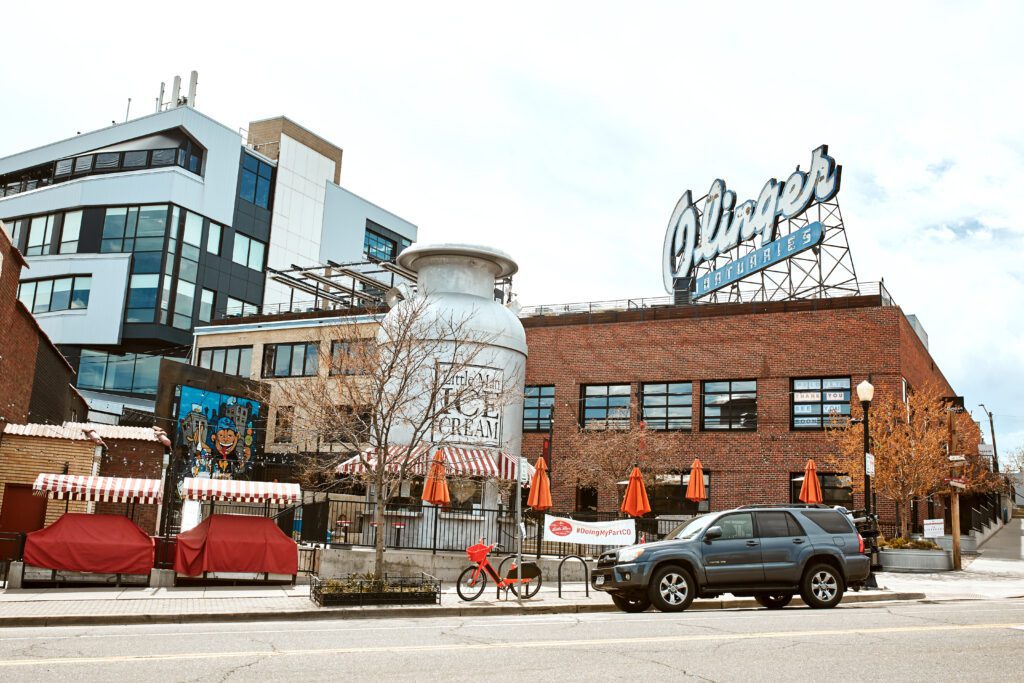 Explore the foodie scene at Avanti Food & Beverage. This is a lively, hip space with a huge outdoor patio. Avanti is essentially an incubator space for people who want to test the waters before opening their own restaurant, without the operating costs of starting from scratch. For that reason, it's got a rotating selection of restaurants to choose from. If you visit Denver this year, chances are in two years, the place you loved has launched their own restaurant or food truck. It's the perfect place to grab a drink, sample a few different plates, and get an idea of what's up and coming in the Denver food scene. Matt and Alysha note: go to Quiero Arepas, one of our favorite gluten free restaurants in Denver.
Don't miss brunch at Root Down (sister restaurant to Linger). It's great for every meal, but especially for brunch. They offer amazing gluten free food and drinks and have a lovely patio for outdoor dining. Definitely make a reservation, especially if you want to sit on the patio as this is a Denver favorite.
Little Man Ice Cream is an ice-cream shop housed in a spectacular 28-foot tall milk jug! They have an ever-rotating menu of seasonal flavors and some old favorites. Flavors like espresso fudge, banana pudding, and oatmeal cookie sit alongside vanilla bean, Mexican chocolate, and strawberry. The atmosphere here is great for a cone and the view, but especially for the dog watching. (Note from Matt: If you have Celiac Disease, I wouldn't eat here due to potential for cross-contamination).
Pop into speakeasy style bar Williams & Graham for a truly special cocktail experience. Drinks are made from scratch and they don't come fast, but the wait is oh-so-worth it. The entrance is disguised as a library, so if you peek your head in, you're not in the wrong place.
Sample the local roast at Huckleberry Coffee. Simply referred to as "Huck" by locals, this has been a staple since 2013. The staff are friendly and down to earth, and you'll find their beans in several of Denver's best restaurants. They also have a location inside The Maven Hotel in LoDo, if you decide to plan ahead for a second pick-me up.
Keep an eye out for the 2021 opening of the much anticipated art megaplex Meow Wolf. If their locations in Santa Fe and Las Vegas are any indication, this will be a ride you don't want to miss. It's an industrial-sized, interactive playhouse that's as funkier, stranger, and more mysterious than you can imagine.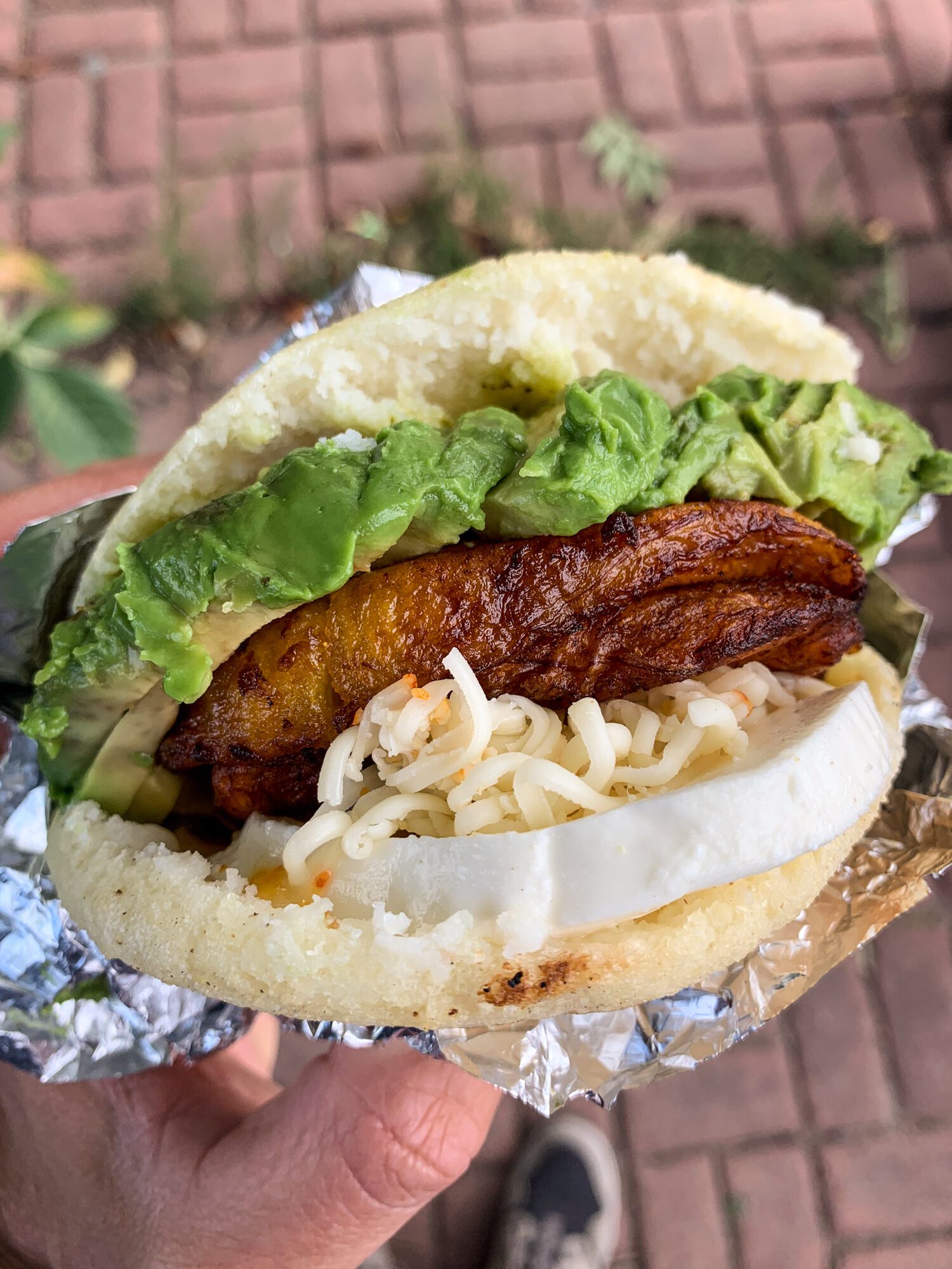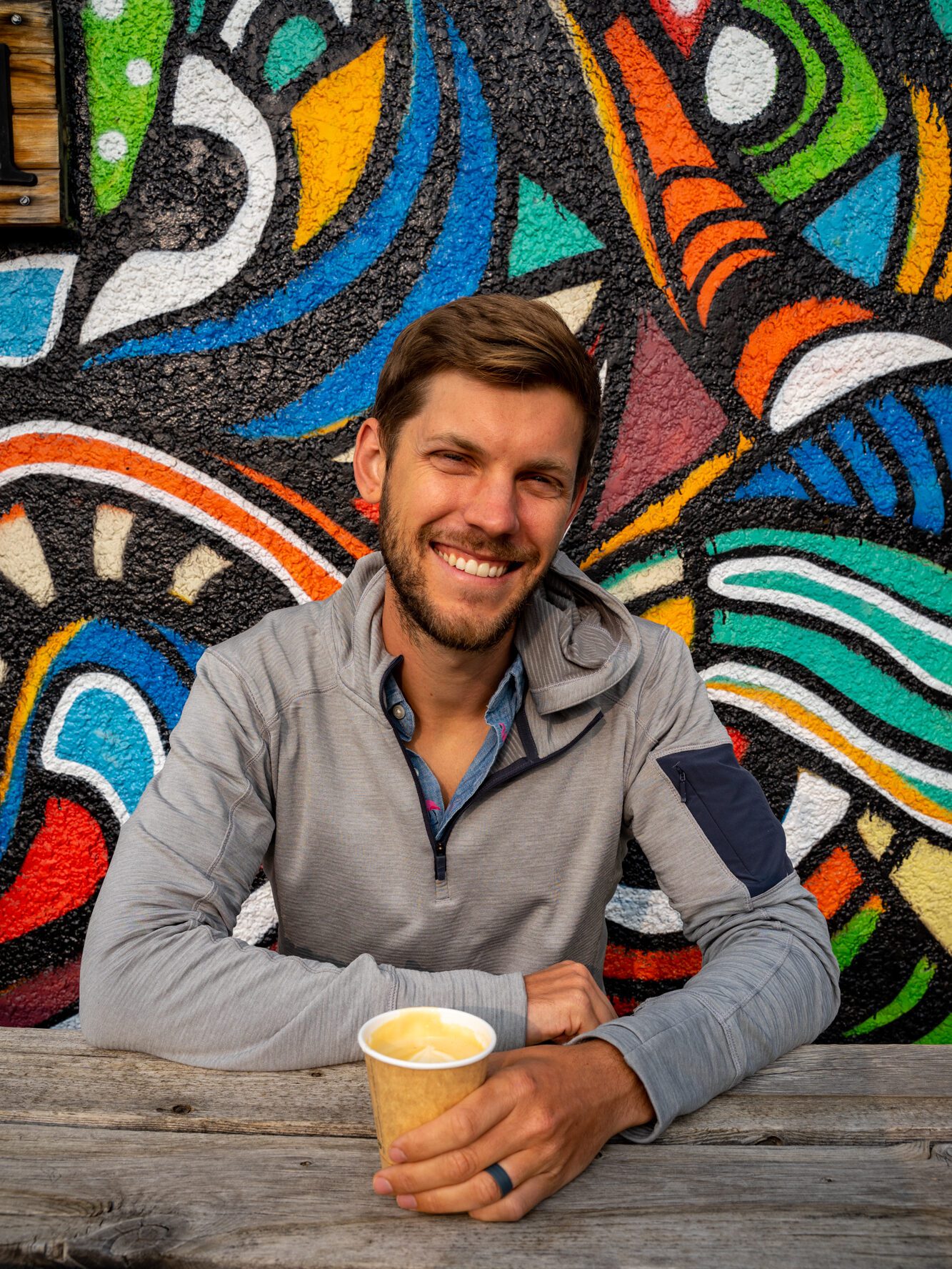 The Best Places to Stay in LoHi
LoHi gets pretty residential once you get outside the few blocks at the heart of it, which means you'll have a mix of vacation rentals and hotels in this part of the city.
Hotels and B&Bs in LoHI
For the ultimate in bespoke luxury, book a room at Life House. They offer a uniquely Denver aesthetic, nodding to a signature southwest style and flawlessly combined with modern art from local artists. Be sure to have your morning coffee, a meal, or even a cocktail or two in their on-site restaurant/bar Wildflower. It's the perfect place to learn more about the Italian and Mexican roots of the neighborhood.
If you prefer having a little extra space for your family then Comma Hotel is the place for you! Each apartment features huge living spaces with dining tables, a sofa and TV area, and a kitchen big enough to prepare a meal for the family. They come in one or two-bedroom options. There's even a two-bedroom suite if you're looking for more space and even finer luxury furnishings.
The Fairfield by Marriott is an affordable hotel option in Denver. With a great location right in the heart of the Highlands action, it has an indoor pool, free breakfast, and a gym onsite for guests.
Apartment Rentals in LoHi
If you're looking for a little extra space, somewhere where you have more room to spread out and relax, and a place that feels a little more like home, look at renting an apartment or vacation rental.
For couples coming to Denver, Sonder Osage is a "Condo hotel" (really, it's an apartment building) with a couple of different room configurations, from studios to two bedroom apartments. They're beautifully designed, and have a full kitchen and plenty of room to relax. It's also right around the corner from Avanti and Root Down, which are two of the best spots in Denver. They also have another nearby building – Sonder Zuni – which is the same idea, but a little further into the residential part of the neighborhood.
For groups visiting Denver, it really doesn't get any better than this two bedroom home just a few blocks away from the action (which means it's quiet and convenient). It has a full kitchen, two bedrooms, and it's a 15 minute walk from Downtown Denver. What's not to like? This stylish two bedroom house is another good option for groups of 4. Look at that view of downtown Denver from the patio! Looks like a perfect spot to end a day of exploring with a nice cold local beer or cider.
LoDo: The Best Place to Stay near Downtown Denver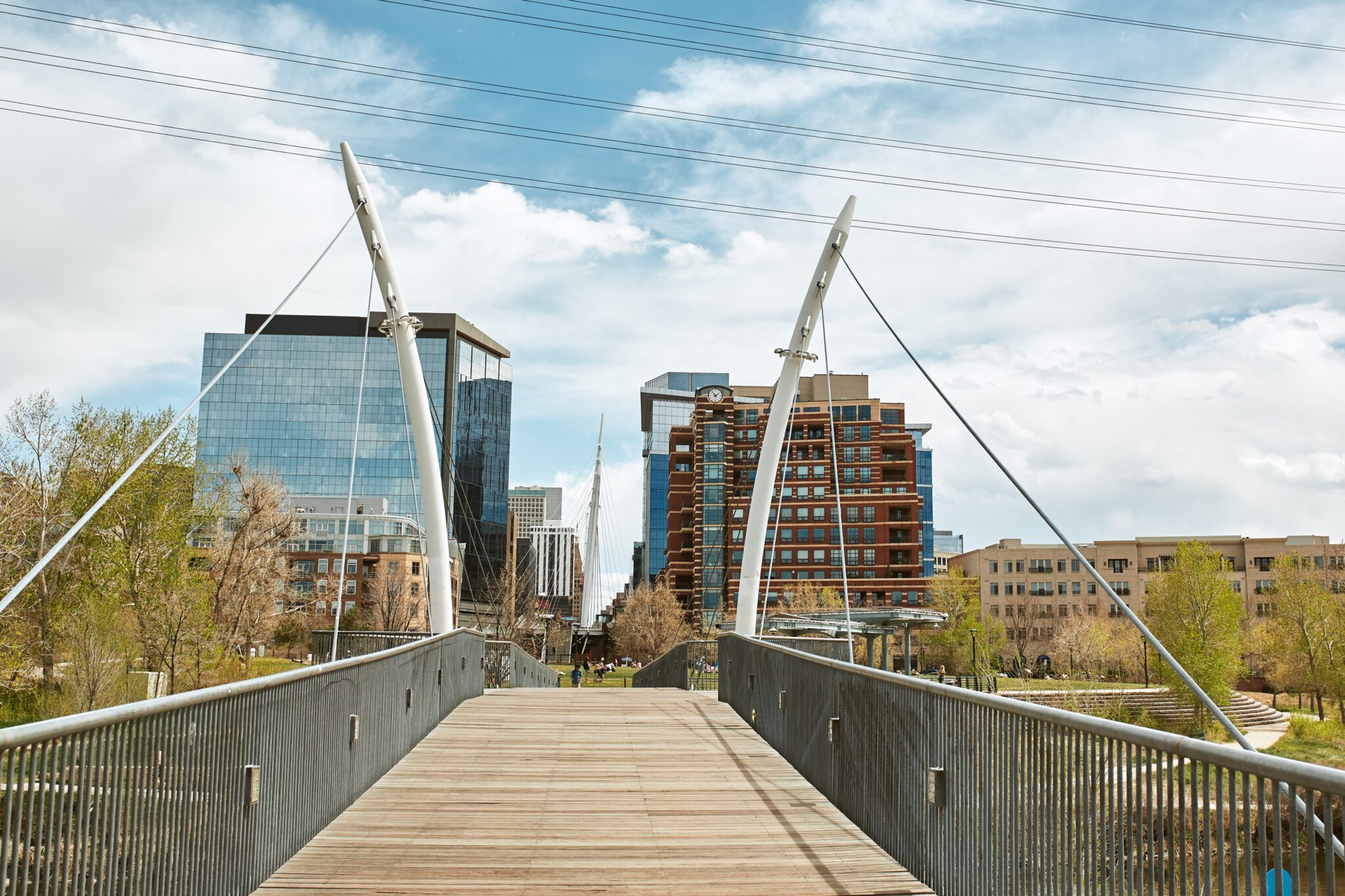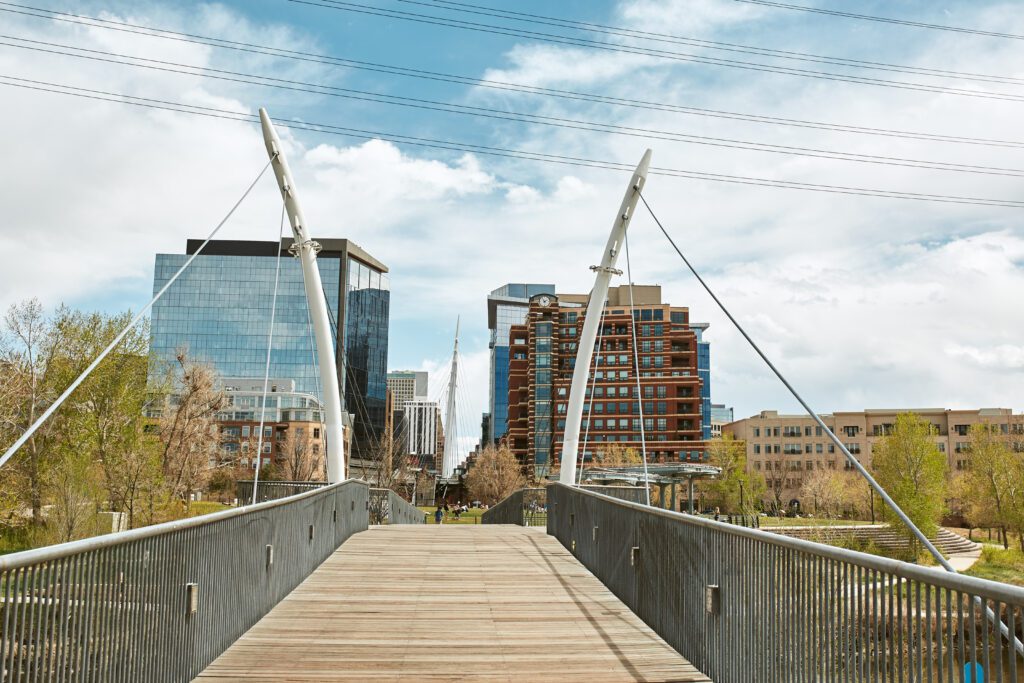 Lower Downtown was the first established neighborhood in the city when gold was discovered back in the late 1850's. Naturally, business boomed here during that time, and the remaining architecture is some of the most representative of the early commercial buildings of that era.
The modern awakening of LoDo began with the opening of the Wynkoop Brewery by future Denver mayor, US Senator, and Presidential candidate John Hickenlooper. Then, the neighborhood acronym was sealed while simultaneously becoming a popular tourist stop when the 2006 season of MTV's the Real World was filmed there. Today, it's filled with shops, restaurants, upscale bars, and it's a very picturesque area for an evening stroll.
Pros and Cons of Staying in Lower Downtown
PROS: The best thing about this neighborhood is the history and architecture. And, perhaps because it's a bit on the touristy side, they've done a great job of making it pretty and romantic. Think string lights and nice patio spaces. It's also super central, walkable to both RiNo and LoHi and the broader downtown area.
CONS: The drawback, which seems to get a bit worse every year, is the commercial aspect. There's an over abundance of chain restaurants and cheesy tourist shops selling shirts about "getting high in the mile high city". If you can manage to avoid the chains and repetitive souvenir shops, there are plenty of gems to discover here.
What to Do in LoDo
Explore the food stalls at the Dairy Block. The Dairy Block has taken over three historic buildings and created a micro-district brimming with life. There is a boutique hotel, a co-working space, 15 shops, seven restaurants, and 19 bars.
Have a wander through Denver's original independent bookstore, The Tattered Cover. This beautiful building is full of history, and it's a particularly cozy place to hole up in one of the comfy chairs and take a break from the world outside. Have a coffee and stay awhile.
Catch a Colorado Rockies baseball game! There is nothing better than watching a home game, no matter the sport or city you are in; especially if the city is as mad about its baseball team as Denver is! Coors Field is located in the heart of downtown Denver and is designed so that there is not a bad seat in the house. Catch a game in the spring, summer, and early fall.
Visit Union Station (you can arrive here by train from the airport!) and grab a drink at the Terminal Bar. This bar stays true to its ticketing office roots with a departure board style cocktail menu hanging above the bar, and subway tiling throughout. If you are here in the warmer months, head out onto the open-air terrace with your drink. There are great views of the city to marvel at while you drink your local beer, cocktail, or cider. While you're there, book a table for dinner at the award winning, farm-to-table restaurant Mercantile.
Grab a drink at Falling Rock Taphouse. There are more than 90 beers on tap, and over 120 bottled beers, so you are bound to find something you like! They have Holidaily beer which is gluten free and a whole bunch of gluten free ciders in cans.
Where to Stay in LoDo
The Maven Hotel is a boutique hotel conveniently located in the Dairy Block. It's probably the top boutique hotel in Denver. As mentioned earlier, Huckleberry Coffee is right in the lobby, and the restaurants and bars of Dairy Block are practically on the doorstep. The short walk to all of central Denver, including Coors Field, RiNo, and Union Station, is a major plus. Note from Matt: I've stayed here, and it's a fantastic location with stylish, relatively spacious rooms.
Another great mid-range option is the Hotel Indigo Denver Downtown. Yes, it's a chain, however, they make a point to really understand and share the local culture of every city with guests. They feature local products, and offer packages like the DRAM CBD spa package that'll help you relax on arrival, and obviously, they feature local brews to give you a true taste of the robust beer scene.
For an upscale, sophisticated option, try the Kimpton Hotel Born. This is consistently rated as one of the top hotels in Denver, and gets a lot of love from high-end travel publications. It's sleek, modern, has great lighting, and the location couldn't be any better.
Hostel Fish operates on the belief that being a hostel does not mean they can't offer quality accommodation and service. They have private rooms as well as shared rooms of four to ten bunks. Expect the usual pub crawls and activities desk, but they also offer Ipad usage and free WiFi.
RiNo: The Hippest Neighborhood in Denver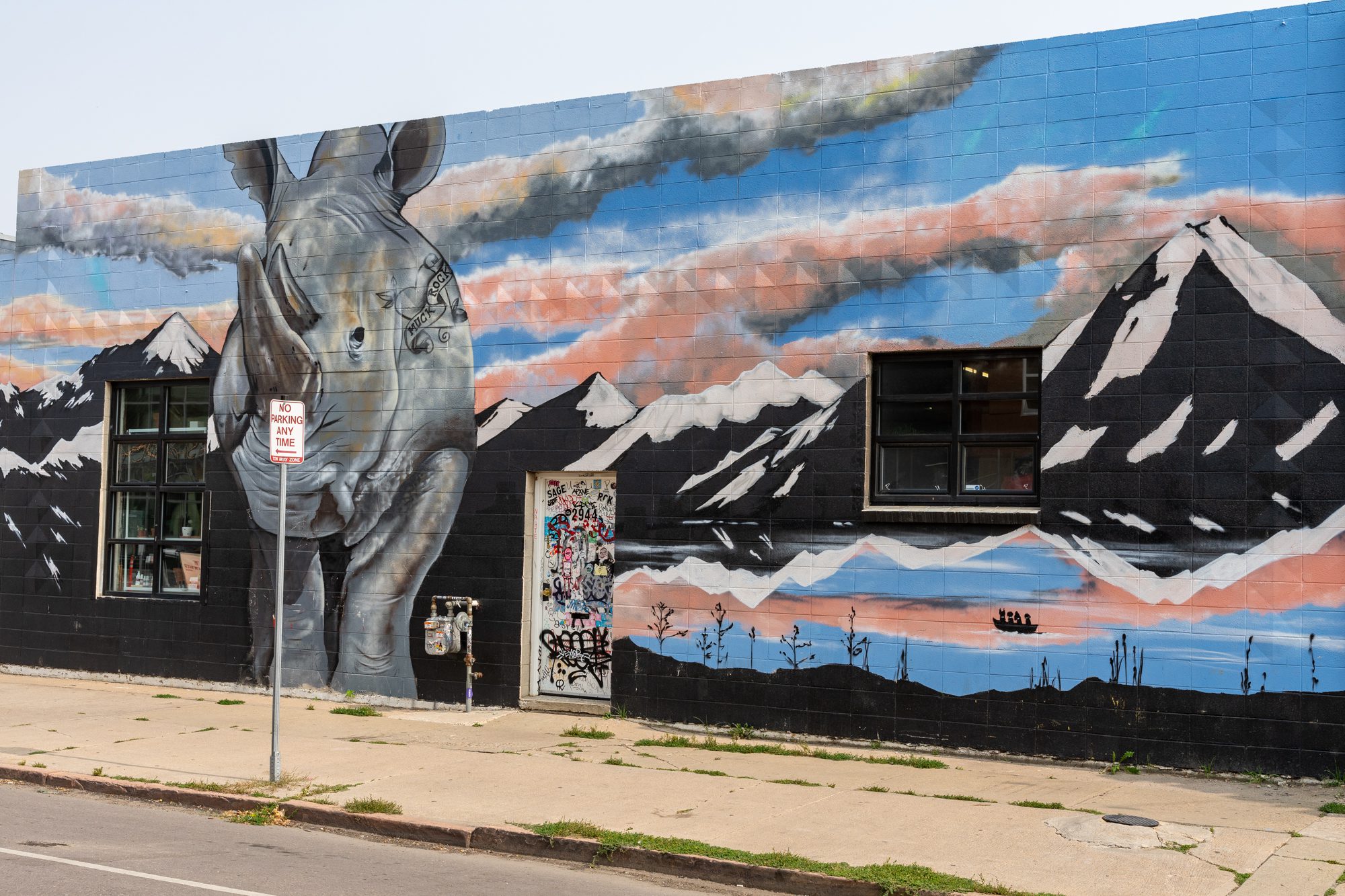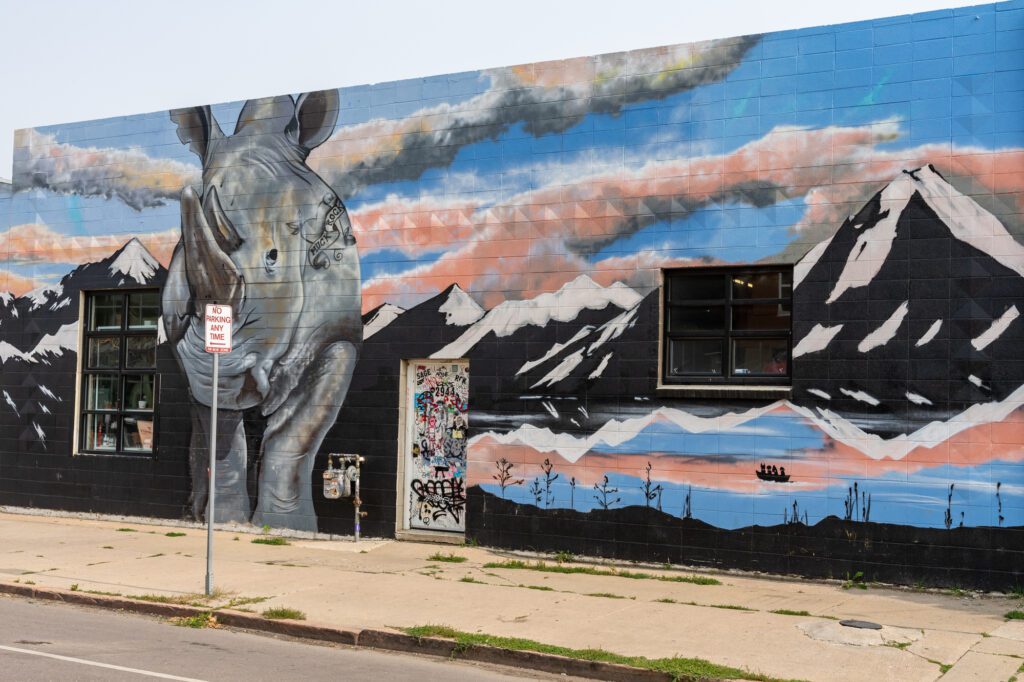 The RiNo neighborhood is one of the more recent additions to the Denver milieu. Like many cities, as downtown areas began to get more expensive, the long-neglected industrial part of town became appealing because artist space was affordable. Denver artists are really what made this neighborhood what it is today.
Pros and Cons of Staying in RiNo
PROS: The best part of staying in RiNo is that it's chock full of great restaurants, stylish shops, good coffee, and amazing art. This is truly the best neighborhood in Denver for people who want to eat well in between mural discoveries, which colorfully adorn nearly every industrial-sized wall you encounter.
CONS: The downside to RiNo is the lack of green space. As mentioned, it's an industrial area turned hip-neighborhood, and the defining feature is the vast amount of warehouse space and, therefore, canvas.
What to Do in RiNo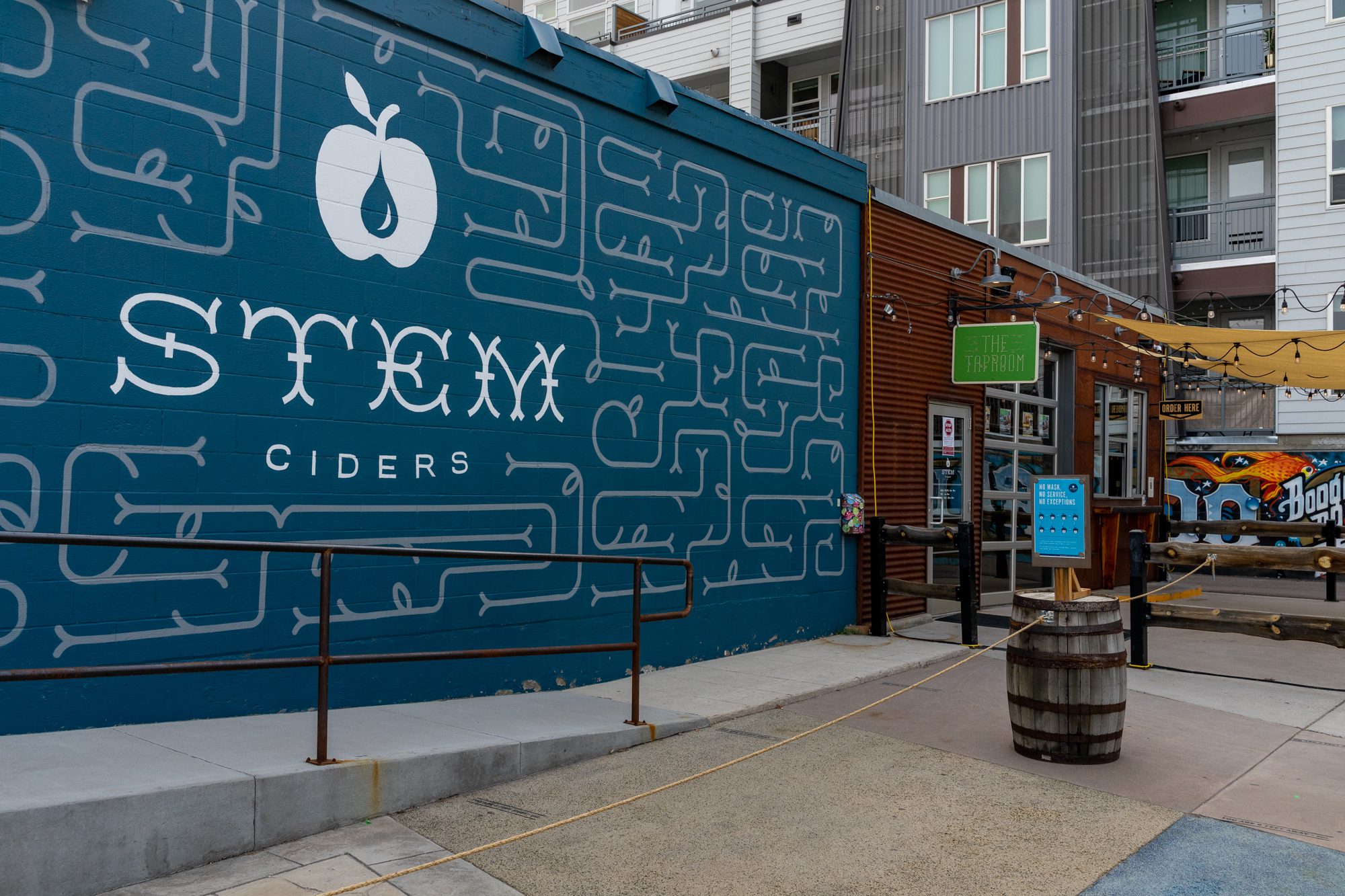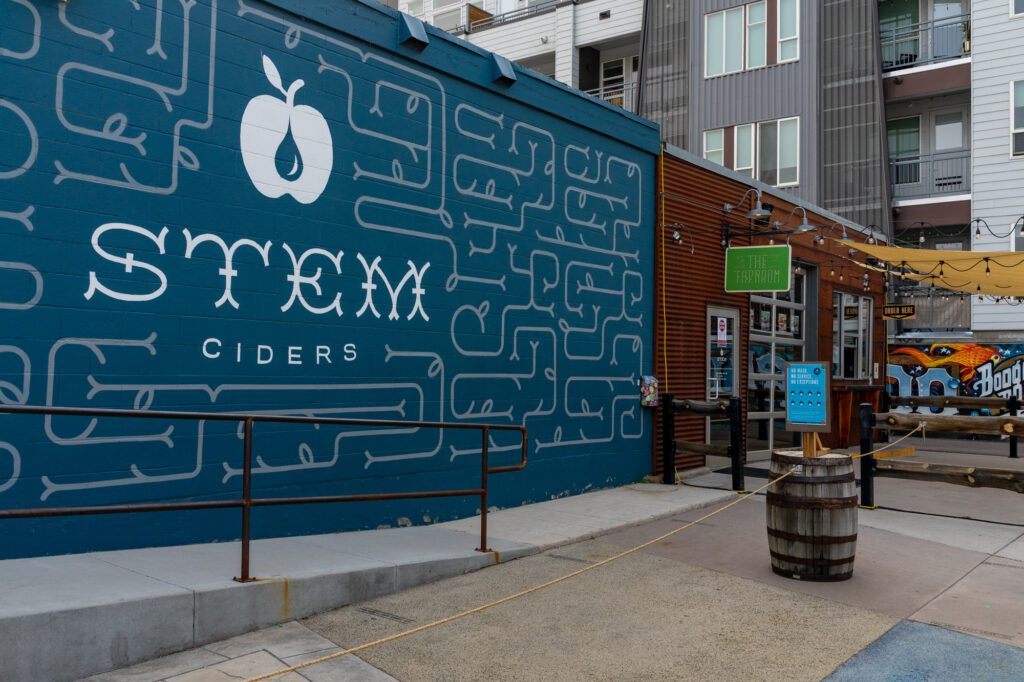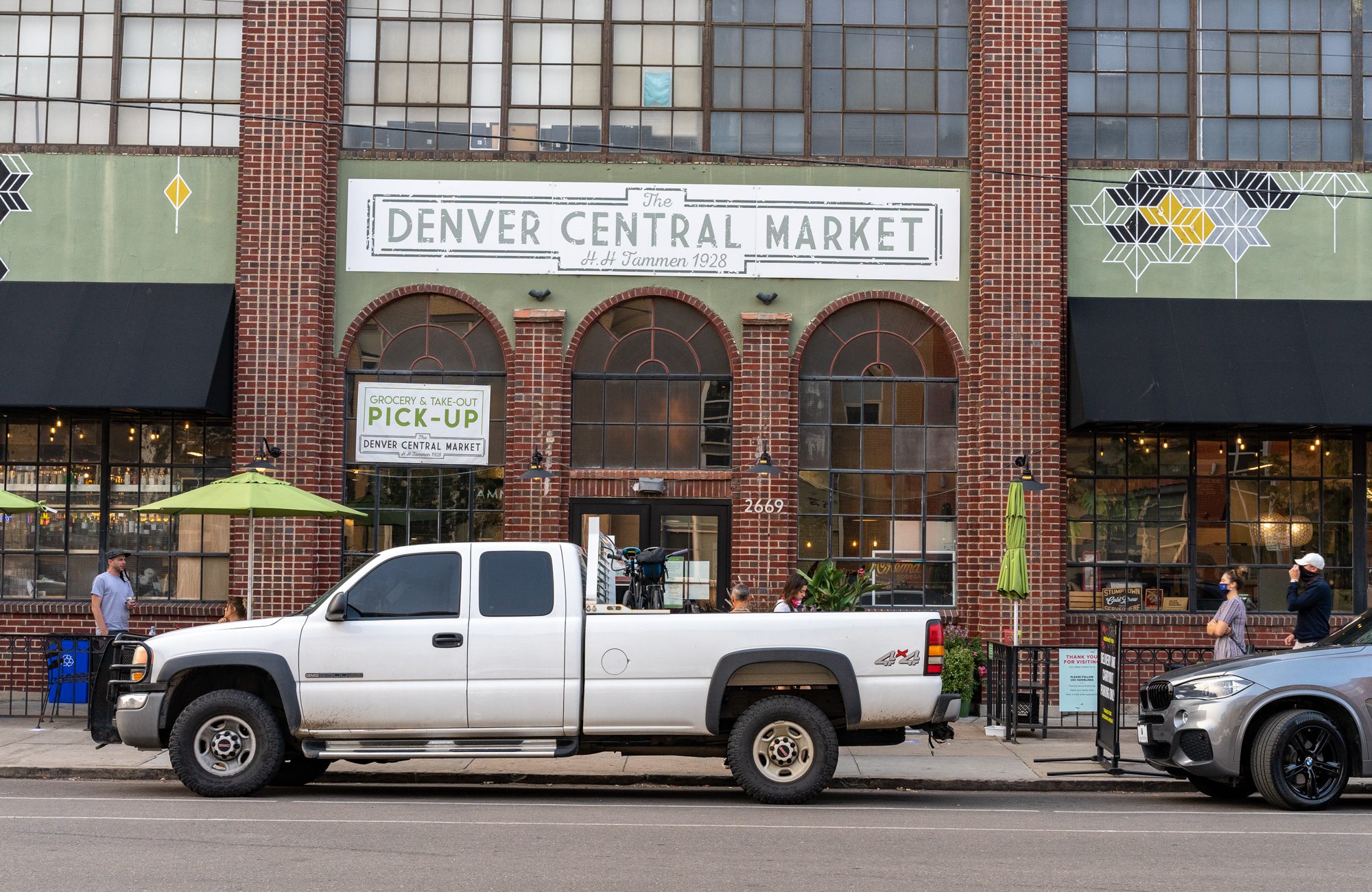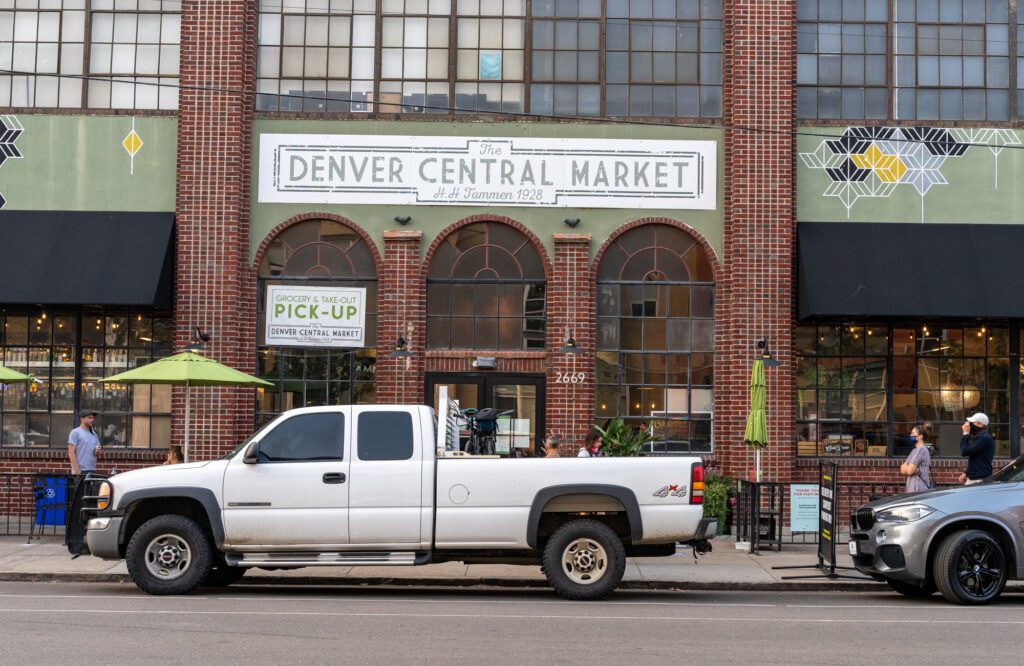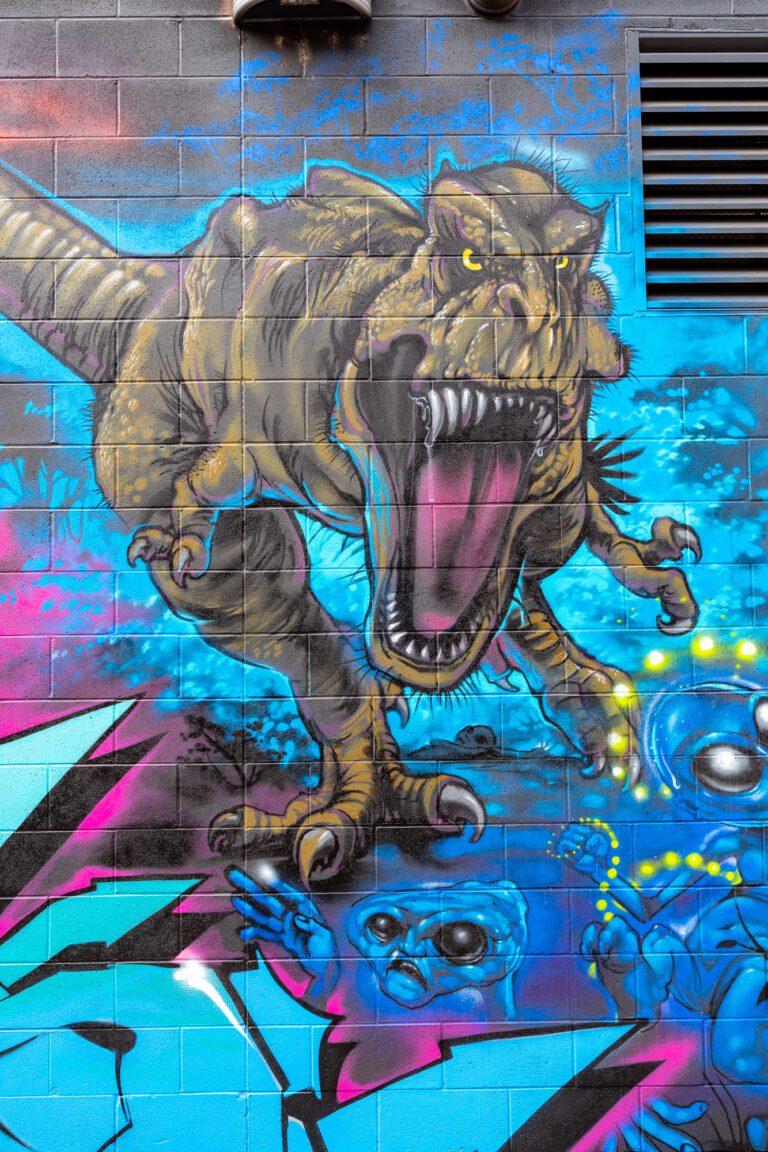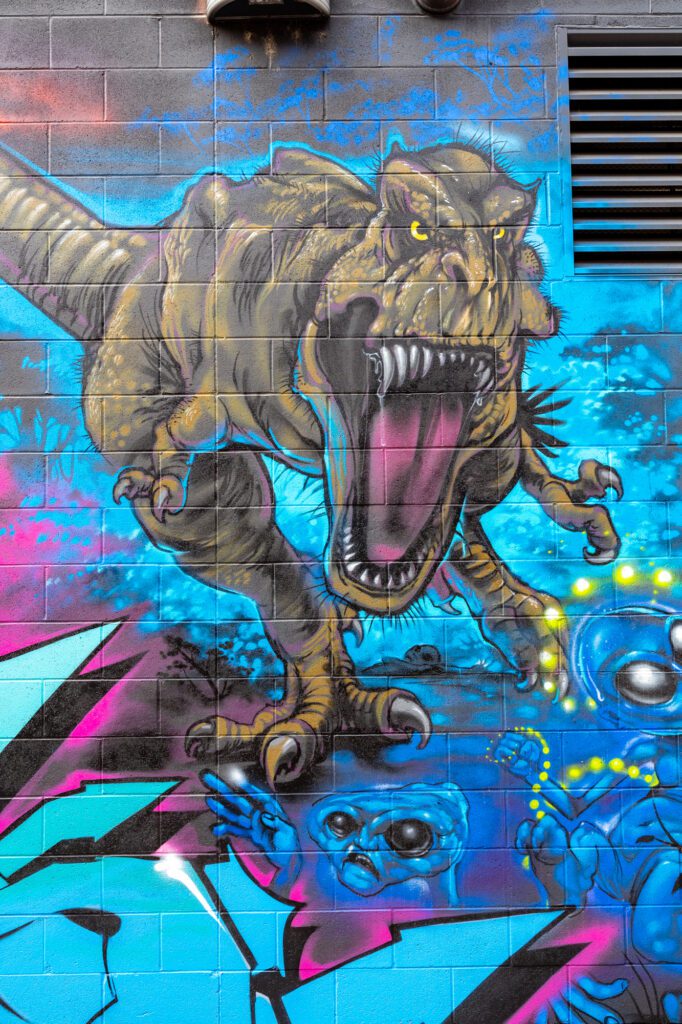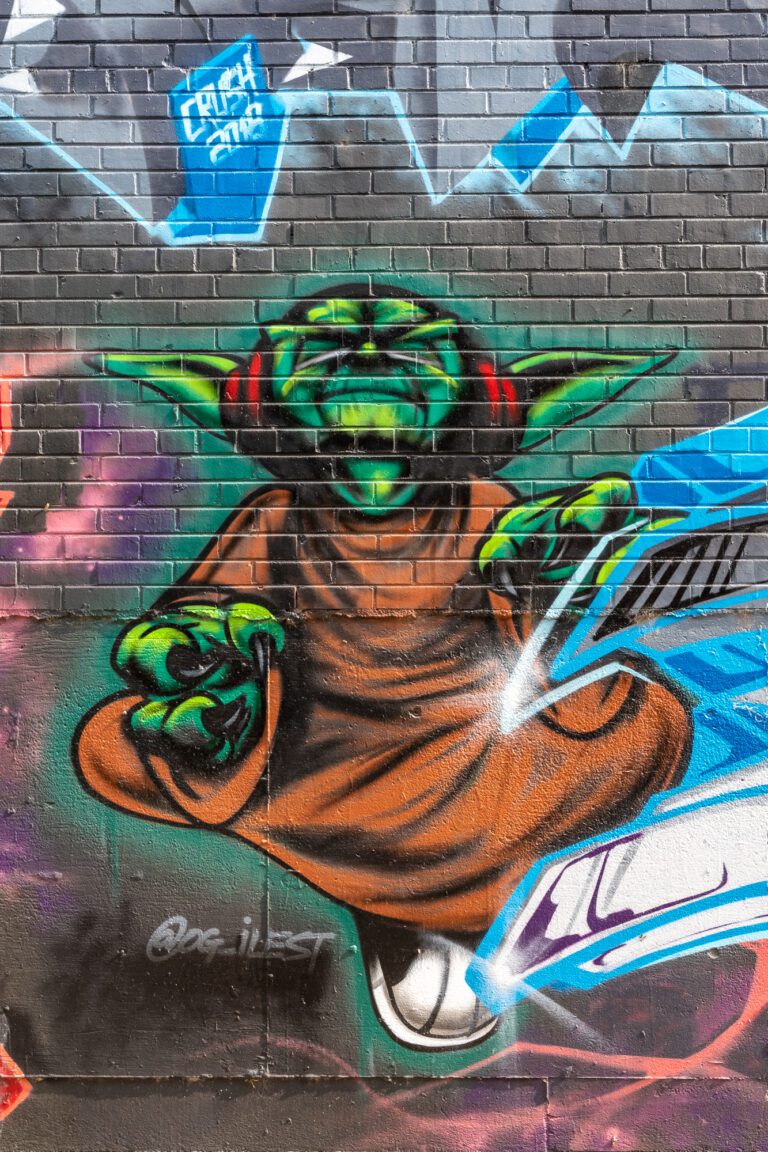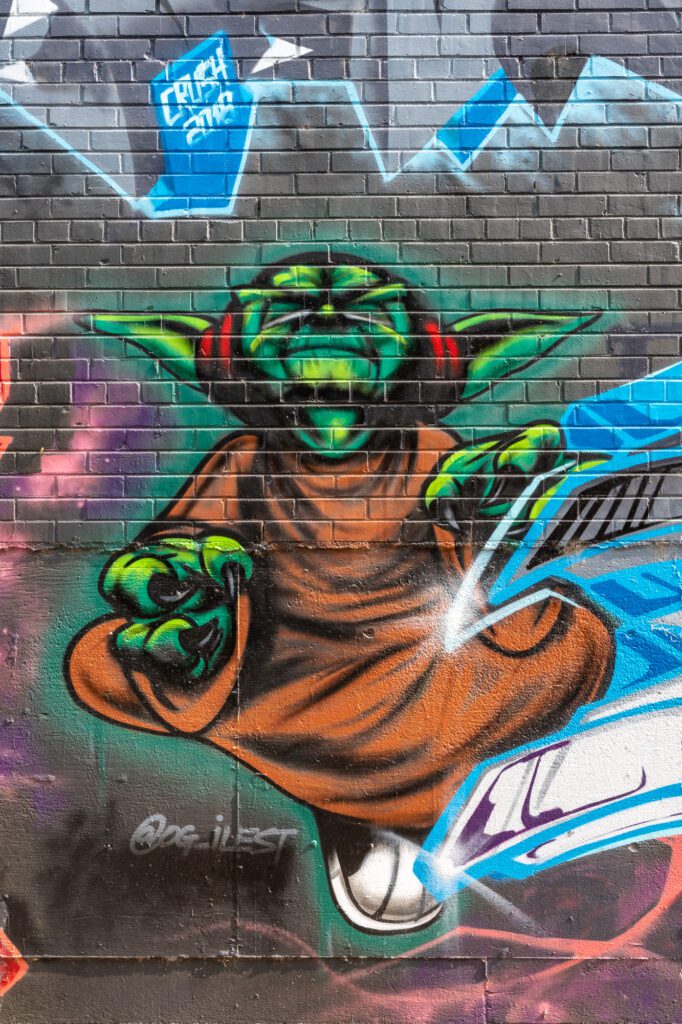 Where to Stay in RiNo
The Ramble Hotel has to be Denver's most aesthetically pleasing hotels; this is one of the best places to stay in Denver if you are always on the lookout for stylish boutique hotels when you're traveling. It was styled after the 17th Century French salons with bold Prussian blue feature walls and large airy windows. The bathroom amenities are mint and rosemary, definitely worth taking home with you! It's also home to the lovely Latin-inspired SuperMegaBien, so you can easily access that late night pupusa. Win!
The Source Hotel is all about styled minimalism. You are even served a beer at check-in! It is connected to the Market Hall which is full of designer boutiques, vintage vinyl stores, and restaurants serving just about every cuisine you could imagine. The highlight, though, is the rooftop hot tub and plunge pool, perfect after a day of exploring.
For more of a homestyle experience, check out the Curtis Park Club. If you plan to do some cooking, this is your spot. It's a super-stylish boutique B&B that gives you access to a full shared kitchen, elegant gathering space for anyone you want to invite over, and there's a great backyard with a BBQ set up at your disposal.
Capitol Hill: A Central, More Neighborhood-y Area Near Downtown
Before there were all of the hip, artsy neighborhoods, there was Cap Hill. The classic tree-lined streets are dotted with well-kept old mansions, many of which have become high-end apartment buildings. It possesses an authentic, quiet, neighborhood feel and you'll find parks large and small scattered everywhere.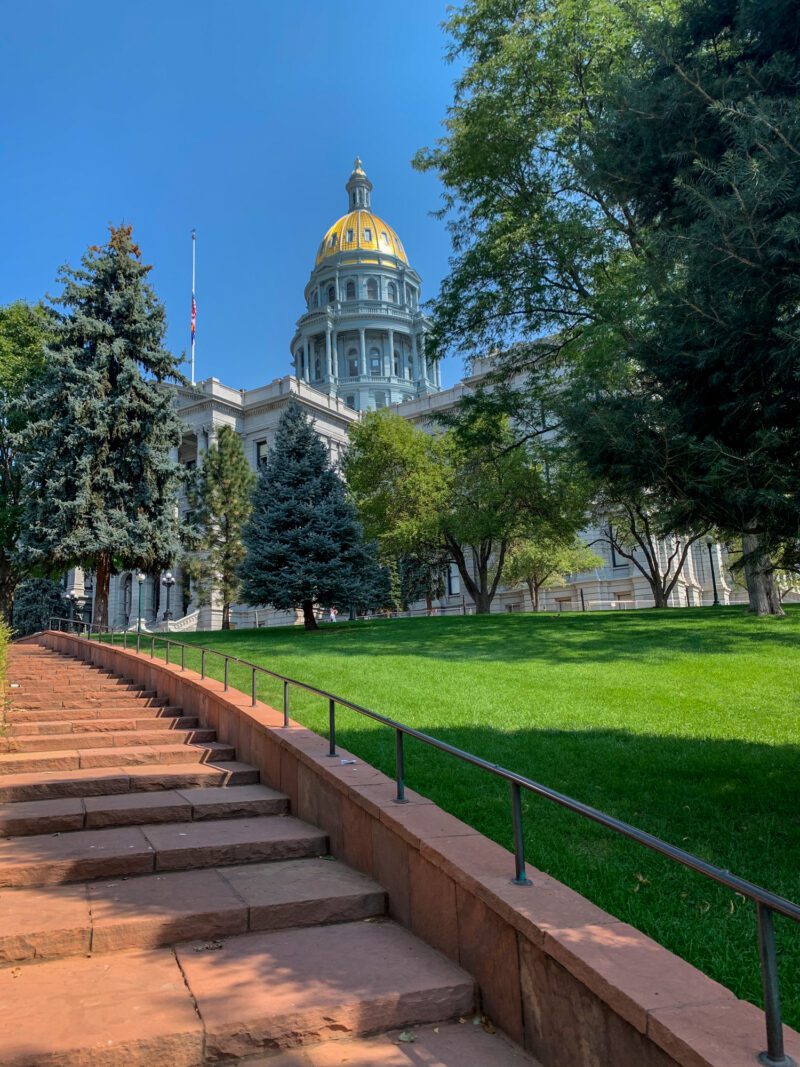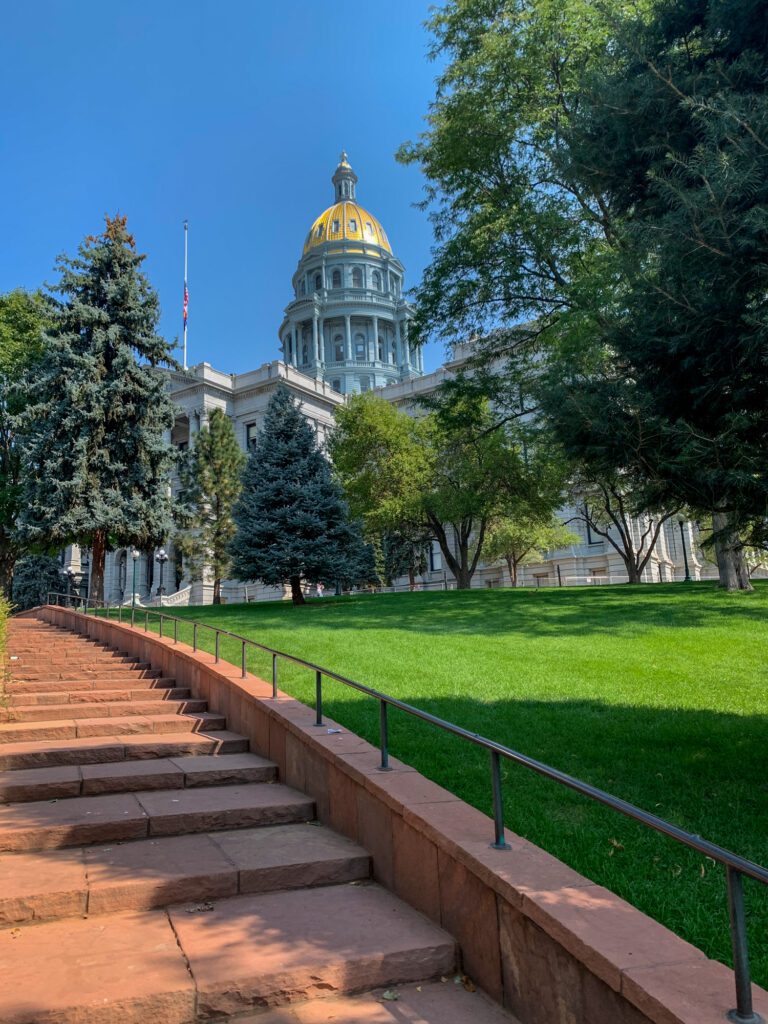 Pros and Cons of Staying in Cap Hill
PROS: If you're looking for authentic, lived-in Denver, this is your place. It's also really central, so it's the perfect starting point for exploring the rest of the city.
CONS: It might lack the quantity of trendy bars and restaurants that other neighborhoods can boast, but it makes up for that in quality and a local vibe, making it possibly the best area to stay in Denver if you want to truly get a feel for the heart of this city, and have quick access to patches of grass for a lazy afternoon in the park.
What to Do in Cap Hill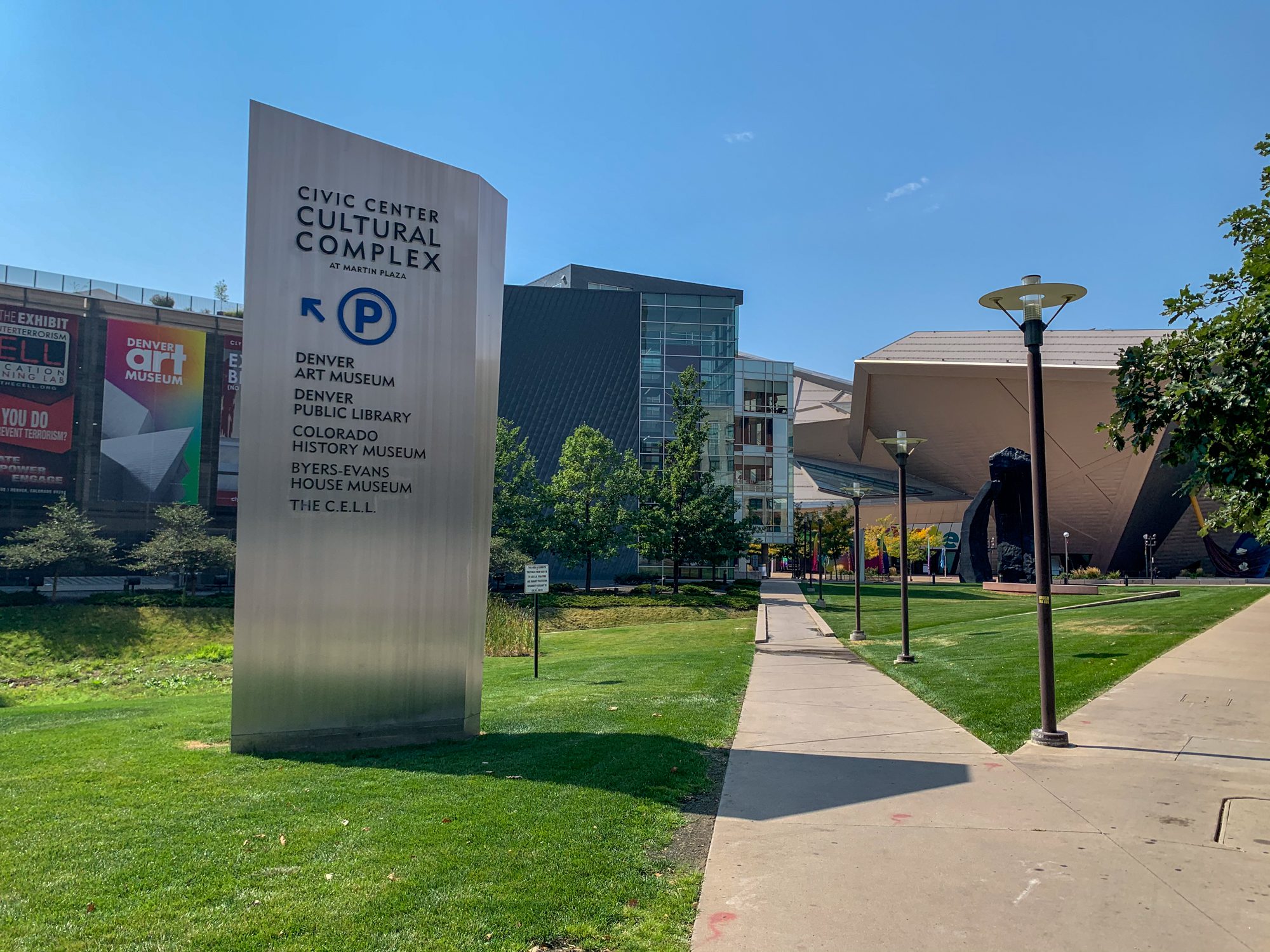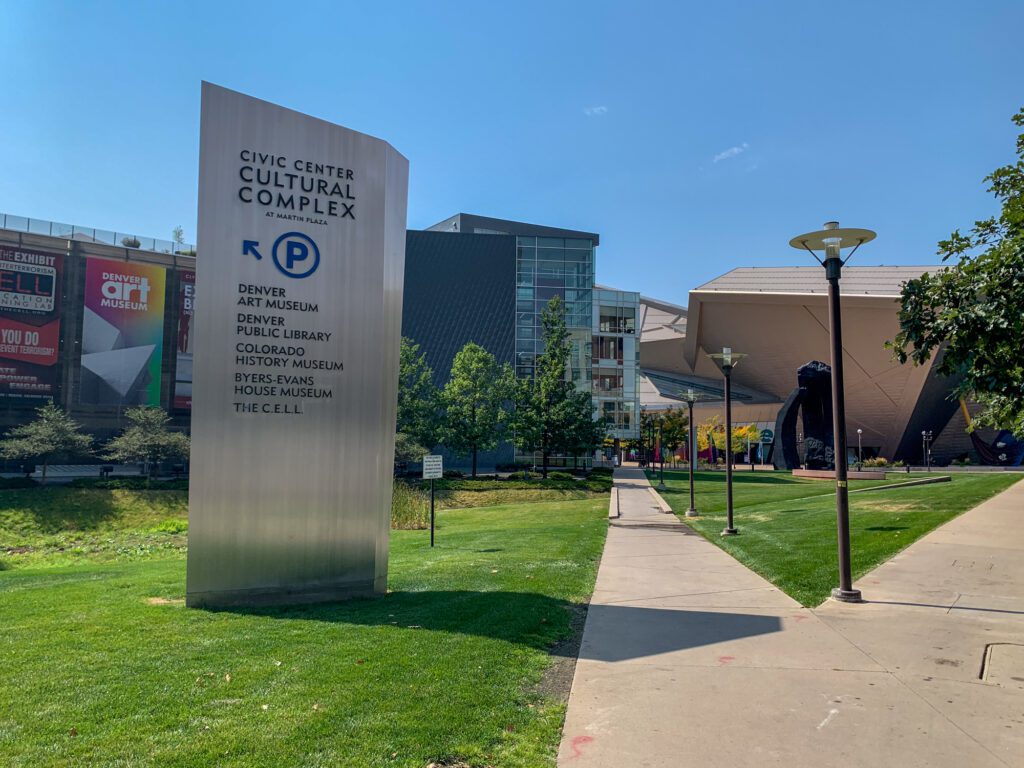 Discover why Denver is called the Mile High City at the Colorado State Capitol Building. Look for the official marker of 5,280 feet above sea level when you reach the 15th step leading up to the entrance. The public are free to roam the halls during business hours, and you can book a tour to the top dome for a great view of the city.
Enjoy the famous Colorado sunshine with a trip to the Denver Botanic Gardens. During the summer months, there's an expansive patio overlooking a lily pond that serves high quality salads, sandwiches, and brick-oven pizzas. Fresh produce comes seasonally from their CSA farm.
Eat some truly inventive vegetarian and vegan food at City O' City. A Denver staple since 1998, this place has continued to expand in both popularity and in physical space. The original venture, Watercourse Foods, moved to 17th and Emerson and is now fully vegan, while it's sister doubled its square footage in the original location and quickly became a neighborhood favorite. It's a motley mix of politicians, punks, hipsters, niche food bloggers, and the occasional rock star passing through pre/post Red Rocks show. Excellent happy hour, quality coffee, a creative menu, and easygoing vibes. (Note from Matt: NOT Celiac-safe due to cross-contamination concerns, but a solid option for the rest of you!)
Spend a sunny afternoon (and take a haunted evening stroll) at Cheesman Park. Conveniently located near The Botanic Gardens, this is where life happens for locals. On any given day, you might find people out barbecuing, hula hooping, participating in a yoga or TaiChi class, tightrope walking, or sitting down to a drum circle. It's a popular spot for wedding photographers, runners, readers, and it's great for people watching in general. Grab a few microbrews and a blanket and get comfortable. The park was built on a pauper graveyard, and there are plenty of ghost stories to tell.
Take a scenic saunter down Colfax Avenue. As mentioned earlier, it's an historic, long-stretching road with plenty to see and do. If you're a fan of live music, dive bars, greasy spoons, and character, you'll fall in love with Colfax.
Where to Stay in Cap Hill
The Capitol Hill Mansion is a boutique B&B that makes you feel like you live in the neighborhood. They offer luxurious, well curated rooms that will make you feel you're a part of 19th/20th century Denver high society. It's a local favorite for special occasions and they have excellent food served outside in the summer on a grand patio.
The Art Hotel lives up to its name. It's artsy, chic, modern, and comfortably cool. It's located near the architectural marvel that is the Denver Art Museum, and thus, it offers unparalleled, angular views of old and new skyline. The crowning glory here is the rooftop Fire Restaurant and Lounge. It's a prime spot for happy hour in summer because you get respite from the heat with the mountain breeze, and in the winter with a big outdoor fireplace.
For a functional and environmentally minded stay, head to Element Denver Downtown East. Their eco-conscious concept shines through in all LED lighting, healthy food options, and best of all, in room kitchens so you can cook up all of those fine market finds from the comfort of your home away from home.
Ember Hostel offers a little something for everyone. It's a Cap Hill mansion coated in rich, woodsy décor fit for comfort and class. The Ember's sheer reinvention of the hostel concept makes it one of the best places to stay in Denver. It's about 5,280 steps up from what you envision when you think "hostel". Games, hi-speed internet, a courtyard with a fire pit and a rooftop hot tub? From a hostel? Yes, indeed.
Cherry Creek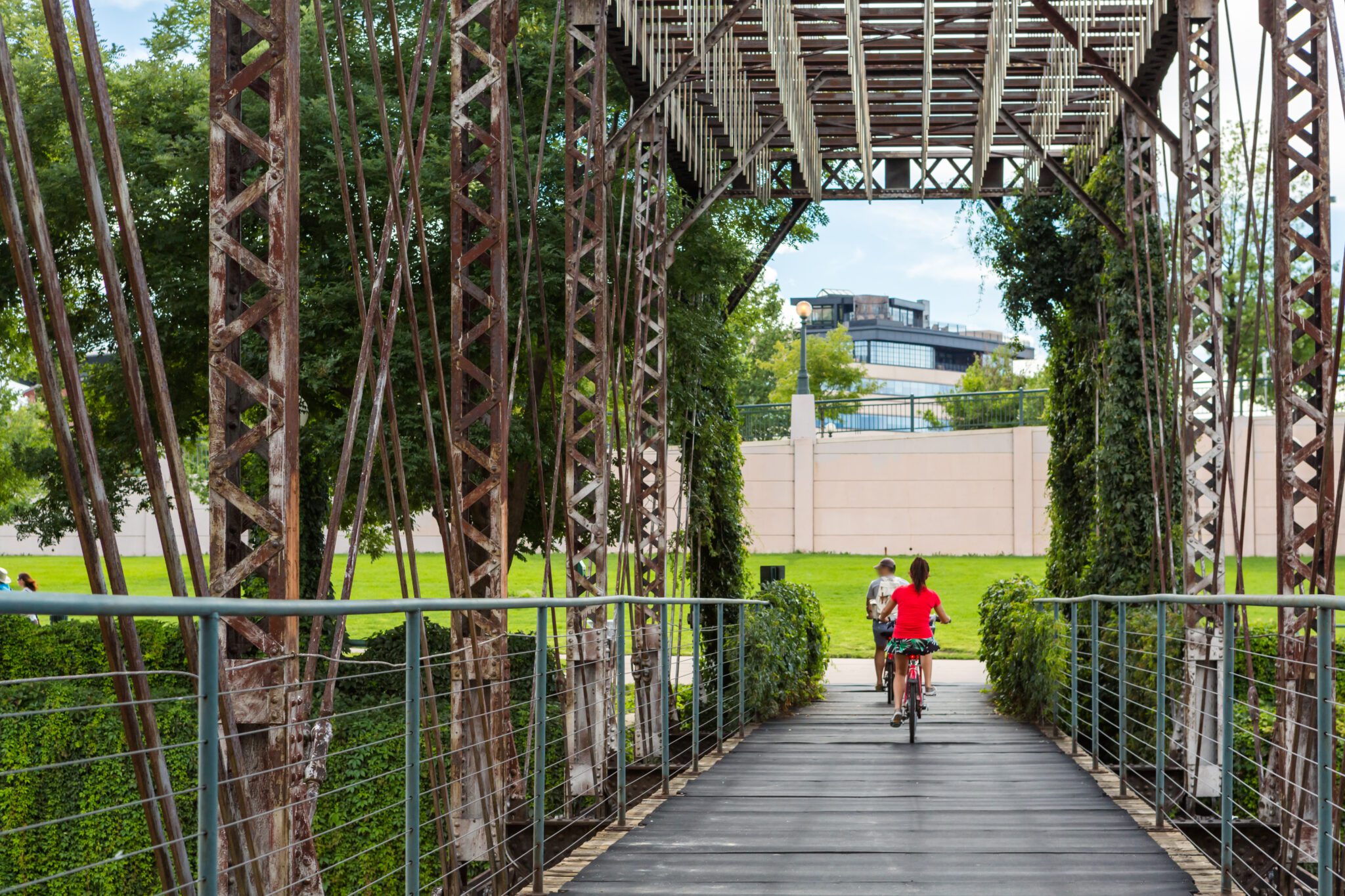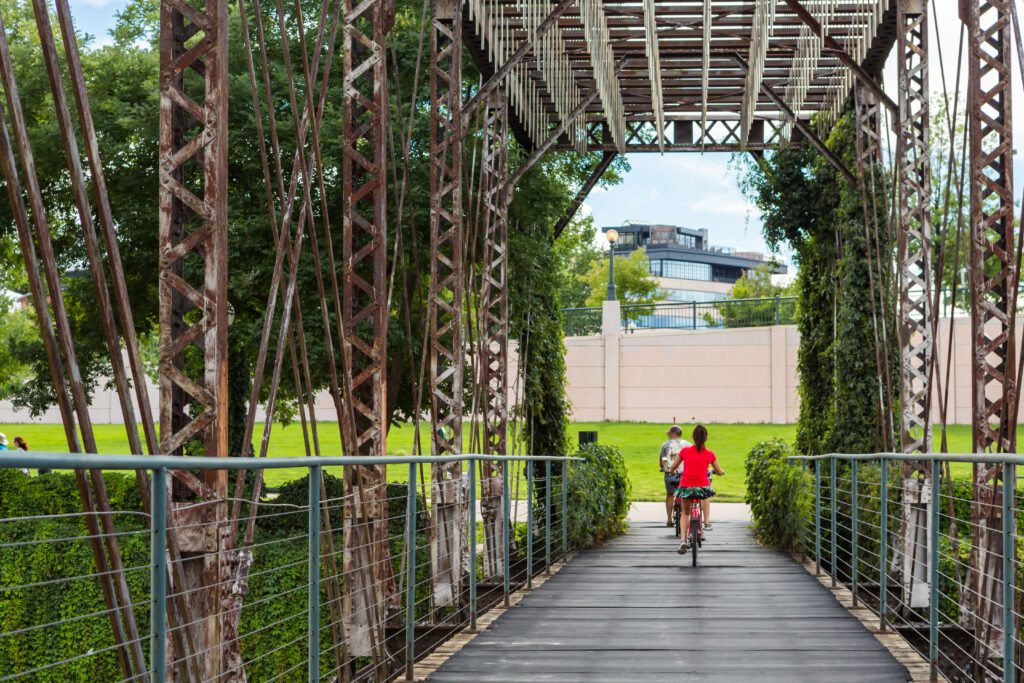 Cherry Creek is a great place for families and shopaholics. This upscale, well-curated neighborhood boasts an indoor mall on one side of the street, an outdoor mall on the other side, and a surprising number of great, independent restaurants.
Pros and Cons of Staying in Cherry Creek
PROS: What's great about Cherry Creek is it's walkability factor. You can window shop the designer stores for hours and find plenty to oooh and ahhh about, from the price tags to the landscaping.
CONS: The only downside might be a little lack of character, but they do a great job of attracting local restaurants rather than a flood of over-saturated chains. Despite the consumer-driven atmosphere, it still maintains a uniquely Colorado feel.
What to Do in Cherry Creek
Aviano Coffee is really one of the best shops in Denver for a coffee break. They have a minimalist approach and it's got a laboratory vibe. It's a place for serious connoisseurs. There's not much to snack on, but their cold brew will absolutely make your day.
Rent a bike and ride the Cherry Creek Trail. You can hop on the trail in Cherry Creek, and follow the South Platte River all the way to the Highlands. The trail drops below the road so you don't have to deal with cars, just other cyclists, scooters, and walkers. It's quiet, scenic, and the ideal way to explore Denver by bike.
Enjoy a leisurely brunch at Olive & Finch (NOT Celiac-safe). It's one of the staples of the early foodie revolution in Denver. Everything is made from scratch in their kitchen. The space is small, sunny, and very inviting. Plus, the baked goods are to die for.
Where to Stay in Cherry Creek
The Moxy Hotel is minimalist, elegant, and modern. It's generally a hit with the bar crowd, as that is one of this hip concept's defining features. In fact, it doubles as the check-in desk. There's a rumor circulating about free drinks at check in too.
The Jacquard Hotel prominently towers over the Cherry Creek district with it's lacquered exterior proudly reflecting the colors of the sky. The rooms are strikingly elegant, and the rooftop bar and crystal blue pool will make you feel like you've made it. The surrounding views of the mountains just seal the deal.
The Halcyon Hotel, despite having the word "hotel" in their name, describe themselves as a "non-hotel". The rooms have a decidedly home-like aesthetic, and you even check in for your stay in a space that resembles a home kitchen. Most importantly, their coffee is curated by the nearby experts at Aviano.
Denver Geography Overview
The thing to know about Denver is that when you're in the city, the mountains are always to the west. If you've admired the kind of people who are able to understand cardinal directions without having to look at a compass, now you can be one of them. This becomes super helpful when you're navigating your whereabouts after a long afternoon of brewery hopping.
There are a handful of key neighborhoods to know inside the city, and understanding their cardinal locations will go a long way in helping you understand how Denver is laid out.
Going from west to east:
LoHi
LoDo
RiNo
Capitol Hill
Cherry Creek
LoHi is the only one of these neighborhoods that's on the west side of I-25, so you have to cross the pedestrian bridge over the highway to get to the other parts of downtown. The most central neighborhoods are LoDo and Capitol Hill, with RiNo roaring down from the north, and Cherry Creek flowing alongside the eastern-most part of the downtown area.
If you're drawing an image in your head of a highway to the left, a roaring rhinoceros perched to the north (see what I did there?), and a creek full of cherries on the right, you're on your way to creatively imagining how these neighborhoods are positioned. Draw it on a napkin and put it in your wallet for laughs. Who knows, it may even help you find your way home.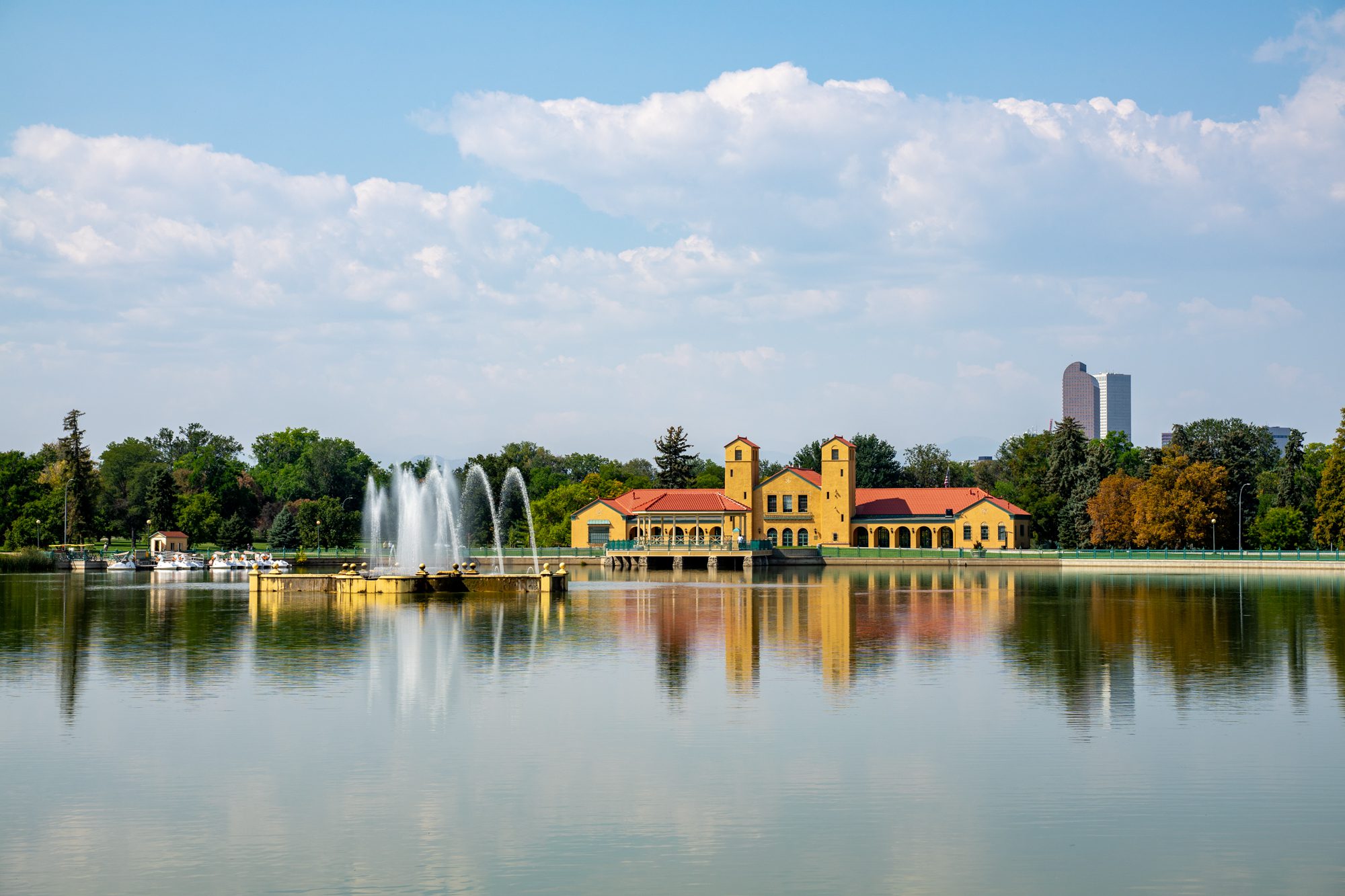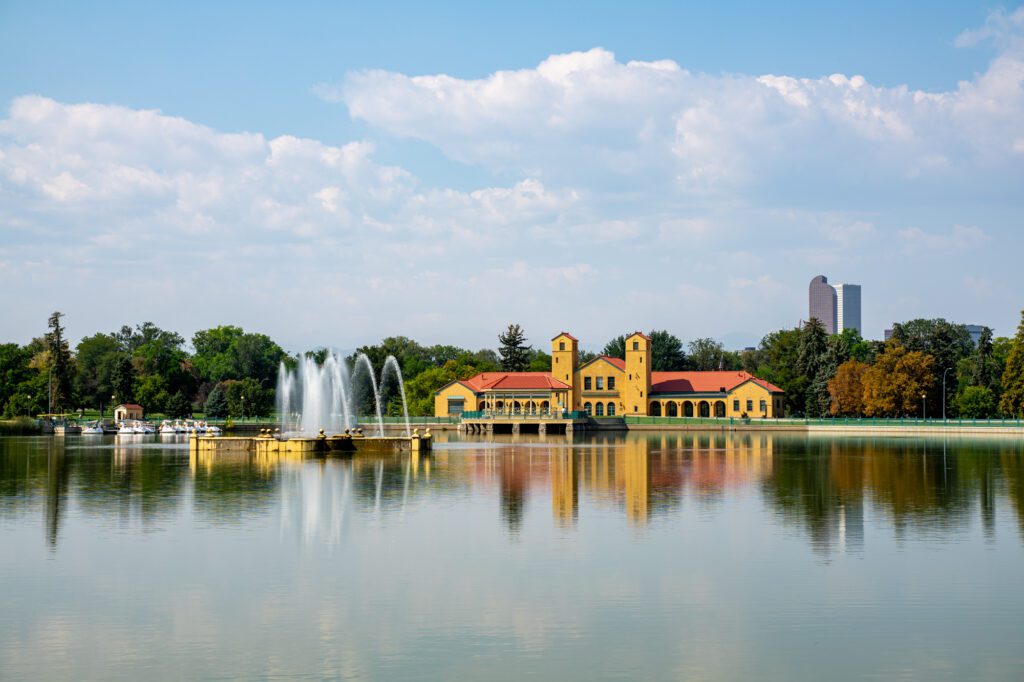 Where NOT to Stay in Denver
The first thought you might have when reading this is about safety. But rest assured, Denver is a safe place as far as cities go. There's a general laid back attitude among locals, and the rates of violent crimes are very low by comparison. That being said, the legalization of marijuana in 2012 sparked an influx of new residents and "green" tourism. In short, that just means there are more people around. As long as you remain the savvy, reasonably cautious traveler you are, you should have no issues.
In the Capitol Hill area, Colfax Avenue has quite the historical reputation for debauchery. Named after Schuyler Colfax, Vice President to Ulysses S. Grant, it's long been a rowdy thoroughfare. That reputation is largely a relic of 1980's-1990's Denver. These days, you'll likely just find people walking home from the restaurants, bars, and popular music venues that line the famed "longest commercial street in America".
If you plan on doing a lot of walking to and from your accommodations in the late evenings, areas to avoid are pretty much relegated to late-night only caution. While perfectly safe in the daytime hours, the area east of Five Points and west of Park Hill between City Park and 40th Avenue should be avoided if you're walking alone late at night.
In terms of convenience, if you plan to spend more time in the city than driving to the mountains for day trips, you're better off finding accommodations in the central neighborhoods, rather than in RiNo or LoHi. The walk time might start to wear on you after a few trips back and forth, so central is easier if you're doing a lot of exploring on foot.
---
Whether you're looking for the family-friendly, foodie vibes of LoHi, the historical architecture of LoDo, the edgy artistry of RiNo, the authenticity of Cap Hill, or the elegance of Cherry Creek, Denver has something to suit everyone. That's actually what makes it such a great place to visit.
Many of the city's residents are "transplants"- people who fell in love with the Colorado lifestyle and decided to stick around. You'll find that just about everyone you meet is eager to have a chat and offer suggestions of their local favorites. Perhaps it's all of that vitamin D (Denver gets over 300 days of sunshine per year, making it one of the sunniest cities in the US!), or it could be the general athleticism of Denverites that keeps the serotonin-levels high. But one thing is for sure: Denver is a beautiful city full of friendly faces, inventive food, wonderful art, and you're gonna love it!
Author Bio: Erin Skahan is a food & travel writer based in Tuscany. You can find more of her work and musings at The Rouxx.
Here are more Denver travel guides we wrote to help you plan an amazing trip.