Where to Stay at the Grand Canyon: A Complete Guide
The Grand Canyon is unbelievable. When you walk up to the canyon rim on a sunny day – preferably with a bright blue sky and puffy white clouds – the reds, oranges, and yellows of the canyon look fake. The way that the canyon changes as you traverse the rim is also fascinating.
At some points, you can see clear down to the Colorado River. At others, you'll see layers and layers of unique rock formations.
Regardless, your trip to the Grand Canyon is one you won't soon forget.
We have a whole Grand Canyon itinerary to help you make the most your time in Grand Canyon National Park, but this guide is dedicated to helping you find the perfect place to stay at the Grand Canyon for your particular style and budget.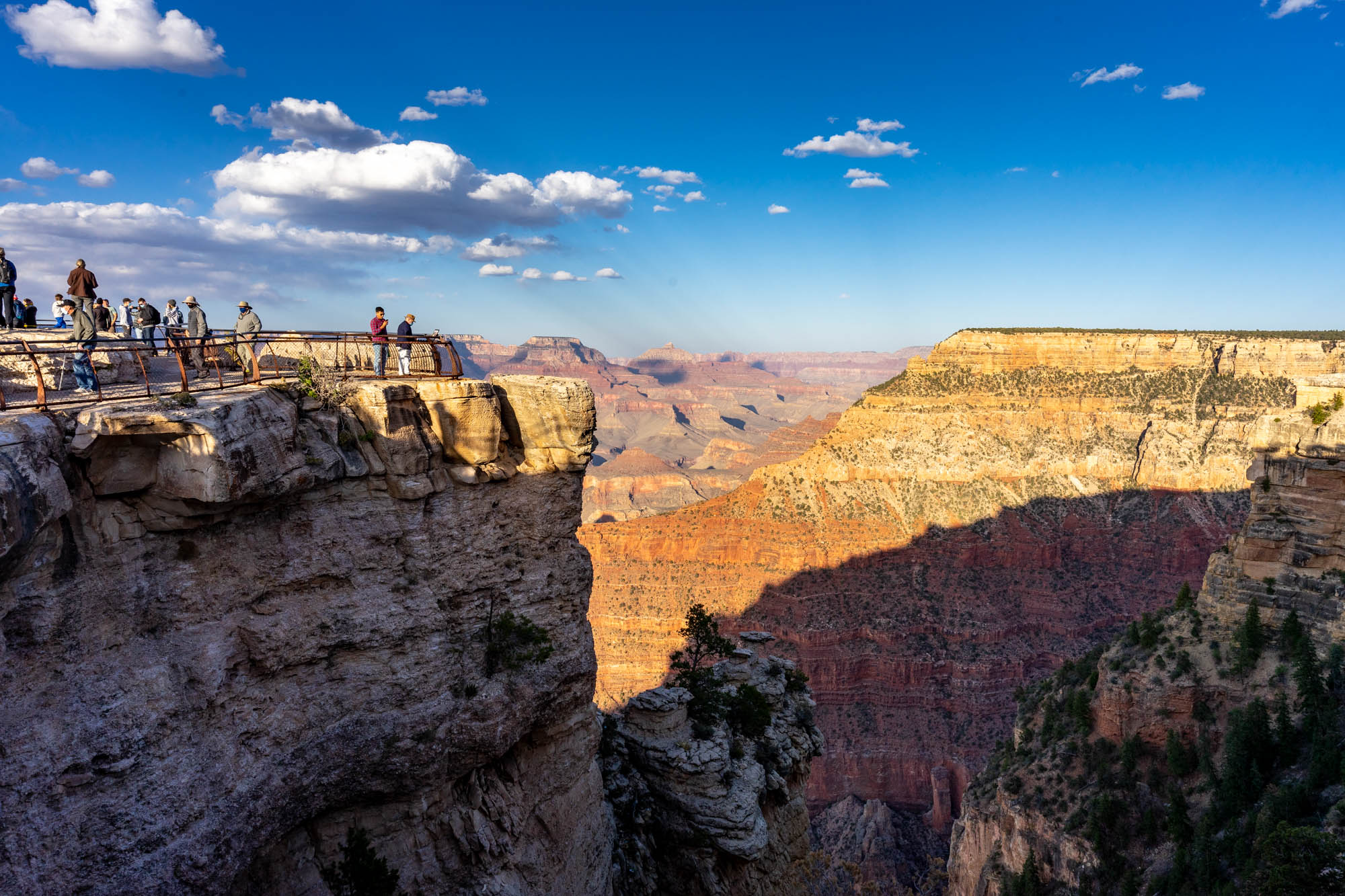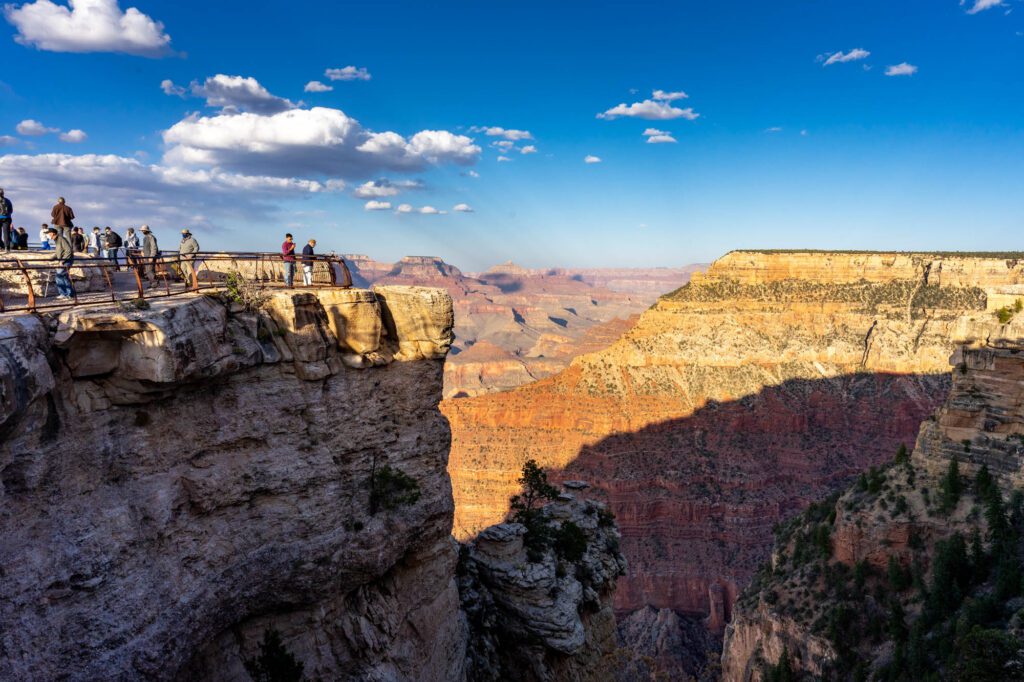 Whether you're looking for a nice campground, a budget-friendly hotel, or the top-of-the-line hotel in the park, we've got you covered in this guide to where to stay at the Grand Canyon.
Before we get into specific recommendations on where to stay, we'll talk about the geography of the Grand Canyon, the differences between the north and south rims, and an overview of the best places to stay to explore each rim.
Then, we'll give you a way to narrow down your options, and specific lodging recommendations to help you find the perfect place to stay for your trip to the Grand Canyon.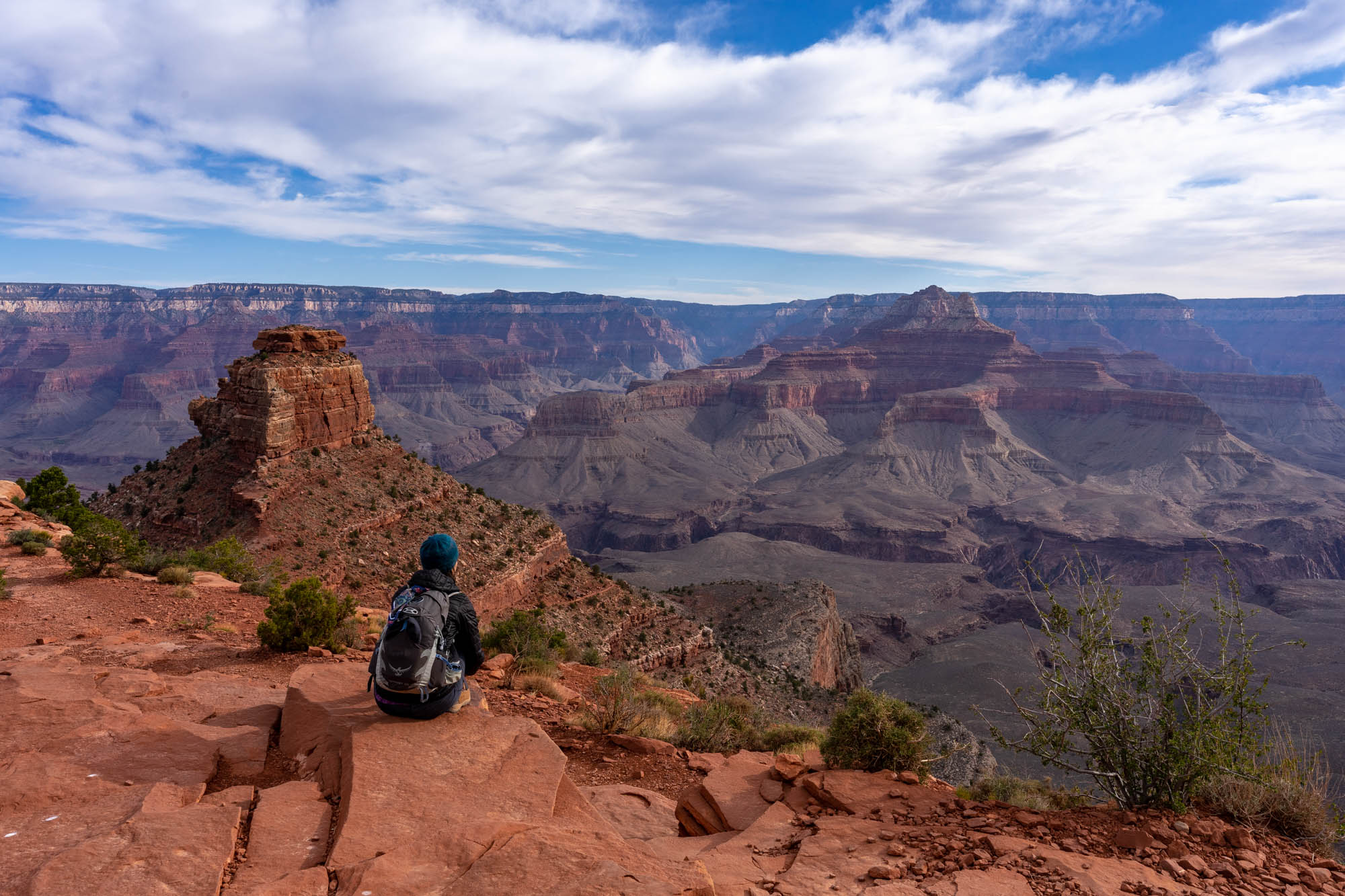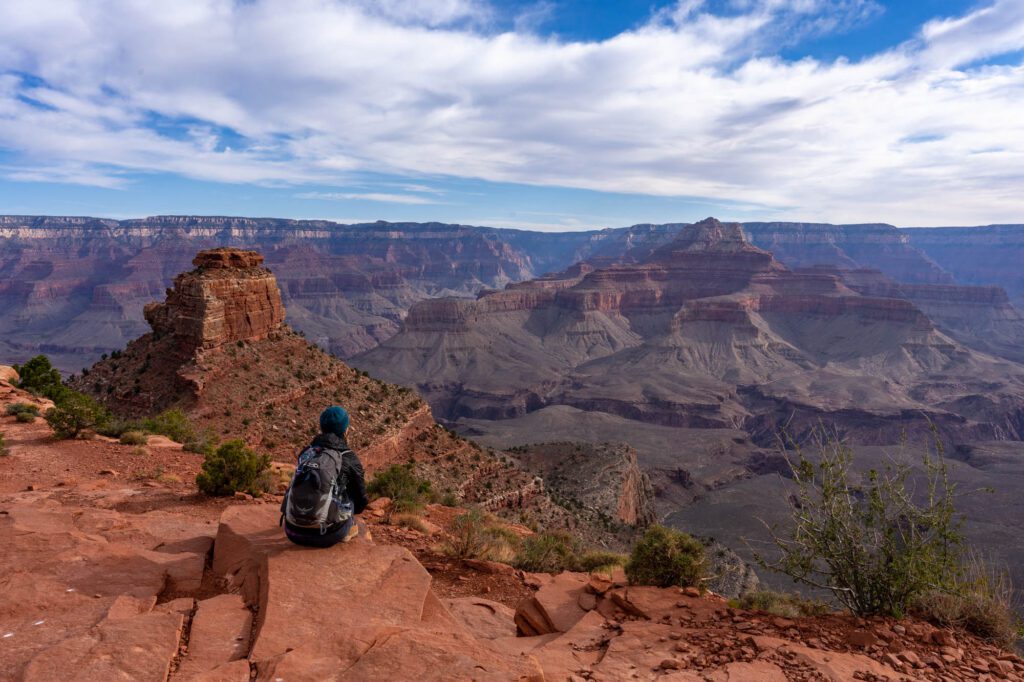 Disclaimer: Some of the links in this post, like hotel links, are affiliate links, meaning at no additional cost to you, we make a little bit of money if you click through and book. That being said, we would never recommend something to you that we don't stand behind 100%.
Where is the Grand Canyon?
The Grand Canyon, which runs almost 280 miles west to east, is in the northwest corner of Arizona, just east of the Nevada border and south of the Utah border.
The canyon separates the two rims – the North Rim and the South Rim – which aren't really that far apart as the crow flies. However, in terms of driving, it's going to take you four to five hours to drive from the Visitor Center at the South Rim to the one at the North Rim.
The South Rim vs. the North Rim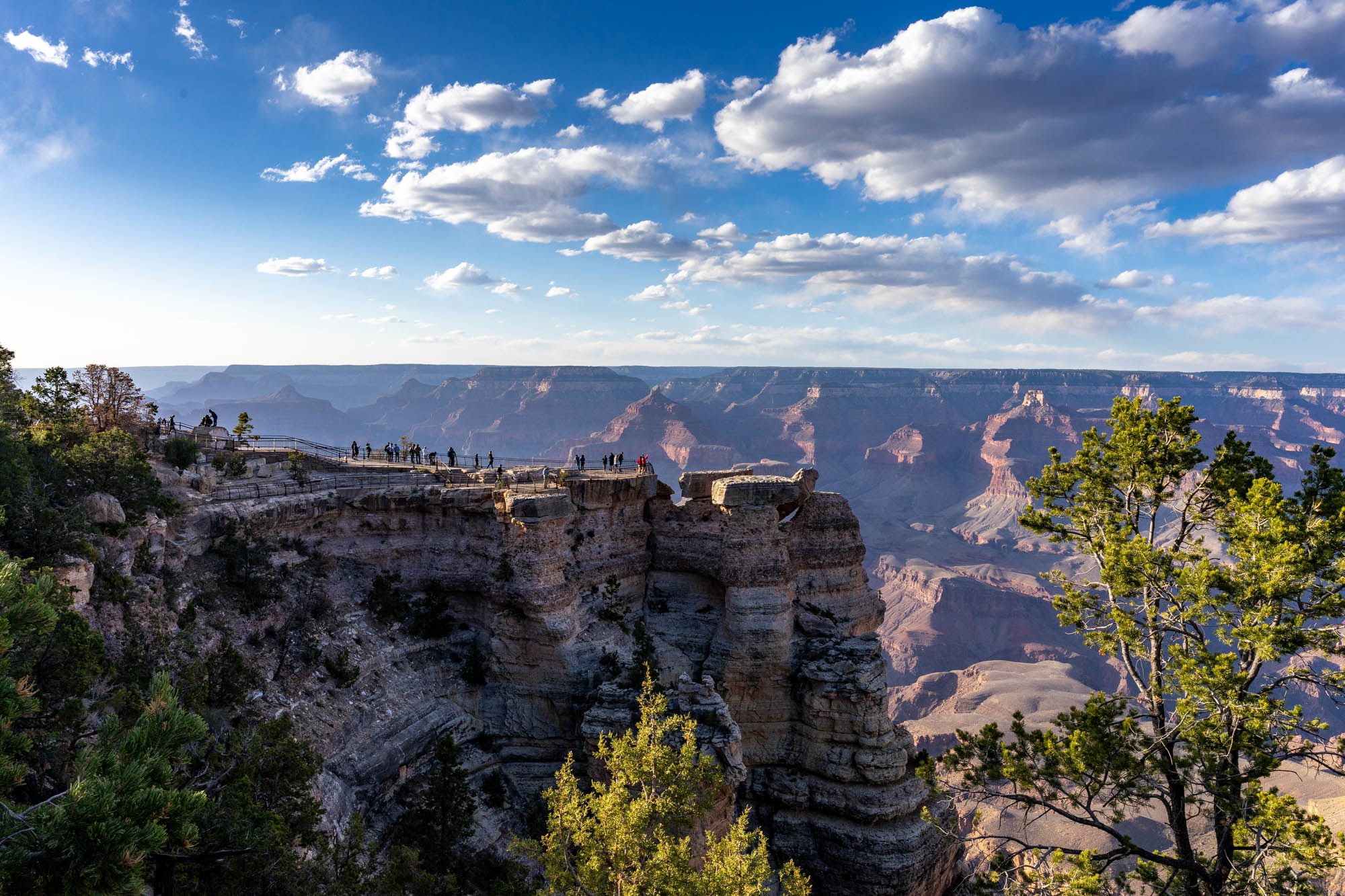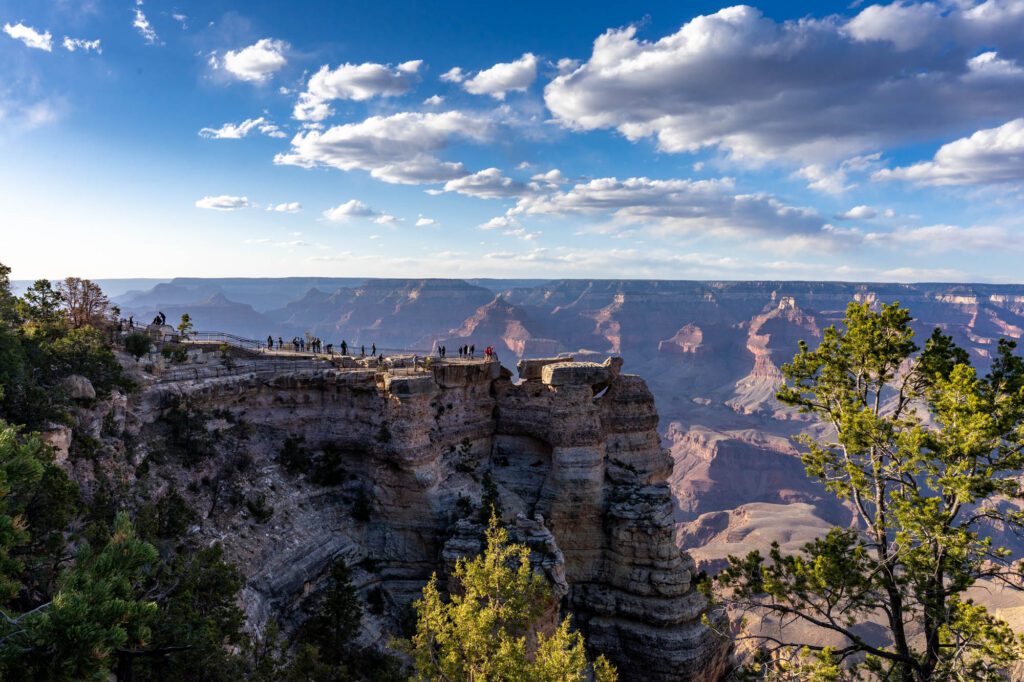 In general, the South Rim is the best place to visit if you're looking for the classic Grand Canyon experience. It's open year round (whereas the North Rim facilities are closed for most of the year) and there are far more facilities and attractions to explore.
That's not to say you shouldn't visit the North Rim – it's more remote and much quieter, and there are some excellent hikes and things to do and see. However, if you've only got a couple of days and you're wondering which rim to choose, it should be the South Rim.
Best Places to Stay on the South Rim
The South Rim is, by far, the most visited part of the park, and is likely the one you're going to be experiencing.
From Las Vegas, it's going to take you just over four hours to drive to the South Rim. From Phoenix, it's just under four hours. It's about half an hour faster to fly into Phoenix versus Las Vegas, but which airport you choose to fly into really depends on what else you're doing in the region.
Regardless of which airport you fly into, the South Rim offers a nice array of places to stay, from camping to luxury lodges, and pretty much everything in between (don't worry – we'll go into specifics on each lodging option below).
Here are your options (click on the link to skip to that section below):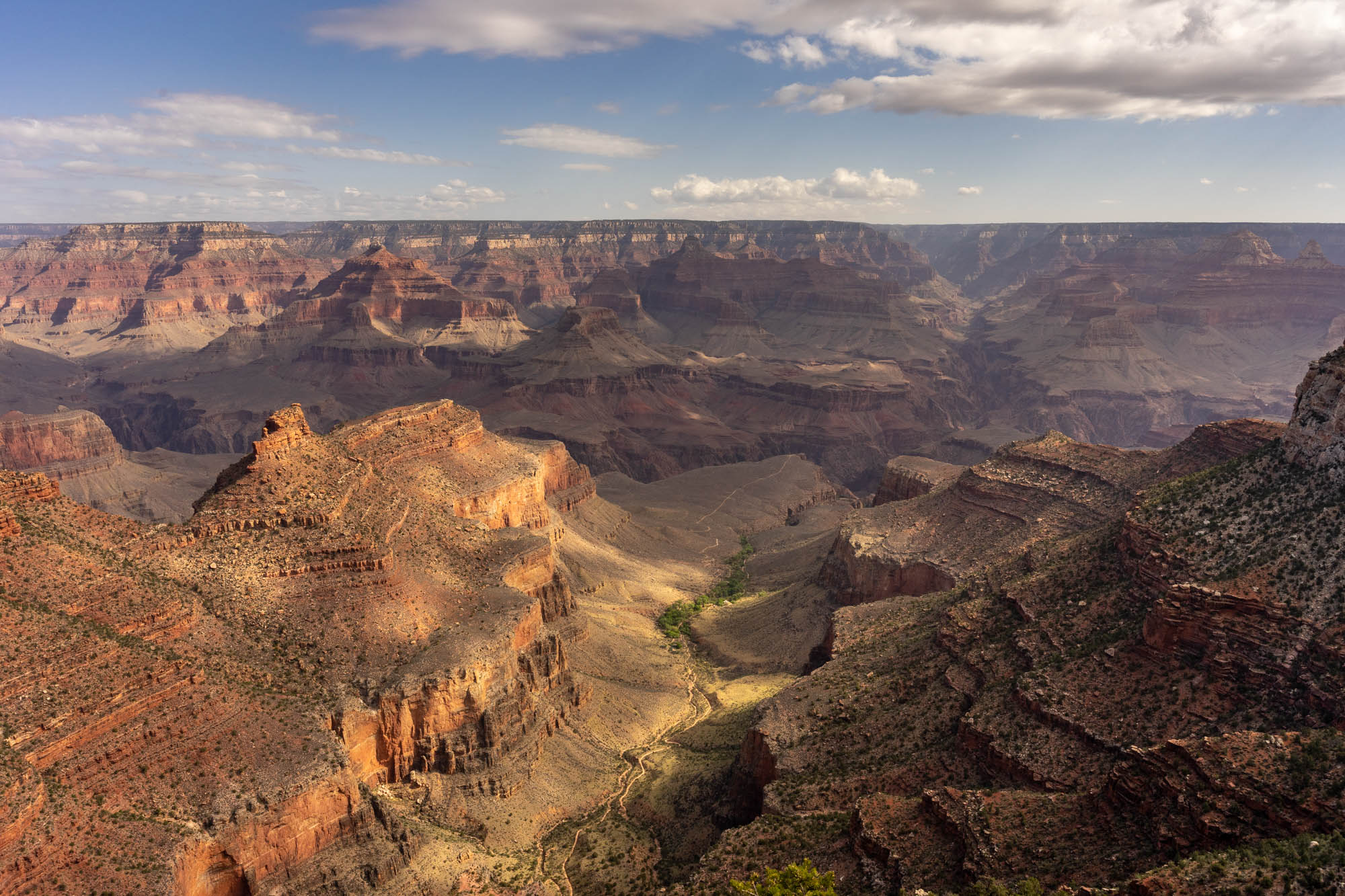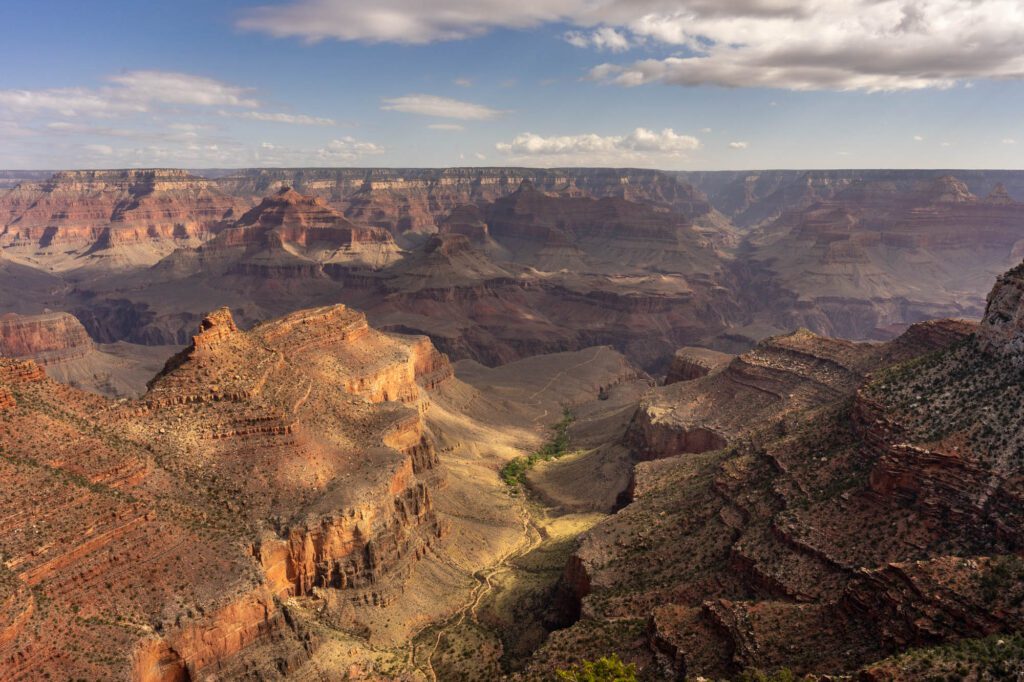 How to Choose Where to Stay
Here is how we would think about narrowing down your options to find the perfect place to stay for your personal style and budget.
Before we give you the three steps we'd use to figure out where to stay, we have a couple of thoughts on lodges inside national parks. In general – and this varies slightly by park – park lodges offer a poor value for the money. The facilities are often outdated because they're constantly full – when are they going to have time to do a big remodel? And the convenience of staying inside the park commands a premium price.
However, if you have the budget, we do love staying inside national parks. There's something about being immersed in the natural beauty of the place you're experiencing that is lost when you have to drive for an hour just to get into the park. And the location of the lodges in Grand Canyon National Park can't be beat.
Now that we've got that out of the way, here's how we would think about determining where to stay.
First, you'll need to decide on whether or not you're up for camping. If you are, you've got a couple of campground options inside the park.
The best campground is Mather Campground, which is walkable to the South Rim and is where we stayed for our latest trip to Grand Canyon National Park. You'll need to reserve as far in advance as possible – reservations open up six months in advance on a rolling basis.
Next, if you're not up for camping, you'll need to think about your budget. If you're on a tight budget AND you're not up for camping, you'll probably want to look at either the park lodges off of the rim – Yavapai Lodge and Maswik Lodge – or a hotel in the town of Tusayan, which is right outside the south entrance of the park.
Both are good options, and it comes down to which hotel you like best, we think. It's only 15 minutes from Tusayan to the rim.
Another good option would be a room with a shared bathroom at the Bright Angel Lodge, which is the cheapest place to stay inside the park if you're willing to share a bathroom. 
If you're okay with a more expensive place to stay and you're willing to pay for the experience of waking up on the rim of the Grand Canyon, stay on the rim itself. You'll love the feeling of walking out the front door to sweeping canyon views. We have thoughts on specific lodges and hotels below.
Best Places to Stay on the North Rim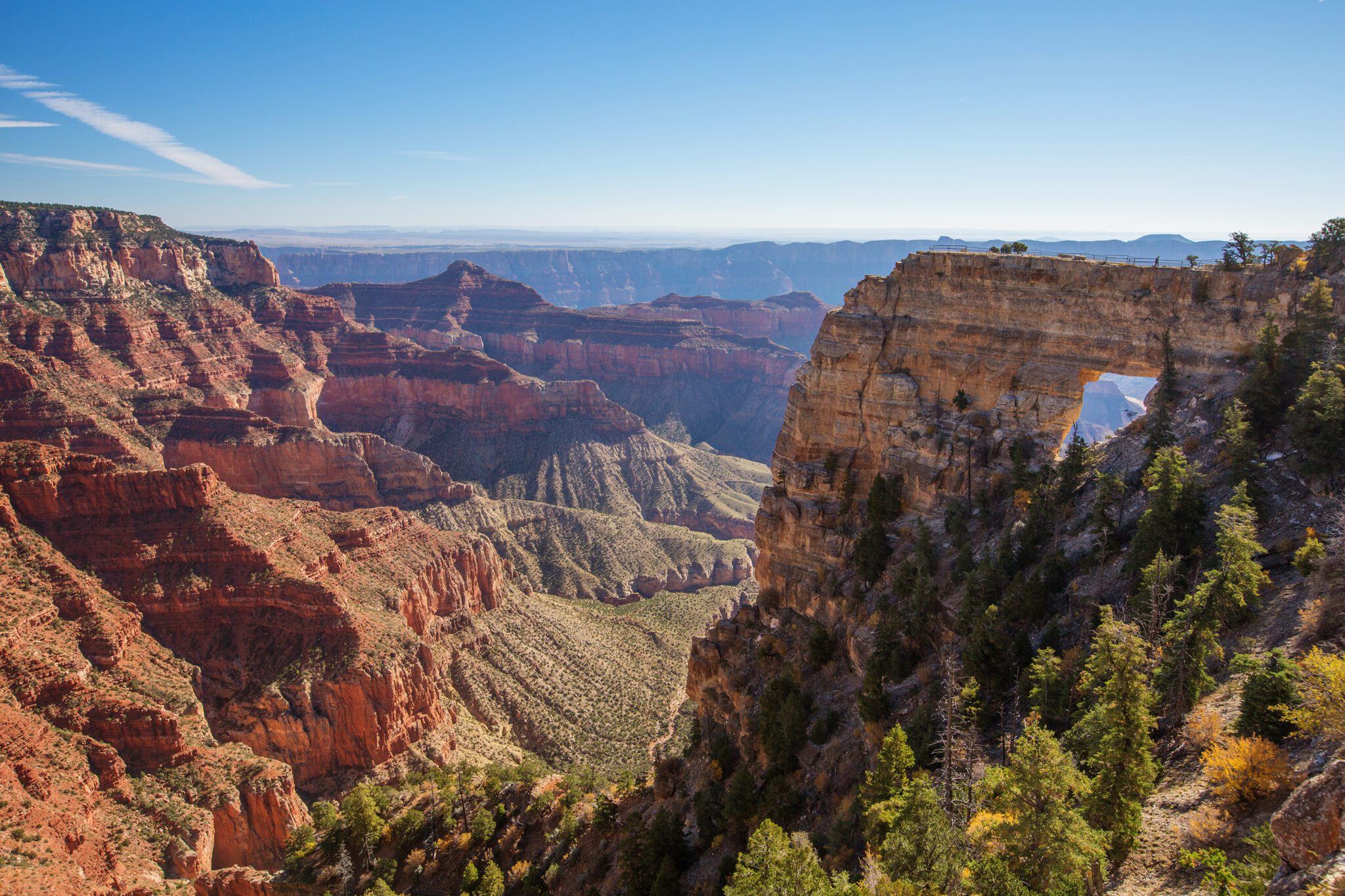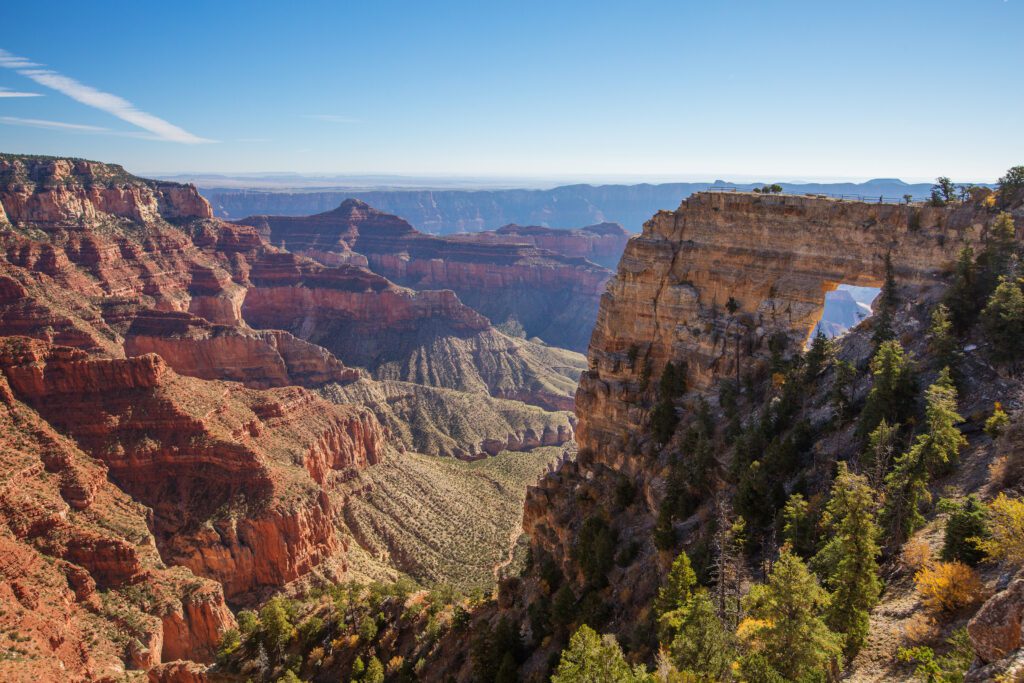 Choosing where to stay on the North Rim is much less complicated than the South Rim. The North Rim is significantly more remote. It's six hours from Phoenix and four and a half from Las Vegas. It's only open during the summer and early fall due to weather conditions – the North Rim is at 8,000 feet of elevation!
You only have a couple accommodation options on the North Rim, which we'll cover briefly below. It comes down to whether you want to camp or stay in the lodge, because those are the only two options.
Where to Stay at the Grand Canyon – South Rim
Above, we gave you a high-level overview of how to think about choosing a place to stay. By now, you probably have a pretty good idea of what area you want to use as your home base.
Below, we'll give you our thoughts on each individual lodge and hotel to help you find the perfect one for your style and budget.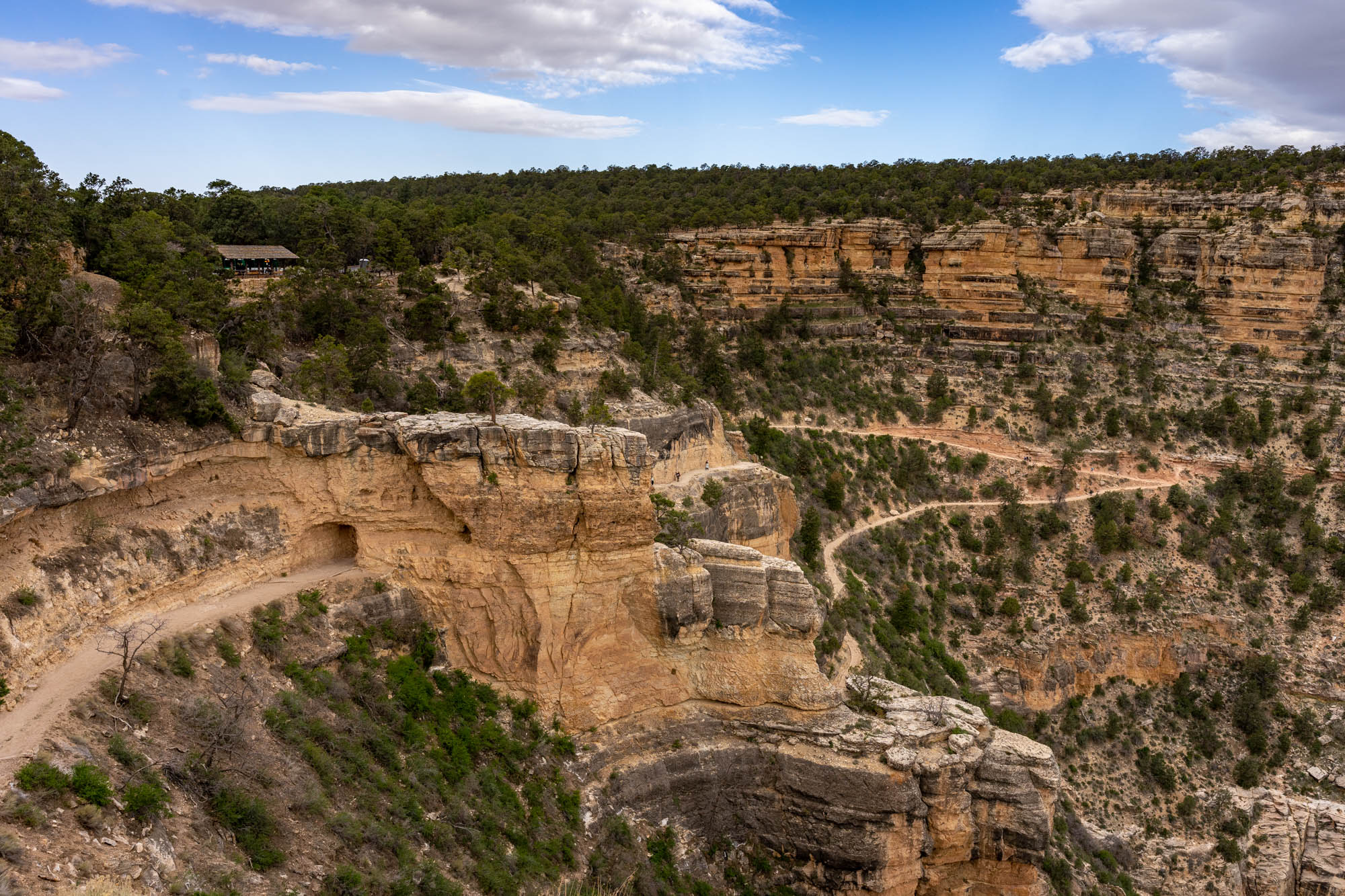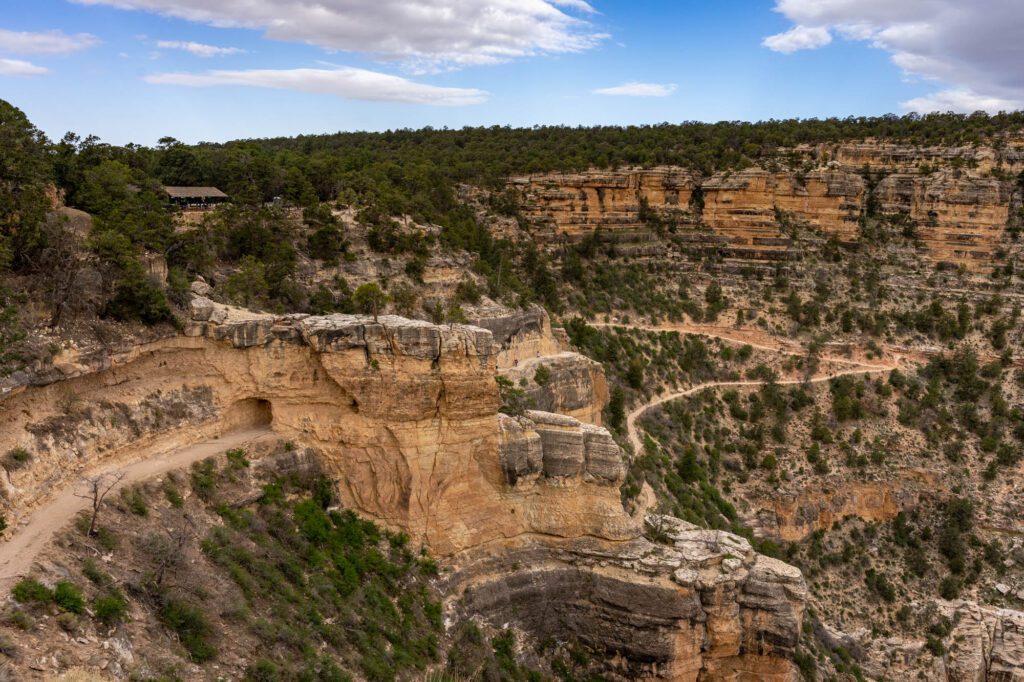 Staying inside the Park (South Rim)
If you want to stay inside the park on the South Rim, you basically have three options: a lodge on the rim, a lodge off of the rim (which is going to be slightly more affordable), and camping.
National Park Lodges Actually on the South Rim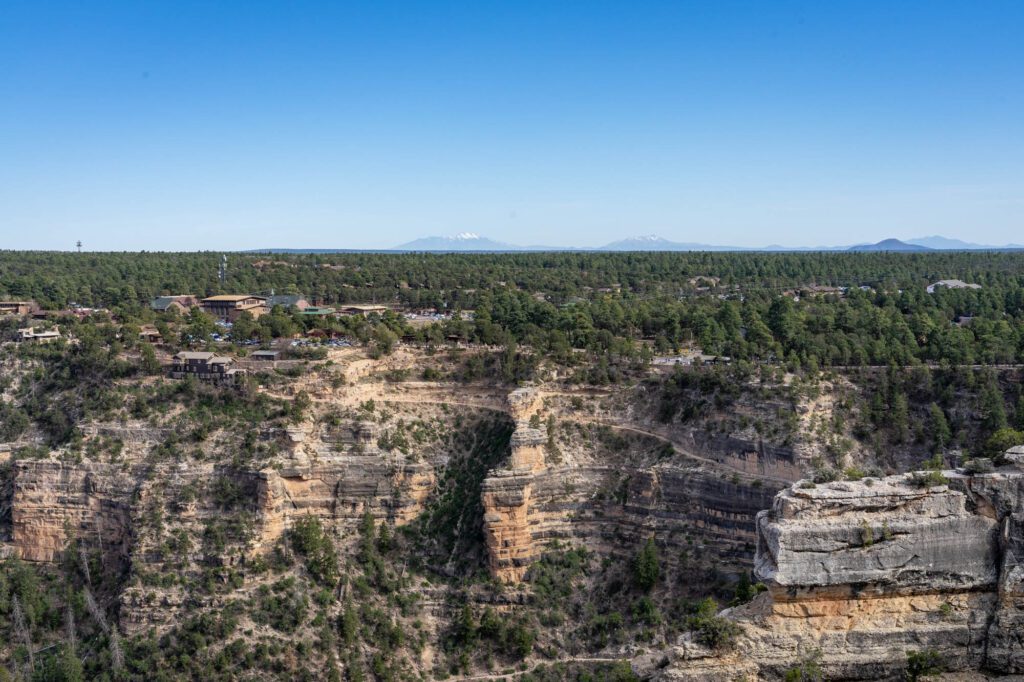 Here are the three lodges that are actually on the rim of the canyon. If you stay here, you'll wake up, walk out the front door, and be hit with incredible views of the Grand Canyon. The trade off is that they're going to be more expensive than other places you'll find below (off the rim and in Tusayan).

If you have the budget and you're willing to pay for the once-in-a-lifetime experience of sleeping on the rim, this is the right option for you.
El Tovar Hotel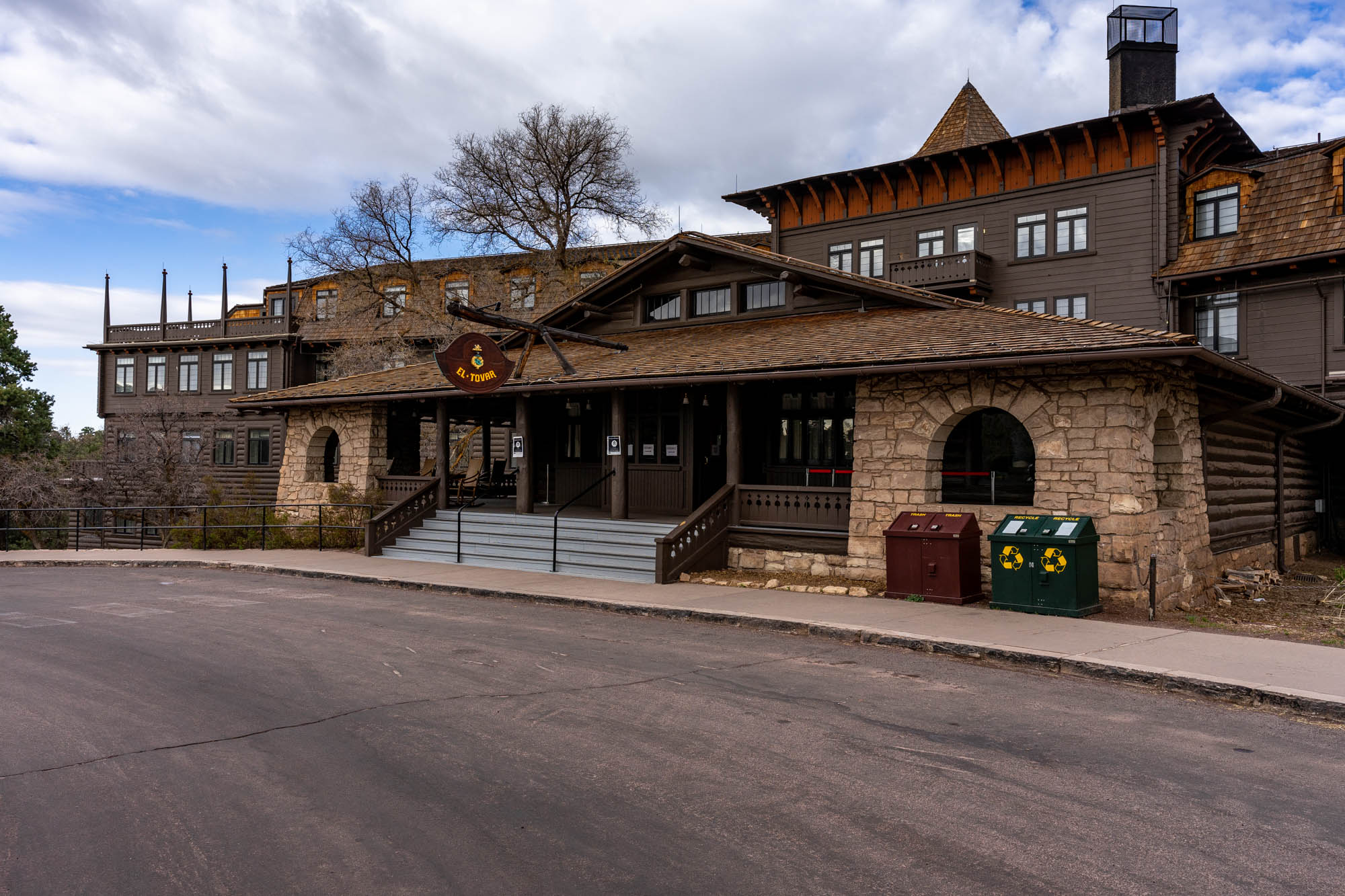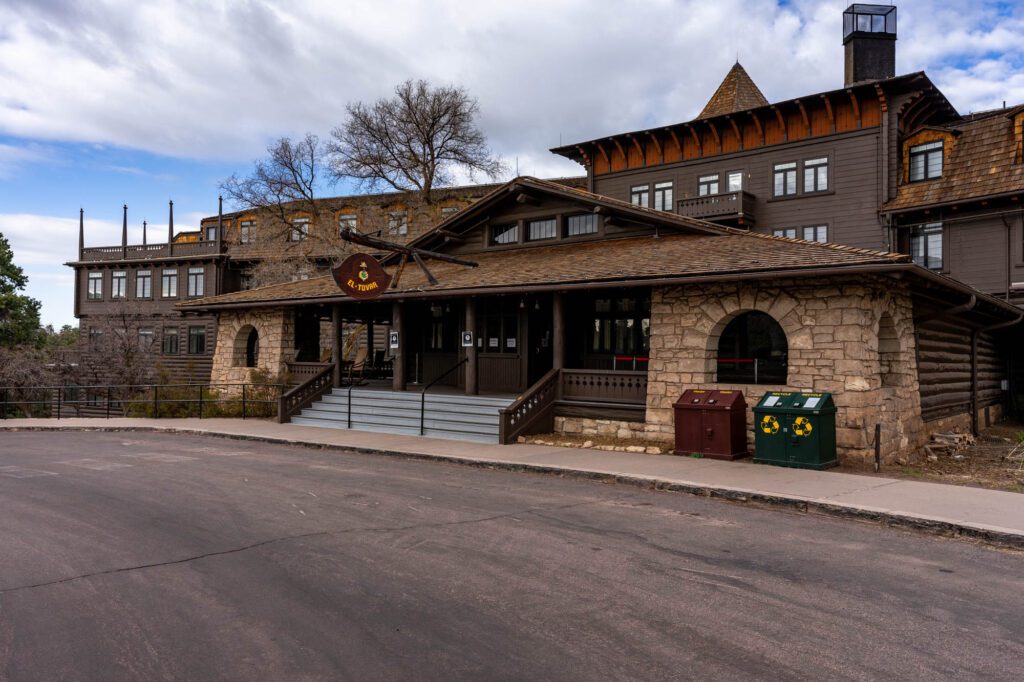 Considered to be the most elegant of all the hotels in the Grand Canyon, the El Tovar Hotel has hosted numerous iconic figures, including Bill Clinton, Paul McCartney, and Oprah Winfrey. I was curious how, exactly, they decided on the architecture of this place, which looks like it belongs underneath the Matterhorn more than in the desert.
Turns out, the people who designed it thought of the mountains in central Europe as peak luxury, so they designed a hotel that brings that vibe to the Grand Canyon to attract clientele looking for a more luxurious stay. Odd choice, but different strokes, right?
Each of the 78 rooms and suites is clean, cozy, and features all the amenities of a world-class hotel. And it has one of the best locations (and views) directly over the South Rim.
Bright Angel Lodge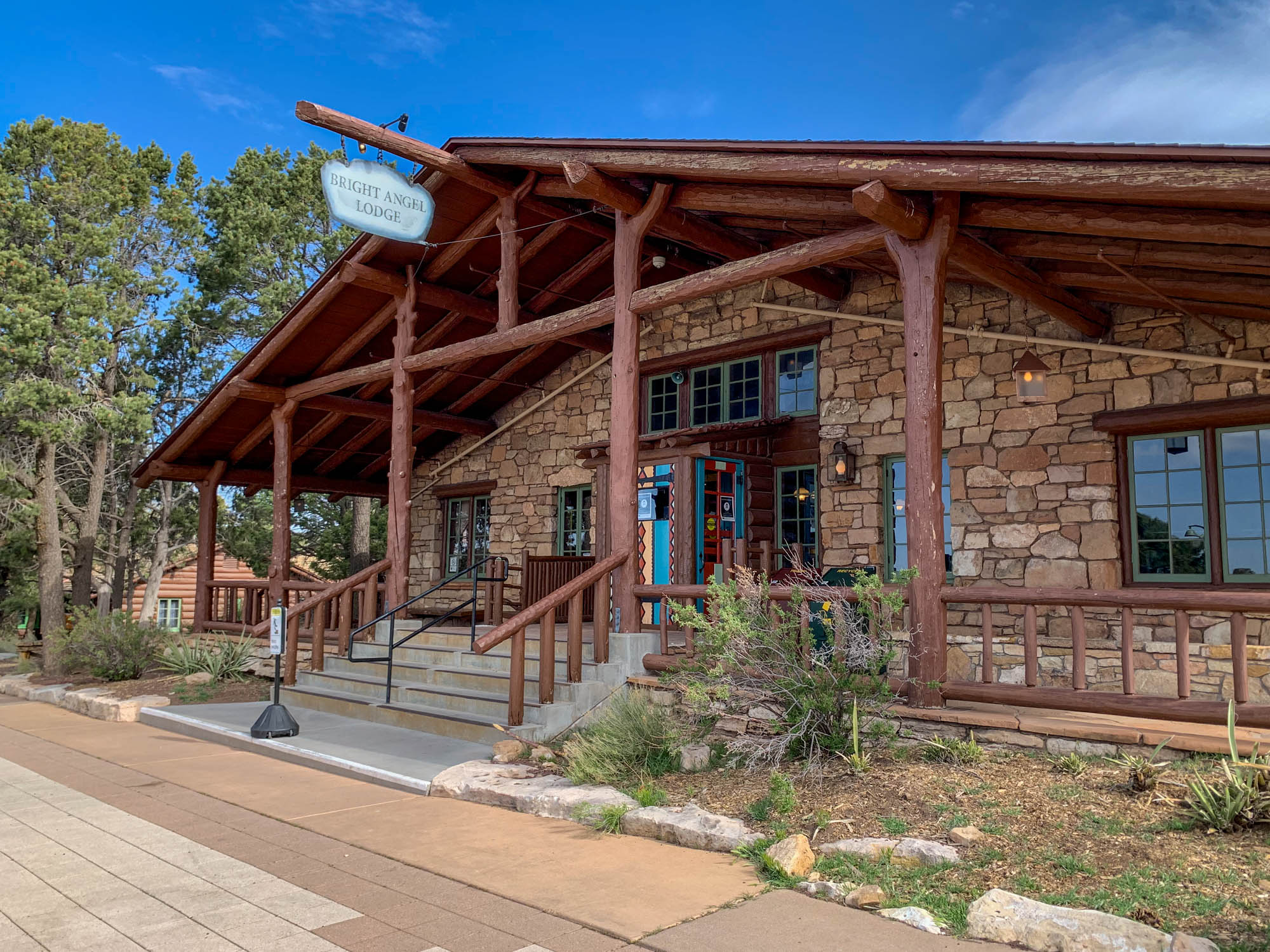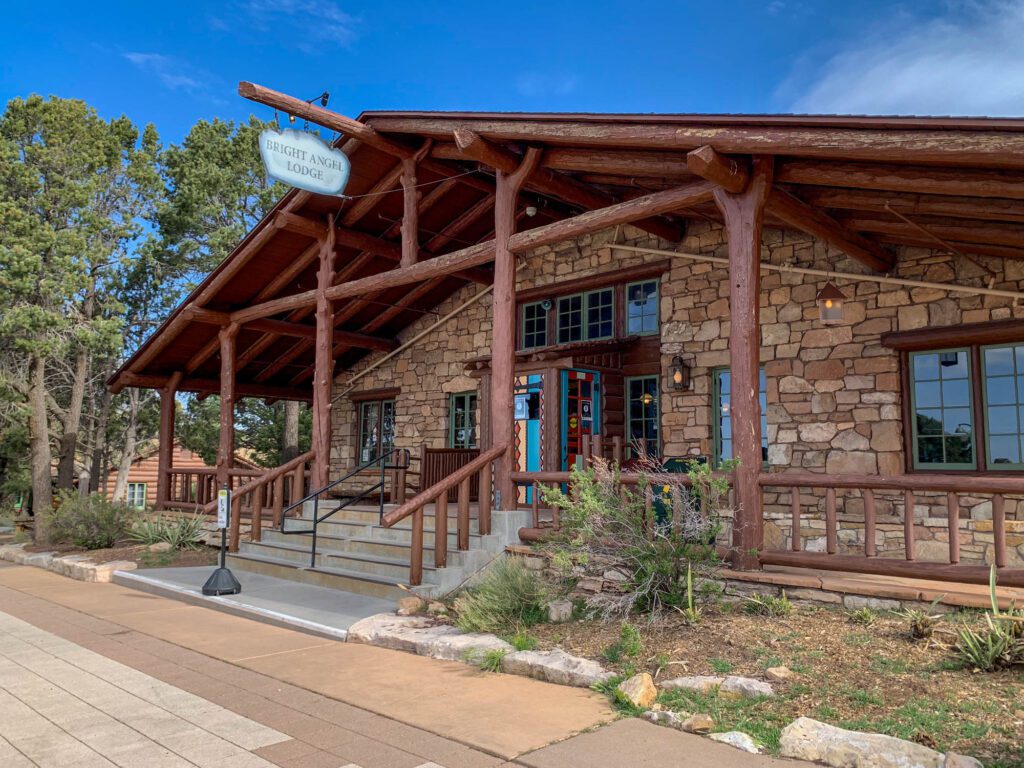 This charming lodge has been around for almost 100 years. It was designed by Mary Colter, who worked on a bunch of the buildings along the rim. It was created to be a more affordable option to the luxurious El Tovar Hotel, which is just a few minutes away.
You can choose from a variety of rustic-style rooms, from budget twins with shared baths to cozy cabins with fireplaces.
This is by far the most affordable place to stay if you're willing to use a single-occupancy shared bathroom down the hall from your room. There's also an option where you'll have a toilet in your room, but single-occupancy showers are down the hall. Rooms with private ensuite bathrooms are still relatively affordable when compared to other options in the park like El Tovar.
There's also a diner, steakhouse, ice cream shop, coffee house, and old-style saloon on site.
If you're looking for groceries, it's just a couple of minutes to Grand Canyon Village (there's a nice walking path that connects the two). If you're planning on hiking the Bright Angel Trail, the trailhead is legitimately right outside your front door.
Kachina Lodge
As one of the more contemporary hotel options in the park, the Kachina Lodge is situated directly on the rim, which means many of their rooms have unobstructed views into the canyon.
It's located in the historic district, so you can easily walk to restaurants, shops, and the Bright Angel Trailhead. It's located between the Bright Angel Lodge and El Tovar, which is a great location right on the rim. 
Thunderbird Lodge
The Thunderbird Lodge is the twin brother to the Kachina Lodge. Not only are they situated next door to each other, but they also look almost identical from the outside (and the inside)!
As such, the Thunderbird also has canyon-view rooms and is in close proximity to numerous shops, restaurants, and nature trails nearby. Prices between the two are identical, so it comes down to availability for your dates. 
National Park Lodges Just Off of the South Rim
These two practical lodges are not actually on the rim – they're a 10 to 15 minute walk (or a three to five minute drive) away.
They're a good choice if you want to stay inside the park and experience the Grand Canyon, but don't want to pay the premium that comes with staying on the rim itself. A nice middle ground, if you will.  
Yavapai Lodge
Located just a 10 minute walk from the South Rim, this recently renovated hotel is one of the park's largest and most budget-friendly options.
It's a great jumping-off point for exploring the area, as it's close to trails – including the path to the main Visitor Center, a well-equipped market, and a bank.
There's also a restaurant and tavern on-site, so you don't have to walk far to enjoy a meal after a day of sightseeing. 
Maswik Lodge
Built in the 1960s, this quirky motel-style lodge has a beautiful location in the pine forest just a quarter mile from the South Rim.
The rooms may be simple, but they're clean and cozy and perfect for families or couples. In the main lodge, you'll find a gift shop, a large food court, and a pizza pub and restaurant.
Camping on the South Rim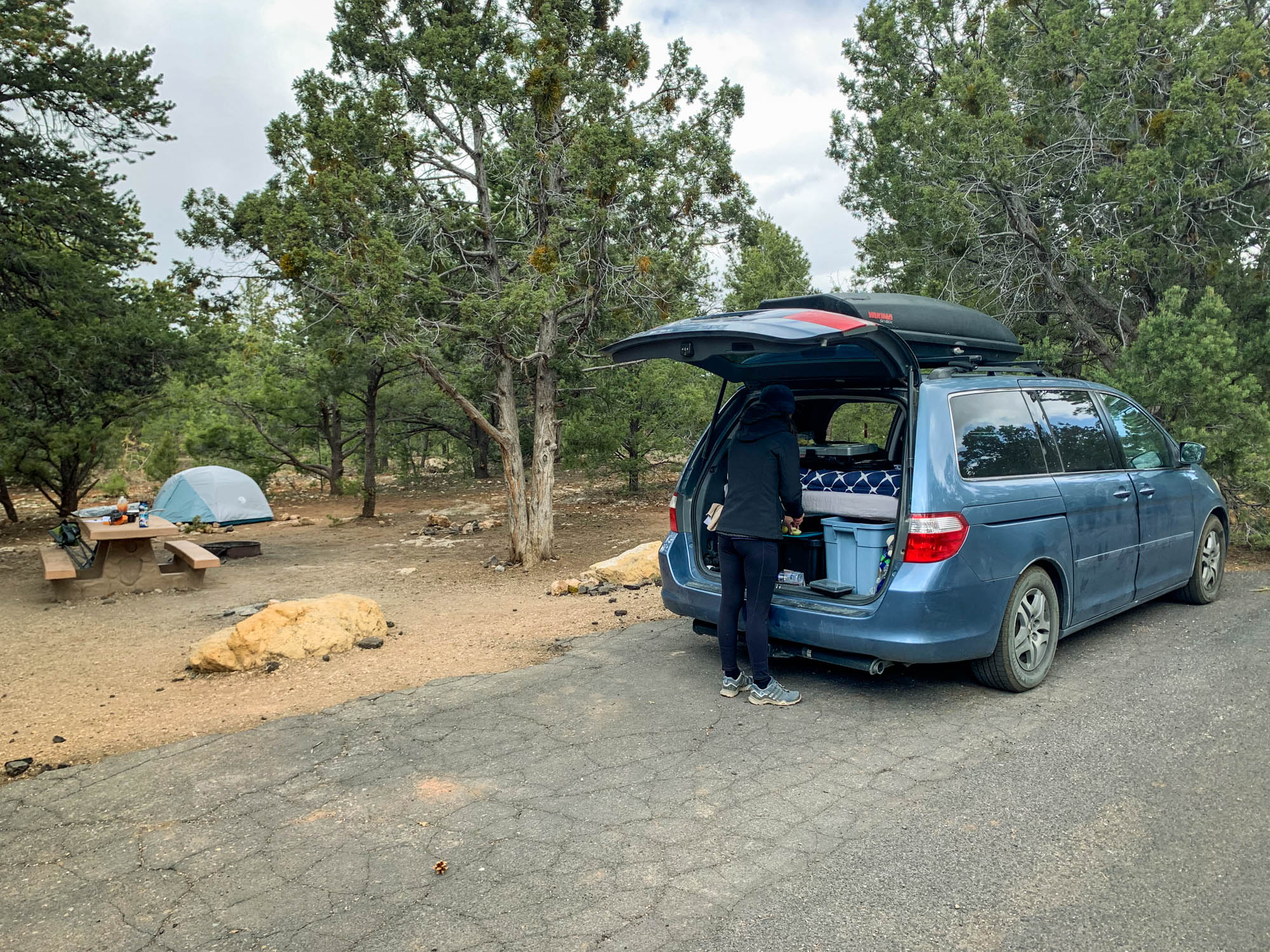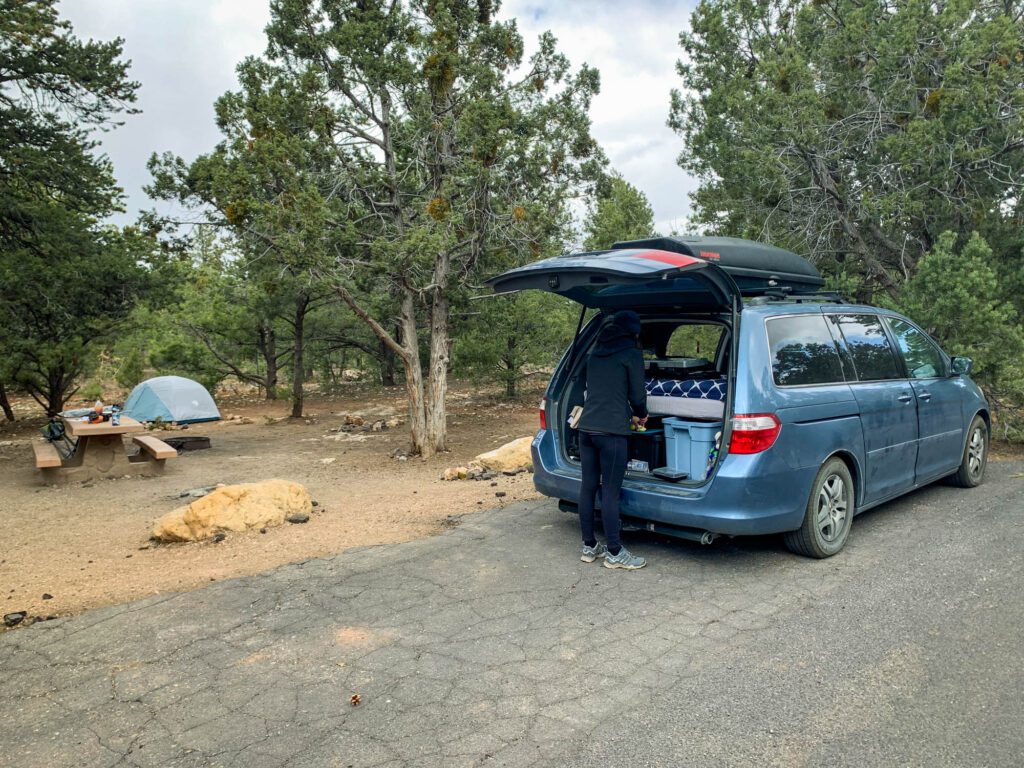 This is, by far, the most budget-friendly way to experience the Grand Canyon. But, of course, not everyone has the gear to go camping, especially if this is part of a broader Arizona road trip, or the desire to camp.
We camped on our latest trip, and it was a fantastic experience.
Mather Campground
Mather Campground has 327 individual campsites, each equipped with a fire pit, picnic table, and room for up to six people. There are flushable toilets nearby as well as showers and laundry facilities in the main Camper Services and Camp Store near the entrance of the grounds.
Trailer Village
As the only campground with full hookups, Trailer Village is a great place to stay for RVs up to 50-feet in length. The canyon rim is only a 15 minute walk away, while the village center is 10 minutes.
Desert View Campground
This campground has 50 different sites that can accommodate tents, small RVs, or cars with travel trailers. While there are no showers at the campground, there are toilets and drinking water near the entrance.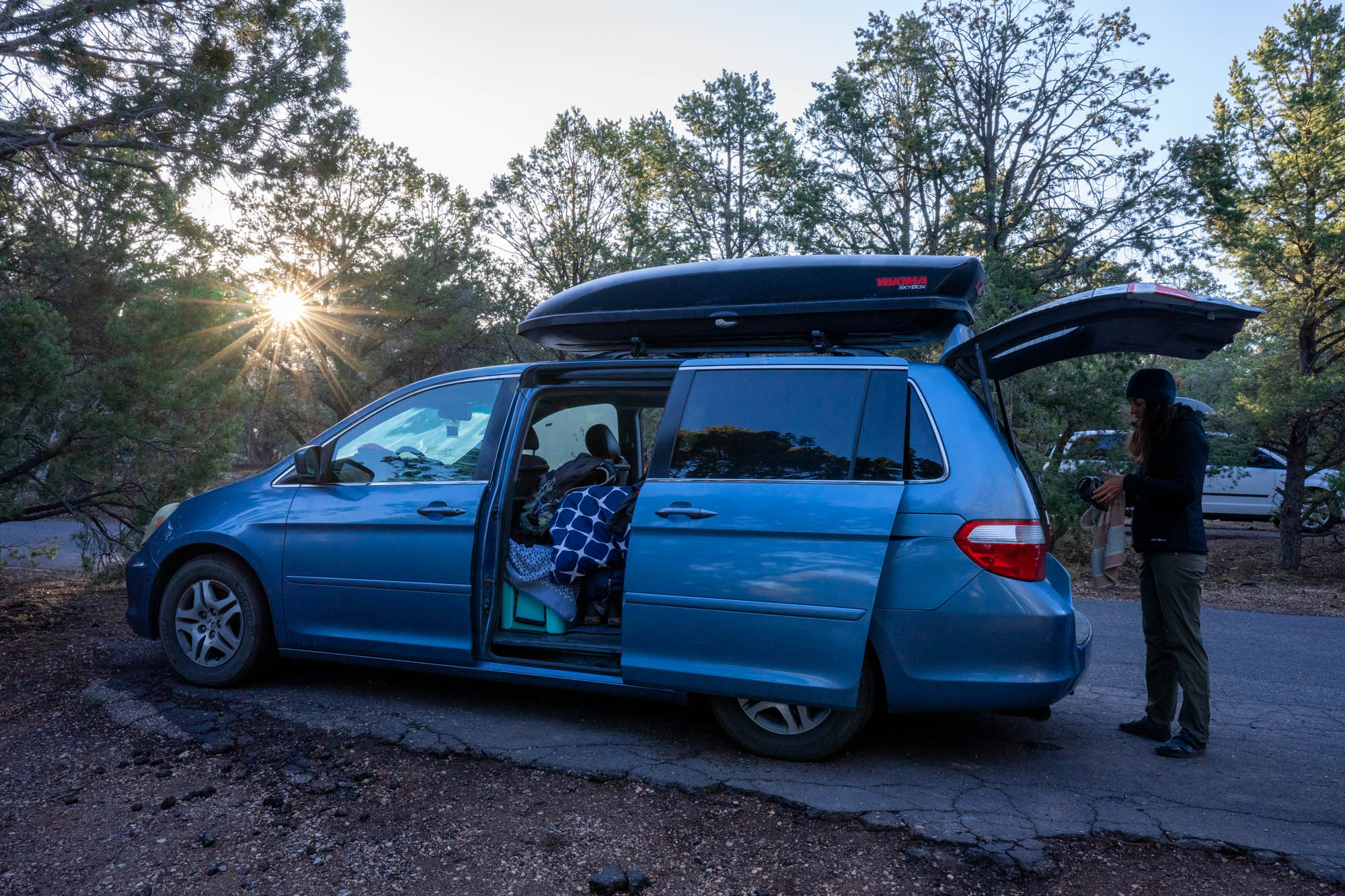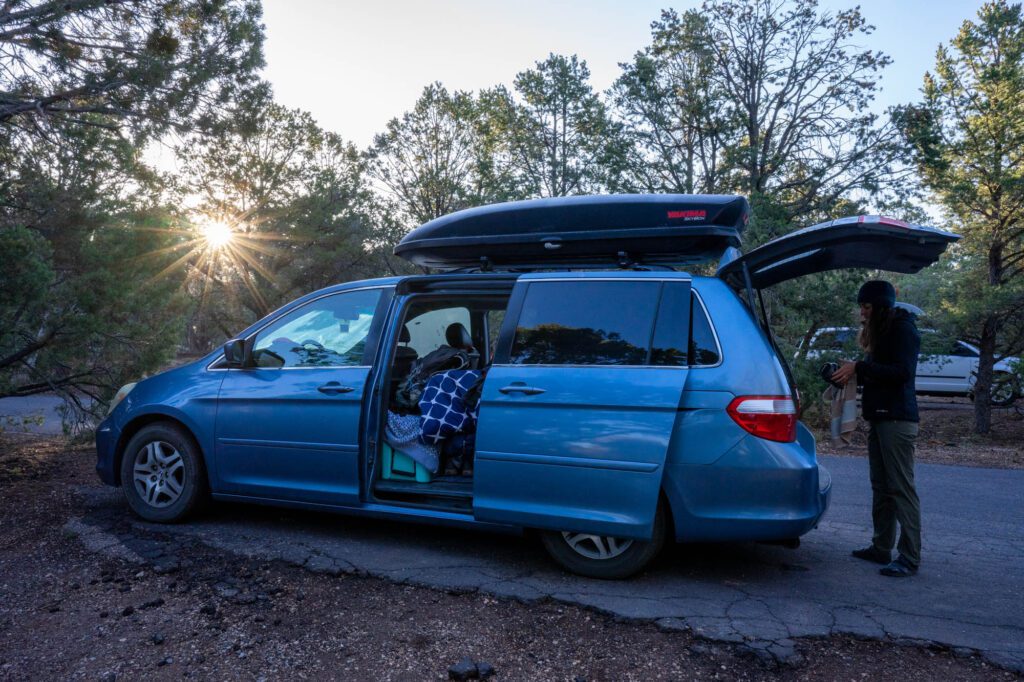 Staying Outside the Park (South Rim): Tusayan and Grand Canyon Junction
At some national parks, staying outside the park means a 30-60 minute drive between your hotel and the action. Not so at the Grand Canyon!
The town of Tusayan, which is just 15-20 minutes away from the main Visitor Center on the south rim, has a great selection of places to stay. Grand Canyon Junction (formerly known as Valle) is further out (about 30 minutes to the rim), but is another good option.
If you want a hotel, stay in Tusayan, which has plenty. If you're looking for a vacation rental or glamping, choose Grand Canyon Junction.
This is a good option for people on a tighter budget, though there are still some pricey options in town.
Staying in Tusayan: Directly Outside the South Entrance
Tusayan, which is directly outside the south entrance of the park, has several good hotel options, along with just about everything you might need for your time in the Grand Canyon – groceries, restaurants, outfitters, and more.
During the summer, there's actually a shuttle that takes you into the park from Tusayan, which means you don't have to worry about driving and parking.
Here are the best hotels in Tusayan.
Holiday Inn Express & Suites Grand Canyon
The Holiday Inn Express & Suites is just a mile from the entrance to the South Rim, although a free shuttle bus takes you to the Grand Canyon Visitor Center every 20 minutes (during the summer).
Amenities include an indoor pool, jacuzzi, and a business center. A complimentary Grab 'n' Go breakfast is available so you can fuel up before you head into the park.
Best Western Premier Grand Canyon Squire Inn
This family and pet-friendly hotel has it all – clean guest rooms, indoor and outdoor pools, three on-site restaurants, a fitness center, an arcade, and even a bowling alley!
The park's free shuttle stops by here in the summer, although it's just a mile and a half drive to the entrance if you're visiting during the off-season.
Overall, this is a really well-equipped hotel that has plenty to keep you occupied even on days when you don't visit the Grand Canyon.
Red Feather Lodge
Located one mile from the park entrance, the Red Feather Lodge has different types of rooms depending on your preference and budget.
The motel rooms are great for budget stays, while the hotel rooms are more modern and located in the main lodge. The lodge also features a laundry facility, fitness center, and an outdoor pool and hot tub.
Grand Hotel at the Grand Canyon
This beautiful chalet is the perfect mix between modern and rustic. Stay in one of their queen, king, or suite rooms and take advantage of the on-site amenities like the pool, fitness center, or game parlor room.
And at night, dine in the steakhouse or old-fashioned saloon while enjoying live entertainment and music each evening.
Canyon Plaza Premier Studio and Apartments
Ideal for long-term stays, Canyon Plaza offers studios and two-bedroom apartments with kitchens, free parking, an outdoor pool, and an on-site restaurant.
The rooms are incredibly spacious and come with everything you need for a comfortable stay. Although the hotel is roughly two miles from the park, you can walk five minutes to the free shuttle bus stop.
Places to Stay in Grand Canyon Junction (30 Minutes from the Rim)
Grand Canyon Junction – which used to be called Valle – is a much smaller town. You'll need to go to Tusayan for groceries, restaurants, and more.
There are some places worth considering here, especially if you're looking for something a little more unique than some of the chain hotels in Tusayan, or if you're looking to stay in a vacation rental with a kitchen and more space.
Under Canvas Grand Canyon
Immerse yourself in nature while you camp under the stars in a luxury glamping tent at Under Canvas, who have locations near multiple national parks (including Zion and in Moab near Arches).
Enjoy top-of-the-line amenities like wood-burning stoves, on-site dining, and activity coordinators while you explore the 160-acre property of juniper and piñon forests.
Rooms are outfitted with organic bath products, West Elm furniture, and private or shared bathrooms.
Grand Canyon Countryside Lodge
This spacious 3,000-square foot home can accommodate up to 10 guests. It's situated 45 minutes from the park entrance on a private 36-acre lot where you can enjoy your stay in complete solitude.
There's even a wrap-around porch where you can play some lawn games (giant Jenga and cornhole are provided) or share a meal outside.
Little Ranch Retreat
Just a 30 minute drive from the Grand Canyon entrance sits this charming three bedroom ranch. After a day of sightseeing, you can retreat back home to cook a meal in the chef's kitchen or outdoor BBQ grill.
Or you can simply relax outdoors on the 700-square foot patio while you admire the friendly horses that roam the property.
Private cabin near the Grand Canyon
Ideal for a solo traveler or couple, this studio cabin features a kitchenette, a full bathroom, and an adorable outdoor porch with views of the San Francisco peaks.
It's small but well-stocked with everything you need for a comfortable stay. Best of all, the owner cooks you a complimentary warm breakfast each morning. 
Where to Stay on the North Rim of the Grand Canyon
Figuring out where to stay on the North Rim is much simpler. There's only two options! It essentially comes down to whether or not you're up for camping.
Grand Canyon Lodge – North Rim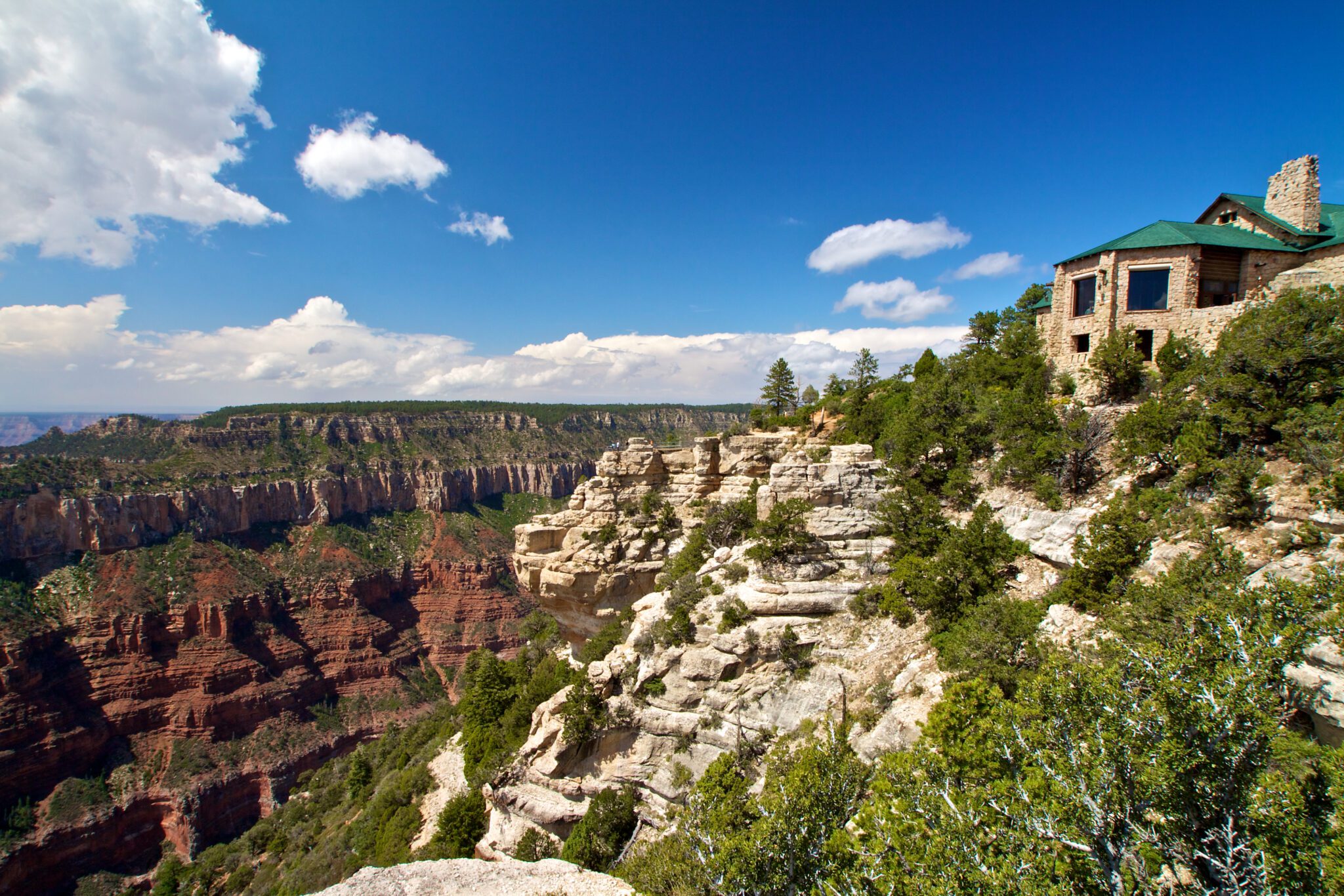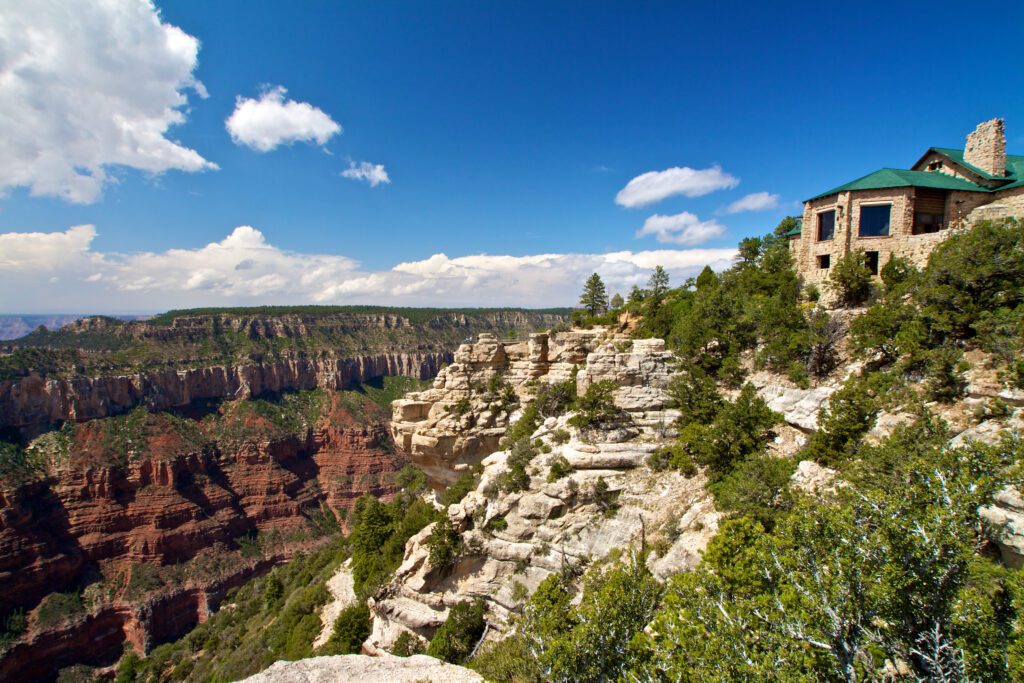 Entertaining guests for almost 100 years, this traditional lodge is the only hotel on the North Rim of the park. They have a variety of rooms for every type of budget, including queen-size motel rooms and rustic-style cabins. Do yourself a favor and book a view room so you can wake up each morning with the colorful canyon outside your window.
North Rim Campground
This spacious campground is set amongst the wooded Ponderosa Pines and gives campers and RV owners the chance to explore the more rustic side of the Grand Canyon. There is a general store on-site, as well as toilets, showers, and laundry facilities.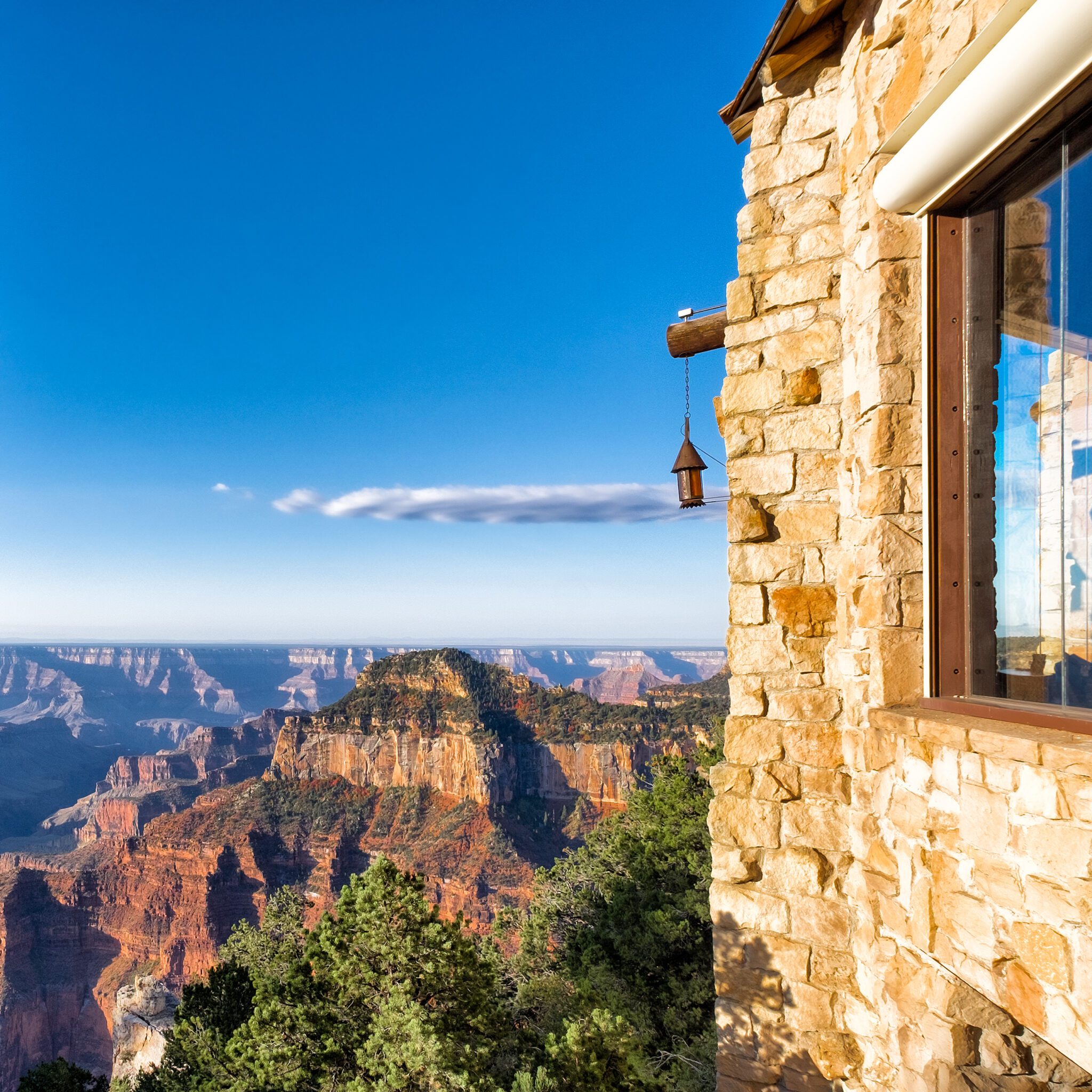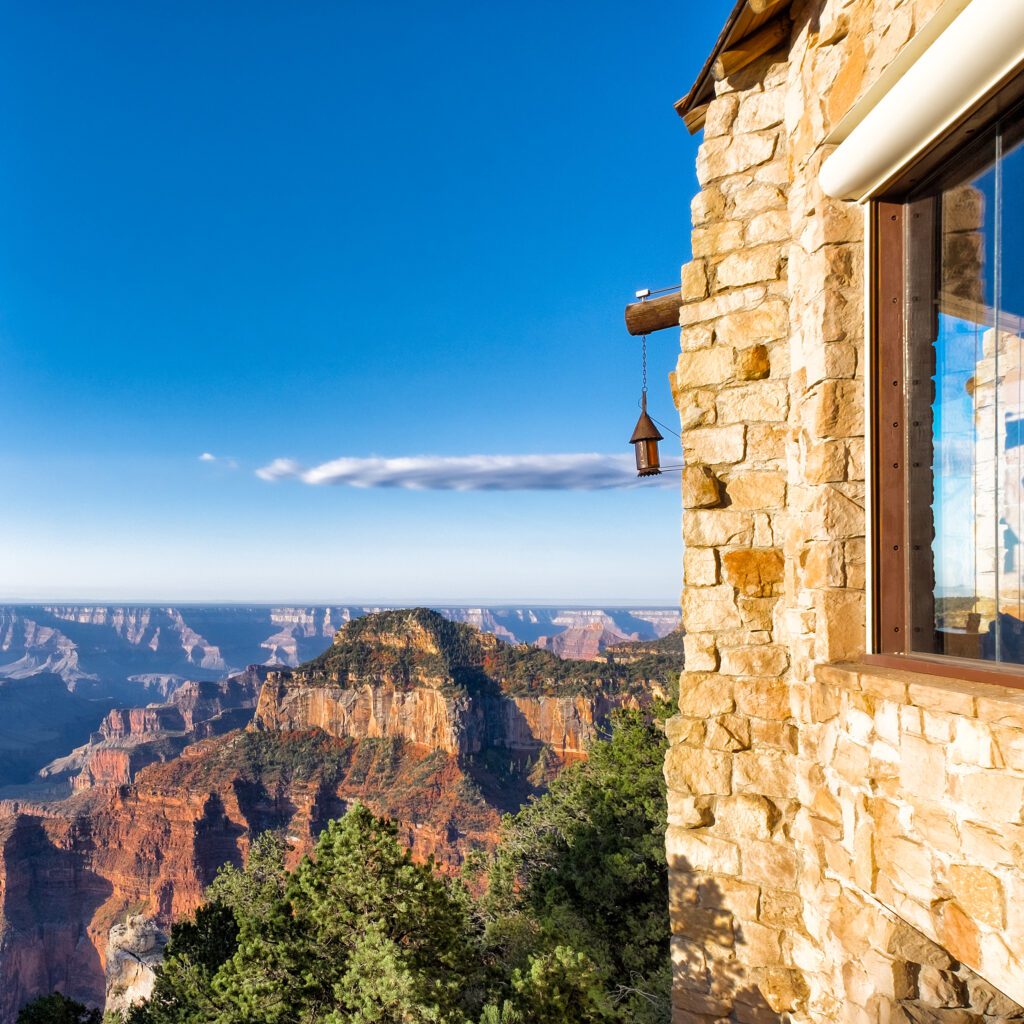 ---
More Arizona + Utah Travel Guides
If you liked this guide, you're going to love our other Arizona and Utah travel guides.
Phoenix: Plan a perfect weekend in Phoenix, and figure out where to stay in Phoenix.
The Grand Canyon: Planning a trip that includes the Grand Canyon? We've got you covered with a guide on exactly how to plan an amazing Grand Canyon itinerary and where to stay in the Grand Canyon.
Sedona: Plan the perfect weekend getaway to Sedona, and learn everything you need to know to go hiking in Sedona.
If you're making your way into Utah, you'll want to read our guides to:
Plus, our 10 day Utah National Parks road trip is a super detailed guide to exploring Utah, if you've got the time. Otherwise, save it for later.