The Best Weekend Getaways From Vancouver, BC (Outdoors + Cities)
Vancouver is the ultimate launchpad for exploring the Pacific Northwest. It's uniquely located near the U.S border while also being a hop, skip, and a jump away from clusters of picturesque islands, offering endless options for every kind of adventurer. Whatever your style, whether you prefer nature or cities, there are plenty of unforgettable weekend getaways from Vancouver for you to experience.
You could spend an action-packed weekend hiking, skiing, mountain climbing, or you could explore a nearby city for the first time if city life is more your speed.
The only word that can describe these weekends is magical. British Columbia boasts some of the most insane sunsets I've ever seen, and a collection of wildlife that is unmatched in North America – including moose (shouldn't the plural of moose be "meese" like goose/geese?)!
With each of the weekend trips from Vancouver that you take, you'll feel like you're uncovering more and more of the magic of British Columbia.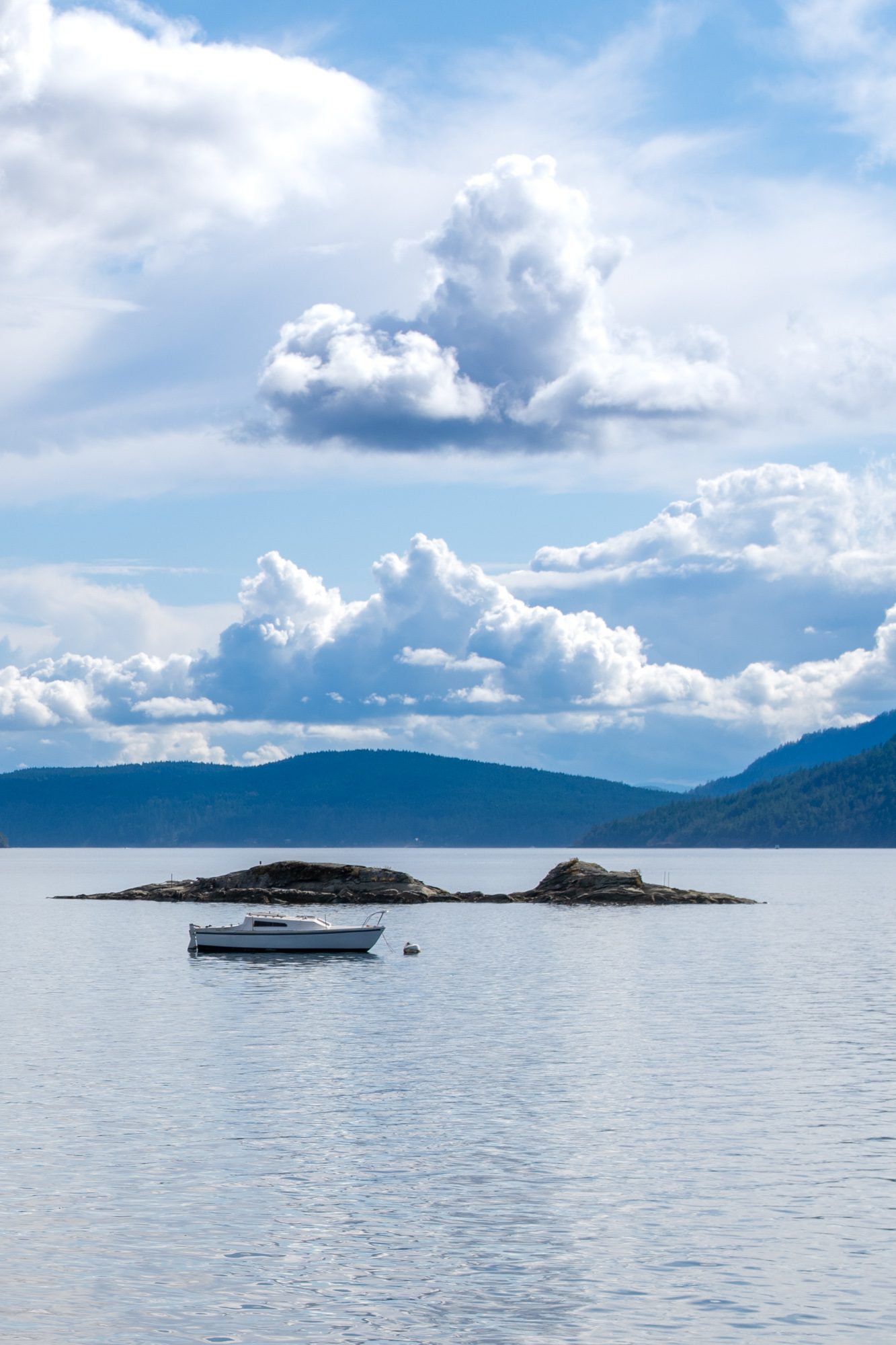 Disclaimer: Some of the links in this post are affiliate links, meaning at no additional cost to you, I make a little bit of money if you click through and book. That being said, I would never recommend something to you that I don't stand behind 100%.
6 Incredible Weekend Getaways From Vancouver, BC
In this guide, you'll find everything you need to plan the perfect weekend trip from Vancouver, including:
6 amazing weekend getaway destinations from Vancouver for all kinds of travelers
The best places to eat, drink, play, and stay
Notes on how to get there and back
Read on to discover the magic of British Columbia and start planning an incredible weekend getaway from Vancouver, BC.
Whistler BC, and the Sea to Sky Highway
DISTANCE FROM VANCOUVER // HOW TO GET THERE
74 miles // By Car or Bus (Approx. 1.5 hours)
Driving is highly recommended – there are beautiful viewpoints along the Sea to Sky Highway, and it's well worth taking your time on the way up. However, if you need a bus, check out Epic Rides. It's cheap and easy.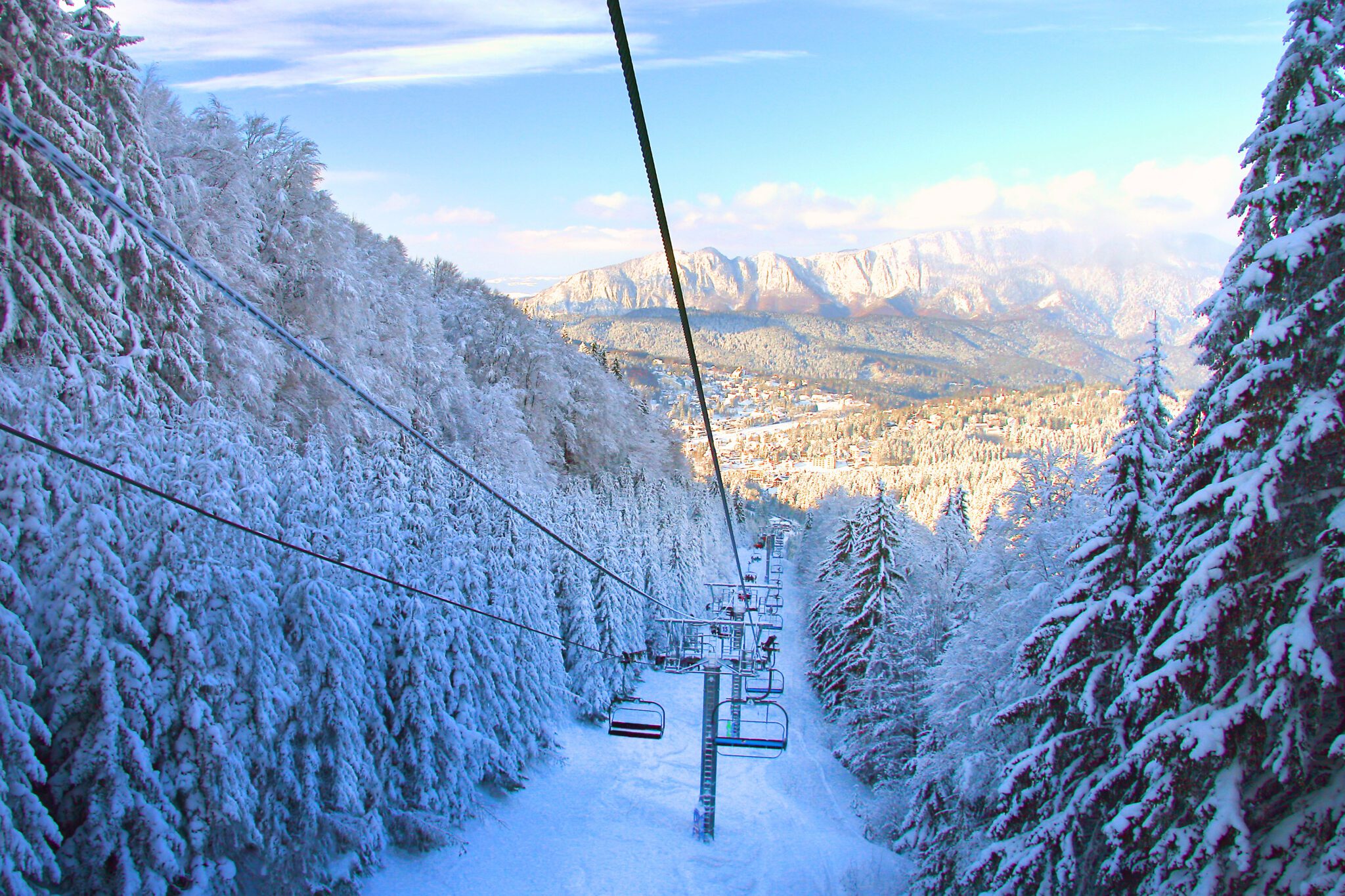 Things to Do in Whistler (and along the Sea to Sky Highway)
Shannon Falls
Shannon Falls is located 36 miles from Vancouver just off the Sea to Sky Highway, and it's super easy to access. From the parking lot, it's a short 350-meter walk to the highest viewing platform along a nicely kept boardwalk. This is BC's 3rd largest waterfall (335 meters tall), so you don't want to miss it! While summer is a great time to visit, spring brings the snow melt rushing down over the falls which is a spectacular sight.
Winter: Skiing in Whistler Blackcomb
Whistler Blackcomb is one of the most popular and famous ski resorts in the world and for good reason. There are hundreds of ski runs and an amazing après scene so, even if you don't ski, you have to get up those mountains. The Peak 2 Peak Gondola is particularly incredible. It spans the two mountains of Whistler and Blackcomb, and the views are unforgettable. It's a pricey weekend, but worth every penny.

Spring / Summer: Hiking or Mountain Biking
You'll never run out of hiking and mountain biking trails in Whistler. If you're looking for a decent hike, the Skywalk Trail is a true valley to alpine experience (1000 meters of elevation gain) that will take you a whole day, but the views are incredible.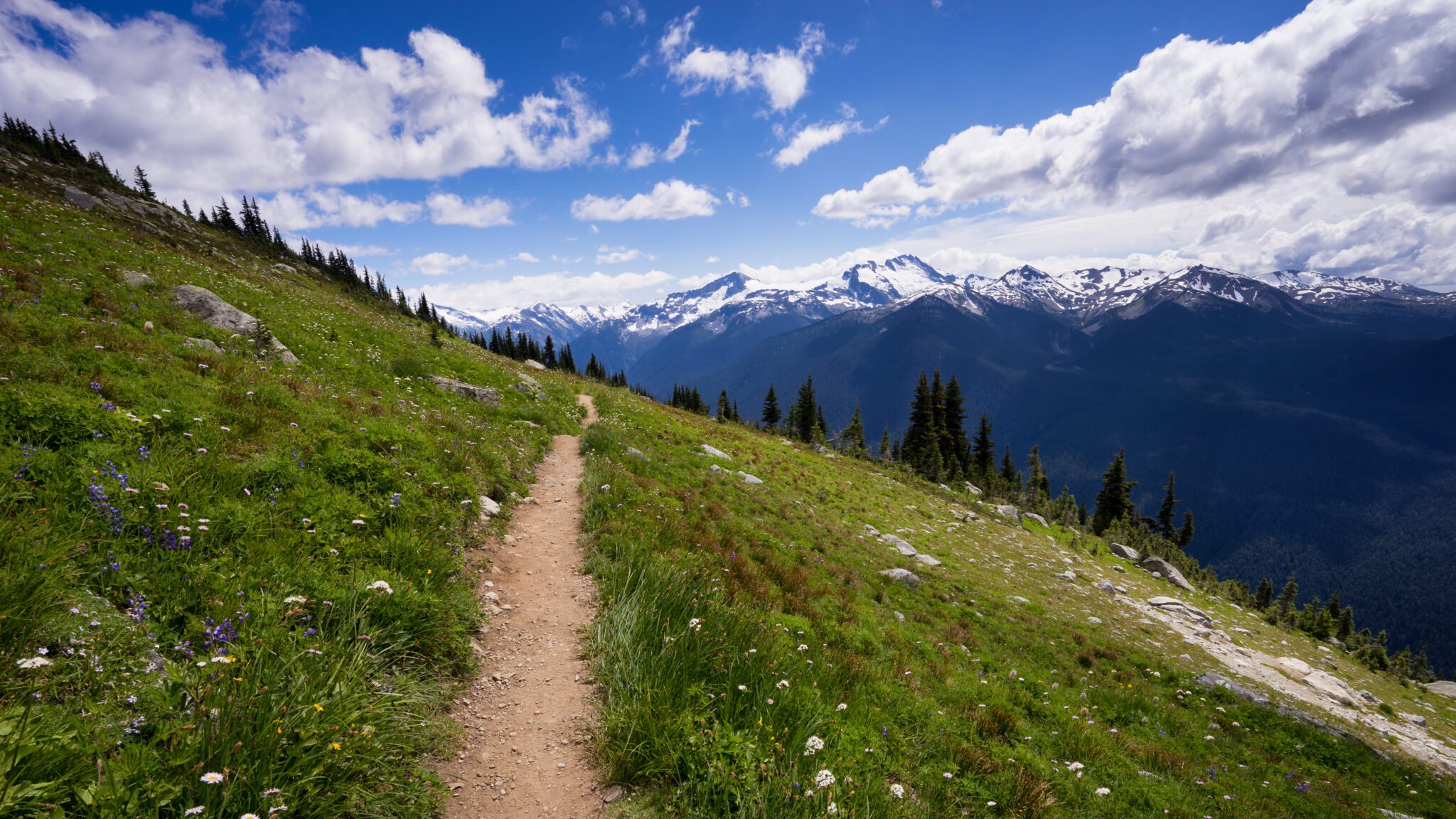 Drink Craft Beer
Whistler is a staple on the BC Ale Trail and boasts some of the best craft beers I've ever tasted. Stop in at Whistler Brewing Company, Coast Mountain Brewing, and High Mountain Brewing Company for a few beers.
Where to Stay in Whistler, BC
SUMMIT LODGE BOUTIQUE HOTEL
A great option just 10 minutes from the gondolas up the mountain, the Summit Lodge has very stylish fully-furnished suites that all include kitchenettes so you can cook for yourself and save some money. There are a couple of onsite restaurants, bars, and cafes, and you'll have access to the pool and hot tub.
WHISTLER CASCADE LODGE
This super central gem is a perfect place to base yourself for a weekend in Whistler. Whistler Cascade Lodge is a 5 minute walk (if that) to Whistler Village, which is full of bars, restaurants, and is where you'll find the gondolas to take you up Blackcomb or Whistler mountain.
The check-in/out process is incredibly easy, and the spa/pool will be welcome features at the end of a full day of activities.
Warning: Whistler accommodation can be expensive! I did a lot of research to find the best accommodation for value, and I was pleased to find a place so close to the village – it makes it so you don't need to drive once you're in Whistler, which is always a bonus.
BRIGHT & AIRY PENTHOUSE IN WHISTLER VILLAGE
If you're more into staying in Airbnbs when you travel, check out this GORGEOUS 1 bedroom penthouse in Whistler Village. Bright, airy, and in a quiet part of the Village, where you'll be close to the action, but far enough removed to enjoy a peaceful night's sleep.
Victoria, BC: A Romantic Getaway on Vancouver Island
DISTANCE FROM VANCOUVER // HOW TO GET THERE
70 miles // By Car + Ferry (Approx. 4 hours)
FERRY DETAILS // TSAWWASSEN TERMINAL – SWARTZ BAY TERMINAL
Driving from Downtown Vancouver to Tsawwassen can take anywhere from 40 minutes to 1 hour. I recommend arriving at the ferry terminal at least an hour and a half before your sailing time, and be sure to book your ticket! Once you've arrived in Swartz Bay, it's approx. 30 minutes' drive to Downtown Victoria.

For bus options, visit BC Ferries Connector for details from Vancouver and BC Transit for details from Swartz Bay.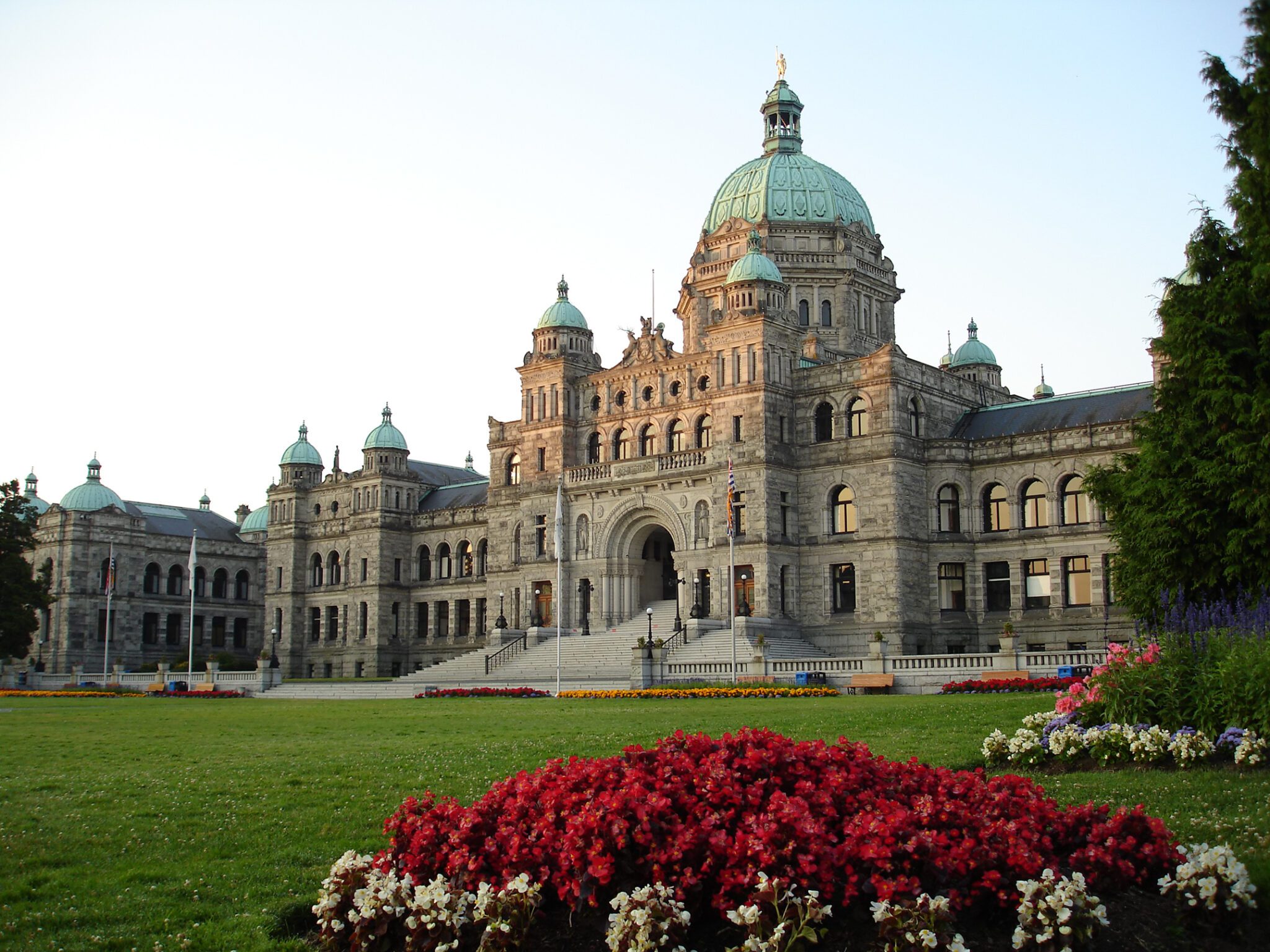 Things to Do in Victoria
I admittedly put off visiting Butchart Gardens until the end of my trip thinking it wasn't quite my style, but I was pleasantly surprised. The grounds are stunning – 55 acres of perfectly landscaped gardens open year-round.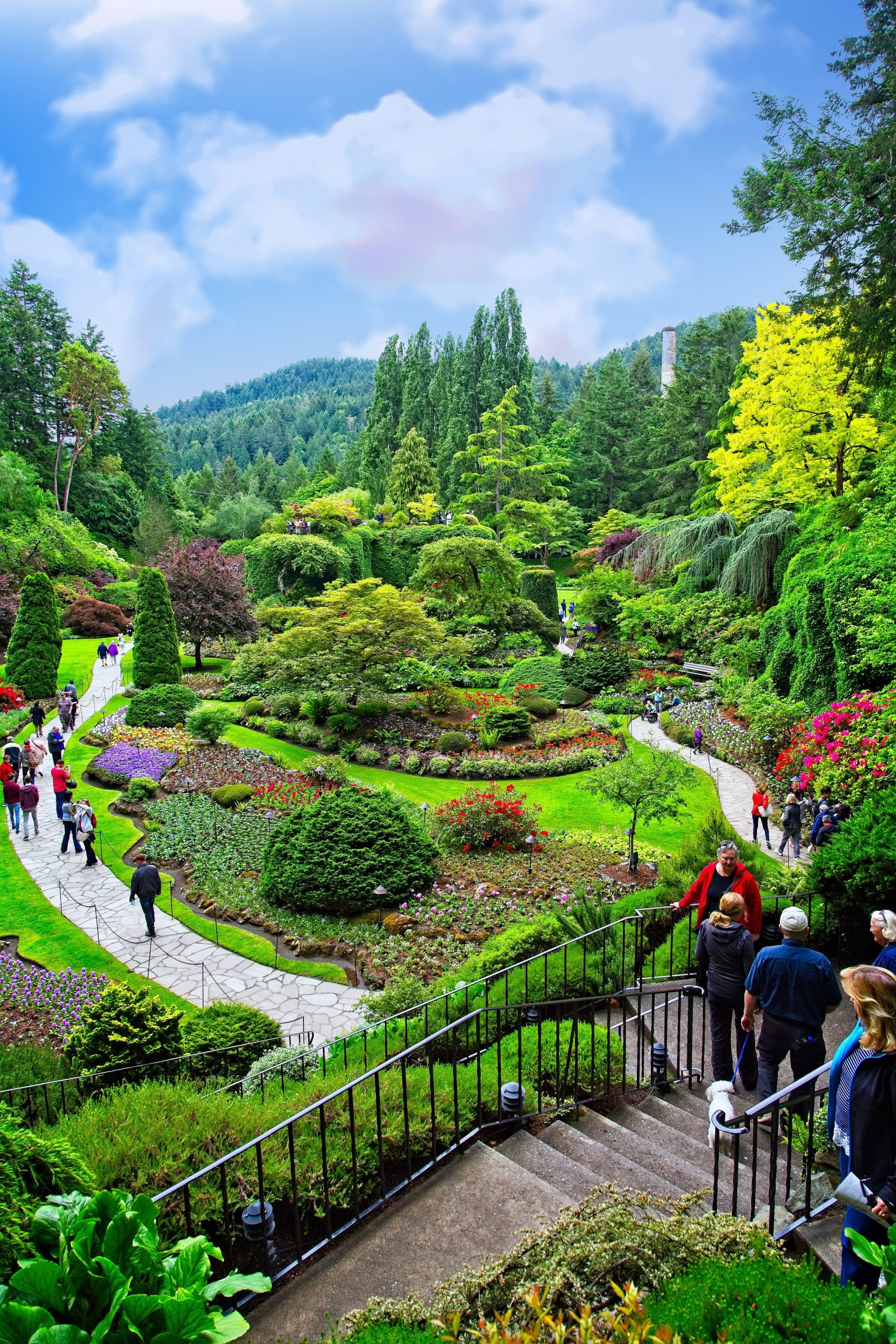 Vintage Shopping
If you're a fan of second-hand shopping for sustainability and affordability, you're in for a treat. You'll find a bunch of shops in Downtown Victoria. Don't miss Vintage After Death, Flavour Upstairs, and Vintage Funk Emporium. You'll find books, clothing, antiques – options for everyone.
Drink Cider: Sea Cider Tasting Room
This cider is THE BOMB. Their cider house is located in Saanichton, approx. 20 mins by car from Downtown Victoria. You'll find a little bungalow overlooking the harbor where you can sit and sip their organically grown heirloom apple cider. Definitely get a tasting flight, and try whatever seasonal cider they've got at the time.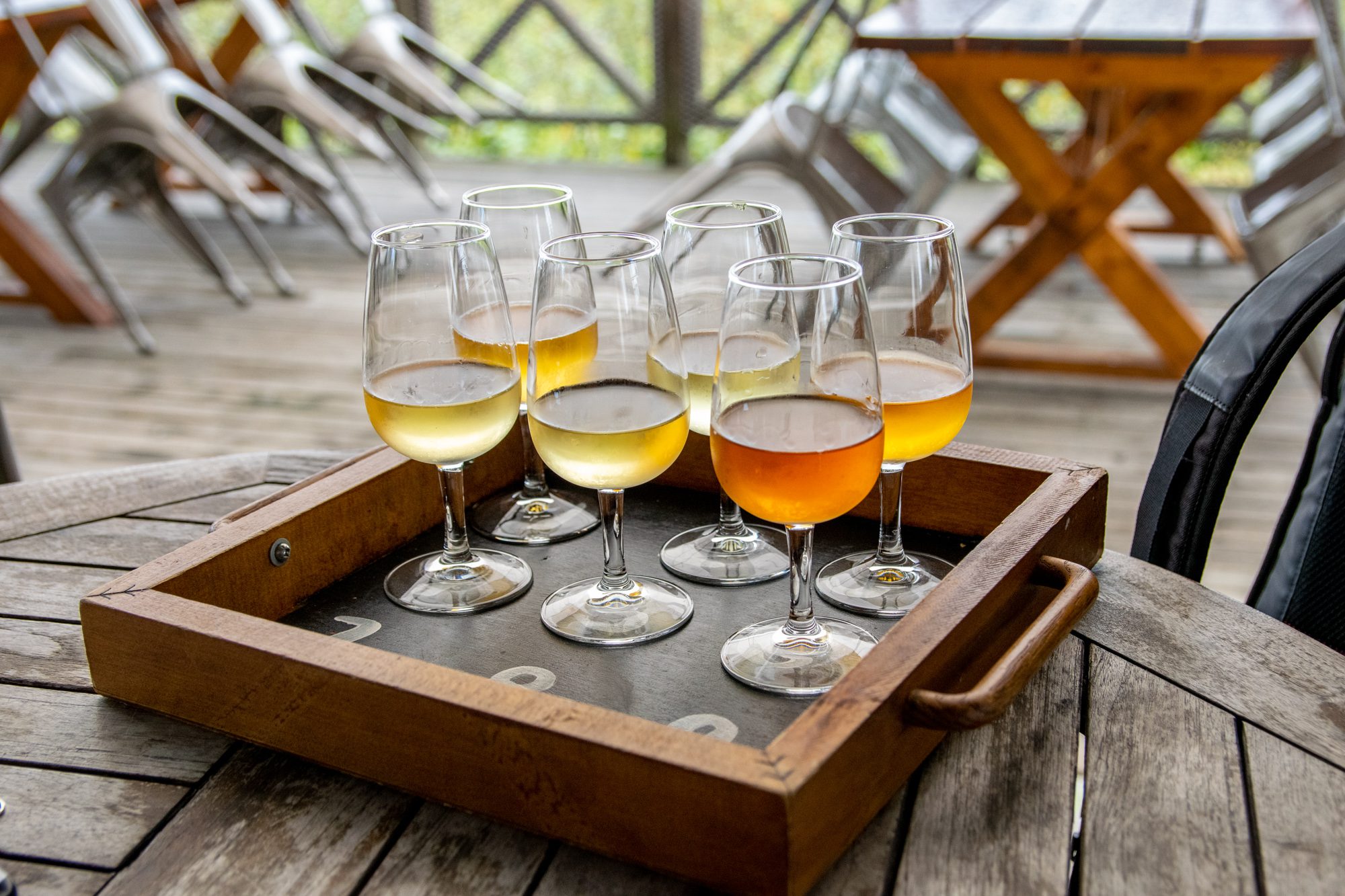 The Best Coffee in Victoria: Hey Happy
I walked by this understated coffee shop and probably would have missed it if it weren't for the line out the door. These guys are serious about coffee, and you can tell – it's delicious. They offer home-made cashew milk too – bonus!
100% Gluten Free & Plant-Based Food: Be Love
Be Love serves organic, local, plant-based cuisine. I would recommend something off the menu, but it's too hard to decide – it's all amazing. Good for brunch, lunch, or dinner and in the heart of Downtown Victoria. It's 100% gluten free, too!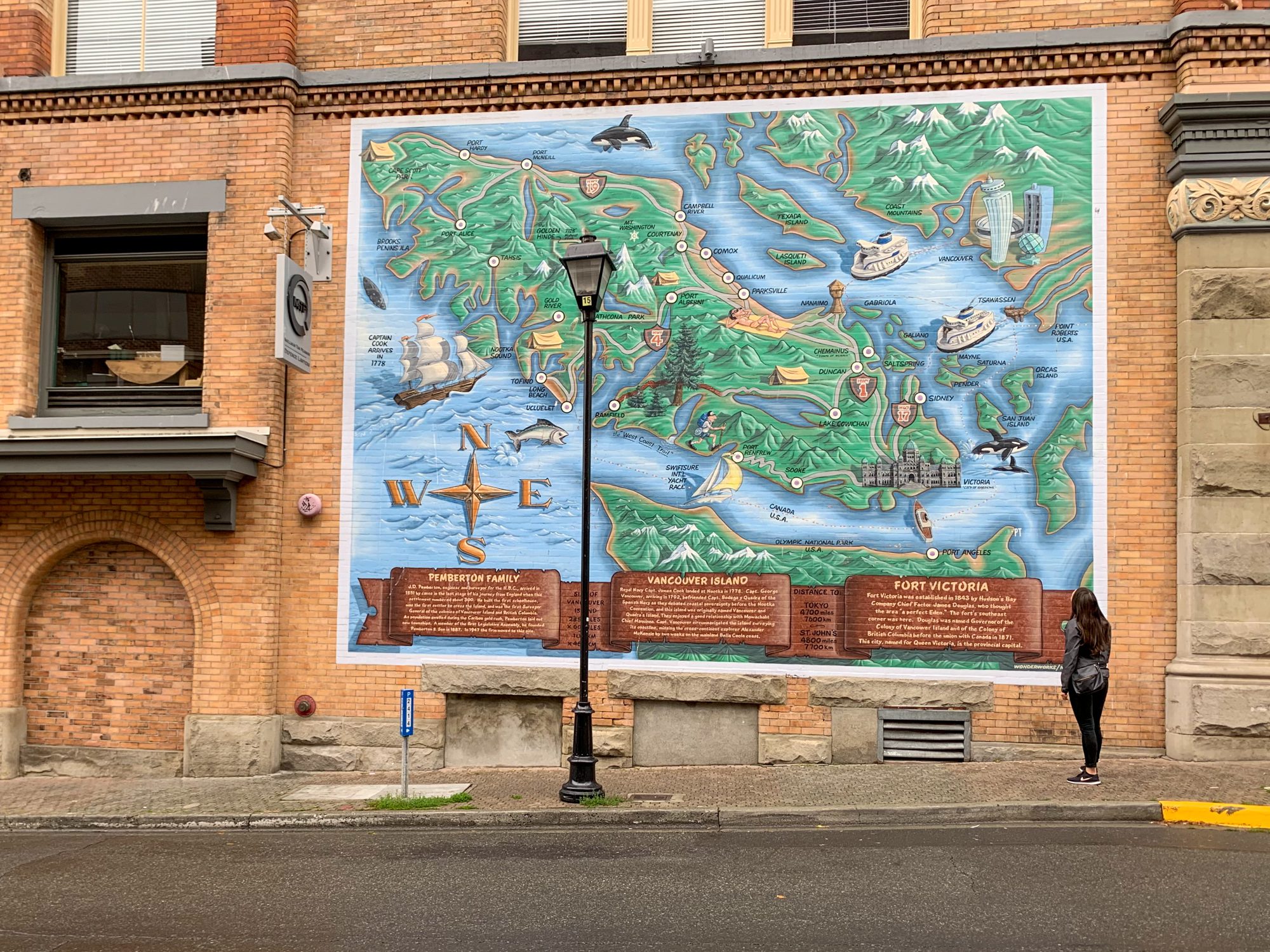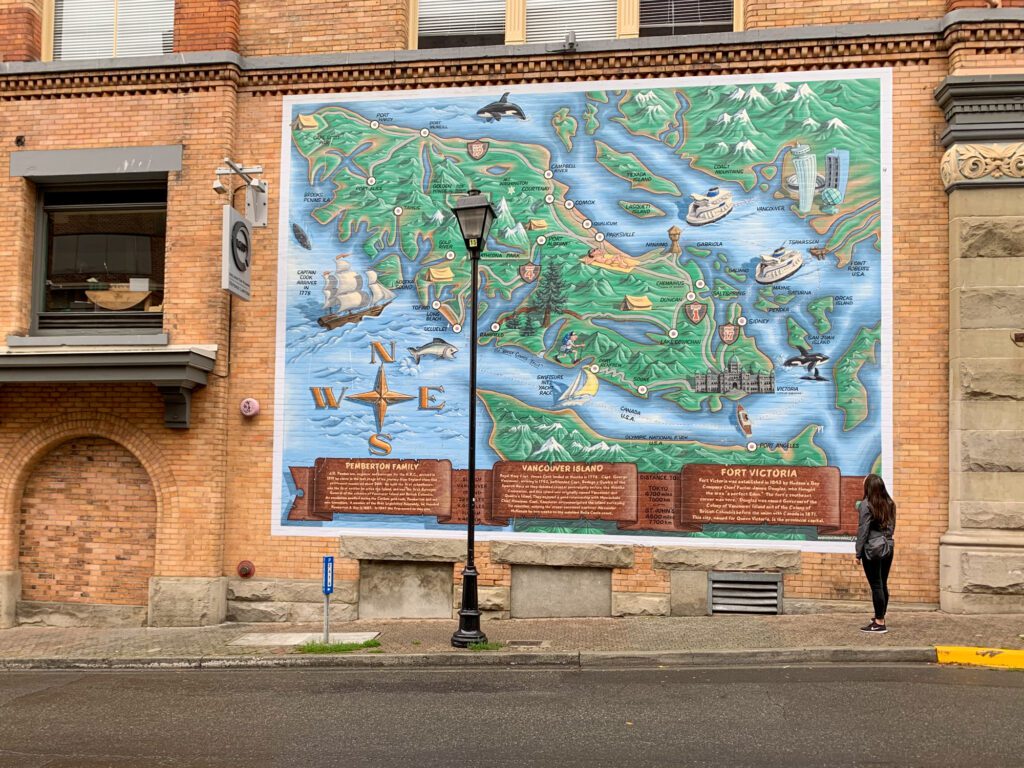 Where to Stay in Victoria
Magnolia Hotel & Spa
Staying in Downtown Victoria isn't cheap unless you want to stay in a hostel (if so, I'd recommend Hi Hostel).
There are tons of stylish Airbnbs around Victoria, and I can personally vouch for this exquisite suite (w/parking!), which is where we stayed on our latest trip.
Magnolia Hotel & Spa is located in Downtown Victoria (an 8-minute walk to Hey Happy), and it's been voted the top hotel in Canada by Condé Nast, so you know it's good.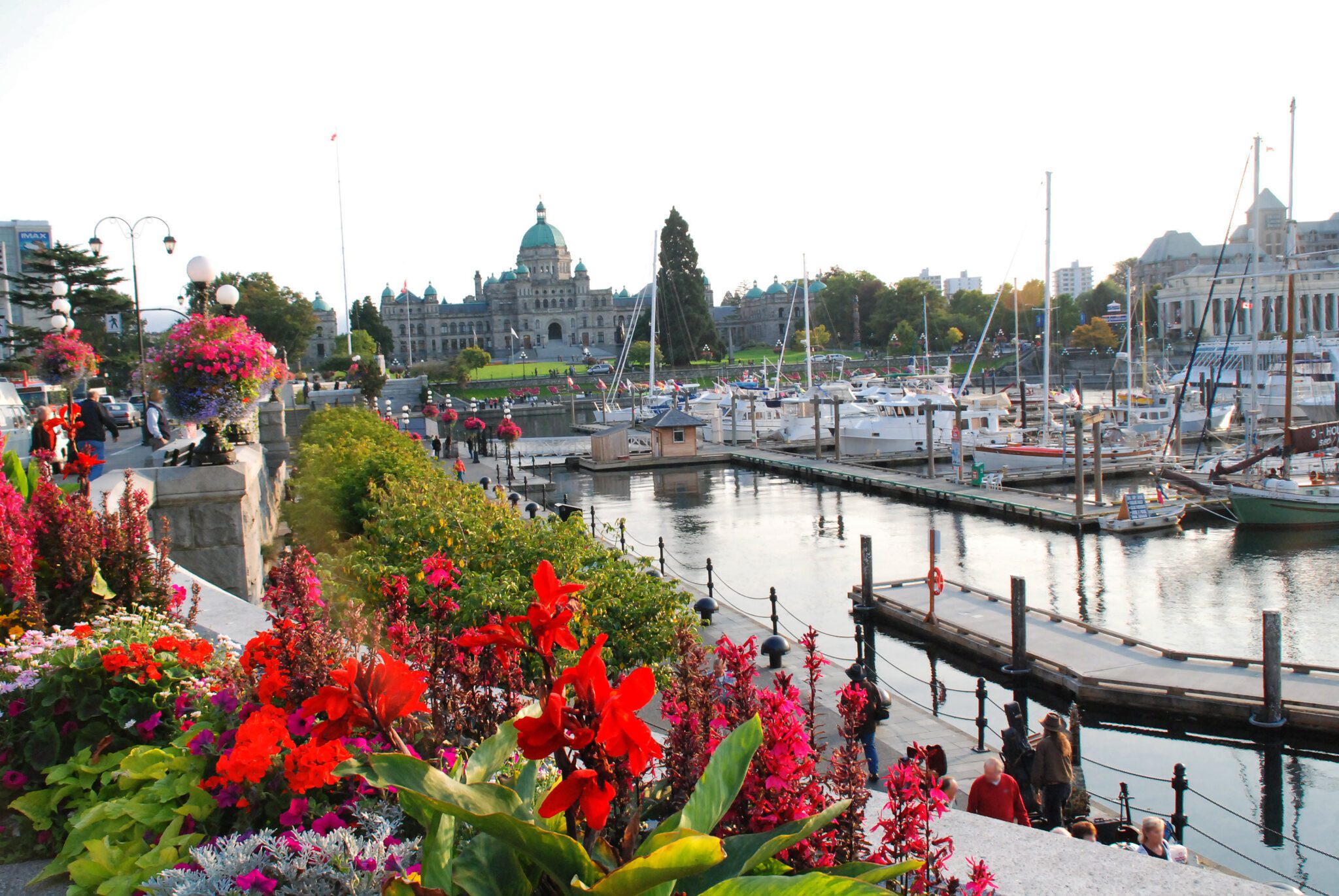 Pender Island: A Rustic Weekend Getaway from Vancouver
DISTANCE FROM VANCOUVER // HOW TO GET THERE
45 miles // By Car + Ferry (Approx. 2.5 – 3 hours)
FERRY DETAILS // TSAWWASSEN TERMINAL – OTTER BAY TERMINAL
BC Ferries operates a service up to three times a day from Tsawwassen Ferry Terminal to Otter Bay Ferry Terminal. Sailing time is approx. 1 hour 20 minutes with stops at Galiano and/or Mayne Islands.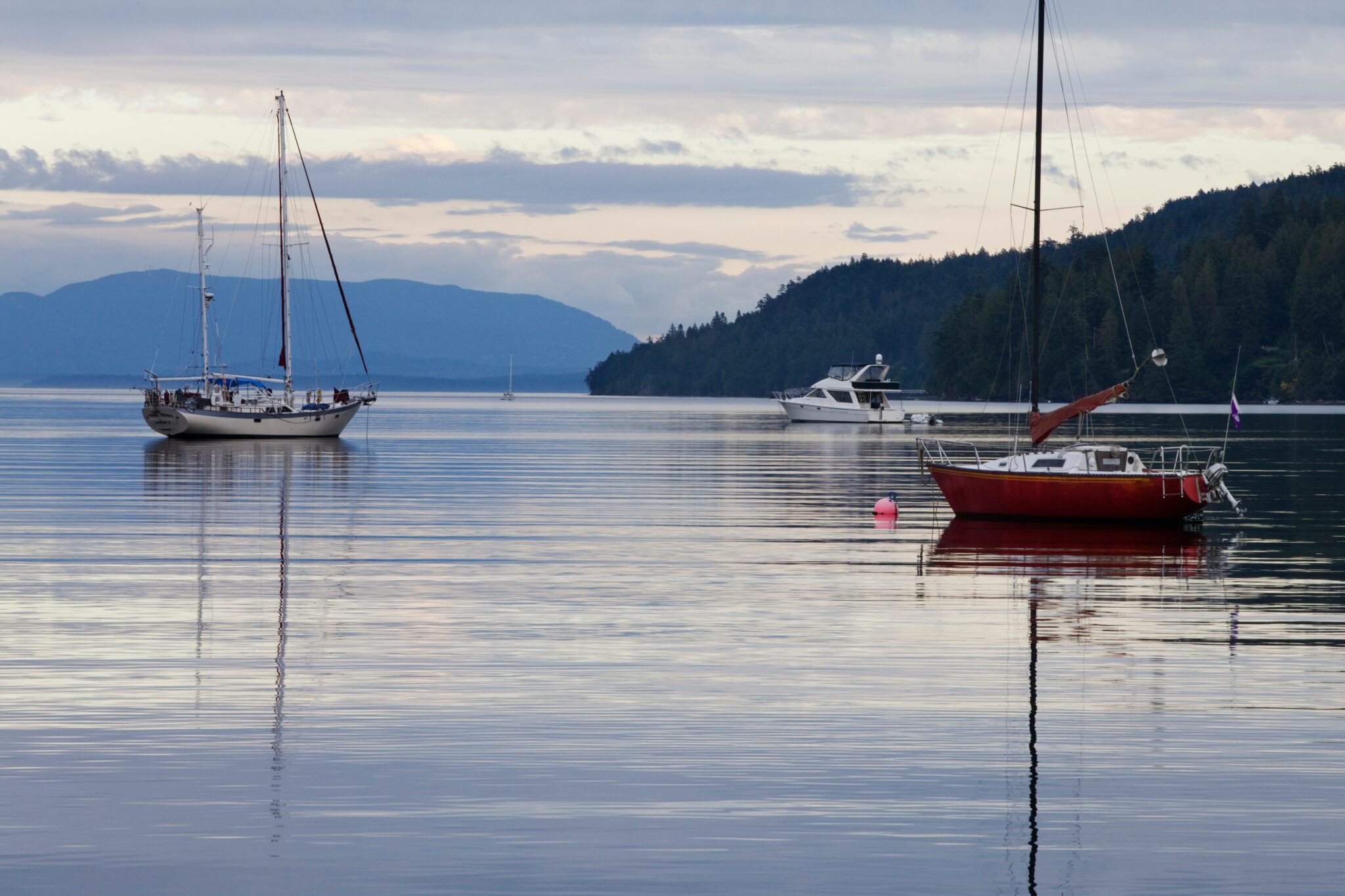 Things to Do on Pender Island
Paddle Boarding or Kayaking
The harbor off Pender Island is idyllic and usually sheltered from prevailing winds, which makes it perfect for water activities! For gear rental, I'd recommend Dog Mermaid. They also offer tours and retreats, and the staff is clued up on the most magical spots to venture to. You'll be in good hands.
This market is open every Saturday from 9:30 am to 1:00 pm and brings together local farmers, craftspeople, and food vendors. Located close to the Otter Bay Ferry, you'll feel like one of the locals at this market.
Coffee & Food: Gather Cafe
Gather sits on the water at Hope Bay, overlooking a beautiful harbor. It's a lovely spot for tea, coffee, and food. Their farm-to-table ethos uses the freshest ingredients from local and organic sources, and the couple that runs the place will make you feel right at home. They have live music some nights, which is worth a stop.
100% Gluten Free Food: El Faro Fusion
El Faro is on the north end of the island, and serves 100% gluten free food, including fish and chips and corn bread. Can't miss for gluten free travelers on the island.
Hiking: Mt. Norman
Hike the short trail to the tip of Mt. Norman, where you'll have a panoramic view of the San Juan Islands and the Olympic Peninsula in Washington State. Approx 0.9 miles.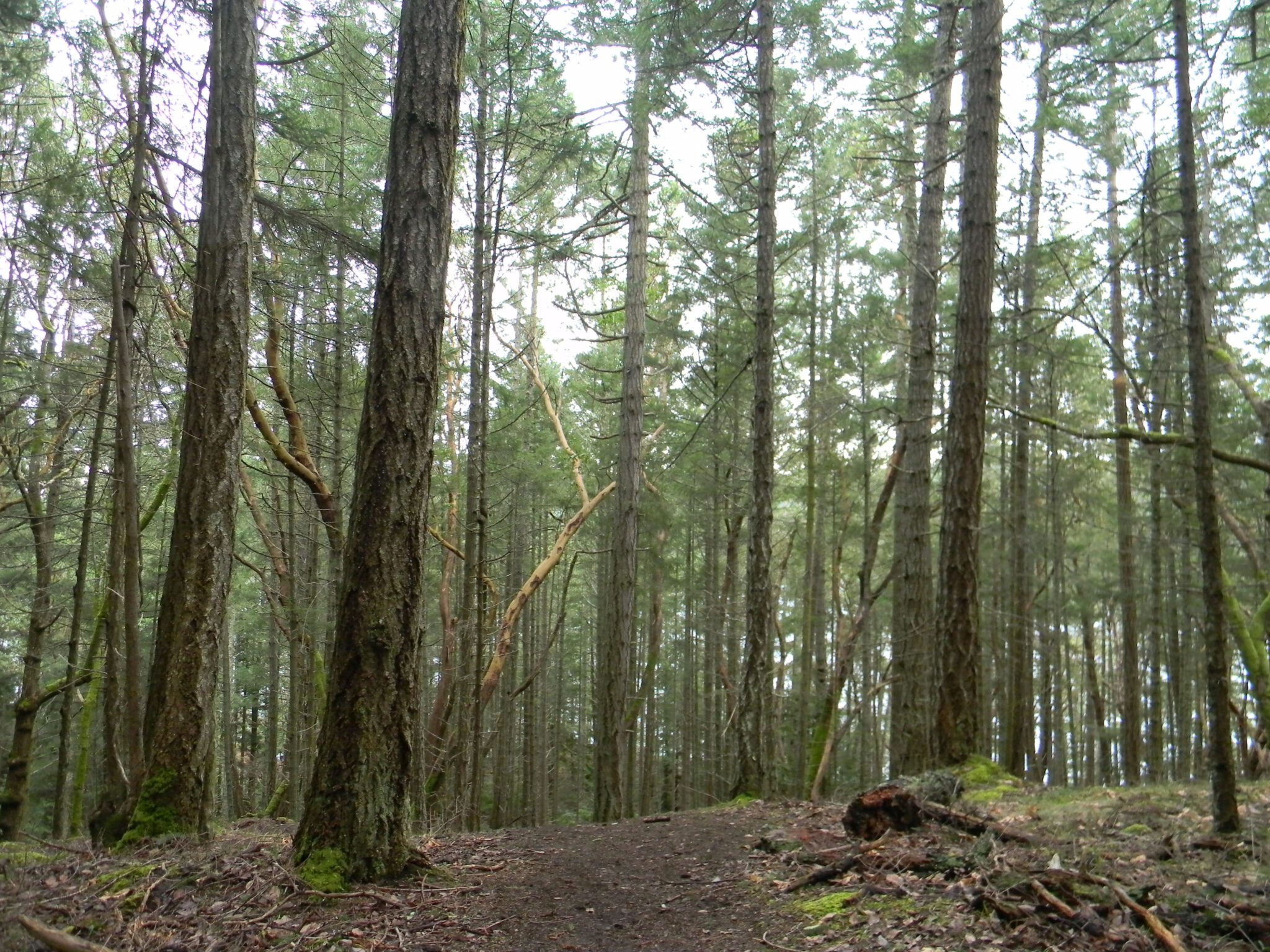 Where to Stay on Pender Island
If you're after a quintessential cabin getaway – this is it! You can stay in an Airstream, a Rustic Cabin, a Shasta Airflyte, or in the Woods Motel. Any of these options are glorious, and most come with a private hot tub. Not to mention the FOOD.
Their on-site café offers fresh farm-to-table food and signature cocktails, which ups the ante of your glamping experience. If you're staying elsewhere, they have an impressive spa. Either way, it's a must if you're looking for the best romantic weekend getaways from Vancouver, this is at the top of the list.
Bellingham, WA: A Hipster Haven at the US Border
DISTANCE FROM VANCOUVER // HOW TO GET THERE
54 miles // By Car (Approx. 1 hour, not including time at the border)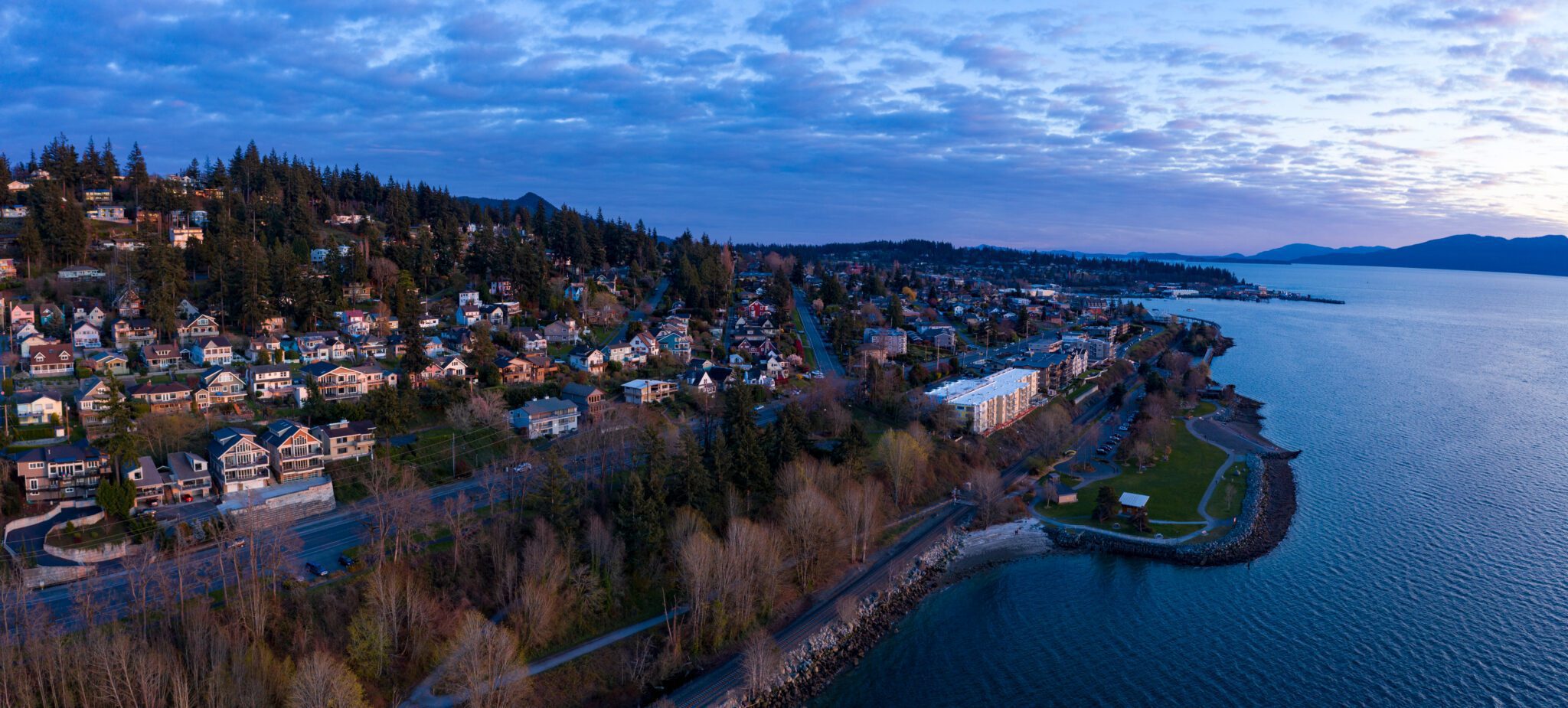 Things to Do in Bellingham, Washington
48 hours in Bellingham is the perfect amount of time to take in the best of Bellingham. It's a great destination for people looking for a blend of city and nature, with great food and drinks and access to some of the best outdoor activities in the region.
Explore the Local Breweries & Cideries
You may as well spend a day touring the local breweries and cideries because there's a ton of them, and they're all fantastic. The best cideries include Thousand Acre Cider Co, Lost Giants Cider, and Bellingham Cider Company. If you're really into beer, you can do the Bellingham Tap Trail – grab a passport, some stamps, and begin your Brewery Journey!
Located in downtown Bellingham, this vibrant market runs from April through December. With 100 vendors, you'll find farmers, crafters, and prepared Food / concession.
The Best Coffee in Bellingham
Need some fuel to keep the weekend going (or just to get your day started)? Black Drop Coffee, Camber Coffee, or Woods Coffee are staples in Bellingham.
Hike North Cascades National Park
This National Park is known as the "American Alps" with a massive variety of walks and hikes for everyone. It's 684,000 acres, hosting lakes, glaciers, picturesque meadows, and wildlife like deer and mountain lions. Find a trail that suits you here.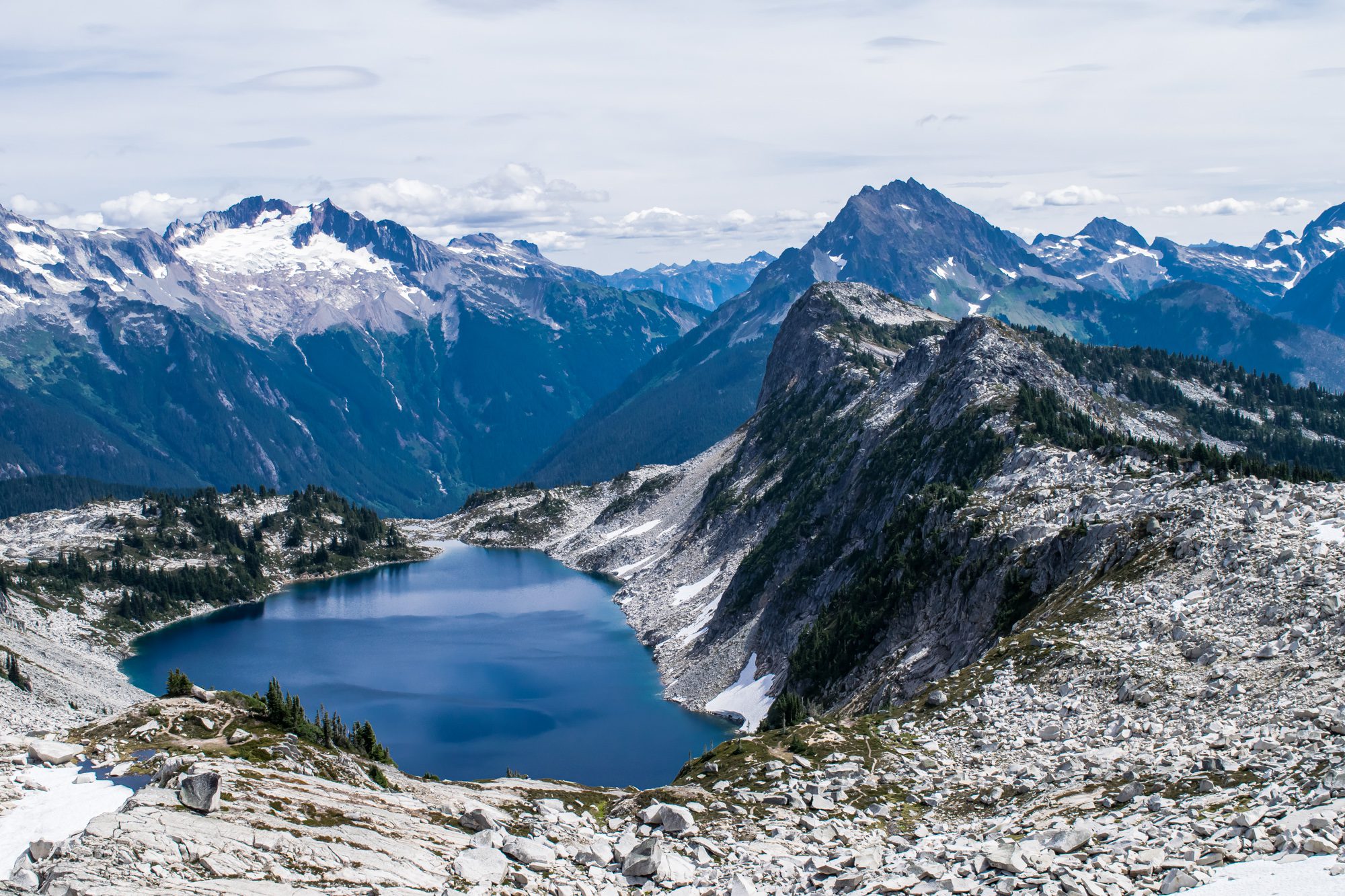 Where to Stay in Bellingham
If you're doing the Bellingham Tap Trail, you're going to want to stay somewhere central. I recommend Hotel Leo. It's modern and sleek with all the necessary amenities – the ideal base for exploring.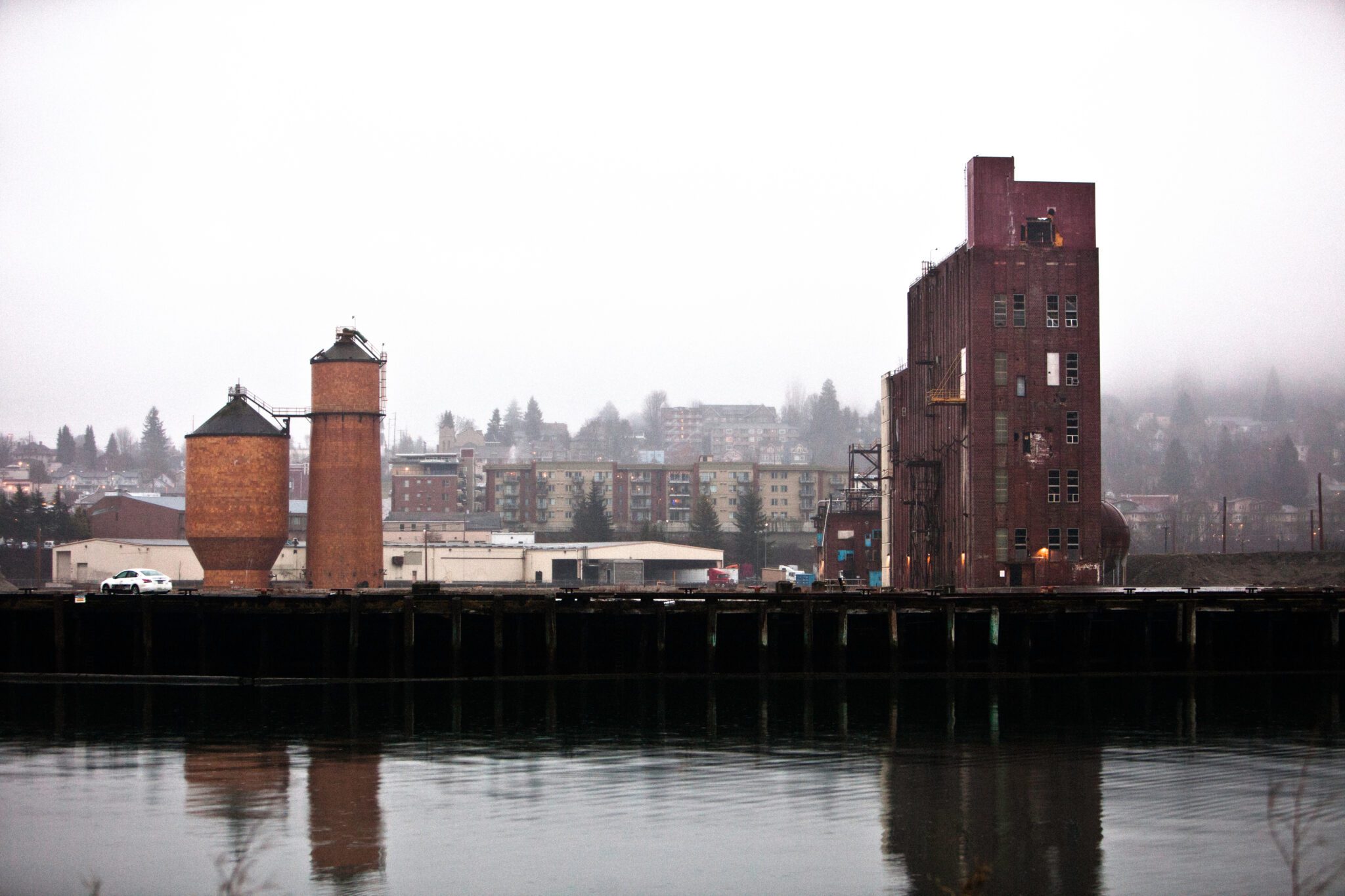 Seattle, WA: The Quintessential PNW City Experience
DISTANCE FROM VANCOUVER // HOW TO GET THERE
142 miles // By Car (Approx. 2.5 hours, not including time at the border)
I grew up in Seattle, living there for 15+ years until moving down to San Francisco. Read my complete guide to a weekend in Seattle for the best things to do, see, eat, drink, and more.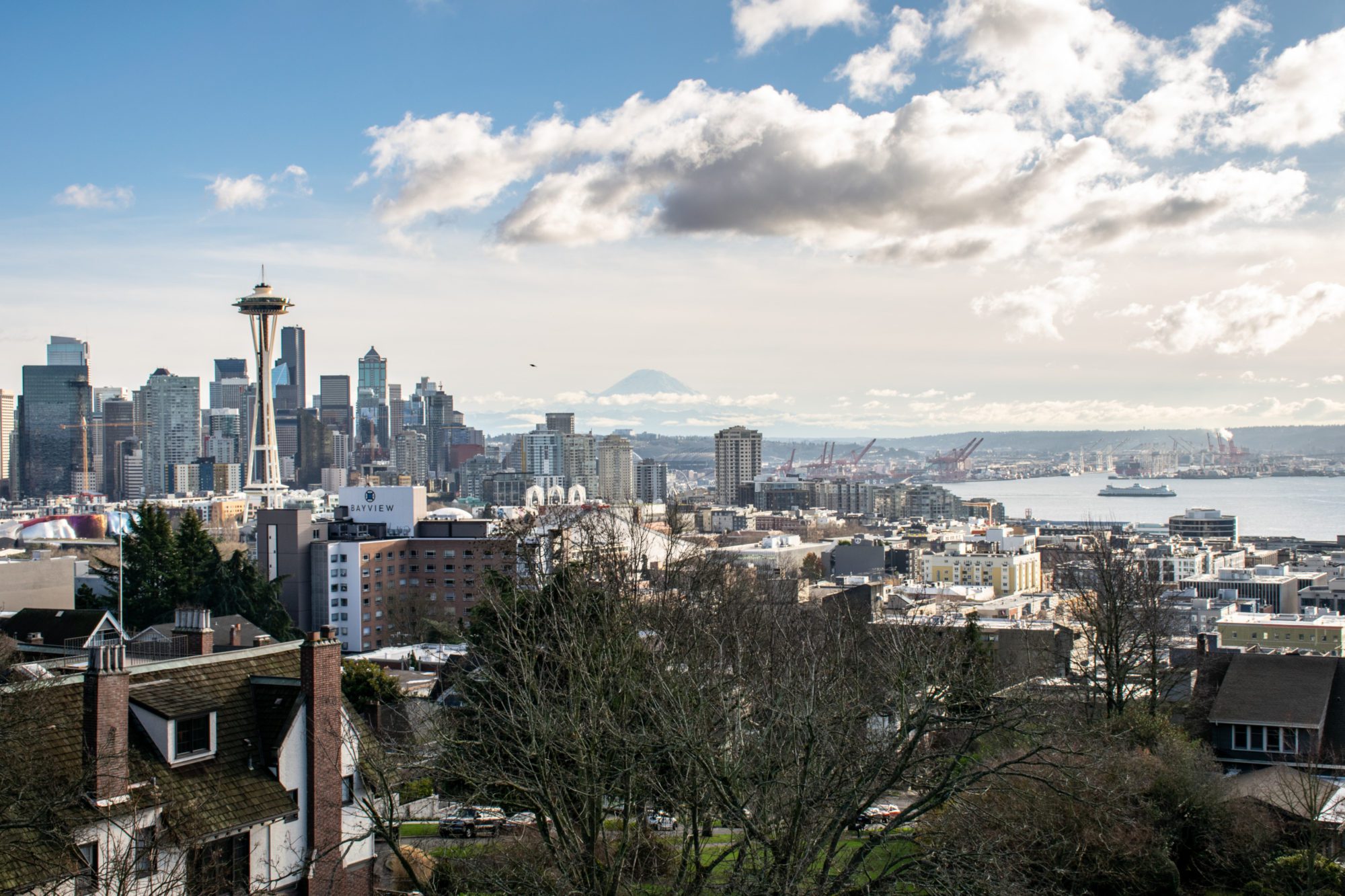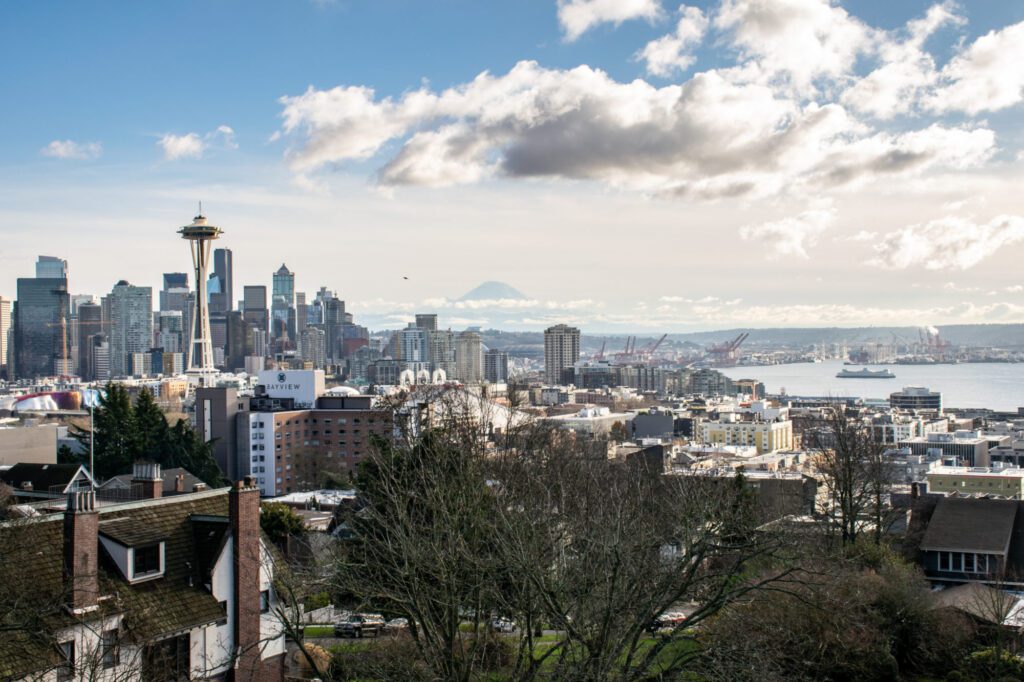 The Best Things to Do in Seattle
Pike Place Market
Pike Place Market is in the hub of Seattle and home to everything from live music to handcrafted items and CHEESE! You should walk the market at least once or do the Chef guided tour of the market, which delves into its history.
Capitol Hill & Ballard
There's a ton to do in these areas – it's tricky to narrow it down! Visit the quaint Elliot Bay Books, grab a hand-made ice cream at Molly Moon's or Frankie and Jo's for a plant-based option, and finally visit Starbucks Roastery Reserve for an immersive coffee experience.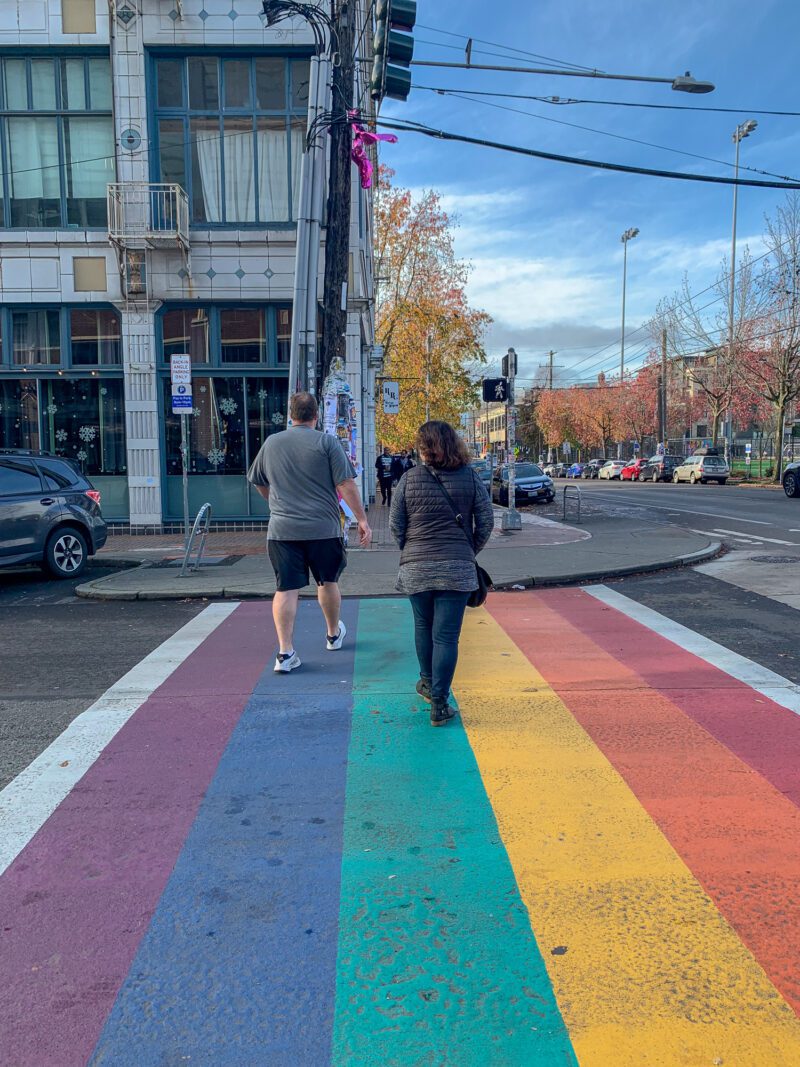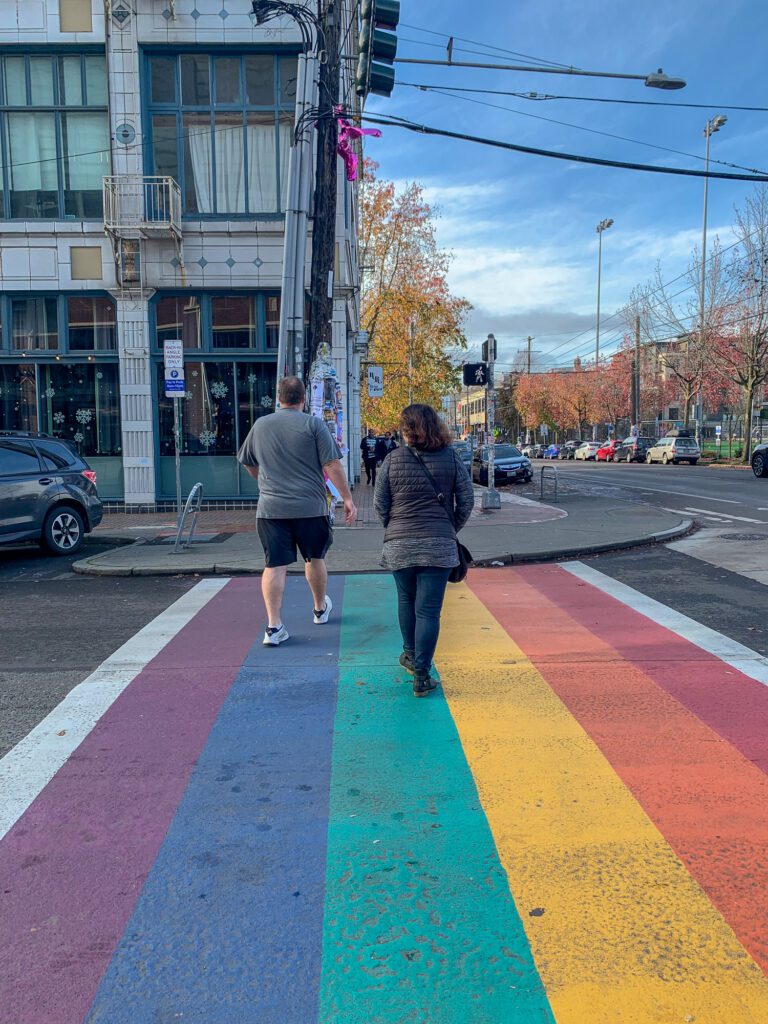 Reserve a few hours for this one – this beautiful glass flower exhibit will blow your mind. It's located near Belltown – a short drive from Downtown Seattle so grab a cab or a bus.
Speakeasy Cocktail Experience: Bathtub Gin Co
If you like dimly lit speakeasy bars, you'll love Bathtub Gin Co. Located in Belltown; it's nestled in a basement of an old brick hotel – there's literally a bathtub in the bar!
Psst! Need to eat gluten free? Here's a guide to the best gluten free restaurants in Seattle.
Where to Stay in Seattle
I have a gigantic guide on the best places to stay in Seattle, so for more in-depth recommendations, make sure to read that.
Here are a couple of recommendations.
Seattle has a bunch of cool boutique hotels – read my guide to the coolest hotels in Seattle to discover a perfect, stylish place to stay for your weekend trip from Vancouver.
Definitely look at the State Hotel, which is a stylish boutique option literally feet away from Pike Place Market in the heart of Downtown Seattle, or the Moxy Hotel, which is super hip and is a great place to base yourself for a weekend in Seattle.
BELLTOWN AIRBNB
Can you tell I love Belltown? This stylish studio condo is located in a 1908 building and has been listed on the National Register of Historic Places. It features a king bed and a sofa bed, a full kitchen, and a washing machine and dryer. The standout feature is the access to the communal rooftop patio offering views of the waterfront.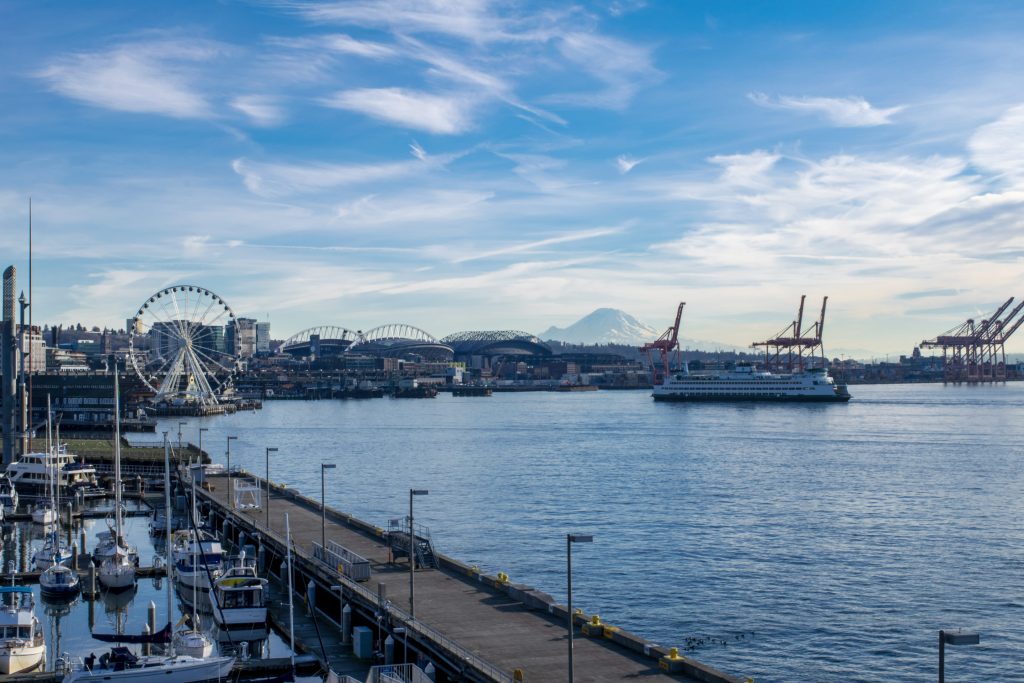 Tofino, BC: Surfs and Storms on the Coast of BC
DISTANCE FROM VANCOUVER // HOW TO GET THERE
202 miles // By Car + Ferry (Approx. 6 hours)
FERRY DETAILS // HORSESHOE BAY TERMINAL – NANAIMO DEPARTURE BAY TERMINAL
Horseshoe Bay Terminal is located north of Vancouver, about 20-30 minutes' drive from Downtown Vancouver. The drive from Nanaimo Departure Bay to Tofino will take approx. 3 hours so it is best to have a car.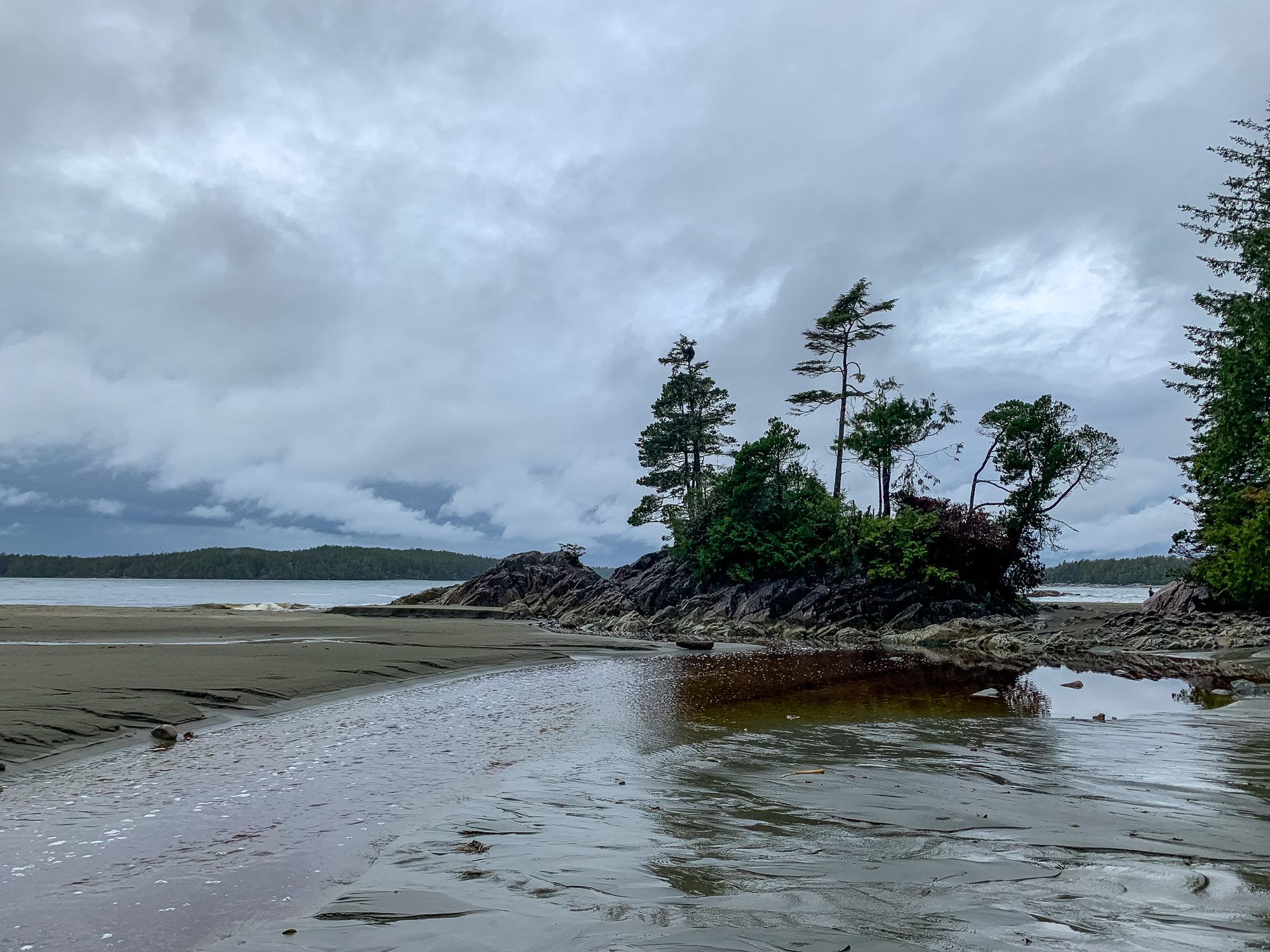 Things to Do in Tofino
Surf Surf Surf
No matter what season it is, Tofino is surf heaven. There are endless miles of beaches with waves rolling in. Rent a full-body wetsuit and board from a nearby surf shop and head to North Chesterman beach. You'll feel the allure of escaping the city life, although it is also the furthest from Vancouver, so it might be worth making it a 3 day weekend.
Food & Drinks: Tacofino *not Celiac-safe*
THE ORIGINAL TACOFINO TACO TRUCK! The iconic orange truck sits at the back of an urban parking lot with long wood tables to chill at while you eat. The fresh fish tacos are insane.
Hike Through Forests to Beaches & Coves
The trails in Tofino are spectacular. From what I experienced, they are all relatively short and easy, but the trails lead you through forests where you'll discover some of the oldest trees documented in Canada. I recommend Big Tree Trail which has cedar trees more than 1,000 years old. There's nothing like it.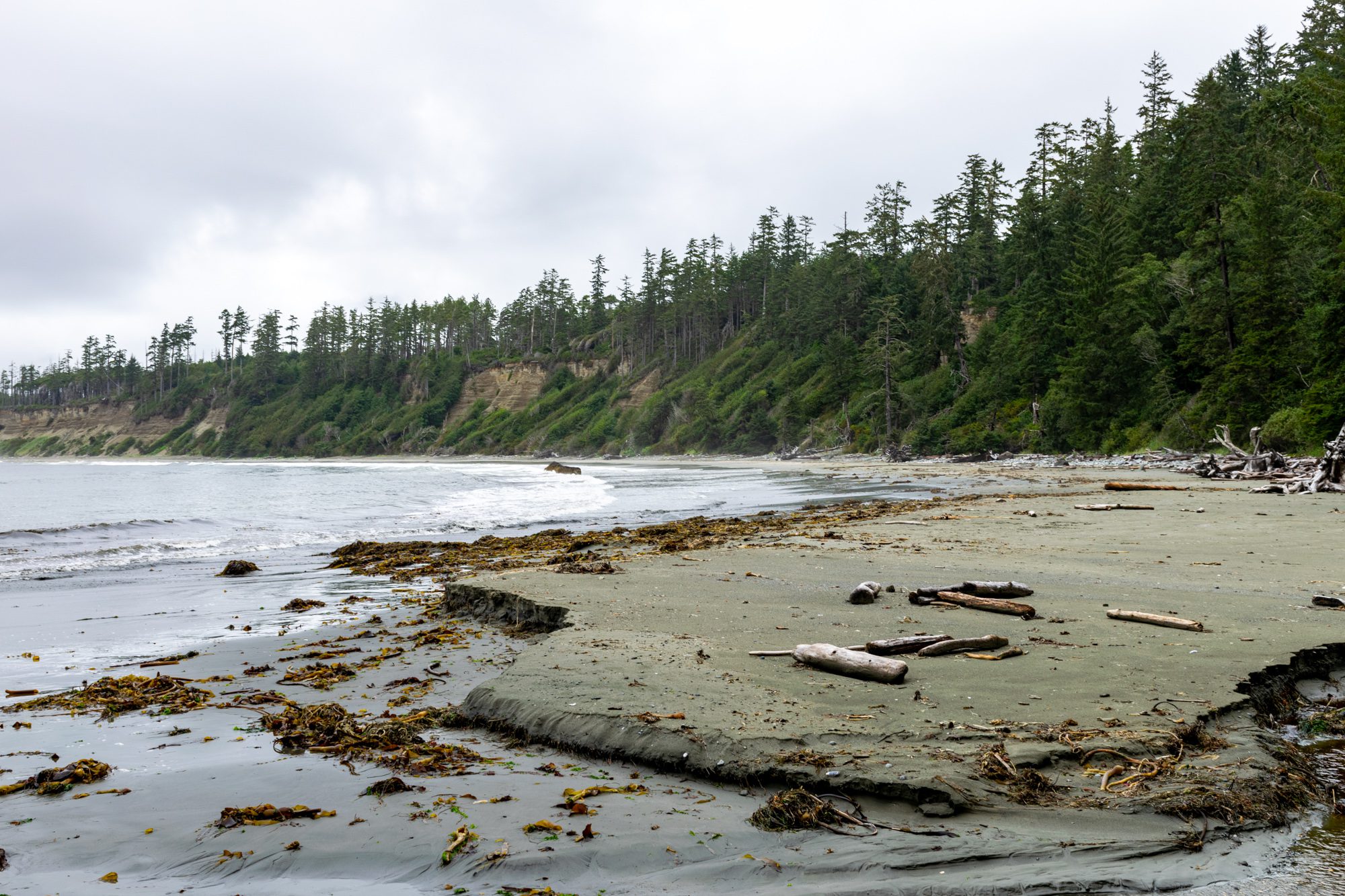 Yoga
Tofino is a hub for health & wellness. Catch a yoga class on the beach with Tofino Yoga. They even offer stand up paddle boarding yoga – don't knock it till you've tried it.
Where to Stay in Tofino
WILDPOD: LUXURY WATERFRONT GLAMPING
Wildpod is the ultimate glamping spot.
There are only 6 geodesic domes that sit on the edge of the water in Downtown Tofino near all the bars, shops, and galleries. If you're lucky, you might see a whale from your bed – if that's not magical, I don't know what is.
You can find more of the best places to stay in Tofino in my guide to where to stay in Tofino.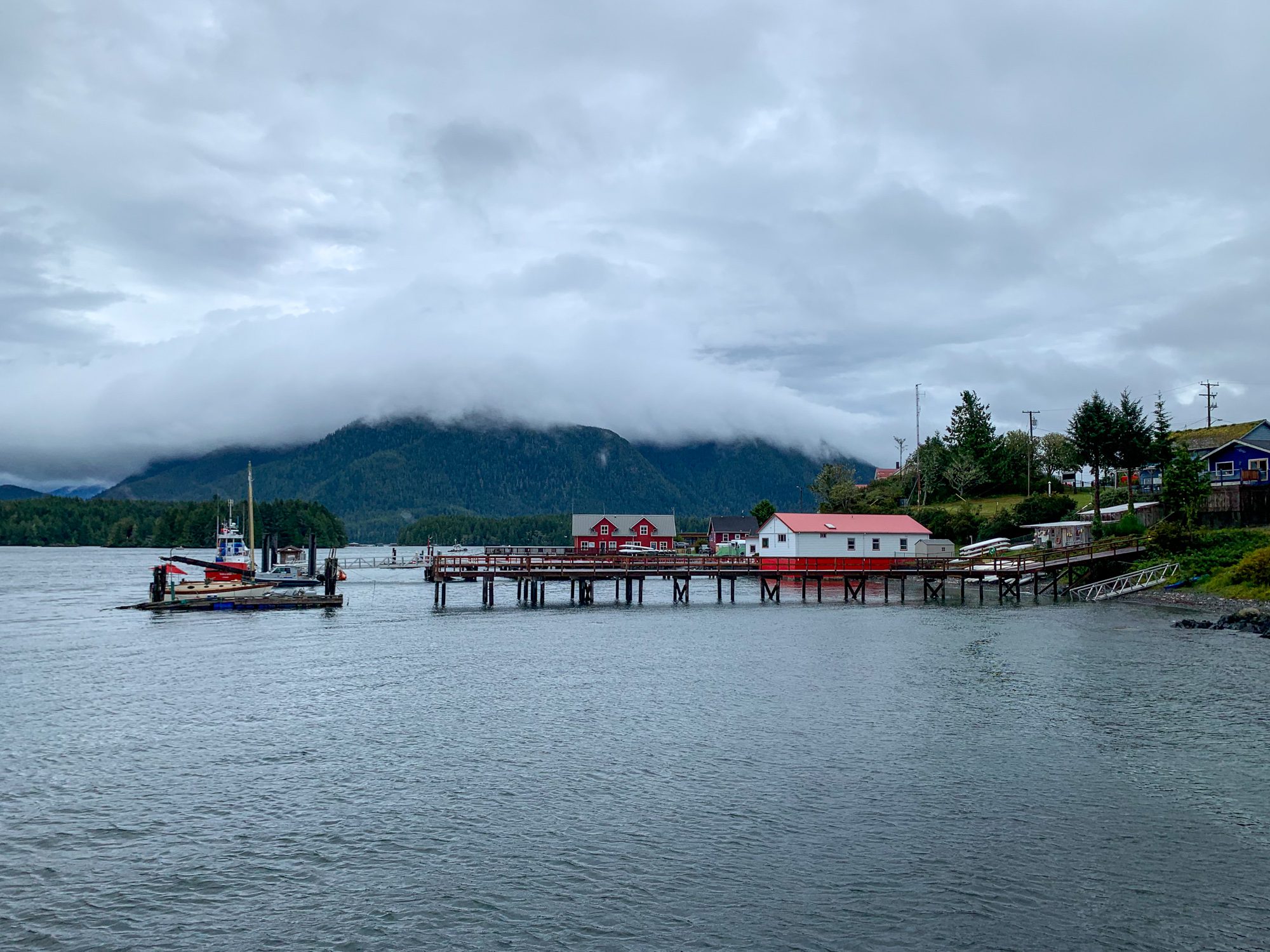 ---
Like I said at the beginning, Vancouver is a perfect home base for exploring the surrounding areas – from stunning, serene nature to hip and happening cities like Seattle and Victoria.
Whatever your tastes, there's a handful of weekend getaways from Vancouver waiting for you.
So what are you waiting for?
Heading to the great Pacific Northwest? Don't miss my other Pacific Northwest Travel Guides!