The Best Coffee in Montreal: 10 Incredible Montreal Cafes
As a city, Montreal was a very intriguing place to spend a week. It reminds me of a bunch of different cities all in one. The cobblestone streets of Old Montreal could be a street in Budapest or Bologna. The Plateau actually reminds me a lot of the more residential parts of Portland and Seattle. And the presence of a younger, student-heavy crowd reminds me of other cities with multiple universities like Boston. And don't even get me started on the architecture, which is one big mishmash.
In many ways, the coffee scene is similar, with multiple influences coming together and creating a scene that is interesting and diverse, with a strong focus on local micro roasters (more on that below, because it's a unique aspect that is worth talking about).
There are a couple of coffee shops in Montreal that would be at the top of the list in just about any city in the world, serving up rare and exciting single origin coffees pulled as espresso or brewed as pour over.
There are a bunch of good coffee shops that would be at home here in Portland, and there are some spots with a unique inspiration – be it Italian or Japanese – that are doing their own thing.
In this guide to the best coffee in Montreal, I'm going to take you through the coffee shops that stood out to me for one reason or another – usually because of an experience that you won't find elsewhere or a unique approach to coffee – and explain why I think they deserve a place on my list.
By the end, I'm hoping you'll have discovered at least one or two new spots to add to your list, and that you'll visit those places and have a mind-blowing cup of coffee and a pleasant experience chatting with the barista.
Now, it's very important to note that the list below reflects one person's opinion, and that my experience at a coffee shop might differ from yours based on the time at which I visited, the barista on duty, or the specific drink you order.
For example, I visited one of the shops below on a Wednesday morning at opening and a Saturday morning at 10am, and it was a VASTLY different experience.
I generally do my best to visit at times that are less busy so that I can have those personal interactions with the barista that make the difference between an okay experience and an amazing one.
Consider this guide to be a starting point for where to find the best coffee in Montreal from the perspective of someone who really, really likes coffee, and loves to nerd out on specifics like the origin of the beans, the brew method, the ratio used for espresso (something I've been getting into at home over the course of the past year or so), and more.
It's worth noting that I have Celiac Disease and can't eat even a crumb of gluten without being sick for days. For that reason, I'm not really considering other aspects of each of these spots, like who has the best avocado toast.
It's all about the coffee, both for me and in this guide.
How did I assemble this list? My research process involves three steps. First, I use search engines to put together a preliminary list. Second, I reach out to anyone I know that loves coffee and might have a perspective on where to go. Third, I go to places on my list and, at the end, I ask the barista where I should go next or what place I shouldn't miss. In Montreal's case, the three top spots were places that I discovered while I was in Montreal, which is kind of fun because that means there weren't a whole lot of lists at the top of Google recommending them.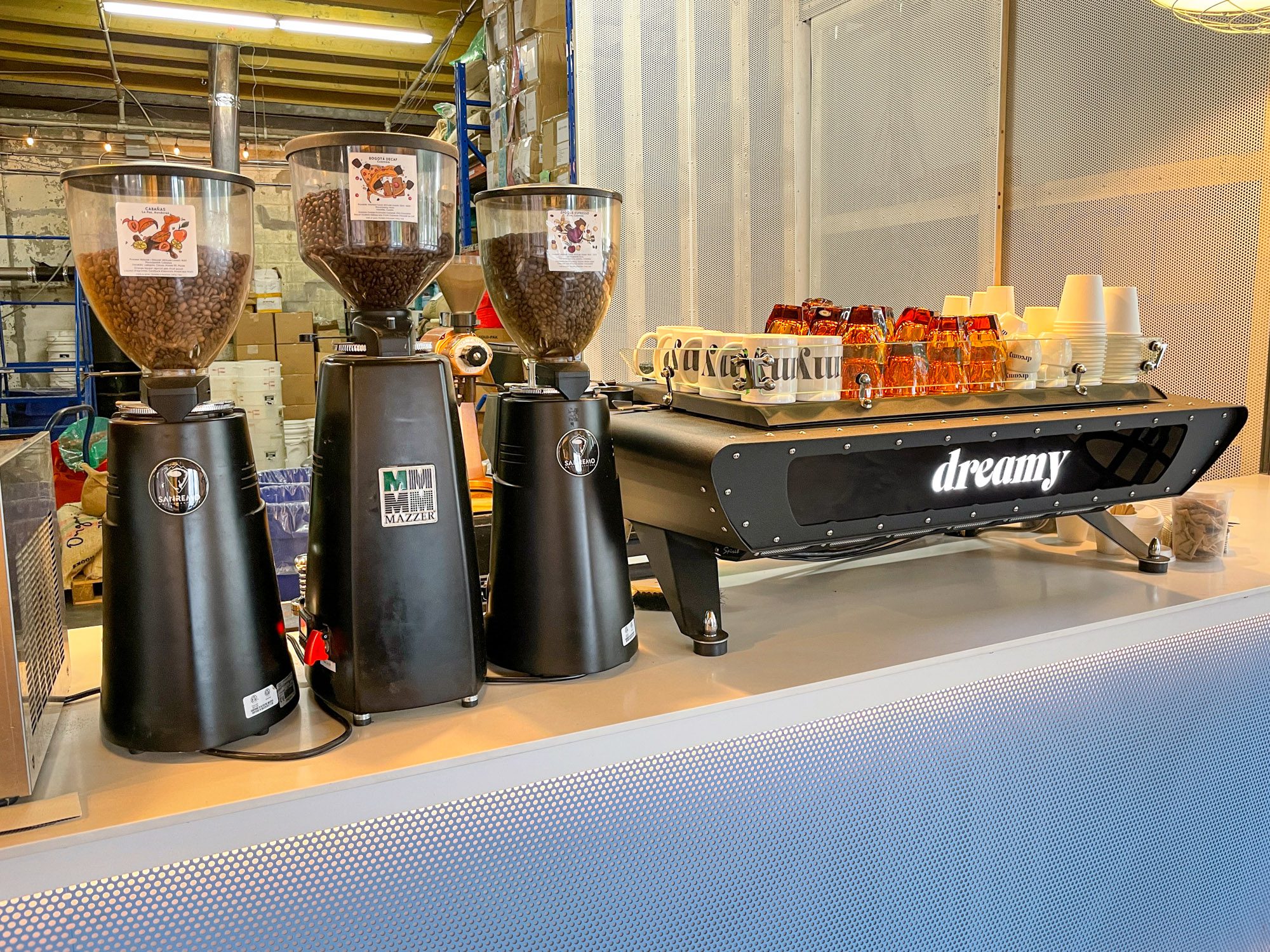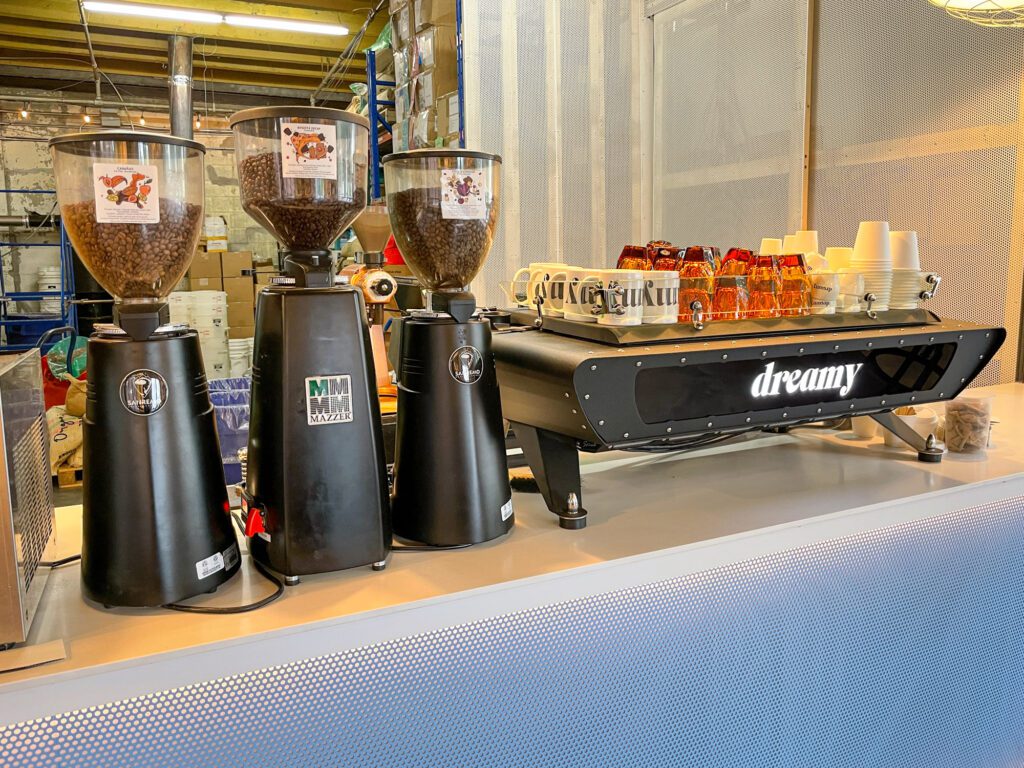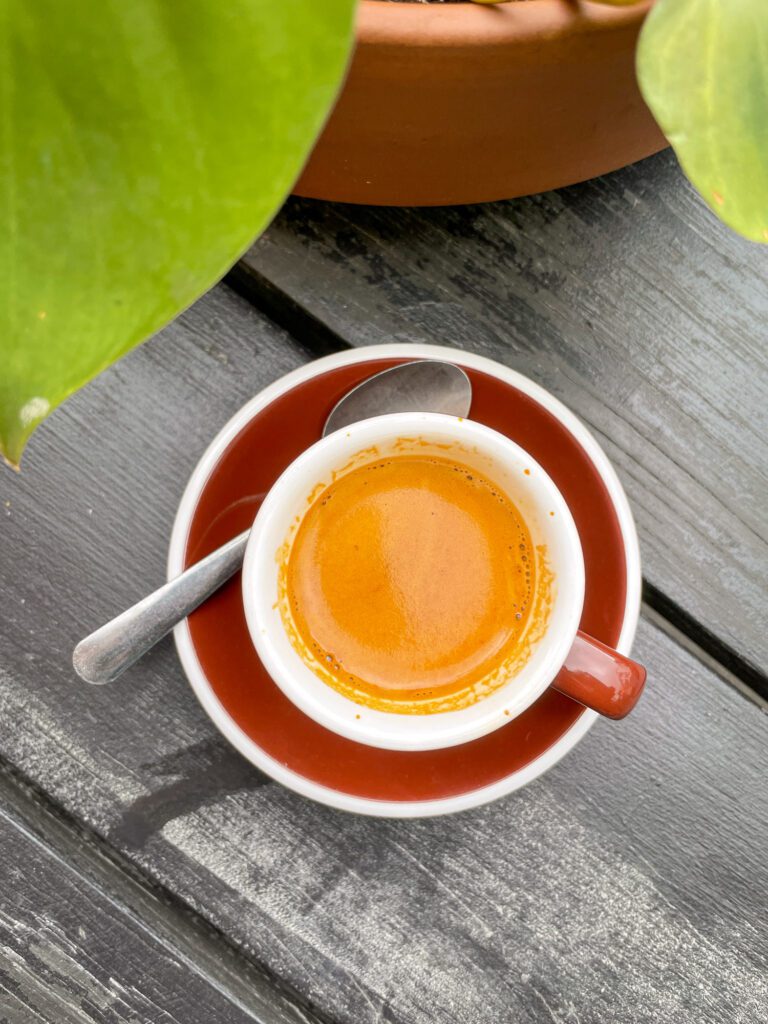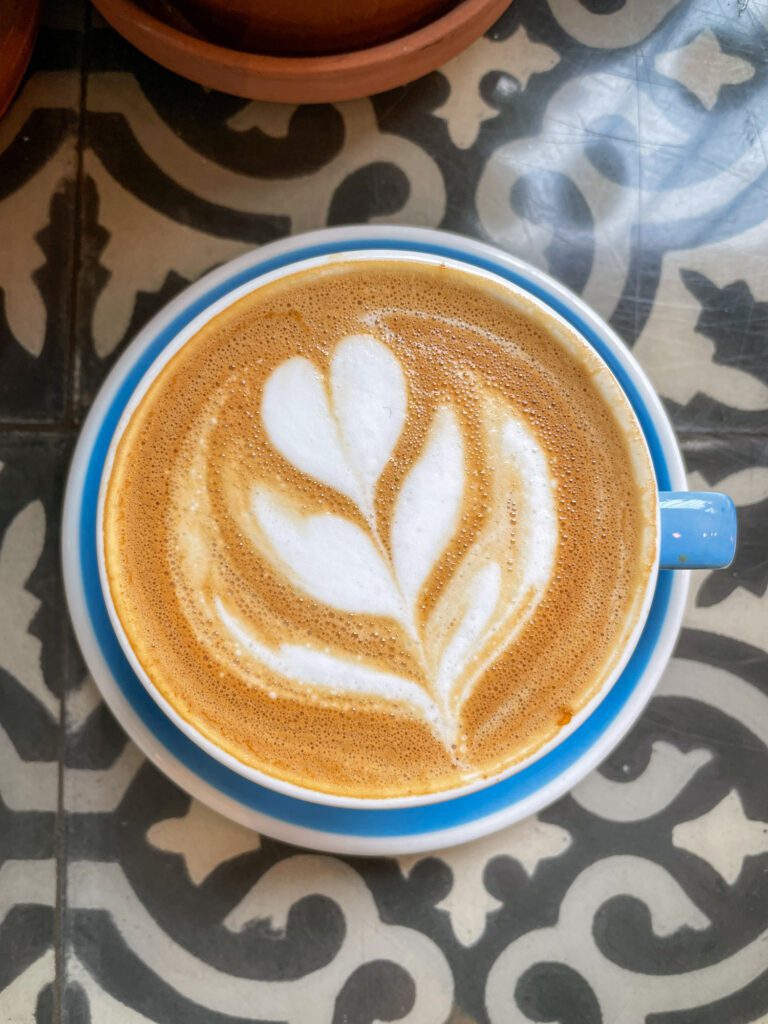 Disclaimer: Some of the links in this post, like hotel links, are affiliate links, meaning at no additional cost to you, we make a little bit of money if you click through and book. That being said, we would never recommend something to you that we don't stand behind 100%.
10 Incredible Montreal Coffee Shops to Add to Your List
It's worth repeating that my "best" coffee shop is going to look different from your "best" coffee shop, because that moniker is incredibly subjective (just like coffee). You might like your espresso dark and roasty, while I like mine bright and fruity.
Or maybe you can't do coffee without milk, while I'm all about the black filter coffee.
And, really, when it comes down to it, Montreal has an incredible array of microroasters (more on why that is in a second) that means that there are quite literally a hundred places to get a good cup of coffee in the city.
However, I think there's some value in giving you a list of the Montreal coffee shops that stood out to me for one reason or another – either because they have a unique approach to coffee, they have some cool different ways to drink coffee, or I was just blown away by the coffee they served me. Or, they offer a coffee experience that you can't replicate on your own.
I'm not a coffee expert by any means – I'm a full on amateur home brewer who gets made fun of for being a little snobby when it comes to coffee (I like fruity, juicy coffee rather than the stuff that's been roasted within an inch of its life, sue me) and has a morning ritual that involves about ten minutes of meticulously brewing a cup of coffee with a V60.
So, as you read my long monologues on why such and such coffee shop stood out to me, just remember that this list is not the end-all, be-all, but is just one nerd's opinion on where to find some fun and interesting coffee in Montreal.
And now, with all of that context and those caveats out of the way, onto the specific recommendations (which is what you're here for, I know, but context is important)!
Cafe Dreamy (The Canadian Roasting Society): An Interesting Aspect of Montreal's Coffee Scene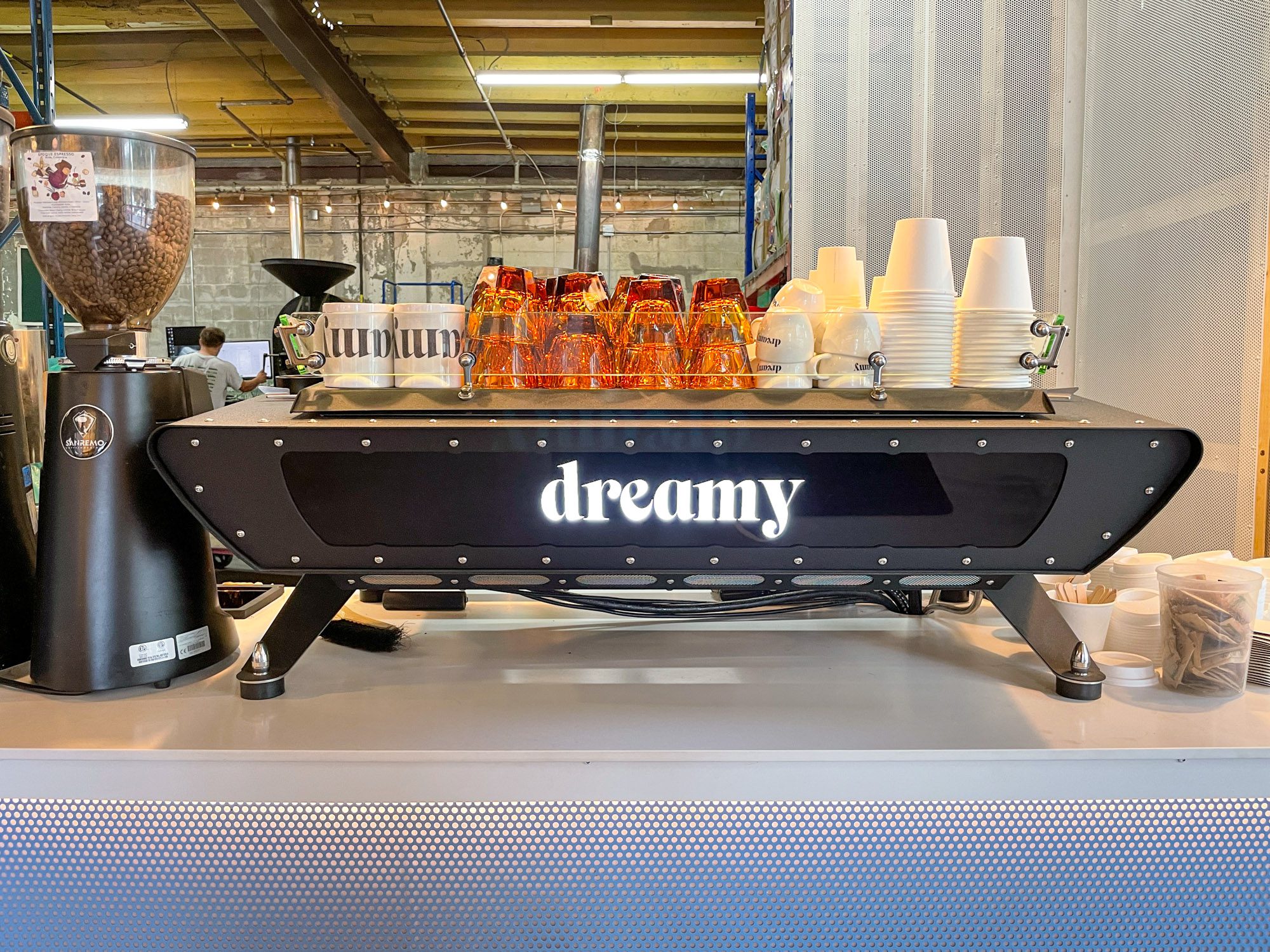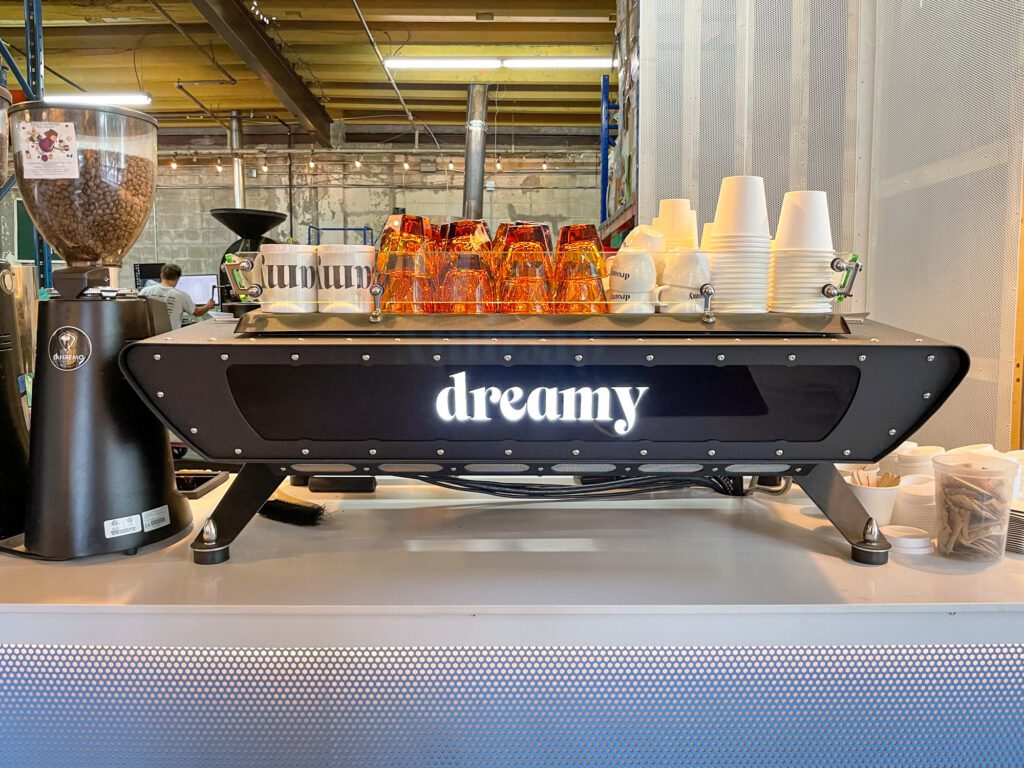 I'm starting with this place, which is down along the Lachine Canal in the southwestern end of Montreal, because I think it highlights one of the most unique aspects of Montreal's coffee scene.
Is it my first choice in terms of my favorite coffee in Montreal? Probably not. But I think it's an important aspect of the coffee scene in Montreal, so it goes up top!
The first thing I noticed when I started building my list of Montreal coffee shops was that there are an impressive number of microroasters in Montreal.
I had no idea why that was until, about halfway through my weeklong coffee extravaganza, a barista said "do you know about the Canadian Roasting Society?"
Immediately intrigued, I subsequently learned that many of the coffee roasters in Montreal I had seen over and over again actually roast their beans in a shared facility operated by the Canadian Roasting Society. Which lowers the barrier to entry for people who want to get into roasting coffee, but can't quite afford to spend thousands on roasting equipment.
Dreamy is the cafe onsite, and they rotate through different roasters that operate out of the space AND have most of their beans for sale (and a huge selection of them, too!).
Started by Scott Rao (of "Rao spin" fame, at least to me, and one of the minds behind Prodigal Coffee) and Andrew Kyres (who owns local shop Tunnel Espresso), this place has what might be the best selection of local beans that exists. It has a huge wall full of bags, plus a few extra shelving units set up for good measure.
Like many coffee shops in Montreal, they were serving two espresso options – one that is brighter and juicier, one that is more classic (three if you count decaf) – roasted by Cafe Myriade.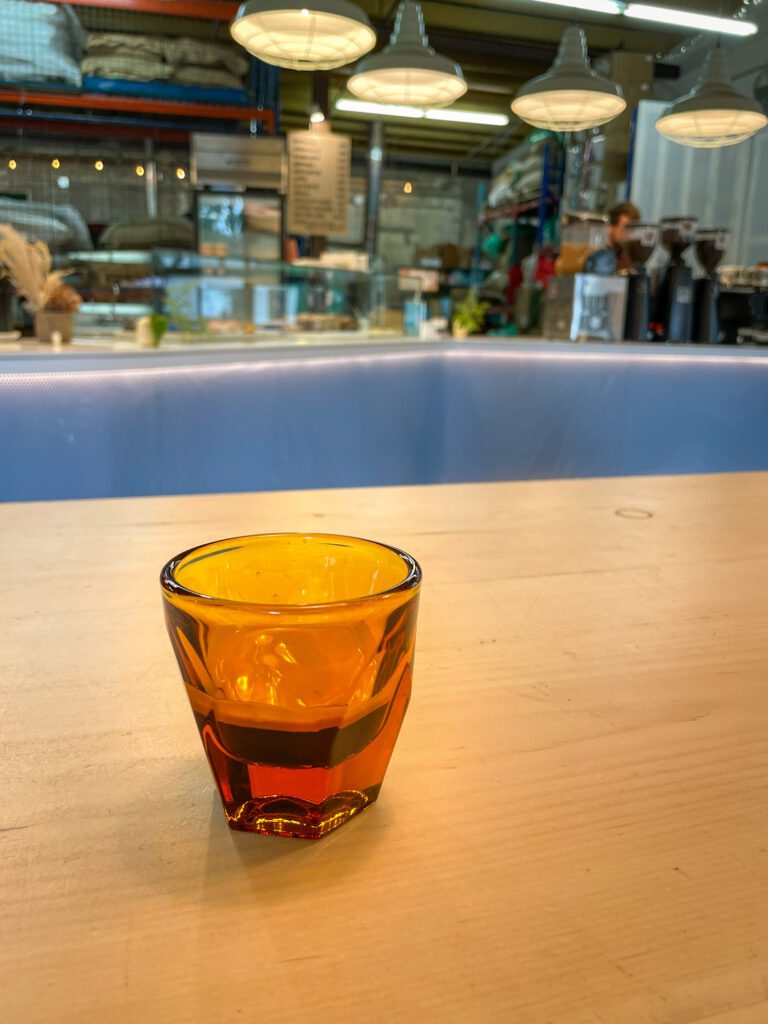 I went with the brighter, juicier coffee – a natural process coffee from Honduras – which I really enjoyed.
White Heron Coffee: A Multi-Roaster Featuring Canada's Best Coffee Roasters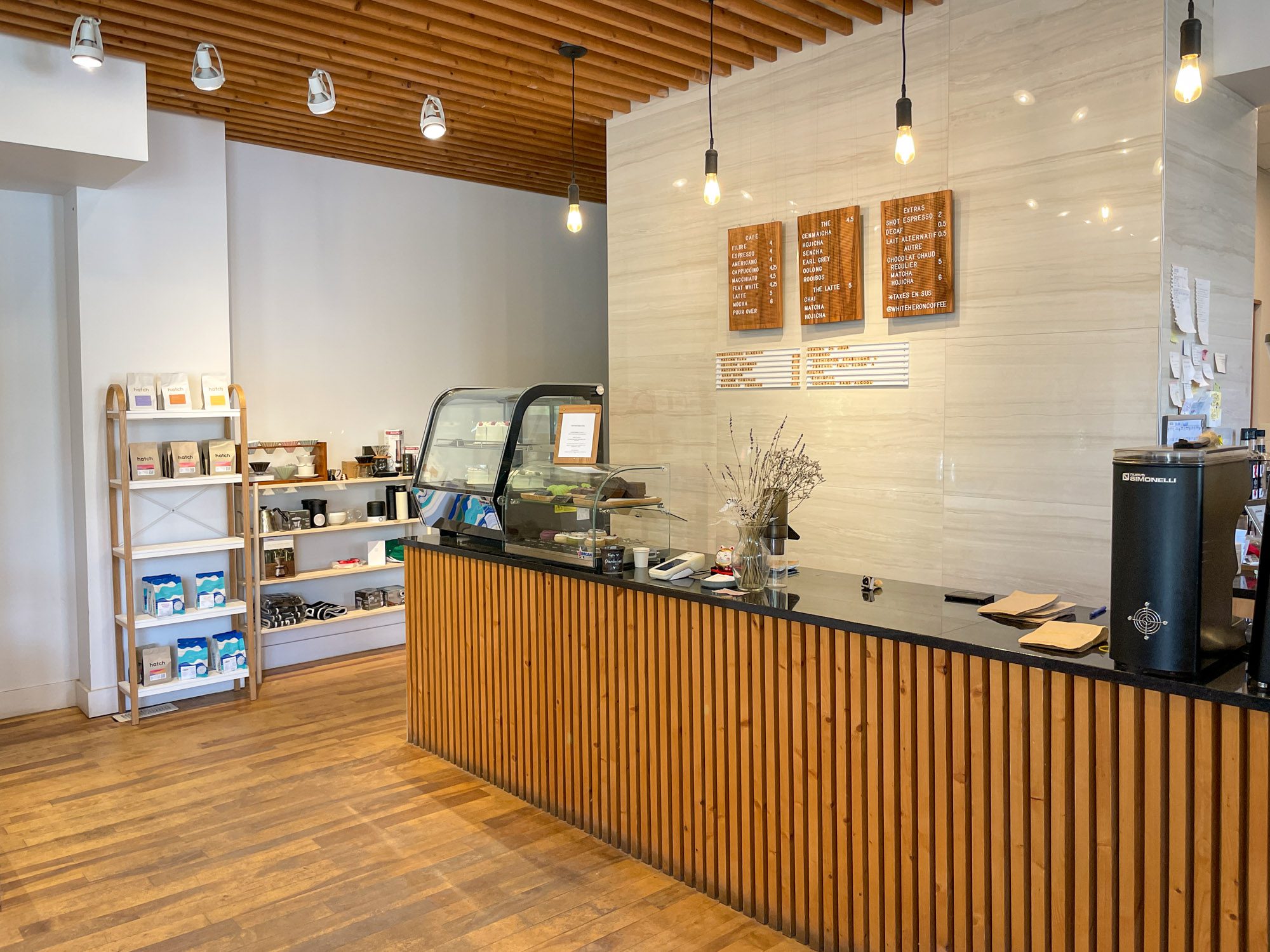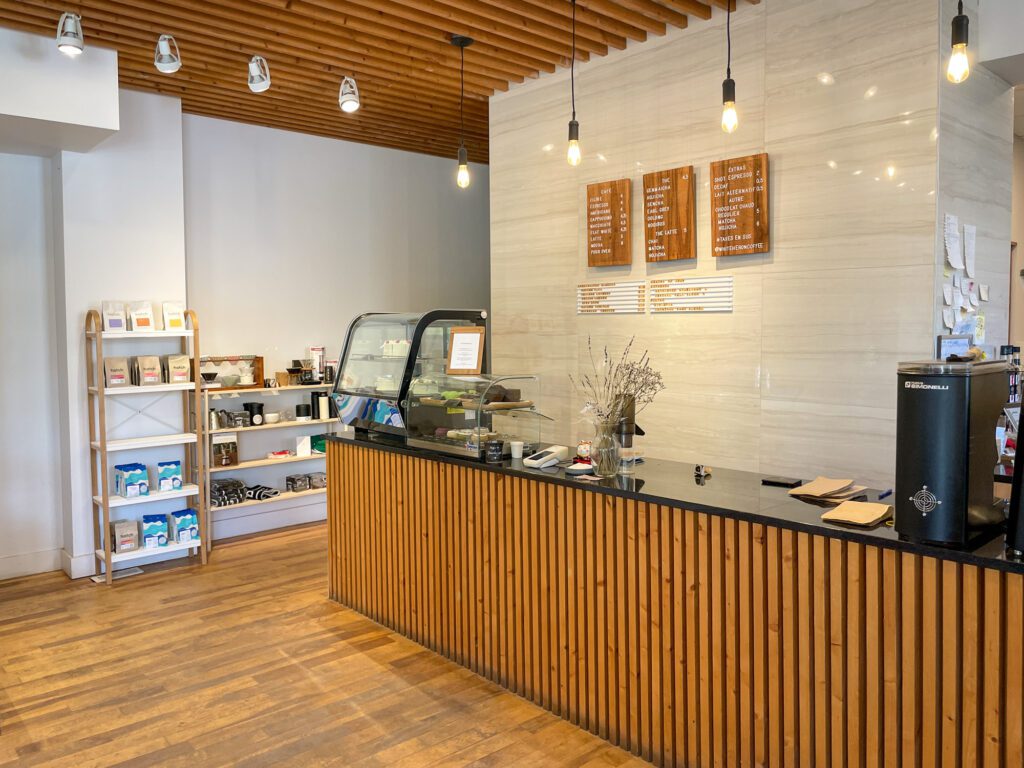 Now, if we're talking about the first coffee stop I would recommend for coffee lovers in Montreal, it probably wouldn't be the Canadian Roasting Society, since it's a bit of a detour.
Instead, it's a toss up between these next two Montreal coffee shops, which are very similar in their multi-roaster offerings, each with a unique twist.
White Heron Coffee is a "Japanese-inspired" (their words, not mine) coffee shop with two locations in Montreal. They have their original cafe in the Plateau, and a new location with bright white minimalist decor down in Griffintown.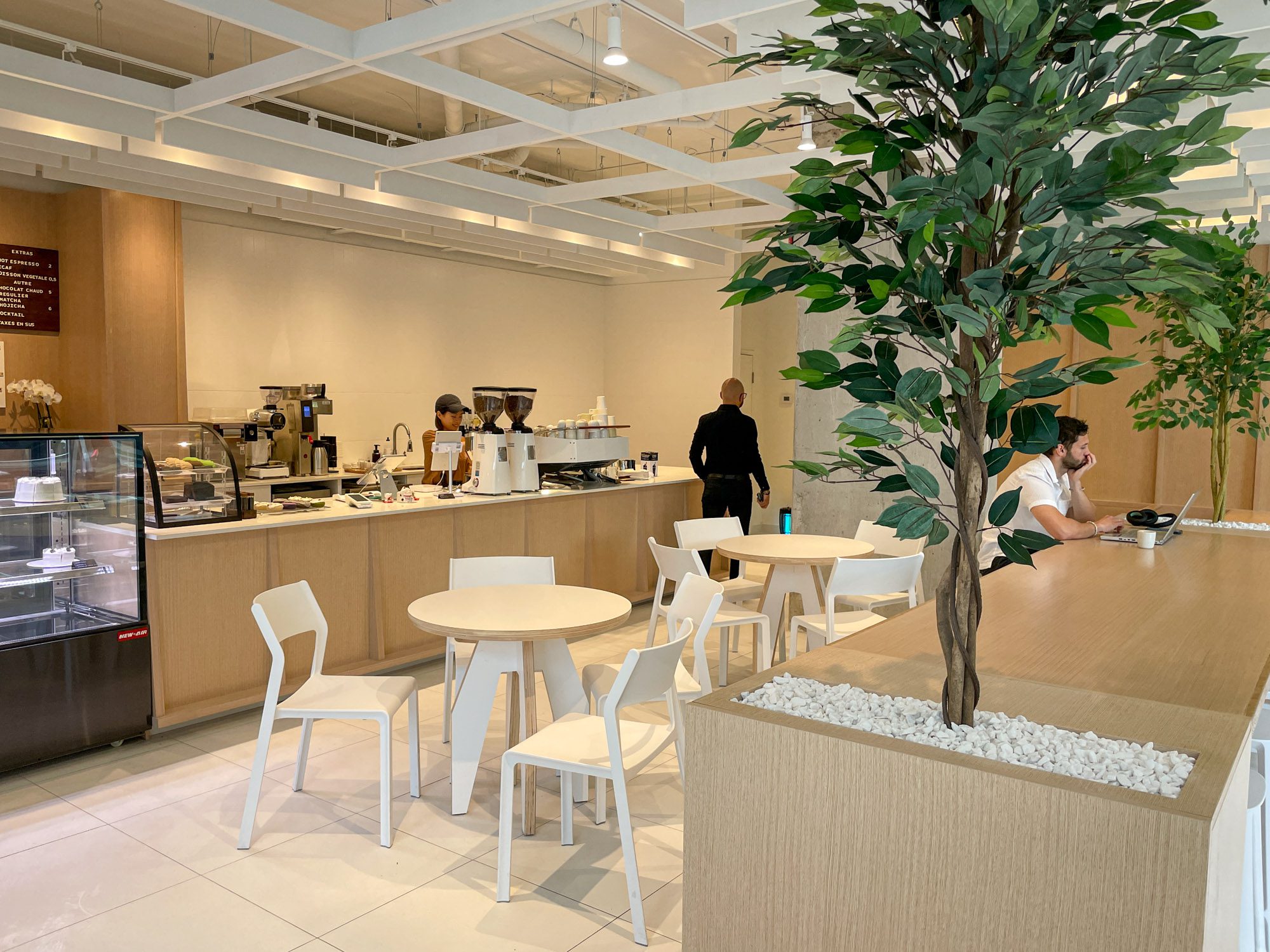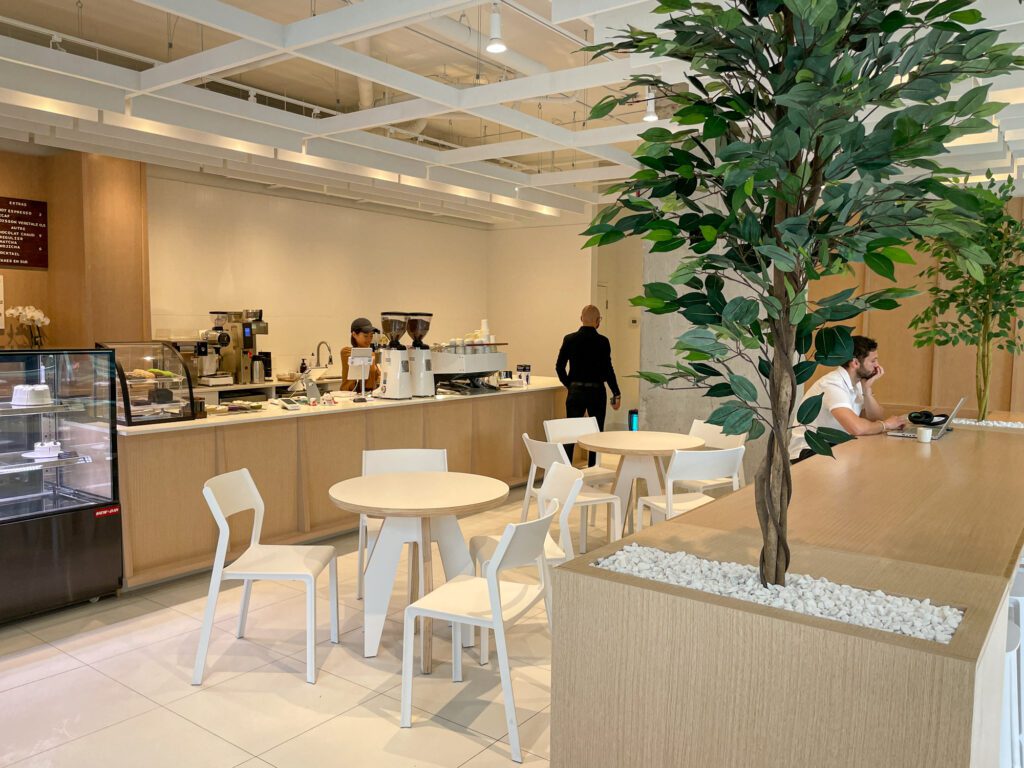 I found myself at the latter on a somewhat drizzly weekday morning, and was pleasantly surprised at the fact that I had missed the morning rush.
The coffee options here are fun. They have two beans on espresso – a lighter, brighter option and a more traditional option – and a rotating cast of pour over coffees.
The beans mostly come from Canadian roasters (Rogue Wave from Edmonton and Hatch from Toronto, when I was there), though there are a few wild cards every now and then.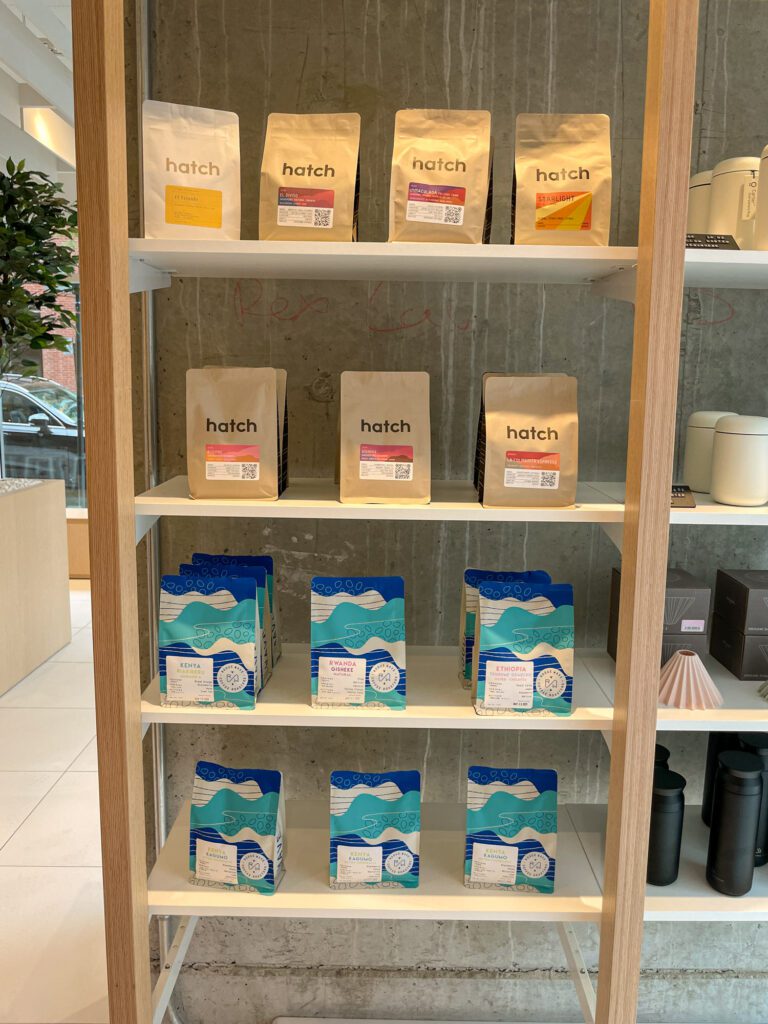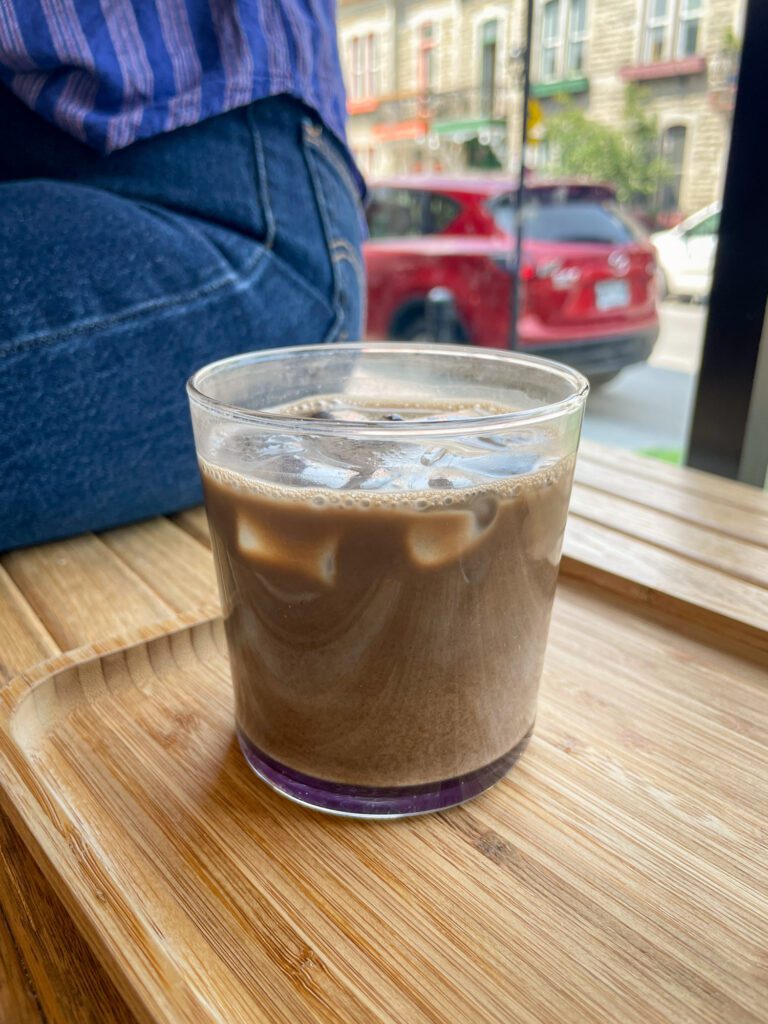 The barista was incredibly knowledgeable (not to mention efficient, as they were the only one working the bar), and I sat at the bar and chatted as she prepared my pour over, a Colombian coffee roasted by Hatch, using an Origami dripper.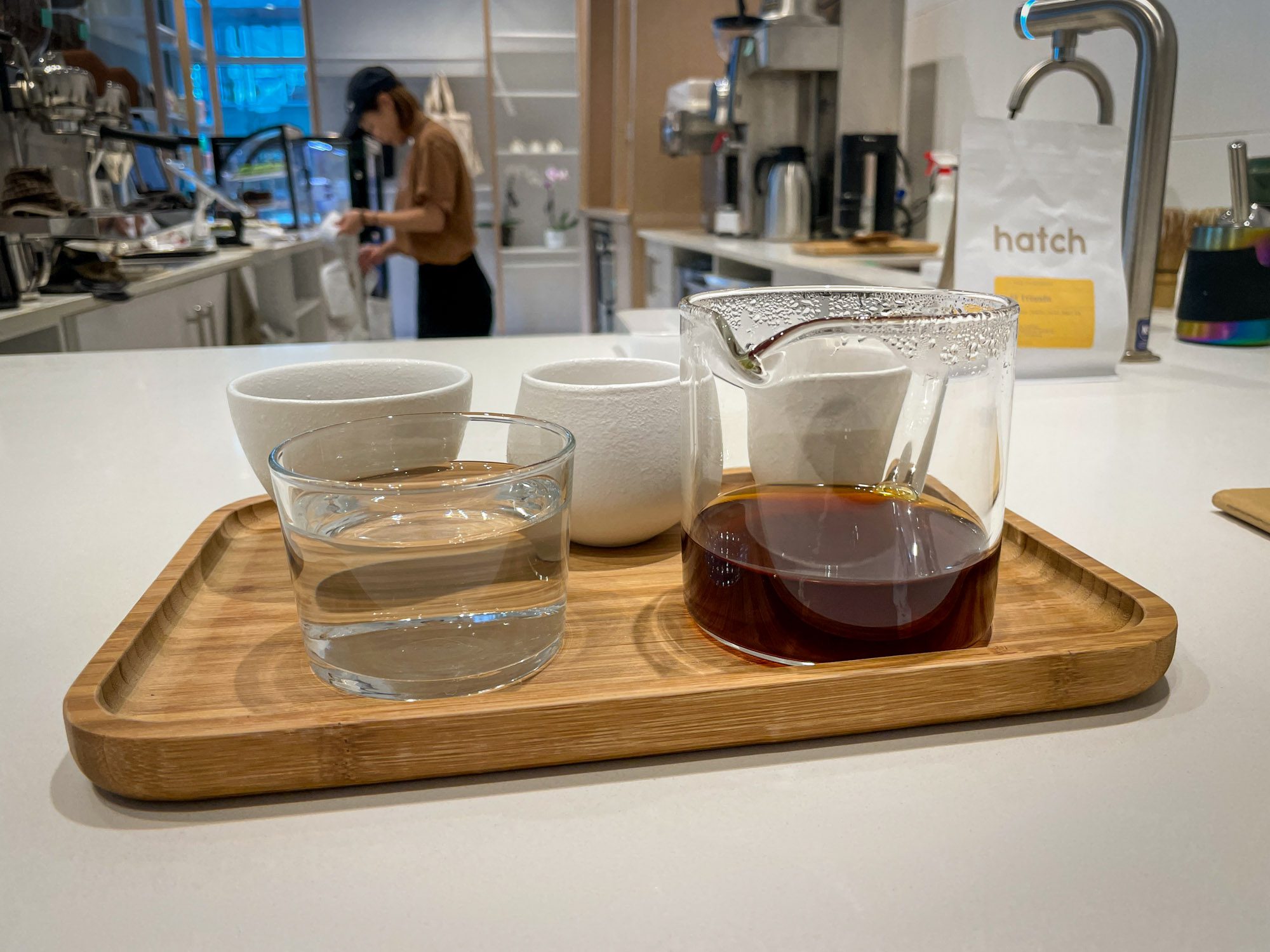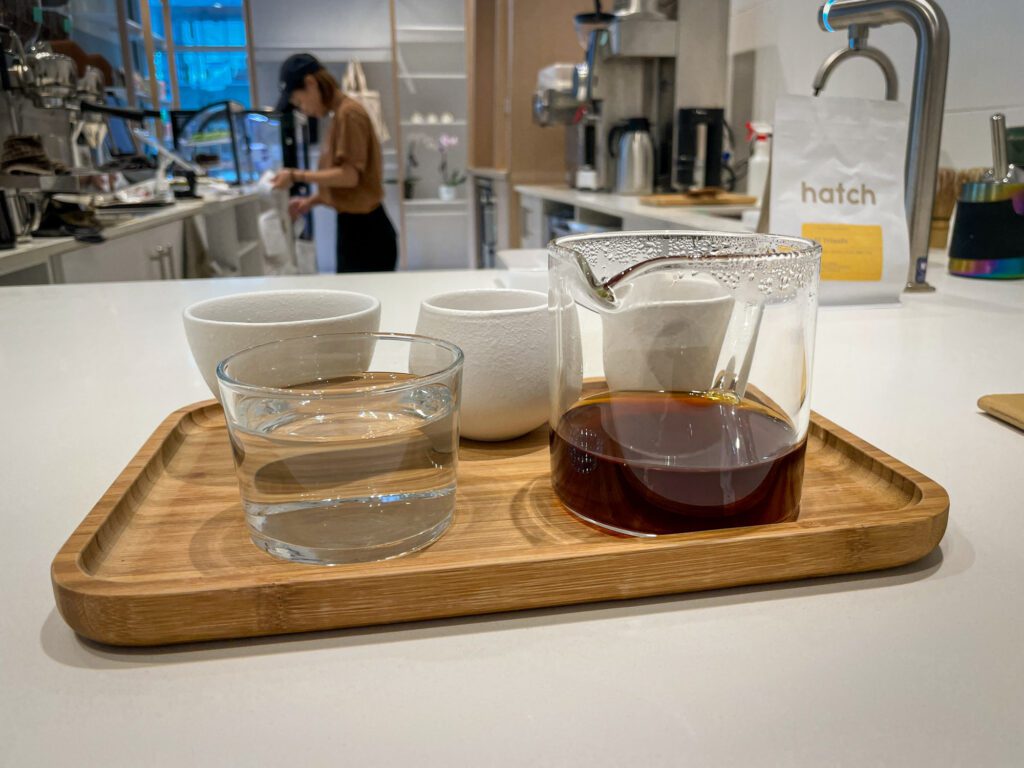 Over 15-20 minutes, we talked about everything from why she likes the Origami, a cool Thai coffee they had just finished, and life in Montreal. It was an excellent experience all around, and the coffee was great.
When I visited the Plateau location a few days later, I learned that I was chatting with the owner. Which makes sense, now that I know that.
Anyway, great coffee and a great experience, especially if you're looking for some of the best roasters in Canada. They also have a fun selection of pastries, which is where the "Japanese inspired" piece comes in.
Cafe Éclair: A Multi-Roaster Featuring Incredible International Coffee Roasters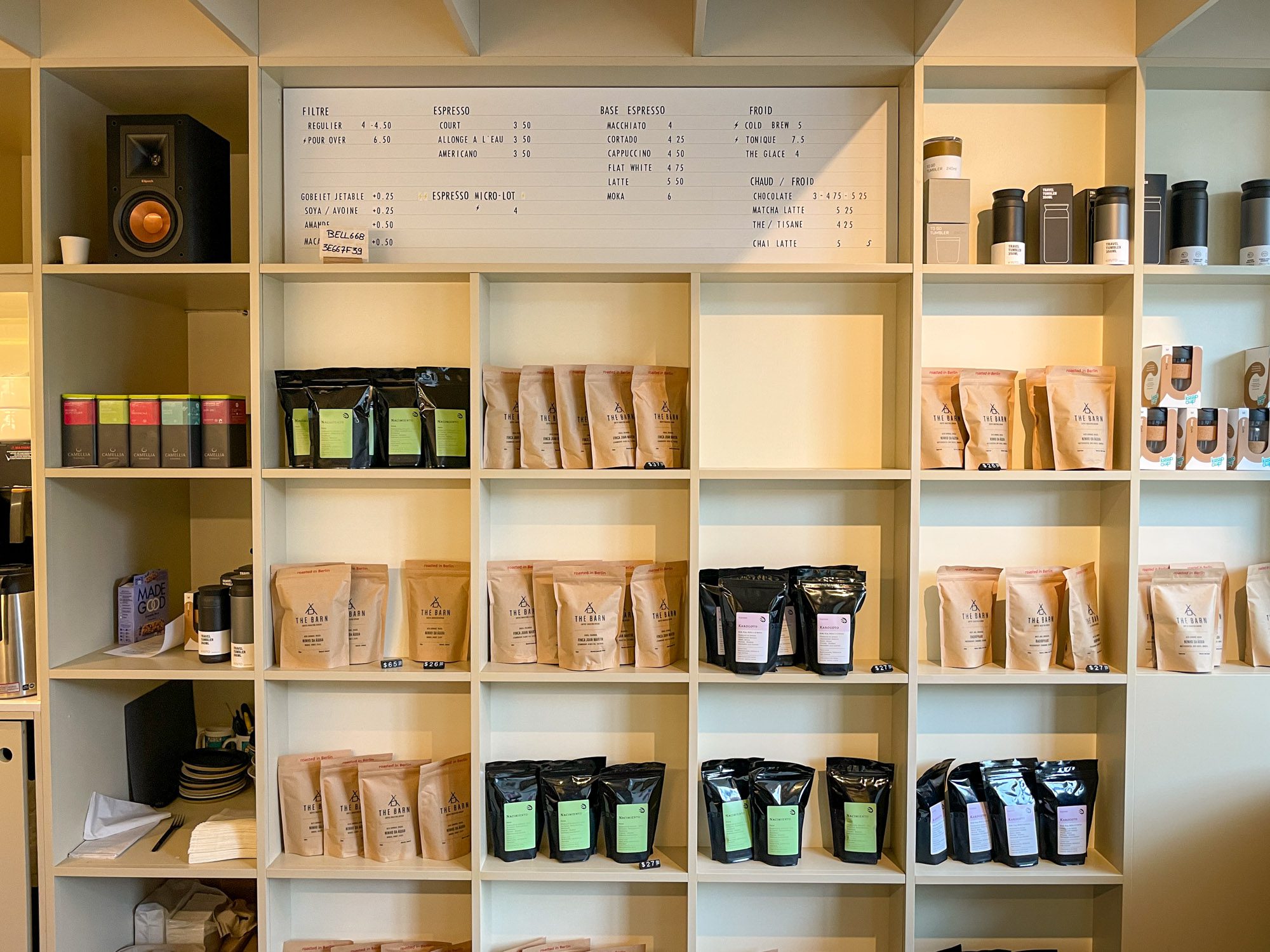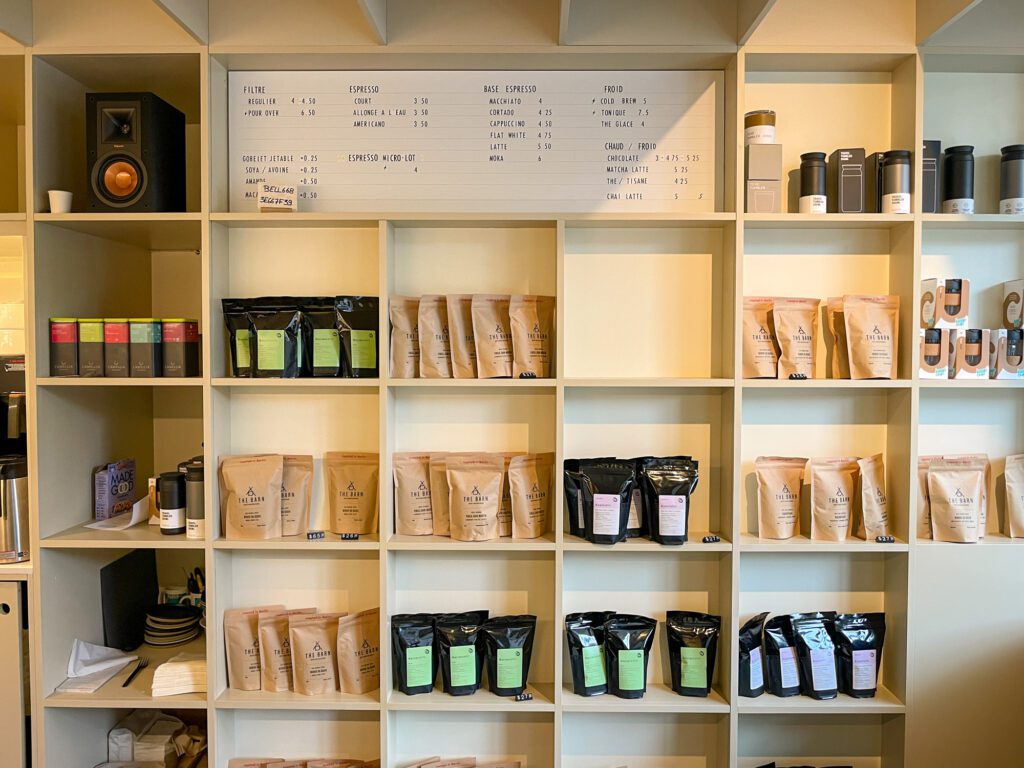 Along with White Heron, Cafe Éclair is in a tie for the top spot in my personal Montreal coffee list.
When it comes to coffee shops, I'm a huge sucker for two things: multi-roaster setups where the cafe curates excellent coffees from multiple different roasters, and fun international roasters that you don't see all that often in North America.
This place scratches both of those itches.
It also happens to be the place that nearly every single barista (plus the great people over at Luna Coffee Roasters, who I asked for recommendations) recommended when I asked where I should not miss in Montreal.
The thing that makes Cafe Éclair stand out for me is the fact that it's truly all about the coffee here. Sure, there's a small plate of grab-and-go pastries, but the focus is on making great coffee, which is something I learned from the barista as they explained what they liked about the shop.
The setup is designed to invite people to sit and stay awhile, with a bar setup that looks like it belongs in a fancy cocktail bar rather than a coffee shop. Plus, a nice green velvet couch in the entryway.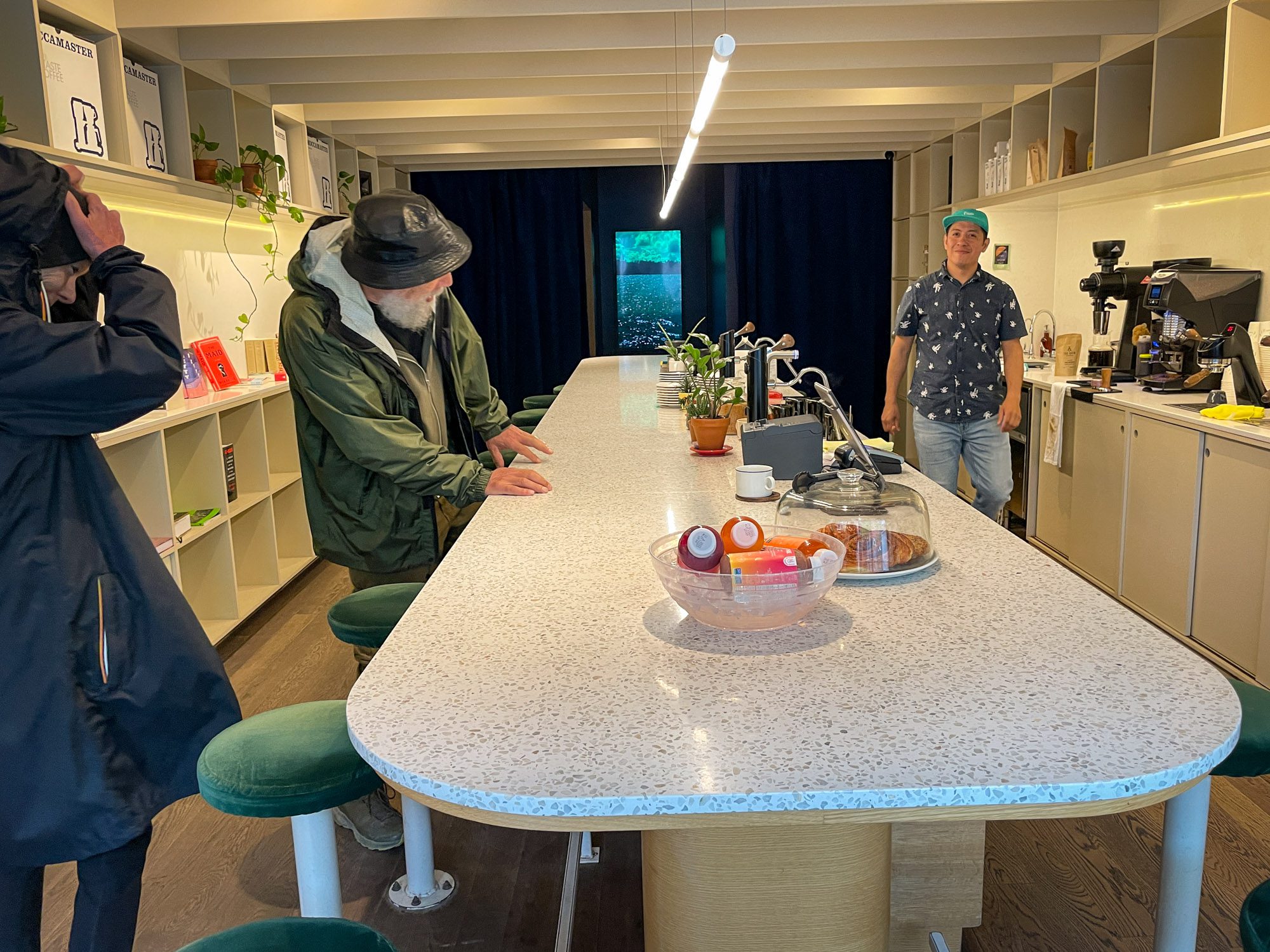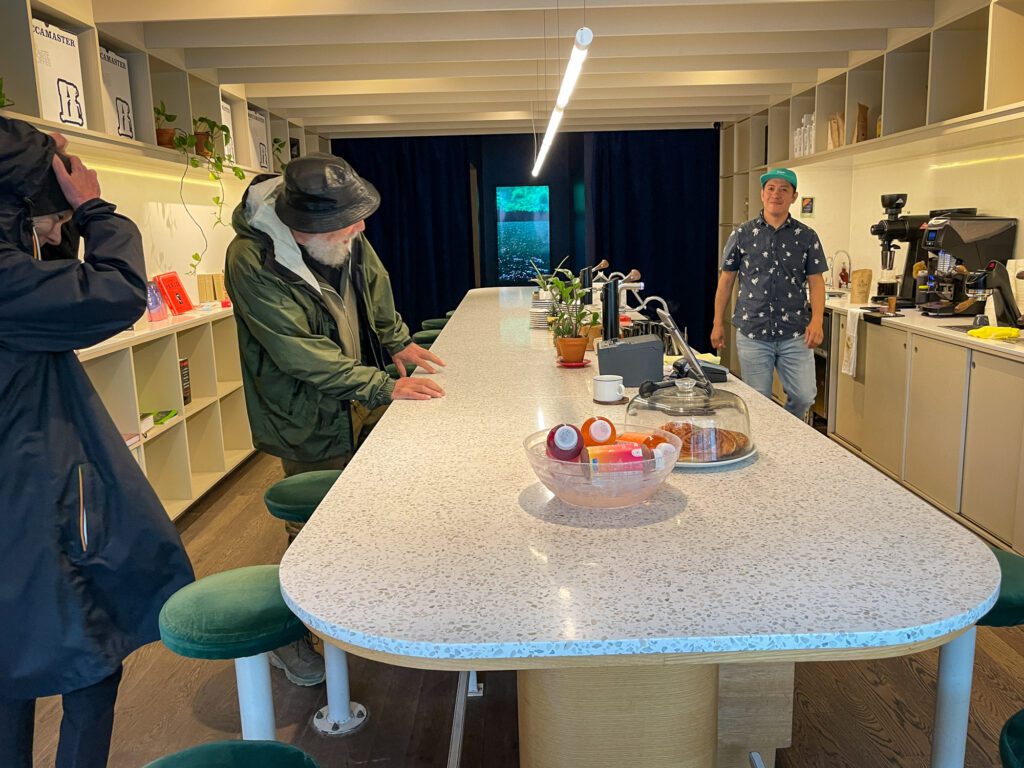 The barista that was helping me that day was named Jair, and he's originally from Mexico City (which we chatted about because we love Mexico City and go back as often as possible).
Later, I realized that he placed third in the recent Canadian Barista Championships, which is beyond impressive! Honestly, as far as I know, he's probably the best barista I've ever had make coffee for me (perhaps after Joachim at Substance in Paris, which is my top Paris coffee shop recommendation).
Anyway, let's talk about the coffee. They had three different international roasters when I was there – the Barn (Berlin), Tim Wendelboe (Norway – I get his coffee subscription every month!), and Gardelli (northern Italy).
I was there for a pour over with some fun beans, and there were three options to choose from, all from the Barn. I went with a gesha from Colombia (which I've found to be my favorite coffee origin, recently) and was not disappointed – lots of tropical fruit vibes, a delicate body, and, of course, a near-perfect extraction.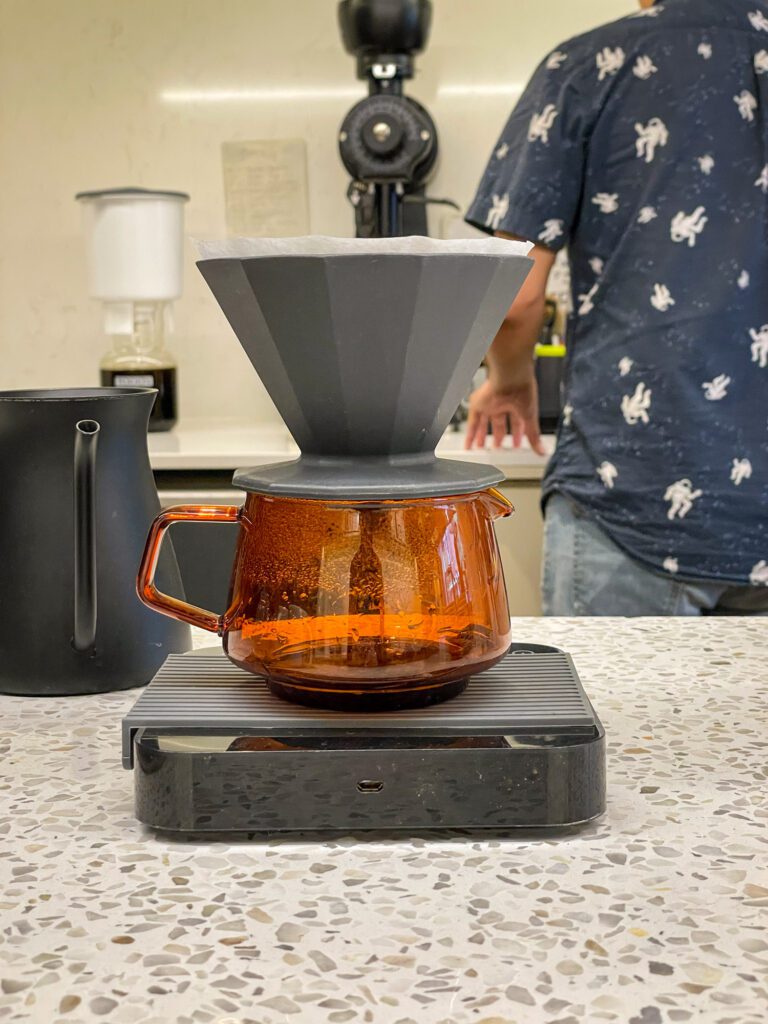 As it cooled, it got juicier and the sweetness really came through, which I enjoyed.
Oh, and he tasted the coffee before serving it to me, which is generally a good sign that the place cares about the coffee.
They have a couple of espresso options available too, including a micro-lot. I returned on a busy Saturday morning, and it was a vastly different experience.
Different barista, very busy, and the experience was not nearly as personal, which is the example I'm drawing from when I say that your experience at any given place is very much going to depend on a bunch of different factors that are largely out of your control.
Still, that first experience was so good that it deserves a top 2-3 spot on my list, and a visit from you.
Café Caron & Frères: An Eclectic Mix of Different Roasters, Canadian and International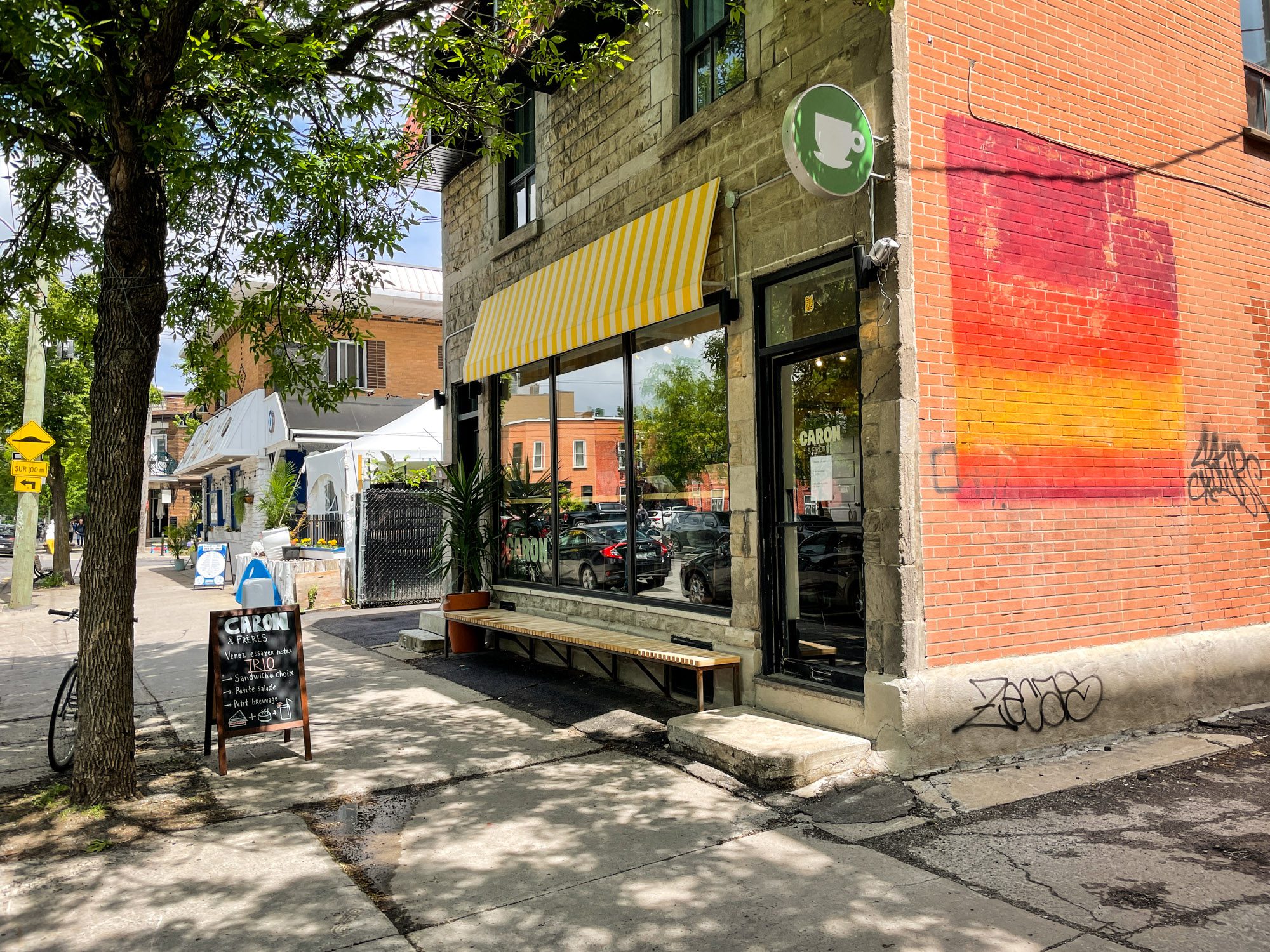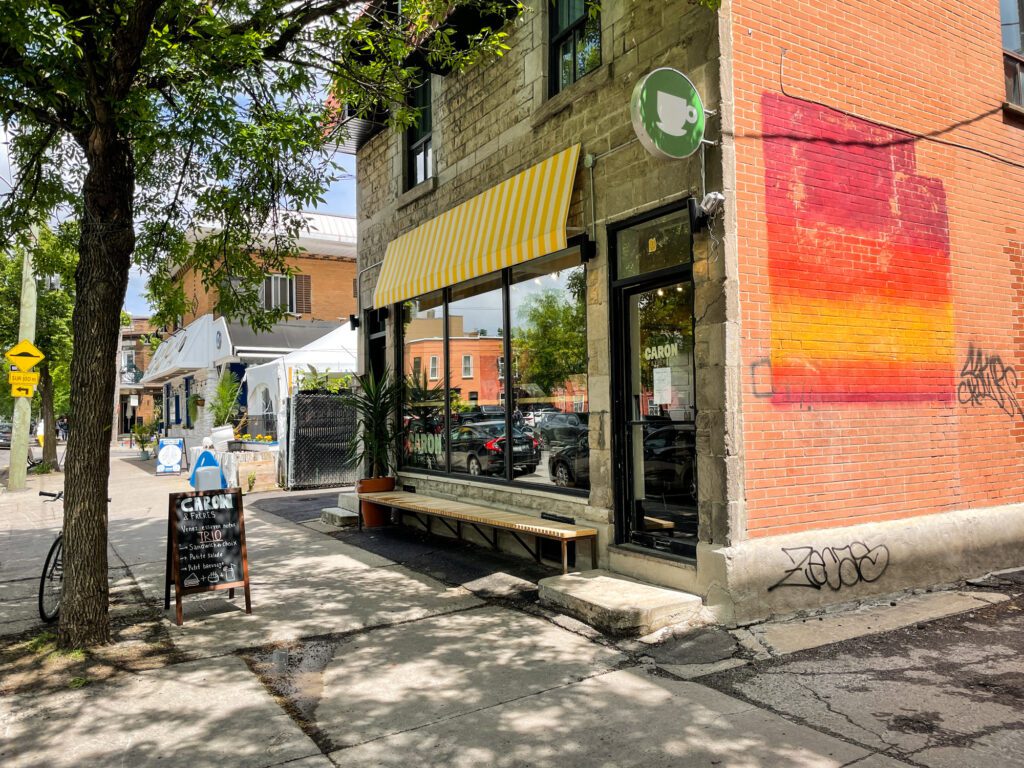 This spot up in Little Italy a couple of blocks from Jean Talon Market came highly recommended from the folks at Zab (I went to Zab twice, and both different baristas pointed me here). I actually came here three times, but only got coffee here twice.
The first time was a walk by, and as soon as I saw beans from DAK, a coffee roaster in the Netherlands, on their shelves, I was in (Watermelon Drops from DAK is one of the best coffees I've ever tasted).
They have an eclectic mix of roasters, including Montreal's Traffic, Toronto's Hatch (my personal favorite Canadian roaster), and Yamabiko (a roaster further out in Quebec).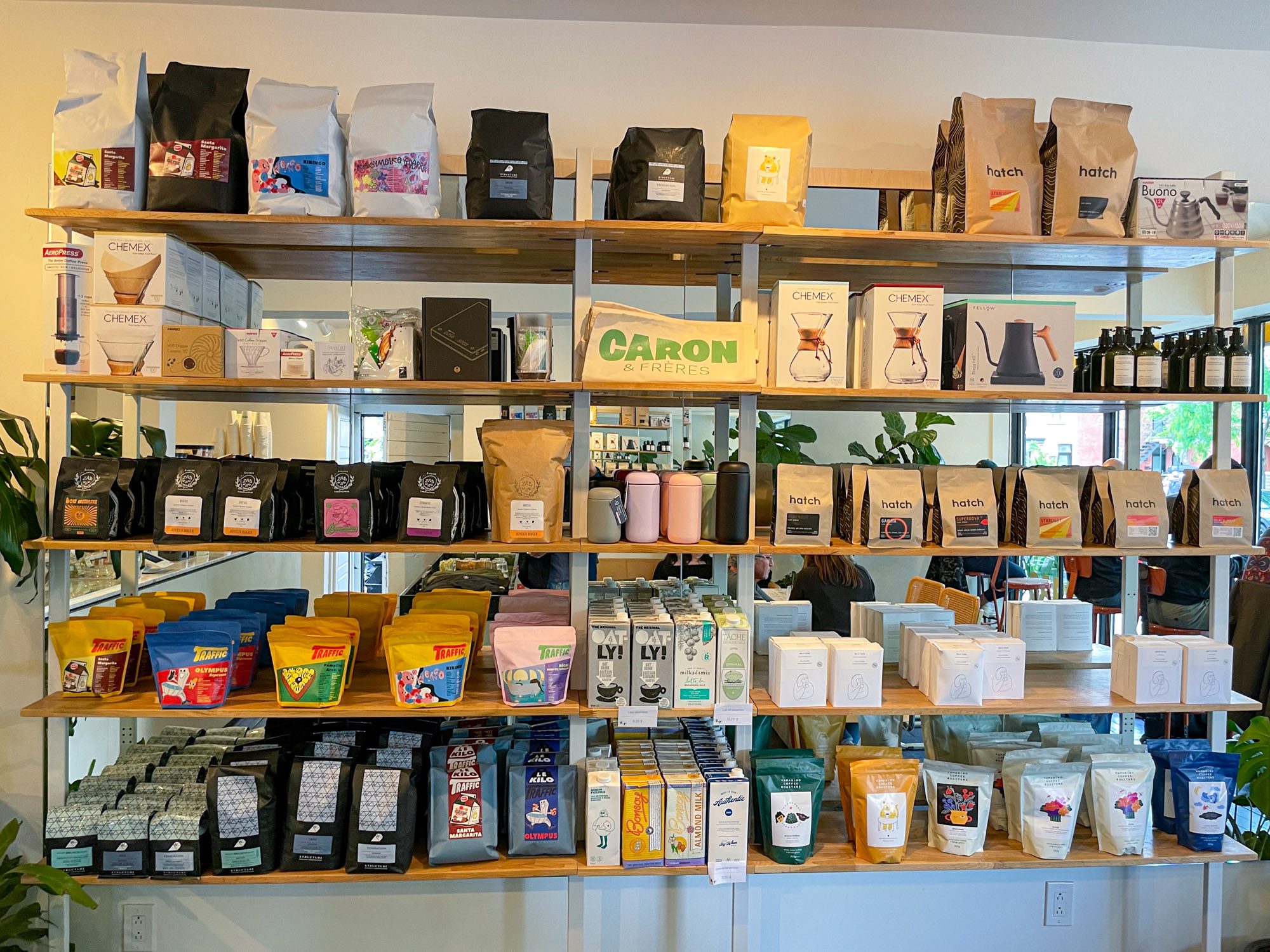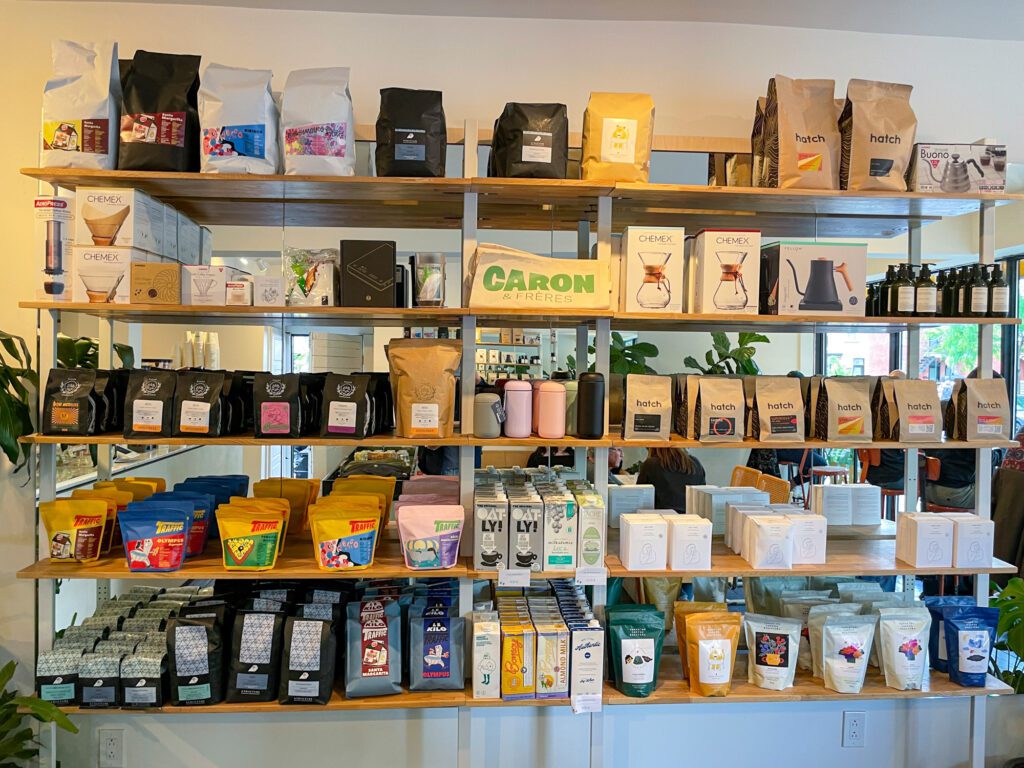 The second time, I stayed for a bit, enjoying the small and cozy interior of the shop while I jotted down some notes and thoughts about Montreal.
The shop is clearly a destination for workers, and every seat was filled with someone on a laptop. They also have a little outdoor area with a couple of picnic tables.
I got a decaf cappuccino after a morning of downing espresso shots, and I was pleasantly surprised with how good it was.
Sure, the milk texture was silky smooth, but the real surprise was the decaf coffee, which was strangely bright (I usually find decaf coffee to be a bit darker than I would like, either due to the coffee they select or the roasting process).
I asked the barista about it, and he was happy to share all about how the decaf coffee they use (from aforementioned Traffic) is the best he's ever tried. I have to say, I kind of agree (although Hatch has some good ones, too!).
Like many of the shops on this list, they had two different espresso options, and they rotate what beans they're using every three to four days or so. At the time I was there, they had a natural process Ethiopian coffee roasted by Yamabiko, and a darker roast from Hatch called "Blackout."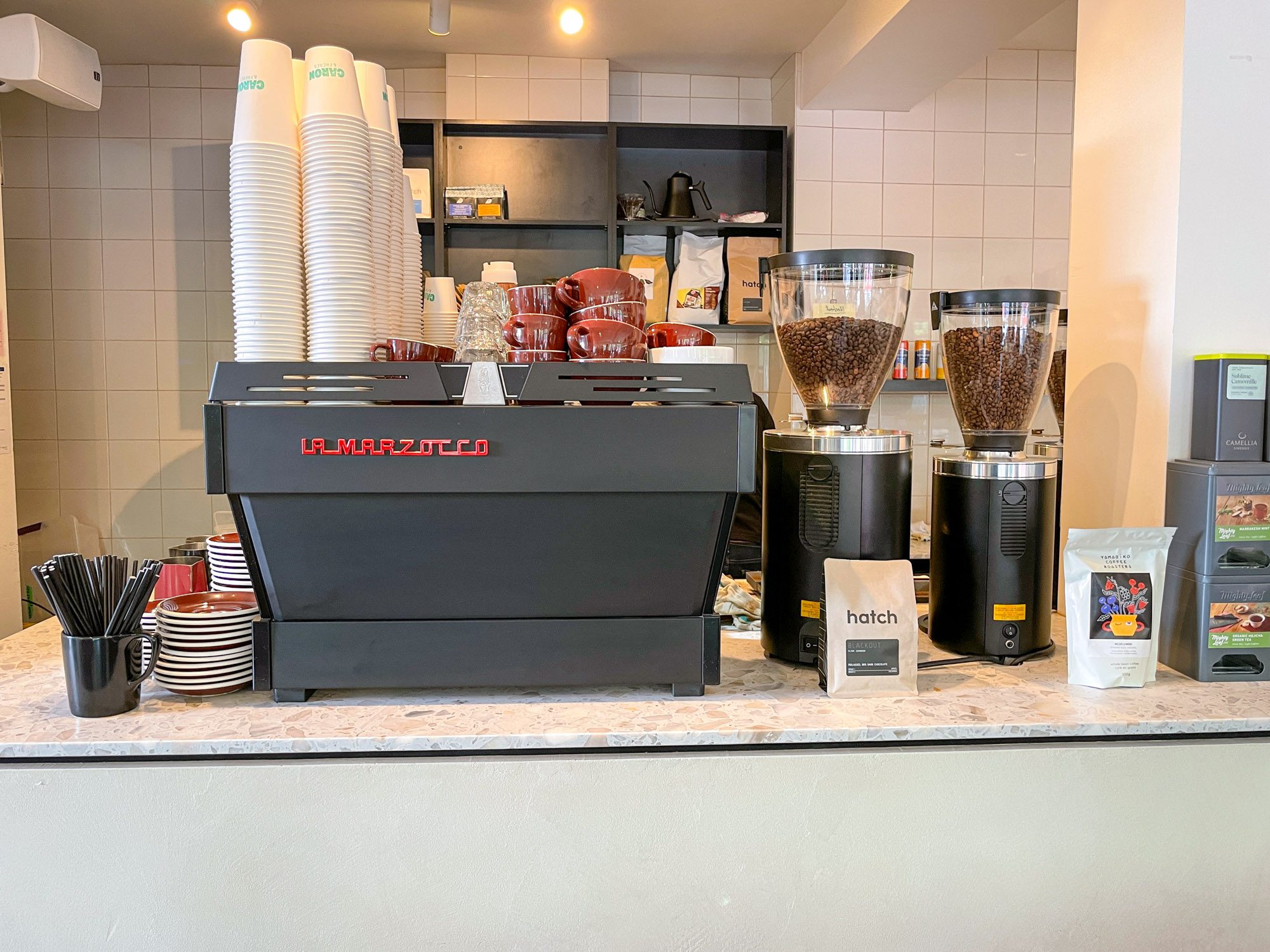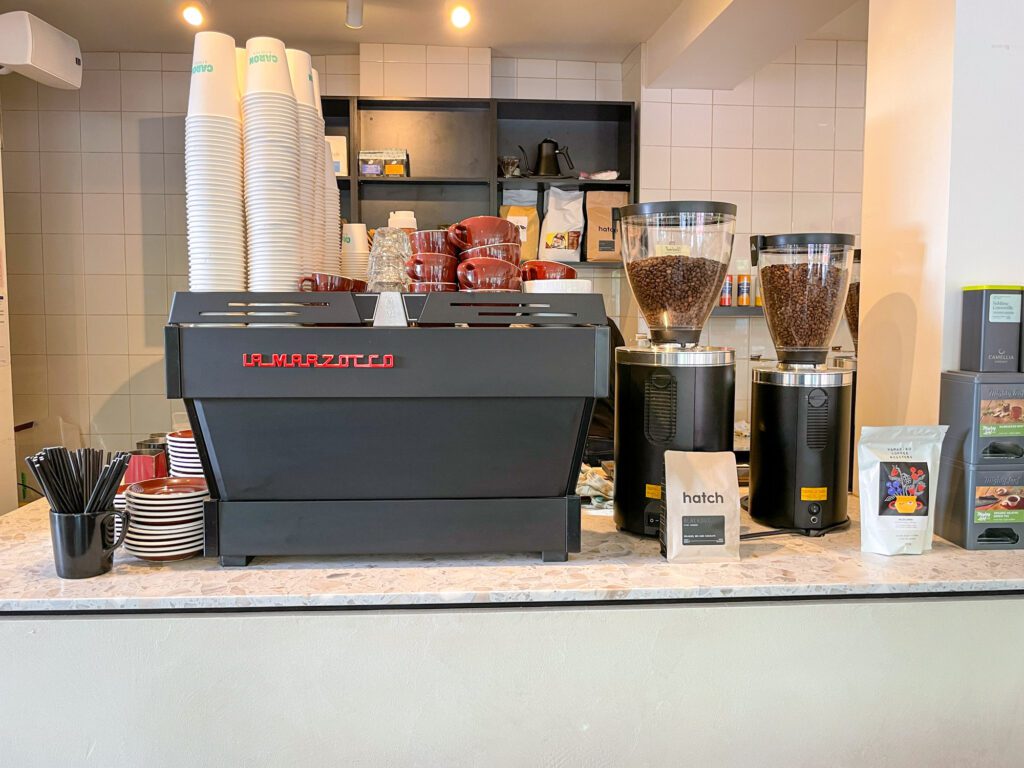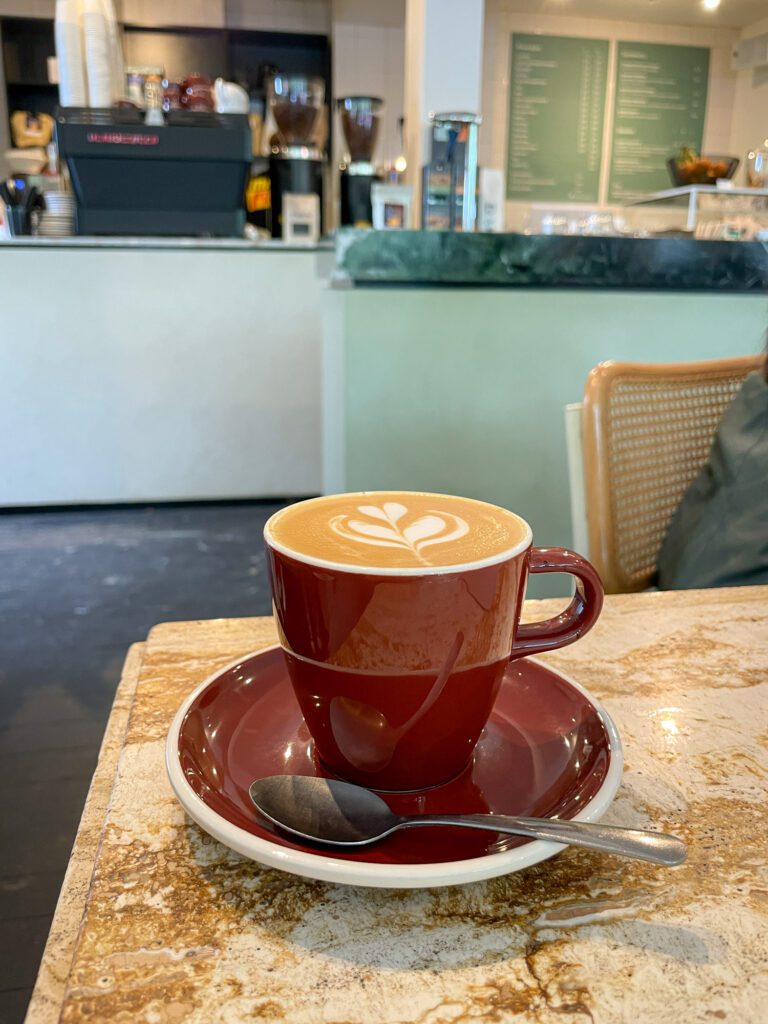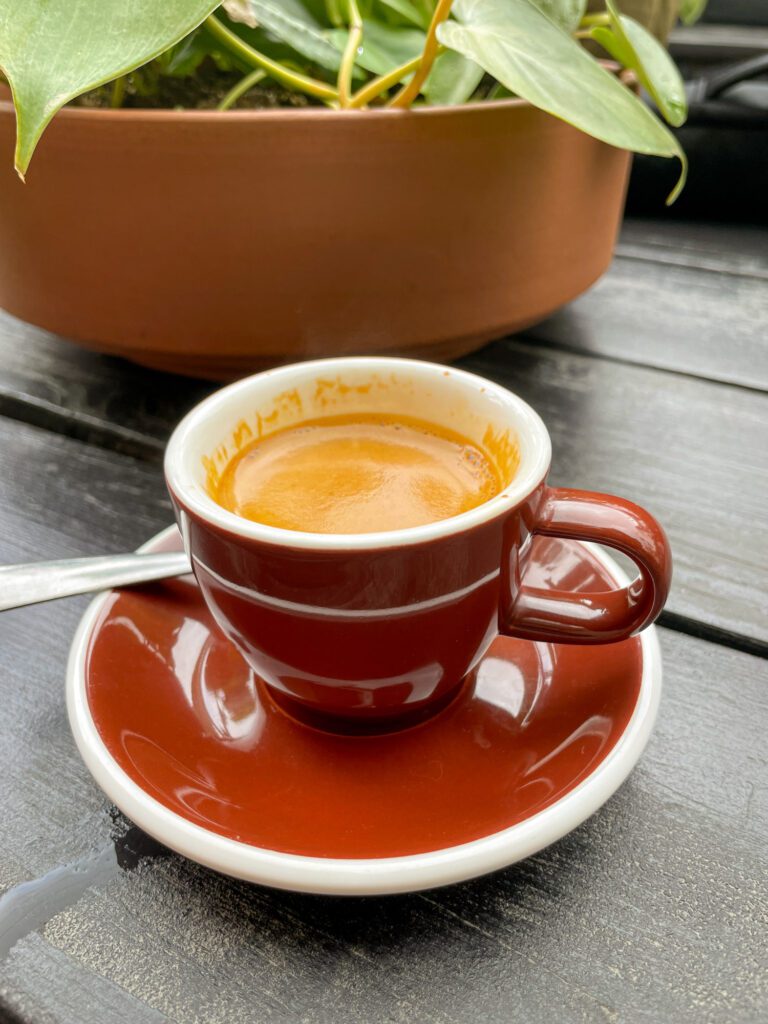 On my third trip, which included friends, I went with the natural Ethiopian coffee as an espresso, and it was lovely. It was balanced, with not too much funk, but enough juiciness to let you know that it was definitely a natural process coffee.
Overall, a great recommendation from Zab (more on them in a second), and I'd recommend a stop if you're heading up to Jean Talon (which you should).
Zab Coffee Roasters: A Coffee Roaster with a Fun Frozen Coffee Selection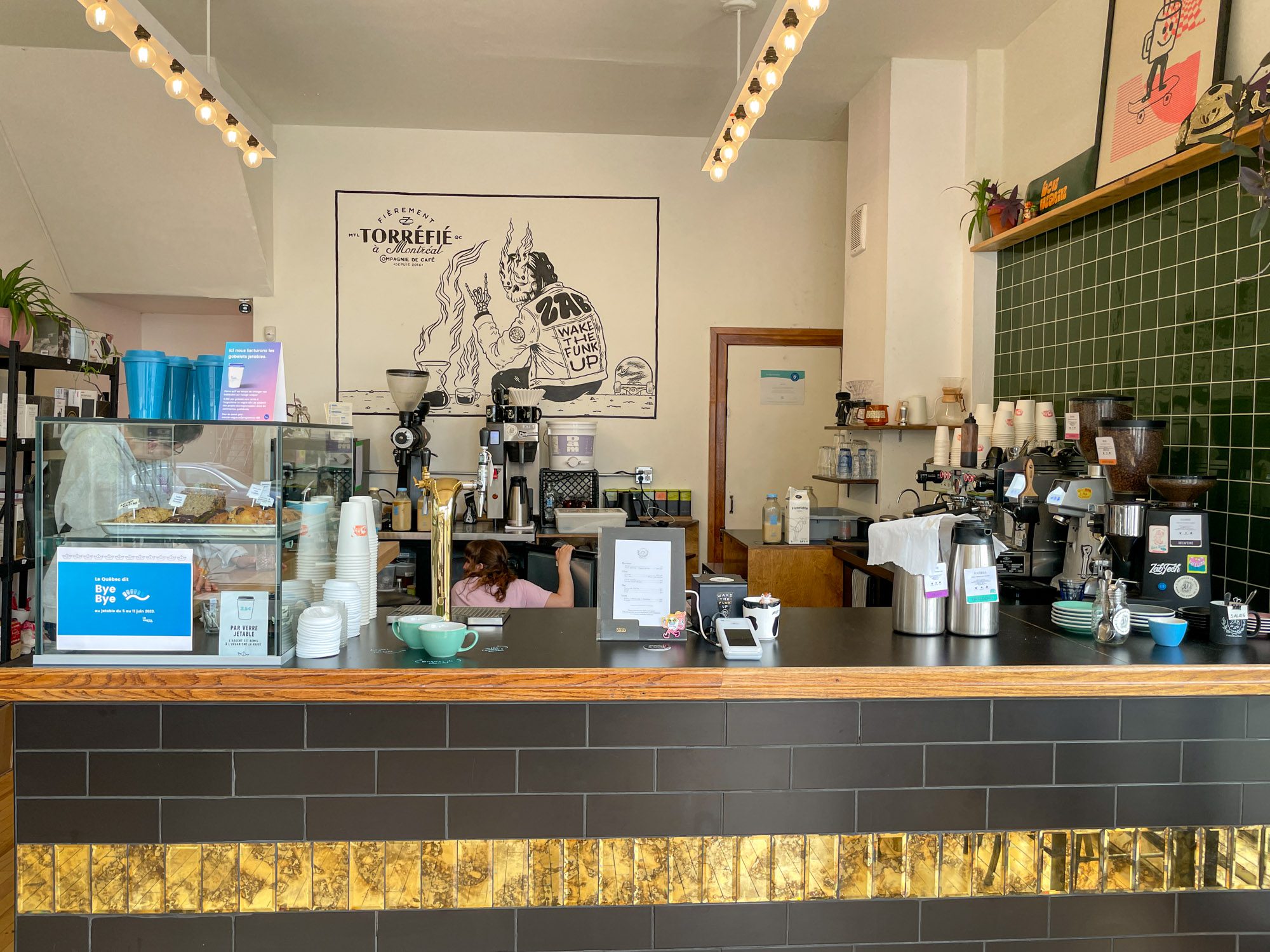 Yet another place I ended up at multiple times! Two things stand out to me about Zab.
First, the location. It's kind of in the middle of nowhere, a five ish minute walk from the Beaubien metro station, or a 15 minute walk southeast from Jean Talon Market.
Second, and this is something I learned from the barista on my first visit, they merged with Paquebot (one of the mainstays of the Montreal coffee scene) back in 2017, and they kept the two brands separate to make Zab the more coffee-focused version of the two.
They, like many of the places I visited in Montreal, had two espresso options. An Ethiopian coffee, and a Brazilian coffee. As the barista explained the two options, I immediately was drawn to the brighter notes of the Ethiopian coffee.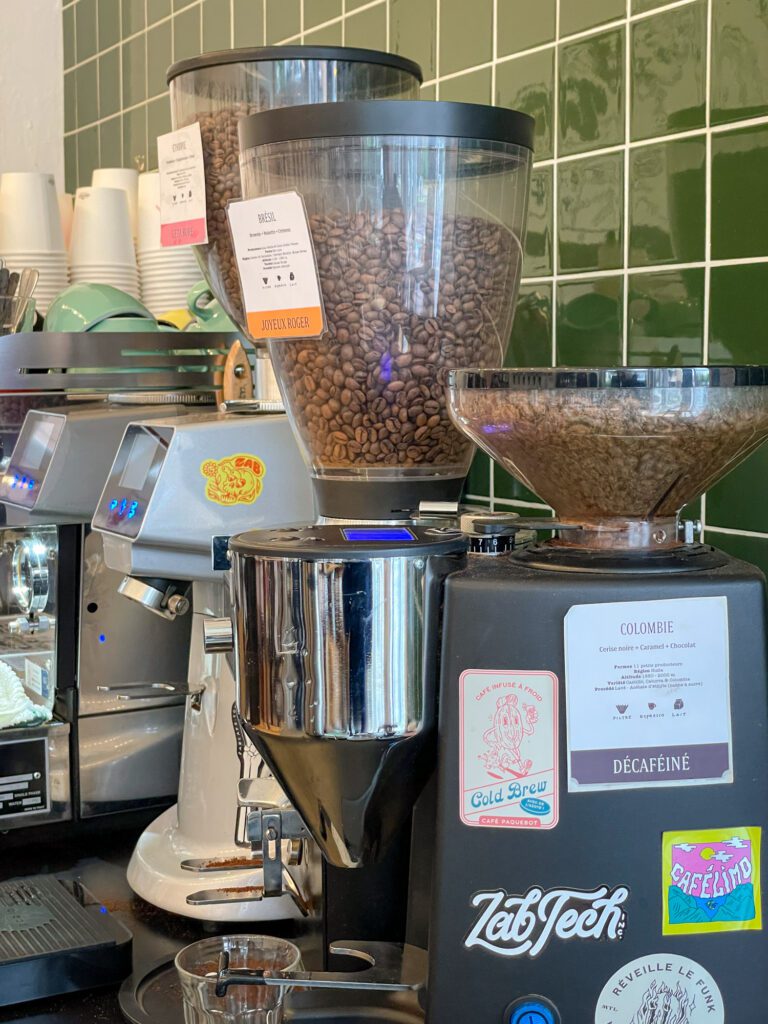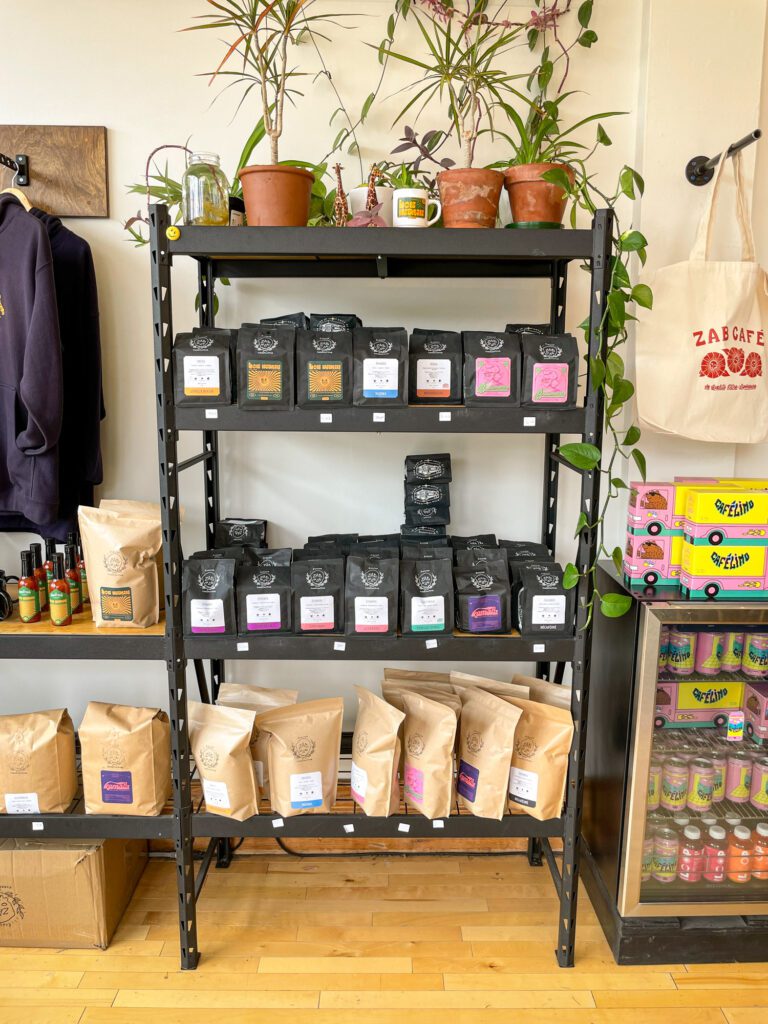 When I chose that one, she told me she had to dial it in and it might take her a shot or two to get there, which tells me that at 11am on a weekday, I must have been the first or second person to order it.
A few minutes later and my espresso was ready! Juicy, fruit forward but more of a citrus than a red fruit, and a silky texture.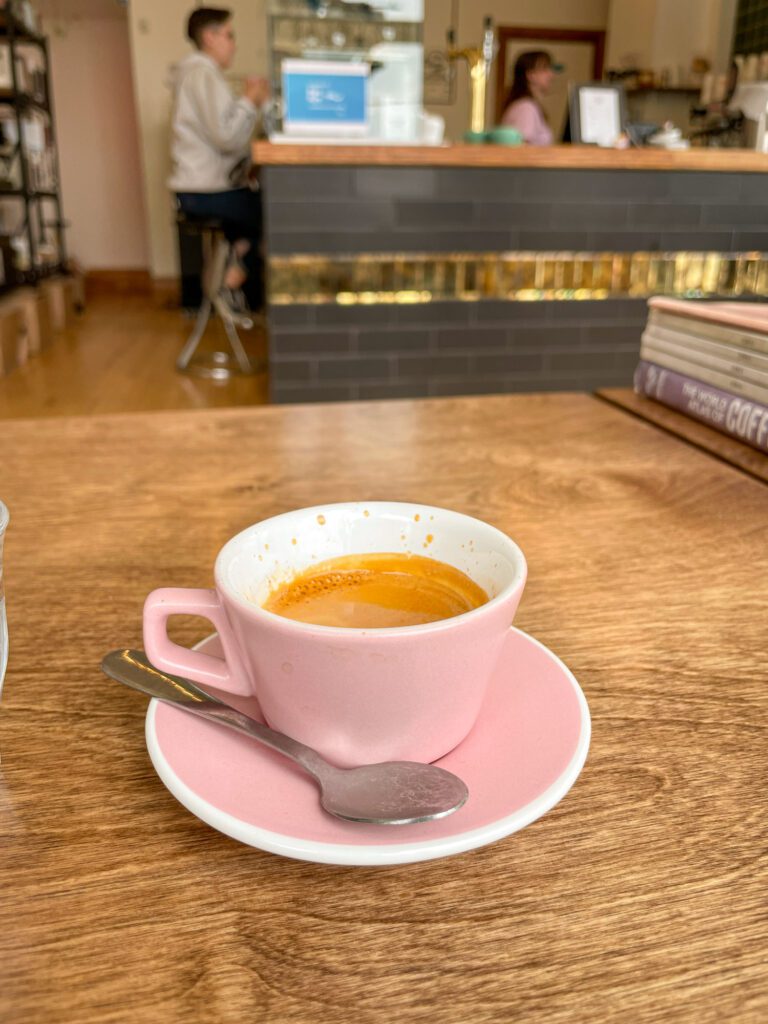 But this is where Zab got interesting. That was my third (or was it seventh?) coffee of the day, so I was buzzin' when I noticed the freezer in the back of the shop. "What is in that freezer?" I asked, already sort of knowing the answer.
"Special coffees."
I love a freezer of special coffees (and have one myself!). So I came back a few days later, and enjoyed a blueberry bomb of a natural Ethiopian coffee brewed with a Hario Switch, an immersion brewer that the barista likes because it's easy to manage in a busy cafe setting.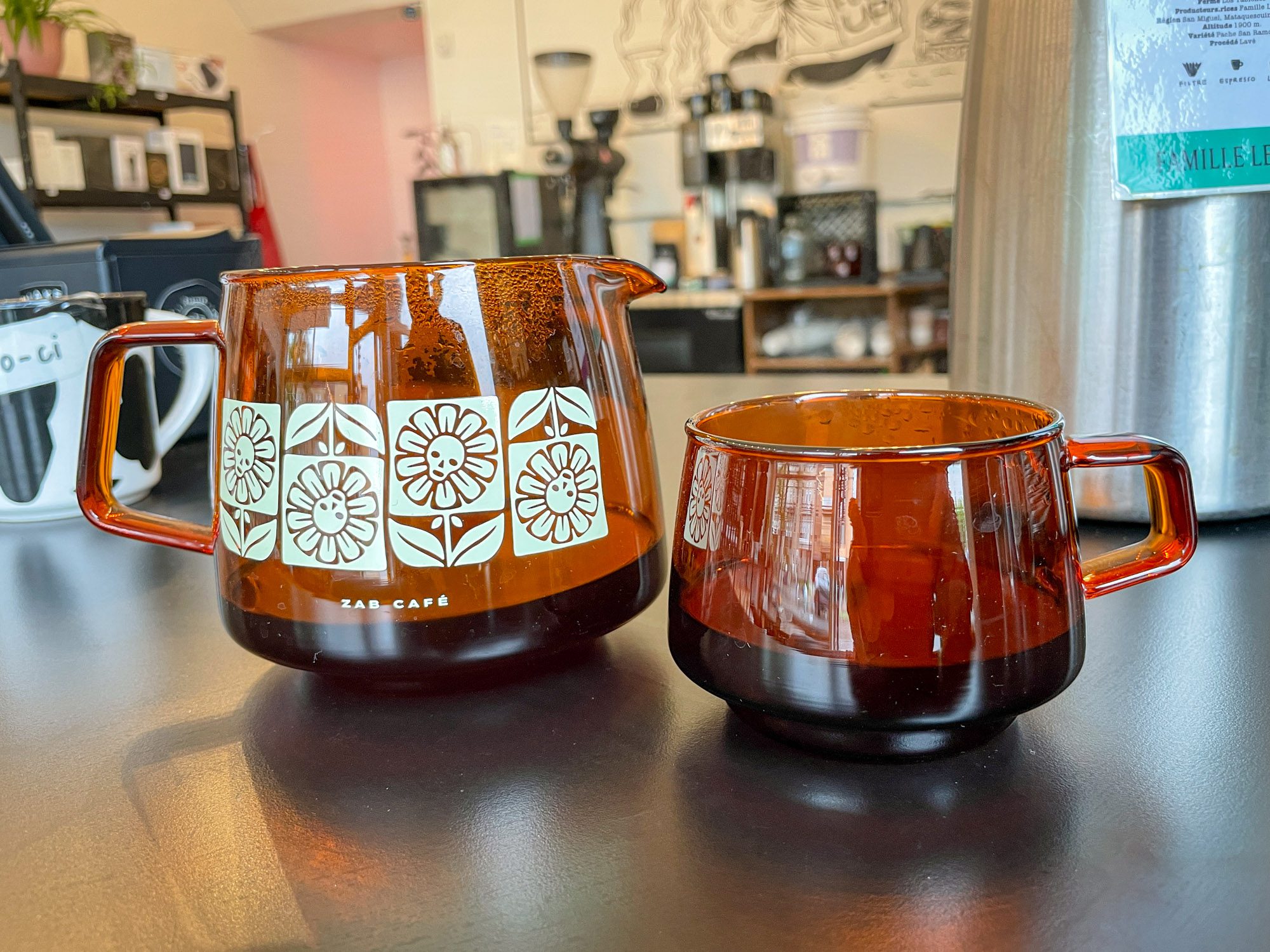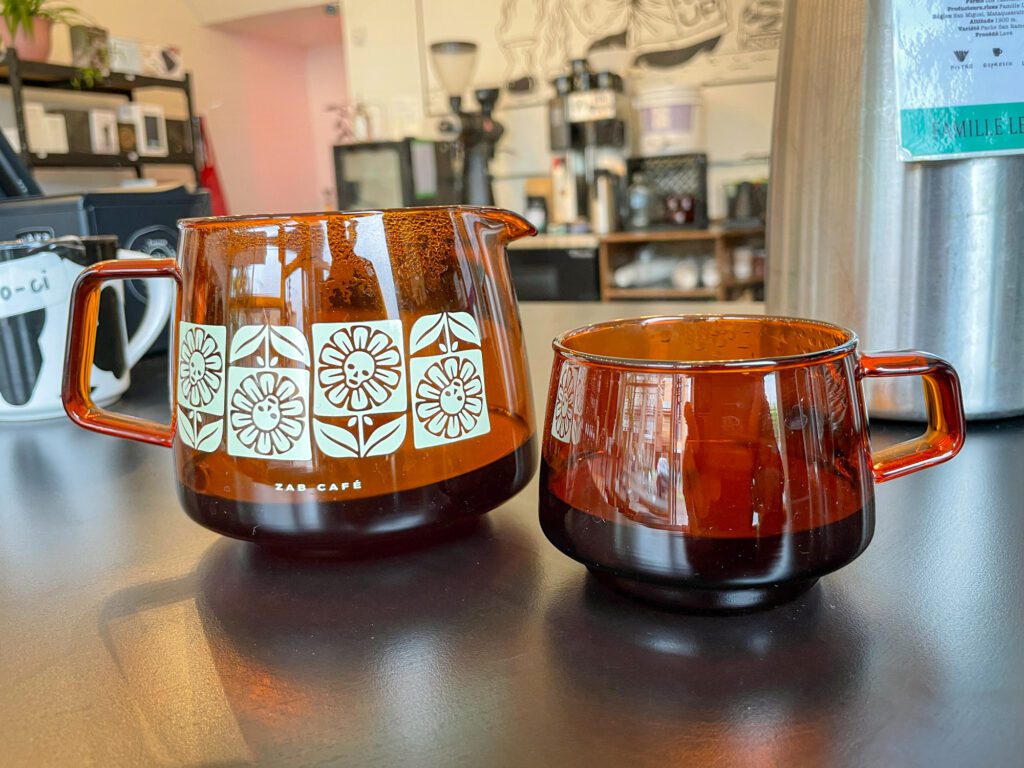 Pikolo Espresso Bar: One of the Most Stylish Cafes in Montreal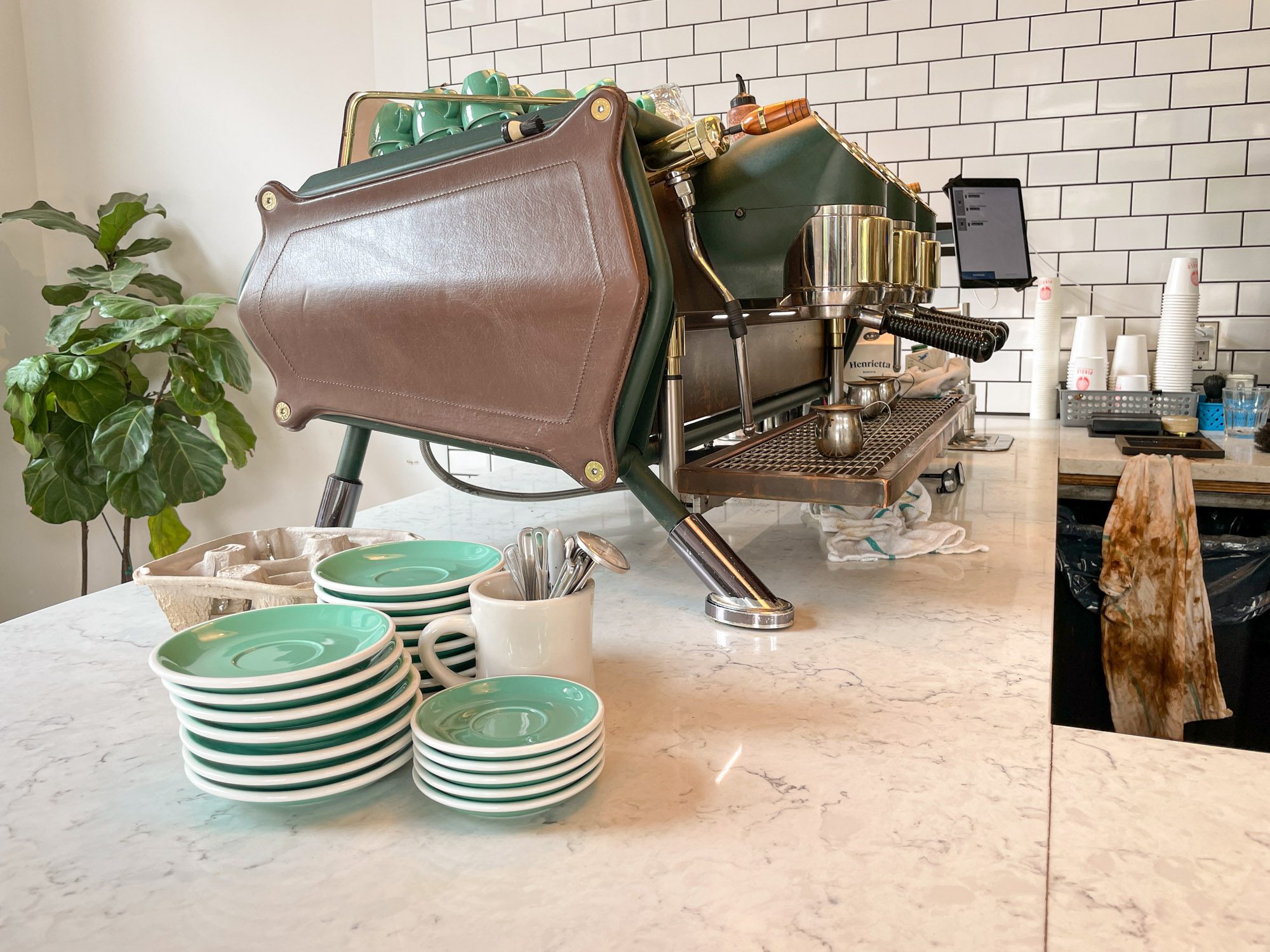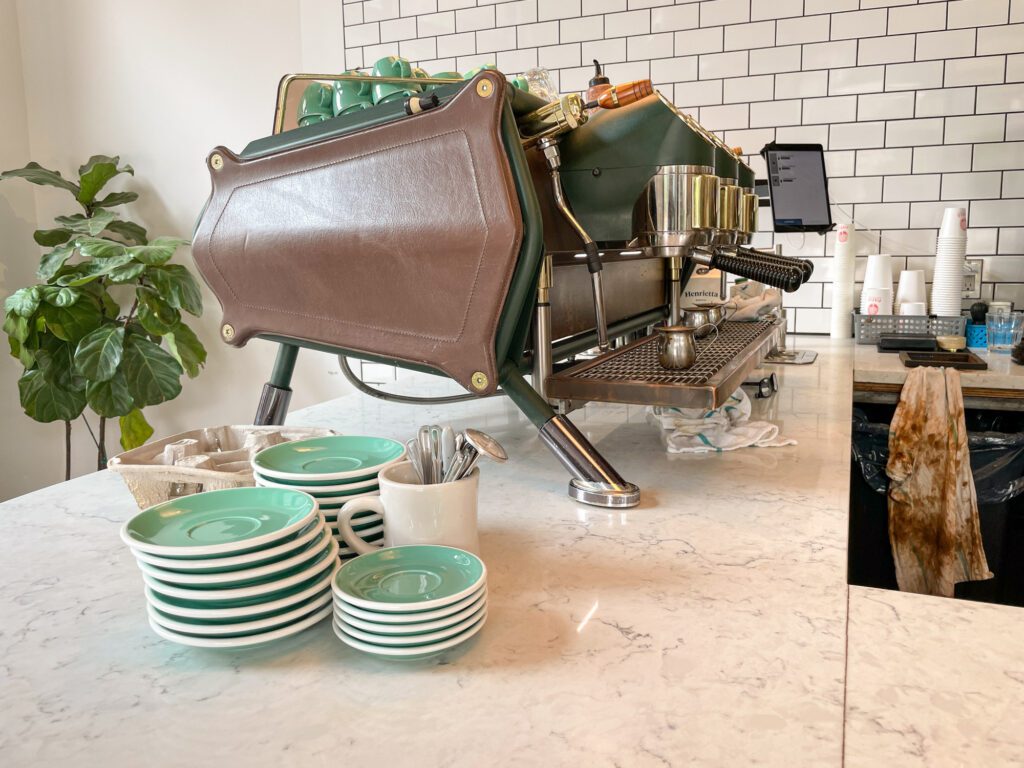 This was both a recommendation and a place that I found on my own, and it was the first coffee shop I visited in Montreal. It's just off of St. Laurent Blvd on the outskirts of the Quartier des Spectacles.
The first thing you'll notice when you walk in the door is the beautiful marble bar and the brown San Remo espresso machine on it, which is a work of art.
When I visited, they were pulling shots of Café Myriade, a local roaster who is over at the Canadian Roasting Society, and they had two options available in terms of espresso. I, naturally, went with the brighter Ethiopian coffee, and it was lovely.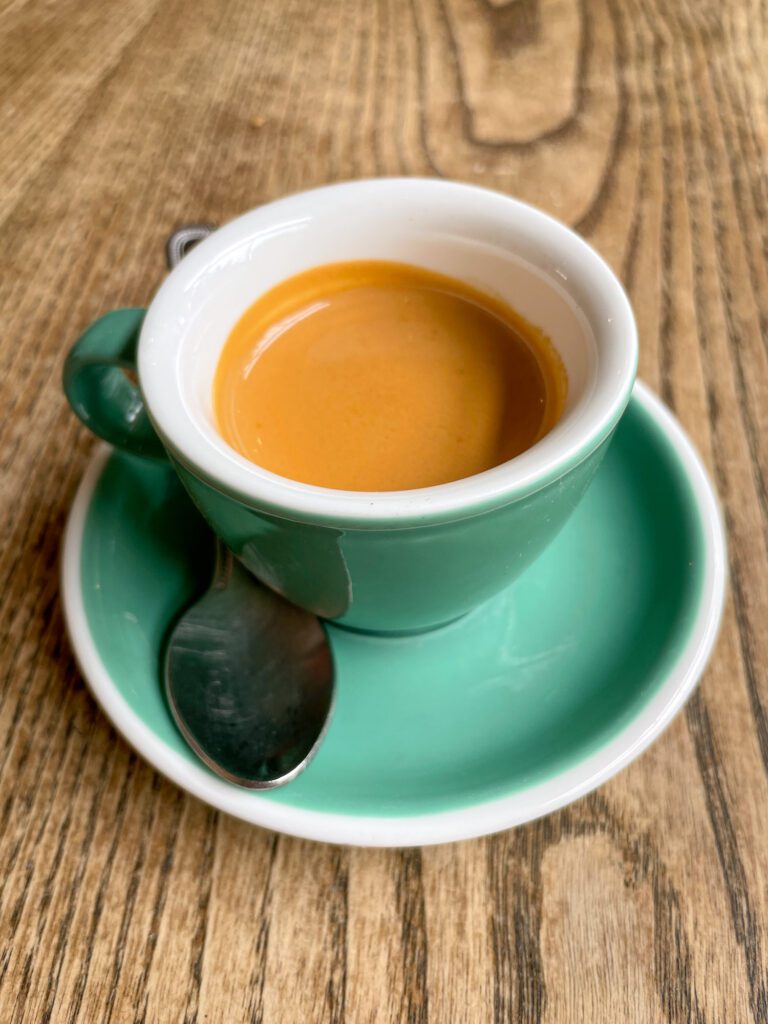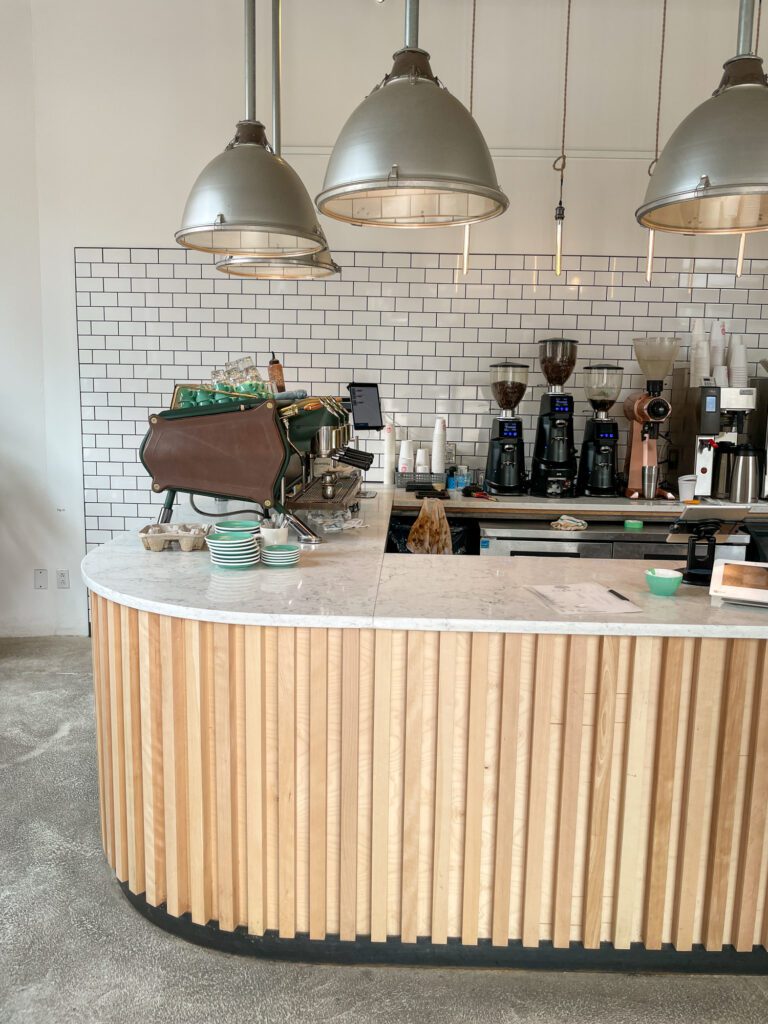 One thing I noticed here, other than the good coffee – their latte art game was STRONG. As someone who basically can't pour latte art to save my life, I was in awe of the speed and ease with which their baristas were pumping out beautiful designs.
I almost ordered a second drink just to take a picture, but decided against it because there was more coffee to drink!
Café Saint Henri: Quebec's OG Microroaster
Started wayyyy back in 2011 by Jean-François Leduc (who has since moved on and they're now backed by private equity), this is Montreal's first micro roaster and third wave coffee shop.
Back then, it was the only game in town in terms of single origin coffees roasted a little lighter than average, and today it has evolved into an ever present piece of Montreal's coffee scene, with many locations scattered around the city.
Though I certainly wouldn't say it was my favorite coffee of the trip, it's worth a visit if you find yourself near one (which, given their numerous locations, you very well might).
I went to two of their locations – the one in St. Henri near the Lachine Canal, which is the original location, and the one at Jean Talon Market – and the newer location was gorgeous with white walls and marble tables.
One thing I like about them is their way of talking about flavor profiles in coffee. They have their bags and menu color coded based on flavor, like red = round and comforting, yellow = floral and delicate, etc etc.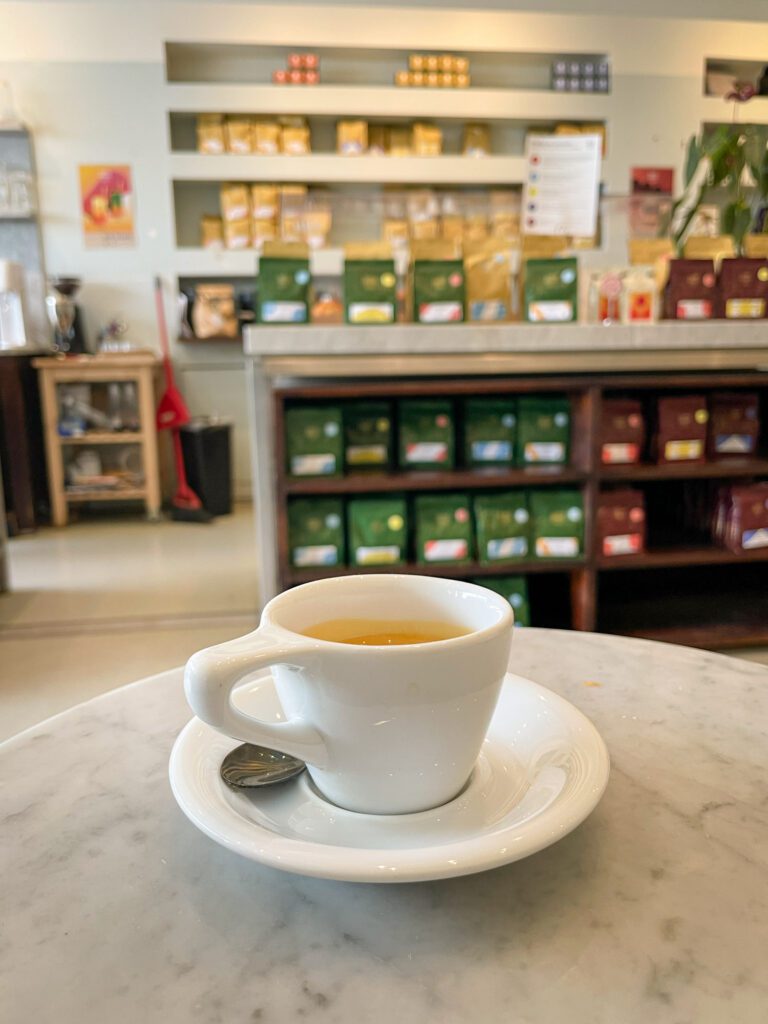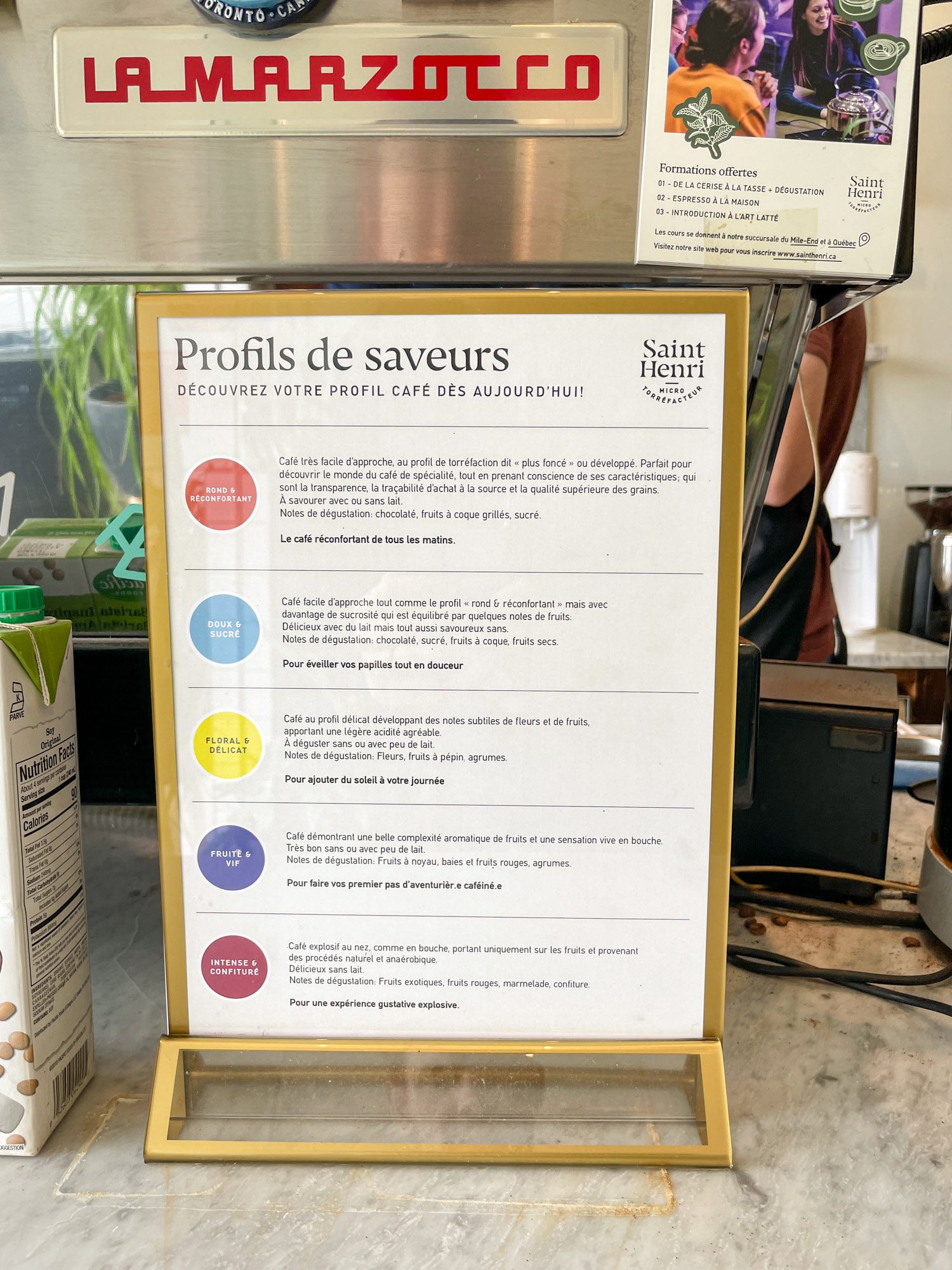 I had their "Godshot" as an espresso, which is a washed Ethiopian coffee in the "floral and delicate" flavor profile. Like most places on this list, they also had a more traditional flavor profile available if that's more your style.
The espresso was good – I like that they have the recipe they use on a sign on the grinder – and I enjoyed learning about the difference between a short shot and an "allongé," which is basically just an espresso with a longer ratio (and is something we don't really do at home, as far as I know).
Apparently, the allongé (lungo, in Italian) is very popular in Quebec, which is a fun fact that I definitely didn't know before coming here!
Café In Gamba: A Mile End Multi Roaster
Somehow, in my caffeinated daze, I went to Café In Gamba in Mile End on a rainy weekday morning and took exactly zero pictures. Mostly because I was busy chatting with the person from Escape Coffee, who was there showcasing their beans for the day.
Yet another multi roaster in Montreal, they feature just about all of the various microroasters who work over at the Canadian Roasting Society, including Traffic, Escape, and Zab, along with a few wildcards like Rabbit Hole (also in Montreal) and Detour (from Hamilton, ON).
They have two locations in Mile End, and both are cozy and inviting (and were absolutely buzzing on this particular weekday morning, split between people working and people meeting for coffee).
Their original location – the one on Parc Ave – has a lovely little terrace out front that is calling to you on a warm sunny morning, saying "PERFECT SPOT FOR YOUR MORNING LATTE."
Shaughnessy Café: A Multi Roaster with an Fantastic Bean Selection
Tucked into a basement level unit on the western outskirts of downtown Montreal between about three different universities/colleges, this is yet another multi roaster cafe that has a mix of local, domestic, and international roasters stocked on its shelves.
They rotate through them, though the barista couldn't tell me how often, and I saw Luna, Sey, and Traffic (among others) when I was there.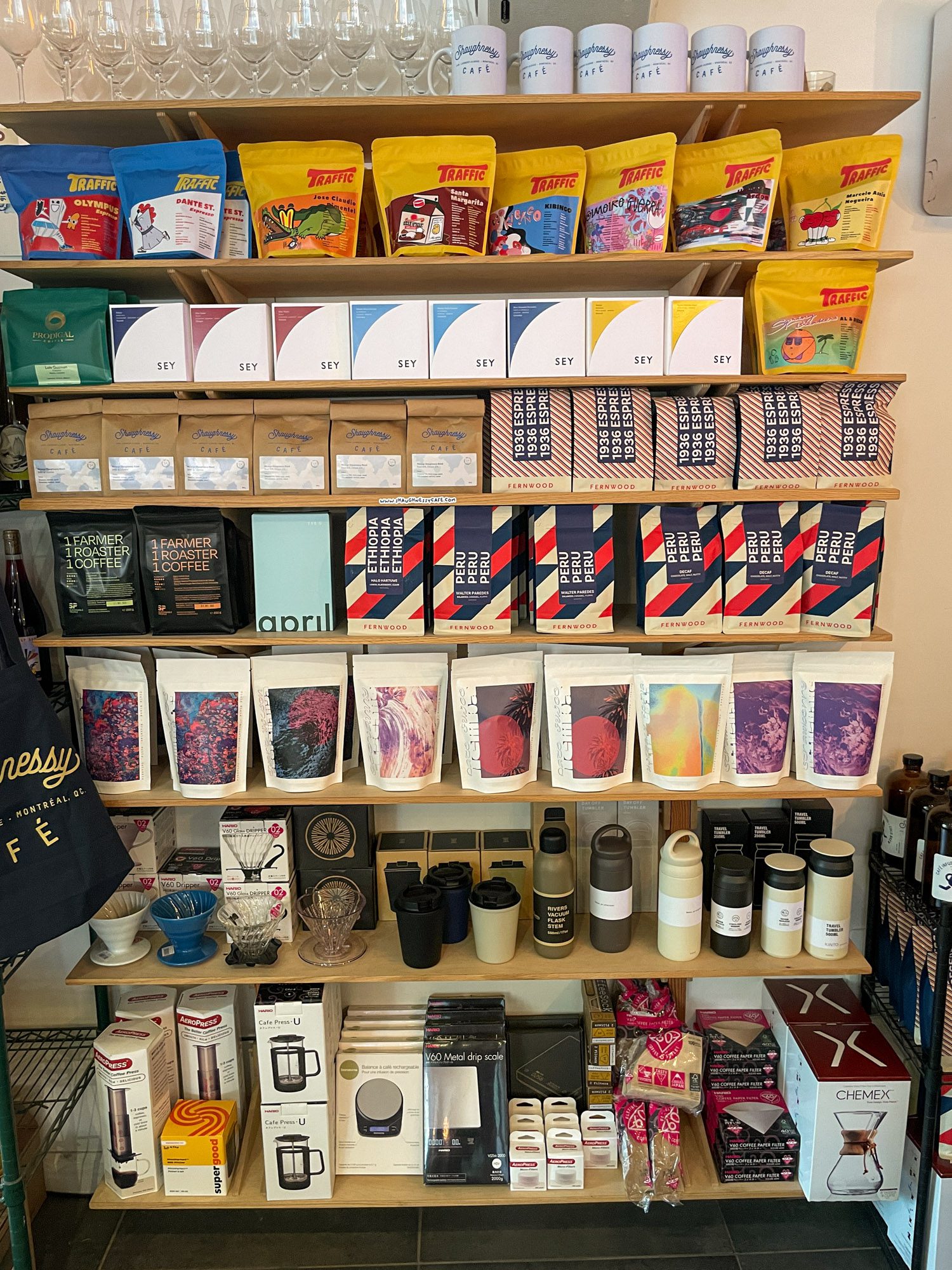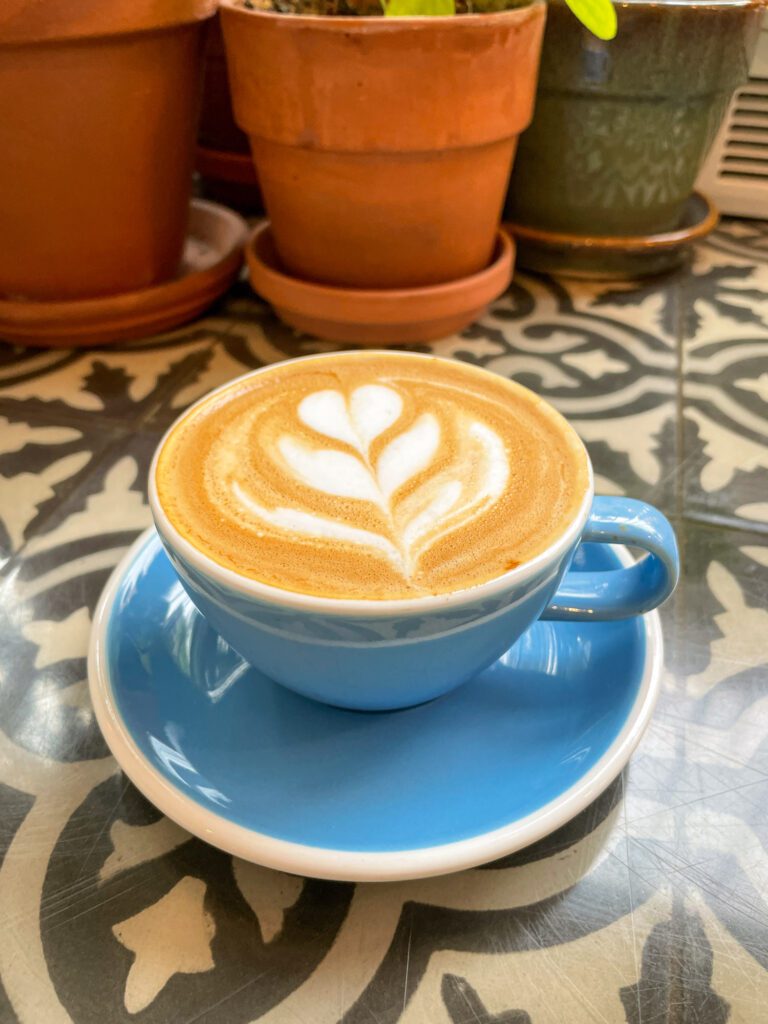 The reason Shaugnessy isn't higher is because they only use their own house blend in the cafe itself. Which, I don't know, kind of defeats the purpose of being a multi roaster, doesn't it?
The cappuccino was good, though, but they don't offer anything particularly unique outside of their selection of coffee beans.
I have to say, though, I love the space! It's warm and inviting (is there a fireplace? I feel like there should've been a fireplace) and would be the perfect spot to read or work, especially in the winter when that cozy indoor space is what you're looking for.
Cordova Coffee: A Recommendation from Coffee-Loving Friends
I am sad to report that this is the one spot in Montreal that I really, really wanted to go (based on my research and recommendation from the folks at Luna), but just couldn't quite fit it in.
It's another multi roaster (that has Luna beans), but there's more of an all-day focus than some of the other spots on this list.
It was started by a group of three – a coffee guy, a Masterchef contestant, and a journalist – which gives it a different approach to coffee than many of the shops on this list.
They also have cocktails and a Spanish-leaning menu, and would be a good spot to stop if you're in St. Henri on a weekend afternoon.
---
The Best Montreal Coffee Shops, Mapped
More Posts About Montreal