Where To Stay In Medellin, Colombia: A Complete Guide
On our six week Colombian adventure, Medellín was undoubtedly our favorite city. So much so, in fact, that we ended up there twice. We chose to stay in two different neighborhoods to get a feel for each of them, and have some specific thoughts on where to stay in Medellín, Colombia for visitors with different styles and budgets.
Our aim is to arm you with the information you need – based on our experience – to choose the perfect place to stay in Medellín. 
But first, let's talk a little bit about the city itself.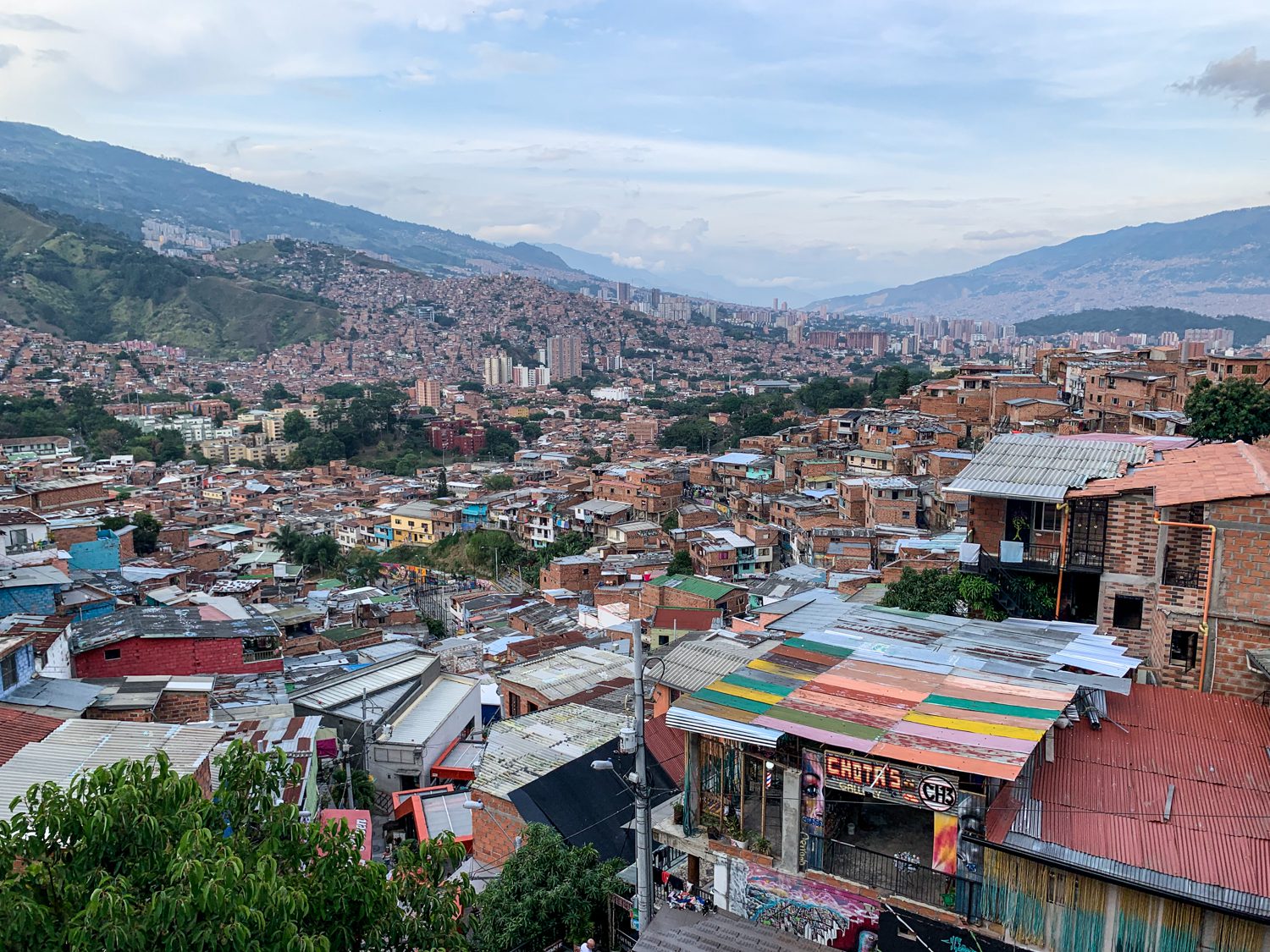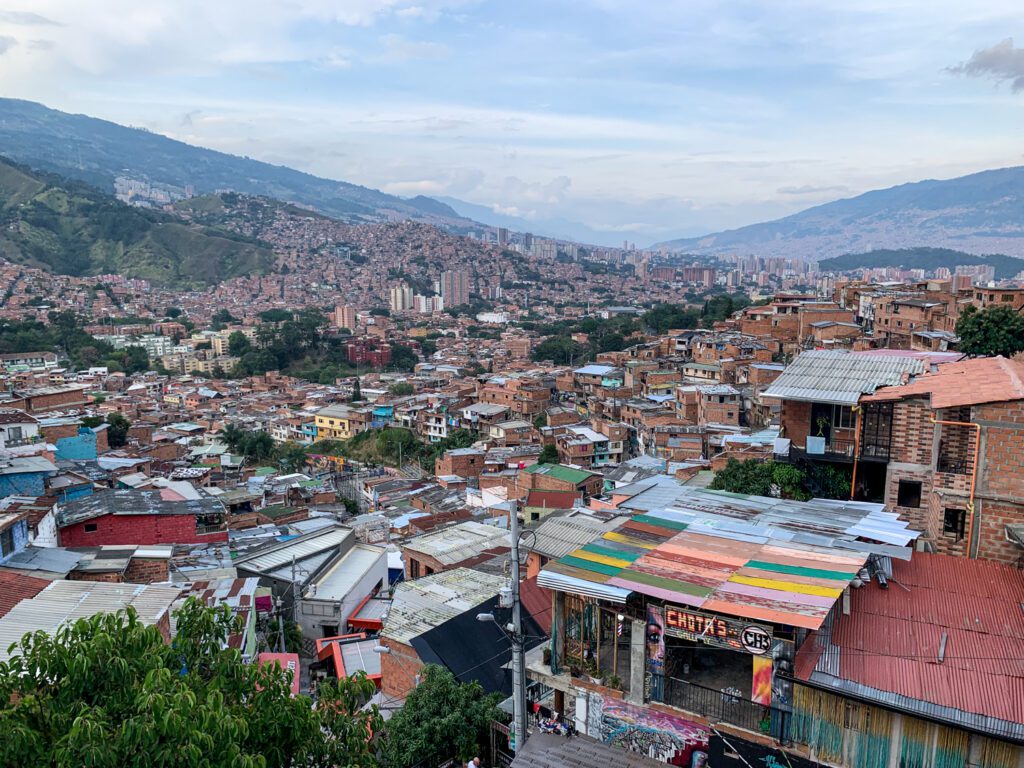 Medellín is one of the most fascinating places to visit in Colombia for a history and government nerd like me (Matt). It is a lighthouse on a hill for cities looking to make drastic changes and transformations through investment in public projects.
Like every other American (and probably other countries too, to be fair) who has written about visiting Medellín, the first thing our friends and family (okay, mostly family) said when we told them we were going to Colombia was "isn't it dangerous?" And when we were getting on the plane, it wasn't "oh my gosh have the BEST time!" It was "stay safe, and text me every day – I mean it!" 
Once you start to learn about Medellín past, it's easy to understand why people reacted that way, particularly older people. In the 80's and 90's, Medellín was the most dangerous city in the world.
But over the course of the past two decades or so, it has changed DRASTICALLY. And we took a couple of tours that helped illuminate how that transformation happened.
Now, it's among the most innovative and forward-thinking cities in Latin America, and is an incredible place to visit.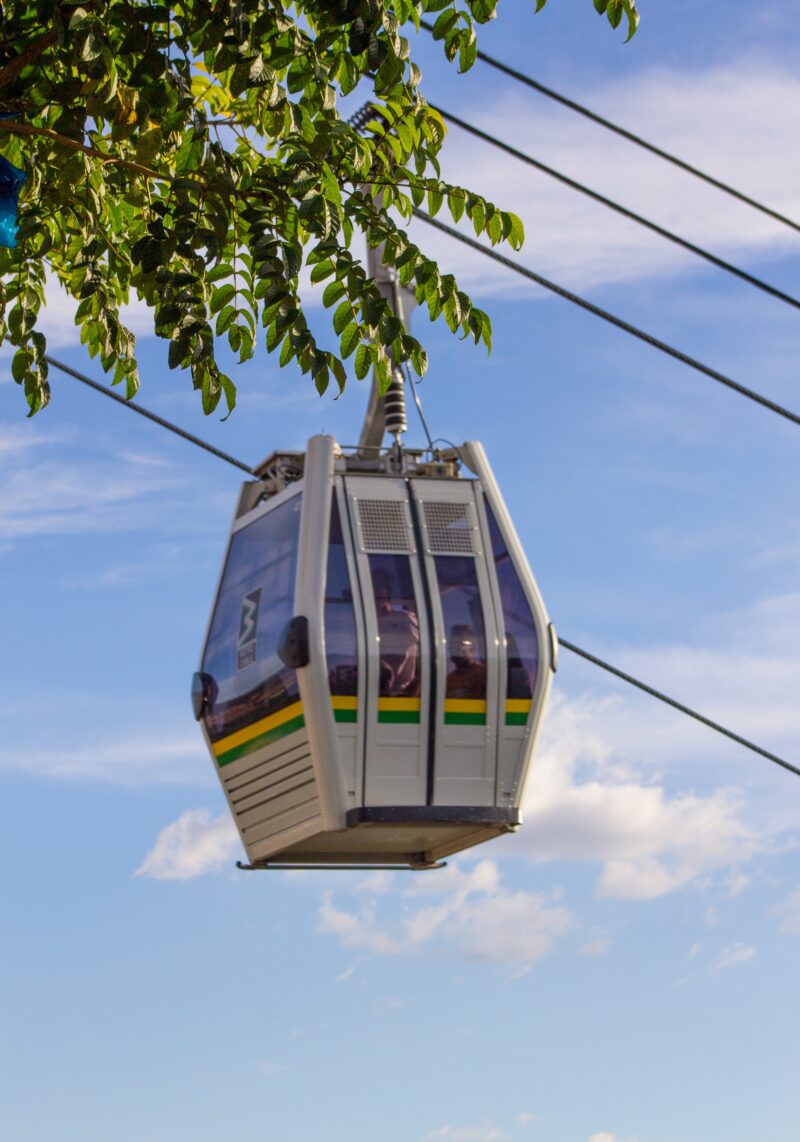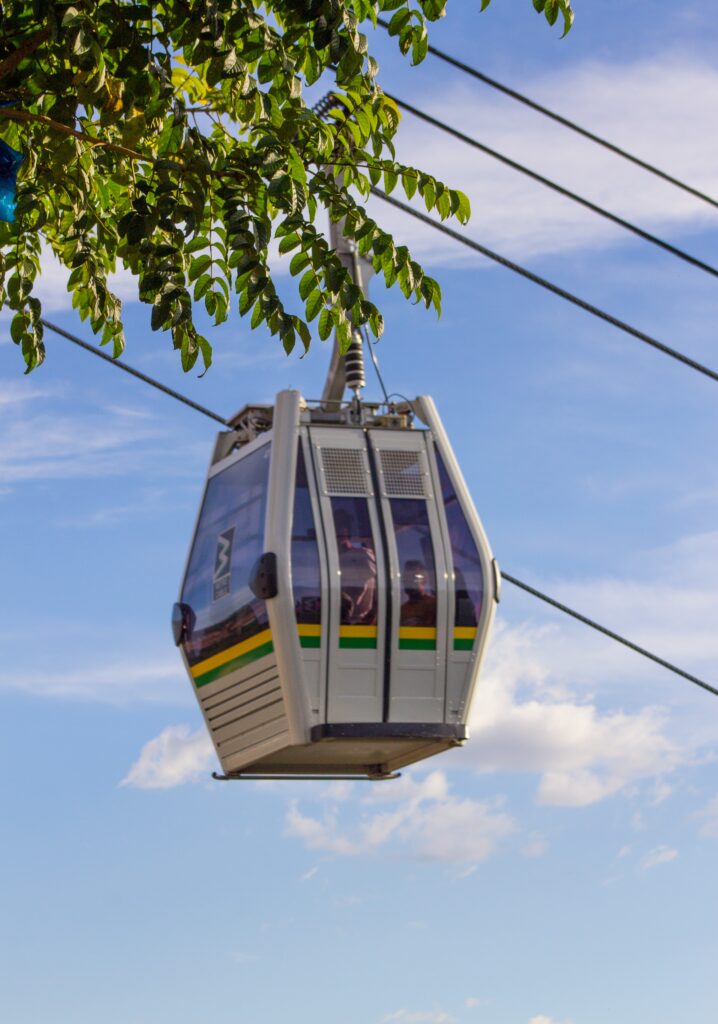 One important note here about "Narcos," and you might find it a little preachy, but I feel pretty strongly about it. I watched Narcos, the Netflix show, while we were in Colombia. It was super interesting to see the contrast between history through that lens, and the real life experience we learned about by connecting with locals. In a lot of ways, that show glorifies Pablo Escobar, who was nothing short of a cold blooded killer (yes, it might be more complicated than that, but is it really?).
Thousands of people died as a result of his actions. It's worth remembering that before you take a "Pablo Escobar tour" with one of his former cronies who's looking to make a quick buck off of the recent flood of foreign tourists.
I would recommend skipping all "Escobar" tours, and instead focus on tours that highlight the positive changes Medellín has made, rather than the violence and heartbreak of the Escobar years.
Like this history and innovation tour, which we took with Sebastian and LOVED.
We also did this cooking class with an expat who has started a social project focused on teaching locals to cook healthier food using the abundance of amazing local ingredients – also a highlight of our entire Colombia itinerary.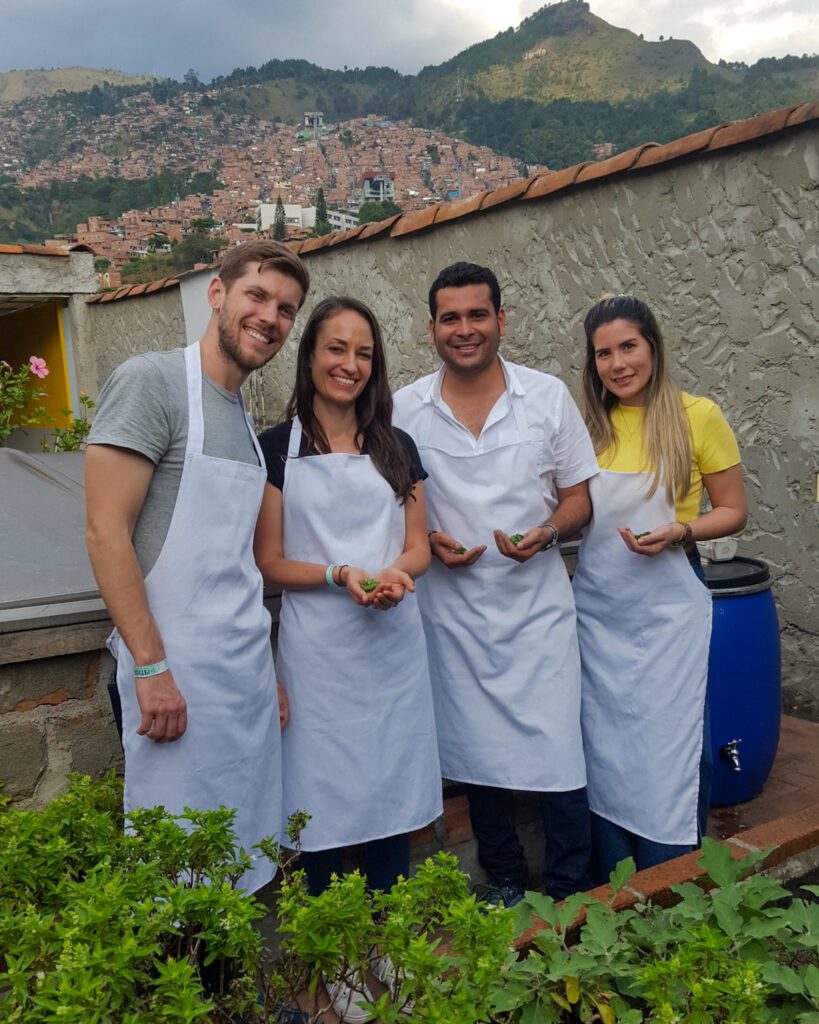 Planning a trip to Colombia? You'll want to read our other Colombia travel guides that we put together to help you plan the perfect trip.
Disclaimer: Some of the links in this post, like hotel links, are affiliate links, meaning at no additional cost to you, we make a little bit of money if you click through and book. That being said, we would never recommend something to you that we don't stand behind 100%.
Where to Stay in Medellin, Colombia: Choosing the Best Area to Stay
In this guide to deciding where to stay in Medellín, we'll take you through our experiences in two of the best places to stay in Medellín, Colombia, and give you the information you need to find the perfect place to stay for your style and budget. 
At the end of the day, you're likely choosing between two neighborhoods here if it's your first time in the city.
They are El Poblado and Laureles, which are both central, charming, and great places to use as a home base for exploring the city. 
You really can't go wrong with either – both are relatively well connected to the rest of the city, central, and safe. At the end of the day, we think it really comes down to your style and preferences.
You should choose El Poblado if you have a short trip (2-3 days or less) and want to be right in the middle of all the action AND well-connected to the rest of the city with public transportation. For a relatively affordable stay (with access to a kitchen), we stayed in a private room at Los Patios Boutique Hostel for part of our trip, and would recommend it. It's essentially a hotel with access to a shared kitchen. If you want a nice hotel instead, look at Sites Hotel or Celestino (the latter is a pretty good value for what you're getting).
If you've got a little more time and want something a little more low-key and residential, stay in Laureles. There's still plenty of good food and drinks to be had in the neighborhood, though it's a little bit of a longer walk to the metro to get around (you might find yourself using more taxis here). If you want an affordable hostel, check out the Wandering Paisa. If you want a great value (nice + affordable) hotel, look at Casa Laureles. VPV Suites is also a good option if you're looking for something more modern (the Lofts also have full kitchens).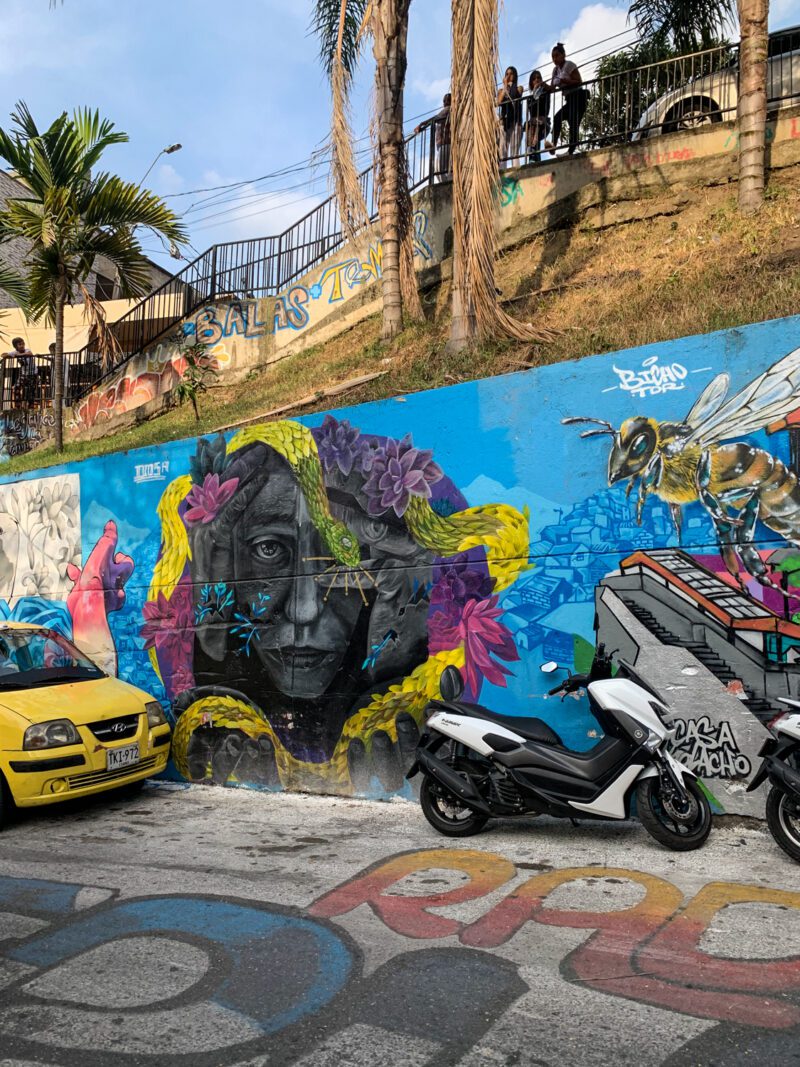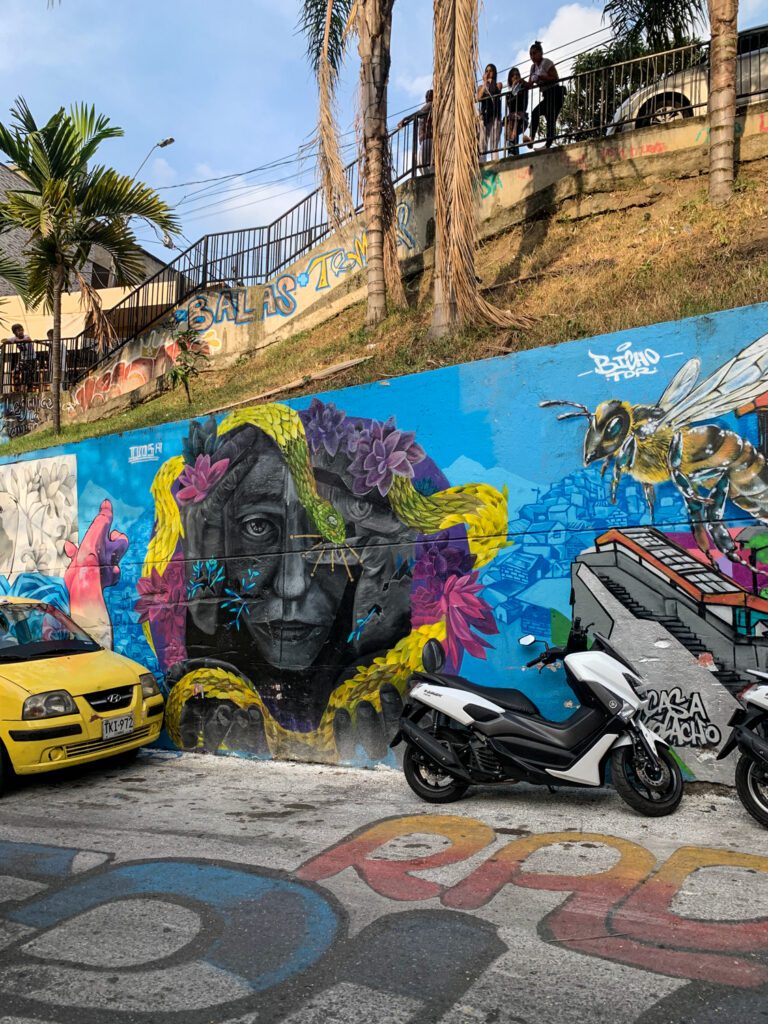 The third area we'd recommend, which is one of the best neighborhoods for longer term stays (digital nomads, looking at you!) and for a second or third trip, would be Envigado. It's much more low key, residential, and quiet, so it's perfect if you're looking to feel more like a local than a tourist while you're staying in Medellin.
It would also be a good home base for families – we were told it's generally safer than staying in other parts of the city, not that Poblado or Laureles are particularly unsafe.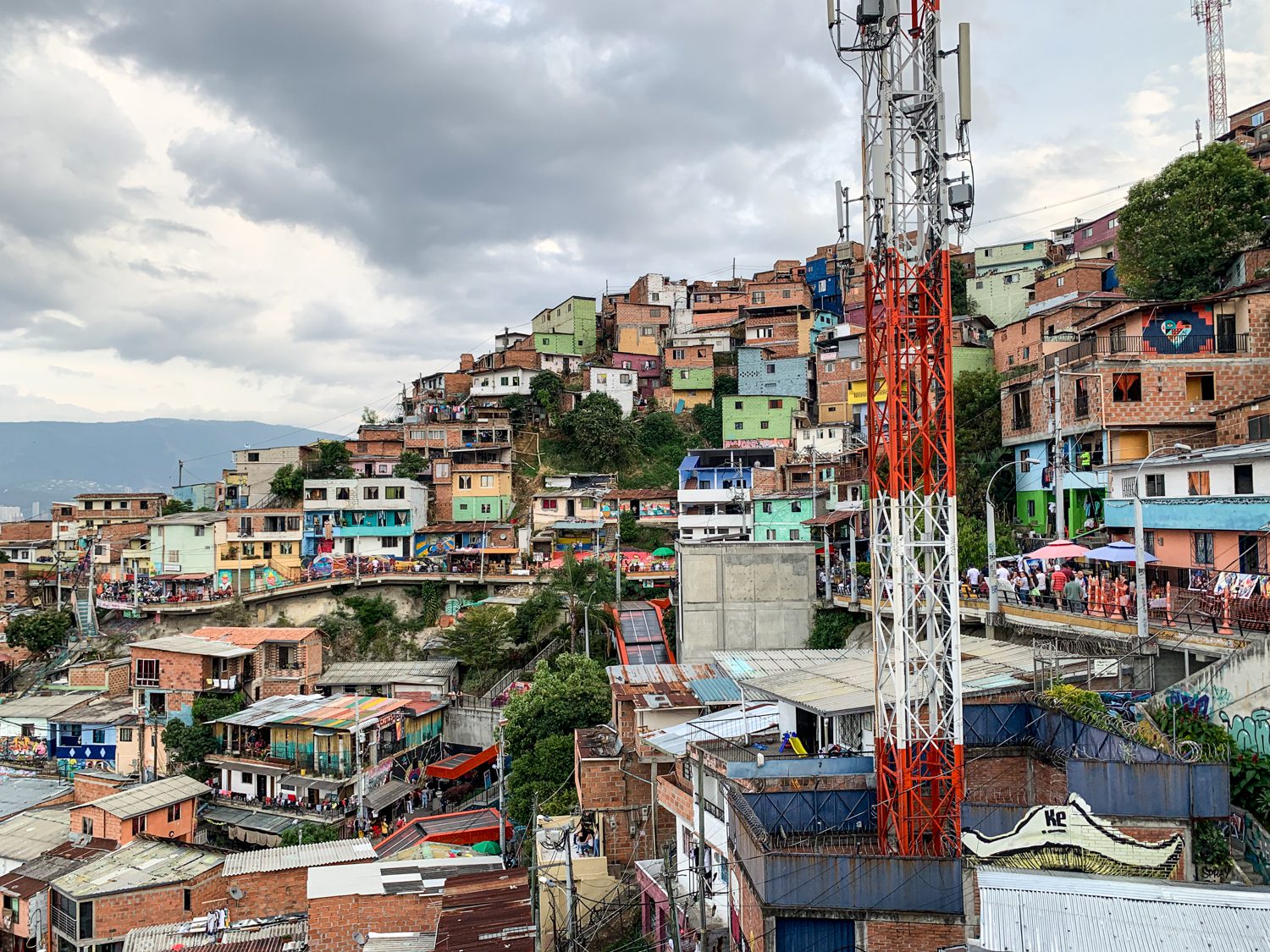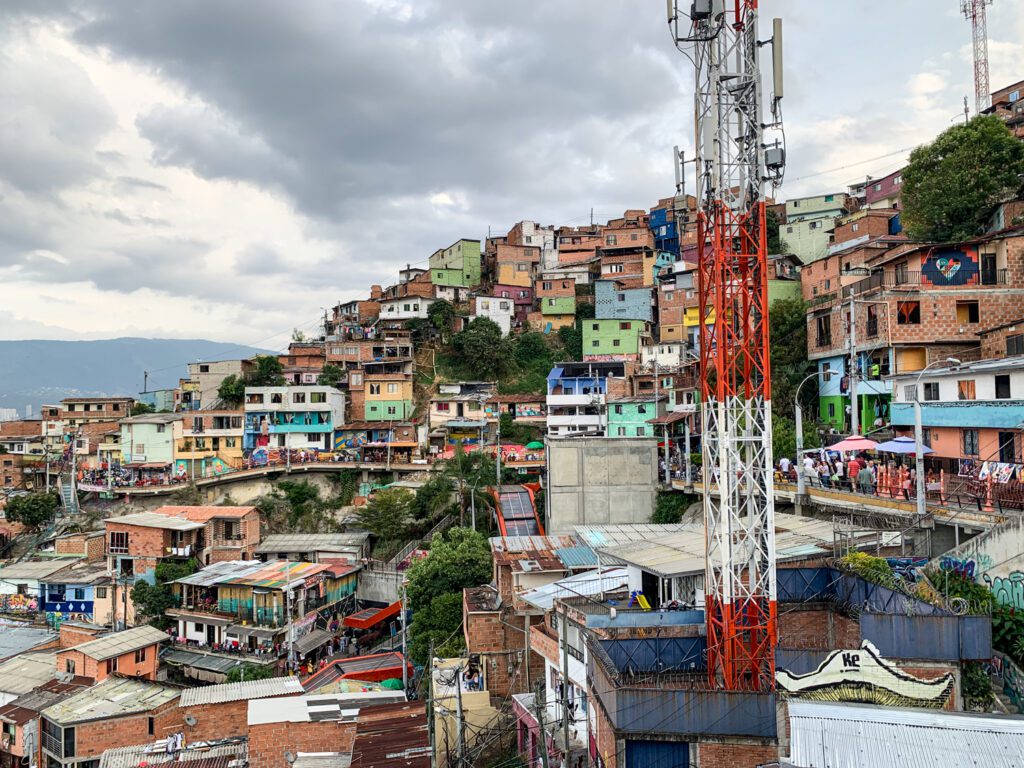 We should note that we have stayed in two of the places below that we would absolutely recommend – Los Patios Hostel and Casa Cliche – but not some of the other hotels, hostels, and Airbnbs.
Those we've chosen based on hours of research, reading reviews, and looking at pretty pictures. Think of this as a guide to the best place to stay in Medellin if we were heading back. Which we definitely will at some point. 
Now, onwards to giving you the information you need to decide on the best area to stay in Medellín for your trip!
El Poblado: Upscale and Tourist Friendly
El Poblado is probably the most central place to stay, which makes it the best place to stay in Medellín for tourists on a shorter trip.
You'll be within walking distance of basically anything you could ever possibly need – coffee (miss you already, Pergamino Coffee), basically any kind of food from traditional Colombian (Mondongo's) to Indian (Naan Sabores de India), and bars ranging from "untz-untz" to low key.
In fact, you could probably spend your entire Medellín itinerary in El Poblado, and never run out of stuff to do, see, eat, and drink.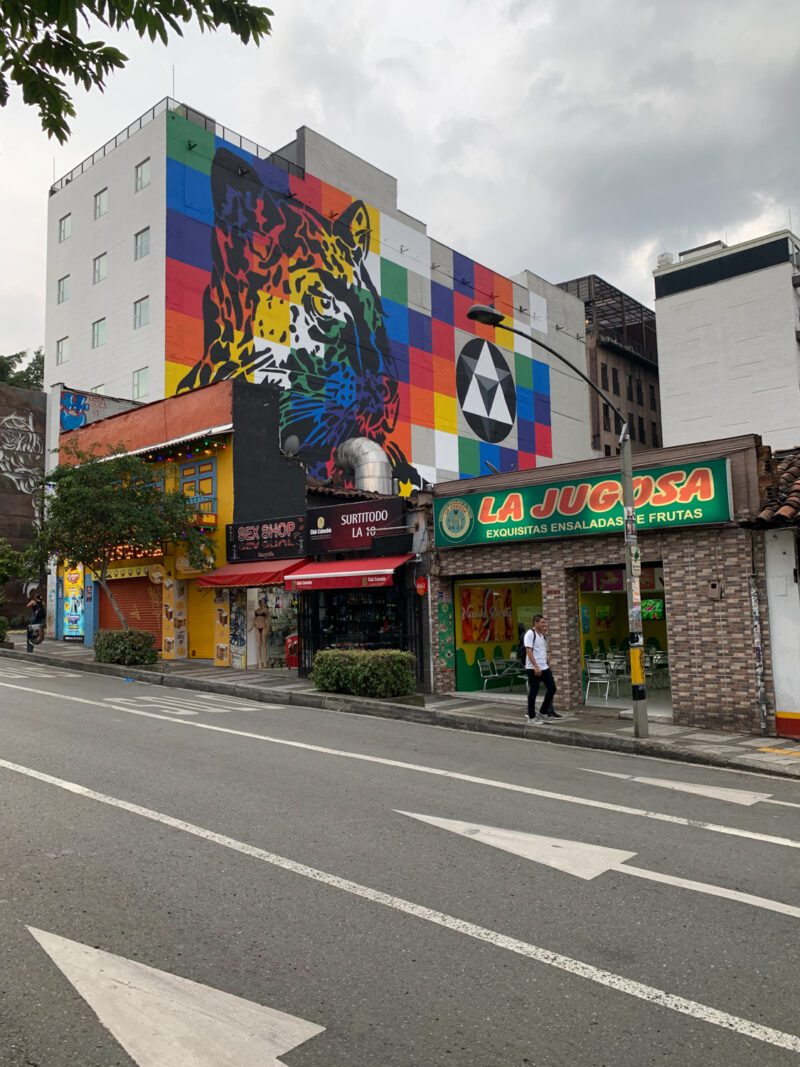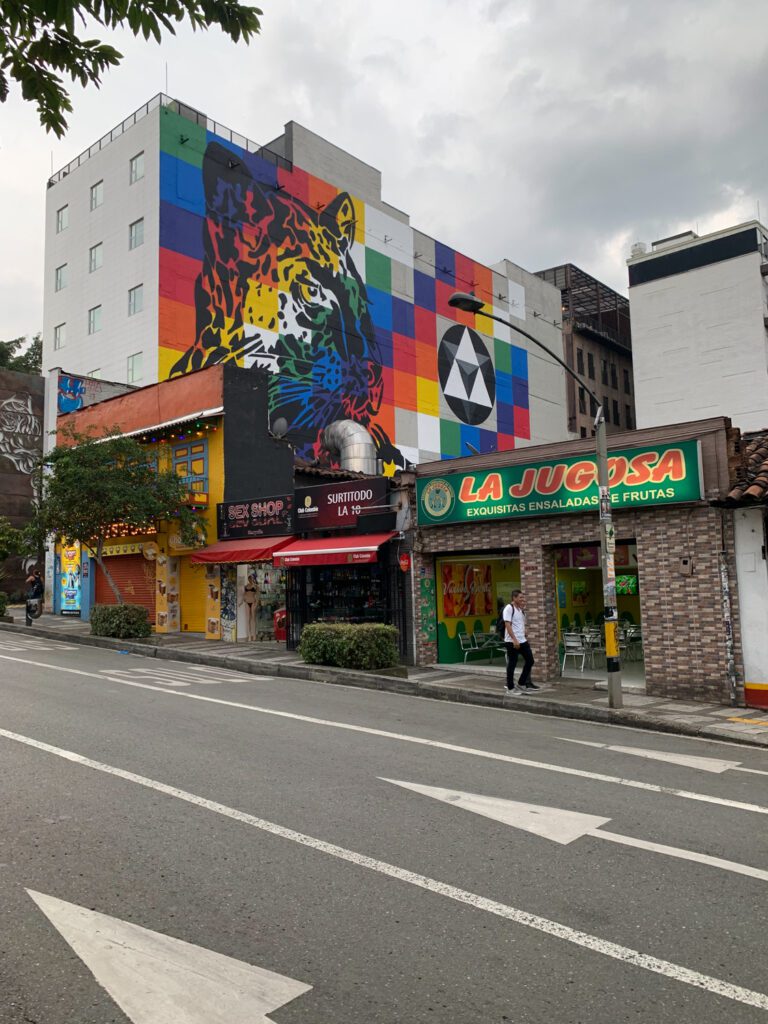 However, you'll be surrounded by people just like you (tourists), which we think is the tradeoff here.
In fact, we felt like we heard more English than Spanish while we were staying here.
It's one of the wealthiest neighborhoods in Medellín – if not the wealthiest – and it shows as you're walking around the heart of the neighborhood near Parque Lleras. 
If you're okay feeling a little bit like a tourist, then you'll love El Poblado for its selection of things to eat and drink, an overwhelming number of places to stay, and its connections to the rest of the city. 
It's super easy to get to the metro lines connecting you to the rest of of the city from El Poblado – the metro station is at the western edge of the neighborhood, and will take you north to the city center where you can connect with lines that will take you west to the rest of the city, including Communa 13 (though we recommend you take this tour with Sebastian, which we loved, because it's so much more than just another Comuna 13 tour). 
Where to Eat, Drink, and Play in El Poblado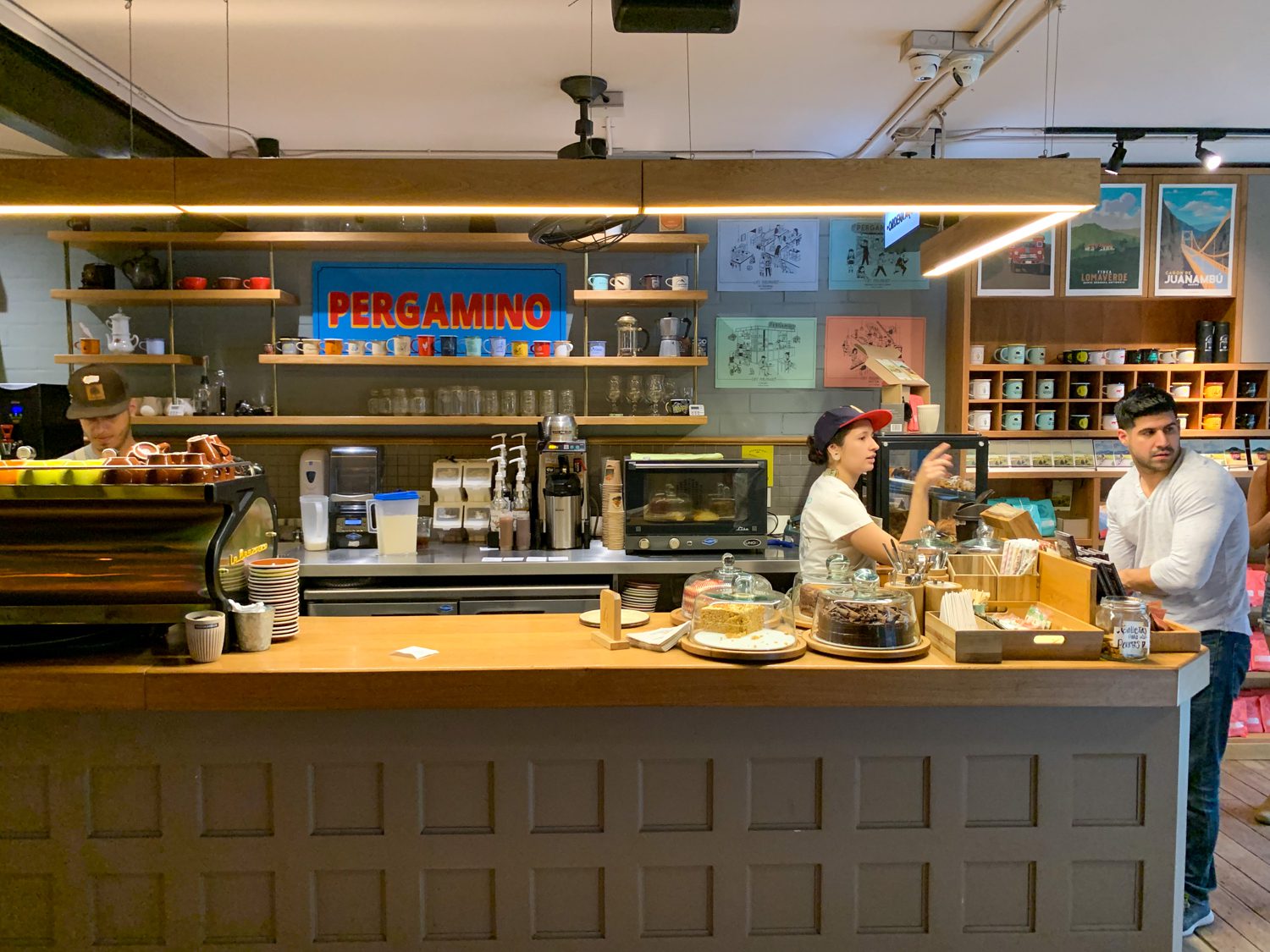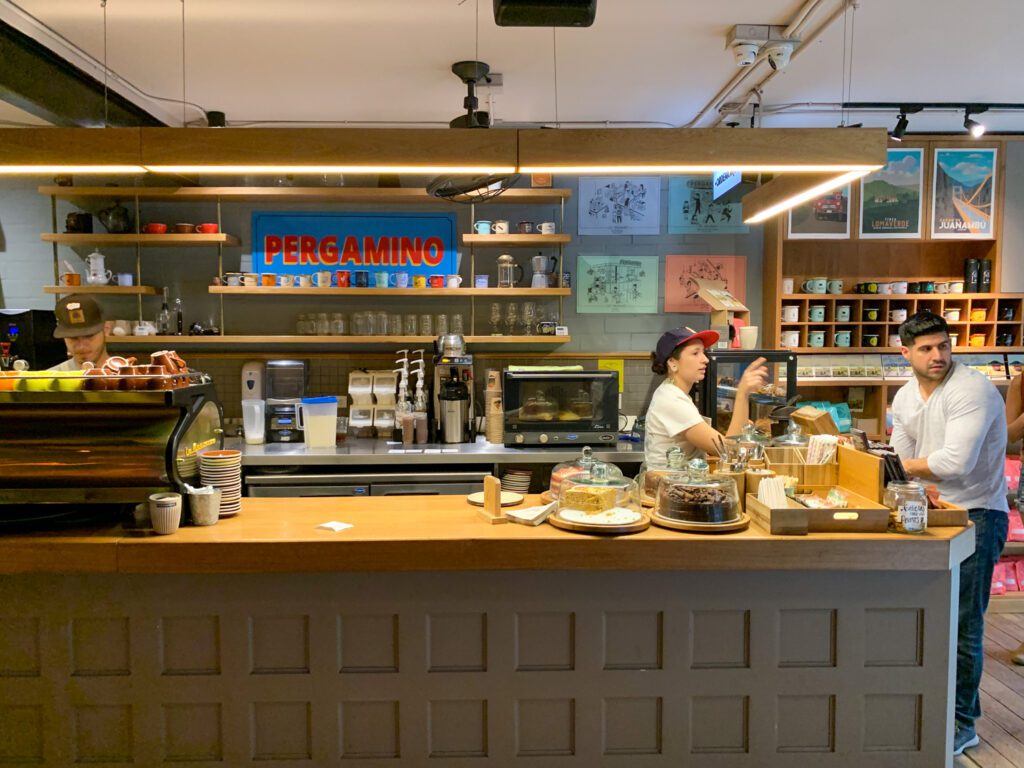 Here are some of the spots we discovered in El Poblado that we think you're going to love.
Drink coffee at Pergamino – It's really not hard to find good coffee in Medellín, particularly in Poblado. You guys know about my passion for good coffee (SINGLE ORIGIN OR BUST), so I think you already know that I researched and tasted coffee at the best cafes in Medellín. In my opinion, Pergamino has the best coffee in Medellín. Go to the location on Carrera 37, which is bustling and always has a line out the door, and enjoy a freshly brewed coffee out on their lovely patio. 


If you are a tea drinker, head to the Tea Market – Long time readers know that Alysha is more of a tea drinker but allows me to drag her around a city in search of the perfect cup of coffee as long as we visit some tea places. The Tea Market started out as a store selling a selection of tea from around the world and accessories, but they've now opened a cafe where you can try a number of the teas for sale in hot or cold drinks. It is a beautiful cafe with quality drinks, and the staff are friendly and made good recommendations when we couldn't decide. 


Dance the night away at a rooftop bar or nightclub – I don't know what it is about being on a rooftop that makes bars and restaurants more fun, but I seem to find myself on a rooftop with a cold drink no matter where I go. In Medellín, Alambique was perfect for relaxed cocktails and live music. 37 Park Medellín felt more like a rooftop beer garden with rustic log tables, and fairy lights strung between plants. 


Browse the boutique shops and sample the restaurants and bars at Carrera 34-37 – If you are looking for shopping in Medellin, this is the best place to start. There is a great mix of local and international brands along these streets, and some great restaurants and bars for when you need a break. One of the locations of Pergamino coffee is Carrera 37. 


Indulge your inner chocoholic at Me Late Chocolate – If you're looking to satisfy your sweet tooth in Medellín, then this is the place to go. Me Late Chocolate sells handmade chocolates and chocolate related desserts. Sit in for a coffee or hot chocolate and cake if you have some time, but no matter what, make sure you pick up some of their amazing truffles, you will regret it if you don't. 


Soak up the atmosphere at the Parque Lleras Sunday Farmers Markets – Avenida Poblado is closed to cars on Sunday to create a traffic-free zone for cyclists and pedestrians around the park. If you are staying in a place with a kitchen, then buy your fresh food and bread here. If not, there are plenty of snacks to sample instead. Don't miss the guarapo, a delicious combination of lime and fresh-pressed sugarcane, and arepas de choclo, which are a sweeter version of the Colombian staple topped with delicious salty cheese.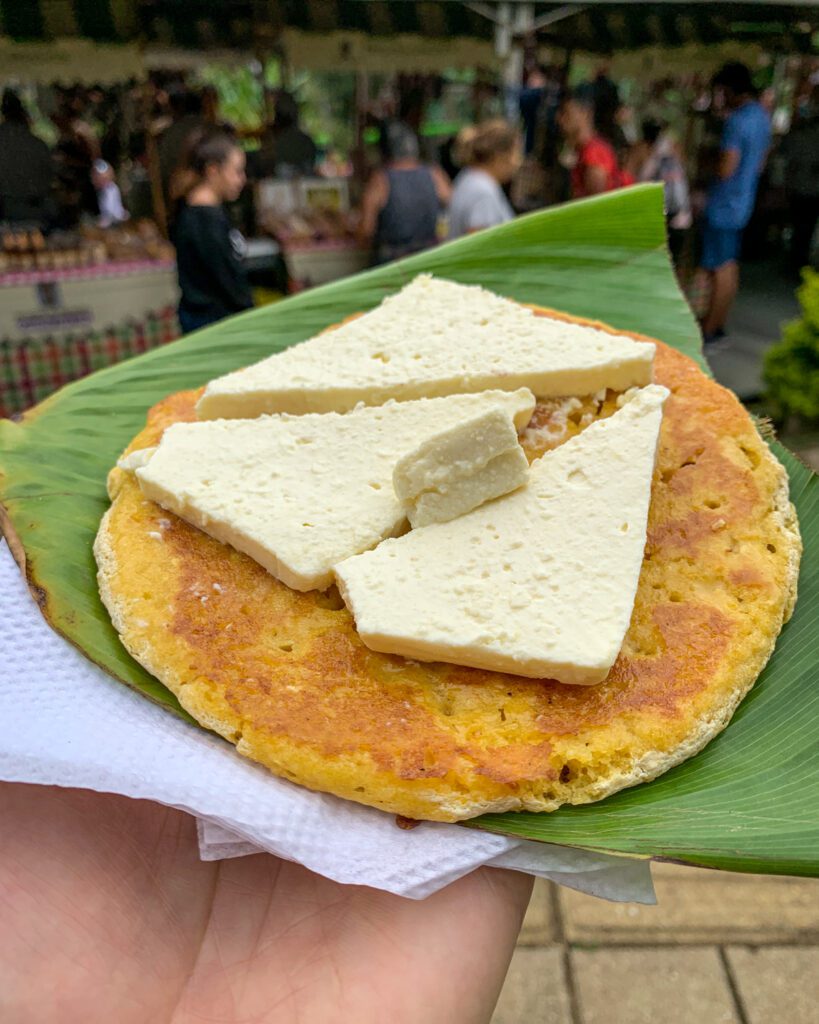 The Best Places to Stay in El Poblado
Here are some of our top picks for where to stay in El Poblado.
Hotels and Hostels in El Poblado
Los Patios Boutique Hostel: We stayed at Los Patios for almost a week, and highly recommend it. If you're looking for a social hostel in Medellín, You can't beat the location. It's right among all the best restaurants and bars, and a short stumble home from the nightclubs of El Poblado. It's also roughly equidistant to the heart of the neighborhood and the metro station, which is perfect for getting to other parts of the city, and there's an amazing grocery store (Exito) right across the street. This is the best place to stay in Medellin if you're on a budget but after some serious bang for your buck. It has a spectacular rooftop bar which is perfectly placed for enjoying sunsets over the city. There are also free bike rentals, a (great) shared kitchen, a gym, and free coffee. We stayed in a private room (we're too old for dorms – I need my sleep!) which was almost closer to a boutique hotel than any hostel we've ever stayed at.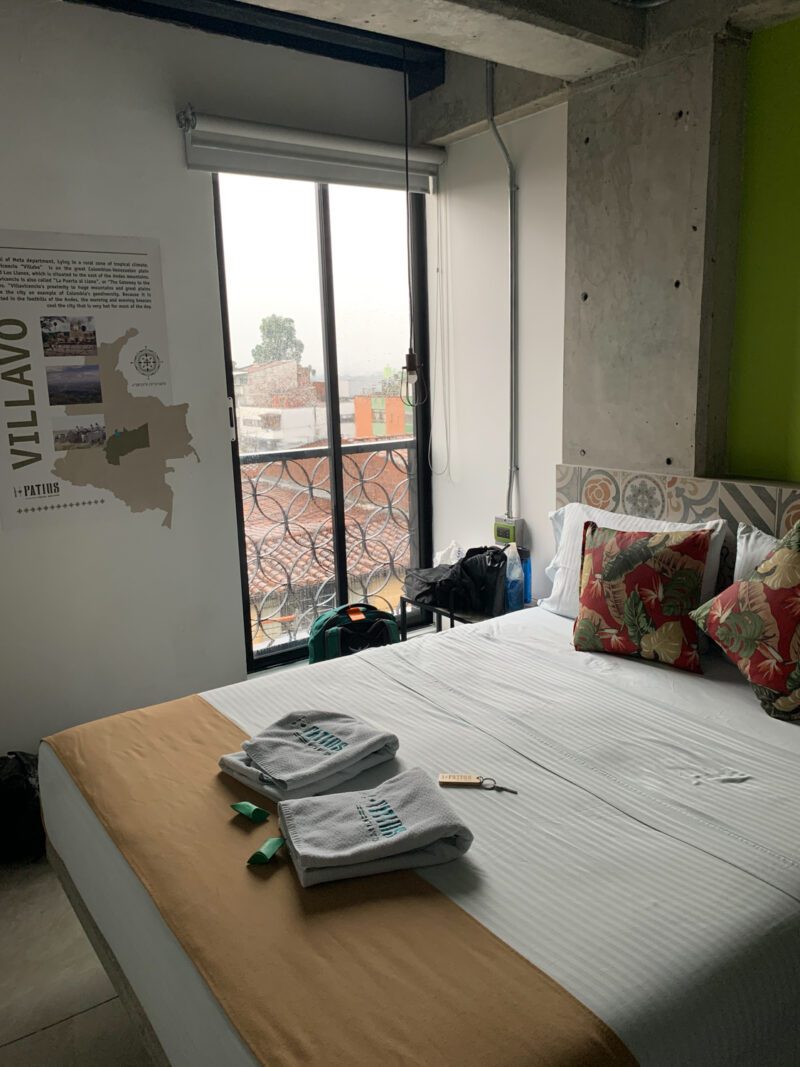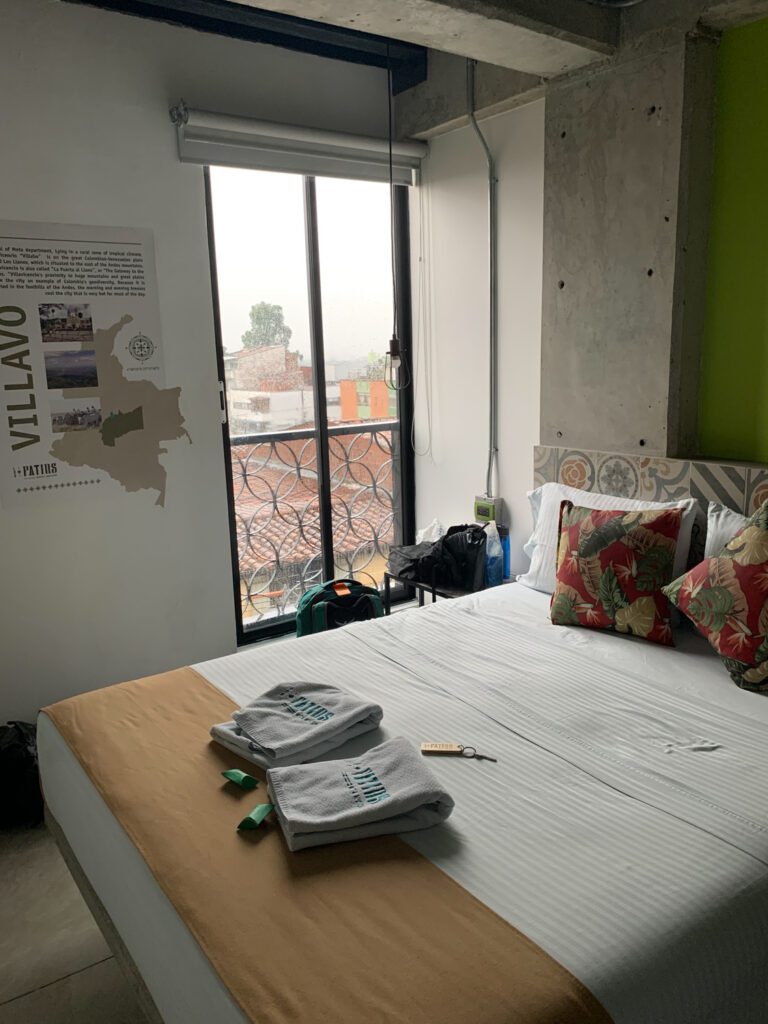 Sites Hotel: Located in a quiet street a hop, skip, and a jump away from the heart of El Poblado, Sites Hotel has 60 rooms that all have comfortable beds and a kitchenette. There's even a rooftop pool where you can relax with a great view across the city below. It also has laundry that is free to use, which is fairly unusual for a hotel in our experience.
Click Clack Hotel: This is one of the best boutique hotels in Medellín. A block and a half away from Parque Lleras and the rest of the sights, sounds, and tastes of El Poblado is Click Clack, a beautiful design-forward boutique hotel. It's gorgeous, and they have different room sizes available from XS, where you'll have a smaller, cozier space (not to mention cheaper) with all the same touches, to XXL, where you'll have all the space you need to spread out and relax. There's so much green around the hotel! Plants everywhere, inside and out. There are two rooftop bars and a rooftop pool for you to enjoy too. They have won all sorts of awards, including "Best Modern Luxury Hotel – Latin America."
Celestino Boutique Hotel: Right along Carrera 37 in El Poblado, Celestino Boutique Hotel is a 22 room stunner. Standard rooms are the most affordable, but don't compromise on style or design. There are three larger room types that will give you more space, but if you're planning on spending your days out exploring the city, you probably won't need it. Rooms are a combination of greenery and sleek modern design, which encapsulates the neighborhood around it with its tree-lined streets and hip restaurants and bars. There's a rooftop pool too, which seems common for the hotels in El Poblado.
Airbnb in El Poblado
Here are three Airbnb listings that caught our eye in the neighborhood.
King Bed with Balcony Views Close to Parque Lleras (studio): This lovely studio has views over the city, and an open floor plan with a surprising amount of space for a couple or solo traveler. The balcony, which is where you'll find the views, looks like the perfect spot to enjoy a cup of coffee in the morning, or a glass of wine in the evening. It's walkable to the best spots in El Poblado, and has a full kitchen and walk in shower. 
Urban Loft with Beautiful View (1 bedroom): Another stunning balcony view! First of all, you should know that this apartment is not in the heart of El Poblado, but further up the hill just east of the neighborhood near the popular El Tesoro shopping center. You'll probably need to catch a taxi to get to and from Poblado from here. But that being said, this spot is beautiful. A full kitchen with granite countertops, a balcony with spectacular views and a hammock, and a spacious bedroom and bathroom. What's not to love?
Magical Home with Lovely Garden – Designer Loft (1 bedroom): This bright and airy apartment has an unbelievable amount of natural light. And plants. Lots of plants. The minimalist decor, complete with subway tiling, is stunning, and it's just outside of all the action in El Poblado. It'll take you maybe five minutes to walk to Carrera 37, where you'll find Pergamino Coffee. 
Laureles: Low-Key and Central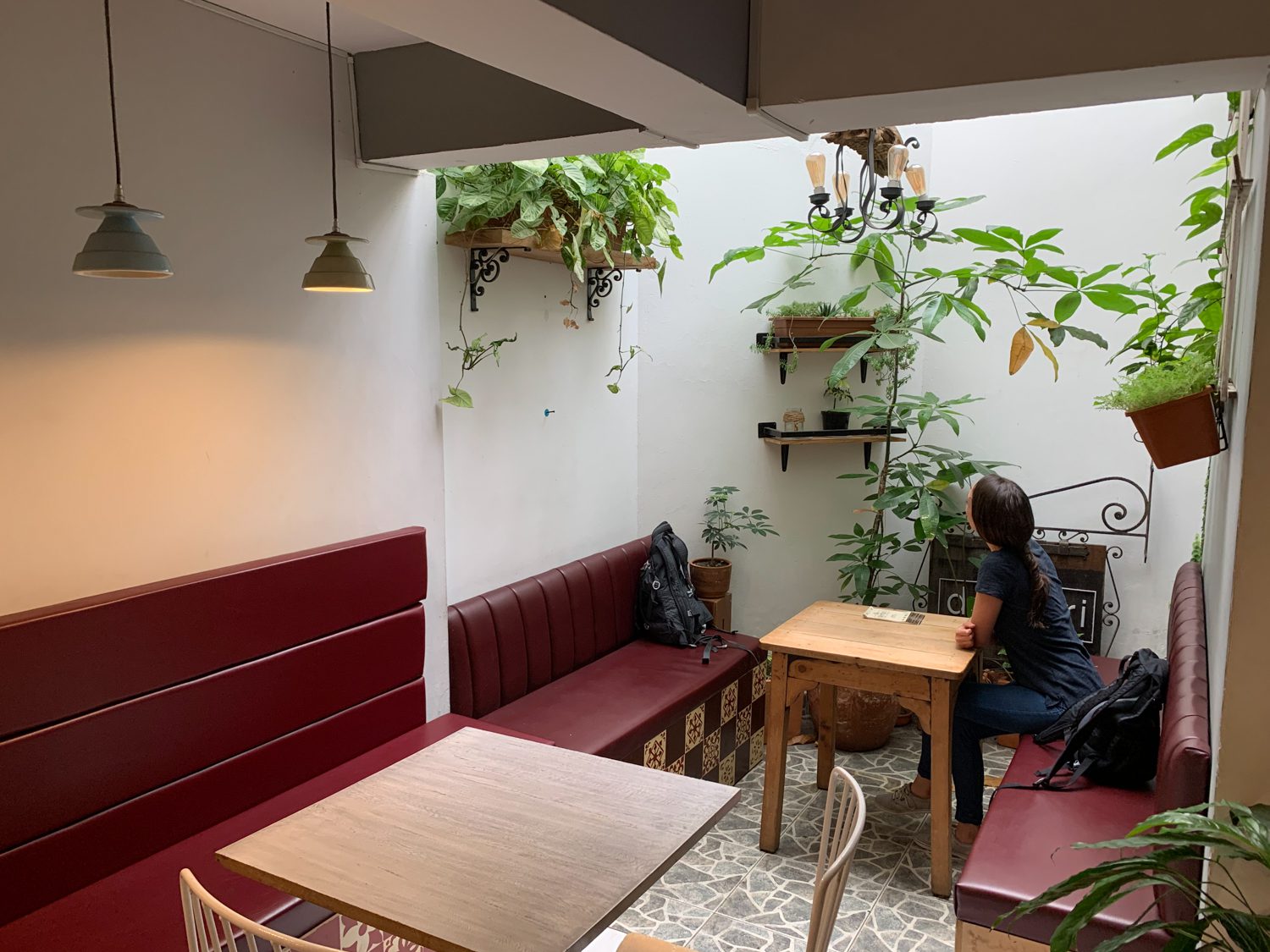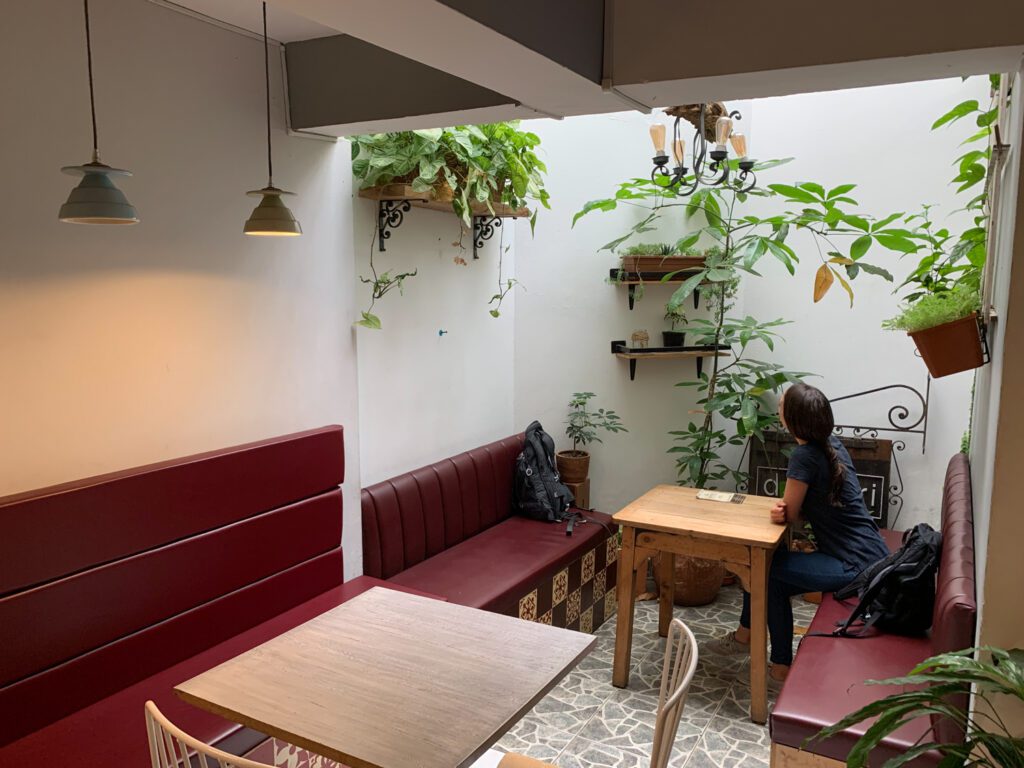 We loved Laureles. The part we stayed in – the southwestern end near Primer Parque de Laureles – is everything we love in a neighborhood. It's relatively quiet (not completely dead though), has tree-lined streets, and is packed full of great food, drinks, coffee shops, and more. That puts it at the top of the list of the best neighborhoods in Medellín in our book. 
We also noticed that Laureles' urban planning is kind of unique, especially compared to the rest of Medellín.
In a city of grids, it's more of a circular pattern fanning out from the University at the south end. Apparently it was a conscious choice made by German architect Karl Brenner when the neighborhood was being laid out decades ago.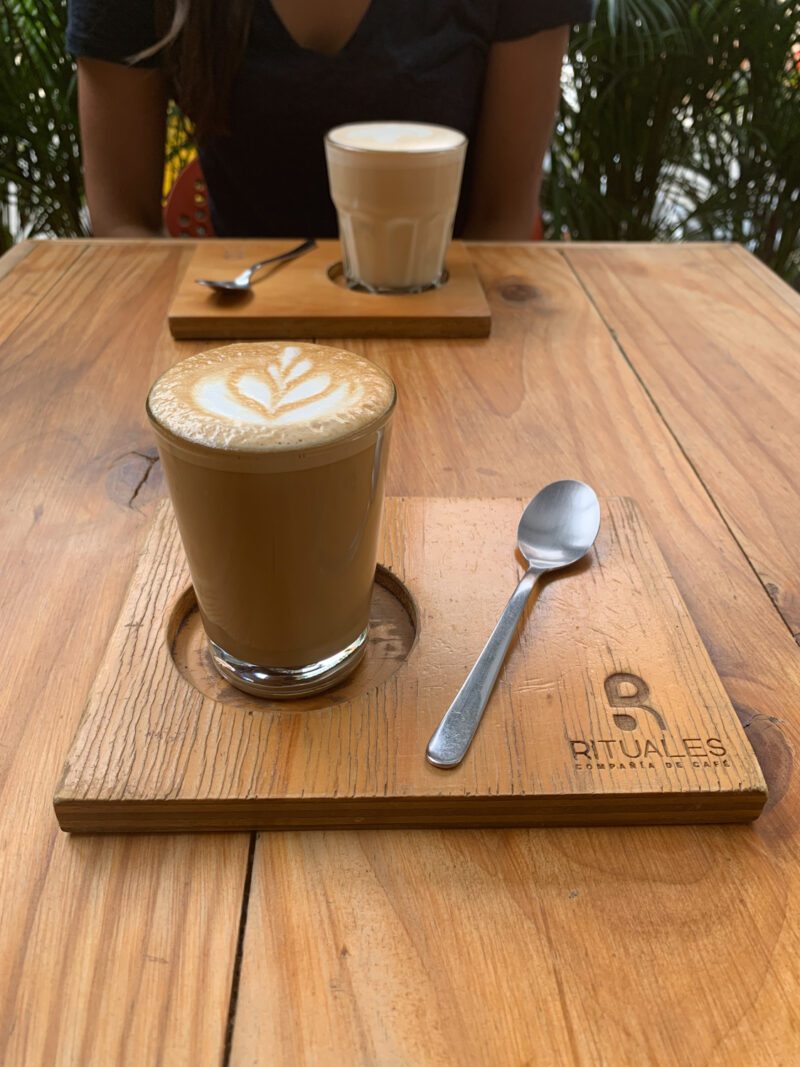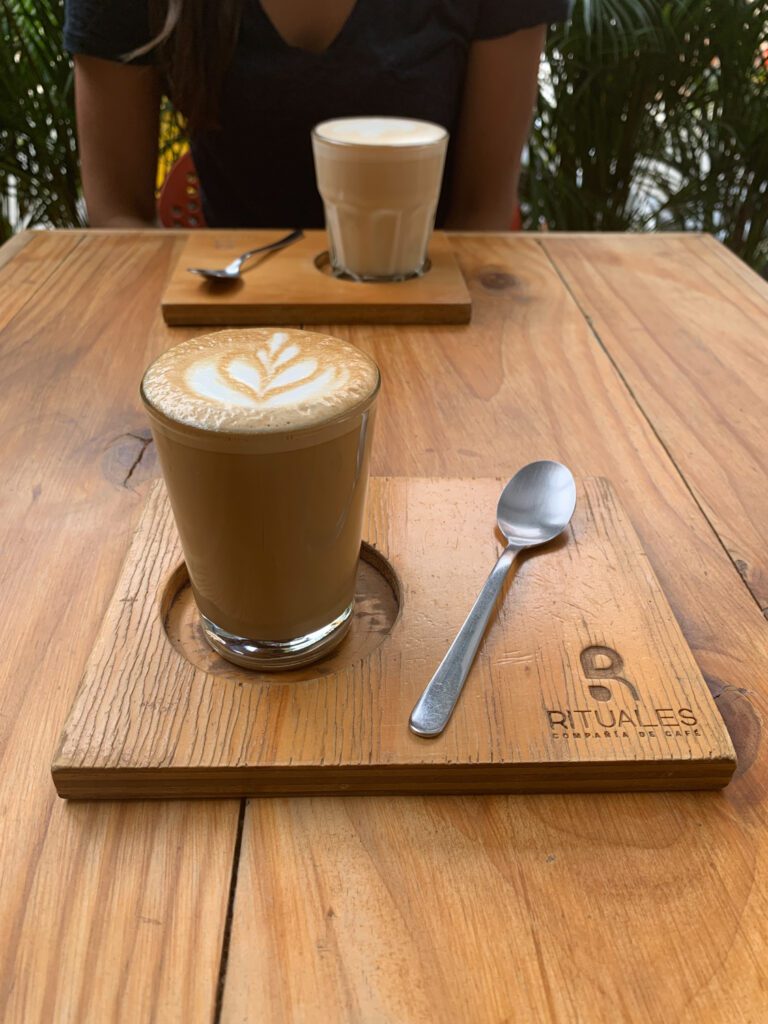 "Laureles" is a pretty big area, ranging from the Estadio Metro Station on the north side, to Avenida 33 on the south side. In general, we'd recommend staying south of Avenida San Juan, which is the more residential and charming part of the neighborhood, at least in our experience.
The trade off is that the closest metro station, Estadio, is roughly 20 minutes away on foot, which is a journey we made multiple times to get to other parts of the city.
The Best Places to Stay in Laureles
There are some great options in Laureles. While this neighborhood might have fewer places to stay, they will be quieter and slightly more affordable than in El Poblado.
Hotels and Hostels in Laureles
Casa Cliché: If you want a great value and a quieter experience than a traditional hostel, then Casa Cliché is where to stay in Medellín. It is full of huge common areas, including a massive patio area, where you'll enjoy your complimentary breakfast, and a big living room. They have a couple of private rooms, which is where we stayed, and a couple of dorms. It's not a huge hostel, which means it's relatively quiet. A vegetarian breakfast is included in the room rate.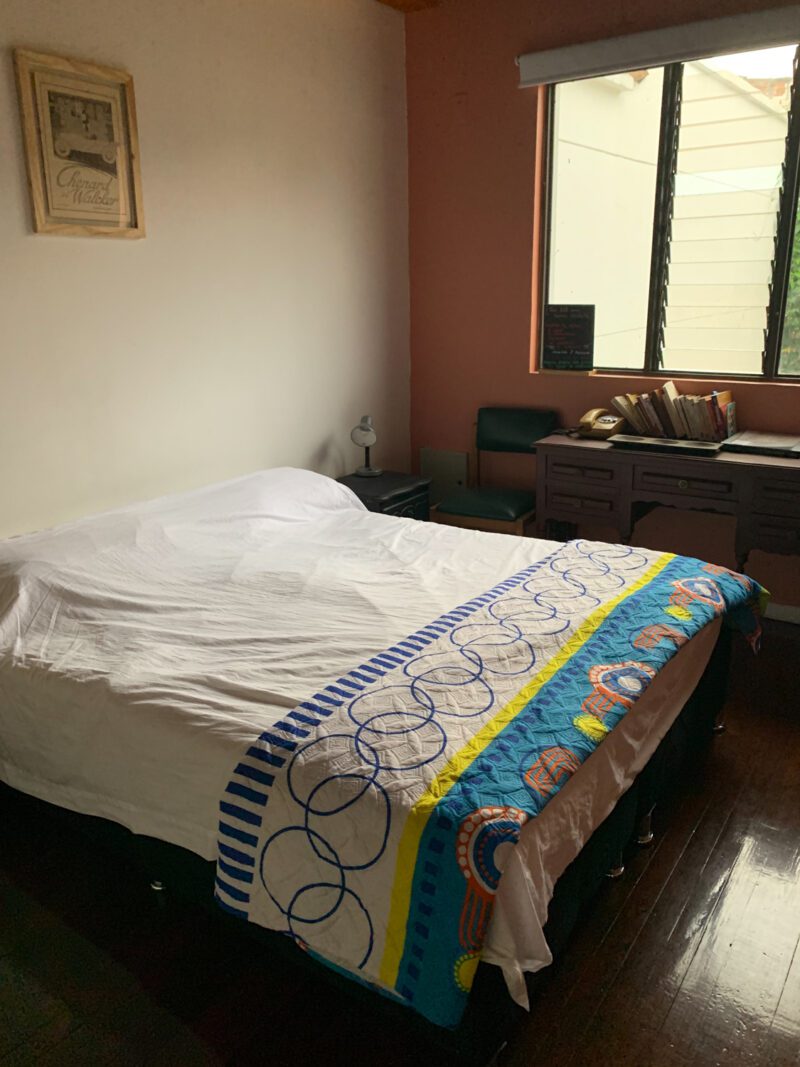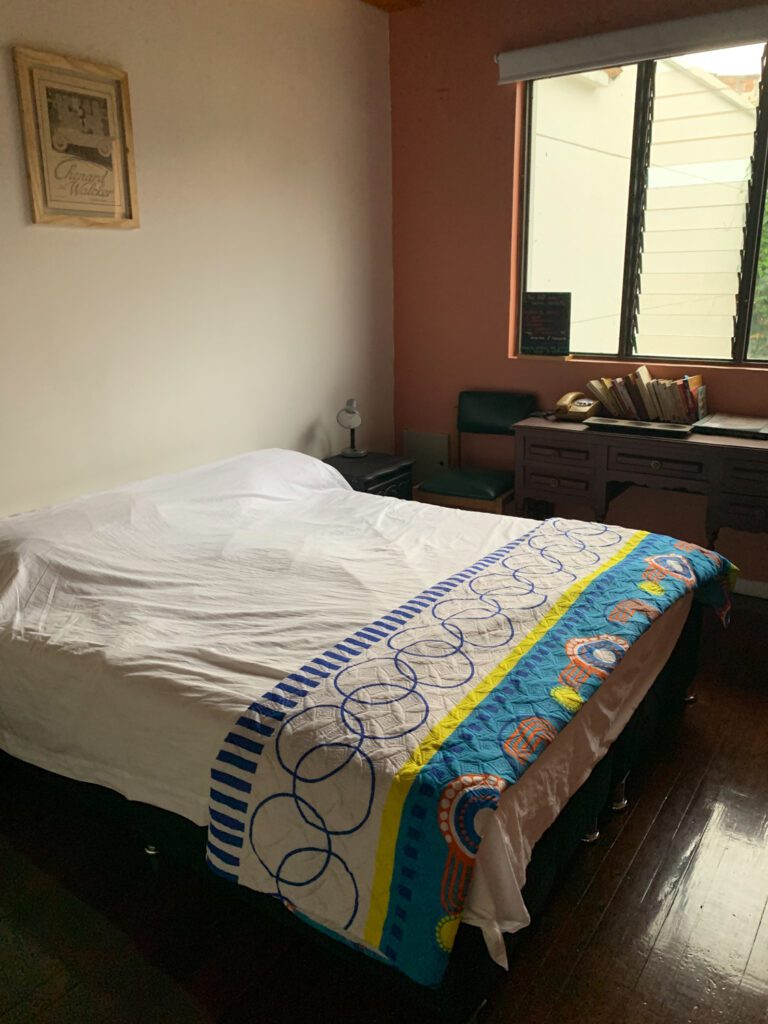 Hotel Inntu: For the conscious traveler, Hotel Inntu is a perfect option. It is an eco-friendly hotel and has a spa and a swimming pool. Rooms are nothing special, but have everything you'd expect from a hotel. It is extremely central and close to all the bars and restaurants in Laureles along Avenida Nutibara, plus it has a restaurant onsite. 
Envigado: Best for Long Term Stays and Families
Envigado is a quiet, residential neighborhood south of El Poblado where you will find a slice of local life. The streets and parks will be full of young families enjoying their weekends and evenings.
It's further out from the traditional tourist sites, so it's not the best place to stay for a shorter visit. Though thanks to Medellín's well-connected and efficient metro, it'll only take you 15 minutes to get downtown. 
Envigado is perfect for travelers who want to experience what living in Medellín is actually like.
Sure, El Poblado is great for a night out, but would you want to live there? We wouldn't.
Would we want to live in Envigado, with its tree-lined streets, parks, and cafes with outdoor seating? Absolutely. 
The Best Places to Stay in Envigado
First of all, since it's more residential, there's literally one hotel in the neighborhood, and that's the Arame Hotel, which is very basic. Here, Airbnb is going to be your best friend. 
Here are two Airbnb options for you to check out in Envigado.
Airy Penthouse Bordering Poblado: This colorful one-bedroom apartment has access to a rooftop terrace with panoramic views of the city. The apartment is in a residential area, surrounded by plenty of markets to buy your fresh food from, and the hosts are only too happy to give you recommendations. 
Peaceful Oasis in Trendy Restaurant Zone: If you're traveling with a family, this is where to stay in Medellin. It's a huge newly renovated three-bedroom apartment in the middle of Envigado. Each bedroom is furnished with a plush bed, and the flat is professionally designed to be a comfortable oasis for your whole family. It's right near the Envigado metro station, so you'll be able to get between home and the rest of the city relatively easily.
---
There you have it – our top picks for where to stay in Medellin, Colombia, based on our own personal experience.
Don't miss our guides to where to stay in Bogota and the best places to stay in Cartagena.
Planning a trip to Colombia? We've got more travel guides to help you plan an incredible trip.