The GFB: My Go-to Gluten Free Travel Snacks
This post is sponsored by The Gluten Free Bar, but all the thoughts and opinions below are my own. I would never recommend something I wouldn't use myself, and in this case, I use "it" all the time.
You know that feeling, where you buy a new gluten free snack for the first time, tear it open to eat it, put it in your mouth, start chewing, and say "yeah, it's alright. At least it's gluten free I guess."
I loathe that feeling.
It's 2020. Just because something is gluten free does not mean we have to settle for average taste and texture. I remember the early days of my diagnosis in 2008-2009 when the only gluten free bread you could find had roughly the same texture as a hockey puck and started to crumble at the mere thought of being eaten. I literally ordered gluten free food in the mail because it was so hard to find near me in Seattle.
Those were dark days.
I have some good news for you. This post is about a brand whose mission is about making that feeling a thing of the past.
And that brand is the Gluten Free Bar (The GFB).
I've been buying their bars for years now, and most recently I've fallen in love with their oatmeal (more on that in a second). One day on my way to buy more, I asked myself "who is the company behind these bars?"
That's when I found out that not only is their food delicious and always Celiac-safe, they're also running a great company that does the right thing for Celiacs, their employees, and the planet.
When the opportunity for a partnership came up, I couldn't have been more excited. In order for a partnership to really work, there has to be a level of brand love that exists beforehand, otherwise it feels forced.
Let's just say that's not an issue here.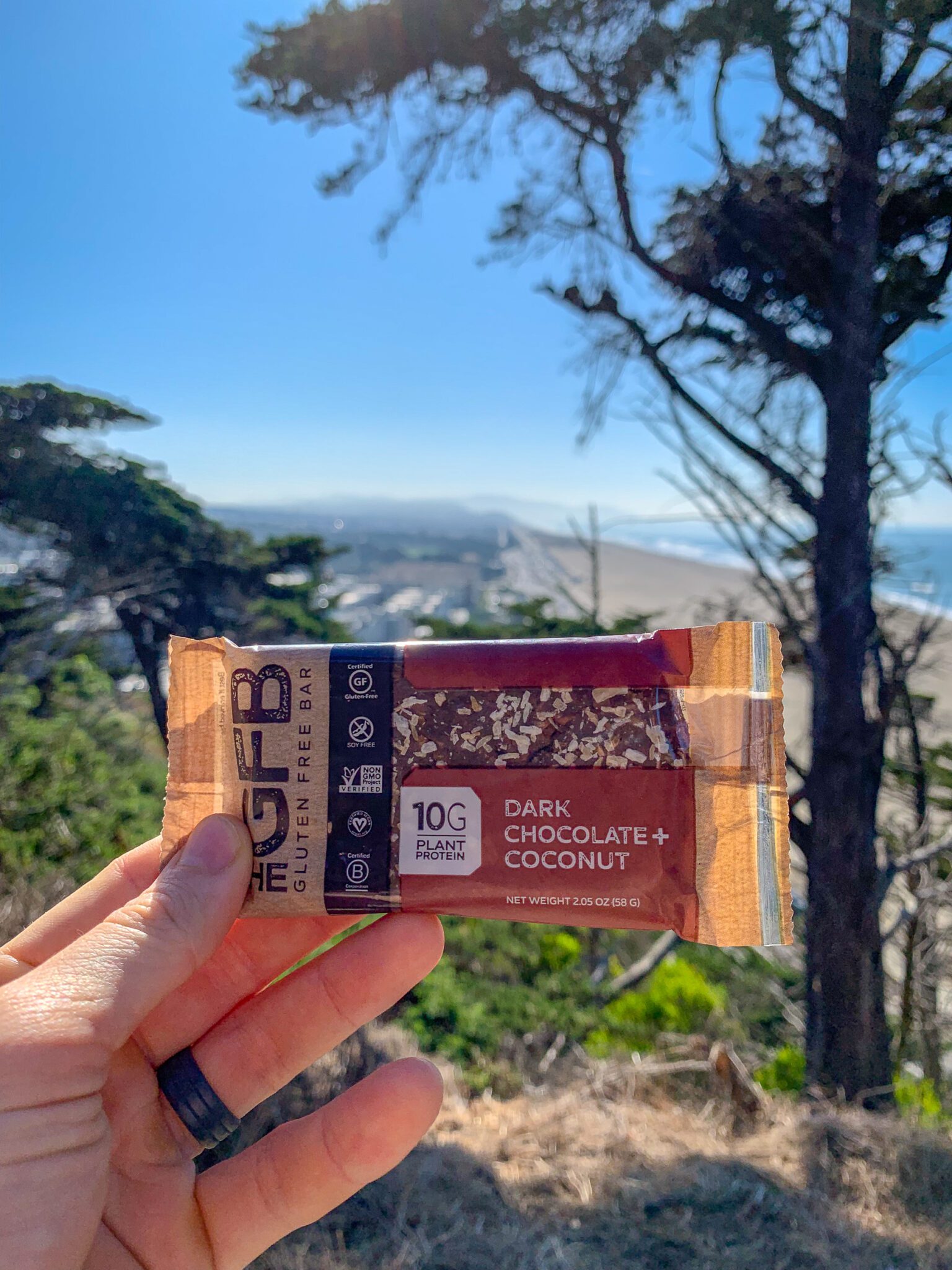 Why I Love the GFB and Think You Should Too
When I evaluate gluten free snacks for travel, I think about three things: safety for Celiacs, deliciousness, and the "off the field" impact, like doing the right thing for the environment. In that order.
Let's walk through each of those so you can understand exactly why I'm such a big fan of the Gluten Free Bar.
Safety for Celiacs
The GFB was started by two brothers back in 2010. Marshall, one of the founders, was diagnosed with Celiac Disease in 2008, which is the same year that I was diagnosed. They were frustrated with the lack of good gluten free options in the bar category, and so they set out to make one themselves.
Which, by the way, is essentially the story behind almost every great gluten free bakery, brewery, and gluten free business that has brought us the plethora of options we have these days.
Here's where the GFB really shines. I know you have picked up a snack before that was labeled gluten free – it might have even been certified gluten free – but when you flip it over to read the ingredients, it has the dreaded "processed in a facility that uses wheat" statement. Is it safe? Is it not? Who knows? That confusion leads to tons of misinformation and fear-mongering, particularly online (Gluten Free Facebook Groups, anyone?)
While most snacks from big companies are made in facilities that likely process wheat in some capacity, the GFB owns their own facility, so you never have to worry about that. Not only is that good for us Celiacs, but it's a huge positive for the local community.
All of their products are certified gluten free (by the GFCO), certified Vegan (by Vegan Action), non-GMO Project Verified, soy-free, and certified kosher.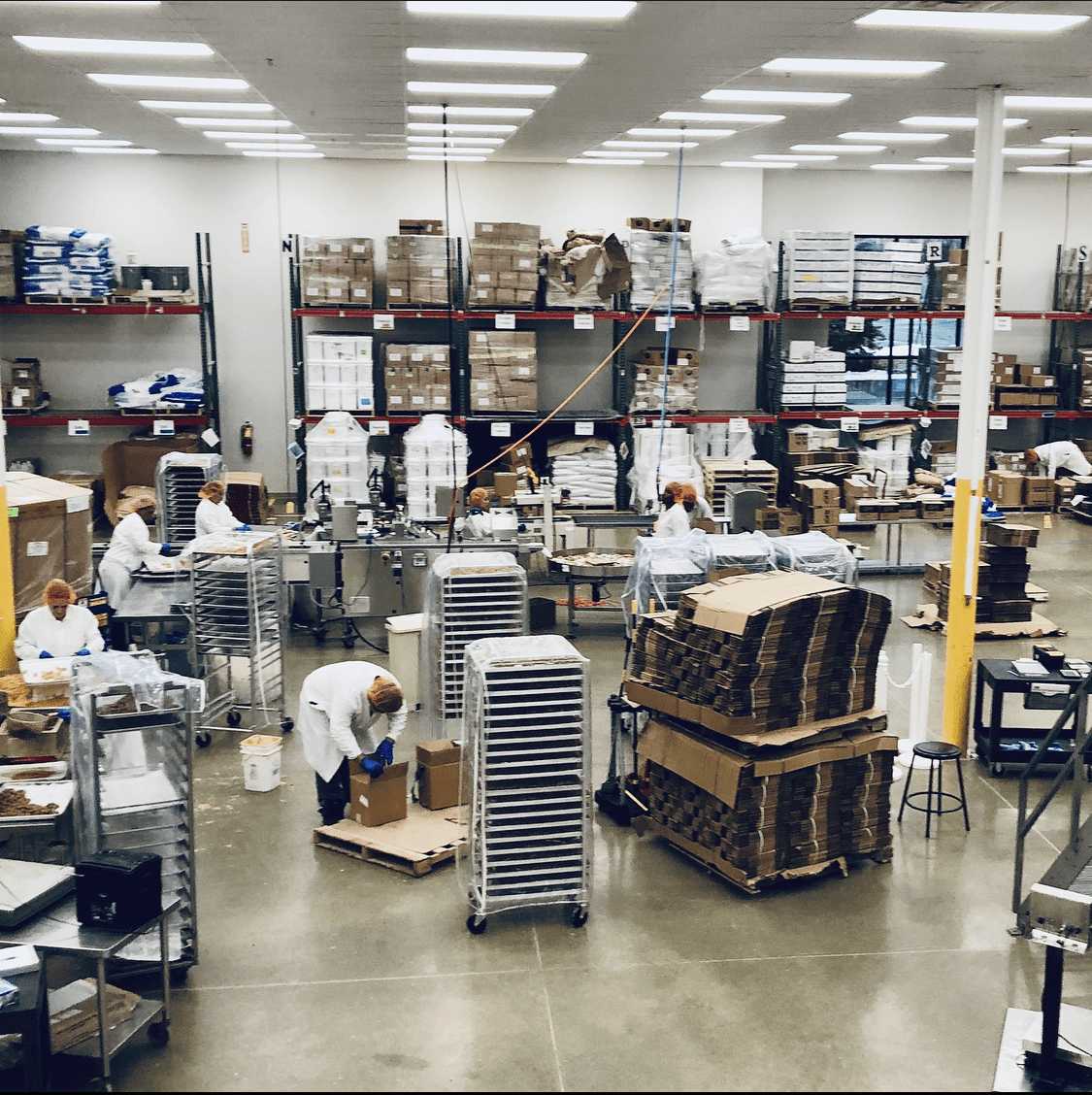 Deliciousness
Yum. I haven't had a bad flavor yet. More on each specific product below, but my favorites are the PB&J bites, the Coconut Cashew bars, and the Apple Cinnamon Oatmeal.
Off the field
There's another factor that I consider when I'm choosing what products to buy and brands to support, and it's the positive impact they're making "off the field" as I like to call it. Marshall and Elliott, the founders, set out to create a company that does the right thing, balancing purpose and profit.
You can read all about the great work they're doing in their Annual Sustainability Report.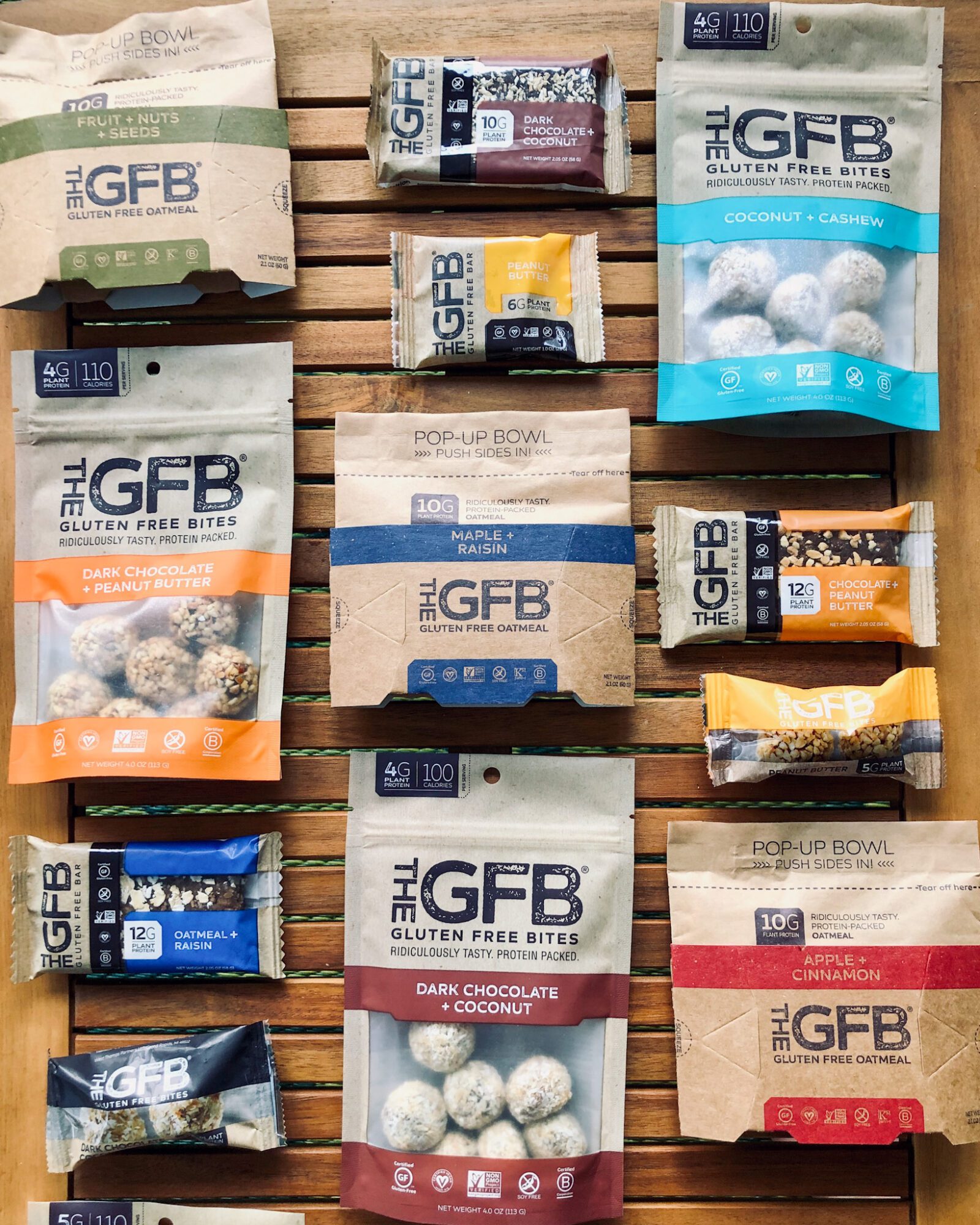 The GFB's Products
One of my top rules for gluten free travel is ABS.
Always. Bring. Snacks.
Because there is literally nothing worse than being stuck hangry and not having access to safe food, whether it's on a long train ride, or a flight where they forget your gluten free meal (that happened to me once, and it wasn't pretty).
My goal when traveling gluten free is to do the research ahead of time to eliminate the anxiety around food that comes with having Celiac Disease and being outside your comfort zone.
The Gluten Free Bar has been in my bag on every trip for about two years now, and they have prevented several near-hangry situations.
Not sure which product to try first? Grab a sample pack with all three!
The Bars
The bars were my entry point into the GFB. It's the first product they made, and they're also the first product that I got my hands on. They're packed with 10-12g of protein, nutritious ingredients like nuts, seeds, fruits, and they're certified gluten free and made in a dedicated gluten free facility. And did I mention that they're delicious? I'm partial to the Coconut Cashew, but you'll find a flavor that fits your personal taste.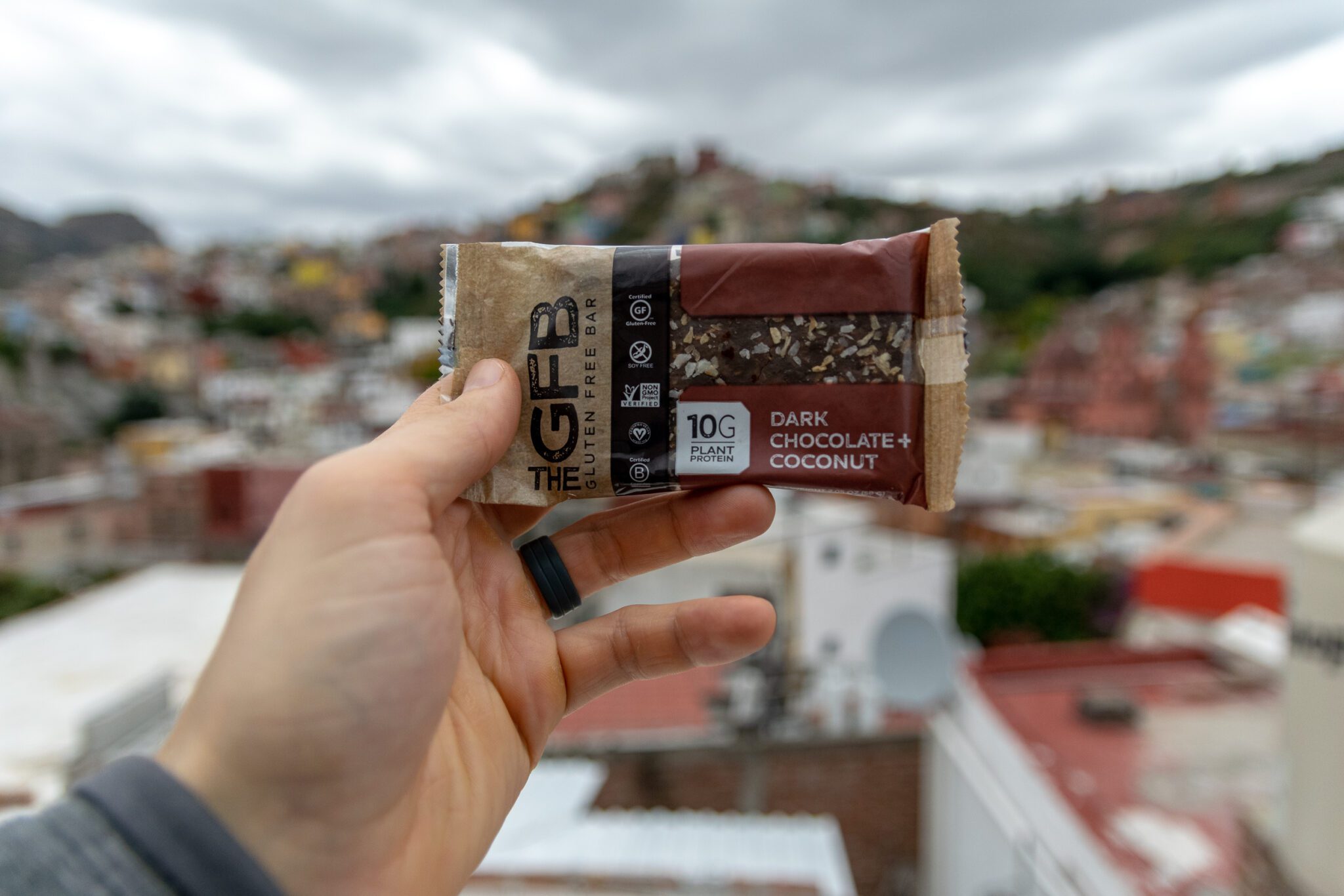 The Oatmeal
The Oatmeal was the second GFB product I tried, and it only reinforced my brand loyalty. I've traveled or camped with oatmeal before, as I'm sure most people have.
One of the problems I always have is needing to have access to a bowl to cook it in, which doesn't SEEM like too much of an issue, until you're on a plane and your bowl is in your checked bag (that happened), or you're backpacking and don't have the room to carry a bowl with you everywhere you go.
On the convenience front, the GFB oatmeal wins for its innovative packaging. Who needs a separate bowl when your oatmeal's packaging becomes a bowl all on its own? That's exactly what happens with the GFB's oatmeal packets – you open the top, pinch in the sides, and voila! A bowl appears.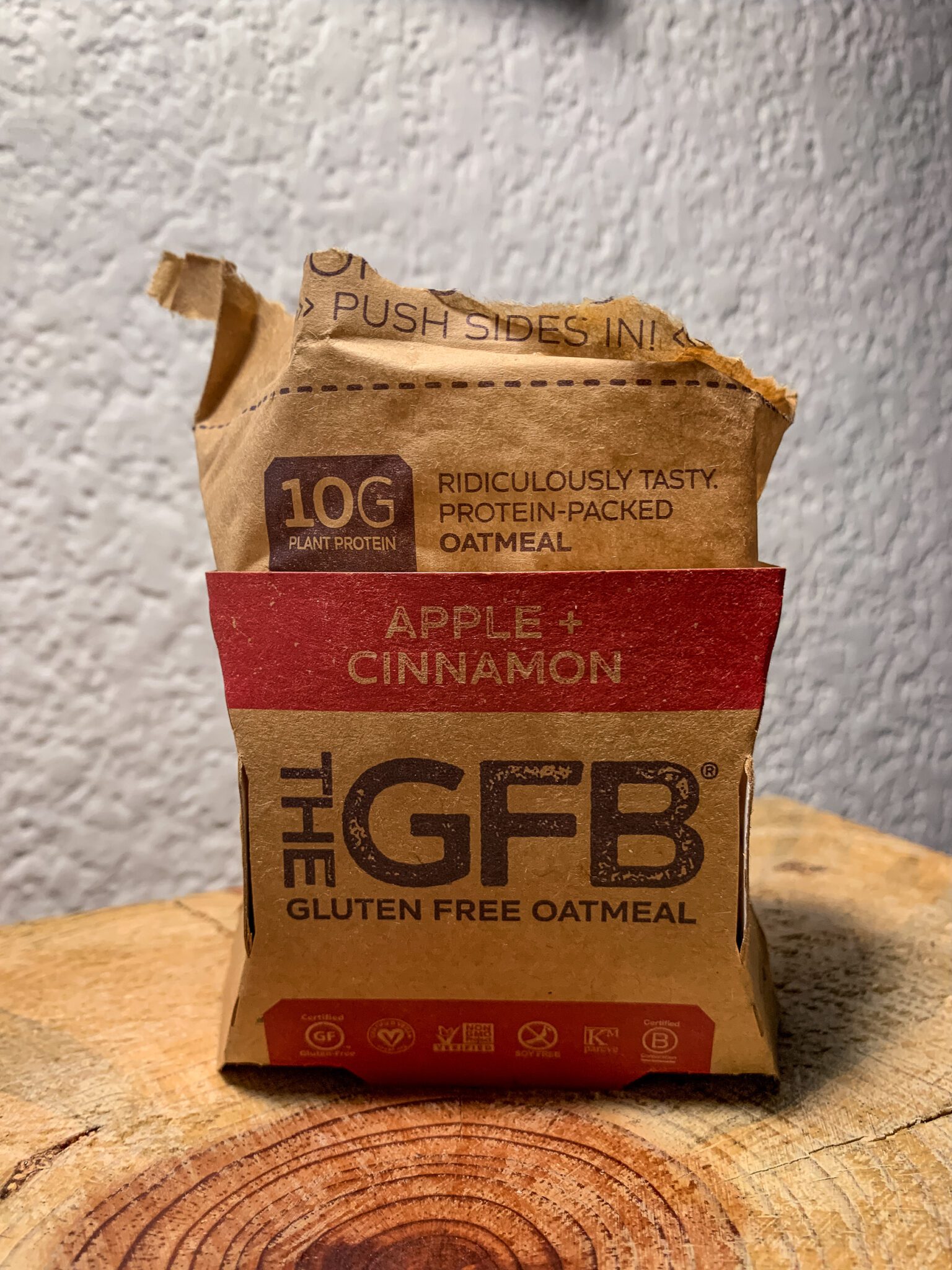 It's certified gluten free, uses purity protocol oats (confirmed by Gluten Free Watchdog), and has a whopping 10g of protein. That's more than you'll find in your usual morning oatmeal, so it'll keep you full for at least a few hours while you're on the go. It's the perfect travel companion, and I've had it in my travel bag since the moment I discovered it.
The Bites
I came across the GFB bites after my trip to New Zealand in early 2019. While gallivanting around New Zealand, I saw date-based bites EVERYWHERE. I grabbed a few just to try them out, and realized they're the perfect snack when you're on the go. Feeling hungry? Grab a bite or two and save the rest for later.
When I got back to the US, I was on the lookout and I somewhat inadvertently stumbled across the GFB bites, which are even better than the ones I had in New Zealand because they're made with tons of nuts, and the more nuts the merrier if you ask me. The PB&J bites are my favorites, followed closely by the chocolate hazelnut
---
That's all from me on the GFB. They're one of my favorite gluten free companies around, alongside Ghostfish Brewing Co in Seattle and New Cascadia Traditional Baking Company in Portland, Oregon.
Make sure to grab some products from the GFB to stash in your carry on bag on your next trip, check out their store locator to find them in a store near you, and follow them on Instagram.