The 17 Best Airbnbs in Portland, Oregon That You'll Want to Book ASAP
In the conversation about the coolest city in the United States, Portland has to be up at the top – or at least in the top three – for the most "chill" city in the country. Over the past few years, which have included multiple trips to explore Oregon's biggest city, Portland has solidified its spot on the list of our favorite cities in the country.
In Portland, Airbnb is a great choice if you're looking for a home base to explore the city, and there are countless options ranging from tiny homes, to backyard bungalows, to adorable craftsman homes with a little more space.
This guide will take you through our picks for the best Airbnbs in Portland, Oregon – complete with five Portland Airbnbs that we have personally stayed in and can vouch for – to help you find the perfect place to stay for your Portland adventure.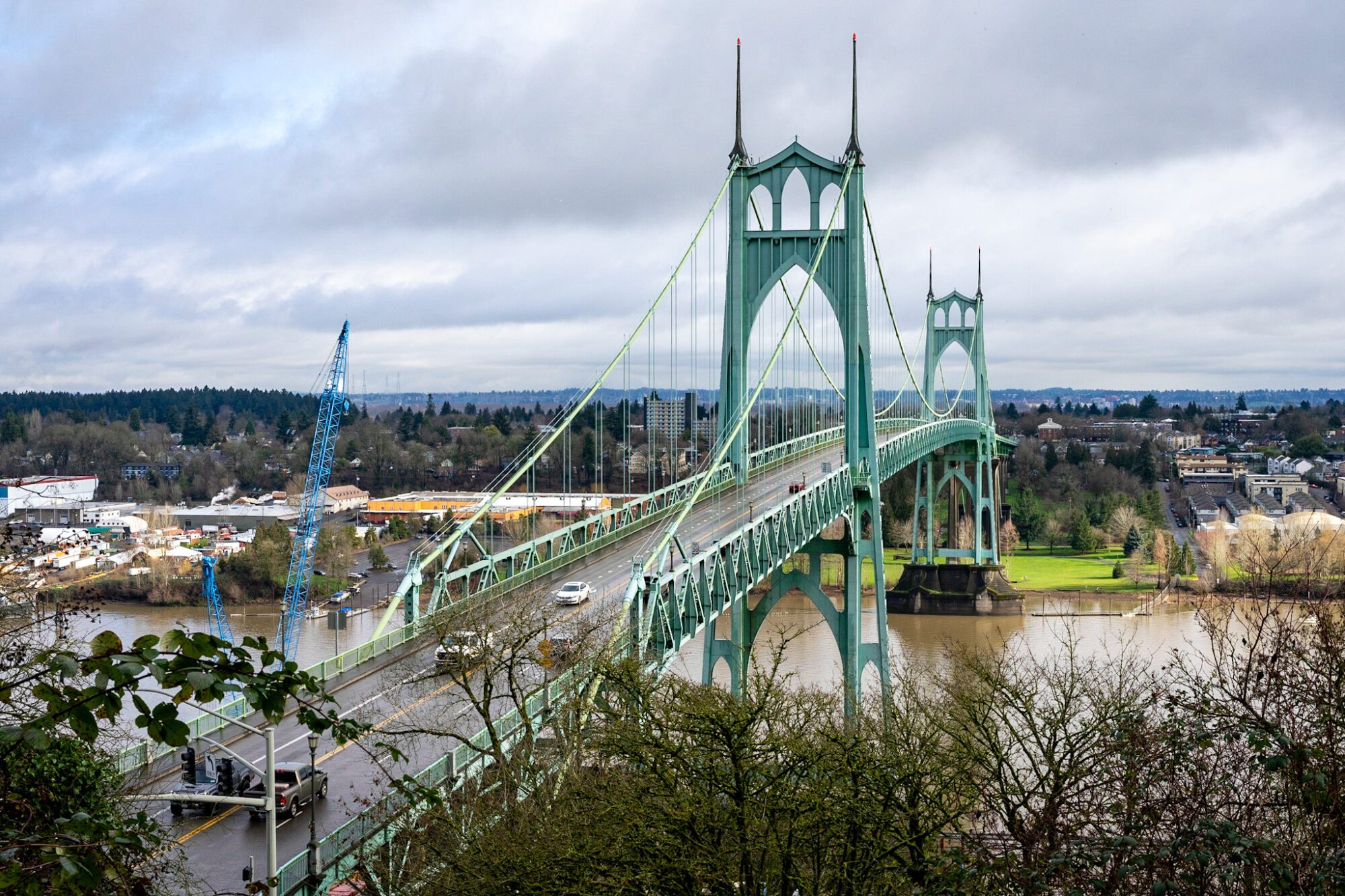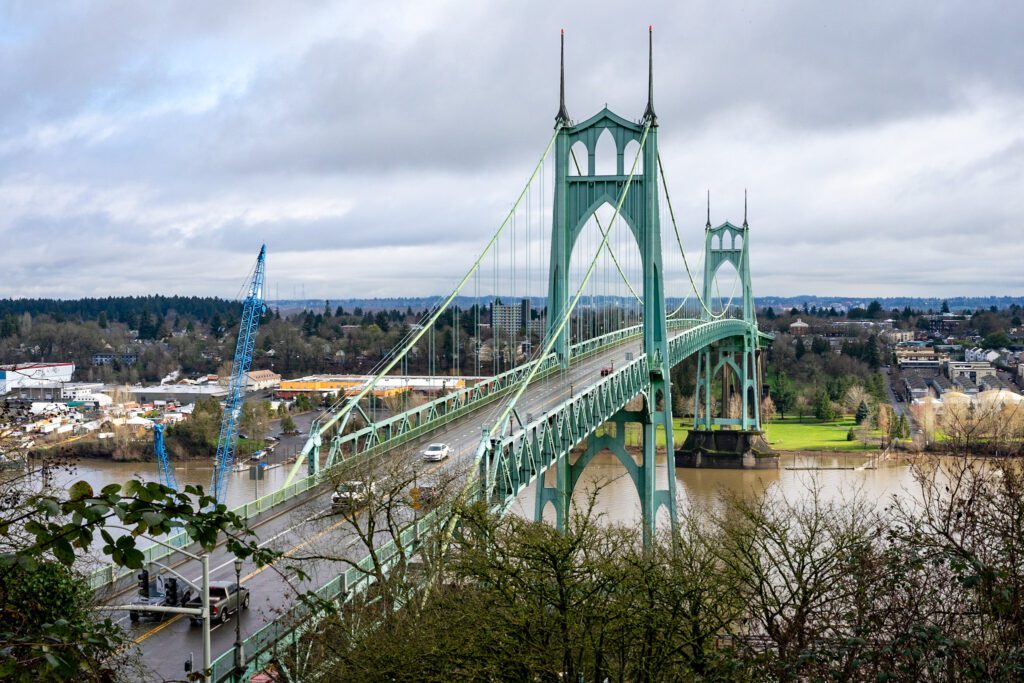 Disclaimer: Some of the links in this post, like hotel links, are affiliate links, meaning at no additional cost to you, we make a little bit of money if you click through and book. That being said, we would never recommend something to you that we don't stand behind 100%.
The 17 Best Airbnbs in Portland, Oregon To Book For Your Trip
Filled with bookshops, microbreweries, hipster coffee shops, parks, museums, galleries, and thrift stores, Portland is one of our favorite cities in the country thanks in large part to that thriving small business economy. We've been to Portland at least six or seven times, including a month-long stay during the winter to see if we could handle winter in the Pacific Northwest after a decade in California (mostly for Alysha, who has lived outside California only once in her life for a short stint studying abroad in Rome in college).
In the list below, you'll find FIVE Airbnbs that we have personally stayed in and recommend, which is something you won't find in most "best Airbnb in XXX" posts around the internet.
Whether you want to sit in a cafe people-watching, eat some of the best food in the country (from a food cart, in true Portland style), or tackle one of the best hikes near Portland to one of the many waterfalls in the Columbia River Gorge, we think Portland is a must-visit.
Below, you'll find our picks to help you find the best Airbnb in Portland for your style, group size, and budget. We have the list organized by neighborhood, and have a very brief overview of the best areas to stay in Portland at the top to help you navigate the city. On this list, you'll find options combining classic Pacific Northwest style with modern touches – Portland in a nutshell – and even a spot on an Alpaca farm!
We've planned everything from a couples getaway to Portland to a bachelor party and family trip in Portland, so we've run the gamut of different groups sizes.
But first, a quick overview of Portland's geography to help you figure out where to stay.
A Brief Geography Lesson
At a high (and probably overly simplistic) level, Portland is split down the middle by the Willamette River, and it is easiest to use the river as a guide when thinking about areas to stay.
On the west side of the river, you'll find downtown Portland, the hip Pearl District, and sprawling Forest Park. This is also where you'll find some of the coolest hotels in Portland, and in general we think hotels are a better choice here. In particular, we like the Hoxton, the Society Hotel (we've stayed here and enjoyed it), and the Inn at Northrup Station.
The east side of the river is our favorite part of Portland, and we like to think about it as three separate areas.
At the north end, you'll find the Alberta Arts District and Mississippi Avenue, two of our favorite parts of the city.


The middle part of southeast Portland is where you'll find Buckman and Laurelhurst, two residential neighborhoods that have cute strips of shops, restaurants, and bars along Buckman and Burnside.


The southern edge of Southeast Portland tops our list as the best area, and it includes Hawthorne Street and Division Street, our two favorite stretches in Portland. Several of the Airbnbs in Portland that we've personally stayed in are found here. We have also recently been able to explore more of the Sellwood-Moreland neighborhood, which is even further south, and have fallen in love with it (though we think it's a little far out for tourists spending a weekend in Portland).
To wrap up this geography lesson, the best place to find an Airbnb in Portland is the Eastside, and the whole stretch from Alberta and Mississippi down to Division is a great place to base yourself in Portland.
5 Great Portland Airbnbs That We Have PERSONALLY Stayed In
Like I said, we've spent a fair amount of time in Portland, returning to the city time and time again for the great food, drinks, shopping, and nature in and around the city.
Here are five Airbnbs in Portland, Oregon that we have personally stayed in and can 100% recommend for your stay.
All five are on the east side of the river, which should tell you something.
Sweet Garden Perch! Ideal Spot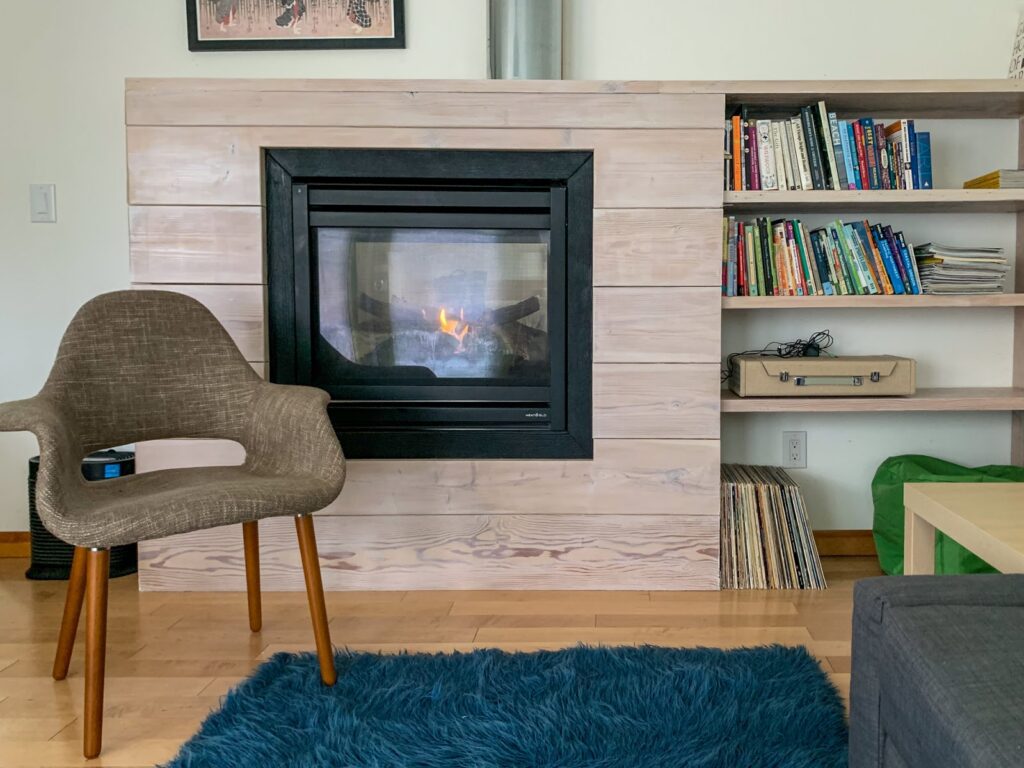 Location: SE Portland (Division Street)
Bedrooms: 1
Bathrooms: 1
Sleeps: 2
Pet Friendly: No
We spent a full month in this cozy Airbnb just a few blocks away from Division Street, and loved every second of it. It's not huge, but it has plenty of space for a couple in Portland with one bedroom, a full kitchen, a spacious living room, and a cute little balcony. It's also one of the most affordable places we found, and given the location, it's a steal. Don't miss New Cascadia, an incredible gluten free bakery in Portland that is just a couple of blocks away, and all of the other restaurants and bars along nearby Division Street.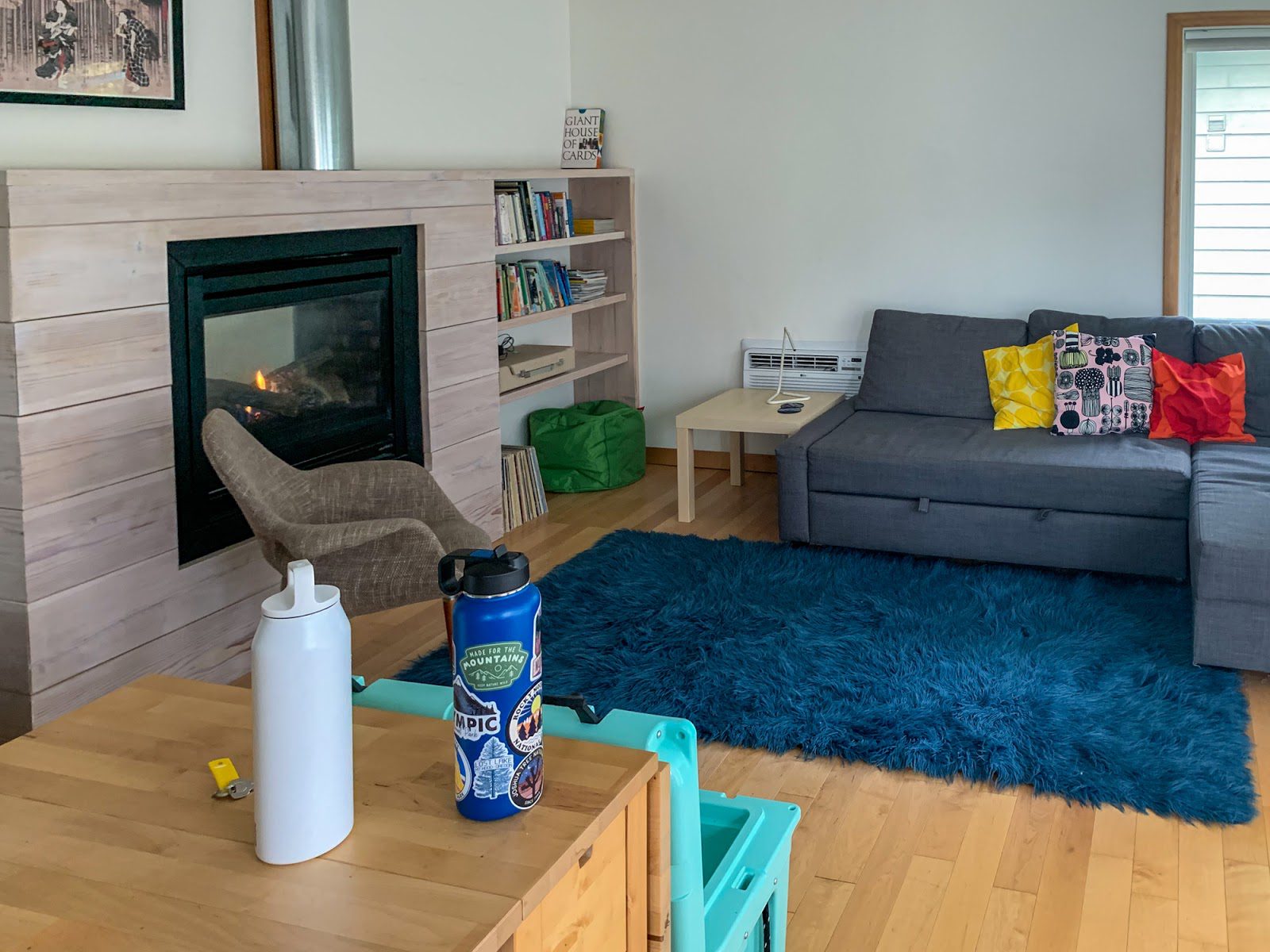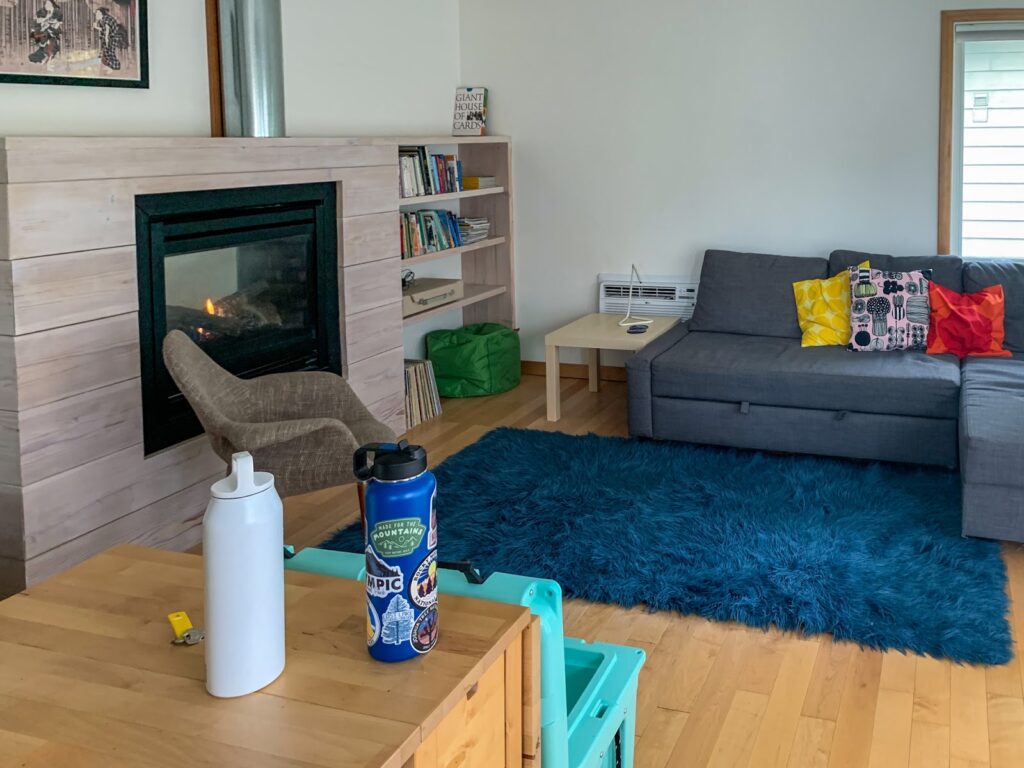 It has everything you need for a trip to Portland – the kitchen has a stove top and combo microwave / oven, there's a washer and dryer in the unit, and it has a small TV with Netflix, where we fell in love with Outlander, and started planning a trip to Scotland in the future.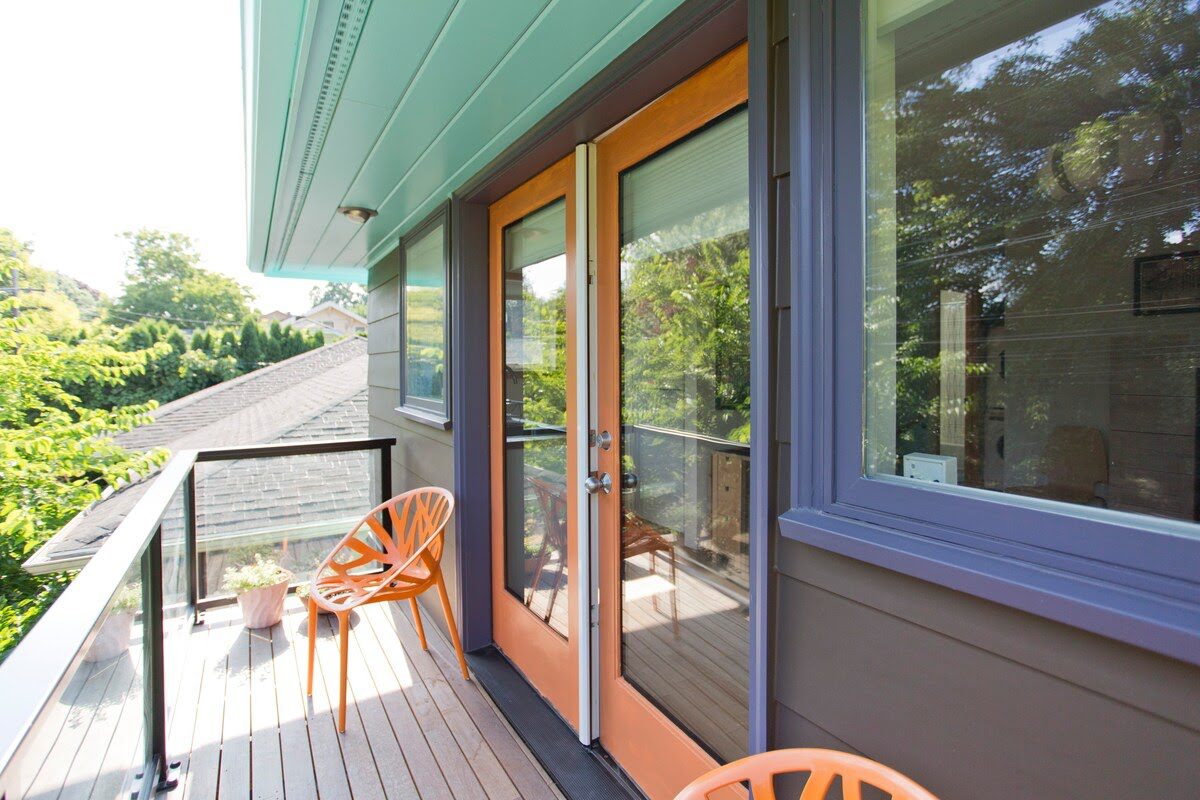 The highlight, at least for us, is the double-sided fireplace that heats the bedroom and living room. We were here in the winter, and were super cozy curled up by the fire every morning and evening, waiting for the place to warm up a bit before getting our day started.
Modern Hawthorne Guesthouse – Close to Everything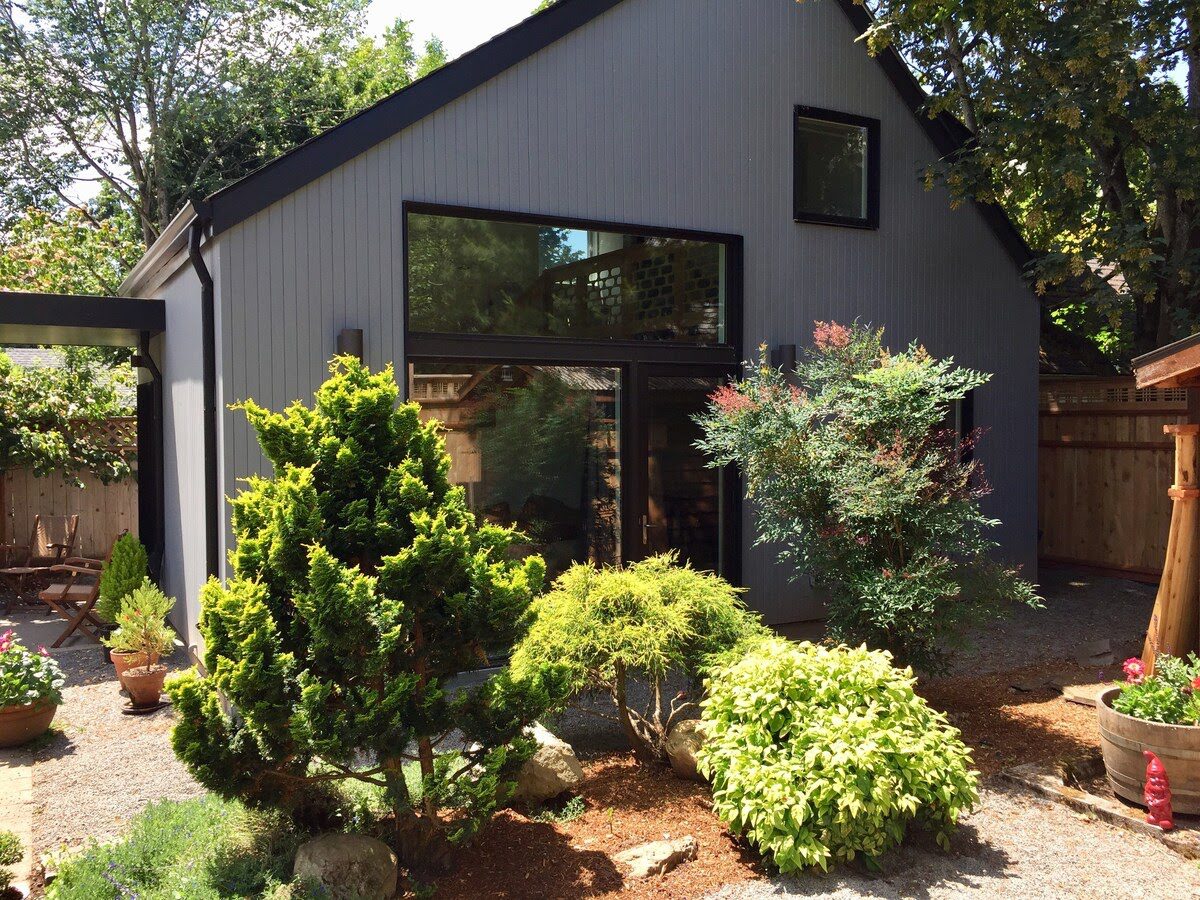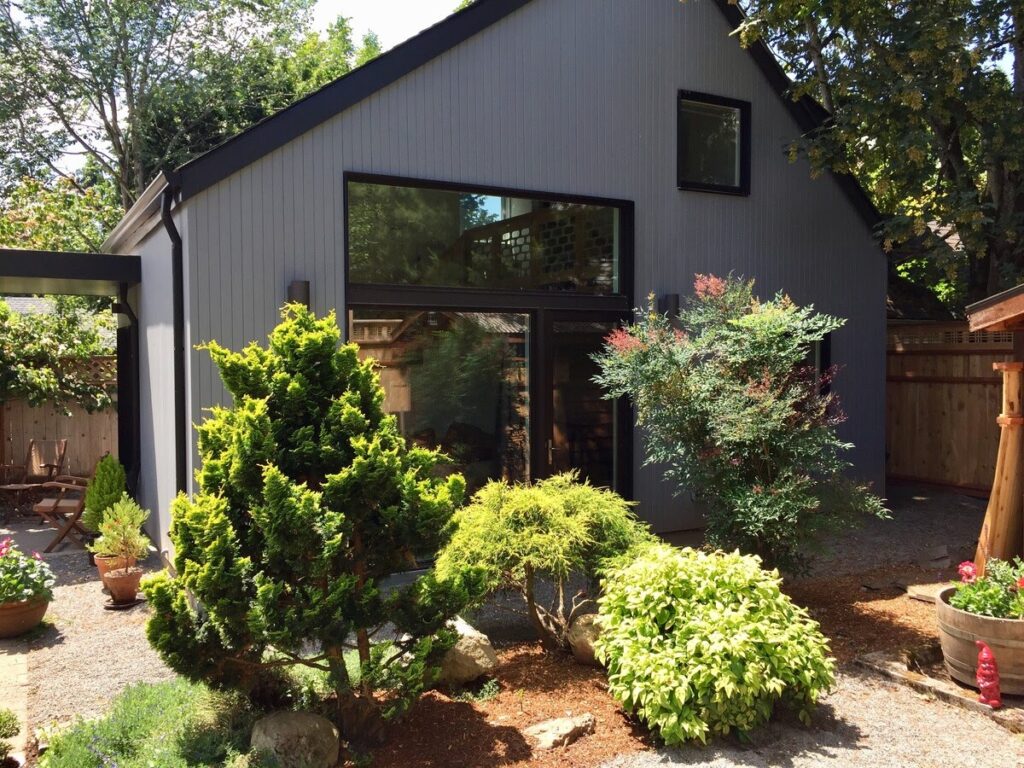 Location: SE Portland (Hawthorne)
Bedrooms: 1
Bathrooms: 1
Sleeps: 4
Pet Friendly: No
We spent a summer weekend at this modern one bedroom apartment, and it's probably our top pick for couples looking for an Airbnb in Portland. We highly recommend it for traveling couples looking for a quiet but central Portland Airbnb.
It's within walking distance of both Hawthorne Street, where you'll find Seven Virtues Coffee (one of the best coffee shops in Portland), Harlow (one of our favorite vegetarian and gluten free restaurants in Portland), and Portland Cider (one of the best places to find cider in Portland).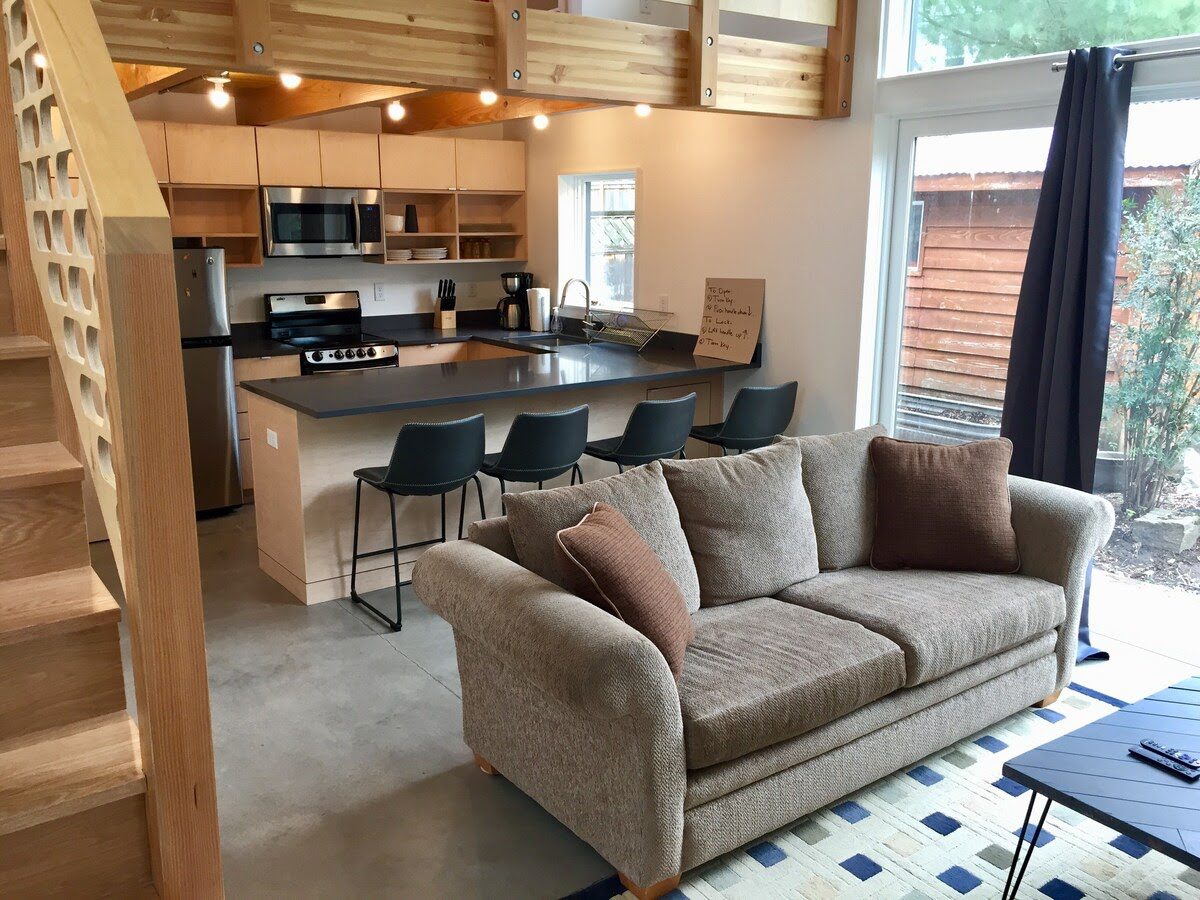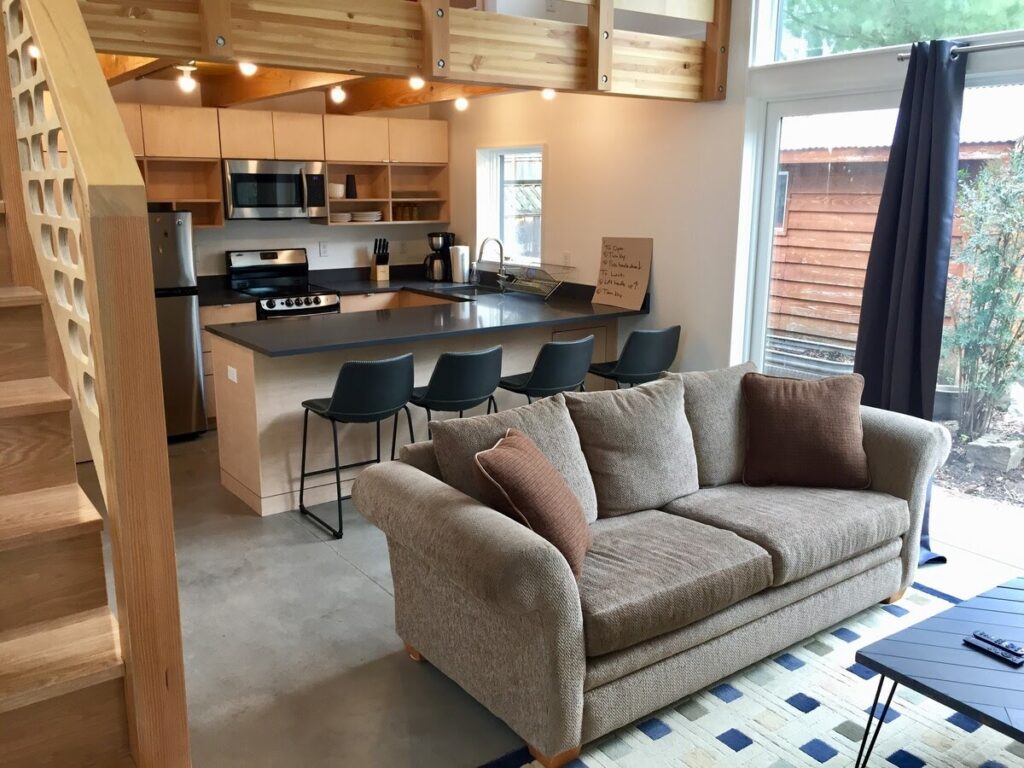 The bedroom is lofted above the kitchen and living space, and is plenty comfortable. The kitchen is brand new, and has all the appliances you'll need – an oven, a full size fridge, and a stovetop.
The guest house is in the backyard behind the host's home, and there's a nice outdoor garden area, which is a perfect spot to relax in the warm Portland summer sun and enjoy a local beer, cider, or glass of wine.
Modern Alberta Apartment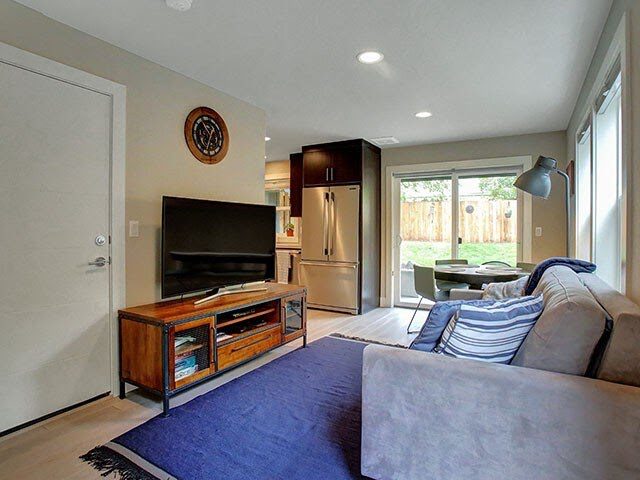 Location: Alberta Arts
Bedrooms: 1
Bathrooms: 1
Sleeps: 4
Pet Friendly: No
The same summer we stayed in the place above, we came back to Portland to stay at this modern ground floor apartment in the Alberta Arts District. We were looking for something a little different after several stays in the same neighborhood in a row, and I'm glad we ended up in this neighborhood.
The apartment has brand new appliances, including a washer and dryer, which was a lifesaver since we were in the middle of an Oregon road trip and had been camping for weeks before arriving here.
It's within walking distance of Alberta St, home to all sorts of fun spots, including Salt and Straw (ice cream), Proud Mary Coffee, and plenty of other cool spots.
Industrial 3BR Apartment in Buckman!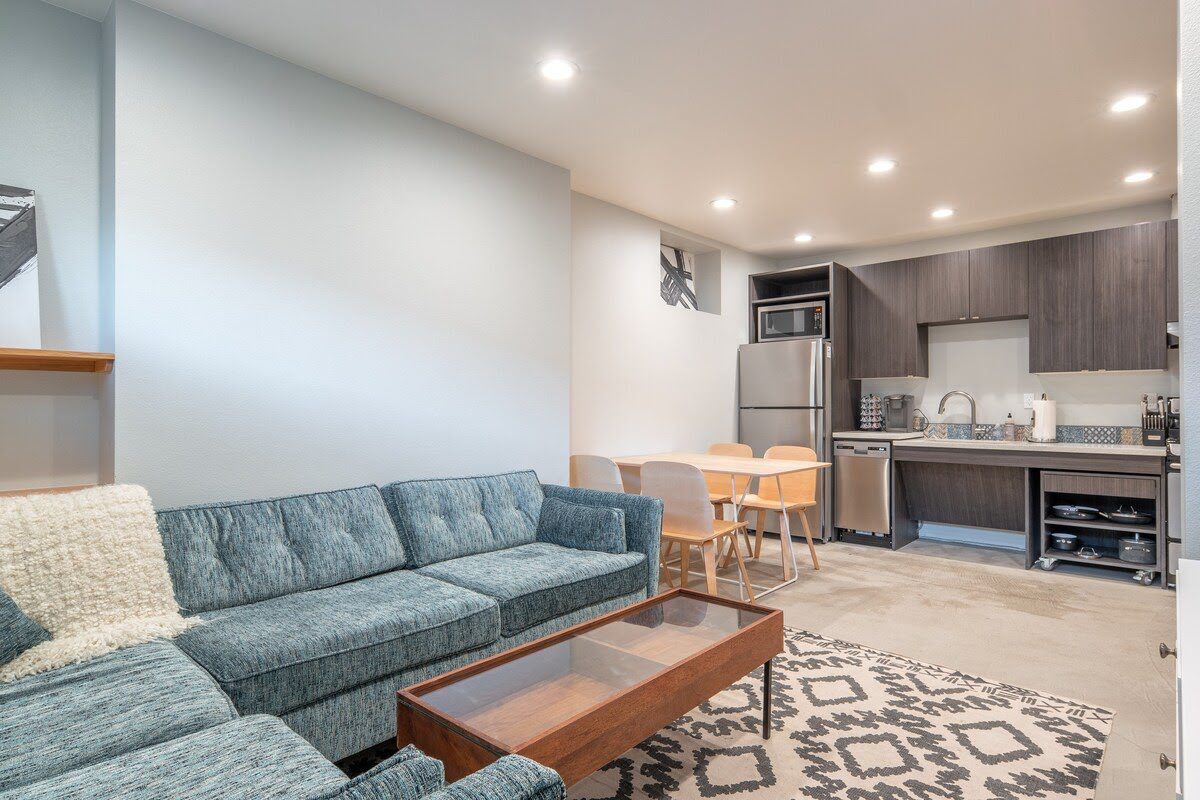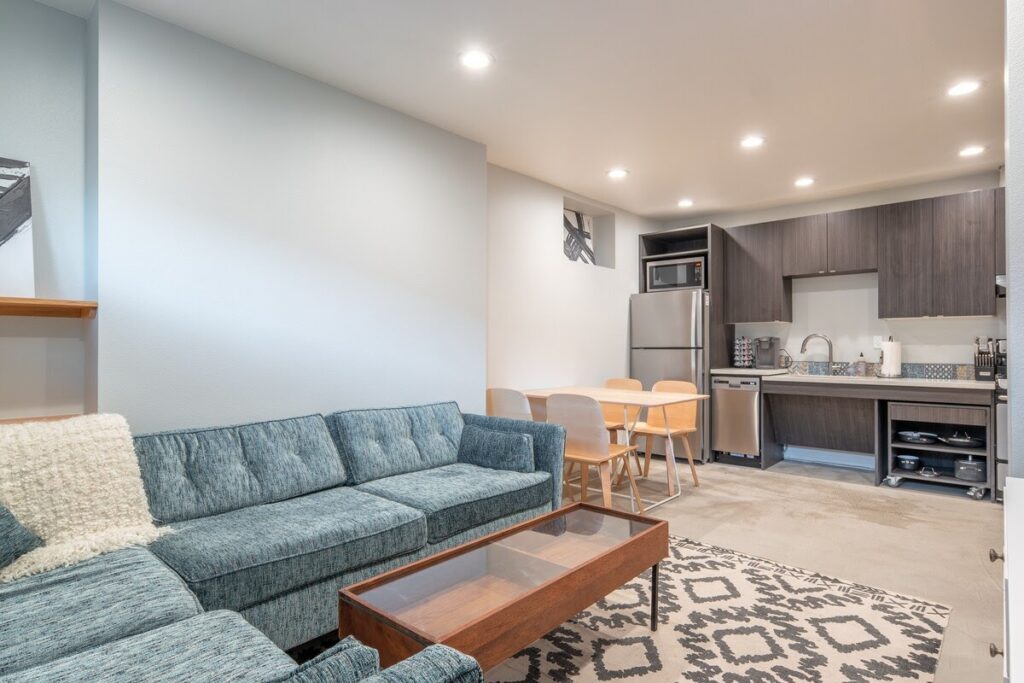 Location: SE Portland (Buckman)
Bedrooms: 3
Bathrooms: 2
Sleeps: 8
Pet Friendly: No
This three bedroom apartment in the Buckman neighborhood, which is near Belmont Street, is where Matt spent the weekend of his bachelor party. This place comfortably slept seven grown men with the help of the queen bunk beds in one of the bedrooms.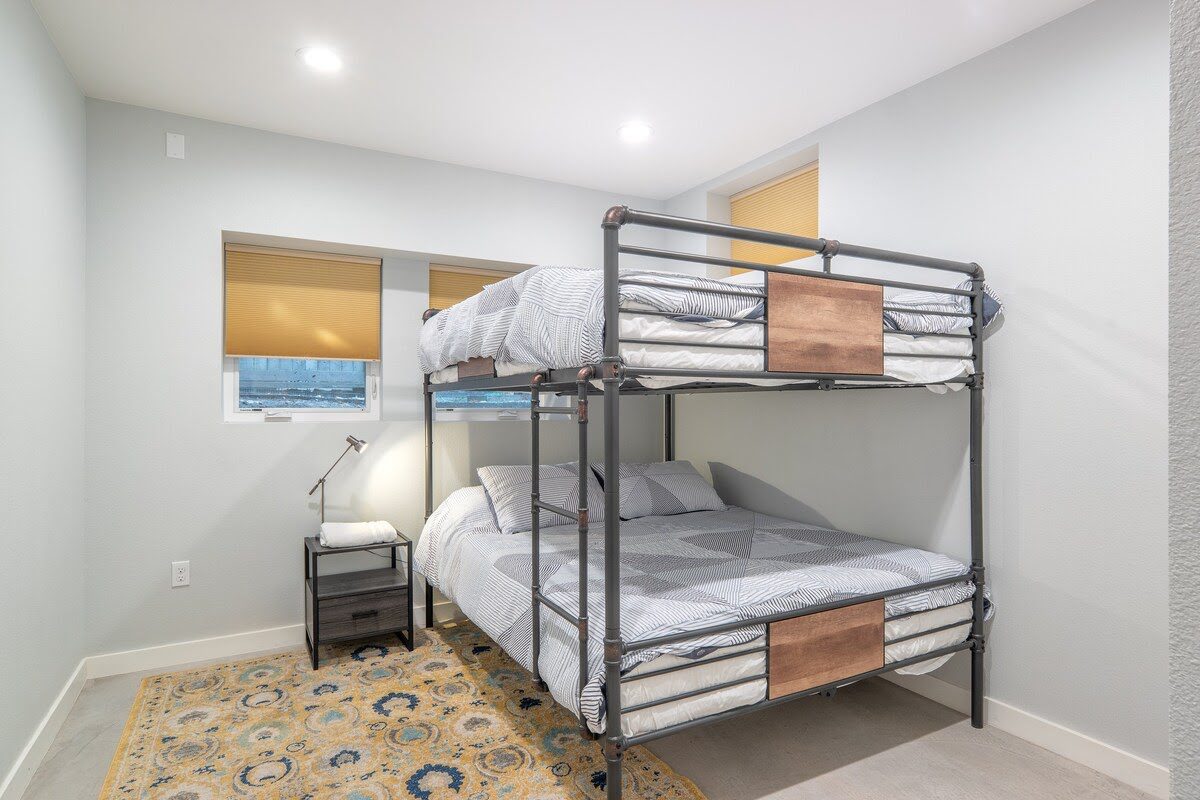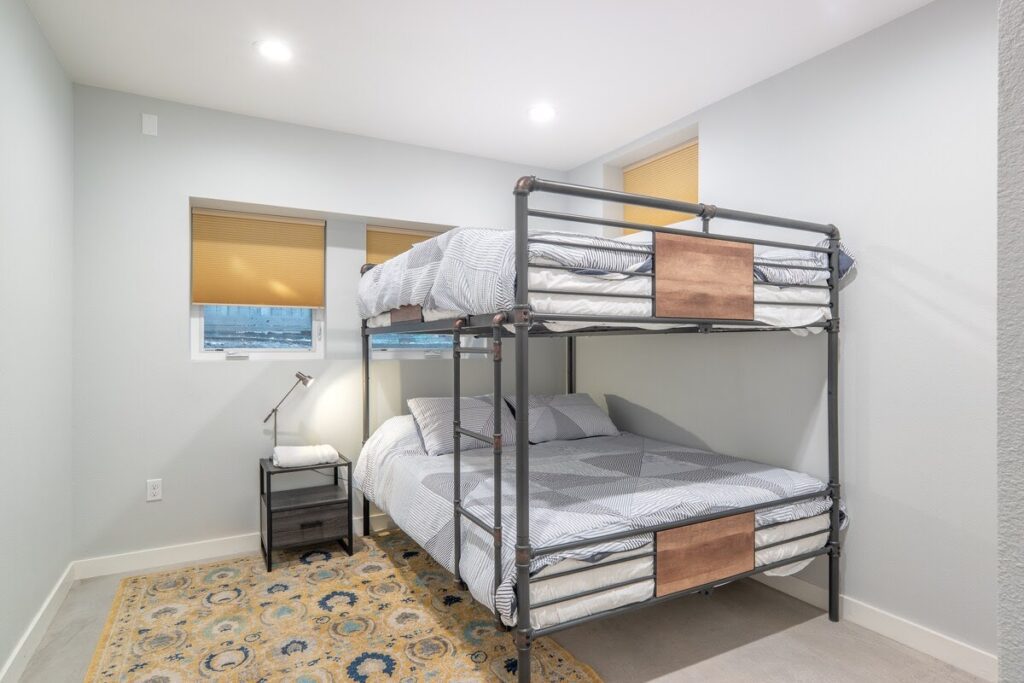 It's basically in the basement, so don't expect a ton of natural light. But still, it's a perfectly pleasant spot for larger groups, and the location is excellent. It also has a full kitchen, including full size refrigerator and oven with a four burner stovetop.
Comfy Buckman Neighborhood Home!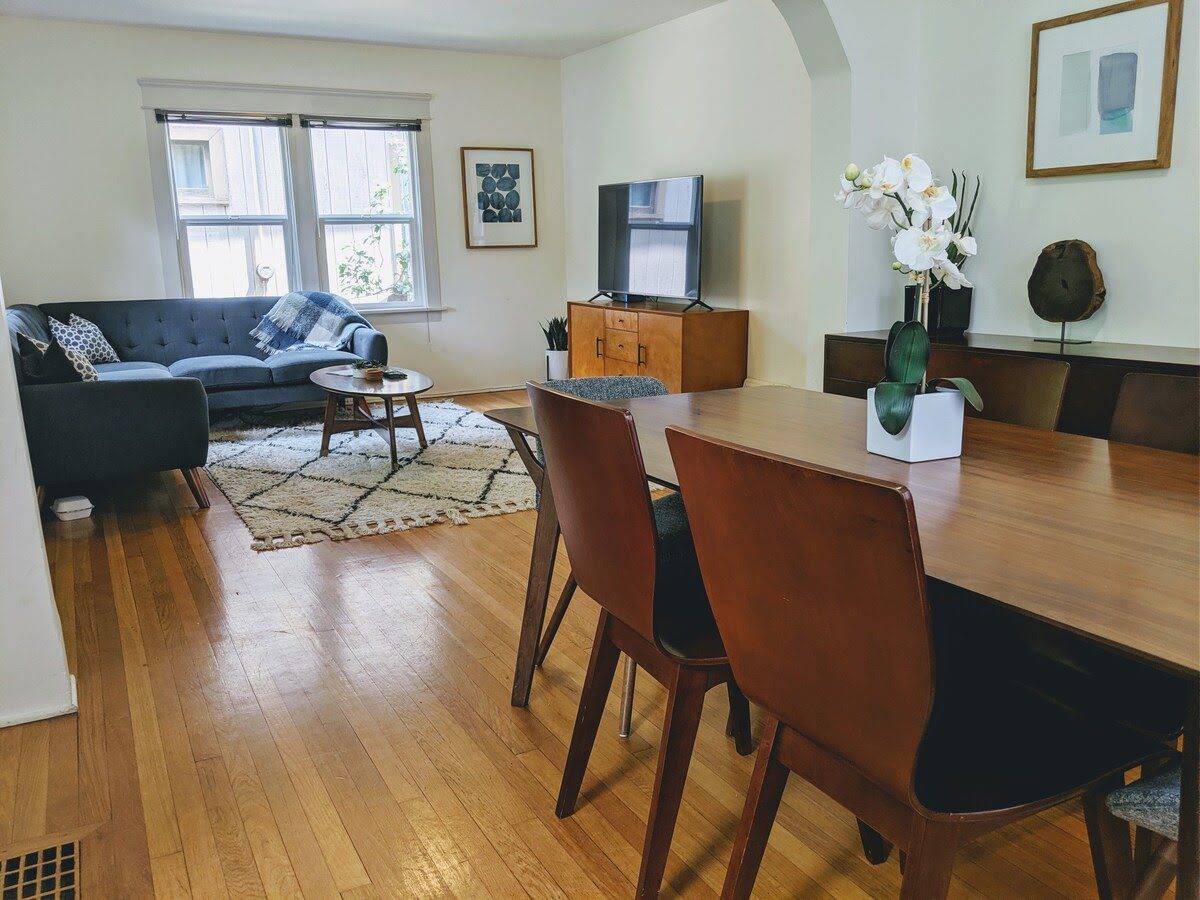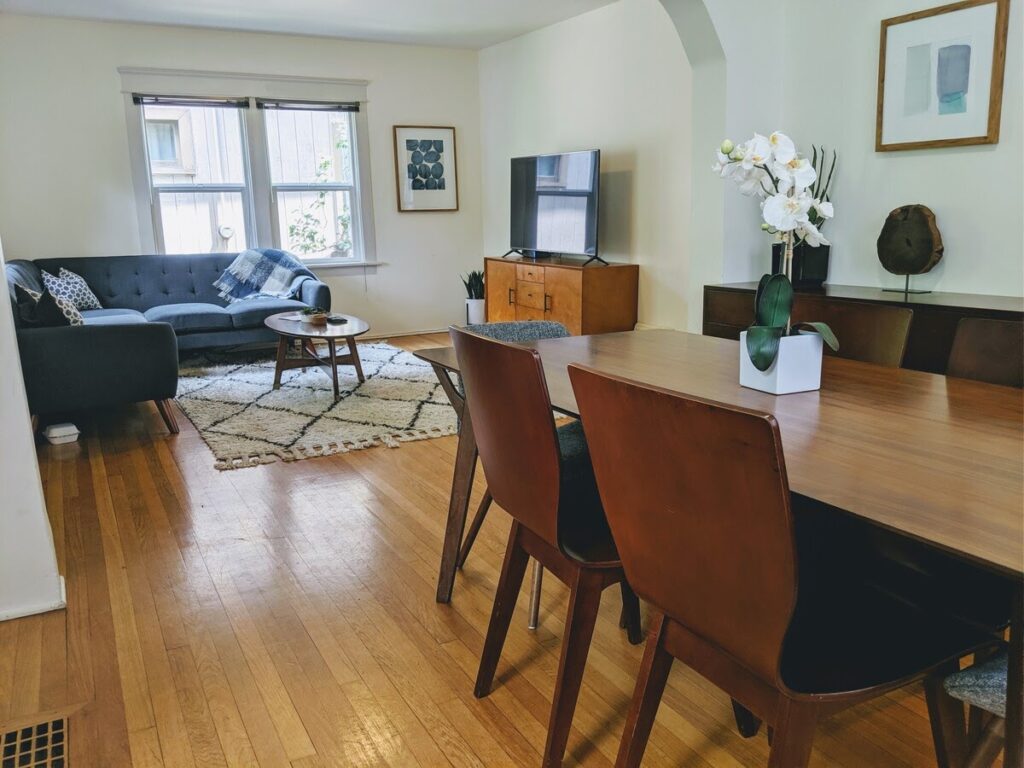 Location: SE Portland (Buckman)
Bedrooms: 1
Bathrooms: 1
Sleeps: 4
Pet Friendly: No
This two bedroom apartment just off of Belmont is where we stayed with both of our mom's for a family weekend trip to Portland several years ago. It has two bedrooms on the ground floor, and a large bedroom and seating area in the attic (slash second floor?), so there's plenty of room for six people (although there's only one bathroom). We actually got to meet the great host – Connor – who stopped by to make sure we had everything we needed for our stay.
Like all of the apartments above, there's a full kitchen so that you can cook your own meals if you wish.
It's within walking distance of pretty much everything in SE Portland, including Hawthorne, Division Street, Burnside, and Belmont.
Airbnbs in Portland, Oregon for Couples
Traveling as a couple? Here are some of our favorite stays in Portland, handpicked by us, that will put you in the perfect spot to explore Portland.
Sun-Filled Detached Studio in SE Portland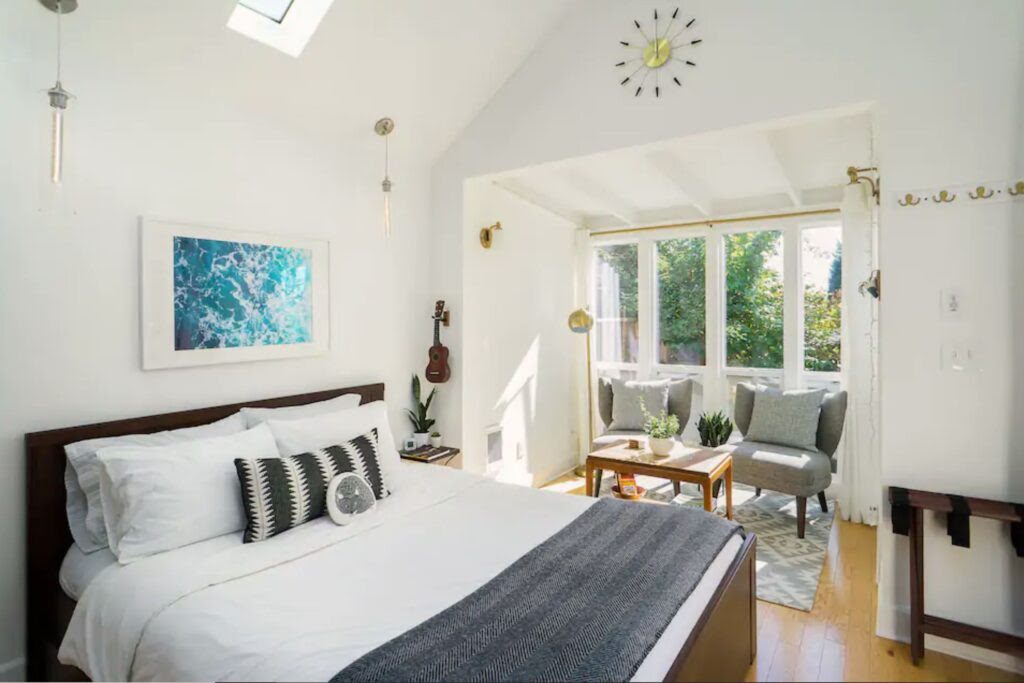 Location: SE Portland (Hawthorne / Division)
Bedrooms: Private Room
Bathrooms: 1
Sleeps: 2
Pet Friendly: No
Bright and compact, this lovely Airbnb is a private room that is perfectly placed between SE Hawthorne and SE Division in one of Portland's best areas to stay. It offers not only a big, comfortable queen bed, bathroom with shower, basic kitchen, high ceilings and sitting area, but a relaxing courtyard garden. The neighborhood offers an intriguing mix of old-world charm and trendy restaurants, boutique shopping, and coffee shops.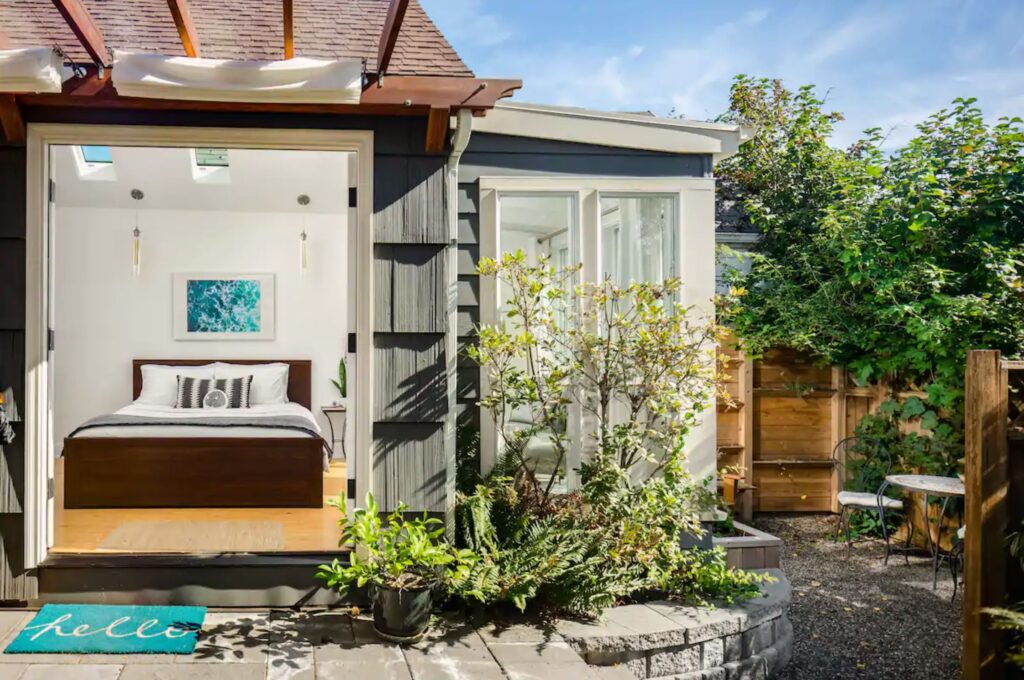 Even when it isn't sunny (and Portland is known to have days of drizzle), the French windows and skylights ensure the studio is light and airy. Yes, it's a studio, but if you're looking for a private and comfortable space to call home while you explore the city, this is a great base.
The Arborhouse: A Light-Filled Garden Retreat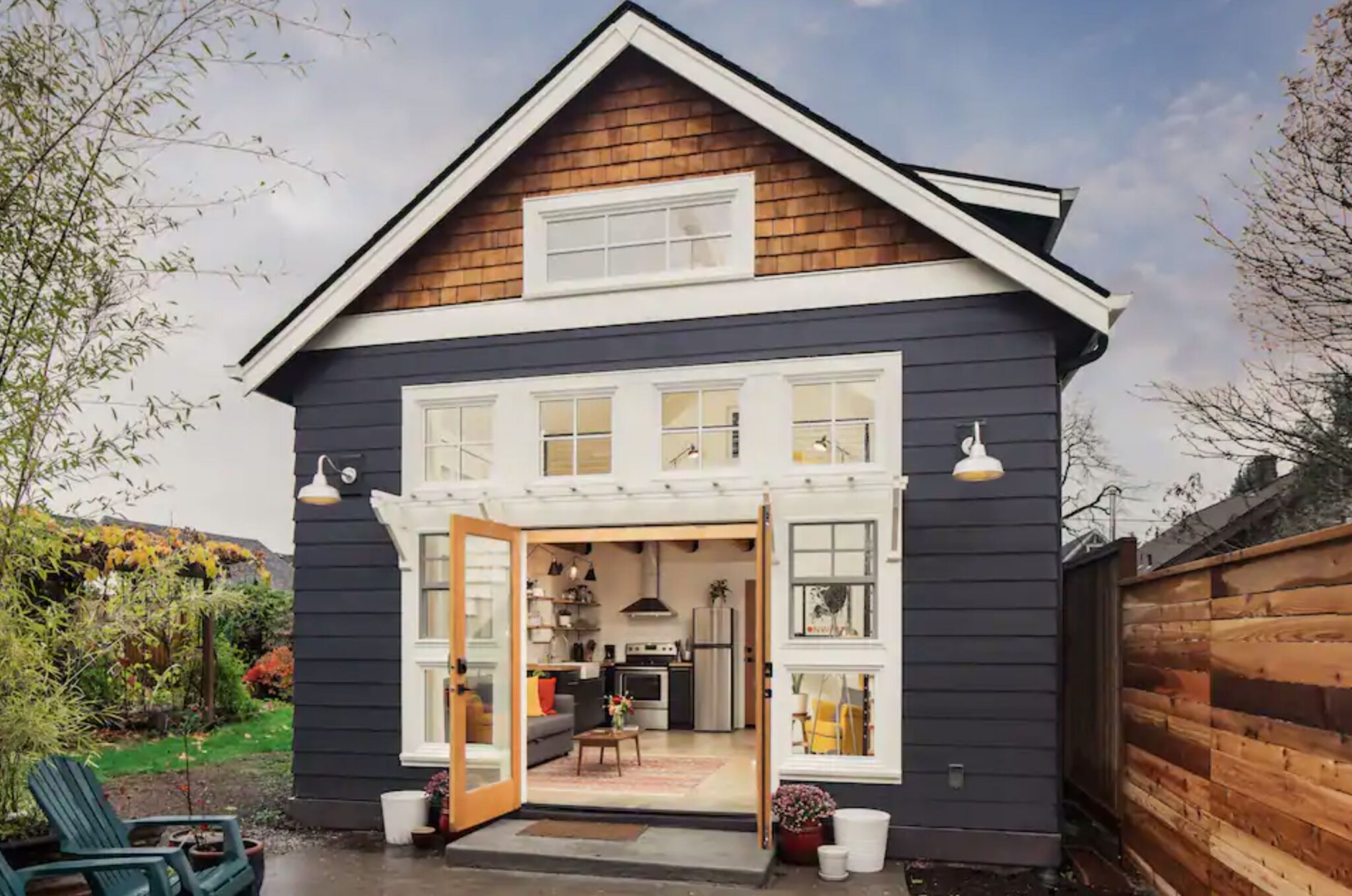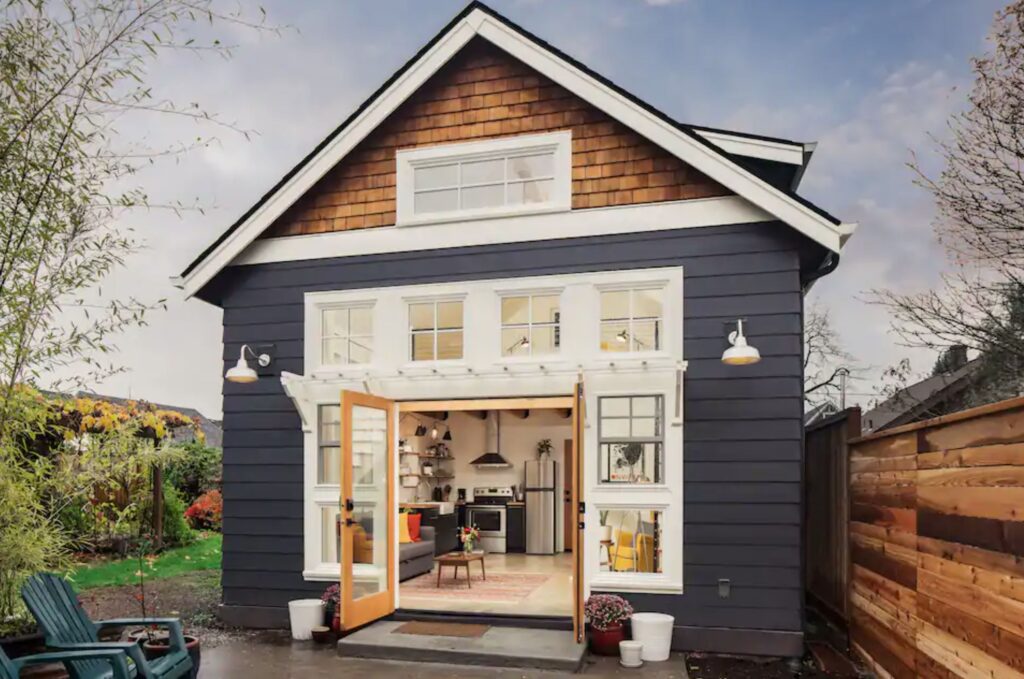 Location: North Portland
Bedrooms: Studio
Bathrooms: 1
Sleeps: 2
Pet Friendly: No
The Arborhouse is definitely stunning – I fell in love the moment I saw it – and deserves a spot on any shortlist of the best Airbnb options in Portland. If a studio is too small, this charming space in North Portland will be a much better fit.
Self-contained and on two floors, the Arborhouse has a large living room, fully equipped kitchen, and at the top of the open stairs, you'll discover a generously-sized loft bedroom. The fully tiled bathroom even contains a washer and dryer, so it's perfect for extended stays.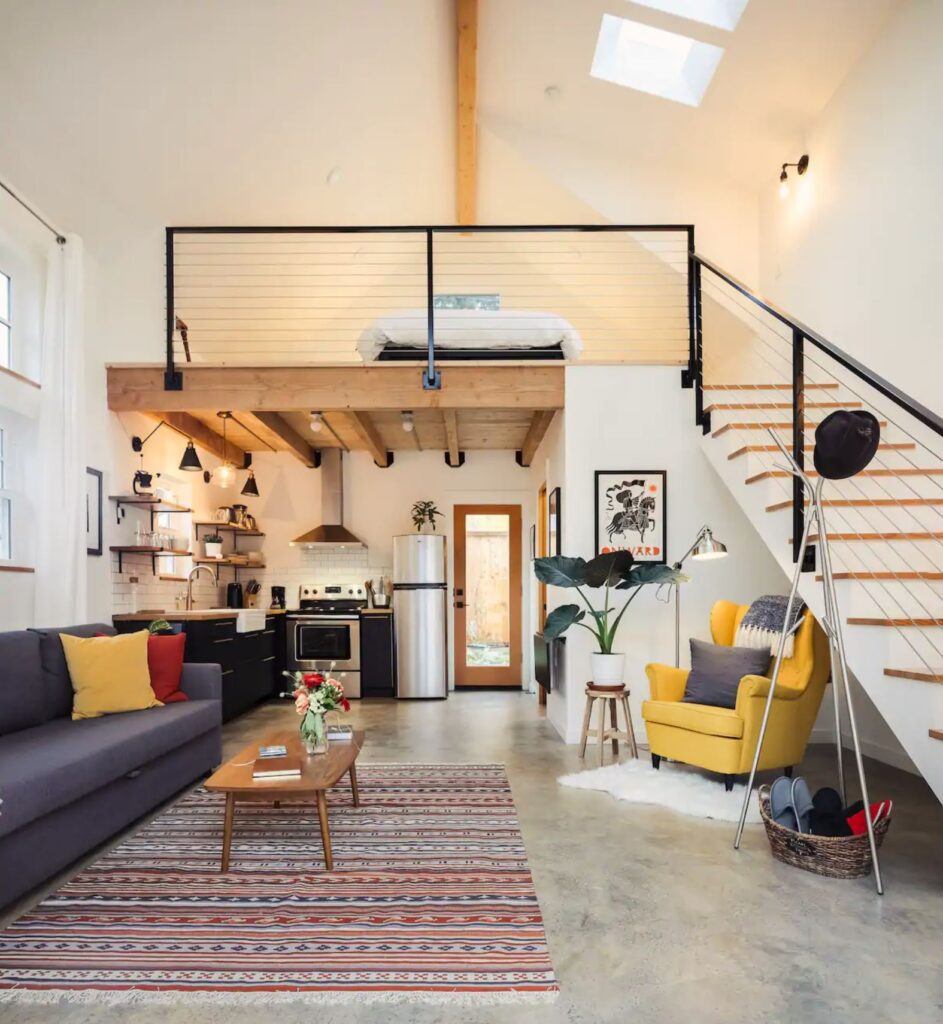 The guesthouse boasts two semi-private gardens, including a hot outdoor shower (something you never knew you needed), patio, and cozy seating area. The surrounding neighborhood, Arbor Lodge offers neighborhood-owned coffee and grocery stores, and convenient access to the rest of the city via the Max light rail line.
Portland Tiny House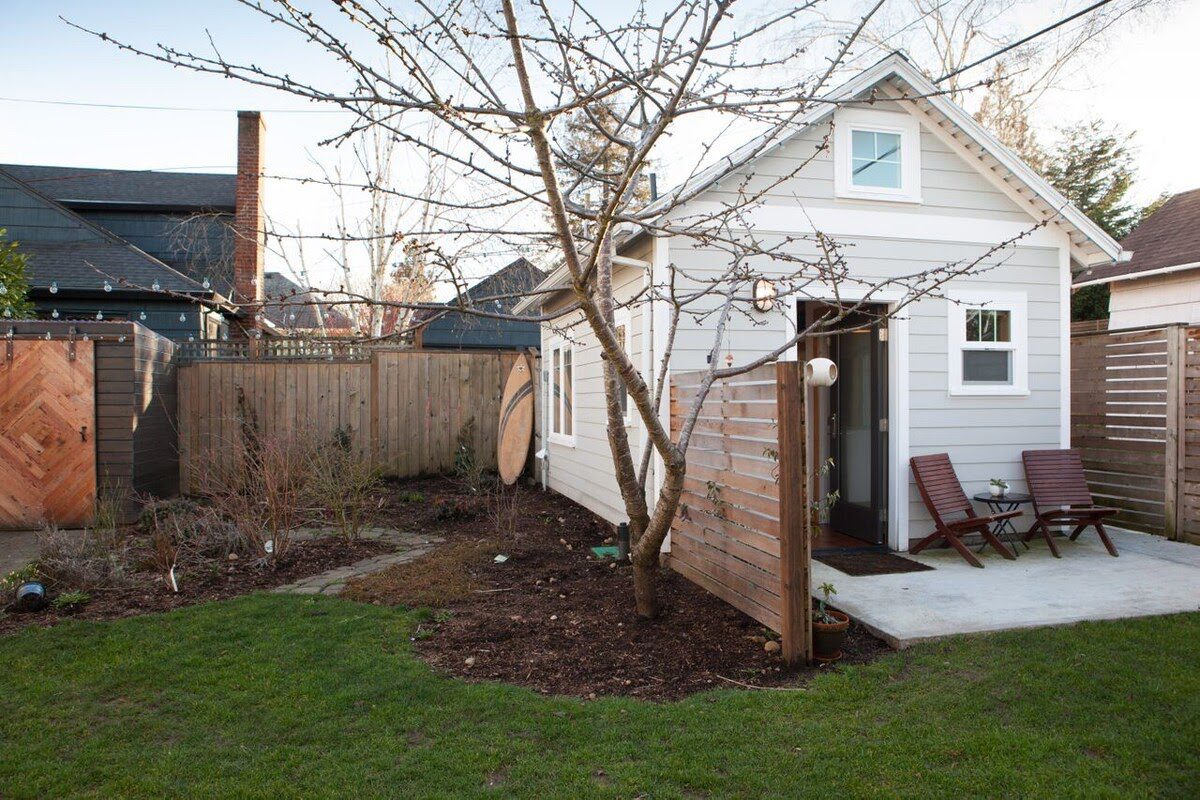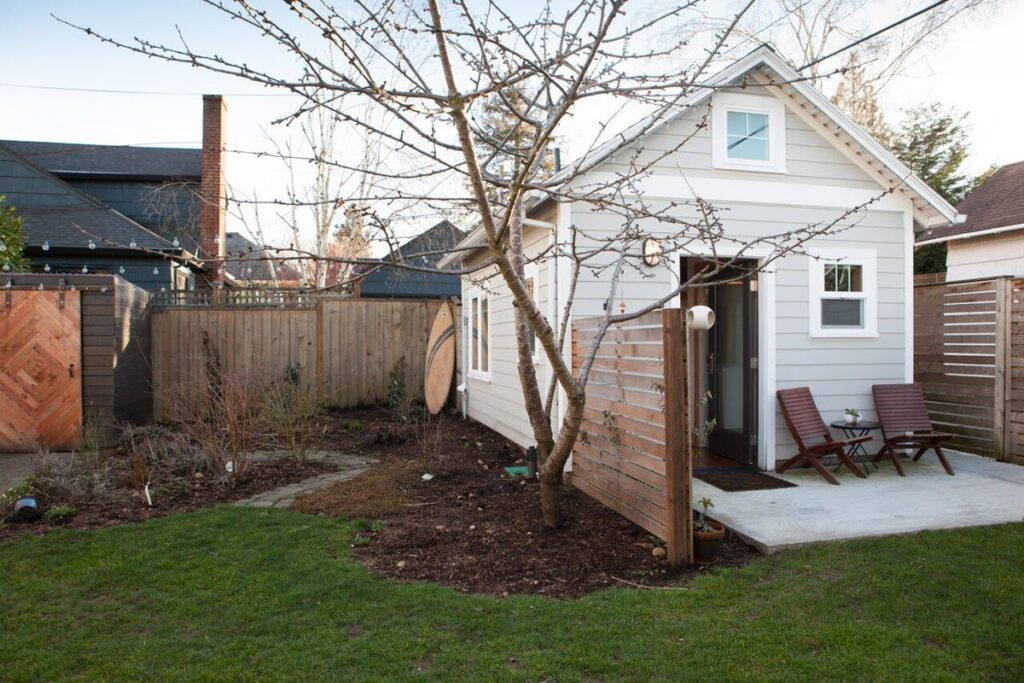 Location: Alberta Arts District
Bedrooms: Studio
Bathrooms: 1
Sleeps: 2
Pet Friendly: No
Portland does like its tiny houses, and one of the best tiny houses on Airbnb has to be this one in the Concordia neighborhood.
Small but perfectly formed, the Portland Tiny House is one of the most unique Airbnbs in Portland, Oregon. The compact space offers comfort on a small scale: queen-sized bed, warm wood flooring, full bathroom with shower, kitchenette, and seating area. A lot of thought has been put into this Airbnb to get maximum coziness in minimum space.
It's in a great location, just a short walk from some of the finest boutiques and restaurants in Portland, and the Alberta Arts district has plenty of art galleries and monthly activities you have to check out if you stay here.
Zen Loft Just Off SE Division St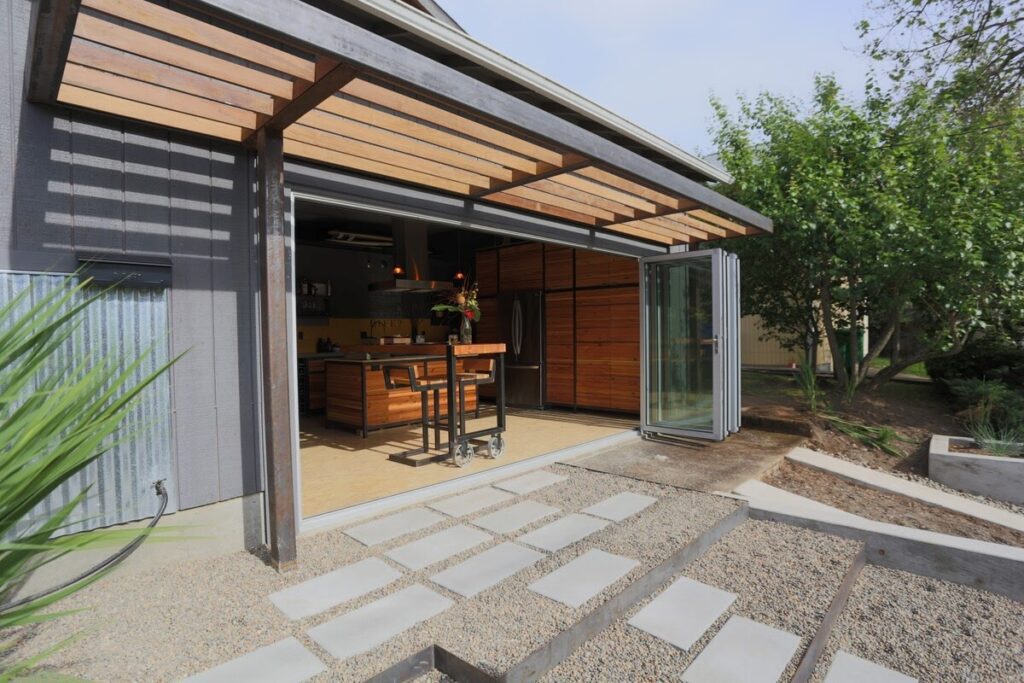 Location: SE Portland (Hawthorne / Division)
Bedrooms: Studio
Bathrooms: 1
Sleeps: 2
Pet Friendly: Yes
Where better to base yourself than a few blocks away from Portland's famed restaurant row? With a huge range of upscale eateries, food carts, bohemian boutiques, and the Clinton Street Movie Theater, you won't be short of things to do! If you want an equally laid back place to stay, the Zen Loft should be right at the top of your list.
Cool and modern, Zen Loft has it all: a fully equipped large kitchen with huge floor to ceiling doors, large lounge area with leather sofas and blazing fire, a bathroom with walk-in shower, washer and dryer and loft-style bedroom. AND a hot tub. Oh, and in true Portland style, it's all handmade with reclaimed wood (I like this place!).
The LoftHaus: Explore Portland on Foot from an Eclectic Retreat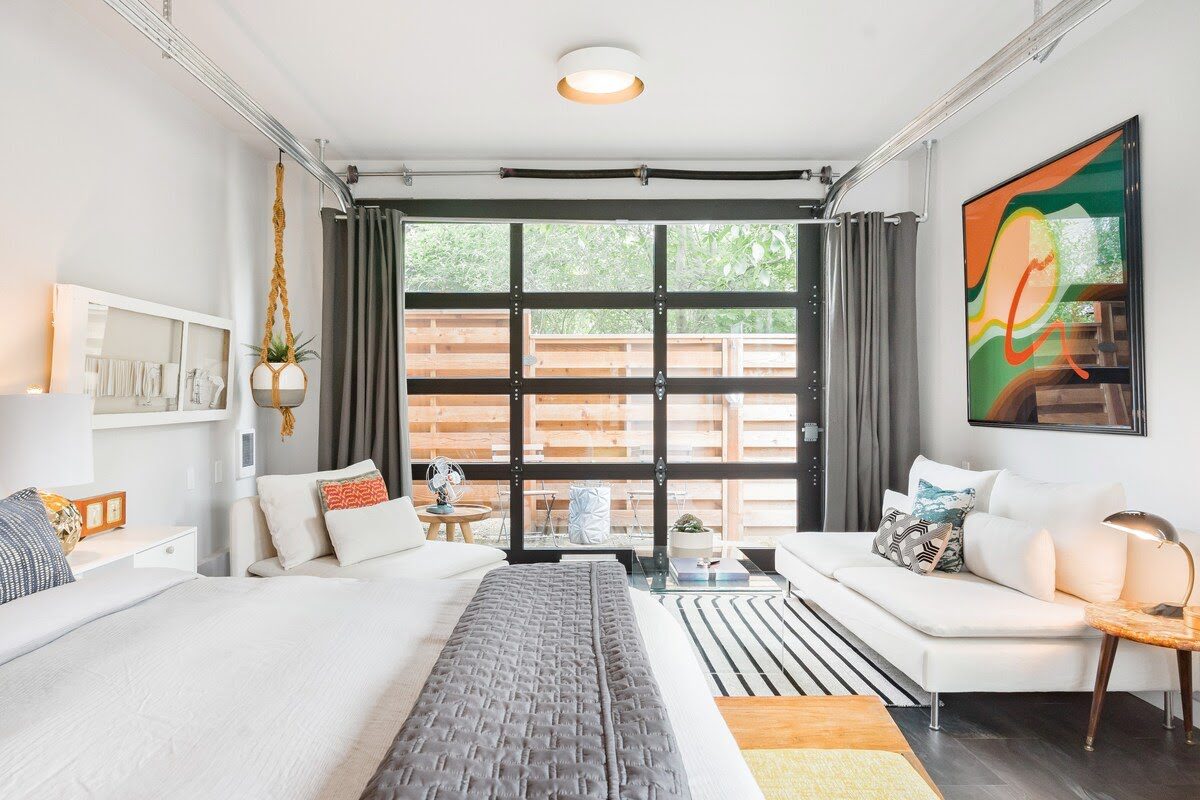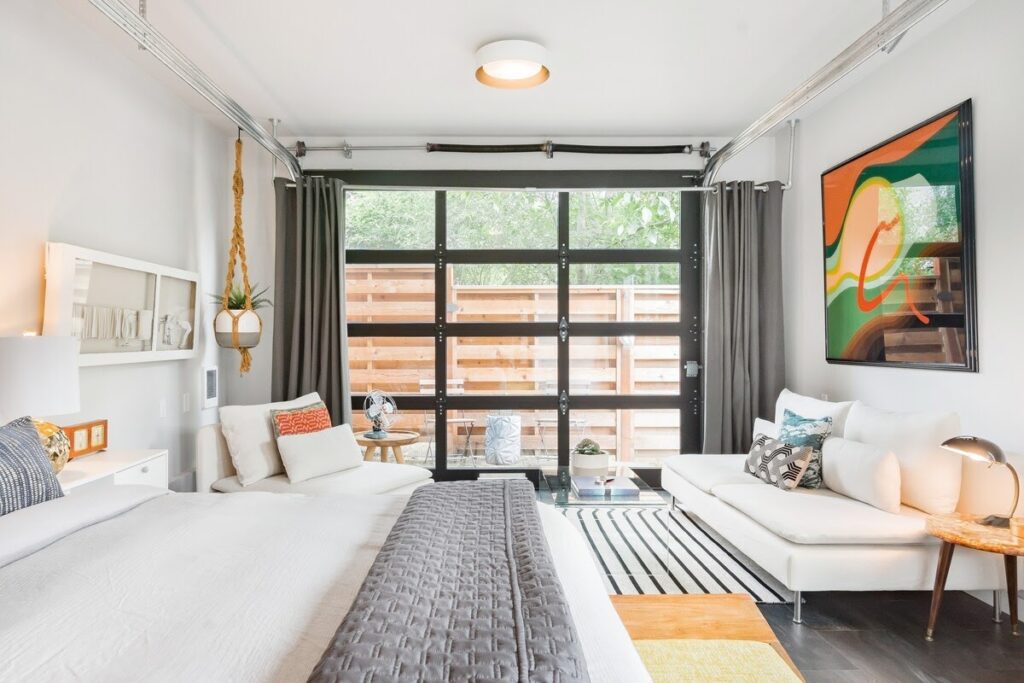 Location: Mississippi Avenue
Bedrooms: 1
Bathrooms: 1
Sleeps: 4
Pet Friendly: No
A Northeast Portland favorite, this guest house has a full kitchen, a comfortable living room including a sofa bed, and a separate bedroom with a king bed, TV and a roll-up glass garage door. It also offers a bathroom with both a rain shower and a tub (wow). When the weather's good, you can also use the patio that comes complete with a BBQ grill.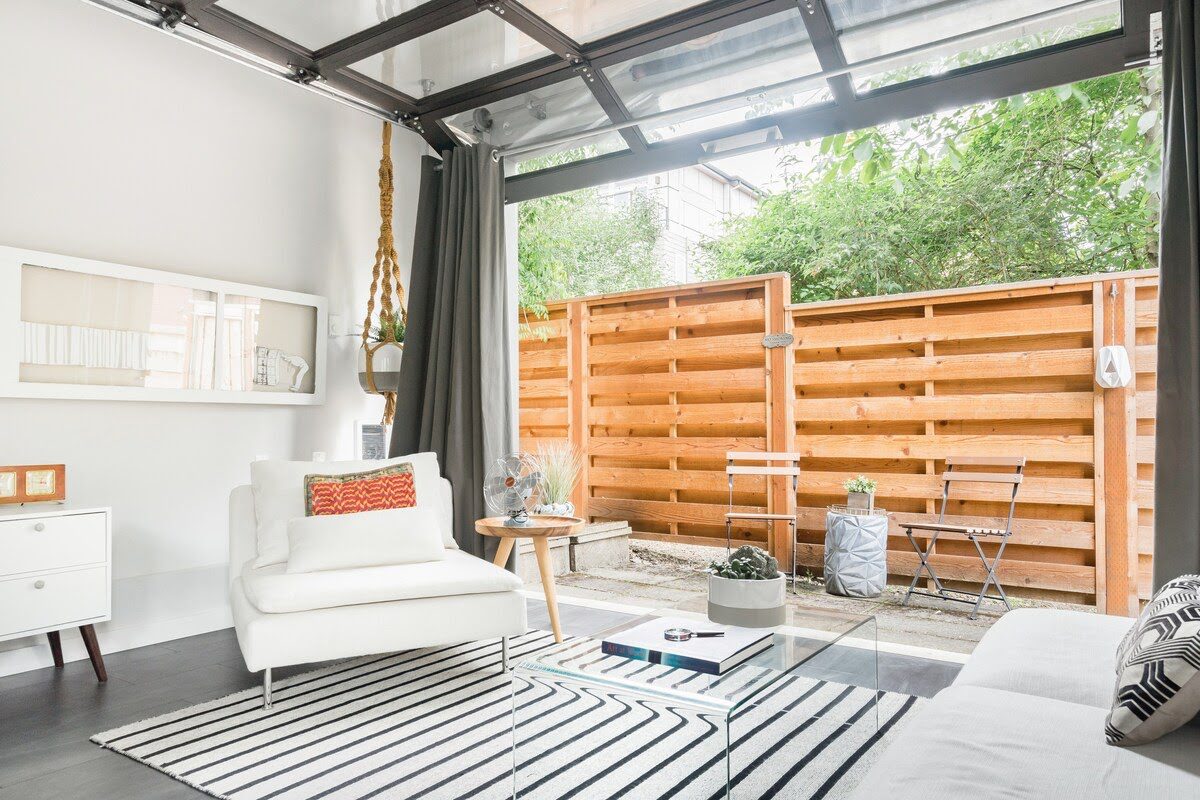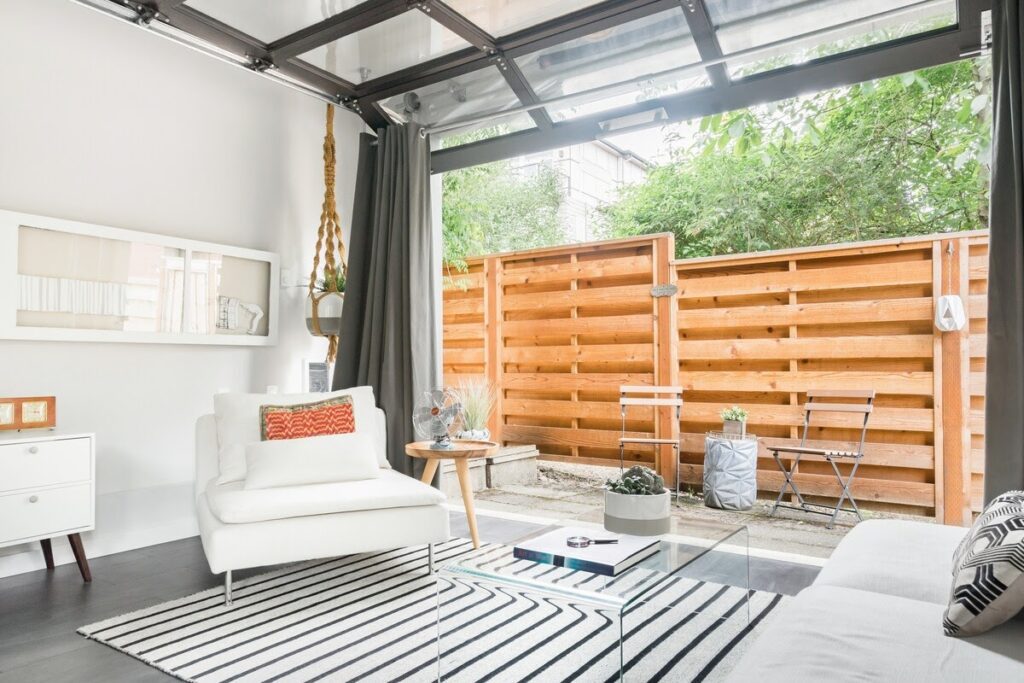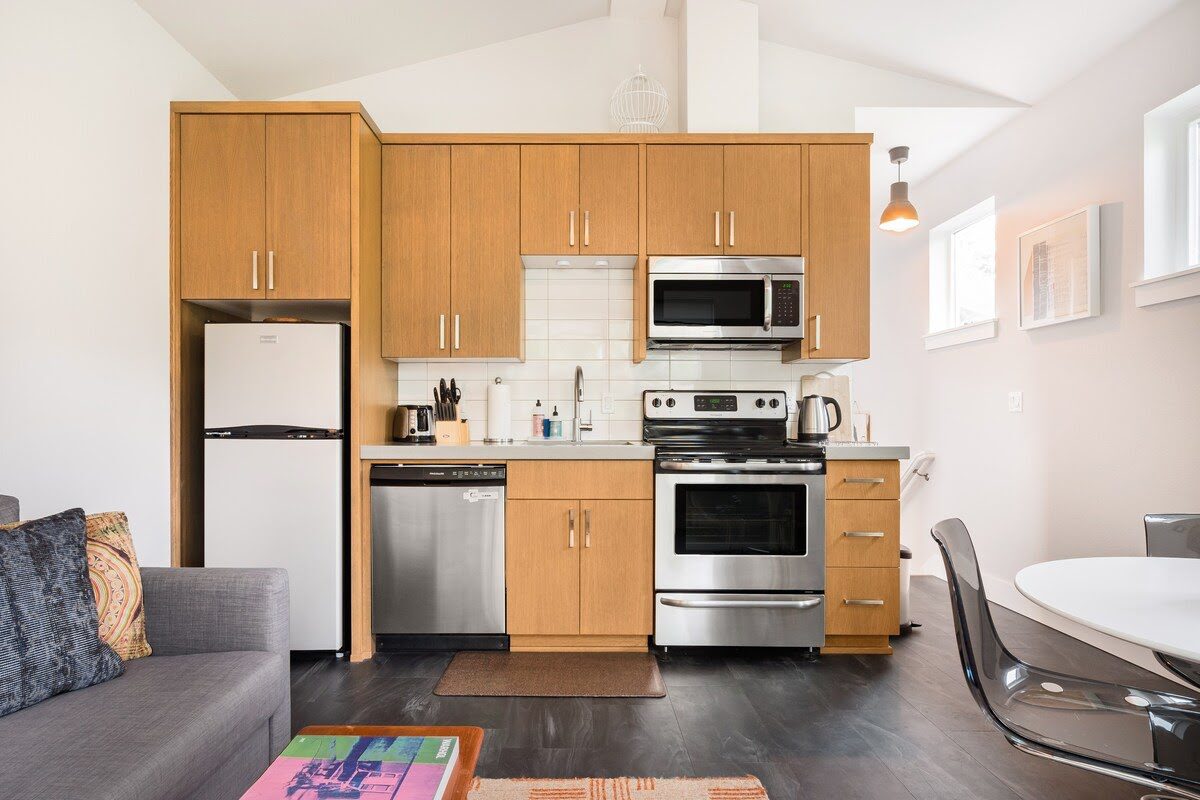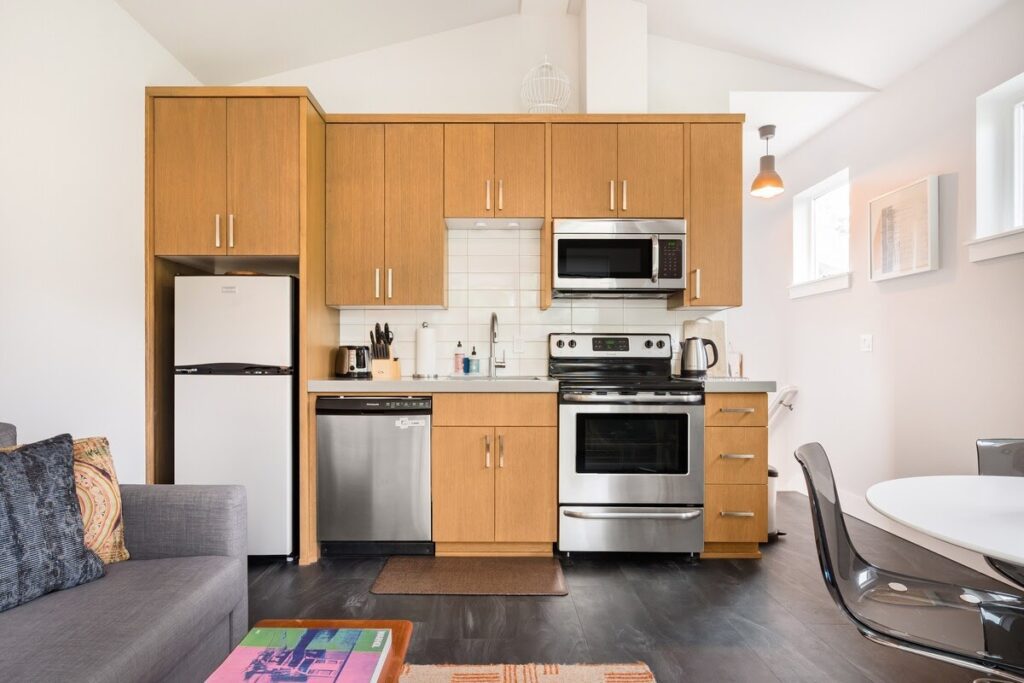 It's right by some of the best bars and restaurants in the city and is spacious enough to bring friends back to, relax and read a book you bought from one of the many book stores, and store all the one-of-a-kind finds you've stumbled across while shopping in the city.
HandCrafted Blue Door Micro-Loft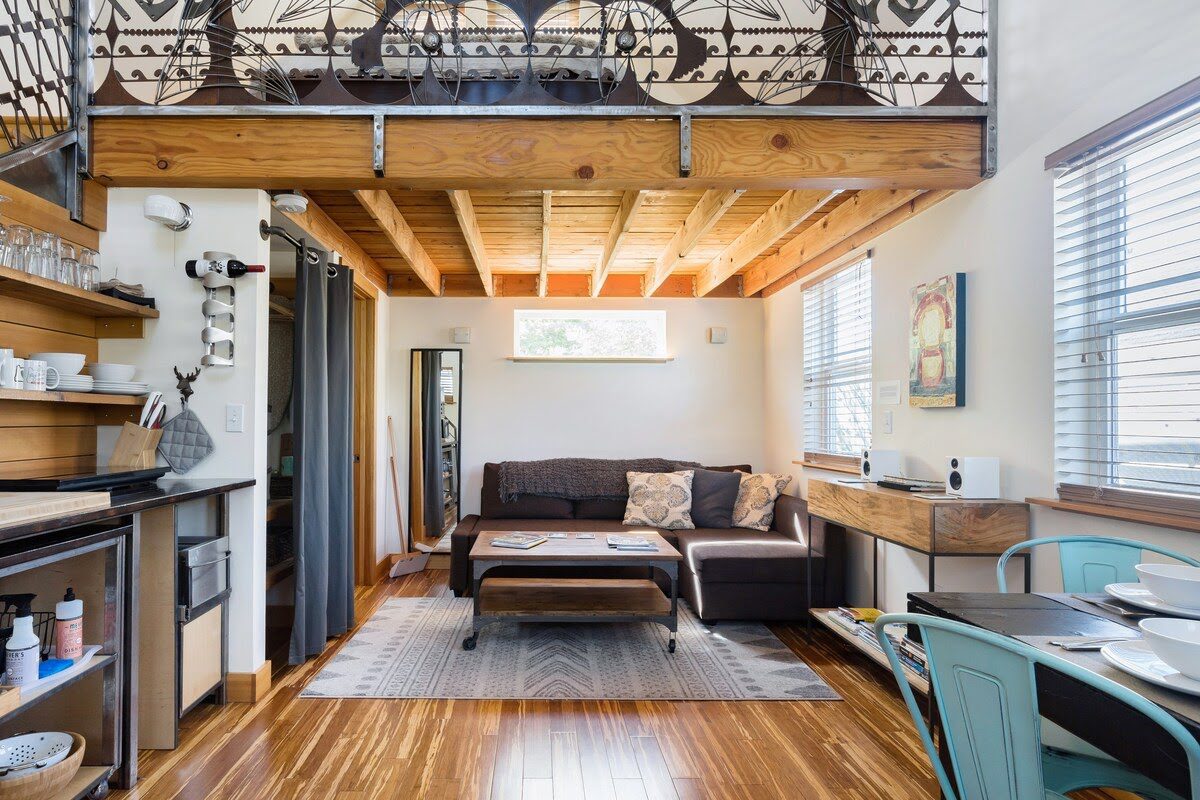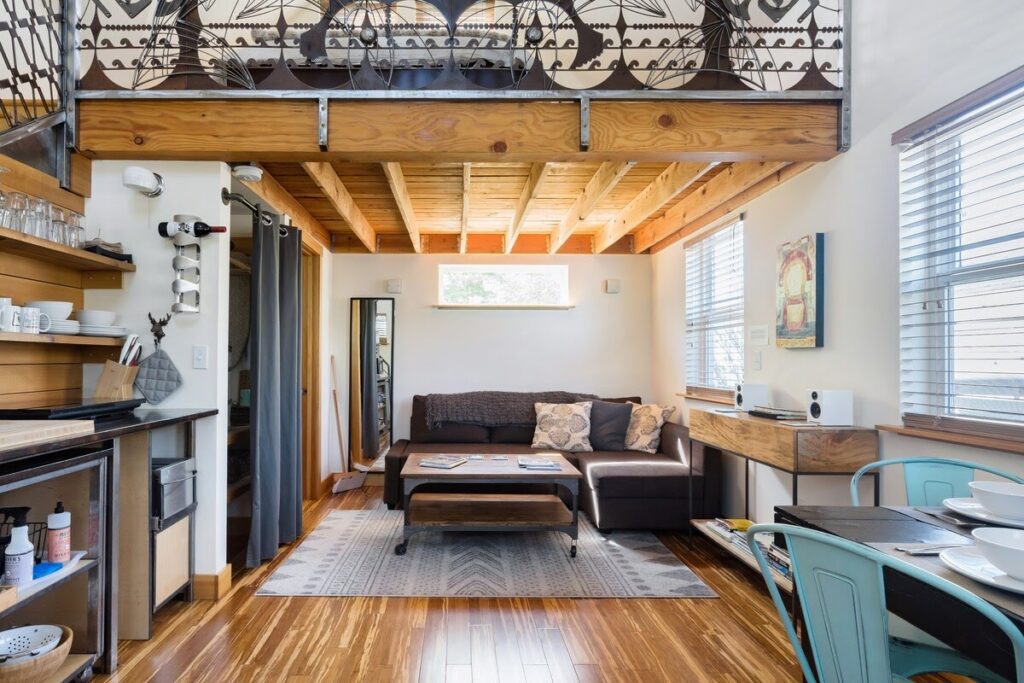 Location: Mississippi Avenue
Bedrooms: 1
Bathrooms: 1
Sleeps: 4
Pet Friendly: No
Another Northeast Portland treasure, this is chic, loft-style living on a small footprint. Created with imagination and taste, this tiny house is small in scale and large in feel. The open-plan design sports wooden floors and ceiling, with a modern, trendy feel.
You get a good-sized living area with a TV and sound system, a mezzanine floor with a queen-sized bed, a kitchenette, dining area, full bathroom and your very own private patio and backyard. Very, very cool indeed!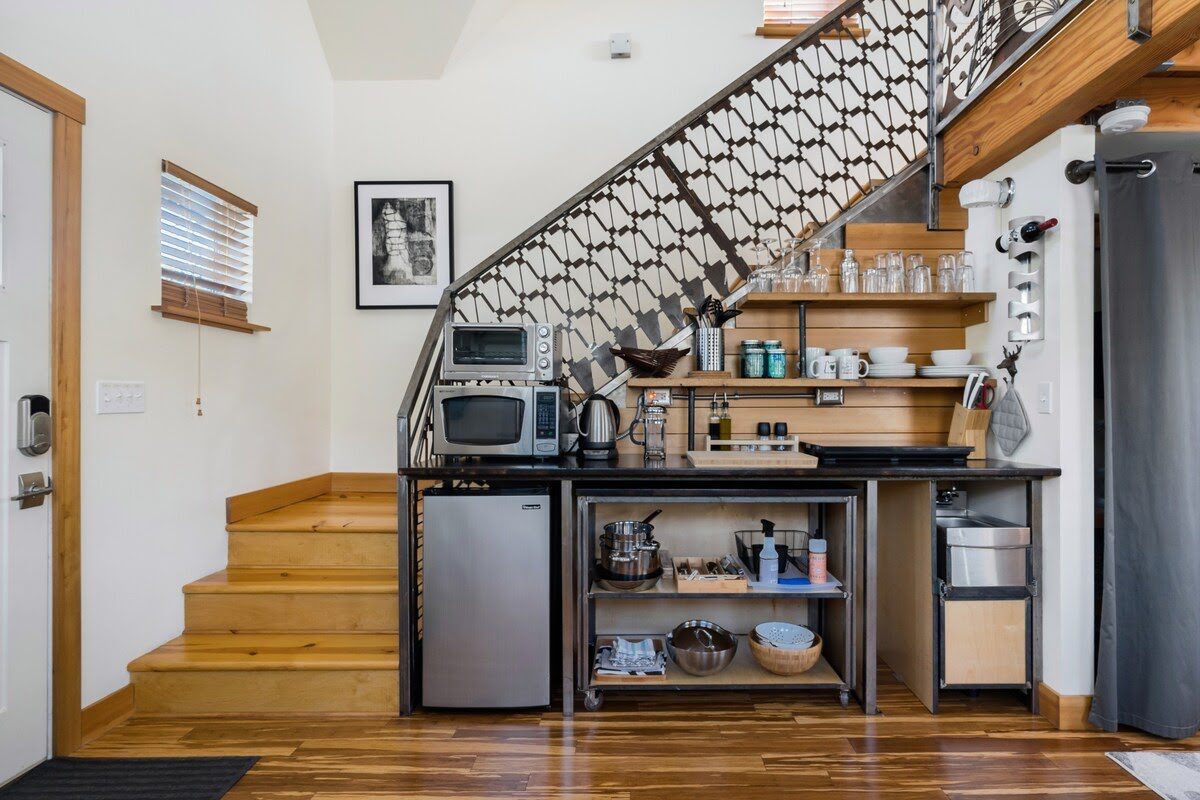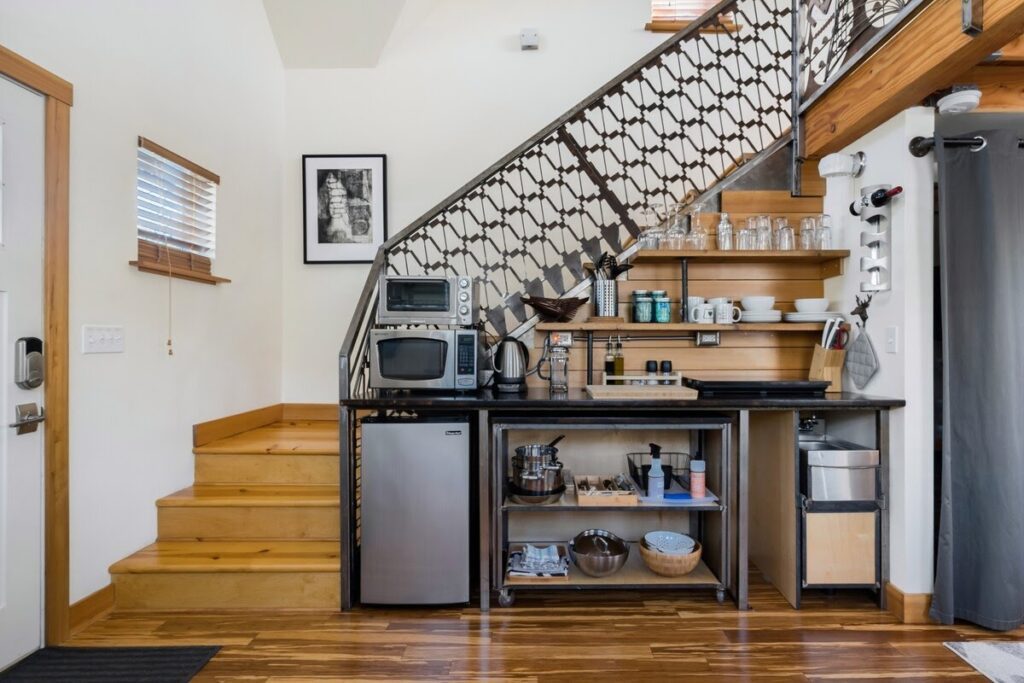 The area around Mississippi Avenue has great places to eat, shop, and drink, and you'll be within walking distance to all of it. It's also super easy to get downtown, so you might have found yourself a winner.
Handbuilt Alberta Arts Cottage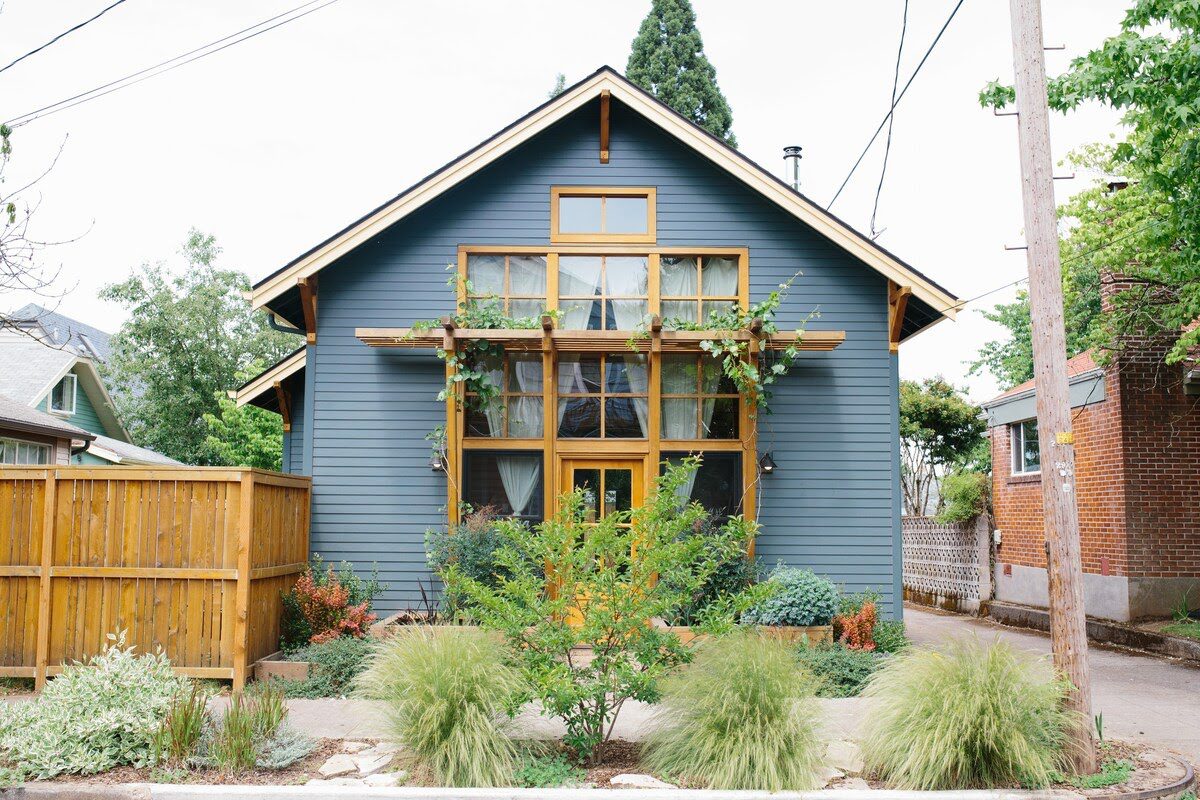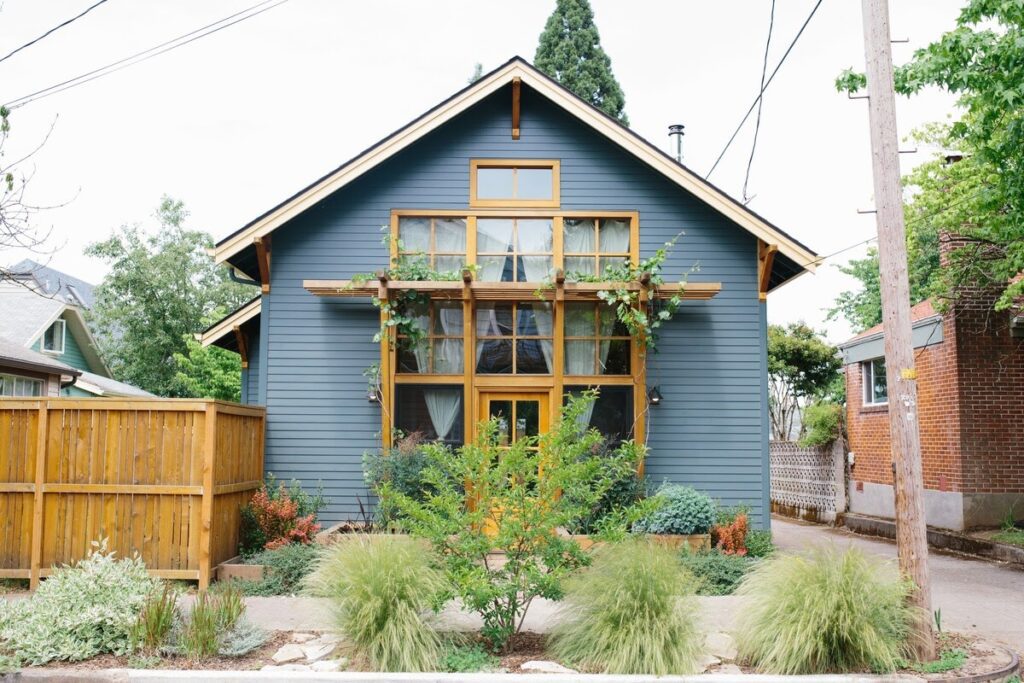 Location: Alberta Arts District
Bedrooms: 1
Bathrooms: 1
Sleeps: 4
Pet Friendly: No
This charming Airbnb is situated in the heart of the Alberta Arts District, which is a great location known for its street art, galleries, bars and restaurants for a wide range of dietary tastes and requirements. If you love cooking or plan to cook your own meals, you will love the kitchen. It has everything a serious chef needs!
With farmers' markets and grocery stores nearby, you really have no excuse not to eat at home at least once during your stay here. The cottage comes with a dining area, living area, and a good bathroom with a shower. Upstairs is a beautiful bedroom with wood flooring, storage and French windows leading to a balcony. The cottage has a modern backwoods-style with raw wood and even a wood burning stove!
Airbnbs in Portland, Oregon for Families and Groups
Traveling families and groups of four or more who are looking for an Airbnb in Portland will love these spots where you and your traveling companions will have a little bit more room to spread out.
Explore Portland From a Stylish 4 Bedroom Home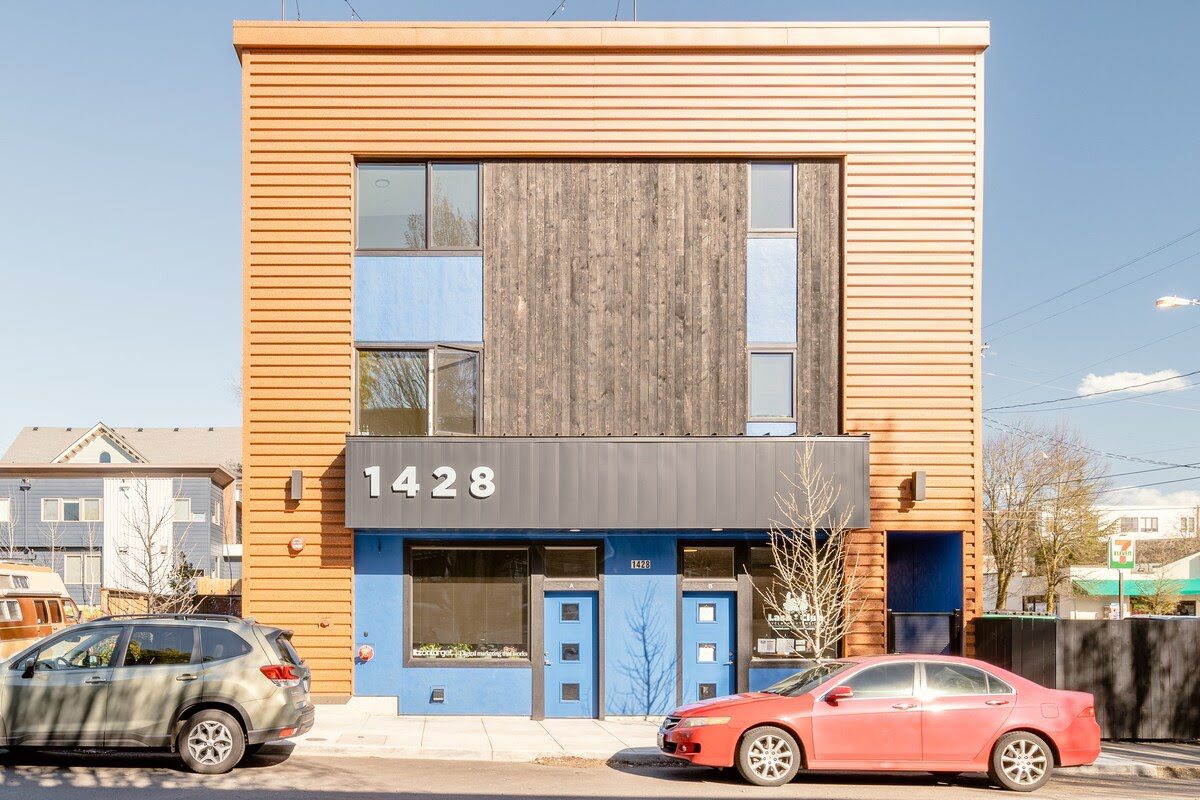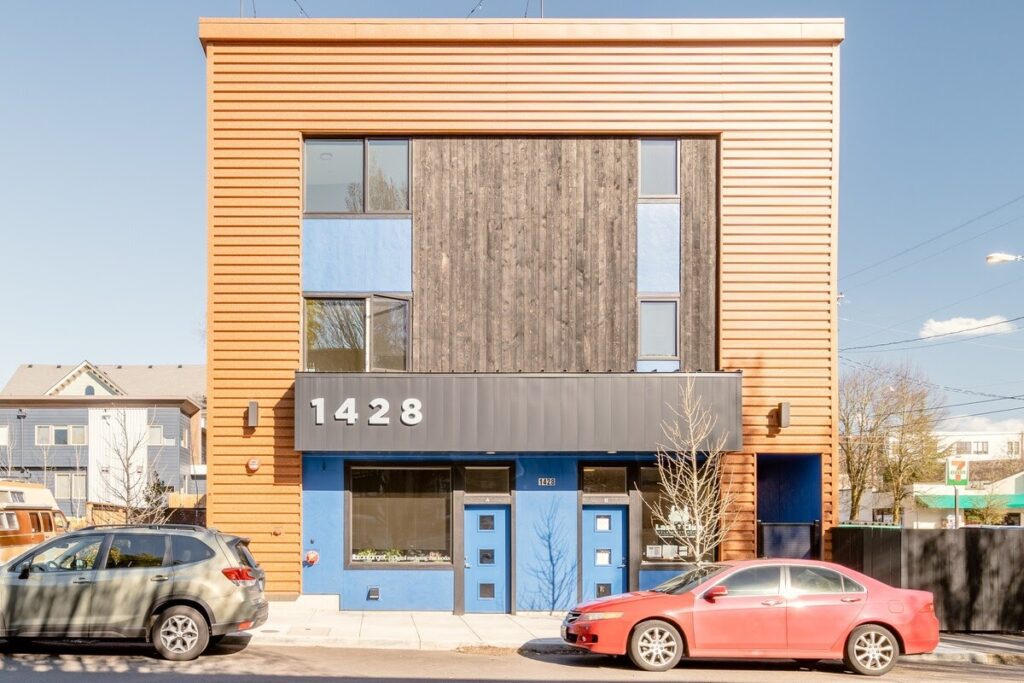 Location: SE Portland (Hawthorne)
Bedrooms: 4
Bathrooms: 2
Sleeps: 8
Pet Friendly: No
This beautiful four bedroom house is perfect for families and groups of up to eight. Large and airy, with 9' ceilings, you get a living room with a big flat screen TV, a full kitchen with a dining area, and four bedrooms. It is all very modern, white, sleek, and stylish. The exterior is also a head turner!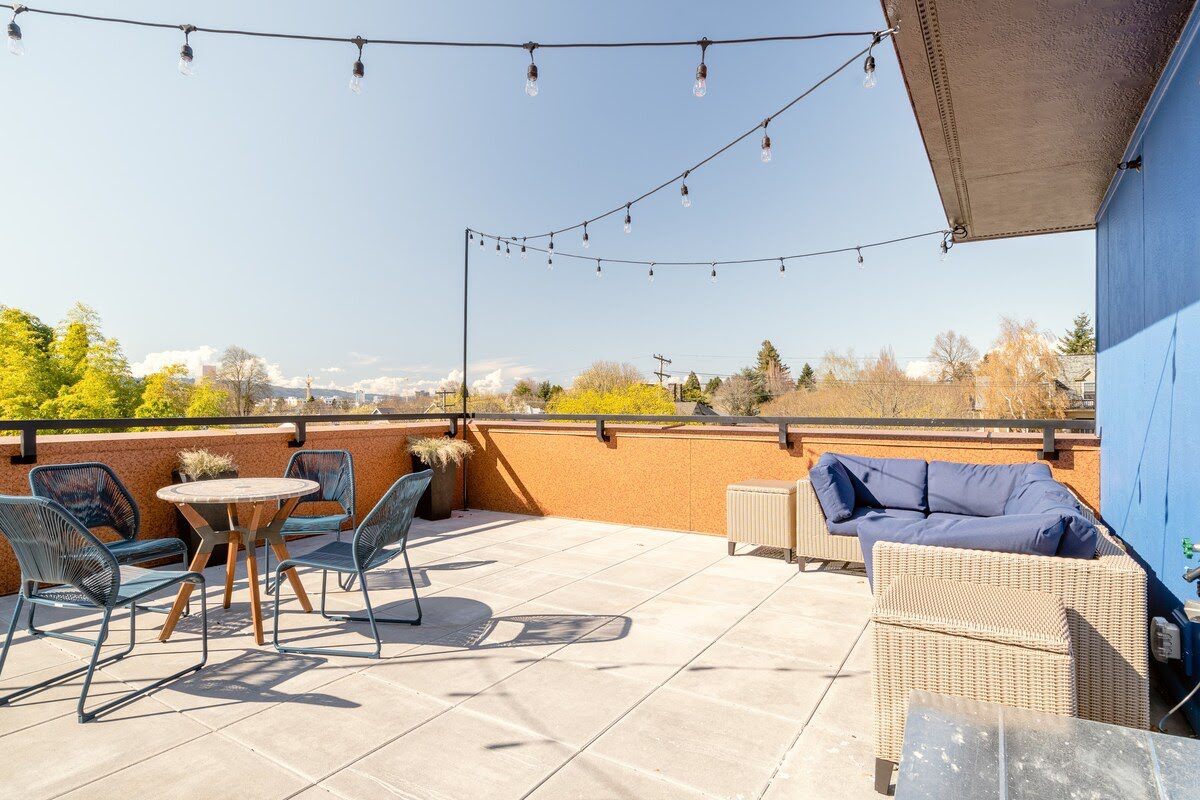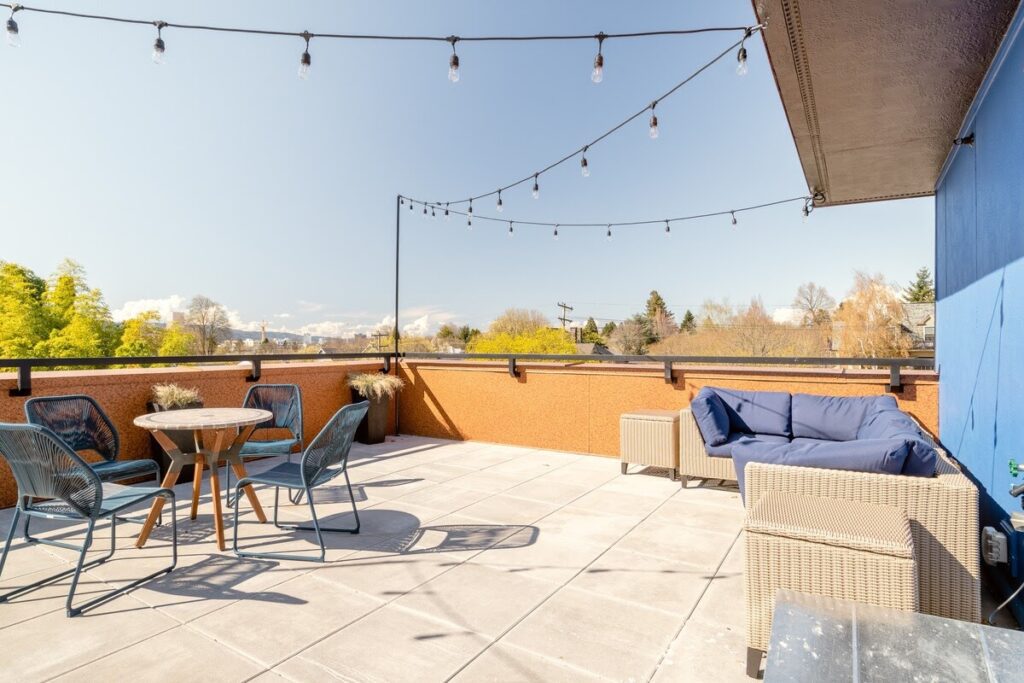 Something you don't get at many Airbnbs is the upstairs patio with plenty of seating and lovely views. Situated in Ladd's Addition, just off of Hawthorne in Portland's oldest planned residential development, and one of the oldest in the western US, the area is full of history to see and explore (best by foot)!
Modern Craftsman on Alberta Street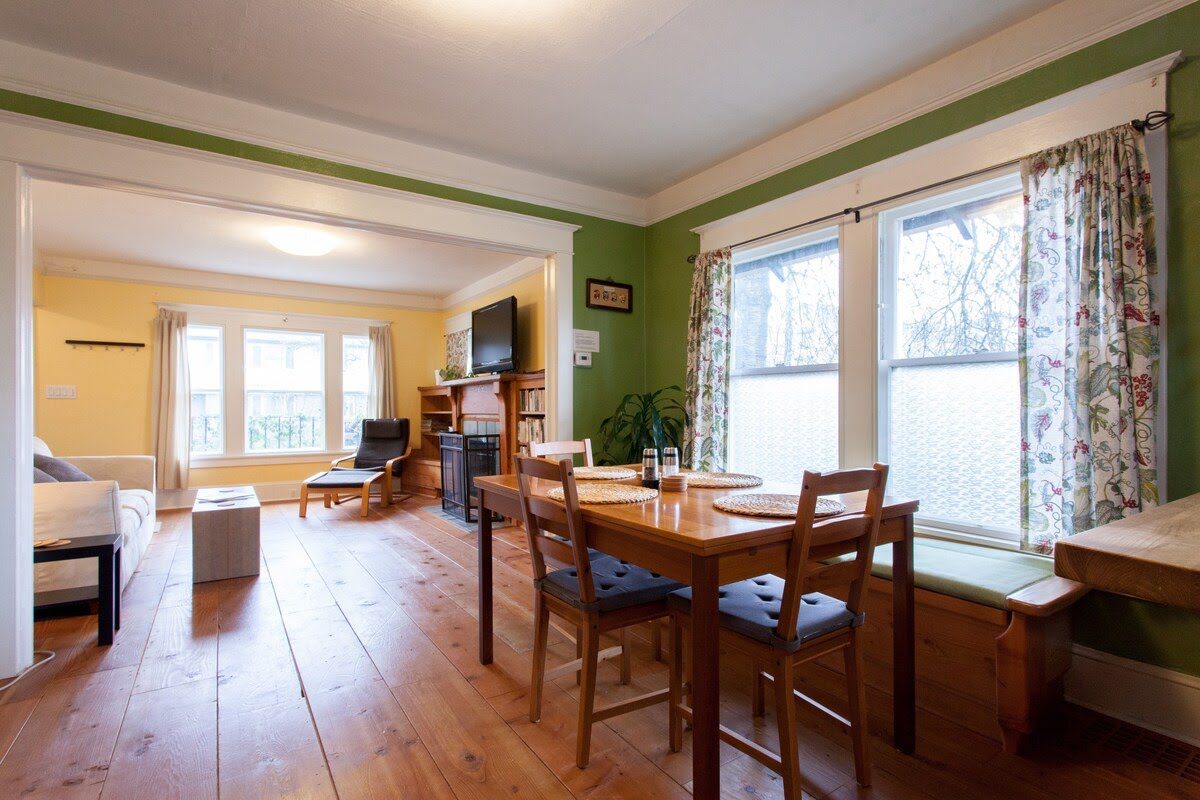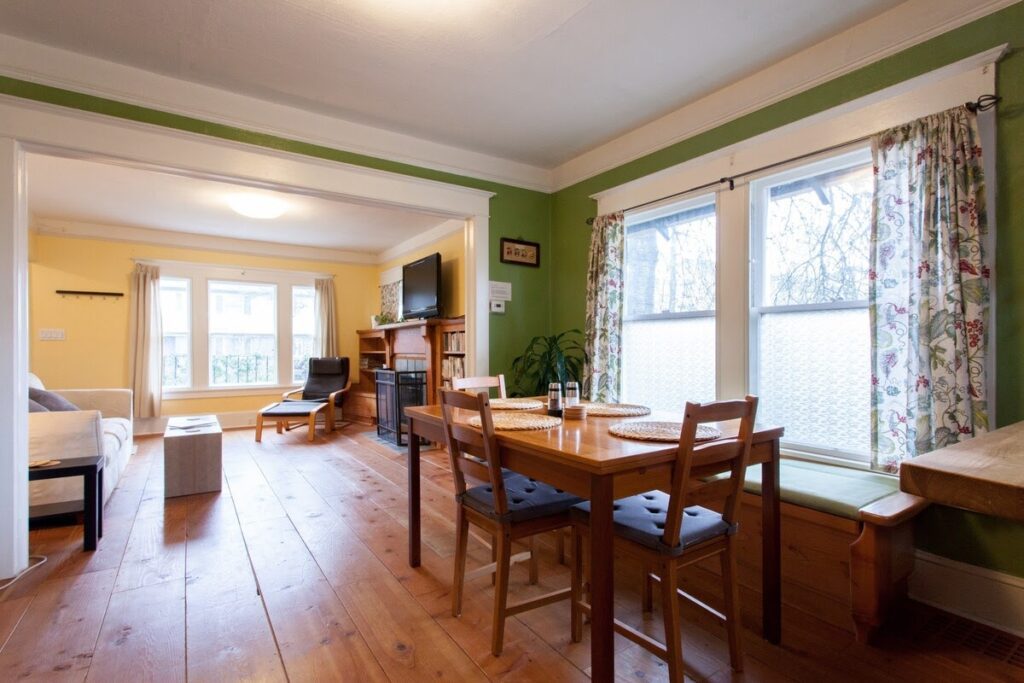 Location: Alberta Arts / Mississippi Avenue
Bedrooms: 2
Bathrooms: 1
Sleeps: 5
Pet Friendly: No
Located in the northeast of the city in a historic craftsman home, this two bedroom Airbnb sleeps five guests and is truly a home away from home.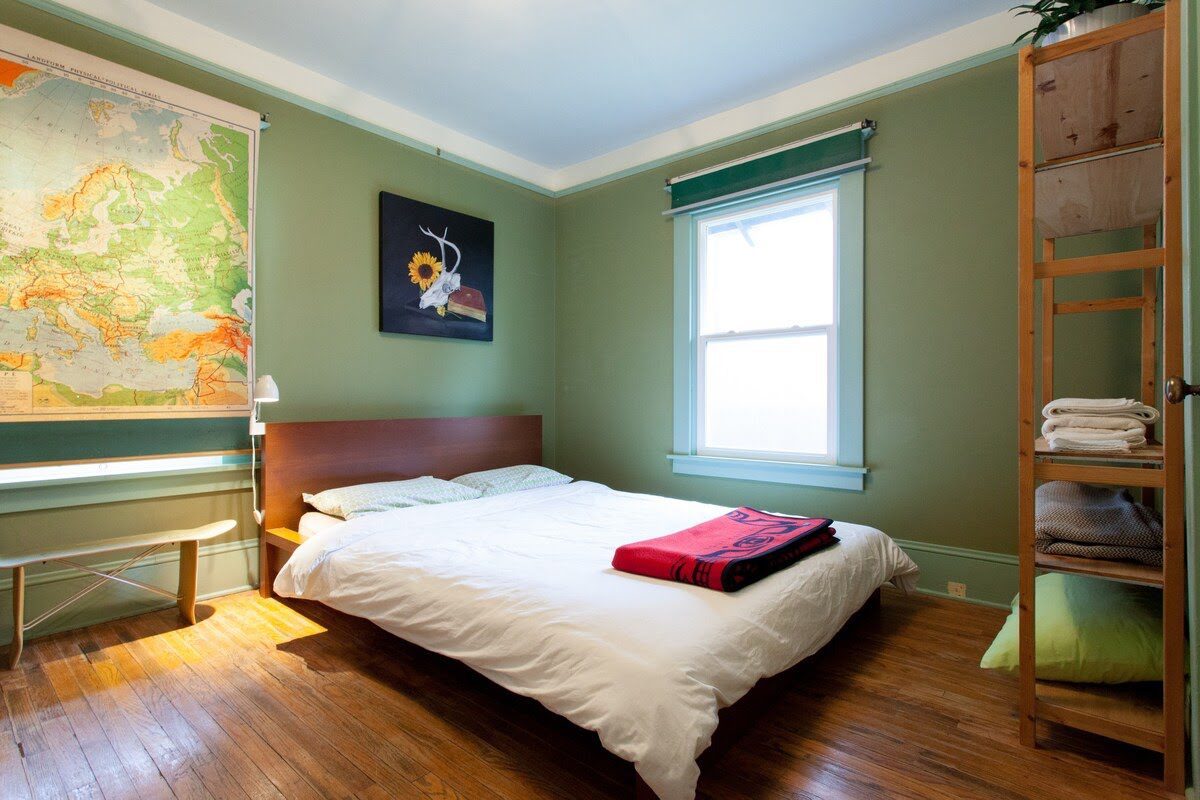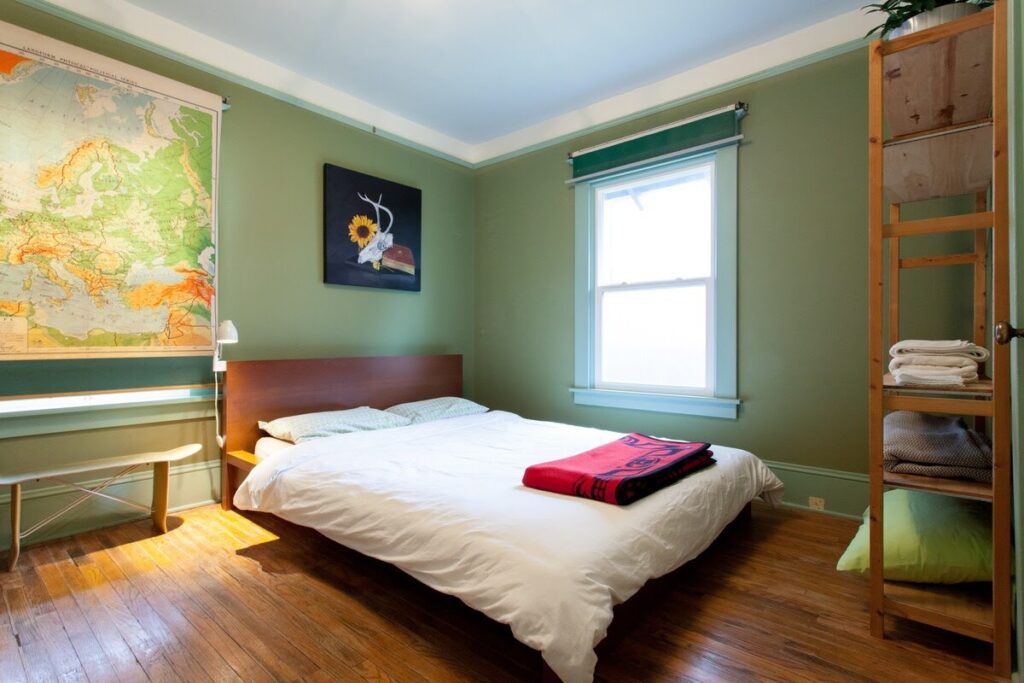 This modern craftsman is a 1500 square foot property built in 1922. Despite its age, you get plenty of space for a family of four or five, including two bedrooms, a large communal kitchen/dining/living/sunroom, and one bathroom.
Newly Built Garden Cottage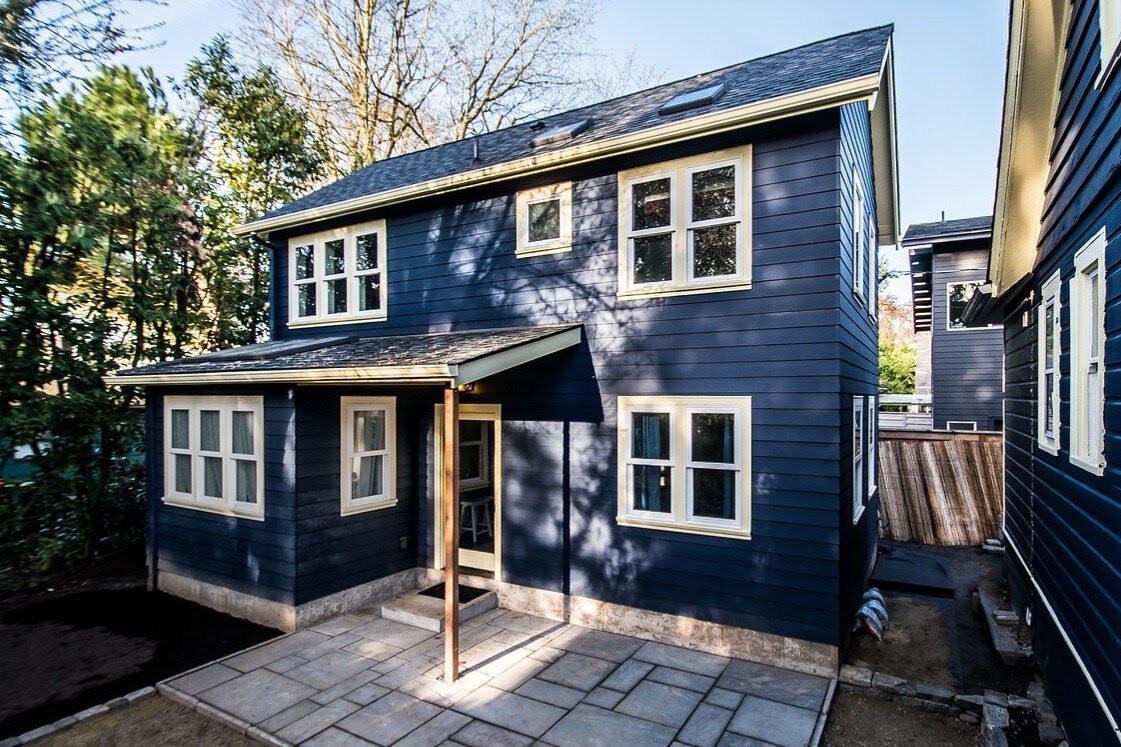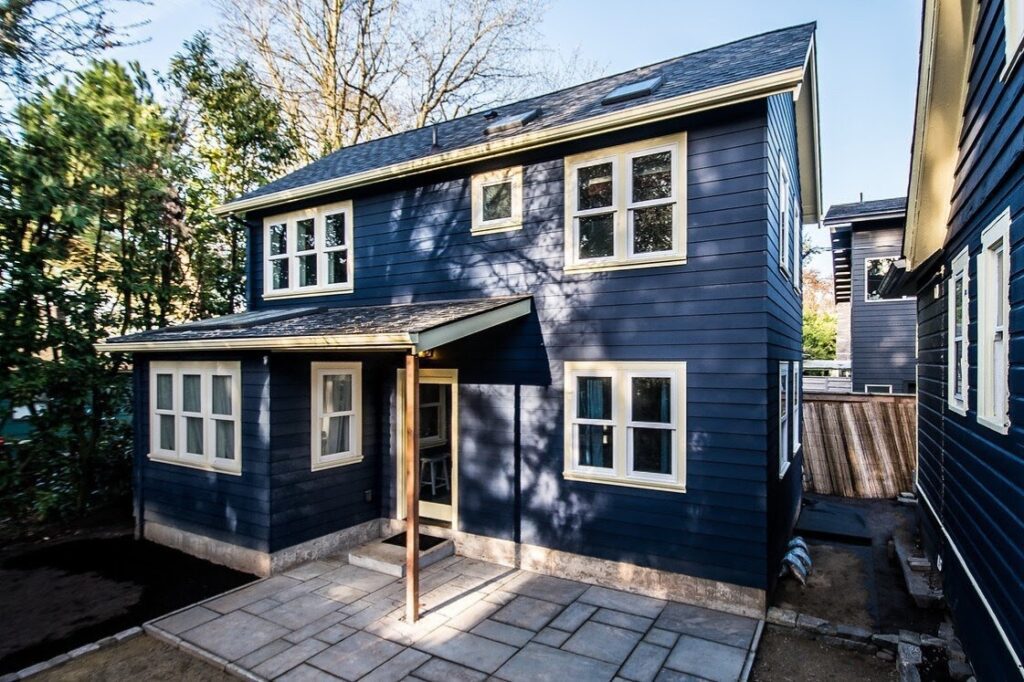 Location: Close to Mississippi Avenue
Bedrooms: 2
Bathrooms: 1
Sleeps: 5
Pet Friendly: No
Just a few blocks off of N Mississippi Avenue, this newly built garden cottage is connected to the rest of Portland by the wonderful Max light rail, which is only a few blocks from this Airbnb. With accommodation for five, this self-contained cottage will provide you with a fully equipped kitchen, a dining area, spacious living area and two bright bedrooms.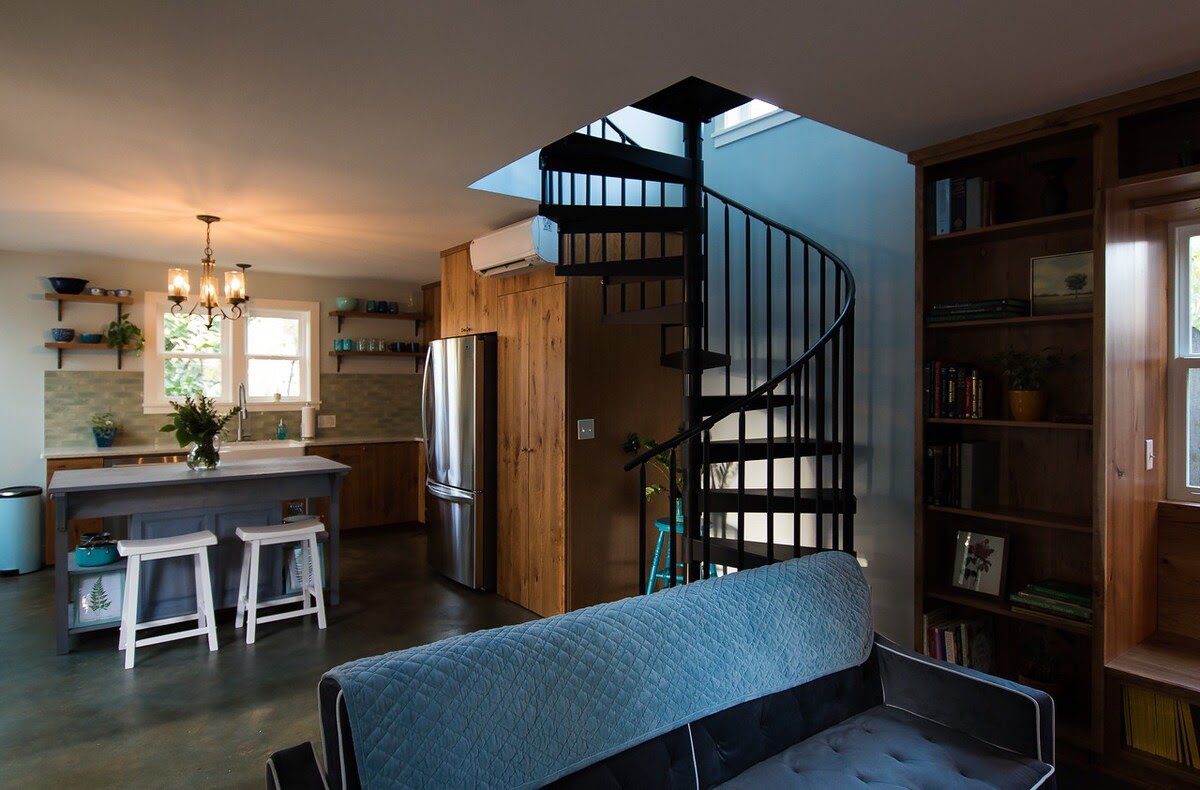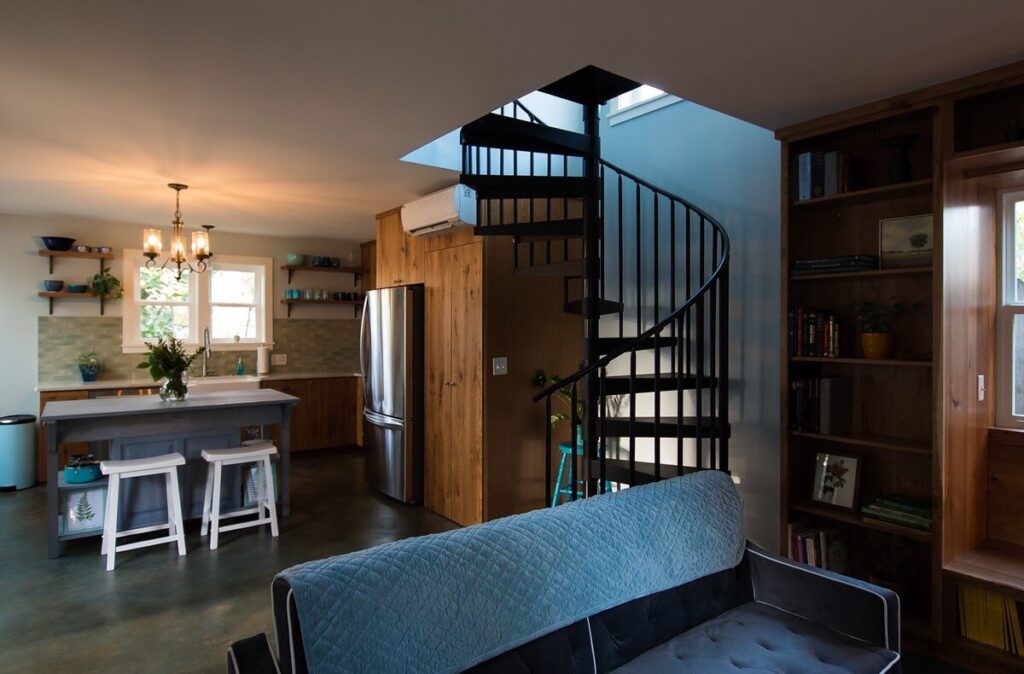 There is a patio and private garden plus the extras of a flat screen TV, washer and dryer, and a dishwasher. It's a quiet neighborhood with some lovely bars and restaurants steps away, so great for those who want a relaxing getaway.
Charming 1920's Historic Home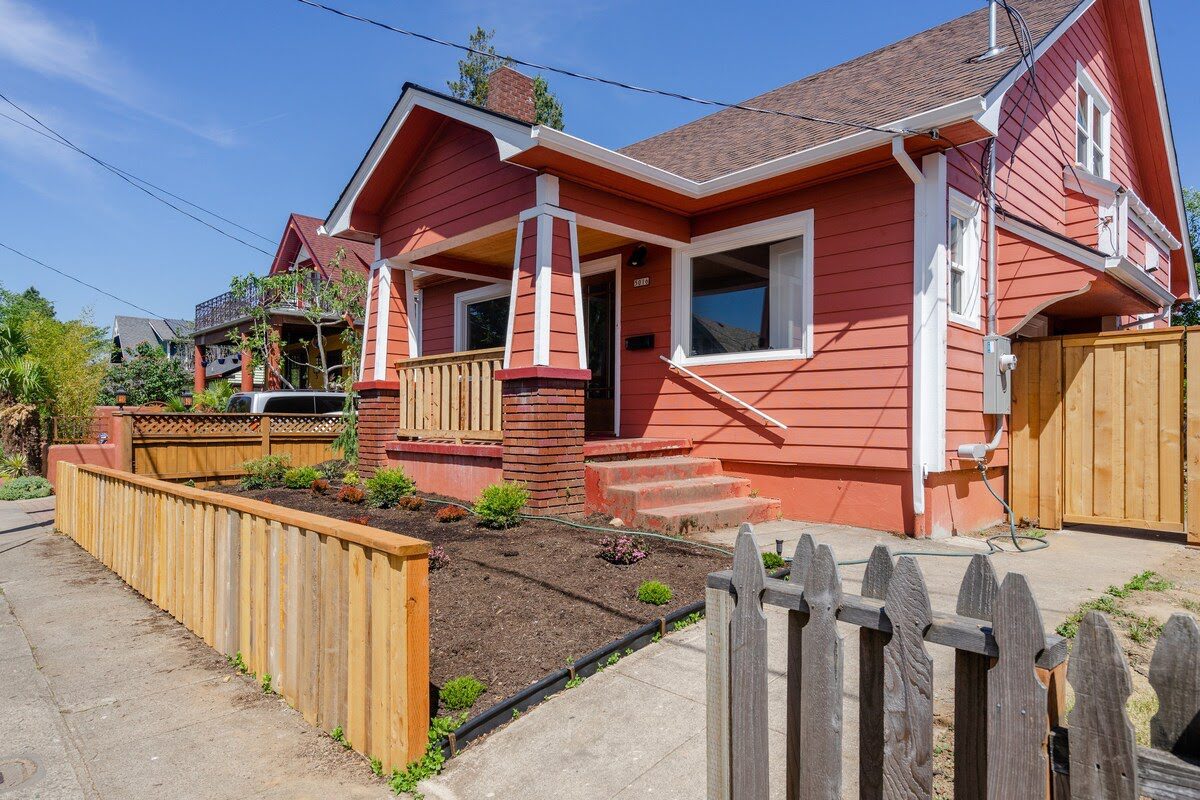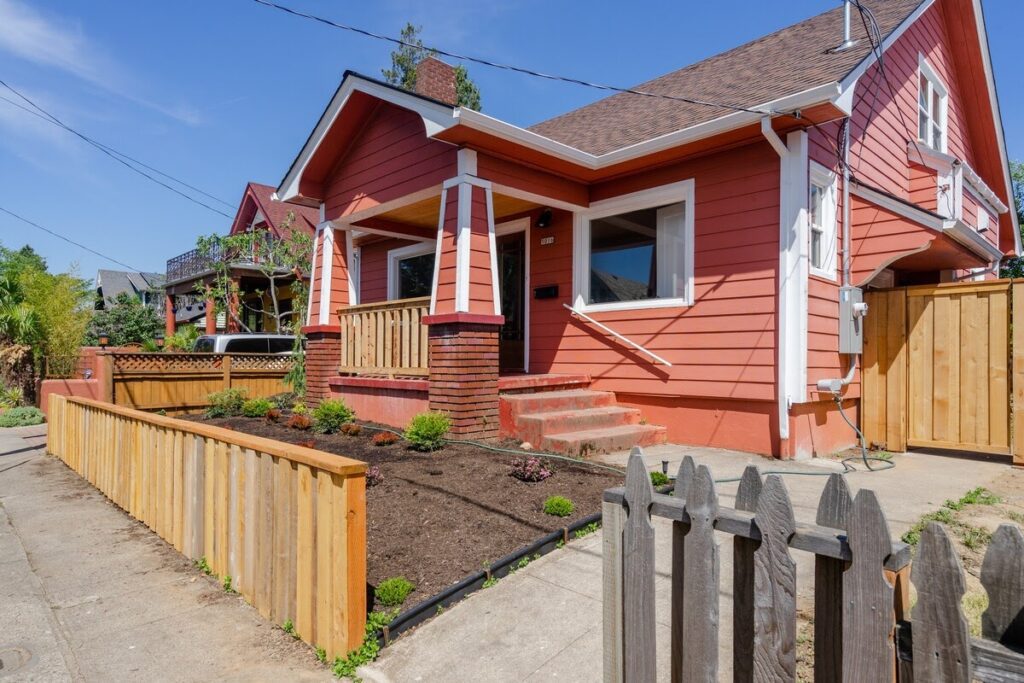 Location: Alberta Arts District
Bedrooms: 4
Bathrooms: 1
Sleeps: 8
Pet Friendly: No
This historic home just off of NE Alberta Street is another great Airbnb option in Portland, especially for large groups.
This fantastic home accommodates eight guests in four bedrooms. It's been modernized, but still shows historic character while offering air conditioning, cable, cool decor, comfort and spaciousness.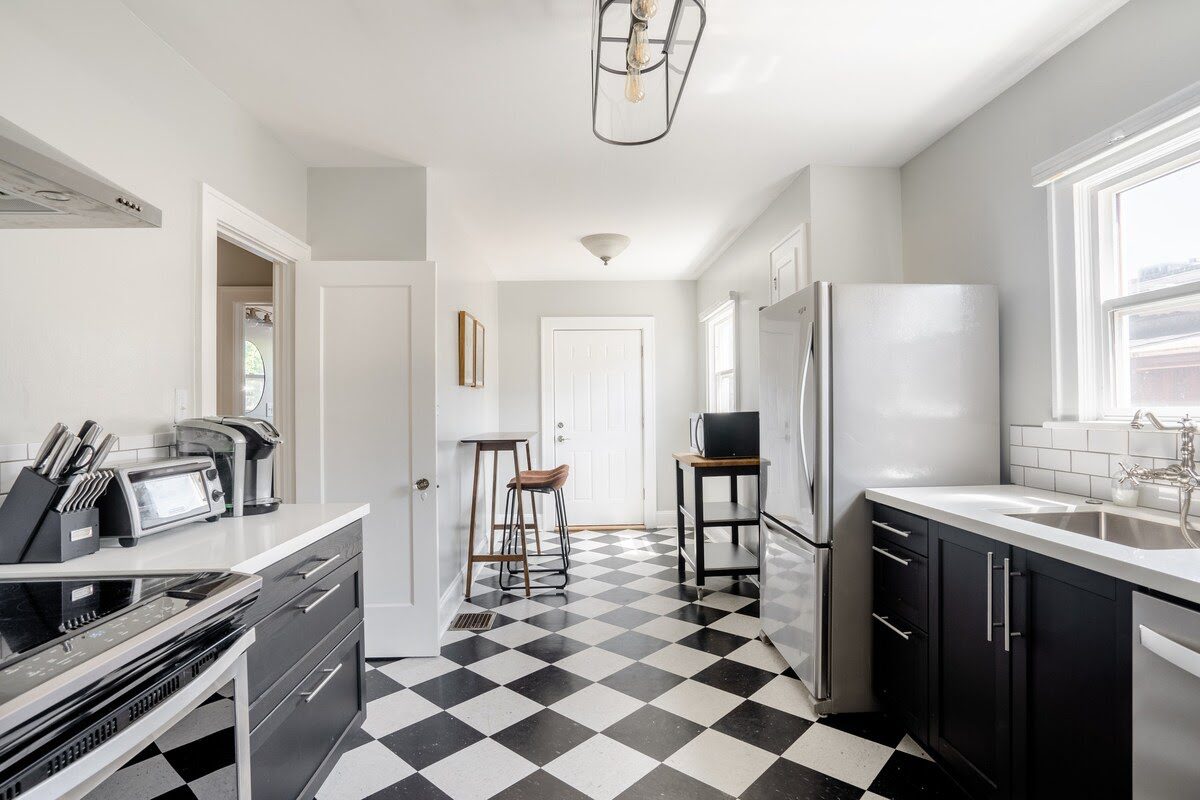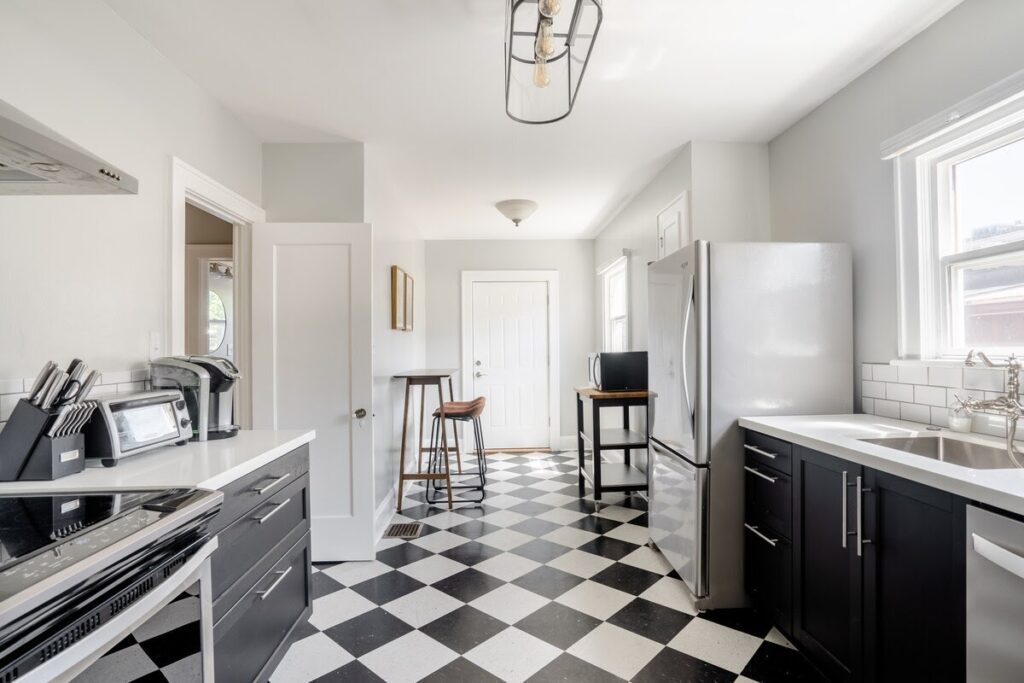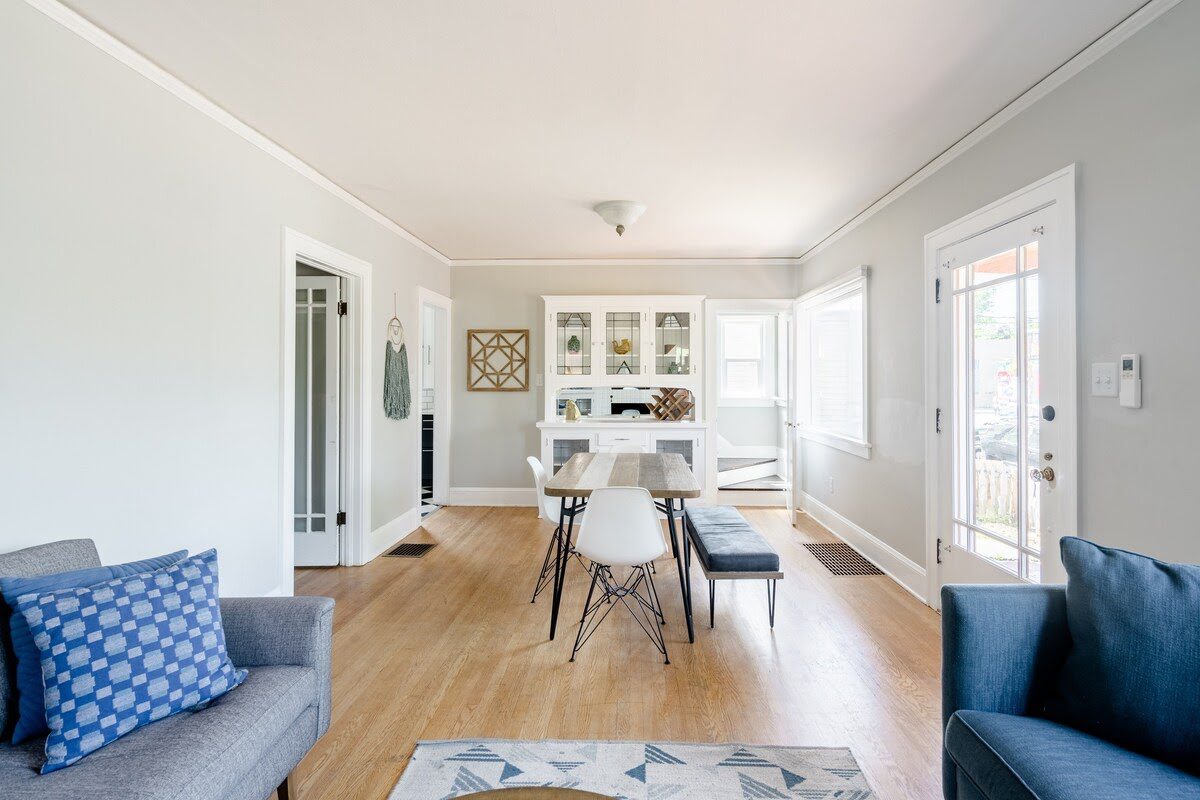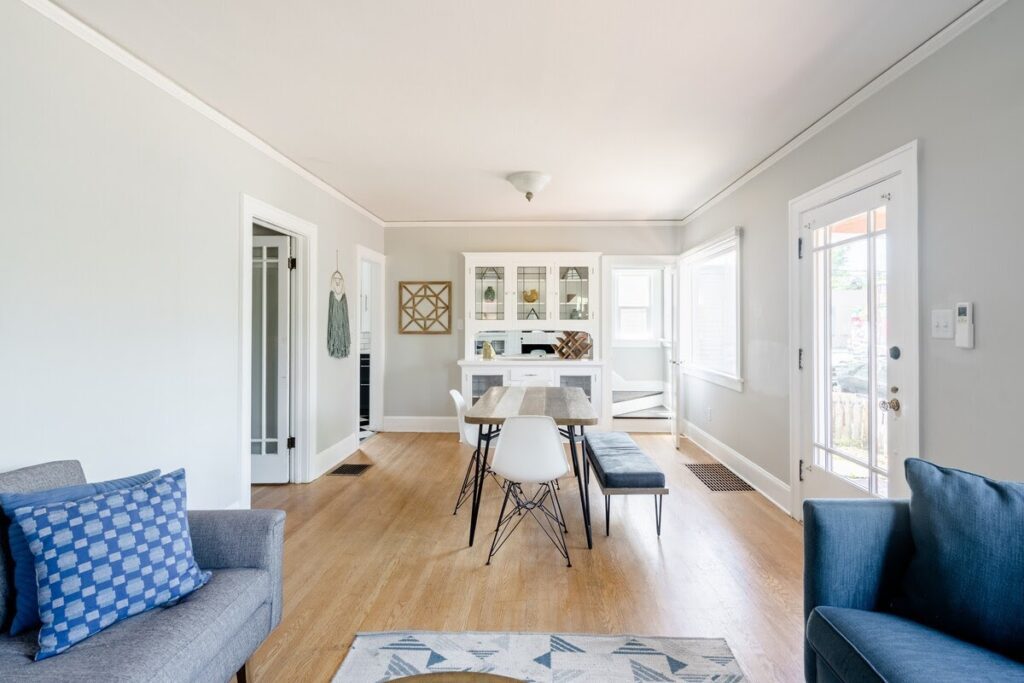 There's a fully equipped kitchen, dining area, and living room, and it's all beautifully furnished. The hardwood floors and built-in cabinets will make you feel like you're in a different era. The location is a wonderful starting point for your exploration of this sensational city.
A Unique Airbnb Stay in Portland: An Alpaca Farm Retreat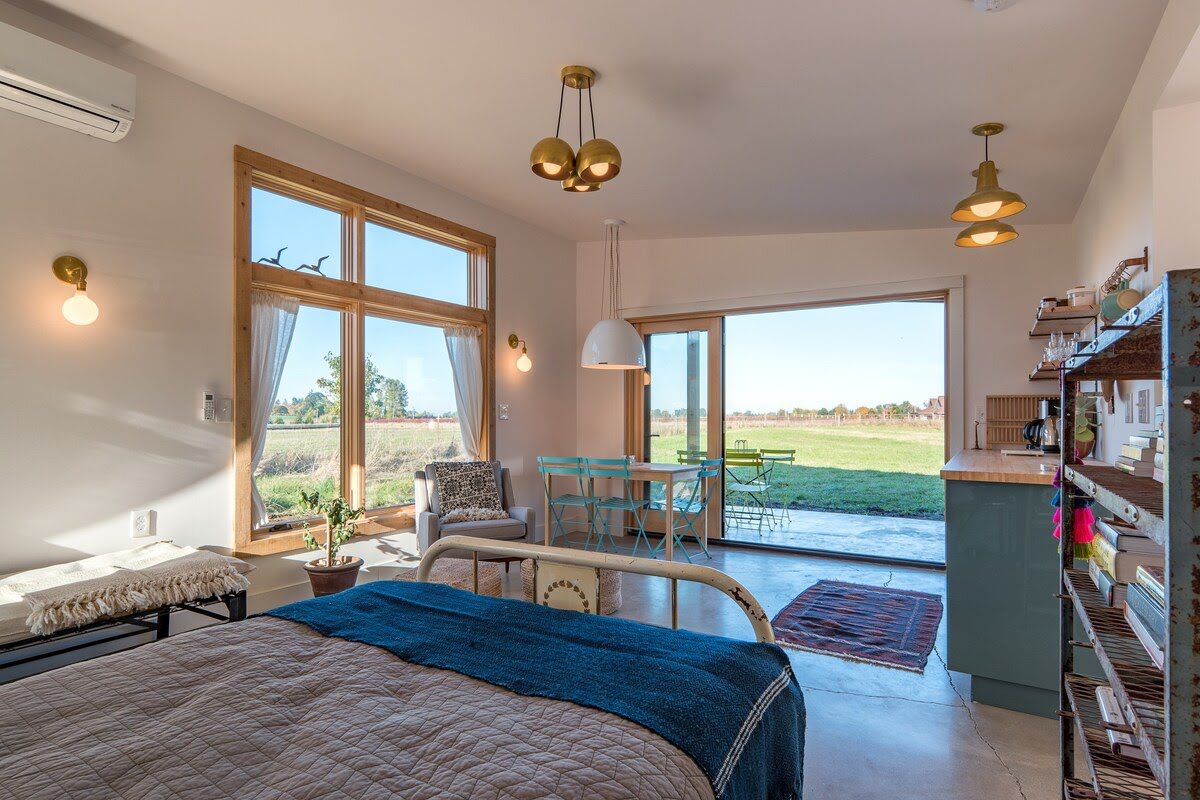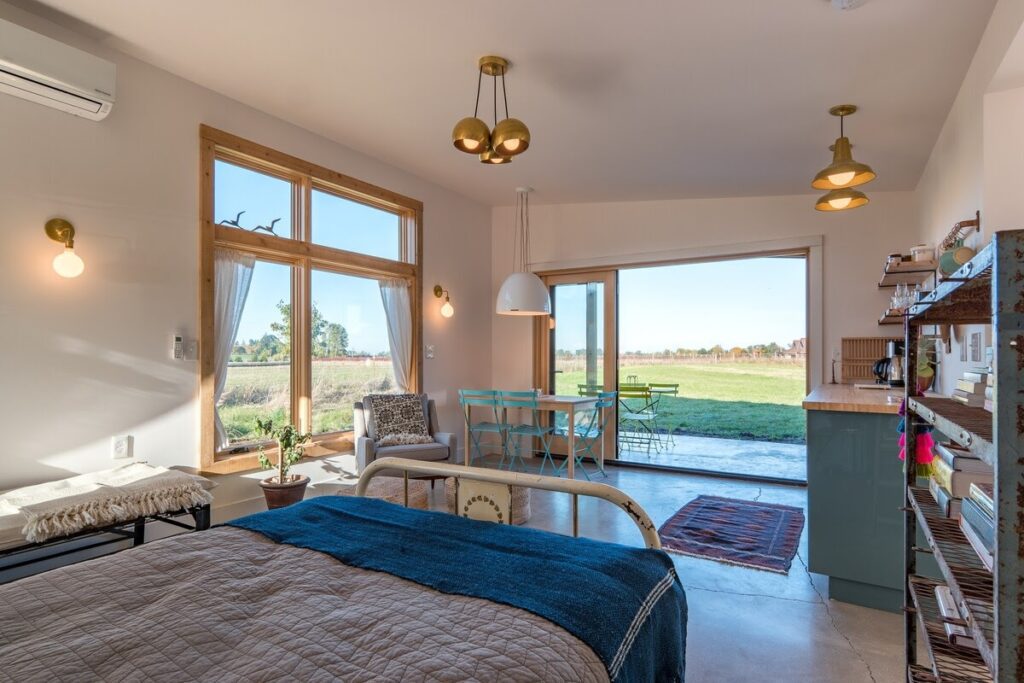 Location: Sauvie Island
Bedrooms: Studio
Bathrooms: 1
Sleeps: 2
Pet Friendly: No
This is something special! Located on an organic farm on the largest island in the Columbia River, this incredible Alpaca Farm Retreat offers accommodation for two just 15 minutes from the center of Portland. It's basically a one (very spacious) room haven, set in a stunning setting. You get a kitchenette, a lovely bed, and views to die for!
It is, without a doubt, one of the most unique Airbnbs in Portland (yes, technically Sauvie Island is inside the Portland city limits!).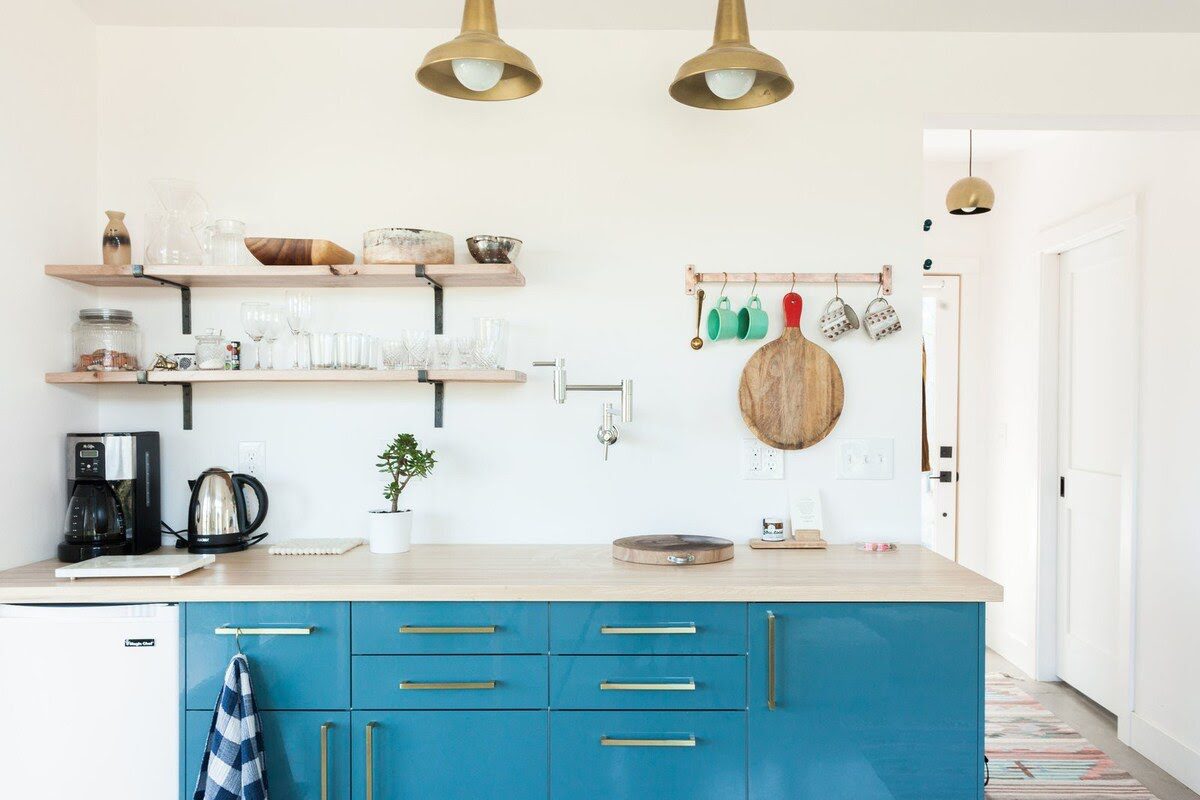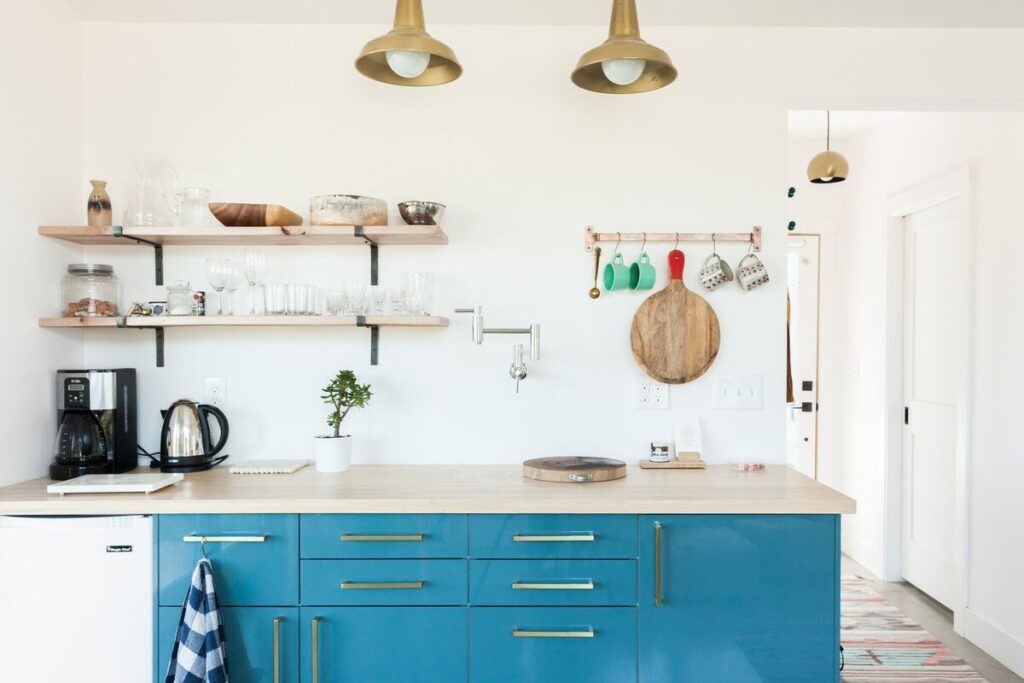 Outside there is a covered patio and… Alpacas! The Alpaca Farm Retreat is back to nature in a refined way. It's the perfect place to unwind and get away from the pressures of normal life, without having to give up all the culture Portland offers.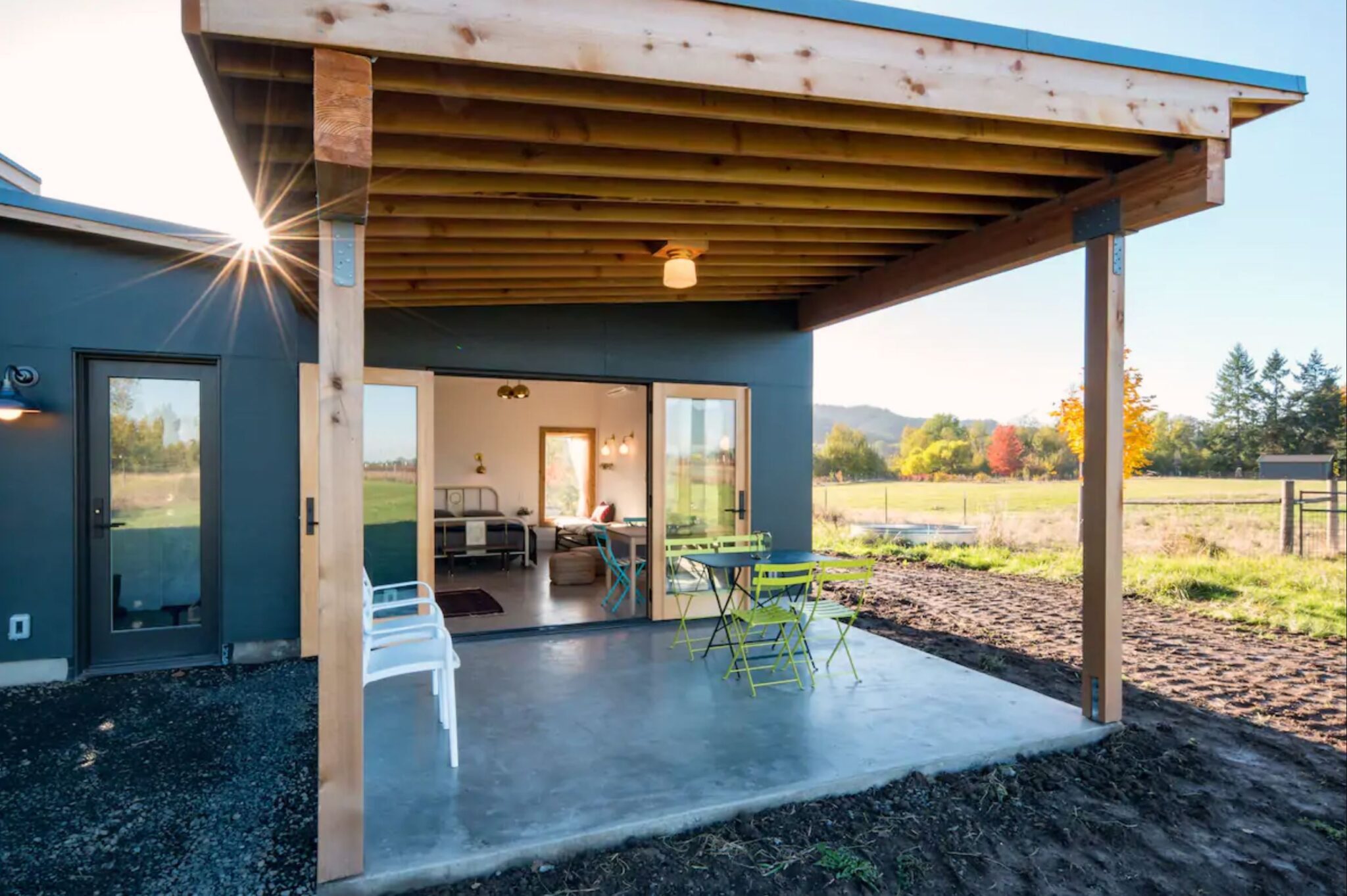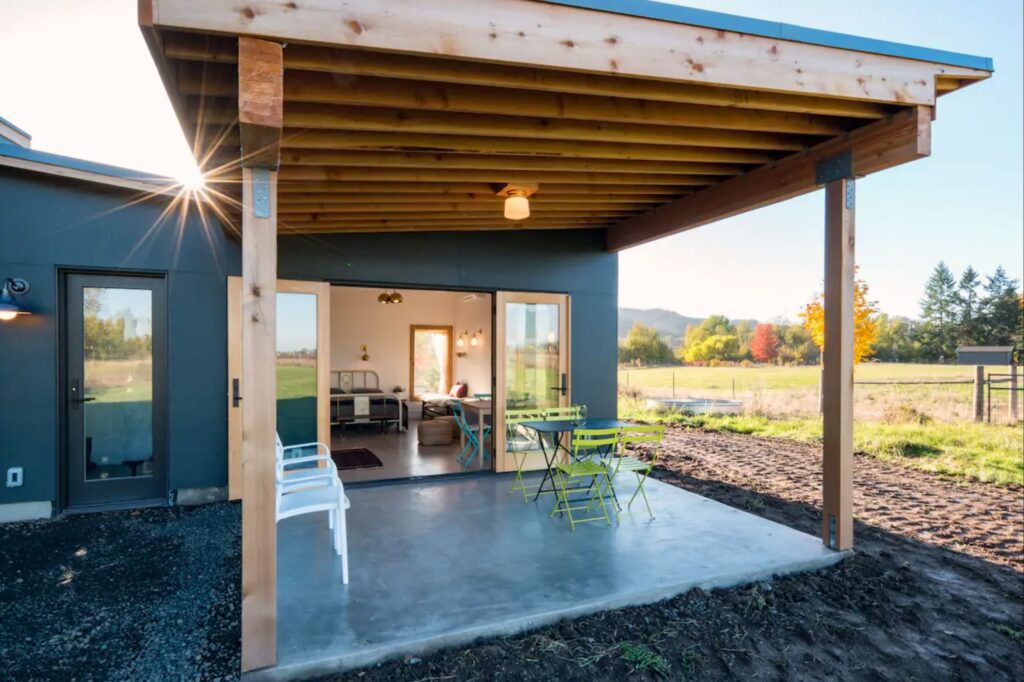 Why not head into the city to see the art, grab some amazing food, a ton of books, then head back to sit with the Alpacas? If nothing else, it will DEFINITELY be a trip to remember!
What Guests Are Saying
"My mom and I stayed here our first night on a week and a half long Pacific Coast road trip. It was our favorite place from our entire trip. Staying at the Croft farm was a dream come true! The guest suite is absolutely beautiful and is even better in-person. The bed was so comfortable and had the best sheets and blankets I've ever experienced in an Airbnb or hotel. We loved visiting with Ruby the farm dog and seeing all the other animals. It's truly a magical overnight stay and overall experience. I can't wait to come back!"

Shelby's Review, August 2020
---
There you have it! Our list of Portland Airbnbs for every style, budget, and group size. We know that at least one will be perfect for your trip, whether it's a romantic couples retreat or a family reunion.
Now that you're armed with the information you need to find a place to stay in Portland, it's time to plan the rest of your trip!
Hungry for more Portland travel guides? We've got you covered.
Don't miss our guide on where to stay in Portland, and our complete 3 day Portland itinerary to help you plan the perfect trip.
If you want to explore the rest of Oregon, make sure to peruse our Oregon travel guides, and the guides for the Pacific Northwest.
More Oregon Travel Guides
If you like this guide, you won't want to miss our other Oregon travel guides!