Gluten Free Travel Snacks: Never Get Hangry Again While Traveling
Planning ahead is the key to gluten free travel. Especially when you're flying 10+ hours around the world. You should definitely order a gluten free meal ahead of time, but sometimes that doesn't work out. When you're planning your trip, you should think about what gluten free travel snacks to bring with you to take the stress out of trying to find safe food you can eat while you're traveling. Being stuck on a plane or train for hours is bad enough, it's even worse when you're hangry. Believe me, I've been there. That's why I put together this list of the best gluten free snacks for traveling.
Travel, particularly airports and planes, are filled with stress, why add finding gluten free food to the list? For me, being prepared for the times I can't find healthy gluten free snacks is necessary for me to have a relaxing, enjoyable travel experience.
The Best Gluten Free Travel Snacks
Luckily for us, there are some fantastic and easy gluten free travel snacks that you can bring through TSA so that you don't find yourself hangry while you're traveling. Below are some of my favorites.
The Gluten Free Bar (aka the GFB)
Full disclosure – I worked with the GFB on a sponsored post (which you can read here), but the brand love you see in that post and the words below is real, and the thoughts are 100% my own.
When I evaluate gluten free snacks for travel, I think about three things: safety for Celiacs, deliciousness, and the "off the field" impact, like doing the right thing for the environment. In that order.
The GFB has your gluten free travel snack needs covered with their three different products – bars for the times you need a quick on-the-go pick me up, bites for when you just need a little something to keep you going, and gluten free oatmeal for the times when you want to start the day off right.
I've used all three, and the oatmeal in particular stands out to me because of the packaging. It turns into a bowl, so you never need to worry about having a bowl with you on the plane or on the trail. Genius!
You can read more about why I love the GFB here, but it boils down to their commitment to making delicious products that are safe for Celiacs. I've used their products around the world, in places like New Zealand, Mexico, Colombia, and more. And I firmly believe they will make your travel experience more enjoyable.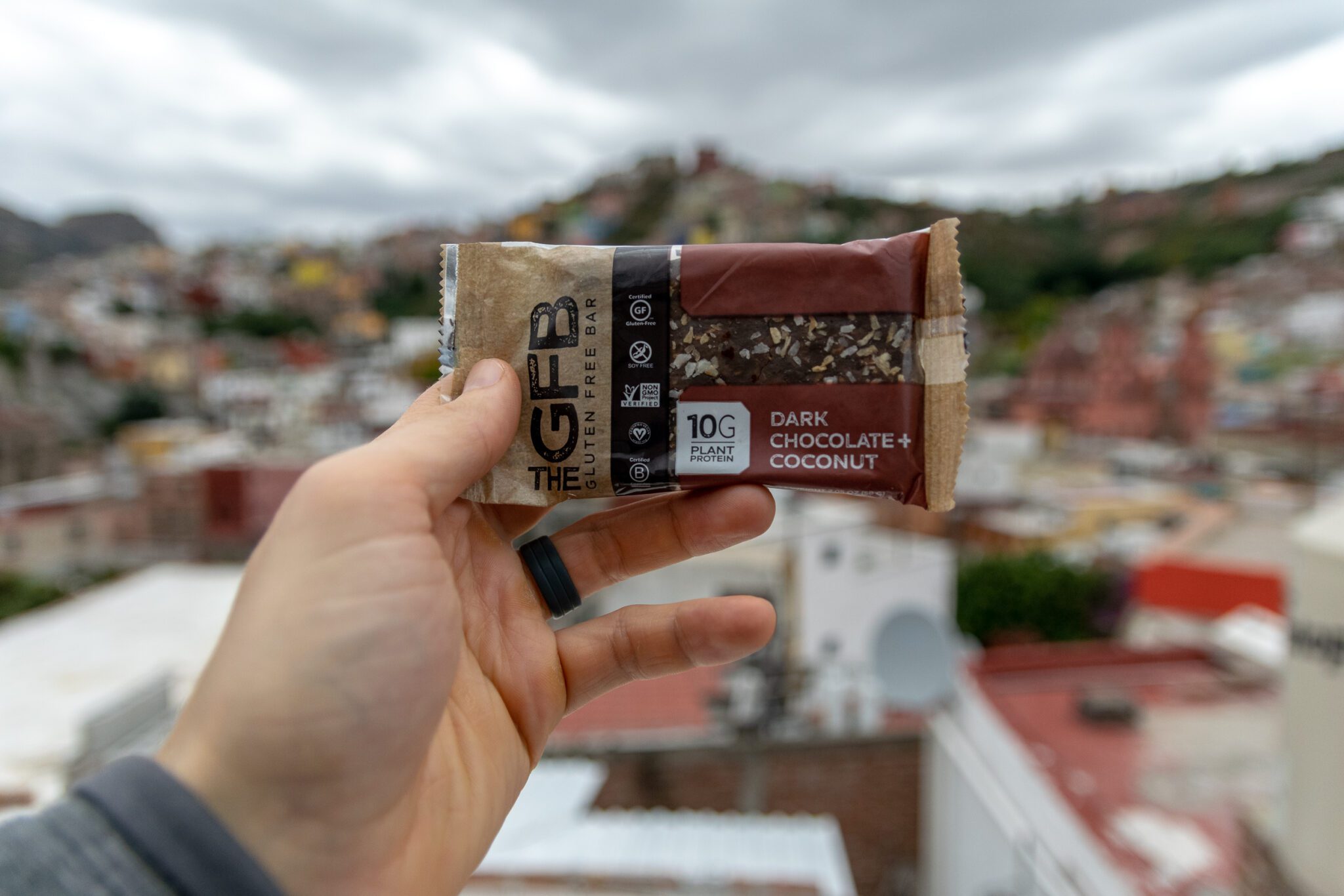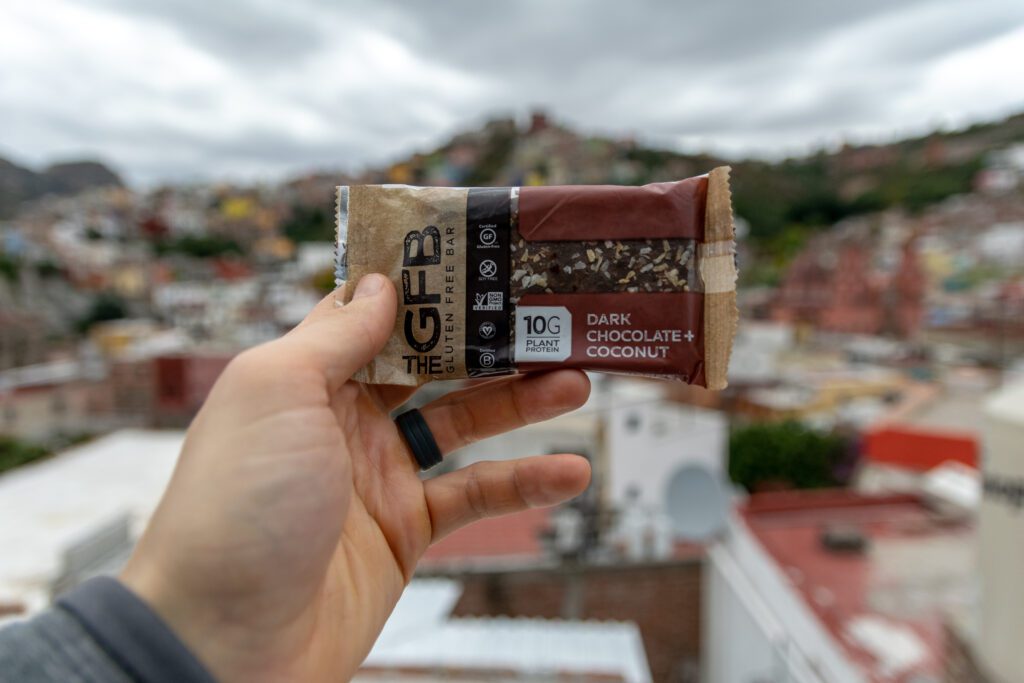 Beef Jerky and Plantain Chips
The texture play makes this combination the perfect gluten free travel snack. For whatever reason, I like that beef jerky is chewy and tough, because it makes it feel like a more substantial snack. Maybe that's because it takes longer to eat. Plus, most brands are high in protein and low in sugar, so it's a nice, filling, and healthy gluten free snack.
There is one thing missing though, and that's a nice crunch. That's where the plantain chips come in. I love the brand Inka, and they satisfy that crunchy, salty snack craving that I sometimes get on long plane trips. The combination of chewy protein and crunchy and salty is perfect for me, and leaves me feeling satisfied for hours.
My favorite jerky brands are Country Archer, Field Trip (their packaging is MAGICAL), and Chomps. I love Inka Plantain Chips.
Nuts, Dried Fruit, and Dark Chocolate (aka homemade trail mix)
Step 1: Buy some nuts, preferably roasted and salted from Nuts.com, which has a dedicated gluten free facility.
Step 2: Buy some gluten free dried fruit, like apricots, mangoes, or apples, also from Nuts.com.
Step 3: Put them in a Ziploc together, or don't. It doesn't matter, it's delicious either way.
Step 4: Whip them out when you need a filling, nutritious gluten free snack and enjoy!
My go-to Dark Chocolate brands are Alter Eco, Dandelion, which is a local San Francisco brand, and Madecasse
Crackers and Hard Cheese (like Parmesan)
I love cheese, and I love crackers. Combine them and you get the perfect gluten free travel snack. Particularly for long plane rides.
This one might seem like it doesn't work on longer trips, but I flew to Australia with a block of parmesan and I'm still here, no harm done. The cheese might get a little "sweaty," but it won't hurt you because it's a hard cheese. I would not do this with, say, a goat cheese.
As far as crackers go, the saltier the better. I really like Crunchmaster, Mary's Gone Crackers, and Simple Mills.
Nut Butter Packets and Gluten Free Bread
Sometimes, I bring full jars of peanut or almond butter through TSA. However, I recently had a full jar of Justin's Peanut Butter confiscated at the checkpoint (RIP) and learned that technically, a jar of peanut butter is not allowed. It probably depends on how the TSA officer is feeling at that particular moment.
Lucky for us, the proliferation of nut butter packets that are under the TSA limit solves this problem. Grab a few packets, throw them in your bag, and you've got a nutritious, filling gluten free snack on demand. Add some bread or a banana and you've got yourself a winner.
I like Justin's or Barney Butter, and Canyon Bakehouse bread.
---
Those are my favorite gluten free travel snacks – what's in your bag? Let me know in the comments below (so I can borrow your ideas and try some new things on my next trip).