The Best Gluten Free Road Trip Snacks for Your Summer Adventures
When I think about most of our vacations growing up, my mind immediately goes to road trips with my brother and cousins. There are a few road trip essentials that are a must-have, and at the top of the list is snacks. I wasn't diagnosed with Celiac Disease until college, so on my childhood road trip adventures I didn't have to worry about whether or not we had gluten free road trip snacks. Now, it's basically the second thing I consider after the car.
Whether we were driving from our home in Seattle down the L.A. to visit family and lounge by the pool, heading from L.A to Vegas, or doing the Utah National Parks Loop through the unimaginable beauty of Zion, Bryce, and the Grand Canyon, road trips were our preferred mode of transportation. We consistently did the six hour Bay Area to Los Angeles trip when we lived in Northern California, and even did the Seattle to Los Angeles leg with no stops a few times when I could help my mom drive after we moved to Seattle.
More recently, my wife and I have gotten back into road trips, which means I've had a chance to try out ALL the gluten free road trip snacks. Read on for my favorites.
6 Amazing Gluten Free Road Trip Snacks for Your Summer Adventures
Whether you're looking for something crunchy and salty, sweet and poppable, or chewy and savory, there's a gluten free road trip snack for you on the list below.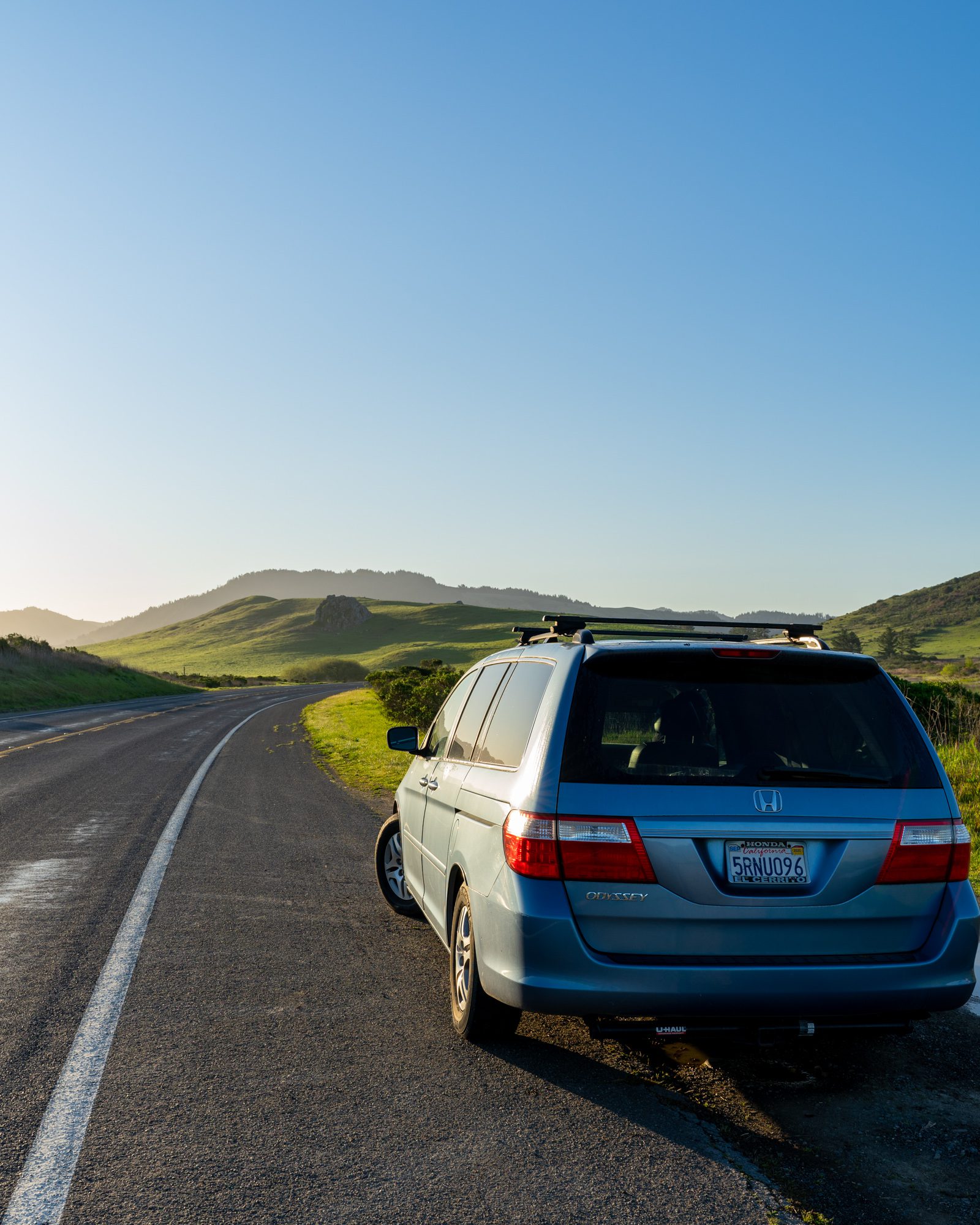 Disclaimer: Some of the links in this post are affiliate links, meaning at no additional cost to you, I make a little bit of money if you click through and book. That being said, I would never recommend something to you that I don't stand behind 100%.
Gluten Free Bars – The Perfect Portable Road Trip Snack
When it comes to portable gluten free nutrition, the first place I turn is bars. I'm looking for something that is relatively high in protein – at least 10 grams – and low in sugar – below ~10 grams, ideally. Bars are the perfect gluten free road trip snack because they are portable, easy to pack in our bag, and ready to eat at a moment's notice to stave off the hangries.
There are so many options out there these days, but I have a few favorites that I go back to again and again.
First and foremost is the Gluten Free Bar. I first tried them a few years ago, and have since fallen head over heels in love with them as I've learned about the good they do in their local community, the fact that they own their own dedicated gluten free facility, and the fact that they are a certified B-Corp, and run their business on multiple bottom lines, prizing other things than just profit. My favorite flavors are Cranberry Toasted Almond and Oatmeal Raisin. Click here to check the latest prices on Amazon.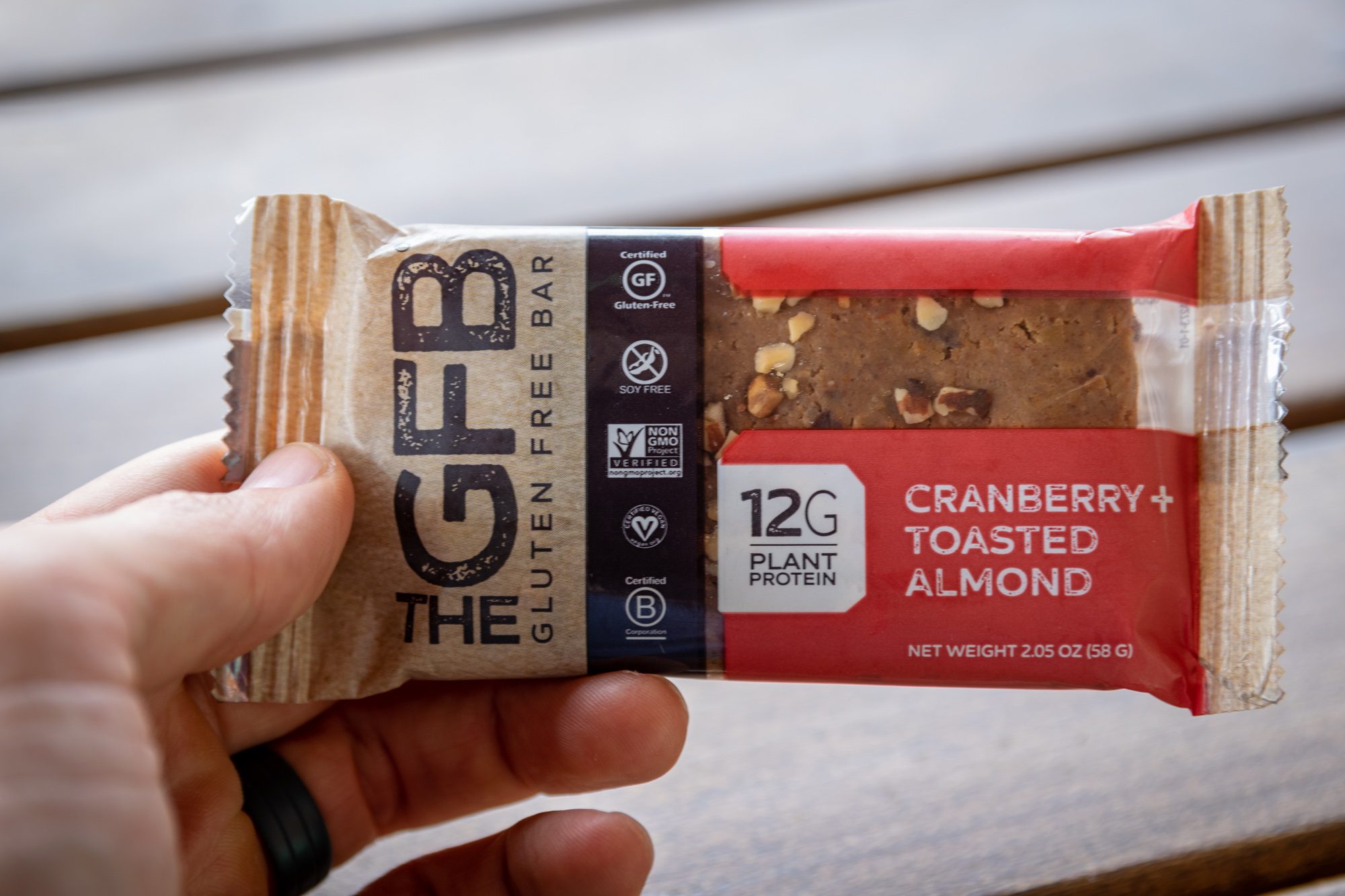 The GFB Bites also make a great gluten free road trip snack, and they've been around the world and back with me. They're the perfect travel companion for when you're feeling a twinge of hunger (nobody likes you when you're hangry… including you), but not quite enough to eat a whole bar. Grab a bite or two, seal the bag, and BOOM! You're back in business. They can be the difference between a terrible day on the road, and an amazing day on the road. Certified gluten free, and high in protein. A perfect, deliciously satisfying snack – I have them with me pretty much anywhere I go.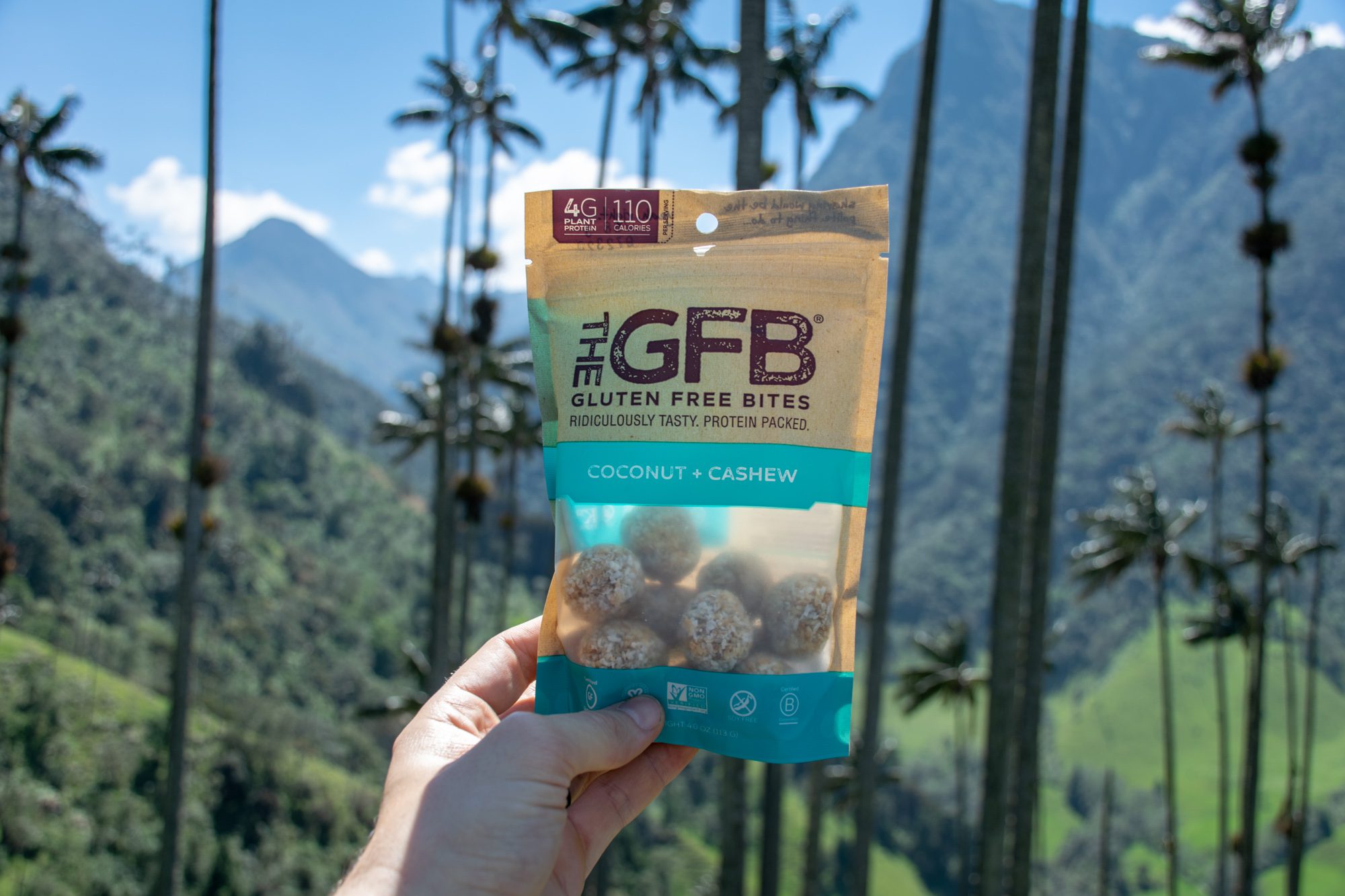 Click here to read more about why I love the Gluten Free Bar so much.
Second is Kirkland Signature Protein Bars from Costco. They have 20 grams of protein, 15 grams of Fiber, and just a couple of grams of sugar. Plus, they're certified gluten free. They're my go-to meal replacement, perfect for those times I'm hungry and craving something a little sweet. The best flavor, and it's not close, is Chocolate Chip Cookie Dough. Be prepared for a bit of an "artificial" taste. 
Last is Kind Bar, particularly their Nut Bars (the "Nuts and Spices" line, which has 5 grams of sugar), and the Protein line, which has 12+ grams of protein. The best flavors of the nut bars, according to, well, me, are Pomegranate Blueberry Pistachio and Madagascar Vanilla Almond. You can order a variety pack to try a bunch of different flavors and figure out what your favorites are, or even build your own box! NOTE FOR CELIACS: The oats they use in their bars – like the Healthy Grains line, the Breakfast line, and the granola – are NOT purity protocol. I would steer clear of those products. Check the label and if you see oats, put it back.
Nut Butter Packets: Nutrition On the Go
Whether I'm traveling internationally or I'm on a road trip around the US, you're going to find nut butter packets in my bag. I love Yumbutter, both because they taste great and are Celiac-safe, but also because the packaging with the twist-off cap is SO much more convenient than the tear-off packets that I've used before. No more hands (or the inside of a backpack) covered in peanut butter!
Spread some of their Protein Almond Butter (my fave) on a rice cake, or squeeze it straight into your mouth for a quick protein-packed snack. Note: Right now, they're offering free shipping, no minimums!
Chips: A Salty and Crunch Distraction
Sometimes you need a good salty crunch, especially on a long, potentially boring road trip along I-5 in California. And that's where chips come in. They are the perfect gluten free road trip snack, and I often find myself mindlessly crunching away as we're driving, because the crunch is so satisfying!
My favorite "chips" are Hippeas – which are not quite chips, but are vegan, chickpea-based puffs, kind of like the old Cheeto puffs, and are DELICIOUS. Get the Vegan White Cheddar, you won't regret it. You can usually get them at Costco too, which is a great value.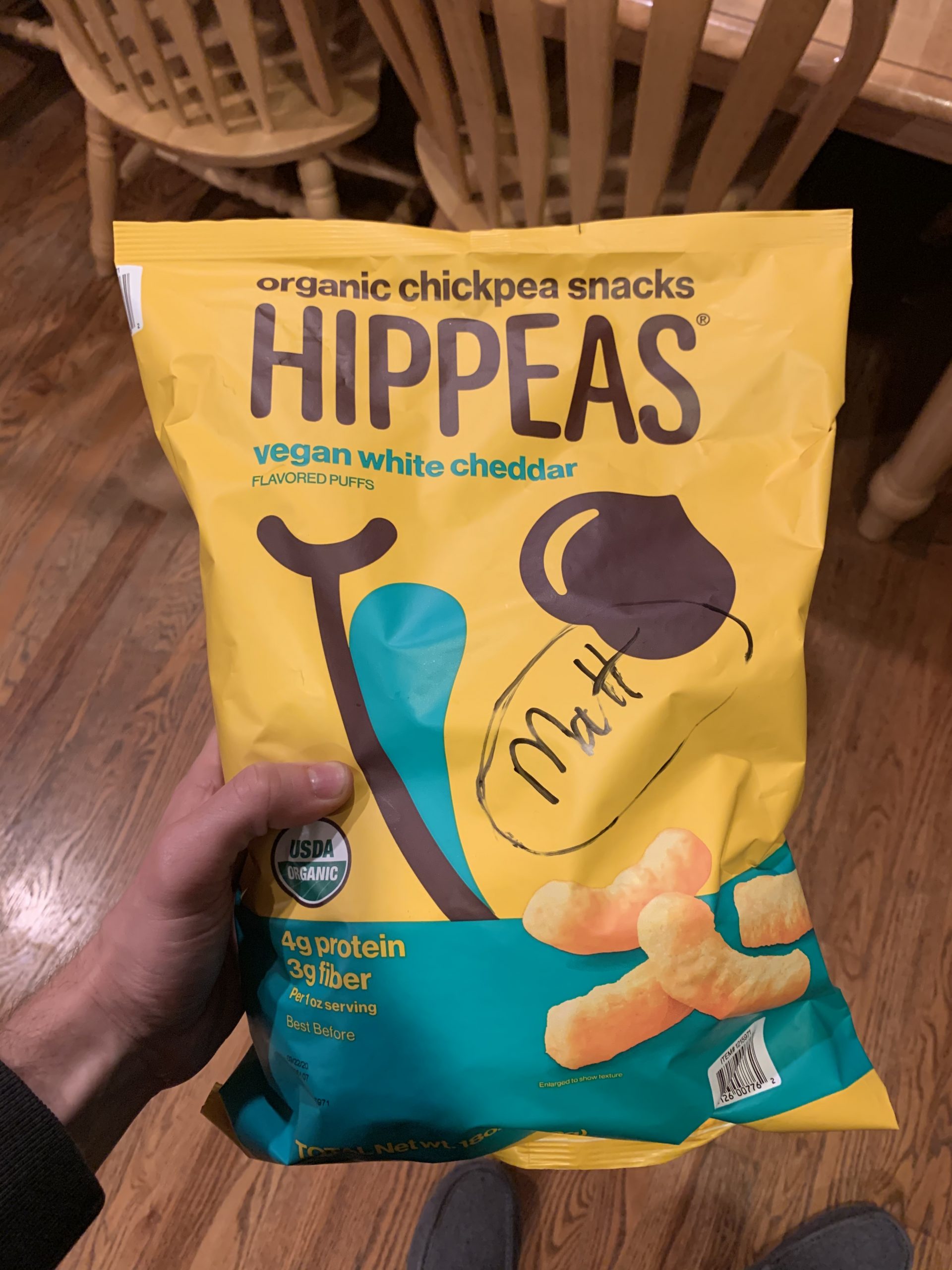 On my recent JetBlue flight on the way back from 6 weeks exploring gluten free Colombia, I discovered Popcorners. First of all, unlimited free snacks on a domestic flight? What is this, 1995? Second of all, THANK YOU JETBLUE for introducing me to this satisfyingly crunchy, delicious, light and airy snack. The Kettle Corn flavor is outstanding – I'm a sucker for the salty sweet flavor combination – I must have had three bags of them on the flight from Houston to SFO.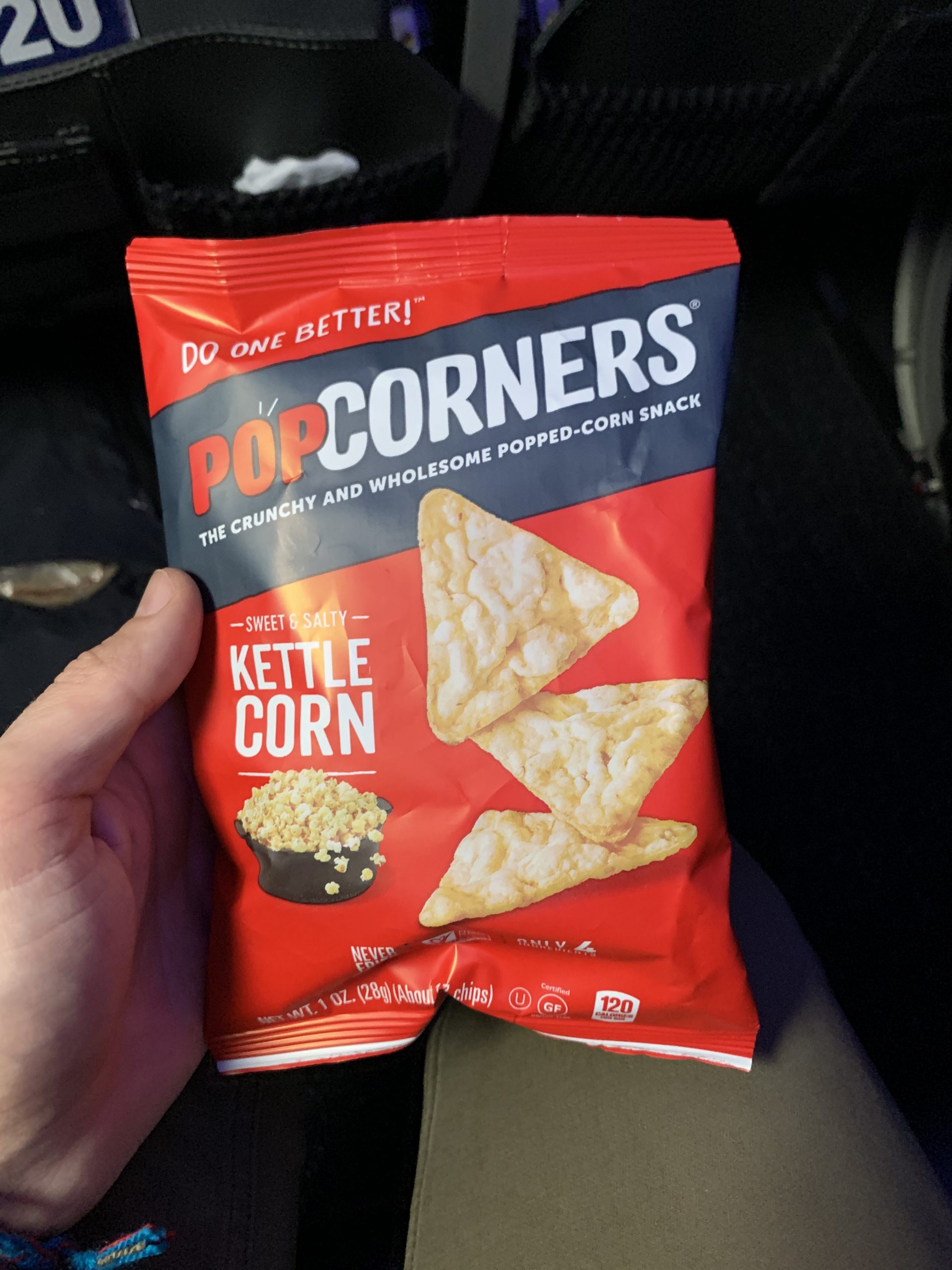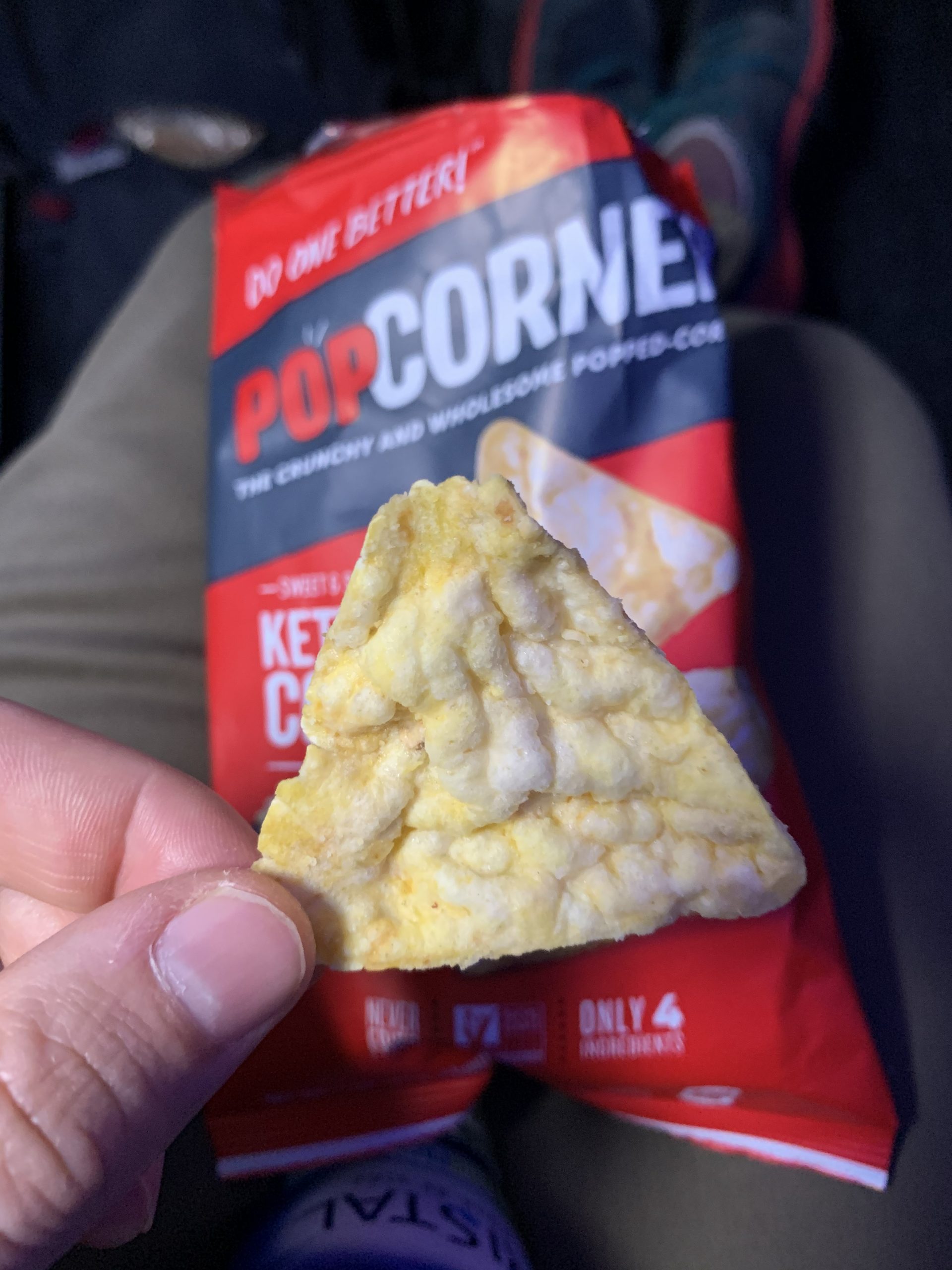 Late July is Alysha's favorite brand of chips, and we buy them in bulk at Costco. Once I start snacking on them, I can't stop. Especially the Jalapeno Lime. They're certified gluten free by GFCO too.  
Gluten Free Nuts: A Classic Road Trip Snack
Nuts and trail mix are classic road trip snacks. But it can be hard to find gluten free nuts that aren't subject to cross-contamination.
That's where Nuts.com and their gluten free products come in. They are produced on dedicated gluten free lines, and some are even certified gluten free. You can even build your own trail mix! When I need nuts, the only place I turn is Nuts.com these days. Usually I'm snacking on the roasted salted cashews.
Popcorn: Light and Airy
A gluten free road trip snack that is mostly air, which means you can keep eating and eating and eating and eating and eating? That sounds like the perfect snack for a long road trip!
When it comes to gluten free popcorn, I'm partial to Angie's BOOMCHICKAPOP, especially the Kettle Corn. Certified gluten free.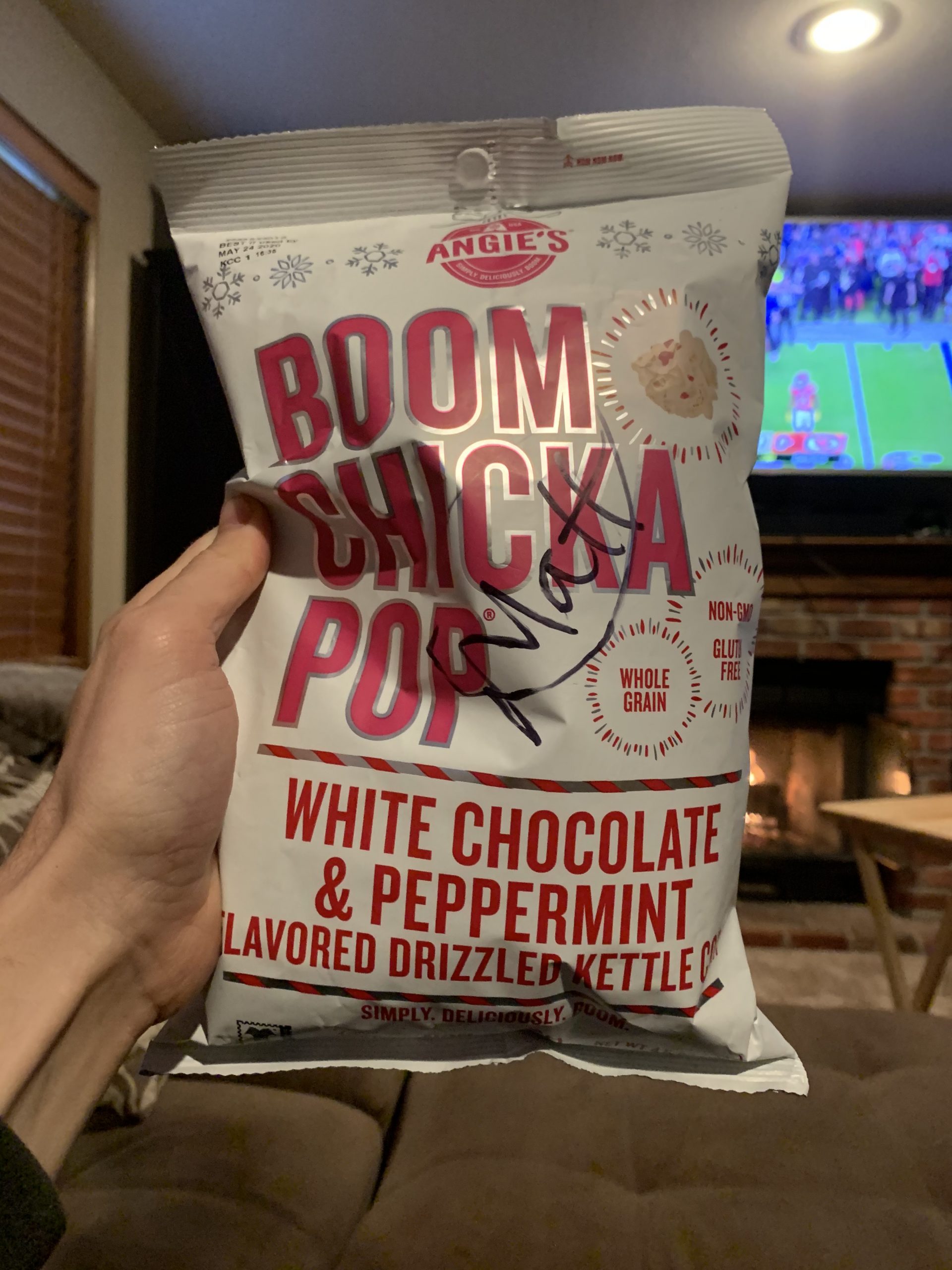 For a different take on popcorn, check out Half Pops, another one of my favorites. They are, as you might expect, half popped kernels of popcorn, so they're crunchy and salty, which is basically the perfect combination for any gluten free road trip snack. Aged White Cheddar is the go-to flavor. Certified gluten free. 
Jerky: A Savory Road Trip Classic
Ah, beef jerky. So delicious, but SO EXPENSIVE. I used to work at a beef jerky company, and I totally understand why it is that way. Think about it – beef is already pricey when you think about snack ingredients (rice and corn, usually). Then take that beef, and dry all the water out of it so it's half the size. That's basically what making beef jerky does.
But there's no doubt that beef jerky is a great gluten free road trip snack – it's high in protein, (usually) low in sugar, and the chewy texture gives your mouth something to do. Which sounds funny, but I believe it's a real thing.
I usually go for Country Archer, which is certified gluten free. The Mango Habanero is the best beef jerky I've ever had. Period.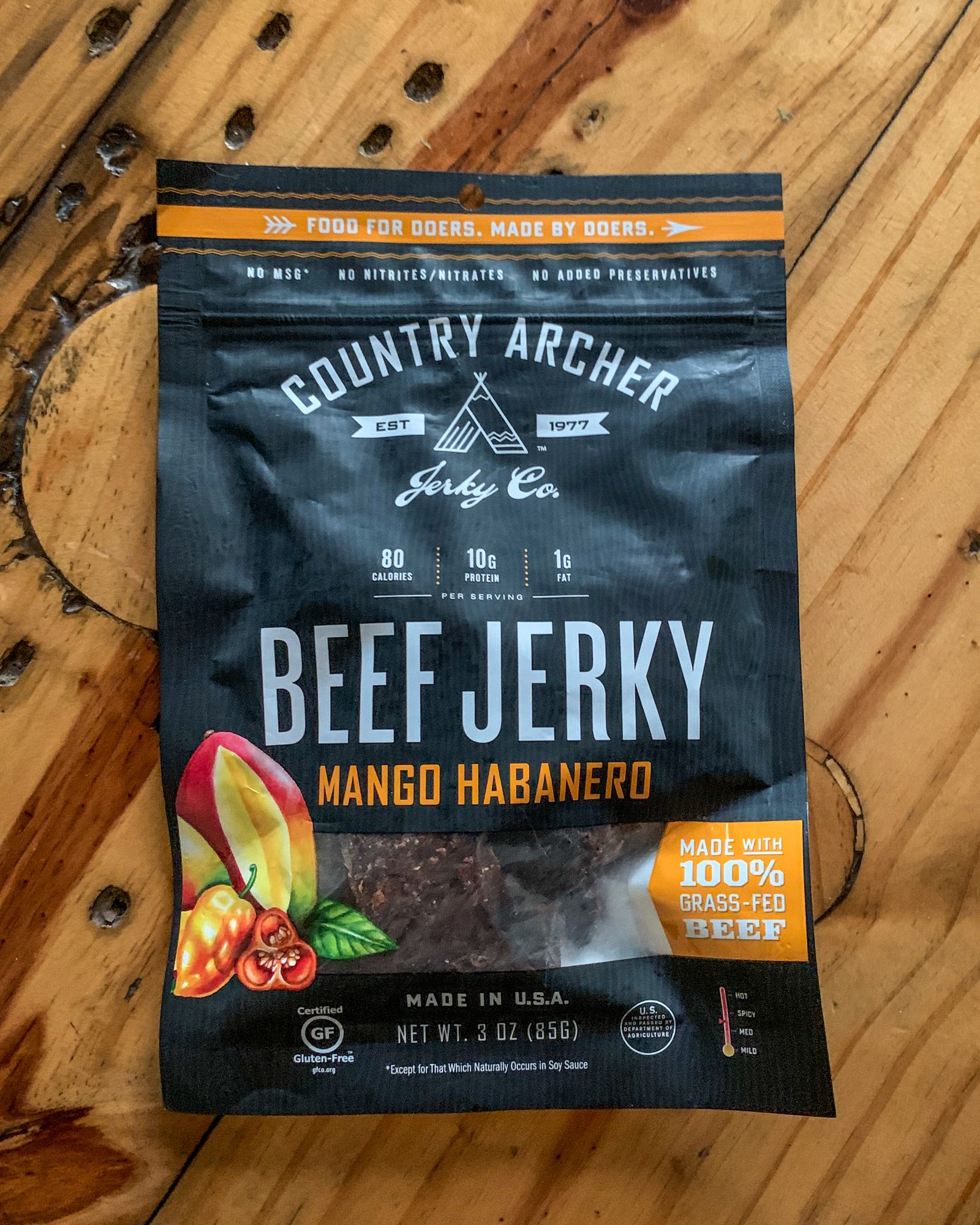 Field Trip Jerky is my other pick, mostly because I love their packaging, featuring animals in various outdoor scenes. Side note: I just discovered their nut-free Chickpea Butter, which is certified gluten free and is a perfect nut butter substitute for gluten and nut free road trippers. Cinnamon Churro sounds fantastic. 
Final Thoughts: The Best Gluten Free Road Trip Snacks
While this is certainly not an exhaustive list of the best gluten free road trip snacks, these are the things I usually reach for.
And it's missing what is quite possibly the best gluten free road trip snack of all time – a double double with cheese, protein style, special sauce on the side and french fries from In & Out Burger. At least in California.
What's your go-to gluten free road trip snack? Let me know in the comments! I'm always on the lookout for new and delicious gluten free snacks to try.
Hungry (I usually am) for more travel inspiration, guides, and tips?
First, connect with me on Instagram to follow along on my yearlong worldwide adventure.
Next, check out my favorite travel resources to travel cheaper, faster, and better.
Finally, head over to read my latest posts on gluten free travel to stoke your sense of wanderlust.