Gluten Free Camping Food: Eat Better in the Great Outdoors
If you haven't noticed, I love food. I also happen to love the outdoors. What happens when the two meet each summer? I definitely don't compromise on the gluten free camping food.
I've gotten quite a few questions over the past few months about how to handle gluten free camping food, so I wanted to give Celiacs a resource to use to plan their summer camping trips.
Like travel, gluten free camping can seem intimidating. It might seem like there's a lot to plan and account for.
But rest assured, you can do it. And I'm here to help. Whether you're a veteran Celiac who doesn't camp all that often, or a veteran camper who is newly diagnosed with Celiac Disease, I'm here to help you plan a worry free, gluten free camping trip this summer.
The perfect drink for summer camping is gluten free hard cider. Here's my Beginner's Guide to Cider, and the Best Cider Brands in 2019. According to me.
Last updated: May 2020 for all the upcoming summer camping trips I know you're going we're all going to be taking 🙂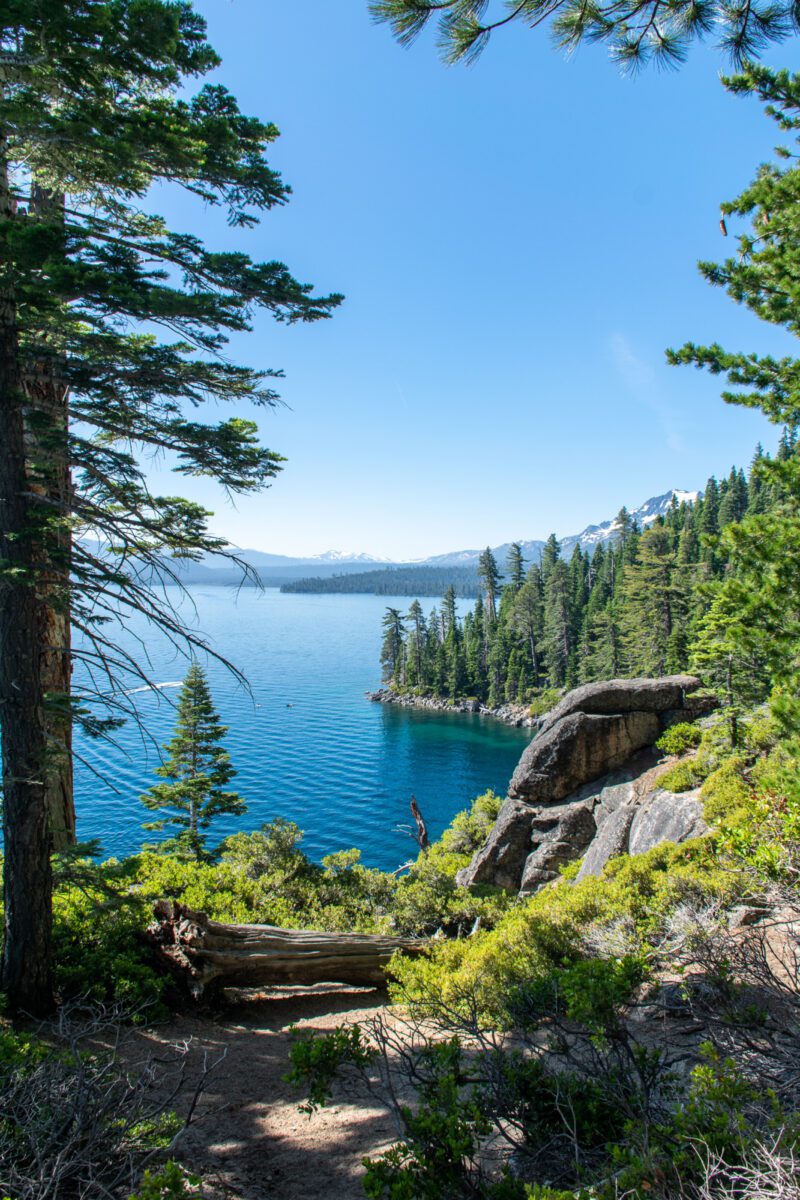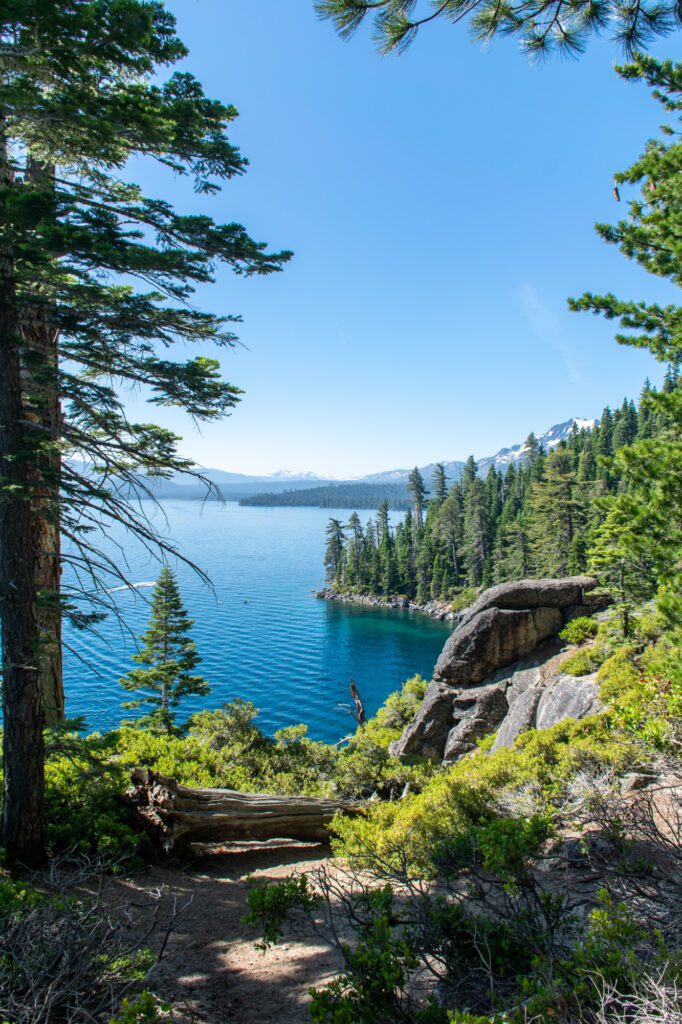 Disclaimer: Some of the links below are affiliate links, meaning at no additional cost to you, I make a little bit of money if you click through and buy something. That being said, I would never recommend something to you that I don't stand behind 100%.
The Complete Guide to Building a (Gluten Free) Camp Kitchen
For the most part, this is exactly what's in the car camping kitchen box that you'll find in Homer the Honda Odyssey (that's our mini van turned sorta campervan) for our west coast road trip this summer.
I highly, highly, highly recommend having a separate set of kitchen equipment for camping. Put it in a covered bin so it's ready to go for an impromptu weekend getaway!
Here's exactly what you'll find in our camp kitchen.
Essential Kitchen Supplies:
Camp stove: A two burner camp stove is absolutely a must-have on any car camping adventure. We used to have an old camping stove that my friends joked was from the cold war, but we upgraded to the Eureka Ignite Plus recently. We haven't used it yet, but will be using it a ton this summer. Check prices on REI / Amazon.
A good cooler: This is about as essential as the two burner stove. The last thing you want to be doing is either getting ice twce a day, which is expensive and annoying, or having food go bad, which is also annoying and expensive. Get a good cooler that will keep everything nice and cold for days. We used to have a cheap Igloo cooler, which was fine, but the ice would melt by the end of the day. We upgraded to a Yeti Tundra 45, and haven't looked back. It's expensive, yes, but we love it and think it's worth the investment. Click here to check prices on REI / Amazon.
A Jetboil: Yes, we already mentioned we have a stove, but the Jetboil is great for backpacking (that's why we own it), and for making coffee in the morning without having to fire up the big old camping stove. Click here to check prices on REI / Amazon.
Camp table: This isn't super necessary if you're camping at a place with picnic tables, but we've still found it useful as another surface to store stuff on while we're cooking, or just hanging out. We have the REI roll top table. This Coleman table will work too, it's basically the same thing.
Camp dishware set: This can totally be an old set of dishes from around the house, or this GSI Outdoors enamel dishware set, which is what we have.
A good set of pots and pans: Again, this could just be old pots and pans around the house that get tossed into the camping bin.
If you don't have that, and don't care whether your pots and pans look like they're outdoorsy enough, here are some suggestions.
If you want something more lightweight and compact, consider a set of pots and pans that pack into themselves, like this one. This one even includes a set of plates / cups.
A good knife: This can come from home, or grab a cheap set of camping knives like this one. Or this one.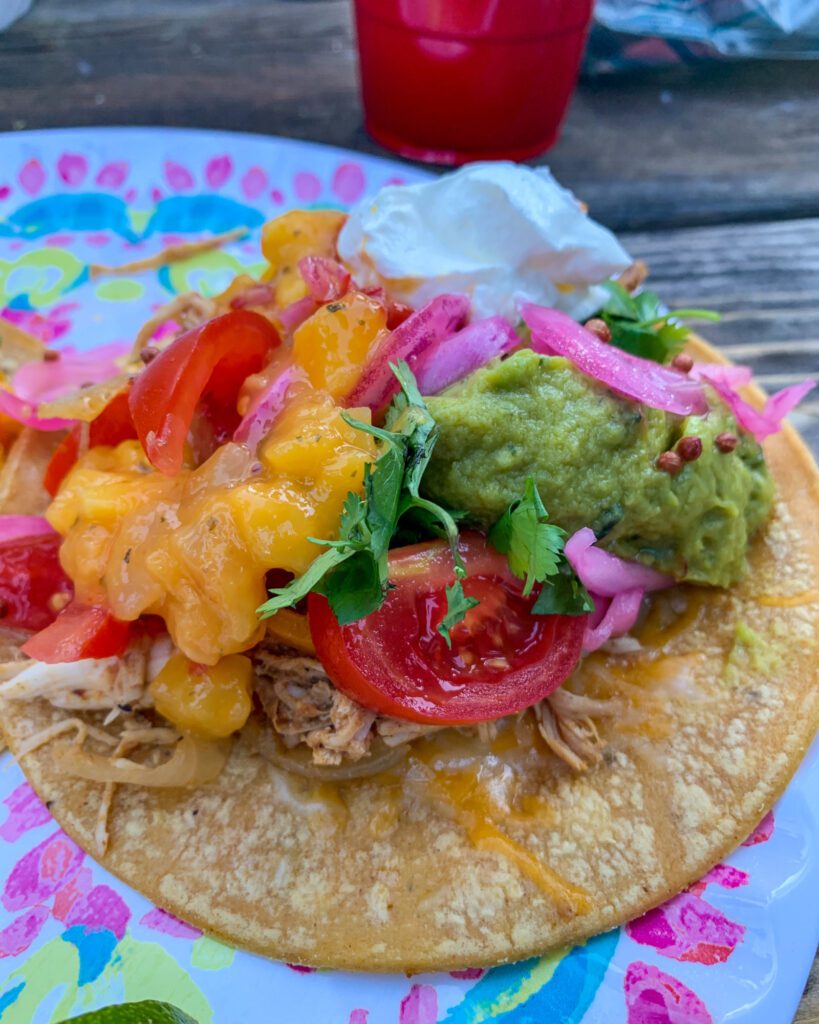 The Best Gluten Free Camping Food to Make
Ah, food. I love food.
There are two false beliefs that I want to dispel right away.
First, "gluten free" does not mean your food can't be delicious.
Second, "camping" doesn't mean that your food can't be delicious.
Here's how to craft a menu of delicious gluten free camping food for your next trip.
Check out this roundup of camping food ideas (or this one) – not all recipes are gluten free, but you can adapt them to be!
5 Gluten Free Camping Breakfast Ideas
In general, you'll probably wake up pretty early while camping in the summer because the sun rises early.
My first stop is usually coffee, then I move on to breakfast. More on coffee below.
Depending on the plan for the day, you might be in the mood for a quick breakfast so that you can hit the hiking trail before the parking lot fills up, or a more intensive breakfast.
Here are five options with a mix of time investment.
The Gluten Free Bar Oatmeal: Celiac-safe purity protocol oats, and SUPER easy to make (just add hot water). Check prices and buy it on Amazon.
Breakfast Sandwiches: Scrambled eggs & cheese, bacon or sausage, and gluten free toast, fruit (apples, strawberries, bananas)
Breakfast Scramble: Eggs, cheese, bell pepper, mushrooms, spinach (basically any and all leftovers), sausage or bacon, and a side of toast
Birch Benders Gluten Free Pancakes: Certified gluten free and super easy. Just add water.
Bagels, cream cheese, and fruit. I love Canyon Bakehouse gluten free bagels (get the everything bagels) as a quick and easy breakfast. They're easily the best gluten free bagels I've ever had. Add some cream cheese and a side of fruit and get on with your day.
How to Make Coffee While Camping
Would this be a complete guide if I didn't teach you how to get your day started with a warm cup of coffee? I didn't think so.
Like Ke$ha said in the smash hit TiK ToK (#throwback) – the party don't start 'till I get my coffee. Or something to that effect.
There are basically three options you can use to make coffee at camp. I've ordered them from least to most time consuming below.
For most of them, you'll need hot water. A saucepan and a stove should do the trick.
Grab a jug of Cold Brew Concentrate. My three favorites are Chameleon, Bizzy, and Wandering Bear. Better yet, make your own cold brew concentrate! It's a concentrate, so you'll want to dilute it with a 1:1 ratio of concentrate to water. You can add cold or hot water, depending on what you like.
Invest in some (gluten free) Instant Coffee. I love Alpine Start – which was designed specifically for making coffee while camping. Feeling fancy? Splurge on some Sudden Coffee, which is what I use when I'm craving a cafe-level cup in the backcountry. Not all instant coffee is gluten free, so make sure you double check (both options above are).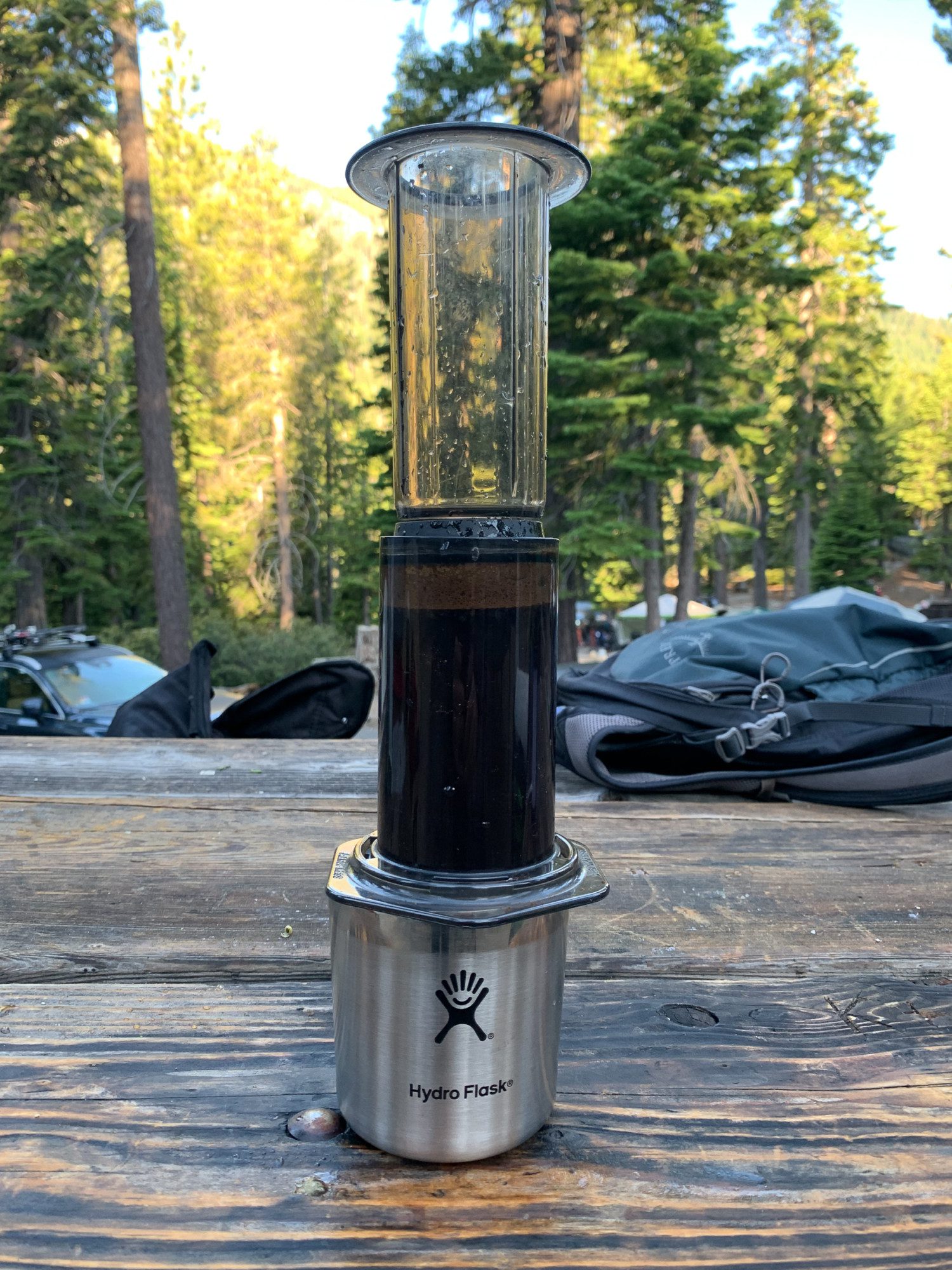 Quick and Easy Gluten Free Camping Lunches
I'm going to largely skip lunch. It should be quick, portable, and easy to make so that you can enjoy the rest of your day.
Here are some quick gluten free lunch ideas for camping:
Sandwiches, chips, and watermelon.
Tuna melts, crackers and hummus, and fruit salad
Make-ahead chicken salad sandwiches
Notice a theme? Sandwiches, a snack, and some fruit. That's my go-to recipe for a gluten free camping lunch.
8 Gluten Free Camping Dinner Ideas
Dinner is the main event. Everyone is back at camp after a day of hiking, driving, or exploring. It's time to feed the group!
But where do you even start?
Got your rotisserie chickens ready? Here's 8 gluten free dinner ideas, some including rotisserie chicken, some not.
Rotisserie Chicken tacos: take your shredded rotisserie chicken, stir fry with bell pepper and onion and a packet of gluten free taco seasoning, and heat some gluten free corn tortillas. Add sour cream, cheese, and cilantro, and you've got yourself a meal! This is always on my gluten free camping food menu.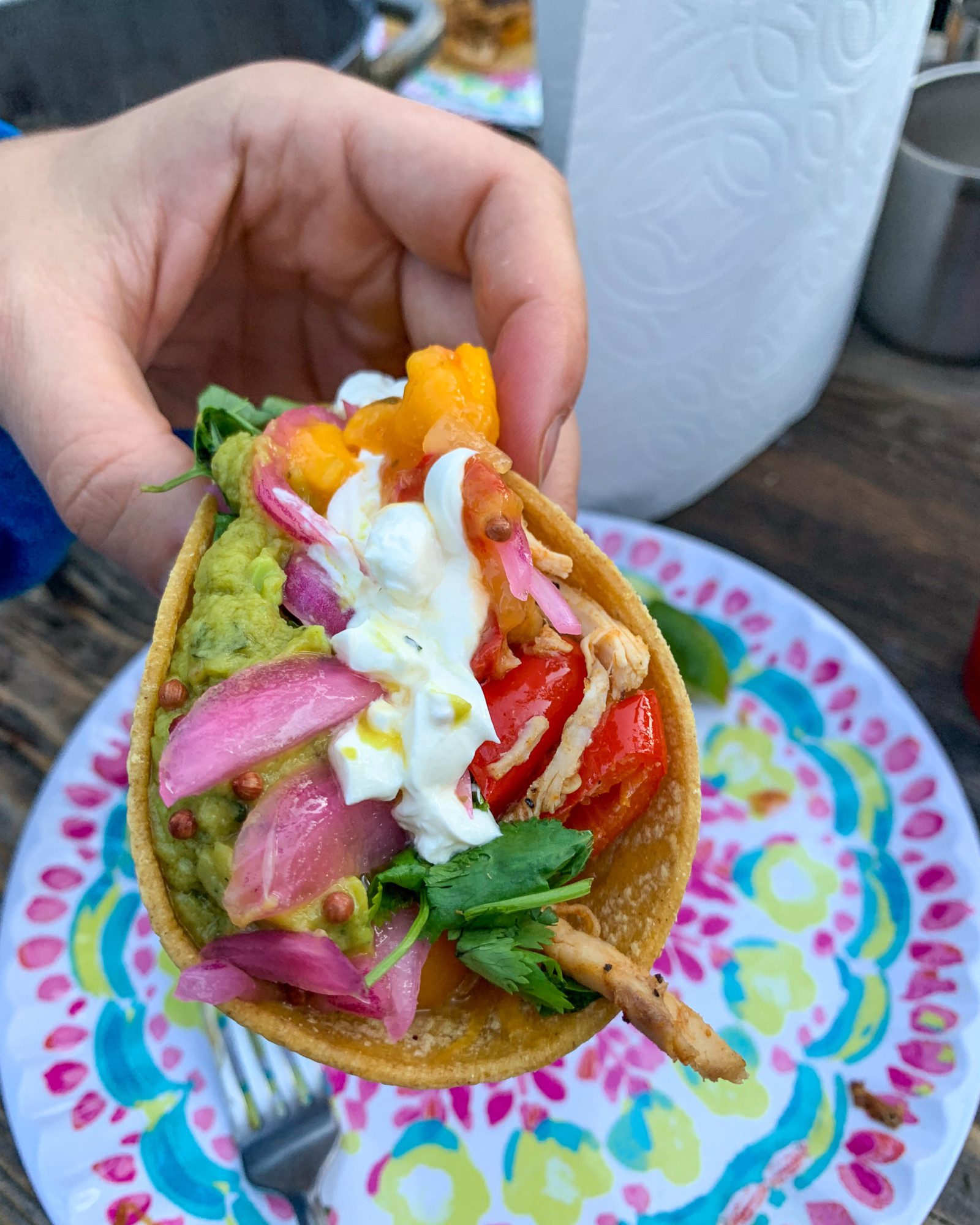 Thai Peanut Chicken: Make the Thai Peanut Sauce ahead of time, store it in a plastic bag. At camp, stir fry a bell pepper, some broccoli, and any other veggies that catch your eye, mix in your rotisserie chicken, and enjoy! Make some rice, or Lotus Foods instant gluten free ramen noodles as an accompaniment.
I make this everytime I go camping gluten free, and it's a crowd favorite.
Chicken Sausages, Rice, and Salad: I love Aidells Chicken Sausages as a quick and easy dinner. Pair with some instant rice (Lundberg makes a great one!) and a side salad and you're in business.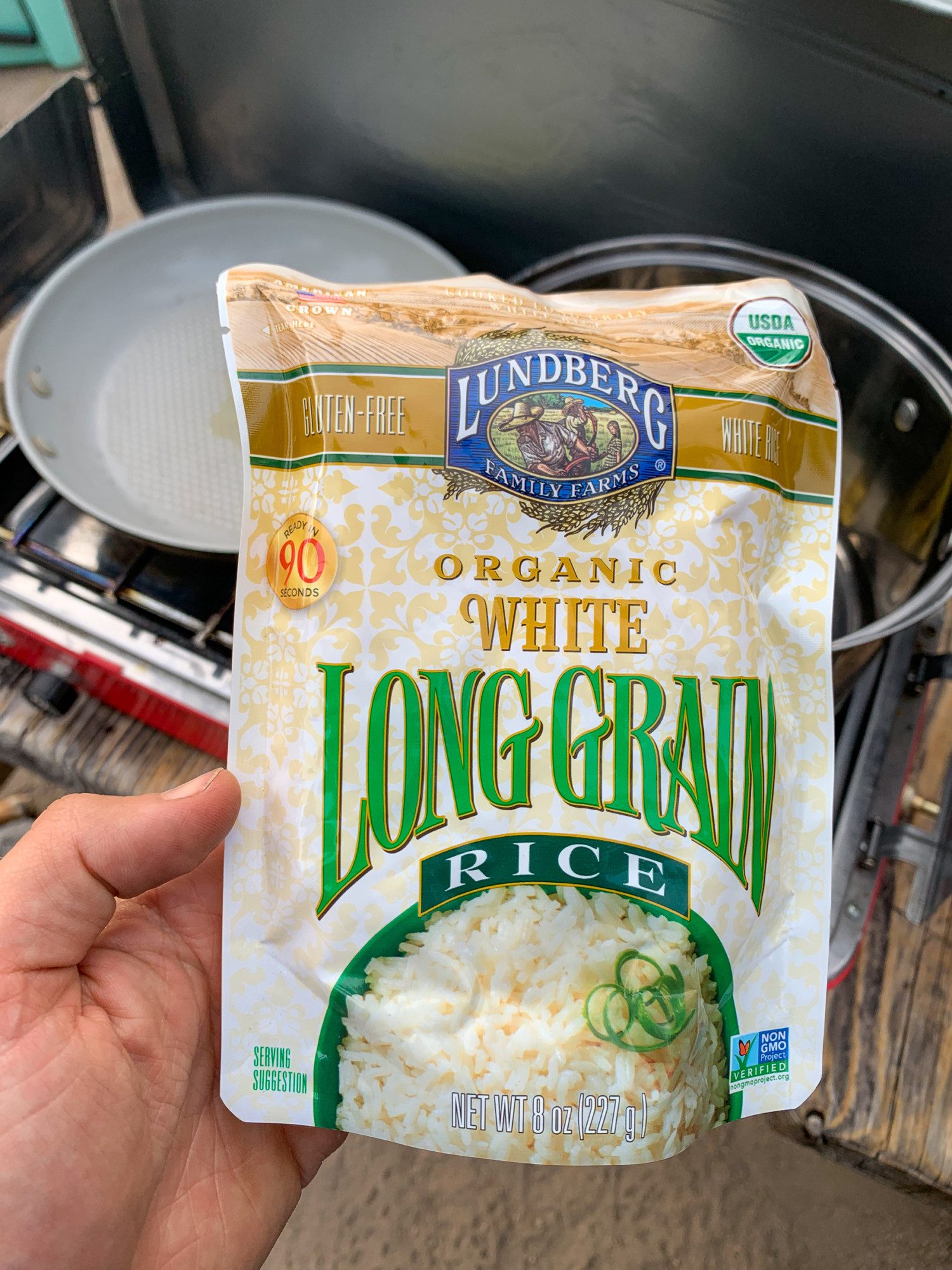 Here are five more recipe ideas that make for perfect gluten free camping food.
Sweet Potato BBQ Chicken Burgers – you might even make the patties ahead of time and warm them up at camp.
Chili and Cornbread – Sub the flour for gluten free flour! Add chicken to the chili at the end for an extra protein boost.
Campfire Nachos – make sure the tomato sauce is gluten free! Again, add rotisserie chicken if you please.
5 Ingredient Green Curry – use rotisserie chicken if you'd like (are you sensing a theme here?). I use the same curry paste she recommends from Thai Kitchen and it is gluten free. Add a tbsp of fish sauce and a tbsp of sugar per serving to level it up!
Southwest Stuffed Sweet Potatoes – again, add some rotisserie chicken if you're missing the meat!
Here are 22 more make-ahead camping recipes to make cooking for the family or friends even easier!
9 Quick Tips for Better Gluten Free Camping Food
Here are 9 tips to make gluten free camping easier, whether it's just you, you and your family, or you're in a shared camping situation.
Make a list. Check it twice.
Make sure to plan out all the meals you'll need. It can be a pain to get out into the wilderness and realize that you forgot to plan for a dinner, especially when gluten free options aren't terribly common at the local convenience or camp store.
Buy a camping stove.
It's ten thousand times easier than trying to cook over a campfire, as sexy as cooking over an open fire does sound. My favorite camp stove, as I mention below, is the Coleman Triton Series 2 Burner Camp stove.
Focus on breakfast and dinner.
When we go camping, lunch is on-the-go. You'll want sandwich materials and snacks to take with you on your daily adventures, whether it's a hike or some time exploring nearby.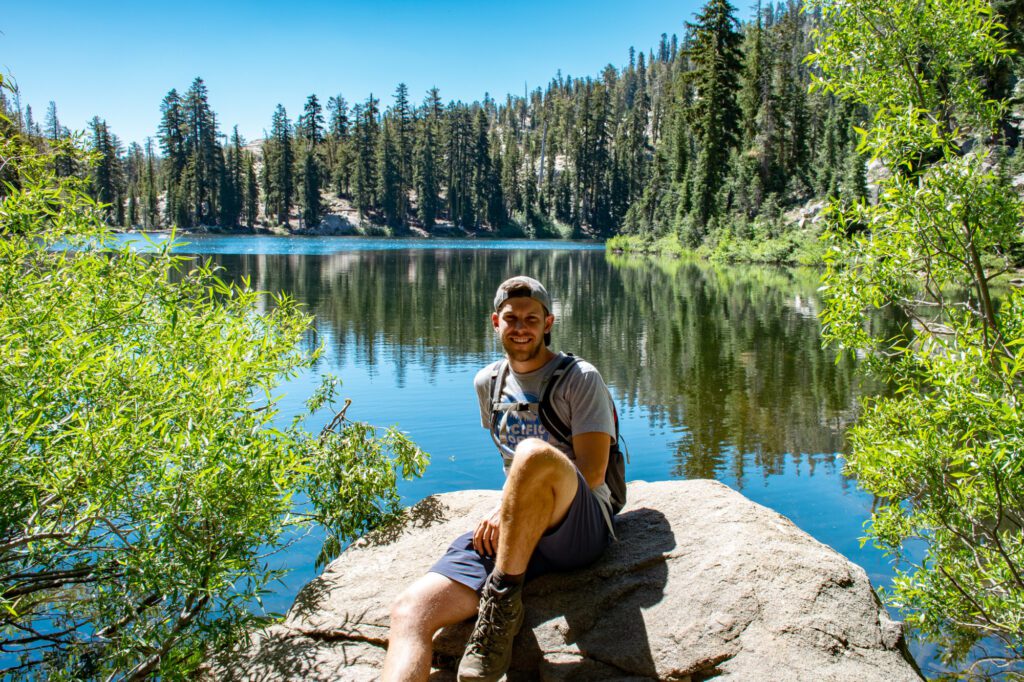 My favorite gluten free snack is trail mix, but you have to watch out for nuts that are processed on the same lines as gluten. Lucky for us, Nuts.com has pure gluten free nuts and fruits processed and stored in a separate facility, which makes it easy to make your own gluten free trail mix.
If you don't already own one, buy a cast iron skillet
And maybe a cast iron Dutch Oven while you're at it. More on that below.
Costco Rotisserie chickens are a lifesaver.
I usually buy several of them (they're gluten free!), break them apart, and store them in Ziplocs. It saves you time, stress, and money.
Just season it how you like it (e.g. taco seasoning) and warm it up to take the time and effort out of cooking meats at camp. Plus, they're delicious.
If you're in a group, bring your own cooking materials.
A spatula, pan, plates and utensils. And you should probably bring your own condiments too to avoid cross-contamination. Better yet, take control of your destiny and ask the group to plan the trip. Then, make sure everything (or as much as possible) is gluten free.
Do as much prep ahead of time as possible.
Just because you're camping doesn't mean you shouldn't eat like a queen (or a king).
The beauty of car camping is that you can make things ahead of time, and store them in a cooler.
For example, on our last trip, I made a Thai peanut sauce ahead of time, stored it in a ziploc bag, and used it to make a Thai peanut chicken stir fry with Lotus Foods gluten free noodles. A perfect gluten free camping meal.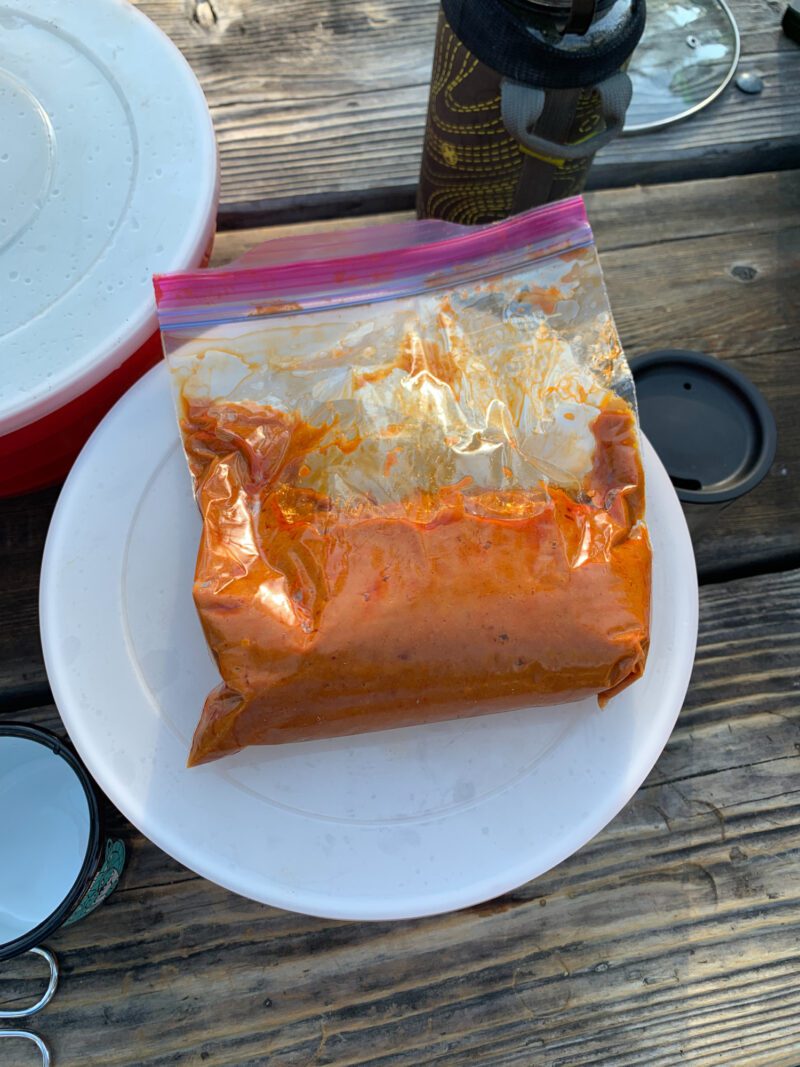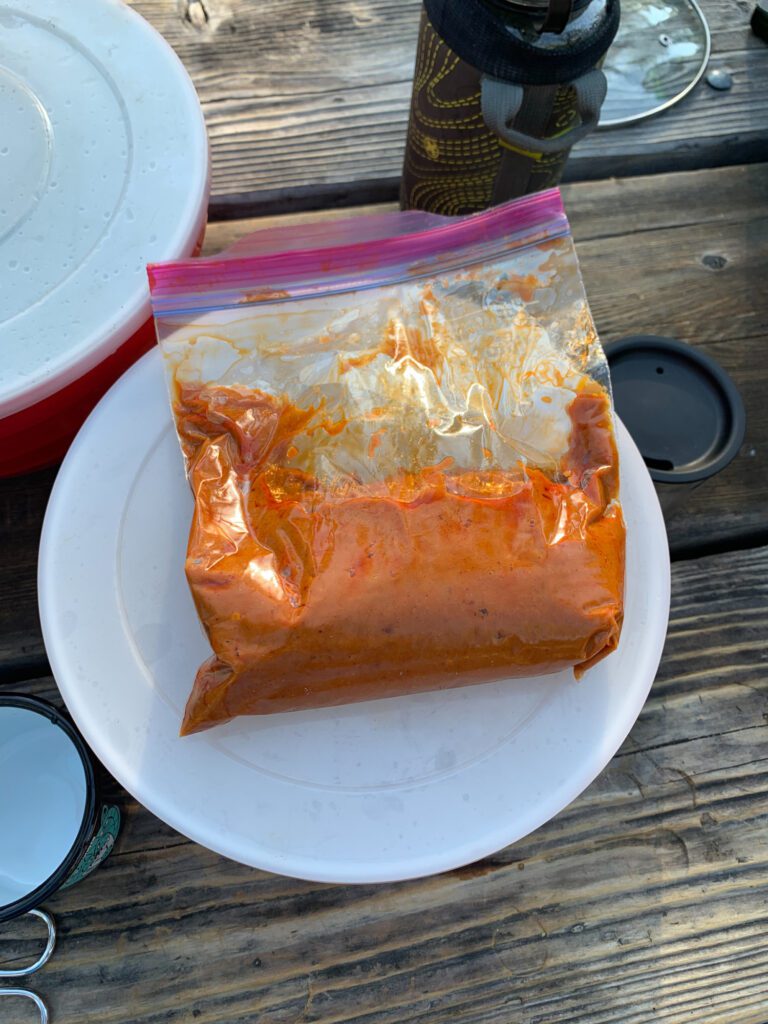 Get yourself some gluten free graham crackers
Like the ones from Pamela's. That way, you (or your kids) won't miss out on s'mores!
Use a big block of ice in your cooler.
Ice that's broken up into little pieces will melt faster than a big hunk of ice, and it will save you time driving all around to try to find more ice.
Make sure you have the right cooler (again, more on that below) and learn to pack it efficiently. Fully sealed meats on the bottom, other perishables in the middle, things that don't necessarily need to be refrigerated, like veggies, on top.
3 Elements of the Perfect Kitchen for Gluten Free Camping
There are three elements that make up the ultimate camp kitchen. These are must-haves for campers of all kinds, not just those of us eating gluten free.
Get. A. Good. Camp Stove.
Cooking over the fire seems romantic, but when it comes down to it, it's usually more trouble than it's worth. We have an old camp stove (pretty sure it's from the Cold War) that is still running strong (ish), but we recently upgraded to the Coleman Triton Series 2 Burner Camp stove.
It's powerful, the heat is adjustable from simmer to boil, and it has everything you need to make a good gluten free camping meal. Keep in mind that you'll definitely need a propane canister to go along with it, which you have to buy in-person. You can find them everywhere – from REI to Target and Walmart.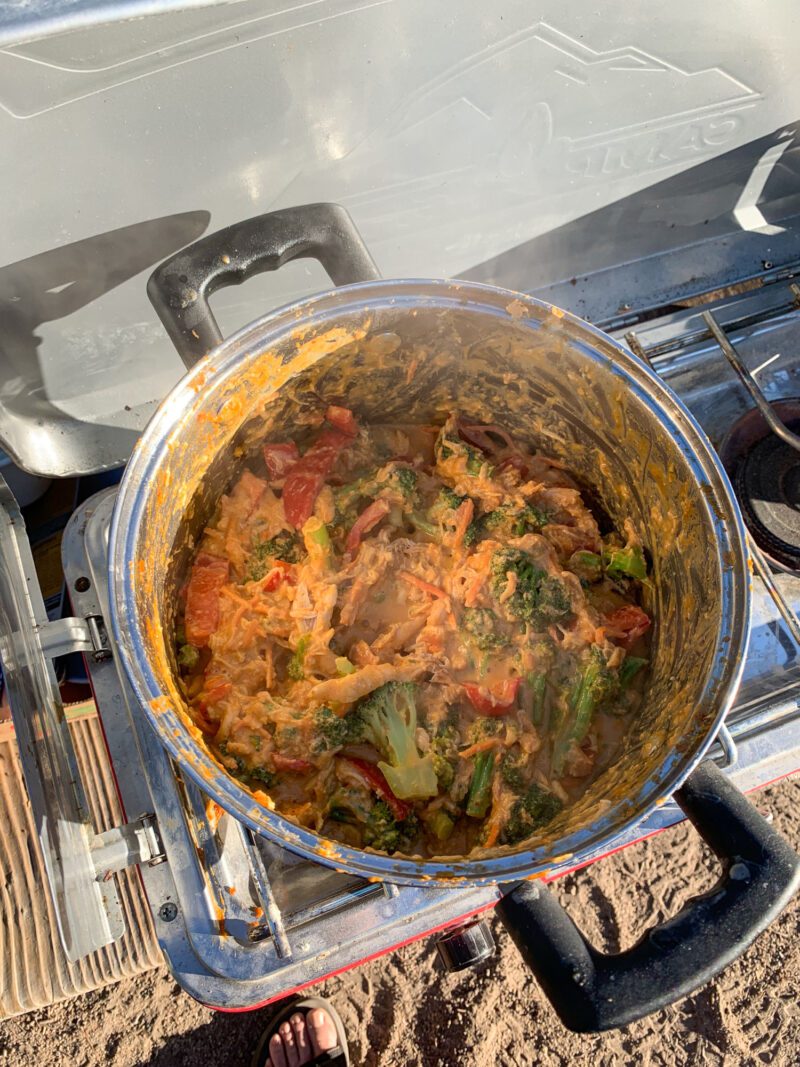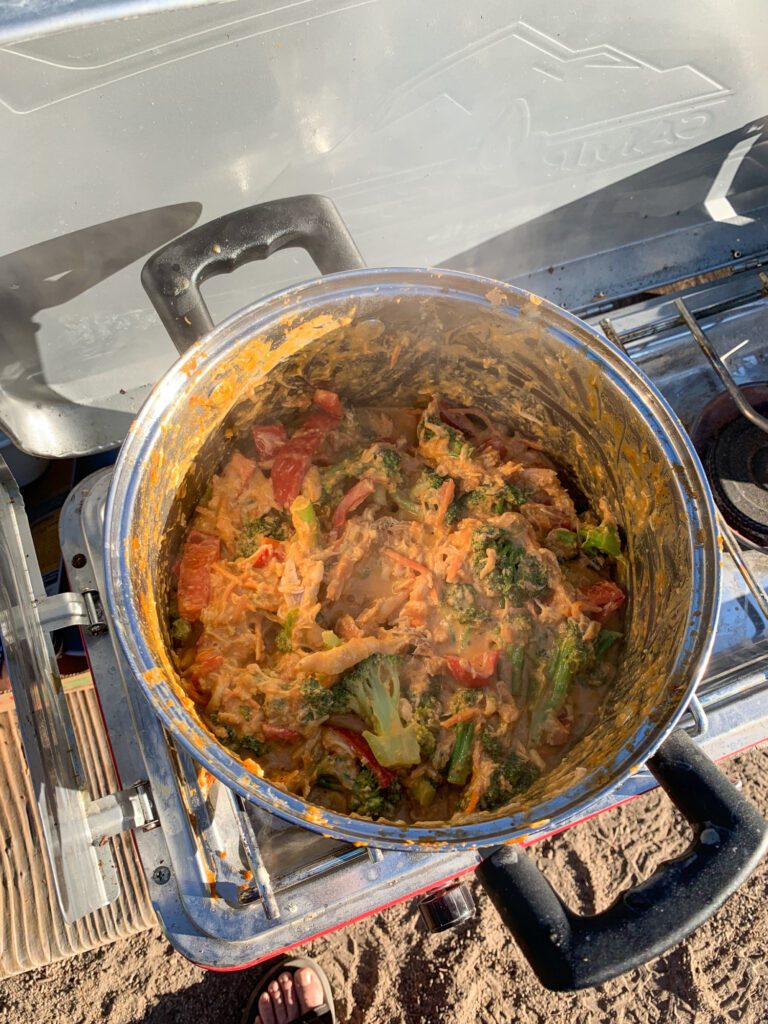 The downside to that stove is that it has no igniter, so you'll need to use a lighter. So make sure you have that with you.
A reliable cooler is essential.
The last thing you want to do is have food go bad while you're camping. The second to last thing you want to do is be shutting back and forth to get ice because your cooler can't keep it cold enough.
That's why I love Yeti Coolers. We have the Yeti Tundra 45L (in mint!) which is the perfect size for two people. If you're camping with the family, you might need the 65L version.
Why Yeti? They are SUPER insulated with their PermaFrost technology. You'll minimize your trips to the store to buy ice because it stays cold.
The other plus is that they are bear-proof. In California and some other states, you have to keep all food in a bear box so that bears can't get to it. However, the Yeti cooler can be left outside because you can buy two locks and secure the Yeti, which is way more convenient.
Just look at this video of a Yeti vs. a bear. That poor little bear didn't stand a chance.
The downside is that those coolers are expensive. If you're looking for a more budget-friendly option, I'd go with the Coleman Steel Belted 54L.
Check prices and reviews for the Yeti 45L on Backcountry.com.
Check prices and reviews for the Yeti 65L on Backcountry.com.
Invest in a set of cast-iron pans
If you're going camping gluten free, a good cast iron skillet will be your best friend.
If you're camping in a mixed group of gluten free and gluten full campers, I recommend bringing your own cast iron skillet and protecting it from gluten with your life.
I have a couple of Lodge products, and I would call myself a loyal customer.
They are affordable, durable, and they get the job done whether you are camping or at home.
My two favorites are their cast iron skillets and their cast iron Dutch ovens.
I have the 10.25″ cast iron skillet, which I use at home and at camp all the time. It's cheap and I've had mine for years at this point. It's a great investment whether you'll be camping or not.
If you insist on cooking over the campfire, the Lodge 6 qt Dutch Oven is a great choice.
Not into cast iron? There are plenty of other options out there. I'd go with something from GSI Outdoors, who makes quality lightweight camp kitchen essentials. Weight is definitely a downside of cast iron – it's HEAVY.
For an all-in-one solution, check out the Pinnacle Camp Cookset, which has two pots, a frying pan, and four plates, bowls, and insulated cups.
The stainless steel version also looks fantastic, though I haven't used it.
If you're looking to buy a set of stuff for yourself to keep your cookware separate, get one of their frying pans and a single place setting of dinnerware. Make sure to bring your own cooking utensil too!
What about the situations where you're camping with a group of strangers? What then?
In a situation where you're not sure you trust everyone to be mindful of cross-contamination, I recommend you have your own cooler, your own food, and your own cooking utensils.
This is where the hard part about Celiac Disease comes into play: the social situations. You WILL get questions about why you have your own food. It WILL be a hassle to cook your meal separately.
There are two things I would say to encourage you to take on that hassle.
First, go on the trip. Don't let Celiac Disease stop you from living life. Is it a little bit more complicated? Sure. Is it worth it? 100%.
Second, you might be thinking "oh, it's just not worth prepping everything myself, I'll just wing it and hope for the best."
You know what's worse than getting glutened at home? Getting glutened when the only toilet is a pit toilet that hasn't been cleaned in years.
Do. Not. Risk. It. If you're going camping in a mixed group of gluten free and gluten full campers, do the prep and take necessary precautions to make sure you don't get glutened. It will be worth it.
That's the end of my guide to gluten free camping food.
Have something to add? Shoot me a note and I'd love to hear from you.
More on gluten free travel: