The 16 Coolest Hotels in Portland, Oregon to Book Now
Portland, Oregon, could be crowned the Cool Capital of the USA. If you haven't been to this gem of a city in the Pacific Northwest, then you are missing out. Known for its microbreweries, coffee shops, green spaces, awesome thrift stores, and eco-friendliness, spend a weekend in Portland should be at the top of your list of places to visit in the US.
Naturally, when you go, you'll be looking for the coolest hotels in Portland to set the tone of your trip. There are some pretty cool and unique places to stay in Portland, which is probably not terribly surprising to you, given that the city is undoubtedly a hipsters' paradise. 
Below, you'll find the best boutique hotels in Portland, along with more unique hotels from tiny houses to former elementary schools.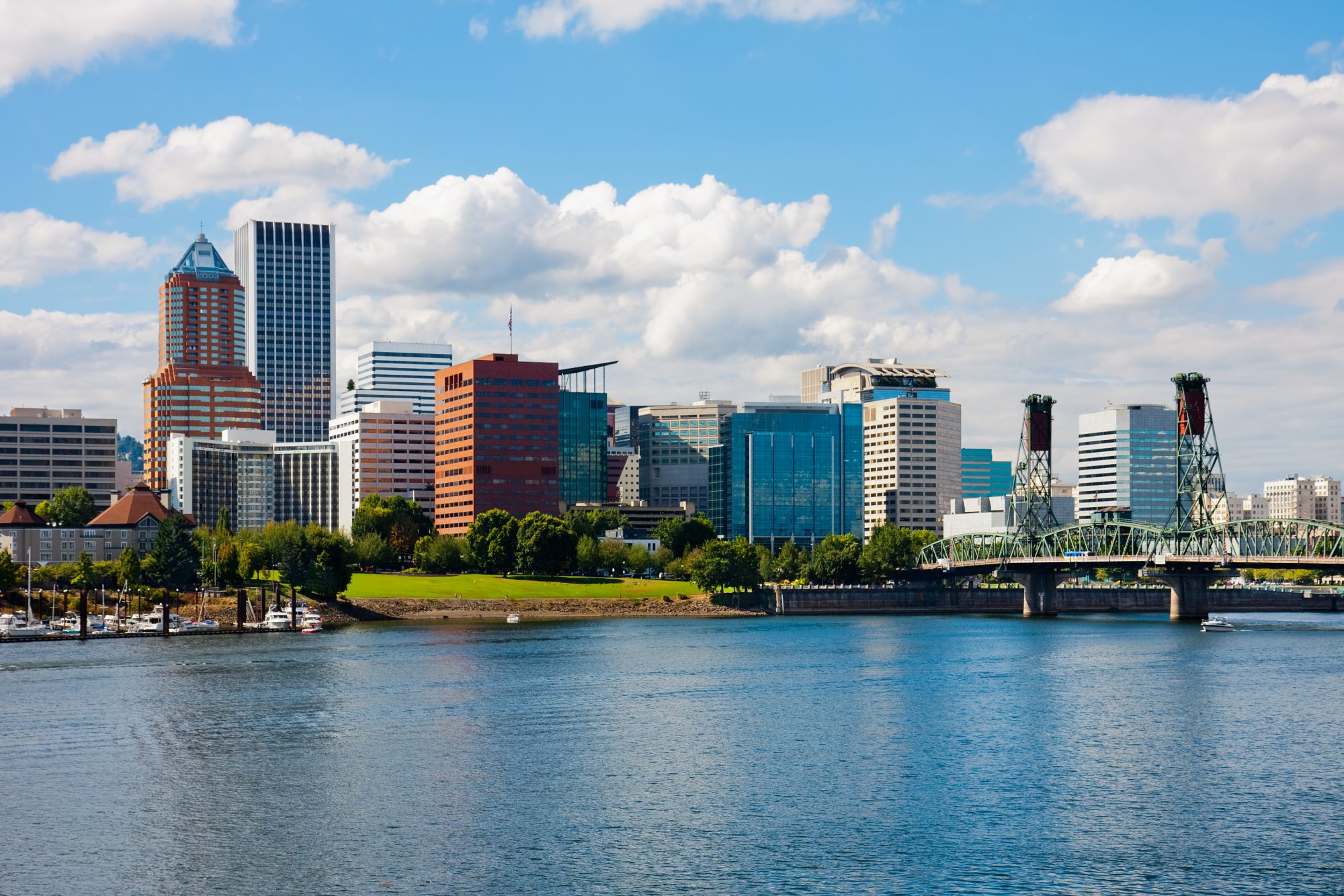 Disclaimer: Some of the links in this post, like hotel links, are affiliate links, meaning at no additional cost to you, we make a little bit of money if you click through and book. That being said, we would never recommend something to you that we don't stand behind 100%.
The Coolest Hotels in Portland, Oregon
Portland is a veritable hipster's paradise, which means you'll find tons of hip hotels, full of natural light, reclaimed exposed wood, and locally crafted accessories. Here are six stylish home bases for exploring the city.
The Hoxton, Portland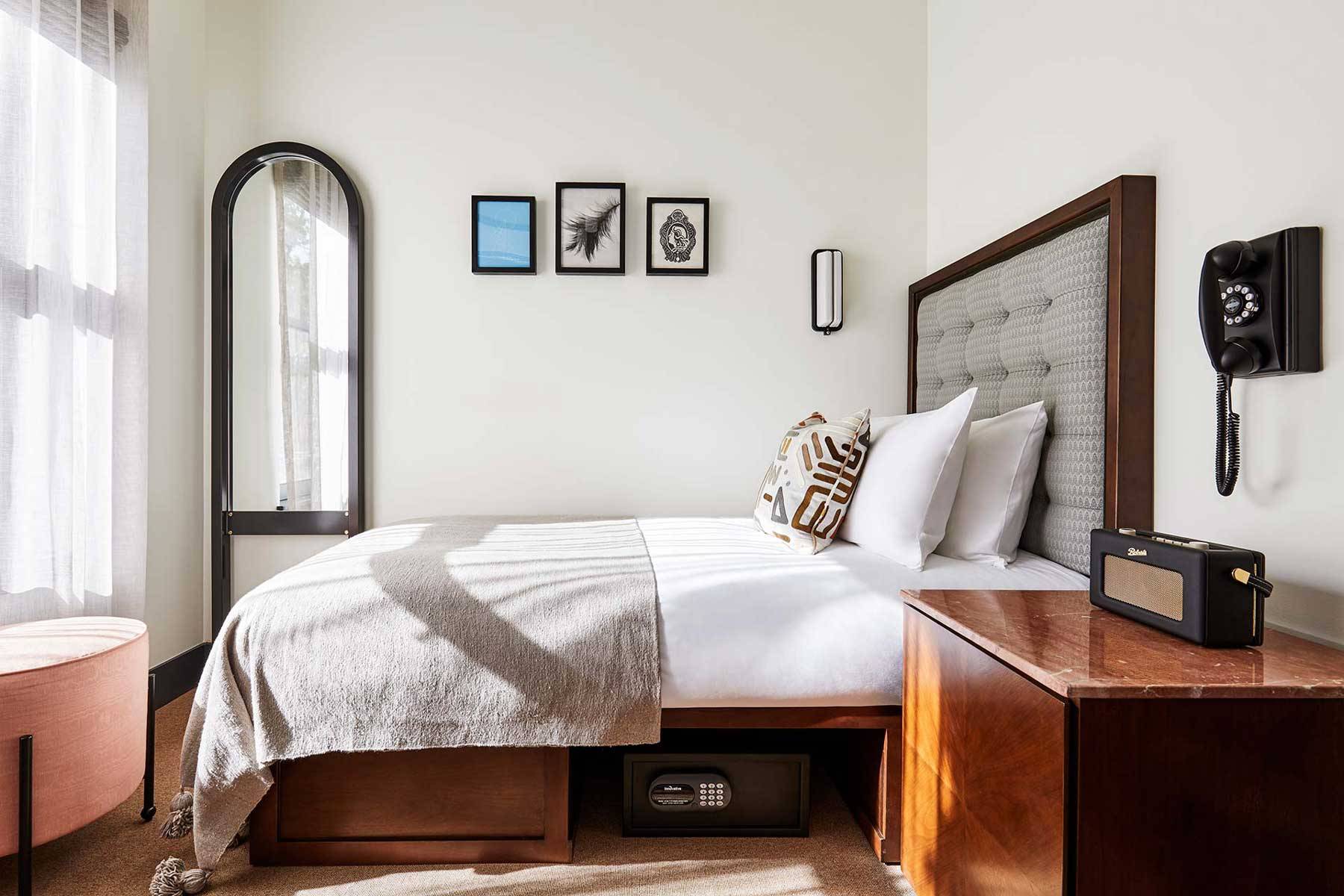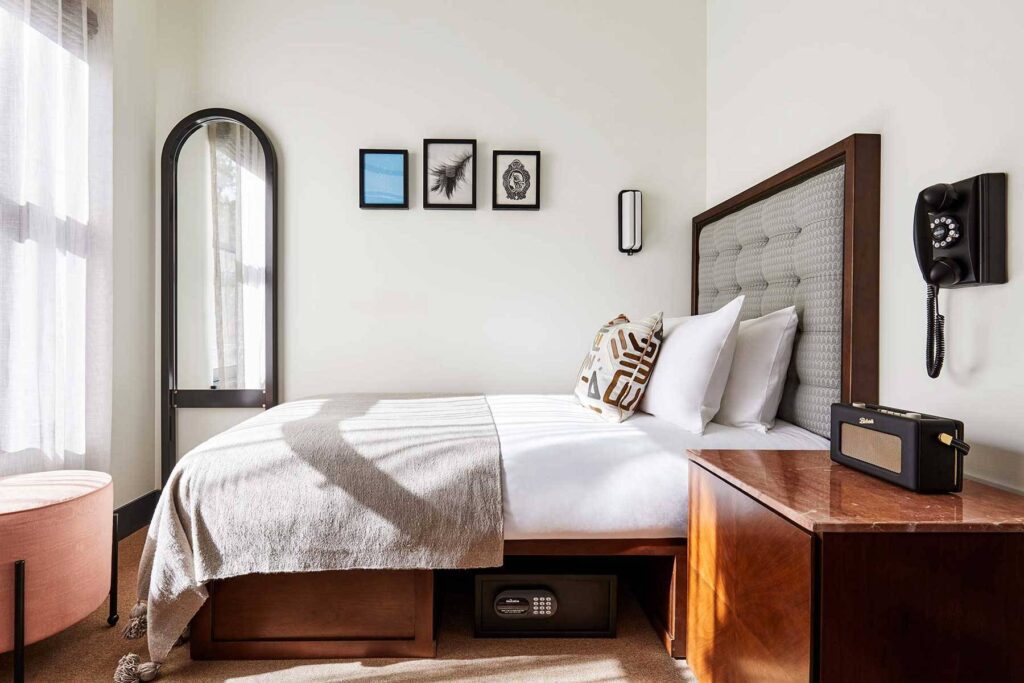 Hoxton Hotels are some of our favorite hotels in cities around the world. Hoxton's hotels in London are some of the best places to stay in London, and their Paris outpost is one of the coolest hotels in Paris, which is a city chock full of incredible hotels.
The Hoxton Portland is no different, and we think it deserves the top spot on this list of the cool hotels in Portland.
It's in Chinatown, which is at the eastern edge of the city adjacent to the river, and is a good spot for exploring Portland's downtown area. You'll be able to walk to Stumptown Coffee and Voodoo Donuts, which are just outside your front door, along with Powell's Books and the Willamette River.
They have rooms of all shapes and sizes, from the 119 square foot "Snug" variety, which gives you and a friend just enough space to squeeze yourselves and a couple of bags, to the 275 square foot "King View" with city views out your window.
Whatever your style and budget is, the Hoxton has options for you. Every single one of the gorgeous 119 rooms has mid-century modern touches, stylish bathrooms with beautiful black tile, and handmade ceramics.
Kex Hotel Portland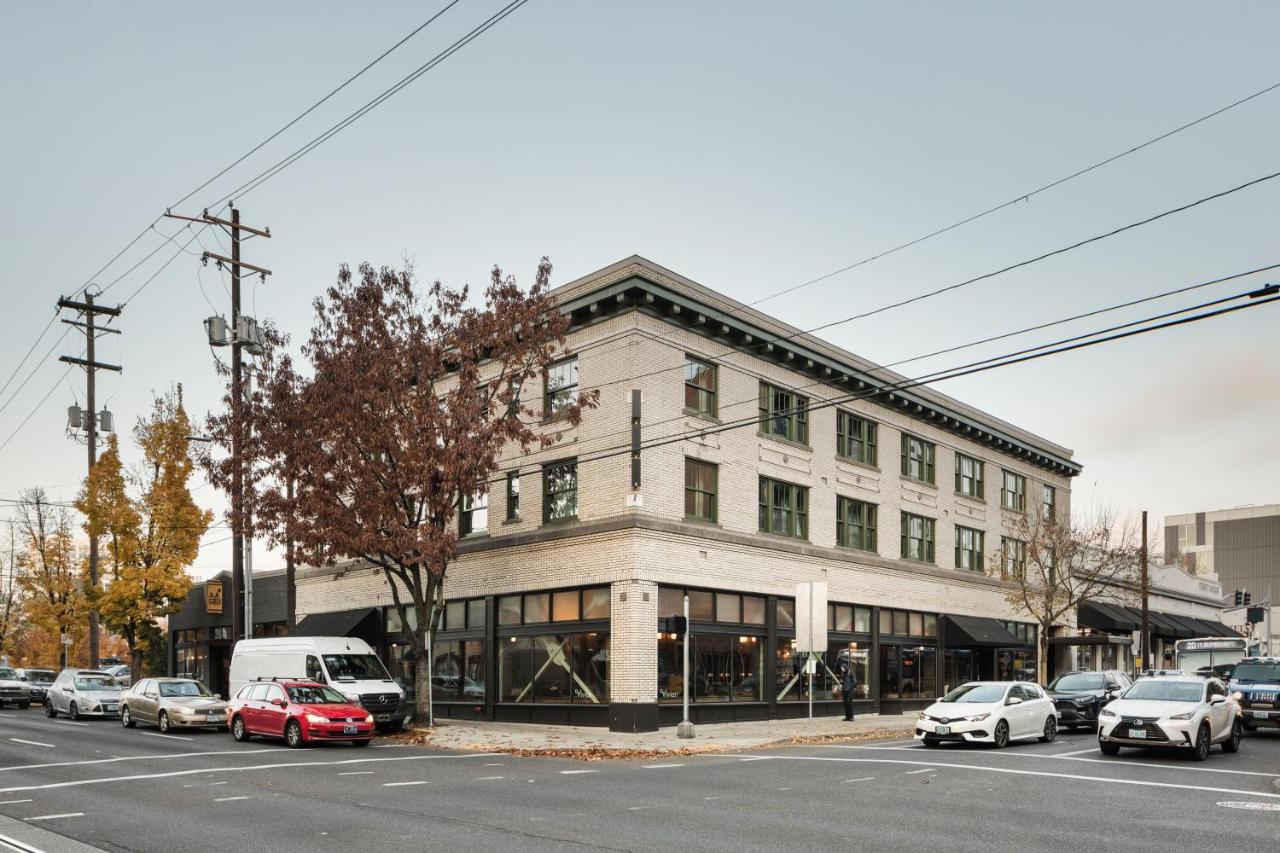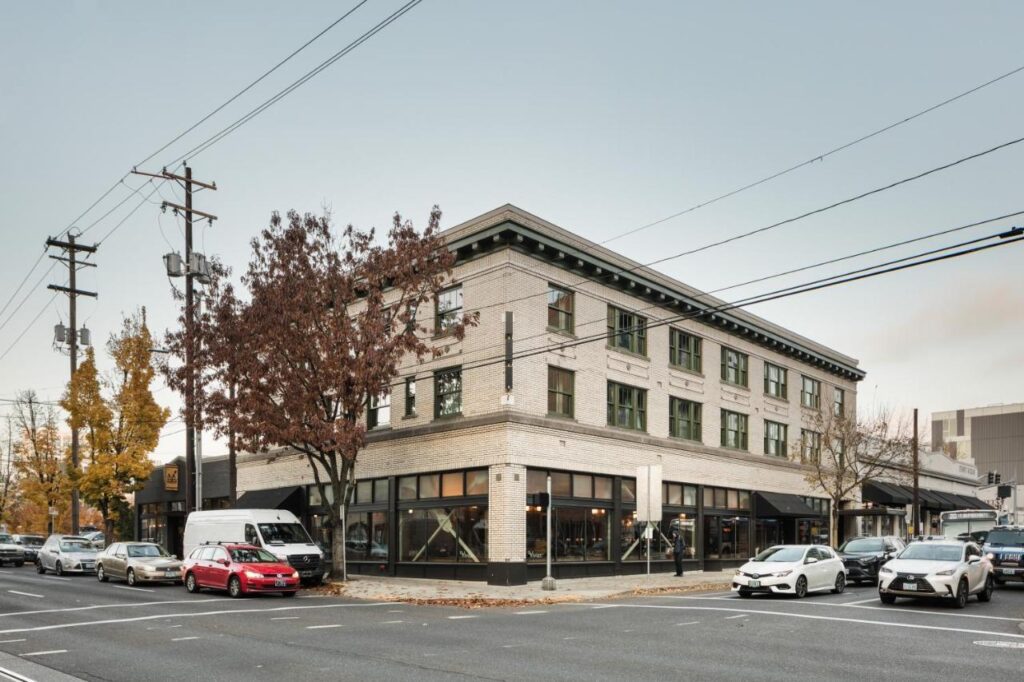 The Kex Hotel is at the top of our list for our next weekend trip to Portland. Kex is an Icelandic hotel chain that has exactly one other outpost around the world in Reykjavík, Iceland.
Why are we in love with this particular hotel? Mostly because they've brought together a bunch of our favorite parts about staying in hotels while we're traveling. They've built a design-focused space, which we definitely appreciate, but the more important parts (at least to us) are the social aspect and the neighborhood.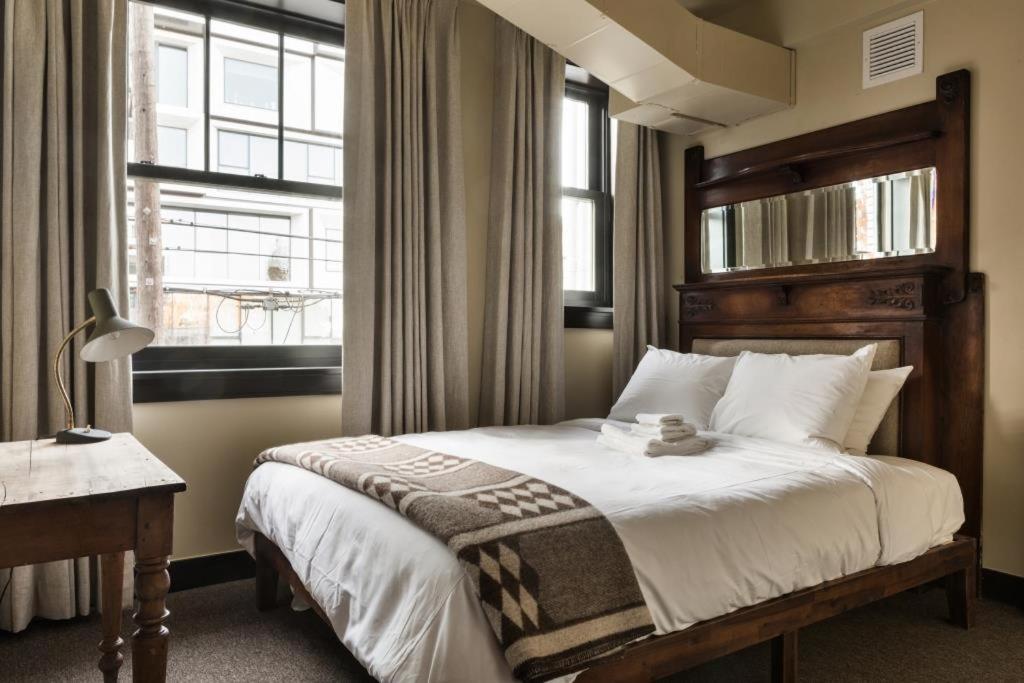 This hotel is part hotel, part hostel, which means you have a range of room options depending on your budget from private hotel-style rooms, to hostel-style bunk rooms that are perfect for families and groups of up to 16 people (but mostly 4-6 beds per room). They also have private rooms with shared bathrooms that will shave a few dollars off per night if you're on a tight budget.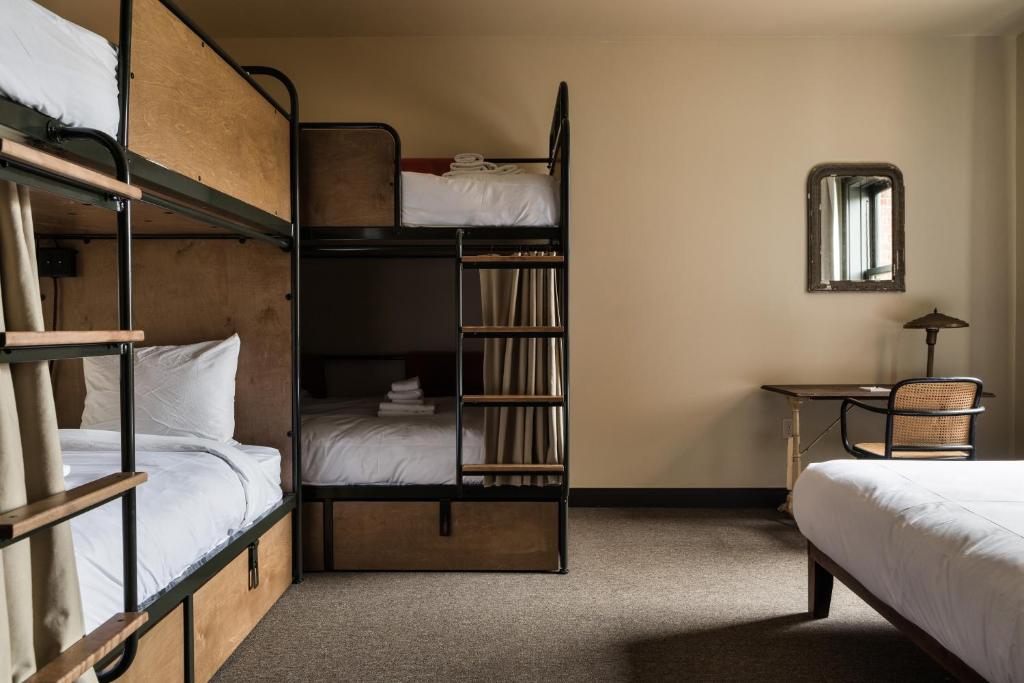 Beautiful common spaces, including the restaurant on the main floor and their library, annex, and secret courtyard, are a great spot to meet new friends, or make connections with the people you're traveling with. There's also a rooftop bar where you can enjoy a cocktail on a beautiful summer day in Portland.
Last, but certainly not least, is the neighborhood. Kex is on the Central Eastside, which is one of our favorite parts of the city. Across the river, you've got Downtown Portland, which you'll cross the Burnside Bridge with the famous White Stag sign to get to. Just south of the hotel is the heart of the Central Eastside, where you'll find some of the best bars, restaurants, and breweries in Portland.
Whatever you're planning on doing while you're in town, the Kex Hotel would be an amazing home base for exploring the city.
The Jupiter NEXT Hotel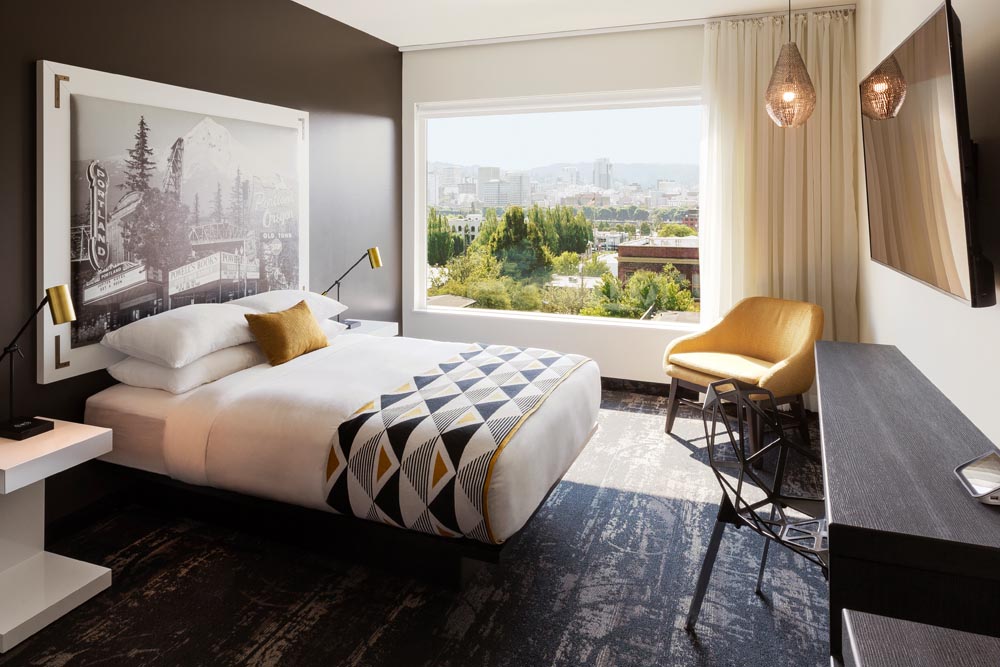 Let's begin with the highly-rated Jupiter NEXT. Right across the way from the original Jupiter Hotel, which has been beloved by hipsters and partiers alike for decades, Jupiter NEXT is the original hotel's grown-up, more sophisticated sister.
Situated in the trendy Central Eastside, the hotel's rooms ooze retro-chic class with great city views, 60-inch flat-screen TVs, and high-speed wifi.
There are balconies on every floor, a second-floor ballroom with a private "Secret Garden," a catering kitchen and a hire-able multimedia lounge. On the first floor, you will find Hey Love, the eatery and bar which is a community gathering space, a cafe, a cocktail bar, and a secret garden, all rolled into one.
All this is within walking distance of art galleries and restaurants, Stark's Vacuum Museum (everything you didn't know you wanted to know about vacuum cleaners!), the Oregon Rail Heritage Center, and the OMSI (Oregon Museum of Science and Industry).
It's located on E Burnside St. at SE 9th, so you'll be centrally located, in an ideal place to explore both the east and west sides of the river.
The Society Hotel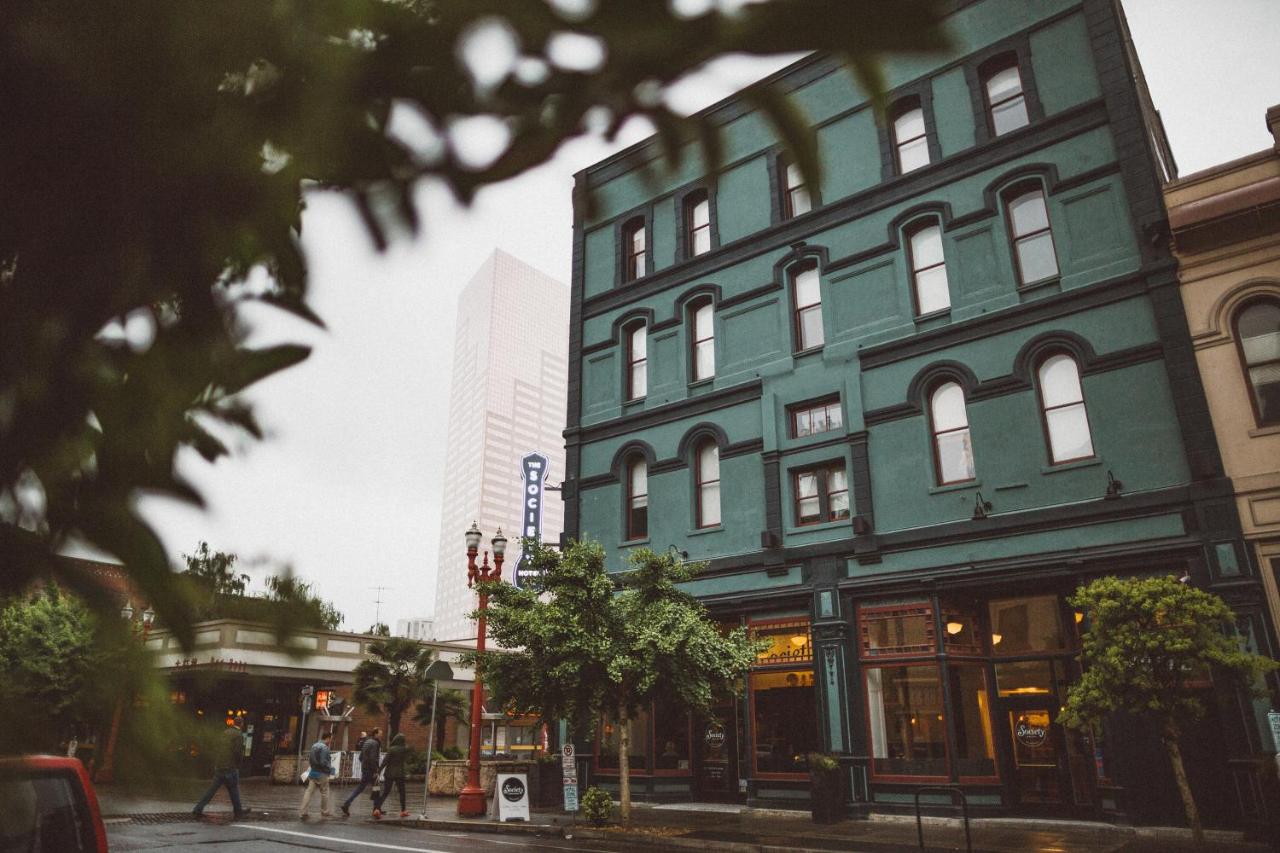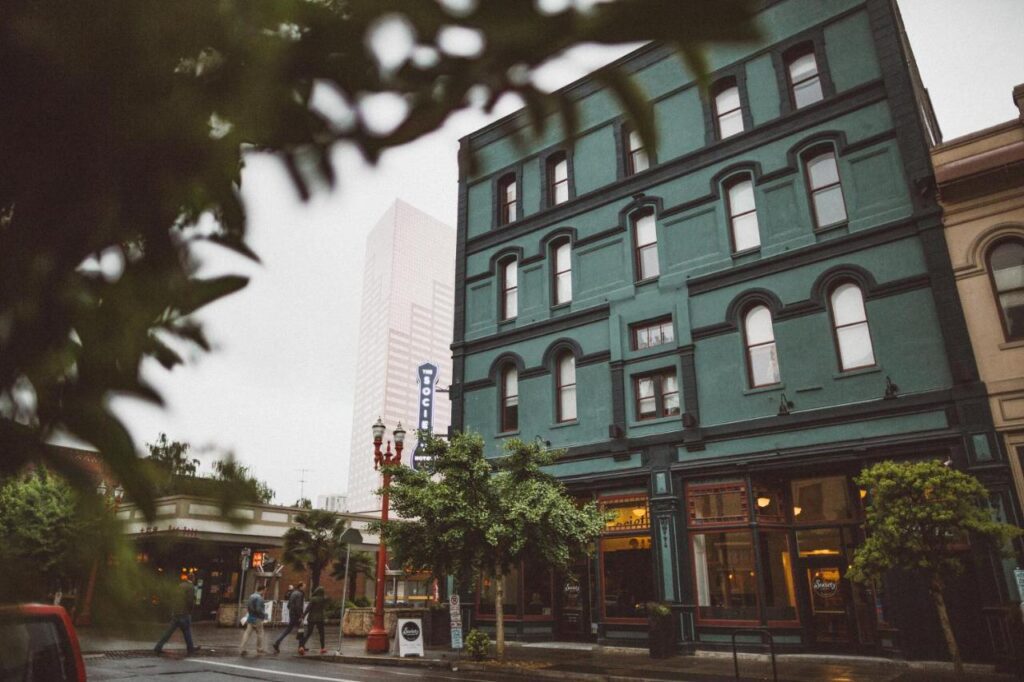 The Society Hotel reminds me of the boutique hostels that we ended up falling in love with over the course of our trip to Colombia. It has all the style and swagger of a boutique hotel, but offers a great value to visitors, who can choose from rooms ranging from dorm to suite, with options for all budgets in between. For example, some rooms come with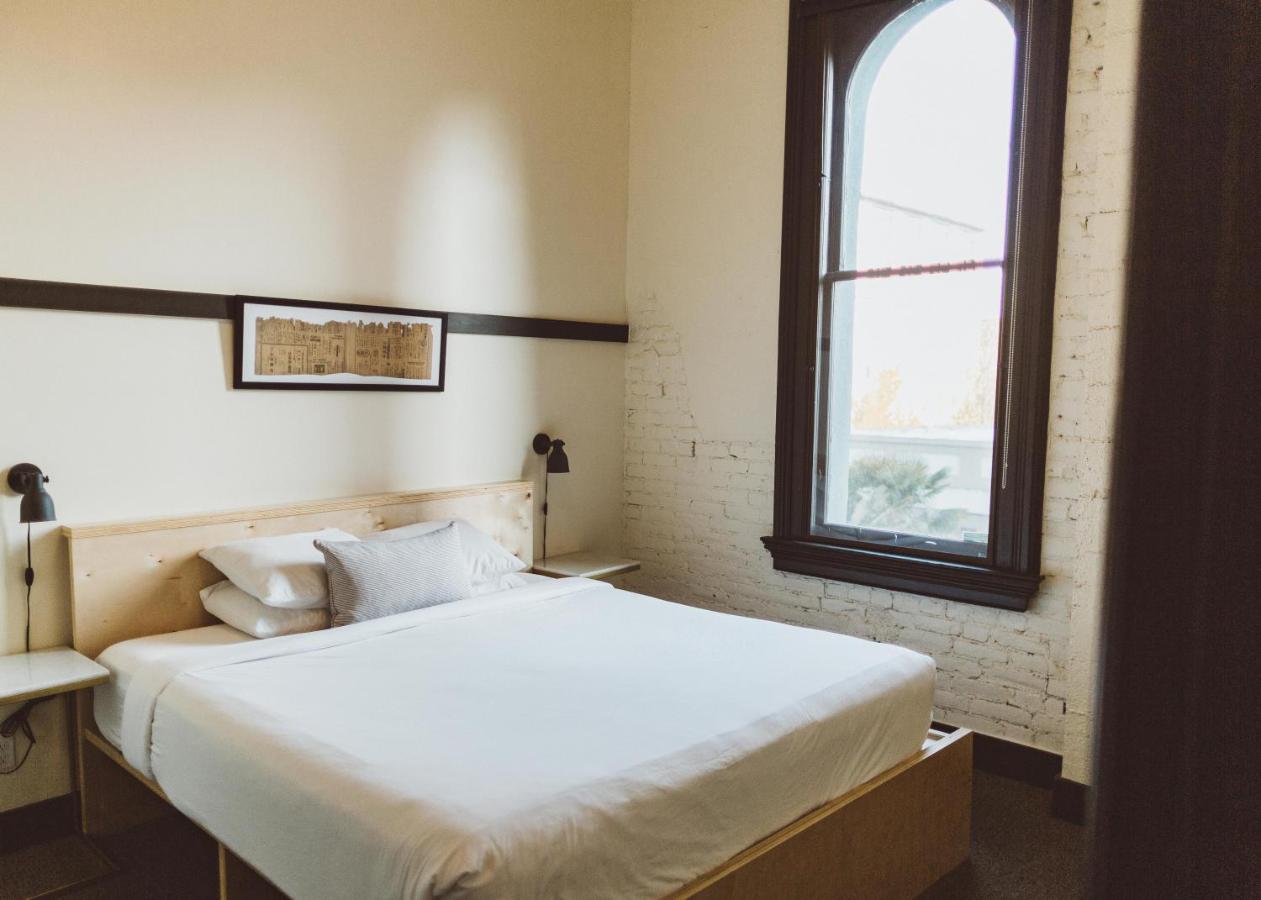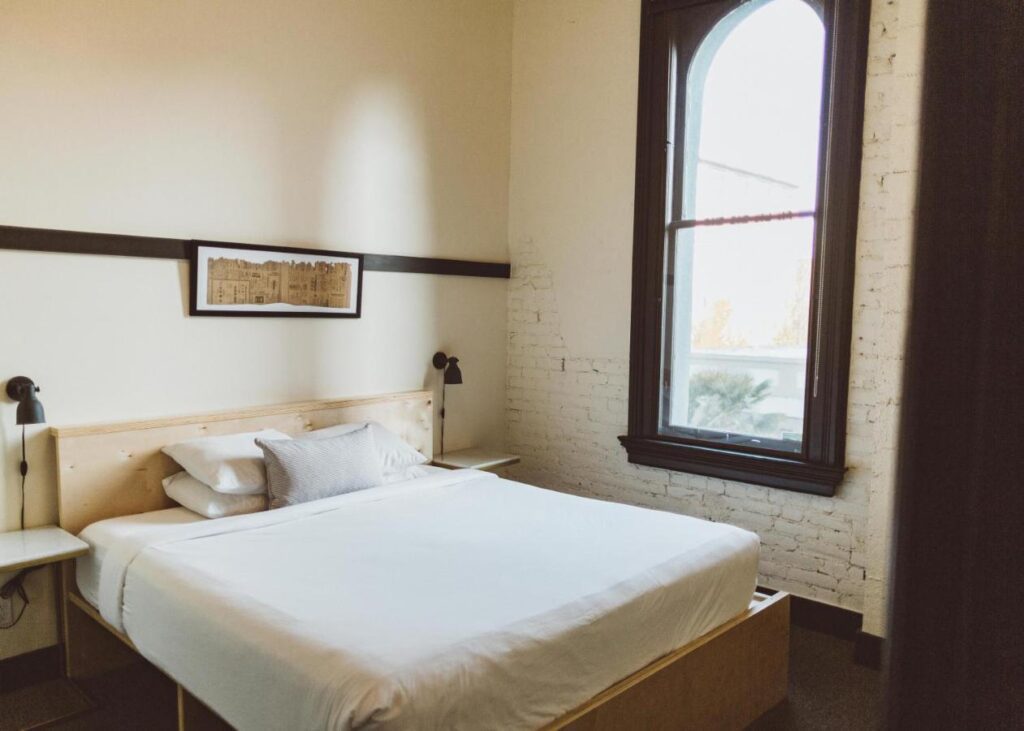 We stayed here on our first ever trip to Portland together (what was that, a decade ago? Man, we're getting old) in one of the rooms that shares a bathroom because we wanted to save a few dollars. And, having stayed in hostels before, we were pleasantly surprised that the bathrooms are single-occupancy, which means no sharing stalls or showers with someone else. They also have rooms with private bathrooms, if that sounds more like your style.
The only downside here is that the neighborhood is full of nightlife and gets a bit loud at night. Bring earplugs if that's going to bother you.
Rooms are basic and "minimalist" but the price is worth it.
This is simultaneously one of Portland's most unique hotels, AND the best value hotels in Portland, which is a combination you don't necessarily see every day.
The Ace Hotel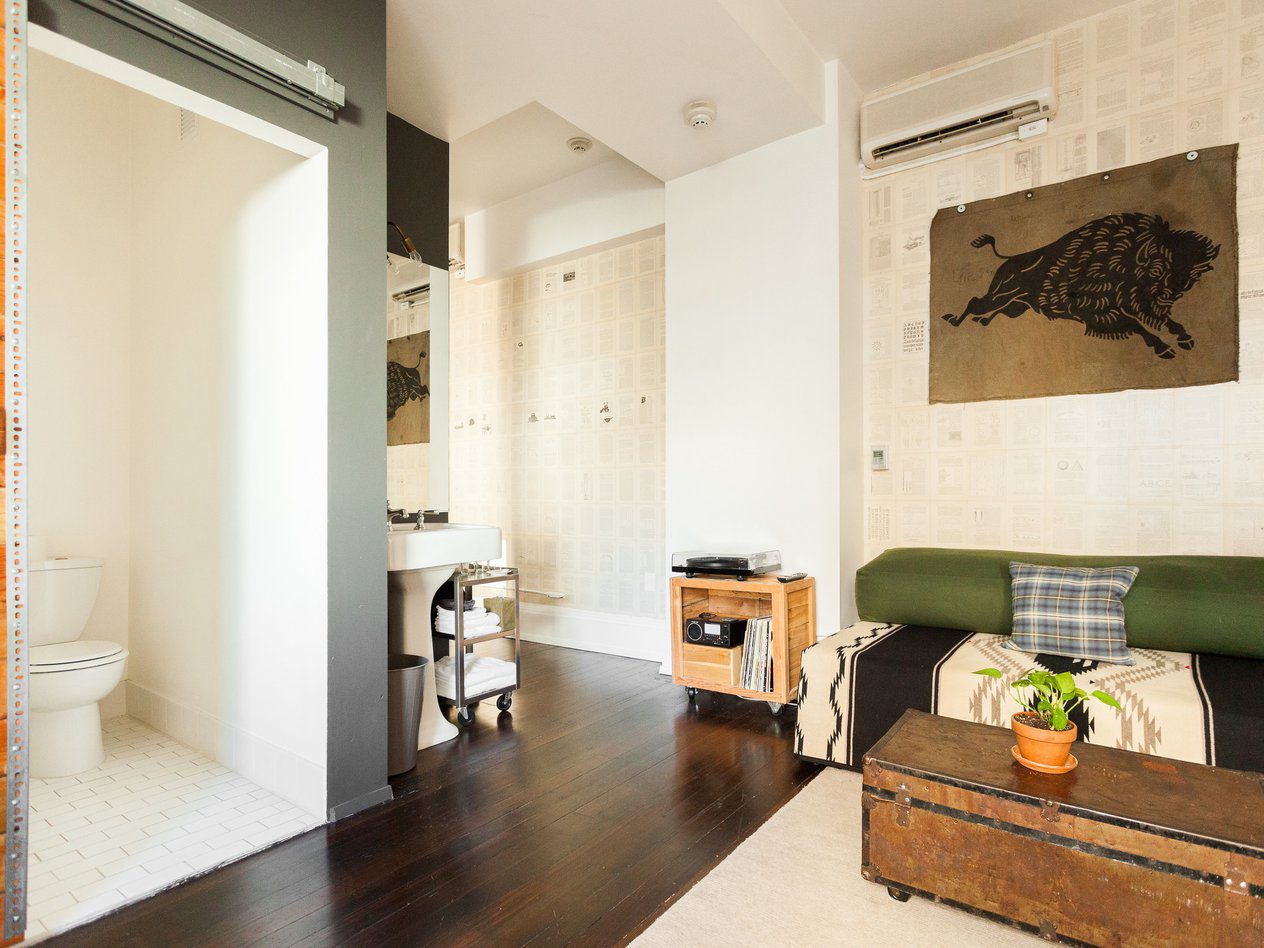 Just one block from Powell's City of Books, the Ace Hotel is perfect for the bibliophile and one of the most highly-rated spots in Portland, Oregon. Fashionable but affordable, the hotel retains echoes of the original Clyde Hotel that opened here in 1912: brick exterior, small elevator, and, unfortunately, the lack of private bathrooms in a few of the rooms labeled "basic". Don't worry – there's a nice single-occupancy shared bathroom just down the hall.
I have stayed at the Ace Hotel a few times in other cities around the country, and wholeheartedly recommend it. It is one of the best places to stay in NYC, and the Seattle location (the Ace's first outpost) is right in the middle of Belltown, one of the best areas to stay in Seattle.
The dark-paneled lobby and sharing tables in the restaurant give it a real community feeling, and the bedrooms are light and distinctive. This is the polar opposite of the faceless, corporate hotels found in so many cities!
The family-style menu at Clyde Common (not safe for Celiacs, unfortunately) is revamped every month, and you can also enjoy the intimacy of Pepe Le Moko, the basement bar. And last, but certainly not least, you have the now world-famous Stumptown Coffee in the lobby, so you don't even need to leave the hotel to get some of the best coffee in Portland.
The artsy Pearl District is just out the door, with its cobbles and loading docks reminiscent of the past. In this part of Portland, you can enjoy art galleries, restaurants, bars and breweries. And if you want to shop, you will have plenty of choices. Don't miss MadeHerePDX and Danner, two of my favorite shops in the area (aside from Powell's, of course).
Hotel Grand Stark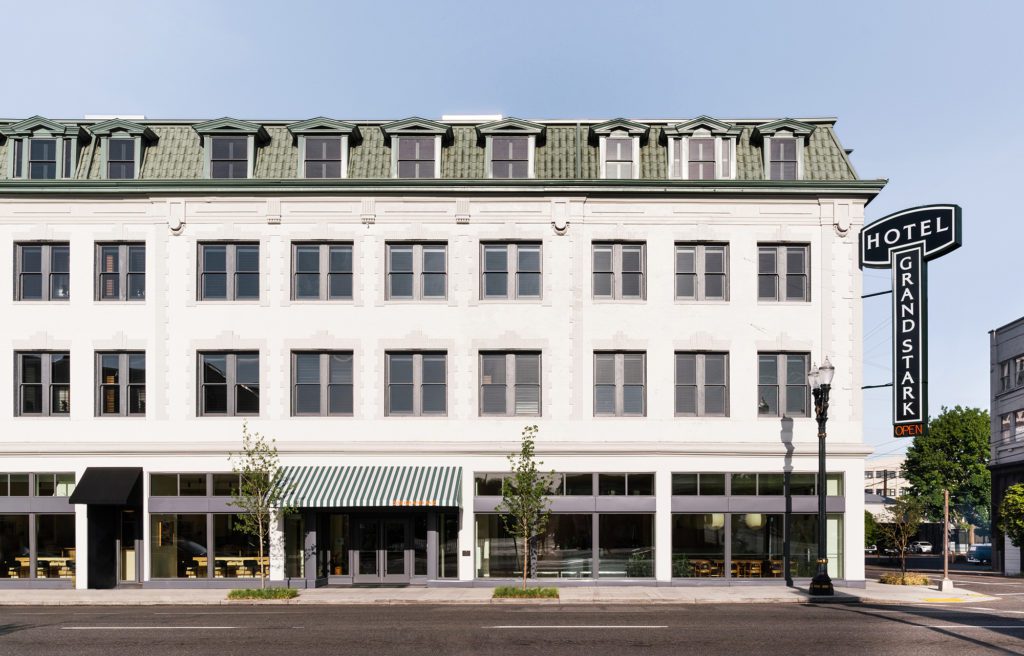 Another newcomer to the Portland hotel scene (they opened in early 2021), the Hotel Grand Stark is the Palisociety's second hotel in the Pacific Northwest (the other one being in Seattle).
They're a L.A.-based chain (their hotel in Santa Monica makes our list of the best places to stay in Los Angeles), and they build consistent design-forward hotels with touches of luxury that make for a comfortable place to use as a home base for exploring.
They took a historic building on the Central Eastside and remodeled it, creating an aesthetic full of light-colored wood paneling and bold patterns of greens and blues. The location couldn't be better, perched in the Central Eastside just north of the Goat Blocks (home to Schilling Cider, one of our favorite spots in Portland) and a plethora of breweries, restaurants, and more. It's also roughly equidistant to downtown Portland and Hawthorne and Division Streets, which makes the location perfect for spending a day exploring each of those two areas, which we'd highly recommend.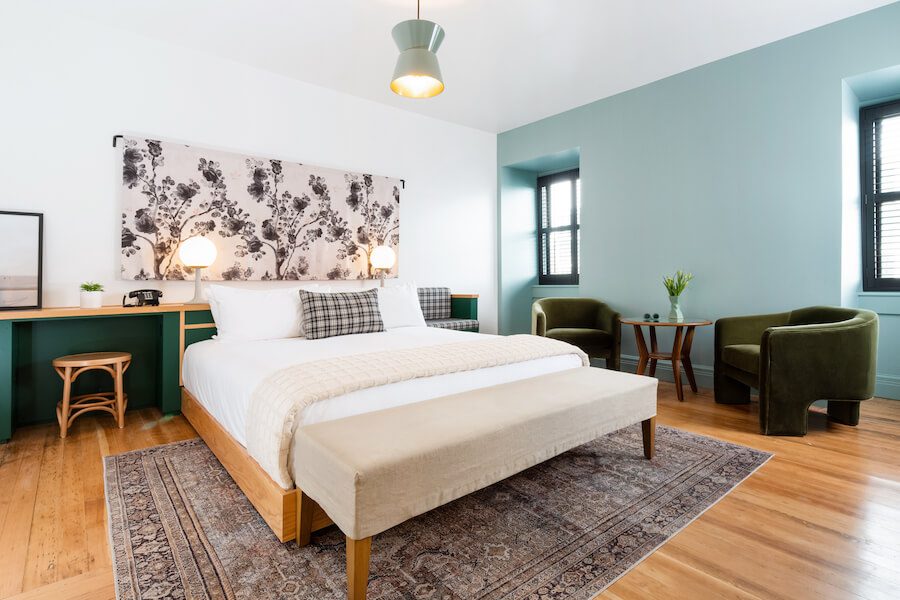 Choose between Queen and King rooms – the latter are more spacious, but the queen rooms have plenty of space to spread out. All rooms come with mini-fridges and Nespresso machines, which is a nice, practical touch.
Pets are welcome, but there is a pet fee that is an extra cost. Parking is available for $25 a day.
The Hi-Lo Hotel
Hello. Hey. Hi. Are you listening? The Hi-Lo Hotel demands your attention.
Situated in the historic Oregon Pioneer Building in downtown Portland, this hotel is just minutes from McMenamins Crystal Ballroom (an amazing place to catch a concert while you're in town) and the Portland Art Museum and a stone's throw from Tom McCall Waterfront Park.
Light and airy, refined, and slick sums up the ambiance. The rooms, large, stylish and fully equipped have imaginative artwork and some great views. They use reclaimed wood (duh) to accent the rooms, along with other local handmade products like Pendleton blankets as accessories.
The restaurant, CRAFTpdx, has a locally sourced, seasonal menu, a sort of modern Mexican, is all open all day and has a magnificent collection of cocktails for you to try.
The Sentinel Hotel
Central Portland may not be the quietest, but it makes an excellent base for a stay in this wonderful city. It's also where you'll find the Sentinel.
There is so much to see and do. Portland Art Museum is nearby, along with the Oregon History Museum, Powell's, parks and all the variety offered by this vibrant city. You'll also find yourself two blocks from Tasty & Alder, the best brunch in the city, so you can make it there early to put your name in and avoid a 2+ hour wait.
You'll also be in donut central – around the corner is Blue Star Donuts, the best gluten-full donuts in Portland, and Petunia's Pies and Pastries, the best gluten free donuts in Portland.
For a cocktail experience visit Jackknife, from the hands of the Lightning Bar Collective.
The name comes from the robot-like statues decorating the impressive 1909 William Christmas Knighton building, and the hotel is crammed with fascinating period details. The rooms are dark and masculine, serene and restful – think wing back chairs, olives and greys.
Hotel Eastlund
The Convention Center area is not the most interesting area in Portland, but with its uber-modern style, glam accents, and rooftop restaurant, Hotel Eastlund is a good place to base yourself for a trip to Portland.
There's more than a touch of 1960's James Bond chic about the decor, with a bit of 21st century thrown in for us millennials. Bedrooms have all that you'd expect, and most have amazing views across the city. The rooftop restaurant, the Altabira City Tavern, is always busy and a great place to enjoy a modern American menu washed down with craft beer.
The hotel is right on the outskirts of the hipster districts of southeast Portland, crowded with bars, brewhouses, and some of the best coffee shops around. Downtown is a short MAX train ride away, so you won't be far from the action.
The Duniway Hotel
Five minutes from the Portland Art Museum and a stroll from a light rail stop, the Duniway Hotel is an excellent place to base yourself id you want to enjoy all that Portland has to offer. Expect style and luxury, space, large beds and serious comfort in every room.
The Duniway Hotel is bold and opulent, situated on a tree-lined boulevard surrounded by eateries and boutiques deep in the business center of Portland. It boasts a cafe, an indoor pool and a gym.
The Jackrabbit restaurant, under head chef Chris Cosentino, is so good you don't need to leave the hotel to eat (again, not Celiac-friendly, but there are plenty of gluten free restaurants in Portland).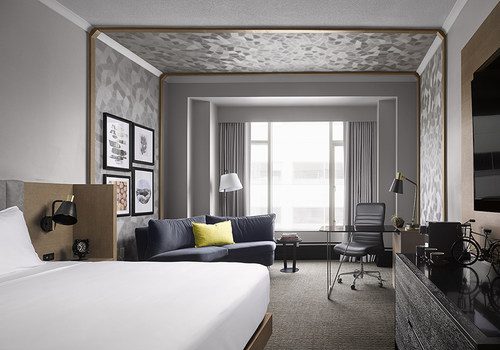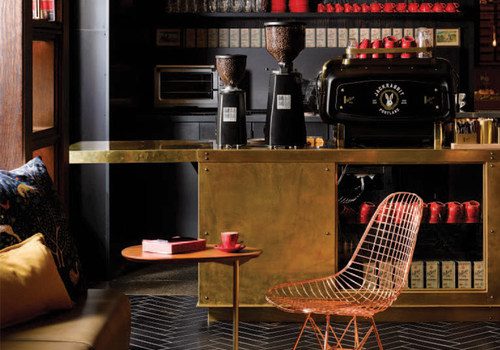 Don't miss a trip to the new 11th-floor terrace. With its giant games, comfortable seating and great views, it is a perfect spot for a pre-dinner cocktail!
6 Super Unique Hotels in Portland
It's Portland, so you know there are some cool places to stay that blend the city's trademark weirdness with the Pacific Northwest design aesthetic. Here are six super unique places to stay in Portland.
Caravan – The Tiny House Hotel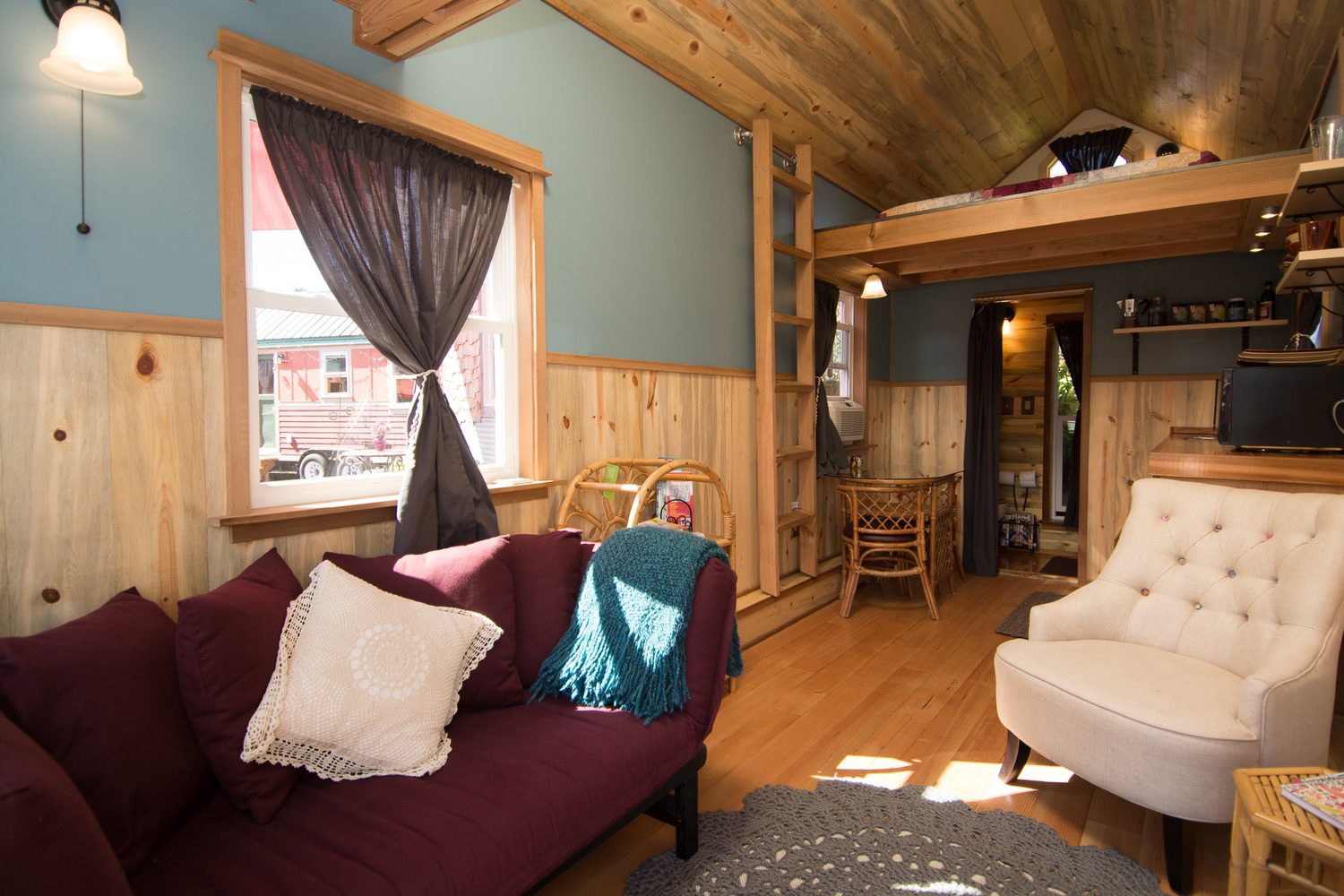 You may be wondering what a tiny house hotel is, I know I was! Imagine six tiny house-shaped caravans set around a fire pit, that's the Caravan – The Tiny House Hotel.
Situated on a corner in the Alberta Arts District, an area stuffed with galleries, restaurants, bars, and hosting Last Thursday, a monthly street fair, this hotel provides a pretty unique accommodation, even for Portland. You can see the love and attention to detail that has gone into each and every aspect of the hotel: funky, eco-friendly, and unique.
Each tiny house is individual, but all are fully equipped with toilets, showers, heating and a kitchen. While I would never say that the rooms are "spacious," it's one of the coolest spots in Portland, particularly for couples looking for a unique hotel experience.
The McMenamins Kennedy School
This really is something different – more of an experience than a traditional hotel stay! McMenamins Kennedy School Hotel, with 57 guestrooms, doesn't just offer a bed for the night but includes a movie theater, several bars, a soaking pool and a brewery. And, yes, it was once an elementary school.
There are no fewer than six venues in which you can eat and drink, from the Courtyard Restaurant, housed in the what was the cafeteria, to the tiny Detention Bar and the exuberant Boiler Room.
It's a little far from the center of the city, but transport links are good. The location is a little quieter than most hotels downtown, and is another top-rated place to stay just four blocks from bustling NE Alberta St. Truly one of the most unique places to stay in Portland, stay here if you're looking for an experience that encapsulates the weirdness of Portland.
The McMenamins Crystal Hotel
This rock 'n' roll-themed hotel is another unique place to stay in Portland, Oregon. The Crystal Hotel has 51 guest rooms crafted in a 100-year-old historic building with a connected restaurant and bar and right across from the Crystal Ballroom (the best music venue in the city). Its location on Burnside Avenue means unparalleled access to all the city's trendiest sights.
The rooms are strikingly decorated, comfortable, and intentionally lacking in giant TVs, ironing boards and refrigerators. Each room is decorated along the lines of a classic song, and you'll find song lyrics adorning the walls.
The Zeus Café provides tasty, affordable food, and you can order from your room. It has a great menu and a good selection of beverages.
The Inn @ Northrup Station
The Inn @ Northrup Station is an homage to 60s and 70s décor. It is a short walk from the famous Nob Hill art galleries and close to the Portland Japanese Garden. If you want to stay close to downtown Portland, Nob Hill and the nearby Pearl District are the best areas to stay in.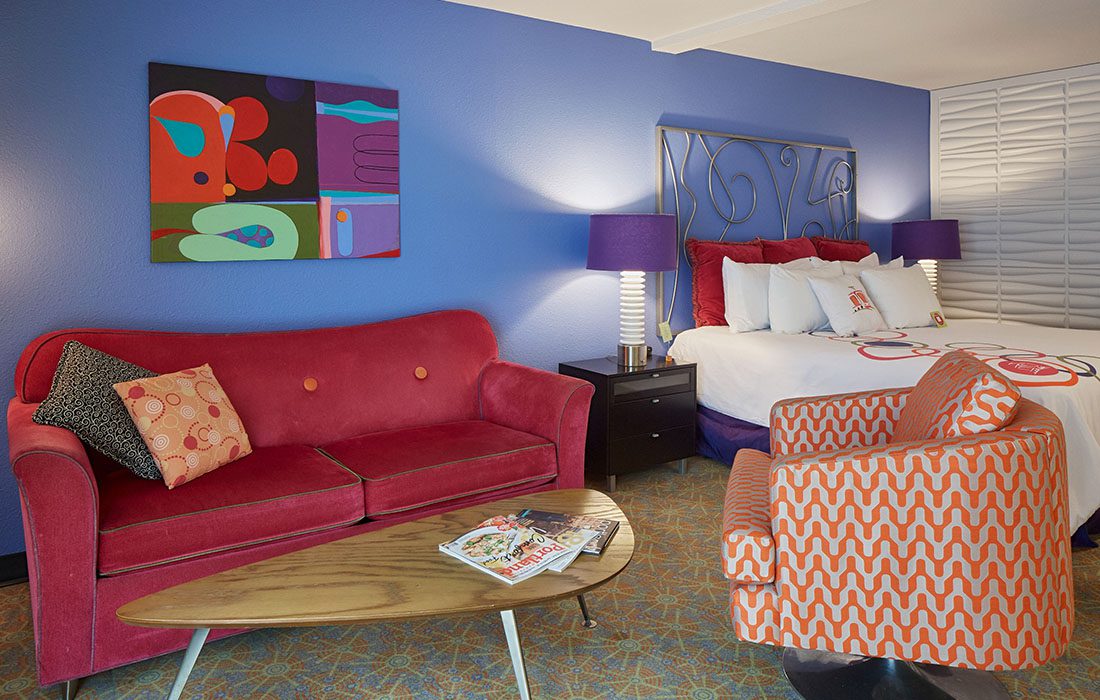 It is an all-suite hotel, featuring a small but complete kitchen and lounge area in every spacious room. You also get a complimentary continental breakfast, the opportunity to take part in weekly wine tastings, and there is parking available. Their reviews are sensational with location, staff and accommodation, all scoring highly.
Tiny Digs: A Tiny House Hotel
Guess what? Another hotel of tiny houses! Only in Portland, right?
Tiny Digs is in Portland's hip Kerns neighborhood. There are eight cute tiny homes to choose from, each with a theme: a train, a log cabin, a cottage, a gypsy wagon – you get the idea! The homes are cozy and equipped with mini-fridges, wi-fi and coffee makers, and some have kitchenettes.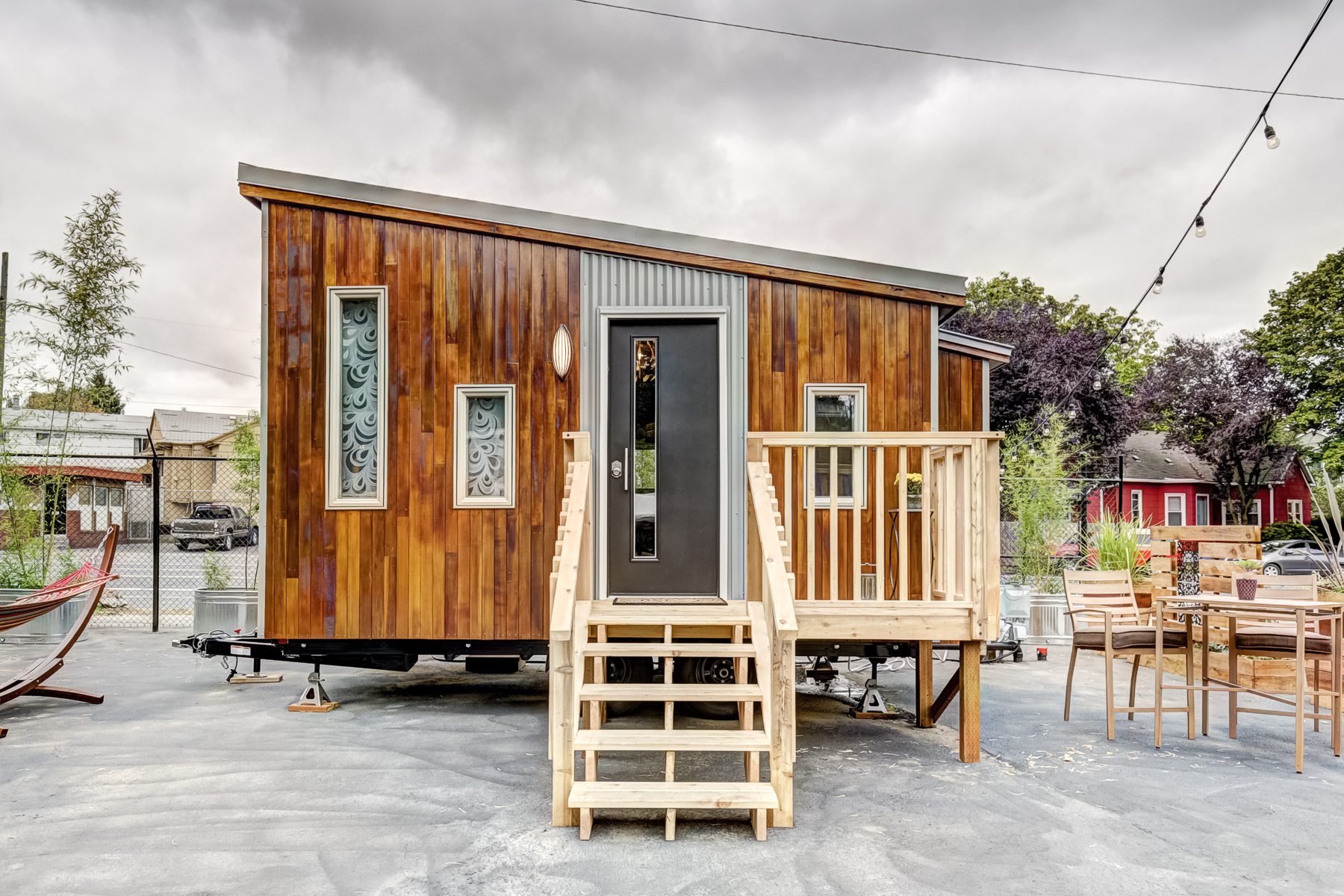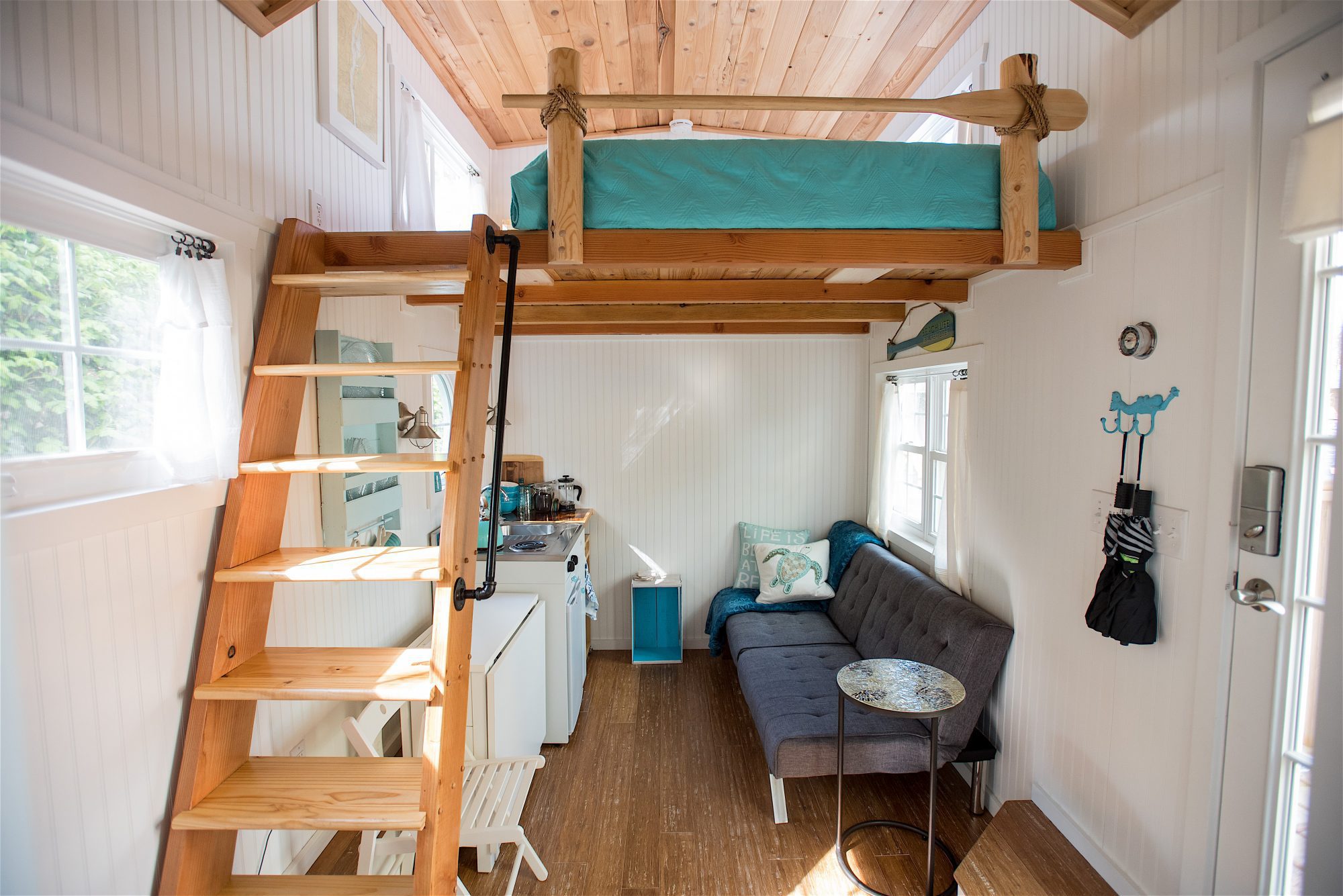 You will have seemingly-endless choices for places to eat and drink. SE 28th Ave is renowned for its restaurants offering the cuisines of the world, and you'll be a hop, skip, and a jump away from the numerous places in Southeast Portland along Belmont, Hawthorne, and Division. Whatever food you are in the mood for can be found within walking distance of Tiny Digs.
Slabtown Village
If the Tiny House Hotel and Tiny Digs are just too small for you and your traveling companions, check out Slabtown Village, where there is just a little more room to stretch out.
In the complex are three lovely historic Victorian homes, dating from 1875, and three tiny homes, the choice is yours. As the Portland Tribune put it: "just-the-right amount of Portland weird with Pacific Northwest innovation."
They have a few larger units, that definitely aren't tiny homes, but they also have three newly-constructed tiny houses. Slabtown Village is on the border of Nob Hill, so it is surrounded by plenty of restaurants and cafés. If you prefer to self-cater, the units do have microwave ovens and toaster ovens.
---
More Pacific Northwest Travel Guides