The 19 Best Airbnbs in Oregon (Mountains / Coast / Cities)
Oregon offers everything from a rugged coastline with breathtaking beaches to soaring mountains graced with countless waterfalls, wine country, and exciting cities to explore. It's an outdoor adventurer's dream, but there are plenty of opportunities for relaxation too. No matter what the reason is for your visit, the best Airbnbs in Oregon are sure to give you a perfect home base for exploring one of our favorite states in the United States.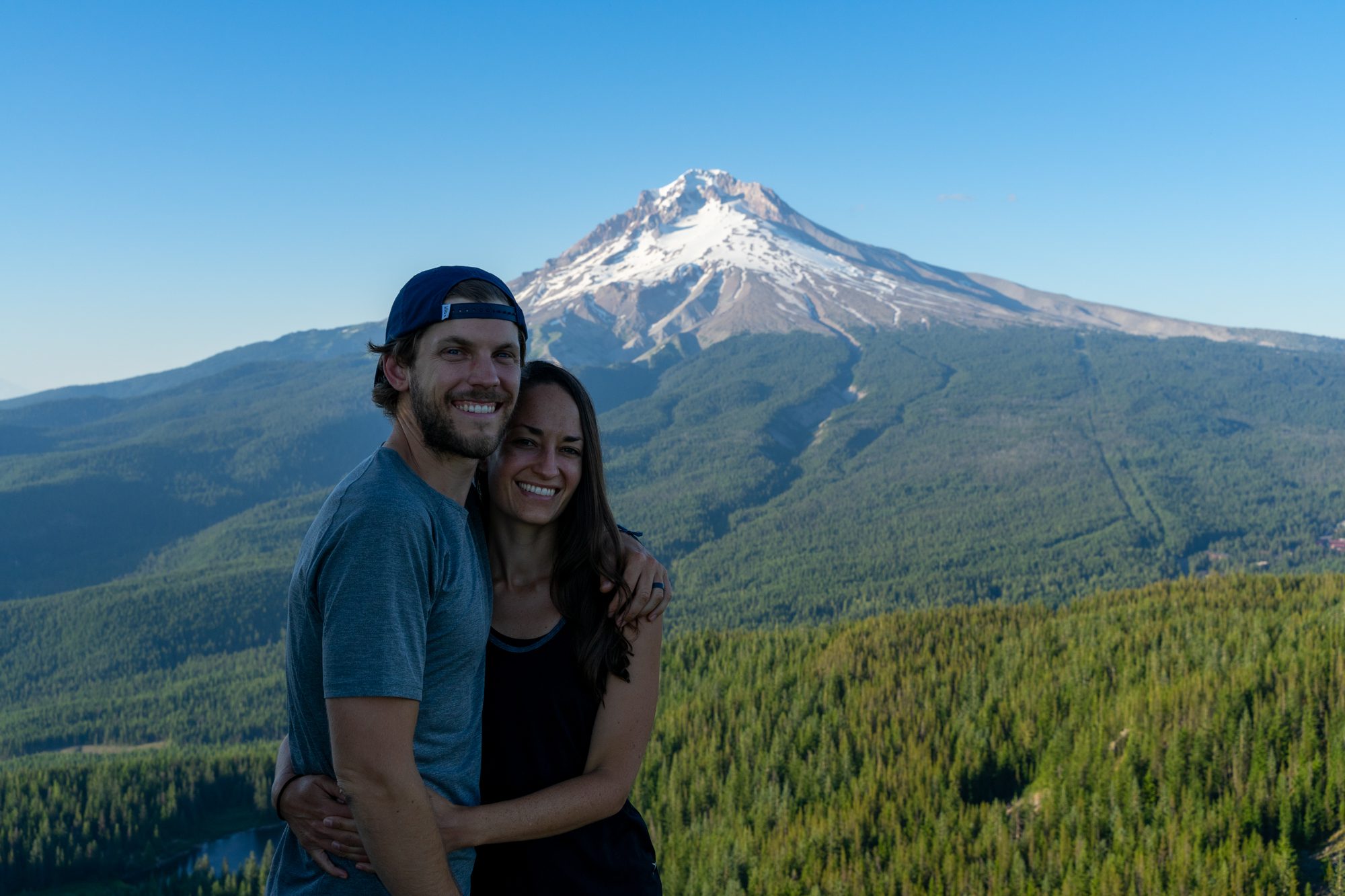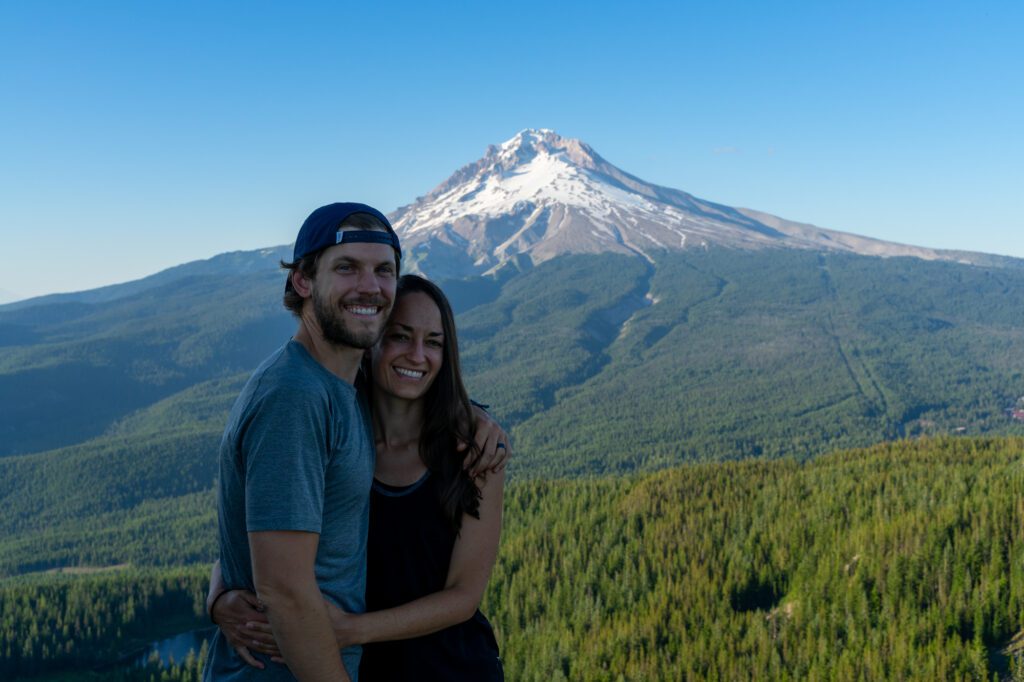 We have a running list of the best places to stay in Oregon that we've put together over years of planning our own trips, and we're sharing them with you to inspire your next getaway. We hope this helps you discover an unforgettable adventure in Oregon, whether it's your first time in this gorgeous state, or you live here and are looking for a new escape.
Have we stayed in all of the Airbnb listings on this list? Nope. But we handpicked them from our saved list – think of this as a guide to the Oregon Airbnbs that are on our list for our future trips exploring Oregon.
Disclaimer: Some of the links in this post, like hotel links, are affiliate links, meaning at no additional cost to you, we make a little bit of money if you click through and book. That being said, we would never recommend something to you that we don't stand behind 100%.
The 19 Best Airbnbs in Oregon to Inspire Your Next Getaway
We almost always opt for an Airbnb over a hotel when we're traveling (unless we're camping in our van, of course). We like having our own space and feeling like a local, even if it's just for a couple of days, and doing the mundane things we often take for granted like shopping for groceries and cooking scrambled eggs for breakfast.
Here are our top picks for the best Airbnb in Oregon, in no particular order. We wanted to rank them – we really did – but couldn't bring ourselves to choose because it TOTALLY depends on what you're looking for!
Have you stayed in a cool Airbnb in Oregon that we missed? We'd love to hear from you! Get in touch and let us know, so we can add it to our own personal list (and maybe even to this one).
Coolest Airbnb in Oregon: Rustic Mountain Escapes
The areas around Mt. Hood and Bend are filled with rustic cabins that make a perfect home base for exploring the mountains in Oregon, which were our favorite part of our Oregon road trip.
Rancho Relaxo, A Beautiful Mountain A-Frame – Rhododendron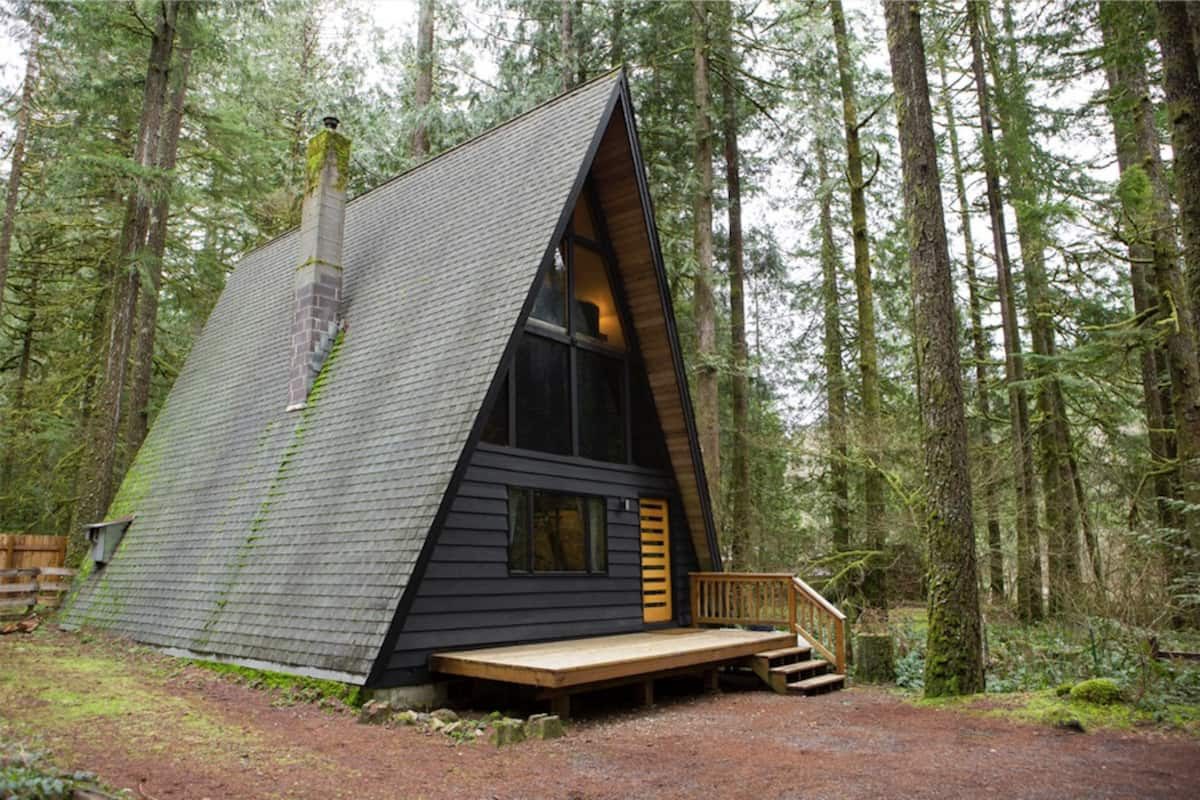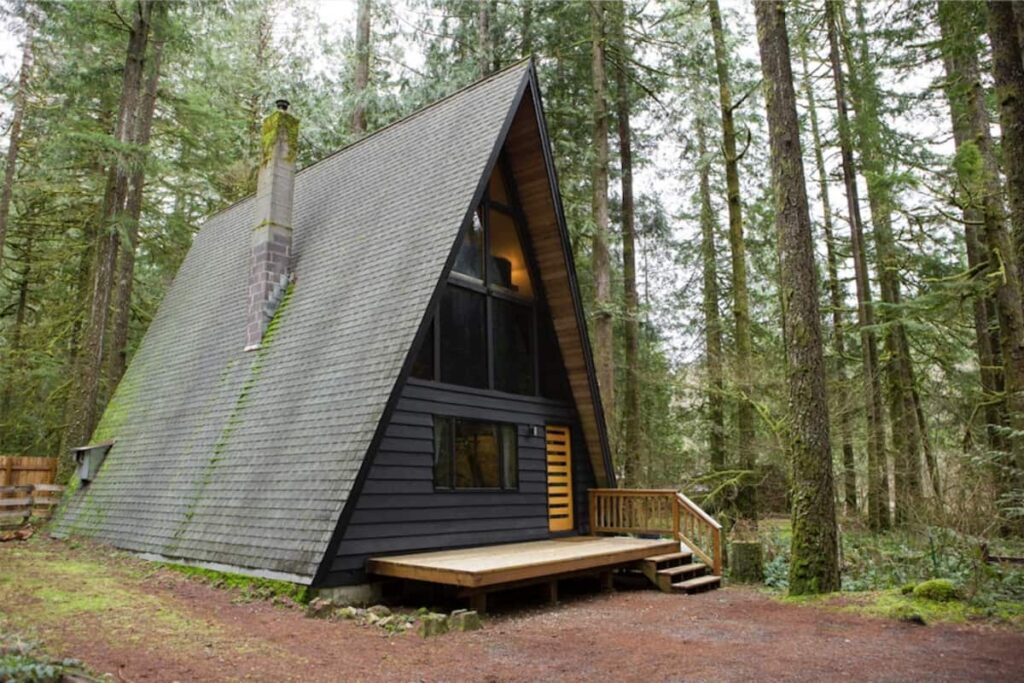 Location: Rhododendron (near Mt. Hood)
Bedrooms: 2
Bathrooms: 1
Sleeps: 4
Notable Features: Full kitchen complete with french press and coffee grinder,
Rancho Relaxo is one of the coolest places to stay in Oregon for outdoor adventure lovers, whether you're a couple looking for an active, romantic weekend in the woods or a group of friends wanting to enjoy the myriad of recreational pursuits.
It offers a relaxing base at the edge of Mt. Hood, convenient for everything from skiing to hiking and biking. While restaurants and bars are nearby, after all the action you can come back and make your own meals in the well-equipped kitchen – there's a French press and coffee grinder for your morning java too.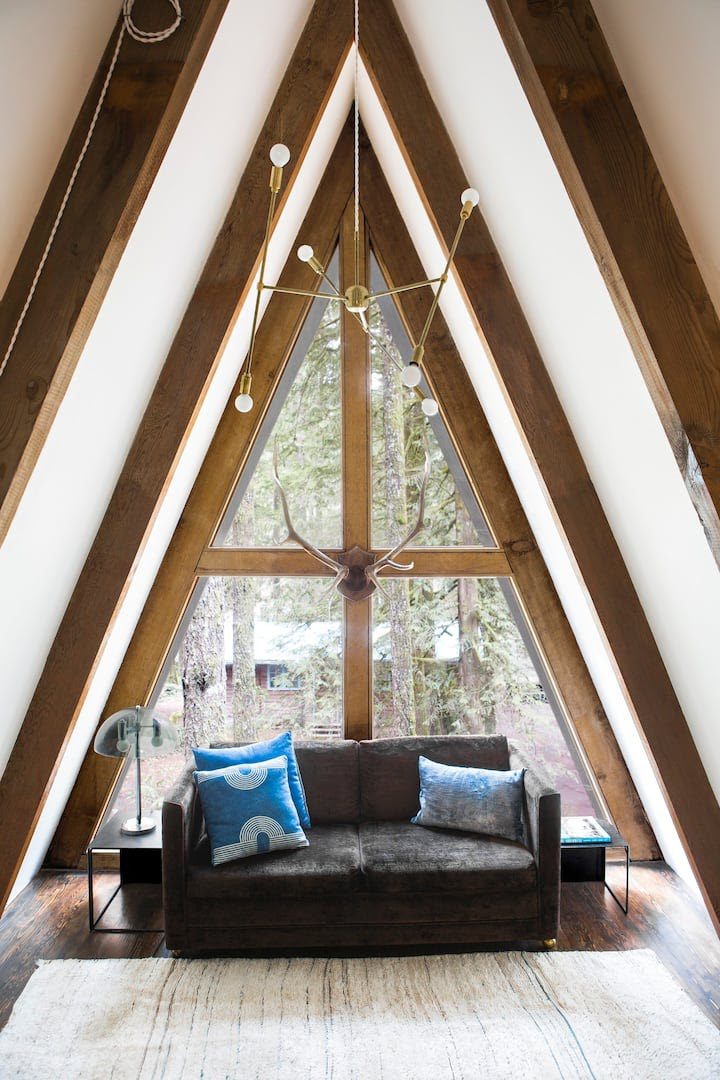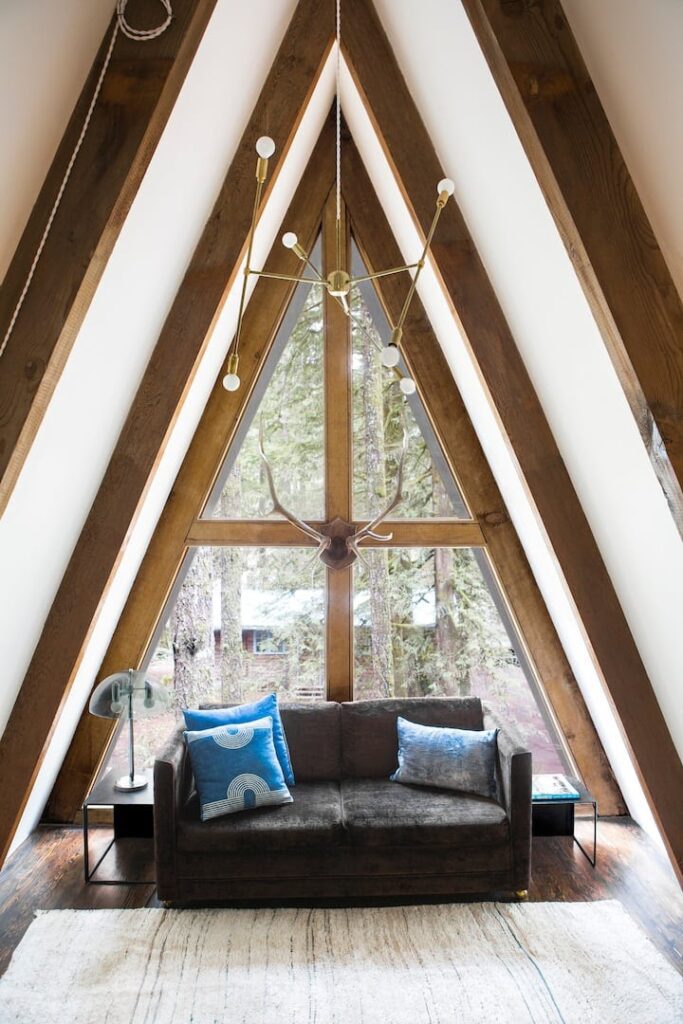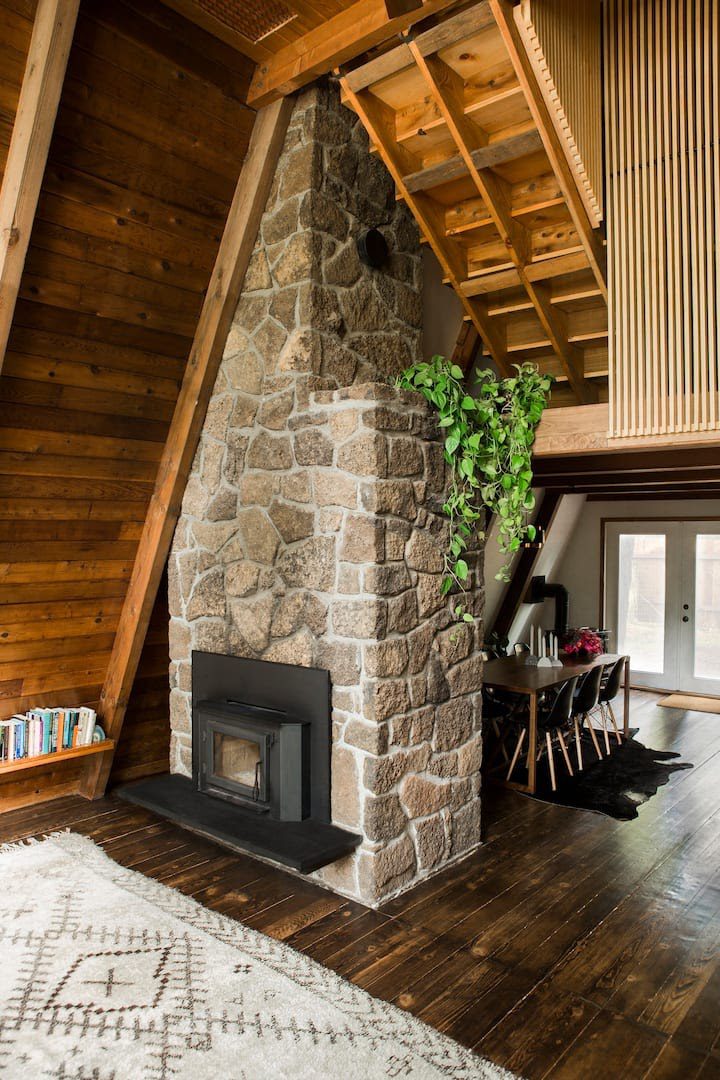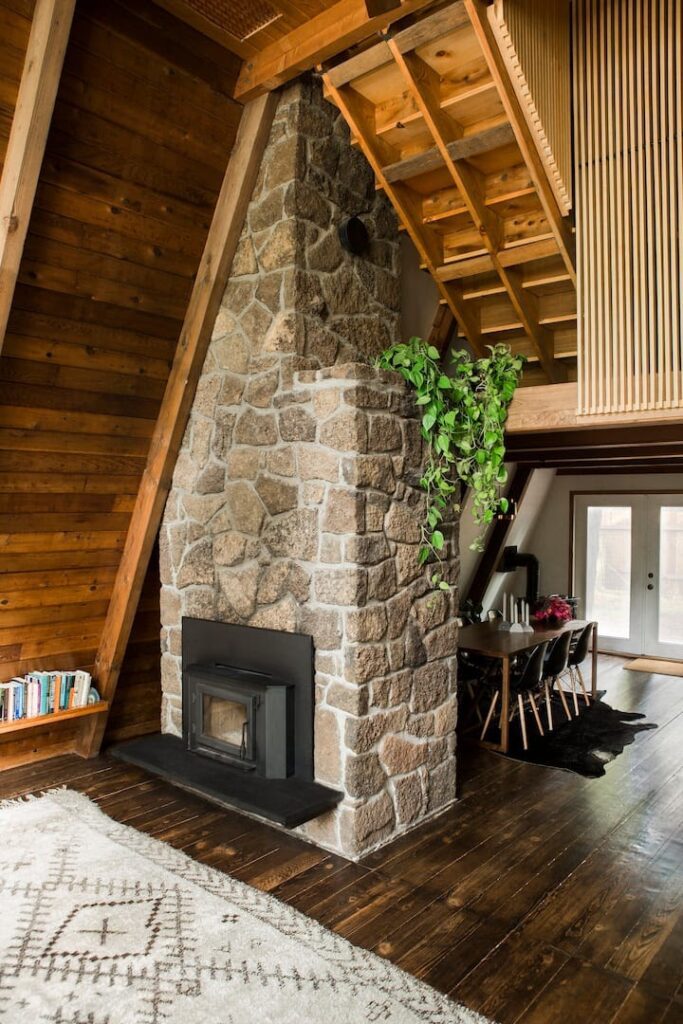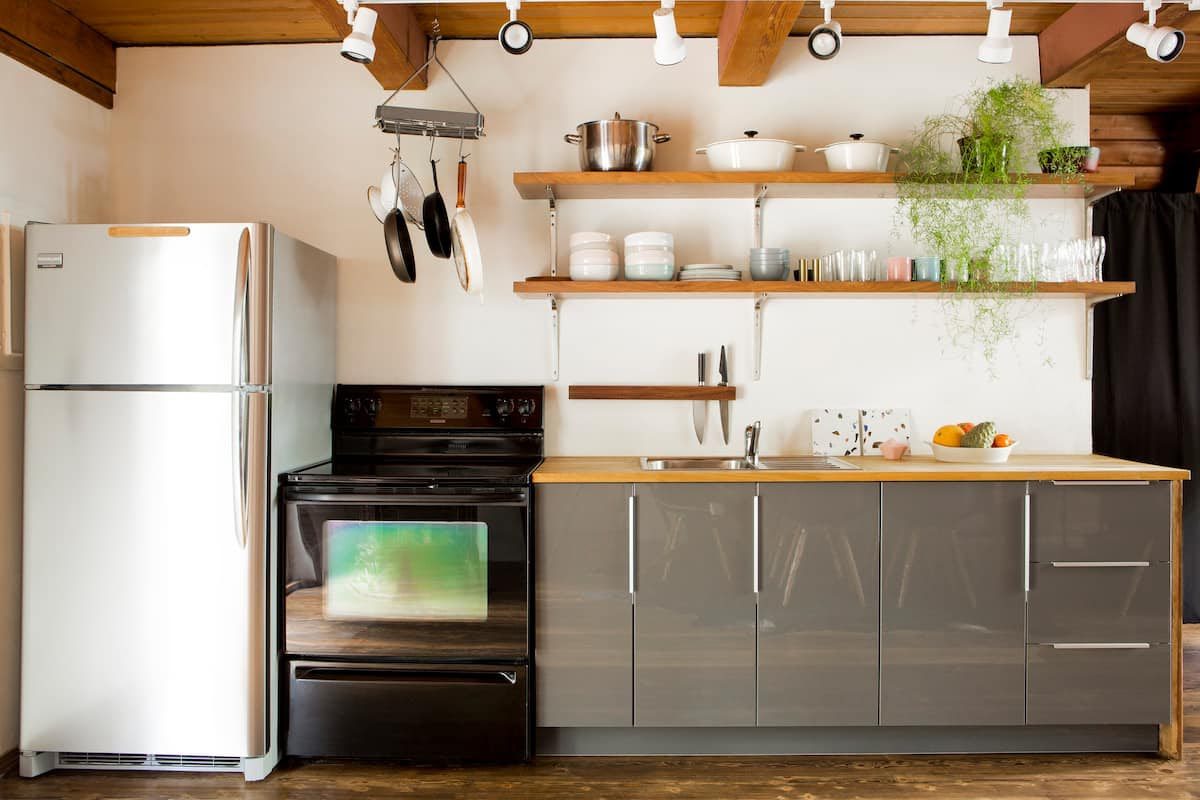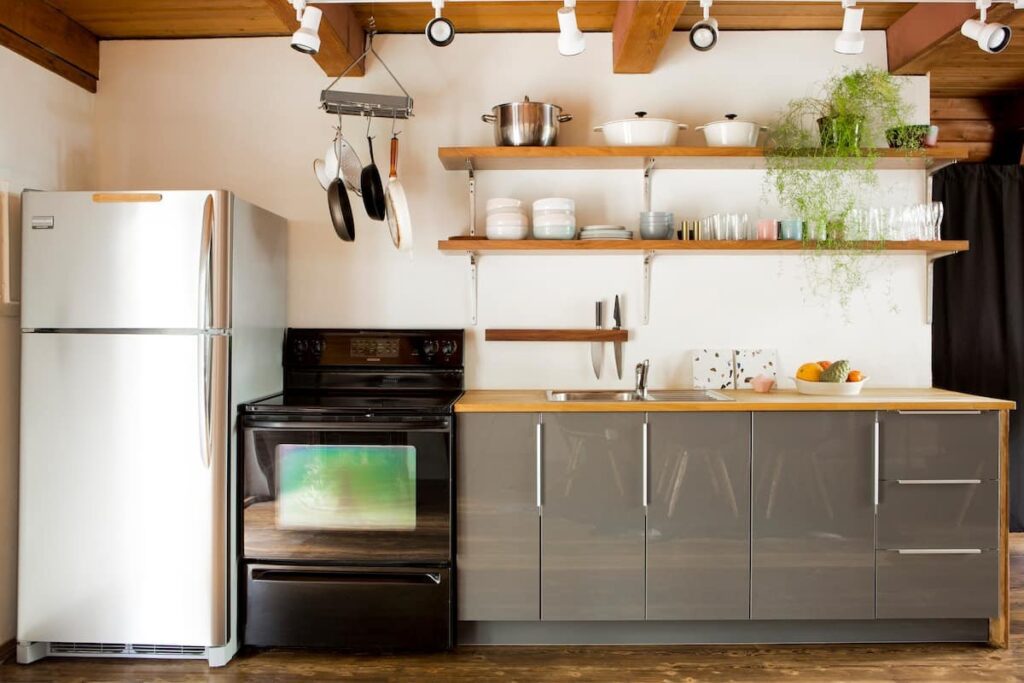 Sinking back into the ultra-comfy sectional sofa or cozying up to one of the fireplaces with wood supplied and enjoying the tranquil, some say, "magical" atmosphere, is the perfect way to end the day.
The A-frame cabin also includes thoughtful touches like a library with books you can borrow, and a washer/dryer so you won't have to repack dirty clothes.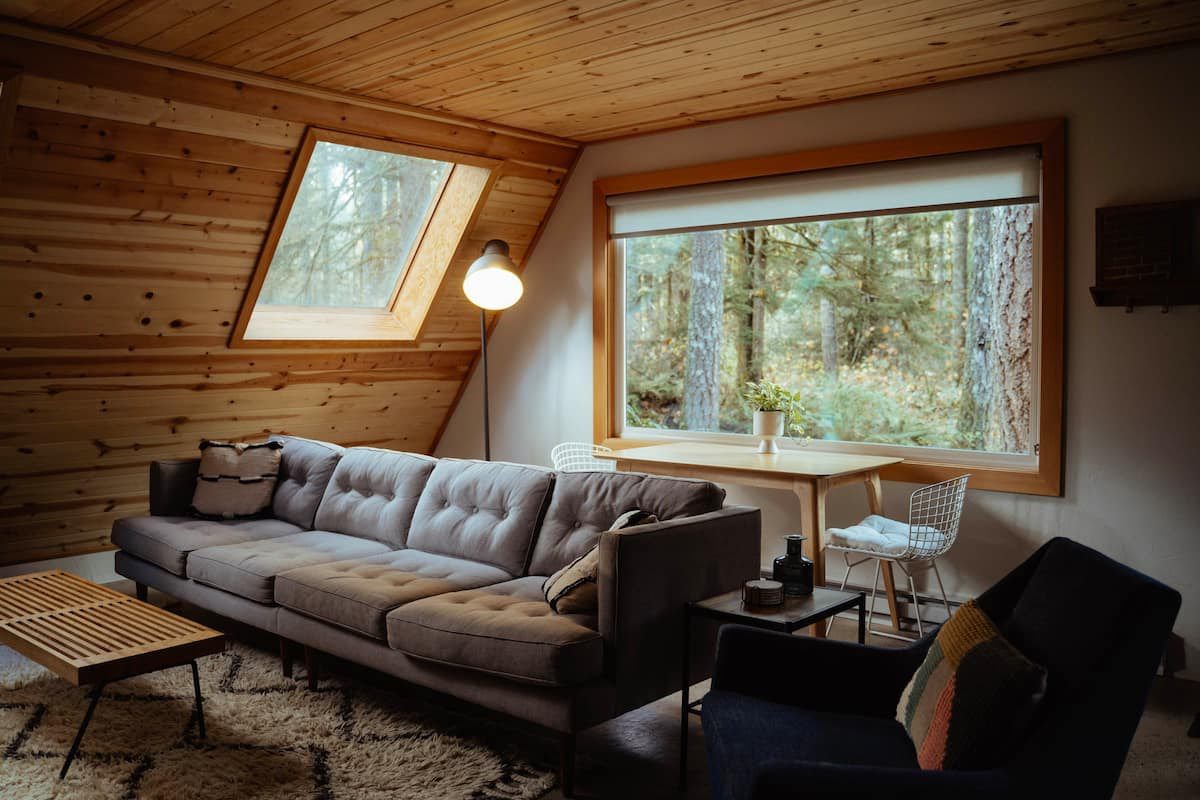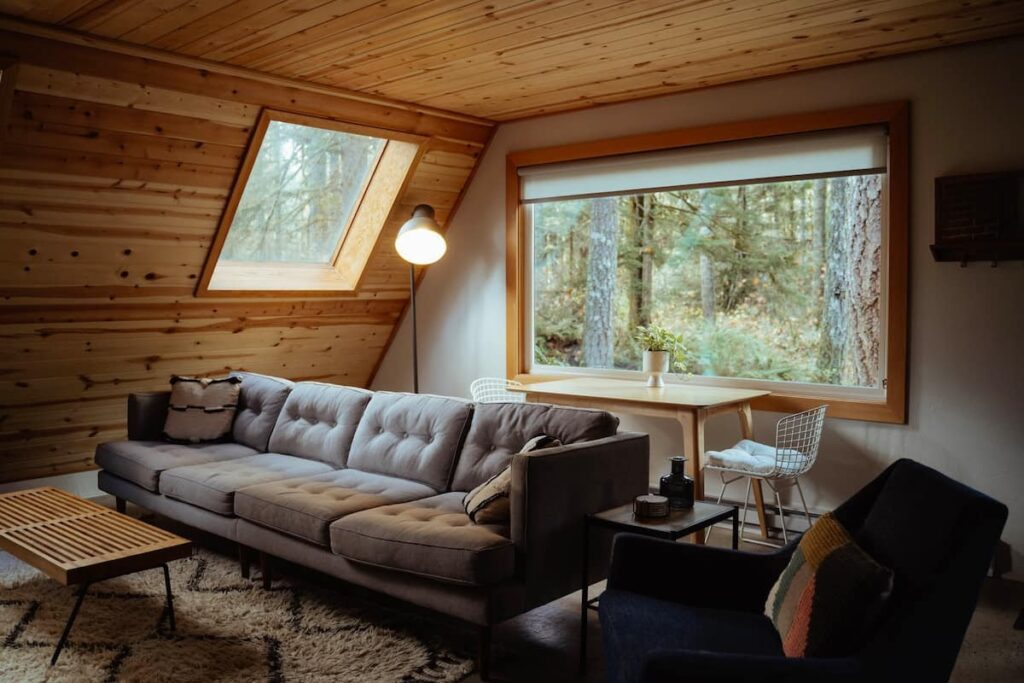 Location: Rhododendron (Mt. Hood)
Bedrooms: 2
Bathrooms: 1
Sleeps: 5
Notable Features: Jetted bathtub, full kitchen (with a coffee grinder & maker), patio for al fresco dining
This stylish Scandinavian-style two-bedroom cabin is only an hour from Portland, providing an ideal base for enjoying a variety of recreational activities just outside the Mt. Hood National Forest and only 20 minutes from popular ski areas. The Sandy River can be reached in just five minutes on foot from the cabin, known for its Chinook salmon fishing runs.
The cozy space itself is clean, comfortable, and well-appointed with a kitchen that has all the essentials, including items not usually found at most Airbnb stays, like a coffee grinder and colander. Look forward to special extras too – the jetted bathtub feels heavenly after a day of play.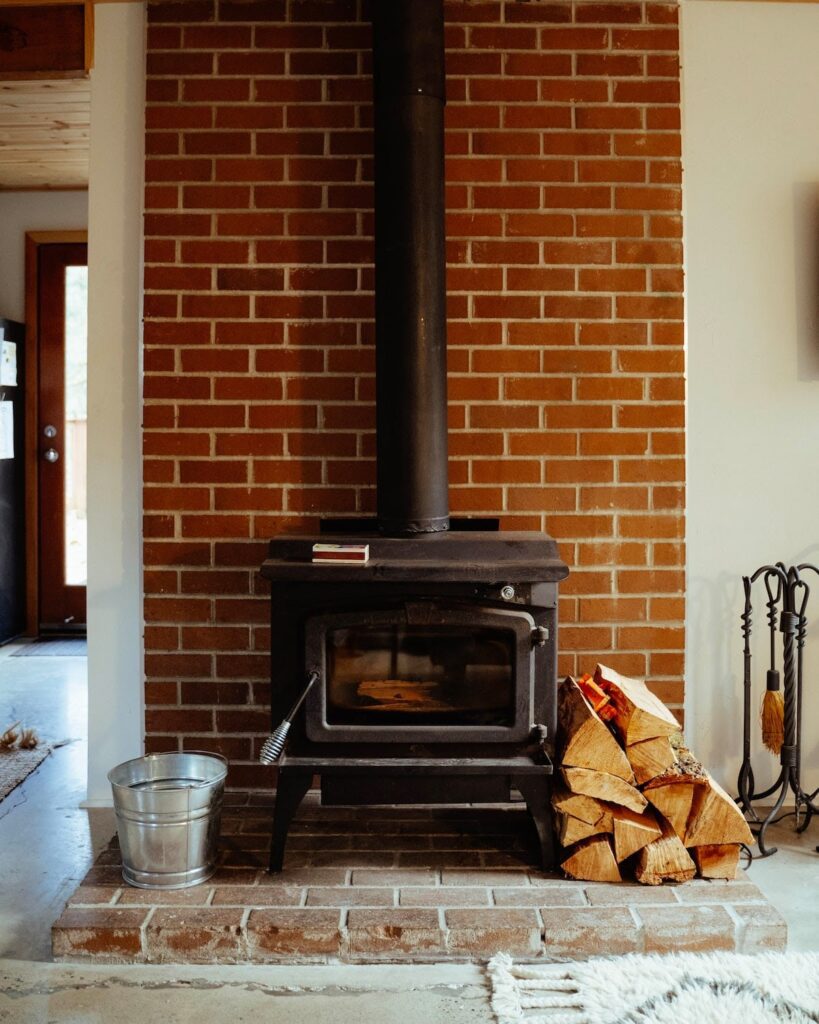 Some of the other highlights include a washer/dryer, Smart TV equipped with Amazon and Netflix for streaming with your personal account, a deck for alfresco dining and a fire pit for gathering around under the stars.
Mt. Hood View Tiny House – Sandy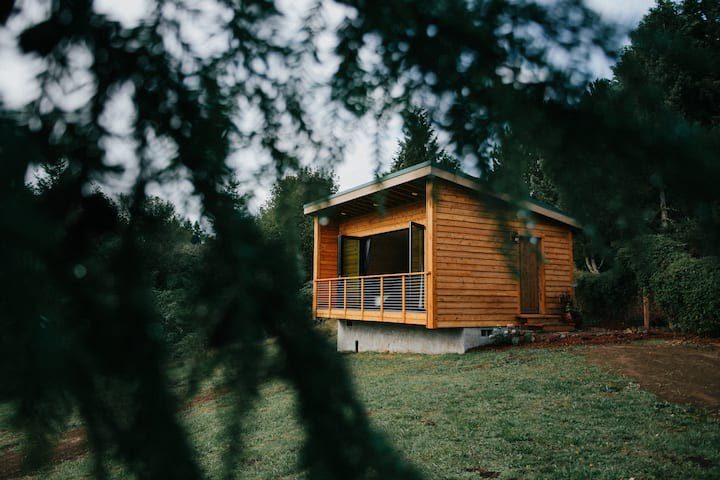 Location: Sandy (near Mt. Hood)
Bedrooms: 1
Bathrooms: 1
Sleeps: 2
A gem near downtown Sandy, this tiny house is one of the coolest Airbnbs in Oregon, nestled in a quiet setting on 23 private acres for a secluded feel and an ideal base for exploring the area around Mt. Hood.
It was designed around a moving wall system that opens to the outdoors, built to capture a spectacular view of the 11,250-foot-tall mountain. If you can wake early enough on a clear morning, you can watch the sunrise for a truly magical experience.
The unique cabin is warm and inviting with natural cedar siding, hardwood floors, a fireplace, and impressive handcrafted details throughout. While it may be small, the kitchen has everything you need to make your own meals, but you'll also want to take advantage of the opportunity to sample the dining hotspots in the area like the AntFarm Cafe and Bakery. After dark, open up the accordion doors for incredible stargazing.
Tamolitch Cabin at Horse Creek Lodge – Lane County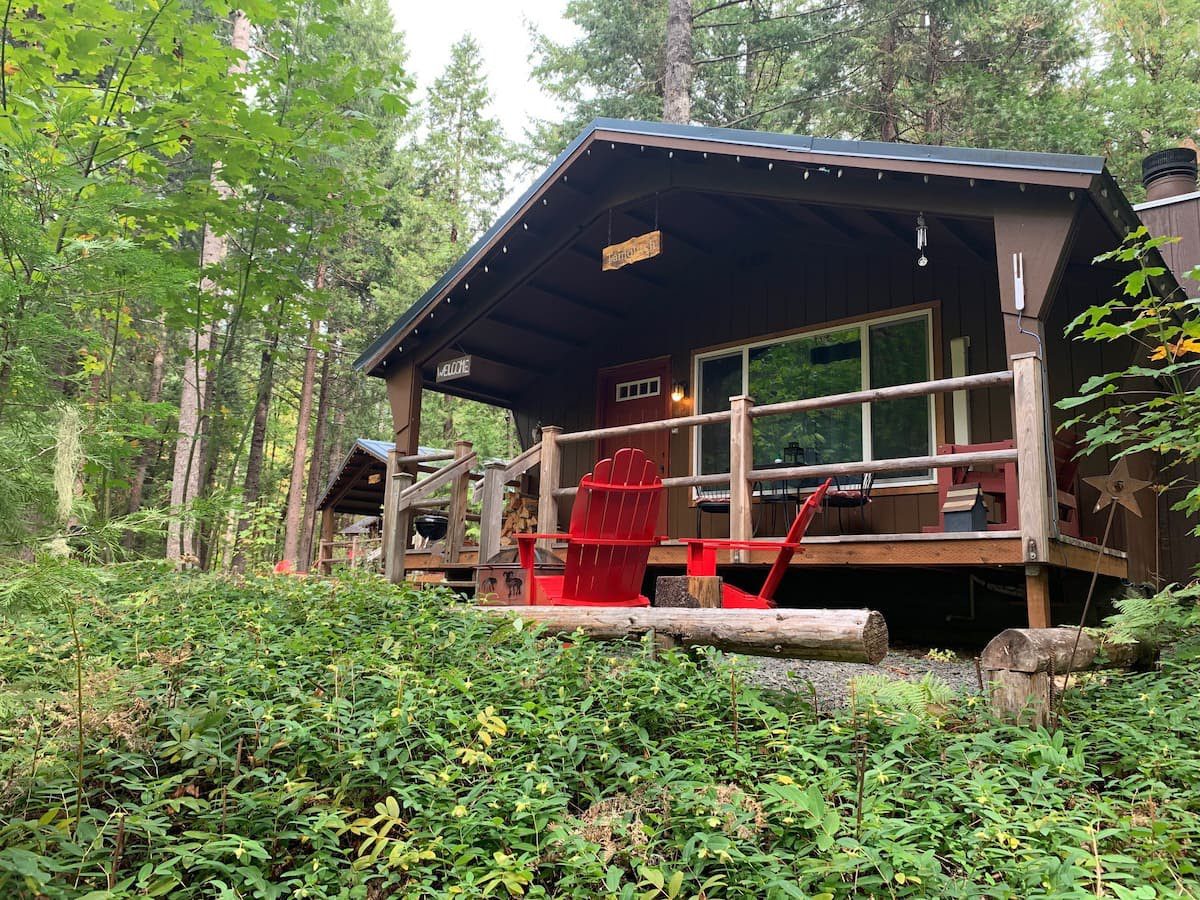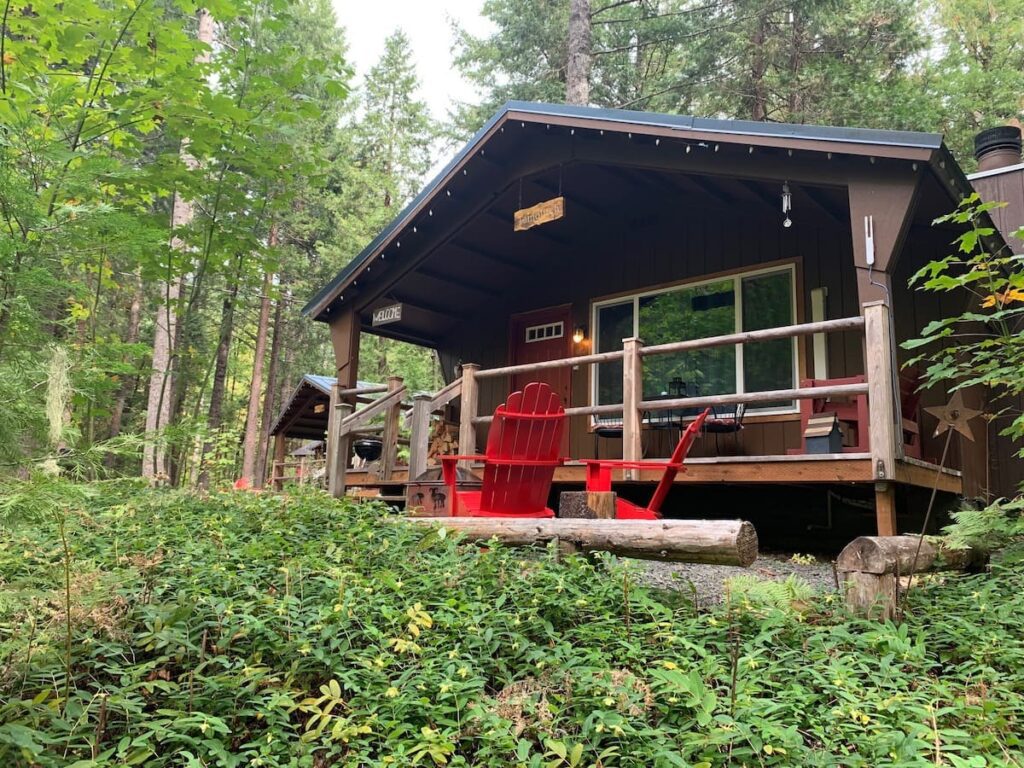 Location: McKenzie River
Bedrooms: 1
Bathrooms: 1
Sleeps: 2
If you're on the lookout for a cool Airbnb in Oregon for outdoor adventurers, Tamolitch Cabin is it. It's very popular among those looking to enjoy rafting on the McKenzie River as well as hiking or biking the McKenzie River Trail.
I didn't realize it until halfway through the research for this piece, but we actually stayed here (at their adjacent campground) over the summer, and loved the location for exploring all the great activities in the area, like the scenic drive over the McKenzie River Scenic Byway, the short hike to Proxy Falls, and the hike to the stunning Blue Pools.
This area would make a perfect weekend getaway from Portland for outdoor lovers, or if you are just looking for a break for the sights and sounds of the city.
The hosts are one of just a few outfitters in the area that provide licensed, guided rafting trips along with permitted bike shuttles and mountain bike rentals.
They've even provided a professionally built pump track on the property which sits on 10 forested acres bordering National Forest and Horse Creek. In fact, the water is so close you'll be able to hear its gently rushing sounds. After dark, gather around a fire as several fire pits, camp chairs and firewood are all included too.
The cabin itself sleeps up to three guests in one bedroom and has a kitchen with all the essentials, including cooking oil, salt and pepper, plus a charcoal grill on the porch.
They have a couple of other cabins on the property that are similar – the Sahalie Cabin (2 bedrooms), the Koosah Cabin (1 bedroom), and the Delta House with a whopping 4 bedrooms that sleeps 12, and would be a perfect family reunion or bachelor party destination.
Dome Sweet Dome … A Must Experience – Bend
Location: Bend
Bedrooms: 2
Bathrooms: 1
Sleeps: 4
A unique geodesic dome house, 'Dome Sweet Dome' is located in Bend, an outdoor adventurer's paradise, providing the ideal respite after a day of play and exploring. Bend was one of our favorite spots on our summer Oregon road trip, and this place puts you in the perfect spot for exploring some of the best hikes in Bend.
It sits on a large, wooded private lot near Phil's Trail for hiking and biking, while the Deschutes River Trail is only a 5-minute walk away. You'll have lots of privacy with only treetops viewed out the windows, yet downtown with its brew pubs, restaurants, and shops can easily be reached with a quick bike ride.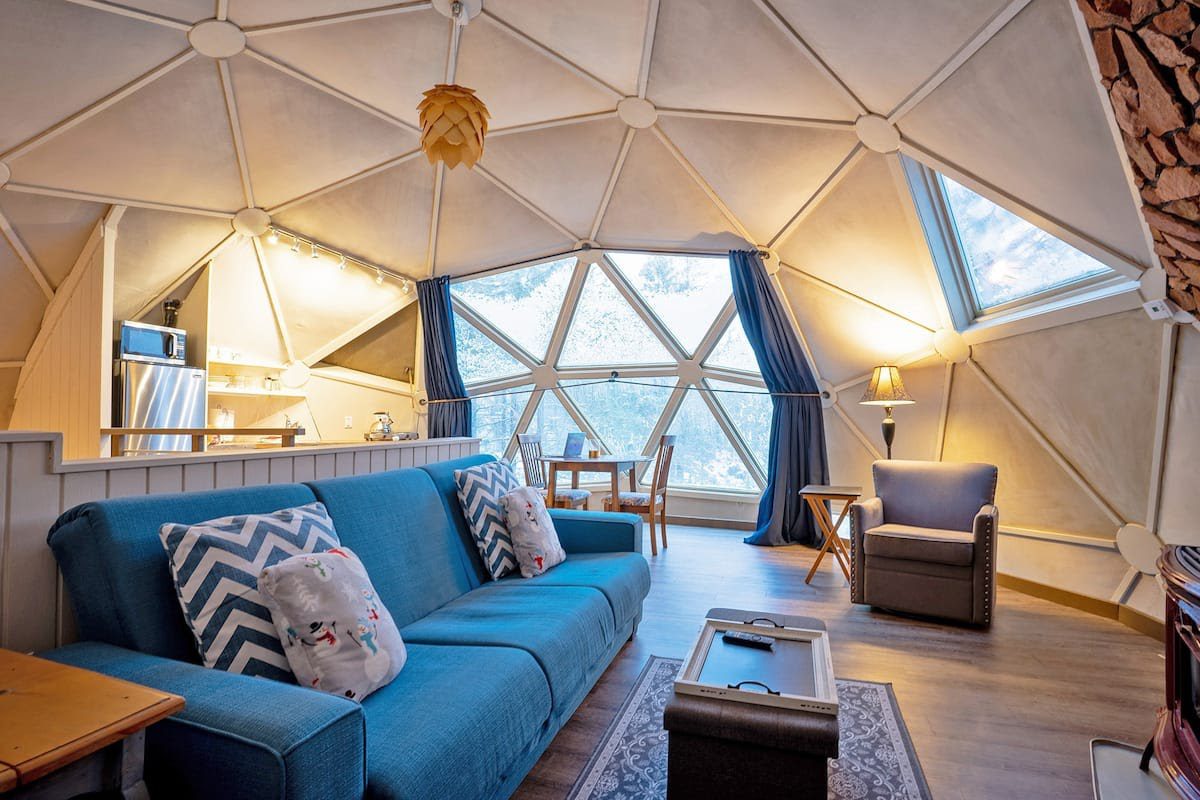 It includes two bedrooms, accommodating up to four guests, with a wrap-around porch for relaxing in the fresh mountain air. Inside, is a stylish living room to unwind in with a Smart TV and gas fireplace, while the kitchenette has a two-burner cooktop, microwave, and fridge. A BBQ grill is included for cookouts too.
What makes the dome more unique than most is that the second floor "floats," without touching any walls.
Best Airbnb in Oregon: Escape the City on the Oregon Coast
Looking for the best Airbnb on the Oregon Coast? We loooove the Oregon Coast (read our Oregon Coast road trip guide for a look at why). It's a great year-round destination in Oregon, and there are some fantastic places to stay along the coast, from its rustic and secluded southern part, to the more developed northern coast. 
Here are some great options for a tranquil coastal getaway.
Renovated A-Frame Just Steps from the Beach – Rockaway Beach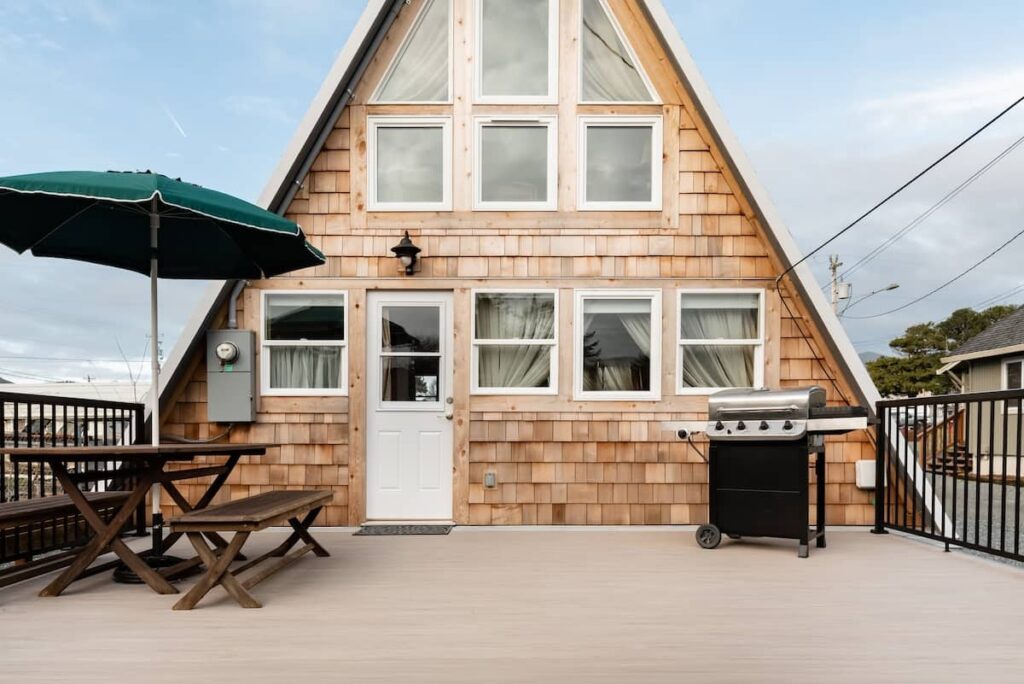 Location: Rockaway Beach (Oregon Coast)
Bedrooms: 2
Bathrooms: 1
Sleeps: 6
Notable Features: Fire pit, lofted bedroom, steps away from the beach
The Rockaway Beach A-Frame offers a modern retreat just steps away from the sand. It lies just north of Tillamook Bay along a stretch of Oregon coast with seven miles of beach and an ocean horizon interrupted by the huge Twin Rocks, a "two-humped monster" with a large hole in it.
The tiny town, a former frontier community, is home to Victorian architecture and homes from other eras that are often draped in old Japanese glass floats, along with a couple of bars and eateries serving seaside classics like fried fish and chowder.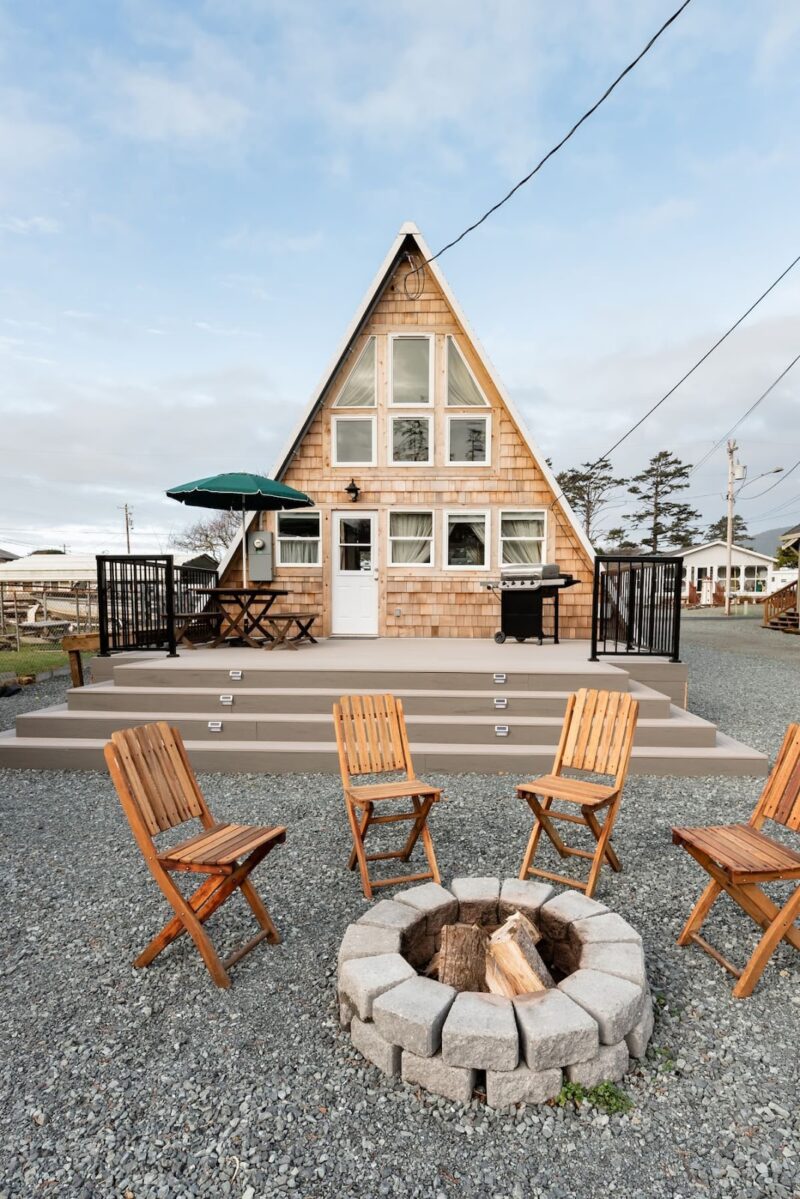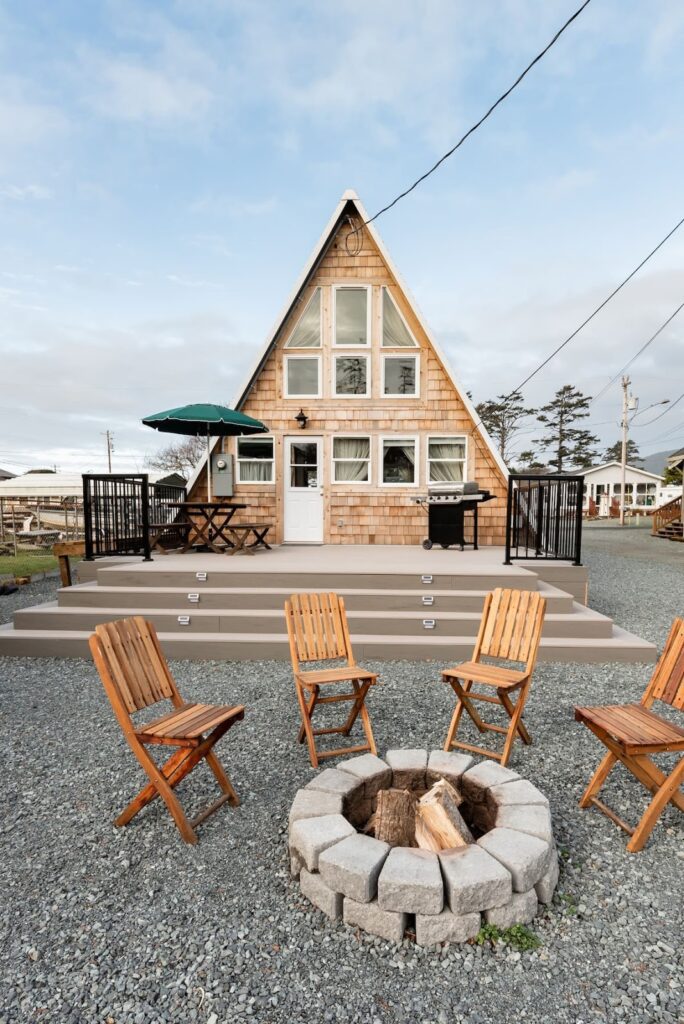 When not out and about or enjoying the feel of sand between your toes, you can curl up next to floor-to-ceiling windows, enjoying the views from inside.
A fully equipped kitchen, washer/dryer, and Smart TV with Netflix are all included too. But instead of staring at the screen, you might want to enjoy chats and roasting marshmallows at the outdoor fire pit.
Heartland Treehouse – Langlois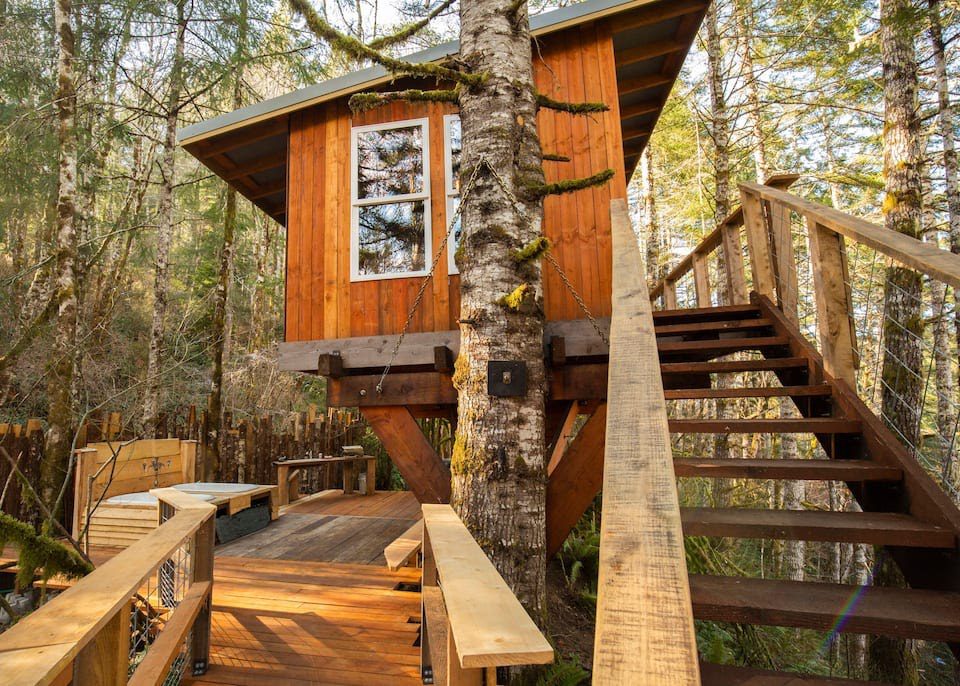 Location: Langlos (Oregon Coast)
Bedrooms: 1
Bathrooms: 1
Sleeps: 2
Notable Features: Outdoor bathtubs, no wifi or cell service
The Heartland Treehouse is located in the tiny unincorporated community of Langlois between Bandon and Port Orford along the southern Oregon coast. It makes a great base for kiteboarding and windsurfing on Floras Lake as well as hiking and visiting the lighthouse in Cape Blanco State Park.
The treehouse offers tranquility and seclusion, perched between two towering fir trees that overlook a river canyon with a cascading waterfall nearby providing a peaceful lullaby to fall asleep to.
There's an outdoor shower and double outdoor soaking tubs for forest bathing that guests have noted "rejuvenate the soul," along with saunas and a compost toilet at the bottom level. It includes a kitchen with all you need for making your own meals, although there is no Wi-Fi or cell service – the ideal opportunity to disconnect with the "real world," relax, and reconnect with nature and your travel partner instead.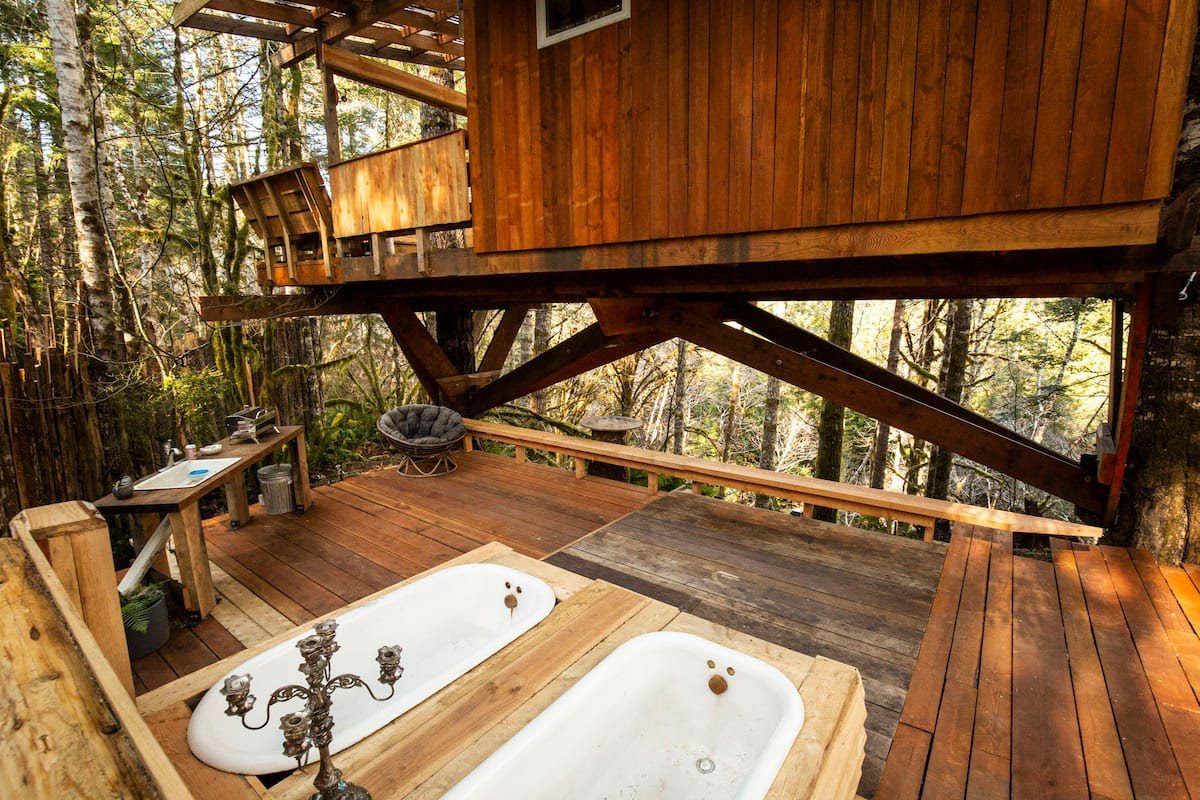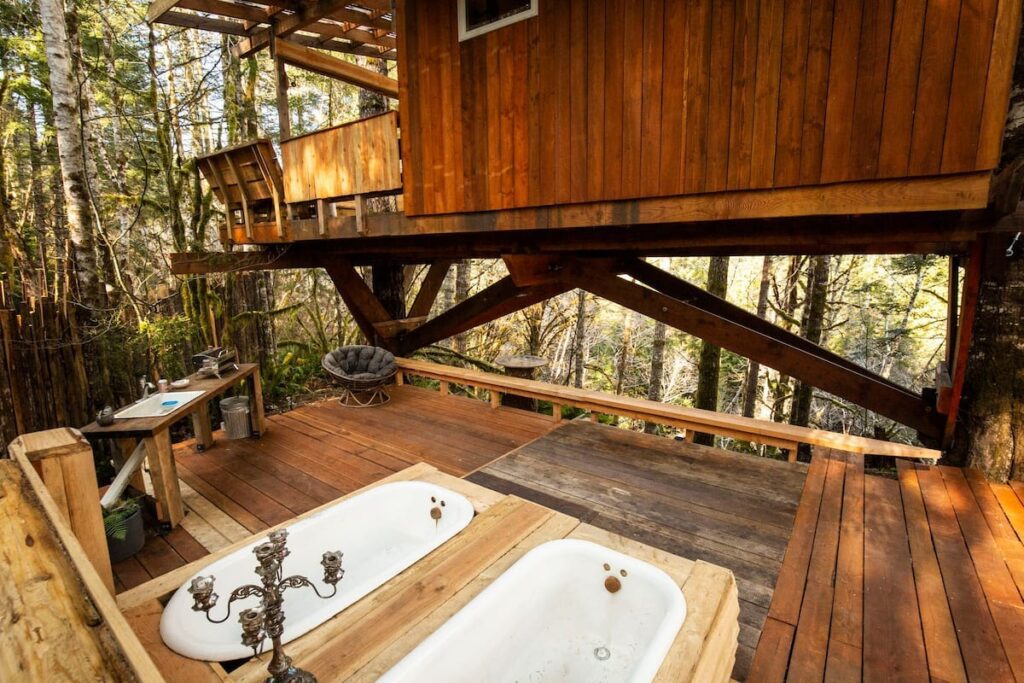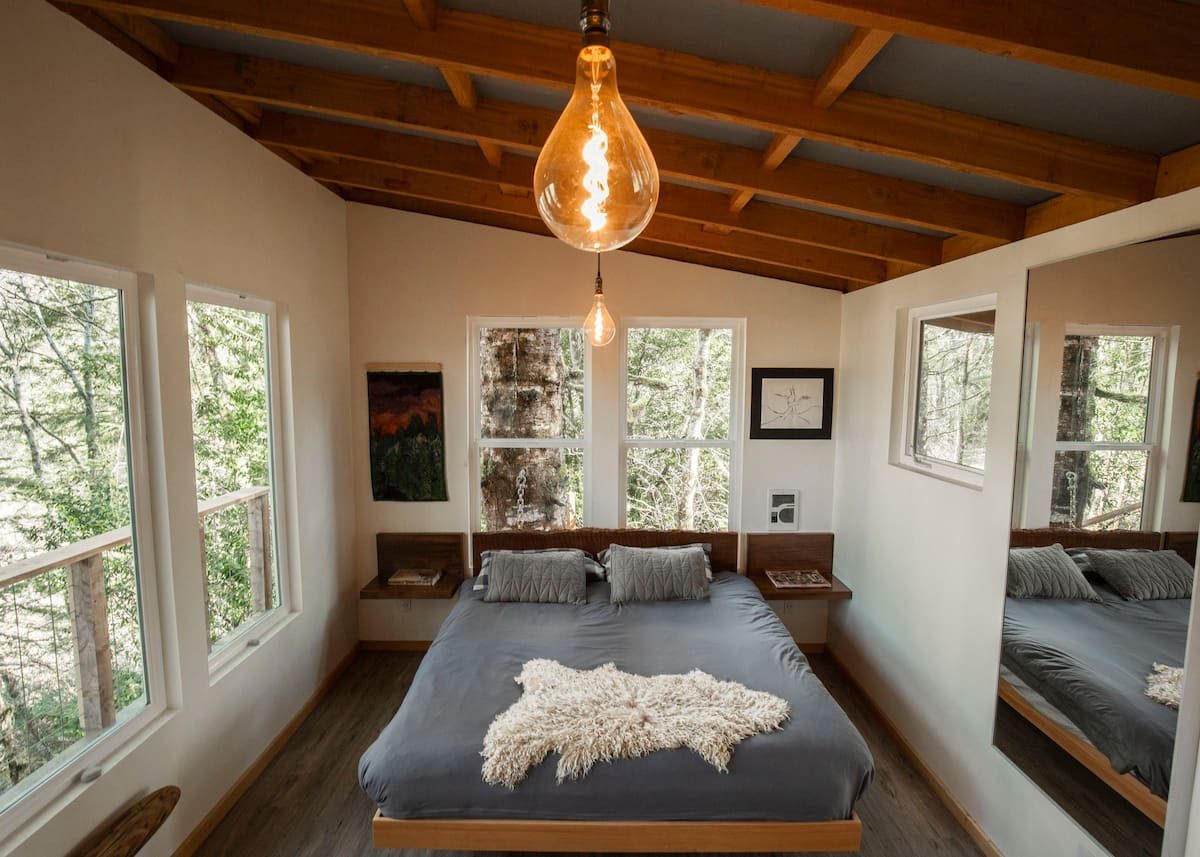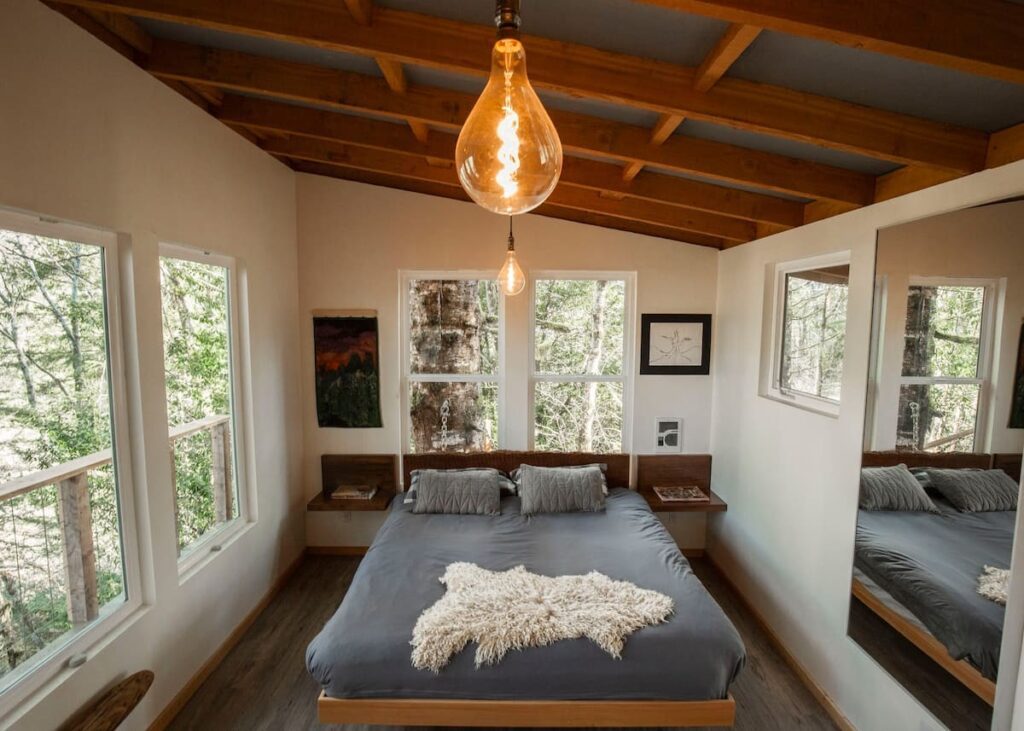 Oceanside A-Frame Unit A – Oceanside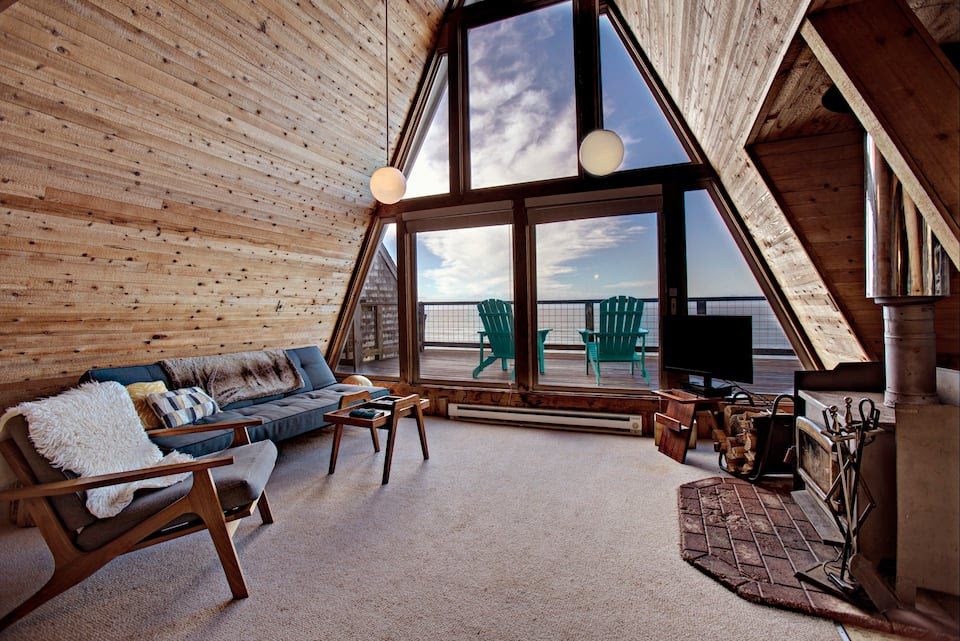 Location: Oceanside (Oregon Coast)
Bedrooms: 2
Bathrooms: 1
Sleeps: 4
Notable Features: Private deck, full kitchen, wood burning stove
This mid-century A-frame cabin is perched on a hillside providing panoramic ocean views that stretch all the way from Cape Meares to Cape Lookout.
When it comes to views as you'll be able to gaze out at the Pacific from nearly every vantage point, whether you're relaxing on the large private deck, sleeping in the upper loft bedroom or just about anywhere else in the unit.
The beach that seems to go on forever is so close you'll be able to hear the waves, while the small community of Oceanside is just a short walk away.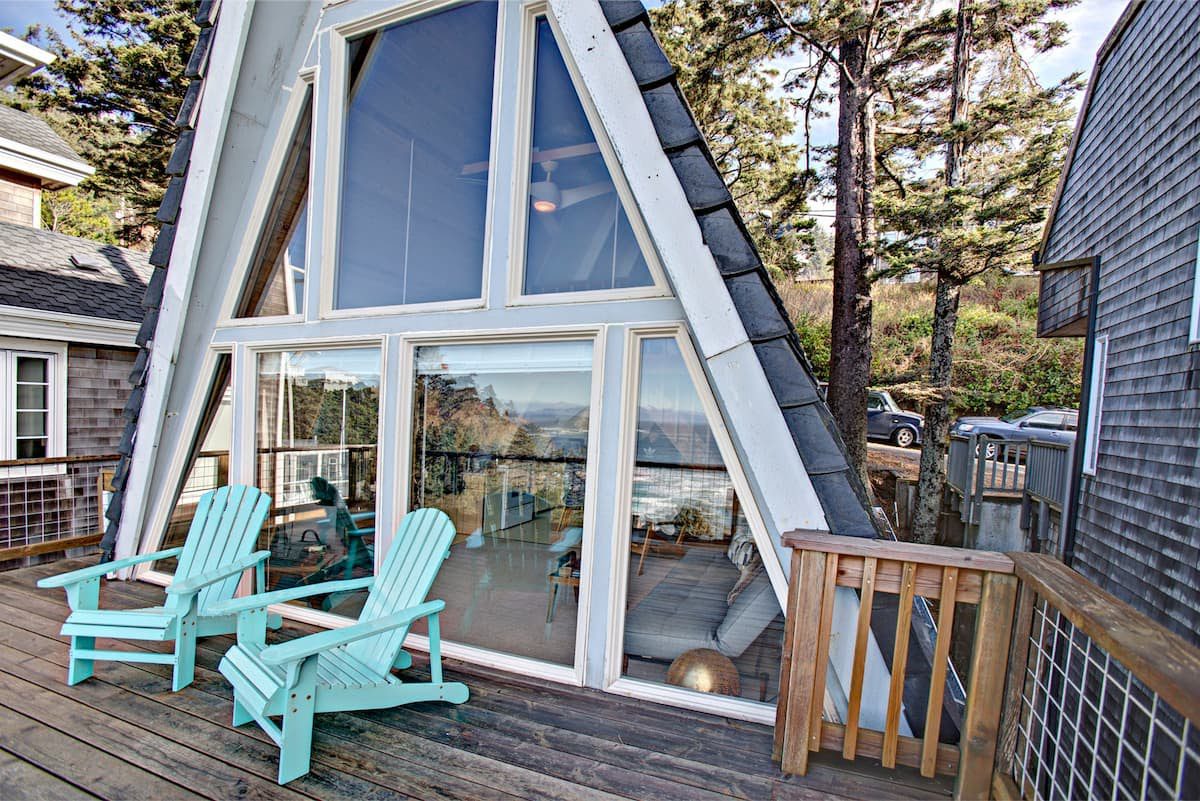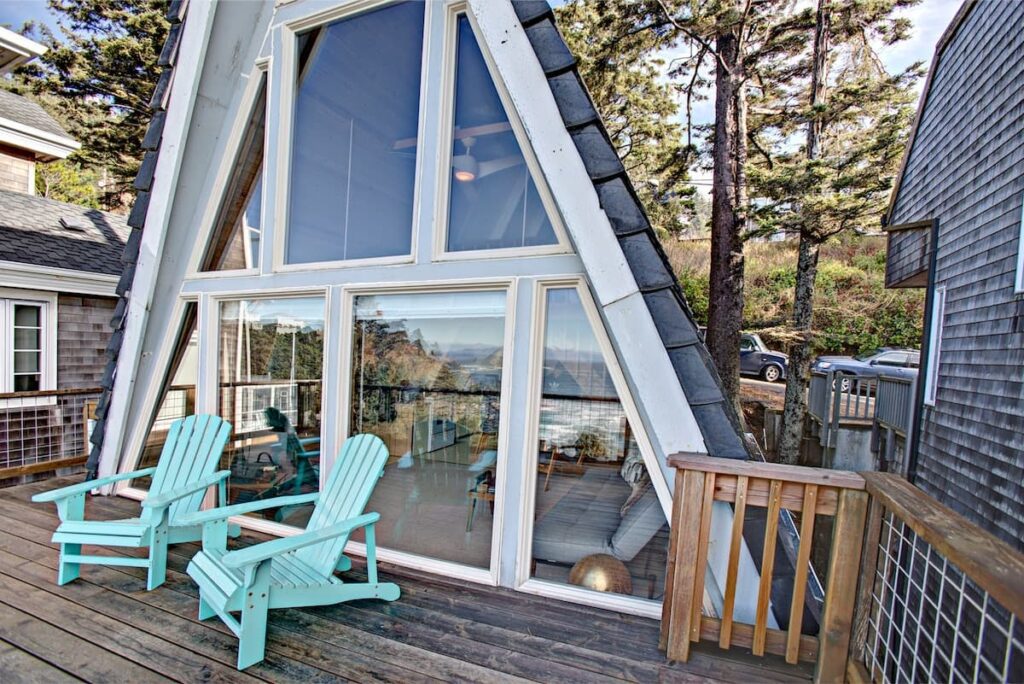 The space has a quirky summer beach cabin/surf shack feel combined with high-end amenities like fluffy robes. The balcony is perfect for sipping your morning coffee (coffee included) and stargazing after dark. If it gets chilly out, there are multiple heat sources, including a wood-burning stove and two heaters.
Arch Cape Loft: King Studio, Steps from Beach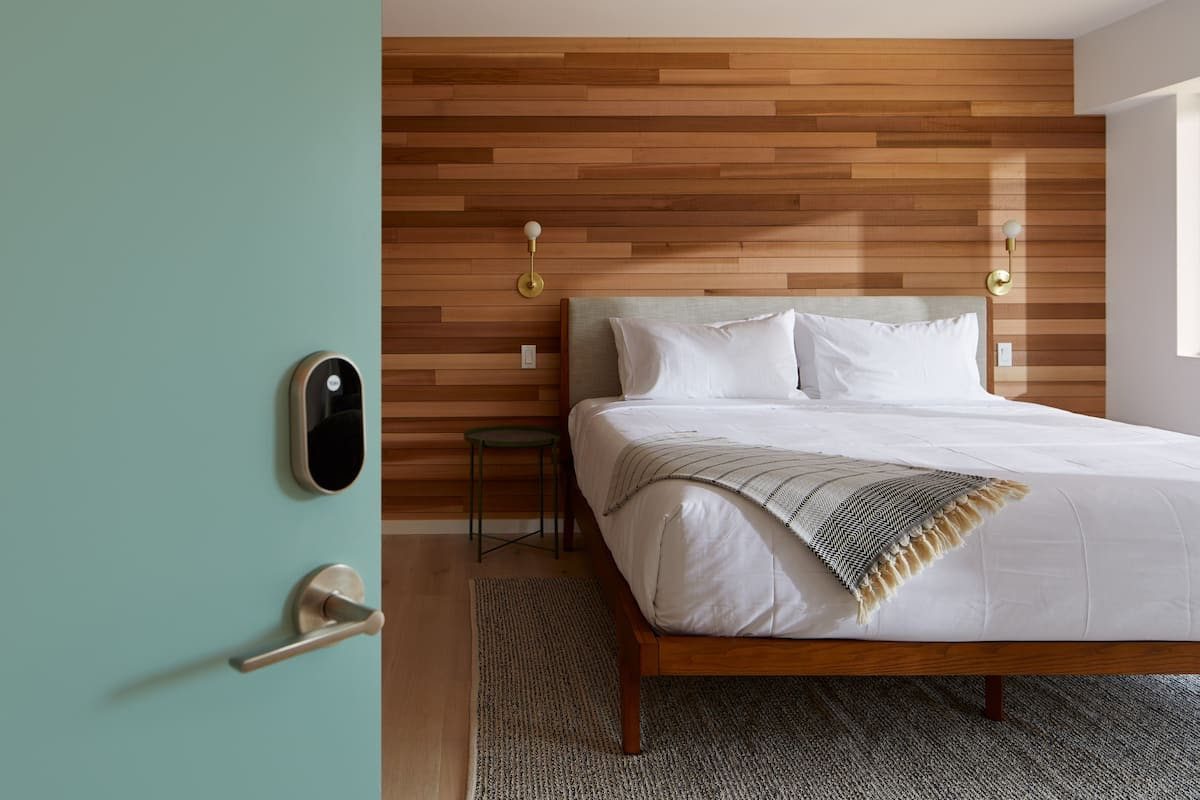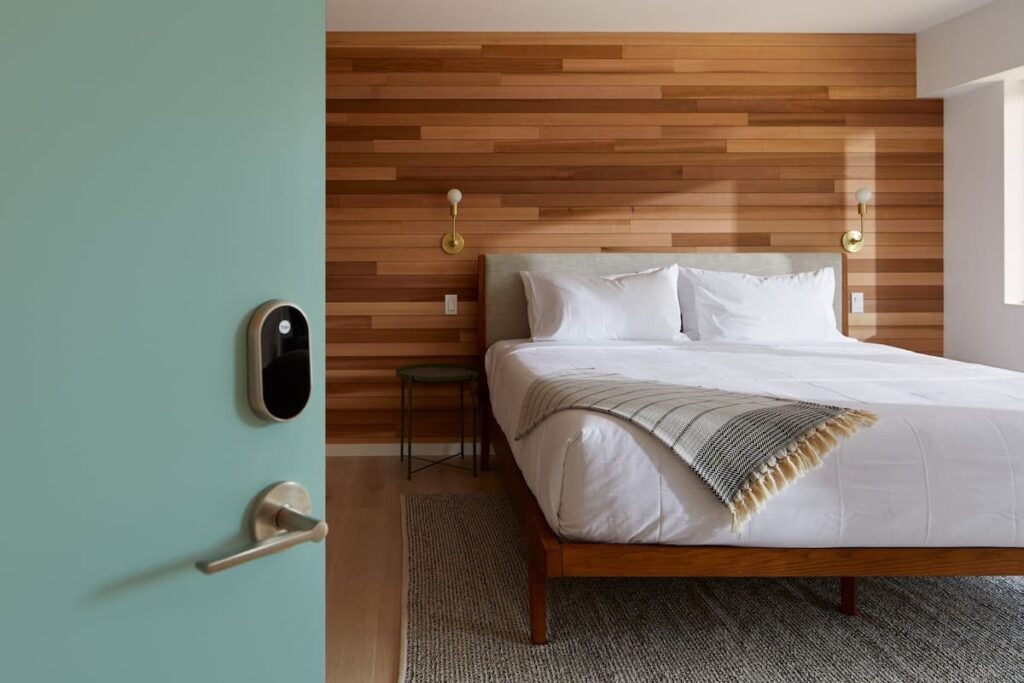 Location: Arch Cape (Oregon Coast)
Bedrooms: 1
Bathrooms: 1
Sleeps: 2
As the name implies, this beautiful loft studio is located in Arch Cape between Cannon Beach and Manzanita on the northern Oregon coast. From here, you'll be just a block from the sand, close to many scenic lookouts and hiking trails in Oswald West State Park and Hug Point State Recreation Site which hosts caves and waterfalls.
Ideal for a solo traveler or couple, it sleeps up to two and is a favorite among creatives who want to enjoy quiet contemplation, gain inspiration for expressing themselves artistically or to simply recharge and revitalize while enjoying ocean views.
Set on the third floor, the balcony is ideal for watching the waves among the fresh salty sea air.
It includes a well-equipped kitchenette, gas stove and a king-size bed with a Tempur-Pedic cloud luxe mattress. Head to the shared lower deck to cook out on the BBQ grill or play a game of shuffleboard.
Storybook Beach Cottage Twin Rocks – Rockaway Beach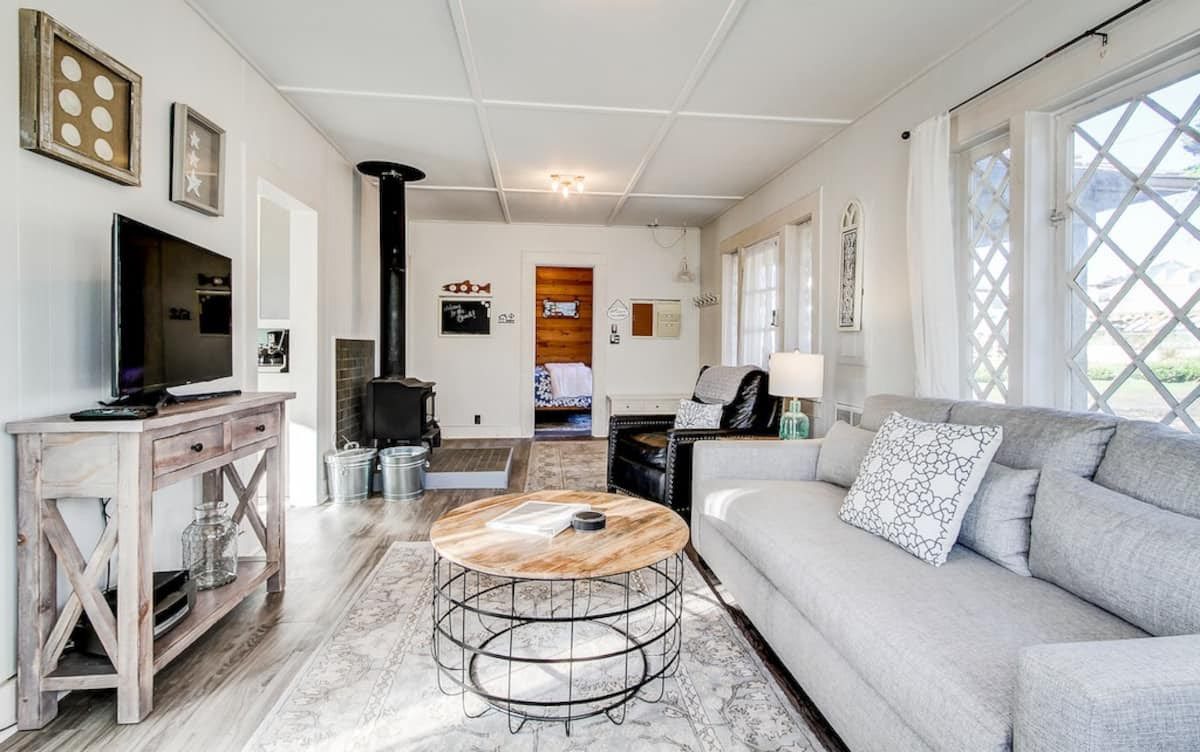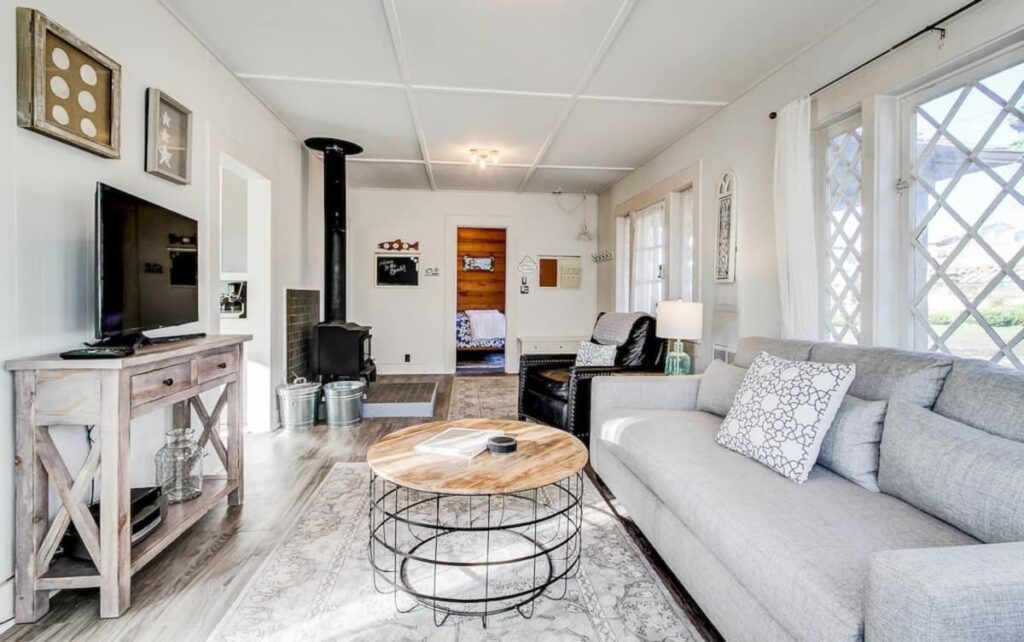 Location: Rockaway Beach (Oregon Coast)
Bedrooms: 3
Bathrooms: 1
Sleeps: 7
The aptly named Storybook Beach Cottage is just two houses down from Twin Rocks Beach, home to one of the most recognizable rock formations along the Oregon coast.
It's a much quieter stretch than the main beach in downtown Rockaway, providing the perfect spot for a tranquil getaway – and, you won't even have to leave your furry best friend at home.
The warm and cozy cottage sleeps up to seven in three bedrooms and is super pet-friendly – it even includes a dog bed, food and water dishes, and extra blankets and towels to keep your furry friend cozy and dry.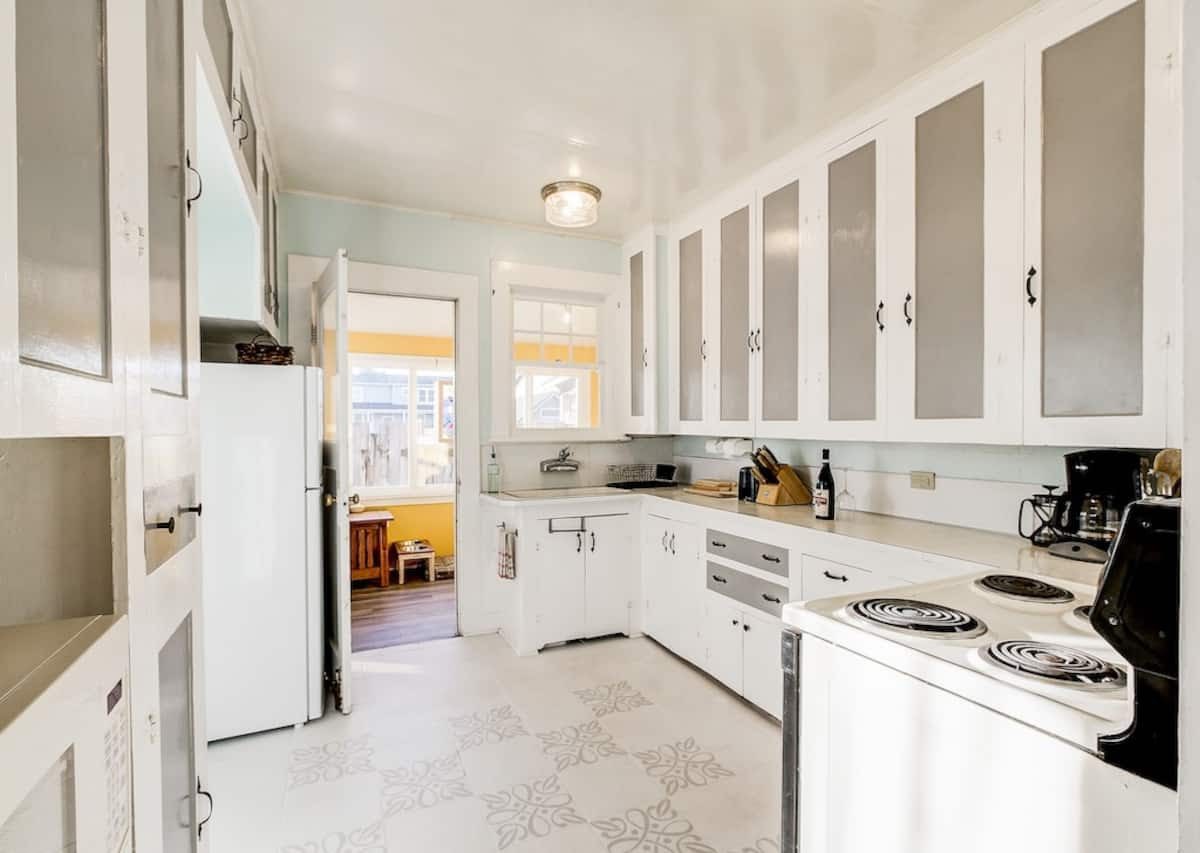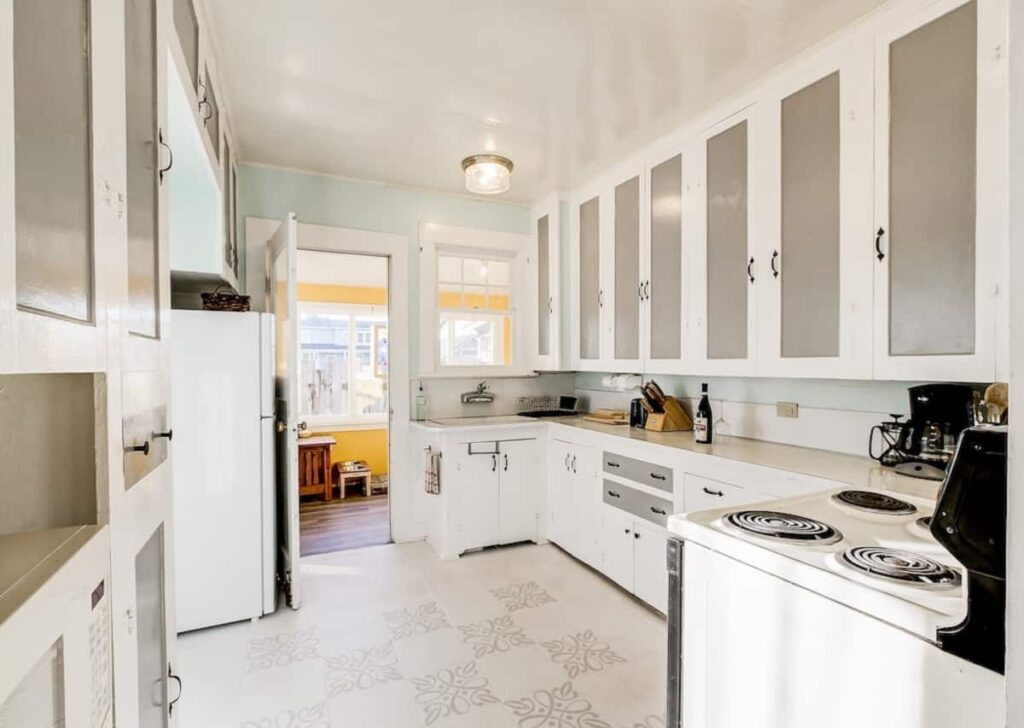 Your host hasn't missed anything, with all the essentials for cooking, and it even includes two refrigerators for those who plan to cook big meals for the holidays and other celebrations.
Pleasant surprises are around every corner, such as a welcome bottle of wine, a wood-burning stove with wood supplied, and a BBQ grill with charcoal included.
The Bluebird House – Gold Beach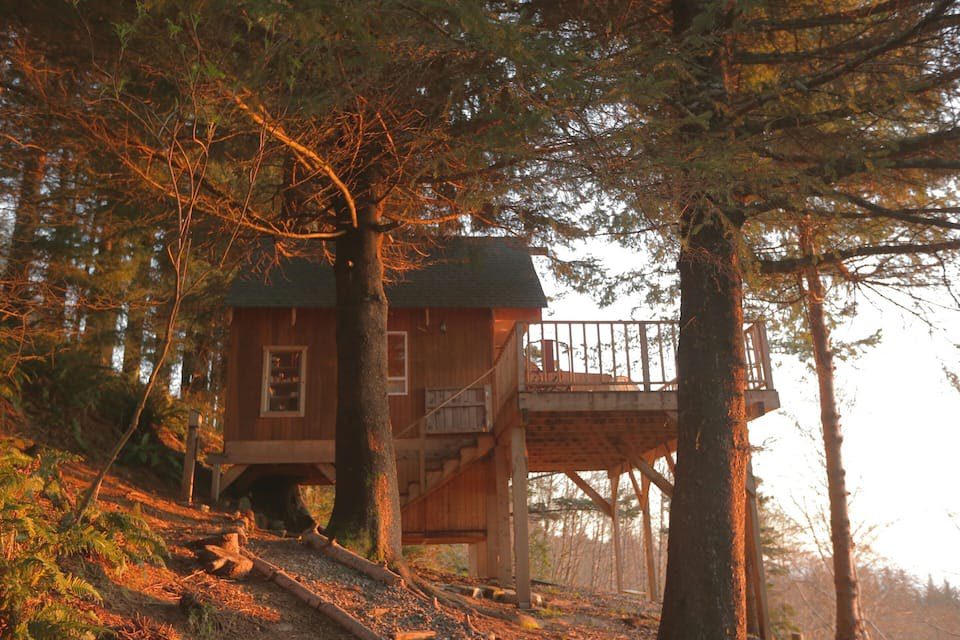 Location: Gold Beach (Oregon Coast)
Bedrooms: 1
Bathrooms: 1
Sleeps: 4
Tucked among the trees on a steep cliff overlooking the Pacific along the southern coast, the treehouse-style Bluebird House is definitely on our radar for the best treehouses in Oregon, particularly among romance-seeking couples and adventure-loving families, complete with activities for the kids like a sand area with a "kitchen."
It sits on seven private acres with forest, farmland, beach and year-round gardens transformed in winter by "local fairies and twinkling lights."
It's perfectly situated for enjoying the Oregon coast's famous storm watching during the chillier months of the year and watching for whales from late spring through mid-fall with binoculars provided on the deck.
A kitchenette and grill are included, but there is no TV or Wi-Fi. Instead, enjoy the nature that surrounds you, disconnecting from all those electronic gadgets.
Samuel Boardman Scenic Corridor and deserted stretches of sand sit just below, and you may even be able to take a walk along the quiet beach.
Bayview Cottage, Charming Waterfront Cottage with a View – North Bend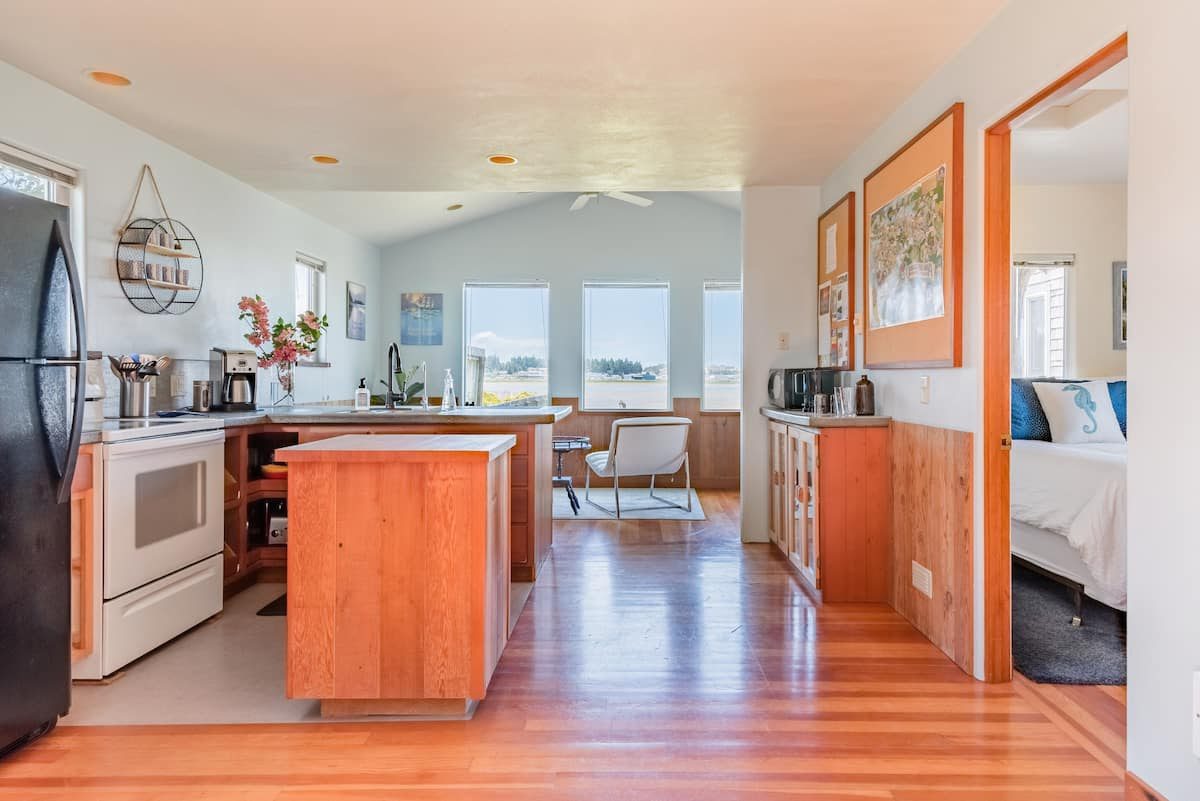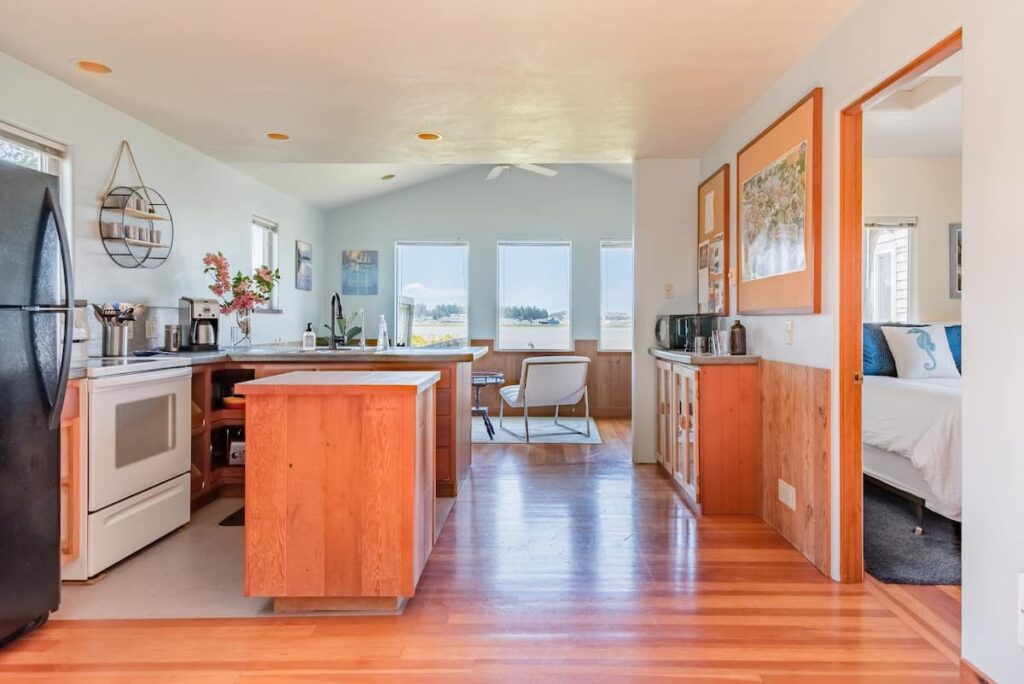 Location: North Bend
Bedrooms: 2
Bathrooms: 1
Sleeps: 4
This bayside cottage will put you just steps from nature in every direction. Enjoy everything from the Oregon dunes to gorgeous state parks, hiking trails, fishing, clamming, crabbing and more, yet it's conveniently close to everything in town.
Your thoughtful host will welcome you with a s'mores-making kit – guests rave about her "gift of making a house a home," while anticipating every need.
Enjoy your morning coffee while taking in the view from large picture windows – from here you can watch the tide roll in and the many birds like great blue herons, kingfishers and ducks searching for a feast, while deer often wander through the marsh.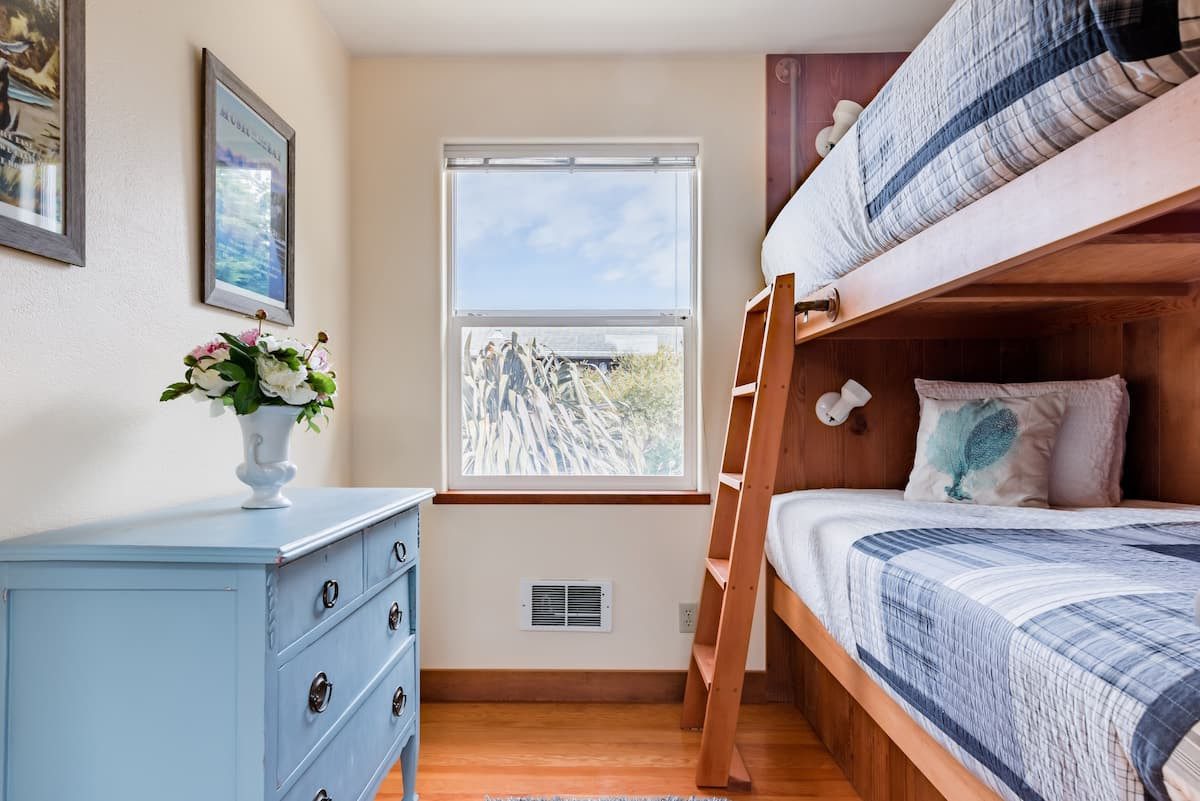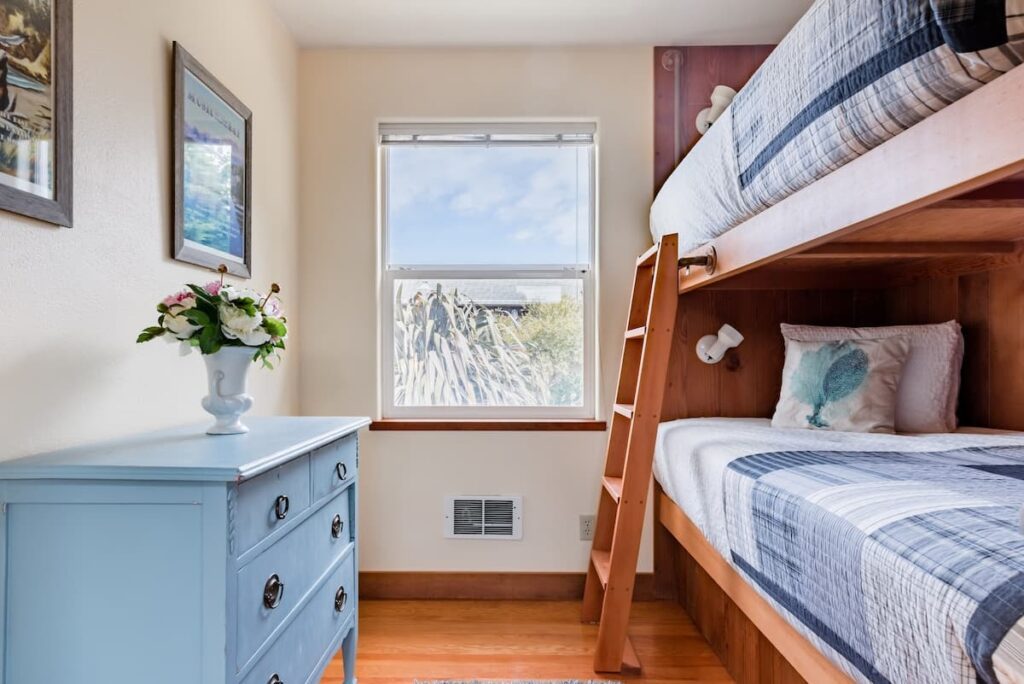 The cottage includes everything you need for a great stay, including a bright kitchen for preparing gourmet meals, cable TV, a washer/dryer, and entertainment for the kids like puzzles and books. There are games for enjoying game nights too.
Cool Airbnbs in Oregon's Charming Cities and Towns
Whether you're looking for a wine country getaway, or a perfect home base for spending a weekend in Portland eating and drinking your way through the city (that's us!), Oregon has plenty of options for you to choose from.
Former Railroad Building Turned Downtown Loft – Hood River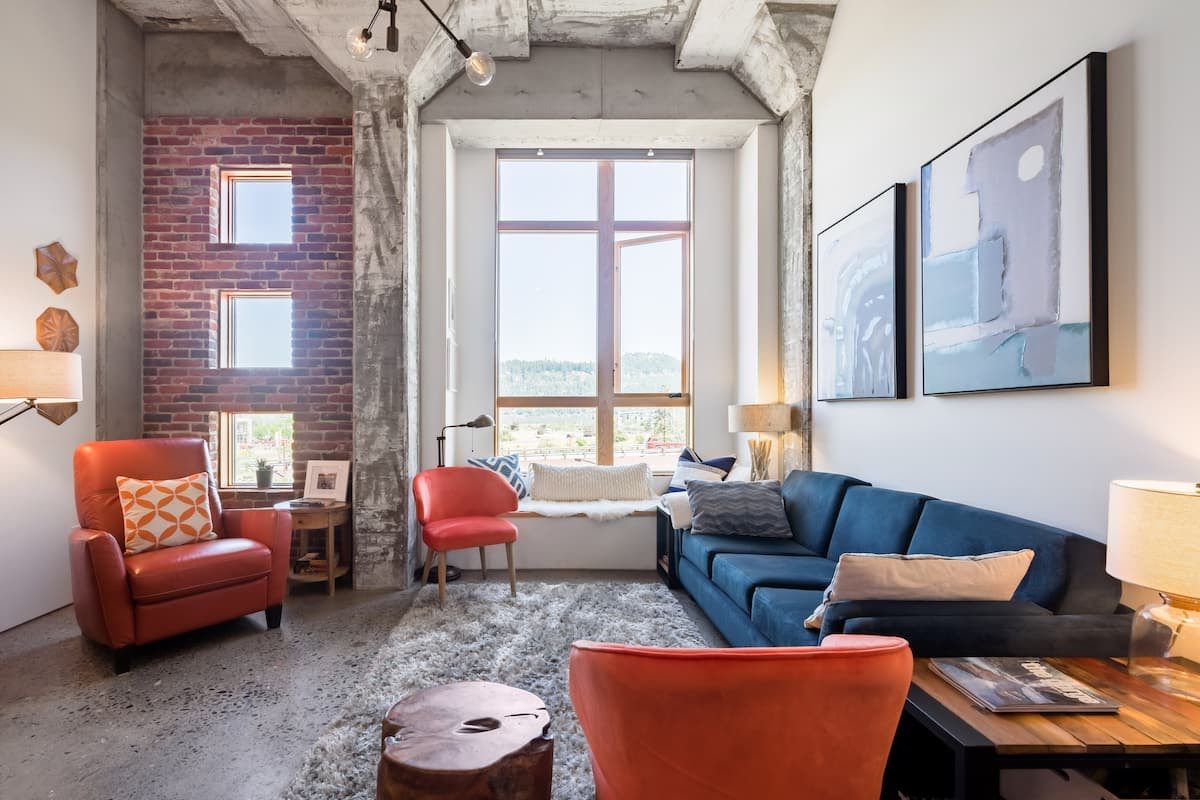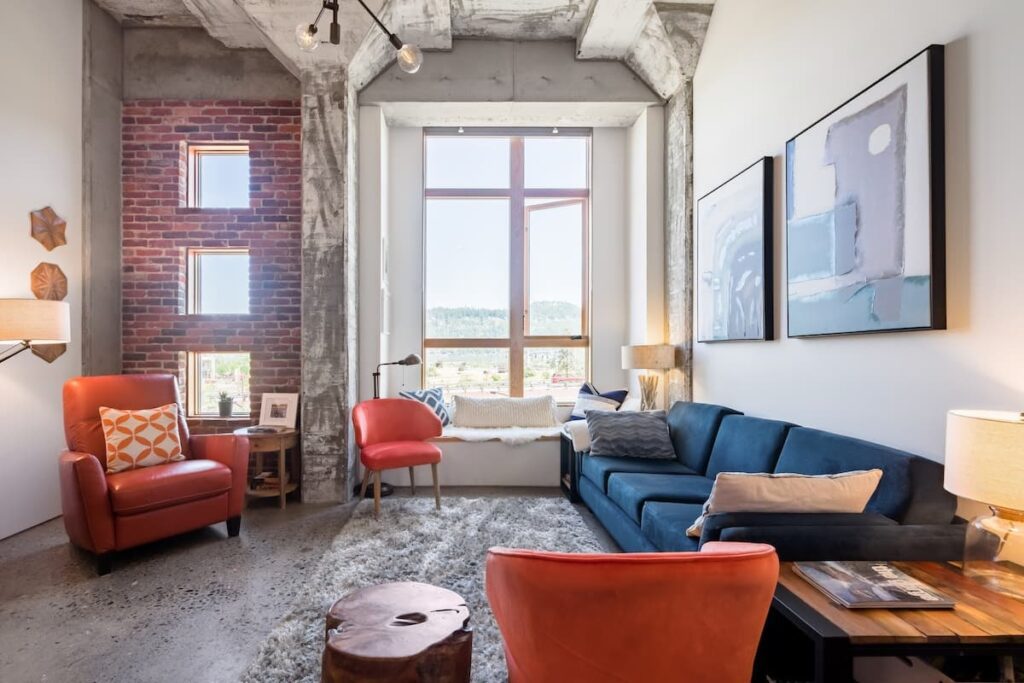 Location: Hood River
Bedrooms: 1
Bathrooms: 1
Sleeps: 2
Notable Features: River views from private patio, game room with ping pong table, washer/dryer, full kitchen
Located within walking distance to downtown Hood River, this two-bedroom condo is a great choice for those who like to windsurf or kiteboard, with the Columbia River just a short walk away. Or, if you just want to explore the charming town of Hood River. Join the many locals out on the water, or if you're brand-new to either sport, sign up for lessons with multiple outfitters in town.
There are miles and miles of scenic hiking trails, mesmerizing waterfalls, and wineries nearby, while your host happily provides insider tips for places to visit that most tourists miss.
With the loft being right in town, restaurants are within easy reach, although the space has a very well-equipped kitchen so you can easily pick up ingredients at a local market and put together your own meals.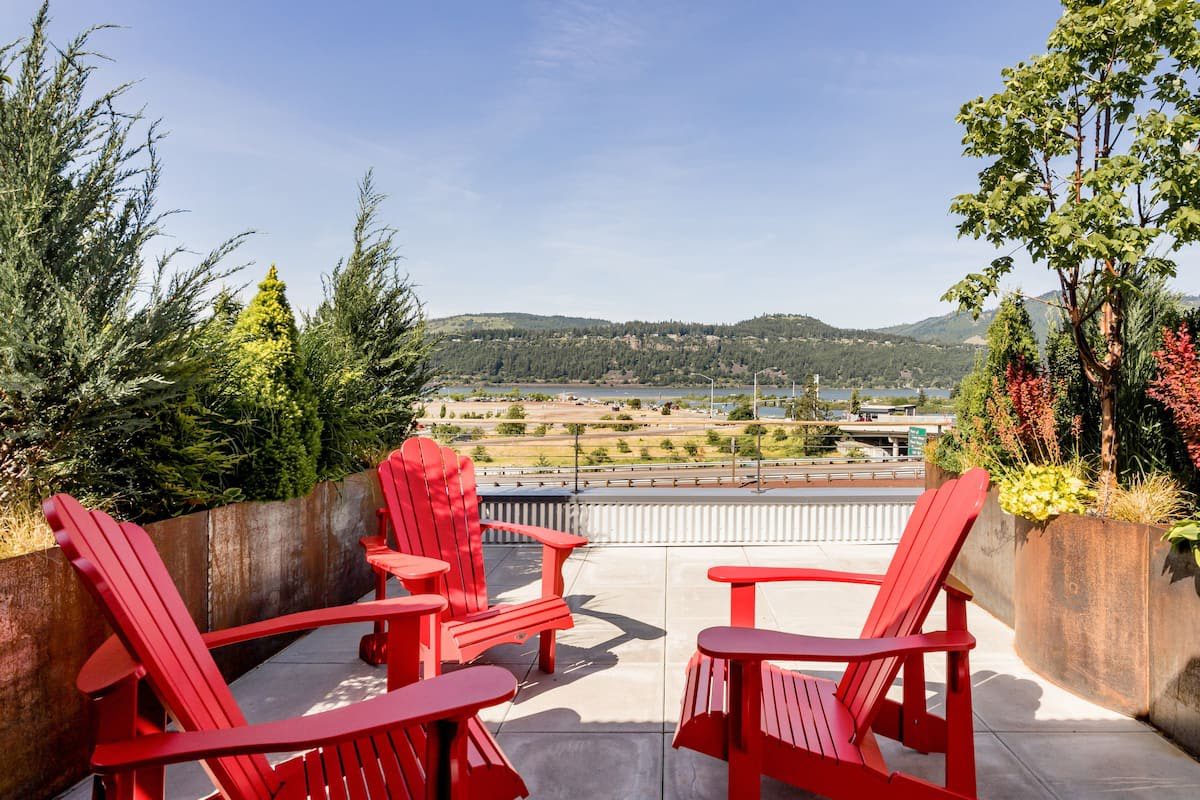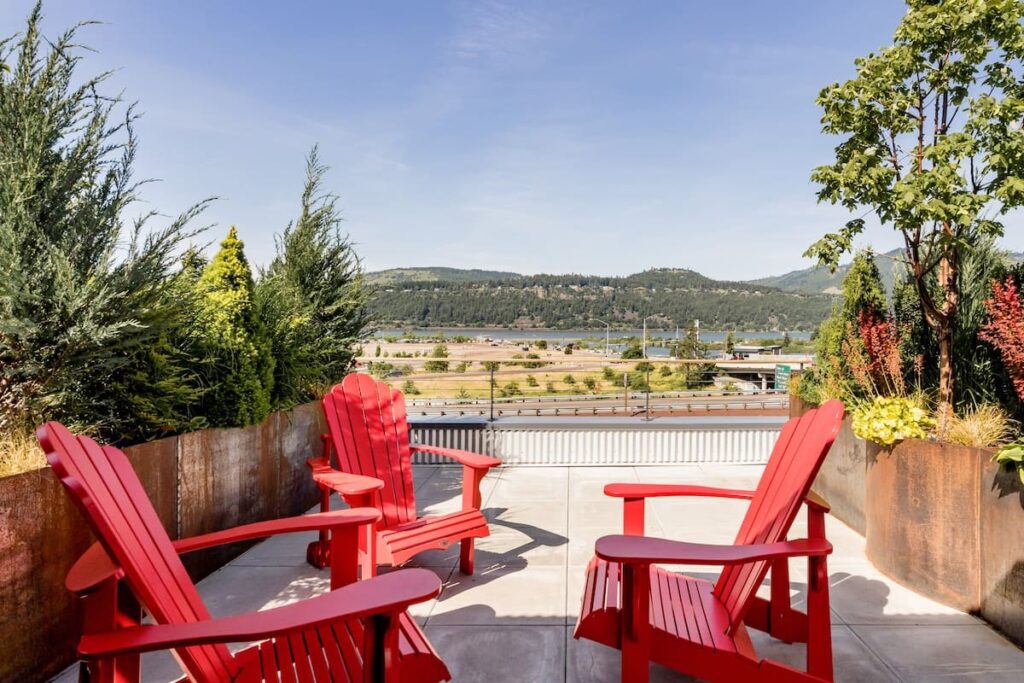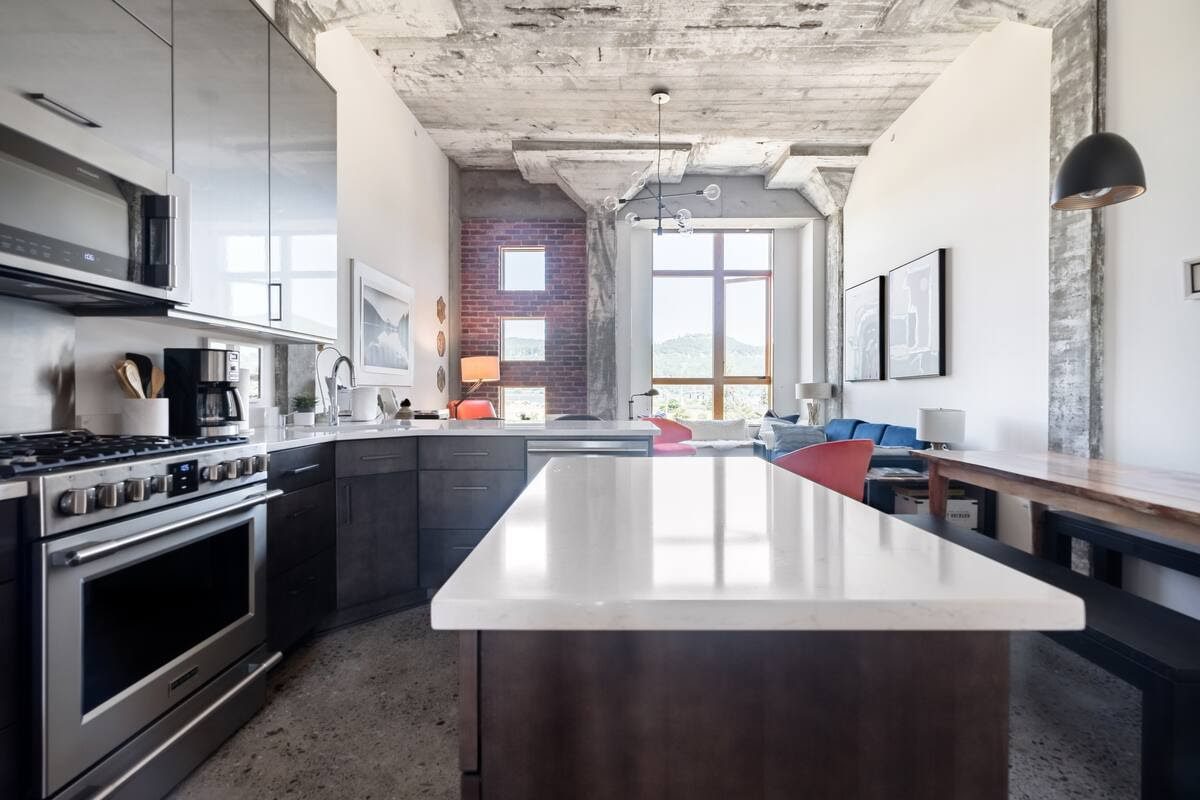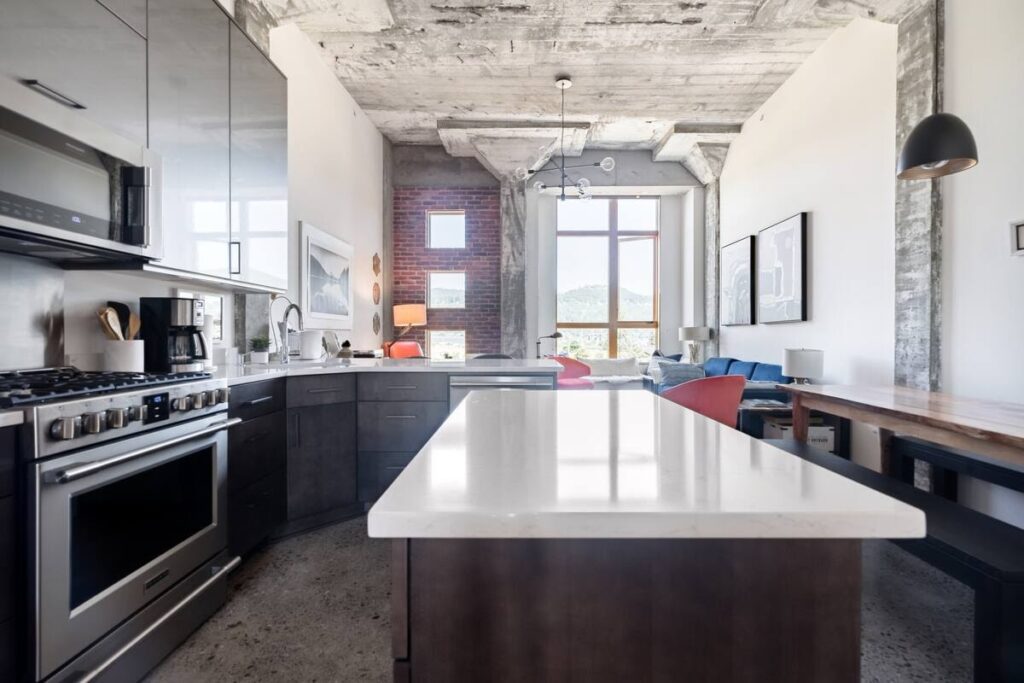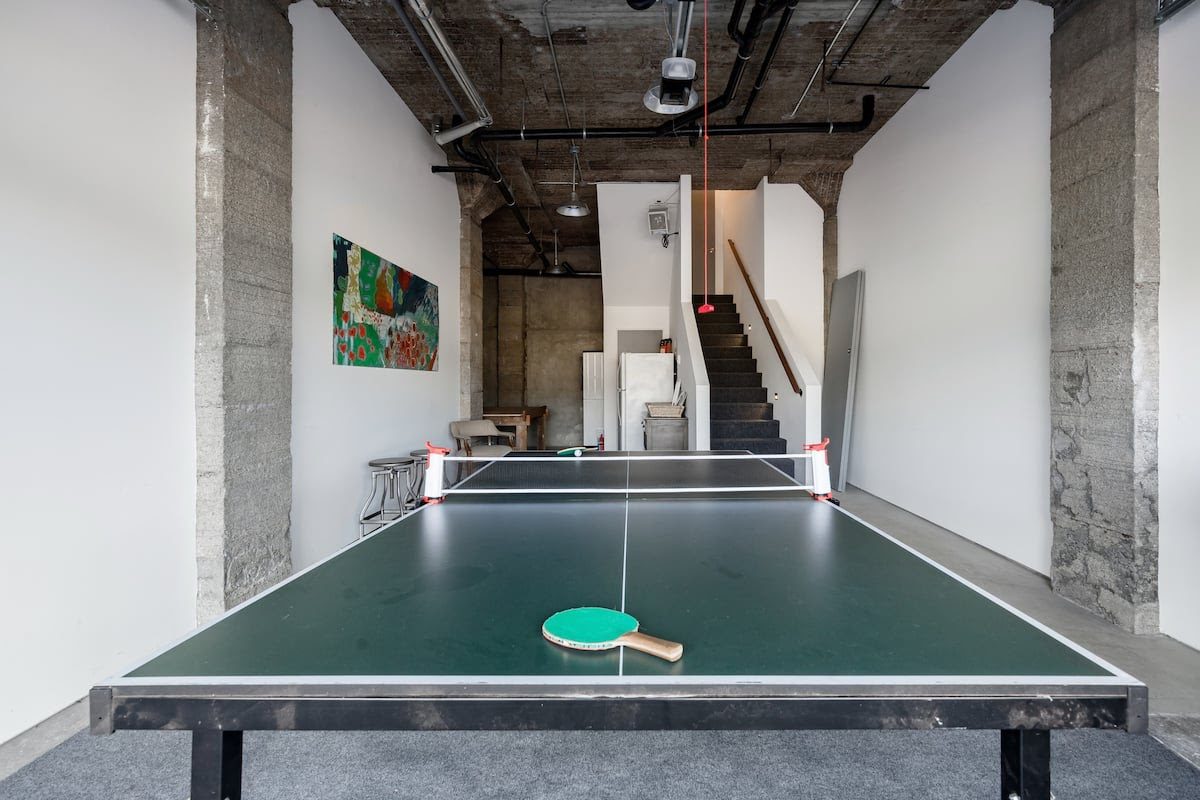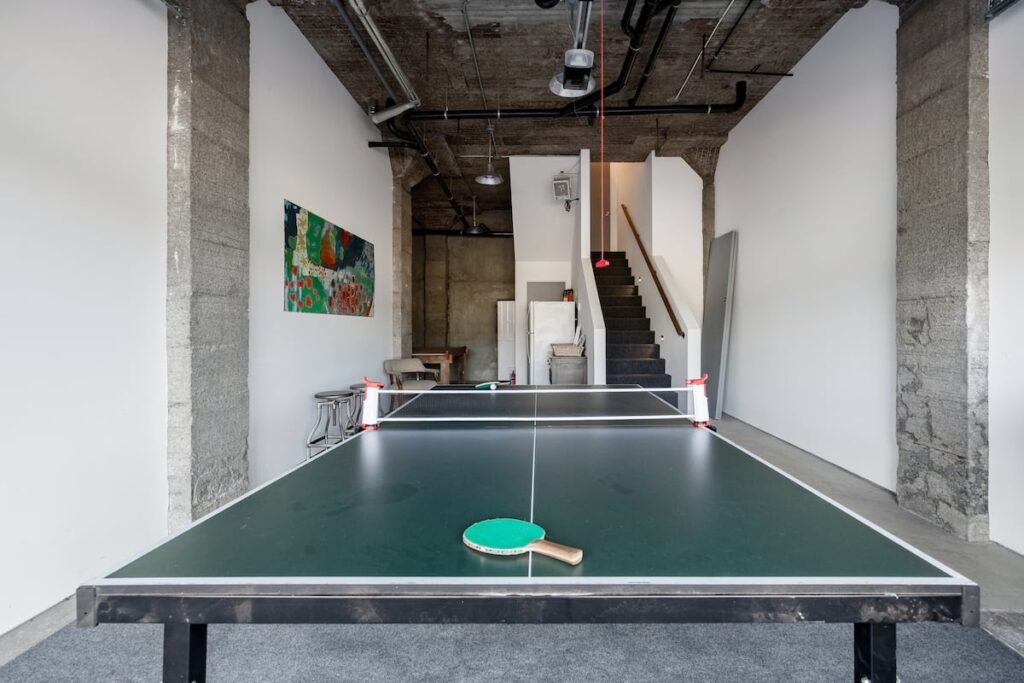 Keep in mind that as it sits within a former railroad building there is some train noise, but your thoughtful host provides earplugs, and soundproofing is excellent.
Luxurious Getaway (Views and Hot Tub) – Eugene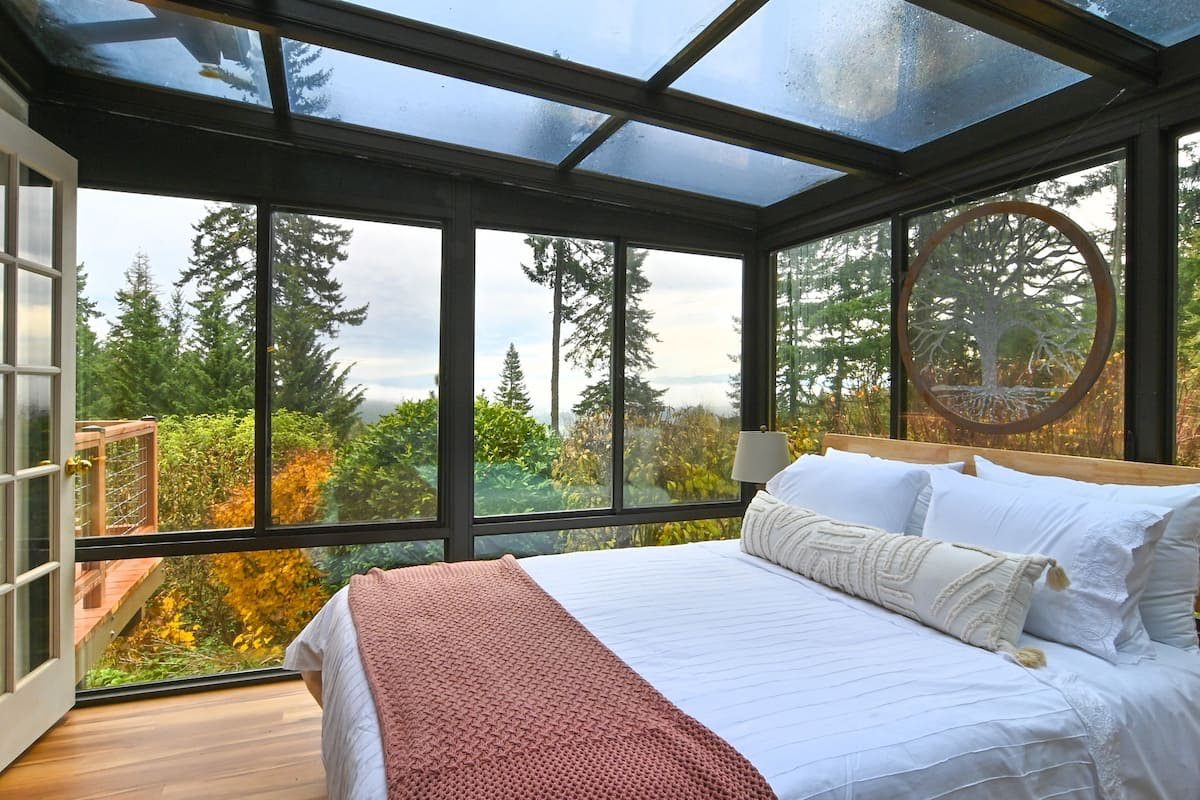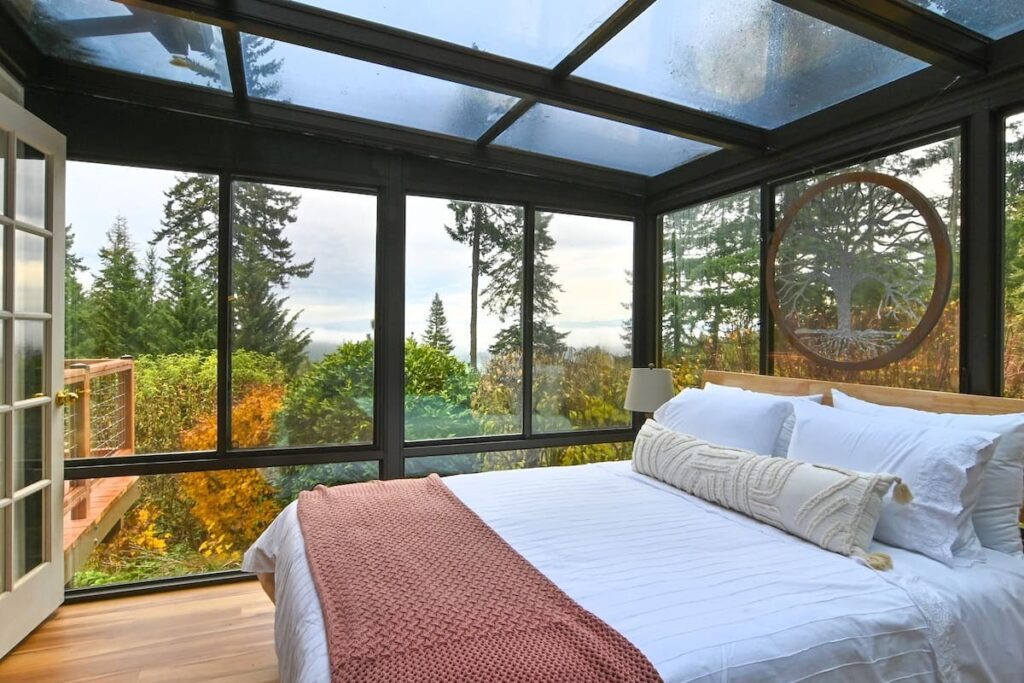 Location: Eugene
Bedrooms: 2
Bathrooms: 2
Sleeps: 7
Notable Features: Huge deck with views of the surrounding area, wake up to nature in the glass bedroom, hot tub
The perfect space to immerse yourself in nature while being less than 20 minutes from downtown Eugene, this luxurious two-bedroom home is a truly magical retreat.
Relax in the hot tub for an enchanting soak, enjoy views of the mountains, foothills, and the occasional deer that wander by.
You might sip wine next to the wood-burning stove, and after dark, head to the all-glass atrium bedroom with a comfy bed for gazing up at the stars until peacefully falling asleep.
For those who want to cook their own meals, you'll have a well-stocked kitchen that includes all the essentials for making your morning coffee, including creamer.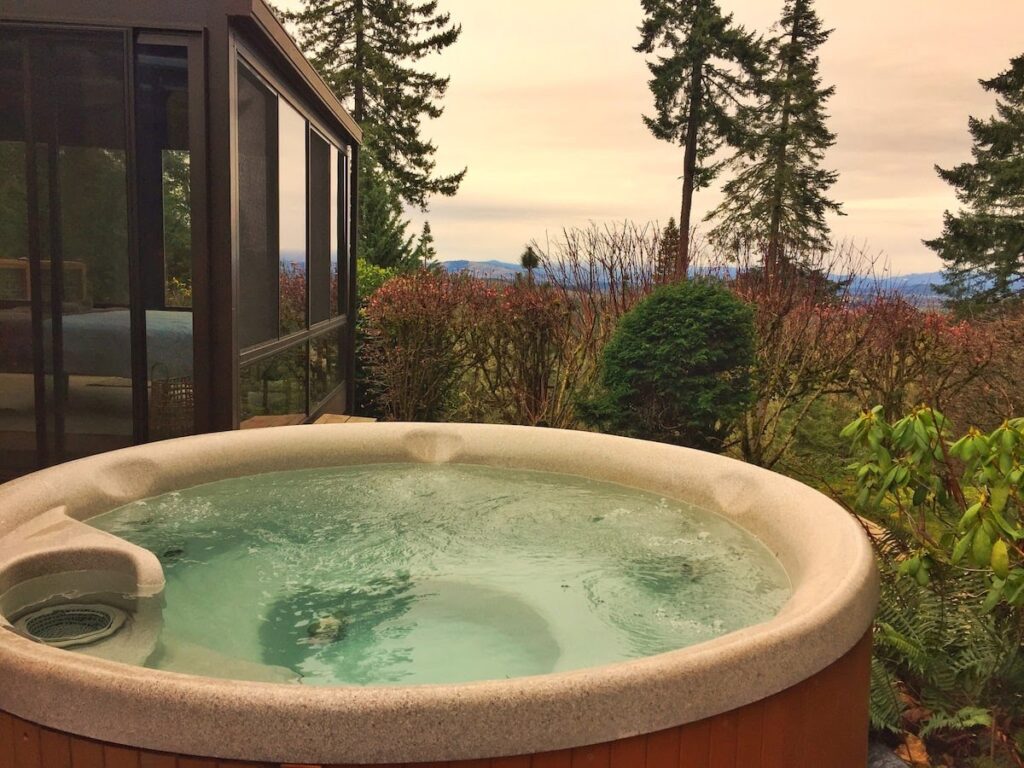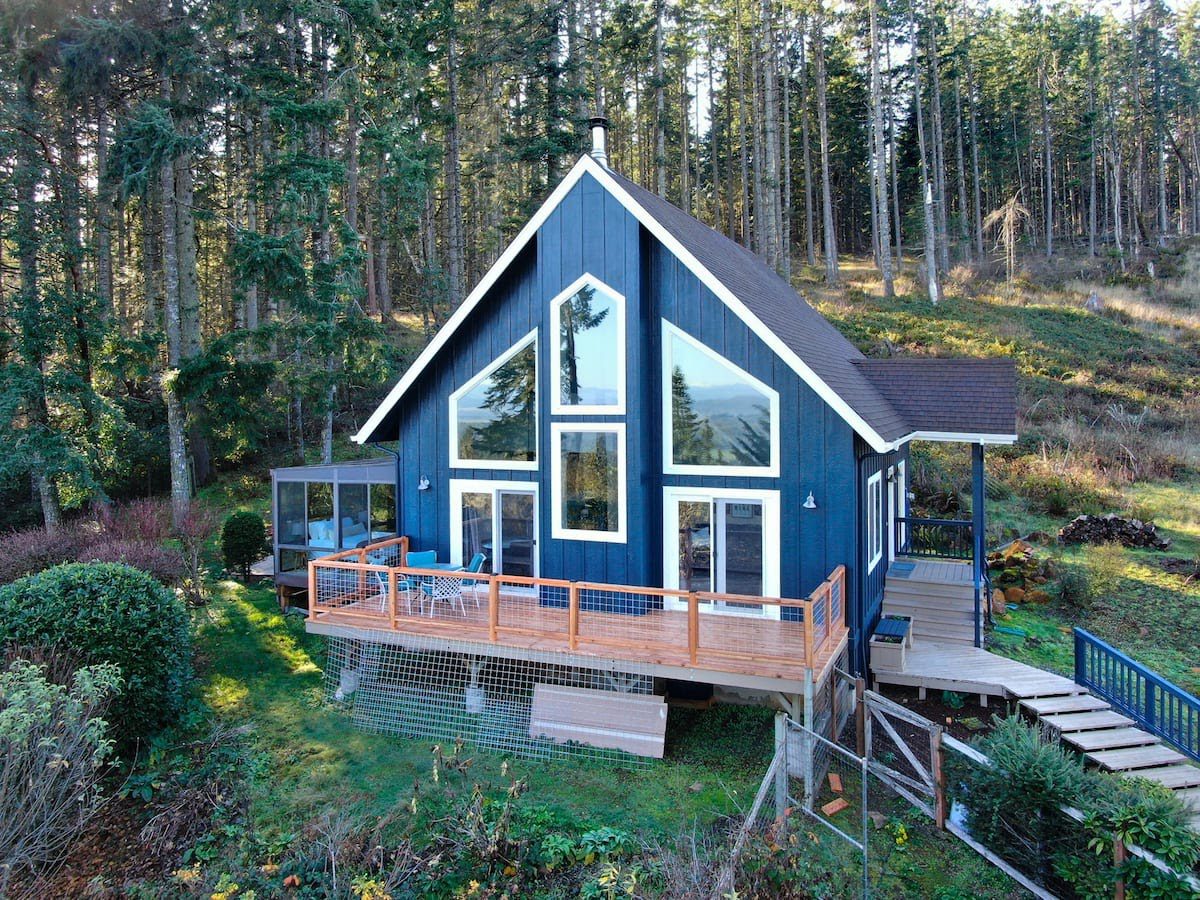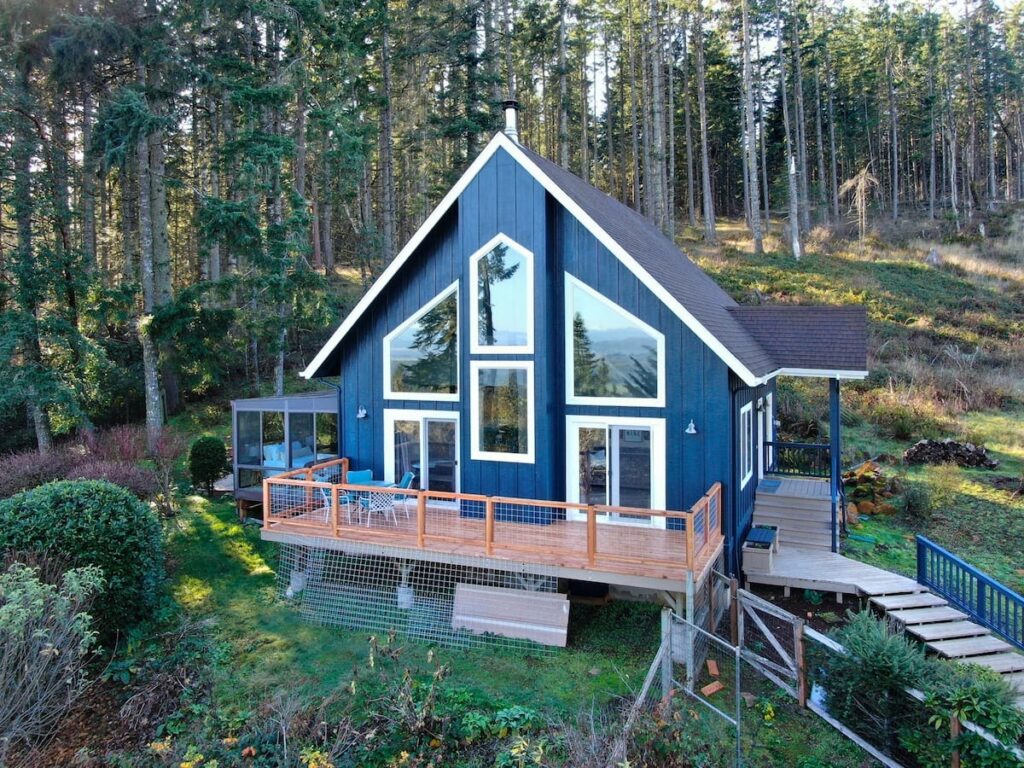 If you're interested in playing with clay, the host offers private lessons and can help you learn to create your own unique pieces during your stay for an additional fee. The home is also close to many outstanding hiking and biking trails for exploring the scenery nearby.
If you're interested in playing with clay, the host offers private lessons and can help you learn to create your own unique pieces during your stay for an additional fee. The home is also close to many outstanding hiking and biking trails for exploring the scenery nearby.
Round House Retreat in the Woods – Amity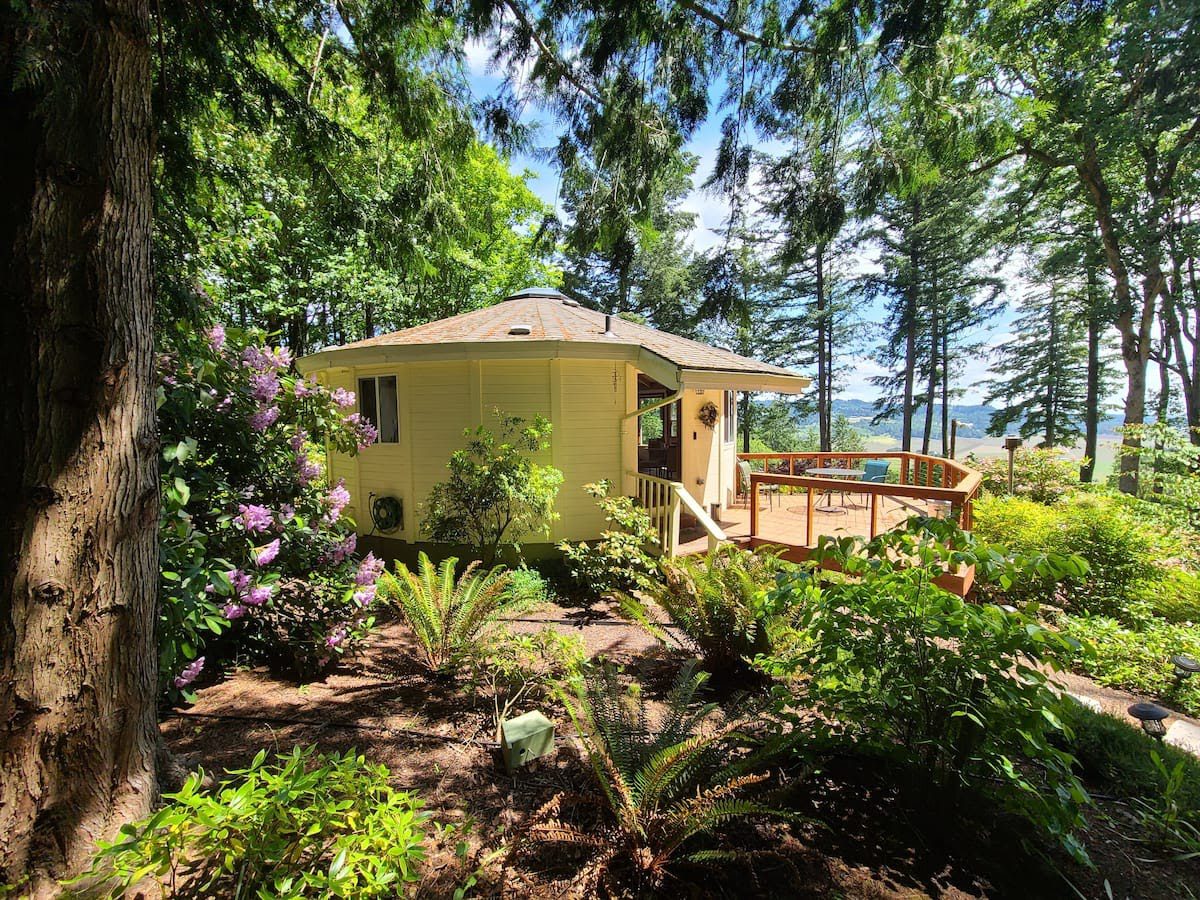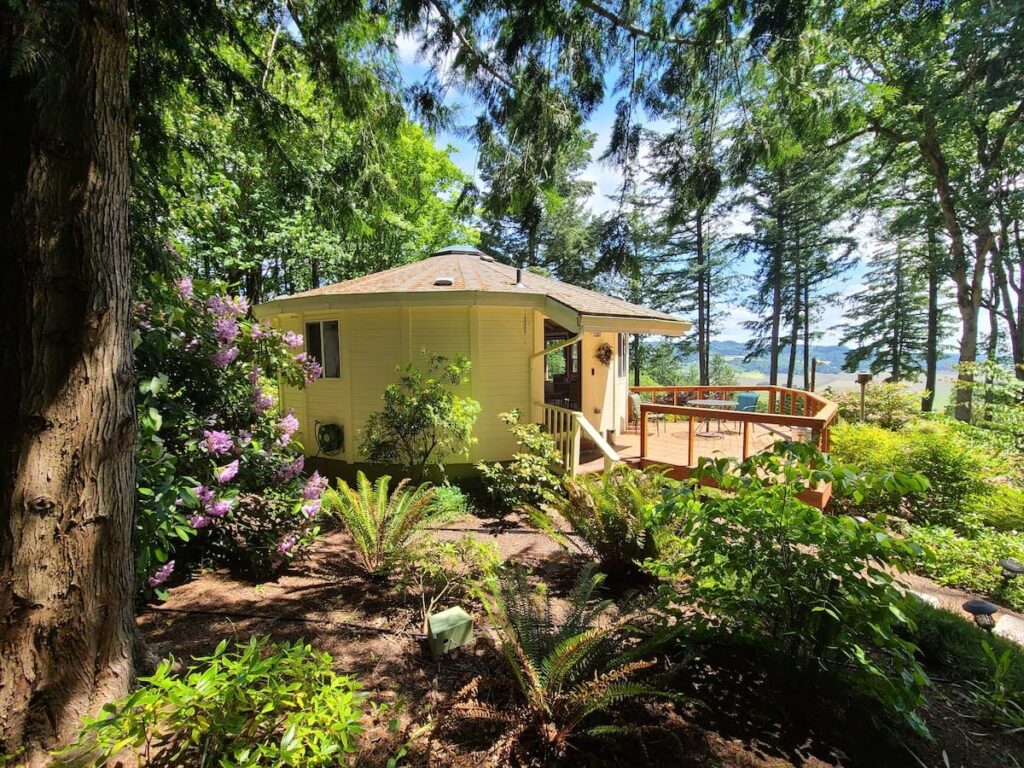 Location: Willamette Valley
Bedrooms: 2
Bathrooms: 2
Sleeps: 4
The Round House is a dome-style home set across more than 20 acres, providing an idyllic retreat for relaxation, with silence only interrupted by the songs of the birds. It offers spectacular views of the lush Willamette Valley with plenty of forested space to roam, and your dog can come along too.
Silver Falls State Park with its hiking trails that lead to 10 different waterfalls is within each reach and while you'll feel like you're in an incredibly remote spot, the area's famous wineries, restaurants and a grocery store are all close by too.
Looking for more activities? In the house manual you'll find local tips on where to dine, wine taste, and hike.
When you want to make your own meals, you can grill out on the deck with a propane BBQ surrounded by those serene views or take advantage of the well-equipped kitchen. It also includes Wi-Fi, TV, and a pellet stove.
Island + Alpaca Farm Retreat, Near Downtown Portland – Sauvie Island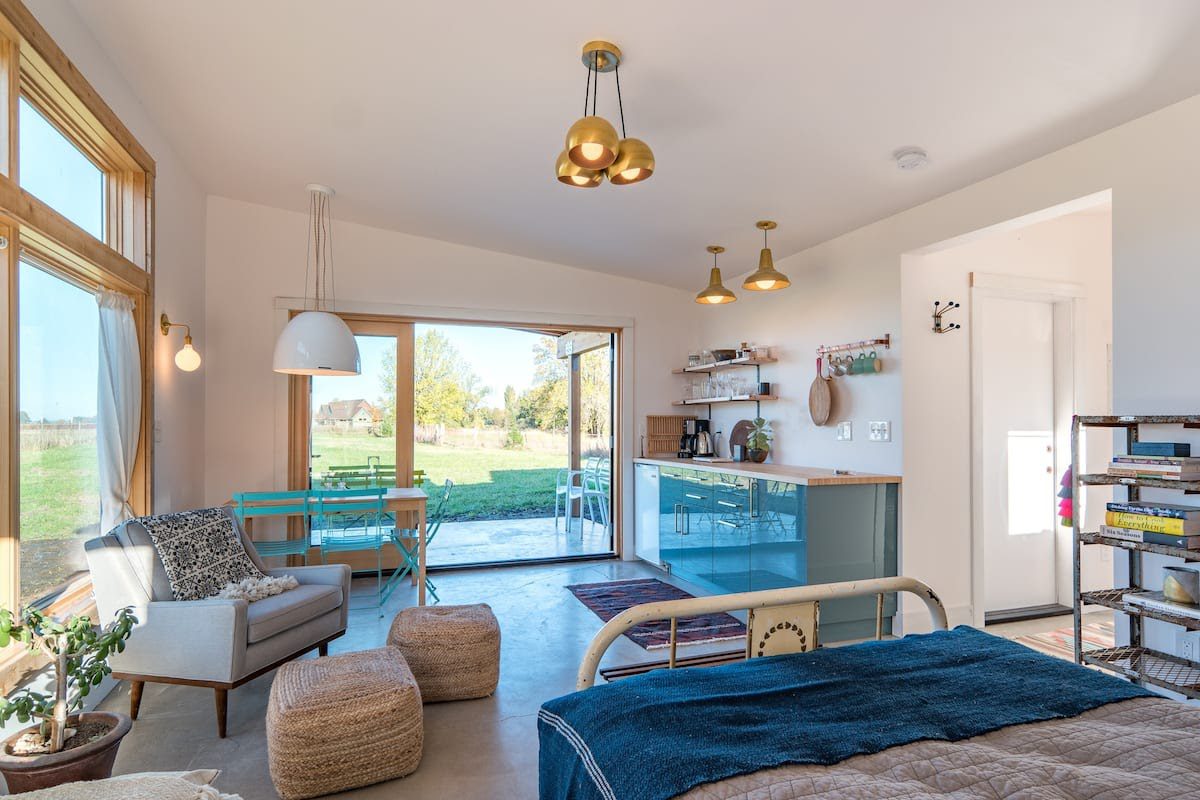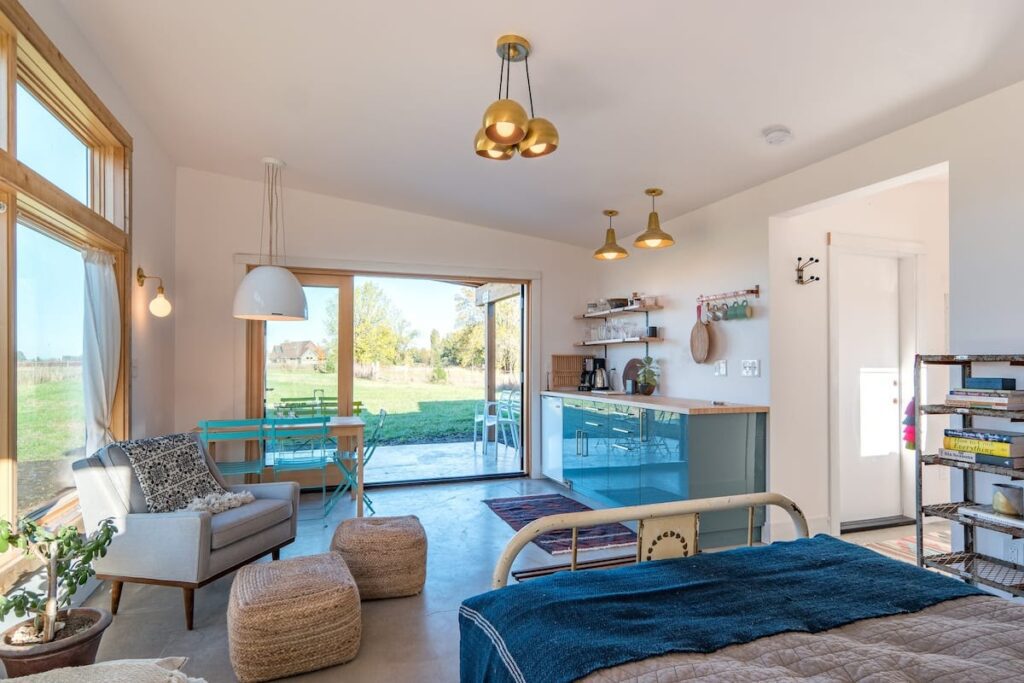 Location: Sauvie Island (near Portland)
Bedrooms: 1
Bathrooms: 1
Sleeps: 2
Notable Features: On an ALPACA FARM, need we say more?
Looking for a unique place to stay near Portland? We don't think you'll find anything better than "Tu Casa." In fact, Matt gave Alysha a voucher for a future stay at this place for Christmas last year, because she LOVES alpaca.
The guest suite sits on a seven-acre alpaca and sheep fiber farm on Sauvie Island, a wildlife refuge and Manhattan-sized island, the largest in the Columbia River.
You'll be able to hike, bike, bird-watch and enjoy all the attractions in the city from exploring famous Powell's Books to brunching at Screen Door, just a 15-minute drive away.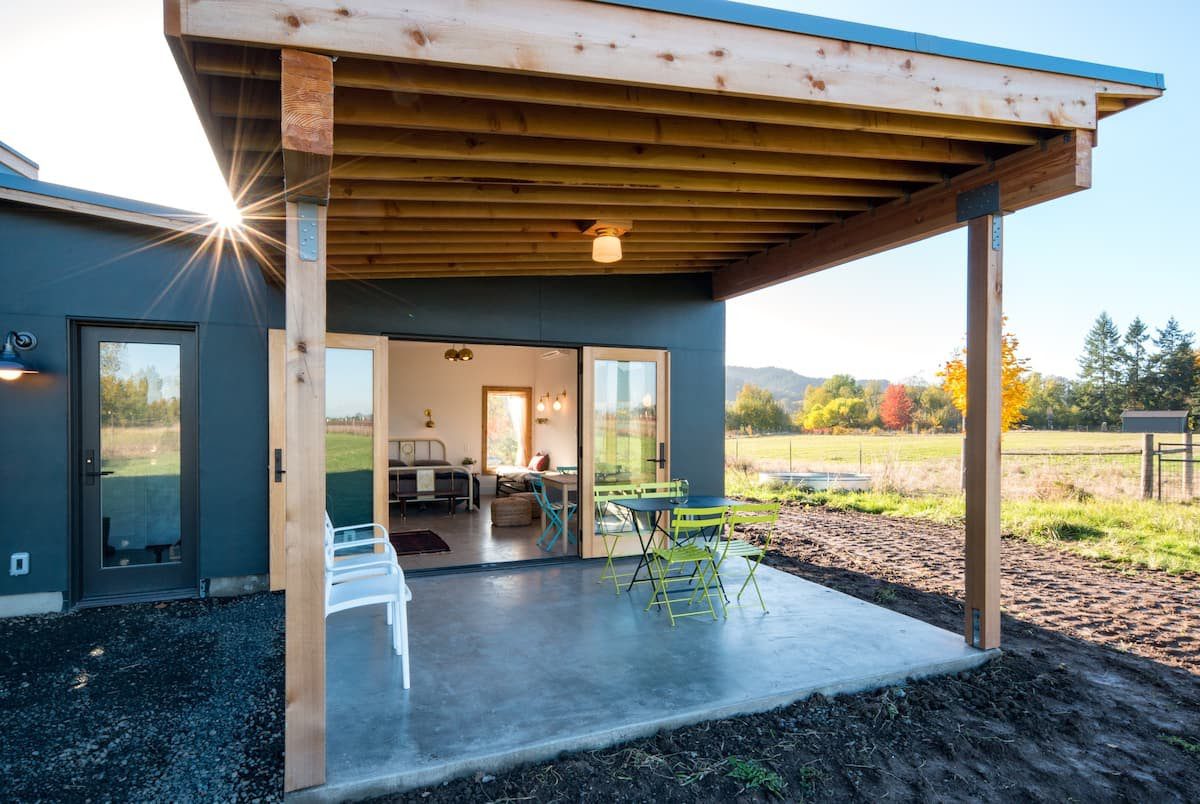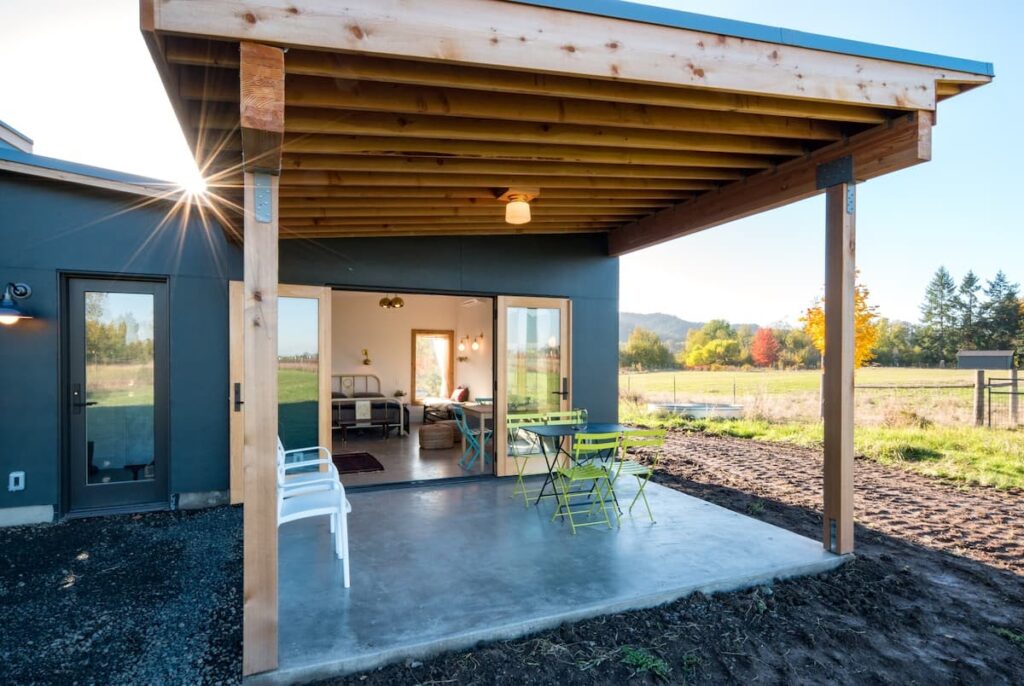 The suite is ideal for two, showcasing an incredible view of Mount St. Helens and the entire Cascade Mountain range on a clear day. It's surrounded by vineyards, orchards, migrating birds and farm animals, with sheep often wandering right outside your door.
It has a small kitchenette with coffee- and tea-making facilities plus light food prep, a queen-size bed and private bathroom. Just outside the French doors, enjoy alfresco dining on the covered patio.
Chardonnay Chalet at the Vineyard – Roseburg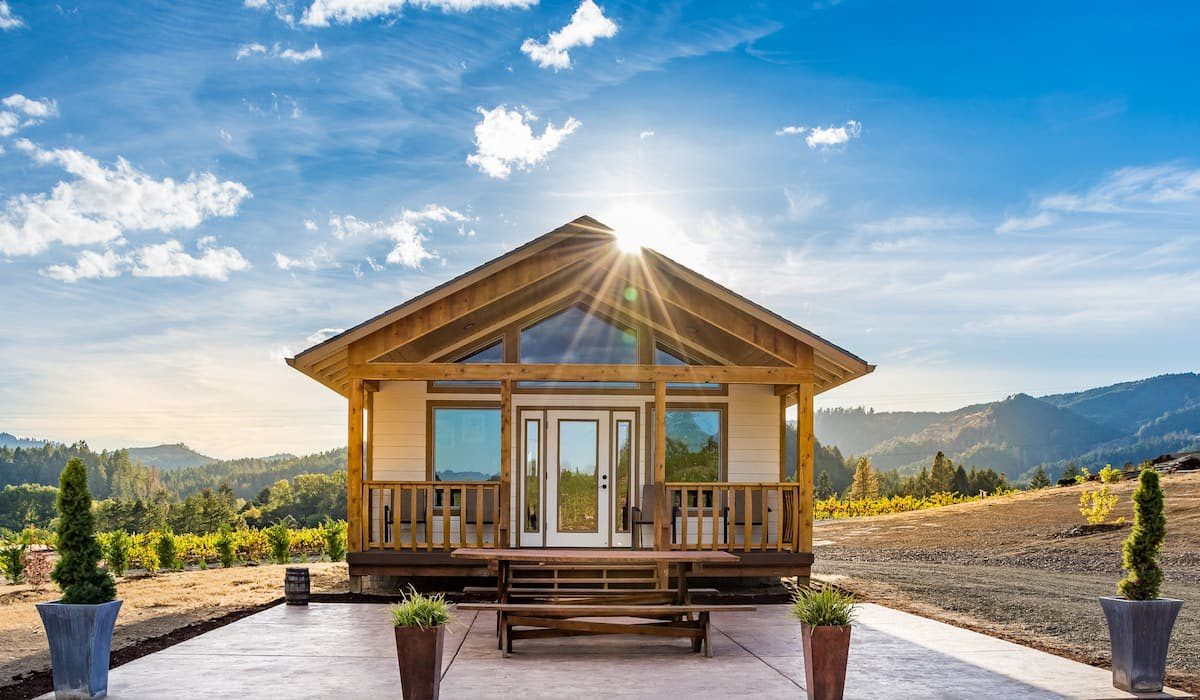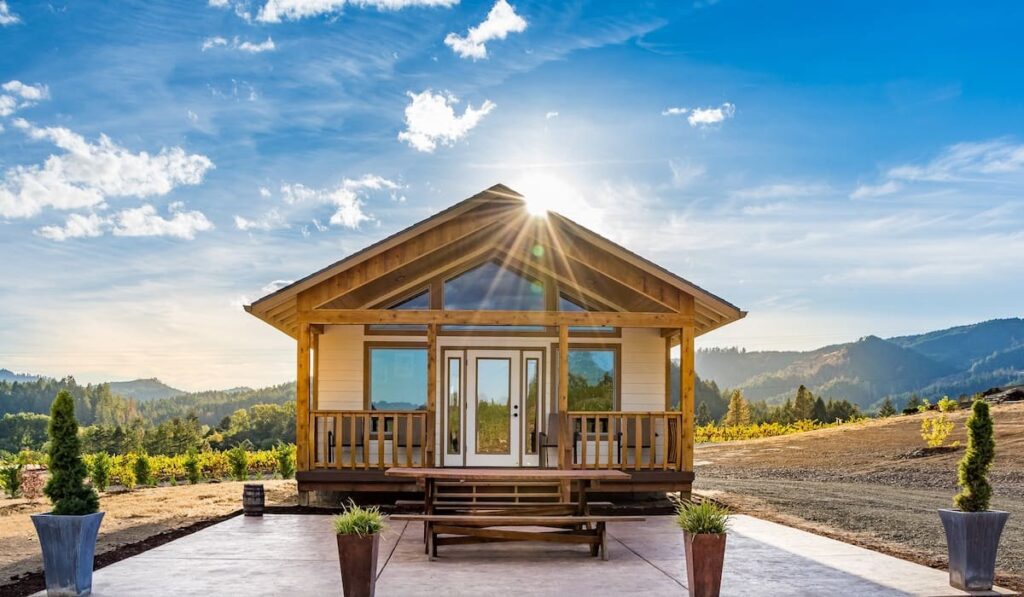 Location: Willamette Valley (25 minutes from Roseburg)
Bedrooms: 1
Bathrooms: 1
Sleeps: 4
The ultimate Airbnb for wine enthusiasts, the Chardonnay Chalet sits on a 54-acre working vineyard property that's been used for growing grapes and producing wine for a half-century.
Stroll through the vines and hike up to a hill with hammocks for relaxing with a stunning view. Just five minutes on foot will bring you to wine tasting opportunities, while waterfall hikes are a 45-minute drive away.
A luxurious chalet, it's spacious yet cozy, with a large living room and Netflix on TV. It includes a patio with a grill for cooking out along with a full, well-stocked kitchen that includes coffee beans, a grinder, French press, spices, sugar and all the essentials – you'll even have farm fresh vineyard chicken eggs when they're available.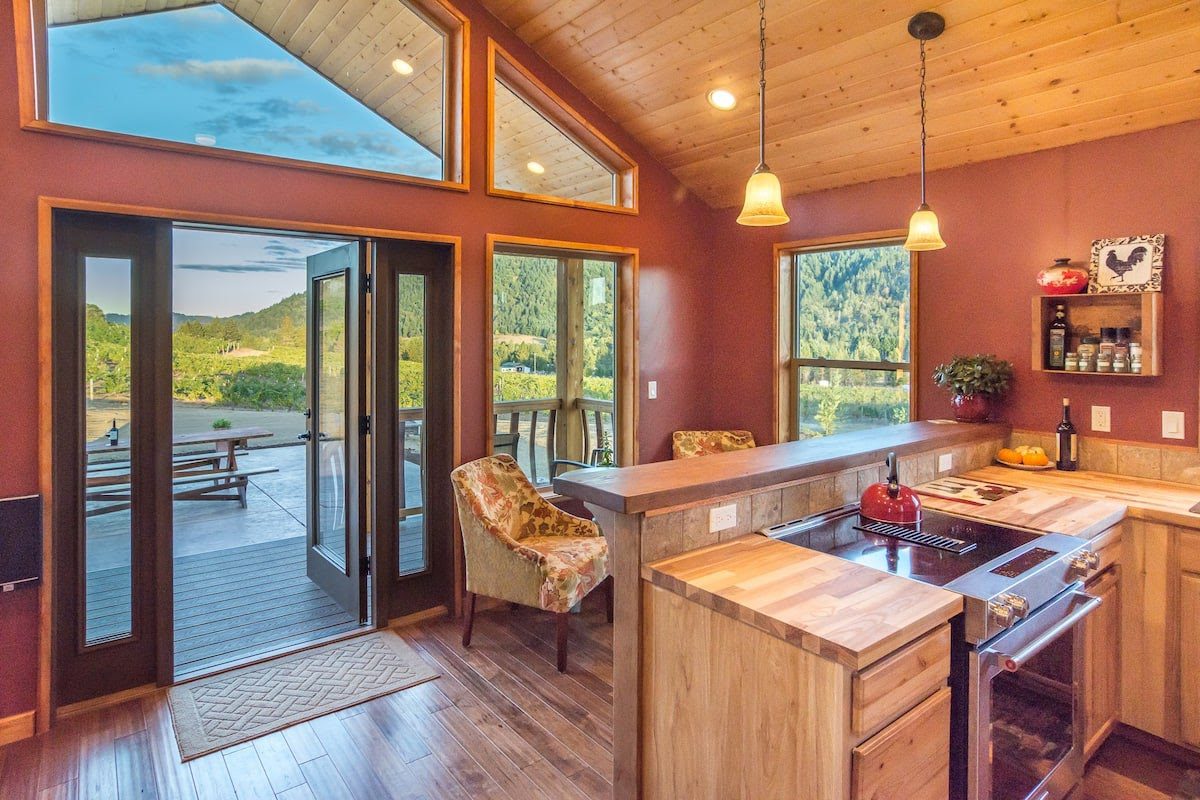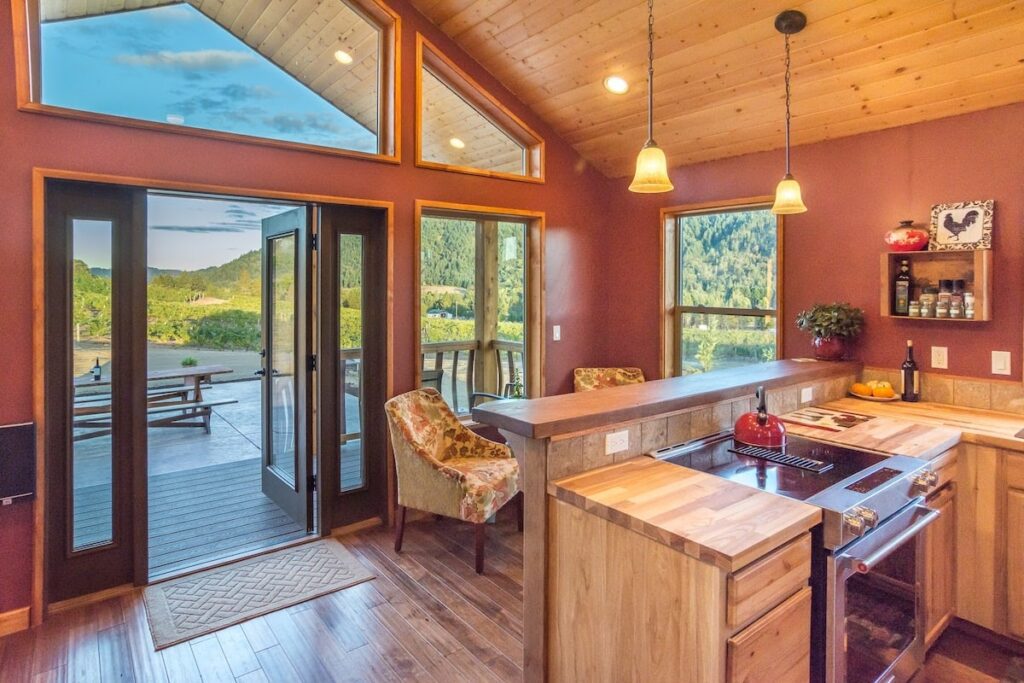 To top it all off, you'll be welcomed with a bottle of the property's award-winning wine. Those driving an electric vehicle can take advantage of three EV chargers on the property too.
Half-Pint Farmhouse in Downtown – McMinnville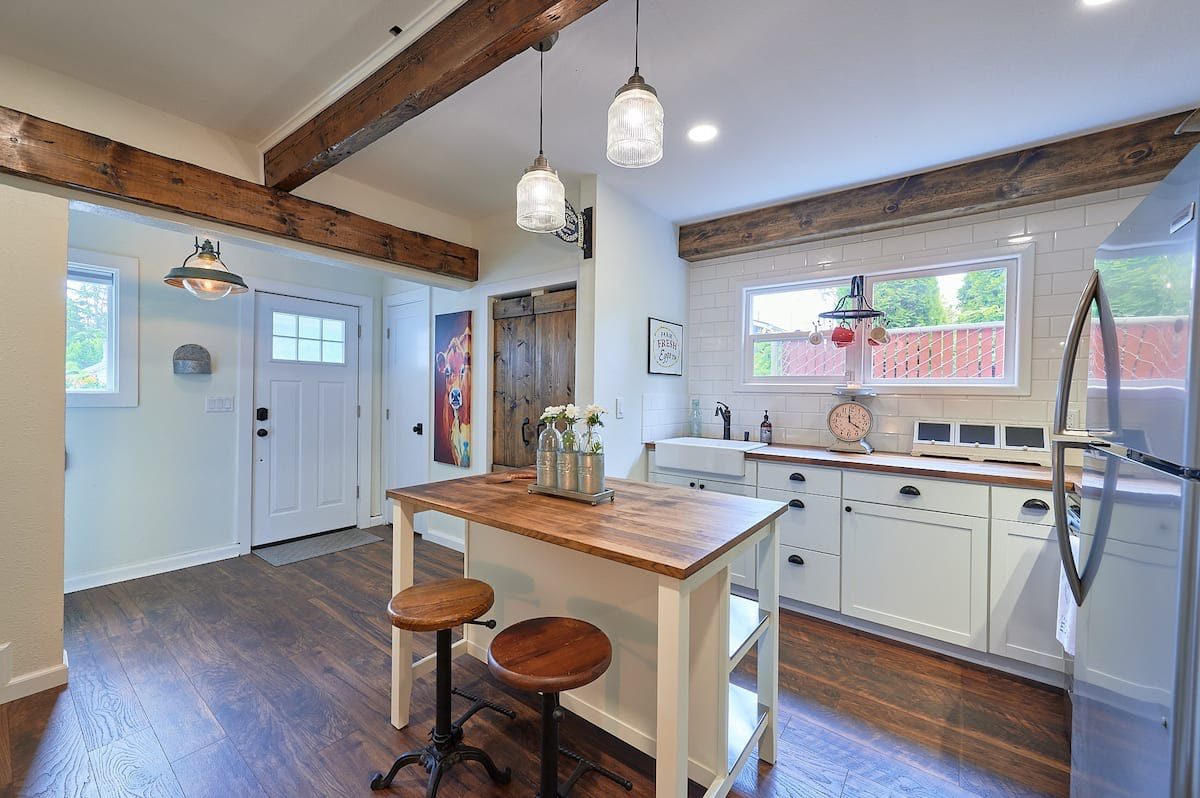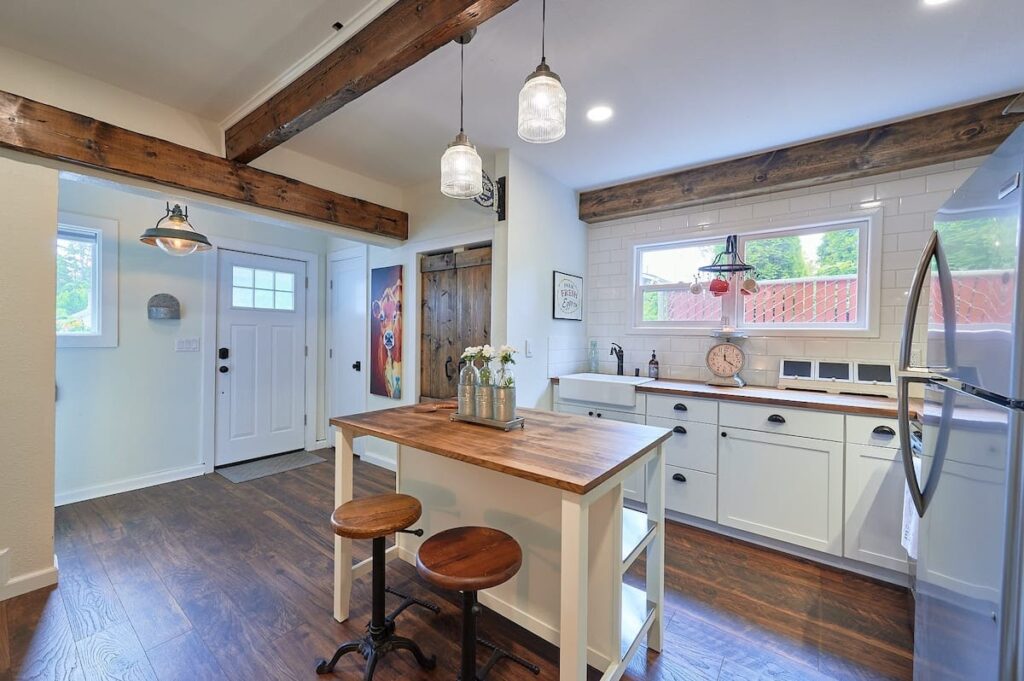 Location: McMinnville
Bedrooms: 1
Bathrooms: 1
Sleeps: 2
This charming 2nd Street Farmhouse in downtown McMinnville will put you in the heart of Willamette Wine Country for tasting and touring, with world-class tasting rooms and farm-to-table restaurants on main street just a short walk away.
Pick up a bottle or two and you can come back and enjoy it on the private deck overlooking the tranquil scenery.
You may want to stop at the popular market down the street to pick up ingredients to make some of your own meals too as the well-stocked kitchen with new stainless-steel appliances is fantastic.
While the space may be small in square footage, it was cleverly designed to maximize it, providing a spacious feel that's particularly ideal for a couple.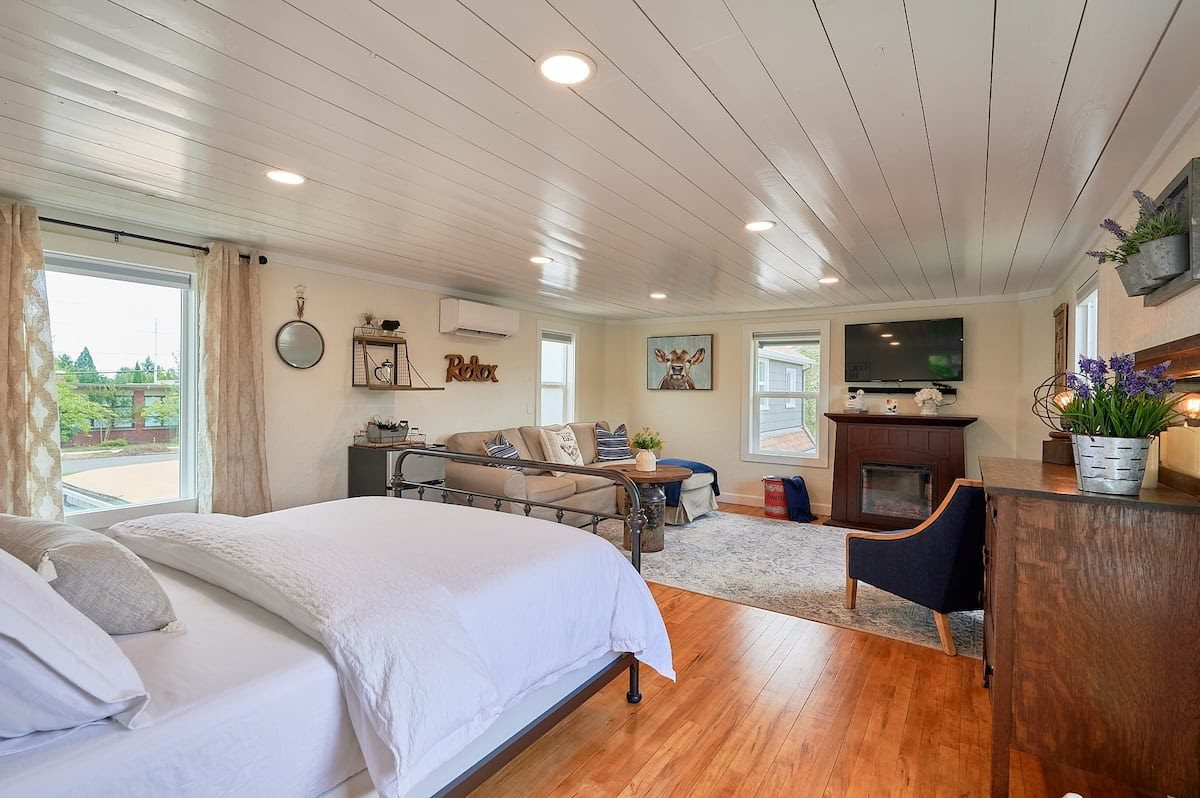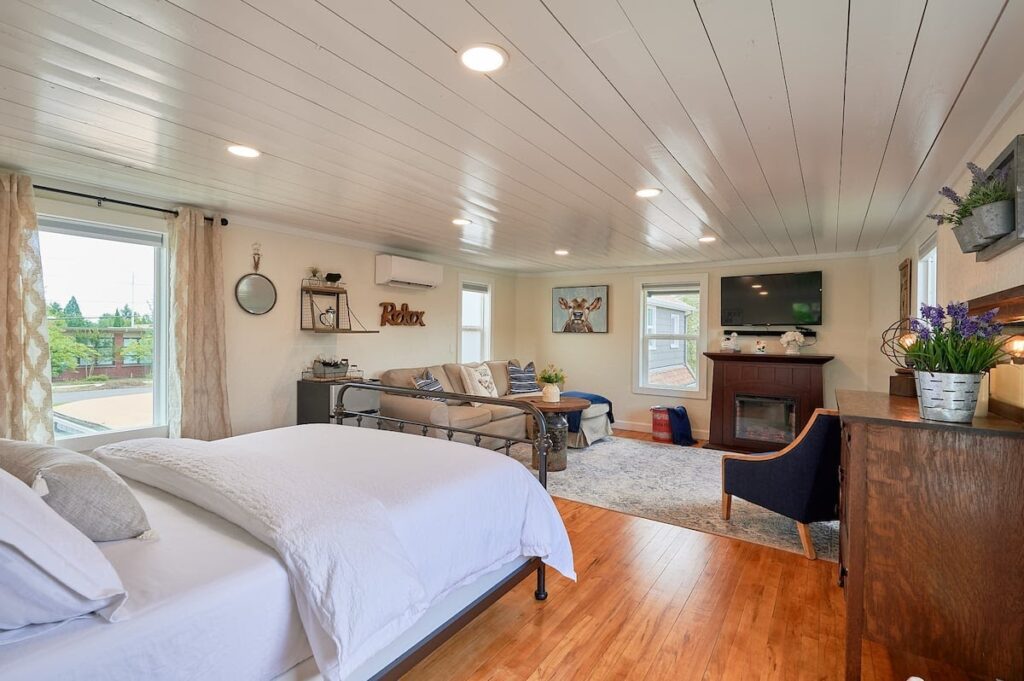 Some of the other highlights that you're sure to appreciate in the "Half-Pint" include a cozy electric fireplace, antique furnishings, a luxurious queen-size bed with high thread count linens, a washer/dryer, and TV.
The S'more – Portland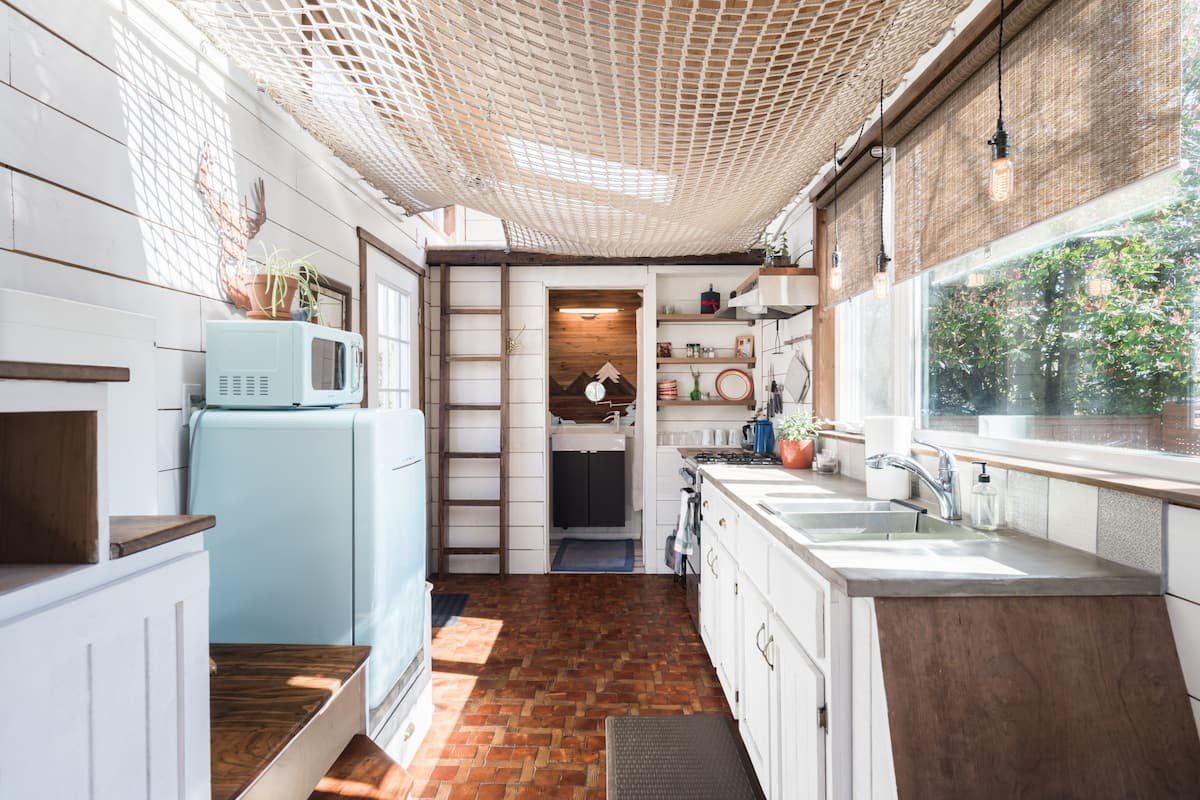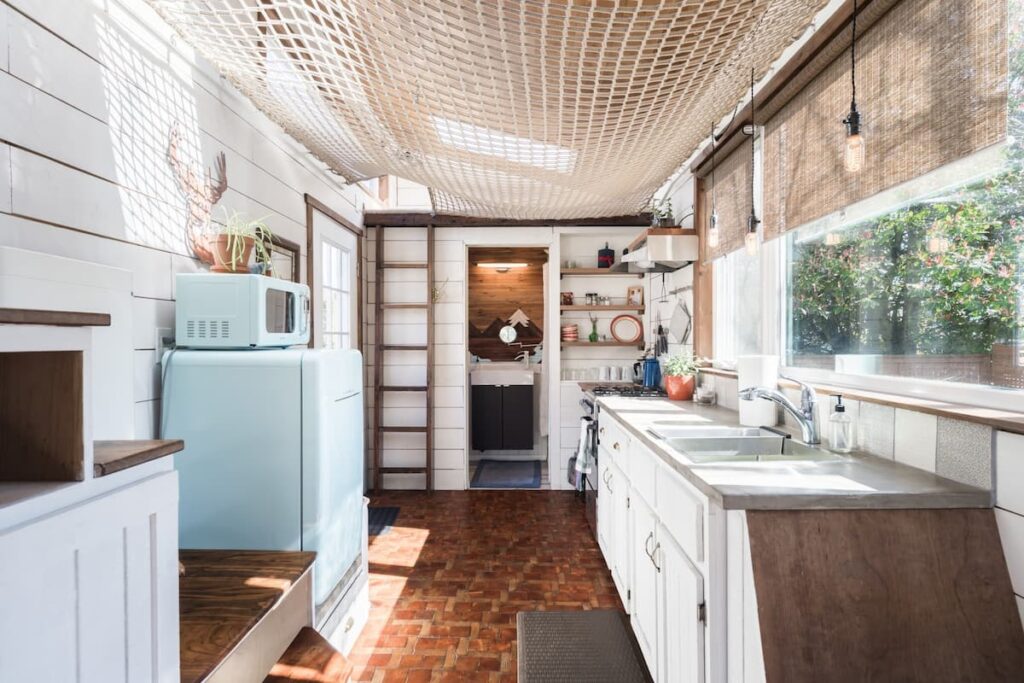 Location: Portland
Bedrooms: 1
Bathrooms: 1
Sleeps: 2
This unique space is a tiny home with the name definitely selling it. The S'more evokes memories of childhood forts with rich wood floors melding with white walls to create the famous graham cracker, marshmallow, and chocolate combo, and is definitely on our short list of the best Airbnbs in Portland.
It has a fabulous giant hammock that hangs on the ceiling for relaxing beneath the skylights along with a cozy loft bed accessed by a space-saving staircase. A reading nook turns into the perfect dining nook overlooking the private deck and a picturesque backyard.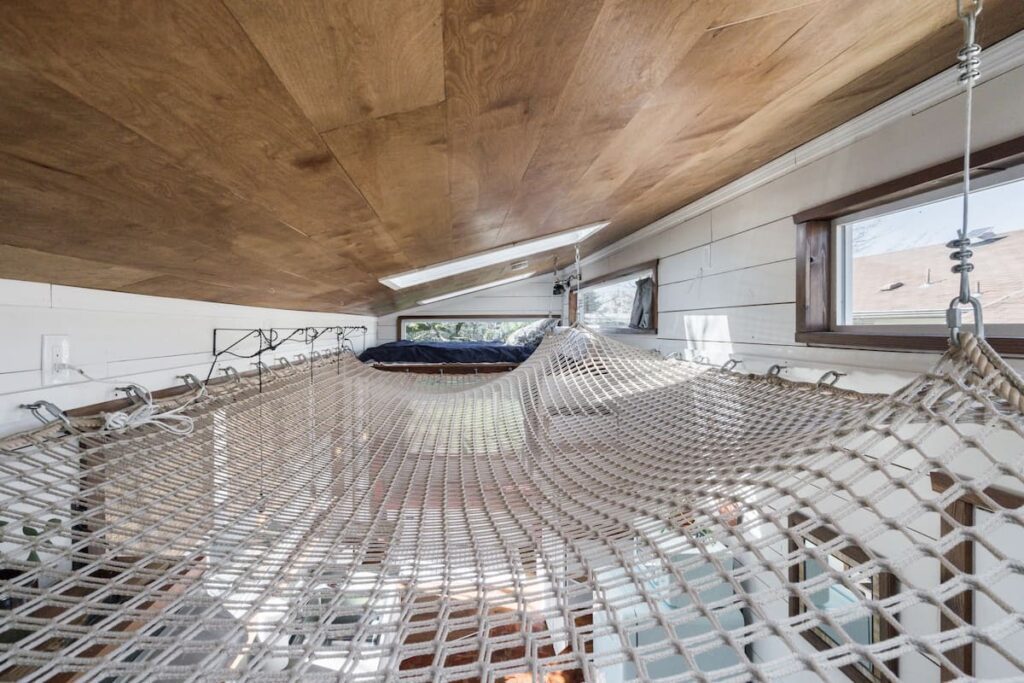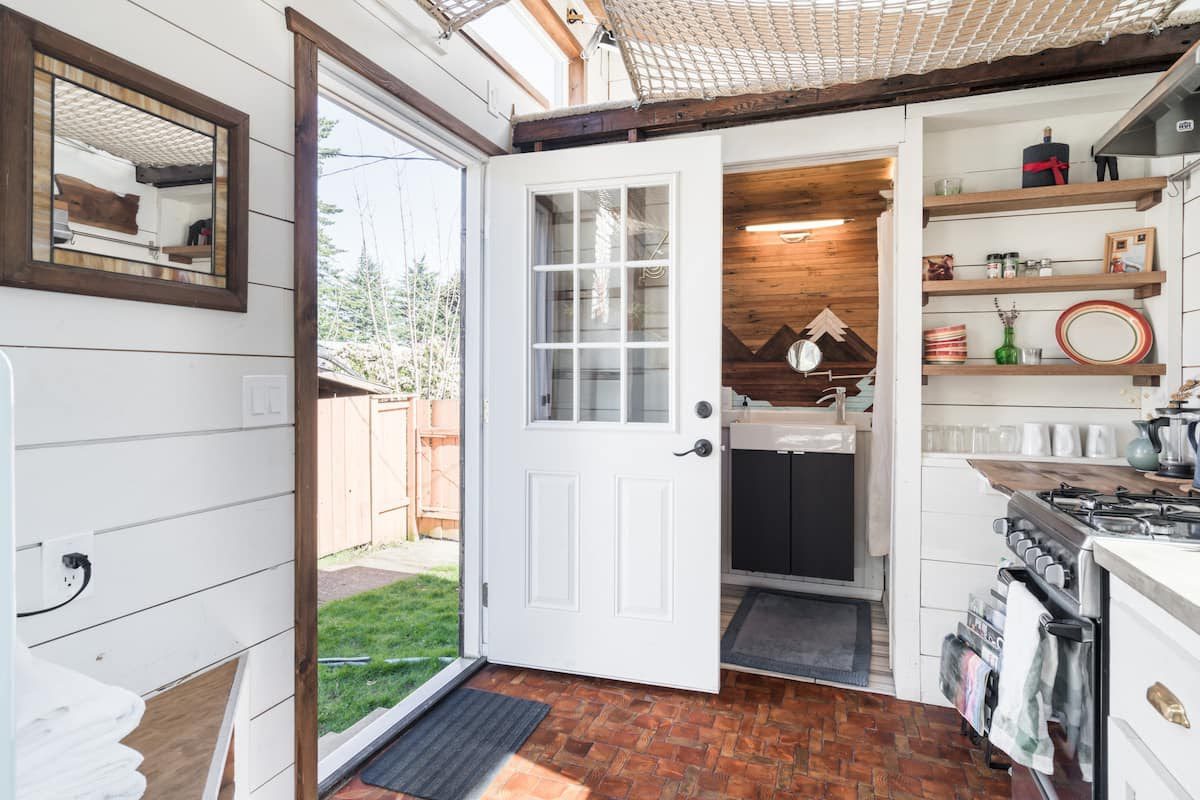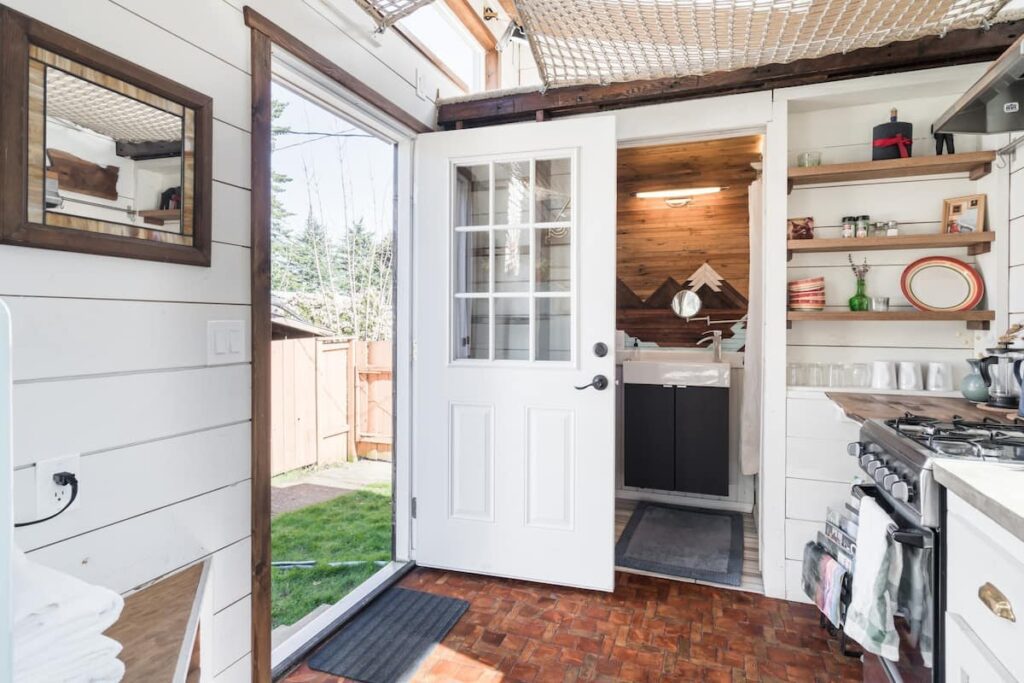 Read More: The Best Airbnbs in Portland, Oregon
Of course, one of the top reasons to stay is the location, providing access to the best of Portland, including its famous food and drink scene with countless breweries and top-notch restaurants.
Your hosts are a partially vegan family who enjoy helping other vegans and vegetarians find the best places to dine, though the kitchen has all the essentials for making your own meals.
---
That's all we've got! Did we miss a spot that you love? We'd love to hear from you.
Planning a trip to Oregon? Don't miss our other guides for one of our favorite states in the country (after we spent several months there over the past year).