3 Days in Munich: A Complete 3 Day Munich Itinerary
My little brother and I spent 3 days in Munich around Christmas, and it was an unforgettable whirlwind of Christmas markets, Glühwein (the amazing mulled wine you'll find at said Christmas Markets), beer halls, and history. Munich is a great introduction to Bavarian culture, but it goes beyond what most people picture – lederhosen and beer halls – and is one of the most interesting cities in Germany, caught between multiple pulls and influences.
It's simultaneously picturesque, with its impressive architecture and massive churches, and a little bit boring in some parts. Over the course of this 3 day Munich itinerary, you'll see and experience both, along with one of the best parts about Munich – its location as a jumping off point for some of Germany's best day trips. 
In this detailed guide to planning a trip to Munich, you'll find:
All the seemingly-boring logistics for your trip, like where to stay in Munich, how to get around, and more
A detailed daily Munich itinerary that covers a ton of ground, and gives you a taste of the city
A mini-guide to the best day trips from Munich – one of which you should take on your third day
Sound like what you're looking for? Great! Let's get into it.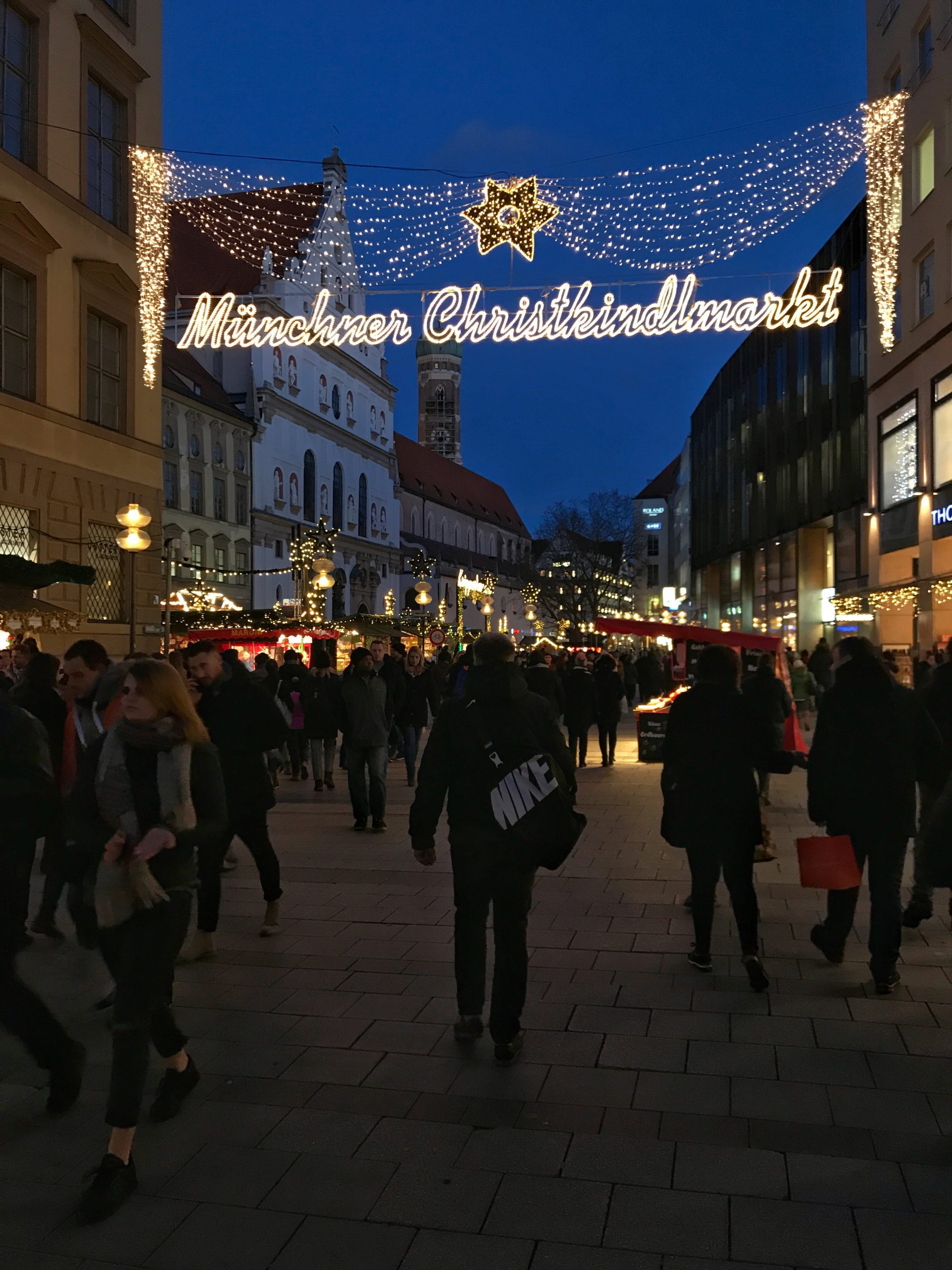 Don't miss my other Germany travel guides:
Disclaimer: Some of the links in this post are affiliate links, meaning at no additional cost to you, I make a little bit of money if you click through and book. That being said, I would never recommend something to you that I don't stand behind 100%.
Where to Stay in Munich
If you're looking for the best area to stay for your 3 days in Munich, you're in the right place.
By the way, I have a whole guide on the best places to stay in Munich that you should pop over to and read for a more in-depth look at where to stay for your time in Munich.
Top Pick: Staying in Maxvorstadt
Maxvorstadt is my top pick, which is to the northeast of Old Town, and is home to most of the art museums and two of Munich's universities, making for a young, hip, and artsy crowd. In other words, it's the perfect place to stay in Munich.
The Ruby Lilly is the best hotel in this area, with its small but beautiful rooms that live up to their "Lean Luxury" promise – everything you need, without all the extras that come with booking a luxury hotel. The result? You'll trade multiple restaurants and huge rooms for smaller rooms and a laid back bar. After all, you won't be spending much time in your room, and you're in the middle of a city, so you won't be hard pressed to find amazing restaurants. Click here to check prices, reviews, and availability.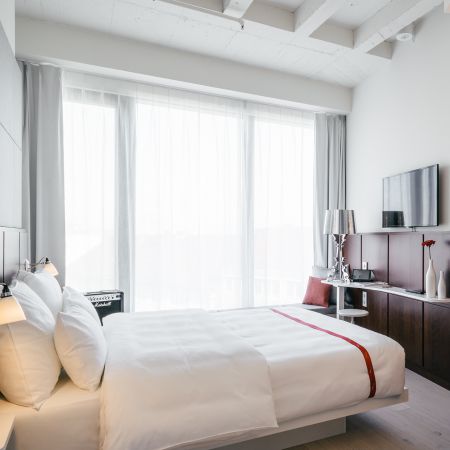 Staying in Altstadt: Munich's Old Town
In Altstadt, Munich's historic Old Town, there are a bunch of great Airbnbs, and also a couple of fantastic boutique hotels. This is the best place to stay if you're exploring the Christmas Markets, or if you want to be right in the middle of all the action.
If you're looking for an Airbnb, I'd recommend this bright and airy one bedroom apartment a few blocks from Marienplatz, or this gorgeous light-filled gem on the southwest side of the center.
My top hotel pick would be Flushing Meadows, a design-forward hotel in an old industrial building that is a 15 minute walk from Marienplatz. Technically, it's in the young and hip Glockenbachviertel neighborhood, but it's close enough to the center of Munich. Its industrial-chic lofts are bright and light-filled, and have everything you need for an amazing trip to Munich. Plus, a rooftop bar and access to the local gym. What more do you need? Click here to check prices, reviews, and availability.
To stay even closer to the action, look no further than the Louis Hotel. Perched over Munich's open-air market a block from Marienplatz, this stunning hotel has 72 thoughtfully designed rooms, each with a comfortable bed and handcrafted oak furniture. It's perfect for those of us who appreciate the details, and the location alone is worth paying a premium for. Click here to check prices, reviews, and availability.
If you're on a budget, stay in Ludwigsvorstadt / Isarvorstadt, which is right next to the train station to the northwest of Old Town, and just a 15 minute walk to the heart of Munich.
My little brother and I stayed in a private room at the Wombats Hostel for our trip, and I can't recommend it highly enough for budget travelers. Clean, comfortable rooms and bathrooms, and a friendly front desk staff who helped us figure out how the heck to get to some of the day trips we wanted to do. More on that later. Click here to check prices, reviews, and availability.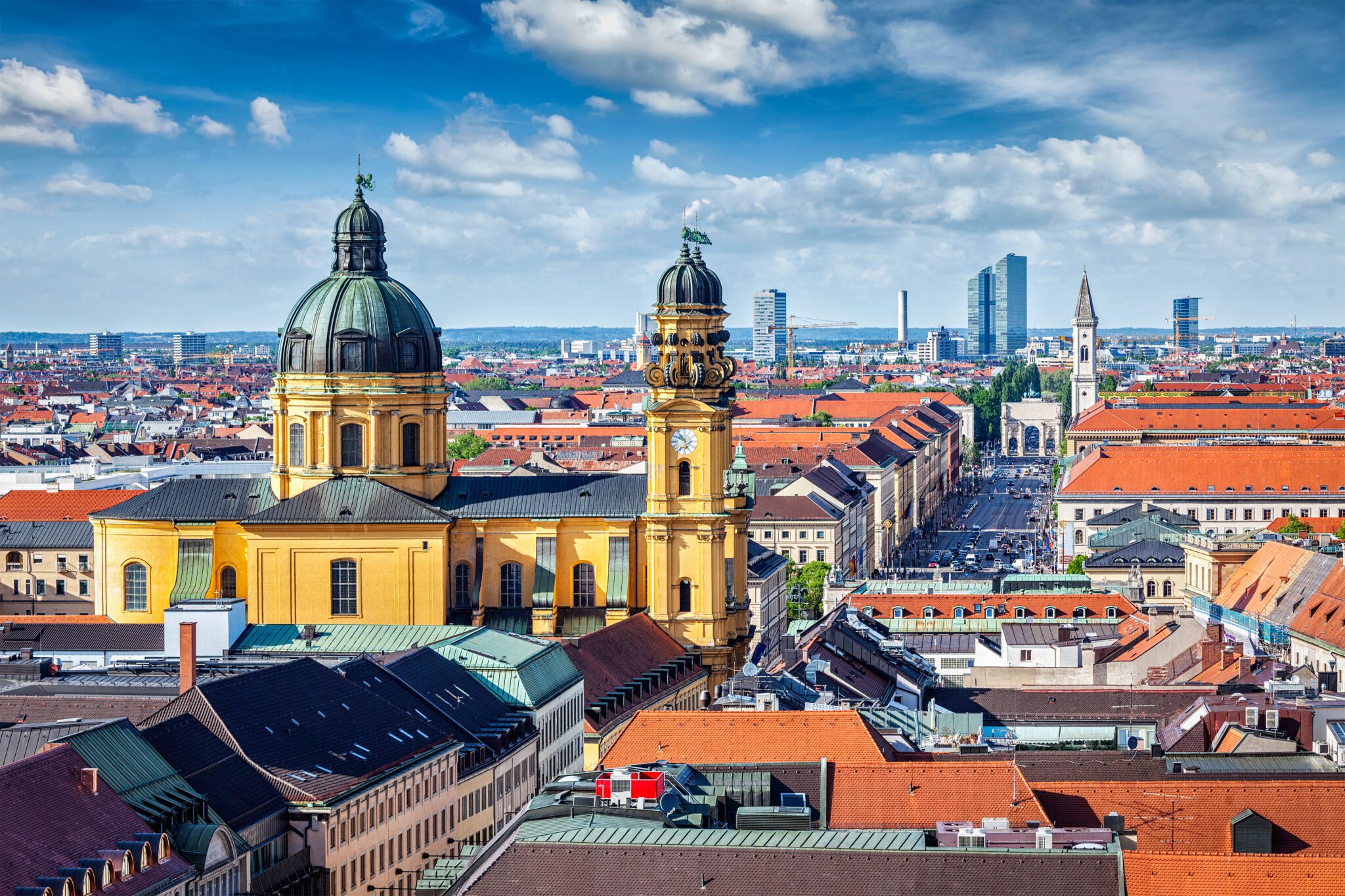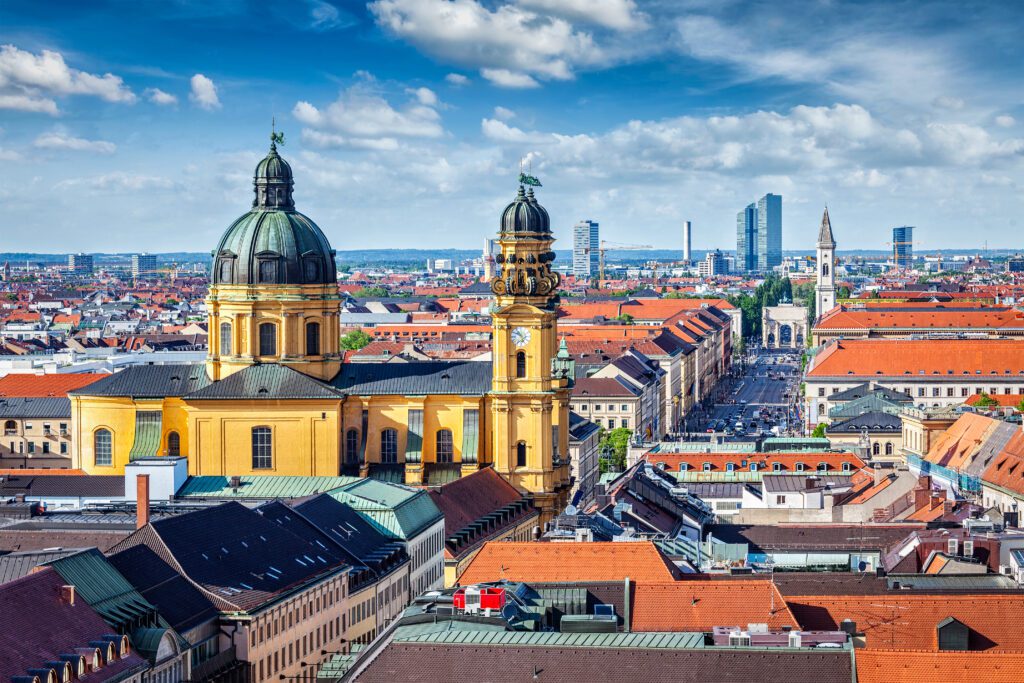 Your Complete 3 Day Munich Itinerary
Here's the itinerary that you've been looking for, complete with all the nitty gritty details that I picked up during my time spent wandering around Munich.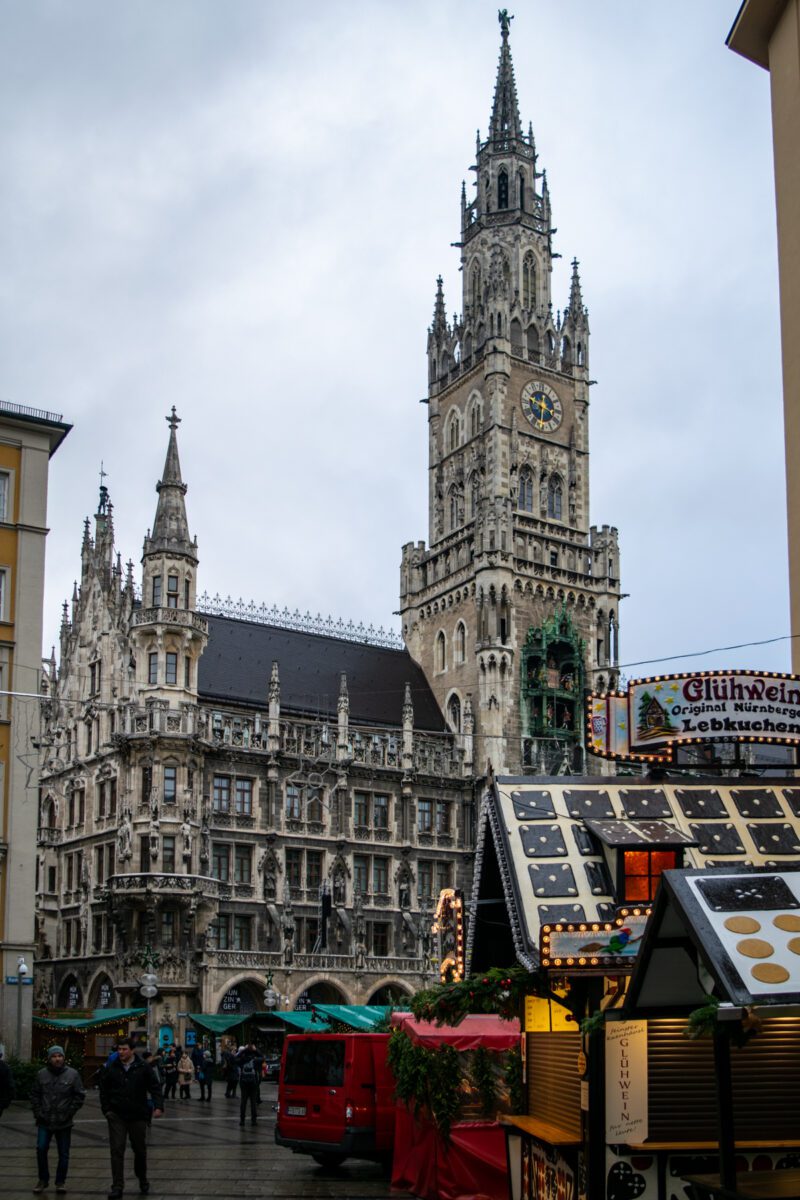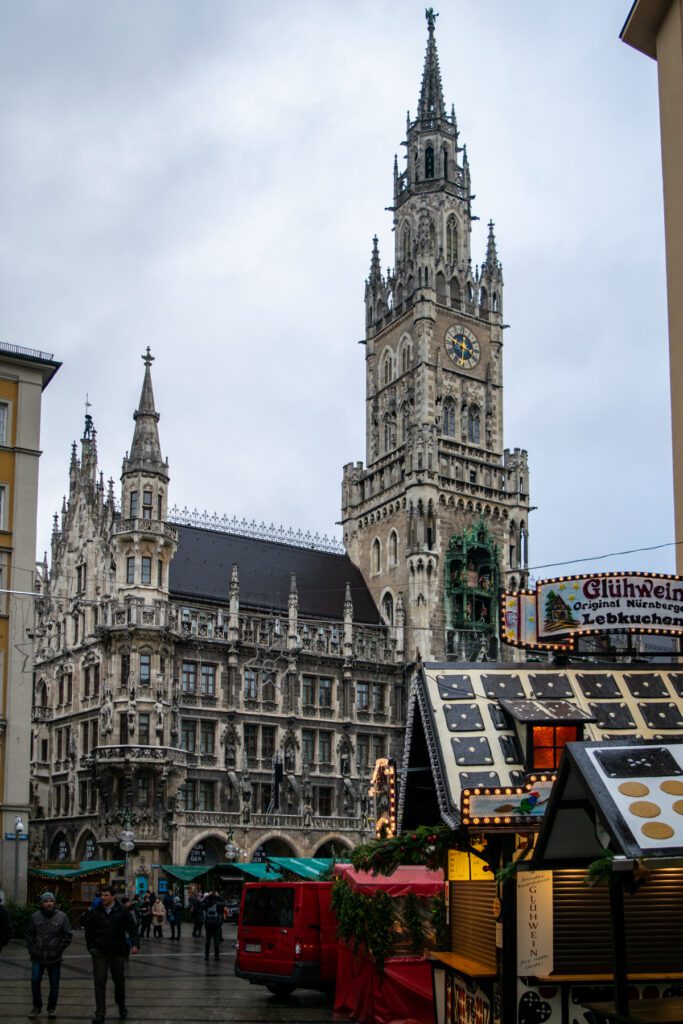 Munich Itinerary – Day 1: Exploring Atlstadt (Old Town)
On your first of three days in Munich, use the day to take in the sights, sounds, and tastes of Munich's Altstadt (Old Town).
Morning
I always like to start my time in a new city off with a walking tour, and Munich was no exception. Depending on your interests, there are a few different options, one of which I've done and wholeheartedly recommend.
But first, coffee.
You'll find the best specialty coffee in Munich, at least according to my tastes, at Man vs. Machine Coffee. Their original location is a ten minute walk southwest of Marienplatz, and they also have a location in Maxvorstadt. Whichever part of the city you ended up staying in, start your day with an espresso-based drink or a pour over at one of their two shops.
Other great coffee options are the nearby Vits der Kaffee, which feels more like a traditional German coffee house, and Cafe Blá with its Icelandic influence.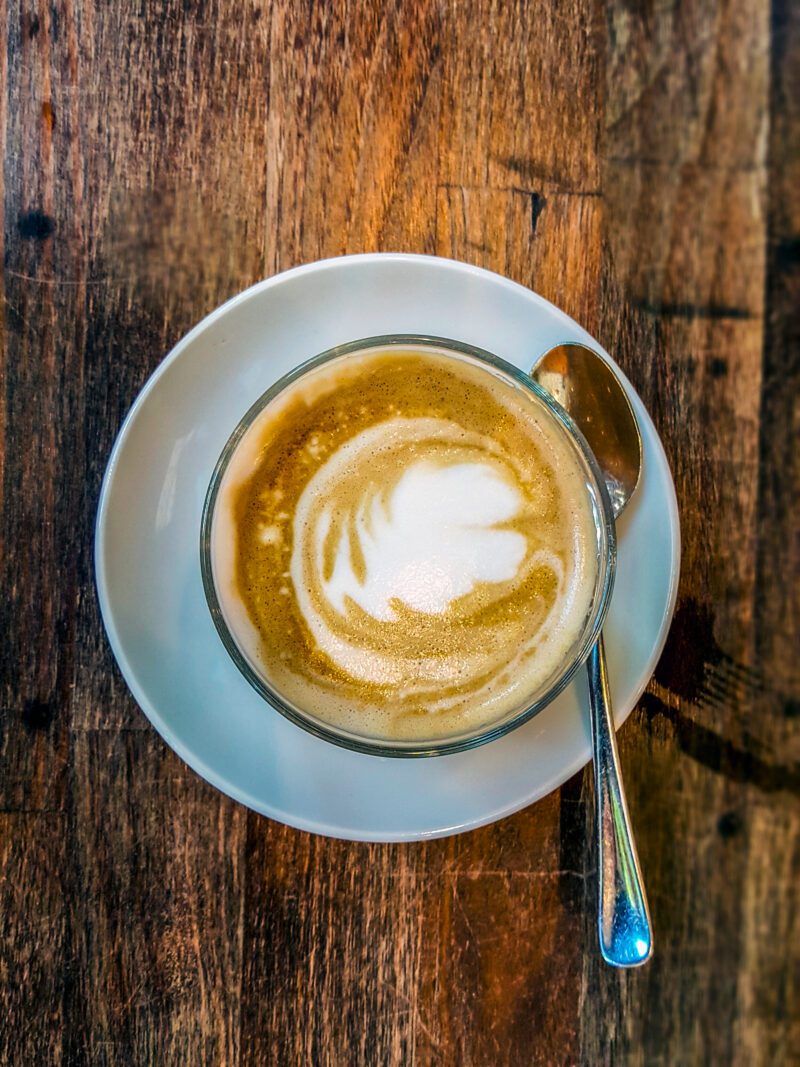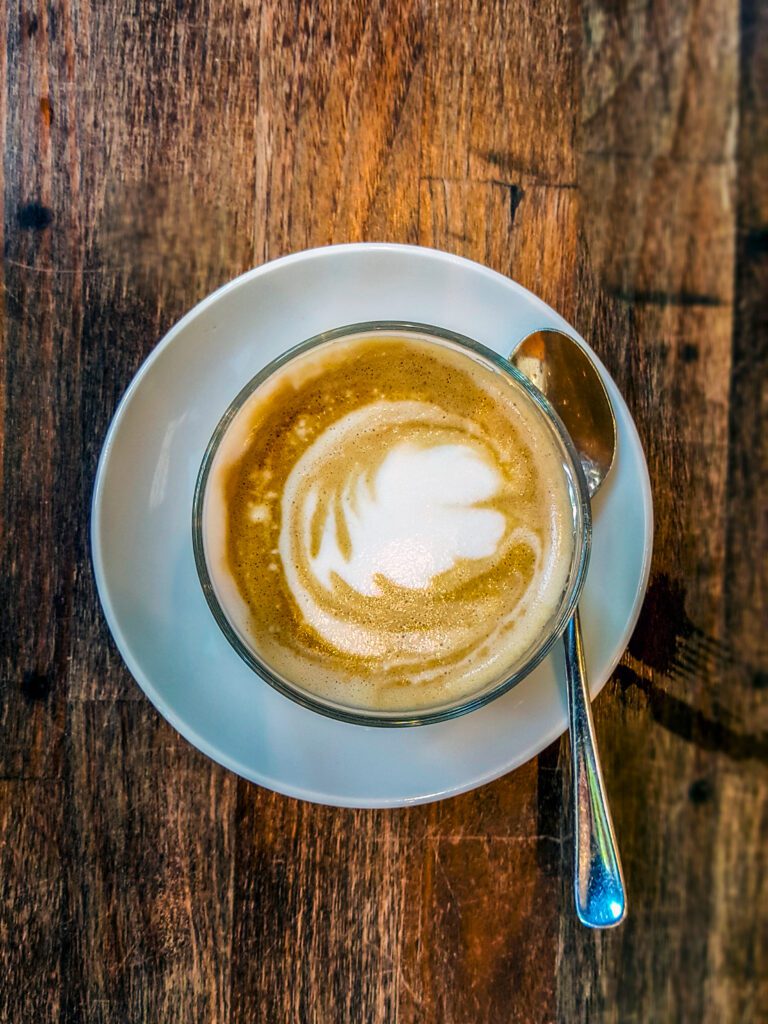 Now that you're all fueled up, you're ready for the walking tour that will set the stage for your memorable time in Munich.
Here are three great options, depending on what you're looking for. The first two are more World War 2 based, the last is all about the main sights in Munich.
Hitler and the Third Reich: This is the tour we did, since we're both into World War 2 History, and Munich played an important role in that conflict. It takes you around Munich for two and a half hours, delving a little deeper into Munich's somewhat dark history and its outsized role in the rise of the Nazi regime, which I didn't quite realize before the tour. If you're into history, this is the tour for you. Click here to check prices, reviews, and availability.
Munich – A History of War: Another history-based tour, this time with a PHD student in legal history in Munich. You'll get more of a perspective on current day Munich and its relationship to its turbulent past from a true expert. While Igor, the host, certainly talks about World War 2, this tour takes a broader view of Munich's past, present, and future. Click here to check prices, reviews, and availability.
3-hour City Highlights Bike Tour: This tour is also focused on Munich's history, but this time you're on a bike. The fact that you're on a bike allows you to cover more ground in less time, and gives you the chance to see a little bit more of the city. Click here to check prices, reviews, and availability.
Afternoon
After your walking (or bike) tour, it's time for lunch. Head to the Viktualienmarkt, the huge open air market in the center of Munich that has been around for more than a century. You'll find 140 different stalls, selling everything from cured meat and cheese to fresh fruit and vegetables, and basically everything in between.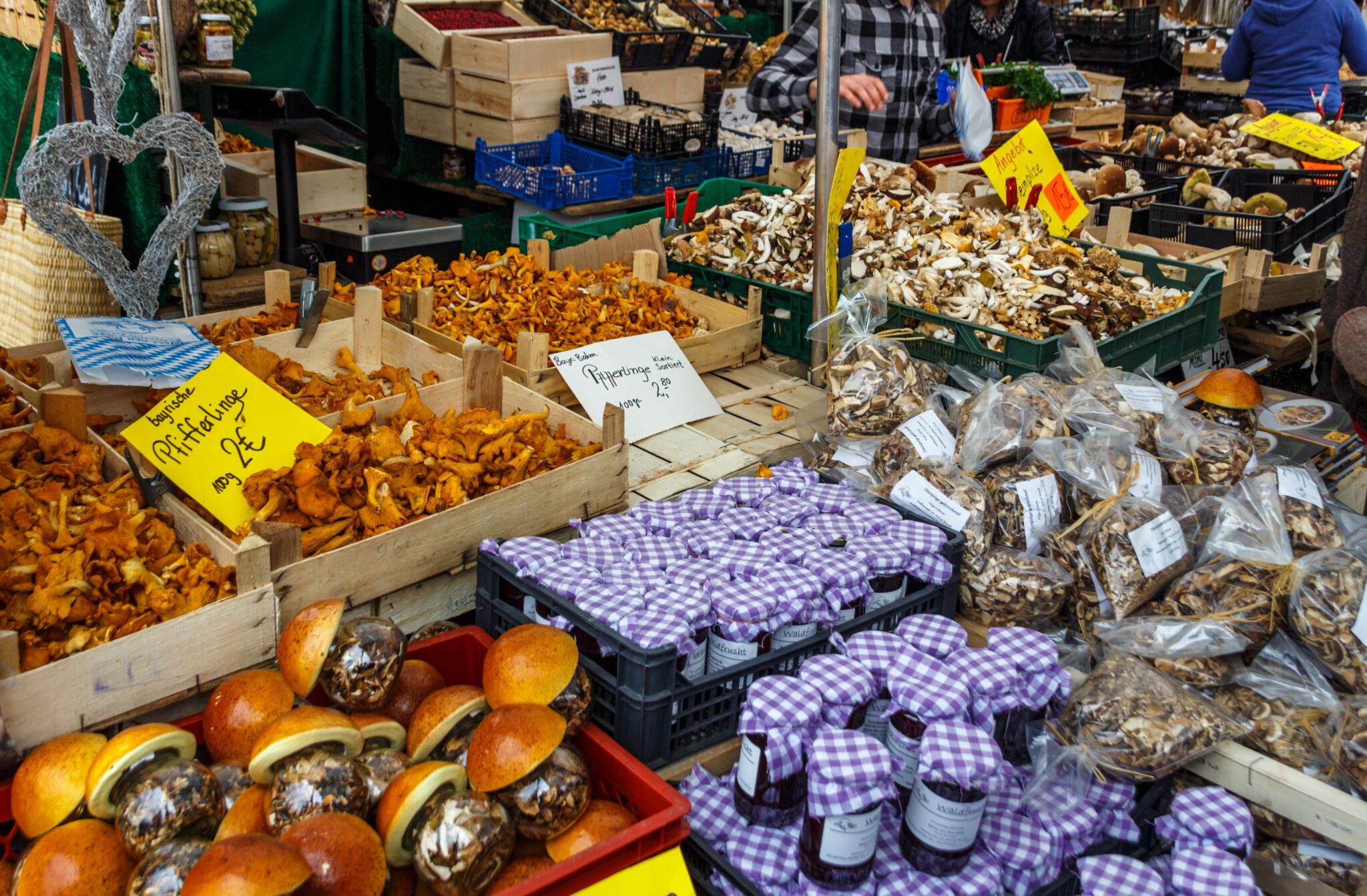 There are also a bunch of fast food options, from German specialties like pretzels and sausage to pizza, so grab something for lunch and enjoy it on one of the numerous benches lining the square.
Next, embark on a self-guided walking tour of Altstadt, starting at the oldest church in Munich – St. Peter's Church. Here's the route as a Google Map.
Climb the 360 steps to the top of its tower for views over Munich's center. When we were there, there were photographs of the city before and after bombings in World War 2, which was a somber reminder that most of Munich was leveled over the course of the war, and rebuilt since.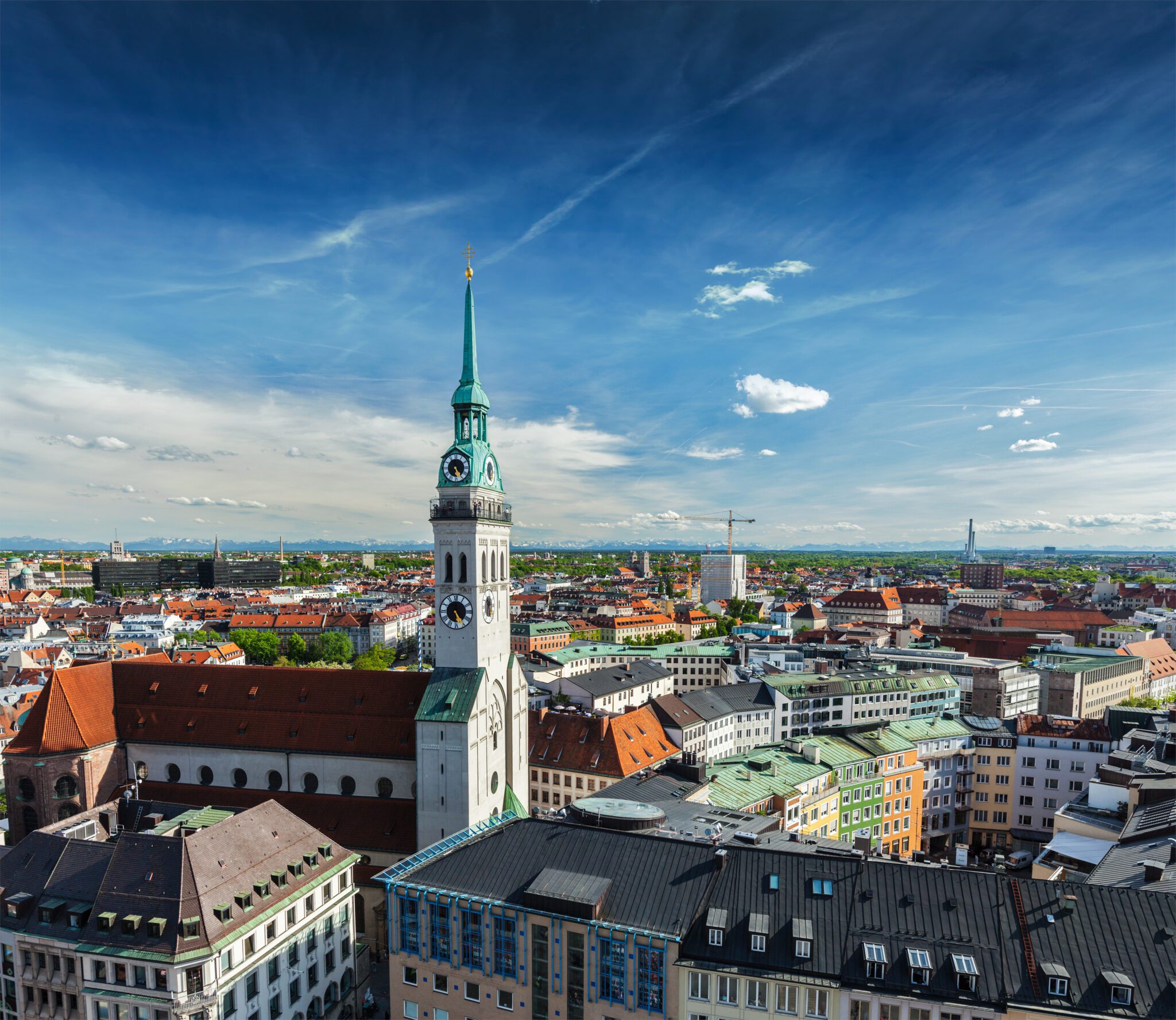 Onward to Marienplatz, the beating heart of Munich. Admire the Neues Rathaus (New Town Hall), and don't miss the glockenspiel ringing that happens daily at 11am, 12pm, and 5pm.
Wander down the street to Frauenkirche. This church, with its huge towers, is visible from all over Munich, which makes it a great landmark to get your bearings.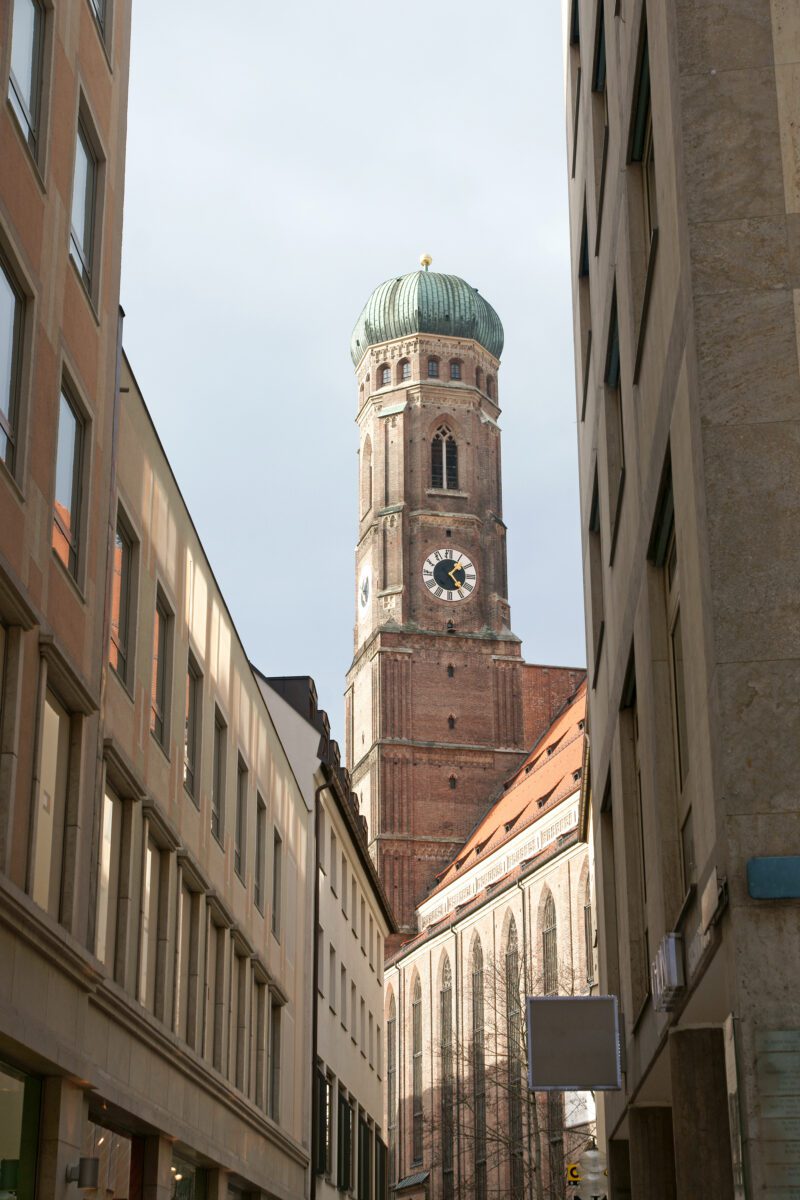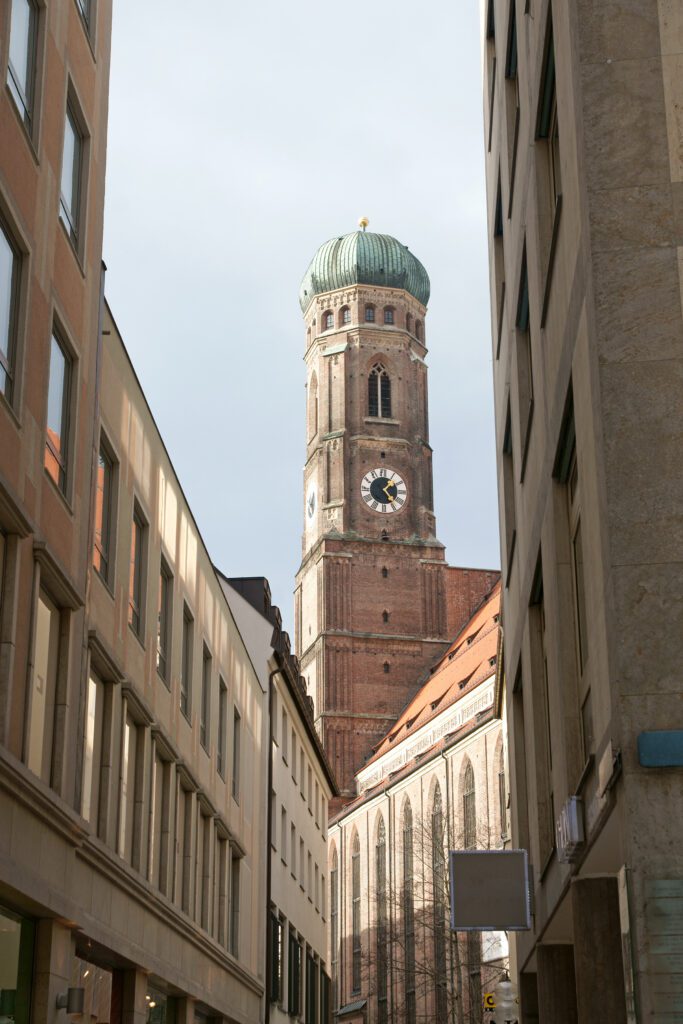 Next, head over to the Munich Residenz, which is an opulent palace turned museum where you can learn about Munich's history (mostly before WW2). Take a gander at the museum, which is enormous, if that's something you're into – entry comes with an audio guide in English. We skipped the museum and wandered the gardens, admiring the exterior of the building, before moving on.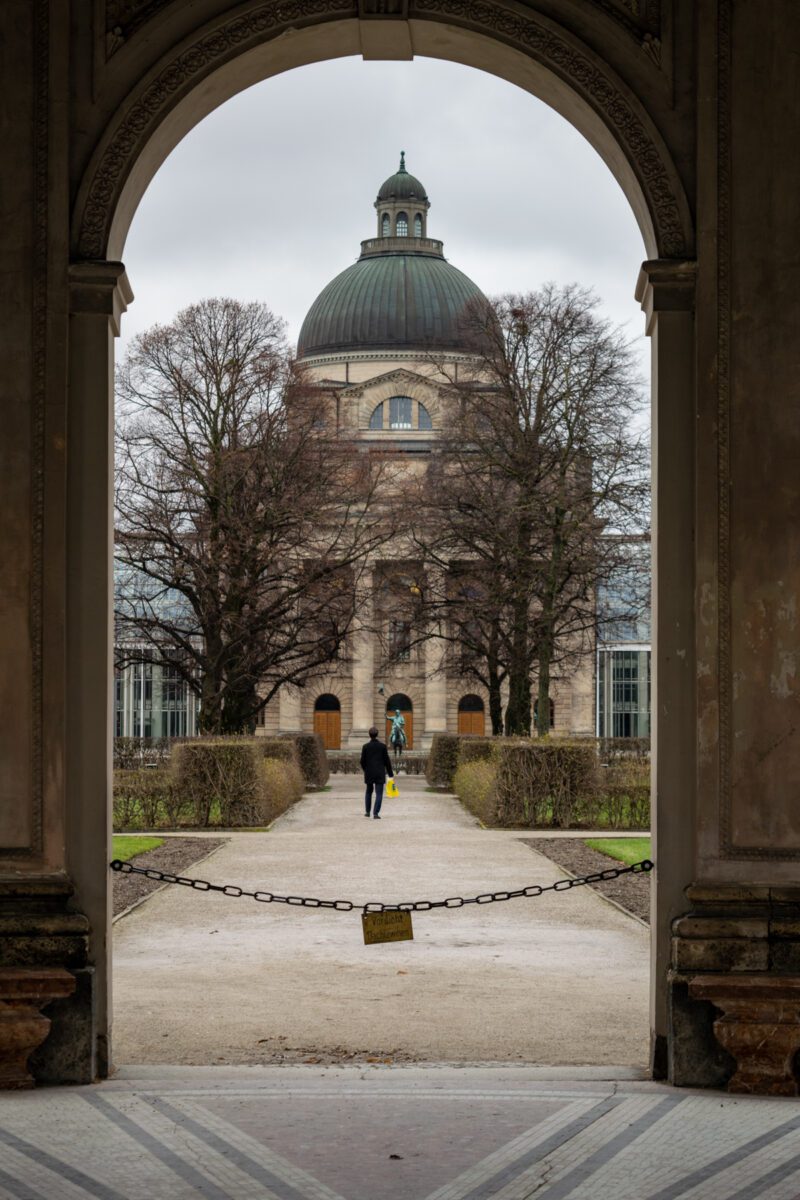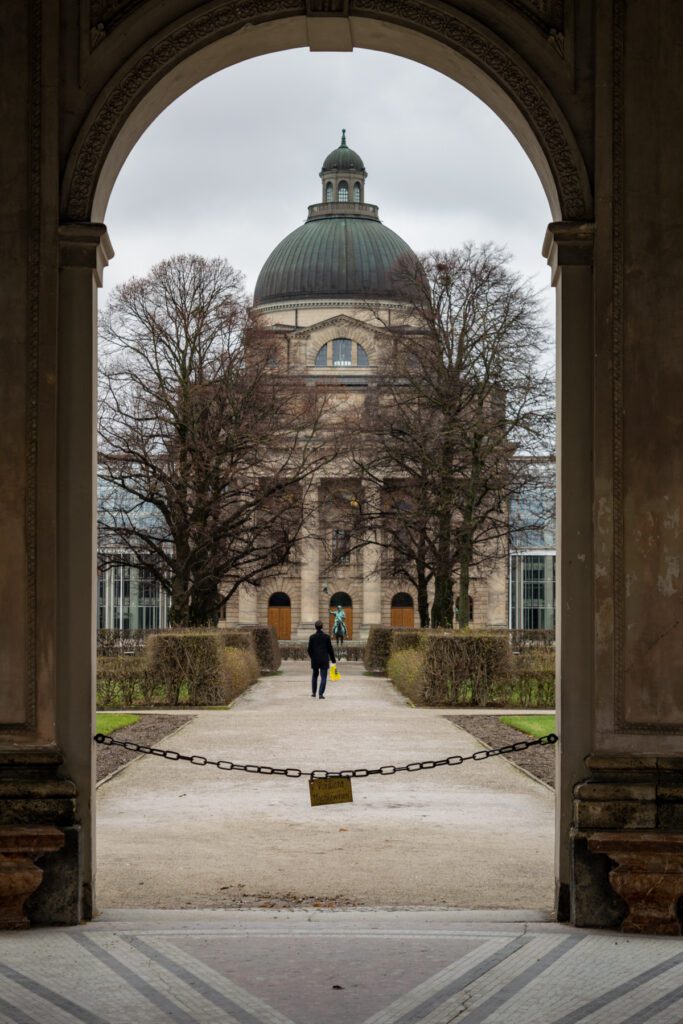 There will be plenty of time for museums on your second day in Munich.
Next, head southeast along Prinzregentenstrasse, making sure to walk on the north side of the street so you can stop at Eisbachwelle, where you'll find surfers practicing their craft right in the middle of the city. Is there a coast anywhere near Munich? Nope! But that doesn't stop surfers from donning their wetsuits and grabbing their boards and getting in the water at this always-on wave on the border of the English Garden. We were there on a cold December morning – where it was literally freezing – and sure enough, there were a handful of surfers getting after it. Crazy, if you ask me, but more power to them.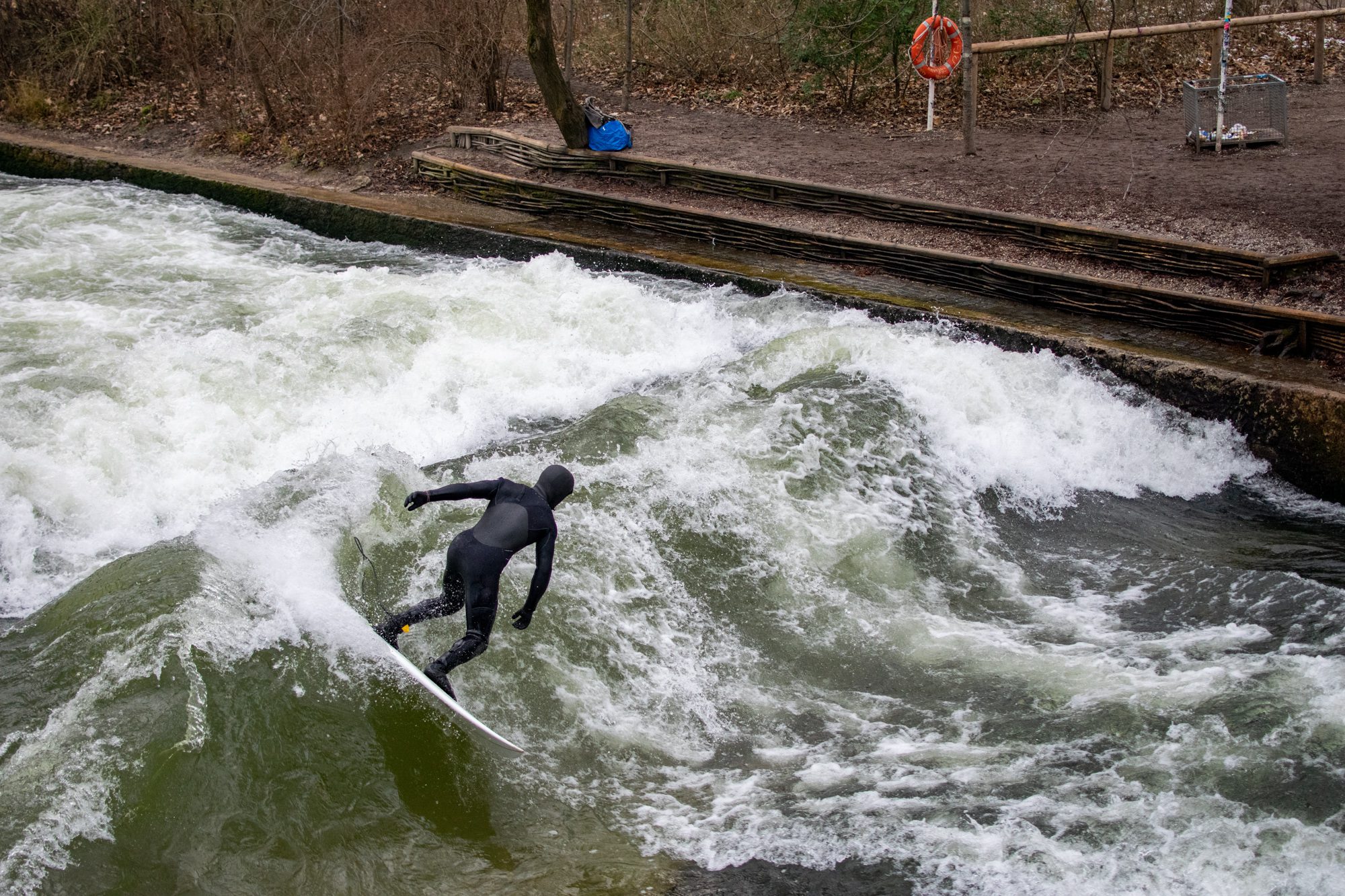 Walk along Prinzregentenstrasse across the Isar River to the Friedensengel (Angel of Peace), a huge column topped with a golden angel that watches over Munich, and commemorates the 25 years of peace following the Franco-Prussian war in the late 19th century.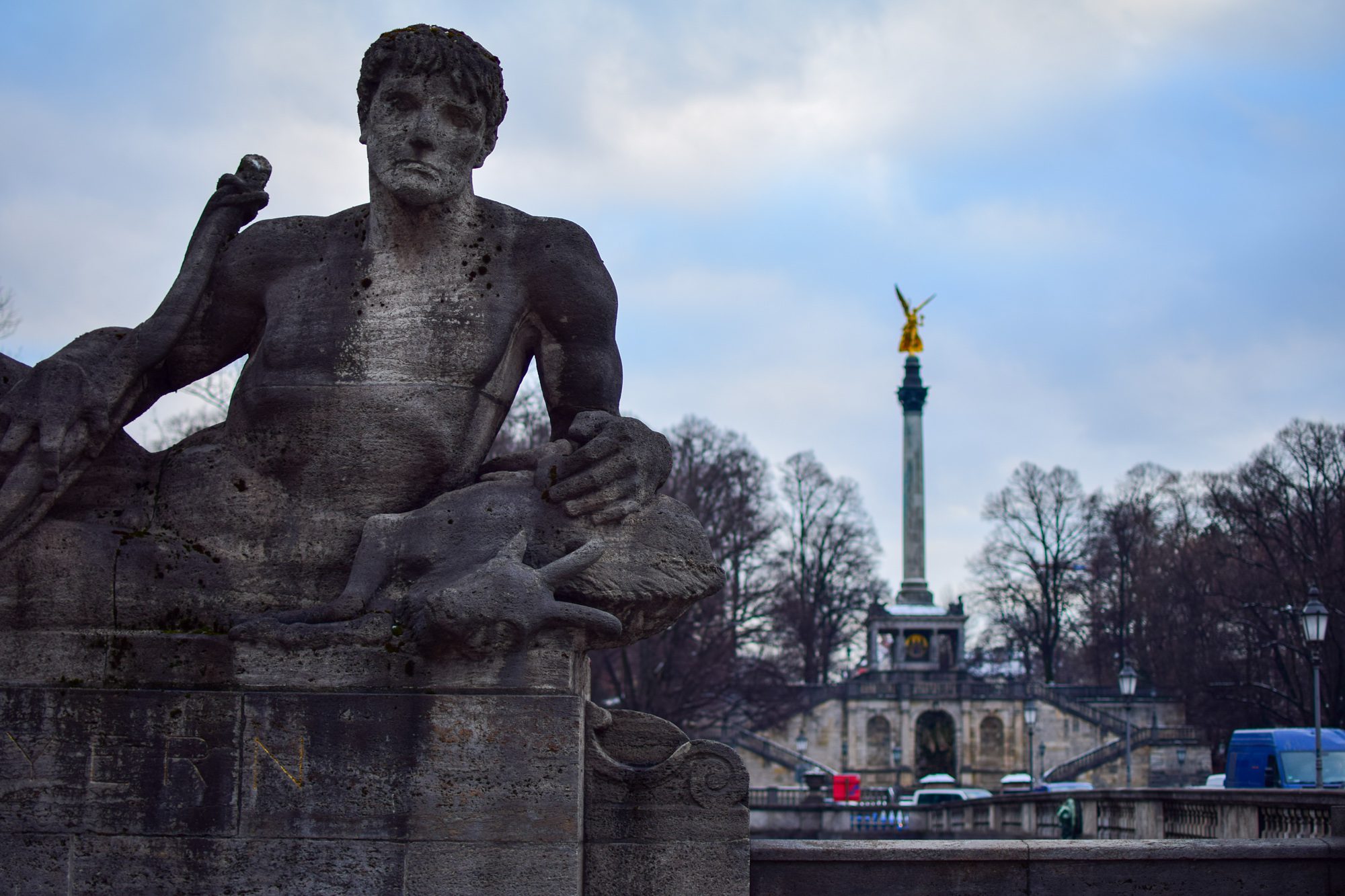 Turn south and walk along the east side of the river, passing another grand palace, this time the Maximilianeum, and follow the river until you get to Ludwigsbrücke, where you should cross back over and head back towards Marienplatz.
Here, you'll be right next to the Deutsches Museum, which was my favorite museum in Munich because instead of history or art, it focuses on science and technology. It is worth a stop if that sounds like something right up your alley.
Depending on the time and how you're feeling, you might be ready for a drink. If that's the case, head over to nearby Zum Wolf, one of the best bars in Munich, for a pre-dinner cocktail or six.
Evening
Close out your first day of your 3 day Munich itinerary with a trip to the world-famous Hofbräuhaus, which you'll find right in the middle of Altstadt. It's built for tourists, sure, but it's a charming place to grab dinner and drinks as the house band appears every 15 minutes to play to a raucous crowd of beer-soaked, pretzel-filled patrons. While you're here, you should try the pork knuckle, which is a specialty of the region.
A note for gluten free folks – they have allergens listed on their English menu, but service was questionable and they were unable to answer my questions about cross-contamination. I wouldn't eat here with Celiac Disease, but the good news is that they have wine, and it was pretty good!
After dinner, head back to the area to the southwest of Marienplatz (towards the Deutsches Museum), which is called Glockenbachviertel, where you'll find the best nightlife in Munich. Here, hip bars line the streets, and there's plenty of choices for your tastes.
Here are the best bars in this happening part of Munich: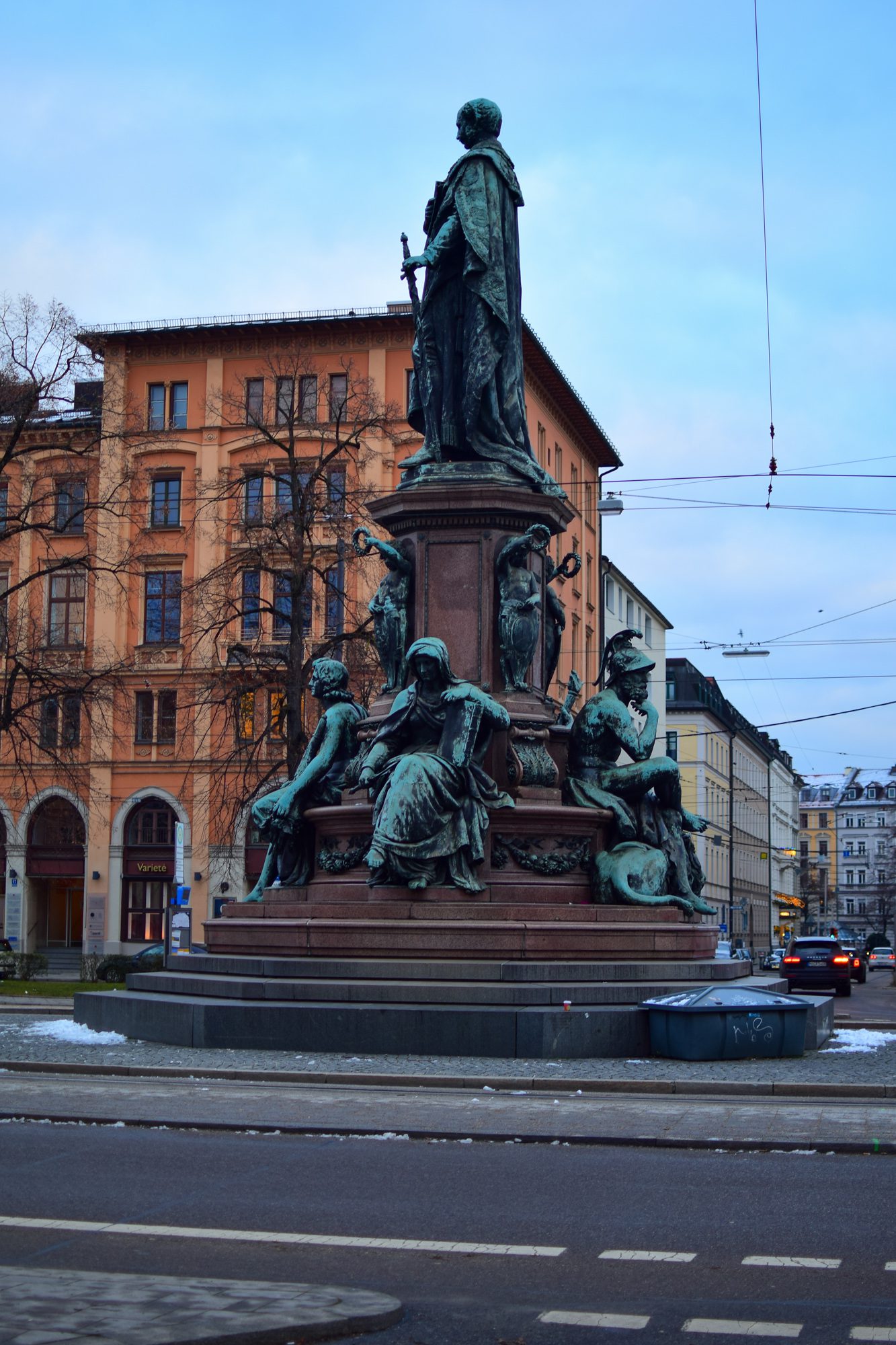 Munich Itinerary – Day 2: Maxvorstadt and the Park
On your second day in Munich, you'll explore the neighborhood that is adjacent to Altstadt to the northeast and the huge public park nearby.
Morning
Start your second day in Munich off right with a steaming hot cup of coffee in Maxvorstadt, today's focus. Head either to Man vs. Machine in Maxvorstadt (round 2!) or to Standl 20 at the Elisabethmarkt to try something new (it's a little further north in Schwabing, but it's not too far).
Next, museums! I used to be the guy that tried to visit every single museum in a city, which is exhausting and frankly not a good way to see a city. Now, I limit myself to one museum per city (two if it's Paris). I'd recommend you do the same, and spend more time wandering, eating, and drinking (coffee, tea, beer, up to you!).
You've got several choices in this artsy, young part of the city, and it totally depends on your tastes and interests. Head to Konigsplatz, where you'll find basically all of the museums in Maxvorstadt.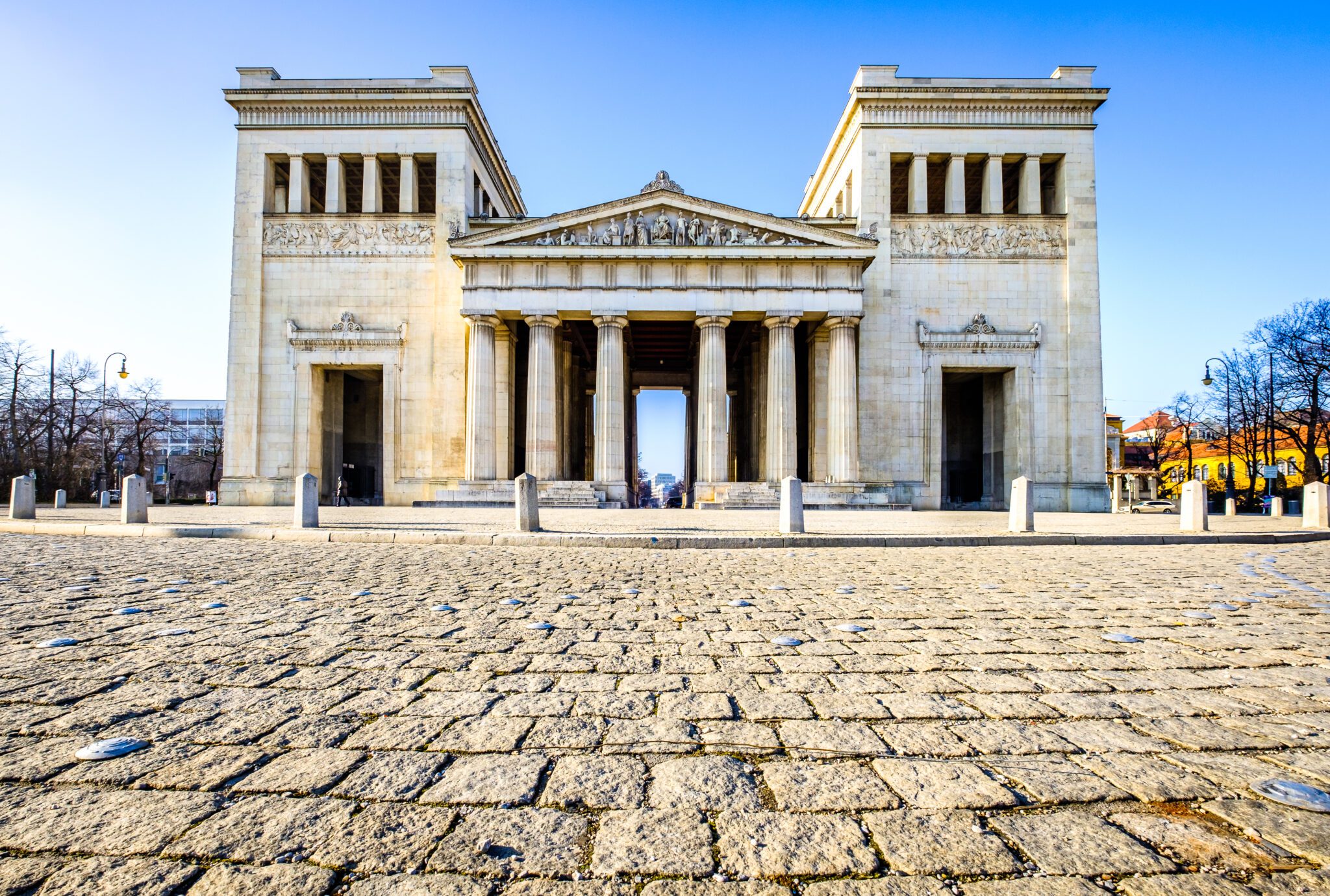 I'm heading to the Egyptian Museum and the Nazi Documentation Center, because I'm interested in history. Both will take a few hours, so I'd pick one of the two to focus your time on, to save time for the rest of the activities on your Munich itinerary.
If you're more into art, There are four art museums nearby – Alte Pinakothek, Pinakothek der Moderne, Neue Pinakothek, and Museum Brandhorst. Pick one (MAYBE two) based on your interests, and thoroughly explore those.
Don't miss Ballabeni Ice Cream, the best ice cream in Munich, after you get your museum fix.
Afternoon
In the afternoon, I've got two choices for you.
The first option is to explore the nearby Englischer Garten, the huge public park that stretches through the center of Munich. You already got a taste of it when you stopped to admire the surfers yesterday. Don't miss the beer garden at the Chinese Tower, which is a fantastic place to pause, grab a drink, and relax for a minute before continuing your stroll.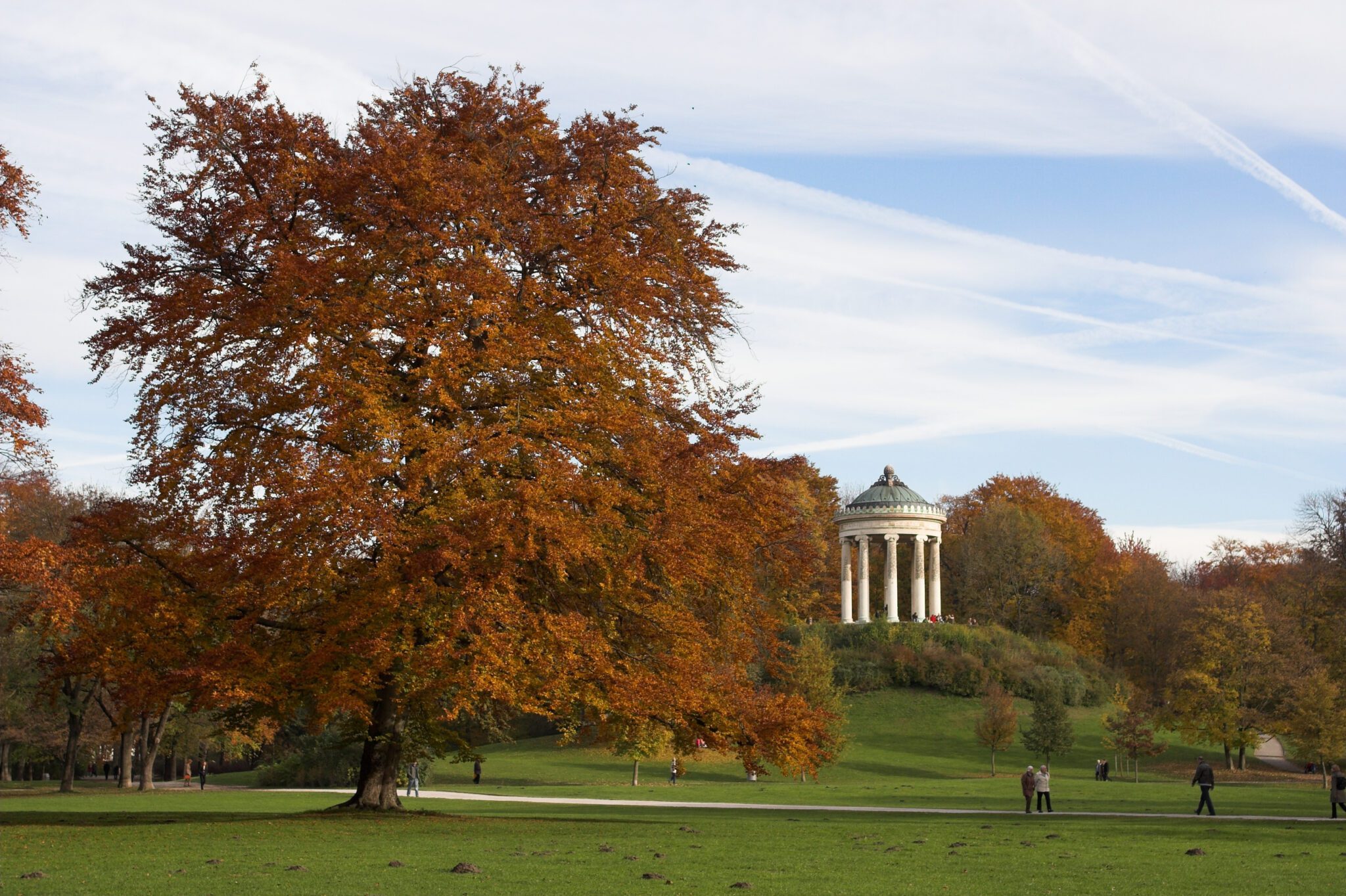 The second option is for foodies – take a cooking class! One of my favorite things to do while I'm traveling is to take cooking classes where I can connect with locals who are passionate about food, and add a few dishes to my repertoire at home. Like this cooking class we took in Mexico City, which led to my discovery of tamales dulces, and my love for homemade tortillas. The point is, cooking classes are a great way to experience the food culture, and I'd recommend finding a cooking class on Airbnb Experiences, which are less commercial, and more authentic in my experience in both Mexico and Colombia.
In Munich, you could learn to make Bavarian cuisine, like roasted pork with cabbage, with ingredients you shop for at the Viktualienmarkt with your guides. Or, learn to make pretzels from scratch! If you've got a sweet tooth, you can also learn to bake an apple strudel (YUM)!
*only the first one is suitable for Celiacs, though you'll need to communicate your needs to the hosts to triple check*
Evening
For dinner, you've got options.
In the mood for another beer hall experience? Head to Augustiner Keller, the other predominant Munich beer hall with traditional Bavarian dishes that is a little further out, or Augustiner am Dom, another brewery with a similar menu that is right under the churches in Altstadt.
If you're tired of meat and beer, head to Siggi's, the best vegan restaurant in Munich that also has plenty of gluten free options (YAY for those of us traveling to Munich gluten free!). You could also head to Bodhi or Max Pett, two other vegan restaurants in Munich.
Munich Itinerary – Day 3: Take One of the Best Day Trips From Munich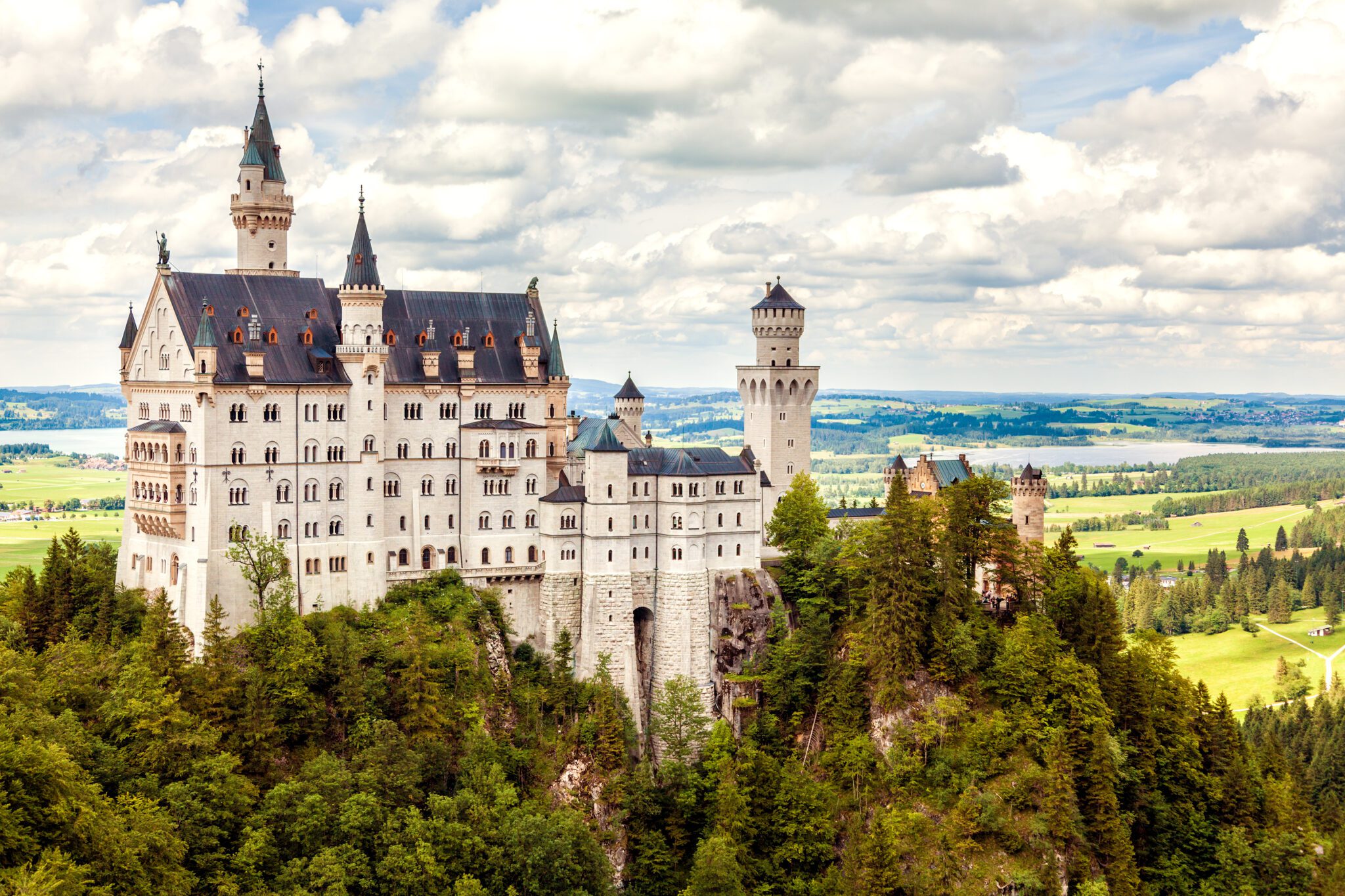 On the last of your 3 days in Munich, get out of the city and explore other parts of the surrounding area.
Munich is a great jumping off point for four great day trips.
The one that I'd recommend, and also the one that I chose, is Neuschwanstein Castle, which is a huge castle straight out of a fairy tale that inspired Walt Disney himself, and you can see the resemblance when you look at the castles in his stories.
Neuschwanstein Castle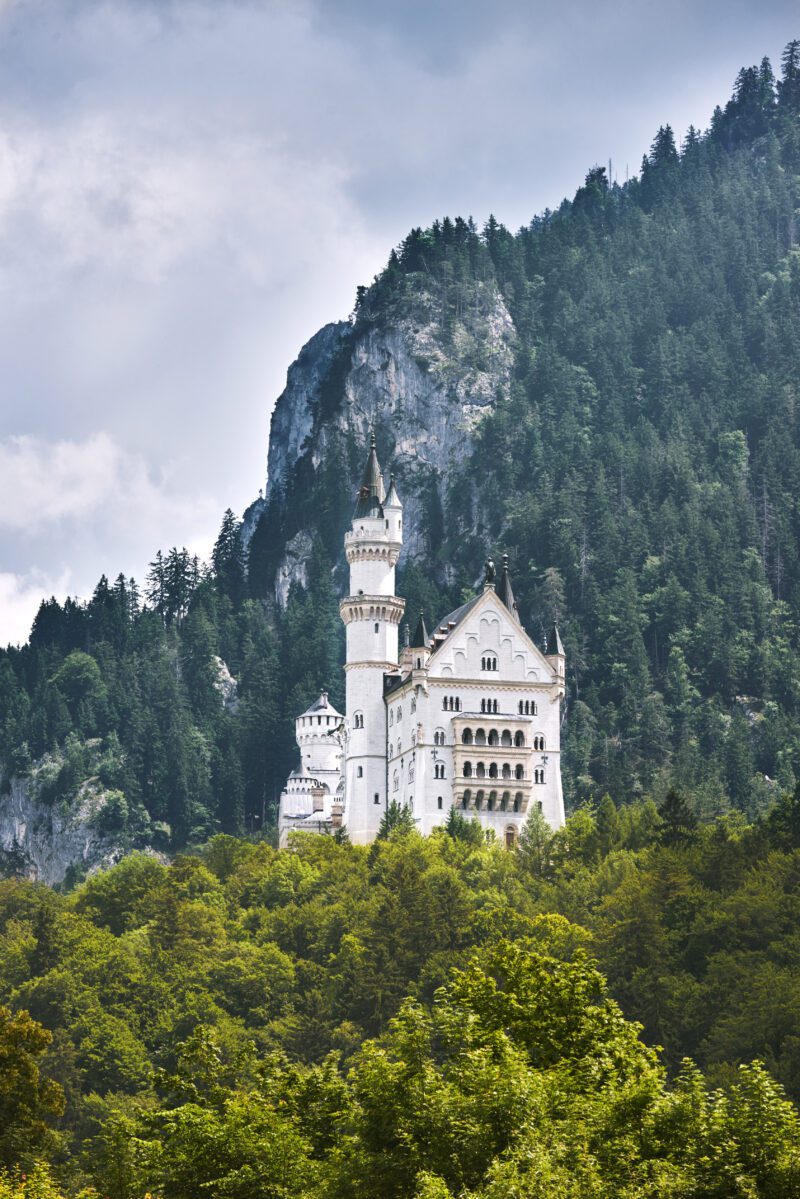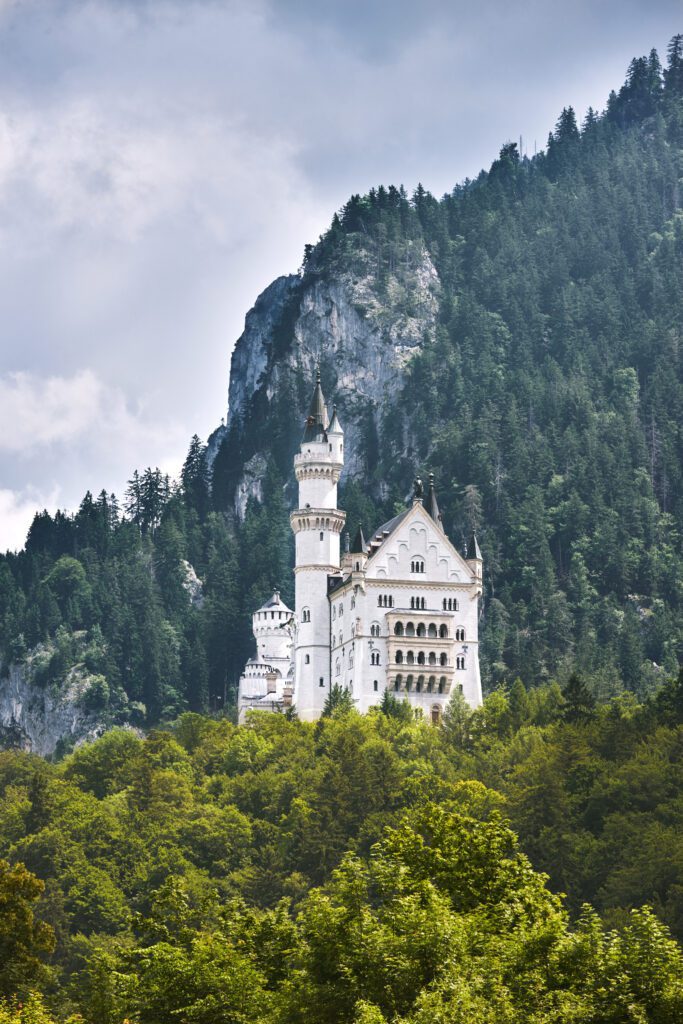 It's ~120km southwest of Munich along the Austrian border, and to get there, you'll need to take a train from Munich to Fussen, a small town at the base of the hill that holds the castle, or rent a car and drive yourself.
By train, it will take about 3 hours, including the Munich to Fussen train trip, a bus ride up the hill to the base of the castle, and a walk up the hill to the castle. It's about two hours by car.
To get there, I'd highly recommend purchasing a Bayern ticket, which will cover not only the train ride, but also the bus ride to the base of the hill where you'll find the castle. Here's a great guide to how to use the Bayern ticket to save money when traveling around Bavaria.
Take a direct train if you can, which comes every other hour. Otherwise you'll need to transfer once, which is super easy, but adds a little bit of complexity and about 15 minutes to the journey. Once you arrive in Fussen, you'll need to take the 78 bus towards Schwangau (with every other tourist getting off the train) up to the base of the hill.
To get to the castle from here, you've got three options – walk (what we did, free), take a bus (doesn't operate in the snow, which is when we were there, costs ~2 Euros) or take a horse-drawn carriage (more expensive going up than coming down, runs in the snow but there was a HUGE line when we were there).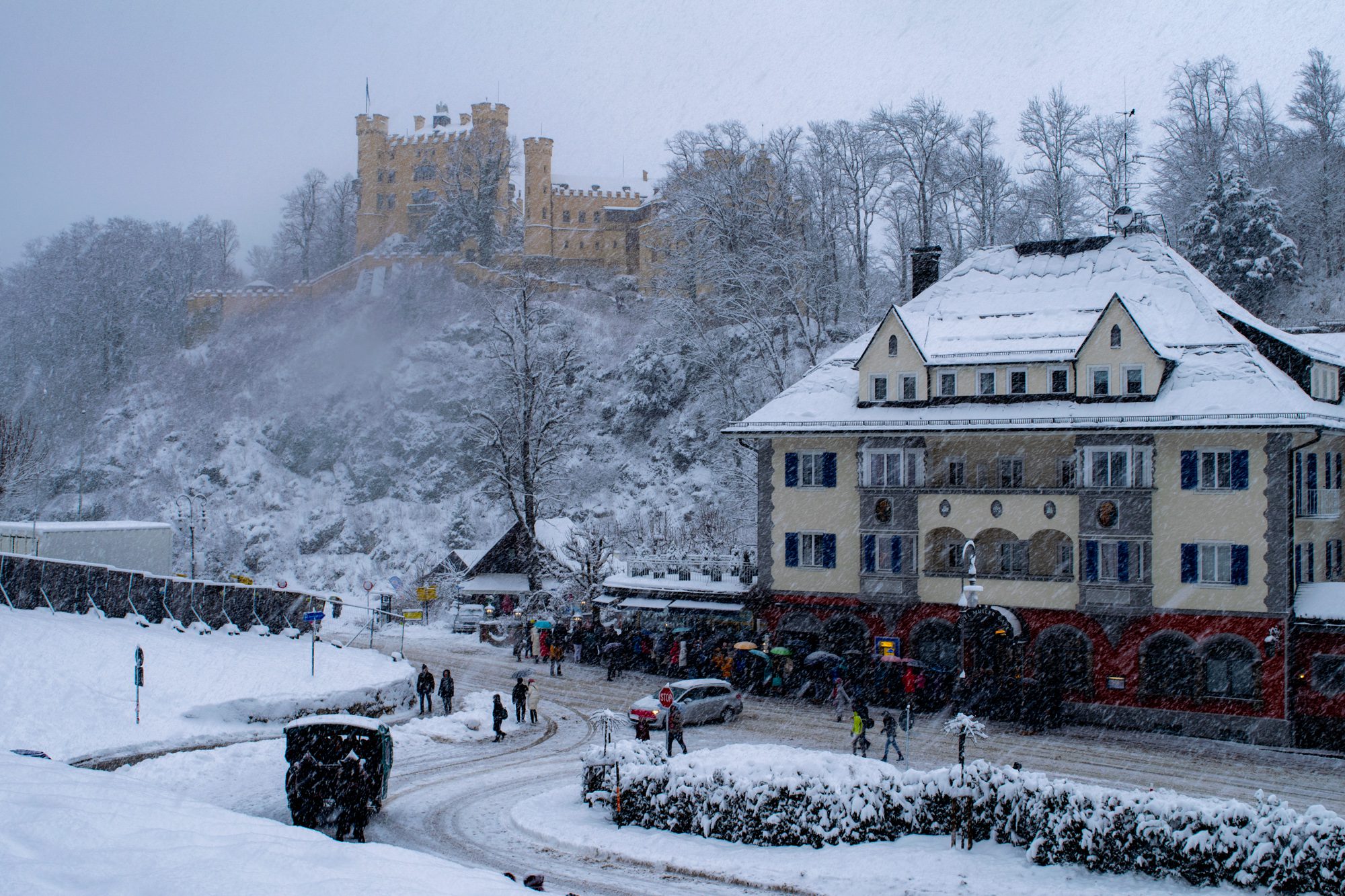 Book your tickets well in advance if you want to see the inside of the castle – we didn't and we skipped it because there was a 2+ hour line despite us being on the first train of the morning, and they tend to sell out during the summer. You can book tickets here.
The best viewpoint, which is sadly for us, closed in the winter, is actually from the other side of the castle from where the path brings you up. It's a bridge called Marienbrücke, and it was closed due to the snow when we were there. It's a bit of a hike to get up there, but you'll be rewarded with crazy views of the castle and the Bavarian countryside beyond it.
Don't want to deal with the hassle of getting there yourself? Book a guided tour from Munich that includes transportation. You'll trade off freedom to explore and flexibility for convenience and not having to worry about transit connections. I'd recommend this highly rated tour if that's what you're looking for.
Other Day Trips from Munich
Whether you've got extra days in Munich, or you're not interested in a fairytale castle straight out of Cinderella, there are plenty of other day trip options from Munich.
Dachau: Dachau is home to what was a concentration camp just outside of Munich, and is now a memorial. We did this too, and it was the most somber travel experience I have ever had. They have a guided audio tour that provides the context behind what you're seeing, and will have you questioning how humans could possibly treat each other so horribly. You can get there using public transportation easily – take the S-bah S2 line (towards Peterhausen) to the Dachau station, then take bus #726 towards Dachau from the station to the camp. Alternatively, take a guided day trip that includes transportation and a knowledgeable guide (note: kids under 14 are not allowed on the guided tours due to the graphic nature of the content). If you're not doing a guided tour, the audio guide is a must.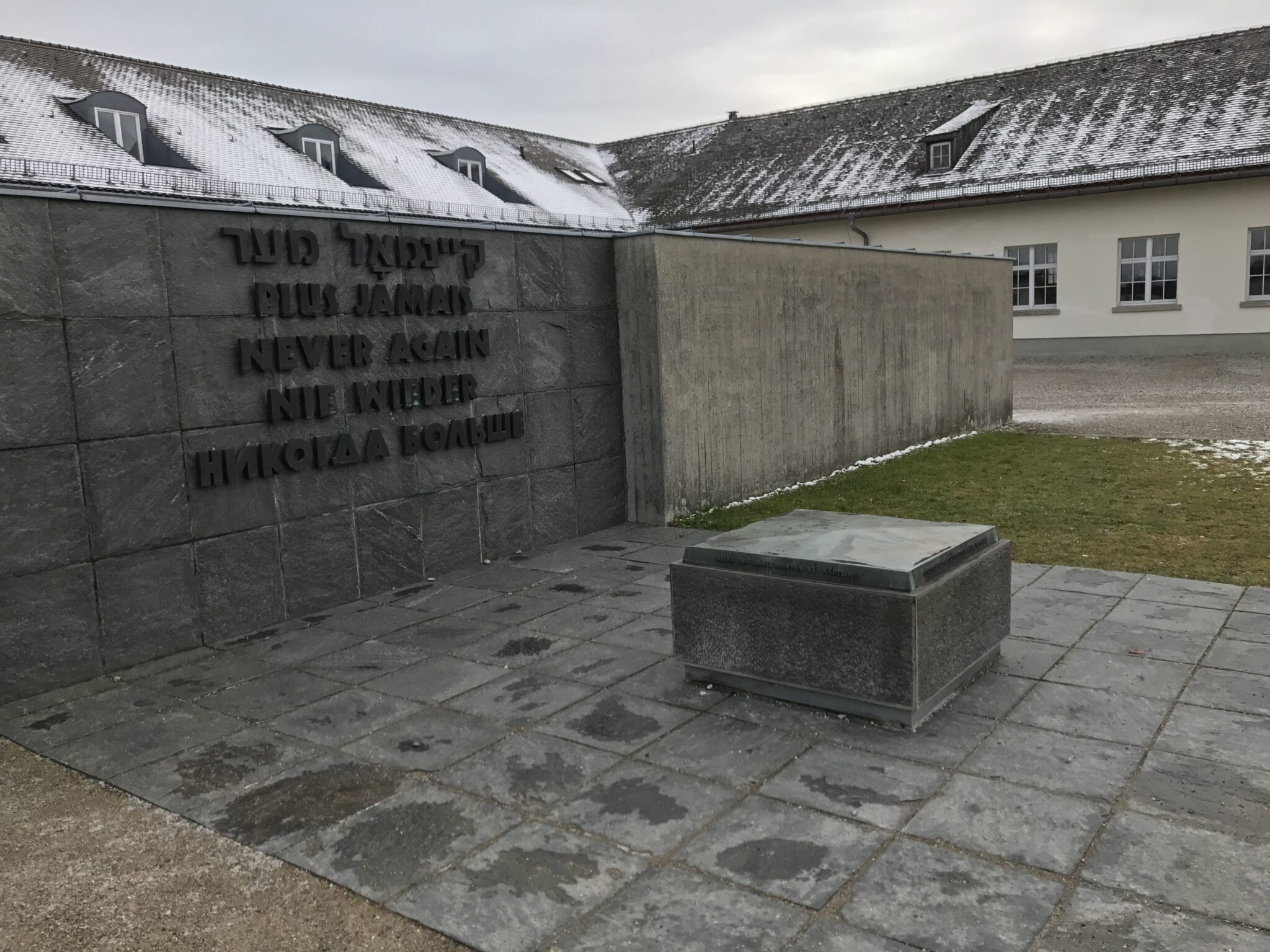 Salzburg, Austria: Sound of Music fans, rejoice! Salzburg is about two hours away from Munich by train, also covered by the affordable Bayern Ticket, and makes for a great day trip. Don't miss the original Sound of Music tour while you're in Salzburg. Unfortunately, we didn't make it to Salzburg, but here's a guide to planning a Munich to Salzburg day trip that you should read. The easiest, least stressful option is to book a guided tour from Munich that includes transportation. Here is one that is highly rated that you should look at.
Nuremberg, Germany: We actually continued on to Nuremberg from Munich to visit the best Christmas Market in the world in Nuremberg. It's a cool city with tons of history and medieval-feeling architecture (which was largely rebuilt after WW2, when the city was almost literally leveled). If you want to visit Nuremberg as a day trip from Munich, it's an easy 2 hour train ride (so 4 hours round trip). Make sure to visit the Nuremberg Castle, perched atop a hill overlooking the city. For an easy, stress-free trip, take this highly rated guided tour from Munich to Nuremberg.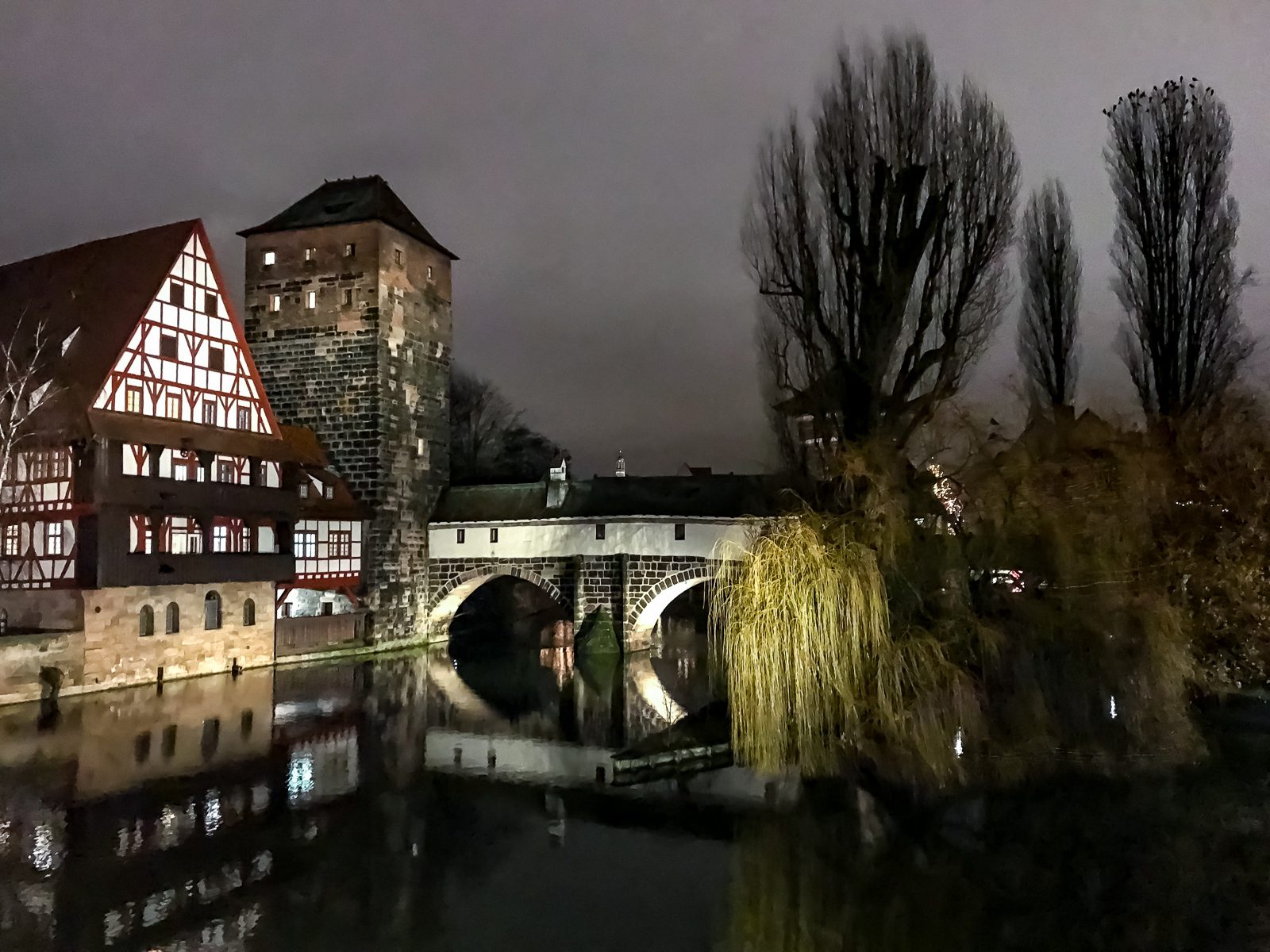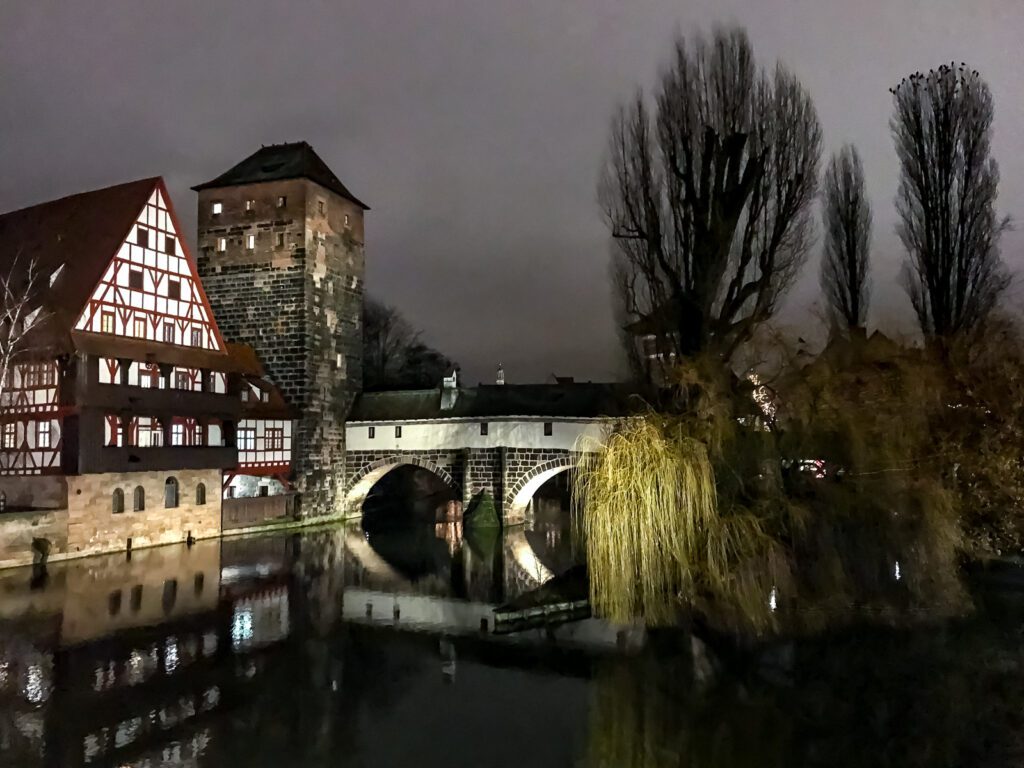 What You Need to Know For Your 3 Day Munich Itinerary
I know I know – you're antsy to get to the meat of the itinerary for Munich. But first, we've got to cover some of the logistics that you need to know for your trip to make it an unforgettable experience.
How to Get Around Munich
Munich is relatively compact and walkable, which means it will be super easy to navigate over the course of your three days in Munich. The hardest part about getting around is probably getting to the numerous great day trips from Munich. More on that later.
To get around Munich, you'll likely mostly be using the U-bahn, which is an underground subway system, and the Strassenbahn, an above-ground tram.
But mostly, you'll walk. Because that's the best way to explore a new city.
To get to places outside of Munich's city center, like Dachau, for instance, you'll use the S-bahn, an above ground commuter train.
The best part is that all of the different forms of public transit – U-bahn, S-bahn, Strassenbahn – are all covered by the same tickets.
If you're planning on using lots of public transit, I suggest you grab a day pass for 7.80€ per adult (cheaper for kids), or a stripe ticket, which gives you 10 short trips (or stripes) for 14.00€. Considering a single ride costs 3.30€, both are a steal, and will make it super easy to get around for your time in Munich.
It's worth noting that getting to the day trips that we're going to cover in this Munich itinerary – Salzburg, Dachau, and Neuschwanstein Castle – work a little differently. I'll cover those below.
Here is a complete guide to getting around Munich.
How to get to Munich from the Airport
Munich International Airport is about 40km northeast of the city center, making it a bit of a journey to get to your hotel. Luckily, there are a couple of affordable and convenient transportation options for you to make the journey.
To get to Munich's city center, you can take the S-bahn lines S1 and S8, which will take you about 45 minutes and cost you 11.50€ per person. If you're planning on taking public transit again between the time you land and 6am the next morning, grab a Zone M-5 day pass for 13€ instead.
The other option is the Lufthansa Express Bus, which takes about half an hour to get to the northern part of the city, or 45 minutes to the train station. I would recommend you get off at the northern stop and continue on the U-bahn unless you decided to stay at Wombats Hostel, or somewhere else right near the train station.
It will cost you 11€ one way, or 17€ for a return ticket, which makes it a solid value. Keep in mind though, you'll have to continue on public transit, unless you're staying near one of the two stops.
Final Thoughts
That's all I've got for you – everything you need to plan a perfect 3 days in Munich. You got a taste of the best coffee, bars, restaurants, and things to do and see in Munich, Germany.
What did I miss?
Like this post? Pin it for later!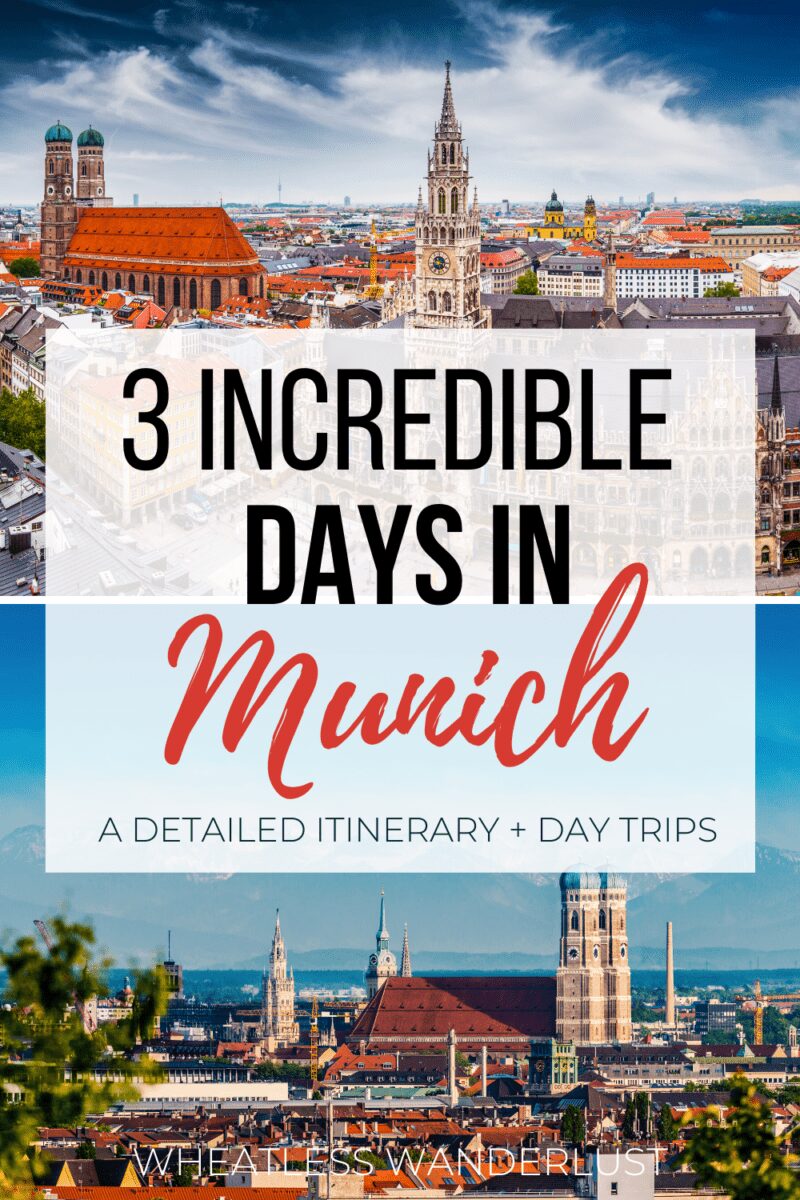 Hungry (I always am) for more travel inspiration, guides, and tips?
First, connect with me on Instagram to follow along on my yearlong worldwide adventure.
Next, check out my favorite travel resources to travel cheaper, faster, and better.
Finally, head over to read my latest posts to stoke your sense of wanderlust.